Driving along the California Pacific Coast Highway (PCH) is perhaps one of the greatest road trips in the world. Over the past five years, I was very lucky to have the opportunity to visit many of the towns and city's along the Golden Coast. But it was not until this past summer that we did the full road trip from San Francisco to Los Angeles following Highway 1 coastal route from top to bottom.
Along this famous route, you'll drive through big metropolitan cities and tiny coastal towns, gliding by redwood forests, classic California beach towns, lighthouses, major wine regions, marine wildlife, Spanish colonial sights, outdoor adventure opportunities, state parks, and even Hearst Castle. Not to mention the wonderful scenic views that will have you pulling off for impromptu ogling and photo ops all along the Pacific Coast Highway!
We'll share some information to get you started in planning your own California Pacific Coast Highway road trip and share our favorite 15 places to stop along the way and tips for what to do and see in each place.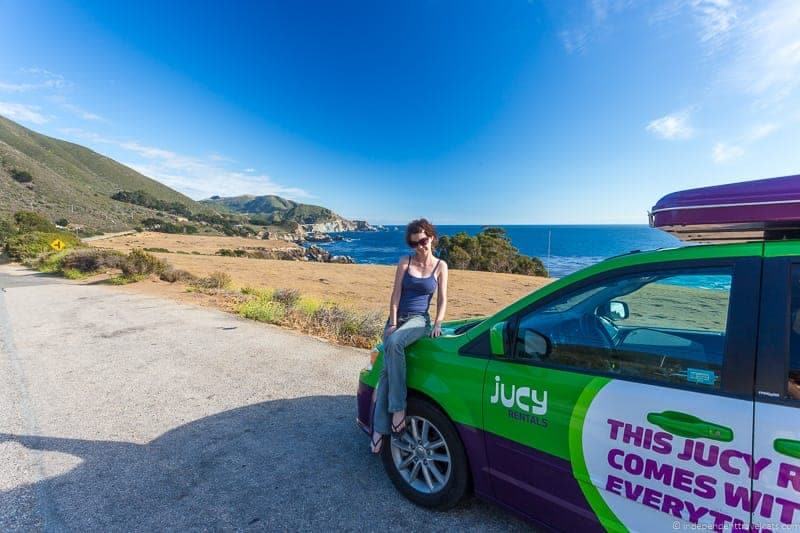 Planning your Pacific Coast Highway Road Trip in California
Here are some frequently asked questions that can help you plan your own California Pacific Coast Highway road trip, from when to go to, what to pack, and where to find helpful web resources.
What is the difference between the Pacific Coast Highway and CA State Highway 1?
If you drive along the coast following the highway from Los Angeles to San Francisco, you'll encounter roads with signs called CA State Highway 1, Pacific Coast Highway (PCH), Cabrillo Highway and Shoreline Highway, not to mention at times you'll have to join the U.S 101.
According to Wikipedia, the CA Highway 1 runs about 655 miles (1,055 km) from near Dana Point in the south to near Leggett, CA in the north, and only two middle sections have been officially denoted as scenic byways, the Big Sur Coast Highway and the San Luis Obispo North Coast Byway. If you go from the southern point of CA to the northern, you'll lose CA State Highway 1 all together at both ends.
The Pacific Coast Highway, I believe, is technically only about a 130 mile segment of Highway 1 that runs from Dana Point to Oxnard in southern California. The terms Pacific Coast Highway and Coast Highway are sometimes used to refer to a route from the southern coastal point of California that extends all the way to Canada or even beyond.
Basically, I would not worry about all these technical designations which often don't matter much and don't align well with travel articles or traveler reports, but you should know that you may see different names on signs along your route and at times you will have to leave the coast and/or join U.S. 101.
Just use your map and/or GPS to keep on your designated route and head to the places you want to visit without being too concerned about the technical designations of the highway.
How Long do I Need to Drive the Pacific Coast Highway?
This will entirely depend on how much time you have and what you want to do and see along the way. Note that distances in California can be quite greater than what many people are used to and things move more slowly on CA Highway 1 which has lower speed limits than on the main interstate highways.
Traffic on this route can be particularly slow if it is crowded or bad weather conditions. Getting into and out of Los Angeles and San Francisco can take much longer than anticipated depending on traffic conditions so allow extra time in these areas.
You can actually drive straight from Los Angeles to San Francisco in a day, but we recommend spending at least 4 or 5 days to explore some of the places in between. Ideally, I would set aside at least 2 weeks to do the route with 3 to 4 days in Los Angeles, a week for the towns between Los Angeles and San Francisco, and 3 to 4 days in San Francisco.
If you want to drive all the way from the north of California to the south, I'd add at least another 3 days. Basically, the more time you can spare, the more you'll get to better explore all these places. Be sure to check road conditions before you go as you may need to allow for road construction and/or detours.
When to do the
Pacific Coast Highway
Road Trip?
Given the temperate climate along the coast, most times of the year will work for this road trip. In the southern part of the state (San Diego to Los Angeles), you'll find sun fairly year round. Summer guarantees more warmth and sun in the south, but you might find foggy weather along the Central Coast and San Francisco Bay area.
The largest crowds will also be traveling this route from mid-June to the end of August. October tends to bring the nicest and least rainy weather to the San Francisco Bay area, and September can also be quite nice. Note that even in summer, you might find it cold along the Central and Northern Coast, especially places like Half Moon Bay, San Francisco, and further north.
No matter when you go, just be prepared so inclement weather doesn't stop your sightseeing, bring clothing you can layer, jackets, and rain gear. Also don't forget your sunglasses and sunscreen; wear sunscreen even if you plan to stay in the vehicle most of the day as you can still get sun damage from UVA rays!
Choosing Transportation for Driving Highway 1?
It wouldn't be a road trip unless you are driving, so either you'll need to supply your own vehicle or motorcycle or you'll need to rent one. If you are planning on renting, you should consider whether you want to stay in lodging along the way, bring camping gear to set up a tent at campsites along the way, or if you want to be able to sleep in your vehicle such as with a campervan or RV.
There are a lot of major rental car (Thrifty, Hertz, Alamo, Avis, Dollar, Enterprise, etc.) and RV companies that have offices in California (mostly in major cities) so check around and compare prices. Just be aware that some firms charge one-way fees – in our experience, Enterprise usually offers the best value for this type of rental.
If your dream is to drive a convertible or classic car along the coast, you can do this but just know that it will be quite expensive and you might be better off saving the money for some fun experiences along the route.
If you want to travel by RV, we recommend using Motorhome Republic for RV rental. They compare prices across the major RV rental firms in the USA to find the best price for you. You can book your RV for the USA through them here.
For this specific road trip, you'll probably want to look for companies that allow you to rent a vehicle at one end of your journey (e.g., Los Angeles) and return it at the other (e.g., San Francisco). Be sure to specifically check on any one-way drop-off fees which can add an additional $100 or more to a rental car price.
To rent a vehicle or RV, you typically need to be at least 21 years of age (often 25 years of age) and have a valid driver's license.
If you are not an American citizen you may need to obtain an International Driving Permit from your home country or an authorized English translation of your driving credentials. If your driver's license is not in English and you plan to be driving in the U.S. for a week or more, it is a good idea to get an International Driving permit or English translation even if not required by law or the rental agency as it is helpful to have one in the event police pull you over and ask for your license.
If you are an international driver and have never driven in the U.S., you should check out this article from Laurence about tips for driving in the U.S. for British drivers (or any non-U.S. driver).
We chose to do a month-long USA roadtrip in a JUCY campervan rental, and JUCY conveniently has offices located in San Francisco, Los Angeles, and Las Vegas which are primary West Coast road trip hubs. Hiring a campervan gave us the option to sleep and eat (there is a small kitchen included!) in the RV, and this helped us save a lot of time and money along the way. You can compare prices of Jucy and a range of other RV rental companies in the USA for your trip here.
If driving along in a bright green and purple campervan with a pop-up Penthouse on top doesn't sound intimidating, you can read a full review of our JUCY campervan experience written by Laurence on his blog.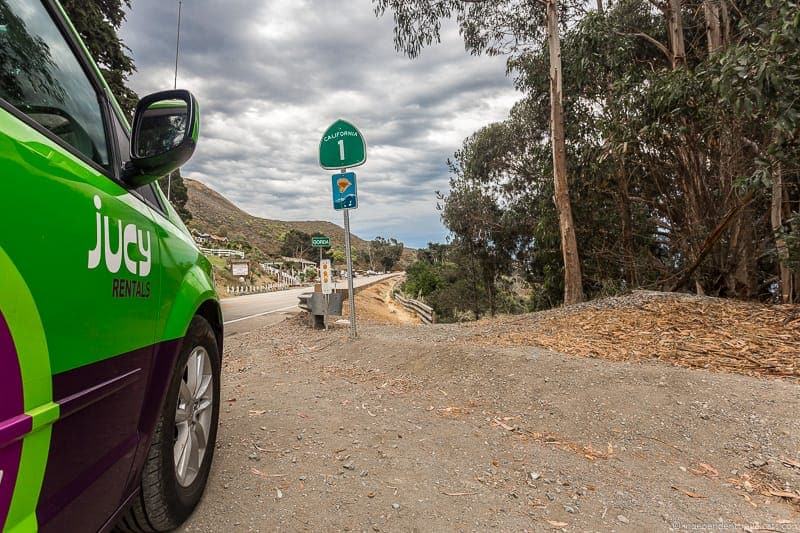 South to North or North to South Route?
I would not put a lot of thought into whether the trip is best done south to north or vice versa. It makes little difference although there is a small argument in favor of north to south as you'll be closer to the coast and most of the rest stops and pull overs are on this side of the road.
Others have told me that there are better views going to south to north, but having done the drive myself, I have doubts about there being too much superiority in either direction.
I would base this decision on your logistical needs (e.g., where you are based, best flight deals) and things you want to see along the way (e.g., a festival in San Francisco you want to be at on X day).
What Should I Do in Advance of Driving the Pacific Coast Highway?
I would decide on your general route, make your car or RV reservation in advance (if needed), acquire a good map, road atlas, and/or GPS, consider buying a good California guidebook, check opening days/times for any must-see sites, and book tickets to any major concerts, performances, or sporting events as these can sell out months in advance.
For major sites like Alcatraz and Hearst Castle, it can be wise to book tickets at least a few days in advance if you know when you'll arrive as they sometimes sell out on certain days, especially during the summer. If you want to attend (or avoid) any festivals, plan ahead so you can be sure to be in the area during the event or to skip it to avoid crowds, traffic jams, and higher hotel rates.
It really depends on how you like to travel if you want to make reservations for your lodging ahead of time or wait to see where you are each day to decide. I would recommend making reservations for accommodations in Los Angeles and San Francisco in advance as well as any lodging or camping reservations in Big Sur (or arrive early for first-come, first served sites) as there is a limited amount of availability in that area.
If you are on a budget, it can be wise to make sure you get camping sites, vacation rentals, budget motels, etc. booked in advance so you don't end up spending more than you want on lodging.
If you are wanting speciality lodging such as a bed-and-breakfast, a lighthouse stay (Pigeon Point and Point Montara Lighthouse Hostels), or a boutique hotel, I would also book these in advance as they can be booked full weeks in advance even outside of the summer months.
Also, you may want to make a good California road trip music playlist or CD before your trip!
Other Helpful Planning Websites:
Where to Stay on the Pacific Coast Highway
There are plenty of accommodation options all along the Pacific Coast Highway, which include motels, campsites, B&Bs, hotels, and luxury resorts. There are also fun and quirky places like lighthouses, yurts, and cabins where you can spend the night.
We have included a few of our favorites throughout the post below. For booking, we recommend personally often use booking.com which we find usually has the best prices when we travel and we also like reading the reviews before we book. Take a look at their California listings to get started.
Best Stops along California Pacific Coast Highway 1
I am only going to discuss my favorite 15 recommended stops, but here is a list of potential worthwhile stops (in order) from north to south that goes all the way from the northern coast to the southern coast that are major places you might include on a Pacific Coast Highway road trip itinerary.
Most people are primarily interested in only the section between San Francisco and Los Angeles, but I wanted to include this to give people an idea of where these cities lie in relation to each other and to give ideas for those who may be interested in heading south of LA or north of San Francisco.
I'd recommend venturing north of San Francisco for those who want to see more of the redwoods and for those who want to escape the crowds a bit and see parts of the coast that are not as touristed. I'd recommend heading south of Los Angeles for those interested in famous beach towns and for those interested in visiting sunny San Diego. See our guide to things to do in San Diego for more on that city.
I've included a few places slightly off of Highway 1 such as San Jose and Solvang, but none that would require more than an hour's drive. Detours to places like Yosemite National Park and Napa Valley are not included on this list but are possible to also include in your itinerary; just note you may have to make significant detours and may miss portions of the route.
North of San Francisco:
Crescent City

E

ureka

Mendocino

Point Reyes National Seashore*

Mill Valley (Muir Woods National Monument)
San Francisco to Los Angeles
S

an Francisco*

Half Moon Bay*

San Jose / Silicon Valley (30-40 mile detour!)

Santa Cruz*

Monterey*

Carmel-by-the-Sea*

Big Sur*

Ragged Point

San Simeon*

Cambria*

Cayucos

Morro Bay*

Los Osos / Baywood Park *

San Luis Obispo

Pismo Beach*

Santa Maria

Solvang (30 mile detour!)*

Santa Barbara*

Los Angeles*
South of Los Angeles
Long Beach

Huntington Beach

Newport Beach

Laguna Beach

San Diego
Note, that all the towns with asterisks above are the places along the Pacific Coast Highway that are discussed in greater detail in the next section.
Pacific Coast Highway Road Trip Stops
Now here are my favorite 15 stops from that list, primarily sticking to only those cities and towns that are between San Francisco and Los Angeles with one exception.
My list is subjective and based on the places I chose to spend more of my time over the past 5 years! However, many of the other stops are also very worthwhile and I definitely recommend you choose your stops based on your own interests.
Here is a map of the Pacific Coast Highway from Point Reyes National Seashore to Los Angeles and the map includes each of the recommended 15 stop marked. You can see the map in greater detail by clicking here or by double clicking on the map image below: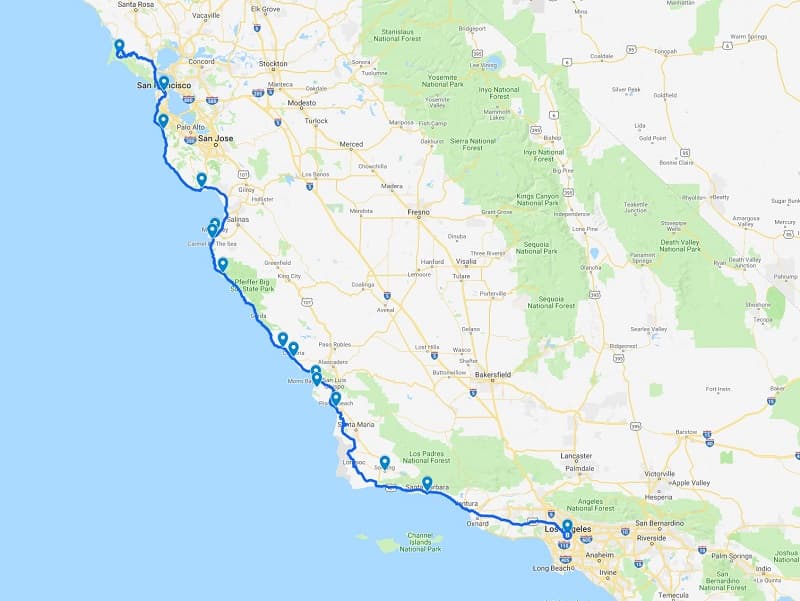 Here they are listed from north to south as they appear along California's Pacific Coast Highway 1:
1. Point Reyes
If you have time to head north of San Francisco to explore another destination on Highway 1, I'd recommend a trip to Point Reyes National Seashore. This large protected area extends 71,028 acres and includes 80 miles (130 kilometers) of shoreline.
This is a favorite nature weekend getaway for many people in the San Francisco Bay area and it is particularly special to us as we got engaged here while standing next to an elephant seal on Drakes Beach.
I would recommend spending a full day (or more) here exploring the trails, beaches, coves, and historical sights. A stop at the Bear Valley Visitor Center near the entrance can help you get oriented to the park, check on hiking trail statuses, and let you know what activities are available during your visit.
If you only have a day, I'd recommend the hike to Alamere Falls (Alamere Falls is a scenic waterfall that falls directly onto a beach), a walk along one of the beaches, and a visit to the Point Reyes Lighthouse (if open).
Point Reyes National Seashore Website: http://www.nps.gov/pore/index.htm
2. San Francisco
The colorful city of San Francisco needs no introduction and the number of things that you might want to do here are almost endless depending on your time and interests.
If you are visiting for the first time, you might consider an early morning start from Union Square (major shopping area) to take an iconic cable car to explore Fisherman's Wharf, then perhaps a cruise to Alcatraz, and then walk or take a bus to explore one of the other neighborhoods (Chinatown, Castro, Haight-Ashbury, etc.) or to visit a museum (SF Museum or Modern Art, de Young Museum, The Disney Family Museum, etc.) that attracts your attention.
You'll also want to take a look at the famous Golden Gate Bridge, and perhaps take a walk or bike across it. You might also consider booking a walking tour of some of the other iconic neighborhoods or a food tour given San Francisco's well-known culinary scene.
I am also a big fan of taking some time to visit Golden Gate Park which in addition to being San Francisco's largest green space, also contains a number of museums, historical monuments, gardens, and sport facilities.
San Francisco Travel Association Website: http://www.sanfrancisco.travel/
San Francisco Bay Area Travel Visitor Information: http://www.visitsfbayarea.com/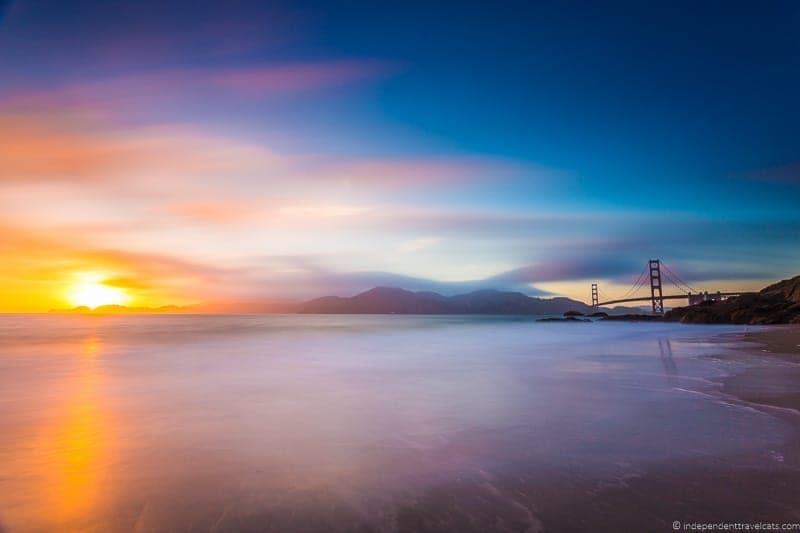 3. Half Moon Bay
My very first day trip in the San Francisco Bay area was to Half Moon Bay, and I would return many times over the five years I lived there. Half Moon Bay is a small coastal town locally well-known for its annual pumpkin festival in October and internationally known for hosting the big waves surf competition called Mavericks.
There are no big attractions here, just a great coastal small town atmosphere. Popular things to do include visiting the beaches, biking, and shopping at the local stores. Many of the shops and restaurants cluster around the downtown on and off of historic Main Street which offers a pleasant area to stroll.
Generally on a day trip visit, I tended to find myself stopping at a fruit stand on the way to pick up some lunch goodies, buying sandwiches in town (there are several good delis such as San Benito Deli), walking around the downtown area, and then spending time picnicking, walking, and playing around on one of the beaches.
One of the beaches I tended to spend the most time on was at Francis Beach which is part of Half Moon Bay State Beach. If you have more time, other things I've enjoyed include riding horses along the beach trails (I've done the Early Bird Special ride with Sea Horse Ranch) and walking around Pillar Point Harbor (the Mavericks competition is held nearby).
I've also enjoyed staying overnight at a local bed-and-breakfast, and seeing the great view overlooking the ocean from the very well-positioned 5-star The Ritz-Carlton Hotel. At the latter there are 25 parking spaces reserved for free public use if not staying or eating at the hotel – just ask at the hotel entry gate.
I would recommend avoiding Half Moon Bay during Mavericks (I've been and its honestly almost better to watch online or via TV) and the weeks around the pumpkin festival as the traffic and crowds can be quite terrible.
Half Moon Bay Chamber of Commerce: http://www.halfmoonbaychamber.org/
Half Moon Bay Tourism Website: http://www.visithalfmoonbay.org/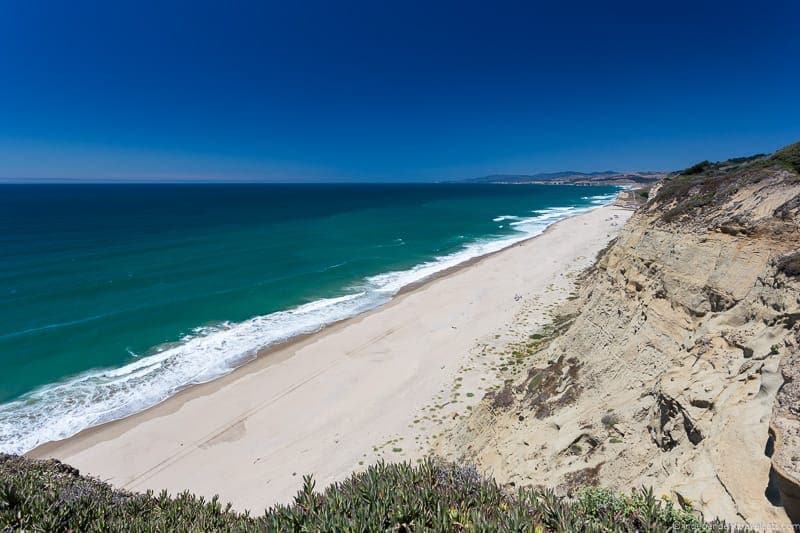 4. Santa Cruz
Santa Cruz is a oceanside city that is best known for its surfing, social activism, beach boardwalk, and being home to University of California, Santa Cruz.
On a day trip, I'd recommend considering a drive (or preferably a walk) along West Cliff Drive for scenic views, a visit to the Santa Cruz Beach Boardwalk (in addition to the beach and boardwalk, there is an amusement park, arcade, and other family-oriented attractions), a walk around the downtown area (especially if the Farmer's Market is happening), and a visit to Natural Bridges State Beach.
If you like to surf, this is widely considered by many to be one of the best surf cities in the country. You can also find the To Honor Surfing Monument and the Santa Cruz Surfing Museum along the aforementioned West Cliff Drive.
If you have more time, other things you might consider are a visit to one of the local beaches away from the often crowded boardwalk area, the infamous Santa Cruz mystery spot, a visit to one of the local breweries or wineries, hiking (nearby Big Basin Redwoods State Park is a local favorite of mine and the oldest state park in California), or a scenic train ride.
Roaring Camp Railroads operates diesel-electric tourist train that go between the Santa Cruz Beach Boardwalk to the Roaring Camp in nearby Felton and also a great 19th century steam train ride that goes through the Henry Cowell Redwoods State Park. I really enjoyed the steam train ride I did here a few years ago and it also gives you a chance to walk around in an ancient redwood forest.
Santa Cruz Tourism Website: http://www.santacruzca.org/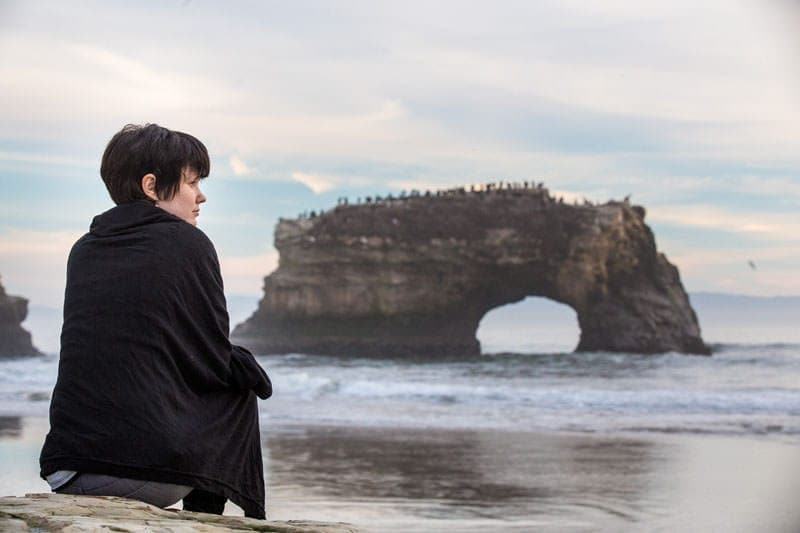 5. Monterey
Monterey is best known to visitors for its cannery history, its diverse marine wildlife, its proximity to the golf courses of Pebble Beach, and for having one of the best aquariums in the country.
For a day trip, I'd recommend walking around the Cannery Row and Fisherman's Wharf area, a visit to the Monterey Bay Aquarium, a sea food lunch or dinner, and perhaps take a drive on the famous 17-Mile Drive for scenic views, famous golf courses, and the Lone Cypress. Marine wildlife, such as sea otters, harbor seals, jellyfish, dozens of sea birds, and even whales, are often seen on the coast and along the waterfront so keep your eyes open!
If you are a John Steinbeck fan, you may want to make a trip to the National Steinbeck Center located in Salinas, CA (17 miles from Monterey). Kids and adults might have fun expending energy at the Lake El Estero city park as it is home to the Dennis the Menace Park created by the comic strip artist.
In nearby Pacific Grove, you'll find some good restaurants (I tend to eat here when staying in Monterey) and you can also visit Point Pinos, the oldest continually operational lighthouse on the West Coast, or the Monarch Butterfly Sanctuary (during late autumn and winter months only).
Monterey Tourism Website: http://www.seemonterey.com/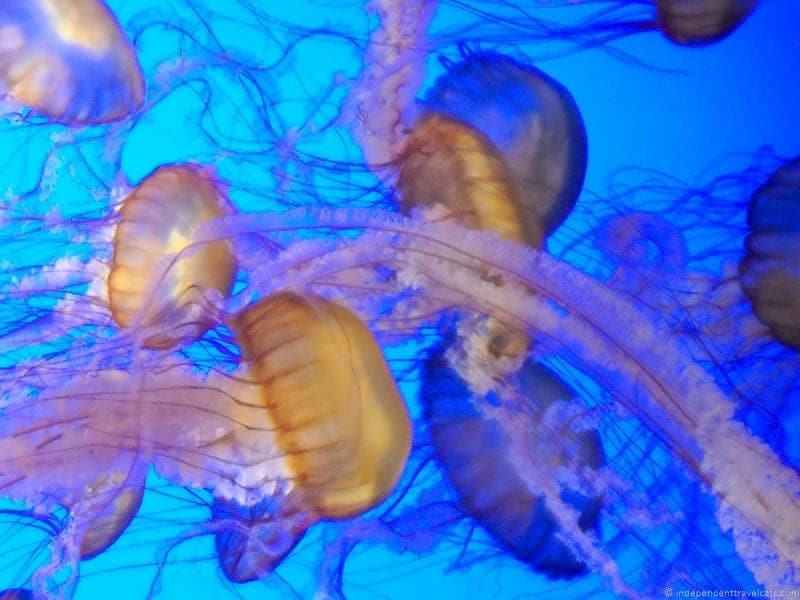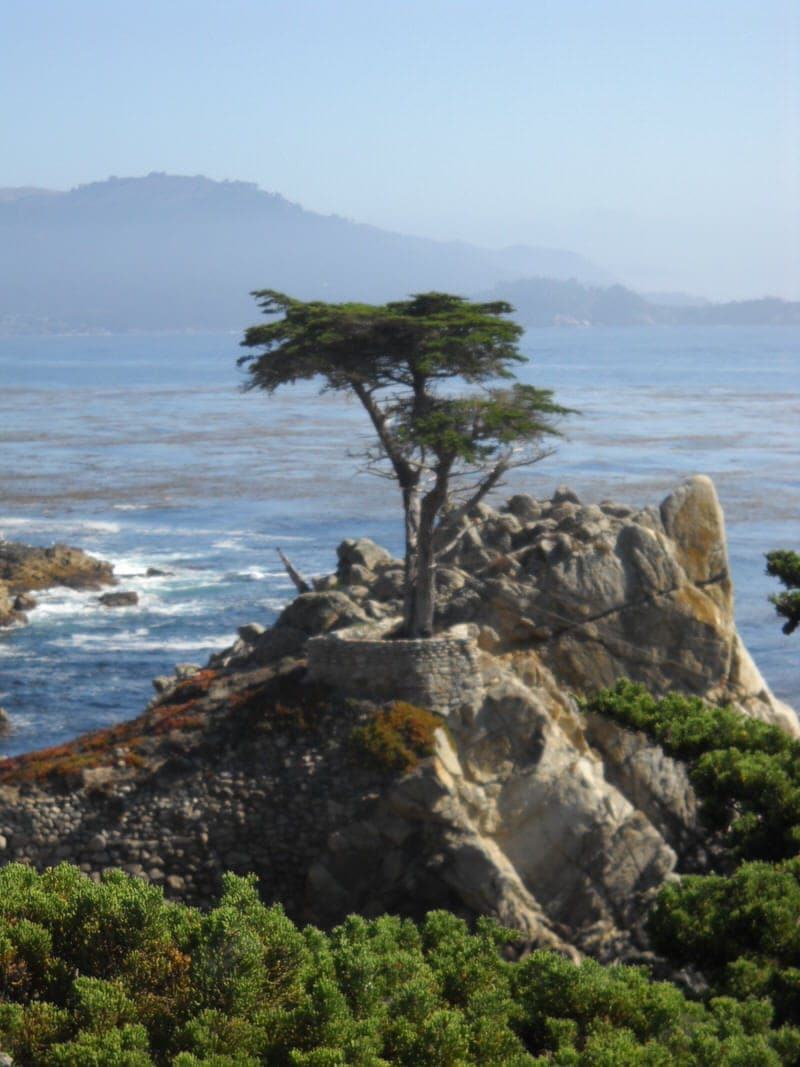 6. Carmel-by-the-Sea
With a name like Carmel-by-the-Sea, you can't help but expect a little seaside town with nice beaches, cozy bed-and-breakfasts, cute shops, and maybe a few candy stores, right? Well, Carmel has all of those things and was one of my favorite weekend oceanside getaways when living in the San Francisco Bay area.
There are no big attractions here and the things that I'd highly recommend are long strolls along the pretty sandy Carmel Beach and strolling along the downtown area that is full of shops, art galleries, spas, and restaurants.
I am not into shopping very much, but I have bought several things in Carmel over the years as it has quite a few unique little shops. Carmel is well-known for being very pet-friendly (you can take your dog to many of hotels, beach areas, and even restaurants here) and for attracting celebrity residents, including having Clint Eastwood as its former mayor.
Clint Eastwood fans can visit a bar Eastwood formerly owned, Hog's Breath Inn, and stay and/or eat at the well-reviewed hotel he currently owns called Mission Ranch. Doris Day fans can stay at her centrally located and very pet-friendly Cypress Inn or you can just stop in for some tea like I have done in the past or for a meal or cocktail.
If you haven't already visited one of the Spanish missions in California yet, you might visit the Carmel Mission, Mission San Carlos Boromeo del Rio Carmelo, established in 1771. For hiking, I highly recommend nearby Point Lobos State Natural Reserve (about 3 miles from Carmel; pets not allowed).
Carmel Tourism Website: http://www.carmelcalifornia.com/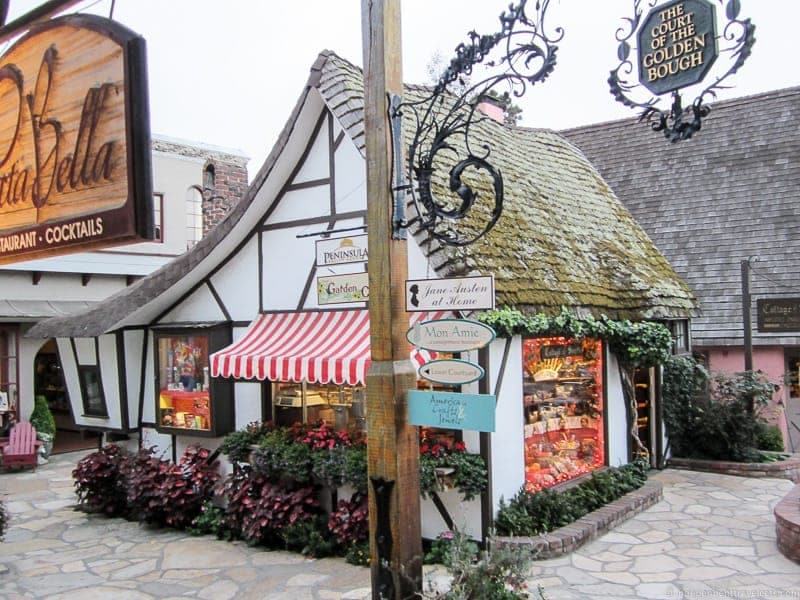 7.Big Sur
Big Sur is not an actual town but refers to the sparsely populated region along about 90 miles (140 km) of rugged coastline from approximately the Carmel River to San Carpoforo Creek. Until the 1950's this area was seldom visited and most residents didn't even have electricity.
It was Highway 1 that would make this area more accessible and later bring tourism to this area. Today, it still offers a lot of relatively unspoilt coastline, beaches, forests, and wilderness area.
The most popular thing to do is to simply drive along Highway 1 and admire the scenery and there are off-the-road viewing points here and there along the way where you can safely park and admire the view and take photos. There are several state parks in the area, and Big Sur also offers hiking, camping, mountain climbing, kayaking, boating, and other outdoor activity opportunities.
Three notable points of interests (all can be seen from the road) are the Bixby Creek Bridge (you'll drive across it on Highway 1), McWay Falls located within Julia Pfeiffer Burns State Park (access to the waterfall by foot is often prohibited), and the Point Sur Lighthouse which is part of Point Sur State Historic Park (guided visits available).
Note that tourist related services are limited including lodging options, so you should plan ahead to reserve a hotel or camping site or plan to drive through the area and stay elsewhere. It is an easy drive to do in a day even with frequent photo stops.
Note that heavy rains, landslides, fires, and other weather-related events do often close parts of Highway 1, especially this section, so do check highway conditions before your visit!
Big Sur Tourism Website: http://www.bigsurcalifornia.org/
8. San Simeon
Tiny San Simeon is home to the most popular tourist attraction along California's Central Coast: Hearst Castle. Hearst Castle is a hilltop mansion built by the late newspaper magnate William Randolph Hearst with the aid of San Francisco architect Julia Morgan. Construction of Hearst's dream mansion begun in 1919 and building would continue for 30 years.
Today, visitors flock to this popular attraction that is well-maintained by the State of California. I have visited twice and really enjoyed the guided tours of the buildings and the self-guided tours of the beautiful gardens; you can read about our visits and tips for visiting Hearst Castle in a prior post.
Not only does little San Simeon have the mighty Hearst Castle, it also has the Piedras Blancas Light Station, the Elephant Seal Rookery (thousands of elephant seals can sometime be seen on the beach!), and the William R. Hearst Memorial Beach with its wooden pier and small educational Coastal Discovery Center. Despite its small size (less than 500 residents), you can easily spend half a day to a full day in this town.
San Simeon Tourism Website: http://sansimeonchamber.org/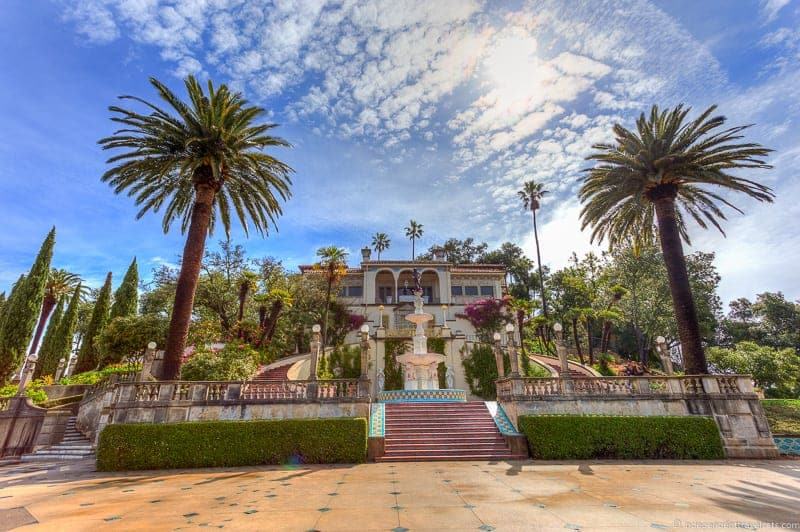 9. Cambria
Cambria lies just about at the midpoint of your Pacific Coast Highway road trip between Los Angeles and San Francisco, and offers visitors shopping, beaches, scenery, outdoor recreational activities, and excellent dining spots.
Both Cambria and San Simeon make for easy Pacific Coast Highway stops. Cambria is located about 10 miles from San Simeon so it is very easy to visit Hearst Castle and all the other San Simeon attractions if you base in Cambria.
If you only visiting on a day trip, I'd recommend walking around the historic downtown, trying a slice of olallieberry pie at Linn's Easy as Pie, visiting pretty Moonstone Beach, and having a meal at one of the many Cambria restaurants.
With more time, I'd recommend a hike at Fiscalini Ranch Preserve, a tour of quirky Nitt Witt Ridge, and perhaps tasting some local wine or beer. We recently spent three full days in Cambria and you can read our full post of recommended things to do in Cambria to help plan your time here.
Cambria Tourism Website: http://visitcambriaca.com/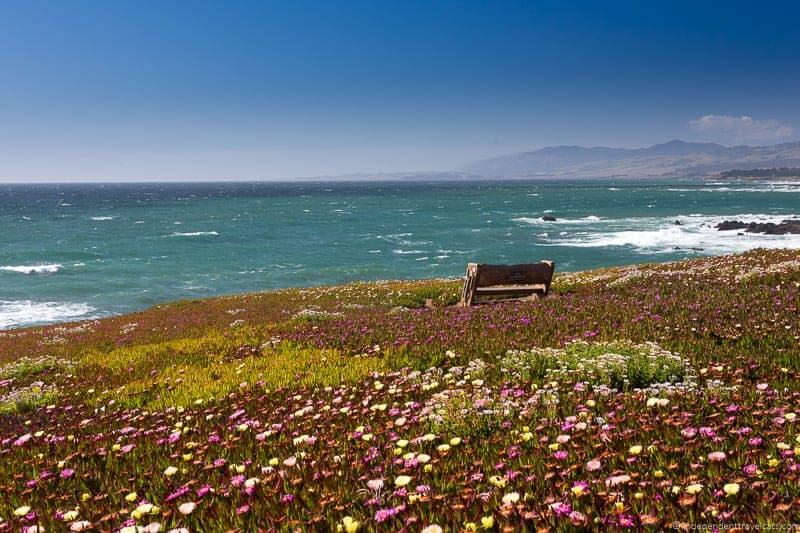 10. Morro Bay
Morro Bay is a charming seaside town with a bustling waterfront, charming old town, numerous antique stores, and an enormous landmark in the form of Morro Rock which sits in the harbor. You'll probably notice the large iconic Morro Rock from miles away as you approach the city, a must-see in the city but note that you can't walk or climb on the rock.
Morro Rock is actually a 481 ft. volcanic plug and is the most popular of the many volcanic hills and plugs in the area; a chain of nine of these plugs in the Los Osos Valley is known as the Nine Sisters.
On a day trip, I'd recommend strolling along the waterfront and harbor, a stroll along the downtown area (most shops cluster around Main Street and Morro Bay Boulevard), a visit to the Morro Bay Museum of Natural History, and a kayaking adventure within the Morro Bay Natural Estuary (see info on Los Osos above as well).
If you like vintage clothing shops, speciality stores, and antiques stores, you'll find over a dozen in Morro Bay and you can read about the time we went vintage shopping in Morro Bay.
One of our favorites stores, although not located in the downtown area, was Highway 41 Antique Emporium, where we were able to drink wine while browsing the large antique store.
There are a number of good cafés and restaurants in Morro Bay and one place we recommend for lunch (or a weekend breakfast) is Shine Cafe, which is a popular local vegan spot featuring fresh and organic ingredients.
Morro Bay Tourism Website: http://www.morrobay.org/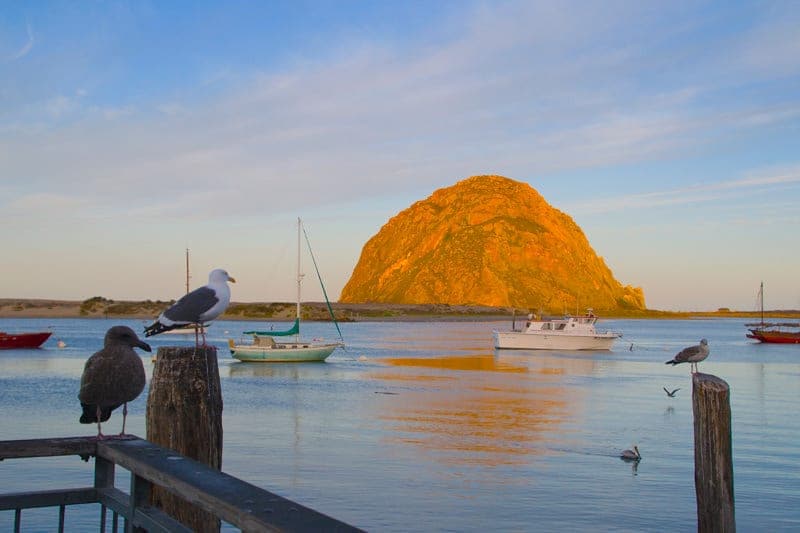 11. Los Osos
Los Osos is another small town, sitting right next to larger Morro Bay, and while often overlooked is a great place for hiking, bird watching, water adventures, and other nature activities.
With a day in Los Osos, I'd recommend hiking a couple of the trails at Montaña de Oro State Park, one of the most beautiful oceanside parks in California (Spooner's Cove is stunning!), and a kayaking adventure along the Morro Bay Natural Estuary.
For food, perhaps a hamburger and beer at the popular local burger joint, Sylvester's Burgers, or a coffee at laid-back Back Bay Cafe followed by a stroll along the bay.
With more time, I'd check out one of the other nature preserves or parks in the area. You can check out our earlier post about a weekend we spent in Los Osos for more tips on what to do in Los Osos.
Los Osos Baywood Park Tourism Website: http://www.visitlosososbaywood.com/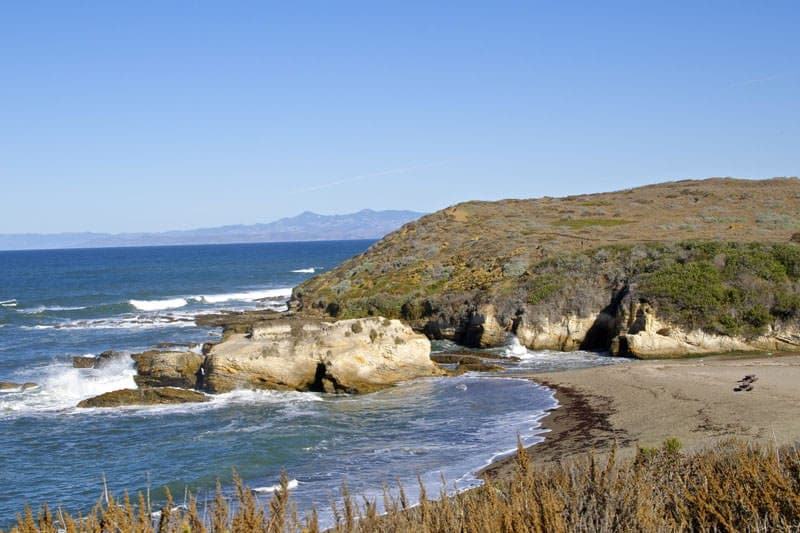 12. Pismo Beach
Pismo Beach is a good place to visit if you are looking for a classic California beach town. There are of course other things to do (wine tasting, shopping, dining), but the best thing to do here is to enjoy the beach and go sand dune riding if that is your thing.
The most popular attraction if you stop here is the long wooden Pismo Beach pier. Swimming, kayaking, surfing, fishing, boating, kite boarding, and other water-related activities are popular.
Another unique thing to do here is sand dune riding at Oceano Dunes State Vehicular Recreation Area. Oceano Dunes is the only California State Park that allows vehicles to be driven on the beach. Four wheel drive or all wheel drive vehicles are recommended for driving on the beach and to the camping and off-highway vehicle use areas in the park.
For food, you may want to try one of the famous Pismo clams or the local clam chowder, although the clams are becoming more and more scarce as they were severely overharvested in the past. Pismo Beach was once known as the "Clam Capital of the World" given the abundance of large Pismo clams that could be found on its beaches, but sadly that time has long since past although you can still find a gigantic concrete clam statue at the southern end of Price Street as you enter Pismo Beach.
If you visit in the late autumn or winter, you might want to make a stop at the Monarch Butterfly Grove where you may see thousands of Monarch butterflies clinging to the trees in Pismo Beach during their annual migration.
Pismo Beach Tourism Website: http://www.classiccalifornia.com/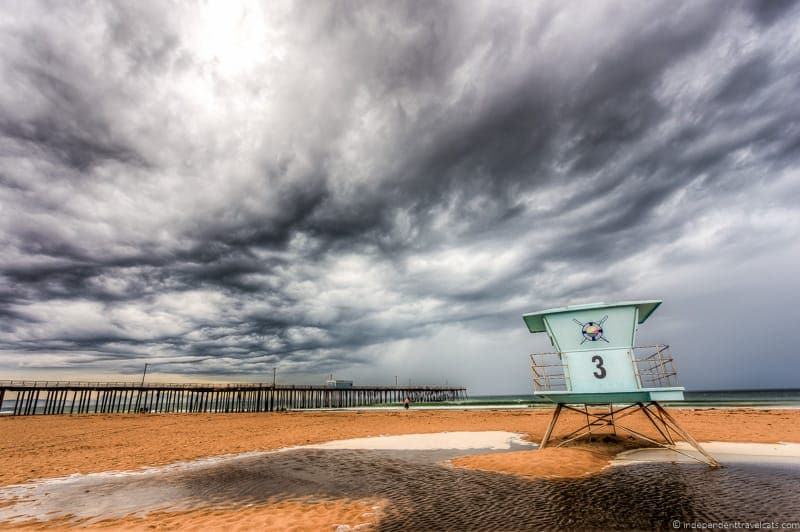 13. Solvang
Solvang is a little slice of Denmark that can oddly be found in sunny California, and unlike the others on this list it is not a seaside town. Found in 1911 by a group of Danish immigrants, Solvang would eventually have Danish speaking schools, a Lutheran church, and be filled with Danish-inspired architecture.
While cultural ties still exist between Solvang and Denmark, including a royal visit in 2011, only about 10% of residents still claim a Danish heritage. However, the half-timbered houses, rooftop storks, windmills, and unique European atmosphere has made Solvang a popular tourist destination.
On a day trip, I'd advise a walk around the downtown area to explore the Danish architecture, shops, eateries, wine tasting rooms, and little parks and to try at least one of the Danish specialties such as the popular asæbleskiver (a sort of Danish pancake). If you don't want to walk, you can take one of the horse-drawn wooden streetcars to explore the town which is a replica of a 19th century Danish Hønen.
Fans of Hans Christian Andersen can enjoy the half-size bronze replica of the famous The Little Mermaid statue in Copenhagen (Denmarket Square), the bust of the fable writer in Solvang Park, and the small Hans Christian Andersen Museum located above The Book Loft store. For those interested in Danish heritage and the history of the area, the best place to learn about the area is through a visit to The Elverhøj Museum.
Children may enjoy expending energy at the very kid-friendly Hans Christian Anderson Park, whereas my favorite nature break is to take a short wooded hike in nearby Nojoqui Falls Park (about 7 miles away from downtown) to visit the wispy 80-ft high waterfall.
Cycling and horseback riding are also popular outdoor activities in the area; the Alisal Guest Ranch is a popular places for the many horse enthusiasts who flock to this area. Around Solvang, you can see and feed ostriches and emus at Ostrichland USA, see the miniature horses at Quicksilver Ranch, and admire the lavender fields and shop for lavender products at Clairmont Farms.
The entire Santa Ynez Valley area is famous for wine and you can visit a number of wine tasting rooms and wineries in the area, especially in nearby little Los Olivos. If you are a fan of the 2004 movie Sideways, you can follow in the footsteps of the characters along the Sideways movie wine tasting trail.
Lastly, if you like quirky roadside attractions and a good bowl of pea soup, you'll want to plan a pitstop at Pea Soup Andersen's in nearby Buellton.
Solvang Tourism Website: http://www.solvangusa.com/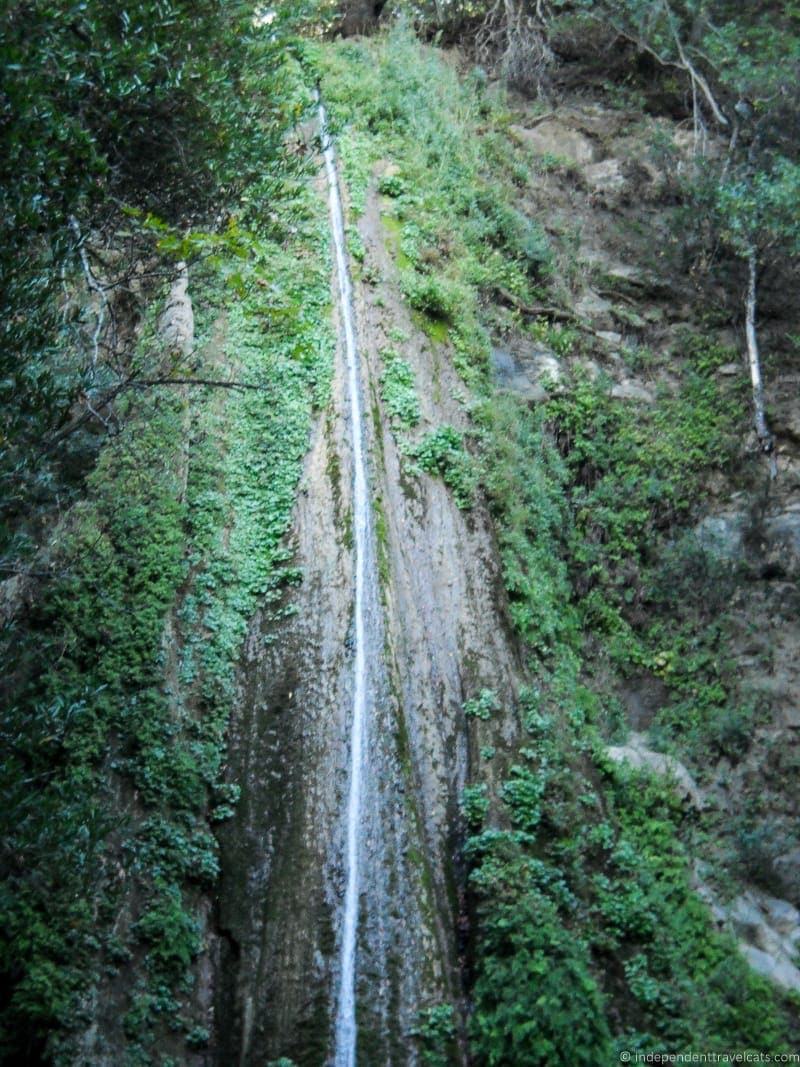 14. Santa Barbara
Santa Barbara is great bet for a warm weather spot and it is sometimes referred to as the American Riviera given its stretch of beaches, hills, and Mediterranean-style stucco Spanish colonial buildings. Unlike many of the other smaller towns mentioned, Santa Barbara also has numerous historical and cultural attractions as well as many well-regarded dining spots and performance venues that makes for a wide range of potential activities during a visit.
For a day trip, I'd recommend checking out the waterfront including the popular Stearns Wharf (go early or late to best avoid crowds), exploring the shops, wine tasting rooms, and restaurants along the lower end of State Street, and paying a visit to a few of the city's best historical sites: Mission Santa Barbara, the Presidio of Santa Barbara, and the Santa Barbara County Courthouse (great view of the city from the tower).
With more time I'd consider some of the following: a visit to one of the museums such as Santa Barbara Museum of Art or Santa Barbara Museum of Natural History, doing the full self-guided Red Tile Walking Tour for those interested in the red-tiled buildings and Spanish colonial sights, relaxing on a beach in the Mesa area of town, and booking a nighttime performance as the city has a number of venues for performing arts, concerts, films, and classical music performances.
In addition to the many wine tasting rooms in the city, there are also many wineries outside the city that can be visited on your own or on a booked tour. For those with more time and an interest in island exploring, a trip to Channel Islands National Park is possible from the cities of Ventura and Oxnard.
Santa Barbara Tourism Website: http://www.santabarbaraca.com/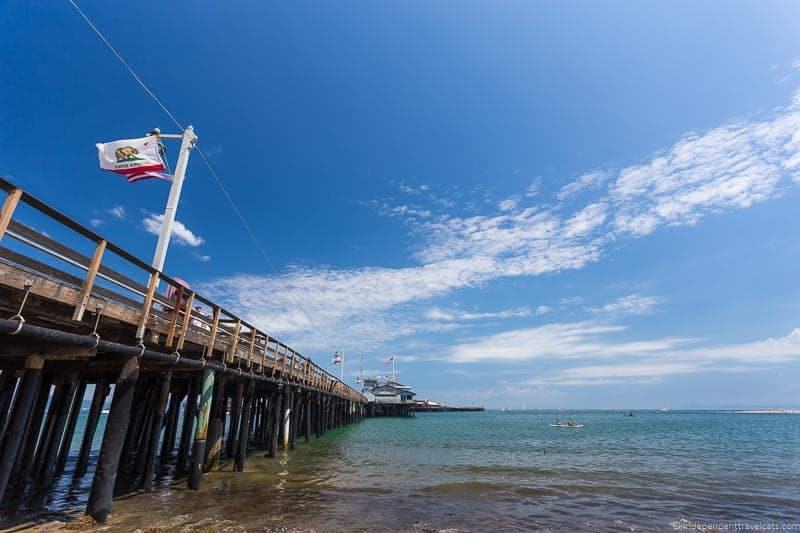 15. Los Angeles
Los Angeles is a large, sprawling city that is best known for being the center of the country's film and television industry. It is home to world-class museums, cultural attractions, beaches, performing arts venues, shopping, dining, lodging, and sports teams. Los Angeles has dozens of museums and cultural attractions from the Getty Museum and California Science Center to the Griffith Observatory and Petersen Automotive Museum.
For those interested in Hollywood and the film industry, one can visit several movie studios such as Universal Studios and Warner Brothers, visit the historic TCL Chinese Theatre, marvel at the Hollywood sign, stroll down Hollywood Boulevard and the Walk of Fame, visit the Hollywood Museum, and so many other celebrity and movie-related attractions. Los Angeles is a major shopping destination for many visitors, whether one has an interest in retro vintage clothing or the high-end luxury boutiques on Rodeo Drive.
Numerous beaches and boardwalks can be found along the coast from the famous Venice Beach to the Santa Monica Boardwalk to the scenic El Matador State Beach in Malibu. Santa Monica is also the ending (or starting) point for Route 66 if you are interested in another iconic American road trip!
If you like sports, you might want to book tickets for a sports game during your stay as Los Angeles is home to the several prominent professional sports teams: the L.A. Dodgers (as well as the L.A. Angeles who play in Anaheim), Kings, Lakers, Galaxy, and Clippers as well as notable college teams such as the UCLA Bruins and the USC Trojans.
There is almost an endless amount of things to do here and you can read a whole guidebook just on things to do in Los Angeles. If you have only a short time in the city, I'd recommend focusing on a main interest (art, food, Hollywood, luxury shopping, beaches, etc.) to develop an itinerary or pick a couple of neighborhoods to explore. I'd recommend walking, taking buses, or using the metro when possible as driving and parking can be a nightmare.
Los Angeles Tourism Website: http://www.discoverlosangeles.com/
There you have it, our Pacific Coast Highway road trip tips and advice, as well as information on our top 15 recommended stops. We had a great time traveling along California's Pacific Coast Highway in our JUCY campervan, and we hope you'll have a blast as well.
For more inspiration, check our our California road trip post, which covers even more of the state, as well as our guide to some of the world's best road trips, which of course includes the PCH!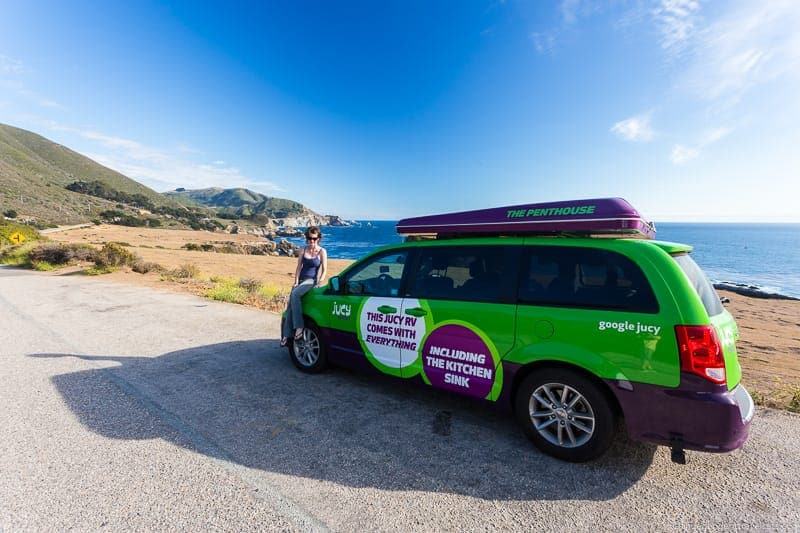 Have you ever driven along the California coast on the Pacific Coast Highway? If so, what were your favorite stops and memories along the Pacific Coast Highway? As always, feel free to ask us questions about our trip, or share you own tips and advice!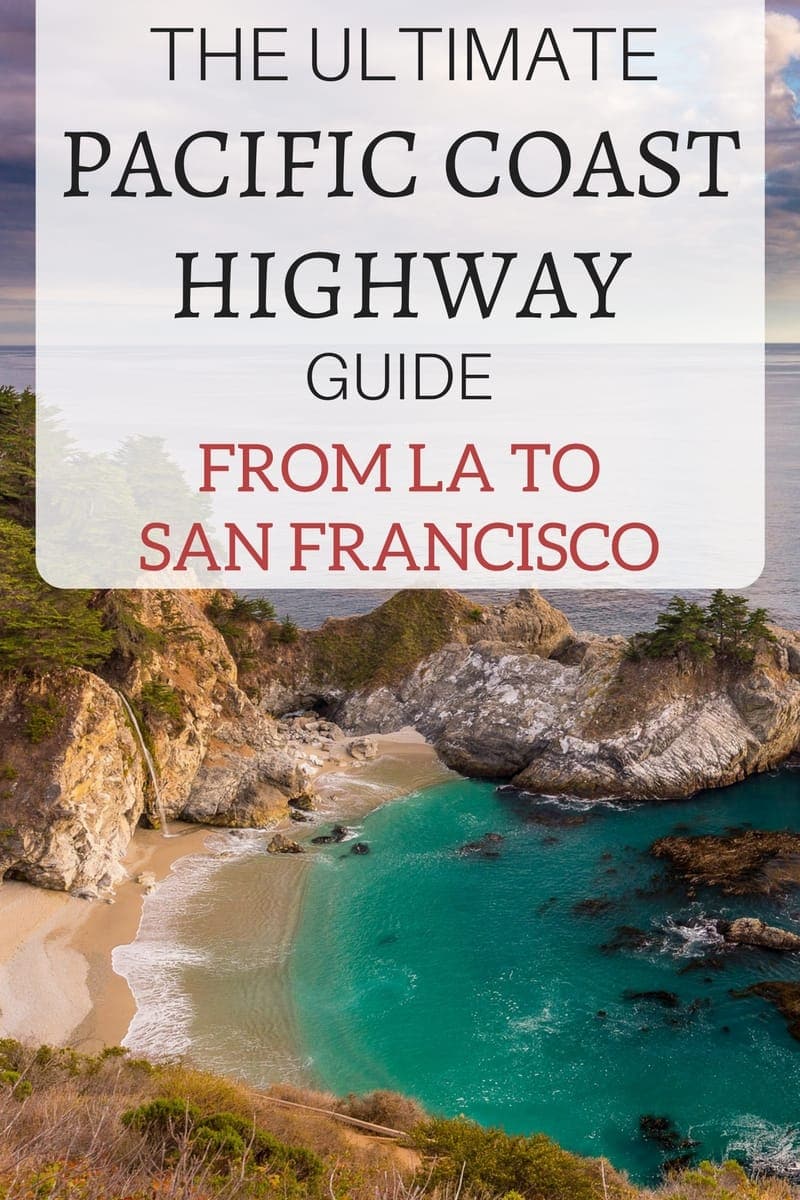 **Disclosure: Some of the above sites were visited during a RV trip in partnership with JUCY; however, all thoughts and opinions are our own. The above tips and advice are based on my five years of experience living in California, driving the Pacific Coast Highway, and exploring these great places!**