Slum tourism is defined as the practice of travelers visiting poor urban areas, typically in the Global South, to view the impoverished conditions and understand more of the lifestyles of local inhabitants. It is also known as poverty tourism, township tourism, community tourism, and other terms.
Tourism is often used to help alleviate poverty, but in this case, poverty is also the attraction. It is a controversial tourism practice but one that has become increasingly popular. Slum tours are particularly popular in South Africa, Brazil, and India. It was estimated by Frezel et al. (2015) that over 1 million tourists take a slum tour each year.
The goal of this article is to provide information that will be useful to both those interested in learning about the practice of slum tourism as well as those travelers who are considering taking a slum tour.
We begin with providing information on the history of slums and slum tourism, the current state of slum tourism, the potential pros and cons of the practice, and the ethical debates around slum tourism. We also provide information for those looking for further resources about the practice. We encourage everyone to do their own research and come up with their own informed opinions on slum tourism.
For those travelers who want to take a slum tour, we propose a set of responsible slum tour guidelines for travelers which were developed based on the research literature, policy papers, and tourism ethic codes. These guidelines are designed for those tourists who plan to take a slum tour and want to do so in the most responsible way possible.
We provide lots of tips and advice for travelers in choosing a responsible tour operator, engaging in behaviors that minimize potential harm and maximize potential benefits to the visited community, and visiting in a safe and responsible manner.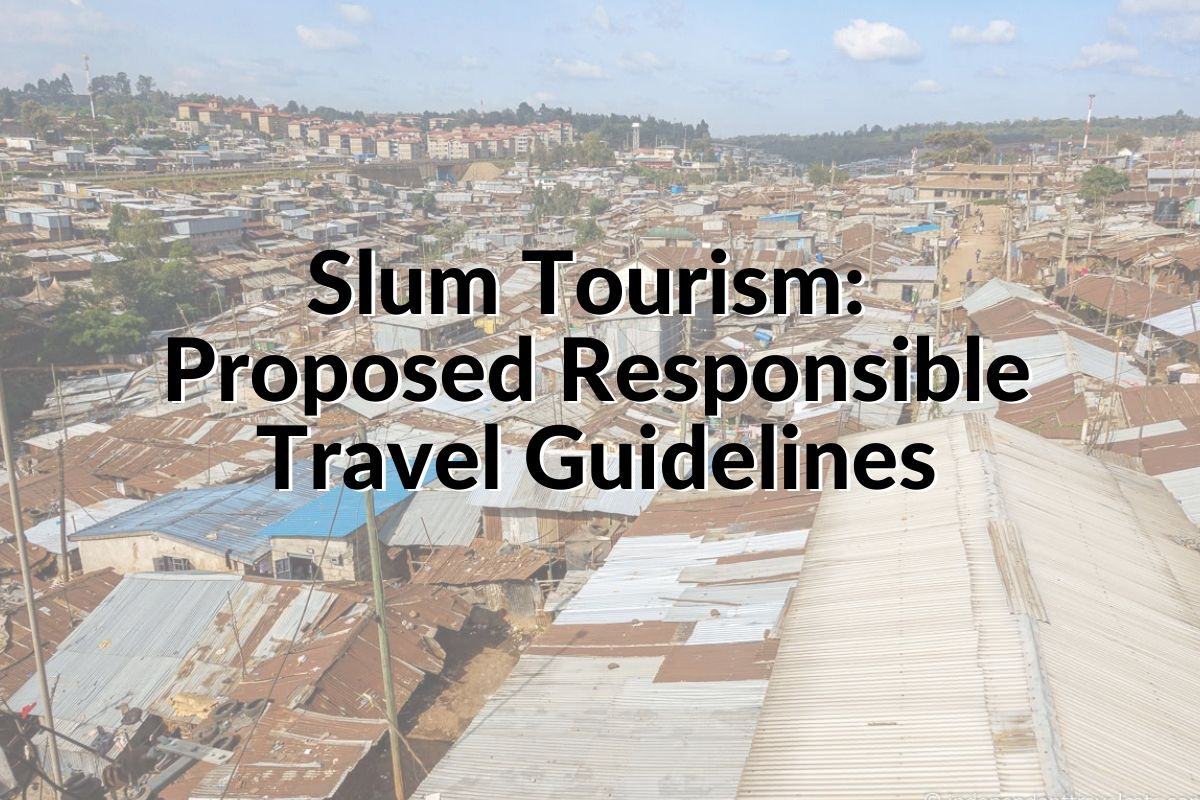 Overview of Slum Tourism
This first section gives a brief overview of the history of slums, the evolution of slum tours, the ethical debate on slum tourism, and the research on the topic of slum tourism. We also provide links to further resources for those wanting to explore these topics further.
What are Slums?
The word slum is often used to refer to urban low-income settlements that are characterized by substandard housing and poor human living conditions. They are usually in crowded urban areas, although they can also sometimes be found in suburban areas. There are a lot of different definitions of the term slum, but one of the most recognized by policymakers is the one used by the United Nations.
The United Nations Human Settlements Programme (UN-Habitat) came up with a formal and operational definition for slums to aid in their reporting. They define a slum household as a group of individuals living under the same roof lacking one or more of the following: access to an improved water source, access to improved sanitation facilities, sufficient living area, housing durability, and security of tenure.
The term informal settlement is often used interchangeably, but specifically is defined by the UN-Habitat to mean that the inhabitants have no security of tenure (e.g., don't have rights to the land, can be easily evicted), may lack basic services and infrastructure, and the housing may not comply with local regulations.
It should be noted that many people, such as the Australian writer Alan Mayne, consider the word slum to be a pejorative and offensive term and argue against its use. He similarly argues against the use of similar foreign terms like favela, ghetto, and bustee which often have the same negative connotations. He doesn't suggest an alternative term though and notes that "there is no one term that can describe the diversity of disadvantaged low-income settlement types."
It should also be noted that many residents living in these areas refer to them as a "slum" (or a similar word in their own local language) themselves, and the UN notes that in many developing countries, "the word lacks the pejorative and divisive original connotation, and simply refers to lower quality or informal housing." However, in general, the word slum has a negative connotation and is not considered a politically correct term in everyday conversation.
Slum is the main term used by organizations, policymakers, and researchers and it is therefore the one used in this article. This is done for the sake of consistency and for the lack of a better term. But one should be aware that it can often be perceived as an offensive term, and travelers should be aware of the language used in the area in which they are visiting.
Although crowded impoverished areas have existed for hundreds of years, modern urban slums are generally said to date from the beginning of the nineteenth century. The first use of the term "slum" comes from Victorian England in reference to the crowded living conditions of the poor who lived in the alleys of London's East End.
The first slums began to appear in the early nineteenth century due to rapid industrialization and urbanization, as well as increasing populations, poor urban planning, and discrimination. The first slums occurred in big cities in Europe and North America like London, New York City, Dublin, Boston, and Paris. However, while slum areas can still be found in the Global North, the largest slums of today primarily exist in the developing countries of the Global South.
According to a 2021 report by the United Nations Department of Economic and Social Affairs, about 24% of the world's urban population resided in slums in 2018. It is estimated that over 1 billion people are currently living in slums or informal settlements. Unfortunately, the number of people residing in slums has been increasing over time in many parts of the world.
The UN notes a number of reasons for the creation and continuation of slums which include rapid rural-to-urban migration, poor policy and city planning, increasing urban poverty and inequality, insecure tenure, and the global economic cycle.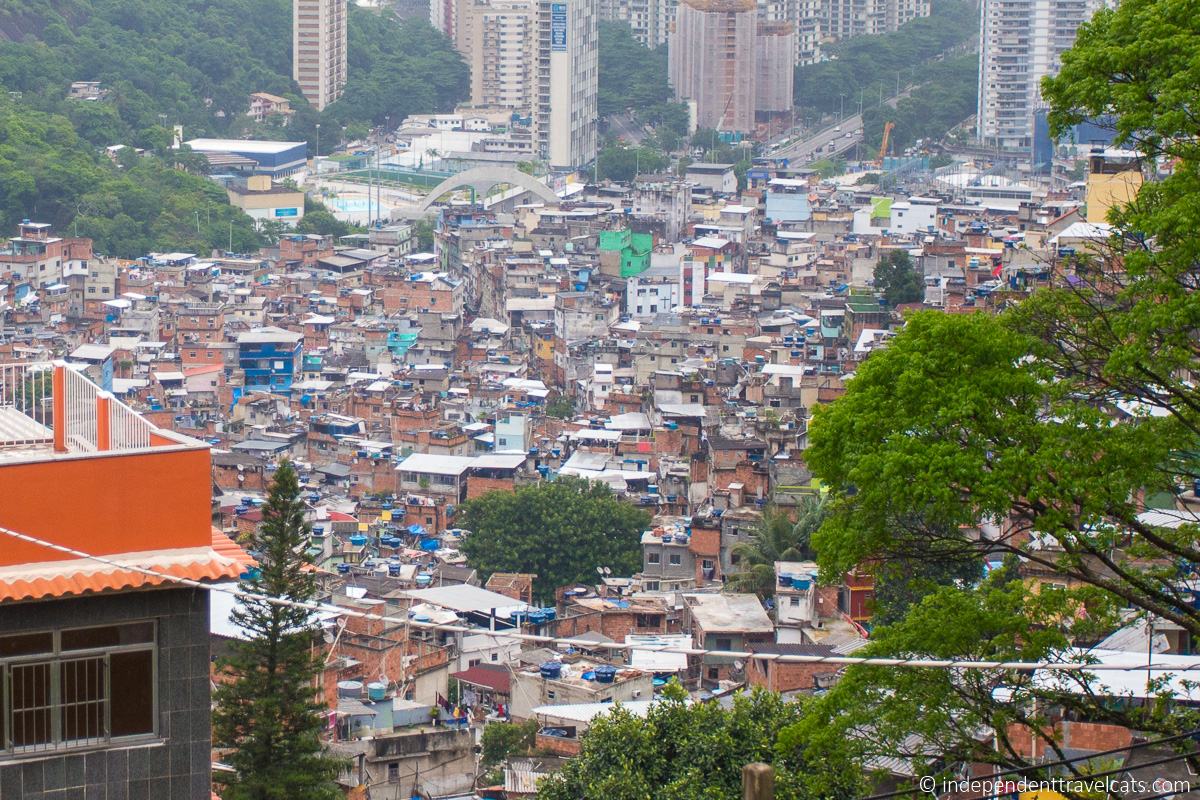 What are Slum Tours?
Slum tours are guided visits to a slum area. Slum tours are generally walking tours led by a local guide, and most take place in cities in the Global South.
Slum tours are called different things in different parts of the world. They may also be called favela tours, township tours, ghetto tours, poverty tours, community tours, cultural tours, etc.
Although many people think that slum tours are a very recent phenomenon, the practice actually dates back to the nineteenth century. According to Frenzel et al., upper-class British people in the mid-1800s started to take an interest in visiting the slums of London and that this was the beginning of informal slum tourism.
Londoners then began to visit slums when traveling in the cities of the United States and Europe, causing more interest in this behavior. It is believed that the first commercial guided tours of slums began in the early 20th century in the cities of New York City, Chicago, and San Francisco.
Later slums began to develop in the Global South as industrialization and urbanization took place in those countries. However, there was relatively little slum tourism in the Global South for many decades, likely due to safety concerns from travelers and the lack of formal tours.
According to Frenzel (1992), the first commercial slum tours in the Global South are believed to date from the early 1990s, taking place in South Africa and Brazil. The first tours in both of these countries surprisingly have political and social justice roots.
Township tours in South Africa were first organized and promoted by the local governments during apartheid (which lasted from approximately 1948 to the early 1990s). These official propaganda township tours (along with cultural villages, museums, etc.) were designed to show government officials and visitors that apartheid policies were working. However, informal township tours also sprung up that were designed to show the social injustices of apartheid.
After apartheid legislation was repealed in 1991 and the first multiracial election took place in 1994, tourism increased in South Africa. The informal township tours that had sprung up during apartheid started to become less political over time and began to focus more on heritage, cultural diversity, and local life.
Today, township tours are popular in several cities in South Africa, including Cape Town, Johannesburg, and Durban. These tours are not only popular with foreign tourists but also attract a significant number of South Africans.
The year of the first commercial favela tours in Rio de Janeiro is unclear but the interest in slum tourism in Brazil was really sparked in 1992. During the Rio Summit in 1992 (United Nations Conference on Environment and Development), some of the conference delegates wanted to visit the favela areas instead of just seeing the popular tourist attractions. So, a tour operator arranged a tour for them to visit Rocinha. Some of the journalists and policymakers wrote about these visits; this made people aware of favelas and caused others to want to visit.
The early visitors to the favelas in Rio were mainly "political tourists" and journalists, but soon regular leisure tourists were also coming. Today, Rocinha is one of the most visited slums in the world and favela tours are one of the popular tourist things to do in Rio de Janeiro.
Where do Slum Tours Take Place?
Slum tours take place in dozens of countries, primarily in the Global South. Three countries that attract the most slum tourism are Brazil, South Africa, and India.
A group of researchers on slum tourism estimated in a 2015 paper that approximately 1 million tourists were taking part in slum tours each year. They noted that about 80% of those tourists are doing so in just two countries: Brazil and South Africa. In Brazil, tourists are mainly visiting the favelas of Rio de Janeiro. In South Africa, tourists are taking township tours in several cities.
As noted in the prior section, the first commercial slum tours in the Global South are believed to have started in the early 1990s in South Africa and Rio de Janeiro, Brazil. These early tours sprung from political and social justice roots. Today these remain two of the most popular slum tourism destinations.
The influence of media and promotion by the local tourism industry have also had a huge effect on where slum tourism is popular. The films Slumdog Millionaire, District 9, and City of God depicted the slums of Dharavi, District Six, and Cidade de Deus, respectively. These films are often credited with making slum tourism popular in Mumbai, Johannesburg, and Rio de Janeiro.
There are often multiple tour operators offering tours in the most popular slum tourism cities. For example, you'll find a number of tours options to visit the slums of Soweto in Johannesburg (South Africa), Rocinha in Rio de Janeiro (Brazil), Manshiyat Nasser ("Garbage City") in Cairo (Egypt), Kibera in Nairobi (Kenya), Dharavi in Mumbai (India), and Langa in Cape Town (South Africa).
However, it should be pointed out that most slum areas around the world receive relatively little tourist interest. For example, although Orangi in Karachi, Pakistan is twice the size of Dharavi and is believed to be Asia's largest slum area (perhaps the world's largest), it is not a popular tourist destination. Similarly, although there are hundreds of favelas in Brazil, there are only a handful of them that attract tourist visits.
What are Slum Tours Like?
Every slum tour is different, but in general, they are often walking tours led by a tour leader through a particular neighborhood or slum area.
Slum tours are organized and run by a variety of different types of operators, including private tour companies, charities, and non-governmental organizations. The size of the operators ranges from solo tour guides running their own business to fairly large tour operators that employ a number of guides.
Most slum tours take place mainly outdoors and view the explored neighborhood on foot from the streets. Most include at least a couple of planned stops at local businesses, cultural sites, homes, schools, humanitarian projects, markets, or other points of interest.
Slum areas are all very different. Even slums in the same city can be very different in terms of infrastructure, history, cultural diversity, and level of affluence.
Slums like Soweto and Rocinha, which are two of the most visited slum areas in the world, have more developed tourist services than many other slums around the world. For instance, they offer museums, restaurants, bars, clubs, cultural centers, gift shops, and overnight lodging options for guests. Some evening tours include going to clubs for music, drinks, and entertainment. Soweto even has a 4-star hotel and conference center!
However, most slum areas offer few, if any, tourist services. It is important to remember that many people living in these areas lack access to basic necessities and resources like safe drinking water, electricity, and good sanitation services.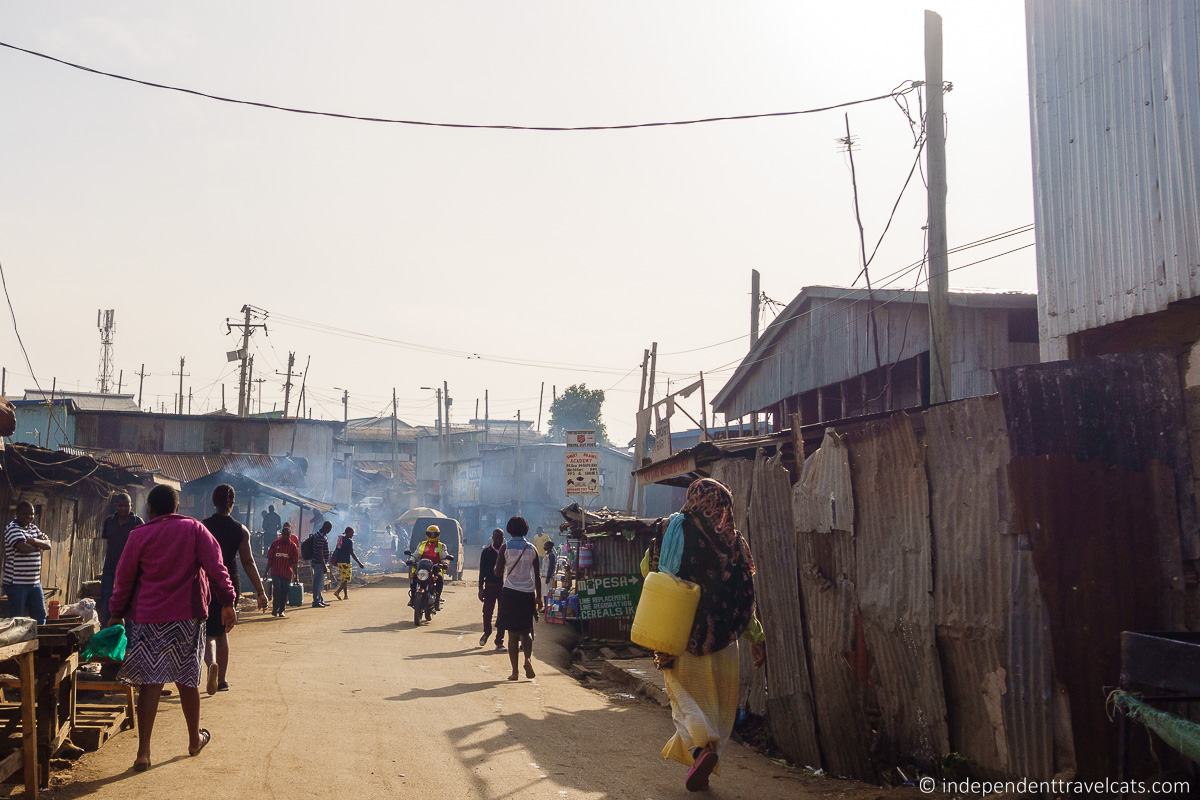 Is Slum Tourism Ethical?
Despite a lot of writings on the subject, there does not appear to be any agreed-upon consensus as to whether slum tourism is ethical or not. Determining whether an activity is morally right or wrong is often more of a philosophical debate than a scientific one.
It is difficult to argue that a walking tour through any neighborhood is inherently unethical. So the ethical arguments are often around tourists' motivations for taking slum tours, tourists' behaviors while on tours, the impact of the "tourist gaze", the feelings of local residents about slum tourism, and the costs and benefits of such tourism on the local community.
It is a complex issue and has been discussed by many researchers, journalists, and others. Just note that many of these opinions, especially those of journalists and bloggers, are coming from people living in developed Western countries, not those actually living in slum communities themselves. We encourage you to read the debates and discussions pertaining to the ethics of slum tourism to make up your own beliefs. You can find some articles online here to get started.
In order to examine whether slum tours are responsible or not, many people look at the potential positive and negative impacts of slum tourism in a particular local community.
Those who support slum tourism often note potential benefits such as reducing stigmatization, increasing awareness, employing local residents, generating revenue for community projects, increasing profits of local businesses, and improving local services, infrastructure, and security.
Those opposed to slum tourism typically note the negative impacts that include the voyeuristic and intrusive nature of the practice, the potential exploitation of local people (particularly children), the problematic practice of using poverty as an attraction, and the limited economic benefits to locals,
A small number of studies have looked at residents' thoughts and feelings, indicating that most slum residents believe that there are both negative and positive potential impacts of slum tourism. But the attitudes, concerns, and perceptions of residents seem to vary across slum areas.
For example, a study of residents in a Cairo slum area, noted a number of both positive (e.g., donations, employment, improved infrastructure) and negative aspects (e.g., rights and assets being used for tourism, voyeuristic nature of some tours, concerns about human trafficking) related to slum tourism. Although most residents generally had positive attitudes towards slum tourism, they reported there are a lot of barriers to benefiting from slum tourism. The most common barrier they reported to benefiting from slum tourism was actually the high-density population of the slum itself.
The biggest concern many residents have is that slum tourism does not directly benefit them and only benefits a limited number of people in the slum. This is a particular concern for slum areas like Kibera in Nairobi (Kieti & Magio, 2013) where there are few tourism-focused businesses due to limited capacity and investment. So locals can't benefit from ventures such as selling crafts, meals, and souvenirs to visitors or offering overnight accommodation as residents of other slum areas do. Many residents in Kibera had more negative overall attitudes toward slum tourism and believe that most of the profits go to outsiders.
To learn more about ethics in tourism, you can check out this code of ethics developed by The World Tourism Agency called the Global Code of Ethics for Tourism. They also provide this set of tips for being a responsible tourist to help people make more responsible choices when traveling.
Further Resources on Slum Tourism
We highly encourage you to do your own research on slums, informal settlements, and slum tourism.
One of the best sources for information and research about slums is the United Nations Habitat (UN-Habitat) website. One of the major goals of UN-Habitat is to improve the conditions of slum dwellers around the world. They regularly release data, reports, and information related to slums and their projects.
Cities Alliance is a global partnership fighting urban poverty and promoting the role of cities. One of the main goals is to improve living conditions in existing slums and prevent new slums from forming.
Another organization that provides information on slums and their work on slum rehabilitation is Habitat for Humanity. Other international organizations that do research and work on improving slum conditions are Oxfam and Save the Children.
To get a good overview of slum tourism history and research, we recommend the book and literature review by Fabian Frenzel. Frenzel's work focuses on the intersection of tourism and urban poverty, and he has written several articles and edited a few books on the topic of slum tourism.
Frenzel, F., Koens, K., & Steinbrink, M. (Eds.) (2012)

Slum tourism

:

Poverty, power and ethics.

New York: Routeldge.

Frenzel, F., Koens, K., Steinbrink, M., & Rogerson, C. (2015). Slum tourism: State of the art. Tourism Review International,18, 237-252. doi: 10.3727/154427215X14230549904017
Just note that there are a lot of limitations to the studies on slum tourism. As someone who has published psychological and health services research and has read dozens of these research studies, I find that there is a lack of strong empirical studies in the area of slum tourism. Much of the research relies on small samples, non-random sampling, self-reporting, qualitative data, anecdotes, and retrospective data.
Most of the research on slum tourism is published in tourism journals.
Google Scholar is a good place to go and search if you don't have access to a paid research database like Scopus, PsycINFO, or PubMed. Many of the articles listed in Google Scholar are available online for free.
There are studies that examine different issues in specific slums, so if you are interested in a specific slum (e.g., Rocinha, Kibera, Soweto, Dharavi) or geographical region, you can search for that in the research literature.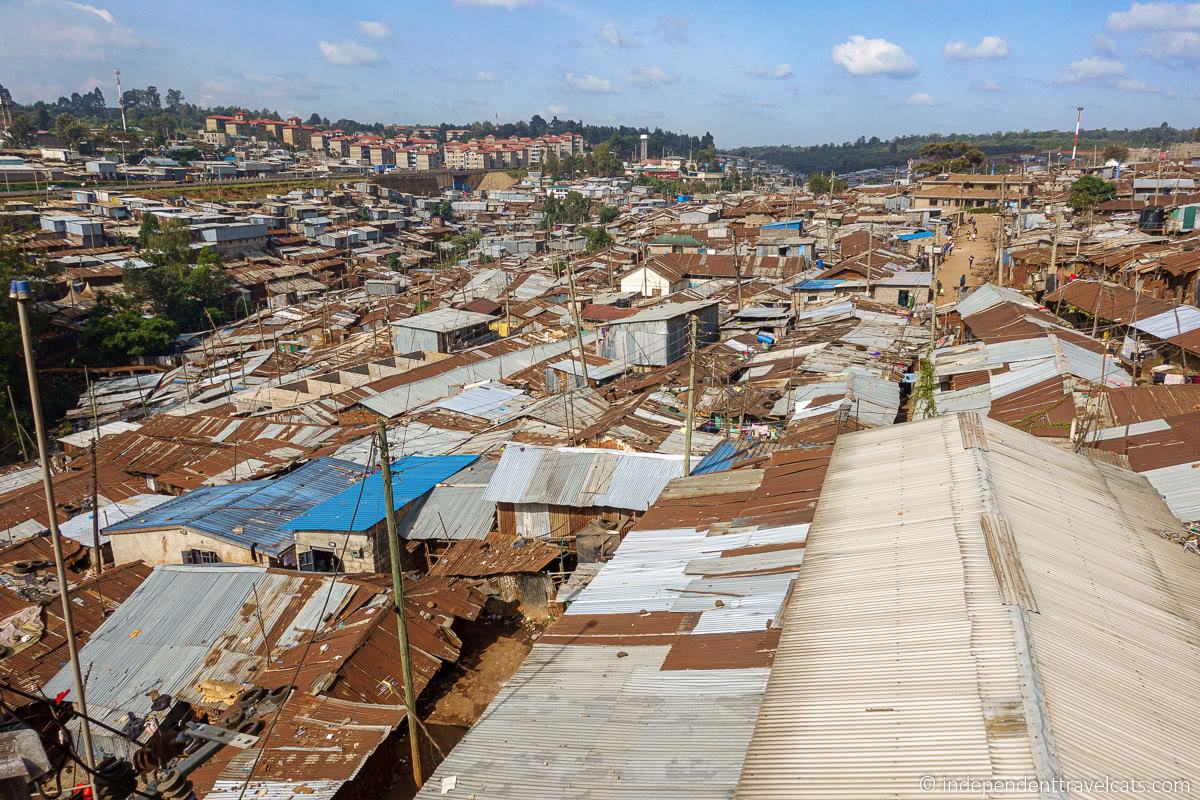 17 Responsible Traveler Slum Tour Guidelines
If you are planning to take a slum tour, we have come up with a proposed set of guidelines and tips for travelers who want to do so in the most responsible way possible.
Ultimately, we believe the main responsibility in regulating slum tourism and conducting responsible tours lies with the local governments and tour operators. They should strive to ensure that tours are responsible and are designed in a way to maximize the positive impact on local communities while minimizing any negative effects.
However, realistically, we also know that most tour operators respond to the demands and behaviors of the traveler and that government regulations are often lax. The communities themselves often have minimal power. So travelers often have to vote with their wallets in determining what tourist products are available and how they are structured.
Our tips are based on research in the area of slum tourism, the Global Code of Ethics for Tourism, and our personal experience. A strong influence was the proposed guidelines for township tour operators in Cape Town, South Africa that were developed in 2013 by tourism researcher Jeanett Søderstrøm. While those guidelines were specifically proposed for the slum tour operators, we have written a set of proposed guidelines for responsible travelers.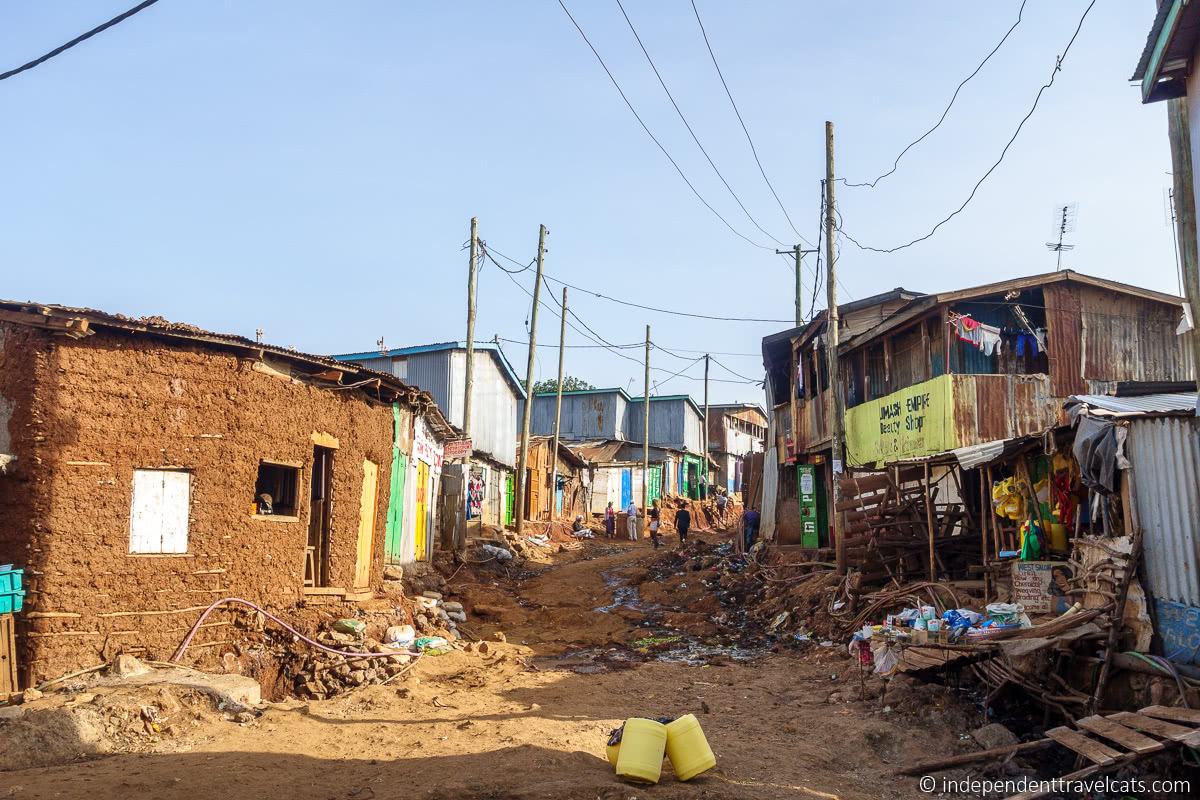 1. Choose a Responsible Tour Operator
The first step is to choose a responsible tour operator. However, this is much easier said than done as it can be hard to identify whether a tour is operated in a responsible, ethical, and sustainable way.
There is no third-party international regulation of slum tours, although there may be local regulations of such tours. So, the best you can do is to read the company's policies, tour descriptions, and past reviews by travelers who have taken the tour.
There are lots of things to look out for (many are covered in more detail in this post) but here are some things that may indicate a more responsible company:
The company is locally based and employs local resident guides
The company focuses on small group walking tours
The company pays fair wages to guides and compensates any visited households
The company uses tours to benefit the local community (e.g., profits support a local community project)
The company provides guidance on tourist behaviors concerning photography, dress, safety, tipping, and home visits
The company promotes its tours with a focus on learning and the local community rather than on the more voyeuristic aspects of visiting slums
The company allows tourists the opportunity to support local businesses and projects if they wish
The company doesn't promote tour activities that are likely to exploit or cause harm to children, animals, or vulnerable people
The company consults with local residents to get feedback and inform their tours
The company has a responsible travel or sustainable tourism policy
The company provides evidence of its responsible or sustainable claims
Now, the chances of realistically being able to know and confirm all the above is pretty low with most companies that lead slum tours. Many are very small companies and some may just be a single person leading tours, and there may not be a ton of information available.
You can of course contact them in advance if you have questions. But for many claims, you often have to take their word for it and trust that the information provided is truthful. However, the above can be a good set of criteria for comparing tours.
Probably the best way to learn more about a specific tour is to read reviews from recent guests who did that tour. We find the best source is often the third-party websites that sell tours such as Viator and GetYourGuide as these websites generally only allow people who have booked the tour to post, and the published reviews are not controlled by the tour operator.
Other potential sources for reviews are Trustpilot, public travel forums, and other public review platforms like Google and TripAdvisor. Just note that many of these websites are often unregulated in terms of who can post. A tour company's own website reviews can be useful but they are typically only going to share posts that are positive.
2. Visit with a Local Guide
It is best to choose a local guide and preferably someone who grew up and lives in the community. A resident of the community is going to be more likely to know more about the area, be able to share personal stories, and be more likely to be invested in ensuring that the tour visits the area in a responsible way.
One of the things that many residents of slums complain most about is that many tours are not led by local residents. The employment of local guides is one of the most direct ways for slum tourism to benefit a local community.
3. Visit on Foot
There is nothing that seems to make residents feel more like zoo animals than a bus or car full of tourists watching, pointing, and snapping photos of them. This creates a barrier between the visitor and the residents.
I think today most slum tours are done on foot, but there are tours, particularly in South Africa, that are done as a driving tour on a bus or in a private car. You should avoid these drive-by tours.
Walking tours also tend to be longer and spend more time actually seeing the area than bus or Jeep tours.
4. Don't be in a Rush
If you are visiting a slum area to learn more about it, then you want to make sure you have the time to do so. It is going to depend on the particular slum area, but most are very large areas and it is hard to see much on a short tour.
The more time you have, the more opportunities you will have to see more, interact more with the local people, support local businesses, and learn more from your visit. We'd recommend setting aside at least half a day (about 4 hours) if you want to do a slum tour.
Most slum tours are 3 to 4 hours in length and some are even full-day experiences of 8 hours or more. Be cautious of shorter tours that are only 1 or 2 hours in length as they may rush you through the area and may be less likely to visit the area in a responsible way.
5. Visit as Part of a Small Group
Similar to the above tip about not visiting as part of a bus or driving tour, we also recommend going as part of a smaller group. Many walking tours are done as private tours or with small groups of 10 people or less.
Joining others as part of a small group tour is fine, but going as a giant group of 20 people is going to be very overwhelming when walking through narrow streets or visiting a shop or a home. Touring as part of a larger group is also going to make it harder to hear and talk to the guide, create more safety concerns, and make it more overwhelming for local people trying to go about their business.
If you want more control over your tour, a private tour may be the way to go. This will allow you to go more at your own pace, adjust the tour itinerary, and give you a chance to ask more questions.
6. Do a Little Bit of Research
One of the reasons to take a tour is to learn more about a local community, but it is also a good idea to come into the tour knowing at least a little about the area you are visiting and its history. This will help you better understand what you are seeing and ask more informed questions.
For instance, if you are visiting South Africa and plan to go on a township tour, knowing at least a little bit about the colonial history of South Africa, apartheid, and the activism of Nelson Mandela is going to be very helpful.
It is also a good idea to know what to expect on the tour by reading the tour description and recent reviews. This can help you be better prepared for the tour.
7. Dress Respectfully and Appropriately
Every area is going to be a bit different, of course, but you want to keep the local culture and customs in mind when it comes to how to dress and behave. Many slum areas are in places where most people dress modestly for cultural and/or religious reasons. So you want to be respectful of those customs.
If unsure of what would be appropriate as a visitor, it is best to err on the side of more modest and conservative clothing. Just make sure it is something that is also comfortable to wear for a lot of walking. You also want to keep sun protection in mind as you'll likely be outside for much of the tour.
You also want to wear practical clothes and shoes that you don't mind if they get a little dirty. For instance, when we did a walking tour of Kibera in Nairobi, we walked through a number of dirt streets and alleys and across areas that were muddy and had rubbish and open sewage.
8. Keep Safety in Mind
Many government agencies advise tourists against visiting a number of slum areas and informal settlements around the world due to safety concerns. So, it is important if you plan to visit to have a local guide, visit during daylight hours, pay attention to relevant security alerts, and take safety precautions.
Remember your guide can give you advice and try to keep an eye on you, but he or she is not your bodyguard. A guide may make it less likely you'll be targeted, but it is not going to guarantee you won't be pickpocketed or robbed.
Guides can provide invaluable advice but it is up to you to take it. For instance, we were talking to a guide who said he had a lady in his group who he advised twice to carry her backpack on her front rather than her back when going through a crowded market. She didn't and by the end of the tour, she realized her pocketbook containing her money and credit cards had been stolen from her backpack.
You want to take normal safety precautions to try to prevent pickpocketing and theft. This includes leaving valuables at your hotel (or at home), not carrying a lot of money, being aware of your surroundings, not wearing flashing clothes or accessories, and storing things like your passport and a spare credit card in a hidden place like a money belt.
If you are carrying a purse or bag, we recommend a cross-body one, a sling, or fanny pack that is harder for someone to grab and one you aren't likely to accidentally set down and leave behind. If you choose a backpack, we recommend one with lockable zippers like those by PacSafe and to consider carrying it on your front in crowded areas.
You also want to keep your surroundings in mind as many informal settlements have open sewers, rubbish tips, and animals wandering around. So staying aware as you walk around is important as you don't want to accidentally step on a sharp object or fall into an open sewer. Wearing practical shoes and watching where you step is a good idea.
And of course, if you decide to eat while on your tour, you want to keep food and water safety in mind. Unless provided as part of the tour, you'll want to bring along enough water for the duration of the tour. Most slum communities around the world lack access to clean drinking water.
Most slum communities are located in countries that do not have good access to clean drinking water. We have an article about finding or getting safe drinking water when traveling that may be helpful if you are traveling for the first time to a country where you can't safely drink the tap water.
9. Bring Local Currency
You'll want to bring local currency with you as it is likely that guides and small businesses are not going to be able to take credit cards for payment.
It is also best to leave any tips or donations in the local currency as otherwise, it costs the person money to exchange an international currency. Most slum residents lack access to banks and financial institutions, making it difficult for them to exchange foreign currency.
Of course, you do not want to carry a lot of money on you for safety reasons. So I would recommend just bringing enough to pay for the tour (if not paid for in advance), leave tips, buy souvenirs, etc.
10. Treat Everyone you Meet with Dignity and Respect
This is a fairly obvious one, but you want to treat everyone you meet with dignity and respect. People want to be treated the same way you would want others to treat you.
Impoverished people are often stigmatized, ignored, and disregarded. Not just by foreign travelers, but by more privileged people in their own communities. While visitors' attention can help combat stigma and stereotypes, it can also have the opposite effect.
Lots of residents complain about some slum tourists making them feel like an "attraction" rather than as people. This is often due to behaviors from tourists such as pointing, staring, and photos being taken of them.
No one wants to be stared at, talked about, talked down to, or have photos taken of them without their explicit permission. Many residents, however, welcome respectful interactions with tourists.
It can also be embarrassing or hurtful to residents if tourists react in a disgusted or repulsed manner, especially if visiting someone's home or business. If you are coming from a life of privilege, this may be the first time you have encountered true poverty. This often comes along with unfamiliar and unpleasant sights, sounds, and smells. While it is natural to be shocked and surprised, it is important to remember that this is someone's home and community.
While the people you meet on a slum tour might all seem friendly and happy, it is important to keep in mind that most people's lives are difficult. Many tourists leave with the impression of people who are "poor but happy" and this attitude can trivialize the lives of the residents. Many people living in slum areas struggle to obtain basic daily necessities like food, shelter, and clean water, and worry about crime, unemployment, diseases, and how to educate and protect their children. So while residents might be smiling and welcoming to visitors, most wish for an easier and more secure life.
11. Don't Take Photos or Videos without Permission
Your guide will likely talk to you about taking photos and videos at the beginning of the tour. If you are unsure, you should ask about photography guidelines before taking any photos. Photography can make residents feel uncomfortable and like they are in a zoo so it is often discouraged when visiting slums.
Imagine if people came to your own neighborhood and started taking photos of you, your family, and your home. This is obviously not something most of us would enjoy and in some places, this behavior would be illegal.
On many slum tours, photos and videos are not allowed out of respect for the residents. Or photography may only be permitted in certain areas.
For instance, when Laurence was in Rio de Janeiro, he was advised by the guide not to take any photos in the favela areas. This policy was put into place both out of respect for the residents and the presence of gangs. So the guide took them to a viewpoint overlooking the favela areas where they were told they could take photos, but then Laurence put away his camera and took no photos while walking around in the community itself.
If photography is permitted, you want to be sure to be respectful if you do choose to take photos. As you would anywhere, if you want to take photos, particularly of people's faces or inside their homes, you should ask permission first. Your guide should be able to help you ask permission, especially if you don't speak the local language.
Be cautious about taking photos of children. Many residents have reported feeling particularly exploited by tourists taking photos of their children without their permission. You should have the permission of both the child and the parent before taking a photo. However, we generally recommend against taking photos of children, particularly those living in vulnerable areas.
Just understand that the power dynamics in the relationship between tourists and residents often mean that locals may agree to photos even if they would prefer not to. Some may feel it is impolite to refuse a visitor or say they feel pressured to do so by the tour guides.
We generally err on the side of not taking identifiable photos of anyone, unless they are our guides or people who are part of the tour.
If you do take photos on your tour, you also want to be respectful if you decide to share those photos publicly. You want to think about which photos you share and what you say about your experience. You don't want to glamorize, trivialize, or romanticize these types of settings.
12. Be Respectful of People's Private Spaces
Unless invited inside, you should respect people's privacy in terms of people's private living and work spaces. People may also share outdoor toilets, latrines, or bathing areas that may offer little privacy.
We have read of people gawking in windows, taking photos of people in their homes, and even wandering into people's homes uninvited. These are not things you would do in your own town or city, and are definitely not things you should do in someone else's neighborhood.
Some tours may include stops to visit people's homes. It is important to be respectful of your host and their home when visiting. It is generally expected on many such tours that you will give a small donation to the hosts (e.g., money or food) at the end of the visit.
13. Be Cautious about Visiting Schools, Clinics, or Orphanages
You want to be cautious about any tour which mentions visiting schools, nurseries, clinics, or orphanages. You want to be sure to not be doing anything that is going to disrupt the care or education of children, put vulnerable people at risk, or have children involuntarily participate in tourism activities.
We personally don't support tourists visiting or volunteering at orphanages, and you can read more about the problems with orphanages, orphanage donations, and orphanage tourism here.
Learning about a school or children's project may be part of a tour if a tour's profits are benefiting that school or project and the guide wants to show you actual proof of its existence. But it is best if it doesn't involve disrupting the children's studies. Imagine if you were a kid and every hour, some group of strangers showed up in your classroom. This is going to make it very hard to focus and learn.
Basically, you just want to think about if your visit may be doing any harm to anyone involved, especially to children and other vulnerable people.
If you feel that a tour you took could be improved, it is good to give that feedback to the tour leader (and in reviews) and suggest helpful alternatives. Tours will only change if the company thinks that is what tourists want. For example, rather than going into a classroom and talking to children in the middle of the day, it could be better to just talk to an adult volunteer at the school and/or watch a video made with the children and teachers.
14. Consider Ways to Support the Local Community
One of the things that slum residents tend to cite as one of the biggest negative things about slum tourism is that it often does not benefit the local community.
The main thing you can do is to choose a responsible tour operator that uses local resident guides and benefits the community (e.g., contributes part of profits to community-based projects). For example, in the Bwaise district of Kampala, Uganda, slum tours are used to benefit the local non-profit organization AFFCAD. The organization helps support clean water projects, local schools, and various health projects.
But there are a lot of other ways you might support the local community. You can also give direct monetary support via tips to your guides and any households you visit. You can support local businesses by buying handmade crafts and souvenirs, buying produce at the market, eating in a local eatery, and staying in local accommodation. You can support local charities and community projects by making donations.
If you are worried about giving money directly to an unknown charity or project, you might consider in-kind donations instead of cash. So you might want to donate useful and relevant goods to a local school, hospital, or community project. It is a good idea to do a bit of research first though to make sure you are able to give something that is both practical and needed.
For example, if you want to support a local school, you might consider donating some needed school supplies. This might include things like pencils, chalk, notebook paper, calculators, or solar lights.
15. Avoid Giving Money to Children
Most organizations and tour operators will advise you not to give money or candy to children who may ask or beg you for money during your tour. While many tourists give money to children with good intentions, the money often discourages the child from going to school.
As Nelson Mandela said in a speech in 1990: "Education is the most powerful weapon which you can use to change the world." Education is the best tool in fighting poverty and can help children grow up to have a better life. If children (or their families) learn that they can make money by begging, it can be difficult to get them to attend school.
If you are interested in helping local children, consider donating money or goods to a local school, children's charity, or public hospital instead. For example, many families and schools are in need of school supplies, school uniforms, textbooks, shoes, hygiene items, and light sources (children in many informal settlements can't read or study after dark because of a lack of reliable electricity).
16. Use the Visit as a Learning Opportunity
One of the main reasons people want to do a slum tour is to learn more about the people, the community, and the local culture. Be open to learning and listening to the tour guide and those who you encounter as part of the tour.
For many visitors, this is their first time seeing poverty up close. As someone who is financially privileged, you want to endeavor to use this as a chance to learn and try to understand rather than as just a chance to look at poverty.
Don't be afraid to ask questions on the tour. Tour guides and residents you meet are generally very happy to answer any questions you may have. Just be sure to do so in a respectful way.
17. Leave Feedback
After the tour, we recommend leaving private feedback for the guide and tour company and a public review for future travelers. Things that can be particularly important to note is any issues around safety, if the tour was conducted in a responsible manner, and if the tour was as advertised.
If you feel that a tour you took could be improved (particularly in the issues of being more safe or responsible), it is good to give that feedback. It is also helpful to provide constructive advice that would be practical for the tour company to implement to encourage change.
Public reviews can help future travelers know more about the tour, the tour company, and your personal experience. This can help them decide if it is an appropriate tour for them or not.
So that is our overview of slum tourism and our proposed guidelines and tips on how to choose and take a slum tour in the most responsible way possible. We hope you have found it helpful.
What do you think about slum tourism? Do you think it can be done in a more responsible manner? Have you taken a slum tour? If so, we'd love to hear about your experience.