A travel journal can be a great way to record one's memories and experiences while traveling. Laurence bought his first travel journal in 1999 to use on a trip to Namibia. I bought my first travel journal back in 2012 for a trip to France. We have both been keeping travel journals on most of our trips ever since.
Although I don't do it often, I love re-reading my old travel journals. They bring back a lot of memories, and help me remember all the little things that happened that I may have forgotten, the good, the bad, and the hilarious.
I also find my old journals very useful in recording details, such as a guide's name, the duration of a hike, or which restaurant we ate in during a trip which may not be something I can tell from a photo. This has helped us add details to travel blog posts, return to favorite spots, and give more specific travel advice to friends and family.
Over the years, we have used a lot of different journals for travel writing, from basic composition notebooks to custom handcrafted journals. We have used, gifted, and reviewed dozens of different types of journals.
This guide was written to help travelers find the best travel journal for them. Whether you are looking for a personal journal for an upcoming trip or looking for help in buying a travel journal as a gift, we'll give you all the information you need to choose the best travel journal.
We'll share what to look for when buying a travel journal, including things like size, page count, paper quality, closure types, and sustainability. Then we review a wide selection of different travel journals so that you can find one that suits your criteria, style, and budget.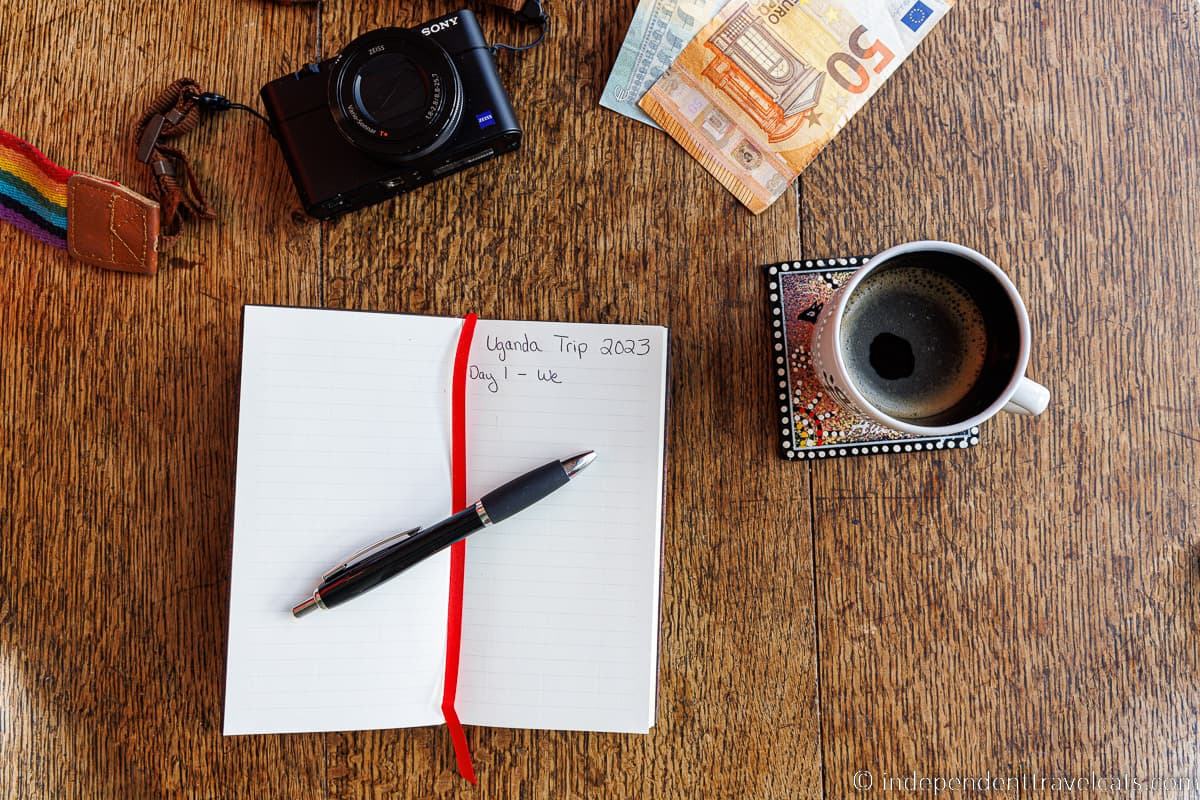 14 Things to Consider When Buying a Travel Journal
Travel journals all have a lot in common, but there are also a number of differences. We'll discuss the main factors you'll want to consider when choosing a travel journal.
For many people, a journal for traveling is no different than a regular journal or diary. But there are things that may be more important to you for a journal that you take on a trip rather than one that stays next to your bed. These may include factors related to portability (size and weight) and durability (cover type, binding quality, closure type).
There is no perfect journal for travelers. My favorite travel journal is not necessarily the right one for you. Also the ideal journal may also depend on the type and length of your trip. A journal that is good for writing about short weekend trips may not work well on a month-long backpacking trip.
As you read this, I'd recommend making a list of the things that are most important to you in a journal. What size is right? What type of paper does it need to have? Do you want a guided or unguided journal? These notes can then help you narrow down the journals on our list and find the one that is perfect for you.
Journal Size
One of the more important factors to consider when buying a travel journal is its size or dimensions. The size of the journal that is best for you will depend on your needs.
For instance, someone who wants to be able to carry their journal in their back pocket or jacket is going to want a small journal. Those who plan to sketch or glue things onto pages (e.g., tickets, photos, flyers) of their journal may want to think about what size will be best suited to that.
I would recommend grabbing a book, journal, or piece of paper that you have handy at home and measuring them to get an idea of what size you prefer. You can fold or tear a piece of paper until you get the size that you think would be ideal, then you can search for journals with similar dimensions.
In most of the world, you likely see a lot of travel journals with sizing that says A5, A6, or B5 which are a standard size measured in millimeters. These are referring to the International Standard (ISO) paper sizes. For instance, A5 paper is 148 mm X 210 mm (5.8 inches X 8.3 inches).
However, if you are in North America or Central America, you are less likely to see journals advertised in ISO sizes. Countries such as the United States and Canada generally use North American paper sizes such as letter and legal paper sizes, which are measured in inches. You are much more likely to see journals that are designed to inch measurements, such as 5″ X 7″ or 7″ X 9″.
Generally if looking at measurements for journals, the first number will refer to the width and the second number refers to the height. So a 120mm X 170mm journal would be 120mm wide and 170mm high.
Typical Travel Journal Sizes
ISO Size
Size (mm)
Size (inches)
Similar Sizes
Mini / Pocket
A6
105mm X 148.5mm
4.1″ X 5.8″
3.5″ X 5″ | 4″ X 5.5″
Mid-sized
A5
148mm X 210mm
5.8″ X 8.3″
5″ X 8.25 | 5″ X 7″
Large
B5
176mm X 250mm
6.9″ X 9.8″
7″ X 9″
Letter / Composition
A4
210mm X 297mm
8.3″ X 11.7″
8.5″ X 11″
There is no "best" size for a travel journal, it just depends on your needs. I would just recommend not going any smaller than 3.5″ X 5″ or larger than A4 or letter-sized paper.
For some guidance from popular journal brands, Paperblanks has said its Mini (4″ X 5.5″) and Midi (5″ X 7″) sizes are the most popular. Moleskine has said that its brand's "Pocket" (3.5″ X 5.5″) and "Large" (5″ X 8.25″) sizes are two of its most popular sizes. Leuchtturm1917 says its Classic A5 (5.75″ X 8″) and B5 (7″ X 10″) are two of its most popular sizes.
If you are looking for your first travel journal and have no idea what size to go for, I'd suggest either A5 (5.8 inches X 8.3 inches) or a "Mid-sized" one. So something that is approximately 5 inches X 7 inches (127 mm X 178 mm) to 6 inches X 8 inches (152 mm X 203 mm).
I have used a variety of journals of different sizes and tend to prefer more medium sized ones. We keep ours in our day bags or backpacks.
My current favorites are the Slim sized notebooks from Paperblanks which are 90 mm X 180 mm (3.54″ X 7″). Laurence typically uses the Midi sized ones which are 130 mm X 180 mm (5.1″ X 7″).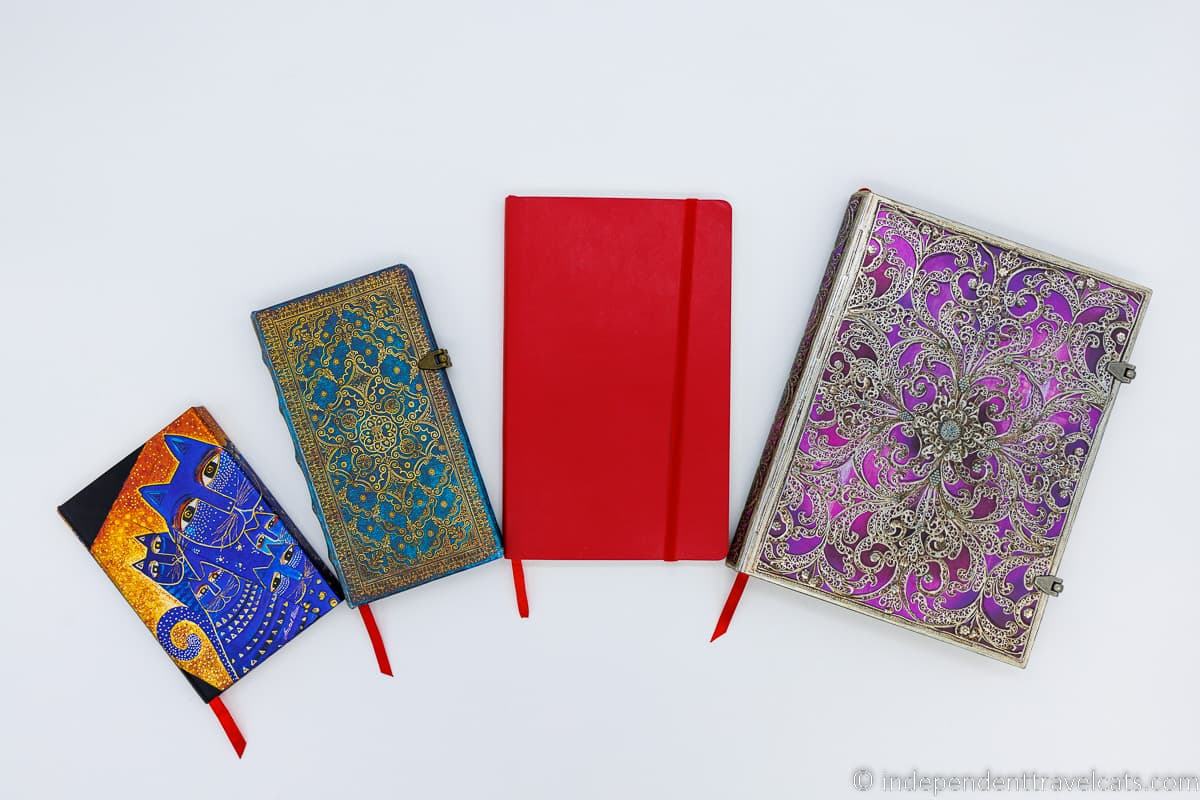 Journal Weight
Weight is another factor to consider when choosing a travel journal. The weight is going to be affected by the cover type, the number of pages, and the overall size of the journal. Generally, journals with hard covers are heavier than those with soft covers.
Note that most journal brands do not note the weight of their journals online or on the labeling. But most journals are designed to be lightweight and portable, so this is probably mostly a factor to consider for those wanting a larger sized journal.
The weight of a journal is going to be more important for those who are backpackers or light packers. Those looking for a more lightweight journal, should consider a soft cover journal that is smaller in size. A refillable journal may also be a good option as you can control the amount of paper in it.
Most standard or mid-sized journals are fairly lightweight so this is not normally a big factor of consideration for us. Our travel journals generally range between 150 grams to 400 grams (6 oz to 14 oz), with most of my journals being around 8 ounces or 230 grams.
Number of Pages
The number of pages you will want is going to depend on how much you write, the length of your trip, and the size of the journal pages. It is also good to think about whether you want a travel journal for a single trip or if you want one that will last for several trips.
The number of pages will affect the thickness and the overall weight of your journal. So we would generally recommend trying to keep the page count under 250 pages.
It is important to note the difference between sheets and pages. A sheet of paper has 2 sides that you can write on. So if you see a journal specification that says it has 96 sheets, this means it would have 192 pages. Most journals will just advertise the number of pages you can write on, but you do occasionally see it noted in sheets.
I generally write 3-5 pages per day, so if going on a 2-week trip, I'd want to make sure to have at least 70 pages. If going for a month, 150 pages. For instance, a 176-page Paperblanks Slim journal lasts me about a full month of travel.
If you are not sure how many pages you want in a journal, most journals contain between 120 and 200 pages. So I think any journal with a page count in that general range is probably a good place to start.
If you are going on a particularly long trip, say over 3 months in length, you might want to consider starting with one journal and then getting new journals along the way as you fill them up. You might want to mail home your completed journals (recommend backing them up digitally first through) to avoid lugging them around the world.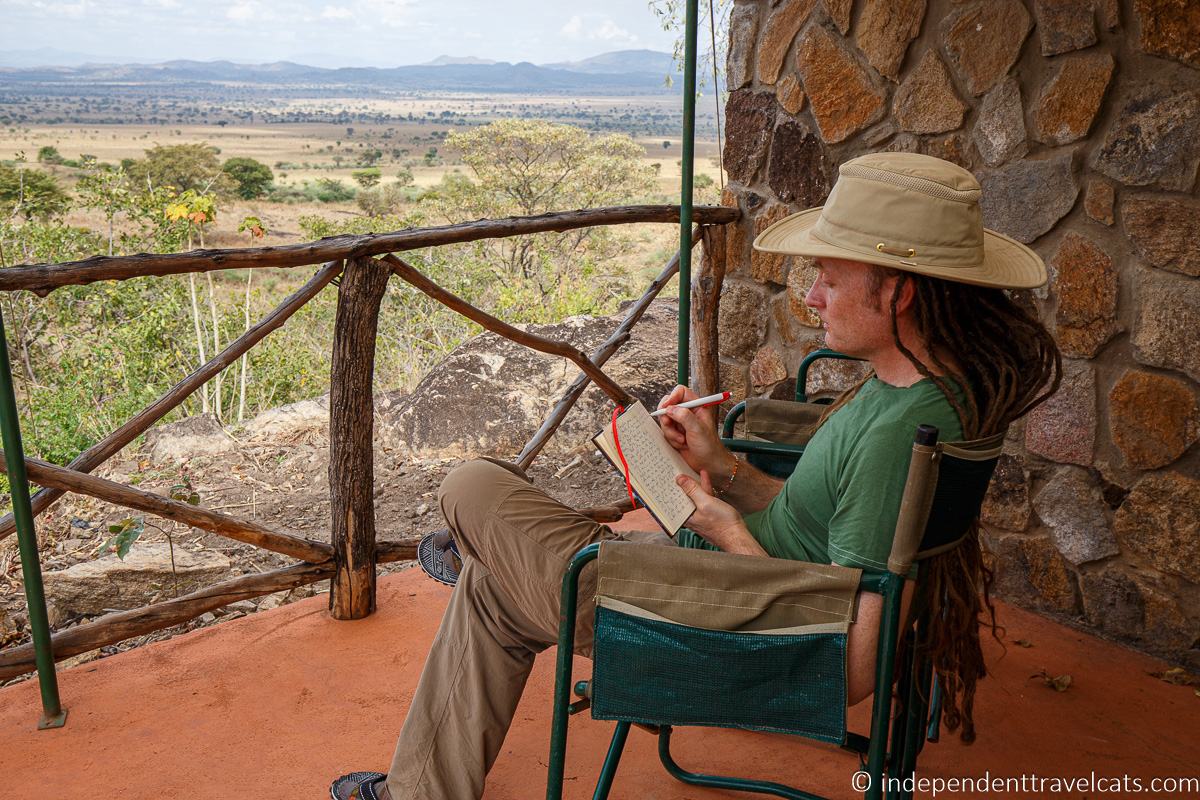 Type of Paper
The type of paper is something most people will want to consider when buying a journal. The main question for me would be how do I plan to use the journal. For example, you will likely want a different type of paper if you would like to use your journal for both sketching and writing versus someone who solely wants to be able to write in it.
Here are some of the things you might consider regarding the type and composition of the paper in a journal:
Is the paper blank, lined, dotted/bulleted, or squared/graph paper?
For lined/dotted/squared paper, does the spacing between lines or dots matter to you?
Is it designed to be written on both sides of the pages (e.g., is both sides lined/dotted)?
Is it smooth or textured?
Is the paper acid-free? (acid-free paper ages better)
Is it designed primarily for writing or sketching?
What color is the paper?
Is it made from wood or cotton?
Is the paper made from a certified sustainable source (e.g., Forest Stewardship Council [FSC] certified)?
Is it suitable for certain types of writing instruments such as fountain pens, pencils, or charcoal?
Is the paper perforated?
Most journals are made of acid-free uncoated paper with a smooth texture that is designed to be used on both sides. Most paper used in made from wood pulp and is generally white, off-white, ivory, or cream in color.
Of all the above listed factors, the most important thing for most travelers is probably the type of page ruling in the journal (whether lined, dotted, blank, etc.). You probably already have a preference for the type of paper you write on. For example, I always choose journals with lined paper.
Note that a dotted, dot grid, and bullet journal are generally all referring to the same type of paper. Similarly, graph, grid, and squared paper are generally referring to the same type of paper.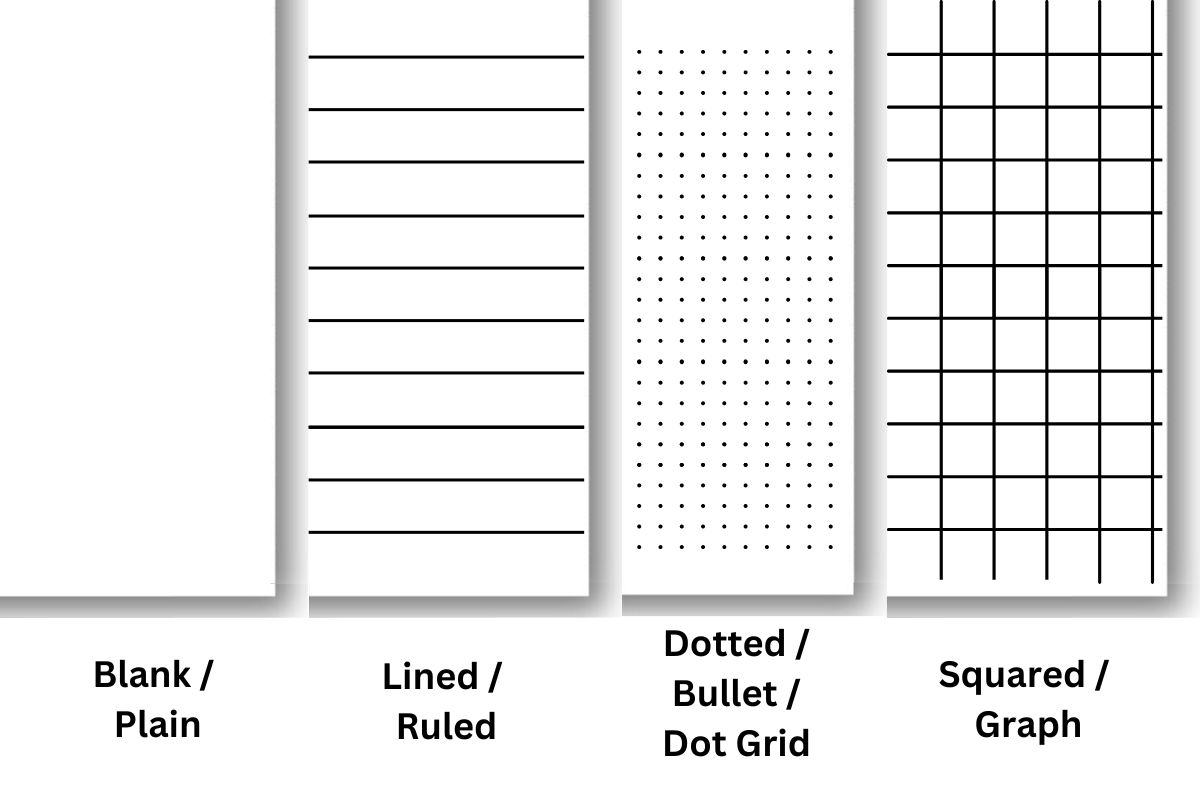 The other thing you should consider is the type of writing instrument you plan to use. If using a regular ballpoint pen (the most common type), most journals should work just fine. Those with gel pens or fountain pens may want a slightly heavier than usual paper to avoid the ink going through the pages.
Those wanting to use pencils or draw with charcoal may prefer more textured paper. Those planning to use watercolor will need much thicker paper.
I would recommend avoiding notebooks with perforated paper unless you definitely plan to tear out pages. Perforated paper is much more likely to tear and come out of your journal.
I personally only use my journal for writing and strongly prefer lined paper. All of my travel journals have lined smooth acid-free paper that is designed to be written on both sides. But some people may prefer unlined paper or bullet journals; it really just depends on how you plan to use your journal.
Paper Quality
There are different things that you can look at in terms of evaluating paper quality such as the material, weight, thickness, finish, grain, etc. The majority of these things are not going to be that important to most people.
The paper used in travel journals is almost always made from wood pulp, but you might also see some premium journals or handmade journals using cotton or linen paper.
The main thing to look at when assessing page quality is the weight of the paper which is typically measured in grams per square meter and may be denoted as the gsm, g/m², or g/sq m. This is the most common indicator of paper quality that is provided to consumers.
Note that in North America you'll likely come across the U.S. paper basis system where paperweight is measured in lbs (such as 70lb or 70#). But normally measurements are also given in the metric gsm as well. For example, 70lb paper is typically equal to about 100 gsm.
As you look at journals, you'll notice a fairly wide range of paper weights from about 60 gsm to 140 gsm. I would recommend looking for a journal with paper between 70 gsm and 120 gsm.
Note that the size of the journal can affect the paperweight with thinner paper often used in smaller journals. For example, the smaller sized Paperblanks journals often have 85 gsm paper whereas the larger ones have 120 gsm paper.
For most people, the gsm of the paper isn't going to matter very much. But if you plan to use a fountain pen, marker, etc. then the paperweight and type is going to be much more important. For example with a fountain pen, heavier weight papers are generally better able to resist feathering, ghosting, and bleeding.
We have had journals with a range of paperweights, from 70 gsm to 120 gsm, with most being around 85 gsm. On most of our journals, we have just written with various ballpoint pens and had no issues.
I also have a Platinum #3776 Century fountain pen and it seems to perform fine on most paper in this weight range but it can vary. The biggest factor seems to be how smooth the paper is, as the pen generally does better on smoother paper.
Fountain pens users may want to read reviews by fellow fountain pens users to judge performance of any particularl journal. However, the way that a fountain pen will perform on a specific journal will depend not only on the paper, but also on your specific ink, nib, and the pressure applied during writing.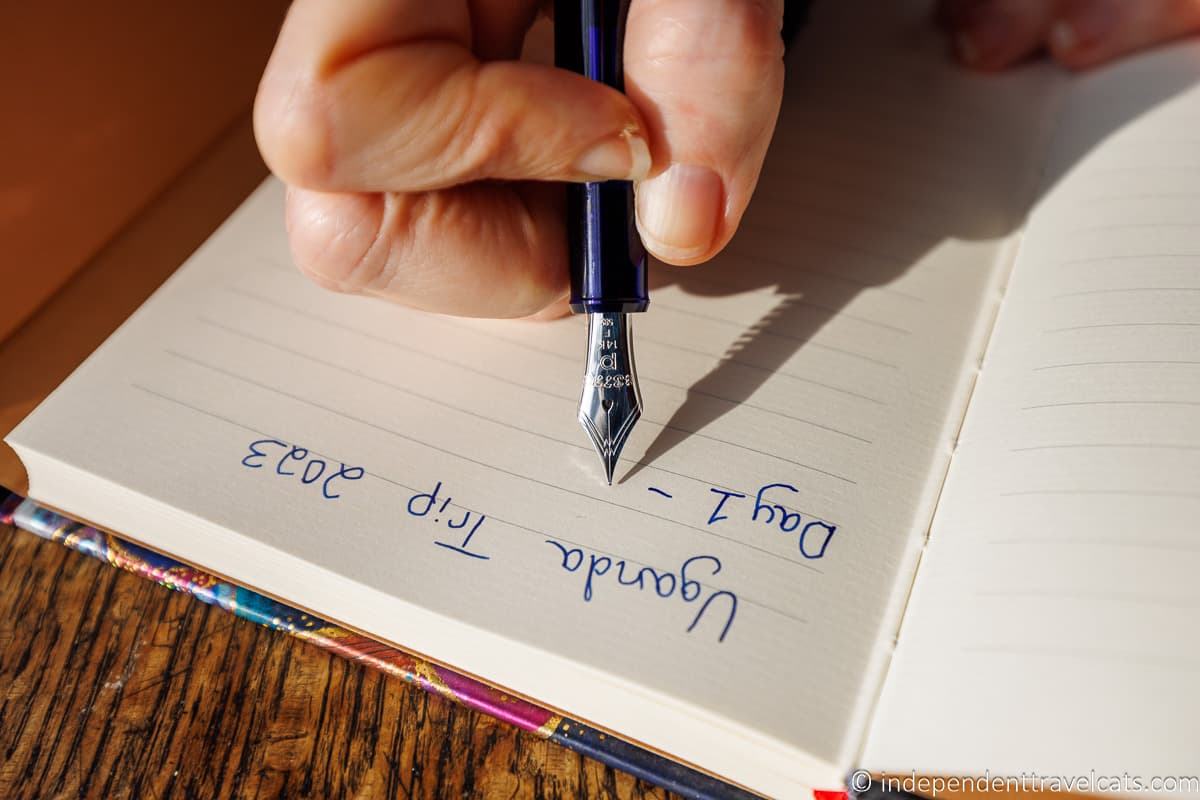 Bound Journal Versus Refillable Journal
Most travel journals are bound, but another option to consider is a refillable journal system. These are where you purchase a journal cover that normally comes with a closure, replaceable paper inserts, and rubber bands to affix the inserts. You can then purchase additional paper inserts as you need them.
The refillable paper inserts are typically affixed inside using an elastic or rubber band, a cord, or a ring binder. Most refillable journals are designed to hold a total of 3 compatible paper inserts.
As you would expect with refillable journals, the paper inserts are not going to be as durable as a bound book. These inserts are often bound using saddle stitching and/or staples. But if you are just using these for one trip and then storing them at home, this is probably not that important to you.
Although a refillable journal is typically more expensive than a bound journal, they tend to be less expensive over time versus buying a new bound journal for each trip. They can also be a more sustainable option if you keep using the same cover and just replace the paper inserts. They also allow you to have the same journal cover and writing experience for a long time.
Investing in a refillable journal is probably best for people who already know they enjoy journaling, know the size of journal they prefer, and know the type of journal they like. You don't want to invest in a system you are not sure you are going to like.
Another benefit of refillable journals is that you easily personalize them and change the type of paper you are using. With many brands, you can also add things like folders, pouches, pen loops, decorative charms, etc.
A couple of popular brands making refillable journals are The Traveler's Company (Midori) and Wanderings. Most brands use leather covers but you can also find faux leather covers out there as well. You just want the material to be durable enough to last through years of wear and tear from traveling.
If you decide on a refillable journal, things to consider are the quality/durability of the cover, extra features (e.g., pockets, ribbon, etc.), and the availability of correctly-sized paper options for your chosen journal. You'll also want to check to see how the paper refills are inserted and check to see if it will lie completely flat when you write in it.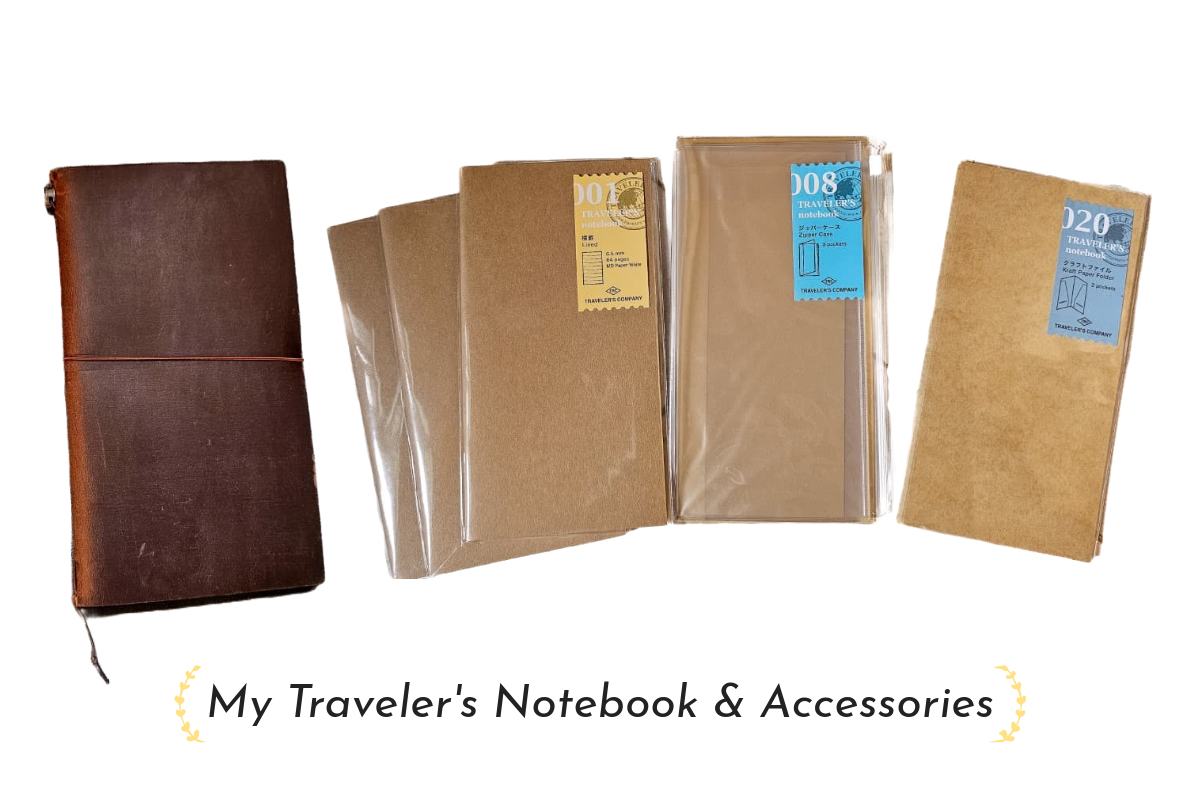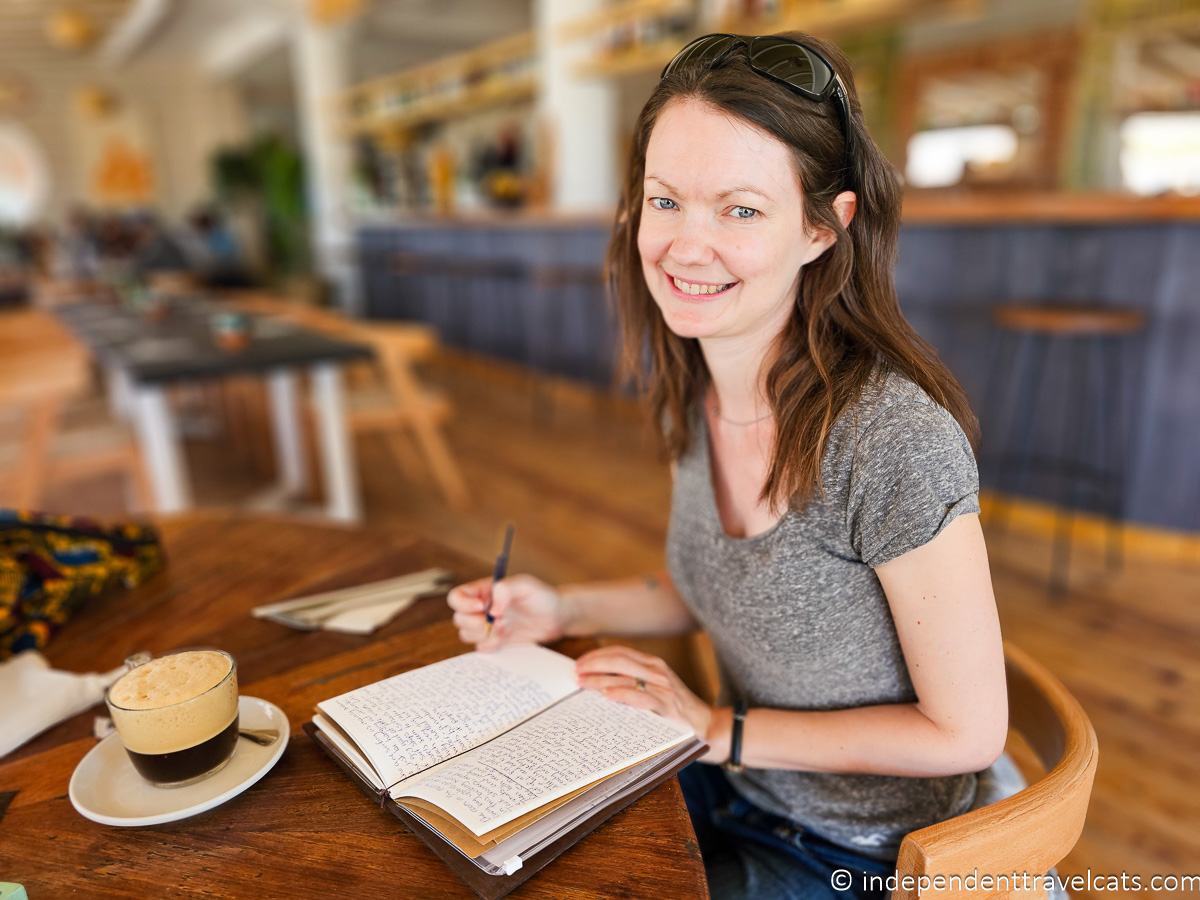 Journal Binding
If you are planning to buy a bound journal, you will want to consider how the journal is bound. The journal binding can affect the durability of your journal. It can also affect how it opens, such as whether you can open and lie it down completely flat or not.
There are a lot of different book binding methods and the options available may depend on the type of cover (soft versus hard cover) and the thickness of the journal. Common journal binding methods include Smyth sewn binding, case binding, glue binding, spiral binding, and saddle stitch binding.
For many people, the type of journal binding may not be very important as most people just want to make sure that their journal is strong enough to last the duration of their trip.
But if you are wanting something more durable, I recommend journals that have been bound using Smyth sewing. This is considered the best type of binding in terms of quality and durability. But these journals are also a little more expensive than ones that have been bound using other techniques.
Smyth sewn means that groups of folded pages have been stitched together with binder thread, and then multiple groups are joined together. This makes it more durable than those that have just been glued for instance and it is much less likely that pages will come out. It also allows for the book to be opened completely flat.
If you don't like the Smyth sewn bound journals or are looking for something a bit less expensive, you might look at a good quality spiral-bound or coil-bound notebook. These are usually fairly inexpensive, lie flat, and the pages won't fall out. However, spiral notebooks tend not to be designed as travel journals (often they are designed for school or work use) and often don't have any type of closures, but you can create your own binding with a piece of elastic.
The type of bound journals I generally avoid are those bound using only glue, staples, or basic stitching. These tend not to be that durable and you may have an issue with the pages coming out, especially for the ones where pages are just glued to the spine. But if you are going on a short trip or just need something to jot notes in, these will work just fine.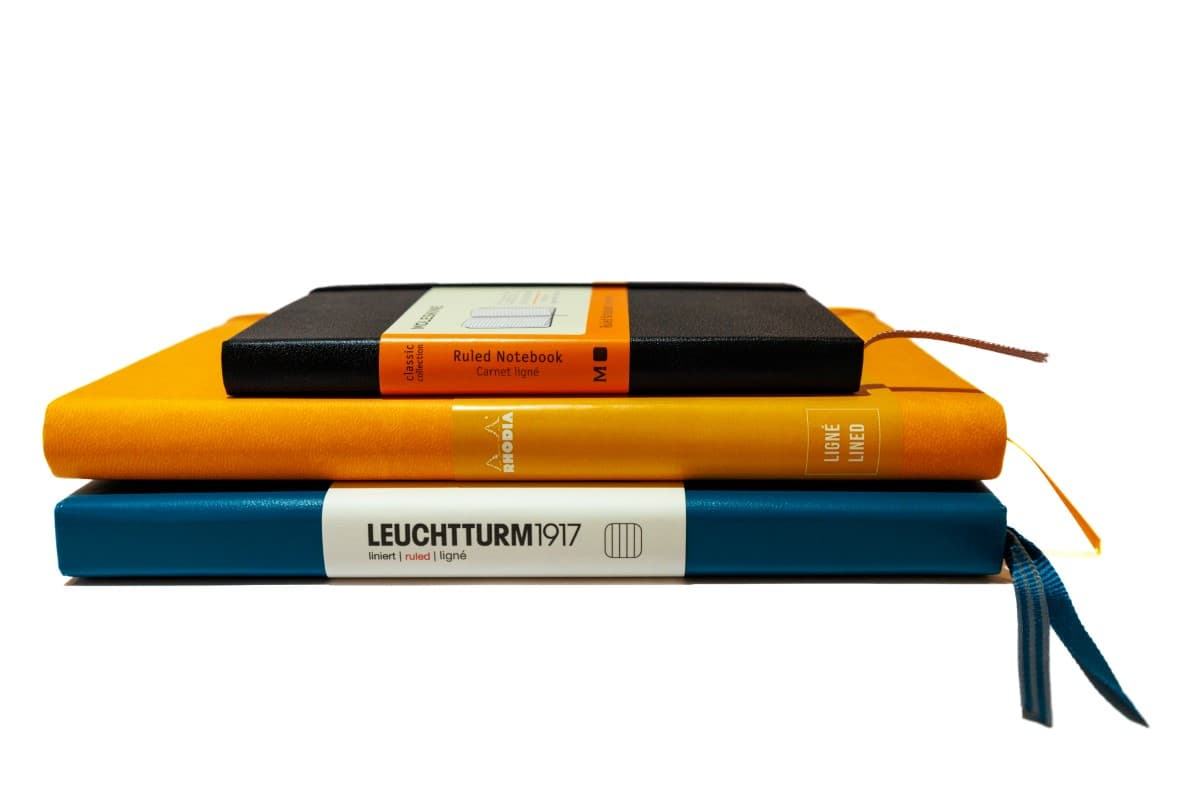 Journal Closure
Another thing to consider is whether you want a journal with a closure or not, and if so, what type of closure you prefer. I would strongly recommend having some kind of way to close your travel journal. This will help protect the pages and binding of your journal from getting bent, torn, or soiled. If you plan to shove your journal into your backpack or purse on your trip, we'd definitely recommend one with a closure.
Probably the most common type of closure for a journal is an elastic band that stretches lengthwise over the journal to keep it closed when not in use. Other types of closures include magnetic wrap, magnetic strap, snap, metal clasp, leather strap, hook, button wrap, and ribbon tie closures. The more creative ones, such as ribbon ties and button wraps, are more typical on handmade journals.
The type of closure may or may not be important to you. I always buy a travel journal with a closure; however, I don't have a strong preference for a specific type of closure. I have used travel journals with a variety of closures, including magnetic strap, metal clasp, elastic band, and magnetic wrap. All of these worked fine. My favorites are probably the magnetic strap and metal clasp ones.
The only issue that I have found with elastic band closures, which are very common, is that they can with use over time lose their stretch and/or wear little grooves into the edges of the cover. These are minor issues but something to consider if planning to use the same journal for a longer period.
If you have a notebook or journal you like, but it doesn't have any type of closure you could consider adding one. For example, some companies like Midori Traveler's Company and Wanderings sell replacement closure straps for their journals that might work for your journal. Or if you have some DIY skills, you could consider adding an elastic band, ribbon, or magnetic closure of your own. For example, this is a DIY video of someone adding an elastic closure to a hardcover Wire-O bound journal.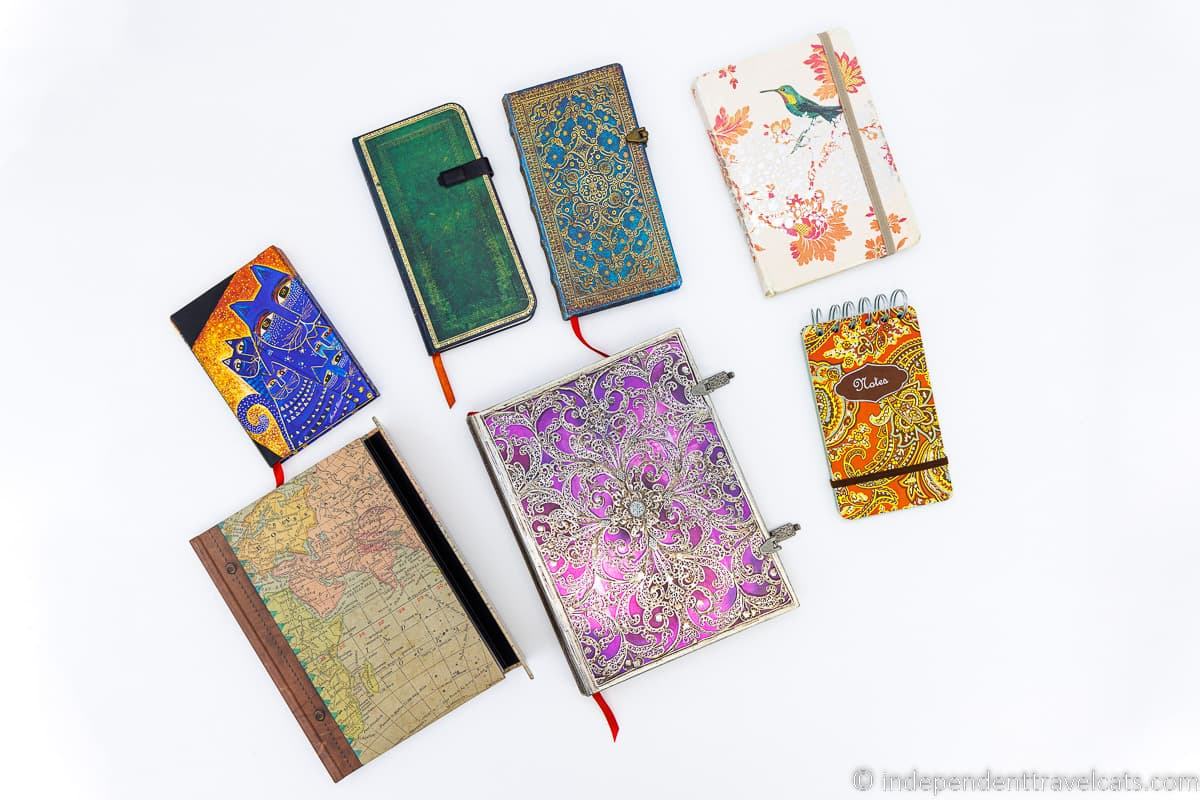 Cover Type
When choosing a travel journal, another feature you might consider is the type of cover. The main two options are a softcover or hardcover journal.
A softcover journal is generally lighter, more flexible. and slimmer, whereas hardcover journals are generally sturdier, heavier, and thicker. Hardcover journals generally allow for more pages for those looking for journals with a lot of pages.
Most popular journal brands such as Moleskine, Paperblanks, and Leuchtturm offer both softcover and hardcover journals. For example, Moleskine offers a selection of both softcover and hardcover journals. Most of their hard covers are made of polypropylene, while the soft covers are made of polyurethane.
Covers can be made of a variety of materials including binder's board (chipboard), plastic, cardboard, kraft paper, leather, and cork.
Leather journals (or vegan alternatives) are a popular choice for refillable journals as they tend to be both durable and age well.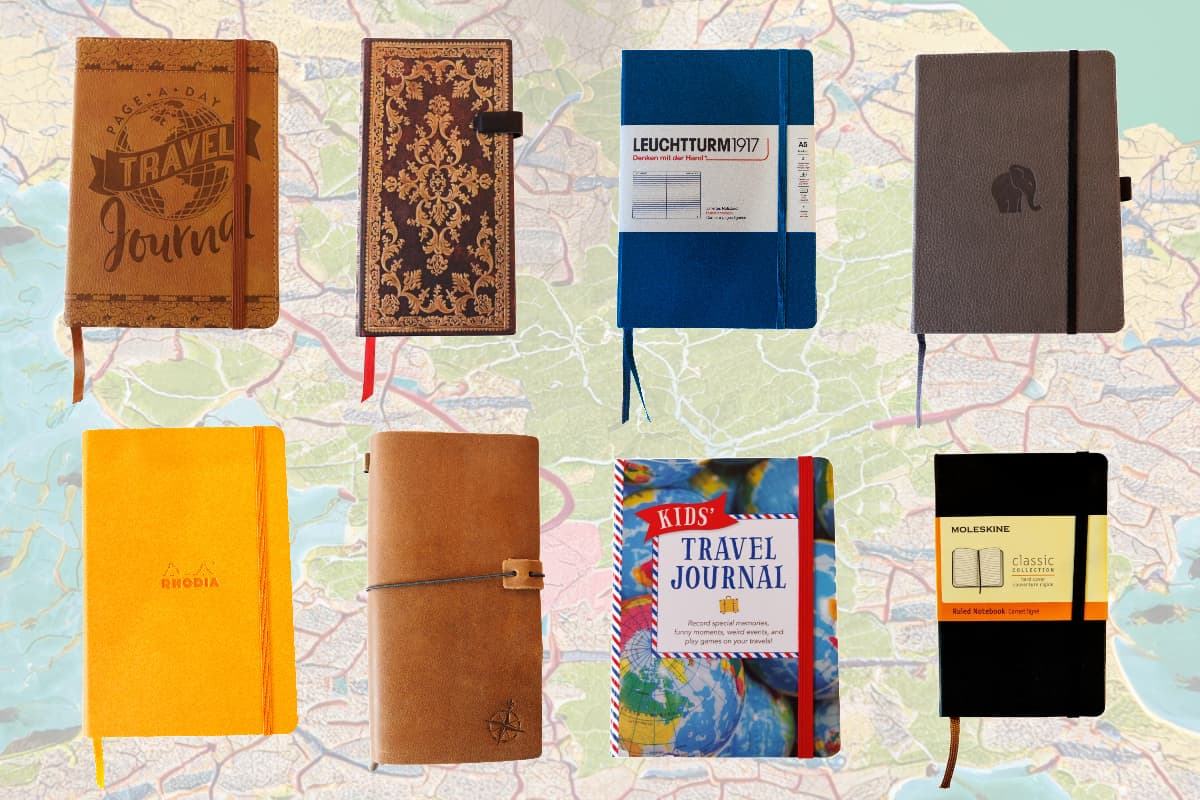 Unguided Versus Guided Journals
A guided journal is a journal that includes prompts, questions, or exercises of some kind to inspire and encourage one's writing. An unguided journal is just full of blank pages for people to free write as they wish.
Most people use just a regular journal or notebook as a travel journal. But you can also get journals that are designed exclusively to be used as a travel journal and include things like travel-related writing prompts, questions, quotes, and trip planning exercises.
If this is your first journal experience, you might enjoy things like writing prompts and lists that can help guide your writing and help you get into the habit of daily writing. They can also help make sure that you remember to write about all the different aspects of your trip.
Some of the really focused travel journals may come with a lot of specific travel-related features like memento pouches, waterproof covers, maps, packing lists, planning checklists, etc. So they can also be used for planning activities before your trip.
Some examples of guided travel journals include the Everywhere You Go Journal, the Promptly Minimalist Journal, the Duncan & Stone Journal, the Clever Fox Planner & Journal, and the One Line Voyage Travel Planner & Journal.
Most journals designed for kids and teens are also guided and generally include a lot of exercises and activities in them as well.
I personally just use regular unguided journals as my travel journals as these allow me as much space as possible to just write. So if you are someone who writes a lot and likes to write about whatever topic comes to mind, you'll probably want to avoid these types of journals. But if you are someone who is new to journaling, these can be a great first journal.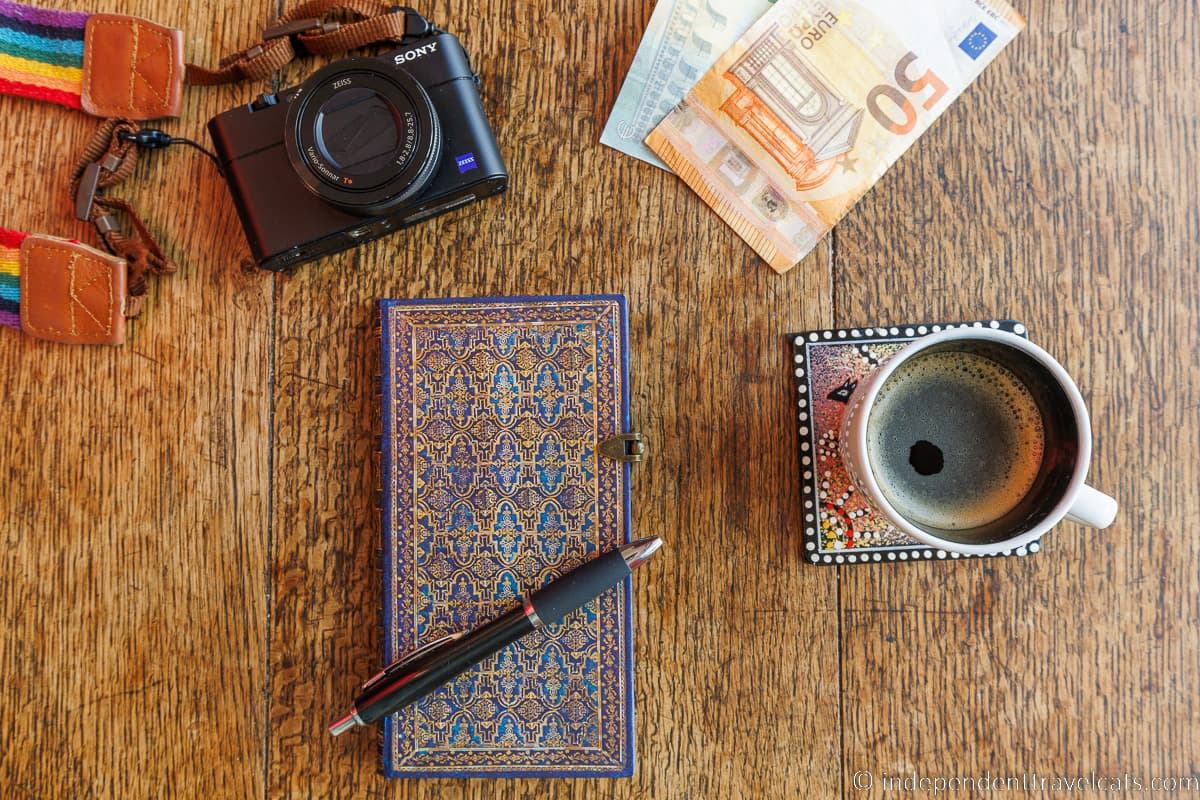 Price
Travel journals are sold at a wide variety of price points, from a few dollars to over $50. You'll pay more for premium refillable journal systems, handmade journals (particularly those with leather covers), and personalized journals.
Price will depend primarily on the type and quality of the materials used, the binding method, the size of the journal, where it is manufactured, and any included personalization
You don't need to pay a lot for a travel journal. Most of the journals we have used over the years have fallen in the $10 to $20 range, although inflation has been driving up prices. The last journal I bought cost me about $16.
But I've also used a simple composition notebook that cost a few dollars on one trip. If you have a small budget, don't worry too much about finding a fancy journal, just find something that is the right size and has the kind of paper you want. The most important thing is that you have something that you can and will write in during your travels.
For instance, if you have a small budget you can get a school notebook or memo pad for a few dollars. Field Notes is a great USA-based brand focused on selling packs of pocket-sized notebooks at good prices. You can easily find basic journals for under $10 at a local store or online such as the Amazon Basics Journal.
Paying more for a journal sometimes results in better quality, but sometimes not as more well-known brands can charge more than less popular brands for similar quality. So we definitely recommend paying attention to the details if you are looking for something a bit nicer.
Sustainability
There are a lot of factors you might consider when it comes to evaluating a brand's sustainability. These might include the materials used to produce the journal, where its products are manufactured, where its products are shipped, the company's ethos, the staff working conditions at the company, whether the journal is reusable or recyclable, the journal's durability, etc.
You'll have to do your own research on a specific brand, some brands are very transparent whereas others provide very little public information regarding their sustainability practices. Some brands that specifically market themselves as being more sustainable are Dingbats, Karst (a B Corp), Rocketbook (reusable), and Field Notes.
One factor will depend on where you are based. If you are based in the USA for instance, a journal made of American materials and manufactured in the USA, such as those by Field Notes, is likely going to be more sustainable than one that is produced in Europe or Asia. See the next section on country of origin for some tips on finding brands produced in your own country.
Refillable journals would also likely be more sustainable over time than a bound journal as you can keep using the same cover for many years. You just need to replace the paper refills rather than the whole journal. You would just want to make sure the cover is well-made and durable so it will last for a long time.
For those looking for vegan travel journals, many journals are not vegan due to either the glue or dye used or the use of leather as part of the cover or binding. Even many companies that sell faux leather journals are not fully vegan (due to glues, inks, or dyes).
However, there are still several vegan-friendly journal options out there. Dingbats and Scribbles That Matter, for example, are two brands that only produce vegan-friendly journals. So if you are vegan or buying a journal as a gift for a vegan, I'd check out those two brands first.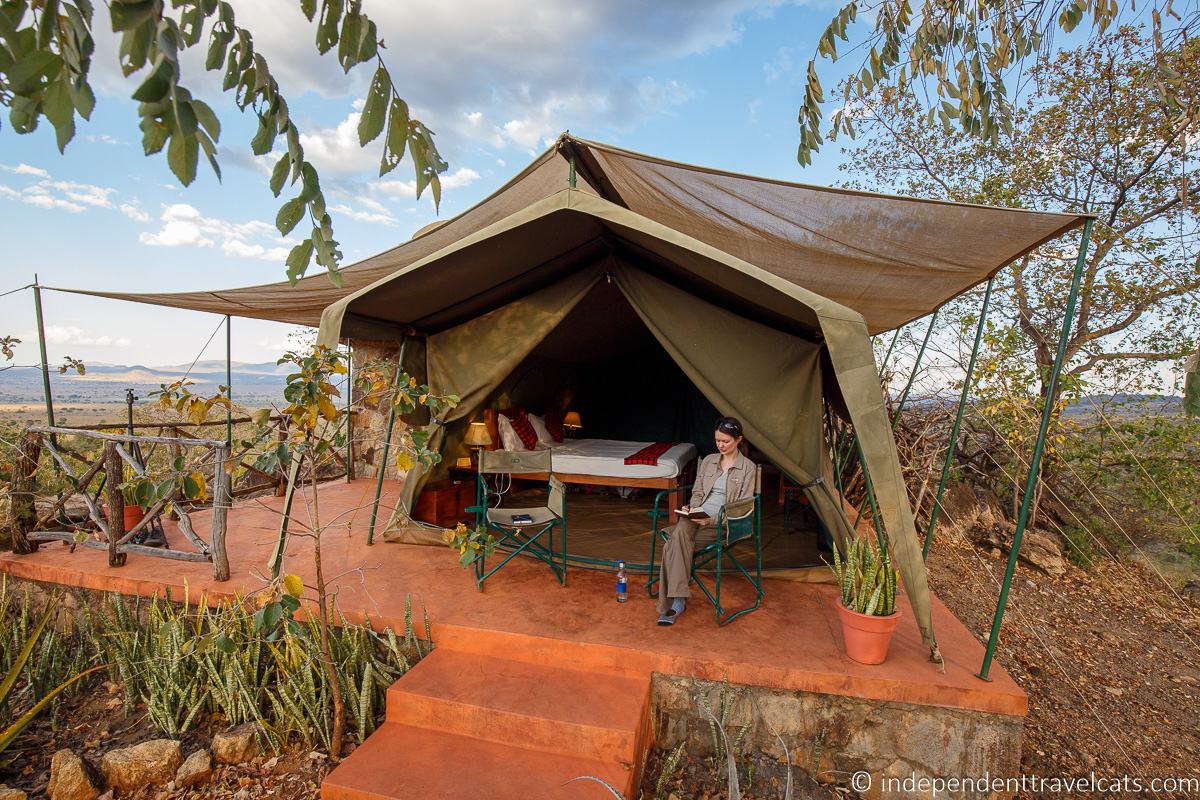 Country of Origin
Travel journals are made in countries around the world with many being produced in China since it is cheap to manufacture products there. If you are concerned about quality control, sustainability, working conditions, or carbon footprint, you may want to pay attention to where products are made and from where they are shipped. Some companies even provide details of their whole supply chain.
If you have a hard time finding where a product is made on a journal description or company website, it is typically made in China. Some companies will use phrases like "British design" or "Italian heritage" but this typically just means their products are designed in Europe but are actually produced in China.
For example, while a lot of companies are based in North America or Europe (e.g., Moleskine, Paperblanks, Leuchtturm1917), most manufacture their journals in China and/or Taiwan. This also goes for smaller more "indie" brands like BaronFig, Scribbles That Matter, Archer & Olive, and Beechmore Books, which all produce their journals in China.
It can be difficult to find a journal produced in one's own country or region, but here are some journal brands listed by where they produce their products (to the best of my knowledge) to help get you started:
The above is by no means a comprehensive list of journal brands, and if you have a brand of journals you'd like to recommend that is manufactured in your own country, feel free to leave us a comment.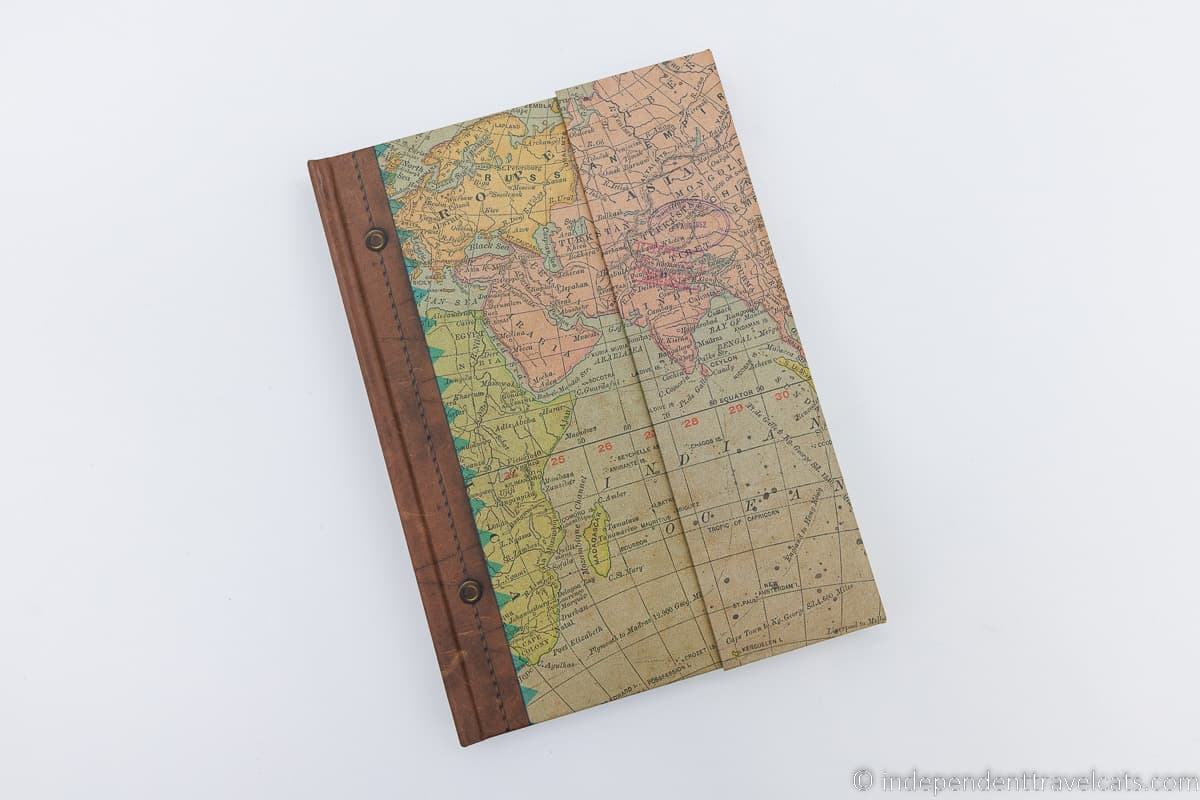 Other Travel Journal Features
There are a lot of other features you might see on different travel journals. Some are just general journal features and some are specifically tailored to travel journals.
Some common features that you may see are attached ribbon markers, interior pockets or folders, rounded corners, pen loops, foldouts, writing prompts, stickers, waterproof covers, memento pouches, travel or packing lists, etc.
Ribbon bookmarks
Interior pockets or folders
Rounded corners
Pen loops
Numbered Pages
Daily writing prompts
Stickers
Waterproof covers
Travel info / maps
Travel packing lists
One nice design feature can be rounded corners, as these are designed to protect the cover and pages from wear and tear compared to sharp corners. Rounded corners are common in travel journals; most journals produced by popular brands Moleskine and Leuchtturm1917 have rounded corners.
Some of the really focused travel journals come with a lot of specific travel-related features like maps, memento pouches, waterproof covers, travel specific writing prompts, packing lists, etc.
For me, the only feature of the above that I always look for is an attached bookmark ribbon to keep my place in the journal during a trip. Other features can be nice but are not must-haves for me.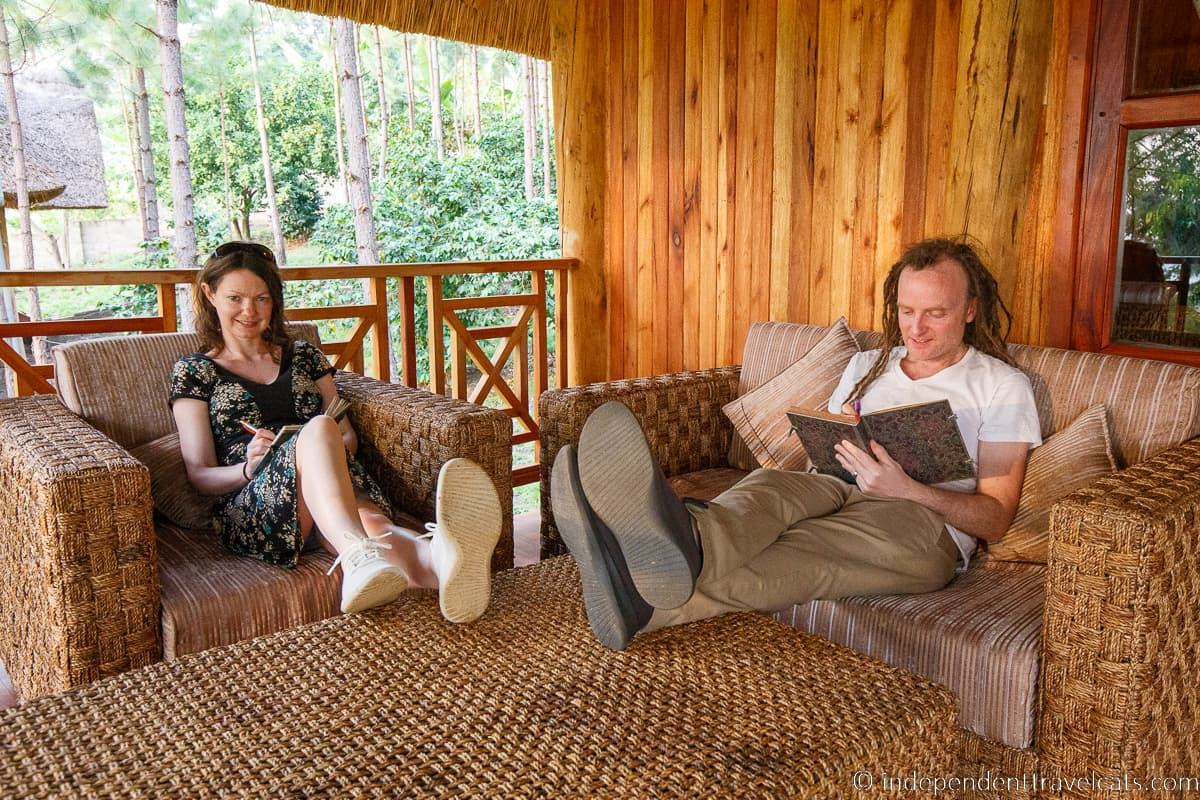 15 Best Travel Journals
Below is our list of 15 different travel journals and notebooks. They come in a variety of sizes, colors, styles, price points, and countries of origin. All can be purchased online.
We are fairly certain that most people will be able to find the perfect travel journal for them on this list!
These 15 travel journals are listed in no particular order.
Moleskine is one of the best-known journal brands, particularly for travel journals. Most Moleskine journals feature rounded corners, a ribbon bookmark, an expandable inner pocket, and an elastic band closure. The journals are Smyth-sewn and bound to be able to lie flat.
The journals are available in both hardcover and softcover versions, with a choice of blank, lined, squared, or dotted paper, and in a number of colors. They come in a wide range of sizes from XS (2.5 inches X 4.25 inches) to XXL (8.5 inches X 11 inches). Most Moleskine journals come with ivory-colored 70 gsm acid-free paper.
Don't worry, no moles were harmed in making these journals! Most of Moleskin's hard covers are made of polypropylene, while the soft covers are made of polyurethane. They also offer more expensive leather-covered and silk-covered versions of the Classic Journal.
The regular Moleskine Classic Journals have 192 pages, but the expanded versions have 400 pages. So be sure to double check if you are concerned about weight or number of pages.
In addition to their original Classic collection, Moleskine also offers a wide range of other journal options, including journal collections designed for those who want to sketch, draw, and/or watercolor. They have also released a number of limited editions and collaborative notebooks.
Moleskine journals are designed in Italy and most are manufactured in either China or Taiwan.
A lot of people think it is a heritage brand with a long history, but it was actually introduced in 1997 by the Italian company Modo & Modo. The name was inspired by the type of journals that English travel writer Bruce Chatwin used which he called "carnets moleskine" in his book The Songlines.
Chatwin specifically used small notebooks bound with black shiny oilcloth covers which were wrapped in an elastic band. He also notes that he used squared paper. According to Moleskine founder Francesco Franceschi, many famous writers and artists used these "moleskine" type little notebooks, including Ernest Hemingway, Vincent Van Gogh, and Pablo Picasso. These notebooks were produced in France and purchased in paper stores in Paris.
While the modern versions are certainly not the same thing, the version that was inspired by these 19th and 20th century journals of Chatwin and others is the Moleskine Classic notebook line. The closest to Chatwin's journal would probably be the black softcover pocket-sized Moleskine journal with squared pages.
Due to their popularity, Moleskine journals receive both a lot of praise and criticism. Probably one of the biggest criticisms is that they use a fairly low paperweight (70 gsm) compared to their main rival Leuchtturm1917 (80 gsm to 100 gsm on their classic journal). This means a bit less quality, but it does mean a more lightweight journal and they are able to sell them at a lower price than Leuchtturm1917.
My personal opinion is that they are good journals and perfectly fine for most people to use as a travel journal. They are decent quality, lightweight, readily available (both online and in stores), and come in a variety of colors, sizes, and styles.
One of the great things about Moleskine is they are widely available in many bookstores and stationery stores, at least in Europe and North America. This means you may be able to easily go check them out in person and although color choices and sizes are usually limited in stores, the most popular ones are usually kept in stock.
If you are considering a Moleskine travel journal, but are not sure which to try, I would recommend starting with one of their regular Classic Notebook ones. You can then choose between a softcover or hardcover and the type of paper you prefer. If unsure of which size to get, Moleskine has said that it brand's "Pocket" (3.5″ X 5.5″ | 9 cm X 14 cm) and "Large" (5″ X 8.25″ | 13 cm X 21 cm) sizes are two of its most popular sizes.
I recently used one of the Classic soft cover journals (Large size, lined paper, 192 pages) on a 3-week trip in Italy and it was a good journal. That said, it is not normally my first choice when buying a journal but it is one that I always seem to be able to find and buy when needed.
Price: Check the latest prices here
Leuchtturm1917 is another popular journal brand; it is based in Germany. The brand first released its journals in 2005, although the company's history loosely dates back to 1917 when it began printing coin and stamp books under the brand KaBe.
Leuchtturm1917 journals are Smyth sewn and feature rounded corners, an expandable inner pocket, and an elastic band closure. A few features that the brand is known for are its numbered pages (most journals come with page numbers, some feature dates), 2 attached book markers, table of contents page, stickers for labeling and archiving, and having some perforated sheets at the back of each notebook that are easy to remove if needed.
The buff-colored paper in the Classic journals ranges between 80 gsm and 100 gsm, depending on the size of the journal. The heavier paper is used in the larger sized journals. Available paper choices are blank, lined, squared, or dotted.
The Leuchtturm1917 Classic journals come in several sizes from Pocket (A6, 9 cm X 15 cm | 3.5″ X 6″) to Master (A4+, 22.5 cm X 31.5 cm | 8.8 inches X 12 inches). Its most popular sized notebook is its Medium A5 (5.75″ X 8″).
Both hardcover and softcover journals are available, but the availability depends on the journal size. Some sizes are only available with one type of cover. Their main hardcover journal covers are made of acrylic paper and their soft covers are made from polyurethane.
Note that the page count in Leuchtturm1917 journals depends on both the journal size and whether they have a hard cover or soft cover. For example, the Classic A5 journal in the soft cover format has 123 pages and the hard cover format has 251 pages.
They come in a rainbow of colors with a wider array of color choices than many other brands. I believe the Classic journals are available in 24 colors in total, but not in every size or color type. You'll need to shop online to find the full color range.
In addition to their classic notebooks, they also have a range of bullet journals, change journals, sketch journals, and limited editions. Their "Official Bullet Journals" have been popular in recent years with the bullet journal (BuJo) community.
Leuchtturm1917 journals are designed in Germany, and made in Taiwan and China.
The brand launched its journals in 2005 to compete with brands like Moleskine. So many of the features between the two brands are similar. Differences include the extra bookmark, heavier paperweight, page numbering, archival stickers, and more color options. The heavier paperweight is often a feature preferred by fountain pen users. But Moleskine notebooks are generally a little more lightweight than Leuchtturm1917 (and sometimes less expensive); they are also easier to find in certain parts of the world.
If you are considering a Leuchtturm1917 and not sure which to try, I'd probably recommend starting with the Classic A5 journal. It is available with either a hard cover or soft cover, with 4 paper choices, and lots of color options.
One thing I don't love about the Leuchtturm1917 notebooks is that the number of pages and size options vary by cover types. So a softcover and hardcover journal of the same size will probably have a different number of pages. So just be sure you check the page count if you are considering various options.
I think Leuchtturm1917 journals are nice journals and are likely to work well for most people wanting a travel journal. If you are trying to decide between a Moleskine and one of these, the paper is a bit nicer than that in the Moleskine Classic journals and they offer a few more features, but the differences are not likely to make a huge difference to most people.
Price: Check the latest prices here
Paperblanks is another popular brand of journals and notebooks. The company was founded in Vancouver, Canada in 1992. In 2022, it became part of the Hachette UK publishing group.
Paperblanks journals are all Smyth-sewn and use acid-free ivory paper. The paper weight used varies from 85 gsm to 120 gsm, depending on the journal size and type. The majority of journals contain a bookmark ribbon (some contain two) and an inside memento pouch. Most of the journals contain either lined or unlined (blank) paper, but they do have a few options for dot grid or gridded (squared) paper.
Paperblanks is unique in that there is no "classic journal" in their collection, and they don't really make any plain-looking journals. They are much more focused on the journal's cover designs and many are an homage to old manuscripts, artists, or writers. They also offer a variety of journal styles, sizes, and closure types.
So I think with Paperblanks, the first thing to decide is what size you like, and then whether you prefer a softcover or hardcover journal. That will then narrow down your choices so you can see the available designs.
The sizes of Paperblanks journal range from Micro (7 cm X 9 cm | 2.75″ x 3.625″) to Grande (21 cm x 30 cm | 8.25″ x 11.75″), so most people should be able to find a size that suits them. If you are looking for a "standard travel journal" size, I'd recommend their Midi sized journals.
The page count varies depending on the size and design, but most Paperblanks journals contain between 144 pages and 208 pages.
Paperblanks journals are designed in Canada and made in China.
Personally, I love their hardcover Slim sized journals and Laurence prefers either the Mini or the Midi. The Slim size format, which I really like, has led to me buying a lot of these journals over the years as this size of journal is not common. I also enjoy their old manuscript designs over the more plain designs of most journals.
Price: Check the latest prices here
Rhodia is a French brand that has been selling paper products since 1934. The company was acquired in 1997 by Clairefontaine which has been making paper at its own mill since 1858 and stationery products since 1890.
While not as well known as some of the other brands on this list, Rhodia is a brand that is often recommended to fountain pen users and those wanting a journal with high-quality smooth paper. Their most well-known product is the Rhodia Webnotebooks, also affectionately known by users as "Webbies".
The Rhodia Webnotebooks are Smyth-sewn and feature 90 gsm ivory acid-free Clairefontaine paper, rounded corners, an inner pocket, a ribbon marker, and an elastic band closure. Each has 192 pages (96 sheets), and is available with a choice of blank, lined, or dot grid paper.
The classic Rhodia Webbies are hardcover notebooks with a faux leather black and orange cover. However, they now offer hardcover Webnotebooks with a variety of cover color choices as part of their Rhodiarama range.
The Webbies come in two main sizes: Pocket size (A6) which is 9.5 cm X 14 cm (3.5 inches X 5 inches) and the larger size (A5) which is 14.5 cm X 21 cm (5.5 inches X 8.25 inches).
In addition to the Rhodia Webnotebooks, Rhodia makes a variety of other types of journals, writing pads, and notebooks. These include softcover journals, wire-bound notebooks, pocket memo pads, calligraphy pads, etc. The brand Clairefontaine is well known in France for its quality school notebooks.
Rhodia journals are designed and made in France using Clairefontaine paper. The Rhodia journals are produced in the Alsace region.
Rhodia journals can be more difficult to find in stores outside of France and Europe, so I would recommend looking online.
These are nice quality notebooks with smooth paper, and the Webbies are often recommended to those wanting to write with a fountain pen. Those who enjoy smaller journals will likely want to try one of the pocket A6 size Webbies and those wanting a more typical travel journal size will likely want to try one of the A5 size Webnotebooks.
Price: Check the latest prices here
Semikolon is one of Leuchtturm's luxury brands. So it is a German brand and one that focuses on higher-end journals with heavier paperweights.
I just wanted to briefly mention this brand because of their Grand Voyage journal line. This line of journals was inspired by the diaries kept by 19th-century travelers.
The hardcover journal features 100 gsm paper, two bookmarks, an attached pen loop with Semikolon pencil, an elastic closure band, and a back pocket. It is a hardcover journal with a linen cover that is available in several colors. It is approximately 15 cm X 19 cm (5.5 inches X 7.6 inches) and has 304 cream-colored blank pages.
What makes it more unique is that the front endpaper (the double sheet of paper glued to the inside cover of a book) has a lovely muted color world map design with the time zones. The back features a pocket.
The Semikolon Grand Voyage journal is designed in Germany and made in China.
This is a very lovely journal. The world map feature makes it especially nice if you are gifting it to someone for use as a travel journal.
However, given that it seems to only come with plain paper, this does limit its appeal as many people prefer lined, squared, or dotted paper. Another downside is that a hardcover journal with 320 pages is going to be heavier than most of the other travel journals on this list.
It is also about twice the price of a regular Leuchtturm1917 journal and can be difficult to find. These are hard to find in stores, so I'd recommend looking online.
Price: Check the latest price here
Field Notes is an American brand that specializes in pocket-sized notebooks and memo pads. If you are looking for a pocket-friendly journal or looking for a journal made in the USA, this is a brand to consider.
Field Notes started in 2007 and was inspired by the simple 20th century agricultural field notebooks used by farmers across rural America. Field Notes staple product is a pocket-sized memo book with a kraft brown cover.
The Original Kraft memo book measures 3-1/2″ wide by 5-1/2″ tall (89 mm X 140 mm), uses 90 gsm acid-free bright white paper, is bound by a rugged saddle stitching and three staples, has rounded corners, and has a kraft brown cover. They are available with blank, lined, or squared paper. Each memo book contains 48 pages and are typically sold in packs of 3.
These pocket-sized memo books are probably better suited to those who prefer to jot down notes rather than to write out long daily journal entries. Although these little memo pads can still be great for short trips even for those who tend to write a lot. For those looking for a more traditionally sized travel journal, you can check out some of the other options from Field Notes.
Field Notes are known for their limited edition covers and designs that change regularly. They also now offer a much wider variety of memo book and notebooks with a variety of covers, sizes, and styles. These include larger sized formats, wire flip notebooks, waterproof editions, perforated notebooks, and notebooks designed for left-handed writers.
If you are looking for a more durable or larger journal that is more like a typical travel journal, I'd check out their Field Notes Pitch Black Note Books which have sturdier black covers. These are offered in the regular pocket size in 3-packs with each containing 48 pages. They are also offered in a larger size at 4.75 inches X 7.5 inches (121 mm X 191 mm) and sold in packs of 2, each containing 64 pages.
Adventure travelers may also be interested in their durable and waterproof Expedition Edition notebooks. These feature a waterproof and durable hi-vis cover and synthetic waterproof paper.
All Field Notes brand products are printed and manufactured in the USA. The company provides some of the most detailed information I've seen for a company about its materials, printing, and manufacturing process.
If you are looking for simple, lightweight, smaller notebooks, these are a great option to consider. They are also very budget-friendly as you can get a 3-pack for under $15. If you are a fan of Field Notes regular kraft memo notebooks, you can get a journal cover case to help protect them when traveling.
I'd also recommend Field Notes if you are looking for a brand that prints and manufactures all its journals in the USA. These are mainly sold online and can be hard to find outside of North America.
Price: Check the latest prices here
Midori started making paper and stationery products in Japan back in 1950. In 2006, they released their Traveler's Notebook, a refillable travel journal, and it became very popular. In 2015, they changed the brand name of these travel notebooks from Midori to Traveler's Company.
The Traveler's Notebook is essentially a reusable leather cover with replaceable rubber band connectors, elastic and metal clasp, and paper notebooks. Each journal also comes with a cotton storage bag. The Traveler's Notebook is designed to last for a very long time and all the elements are repairable or replaceable.
Each Traveler's Notebook comes with one paper journal insert. The inserts are saddle stitched and each contains 64 pages. Paper inserts are available in a variety of paper types including blank, lined, squared/grid, watercolor, kraft, sketch, calendar, and thin paper. It depends on the insert but the paperweight of the paper inserts is normally 80 gsm.
The paper inserts can be replaced and changed out, and you can use a variety of different inserts at once if you wish. Depending on the insert, you can fit up to 5, but most people report using 2-3 inserts at once.
The Midori Traveler's Notebook comes in two sizes: Regular and Passport. The Regular size is 120mm X 220mm (4.7 inches X 8.7 inches) and they also have a smaller Passport size which is 98mm X 134mm (3.9 inches X 5.3 inches). The leather covers come in a several different colors.
The company also sells a number of accessories you can add to personalize your Traveler's Notebook. These include pen loops, kraft envelopes, zipper pockets, cases, stickers, charms, etc.
The products are designed and made in Japan. The MD paper is made in Japan. The leather covers are made in Chiang Mai, Thailand.
I personally got a Traveler's Notebook for the first time only last year to try it out since I had heard so much about it. I have the regular sized one in the dark brown (tea color). It came with a dust cover, band, and a blank paper insert. I have since purchased several lined paper inserts, a craft folder, a zippered case, and a band refill set.
Overall, I really love my Traveler's Notebook. I like the feel of the leather cover, the paper is good quality, and I like being able to personalize what I put into the journal. The downsides have been that the Regular size is a bit larger than the journal I typically choose (and the Passport smaller) and I wish they had more size options. It has also been hard to find and buy some of the accessories (they are often sold out).
There have been a lot of copycat products of the Midori Travel Company's Traveler's Notebooks. So if you want this specific product, be careful to check product descriptions and photos carefully to ensure it is actually from this Japanese company.
Note that Midori has gone through a lot of company name changes and now has multiple brand names which can be confusing. But The Traveler's Company, Midori, and MD Paper are part of the same overall company which is now called Designphil.
Price: Check the latest price here
Now, the success of Midori's Traveler's Journal (discussed above) has spawned a number of similar products, often competing at a lower price than the Japanese brand. Wanderings is one such company which is based in the USA and has been around since at least 2016. The company mainly sells its products online via Amazon.
The Wanderings travel journals have a full-grain leather cover that comes with replaceable rubber bands to hold inserts and an elastic and leather closure band. The covers are made of Crazy Horse cow leather and come in a few different color options. Each comes with the company's compass rose logo on the front.
Some of the covers also have pockets that can be used to hold money, paper, credit cards, passport, etc.
Each notebook cover is designed to hold up to 3 refillable inserts. The replaceable paper inserts contain 100 gsm paper and are available with lined, blank, dotted, scrapbooking, calendar, or squared (graph) paper. The inserts are easily added and removed and secured using elastic bands.
The total number of pages varies based on journal size, but each journal is designed to hold between 180 to 240 pages (90 to 120 sheets) in total.
The Midori Traveler's Company inserts and Wanderings refillable paper inserts are interchangeable and can be used in either brand's journals of the same size.
The journals are available in several sizes: Pocket/Passport (4″ X 5.1″ / 9cm X 12.5cm), A6 (4″ X 5.7″ / 10.5cm X 15cm), Regular (4.5″ X 8.5″ / 11cm X 22cm), A5 (6″ X 8.5″ / 15cm X 22cm), and Grande (7.5″ X 11″ / 19cm X 28cm).
There are also the Wanderings 6-ring binder journals that come in various sizes and are very similar to the folio ones above except the paper inserts are kept in place inside by a set of 6 metal binder rings instead of elastic bands. The binders come with 120gsm paper inserts, internal pockets, and a pen loop.
Most of the Wanderings products are made in China. Although the owner notes that some of the products are also made in India.
if you are looking for a refillable leather journal, the design of the Wanderings travel journals is very similar to the Traveler's Journals from The Traveler's Company. Some people prefer one to the other in terms of design and quality. Some advantages of the Wanderings version is that they are less expensive, easier to purchase outside of Japan, and are available in more sizes.
For those looking for a similar refillable journal that is not made of leather, check out the refillable faux leather journals called Atlas Journals made by Tribute Products.
Price: Check the latest price here
PurpleTrail is a company that specializes in personalized invitations, stationery, cards, journals, guestbooks, and notebooks. The company was founded by Christina Kejriwal in 2007 and is based in Washington, USA.
PurpleTrail produces custom journals and books, and this is a great place to look if you want a personalized travel journal. Each journal contains acid-free 118 gsm (80 lb) white paper. Most of the journals contain 176 pages. The hardcover journals are Smyth-sewn and include an attached ribbon bookmark.
The custom journal option allows you to choose the size (6″ x 8″ or 8.5″ x 11″), type of binding (Smyth-sewn or coil), type of inside pages (lined, blank, bullet, travel, recipe, etc.), and cover type (hardcover, soft laminate, or soft synthetic). You'll also have the option to add a pocket folder or stickers.
You can also fully customize and personalize the cover design, meaning you can change the text, add your own photos, change the color, and choose artwork. This is a great place to add any personalization details such as names, dates, trip destinations, etc.
While you can customize any of the over 100 journal designs to create your travel journal, PurpleTrail has put together some travel related designs that you can check out here.
If you are buying a journal to use as a travel journal, I'd probably recommend choosing one of the hardcover sewn journals. These are going to be the most durable, they have the attached bookmark, and they also allow for more customization (as you can customize the front, spine, and back cover). The 6″ x 8″ size is going to probably be the best in terms of portability.
If you want to fully design both the cover as well as each of the individual pages, you can do so with the Create Your Own Book option. We used this option to create a unique birdwatching journal as a gift for Laurence's parents; they loved it and used it throughout their trip to Uganda.
The only thing I didn't like about the PurpleTrail journal is that they don't come with any kind of closure. So if you like a closure on your journal, you may want to get your own elastic cord to use. You can also buy elastic journal closures online.
All the company's products are designed and manufactured in the United States of America. The company's production facility is located in Issaquah, Washington, USA.
The journals are only available online from the company's website or over on their Etsy shop here. They do ship internationally but the shipping costs can be high if you live outside of North America since they all ship from the USA.
These journals are going to be much more expensive than a regular journal since they are each customized and produced in the USA. But if you are looking for a high-quality personalized journal, I would definitely recommend checking out PurpleTrail. These make for great gifts.
Price: Check the latest prices here
If you are new to journaling and/or traveling, you may prefer a travel journal that gives you some writing prompts, asks questions, and gives suggestions for writing topics. These guided travel journals can also make nice gifts for someone who is new to traveling.
Travel themed prompts often ask about what you've seen, the weather, your transportation methods, people you met, food you tried, new words you've learned, best/worst experiences, etc. Many of these journals also leave room for drawing, sketching, pasting mementos, and adding photos.
Some journals also contain a planning section that can be used for pre-trip planning such as packing lists, maps, budget sheets, safety tips, etc. These can be used to help you plan out your itinerary, accommodation, budget, transportation, etc. Just note that planners tend to have fewer pages for actual journaling.
There are a lot of travel journals with prompts, and when searching you'll often see them listed as guided travel journals or travel journals with daily prompts.
Here is a list of popular travel journals with prompts to get you started:
When choosing a guided travel journal, you'll want to consider all the factors we listed for a normal journal, including size, paper quality, number of pages, type of closure, etc.
Travel journals with prompts are a great gateway into journaling. They give you plenty of ideas and ways to record your trip and your memories so you'll have them for years to come. They can also be a good introduction to find out if you are the kind of person who enjoys keeping a travel journal or not.
Price: Check the latest prices here
Rocketbook is a company that makes reusable smart notebooks. Their notebooks are designed to be written in like a normal notebook using an erasable pen. You can then upload your writing if you wish into a digital format to save before erasing it.
The Rocketbook notebooks have pages made from a type of plastic that allows you to write on it with an erasable pen and then wipe them clean with a damp cloth. You can scan your writings with your smartphone using the free Rocketbook app. You can then save and upload them to your preferred cloud storage or email them. Then you use a moist cloth to wipe the pages clean and can use them again.
Rocketbook notebooks come in a variety of sizes with the two most common sizes being Executive (6 inches X 8.8 inches) and Letter Size (8.5 inches X 11 inches) Most are spiral-bound like school notebooks. Each Rocketbook comes with an included erasable pen and microfiber cloth.
Most of the notebooks contain between 30 and 40 reusable pages. Depending on the type of notebook, you can get ones with blank, lined (wide ruled and college ruled), dotted, and squared (grid) paper. Many of the notebooks come with various types of paper options included. There are also various types of planning, goal setting, and calendar pages you can add.
Personally, while I think these could be great for planning a trip, I don't think these make the best travel journals. The available Rocketbook sizes, page formats, and styles are designed to be used for notetaking and planning in schools, workplaces, and universities rather than as diaries or journals. The reusable plastic pages mean it takes longer for the ink to dry and they can only be used with a certain type of erasable pen.
The Rocketbook notebooks are promoted as a more sustainable and environmentally-friendly option than traditional paper notebooks. And while they avoid the use of trees, I am not sure if there is any empirical evidence that they are more eco-friendly given they are primarily composed of plastic. I think the real reason people buy Rocketbook products is that they want to combine traditional handwriting with digitization.
But the pros are that the Rocketbook notebooks are cool, reusable, and they make it fairly easy to save your written journal entries digitally. So they will definitely appeal to some travelers who prefer to store their writing digitally rather than on a bookshelf.
In terms of what might make a good travel journal, I'd probably start with their Rocketbook Core notebook. It comes in two sizes with either lined or dotted paper, and is available with a wide variety of cover color options.
Price: Check the latest prices here
Dingbats* was started in 2016, although it is part of a larger family-run paper trading company that has been operating in Lebanon since 1800. Dingbats sells vegan-friendly journals and is notable for its focus on sustainability and eco-friendly products.
Most of the Dingbats journals feature acid-free, coated 100gsm cream paper, a ribbon bookmark, an attached pen loop, an expandable back pocket, an elastic closure, and a vegan leather (polyurethane) cover. They are hardcover and Smyth-sewn, and most versions contain 192 pages (96 sheets).
Dingbats journals are available with your choice of lined, dotted, blank, or squared paper. Some journals contain perforated pages.
The Dingbats journals are available in a variety of colors, and each Dingbats journal features an embossed animal or natural element on the front, such as an elephant, whale, cactus, wolf, Great Barrier Reef, or deer.
Dingbats journals are produced in Lebanon. They are 100% vegan. They also say that most of their products are fully recyclable in most countries.
Most of the Dingbats journals range in size from approximately A6 (9.5cm X 14.5 cm / 3.7″ X 5.7″) to A4 (21.5m X 30cm / 8.5″ X 11.8″). Most open like a book, but they also have a smaller reported-style flip-style notebook as well. There is also a Pro Collection of Dingbats journals which are larger in size (B5), use higher quality paper (160gsm), and nicer textiles.
The Dingbats journals are really nice and will especially appeal to wildlife lovers and vegans. Dingbats journals can be difficult to find in stores in many countries but they can be purchased online.
In terms of choosing a size for a travel journal, their A6 sized journals are good if you are looking for a pocket-sized travel journal and the medium A5 sized journals are perfect if looking for a more standard-sized travel journal. If you are wanting something bigger, like a school composition notebook size, then you might be interested in their B5 Pro Collection journals.
Price: Check the latest prices here
If you are looking for something more handmade and crafty looking, I highly recommend going onto Etsy and seeing what you can find there. There are a number of talented artisans making various kinds of journals and notebooks.
Leather and Earth Co. is one such small business run by a mom of 4 kids named Laura in Nebraska, USA. She has also recruited a couple of other local moms to help her as well. Together they hand-make, sew, and personalize leather journals.
All the journals are made from vegetable-tanned leather which is offered in several colors. The closure is either a leather wrap strap or an elastic band with leather, depending on the style of journal chosen.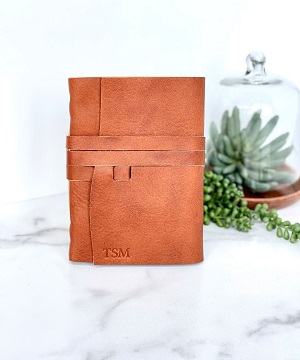 The paper used is a thick 90lb (185 gsm) mixed media paper available in blank, lined, music writing, or recipe formats. There is also an option for a thicker watercolor paper. All the journals are designed to hold up to 140 pages of regular paper or 60 pages of watercolor paper.
They offer both bound and refillable journals. The hand sewn journals are hand stitched together with a linen thread. The refillable journals include 3 elastic straps where you can add and remove up to 3 paper inserts.
All journals can be personalized with text on the front cover. For example, you can have initials, your name, a date, or trip destination embossed on your journal. You can also design a custom title page if you wish.
The journals are available in several sizes: 4″ X 6″ (10 cm X 15 cm), 5″ X 7″ (12.5 cm X 17.5 cm), 6″ X 9″ (15 cm X 23 cm), or 9″ X 12″ (23 cm X 30.5 cm).
These journals, including the leather and paper used in them, are made in the USA. Note that these journals currently only ship to addresses in the United States.
If you are looking for more handmade journals from around the world, check out the options on Etsy, where you can search for those made in your own region. For example, Bespoke Bindery is a great option if you live in the UK. Most handmade journals can be personalized just for you.
Price: Check the latest prices here
If you are traveling with children, then getting them their own travel journal can help them record their own memories. Travel journals and activity books can also keep kids entertained when there is downtime on your trip.
Each of these travel journals are designed for children of a certain age range and reading level. Depending on the age level, they may have colorful illustrations, travel-related activities and games, writing prompts, areas for drawing or coloring, stickers, quotes, fun facts, maps, memento pockets, etc.
There are a number of travel journals for children out there and you can find a lot of them online on Amazon. Here are some good options to consider:
Each travel journal is generally designed for children of a certain age range. So you'll want to take your child's age, reading level, writing ability, and general interests into consideration when choosing a journal.
Some journals are also tailored to a particular region (e.g. USA or Europe) or a specific type of travel (e.g., road trip), so it is good to read the full description and user reviews.
Another option to consider, especially for older kids and teens is to create them a special custom journal where you can add personalized details such as their name, details of your trip, your own photos, or artwork. They also have add-on sticker options (including travel themed ones).
Price: Check the latest prices here
This next journal is made by Peter Pauper Press which is an American company based in New York, which has been selling books and other paper goods since 1928. Today, the company sells a number of journals, books, puzzles, etc.
The Page-A-Day Journal is intended to give you enough space to write and take note of memorable places and events on your travels, but is still brief enough that writing in it doesn't take up too much time. As the journal name suggests, it is intended that you write one page per day.
This journal is Smyth-sewn and features smooth acid-free 120 gsm paper, rounded corners, an attached ribbon bookmark, a back memento pocket, and an elastic band closure. The brown faux leather cover is embossed with "Page-A-Day Travel Journal" and has a globe design. The endpapers have a cloud design.
Each page provides space for you to put the date, location, and weather as well as a number of blank lines to write down whatever you want. The paper is lined (gray dotted lines).
The journal is 5″ X 7″ (82 cm X 114 cm) and contains 176 pages in total. So the journal will last you about 170 days of travel if you write one page per day. But you can also use multiple pages per day if you wish as you can just put the same date. For most people, this journal will last for multiple trips.
The Page-A-Day journal is designed in the USA and printed in China.
If you are on the fence between a guided journal and an unguided journal, this may be a perfect solution. This journal gives you a small bit of structure and a page per day to write whatever you want.
Price: Check the latest price here
**You can also see many of the travel journals we recommend above in a single page on Amazon here with current prices for a handy reference. Just note that not every journal on the list is available via Amazon.**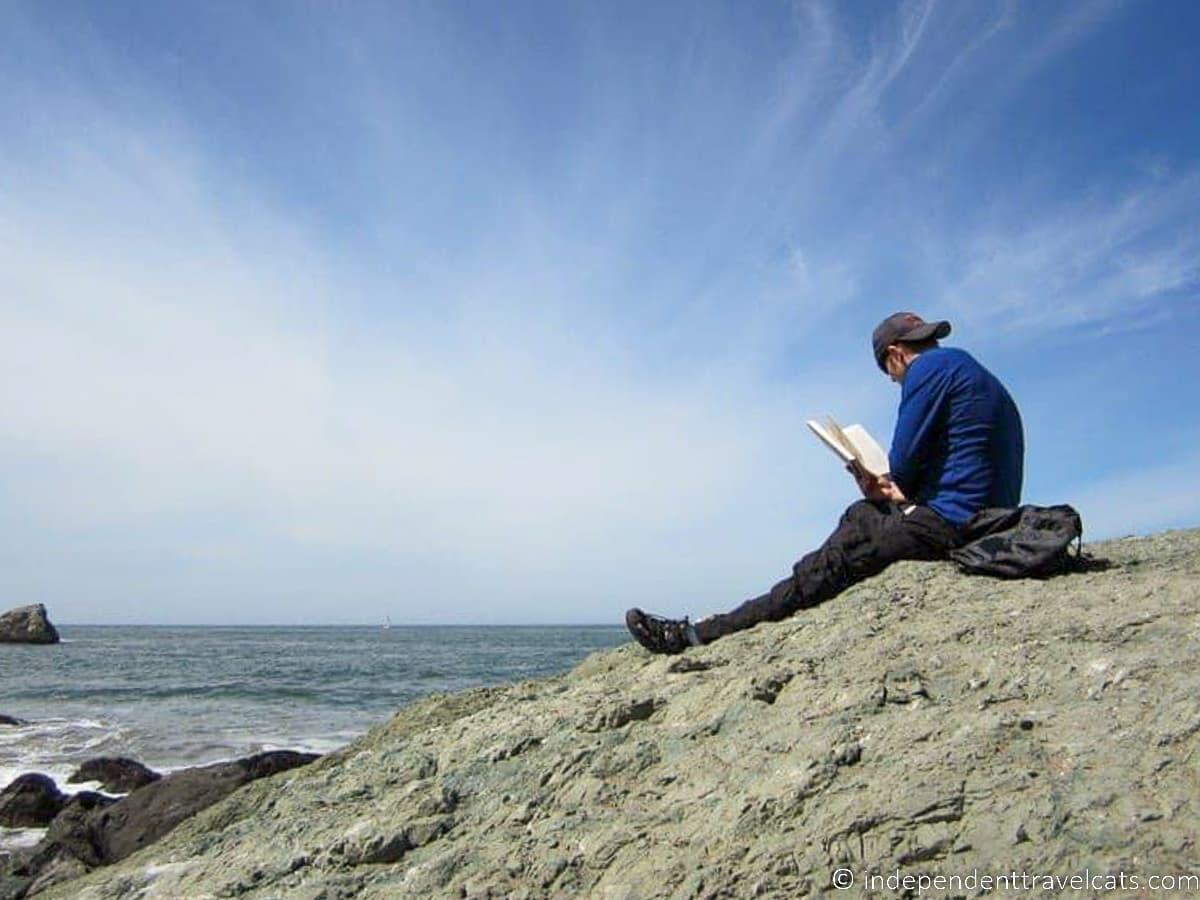 So that is our list of the best travel journals for travelers! Which is your favorite?
Planning to purchase a travel journal in the near future, but not now? Pin this article to Pinterest to read later: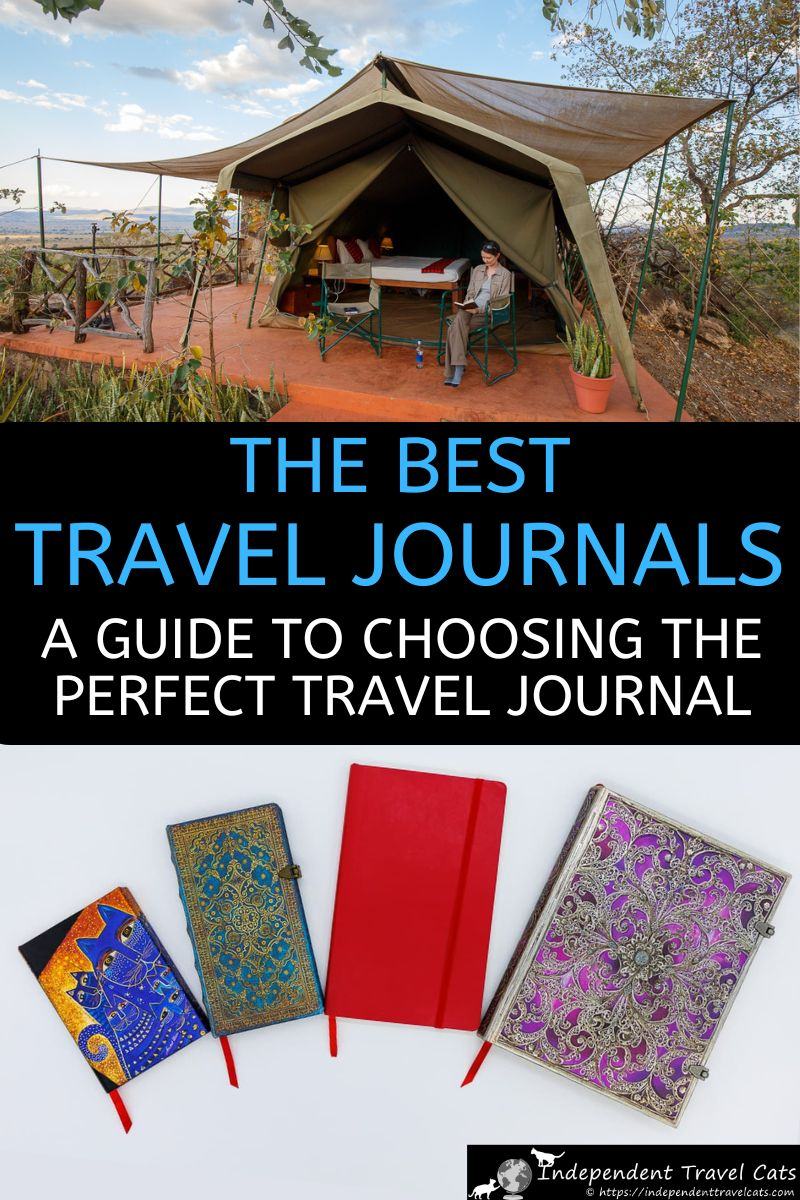 What do you think about travel journals? Have you kept a travel journal or diary while traveling? Is your favorite travel journal brand on the list? Tell us below!