Based on our time traveling in Finland in winter, we've decided to create a Finland packing list for winter to help those traveling there for the first time. Winter is a magical time to visit Finland as you have gorgeous winter landscapes, tons of fun winter activities to try, and the chance to see the Northern Lights. However, it is also a difficult place to pack for if you are not used to packing for cold weather destinations.
Temperatures are regularly below freezing throughout the winter months in Finland and packing well is key to enjoying your trip to Finland. That is why we've put together a Finland packing list for winter to help you pack smart to avoid being unprepared.
We've put together a suggested Finland winter packing list that lists all the essentials you'l need for your trip based on our own research and experience traveling in Finland. This packing list should also work equally well if you are visiting any of the Scandinavian countries (Denmark, Sweden & Norway) during the winter months or any other similar cold weather destinations (e.g., Russia, Canada, Greenland).
We provide packing suggestions and tips for winter coats, warm winter clothing, footwear, electronics, items to protect your gear, and what you'll need for a range of activities (e.g., skiing, photographing the Northern Lights, visiting a Finnish sauna). We've also created a handy printable packing list you can use to check-off your items as you pack for your winter trip to Finland.
So read on to start packing for your winter trip to Finland!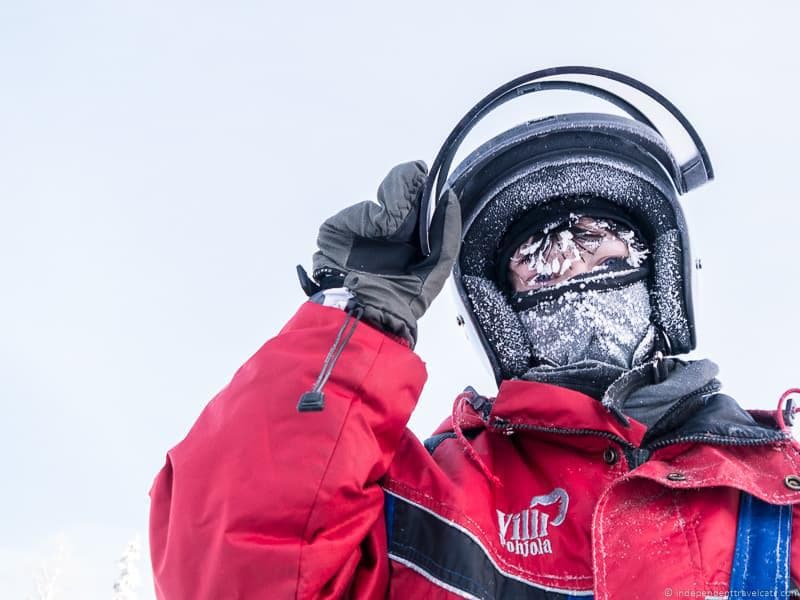 Finland Packing List for Winter
The key to packing well for Finland is to bring very warm outerwear and to bring items that can be easily layered. Be sure to check the weather before you leave to be as prepared as you can be, but if you are heading to the northern part of the country, expect snow and temperatures below freezing.
Temperatures can easily drop to -25 degrees Fahrenheit (-32 degrees Celsius) in the northern parts of the country so you will want to choose clothing that will keep you warm even in these low temperatures.
There are lots of fun things to do in Finland during winter, from snowmobiling to husky sledding to chasing the Northern Lights. Just make sure you are prepared so you can best enjoy these activities!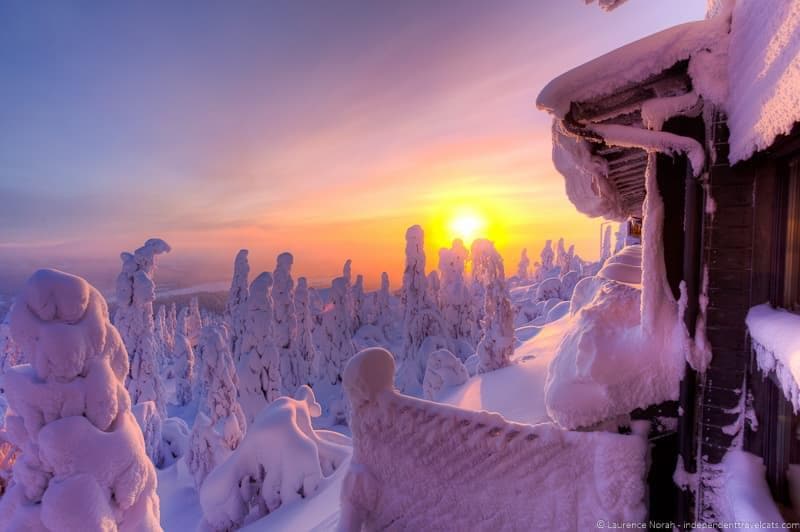 1. Winter Coat
One of the most important things you'll need when going to Finland is a heavy-duty winter coat or parka.
Things to look for in a good winter coat for Finland:
Designed for cold temperatures below freezing

Down filled or down alternative filled – a bit weightier down coats will keep you warmer

A hood is recommended, especially one with an adjustable drawstring

Wind resistant or windproof – you'll want to keep out the chilling winds

Water resistant is desirable

Hip length or longer – the longer designs will keep your backside warm as well
Note that if purchasing a down jacket, that much of the world's duck and goose down is actually live plucked from the birds! So if buying a down coat, be sure to look for one made of ethically sourced down. The two main regulating standards are the Responsible Down Standard and the Traceable Down Standard. These jackets are a bit more expensive, but you might also want to consider synthetic down-alternative items.
Remember when trying on coats at a store or ordering online, that you need to think about what you will be wearing underneath. Choose a coat that has a looser fit so it can easily fit over bulky sweaters, fleeces, and layers. If you choose a coat that is too close fitting, it may feel uncomfortably snug when zipped or buttoned up.
When looking at designs, those which are sleeker and more lightweight will pack and travel easier, but just make sure they are designed for below freezing temperatures. If you have to choose between functionality or fashion, choose functionality when it comes to picking a good winter coat!
Brands we personally use and trust for winter coats are Columbia (search men's styles / women's styles), The North Face (search men's options / women's styles), and Eddie Bauer (search men's styles / women's options).
If you live in the USA or another country where REI ships, you can check out their selection of winter insulated coats for men and for women. They usually have a good selection of winter coats suitable for low temperatures.
A couple of specific suggestions for women are this long Columbia coat and this long North Face parka. Men may want to take a look at winter coats like this North Face parka, this Eddie Baur down jacket, or this Eddie Bauer parka.
If you don't have a proper winter coat, this is one investment I would definitely make before going to Finland in the winter! This should be a top priority on your winter Finland packing list.
2. Warm Mid-Layers Tops
Underneath your coat, you are going to want to want a warm mid-layer. These clothes will be under your coat but over top of your base layers. The key to keeping warm in cold climates is the layer system which is designed to trap in the warm air generated by your body to keep you warm.
Things to look for in finding good warm tops for Finland:
Look for items made of wool or cashmere – wool is good at wicking moisture & retaining heat. Even if you get wet, it will still keep you warm.

Wool can be itchy and scratchy, so test the fabric against your skin before packing. If you have sensitive skin, consider an alternative to regular sheep'

s wool such as lambswool, cashmere, merino wool, or alpaca products.

If you are looking for a wool alternative, look for a polyester top. Polyester is not quite as warm as wool, but is quick drying, lightweight, and will wick away moisture from the skin. Polyester items are also more durable than wool so will usually last longer.

Other fabrics like cotton can be OK as mid-layers, but not if they get wet. They don't hold as much heat and don't wick moisture away from the body. Not recommended in situations where you expect to get wet or sweat much. If you bring cotton layers, be sure to pack some wool and/polyester ones as well.

We recommend you bring a few heavy weight, medium weight, and lightweight tops that can be layered as needed.
Some people just wear one midlayer top, especially if it is not too cold. But I almost always wear two at once. So maybe a heavyweight over a lightweight or a mediumweight layer over a lightweight layer. It just depends on the temperature and what we were doing that day. That is why we recommend packing fleeces, sweaters, and long-sleeved tees of various warmth and weight.
Since you'll be layering, you should be able to rewear them over multiple days so take that into account when packing.
Also remember that you'll have a thermal baselayer underneath your midlayers so you don't want them to be skintight. You'll also need to fit your winter coat over the top of all your layers so you may want to test this before you leave to make sure you coat feel comfortable over your layers.
There are loads of potential options for good mid layer clothing and you likely have several in your closet already from lightweight pullovers to cozy fleeces to heavy knit sweaters. If most of your options are made of non-wicking materials (e.g., cotton), I'd invest in a few warm wool or thermal polyester tops for your trip to add to your suitcase.
For women, here is an example of a lightweight wool pullover top, a medium weight sweater, and a heavyweight knit sweater.
For men, here is a lightweight wool top, a medium weight sweater, and a heavyweight knit sweater option.
3. Warm Pants
I'd bring a couple of pairs of warm pants with you to Finland to wear as outer layers (over your base layers). If you already have some warm hiking, outdoors, or ski pants, these will likely work. The most important elements are warmth, comfort, and water resistance.
Things to look for in warm winter pants for Finland:
Synthetic materials like polyester and polyester blends are often best for pants because they are quick drying and more likely to be water-resistant or waterproof. Wool can also be OK but not the best choice for days when you may get really wet. We recommend against wearing cotton unless you know you are not going to be getting wet.

Many winter pants come with an internal lining such as fleece to help keep you warm.

Be sure to buy something you can move freely in and that isn't too tight, especially if you are going to be doing hiking, climbing, or winter activities in them. Also be sure to pack

pants that can fit comfortably over your thermal base layers.

Ideally look for pants that are water-resistant or waterproof if you are going to be outside a lot or doing outdoor winter activities.

If you are also planning to go skiing or snowboarding, you might want to look for ski pants that are comfortable and stylish enough to double as general winter pants.

If you want to wear denim jeans (cotton), bring a pair as it is your vacation. I wore jeans in Finland myself, but they are not recommended for any days when you might get wet. Just note that they get soggy when wet, don't retain heat well when they get wet, and are slow drying.
A few examples for women are these water-resistant softshell fleece-lined winter hiking pants, these softshell fleece-lined snow pants, and these insulated snow pants.
A few examples for men are these fleece lined ski pants, these cargo pants, and these winter water-resistant pants. Pants like these flannel lined cotton pants can also work on days when you don't expect to get wet.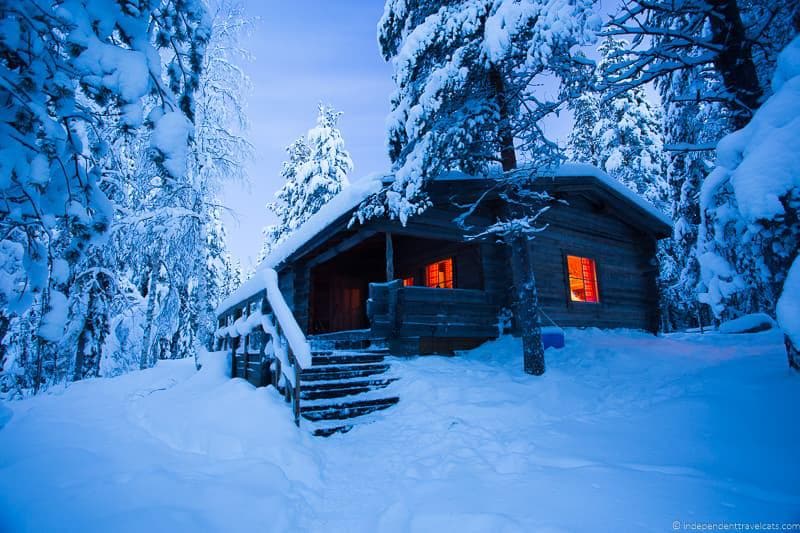 4. Thermal Baselayers
Baselayers may also be called long underwear, thermals, long johns, or thermal underwear. All are referring to warm underlayers that you wear closest to your skin under your regular clothes. You'll want a long-sleeved top and a set of bottoms.
The most important thing is that you want thermal baselayers that are breathable and will wick the moisture away from your skin.
I'd recommend bringing along two sets of baselayers if you are going to be spending more than a few days in the winter weather. If you are only packing one set, just be sure to buy durable quick drying ones that you can wash and dry overnight as needed.
Look for items made of wool, polyester, or a polyester blend. Avoid cotton.

Wool is one of the best materials for wicking moisture & retaining heat. Even if you get wet, it will still keep you warm. However, w

ool can be itchy and scratchy, so test the fabric against your skin before packing. If you have sensitive skin, consider an alternative to regular sheep'

s wool such as lambswool, cashmere, merino wool, or alpaca products.

If you are looking for a good wool alternative, look for a polyester base layer. Polyester is not quite as warm as wool, but is quick drying, lightweight, and will wick away moisture from the skin. Polyester base layers are also usually more durable than wool so will often last longer after multiple washings.

There are also bamboo baselayers. These are good softer alternatives to wool and are good at wicking and are quick drying; however, these tend not be as warm. So be sure to check their warmth rating and reviews.

Choose a baselayer designed for cold weather temperatures. Some lighter base layers are designed for milder climates. For example, a 200 gm fabric weight is going to be warmer than a 100 gm weight garment. But the weight you want may also depend on how much you plan to wear on top of it.

You want the baselayer to be close-fitting but not constricting.

There are a lot of companies that promote that their wool (and bamboo) products are antibacterial or antimicrobial because wool is naturally so. The waxes that make wool antibacterial are often removed during the washing and processing of the wool so just note that these claims are often not really true. You still need to regularly wash your wool items although they do tend to hide odors better than other fabrics.
You can sometimes buy baselayers as a set with both a top and bottom, but more commonly you buy the two as separates. This works especially well if you are different sizes on top and bottom.
I have more sensitive skin so I have a set of merino wool baselayers and a couple of sets of synthetic polyester base layers. Laurence wears merino wool baselayers and there are also lots of polyester options out there for men as well.
Some brands to consider for merino wool baselayers include SmartWool, Icebreaker, Minus 33, Patagonia, and Mountain Warehouse. For polyester baselayers, you might try Mountain Warehouse, Polarmax, Under Armour, or Coldpruf.
5. Warm Socks
Choosing warm, moisture-wicking, and well-fitting socks is very important. Socks that quickly become soggy or don't fit well will lead to cold feet and blisters.
Things to look for when choosing winter socks:
Merino wool is considered one of the best sock materials, especially for winter. But acrylic, polyester, and synthetic/wool blends are also good alternatives. Any fabric that is good at keeping in warmth and wicking away moisture. Avoid cotton!

The thicker the sock, the warmer it will likely be. Just be sure that your socks fit comfortably into your shoes and boots.

The toes and heels are the first parts to wear out on a sock, so if you are going to be hiking or doing activities, look for extra reinforcements or padding in these areas for a more long-lasting sock.

Look for a sock with a bit of stretch on top for a good fit. Many socks will have some elastic or spandex in them to help the sock fit properly and stay up on your leg.

In terms of height of sock, match it to the kind of shoes you will be wearing. If you will be wearing a high top hiking boot or boot, make sure the sock goes up past the shoes to prevent rubbing against your leg. We tend to always get higher socks to work with any shoe or boot.

If you are going to be doing a bit of hiking, you might consider a sock liner which is sort of like a base layer for your feet. They help keep your feet warmer, and can also protect against blisters. Just be sure that if you get a sock liner it is made of wool or a synthetic material that is good at wicking away moisture.
A couple of suggestions for women are these merino wool blend hiking socks and these all season boot socks.
For men, a few suggestions are these wool boot socks, cushioned merino wool blend hiking socks, and these cold weather crew socks.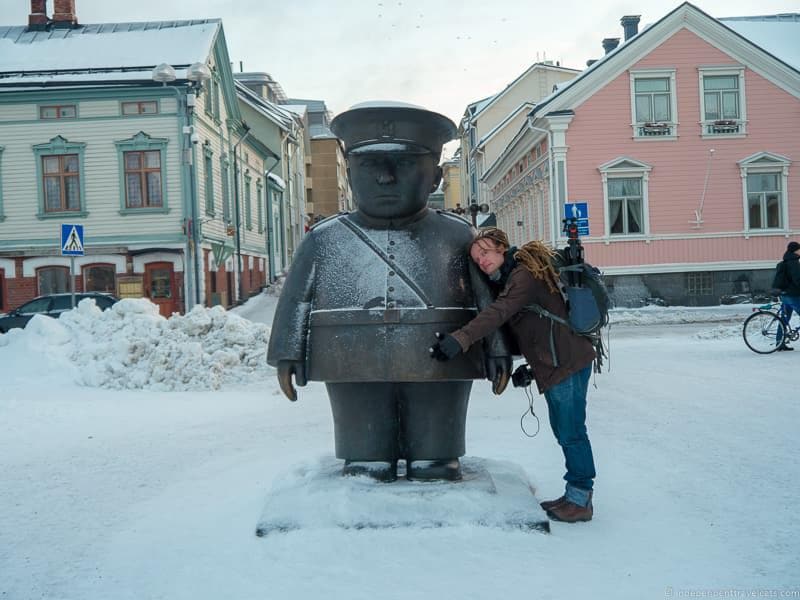 6. Warm Windproof Hat
You'll definitely need a warm hat for your trip to Finland.
Things to consider when choosing a warm hat for Finland:
Ideally look for a hat that is warm, thick, and windproof.

You want something that protects both your head AND your ears from the wind and cold weather.

Get a hat that has multiple layers or is lined for more warmth and better protection from the wind. I recommend a warm hat with a fleece inner lining.

Water resistance is a plus, but not a necessity and it can be difficult to find in a comfortable hat. I use the hood of my winter coat when it rains.

It can be windy, so choose a hat that fits snugly and won't blow away in a strong gust of wind.
There are plenty of warm hat options out there in dozens of styles. I personally generally wear hats like this Under Armour beanie, this cable knit slouchy hat with pom pom, or this Columbia beanie. If it is really cold I often wear a headband underneath over my ears or cover my head with the hood of my jacket.
Laurence wears both beanies like this one and he has a heavy-duty winter hat with ear flaps and a chin strap like this trapper hat.
7. Warm Gloves
A warm pair of gloves are essential to keeping your hands warm in Finland during the winter.
In terms of fabrics, synthetic fabric gloves with a padded lining are some of the warmest gloves we've tried. Leather and wool are also fabrics to consider although they tend to not be as warm. Most gloves have a lining or double layer for extra warmth and protection.

Check out the warmth or temperature rating, or read past reviews to determine if they will be warm enough. I bought a pair of "winter" gloves before hiking Mount Kilimanjaro and on the day of the summit I realized that my gloves were not nearly warm enough and my fingers were freezing!

Make sure the gloves are well-fitted. One size does not fit all when it comes to gloves and gloves that are too big can be cumbersome and make it hard to grip things. Too small and they can pinch your fingers or wrist.

Make sure the fabric is thick enough or they are fully lined to keep your hands warm in windy weather.
Water resistant or waterproof gloves is also something to look for in winter gloves. However, this is not essential unless you are planning to do a lot of snow or water based winter activities in Finland (e.g., skiing, snowboarding, kicksledding, dogsledding, snowman building) or planning longer hikes where you might have prolonged exposure to rain, sleet, or snow.

If you want to be able to operate a touchscreen, such as your phone, there are a number of gloves that are designed for texting and touchscreen use. Just note that some of these designs are not as warm as others not designed for touchscreens.

Mittens are generally warmer than gloves with fingers. Gloves allow for more dexterity than mittens, but if you are going to be in some really cold conditions, you might also consider mittens or a "flip-top" glove that has an extra mitten layer that goes over the gloved fingers. Mittens are particularly recommended for children and those with skin that is sensitive to the cold.
If you are planning to be in freezing temperatures for longer periods of time, we recommend considering layering for more warmth as you would with your other clothing. Glove liners can add an extra layer of warmth under more bulky gloves or a pair of mittens. Some winter gloves may come with a liner or you can purchase one separately.
I have a pair of women's winter gloves similar in style to these ones, and you might also consider a pair like this one for touchscreen compatibility. If you are looking for a pair of mittens, you might want to consider these Carhartt mittens, these Swany Touch mittens (convertible with nonremovable liner), and these Black Diamond mittens (with removable glove liner).
For men, Laurence wears these Isotoner gloves and you might also check out this pair of insulated winter gloves. For mittens, we recommend taking a look at these men's Carhartt mittens or these Black Diamon mittens with a removable glove liner.
If you are looking for a glove liner, we recommend checking out this one by Smartwool. You can find more liner options for men here and for women here. Note that these can also be used as lightweight gloves in warmer temperatures.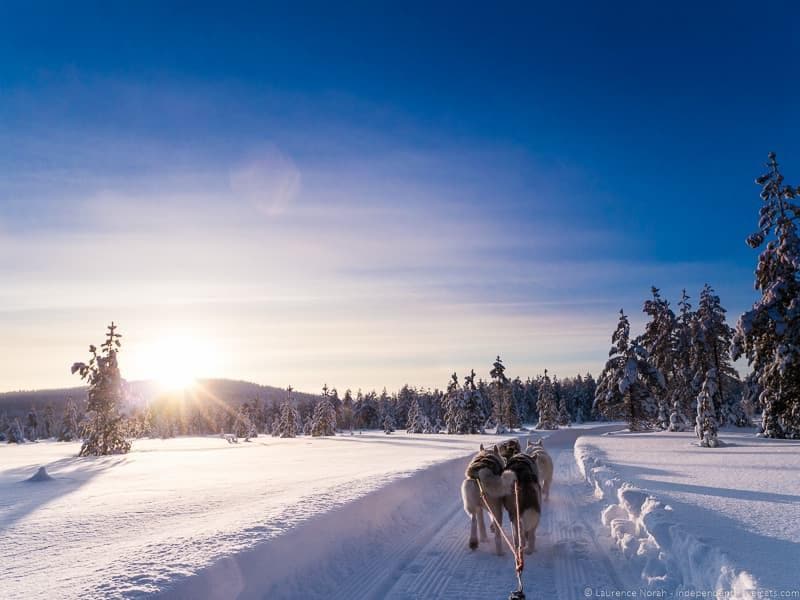 8. Scarf
A scarf is great for keeping your neck warm and drafts out, and can also make a nice fashion accessory. I like scarfs like this wool scarf or these cashmere scarves, and for men's scarves, Laurence likes ones like this plaid wool scarf and this cashmere one.
We prefer wool scarves, but synthetic fabrics also work. Just make sure it is made of a warm wicking material that is not scratchy or irritating to your neck.
9. Balaclava or neck warmer
In addition to a scarf and hat, you may also want to consider picking up a balaclava or neck warmer for extra warmth, particularly if your face and/or neck tend to get cold. These are not necessities, but recommended for those who will be doing things like snowmobiling or skiing where the wind is likely to be blowing right at your face.
We did not have these with us when we went to Finland but ended up being given balaclavas during a snowmobiling trip and kept wearing them for the rest of our trip!
10. Waterproof Shoes or Boots
If you plan to spend any time outdoors wandering around in the snow, you'll want a good pair of waterproof shoes or boots. If you are also visiting cities or doing a lot of indoor activities during your trip, I'd also recommend packing a regular pair of shoes to wear for indoor days and for travel days.
Your choice of footwear should depend on what you plan to do in Finland. If you are just planning to walk around the snow then you can just get a general pair of waterproof shoes or snow boats. But if you are doing winter activities you'll want a more heavy duty pair. If you are going hiking, you'll definitely want a good pair of waterproof hiking boots.
I have both a pair of The North Face snow boots and a pair of waterproof Merrell hiking shoes that I wear alternatively in the winter depending on what I am doing or where I am going.
For general wear, I have been traveling with a pair of Skecher's mary jane biker shoes for the past 5 years (I have to replace them about every 2 years) but they are not the best cold weather shoes.
Laurence has a pair of waterproof Scarpa boots he loves and wears in both cold and hot weather. He also usually travels with a versatile pair of Oxford style shoes (he likes Timberland and Merrell brands) to wear when not outside in the snow and on travel days.
When it comes to buying shoes, you definitely want to test out a pair before packing them for your trip. If you order boots online, make sure you do so through a company that lets you return or exchange them. Here's a full list of waterproof boots to get you started.
For more snow boot and winter shoe recommendations see our travel shoes for men and our travel shoes for women guides. Both include several snow boot and waterproof hiking boot recommendations.
For waterproofing, we also recommend considering treating your boots or hiking shoes with a waterproofing treatment such as with Nikwax. This is particularly recommended for older shoes as over time they tend to lose their water resistance.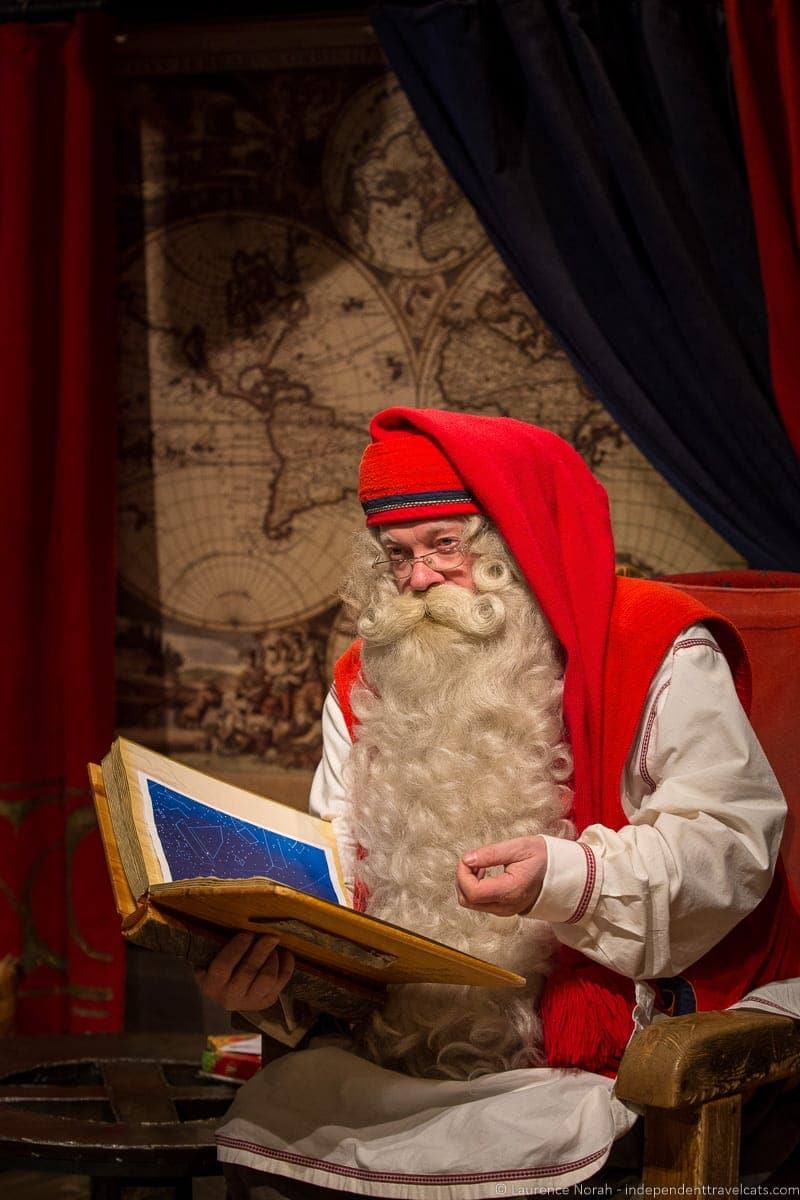 11. Swimwear
You may not need to pack swimwear, but if you are planning to go to a sauna or an indoor swimming pool, you'll want to pack one. Many Finnish people have their own sauna or go to a local public one, and often sit in the sauna nude with either members of the same sex or as a family. However, generally for saunas frequented by tourists, most visitors feel more comfortable wearing swimwear although you can also go nude at most.
If you have never been to a sauna before, you can read more about sauna etiquette. One popular activity in winter is to sit in a hot sauna (often after a few beers) and then race outside for a cold dip in a nearby lake or pond!
There are loads of swimsuit options out there and you likely already own some that will work. You might also consider bringing a pair of flip-flop sandals or shower shoes to wear.
12. Ski, Snowboarding, & Other Winter Activity Gear
Now, if you are planning to do a guided activity like snowmobiling, dog sledding, or snowmobiling, the tour company or activity center will normally provide all the gear you need like full-body snowsuits, helmets, etc. You'll just want to come dressed warmly and they'll provide all the extras. Although do check when booking to see what you should bring and what is provided.
If you are planning on skiing in Finland, again, ski resorts often rent out any needed ski gear like skis, poles, snowboards, snowboarding boots, goggles, etc. You can see our skiing packing list for what you'll want to consider packing if you plan to ski or go snowboarding.
Normally people bring their own waterproof ski jacket, ski pants, and waterproof gloves although these can also sometimes be rented in some locations (but not all so do check ahead if you don't have these items). Many people also bring their own ski goggles (especially those who need a prescription pair) and any custom gear (boots, skis).
If you are planning on going off to do winter activities independently, you'll want to make sure to bring along waterproof snow pants (ski pants work great). If you are hiking, we'd also recommend a headlamp, a travel first aid kit, waterproof covers for your pack and gear, a water bottle, and trail bars/snacks.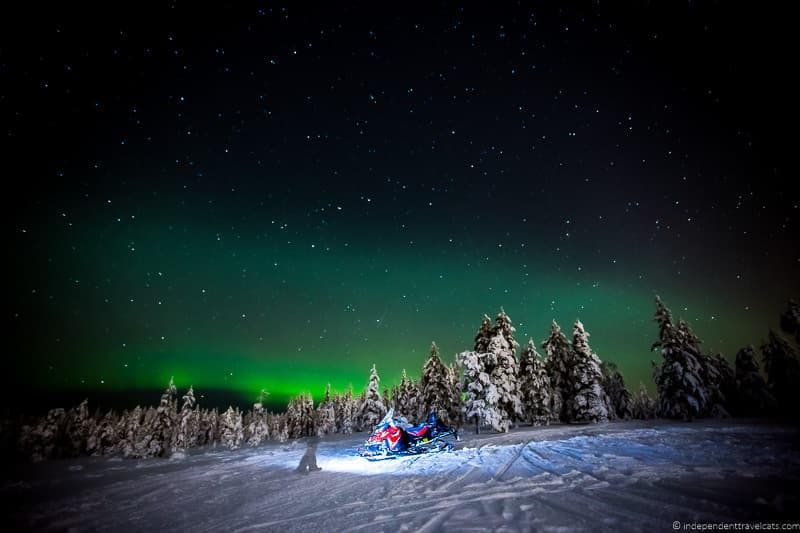 13. Other Cold Weather Extras
Cold weather can be really harsh and drying for the skin, so we recommend packing a good face moisturizer with sun protection (we use Neutrogena daily facial moisturizers which offer a range of products with an SPF range from 15 to 50) and a moisturizing chapstick with sun protection. Remember that you can still get sun damage during the winter, and you'll want to protect your skin as you would in the summer as the snow is a great reflector.
If you are going to be outdoors for longer time periods, or you are particularly susceptible to the cold, you might consider bringing along some hand warmers and/or foot warmers. These are inexpensive items that actually generate heat, last for a number of hours, and will keep your extremities warm. These can be great if you are spending a few hours on the back of a sled or snowmobile!
If you are going to be spending a lot of time in the snow or doing any water activities, we'd recommend bringing along some dry bags or waterproof cases to keep your phone and any electronic gear dry. Extra bags can also be used to temporarily store wet clothes and swimwear.
14. Electronic Gear
You'll want to mostly bring the same electronic gear that you normally travel but a few things that you might specifically need for Finland:
You probably want to be able to get online and make calls while away, and you can read our guide to getting online while traveling. If you have an unlocked smartphone, you may want to get a local pre-paid SIM card, you can see options here

. Most hotels offer free WiFi in Finland.
Batteries die faster in cold weather, so this includes your phone, camera, and any other electronic device with a battery. We recommend packing along extra batteries and bringing along an external powerpack or car charger to help charge devices on the go. Keeping spare batteries in your chest pocket under your coat can also keep them warm and from going flat as quickly.
Finland has European style two pin plugs (Type C or F), so if you're traveling from the UK, the USA, or anywhere else with a different power socket, you'll need to bring along a few travel adaptors like this or a universal travel adaptors like this. If you are not sure what you need, see our travel adaptor guide.

Also note that Finland has 220 to 230 volt electricity so don't bring items (such as blow dryers, curling irons, kitchen appliances) that are not compatible with that voltage (e.g., 110v items from USA). You can get a voltage converter for these, but we'd recommend taking dual voltage items instead (e.g., a dual voltage straight iron or hair dryer).
15. Finland Travel Guide
Many people will want to pack along a good guidebook to Finland to help them plan their trip and itinerary. We recommend getting one that has been recently updated within the past year or two, such as the most recent Lonely Planet guidebook. Many are now available in both printed form and digital form.
16. Camera & Photography Gear
Finland is a beautiful place and you are going to want to undoubtedly take some photos as memories from your trip. Some things to consider:
There are some tricks to taking photos in cold weather locations and of snowy landscapes, and you can check out these

cold weather photography tips. Tips include bringing along spare camera batteries and using large Ziploc bags to both protect and transition equipment from the cold outdoors to the warm indoors.
If you are looking for a new camera or wanting to upgrade yours, you can check out these travel camera recommendations for every budget, from smartphones to professional DSLRs.
Tripods are great for capturing the Northern Lights and low light situations. We have a travel tripod guide which includes tripods we recommend for traveling.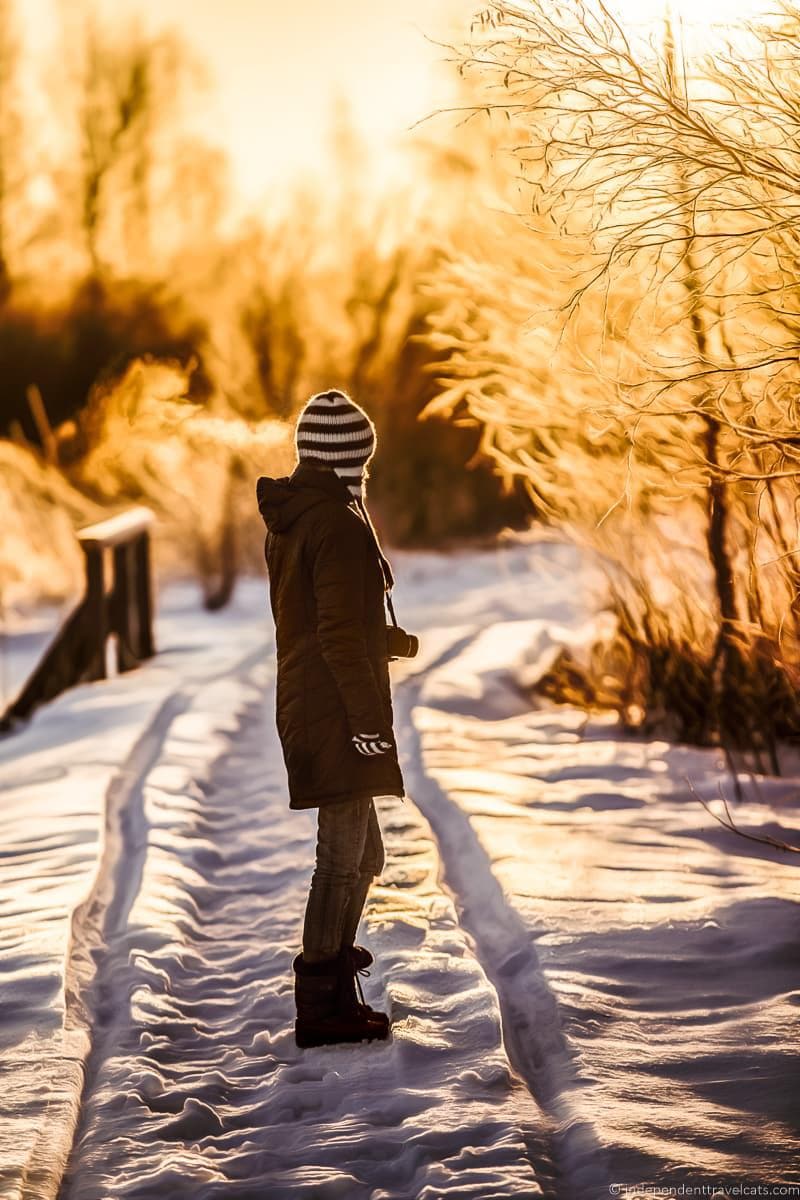 Best Places to Buy Winter Gear
The most important thing about packing for Finland is that you should purchase anything you need before your trip. Buying winter clothing and gear in Finland is expensive and outside of Helsinki, the choices can be very limited. If you need an item like a hat, those are easy to find, but I'd sort out your winter coat, thermals, boots, and other important items before you go.
Don't waste your valuable vacation time shopping for winter gear!
In Stores
For larger purchase items where fit is really important, I personally like to shop in stores if possible. If you have outdoors or sporting good stores near you, those are often good places to start. Although any of your favorite retail clothing stores should have all the winter basics like scarfs, hats, and sweaters if you are buying during the winter season.
The problem of course is if you are trying to buy winter clothing when it is summer in your country, you're likely going to have a difficult time. If you are not finding what you are looking for, I'd advise going online for more options.
It is hard to provide any specific store recommendations as it depends on where you live. In the U.S. I often shopped at a local sporting goods warehouse called Sports Basement (LOVE, but only in California), REI, and local Army/Navy surplus stores. Military surplus stores can be fantastic treasure troves for outdoor gear!
In the UK we often go to Mountain Warehouse or Sports Direct for outdoor clothing and gear.
Online
You'll find more options online than you can find at your local stores. We generally provide mostly Amazon recommendations since we often buy online there and these items are available to people in a number of countries. But you can also check out the online sites for your favorite brands and stores, such as REI.
If purchasing online, I would shop at a store that has a good return policy in case something doesn't fit or work. Be sure you order items well in advance to allow enough time to receive the item and return it and make a new purchase if needed.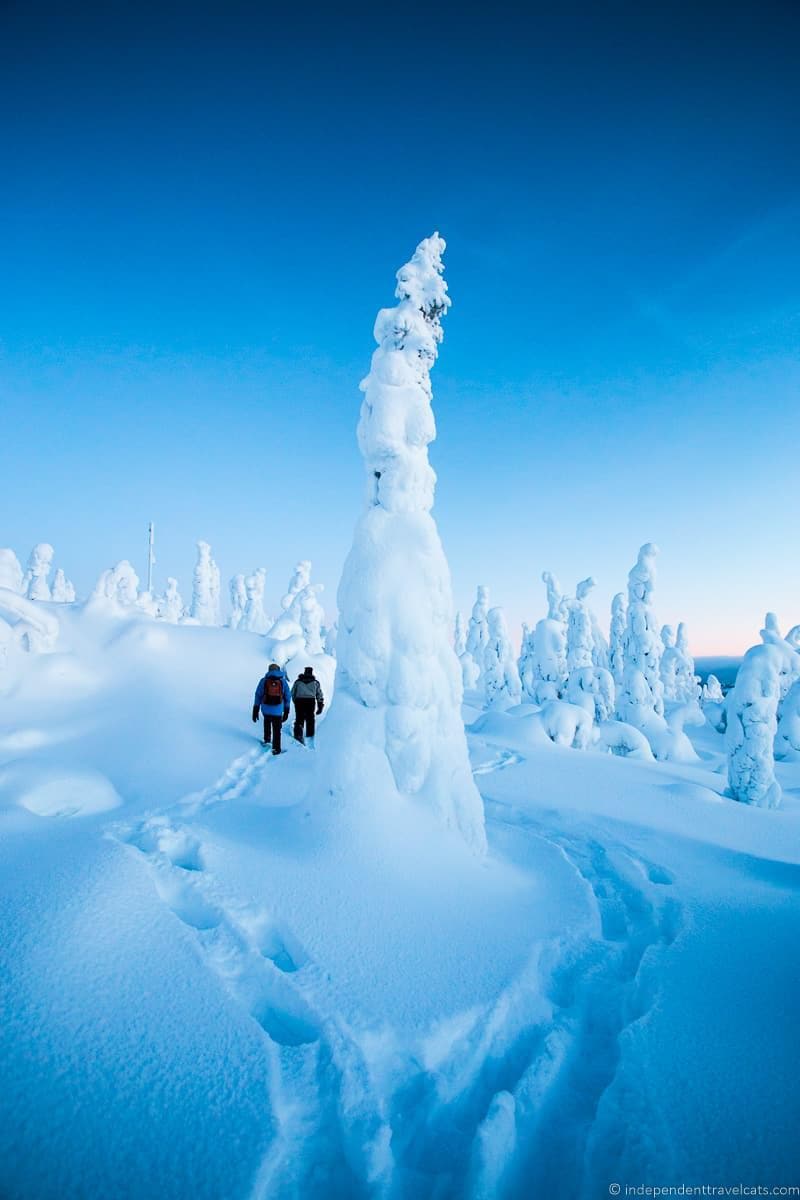 Finland Winter Packing List Checklist
To help you out, here's all the above information in a list form! It includes everything mentioned above plus all the regular stuff you'll want to remember to pack like underwear and a toothbrush.
You can also see the majority of the products we recommend above in a complete list on Amazon here for reference.
We've also got a downloadable Finland Winter Packing Checklist here that you can print out and use while packing.
Outer Layers of Clothing

Warm winter coat or parka

Mid Layers

Fleeces, sweaters, hoodies

Pants

Base Layers

Thermal Tops

Thermal Bottoms

Footwear

Waterproof shoes or boots

Regular pair of shoes for cities / travel

Other Clothing & Winter gear

Warm socks

Undergarments

Windproof warm gloves

Windproof warm hat

Scarf

Balaclava or neck warmer

Swimming/Sauna Gear

Swimwear

Sandals/Shower shoes

Electronic Gear

Smartphone

External powerpack

Travel adaptor plugs

Headphones

Chargers

Cables

Tablet/laptop/e-Reader

Other ______________

Photography Gear

Camera

Tripod

Memory cards

Spare batteries

Camera Accessories (lenses, case, strap, selfie stick, chargers, etc.)

Luggage & Backpacks

Toiletries

Moisturizer

Chapstick

Sunscreen

Deodorant / Fragrances

Toothpaste / Toothbrush

Cosmetics / Haircare

Hygiene Products

Medications

Other ______________

Other items

Travel papers/IDs/passports/visas

Waterproof bags and/or Ziploc bags

Jewelery / Watch

Travel Journal

Reading materials

Cards / games

Other ______________

Hikers

Day pack

Snacks

Waterproof cover for bag

Medical first aid kit

Headlamp or flashlight

Safety gear

Other _______________

Skiiers / Winter Activities

Waterproof Ski jacket

Waterproof pants

Waterproof gloves

Ski goggles

Ski boots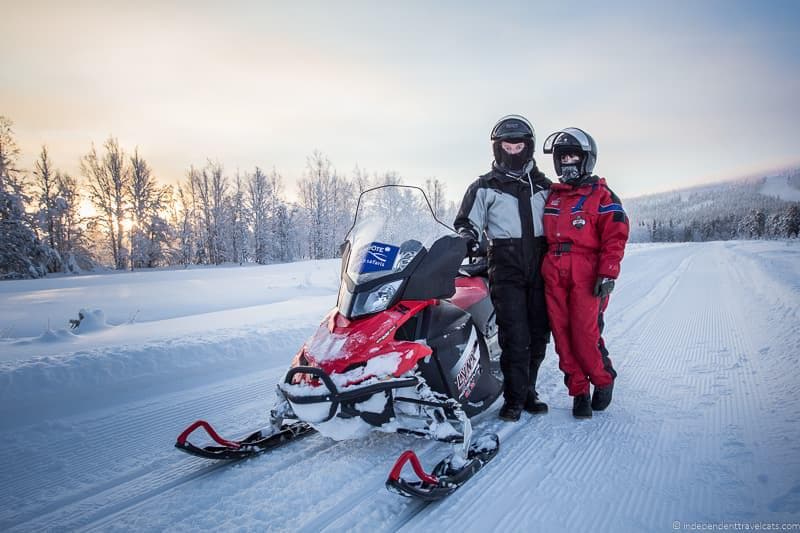 And that is our winter packing list for Finland! We hope you found our Finland packing list for winter useful.
Check out our other content on visiting Finland including our guide to the best winter activities in Finland, things to do in Helsinki, things to do in Porvoo, visiting Oulu, a review of the Helsinki Card, and visiting Rauma in winter.
If you are planning a visit to Finland, consider saving this article to PINTEREST to read it again later.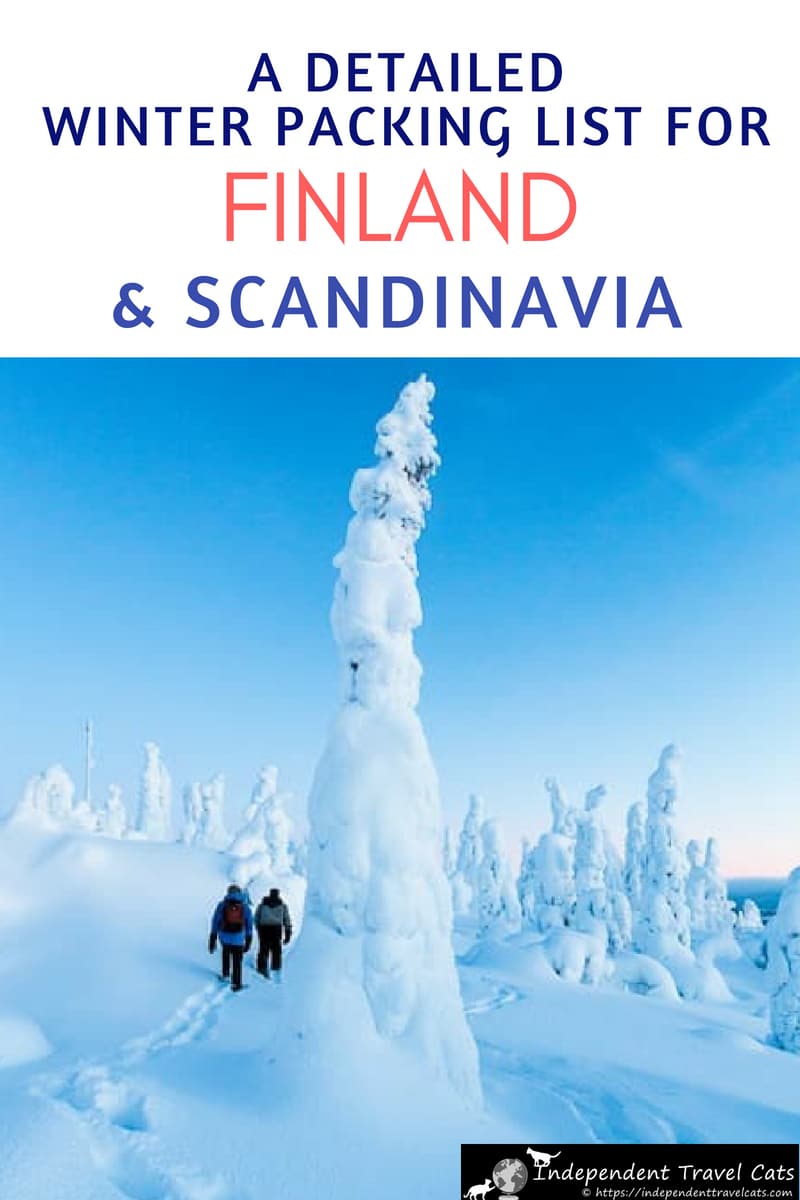 Would you be interested in traveling to Finland in the winter? If you have been to Finland in winter (or similar cold weather destinations), please feel free to share any of your own advice or experiences. If you are planning a trip to Finland, feel free to ask any questions in the Comments section below and we will get back to you as soon as we can!