The Philosophers Walk in Heidelberg, or the Philosophenweg, is a path located on the northern banks of the Neckar River in Heidelberg, Germany. Historically, this was just a simple rough path through the vineyards; however, it would later be renamed Philosophenweg during the Romantic Period because of the many professors and philosophers of Heidelberg who enjoyed the path for its solitude, natural beauty, and great views of the town. Today, this path is still there, complete with gardens and informational plaques, offering lovely views of the Neckar River, Old Town of Heidelberg, and Heidelberg Castle. These views of Heidelberg from along this path are said to have inspired the famous German poets Joseph von Eichendorff and Friedrich Hölderlin in their writings. On our recent trip to Germany, we stopped in Heidelberg specifically to see the views along this path and see if we could indeed find some of that solitude and beauty that made this path so appealing to the Romantic artists and philosophers. If you are interested in walking the Philosophers' Walk, we'll give you detailed information on how to find the path and we'll share our experience of our brief visit to Heidelberg.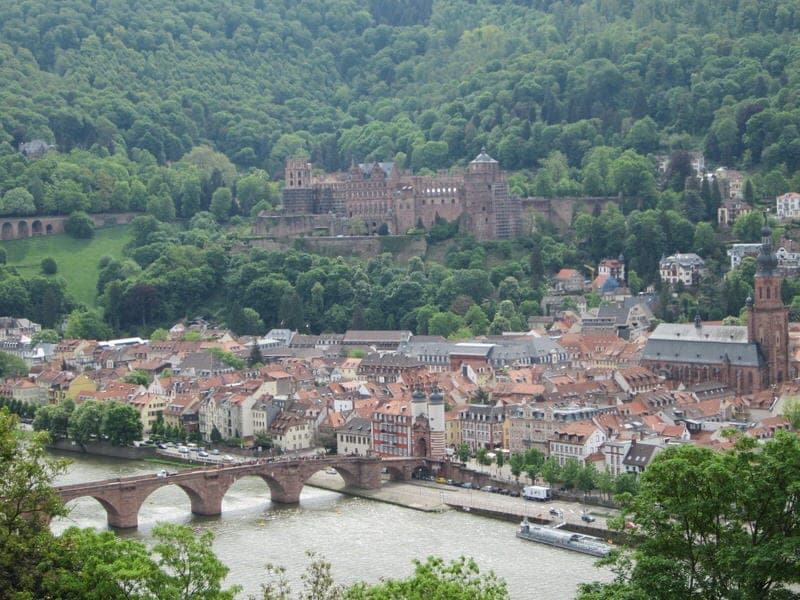 Basic Information on the Philosophers Walk in Heidelberg
Where is it?
The Philosophenweg is located on the northern side of the Neckar River in Heidelberg. It runs along the side of the Heiligenberg (the Holy Mountain or Saints' Mountain). When looking at a map, it is on the opposite side of the Neckar River from Heidelberg Castle. In English, it may be labeled as the Philosophers' Walk or the Philosophers' Way.
Ways to get to Philosophers' Walk?
Well, there are a few ways to get here, but it depends on your starting point and what else you want to do in Heidelberg. Below are three options:
Option 1 (by car/taxi): Drive to Philosophenweg and park and then start the walk. This is the easiest way as it is quicker and avoids the trek up the steep hill after crossing the Neckar. When driving, Philosophenweg (which is an actual street before it becomes a pedestrian only path) intersects with Bergstrasse. Once on Philosophenweg, you can drive as far as you can and keep an eye out for parking. Or if you want to keep it really simple, just take a taxi and have them drop you off.
Option 2 (on foot): If you are without car and are walking from Heidelberg's Old Town (Aldstadt) to Philosophers' Way, here is the way we took on our return on foot and would recommend. Within the Old Town, head towards the Neckar River and the Alte Brücke (Old Bridge or officially the Karl-Theodor Brücke). If you take the street Steingasse it will end right at this 18th century bridge. Now, cross over the Alte Brucke to the other side of the Neckar River. Turn left and walk a very short distance until you see a pedestrian light to cross over the road (Ziegelhauser Landstrasse) and then look for a sign that will point you to Schlangenweg. You'll follow this snake-like steep path up the hill (lots of steps) to connect with the pedestrian-only part of Philosophenweg. Note: This option involves a lot of steps to get up the steep hill. There are a few benches along the way that you can stop and take a break.
Option 3 (on foot): This way may be more convenient if you are on the Western side of the Old Town or want to walk through one of Heidelberg's residential area or see some of the university buildings. Find Bismarckplatz and then walk towards the Neckar River. Cross over the Theodor-Heuss-Brücke (it allows for both vehicles and pedestrians). Keep going straight until the road crosses Brückenkopfstrasse, then turn right on Brückenkopfstrasse. Next, turn left on Bergstrasse. Finally, take a right onto Philosophenweg. You'll pass a number of residences and university buildings and eventually the road will turn into a pedestrian only zone. Note: This option does involve some steep uphill walking and you do have to pay more attention to traffic, but it avoids a lot of the steps of Option 2. This route could also be done by bike.
Cost & Hours?
It's free and an option at any time of the day! Best bets for good views and solitude are sunrise and sunset. If you want to see the plants and flowers at their best, come in Spring or early Summer.
Duration?
This really depends on how you plan to get here (driving versus walking) and how much time you want to spend on the path. For walking the path itself, I would allow at least 30 minutes, preferably an hour to do it at a leisurely pace and stop and stroll the gardens and take in the views. If you are walking from the Old Town, you will need to allow an extra 20-30 minutes each way.
If you are interested in a longer walk or hike, you can venture a bit farther up the Heiligenberg (the mountain) to view some interesting ruins. These include the 11th-century Monastery of St. Michael (Michaelskloster), the Monastery of St. Stephen (Stephanskloster), a Nazi-era open-air amphitheater (Thingstätte), and the remains of a 4th century B.C. Celtic hill fort.
Where can I find out more Information?
There are two Tourist Information Offices in Heidelberg, one at the main train station (Willy-Brandt-Platz 1, telephone: 49 6221 58 44 444) and one located in the Market Square in the Old Town (Marktplatz 10). You can also check out the official tourism website for Heidelberg and here is a link to their information on the Philosophers' Walk.
Our Experience of the Philosophers Walk in Heidelberg
We stopped for a few hours in Heidelberg on our way from the Rhine Valley to Baden-Baden, Germany. Heidelberg is most famous for its castle, old town, and university, but we decided to avoid all of the major tourist attractions here and opted to do a walk along the Philosophenweg or Philosopher's Walk. We drove through Heidelberg until we found Philosophenweg with our GPS. Then we searched for parking, and finally parked along a road near the start of the pedestrian-only part of Philosophenweg.
The sun came out to greet us that Spring morning after days of rain and we soaked in the great views from the path. There are fantastic views of the Neckar River, the bridges, the Old Town, the castle, and the tree-covered ridges around the town.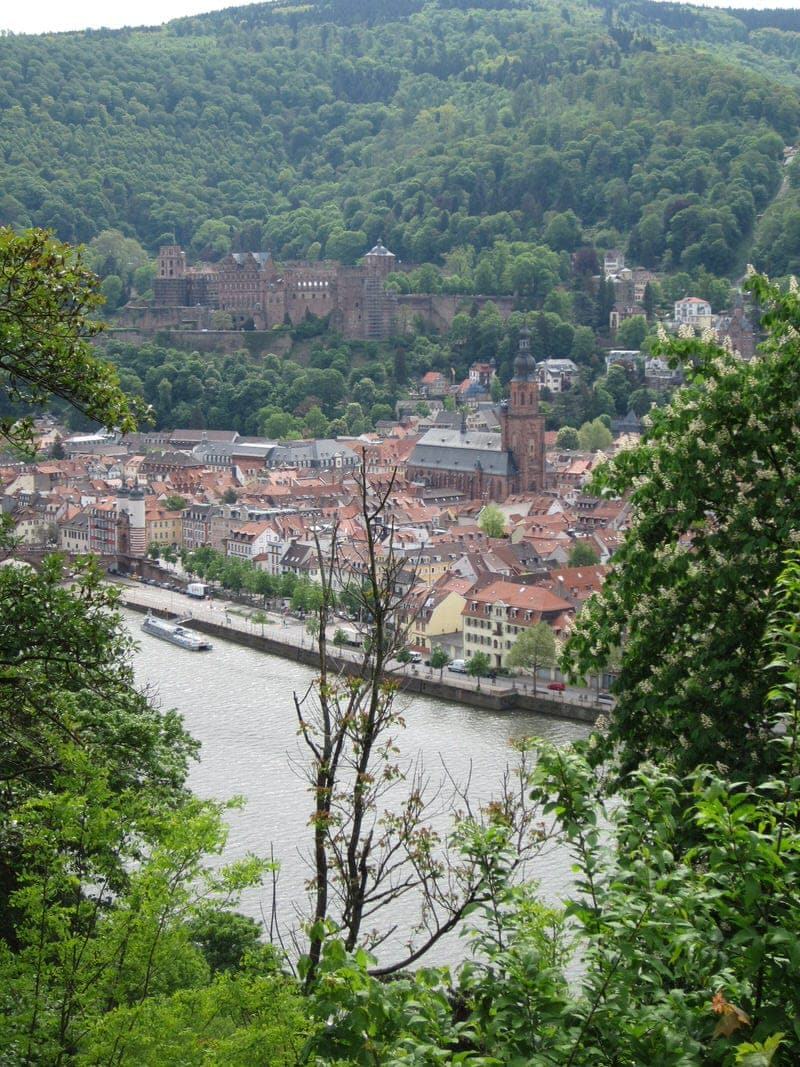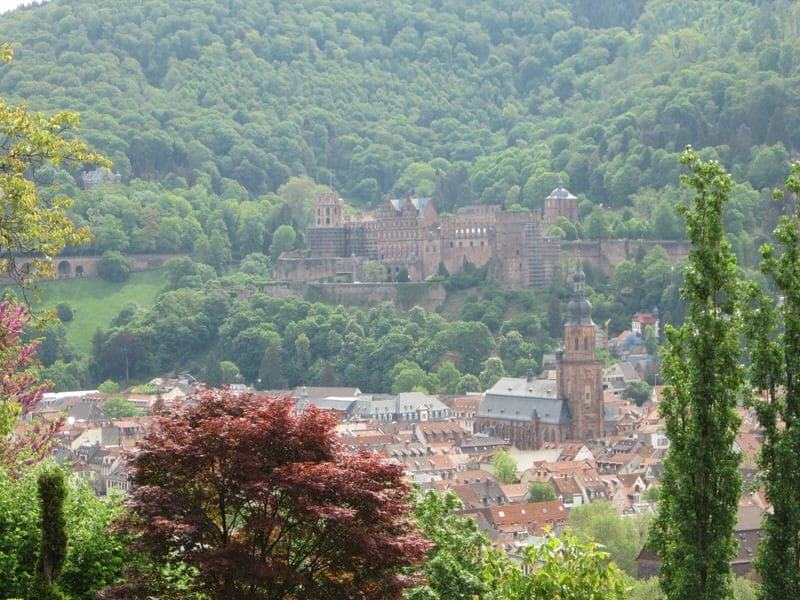 You'll see a pretty garden in one area with some exotic plants (the Philosophers' Garden), memorials to famous poets and historical figures, and some informational plaques related to the history, flora, and fauna of the area. There are also park benches, flower beds, and even an ice cream cart along the way. However, other than a seasonal ice cream cart, we did not notice any other places selling food or drinks so if you want to picnic, bring everything you will need. There were several places that looked like perfect places to stop to read a book, eat a quick picnic lunch, or contemplate the history of the universe.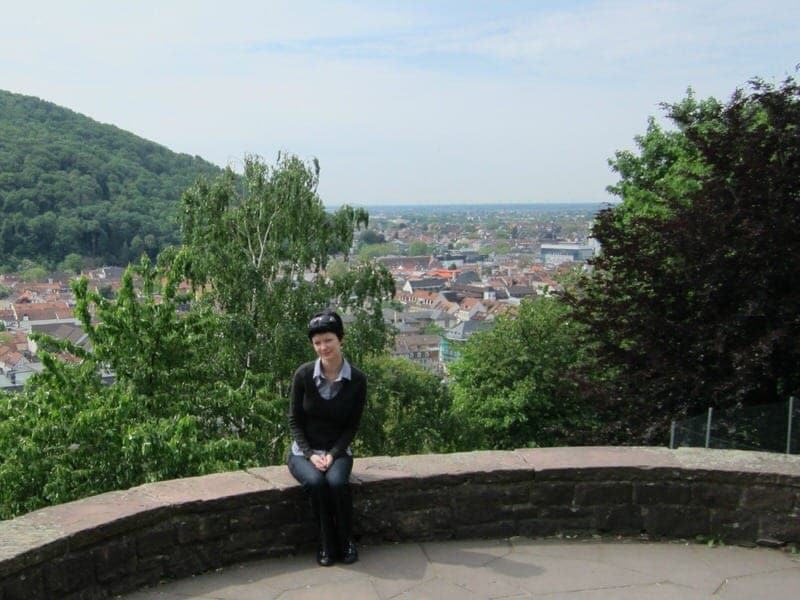 We eventually came to a set of stairs that led to a path (Schlangenweg) down the hill. Originally, we had not planned to actually walk over to the Old Town, but the great views won us over. There were a lot of steps and we got a bit warm, but we made it and reached the Alte Brücke (Old Bridge). This is an interesting 18th century bridge with several statues and a medieval bridge gate (Brückentor) at the south end. After leaving the bridge, see if you can find the popular bronze monkey statue nearby. For bonus points, try to find the two little bronze mice. Some believe that you should touch the monkey's mirror for wealth, the mice for fertility, and the monkey's hand to return to Heidelberg.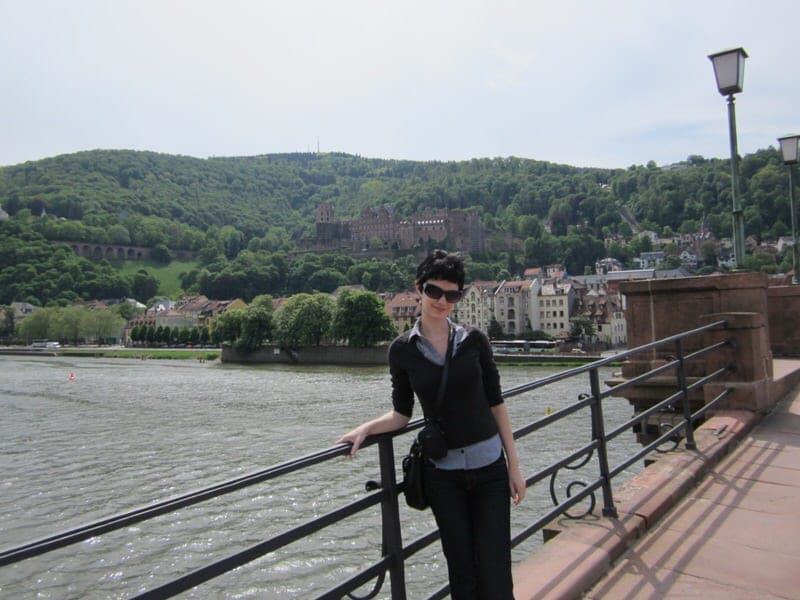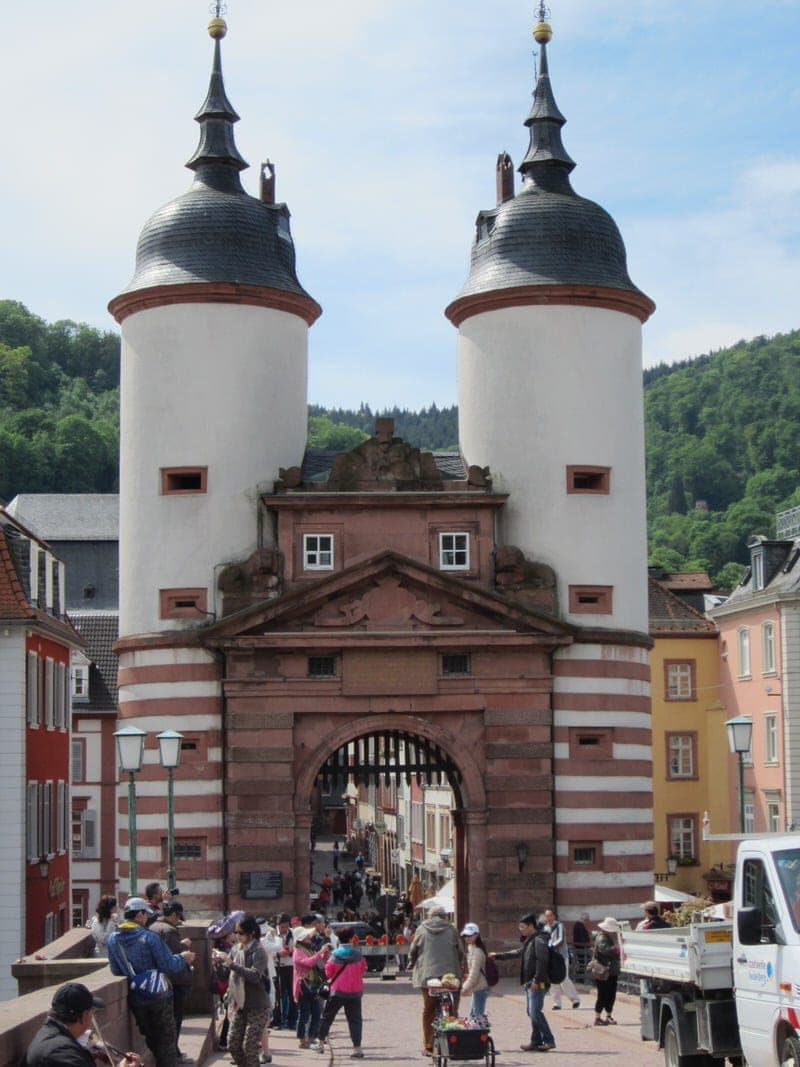 After walking across the bridge, we walked through some of the main streets of the Old Town. We browsed a couple of tourist gift shops so I could buy a postcard for a friend back home who had gone to a college in Ohio named Heidelberg University. I also discovered that although Germany does not obviously have souvenir penny smashing machines, they do have them for 5 cent euro pieces! This was exciting because my brother collects smashed souvenir pennies.
During our rambling walk, we visited the large late Gothic Heiliggeistkirche (Church of the Holy Spirit). Unfortunately, much of the signage for the exhibits were in German; however, we learned enough to know that the church has a long and interesting past and even the religion of the church has changed multiple times. Despite its name, it is currently a Protestant church.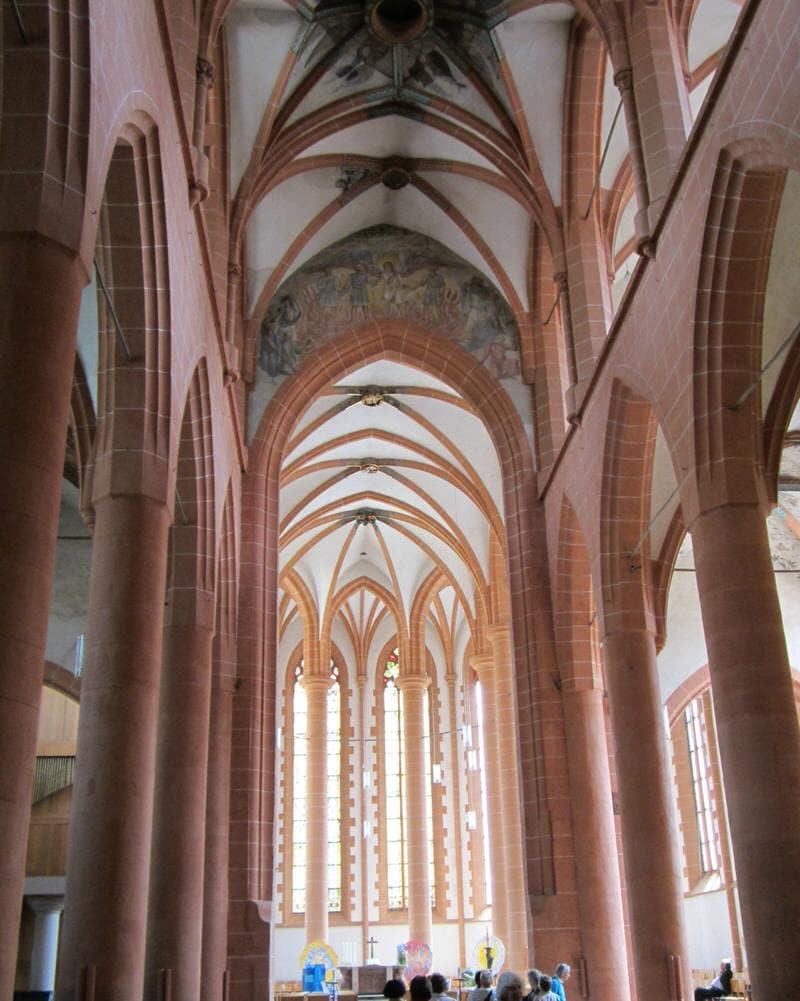 Heidelberg's Old Town is a lovely place to stroll, filled with buildings from a range of architectural periods, churches, restaurants, quaint squares, and museums. We mainly avoided all these on this trip, but hope to return to further explore this city more in the future. There were a lot of tour groups in town during our visit—a large number of British tour groups and bus loads of Asian tourists. It was a bit overwhelming in the area near the bridge. However, once we crossed the Alte Brücke back to the Philosophers' Way, we did not observe any of the large tour groups crossing the Neckar River. There appears to be a force field at the north end of the bridge!
The Neckar river paths looked inviting (swans were gliding along the river), but we needed to move on and make the trek uphill so that we could continue our drive to Baden-Baden. After crossing Alte Brücke, we walked left until we saw a pedestrian crossing to get across the road (Ziegelhauser Landstrasse). Then spotted signs for Schlangenweg.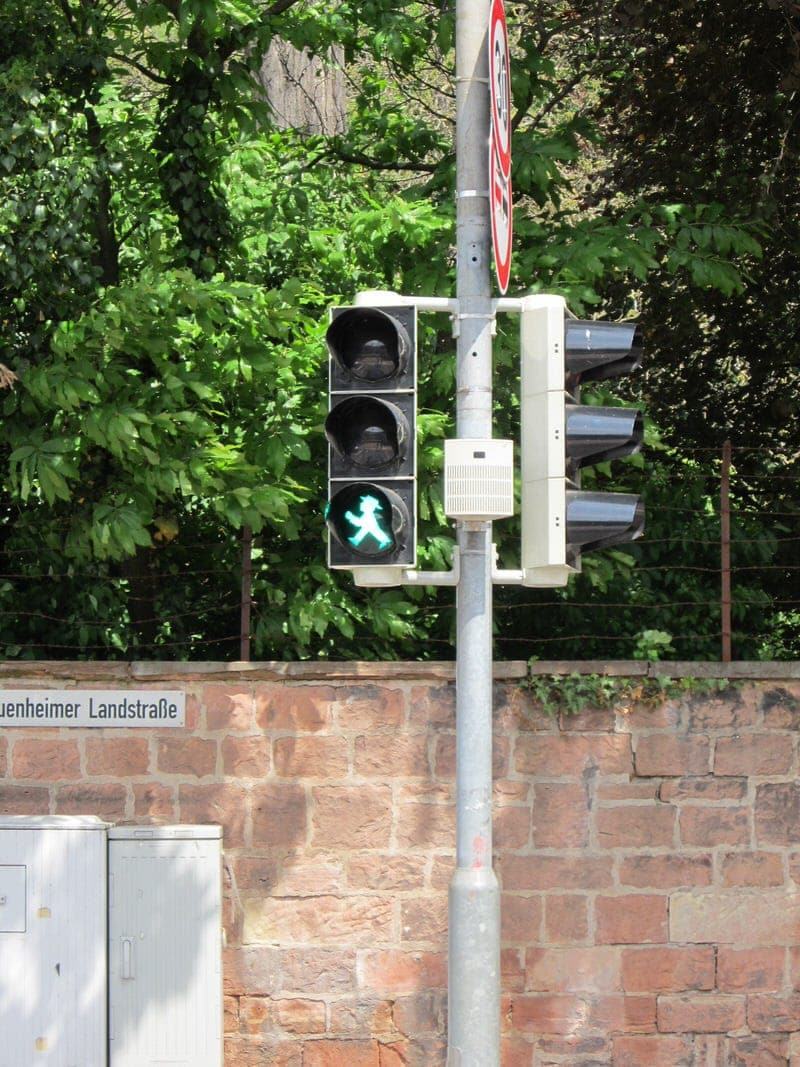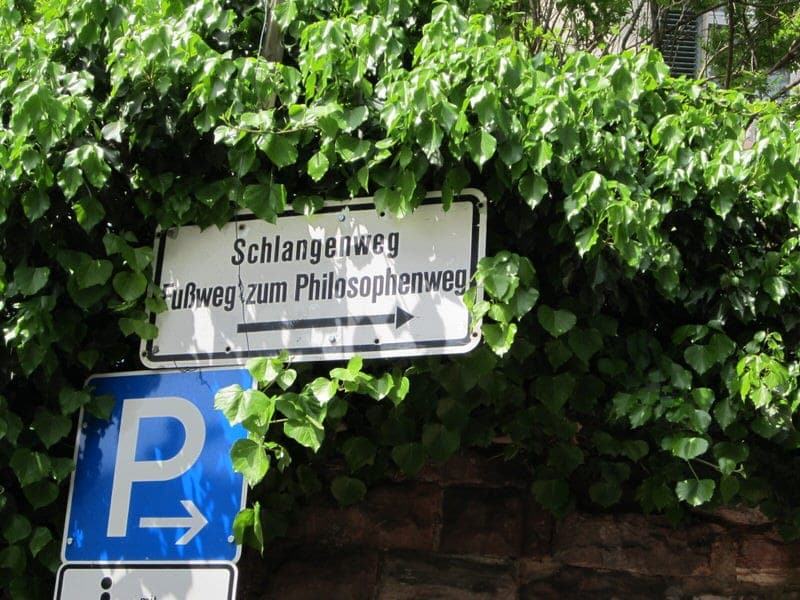 Ethan had purchased a scoop of lemoncello gelato on our walk around town, which we shared to cool ourselves down for the steep walk back up the hill. However, our gelato was melting fast and it didn't make it too far up the steps before we had to finish it off. The walk was much worse going up and left us a bit sweaty in the heat, but it is very doable for someone with a normal level of physical fitness and there are places you can stop and rest along the way.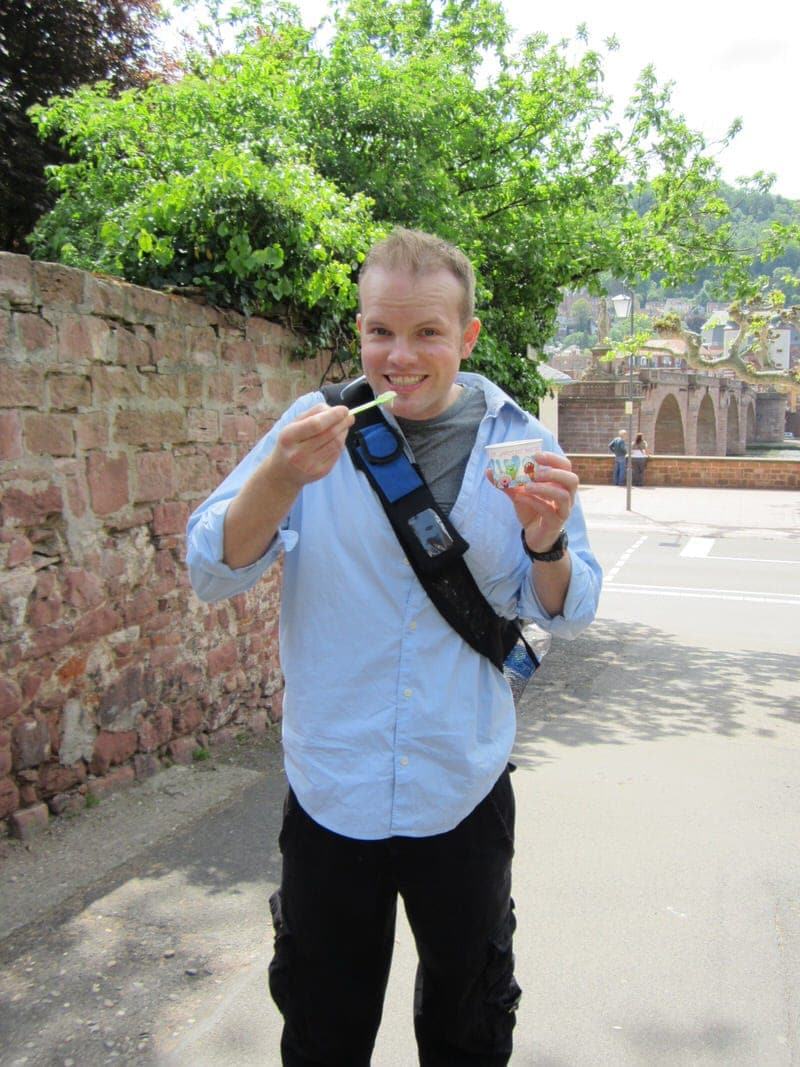 We really enjoyed the few hours we spent walking along the Philosophers' Walk and then exploring the Old Town. If you are the kind of person that enjoys lovely city views and nature, I would highly recommend doing this walk. You might also want to check out the monasteries and Nazi sites further up the Heiligenberg. The Philosophers' Walk is also a great way to get away from the tourists, as most never cross the Neckar River during their visit. However, the Old Town is also worth exploring, but be warned that like many of these romantic historic old towns, it has become a very popular tourist stop. We look forward to returning and actually spending a night or two here to visit the castle, hike further up the Heiligenberg, and see some other sites we missed. Note that many tourists, especially those on bus tours, don't stay overnight in Heidelberg so the town is much less busy in the morning and evenings.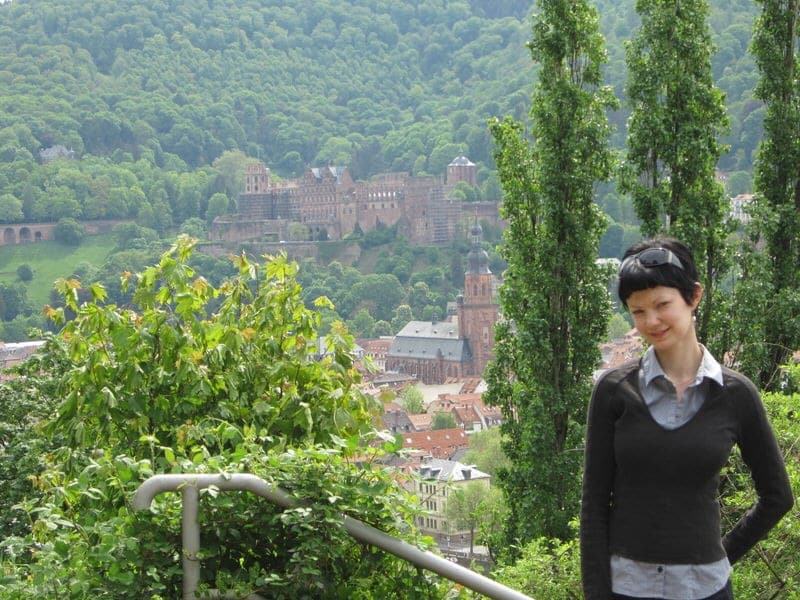 What do you think of the Philosophers Walk in Heidelberg? Do you have any tips for visiting Heidelberg? We love hearing from you!