We just invested in our first DSLR camera this summer in preparation for our trip to Africa, and I loved having the opportunity to accessorize it with a fashionable camera strap from iMo. This Hong Kong based company sells cotton tape, neoprene, jacquard, and leather camera straps that can be used for a variety of cameras, including mirrorless cameras and DSLR cameras.
The most unique aspect of the company is the large variety of available camera strap designs offered at affordable prices. Far from the boring logo-imprinted black and brown nylon straps that accompany most camera purchases, these straps are colorful, bold, fun, and unique.
Interested in a new camera strap that fits your personality? Read on for our review of our iMO camera strap that was field-tested on the summit of Mt. Kilimanjaro, in the back of a Land Cruiser traversing the rough dirt roads of the Serengeti, and on the sandy beaches of Zanzibar. And of course because we love our readers, we are also offering all our readers the chance to win a free fashionable camera strap from iMo in the design of their choice!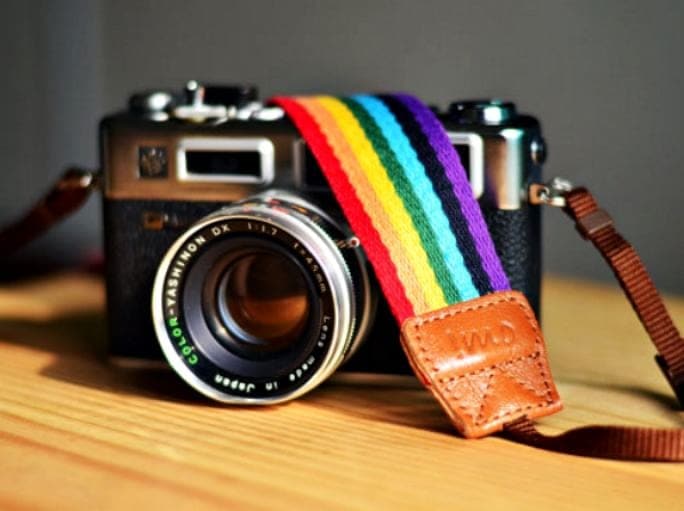 Basics about iMo Fashionable Camera Straps
The fashion camera straps are designed in Hong Kong and then manufactured in China. The company's name iMo stands for "in my opinion".
The main portions of the straps are made of cotton tape, neoprene, hemp, leather, or jacquard. Leather is typically used at the ends of each strap with nylon webbing being used in the portion that you attach to your camera.
Most cameras can be used with any of the fashion straps but iMo provides recommendations for which strap works for each type of camera. The primary difference is the width of the nylon webbings. Here are their recommendations:
–Cotton Tape & Leather camera straps are made with 0 .7cm nylon webbing and are best suited for more lightweight cameras, campact cameras, and four thirds digital cameras (mirrorless cameras) like Nikon J1, Canon G16, and Olympus E-PL6.
–Neoprene & Jacquard Ribbon camera straps are made with thicker 1.2cm nylon webbing and are best suited for heavier cameras and DSLR cameras like Nikon D610 and Canon EOS 6D.
Quick release straps are available on the neoprene and jacquard straps. These straps include a quick release buckle that allows you to adjust or remove the camera in seconds.
The straps without the quick release strap are designed and tested to hold up to 180 lbs. and the straps with the quick release straps are designed and tested to hold up to 90 lbs. The leather straps are designed to hold up to 75 lbs. of weight.
The camera straps are available in dozens of colorful and stylish designs with interesting names such as Elephant Night, Indian Blanket, Tibet Fish, Japanese Owl, Blue Mountain, and Violet Diamond.
Pricing depends on the material but the vast majority of the straps are currently priced from $24.00 to $29.00 USD. The leather straps and a few premier designs are a bit more expensive ranging from $45-$65.
In addition to camera straps, iMo also sells tablet sleeves, lens products, and online store gift certificates.
All products can through their Etsy shop (can read customer reviews here): https://www.etsy.com/shop/iMoShop or purchased directly from the iMo website: http://www.imostrap.com

. You may also email iMo at info@imostrap.com or call the company at +852 5104 4508 for sales inquiries or for additional information.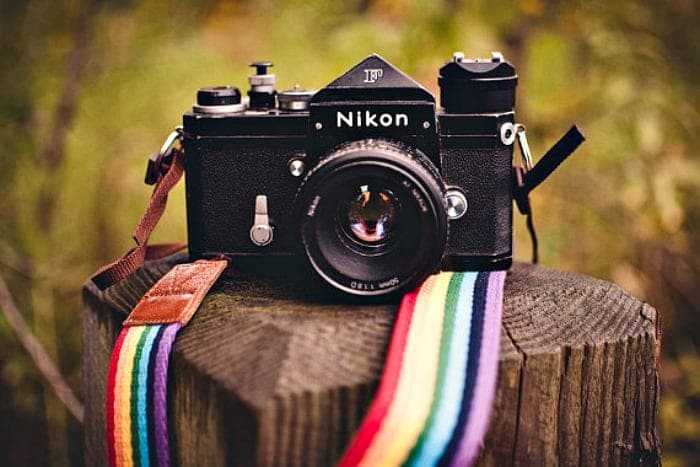 iMo Website / Etsy Shop / Facebook / Twitter
Our Review of iMo Fashionable Camera Straps
Ethan and I were contacted by iMo to review their camera straps and in return for us agreeing to post a review, they sent us a complimentary camera strap of our choice.
At the time, we were seriously considering purchasing a more advanced camera than our compact camera, which was a little point-and-shoot Canon ELPH 110. But we were still on the fence about whether we'd be purchasing a mirrorless camera or a DSLR camera. So our choice in straps was purely decided on the design elements.
By the way, if you are in the market for choosing a new camera of any time, we recommend consulting this continuously updated guide to the best cameras for travel.
I had a very difficult time choosing between all the beautiful designs and narrowed it down to either the People Plus cotton tape strap (this design is no longer available as of 2019), the Blue Mountain neoprene strap or the Stone neoprene strap.
Since I wasn't sure if I wanted the quick release buckle or not, I decided to go with the People Plus cotton tape strap since I thought the design was a little more interesting.
Here are the Specs of the People Plus cotton strap:
Construction: Main portion of the strap is made of cotton, ends are made of leather, and connecting strap is made of nylon webbing.
Strap length: About 56″ (140 cm) with the middle part measuring around 27″ (68 cm) in length
Strap Width: About 1.5″ (3.8 cm)
Nylon Webbing Connecting Strap Measurements: Around 13.5″ (34cm) length on each end and 0.7cm in width
The strap arrived in the mail within 2 weeks and my first impression was that it was very nicely packaged in a cute plastic pouch and was bond together by a Velcro band. I loved the design even more in person than in the website image and the strap felt and looked like it was very well made.
This was my first experience attaching a camera strap so it took me about 30 minutes but once I got the hang of it, it felt very secure on the camera. The nylon straps are quite long and allow for you to adjust it to hang as you wish. I am quite petite so I adjusted the nylon straps a lot to make it so that the camera could sit further up on my body.
We ended up purchasing a Nikon 5300 (a entry level DSLR) and I used the camera during our travels primarily with a Nikkor 18mm-300mm VR lens. This telescopic lens is great as a single travel lens to use on safari, but it is bulky and the lens is heavier than the camera body. However, the strap had no problem holding up the camera and we had no issue with keeping it attached or feeling like it wouldn't support the weight. I am guessing the camera would have felt even sturdier if we would have chosen a strap with the wider nylon straps as recommended for DSLR cameras such as ours.
I typically carried the camera around my neck but occasionally Ethan or I slung it over our shoulder or put it across our body. I think the strap is mainly designed to be worn around the neck and this is probably the most secure way to carry your camera with these straps. One of my initial concerns about this particular strap was that it would be rough on my neck as the top of the strap is textured and not smooth. However, there is soft fabric sewn onto the underside part of the strap that sits against the neck so it was not rough at all.
The strap held up well and so far has not shown any signs of wear and tear even after three weeks of being slung about while we bumped along on African safari roads, climbed to 19,341 ft. on Mt. Kilimanjaro, and sailed aboard a dhow in Zanzibar!
The potential cons of the iMo straps are that they are straight straps, meaning that unlike some upscale straps they do not include a curvature in their design to better fit the curve of one's neck.
Also, these straps do not appear to be designed to be worn over the shoulder or cross-body straps as much as some other straps. However, we feel that these straps are ideal for those who want a simple, sturdy, and well-designed fashionable camera strap that allows them to choose a design that best fits their personality and taste.
I never plan to wear the plain black nylon camera strap that came with our camera as not only is it of poorer construction but it looks so plain compared to our colorful and textured iMo People Plus strap. The other great aspects of iMo we really liked were the fast and responsive customer service, choice of strap fabrics, choice of a regular or quick release webbing, and affordable prices.
We also think these straps would make great gifts for photographers, you just need to know what kind of camera they have first before purchasing.
We tested this strap for over three weeks with pretty intensive daily use, but we are no experts in camera straps as we are so new to our DSLR camera! For more reviews, check out the 2,000+ customer reviews on Etsy.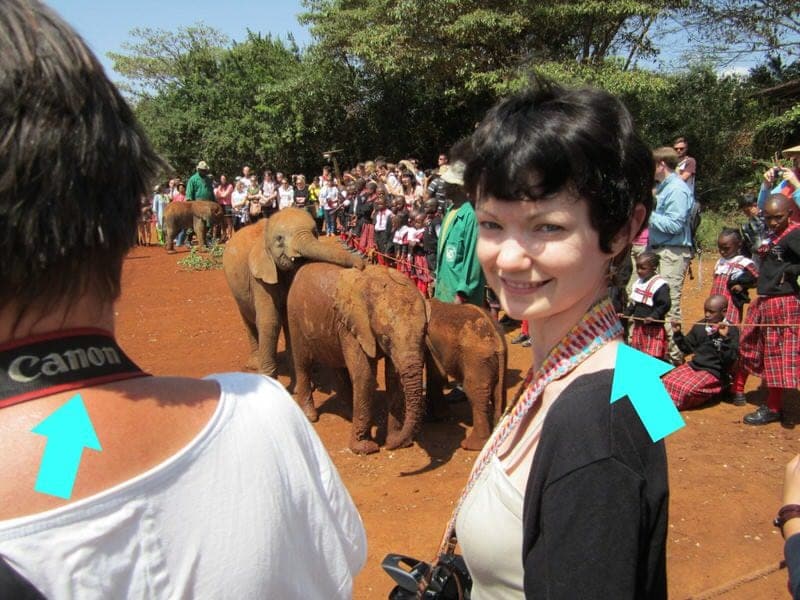 The iMo Camera Strap Giveaway!!!
Want to try out a iMo camera strap for yourself? Up for grabs is one (1) iMo fashion camera strap with free international shipping and handling.
Best part is that you get to choose the fabric and design (subject to availability) of the camera strap! You can choose any camera strap with a value of $29.00 USD or less (almost all but a few of the camera straps fall in this range).
The giveaway starts today and will run until September 17, 2014. A winner will be chosen using a random number generator and will be notified by the e-mail associated with the winning comment. Winners must reply within 72 hours or another winner will be randomly chosen, so please use an email that you check often when you comment.
Giveaway is open internationally. Just follow the easy rules below to enter the giveaway!
GIVEAWAY IS NOW CLOSED. Congrats to Melanie F. who chose the colorful iMo neoprene American Indian camera strap!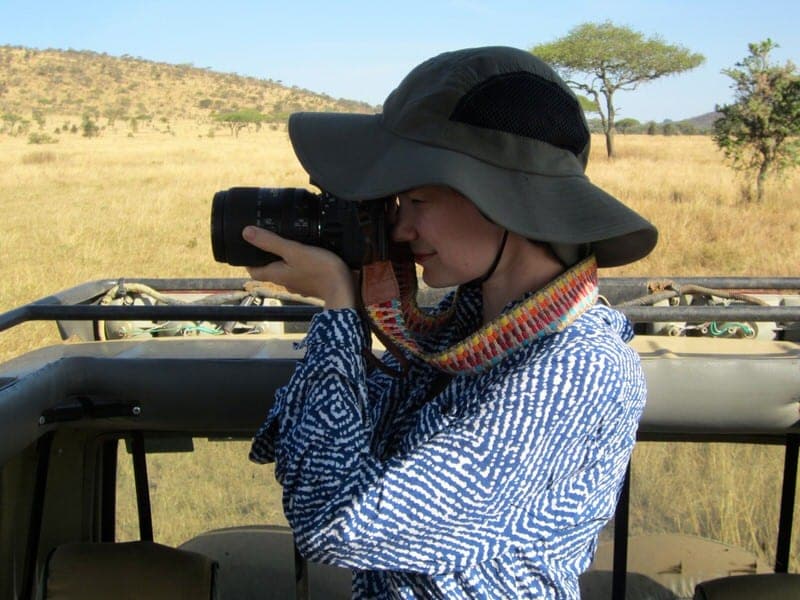 Don't forget to stop by and check out the trendy and colorful iMo camera straps! If you have any questions about the product, giveaway, or anything else, just ask!
**Disclosure: We were provided a complimentary camera strap by iMo to review as travel writers; however, this article contains only our own honest thoughts and opinions. We did not receive any financial compensation for the writing of this post, do not work for iMo, and earn no commission for any sales of this product.**