London is one of the top travel destinations in the world, but navigating this large city can be overwhelming for a first time visitor. Using an Oyster card, a credit card sized transport smartcard, is an easy way to save time and money if you are planning to use public transportation in London.
An Oyster card can be used on just about every form of transport within London including public bus, tram, and rail services within the city. Our goal is help you decide if an Oyster card is a good fit for you and to help you effectively use your card on public transportation in London.
First we'll cover the main types of Oyster cards that are available, how to choose the best one, and how to buy an Oyster card. Then we'll talk about where you can use them, how to use them for travel, how to recharge the cards, registering your card, and note important travel exclusions for visitors. Finally we'll cover special issues such as how to get refunds, avoiding double payments, available discounts and concessions, the alternative option of using contactless cards, the use of pink readers, and tips for those traveling with children.

What is the London Oyster Card?
An Oyster card is a credit card sized card that can be used to electronically pay for travel on London transport. All you have to do is load the card with credit, and then you can use it for nearly all your public transport needs around London without having to buy individual tickets.
Why You Should Buy An Oyster Card in London?
The best reason to get an Oyster card is cost savings and convenience! It is significantly cheaper to travel in London using an Oyster card than it is to purchase individual tickets for each trip. The only reason you would want to just buy individual tickets is if you are only using public transportation once or twice during your stay.
However, the average visitor will use public transportation multiple times each day and the Oyster card can save both time and money. As an example, traveling offpeak from Zone 1 to Zone 2 on the Tube will cost you (as of May 2021) £2.50 using an Oyster card versus £5.50 if you buy a single ticket. So you'd pay more than twice as much if you bought individual tickets versus using the Oyster card!
An Oyster Card will also save you money compared to using a Bus & Tram Pass to ride the buses and trams, which don't accept individual tickets or cash any longer.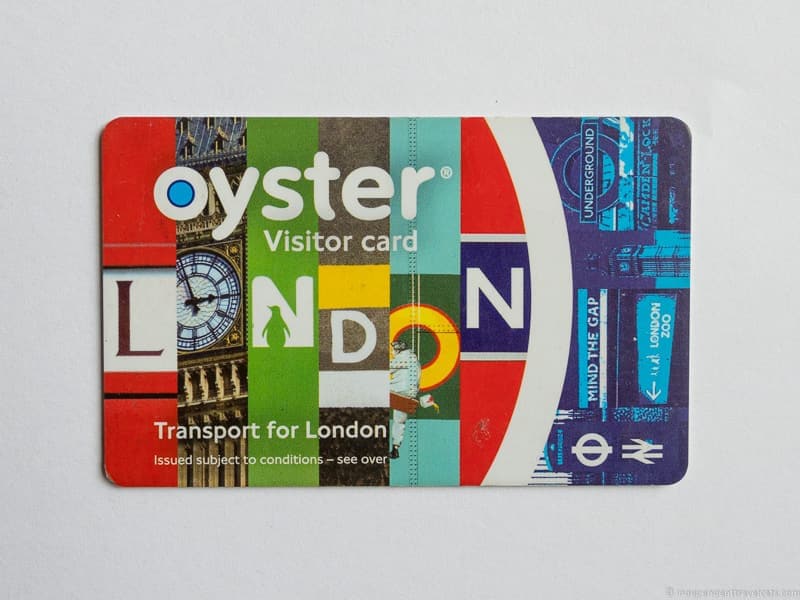 Oyster cards also have a capping system, which can save you even more money. There is a maximum amount that you can be charged on a daily basis (days run from 4.30am to 4.29am the next day) for traveling in different zones. After you exceed that amount in one day, your travel is free for the rest of the day.
Capping varies based on the zones you travel in, but for example, for peak travel in Zones 1 & 2, the maximum daily fee is £7.40 (as of September 2021). So no matter how many times you travel on public transport using your Oyster card in London's zones 1 and 2, you will never be charged more than £7.40 a day.
As of September 2021, Oyster cards also have a weekly cap. This runs from a Monday to Sunday, and means you will never pay more than the weekly cap for travel. For Zones 1 & 2, the weekly cap is £37.40 (as of September 2021). So you will never pay more than that for public transport in Zones 1 & 2 from a Monday to the following Sunday.
An additional cost saving benefit for families is that children under the age of 11 (up to four), can travel for free on London's public transport if in the company of an adult holding a valid Oyster card.
In terms of practicality, it's a lot more convenient to use an Oyster card when traveling in London. They're accepted on nearly all forms of London's public transport network, and you just swipe them on the Oyster reader to validate your transport. You don't have to keep fiddling with loose change or buy individual tickets – an option that isn't always available anyway. For example, on London buses there are no facilities to buy tickets onboard or at most bus stops.
If you're interested in learning about all the different types of transport options available, check out Laurence's post which gives an overview of all the major London transport options. There are a lot of ways to get you around London!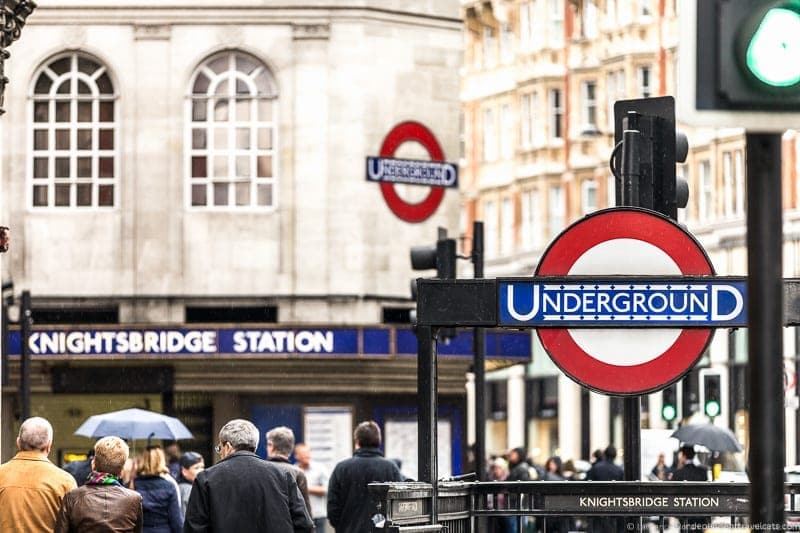 Types of Oyster Cards
There are two main types of Oyster card: the standard Oyster card and the Visitor Oyster card. We'll talk about each and their primary differences to help you decide which is the best fit for you.
Standard Oyster Card versus Visitor Oyster Card
The standard Oyster card is a credit card sized piece of blue plastic. The Visitor Oyster card is the same format, but is more elaborately visual, with an artistic design. Other than external appearance, the standard and Visitor Oyster cards offer the same functionality in terms of transport options and are used in the same way.
They can both be recharged (topped up) and are designed to be a transport card that you can keep and use for a prolonged period of time. Both cards also allow you to obtain a refund for any unused balance (see more on obtaining refunds later in the post).
The main differences are the fee for obtaining the card, ability to use travelcards with the card, offers attached to the cards, and where you can buy them.
Fees. First, in terms of fees, the blue standard Oyster card has a £5 deposit. Until 2020 you could claim this back when you were done with the card. From 2020, this £5 is added to the card as credit one year after activation and can no longer be refunded. The Visitor Oyster card has a non-refundable £5 activation fee.
NOTE: The Visitor Oyster card activation fee changed from £3 to £5 beginning September 17, 2017.
Travelcards. The standard Oyster card allows visitors to add travelcards and bus and tram passes onto the card and the Visitor Oyster card does not. This is unlikely to matter for those staying for only a short time in London, but if you are staying a week or more in London, you may want to consider loading a 7-day London Travelcard onto a standard Oyster card. These are useful if you are visiting London for a week or more and are planning on doing a lot of travel, as these allow you to travel for an unlimited number of journeys within certain zones for a fixed price.
For example, a 7 day zone 1 & 2 travelcard will cost you £37 at current prices (prices as of May 2021. If you consider that the fare cap price for daily use in these zones is £7.40, then a week of travel hitting that cap every day would cost you £51.80. In that scenario, a travelcard could save you £14.80.
Note you you can purchase travelcards without having an Oyster Card if you purchase them in advance. So if you are staying for 7 days or more you might consider them as it will avoid the Oyster Card deposit or fee.
The Bus and Tram passes can be a good choice for those ONLY using bus and/or tram travel in London. But you'll probably still save money using an Oyster Card.
The Visitor Oyster card does not support travelcards, presumably because most visitors are in London for a shorter period of time, and the added complexity of choice that the travelcard system adds outweighs the potential benefits for most visitors.
Discounts and offers. The Visitor Oyster card is designed for travelers to London and the card can be used to obtain a number of discounts throughout the city on food, shopping, attractions, theatre tickets, and other London experiences. You can see a list of Visitor Oyster Card current discounts at the bottom of this page. The standard Oyster card does not have these perks or discounts.
The decision over the Visitor Oyster card versus the standard Oyster card comes down to the difference in fees, whether or not you want to add a travelcard, if you plan to take advantage of the discounts associated with the Visitor Oyster card, and convenience of purchase (discussed in the next section).
Both these cards give you full access to the majority of London's public transport network, including the London Underground (Tube), city buses, Docklands Light Railway, and many overground trains, including the Gatwick Express train from Gatwick Airport.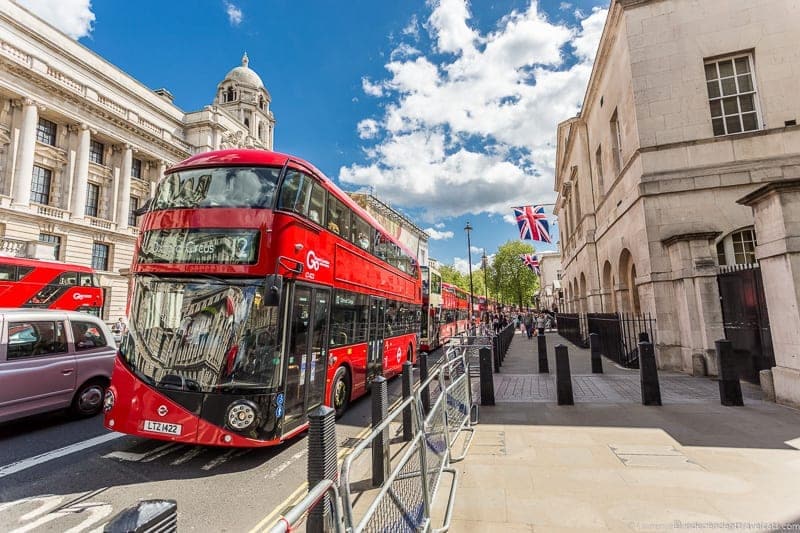 How to Buy an Oyster Card
You have a number of options for purchasing an Oyster card for your trip to London, including online, in person, and as part of the London Pass. The ways to purchase the standard Oyster card and the Visitor Oyster card differ and are noted below. Visitors wanting to obtain a pass before they arrive in London should plan ahead and consider buying the Visitor Oyster card online before their trip.
Online
The standard Oyster card can be purchased online, but can ONLY be shipped to a UK address (free shipping).
The Visitor Oyster card can be purchased online before you visit London and is available for shipping worldwide. If you are thinking about going to a lot of attractions and museums in London, you may also want to consider the London Pass option below as well.
In Person
You can purchase a standard Oyster card on arrival into London. You can buy the standard Oyster card from places throughout London, including at most major tourist arrival points such as London's Heathrow Airport and Gatwick Airport.
They are for sale from Underground ticket machines, Oyster ticket stops (a series of businesses around London, see Oyster map here for nearest location), London Overground ticket offices, train station ticket offices, and London Transport Visitor Centres.
Visitor Oyster cards can also be purchased in person, but not once you are actually in London (except if you purchase them with a London Pass, see below). You can buy them from overseas travel agencies and some UK visitors' centers. They are also available onboard Eurostar trains traveling to London and at Gatwick & Stansted airport.
As part of the London Pass
You can also purchase the Oyster card as part of a London Pass purchase, killing two birds with one stone. A London Pass is a fantastic way to save money on London attractions (read our full London Pass review here), giving you free access to over sixty of London's top attractions, as well as some skip the line privileges.
When you buy a London Pass, you have the option to add a Visitor Oyster card, which comes preloaded with a set amount of credit depending on the length of London Pass you choose. You can then reload it with credit as needed.
London passes with a Visitor Oyster card can be purchased online or in person in London. You can only buy them in person at the London Pass Redemption Centre Desk located at 11a Charing Cross Road London, WC2H 0EP.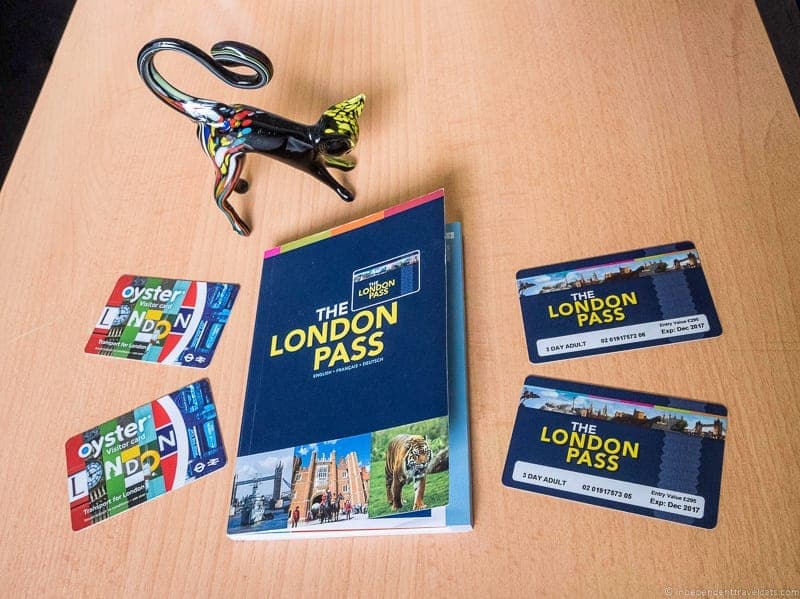 How to Use an Oyster Card to Travel Within London
We'll cover where you can use your Oyster card, how to use it at the stations, how to add credit to your card, and even how to get a credit refund. These are the same for both the standard Oyster card and the Visitor Oyster card.
Where you can use your Oyster Card
Travel Within London
An Oyster card covers the majority of public transport options in London, including buses, trams, Underground Tube, Docklands Light Railway (DLR), TfL Rail services and London Overground services in Zones 1-9, all suburban national rail services in zones 1-9, Thames Clipper River Bus services, and the Emirates Air Line cablecar service.
This essentially means that almost all tourist attractions and hotels can be easily reached via public transportation with the Oyster card and you can get to all the major rail stations within the city if you are planning a rail journey to another part of the country or to an international destination.
Travel to Airports
You can currently use the Oyster card to travel to and from Heathrow Airport, Gatwick Airport and London City Airport. The Oyster Card is not currently valid for Stansted Express or services to London Luton airport, Stanstead airport, or London Southend airport.
You can use an Oyster card to travel via Underground from all Heathrow Terminals, which is the most cost effective way of getting from Heathrow Airport into London. You can use your Oyster Card to use train services from Gatwick to central London. You can also use your Oyster card to get to and from London City Airport, via the Docklands Light Railway (DLR).
You can also use the Oyster card for some additional express train services, which include Gatwick Express at Gatwick Airport and Heathrow Express at Heathrow Airport. Note that these services are much more expensive than the other train services so you will want to make sure you have enough Oyster Card credit or use your card for an alternative method of transport.
For much more information and tips on airport travel, check out this guide to getting from London airports to London.
Exclusions you should Know
As mentioned above, the Oyster card does not cover travel to all of London's airports. Oyster cards are not accepted on East Midlands Trains, Grand Central, Hull Trains, Virgin Trains, or London North East Railway services. Essentially, you cannot use your Oyster Card for rail or bus services where the journey starts or finishes outside of London, with a few specific exemptions.
If in doubt about whether a trip is covered, ask a badged member of staff at a station.
There are a some popular tourist destinations inside and near London that you might want to visit, and wonder if you can use your Oyster card to visit, such as Hampton Court Palace, the Warner Bros. Studio Tour – The Making of Harry Potter, and Windsor Castle.
For Hampton Court Palace, you can use your Oyster card to travel to it, as it is in Zone 6 and can be reached by train or bus.
For the Harry Potter studio tour, you can use your Oyster Card to travel via National Rail train to the Watford Junction station and then you can take the studio tour shuttle (small fee) to the film studios in Leavesden (must have a studio ticket purchased in advance). Or you can just book a tour that includes your ticket and direct transfers from London.
For Windsor Castle, you cannot use your Oyster card, as Windsor Castle is outside London. However, as a tip for those who have a London Pass, you can use your London Pass to travel to Windsor Castle from Paddington Station for free. Read more about how to do that in our full review of the pros and cons of the London pass.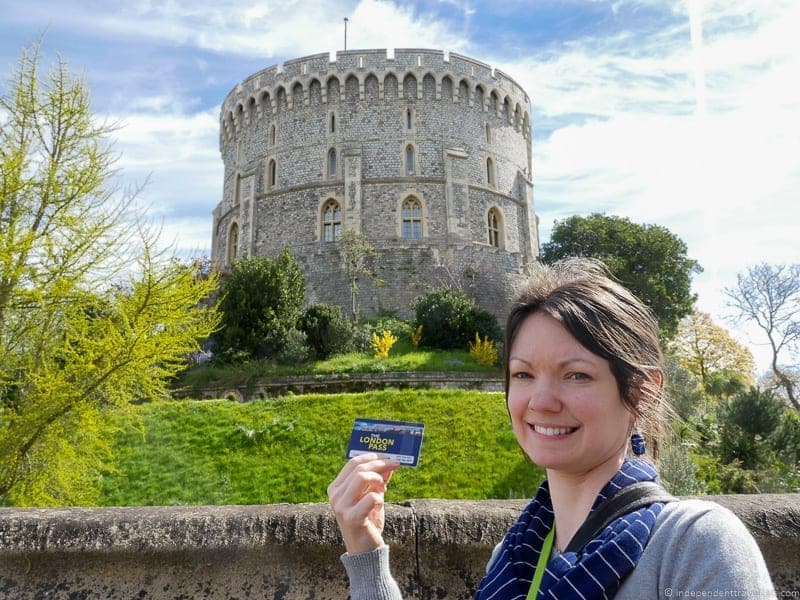 How to Use the Oyster Card for Travel
Using an Oyster card is very easy and it is the same whether you have a standard Oyster Card or a Visitor Oyster Card. All the forms of transport that accept an Oyster card have a large circular yellow reader that you just have to touch your card onto. For access to tube stations, this card reader controls the turnstiles or gates.
For most journeys in London, including London Underground Tube, Docklands Light Railway (DLR), rail journeys, and Thames Clippers boats, you have to touch a yellow reader both when entering and exiting the station/dock.
In most cases it is hard not to tag the card as you exit, because the majority of these stations have a gate to exit that is activated to open with your Oyster card. However, not all do, so it is important to remember to tag off. The reason this is important is because fares vary based on distance, so if you don't touch out, the system will assume you have gone the maximum distance, and may charge you a much higher fare than you need to pay.
When you touch the Oyster reader, it will show either a green light or a red light. A green light indicates that you have sufficient credit for your journey. At gated stations, this will open the gate or allow you to proceed through the turnstile. If the light is red, this indicates that you do not have enough credit, and you need to purchase more credit before you can continue your journey. If you have enough credit and think there is something wrong with your card, find a staff member to assist you.
For bus and tram journeys which are fixed price, you only need to touch the Oyster reader at the start of your journey when you board. Do NOT touch out when you get off a bus or tram, or you will be issued with an additional fare. For more information on each form of public transportation, check out Laurence's post that covers the basics of all forms of London public transit.
How to Top Up Your Oyster Card
There are a number of options for topping up (aka recharging or reloading) your Oyster Card, or adding more travel credit. The easiest way is at London Underground Tube, London Overground or TfL Rail stations, where you can use ticket machines to top up your card.
Simply touch your card to the yellow reader at one of these machines and follow onscreen instructions. Don't forget to touch your card to the reader at the end of the process to check to ensure the top up is correctly applied.
You can also add credit in person at a ticket desk in a station or Visitor Centre or at a Oyster Ticket Stop within the city. Finally, if you have a UK address, you can register your card online, and top it up online using a credit or debit card.
Adding a Travel Card
If you purchase a standard Oyster card, you can add travelcards to your Oyster card if you would like to pre-pay for your travels. The most common reason a visitor would use this option is to add a 7 Day Travelcard. These can be added at ticket machines at Tube, DLR, London Overground, TfL Rail and National Rail stations or ticket offices at London Overground, TfL Rail and National Rail stations, London visitor centres.
If you reside within the UK and have registered your standard Oyster card, you can also add travelcards online.
Getting a Refund on your Oyster Card
When you leave London, you have the option to get a refund for your Oyster Card for any unused credit that is left on the card. You can also keep the card for a future visit as the credit never expires. If you had a Visitor Oyster card and may return to London, this might be a better option at the activation fee of £5 is non-refundable, so that money is lost. For a standard Oyster card, the £5 deposit is added to your card as credit a year after activation, so you should definitely hold onto it for a future trip to London.
If there is less than £10 credit on your Oyster card, you can get this refunded at any Underground Tube station Oyster machine. Just follow the on-screen instructions. Note that 48 hours needs to have elapsed from the time you first used the Oyster card in order for you to be able to get your refund. If you get a refund from an Oyster card machine at a station, your card will also be canceled, meaning you will lose the £5 activation fee if you have a Visitor Oyster card.
If you think you may be back to London, a better option to obtain refunds for those with either type of Oyster card is to go to a TfL visitor center. Here they will be able to refund the credit on your card, but they will return the card to you in working order, meaning you will be able to use it again. This way you will not need to pay an activation fee on your next visit.
Finally, you can apply for a refund by post, by sending a letter to TfL Customer Services, 14 Pier Walk, 4th Floor, London SE10 0ES, United Kingdom. Refunds are issued in the form of a GBP cheque, which may be problematic to cash for visitors who are not from the UK. I'd suggest avoiding this option if possible, and getting a refund in person at a visitor center if you can.
You can read all about the various options for getting a refund on your visitor Oyster card here, and standard Oyster cards here.
Note that if you have unused credit on an Oyster card, another option is you can give the card with unused credit to a family member or friend who plans to visit London. This is a particularly good idea for those who do not plan to return to London and forgot to get the credit refunded before they left the city.
Registering and Protecting your Oyster Card
Standard Oyster cards can be registered, but only if you register it with a UK address. If you have a UK address (or if you have friends or family with a UK address), it is recommended that you register your card so that you are better protected in case of theft or loss.
Unregistered cards will not be eligible for refunds in the case of a card being lost or stolen. Those with registered accounts can also use their accounts to track their travel, check their card balance, top off their card, and purchase travelcards online.
Visitor Oyster cards can NOT be registered and protected. Visitors should therefore be protective of their cards and treat them like cash.
I have an Issue with my Oyster Card
For help with an issue, I would check the website for help first or ask a staff member at a London transport station or ticketing office. If that doesn't work and you still need assistance, you can call the Transport for London hotline at +44 343 222 1234 (8am to 8pm GMT) and choose the Oyster card option. Note that fees may apply for the call.
Things to Be Aware Of Concerning Oyster Cards
Here are some more things to know about Oyster Cards! Most of this won't apply to you as a visitor, but some of the information may be important, especially for those traveling with children.
Contactless cards as an Alternative Option
In recent years the Oyster card system has been upgraded to support new "contactless" card technology. This allows users who have a contactless payment card to use this to pay for their journey, rather than buying a ticket or Oyster card. You can read about the different types of payment option for London's transport and how Cash vs. Oyster Cards vs. Contactless Cards compare in this article we wrote.
Contactless cards can be a particularly good option for those who already have a credit card or debit card with contactless technology that does not incur international transaction fees when used in the UK.
Avoiding "Double scanning" and "Card Clash"
Since some people have both Oyster cards and contactless enabled payment cards in their wallets or billfolds, there is a possibility that multiple cards could be scanned at once. The main thing to be aware of is that if you keep your Oyster card in your wallet or billfold, and don't take it out to scan it, if your wallet also contains a contactless debit or credit card then the Oyster reader will not know which card to charge, which may result in you being charged more than once for your journey.
To avoid this happening, we recommend taking out the card you intend to use and only scanning that. Read more about avoiding card clash here.
Pink Card Readers
In London there are often multiple routes that you can take between two locations, some of which are cheaper than others. For example, when traveling across London, it can be cheaper to avoid Zone 1. In order for the system to know which route you are taking, there are a small number of pink card readers that you can touch your Oyster card at certain Overground and Underground stations. These inform the system of your route, to help ensure you pay the right fare.
Note that pink card readers do not validate your journey nor do they charge you, so you still need to be sure to use the yellow card readers at the beginning and end of your journey.
We have rarely used (or even saw) these and it is likely that most visitors will not be using these but we wanted to point this out for those who really want to save money. For more information on pink card readers and locations you can find them, see the official website here.
Discounted Fares with Oyster Card
There are a number of discounts and concessions available for people who meet certain requirements or are part of a certain demographic; however most of these discounts are only possible for London or UK residents. There are potential discounts for students, seniors, children, those seeking jobs, disabled travelers, and veterans. Most of these require applying for and obtaining a special photocard to receive free or discounted travel in London.
If you think you may be eligible, you can check out the various London transport discounts and concessions online BEFORE deciding to purchase a Oyster card. Visitors traveling with children should check out the next section.
Special Tips for Families Traveling with Children
Oyster cards can be a great value for families traveling with children, and many public transit services are free for younger children. Families with children age 11 or older should be sure to examine discount options prior to their trip. Find out more details here.
Here are some tips for using the Oyster card for families with children:
If you are traveling with children, they are eligible for discounted travel on London transport. It just depends on their age. For those age 11 or older, you will need to apply for a Zip Oyster photocard for them to receive the discounted travel.
Children under age 11 c

an travel for free with a parent or guardian holding a valid Oyster card on Tube, DLR, London Overground and TfL Rail services. You will need to see a member of staff at stations with barriers in order to get them in and out of the station on your card. If your child looks older, it is recommended that they get a Zip Oyster photocard to prove their age.
Children aged 11 – 15 can apply for a Zip Oyster photocard. This entitles them to free travel on all buses and trams in London, and half price fares on other TfL services in London. Apply here.
Children aged 16 -17 can also apply for a Zip Oyster photocard, which entitles them to half-rate travel on all TfL services.

A Zip Oyster photocard can only be applied for online. If you live in the UK, it takes a week to process. Applications from outside the UK must apply at least four weeks in advance. Full details and the application process can be found

here

.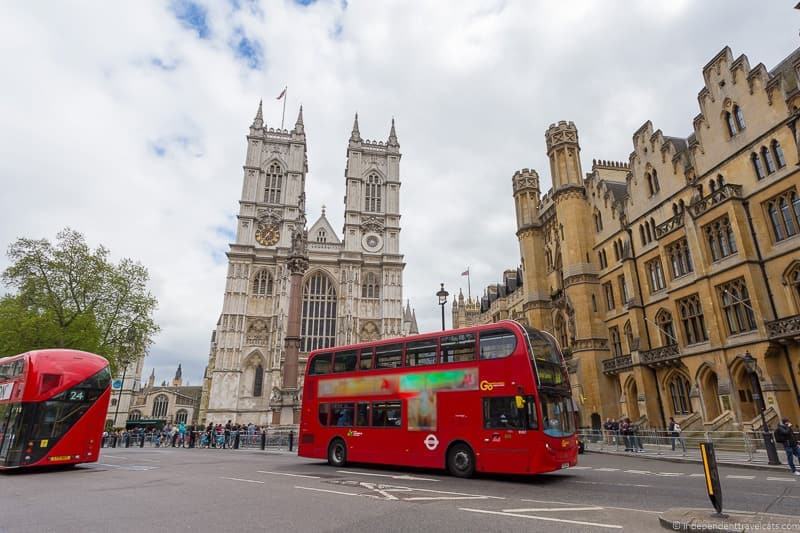 London transport prices and policies are always changing, so be sure to check for the most updated prices and policies regarding public transportation fees and Oyster cards online at the Transport for London website before your trip to London!
So there you have our information and tips on buying and using an Oyster card in London! It may sound a bit complicated but once you have one, Oyster cards are easy to use and to recharge. If you're visiting London, you can plan in advance and purchase your Visitor Oyster card or London Pass online now!
Have you been to London? What was your experience using public transportation in London? Did you use an Oyster card? As always feel free to ask us any questions you may have about using an Oyster card or just any questions about travel in London.