Today we are going to share ways to take great couple photos while traveling. When you travel as a couple, you are going to want to get some good photos of the two of you together.
The problem is that getting great couples photos of the two of you together can be a challenge, as usually one of you has to operate the camera or smartphone. So most people end up with a lot of individual photos from a trip, but not so many great couple photos from their travels.
In this post, we're going to share with you some tips to help you take great couple photos when traveling. All of these tips also work for getting any kind of single person, group, or family travel photos. First, we're going to go through all of the ways that we have taken photos of ourselves together on our trips to give you plenty of options.You can then choose the method(s) that works best for you.
Then, we'll share some tips and advice to help you get better couple vacation photos no matter what option you use. Let's get started!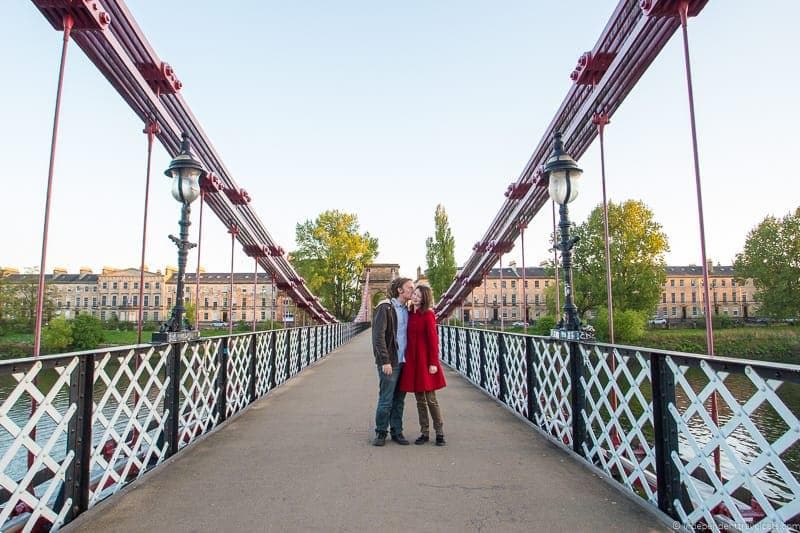 6 Ways to Take Better Couple Photos While Traveling
Below are 6 different ways to get a couple photo while on vacation. We have use them all, depending on the situation, and each have their own pros and cons. Although some are definitely more likely to produce a better photo than others.
1. Use a Tripod
A tripod is definitely Laurence's preferred way to get good couple photos of the two of us when we travel. It means we can set up the shot exactly how we want it, determine the composition, and also know that the camera will be stable. Laurence even videoed and photographed our own wedding with just a pair of tripods!
There are definitely some drawbacks to using a tripod as they add to your luggage weight and you have to carry them around. Not everyone wants to pack and lug around a tripod on their vacation and then set it up each time they want to take a photo, and we appreciate that. However, we do think this is one of the better ways to get better photos of the two of you together and there are also a number of other reasons to travel with a tripod.
If you do not own a tripod, there are plenty of low-cost and lightweight travel tripod options available including monopods and mini-pods.
Tripods are not always the best solution though. For instance, we would not recommend using a tripod if you are in a very crowded, unstable, or windy spot as it may get bumped or knocked over. We also recommend always staying within a short distance of your tripod and keeping an eye on it to help prevent damage or theft.
Many indoor venues, such as museums and churches, do not allow tripods so be sure to check for any rules and regulations before heading out each day. Sometimes places will even confiscate tripods as they can be viewed as potential weapons. See our guide to travel tripods for more tips on traveling with them.
You might be tempted to skip the tripod and just try to find places to set your camera (e.g., ledges, benches, rocks) during your trip. While this may occasionally work well, we don't recommend this as a main strategy as it will often be impossible or impractical (e.g., no safe place to put the camera) and you have much less control of the angle and composition as it will be mainly determined by the perch rather than you.
It is also not a good idea in many circumstances to just leave your camera sitting somewhere and walk away from it as someone may knock it over or try to take it (less likely with a tripod). We'd recommend using a tripod or using another option.
Pros: You have a lot of control over the photo and composition, you don't need to involve any outside people, and you can achieve really good results. You also can take better photos in more challenging circumstances like low light situations.
Cons: You have to pack and carry the tripod with you, you have to set it up each time you want to take a photo, and tripods can't be taken or used everywhere (e.g., often not allowed in indoor venues).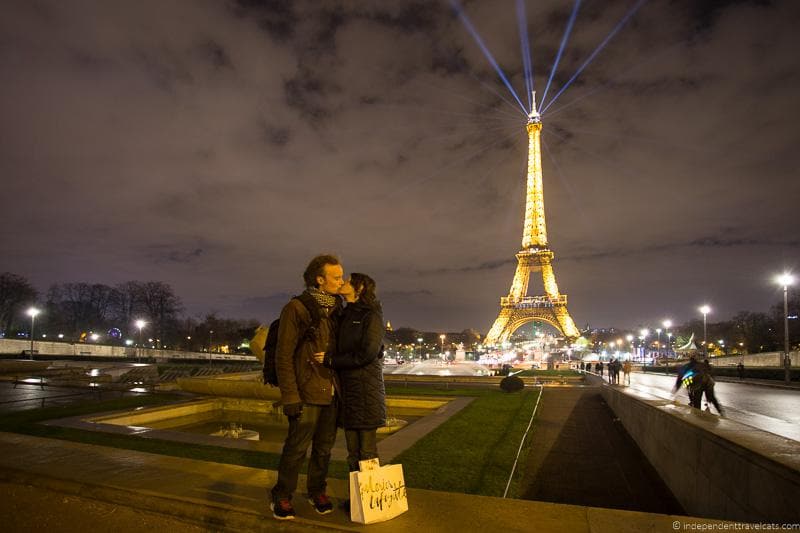 2. Ask Someone to Take a Photo of You
If you are reluctant to travel with a tripod, we have some more options for you to consider. The first of these is to ask someone to take a photo of the two of you. We usually do this if we are somewhere where we either can't use a tripod or it is impractical to do so, such as in a restaurant, canoe, or crowded space.
First, you need to ask someone to take your photo. For the best results, we suggest picking someone who looks friendly, not very busy, and like they might be good at taking the photo (e.g., using a smartphone or camera similar to yours). I'd also recommend asking someone who is also traveling as a couple or family, as you can then offer to reciprocate to take their photo as well. If you approach someone who doesn't seem receptive, thank them, and try someone else.
Second, we recommend setting the camera or smartphone up in the most foolproof way possible, so all the person has to worry about is aiming and pressing the button. That will usually mean putting the camera in fully automatic mode to save them any concerns over focus or other settings. Try to keep it as simple as possible. If you do not speak the same language you can demonstrate with hand movements.
Finally, don't be afraid to give a bit of direction such as what scenery to try to include, whether you want it to be portrait or landscape, etc. Make it easy for the person. However, that said, don't give them a ton of directions and ask for numerous photos. We have no problem taking a couple of photos for strangers, but if they start asking for reshoots and multiple angles, it begins to get annoying.
Remember you are asking a stranger for a favor and they are generously giving up their time to take your photo. Be sure to thank them, and it is good manners to always offer to return the favor.
If you aren't happy with the photos from one stranger, don't worry, you can wait for another one to show up!
Pros: Usually fast and easy, allows you to get a better angle than with a selfie stick or your arm.
Cons: Need to ask a stranger for the favor of taking the photo, stranger may or may not take a good photo, and this strategy will not always be feasible (e.g., in an area with few people).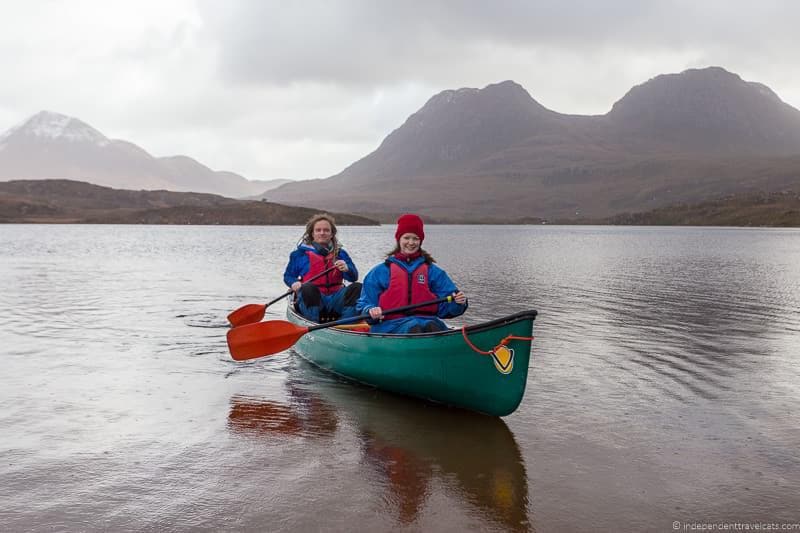 3. Hire a Professional Photographer
For the absolute best travel photos of the two of you together, the best option is to hire a professional photographer to actually do this for you. This is definitely a more expensive option but it is likely more affordable than you think, and will definitely get you some impressive results.
The first step is to determine where you will be traveling and what location you are particularly keen to have the best photos (e.g., strolling around Paris, your day trip to Cairo, your hike at Yosemite). Then you need to find and book a local photographer or photography service. You can always find a local photographer in just about any area of the world, or photographers willing to travel.
To make this easier, we'd recommend using a service that specializes in this. There are a number of services that pair travelers with photographers in cities around the world. Check out the photographer's portfolio to make sure you like their work before finalizing your choice and be sure to let them know what kind of photographs you are wanting from your trip.
There are a number of vacation photography services out there. We've heard very positive things about Flytographer in particular, and you can get $25 off your first shoot with this link.
Many Context Travel private walking tours (offered in over 30 cities worldwide), such as this Venice city walk, can also be booked so that you are accompanied by both a guide and a Flytographer photographer who will take photos of you during the walk.
Other companies you may want to check out include Shoot my Travel, WanderZoom and Pictrip. Most companies allow you book a photographer for as little as an hour up to a full day (or even multiple days), but you should be able to get some great shots in just a couple of hours.
Pros: Definitely the best way to get professional quality couple photos, and a third person can also capture great candid shots.
Cons: This is the more expensive option, you don't have complete control over the photos taken, and you obviously only have the person along for a portion of your trip.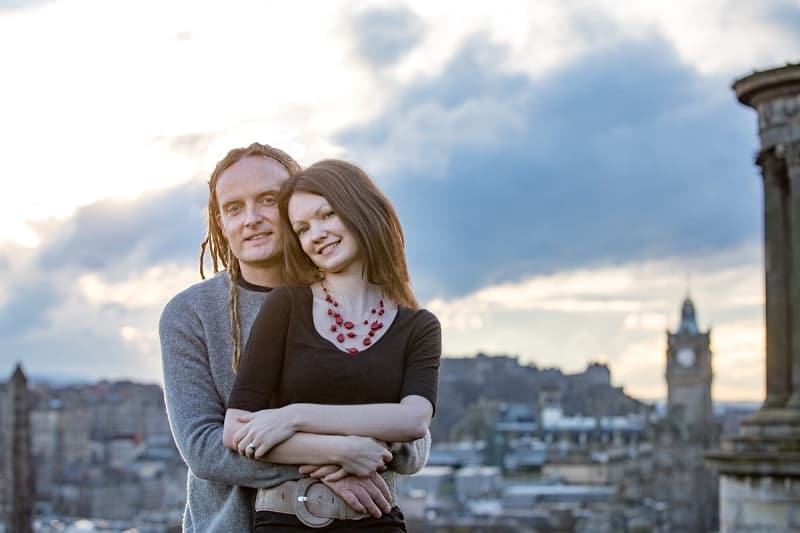 4. Use a Selfie Stick
Ah, the much hated selfie stick. We're getting further down the list of our preferred options now, and we'd definitely recommend you consider one of the previous options over our last few options.
That said, we have in the past year acquired a selfie stick. It's a good way to quickly get photos of the two of us when we can't use a tripod and we can't find a willing passer-by to take our photo. We also use it occasionally for taking videos with our phone. For many people it is their preferred method of taking solo and couple shots.
Selfie-sticks have a number of limitations. First, most self sticks can only be used with a compatible smartphone although there are available models that work with sports cameras (e.g., GoPros), compact cameras, and even mirrorless cameras and DSLR cameras (not recommended as most are not sturdy enough to adequately support the weight!). Another big limitation of self sticks is that the control over the photo composition is restricted based on the length of the stick and how far you can reach out your arm. Finally, you can't use them in a number of locations, including a large number of museums, amusement parks, and indoor venues, as many places have banned the use of selfie sticks.
Despite their limitations, they are small, cheap, and easy to travel with, which gives them a big advantage over a lot of the other options on this list. If you are looking to purchase one, there are a large range of them out there and they come in a variety of styles with different features. Be sure to make sure it is compatible with your phone's model, operating system, and size. We'd recommend you choose and purchase one before you leave for your trip as the ones sold at tourist kiosks around the world are often the worst quality ones.
We use this particular selfie stick from Anker, which we've found to be very reliable and sturdy, plus the Bluetooth pairing makes everything a lot easier than fiddling around with wires.
Pros: Easy to use and setup once you've done it a couple of times. Inexpensive and lightweight.
Cons: Results vary but are generally better than if you just use your arm. Limited use in that they can generally only be used with a smartphone. Selfie sticks have been banned in a number of museums and attractions, and can be annoying to the people around you.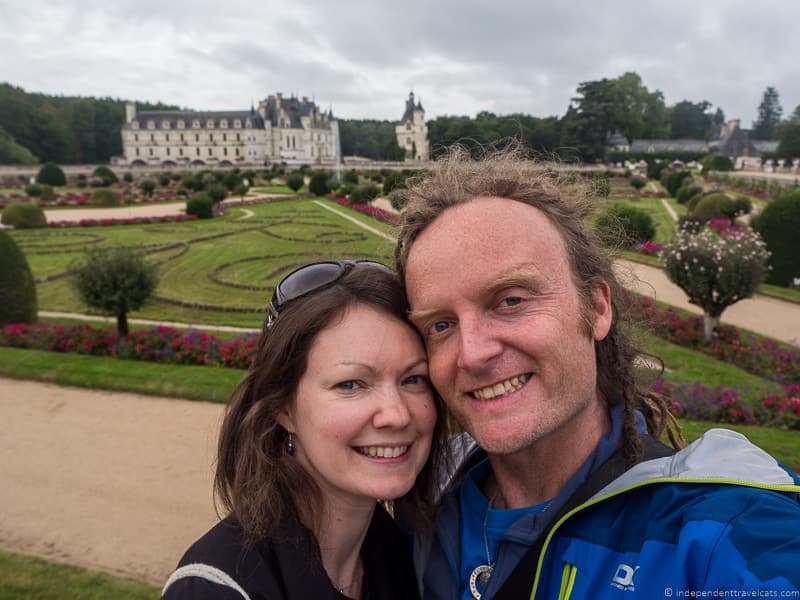 5. Use a Drone
Although aerial photography and the use of drones in photography is nothing new, the popularity of drones has skyrocketed in recent years and there have been major developments in consumer oriented drones. These are another way to get couple vacation photos, but the least practical and feasible of the options.
Drones have a lot of benefits such as being able to get a bird's eye view of places and get angles you can't get from the ground. Some can even be programmed to follow you around and take shots. Laurence enjoys playing around with the drone and seeing what it can do.
However, drones have a lot of drawbacks, the biggest ones being they are expensive, heavy, and more complicated to use than any of the other methods. The biggest drawback in terms of getting couple photos though is that drones can't (or shouldn't at least) be flown indoors, shouldn't be flown in adverse weather conditions (e.g., windy or rainy conditions), are not allowed or heavily restricted in a number of destinations, and often require the need for obtaining licenses or permission. Further, in most cases unless you are looking for an overhead photo, you can get a better quality shot from a camera (or even a smartphone) set up on a tripod than by using a drone. This is because most consumer-level drone sensors are roughly equivalent to those found in a smartphone.
If you are looking for a drone, there are a number of models out there. We personally have a DJI Mavic Pro (and you can check out here the drone accessories and gear we use) although we honestly have rarely used it for couples photos so far. But it is great for certain kinds of landscape photography. When traveling with a drone, be sure to check out all the most recent drone laws and regulations for the destination (there have been lots of recent changes and updates in many countries) you are going to and the airports you are flying through. You don't want to show up to a place to have your drone confiscated or go through the hassle of lugging it to a destination to find that it does not allow drone photography.
Pros: Allows you to get overhead views, unique angles, and from places you can't stand or set up a tripod (e.g., over water). Many people find them fun to learn to use and fly.
Cons: Expensive, more difficult to use and control, lots of restrictions in where and how they can be used, limited battery life, and not ideal for many situations.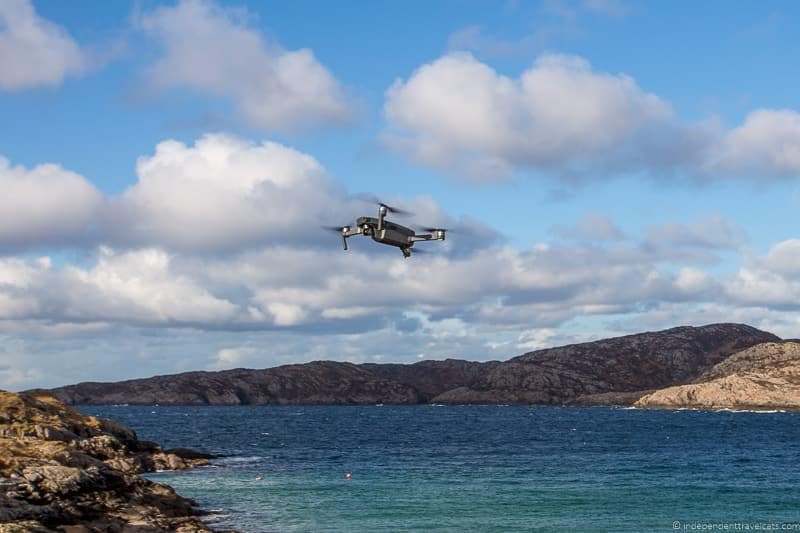 6. Hold your Arm Out
The human arm is the original selfie stick! This is another way to take couple photos while traveling. It is one of our least favorite way to get photos of ourselves when we travel as the shots usually don't turn out that good. The problem is of course that you are limited by your arm length, and trying to keep your arm out of the shot and getting two people in the frame, while composing a decent image can be a real challenge! It is also impossible to keep your arm completely steady which often results in blurry shots.
For the best success, we recommend using a camera with a screen that will face towards you as you shoot – so the front facing camera on your phone for example, or a digital camera with a flip screen. Hand the camera or phone to the person with the longest arms to get the most reach. Then, try to hold the camera slightly above yourself for a more flattering angle, and try to keep the camera as level as possible as you compose your shot. Try to make sure you get some scenery in as otherwise it is just a photo of your faces!
Although this option will rarely produce a top quality shot, sometimes it will be your best and sometimes only option. It is also the quickest and most simple way to capture a memory. For instance, we were not going to bother someone else to take our photo in a crowd as the clock struck midnight at the Hogmanay festival, so we took the below smartphone selfie (not a good photo, but it captures the moment)! We also often use this for times when we are just taking quick snaps of ourselves when on a bus or doing activities where it is difficult to get photos any other way.
Pros: Fast & easy! No additional equipment or person needed.
Cons: Not likely to be the best photo. However, if you are only looking for a fun memory, these can be just fine!
Tips on How to Take Better Photos as a Couple
Having covered several different ways to get photos of yourselves when traveling, we want to share a few easy tips and advice for actually making sure that those couples photos are as good as possible!
1 – Make sure you know how to use your camera & equipment
Knowing how your camera or smartphone works is really important when it comes to taking great photos, regardless of the subject. If you're going to use a tripod for example, you'll want to know how to set the camera up to take a photo on a timer. If you're going to hand your camera to someone else, being able to quickly put everything to automatic is handy.
If you want to learn more about how to get the most out of your camera and take better travel photos, check out all our tips for taking better vacation photos no matter your skill level. Those really wanting to improve their photography skills should check out Laurence's online photography course, which will teach you everything you need to know.
2 – Take time to think about the composition
Thinking about the composition of your photos is always important, including when taking couple travel photos. Think about elements like the different subjects in your shot, the colors in the image, and whether you can use techniques like leading lines, depth of field ,or framing to improve the image.
You'll also want to carefully consider where you put yourselves in the image, and using a tripod will really open up more possibilities. For more ideas on composition, take a look at our guide to composing better photos.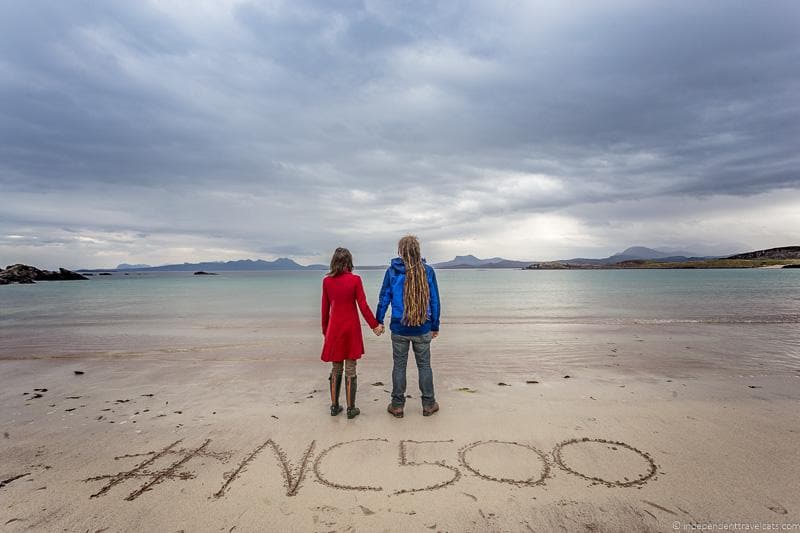 3 – Think about where the light is coming from
Light is one of the most important components of photography, and one that many people tend to forget about when taking pictures. Ideally, you want the sun to be behind the camera, so you are looking towards the sun from where you are standing. This will properly illuminate both the scene and you. Of course, you don't want to be staring directly into the sun, as not only is this not good for your eyes, you'll probably end up with a bunch of shots of you squinting which is never a good look!
Avoid shooting a shot where the sun is behind you if you can as this will usually result in an image where you are in dark shadow, almost a silhouette, because of the brightness of the sun behind you. This is of course not always possible but you can improve the situation by doing things like finding shade and adjusting the exposure compensation on your camera. The key is to know as much about using your camera or smartphone as possible to get the most out of it.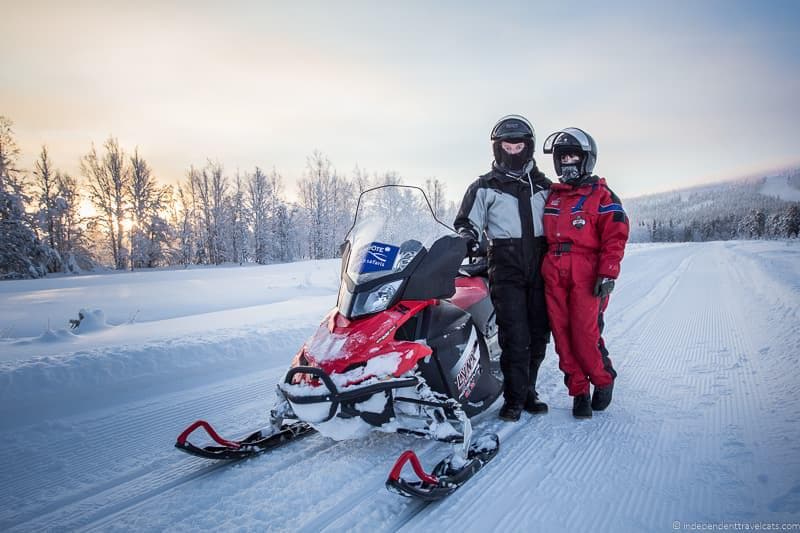 4 – Consider the time of day
Generally the best time of day for photography is the hour or so after sunrise and before sunset, when the light is a more golden color. This lower, warmer light is more flattering, and this time of day is known as the golden hour.
If you can shoot at these times of day, this will definitely help you get better photos. Ideally, you want to avoid the middle of the day as strong overhead light will often give you less flattering looking images. However, on your vacation, you are going to be taking photos throughout the day but our advice is to also try to take some outdoor couple shots at these times as well.
5 – Angle the camera properly
The angle of the camera when shooting people is important. You don't want the camera to be below your face if you can help it as this is a particularly unflattering angle. The best angle is around 10% to 20% above your eyeline with the camera looking slightly down at you.
Of course, you have to consider the overall composition and subject matter, but if you can raise the camera above you slightly, you will likely get better results.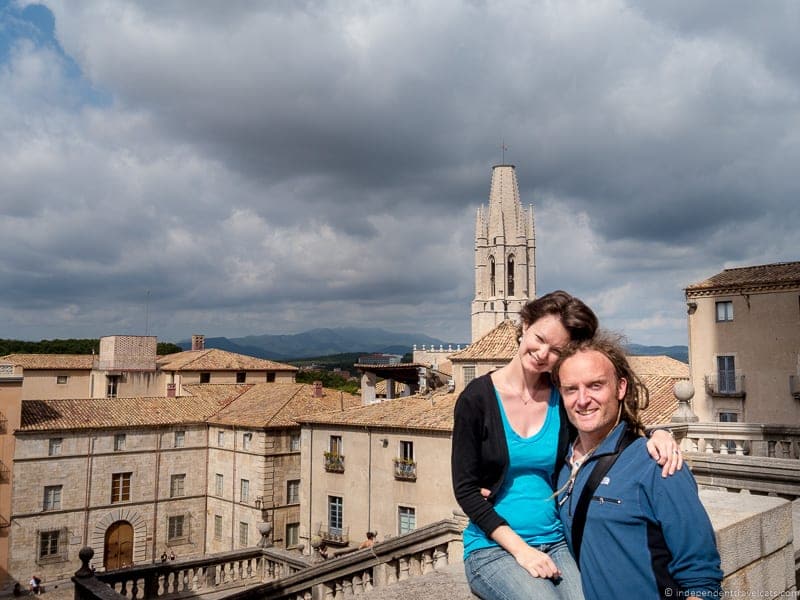 6 – Try to capture more natural and candid poses
Holidays are meant to be fun, so don't forget to show a bit of fun in your photos! Awkwardly posed photos don't look as great, so if you can capture some moments of the two of you having a bit of fun, that is definitely going to be a better photo.
A tripod can definitely help with this, especially if you pair it with an intervalometer, which will let you shoot a series of photos over time – meaning you can have a bit of fun and hope to catch a few good images. The best way to capture candid photos is by having another person take them, especially a professional photographer.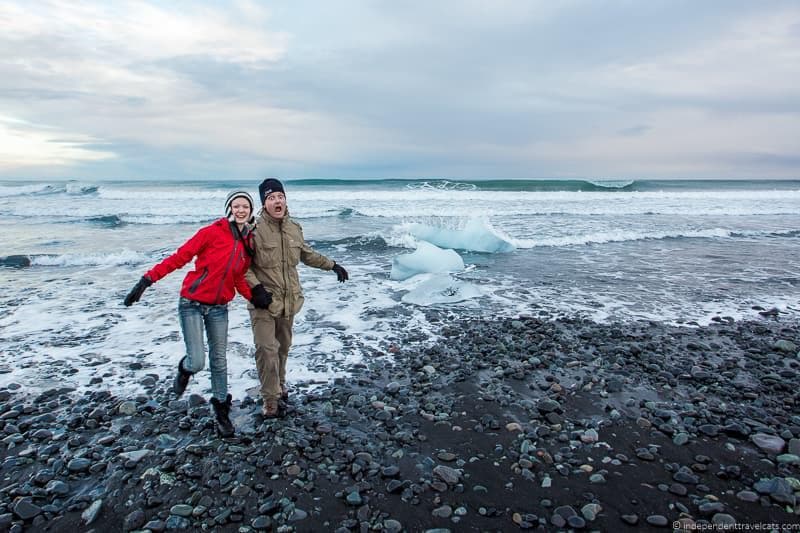 And that's it for our advice on how to take better photos when traveling as a couple! Hope this helps give you some strategies for getting better vacation photos on your next trip.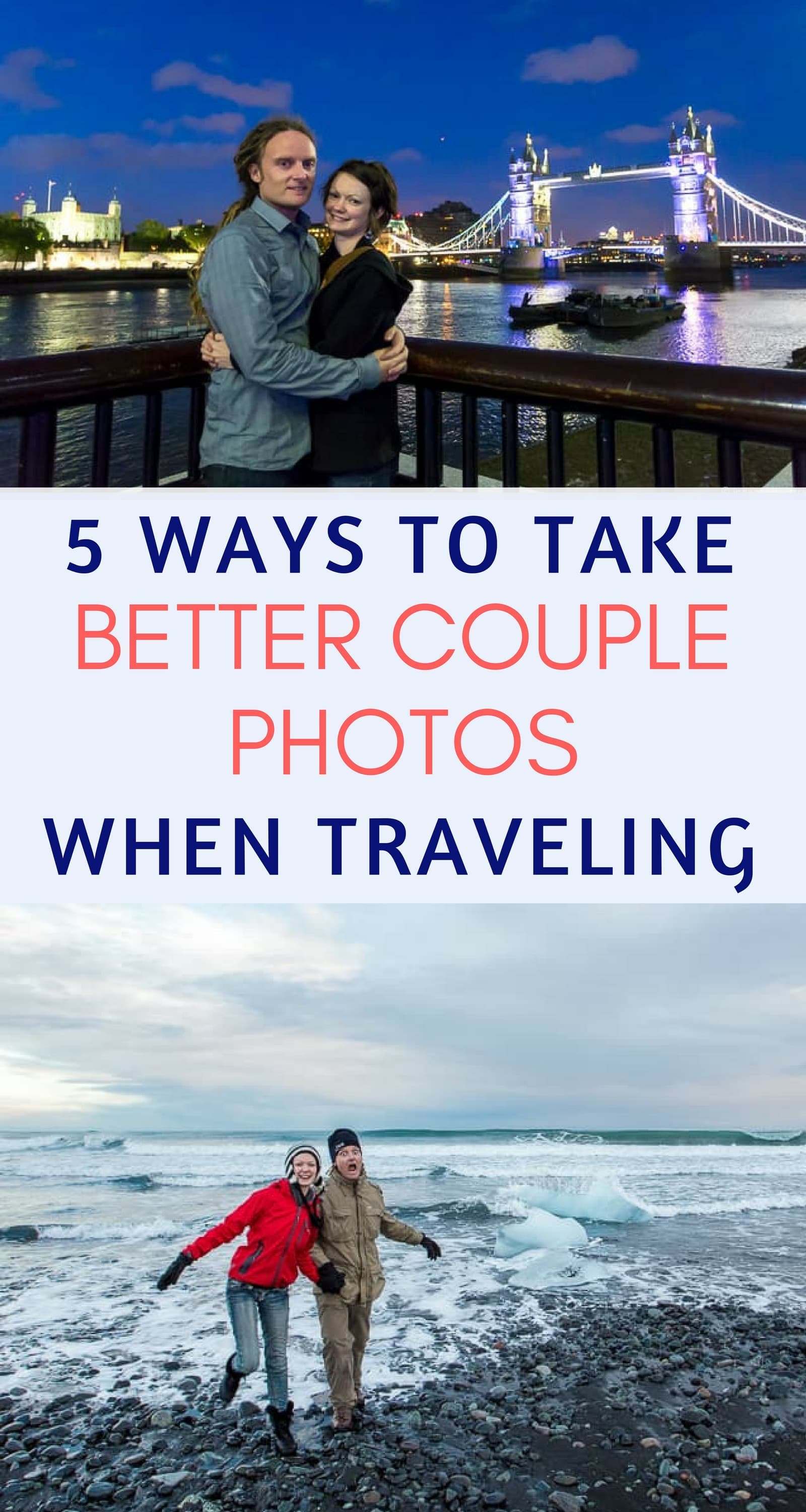 Do you have any of your own tips or advice for taking photos when traveling as a couple? Have a questions about taking vacation couple photos or anything related to travel photography or photography gear? Just let us know in the comments below!