A travel tripod is an easy way to improve your travel photography. Almost everyone travels with a camera of some sort to capture vacation memories while they travel, whether it be a smartphone, a compact camera, or a professional DSLR camera.
If you are wanting to capture better travel photos, you may want to consider buying a travel tripod. Adding a travel tripod to your photography gear arsenal can help you take better vacation photos without a lot of effort.
Today Laurence, an award-winning professional travel photographer, is going to cover the basics of what a tripod does, how it can improve your photography, and what situations are best suited for a tripod. He'll also provide recommendations of a range of travel tripods to suit any budget, discuss situations when you should and should not travel with a tripod, and provide practical tips on traveling with a tripod.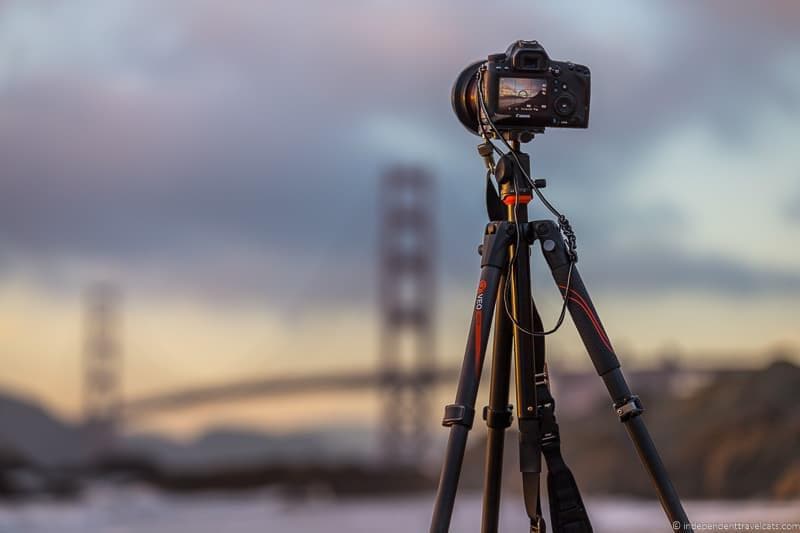 What Does a Tripod Do?
A tripod is a piece of photography equipment primarily used to provide a stable and hands-free platform that you can rest your camera on. It's usually a collapsible product consisting of three legs and a head. The head is the part where you attach your camera. A tripod lets you take photos without having to actually be holding your camera, which can prove useful in wide number of photography situations.
As well as tripods, you will also find monopods on the market. Instead of three legs these have one leg. These serve to also add support and are more portable and lightweight than a tripod, but are more limited and generally less stable than a tripod.
If you like the idea of having the option to use a monopod, you might consider getting a travel tripod that can be converted to a tripod, such as the MeFoto RoadTrip Classic and the VEO 2 GO 265 HCBM.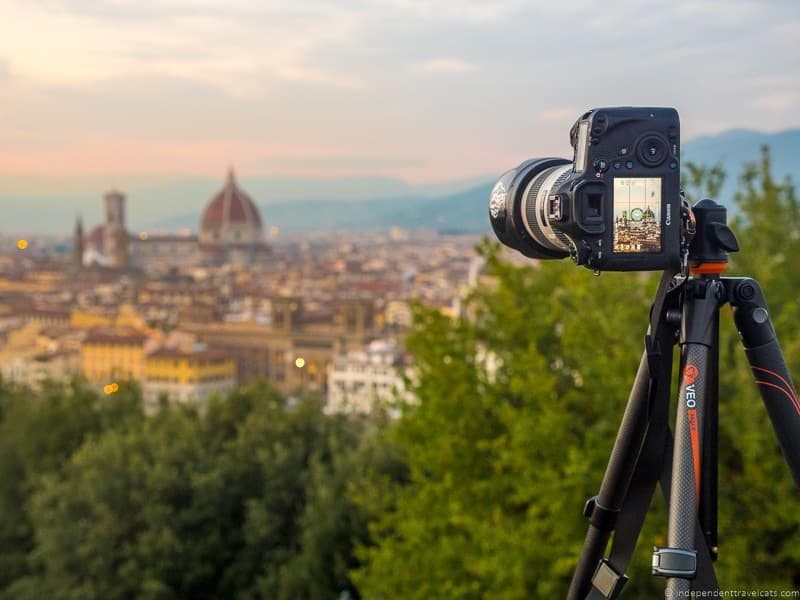 Why You Might Need a Travel Tripod for your Photos
There are a lot of reasons that you might need a travel tripod for your photography. The main reason is that it will help you take better photos! Here are some more specific reasons below:
Reason 1 – Better photos of yourself
A tripod is an excellent way to get better photos of yourself while you are traveling. Want a better photo of yourself in front of the Eiffel Tower or standing near the rim of the Grand Canyon?
Photos taken on a tripod will look much more professional and natural than using a selfie stick, extending your arm as far as you can reach, or relying on strangers. A tripod will let you set your camera up at the right angle and height, frame the shot properly, and take the shot at your leisure. Nearly all the shots of Jess and I traveling together are taken using a tripod and camera.
Check out this post for more tips on taking better couples photos while traveling and this one for taking better selfies when traveling solo.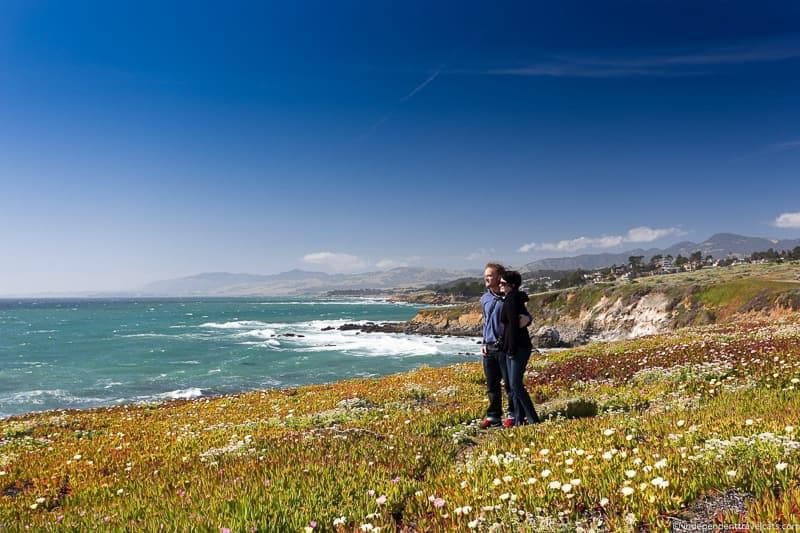 Reason 2 – Low light situations
Cameras have a much harder time taking photos at night or when you are in a low light situation (e.g., inside a house or museum, cave, dim restaurant, church, narrow street). A tripod will let you take better photos when there is not much light available.
In these situations, without a tripod, your camera will compensate for the lack of light by reducing the shutter speed and increasing the ISO speed which will likely result in a blurry and/or grainy photo if you are holding your camera.
This is due to two main issues. The slow shutter speed makes it much harder to hold the camera steady, resulting in possibly blurry photos. The higher ISO makes your pictures much grainier – resulting in a much lower quality image. With a tripod, as the camera is not moving, you can set a much longer shutter speed, and use a lower ISO, resulting in much cleaner images.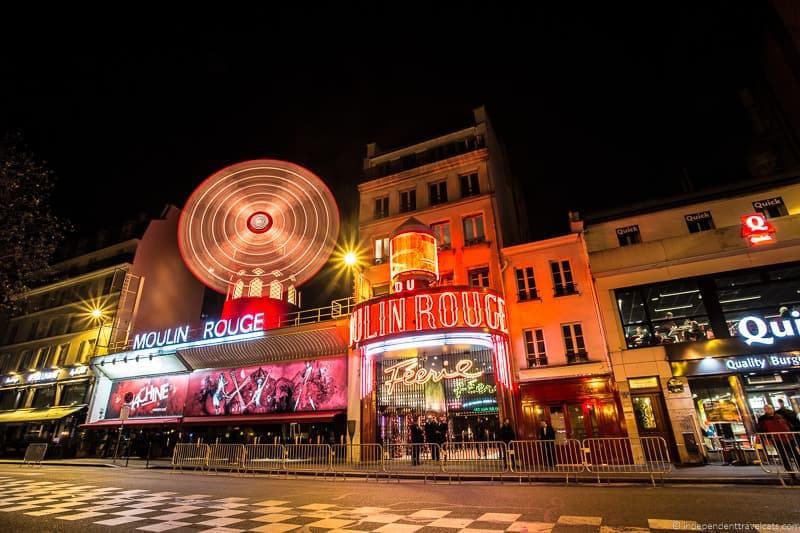 Reason 3 – Better Composed Shots
If you're looking to improve your photography in general, a tripod is an excellent way to get started. Setting your camera up on a tripod will make you think more critically about your composition and framing, compared to just pointing and clicking.
It will force you to slow down, and become a more patient photographer. Patience is a definite virtue when it comes to photography!
It does take a bit of time and effort to set up even a lightweight travel tripod. Once you've got your camera set up, you'll likely find yourself inspired to wait for the perfect moment in terms of light, or lack of people, rather than just grabbing the shot and moving on. Yes, you might end up with less photos overall, but the shots you do get will end up a lot better as a result!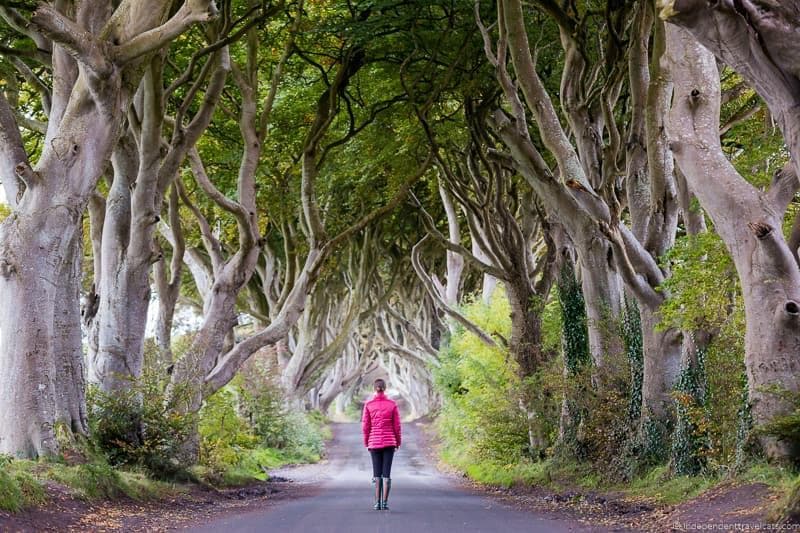 Reason 4 –

Avoid Blurry Shots
A travel tripod can help you keep your camera stable and avoid blurry shots due to unsteadiness and shake. Although a tripod is often thought to just be needed for older folks and those with shaky hands, it is impossible to hold a camera completely still for any length of time no matter your age or fitness.
Although in many situations your camera can correct for slight movement (most cameras and lenses come with stabilization built in), it can't correct if your hands move too much.
If you have a heavy camera kit, need to hold a camera in the same place for long periods, doing photography along with strenuous activities (e.g. hiking, climbing), or are shooting for long durations, you're going to be less steady and more prone to shaky hands. A tripod will steady your shots and help ensure you don't get blurry shots.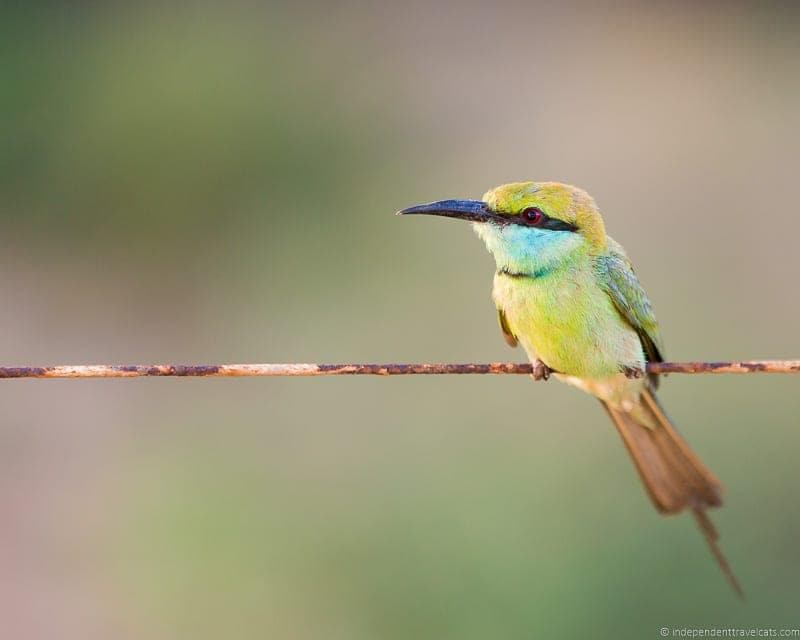 Reason 5 –

Allows for more creativity & more advanced photography options
Beyond the above four reasons, a tripod also opens up a world of creative options, allowing you to take photos that you simply wouldn't be able to take without one. If you want to improve your photography and have a wider choice of photography styles, then a tripod is a must-have travel accessory.
Examples of these creative options include taking pictures of the stars (astrophotography), long-exposure shots of water using an ND filter, light trails of moving vehicles, and many more. You can even create time-lapse videos with a tripod, something that would be impossible without it!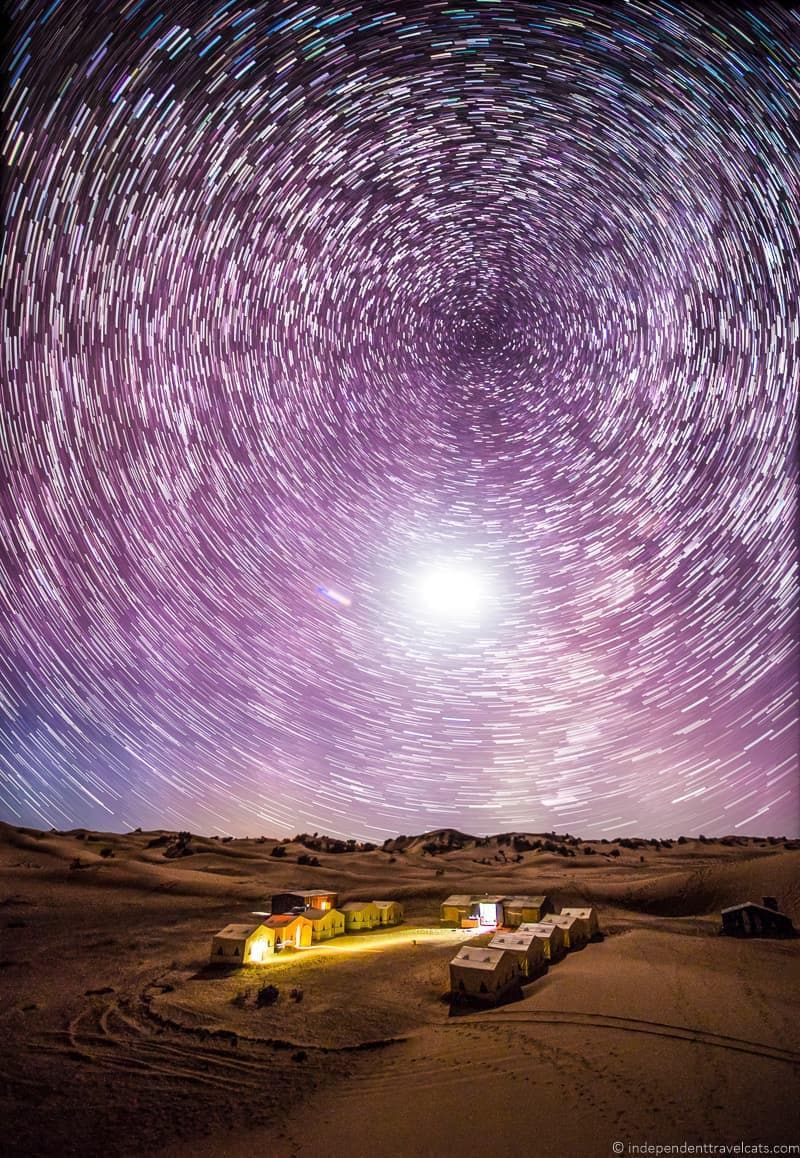 Well, that was five reasons you need a tripod for your travel photography. Still not convinced? Read this article, that gives you 12 reasons you need a tripod that might help further convince you!
What to Look For in a Travel Tripod
There are a number of factors to consider when purchasing a tripod. In our opinion, the four main factors you want to consider are: cost, weight, load capacity, and size.
For a much more detailed breakdown of all the factors, check out our travel tripod review guide which breaks down all the factors you might want to use to compare travel tripods.
Cost
Budget is obviously a personal choice, with travel tripods ranging from about $20 for a basic mini tripod to close to over a $1,000.
More expensive tripods tend to be made of more advanced materials such as carbon fiber, and be more lightweight or sturdy as a result. Cheaper tripods are usually made of less expensive materials like plastic and aluminum.
If you are looking for a full-size good quality travel tripod, we'd suggest that a budget in the region of $100 to $250 would get you an excellent travel tripod that should last you for many years of photography.
But you don't have to spend very much to get a decent budget tripod, you can get a decent budget travel tripod for $30 to $60 that will do the job, it just won't be as good of quality. Also if you are looking for a lightweight mini-tripod, these can be had for $20 to $35.
Weight
Weight is a serious consideration when it comes to picking a travel tripod. For travel, we'd highly recommend picking a tripod that weighs 3 lbs. (1.36 kg) or less. Anything too heavy and you are unlikely to want to pack it and carry it around.
Make sure that you check the weight and dimensions of the full tripod. Most tripods are sold as a single unit, but some tripods are sold with the tripod legs and the tripod heads separately, especially in higher-end models.
The lowest weight tripods are usually manufactured out of carbon fiber, which raises the cost compared to materials like aluminum. Aluminum is a bit heavier and less durable, but it is less expensive. So you may have to balance cost with weight.
If you have the budget, we generally recommend choosing a carbon fiber tripod over an aluminum one. Carbon fiber is a stronger and lighter than aluminum so your tripod will likely hold up better in the longer term.
A lighter means the tripod is easier to take with you, and this makes it much more likely that you'll carry it with you when you travel. A heavy tripod will likely stay at home, which won't do anyone any good!
Load Capacity
Another piece of the travel tripod puzzle is load capacity, or the maximum weight your tripod can safely handle. The load capacity also gives you an overall indication of the stability of the tripod.
If you have a very heavy camera setup, then you will need a much sturdier tripod with a higher load capacity than if you have a smaller DSLR, mirrorless, or compact camera. Each tripod manufacturer will list the load capacity for each of its tripod models. Just note that there is no universal measure of load capacity so we always recommend getting a tripod that has more load capacity then you need.
You want to look for a travel tripod with a load capacity that is in excess of your heaviest camera setup. So if your heaviest camera setup is a mirrorless camera with its 100-300mm lens and it weighs 3 lbs (1.36 kg) in total, then we'd recommend looking for a tripod with a load capacity of at least 5 lbs (2.26 kg) or more. The majority of travelers are not traveling with heavy cameras, so the majority of travel tripods should be sturdy enough for most people.
However, those lugging around heavy professional-level DSLR cameras and heavy lenses will want to carefully check the maximum load guidelines before selecting a travel tripod. We'd recommend that those with heavier gear, especially those with heavy telephoto lenses, look for a mid-range or higher-end tripod with a higher load capacity.
Size
Finally, the last thing to think about when comparing travel tripods is size. There are two sizes to think about: 1.) how small the tripod folds up and 2.) how high it extends.
In terms of how small it folds up, we recommend a travel tripod that folds up to under 21 inches (53 cm) for ease of transport and airline carry-on purposes. Anything larger, and you may not want to travel with it. But some people are going to want something more compact, and you can find full-size travel tripods that fold up to 12 to 16 inches.
In terms of height, we recommend a travel tripod that extends to at least 48 or 50 inches, as otherwise you'll likely have to bend over to be able to use it which can be uncomfortable. Taller individuals may want a tripod that can extend to 60 inches. We recommend using a measuring stick or tape and holding a camera at different heights to see what might be comfortable for you.
Alternatively, you can look at a much more compact tripod that doesn't extend, and whilst certainly better than no tripod, these are going to be more limiting in terms of shooting.
Those really concerned about size and weight, should consider a mini travel tripod option which can be stashed in a day bag or even a large purse such as this one and this one. Mini tripods don't work as well with heavy camera setups, but these can be perfect for those wanting to grab better vacation photos with a smartphone, point-and-shoot camera, GoPro, or lightweight mirrorless camera.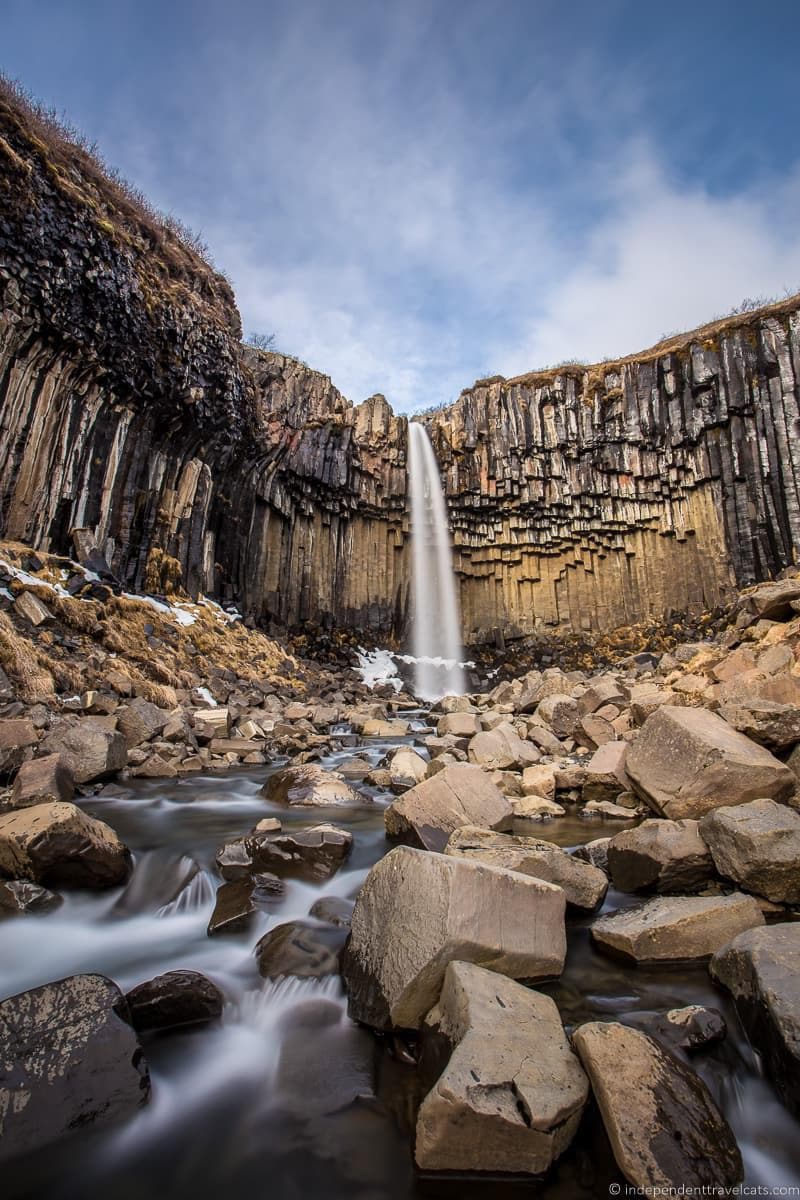 Can I Use A Travel Tripod With Any Type of Camera?
You absolutely can use a tripod with any type of camera, and this includes compact cameras, mirrorless cameras, DSLR cameras, action cameras, and even mobile phones. The vast majority of cameras will have a screw hole in the base, which is the mount point for the tripod. The tripod will have a screw that you can screw into the camera to attach it.
If you are using a mobile phone, GoPro, action camera, or a really basic compact camera that do not have a screw hole in the base, you will need an adapter to be able to mount it to a tripod. For example, for mobile phones you just need a smartphone tripod mount adaptor like this.
More advanced tripods, and the majority of tripods that we recommend, come with a quick release mechanism. This is a small plate that you screw onto the base of your camera where the tripod mount hole is. The tripod head will then have an easy way to attach and remove this plate. This saves you screwing and unscrewing your camera onto the tripod every time, which is a lot more convenient.
Can A Tripod Help With Video As Well?
If you plan to make videos as well as take photos, you will likely find a tripod even more useful! A stabilized video looks a lot more professional than a shaky handheld video, so for really good video results we'd suggest that a tripod is an absolute must.
The tripods we recommend in this post will all work for video, although you should look into a pan-head or pan & tilt head rather than a standard ball head, as this allows for more granular control in each plane of movement, meaning you can smoothly pan your video along one axis without affecting the other axis.
If you think you will primarily be using the tripod for vlogging or video on the go, we recommend taking at the Joby Gorillapods, particularly the updated 5K kit, as it is one of the most popular travel tripods for vloggers. The flexible legs allows for you to sit the tripod down, wrap it around something, or use it handheld.
How Much Do Travel Tripods Cost?
Travel tripods vary in price, and you can certainly pick up a budget travel tripod for under $30, with prices ranging from about USD $30 to $800. Price depends on the materials used and any special features of the tripod.
We'd suggest that budgeting $100 – $300 for a travel tripod will get you an excellent full-size tripod. If you are looking for a mini-tripod, you can get a good once fore under $50.
See our suggestions below for several options which fall within this budget range.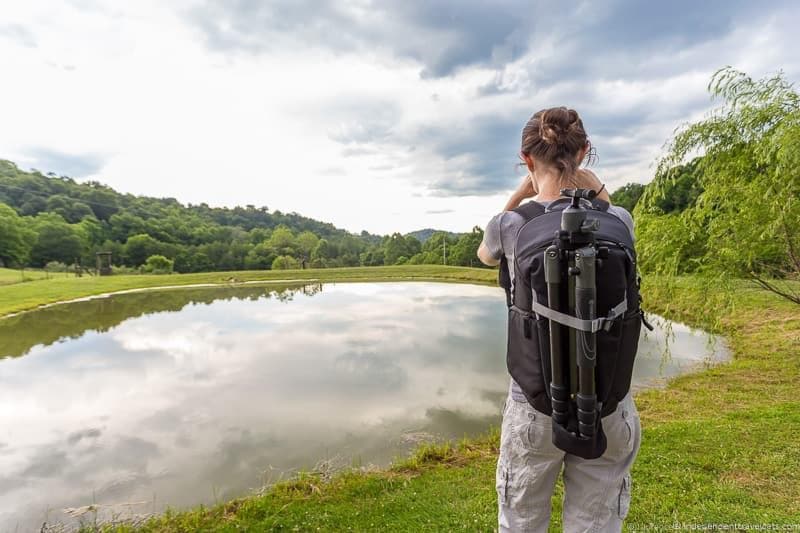 What Travel Tripods Do you Recommend?
There are a number of travel tripods on the market so you have a lot of choices. However, there are really only a handful of really well-known tripod manufacturers.
We use and recommend the Vanguard series of tripods, and for travel especially, we use and recommend the Vanguard VEO & VEO 2 Go lines. These were designed from the ground up for traveling photographers, offering a lightweight and sturdy tripod at an excellent price point. We are a bit biased as Laurence has been an ambassador for Vanguard since 2014.
Vanguard offers a large range of travel tripods, with most models available in aluminum or carbon fiber, and across a price range starting at just $99. If you are looking for a really lightweight tripod that folds up really small, we recommend checking out this tripod, which weighs only 1.7 lbs and folds up to 12 3/4 inches. Just note that its extended height isn't the tallest.
We personally have a number of tripods, but the two main travel tripods we use and travel with are the Vanguard VEO 2 265CB and the Vanguard 2 Go 265HCBM which also converts to a monopod. You can read our review of the Vanguard VEO 2 265CB tripod here and the Vanguard VEO 2 Go 265HCBM review here.
For a full discussion of the best travel tripods and comparisons of the various models on the market, we'd recommend checking out this article that focuses on more detailed travel tripod comparisons. That article breaks down travel tripods down much further by category.
But here are a list of some of the tripods we recommend most to readers:
The entry-level Vanguard VEO 2 tripod offers nearly everything you need in a travel tripod. It's sturdy, light, and folds down to a compact size. For a lighter camera setup, such as a mirrorless camera or point and shoot camera, this would be a fantastic choice.
For something that folds up even smaller and weighs less, we also recommend checking out the VEO 2 Go 204CB. It folds up to under 13 inches and weighs only 1.7 pounds! Both of these tripods are available in both aluminum and carbon fiber versions.
Material: Aluminum
Weight: 2.53 lbs / 1.15 kg
Folded Length: 15.75 in / 40 cm
Maximum Height: 53.1in / 135 cm
Maximum Load: 8.8 lbs / 4 kg
Price: Check Price and buy on Amazon here, B&H here and Adorama here

If your gear is a little heavier, say you have a bigger DSLR with a larger lens, you might consider upgrading to a sturdier carbon fiber tripod. This is the top of the range VEO 2 tripod, offering a high load capacity but a lightweight construction, thanks to the carbon fiber.
This is the tripod we have been using for several years and have been very happy with it. If you are looking for a smaller and lighter version of this tripod, we'd recommend taking a look at the newer VEO 2 Go 265CB.
Material: Carbon Fiber
Weight: 2.86 lbs / 1.3 kg
Folded Length: 16.3 inches / 41.5 cm
Maximum Height: 59 inches / 150 cm
Maximum Load: 17.6 lbs / 8 kg
Price: Check prices on Amazon here and Adorama here

Manfrotto are one of the most well-known names in tripods, and their travel range is known as BeFree. This particular model, the BeFree GT, stands out as it offers a great load capacity, reasonable weight and legnth, and is made of carbon fiber.
The tripod has a ball head with a quick-release system, however, be aware that Manfrotto uses their own mounting system standard and plate designs that are not compatible with the Arca-Swiss standard.
Material: Carbon fiber
Weight: 3.42 lbs / 1.55 kg
Folded Length: 16.9 inches / 43 cm
Maximum Height: 63.8 inches / 162 cm
Maximum Load: 22 lbs / 10 kg
Price: Check price on Amazon here, B&H here and Adorama here
3 Legged Thing is a small British brand of more premium tripods, and they have recently won design awards for their travel tripods. We especially like the Leo 2.0 model which s a sturdy well-built carbon fiber travel tripod, with an impressive maximum load rating of 66 lbs (30kg) and folds down to only 14.7 inches (37.4 cm). This is a great tripod for someone with heavy gear!
Just note that with the sturdiness and compactness, it is also a heavier tripod, weighing just over 4 lbs. So this is not a tripod for someone looking for a super lightweight tripod.
Material: Carbon Fiber
Weight: 4.08 lbs / 1.85 kg
Folded Length: 14.7 inches / 37.4 cm
Maximum Height: 57.7 inches / 147 cm
Maximum Load: 66 lbs / 30 kg
Price: Check Price and buy on Amazon here, B&H here and Adorama here
If budget is your absolute key consideration, then you might want to take a look at the AmazonBasics lightweight tripod. It's certainly an incredible bargain, and is well reviewed on Amazon as well. But for the price you have to be willing to compromise on its size, weight, and load capacity. It is a relatively bulky travel tripod, especially for its load capacity.

That said, as an entry-level tripod it's hard to argue with the price! Although if you can stretch to it, we think the Vanguard VEO 204AB is a better investment.
Material: Aluminium
Weight: 3 lbs. / 1.36 kg
Folded Length: 25 inches/ 63.5 cm
Maximum Height: 60 inches / 152 cm
Maximum Load: 6.6lbs / 3 kg
Price: Check Price and buy on Amazon here

If you can't see yourself carrying around a full-size tripod, don't despair. There are a number of other options available, including the super cute Manfrotto Pixi mini tripods. The Manfrotto Pixi Evo 2 has a ball head and a load capacity of 5.5 lbs.
Obviously you are limited in terms of height adjustment, but if you just want a means of stabilizing your camera in a super lightweight package, a mini tripod like this one is going to be your best option.
Material: Aluminium / Technopolymer
Weight: 9.2 ounces / 260 grams
Folded Length: 8.1 inches / 20.5 cm
Maximum Height: 7.8 inches / 20 cm
Maximum Load: 5.5 lbs / 2.5 kg
Price: Check latest price on Amazon here, B&H here and Adorama here

JOBY is a well-known brand for their GorillaPod mini tripods with flexible legs that can be positioned and even wrapped around things. They are also very popular for video. The 5K version is one of their more heavy-duty tripods and can hold up to 11 lbs (5 kg) of gear.
You can check out their full line which vary in terms of size, weight, and features. For instance, if you have more lightweight gear, I'd check out the GorillaPod 1K as it is a much smaller and less expensive option.
Material: ABS plastic / Aluminum / Stainless Steel / Rubber
Weight: 1.63 lbs / 0.74 kg
Folded Length: 15.1 inches / 38.5 cm
Maximum Height: ~ 14 inches / 35.5 cm
Maximum Load: 11 lbs / 5 kg
Price: Check latest price on Amazon here, B&H here and Adorama here

**Discounted Price for Vanguard Tripods for Our Readers! As Vanguard Ambassadors we are able to offer you a unique discount code which will get you 20% off everything in the Vanguard USA, Vanguard UK, Vanguard Spain, and Vanguard Germany online store websites. Just use code FindingTheUniverse (case sensitive) on checkout.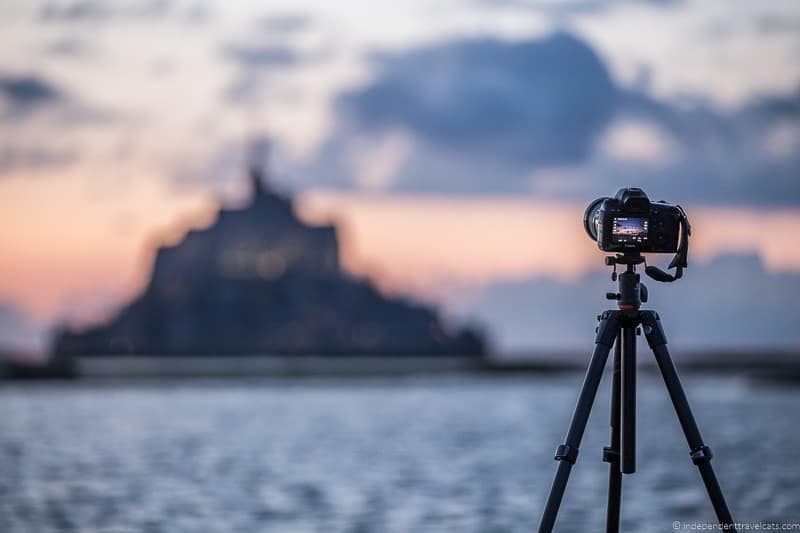 How to Decide Whether or Not to Take a Tripod on a Trip
Regardless of how lightweight the travel tripod you choose is, it's still an item that you have to take with you. We take our travel tripod almost everywhere we go because our work requires us to get high-quality photos, but we appreciate not everyone will want to take it on every trip.
Here are a few questions to ask yourself and consider when deciding if you want to bring along your travel tripod:
What type of trip are you taking?
The method of travel and length of your trip can really make a difference. If you are doing a self-drive road trip for example, we think that bringing along a tripod makes perfect sense as you're not restricted by a weight limit, and it can just live in the trunk of the car when not in use.
On the other hand, if you are flying carry-on only with an airline that has a restrictive carry-on weight policy to do a 2 month backpacking trip, you might want to leave the tripod at home.
Where are you going?
Another factor to consider is the destination. If you're visiting a destination where you are planning on spending the majority of your time in museums and attractions for example, you might not even be able to use your tripod. Many monuments, museums, and churches don't allow you to use a tripod, so it would probably not be worth the hassle of carrying it around.
However, if you are visiting a destination with nice landscapes or iconic landmarks, you'll like have a lot more opportunities to use your tripod and it will help you get better photos of the destinations.
Do you see yourself taking the tripod out with you each day?
A final question you might ask yourself is whether you can actually see yourself carrying the tripod with you during the day when you are out traveling. If you are doing a road trip, it can be easy to pull it out of the car as needed. But if you are planning on several days of walking around Paris sightseeing, do you think you'll carrying it around with you all day? Be honest with yourself!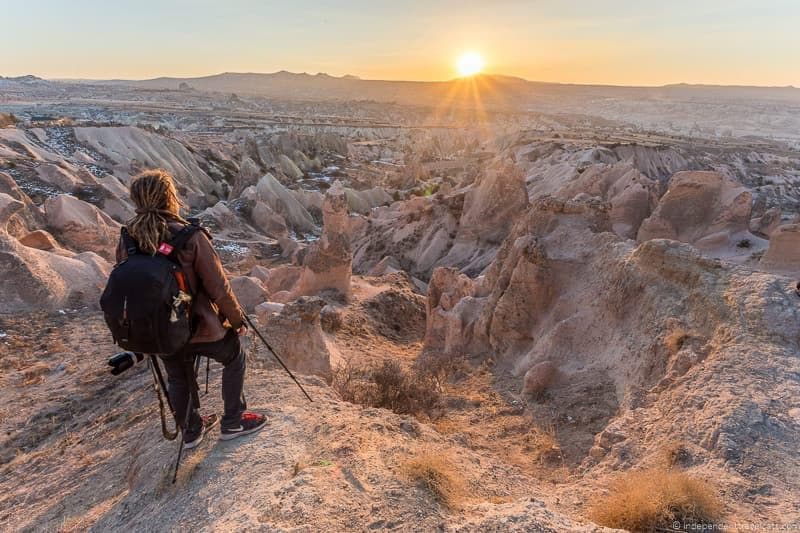 Practical Tips for Traveling with a Tripod
A tripod is a relatively easy accessory to travel with once you get used to it. Here, we've put together some of our top tips to help you travel with, protect, and get the most out of your travel tripod.
In our experience, a tripod can be taken as a carry-on item on most flights. The United States TSA guidelines state that a tripod can be taken in both carry-on and checked luggage although it of course has to meet the size and weight requirements for the specific airline. However, an airport security inspector may determine that the tripod has to be checked (usually because the inspector considers that it could be used as a weapon) and we've had this happen in France before. Always good to check with your airline before flying and have a back-up plan in mind if you are asked to check it once at the airport.
If you have to decide between checking a tripod or your primary camera equipment due to weight considerations, we'd advise always checking the tripod as it is less likely to get damaged or be targeted for theft than a camera or lenses.
If you have insurance on your photography equipment, make sure to expand it to include your tripod before your next trip
For day-to-day use, we'd suggest that you only take the tripod out with you on the days that you are definitely going to be using it, to save yourself from having to carry it all day for no reason. So it is good to plan ahead. Then you'll know to take your tripod along if you know that you are going to be somewhere where you want a nice photo of yourself or there is an opportunity for astrophotography.
Many museums, monuments, government buildings, religious buildings, and historical properties prohibit the use of a tripod. Sometimes you can still visit with it in hand or in your backpack, but in most circumstances you will likely be asked to check the tripod or store it in a locker upon entrance. At some locations with high security where there is no storage (e.g, Saint-Chapelle in Paris), you may not be allowed inside if you have a tripod on you or the tripod could be confiscated. So do check ahead before setting out as there are some days you may need to leave the tripod behind or have a fellow traveler hold onto it for you.
We highly recommend investing in a specialized camera bag to carry your camera equipment and tripod. These are available in a wide range of styles and prices, but the one thing they have in common is that they offer far greater protection for your gear than a normal bag or backpack. Many are specifically designed to accommodate a tripod. We have used and recommend the Vanguard VEO line of bags, as well as the Vanguard Alta Sky line. Find the type of bag that works best for your camera gear, style, and needs.
Caring for a travel tripod is fairly straightforward. If you use it in dusty or salty conditions, say on a beach, then it's always worth rinsing it off and drying it properly using fresh water. You may also want to unscrew the joints to remove collected sand and grit. Otherwise, there are no special care considerations you should need to worry about.
Consider taking along and using a tripod collar for longer lenses. If you have a long, heavy telephoto lens, then you might want to use a tripod collar on the lens. This allows you to mount the lens to the tripod, rather than using the mount point on the camera, which will balance the camera better on the tripod. These are only really necessary on heavy DSLR telephoto lenses though.
Finally, we also recommend investing in your photography skills, as well as your tripod! Learning how to use your tripod and your camera gear will help you to take much better photos. If you're interested in improving your overall photography, check out Laurence's online photography course. Aimed at photographers of any level, and with one-on-one feedback and coaching from Laurence throughout, this course is guaranteed to get you taking better pictures—with and without a tripod!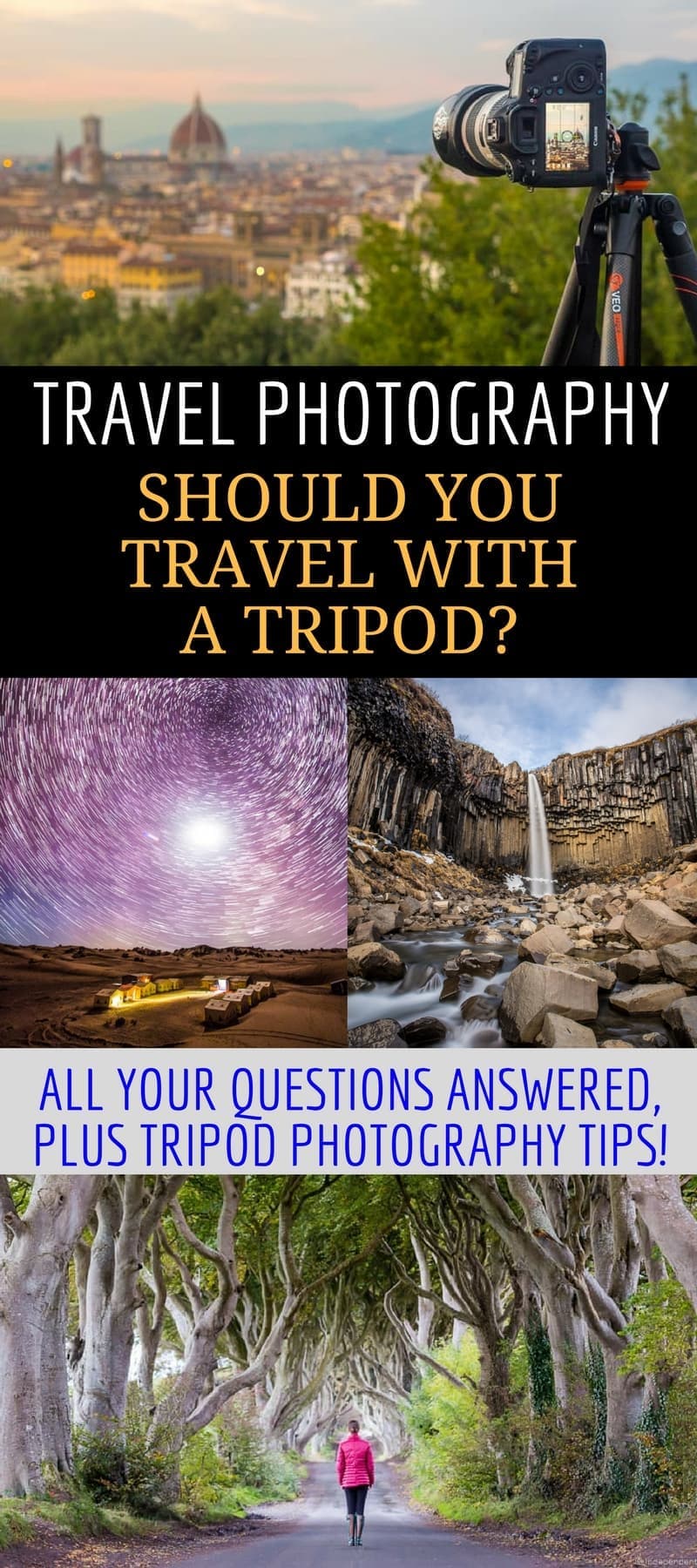 And that sums up our advice on travel tripods! Do you have any question about traveling with a tripod? Do you already travel with a tripod? Let us know your thoughts and questions in the comments below!
**Disclosure: As noted above, Laurence has been a long-time ambassador for Vanguard which is one of the tripod companies we recommend. However, we sincerely believe these are great products and this article contains only our own honest thoughts and opinions. You can read more in our Ethics Code. **