We want to share a guide to the top things to do in Nairobi, Kenya. Nairobi is the capital and largest city in Kenya. The city has grown from a rail depot in 1899 to a city of millions. It is the business, finance, and cultural hub of Kenya.
Most safari-bound visitors in Kenya spend at least one night in Nairobi, which is known as the "Safari Capital of the World". However, many travelers spend little if any time actually exploring the city itself. The city is often used just as a place to stay before or after a flight rather than as a destination to explore.
We think there are two main reasons that people don't explore Nairobi. One is lack of time. Many plan a packed safari schedule focused on wildlife viewing with no time set aside to explore Nairobi. The second is fears related to safety and crime. Nairobi isn't the safest city in the world, but you can safely explore the city if you take precautions.
Nairobi has a lot of visitor attractions, including museums, wildlife attractions, markets, cultural performances, parks, hiking trails, and great dining options. If you are interested in history, African art, wildlife, music, hiking, food, crafts, trains, gardens, or shopping, you are sure to find something of interest to do and see in the city.
It is also a city where you can really learn about Kenya, whether you are interested in colonial history, Kenyan independence, or modern life in Kenya's capital city. From the ritzy suburbs to the busy Central Business District to Africa's largest slum area, Nairobi is a multi-faceted city worth exploring.
We've been lucky to have visited the city a few times now and have had the chance to visit a lot of the attractions in Nairobi. We have really enjoyed exploring the city and find it provides a nice change from spending time on safari. So we are excited to share our experiences and tips with you to help you plan your own visit to Nairobi.
In this post, we'll cover the top things to do in Nairobi and tips for visiting each. We'll include the most popular tourist spots as well as some lesser known places. We'll also give you information and tips on getting to Nairobi, how to get around the city, where to stay in Nairobi, where to eat in Nairobi, how to book tours, and how to stay safe in Nairobi.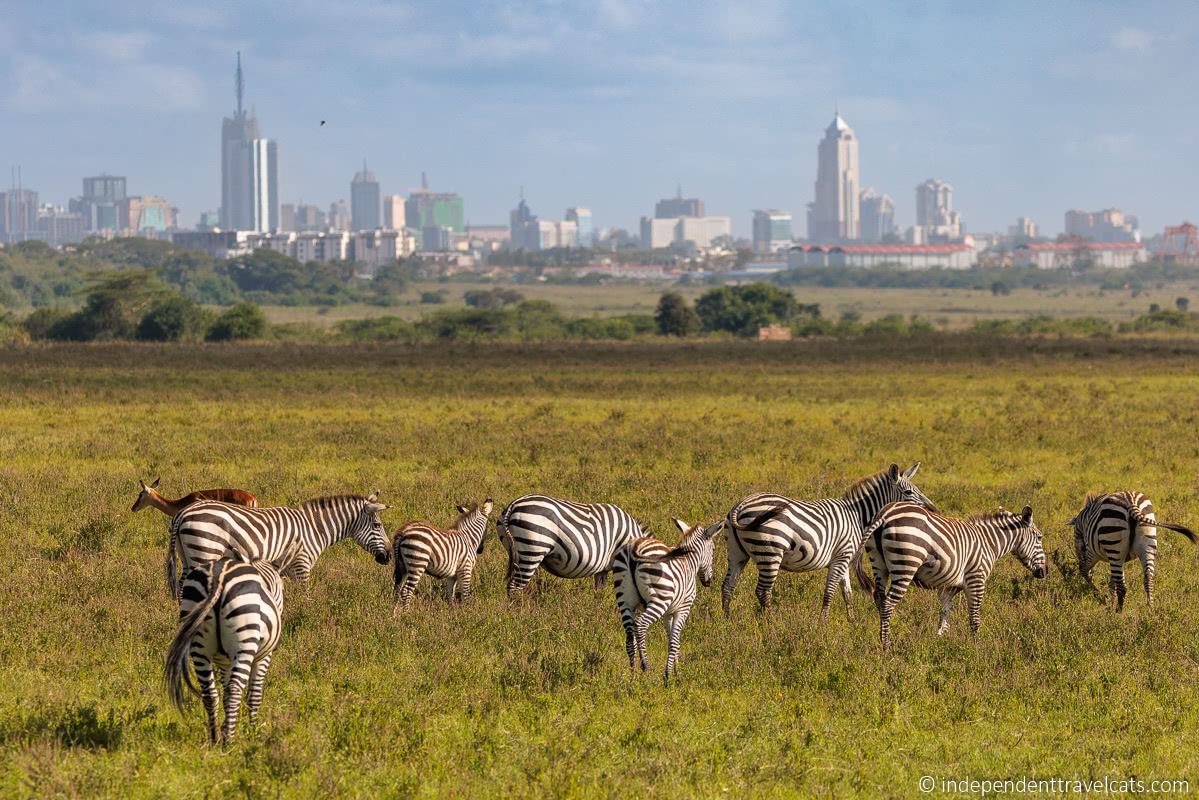 Getting to Nairobi
The main way that most international visitors get to Nairobi is by flying into the Jomo Kenyatta International Airport (NBO), Kenya's main international airport. But you can also reach Nairobi by train, car, or bus.
By Plane
The main airport in Nairobi is Jomo Kenyatta International Airport (NBO). It is likely that this is where you'll be arriving into Kenya.
But if you are arriving from elsewhere in Kenya or East Africa, your flight may arrive at the smaller Wilson Airport in Nairobi.
To get from the airport to your hotel or downtown, you can take a taxi, a shared shuttle bus, an Uber, or book a private transfer. Your hotel may offer a free or paid airport shuttle, or you may already have a driver arranged with your safari company. If not, we recommend booking your airport transfer in advance as it tends to be the most hassle-free way.
If you decide to take a taxi, be sure to set a clear price with the driver before agreeing to the trip. Or consider booking an Uber in advance.
By Train
Currently, the railway system in Kenya only connects a small area of Kenya, mainly the cities of Nairobi and Mombasa. So the main travelers arriving by train into Nairobi are those who are arriving into Mombasa by plane or ship.
Historically, Uganda, Tanzania, and Kenya were connected by train but the rail connections have been closed for many years.
You can find out information about routes and stations and book train tickets on the Kenya Railways website.
By Bus
Buses are by far the cheapest way to travel around East Africa. There are long-distance buses that arrive into Nairobi from throughout Kenya as well as from Tanzania, Uganda, and Rwanda. So I'd check online for options depending on where you are wanting to travel from or two.
For example, MASH bus, Modern, and Tahmeed Express are a few of the main bus companies that operate international routes around East Africa.
By Ship
The Port of Mombasa is the main international seaport in Kenya and the biggest port in east Africa. Most international passenger and cruise ships arrive into this port.
From Mombasa, you can then take the train, a bus, hire a private driver, or drive to Nairobi.
By Car
If you have a driver and are arriving on a safari that begins in another country or you are driving yourself, then you may be arriving into Kenya via one of its land borders.
Kenya borders Ethiopia, Somalia, South Sudan, Tanzania, and Uganda. However, the only countries you can currently enter Kenya from by land are Tanzania and Uganda. The open land borders change fairly regularly and if driving yourself, we recommend keeping updated on which land borders are open and the current requirements.
You'll also want to check the legal driving requirements for Kenya to ensure you have the proper documentation to drive in the country.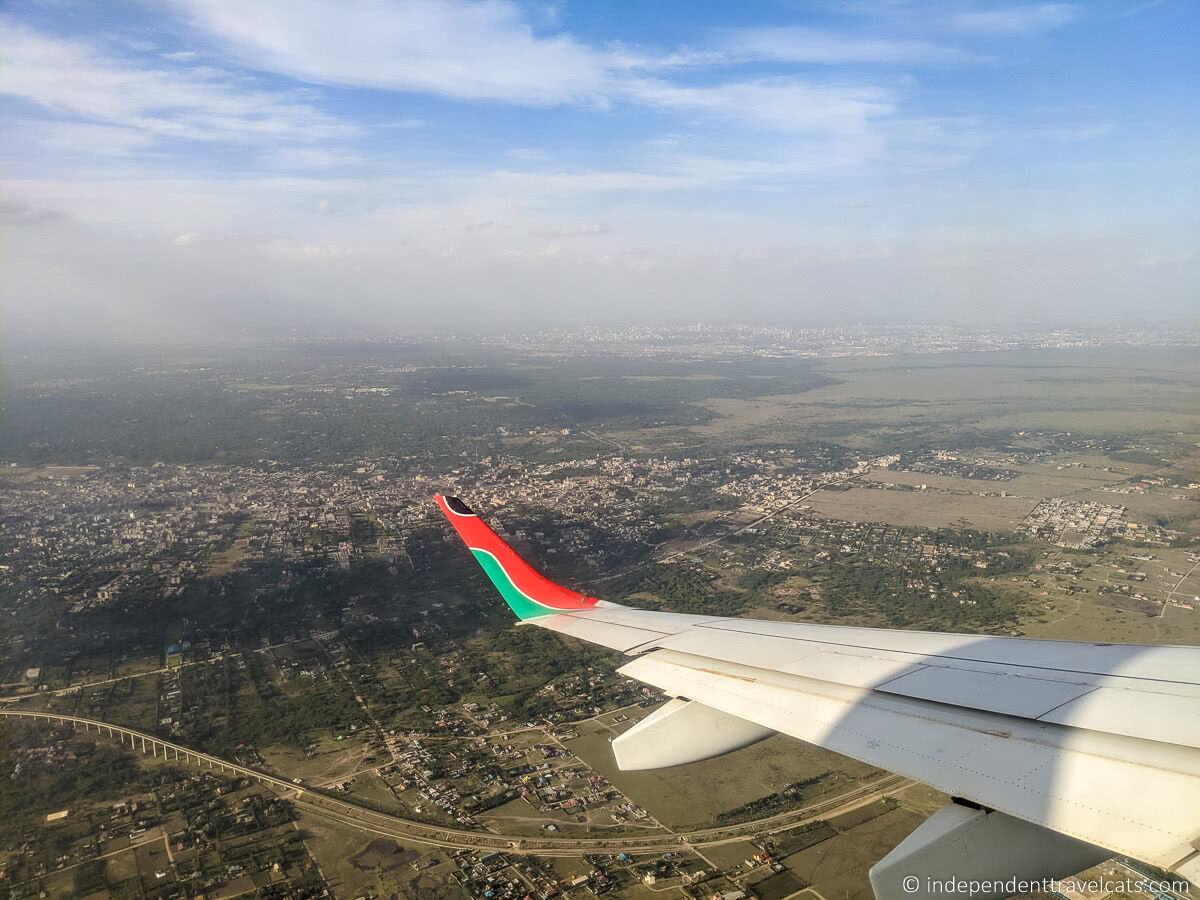 Getting Around Nairobi
You have a lot of options for getting around Nairobi including taxis, public transportation, hiring private drivers, joining a tour, renting a car, and walking. We talk about each option below.
Taxis and Ride Sharing Apps
Taxis and ride shares are very popular ways for visitors to get around Nairobi. Although more expensive than public transit, these tend to be easier, safer, and more comfortable.
Taxis can usually be found waiting at the airports, train stations, street corners in the city center, and also around popular hotels, tourist sites, and shopping centers. Licensed taxis in Nairobi are either yellow or marked with a yellow stripe. Just note that many don't use meters so you will want to agree on a price before you get in the taxi.
You can also use a ride-hailing app like Uber or Bolt to get a taxi. This makes the paying process much more secure as you can pay through the app without needing to exchange any cash. Options in an app may include private car rides, shared rides, and boda boda (motorbike) rides, so just make sure you choose the option you want.
We personally have used Uber multiple times in Nairobi without incident. We find this is often the best option for us, especially at night.
Walking
Walking is a particularly attractive option in the central parts of Nairobi, particularly the Central Business District. Many attractions are within walking distance and there are good sidewalks in most areas. If traffic is bad, it is often faster to walk than take a taxi or bus.
However, it is harder to walk in other areas of Nairobi where attractions are much more spread out and there is often a lack of good sidewalks. For those areas you are likely going to need to take a taxi, bus, or hire a driver. This is particularly the case when trying to visit the popular sites in Langata and Karen.
However, you want to be sure to take safety precautions if walking around the city as pickpocketing and robberies do occur (see Safety section). You should also be prepared for people, including children, coming up to you to try to sell you things, ask you for money, etc. These people are normally harmless but they can be annoying.
We don't recommend walking around the city at night or walking in the higher crime neighborhoods. If unsure if walking is a good idea in a particular area, ask hotel staff, a driver, or your tour operator for advice.
For instance, on our last visit we stayed in the Kilimani neighborhood for several days and walked around Kilimani and the Central Business District a lot during the daytime. But we avoided walking around at night and chose to take taxis after dark.
Public Transportation
There are several forms of public transportation available in Nairobi, including buses, matatus, tuk tuks, and boda bodas. Most tourists don't take public transit in Nairobi but it can be an inexpensive option for budget travelers and those wanting to experience more local transit options. Public transit can sometimes be the quickest option (e.g., boda bodas) but is not always the safest option.
Prices are often not regulated so prices can vary. Most of these options require cash to board and you'll want to carry small bills as some may not offer change. Boda bodas can be paid for digitally if you use a ride hailing app. Some services, such as the public buses, may also accept local payment apps such as M-Pesa.
Public Buses
There are a few bus companies operating the city routes with the main one being the Kenya Bus Service (KBS), but newer operators like Citi Hoppa also offer bus services in the city. This is probably the safest of the public transit options for tourists.
Routes are generally noted on the side of the bus and the buses run many of the same routes as the matatus. You can check out routes and how to get from one place to another using apps and websites like Moovit. Google Maps is another option but seems to show fewer options compared to Moovit.
Matatus
Matatus are privately-owned shared minibuses that operate along set routes and can legally hold up to 14 passengers. They are the most common form of public transit taken by locals in Kenya.
They are also probably the most noticeable of the forms of public transportation in Nairobi as they are often colorfully painted and decorated around a theme (e.g., sports teams, cartoon characters, famous rappers, Biblical scenes) and playing loud music.
These shared minibuses make a number of stops along set routes and the route is noted on the side of the buses. You can find out about the routes on this website. You pay the driver or conductor upon boarding in cash or by Mpesa.
The city is trying to phase out matatus due to poor safety records and so many of them are old and not in the best shape. The one we took in 2022 was rusting and seemed like it was on its last legs.
Generally, this is not a form of public transit that tourists take but it is an inexpensive option. You might also travel by matatus as part of a walking tour with a guide.
Boda Bodas
The boda boda, or motorbike taxi, is a common form of transportation throughout Kenya as the motorbikes are inexpensive and can move through traffic faster than cars or buses. We've seen everyone from students to businesspeople using them.
Motorbikes are a very important form of transportation in Kenya; however, they are not the safest form of transit. The government has been trying to better regulate them in recent years.
Personally, I can't really recommend boda bodas as I have seen too many horrible motorcycle accident injuries working in hospitals to recommend them. However, if you do want to give them a go, I'd recommend using an app like SafeBoda or Uber to hail rides to better guarantee a licensed and safe driver. A driver should offer you a helmet and vest to wear and I would not recommend jumping on without a helmet.
Some tours may include transport by boda boda but it is not common.
Tuk Tuks
A tuk tuk or auto rickshaw is another public transit option in Nairobi. These 3-wheeled vehicles are perhaps a safer alternative to the boda boda. However, they are slower and seem to mainly operate for those going shorter distances outside the city center. We for instance took one in Kibera with our guide to get from one side of the neighborhood to the other.
Driving Own Car
Driving is of course another way to get around if you have your own car or plan to rent one in Nairobi. You'll want to ensure you are knowledgeable about local driving rules and regulations and we recommend choosing a hotel that offers secure and monitored parking.
There is normally free parking at most major tourist attractions and shopping centers; however, you'll likely need to pay for parking in more central areas. You can find out more about paying for parking in Nairobi here.
We generally don't recommend driving in Nairobi if you can avoid it. Nairobi is a busy and congested city and traffic in the city is often bad. Most of the main roads are in good condition; however, there is almost always roadwork going on and some of the roads away from the city center are in fairly poor condition with lots of potholes.
Private Drivers & Tours
Joining a tour or hiring a private driver is another common way for visitors to get around Nairobi. If you are visiting as part of a tour or safari, you may have a driver/guide for your time in Nairobi who will handle all your transport.
There are a lot of tours which you can join and be part of either a group or have a private guide who will take you to see Nairobi's attractions. These generally include pick-up/drop-off from your accommodation as well as all transport throughout the day. These are convenient options that are perfect for people who don't want to deal with public transit or taxi services. You can see a lot of Nairobi tour options here and here.
Hiring a private driver can be a good idea if you need a driver to visit several places. For instance, we hired a private driver on Laurence's birthday as we had a day's itinerary planned out with several stops over an 8-hour period. This made our day really stress-free and easy and our driver was great.
If you have just one day in Nairobi, you can check out our 1 day Nairobi itinerary which details each of the places we visited on our first trip. It also includes a number of small group tour and private tour options if you want to do a similar trip.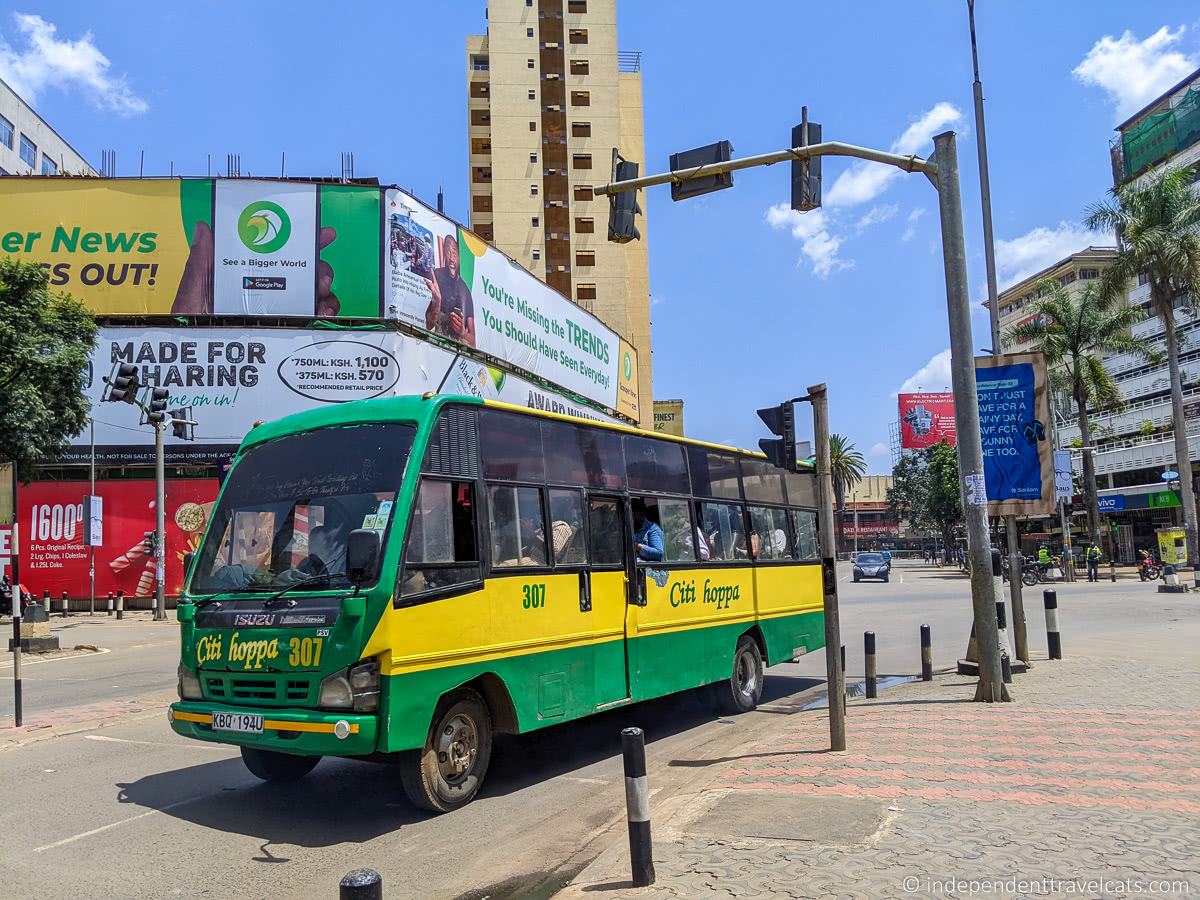 Kenya Travel Basics
In this section, we'll cover all the basic travel info about planning your trip to Nairobi, including visas, electricity, money, language, weather, and clothing.
Visas
Most international visitors to Kenya will require a visa to enter the country. You should check your own government's guidelines and those of Kenya for visa and entry requirements. You can apply online for an e-visa on Kenya's government e-visa website here.
Note that if you are also visiting Uganda and/or Rwanda, you may want to apply for an East Africa visa instead. This visa covers Kenya, Uganda, and Rwanda. You can apply for this visa through the same website.
To enter Kenya, most travelers will need a valid e-visa, a passport valid for at least 6 months past their travel dates, a printout of their travel itinerary, a support letter (generally from your tour company or business hosting you), hotel booking details, and proof of planned departure (e.g., flight or booked safari itinerary). Many travelers may also be required to show proof of certain vaccinations against certain diseases such as yellow fever and COVID-19.
Language
There are a lot of languages spoken in Kenya, but the main two are Swahili (Kiswahili) and English. Swahili is the most widely spoken language in Kenya, but English is also an official language and is widely spoken and understood. This is particularly true in Nairobi.
Tourists who don't speak Swahili or English often hire a local guide who speaks their native language or hire a translator.
Communication
We just wanted to note that many drivers, guides, and small businesses in Kenya use Whatsapp messaging as the main way (and sometimes only way) to communicate. We recommend considering setting up a free Whatsapp account on your phone if you don't already have one. This was the main way we communicated with our guides and drivers while in Kenya.
Currency
The currency of Kenya is the Kenyan shilling (Ksh). It is easy to find an ATM in Nairobi to take out local currency and we recommend using ones either at the airport or at a bank. Credit cards, as well as certain money transfer apps like M-Pesa, are widely accepted.
Foreign currencies, like the United States dollar, Euro, and British pound sterling are also regularly accepted in the tourism industry. The most accepted and most stable foreign currency in Kenya is the U.S. dollar. In fact, many tourist activities are priced in US dollars. So it is a good idea to have US dollars with you.
However, it costs money for locals to exchange foreign currency into local currency, so it is good to pay smaller businesses and to tip local guides in Kenyan shillings if possible.
In Kenya, we generally use USD to pay for things at hotels and tourist attractions and for large tips (e.g., main safari guide or driver). However, we generally used Ksh to tip local guides and staff, pay at markets and local restaurants, or to buy souvenirs. So it is good to have some of both currencies on you throughout your trip.
Some attractions, particularly after the COVID-19 pandemic hit, started only accepting non-cash payments. But a couple of places we visited only accepted cash. So it is a good idea to have both a credit card (or M-Pesa) and cash on you while in Nairobi.
Electricity
Kenya operates on a 240V supply voltage and 50Hz and uses a Type G plug. So you will want to avoid packing any electronics that don't support 240V.
If you are coming from a country that does not use a Type G plug (three-prong one found in the UK), you will need a travel adapter to plug in your electronics. You can pick up a few simple travel adapter plugs like these ones, or you can take some universal travel adapters like this one which work in most countries around the world.
Weather
The average annual temperature is around 66° F (18.5° C). Daytime temperatures rarely go below 50° F (10° C) or above 85° F (29° C).
February and March are typically the hottest months in Nairobi with an average temperature of 69° F (20.5° C) and the coldest months are July and August with an average temperature of 62° F (16.5°C).
Kenya has two rainy seasons, from March to May and from October to December. The rainiest month is April with a lot of rain also typical in May and November. So you'll definitely want to be prepared for rain if visiting during the rainy season, but we'd recommend being prepared for rain no matter when you visit.
Nairobi is a city you can visit any time of the year. The weather is pretty temperate throughout the year, being warm during the days and cool at night. Most attractions in the city are open year-round to visitors.
How to Dress in Nairobi
We recommend wearing comfortable clothing in Nairobi that are suitable for the weather. It is often sunny in Nairobi so be sure to protect yourself from the sun and check the weather forecast for rain.
It is important to respect the local culture and customs while in Kenya, which means wearing clothing that is more loose-fitting and conservative. This means avoiding really tight-fitting clothing or clothes that are short, show off your stomach, or expose a lot of skin. However, although Kenyans may wear more conservative styles, they love color and bold patterns!
Now, while safari clothing and hiking boots are great to wear when on safari or hiking, we don't recommend wearing those clothes when visiting Nairobi (unless you are going to Nairobi National Park). We recommend wearing your regular travel clothes and leaving your safari clothing in your suitcase while exploring the city.
For shoes, you'll likely be walking around a lot so you'll want comfortable walking shoes. It is also good if you wear shoes that you don't mind getting a little dirty. Laurence and I wore Allbirds Tree Runners shoes during our last visit to Nairobi and they worked very well.
For more packing suggestions, see our guide to what to pack for safari which should help with your general packing list.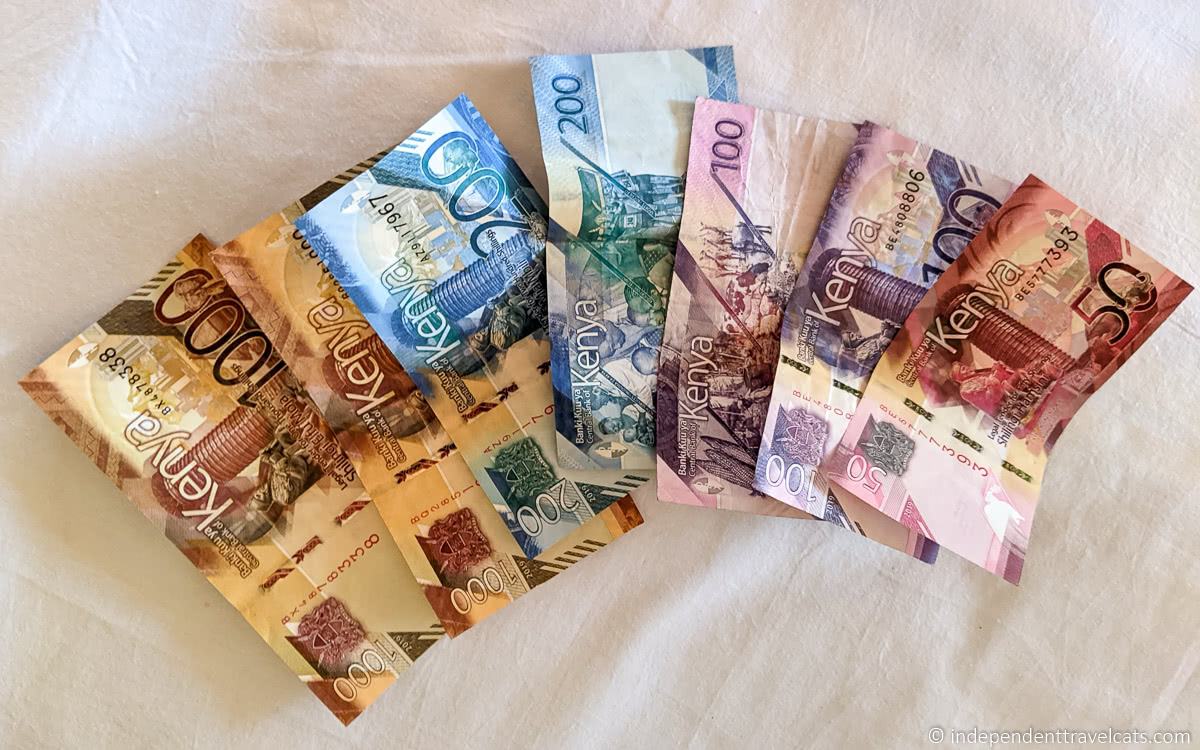 Travel Health
We love traveling in Kenya, but there are precautions you need to take to stay safe and healthy during your travels. These include avoiding untreated water, avoiding being bitten by mosquitoes, and making sure you are up to date on recommended vaccines and medications.
We highly recommend that you talk to your doctor or go to a travel clinic before your trip to see what vaccines and medication are needed or recommended. You can also discuss water safety, preventing mosquito bites, managing any existing conditions you may have, and traveling with medications.
We also highly recommend reading the health advice given by your local government for travelers to Kenya. You can see the U.S. CDC travel health information and recommendations to travelers here, and from the UK government here.
Water Safety
The tap water in Nairobi is not considered safe to drink for travelers by most government travel organizations. In Kenya, it is recommended that you only drink bottled water or tap water that has been boiled, treated, and/or filtered.
Drinking untreated water or eating unclean food can cause travelers' diarrhea and other water-borne diseases, such as cholera, hepatitis A, polio, and typhoid. So you will want to take the normal precautions as you would when traveling to any destination with unsafe water, such as avoiding ice, unwashed or unpeeled raw fruits and vegetables, unpasteurized dairy products, and cooked foods that are not served hot.
If you are wanting to avoid buying bottled water in Nairobi, you can read this article on safe drinking water when traveling for ways that you can treat water when traveling. We used a Grayl water filter bottle for filtering tap water for drinking, cooking (e.g, washing fruits), and brushing our teeth while in Nairobi on our last trip. This made it so that we didn't need to buy any bottled water.
Vaccines
There are a number of vaccinations recommended for travelers to Kenya. You should talk to your doctor or go to a travel clinic before your trip to see what vaccines and medication are needed or recommended. These will depend on what parts of Kenya you are visiting, what you plan to do there, and your medical history.
I think before our last trip to Kenya, our doctor recommended 3 vaccine boosters for me and 2 for Laurence. We also got antimalarial medication to take throughout our trip.
You should make a travel health appointment at least 2 weeks prior to travel as some vaccines, such as the yellow fever vaccine, may take at least 10 days to be effective.
Proof of some vaccinations, such as yellow fever and COVID-19, may be required, depending on where you live, where you have traveled, and any recent disease outbreaks. Be sure to check the latest requirements.
Mosquitos
There are mosquitoes in Nairobi although the risk of malaria and other mosquito-borne diseases if bitten is typically very low in the capital according to the WHO and other health organizations. The number of mosquitoes fluctuates based on rainfall, temperature, and time of year.
However, while the risk of getting malaria may be low in Nairobi, it is much higher in many other parts of Kenya. If you are visiting other parts of Kenya, you should talk to your doctor before your trip about antimalarial medications. Most visitors to Kenya take antimalarial medication during their trip and we have always done so.
But even if you are not worried about the risk of malaria in Nairobi, mosquito bites are annoying, itchy, and can transmit other diseases (e.g., yellow fever, dengue fever, Rift Valley fever, and chikungunya). We were bitten a few times on our 2022 trip in Nairobi because we forgot to use a mosquito net one night.
The best ways to prevent mosquito bites include using insect repellent with DEET, wearing long sleeved shirts and long pants, and using mosquito nets. Mosquitoes are most active between dusk and dawn.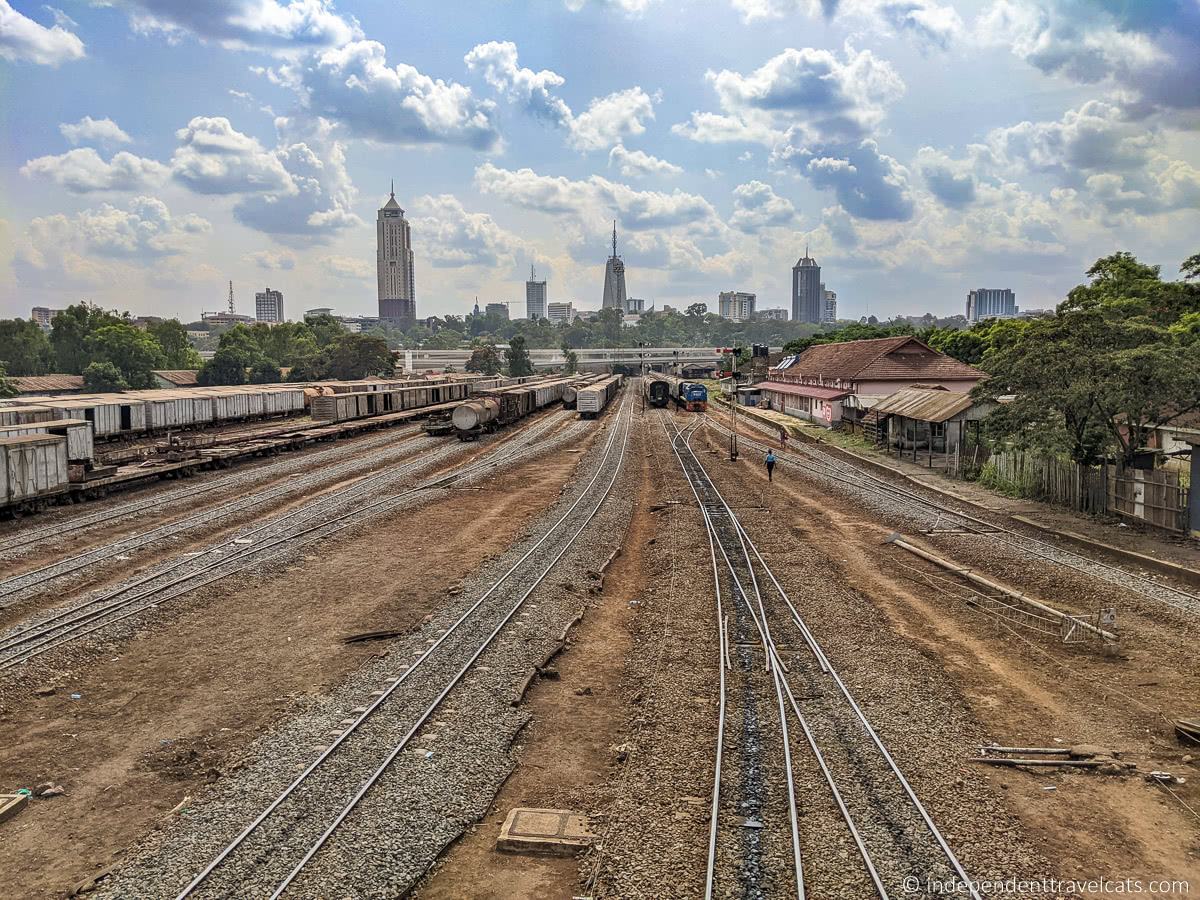 Is Nairobi Safe for Tourists?
Nairobi is not considered the safest city and its rate of crime is often rated as "high" compared to other cities in the world. But it has improved from the days when it was referred to as Nairobbery due to the high crime rates. While it is of course impossible to predict crime or terrorism, by taking precautions you can travel safely in Nairobi.
You particularly want to be careful with securing valuables and being aware of your surroundings. The most common crimes against tourists are pickpocketing, muggings, and carjackings. You also want to be skeptical of people approaching you asking to sell you something (e.g., cheap safaris or tours) or asking for donations for a good cause.
It is recommended that travelers avoid Nairobi neighborhoods where there is increased crime rates like Eastleigh and Kibera. We have visited Kibera but only during the day when accompanied by a guide.
Like in many major cities, we recommend taking extra precautions if out in the city at night. We always get a taxi or hire a driver if we need to get around at night.
It is best to carry around only the amount of money needed for your day so that if you are robbed, you won't lose a great deal of money. If robbed, don't resist, just give them what they want to avoid any physical escalation. It is also a good idea to have a money belt or similar separate place to hide your passport and a spare credit card.
If carrying a purse or bag, we recommend a cross-body one, a sling, or a fanny pack that is harder for someone to snatch and less likely for you to set down. If wearing a backpack, we recommend considering a small one with lockable zippers, such as the ones by PacSafe. We recommend carrying only what you need for the day.
Even if it may be fairly obvious that you are probably a tourist, you still want to avoid being too conspicuous by not carrying around big cameras, designer handbags, wearing expensive jewelry, etc. Best to leave your expensive gear and valuables at home or locked up at your hotel.
I'd also recommend avoiding holding out your smartphone while walking around, not only is it something that is easy to steal but it also distracts your attention. If you need to check your phone, do so before you set off or when in a safe spot. Also, it is always a good idea to have any important information and your photos backed up elsewhere so if your phone is lost, stolen, or damaged you still have all the data.
If walking around, especially in the city center, you will no doubt be approached by people trying to sell you cheap safaris and such. I'd recommend telling them politely but firmly that you are not interested and moving along. They will generally leave you alone but if you are feeling harassed or followed, I'd recommend going into a hotel, restaurant, or store to get rid of them or telling a nearby police officer or security guard.
Not all taxis and drivers in Nairobi are reputable. If you need a taxi, we recommend using a secure taxi-hailing app like Uber or Bolt. These make it so the prices are regulated and you can pay without needing to hand money to the driver. We have used Uber many times in Nairobi without incident.
Being stuck in traffic in Nairobi can attract street sellers, beggars, and thieves. When in a car, I'd recommend keeping your window rolled up and your door locked. If in a manatu, I'd keep hold of any bags or valuables to prevent thieves from snatching things.
Don't be afraid to ask questions of your driver, hotel staff, local guides, tour operator, etc. about whether it is safe to do X or Y. If you are unsure if it is a good idea to walk or visit somewhere, it can be good to get a local opinion. Most people are very willing to give advice for visiting their city.
You want to be particularly cautious when traveling in Kenya around the time of elections or referendums as violence, rioting, and ethnic tensions in the country often escalate during these periods. If you are visiting at a more tense or politically unstable time, it is probably safer to stick to guided activities. However, thankfully, even though the 2022 presidential election was contested, it was a fairly peaceful transition of power.
It is a good idea to check with your local government's advice on traveling to Kenya and take that into consideration. For example, at the time of writing, the U.S. Department of State recommends avoiding the Nairobi neighborhoods of Eastleigh and Kibera due to increased crime there. On many government agency websites, such as the U.S. travel alerts, you can also sign up for travel alerts by text or email to get updates while traveling.
We always recommend making sure you have travel and medical insurance coverage. If you experience a crime, you should report it to the local police. Even if they aren't likely to be able to help (e.g., pickpocketing), you will likely still need a copy of a report for your insurance. For more serious issues, you may also want to contact your country's embassy or consulate who can help direct you to further resources.
While the above may make Nairobi sound scary, we have visited Nairobi several times without any incidents. We have walked around a lot in the city on our own, especially around the Downtown area. We have hired local drivers, taken local transportation, and used Uber. We have done both guided and unguided visits to most of the city's main attractions. We have also gone shopping on our own at both shopping centers and local markets.
Although we have traveled more independently in Nairobi than most foreign visitors, we still take the precautions we note above. The main thing we have experienced is people coming up to us to beg for money, try to convince us to follow them and visit their shop, or trying to sell us cheap safaris. Sometimes they are pretty persistent and annoying, but generally, they will leave you alone if you are firm and move away.
We recommend that those who are concerned about safety stick to guided tours or hire a private guide or driver. Guides can not only make travelers feel safer, but they can also help make everything run smoother and can provide invaluable background and context to the places you visit. But also remember that even a guide can't always prevent things like purse snatching or pickpocketing, so you still need to use personal caution.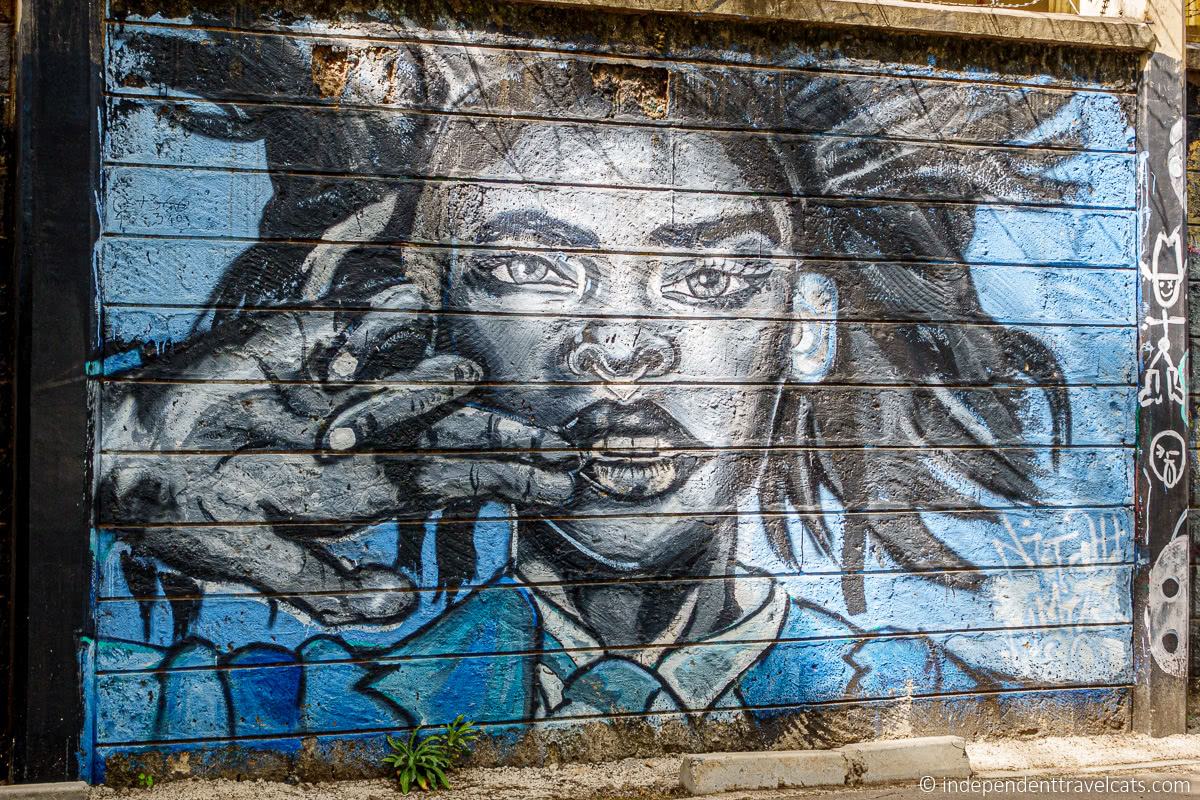 How Much Time Should I Spend in Nairobi?
How much time you want to spend in Nairobi will likely be determined by your interests and the length of your trip. There are lots of things to do and see in Nairobi and you can easily spend several days in the city as we have.
As the capital and largest city in Kenya, we definitely think that Nairobi deserves at least one full day of your trip. No matter your interests, whether it is history, culture, wildlife, shopping, art, or food, you are likely to find things that appeal in the city.
Personally, I'd recommend having at least 2 full days in Nairobi. That will give you time to see many of the highlights of the city. But you can still see quite a lot if you just have one full day. You can check out our earlier article to see our tips for how to spend one day in Nairobi which includes a detailed stop-by-stop suggested itinerary.
If you have a safari that begins or ends in Nairobi but your safari itinerary doesn't include any sightseeing in Nairobi, you can easily book a guided day tour of the city such as these available online here or here. Or you can explore independently on your own. You may want to arrange to come into the city a day or two early or stay later to have time for sightseeing before or after your safari.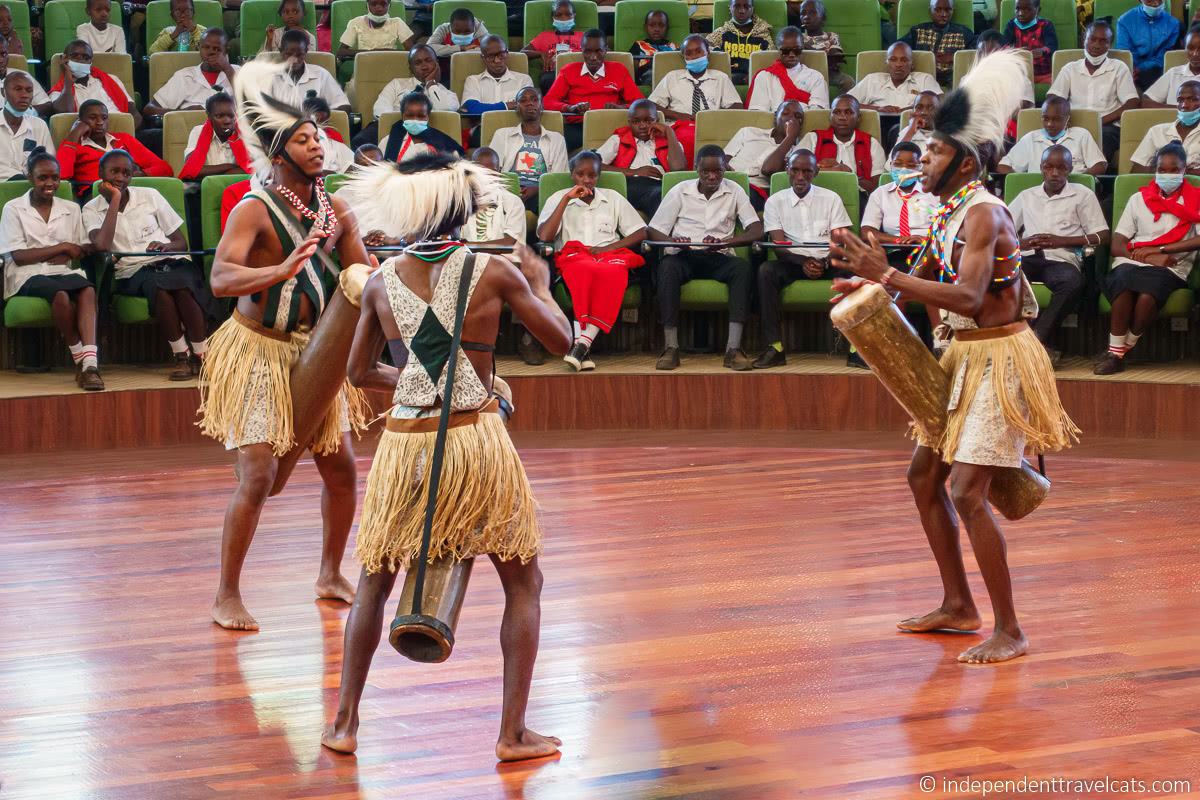 Where to Stay in Nairobi?
We recommend choosing your location based on the places you want to go in Nairobi, especially if you only have a short time in the city. Generally, we would recommend staying either in or near the Downtown area of Nairobi or in one of the western neighborhoods like Lang'ata or Karen.
Nairobi has a very wide range of accommodation options including hotels, guesthouses, hostels, apartments, and home rentals. Prices range from cheap $30 budget stays to $3,000 per night luxury stays. We have found it very easy to find mid-range accommodation during our stays in Nairobi.
If booking accommodation in the more budget range, just be sure to read recent reviews, check the details to see what is included, and make sure in an OK area of the city.
We generally recommend booking accommodation that includes an on-site restaurant (or cooking facilities if booking an apartment or hostel) as then you always have the option to eat your evening meal there. Even if you plan to eat out elsewhere, this gives you a very convenient backup option if you don't feel like going out at night.
Downtown Nairobi and the Westlands
The Downtown area or Central Business District (CBD) is a great area for those planning to visit central attractions like the Kenyatta International Convention Centre, City Market, Jamia Mosque, Maasai markets, Central Park, Uhuru Park, Nairobi National Museum, Railways Museum, and downtown shopping. The Westlands area, located just north of the center, is also a good place to check and is a popular area for expats.
Here are some lodging options in both the CBD and Westlands areas:
Western Neighborhoods of Nairobi
Lang'ata and Karen are both good locations for popular tourist attractions such as the Giraffe Centre, Uhuru Gardens, Karen Blixen Museum, Bomas of Kenya, Carnivore Restaurant, Kazuri Beads factory, and Sheldrick Wildlife Trust Elephant Orphanage. It is also a good location for those visiting Nairobi National Park.
Another good area to consider is the areas just west of Downtown Nairobi which put you in between the Central Business District and the areas of Lang'ata and Karen. These include areas like Lavington and Kilimani. Good areas for those visiting attractions in both of these areas and where we often choose to stay.
Here are some accommodation options in the western suburbs of Nairobi:
Near the Nairobi Airport
If you need to stay near the Jomo Kenyatta International Airport (NBO) you can look for a hotel in the Embakasi area. This area is mainly residential. The closest hotels are the Sheraton Four Points and Crowne Plaza airport hotels. A lower-priced option near the airport is Kozi Suites.
If you need to stay near the regional Wilson Airport, you can see the closest lodging options here, many are in the Lang'ata area. The closest hotel to Wilson Airport is the Weston Hotel and another good nearby option is the Tamarind Tree Hotel. The Pinkroses Garden Hostel is a well-rated budget option in this area.
Nairobi National Park
There is currently only one accommodation option (other than basic camping) located inside Nairobi National Park and that is Nairobi Tented Camp. The tented camp is a great place to stay if you want to be inside the national park and feel like you are on safari. Just note that you will need to pay the park fees each day of your stay in addition to the lodging costs.
If you are looking for a place away from the city, there are also several other hotels located on the southside of the park. A couple of good options located on the edge of the park include Ololo Safari Lodge and Nyati Hill Cottages. They are situated overlooking the escarpment of the national park and you often see wildlife without leaving the property. Great places to relax and to stay for visiting Nairobi National Park, but not the best location for visiting downtown attractions.
Neighborhoods in Northern Nairobi
If you are just looking for the safest neighborhoods in Nairobi, then Gigiri and Muthaiga are two northern suburbs which are often rated as the safest places to live in Nairobi. They are close to Karura Forest as well as restaurants and shopping, but are further away from most tourist attractions.
There are a number of hotel and apartment options in this area including the 5-star Tribe Hotel and well-rated mid-range Trademark Hotel and Magna Hotel & Suites. All are located in Gigiri.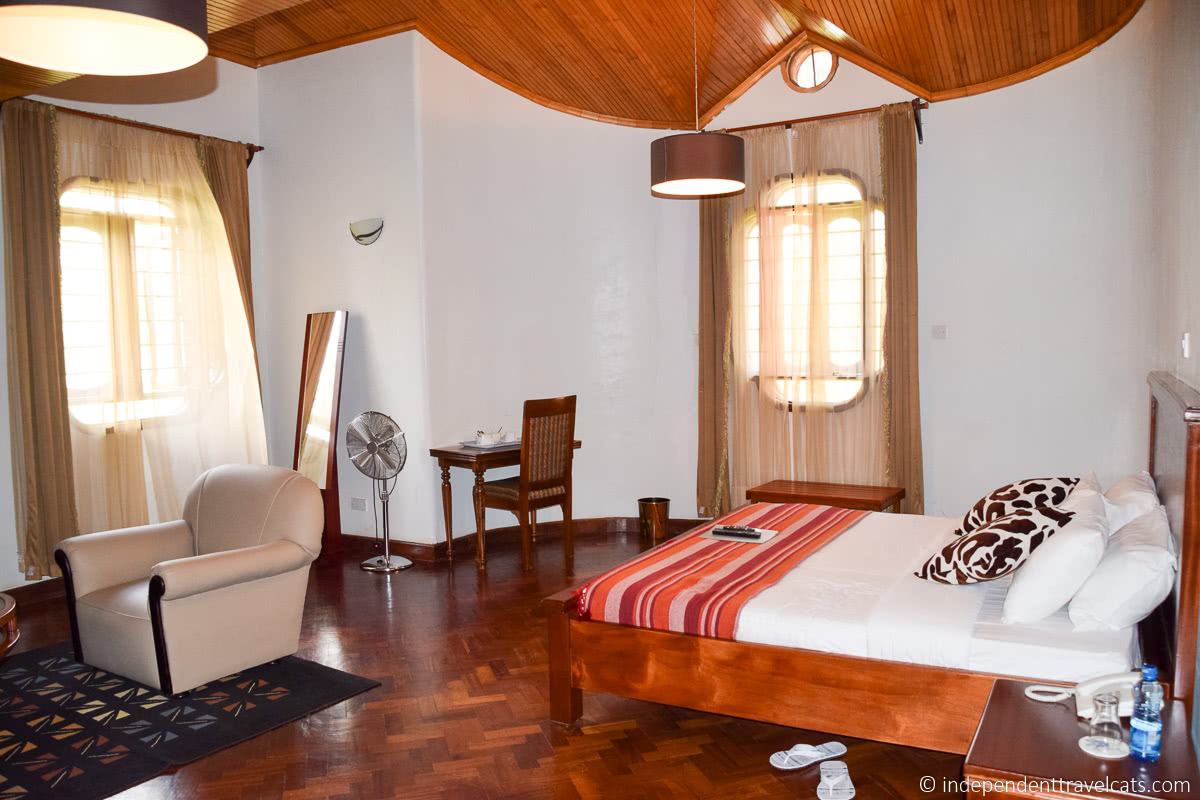 Booking Tours in Nairobi
Most visitors book some kind of tour or driver for sightseeing in Nairobi. You can visit just about any of the recommended attractions as part of a tour. There are a lot of tour options for both those wanting to join a small group tour and those looking for a private tour.
As always, when booking any type of tour, be sure to note what is included/excluded and any restrictions before booking. Entrance fees and meals may not be included so you will want to plan and budget accordingly. Some tours may also have minimum age requirements or health restrictions.
Also be sure to check the tour's cancellation policies. We normally book tours with either GetYourGuide or Viator which both offer a 24-hour cancellation policy for most tickets and tours. This means you can cancel a tour up to 24 hours before it starts and receive a full refund. This helps give us peace of mind if our travel plans unexpectedly change.
If you are looking for a tour in Nairobi, here are a list of some popular Nairobi day tours (both small group and private tours) that may be of interest. These cover a wide range of Nairobi's top attractions:
Now, if you are planning on doing a multi-day safari in Kenya, you should definitely research and book one before you leave home. It is possible to visit some of Kenya's national parks (other than Nairobi National Park) as part of a day trip from Nairobi, but I'd recommend tours that stay overnight or longer so you are not rushed.
Popular places you can go on a safari within a relatively short drive of Nairobi are Lake Naivasha National Park (~2.5 hours drive), Lake Nakuru National Park (~3.5 hours), Amboseli National Park (~4 hours), and the Maasai Mara (~4.5 hours).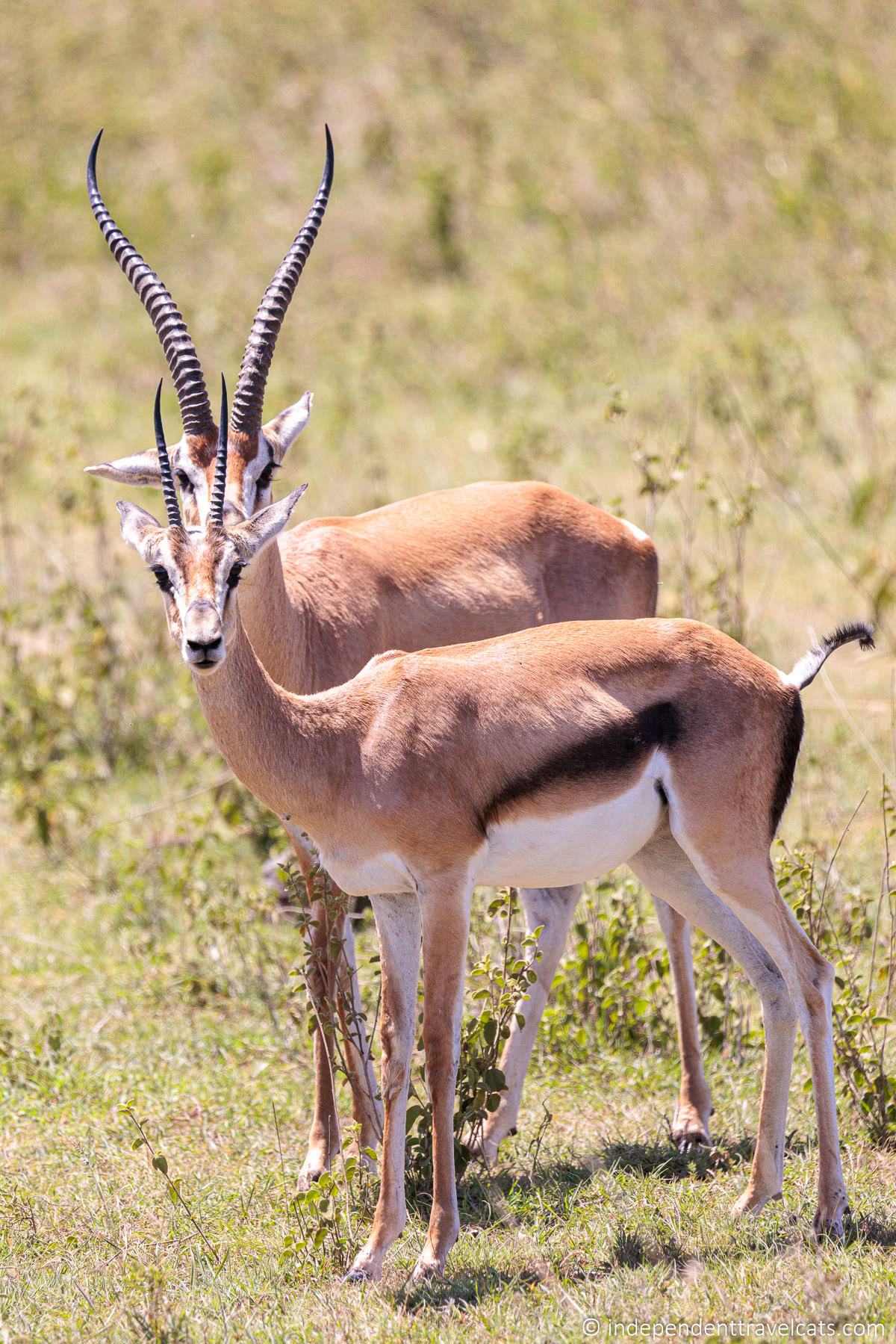 Top 24 Things to Do in Nairobi
Nairobi has a lot of attractions, including wildlife centers, museums, parks, gardens, and markets. We recommend using this list to choose the places you most want to visit so you can put together your own Nairobi itinerary.
Here is our list of top things to do in Nairobi:
Nairobi City Tour
A city tour with a local guide is a great way to see Nairobi if you are a first-time visitor. It is especially nice to explore the downtown area with a local guide to learn more about the city.
There are both walking tours and driving tours that you can join, depending on how you want to get around. You can hire a private guide or join a small group tour. The private tours are often flexible in terms of where they visit so you can choose from a list of attractions that best suit your interests. But you can save money by joining a group tour if it goes to the places you want to visit.
These tours are usually focused on the downtown Central Business District and often include visits to local landmarks, public parks and gardens, markets, the KICC building, museums, and other city attractions. They may or may not also include lunch.
You can check for available city tours in Nairobi here, as they vary in time, where they visit, what they include, and the forms of transportation. For example, this half day city orientation tour includes both private transport and walking (if you want). This tour also includes lunch at Carnivore.
For those interested in walking and getting closer to the city's landmarks and people, you might consider this popular downtown walking tour, this storytelling tour, or this walking food tour.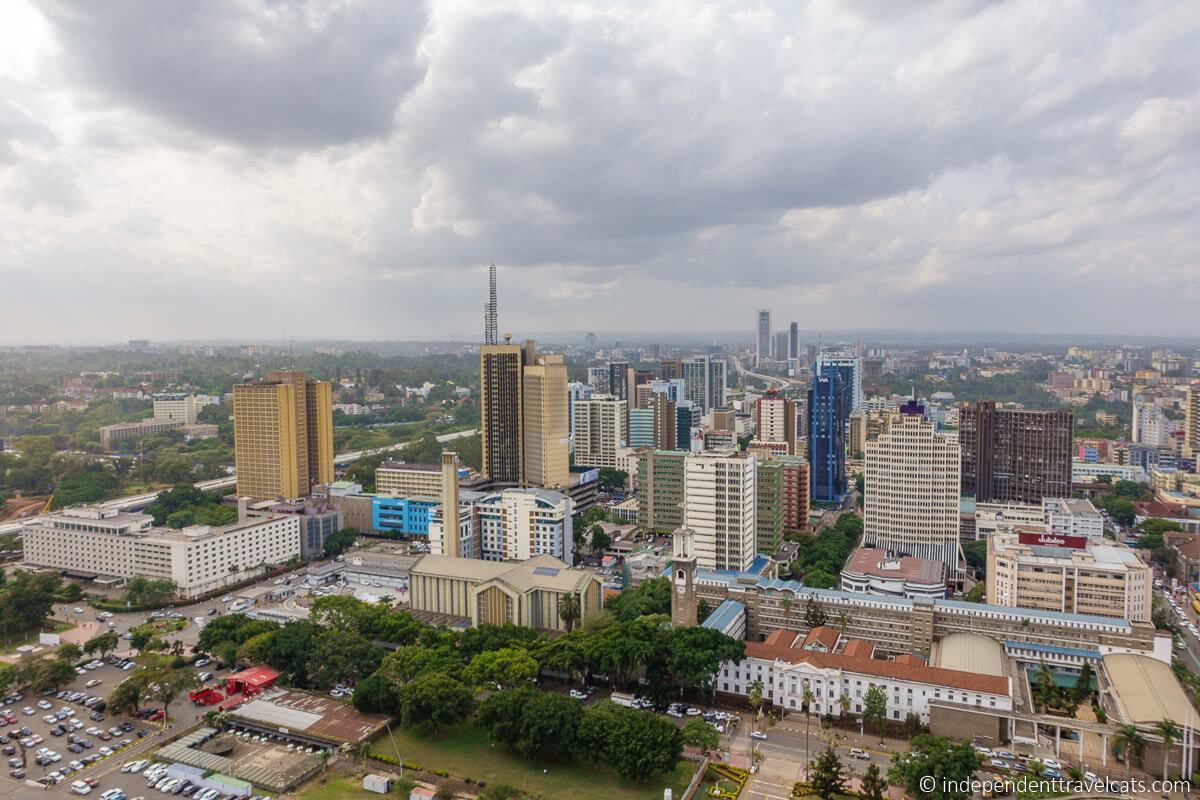 Nairobi National Museum
Nairobi National Museum is a great general museum to visit while in the city. The museum has been around in some form for over 100 years, first set up in colonial Kenya by the British. It carried on after independence and has been expanded and updated over the years. It is the flagship museum of the National Museums of Kenya.
The museum has a number of different galleries that each focus on a theme such as Kenyan history, mammals, birds of East Africa, cultural anthropology, human evolution, money, art, and musical instruments. There are also changing temporary exhibitions.
A couple of displays that international visitors often know about are the skeleton of Ahmed the elephant (one of the most famous elephants in the world) and the Joy Adamson Gallery (known for her book Born Free and the movie of the same name).
There is a fee to visit the museum. You can do a self-guided visit on your own or hire a guide. The museum is located in central Nairobi, just north of the Central Business District and just south of the Westlands.
In addition to the museum, you'll also find the Museum Botanical Gardens, a nature trail, and the Snake Park at the same location. Visiting the Botanical Gardens and walking along the nature trail are free to do and worth doing if the weather is nice. But there is an extra fee to visit the Snake Park (you can buy a combo ticket), which includes a number of snakes and other reptiles on display. You can check rates online here.
Also here at Museum Hill you'll find places to eat, gift shops, and the Louis Leakey Memorial Institute auditorium. You can easily spend half a day here.
Nairobi National Museum would be our top pick if you are looking for just one museum to visit in Nairobi. It is a good general museum and a great place to learn more about the country with a wide variety of displays.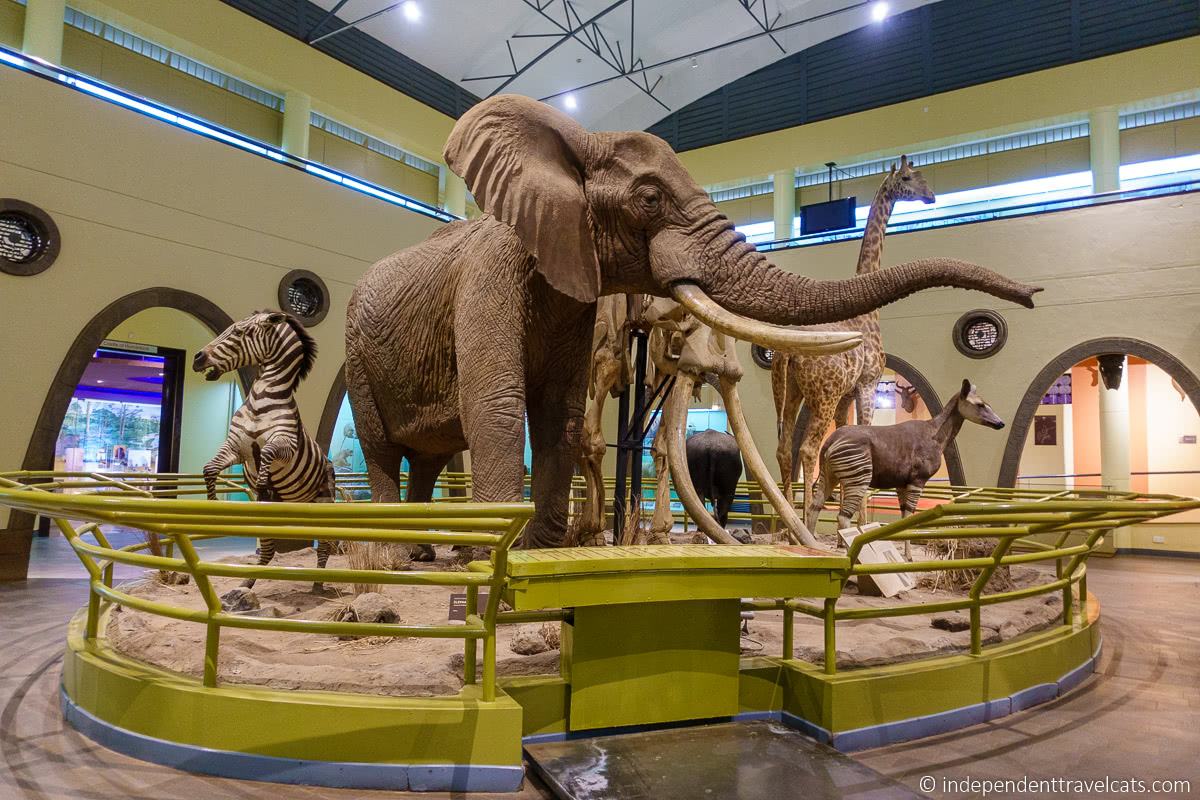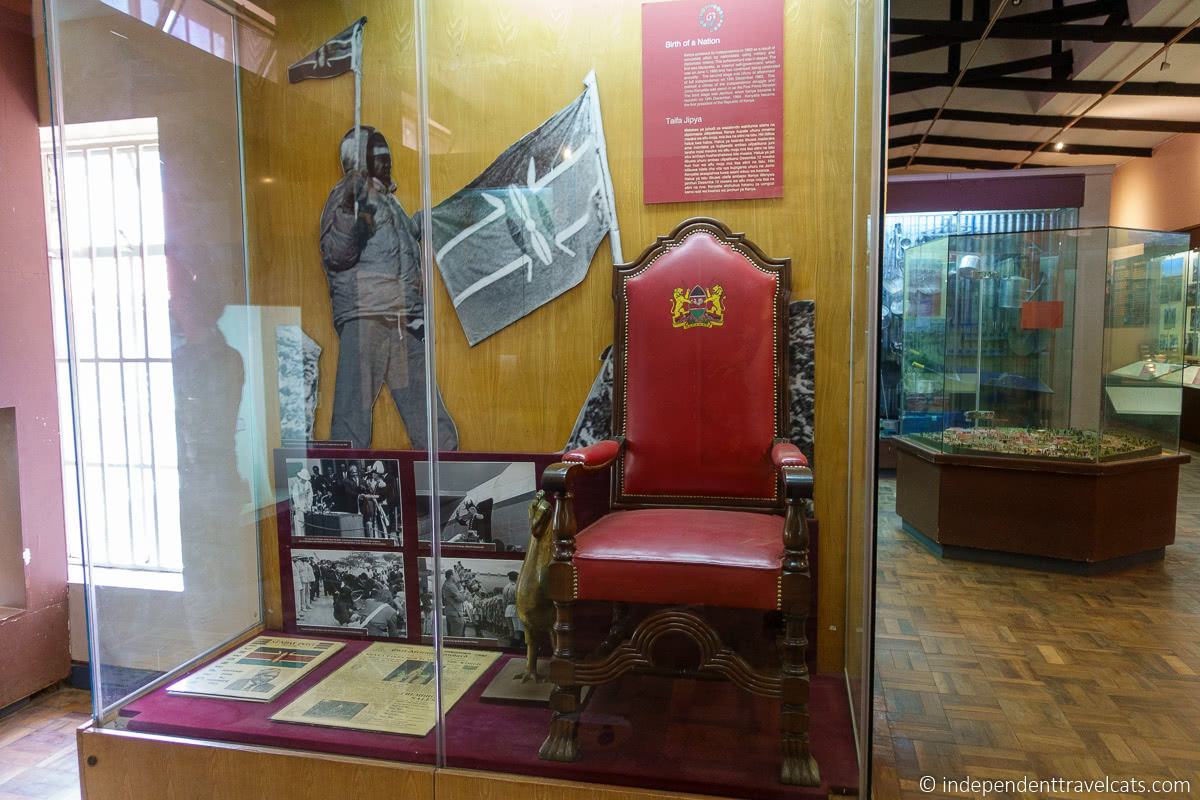 Nairobi National Park
Nairobi National Park is unique as it is the only wildlife park located within a capital city. It is located just 10 km south of the downtown area of Nairobi. It is one of the few places in the world where you can spot animals with a city landscape in the background.
Although a somewhat compact park, it has over 100 species of mammals. It has 4 of the Big Five animals; the park does not have any elephants. It has many of the animals that people come to Kenya to see, including lions, leopards, giraffes, zebra, cheetah, hyenas, rhinos, hippos, impala, baboons, and crocodiles. Over 400 bird species have been recorded here.
If you plan to visit the park, we recommend going early and visiting in the morning. Many of the animals and birds are more active in the cooler morning hours. You can obviously see more if you have a full day. But if you just have half a day for visiting, we recommend choosing the morning rather than the afternoon to visit.
You can drive your own vehicle or hire a guide. We highly recommend going with a driver guide who knows the park and in a proper safari vehicle with a pop-up roof. A good guide can really help you see more and better identify the animals and birds you do see.
If you are looking for a half day morning game drive with a driver in Nairobi National Park, you might check out this popular small group tour or this private tour. These tours normally include pick-up from your hotel or the airport. Just note that the tour fees often do not include the national park entrance fees.
Lots of full-day Nairobi tours include a morning game drive of 3 to 4 hours in Nairobi National Park followed by visits to other attractions in the area such as the Giraffe Centre, Sheldrick Wildlife Trust Elephant Orphanage, Karen Blixen Museum, and/or Bomas of Kenya. You can see a list of available tours here.
We spent a full day at the park and were very happy with the variety of animals and birds that we saw, and were particularly happy to have seen a number of rhinos. According to my journal, we saw 5 lions, black rhinos, white rhinos, giraffe, hippos, zebra, warthogs, crocodiles, buffalo, wildebeest, dik dik, impala, Thomson's gazelle, Grant's gazelle, hartebeest, eland, baboons, vervet monkeys, ostrich, guinea fowl, secretary birds, African fish eagles, kingfishers, kestrels, storks, egrets, and lots of other birds.
I think Nairobi National Park is an underrated park and we really enjoyed our time here. However, if you are coming back to Nairobi after a long safari trip, it may seem a little underwhelming compared to places like the Maasai Mara. But this is a great national park, especially if you are at the beginning of your time in Kenya.
There are a couple of areas within the park where you can stop and leave the vehicle on foot. One site we recommend stopping is the ivory burning site which contains information placards telling about the ivory burning that has taken place by the government here. Another area where you can stop is at a walking trail that takes you around the hippo pools.
The park has several picnic areas with toilet facilities, and we stopped at one to have a picnic lunch. Just be careful to watch for monkeys if you plan to eat outside your vehicle. For those not planning to bring food, there was a cafe that served food located just inside the main gate park entrance.
It is possible to stay overnight at Nairobi National Park. There are public campsites with basic facilities or you can stay at Nairobi Tented Camp.
The park fees can NOT be paid with cash, so be sure to bring an acceptable credit card or you can also use M-Pesa to pay for your entrance fees. Day fees allow for 12 hours within the park. You can check opening hours, park rules, and the latest park fees here.
Also located within the wider park area is the Nairobi Safari Walk. This is located near the main park gate and is geared to families with children. There is a raised platform viewing area where you can walk around and see a variety of mammals, reptiles, insects, and birds. The animals here are part of the park's animal orphanage. The Safari Walk Children's Museum is also located here. There are separate fees for visiting the Nairobi Safari Walk. You can find out more here.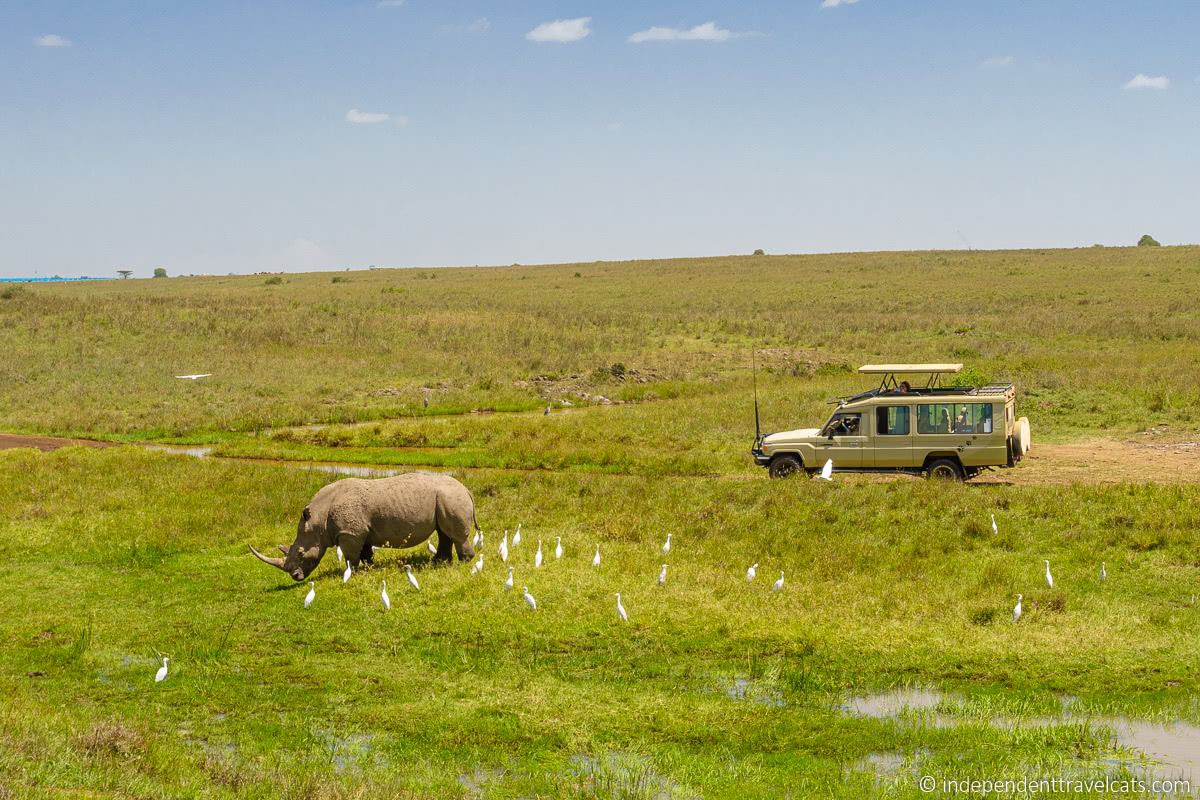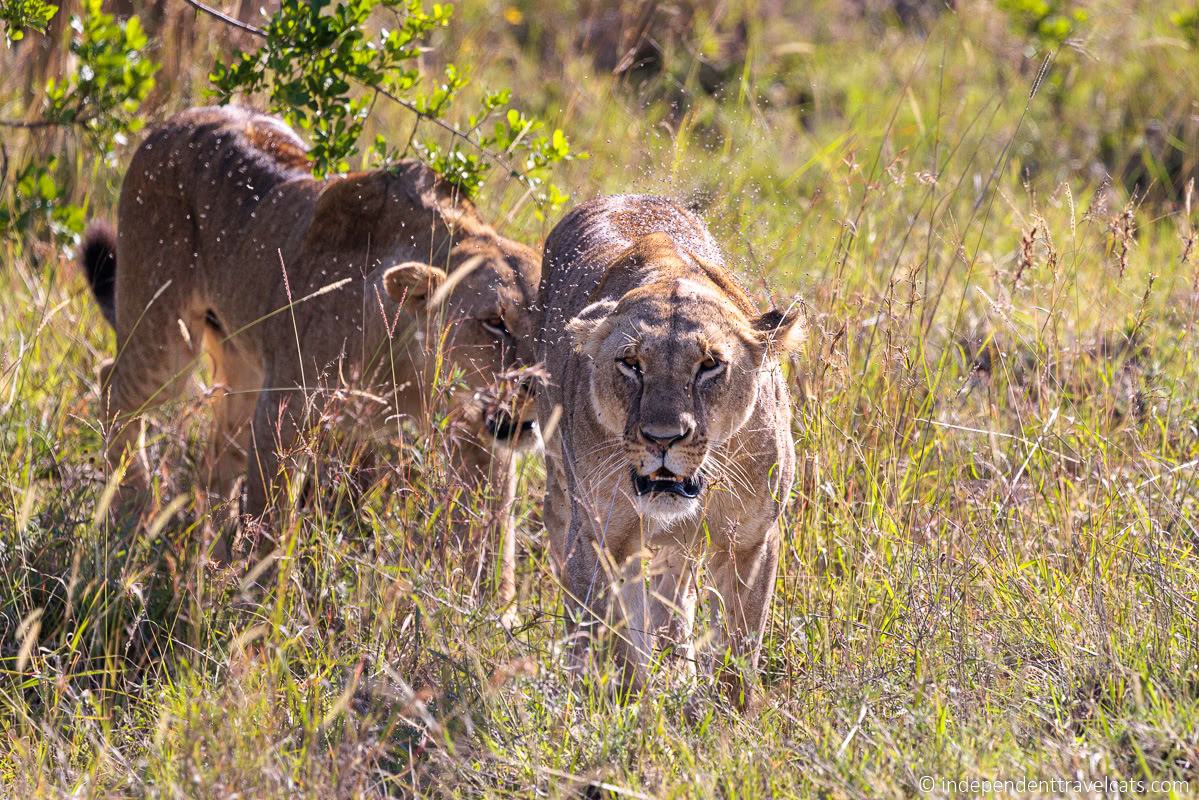 Giraffe Centre
The Giraffe Centre is an educational center run by the non-profit organization African Fund for Endangered Wildlife (AFEW). The AFEW was founded in 1979 by Jock and Betty Leslie-Melville to try to save the Rothschild's giraffe through breeding, research, conservation, and education.
The Rothschild's giraffe was the most endangered of the giraffe subspecies. At the time, there were only 130 of them left in Kenya and today there are over 300.
They started the program with a pair of young giraffes, Daisy and Marlon, who they brought to their home in the Lang'ata suburb of Nairobi. The center expanded and opened as an education center to the public in 1983.
As a visitor, you have an opportunity to get up close and feed the resident giraffes. I think there are currently about 10 giraffes here. They also have a family of warthogs you can see and feed as well that live with the giraffes.
After paying entry, you'll be given a handful of pellets that you can feed to the giraffes while walking along a large viewing platform. The platforms are raised so that you are standing face-to-face with the adult giraffes and you can offer your pellets to the giraffes. They'll eat them out of your hand. You'll find that their tongues are wet and rough!
In addition to watching and feeding the giraffes and warthogs, we also recommend learning more about the giraffes by taking a look at the small exhibition and going to one of the free educational talks or lectures. These short talks about giraffes take place regularly in the small auditorium. If one is not happening, you can normally ask a staff member on the platform and say you are interested in one.
There is also a nature trail here that you can follow to see local plants, birds, and animals. It is located across the road from the Centre entrance and you can ask staff to point you in the right direction if you have any issues finding the starting point.
There is also a small tea room and a gift shop located on site. The center is normally open daily for public tours and visits from 9:00am – 5.00pm. You can check the latest opening hours and visitor fees here.
The Giraffe Centre is a popular stop to include on many group and private tours of Nairobi. it is easy to combine a visit here with a number of other attractions, including the Sheldrick Wildlife Trust Elephant Orphanage, Nairobi National Park, Bomas of Kenya, Utamaduni Shops, Kazuri Beads, and/or Karen Blixen Museum. If you are looking to join a tour, you can see a number of options here.
I've visited the Giraffe Centre twice and enjoyed my time here. Just be aware that this is a very popular stop for school groups (as is the Elephant Orphanage and Mamba Village) so it can get very busy here. I'd allow at least 30 minutes here if you just want to see and feed the giraffes, but I'd allow 1 hour to 1.5 hours if you also want to do the lecture and explore the nature trails.
If you really love giraffes and have a healthy lodging budget, you can also spend the night at the nearby Giraffe Manor and enjoy seeing giraffes on the front lawn. This is the former home of Jock and Betty Leslie-Melville that has been turned into a boutique hotel by the new owners.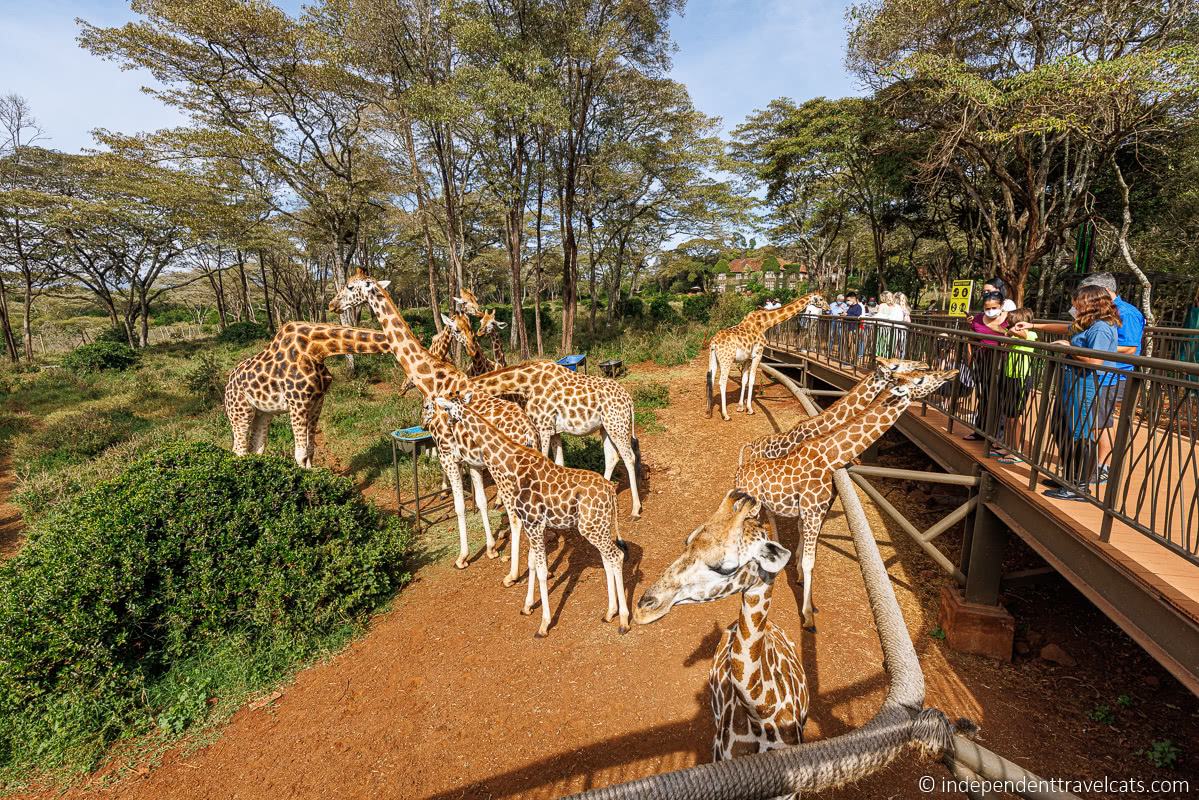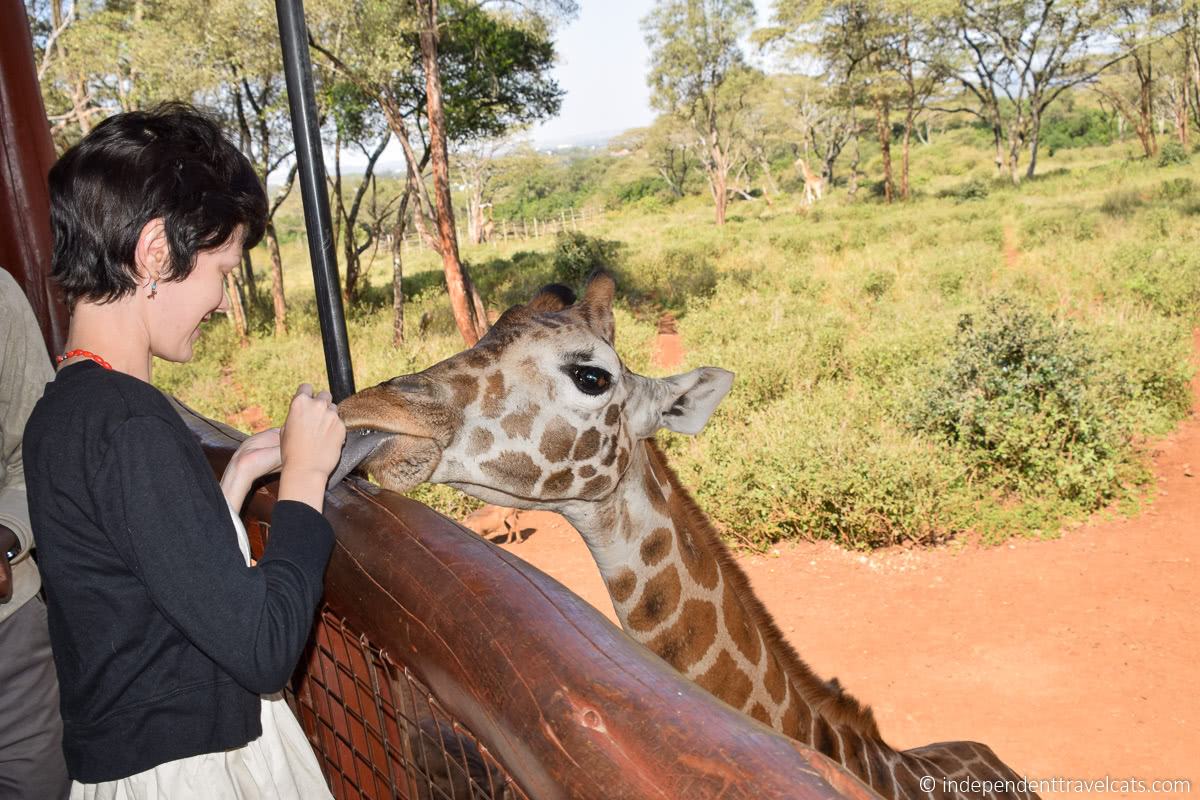 Sheldrick Wildlife Trust Elephant Orphanage
If you love baby elephants, then you definitely should plan a visit to the David Sheldrick Wildlife Trust Elephant Orphanage where you can see a number of baby elephants and learn about their care and the plight of elephants in Kenya.
Daphne and David Sheldrick were pioneer conservationists in Kenya and this wonderful elephant and rhino nursery and sanctuary was established in the 1970s. Located within a section of Nairobi National Park, the David Sheldrick Wildlife Trust provides care and a home to dozens of orphaned baby elephants and rhinos from all over the country with the goal of being able to release them back into the wild. Once the orphans reach a certain age and independence, they are moved to one of the three reintegration units to start the process of being released back into the wild.
Of course, the David Sheldrick Wildlife Trust does a lot more than run the Orphans' Project. They are also involved in anti-poaching, aerial surveillance, providing veterinary care, community projects, education, and much more. While there is a focus on elephants and rhinos, the trust has projects that help wildlife of all kinds. Their goal is to "work to ensure a sustainable future for all wildlife, habitats, and communities."
If you haven't read Daphne Sheldrick's memoir Love, Life and Elephants, I highly recommend reading it before your visit here. It is a great read and it will better help you understand the elephant orphanage, the Sheldricks, and the history of wildlife conservation in Kenya.
Visitors can visit the Elephant Orphanage daily at 11:00am to watch the public feedings of the young elephants and learn more about the mission of the trust. After parking, checking in, and paying, you follow a path to a large fenced dirt area. There are typically hundreds of visitors each day but the space is pretty large so you can still stake out a good view-point.
After a brief introduction, the first group of baby elephants are led in, these are the youngest of the elephants. You get to watch as they are fed bottles by the handlers, play in the water and dirt, and roam around the area. After the first group are led back to the stables, another group of older young elephants are led in and the feeding process is repeated.
During the feeding, a staff member with a microphone explains the goals of the trust and gives you some information about the individual resident baby elephants and rhinos. The baby black rhinos are not typically part of the visits.
We'd recommend wearing practical closed-toed shoes, sun protection (there is little shade here), and clothes that you would be OK with getting a little dirty. The elephants will sometimes come up and push against the ropes. You are allowed to touch them if they come close but you need to be careful as they weigh a ton. The elephants also love to splash around in the water and mud, especially the older ones. They also sometimes decide to spray mud all over visitors. One lady standing near us got covered in mud on our last visit. We experienced several small splashes.
The main reasons that elephants and rhinos become orphaned are poaching, habitat loss, natural causes, human conflicts, and drought. It is sad to hear about how elephant and rhino poaching is still a problem in Kenya (and many other African nations), mainly driven by Chinese demand for ivory and horn. Drought seems to be an ever-increasing reason as Kenya experiences prolonged periods of drought, which is causing both human and wildlife suffering across the country.
The cost of raising just one orphan elephant is ridiculously expensive. For those who want to contribute more to protecting the elephants, anyone can make a donation to adopt an orphan for a minimum annual donation of $50.00, which entitles donors to receive detailed information and monthly updates about their orphan. We adopted a little elephant named Roho on our last visit.
Our visit here was not only an amazing chance to get very close to a bunch of cute baby elephants, but also a good way to learn about and support a truly wonderful organization.
I've gone to the 11am morning visitor hour twice now, once in 2014 and once in 2022. I enjoyed both visits a lot. Both visits were similar in terms of the actual presentation and experience; however, there were a couple of clear differences. In 2014, no booking was required and there were hundreds of visitors. But in 2022, we needed to pre-book our visit, there were health protocols in place, and there were under 100 people in attendance because of number restrictions.
The morning public entry visits take place daily at 11:00am and last for 1 hour. You are asked to arrive by around 10:30am to pay the entry fee and be assured entry. You must also be sure to follow the protocols set for ensuring a safe visit.
Note that the 5pm visits for donors/adopters/foster parents were stopped due to the COVID-19 pandemic starting in March 2020. No date has been announced for when or if these visiting times will resume.
Visitors must make advanced bookings (at least 48 hours in advance is advised) and pay a donation on the day of the visit. The minimum donation for entry is currently 1,500 Ksh or $15 USD per person 12 years and above (this will change to $20 in June 2023), and Ksh 500 Ksh or $5 for children under 12 years of age. This is collected upon entry in either cash or via Mpesa (bring CASH, credit or debit cards will not be accepted!). You can see guidelines and make online bookings here.
During our last visit in 2022, several people were turned away for not booking in advance, not having cash to make payment, not having face masks (as required during our visit at that time), or showing up late. Please be sure to book in advance of your visit, read the guidelines, bring the correct cash, and arrive early.
Many people visit the Elephant Orphanage in Nairobi as part of a tour or with a driver. There are a lot of half day and full day tours that include a visit here, and you can check out tour options here. It is easy to combine a visit to the Elephant Orphanage with other places in western Nairobi including the Giraffe Centre, Bomas of Kenya, Nairobi National Park, or the Karen Blixen Museum.
Note that if you are booking a tour, the tour may or may not include pre-booked spaces and may or may not include the entry fee which is payable on the day of your visit. So be sure to check to ensure you are prepared.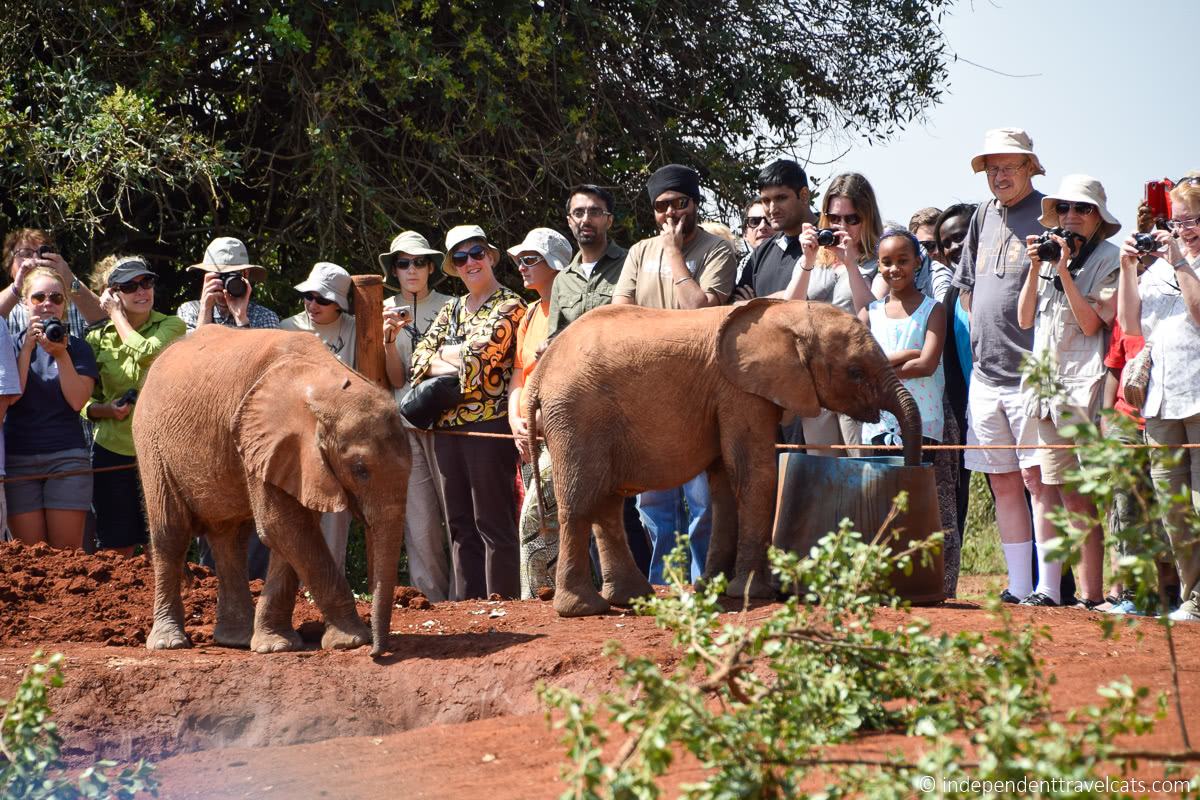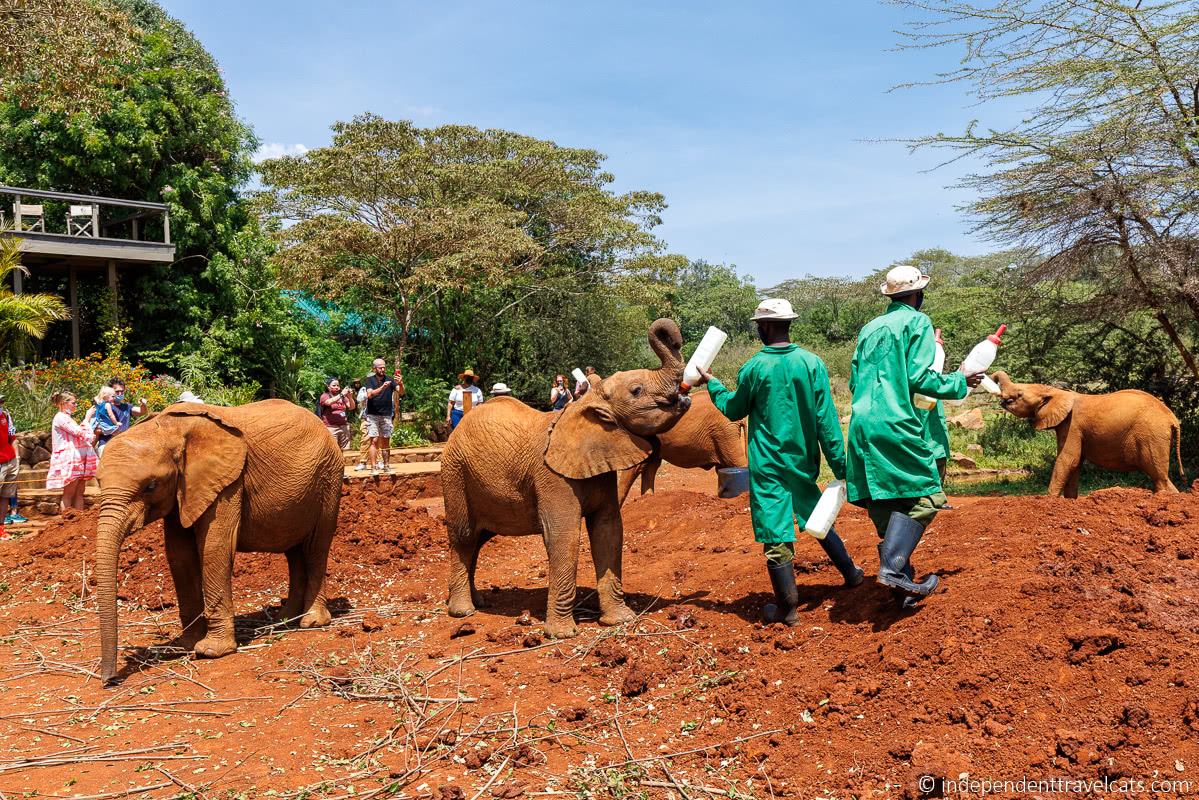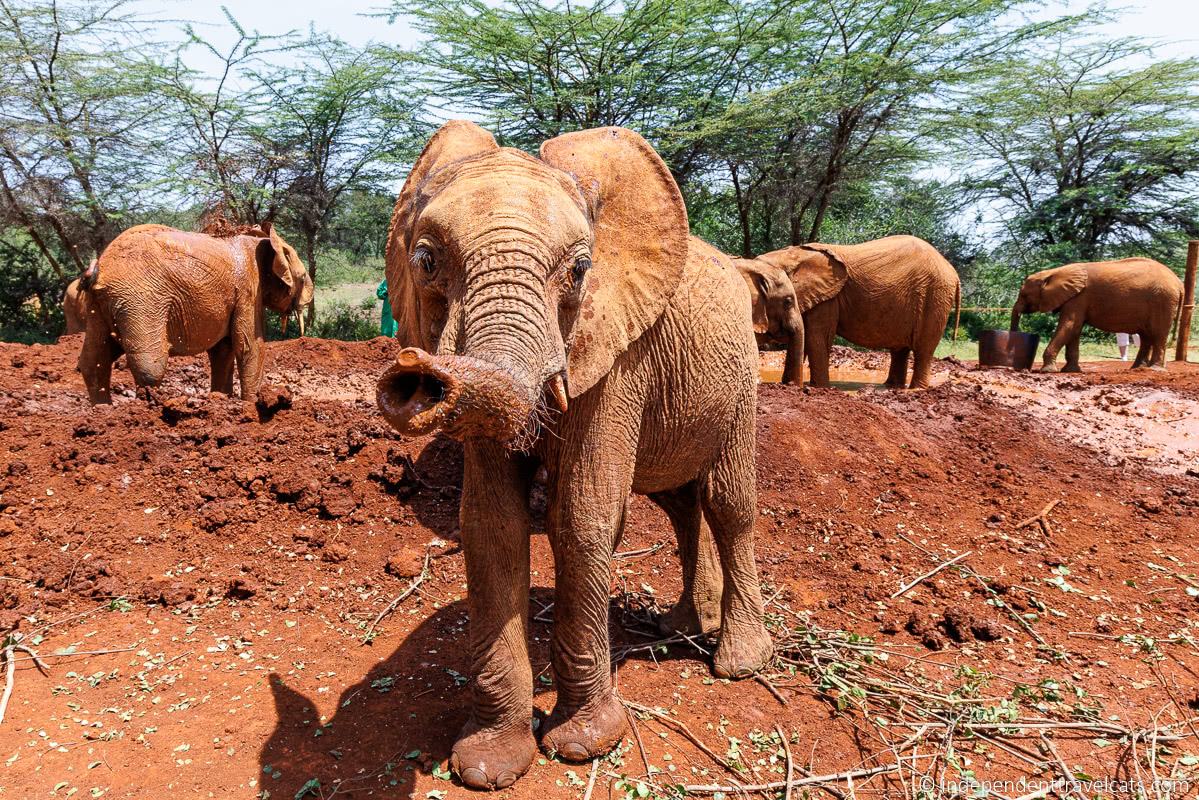 Utamaduni Shops
If you are only going to stop at one place to buy souvenirs and local goods, I'd probably recommend stopping at Utamaduni Shops, also known as Utamaduni Craft Centre. This place has a huge selection of crafts, jewelry, linens, soaps, masks, art, clothing, woodwork, accessories, children's toys, games, beauty products, and much more.
The first time I visited this place it just had a few small craft and curio shops but it has grown a lot and now offers a bit of everything. There are a few shops located outside, but most of the items are inside now. I was pretty surprised at how big the indoor part of the shop has become.
They also offer a lot of items from other popular shops in Kenya, including a good selection of jewelry from Kazuri Beads. This makes Utamaduni a good one-stop place to get local goods and souvenirs if you have limited time. Prices are set and marked so you don't need to bargain like at the markets and many of the souvenir shops.
There is also a nice cafe and restaurant here with an outdoor seating area where you can enjoy a meal or just a coffee. There is also a little play area for kids in the garden.
Utamaduni Shops is located in the Langata area of Nairobi and is a convenient place to stop if you are in this area visiting places like the Giraffe Centre, Sheldrick Wildlife Trust Elephant Orphanage, and the Karen Blixen Museum.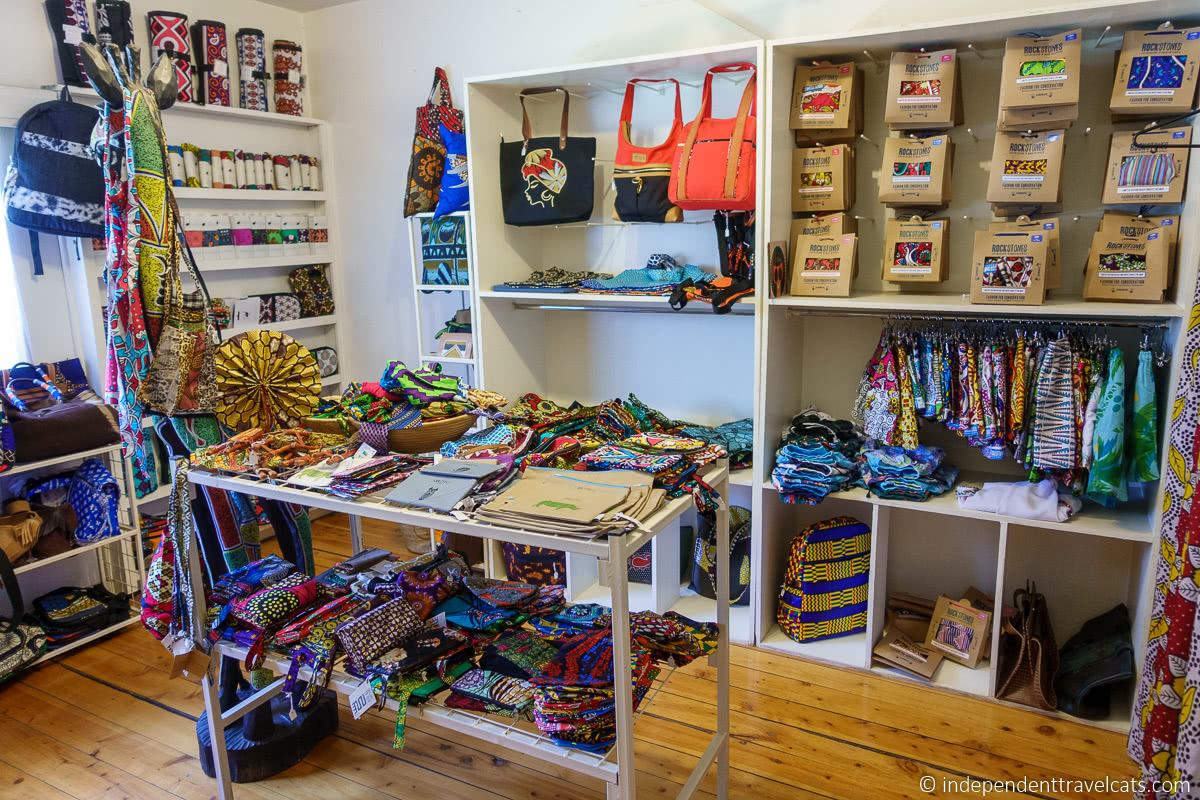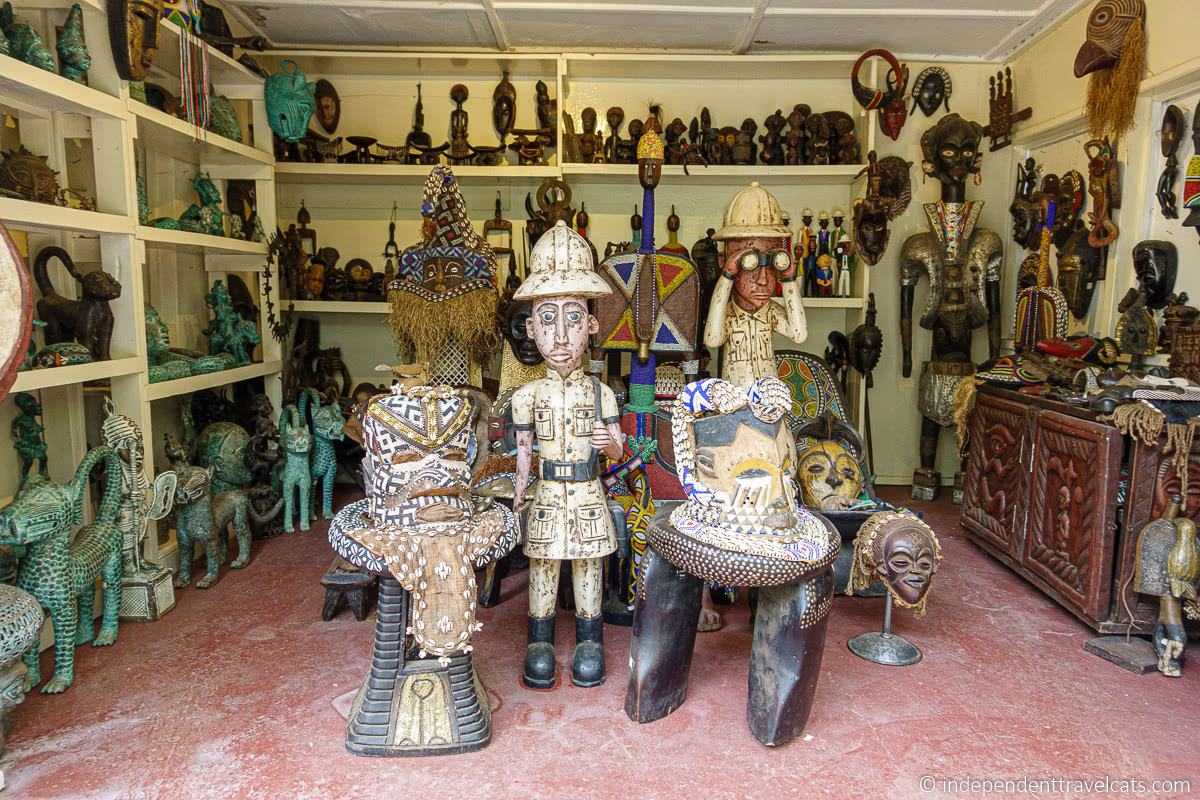 Carnivore Restaurant
Carnivore is by far the most well-known restaurant in Nairobi and has become a popular tourist destination. It was opened in Nairobi in 1980 and offers an all-you-can-eat menu that is focused on roasted meats.
The restaurant became famous for serving some pretty unusual and exotic wild game meats, but because wild game meat has since been outlawed in Kenya, all meat served here is now farmed. So you'll be offered typical meats like steak, leg of lamb, pork, and chicken, but there are also more unusual meats on offer like ostrich, crocodile, and bull testicles.
Carnivore has an unusual open-air setting with a large charcoal fire pit at one end of the restaurant. After you are seated, you are first served soup and bread. Then comes a tiered platter with a number of different salads and sauces. They also bring you a baked potato each. Then carvers bring around different meats skewed on Maasai swords on a rotating basis to your table. You can continue to eat for as long as you want.
Once you are finished eating, you are asked to admit defeat by lowering a white paper flag at your table. If you are capable of still eating more, you are then served dessert. I believe we had a choice from three different dessert options.
Everything is included in your meal price except your drinks. They offer a variety of soft drinks and alcoholic drinks. The specialty drink at the restaurant is the Dawa, a vodka cocktail invented here and popular across Kenya.
We enjoyed having dinner here and all the food was good except the bull testicles, neither of us could eat those. The ostrich meatballs were a favorite. Just keep in mind that this is a very popular tourist restaurant, with local travelers, international travelers, and tour groups so it is a busy place. We were surprised to see a lot of Kenyans eating here as well. Don't come here for an intimate meal.
This is a place I'd recommend to meat eaters but not vegetarians. Apparently, there is a vegetarian menu option; however, given the focus on meats here I doubt many vegetarians or vegans are likely to have this restaurant on their itinerary.
The restaurant is located in the Langata area on the same grounds as the Tamarind Tree Hotel. It is open for both lunch and dinner. You can make reservations and we did so. However, it is a big place and normally reservations are not required unless you are part of a large group.
Also located here is the Simba Saloon nightclub and bar which operates on certain nights of the week offering live music. There are often themed musical nights at the nightclub.
A meal at the Carnivore is included in a number of popular tours of Nairobi such as this one which includes lunch at Carnivore and visits the Giraffe Centre and David Sheldrick Wildlife Trust Elephant Orphanage. If you don't have transportation, there are also a number of options you can book that include pick up at your hotel, your meal, and drop-off back at your hotel.
If you are looking for an alternative to Carnivore, this evening tour might be an option. It includes a dinner buffet at a local hotel focused on nyama choma and a 1 hour dance and acrobatics performance. This place attracts more Kenyans than Carnivore.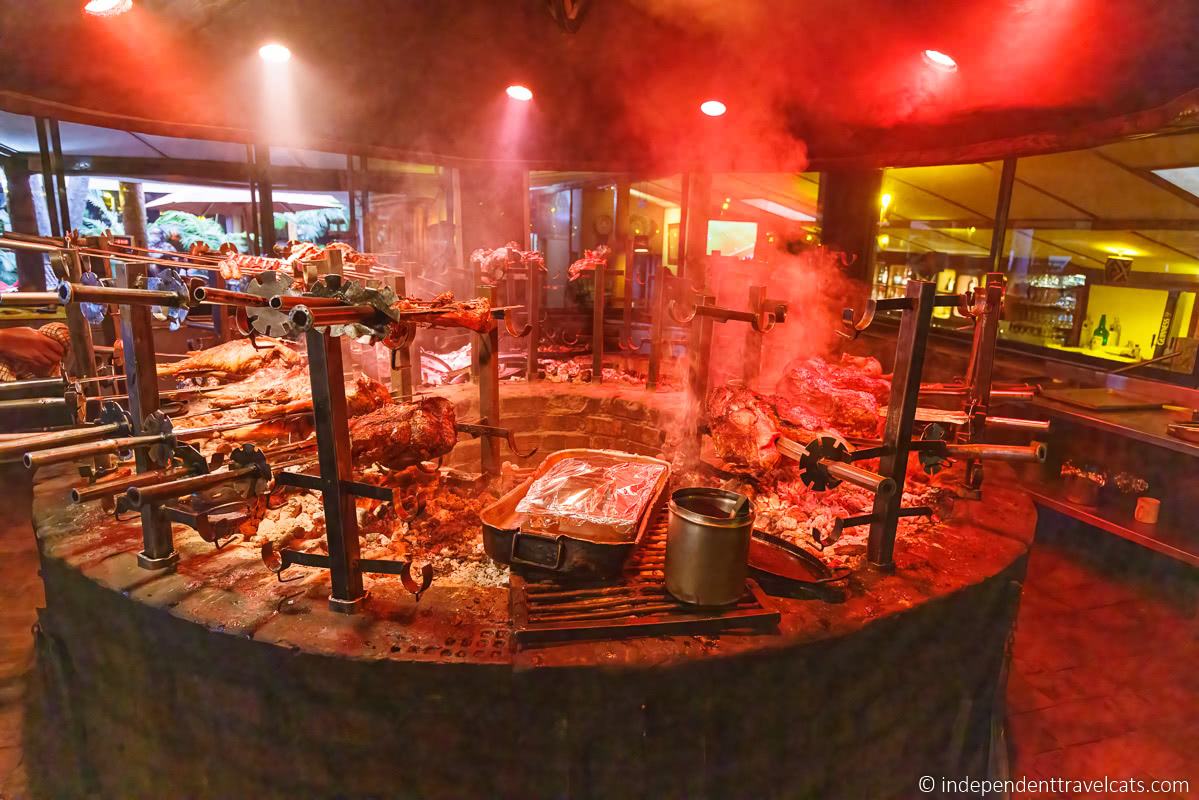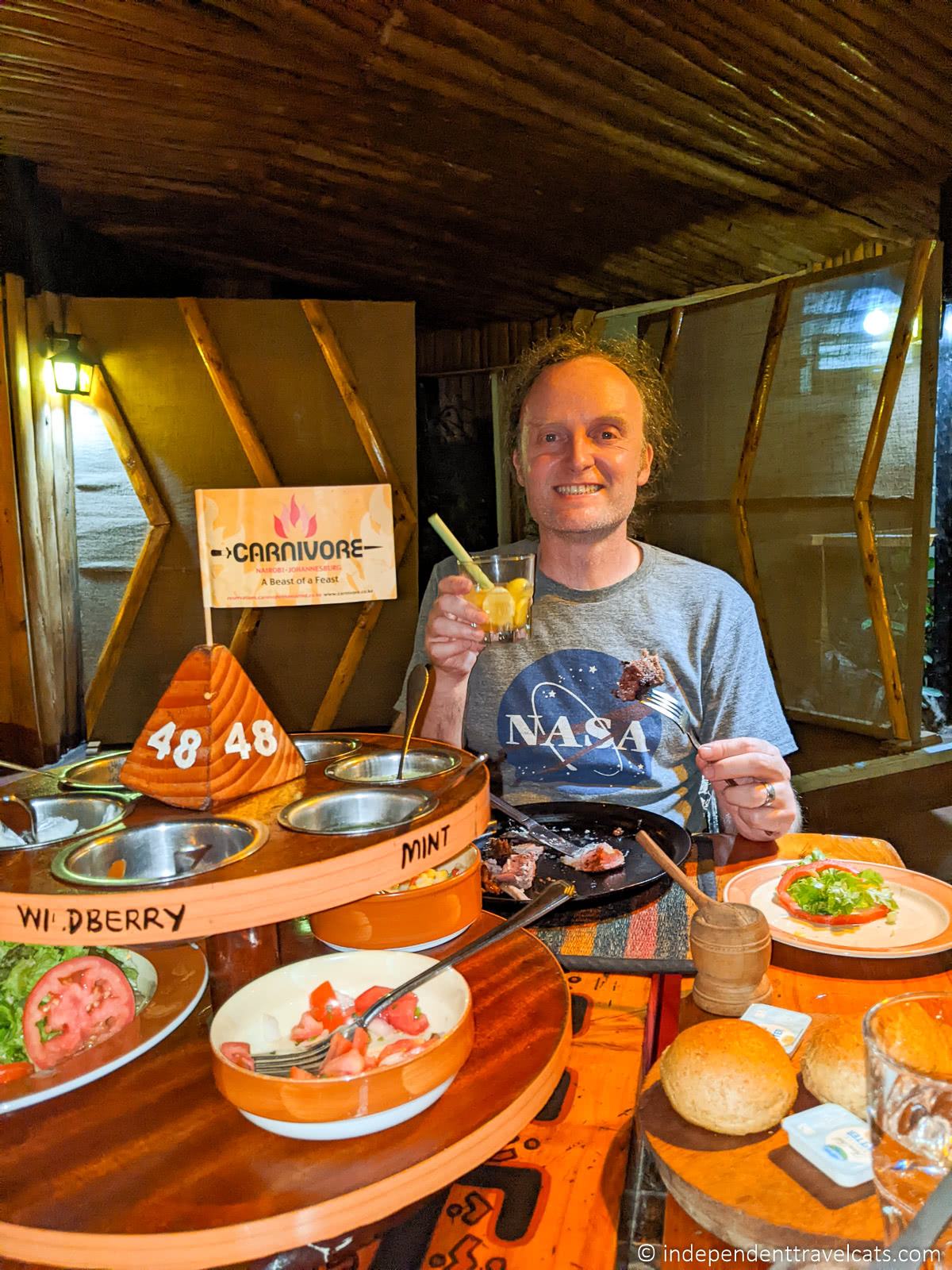 Go Shopping in Nairobi
If you want to shop in Kenya, there is no place better to go shopping than Kenya's capital city. You have a wide range of shopping options in Nairobi from local craft markets to luxury boutiques. There are shopping malls, local markets, and souvenir and craft shops.
You can easily shop on your own, but if you need transport or feel intimidated by the markets you can also join a guided shopping tour of Nairobi that visits several shops and markets.
Nairobi Markets
There are lots of open-air and indoor markets in Nairobi. Some are formal markets and some are more informal roadside ones. Some markets have a bit of everything but others are focused on something such as fresh fruits and vegetables, secondhand clothing, or curios.
Some of the larger markets in Nairobi are Kariokor Market, City Market (mostly indoor), Gikomba Market (mostly secondhand clothing and accessories), Muthurwa Market, Toi Market, and Kenyatta Market. Some of the markets have Facebook pages or websites, but if not, you can ask a local about where and when to go.
You also have the popular Maasai Markets which are more geared to tourists and mostly carry things like art, crafts, and souvenirs. You can visit a Maasai Market on most days of the week but it moves to different locations. The biggest one in the city center happens each Saturday. See section on the Maasai Markets for more information.
At the markets, streetside vendors, and Maasai markets, haggling or bargaining is common and prices are often not set or marked. So be prepared to haggle on the prices for most goods.
Nairobi Shopping Centers
If you are looking for general shopping, there are a lot of shopping malls and shopping centers in Nairobi, including Yaya Centre, Westgate Shopping Centre, Sarit Centre, Village Market, Prestige Plaza, and The Junction Mall. Most are located in the wealthier suburban areas. Not only do these have a lot of stores and restaurants, but they also usually have supermarkets, banks, salons, pharmacies, movie theaters, and phone services as well.
If you spend any longer amount of time in Nairobi, you will almost inevitably end up at one of the city's shopping malls whether you need clothes, a SIM card, a haircut, groceries, or money.
We've been to three or four shopping malls in Nairobi. These are easy places to shop and are very much like Western shopping malls with lots of stores under one roof, set prices, and security. So a great place for hassle-free shopping if you can't handle the markets.
But I wouldn't head to the Nairobi shopping centers expecting bargains. We were surprised by some of the prices in these stores, especially those selling imported clothing and goods. These malls mostly cater to wealthy locals and expats and prices were often similar or higher than what you'd pay in the USA or Europe.
Nairobi Craft & Souvenir Shops
If you are looking for local crafts and souvenir shopping, our top recommendation for a one-stop shopping destination is Utamaduni Shops located in western Nairobi. This place sells lots of crafts and souvenirs and has an onsite cafe. See our section on Utamaduni Shops for more info on visiting here.
Another great option is Spinner's Web located in northern Nairobi. Spinner's Web is a great place to go if looking for higher-end crafts and souvenirs from local vendors. They sell handicrafts, pottery, home decor, jewelry, art, fashion accessories, and more. They also have a cafe.
All prices are set at both Utamaduni and Spinner's Web so no haggling is necessary. We have experienced good customer service at these shops. While you can of course find some of these items for sale at the city markets or other shops, these are convenient places to find them all together and not worry about haggling on prices.
Utamaduni is well-located for those visiting attractions around Lang'ata and Karen. Spinner's Web is well-located for those staying in the Westlands or northern Nairobi suburbs.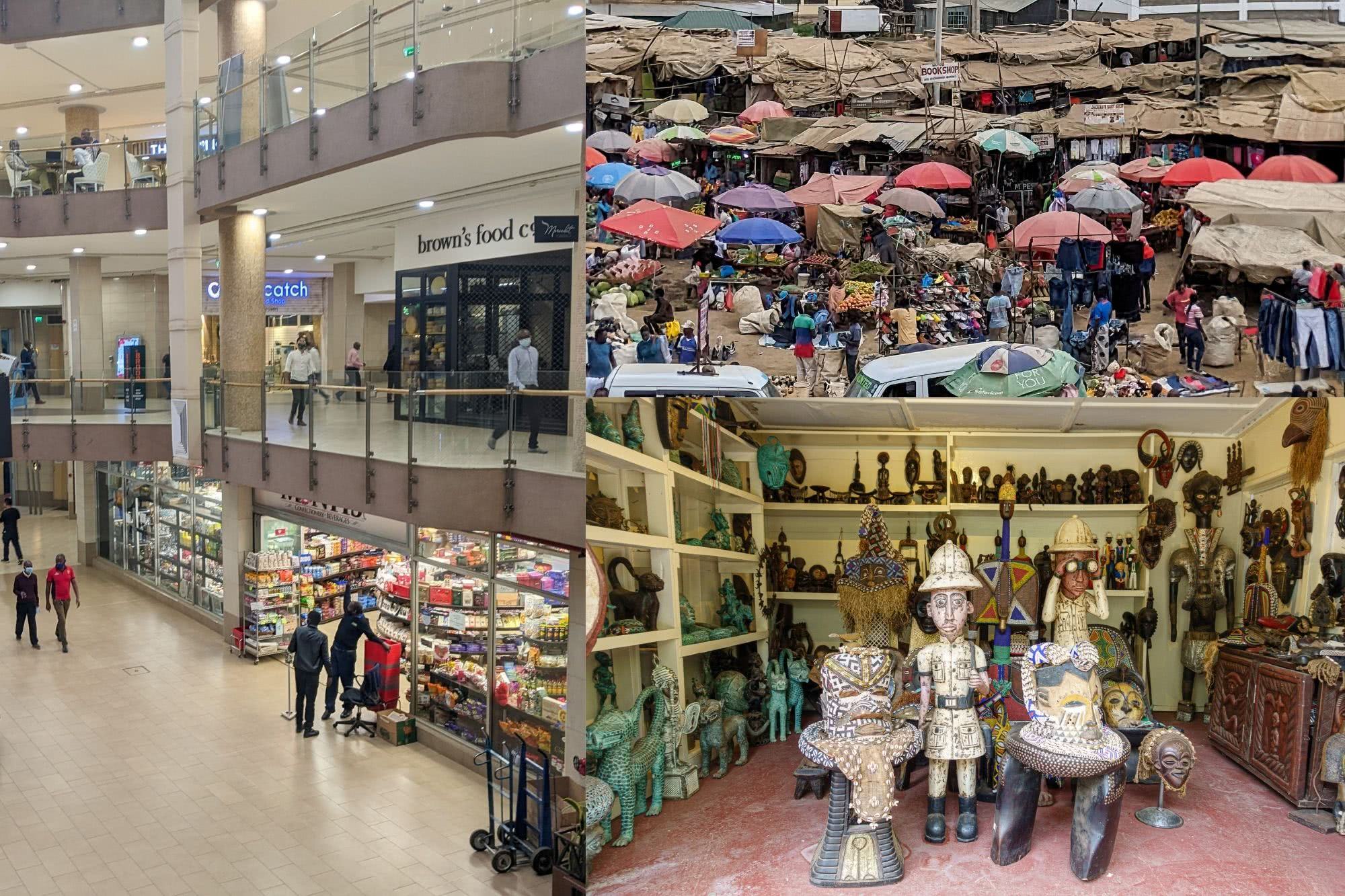 Visit the KICC Rooftop
If you are looking for a view over Nairobi, then we recommend heading to the rooftop of the Kenyatta International Conference Centre (KICC). The KICC is a 28-storey conference center located in the CBD.
The center was officially opened in 1973 and was designed by Norwegian architect Karl Henrik Nøstvik and Kenyan David Mutiso. The building was significant for its design, size, and its use of eco-friendly and locally available materials. At the time, it was the tallest building in Nairobi and one of the largest venues in eastern Africa.
The KICC is no longer the tallest building in Nairobi. The UAP Old Mutual Tower is currently the tallest building in Nairobi and while it does have an observation deck, we don't think that it is currently open to public visitation.
The KICC is still a leading conference and meeting venue in Kenya. But it also attracts a number of tourists looking for great views from its rooftop. The rooftop is normally open to the public during the opening hours of the KICC, but can sometimes be closed for security reasons and private functions. There is a fee to visit the rooftop which was 500 Ksh when we visited in 2022. You can find out more about current fees and rules here.
To visit the KICC building you need to go through an airport-like security check at the gate entrance. Be sure to bring your passport or photo identification. You can then walk into the building itself.
Once inside the KICC building, you will want to buy a ticket at the Reception Desk for visiting the rooftop. A staff member will then take you to the correct elevator and push in the appropriate floor (or in some cases accompany you to the top). The elevator will take you up most of the way, but you will then need to climb several more flights of stairs to reach the very top.
Be sure to buy your ticket before entering the elevator and to keep your ticket as you will likely be asked for proof of a ticket by security in the stairway or on the roof.
On the rooftop, you will have a great 360-degree view of the Nairobi skyline. There is also a helipad located here on the rooftop. On the clearest days, you may be able to see Mount Kenya and even Mt. Kilimanjaro in the distance!
I'd allow at least 1 hour to visit the KICC rooftop. Although the rooftop is fairly small and can be visited rather quickly, security and getting to and from the rooftop can take longer than expected.
A number of tours of Nairobi that include the CBD area of Nairobi visit the KICC rooftop. You can see a list of guided tour options here.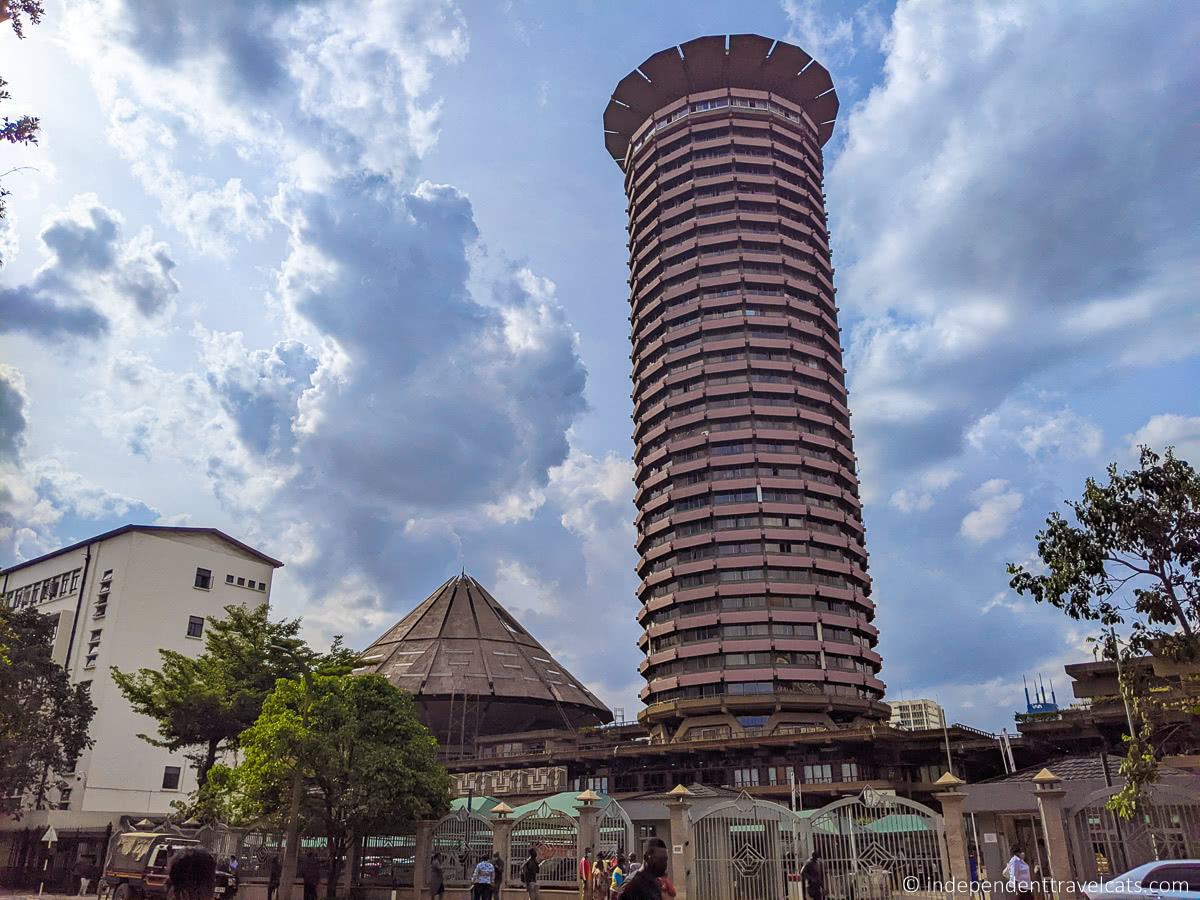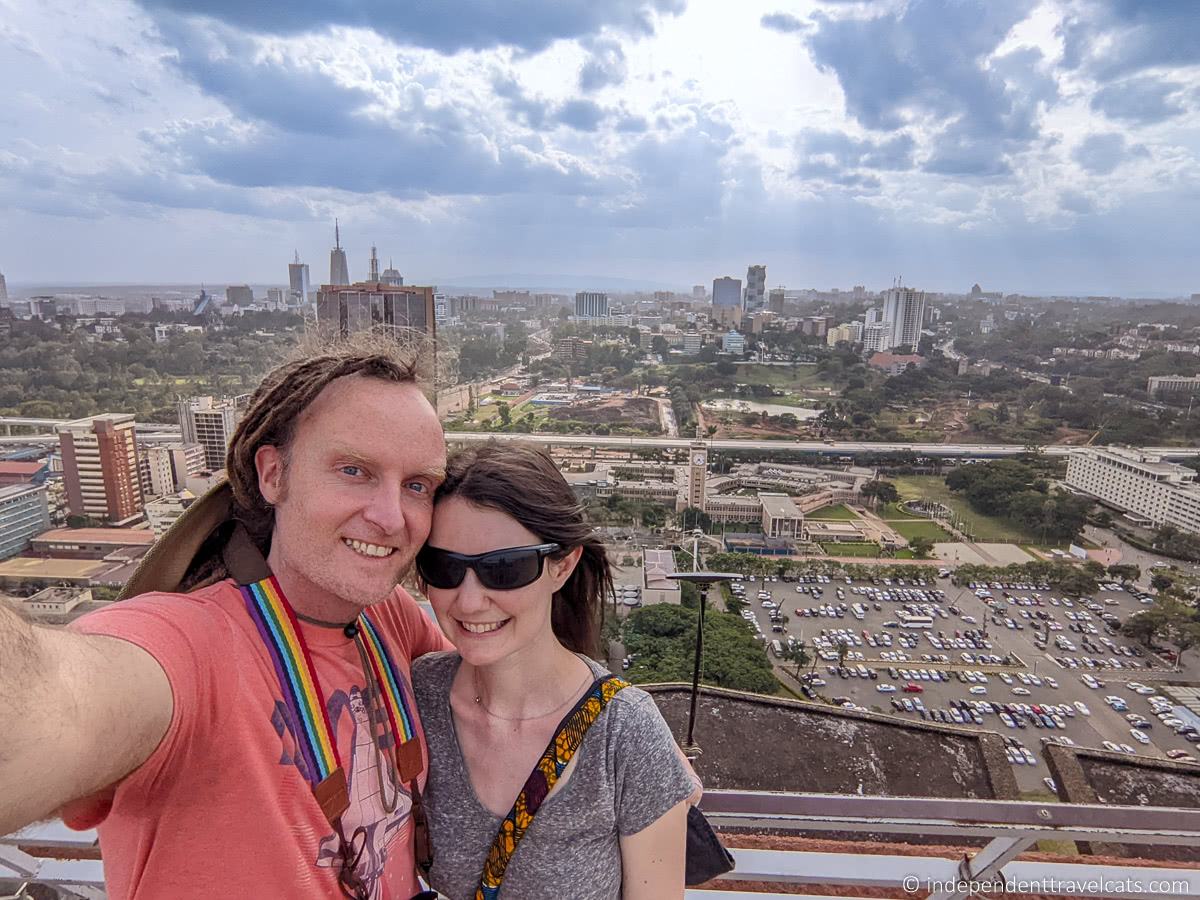 Nairobi Railway Museum
The Nairobi Railway Museum is a museum run by Kenya Railways that focuses on the history of the railway in Kenya and how the railway shaped the development of Kenya. This museum was opened in 1971 and is a great place to visit for anyone interested in trains or the early history of Nairobi.
The railway played a significant role in the founding and early history of Nairobi. The city was originally just a rail depot set up for the Uganda Railway by the British in 1899. The area around the city was mostly uninhabited swampland but the city quickly grew and it became a major administrative hub. By 1907, Nairobi would replace Mombasa as the capital of Kenya.
In the museum, there is a posted quote by a senior British administrator, Sir Charles Elliot, in 1903: "It is not uncommon for a country to create a railway, but is uncommon for a railway to create a country."
The museum has both an indoor part and outdoor exhibit area you can visit. The main indoor area details the history of the railway in Kenya from the 19th century to the present and showcases a number of railway and train artifacts, from maps to early push trolleys to claws from the man-eating lions of Tsavo to furniture and objects used by Queen Elizabeth II.
There is also one room that focuses on ships and water transport with a number of ship models. There is a focus on the World War I German cruiser Konigsberg as the museum has several artifacts from the shipwreck.
Outside, you can walk around and see a number of outdoor exhibits that includes various historic train locomotives, coaches, and other rolling stock. This includes the train carriage where the Railway Police Superintendent Charles Ryall was attacked and killed by the man-eating lions of Tsavo during the building of the Uganda Railway ("Lunatic Line") and a steam locomotive used in the film Out of Africa. Some of the train exhibits are open and you can climb inside for a closer look.
There is also a small art gallery that you could visit and buy local art and souvenirs. There is also a children's playground area and a mini-train that is sometimes operated for children; however, this area was closed during our last visit.
The Nairobi Railway Museum was probably our favorite museum in Nairobi as it is a nice compact size and we both like trains. The interior galleries are well-labeled in English and the staff were helpful when we had questions; however, many of the outdoor exhibits had minimal signs and information.
The museum is located on Workshop Road off Haile Selassie Avenue near the Kenya Railways headquarters. It is in central Nairobi just south of the CBD area. We did have some issues finding and getting to the museum entrance as our taxi driver dropped us off in the wrong place. We also had to walk through a fenced security area when on foot to reach the museum and sign in and out with passes. But we were guided in the right direction by asking railway staff and guards.
The museum is normally open daily from 8:00am to 5:00pm. There is an entrance fee to visit. You can find out more information by visiting the museum's Facebook page.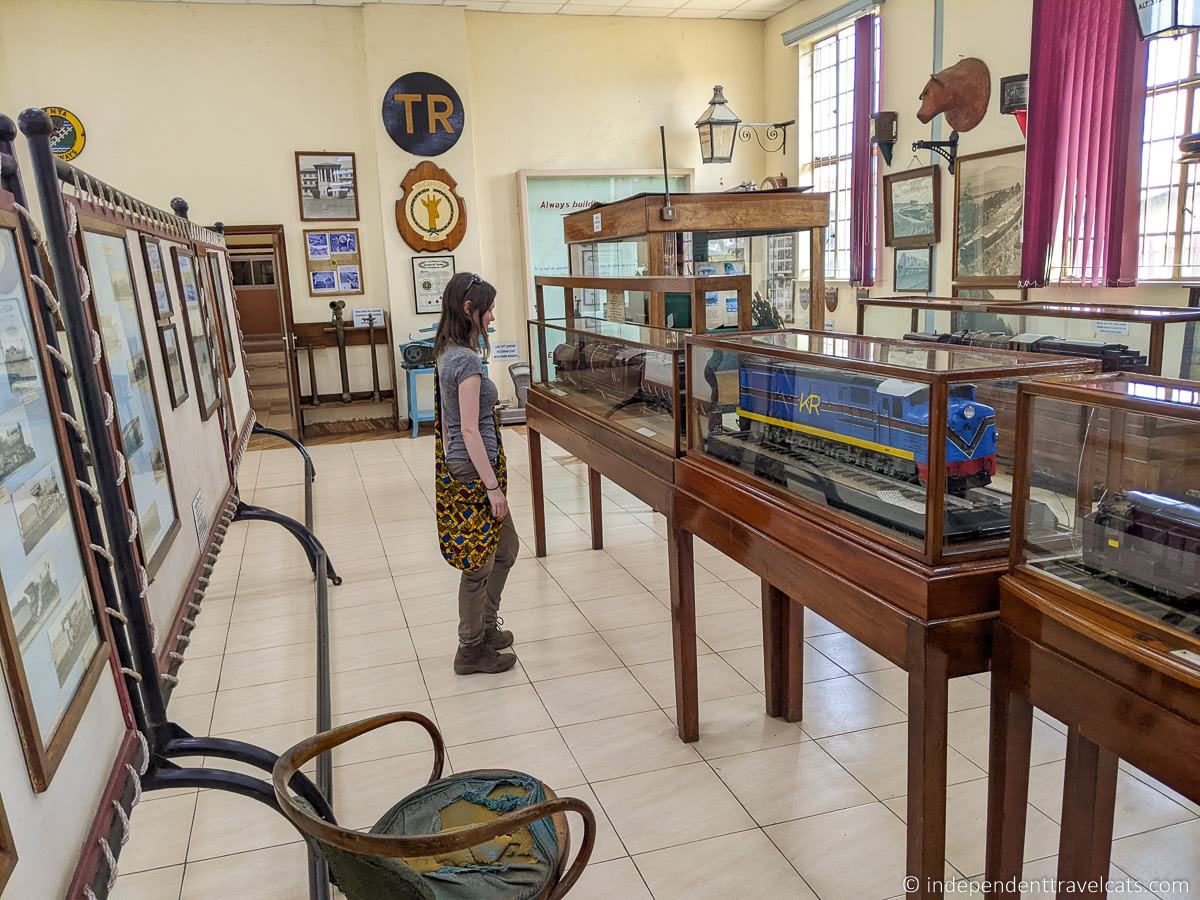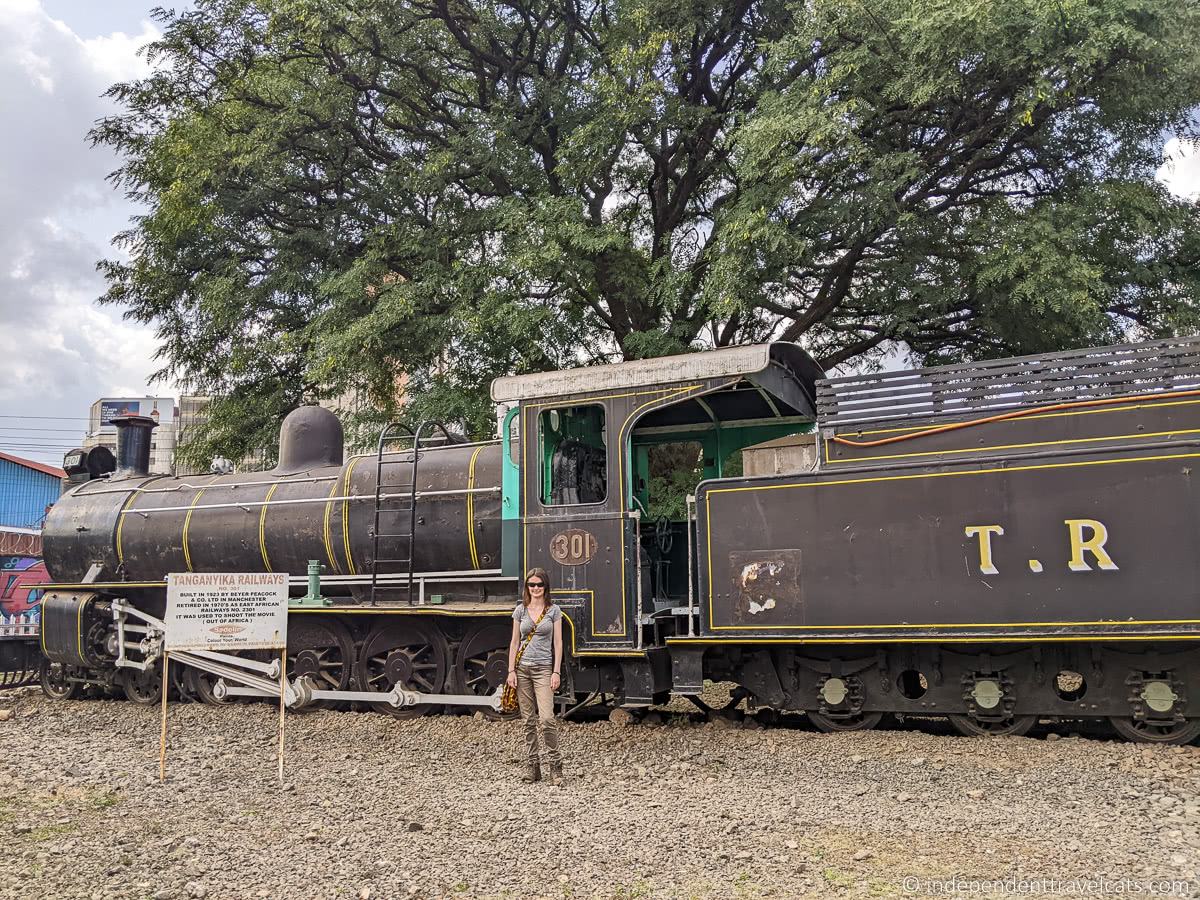 Nairobi Gallery
The Nairobi Gallery is the main art gallery in Nairobi and it focuses on showcasing African art. It is located in central Nairobi near both Uhuru Park and Central Park. In fact, the gallery is located in the exact center as the atrium of the building was used as Point Zero from which the colonial government measured all distances in Kenya.
The building itself is interesting. It was originally built as the Ministry of Native Affairs in 1913. After independence, it became the Provisional Commissioner's Office. The building was declared a national monument in 1995 and then given to the National Museums of Kenya. After a long renovation period, it was opened to the public as the Nairobi Gallery.
The main collection on display is made up of objects collected by the late Joeseph Murumbi and his British wife Sheila. Joseph Murumbi was a Kenyan politician and the second Vice-President of Kenya, and Sheila was a librarian and passionate collector. The couple amassed a large collection of art, postage stamps, jewelry, African artifacts, books, and other objects. They were co-founders along with Alan Donovan of Africa Heritage Gallery, Africa's first Pan African gallery which operated globally from 1973 to 2003.
There are 6 main rooms within the gallery. The museum displays an eclectic mix of art and artifacts which includes sculptures, paintings, masks, currency, stamps, weapons, books, textiles, jewelry, photos, furniture, household objects, and more. Also on display are personal items, furniture, and photos of Joseph and Sheila Murumbi.
Parts of the Nairobi Gallery are used to display rotating temporary exhibits of contemporary African art. Some local art and children's art was also available for purchase. When we visited, there was also a temporary exhibition dedicated to tribal related issues and violence during past elections. The exhibit shared stories from people across Kenya with the goal of promoting peace and fostering cooperation to solve future problems.
We really enjoyed our visit here and would recommend it to anyone interested in both art and African history and culture. Although full of objects, the museum isn't too big so it's easy to explore if you just have one or two hours. There is also a tea room on site where you can get coffee, tea, and snacks.
The museum is generally open daily from 8:30am to 5:30pm. There is a fee to visit.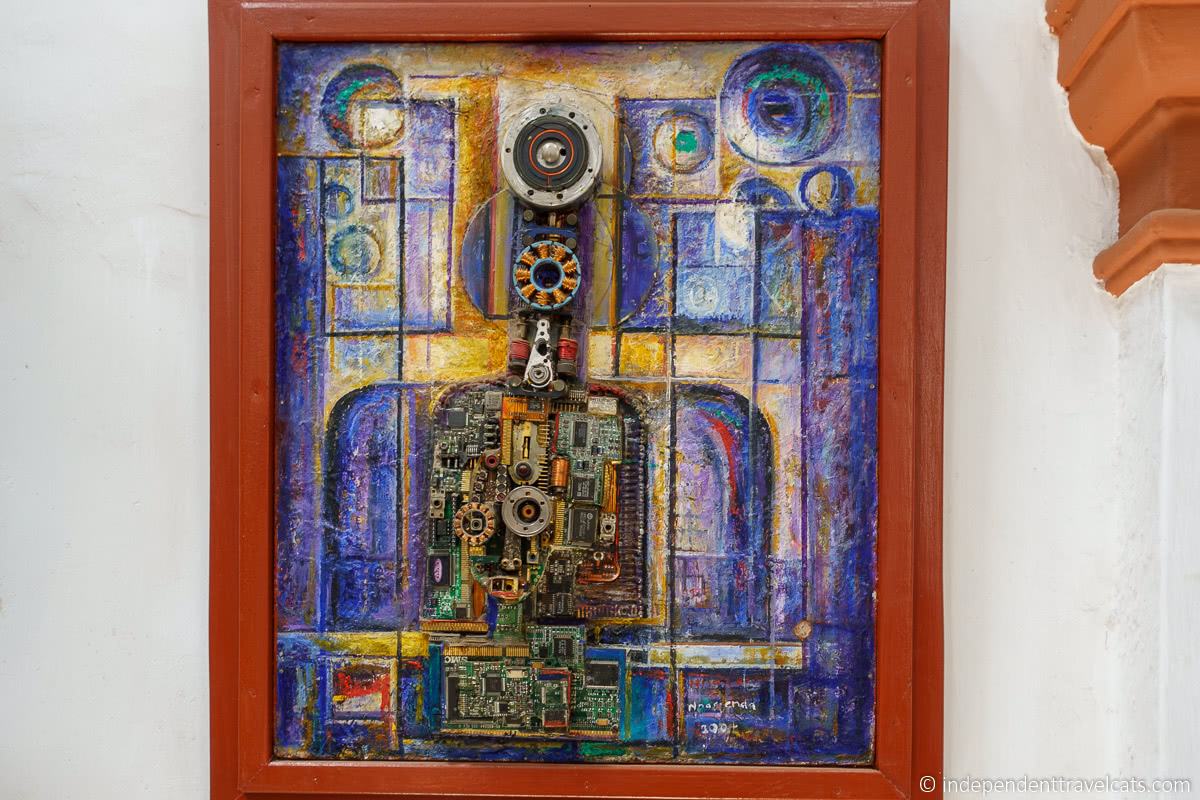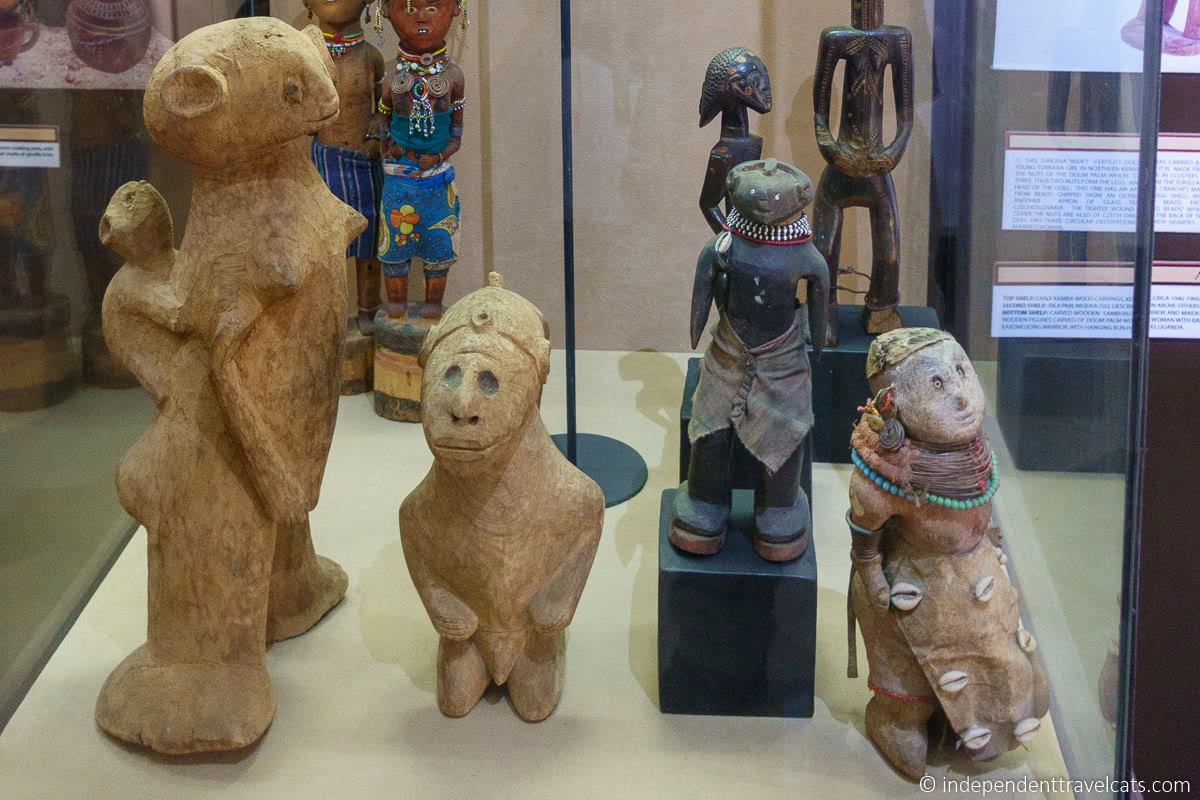 Nairobi City Parks & Gardens
One of Nairobi's nicknames is "The Green City in the Sun". Nairobi offers a national park, forests, and a number of city parks and gardens. In this section, we'll focus on the city's public parks and gardens.
Nairobi has a number of public green spaces that you can visit, including several within the city center. They are popular places for locals to meet, play, picnic, commune with nature, and enjoy some downtime. They can also be a great place for you to enjoy when you need a break.
Just be vigilant and careful when visiting any of the public parks as they can be an area where pickpockets and thieves are operating. You may want to read recent reviews. We haven't personally had any issues during the day, but I would recommend avoiding them at night.
The majority of Nairobi's parks are open to the public and free to visit. However, there may be charges for parking or using specific facilities (toilets, picnic facilities, sports areas) within the park. The parks are normally open to visitors daily during daylight hours.
Note: When we last visited Nairobi in early 2022, parts of Uhuru Park, Central Park, and Uhuru Gardens were all closed for major renovations. So be sure to check before setting out to visit.
Here are some of the major parks and gardens located within Nairobi that you may want to visit:
Uhuru Park
Uhuru Park is a 32-acre green space in Nairobi's center and the most popular park in the city. The park has been the site of a number of celebrations and protests. It contains gardens, lawns, trees, a fountain, a Mau Mau memorial monument, and an artificial lake. There are places to get food here as well as take boat rides on the lake.
Central Park
Central Park is located adjacent to Uhuru Park (the two are just separated by a road) in the CBD and is another large green space composed of lawns, gardens, shade trees, and a children's playground. One of the main landmarks in the park is the Nyayo Monument, a large monument to celebrate former President Moi that was built in 1988.
Jeevanjee Gardens
Jeevanjee Gardens is another smaller green space located in the city center. It was gifted to the citizens of Nairobi by Indian-born Kenyan merchant Alibhai Mulla Jeevanjee in 1903. There is a statue of Jeevanjee in the park.
August 7th Memorial Garden
The August 7th Memorial Garden, also known as the American Embassy Memorial Garden, is a memorial garden located on the former site of the United States Embassy that was destroyed by terrorist bombings on August 7, 1998. The blast killed 218 people (I believe 206 Kenyans and 12 Americans) and injured thousands of others. It is a lovely walled garden with a memorial wall and a small museum.
Unlike the others on this list, there is a small entrance fee to visit the gardens and Peace Memorial Museum. You can find out more about visiting the memorial park here.
City Park
City Park is a large 60-hectare public park located in the Parklands area of Nairobi, north of the CBD. The park was first established in 1921 and became a protected area in 2009. It offers nature trails, lawns, picnic areas, a plant nursery, a sculpture garden, and a memorial garden. There is also a restaurant located within the park.
The park has a diverse collection of trees, plants, and wildlife, including portions of intact indigenous forest and a large population of Sykes' monkeys. There is also a cemetery here where notable people such as Joseph Murumbi (Kenya's second vice president) and Pio Gama Pinto (Kenyan journalist and politician) are buried.
Museum Botanical Gardens
These lovely botanical gardens are located within the grounds of the National Museum of Kenya. They showcase a number of plants found throughout Kenya and there are different themed areas throughout the garden.
There is also a nature trail here that goes along the Nairobi River. These gardens are free to visit. This is a great garden to visit before or after visiting the National Museum of Kenya.
Uhuru Gardens
Uhuru Gardens is a large memorial park located in western Nairobi in the Langata area. The grounds have historical significance as it is where the first Kenyan flag was raised on December 12, 1963 (Kenya's Independence Day) and is considered the birthplace of modern Kenya. The gardens were officially declared a National Monument in 1966.
Within the park are a number of memorials and monuments related to Kenyan independence and freedom fighters. A fig tree (mugumo tree) was planted by President Jomo Kenyatta on the spot where the British flag was brought down and Kenya's national flag was first hoisted. In recent years, it has become the site of national Jamhuri Day and Madaraka Day celebrations.
This park is currently undergoing major renovations and there are plans by the current government to set up a museum, shopping complex, convention center, hotel, and other attractions within Uhuru Gardens.
Although then President Kenyatta "officially opened" the Uhuru Gardens National Monument & Museum on July 25, 2022, as far as I am aware this museum is still not finished or open to the public yet. So do check before planning a visit (and do leave us a comment to let me know if it has finally opened!).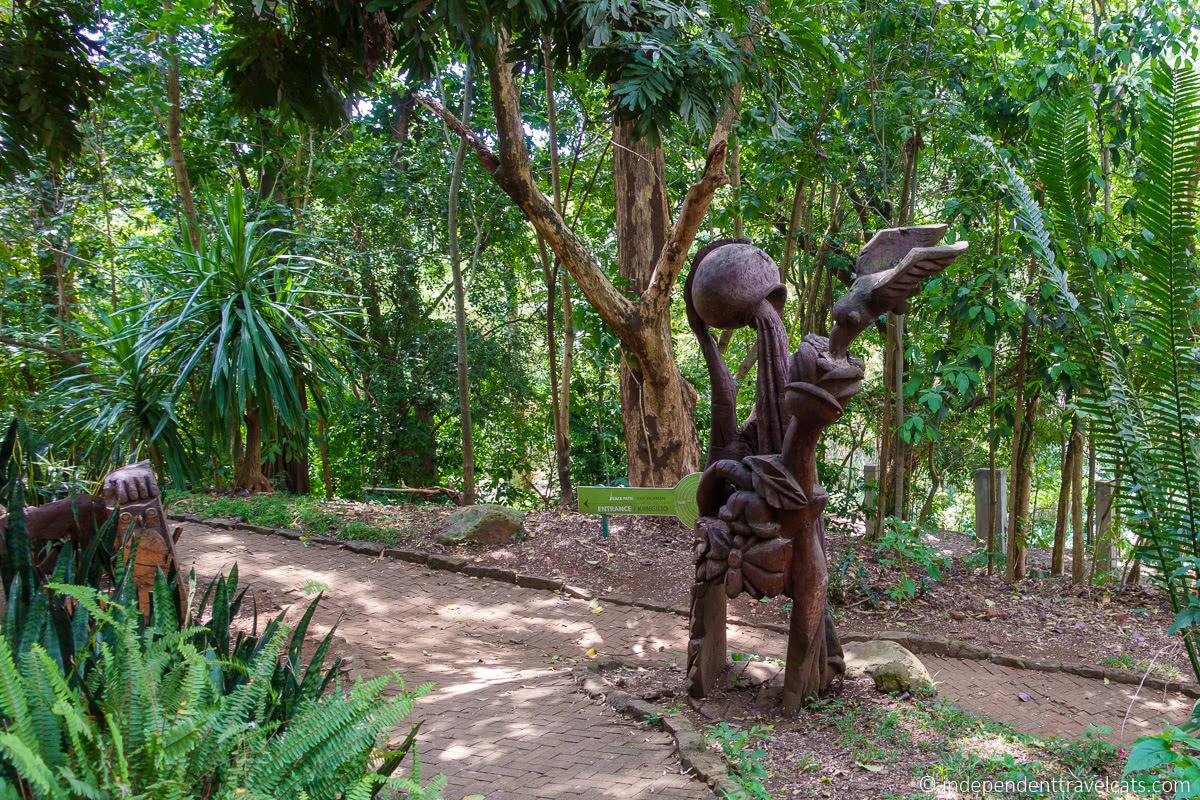 Maasai Markets
The Maasai Markets are probably the most popular markets for tourists to Nairobi to visit. The markets are made up of a number of individual vendors selling their wares. At the markets you will find crafts, art, carvings, clothing, jewelry, fashion accessories, woven baskets, souvenirs, and more.
The Maasai Markets are normally held every day of the week except on Mondays. But they are held in different locations, depending on the day. They are normally held from 9:00am to 6:00pm. You can check the Maasai Market Facebook page which has a lists of the market locations by day.
The last updated schedule of Maasai Market locations and days provided says:
Monday – no regular markets
Tuesday – Kijabe Street Park next to Nairobi River & Prestige Plaza along Ngong Road
Wednesday – Capital Centre along Mombasa Road
Thursday – The Junction Mall & along Ngong Road
Friday – The Village Market in Gigiri & Lavington Mall
Saturday -The High Court parking in the city center & Prestige Plaza
Sunday -Yaya Centre
However, I would recommend confirming the market location and day before planning a special trip as they do sometimes change locations or are closed for one reason or another. For instance, the COVID-19 pandemic caused a lot of disruption in the markets.
Probably the most popular is the Saturday market in the Nairobi city center located at the High Court parking area opposite Re-Insurance Plaza. This is a great location for those staying in or near the CBD. There is also a second Maasai Market held on Saturdays at Prestige Plaza located in the Kilimani area.
For the Maasai Markets at the Prestige Plaza in the Kilimani area, you can find out more on their website. They are normally held on both Tuesdays and Saturdays.
At the Maasai Markets you are expected to bargain and haggle on the prices. So it is generally not a good idea to accept the first offer. How far to go down and what to offer really depends on the offer, what it is, and how much you are willing to pay. Sometimes the first price we've been given is really ridiculous and other times it may be just a little high.
If you have time and are looking for a fairly common item like a beaded bracelet, scarf, or carved wooden elephant, I would go around to various stalls and ask for best prices. You'll likely get a range of prices and it will help you come up with what is probably a fair price for the item. Then you can have a price in mind of what you are willing to spend.
Laurence hates the process of haggling and leaves it all to me in these situations. If you hate haggling and are unsure of what to offer in these types of situations, consider shopping with a local guide who can help do it for you. Or you can just avoid the markets and head to the fixed price shops instead (see our section on Utamaduni Shops).
If you need transport or want a guide you can consider this guided shopping tour (includes a number of shops and markets), this city tour which includes a visit to the Maasai Markets, or hiring a private driver guide. Just be sure to book the tour on a day when a Maasai Market is scheduled to take place!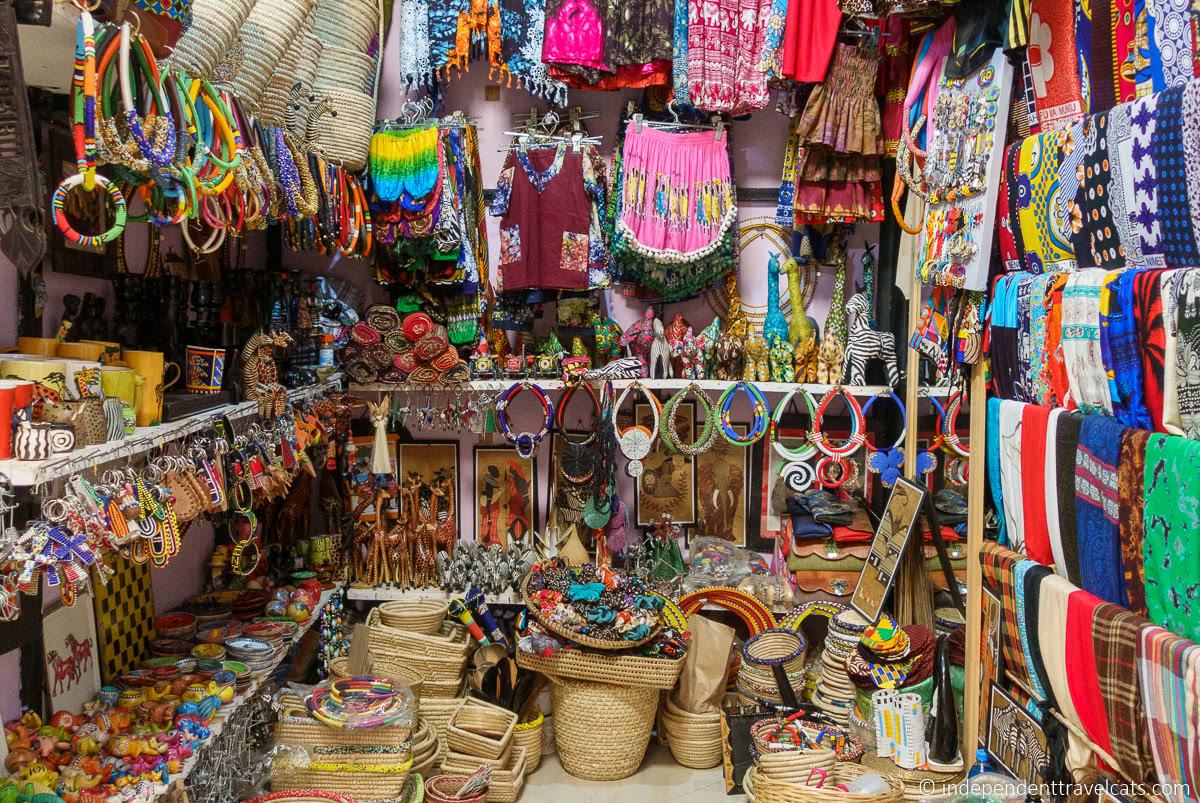 Kibera Tour
Kibera is believed to be the largest urban slum in Africa, with an estimated population ranging from 200,000 to 1 million people, depending on the source. Many of the residents of this informal settlement live in poverty and much of the community lacks access to basics like clean water, electricity, and medical care. Unemployment, crime, disease, substance abuse, lack of educational opportunities, and hazards such as floods and fires are major issues here.
Kibera was a forested section of land on the outskirts of the city that was initially allocated as an area for Nubian soldiers by the colonial British government at the start of the 20th century. Kibera means forest in Kinubi. Later it became an area of settlement for rural migrants from different parts of Kenya who wanted to live and work in Nairobi. After Kenya became independent, much of the housing and settlements here were considered illegal.
Everything about Kibera, including its demographics, topography, land ownership issues, and infrastructure are complicated and often dynamic. Kibera is made up of a variety of informal settlements and villages, many divided by tribal affiliations. The government started a long-term clearance project in 2009, but this has brought about limited changes thus far.
It should be noted that although Kibera is the largest slum area in Nairobi, it is not the only one. A large number of people in Nairobi live in informal settlements. A comparison of Kibera with one of the wealthy suburbs such as Gigiri clearly illustrates the huge wealth gap and inequality between Nairobi's poorest and wealthiest citizens.
The decision to visit Kibera as a tourist can be complicated. There are a lot of issues with so-called slum tourism or visiting impoverished areas as a tourist. There are, of course, safety issues and Kibera is generally a place that tourists are warned against visiting. But there are also ethical issues.
There are both pros and cons to visiting areas such as Kibera, and there is no right answer. Negative factors of slum tourism are that it can be voyeuristic, exploitative of the local people, and may benefit tour operators instead of the local community. Positive factors can be that it can be educational, increase income for local people, drive traffic to local businesses, and increase government investment.
If you decide to visit, we recommend doing so in the most respectful and ethical way you can. This includes choosing a responsible tour operator, visiting with a local guide, visiting on foot, following advice given by the guide, dressing modestly, not taking photographs or making videos of people without their consent, being respectful of people's private spaces, and considering ways to support the local community (e.g., tips, donations, local purchases).
We don't recommend visiting Kibera on your own for a number of safety and ethical reasons. A local guide can not only help guide you through this large informal settlement and help you feel more safe and comfortable, but a guide can also make the visit more informative, impactful, and educational.
When choosing a tour of Kibera, we recommend choosing a tour run and led by local residents, where some of the profits are used to help the community, and one that has good reviews. Two tours you might consider are this tour and this one. Both tours are led by Kibera residents and we were told some of the profits go to investing in projects in Kibera. Obviously, you can only do so much research on Kibera tours, but reading the reviews can help.
We chose to visit Kibera on a tour in 2022 after not visiting on prior visits as I was conflicted about doing so. I am glad we chose to do so as it was overall a positive experience and we learned a lot about Kibera.
We were picked up by two guides at a local shopping center as arranged, and then we went to Kibera by taking a matatu. Once in Kibera, we spent most of the time walking around the different parts, stopping to learn about different aspects of the settlement, its history, and what is happening today. We saw homes, businesses, a sports field, a hospital, the train tracks, and schools as we walked along. We had a lot of time to ask questions and our guides were happy to answer them.
At the end, we stopped at a school that is run by the Seed Foundation (who ran the tour), toured the school and learned about it and its struggle for resources. We also saw a brief song and dance performance by the older children. At the end of the tour, we got into a matatu with the guides and returned to the shopping center where we started.
We felt safe and comfortable throughout our tour. There is a lot of rubbish and open sewers so some areas can be a bit smelly. Locals seemed to pay little attention to us but were friendly when we spoke to them. Our tour did not include going into people's homes or businesses (except the school) or any food, but some tours do this.
Kibera tours normally take place in the mornings, are between 3 and 5 hours in total, and involve a lot of walking. We recommend being prepared for a few hours of walking and wearing comfortable clothes and shoes that you don't mind getting a little dirty. Leave your valuables at home. Bring water, sun protection, and cash for tips and any purchases.
If you are looking to see a different side of Nairobi, a Kibera tour is definitely something to consider doing on your visit. If you are looking for something similar but don't want to head out to Kibera, this tour of the downtown is led by former street children and gives good insight into another side of Nairobi.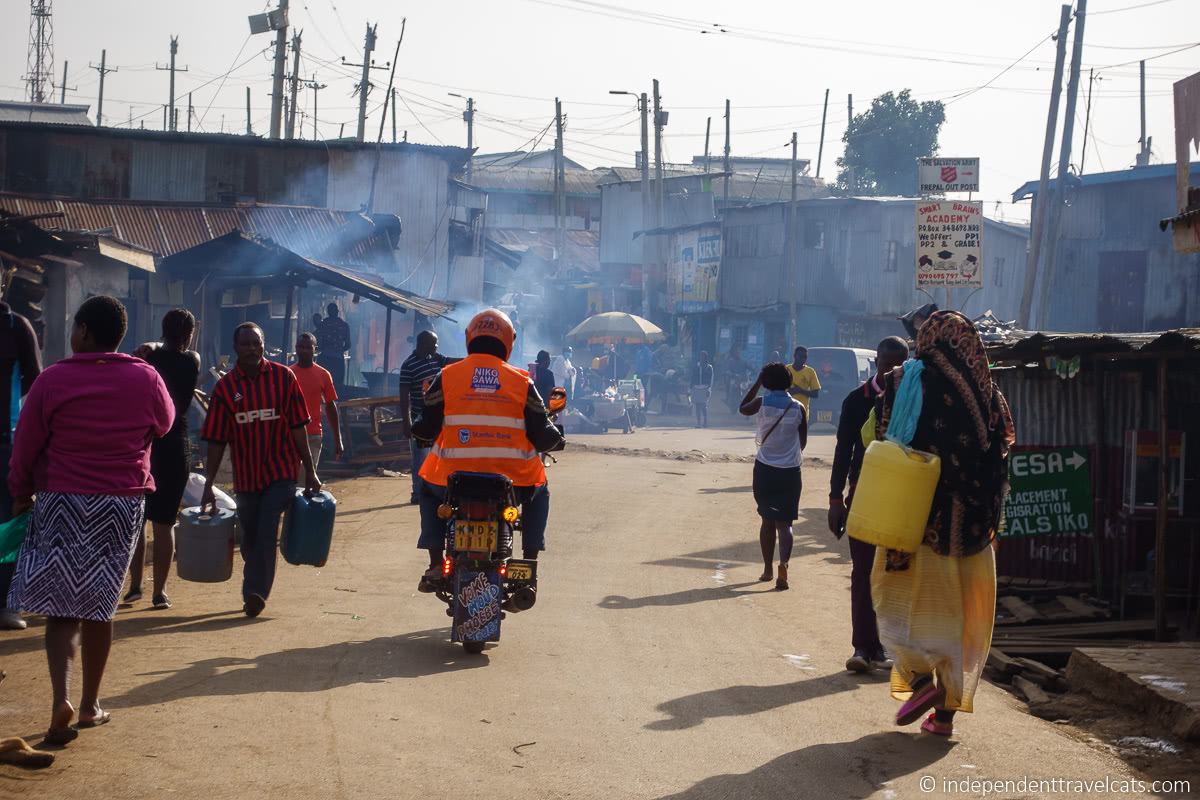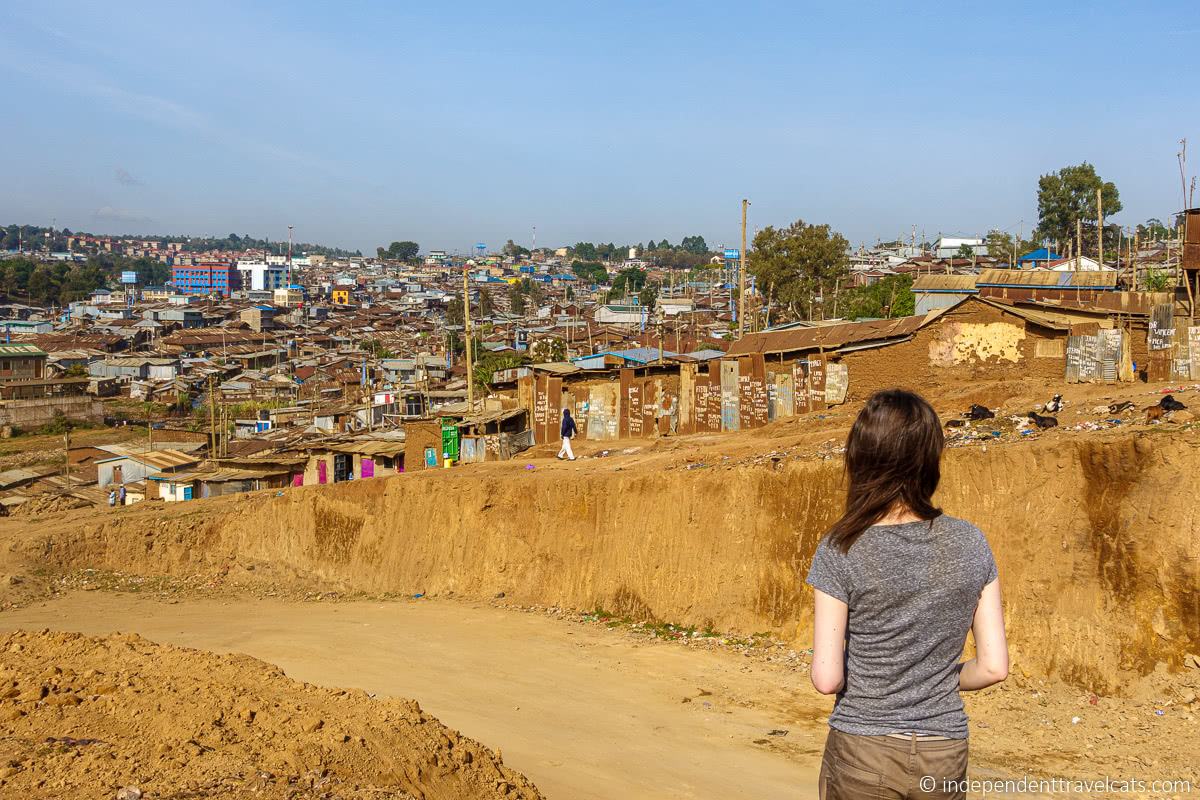 Government Buildings & Landmarks
If you do a city walking or driving tour of central Nairobi, you are likely to see a number of Nairobi's government buildings as many of these serve as city landmarks. Many of these are important for architectural, historical, and/or cultural reasons. Many of these buildings can also be seen from the KICC rooftop (see section on the KICC), which is a good place to get a good view over the city.
Most of these landmarks are not open to tourist visits (without prior arrangement) with the exception of the gallery in the Kenya National Archives. The Archives is the only one that you'll likely to actually visit, but you are likely to notice a number of these buildings.
Note that photography around many government buildings is prohibited. If in doubt, always check with an attendant or security guard. Some locations have signs posted but this is not always the case.
Here are a few of them, all located in the city center of Nairobi:
Parliament Buildings
The Parliament of Kenya is where the national legislative body of the government meets. Kenya has a bicameral legislature with two houses: the Senate (upper house) and The National Assembly (lower house). The buildings were constructed in 1954 and were designed in a similar style to the UK Parliament with a clock tower similar to the Elizabeth Tower (Big Ben) in London.
It is possible to get permission to visit the Parliament, but your visit must be arranged in advance. You can find out more here.
Mzee Jomo Kenyatta Mausoleum
The mausoleum, located next to the Parliament, is where the body of Kenya's first president Mzee Jomo Kenyatta lies. He died on August 22, 1978 of a heart attack and his body was preserved and laid to rest here. There is a commemoration ceremony here at the mausoleum on August 22 each year.
The mausoleum is rarely open to the public without prior permission and is generally only open to local and foreign dignitaries. It is surrounded by fences and heavily guarded. We were walking outside and stopped outside the gate to look at it from afar and a guard came over to ask us to move on.
Kenya National Archives
The Kenya National Archives was established in 1965 and is located in the city center of Nairobi. In addition to holding the national archives (which require permission to visit), it also has a public gallery exhibiting African art and artifacts.
The gallery features an eclectic exhibition of art and objects from across Africa. Most of the objects were part of the large art and book collection owned by Joseph and Sheila Murumbi (part of their collection is also on display at the National Gallery).
The National Archives are definitely worth a quick visit to see the collection. I'd allow about 1 hour to visit. However, if you are trying to choose just one museum to visit while in Nairobi, I'd recommend the Nairobi National Museum over this one.
The Kenya National Archives gallery is open to the public and there is a small fee to visit the exhibition. It is normally open to the public from 8:00am to 5:00pm Monday to Saturday. The Archives are closed on Sundays.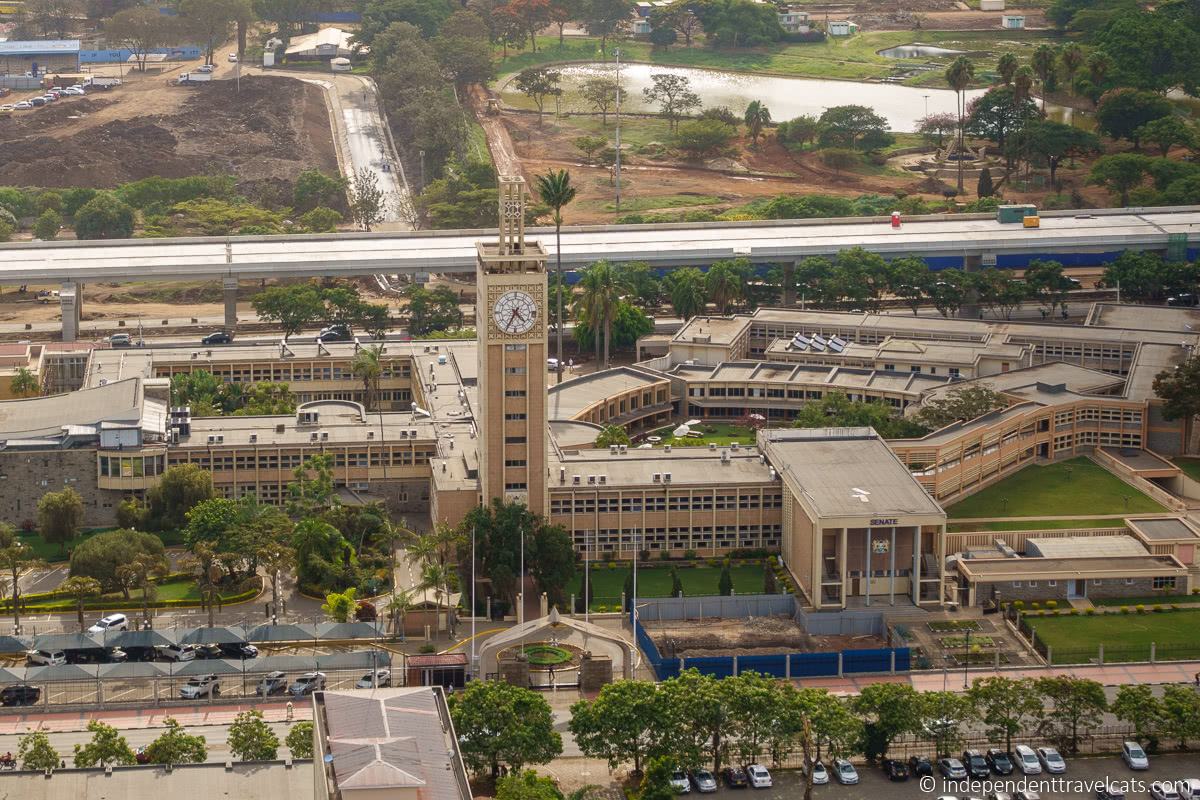 Religious Buildings
The majority of Kenyans identify as Christians with Islam being the second-largest religion in the country. In Nairobi, you'll find many of the country's important religious buildings for a number of faiths.
Note that some of the religious buildings in Nairobi are not open to public visits, but do welcome members of the faith who would like to pray or join religious services. So I would check ahead if you are interested in visiting or attending services at any of them.
Most religious buildings also have dress codes for visitors and worshippers. Many require modest clothing and some require head coverings.
Here are just a few of the more important religious buildings in Nairobi:
Holy Family Basilica
This Roman Catholic cathedral and basilica is dedicated to the Holy Family and is located in the CBD. The building dates back to 1904 and was the first stone building in Nairobi. It has expanded in size over the years. The interior was re-designed in the 1960s by architect Dorothy Hughes and features modernist styling and beautiful abstract stained glass windows.
The Holy Family Basilica is currently the seat of the Archdiocese of Nairobi and the largest church in Kenya.
All Saints' Cathedral
The All Saints' Cathedral is an Anglican cathedral located next to Uhuru Park in central Nairobi. Although the first Anglican service in Nairobi dates back to 1900, the current church building was only finished in the 1950s. It is the current home of the Archbishop of the Anglican Church of Kenya.
Jamia Mosque
The Jamia Mosque was completed in 1906 and was founded by Syed Maulana Abdullah Shah. It is the most known and important mosque in Kenya, and is often busy and full or worshippers. There is also an Islamic Centre and book shop located here.
Another important mosque is the Khoja Mosque which dates back to 1922. Both mosques are located in central Nairobi.
The Jamia Mosque normally welcomes visitors (subject to security screening) during regular hours. However, entry is sometimes restricted due to security or health (e.g., COVID-19 pandemic) issues.
East Africa Swaminarayan Satsang Temple
This Hindu temple was built in Nairobi in 1954 and is located in the Parklands area of Nairobi (north of the CBD). It was the first Swaminarayan temple to be built outside the Indian subcontinent.
Located nearby is another important Hindu temple in Nairobi, the BAPS Shri Swaminarayan Mandir. This impressive building was built in 1999 and was the first traditional stone and marble Hindu temple to be constructed in Africa.
Hindu temples are typically open to visitors during posted daily visitor hours. Be sure to check visitor hours and guidelines before visiting.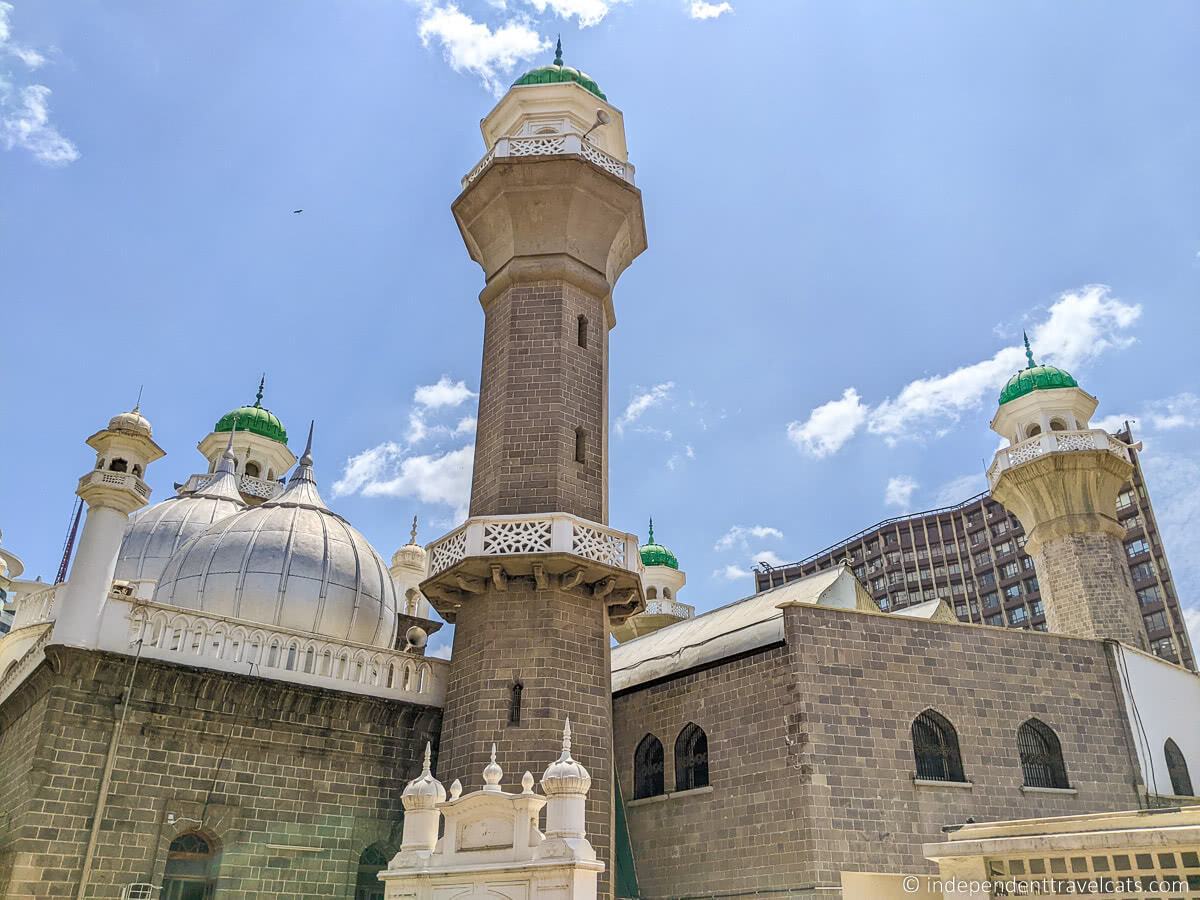 City Market
The City Market is an indoor market located in the center of Nairobi. So a great market to visit if looking for a market located within the CBD.
The City Market caters to both tourists and locals. On one side the City Market houses a number of vendors selling crafts, art, clothing, carvings, curios, souvenirs, etc. from individual stalls. You will want to bargain on prices here.
On the other side is an area where vendors are selling fresh meat, seafood, and other food and grocery offerings. The market is also a popular place to buy fresh flowers. There are also stalls selling cooked food, such as nyama choma (grilled meats).
The building itself is worth checking out for its architecture. It is one of the older buildings in Nairobi, built in the 1930's in the Art Deco style, and has an interesting exterior and ceiling.
We enjoyed our visit here but you do need to be prepared for vendors coming up to you to try to lead you to their stalls and for haggling over prices. But you can find many of the same things offered at the Maasai Markets and craft markets here. Prices were low here when we visited as we were the only foreign visitors in the market at the time.
The market is located on Muindi Mbingu Street in downtown Nairobi. Since most of the stalls are covered and located inside the building, the City Market is a good market to visit no matter what the weather. The market's main hours are usually 9:00am to 5pm Monday to Friday with an early noon closure on Saturdays. Most of the market is closed on Sundays.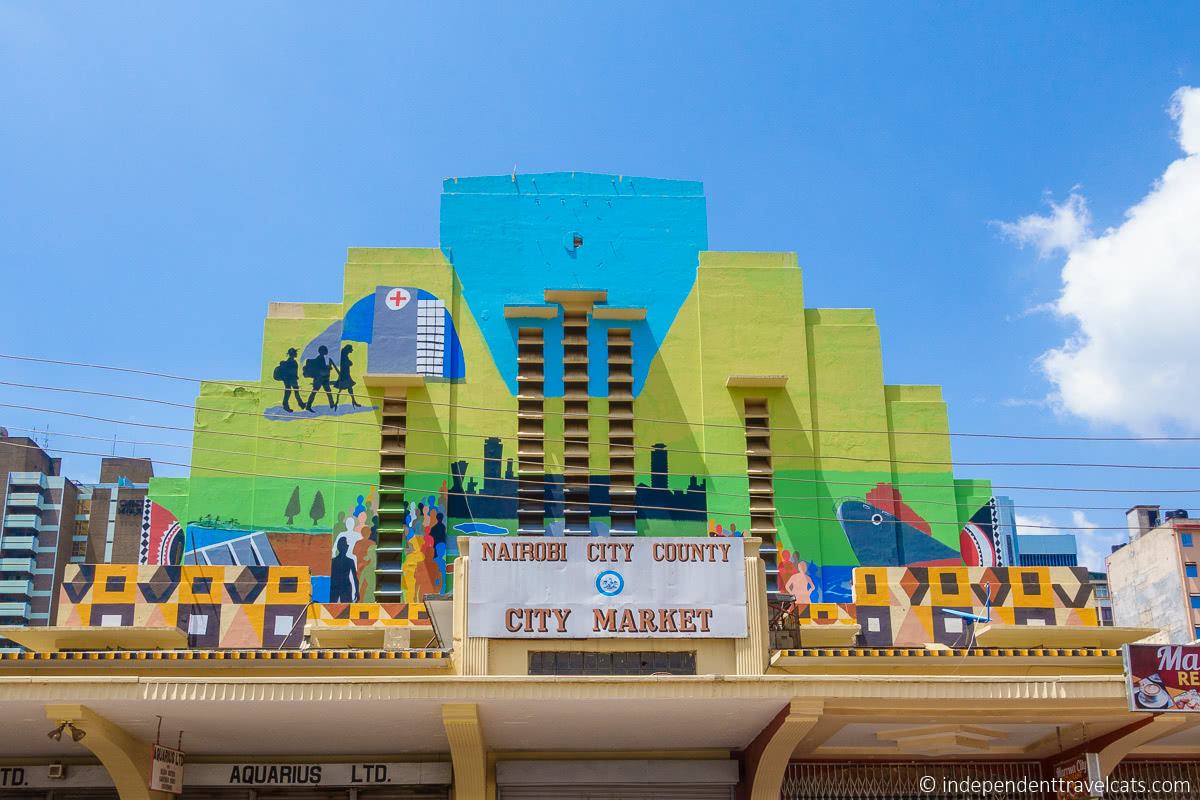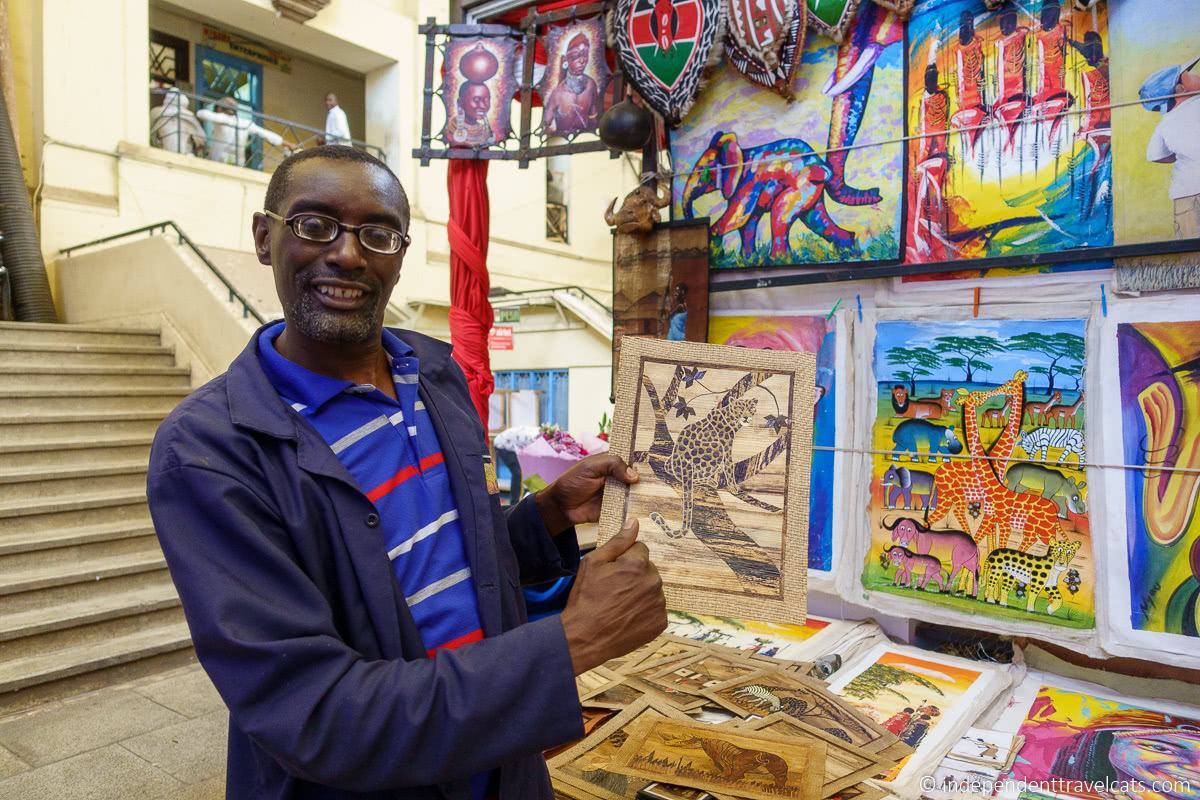 Thorn Tree Cafe
Located at the historic Stanley Hotel in central downtown Nairobi, this bistro-style café was the first "pavement café" in Nairobi. It is most famous for the large Naivasha thorn tree (Acacia xanthophloea) that once stood here that was used as a post office and message board. Travelers used to leave messages to others on the tree's thorns.
You can still leave "tree mail" here but you need to pin it to a message board rather than the tree itself. The current tree, planted in 1997, is the third one that has been placed here. Not that there is not always paper, pins, and pens here, so you may want to come prepared with your note and a push pin if you really keen to leave a message.
The famous message tree served as the namesake for Lonely Planet's online forum which was a popular place for travelers to ask questions, get information, and find travel companions since it was started in 1996. It was the longest-running and most popular online travel forum. Sadly, the Thorn Tree forums and travel community shut down in 2021.
Although the Thorn Tree Cafe is not a must-see place to visit in Nairobi, I wanted to include it in this article because of its historical significance among travelers. The cafe serves breakfast, lunch, and dinner. We particularly recommend it for lunch or as an afternoon coffee stop for those in the Central Business District. We last visited in 2022 and although service was a bit slow, our pizza and drinks were very good.
If you are looking for a nice hotel in the city center, we'd also recommend considering staying at The Stanley Hotel (currently the Sarova Stanley). It is the oldest hotel in Nairobi, dating back to 1902, and has a significant place in the history of Nairobi. Notable guests have included Ernest Hemingway, Winston Churchill, Clark Gable, Gregory Peck, Grace Kelly, and Sean Connery.
The hotel bar, The Exchange Bar, is also worth a visit if you are looking for a drink or cigar. This bar (originally known as the Long Bar) has had many famous patrons and was the first place that Tusker beer was served. Interestingly, it also served as the location for the first Nairobi Stock Exchange and stocks were traded here for many years.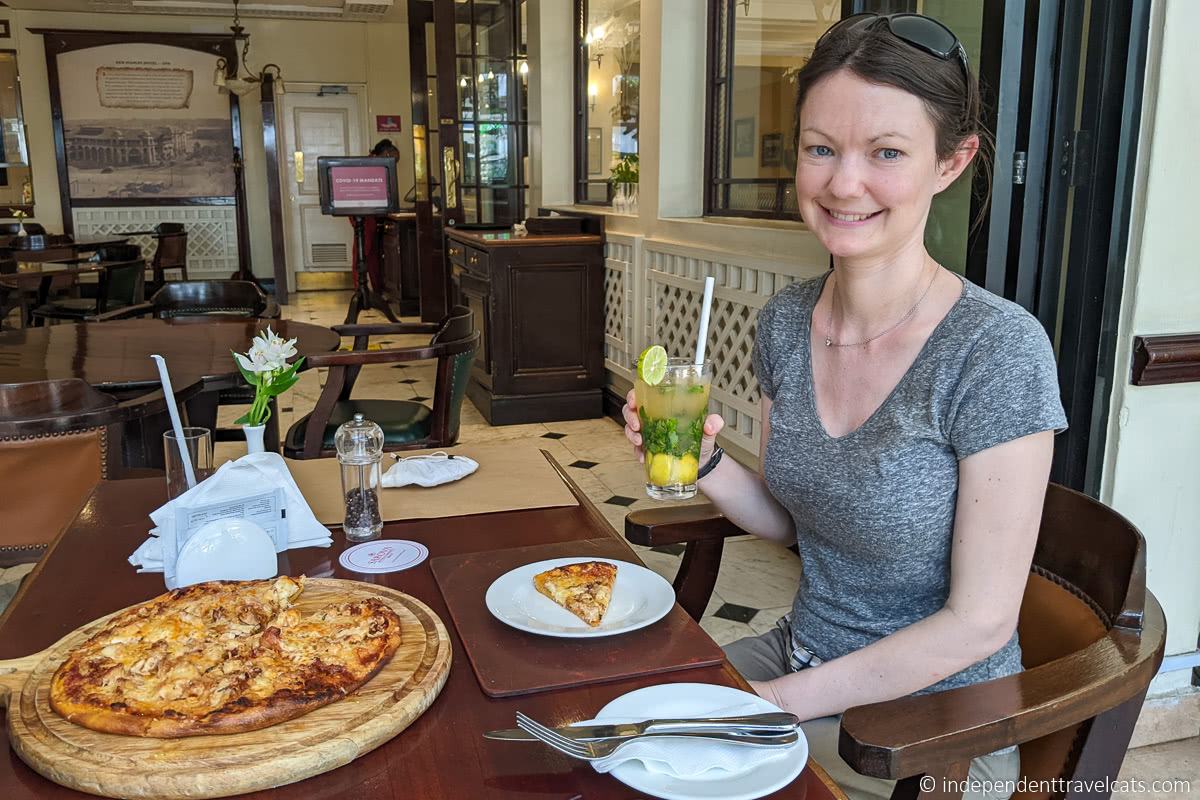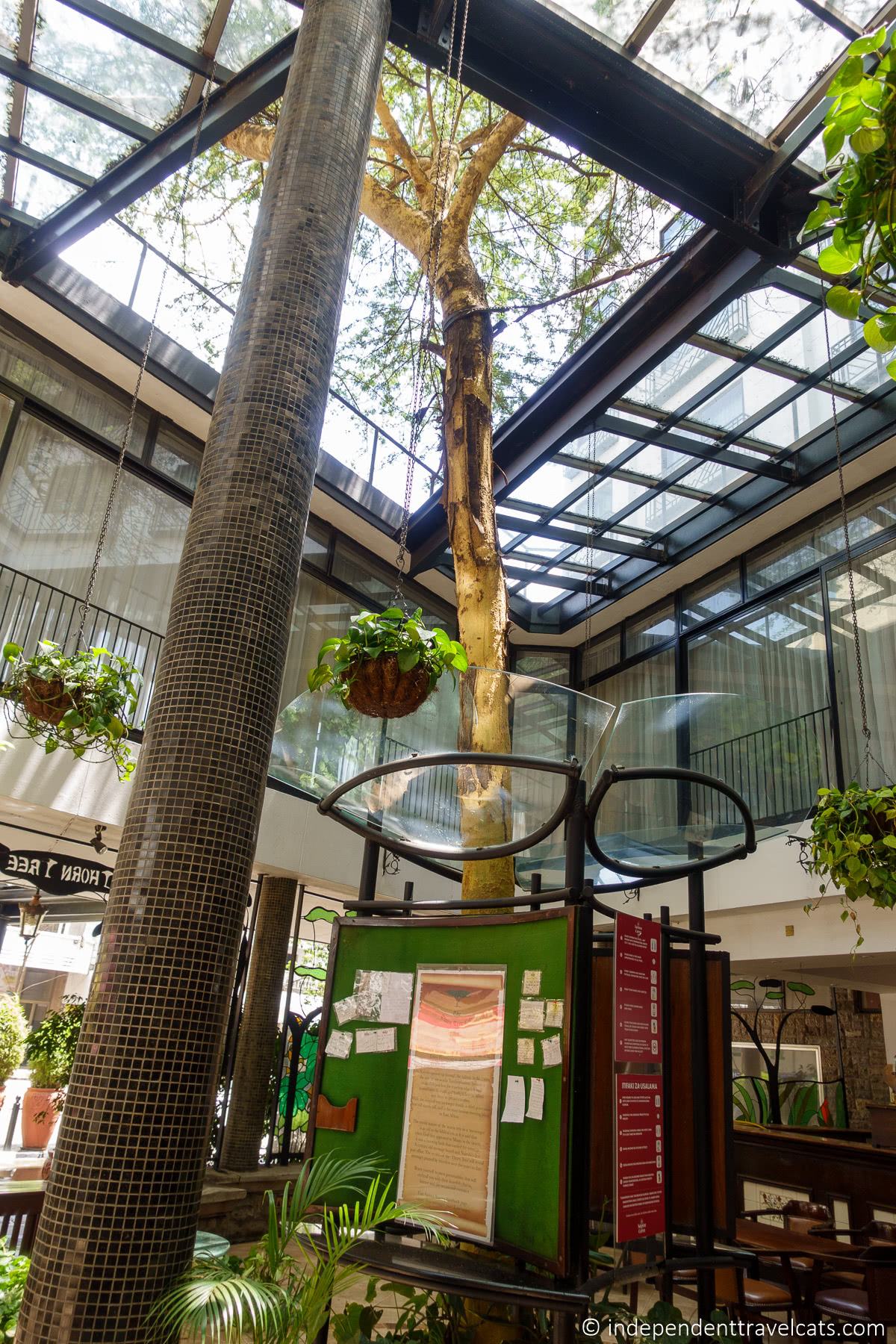 Karen Blixen Museum
The Karen Blixen Museum is housed in the farmhouse where Danish author and coffee farmer Karen Blixen (pen name Isak Dinesen) lived from 1917 to 1931. The 19th-century bungalow-style house was built in 1912 by Swedish civil engineer Åke Sjögren. It was purchased in 1917 by Karen and her husband Baron Bror von Blixen Fincke. They bought a total of 4,500 acres of land for their farm and coffee plantation.
Neither Karen Blixen's marriage nor her coffee plantation were successful. She was forced to declare bankruptcy and leave Kenya in 1931. She returned to Denmark and wrote several books, including Out of Africa in 1937 where she writes about her time spent in Kenya. The suburb around her former estate, Karen, is still named after her.
Her house eventually became the property of the Kenyan government after independence and was opened as a state museum in 1986, following the success of the film Out of Africa (1985), starring Robert Redford and Meryl Streep. The popularity of this film not only increased interest in Karen Blixen, but increased tourism to Kenya as a whole. Guided house tours are offered daily that detail the history of Blixen's time here.
The tour includes a tour of the interior of the house, the detached kitchen, and a small portion of the grounds including some 20th century coffee farming equipment. The house includes some of the original furniture and other objects that belonged to Blixen, including her famous cuckoo clock. Although the house was not used in the filming of Out of Africa, some of the costumes and movie props are on display here.
The house has a lovely location and Blixen referred to the house as Bogani or Mbogani, meaning a house in the woods. If you are familiar with the first lines of Blixen's novel "I had a farm in Africa, at the foot of the Ngong Hills", you'll be pleased to note that there are still some good views of the Ngong Hills from here.
The tour lasts about 40 to 45 minutes and then visitors are allowed to explore the grounds and the small gift shop on their own. Photography is not allowed inside the house.
I've visited the Karen Blixen house museum twice and both times the guides were very good at presenting information and answering questions. The house is interesting to see, especially if you have read the book as so many of the experiences Blixen wrote about happened inside this house or just outside of it. However, if you haven't read the book or you are not a fan of Blixen, this is probably a place to skip.
The Karen Blixen Museum is generally open daily from 9:30am to 6:00pm. You want to allow at least an hour for the visit as the tours take about 45 minutes. But I'd say 1.5 hours is a good amount of time to allow for the guided tour and unhurried exploration of the grounds and gift shop.
A nearby spot to eat is the Karen Blixen Coffee Garden, which offers both indoor and outdoor dining. Also located here are two historic buildings, one is the Swedo House (the original farmhouse built on the coffee estate) and the Grogan MacMillan Manor House, which was owned by Karen's friend Lady MacMillian. The outdoor seating area is great place for lunch.
A number of tours include a stop at the Karen Blixen Museum, such as this full day tour that also visits the Giraffe Centre, Elephant Orphanage, Kazuri Beads, and Karen Blixen Coffee Gardens. You can see some options here and here.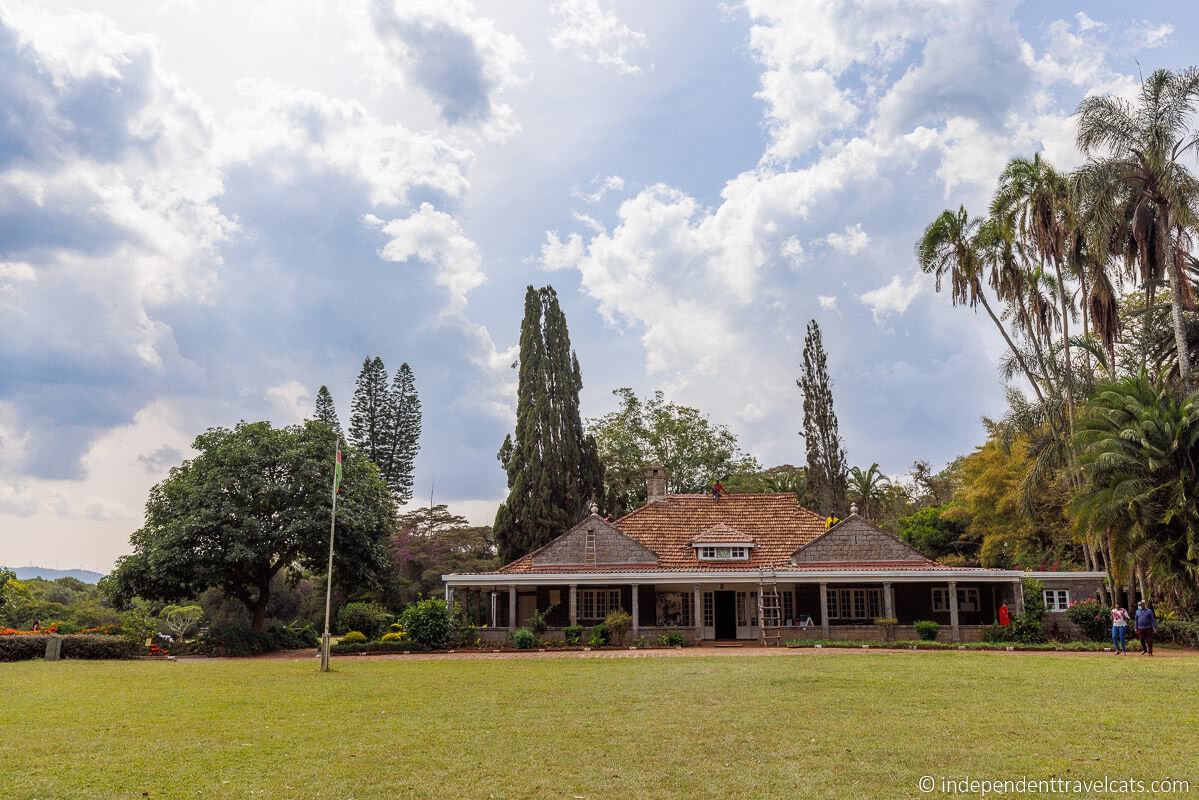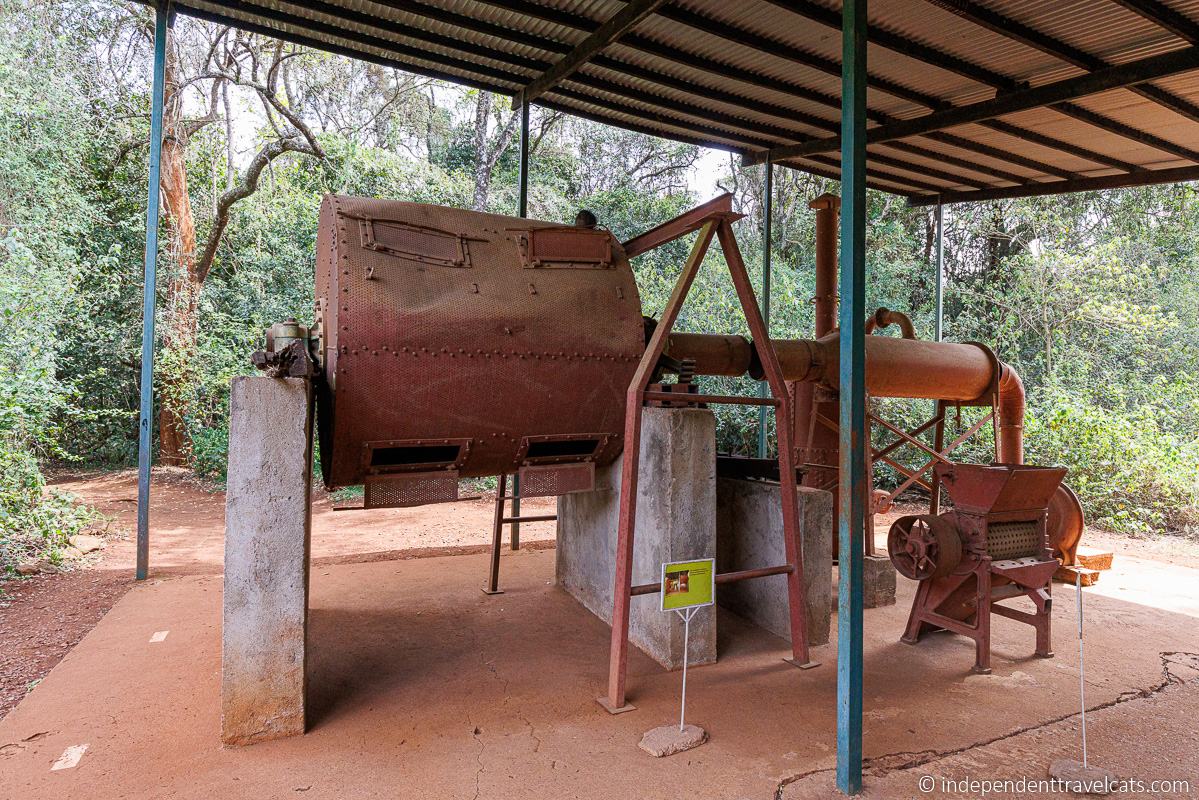 Kazuri Beads Factory & Shop
Kazuri Beads is a business that makes colorful handmade ceramic beads used for jewelry. It started in 1975 when Lady Susan Wood employed two local single mothers and taught them how to make ceramic beads. The word kazuri means "small and beautiful" in Swahili.
The ceramic bead business was successful and expanded, allowing for the employment of a larger number of single mothers and other disadvantaged workers. Today, over 300 women, many of them single mothers, work at Kazuri. The company sells wholesale handmade beads, bead jewelry, and handpainted pottery. The factory has been Fair Trade certified.
At Kazuri Beads you can do a free guided factory tour and visit their factory store. The factory tour takes you through the whole process of how the ceramic beads and pottery are made, from sourcing the clay to molding, drying, firing, hand painting, glazing, etc. You get to see the various workshops, meet some of the workers, and see the process of making some of the beads and pottery pieces. The tour takes about 30 minutes or so. Definitely worth doing if you have the time.
After the tour, you are then invited to visit the shop where you are left to browse and shop on your own. The shop offers a range of handmade ceramic items, mainly necklaces, bracelets, tableware, drinkware, and ornaments.
I have purchased Kazuri Beads jewelry for both myself and as gifts at the factory store. They had a huge selection of jewelry with beads in just about every size, shape, and color so it was easy to find something that appealed. On my last visit, I was specifically looking for a necklace with flat red beads to replace one that broke and was able to find a very good match. It is now one of my favorite necklaces.
Kazuri Beads was hit hard by COVID-19 as it closed down and many of the workers were laid off during the closure and then was slow to rebound due to a huge dip in tourism. But luckily Kazuri has survived and has rebuilt and reopened in a new location. So if you visit, be sure to show your support.
Note that your guide or driver may give you a choice of which factory or shop you want to visit in the area (a few are now in the area), but if you want to go to Kazuri be sure to specifically note you want to go here. It is now in a new location and is not the same as KobeTough (a new business). The previous location used for its factory and shop was sold to Sandstorm Kenya (luxury leather company) and another similar company KobeTough (beads and leather) opened in the area in 2020 and makes similar products with former employees. But luckily Kazuri has survived and has rebuilt and reopened in a new location.
Kazuri Beads factory and shop is located on Laganta Road. There is also a small restaurant/cafe here where you can get coffee, tea, drinks, and lunch.
Kazuri Beads factory is located in the Karen area of Nairobi and is about a 10 minute drive from the Karen Blixen Museum and estate. You can also buy Kazuri Beads jewelry at other retail locations (mostly at Nairobi shopping malls) and other gift and souvenir shops in Nairobi (including at Utamaduni Shops).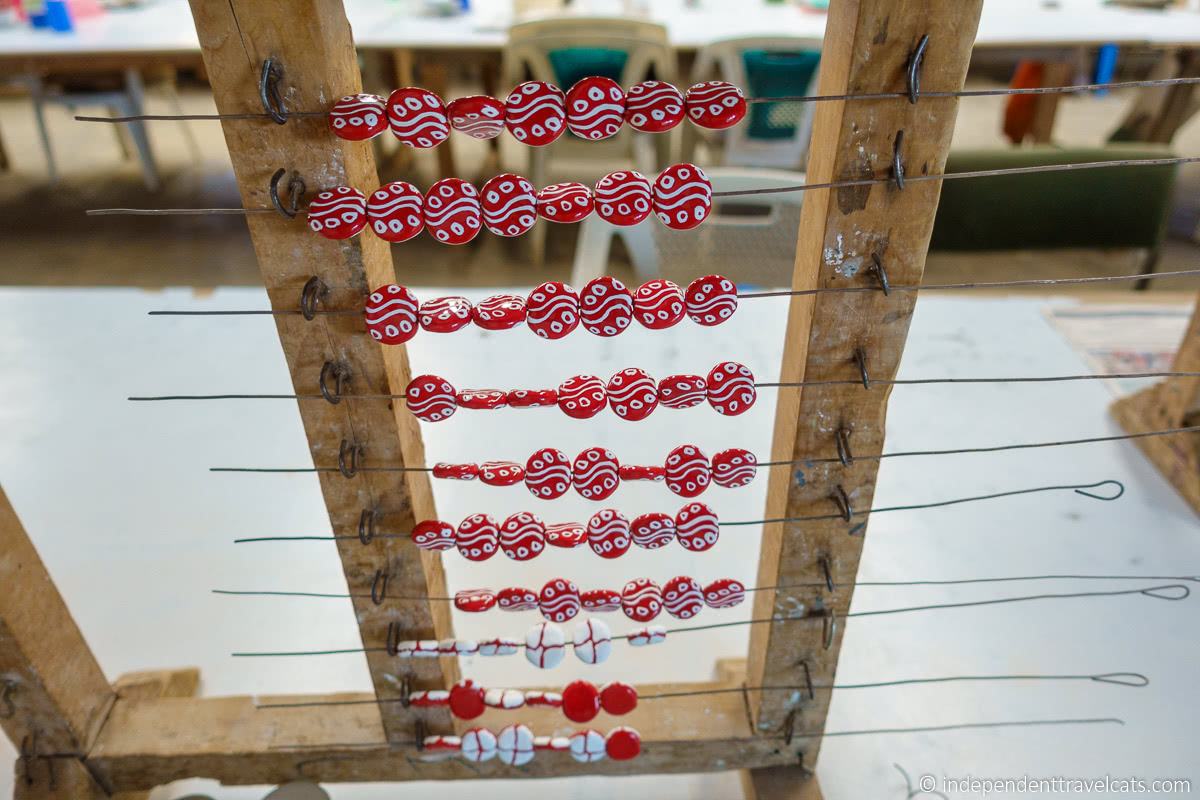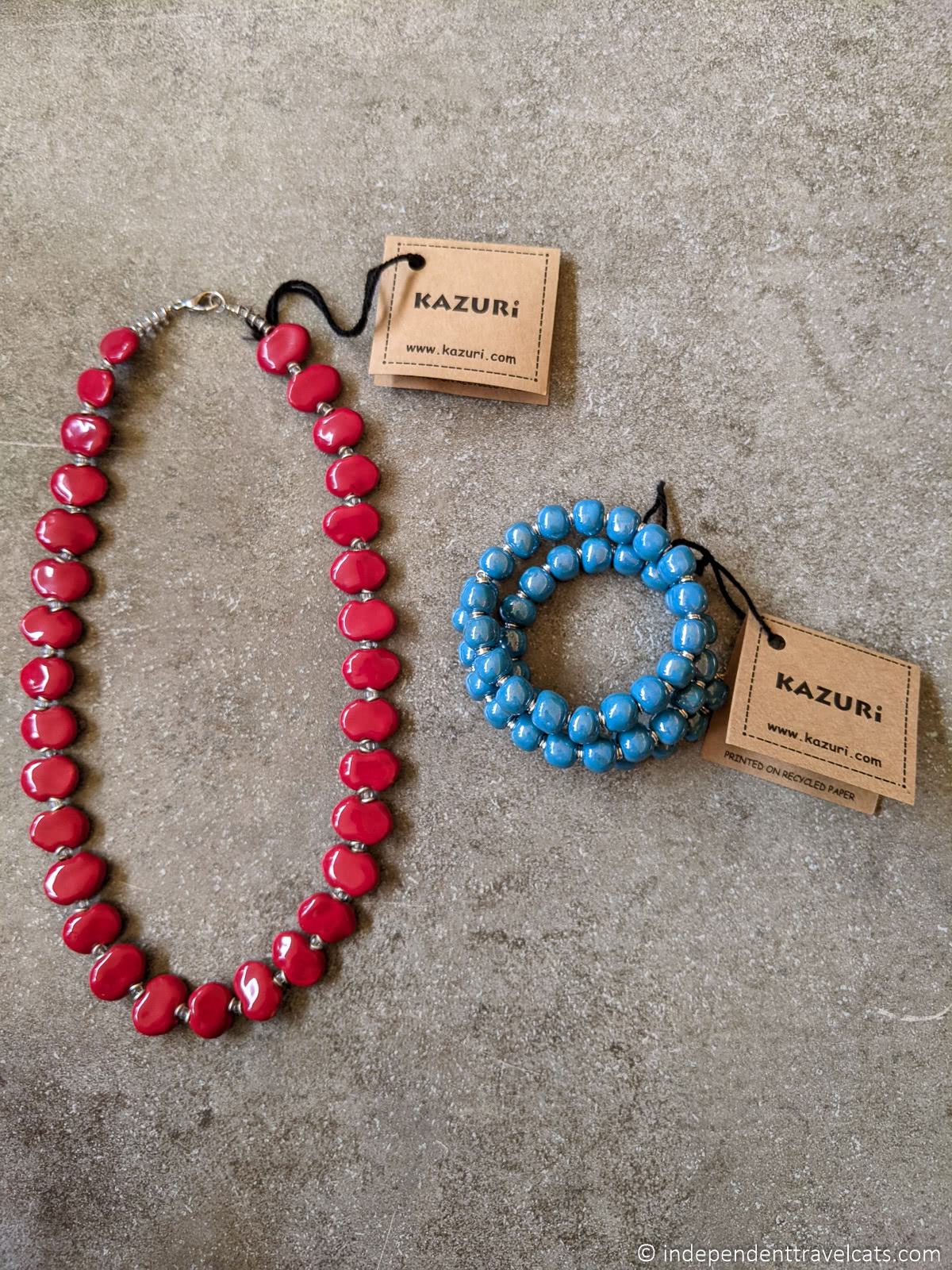 Bomas of Kenya
The Bomas of Kenya is a great place to visit if you are interested in cultural performances and seeing traditional homes from around Kenya. The Bomas of Kenya was established in 1971 by the Kenyan government to both preserve traditional cultural practices and increase tourism. Here you'll find examples of traditional bomas from around 40 different cultural groups, daily cultural performances, a conference center, a restaurant, and a gift shop.
The first main attraction here is the bomas themselves. Boma in Kiswahili means "homestead" and there are bomas representing around 40 different ethnic/cultural groups from around Kenya.
Different tribes and groups from all over the country were invited to build replicas of traditional "mini villages" here so visitors could learn more about their traditional homes, building methods, and culture.
The bomas are in an open-air setting and you can walk around and explore them with a guide or on your own. Some of the many tribes and cultural groups represented here are the Kisii, Kikuyu, Meru, Somali, Turkana, Maasai, and Luo.
The Luo village may be of particular interest to some Americans as it was the tribe of former President Obama's Kenyan father. A guide can be helpful in pointing out the differences as it can be difficult to spot some of the differences as some of the bomas are pretty similar.
The second main attraction for visitors are the cultural performances that take place at the large indoor circular theater here. Since 1973, the Bomas has been the home of Kenya's national professional dance company, the Bomas Harambee Dancers.
The performances vary, as they have a repertoire of about 50 different acts, but the show includes several different acts representing different cultural groups. Each group is introduced and a little history is given about the dance, music, or instruments. Many of the dances are done as part of a tribal ceremony such as celebrating a circumcision, harvest, or birthday.
When we visited there were a variety of dance, music, percussion, and acrobatic acts. There were 9 acts in all and these represented the Borana, Agikuyu, Embu, Nubi, Luo, Maasai, and Bukusu groups and there was also a percussion performance and an acrobatic show. We enjoyed the variety and one of the groups also involved audience participants.
The performances are normally daily in the afternoons from 2:30pm to 4:00pm on weekdays and 3:30pm to 5:15pm on weekends and holidays; however, we recommend checking the performance dates and times online before you head here. The attraction is normally open each day from 10:00am to 6:00pm. You can buy tickets on-site in person.
Note that the Bomas are often the site used for the national elections tallying and announcements so are often closed to the public for a few months during presidential election years for security reasons as they did in 2022. So do be sure to check if visiting on an election year.
Of all the main tourist attractions in Kenya, this is one that seems to draw more Kenyans than foreign tourists. If you visit on a weekend, like we did, you'll likely find the auditorium pretty full of local school groups, university students, conferencegoers, and other groups from around Kenya. There was also a smattering of fellow tourists and some local families.
The Utamaduni Restaurant located here is a great place to try traditional Kenyan food. It offers dishes from around Kenya's different regions at reasonable prices. You can find foods here that are difficult to find at hotels and tourist restaurants.
We'd recommend allowing about 3 hours for your visit here. The performances take about 1.5 hours and you'll want at least an hour for exploring the bomas. If you want to eat at the restaurant as well, I'd add a little extra time. You can easily spend the full afternoon here.
If you need transport, you can arrange for a private tour like this one that includes transport and a guide.
The Bomas of Kenya is located in the Langata suburb of Nairobi, making it easy to combine a visit with other nearby attractions. There are a number of tours that include a visit to the Bomas of Kenya, such as this tour which includes visits to the Giraffe Centre, Elephant Orphanage, and Bomas. You can see more tour options here and here which include a visit to the Bomas.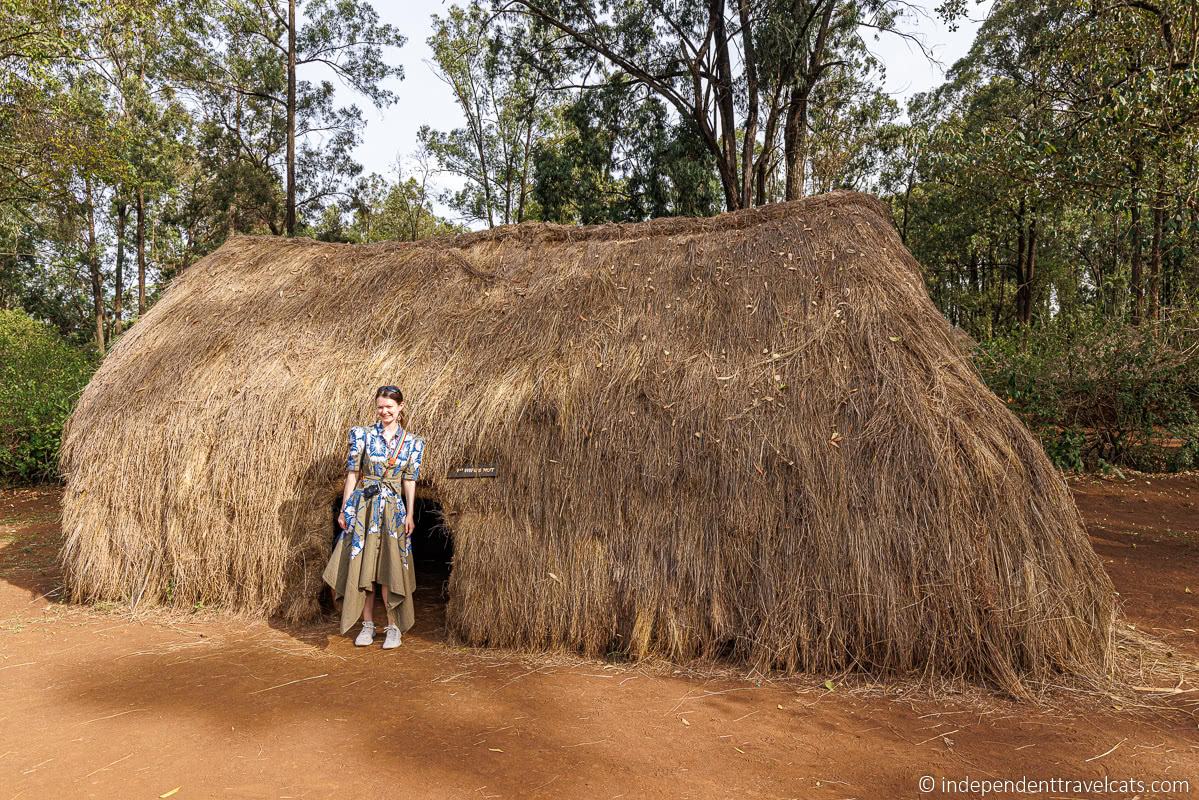 Try Local Foods
We highly recommend trying some of the local dishes while in Kenya. As the capital city, Nairobi is a great place to try different dishes from around Kenya and the wider East African region.
Here are just a handful of the foods you might want to try while in Kenya: ugali (maize flour porridge, a staple food across East Africa), chapati (flat bread), nyama choma (grilled meats), githeri (beans and corn), mahragwe (beans and rice), kachumbari (fresh tomato & onion salad), nduma (stewed arrowroot), matoke (green plantain stew), pilau (spiced rice), kuku choma (BBQ chicken), supu (soup), mtuzi wa samaki (tilapia fish in coconut curry sauce), mandazi (fried bread, doughnuts), tsiswa (roasted termites), viazi karai (potato nuggets), vibibi (coconut and rice pancakes), and mukimo (mashed potatoes, corn, and pumpkin leaves).
Note that the names and spelling vary in different regions as do the recipes. Some of these foods are typical across East Africa whereas others are more regional. What is on offer on local menus will also change by season and the region of the country. For example, along the coast such as in Mombasa, you'll get a lot more fish and seafood as well as more Indian influenced dishes.
If you are looking to try popular drinks in Kenya, we'd recommend trying Kenyan tea (chai) and Tusker beer. Another popular Kenyan beer, and the favorite of one of our guides, is White Cap and it is produced by the same company that makes Tusker.
It can be difficult to try a lot of local dishes as many hotels and safari lodges in Kenya tend to primarily serve Western dishes. Many restaurants serve a number of European, American, or Indian dishes, but traditional Kenyan food can sometimes be tricky to find for tourists.
One thing we found is that a lot of common Kenyan meals don't include any meat or fish but have a lot of vegetables, legumes, and grains. For example, a common everday meal is githeri, which is a stew of beans and corn. Most Kenyans cannot afford to eat meat everyday.
If your hotel doesn't offer local dishes, I'd ask hotel staff, guides, or drivers for suggestions for places that serve good Kenyan food that they would recommend. They should be able to point you to places with safe cooking practices. It is fun to be adventurous, but you want to keep water and food safety in mind when choosing where to eat and what to eat so you don't regret it the next day.
If you are not sure where to go and aren't getting any good suggestions, a few restaurants that you may want to consider which focus on Kenyan food are Amaica in the Westlands, Utamaduni Restaraunt in L'angata, and the budget-friendly Hot Dishes which has a few locations in the Central Business District of Nairobi.
Utamaduni Restaurant is located at the Bomas of Kenya and serves Kenyan dishes from the many different regions of the country. If you are already planning to visit the Bomas, this is a very convenient option for lunch or dinner before or after your visit.
A second suggestion is to ask at your hotel if they are able to make local dishes on request. Normally, this requires asking a day or so in advance. For instance, we stayed at Nyati Hill Cottages and here they allow you to choose if you would like evening meals cooked for you or not. We chose to have our evening meals there and the local cook made us a typical Kenyan meal on our first night based on our request.
Finally, another fun option is to join a local food tour, such as this one. This not only allows you to try a number of Kenyan dishes with the help of a local, but it is also an interactive experience where you will learn a bit about Kenya's food history. Just be sure to go hungry as you will eat a ton on the tour!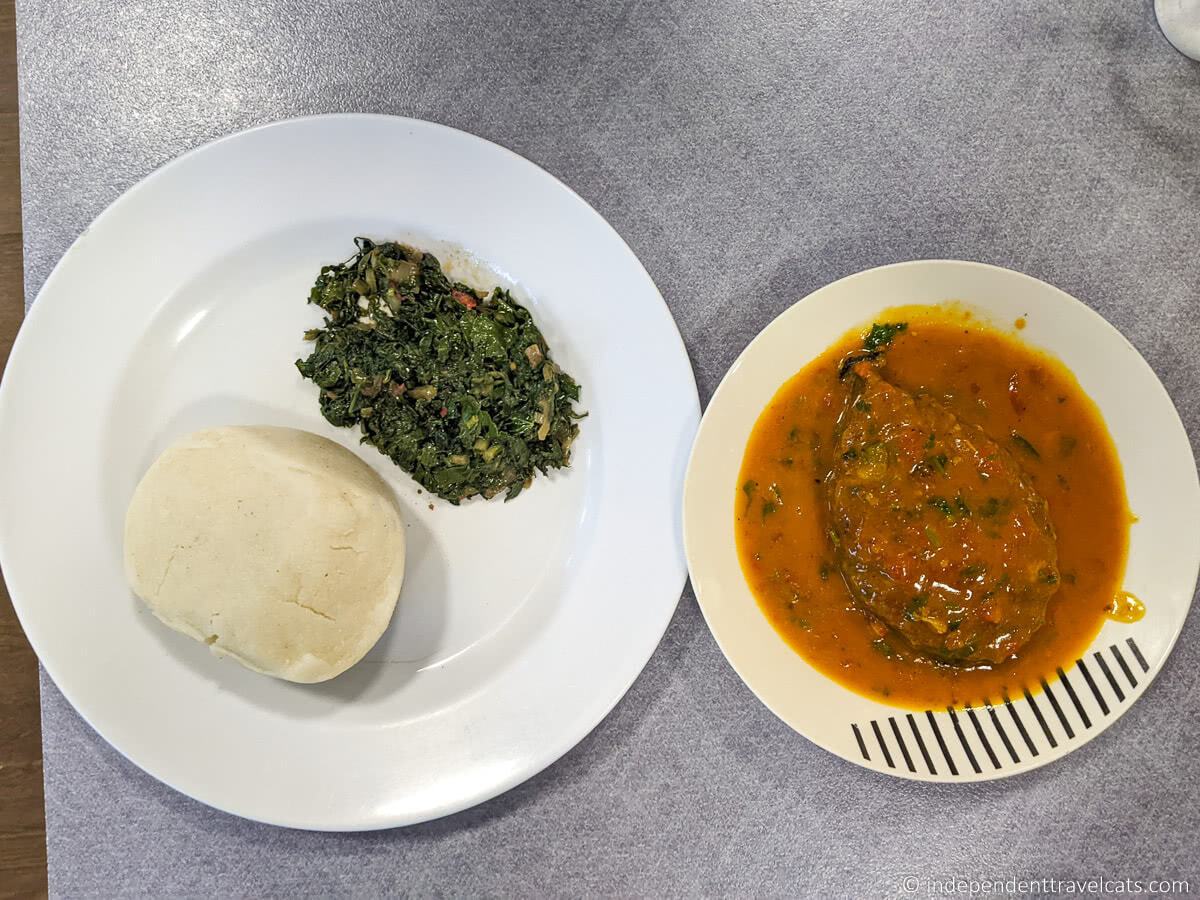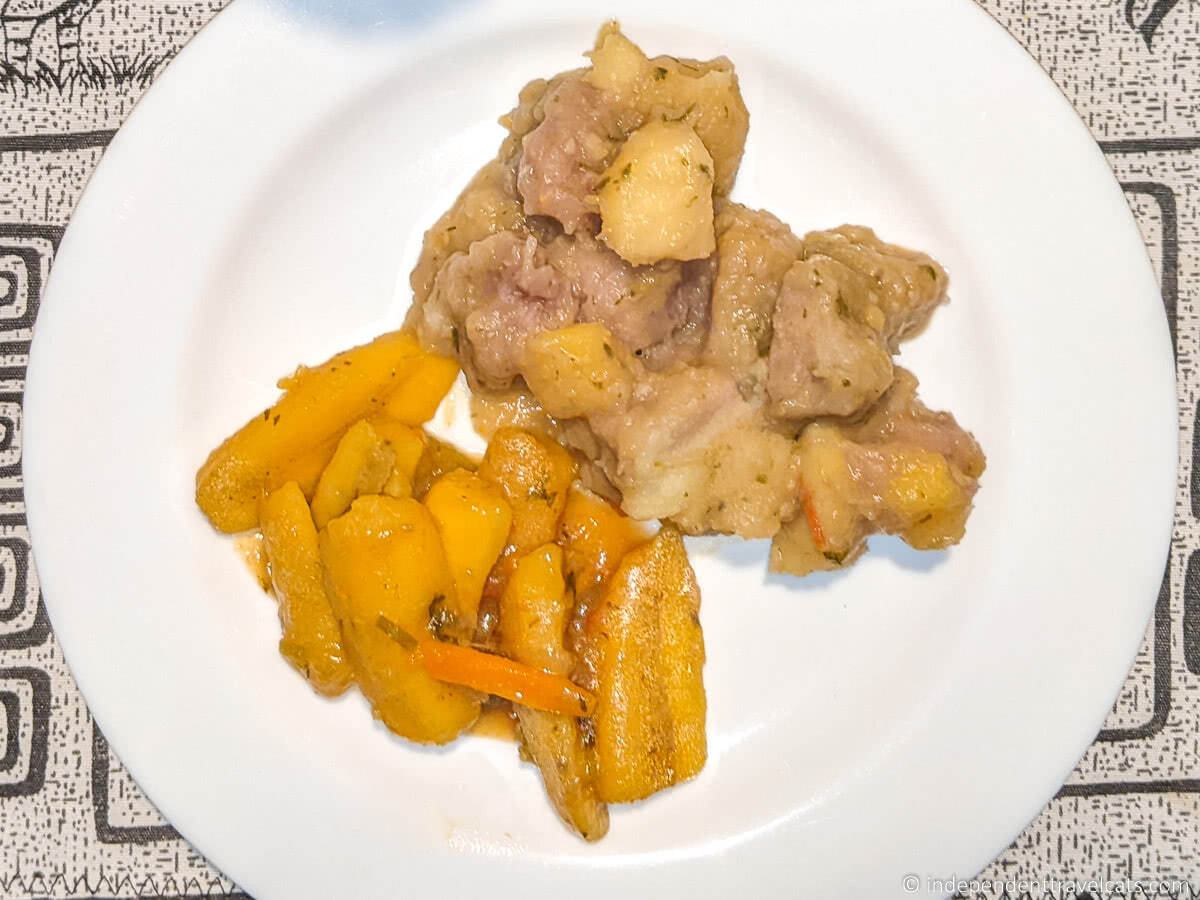 Karura Forest
Karura Forest is a wonderful green space located in northern Nairobi. It is a popular place for hikers, joggers, and cyclists with a number of walking trails and a 12 km long biking trail. It is also a popular place for family picnics, sports, school group visits, birdwatching, and dog walking. There is even a horse path for those on horseback.
We loved hiking here in the morning while staying in Nairobi. There are several different trails you can take, depending on how far you want to walk. The trails were fairly well-marked and you can buy a map at the gate if you wish. It really feels like you have escaped the city once you get out on the trails.
Some of the landmarks in the forest include Karura waterfalls, Mau Mau caves (where Mau Mau fighters hid out), Amani Gardens (which includes a memorial to those who died at the 2013 Westgate shopping mall attack), and Lily Pond Lake.
Karura Forest is also a good place to spot local wildlife, especially birds. One of our safari guides told us that he comes here in the mornings sometimes for birdwatching. We spotted antelopes, monkeys, and several birds during our visit.
We visited on a weekend and while quiet in the morning it was very busy by the afternoon. Most were enjoying picnics in the picnic areas or playing sports. There is a football pitch, basketball court, and tennis courts. You can also rent bikes and head off on the bike trail.
You can enjoy a picnic in one of several designated picnic areas within the forest. There is a small fee for picnics and picnic spots are first-come first-serve (booking recommended on weekends). Note that alcohol and single-use plastics are not allowed in the forest.
There is also a restaurant, The River Cafe, located within the forest which is normally open whenever the forest is open. There are several free toilet facilities within the forest.
Karura Forest is normally open daily from 6:00am to 6:00pm. There is a fee to visit the forest and also a parking fee is you are driving yourself. There are also additional fees for certain services such as bike rentals, nature tours, using the sports grounds, or using the event space facilities. Some activities need to be booked in advance. You can check opening hours and fees here.
Some locals recommended that we don't visit the forest on our own as there have been robberies on the trails. We felt safe but if you are traveling solo or would like a guide, there are tours you can join at the forest led by Karura Forest Eco-Tours, you can read more here.
If you are looking for transport and a local guide, you can also join a tour such as this guided tour and this guided tour. These tours normally include transport from your accommodation, a guide, forest entrance fees, and bike rentals (optional).
Although Karura Forest is the largest, it isn't the only forest you can visit in Nairobi. The others are Ngong Forest and Oloolua Forest (the 5km Oloolua Nature Trail is here). Another option is the Nairobi Arboretum (described in another section) which is smaller but the most accessible for those in central Nairobi.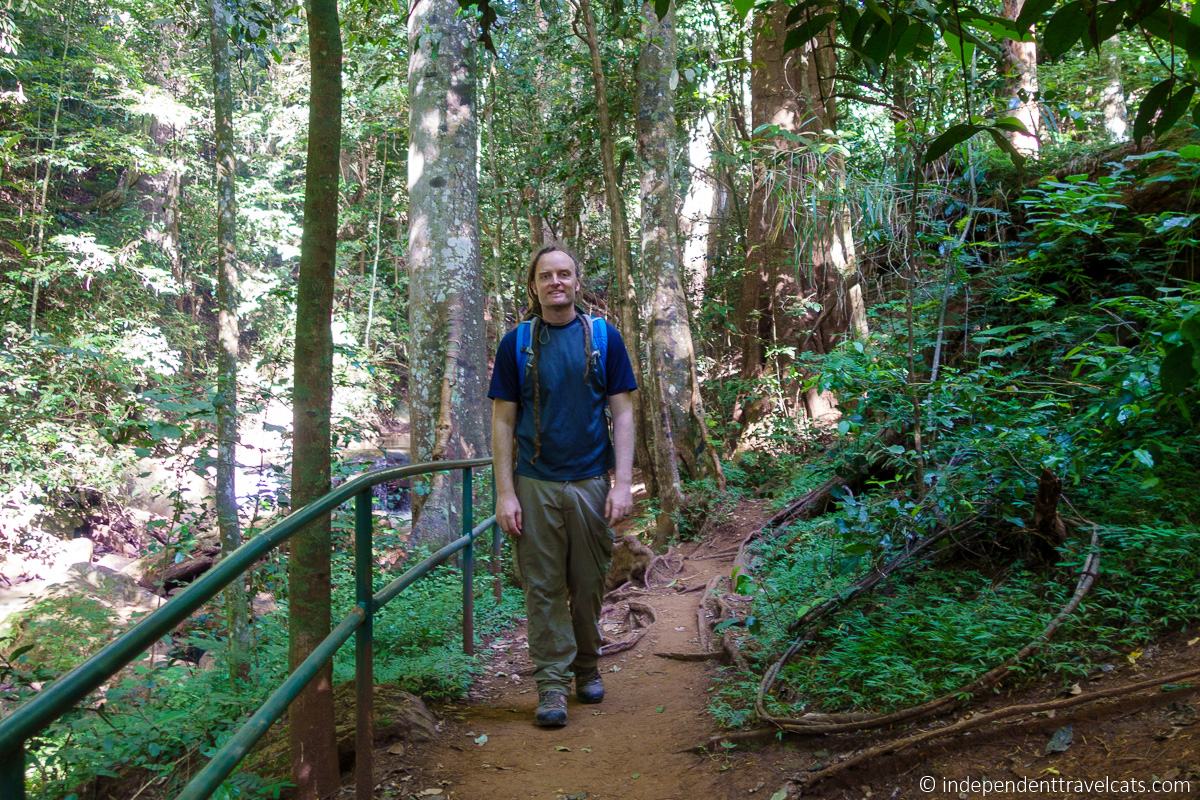 Nairobi Arboretum
The Nairobi Arboretum is a 30-hectare forest in the Kilimani area of Nairobi. It offers forest trails, lawns, picnic areas, and jogging trails. It is a great place to see lots of local and exotic tree species and is also home to a number of bird species as well as Sykes and Vervet monkeys. It is a popular place for locals to jog, meet, hang out, hold events, and have picnics.
The Nairobi Arboretum was established in 1907 as a place to plant new species of exotic fast-growing trees to use as firewood for fueling the newly constructed railway. It was designated as a national reserve in 1932 and in 1996 it became a public owned reserve.
We visited on our last trip to Nairobi as it was a short walk from where we were staying in the Kilimani area of Nairobi. It has a lot of shady paths you can follow as well as lots of places to sit and relax. The only negative was that a large family group were littering and feeding the monkeys without staff intervention when we visited.
There is a small fee to enter the arboretum and a parking fee. The Nairobi Arboretum is open daily from 6:00am to 6:00pm each day. There are toilet facilities on site. You can check fees and events here.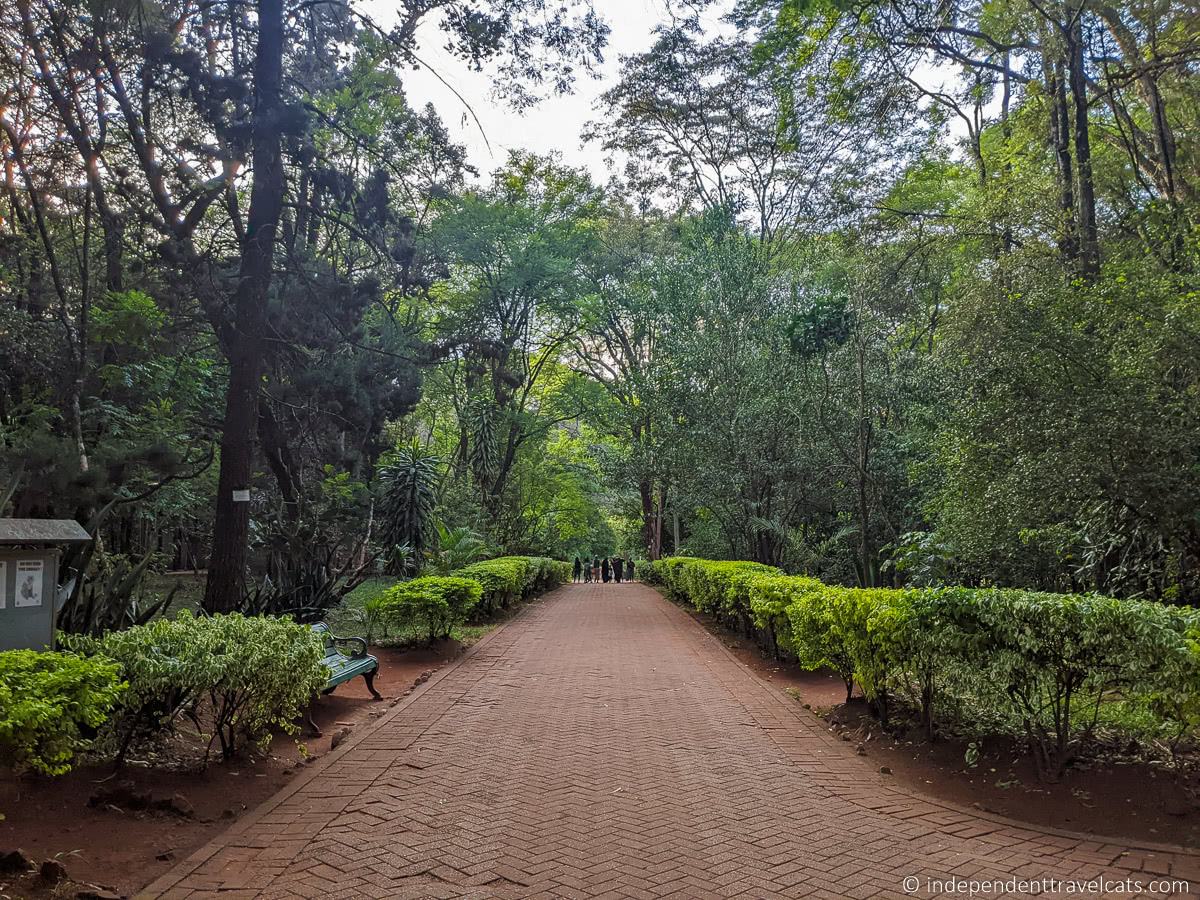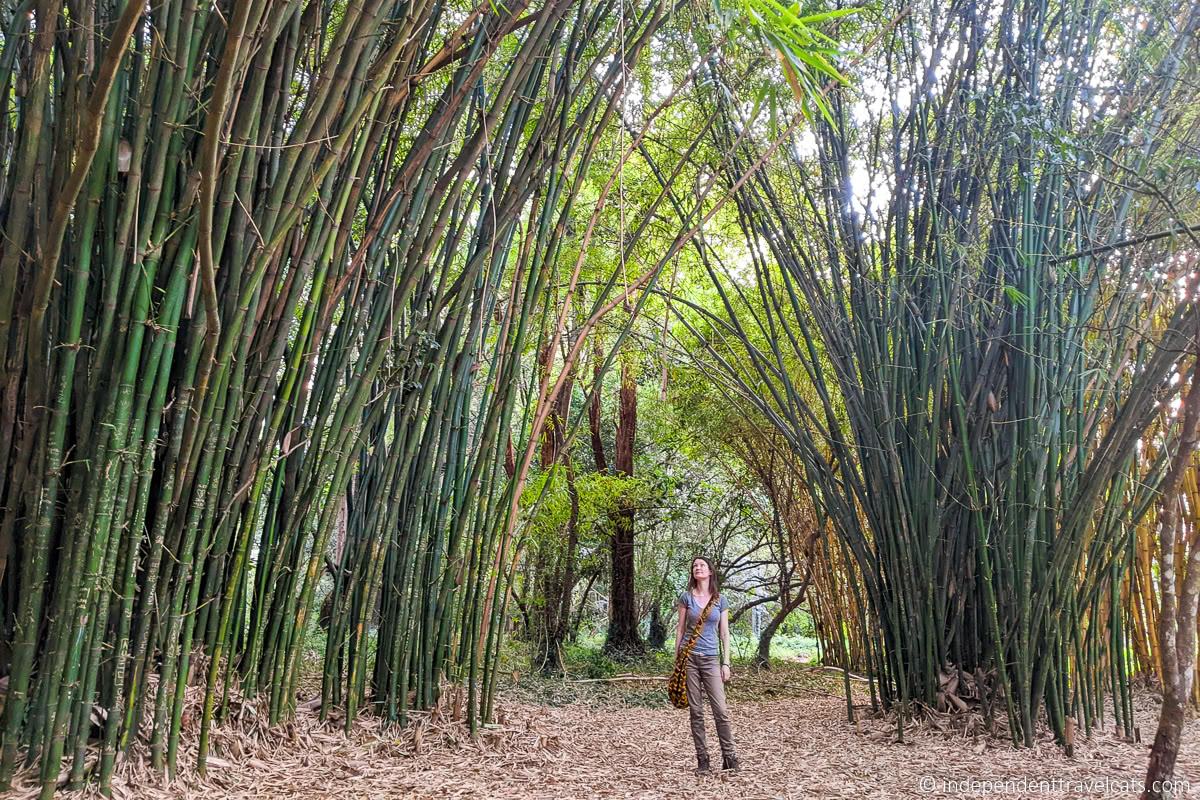 And that is our guide to visiting Nairobi and a list of the top things to do in Nairobi! We hope that if you are planning a trip to Nairobi that this guide has been helpful to you. If you have any questions about your trip to Kenya, just ask us and we are happy to try to help.
Want to remember this article, PIN it on Pinterest to read it again later: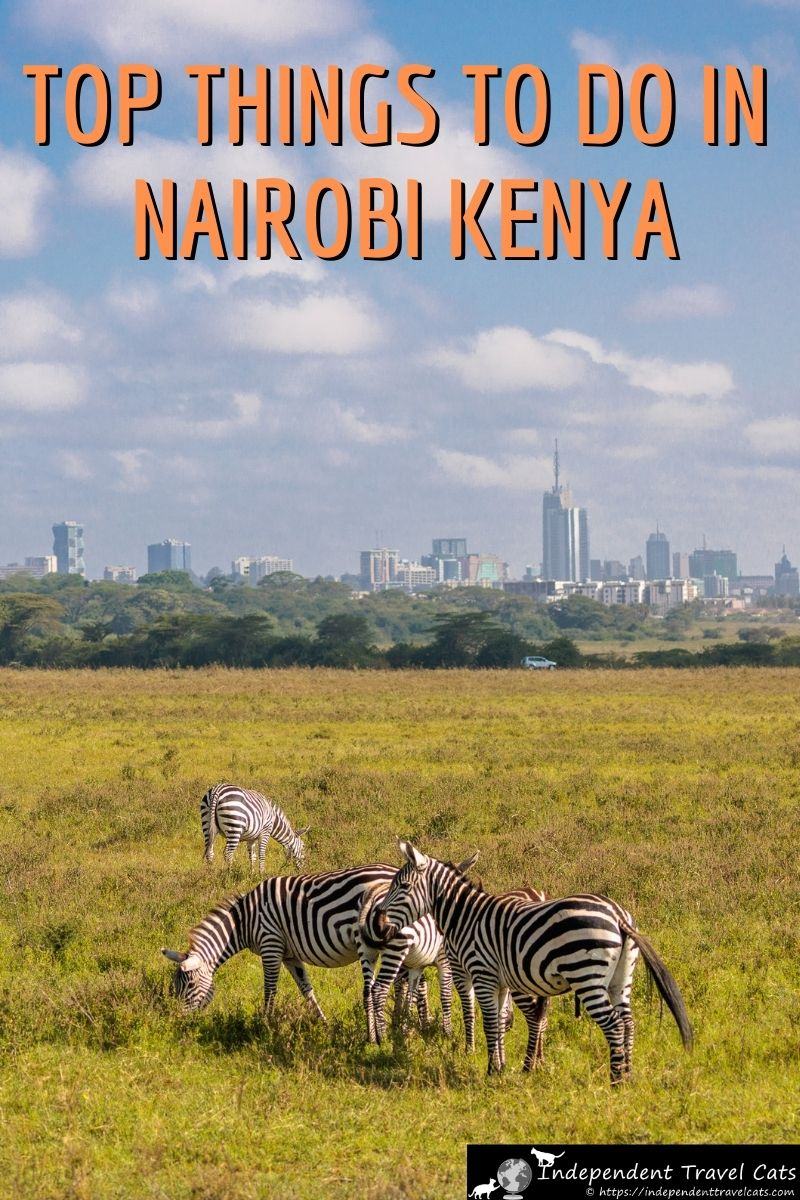 Are you planning a visit to Nairobi? Which of these sites are on your travel wish list? If you have visited any of these places, we'd love to hear your personal experiences and tips.
If you are planning a trip to Nairobi (or elsewhere in Kenya) feel free to ask us any questions about any aspect of your trip below and as always we'll do our best to answer your questions!