During our recent trip to Kenya, we had to decide how to best spend a day in Nairobi since we had only a limited amount of time in the city. We share both our 1 day Nairobi itinerary as well as a list of all the top attractions in the city. Nairobi may have started as a small British rail depot, but Nairobi is now Kenya's capital, the most populous city in eastern Africa, and a major business, political, and financial hub in Africa.
Most tourists arrive at the NBO airport and then head out the next day for safari, earning the city the nickname "Safari Capital of the World". However, Nairobi is worth at least a day or two of exploration as Nairobi offers parks, shopping, art museums, cultural attractions, the chance to get up close with wildlife, and even safari game viewing! We'll share a list of the places we think are worth considering if you only have a day or two in Nairobi and tell you what we did. We focused on wildlife and our love for Out of Africa in determining how to spend our day in Nairobi, spending our time kissing giraffes, ogling baby elephants, pretending to be Meryl Streep and Robert Redford, and sipping some local coffee.
How to Spend a Day in Nairobi: Putting Together your Itinerary
Nairobi is one of the largest cities in Africa and a growing one. We were quite surprised by both the amount of construction and industry and the significant presence of major international corporations in the city. At the same time, Nairobi, like many large cities, struggles with issues of crime, poverty, and unemployment. Wealthy suburbs like Karen and Lang'ata stand in marked contrast to the nearby slums of Kibera, demonstrating a large social and economic divide.
If you are only going to have one (or even two) days, you'll want to plan ahead to make the most of your time. Some of the places are a bit spread out so it is wise to try to group places together by location. For the sake of time, convenience, and safety, I would suggest seeing the city with a driver and/or guide if for no other reason than the traffic (and inventive driving strategies of locals) can be very frustrating. For most places in Nairobi, you'll probably just need a driver, but if you are interested in a city tour, walking tour of Kibera, or game drives in Nairboi National Park, you'll want a guide. In our case, our driver and guide were the same person.
While by no means a comprehensive list of things to do in the city, this should give you a good starting point for planning your visit if you only have one day in Nairobi. This list could actually be used to put together an itinerary for several days in Nairobi if you have more time.
Arts & Culture
Nairobi isn't New York City or London, but it does offer a number of opportunities to explore the local culture, view art, watch sports, and take in performing arts. Ask your guide or check out local newspapers or websites (such as Nairobi Now and Up Nairobi) to find out about local events, games, and performances during your visit. Below is a list of some of the most popular cultural attractions in Nairobi.
African Heritage House

– Designed by American Alan Donovan, co-founder of the African Heritage Pan African Galleries, the house overlooks Nairobi National Park and is a combination of the mud architectures from across Africa. Tours, as well as meals and lodging, can be arranged.

Bomas of Kenya

– A tourist village where you can learn more about traditional Kenyan culture by experiencing living styles, crafts, music, and dancing.

City Tour – The best way to get to know more about a city is to take a guided walking or driving tour. While we did not get a chance to do this, our driver highly recommended this and said the views of the city center in the evening are quite nice. If you are looking for great sweeping views of the city, you might want to plan a stop at the 28-storey Kenyatta International Conference Centre (KICC). On most days, for a few shillings the security guard will escort you in an elevator to the top floor where you'll be treated to amazing city views (there is a revolving restaurant here but it is was closed during our visit).
GoDown Arts Centre –

A not-for-profit entity that occupies a 10,000-square-meter warehouse, providing basic studios, rehearsal, and performance spaces to a diverse range of visual and performing artists groups. Visitors can view art in the exhibition gallery as well as regular shows in a performance venue.

Karen Blixen Museum – You can tour the famous home and grounds of Danish writer and coffee farmer Karen Blixen. The house has been converted into a museum and the exterior of the house was also used in the film based on Blixen's famous book Out of Africa.
Kibera Tour – Kibera is a very poor and crowded neighborhood in Nairobi and one of the largest urban slums in Africa. Many companies offer tours and although these can be very educational and eye-opening, slum tourism

is quite controversial and can have negative effects on the locals. If you decide to do this, do your research on reputable and responsible Kibera tour companies. You can read our post that reviews

research about how to best engage in responsible slum tourism

.

Nairobi National Museum

– This museum covers the history of Kenya and Kenya culture, early human ancestry, and specializes in natural history. Other attractions within the grounds include the Nairobi Snake Park, a botanic garden, and a nature trail.

Nairobi Railway Museum

– Nairobi traces its modern roots back to being a simple rail depot along the rail route from Mombasa to Uganda. Located near the Nairobi railway station, this museum provides a history of rail travel in East Africa, a chance to see old locomotives, and even some functioning models.

National Gallery

– This gallery houses temporary exhibits so you'll want to check the current exhibit before deciding to visit. The museum currently hosts the Murumbi Collection exhibition, which includes artifacts from across Africa collected by former Vice President Joseph Murumbi, including art, jewelry, postage stamps, books, and other cultural items.
Dining
Nairobi offers mix of both international and African restaurants so you can have your pick of cuisine. Some popular local foods you may want to try are nyama choma (roasted meat), ugali (cornmeal), irio (peas and potatoes), kachumbari (tomato and onion salad), githeri (beans and corn), hearty stews, grilled corn, mutura (sausage), mandazi (doughnuts) and locally brewed beers. We didn't get to do much exploration of restaurants as we mainly had meals prepared at our hotel. If you are interested in trying some of the local favorites, you can go to one of the more upscale restaurants catering to tourists and local businesspeople or find a favored local canteen or small restaurant nearby. Ask your hotelier or guide for recommendations as you'll want to find a local place with good food hygiene and safety practices as the last thing you want is gastrointestinal issues before your safari or flight home! Below is a short list of popular places to eat (these are touristy and pricey so look elsewhere if you want to dine with locals and not a bunch of other visitors, ex-pats, and well-to-do locals):
Carnivore – Located in the Lang'ata suburb, this is probably the most famous restaurant in Naiobi and specializes in nyama choma (roasted meats). Lamb, pork, ostrich, beef, chicken, crocodile, and other meats are roasted on traditional Maasai swords over a huge charcoal pit and then served to guests.
Karen Blixen Coffee Gardens – Located on the grounds of Karen Blixen's former coffee estate, this restaurant offers both indoor and outdoor dining and a range of international and locally inspired dishes. Located a short drive from the Karen Blixen Museum.
The Thorn Tree Café – Located at the historic Sarova Stanley hotel in central downtown Nairobi, this legendary open-air, bistro style café is most famous for its once-popular message board located at the center of the restaurant. Serves as the namesake for Lonely Planet's online forum.
Parks & Green Spaces
There are numerous parks and green spaces in and around Nairobi, but here are a few of the largest and most popular (also see Nairobi National Park under "Wildlife"):
Uhuru Park – a.k.a. "Freedom Park". This is the most famous park in Nairobi, has historical associations with Kenyan independence, and is a popular spot for political rallies and speeches.
Central Park – This park is located next to Uhuru Park and includes a memorial for Jomo Kenyatta
Karura Forest Reserve – If you want to escape the city and take a walk or jog in the woods, you might enjoy this forest located on the outskirts of the city. The reserve also has caves and even some waterfalls, although none nearly as impressive of those around Thika to the north of Nairobi.
Shopping
The city offers a number of places to pick up local handicraft items, unique art, and souvenirs. Nairobi is also one of the best places to pick up international and otherwise hard-to-find items in East Africa.
City Market –

A number of tourist-friendly stalls sell art, soap-stone carvings, drums, spears, jewelry, and clothing. Located off Muindi Mbingu St and open daily.

Kazuri Beads – You can purchase handmade and handpainted beads and jewelry at this Nairobi shop in Karen. Beads are made in a local factory located further out of the city which can also be visited.
Maasai Market

– The market is a good place to buy African handicrafts, artwork, and souvenirs. The venue changes so consult with your driver or hotelier about its location during your visit.

Marula Studios – This workshop and gift shop sells a range of colorful products made from recycled flip-flops.

Shopping Malls

– Nairobi is home to a number of shopping malls, such as

Sarit Centre

and

Village Market

, housing local, regional, and international stores and brands. Expect to be screened and potentially patted down before entering as security is heavy because of the recent bombings.

Spinners Web

– A large handicraft store that displays and sells handicrafts made in workshops across Kenya.

Utamaduni Craft Centre

– This two-story kikuyu-style former home has been turned into 18 different small shops selling all sorts of African crafts, soap-stone carvings, linens, jewelry, woodwork, music, shoes, clothing, and other goods. One of the most popular tourist shopping stops.
Wildlife
If you think you need to get out of the city to view wildlife, you are quite wrong. It is actually possible to fulfill your "Big Five" checklist without ever leaving Nairobi! Better yet, you can learn a lot about conservation and get very up close to a number of animals in a way that isn't possible in the game parks.
David Sheldrick Wildlife Trust – Located within Nairobi National Park, this sanctuary rescues and protects orphaned elephants and rhinos from throughout Kenya and then releases them back into the wild. You can learn about elephant and rhino conservation and watch the public daily feeding of a dozen or more baby elephants.
Giraffe Centre

– A breeding, research, and conservation center where you can learn about Rothschild giraffes and get the opportunity to feed giraffes.

Mamba Village

– For those who want the chance to see Nile crocodiles, here is a farm (in addition to a restaurant and lodging) with a whole bunch of these reptiles as well as some ostriches and other animals. Go at feeding time if you want to see the crocodiles in action. Note that there have been some past complaints about poor animal conditions here.

Nairobi National Park

– Nairobi is the only major city in the world where you can see lions, giraffes, and rhinos in the wild! Not far from city center, the national park (the first in Kenya) is home to a diverse number of animals, including black rhinos, lions, cheetahs, giraffes, baboons, zebras, eland, hippos, buffalo, wildebeest, waterbuck, leopards, and hundreds of bird species. There are opportunities to do traditional game drives, do "Safari Walks", and even spend the night in the park.
Our Visit to Nairobi: A 1 Day Nairobi Itinerary
We regretfully only got to see a small part of what Nairobi has to offer and while I think we could have done much of what we would have wanted with two full days, we only did one day of sightseeing. During our first day in Nairobi, we got in later than expected due to a flight delay and associated missed connection, and then spent time finding a store in the city that sells Apple Macbook power cords. While I would not suggest replicating our exciting day (hey, we did visit Nairobi's first shopping mall Sarit Centre), if you do have a Macbook, iPhone, or other Apple product and find yourself needing a replacement part or service while in East Africa, we highly recommend seeking out Elite Digital Solutions.
However, we still got to visit several great spots during our second day in Nairobi. We got up and had very good breakfast at our guesthouse, Lavington Hill House, before meeting our driver and guide Jimmy from Amani Afrika. Our day was planned around our second stop at the David Sheldrick Wildlife Trust as they are only open to the public for one hour per day.
Stop 1: Giraffe Center @ 9:30am
Our first stop was the African Fund for Endangered Wildlife Giraffe Center which was one of the places that Ethan looked the most forward to on our entire trip because giraffes happen to be his favorite animal. The center has been successful in breeding the rare Rothschild Giraffe, an endangered subspecies of giraffe found only in East Africa. The center was established in the 1970's by Jock Leslie-Melville, and in addition to the breeding, conservation, and release of giraffes, it also provides education to the public.
We were both given a handful of pellets that you can feed to the giraffes from a large viewing platform. The platforms are raised so that you are standing face-to-face with the adult giraffes, and you can offer the giraffes pellets by hand or the more adventuresome visitors (like us) place them between their lips for a giraffe kiss. It is quite a feeling to have a wet and rough giraffe tongue lick your face! The highlight here is definitely getting up close views of these beautiful long-legged animals, but to get the most of your visit don't forget to look down to see the resident warthogs, learn about the giraffes if there are any free educational talks or lectures going on, and take a walk along the Giraffe Centre Nature Trail that begins just across the road.
We really enjoyed our time here, but do be aware that this is a VERY popular stop for school groups (along with the David Sheldrick Wildlife Trust and Mamba Village). A visit here averages about 30 minutes, but allow longer if you really want to explore the nature trails. The center is open daily for public tours and visits from 9:00am – 5.30 pm.
If you really love giraffes, you can even spend the night at the Giraffe Manor and enjoy breakfast with giraffe looking into the dining room.
Stop 2: David Sheldrick Wildlife Trust Elephant Orphanage @ 11:00am
Daphne and David Sheldrick were pioneer conservationists in Kenya and this wonderful elephant and rhino nursery and sanctuary was established in the 1970's. Located within a section of Nairobi National Park, the David Sheldrick Wildlife Trust provides care and a home to dozens of orphaned baby elephants and rhinos from all over the country with the goal of being able to release them back into the wild. Visitors can visit daily at 11:00am to watch the public feedings of the young elephants and learn more about the mission of the trust. We weren't really sure what to expect but after parking and entering, you follow a path to a large fenced in dirt area. There are typically hundreds of visitors but the space if pretty large so you can still stake out a good view-point. After a brief introduction, the first group of about 20 baby elephants were led in, these were the youngest of the elephants. You get to watch as they are fed bottles by the handlers, play in the water and dirt, and roam around the area. If you are lucky, you might get a chance to touch one if it comes up to the rope, but you need to be careful as they weigh a ton. After the first group is taken away, another group of about 20 more older young elephants were led in and the feeding process was repeated. None of the baby black rhinos were available for viewing during our visit which is typical. During the feeding, a staff member with a microphone explains the goals of the trust and gives you some information about the individual resident baby elephants and rhinos.
It was sad to hear how many of the elephants are orphans due to poaching and human water conflict situations. Elephant and rhino poaching is very much still a problem in Kenya (and many other African nations). The cost of raising just one orphan elephant is ridiculously expensive. For those who want to contribute more to protecting the elephants, anyone can make a donation to adopt an orphan for a minimum annual donation of $50.00, which entitles donors to receive detailed information and updates about their orphan and the opportunity to visit the orphanage in the evening. Our visit here was not only an amazing chance to get very close to a bunch of cute baby elephants, but also a good way to learn about and support a truly wonderful organization.
Stop 3: Utamaduni Craft Centre @ 12:15am
This wasn't actually listed on our itinerary, but our driver made a quick stop to Utamaduni so that we could peruse the large number of craft items and souvenirs. There are 18 different curios or shops here under the same roof and you can find a bit of everything from jewelry to carvings to slippers. There are also some displays in one part of the building of a traditional Kenyan home. The Steetwise stall in front of the building sells a number of inexpensive locally made items and all sales from that shop benefit the disadvantaged youth who made the items. An interesting place for a quick visit, but neither of us were in the mood for shopping at this point. For those who want to do some serious souvenir shopping, leave more time as there are a number of small rooms and a lot of merchandise on offer here. Food and drinks are also available for purchase here.
Stop 4: Karen Blixen Museum @ 1:00pm
After the souvenir shop, we had to decide whether to head to lunch or to the Karen Blixen Museum. We decided to stop at the museum as we were told we could do the tour in an hour or less. The Karen Blixen Musuem is housed in the farmhouse where Danish author and coffee farmer Karen Blixen (penname Isak Dinesen) lived from 1914 to 1931. The house was built in 1912, and later bought by Karen and her husband Baron Bror von Blixen Fincke when they began a coffee plantation. We joined a guided group tour of the house which included the interior of the house, the detached kitchen, and a small portion of the grounds. The house is much smaller than we expected but includes original furniture that belonged to Blixen, including the famous cuckoo clock, as well as some movie props used in the filming of Out of Africa, starring Robert Redford and Meryl Streep. The tour lasts about 40 – 45 minutes and then visitors are allowed to explore the grounds and gift shop on their own. The great views of the Ngong Hills that Blixen often commented on in her book remain, and it was nice to just walk around the property and notice other things that Blixen wrote about in her book. I am glad we visited as a fan of both the book and movie, although I think visitors not familiar with the book or film will likely not find the tour especially interesting. It should also be noted that we were not allowed to take photographs inside the house. Opening hours are 9:30am to 6:00pm daily.
Stop 5: Karen Blixen Coffee Gardens @ 2:00pm
We stopped for a late and leisurely lunch at the Karen Blixen Coffee Gardens. The restaurant and an associated lodge sit on property that once belonged to Karen Blixen and her husband. The restaurant is quite large and is open daily for breakfast, lunch, and dinner. You have your choice of five dining area, including both indoor and outdoor dining. We were offered a choice of one of two menus, one that had a lot more seafood dishes and one that had a wider range of options. We chose the second menu and asked for an outdoor table, which we'd recommend if the weather is nice as the gardens are lovely. After a good lunch, we ordered coffee and sat and debated whether we should do a city tour or head back to the hotel. Even if you don't want to order food, you might consider a stop here for coffee or drinks after a visit to the nearby Karen Blixen Museum. You can also view the historic houses here, including the Swedo House and Grogan MacMillan Manor House.
It was around 3:30pm when we left the Karen Blixen Coffee Gardens and although I really wanted to do a city tour, we decided that since we were tired and had a long day of driving the next day that we'd return to the hotel. Our hotel was located outside the city center so it made it hard to easily access the city center so we also ended up having dinner at our hotel again. But I think travelers who want to add onto the above itinerary could easily add a late afternoon or evening museum visit or city tour.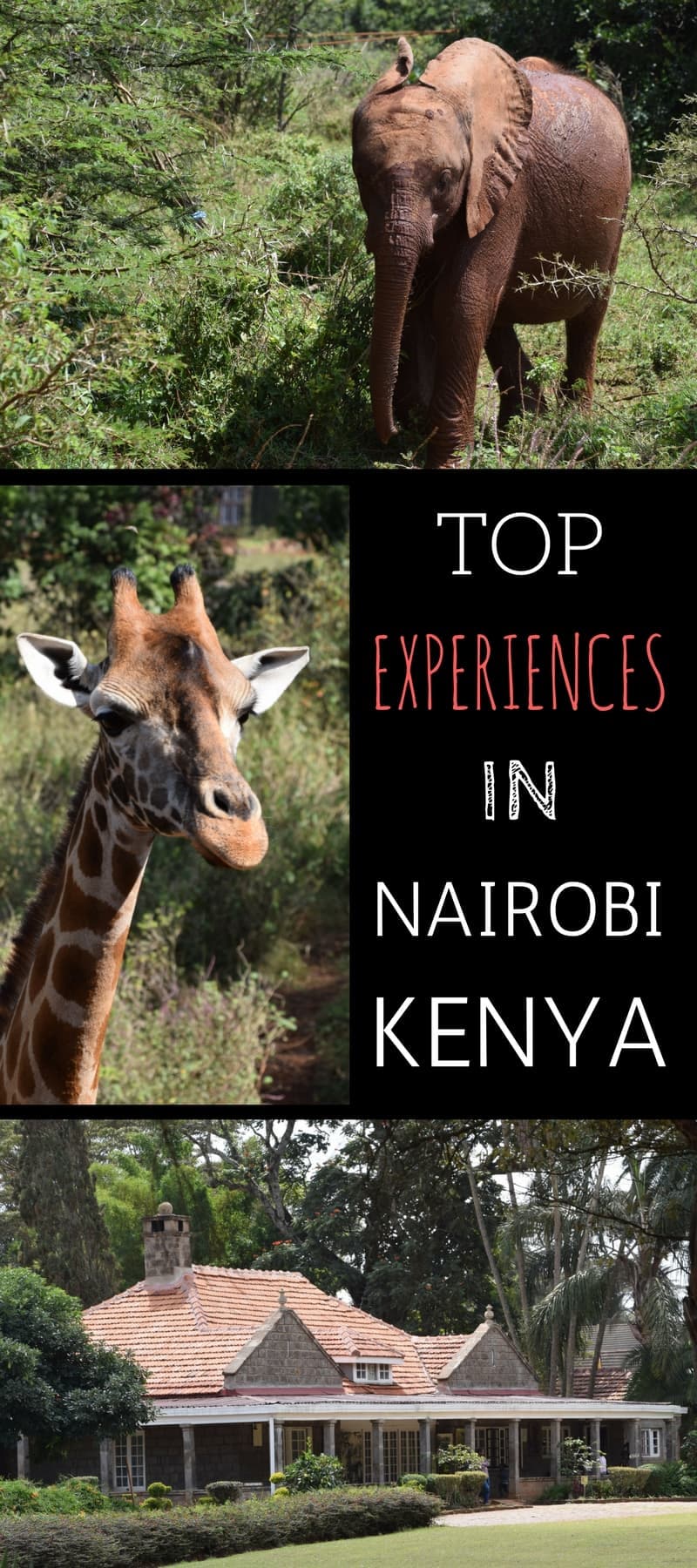 Have you been to Nairobi? What attractions would you recommend to travelers who only have one day to spend in Nairobi? If you have any questions about our visit to Nairobi, just ask us!