Finding comfortable, lightweight, and stylish travel shoes can be difficult, and last year Laurence and I were very pleased to discover Allbirds shoes. Allbirds is a New Zealand-American company that specializes in producing sustainable shoes and apparel for both men and women. Their goal is to make the world's most comfortable shoes that are not only comfy but also sustainable and versatile.
Allbirds is probably best known because of their commitment to environmental sustainability and their use of natural materials like wool and eucalyptus in their shoes. They are also known for their minimalist style and for having their wool shoes being dubbed as the world's most comfortable shoe. Their wool sneakers soon become a popular shoe choice for many Californian tech entrepreneurs in Silicon Valley.
But Allbirds shoes also make perfect travel shoes as we have come to find out. They are a great combination of being lightweight, comfortable, and versatile. They are also easy to clean as most of their styles are machine washable. These are all qualities we look for in choosing a shoe for traveling.
Laurence and I have both been wearing Allbirds sneakers since 2021 and we have tried the Allbirds Wool Runner shoes, the Allbirds Wool Runner Mizzle shoes, the Allbirds Tree Runner shoes, and their Trino socks. We have traveled with our shoes several times now and worn our shoes in ten different countries, including the UK, Italy, Morocco, Kenya, Uganda, France, and the USA.
In this Allbirds review, we'll share some information about Allbirds, where you can buy their shoes, our thoughts about Allbirds as travel shoes, how to wash your Allbirds shoes, and some photos of us wearing the shoes during our travels.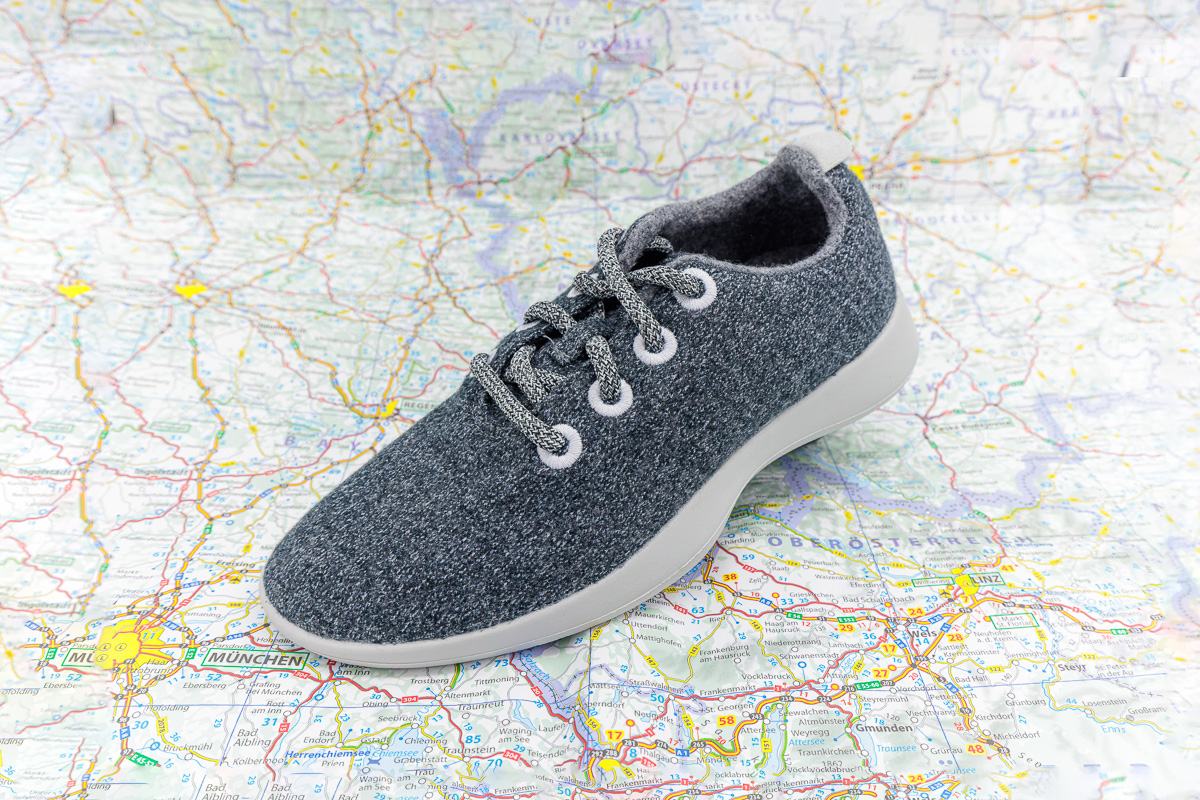 What is Allbirds?
Allbirds is a footwear and apparel company that was begun by Tim Brown, a former professional soccer player (footballer) from New Zealand. Brown began engineering a wool sneaker from New Zealand wool in 2014 with the help of a research grant and a Kickstarter campaign. Brown founded Allbirds in 2016 along with biotech engineer Joey Zwillinger and their first product was the Wool Runner casual sneaker.
Allbirds Products
Their original Wool Runner sneakers quickly became popular for being simple, style-agnostic, and comfortable, and have been dubbed the "world's most comfortable shoe" by Time magazine. If you have heard of Allbirds before, it is probably this wool sneaker that you have heard about or seen.
Although their original Wool Runner sneakers are still amongst their most popular shoes, Allbirds also now makes a number of other footwear options, including flats, sandals, and trail running shoes. They also make socks, apparel, and accessories.
Most of their shoe styles are available in both men and women's sizes. In 2017 they launched children's shoes under the name Smallbirds. In 2022, they relaunched their children's shoes, focusing on everyday sneakers and slip-on shoes.
Allbirds & Sustainability
Allbirds is known for being a sustainable and environmentally-friendly company and is a certified B corporation (B Corp). The company's sustainability practices include producing shoes with a low carbon footprint, using natural renewable raw materials, using recycled materials when possible, using minimal and recycled packing and shipping materials, and investing in carbon offsetting projects.
For each pair of shoes, you can see the carbon footprint (e.g., 9.9 kg CO2e) before offsetting and where it is manufactured. Most of their shoes are made in Busan, South Korea but they also do footwear manufacturing in China and Vietnam. You can also dig into the Allbirds reports to read detailed information about how Allbirds calculates the carbon footprint of its various products, their manufacturing process, offsetting projects, and future goals.
Allbirds is working on better end-of-life situations for old shoes, and currently have a trade-in program for customers (currently USA only) and a resale program (Rerun) where you can buy gently used products (currently USA only). They also donate returned shoes to non-profits like Soles4Souls. They are also working on more recycling solutions.
Allbirds is also known for getting involved with local communities and charitable causes. For instance, in 2020 the company donated over $500,000 worth of shoes through Soles4Souls to healthcare workers at the start of the COVID-19 pandemic.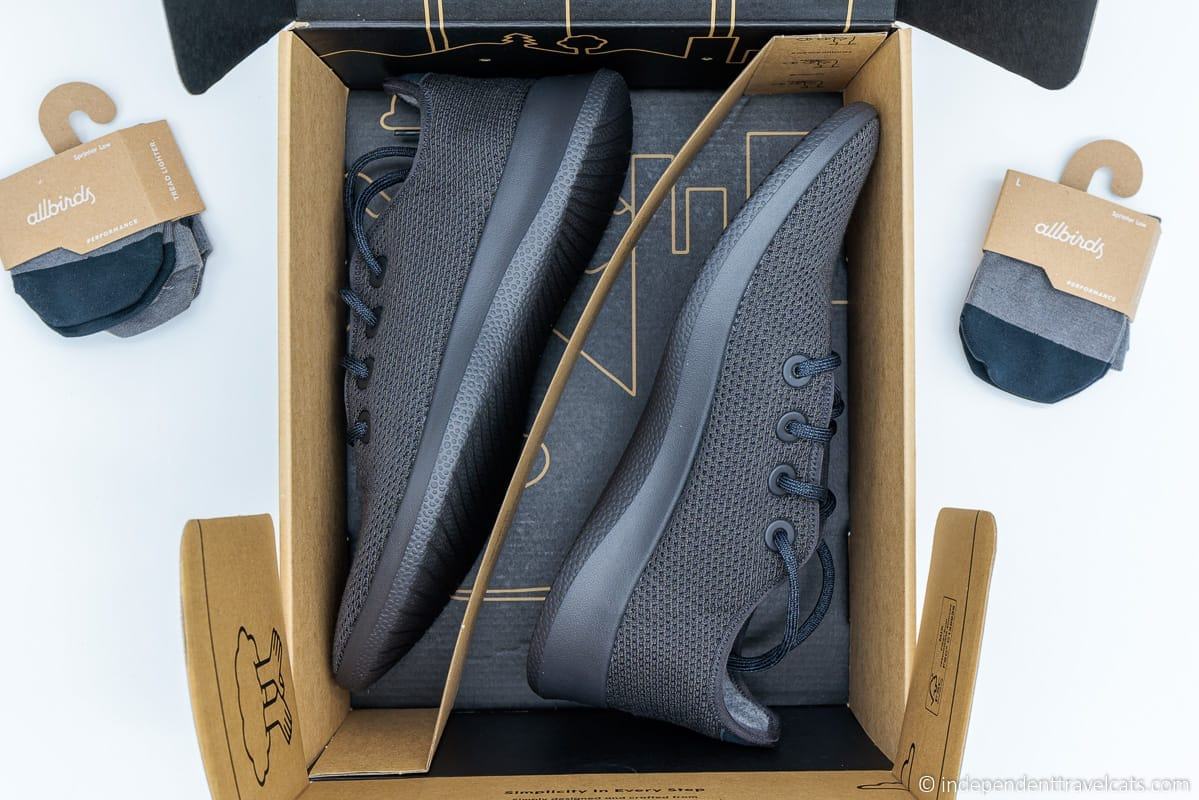 Where Can I Purchase Allbirds Shoes & Apparel?
Allbirds currently sells their products online on their official website, online via Amazon, and in over 50 retail stores. The best place for most people to buy Allbirds shoes, especially if you live outside a metro area in the United States, is going to be online.
Allbirds currently operates separate websites for 9 different regions, so you will see some different product availabilities across websites, such as between the USA customer website and the UK customer website.
Allbirds currently ships to New Zealand, Australia, Canada, China, South Korea, Japan, the UK, most of Europe, and the United States. They are hoping to expand to more countries in the near future. Allbirds offers free standard shipping on online orders over a certain amount (e.g., $75 in USA, £45 in the UK), depending on your country. So for most shoe orders, you will automatically be eligible for free shipping.
They also have a 30-day return/exchange policy on their shoes so if you are not happy with your shoes within 30 days of your purchase you can return them for a refund or exchange them. Note that the return policy does differ by country so be sure to read the return and exchange policy for your own country before making your purchase.
If you happen to live near a retail location then that can be a great place to try out their shoes in person, especially if you are new to their brand. There are currently over 50 Allbirds retail stores worldwide. The majority of the Allbirds stores are located in large cities in the USA like San Francisco, New York City, Chicago, Philadelphia, Atlanta, and Boston.
Worldwide, there are a handful of other stores located in other countries such as New Zealand, the UK, China, South Korea, the Netherlands, Germany, and Japan. You can see a full list of store locations here.
Allbirds launched in June 2022 into a few third-party retailers including select Zalando stores in Europe and select Nordstrom, REI, and Dick's Sporting Goods stores in the United States.
In November 2023, Allbirds launched its shoes and apparel on Amazon. You can't find every shoe style and color there, but most of the shoes are now available to purchase on Amazon. You can check those out here.
What are Allbirds Shoes Made From?
The two main materials used in making Allbirds shoes are merino wool and Tencel lyocell. I am not going to discuss all the materials used in the construction of Allbirds shoes, but I want to highlight these two main materials used to make most of the Allbirds shoe uppers.
For most of their shoe styles, they offer them in two different fabric choices: a Wool style and a Tree style (e.g., Wool Runner and Tree Runner). These styles refer to what the upper part of the shoe (all of the sections of the shoe above the sole) is made of. So a Wool Runner and a Tree Runner have the same design, but one is made with a merino wool upper and the other with a Tencel lyocell upper.
Almost all of Allbirds shoes uppers are made of one of the following two materials:
Merino wool – Wool is a natural fiber made from the wool of sheep. It is warm, durable, and wicks moisture well. Merino wool is thinner and softer than regular wool. I believe all the merino wool for Allbirds shoes comes from sheep in New Zealand. All of Allbirds Wool style shoes' uppers are made from merino wool.
Tencel lyocell – Tencel is the trademarked name for lyocell which is a type of rayon material. It is a semi-synthetic manufactured fiber produced from regenerated cellulose fiber (in this case eucalyptus tree wood pulp). It is breathable and soft. Allbirds sources most of the wood pulp used in their shoes from South Africa. This is what all of Allbirds Tree style shoe uppers are made from. It is also what the company refers to as their "tree material", "fabric made from eucalyptus trees", or "eucalyptus tree fiber".
A few of the other materials that are used by Allbirds:
Trino – Trino is a knitted fabric developed by Allbirds that is a mix of merino wool, Tencel, recycled nylon, and recycled plastic. They offer shoes, socks, and apparel made of Trino.
Plant Leather – This is a vegan material that is an leather alternative and is made of MIRUM, which is a material made from natural rubber, plant oils, and agricultural byproducts. These shoes are all vegan, plastic-free, and petroleum-free.
Canvas – Allbirds recently released its first shoes made with canva uppers. These, depending on the color and style, are made of 100% organic cotton or an organic cotton and recycled polyester blend.
Of course, all of Allbirds' shoes are also made of various other materials. For most of their shoes, the midsoles are made of sugarcane-based ethylene vinyl acetate (EVA; a bio-based plastic), the insoles are made of layered castor bean oil and topped with merino wool, and the shoelaces are made from recycled plastic bottles. If you want to learn more about the materials used in Allbirds shoes, you can read about them here.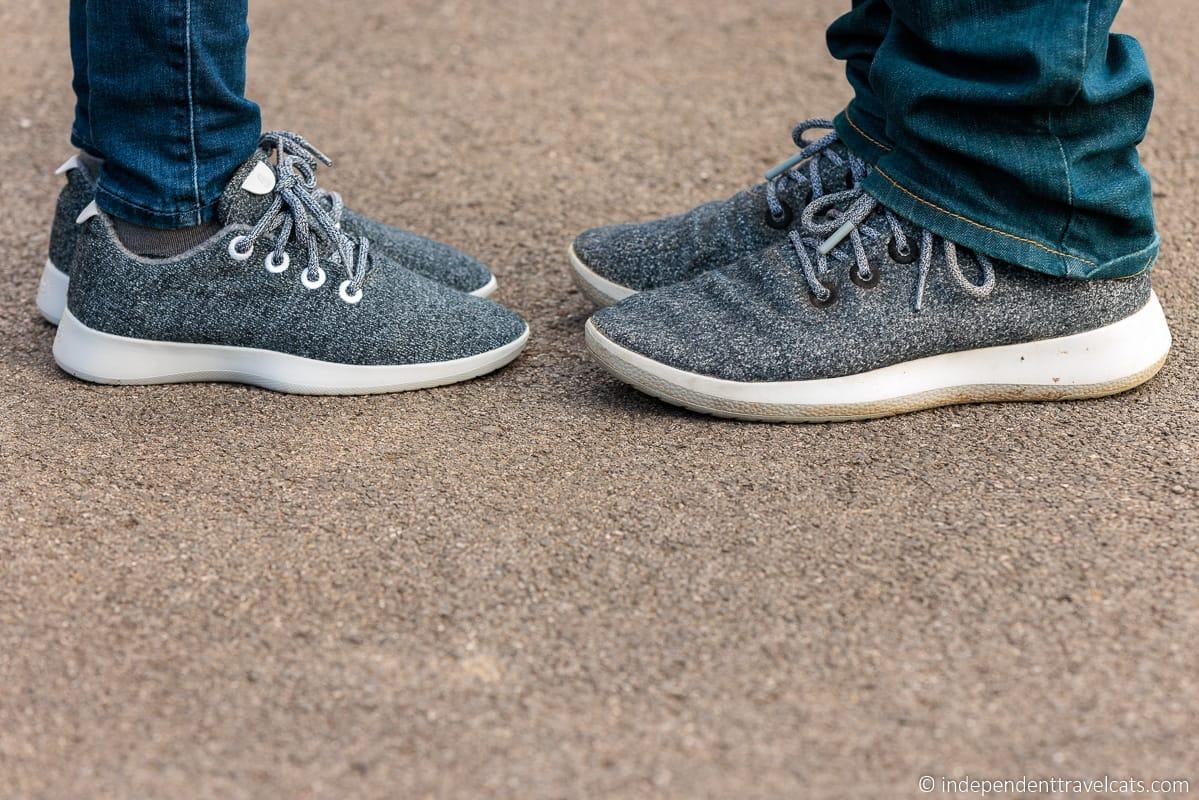 Are Allbirds Shoes Vegan?
Yes, Allbird does offer vegan-friendly shoe styles. The Pacers shoe range is 100% vegan and was released in September 2022.
They currently offer two different types of vegan shoes, ones with either a canvas upper (Canvas Pacers) or a plant leather upper (Plant Pacers). The alternative leather material called MIRUM is plant-based and is free of both plastic and petroleum.
These vegan shoes have a castor oil insole (like most of Allbirds shoes) but instead of being topped with merino wool it is covered by a Tencel lyocell material instead. All of the shoe's lining is also Tencel instead of the normal merino wool found in most Allbirds shoes.
More recently Allbirds has also released the SuperLight Tree Runner and SuperLight Trainer which are also vegan-friendly.
However, the majority of shoes offered by Allbirds are not vegan as they contain merino wool. Allbirds notes that their merino wool "is sustainably and ethically sourced to ensure that absolutely no harm is done to the sheep".
Which Allbirds Shoes Style are Best for Travel?
We personally think the best travel shoes are the Allbirds Runners line of shoes: the Allbird Wool Runners, the Allbirds Tree Runners, and the Allbirds Wool Runner Mizzles. The specific style that may be best will depend on a person's style and travel destination.
This opinion is based on our own experience as travelers with these shoes and the fact that a lot of people like a casual everyday sneaker for travel. But these may not be the best choice for all travelers. So we will briefly talk about all the major ranges of shoes offered by Allbirds below so you have an idea of the various lines and styles offered by the brand.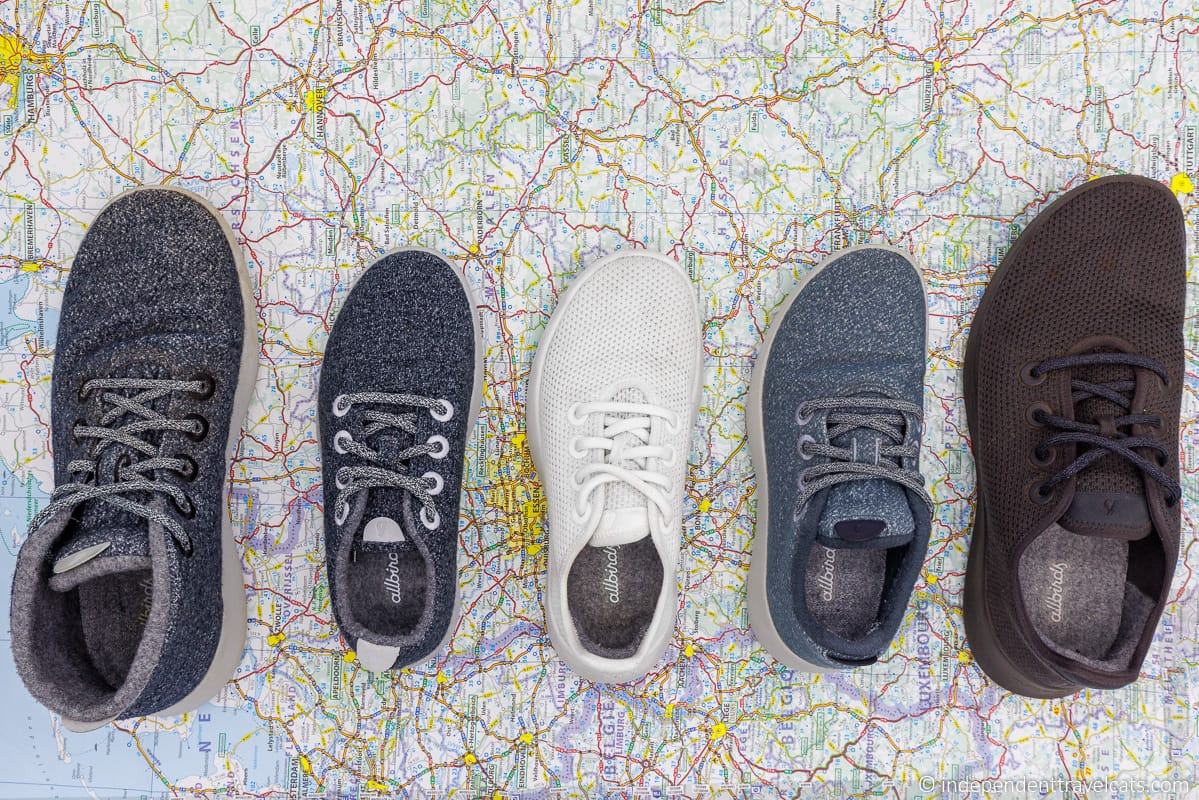 Allbirds Runners
These are Allbirds classic sneakers and their most popular shoes. The company's first shoe was the Wool Runner and these are a great simple everyday merino wool sneaker. There is also the Tree Runner made of Tencel lyocell, which is great in warmer temperatures. In the wool shoes, they also offer a high-top style (Wool Runner-up) and the Wool Runner Mizzle style which has a water-repellent coating.
Despite the name Runners, these shoes are not designed as running shoes. They are meant to be regular classic sneakers or trainers for everyday wear. If you are looking for running shoes from Allbirds, you'll want to check out their Dashers line of shoes.
For those looking for arch support, the Allbirds Runner shoes (and the new Pacers) have the most arch support compared to their other lines. The heel-to-toe drop is 9.6mm on the Runner styles whereas other Allbirds shoes offer much less arch support. However, if you want a super minimal shoe without much arch support, one of the other shoes might be a better fit.
The Allbirds Runners sneakers are often considered the most versatile and comfortable of Allbirds shoes and the ones we'd recommend for most people as an ideal travel shoe. The specific Runner style we'd recommend will depend a bit on you and where you plan to travel.
Check out: Women's Wool Runners / Men's Wool Runners / Women's Tree Runners / Men's Tree Runners
Allbirds Mizzles & Mizzle Plus
The Mizzle shoes are shoes that have an added fluorine-free water repellent coating on the outer level of the shoe's upper. These shoes also have thicker midsoles, a thin Bio TPU membrane layered between the upper and the interior of the shoe to prevent water seepage, and rubber added to the outsoles for more traction. The shoe's uppers are also a bit thicker.
Currently, Allbirds offers Wool Runners, Wool Dashers, Trail Runners, Wool Flyers, and Wool Dashers as part of their water-repellent collection. These shoes are going to be your best option for an everyday sneaker that can handle light rain, snow, and puddles and are best for cooler weather destinations.
If you are looking for shoes with a bit more water protection, the newly launched Wool Runner-Up Mizzle Plus shoes are ones to check out. They have an extra mud guard overlay for extra water protection. These are only available in certain markets right now.
Check out: Women's Mizzles / Men's Mizzles
Allbirds Pipers
The Allbirds Pipers are a bit of a combination of an everyday sneaker with a retro athletic shoe design (sort of like a vintage tennis shoe). They are available in regular wool (Wool Pipers), woven wool (Wool Pipers Woven), and Tencel lyocell (Tree Pipers). The mid-cut shoes are a bit like the classic Converse shoes and if you like that look, you may like the Allbirds Wool Pipers Mid.
The Allbirds Pipers could make good travel shoes for those who enjoy the classic sneaker or more retro design compared to the recommended Runners. Just note they offer less arch support than the Runners shoes.
Check out: Women's Wool Pipers / Men's Wool Pipers / Women's Tree Pipers / Men's Tree Pipers
Allbirds Tree Skippers
These are Allbirds' line of casual "boat shoes" available in the Tencel lyocell fabric. They are similar to the Tree Piper sneakers but lighter, slimmer, and with shorter laces. These could work as travel shoes for some people, but I'd generally recommend the Runners or Pipers above as a travel shoe for more coverage and support.
Check out: Women's Tree Skippers / Men's Tree Skippers
Allbirds Tree Toppers
These are Allirds high-top shoes available in the Tencel lyocell fabric. They are essentially a high top version of the Tree Pipers. Like the Pipers, these could work as travel shoes but they have minimal arch support.
NOTE: Allbirds seems to be phasing these out as they are now unavailable in many countries.
Checkout: Women's Tree Toppers / Men's Tree Toppers
Allbirds Tree Breezers
These are a casual pair of flat ballet-style shoes for women made in the Tencel lyocell fabric. These are meant for light walking, running errands, etc. The original ones have a rounded toe but a more recent version, Tree Breezer Point, has a more pointed almond toe and sleeker silhouette.
Since these shoes have less support than most of the other styles, these are not ideal travel shoes for most. However, if you are looking for a lightweight pair of flats to change into for casual or short-term wear (e.g., after business meetings or formal events, or for wear at airports and on airplanes) these might fit the bill.
Check out: Women's Tree Breezers
Allbirds Pacers (Vegan)
These are Allbirds new line of vegan-friendly sneakers which do not contain any of their signature merino wool. These shoes are made from either a plant-based leather alternative or from a cotton canvas material.
These shoes are designed for casual everyday wear. They offer similar arch support to the original Runners shoes so are one of the more supportive shoes that Allbirds offers.
The Pacers are a good choice for someone looking for a vegan-friendly travel shoe from Allbirds. Just note that the ones made of the plant leather are spot wash only while the ones with canvas uppers are machine washable which may be a better choice for travelers.
Check out: Women's Canvas Pacers / Men's Canvas Pacers / Women's Plant Pacers / Men's Plant Pacers
Allbirds Risers
Yet another everyday sneaker option by Allbirds, this one features an elevated platform, upper made of three materials (organic cotton canvas, Tencel, and merino wool), sharp design angles, and a natural rubber outsole. The design is inspired by classic vintage runners. Perhaps an option for those who enjoy a bit of an elevated shoe but do not offer as much arch support as the Runners or Pacers.
Check out: Women's Risers / Men's Risers
Allbirds Couriers
Yet another retro-inspired everyday sneaker option by Allbirds, this one features an upper made of an organic cotton and eucalyptus fabric, an extra cushy midsole, and a natural rubber outsole. The design is inspired by retro 1980s era sneakers. Again, these can be great everyday shoes for those who like a more vintage sneaker look.
Check out: Women's Couriers / Men's Couriers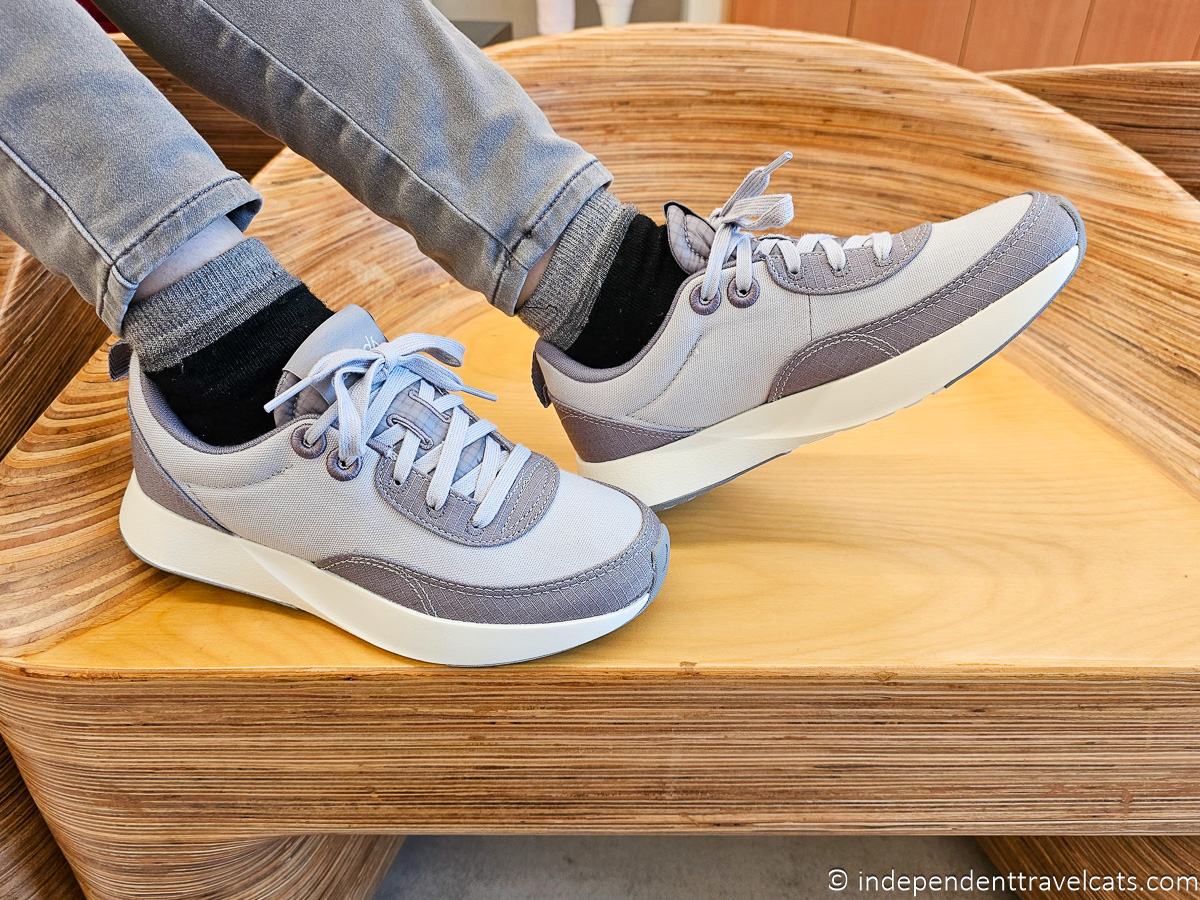 Allbirds Sugar Sandals
These are Allbirds sandals which are made primarily of a sugarcane material and are on sale for the summer season. Currently, they offer both the Sugar Zeffer flip-flop sandal and the Sugar Sliders sandal. The Sugar Sliders come with adjustable straps for a better fit. The shoes are made in unisex styles.
Allbirds sandals are designed for casual wear, summer barbecues, beaches, short walks, and such. They can be a great extra pair of shoes for a hot weather holiday, but these shoes are not designed for a full day of walking.
These shoes are generally only sold seasonally so you generally won't find them available during the colder months of the year.
Check out: Sugar Zeffers (flip-flops) and Sugar Sliders
Allbirds Loungers
These are Allbirds' line of slip-on slipper-like shoes, available in merino wool, Tencel lyocell, woven wool, and fluffy wool. These are designed to being worn around the house or for running errands, so not really recommended as the best shoes for travel.
There is also the Wool Dweller, available in some markets, which is a slip-on wool slipper which is made of reused wool scraps and recycled polyester. These are definitely only designed to be worn around the house.
Check out: Women's Tree Loungers / Men's Tree Loungers / Women's Wool Loungers / Men's Wool Loungers
Allbirds Dashers
These are Allbirds main line of running shoes and are available in both wool (Wool Dashers) and Tencel lyocell (Tree Dashers). They also have Wool Dashers that offer water resistance (Wool Dasher Mizzles). These are designed for everyday running and light workouts. Probably not the best travel shoes for most unless you plan to run or workout in during your trip.
Check out: Women's Tree Dashers / Men's Tree Dashers / Women's Wool Dashers / Men's Wool Dashers
Allbirds Tree Flyers
These are another line of Allbirds running shoes made of Tencel lyocell. These are similar to the Tree Dashers but are designed for long-distance running. They are lighter, more springy, and a bit less supportive than the Allbirds Tree Dashers.
Check out: Women's Tree Flyers / Men's Tree Flyers
Allbirds Trail Runners
These are Allbirds new line of trail running shoes designed for those wanting to run on various kinds of terrains and needing extra grip, rock protection, and water resistance. These are more rugged than the Allbirds Dashers running shoes. They also have Trail Runners that offer more water resistance (Trail Runner SWT Mizzles).
Again, probably not an ideal everyday travel shoe for most people, but could work for those who plan to do running or hiking on their trip.
Check out: Women's Trail Runners / Men's Trail Runners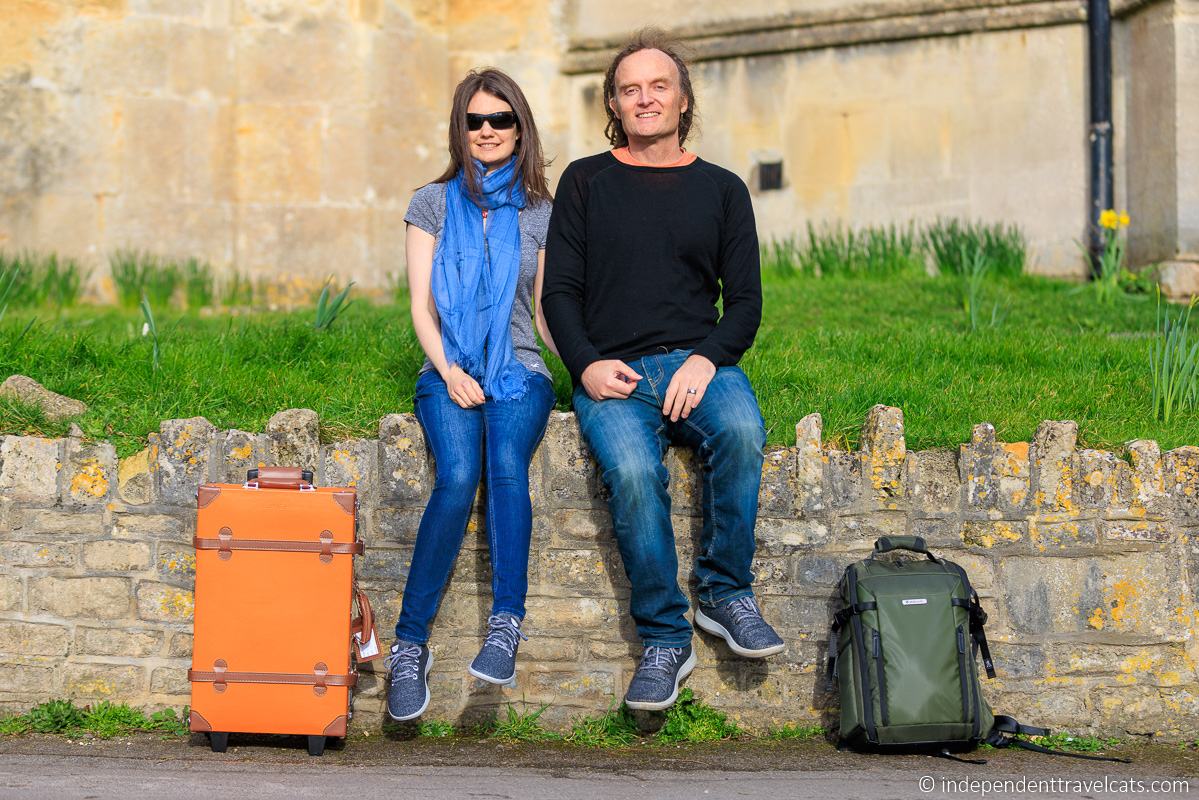 Our Allbirds Shoes Review for Travelers
Laurence and I have both been wearing Allbirds sneakers since 2021 and have tried the Allbirds Wool Runners shoes, the Allbirds Wool Runner Mizzles shoes, the Allbirds Tree Runner shoes, and their Trino socks.
We have traveled with our shoes several times now and worn our shoes in eight different countries over the past year. So we feel we can confidently talk about how these Allbirds shoes travel and the pros and cons of each of the Allbirds Runner styles.
For each shoe style, we'll do an individual Allbirds shoe review based on our experiences. In the last section, we'll give our overall impressions of Allbirds shoes and also compare the Allbirds Wool Runners versus the Allbirds Tree Runners versus the Allbirds Wool Runner Mizzles. We'll also tell you which we feel are the best shoes for travel based on our experiences.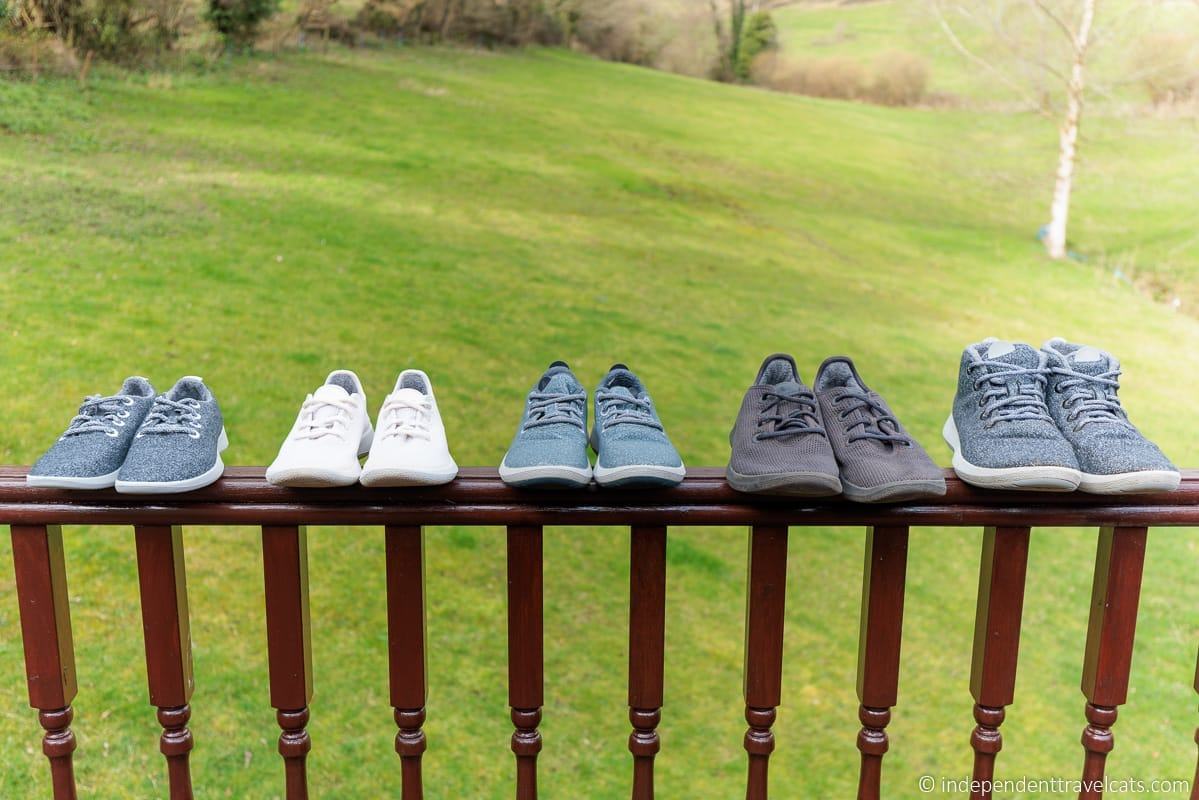 Allbirds Wool Runners Shoe Review
The Allbirds Wool Runner sneakers are the original wool sneakers from the company and the shoes that most people associate with the brand.
I bought my Wool Runners in the color Natural Grey with a Light Grey sole. Grey is one of the classic color options from Allbirds, but they also have a range of other classic colors as well as a number of limited edition colors which change regularly.
All of our Allbirds shoes arrived in a cardboard shoe box without any additional outer packaging. There is also minimal interior packaging. The packaging was made of 90% recycled cardboard and printed with soy ink, and was fully recyclable. Be sure to keep the packaging in case you need to return the shoes as you can return the shoes in the same box.
These shoes fit well and were comfortable right out of the box. They hug the feet and feel pretty cozy. Some wool shoes can be a bit bulky on the feet, but these fit snugly and don't add a lot of extra bulk to my feet. They are also relatively lightweight so I often forget I am wearing them.
On first wear, I wore them out for a few hours to walk around locally to go shopping, run errands, and go to dinner. No rubbing, pinching, or blisters. No testing period where they needed to stretch out.
One minor thing I don't love is that I feel the shoelaces could be longer on these shoes. I personally like to be able to double knot my laces, but can't really do that on these shoes. However, I haven't had the laces come undone much when wearing so this is a minor issue.
Although I generally prefer to wear socks with shoes (except sandals), I have also found them comfortable to wear with or without socks. They feel soft and comfortable inside with bare feet and as long as I pull the tongue up all the way when lacing, they don't rub or anything against my skin.
They also can go with a lot of different outfits, from jeans to leggings to shorts to casual dresses. So they will work with the majority of the clothing I normally pack for traveling. Given they are fairly lightweight and not rigid, they are also easy to pack in a suitcase. But I tend to wear them on travel days as they work well for wearing to airports or on long travel days by car, train, or bus.
When traveling, I have found that I can wear these in a lot of situations from exploring cities to road trips to casual walks. These are great everyday sneakers for most activities, both at home and when traveling.
However, I wouldn't recommend Allbirds Wool Runner shoes for most sports activities or for strenuous hiking as they won't replace a good pair of hiking boots or sports shoes. These shoes also don't have a great amount of traction, so they aren't great on ice or slippery surfaces. They also don't really work for most more formal situations that require business or formal attire.
I also wouldn't recommend them for wearing on beaches, during bad weather situations, or during water activities as they are not really designed to get wet. Although getting them wet won't ruin the shoes, it is no fun to walk around with wet feet and they can take a while to clean and dry.
These shoes are machine washable and the insoles and laces are removable. So this makes them easy to clean if you do get them really dirty. The soles can be easy to spot clean, but the wool uppers are more tricky to spot clean and when they get really dirty, machine washing is the best way to get them clean.
Like any wool shoes, they will naturally stretch and wear out a bit in time. Keeping them out of bad weather and washing them only when needed can help extend their life cycle.
Overall, I was really impressed with the Allbirds Wool Runners. They are comfortable, cozy, and versatile enough to be worn with the majority of my clothes. These would be our recommended shoes for those looking for a pair of wool sneakers to wear in cool dry destinations.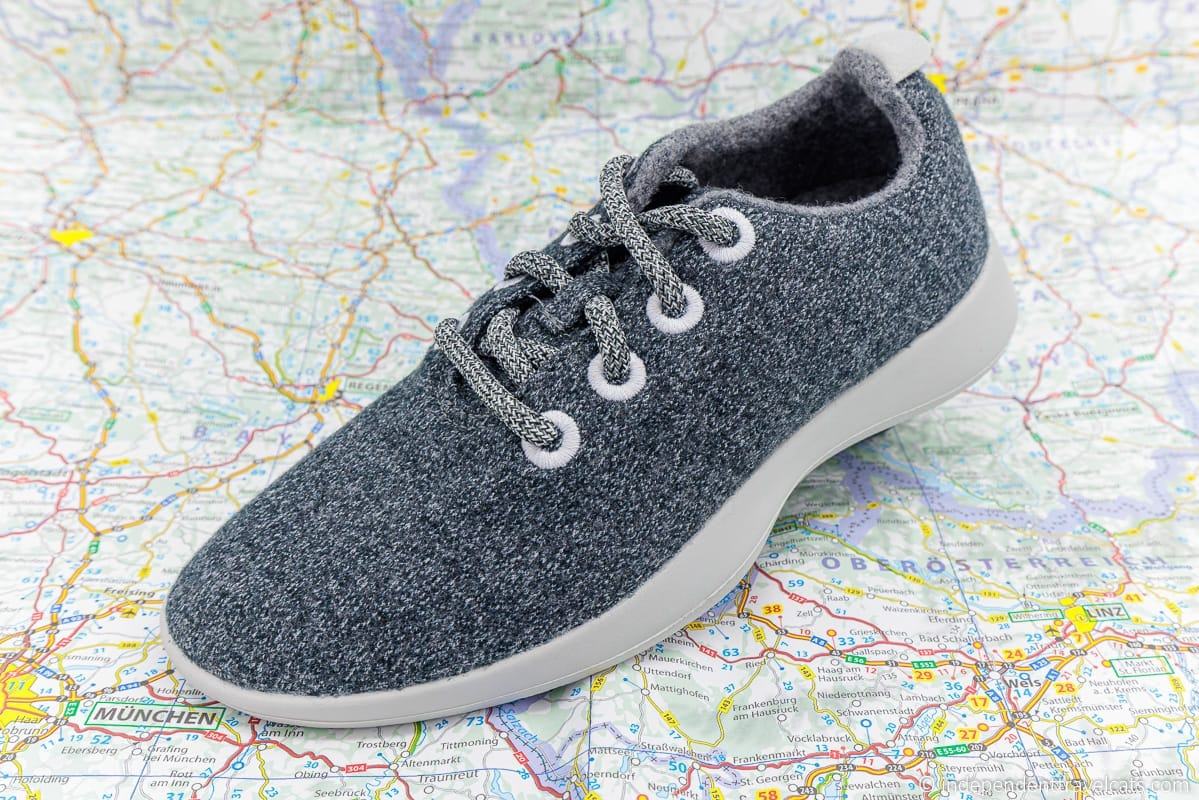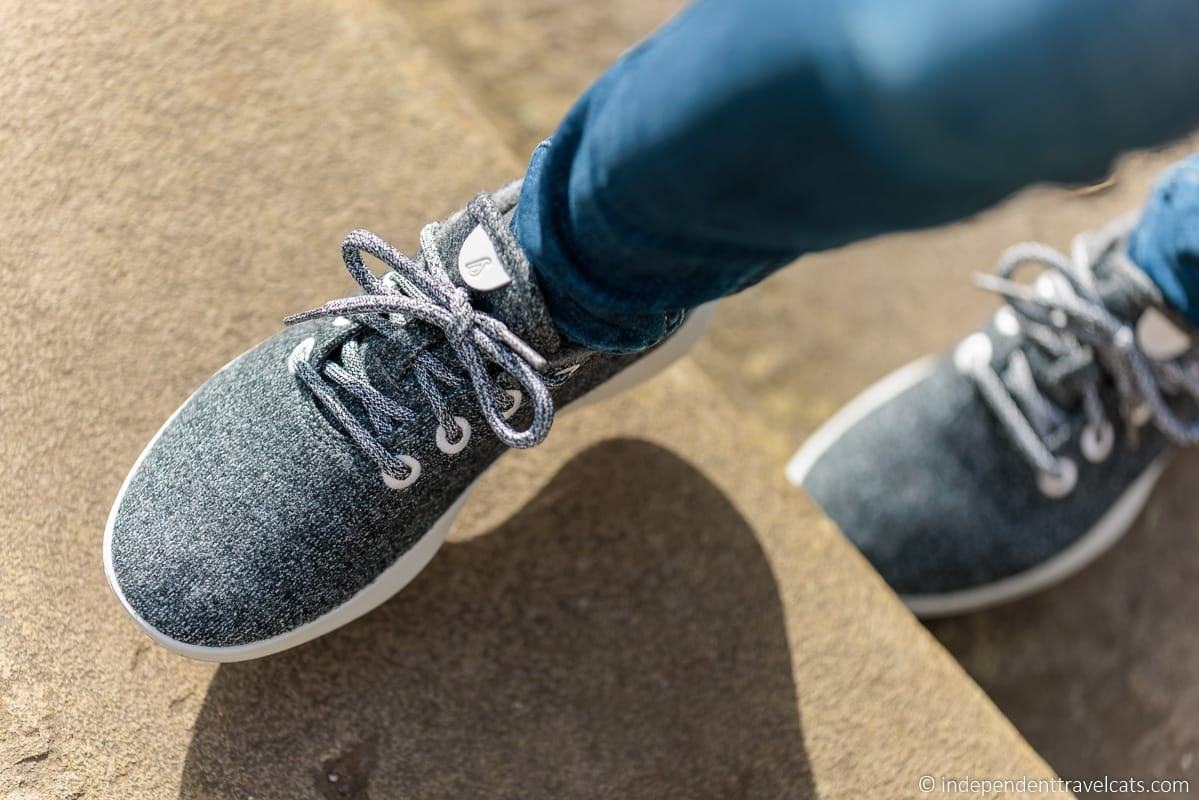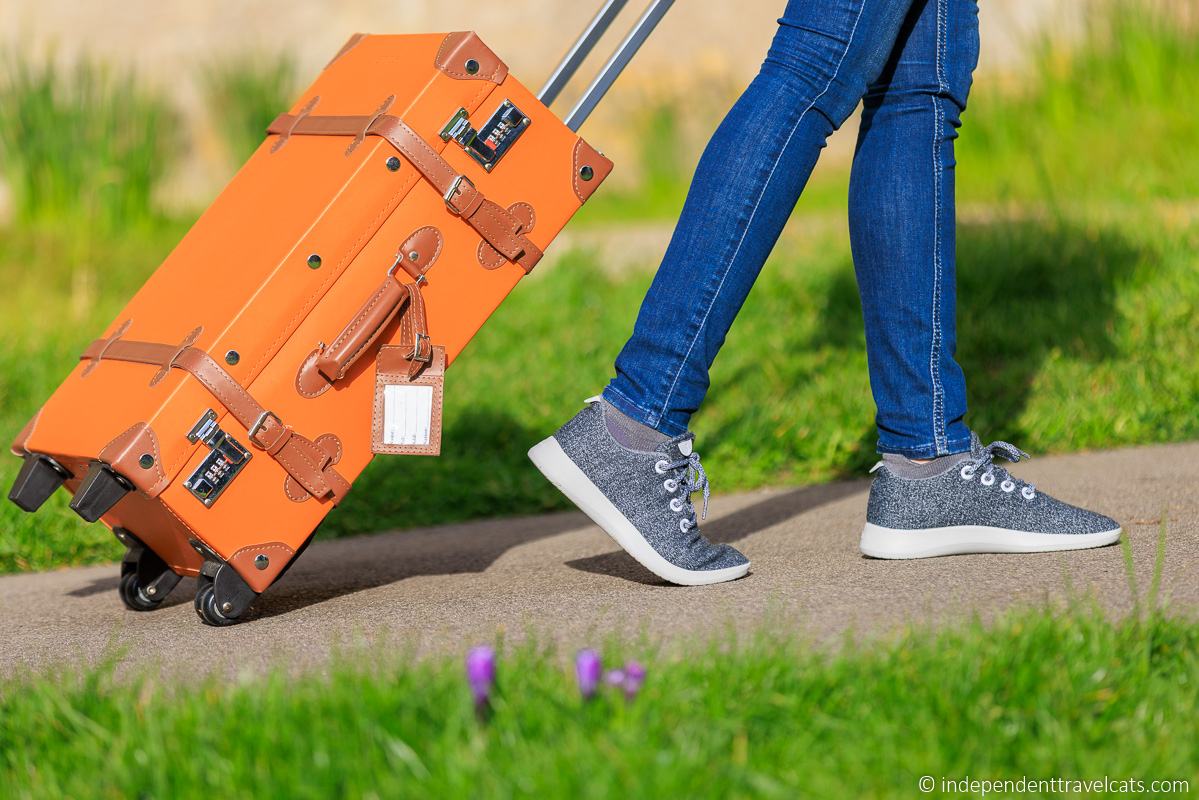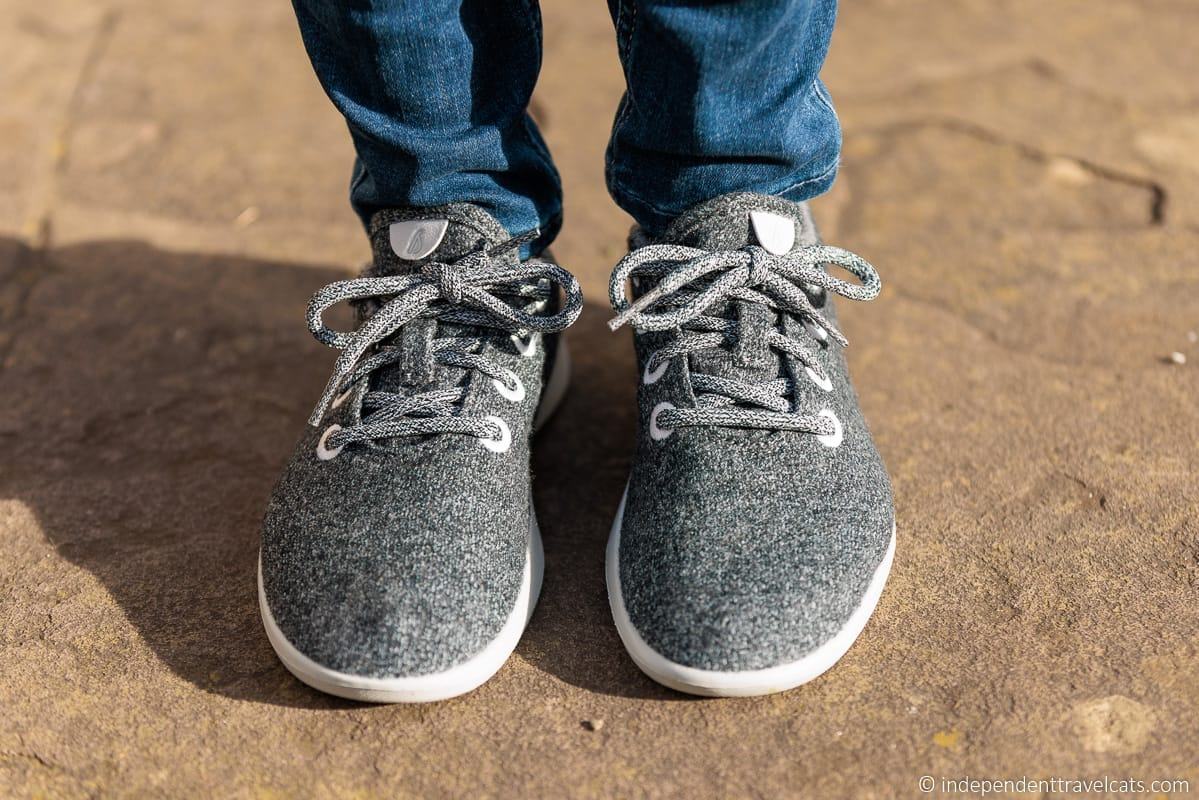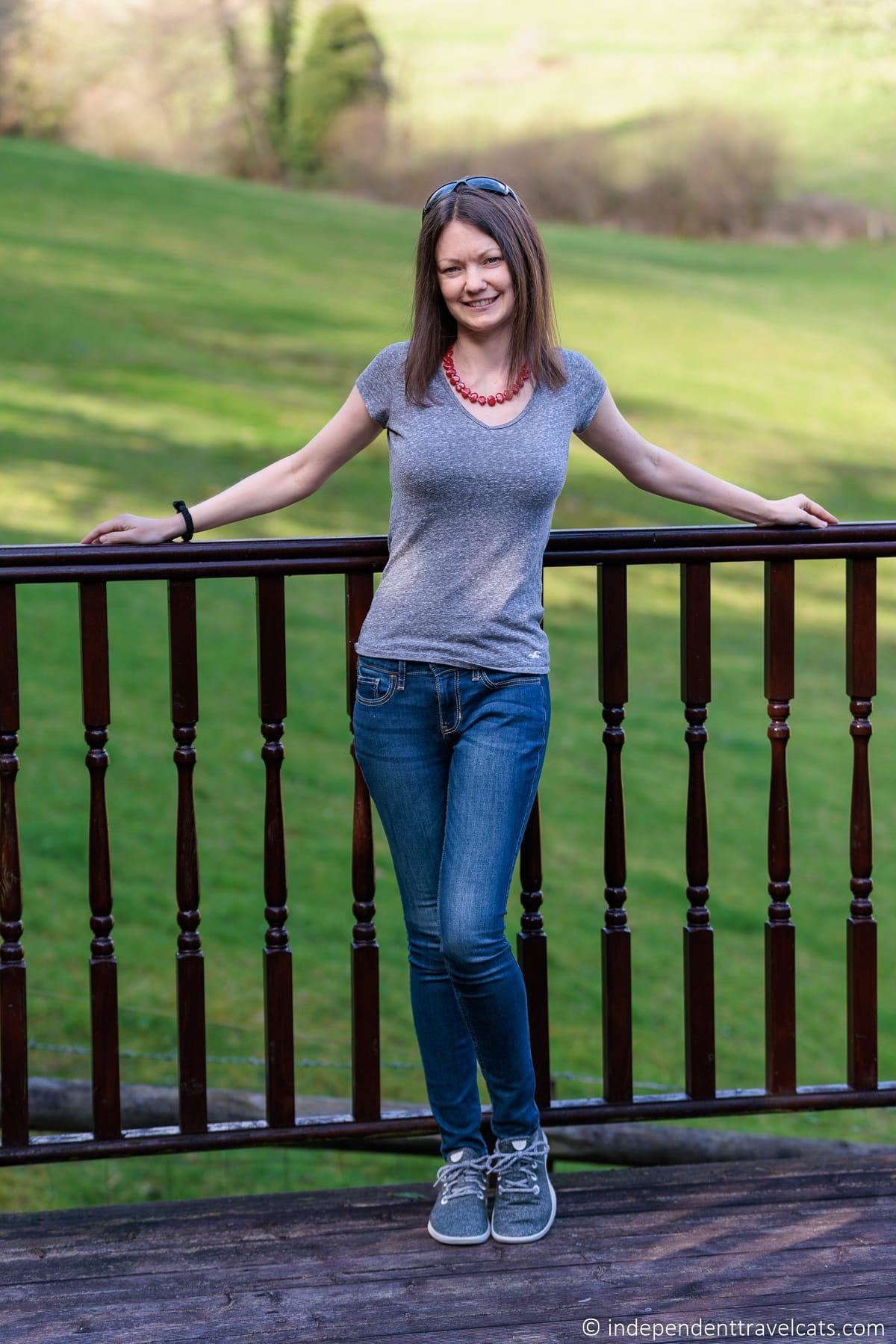 Allbirds Wool Runner Mizzles Shoe Review
The Allbirds Wool Runner Mizzles are similar to the Allbirds Wool Runners, but they also have a water-repellent coating on them so they will fare better with light rain, puddles, and snow than the regular Wool Runners.
I have a pair of Allbirds Wool Runner Mizzles in the color Ironbark (a bluish-grey color) with a Light Grey sole and Laurence chose the Wool Runner-Up Mizzles in the color Natural Grey with a Light Grey sole. The Runner-ups are the high-top version of the shoes.
The main difference between my Wool Runners and Wool Runner Mizzles is of course the water repellent coating. The shoes are treated with a fluorine-free, water-repellent coating. This causes water to bead up and roll off the shoes rather than soaking into the wool. There is also a thin layer of bio thermoplastic polyurethane that is layered between the wool upper and the interior of the shoe to help keep water out.
Other differences are that there are natural rubber track pads added to the bottom of the shoes, the soles are thicker, and the wool uppers are a bit thicker. These changes are all designed to add more protection and water resistance to the shoes.
Due to the thicker soles and thicker uppers, the shoes feel and look a bit bulkier and heavier than the original Wool Runners. The uppers on the Wool Runner Mizzle sneakers also rise up a bit higher on my ankles for extra protection compared to my Wool Runner sneakers. While this is noticeable when I compare the two (see photo below for a comparison), it is not a huge difference in terms of look or how they feel on the feet.
On arrival, overall we both found these comfortable to wear out of the box. However, I did find that the toe box on my right shoe felt a little too tight when I wore them for the first week or so, but the wool naturally stretched and loosened a bit with time and now they fit great.
We ran the shoes under the faucet to test their water resistance and as promised the water beaded up and ran off the shoes. However, we have seen that the water repellent ability of these shoes degrades over time with wear, especially around the toe area.
Like the Wool Runners, I feel the shoelaces could be longer on these shoes so I could double knot the laces. However, this is a minor complaint as I haven't found the shoelaces to come untied much when wearing them.
We have found the shoes to be comfortable to wear and have been able to wear them with or without socks. However, we do tend to wear these with socks as we are often wearing them in cooler and wetter weather, particularly since we have worn them primarily in the UK.
If you are really looking for a warmer shoe, the Runner-up style (the high-top version of the shoe) definitely adds more warmth and protection. The higher top also provides ankle protection against splashes. Laurence has really liked this style.
The Allbirds Wool Runner Mizzles are definitely the better option for cooler and wetter climates than the original Wool Runner sneakers. However, these shoes are far from waterproof and are not going to replace a good pair of waterproof or water-resistant boots. I would not believe reviews that say otherwise.
We have found that these are great for walking through puddles and handling light rain or snow; however, they don't hold up well for heavy rain or being exposed to wetness for a prolonged period of time. We have seen that the water repellent ability of these shoes degrades over time with wear, especially around the toe area.
These are not the best shoes to wear in downpours, crossing streams, or walking through snow drifts! The traction although better than the Wool Runners is also not really designed for walking on ice. If you need travel shoes for those sorts of scenarios, I'd recommend getting a proper pair of hiking shoes or winter boots.
These shoes are machine washable and the insoles are removable. However, we don't recommend washing the Mizzle shoes in a washing machine as washing them will remove the water-repellent coating and cause them to be less water repellent over time. So if you need to wash these we recommend spot cleaning them or if really dirty, you can handwash them in the sink or tub and then let them air dry.
Overall, despite the limitations of the water resistance, we have both really liked our Allbirds Wool Runners Mizzles. Like the original Wool Runner shoes, they are comfortable, cozy, and versatile. Although I like the more streamlined look of the original, the bit of extra bulk is worth it for the added warmth and water protection of these shoes. These would be our recommended Allbirds shoes for those looking for a pair of wool sneakers to wear in cool and cold destinations where they expect to encounter some rain or snow.
Since we reviewed these shoes, Allbirds has launched the Wool Runner-Up Mizzle Plus that have an extra mud guard overlay for extra water protection. So these shoes look like they would be better for those who truly know they will need something more water repellent. We will hopefully be reviewing these in the near future.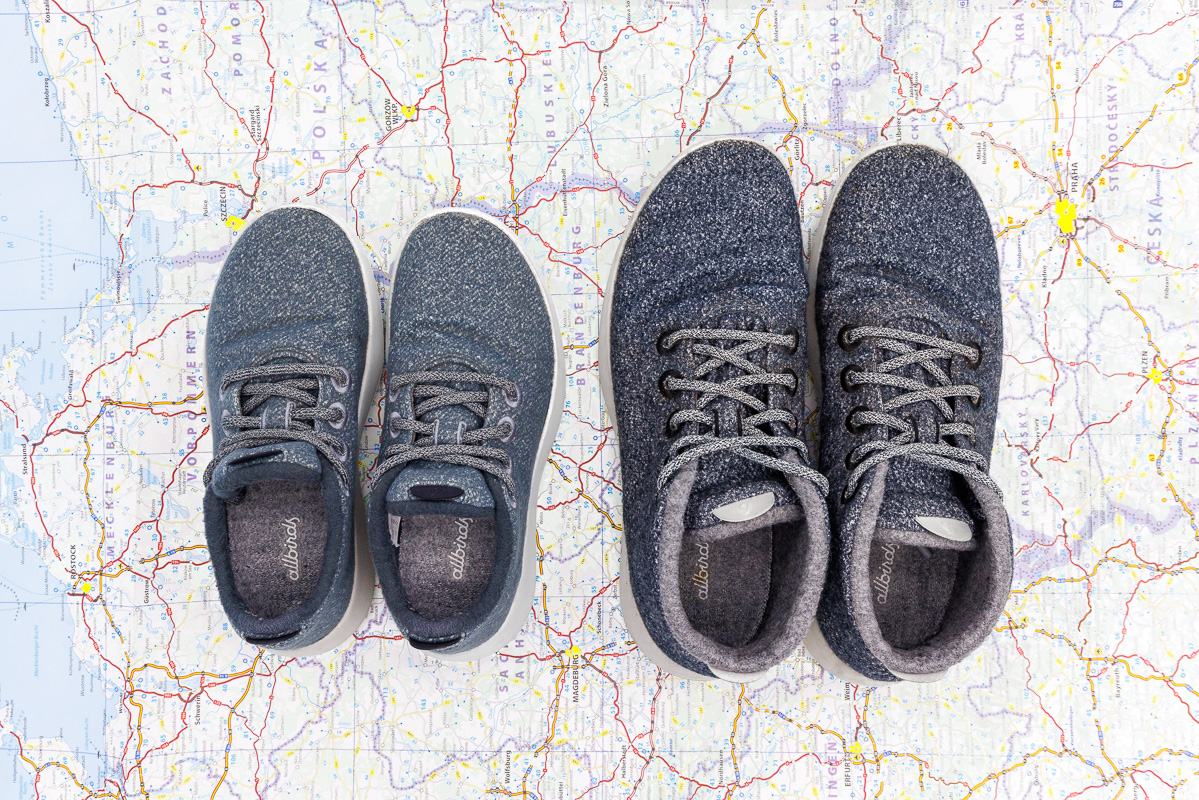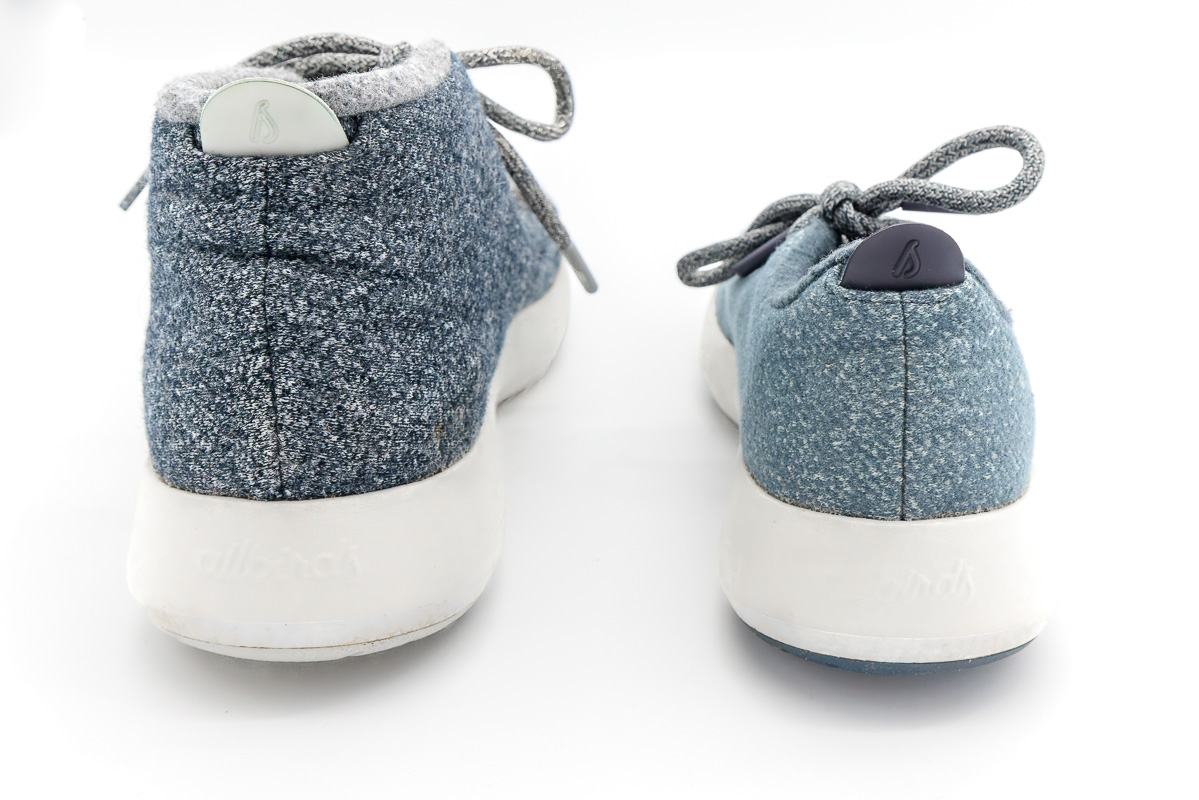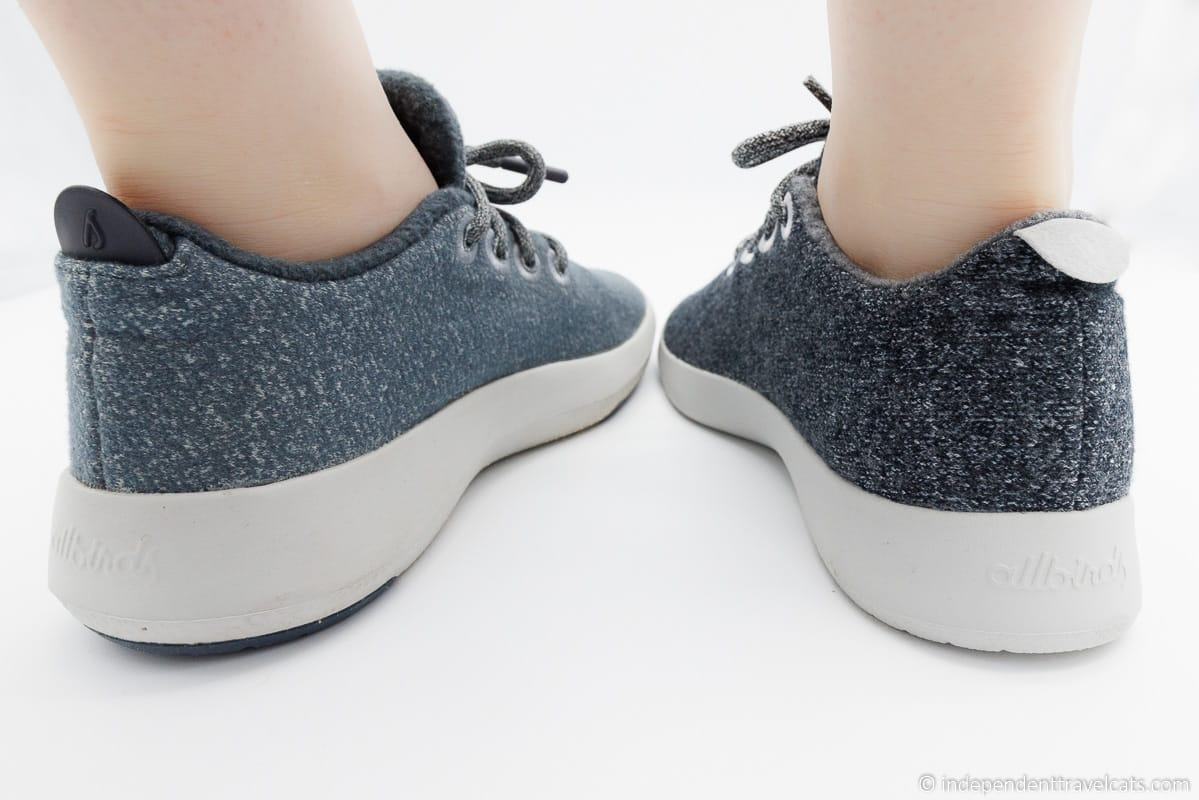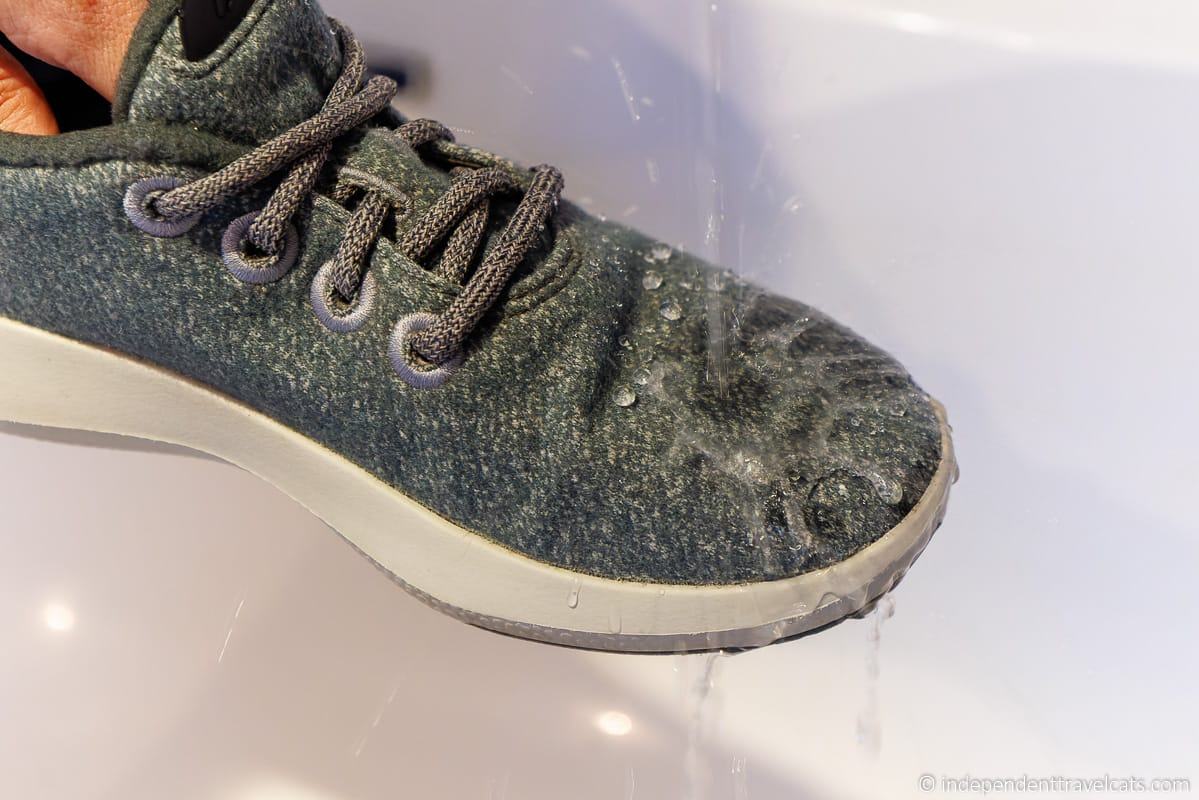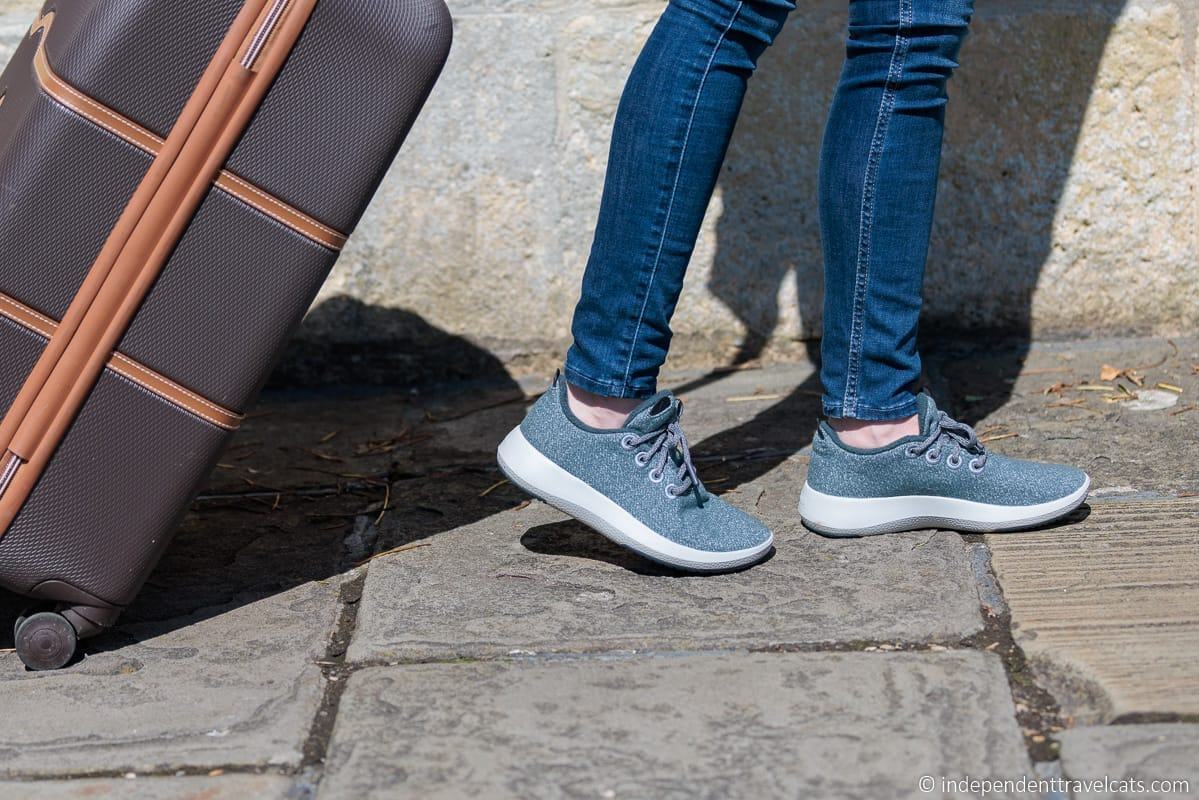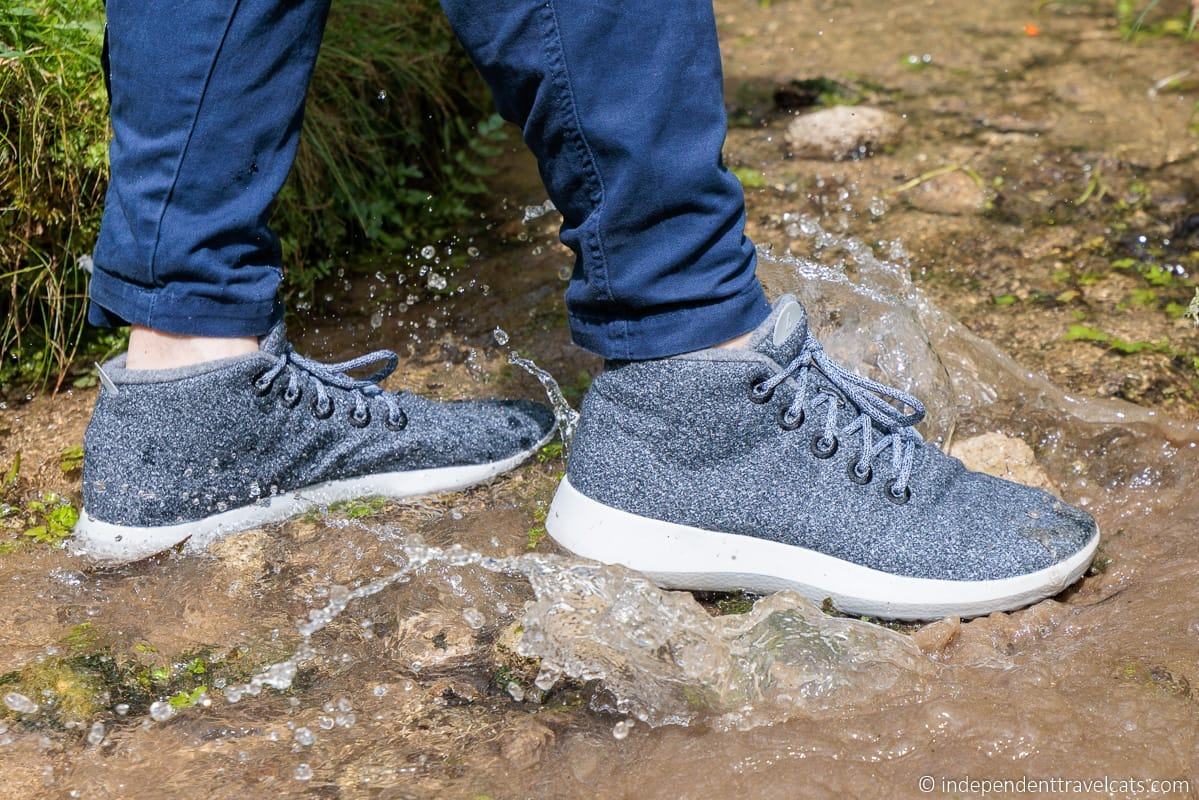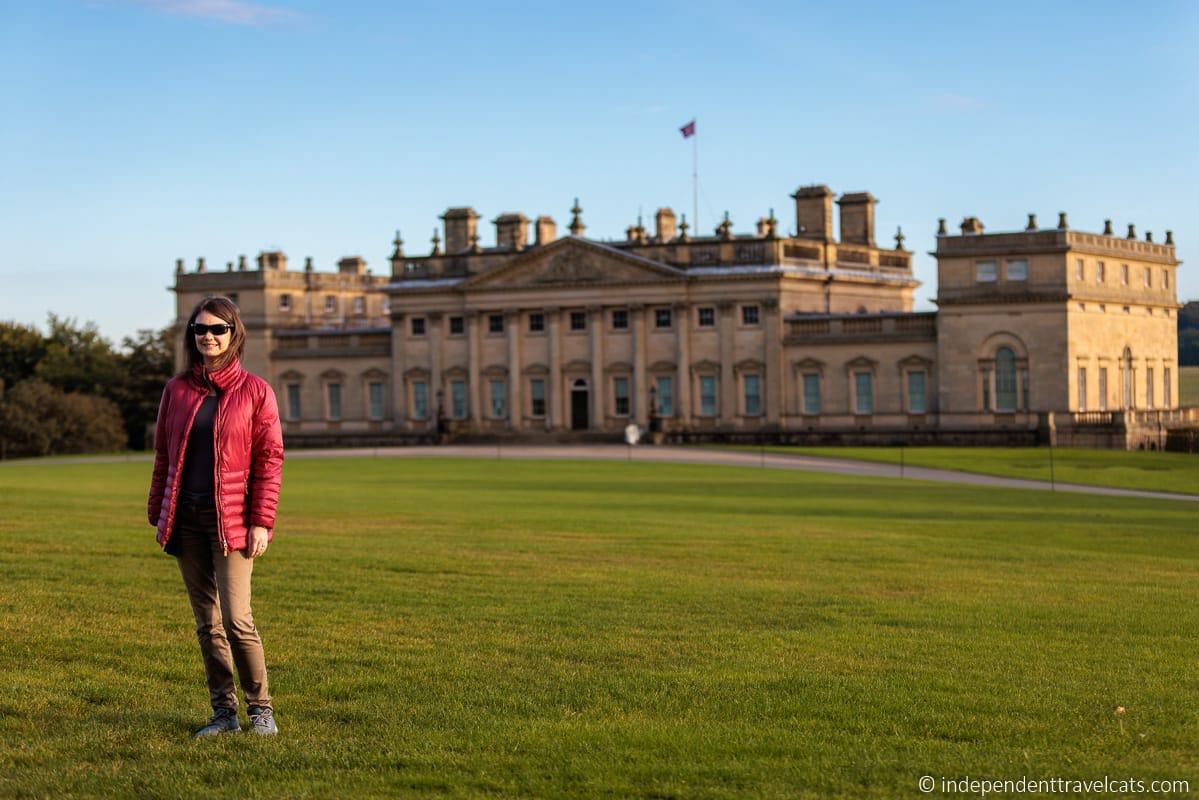 Allbirds Tree Runners Shoe Review
The Allbirds Tree Runner sneakers are similar to the Allbirds Wool Runners except that the uppers are made of Tencel lyocell instead of wool. This material makes the shoes more breathable and lighter than the Wool Runners.
We bought a pair of Allbirds Women's Tree Runners in the color Kaikoura White with a white sole for me and a pair of Allbirds Men's Tree Runners in the color Charcoal with a Charcoal sole for Laurence.
The shoes fit us both well out of the box. The shoes hug your feet and are comfortable but don't have that warm and cozy feel like the Wool Runners. The first time I wore mine out of the house was to the airport and I found them comfortable to wear on a day of international flights without any break-in period. Again, like the other shoes, they travel and pack well.
Unlike the Wool Runners, the length of the shoelaces was perfect for me and I am able to properly double knot the shoelaces on the Tree Runners. So, for me, this is a minor plus for the Tree Runners.
The fabric of the Tree Runners is more lightweight and breathable, and is promoted as thermoregulating. This means that these shoes are better for warm and hot climates than the Wool Runners. We have worn ours in hot climates along the equator, including Uganda and Kenya, and have found that they perform well even in hot places.
Out of all three styles of Allbirds Runners, I feel these shoes are the most versatile in terms of being able to wear them with almost anything. I personally feel these look better with dresses, skirts, and shorts and summer clothing than the wool runners. Obviously, this is just a personal preference but to me it does feel a little strange to wear summer clothing with a wool sneaker.
In summer 2022, Laurence and I both wore our Allbirds Tree Runner sneakers for about 3 weeks straight while traveling in Italy. Walking miles each day across Italian cities and towns, and even doing a bit of light hiking. These shoes held up very well and we got no blisters or rubs. Even with socks and in very hot weather, our feet felt comfortable and didn't get too hot. We felt this was a true test of these shoes.
Out of all the shoes, these are the ones we have chosen to wear the most without socks. This is mainly because we are more likely to go sockless in warmer destinations. And like the other Allbirds shoes we have tried, we have found them comfortable with or without socks.
In terms of standing up to rain and bad weather, these shoes are not water-repellent and will soak up water pretty fast if you get them wet. So these are not the shoes to wear in wet weather if you want to avoid wet feet. However, one advantage is they do tend to dry a bit faster than the wool sneakers.
Now, I made the choice to buy white Tree Runner shoes. This was not a great choice as the shoes quickly started looking dirty and spot cleaning was not enough to keep them clean. They have been machine washed twice and still look a little grubby. By comparison, Laurence's dark grey sneakers, a much better color choice for travel, show dirt much less and have not needed to be machine washed yet after the same amount of wear. So I personally would recommend avoiding white shoes for travel.
Since I love these shoes, after I wore out the white ones, I have since purchased two more practical colors: Hazy Beige (Beige Sole) and Bough (Taupe Sole). My Hazy Beige shoes recently went on a 3.5 month set of travels that included Uganda, Rwanda, the UK, and Morocco. Laurence still has his Charcoal ones along with a newer pair of them in the color Chamonix (Dark Grey Sole).
Overall, we both love our Allbirds Tree Runners and find them to be a great pair of travel shoes. They are comfortable, breathable, and versatile. They are lightweight and easy to pack in a suitcase or squish into a backpack. Out of all the Allbirds shoes, these are our favorite shoes for travel.
We find the Tencel material stands up a bit better to wear and washing over time than the wool, and these shoes feel better in warm and hot climates. These would be our recommended shoes for those looking for a pair of sneakers to wear in warmer climates.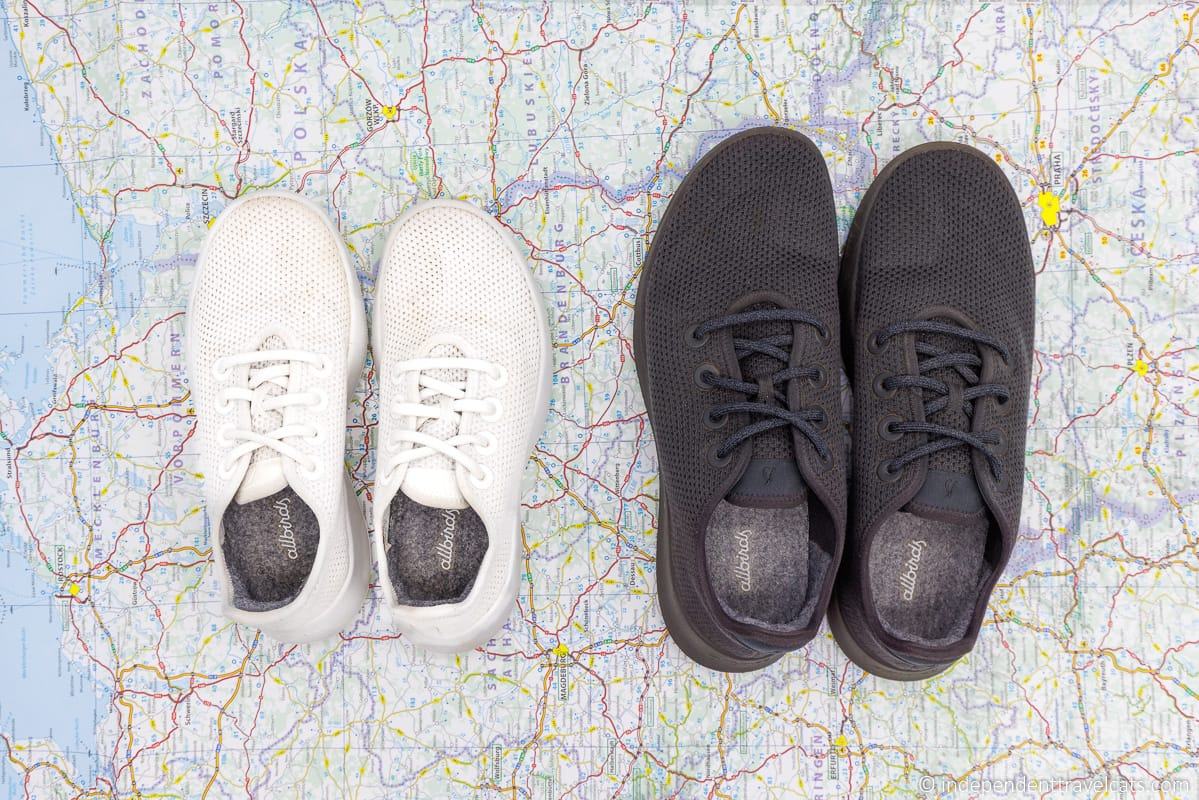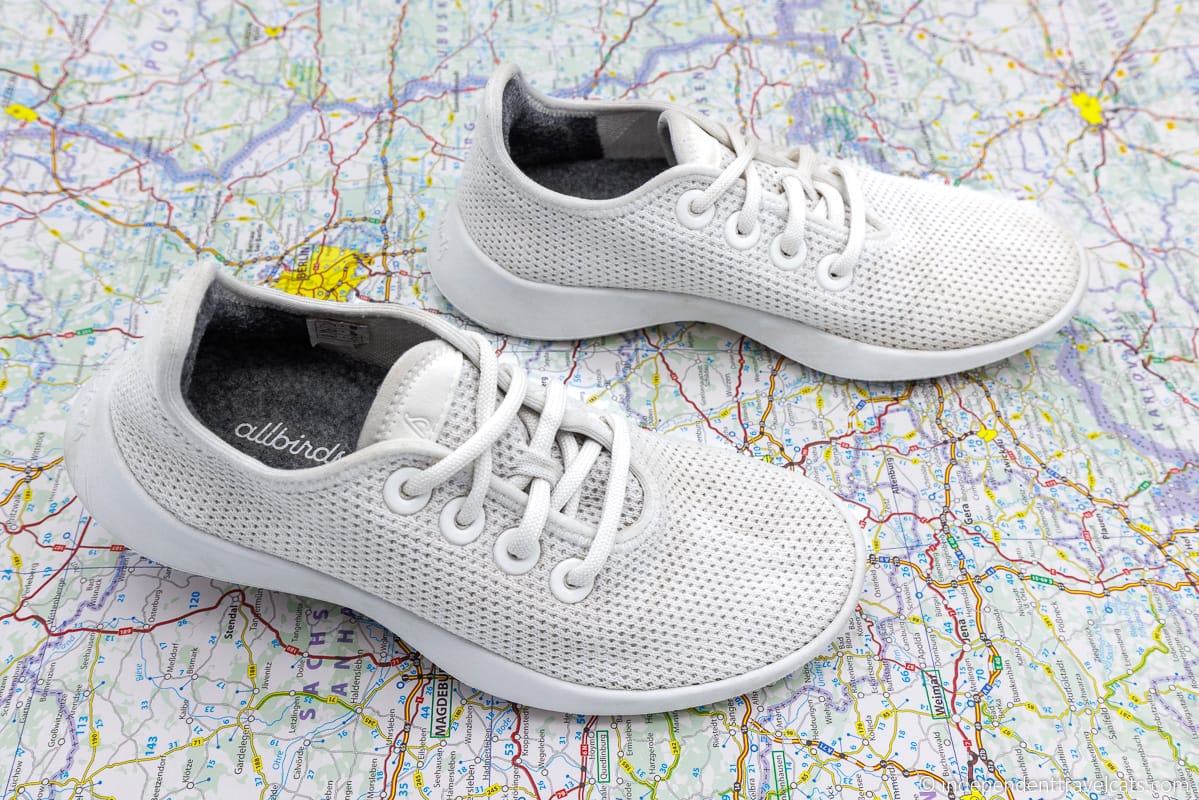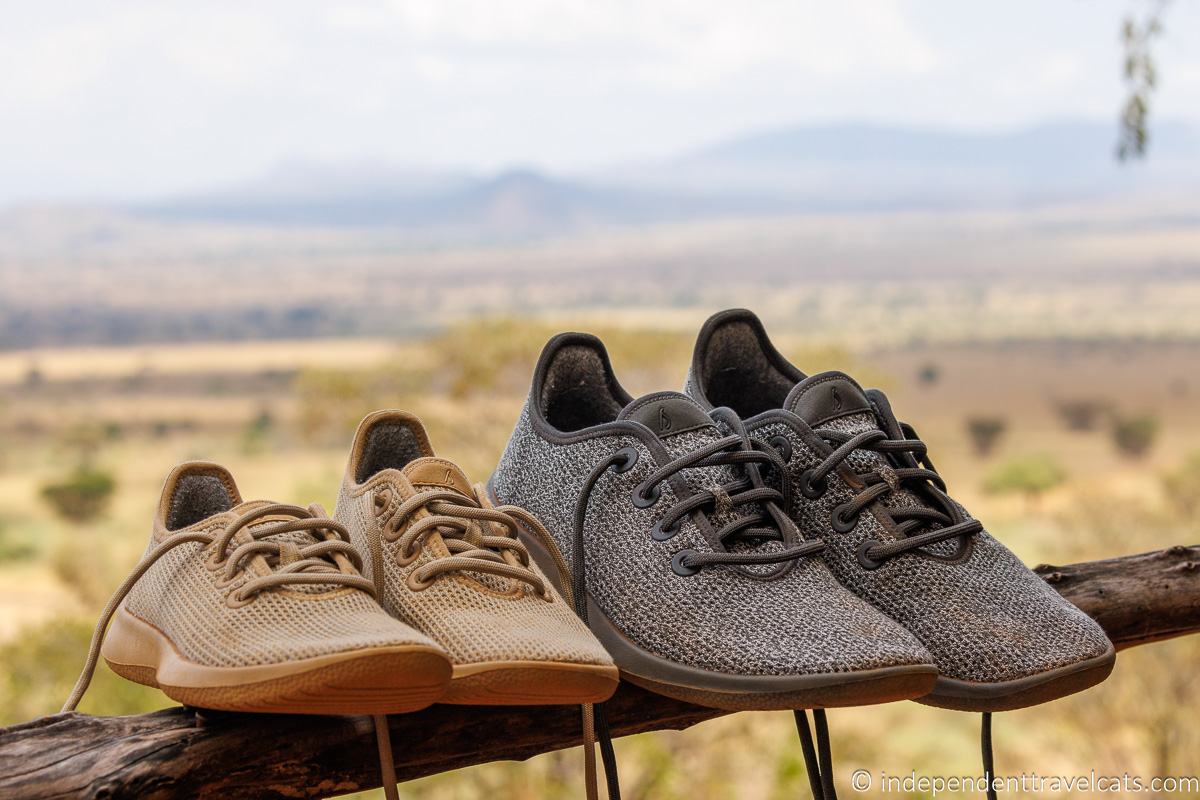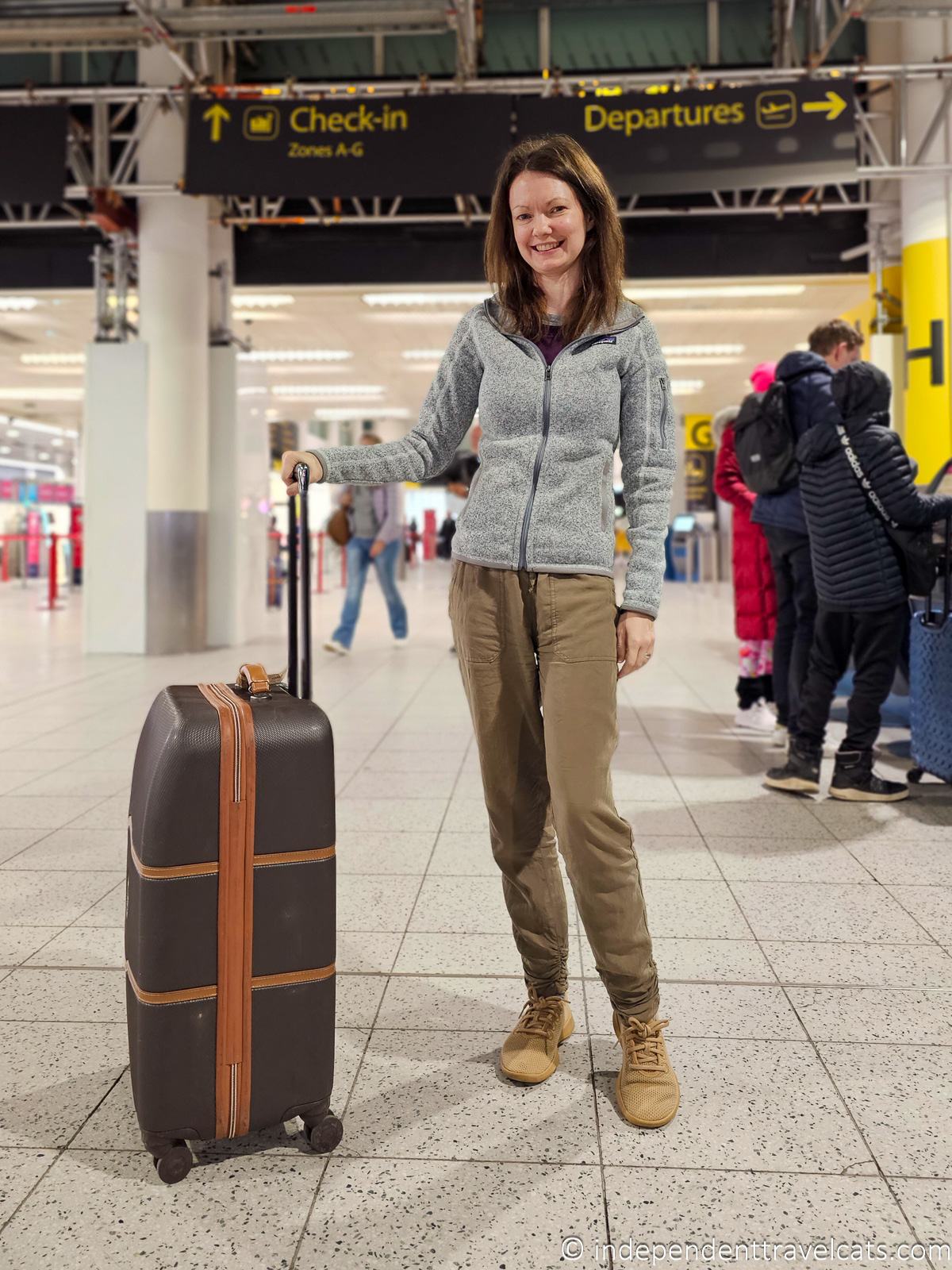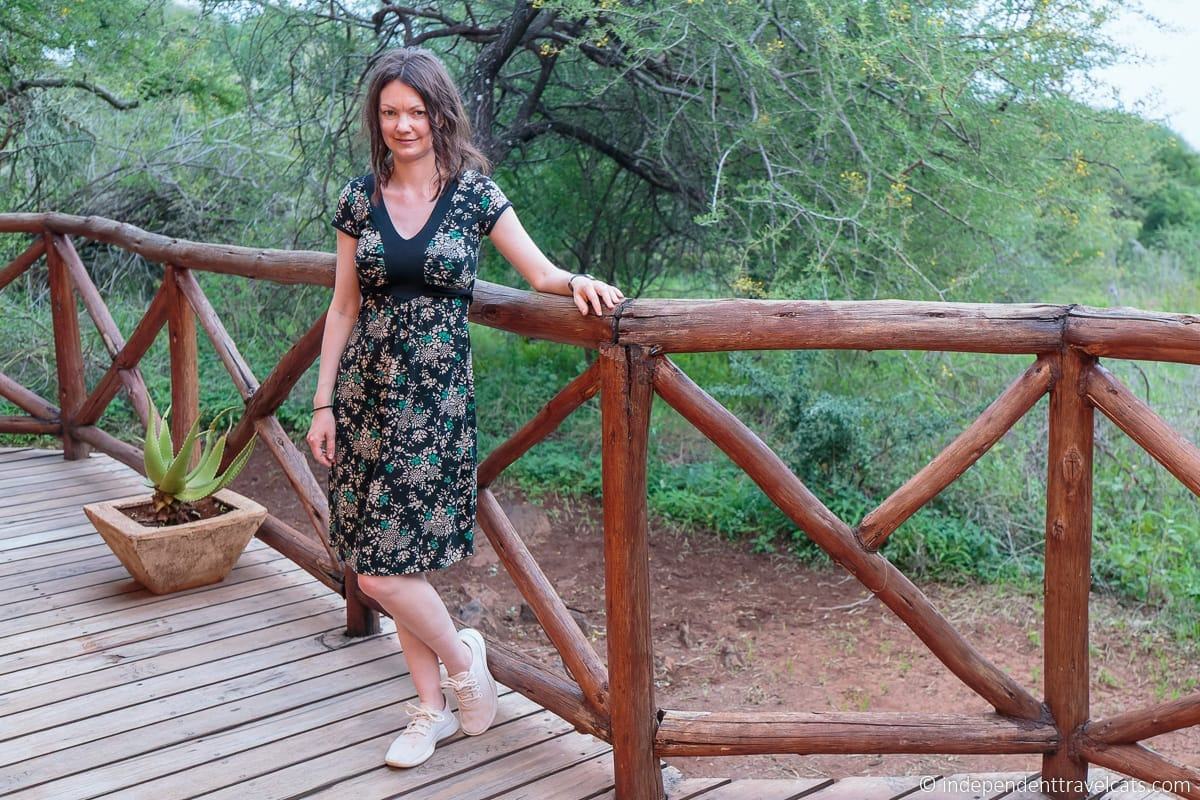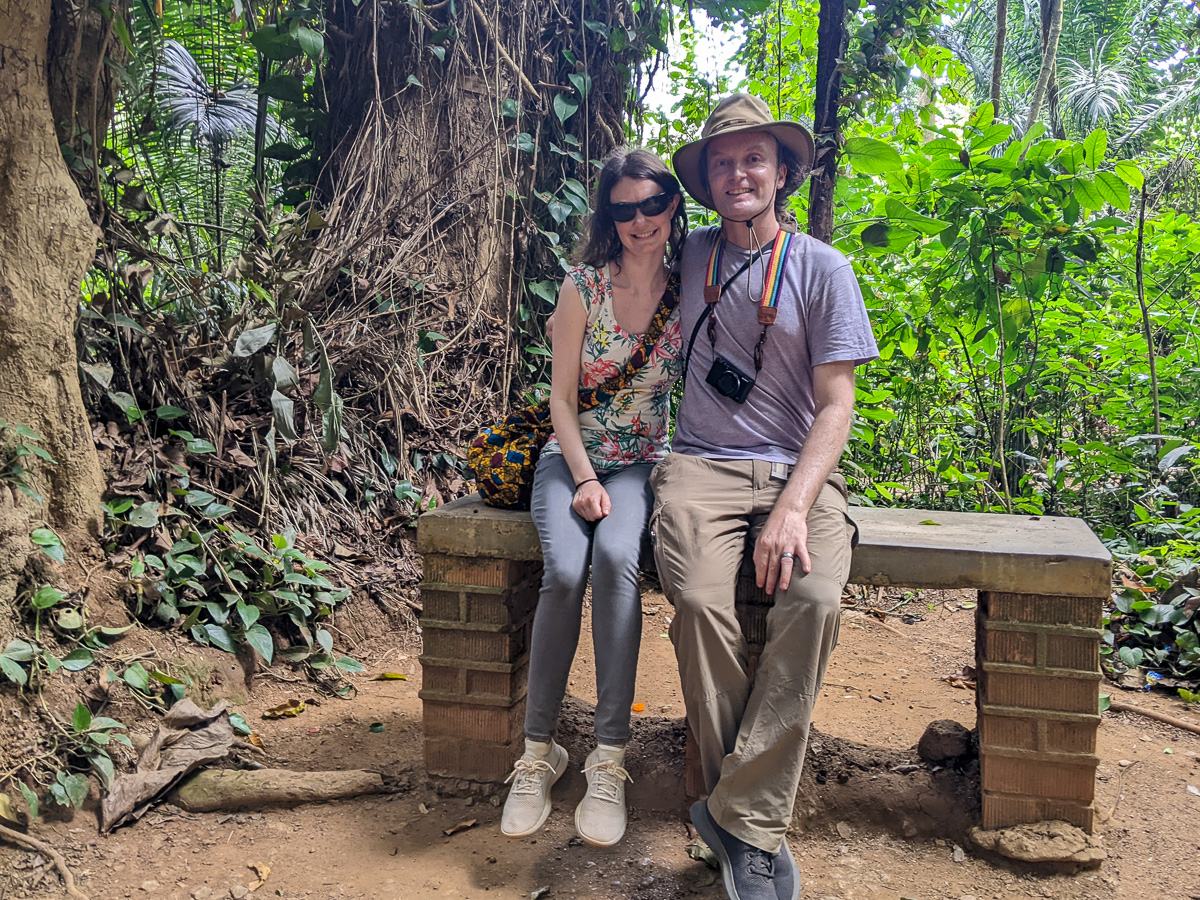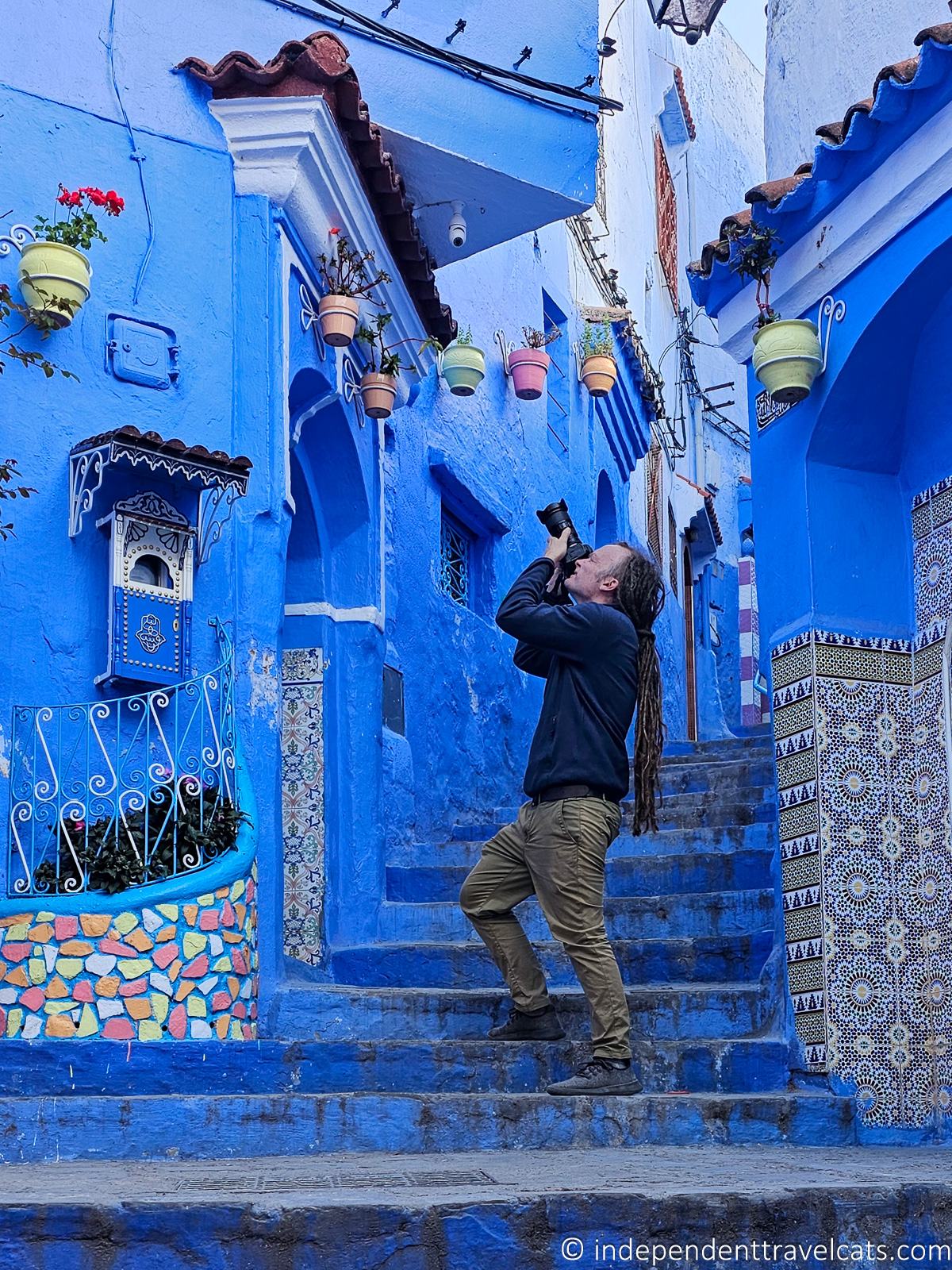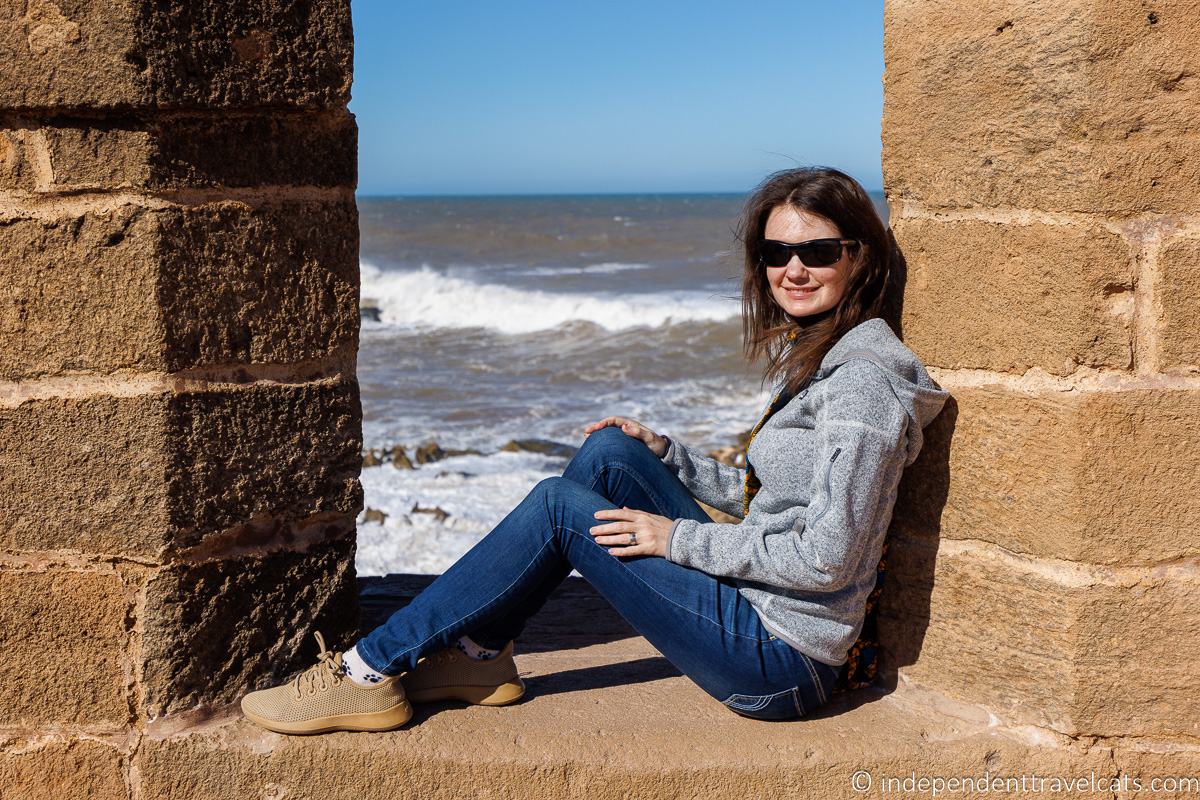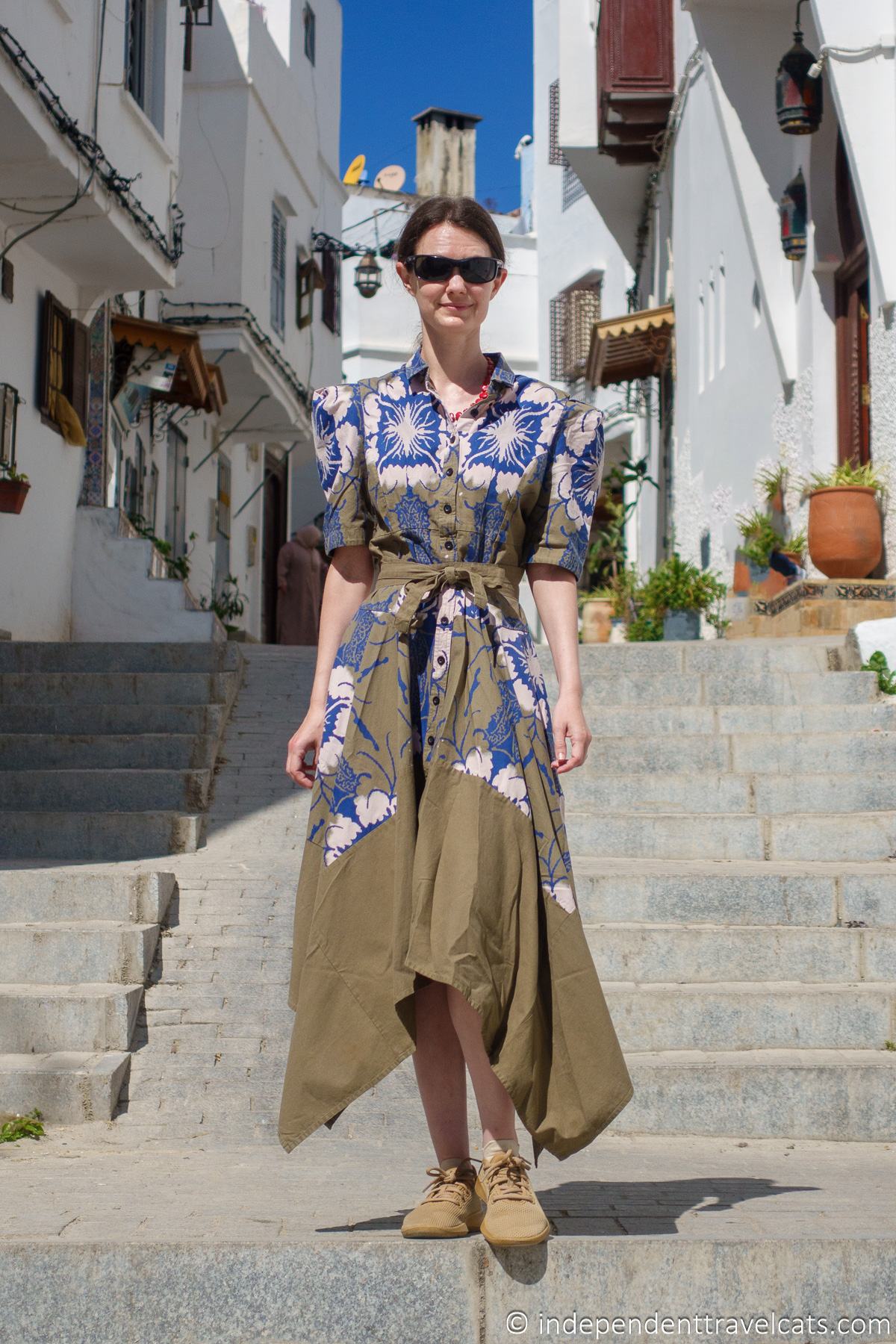 Allbirds Re-Run Program
I was on the lookout for some brownish colored Tree Runner shoes which were not then available for sale by Allbirds. But I was able to find a pair in my size in the Allbirds Re-Run program on the U.S. website. This is where Allbirds offers their returned, gently used, and imperfect shoes at discounted prices.
I purchased the Allbirds Tree Runners in color Bough (Taupe Sole). They are a tan/gray color which was an ideal color for what I was looking for.
Each pair of shoes has a condition rating. They were described as being in "Excellent" condition based on Allbirds inspection. Specifically, the description stated: "Condition: Excellent Faint pilling on interior. Faint discoloration on outsoles."
I paid $69 (plus regular shipping and taxes) and the shoes retailed for $105, so we saved $36 or 36%. The savings will depend on the type of shoes and their condition.
The shoes arrived packaged just like all of Allbirds shoes in a new box with the cardboard inserts. There was a tiny bit of wear on the inside but it was barely noticeable and I didn't notice any discoloration on the outer soles.
It was a good experience as I got a color of shoes that was no longer available and I got them at a much lower price than I would of been able to buy them new at the retail price.
Sadly, the Re-Run program is only currently available in the U.S., but it is an option for those living in the USA.
Allbirds Trino Socks Review
When we ordered the Allbirds Tree Runners, we decided to try out the Allbirds line of Trino socks which are all made from Trino. Trino is a fabric they created which is a knitted fabric made from merino wool, Tencel lyocell, recycled nylon, and Spandex. They offer the socks in a variety of lengths and fits, from tube socks to no-show socks.
Between us, we've ordered three pairs of Trino socks, all in the Trino Sprinters – Low Rise style. I have two pairs (1 gray, 1 off-white) and Laurence has one pair (gray) that match our Allbirds shoes.
The socks are good quality, look good with the Allbirds shoes, and are made with eco-conscious materials. Like the shoes, you can find out details about what they are made of and their carbon footprint. It is also great that you can find socks that match most of the shoe colors offered by Allbirds which can be hard to find elsewhere.
So neither of us have anything bad to say about the socks so we'd recommend considering them if you are interested. However, given the price ($15 for one pair of low-rise socks), we are not sure we'd purchase more of them or not as there are a lot of less expensive alternatives. There is currently a deal online where if you buy 5 pairs of socks, you get a 15% discount.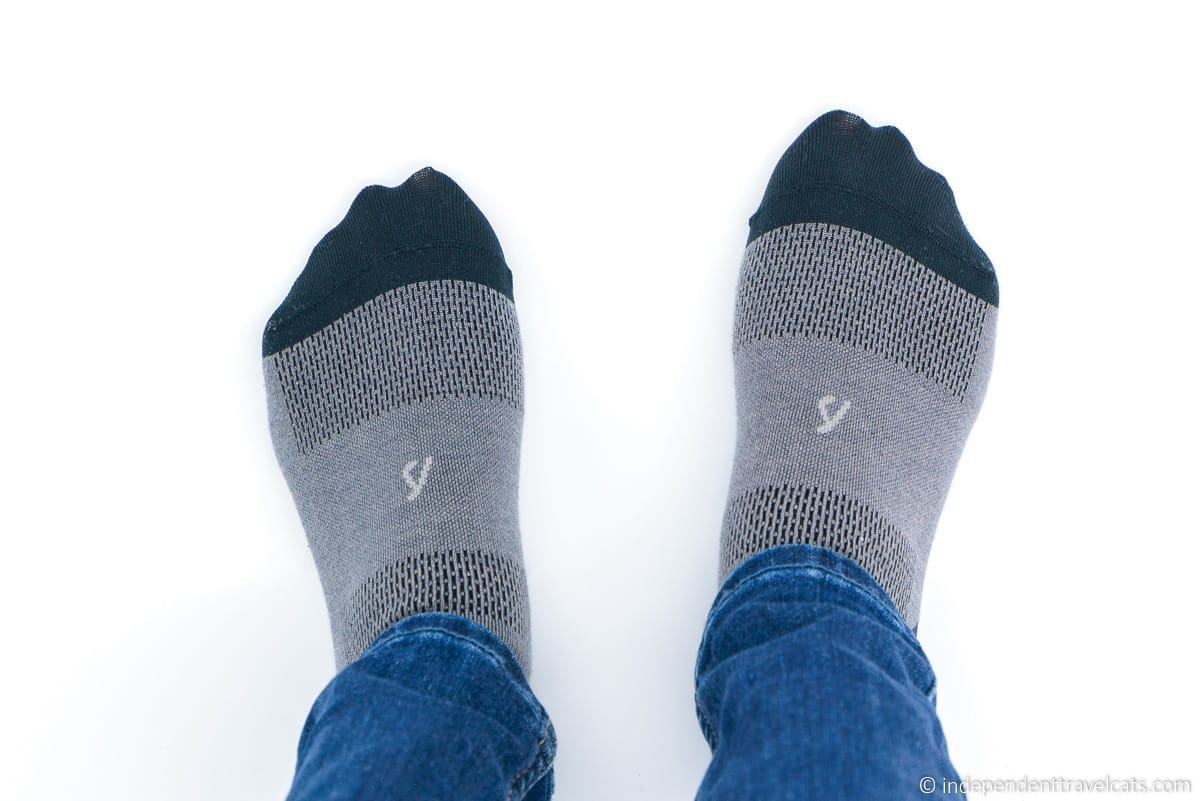 Our Overall Thoughts about Allbirds Sneakers for Travel
We have had the chance to try three different types of Allbirds shoes and have found all three to be comfortable, versatile, and travel-friendly. There are also lots of things to love about Allbirds as a company, from their environmentally-friendly and sustainable products and packaging to their easy 30-day return policy.
Are Allbirds shoes stylish? We personally like the look of the shoes, but whether you think they are stylish or not will depend on your own style preferences. They certainly have a simple minimalist design. For us this is perfect as it means they are pretty timeless and will go with lots of different clothing types and styles. This is one of the things that we look for in a pair of travel shoes.
We think that Allbirds shoes are great for traveling. Most importantly we have found these shoes to be very comfortable for us, even for a full day of city walking or on a series of long international flights. They are also lightweight, easy to pack, and machine washable (although we don't machine wash our Mizzles). We also like that they can be worn with or without socks and with lots of different types of clothing.
In general, we'd recommend the Wool Runners as a general travel shoe for temperate to cold locations and the Tree Runners for more warm and hot destinations. The Wool Runner Mizzles are a great option if you want a water-repellent sneaker. If you are still not sure which style might be best for you or an upcoming trip, read the next section of the article for more tips.
While we haven't found everything to be perfect in our experience with Allbirds shoes (e.g., hard to clean white shoes, water repellent coating weakens over time), overall, we have been very pleased with the comfort and performance of our shoes. We definitely plan to purchase more products from Allbirds in the future.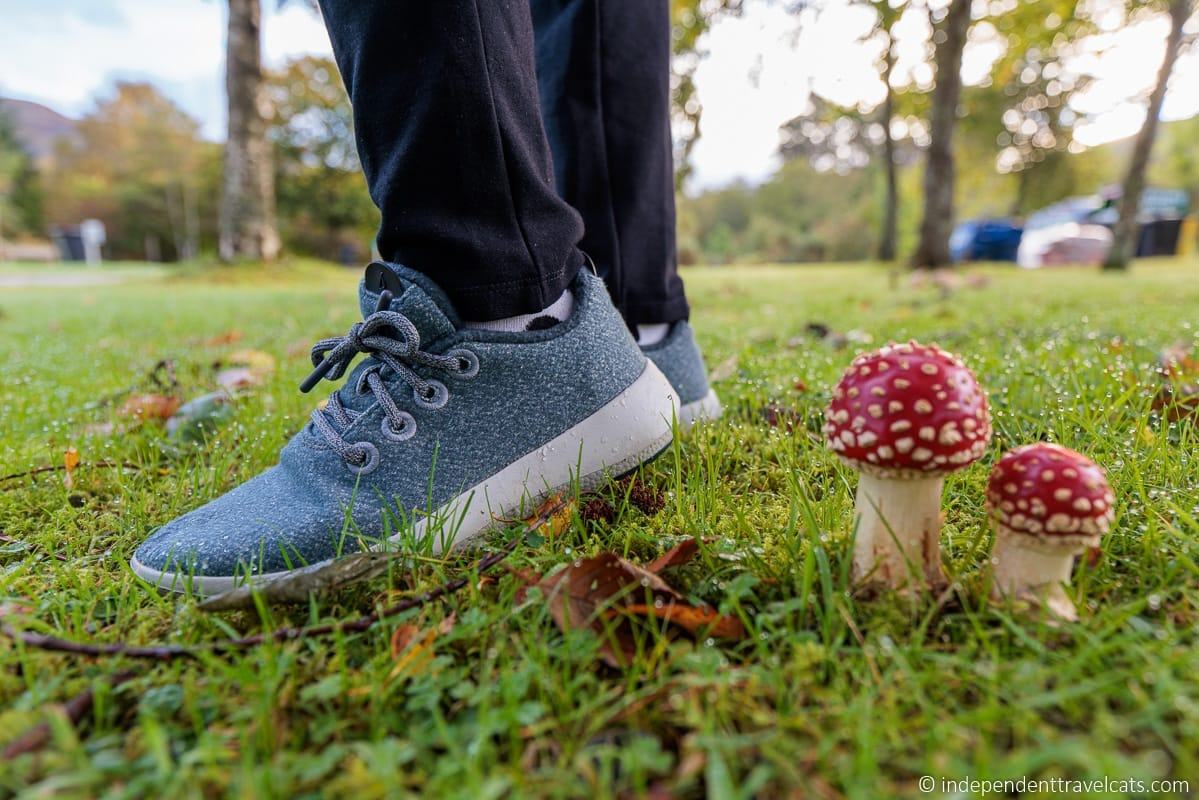 Tips for Choosing Which Allbirds Sneakers to Buy for Travel
If you are not sure which Allbirds shoes are going to be best for you, this section should help you decide.
It is likely that you are going to want to wear your Allbirds shoes both at home and while traveling. And the questions to ask yourself are really the same ones you'd ask for buying an everyday sneaker you'd plan to wear at home.
Consider how you currently live and work and where you wear sneakers:

What is the weather and climate like where you live?
What kind of places do you normally wear sneakers?
What kind of activities do you do in your sneakers?
What kind of clothes do you like to wear sneakers with?

Consider the destinations you plan to travel to over the next year or two:

What is the weather and temperature going to be like?
What kinds of surfaces will you likely be walking on (e.g., city streets, dirt streets, indoor surfaces, beaches)?
What kinds of activities do you plan to do when traveling.
What kind of clothing will you be packing?
As we've noted earlier, for most travelers we think the best Allbirds shoes are going to be their line of everyday wear sneakers, the Runners line. Which specific Runner shoe might be best will depend on your style preferences and travel destinations but here is our rough guide on choosing based on your travel destination:
Travelers heading to cooler and dry destinations: Allbirds Wool Runners
Travelers heading to cooler, wetter destinations: Allbirds Wool Runner Mizzles
Travelers heading to warm or hot destinations: Allbirds Tree Runners
If you are heading to several places over the next couple of years that are a mix of cool and hot destinations but are only looking for one pair of shoes, we'd recommend going with the Allbirds Tree Runners as we think it is the best pair of shoes to handle a variety of climates and situations. Our second choice would be the Allbirds Wool Runner Mizzles.
Once you've figured out the style of Allbirds shoes you want to purchase, here are some further tips on choosing the color of your shoes based on our experience:
Avoid white shoes – they show dirt easily and are much harder to clean even if you can throw them in the washing machine.
Consider darker colors that won't show dirt easily. This is particularly true for the shoe uppers although we also prefer the non-white soles if available. However, the soles are much easier to spot clean so white soles are OK.
Consider colors that will go with the majority of your clothing. For many travelers these are neutral colors like gray, black, navy, and brown. However, if you love purple, orange, or red shoes and this is a color you can wear every day, go for it!
In terms of sizing, most of Allbirds shoes only come in whole sizes, so I'd check the sizing chart and sizing recommendations for each shoe style before ordering. The shoes are also medium-width shoes so those with more narrow or wider feet may need to size up or down accordingly.
We ordered our normal sizes across the three different Runner styles. I normally wear between a size 5 or 6 in US shoe sizes and went for a size 6. I have found the same size (US 6 / UK 3) has fit me across all three of the styles. Laurence also ordered the same size across styles.
The great thing is that the Allbirds 30-day return policy makes it easy to return or exchange the shoes if you order the wrong size or don't like the shoes.
Can Allbirds Shoes be Worn with Custom Insoles?
Yes, the insoles in most Allbirds shoes can be removed and replaced with a custom insole or other orthotic device if needed. The insoles are not glued down so are very easy to remove and replace.
Note that you cannot remove the insoles in a few of the newer styles, including the Ultralight Tree Runners and the Allbirds sandals.
If you are someone who needs arch support, you may or may not find enough with the included Allbirds insoles. The shoe styles vary with how much arch support they provide. According to the Allbirds website, the Runner style shoes offer the most arch support (with a 9.6mm heal-to-toe drop), the Dashers, Flyers, Trail Runner, Courier, and Riser shoes offer medium support (with a 7mm or 8.5mm heel-to-toe drop), the Superlight Collection has a 6mm heel drop, and the Lounger, Skipper, Pacer, Piper, Breezer, and Topper styles offer the least amount of arch support (with a 2mm to 4mm heel drop).
I don't personally wear a full custom insole, but I do wear these small orthotic inserts with some of my shoes to help with arch support due to plantar fasciitis. I have tried them out to make sure my insole inserts will fit with the Allbirds Runner shoes I have, but I haven't need to wear them with my Allbirds shoes. So far the cushioned insole has provided enough arch support for me but it is good to know that they will fit if I need them in the future.
Tips for Washing Allbirds Shoes?
One of the selling points of Allbirds shoes compared to many other brands is that they are machine washable. We'll give you tips on how to wash your Allbirds shoes and our experience washing our Allbirds Wool Runners and Tree Runners.
How to Wash Allbirds Shoes
You should follow the directions for your specific Allbirds shoe style, but in general, you want to do the following to clean your Allbirds shoes in the washing machine:
Remove any excess dirt or mud from shoes with a brush or cloth
Remove wool insoles and shoelaces before putting the shoes into the washing machine (the insoles and laces can be hand washed if needed)
Put shoes in a mesh laundry bag before putting into the washing machine
Use gentle laundry detergent; don't use bleach
Wash on wool cycle or gentle cycle
Allbirds recommends that you wash the shoes by themselves
Don't put in a dryer machine—let shoes air dry naturally
However, although most of Allbirds shoes are machine washable, I would only throw them in the washing machine if they really need to be machine washed.
It is better to spot clean your Allbirds shoes rather than putting them in the washing machine if you can. As with any pair of shoes, machine washing shoes can damage the shoe's structural integrity and decrease their longevity. So I'd start with seeing if you can wash them up with a bit of spot cleaning with some gentle soap and a wet cloth. If this isn't enough, you can of course toss them in the washing machine.
However, I would not wash the Allbirds shoes from the Mizzle collection in the washing machine unless it is really needed. As noted by Allbirds, washing them can reduce the effectiveness of the water-repellent coating and decrease the longevity of the shoes.
Note that the new vegan leather Plant Pacers are not machine washable. So if you are looking for a machine washable vegan shoe, you might want to consider the Canvas Pacers.
Our Experience Washing Allbirds Shoes
We have had the chance to wash our shoes now several times. While all of Allbirds Runner shoes are machine washable, we recommend just spot washing them by hand first before resorting to machine washing.
If there is dirt or leaves on the shoes, we try to brush this off first. If the shoes are muddy or wet, we wait for them to dry first as it is often easier to remove dirt once it dries. For spot cleaning, we just use a gentle liquid detergent or soap, water, and a cloth.
But if spot cleaning isn't enough, you can throw them into the washing machine. We will only do this with the Wool Runners and Tree Runners, as Allbirds does not recommend putting the Wool Runner Mizzles in the washing machine as it can weaken the water-repellent coating. We remove the insoles and shoelaces first and then put the shoes in a zippered mesh laundry bag. I also throw the laces in the laundry bag as well, but we hand wash the insoles in the sink.
For the most part, spot washing has been enough to keep them clean. However, I have struggled to keep my Allbirds Tree Runner shoes clean because of their white color. For anyone considering white Allbirds shoes, I'll share that story in more detail so you can decide if white shoes are the best choice for you or not.
For some reason, I went against my own general advice and purchased a pair of Allbirds Tree Runners in a white color (specifically Kaikoura white) after my preferred color choice was not available in my size. Later, while traveling in Uganda, I made the equally poor choice of wearing these shoes all day in the dusty streets of Kampala. This meant that my shoes were soon the color of Kampala's red dirt and no amount of spot washing was getting them close to their original color.
So, later in that same trip in Nairobi, I decided to put them in the washing machine in our rented apartment. I was hoping that putting them in the washing machine would return them to their original color. This proved not to work as well as hoped, while some parts of the shoes were clean and white, there were a number of spots on the shoe uppers and tongue that still had brown patches.
I followed all the directions given by Allbirds except for using a mesh laundry bag. We didn't have one with us and there wasn't one in the apartment. So instead we just put them in the washing machine alone as a small load on the wool cycle. This was a mistake as the machine "gnawed" off a tiny bit of the sole of my right shoe.
The insoles were easy to hand wash and dried within 1 day. The white laces, which had also partially turned a reddish-brown, did not get fully clean from handwashing. I later put them in a mesh bag in the washing machine to get them fully clean.
After the first wash, I wore the Allbirds Tree Runners several more times, including on two international flights. They also got sprayed by mud by a baby elephant along the way as well, which added to their grungy appearance. Once back home, I decided to machine wash them a second time in our own washing machine in a mesh bag as directed to see if I could return them to their original color.
After the second wash, they did get cleaner than they were after the first wash and certainly looked more white. Putting them in an actual laundry shoe bag also kept them from getting banged up like in the first wash and I was also able to put the shoelaces in the same bag. However, the shoes still don't look like they did when they were new and you can still see some spots of dirt on them. So I am now resigned to the fact that they will always look a bit grubby.
Our takeaway advice is that Allbirds shoes are indeed machine washable, but only wash them if spot cleaning is not sufficient. Follow all the washing and care instructions for best results. We have also found that the Tree Runner shoes stand up to machine washing and long-term wear a bit better than the Wool Runners.
And buy white shoes at your own risk! I love my Tree Runners but wish I had chosen another color. Since writing the initial review, my white shoes have been worn out and donated. They still bore some stains of the red earth of Uganda and a blueberry sorbet stain later acquired in Italy.
They have since been replaced by more travel-friendly and dirt-friendly colors which show the dirt much less. I just machine washed by Hazy Beige ones for the first time and I am much happier with them as they don't look dirty or stained even after months of travel and wear.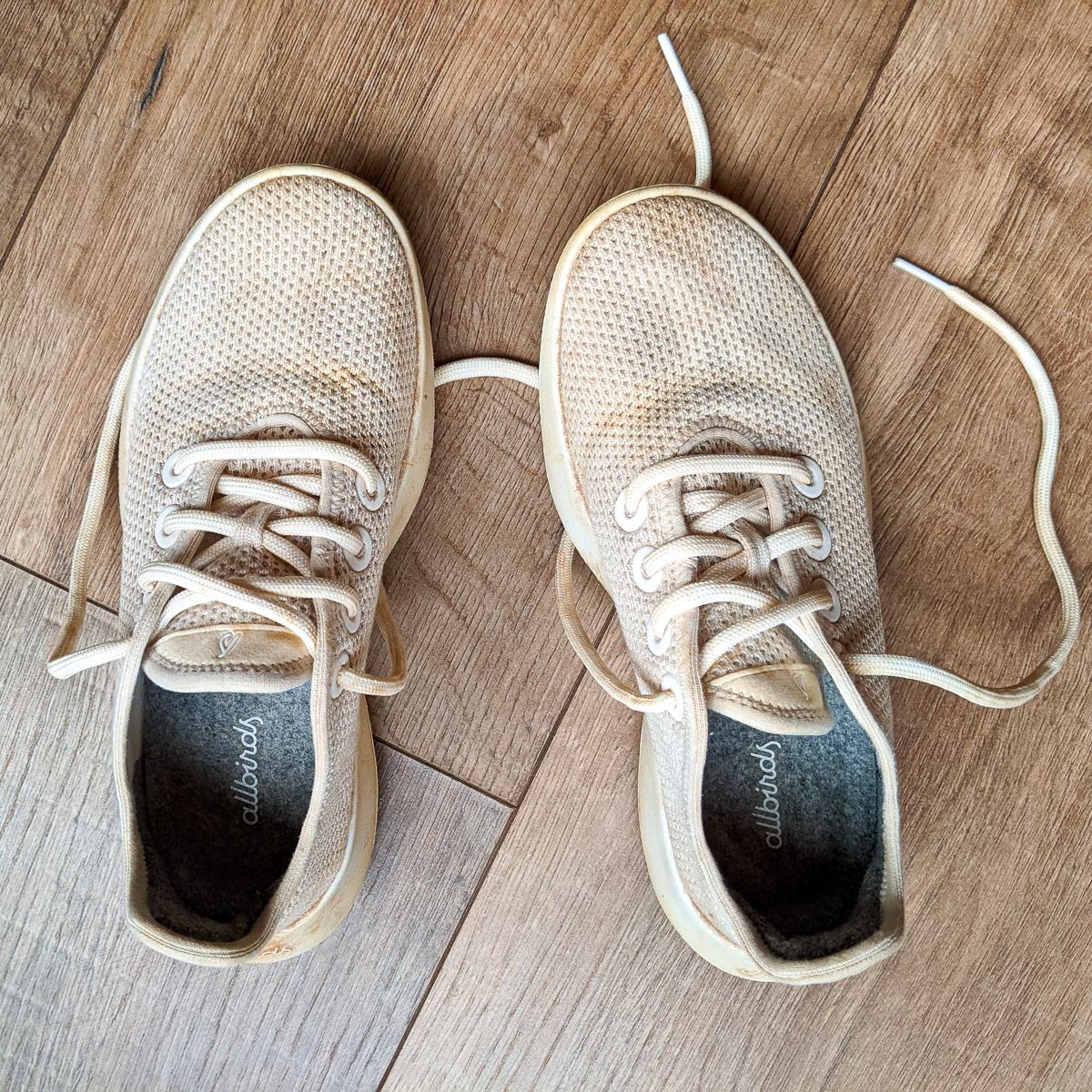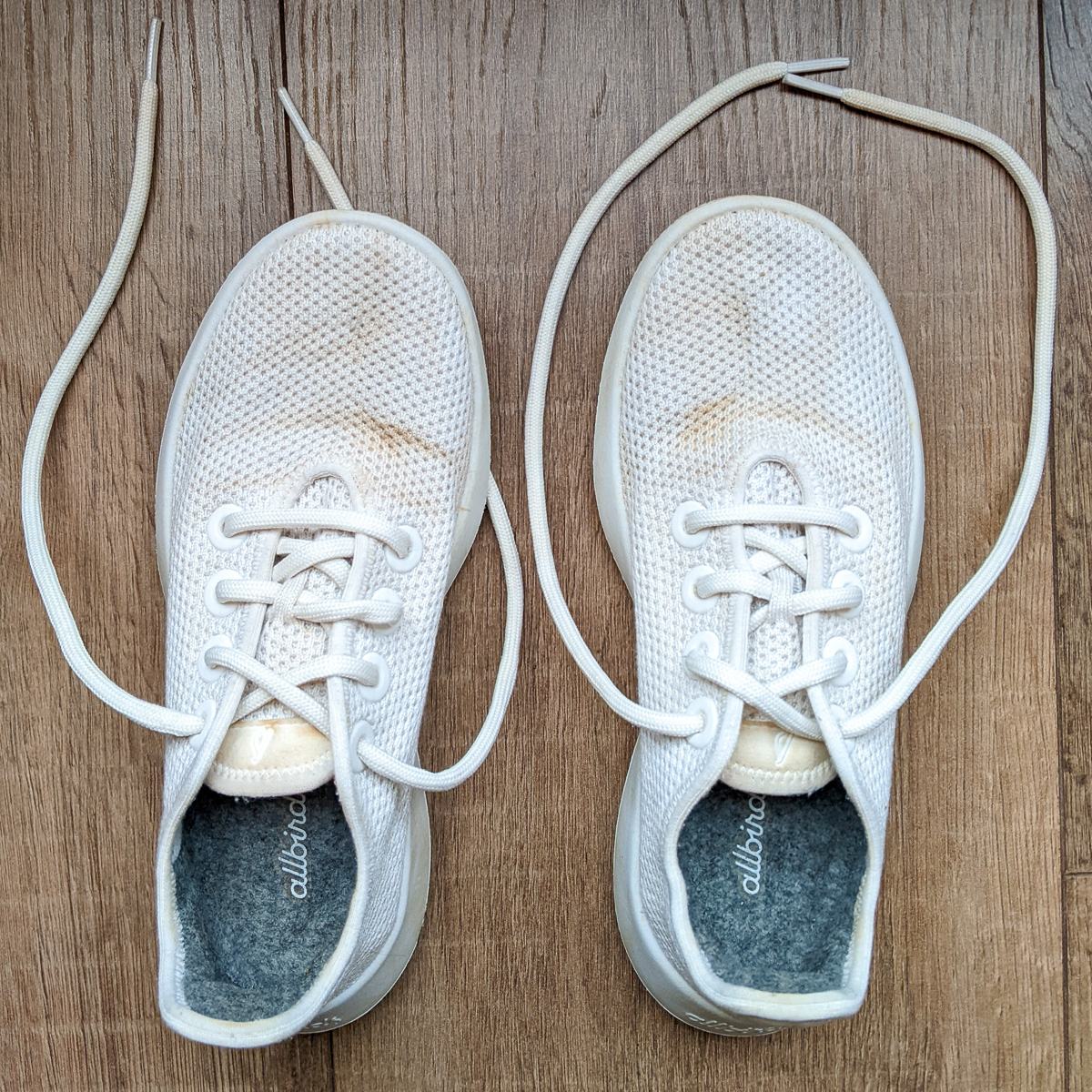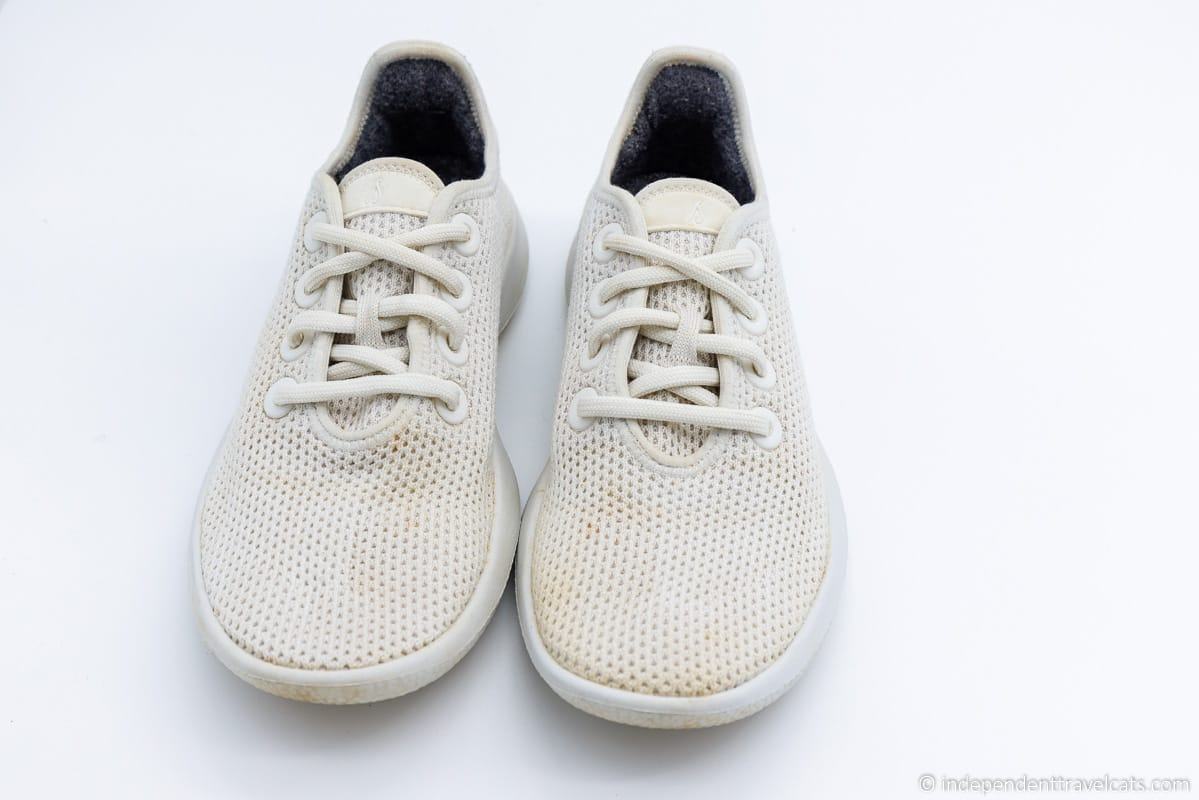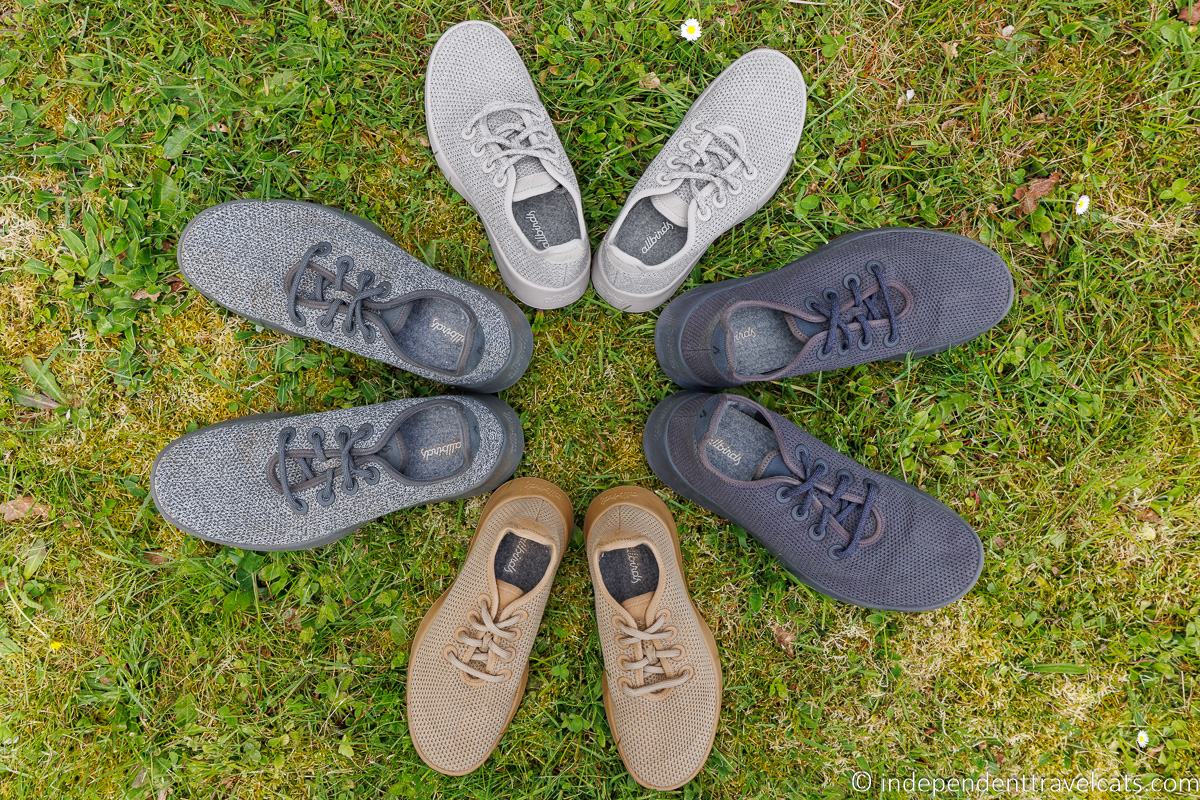 How Long Does it Take Allbirds Shoes to Air Dry?
Allbirds shoes should not be put in a machine dryer as this may damage the shoes so you will want to let them air dry. In our experience, if the shoes are fully wet (e.g., you took them out of the washing machine or got them soaked in the rain), it generally takes between 24 hours and 48 hours for them to fully dry when left inside to dry on a drying rack. The shoelaces and insoles took about 24 hours to dry.
The climate is going to affect the drying time. In Kenya during the dry season, it took about 24 hours for the shoes to dry indoors. But in both the UK and France during winter, it took between 36 to 48 hours for the shoes to fully dry when left inside on a drying rack.
If you have the option of air drying them in the sun, they'll probably dry within a day.
Tips for Washing Your Allbirds Sneakers?
Here are some tips for washing your Allbirds shoes based on our experience:
Try to keep shoes clean by spot cleaning them with gentle soap and water and a cloth. Only throw in washing machine if spot cleaning doesn't work.
Only machine wash shoes from the Mizzle collection if really necessary as this can weaken the water-repellent coating.
Carefully follow the instructions if you need to machine wash your shoes. Not doing so could lead to structural damage to your shoes and may significantly reduce their longevity.
Put shoes in a mesh laundry bag before washing to prevent damage. I didn't do this the first time and the machine "gnawed" off a bit of the sole of my shoe! If in a pinch and don't have a mesh bag, you could use a pillowcase.
If you need to wash the insoles, you can do so by handwashing them. Allbirds recommends using a gentle soap or detergent on the wool part of the insoles and then rinsing it off with lukewarm or cool water. Then allow them to air dry.
As with any brand of shoes, avoid white shoes unless you like to wash your shoes a lot. In our experience, the white shoes are very hard to keep white and may still have stains even after putting them in the washing machine.
If you are planning to do laundry while traveling, our doing laundry while traveling guide may be useful as it has a lot of tips on advice on finding places to wash your clothes, what to pack, tips on handwashing, and more.
Remember if traveling and you think you may need to wash your shoes, your shoes will need time to dry. In our experience, it takes at least 24 hours for the shoes to air dry and it may take longer in more humid climates and in cooler weather. So be sure to have a second pair of shoes to wear!
Tips for Packing and Traveling with Allbirds Shoes
Once you have your shoes and have planned a trip, here are some tips for packing and traveling with your Allbirds shoes:
For any longer trip, we generally recommend traveling with at least 1 pair of shoes on your feet and one in your luggage. This way if something goes wrong with your shoes (e.g., broken strap or sole coming apart) or they get wet, you have a back-up pair of shoes with you to wear.
We recommend trying to limit the number of shoes to three pairs max if you can. Obviously some trips may demand specialty footwear but for most trips, you should be fine with 2 to 3 pairs. So, for example, this might be a comfortable pair of sneakers (your Allbirds for example) for everyday wear, a pair of hiking boots for hiking and outdoor activities, and a pair of flip-flop sandals for poolside and beachside activities.
If packing multiple shoes, we generally recommend wearing your heaviest or bulkiest shoes to the airport to save space in your bags. However, we find the Allbirds Runner sneakers to be very comfortable to wear on planes so I have sometimes chosen to wear these over my hiking shoes.
If packing your Allbirds shoes for a longer trip, consider packing them in a mesh laundry shoe bag. Then if you do need to wash them on your trip, it'll be much easier as the shoe bag can help protect your shoes if you need to throw them in a washing machine.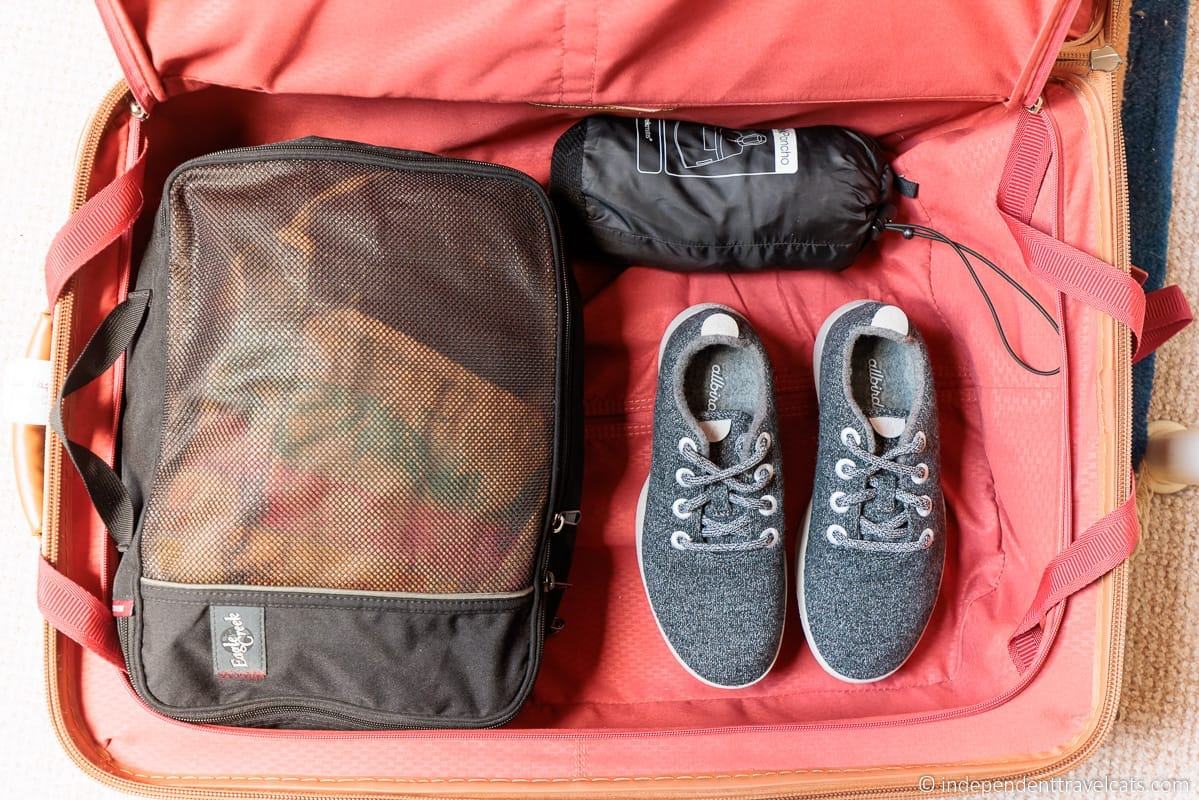 So that is our Allbirds shoe review and all the tips and advice that Laurence and I have on choosing Allbirds shoes for traveling. Have you tried Allbirds shoes? If so, feel free to share your own personal experiences with Allbirds shoes below. What do you look for most when buying travel shoes?
As always feel free to ask me any questions about our experiences with Allbirds shoes or any other travel shoe questions you might have!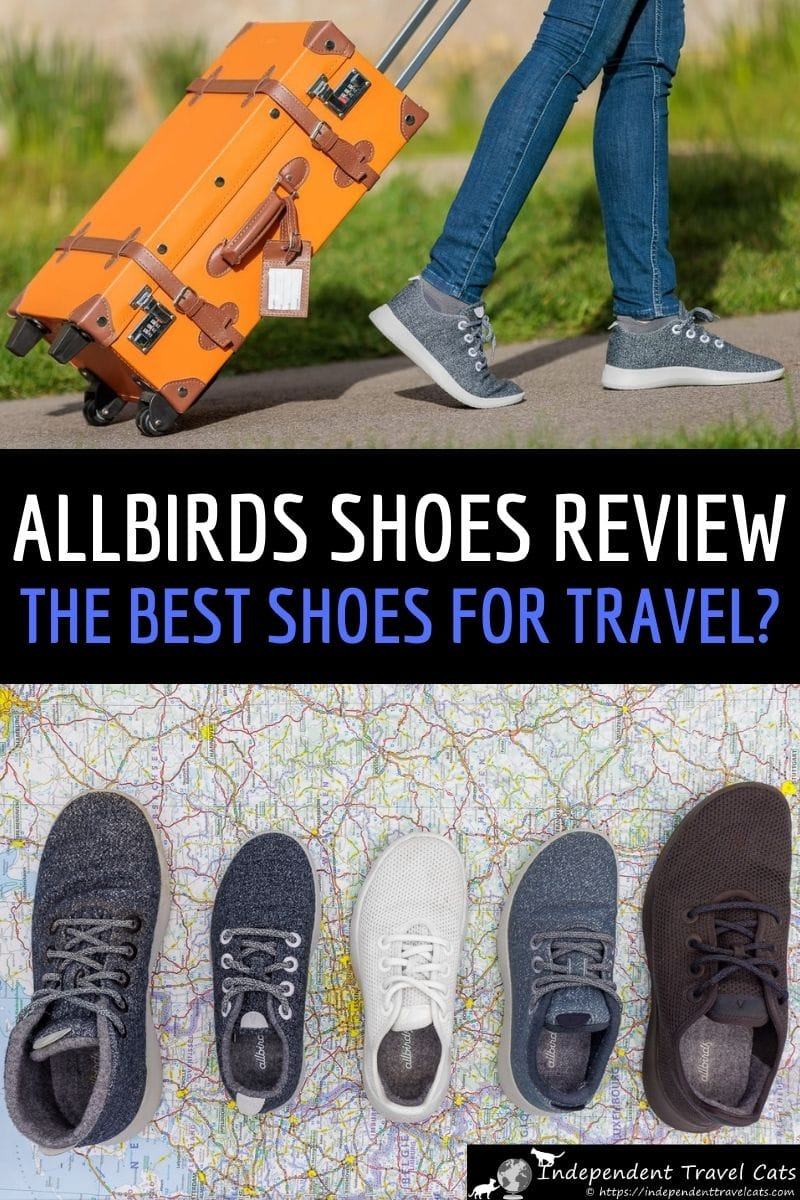 **Disclosure: Allbirds sent us each a free pair of shoes to try as travel influencers last year, but we have purchased all the other Allbirds shoes and socks with our own money. Allbirds did not ask us to write this article and, as always, this article contains only my own honest thoughts and opinions. You can read more in our Ethics Code about how we accept work.**