After attending Edinburgh's Hogmanay several times, we've finally decided to write a guide to celebrating Hogmanay in Edinburgh! Hogmanay is the Scottish word for New Year's Eve and Edinburgh's Hogmanay festival has become one of the largest New Year's celebrations in the world. Edinburgh's Hogmanay is a 3-day festival full of events that include a torchlight procession, live music concerts, family events, a massive street party, traditional dancing, fireworks, and even a costumed parade that ends with a cold dip in the river!
If you are interested in celebrating the New Year in Edinburgh, we'll tell you all you need to know to help you decide if you want to go and what you can do at the festival. We provide advice on planning ahead and finding accommodation, break down the Hogmanay events day by day, and give plenty of tips for making the most of your trip to celebrate Hogmanay in Edinburgh.
We try our best to keep this guide up to date with changes, and this guide is currently being updated for the Edinburgh's Hogmanay 2020 event, taking place from the 30th December 2020 through to 1st January 2021. We will add new information for Hogmanay 2020 as it becomes available but most events are fairly similar each year.
NOTE: On July 2020, the 2020 Hogmanay Street Party was canceled due to the COVID-19 pandemic. In October, the festival has announced that there will be no large in-person events taking place for the 2020 Edinburgh Hogmanay celebrations. Instead, the festival has gone digital with a number of online events to celebrate the New Year. Edinburgh's Christmas also cancelled all in-person events and instead has digital events and activities.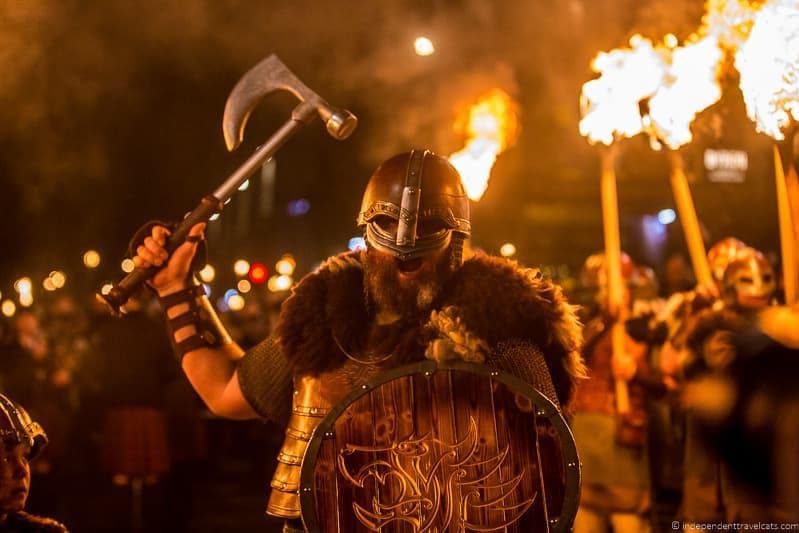 Hogmanay in Edinburgh General Information
In this section, we cover all the things you should know before you go from what exactly is Hogmanay to what to wear to how to find family friendly events.
What exactly is Hogmanay?
Hogmanay is the Scottish word for the last day of the year or New Year's Eve. Although Hogmanay is generally regarded as the most important Scottish holiday, the origins of both the word and the traditions are obscure. Many people think that the term comes from French but there are also theories that it may have Gaelic, Norse, or Anglo-Saxon origins.
The traditions, as with most modern holidays, likely grew from pagan ones and many were probably also adapted from Christmas. After the Scottish Reformation, the Church of Scotland stifled public Christmas celebrations in the 17th century, and Christmas has only been a public holiday in Scotland since 1958! So it is likely that the modern Hogmanay traditions have some origins back in the 17th century while others are much more recent.
Older Hogmanay traditions and customs that are still practiced include gift giving, house blessing (and sometime cleaning), and the custom of first-footing. First footing is tied to the belief that the first person to cross the threshold in the New Year will bring the fortune to that household, bad or good, for the coming year. The most desirable first-foot visitors (at least in Scotland) are tall, dark men who come bearing gifts. Good traditional gifts include whisky (obviously!), coal or peat (for heating), food (especially bread), and silver coins.
Most people in Scotland celebrate Hogmanay with meals, music, and dancing, and many towns have special customs or sporting events. Hogmanay gatherings are often ended with the singing of "Auld Lang Syne" which is a poem by Robert Burns that is set to folk music. The 17th century Tron Kirk was a traditional place to gather around in Edinburgh for Hogmanay, but this has changed with the onset organized Edinburgh's Hogmanay festival.
The local customs and celebrations vary across regions in Scotland, and there are a lot of fire-related customs in villages in Scotland such as the Stonehaven Fireball festival and the Biggar Bonfire.
Edinburgh's Hogmanay festival dates back to 1993. The festival has allowed more visitors to participate in the Scottish holiday which has been traditionally celebrated in small gatherings and in private homes. The festival has grown to be one of the largest outdoor celebrations of New Year's Eve in the world. In 2018, there were an estimated 75,000 people who came to celebrate the beginning of 2019.
Those wanting to know more about this history of Hogmanay and even how to plan your own Hogmanay celebration at home, may want to check out this book.
When is Hogmanay?
Hogmanay is the last day of the year (Gregorian calendar) and when people celebrate New Year's Eve and the coming of the New Year.
So you will definitely want to be in Scotland on December 31st if you want to celebrate Hogmanay. New Year's Eve is when the main Edinburgh celebration takes place, which includes the street party, large public ceilidh, concert, and fireworks. However, there are also celebratory events on the day before Hogmanay as well as the day or so following Hogmanay.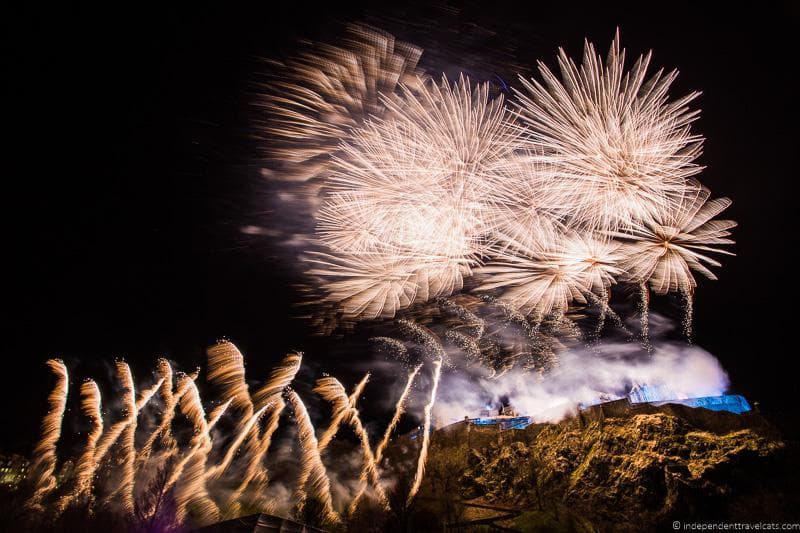 How Long does Hogmanay in Edinburgh Last?
As noted above, Hogmanay is technically just one day but the Hogmanay celebration in Edinburgh (as well as in other places in Scotland) lasts for about 3 days.
The big events include a torchlight procession and other entertainment on December 30th, a massive outdoor street party, concerts, and fireworks on December 31st, and then the Loony Dook (a morning dunk in a river) and smaller public entertainment options on January 1st. Some events may also take place on January 2nd, which is a public holiday in Scotland (but not the rest of the UK).
We'll cover each of these events in more detail in the next section of the post.
Do I need Tickets to Attend Edinburgh's Hogmanay 2020?
Unlike previous years, you do not need tickets for Edinburgh's Hogmanay 2020. All the virtual events are available online for free.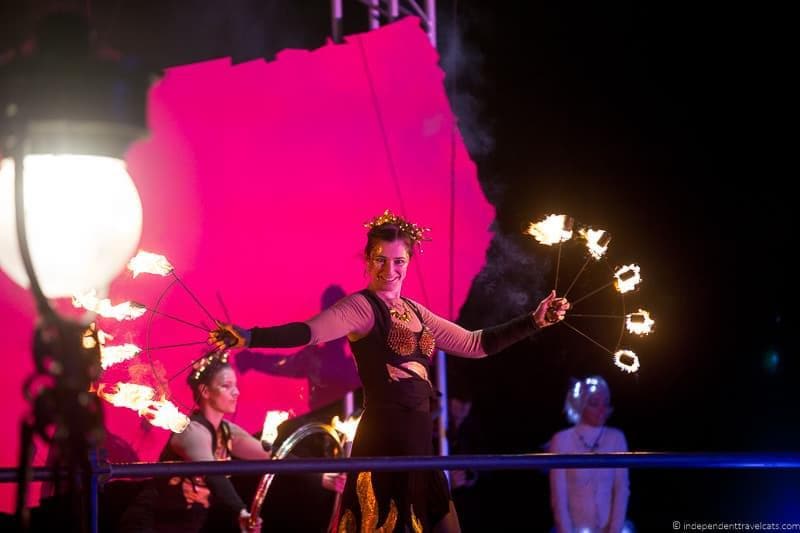 How Far Ahead Should I Plan for Hogmanay in Edinburgh?
As the events are virtual this year, you do not need to plan ahead very far other than to remember to be at your computer for the events!
Where do the Hogmanay Events Take Place?
Normally Hogmanay events take place all over the city (as well as all over the country) but the main Hogmanay celebration centers around Princes Street Gardens in central Edinburgh.
Although the exact locations of the events and torchlight procession route change each year, most events will be in or around Princes Street Gardens, the Waverley train station, The Mound, McEwan Hall, the Royal Mile, and Calton Hill. There are usually also special events at some of the museums and attractions such as the National Museum of Scotland. All of these locations are within walking distance from one another and located in central Edinburgh.
The only annual major event that always takes place outside central Edinburgh is the Loony Dook. The Loony Dook takes place outside of Edinburgh in the nearby town of South Queensferry. You can drive, take a public bus, book a taxi or Uber, or go by train (to Dalmeny) from Edinburgh. There are also usually special bus transfers arranged just for the Loony Dook that you can book.
For the 2020 event, all the events are taking place online.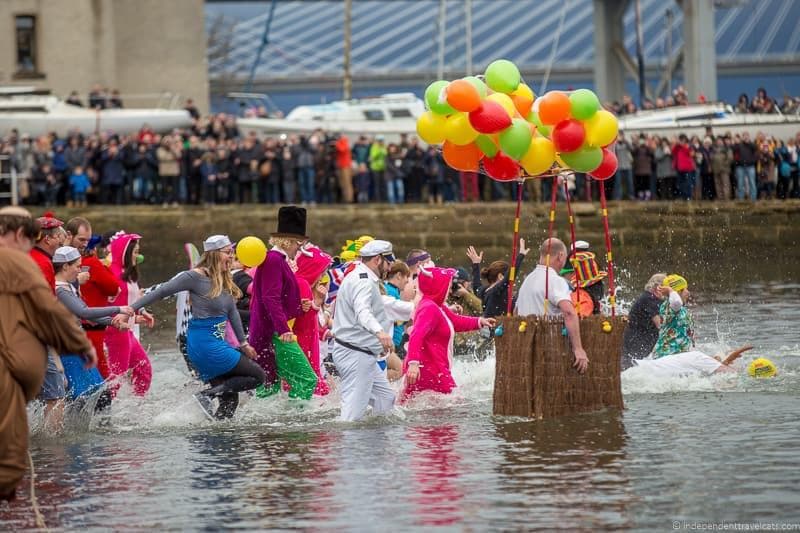 Edinburgh's Hogmanay 2020 / 2021 Schedule
This year all the Hogmanay events are online and free to attend. You can see the full virtual Hogmanay schedule online here.
Note: I am leaving the rest of this post for those who want to know what Hogmanay is typically like and for those making general plans for the 2021 / 2022 Hogmanay event in Edinburgh. But for the 2020 / 2021 Hogmanay, none of the usual in-person events will not be taking place, everything will be virtual. The government has imposed travel restrictions and people in Scotland are asked to stay at home for Hogmanay.
Can I Attend Multiple Hogmanay Events on the Same Day?
The short answer is yes you can. On December 30th and New Year's Day there are fewer events and they don't tend to overlap, but on New Year's Eve there are usually several overlapping evening events. But you will need to check the times and walking time between events.
You can choose to attend as many as you wish but since all the major events are ticketed separately, most people choose one or two evening events. For example you might go to the Candlelit Concert at St. Giles and then head to the Ceilidh, or go to the Street Party and then to the Concert.
Note that this year, the Concert in the Gardens tickets allow entry into the Street Party as well. So these two are easy to combine in one night if you wish.
Most events do NOT allow you to leave and re-enter and there's normally a cut-off time for entry, so it is wise to think about how you want to spend your time. Many people just choose one evening event such as the Street Party, Ceilidh, or Concert in the Gardens to enjoy as these each run all evening until 1am.
For late night revelers, there is also a Hogmanay After-Party (new in 2019) for those who want to stay out late past 1:00am!
Where Can I Eat for New Year's Eve?
If you are planning to attend one of the evening festival events, each will have stands offering food and drinks within the ticketed area. There are also stands open in Edinburgh's Christmas Market. So if you are OK with street food, that is one option.
The other option is to go out for dinner prior to coming to the festival as most events will not allow you to exit and return. Be sure to check entry/exit details for your tickets.
If you are hoping to go out for a nicer sit-down dinner (versus fast food, street food, or takeaway), I'd make reservations as it is a very busy night for local restaurants and pubs and many will have their tables fully reserved in advance. Many restaurants offer special Hogmanay holiday menus. Note that some will close early on New Year's Eve and may also be closed on New Year's Day and January 2nd (public holiday in Scotland).
A few restaurants that normally offers special Hogmanay menus for New Year's Eve and New Year's Day are The Printing Press, Number One (at the Balmoral Hotel),Ghillie Dhu, Browns, and Howies. Be sure to book in advance.
How to Avoid the Crowds at Hogmanay in Edinburgh?
Hogmanay is a busy time in Edinburgh, with tens of thousands of visitors coming to join in the celebration. In fact, in 1996 the Hogmanay celebration was recognized as the world's largest New Year party by the Guinness Book of Records with approximately 400,000 people! However, the numbers are now restricted through ticketing due to safety concerns to about 100,000, but there are still a lot of people.
If you don't care for a crowded street party environment, there are lots of events that will likely still appeal. Even the Street Party is not too crowded before 10pm so going early is a good way to enjoy the events in the early evening. You can also look out for VIP and Premium entry tickets (normally available for the Concert in the Gardens) that give you access to prime viewing areas for the fireworks and concerts in less crowded areas.
The most crowded events are definitely the Street Party and the Concert in the Gardens (although the Premium ticket area is not that crowded), so you may want to avoid these and focus on other events such as the Ceilidh, the candlelit concert at St. Giles, the family and afternoon events, and the New Year's Day events. The Torchlight Procession draws a lot of people but because the procession route is long, it is fairly easy to grab a good viewing spot.
If you are looking for a more intimate setting in Edinburgh to ring in the New Year, I'd book a Hogmanay event at a local restaurant, pub, theater, hotel, or museum. Many venues hold a Hogmanay event that normally includes dinner, drinks, dancing, and live entertainment. Some packages also include Street Party passes.
Looking for something more formal and fancy? The Principal, The Caledonian, The Balmoral, Prestonfield House, and many other of Edinburgh's larger hotels usually offer special Hogmanay events, dinners, and balls. You can also join in on events at other venues such as the popular Hogmanay Snow Ball at the Assembly Rooms.
The Queen's Hall generally has a Hogmanay ball, called Afore the Bells, but this year it looks like there is just a New Year's Day Concert. You can check the event schedule here.
For more informal but festive fun, we recommend the Hogmanay Hoolie at the Ghille Dhu. The pub/restaurant/event venue hosts a number of Hogmanay events that might suit. These include a Hogmanay lunch, dinner, ceilidh dancing, live bands, and a late-night after party. Just be sure to book in advance.
Another more informal option this year is the Hogmanay Hootenanny at the Pitt in Leith. The event is for adults-only and will feature live music, drinks, local food vendors, and dancing until 2:00am. It is definitely an alternative place to celebrate if you'd prefer something with a party-like atmosphere but more low-key than the Street Party and Concert in central Edinburgh.
If you are not wanting to be on your feet all night, I'd look for an event where you'll have a dedicated table so you always have a place to sit.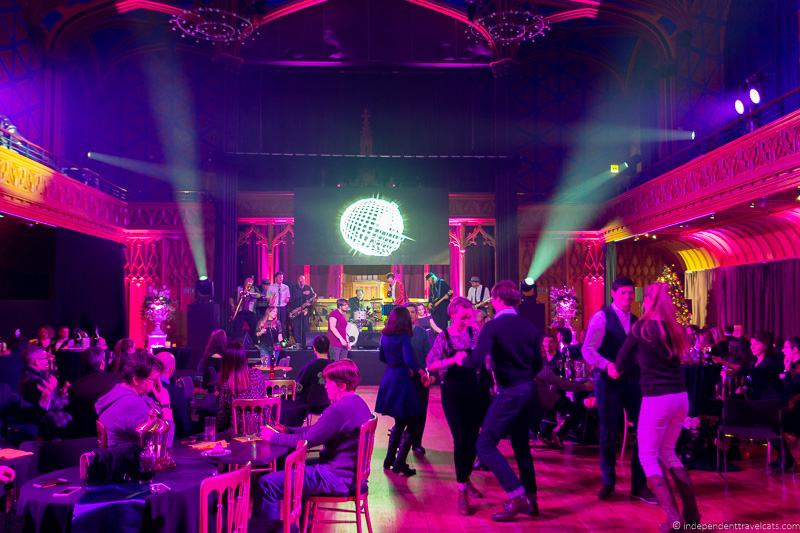 Is Edinburgh's Hogmanay affected by Bad Weather?
Yes, it can be. The outdoor events at Hogmanay, including the torchlight procession, street party, and fireworks may be cancelled if the weather is particularly bad, especially if it is deemed that the weather makes for unsafe conditions.
So far the main Hogmanay celebrations have only been canceled twice (2003 and 2006). But Edinburgh is used to bad weather so normal rain, cold weather, or a bit of wind won't lead to cancellations so chances are that all (or most) events will take place each year.
Although it is unlikely that the Hogmanay celebrations will be canceled, it is always good to have a back-up plan for what you'll do just in case. Note that tickets for most events will not be refunded for weather-related cancellations. Indoor events will still be happening, and you can also always head to a pub or restaurant to celebrate as many will have special Hogmanay menus and entertainment.
Where is the Best Place to see the New Year's Eve Midnight Fireworks in Edinburgh?
Probably the best spot is from Princes Street Gardens, which is where the Concert in the Gardens and the Ceilidh Under the Castle events take place. You also get really good views from along Princes Street from the Street Party, just be sure you head to a location with a good view of the castle before midnight. All these areas require tickets to enter and are part of Edinburgh's Hogmanay official events.
But if you are not attending any of the above events, you can still see the Hogmanay fireworks for free from many places in Edinburgh on New Year's Eve. Just remember that the fireworks are designed to be view from Princes Street Gardens and are shot from Edinburgh Castle, so you just need to find a spot to stand where you have a good view of Edinburgh Castle and the space above it. I'd scout out a spot earlier in the day.
Some popular places are the North Bridge, the corner of Castle Street and George street, and from Calton Hill. Most people head to a spot that is accessible just outside the boundaries of the Street Party. Just note that these are popular places at midnight so get there early to get a good spot. Also be sure to check on road closures and event closures to make sure these spots are accessible.
Also note that a few hotels have good views of the fireworks from balconies, terraces, and rooftops, so be sure to ask if yours happens to have a good viewing area.
Can I Sit Down at Hogmanay Events?
It depends on the event, but many events at Edinburgh's Hogmanay are standing only events. These include the Street Party, Ceilidh, Torchlight Procession, and Concert in the Gardens. However, in the Street Party, there are street edges and ledges where you can sit down to have a brief rest but there are no dedicated seating areas or benches. So be prepared!
But there are seated events or events that include seating such as the Candlelit Concert, concerts in McEwan Hall (booked the raised stalls), and most of the children and family events. Or consider one of the Hogmanay balls or events, such as the Snow Ball or events at the Ghillie Dhu.
Those with physical mobility issues should check out the Accessibility information for the events to help guide in their planning. Most events are accessible to those in wheelchairs.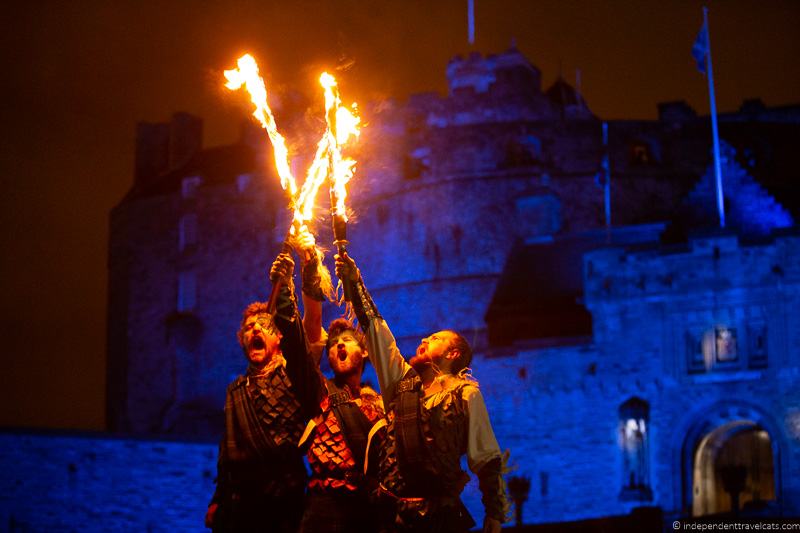 What Should I Wear for Hogmanay?
Hogmanay events in Edinburgh are primarily outdoors so you'll want to dress warmly and bring something to keep you dry in case it rains (e.g., waterproof jacket with hood, poncho). Check the weather before you leave to help with packing.
Events run late into the evening so it may be colder than you might expect, especially if it is windy or if it rains. We recommend dressing in warm layers, bringing along a hat and gloves, wearing a waterproof outer layer, and choosing comfortable practical shoes (you'll be on your feet all night!).
Check out this Hogmanay packing list which gives you some more specific advice of what to pack, bring, and wear during the Hogmanay events and Loony Dook.
Is Hogmanay in Edinburgh a Family Friendly Event?
I would say yes, but I would choose the events best suited for families as some are more family friendly than others and some events do NOT allow children under a certain age. For instance this year children under age 12 were not permitted at the Street Party or the Concert in the Gardens.
However, there are events each year that are specifically organized for families such as afternoon music events and early evening fireworks for families who want to avoid the biggest crowds and be home before midnight.
In 2019/2020, the main family events are Bairns Afore on New Year's Eve and the First Footers Family Ceilidh on New Year's Day.
In terms of the regular events, children are welcome (with an accompanying parent) to take part in the Torchlight Procession, afternoon concerts and events, candlelight concert at St. Giles, the ceilidh dancing, and Loony Dook. There are also the Edinburgh Christmas market, rides, and attractions which include a dedicated children's area.
Outside of the main festival, you'll find many other family-friendly Hogmanay events in Edinburgh that children are welcome to attend. For instance, both the National Museum of Scotland and The Queen's Hall normally host family-friendly Hogmanay events such as ceilidh dances, dinners, and entertainment.
Also, many restaurants, pubs, and hotels will be hosting special dinners and entertainment so you should have no trouble finding a family friendly place to celebrate. Just be sure to check if there are any age restrictions before booking.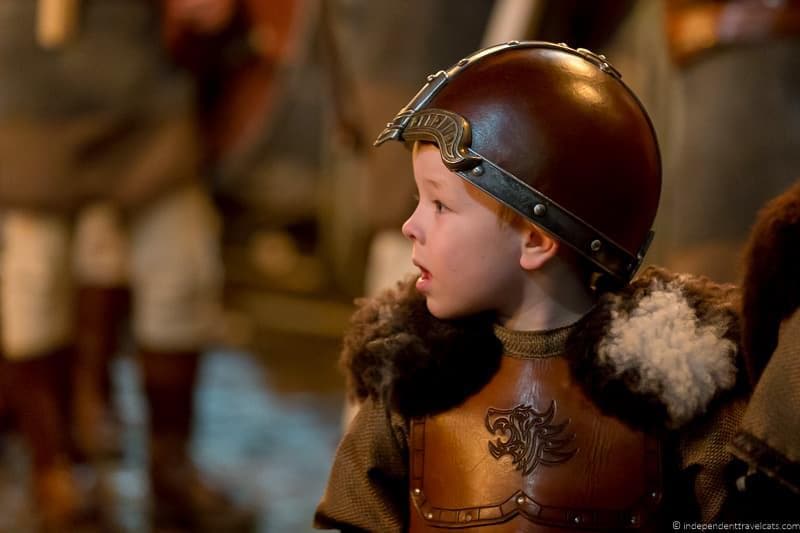 Can I take a tour to the Hogmanay Festival in Edinburgh?
Yes, you have a few options. Many are aimed at the younger budget traveler. The Hogmanay tours generally start from either London or Edinburgh. So a tour may be a good option for those traveling from London to Edinburgh.
If you are looking for a guided budget tour to get to and around Edinburgh during Hogmanay and elsewhere in Scotland, here are some tour options. They range from 4 to 7 days in Scotland and include a guide, bus and/or rail transport, and hostel accommodation.
What are the Best Ways to Travel around Edinburgh?
Edinburgh has a fairly compact city center, with the majority of attractions being easily accessible by foot or public transit. For public transportation, we recommend local buses (find Lothian Buses fees and schedules here), Uber, or local taxi services. The Edinburgh trams have a more limited route (includes the train stations and airport) but are a good additional option if you are traveling to and from the airport.
If you need to book a cab while in Edinburgh, we recommend using this UK taxi comparison service to find the best rate.
There is also the sightseeing hop-on hop-off bus services in Edinburgh that stop at many of the main tourist attractions in Edinburgh, including sites further afield like the Royal Yacht Britannia, Ocean Terminal, and Royal Botanic Gardens.
We would not recommend a renting a car unless you are planning to leave the city as many roads around the city center will be closed for the holiday events and finding parking can be difficult.
How to Find Accommodation in Edinburgh during Hogmanay?
The holidays, especially the week around Hogmanay, is one of the busiest times of the year in Edinburgh and many accommodations book up in advance. Prices are also higher at most hotels at this time of year. So we'd recommend booking as soon as you know what dates you'll be in the city.
In terms of accommodation options, Edinburgh has something to suit everyone, including hotels, bed-and-breakfasts, apartments, and hostels. You can search and compare all Edinburgh lodging options here.
Below are some recommendations for places to stay in Edinburgh during Hogmanay that are centrally located and within walking distance of the main Hogmanay events:
HOSTELS: Castle Rock Hostel and Royal Mile Backpackers are both well-rated and centrally located hostels offering great rates for budget travelers. They are both located within a 10 minute walk of the Street Party, Concert, Christmas market, and main Hogmanay festivities.
BUDGET HOTELS: There are lots of decent budget options in Edinburgh, but expect higher prices over Hogmanay. We recommend checking Travelodge City Centre, Ibis Edinburgh South Bridge, Premier Inn City Centre, Edinburgh Central Rooms (most rooms have shared bathrooms), Motel One, Point A Hotel in Haymarket, and Hampton by Hilton. All are located within a 10 to 20 minute walk or less to Princes Street Gardens and the main Hogmanay events.
MID-RANGE HOTELS: Some central mid-range options to consider include Hotel du Vin, Leonardo Royal Edinburgh Haymarket, Hotel Indigo, Grassmarket Hotel, and The Scotsman. All are located within a 10 to 20 minute walk to Princes Street Gardens and the main Hogmanay events.
LUXURY HOTELS: Our favorite luxury hotels in Edinburgh include The Balmoral, The Caledonian, The Kimpton (formerly The Principal), and The Witchery. All are located within a 10 minute walk for the main official Hogmanay festival events and venues, and The Balmoral is located just next door to Princes Street Gardens (about as close as you can get!). Many of the luxury hotels in Edinburgh also host their own Hogmanay events.
For those seeking self-catering options or shared accommodation, you might start by checking Plum Guide, which in our experience has some of the nicer properties available. We'd also recommend checking out VRBO as well as EdLets which rents all kinds of spaces in Edinburgh.
If you are still not finding what you are looking for, we recommend looking through this list of websites like Airbnb for more apartment and room booking options.
RVers and campers can also find campgrounds and RV parks in and near Edinburgh such as the Edinburgh Caravan Club Site and Mortonhall Campsite.
If you are booking fairly last minute and can't find any availability or no availability within your budget, I'd start thinking about different types of location options (e.g., apartments, hostels, rooms, cabins) and looking outside central Edinburgh. There are a lot of smaller satellite towns and villages within a 30 minute to 60 minute car or bus ride from Edinburgh that may be able to offer cheaper accommodation.
If you are finding anything within your budget in Edinburgh, you may also want to think about Glasgow or Stirling if you can't find anything in Edinburgh as both cities are only an hour drive or bus ride away with the Citylink bus.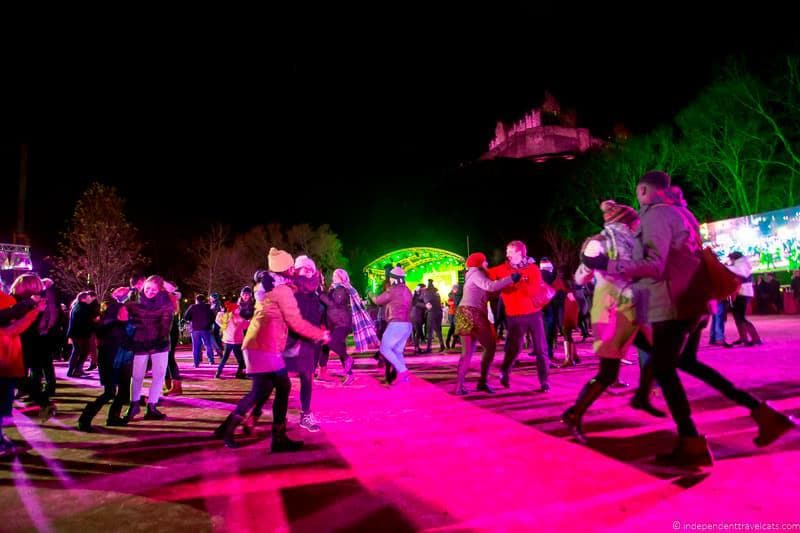 What are Other things to do in Edinburgh during Hogmanay?
If you are staying for a couple of days before or after New Year's Eve, I'd recommend checking out the Edinburgh's Christmas events, many of which run through the first week of January. Because of the large influx of people into Edinburgh, there are often other special events held that week as well so check out local events schedules.
If this is your first time in Edinburgh, we'd recommend starting with this list of the top things to do in Edinburgh, which covers the top attractions, museums, hotspots, and green spaces in the city. We'd also recommend checking out our winter in Edinburgh guide.
If you have been to Edinburgh before, we'd also recommend exploring some of Edinburgh's lesser known attractions. Potterheads may be interested in seeing the Harry Potter sites, shutterbugs may want to search for the city's top photography locations, and fans of the Royal Family may want to save money with the Royal Edinburgh Ticket.
If you have more time in Edinburgh, you may also consider taking a day trip from Edinburgh. Popular day trips from Edinburgh include castles, whisky distilleries, Outlander sites, Glasgow, Rosslyn Chapel, Loch Ness, and the Scottish Highlands. If you are interested in a day trip tour, we can recommend taking a look at the tours offered by local tour company Rabbies. We have always had a great experience on their tours.
Elsewhere in Scotland, you can check out our winter in Scotland ideas.
There is obviously lots to do in Edinburgh, and feel free to leave us a comment if you need any advice!
Where to Celebrate Hogmanay outside of Edinburgh?
Edinburgh's Hogmanay is Scotland's largest New Year's celebration; however, you'll find Hogmanay celebrations throughout the country. If you are looking for a smaller but still festive public celebration check out larger cities like Glasgow (second largest Hogmanay celebrations), Inverness, and Aberdeen.
The bigger cities will all have public festivals and smaller towns of any size will also have local festivities such as ceilidh dancing, live music, and dinners. Fire seems to also factor into a number of celebrations such as the Stonehaven Fireball festival and the Biggar Bonfire.
Although not connected to Hogmanay, Up Helly Aa celebrates the end of the Yule season with a series of fire and Viking filled events throughout the islands of Shetland. You can read our guide and experience attending Up Helly Aa in Shetland!
Best Places to Find Information about Hogmanay events?
In addition to this article, I'd check out the Edinburgh Hogmanay official website which is the best place for the latest news, event times, and where you can purchase tickets online. I'd also recommend visiting the Festivals Edinburgh website, which has information and resources for all the major Edinburgh festivals including Hogmanay.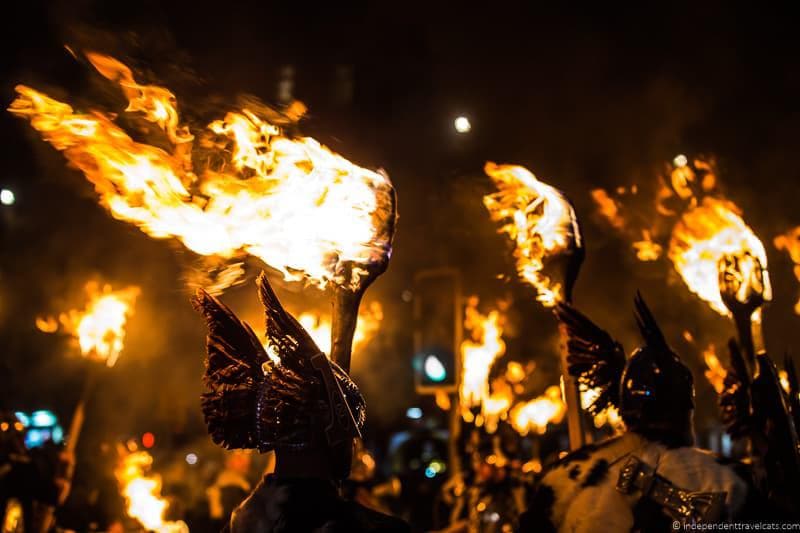 Hogmanay in Edinburgh Guide: Day by Day Events
Edinburgh's Hogmanay is known for its massive street party, but the festival is much more than that and events take place over three days. We'll cover all the major Hogmanay events to help you decide what you want to do and help you plan your trip to have the best possible New Year's in Edinburgh!
Note that the below information is relevant to normal years – for the 2020/21 Hogmanay no in person events are scheduled.
December – All Month Long
If you are visiting Edinburgh for Hogmanay, consider coming early to also enjoy some Christmas festivities. Many of the Christmas events, including the Christmas Market, continue into January as well!
Christmas in Edinburgh
The entire month of December is a festive time to be in Edinburgh and the Edinburgh Christmas events have been growing in size and popularity, attracting lots of international tourists. Holiday related events normally begin at the end of November and most things are in full swing by the first week of December. Expect Christmas markets, outdoor skating rinks, amusement rides, holidays lights, a Santa's grotto, concerts, holiday lights, and special events.
Although some of these end at Christmas, many of these continue through the first week of January. So if you come for Hogmanay you can still visit the Christmas markets, ride the amusement rides, and go ice skating. Check out our guide to Christmas in Edinburgh to give you a full overview of all the things you can do during this time of year.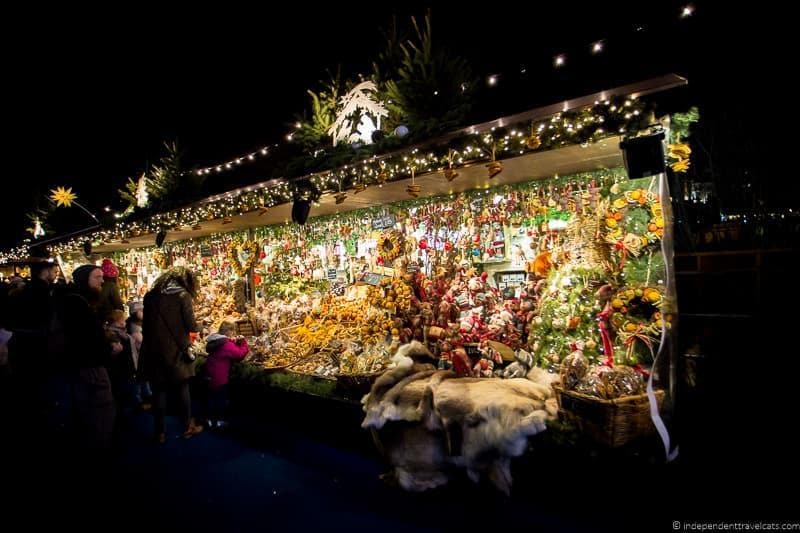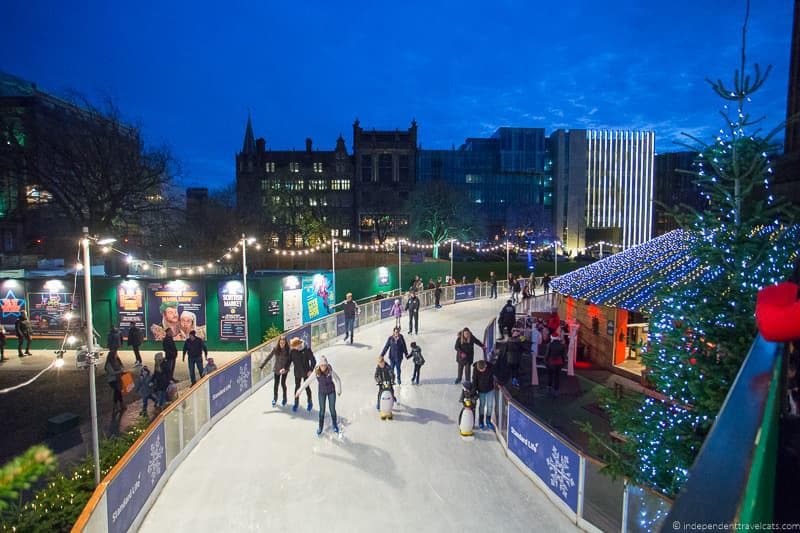 December 30th
The two main events that take place on December 30th are the torchlight procession and a short fireworks show in the evening. The torchlight procession is generally seen as the official kickoff to the Edinburgh's Hogmanay celebrations. Check the official schedule to see if any other events may also be taking place on this day as there may also be music entertainment or other festivities.
Torchlight Procession at Hogmanay
The torchlight procession is the big kickoff event for the Hogmanay festival in Edinburgh! A group of 20,000 to 40,000 people normally take part in a walking parade carrying torches that creates a "river of fire". The procession is also accompanied by a series of drummers and pipers from throughout Scotland who play music throughout the walk.
Leading the procession in 2019/2020, as in 2018/2019, will be the PyroCeltica performers in full Highland Warrior costume who showcased a dazzling array of fire skills featuring fire fans, huge flaming claymores, and fire staffs. They will march to the drumming of the Harbinger Drummers.
In past years, the torchlight procession has been led by a group of 30 or 40 Up Helly Aa "Vikings" from the Shetland Islands who are also carrying torches and weapons.
The procession usually lasts about 2 hours, beginning at dark around 7pm. The route varies each year but the procession has always taken place in the Old Town.
Visitors are welcome to participate and walk in the procession. If you want to participate, you'll need to register and purchase a ticket in advance. You can purchase a procession ticket with or without a torch.
On the day of the event, you'll need to then collect your torch as instructed, normally 1.5 to 2 hours before the event begins, at the designated collection point and then join the assigned procession starting point.
In 2019/2020, there will be three different starting points, so be sure to pay attention to the starting time and starting point assigned on your ticket.
The torches used to date have been long thick wax-based candles with a safety guard to collect the drippings as the wax melts so it doesn't get on your hand. But be careful as the wind can blow the wax on you so don't wear your best clothes and be prepared for possible rain.
Children can participate in the procession but must be accompanied by an adult, and no baby strollers or prams are allowed in the procession. If you are doing it as a family with younger children, it might be best to get a few torches to share in case kids get tired of carrying them.
If you don't want to walk in the procession, you can still watch it from the sides of the streets. The route will be roped off with space for people to stand alongside and watch. It is free to watch as a spectator and you don't need a ticket.
The beginning of the parade is usually the most dramatic as they have previously had the Up Helly Aa Vikings or PyroCeltica performers at the beginning! I'd recommend standing in an area where you will be able to see the parade but also at or near where you will also be able to see the evening fireworks.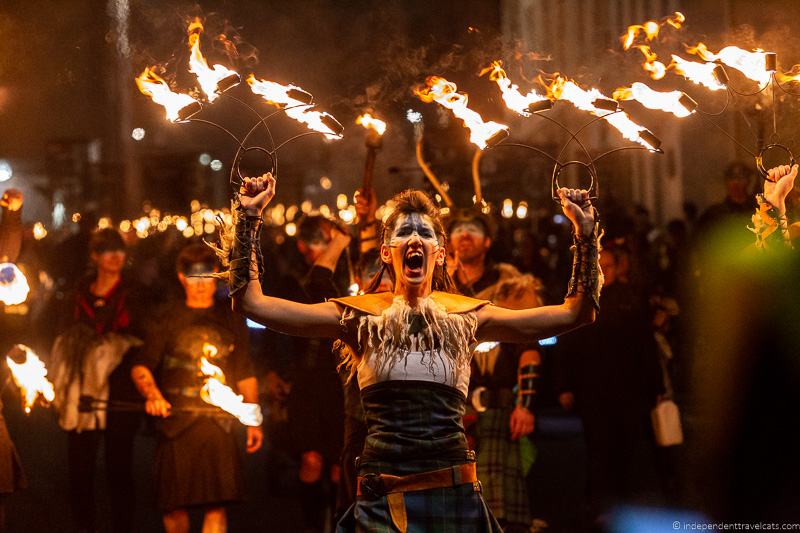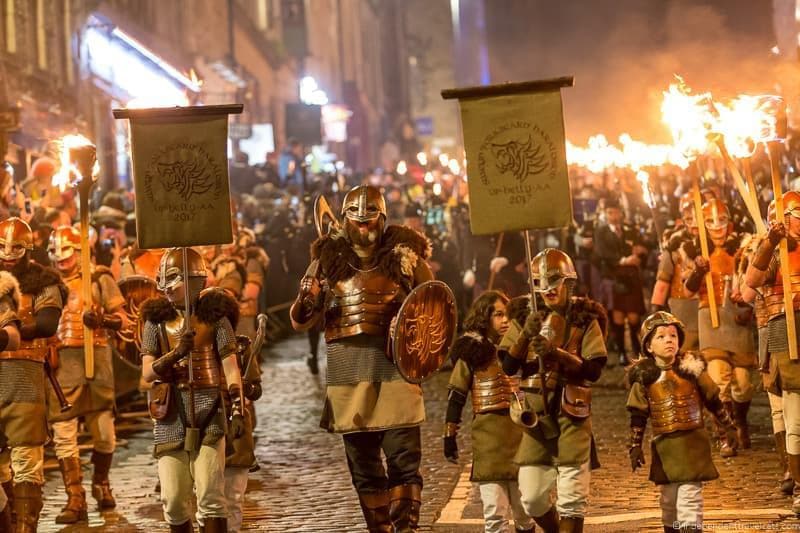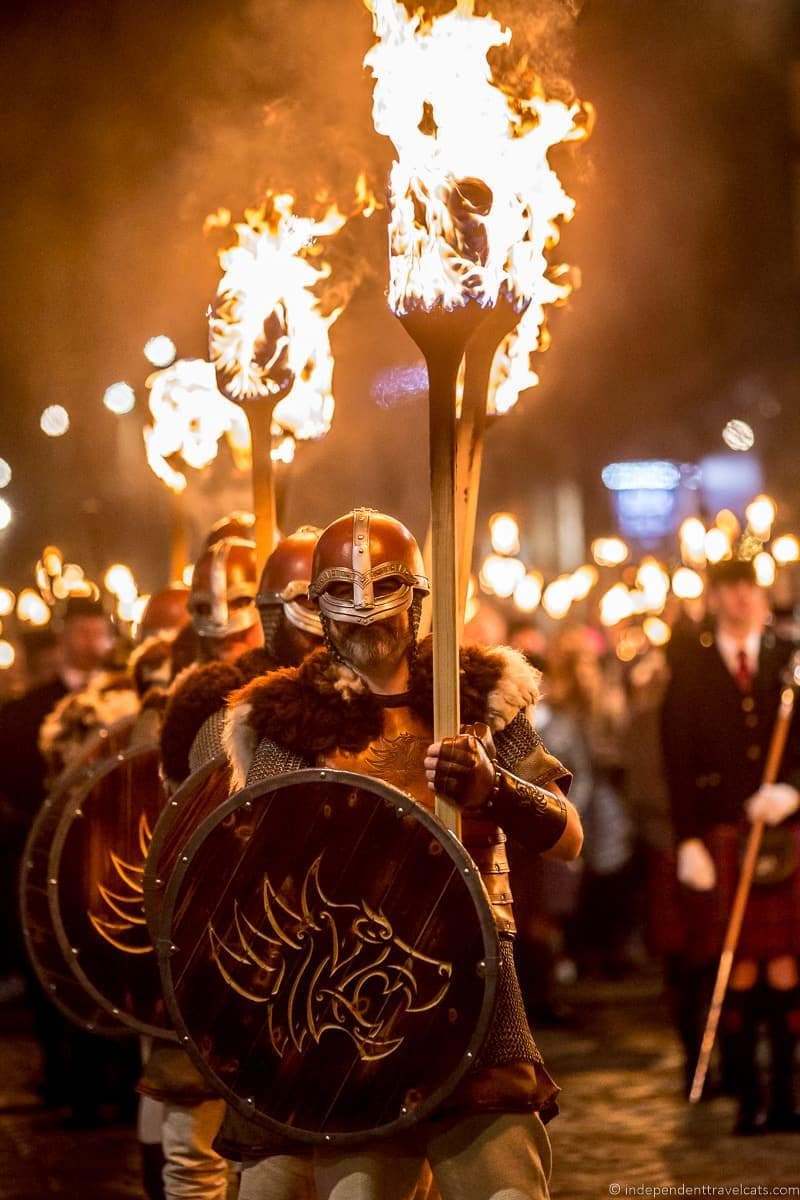 Fireworks
Normally, there is a short fireworks show after the torchlight procession ends. The location of the fireworks may vary, with them normally being fired from Calton Hill. You'll be able to see them from Holyrood Park if you are already out for the torchlight procession.
If you are not taking part or watching the torchlight procession, you may still be able to watch the fireworks as it can normally be seen from a number of spots in the city. They are meant to be seen from Holyrood Park but as long as you can see over the area where the fireworks are going to be launched, you should be able to see them.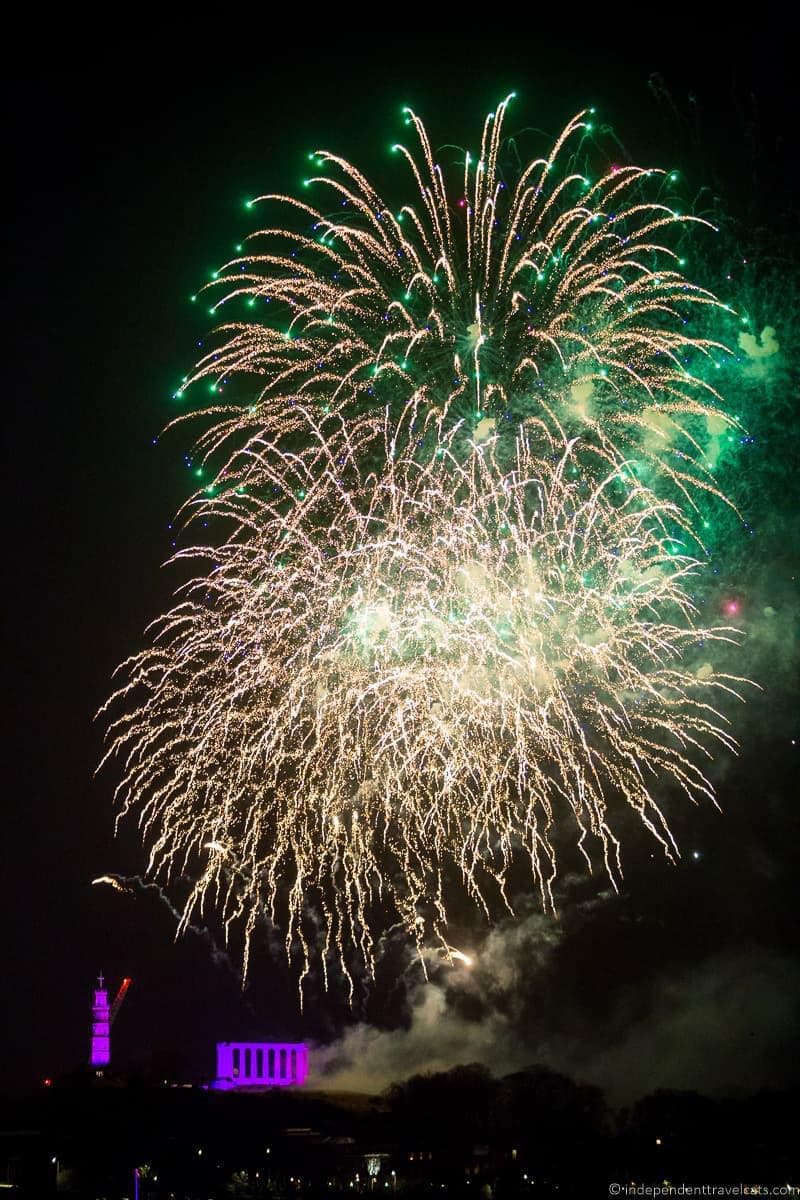 December 31st – New Year's Eve
New Year's Eve is the main day of the Edinburgh Hogmanay festival and the best day to come if you are only going to come for one day to celebrate New Year's in Edinburgh. This is the day of the street party, concerts, dances, and the largest firework display. There are also tons of other Hogmanay events taking place at private venues throughout the city.
On this day, you'll want to take some time to plan ahead. Many of the ticketed events note a time when you must arrive by and most events do not allow you to leave and re-enter again. So for example if you want to go to both the Ceilidh and the Concert in the Gardens, you may want to go to the Ceilidh when it first opens for 2 or 3 hours, and then head to the Concert for the rest of the evening.
Also note that the sidewalks and streets in central Edinburgh start to become very busy around 10pm and it takes a lot more time than usual to get from place to place, both due to the crowds and all the barriers. All the ticketed areas have public toilets as well as places to purchase drinks and street food.
Hogmanay Children and Family Events
Each year there are always family-oriented Hogmanay events in Edinburgh. These have changed each year since we've been here, but there are always fun events where families can celebrate New Year's Eve earlier in the day.
The main official event this year (as it was last year) is Bairns Afore which is an afternoon 1 hour music outdoor concert designed for children and families followed by a short fireworks display. It starts at 5:00pm with fireworks at 6pm. This is a great event for families with children of any age, and we enjoyed the music played here which is a mix of songs for both kids and parents.
The National Museum of Scotland usually hosts at least one fun family Hogmanay event. In 2019/2020, the museum is hosting a family day throughout the morning and afternoon of December 31st geared towards families with younger children including ceilidh dancing, arts and crafts, and live music. It is free to drop into the museum and participate in most of the events, although the ceilidh requires a pre-booked ticket. See details here.
In addition to the special 6pm fireworks after Bairns Afore, there are usually short fireworks displays (about 30 seconds long) every hour on the hour starting at 9pm. These were held so that families could watch the fireworks with their children before going home, and to get revelers geared up for the midnight finale. So even if your little ones needs to be in bed early, you can still see one of the early fireworks.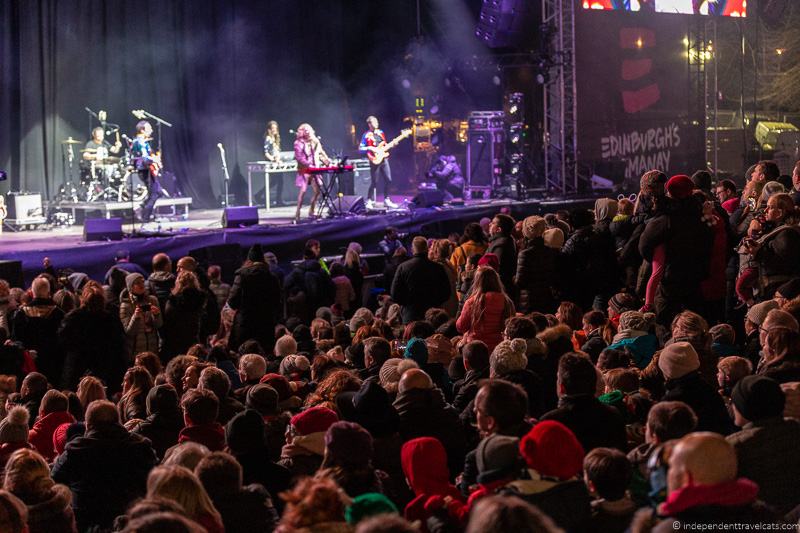 Candlelit Concert at St. Giles
Each year there is a New Year's Eve concert held in St. Giles, a beautiful 14th century cathedral that is the principal church of the Church of Scotland. It is a classic concert, and often features religiously themed music from composers like Mozart, Bach, and Handel as well as local choirs.
The candle light and historic cathedral add a nice dramatic atmosphere to this concert that normally lasts 1.5 to 2 hours in length.
If you are looking for some moments of peace and spirituality in your Hogmanay celebration, this might be the event for you! Just note that the music is often song in its original language so when we went it was in Latin and German.
Tickets are needed to attend, and these normally sell out well in advance. Children are welcome, but the event is not appropriate for babies or young children. This is a fully seated event.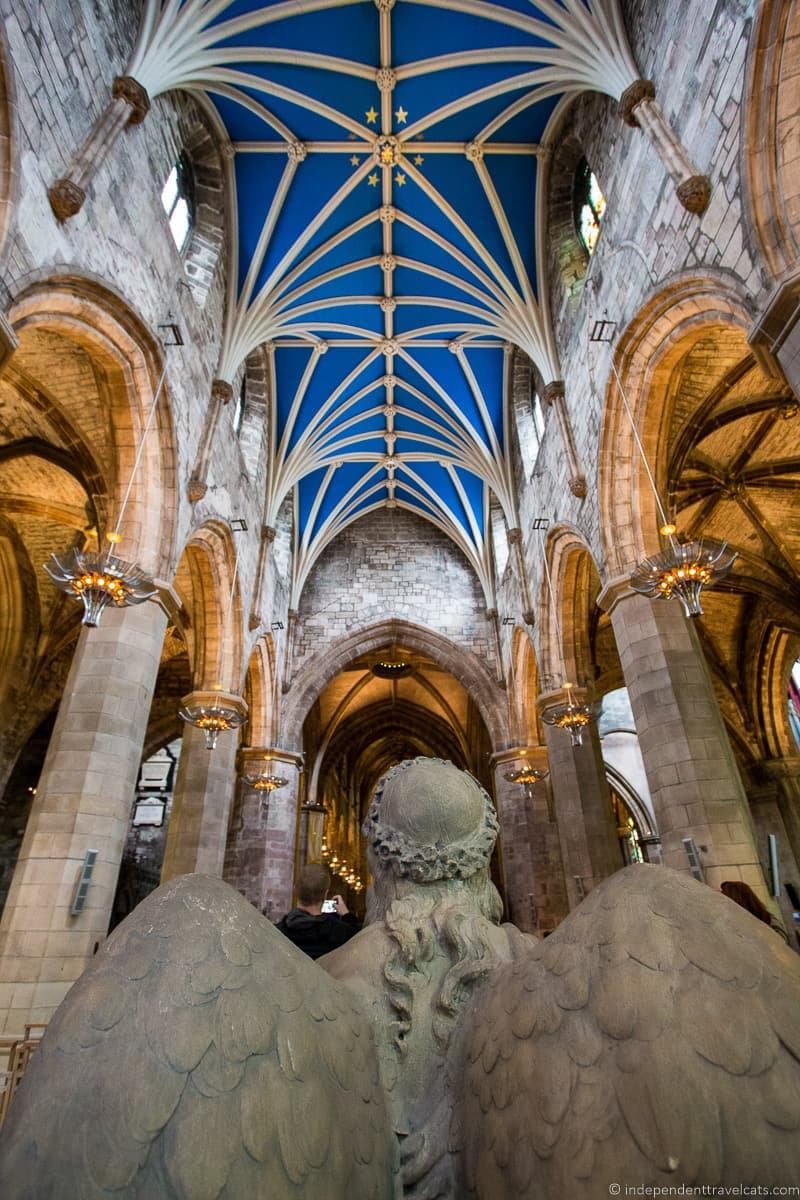 Hogmanay Ceilidh
A ceilidh, pronounced kay-lee, is a word used to describe a traditional social gathering that normally includes Gaelic music and dancing. The New Year's Eve Ceilidh in Edinburgh is a dance event with Scottish bands playing live music and calling out traditional dances.
Each new dance is first demonstrated and then called out so that those not familiar with the dance steps can still join in. Most dances are for pairs but there are also set dances that include two to four sets of couples. If you are looking for an outdoor dance venue on New Year's Eve, this is probably it! Starting in 2017, the ceilidh has been held just under the castle so it was a perfect spot to view the fireworks.
You do need to buy a ticket to join the Ceilidh and these normally sell out in advance. Children are welcome but this event is not recommended for really young children and you cannot bring stollers or prams to the event.
If you want to attend a ceilidh with younger children, the First Footers Family Ceilidh on January 1st is very friendly event for kids and people of any age.
There is no special dress code although some people do dress up, just be sure to wear something you can move in and comfortable shoes. There was a lady who showed up this year in a short dress and spike heels who didn't look like she was having much fun after about 10 minutes of dancing!
There is a food and drink stand within the Ceilidh area as well as toilets. The Ceilidh normally starts at 8pm and ends at 1am.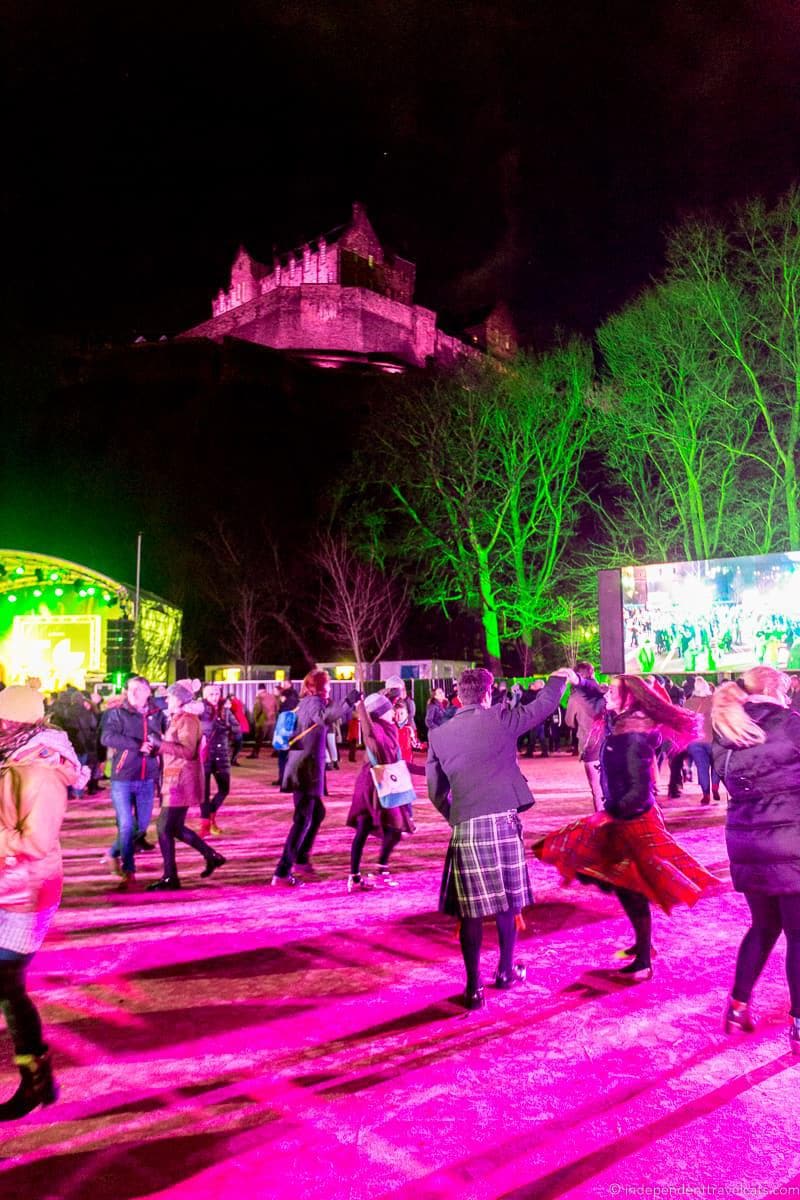 Hogmanay Edinburgh Street Party
The Street Party is a large area that you can walk around that contains a number of stages with live entertainment. For instance, in 2018/2019 there were three main stages which hosted various live music acts that were playing simultaneously and there were also a couple of smaller areas with street performers, acrobats, and a radio announcer. There were also a few street performers walking amongst the crowds.
This is the place to be if you are looking for a large outdoor party environment to celebrate New Year's Eve in Edinburgh. You will be able to see the fireworks from the Street Party at midnight, and there are also screens set up within the Street Party area to give people better views of the midnight moments.
Admittance to the Street Party area requires a ticket, and children under age 12 are not permitted. There are a lot of tickets for the Street Party so they don't sell out as fast as the other events, but they do often sell out so I'd still book in advance to avoid disappointment.
There are several food and drinks stands within the Street Party area as well as toilets. The Street Party usually opens at 7pm (entertainment usually starts around 8pm) and ends at 1am.
Note that tickets for Concert in the Gardens also allow access to the Street Party arena. Be sure to wear the Street Party wristband.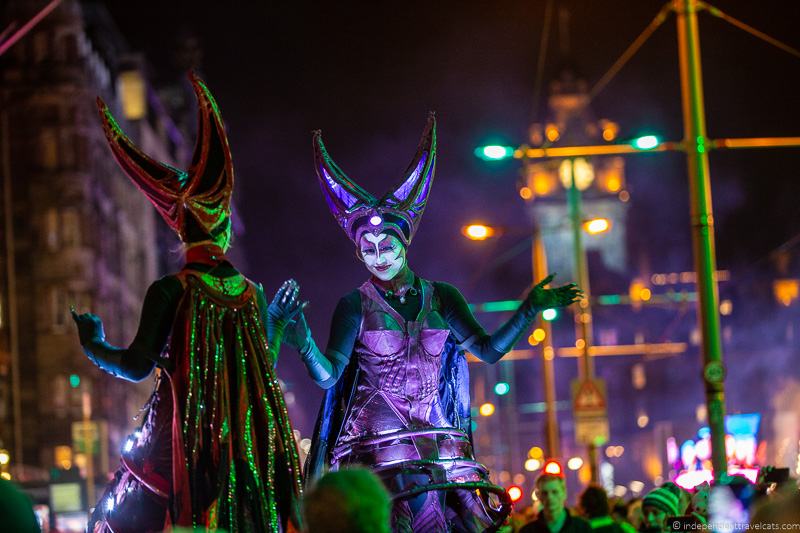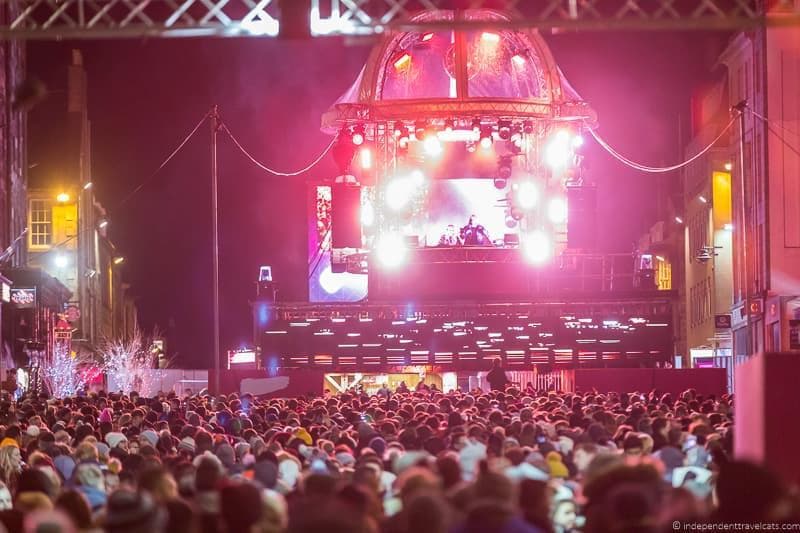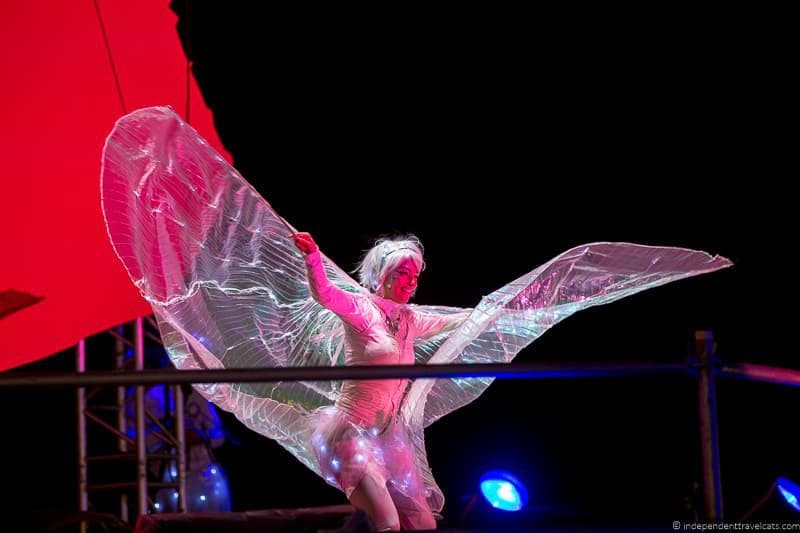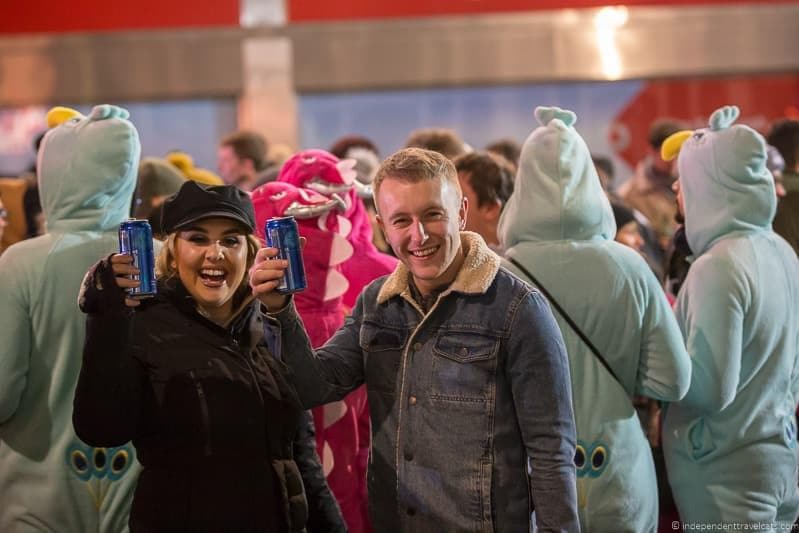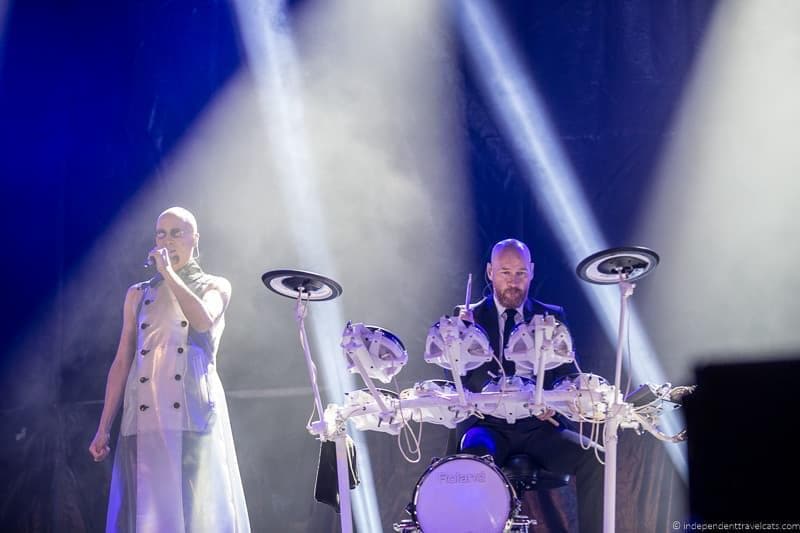 Concert in the Gardens
The Concert in the Gardens is a large outdoor concert held in Princes Street Gardens. If you are looking for live music on New Year's Eve, but not the giant party atmosphere of the Street Party, this is probably the place for you.
The music concert usually features a main headline act plus a couple of guest acts. Past headline acts have included Franz Ferdinand, Rag'N'Bone Man, Pet Shop Boys, Paolo Nutini, and Lily Allen.
This year (2019/2020) will be a bit different as the headline act will be British-American musician and DJ Mark Ronson who will be playing party hits during the nights. This the first time a DJ, rather than a singer or band, has headlined the event.
The guest acts this year are London based Rudimental DJ, know for their dance pop tunes, and Mungo's Hi Fi, which are based in Glasgow, and known for their Jamaican inspired reggae and dubstep music.
At midnight the concert pauses for a countdown and the midnight fireworks and the singing of "Auld Lang Syne". Those at the Concert have a great view of the fireworks which are set off from Edinburgh Castle.
Admittance to the Concert in the Gardens requires a ticket, and children under age 12 are not permitted. Premium area tickets are available which allow for a special viewing area that is less crowded and has limited seating. Concert tickets almost always sell out well in advance so book early.
There are several food and drinks stands within the Concert area as well as toilets. The Concert usually starts at 9pm and ends at 1:00am.
Note that tickets for Concert in the Gardens also allow access to the Street Party arena.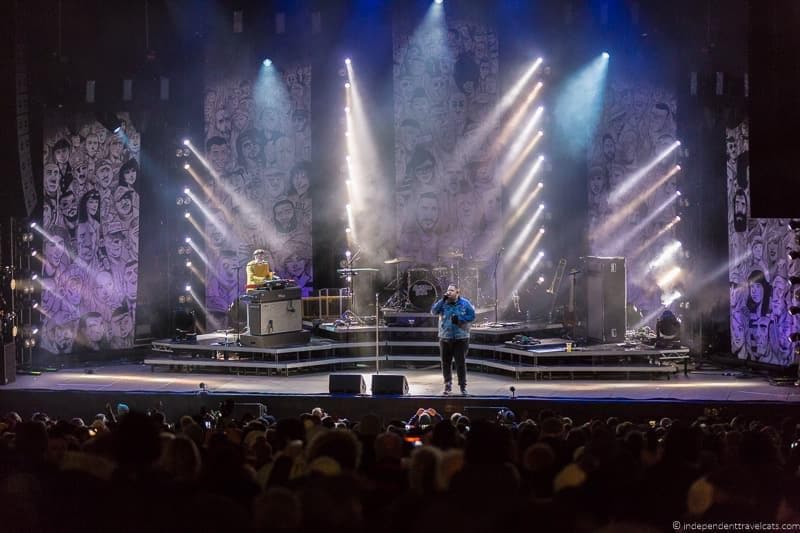 Hogmanay Midnight Fireworks & "Auld Lang Syne"
A countdown to midnight begins about a minute before midnight and then the fireworks finale beings at midnight. The fireworks are set off from Edinburgh Castle, and the final fireworks finale lasts for several minutes and is set to music.
The midnight fireworks displays on New Year's Eve are the best fireworks we've seen in Edinburgh, and are worth watching if you are in the city. Those attending the Ceilidh, Concert, or Street Party will be able to just look up to see them. Even if you are not taking part in any of the ticketed events, you can see if from multiple locations in the city as long as you can have a view of the area above Edinburgh Castle. For example you can head to Calton Hill or perhaps you can see it from your hotel window or balcony. This is also a great time for that champagne (or whisky) toast!
At the end of the fireworks, the crowds joins in the singing of "Auld Lang Syne" that is typically led by the headline music performer. "Auld Lang Syne" is a poem by Scottish writer Robert Burns (part he wrote, part he borrowed from other older Scottish poems) that has been set to traditional folk music. It is sung in many English-speaking countries although in my experience, few people actually know all the words! Only a shortened version of the song is sang at the Hogmanay festival as it is fairly long. I'd look up the lyrics beforehand to join in if you don't know them.
As in most parts of the world, people join hands during the singing of "Auld Lang Syne". However, there is a bit of a twist in Scotland that is often not done elsewhere as people in many countries cross arms during the entirety of the song.
On Hogmanay, people often join hands with the people next to them, forming a circle. Then at the beginning of the last verse, everyone crosses their arms across their breast, so that the right hand reaches out to the person standing on their left and vice versa. Then when the music ends, everyone may move to the middle of the circle with their hands still joined. This is often not possible at the Concert of Street Party in a large crowd, but if you are at a smaller gathering in Scotland, they will likely do this.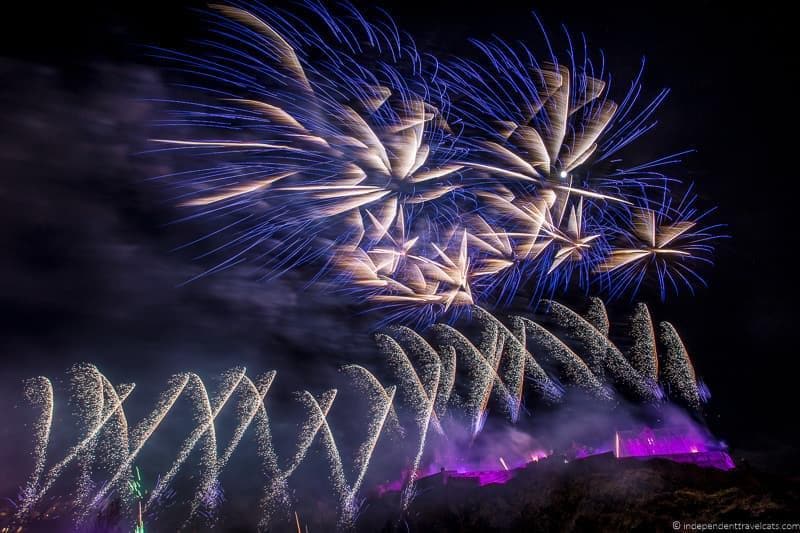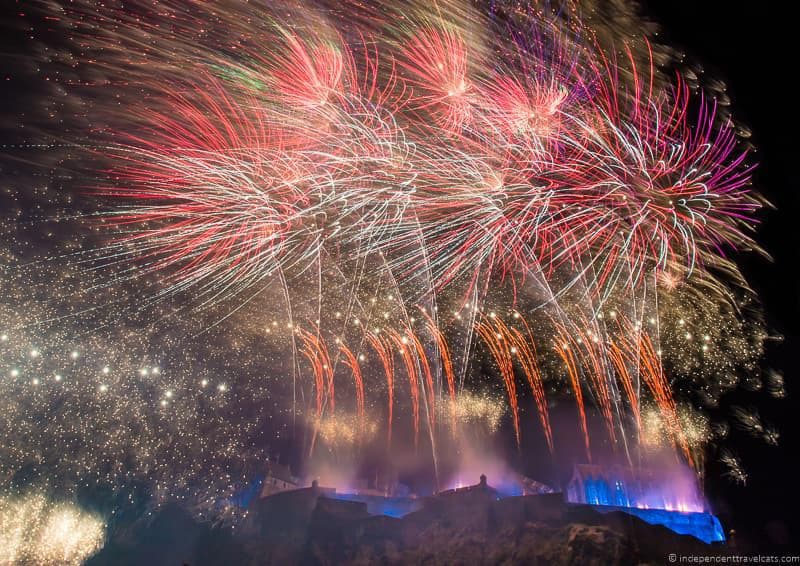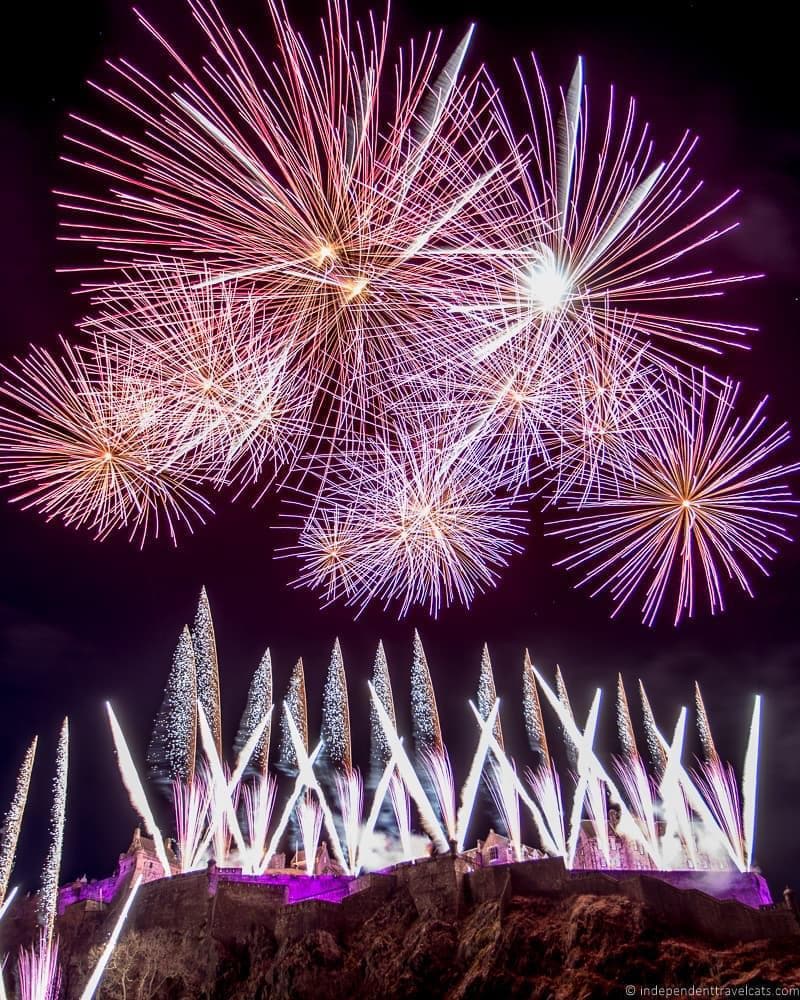 Edinburgh Hogmanay Official After Party
This year a new event is the Edinburgh's Hogmanay Official After-Party. Typically, all the official Hogmanay events end around 12:30am or 1:00am. But this year, if you want to keep celebrating you can head on to the Official After-Party.
The After Party will feature DJs who will keep the music and dancing going into the wee hours for late night revelers.
This is a ticketed event, and you must be at least 18 to attend the party. No outside alcohol or glass items are permitted at the event.
January 1st – New Year's Day
Loony Dook
If you think you'll be able to get up early the next morning and are up for a bit of zany fun, I'd consider joining in the Loony Dook. Loony Dook "dookers" participate in a fancy dress parade and then take a cold dip into the freezing River Forth in South Queensferry, just north of Edinburgh. The timing of the event changes each year as it is related to the tides and can be anytime in the morning or afternoon on New Year's Day.
You don't have to dress up in a costume to participate, but it certainly adds to the fun if you make some effort as most people do. Some people get really creative! Check out our Loony Dook guide and photos to see if this is something you want to do!
If you want to participate, you need to register for Loony Dook well in advance as it always sells out early. Tickets are limited due to space and safety concerns. You'll want to bring along footwear appropriate to walking into a river, a towel, and a warm change of clothes. You have to have a ticket or wristband to participate. If you want to watch but don't want to go into the water, you can watch for free as a spectator from the sidelines but you won't be able to be in the parade or join the Dookers in the water.
Loony Dook takes place outside of Edinburgh in the nearby town of South Queensferry, but there are a number of ways to easily get to the event. You can drive, take a public bus, book a taxi or Uber, or go by train (to Dalmeny) from Edinburgh. There are also usually special bus transfers arranged that morning from Edinburgh for Loony Dook that you can book as well.
If you are visiting Hogmanay as part of a tour they will usually arrange transportation to and from the event for you.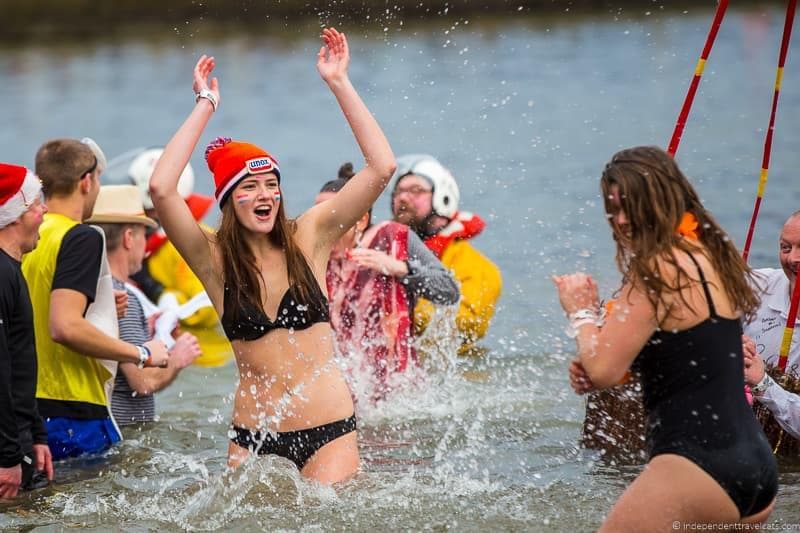 Other New Year's Day Hogmanay Events
In addition to Loony Dook, there is always some event or activity planned in Edinburgh on New Year's Day as part of Edinburgh's Hogmanay. The events are normally family friendly and free; however, they change each year so you'll want to check the schedule to find out.
The First Footers Family Ceilidh is a free event taking place in McEwan Hall and open to all ages. Here people of all ages can list to traditional music and ceilidh dancing. The event is free but tickets are required.
In the evening, also at McEwan Hall, will be a music concert by Glasgow-born Eddi Reader. She has had a long award-winning music career. The concert will feature pop, traditional folk, and jazz music. There is a fee for tickets to the music event.
Message from the Skies was introduced in 2018 and features a series of light projections on buildings throughout the city that are tied to a central theme. In 2020, Message from the Skies will return and will focus on Scotland's relationship with its waters and coastline. This time the light projections will include messages with a maritime theme. The writers will include Charlotte Runcie, Irvine Welsh, Kathleen Jamie, Kayus Bankole, and Robin Robinso
It is a free event and participants download an app that provides a guided walking tour to enable visitors to follow the projections throughout the city at their own pace. This event will run every evening from dusk to 10:00pm from January 1, 2020 to January 25, 2020.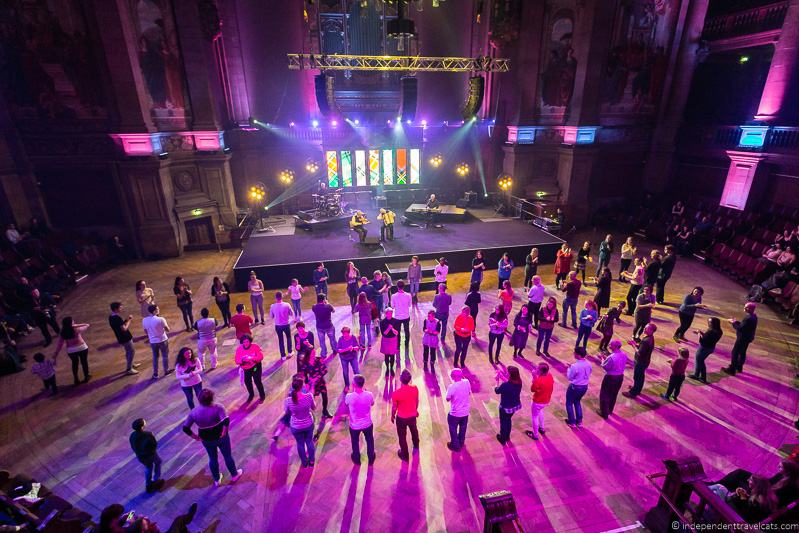 Our Top Edinburgh Hogmanay Tips
We've attended Hogmanay in Edinburgh several times now and here are our tips and advice for making the most of the event based on our experiences:
The best place to find out more about the festival, the latest events schedule, and to book tickets to Hogmanay events, is the Edinburgh's Hogmanay website. This is going to be your best source for the most up-to-date Hogmanay information as events change a bit each year.
Book your tickets in advance. Most events sell out, and many sell out months in advance. Don't be disappointed if you know you want to go!
If you live in or near Edinburgh, keep an eye out for local discounts. In 2019/2020, Edinburgh's Hogmanay is discounting 10,000 Street Party tickets for EH postcode holders. On some years, other special local discounts have been offered for those with an EH postcode, although these are usually limited in number. Local radio stations and businesses also sometimes have ticket giveaways.
The lines for picking up tickets at the box office can be long, especially on the day or two before New Year's Eve. If you have the option to print you ticket or have it delivered to your home, I'd do that to avoid standing in the line. If that is not an option, I'd collect your tickets or wristbands as soon as you arrive in the city.
You must have your official ticket or wristband on you throughout the event, you won't be allowed into the ticketed areas without it!
Arrive early to events to avoid long lines and to get a good spot. The gates/doors open for all events about an hour before the event starts. Most seats at sit-down events and standing places next to stages are first-come, first-serve. Remember that most events have a time when they stop admitting people so be sure to arrive well before this so you get in before that time.
Check the rules for each event as many will not allow large bags, luggage, baby strollers, coolers, or glassware. I'd leave bags at home if you can but if you have a bag with you, be prepared for it to be searched by security officers.
Those with physical mobility issues should check out the

Accessibility information

for the events to help guide in their planning.
Remember that not all Hogmanay events in Edinburgh are part of the official Edinburgh Hogmanay festival. Lots of other small events will also be taking place in the city, including special dinners, family events, concerts, and dances, so your Hogmanay in Edinburgh experience does not have to be limited to only the festival offerings. Some venues that normally offer Hogmanay shows or events include Usher Hall, The Assembly Rooms, the Queen's Hall, the National Museum of Scotland, Scottish Storytelling Centre, Ghille Dhu, and several of the city's hotels.
If you are attending events with children, be sure to check the event rules beforehand and also think about whether the event is suitable for your child. Some events do not allow children under a certain age and all events require that children be accompanied by an adult at all times.
Remember that most of the Hogmanay festivities in Edinburgh are busy, outdoor, and all-standing events so please dress for the weather and wear comfortable shoes! Wrap up warmly and be prepared for rain.

See this guide to what to wear for Hogmanay to help you decide what to bring.
Photography and cameras are welcome at most events (do check event guidelines) but there is a strict no drone policy. It is illegal (and unsafe) to fly a drone during any of the Hogmanay events.
Note that in most of the event venues and concert arenas, outside alcohol is not permitted. However, alcohol is permitted (be sure to double check latest guidelines) to be brought into the Street Party arena for those of legal drinking age (age 18+). But it can only be brought in plastic or metal containers not exceeding 500ml. No glass bottles of any kind (with or without alcohol) are allowed into any of the Hogmanay venues.
Have fun but remember that if you appear to be too intoxicated, incapacitated, or unruly, you may be denied entry and/or removed from the event.
For those wanting to purchase a glass of champagne or a dram of whisky at midnight, I'd get in line to purchase it well before midnight to avoid being in line and missing out on the midnight moment!
Think about where you want to be standing at midnight (and with whom) so you can make your way there a little in advance as it can take longer than you think to walk from one place to another in a crowded space!
Think about how you are going to get home or back to your lodging before you go out for the night. If you are out with friends or a group, have a place to meet in case you get separated in the crowds. Note that cell phones may not work or be very slow around midnight as so many people will be trying to use them at the same time.
Special late night bus (check Lothian Buses schedules)and tram services will be running in Edinburgh on New Year's Eve and New Year's Day. If you live or are staying in Edinburgh, Edinburgh Trams services provide special free late night transportation after midnight on New Year's Eve/New Year's Day. Special holiday CityLink services (tickets needed) can take you to other towns and cities throughout Scotland. Check the schedules online.
Be sure to set an alarm if you plan to head to Loony Dook! Many people intend to go the day before and then get up too late to go. Also plan how you are going to get there and back in advance. See this Loony Dook guide.
Loony Dookers should also make sure they get their costume together in advance (whether you bring it with you or buy it in Edinburgh). Also don't forget to bring proper footwear that you are OK getting wet (Laurence went barefoot one year and would never do that again!). A towel and change of warm clothing are also highly recommended.
Enjoy Edinburgh's Hogmanay, but also don't forget to leave some time to see some of Edinburgh's great attractions. If this is your first time in Edinburgh, we'd recommend starting with our favorite things to do in Edinburgh!
So that is our guide to Hogmanay in Edinburgh! Hopefully this guide answered all your questions about Edinburgh's Hogmanay festival, but if not, feel free to ask us any questions you have in the comments below!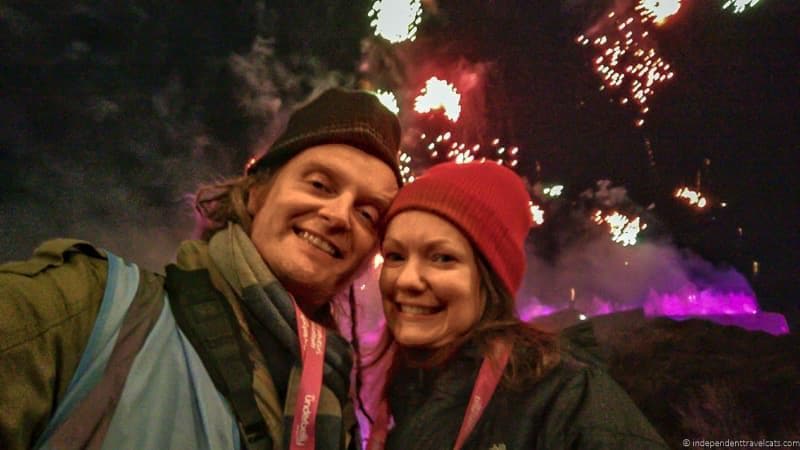 Would you be interested in celebrating Hogmanay in Edinburgh? Have you celebrated the New Year's in Edinburgh or elsewhere in Scotland? We'd love to hear any of your own tips or advice, or to hear about your past experience.
If you have any questions about Hogmanay or traveling to Edinburgh, just ask us in the comments below!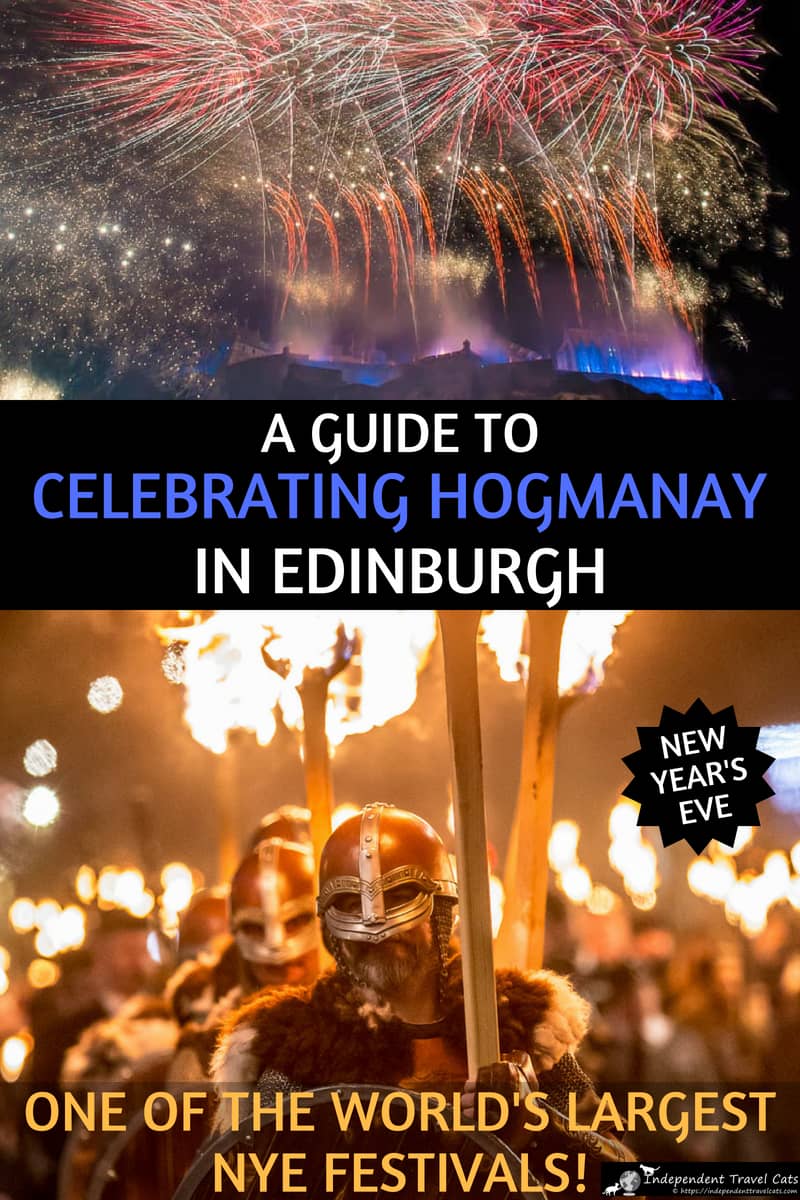 **Disclosure: Just so you know, we received free press access for Edinburgh's Hogmanay events on four different years as travel writers from Edinburgh's Hogmanay (previously managed by Unique Events, now managed by Underbelly) as well as planning support from Festivals Edinburgh. However, as always, this article contains only our own honest thoughts and opinions. You can read more in our Ethics Code about how we work.**