There are so many fantastic Edinburgh attractions and we keep discovering new ones as we delve deeper into this historical city. A first time visitor to Edinburgh will generally stay busy exploring the city's many highlights such as Edinburgh Castle and Holyrood Palace, most of these main attractions are located within the UNESCO designated Old Town and New Town. However, for those visitors who have already seen the highlights, there is much more to see beyond these top Edinburgh attractions.
So whether you have a long stay in Edinburgh or are visiting for the second or twelfth time, we'll share some Edinburgh attractions we think are worth visiting that you may have not yet visited.
These lesser known attractions include Edinburgh's second castle, small museums on the Royal Mile, two National Trust sites, hidden gardens, walking paths, mysterious underground passages, local markets, and even a beach! We'll also talk about lesser known Edinburgh neighborhoods and some of the best areas for shopping, eating, and nightlife in Edinburgh.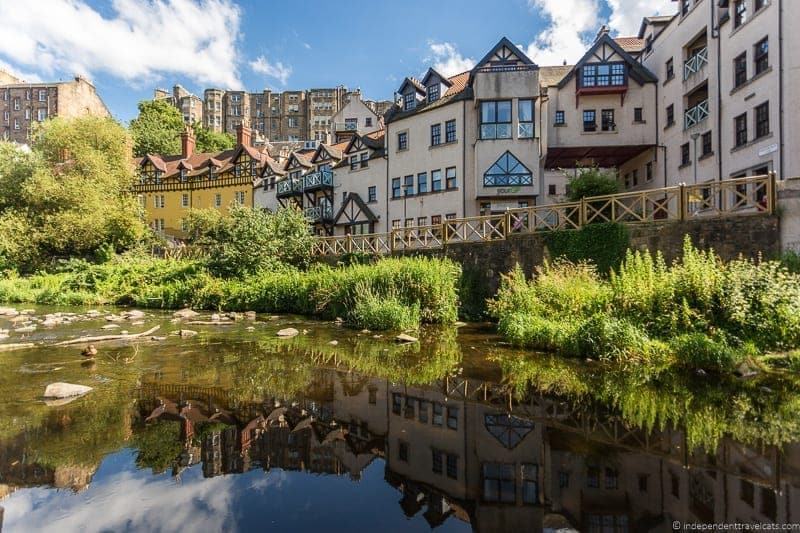 30 Things to do in Edinburgh
If you are visiting Edinburgh for the first time or have not had a lot of time to explore the city yet, I'd start with our 21 top things to do in Edinburgh post. There you'll find information and photos of some of the top Edinburgh attractions as well information and tips about planning your trip to Edinburgh.
Once you've exhausted spots of interest on that list, then I'd come back here to check out this list of lesser known Edinburgh attractions. Also, If you are interested in visiting in August for the festivals, I'd start with this guide to the August Edinburgh Festivals and if you are a Harry Potter fan check out our guide to the top Harry Potter sites in Edinburgh.
All of the listed places and attractions in this post are located within the city of Edinburgh so we are not including any places outside the city or days trip from Edinburgh in this post (although there are many great ones!). Some of these Edinburgh attractions are centrally located along the Royal Mile or within walking distance of the Old Town, whereas others will require getting public transit, a taxi, a bike, or driving.
We've divided the list into three sections to help you better plan and organize your trip to Edinburgh: centrally located Edinburgh attractions, beyond the center Edinburgh attractions, and other general Edinburgh attractions and recommendations that are spread out around the city.
Centrally Located Edinburgh Attractions
Here are some lesser known Edinburgh attractions that are located in central Edinburgh which is where you'll also find many of the main tourist services, transportation hubs, attractions, and hotels. All of these are located within walking distance (35 or less minute walk) of the central Old Town or New Town or a short bus ride away from central Edinburgh. All are well connected by public transit.
The list begins with Edinburgh attractions located along the Royal Mile and then lists central sites as they get further from the central Old Town area. One of the great things about many of these sites is that they are free to enjoy.
Gladstone's Land
Gladstone's Land is a unique 17th century six-storey high-rise tenement house on the Royal Mile that has escaped demolition. It has been restored and is currently maintained by the National Trust.
Because the Old Town of Edinburgh was surrounded by a large defensive wall, the inhabitants had run out of space and began building upwards leading to a sort-of "medieval Manhattan" with buildings said to be up to 14 stories tall! These "first skyscrapers" were largely built of wood, close together, and many people lived in slum-like conditions with fire being a constant threat.
This particular house, built in 1617-1620, was the house of a wealthy merchant and landlord, Thomas Gledstanes. The building is still used and lived in today making it one of the oldest continually inhabited buildings in Edinburgh, and two of the floors are open to the public to visit.
As a visitor to Gladstone's Land, you can see how the Gledstanes would have lived and also how his tenants would have also lived and there are several rooms across two levels that show how people of various classes and backgrounds would have lived and worked at the time.
The self-guided tour includes a 16th century kitchen, an office, a lavishly decorated bedroom, a 17th century recreated "Luckenbooth" on the ground floor selling household wares, and original Renaissance painted ceilings. It is definitely worth a visit to learn more about this era and I would recommend talking to the guides who are posted in each of the rooms, as they can tell you much more about the history of the building and the objects in each room.
At the end of the visit, there is a dress-up room for children and free coffee and biscuit samples. Note that the ground floor is now mainly a gift shop and the place is quite small as you only have access to 2 floors, and a visit here takes only about 30-45 minutes. I think many people expect the visit to be much longer given the building itself is 6 stories tall.
Admission is currently £7 for adults and is free to all National Trust members. If you enjoy Gladstone's Land, I'd highly recommend visiting the Georgian House (discussed later) which is another National Trust property that sheds light on the homes of the wealthy who later fled the Old Town.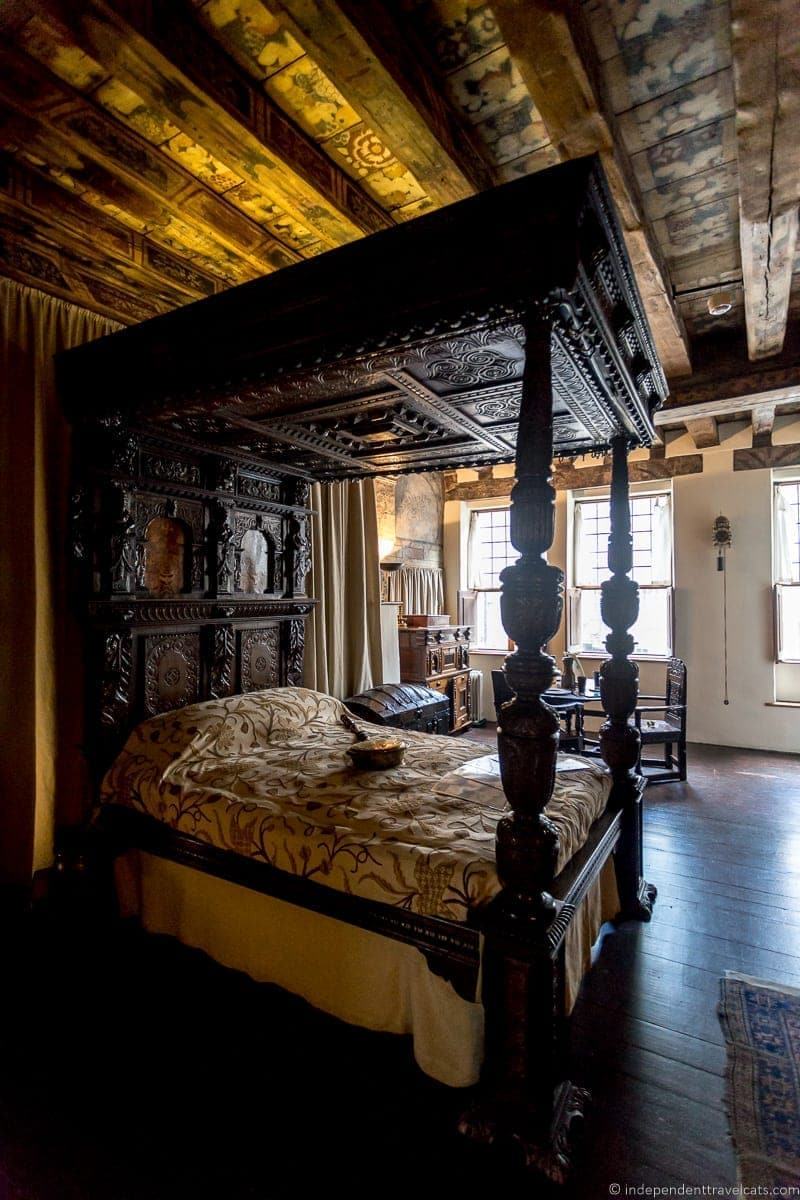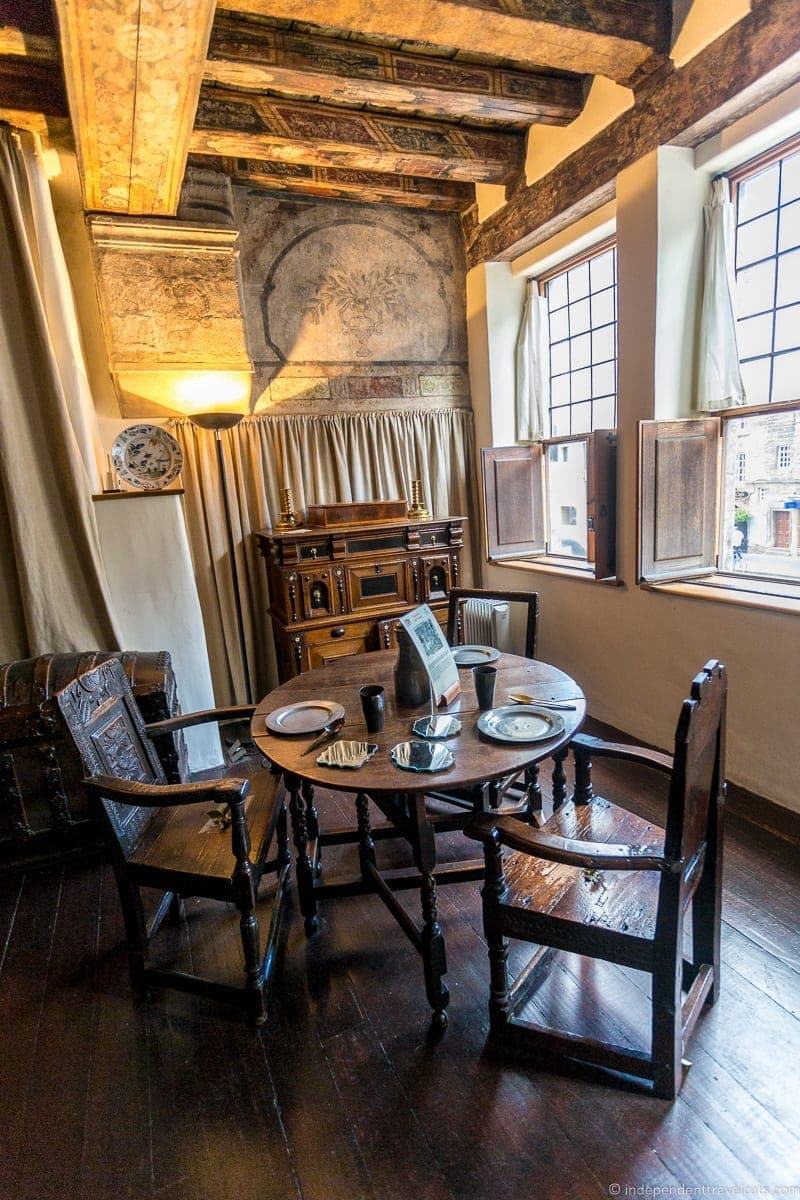 John Knox House
This three-story house was built back in 1470 with much of it built in the 1500's. The John Knox House has been converted into a small museum which tells the story of two of its most famous inhabitants, James Mossman and John Knox as well as the story of the Reformation period and life in 16th century Edinburgh.
James Mossman was a jeweler and goldsmith as well as the keeper of the Royal Mint for the Stuart royalty. He produced jewelry and coins and repaired crowns for the royals such as King James V and Mary Queen of Scots. John Knox was a significant Protestant religious reformer of the 16th century whose ideas clashed with those of Catholic Mary Queen of Scots, and Knox was a key figure in the Reformation in Scotland. Knox only lived in the house for a few months during the siege on Edinburgh Castle and it is believed that he died here, although the evidence is not conclusive.
Our favorite parts of the house was the information about the religious and political differences between Queen Mary of Scots and John Knox, and seeing the beautiful Oak Room with its painted ceiling and wood panelling.
There is a small admission fee that includes an audioguide for a self-guided tour, or you can also book a guided tour with a historian or storyteller to learn even more. The John Knox House is also connected to a café and the Scottish Storytelling Centre which is a great place to find out about literary walks, storytelling events, and the latest happenings in the City of Literature.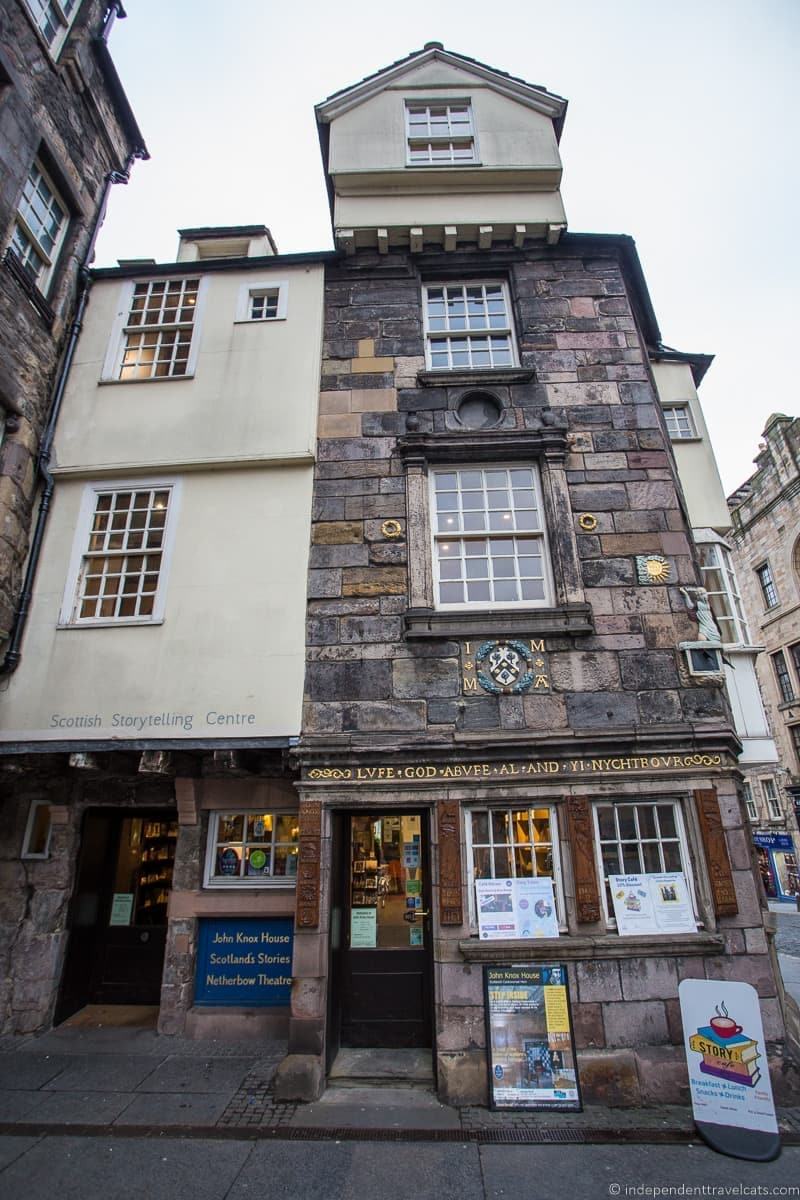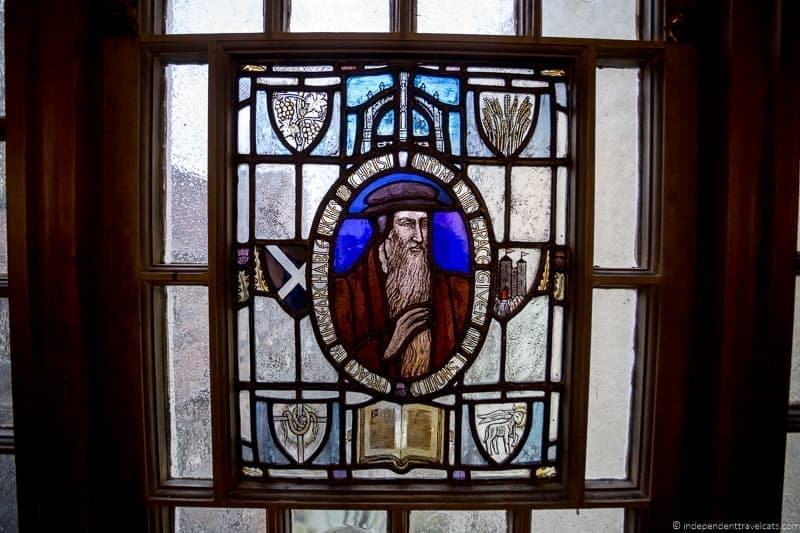 Chocolatarium Chocolate Tours
If you enjoy chocolate (who doesn't like chocolate?), you may want to take a chocolate tour at the Chocolatarium. This is one of the city's newest attractions, opening to the public in September 2019.
The 1.5 hour Edinburgh Chocolate Experience tours allow you to learn about the history of chocolate, the chocolate-making process, and the different types of chocolates. You also get lots of chocolate to taste and even get to make your own chocolate to take home with you.
There is also a small shop here that stalks a wide variety of chocolate, including lots of chocolate made in Scotland. We had no idea there were so many chocolate makers in this country!
Located, just off the Royal Mile, it is conveniently located and currently offers two guided tours per day. Just be sure to book in advance, which you can do here. A sweet way to experience some local products! See our full review of Edinburgh's Chocolatarium here.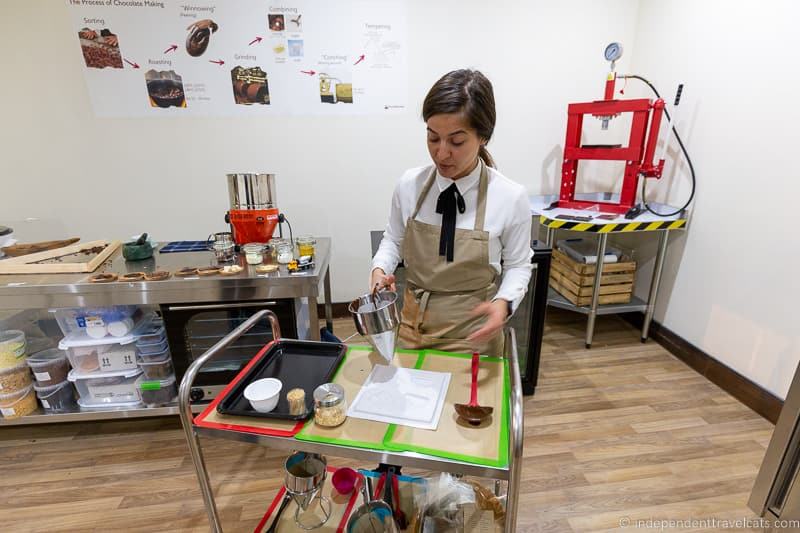 Museum of Edinburgh
The Museum of Edinburgh is one of my favorite museums in Edinburgh and the first one I'd recommend if your goal is to learn more about the city.
First, the location itself is interesting as the museum is a bit of a maze with the collection exhibited in a series of now-connected 16th to 18th century buildings. The permanent collection focuses on the history of Edinburgh and Scottish decorative arts, with some of the highlights being a copy of the National Covenant, James Craig's plans for Edinburgh's New Town, the collar of Greyfriars Bobby, 18th century Scottish porcelain and pottery, and a lot of fine silver pieces.
Laurence particularly loved seeing the big wooden water pipes that were once used to bring water into homes and I loved looking at the items in the Cabinet of Curiosities.
Although well-visited this museum definitely does not get the crowds of some of Edinburgh's biggest attractions, which is too bad as not only is there tons of interesting stuff packed into this historical building but it is also free to visit (donations of course welcome)! Be sure to also check out the free video and the outdoor courtyard next to the museum as well.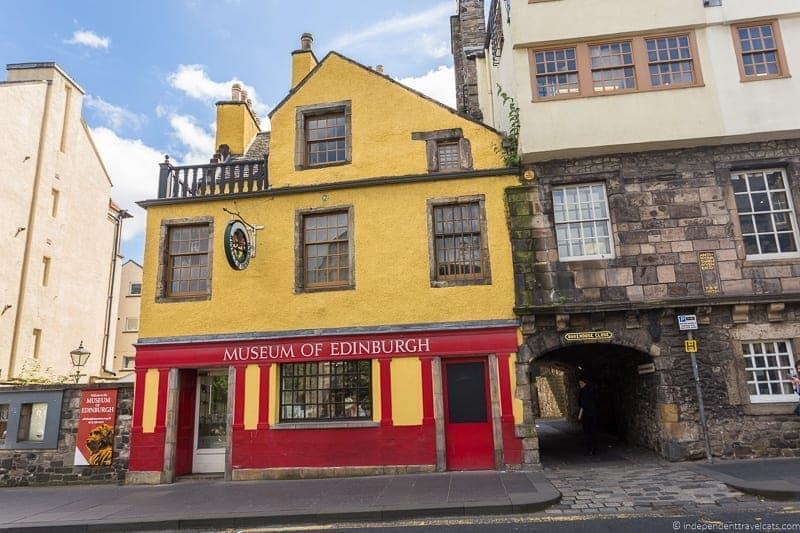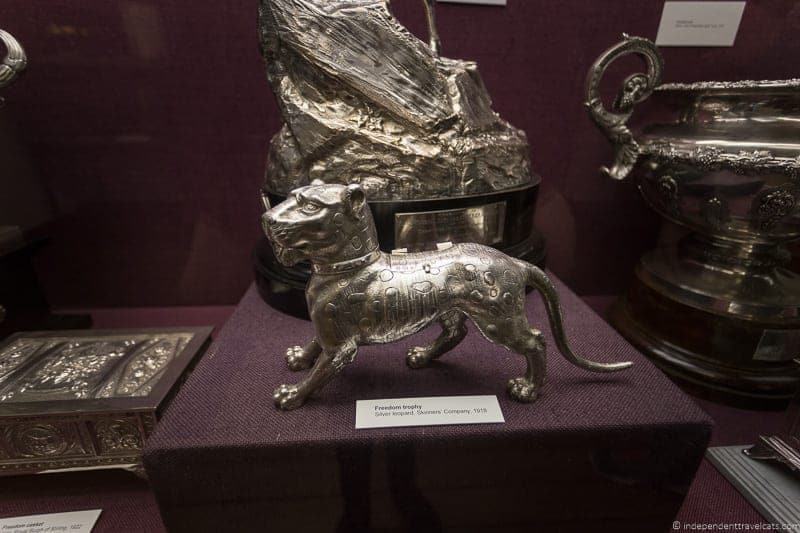 The People's Story Museum
Located just across the street from Edinburgh Museum along the Royal Mile is The People's Story Museum. The museum is housed in the historic Canongate Tollbooth, which was built in 1591 and has been used for city meetings, tax collection offices, and as a jail.
The museum provides information and exhibits related to the lives of ordinary people who lived in Edinburgh from the 18th century to today. The museum talks about housing conditions, typical Edinburgh trades, holiday celebrations, punishments, working conditions, political reform, civil liberties, and just about everything else associated with daily living.
It was particularly interesting for us to learn more about daily living conditions in Edinburgh in the past, typical trades (e.g., brewers, bookmakers, domestic servants), and the political reform movements in the city.
Entrance to the museum is free but donations are appreciated.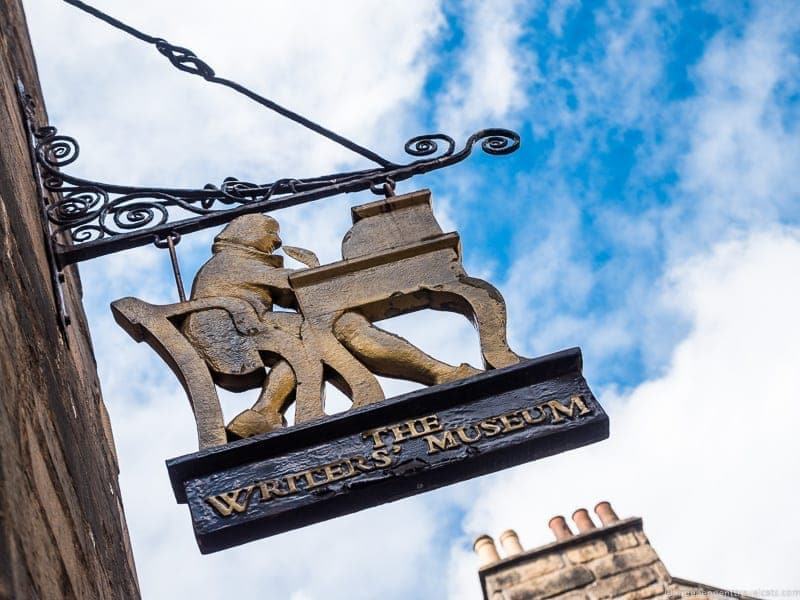 Museum of Childhood
The Museum of Childhood is a fun museum for anyone, but particularly appeals to families and children with several hands-on exhibits. It also appeals to anyone wanting to take a trip down memory lane back to their own childhood with lots of memorabilia that you'll recognize from your childhood whether you were born in the 1940's or 1990's.
We thought the museum would just be toys and dolls, and while there are a lot of toys, there are also items related to all aspects of childhood such as health, clothing, books, school, games, and home furnishings. There is also a dress-up area for children, some quirky illusion games, lots of miniatures, and a puppet theater.
Bring some coins as a few of the old machines are still working and visitors can see them in action! The Museum of Childhood, which is located on the Royal Mile, was much larger than we expected and we'll need to return again as we didn't get to see all the galleries on our last visit.
Admission is free but donations are appreciated.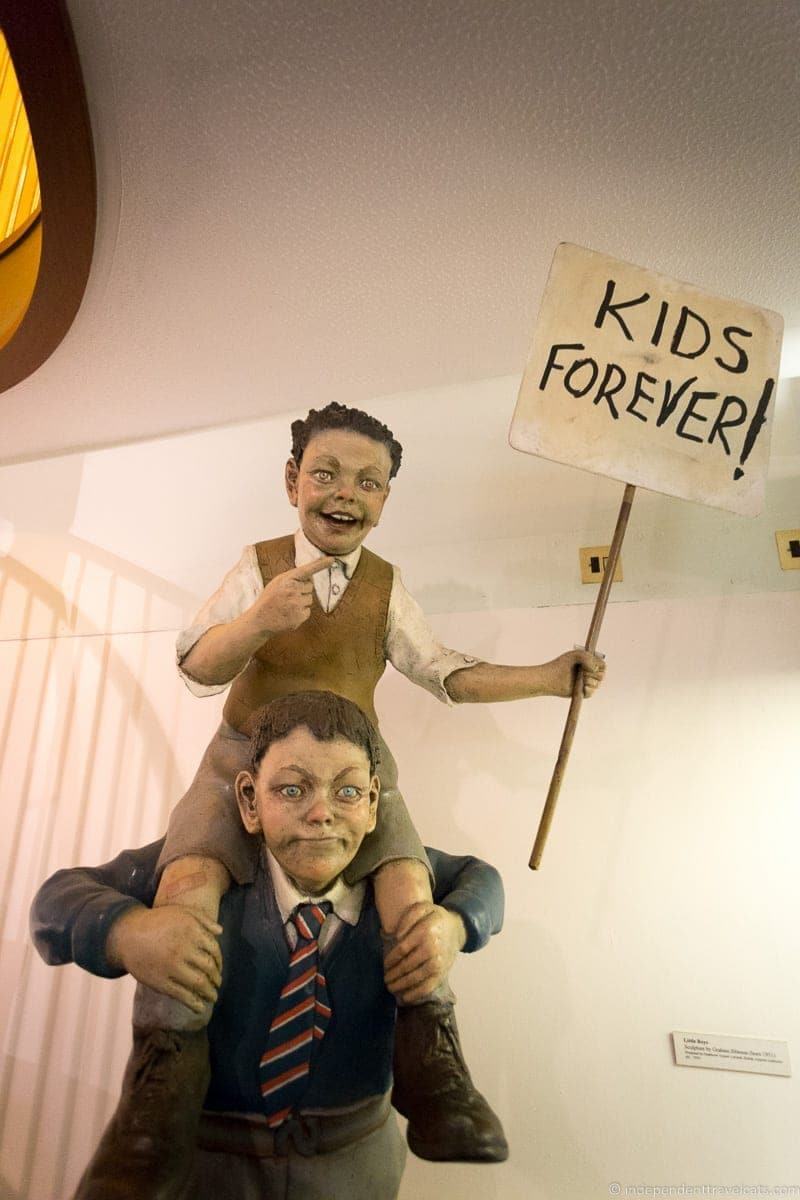 Scottish Parliament
The Scottish Parliament in its current form has only existed since 1999 and the current building was opened in October 2004. Scotland had its own independent parliament prior to the Treaty of Union of 1707 which united Scotland and England into Great Britain. However, a referendum in 1997 called for devolution and powers were transferred to Scotland to make its own legislative decisions on certain issues while other issues are still decided by the Parliament of the United Kingdom.
The Parliament building is located along the Royal Mile just across the street from The Queen's Gallery and Holyrood Palace, and is an interesting building to just look at even if you are not interested in going inside. The Scottish Parliament building was designed by now deceased Spanish architect Enric Miralles in partnership with a local Edinburgh architecture firm, and incorporates a lot of nature motifs throughout the buildings. Some of the principal features of the complex include leaf-shaped buildings, a grass-roofed branch merging into adjacent parkland, and gabion walls formed from the stones of previous buildings.
The Scottish Parliament building is open to the public on most days and you can do self-guided visits or take the 1-hour guided Parliament Tour (free, advanced booking recommended). We did the self-guided visit and were able to visit the Debating Chamber, the Parliament exhibition which provides information on how the Scottish Parliament works, and see the current art exhibition.
Special tours related to architecture, art, history, and literature are also sometimes available (check the schedule). You can also sit in and listen to the Parliament Debates or Committee Meetings when Parliament is in session. Seating is limited and these require a ticket but are free to obtain. Note that you do need to go through airport like security to enter the building, and there is a cafe serving sandwiches, snacks, and drinks inside.
It is best to check online or call ahead to find out what is being offered on the day you want to visit and make any advanced reservations as needed.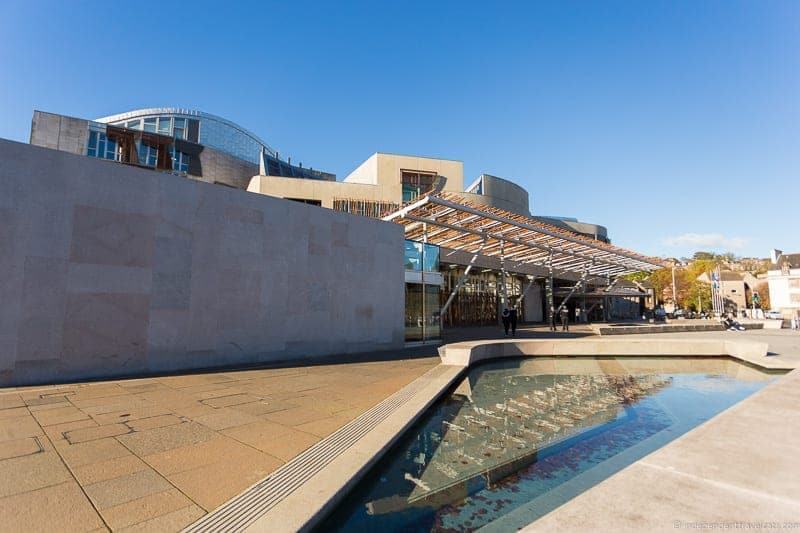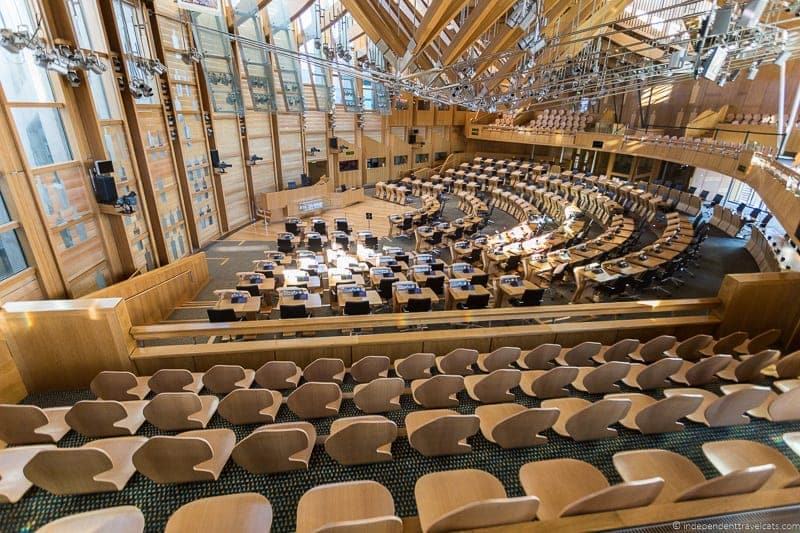 Dynamic Earth
Dynamic Earth is an interactive science museum that tells the story of the planet earth from its creation to the current day. Although located near the Scottish Parliament, Holyrood Palace, and Arthur's Seat, it is a bit tucked away so many visitors never see it and in fact we only made a visit after living in the area for about 1 year.
Visits are self-guided but you follow along a path through a sequence of rooms and experiences, learning about things like the geology of the earth, the Big Bang theory, the impact of glaciers and volcanoes, the role of our oceans, and the species that have survived and those which have not. The museum is very interactive with talking holograms, posted live museum guides, things to touch, videos, themed rooms, and interactive exhibits.
We were impressed that although this is a very family friendly attraction, the information is not dumbed down in any way. The design of the exhibits keeps people moving along and interested. Tours end with a high-quality 20-30 minute video show in the high-definition 360° digital fulldome.
You can check what shows are currently playing; there were several different shows playing while we were there on topics such as astronomers, astronauts, volcanoes, and searches for extraterrestrial life.
I would suggest allowing at least 2 hours to visit and there is also a well-priced on-site café if you want to have lunch or grab a snack before or after your tour.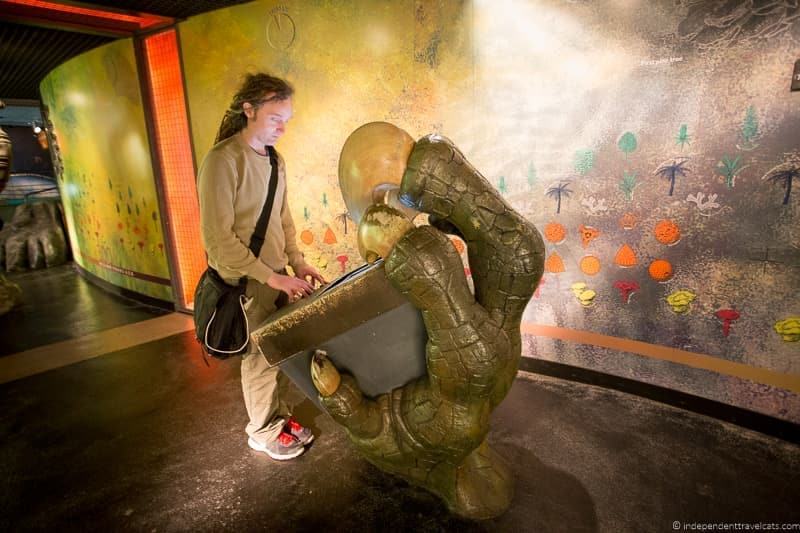 The Writers' Museum
The Writers' Museum celebrates Scottish authors with a strong focus on the lives and writings of Robert Burns, Sir Walter Scott, and Robert Louis Stevenson. Tucked away just off the Royal Mile in Lady Stairs Close within the 17th century former home of a wealthy merchant burgess, this museum is a delight for anyone with a love for Scottish literature or just visitors wanting to learn more about these three famous authors.
The collection includes objects such as rare books, portraits, Robert Burns' writing desk, Sir Walter Scott's childhood rocking horse, and Robert Louis Stevenson's souvenirs from his international travels. The main part of the museum is split into three sections focused on each of the three writers. The Writers' Museum also holds a large manuscript library and gift shop.
Visitors must be able to walk up stairs to enter and visit the museum. Entrance to museum is free, although donations are appreciated.
Just outside the museum you'll find Makars' Court which includes Scottish authors quotes inscribed on the flagstones. Literature lovers may also want to consider visiting the nearby Scottish Storytelling Centre, visiting Edinburgh during the Edinburgh International Book Festival, or joining one of several literary walking tours in the city.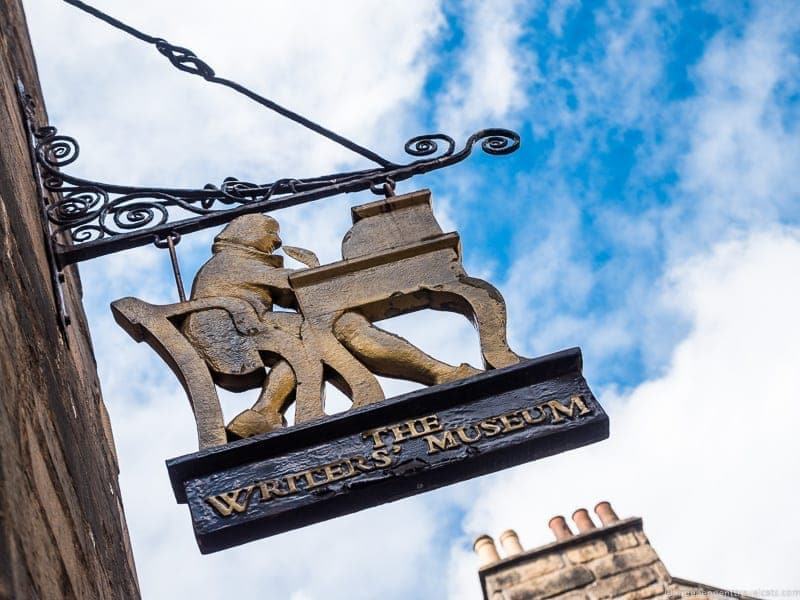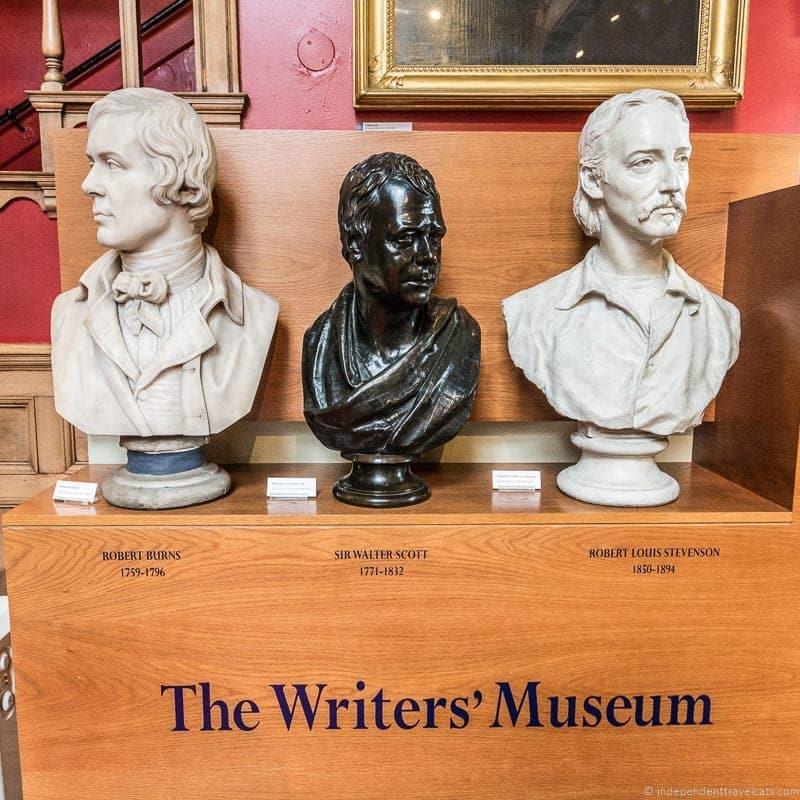 Museum on the Mound
The Museum on the Mound is one of those attractions that people often just stumble upon rather than one they plan to visit. Located in the historic Bank of Scotland Head Office which also currently serves as the Scottish headquarters for Lloyds Banking Group, this museum explores the banking history in Scotland, the history of money, the need for life insurance, and how the work and leisure of the British have changed over the centuries.
A lot of the galleries are made up of traditional museum displays but there are also some interactive exhibits and they do special activities like coin striking on certain days. Some of the things we especially enjoyed here were seeing a million pounds, learning what has been used as currency in the time before coins and paper notes, and trying to open a safe using our newly found museum knowledge (we did it but it was not easy!).
Admission is free and we'd suggest allowing 30 to 45 minutes for a visit.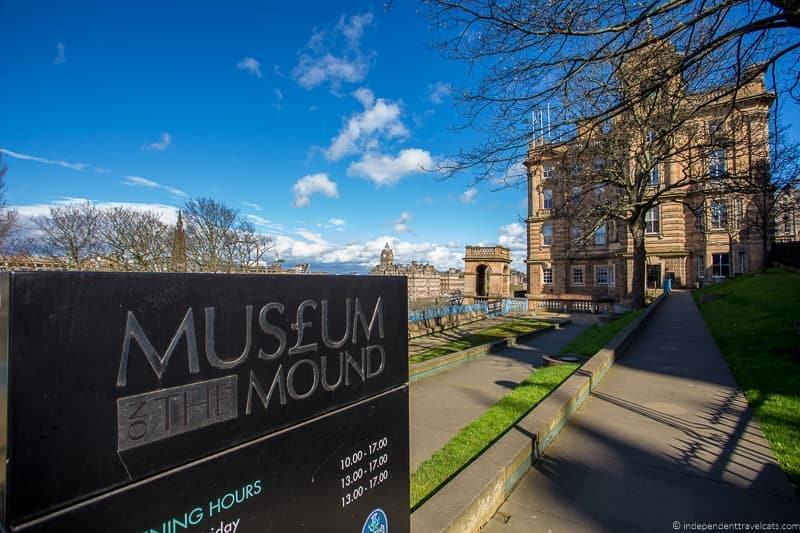 Afternoon Tea in Edinburgh
Afternoon tea is a quintessential British experience, and while few people sit down to a formal tea very often, many people still stop to have a midday cuppa throughout the UK and Ireland. We are still exploring afternoon tea spots in Edinburgh, but so far our favorite afternoon tea experience in Scotland has been at the beautiful Colonnades at the Signet Library.
The Colonnades is a beautiful 19th century library lined with fluted Corinthian columns and is part of The Signet Library located just off the Royal Mile. The Signet Library is owned and run by the WS Society, which is composed of a special group of Scottish lawyers known as Writers to the Signet.
If you make a reservation here, come hungry as the afternoon tea includes an amuse-bouche, a 3-tiered tray of savories, a 3-tiered tray of sweets, a sorbet, and of course unlimited tea of your choice! I chose a Darjeeling tea and Laurence a smoky Russian Caravan; teas served are from the Scotland based The Wee Tea Company.
The menu changes seasonally but during our visit the amuse-bouche was a sweet corn soup with smoked paprika. The savories course included a coronation chicken sandwich, an asparagus and ricotta tartlet, a black pudding and apple sausage roll (Laurence's fave), a mini chicken and mushroom pie, and a goat cheese lemon drop (my fave). The three-tiered sweets course included scones with cream and jam, a piña colada flavored sweet, a mini cherry bakewell, a strawberry macaron, a raspberry cheesecake, apple and gin jelly, and an eclair.
We loved the library surroundings here and the relaxing 2.5 hours we spent enjoying our food and tea. If you are not a tea fan, you can also enjoy lunch, a coffee and cake, or cocktails here as well. We recommend booking one of the alcove tables if you can, we were at table #7 in the alcove and really enjoyed it.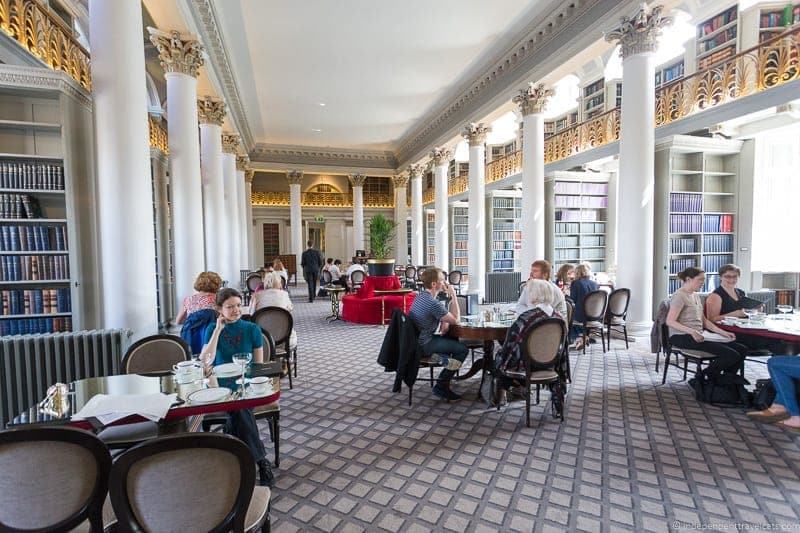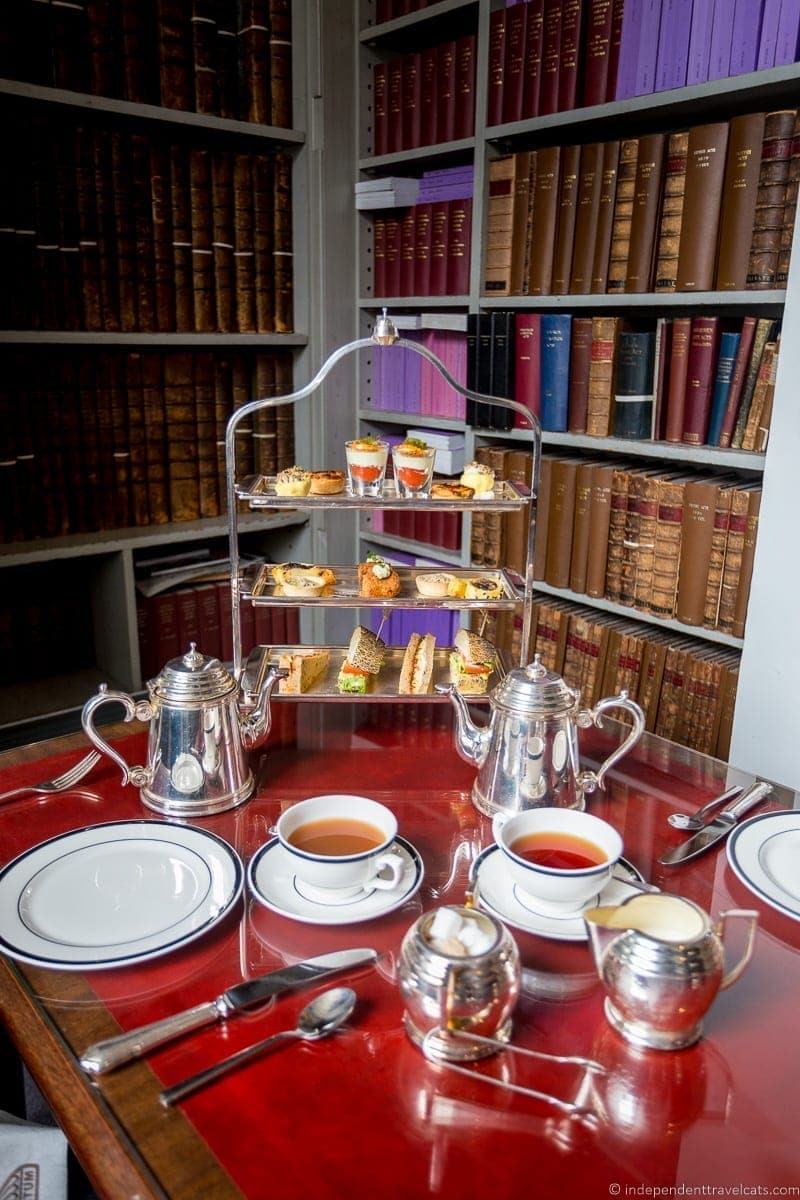 Secret Gardens and Closes of Edinburgh
Edinburgh, particularly the narrow streets of the Old Town, is full of closes and secret gardens that are fun to visit as you are exploring the Royal Mile. Closes are the Scottish word for small narrow alleyways leading off a main street; typically these alleys are only wide enough for a horse and cart.
Most in Edinburgh run off the Royal Mile and have names ending in close, court, or wynd. It is fun to explore some of the closes of the Royal Mile, some will end in a little garden, many are dead ends, and some are gated and private. Note that several closes lead to private property so be respectful and head back to the main street if you see "Private" or "Residents Only" signs.
Many closes are named after historical sites such as Old Assembly Close which is the location of the original city assembly rooms and Old Fishmarket Close was home to the old fish market, and many have plaques telling a little about their history. Some have interesting views such as Advocate's Close view of Scott Monument.
Mary King's Close is a popular tourist site that requires a ticketed tour to explore as it is now located below street level. There are also a number of other below ground tours you can take in the city such as this one.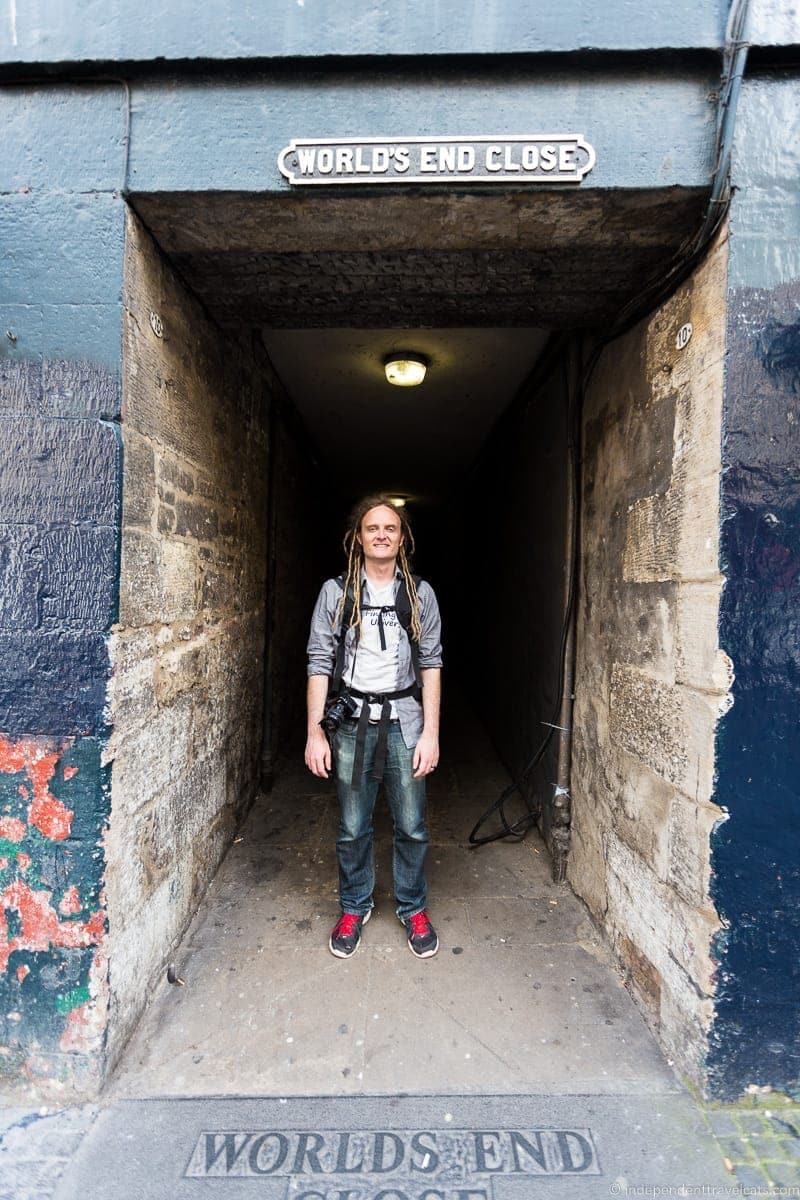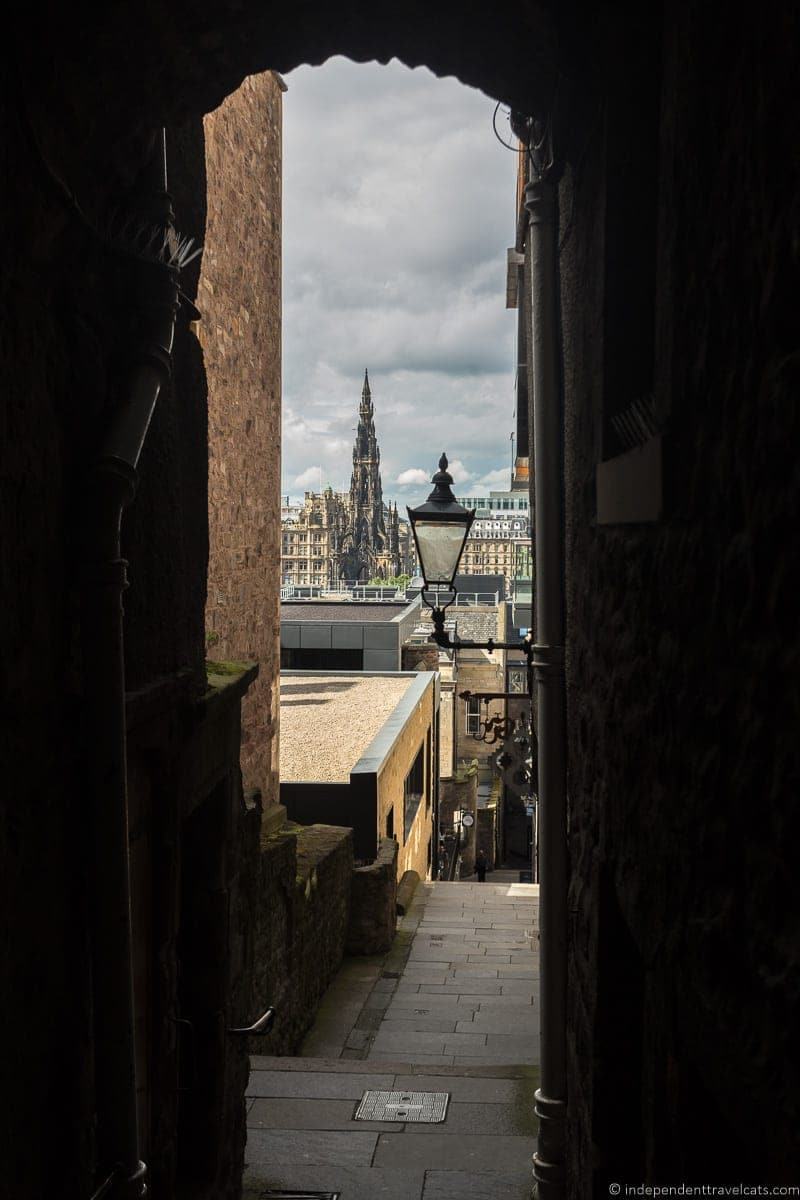 There are also nice gardens to enjoy both at the end of a few closes as well as other spots around the city. Dunbar's Close leads to one of our favorite little public gardens in the city, a great little oasis for strolling or reading a book off the busy Royal Mile. Chessel's Court also leads to a nice raised grassy platform and trees which is a nice place to relax, eat a sandwich, or read a book.
Another great centrally-located secret garden named the Archivists' Garden can be found by visiting the National Records of Scotland General Register House (2 Princes Street). Perhaps you'll discover your own hidden garden!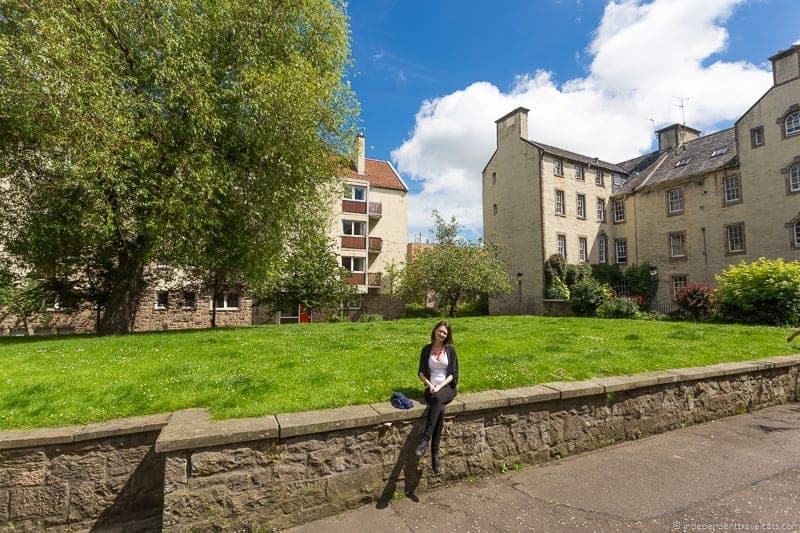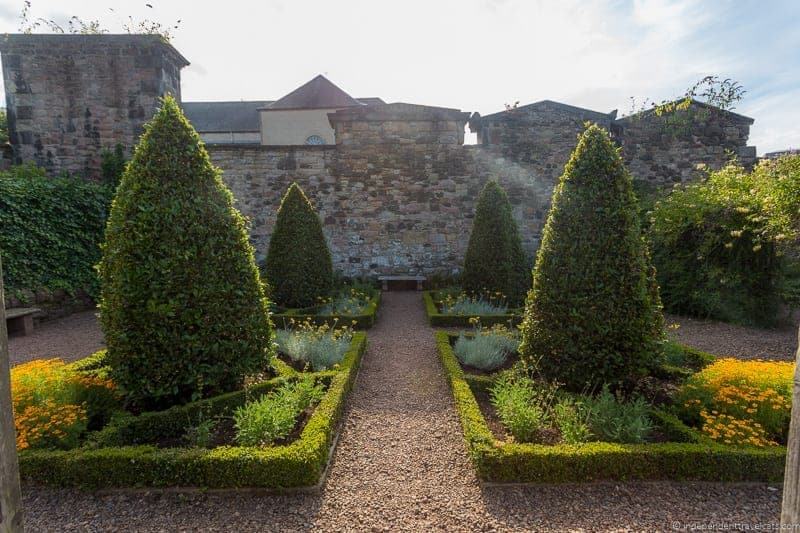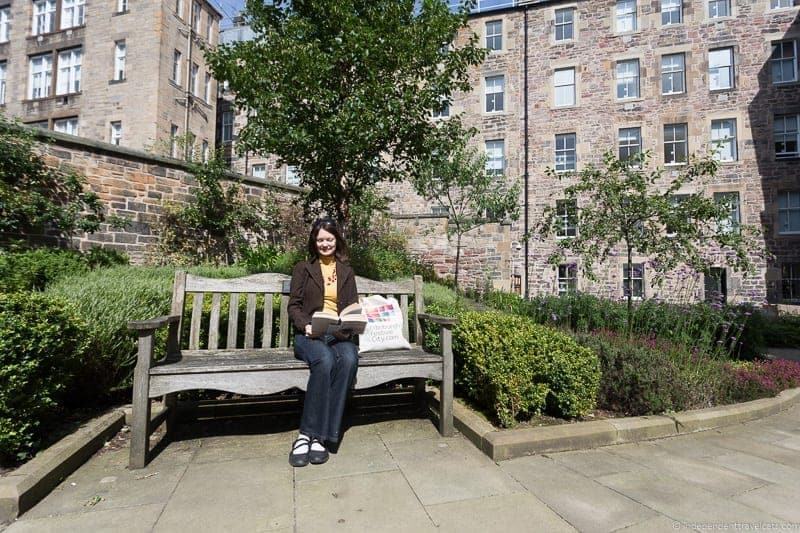 City Art Centre
The City Art Centre is a large exhibition space for art exhibitions and touring shows of art, photography, design etc, and it also contains a permanent collection of Scottish art. During our visit, the temporary exhibit was called Paper Trail and focused on the versatility of paper, featuring watercolors, drawings, and prints.
It was interesting to be able to learn about all the types of printmaking and we even had the opportunity to make our own paper creation. There is also a shop and cafe and the centre also often holds festival related events.
The City Art Centre is an easy place for city visitors to visit as it is in the city center and within a short walk of Waverley train station. It is free to see the permanent exhibition but there is normally an admission charge for the temporary exhibitions.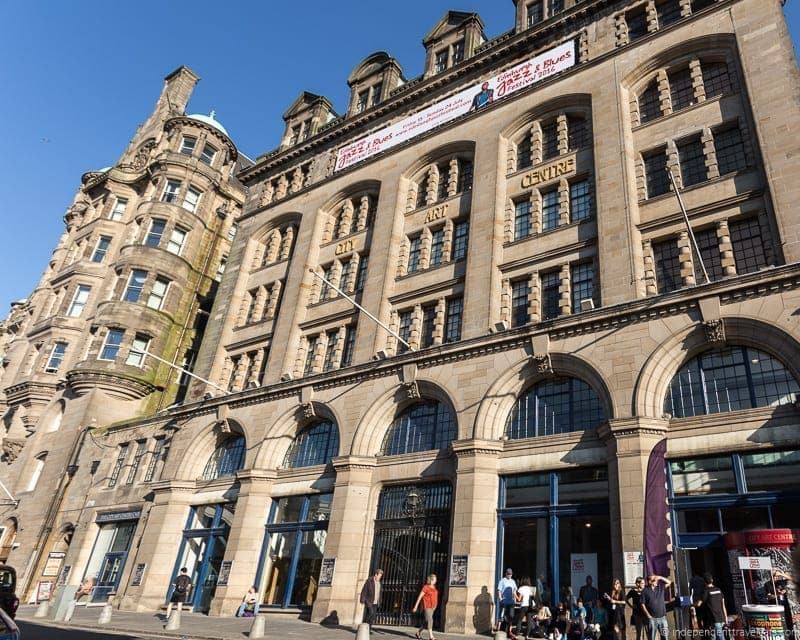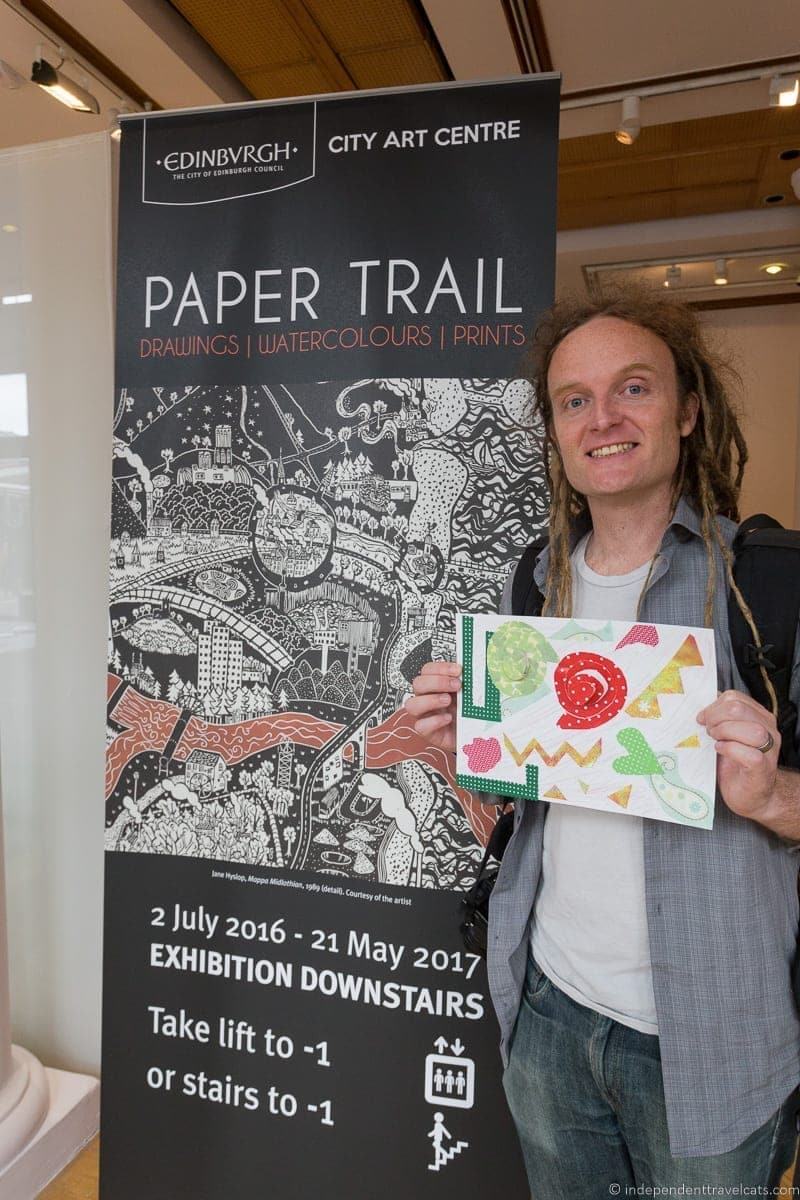 The Fruitmarket Gallery
If you are visiting the City Art Centre, you might also want to stop at the small art gallery across the street. The Fruitmarket Gallery is a public art gallery that features rotating temporary exhibitions from both Scottish and international contemporary artists.
In addition to the art exhibitions, it also runs regular events, workshops, and tours, and also has a cafe and bookshop. Admission is free to the exhibitions, and many of the events are also free. The gallery is also located just a minute walk from the Edinburgh Dungeon, a popular family attraction.
St. Cecilia's Hall – Concert Hall & Music Museum
St. Cecilia's Hall is Scotland's oldest concert hall, having first opened to the public in 1763. In May 2017, the venue re-opened after a major redevelopment with four museum galleries housing more than 400 musical objects which includes a world-class collection of historical musical instruments. It displays a large array of instruments from the University of Edinburgh's collection dating from the 16th century to more modern times.
The most spectacular collection is probably the large number of harpsichords which come from the Rodger Mirrey and Raymond Russell collections, many of these are particularly valuable and most are still in working order.
The permanent collection is free to visit and there are activity sheets available to help keep children engaged and entertained. In addition to the museum, the venue is still regularly used for concerts (some free, some ticketed) and you can check the website for events during your stay.
St Cecilia's Hall is the only place in the world where it is possible to hear 18th century music in an 18th century concert hall played on 18th century instruments! This wonderful little museum is definitely worth a visit for music lovers!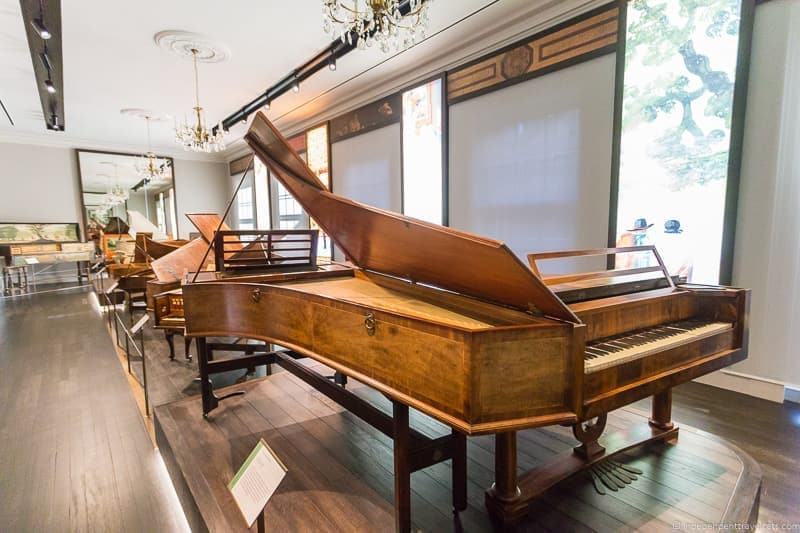 Talbot Rice Gallery
The Talbot Rice Gallery is a public art gallery that is part of the University of Edinburgh with a focus on contemporary art. The museum has three distinct sections, one featuring temporary contemporary art exhibitions, one in the former Georgian natural history museum that has a large collection of 17th century Dutch art, and a third gallery that features young artists and experimental projects.
Temporary exhibits feature both local students as well as international artists. The architecture of the building is also significant as the gallery is part of the Old College of the University of Edinburgh which was designed by Robert Adam and completed by William Henry Playfair.
The art gallery is typically open to the public 5 days a week, closed on Sundays and Monday. Admission to the gallery is free.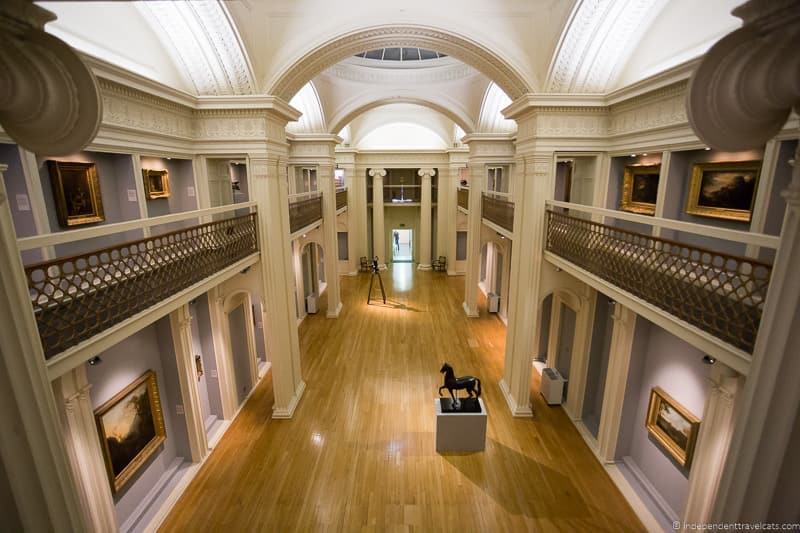 Surgeons' Hall Museums
The Surgeons' Hall Museums consists of three joined museums (admission includes all three): the Wohl Pathology Museum, the History of Surgery Museum and The Dental Collection. This unusual museum complex includes one of the largest collection of surgical pathology in the world, including the collections of surgeons Sir Charles Bell and John Barclay. Sir Charles Bell was actually credited by Sir Arthur Conan Doyle as being an inspiration for the character of Sherlock Holmes.
Originally founded as a teaching museum for students of medicine, it is now open to the public. The collection ranges from the informative and unusual to gruesome and macabre!
The first part of the museum contains items related to the history of surgery in Scotland, information on famous people involved in the advances in surgery such as Joseph Lister and Joseph Bell, and items related to the story of the infamous bodysnatchers Burke and Hare (including a pocketbook believed to be made out of Burke's skin!). There is also a large interactive dissection table and theater in the main room.
The rest of the museum includes loads of surgical and dental instruments, lots of jars of preserved human remains of all kinds, a skull from a victim of the Battle of Culloden, and interactive exhibits related to things like keyhole surgery.
When we were visiting there was also a temporary exhibition related to Medicine Men from around the world which included shrunken heads from the Jivaro tribe! This museum may not be for everyone, but it a great museum for those interested in medical history and anyone who has a love for curiosities. The museum is only a 10 minute walk from the Royal Mile.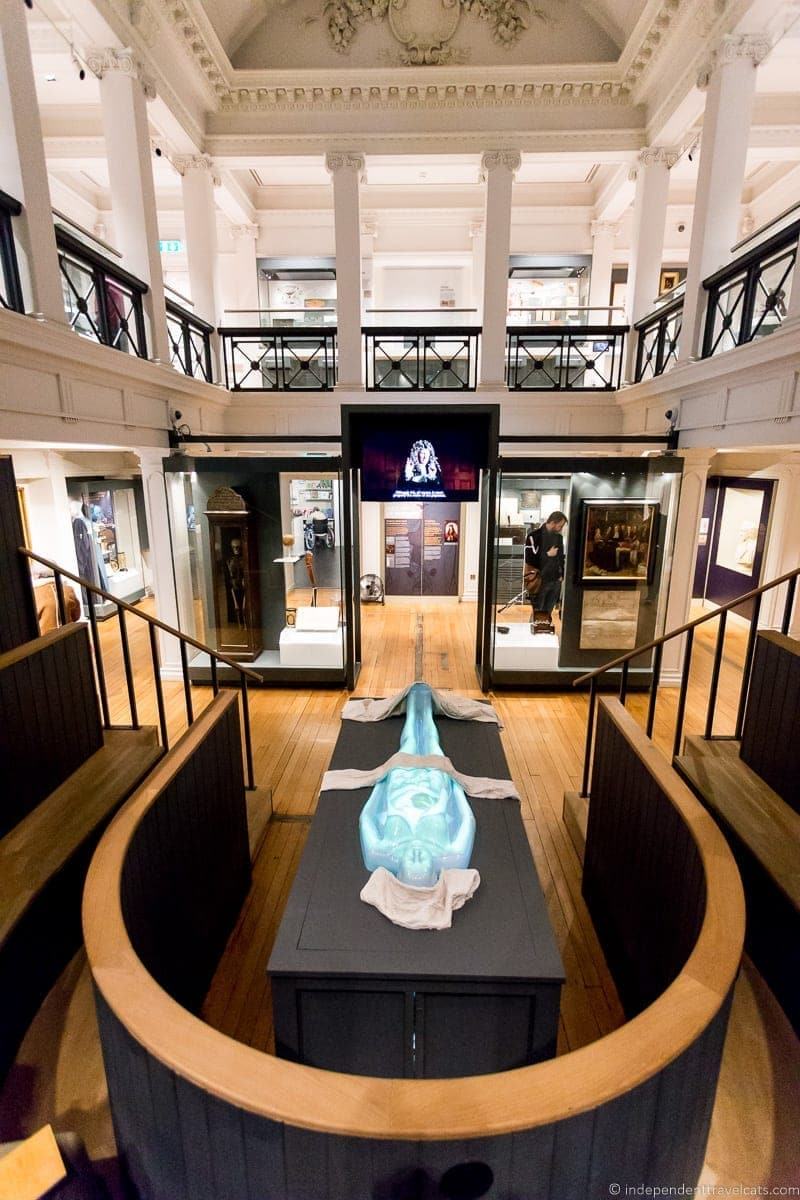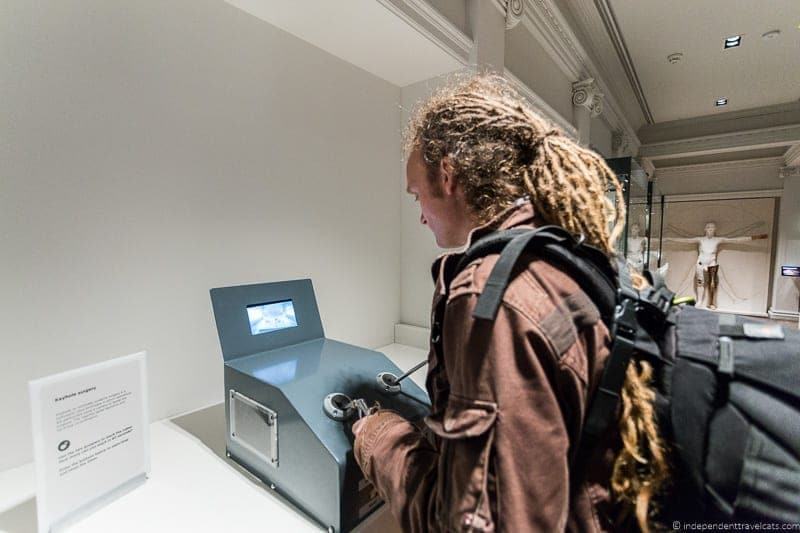 Anatomical Museum
If you enjoyed the Surgeons' Hall Museums, we would also recommend dropping by the Anatomical Museum if it is open during your visit. It is a much smaller museum run by The University of Edinburgh but it contains Scotland's best anatomical collection that is still used by the university's medical students.
The university's collection is vast with items related to pathology, anatomy, zoology, phrenology, and pathology, but only a small percentage can be put on display at any one time. Some of the most notable objects that were on display during our visit included the skeleton of the 19th century murderer William Burke, the skull of George Buchanan (the tutor to King James VI), a large collection of phrenology objects, and a preserved dissected body that had been injected with mercury.
The museum is located on an upper floor of The University of Edinburgh University Medical School building on Teviot Place. The museum is free to visit although it is only open to the public on select days, typically about twice a month so check the website for opening dates and times.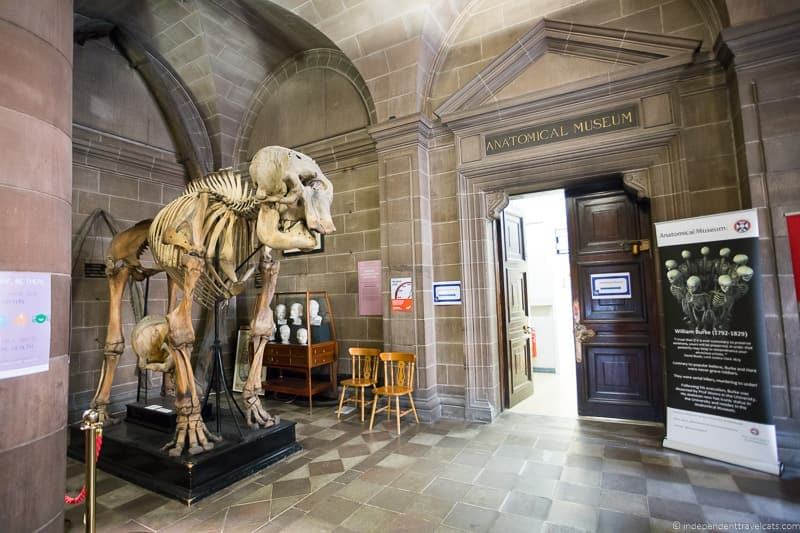 Comedy Show at The Stand Comedy Club
The Stand Comedy Club is the most popular comedy venue in Edinburgh, hosting stand-up, sketch, and improv comedy acts, ranging from beginners to well-known international comedians. The Stand also hosts a number of acts during the Edinburgh Fringe Festival and many of the popular British acts from the Fringe perform here throughout the year.
In addition to individual shows, you can also attend the weekly Red Raw show which is a weekly beginner's showcase and regarded as one of the best open mic nights in the UK. Red Raw features about ten beginner acts, and also usually has a veteran act or two testing out new material.
We went to Red Raw one evening and it was definitely a mixed bag from the hilarious to the grimace-worthy horrible. There was also one very well-known comedian performing who was trying out new material for the Edinburgh Fringe Festival. For £3, this was a wonderful value for a night of comedy.
Note that you'll want to get there by the time the doors open or before as a line begins forming to get in before the doors even open for the night and seats are first come, first serve. We were in the back row and lucky to get seats together! Several people were standing throughout the show.
The venue has a bar which I think is open every night but food is only served on select evenings. Admission costs generally range from free entry to £17 for an evening show; tickets are required and you must be 18 years or age or older to attend shows. If you are short on cash, consider the free Sunday lunchtime show or the inexpensive weekly Red Raw shows.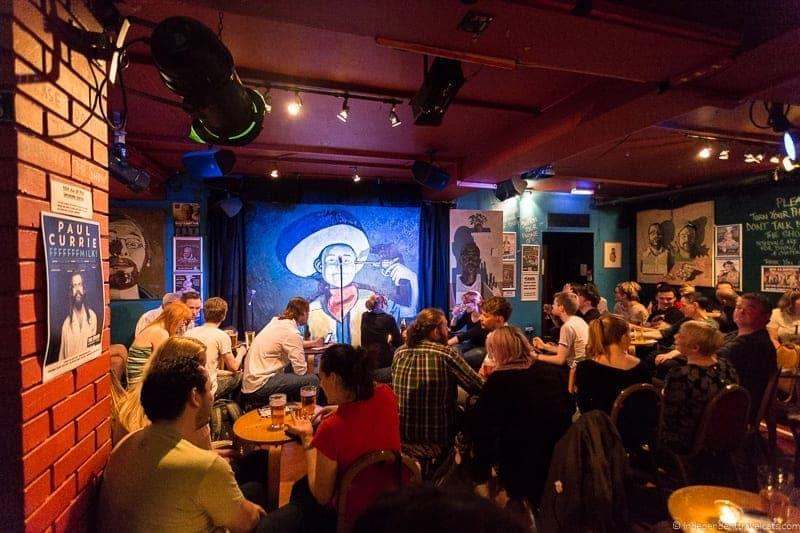 The Georgian House & Edinburgh's New Town
The Georgian House is another National Trust property located on the north side of Charlotte Square. It is located in Edinburgh's New Town which was designed by James Craig in the mid-18th century for wealthy Edinburgh residents to live away from the squalor and overcrowding of the Old Town (e.g., tenement houses like Gladstone's Land).
The home at No. 7 Charlotte Square was designed by famous architect Robert Adams, and is considered one of the finest examples of Georgian architecture in the city.
Today the house is furnished in the style of the late Georgian period to fit with how it would have looked when John Lamont and his family lived here from 1796-1815. Each room contains a fine collection of period furniture and objects to show you how the wealthy and their servants would have lived during the period, and there is also plenty of information on the lives of the former occupants as well as Georgian clothing, social habits, and lifestyle.
Visits are self-guided and we started by watching an informative short film and then went through the various rooms of the house, which included a drawing room, dining room, bedroom, kitchen, and servant's room. Guides were in most rooms and were very willing to provide information about the furnishings, and the 18th century bed and its bed coverings are definitely a highlight of the collection. There is also a small gift shop and a room where you can try on Georgian costume, handle period pieces from the era, and try you hand at writing with a quill and ink.
Next door to Georgian House is the Bute House, which is the official residence of the First Minister of Scotland. We really enjoyed our visit here and highly recommend it to anyone wanting to learn more about the New Town and the Georgian period in Edinburgh.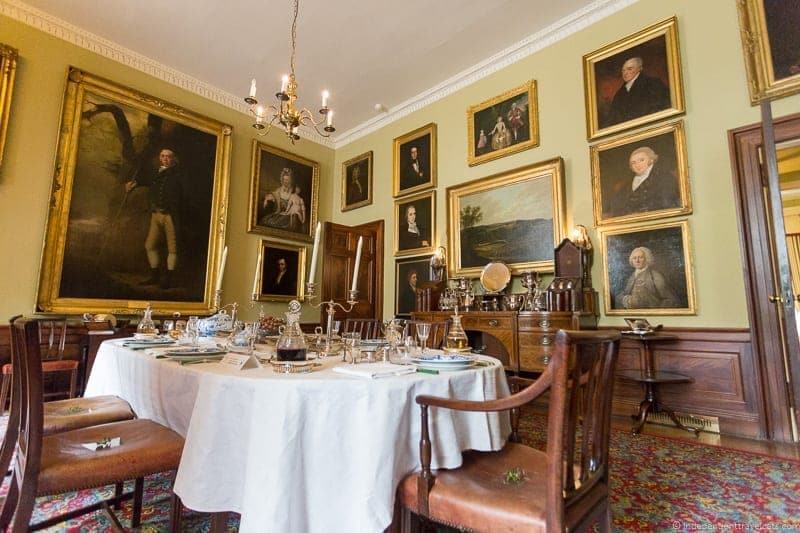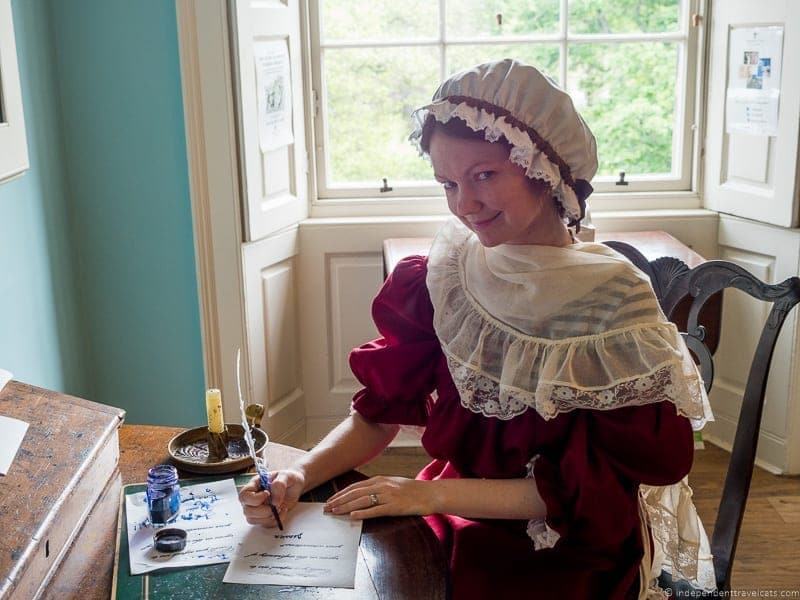 The New Town is a great place to wander around and compare the broad well-laid out streets and squares to the Old Town's narrow cobbled streets and closes. The New Town contains shopping areas (including the busy Princes Street), bars, restaurants, museums, and residences.
You can actually stay in some of the Georgian terraced townhouses in the New Town, as some have been converted into hotels or B&Bs. For instance, the Moray Place – A Georgian Residence offers four luxury B&B rooms that are perfect for couples.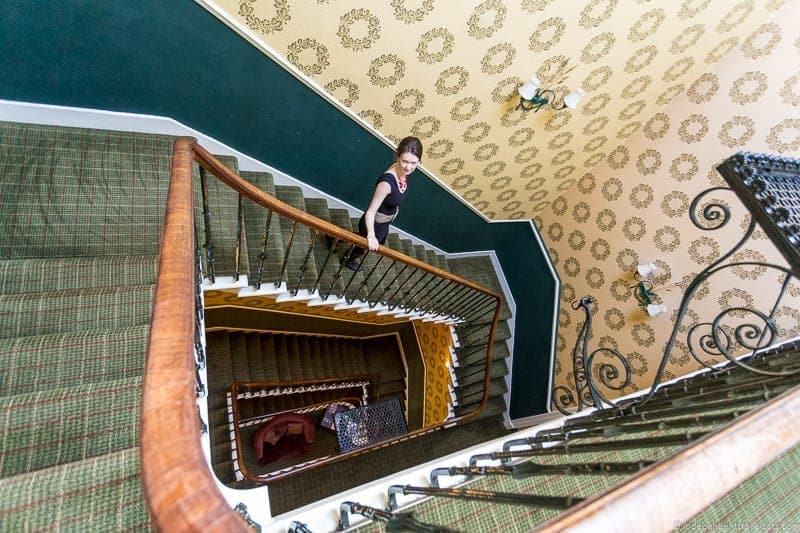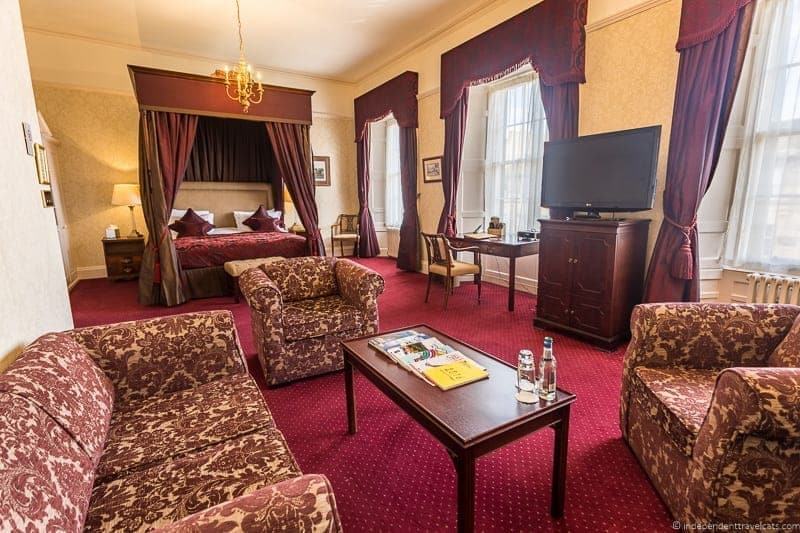 Inverleith Park
Inverleith Park was established as a city park in 1889 and is a large area of maintained grass parkland and tree-lined paths. It is also has sport facilities and is a popular place for sports such as soccer (football), rugby, pétanque, cricket, tennis, and volleyball.
My favorite sections of the park are the large Inverleith Pond and wet garden area which are perfect places to head on a sunny day and the Sundial Garden.
This is a great Edinburgh attraction for both locals and visitors. There are some great views of the city from around the pond and the park is a perfect place to get away from crowds or let children run around and burn off energy.
Inverleith Park is free and open to the public, and located a short walk from the Royal Botanic Garden.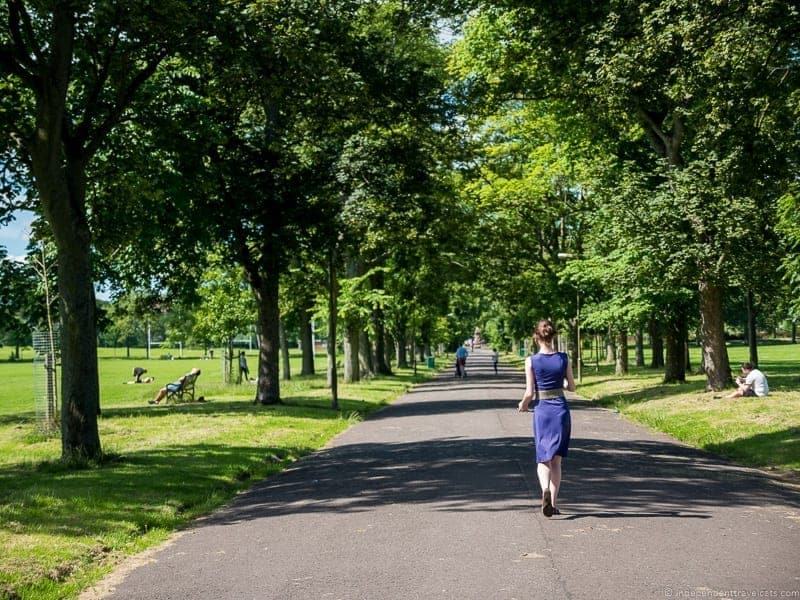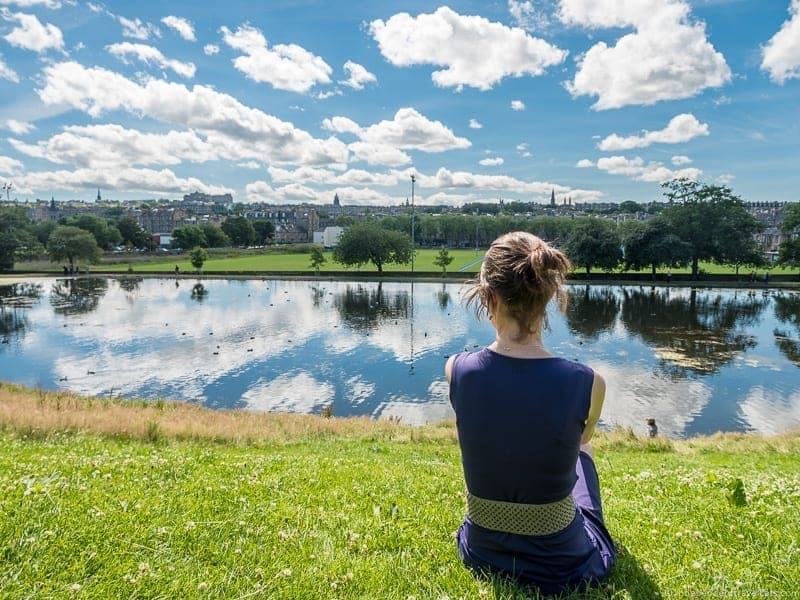 Stockbridge
Stockbridge is a suburb north of central Edinburgh and one of my favorite neighborhoods to explore. Some notable landmarks include St. Stephen's Church, the old Stockbridge Market archway entrance, and of course the stone bridge (Stock Bridge) built in 1801 that sits where Deanhaugh Street crosses the Water of Leith (the river).
The weekly Stockbridge Market held on Saunders Street each Sunday morning is a popular gathering spot for locals and visitors and worth a visit, but Stockbridge is a great place for shopping throughout the week. There are a number of jewelers, vintage clothing stores, galleries, gourmet food shops, and cafes in this area.
For cheese we can personally recommend George Mewes Cheese (as well as the popular I.J. Mellis) and for coffee The Artisan Roast, but there are several cafes and pubs that looks great in this area. Raeburn Place and St. Stephen Street are the two main shopping streets with a number of boutiques, thrift shops, cafes, and galleries.
A number of community events take place here with one of the most notable being the fun Stockbridge Duck Race which is held each summer to raise money for community charities. Each June hundreds of rubber ducks are released into the Water of Leith to race to a catchment area and the owner of the winning ducks win prizes. We attended this past one and it was a lot of fun and a great way to support the local community.
Stockbridge is nearby to a number of great places for visitors including the Scottish National Gallery of Modern Art, Inverleith Park, the Royal Botanic Gardens, and Dean Village. If you are visiting and have good weather, there is also an excellent walk that takes you from Stockbridge to Dean Village along the river that we highly recommend (discussed below).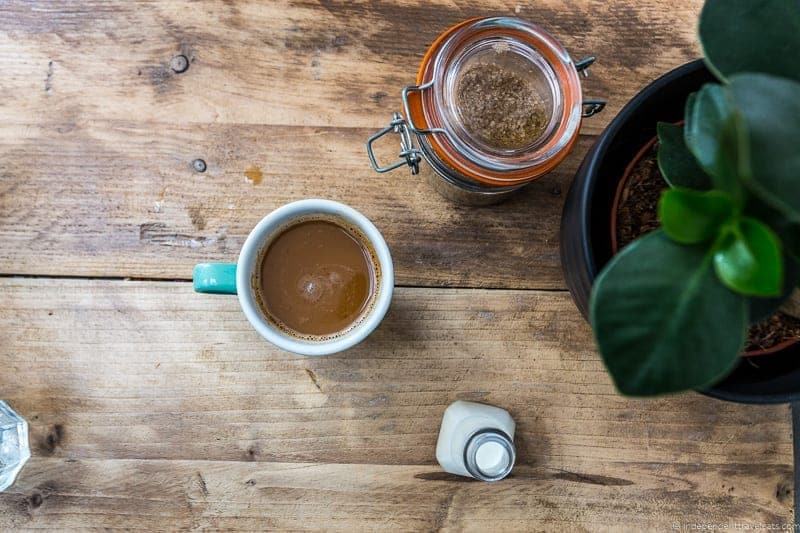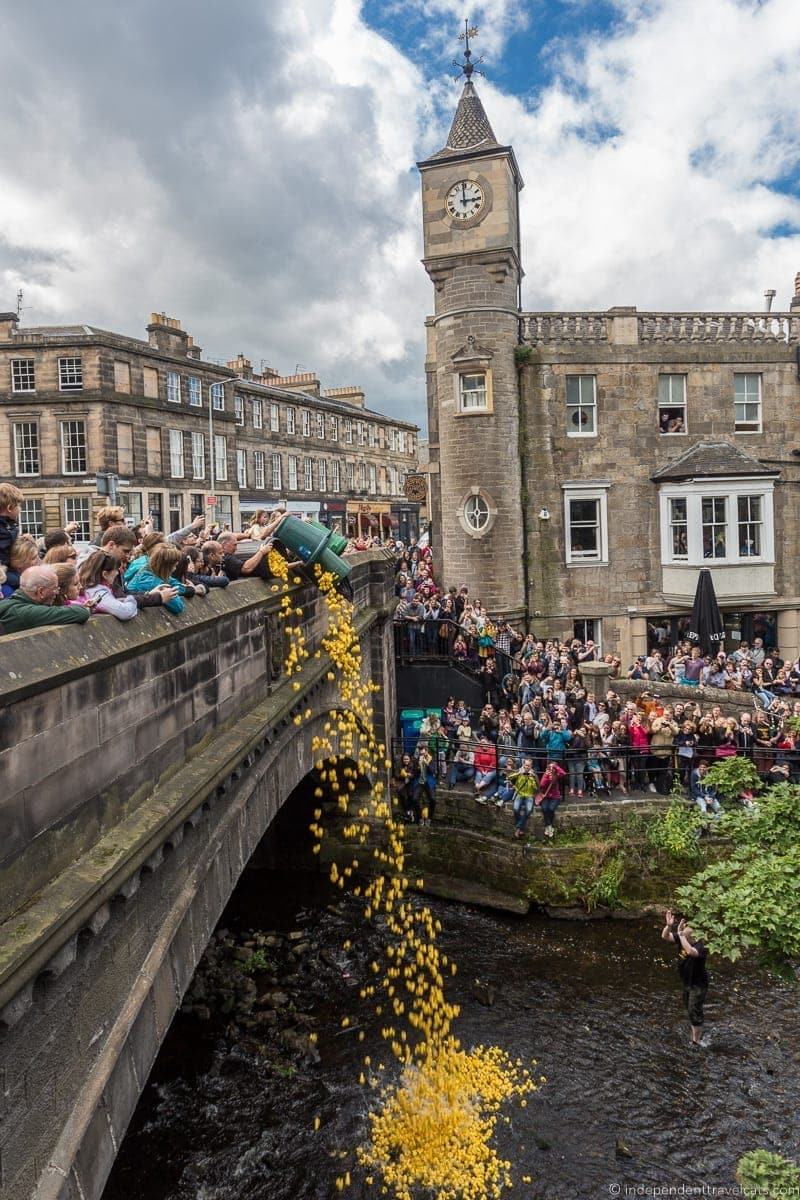 Walk along the Water of Leith from Stockbridge to Dean Village
If you are looking for a pleasant walk in Edinburgh consider taking the path along the Water of Leith (main river that flows through Edinburgh) between Stockbridge and Dean Village. The full walkway runs over 12 miles and goes through the city from Balerno to Leith (~ 7 hours to walk the total path), but you can start or stop the walk anywhere in between. The path goes by a number of attractions throughout the city.
A favorite section of this path is the charming section from Stockbridge to Dean Village, which are also two areas of Edinburgh very worth visiting. A favorite landmark along this section of the path is St. Bernard's Well, which is a mineral water well with a pump room topped by an 18th century Greek temple inspired ornament and a statue of Hygieia the Greek goddess of health. The water was believed to have medicinal qualities that could cure a number of ailments and diseases. The well is normally closed to the public, but is a popular sight along the path.
We also saw the remains of former mills, small waterfalls created by dams, fishermen (you need to pick up a free permit to fish here), birds, and the mighty Dean Bridge during our walk. Most of the path is also open to cyclists and sections of it are accessible by wheelchairs.
Check out the Water of Leith website for maps, access information, and reports of closures. If you have done this one and are looking for another one, you might also want to try walking along the Union Canal between Fountainbridge and Ratho Village, which is more industrial but still scenic.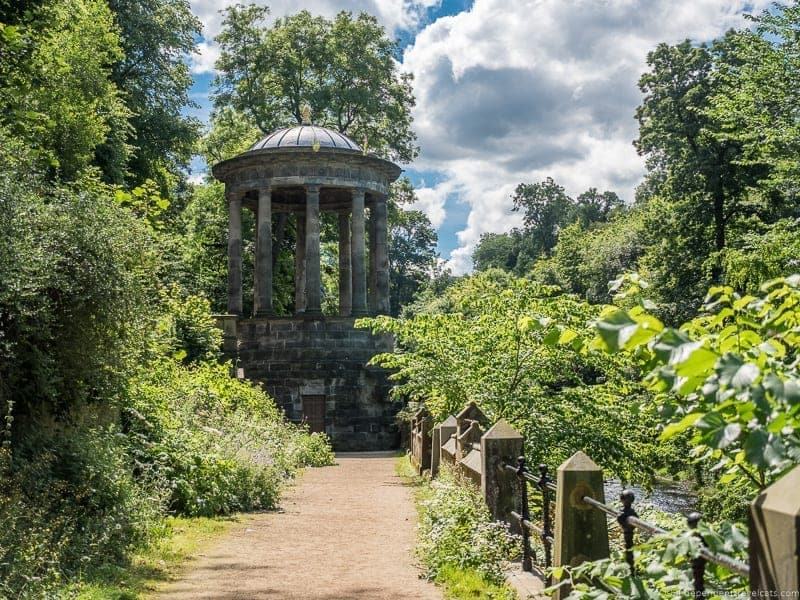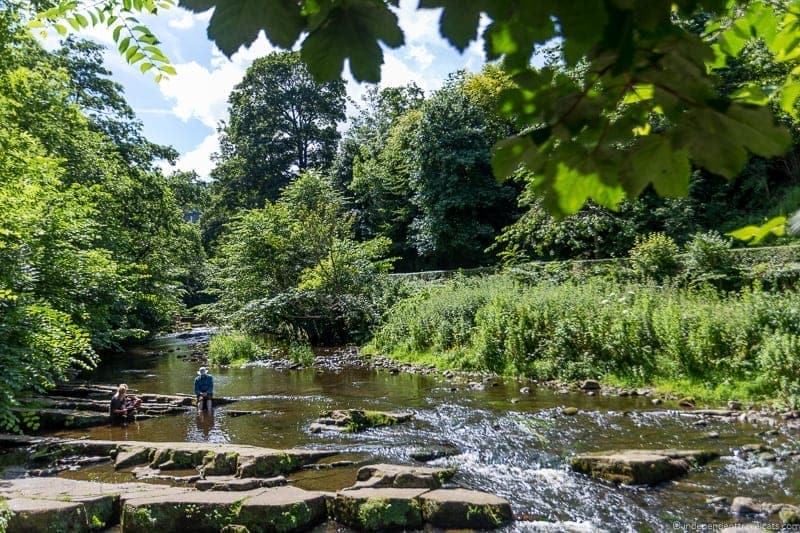 Dean Village
Dean Village was a grain milling hamlet for more than 800 years, later the village became part of Edinburgh in the 19th century. Today it is a quiet historical residential area northwest of central Edinburgh.
Although there is not that much do to here, it is a popular place for tourists as it is home to a number of photogenic historical buildings and can be a peaceful place to visit. The Water of Leith runs through it and a couple of popular landmarks are the four-arched Dean Bridge and Well Court, which is a historical apartment building built in the 19th century by Sir John Findlay who was the owner of The Scotsman newspaper.
This is an easy part of the city to explore on your own, but some of the city walking tours and bus tours also stop here, and occasionally guided walks are given by members of the Dean Village Association.
Dean Village definitely has a different feel than the rest of Edinburgh and I would highly recommend the Water of Leith walk in between Stockbridge and Dean Village on a sunny day as it is quite beautiful and tranquil.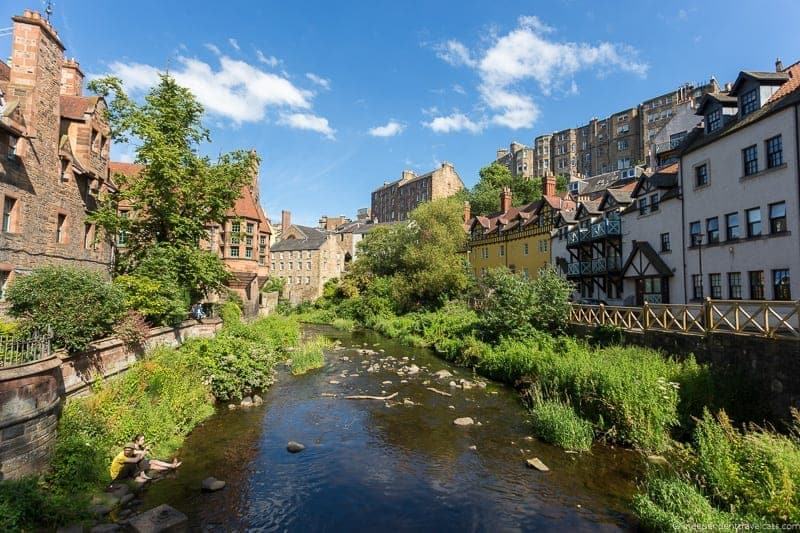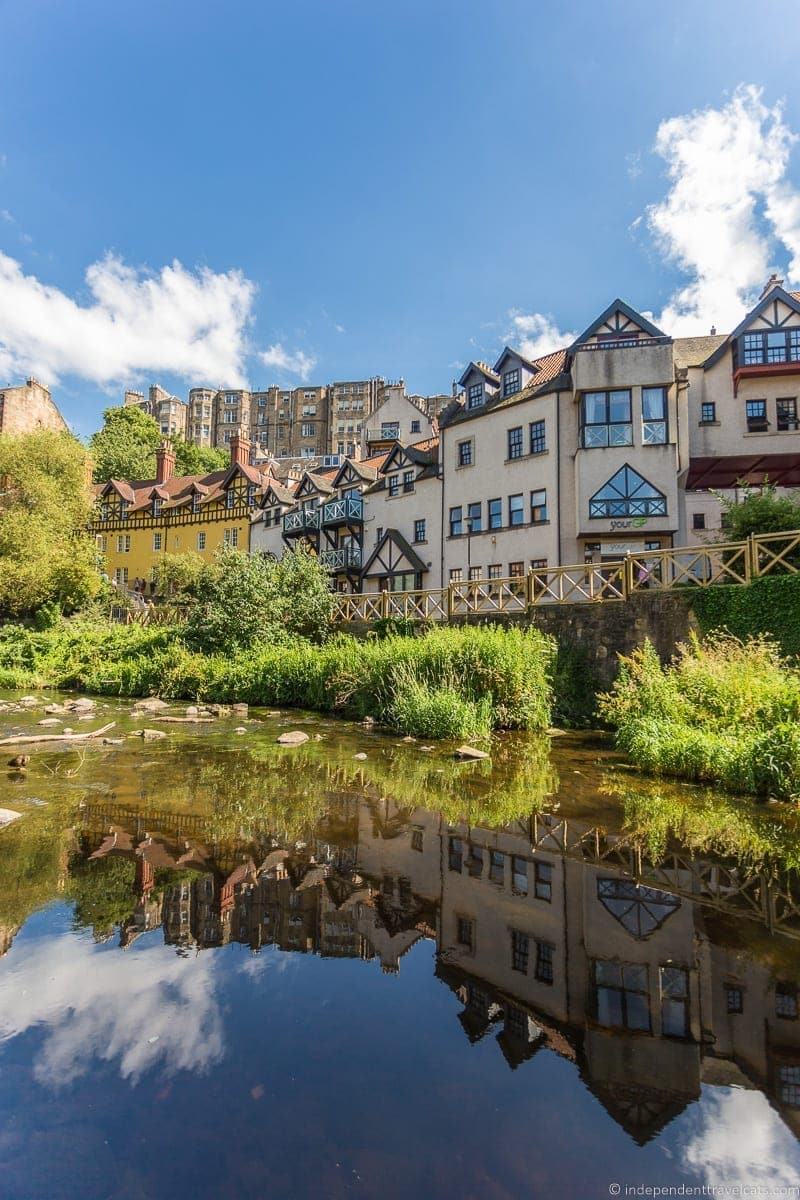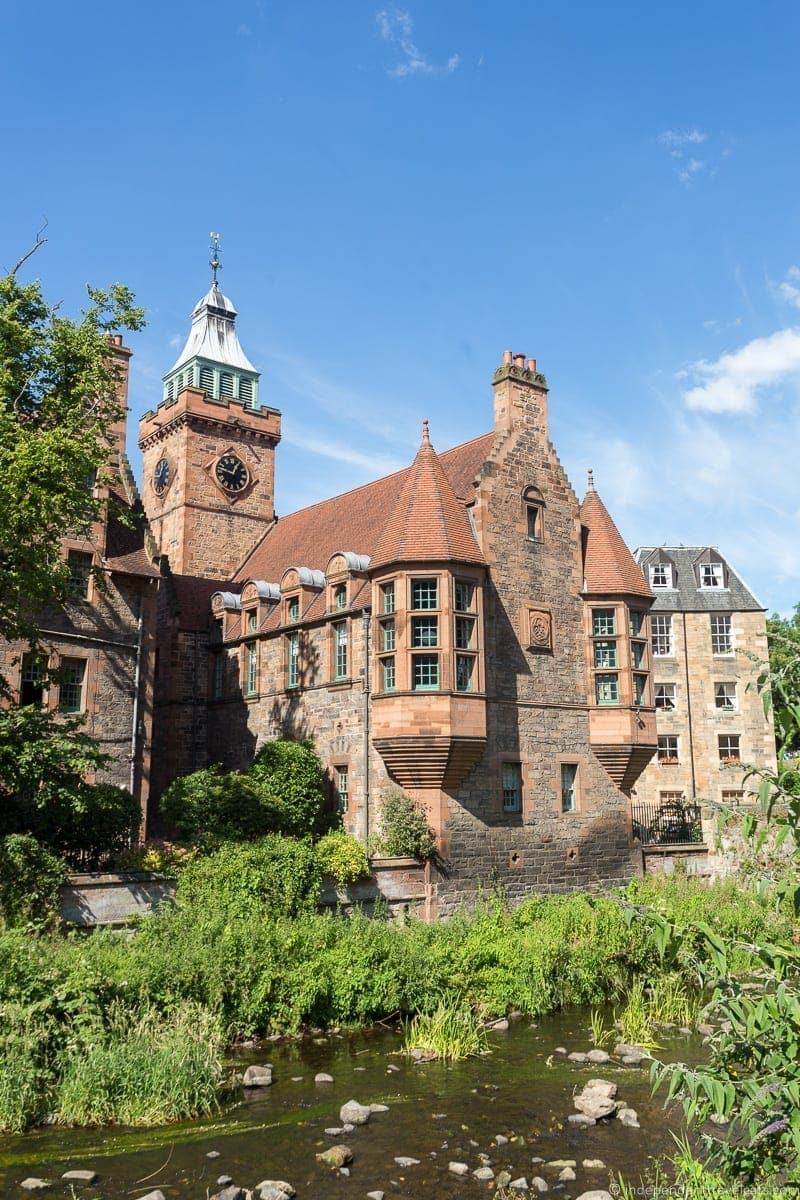 Beyond Central Edinburgh Attractions
Not all the top attractions in Edinburgh can be found around the city center. All of the Edinbugh attractions listed below are a long walk from the city center and will require taking public transit, a taxi, a bike, or driving to reach for most visitors. These Edinburgh attractions and neighborhoods are great places to go to get away from the busy city center.
Gilmerton Cove
Many visitors explore some of the covered streets or hidden underground passages while in Edinburgh. The Real Mary King's Close tour is a very popular one we talked about in our earlier post about top Edinburgh attractions, but Gilmerton Cove is an even more mysterious underground place to explore.
Gilmerton Cove opened to the public in 2003 and is a series of hand carved underground passageways and chambers. No one actually knows the origins of these underground passages or why exactly they were carved.
Various theories have been posited, including that they were the work of a local blacksmith named George Paterson, used as a smugglers lair, a hideout for Covenanters (those who opposed the Divine Right of the Monarch) in the 17th century, or a secret drinking den for the local gentry. There is even a theory that there could be a link between Gilmerton Cove and the Knight Templars. It is possible they served different purposes over time.
Public visits are by guided 45-minute tours where guests begin in a small mining cottage and then descend via a set of 16 steps into the chambers and passageways below. This is a very interesting and unusual tour and the underground passages were more extensive than we thought they would be. It is not surprising that Gilmerton Cove is now often ranked as a top 10 attraction in Edinburgh!
Because tours are limited to a maximum of 12 persons per tour, visitors MUST book tickets (fee) in advance to do a tour here by either phone or email. Gilmerton Cove is located outside central Edinburgh, and you'll want to drive or take a taxi (~ 20 minutes) or hop on a local bus (~ 30-40 minutes) to reach Gilmerton Cove (16 Drum Street).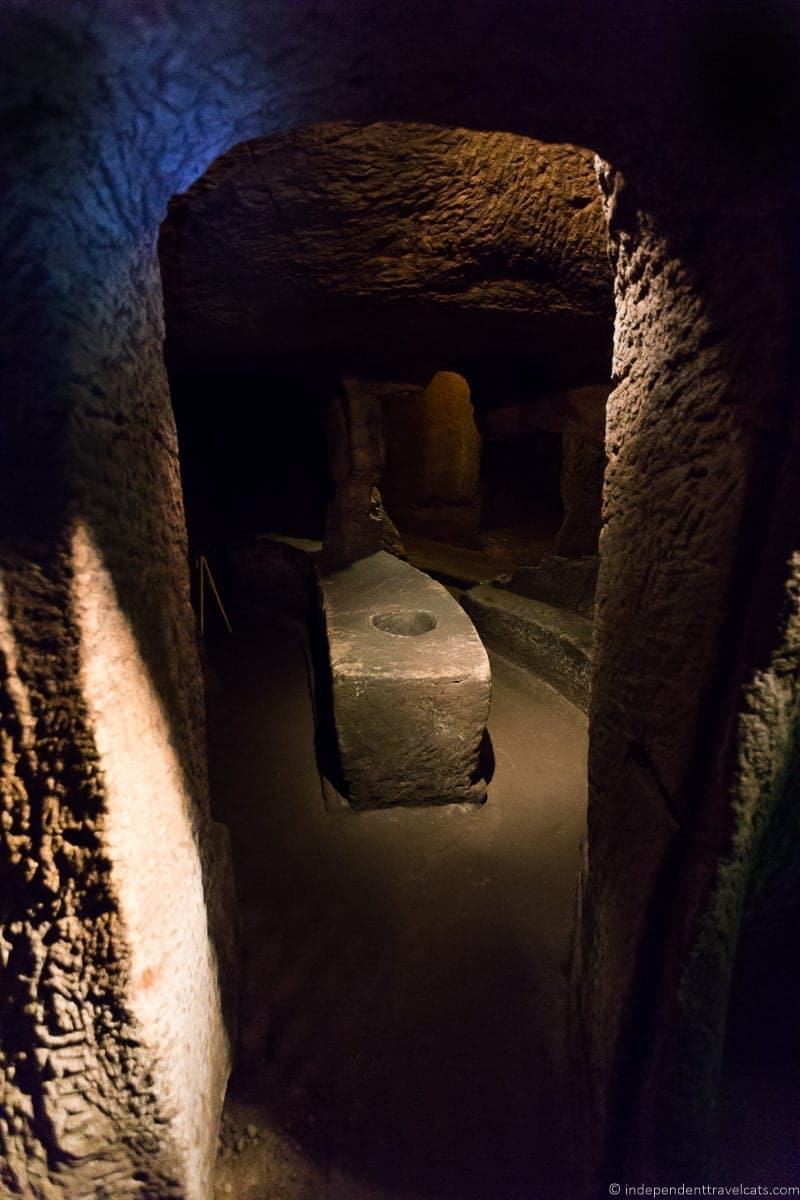 Leith and Newhaven Harbor
Many visitors to Edinburgh end up visiting Leith whether they know it or not, as the Royal Yacht Britannia and the adjacent Ocean Terminal shopping mall are located in Leith. The Britannia is one of the most popular and well-rated attractions in all of the UK actually! However, there is more to see in Leith beyond Britannia and the shopping mall, and a 15 minute walk brings you past the Leith docks and into the heart of Leith.
For about 900 years Leith played a central role as Scotland's principal port and it exported Scottish goods around the world, and you'll find some historical plaques, statues, and buildings such as Trinity House Maritime Museum (free entry, book in advance) here. Head towards Shore Street and you'll find plenty of shops, cafes, and restaurants (included a couple of Michelin starred ones) with a lovely harbor side location.
If you are interested in the full 12+ mile Water of Leith walk described earlier, you can start or end it here. On Saturdays, you'll also find the popular Leith Market off Commercial Street selling local produce, handmade goods, food, and crafts.
Leith is located within a 30 minute bus ride or 20 minute drive from the Royal Mile.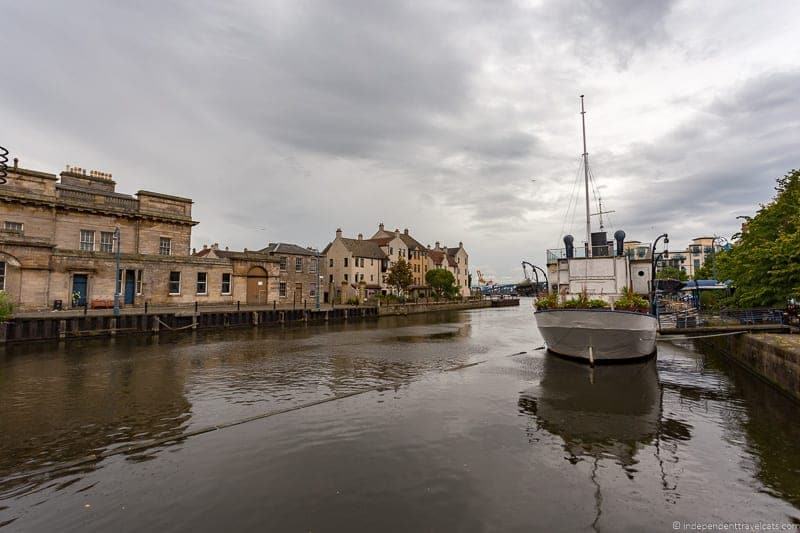 If you enjoy the feel of Leith, you may also want to check out the even less visited Newhaven harbor area. It is a former fishing and shipbuilding village that is now a district of Edinburgh.
Here you'll find a large Victorian fish market building dating to 1896, a small boat harbor, and a lighthouse built in 1869. Today the fish market building houses a fishmonger along with a couple of seafood restaurants. Commercial boat rides and charters are possible from Newhaven.
Newhaven is a 20 minute walk from Leith, a 17 minute walk from Britannia, a few minute bus ride from Leith or Britannia, or a 30 minute bus ride from the Royal Mile.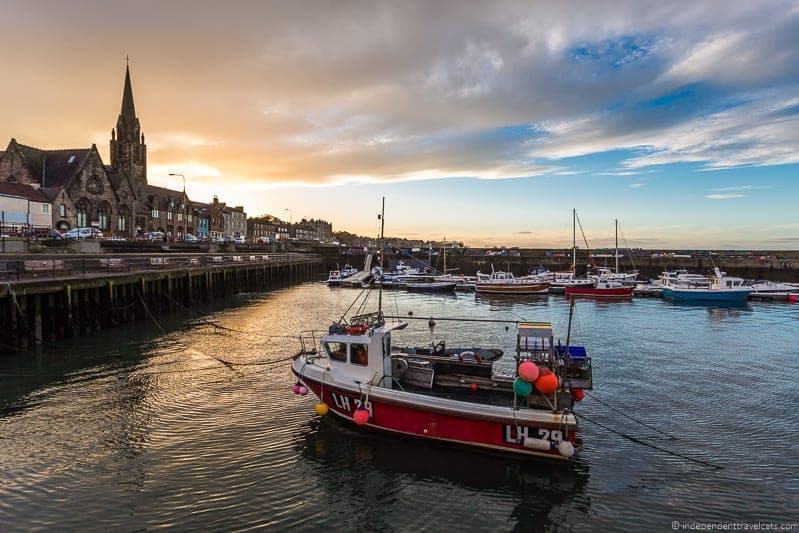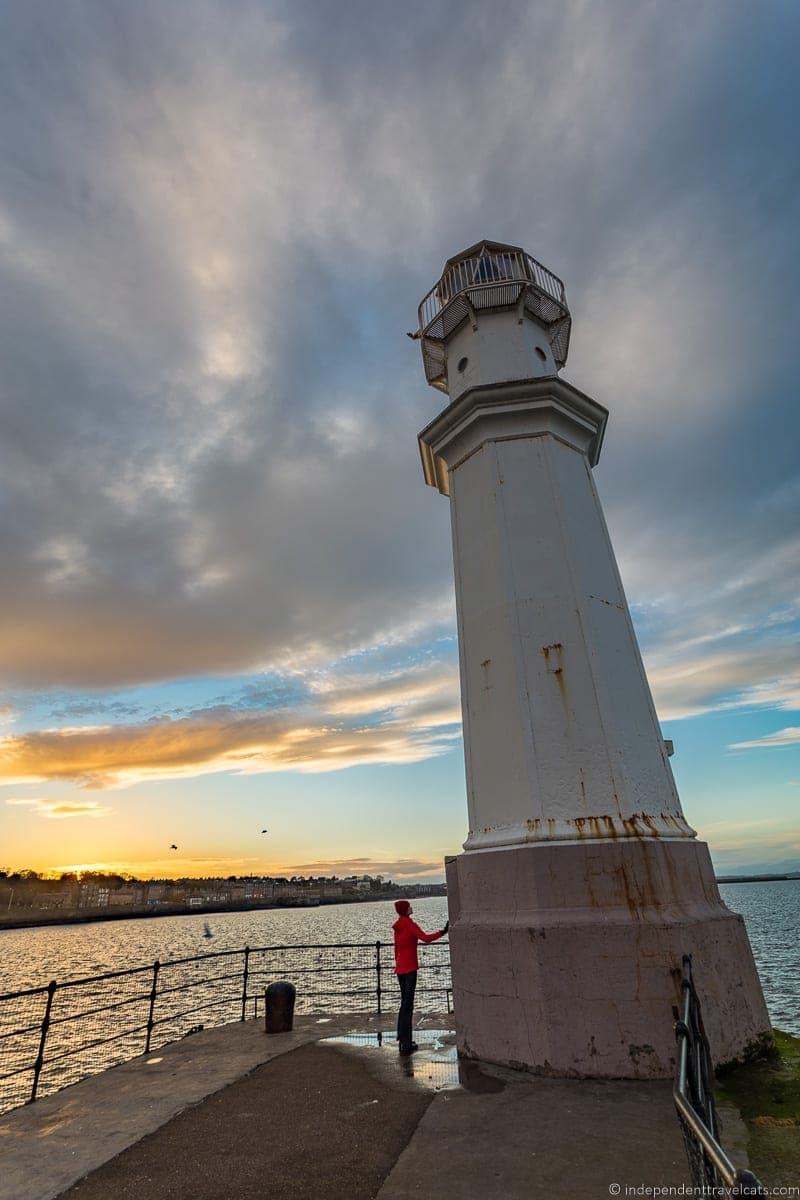 Portobello Beach
Did you know that Edinburgh has a beach? In the coastal suburb of Portobello, you'll find a sandy beach promenade that was a popular beach resort back in the late 19th century. Most of the Victorian era attractions are long gone but the beach remains and is a popular spot for Edinburgh families to come for a bit of the seaside.
In addition to walking on the beach or swimming in the summer months (although a group called The Wild Ones takes the plunge each Sunday morning year-round!), sailing, kayaking, and other water sports are possible. More comfortable if you bring a wetsuit or drysuit as the waters are never super warm.
You can also visit the retro arcade Noble Leisure (49 Figgate Lane), get relaxed at the Portobello Swim Centre (57 Promenade, Edinburgh, EH15 2BS) which has the last remaining Turkish sauna in Scotland, or explore the many food and coffee spots around Portobello.
It may not be the French Riviera, but Portobello feels like it is a long way from central Edinburgh and is a fun mellow place to spend an afternoon! You'll need to take public transit (~40 minutes), drive (~25 minutes), or take a cab/taxi to get here from central Edinburgh.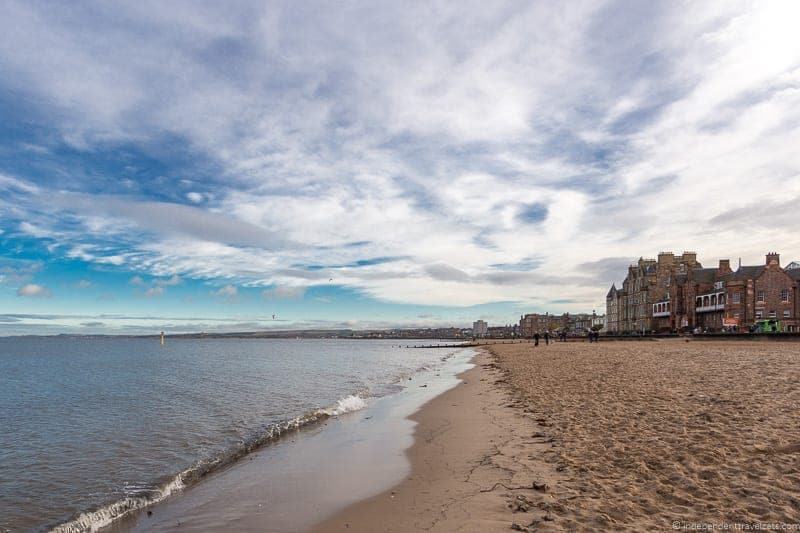 Craigmillar Castle
Edinburgh Castle is definitely a highlight for many visitors to Edinburgh, but if you don't mind your castles a bit ruined, you may want to head out to also have a look around Craigmillar Castle.
Craigmillar Castle was built in the 14th century by the Preston family (local barons) of Craigmillar as a stronghold. The tower house of Craigmillar Castle dates to the late 14th century and the rest of the building dates from between the 14th and 17th centuries.
Craigmillar Castle is best known for its connections to royal visits and intrigues, particularly that of Mary, Queen of Scots who is believed to have stayed at the castle twice. The area near Craigmillar is still called Little France because of the large French entourage that arrived with Mary, Queen of Scots.
In December 1566, she was staying here when it is said that the "Craigmillar Bond" came to fruitition and was signed. This would lead to the murder of the queen's husband Lord Darnley in February 1567. Mary would be married again (likely under coercion) a few months later to one of the men accused of murdering Lord Darnley.
The castle was later sold to Sir John Gilmour in 1660 but was no longer lived in and in a ruinous state by the late 18th century. In the 20th century it was given to the state.
The castle has long been a popular tourist stop. In recent years, it has become better known to visitors due to its appearances in a number of films and TV shows, including The Outlaw King and the TV show Outlander.
The castle is in ruins today, but you can still get a very good idea of what it would have looked liked in medieval times during a visit. The castle is maintained by Historic Scotland and has a small visitor center and toilets. There is good signage and paths and you can explore the remains of 5 floors. On a clear day, there are also nice views of Edinburgh from the tower.
There is a fee for entry. You can check the castle opening hours and fees here. It is free to visit for members of Historic Scotland or visitors with the Historic Scotland Pass.
Craigmillar Castle is about 3 miles southeast the city center and can be reached by public transit from central Edinburgh with a 10-15 minute walk from the closest bus stops. It can also be reached by a 15 to 20 minute drive or taxi ride.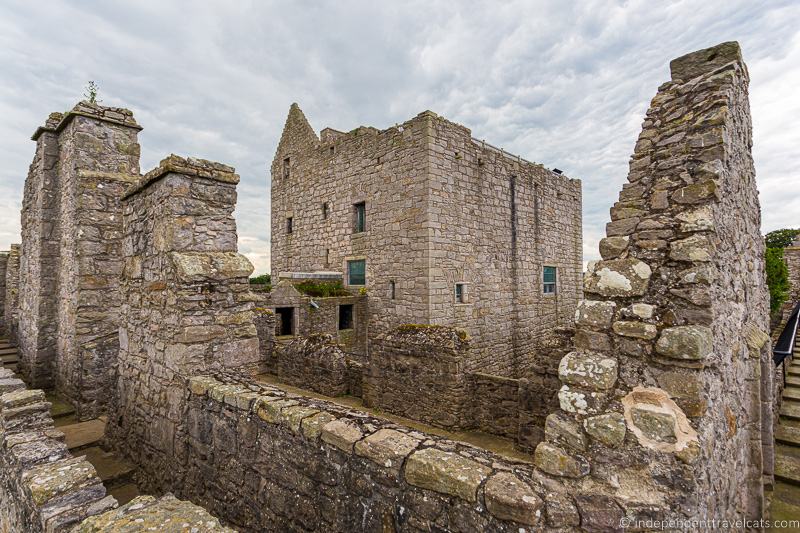 Lauriston Castle
We are still exploring our home in Scotland, and Lauriston Castle is one of our latest discoveries in Edinburgh. Most people who travel to Edinburgh will visit the much more famous Edinburgh Castle (and rightly so!) and maybe also Cragimillar, but Lauriston Castle is also a local treasure.
There has been a tower on the site since the 12th century, but the 12th century tower was destroyed at the command of King Henry VIII in 1544 when the Scots refused to marry Mary Queen of Scots to his son Edward, resulting in the unsuccessful revenge period known as the 'The Rough Wooing'. The castle was rebuilt in 1593 by the Napier family and later two more extensions were added in the 1800's.
The Reid family gifted their home to Scotland in the 1920's and it can now be toured and also hosts a few select events. The guided tours include a tour of the principal rooms which are fully decorated as the Reids left them in 1926, giving visitors a glimpse into what Edwardian life was like in a country home in Scotland. One of the interesting decorations throughout the home is the very large collection of Blue John urns, a rare semi-precious stone from Derbyshire.
The 1-hour tour we had here was very good and a great value at £5 per person. Note that the tours are only given once a day on the weekends during the winter months, but more regularly during the rest of the year. The gardens and parkland which were laid out by William Henry Playfair are open each day for free, and include a Japanese Friendship garden and views over the Firth of Forth.
Lauriston Castle is outside central Edinburgh but accessible via the public bus system (30-45 minute bus ride plus a short walk) or a ~ 20 minute drive or cab ride.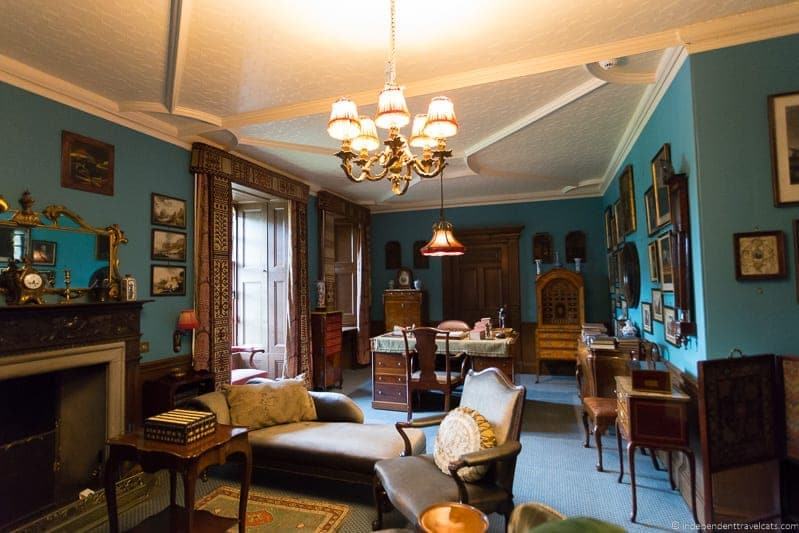 Cramond
Cramond is a suburb and village in northwest Edinburgh. If you are looking for a little village to visit near the water or are visiting nearby Lauriston Castle, this village is worth a stop.
Although now a popular residential suburb, Cramond was once an industrial and fishing village. Located at the mouth of the River Almond, the area is archaeologically significant as there have been findings from Mesolithic, Bronze Age, and Roman settlements here. You can see Cramond Island from the shore which is a small uninhabited island that does have some old ruins and some WW2 era structures still standing.
Today, you can visit the village church (Cramond Kirk), read about some of the history on signs posted around the village, stop in for a drink at the Cramond Inn, see the old traditional harling houses and boats along the wharf, play along the small sandy beach, go fishing in the River Almond (you'll need a day permit), and walk across a narrow causeway to Cramond Island.
Before walking to Cramond Island, be sure to check the tides as the tides cover the causeway for 12 or more hours each day so only walk to the island if it is safe to do so as tourists have often been stranded.
Cramond is outside central Edinburgh but accessible via the public bus system (30-45 minute bus ride plus a short walk) or a ~ 20 minute drive or cab ride.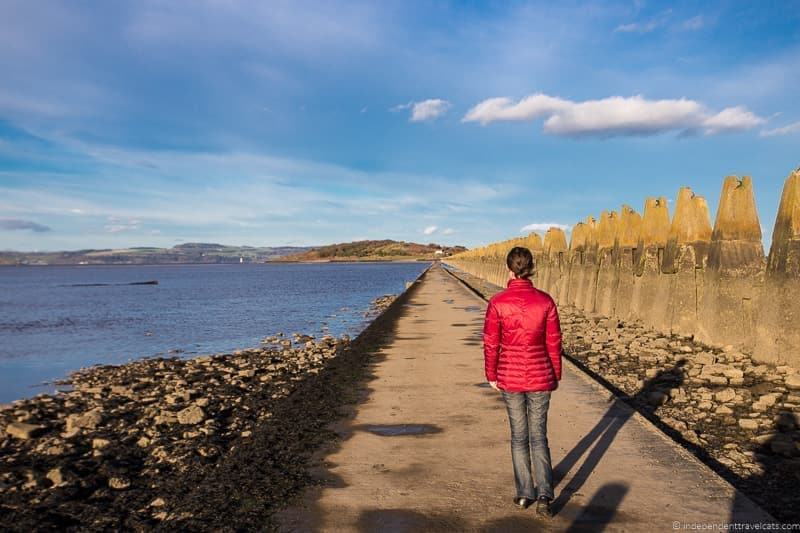 Jupiter Artland
Jupiter Artland is a contemporary art and sculpture park and art gallery located on a large 100-acre piece of land outside of Edinburgh. The park is on the grounds of Bonnington House (private, not open to the public), a 19th century Jacobean style house with 17th century origins. The current owners are avid art collectors and started the art park in 1999.
The park is set back off the road and you'll follow a long driveway to reach the parking area. Then you'll want to follow the signs to find the ticketing office, which is in one of a group of steadings. Here you'll also find toilets, a cafe, information, an indoor art gallery, and a gift shop. Here you can buy your ticket and collect a map and enter the beginning of the path.
The path leads you through the woods and along the way are a number of exhibits, garden areas, and land sculptures. The map gives you a description of each and the artist. Some are small and some are gigantic installations. They range from fun to interesting and thought-provoking to just plain strange!
A highlight, especially for kids, is definitely the Cells of Life, or Life Mounds, by Charles Jencks. These huge dirt and turf mounds with little lakes are very impressive. The Weeping Girls by Laura Ford were also a favorite. Don't forget to check out whatever temporary indoor exhibits are on during your visit. Some of the features are designed to be permanent, others temporary.
You'll need at least 2 hours to do the visit here. Best visited on a nice weather day. Only open seasonally (generally May to end of September), so do check dates and hours before visiting.
Ok, so Jupiter Artland is technically just outside of Edinburgh in the small village of Wilkieston. But it is worth the visit if you enjoy contemporary art and nature. It is situated about 12 miles from the centre of Edinburgh just off the A71.
The best way to get here is by car, and the drive takes about 25 minutes. But sometimes in summer, during the Edinburgh Art Festival, a free shuttle bus is offered on certain days from Edinburgh. You can also easily get a taxi here.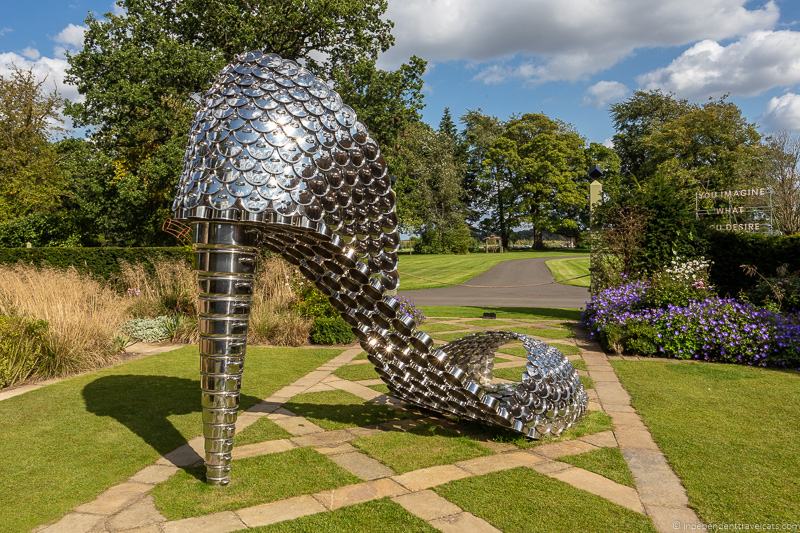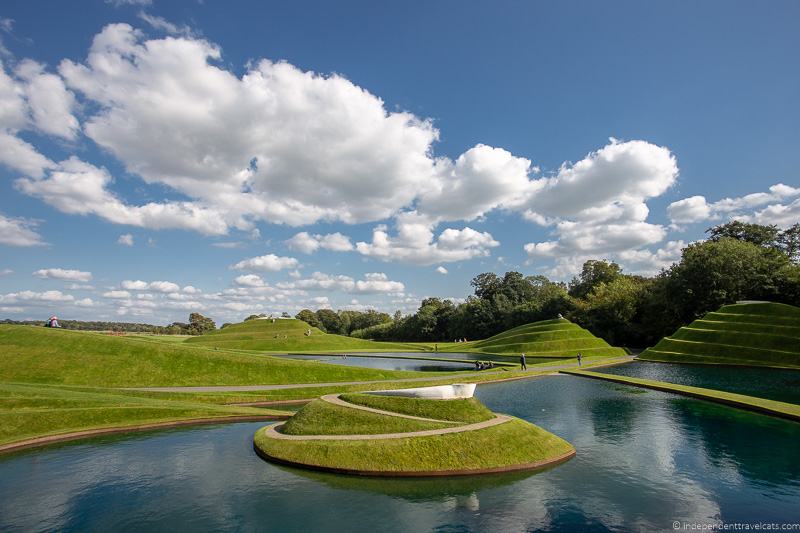 Other Edinburgh Attractions and Recommendations
The following Edinburgh attractions and recommended places are spread out throughout the city so include both centrally located spots as well as more far flung sites within the city.
Weekly Markets
Edinburgh is home to several major year-round weekly Edinburgh markets, taking place in central Edinburgh, Stockbridge, and Leith on the weekends. These include the Leith Market, Edinburgh Farmer's Market, and Greater Grassmarket Market on Saturdays and the Stockbridge Market on Sundays.
You'll also find a gathering of popular street food vendors every Friday in Fountainbridge. There is also the central Royal Mile Market which is a year-round daily Scottish market located in the Tron Kirk that houses a number of stalls by local businesses and artists with a focus on crafts, art, jewelry, clothing, antiques, and souvenirs.
You'll also find a Tourist Information Desk and Exchange Center at the Royal Mile Market so it is a good place to stop for travel information as well. There are also smaller markets and seasonal markets, including the Edinburgh Christmas Market. You can find out more about all the local markets here.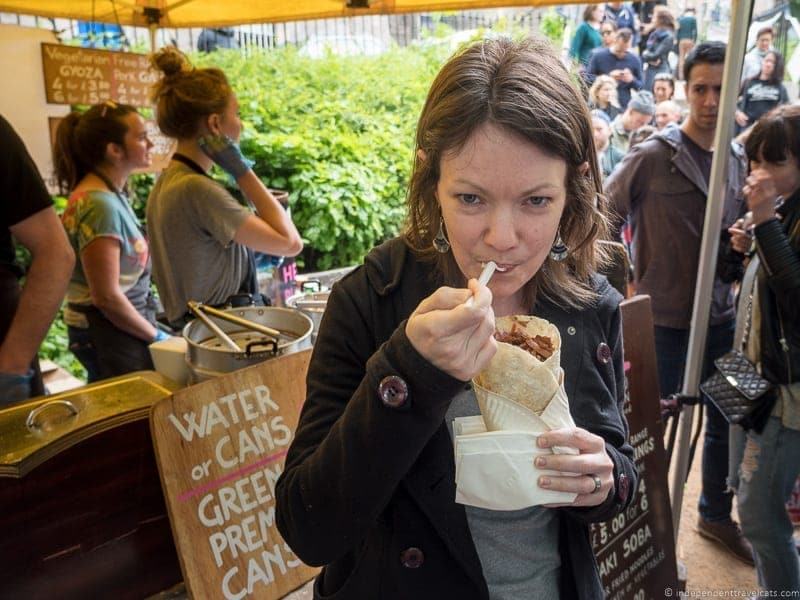 Shopping in Edinburgh
There are a number of great shopping areas in Edinburgh, and you could easily spend your whole holiday shopping if you wanted! Most people see the shops along the Royal Mile which are good for souvenir shopping, but if you truly interested in shopping plan to venture elsewhere for more variety.
Nearby Princes Street is home to some of the oldest flagship department stores like Jenners (beautiful 19th century building!) and also includes Debenhams, Zara, H&M, and All Saints. George Street is home to a number of international clothing designer stores like Hollister, The White Company, Anthropologie, and French Connection. If you are looking for luxury clothing stores like Mulberry, Louis Vuitton, Michael Kors, and Harvey Nichols, you should head to Multrees Walk. Here you'll also find jewelry shops like Swarovski and Links of London, travel stores, a salon, cafes, and even Tesla.
If you are looking for more independent stores in Edinburgh, you'll find them scattered throughout but some great areas are Thistle Street which has a number of clothing boutiques. The Grassmarket area is home to a lot of stores, about 90% of them independent, selling clothing, vintage goods, arts, and crafts. Stockbridge is great for vintage shops, independent clothing boutiques, and food products. One of the best known stores for high-quality vintage clothing is W. Armstrong & Son. The West End is another area full of independent high-end retailers, boutiques, and home decor stores.
The latest hot new area for shopping is the newly developed The Arches on East Market Street, which is a short walk from the Waverley Train Station. The business at The Arches are housed within 19 stone arches built in 1825 and feature independent retailers selling artisan clothing, home decor products, food, drinks, and art. Many of the city's museum and attraction gift shops also sell some high-quality and unique souvenirs.
If you are looking for high-quality independent shops around a particular Scottish item, such as bagpipes, whisky, cashmere, tweed, or kilts, do a little research online beforehand to find the best stores. There are a lot of stores selling these items and the quality can vary substantially in the main tourist areas although you'll find gems even on the Royal Mile if you know where to go.
For instance, both MacSween and Crombes of Edinburgh are well-recognized for having top-quality haggis, Bagpipes Galore (we actually took a brief lesson here!) is one of several well-rated bagpipe stores, and Hector Russell, House of Henderson, and 21st Century Kilts are a few of a handful of retailers in Edinburgh known for high-quality kilts.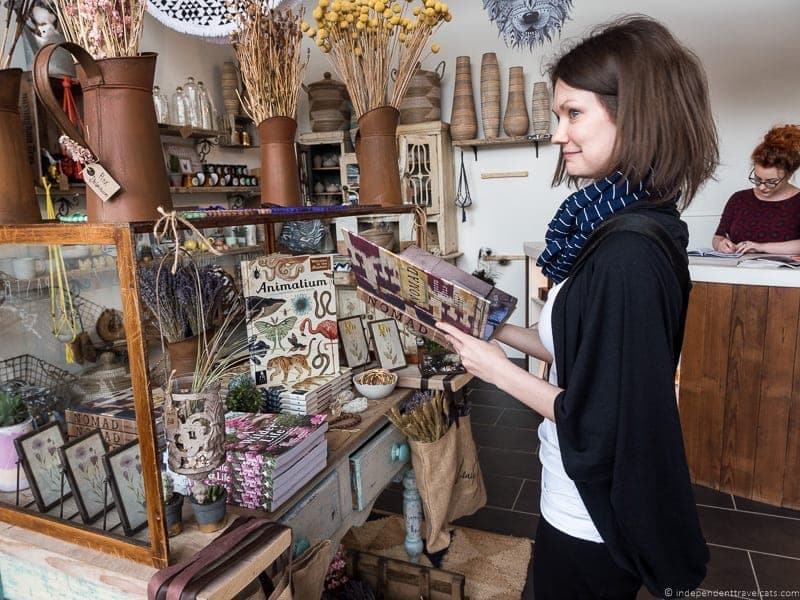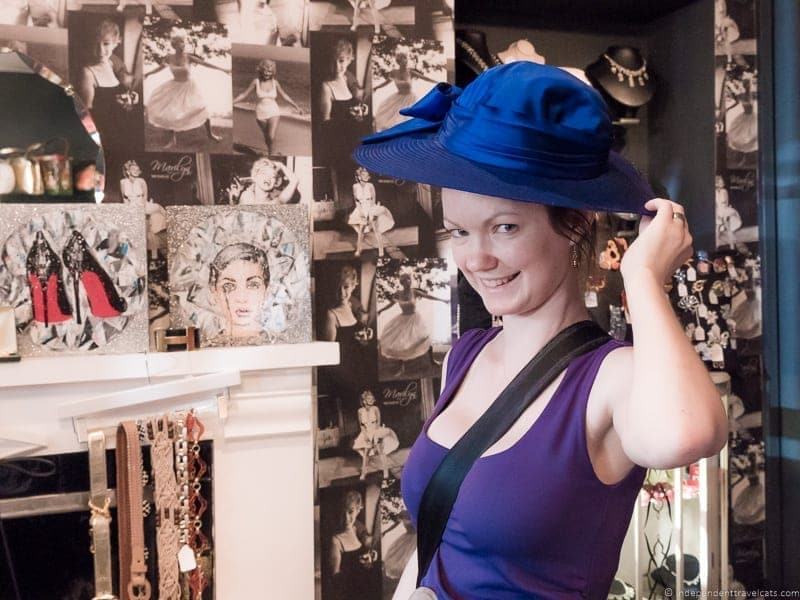 Food beyond haggis and fried Mars Bars
I talked about some of the traditional Scottish dishes you should consider trying when visiting Edinburgh in my prior post. However, if you have some time to spend in Edinburgh (and Scotland in general) I would recommend moving beyond just eating things like haggis, black pudding, Fried Mars Bars, and pub food. There are tons of great local restaurants in Edinburgh serving locally sourced, fresh food from Scotland as well as plenty of restaurants serving great international food from French to Indian food.
Some recommendations include: the Edinburgh Larder (15 Blackfriars Street) which is great place for a fresh and delicious good value lunch of locally sourced foods, The Printing Press Bar & Kitchen (21-25 George Street) which is located in the former 18th century home of novelist Susan Ferrier and serves locally sourced Scottish cuisine with a modern twist, Wedgewood the Restaurant which has an award-winning innovative Scottish-Asian menu, La Garrigue (31 Jeffrey Street) which is a French bistro focused on food from the Languedoc region and a short walk from Waverley train station, and The Tower Restaurant (National Museum of Scotland, Chamber Street) which is a fine dining rooftop restaurant serving Scottish and international dishes using seasonal Scottish produce and has great views over Edinburgh.
We have been trying to find the best burgers spots in Edinburgh and so far our favorite has been at the British chain BYRON which has two locations in Edinburgh, but we are always searching for good hamburgers!
There are so many more well-reviewed local restaurants out there to try during your visit that are located beyond the Royal Mile! Visitors may also want to book one of the local food tours available in Edinburgh for a sample of some of the best local food such as this one.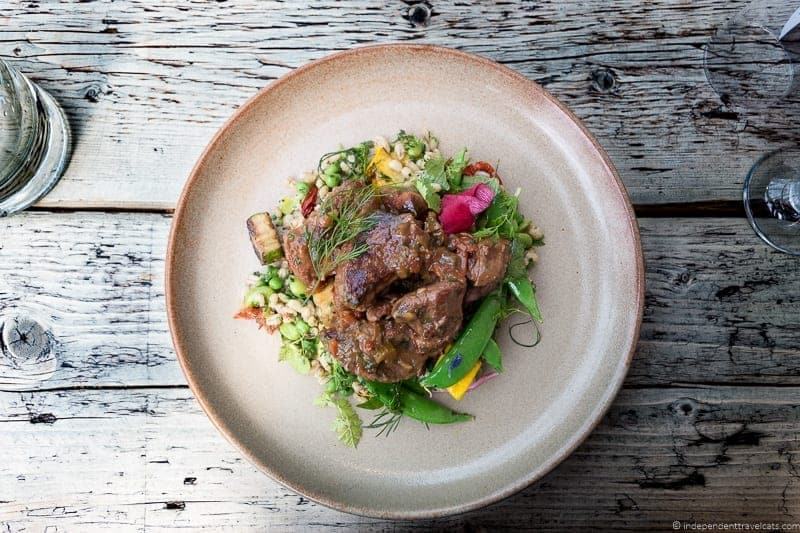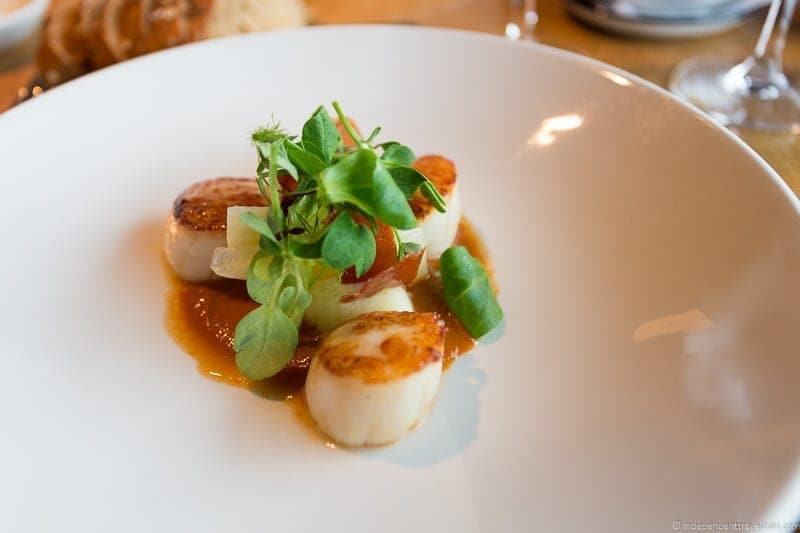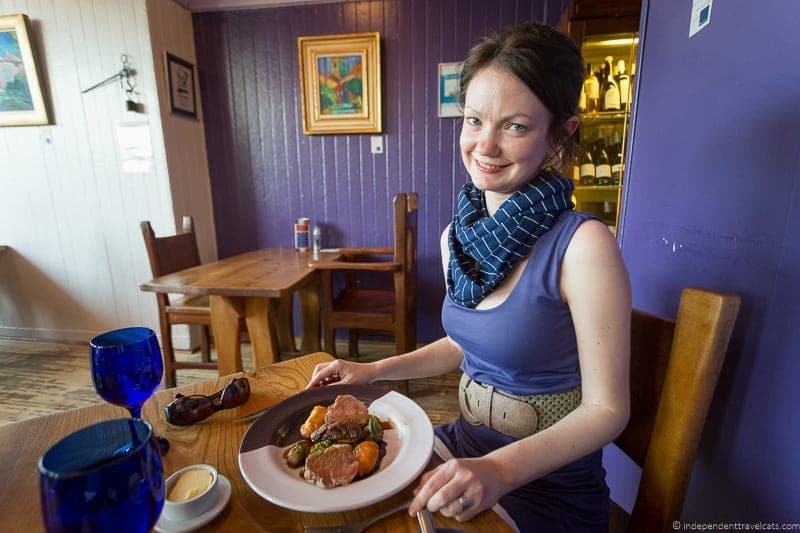 Drinking beyond Whisky
Scotland is all about whisky and if there is one thing you should try while in Edinburgh in terms of alcohol, I would recommend trying some Scottish whisky. But locals don't just drink whisky and craft distilleries and breweries have been popping up around the city and the country. There are tons of Scottish made products out there that you can discover, but we can point out a couple specifically based in Edinburgh that we've tried to get you started.
If you like gin, we can recommend trying the Edinburgh-based Pickering's Gin. You can actually take a Pickering's Gin distillery tour which includes three samples. We were really surprised by how much is quite literally done by hand there!
There are also some other gin distilleries you can tour in Edinburgh, including the Holyrood Distillery and 56 North.
If you like beer, you may want to give Edinburgh-based Barney's Beer a try. The Royal Dick is a great place to try both of these products, as both the brewery and gin distillery are located in the same building, a former veterinary school! You can also take a guided beer tasting tour like this.
Stewart's Brewing is based about 6 miles outside Edinburgh and is another local favorite if you like beers, and they also do brewery tours. Another interesting place for drinks if you like gin is The Sheraton's One Square bar and gin terrace.
If you are looking for a place to enjoy cocktails with a great view, we can recommend the rooftop patio of The Tower Restaurant which has excellent views of the city, including Edinburgh Castle!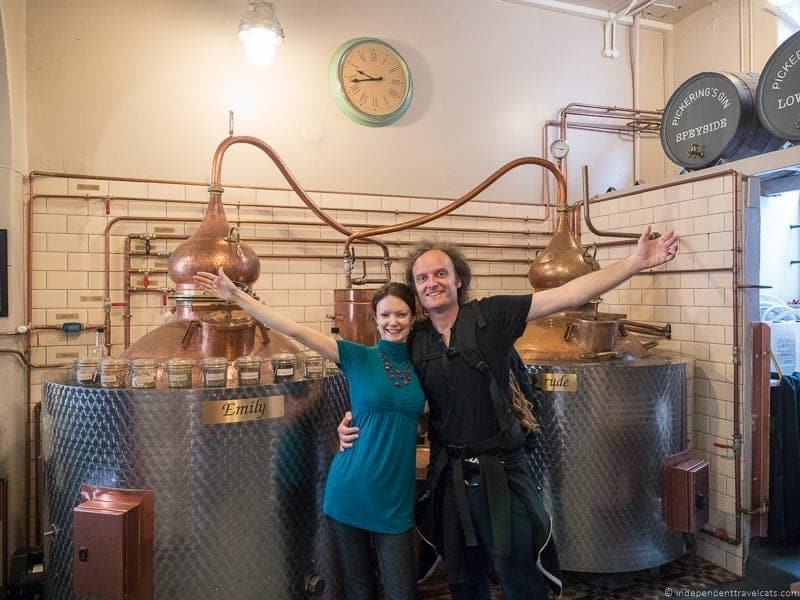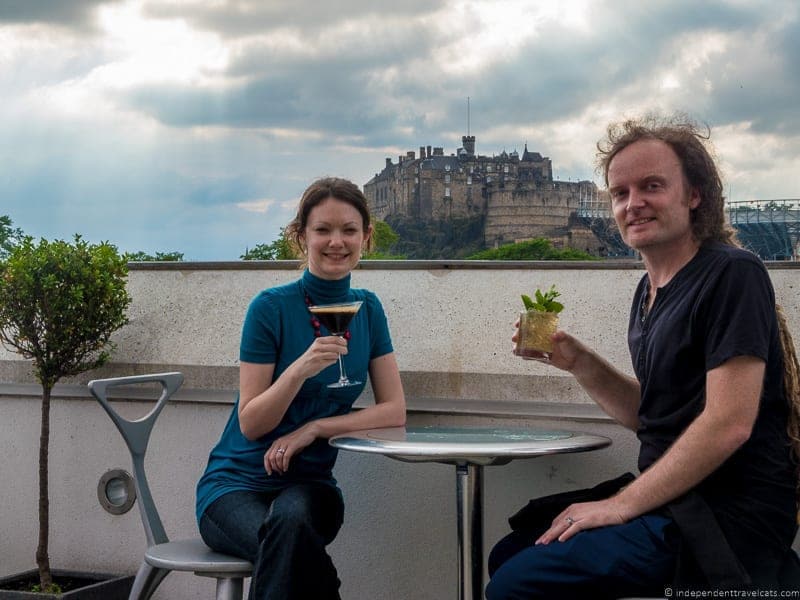 Evening Entertainment in Edinburgh
Edinburgh is not equal to London in terms of nightlife options, but there is still plenty to do in Edinburgh at night. As noted The Stand is the best bet for comedy shows. For concerts, theater, ballet, opera, and other performances, Edinburgh has a number of venues including The Usher Hall, which is Scotland's only five-star concert hall. Other city venues include the beautiful Royal Lyceum Theatre, King's Theatre, Edinburgh Playhouse, and Edinburgh Festival Theatre.
Check out the Edinburgh Theatre Guide for what is playing during your visit and you can also check around once in town for lesser known performances.
For cinema, there are large cinema chains such as Vue, Cineworld, and Odeon locations in the city as well as the Art Deco cinema Dominion Cinema and arthouse cinema Cameo Cinema.
For those looking for dancing, clubbing, and bars, check out this list of Edinburgh night clubs and bars that come alive at night.
For those looking for something with traditional Scottish music and dancing, the Ghillie Dhu regularly has live traditional Scottish music and ceilidhs. These are a lot of fun and are popular with visitors and locals.
For more regular performances, we recommend checking out the Spirit of Scotland Show. Centrally located in the New Town, this is the only regular show in Edinburgh where you can eat haggis, hear poems by Robert Burns, listen to traditional Scottish music, and watch dancers perform traditional dances like the Highland Fling all in one evening.
Designed for first time visitors to Scotland (a lot of tour groups come here), the Spirit of Scotland evening show includes a 4-course meal (with lots of traditional Scottish food options), dancing, storytelling, singing, and music.
It may be a bit cheesy with the bagpipes and all the tartan, but Laurence and I had a lot of fun. The food was good, the performers were great, and the staff were friendly. As a visitor you can get a taste of some of Scotland's biggest events and celebrations: Burns Night, Hogmanay (Scottish New Year), the Royal Tattoo, and the Storytelling Festival all in the same night!
The main show is currently seasonal running from about April to October, although smaller performances may be arranged outside of the season for large groups.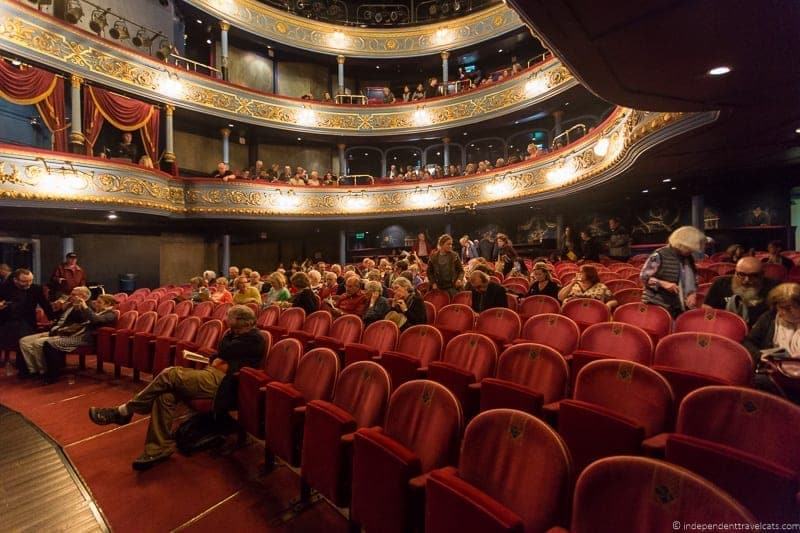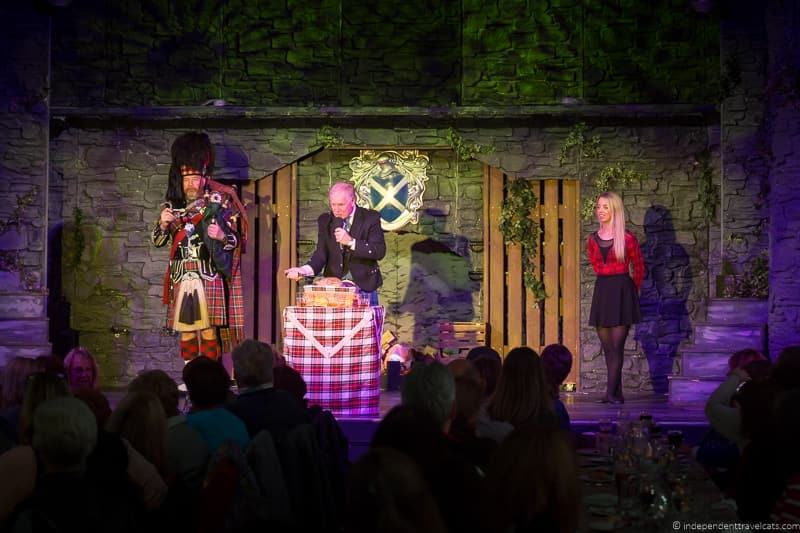 Have you visited Edinburgh Scotland? Do you have other Edinburgh attractions you'd add to our list of favorite things to do in the city? Which of the above lesser known Edinburgh attractions are on your list of places to visit when you come to Edinburgh? As always, feel free to comment and we're happy to answer any questions about traveling within Edinburgh and things to do in the city.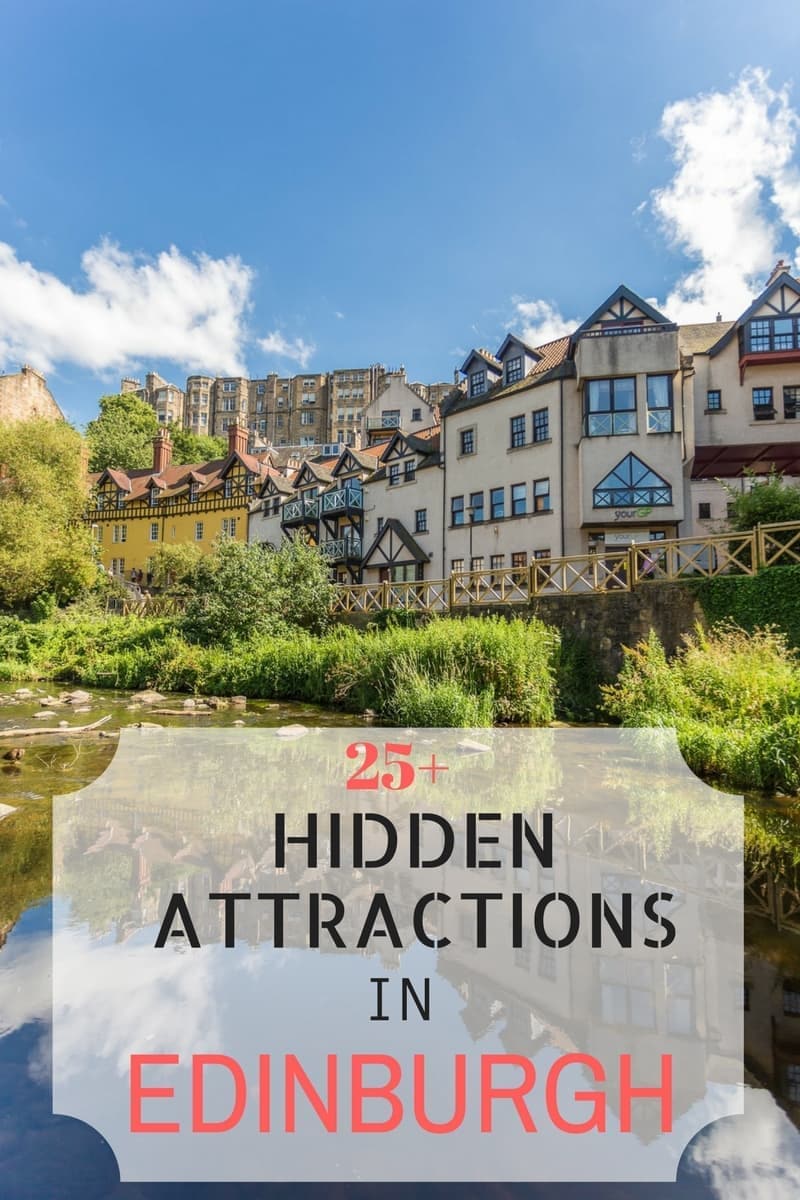 **Disclosure: Many of the above places are free to visit or we paid our own entry fees during numerous visits over the past year. For some attractions, we received complimentary entry through partnerships with Marketing Edinburgh or VisitScotland in order to review attractions and services as travel writers; however, this article contains only our own honest thoughts and opinions. We also received complimentary accommodation and meals during a recent 3-day visit in partnership with Marketing Edinburgh. You can read more in our Ethics Code about how we accept work.**