There are so many things to do in Edinburgh Scotland! We lived in a village near Edinburgh for over 4 years, and during our time near the city we discovered so many things to do, which I wanted to share with those planning a visit.
A first time visitor naturally wants to see some of the highlights of this gorgeous city that holds two UNESCO designations for its higgledy-piggledy medieval Old Town and its well-planned Georgian New Town. But you may also want to explore a few other areas as well.
Our recommendations include visiting the city's iconic medieval castle, climbing an extinct volcano, visiting the world's largest monument to a writer, seeing Scotland's crown jewels, sipping whisky, going underground to explore some of the city's medieval past, viewing world-class art, and paying homage to a famous little dog. If you have control over the timing of your visit, you may want to plan to attend at least one of the city's world-famous festivals.
These 21 things to do in Edinburgh are meant to be a guide to build your trip itinerary, whether it be a short one day visit or a week-long trip.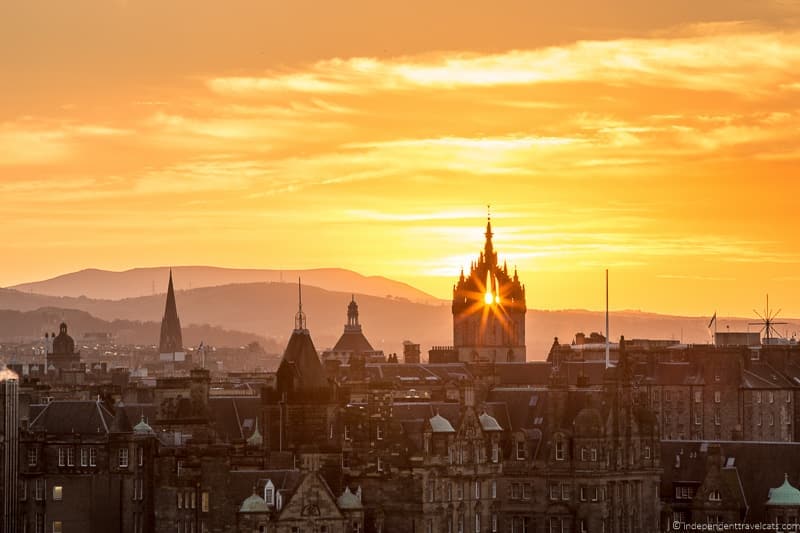 Basic Information for Visiting Edinburgh
Here is some basic information and tips for visiting and getting around Edinburgh, Scotland.
Where is Edinburgh?
Edinburgh is in Scotland, which is the northern part of the United Kingdom. It's in the southeast part of Scotland, around 60 miles north of the Scotland – England border, and around 50 miles east of Glasgow, which is Scotland's largest city.
Best ways to get to Edinburgh?
There are multiple options for visiting Edinburgh. First, you can fly into the Edinburgh Airport, which has flights from destinations in Europe, the US, the UK and the Middle East. If there is no direct flight, connecting flights from London or Dublin are frequent. The airport is a short bus, taxi, or tram ride from town, so this is a very practical option. You can book the airport bus in advance here.
If you're don't want to fly, then there's a fast train service from London to Edinburgh, which takes around 4.5 hours. You can also catch trains from cities throughout the UK or take the EuroTunnel to get here via France if you are coming from Europe. You can save a lot of money on fares by booking train tickets well in advance.
If traveling from within the UK, you check out fares and book tickets on Trainline and London North Eastern Railway.
If you are in the UK and would rather travel by bus, there are daily coach connections to Edinburgh from a number of cities which take longer but may save you money compared to train fares. You can check National Express for coach connections and prices.
Finally, you can also drive to Edinburgh, although be aware that most hotels, particularly those in the city center, don't offer free parking.
If you are traveling from London, we have a guide to 10 ways you can travel from London to Edinburgh, and how each way compares in terms of cost, time, and convenience.
Best times of year to visit Edinburgh?
Edinburgh is a city that you can visit year round, with plenty going on throughout the year. If you are hoping for warmer, drier weather, then the months of May to September will be your best bet, but the weather in Scotland is fickle, so the best plan is to pack layers and be prepared for at least a little rain.
If you're interested in the Edinburgh festivals, then you may want to visit during August, when some of the biggest festivals take place. Christmas in Edinburgh and the Scottish New Year's celebration, Hogmanay, is also a very popular time to visit. Note though that during this time the city is a lot busier than usual, and accommodation is both pricey and hard to come by so book in advance.
If you are not interested in attending the August festivals or Hogmanay, we would recommend avoiding Edinburgh at these times to save money and avoid the crowds.
Best way of getting around Edinburgh?
The center of Edinburgh is easily walkable, with the majority of attractions easily accessible by foot. Some attractions (e.g., zoo, botanic garden, Royal Yacht Britannia, Leith docks) are a bit further out, in which case we recommend either local buses, which are very well priced, or local taxi services.
There are also a few different companies offering hop-on hop-off bus services in Edinburgh that offer commentary and sightseeing. We recommend this HOHO bus service because it offers three bus lines that stop at most of the attractions mentioned in this article.
You don't need a car to travel around Edinburgh as public transit can get you just about anywhere in and around the city, so we'd only really recommend a car if you are planning to head into the countryside or smaller villages.
Most cities and towns in Scotland are well connected by train and bus. Even many of the small villages outside of Edinburgh, including our own, is well connected by bus so we rarely drive into the city to avoid paying for parking.
Accessibility in Edinburgh?
Although most of the public transit options are wheelchair accessible and many of the attractions can accommodate wheelchairs, Edinburgh can be challenging for people with reduced mobility and those in wheelchairs because of the many hills, cobbled streets of the Old Town, and historical buildings.
If you or a travel companion has reduced mobility or is traveling in a wheelchair or mobility scooter, check out the accessibility page on the Marketing Edinburgh website. It provides information on accessible public transport, locations of accessible public toilets, disabled parking areas, etc.
For specific attractions, I'd go directly to their webpage to learn about accessibility and contact them if needed. For instance, the Edinburgh Castle can be challenging for wheelchair users as certain areas can not be visited due to the historical layout of the buildings.
How much time should I spend in Edinburgh?
This of course depends on how much you want to do and how much time you have to vacation, but I would highly recommend spending at least 3 days for sightseeing in Edinburgh. There are so many great attractions, museums, places to eat, parks, etc. to see here and most visitors who spend a rushed day or two in the city tell us they regret it. You could easily spend a week and not run out of things to do in Edinburgh.
Day trips from Edinburgh?
You can also use Edinburgh as a base to explore some of the surrounding areas and regions around Scotland. There are a number of excellent day trips you can take from Edinburgh to places such as castles, whisky distilleries, Outlander filming locations, Harry Potter filming locations, St. Andrews, Loch Ness, golf courses, the Scottish Borders, and Glasgow. You can do day trips from Edinburgh by car, bus, train, or by booking a day tour.
Check out our guide to the top day trips from Edinburgh for lots of ideas and planning advice to help you plan your day out.
How to save money on Edinburgh attractions?
The main discount pass is the Royal Edinburgh Ticket and it is great value if you plan to visit the three main royal attractions (Edinburgh Castle, Holyrood Palace, and Royal Yacht Britannia) in Edinburgh. It also includes a 2 day hop-on hop-off sightseeing bus pass. It will save you about 25% i you visit all three attraction and use the bus. You can check it out and buy it here.
There are no major city passes in Edinburgh; however, the great thing is that many of the main museums and parks are FREE to enter! Also you'll likely find discount vouchers on the Edinburgh city maps and brochures you can pick up at the visitor center, and a few attractions offer combo ticket discounts if you also plan to visit partner sites.
For those sites that are not free to enter, if you don't want to pick up the pass above, you can often save money by buying your ticket online instead of at the venue. For example, if you buy your Edinburgh Castle ticket online here, you save around £1.50 on the entry price – plus you get to skip the ticket line.
For those planning to spend more time in Scotland and enjoy historical sites, you can check out the Scottish Heritage Pass (valid April to October) and Historic Scotland Explorer Pass. Although both of these two passes only cover a few sites in Edinburgh, they each cover over 120 sites throughout Scotland, including Edinburgh Castle, Stirling Castle, and Culloden Battlefield.
Where to Stay in Edinburgh?
If you are looking for accommodation in Edinburgh, we recommend trying to find a central location, especially if your time in the city is limited. This way you can walk to many of the main attractions. Anything within walking distance of Waverley train station is a good central location, and will allow you to easily explore the Old Town and New Town areas on foot or with short bus rides.
Edinburgh Budget Lodging Options
Edinburgh Mid-Range Accommodation Options
Motel One – A popular modern budget design hotel centrally located in Edinburgh's Old Town.
Travelodge Edinburgh Central – A 3-star chain hotel located just a few minute walk from the Royal Mile.
The Grassmarket Hotel – This 3-star hotel is located within the Grassmarket area and about a 10 minute walk from the Christmas market. Hotel has a quirky and colorful modern decor.
Holiday Inn Express – This 3-star hotel offers well-prices rooms in the Old Town and is located near the Royal Mile.
Plum Guide – a great option offering a range of lovely apartment rental options
Edinburgh Luxury Hotels
Where can I find more information?
For more Edinburgh trip planning tips, a good place to start your planning is the Edinburgh city tourism website. If you have already exhausted the attractions of interest mentioned in this post, check out this list of additional lesser known things to do in Edinburgh.
For more specific Edinburgh Festival information, you can find loads of information on the Festivals Edinburgh website and read our planning guide to the August Edinburgh festivals and our Hogmanay guide. We also have a guide to celebrating Burns Night in Scotland if you are visiting in January.
If you are planning on doing some day trips from Edinburgh, we list 15 Edinburgh day trip ideas in our guide.
If your travels in Scotland are taking you beyond Edinburgh, head to the Visit Scotland tourism website for planning the rest of your travels throughout Scotland. You can also browse through my other UK travel posts and the dozens of UK posts over on Laurence's blog.
Highlights of Edinburgh: 21 Things to do in Edinburgh Scotland
There are a lot of things to do in Edinburgh, but we have narrowed it down to 21 highlights that we think any first time visitor should know about and consider for their trip. We chose a variety that will suit a number of travelers: the majestic castle, a palace, a famous ship, gardens, whisky tasting, family-friendly attractions, hikes, and several museums.
These are listed in no particular order!
1. Edinburgh Castle
If this post was titled "top thing to do in Edinburgh", this would likely be our choice. Edinburgh Castle is the most recognizable landmark in the city, it sits atop a volcanic peak and dominates the city skyline. The castle was the setting for a number of important historical events in Scotland and many famous people once visited or lived within its walls including Mary, Queen of Scots.
Inside the castle, you'll get to see loads of historical Scottish artifacts, including weapons, clothing, and even the "Scottish Crown Jewels" which are known as the Honours of Scotland. The castle is also the site of the Scottish National War Memorial and the National War Museum of Scotland (entry included with castle admission price).
Other highlights for us were the Great Hall and the 12th century St. Margaret's Chapel which is the oldest surviving structure in the castle and in Edinburgh. From the castle terrace and towers, you can enjoy great sweeping views over the city.
A popular time to be at the castle is for the firing of the gun, which takes place on most days of the year to mark 1pm (except Sundays and holidays). This practice started in 1861 as a muzzle-loading cannon was fired each day to serve as a vital timekeeping device for ships in the harbor.
Today the gun is fired just for tradition and show. If you're interested in seeing the gun fire, be sure to head to the Mill's Mount battery inside the castle well before 1:00 to secure a good viewing spot.
Note the castle is one of the most popular attractions in Edinburgh and can get very busy, so try to visit in the morning if you can.
We would recommend that you book a ticket with fast track entry in advance to skip the ticket lines. Booking an advance ticket will also save you some money on the walk-up entry price, and you won't have to wait in line for your ticket either. Tickets can be purchased in advance on the same day.
If you are visiting during a busy time of year (e.g., summer, festivals, holidays), these advance tickets will definitely save you time, but we advise buying them in advance anyway as it will save you money.
The visit is self guided, but if you would like to learn more about the castle, you can hire an audioguide at the castle or take one of the free on-site guided tours.
Edinburgh Castle is one of the attractions included on the Royal Edinburgh Ticket (buy online here), and are also free for those with a Historic Scotland Explorer Pass.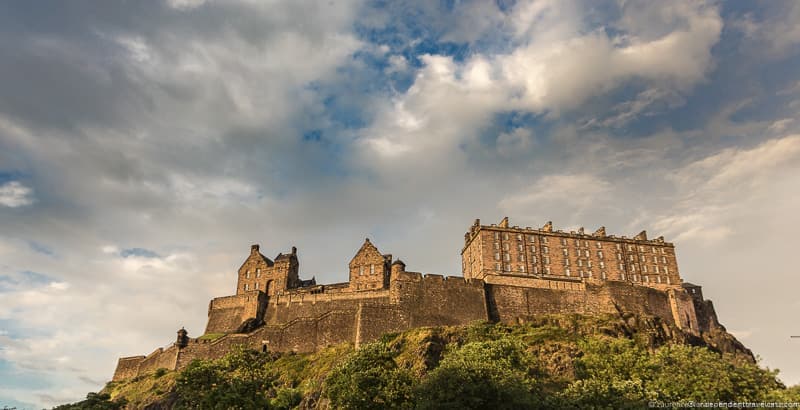 2. Walk down the Royal Mile
From Edinburgh Castle, the next logical thing to do is to stroll down the Royal Mile. This is the medieval city's main highway, and is still a very busy place today.
Not surprisingly, it runs almost a mile from the castle at the top of the hill to Holyrood Palace at the bottom. It spans five different streets, none of which are actually called the Royal Mile.
This is a busy street and there are a lot of things to see along the way, including many of the attractions we note below as well as many restaurants, cafes, museums, and shops. You'll likely find yourself on and off this street many times during your visit!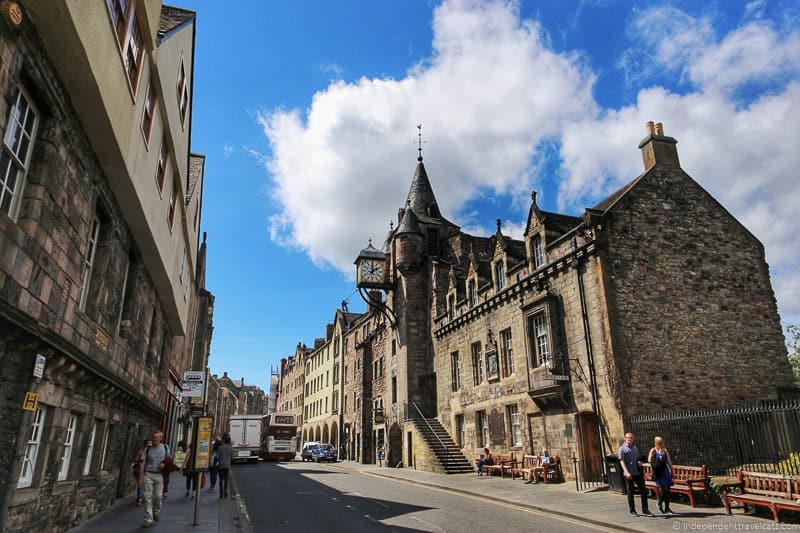 3. Camera Obscura and World of Illusions
Near Edinburgh Castle on the Royal Mile is the Camera Obscura and World of Illusions. This attraction has two main features – first, it has several floors featuring optical illusions, light tricks, old-fashioned games, and magic displays which we had a lot of fun playing with.
Then, the "main attraction" is the Camera Obscura on the roof. A camera obscura is basically an old-fashioned projection system, which directs visible light from the outside world onto a viewing surface in a darkened room. These have been known about for hundreds, if not thousands of years, and were a particularly popular attraction in Victorian times. In fact, Edinburgh's Camera Obscura dates from the 19th century, making it one of the oldest visitor attractions in the city.
The rooftop of the tower also includes pretty amazing views of the castle and the city of Edinburgh. We really enjoyed our visit here and it is a great place for families.
We have heard from some visitors that when it is crowded, it can be less enjoyable, so we would recommend visiting outside of the busier summer months or to visit this attraction soon after opening in the morning for the best experience.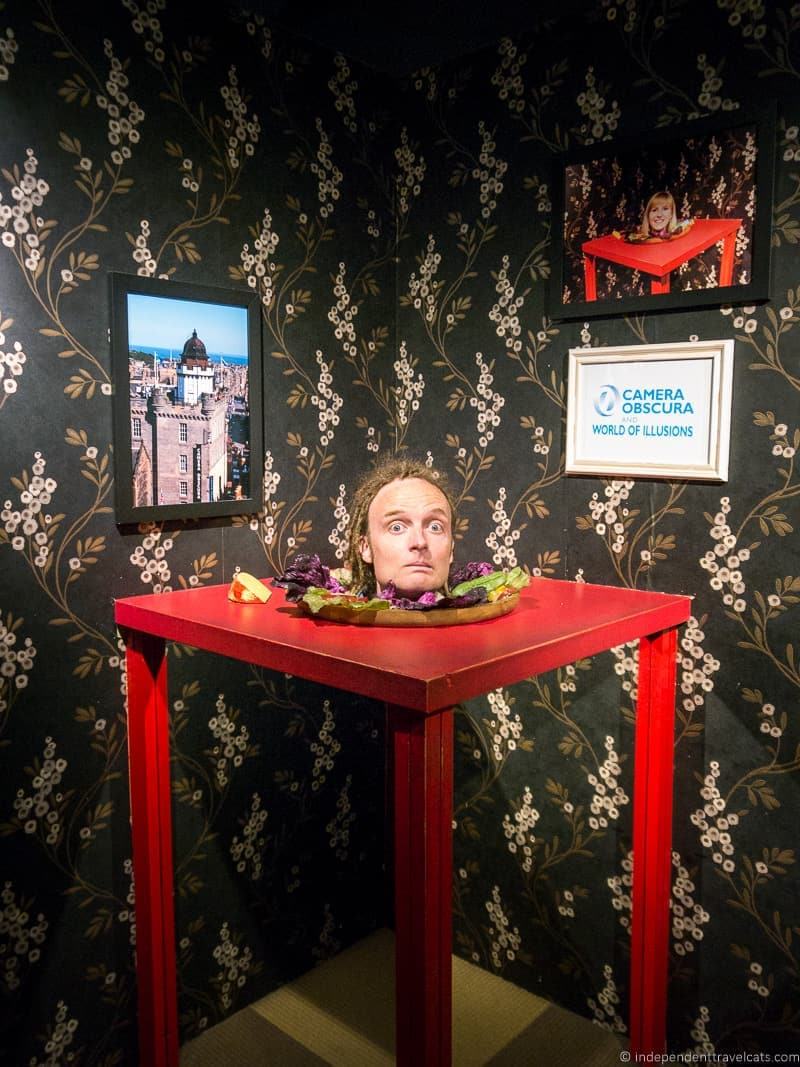 4. Scotch Whisky Experience
Across from the Camera Obscura is The Scotch Whisky Experience, which is a very popular place to visit along the Royal Mile. You can take tours, masterclasses, training sessions or just enjoy some food and whisky at their restaurant. We took the Silver Tour which is their shortest and least expensive whisky tour experience and we both really enjoyed it. You can book tickets online here.
It begins with a fun and informative whisky barrel ride and then a self-guided tour to learn about the origin, history, and making of whisky. Then you do a guided tasting experience and learn about the different whisky regions in Scotland. Then finally you take look around a giant whisky collection, the largest collection of its type in the world!
Laurence really enjoys whisky, and he has visited this attraction more than once, always enjoying the experience. I don't even really like the taste of whisky but still enjoyed my visit as I learned a lot, and I'd recommend the hot chocolate with whisky drink in the restaurant for non-whisky lovers!
If you're particularly interested in whisky, then you may also consider taking a more in-depth tour where you get more samples and tasting instructions or book ahead for a masterclass or one-day training course.
Whisky lovers will find shops selling whisky all over the city, and those who really love Scottish whisky may want to check out the Scotch Malt Whisky Society. There are also several whisky walking tours available if you want to stop off and visit places around the city.
If you are interested in more whisky taking experiences outside Edinburgh and want to visit some distilleries, you can read more on Laurence's blog of our experience taking a whisky tour from Edinburgh.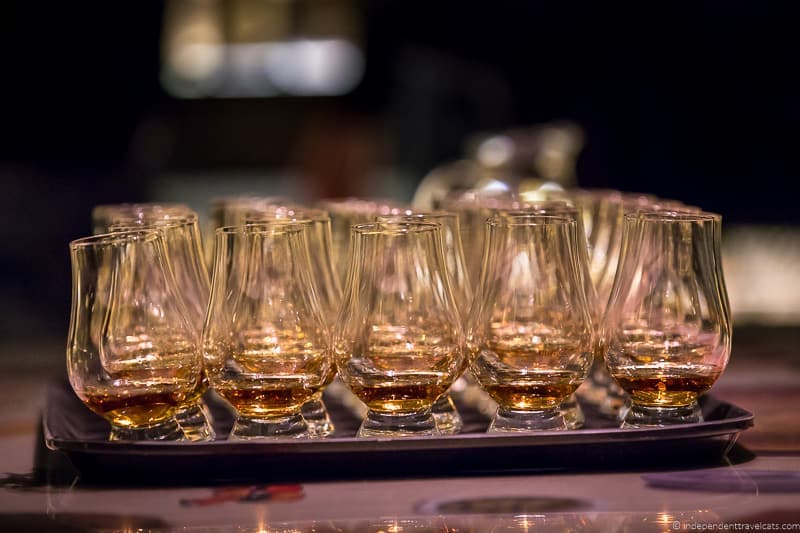 5. Mary King's Close
Did you know that there's a hidden part of Edinburgh underneath the city streets? Well, there is. One of the best places to find out more about, and visit this hidden part of the city, is to take the Real Mary King's Close tour.
Covered over by construction in the 19th century, Mary King's Close was previously one of the busiest streets in the medieval city, located just off the Royal Mile. It was named after Mary King who was a business woman who lived in the close in the 1630's.
The 1 hour guided tour of Real Mary King's Close aims to provide information and examples of what life would have been like in Edinburgh between the 16th and 19th centuries. The tour takes you into a warren of what were bustling streets, shops, animal pens, and homes that sit just below the current street level.
Note that photography is not allowed during the tour at the time of writing. Best to book ahead to be sure you get the time you want.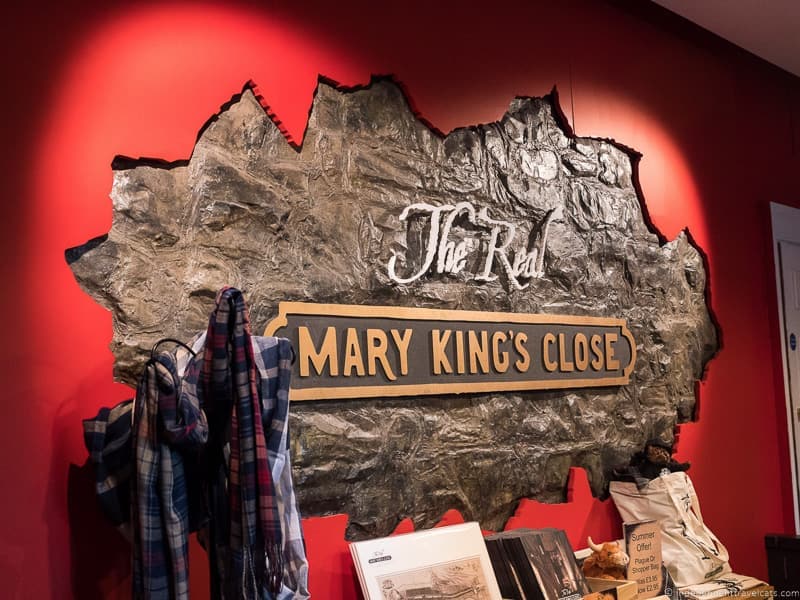 6. St. Giles Cathedral
Near Mary King's Close and a fixture in Edinburgh's skyline is the beautiful St. Giles Cathedral with its crown shaped steeple. If you are only going to visit one church in Edinburgh, this would be our recommendation. St. Giles, also known as the High Kirk of Edinburgh, is the principal place of worship for the Church of Scotland and the church itself dates from the 14th century.
Our favorite part of the church interior is the Thistle Chapel, built in 1911 for The Most Ancient and Most Noble Order of the Thistle, which is the most important Order of Chivalry in Scotland. This order was established in 1687 and is presided over by the Queen. The Thistle Chapel is small, but the ceiling is absolutely beautiful, as are the sixteen stalls, one for each Knight of the Order.
Guided cathedral walking tours and rooftop tours are also given on certain days for a fee. The guided walking tours can be booked in advance but the rooftop tours can only be booked same day at least check. Note that the rooftop tours offers a nice view over the city but does not go onto the top of the tower.
Admission is free to the cathedral although a donation is requested. The church has regular worship services and also regularly hosts choir concerts and holiday events. There is a small gift shop and there is also a cafe located in the rear of the cathedral.
Photography of the interior is not permitted without a photography permit which is £2.00 and can be obtained from the Information Desk. Purchasing a permit is a worthy investment in our opinion and a great way to contribute to the upkeep of this beautiful church.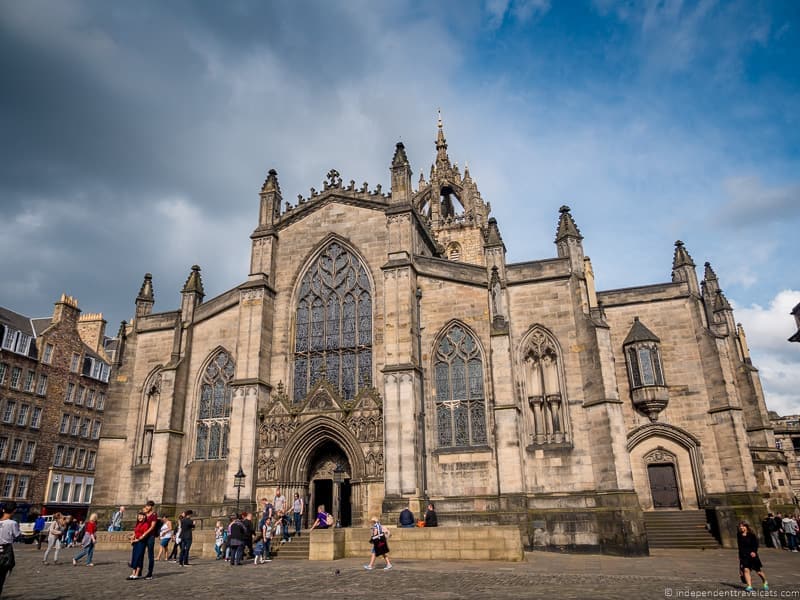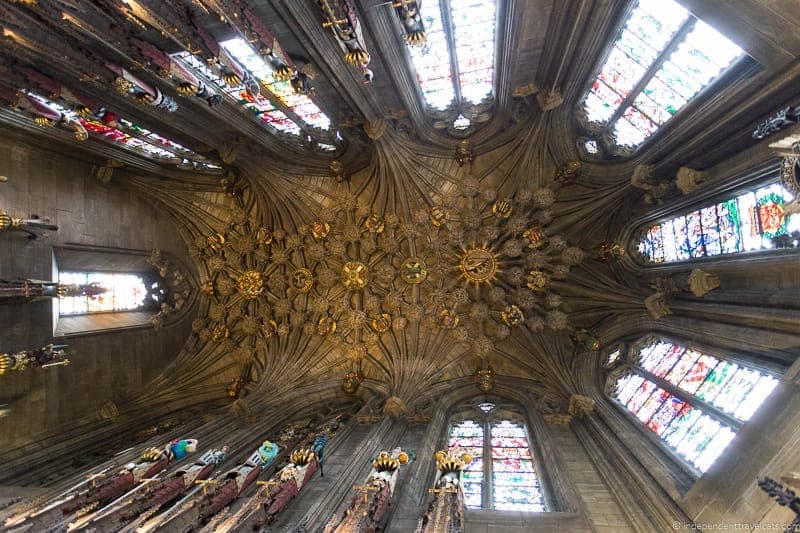 7. Holyrood Palace
At the opposite end of the Royal Mile from Edinburgh Castle, you'll find the Palace of Holyrood House, usually referred to simply as Holyrood Palace. Holyrood Palace is the official residence of the British monarch in Scotland. It has served as the principal residence of the monarchs of Scotland since the 16th century.
The name comes from the 12th century Augustinian Holyrood Abbey that was built here and the ruins of which can still be visited today. Mary Queen of Scots resided here, as have other notable historical figures over the centuries. Self-guided audiotours includes both historic rooms as well as those used for contemporary state visits, including the royal apartments in the north-west tower of the palace which were occupied by Mary, Queen of Scots.
The historic Royal Apartments and State Apartments of Holyrood Palace can be visited most of the year (when not being used for state functions), as well as the gardens and grounds. Note that photography is not allowed inside the palace, but you can take photos of the exterior, gardens, and abbey.
There is also a large gift shop as well as a cafe. The Café at the Palace serves food and drinks, and you can book a nice afternoon tea service here (advance booking needed). The gift shop and cafe are both located outside the palace so you can visit here without a ticket.
Visitors may also wish to visit the Queen's Gallery in front of Holyrood Palace, which contains a rotating exhibition of art and historical artifacts from the Royal Collection. Combination tickets are available.
Entrance to Holyrood Palace is included on the Royal Edinburgh Ticket. Note that admission to the Queen's Gallery is not included on the Royal Edinburgh Ticket unless the palace is closed.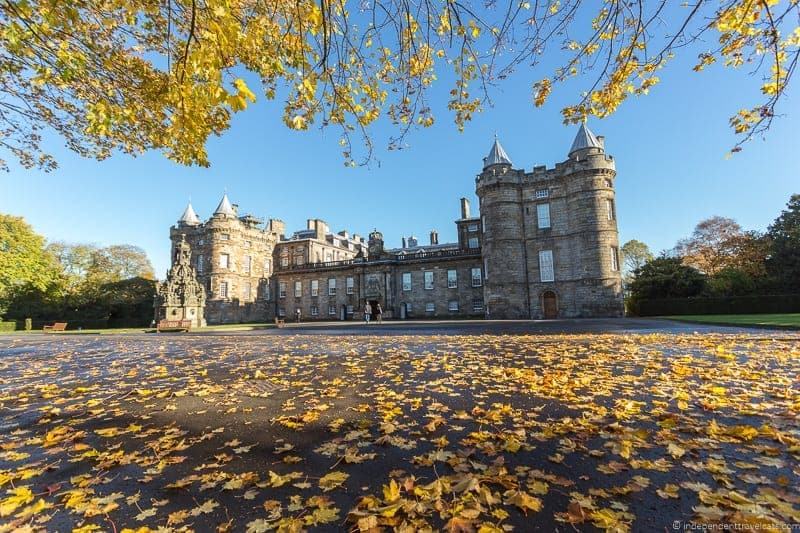 8. National Museum of Scotland
Leaving the attractions of the Royal Mile, we'd recommend taking some time to explore the vast collection at the National Museum of Scotland. This excellent free museum contains exhibits on all sorts of things related to both Scotland and the world, from Scottish history and culture to art and fashion to science and technology.
Some highlights for me were objects related to Mary, Queen of Scots, which include jewelry, coins, letters, and furniture. Laurence likes the science and technology parts, which feature a number of interactive exhibits.
The museum's huge collection is set across two main buildings, a more modern building dating from 1998 and a Victorian era section from the 19th century. The Victorian section features a wonderful cast iron grand gallery, which is a museum piece in itself!
The museum is constantly adding new pieces and bringing in new exhibits, so is a great place to re-visit if you haven't been in a while. We always find new things to see here, and they often have special events taking place.
The museum also has a gift shop, a cafe, a causal restaurant, and a fine dining restaurant. The James Thomson-run Tower Restaurant located on the roof of the museum. On a fine day, there's an excellent view across the rooftops of Edinburgh to Edinburgh Castle, which you can enjoy whilst drinking a cup of tea or sipping on a cocktail. The dining options are also fabulous and we've had great meals there.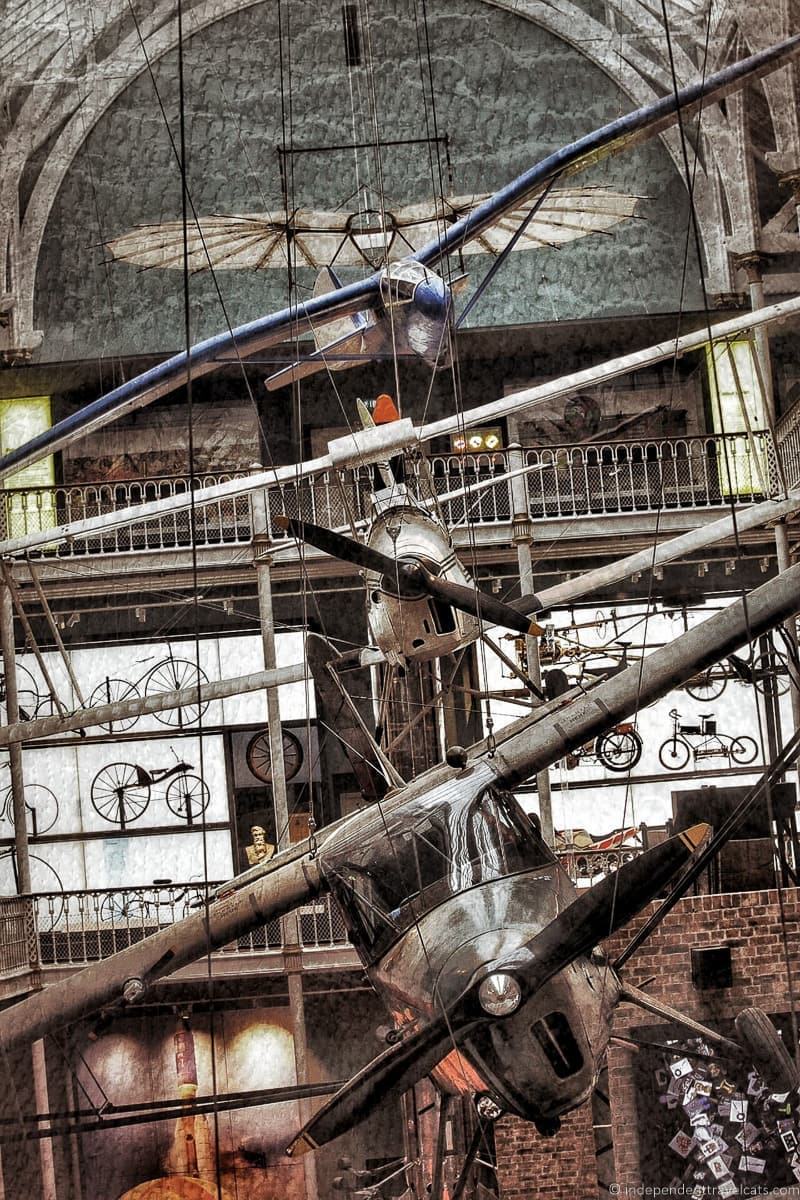 9. Try some traditional Scottish foods
In addition to visiting all the wonderful attractions and museums, you'll want to try some traditional Scottish foods during your stay in Edinburgh. Haggis is the national dish of Scotland and a must try for all visitors. Haggis is traditionally made of sheep parts (heart, liver, lungs) that are mixed with onion, spices, fat, oatmeal, stock, and spices and then stuffed in a sheep's stomach. It was a food eaten by the poor and similar foods have been eaten since ancient times.
Although honestly, most restaurants cater to modern palates and finding a truly traditional haggis is difficult (especially those encased in a sheep's stomach); however, the more modern haggis versions are more tasty in most visitor's views. Haggis is typically served with "neeps and tatties" which are mashed turnips and potatoes, and sometimes with a side of whisky sauce. You can even get "vegetarian haggis" at many places, although we're not sure you can still call it haggis!
Other dishes to try in Scotland include local Scottish Salmon, black pudding (Stornoway is famous for its black pudding), cullen skink (smoked haddock, potato and onions soup), stovies (potato dish), sausage, beef, and lamb dishes. We often just ask for what is local and fresh at restaurants.
Dishes enjoyed throughout the UK, like fish and chips, large breakfasts (try a full Scottish breakfast and you won't need to eat lunch!), meat pies, and traditional Sunday roast dinners are also popular throughout Scotland. Scottish sweets and desserts include cranachan, fried Mars Bars (about anything can be fried by the Scots it seems!), tablet, shortbread, and Dundee cake.
For drinks, there is of course whisky, but black tea is probably the most widely drank beverage. Be sure to try the popular Irn Bru (an orange carbonated soda). You can also try a number of Scottish gins (Rock Rose, Pickering's, and Edinburgh Gin are a few brands) and beers (Tennent's, Stewart Brewing, and Cairngorm Brewery Company are a few Scottish breweries) at many of the local bars.
If you'd like to take a tour of a gin distillery, there are a few to choose from in Edinburgh including Pickering's, the Holyrood Distillery and 56 North.
If you enjoy food tours, you'll find a few of them in Edinburgh such as this popular 3 hour secret walking food tour. This tours includes 6 stops for tastings and the guide helps explain the history of many traditional Scottish foods and drinks like haggis, tablet, and whisky.
Looking for something sweeter? Consider learning more about chocolate making and tasting lots of chocolate (including many Scottish made chocolates) by taking a chocolate tour at the Chocolatarium.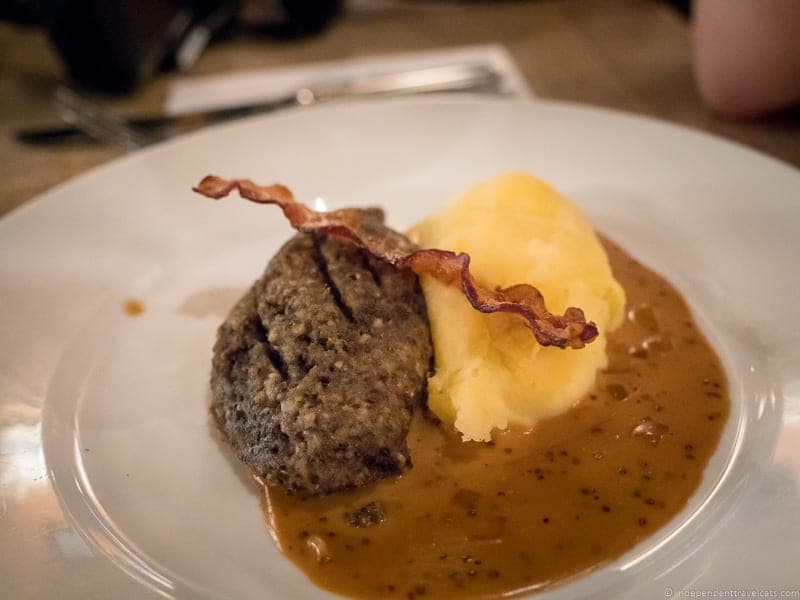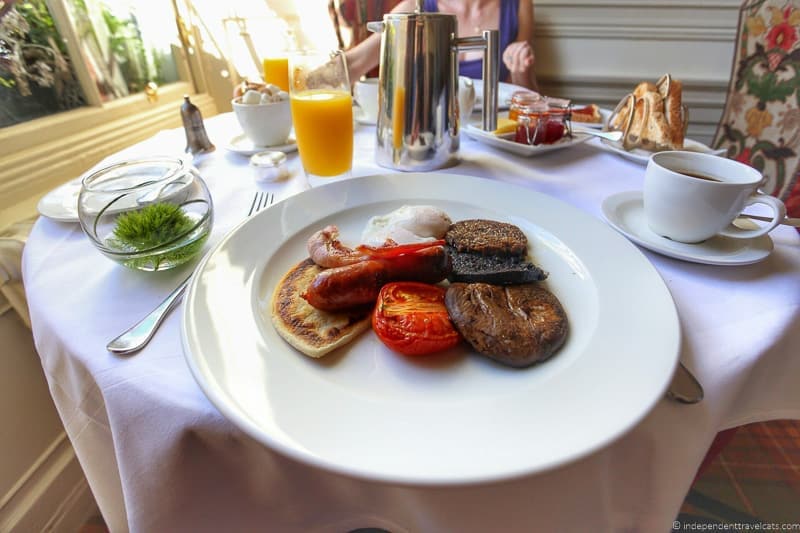 10. Scott Monument & Princes Street Gardens
Edinburgh is a UNESCO City of Literature, and the most famous Scottish writer is Sir Walter Scott. He wrote poems, plays, and novels, and is credited with inventing the genre of historical fiction and is best known for his works such as Ivanhoe, Waverley, The Lady of the Lake, and Rob Roy. He is definitely a well-known and much-loved figure in Scotland and even Edinburgh's main train station is named after his first novel Waverley.
As such, there are a number of monuments to him with the most significant being the huge Scott Monument (the largest monument to a writer in the world!), which sits on Princes Street, just above the Princes Street Gardens.
Get up close to the monument and you'll see figures from Scott's novels, as well as other famous Scottish writers, poets, and figures. This iconic monument is open to the public, and you can climb to the top for a good view of Edinburgh for a small fee. Just be aware there are many steps and a narrow spiral staircase! There's also a small museum room on the first level of your climb, within which you can find information on the life and works of Sir Walter Scott.
We'd also recommend visiting The Writers' Museum (just off the Royal Mile) if you'd like to learn even more about Scott and other famous Scottish writers. If you are a real Sir Walter Scott fan we'd recommend a trip out to the beautiful Scottish Borders, where Scott drew a lot of inspiration and where he built his home and is buried.
Just below the monument is the Princes Street Gardens. Once a marshland, the area was later turned into an artificial lake called the Nor Loch that was used as a defensive barrier to Edinburgh Castle and as a dumping spot for the sewage and trash of medieval Edinburgh.
Beginning in the 1760's, the Nor Loch was drained over time and turned into gardens, with two gardens being formed – Princes Street Gardens East, and Princes Street Gardens West, separated by a man-made hill known as "The Mound", which was formed from the excavation of the New Town.
Today the public gardens are a popular spot for visitors and tourists alike, and there are often outdoor events taking place in this area. It is a good place for getting nice views of Edinburgh Castle and for savoring a sunny Edinburgh afternoon (they do happen, I swear!).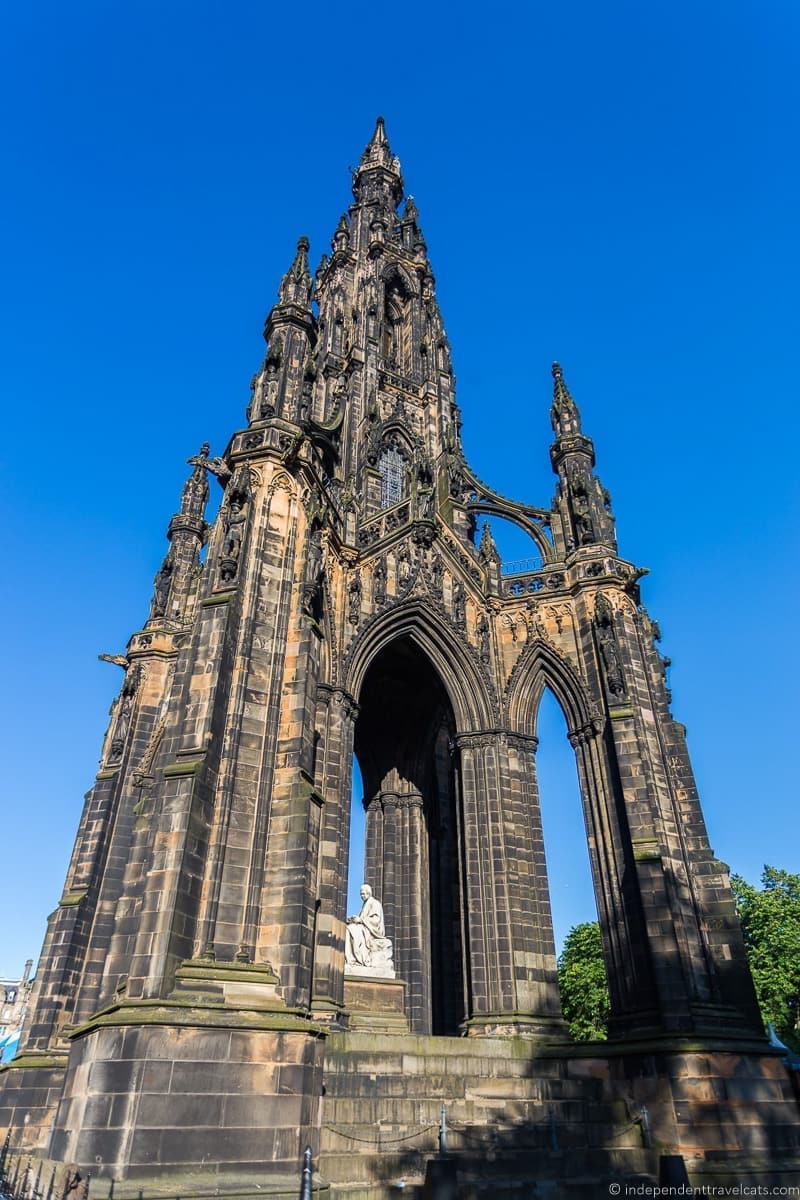 11. Climb Arthur's Seat
One of the best things about Edinburgh is that you can find wide open green spaces just outside the city center. Not far from Holyrood Palace, you'll find the towering remnants of an extinct volcano, which has come to be known as Arthur's Seat; the name is believed to have come from the legendary tales of King Arthur.
You can get good views of Arthur's Seat from Calton Hill and Nelson's Monument among other places. Arthur's Seat is the highest point in Holyrood Park, and you can climb Arthur's Seat to burn some calories from all the Scottish food and to get a wonderful view across Edinburgh and the Lothians. It is a bit of a steep walk to the top (wear hiking shoes and take water), but the views are very much worth it as on a clear day you can see for miles in every direction.
If you are looking for the shortest and easiest hike and have a car, park in the lot near Dunsapie Loch and take the much shorter hiking path to the summit. Within the park you might also want to visit the 15th century St Anthony's Chapel, get close to the Salisbury Crags, and check out the birdlife at Duddingston Loch.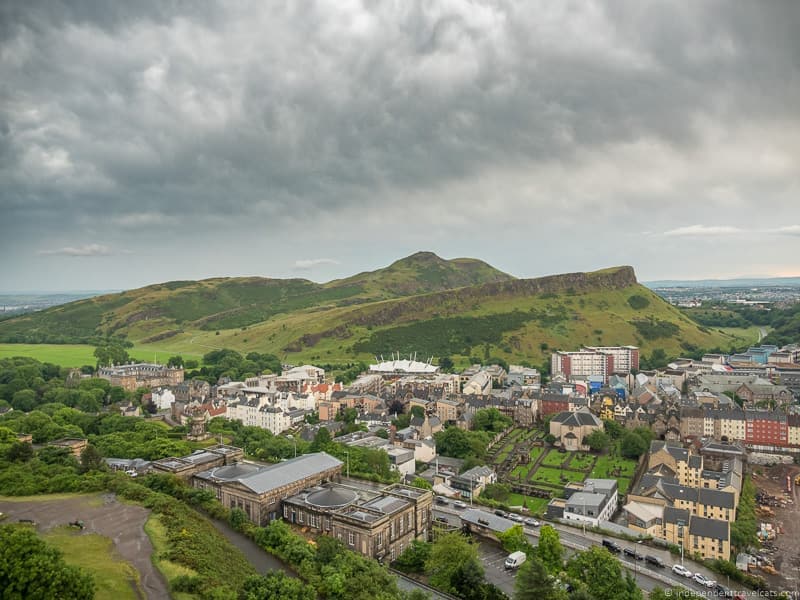 12. Edinburgh Zoo
Edinburgh Zoo is popular with families wanting to get up close to over 1,000 animals. Some of the most popular attractions are the penguin walks and getting to see the resident giant pandas (note that you usually get a set viewing time slot as they are so popular!). Other animals we've enjoyed seeing here are the tigers, lions, wallabies, chimps, red panda, and monkeys.
Note that many visitors are disappointed at not seeing the pandas (or other animals) but they are often in parts of the enclosure where you can't see them or sleeping; this is actually a very good thing that animals are not being forced to always be on view to the public.
Check out the zoo's website for the live camera feeds to watch the current activities of the Giant Pandas, penguins, tigers, and squirrel monkeys! There are also a number of educational talks, events, and activities offered at the zoo throughout the year. There is also a food court, casual restaurant, coffee shop, picnic area, and gift shop.
For those with reduced mobility, Edinburgh Zoo has some steps and steep hills in certain areas but offers an accessibility route, the free rental of manual wheelchairs (first come, first serve), and a mobility vehicle.
The Edinburgh Zoo is a bit out of the city center. There is a dedicated parking lot for the zoo but there is a parking fee and spaces are limited. You can also easily get a bus from the city center. There are two bus stops near the zoo, and they are currently served by Lothian buses 12, 26, and 31 as well as some of the CityLink routes.
You can buy tickets in advance of your visit for the Zoo here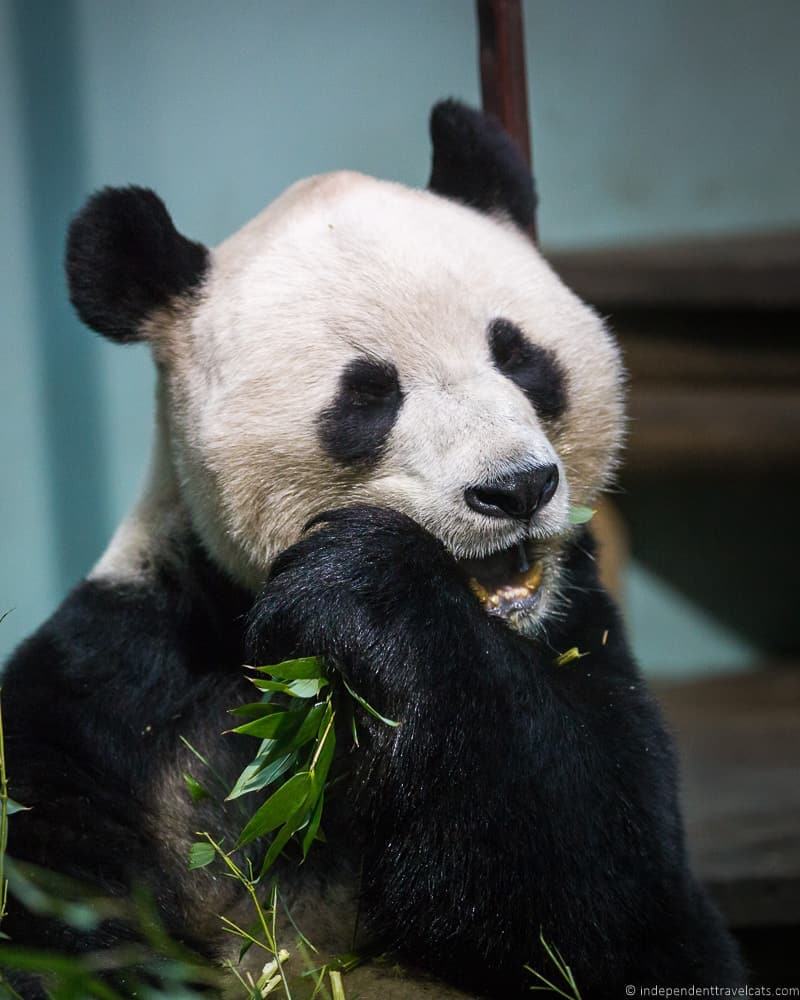 13. Scottish National Gallery
If you love art, you'll want to save at least an hour or two to stroll the Scottish National Gallery, one of many excellent free museums in Edinburgh. Located on The Mound near Princes Street Gardens and the Scott Monument, Scotland's National Art Gallery houses a large collection of paintings and other art from the Renaissance up to the start of the 20th century, with both Scottish and international artists represented.
The collection is housed in a neoclassical building designed by William Henry Playfair that dates from 1859. If you are more of a modern art lover, you might want to head to the Scottish National Gallery of Modern Art instead.
Laurence is drawn to the landscape paintings and I to the 18th century Italian and Impressionist paintings. In our two short visits we've never had enough time to see the full collection and there are always new temporary exhibits to view (great Impressionism exhibit over the summer!).
If you need a break after looking at all that art, there is a coffee shop and restaurant. There is also a gift shop if you need some retail therapy.
The museum is free to visit although donations are very much appreciated.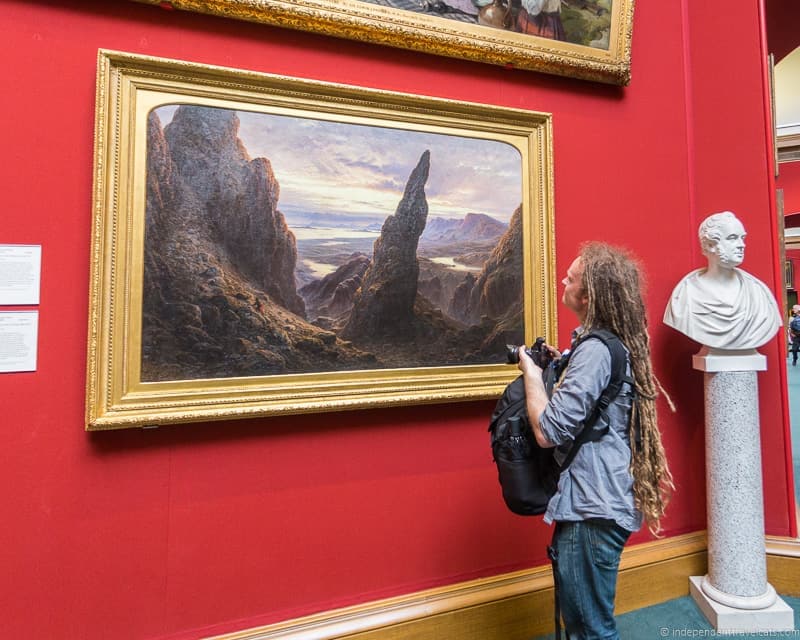 14. Scottish National Portrait Gallery
If you like your art of the portrait variety, then the Scottish National Portrait Gallery has you covered. Situated in the first building in the world that was purpose-built as a portrait gallery (in 1889), the gallery exclusively houses portraits of Scottish people, although not all the artists are Scottish.
Highlights include portraits of Stuart monarchs and family members, including portraits by Dutch painter Arnold Bronckorst. My favorite galleries contain the "Scots in Italy" collection. In addition to portrait paintings, the museum also includes a collection of prints, photographs, and statues.
The building itself, in a Gothic style, is quite beautiful and the entrance hall is well worth spending some time in. As you enter, you'll be greeted by a statue of Robert Burns, beautiful murals depicting notable Scots, stained glass windows, and several busts.
We did a filming project here with Sky TV and spent a lot of time looking at the Scottish Royal portrait paintings. We are not exactly portrait experts or lovers, but after spending several hours here over two days, we came to really appreciate the collection and the beautiful building.
There is also a nice cafe on the ground floor which is a great place for lunch or a coffee break. The museum is free to visit although donations are very much appreciated.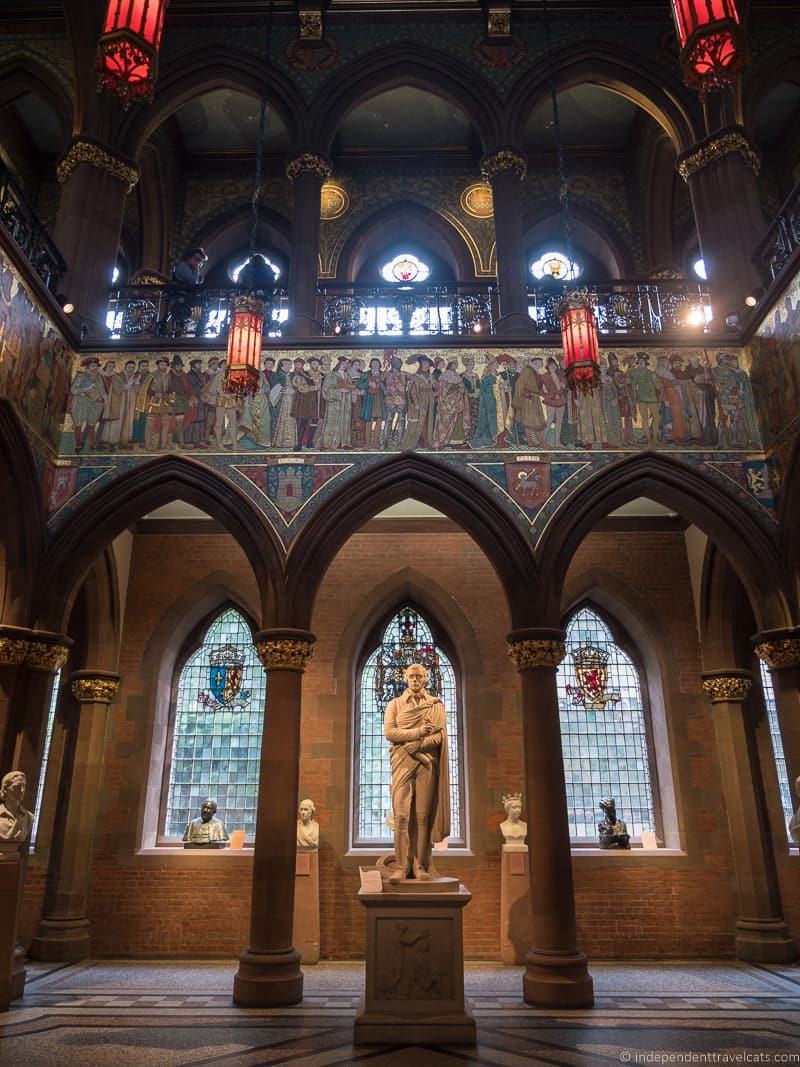 15. Check out Harry Potter sites
Harry Potter fans love Edinburgh and we've even written an entire post devoted to Harry Potter sites in Edinburgh. It was here that J. K. Rowling wrote in Edinburgh cafes as she worked on the Harry Potter book series.
Nicolson's Café was a first floor restaurant on the corner of Nicolson and Drummond Street and it was here that J. K. Rowling as a newly single mother is said to have written a large part of her first Harry Potter novel. The location has since been turned into a Chinese buffet and now back into a bistro named Spoon.
The Elephant House was where she penned later Potter novels and is probably the best known of the Harry Potter locations. If you want to see the inside of The Elephant House, you'll need to order food or a drink or pay a small fee for photographs.
If Harry Potter writing locations are of particular interest to you, and you are not traveling on a budget, then you might consider also staying at the popular and historical Balmoral Hotel in the J. K. Rowling suite. It was here in suite 552 that Rowling finished the last book in the Harry Potter series. In celebration of doing so, she autographed (graffitied?) a marble bust, which is still in the room today.
Other Edinburgh locations which are believed to have served as inspiration for the books include Greyfriar's Kirkyard (an old cemetery that contains graves that may have inspired the names of some Harry Potter characters such as Thomas Riddell's Grave), George Heriot's School which is Hogwarts-esque, and Victoria Street which is thought to have inspired Diagon Alley.
You can put together your own self-guided tour or book a fun tour and join other Harry Potter fans on a guided tour such as this free tour (free but tips are strongly recommended) or this longer 2 hour walking tour.
Those visiting in August should also make time for the Edinburgh International Book Festival, it was one of the first venues that an unknown J. K. Rowling (listed as Joanne Rowling) gave a reading to a small group of children from her first Harry Potter book in 1997 and would return years later in 2004 to massive crowds.
If you are really interested in visiting all the Harry Potter sites in Edinburgh, I'd check out this comprehensive Harry Potter Edinburgh guide. If venturing outside of Edinburgh, you can read our guide to finding the Harry Potter film locations in Scotland.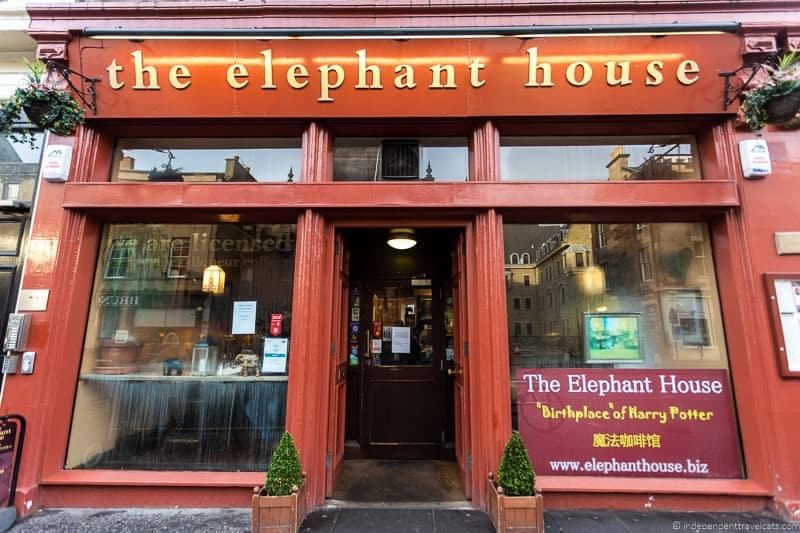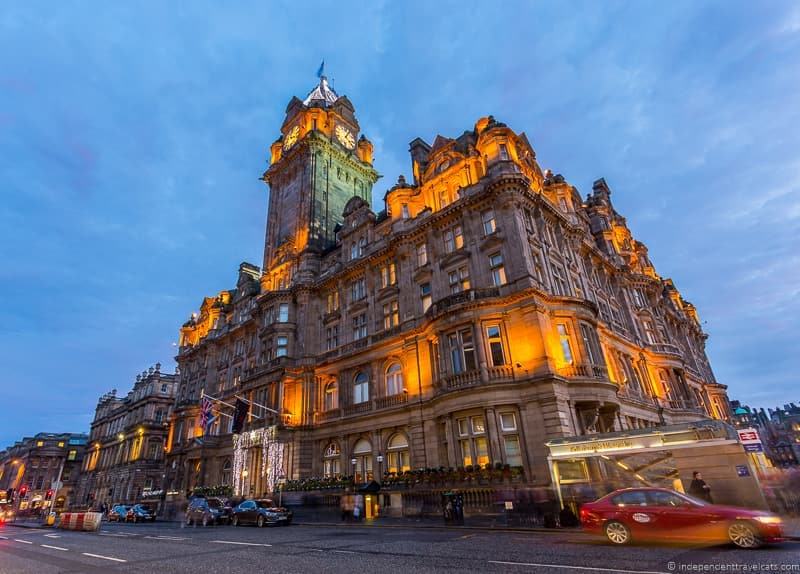 16. Attend a Festival in Edinburgh
Speaking of festivals, if you like festivals then Edinburgh is the place for you. To be honest, even if you don't normally like festivals, chances are that Edinburgh is still going to have a festival that you'd enjoy. Edinburgh is known as the World's Festival City, and the city is host to 11 major festivals throughout the year, celebrating art, music, film, theater, storytelling, books, military tattoos, science, and even the arrival of the New Year.
Four of the most well-known festivals are probably Hogmanay, the Edinburgh International Festival, Edinburgh Festival Fringe, and the Royal Edinburgh Military Tattoo, although we have come to especially appreciate the lesser known festivals throughout the year.
The festival atmosphere ranges from being fairly low-key (e.g., Edinburgh Science Festival, Film Festival, Storytelling Festival) to a heightened festival frenzy as loads of visitors pack into the city during the month of August. At the height of the festival season, mid August, you are likely to find over 1,000 performances taking place in over 100 locations each day!
If you want to learn more about all the Edinburgh Festivals and figure out which one is right for you, check out the official Edinburgh Festival website which provides up-to-date details on all of the major festivals. If you are thinking of visiting in summer, check out our planning guide to the five August Edinburgh festivals.
There are also smaller festivals and local festival events happening throughout the year in Edinburgh (including the Edinburgh Mela and Edinburgh Food Festival) and you can find a full list here. There are also events around St. Andrew's Day (Scotland's patron saint) and Burns Night (celebrating poet Robert Burns).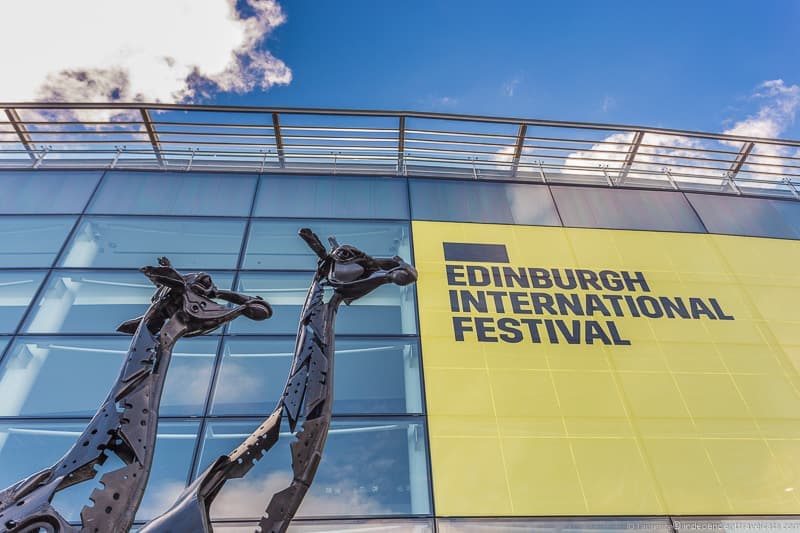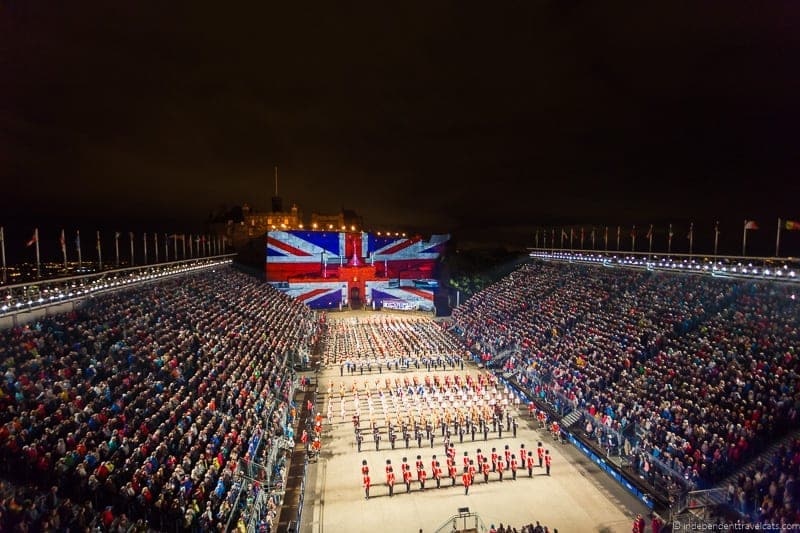 17. The Edinburgh Dungeon
The Edinburgh Dungeon, located a 2-minute walk from Waverley train station, provides a quick 80-minute tour of Scotland's history as visitors walk through 11 live actor-led shows and 2 short underground rides. It focuses on the darker and more gruesome aspects of Scotland's history (e.g., plague, murder, cannibals, witches) and uses plenty of special effects and some scare tactics to give you some chills.
The Edinburgh Dungeon is often voted and ranked as one of the top city attractions in Edinburgh and seems particularly popular with families with older children (recommended age is 8 years or older). We just recently visited to take a special nighttime tour where they introduced a new show (The Witch Hunt) and it was a lot of creepy fun. Our favorites were the the Witch Hunt, The Green Lady, and the drop ride.
Note that those who are easily scared or startled may not enjoy the tour, and that there is some adult material in the shows that may not be appropriate for young children (tours are generally not recommended for children under 8). Those with any sort of disabilities or health issues should check out this helpful accessibility page.
Waiting times can be long during peak months (e.g., July and August and around the holidays) and you may want to pre-book tour times in advance online to avoid long waits during those months. For those wanting to get the best prices, I would recommend booking online in advance as you will almost always get a better rate online.
Places to book online and compare prices are the official website, as well as the Tiqets website here.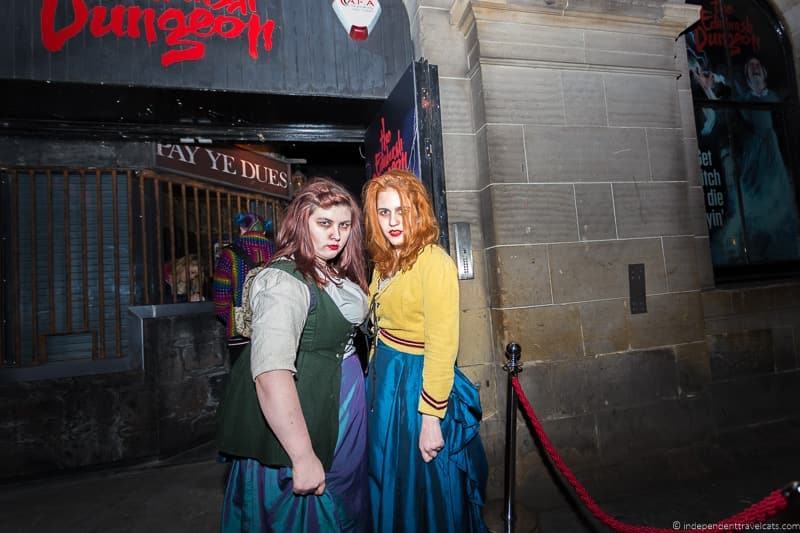 18. Pay a Visit to Greyfriars Bobby
One of Edinburgh's most famous historical figures is a small dog, known to the world as Greyfriars Bobby. Legend has it that Bobby was a Skye Terrier who belonged to a night watchman in Edinburgh named John Gray. When John Gray passed away and was buried in Greyfriars Kirkyard, it is said that loyal Bobby sat by his master's grave for fourteen years, before being buried beside him.
This story has been popularized in books and by the 1961 Disney film. The veracity of the story has been challenged by several people, but it remains a popular enduring and heartwarming tale nonetheless and it is likely that the story is at least partially based on truth.
You can visit the small statue of Bobby, which is located across the road from the National Museum of Scotland, and also see the graves of Bobby and his owner in the graveyard. The statue is a popular spot for a photo, and it is definitely worth a few moments of your time to learn the feel-good story behind this little dog.
If you want to know more about Greyfriars Bobby, we'd also recommend a visit to the informative (and free) Museum of Edinburgh which has an exhibit dedicated to Greyfriars Bobby.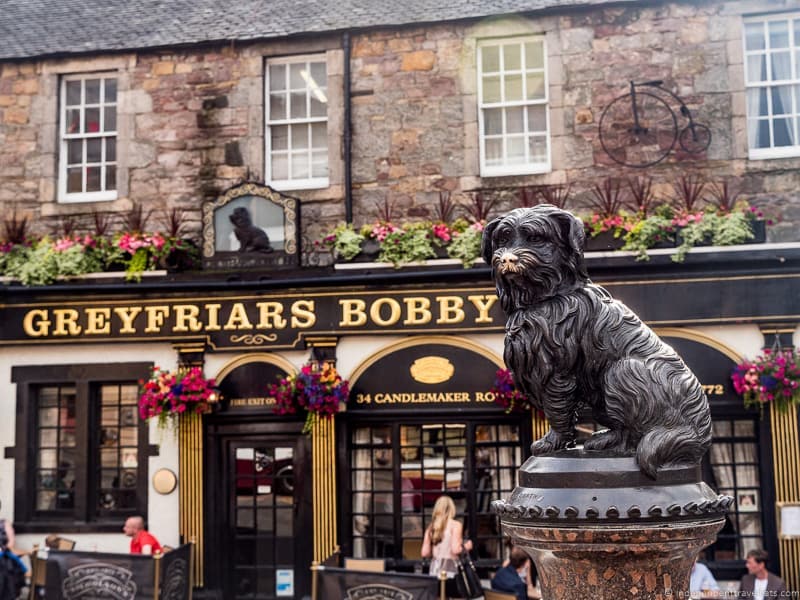 19. Climb Calton Hill
If the thought of Arthur's Seat is a bit daunting, but you still want a good view of Edinburgh, there's another excellent option for you: Calton Hill. You will probably notice this hill soon after your arrival to Edinburgh and visitors are often surprised to see a hill resembling the Acropolis of Athens.
Calton Hill sits just past the east end of Princes Street and you can take the steep but relatively short set of stairs up to the top of the hill. Atop of the hill you are greeted by a visually interesting but architecturally odd collection of buildings and monuments. Many of the buildings, such as the National Monument and Dugald Stewart Monument, look like they would have been more at home in Athens, Greece.
Calton Hill has been among other things, the site of prisons, residences, government buildings, and the city observatory. There are sometimes events taking place on the hill, including the popular Beltane Fire Festival in April. Take time to explore the various monuments and enjoy the great views of the city skyline; these are probably our favorite views of Edinburgh!
The City Observatory, the largest building on Calton Hill, was designed by William Henry Playfair in 1818. Long closed as an observatory, the space has recently reopened in November 2018 to the public as a contemporary art exhibition center. The original 1831 Transit Telescope is also on display.
You'll also find a restaurant, gift shop, and a rooftop viewing terrace at the Observatory which offers wonderful views over Edinburgh. It is free to enter the City Observatory. If you want to eat at the Lookout Restaurant, reservations are strongly recommended.
To learn more about Calton Hill's past and for a particularly excellent view of Edinburgh, consider visiting the small museum in the Nelson Monument and then climbing the 143 steps to the viewing platform on top (small fee) of the 105 foot (32 meter) high monument which offers wide vistas over Edinburgh. The small museum details the history of the monument, and the man for whom it was named, Admiral Horatio Nelson, who led the British navy to victory at the Battle of Trafalgar during the Napoleonic Wars.
The Nelson Monument contains a time ball which was dropped at 1 o'clock daily (except Sundays), which coordinates with the firing of the guns at Edinburgh Castle once used to alert ships of the time. The guns are still fired at Edinburgh Castle on most days.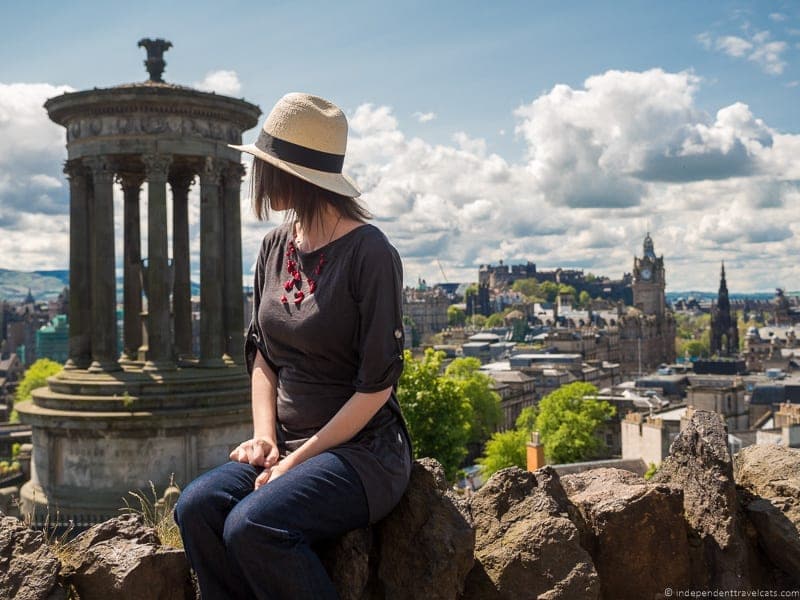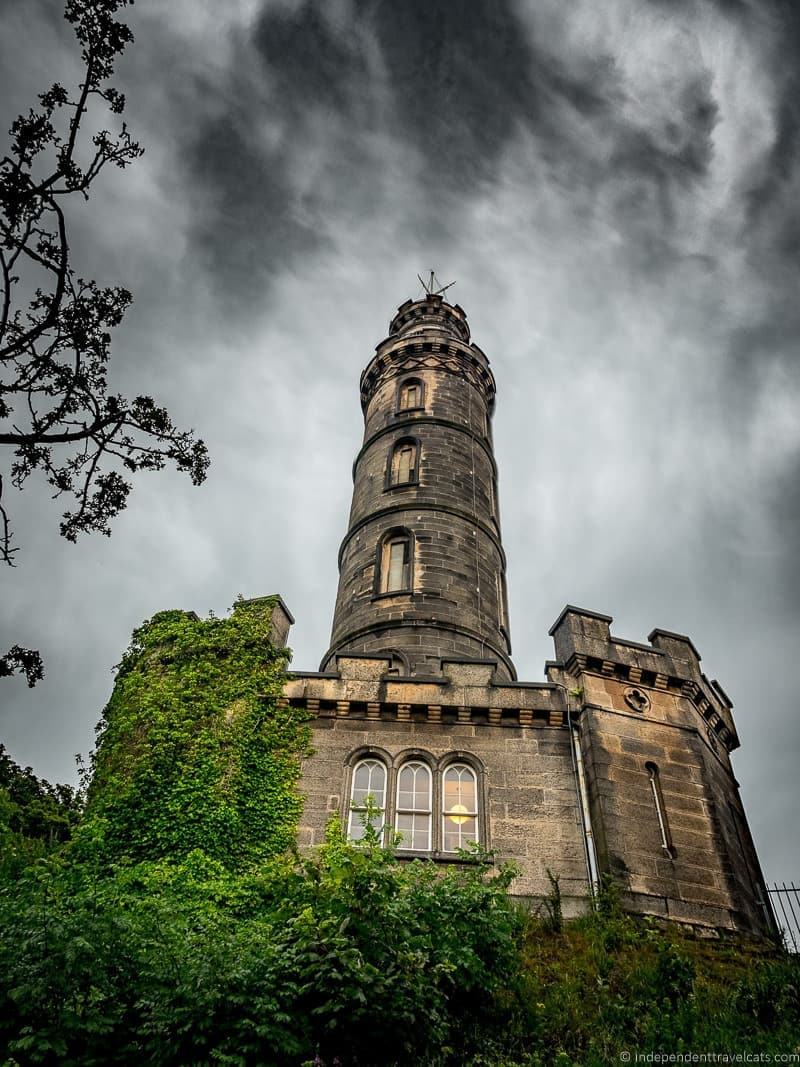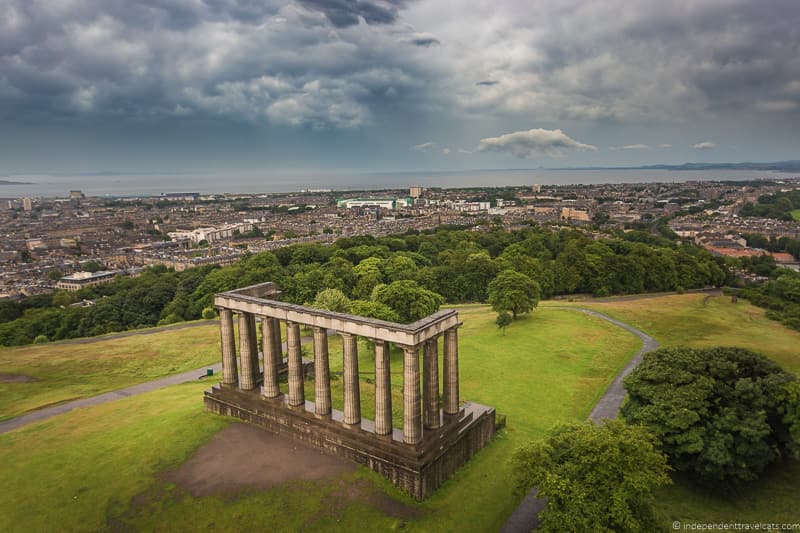 20. Royal Botanic Garden
If you're looking to stretch your legs a little, get away from the hustle and bustle of the Royal Mile and Princes Street, and take in a bit of botany whilst you're at it, then you should head to the Royal Botanic Garden in Edinburgh. The garden has been in its current location since 1820 (although the garden was originally planted in 1670 in Holyrood Park).
It is free to enter the garden and a beautiful place to spend a couple of hours in Edinburgh if the weather is good! With 70 acres of gardens featuring over 273,000 plants, you will definitely not run out of things to look at! Some free highlights included the Victorian Temperate Palm House, Rock Garden, Poppy Meadow, and Queen Mother's Memorial Garden.
Entry into the gardens is free, but we'd recommend spending the small entry fee for access to the glasshouses, where you can take in some of the more exotic items in the collection, which include a Victoria amazonica (a giant waterlily) and Amorphophallus titanum (smells like rotten flesh when in bloom!).
Check out what is in bloom before you visit to best plan your time at the garden; spring and early summers are going to offer the most variety but you'll find plants of interest here year round.
The gardens are located about a half hour walk from the city center or a short bus ride away. They are easy to access via public buses from the city center or on some routes of the hop-on hop-off sightseeing buses.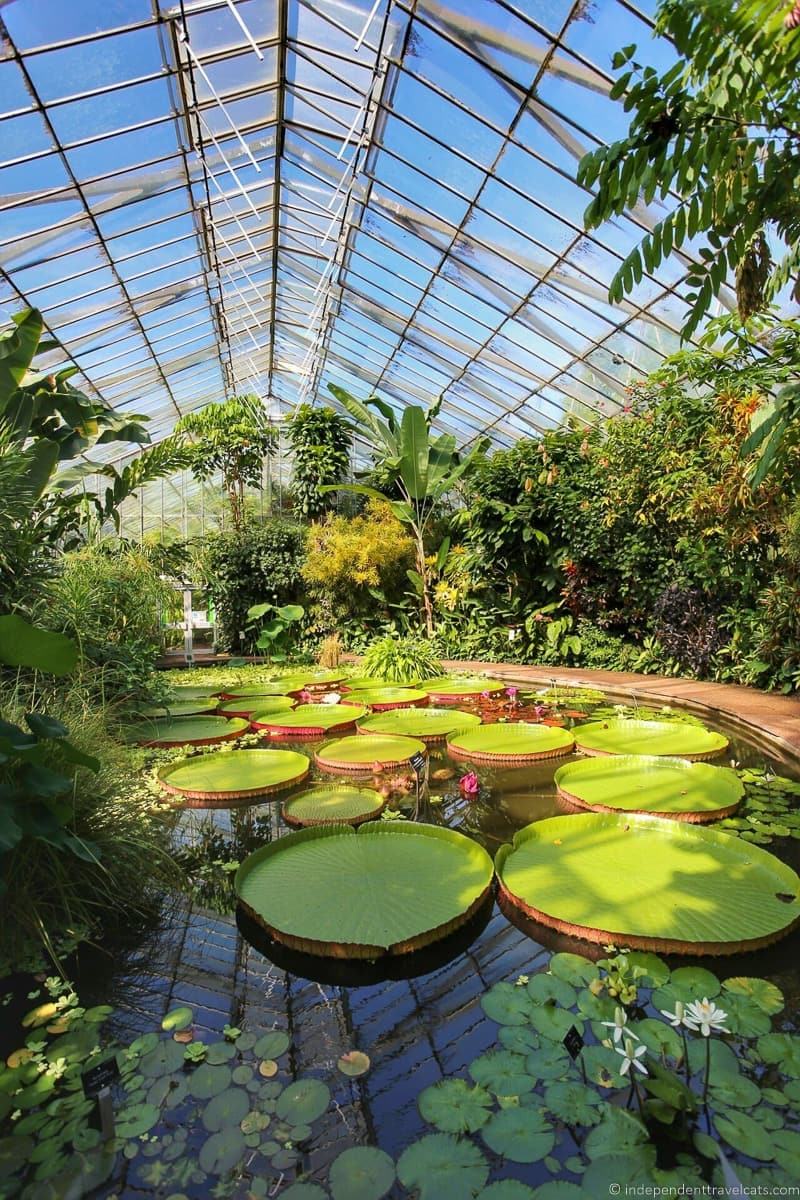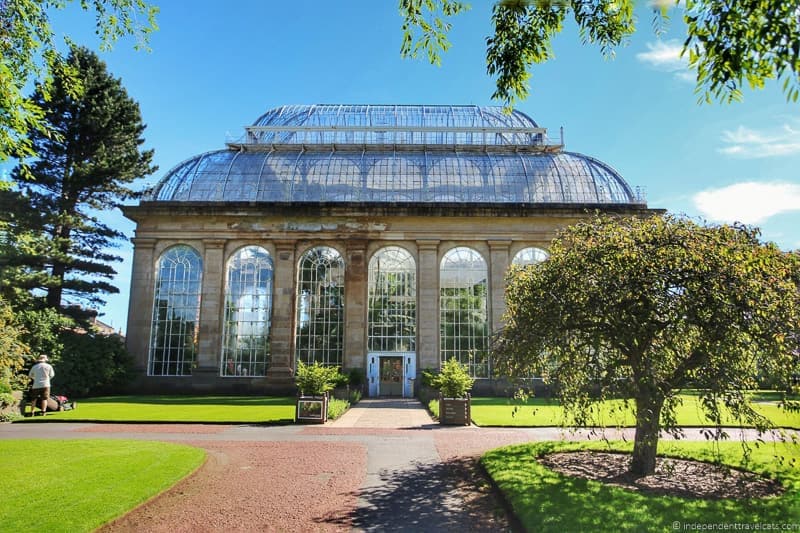 21. Royal Yacht Britannia
Consistently voted as Scotland's Best Attraction by VisitScotland, the Royal Yacht Britannia, officially known as Her Majesty's Yacht Britannia, was home to Her Majesty The Queen and the Royal family for over 40 years.
In service from 1954 to 1997, the yacht sailed over 1 million miles around the world on hundreds of state visits! It is now docked at the historic Port of Leith in Edinburgh, and can be toured by the public with an included self-guided audioguide.
Visits include the Queen Elizabeth II's bedroom, the room Charles and Diana spent their honeymoon in 1981, the Bridge, the state dining room, drawing rooms, and the crew quarters and workspaces. We also saw the Royal Barge, a retired Rolls-Royce Phantom V state car, and a racing yacht owned by the royal family on display during our visit.
You can also have afternoon tea or lunch at the Royal Deck Tea Room onboard the ship. There are also food and shopping opportunities (as well as a cinema) at the Ocean Terminal shopping mall, which is located directly in front of the Britannia.
This is a popular attraction and can be busy, especially in summer and around holidays. So keep this in mind when visiting. You can purchase tickets in advance or at the attraction. Admission to Royal Yacht Britannia is included on the Royal Edinburgh Ticket.
The yacht is docked about 15 minutes from the city center, and you can get here by car (free parking), local public bus, hop-on hop-off bus, or taxi.
We would recommend taking some time to walk around Leith before heading back to the city center; head towards Shore Street which is a short 15-minute walk away. There are plenty of shops and dining opportunities in Leith and it is quite scenic on a sunny day. There is also the Trinity House Maritime Museum (check opening hours in advance).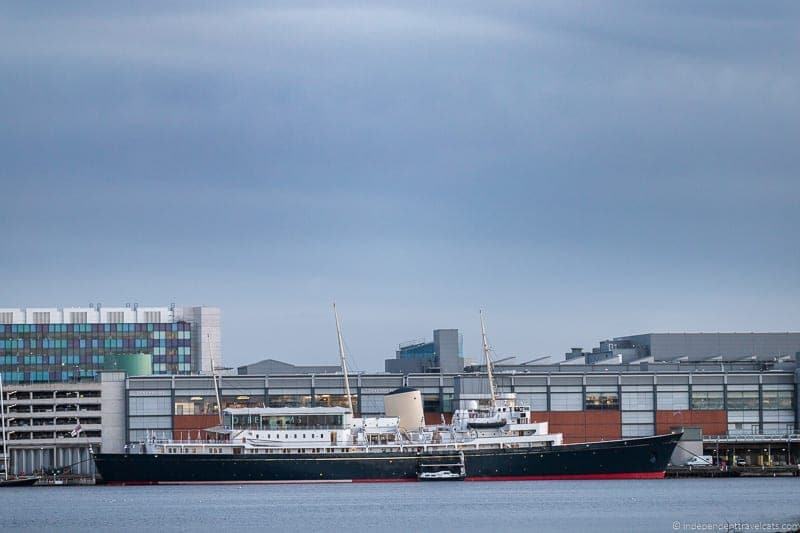 There you have it, our top 21 things to do in Edinburgh. The above should give you a great list of places to consider if you are going to be in the city for one day or one week. Even if you are on a tight budget, a large number of our recommended things to do in Edinburgh are free (e.g., most of the city's museums, Calton Hill, and the Royal Botanic Garden) or low cost (e.g., a plate of haggis, many festival events, or a view from Nelson Monument).
As you plan your trip, just remember that part of the allure of the city is just wandering around and soaking up the historical and lively charm so be sure to leave a bit of free time in your schedule. We discover new things to do each time we visit which is often!
If you have visited before or are looking for some more offbeat suggestions, check our post with 25 additional lesser known things to do in Edinburgh!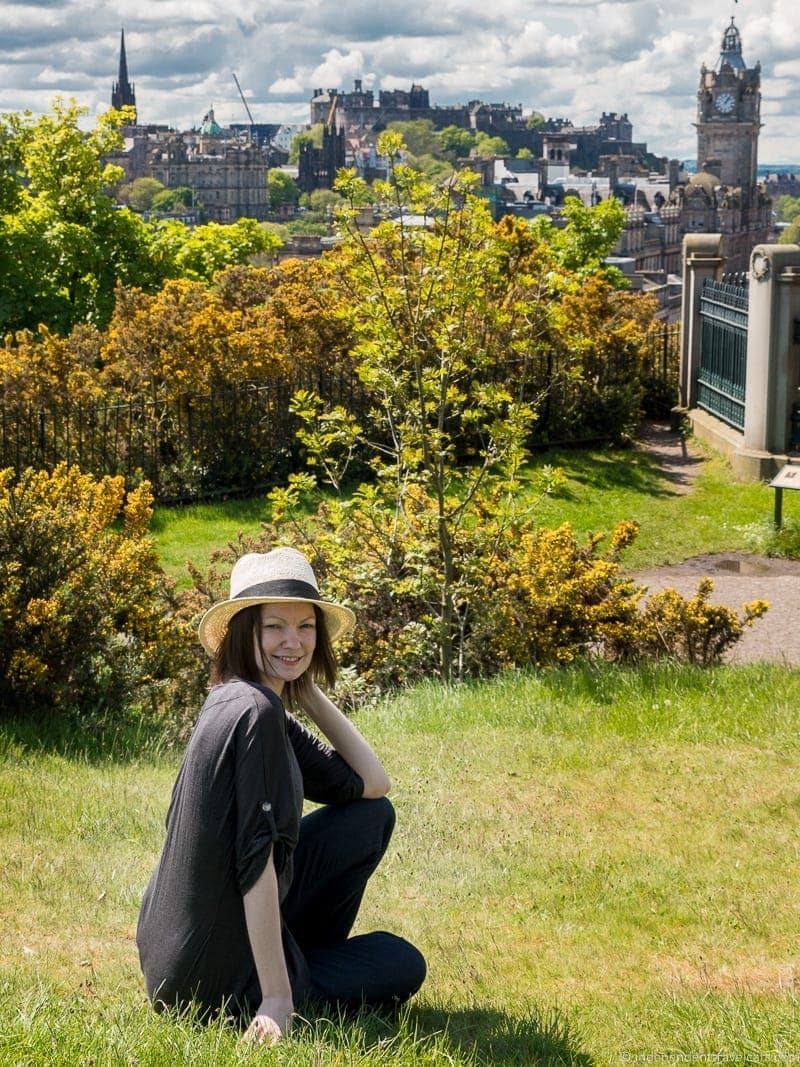 Have you visited Edinburgh Scotland? Do you have other attractions you'd add to our list of top things to do in Edinburgh? Which of the above spots are on your list of places to visit when you come to Edinburgh?
As always, we love reading your comments and we're happy to answer any questions about any of these things to do in Edinburgh (we've done them all!) or any other questions related to visiting Edinburgh.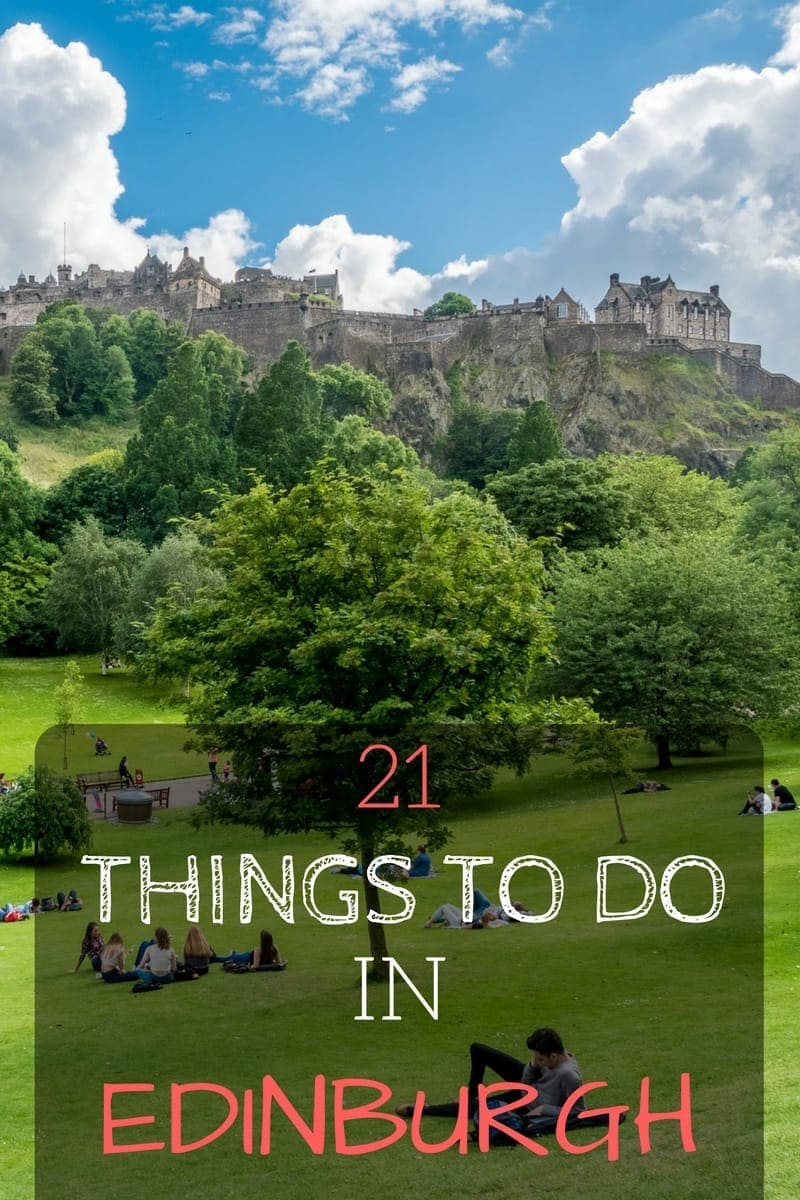 **Disclosure: Many of the above places are free to visit or we paid our own entry fees during numerous visits over the past year. For some attractions, we received complimentary entry through partnerships with Marketing Edinburgh, VisitScotland, and/or Visit Great Britain in order to review attractions and services as travel writers; however, this article contains only our own honest thoughts and opinions. We also received complimentary accommodation and meals during a 3-day visit in partnership with Marketing Edinburgh. You can read more in our Ethics Code about how we accept work.**