J.K. Rowling wrote most of the Harry Potter books in Edinburgh Scotland, and you can still visit some of these places today. Rowling moved to Edinburgh in 1993 and once said in an interview: "…Edinburgh is very much home for me and is the place where Harry evolved over seven books and many, many hours of writing in its cafés."
Although she wrote Harry Potter in Edinburgh in a variety of cafes and private places, there are a few places that she worked that you can visit on your trip to Edinburgh!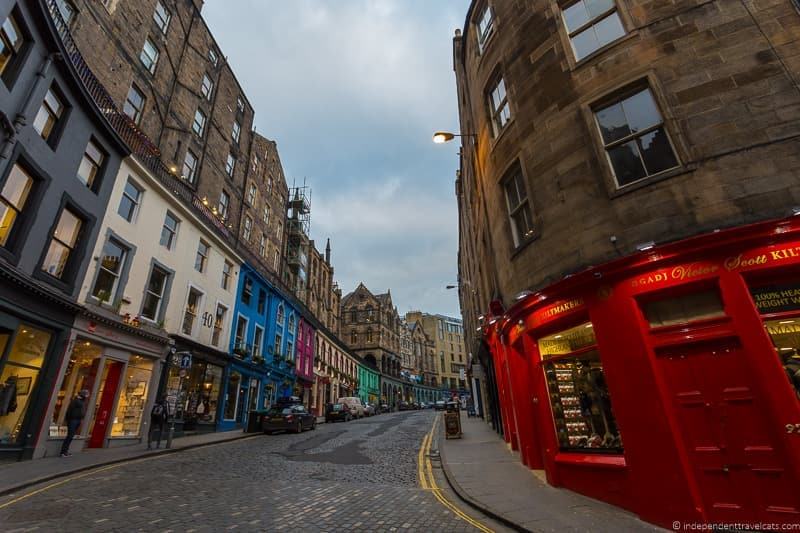 J.K. Rowling, Harry Potter, and Edinburgh
Before listing the places you can visit where Rowling wrote Harry Potter in Edinburgh, we'll share a bit of background about J.K. Rowling and her time in Edinburgh.
Joanne Rowling, aka J.K. Rowling, had the inspiration for what would become the Harry Potter series during a train ride from Manchester to London in 1990. She soon sketched out a rough plan for a 7-book series featuring a boy wizard. She saw it as a book series from the start and was obviously a woman with both imagination and ambition!
In 1991, she moved to Porto, Portugal to teach English following the death of her mother and the loss of her office job in Manchester. In Porto, she worked, wrote, got married, and had a daughter Jessica.
She left her Portuguese husband in 1993 (divorcing in 1995) and headed to Edinburgh Scotland with her baby daughter and the first three drafted chapters of Harry Potter and the Philosopher's Stone. She chose Edinburgh as that was where her sister and brother-in-law were living.
It was a rough time in Rowling's life with the failed marriage, loss of her mother, a young daughter to take care of, and little money. She went on welfare, worked on the book, sought treatment for depression, and completed a training program as a teacher. Her intention was to become a school teacher as she had no idea whether she'd be able to sell her book or not. She had no idea that she would become one of the best-selling British authors of all time!
It was during this time that J.K. Rowling wrote in many of Edinburgh's cafés and coffee houses with her sleeping daughter at her side. When asked the best place to write in this interview Rowling said:
"It's no secret that the best place to write, in my opinion, is in a café. You don't have to make your own coffee, you don't have to feel like you're in solitary confinement and if you have writers block, you can get up and walk to the next café while giving your batteries time to recharge and brain time to think. The best writing café is crowded enough to allow you blend in, but not too crowded that you have to share a table with someone else."
Writing in Edinburgh's cafés would of course become more difficult after the publication of her third book as the Harry Potter books became more and more well-known. Pottermania had begun! By the publication of her fourth book and the release of the first Harry Potter film, Rowling and the Harry Potter character were well-known around the world.
Her fame made it difficult for her to write undisturbed in local cafes. She noted in an email interview with the Broughton High (an Edinburgh school) school magazine in 2003 that although her ideal writing spot was a corner table in a larger cafe, she can no longer write in cafés because of her fame. This eventually led her to writing at home, her office, and in other private spaces.
She would write the ending of the final Harry Potter book in secret in a suite of the city's best-known luxury hotel. In 15 years, Rowling had gone from a single mom on welfare to a successful millionaire author. She still lives in Edinburgh with her husband (she remarried in 2001) and has three children.
She now does most of her writing at home. She noted on her personal website (May 30, 2018) that her favorite place to write is in her writing room located in her garden. When describing her typical writing day, she mentioned how she used to be able to enjoy writing in cafes:
"The radio is usually tuned to classical music, because I find human voices the most distracting when I'm working, although a background buzz, as in a café, is always comforting. I used to love writing in cafés and gave it up reluctantly, but part of the point of being alone in a crowd was being happily anonymous and free to people-watch, and when you're the one being watched, you become too self-conscious to work."
She also noted in this post that she drinks about 8 to 9 cups of a tea in a day! You can read more about her typical writing day and other stuff over on her personal website.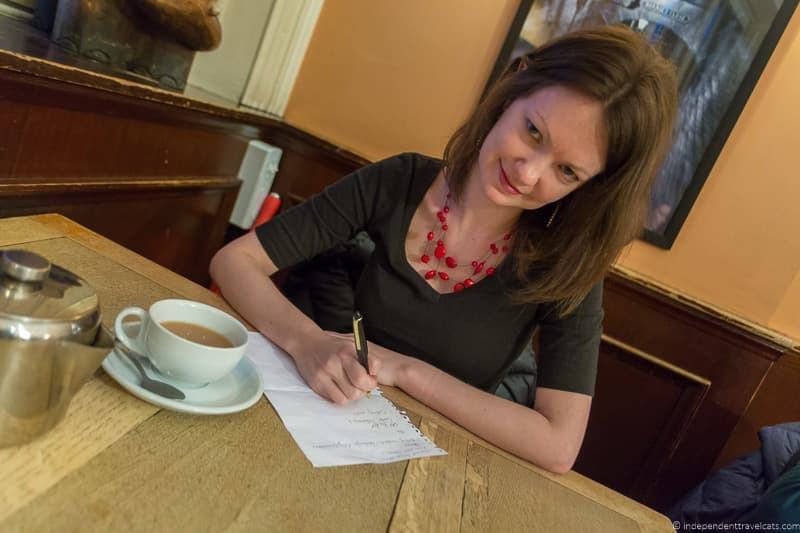 Places to Visit Where J.K. Rowling Wrote Harry Potter in Edinburgh
Although J.K. Rowling wrote in a number of cafés during her early years in Edinburgh, there are three that we know that she spent a lot of time writing and we know exactly where she wrote the ending of her final Harry Potter book. Today, you can visit the three cafés and stay at the hotel where she wrote the final book. Perhaps you'll find a bit of inspiration to write your own best-selling novel!
Of course there are loads of other Harry Potter sites in Edinburgh, including a graveyard, a cobbled street, and a castle that may have served as inspiration for the novels. Harry Potter fans will want to be sure to visit those sites as well!
You can explore the Harry Potter sites on your own self-guided tour of Edinburgh or join a guided tour such as this one. If you are are traveling with younger kids, you might consider this private family tour.
Note that there are other cafés that have claimed to be places where J.K. Rowling wrote Harry Potter in order to draw in tourists and Harry Potter fans. Some of these claims are validated, others are not. In response to this, you'll find a number of coffee shops in Edinburgh displaying signs proclaiming things like "Harry Potter wasn't written here" or "J.K. Rowling never wrote here".
We'll focus on the three cafés where she definitely spent time writing and the hotel where we know she finished the final Harry Potter book.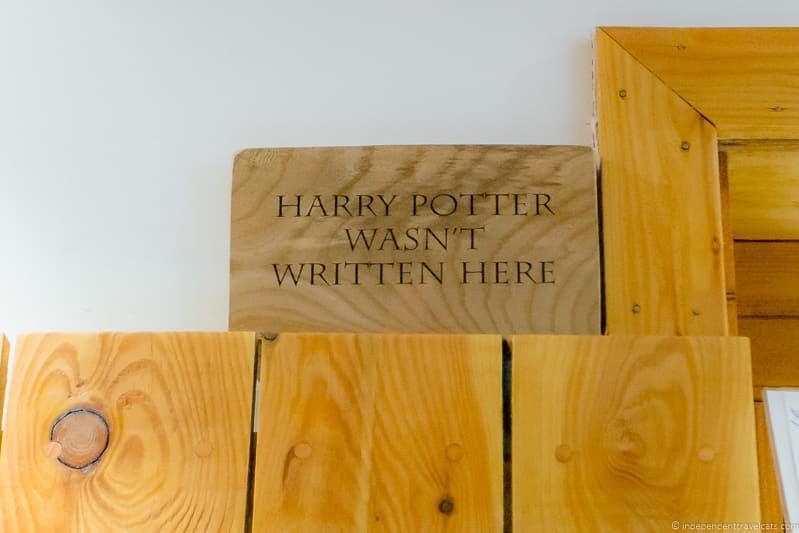 Spoon
Address: 6a Nicolson Street, Edinburgh EH8 9DH
Website: https://spoonedinburgh.co.uk/
Nicolson's Café was the place where J.K. Rowling wrote a lot of the first Harry Potter book, Harry Potter and the Philosopher's Stone, after arriving in Edinburgh. This is likely the first coffee shop she worked at after moving to Edinburgh as it was then owned by Rowling's brother-in-law. She could nurse a cup of coffee here for hours and write in relative peace with her daughter sleeping in the pram next to her. The space was later turned into a Chinese restaurant, and has more recently turned back into a café/restaurant called Spoon.
In a December 2001 BBC TV interview special, Rowling noted that she wrote huge parts of the first Harry Potter book at Nicolson's. She noted during part of the interview that took place in the café:
"This was a really great place to write, because there were so many tables around here that I didn't feel too guilty about taking a table up too long and that [pointing to the table] was my favorite table. I always wanted to try and get that one because it was out of the way in the corner. It was just great to look up when you were writing and stop and think about things and be able to look out on the street which was quite busy. They were pretty tolerant of me in here partly because one of the owners is my brother-in-law."
Today you can stop at Spoon for a casual brunch, lunch, or dinner. Or perhaps a coffee and cake or glass of wine in between meals. There is no Harry Potter related stuff inside the bistro so it is a much calmer place to visit than The Elephant House.
There is a black plaque outside the building stating that "J.K. Rowling wrote some of the early chapters of Harry Potter in the rooms on the first floor of this building".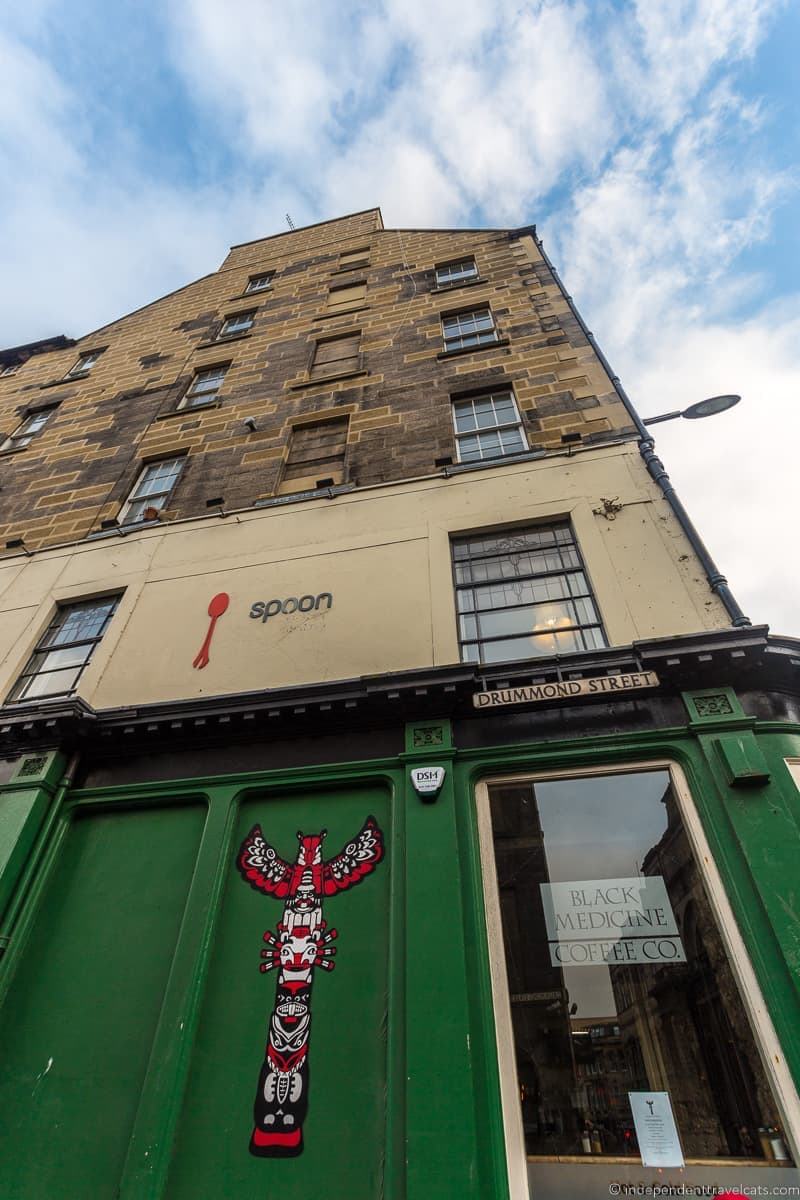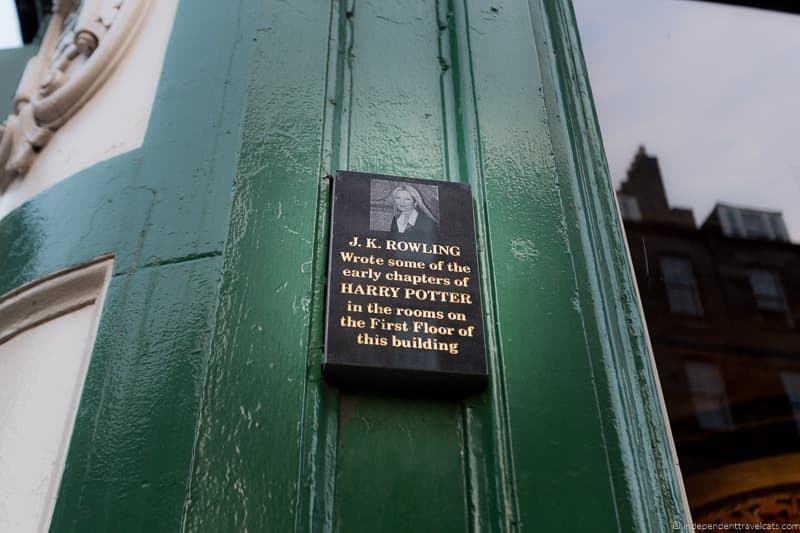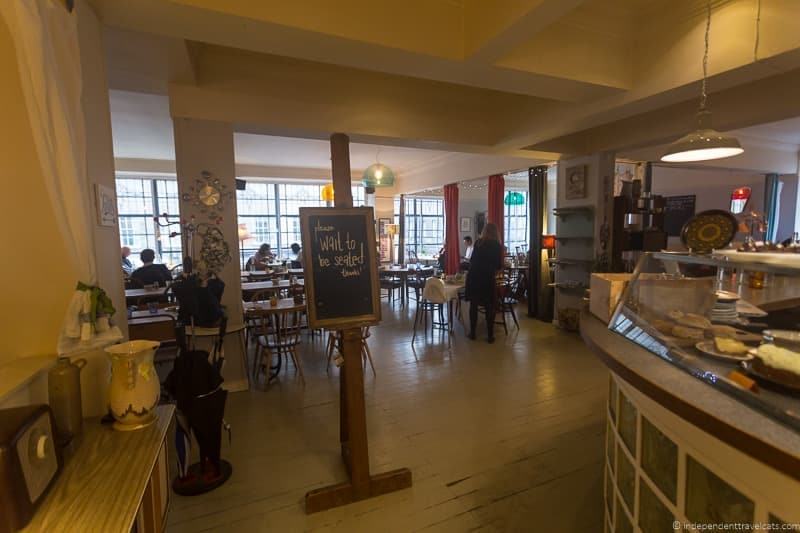 The Elephant House
Address: 21 George IV Bridge, Edinburgh EH1 1EN
Website: http://www.elephanthouse.biz/
The most famous of the Harry Potter related attractions in Edinburgh is a coffee shop called The Elephant House. A sign on the outside proclaims it to be the "Birthplace of Harry Potter" and it attracts loads of visitors. The café also says that other famous writers once wrote here, including Ian Rankin and Alexander McCall-Smith.
Although its claim to being the "birthplace" of Harry Potter isn't true, Rowling definitely spent time writing here. It is fairly likely she spent time here writing the second and third Harry Potter books. In fact, you can see this video of J.K. Rowling giving an interview at The Elephant House around the time when she had started working on her third Harry Potter novel.
Fast forward a few years from that interview, and this place became a popular tourist attraction, and today lines are sometimes out the door. So be sure to leave some times if you actually want to visit and get a table here. The café has begun charging for people to come in to take photographs to try to control crowds. The bathroom has become a place for Harry Potter graffiti and menus are now offered in several languages.
Although The Elephant House is now a popular tourist attraction and is almost always busy, we were surprised to find that the prices were not super high given its popularity and the food and coffee was good. As long as you order something, you can also spend as much time as you like here and you can even sit and write if you wish.
If you are a writer, perhaps you can find inspiration from those now famous best-selling authors like Rowling who once sat quietly writing in longhand at the table in the corner.
NOTE: On August 24, 2021, a fire in the building caused significant damage to The Elephant House and two neighboring businesses. We were here in September 2021 and although the exterior looks pretty much the same, the inside has suffered significant damage caused by fire and water. It is unclear when the cafe will be able re-open. Please check the cafe's website for the latest news about when it might re-open.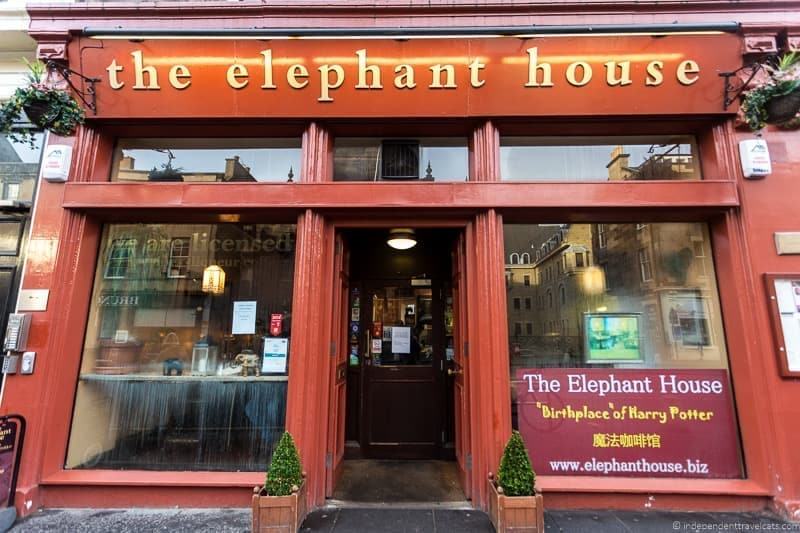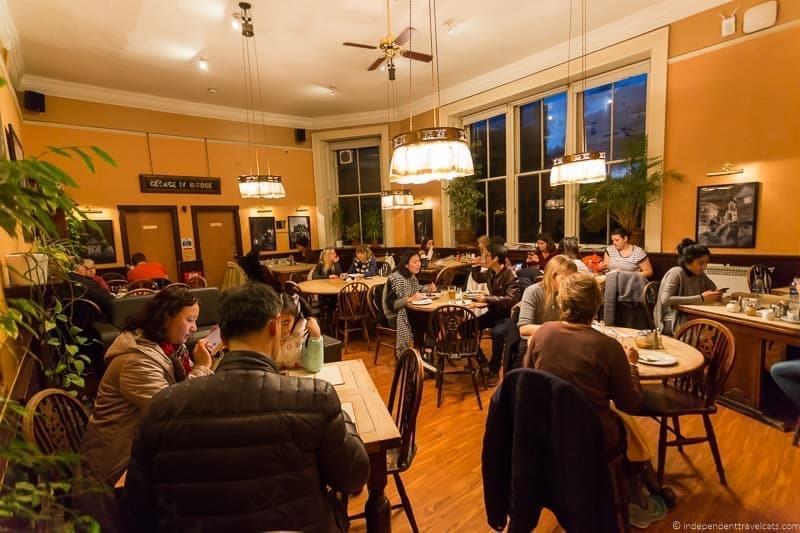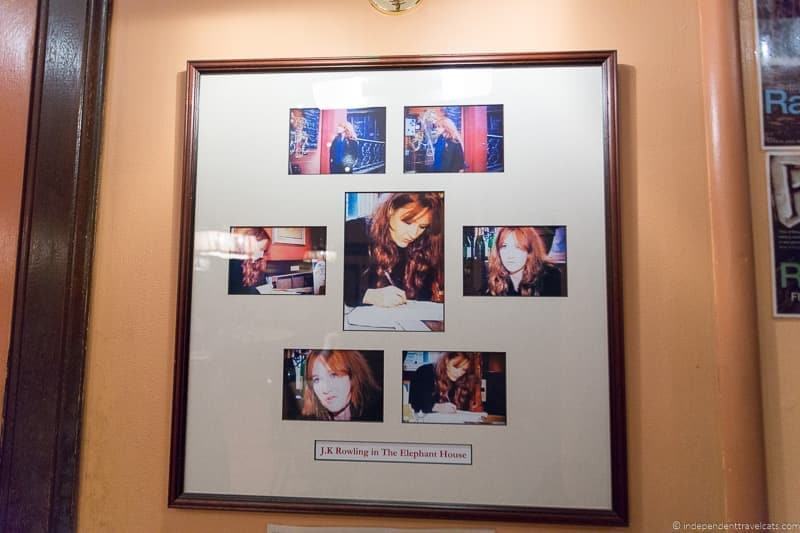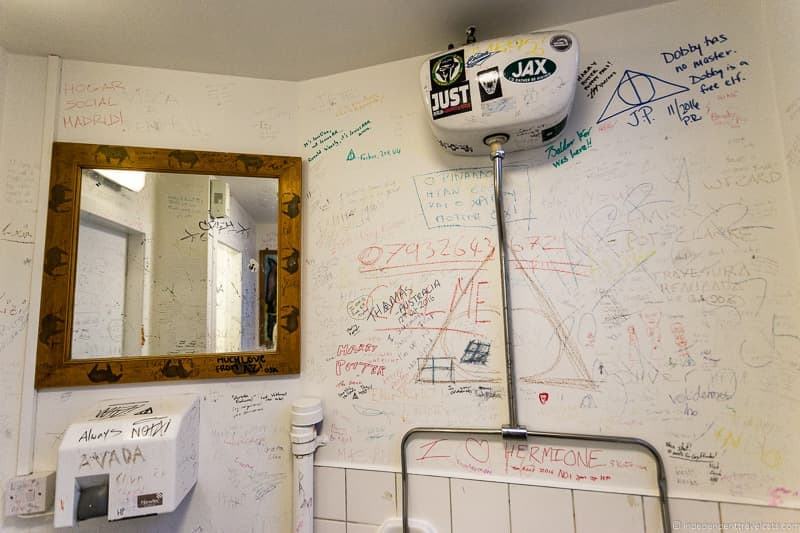 Traverse Theatre Cafe
Address: 10 Cambridge Street, Edinburgh EH1 2ED
Website: https://www.traverse.co.uk/your-visit
The least known of the cafés where we have been able to confirm that J.K. Rowling worked on Harry Potter is Traverse Cafe. In fact, we have not every seen it mentioned in another travel guide related to Harry Potter in Edinburgh.
Traverse Theatre is a contemporary theater has been around since 1963 but only at its present location and building since 1992. It was at this time they opened a new cafe. It was here that J.K. Rowling would write parts of her early Harry Potter novels.
J.K. Rowling noted on her personal website on May 30, 2018 that she did a lot of writing at Traverse Cafe when she met John Tiffany, the director of stage play Harry Potter and the Cursed Child. She wrote: "Incredibly, John and I knew each to say hello to years ago, when I used to write in the café at the Traverse Theatre in Edinburgh."
There is also a June 2016 interview in The Guardian where J.K. Rowling also notes that when she met Tiffany in person she realized she had met him back in the mid-1990's in Traverse café. Tiffany was often there meeting actors and she was there writing with a pram at her side, and they would say hello to each other. It would be a year of so later before Tiffany would realize who she had been.
There is not too much to see here and the cafe is small with tables scattered around. The cafe serves coffee as well as soups, salads, and sandwiches. The customers are mainly people working or meeting with people at Traverse Theatre.
There is also full restaurant called Dine located upstairs with a full bar and cocktail lounge. If you are looking for a modern brassiere type restaurant, this is one to consider.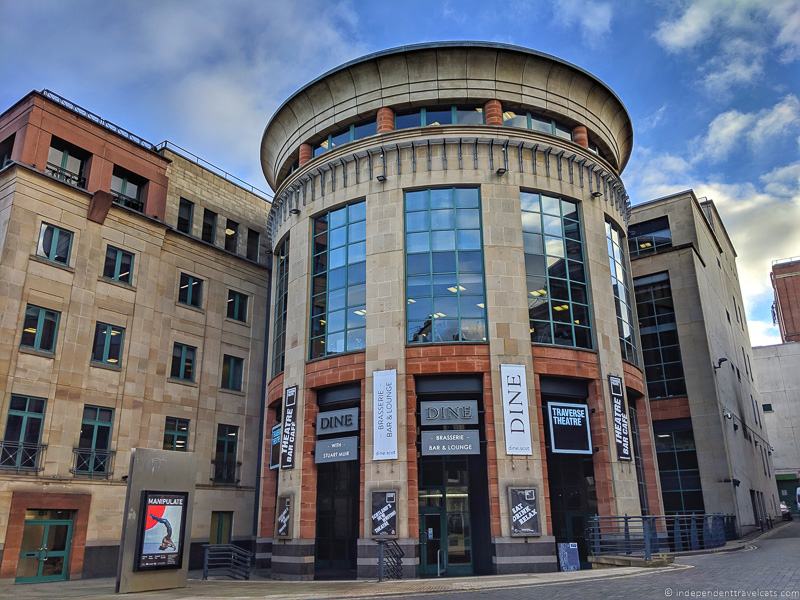 Room 552 at the Balmoral Hotel
Address: 1 Princes Street, Edinburgh EH2 2EQ
Website: https://www.roccofortehotels.com/hotels-and-resorts/the-balmoral-hotel/
JK Rowling finished the seventh and final Harry Potter book, Harry Potter and the Deathly Hallows, at the Balmoral Hotel. The Balmoral Hotel is a 5-star 19th century luxury hotel located next to the Waverley train station in Edinburgh. Rowling said she was feeling distracted at home and wanted to get away for a little while to finish the ending of her book. She managed to work in a hotel suite here and finish the book in secret with very few people knowing she was staying here.
After finishing the book, she famously graffitied a marble bust of the god Hermes. She scribbled the following on the bust: "JK Rowling finished writing Harry Potter and the Deathly Hallows in this room (552) on 11th Jan 2007". Not surprisingly, Rowling did not get into any trouble for her vandalism and in fact, the bust is now proudly displayed in the suite behind glass. The suite was later renamed the JK Rowling Suite.
The Balmoral Hotel is a hotel and anyone can stay here for a price (check current prices here). You can even stay in the same room (552) as the famous author. This beautiful suite is priced at about £1,000 a night and the outside of the door is decorated with an owl and a small golden sign bearing the name The J.K. Rowling Suite. Of course, you can book a regular room for much less!
If the Balmoral Hotel is not within your budget, you can also still visit the hotel restaurant for a meal or afternoon tea (reservations recommended).
If you are looking for somewhere to stay in Edinburgh, there are lots of options for places to stay in the city, from hotels to apartments to hostels. We recommend that those interested in Harry Potter sites in Edinburgh stay around the Grassmarket area, and you can check out our detailed guide to where to stay in Edinburgh for Harry Potter fans here.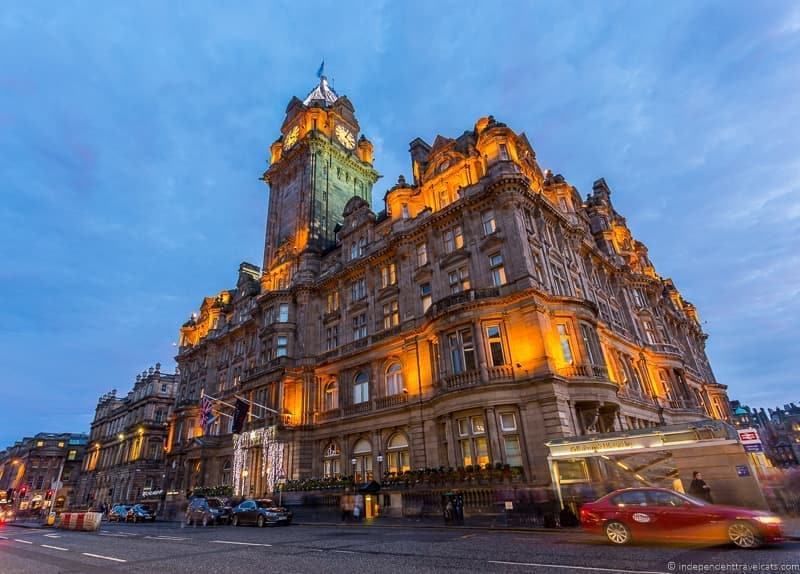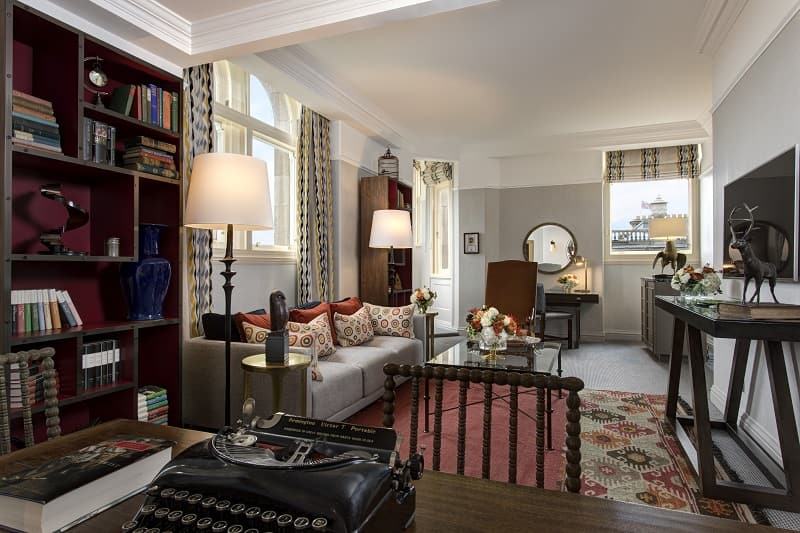 So those are the three places that J.K. Rowling wrote the Harry Potter books in Edinburgh that you can still visit today.
If you are looking for more information about visiting these cafés or other Harry Potter related sites in Edinburgh, you can check out our comprehensive Harry Potter Edinburgh guide. If you are going to be traveling outside of Edinburgh, check out our guide to Harry Potter filming locations in Scotland.
For more sight-seeing in Edinburgh, take a look at our guide to things to do in Edinburgh. Also be sure to check out our guide to day trips from Edinburgh if you are wanting to visit any of the Harry Potter filming locations.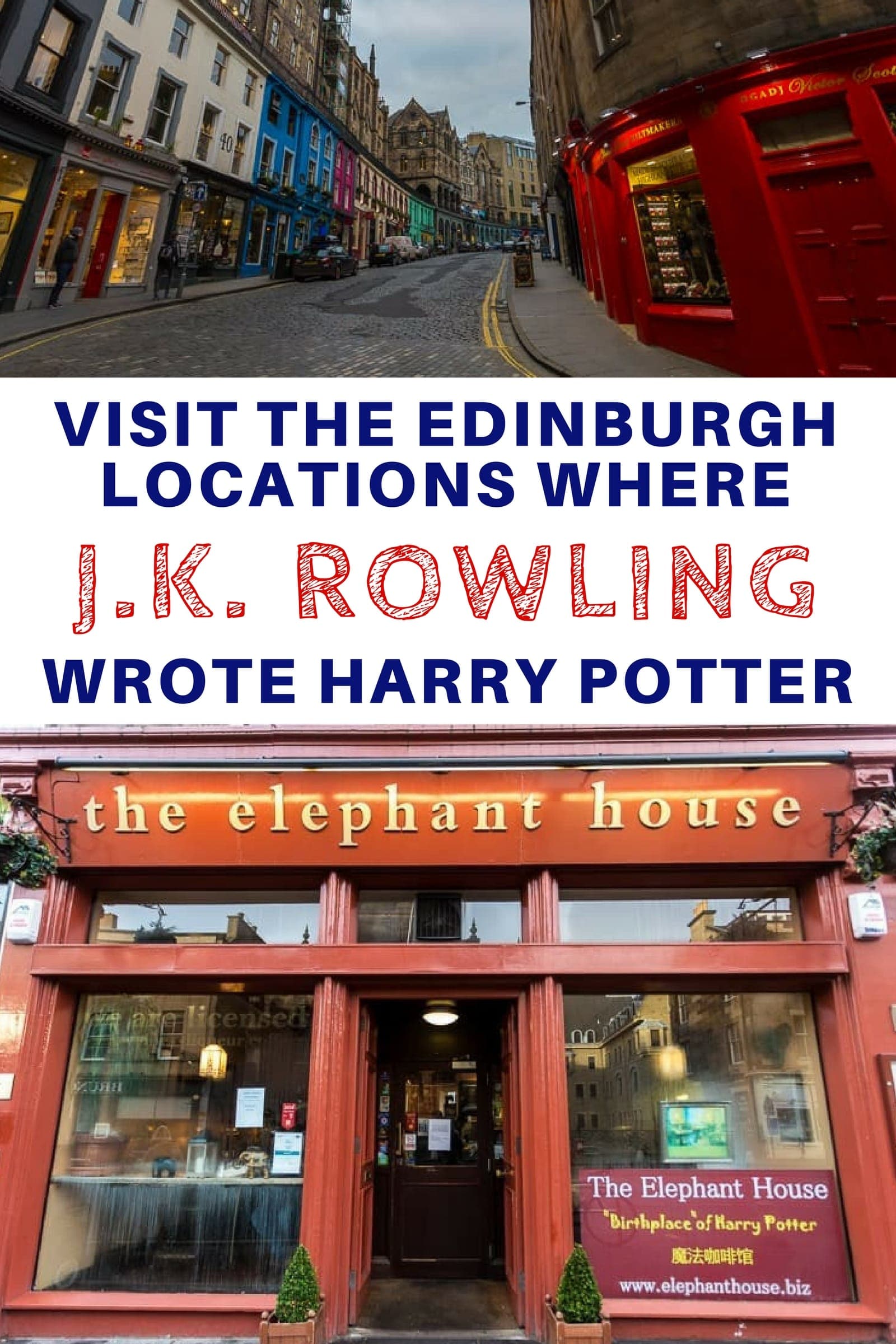 Would you be interested in visiting any of these Harry Potter related sites in Edinburgh? If you have visited any spots where J.K. Rowling wrote about Harry Potter in Edinburgh, we'd love to hear about your experiences. If you are planning a trip to Edinburgh and have any questions, just leave your questions in the Comments section below and we'll get back to you!