After spending many winters in Edinburgh, we are sharing our favorite ways to celebrate Christmas in Edinburgh Scotland. There are loads of things to do in Edinburgh during December, which include browsing traditional Christmas markets, ice skating, Christmas shopping, enjoying the holiday lights, riding the Star Flyer, and attending concerts. We cover all things associated with Christmas in Edinburgh from amusement rides to church services, and everything in between.
Whether you are a visitor or a local, we give you advice to help you find the best shopping hotspots, Edinburgh Christmas markets, festive afternoon teas, Edinburgh Christmas events, Christmas meals, light displays, and Christmas decorations in Edinburgh. We also share a brief history of Christmas in Scotland and some of the common holiday traditions. So let's delve into our guide to things to do in Edinburgh during Christmas!
Note that our Christmas guide has been updated for Edinburgh Christmas 2023. The 2023 Edinburgh's Christmas festival will be taking place from November 17th to January 6th. I will continue to update this guide as dates and events are announced.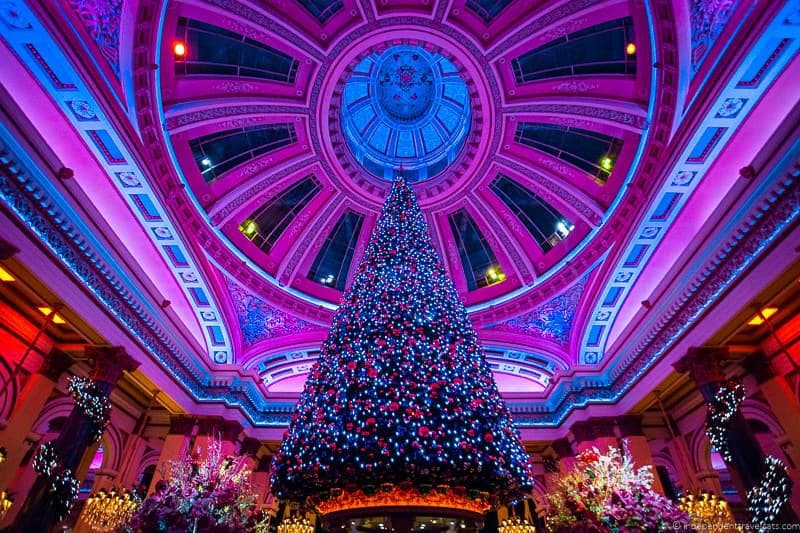 15 Ways to Celebrate Christmas in Edinburgh Scotland
Although Christianity in Scotland dates back to the Roman Occupation of Britain, Christmas has not always been a popular holiday in Scotland. Prior to the Scottish Reformation, Christmas was celebrated in a manner similar to the rest of Western Europe. However, after Scotland broke ties with the Catholic Church Christmas celebrations in Scotland were banned as they were seen as Catholic feasts and rituals by the Church of Scotland.
Even after the bans were lessened, Christmas celebrations continued to be suppressed and discouraged by the church. Hogmanay (celebration of the New Year) became the most celebrated Scottish holiday, and Christmas was generally afforded only a quiet acknowledgment and celebration.
Believe it or not, Christmas has only been an official holiday in Scotland since 1958 and it wasn't until the 1980's that it was widely publicly celebrated. The increased influence is likely due to a lessening of influence by the Church of Scotland, the influence of popular Christmas customs from countries like Germany, England, Ireland, and the United States, and the demonstrated economic benefits of Christmas markets and celebrations.
Today both Christmas and Hogmanay are widely celebrated in Scotland and considered important holidays. So now there are twice as many fun celebrations!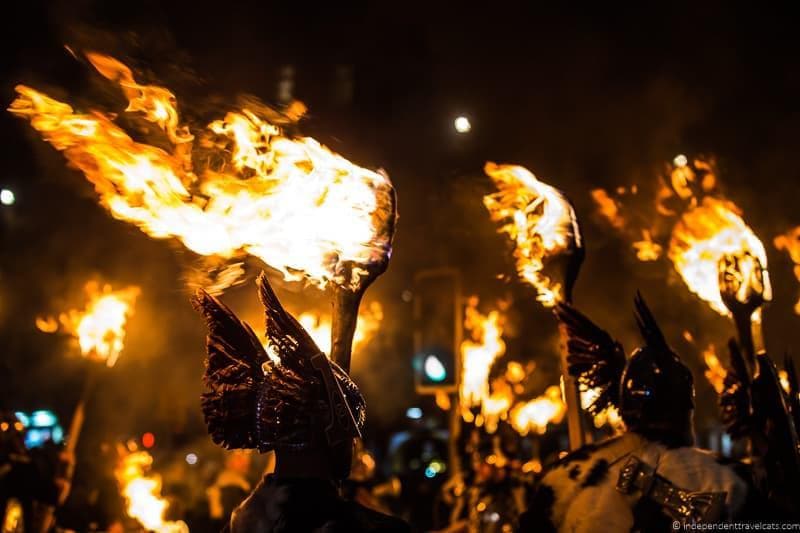 There are a lot of ways to enjoy the holidays in Edinburgh and there are loads of special Christmas events throughout the city. Head to the official Edinburgh's Christmas website to see what events are scheduled during your visit. The official events this year are being held from November 17th, 2023 to January 6th 2024.
Although the specific events change each year, our list should give you a good idea of what the city can offer and help you plan your Christmas in Edinburgh. Here is our list of the top 15 things to do in Edinburgh during Christmas!
**A Special Note for Residents of Edinburgh & Vicinity: If you have an EH postcode, you are likely eligible for discounts on Edinburgh rides, attractions, and shows. For instance this year, residents can receive 20% off on most tickets for Edinburgh's Christmas. Be sure to check when purchasing your ticket, whether online or in person. You'll need to show proof (e.g., driver's license or bank statement) to receive the discount.**
Browse the Edinburgh Christmas Markets
The main Christmas Market is held each year in the Princes Street Gardens. It seems to get bigger each year with several lanes filled with little shops and kiosks selling crafts, art, gifts, food, and more. It also now is spread out into part of George Street as well where you find even more booths, rides, and attractions so be sure to head there as well.
Typically, the market at the Princes Street Gardens features traditional European Christmas stalls and is often referred to as the "German Christmas Market", and the George Street section features Scottish products and is often referred to as the "Scottish Christmas Market".
You can find a bit of everything at the Christmas markets and some things we saw there this year were painted nutcrackers, scarfs, carved nativity scenes, leather wallets and purses, flavored coffee beans, candles, personalized engraved gifts, Christmas ornaments, stuffed animals, and chocolates.
Although many of the food stands feature German food such as German sausages, there are a number of options which include hamburgers, salmon filets, pulled pork, crepes, and churros.
There are also stands selling hot drinks such as hot chocolate and coffee, and alcoholic options like hot cider, mulled wine (often advertised using German word Glühwein), and hot toddies. There is also usually one stall selling Glayva drinks, Glayva is a local whisky that has a spicy taste and is good on its own or paired with coffee or hot apple juice.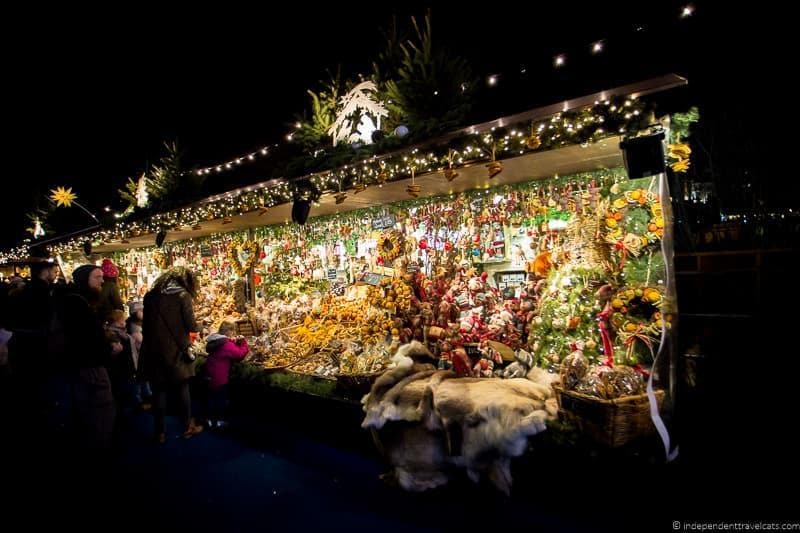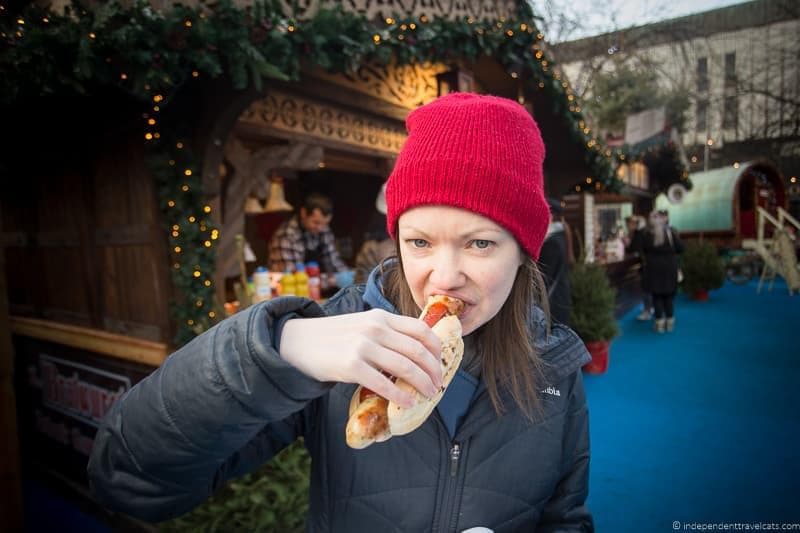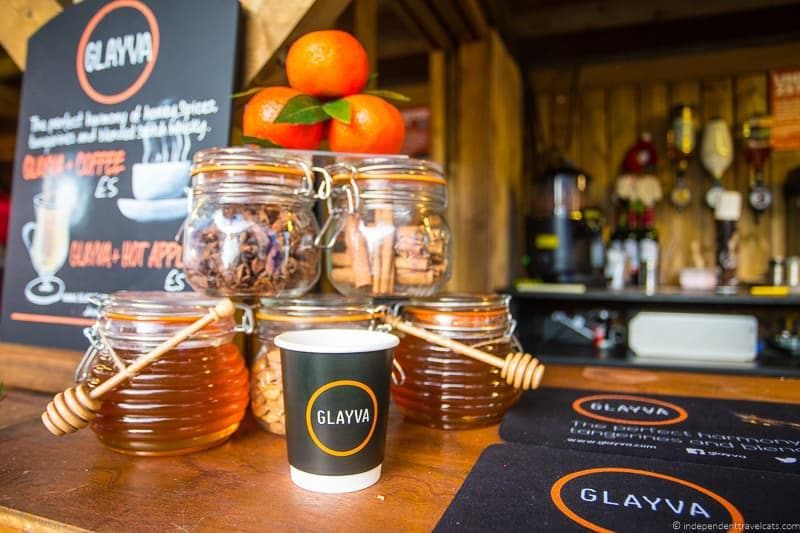 Seek out Holiday Lights
Seeking out festive twinkling light displays is a great way to get into the Christmas spirit in Edinburgh! I am a bit spoiled as I've been to some amazing over-the-top light displays in the United States, and have found the ones here in Scotland to be a bit more subdued and fewer people decorate their homes. However, you can still find some great lights here.
Our favorite find so far is the evening light trail at the Royal Botanic Garden Edinburgh. Each evening from November 16th to December 30th, they have illuminated trails that include lots of lights, music, and illuminations. It is a really well done display and great for families. You can also buy hot chocolate or mulled wine to enjoy along the trail. There is an entrance fee and you just need to book tickets online in advance. Entries are timed to ensure that the trail doesn't get too crowded.
Although not exactly Christmas lights, Edinburgh Castle is having illuminations evenings as part of their Castle of Light programming throughout the Christmas season. There are also special Christmas packages for visitors.
Typically, the best light event in Edinburgh is Light Night which is a festive event each year (normally in mid November) where the city's holiday lights are officially switched on for the first time. There are also typically music performances, the lighting of the Christmas Tree on the Mound, and fireworks. Light Night is a free event, and typically attracts around 20,000 people.
In terms of streets, the best street to walk along for lights and decorations is George Street as there is normally a large light installation here. The Dome on George Street is well-known for its lights as each year it places fairy lights and huge Christmas wreaths around its Corinthian columns. It is one of the most Instagrammed Edinburgh Christmas spots each year.
You'll find more light displays around the city and these change each year, so be on the look out!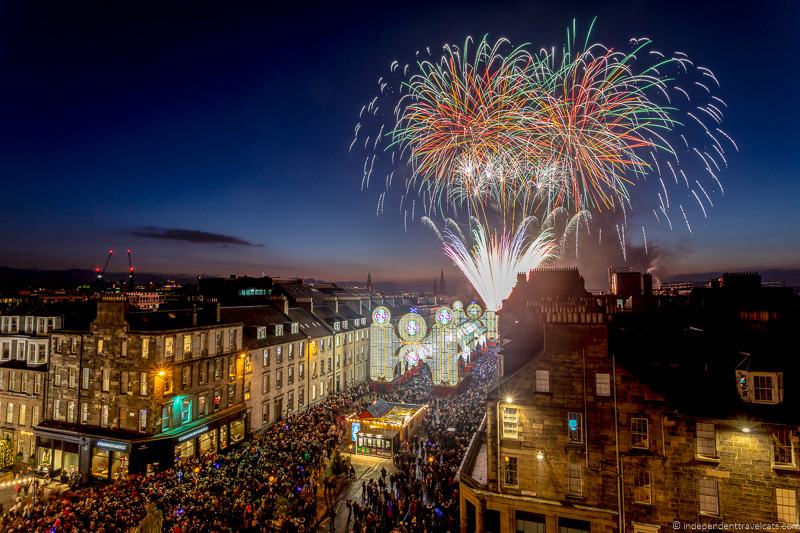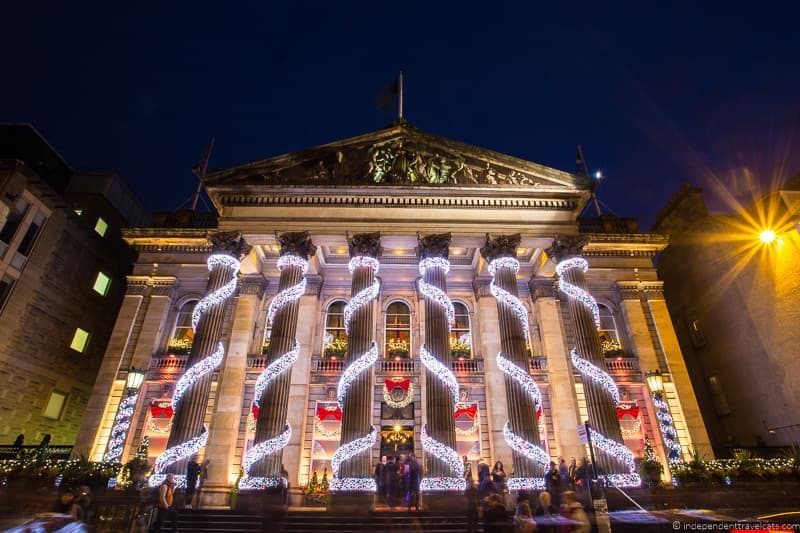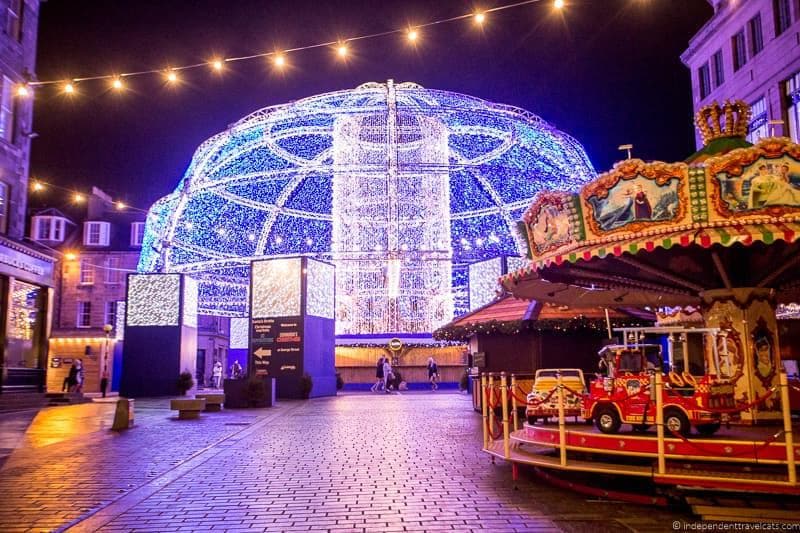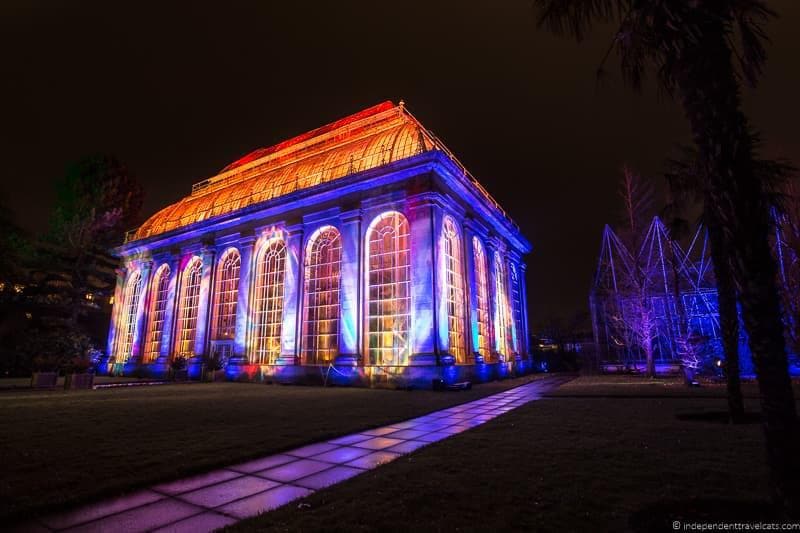 Go Ice Skating
For over 20 years, there has been an outdoor ice skating rink in central Edinburgh as part of the Christmas celebration. Originally at Princes Street Garden and then in St. Andrews Square. This has long been a very popular attraction for both locals and tourists.
In 2023 the ice-skating rink will be on George Street. The rink is open to kids, adults, and wheelchair users! You can book tickets that include a skate rental or bring your own skates.
If you want a larger ice skating rink, check out the Murrayfield Ice Rink, an indoor skating rink located about a 15 minute drive from central Edinburgh. This offer general public skating sessions each day.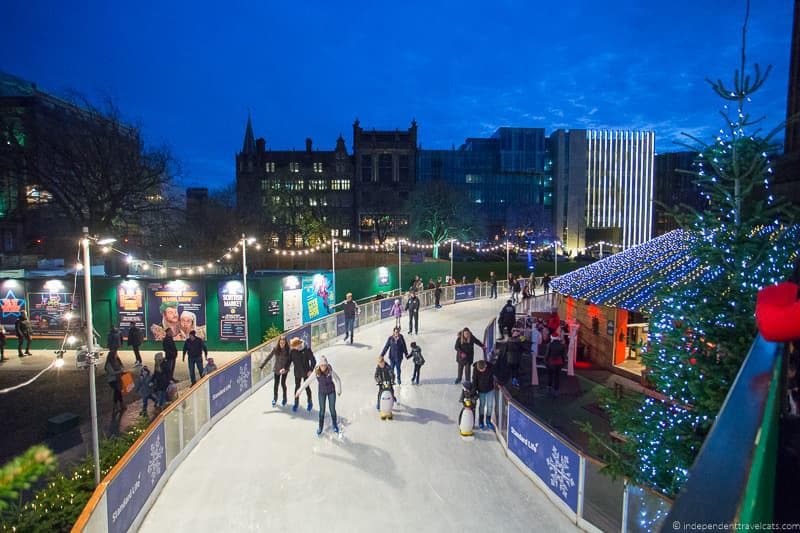 Enjoy a Festive Afternoon Tea
A holiday afternoon tea is a great way to sit down, warm up, and enjoy a break from all the other festivities. There are a number of places in Edinburgh that offer special Christmas time afternoon teas with the best known being The Dome.
The Dome is known for going over the top with its holiday decorations with lots of lights, garlands, and decorations filling its interior. Time slots for afternoon tea in the Georgian Room at The Dome normally fill up several days in advance during the holiday season, so making a reservation is strongly recommended. If you are not into afternoon tea, The Dome also serves lunch, drinks, and dinner in its bars and restaurants if you'd still like to come enjoy the holiday decorations.
Other spots that normally serve Christmas afternoon teas in Edinburgh (as well as normal afternoon tea service the rest of the year) are The Signet Library, Prestonfield, Hilton Edinburgh Carlton Hotel, The Balmoral, Mercure Edinburgh, Sheraton Edinburgh, café at Jenners, and The Caledonian. Reservations are strongly recommended (or required) for these afternoon teas to ensure you get a table.
Many of the city's big attractions also serve afternoon tea, including the tea room at the Royal Yacht Britannia, café at Holyrood Palace (tickets here), and the tea room at Edinburgh Castle. These attractions often have a special festive afternoon tea on offer during December, and can be special places to enjoy a more casual tea experience while out sightseeing.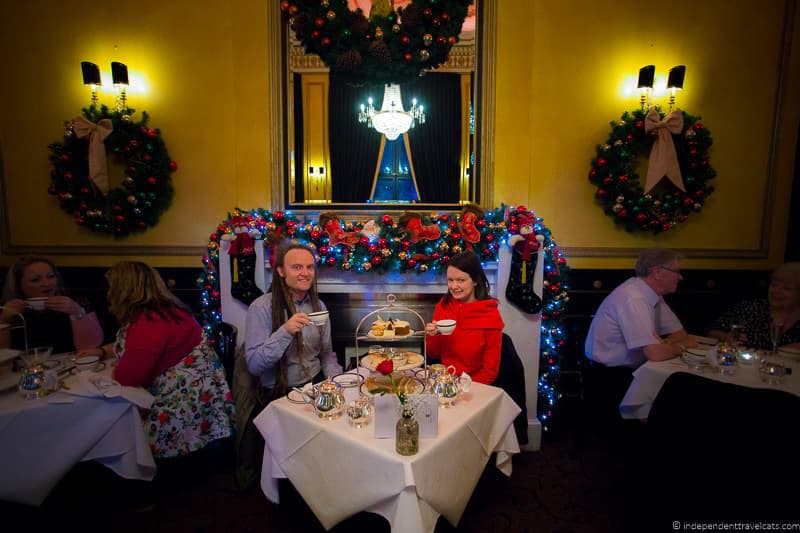 See the Nativity & Attend the Nativity Carol Concert
Since 2003, the nativity scene has been Tim Chalk's life-size sculpture which represents the biblical family within a shed or barn. Mary is clutching the baby Jesus in her arms, Joseph is holding a blanket, and there are some shepherds.
The sculpture is not a traditional depiction of the nativity scene as there is no manger, no menagerie of farm animals (only a couple of lambs), no angels, and no three magi. The expressions on the figures' faces are also interesting and in contrast to the serene joyous scenes normally depicted.
The city's nativity scene is typically placed in St. Andrew Square garden.
A celebration, such as a concert featuring traditional caroling, is normally held each year around the nativity. The Nativity Concert for 2023 has yet to be announced.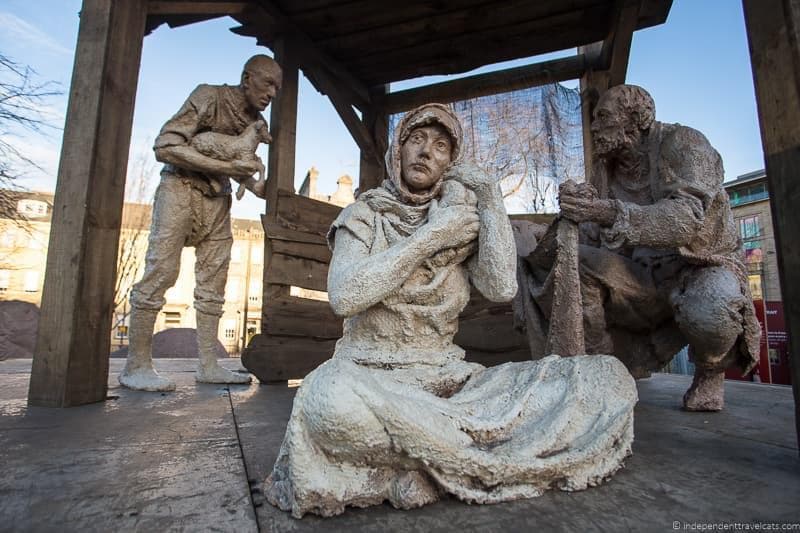 Admire the Holiday Decorations at Edinburgh's Top Attractions
December is a great time of the year to visit some of the big attractions as many of them will have special holiday decorations out. Many also offer special holiday themed tours, workshops, caroling, holiday meals, or after-hour tours.
Some popular Edinburgh attractions that usually have good Christmas decorations and/or events include Edinburgh Castle, Royal Yacht Britannia, Edinburgh Royal Botanic Gardens, Palace of Holyroodhouse, St. Giles' Cathedral, Georgian House, and the Edinburgh Zoo.
Check the attraction's website to see the latest news and what holiday events are happening during your visit.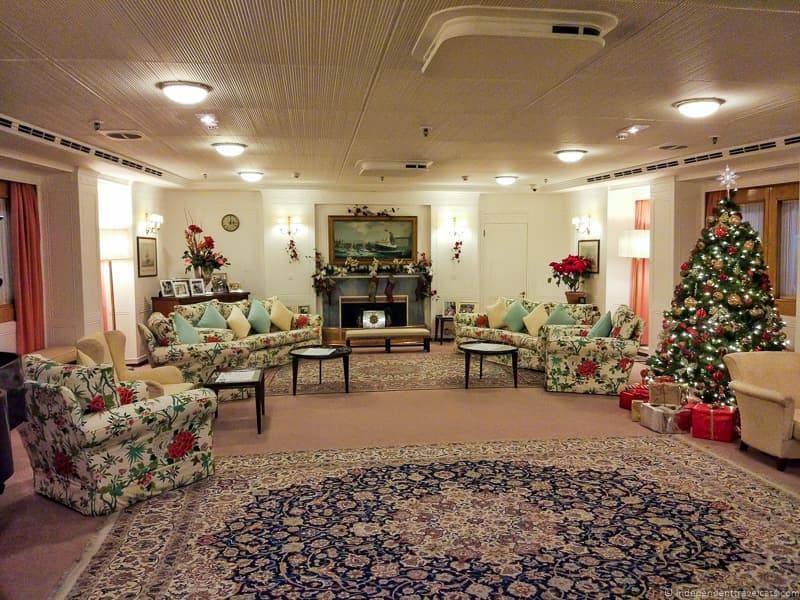 Go Christmas Shopping
If you haven't finished your holiday shopping, Edinburgh is not a bad place to be as there are a lot of stores in Edinburgh! An obvious place to begin is at the Christmas markets on Princes Street gardens and along George Street, but there are plenty of other places to go Christmas shopping. Princes Street and George Street are home to some of the city's oldest flagship department stores as well as a number of UK and international fashion, fragrance, and accessory stores.
Multrees Walk is the place to head for luxury stores like Louis Vuitton, Michael Kors, Coach, and Tesla. Independent shops are easy to find in the Grassmarket area, Stockbridge, The Arches, Thistle Street, and the West End. Good places to find local arts and crafts products are at the weekly markets that take place in several locations throughout the city including Stockbridge and Grassmarket.
If you are a Harry Potter fan (or are shopping for one), you can check out our Harry Potter Edinburgh guide which includes a list of stores selling Harry Potter items.
If you are looking for high-quality Scottish items, such as bagpipes, whisky, cashmere, quaichs, tweed, or kilts, do a little research online beforehand to find the best stores that specialize in that product. There are a lot of stores selling these items and the quality can vary substantially in the main tourist areas, although you'll find gems even on the Royal Mile if you know where to go. Take your time to compare quality and prices before making a purchase.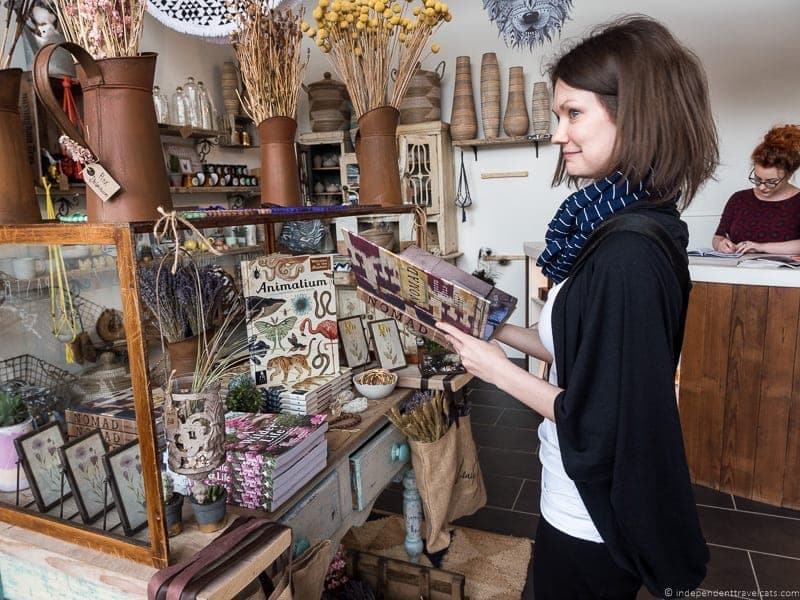 Visit Santa Claus
There are usually at least two places you can find Santa in Edinburgh from the 1st of December to Christmas Eve. The main location is at Santa's Grotto which is part of the large Edinburgh's Christmas celebration. A visit includes a bit of storytelling by Santa in a group, an individual chat for each child with Santa, and a small gift from Santa's elves.
The Santa's Grotto has moved around a bit over the last several years. Last year (2022) it was located on the lower level of West Princes Street Gardens in Santa Land. In 2023 Santa will be in St. Andrew Square.
If you want to see this popular Santa, I'd book a ticket online with a timed entrance as lines can get long and time slots can get fully booked on busy days.
In 2023, the Edinburgh Zoo will also have a Santa's Grotto (need to book Grotto ticket in addition to Christmas Nights trail entry ticket) as part of their Christmas Nights program. These are pretty pricey.
Another place you can usually find Santa is at the Ocean Terminal shopping center in Leith but do check in advance. Other department stores, attractions, and charity organizations often have Santa visits as well so you may want to check online or a local newspaper for other opportunities.

Sadly, Jenners, Scotland's oldest independent department store, closed in January 2021. This has been a great place to bring kids to see Santa. We also loved their magnificent Christmas trees.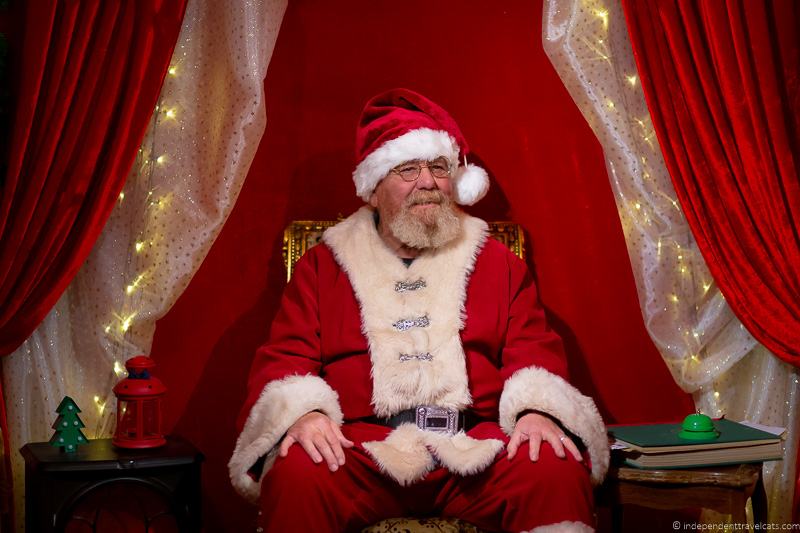 Attend a Religious Service
Christmas has become a fairly secular and commercial time of year, but at its core it is a Christian religious holiday designed to celebrate the birth of Jesus Christ. The word literally means Christ's Mass or Mass of Christ.
If you are looking to spend Christmas in Edinburgh and want to attend a religious service, you'll have lots of options with many churches offering services on both Christmas Eve and Christmas Day. In addition to worship services, many churches also offer candlelit concerts and services, caroling, and charity events during the holidays.
The largest religious denomination in Scotland is Presbyterian so you'll find a number of Presbyterian churches in Edinburgh such as St. Giles' Cathedral (principal church of the Church of Scotland), St Cuthbert's Church, and Grace Church. We'd particularly recommend checking out the December concert events for St. Giles'.
There are also a number of Roman Catholic (e.g., St. Mary's RC Cathedral, Catholic Church of the Sacred Heart) and Scottish Episcopal (Anglican) churches (e.g., St Mary's Episcopal Cathedra, St John's Episcopal Church) in Edinburgh. But there are also churches offering other Christian services such as Carrubbers Christian Centre (independent evangelical church), Quaker Meeting House, City of Edinburgh Methodist Church, and Abbeyhill Baptist Church.
If you are looking for a more informal nondenominational service, check out the services offered by The Salvation Army.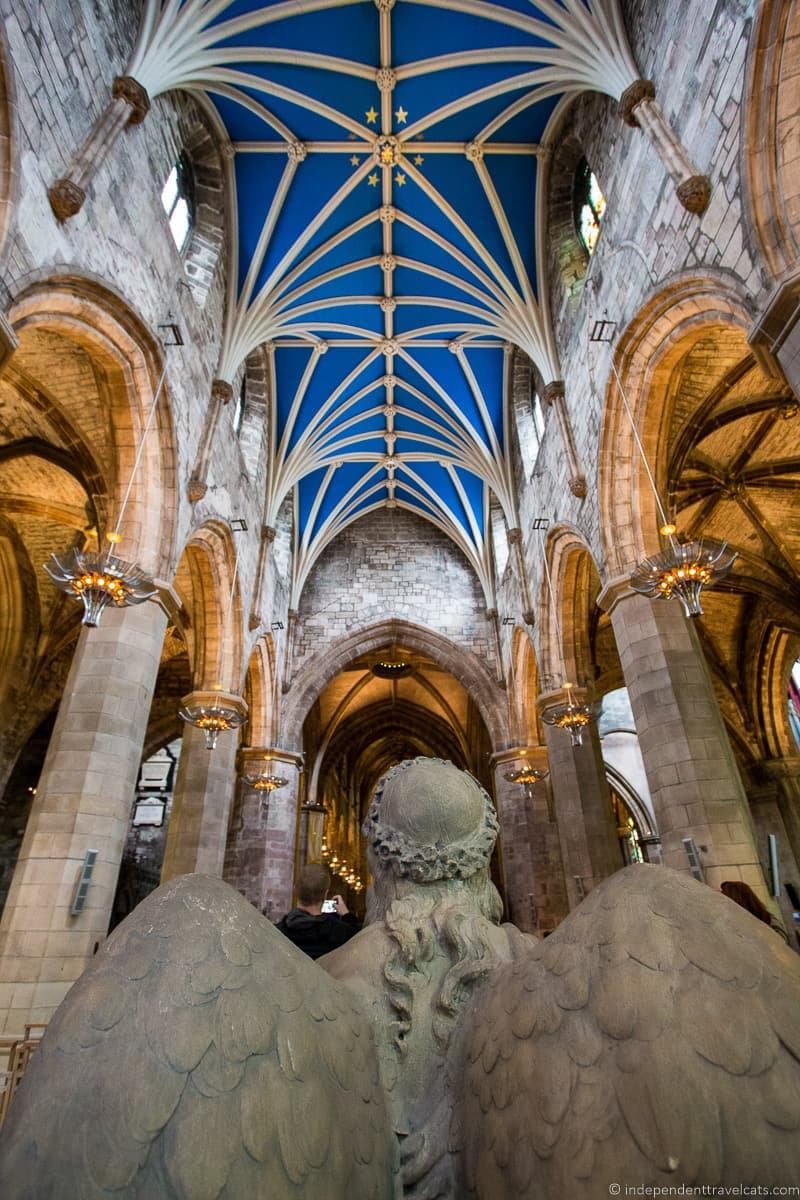 Enjoy the Music and Theater Performances
Each year there is a special Edinburgh Christmas events program which includes music, theatre productions, and other evening events. Shows range from family friendly sing-alongs to silent discos to adult-only oriented shows. They usually have a couple of shows that were popular from the Edinburgh Fringe.
If you are looking for caroling, there is an outdoor Nativity Concert (see earlier section about Nativity Concert), caroling performances at some of the city's churches and cathedrals, and the Carol Service concert put on by The University of Edinburgh's Chaplaincy service.
There is also normally an annual Scottish Norwegian Advent Concert held at St. Giles' Cathedral. St. Giles' also has other Christmas concerts scheduled for November and December. You can see their program of events here.
For holiday concerts, theater, and dance performances, check out this site which lists productions held at a number of performance venues around the city such as Festival Theatre, The Usher Hall, the Royal Lyceum Theatre, King's Theatre, and Edinburgh Playhouse.
If you are into comedy and variety shows check out the schedule at The Stand which usually offers some special Christmas performances.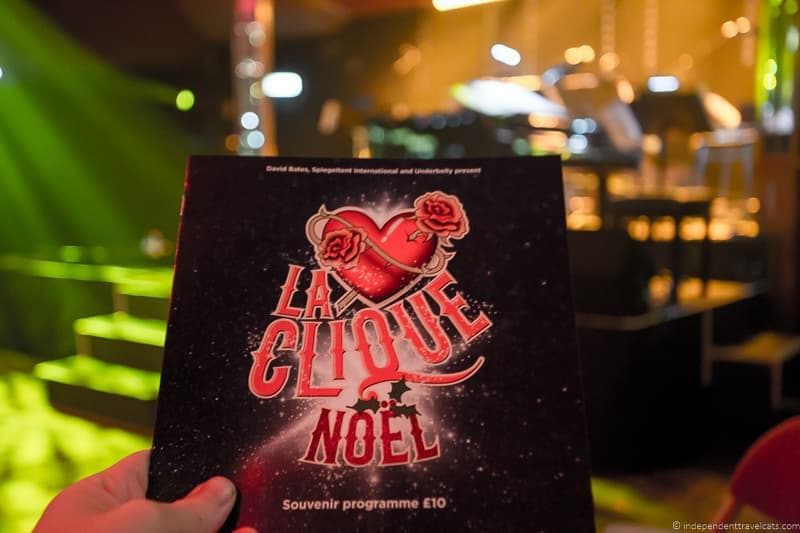 Check out the Christmas Trees
Each year there is a large lighting ceremony of a Christmas tree that signifies the kickoff of the Christmas season in Edinburgh. This free annual event, called Light Night, is family-friendly and huge crowds gather to watch the tree being lit for the first time of the year and to hear choir performances and music. The tree lighting ceremony usually takes place in mid-November on the Mound off George Street.
The tree that is lit is a gift from the Hordaland Country Council in Norway. The tradition of Norway gifting a tree to the people of Edinburgh is a gesture of thanks for the support Scotland gave the Norwegians during World War 2. The tree used to be sent from Norway, but is now sourced in Scotland.
Other places to find decorated trees in Edinburgh which usually also have a special lighting ceremony include the University of Edinburgh's tree in the Old College Quad, the Christmas tree in the Grassmarket Square in Old Town, and the Christmas tree in Jenners department store. Some other places you can usually find beautifully decorated Christmas trees are in Edinburgh's Christmas Santa Land, The Dome, Palace of Holyroodhouse, prominent hotels such as the Balmoral, department stores, and at the Edinburgh Royal Botanic Garden.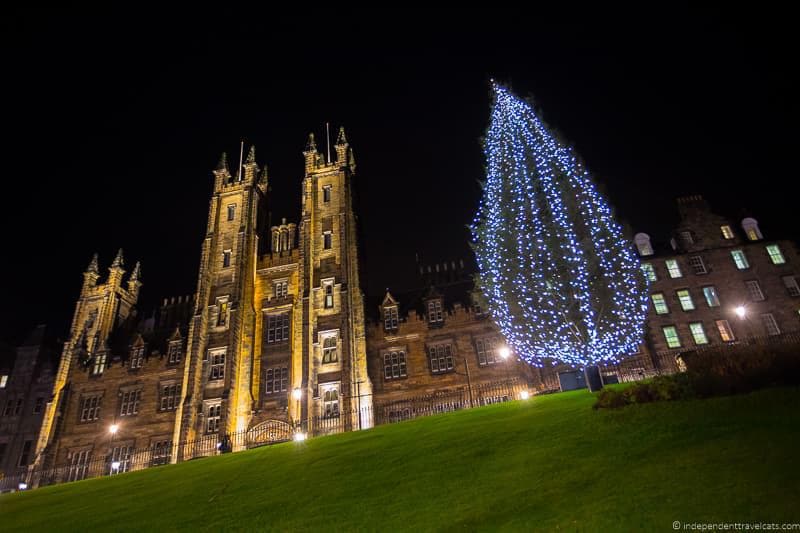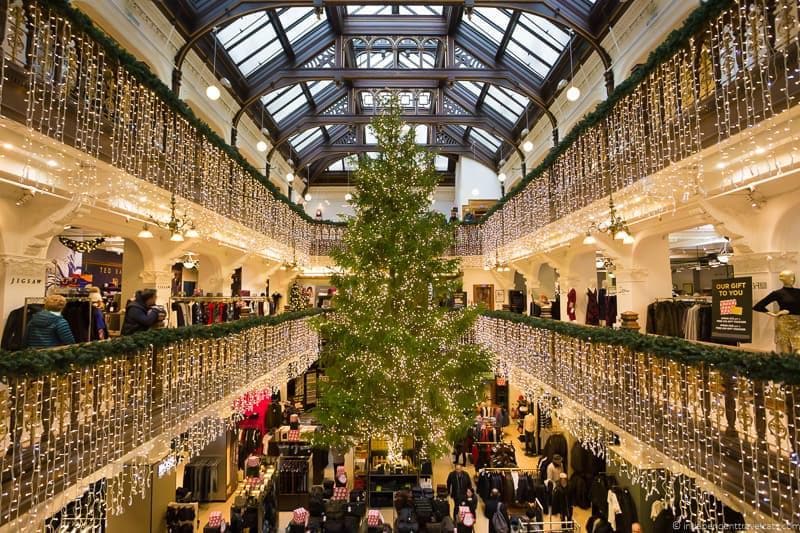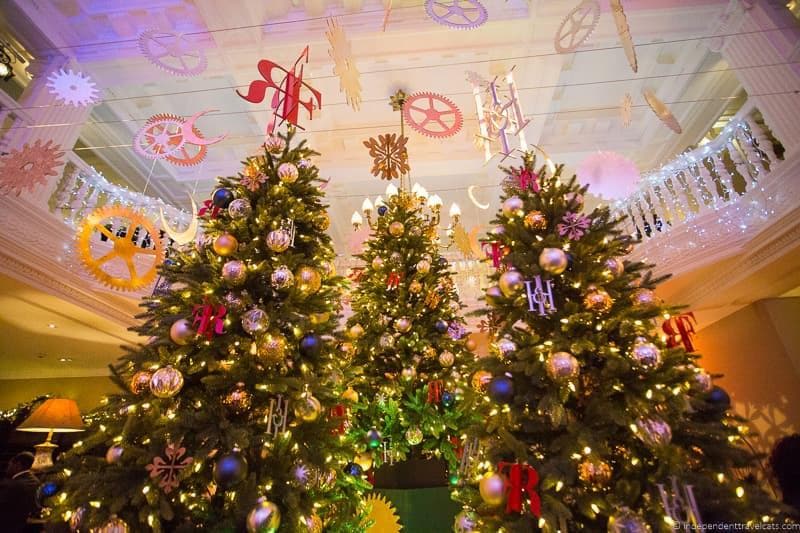 Take Part in a Fun Charity Event
There are a number of fundraising and charity events that take place during the holiday season in Edinburgh. These include performances, lunches, comedy nights, charity walks and runs, charity auctions, concerts, and more! Some are raising money for a number of charities, and some are specific to one type of charity. These are mostly local events, but if you are a visitor to the city you can also buy tickets to participate in many of these and help fund a good cause.
To help find the latest local charity and fundraising events, check out the What's On Edinburgh website, The List, and local newspapers.
There are always at least a couple of holiday themed charity walks and runs in Edinburgh each December. Most have fun holiday related themes and many participants wear a Santa suit or reindeer antlers during the event. There is even an Edinburgh Christmas Charity Festival that hosts a series of events (walks, runs, parade, live entertainment) to help raise money for a number of charities.
One of the longer running charity Christmas events is the Edinburgh Santa Run & Walk each December where adults and children don provided Santa suits and run or walk to help raise money for When You Wish Upon a Star, a UK foundation which helps fulfill the wishes of children with life-threatening illnesses. In 2023, the Edinburgh Santa Fun Run is scheduled for December 10th.
If you will also be celebrating Hogmanay in Edinburgh (Scottish New Year's celebration) and have a bit of a crazy streak, you might want to consider participating in Loony Dook. On New Year's Day, Loony Dook "dookers" participate in a fancy dress parade and then take a cold dip into the freezing River Forth in South Queensferry, just north of Edinburgh. You need to register for Loony Dook well in advance as it always sells out, and some of the money raised from the event goes to local charities.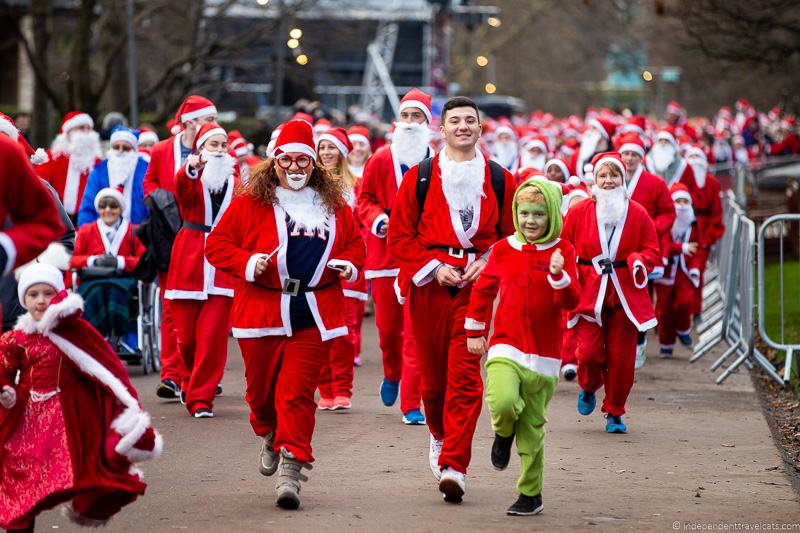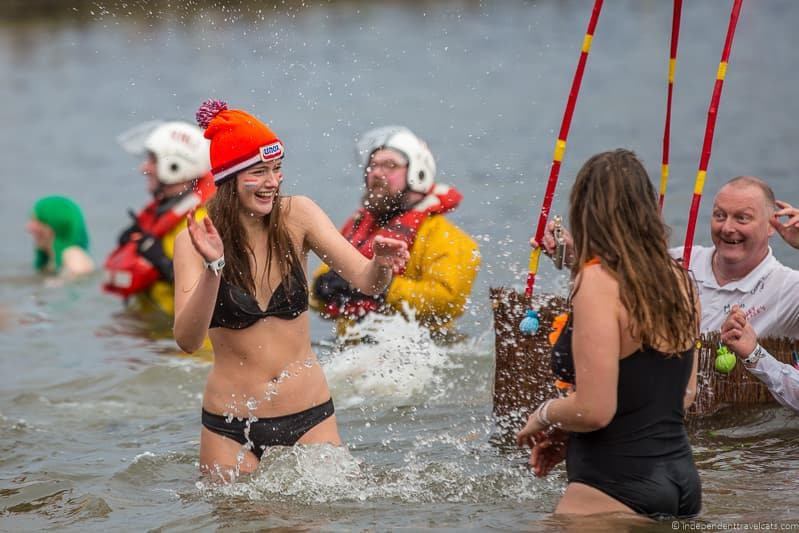 Head to the Special Edinburgh Christmas Events
Each year, there are usually a few new or special events that are part of Edinburgh's Christmas programming, many are free to the public.
For example in 2015 and 2016 there was the Street of Light, a walk through light and sound installation. In 2017 there was Ice Adventure, a walk-through indoor ice and snow sculpture installation, and the Giant Advent Calendar, a daily evening light-and-sound show. In both 2018 and 2019 were outdoor evening silent discos set to synchronized lights. In 2019, there was also a phone-guided night walk and 2 community-focused events.
Each year there is also usually at least one free art-related event. The Winter Windows program has been displayed at Edinburgh's Christmas for the last several years for example.
The Winter Windows program is a collaborative enterprise between Edinburgh's primary schools and local businesses and each year a different theme is chosen. The best artwork entries from students around the city are chosen to be displayed in several areas in and around the city throughout the winter season.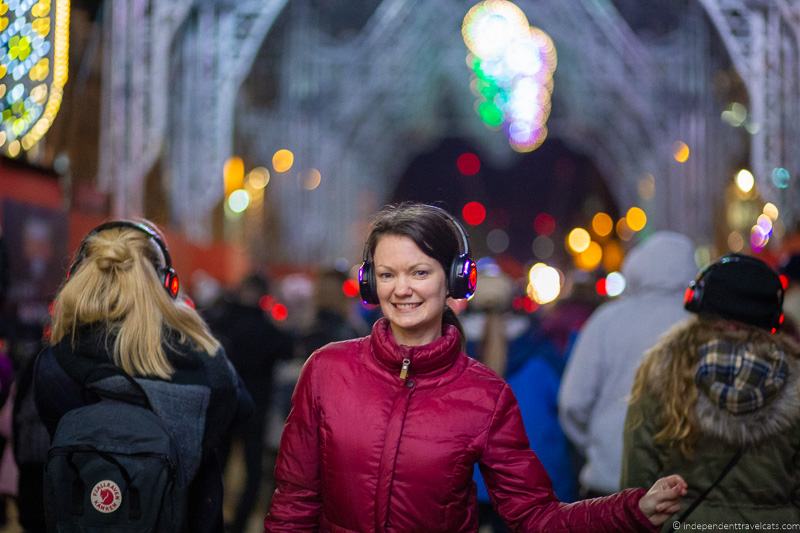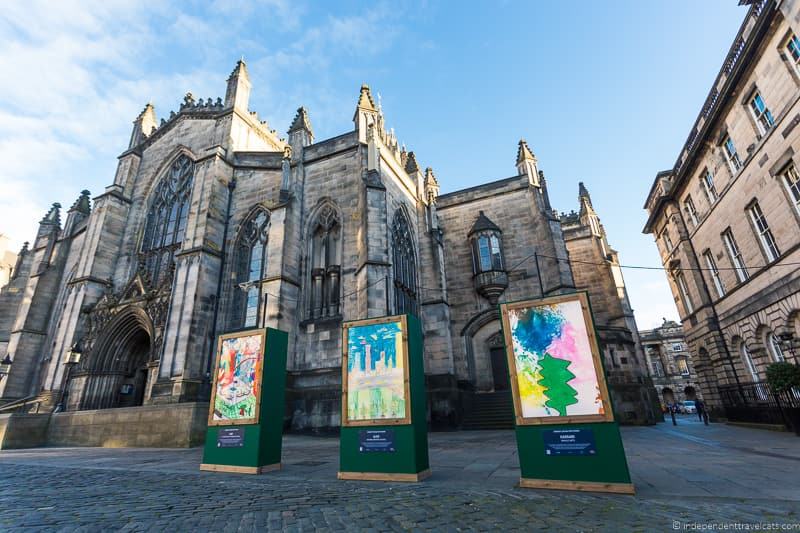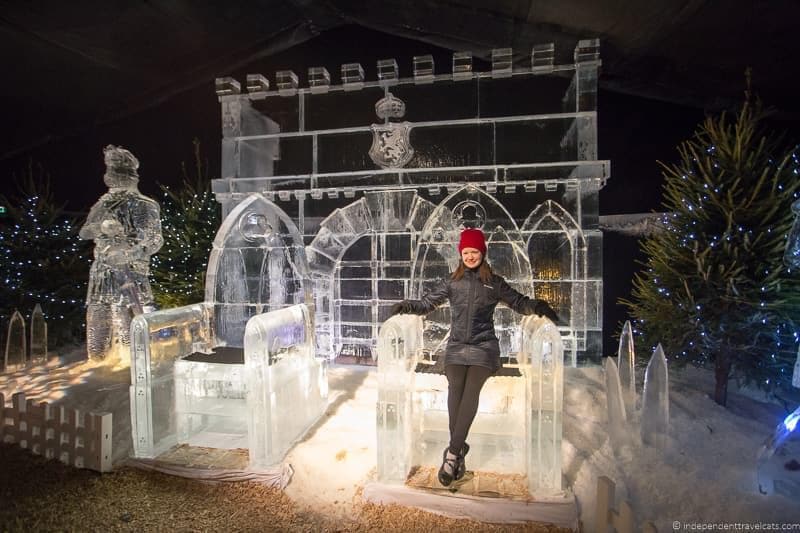 Eat a Tasty Christmas Dinner
If you're in Edinburgh during Christmas, you might want to have a special Christmas lunch or dinner. Traditional Scottish Christmas meals vary widely but usually feature a roasted meat, ham, or fish (turkey is one of the most common), gravy, cranberry sauce, roasted vegetables (potatoes, carrots, parsnips), stuffing, a green vegetable (e.g., peas, Brussels sprouts, broccoli), and kilted chipolta (sausage wrapped in bacon).
The traditional dessert is Christmas pudding (dense suet, molasses, dried fruit, alcohol, and spiced cake), but other common options are clootie dumpling (a Scottish version of Christmas pudding), a Scottish trifle, or cranachan (whipped cream, whisky, honey, and raspberries). Although not typically part of the Christmas Day meal, mince pies are very common snacks or desserts during the Christmas season throughout the UK.
You'll find dozens of local restaurants offering special holiday menus in Edinburgh throughout December, and reservations are recommended at most restaurants. Some places to consider for a special Christmas meal are The Witchery, Ghillie Dhu, The Printing Press, Howies, Tower Restaurant, Hotel du Vin, The Balmoral, The Dome, Monteith's, The Caledonian, Browns, and Prestonfield House. Some popular Edinburgh attractions such as the Edinburgh Castle also have special holiday meals.
Many restaurants are closed on Christmas Day (so do be sure to confirm opening dates and times), but a number are open, especially those connected to a hotel, and offer special Christmas Day meals. So just be aware that most of the nicer restaurants will be serving special fixed menus on Christmas (as well as on Hogmanay), which are generally more expensive than their regular holiday menus.
For Christmas, a few of the restaurants that are normally open on Christmas Day (December 25th) include The Printing Press, Browns, Number One (at the Balmoral Hotel), Ghillie Dhu, and Howies. Each typically offers a special Christmas Day menu. Be sure to book well in advance.
If you are celebrating Christmas in Edinburgh, there are some common Christmas traditions associated with Christmas Day and the Christmas meal in the UK. In the morning, some families may attend church services and most people exchange and open gifts. The main Christmas meal is often served in the late afternoon and accompanied by the pulling of Christmas crackers and wearing paper crowns (usually found inside the cracker). The Advent calendar is taken down today.
Another common UK tradition is listening to the King's Christmas Message which is broadcast live on radio and TV on Christmas Day. Watching Christmas cartoons and films (a couple common ones that were new for me were Arthur Christmas and the animated The Snowman short film) and listening to Christmas music is common throughout December. Many of these are more common in England than Scotland, but are widely practiced throughout the UK.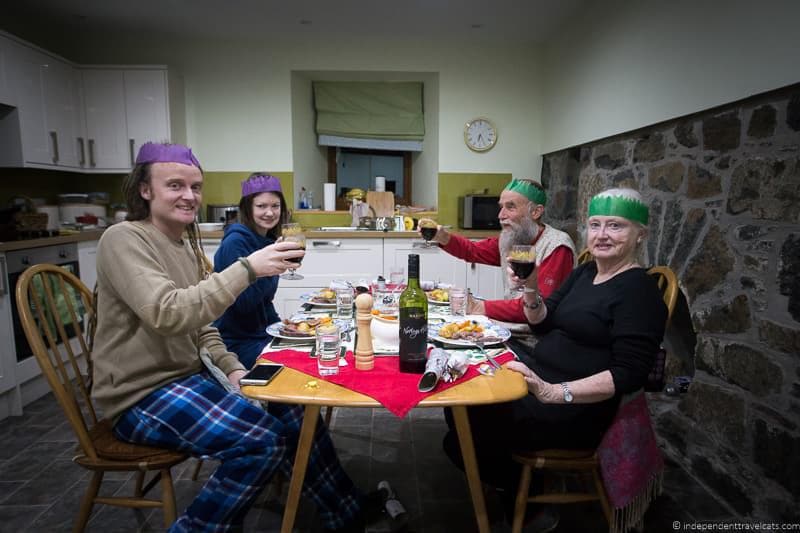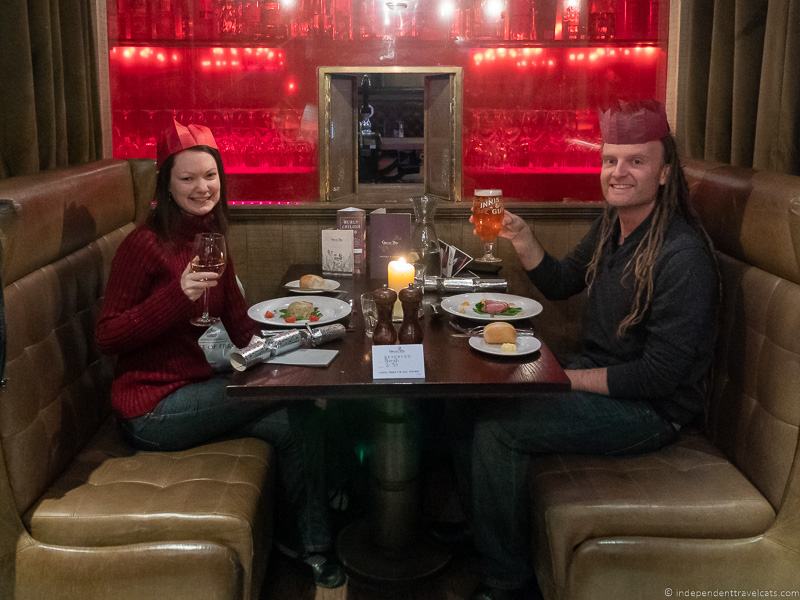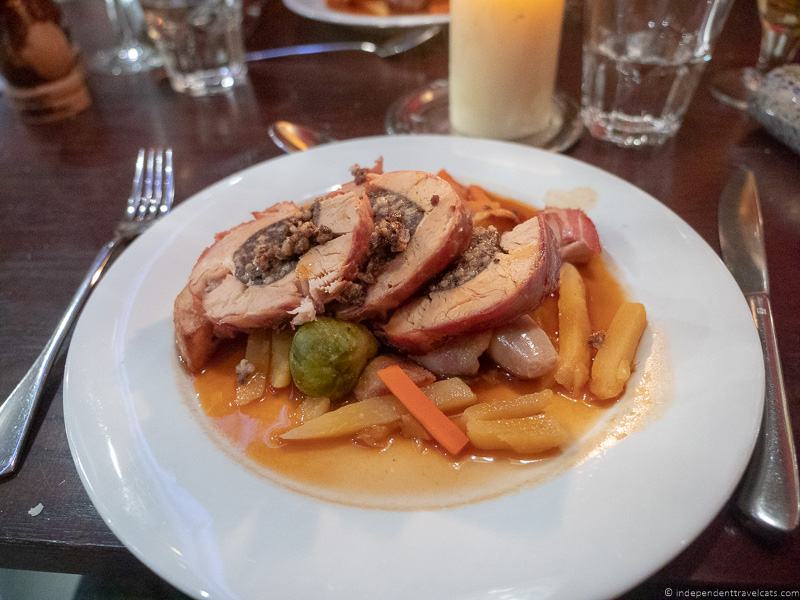 Let your Inner Child Loose on the Amusement Rides
Each year a number of amusement rides are brought in for Edinburgh's Christmas and set in Princes Street Gardens and along George Street. There are normally about a dozen rides geared towards children and families, and then several oriented to adults and thrill seekers.
Santa Land, where many of the children's rides are, also normally features other attractions such as a Santa Train, carnival games, and a Christmas tree hedge maze.
Two popular local favorites are the Star Flyer (spinning swinging chairs that go up really high) and the Big Wheel (a large ferris wheel), both designed for those who don't mind heights!
Tickets for rides can be booked online at the Edinburgh Christmas website (valid for the date you choose) or purchased in person at the Christmas market. If you are looking for the shortest lines, the best time to visit is near the opening times and on weekdays. The rides do typically get busy after 4pm and on weekends.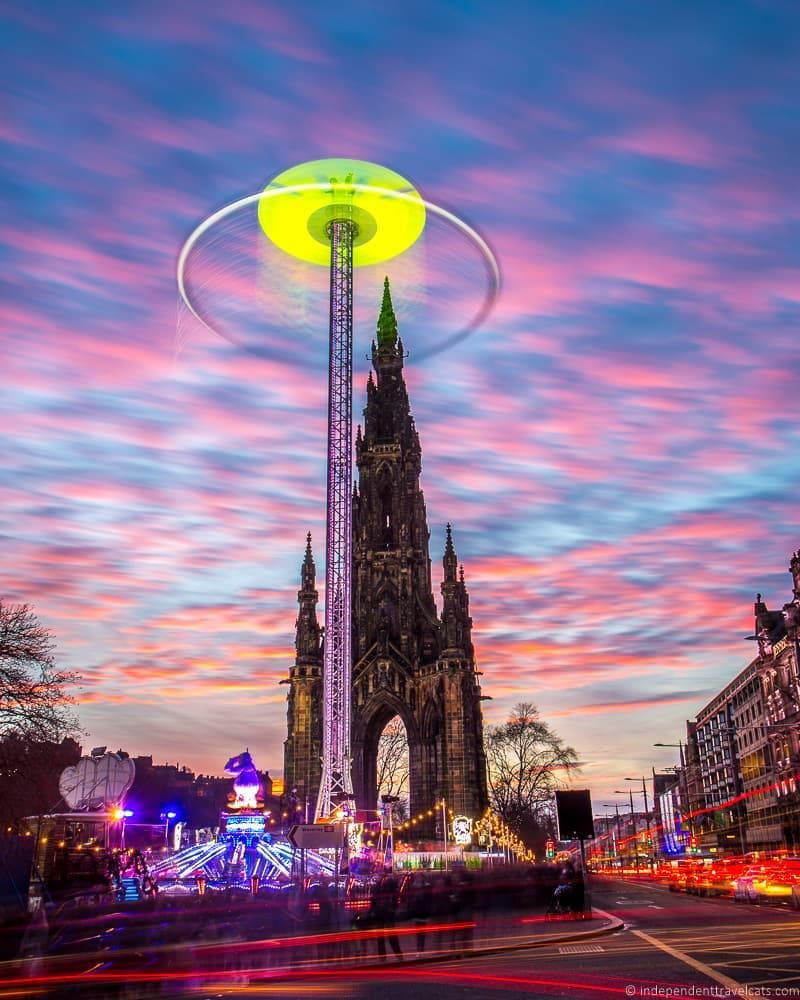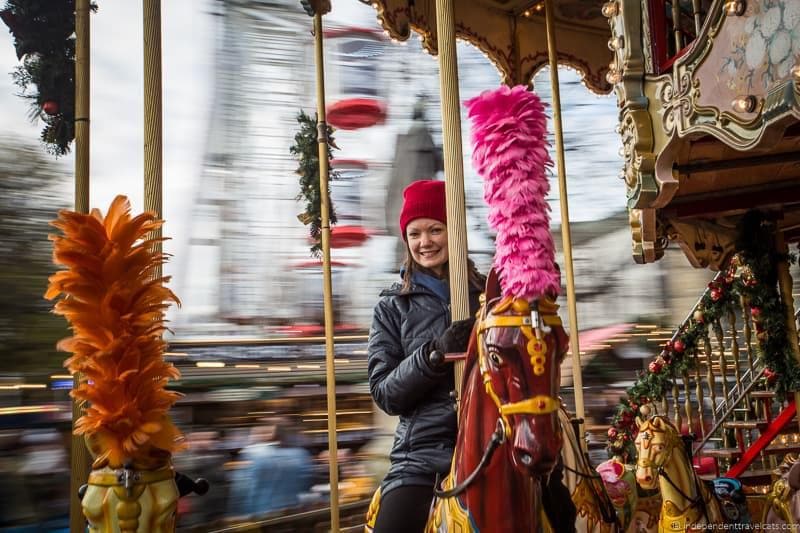 Where to Stay in Edinburgh during Christmas
If you are planning to spend the night in Edinburgh around Christmas, you have a lot of options for places to stay in the city from hotels and apartments to B&B's and hostels. If your main reason for coming is the Christmas and/or Hogmanay events, I'd recommend staying in a central location that is walkable to the Waverley train station and Princes Street gardens which is where the Christmas market is based.
We'd recommend booking in advance to get the best option as prices are higher around the holidays and finding good value options at the last minute can be difficult. Many places are fully booked in advance over Hogmanay.
Below are some centrally located options, from budget to luxury, that are all within walking distance of Edinburgh's main Christmas Market.
Budget Lodging Options
Mid-Range Accommodation Options
Motel One – A popular modern budget design hotel centrally located in Edinburgh's Old Town. Located only a few minute walk from the Edinburgh Christmas markets.
Travelodge Edinburgh Central – A 3-star chain hotel located just a few minute walk from the Royal Mile and a 6 minute walk from the Christmas market.
The Grassmarket Hotel – This 3-star hotel is located within the Grassmarket area and about a 10 minute walk from the Christmas market. Hotel has a quirky and colorful modern decor.
Holiday Inn Express – This 3-star hotel offers well-prices rooms in the Old Town. Located near the Royal Mile and about a 12 minute walk from the Christmas market..
Luxury Hotels in Edinburgh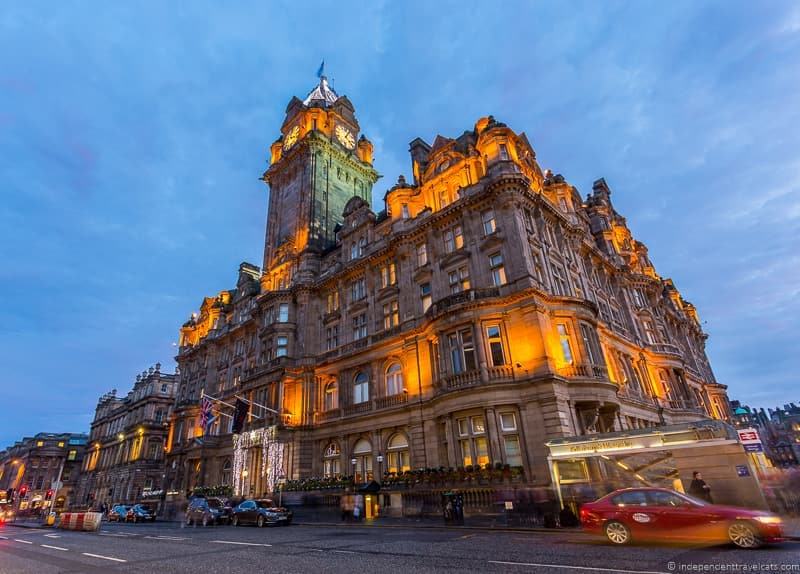 So there are our top 15 things to do to celebrate Christmas in Edinburgh! Of course, if you are visiting the city in December or January, there are plenty of other non-Christmas things you'll likely want to do in the city. Check out our guide for what to do in Edinburgh in winter and our Hogmanay guide.
If you are going to be in Edinburgh later in the winter, check out our guide to Up Helly Aa, which are Viking-led fire-filled festivals that celebrate the end of the Yule season in Shetland.
If this is your first time in Edinburgh, we'd recommend checking our guide to top things to do in Edinburgh and if you're returning we also have a guide to exploring Edinburgh's lesser known attractions. Also if you are looking for what there is to do nearby, check out our Edinburgh day trip guide.
If you have time to explore further afield in Scotland, check out our Scotland winter guide for lots of ideas from visiting the Isle of Skye to Cairngorms in winter to skiing in Scotland.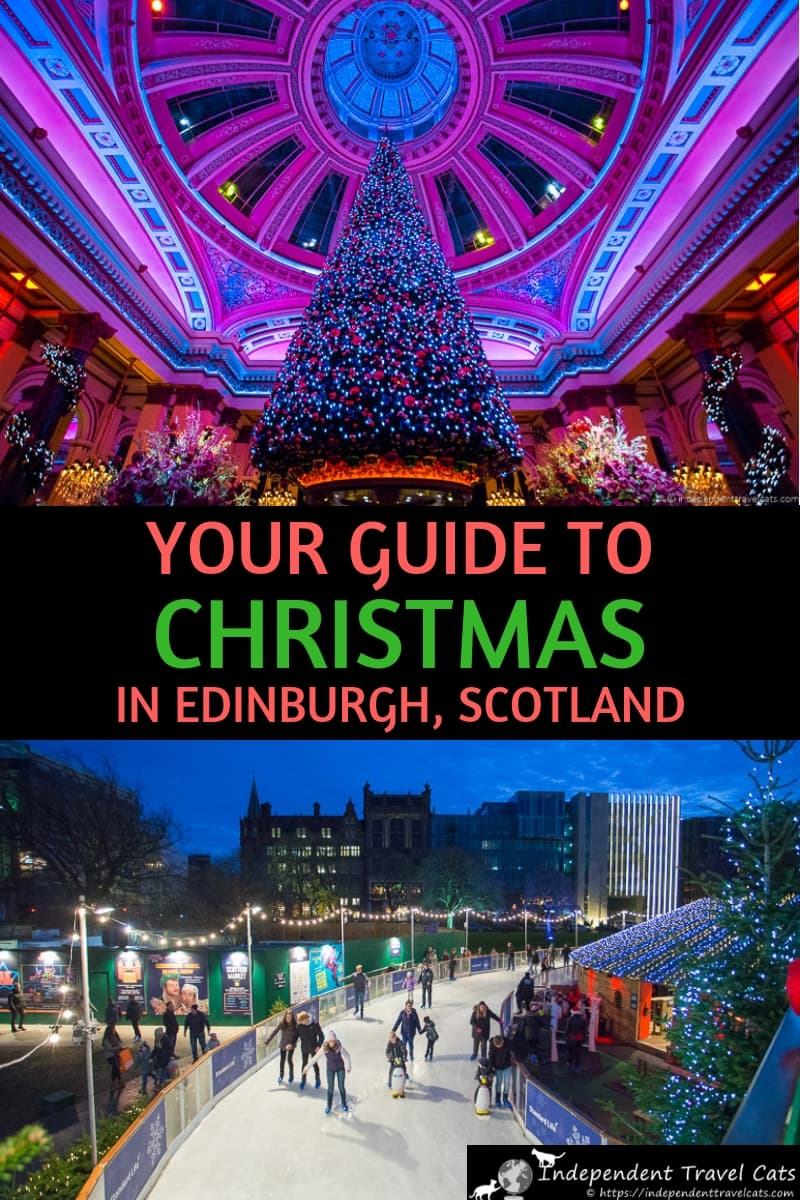 Do you think you would enjoy spending Christmas in Edinburgh? Have you visited Edinburgh in December or for Christmas? If so, we'd love to hear about your favorites things to do during the holidays. If you are going to be visiting, feel free to ask us any questions below in the comments and we are happy to try to help. We love hearing from you!