Winter can be a wonderful time of year to visit the Cairngorms National Park in Scotland as there are scenic winter landscapes, fewer people, and the opportunity to enjoy winter sports.
If you are thinking about visiting the Cairngorms National Park in winter, we've put together a list of things to do in the Cairngorms during the winter that includes skiing, winter hiking, whisky tasting, exploring historical sites, wildlife watching, and visiting popular family attractions.
We'll also provide tips and advice for helping you make the most of your visit based on our own visits to the Cairngorms National Park in winter.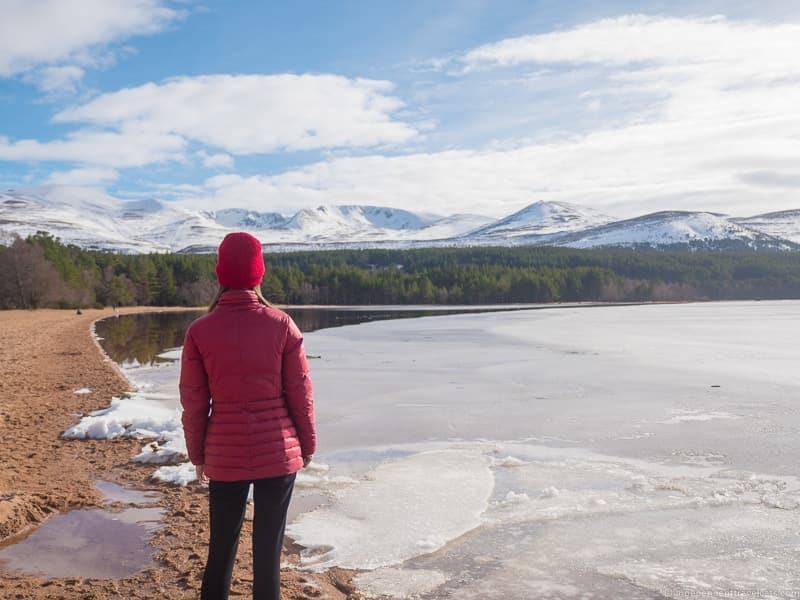 Travel Information for Visiting the Cairngorms during Winter
We'll share how to get to the Cairngorms National Park, how to get around the Cairngorms, where to stay, winter visiting tips, and where to find further resources on planning your trip.
Getting to the Cairngorms National Park?
The Cairngorms National Park is located in the northeastern part of Scotland, within the Scottish Highlands. The Cairngorms is an easy day trip or weekend trip from many places in Scotland. Aviemore, the largest town in the park, is located approximately 30 miles from Inverness, 90 miles from Aberdeen, 130 miles Edinburgh, and 145 miles from Glasgow.
If you are flying into Scotland, Inverness Airport and Aberdeen Airport are the nearest airports to the Cairngorms, although you'll be able to find bus and/or train connections from any airport in Scotland. Rental cars are easy to hire at any of the main airports in Scotland.
Within the UK, the park can be reached by car, regular train (check ScotRail and London North Eastern Railway for service), overnight sleeper train (check the Caledonian Sleeper route and schedule), or bus (check National Express for services).
Getting around Cairngorms National Park?
The easiest way to get around Cairngorms National Park is by car or bus, although you can also get around the area by train, bike, taxi, or hiking. Local train services are operated by ScotRail or London North Eastern Railway, and you can check the local bus services and routes online (most are operated by Stagecoach).
If you are planning to travel around the Cairngorms without a car, I'd check out this brochure (just note it was last updated in 2015) for an idea of the bus, train, and national cycle routes. Bicycles can be rented within the park.
If you are interested in visiting the Cairngorms as part of a guided tour, we can recommend Rabbie's Travel which is an Edinburgh based small group tour company. They operate a few different bus tours that include stops or stays within the park which begin in either Edinburgh or Inverness.
Cairngorms National Park Winter Tips?
Visiting the Cairngorms in the winter can be a great time to visit the park as it a less busy and more peaceful time of the year, there is the opportunity to go skiing and enjoy other snow sports, and there are scenic winter landscapes to admire. Of course some of the downsides are the winter weather, limited daylight hours, and that most of the seasonal businesses in the park are closed during the winter months.
To make the most of your time in the park, you'll want to be prepared for the winter weather by packing warm clothing (we always wear thermal baselayers throughout the winter), waterproof jackets, and durable waterproof shoes. Make the most of your daylight hours by planning ahead, checking winter opening hours, and booking any tours or activities in advance (as needed).
If you are driving, we recommend being prepared by checking local weather and traffic forecasts, carrying basic safety gear, and keeping a set of snow chains in your car just in case you need them.
Hiking and climbing is more challenging in the winter months, and those planning to do longer hill walks or climbs should be prepared with proper hiking and safety gear, local Ordnance Survey maps, a compass, and any needed extra winter gear (e.g., ice axe, crampons, emergency blanket).
The park is less busy in the winter, but the ski resorts and some of the local attractions can get busy during school holidays and weekends when many local people hit the ski slopes. If you are looking for a quieter time on the slopes, avoid school holidays, go during the week days, and arrive near opening time.
Dining options can be limited in certain areas of the park as some cafes and restaurants close during the winter months or have more limited winter hours. Restaurants and grocery stores may also close earlier than you expect. So it is best to think about dining options at least a couple of hours in advance, especially for dinner.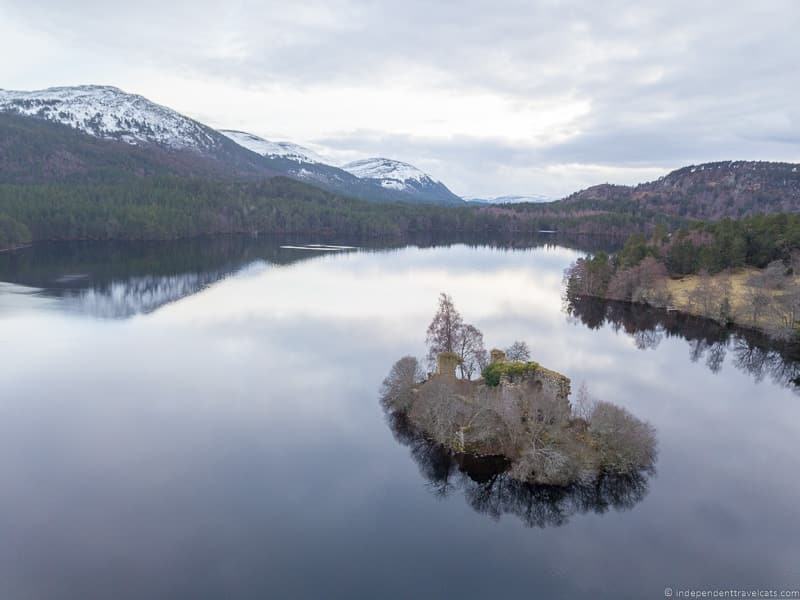 Where to Stay in the Cairngorms National Park in Winter?
To make the most of a trip to the Cairngorms National Park, we would definitely recommend spending at least a night or two to see the highlights of this area.
In the Cairngorms, you'll find a number of accommodation options in the park including cozy bed-and-breakfasts, hotels and inns, hostels, and campsites (wild camping is also an option for those with tents and camping gear).
If you are interested in self-catering options, we stayed in a lovely self-catering cottage by Seasgair Lodges and they specialize in holiday properties within the Cairngorms. You can also check out holiday homes on Booking as well as options on Vrbo which offers a variety of apartments, homes, and private rooms. For more options, see our guide to holiday cottage accommodation websites in the UK.
If you are wondering where to base yourself within the Cairngorms, it depends a bit on what you are looking for and where you plan to visit. It might be helpful to first make a list of the things you want to do and places you want to visit and see where they are in the park before deciding on lodging. So if most of the attractions you want to see are in the eastern part of the park, I'd look for places to stay there.
The park is a mixture of small towns (there are no large towns or cities within the park) and rural areas so it is easy to find a peaceful spot.
In terms of services, Aviemore is the town with the most services (groceries, fuel, restaurants, ski hire shops, cafés, train station), so if you want to be near services I'd search for accommodation options around Aviemore. Aviemore would also be our recommendation for anyone traveling without a car as it has the most public transport connections (trains, buses).
But if you prefer to be on the eastern part of the park, you might search for lodging around Ballater or Braemar.
The park is a mixture of small towns (there are no large towns or cities within the park) and rural areas so it is easy to find a peaceful spot. However, if you are looking for late-night dining or all-day services, these may not be available, especially in winter, so do plan ahead when it comes to dining, groceries, and fuel.
Where to Find more information about the Cairngorms National Park?
For more information about the area, we'd recommend checking the Visit Cairngorms and the Cairngorms National Park Authority websites. If you are planning to ski here, you can read about Laurence's experience skiing in the Cairngorms and our recommend skiing packing list.
Once in the area, we also recommend stopping at local visitor centers which are located in several towns throughout the area to pick up brochures and maps, as well as ask about local sites and events.
If your travels are taking you to other destinations in Scotland, we have loads of posts on Scotland across our two travel blogs and you can find them all here and here. These include things to do in Edinburgh, Edinburgh in winter guide, things to do during winter in Scotland, things to do in Aberdeen, guide to skiing in Scotland, a 2 day Aberdeen itinerary, a guide to visiting Loch Lomond National Park, things to do in Glasgow, and a North Coast 500 road trip guide.
If you have a question about an upcoming trip to Scotland, just leave us your question in the comments section at the end of the post and we will happily try to help.
Things to do in the Cairngorms National Park in Winter
There are loads of things to do in the Cairngorms National Park in winter! We share 12 of our favorite things to do in the Cairngorms during the winter below.
Taste the Local Whisky
Most people who visit Scotland want to sample some of the local whiskies and explore some of the country's distilleries. The Cairngorms National Park is a good place to do it as it is home to several whisky distilleries!
These include Dalwhinnie, Glenlivet, Tomintoul, Speyside, Royal Lochnagar, and Tomatin (located just north of the park boundary). Dalwhinnie, Royal Lochnagar, Glenlivet, and Tomatin all have visitor centers whereas the rest can still be visited by making an advance booking. If there is a specific distillery tour or tasting you really want to do, I'd book it in advance if possible as some can be very popular.
If you are not a huge whisky fan, you can also taste locally made beer and gin. We really like the Cairngorm Brewery in Aviemore which has a great selection of beers and you can also do brewery tours and/or tastings here. If gin is your drink of choice, there is Balmenach Distillery (makes Caorunn gin), and just south of the park is Persie Distillery. Both of the gin distilleries also do tastings and run tours, but you'll need to book ahead.
Most of the mentioned distilleries and breweries give regular public tours and tastings, but some you'll need to book in advance. So check the website or call them before stopping by. Also, note the Scottish drinking and driving laws are very strict, so almost all distilleries offer to-go sample cups for drivers and bikers.
If you are hoping to visit this area mainly for the whisky, you might consider doing a tour from Edinburgh or Inverness so that you can enjoy the tastings at the distilleries without having to worry about driving. This 3 day tour from Edinburgh follows the Speyside Malt Whisky Trail and spends 2 nights within the Cairngorms National Park. There is also this 1 day whisky tour of the Cairngorms National Park from Inverness.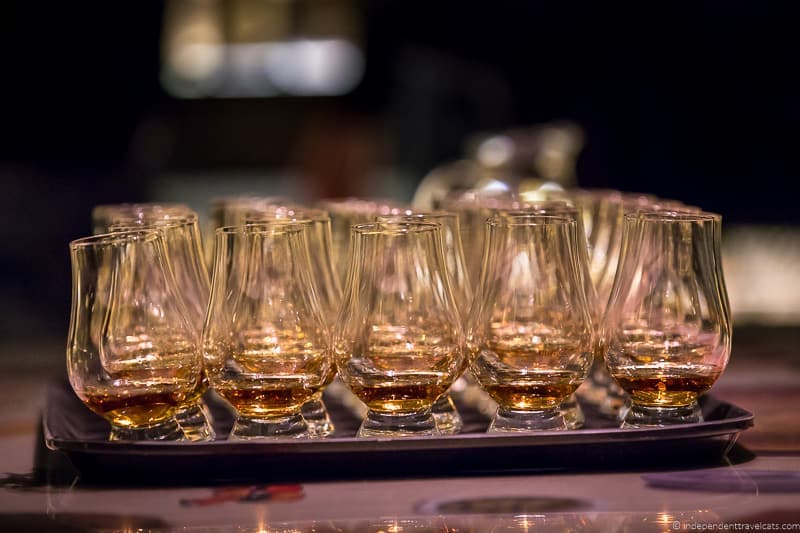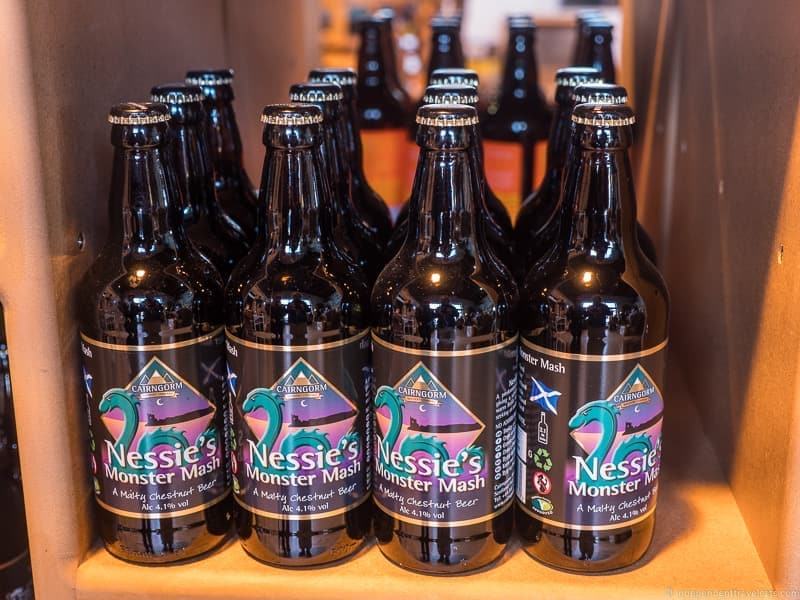 Go Birdwatching or Wildlife Spotting
The Cairngorms National Park is internationally known as a great place for birdwatching and is particularly known for its osprey. Some of the birds you may see here include the golden eagle, white-tailed eagle, ptarmigan, crested tit, Scottish crossbill, capercaillie, and black grouse. But it's not all just birds, there are also a number of other wildlife species, including roe deer, red deer, pine martens, badgers, mountain hare, rabbits, red squirrels, Scottish wildcats, otters, and feral goats.
Although the Loch Garten Osprey Centre run by the Royal Society for the Protection of Birds is not open during the winter months, you can still visit all the nature trails here. The Abernethy Forest National Nature Reserve, where the centre is located, is a great place to hike and spot birds and other wildlife year-round.
If you are keen to spot wildlife but are not familiar with the area, we would recommend checking out the guided tours and services offered by Speyside Wildlife. The guides are not only familiar with the area and the local species, but they share daily updates with each other about the best places to spot different birds and animals. They can tailor a tour to suit based on what you want to see, your group size, the amount of time you have, and your level of mobility. Speyside Wildlife offers day guiding as well as evening spotting opportunities.
Laurence and I did both a day guided trip with Speyside Wildlife and then an evening watch from their wildlife hide. During the day we saw red squirrels, red deer, a golden eagle, black grouse, red grouse, pheasants, and feral goats. Then in the evening at their hide, we saw 2 pine martens, 5 badgers, and several little wood mice. We would have never have been able to see this amount of wildlife on our own. We were very grateful to our driver guide Sally for all the help in spotting during the day, and the hide was a wonderful spot to spy on some of the local night critters! Highly recommend their services.
If you are hoping to see a couple of Scotland's more elusive critters, namely the capercaillie or the endangered Scottish wild cat, you are unlikely to see either of these in the wild as both are shy and few in number. However, if you want to get a close up look the Highland Wildlife Park currently has several Scottish wildcats and two pairs of capercaillie. The park believes that captive breeding of these native animals may be needed to help boost wild numbers in the future.
There is also a herd of over 150 reindeer in the Cairngorms National Park. They are neither truly wild nor captive, but are a well-monitored free-ranging tame herd that was introduced to the park in 1953 from Sweden. Reindeer were once native to Britain but were killed off about 800 years ago, but the Cairngorms National Park has provided an ideal environment for their re-introduction.
If you want to see the reindeer, you can join a daily guided hill trip that starts at the Reindeer Centre, or you can visit the exhibition and see a few of the reindeer at the paddocks in Glenmore. Note that the hill trip tours are dependent on weather and the location of the herd.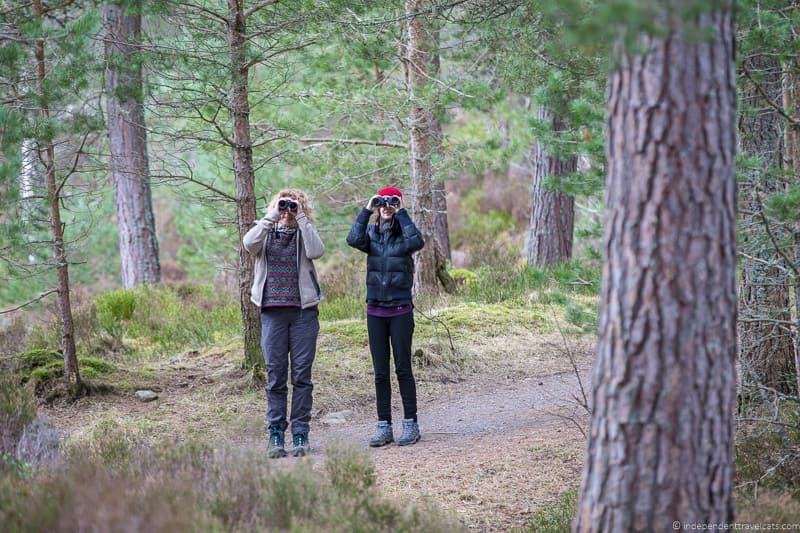 Skiing & Other Snow Sports
The Cairngorms National Park is a winter wonderland for those looking for some fun in the snow, and a popular winter destination for local skiers and snowboarders. The park offers the opportunity to enjoy a number of snow activities which include skiing, snowboarding, sledging, and even dogsledding.
Or you can simply enjoy the snow with more low-key activities like snow walks, snowball fights, and snowman building!
Skiing and Snowboarding
Many people don't associate skiing with the UK, but you can indeed ski in several places in Scotland during the winter! One of the most popular winter activities in the Cairngorms National Parks is skiing. The Cairngorms National Park is home to three ski resorts: CairnGorm Mountain near Aviemore, Lecht near Tomintoul, and Glenshee near Braemar. All of the ski resorts have a variety of runs open to both skiers and snowboarders.
Each of the ski resorts are worth visiting, and you can easily spend a day or two at each resort. But a recommended place to start is CairnGorm Mountain as it is the highest, the best known, and offers the most variety to visitors. Cairn Gorm Mountain is the sixth highest mountain in the UK and has the UK's highest funicular railway.
You can read about Laurence's experience skiing at CairnGorm Mountain for more information on what skiing is like within the park.
Each of the ski resorts have basic ski and snowboard gear for rent and there are also several ski gear hire shops within the Cairngorms National Park. If you want ski lessons or guides, each of the ski resorts provide lessons and/or have a ski school but be sure to check ahead as lessons may need to be booked in advance.
Before heading to any of the ski resorts in the Cairngorms, be sure to check the weather and snow forecasts first, as high winds, lack of snow, severe weather, or avalanches can cause ski resorts to temporarily close during the winter. Laurence was lucky as he had a perfect ski day but the resort was closed the following day due to high winds.
For more experienced skiers, there is also backcountry skiing or ski touring which is done off-piste and outside of the ski resorts. Glenshee currently offers a ski touring ticket for those wanting to do backcountry skiing within their ski resort area that allows skiers to use the resort lifts. You can hire ski guides as well which might be a good idea for those wanting to do backcountry skiing for the first time or those not familiar with the local area.
Cross-country skiing, or Nordic skiing, is another option. If there is a lot of snow on the ground, you can do it just about anywhere outside of the ski resorts in the Cairngorms. If you are looking for groomed trails and a more reliable place for cross-country skiing in Scotland, I'd head a bit west of the park to Clashindorrach Forest near Rhynie in Aberdeenshire.
New to skiing, check out our guide to what to pack for a ski trip. If you are thinking about skiing elsewhere, you can check out this full breakdown of all the ski resorts in Scotland.
Sledging
If you are not into skiing (like me) or have kids who are not ready to ski, you might consider sledding (or sledging as they call it in the UK) if there is enough snow on the ground. We rented a sledge from the Glenmore Ski Shop and went sledding at the nearby Hayfield hill (a popular local hill for sledging after it snows). Whereas you can't go sledging at the ski resorts for obvious reasons, the car parks around the ski resorts are another good place to look for a place to sledge.
Dogsledding
Finally, one last snow sport option is dogsledding. The Cairngorm Sleddog Centre offers the opportunity to learn about and participate in dogsledding year-round, but winter is best as you can get to do it in the snow. They offers a variety of activities and tours from kennel and museum visits to 2 day sled dog safari tours.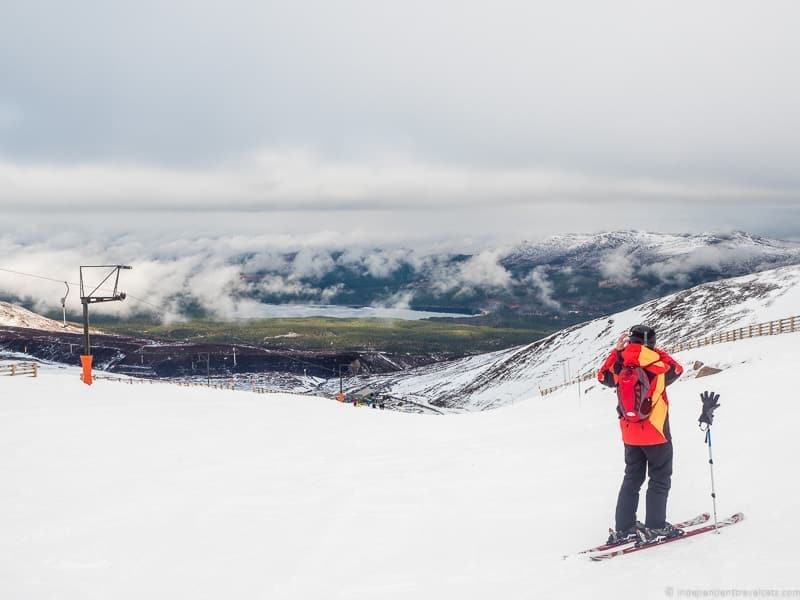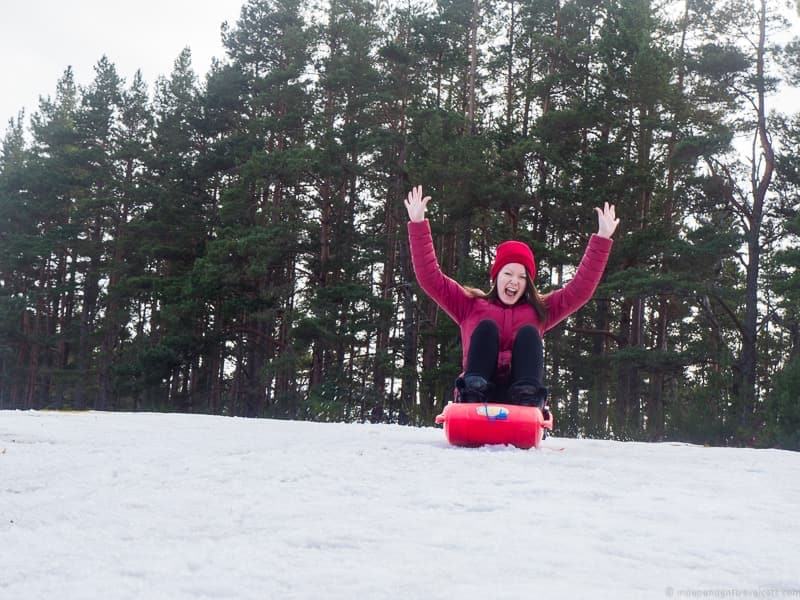 Drive the Snow Roads or North East 250
The Snow Roads is a 90 mile scenic tourist route that stretches from Blairgowrie in the south to Grantown-on-Spey in the north. It goes across the highest public road in Britain. In addition to offering beautiful scenery, the route also links together a series of natural, cultural, and historic attractions. The Snow Roads also go past two of the three ski resorts in the park, Glenshee and Lecht. Here is the official brochure for more information about the route and where it goes.
The Snow Roads are meant to be a scenic route and are a "slow route", a route that is good for scenic touring but not the best route if you need to quickly get from Point A to Point B. If you drive the route, take your time and be careful as it includes some steep hills, bends, and narrow spots.
Given the name, it probably comes as no surprise that these roads can get covered in snow and ice in the winter months which may temporarily close sections of the route or make it unsafe to drive, so do check the local weather forecast as well as the road conditions (the local radio and the Traffic Scotland website are two good places for road and traffic conditions) before setting out. As mentioned earlier, we recommend making sure you have basic safety and emergency gear in your car and we recommend traveling with a set of snow chains during the winter months just in case they are needed.
Part of the Snow Roads route is also part of the new North East 250 tourist route which is a good way to connect the Cairngorms with Aberdeen and the east coast villages. Its a beautiful route and you can check out our 3 day North East 250 itinerary.
If you are planning to also drive the North Coast 500 while in Scotland, the Snow Roads are a great scenic route to take if you are traveling between Edinburgh and Inverness.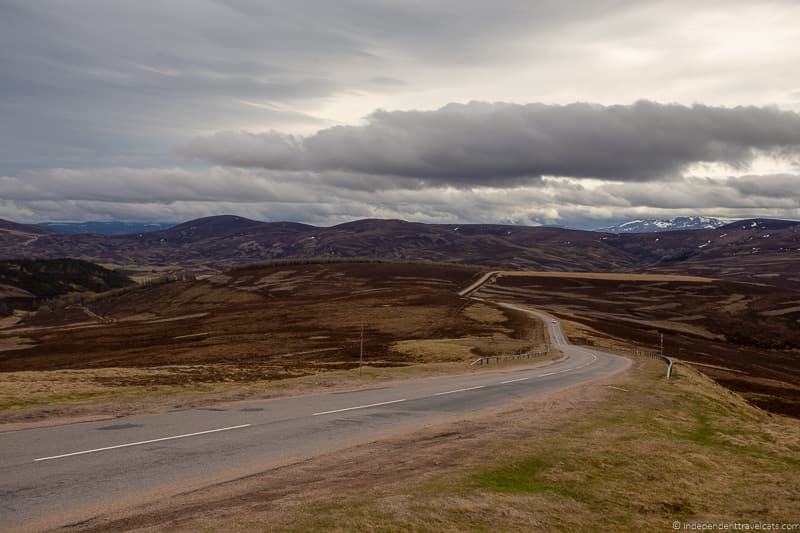 Explore the Local Villages and Towns
There are a number of small towns and villages located within the park that are worth taking the time to explore. Most have cafés, public toilets, shops, and galleries you can visit. Many also have visitor information signs that provide info about historical and cultural sites as well as local walking or hiking paths. Visitor centers and cafes are great places to stop to ask for recommendations on things to do and to learn about local events.
As an example, one of our favorite towns in the Cairngorms is Carrbridge which is located on the western side of the park. Carrbridge is best known for its old packhorse bridge dating back to 1717 which is the oldest stone bridge in the Scottish Highlands. There is also the Sluggan Bridge, a humpbacked military bridge originally built in the 1760's (rebuilt in 19th century after a flood).
Carrbridge has a chainsaw carving trail where you can spot over 30 wooden carvings of things like owls, Nessie, unicorns, dragons, squirrels, etc. as you walk around the town (stop at the Carrbridge Artists Studio for a map).The town also has several shops, galleries, and cafes, a golf course, a play area, and a number of riverside and woodland walking paths. On the edge of the village is the Landmark Forest Adventure Park, which is a popular family attraction. Nearby in Duthil, is the Duthil Old Parish Church and the Clan Grant Centre.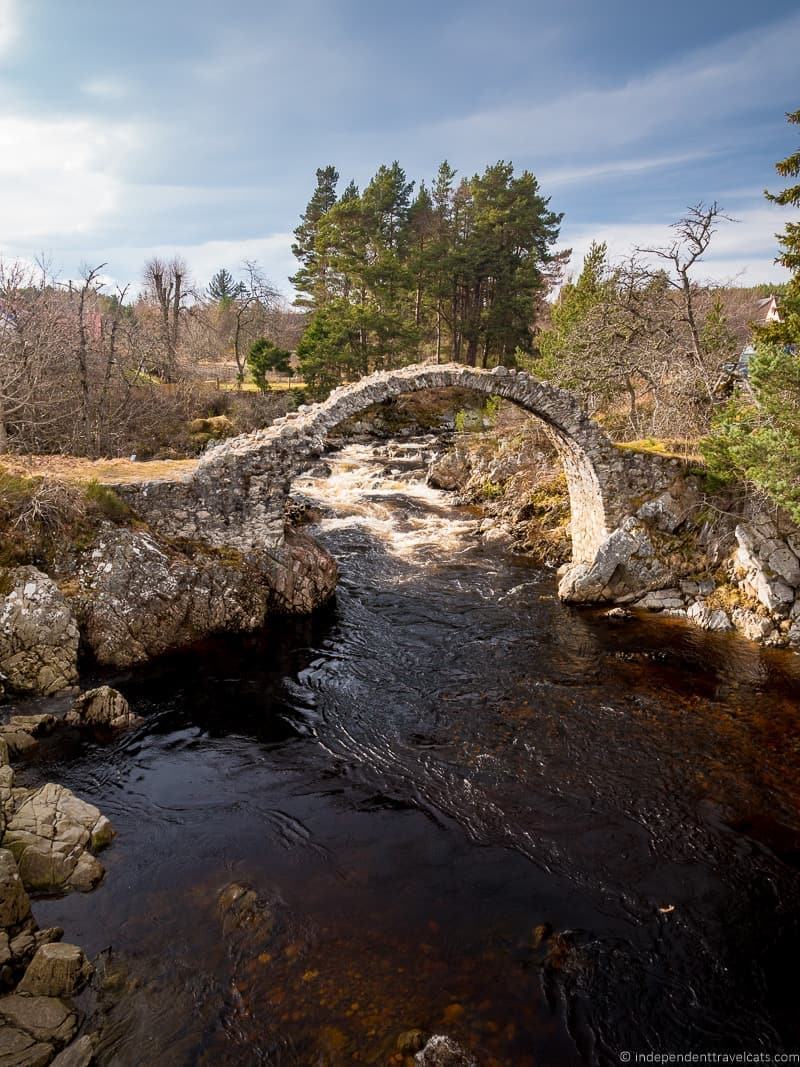 Stay in a Cozy B&B or Cottage
Many people, especially people in Scotland, travel to the Cairngorms National Park to get away and spend some time outdoors. One great way to feel this sense of "getting away" is to find a place to stay that fits with your idea of a peaceful getaway.
In the Cairngorms, you'll find a number of accommodation options, and we'd highly recommend considering some of the charming B&Bs or country house hotels in the area. Chatting with local hosts is a great way to learn more about an area. You might also consider renting a cottage, holiday home, or booking an apartment so that you can prepare you own meals and have more solitude.
When we visited the Cairngorms National Park in winter, we stayed at a self-catering cottage called Foresters Lodge in Nethy Bridge which is one of a number of properties offered in the Cairngorms by Seasgair Lodges. The 4-bedroom pet-friendly cottage came with a kitchen, games room, lounge with a wood fire, outdoor hot tub, a Finnish style sauna, and a collection of games, books, and DVDs. It was also located within a short drive from a grocery store and there was a hiking trail nearby. It was a perfect place for a winter getaway!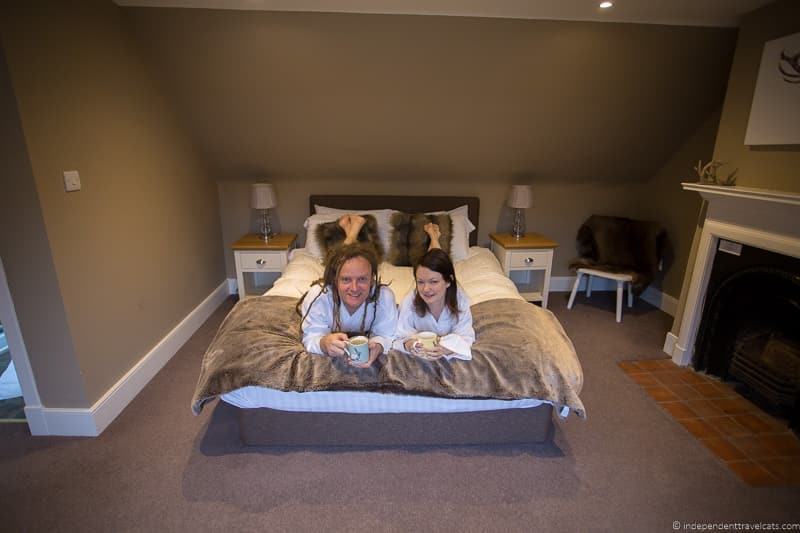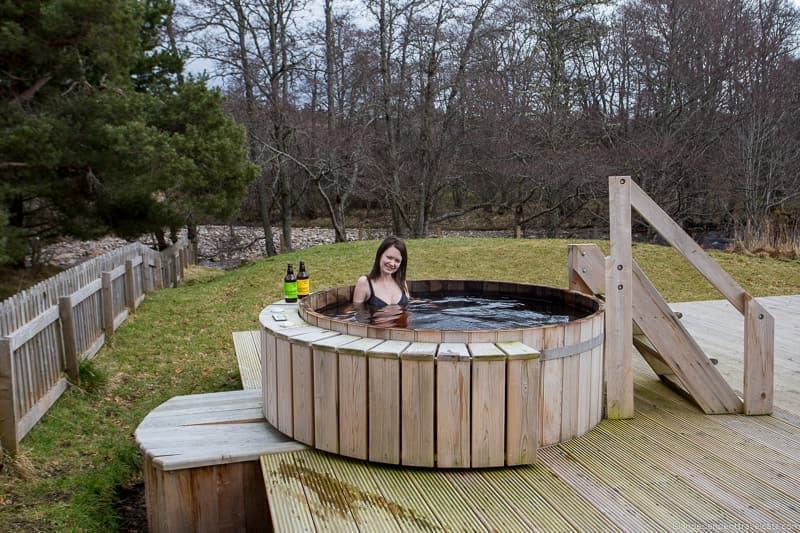 Take a Ride on a Scenic Railroad
The Strathspey Railway in Aviemore operates steam train journeys around the national park. In addition to scenery, most train journeys include a meal, afternoon tea, or whisky tasting. All regular trains depart from Aviemore and make stops in Boat of Garten and Broomhill.
Unfortunately the steam train does not operate on any normal schedule during most of the winter and does not run every day. However, they do run special services in the winter so do check the schedule if you are interested. They also run special holiday train services for Christmas and New Years.
There are also regular trains (operated by ScotRail and LNER) that run through the park and traveling by train is a great way to get to the park if coming from elsewhere in the UK. In addition to regular trains, there is also the Caledonian Sleeper which is an overnight sleeper train that runs between London and Inverness. The train route runs through the Cairngorms National Park, making stops in several towns within the Cairngorms, including Aviemore, Carrbridge, and Dalwhinnie.
You can read more about our own personal experience riding the Caledonian Sleeper as it is one of our favorite ways to get from London to Edinburgh and vice versa.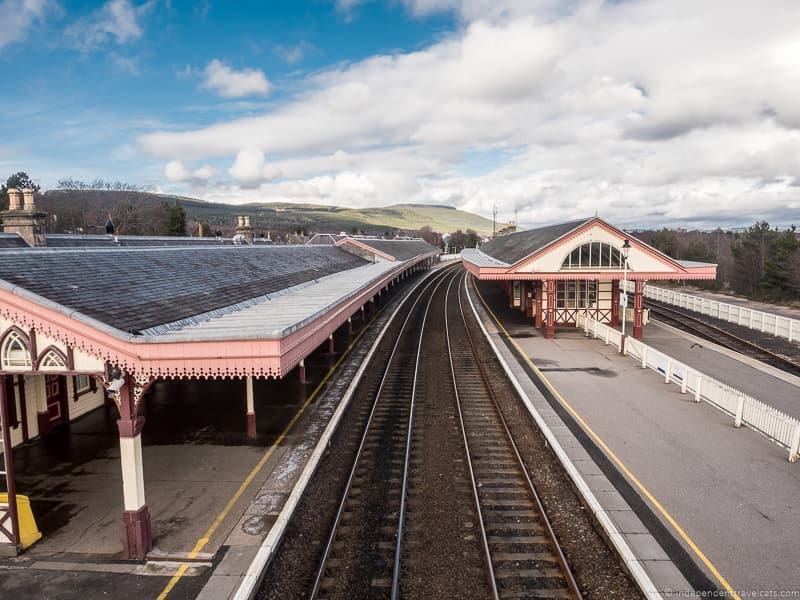 Go Hiking, Climbing, or Biking
The Cairngorms National Park offers a mix of landscapes which include mountains, lochs, farmland, ancient forests, and moorland. The park can be traversed via hundreds of miles of footpaths and bike paths, offering visitors the choice of a wide variety of short easy trails to long-distance mountain trails. Most of the trails within the park, especially the hiking trails, offer scenic views and a good opportunity to spot wildlife.
Hiking in the Cairngorms in Winter
There are loads of local walking and hiking trails and most villages will have some info on local trails. There are options for just about every age and levels of fitness. For example the Uath Lochans near Kincraig offers two main forest hikes, an easier and more family-friendly 1.5 mile hike as well as a more difficult 2.5 mile hike. Those looking for guidance on hikes within the Cairngorms should check out the WalkHighlands website and consider a local hiking guidebook such as this one.
We did hikes within the Craigellachie National Nature Reserve near Aviemore, to Loch an Eilein at Rothiemurchus (a good picnic spot, note there is a small parking fee), around Abernethy Forest near Nethy Bridge (this trail was just outside of our cottage), a couple of the local riverside and forest village paths around Carrbridge, and a hike in Allean Forest (just south of the park).
For those looking for longer trails, there are several well-marked long distance trails that run through the park, including the Deeside Way, Speyside Way, and Cateran Trail. You can explore mountain passes on former old drove roads such as the Lairig Ghru and Lairig an Laoigh trails.
The Cairngorms is home to over 50 munros (Scottish mountains over 3,000 feet) so it is a great place for hillwalkers, munro baggers, and climbers. Two of the best known mountains in the park are Cairn Gorm (4,084 ft) and Ben Macdui (4,259 feet) which is the second tallest mountain in the UK and the tallest within the park. An 11 mile hike combines these two popular munros, and ski touring is a good way to explore these two mountains during the winter if there is a good snow covering. But there are also much easier munros to hike such as The Cairnwells, so you can find one suitable for your fitness and time.
Note that winter conditions makes winter hiking more difficult and potentially dangerous, as snow and ice regularly cover the paths, especially those within the mountains.
All hikers and climbers planning to do any longer hikes should be equipped with standard hiking and safety gear (e.g., first aid supplies, emergency blanket), local Ordinance Survey maps, and a compass.
For the maps, the Cairngorms covers a very large area of Scotland, so make sure you order the correct OS map(s), as there are several that cover different areas of Cairngorms. For instance, this map covers the Aviemore & Cairn Gorm Mountain area whereas this one covers the Glen Shee and Braemar area.
If there is snow and/or ice along the trails you intend to hike, you'll also want to bring along an ice axe and crampons.
Biking in the Cairngorms in Winter
Those on two wheels will want to check out the local cycle paths and mountain bike paths, which range from flat paved family-friendly routes to difficult mountain routes. Check out this page for both road cycle and mountain biking routes within the park.
The Cairngorms National Park is known for being one of the top mountain biking spots in Scotland. Just note that the winter weather can make mountain biking more challenging and potentially dangerous so do check on trail conditions and weather forecasts before setting out.
Bikes, including road bikes, mountain bikes, and electric bikes, can be rented within the park.
Practice your Winter Photography
Winter is a great time to practice your photography. The snow along with the soft winter light makes for some interesting photography possibilities. Winter also means that sunrise is not too early and sunset is not very late, so easy to capture both in one day without sacrificing any sleep!
Winter can also make it easier to see certain types of wildlife that stand out more clearly against the white backdrop and barren trees. The snow also drives some animals, like deer, out of the mountains to seek more food at lower elevations so winter is a great time to spot them.
Some of the places we enjoyed taking photos were Loch Morlich, Loch an Eilein, Queen's View (just south of the park), and along the Snow Roads drive. But you can find scenic spots and lovely views of the mountains and lochs from so many spots! If you are not used to shooting in cold weather and/or wintry landscapes, you can check out our winter photography tips.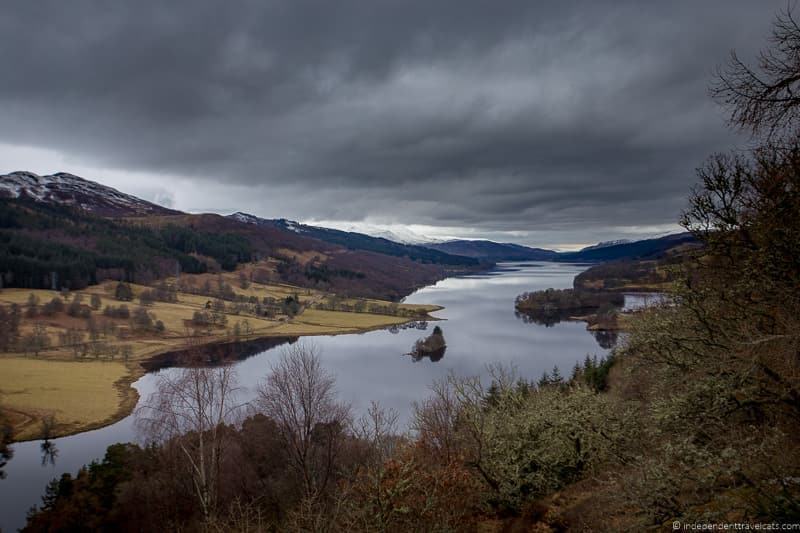 Go Golfing
The modern game of golf originated in Scotland and it is therefore not surprising that you can find about a dozen 9- and 18-hole golf courses within the Cairngorms National Park. Many of the courses here date back to the 19th century and most of them are open year-round. The courses offer a range of challenges and most come with scenic views of mountains, lochs, and/or rivers.
One of the better known courses is the scenic Boat of Garten Golf Club which was designed by James Braid. A couple of other courses include the Braemar Golf Club which is the highest 18-hole golf course in Scotland (at over 1,200 feet above sea level) and the well-reviewed family-friendly 9-hole Carrbridge Golf Club.
Check out this page for a full list of golf courses located within the Cairngorms National Park.
Visit Historical & Cultural Sites
You can also spend time learning about the history of this area by visiting some of the historical and cultural sites within the Cairngorms National Park. These include things like ruined castles (e.g., Drumin Castle), art trails (e.g., Frank Bruce Sculpture Trail), Pictish ring forts, clan history centers, and old parish churches.
For example, some of the places we visited on our most recent winter trip was the Ruthven Barracks in Ruthven (former military barracks on site of former castle), the 18th century cattle bridge and the sculpture trail in Carrbridge, a preserved Automobile Association motoring box (Box #472) near Ballatar, and an 18th century farmstead and Pictish ring forts located in Tay Forest Park (just south of the park).
The park does have a number of small museums, castles, and heritage centers, but almost all of these close for the winter and then don't reopen for the new season until April. However, there are some ruined castles and forts you can see while hiking (like Drumin Castle) and you can view some castles like Braemar Castle from the road at a distance.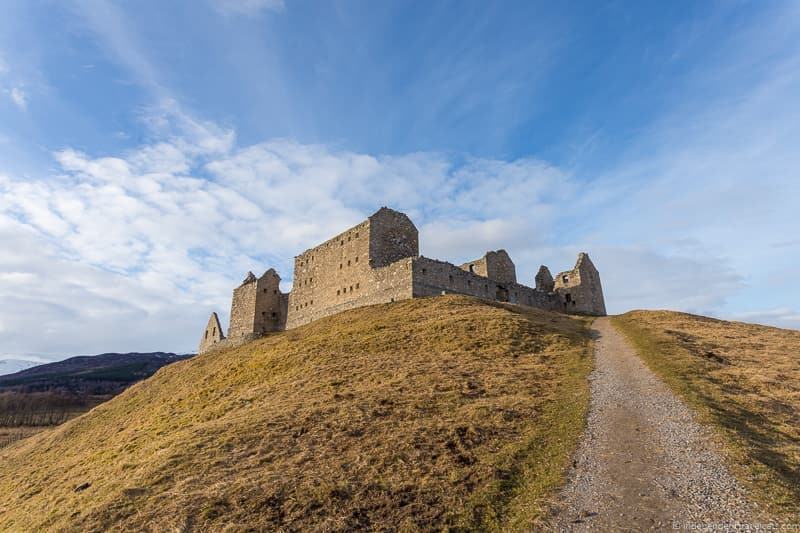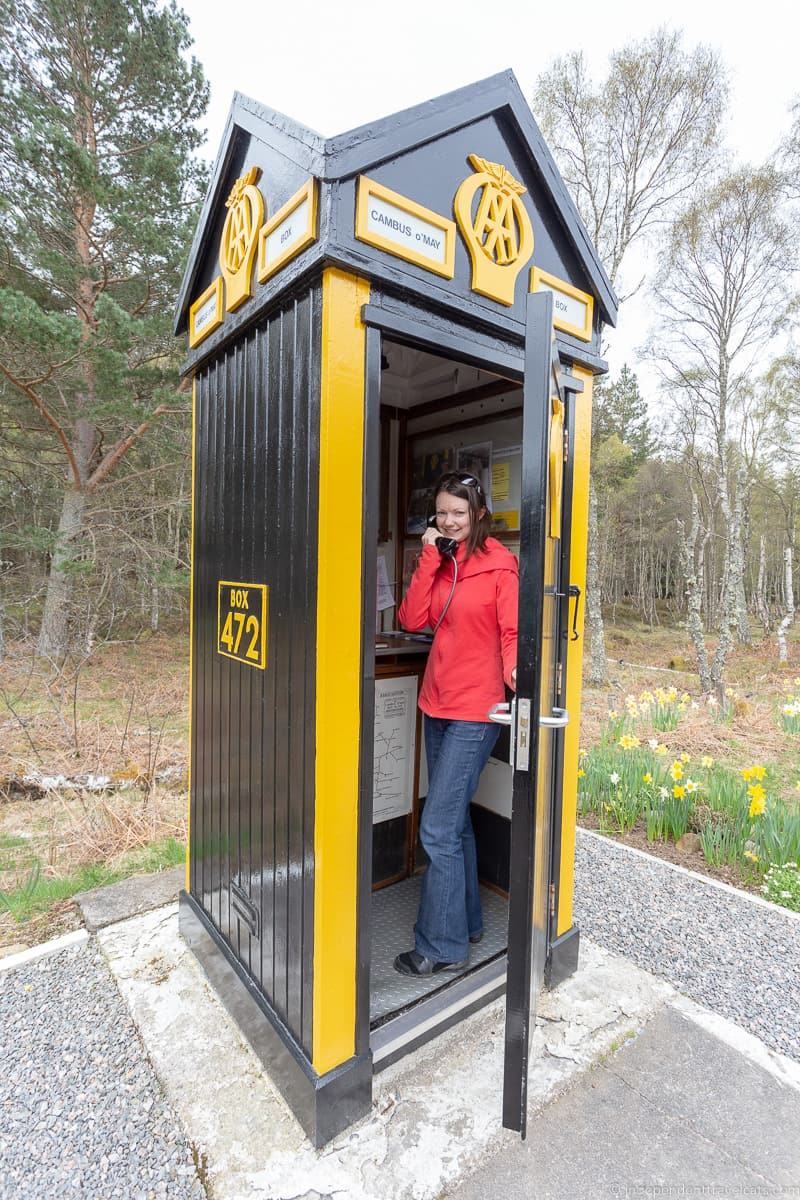 Enjoy the Family Attractions
Families are likely to find plenty of things to do among the already mentioned options whether it be snow sports, hiking, or enjoying learning about the local wildlife, but there are also a number of attractions in the Cairngorms that are designed specifically for children and families. Although some of the family attractions close in the winter months, families will still find a number of places to enjoy.
Landmark Forest Adventure Park
One of the most popular family attractions in the Cairngorms is Landmark Forest Adventure Park in Carrbridge. The park offers a bit of everything for just about any age group from small rides to water rides to a parachute jump simulator. The Landmark Forest Adventure Park also offers a forest trail, a butterfly house, an indoor illusions room, and a family-friendly restaurant. If the weather is good, winter is a great time to visit as the crowds are low and the wait time for rides are minimal.
Highland Wildlife Park
A very popular animal attraction is the RZSS Highland Wildlife Park near Kincraig, which has both exotic and native wildlife species. Currently, the most popular attraction at the park is the polar bears. A new polar bear cub, Hamish, was born in December 2017 here which has attracted a lot of visitors.
But there are a number of other species at the park including red panda, snow monkeys, amur tigers, camels, owls, wolverines, and deer. As mentioned earlier, the park also has a few local species like the Scottish wildcat, red deer, and capercaillie and there are also some woodland feeders that regularly attract wild red squirrel.
Part of the park you explore by walking through it like a traditional zoo, but the rest of the park is a drive through experience where you drive your own car through pastures that have a number of hooved mammals, including red deer, European bison, takin, elk, and Przewalski's horses.
Other Family Attractions
There are also a few other year-round family-oriented attractions in the Cairngorms. One is TreeZone in Aviemore which offers two forest rope obstacle courses for children age 7 and up. TreeZone is open year-round but has limited opening hours in the winter (usually only weekends and school holidays, so do check the website).
Another is the Alvie Estate near Aviemore which offers a variety of fun family-friendly activities including archery, pony trekking, deer feeding, zip lining, estate tours, fishing, Segway tours, and camping. Be sure to book any activities in advance.
Finally, there is the Wildcat Experience in Newtonmore where families can go in search of over 100 painted wildcat models hidden all over the village. If the Wildcat Centre is open, kids can get a certificate and other prizes for spotting 25 or more of the wildcats.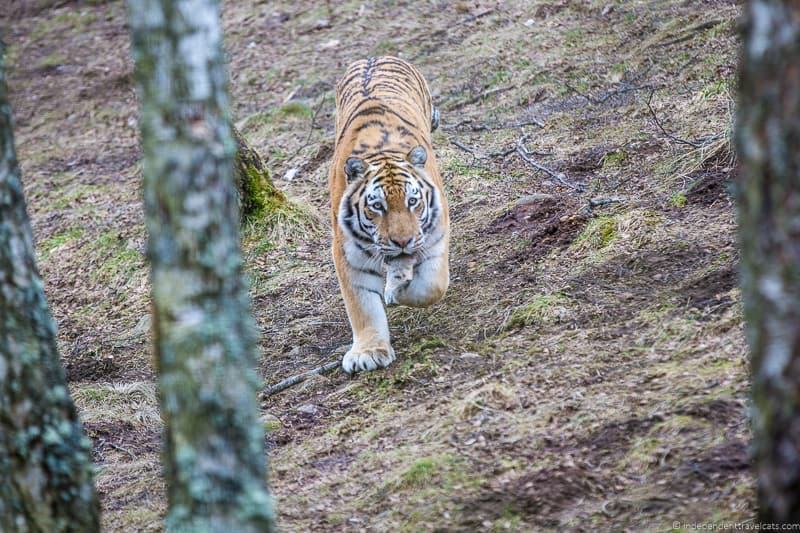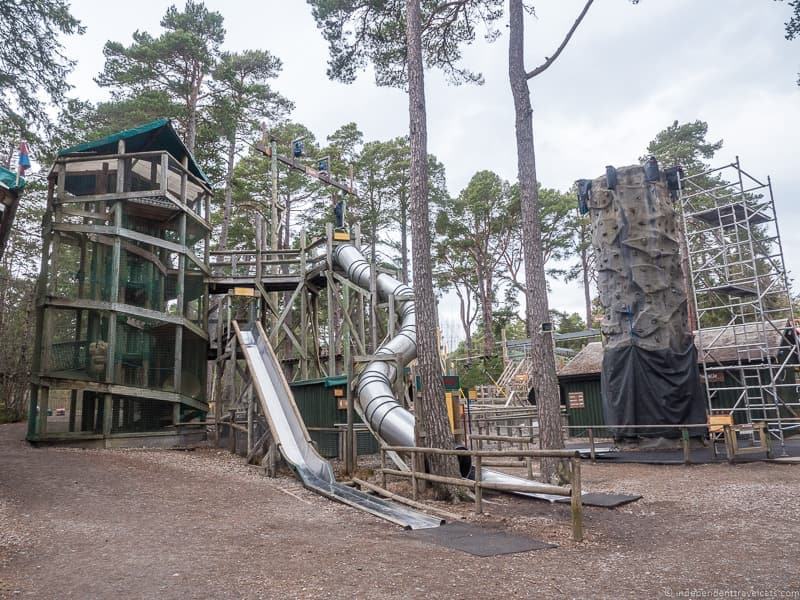 So there is our list of things to do in the Cairngorms National Park in winter! Have you visited the Cairngorms? If so, do you have any places you'd add to this list? If you haven't visited yet, would you add the Cairngorms National Park to your Scotland itinerary? As always, feel free to ask us any questions you may have about things to do in the Cairngorms or anywhere else in Scotland!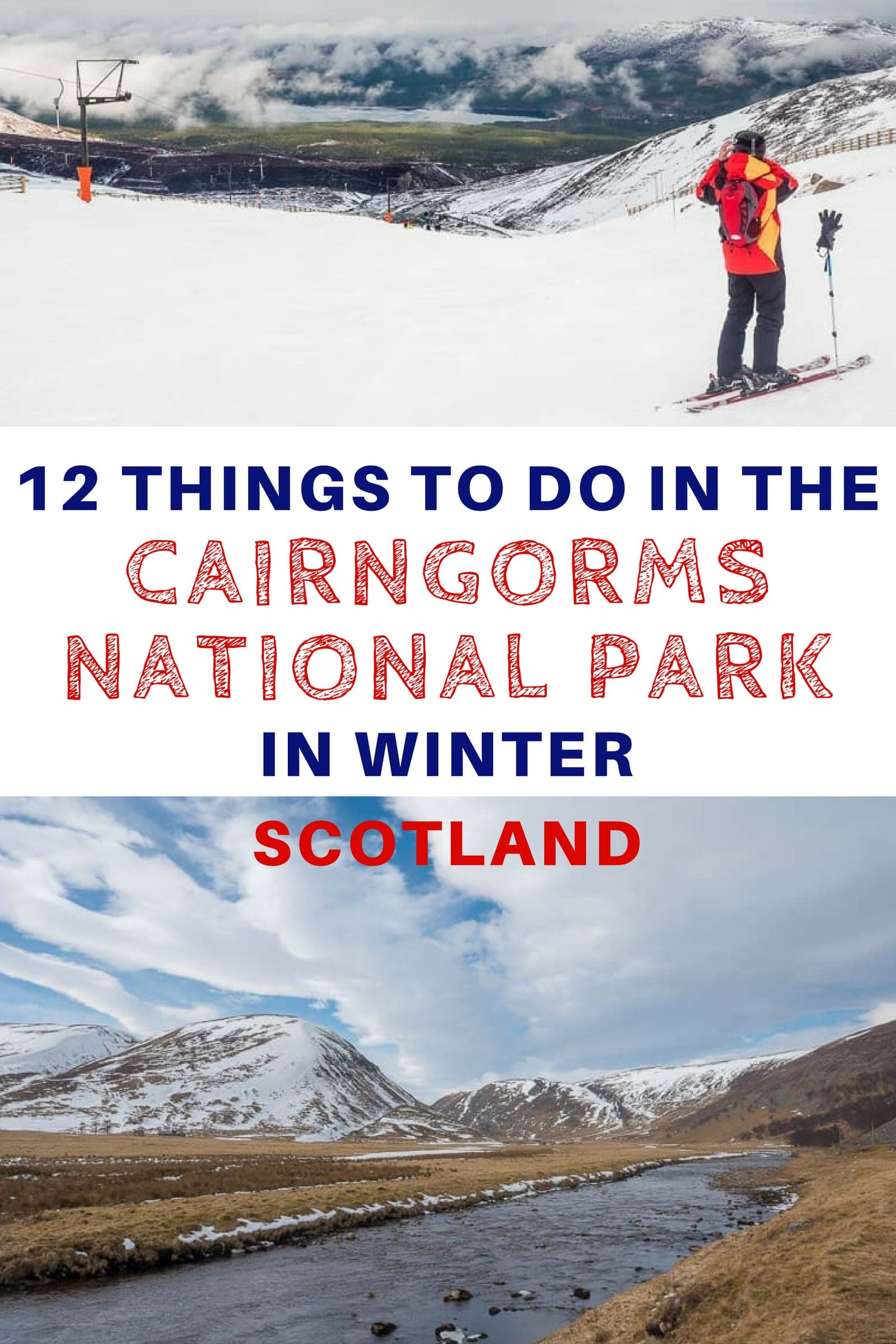 **Disclosure: We were supported on our trip to the Cairngorms National Park by Visit Cairngorms, who helped us plan our itinerary and arranged some complimentary visits and activities to assist us in writing about our experience as travel writers. Our three nights of lodging were provided by Seasgair Lodges. We covered all our other expenses ourselves, including food and transport. As always, this article contains only our own honest thoughts and opinions. You can read more in our Ethics Code about how we accept work.**