The North Coast 500 is a 516-mile scenic route along Scotland's northern coast that begins and ends in the city of Inverness, the capital of the Scottish Highlands. We've put together this comprehensive North Coast 500 guide to help you plan the perfect North Coast 500 road trip in Scotland.
The NC500 route offers visitors the opportunity to see rugged landscapes, frolic on sandy beaches, spot wildlife, visit museums and heritage sites, stay in castles, sip whisky, sample the local produce, and get to know the people who live there. The route was designed to encourage more visitors to visit this sparsely populated region of Scotland and it has been very successful.
Laurence and I have driven the full route several times and we have put together this guide to help others who are planning their own North Coast 500 road trip. We'll explain the North Coast 500 route, what you can expect to see, the best time of year to plan a road trip, how many days you need to drive the NC500, suggestions on where to stay and eat along the route, what to pack, and tons of other tips and advice on driving the North Coast 500.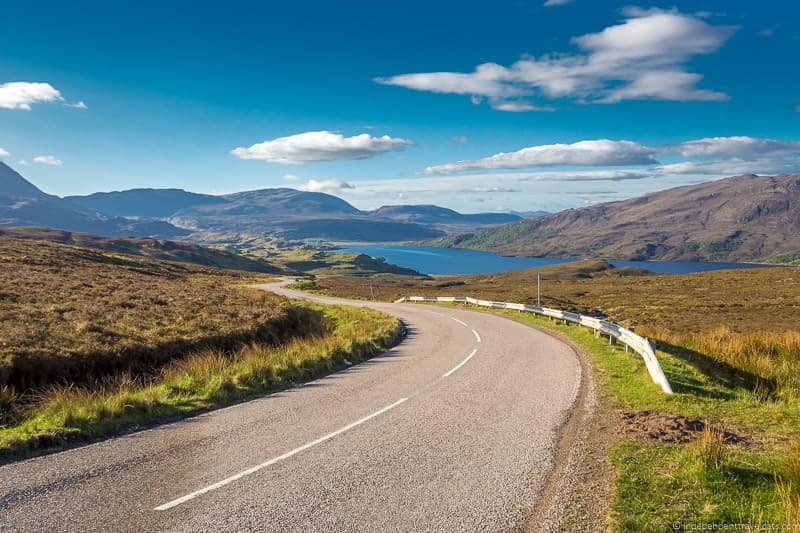 North Coast 500 Road Trip Planning Guide
Planning a North Coast 500 road trip can be a bit overwhelming as it is a relatively new route and there isn't as much information available online or in guidebooks compared to other top road trips around the world. But not to worry, we'll provide all the information you'll need to plan your NC500 road trip.
In this first section we'll try to answer the most common questions such as: what is the route, how many days do you need to drive the North Coast 500, when is the best time of year to drive the route, where should I stay along the NC500, how far ahead to starting booking, and other common questions.
Then the second section will explain how to find and stay on the North Coast 500, provide driving safety tips, list local car and campervan rental agencies, and discuss guided tour options. The last section provides packing tips and a list of supplies you may need for your NC500 road trip. So let's get started!
What is the North Coast 500 Route?
The North Coast 500 (NC500) was created in 2014 by the North Highland Initiative, which is a non-profit organization that was established by Prince Charles in 2005 in an effort to develop economic growth across the North Highlands. Following its creation, private investment was raised and the route is promoted by a for-profit corporation called North Coast 500 Ltd. The company provides a number of resources for both visitors and local businesses.
The NC500 is not an actual single road or highway like Route 66 or the Pacific Coast Highway, but is a series of existing roads that form a loop around the northern Highlands.
The route is just over 500 miles and mainly hugs the northern coast of Scotland, hence the name. It was designed to showcase the natural beauty and local businesses in this part of Scotland which has previously received a relatively low level of tourism. It has become a major tourism success in Scotland with tens of thousands of people having already driven the route.
The North Coast 500 route runs 516 miles to and from Inverness, forming a loop around the northern Highlands. So if you drive the full route, you'll end up where you started which can be very convenient if you are flying in and out of Inverness or renting a car.
However, you can of course start and end your drive wherever you please. The route runs through a number of loosely defined areas or historical counties in northern Scotland including Inverness-shire, the Black Isle, Wester Ross, Easter Ross, Sutherland, and Caithness.
What Will I See Along the North Coast 500 route?
The North Coast 500 route follows the main roads across the coastal edges of the North Highlands. The largest city (by far) is Inverness with a population of close to 50,000 people and the next biggest places are towns and villages like Ullapool, Durness, Dornoch, Wick, Thurso, and Lochinver which each have a population of under 2,000 people! So expect to spend time in lots of small villages and rural areas.
The highlights of the route for many people are the scenic views along the coast and the feeling of "being away" from it all for a while. Scenery includes rugged coastline, beaches, rural farmland, marshland, rivers, forest, lochs, and munros (Scottish mountains over 3,000 ft high). You'll also have the opportunity to see local wildlife such as deer, squirrels, pine martens, birds of prey, seabirds, and sea mammals such as dolphins, whales and seals.
Of course there are also loads of sheep and the iconic Highland coos which you'll spot in the fields. In addition to nature and wildlife, there are loads of things to see and do along the route which include hiking, golfing, castles, heritage sites, prehistoric sites, a geological park, museums, beaches, whisky distilleries, and much more.
You can also sample the local food of the Scottish Highlands and stay in unique lodging from simple B&B's and inns to grand family country homes to luxurious castles. If you want to know more about specific places to see and visit, you can check out Laurence's post about some of the highlights of the North Coast 500 and our detailed North Coast 500 itinerary.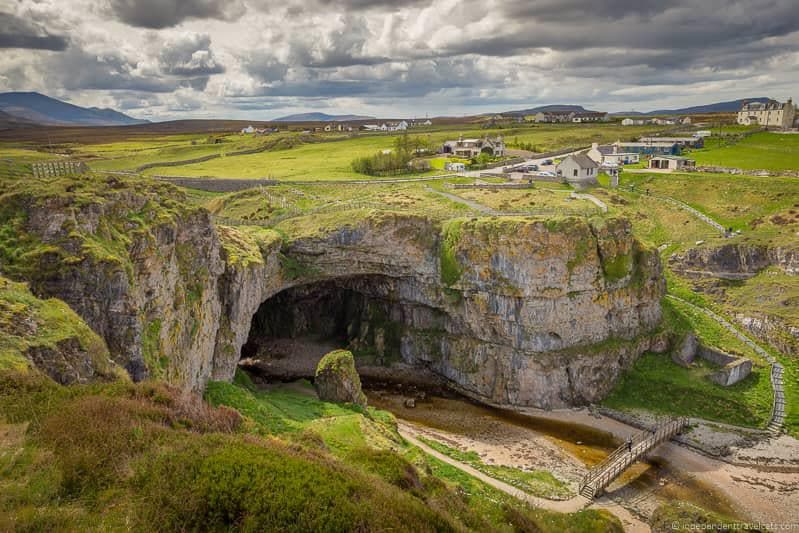 Is the North Coast 500 similar to Route 66?
The North Coast 500 is often called "Scotland's version of Route 66", especially by mainstream media. In some ways they are similar in that they are great routes for a road trip and both offer some great scenery and attractions along the way.
We have driven Route 66, and we can say that there are a lot of differences between a historic route that spans over 2,400 miles and crosses 8 U.S. states and the North Coast 500. The NC500 is a mainly coastal route that goes through small villages and rural areas in a sparsely populated area of northern Scotland.
If you've driven Route 66, don't expect the vastly varied landscapes, the range of small towns to big cities, quirky roadside attractions, or historic diners of Route 66. It is probably more similar to Ireland's Wild Atlantic Way but every route has its own unique personality and charm!
Drive Route 66 for American roadside culture and drive NC500 for Scottish Highlands culture, historical sites, and scenic coastal views.
When is the Best Time of Year to Travel the North Coast 500?
The best time to drive the North Coast 500 for most people is between May and October as during this period you'll find most attractions and restaurants open, the greatest variety of lodging, and the best chances for warmer weather. However, this also corresponds with the busiest time along the North Coast 500 which is from early May to late September.
If you are looking to drive the route during a quieter time of year, I'd consider April, early May, late September, or October, avoiding holidays, festivals, special events, and school breaks.
Winter can be a nice time for photography and solitude, although the weather can be bad and certain minor roads (e.g. the Bealach Na Ba) may be closed due to bad weather. If you plan to drive the NC500 out of season (e.g., October to March) just note that many businesses (including hotels, restaurants, tourist information offices, and attractions) in the Scottish Highlands are seasonal or have reduced winter hours.
Obviously, the best time to drive the North Coast 500 is the time you have available, and if you need to set out at a less than opportune time of the year, just be prepared and be flexible.
If you are trying to plan your trip around Scottish weather, weather conditions are fickle in Scotland and we experience rain, clouds, and chilly weather year round (that is what keeps Scotland green!). However, we also get these bursts of sunshine and warm weather than can occur any time of the year with probably May and September being two of the better months in our experience thus far.
Our first time along the NC500 we were lucky in August with a few days of sunny warm weather. Out of an 8 day NC500 trip in May, we had 2 particularly rainy bad weather days, 3 mixed days (rain part of day, sunny part of day), and 3 nice weather days.
During our 12 day winter trip in February most days were mixed (rain/light snow/clouds/some sun) and it rained at least a little on almost every day of the trip. During that time we had 2 bad days (snowed all day, roads uncleared, stayed inside) and 1 especially nice and sunny day.
Just come prepared for the weather and don't let it stop you from enjoying your trip!
How Many Days Does it Take to Drive the North Coast 500?
This really depends on how much you want to see, how much you want to drive each day, and how many detours you plan to make. You could speed along the entire 500 miles in less than 24 hours if you don't mind not sleeping or seeing anything along the way!
But the North Coast 500 is designed for touring, sightseeing, and taking things slowly. The minimum number of days we'd recommend to drive the North Coast 500 is 5 days, but 7 to 10 days would be ideal. If you plan to speed around, you could do it with 3 full days and night, but we'd recommend more time.
If you really want to explore the route slowly, relax, and maybe take some detours (e.g., visits to Loch Ness, Orkney Islands, Summer Isles, Isle of Skye), I'd recommend 2 weeks. For those with more time, you could easily fill up a few weeks and not run out of things to do, especially if you love hiking, nature, and historical sites.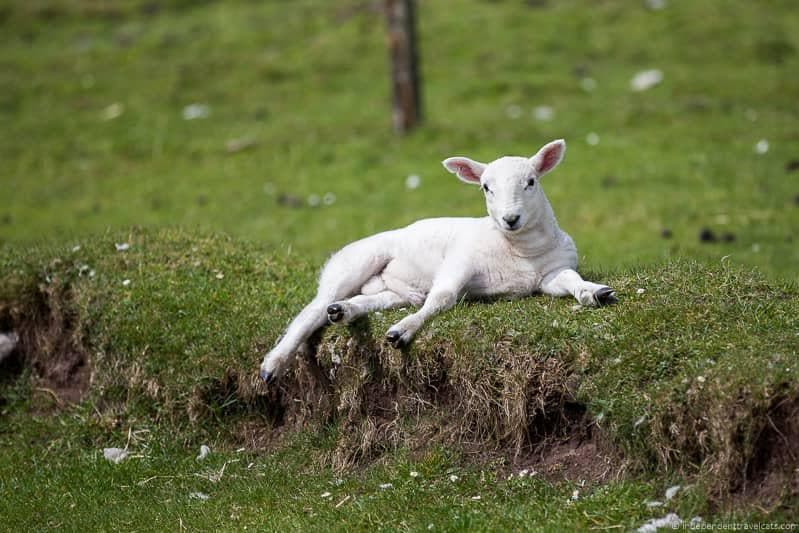 I Don't Have Time for the Full Route, What Section Should I Drive?
If you only have a 2 or 3 days, you can still get a taste of some of the things that the North Coast 500 has to offer without speeding along the entire route. I would focus on either a section of the route or focus on a special interest or theme (e.g., castles, historical sites, beaches, distilleries). For more reasons to drive the NC500 and themes read this article.
Below is but a short list of suggestions:
Castles: There are a number of castles along the route, ranging from crumbled ruins to the former home of Queen Elizabeth, The Queen Mother to picturesque Disney-like castles.
Some that you might want to consider visiting along or near the route (all open to the public, although some have seasonal hours) are Cawdor Castle, Dunrobin Castle, Castle Sinclair Girnigoe ruins, and the Castle of Mey which all lay along the eastern part of the route between Inverness and the small village of Mey.
You can enhance your stay by staying at a castle hotel such as Kincraig Castle Hotel, Tulloch Castle Hotel, or Dornoch Castle Hotel which are all also along the eastern part of the route.
For more on castle hotels along the route, you can see our North Coast 500 accommodation guide which has over 25 recommended places to stay along the route, from castle hotels to B&B's and guesthouses.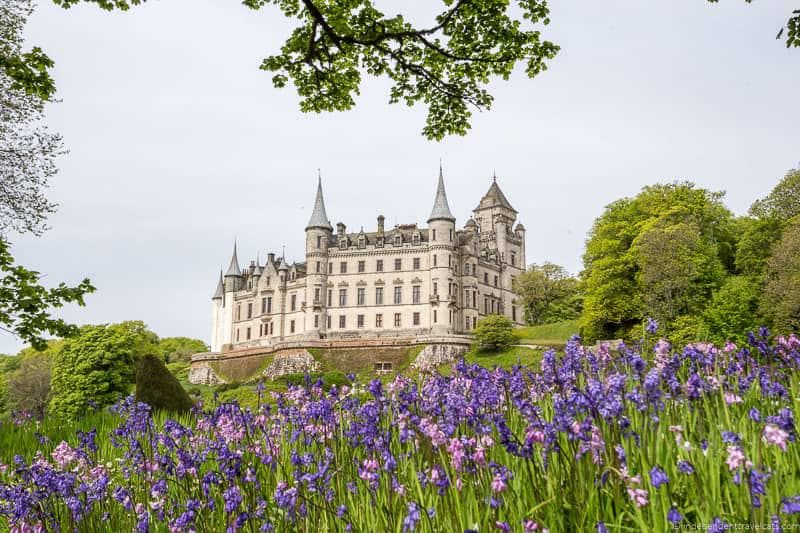 Distilleries and Breweries. Scotland is well-known for its whisky and just about every visitor to Scotland wants to try at least a dram or two of whisky during his or her trip. But Scotland also has a growing craft beer industry and gin scene and you'll find a bit of everything along the North Coast 500.
Whisky distilleries are more prevalent along the eastern part of the route between Inverness and Dunnet and include Glen Ord Distillery, Glenmorangie Distillery, Clynelish Distillery, Dalmore Distillery, and Old Pulteney Distillery. For non-whisky stops, consider Black Isle Brewery and Dunnet Bay Distillery (best known for its gin and vodkas). Most distilleries give public tours and tastings, but some you'll need to book in advance. We expect more will continue to pop up as the tourism increases in this area.
For more on whisky, see our comprehensive guide to whisky distilleries in Scotland, which has everything you need to know. We also have a guide to whisky distilleries on the North Coast 500 specifically.
Wildlife: Those interested in Scottish wildlife should be able to find some spots of interest. For those interested in sea mammals or seabirds I'd recommend the section between Inverness and Thurso. Chanonry Point (one of the most popular spots), North Kessock, Fort George, and Spey Bay are popular places near Inverness to spot bottlenose dolphins as well as potentially seals, porpoises, and whales. The Scottish Dolphin Center at Spey Bay is a great place to stop for more information on dolphins and other area wildlife.
For whale watching, we were told that Duncansby Head, Dunnet Bay, and Strathy Point are popular spots for whale watchers as well as for dolphins, porpoises, and other sea animals. There are wildlife boat tours you can do in the Caithness area for a better chance to see the wildlife. The Orkney Islands (can be reached by ferry from John O' Groats) is also a great place for wildlife, including sea mammals, voles, and sea birds.
For birdlovers, I'd highly recommend checking out the Royal Society for the Protection of Birds (RSPB) website for information, and I'd also consider contacting them before your trip or visiting one of their centers for local information to find the best spots depending on the kind of birds you are most interested in (e.g., birds of prey, seabirds, waders).
The RSPB has several reserves around or near the NC500 that help protect the local wildlife. For seabird lovers, there are several spots along the route but I'd highly recommend the Dunnet Head Nature Reserve which is home to a number of species, depending on the season, including cormorants, puffins, razorbills, guillemots, kittiwakes, and fulmars.
Deer lovers can spot red deer throughout the Scottish Highlands and the best time to see them is early in the morning in the fields away from villages. We saw loads of them, especially along the western and southern parts of the route. If you want to get really upclose to a large herd of deer, we can recommend a guided tour with gamekeeper Colin at Reraig Forest near Lochcarron.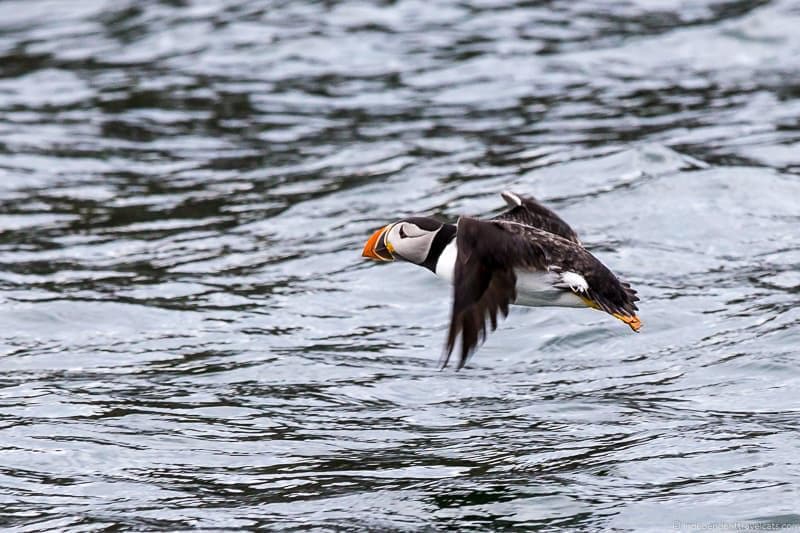 <
Photography: There are tons of scenic spots throughout the route. It depends on what you are most interested in photographing whether it is wildlife, coastline, castles, villages, historical sites, lochs, etc. that should determine which part of the route might be best.
Laurence personally favors the western side for landscape photography, but we found great photography spot throughout the route. Here is a guide to some of the photography highlights of the North Coast 500.
Heritage Sites, History, Geology, Culture, & Museums: Pictish stones, local history and heritage museums, cairns, crofts abandoned during the Highland Clearances, important geological and archaeological sites, churches, castles, old battlefields, and more can be discovered along the North Coast 500. If you have an interest in one (or all!) of these areas, I'd do a little research on sites of interest and plan your itinerary accordingly.
You'll find interesting cultural and historical sites throughout the route, although you'll find a higher concentration along the eastern coast between Inverness and Thurso as it is (and probably always has been) a more populated area than the north and west coasts.
There are a lot of great sites, depending on your interests, in and around Inverness such as Inverness Museum & Art Gallery, Fort George, Clava Cairns, Cawdor Castle, Culloden Battlefield, and Urquhart Castle. Heading north from Inverness, there are places like Beauly Priory, Hugh Miller's birthplace, Groam House Museum, Tarbat Discovery Centre, Dunrobin Castle, Timespan Heritage & Art Centre, North Coast Visitor Centre (formerly Caithness Horizons Museum & Art Gallery), and tons of small relatively unknown sites like the Bronze Age stones at Hill o' Many Stanes.
If your interests lie in historical sites (churches, museums, prehistoric sites, old homes), I'd highly recommend checking out the National Trust for Scotland and Historic Environment Scotland websites, as both manage many of Scotland's historical sites.
To save money, I'd also take a look at the Historic Scotland Explorer Pass (includes entry into over 70 sites such as Urquhart Castle, Fort George & Edinburgh Castle) and/or the Scottish Heritage Pass (valid April to October, includes over 120 sites including Urquhart Castle, Culloden Battlefield, Brodie Castle, Hugh Miller's Birthplace, and Edinburgh Castle). These passes may save you money if you are planning to visit a lot of historical properties during your trip.
For those interested in geology, I'd recommend heading to the North West Highlands GeoPark which covers a large section of the northwestern part of the route and includes sites such as Smoo Cave, Knockan Crag, and The Bone Caves near Inchnadamph. This is an internationally significant geological site that has been recognized by UNESCO, so is a must-see for any rock hound (and recommended for anyone driving the NC500!).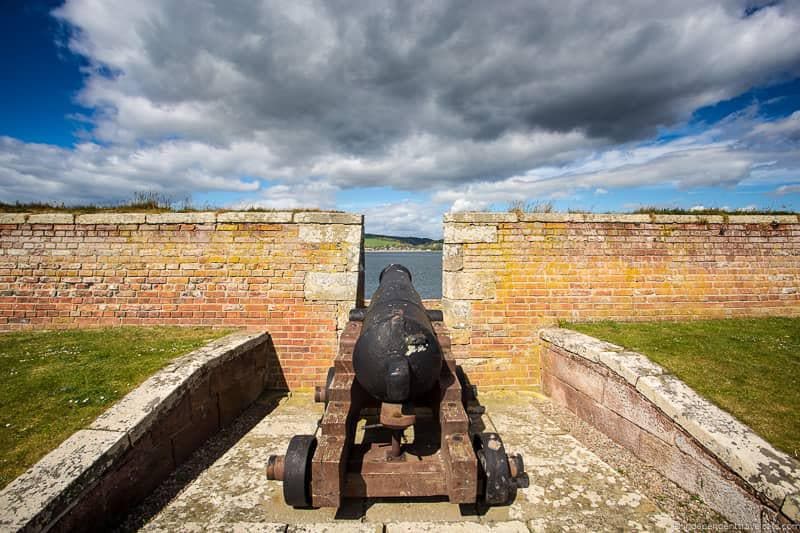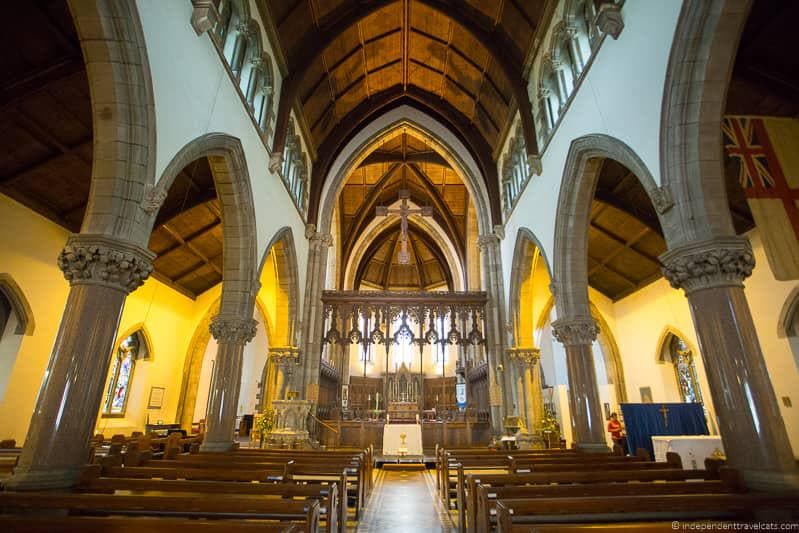 Coastline & Beaches: The route has coastline (and several beaches) along its western, northern, and eastern sections. Our favorite coastline in terms of views is probably the rugged western and northern sections. Our favorite beaches are around the northwest between Melvich and Sandwood Bay in the northwest, and then around Achmelvich Bay.
Melvich Beach, Durness Beach, Balnakeil Beach, Sandwood Beach, and Achmelvich Beach are a few of our favorites in the northwest. Closer to Inverness, you can also find some nice little local beach spots around Nairn, the Black Isle, Potmahomack, Dornoch, and Embo. There are lots of seldom visited sandy spots along the route, and you can discover your own spots by just asking a local villager.
Just note that the water is always cold, even in the summer so bring a drysuit or wetsuit if you want to spend some time in the water! Many Scottish beaches have limited or no facilities so be sure to bring anything you may need.
Golfing. Scotland is the home of golf and attracts golfers from around the world who want to play some of Scotland's best known courses. For golfers, I'd recommend driving the route between Inverness and Dornoch, and also detouring a bit from the NC500 to the Nairn area.
There are over 10 golf courses in this area but a few golf courses to consider are the Inverness Golf Club in Inverness, The Nairn Golf Club in Nairn, Nairn Dunbar Golf Club in Nairn, Castle Stuart Golf Links near Nairn, Fortrose and Rosemarkie Golf Club in Fortrose, Invergordon Golf Club in Invergordon, and the Royal Links Championship Course & Struie Course in Dornoch.
Least Crowded Areas. I'd probably head to the northwest section for the most wild and least crowded area. I'd also consider going to spots just off the route, such as Nairn and the Black Isle, spots along the minor roads of the interior like Lairg, a visit to the Summer Isles, and harder to reach spots that require some hiking such as Sandwood Bay or one of the munros.
The most crowded sections are probably around Inverness, the Inverness to Thurso section, around Ullapool, and the Bealach Na Ba road near Applecross. Of course, if you drive the route between November and March, you'll find few visitors along the entire route except for during holidays and special events.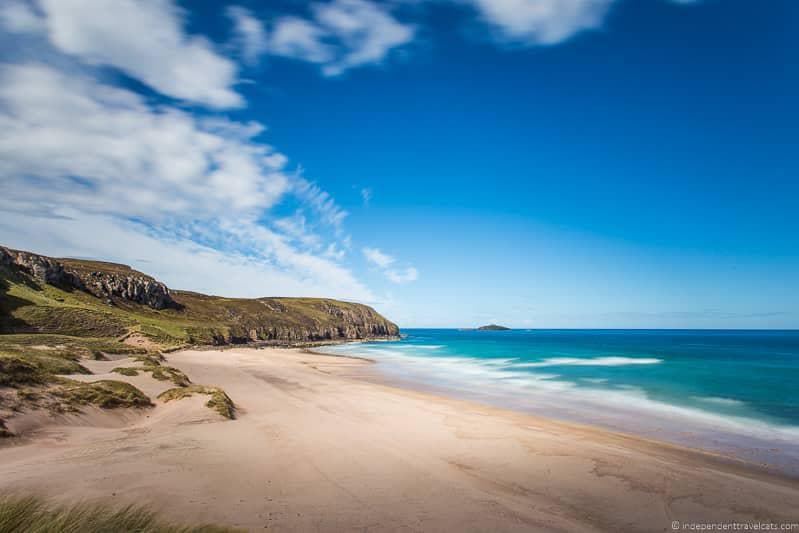 Best Stops for Families with Children along the North Coast 500?
The North Coast 500 can be a fun trip for families. We've had several readers ask us if the North Coast 500 is appropriate for younger children and what stops we'd recommend for kids.
We haven't traveled the route with kids, but we definitely think it doable and can make for a nice holiday for children of any age. I think you just need to do a bit more planning to make sure you allow more time for breaks and plan visits to places the kids will enjoy.
For those with younger kids, you might consider camping as a family (lots of campsites along the route for tent camping and motorhomes), planning picnics, or staying in self-catering accommodation. Not only can this save you money, but they are also great ways to accommodate picky eaters or early dinner times.
Crime rates in this region are low, so the main dangers to kids are cars and natural ones. Many of the scenic sites along the North Coast 500 don't have any fences or safeguards and most beaches have no lifeguards, so always keep little ones in sight.
Here is our list of some children-friendly places that you might want to include in your list:
The above are just some suggestions, and there are many more places your kids are sure to love. With a bit of imagination, we think just about any stop, whether it be a historical site, museum, beach, or archaeological site, can be fun for kids.
You can see more about these places and a list of all the main sites around the North Coast 500 when reading our day-by-day NC500 itinerary.
Is the North Coast 500 Dog Friendly?
Many travelers, especially those who live in the UK, want to do the North Coast 500 with a dog. It is definitely a place that you can bring your dog, but a dog will limit some of the places you can visit or stay. Here are some tips for traveling the North Coast 500 with pets and how to find dog-friendly lodging.
If you are traveling from outside the UK you will need to make sure you check the laws and guidelines (papers, vaccinations, quarantine) for bringing a dog into the UK as it differs depending on the country of origin. You can find out more about that here.
When dogs are in a vehicle in the UK they need to be properly restrained for safety. Specifically, Highway Code, Rules 57 states: "When in a vehicle make sure dogs or other animals are suitably restrained so they cannot distract you while you are driving or injure you, or themselves, if you stop quickly. A seat belt harness, pet carrier, dog cage, or dog guard are ways of restraining animals in cars."
The main thing to know when bringing dogs to this area is that they will need to be kept on a lead (leash) in most places because of livestock and wildlife. April and May is lambing season in Scotland so lots of baby lambs will be around all spring and summer and you'll want to keep dogs away from the sheep. Dogs can scare and cause harm to the baby lambs and other livestock.
Spring and summer is also bird nesting season and dogs can disturb ground nesting birds so good to be aware of if doing walks/hikes. Some of the bird and wildlife reserve areas do not allow dogs for obvious reasons.
Many of the indoor and paid attractions (museums, castles, guided tours, gardens) along the route do not allow pets. If you are traveling with a partner or group, you may want to take turns spending time with your dog and one going inside.
Although most restaurants don't allow dogs inside, several have outdoor areas that allow dogs and some bars allow well-behaved dogs. There are also takeaway places in many of the towns. If you are staying at a dog-friendly hotel or campsite, someone there can probably give you recs for the best places to eat or get a drink with your dog.
Most parks, hiking areas, beaches, and wild places allow dogs, but not all of course so do check signs before setting out. Most ask that dogs be kept on a lead at all time.
Of course, it is required that dog waste be picked up by dog owners and then properly disposed of. At some places, there are places to dispose of it, but not in all places so be prepared to pack it out and dispose of it properly later.
For dog-friendly accommodation along the North Coast 500, you can see our North Coast 500 hotels guide and NC500 B&Bs guide as both note if each recommended hotel or B&B is dog-friendly or not at last check. Always be sure to double check pet policies before booking.
Most campsites along the North Coast 500 allow pets so camping is a pretty popular for pet owners who want to drive the NC500. You can see individual campsites mentioned throughout our suggested 1 week NC500 itinerary and you can also see our NC500 campsite guide for more information on camping along the route.
Many holiday home rentals and glamping sites also accept pets and are especially great for those wanting to base in one place for longer than a night or two.
If you are looking for dog-friendly accommodation in a certain town or area and can't find anything, feel free to ask and we'll let you know if know of any. From our readers who have traveled with dogs, we have a good list of dog-friendly places along much of the route.
How to Avoid the Crowds along the North Coast 500?
The busiest months are going to be the summer from June to August with some crowds in May and September. Festivals, special events (e.g., music concerts, bike races, car rallies), and holidays (e.g., Christmas, Hogmanay) also bring more people to the area. So avoiding these times of year can help but since they are also when there are the most daylight hours, most open attractions and lodging, and perhaps best chance of warm weather, chances are this is also when you plan to drive the route.
Even if you are planning to visit at the busiest time of year (say July or August), you can still avoid some of the crowds and find some peaceful spots along the route if you make an effort to do so. First, go out when fewer people are going to be around. Get up early or stay out late as most people don't get onto the road until after 8:30am and stop for lodging around dinner time. Early risers will be rewarded by local wildlife sightings, especially the local deer and birds.
But even right along the route, few people get out of their cars to hike around lochs, hills, beaches, or fields so if you get out into nature you'll probably find yourself relatively alone. Relatively few people even stop to visit the local museums and we've often had them to ourselves. You might also consider heading out on a boat to see the coastline from another angle.
To get even further away, head to towns and areas located just off the official route, such as Nairn, Borgie, Altnaharra, Portmahomack, Cape Wrath, Forsinard Flows Nature Reserve, or Bonar Bridge. Follow themed trails like the Strathnaver Trail, Pictish Trail, or Pebble Routes to learn about some specific subjects and get off the beaten path.
Head into spots that require some hiking such as Sandwood Bay or climb up one of the munros. The mountains are a great way to get away from the crowds.
If you plan to hike, just be prepared by bringing along good hiking shoes, rain gear, midge repellent (May to September), and hiking supplies so you are prepared to go off and find the peaceful spots along the route.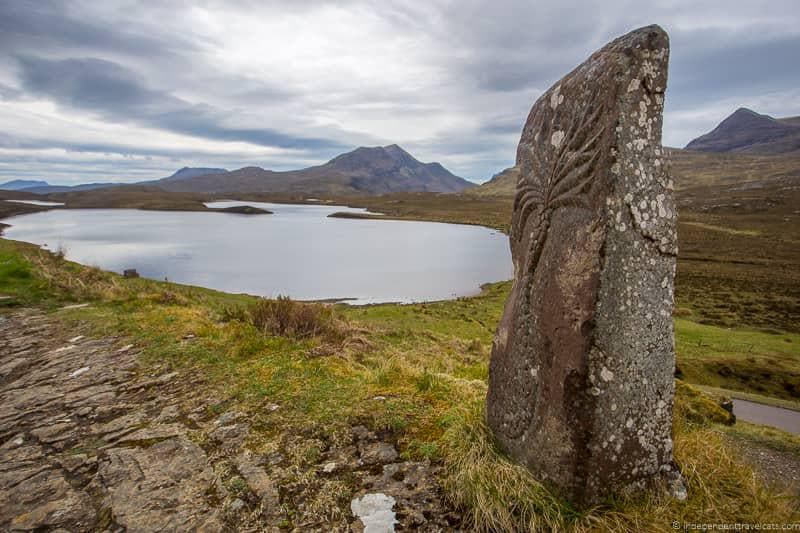 How Much Should I Plan Ahead?
This really depends on your style of travel, some people plan little in advance and others plan in great detail what they are going to see each day. I'd recommend that you at least make a loose itinerary of places you definitely want to stop before you leave so you have an idea of how much time you want to spend in each area so you can plan your accommodation.
Have at least a tentative itinerary can also help you identify and fit in places you really want to see that have limited opening times (e.g., a museum or attraction only open 3 days a week or a restaurant only open on weekends for dinner).
In terms of making reservations, very few attractions take reservations or pre-sell tickets, but I'd strongly recommend booking your lodging in advance and also any special dinners. You'll also want to book most activities such as guided hikes, kayaking, boat rides, fishing trips, wildlife tours, surfing lessons, etc. in advance as many require prior reservations.
For the North Coast 500, we would recommend that you start researching lodging options as soon as you know your dates. I would book at least 3 months in advance if possible. Staff at several of the busiest properties recommended to us that travelers should try to book 6 months in advance to guarantee a room as they had some dates fully booked 6 to 9 months in advance.
Now, six months is a pretty long time in advance so don't worry if you just decided to drive the NC500 and it is 2 months away, you'll still find plenty of places with availability, but start booking now. Just note that the most in-demand properties and the best value ones often get booked up well in advance. See our prior article for more information on where to stay along the NC500 which covers some of our favorite hotels and B&Bs along the route.
If you are someone who hates planning ahead and wants to be able to stop and spend as much time in a place as you wish, I'd consider doing a camping or campervan trip along the NC500. That way you won't need to search for last-minute lodging each night which can be difficult on sections of the route. This way all you need to worry about in advance is your transportation and camping gear and you will have the flexibility of either traditional lodging or camping each night.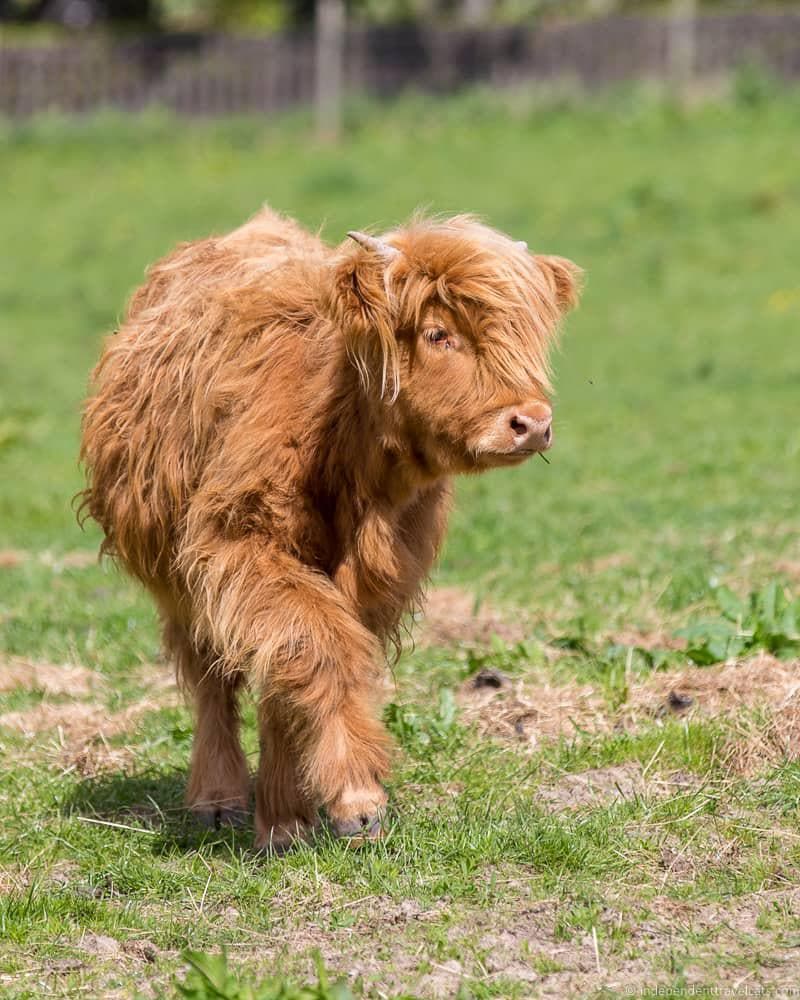 Dining along the NC500?
In terms of food, I'd expect fresh, rustic, and homestyle meals that rely on the local produce at most eateries along the NC500. However, whereas there are fewer options than you'd have in a large city like Edinburgh or Glasgow, there is still a wide variety of food stops that range from budget-friendly cafes serving simple salads and sandwiches to Michelin-starred restaurants serving four-course menus.
Lunch and coffee stops are generally easy to find along the route, but dinner options can be more limited (often at hotel restaurants) and some may require 24 to 48 hour pre-booking. Note that some cafes and restaurants, especially in the smaller towns and villages, are seasonal so be sure to check opening dates and hours in advance, especially if traveling outside of the main season (May to September).
Most towns have a small grocery store (not usually open late in the evenings so stop during the day) where you can pick up picnic supplies, snacks, and food to cook your own meals. There are also a couple of specialty food spots along the route such as Robertsons The Larder farm shop.
It is wise to think ahead each day about where you'll be for meals as some hotels or campsites may be a 30 minute to 1 hour drive from a restaurant. It is also a good idea to also have some snacks and maybe a couple cups of pot noodles in your car just in case you arrive later than expected and there is no place to eat for dinner.
Some places we'd recommend checking out for sit down lunches or dinners include the Chez Roux restaurant at the Rocpool Reserve Hotel in Inverness, Mustard Seed in Inverness, Boath House hotel restaurant near Nairn (Michelin-starred), Dornoch Castle Hotel restaurant in Dornoch, Y-Not Bar and Grill in Thurso, Kylesku Hotel restaurant (known for its fresh local seafood), The Ceilidh Place in Ullapool, The Arch Inn in Ullapool, and The Torridon hotel restaurant in Annat.
If you follow our 7 day North Coast 500 itinerary, we provide a list of restaurants for dinner for each day along the route.
No matter where you dine, I'd highly recommend trying dishes using the local produce and products such as local seafood (e.g., salmon, crabs, scallops), lamb, game, Stornoway black pudding (from the Isle of Lewis), and fresh in-season vegetables. You can also find local whiskies, beers, and other beverages made in the Scottish Highlands offered on most menus.
If this is your first time in Scotland, you'll probably want to try some traditional Scottish dishes like haggis, black pudding, Scottish salmon, cullen skink (smoked haddock, potato, & onion soup), stovies (potato dish), and a full Scottish breakfast.
Where to Stay on the North Coast 500?
Along the North Coast 500, you have a range of lodging options from hostels and campsites to inns and seaside cottages to historic castles and country homes. Lodging options cover just about every budget and lodging type, but don't expect to find hotel chains or massive resort-style properties.
Staying in cozy bed-and-breakfasts, historical properties, and luxury castles was part of the experience we wanted on our North Coast 500 journey, and our lodging choices definitely added to the experience.
In terms of budgeting for lodging, it will depend a lot on your accommodation type and time of year. I would say average hotel costs on the NC500 for a basic double room at a hotel with private bathroom are around £75-£110 per night.
But you can spend less if you stay in simple B&Bs (£40-£80 per night for 2 people), hostels (£17-£25/person), or campsites (£5-£30). The least expensive B&B rooms usually have shared bathrooms. If you are looking for more luxury oriented properties, expect prices in the £160 to £350 range.
As noted earlier (worth repeating!), we'd recommended trying to book your lodging 3 months in advance (especially if you are thinking hotels, B&B's or self-catering options) as the amount of lodging in some areas is currently not sufficient for the demand at the busiest times of the year.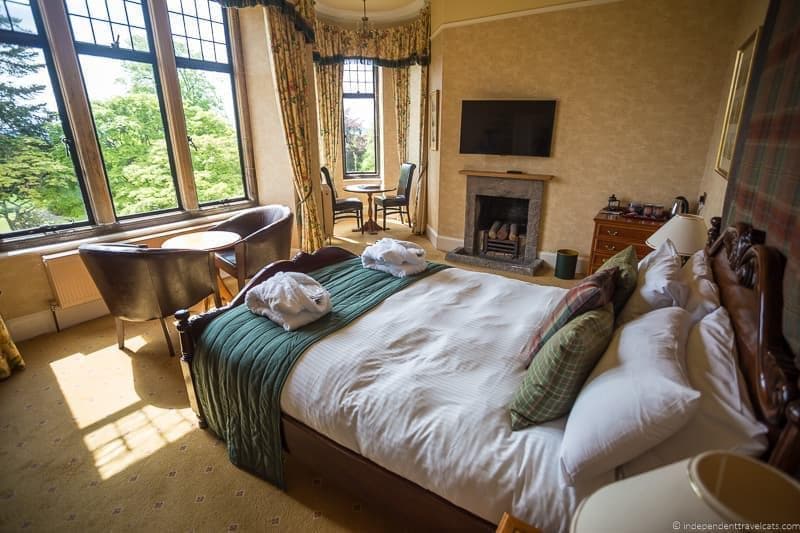 Hotels & B&B's
Hotels and B&B's represent the most popular lodging option along the North Coast 500. Hotels range from simple budget options to luxury castles. We've written an article on lodging tips (what to expect, when to book) and created a list of over 25 North Coast 500 hotels we recommend checking out.
Also check out this guide to bed-and-breakfasts along the North Coast 500.
Self-Catering Options
Self-catering options are generally less expensive than hotels, allow for more privacy, and most allow you the opportunity to cook your own food. There are a lot of options in this category, from log cabins to beach villas to entire apartments and houses.
One option is of course vacation rental sites like Vrbo, where you can book rooms, apartments, and houses. These types of property along the North Coast 500 are not as plentiful as they are in other parts of the UK since most of this stretch is through small towns and countryside but you will find them scattered along the route.
We suggest trying out Snaptrip which searches many of the major holiday cottage booking sites in the UK for the best deals, and often has good last minute availability and deals.
You can also check out our list of Airbnb alternatives for other websites to check, as well as our guide to holiday cottage booking websites in the UK. Another local booking website that specializes in holiday properties in Scotland is Cottages & Castles, and it offers hundreds of self-catering holiday homes and cottages in Scotland, including a number along the NC500.
Some self-catering properties in the area may not be on any of the aggregate booking websites, and the best way to track some of them down is to search for things like "cottage near Thurso" or "house rental near Inverness" online or check the local tourism office listings.
Hostels
There are at least a dozen hostels located along the North Coast 500, and you can easily do an entire NC500 road trip only staying in hostels. Ideal for budget backpacker types of any age who don't want to spend a lot of money on accommodation and like to meet other travelers.
To get started, I would check out the Scottish Youth Hostels Association, which operate over 60 hostels in Scotland. Their website also lists some affiliate hostels along the NC500.
Camping and RVing
If you are planning to camp, you have a lot of options and should be able to find facilities throughout the route from April to September. Since many campsites are seasonal, I'd be careful to check ahead if you are planning to go outside those months.
You can stay at campsites with a tent or campervan, do wild camping if you don't need any facilities, or rent out camping huts, static caravans, or cabins if you want to travel with limited camping gear.
We haven't stayed at most of these campsites so we can't personally recommend them but this list should help you get started in your research if you are planning to stay at campsites along the North Coast 500.
Most of the campsites have facilities for tents, campervans, and RVs, and many also have structures such as camping huts, set up tents, static caravans, wigwams, or cabins you can rent if you want to "camp" but want to bring limited camping gear. Many also rent bedding and camping gear for the night.
Note that many of the campsites along the North Coast 500 are seasonal and close during the winter months. If you are traveling off-season you'll want to really check ahead.
Some campsites (in order as they are located counterclockwise along the route) include Bught Park Camping and Caravan Site in Inverness, Bunchrew Caravan Park near Inverness, Camping and Caravan Club Sites (multiple locations including Rosemarkie, Nairn, and Dingwall), Fortrose Bay Campsite in Fortrose, Black Rock Caravan Park near Dingwall, Inver Caravan Park near Dunbeath, Caravan and Motorhome Club Sites (multiple locations including Inverness, Dunnet Bay, and Kinlochewe), Sango Sands Oasis in Durness, Clachtoll Beach Campsite in Lochinver, Shore Caravan Site in Achmelvich Bay, Sands Caravan and Camping Park in Gairloch, and Applecross Campsite in Appelecross.
If you are planning to camp, you'll want to check out this 1 Week North Coast 500 camping itinerary, which provides a 7 day itinerary geared towards campers, camping campsite recs, and camping related stops and resources along the route. We also have a comprehensive guide to campsites on the NC500.
if you want to rent a campervan for the drive, we recommend using Motorhome Republic, They compare prices across the major rental firms in the UK to find the best price for you. You can book your RV for the UK through them here.
If you'd like a more robust camper vehicle, check out the four wheel drive camper trucks from Wild Camper Trucks. See their Scotland options here.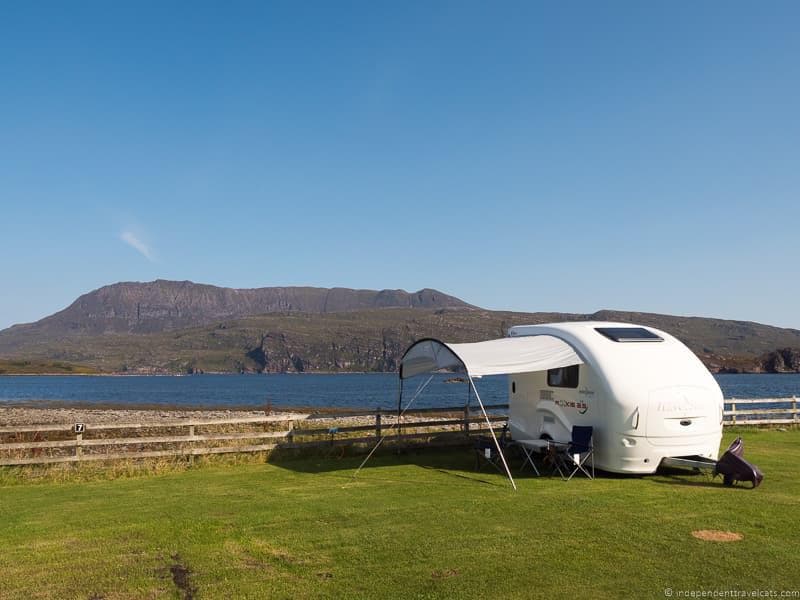 Guide to Driving the North Coast 500
In this section, we'll assume you have decided to drive the North Coast 500, and we'll discuss how to find the route, how to stay on the route, safe driving tips and laws you should know, and where you can rent a car, motorcycle, or RV for your North Coast 500 road trip.
We'll also provide information about North Coast 500 tours you can book if you want to experience the NC500 without driving.
Where Specifically Does the Route Start and End?
The NC500 route officially begins and ends in the city of Inverness at Inverness Castle, forming a loop. However, you can begin and end the route anywhere you choose although Inverness, as the largest city along the route, is a convenient place to start and stop.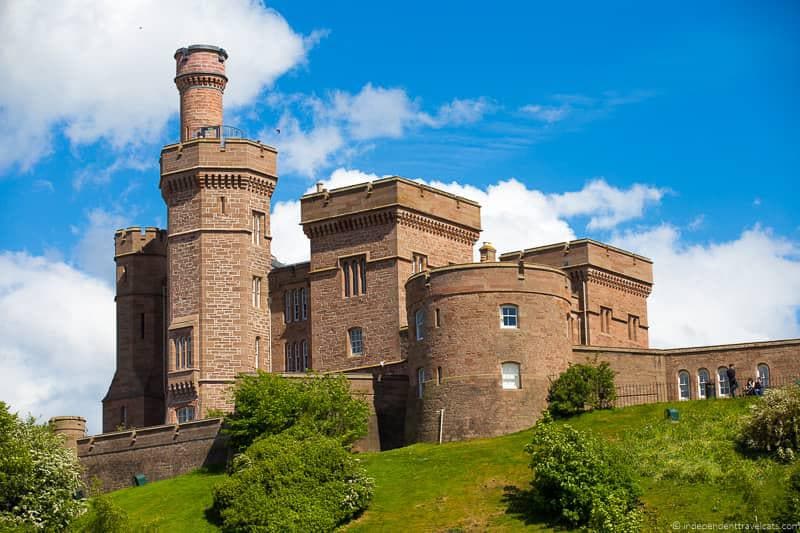 How Do I Find and Stay on the North Coast 500 route?
Since the NC500 is not a single road or highway like Route 66 or the Pacific Coast Highway, you won't find it on a regular map and your GPS probably won't know the route. So just to be clear, there is no actual road named North Coast 500 but it is a designated tourist route.
However, in recent years, they have added North Coast 500 brown tourist signs along the route to help people stay on the route. So it is much easier to follow the route now.
Before your trip, you can take a look at the official North Coast 500 map online to get a good idea of the route to help you plan. You can also take a look at the map we've put together if you use Google maps, you can double click this link to take a closer look or double click on the map image below.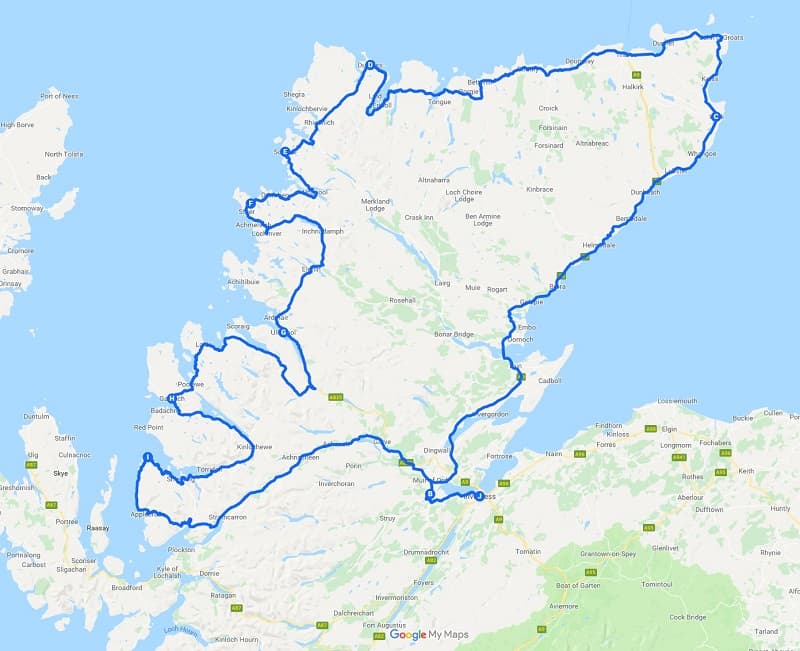 The official North Coast 500 map is no longer being printed (we believe printing ended in 2020) and the organization said it will not be printing any further printed maps (although a digital one is available on their app). This is a shame as it was a great map and very popular and was given out for free at the Visit Scotland Tourism Information Centres along the NC500.
However, if you want a physical North Coast 500 map, there are two main other options. There is the Collins NC500 Pocket Map and the 500 Route around the Northern Highlands road map by Yellow Publications. Both are sold at the Visit Scotland Tourism Information Centre in Inverness, as well as in other places along the route. If you want a physical copy of a North Coast 500 map before you leave for your trip, you can sometimes also find them on eBay.
Since there are few main roads in the area, once you leave Inverness, you shouldn't have any problems using the map to stay on the route. It is hard to accidentally stray too far from the route. If you are using your phone or GPS to help you navigate, I'd try to download any needed maps beforehand as you'll likely lose satellite and Internet connections during parts of the road trip.
Note that many businesses don't have street numbers in the Scottish Highlands but since the towns are so small, just keep an eye out once you are near and you shouldn't have too much trouble finding them. Once you are in a town, any local person should be able to point you in the right direction if you do get lost.
Of course, getting a little lost is just part of the journey!
Which Direction Should I Drive the North Coast 500?
Since the NC500 route forms a loop, you have the option of driving it either clockwise or counterclockwise. Some of the official NC500 materials discuss the route as going counterclockwise and others clockwise, so there appears to be no "official" direction. The direction makes little difference and we've driven it from both directions with no difference in our trip experience.
There are small advantages to driving the NC500 in each direction though. One advantage of driving it clockwise (heading towards Garve and doing the west coast first) is that since the Scottish drive on the left side of the road, you'll be driving directly alongside the coast during the coastal portions of the route. However, this is only a small advantage as you often need to park and walk a little to see the coastline along the route.
There are two main advantages of driving it counterclockwise (heading towards Invergordon and seeing the east coast first). The first is that if you are not used to single track roads, driving the route counterclockwise helps ease you into them better than driving it clockwise. So we recommend this direction for those tackling single track roads for the first time.
The other advantage of driving the route in the counterclockwise direction is that the most dramatic portions (to us anyway) are along the north and west coasts so you save those towards the end of the trip. So the ruggedness continues to increase along the drive which is nice.
However there is no right way to drive the route so head in the direction that makes the most sense for you! Lodging reservations is often an important factor in people's route.
Planning a North Coast 500 itinerary?
If you are trying to plan your route and what attractions you might want to stop at along the route, we recommend that you take a look at our detailed 7 day North Coast 500 itinerary.
Our NC500 itinerary covers route advice for each day, a list of the main attractions along each section of the route, dining recommendations, and lodging recommendations for each day. For those with less time, you can also check out our less detailed 5 day NC500 itinerary.
If you are thinking about doing the route and tent camping or traveling by campervan or motorhome, we recommend checking out our North Coast 500 camping itinerary.
Can I drive the North Coast 500 with an electric or hybrid car?
Yes, as of 2016, there are now enough electrical charging points around the route for those with fully electric cars to drive the route safely. There are electrical charging points throughout the route, including rapid charge points.
You can find charging points using this interactive map (list only free and public ones) and this website/app (lists any kind of charging point, free, fee, and customer use only ones).
Can I do the NC500 without driving?
The most popular way to experience the North Coast 500 is by car, but it is also a popular route for motorcyclists and cyclists. If you have a lot of time, you can also traverse it by foot. Just note that some sections can be dangerous for bikers, horse riders, and pedestrians (e.g., blind turns, no bike lanes, one-track roads) so be sure to take proper safety measures and I would not recommend this route for inexperienced cyclists.
If you prefer not to be at the wheel or handles at all, you also have the option of booking a guided tour or hiring a private driver guide. See section on tours below.
You might also be wondering if you can do the North Coast 500 by train. The simple answer is no, there is no train route that approximates the route and an entire portion of the northwest of Scotland has no train connections.
However, if you really want to travel via train you can do a portion of the route by train and stop at several of the towns in the area. You can take the Inverness to Thurso train route (it also branches to Wick as well) train route and then head back to Inverness and take the train line from Inverness to Kyle of Lochalsh. Check the ScotRail website for the route details and to buy tickets.
Are NC500 Guided Group Tours or Private Tours Available?
Yes, if you prefer not to drive yourself you do have some options to book a guided North Coast 500 group or private tour. For those who don't want to drive the route, this is your best option as public transit is spotty around the route.
Currently, the best guided tour along the NC500 is this 3-day tour from Inverness from Rabbie's Travel. It is a fast-paced tour but allows you to see all the best scenery and highlights along the route while the driver guide keeps you safe on the single-track roads!
Rabbie's also offers this 5-day Northern Scotland and Orkney Island tour from Edinburgh that both include 2 full days on exploring Orkney and a drive around most of the North Coast 500 so you see many of the highlights and scenery.
We haven't done these tours but have done several tours with Rabbie's and can definitely recommend the company. They also offer a 5-day Highlands and Isle of Skye tour from Edinburgh (this one we have done).
If you only have a day or two, you might consider doing a couple day tours from Inverness that explore some of the NC500 highlights, such as this in-depth Black Isle day tour (including optional dolphin cruise), this tour of Wester Ross (including Applecross & the Bealach Na Ba), or this day tour up north to John O'Groats (includes visit to Dunrobin Castle and Duncansby Head). Each of these day tours explore different parts of the NC500.
For those wanting a private tour, you can arrange a private NC500 tour from Rabbie's or other local tour companies. Most Scotland-based tour companies should be able to arrange a guided NC500 private tour to suit your needs although you will pay a lot more than you would if you did a group tour or a self-drive trip. Inverness is probably the most convenient place to start a NC500 tour, but tours can also be arranged to depart and return from Edinburgh, Glasgow, or Inverness.
Currently few companies are offering NC500 tours, especially group tours, but the options will likely increase as the popularity of the route increases. We'll try to keep this list updated but if you know of any other group tours, please let us know!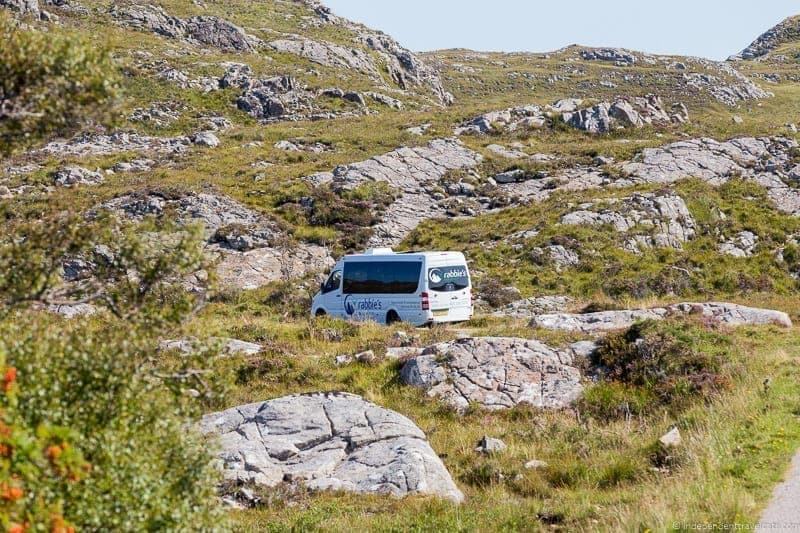 Where Can I Rent a Car, Campervan, Motorcycle, etc.?
If you are not bringing along your own vehicle, you can easily rent one in Scotland. You can also rent motorcycles, bikes, cycling gear, campervans, and camping gear once you arrive. Depending on where you arrive and plan to leave in Scotland, Glasgow, Edinburgh, Inverness, and Aberdeen are the four largest cities and best places for rentals.
Along the NC500, Inverness has the largest selection and I'd highly recommend picking up your rental and any gear before you leave the city as there is much less opportunity to do so elsewhere on the route.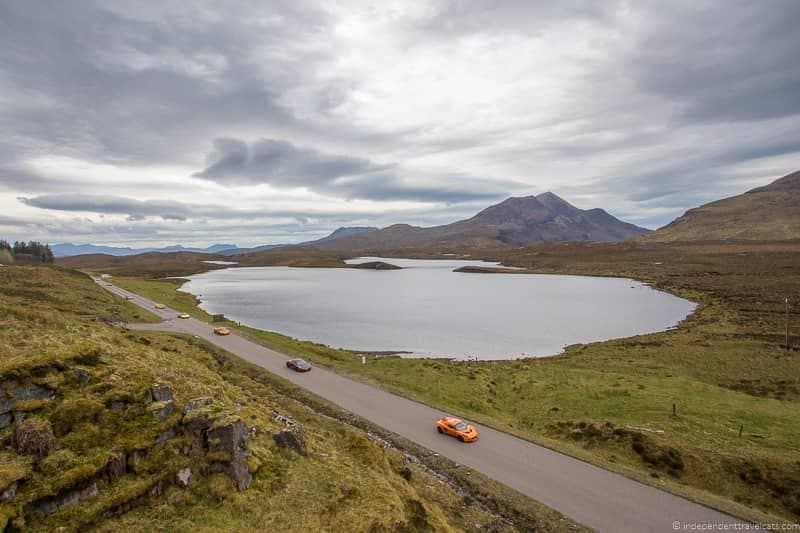 Rental Cars for NC500
It is easy to rent a car from Inverness Airport or downtown Inverness. Main rental car companies include Avis, Budget, Thrifty, Arnold Clark, Europcar, Hertz, Enterprise Rent-A-Car, and Focus Vehicle Rental. I'd recommend getting the smallest size vehicle you need and to be sure your rental is fully insured. A GPS unit can also be helpful for navigation. Enterprise are usually our favourite for car hire.
Each rental car agency has its own rental policies. But generally, to rent a car in Scotland (or elsewhere in the UK), you must be at least 21 to 30 years old (many have 23 as an age limit) depending on the vehicle category and car rental agency, have held a valid driving license for at least a year (some require up to 3 years), and the driver's license must be in English or using the Latin alphabet. Surcharges may apply to drivers under age 25.
If the license is not in English or Latin alphabet, then you will need to get a validated English translation or have an International Driving Permit. If you need an International Driving Permit, you will need to apply for this in your home country prior to your trip.
NOTE. If you plan to rent a car in another country, please check your rental agreement as bringing a car to Scotland may be against your car's rental terms (particularly any ferry crossings). For instance, even cars rented in Ireland can sometimes not be brought by ferry over to Scotland.
Renting a Motorcycle for the NC500
There are a couple of places you can rent motorcycles along the North Coast 500. You can check out the North Coast 500 Moto Experience in Inverness and the Highland Motorcycle Hire in Muir of Ord (20 km west of Inverness).
If you are arriving elsewhere in Scotland or the UK, you'll have additional options such as Rent a Motorcycle in Edinburgh.
Renting a Campervan and Camping Gear
There are several places to rent campervans around Inverness, including PaulCamper, GoBoony, Highland Campervans, Loch Ness Motorhomes, Outdoorsy, and Rover Rentals.
If you are arriving elsewhere in Scotland or the UK, you'll also find plenty of options around Edinburgh, Glasgow, Manchester, London, etc.
We suggest taking a look at Motorhome Republic as a good starting point for comparing prices on campervan rental in the UK. They have listings for many of the major campervan rental firms in the UK. You can see their UK listings here.
If you are starting in Edinburgh or London, Spaceship Rentals is another place to check for campervans and motorhomes.
We would recommend renting the smallest size campervan or RV that you need as the narrow roads of the Highlands are not designed for large vehicles and RVs are prohibited on some roads.
For camping, hiking, biking, and outdoor gear, we can recommend the following outdoors gear stores which are all located in Inverness: Go Outdoors, Blacks, Tiso, and Trespass.
Renting Bikes and Biking Gear for NC500
There are several places to rent bikes along the NC500. To get starated, you can check out Ticket to Ride and Inverness Bike Hire in Inverness and West Coast Biking in Kinlochewe. Most bike companies also rent bike gear and accessories and some also can arrange for guided day or multi-day tours.
Driving Safety Tips for the North Coast 500?
If you have never driven in Scotland before, you'll want to review some of the driving laws and road safety tips before your North Coast 500 road trip. This is particularly true if you are planning to drive a rental car, caravan, or motorhome.
Some things that may be new for you are driving on the left side of the road, driving on single-track roads, and driving in areas where livestock is unfenced. Increased tourism in the Highlands has led to more traffic accidents and complaints. We have a post full of tips for driving in the UK that you should check out.
The infrastructure of the Highlands in some areas is not fully ready to handle mass tourism, but most traffic incidents can be avoided by following the driving laws, knowing how to safely drive your vehicle, and being prepared.
To get started I'd advise first reading these general Scotland driving tips and laws and then these tips for road safety along the NC500. I'll highlight some of the bigger issues below:
Single Track Roads
A large amount of the North Coast 500 involves narrow single track roads, so you'll need to use designated passing places. Here's a brief introduction to passing on single-track roads if you have never driven on one before.
If you see a vehicle coming towards you, or the driver behind you wants to pass, pull into a passing place on your left, or wait opposite a passing place on your right until the car goes past you. Give way to vehicles coming uphill whenever you can. You may need to reverse to get into the nearest passing space which is why it is important to know how to safely reverse your vehicle which can be a problem for those in caravans or with rental vehicles.
Here is a guide to driving on singe-track roads in Scotland with a relevant infographic explaining how to use passing places.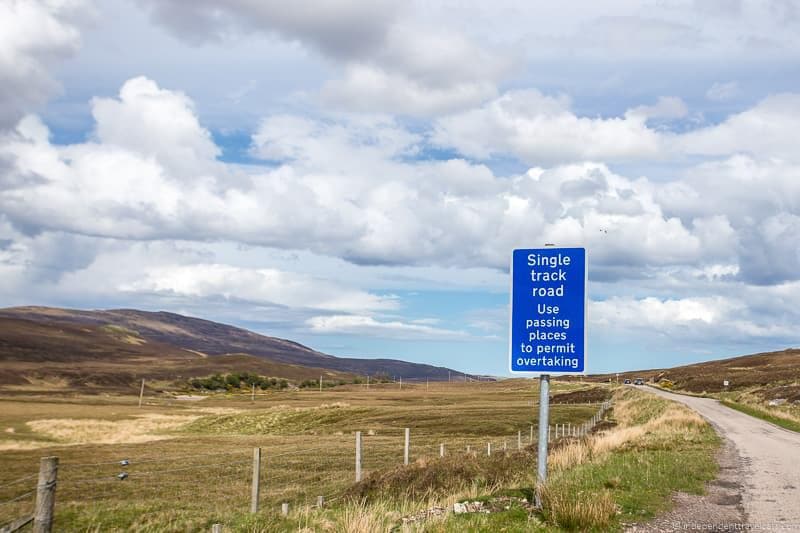 Stopping & Parking
We noticed a lot of people who were stopping on the road, to the side of the road, or in passing places during our trip. This is unsafe and also illegal in some cases.
Do not use passing places for parking, these are needed for traffic to properly pass on single-track lanes. Stopping in the middle of the road to take in a view or photo is holding up traffic and may result in an accident.
If you want to stop, find a safe place to pull off in a designated parking space or lot. Pulling over onto the side of the road or into a field can be unsafe, lead to damage to the fragile environment, cause erosion, and mar someone's private property.
Bealach Na Ba & RVs
The Bealach Na Ba is a narrow windy stretch of road near Applecross, and the most difficult and steepest stretch of the official NC500 route. This route often gets blocked by inexperienced drivers and also shut down by bad weather conditions, and you should not drive this route unless you know how to drive single-track roads, use passing places, and reverse your vehicle safely. Here is what the official NC500 website has to say about the Bealach Na Ba as well as the B869:
"The 'Bealach Na Ba' stretch however is not suitable for large motorhomes, caravans and inexperienced drivers due to its sharp bends and steep gradients so we would advise taking the slip road up at the A896 instead which will be much safer for you and your passengers. We would also recommend avoiding the B869 from Lochinver to Kylesku as this can be a tricky route to follow for large vehicles. If you take the A837 back from Lochinver on the main road you will be fine. As always, please take due caution on the roads and use passing places where possible."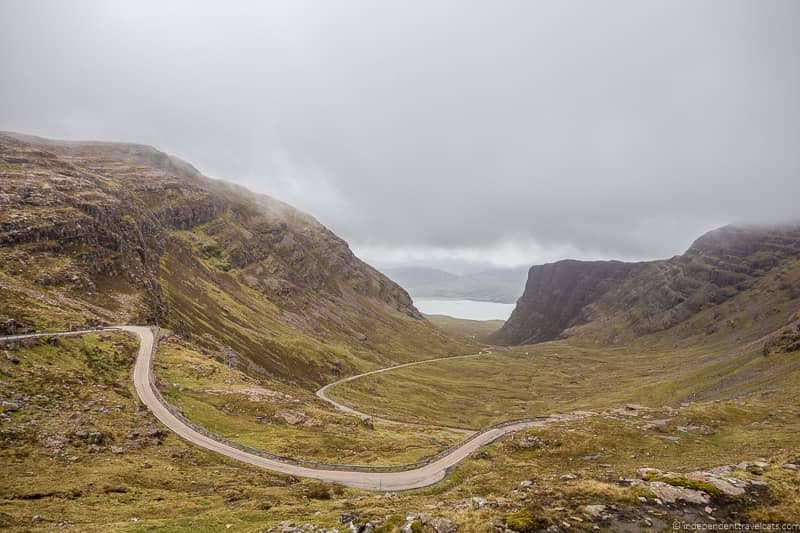 Slow Drivers
You want to drive at a speed that feels safe and you are likely going to be driving slower if you are new to single-track roads or are driving a motorhome or caravan. However, you are likely going to be causing frustration to those behind you wanting to drive at a normal speed, especially those not on vacation. So be mindful and pull over into a passing place or parking area every so often to let faster traffic pass you. They will be very grateful!
Livestock & Deer
Large sections of the Scottish Highlands have unfenced livestock which include cattle, sheep, goats, and horses. It is not uncommon to see animals, especially sheep, on or right next to the road. Drive slowly around turns, follow the speed limits, and keep vigilant for livestock.
They will rarely run out onto the road in front of you, but it can be easy to miss a little lamb lying on the road until it is too late. Lambs are most vulnerable in the Spring and early summer.
Wild animals, particularly deer, may also be on the road and are much more likely to run out in front of you. Be extra mindful for deer in the early morning and evening hours when they are most active.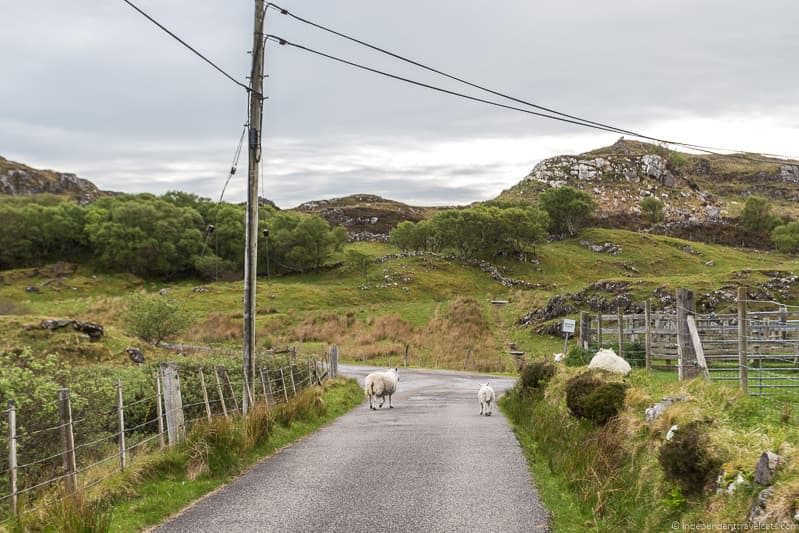 Speeding
The North Coast 500 is not a route for those who want to drive fast. The speed limits are often low and single-track roads mean a lot of slowing down and stopping. If you are trying to get somewhere in a hurry, you'll be frustrated and you'll frustrate other drivers. Even if you are an experienced driver and know the route, you can be sure that you are sharing it with less experienced drivers and speeding could cause you to hit them or they hit you.
Be safe, follow the speed limits, and don't drive this route if you are in a rush!
Littering
This one is easy, don't litter! Bring along bags or containers you can keep in your car to store your trash and wait until you get to a proper place to dispose of it responsibly. One common issue is that tourists are throwing garbage into proper trash receptacles but the receptacles are already overflowing so the garbage ends up on the ground or in the water anyway.
Campers should follow the leave "no trace" policy and should pack out all garbage and waste with them.
Alcohol Limits
The drink drive laws in Scotland were changed in 2014 and are now very strict with low limits to discourage drinking and driving. The legal drinking limit is now lower than in any other part of the UK. You could still be charged even if you are riding a bike.
If you are planning on drinking, even one drink could put you over the legal limit, so plan to stay in after drinking, have a designated driver, or call a taxi.
Note that if you are visiting a distillery or brewery, most will be happy to give samples in "takeaway cups" so that the driver can still enjoy a dram back at the hotel!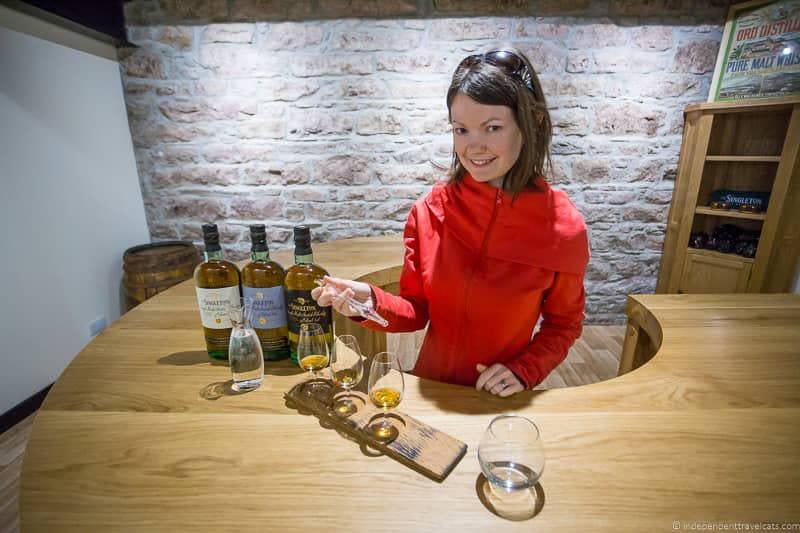 How to Be a Responsible Traveler of the NC500?
The popularity of the North Coast 500 has brought both benefits and negative consequences to this part of Scotland. Some of the negative side effects of increased tourism have been increased littering, overwhelmed local services during the summer, and more traffic accidents and complaints.
Common tourist complaints by locals in the area include improper driving on one-track roads, parking in passing places or in places that are not designated parking spaces, putting garbage into overflowing trash cans, not picking up after dogs, dogs chasing or harming livestock, leaving garbage and human waste at campsites (yuck!), speeding, hitting lambs and other livestock on the road, getting large vehicles stuck in narrow places such as the Bealach Na Ba road, trespassing on private property, and causing damage to the environment.
All of the above issues are easy to avoid by following road safety guidelines and the Scottish Outdoor Access Code. I strongly recommend checking out the Scottish Outdoor Access Code website which covers information, tips, and guidelines relevant to campers, cyclists, hill walkers, dog owners, horse riders, farmers, beach goers, park visitors, and more!
Be a good traveler and respect this beautiful area of Scotland, which has been relatively unspoiled by mass tourism. Remember that it is just not a tourist destination but also a place where people live and many have moved to this area to "get away". Locals don't want to be stuck behind people who stop in the middle of the road to take a photo, see dead lambs alongside the road hit by careless drivers, or have to pick up someone else's litter from their garden.
Do your part to leave "no trace" on this area and encourage others to do the same.
Things to Pack for a NC500 Road Trip
What you need and want to pack is going to depend a lot on you (what do you normally pack for trips?) and the type of NC500 road trip you plan to have (e.g. family RV trip staying at campsites or romantic couples getaway staying at luxury hotels).
But we'll cover recommended general road trip supplies, special items you may need for the Scottish Highlands, and gear you'll want to have with you in the car. Then you can use this to create your own personalized North Coast 500 Packing List.
General Road Trip Supplies
Everyone will have a different set of general packing items they bring on any trip and things they enjoy having on a road trip. Be sure to check the weather before you go and pack for Scotland's notoriously fickle and damp weather (e.g., rain gear, layers, warm coat). Here are some general road trip supplies to help you get started: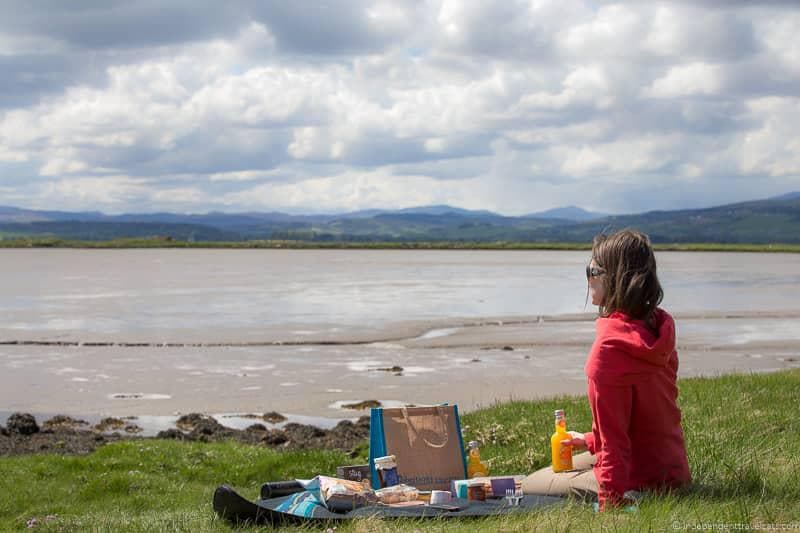 Special NC500 Road Trip Supplies
For the most part, you'll want to bring the same things you'd bring on any road trip, but there are a few things you may want to consider for a Scottish road trip. First, you may want to invest in a guidebook for the North Coast 500 or if your travels are taking you elsewhere in Scotland, a Scotland guidebook.
If you are going to visit Scotland from May to September it is midge season and if you plan to spend time outside, you'll likely want to invest in some midge repellent and/or a head net to keep away these annoying tiny mosquito-like creatures (they swarm together in clouds and bite you!). Ticks can also be a problem in these same months, especially if you plan to hike.
The rain in Scotland can be frustrating but if you come prepared, it doesn't have to restrict you. We'd recommend bringing a rainproof jacket, rain cover (e.g., umbrella or poncho), and waterproof hiking shoes. You may also want to bring waterproof bags to keep wet clothing, supplies, and camera gear.
If you plan to hike, you may want to invest in a good set of hiking maps, especially for those planning to do longer distance hillwalking, climbing, or hiking. Ordnance Survey maps are the ones we recommend (see below).
If you plan to go swimming or spend time in the water doing water sports, you'll also want to bring along a wetsuit or drysuit, towel, and a pair of water shoes.
Supplies for the Car
If you are bringing your own car or renting, most of the things you need should already be in it, but it is important to check before you go. If you have a rental car or RV, make sure you know how everything works (e.g., headlights, turning signals, heater) before you go and ask who you should contact in cases of a flat tire, accident, or mechanical failures. Some things to consider: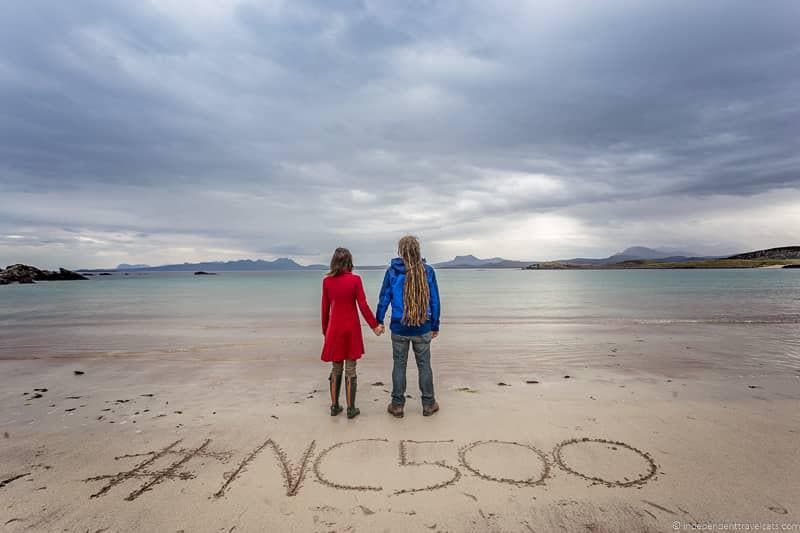 We hope you have found this North Coast 500 guide helpful! If have additional questions about the NC500, just write us a comment below and we'll be happy to answer them. Is a North Coast 500 road trip on your bucketlist?
If you've driven any part of NC500, feel free to share any tips or advice you have from your own trip! As always, all questions and comments are welcome.
Planning a North Coast 500 road trip, PIN this article to Pinterest to read again later: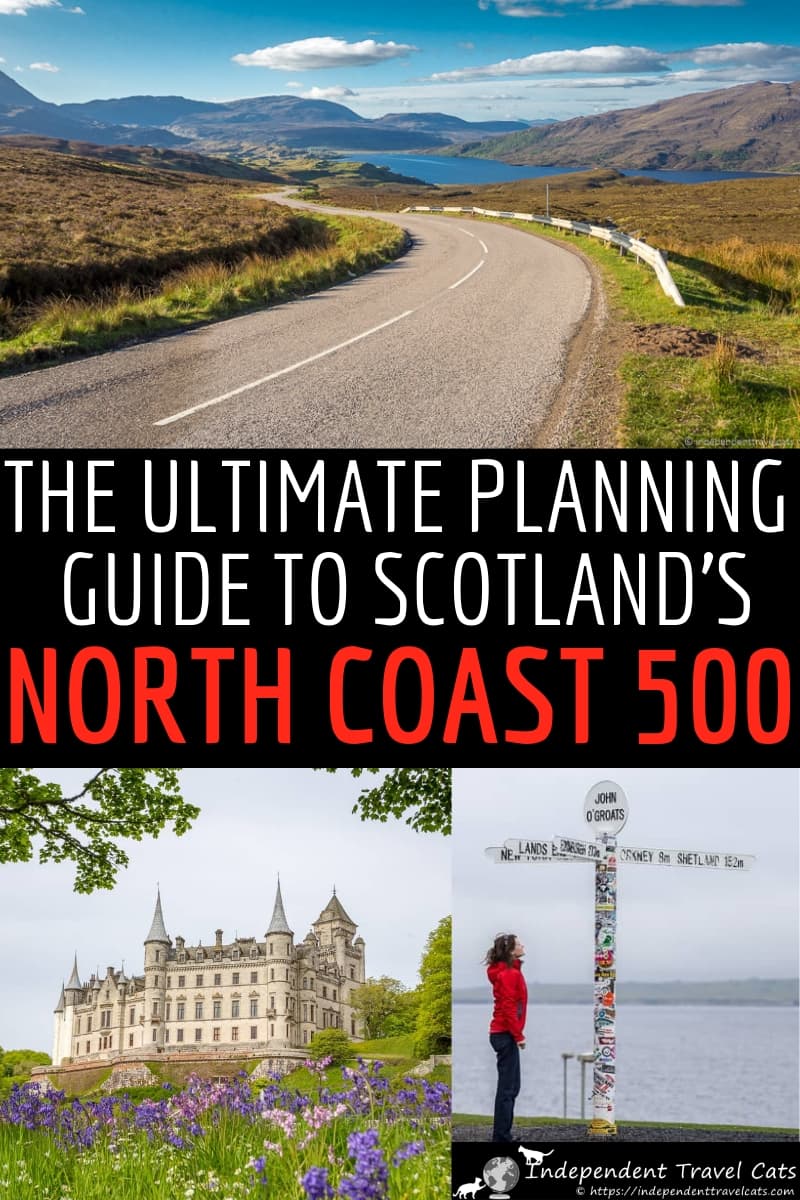 **Disclosure: We partnered with North Coast 500 who helped us plan the logistics of our trip and also arranged many of our meals and accommodation in order for us to share our experiences as travel writers. We had input into every place we stayed, ate, and visited, and we covered our own transport costs and additional expenses. You can read more in our Ethics Code about how we accept work.**