The North Coast 500 is the most popular road trip in Scotland and we've put together a comprehensive 1 week North Coast 500 itinerary to help drivers navigate this driving route. This detailed day-by-day North Coast 500 itinerary covers all the basic details (mileage, general route) and sightseeing highlights along the approximately 500 mile route.
We've driven the NC500 route several times ourselves so we've been to all the highlights and many of the lesser known spots. In this guide, we cover scenic viewpoints, beaches, castles, museums, golf courses, natural wonders, whisky distilleries, historical sites, suggested detours, and so much more. We also provide suggestions for where to eat and where to stay each day along the drive with options for almost any budget.
Use this 7 day North Coast 500 itinerary to plan your travels around this beautiful part of the northern Scottish Highlands and get the most out of your NC500 road trip!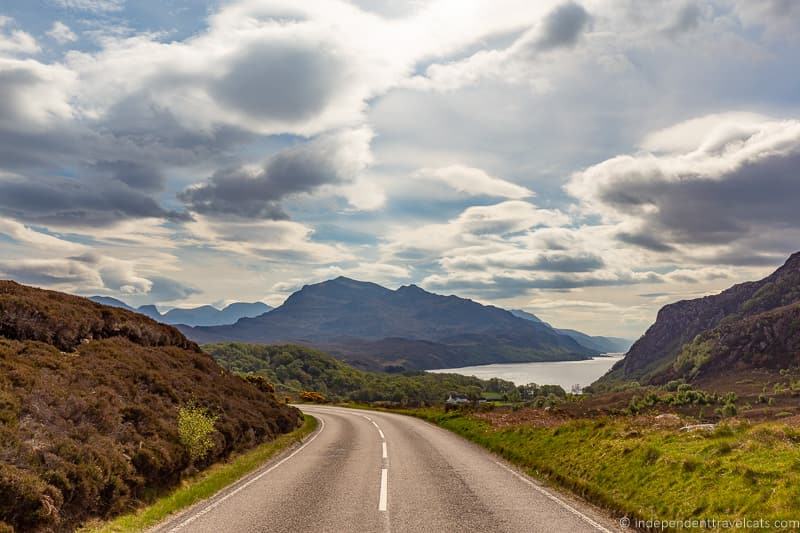 Preparing for your North Coast 500 Road Trip
First, before you take off on your epic North Coast 500 road trip, we recommend reading our North Coast 500 planning guide to get you oriented with all the basic things you need to know to plan your trip.
Our planning guide covers background information about the North Coast 500 route, advice on when to go, an overview of the highlights, car and campervan rental options, tips for traveling with your dog, camping tips, guided tours, safety and driving tips, a suggested packing list, and a list of helpful resources.
But below is some basic information about how to get to the North Coast 500 starting point, where to rent a car for the drive, and how to determine how many days you need to drive the NC500.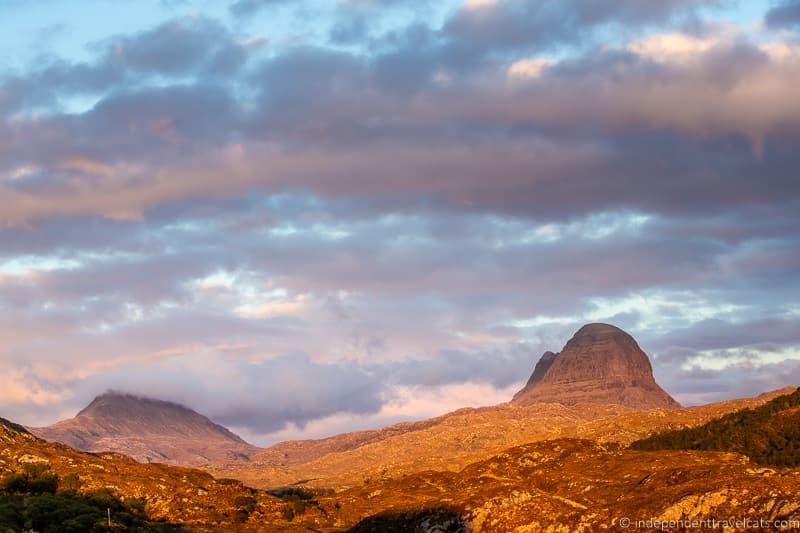 Getting to and from the NC500 Starting Point?
The North Coast 500 is a circular route that begins and ends in the city of Inverness. Inverness is the largest city in the Scottish Highlands, and it has an airport, train station and bus station, making it easy to get here using a variety of transportation options.
Driving
Inverness is about a 150 mile drive from Edinburgh (~ 3 hour drive), 170 mile drive from Glasgow (~ 3.5 hours drive), 300 miles from Belfast (~ 8 hours with short ferry ride), 370 miles from Manchester (7.5 to 8 hours), and 570 miles from London (~ 10 hours).
You can check the latest road conditions and traffic in Scotland online at Traffic Scotland.
Flights
Inverness Airport has flights to and from a number of locations in the UK, Ireland, and continental Europe. If you are arriving from outside the UK, your flight is likely to have a layover in a larger UK airport like London, Glasgow, or Edinburgh.
It is about a 20 minute drive from Inverness airport to downtown Inverness, or you can take a bus (check local bus schedules here), or it's a 20 minute taxi ride (can book and compare fares on minicabit).
Trains
Train connections to Inverness are good from most areas of the UK. You can get to Inverness from Edinburgh or Glasgow in about 4 hours and from London in 8 to 10 hours.
There is no single national train service in the UK, but Trainline and ScotRail are good websites to check for schedules and to purchase train tickets. We recommend purchasing train tickets in advance to ensure a seat and for the best prices.
There is also the option to travel overnight on the overnight sleeper train the Caledonian Sleeper from London or elsewhere in Scotland. You can see schedules and fares here, and you can read our sleeper train review here.
Buses
Inverness is well-connected to the rest of the UK by public bus. You can check National Express for coach connections and prices.
We recommend using the Traveline website for helping to plan longer journeys in the UK via public transportation. The site is especially helpful if you are having trouble figuring out which bus to take or how to do a multi-leg journey.
Ferries
If you are coming from Ireland, ferries regularly run between Belfast in Northern Ireland and Cairnryan in Scotland. It is about a 5 hour drive from Cairnryan to Inverness. You can check out the local ferry routes and schedules here.
Note that if you plan to rent a car outside Scotland and take a ferry, be sure to check your rental car agreement. Bringing a car to Scotland may be against your car's rental terms (particularly any ferry crossings).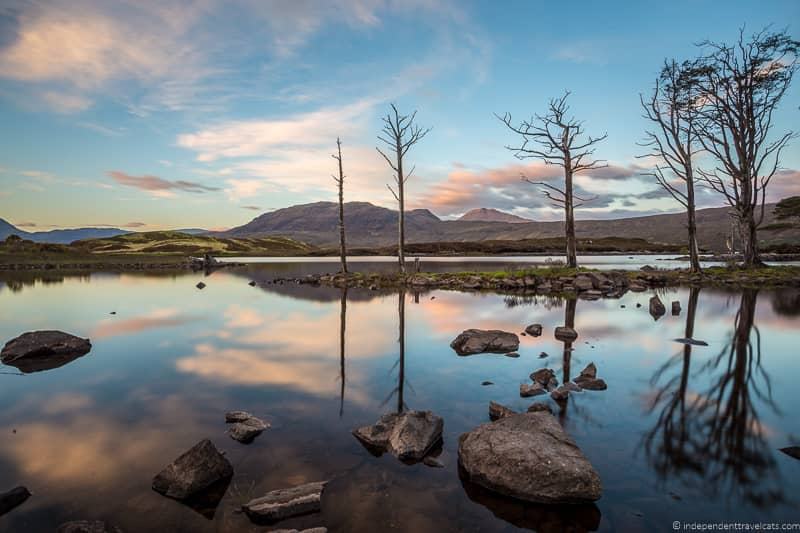 North Coast 500 Car Rentals
If you are not driving your own car, you can easily rent one in Scotland or elsewhere in the UK. For those driving the NC500, Inverness is a natural place to pick up a rental, but you can also do it in any of the other main cities such as Edinburgh, Glasgow, or Aberdeen.
Car Rentals
In Inverness, you can rent a car from a number of rental car agencies in Inverness Airport or downtown Inverness. Just be sure your rental is fully insured. Enterprise is usually our go-to company for car hire.
Each rental car agency has its own rental policies. But generally, to rent a car in Scotland (or elsewhere in the UK), you must be at least 21 to 30 years old (many have 23 as an age limit) depending on the vehicle category and car rental agency. There is often a surcharge for drivers age 25 or under.
To rent a car in Scotland, you also normally need to have held a valid driving license for at least a year (some require up to 3 years) and the driver's license must be in English or use the Latin alphabet (or you'll need to obtain an International Driving Permit from your home country).
Motorcycle Rentals
If you want to rent a motorcycle for your NC500 road trip, you can check out the North Coast 500 Moto Experience in Inverness and the Highland Motorcycle Hire in Muir of Ord (20 km west of Inverness).
If you are arriving elsewhere in Scotland or the UK, you'll have additional options such as Rent a Motorcycle in Edinburgh.
Campervan, RV, & Motor Home Rentals
There are several places to rent campervans in and around Inverness, including Highland Campervans, Loch Ness Motorhomes, and Rover Rentals. For peer-to-peer campervan and motorhome rentals, you can also look at options available on PaulCamper, GoBoony and Outdoorsy.
If you are arriving elsewhere in Scotland or the UK, you'll also find plenty of options around any of the large cities in the UK. For example, if you are starting in Edinburgh or London, Spaceship Rentals is another place to check for campervans and motorhomes.
We also recommend using Motorhome Republic for campervan rental – they compare prices across the major rental firms in the UK to find the best price for you. You can book your RV for the UK through them here.
If you'd like a more robust camper vehicle, check out the four-wheel-drive camper trucks from Wild Camper Trucks. See their Scotland options here.
I'd recommend renting the smallest size campervan or motorhome/RV that you need as the narrow roads of the Highlands are not designed for large vehicles and larger vehicles are prohibited on some roads.
To be able to safely drive the NC500, you must be able to safely reverse the vehicle on small roads and it must fit into passing places. It is recommended that you don't drive or rent any vehicle that has a total length of more than 18 feet.
If you are planning to do the NC500 by campervan or motorhome, we recommend checking out our NC500 camping itinerary, and our guide to campsites on the North Coast 500.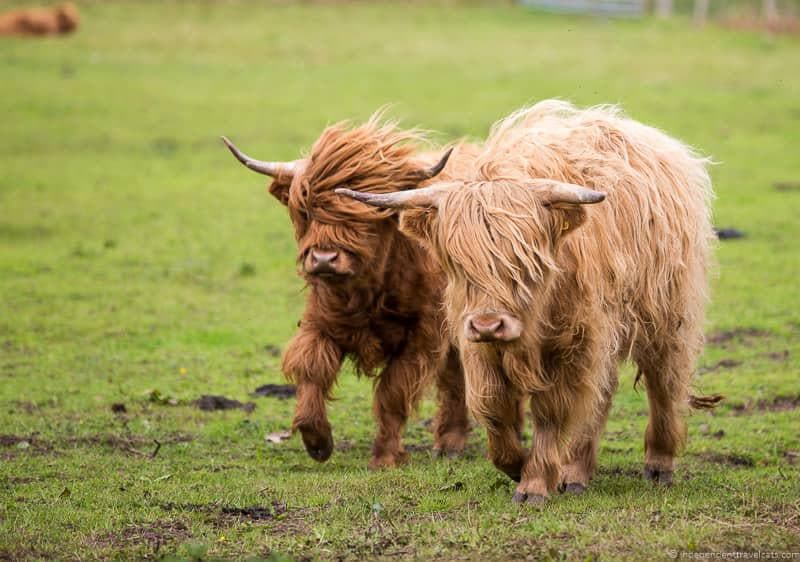 Should I plan my North Coast 500 road trip in advance?
Yes, we would recommend booking your lodging in advance and to have a general idea of the main things you want to do. It is also wise to book ahead any guided activities such as kayaking, fishing, clay pigeon shooting, guided mountaineering, etc. in advance as many of the small operators tell us they can be booked up weeks in advance.
The North Coast 500 has become increasingly busy and there are a limited number of lodging and service options along the route. Waiting until the last minute to book lodging can leave you with few options, particularly if you are traveling between mid-May to early September.
If you are traveling off-season, there will be fewer travelers, but many of the businesses are seasonal so there are fewer lodging options and attractions open between October and April. So again it is wise to plan ahead.
How do you decide how long to drive the North Coast 500?
If you are not sure how long to spend along the North Coast 500, we recommend 7 to 10 days as the most ideal amount of time. This gives you plenty of time to see all the highlights, visit attractions, do some hiking, do some outdoor activities, and really see the area without feeling rushed.
Although it is possible to race around the North Coast 500 in 3 days, this is not recommended as you'll see little and spend a lot of time driving in your car. You'll want to take time to stop and explore and appreciate the scenery. We recommend at least 5 days to drive the full NC500.
This is not a route to drive quickly. The roads are mostly narrow and single-track and parts of the route can be congested in the summer months with tourists. Seeing deer and sheep on the road is common. Don't plan a trip that will require you to rush around at top speeds; be a safe and responsible driver.
If you have more time, you'll have a chance to see even more. The more time people take, the more they tend to enjoy the trip. We've driven the North Coast 500 route now several times and have spent between 7 day to 3 weeks at a time along the route. You won't run out of things to do if you enjoy outdoor activities!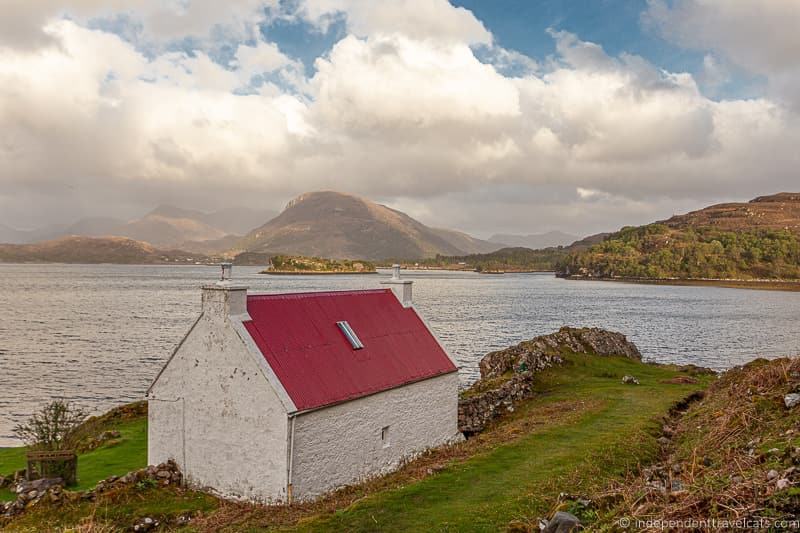 What if I have less than 1 week to drive the North Coast 500?
You can easily adjust this itinerary if you have a bit less than 7 days to drive the North Coast 500. We recommend a minimum of 5 days to drive the NC500 route, and you can see our suggested itinerary for 5 days around the NC500.
If you have less than 5 days, we recommend driving only a portion of the route or considering joining a guided tour. If you are considering a guided tour, we can recommend this 3 day tour from Rabbies, an Edinburgh-based tour company we have used several times. They will take care of the planning, ensure you see all the main highlights, and keep you safe on the road.
What if I have more than 7 days to drive the NC500?
It is great if you have more than 1 week to drive the NC500! We can easily spend a few weeks in the area ourselves and you'll have plenty to do and see if you enjoy outdoor activities.
If you have a few extra days, I'd turn a couple of the 1-night stays into 2-night or 3-night stays so you can better explore areas that are of most interest to you. It is always nice to not have to pack up and change lodging every night.
You also have a chance to explore some of the secondary routes and explore off the NC500. We provide lots of suggestions for things to do and detours in our itinerary.
If you have several extra days, we'd recommend adding on a visit to one of the islands that can be reached from along or near the route such as Orkney, the Outer Hebrides (e.g., Lewis & Harris), the Isle of Skye, or Shetland. We'd recommend at least 2 full days on any of the above islands to make the most of a visit.
Additional Resources?
If you have further questions, we recommend checking out the rest of our content on the North Coast 500, including our North Coast 500 planning guide (start here), North Coast 500 highlights, North Coast 500 photography locations guide, North Coast 500 hotel guide, NC500 camping itinerary, and North Coast 500 B&B guide for more information.
If you have additional questions not answered here, feel free to leave us your question at the end of this article in the Comments section. We'll do our best to answer your questions about the NC500 and provide our advice based on our experiences.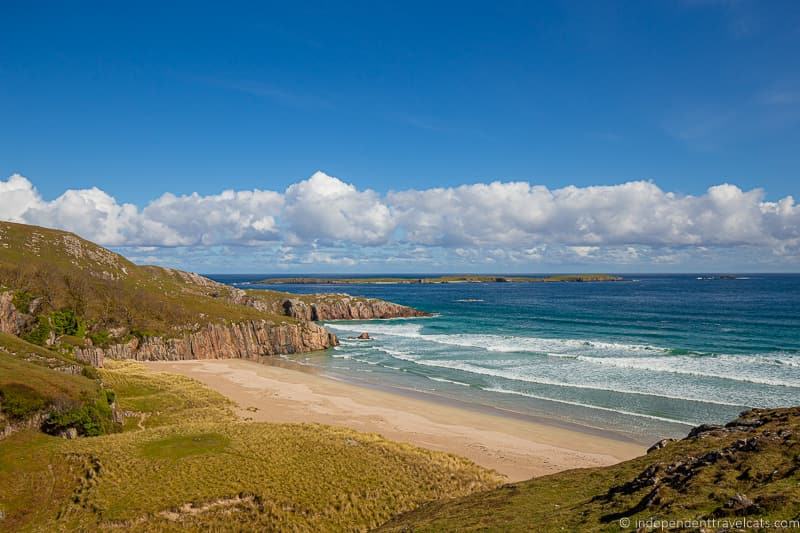 How to Use this NC500 Itinerary?
We recommend that you use our North Coast 500 itinerary as a suggested guide rather than an inflexible itinerary.
There is no way you can visit all the listed attractions or eat in all the restaurants in one road trip with only 1 week so choose the ones of most interest to you. Modify the road trip itinerary to best suit the time you have available for your trip, your preferred pace of travel, and your interests. It is your trip!
We designed this North Coast 500 itinerary with the idea that you would leave Inverness the first day with little time to explore the city. But we highly recommend taking at least one full day to explore Inverness before (or after) your road trip. If you have more time, there is A LOT to do around Inverness and there are lots of great potential day trips from Inverness to places like Loch Ness and the Cairngorms National Park. Add extra days if you want to spend more time exploring Inverness and the surrounding area.
Below is a brief guide to each of the sections within our North Coast 500 itinerary to help you understand and make the most of it:
Starting & Ending Point: This provides our suggested starting and ending point for each day. For a couple of the days, we provide alternative stopping points depending on how far you want to drive and where you book your accommodation.
Route: This section provides a general idea of the route for that day if you are following the NC500 official route. The route is pretty easy to follow and we recommend picking up the official North Coast 500 route from the visitor center in Inverness before your trip to help keep you on track.
Mileage: We list the approximate mileage that would be driven that day if you follow the NC500 route. Of course, if you make any detours or deviations from the route, this will add to your overall mileage. We found that we almost always drove a bit more (and sometimes a lot more) than anticipated.
North Coast 500 Main Attractions: In this section, we highlight many of the main attractions along that day's suggested route such as scenic viewpoints, museums, castles, golf courses, gardens, distilleries, beaches, visitor centers, interesting shops, and historical sites.
We recommend reading over the itinerary before your trip and note down any must-see attractions. For these, I would recommend checking on opening dates and hours to make sure you can fit them into your schedule. Many places are closed on certain days and a few require advanced bookings. Most attractions along the route are open seasonally so if traveling outside of the summer months, some will be closed.
Note that if you would like to do any activities along the route (e.g., wildlife watching boat tours, fishing, golfing, clay pigeon shooting, guided hikes, surfing lessons, cooking classes, geology walks, etc.) I would be sure to book these before your trip. Many of these require advanced reservations and some book up well in advance.
Notable Detours: If there are any notable detours off the driving route that day, such as the Black Isle, trip to Orkney, or Coigach Peninsula loop, we list them in this section. Just note if you plan to make a lot of detours (or do long ones such as out to the islands) you will likely want to add more days to your trip.
North Coast 500 Dinner Recommendations: In this section, we'll tell you about your options for dinner in and around the town where we recommend staying for the night. Breakfast is offered at most B&B's and hotels and lunch is fairly easy to find in most towns along the route, so you shouldn't have too much trouble finding a place to eat during the day. But there are fewer places serving dinner.
In some places you'll have many choices of where to have dinner (e.g., Inverness or Ullapool), but in other towns you'll have more limited choices. In all the places we recommend overnighting, you should have at least 2 or more choices for dinner, especially if traveling between May and September. If you are traveling in the off season, choices may be more limited, especially in the less populated areas.
We list everything from sandwich shops to pubs to fine dining for each location. We've eaten at about 70% of the restaurants we list, so feel free to give us a shout if you have any questions or want a recommendation for a certain type of food or for a certain budget. Also let us know if you find that one of the restaurants on our list has closed, or find a great one that has recently opened.
Most restaurants along the North Coast 500 route stop serving dinner between 8:00pm and 9:00pm (20:00 and 21:00). If you plan to arrive after 8:00pm or so, I'd be prepared and pick up sandwiches or something along the way so you aren't in the situation where you have nothing to eat for the evening.
For those planning to cook their own meals, most towns of any size have a small grocery or general store that sells basic groceries, snacks, prepared sandwiches, etc. Note that in many of the smaller towns, these stores close between 5:00pm and 6:00pm (17:00 and 18:00).
SPAR is the most common store for groceries (as well as other necessities) along the route (many small towns have one), and SPAR also often doubles as the town post office and general store. Some of the larger campsites and caravan parks also stock basic groceries and camping necessities that campers can purchase.
Larger grocery stores along the NC500 can be found in Inverness (several large supermarkets including Tesco, Lidl, Asda, and Morrisons), Thurso (Tesco, Lidl, and Co-op), and Ullapool (Tesco Superstore). These are good places to stock up on groceries if you are staying in self-catering lodging or camping.
North Coast 500 Lodging Recommendations: In this section, we list recommended hotels across a number of budgets and types. We list hotels, inns, B&B's, hostels, and other types of accommodation. We also note campsites and campervan parks near each recommended overnight location for those wanting to do tent camping or plan to travel by campervan, RV, or motorhome.
We have attempted to provide options that will suit all kinds of travelers from budget travelers to luxury travelers; however, know that many towns along the route do not have any 4- or 5-star hotels and many towns don't have any hostels. If you are looking for 5-star luxury at every stop, you may be disappointed, but there are good mid-range options all around the route.
We only list accommodation recommendations for suggested overnight stops within the 7 day itinerary, but if you are looking for other lodging options in other spots, take a look at our guide to where to stay along the North Coat 500.
Parking is available for free at (either a dedicated car park or free on-street parking) almost all lodging options around the route. The only place where you might want to check on parking is Inverness as not all hotels and B&B's have their own parking area, but there is almost always free street parking around or low-cost car parks.
**Important Note: We've driven the route several times over the past few years and have seen a large number of openings, closings, and changes of ownership of hotels, B&B's, restaurants, museums, shops, and other businesses. We strive to keep this information as updated as possible, but be sure to check ahead for latest information.
If you know of an attraction that has disappeared or a business that has closed (or a great place that has opened or re-opened) please feel free to leave us a Comment and we will look into it and update our information. We appreciate your help in keeping our information updated for future readers!**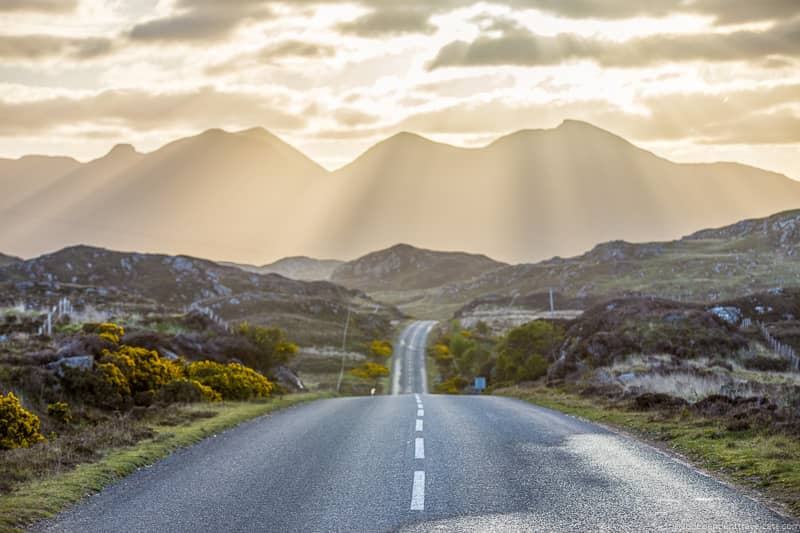 1 Week North Coast 500 Itinerary Map
Below is a quick outline of our suggested North Coast 500 itinerary route and the starting and ending points for each day are shown in the map below. This is just a quick reference North Coast 500 map to show the route and itinerary so you can visualize it!
You can click this link or double click on the map image below to explore or save the map.
1 Week North Coast 500 Itinerary Summary
Here's an overview of the route for quick reference.
Day 1: Inverness to Dornoch
Day 2: Dornoch to Wick
Day 3: Wick to Tongue
Day 4: Tongue to Lochinver
Day 5: Lochinver to Ullapool
Day 6: Ullapool to Kinlochewe
Day 7: Kinlochewe to Inverness
7 Day North Coast 500 Itinerary
Here is our suggested 1 week North Coast 500 itinerary. The itinerary begins and ends in the city of Inverness.
We recommend driving the NC500 route counterclockwise (starting along the east coast) so the itinerary follows this direction going northeast and then west. However, you can easily reverse this route and start your trip by exploring the west coast first. You just need to start reading from the end.
As noted earlier, we suggest that you use our itinerary as a guide for planning your trip and that you modify it as needed.
To make the most of your trip and time, you might consider picking up a map of the route. If you will be driving beyond the NC500, we also recommend getting a good driving map of Scotland or a road atlas like this one.
There used to be a physical copy of the official North Coast 500 map available, however this has been discontinued. You can sometimes find it on eBay, with this search. There is also this map of the route available on Waterstones.
You might also want to get a guidebook written for the North Coast 500. There are a few of them now, and you can see them here. Personally, we have not used them and have heard mixed reviews from readers, so read reviews to decide if one of these might be helpful for your trip.
For those planning to do a lot of hiking, cycling, or climbing along the North Coast 500 (or elsewhere in Scotland), we highly recommend using Ordnance Survey maps. These are the best and most detailed maps for the UK.
There are OS 1: 50,000 scale Landranger maps (good for cyclists, drivers, and hikers planning to stick to well-established paths) as well as the OS 1:25,000 scale Explorer Maps for those hiking and wanting to get off the paths. For example, this is the Landranger Map for Assynt & Lochinver and this is the Explorer Map for that same area.
OS ships globally, but some of the maps are also available on Amazon. If you have a question about which map you need for certain hikes or areas, feel free to ask.
We have driven the route many times now and we have visited almost every listed attraction along the North Coast 500 and done almost all the listed detours. So if you have a question about something after reading over the itinerary, feel free to ask us in the Comments section at the end of this article.
OK, let's get this road trip started!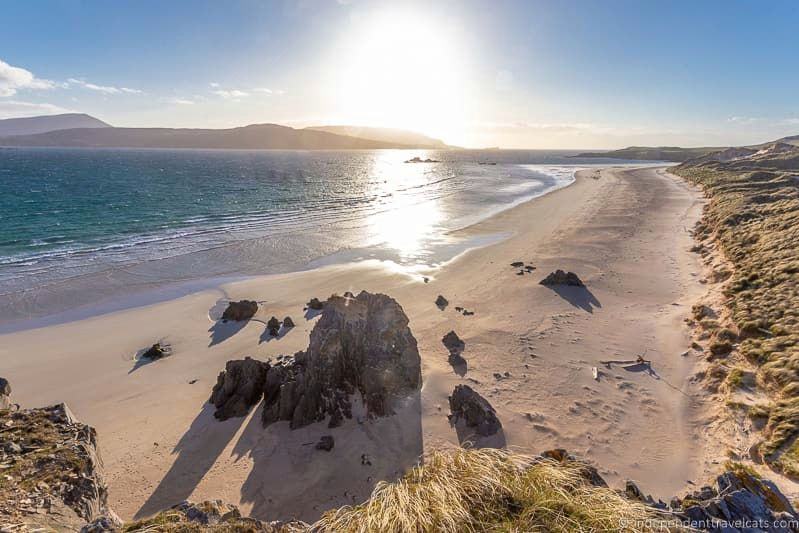 Day 1 of North Coast 500 Itinerary: Inverness to Dornoch
Welcome to the North Coast 500—today your great Scottish road trip begins! Today you head up the east coast with opportunities for beaches, golfing, wildlife spotting, cultural attractions, whisky distillery tours, and hiking. The biggest decision today is whether you want to detour to explore the Black Isle or not.
Let's get started!
Starting & Ending Point: Inverness to Dornoch
The official beginning is Inverness Castle, but feel free to begin wherever you wish. You'll start by heading west out of Inverness along the A862 towards the small town of Beauly.
Route: Inverness –> Beauly –> Dingwall –> Tain –> Dornoch
Mileage: ~ 53 miles / 85 km (~ 93 miles / 150 km if do Black Isle detour)
Areas of Scottish Highlands: Inverness-shire, Easter Ross (a.k.a. Ross-shire and Ross & Cromarty), and Sutherland
Main Attractions Along Route
You'll be leaving Inverness today. Inverness, the Capital of the Highlands, has a number of attractions in the city itself such as Inverness Castle (only the viewpoint is open to the public), Inverness Museum & Art Gallery, Ness Island Walk, and Inverness Botanical Garden. And offers a number of great attractions within a short drive such as Fort George, Culloden Battlefield, Cawdor Castle, and Loch Ness. You can see our guide to day trips from Inverness. We highly recommend spending a full day exploring Inverness before or after your NC500 road trip if you haven't visited before.
Note for those interested in the Picts, an early group of people who inhabited Scotland, there is a Pictish Trail that ties together over a dozen sites between Inverness and Dunrobin Castle. Most sites are Pictish carved stones and you can add any of interest to your itinerary. A few require you to phone ahead to ensure access.
The area of the Moray Forth and Beauly Firth around Inverness and North Kessock is well known for wildlife and people often spot birds, otters, and dolphins here.
Beauly is the first village you'll come to and is best known for Beauly Priory, or the Priory Church of the Blessed Virgin and John the Baptist, which was founded in 1230 by Valliscaulian monks. The Reformation in 1560 brought an end to its religious use and it is in ruins now, but it's maintained by Historic Scotland and worth a visit (free to visit). John Keats visited here and wrote a poem about the ruined abbey. Beauly also has its own Pipe Band that performs traditional music every Thursday evening in the town square during summer.
Just north of Beauly, you'll pass by Robertson's Farm Shop, this is an excellent place to grab picnic supplies. They also have a small family petting zoo (small fee) here where the kids can get up close to sheep, goats, Highland cattle, chickens, pigs, alpaca, etc.
Next village is Muir of Ord which offers a golf course and a nearby whisky distillery. The Glen Ord Distilery, which produces a popular single malt whisky, has a visitor center and you can take distillery tours and/or do tastings here. For those interested in archaeological sites, the golf course is also the site of the Castle Hill Henge (previously known as the Muir of Ord Fort) which may be a Neolithic or Bronze Age henge and there are also standing stones within a mile of the henge. If you want to see it, just stop in at the golf course and ask about it.
If you are wanting to detour to visit the Black Isle (recommended if you have time), you'll probably want to do that now. See Possible Detours section below for more information about the Black Isle.
Dingwall is a very pleasant town to stroll around so we recommend parking and taking a stroll along the main street (High Street), here you'll find a number of local shops, a few casual dining spots, and the Dingwall Museum (entry by donation, seasonal). The small museum covers the local town history and is worth a stop. There is a heritage walk you can do that takes about 1.5 hours (ask about it in the museum) and covers local monuments and historical buildings. The tower you'll likely notice on the hill is a memorial to local hero Major General Hector MacDonald and you can do a hike up to the tower which offers a nice view back over the town and Black Isle.
Outside the town center of Dingwall is Tulloch Castle which is believed to date back to the 12th century and is today a hotel. GlenWyvis is a community-owned distillery, started in 2015, that produces both gin and whisky. You can't visit the distillery (as of last check) but you can purchase and try it locally in Dingwall.
Evanton isn't a large village but if offers several woodland hiking trails in and around the community-owned Evanton Woods. One 2.5 mile hike goes past the Black Rock Gorge, which was a Harry Potter filming location. There is also a very nice woodland playground located here (about a 10 minute walk from town center parking area) if you are traveling with kids.
The little village of Alness has a golf course and two whisky distilleries, Dalmore Distillery (open to visitors, seasonal) and Teaninich Distillery (not open to public). You might also consider a hike up to the nearby Fyrish Monument

;

there are nice views of Ben Wyvis and the rest of the local area from the monument on a clear day.
A brief detour can take you to Invergordon which is home to another golf course and the Invergordon Museum (entry by donation, seasonal) which covers local history of the town and area.
Another brief detour can take you to the Nigg Bay reserve which is an extensive area of mudflats, saltmarsh, and wet grassland on the Cromarty Firth, much of which is part of a The Royal Society for the Protection of Birds (RSPB) reserve. It is a good place to see wading birds and wildfowl, especially at high tide. The reserve operates a hide and small car park here. Those interesting in birdwatching here should check out the reserve website. A bit further south is the parish church in Nigg that contains the Nigg Stone, an important carved Pictish stone.
Tain has a long history and was Scotland's first royal burgh back in 1066, and its town center is worth a short stroll. Some notable buildings are the Tain Tolbooth & Clock Tower (across the road from the Royal Hotel) and the medieval St Duthac Collegiate church. If you have time we recommend a visit to Tain Through Time (small admission fee), which includes 3 buildings set within the church grounds which include a visitor center focused on the story of medieval pilgrimage to Tain, the medieval church itself dedicated to Saint Duthac, and the Tain & District Museum which covers the local history. The Clan Ross Centre is also located within this museum.
Tain also has a golf course and a whisky distillery. Glenmorangie Distillery dates back to 1843 and produces a single malt whisky and is one of the best selling single malts in Scotland each year. The distillery offers guided tours and tasting classes to the public.
Just outside of Dornoch (but not open to the public) sits Skibo Castle, which was the home of Scottish-American industrialist Andrew Carnegie. It can't be seen from the road and doesn't allow public visits as it is an exclusive members-only residential club. It has its own golf course, stables, and tennis courts. This is where Madonna married Guy Ritchie in December 2000. You can learn more about the castle in the HistoryLinks museum in Dornoch.
Dornoch is a lovely little town best known for its famous championship golf course at Royal Dornoch Golf Club (book tee time well in advance) and is a major draw for golfers. In the center of town you'll find Dornoch Cathedral (grand parish church which has seen the likes of Madonna and Elon Musk), Dornoch Castle (15th century castle, now a hotel), and the old 19th century jailhouse (now a shop). Dornoch also has a beach which is a pleasant place for a seaside stroll. For local history, we recommend a stop at HistoryLinks (small admission fee) which covers all the local history and you can also pick up a heritage trail map that will guide you to places like the old mercat cross and The Witch's Stone (commemorates last legal witch burning in British Isles in 1727). There's also the popular Cocoa Mountain which sells handmade chocolates and serves hot chocolate
Possible Detours
Today's drive to Dornoch isn't that long so depending on what time you leave Inverness and how many stops you plan to make, you may have time for a detour. If you have time we'd definitely recommend the Black Isle detour.
If you have even more time (ideally another day) you might consider more exploration of the Tarbat Peninsula and doing the Lairg Loop.
The Black Isle is a large peninsula located just northwest of Inverness. The area has a number of interesting small towns, attractions, and scenic spots that are worth a stop if you have time. These include Hugh Miller's Birthplace Museum & Cottage, Black Isle Brewery, Fortrose Cathedral, wildlife watching boat tours (book in advance), Pictish stones, and Fairy Glen waterfall. Chanonry Point is one of the best places to see dolphins in Scotland. See our guide to things to do on the Black Isle to plan your visit. You can turn off the NC500 route to visit the Black Isle in a few different spots between Inverness and Dingwall. It is about a 1.5 hour detour to drive around the peninsula and return, but I'd allow at least 3 hours if you want to make stops and explore.
If you like Pictish stones and lighthouses, you might want to make the detour to explore the Tarbat Peninsula. Here you can visit the interesting Tarbat Discovery Centre (small admission fee) which is located in an old parish church and is focused on Pictish history and artifacts. There are also more Pictish stones and historical sites in area (ask at Discovery Centre). You can also follow the coastal Tarbat Ness walk from Portmahomack to the local lighthouse which was designed by Robert Stevenson. You can detour to this area from Tain, it is about a 20 minute drive from Tain to Portmahomack.
Lairg Loop – If you have extra time, you might consider driving the Lairg Loop which includes the chance to drive through Bonar Bridge, see the Falls of Shin (visitor center, walking & cycling paths, restaurant, waterfall with chance to see salmon jumping), and visit Lairg. In Lairg, you'll find the Ferrycroft Visitor Centre which is a good place to get local information and to do two short walks, the Ord Lairg Archaeology Trail and Ferrywood Trail. This is a popular fishing area, especially for trout in local lochs, and you can purchase bank permits and boats here. The Lairg Loop without stops adds a little over 1 hour of driving.
If you are doing the Lairg Loop, you may also want to make a detour to see Croick Church (about 10 miles west of Ardgay) in the parish of Croick. It is a Church of Scotland 19th century parish church of Thomas Telford design that figured prominently in the Clearance of Glencalvie in 1845. It is about a 25 minute drive from Ardgay to reach the church. So add an extra hour to the Lairg Loop drive if you want to visit the church.
Dinner Recommendations
You have several options when it comes to finding dinner in Dornoch. Reservations are recommended at many of the restaurants so I'd recommend calling ahead to book if there is one you really want to eat at during your stay.
I'd also check with your B&B or hotel, as many offer evening meals in Dornoch for guests.
Here are some options:
Coach House Bar & Restaurant – If you are looking for inexpensive pub grub or a drink at a local place, this is a good bet. The service here is friendly; however, the food we've had here was only so-so. Full bar; pub is dog friendly.
Luigi – This is a casual cafe that serves tasty lunches during the day, and they also serve evening meals on some nights. Serves contemporary European food with a focus on fresh and local seafood. Serve wine and beer. Reservations recommended.
Sutherland House Restaurant & Bar – Traditional Scottish food, British pub food, and steaks. Full bar. Located in central Dornoch. Popular spot; reservations recommended in summer.
Conservatory Restaurant – Located at the Royal Golf Hotel, the bistro-style conservatory restaurant offers nice views over the Royal Dornoch Golf Club and Dornoch Firth. Offers à la carte menu with traditional Scottish and European dishes. Full bar. Reservations recommended.
Castle Restaurant – Although the Dornoch Castle Hotel is best known for its award-winning whisky bar, it also has a good hotel restaurant. Serving contemporary Scottish and European meals. Wine list. We've had very good meals here. Reservations recommended.
Links House – French inspired food using local produce. Offer both an à la carte menu and a set tasting menu. Extensive wine list. Excellent option if you are looking for a fine dining experience; reservations essential.
Late Night Option – If you are arriving into the town late, Highland Spice, an Indian restaurant and takeaway, usually offers takeaway until 11pm.
Lodging Recommendations
We recommend lodging options in Inverness for those staying overnight there before starting the North Coast 500, and accommodation in Dornoch, where we recommend spending your first night along the NC500.
Accommodation in Inverness
If you are looking for a place to stay in Inverness before (or after) your NC500 trip, here are some suggestions, many of which we have stayed in:
Accommodation in Dornoch
Here are suggestions for lodging in and around Dornoch across a variety of budgets:
Strathview Lodge B&B – Located about a 10 minute drive from Dornoch, this lovely B&B offers good-sized comfortable en-suite rooms and a tasty cooked breakfast. We've stayed here. Great location for birdwatchers as very close to the Loch Fleet Nature Reserve.
Heartseed House B&B – This B&B is located just outside Dornoch and offers 3 comfortable rooms with nice views over rural land and Dornoch Firth. Offers cooked-to-order breakfast, and pets are allowed on request.
Albatross B&B – This centrally located B&B offers two en-suite guest rooms as well as free on-site parking, free WiFi and a full cooked breakfast.
Dornoch Castle Hotel – If you are looking for a Scottish castle to stay in while in Dornoch, then the 3-star castle hotel may suit the bill. Its history dates back to the 15th century and it offers 22 comfortable rooms, an on-site restaurant, and an award-winning whisky bar and lounge. Central location across from Dornoch Cathedral.
Links House – A 5-star luxury boutique hotel with 14 rooms across three adjacent buildings. Beautiful decor, excellent on-site restaurant, and luxury amenities. Located next to the Royal Dornoch Golf Club. If you are looking for the nicest place to stay in Dornoch, this is it!
Campsites – Dornoch Caravan and Camping Park – offers both serviced and unserviced pitches for tents, caravans, and motorhomes. Located near beach and golf courses.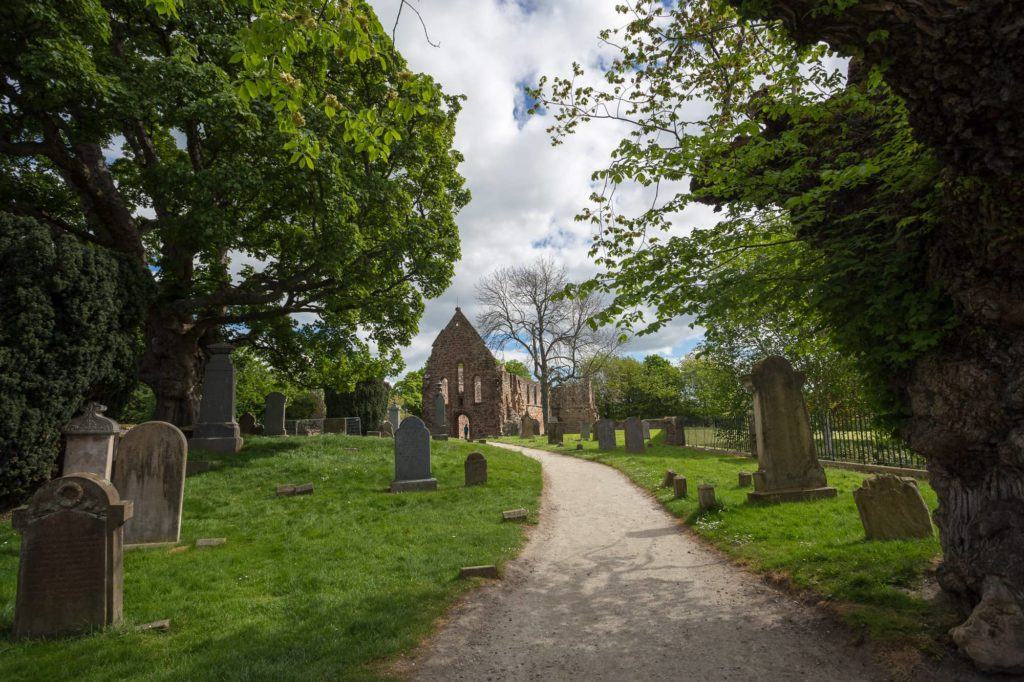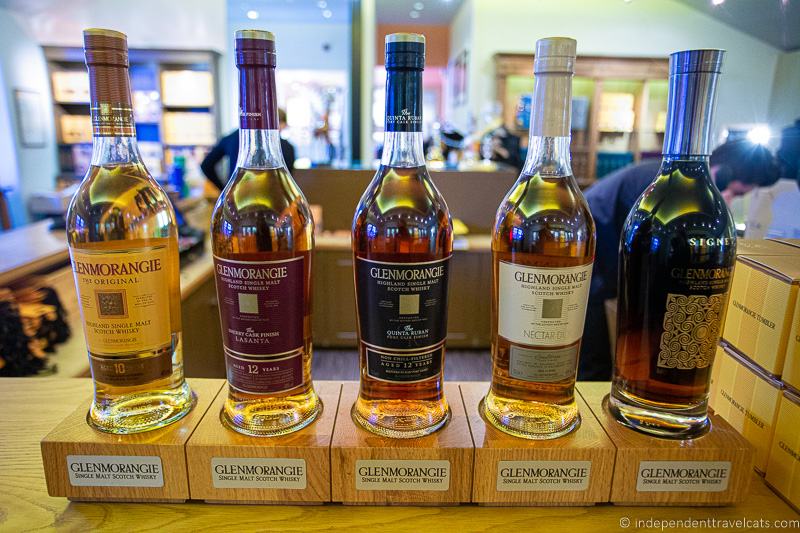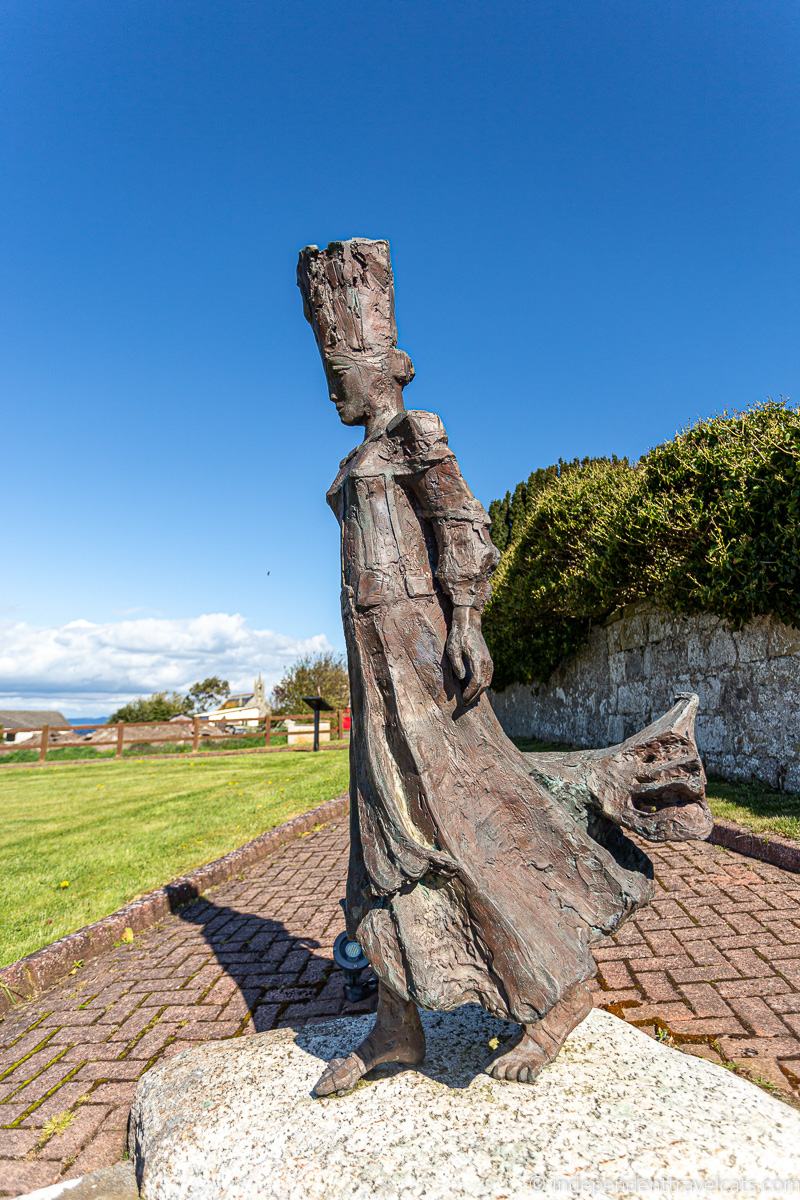 Day 2 of North Coast 500 Itinerary: Dornoch to Wick
Hopefully, you enjoyed your first taste of the North Coast 500 yesterday and are ready for Day 2. Today you have lots of things you can do, including birdwatching and wildlife spotting at Loch Fleet, learning more about the Highland Clearances and local history of the region, touring the impressive Dunrobin Castle and its gardens, and visiting dozens of archeological sites. There are also many hiking opportunities as well as several whisky distilleries and golf courses along today's NC500 route.
Although today's drive is again not that far, there are lots of stops you can make along the way. We recommend looking ahead before setting out and noting the must-see stops for yourself along the route today and then plan your day accordingly.
Starting & Ending Point: Dornoch to Wick (or John O' Groats)
Route: Dornoch –> Brora –> Helmsdale –> Dunbeath –> Wick
Mileage: ~ 62 miles / 100 km (~ 78 miles / 125 km if end in John O'Groats)
Areas of Scottish Highlands: Sutherland and Caithness
Main Attractions Along Route
Say goodbye to Dornoch and head north towards Golspie.
You might want to make a short detour to visit Embo as it has a lovely beach (you can actually walk from Dornoch Beach to Embo Beach as well).
For those who enjoy wildlife and birdwatching, you should make a stop at Loch Fleet, a national nature reserve. Loch Fleet is a sea loch surrounded by sand dunes, mudflats, coastal heath, and pinewoods. It is a popular place for birdwatchers and also good for spotting local plants, otters, and seals. The ruins of the 14th century Skelbo Castle are also here. Lots of trails here, coastal and woodland, from short easy ones to longer hikes. The Skelbo Forest walk is an ideal one for families as it has lots of shade and has a number of woodcarved animal sculptures along the path.
The town of Golspie has another golf course (can't have enough of them!) and a nice little shop selling stones and fossils called the Golspie Stone Shop. You'll likely notice a statue above the town, this is a 100-foot tall statue of the 1st Duke of Sutherland which was erected in 1837. The Duke and his wife (as is the Sutherland name) are controversial figures because of their role in the Highland Clearances. The statue, known locally as The Mannie, marks the top of Ben Bhraggie and you can hike up to the statue from Golspie, and there are lovely views from the top on a clear day. You can continue that hike onto the Big Burn or Dunrobin Castle estate as well.
If you are looking for more hiking opportunities today, just outside Golspie is the lovely Big Burn hike which is a lovely wooded area and stream with a series of small waterfalls.
Now you'll arrive at the fairytale castle of the Scottish Highlands, Dunrobin Castle. Of all the castles in Scotland, this is the one that looks most like a Disney Castle. Although it dates back to the medieval period, most of what you see today dates only to the mid-nineteenth century and was designed by English architect Charles Barry. Dunrobin Castle is the family seat of the Earl of Sutherland and the Clan Sutherland, and is still owned and used by the Sutherland family. The castle is open to the public seasonally to visit (admission fee for entry). Here you can tour the castle rooms, visit the beautiful formal French gardens, and explore the museum (warning: lots of stuffed animals inside the museum!). There are also regular falconry shows in the garden in the summer. You can easily spend a couple of hours here, and we always enjoy visiting.
After leaving Dunrobin Castle, you will soon see a sign for Càrn Liath which is an Iron Age broch. You can see it from the road, but there is a small car park on the opposite side of the road where you can park and walk over to the broch if you wish. The site is maintained by Historic Scotland. More brochs (or well broch remains) can be found in Caithness than in any other part of Scotland. When visiting, just be sure not to walk on top of or disturb any of these archaeological structures. Learn more about local brochs on the Caithness Broch Project website.
In Brora you'll find a popular golf course, a small beach, and the small Brora Heritage Centre (free, donation only). If looking for a coastal hike, consider doing part of the John o' Groats Trail from Brora to Golspie or from Brora to Helmsdale.
Just outside of the village of Brora is the Clynelish Distillery which includes both a modern distillery and a 19th century one (this one was renamed Brora Distillery; currently closed with plans to reopen it in 2020). Tours and tastings are available to the public.
Helmsdale – Helmsdale's harbor was once home to one of the largest herring fishing fleets in Europe. The town has an interesting history with links to the Highland Clearances, herring industry, gold rush, and castle poisonings, which you can learn all about at the museum (small entry fee) at the Timespan Heritage and Art Centre. Timespan also has a cafe if you are hungry or need a cup of coffee. The other thing to see in Helmsdale is a bronze statue on a hill called The Emigrants which is a touching memorial to those who left Scotland during the Highland Clearances.
About 5 miles north of Helmsdale is the former clearance village of Badbea, which was one of the villages in the area where evicted people settled during the Highland Clearances. There is a small car park here and a path to the former village. There are some signs here telling about the history of the village and a monument by David Sutherland, and you can see some of the remaining stone walls of buildings and such.
In Dunbeath, you'll find the Dunbeath Heritage Centre. Writer Neil Miller Gunn was born in Dunbeath and you can find a memorial statue Kenn and the Salmon (based on two of his characters) located near the harbor. Also nearby are a number of archaeological sites like Dunbeath Broch (this nice walk includes the broch, a carin, and standing stone) and the Dunbeath Castle Gardens (fee, private gardens open by appointment only). Garden lovers should be sure to schedule a time to visit in advance.
Just outside Dunbeath along the route is the Laidhay Croft Museum (small fee to enter, pay in tea shop if no one around) which includes a 250-year-old rush thatched Caithness Long House which you can explore which is cluttered full of antique furnishings as well as a byre (barn) and shed with tools. There is also a tea room next door and it's a place we like to stop to support the little museum.
Near Latheron, is the Clan Gunn Museum & Heritage Centre which is a museum dedicated to the history of the Clan Gunn which is located within the Latheron Old Parish Church.
There is also a large standing stone (over 12 feet high) in a field in Latheron called the Buldoo stone or Latheron stone, you can see it from the A9 but we could not find an easy way to access it on foot. Further along towards Lybster sit the ruins of Forse Castle, you can't see it from the road but it can be seen from the coastal hiking path between Dunbeath and Lybster.
In between Dunbeath and Wick are a number of archaeological sites of burial cairns, standing stones, brochs, etc. There are probably hundreds of sites and you can easily spend a couple of days just exploring them. If you don't have a lot of time, maybe pick one or two to visit and add those to your itinerary today. Most of these require small detours from the North Coast 500 route to visit. The most popular (and best signposted) are the Achavanich Standing Stones (36 smaller stones part of a stone circle), Grey Cairns of Camster (Neolithic burial chambers, note have been restored by Historic Scotland but very impressive), Yarrows Archaeological Trail (hiking path with several sites), Cairn o' Get (remains of a tomb, it's about a 3/4 mile hike to reach, not recommended if muddy), and Hill o' Many Stanes (rows and rows of small standing stones). Laurence and I have visited all of these so if you have a question, let us know.
In Lybster is the Waterlines Heritage Museum located next to the Lybster fishing harbor, which focuses on local history and its former importance as a fishing station. The village also has a golf course.
A bit further along is the Whaligoe Steps which is a man-made stairway of 330 steps that were handcut to lead down to a scenic harbor between two sea cliffs which was once a landing place for fishing boats. The steps are steep so keep that in mind before heading down and make sure to keep a close eye on children. There is also a very good cafe here that serves lunch and drinks, as well as dinner on certain evenings (make dinner reservations in advance).
Near Thrumster is the previously mentioned Yarrows Archeological Trail which is a hiking path along which are the remains of a Mesolithic site, Neolithic chambered tombs, Bronze Age hut circles, and a broch. It starts near the southwest part of the Loch of Yarrows and there is a parking area here and signage. The full walk takes about 1.5 to 2 hours to complete, you can see more details of the walk here. If you are really interested in this trail, consider spending the night at nearby Thrumster House as there are archeological sites on the private grounds and the owners have been involved in making and promoting the local trail.
Our recommended final destination for the day is the town of Wick. Wick has an interesting history and we recommend learning about it in the excellent Wick Heritage Centre if you have time. Also in Wick, you'll find the Old Pulteney Distillery (open for public tours and tastings), a golf course, three harbors, and a Carnegie library. You can also hike up to Old Wick Castle, which is a 12th century ruin along a cliff.
Looking for activities? Scenic boat trips along the coast are possible from Wick harbor with Caithness Seacoast (recommend booking in advance).
Possible Detours
The Lairg Loop (described in Day 1's Possible Detours section) is a possibility again today. Note that this route takes at least 1 hour to drive without taking into account stops.
The Forsinard Flows, a large blanket peat bog reserve that is protected by the RSPB and an important natural area, is a possible detour from Helmsdale today. However, we recommend if you want to visit here that you wait until Day 3 as it is quicker to access from the north. But if you do decide to go today it is about 25 miles to the Visitor Center and it takes about 45 minutes to get there from Helmsdale. So a detour there and back will take at least 2 hours, but longer if you want to spent much time exploring the reserve.
Dinner Recommendations
There are a few dinner options in Wick, and you can also check with your lodging in advance if they do evening meals.
Here are some options:
No 1 Bistro – This restaurant located at the Mackays Hotel serves both lunch and dinner and focuses on modern Scottish food using lots of local produce. Great place with high quality food. Full bar, and they even have a cocktail menu. Reservations strongly recommended for dinner.
Bord de l'Eau – A relaxed French restaurant serving classic French dishes and French inspired dishes. The chef was born in France and the restaurant gets good reviews. Located along the river. Wine menu. Reservations recommended for dinner.
Harbour Chip Shop – If you are looking for reasonably priced fish and chips (and other deep fried goodies), you might want to head down to the harbor to the local chippy for some takeaway.
DeVita's – This is a family-run pizzeria and Italian cafe serving salads, pizza, pasta, paninis, and burgers. DeVita's serves breakfast, lunch, and dinner.
The Alexander Bain – This is a large Wetherspoon's pub named after a local inventor, serving the usual British pub fare, pizzas, and has a full bar. Note this pub has recently been put up for sale (as of March 2019) so its future is currently uncertain but still open at last check.
Late Night Options – If you are arriving into the town late, you have a few options of places to check including Bombay Spice (Indian takeaway & delivery, usually open until midnight), The Great Wall (Chinese, cash only, usually open until at least 10pm), and Tandoori Spice (Indian restaurant and takeaway, usually open until 11pm).
Lodging Recommendations
We recommend staying overnight in Wick tonight but if you can't find something in Wick, or want to drive a little further, you might consider spending the night a little further north in John o' Groats.
Here are suggestions for lodging in Wick and John o' Groats across a variety of budgets: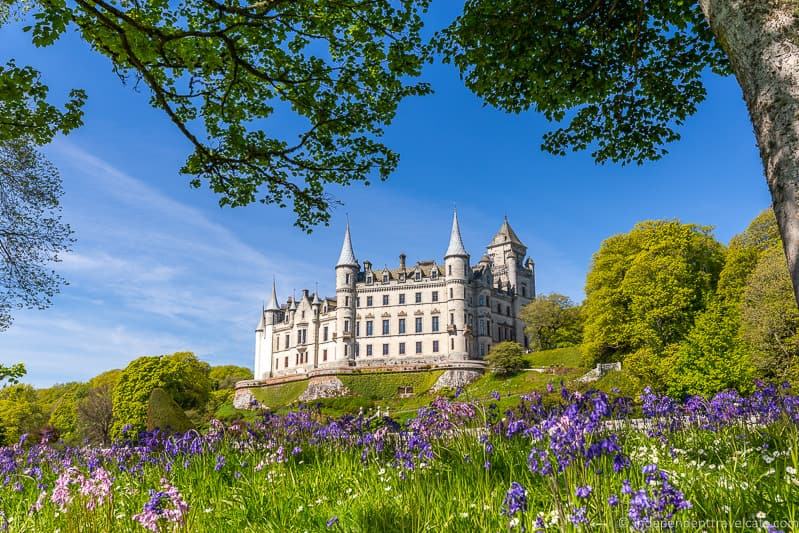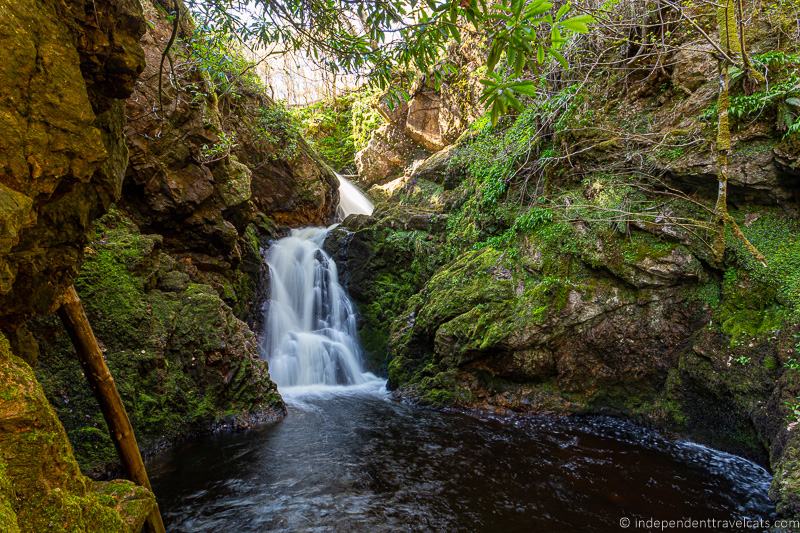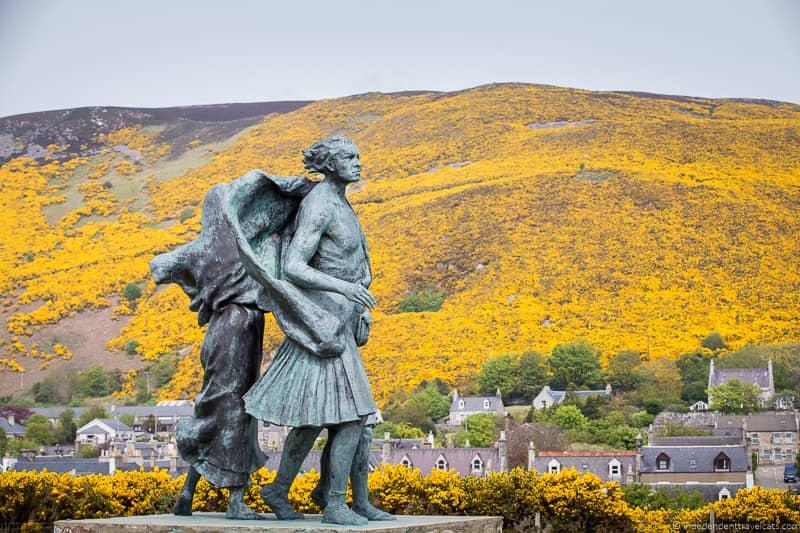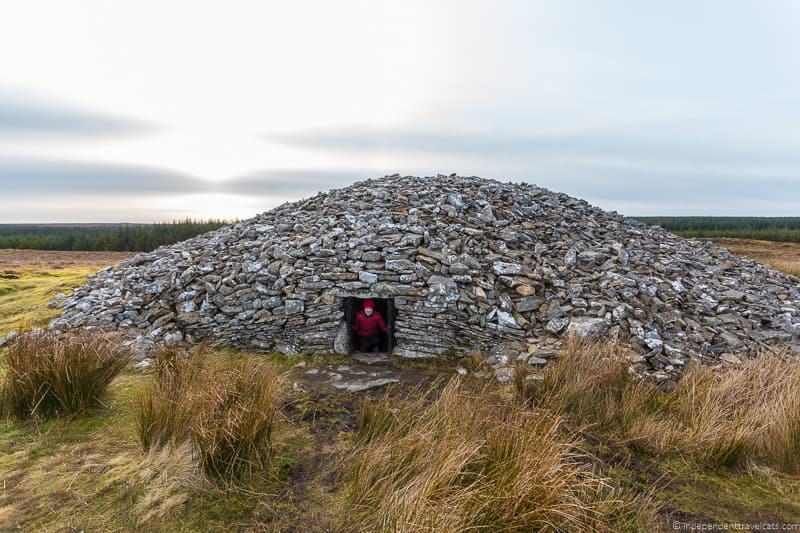 Day 3 of North Coast 500 Itinerary: Wick to Tongue
Today you finish your exploration of the western section of the NC500 and begin your exploration of the far north of Scotland. In fact, you can stop to see the northernmost spot on mainland Britain and visit the most northerly town.
Today there are plenty of chances for stops to see dramatic scenery, local wildlife, and sandy deserted beaches. There is the famous former home of the Queen Mother that you can visit, great little museums where you can learn local history, the most northerly 18-hole golf course on the British mainland, and a popular gin distillery. There are also loads of historical and archeological sites from Pictish stones to medieval churches. Hiking opportunities abound from dramatic coastal hikes to easy forest hikes.
Note that if you have not yet encountered single track roads (one lane roads) then you will definitely be driving on long stretches of single track road today. If you are new to driving on single track roads in Scotland, please be sure to read our single track road driving guide before you set out. Know the road laws and how to use (and not use) passing places, be sure you know how to reverse your vehicle, and please pull over into passing places to allow faster traffic to pass you. If you have any questions, feel free to ask us.
Although today's drive is again not that far, the single track roads slow down traffic here and inexperienced drivers on the route can really slow things down. Expect it to take a little longer than anticipated to get to places. Loads of stops you can make again today, so plan your day accordingly.
Starting & Ending Point: Wick to Tongue (or Durness)
Route: Wick –> John o' Groats –> Thurso –> Bettyhill –> Tongue
Mileage: ~ 79 miles / 127 km (107 miles / 172 km if drive on to Durness)
Areas of Scottish Highlands: Caithness and Sutherland
Main Attractions Along Route
Say goodbye to Wick and continue your drive north.
Just north of Wick is Noss Head, where you can park and walk up around the lighthouse here. There is a small parking area before you arrive at the private drive to the lighthouse, which is still actively used. Also from here, you can walk to the dramatically situated ruins of the 15th-century Castle Girnigoe and the 17th-century Castle Sinclair (although new theories suggest it may have been one large fortress Castle Sinclair Girnigoe), built for the Sinclair Earls of Caithness. The Clan Sinclair also built the nearby 16th century Ackergill Tower which was for a long time a 5-star castle hotel along the route but which closed in December 2018 and is now a private residence. Ackergill Tower is not open to the public.
Around Keiss, there is yet another Clan Sinclair ruined castle, known as Old Keiss Castle. It is on private land and not publicly accessible, but you can get a good view of it from this coastal path, which also leads to Nybster Broch. Nybster Broch is an Iron Age broch along the coast worth seeing and there is also the Mervyn Tower here, which is a monument to Sir Francis Barry, an English businessman who excavated the Nybster broch in 1900.
Just north of Nybster Broch in Auckengill, there is the Caithness Broch Centre (formerly the Northlands Viking Centre) which is worth a short stop if open to learn more about brochs and other archaeology sites. However, it has been closed every single time we have driven by in recent years.
Now onto John o' Groats, a place famous for being at one end of the 876-mile "End to End" route that connects it to Land's End in Cornwall. It is often mistakenly referred to as the northernmost point in mainland Britain (but this is actually nearby Dunnet Head), but it does have a famous signpost that replaces the original "Journey's End" signpost which was a customizable sign that people could pay to have their photos professionally taken next to. Today, the sign is no longer the original customizable one, but it is free to take your own photo here. There are nice sea views out to Orkney here on a clear day and you can take a ferry to the islands from here. In summer you can take wildlife sightseeing ferries and boats from here with John o' Groats Ferries. There is a cafe serving hot meals and a couple of gift shops here.
Just northwest of John o' Groats you can make a short drive to Duncansby Head. There is a lighthouse you can see here built by David Alan Stevenson (active, not open to the public), sea cliffs, and sea stacks (known as the Stacks of Duncansby). It is a very scenic area and you can often see seabirds nesting on the cliffs and stacks, and you may also see seals. Whale spotting is also popular along here. Bring your binoculars if you have them. You can just take a short walk out to the viewing area or it is about a 1 hour walk out past the sea stacks along the cliff.
In Mey, you'll find the Castle of Mey, another former Sinclair castle, which is best known as the former home of Queen Elizabeth the Queen Mother who used it as a holiday home from the 1950s until her death in 2002. It is open to the public seasonally for visits (fee for entry) and you can tour the castle, the gardens, and visit the family farm animal center. The interior of the castle has been left much as it was when the Queen Mother lived here. There is also a large tea room serving hot food and drinks and a gift shop. There is even a new luxury B&B on the grounds. You can find out more about the castle and its attractions here.
Around Dunnet, you can head out to Dunnet Head, the most northerly point in mainland Britain. There is a stone marker here next to the parking area and a well-marked short path to a viewpoint. Or you can explore further by taking a coastal walk of the area which is part of the Dunnet Bay Nature Reserve, and home to lots of flora and fauna, including important plants and seabirds.
Also around Dunnet you'll find Mary Ann's Cottage, a well-preserved croft home dating back to 1850 and last lived in by Mary-Ann Calder, allows visitors to see what crofting life was like in the 19th and early 20th centuries here. It is normally open for a few hours each afternoon during the Spring and Summer seasons. Also you'll find Dunnet Bay Distillery famous for Rock Rose gin and their iconic ceramic bottles. They offer tours to visitors and there is also a gift shop here. Also, the Seadrift Centre is located right next to the Dunnet Bay Caravan Club site, and is a visitor center and has free exhibits about the local geology and wildlife. A short stroll from the parking area takes you to dunes and a beach which is a pleasant place for a stroll.
Castletown is best known as the "Flagstone Village" as it used to be a major source of flagstone. Here you can visit the Castletown Heritage Centre to learn more about the town history and the parish of Olrig. Also just outside of the heritage centre are two short walking trails you can follow, we followed one of them and it was well signposted, taking us on a self-guided tour around former buildings used related to the flagstone industry.
Thurso is the largest town along the northern section of the North Coast 500 and the most northernmost town on the UK mainland. It has a compact center that is a pleasant place for a stroll. Some notable places of interest in town include the ruins of St. Peter's Kirk (one of the oldest churches in Scotland), the "new" 19th century St Peter's and St Andrew's Church, Sir John's Square (in front of church with a statue of Sir John Sinclair and a war memorial), and the ruins of Thurso Castle (can be viewed from across river from Riverside Drive). For railway enthusiasts, you'll find the most northerly railway station in the UK located here. Thurso is also a good place to pick up food, supplies, and get fuel. It also has a golf course.
One of our favorite museums along the NC500 located in downtown Thurso is North Coast Visitor Centre (formerly Caithness Horizons Museum & Art Gallery). This reopened in 2021 following a period of closure due to funding issues. The museum, located in the former Town Hall building, covers the history of the local area and is notable for its collection of Pictish stones and artifacts from the Dounreay Nuclear Power Plant.
You might be surprised to learn that northern Scotland, particularly Thurso, is a popular place for surfing and national championships have been held in Thurso. Big waves are regular features along the northern beaches in the winter, attracting big wave surfers. In the summer months, when the waves are not so large or dangerous, some locals (look up Scot Surf in Durness for example) will take tourists for surfing lessons. You'll want a wetsuit or drysuit for any prolonged water activities as the water is never warm up here!
At Scrabster, there are ferries to the Orkney islands from the harbor and you can also do a scenic coastal walk around Holburn Head here.
At the remote hamlet of Crosskirk, you can do a hike to visit the ruins of St Mary's Chapel which is believed to have been built around 1100. There is a small signed parking area and the hike is across sheep fields and a little bridge, and can be muddy. It took us about 45 minutes round trip.
Those interested in birdwatching may want to make a short detour to visit Broubster Leans which is another RSPB reserve which includes grassland, heathland, moorland, wetland, and marshland habitats.
Little Reay has a golf course (Reay Golf Club is the most northerly 18-hole course on the British mainland) and a sandy beach at Sandside Bay. The wee village also contains the remains of a medieval church and graveyard and the 18th century Reay Parish Church.
The sea cliffs and grounds around Melvich Bay is a popular place for seabirds to nest in the spring and summer months.
Strathy has a nice large sandy beach just off the route and nearby Strathy Point is another scenic point you can choose to explore. You can follow the single track road to Totegan and then park where indicated at the end of the public road. You can then follow the private road on foot out to the lighthouse (private, not open to public) and Strathy Point which is a 10 to 15 minute walk. You can then wander along the cliff edge for nice views and chances to spot wildlife.
In little Bettyhill is the Strathnaver Museum, located in the former Parish Church of Columba, which covers local history and has a whole room dedicated to Clan Mackay (this area of Scotland is part of "Mackay Country") with a large collection of memorabilia belonging to the Clan Mackay Society. Don't forget to see the 8th century Farr Stone here.
The Strathnaver Museum is also a good place to get information about the Strathnaver Trail (which starts here), a walking/driving trail which currently connects a couple dozen historical sites that include Pictish carved stones, burial cairns, war memorials, Highland Clearance village remains, and stone circles. Each site includes an interpretive sign, some require hikes to reach from the car parks. There is also the local Rob Donn Mackay Trail, where you can visit places connected to the Scottish Gaelic 18th century poet and his work.
Also near Bettyhill is the sandy and pretty Farr Beach, another place you may see surfers, and the scenic Torrisdale Bay. You can take a hike down into Torrisdale Bay where you can reach a sandy beach and see the remains of a broch. Just be careful with the tides here. Further along the route is Coldbackie Beach, another pretty sandy beach.
Near Borgie, Borgie Forest is a good place for a fairly short forest walk near the River Borgie. We enjoyed searching for The Unknown statue by Kenny Hunter.
We recommend overnighting tonight in Tongue or you might carry on a bit further west to the village of Durness. Tongue is a small village with a small shop, post office, fuel station, and a few lodging and dining options. We recommend the pleasant hike to the ruins of Castle Varrich (Gaelic: Caisteal Bharraich), a 14th century castle built by Clan Mackay, if the weather is decent. It's about a 1 hour hike round trip from the village to the castle. A few years ago a metal staircase and viewpoint was built at the castle ruins that allows for a nice view over the Kyle of Tongue and the nearby mountains. Just outside Tongue, you can find a memorial to local Gaelic poet Ewen Robertson who wrote a lot about the Highland Clearances.
From the area around Tongue you can get great views of Ben Hope and Ben Loyal (you might consider a drive and hike around nearby Loch Loyal), and it is great place to base if you are planning to climb either Ben Loyal or Ben Hope.
Possible Detours
You have a few detour possibilities today to explore Orkney (this will require at least a full day), see the Forsinard Flows, or explore the Strathnaver Trail.
Orkney is an archipelago off the northeastern coast of Scotland. The islands are most famous for their Neolithic sites, Viking heritage, their role in the World Wars, and local wildlife (seabirds and seals). You can reach Orkney by taking ferries from John O'Groats, Gills Bay, or Scrabster. You can easily spend a week exploring the island but you will need at least a full day to see some of the highlights of the main island. If you only have a day, I'd recommend booking a day tour of the island either with ferry tickets or without ferry tickets (book your own) so that you can see as much as possible with limited time. We recommend adding extra time to your NC500 trip if you plan to visit Orkney.
Forsinard Flows, a large blanket peat bog reserve that is protected by the RSPB and an important natural area, is another detour possibility today. The Flow Country is the largest area of blanket bog in the world, and the blanket bog is important as it holds a huge amount of carbon and is also an important habitat for a number of birds and other wildlife. Much of it is protected by the RSPB and other local organizations and it is a popular place for birdwatchers. You can detour by taking the A897 south in between Reay and Melvich, and it is about a 14 mile drive (about 25 minutes) to reach the small Visitor Centre which is located in an old railway station building.
The mentioned Strathnaver Trail starts at the Strathnaver Museum in Bettyhill and a few of the trail sites are within a short walking distance of the museum whereas others are a few miles away off the NC500 route. You need to do a mix of driving and walking. The detour to follow the trail is not very long but many sites require hiking to go see, so it depends on how much time you have as you can spend a couple of hours or most of day exploring the trail and doing the hikes. The folks at the Strathnaver Museum can help you choose some sites to visit if interested.
Dinner Options
You only have a few options for dinner in Tongue or Durness so it is good to plan ahead, especially if traveling off-season, so that you know your options as some restaurants are seasonal and/or are not open 7 days a week. But there is usually at least one dinner option (usually 2) open in both Tongue and Durness.
Note that there are no super late night dining options in Tongue or Durness and most places stop serving by 9:00pm (21:00). So if you are planning to arrive around 9pm or later, we'd recommend picking up something to eat before you arrive.
Here are some options:
Lodging Recommendations
Tonight we recommend staying the night in Tongue, or driving a bit further west to Durness. Note that the northwest corner of Scotland has few lodging options and these can book up well in advance, even the hostel rooms. So we definitely recommend booking in advance.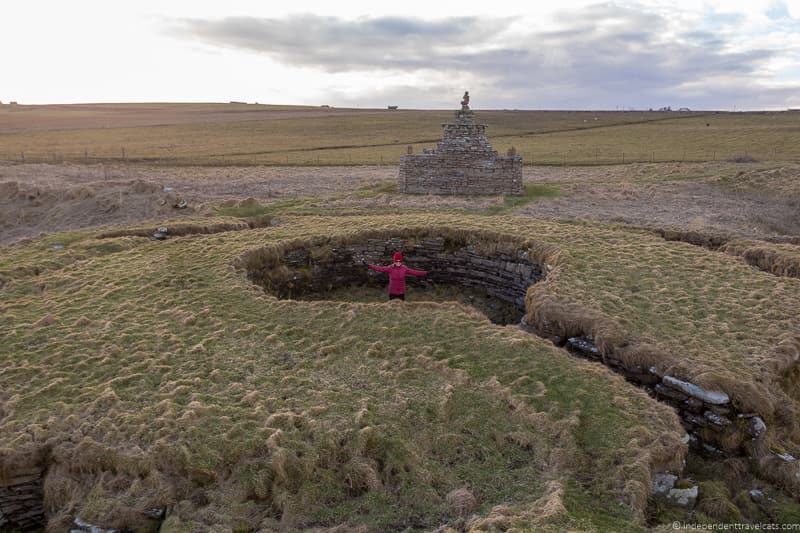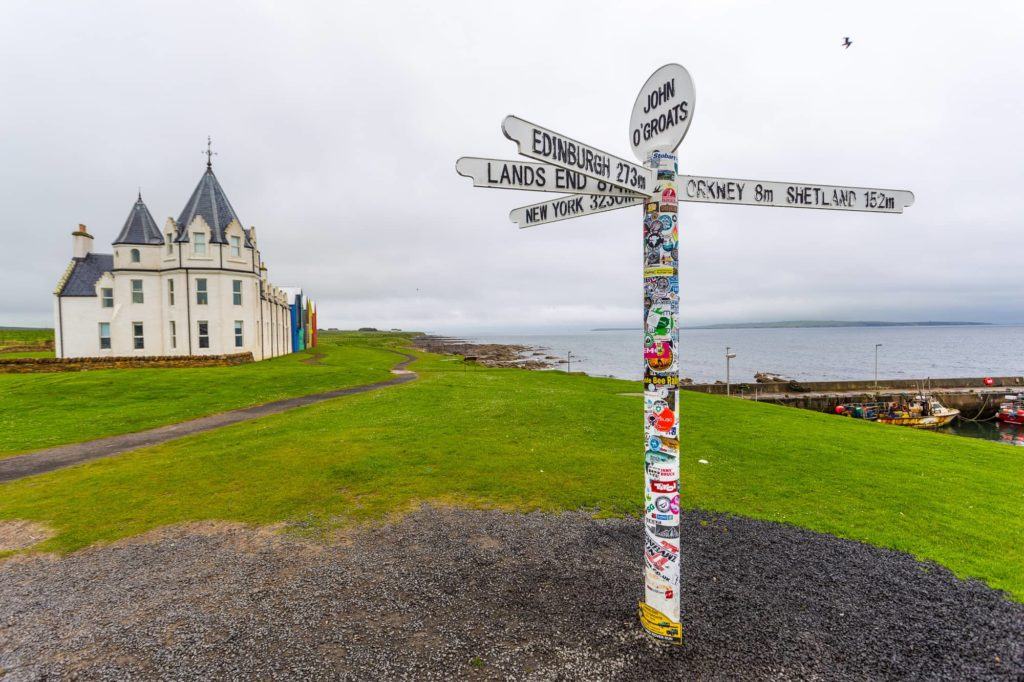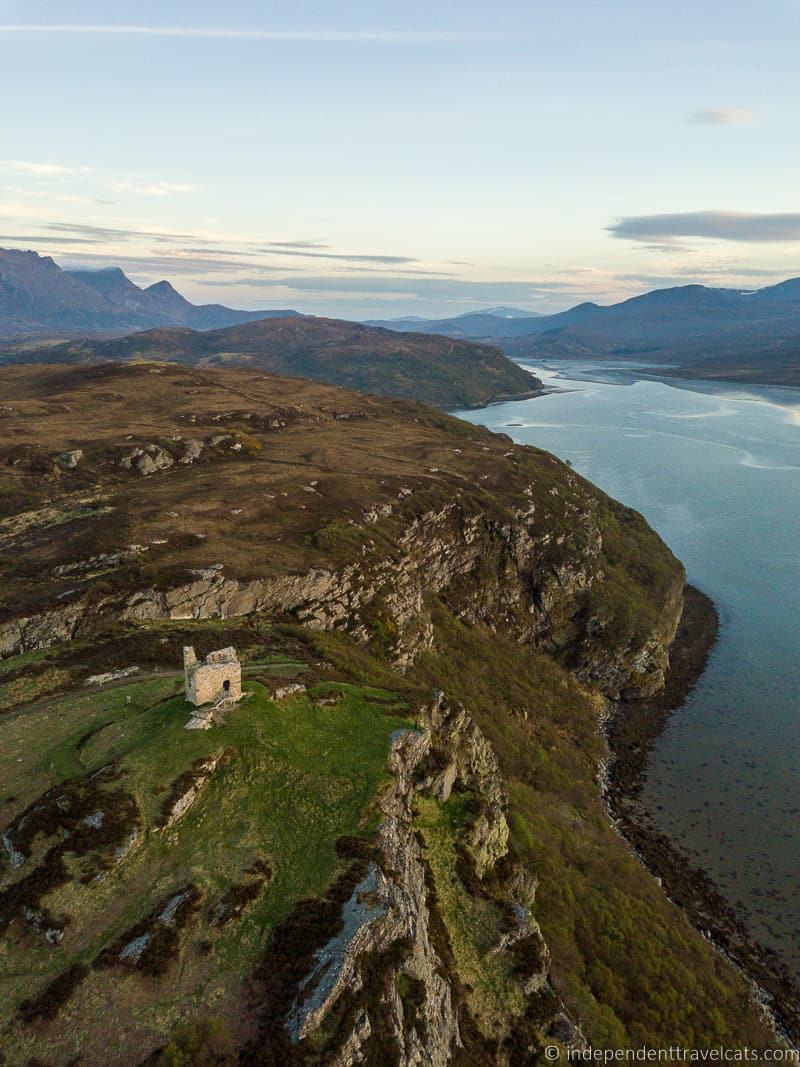 Day 4 of North Coast 500 Itinerary: Tongue to Lochinver
Today you enter the North West Highlands Geopark, an area of special geological interest and dramatic beauty. You have a chance to explore a large cave, visit a craft village, stroll along white sandy beaches, learn why the local geology is so important, and admire the dramatic scenery of this northwestern tip of Scotland.
There are also many opportunities today for long hikes, climbs, water activities, and sightseeing detours so be sure to plan accordingly as many of our suggested activities and detours require 3 to 5 hours to do.
Again today is not a long drive but the single track roads can make for slow going in places and there are some steep sections so drive cautiously. There is a choice to make after Kylesku about the route to take to Lochinver. Although the routes seem similar in terms of length, the coastal route takes much longer (at least twice as long) as it is slower, steeper route (not suitable for large vehicles). So keep this in mind when planning your route today.
Starting & Ending Point: Tongue to Lochinver
Route: Tongue –> Durness –> Scourie –> Drumbeg –> Lochinver
Alternative route (for motorhome users & those with limited time): Tongue –> Durness –> Scourie –> Skiag Bridge –> Lochinver
Mileage: ~ 89 miles / 143 km (82 miles / 132 km if avoiding B869 road)
Area of Scottish Highlands: Sutherland
Main Attractions Along Route
This morning you'll say goodbye to Tongue and head west, continuing to enjoy scenic views of the Kyle of Tongue, Ben Loyal, and Ben Hope along the route.
Just before reaching Loch Hope, you enter into the North West Highlands GeoPark. This is a UNESCO designated GeoPark that has amazing geology and outstanding landscapes. It is a remarkable place of world-class discoveries in the geology world, but even if you have no interest in rocks, you'll enjoy the beautiful scenery. The park encompasses about 770 square miles (2,000 square km) of land. For the purposes of the North Coast 500 route, basically everything you'll see between Tongue and Ullapool is part of the large geopark. We'll point out all the major attractions and stops, but if you have an interest in geology, you might want to plan extra time in this area.
The area around Loch Eriboll is a bit steep and windy but very scenic. If you are driving a motorhome be cautious along this stretch of road from here to Kinlochbervie. In the 19th century, a local estate here quarried lime from the island of Eilean ChoraidhI, and you can still find the remains of the lime kilns (known as the

Ard Neake Lime Kilns)

on the east side of Loch Eriboll.
If you are looking for a bit of a thrilling rush today, you might want to try out the most northernly zipline in the United Kingdom. It is called Golden Eagle Zip Line and is located just before you reach Ceannabeinne Beach. Note zip line operations are seasonal and weather dependent.
The first major attraction along today's route is Smoo Cave which is an impressively large sea cave (and freshwater cave). Parts of the cave were occupied in prehistoric times, perhaps as early as 10,000 years ago. You can explore the outer chamber on foot for free. In the spring and summer months, you can take a guided tour (fee) further into the cave which includes a tour on foot (need suitable footwear) plus a raft ride to access the inner chambers and see the waterfalls and sinkholes. Very much worth a stop and visit.
In the little village of Durness you'll find beautiful sandy beaches (Sango Sands and Balnakeil Beach), a 9-hole golf course (the most northerly 9-hole course!), and general village amenities (shops, fuel, pub, etc.). Also nearby is the Balnakeil Craft Village which is a "craft village" occupying a number of former military buildings built in the 1950s during the Cold War that were never used. In the 1960s it started to become occupied by artists, craftspeople, and recluses. Today, you'll find an eclectic mix of craft shops, as well as a cafe/restaurant. There is also Deep Time, which is a geology exhibition (free, entry by donation) by geologist Dr. Bjorn Hardarson from Iceland, and he also leads guided geology tours in the area (book tours in advance). Whether you want a short introduction to the geology in the area or a more in-depth one, consider booking one of these expert-guided walks! Note that many shops at the craft village do not conform to regular opening hours and what you'll find open is always a bit of a guess and the shops seem to change every time we visit.
There are a few lovely shorter walks you can do around Durness to Faraid Head. In this area, you can walk to the ruins of the 17th century Balnakeil Church, the sandy beach of Balnakeil Bay, and a 1950's radar station. You can often see seabirds and seals around Faraid Head.
Just outside of Durness, near Keoldale is the ferry point if you choose to visit Cape Wrath. Cape Wrath is a special wildlife area, has a lighthouse designed by Robert Stevenson, and is an active military training area for the Ministry of Defense. See Detours section for more information if interested in visiting Cape Wrath (takes 3 to 4 hours).
A short detour can bring you to Kinlochbervie, note the road is steep, which has a little harbor and Oldshoremore Beach. If you continue down the single track road B801, you come to the car park for the trailhead for the hiking trail to Sandwood Bay, a beautiful windswept beach with an iconic sea stack (Am Buchaille) that is often a contender for best beach in Britain and one of the more difficult to reach. This is not a difficult hike but it is a long hike (~ 4.5 miles each way) and there are no services at the beach so make sure you are prepared if you decide to do this hike. The path is maintained by the John Muir Trust and there are basic toilets and facilities at the car park as well as a donation box. You'll need to allow at least 4 to 5 hours for the hike and short visit.
The most notable structure in Laxford is Laxford Bridge which is a stone arch bridge along the A838 spanning the River Laxford, a popular river for salmon fishing. Geologically, the area is important because you can clearly see a shear (deformed rocks) from the Moine Thrust here. There is a roadside lay-by for a few cars to park with an interpretive sign about 2.5 miles north of Laxford Bridge along the A838 which is one of the best places to see this. You can see three main rock types of different ages swirled together (grey gneisses, black amphibolite, pink granite) that were exposed by road works here.
A 3 mile detour to Tarbet brings you to a small fishing hamlet that has two main attractions, a seafood restaurant called the Shorehouse and the small passenger ferry to Handa Island. See Detours section for more information about visiting Handa Island (takes about 4 hours).
Scourie is a small crofting village with a small harbor, and is known for its "palm trees". Scourie Bay is an important geological area as there are many places here where you can see and touch Lewisian gneiss, the oldest rock in Europe which is estimated to be about 3 billion years old! The area is a popular place for brown trout fishing. If you are interested in fishing in this part of the world, we recommend considering booking a fishing trip (from boat, river, or shore) with local angler Stewart Yates of Assynt Fly Fishing.
In little Kylesku you have the striking Kylesku bridge and a nice roadside scenic viewpoint (there is a large car park). You can also take seasonal wildlife sightseeing boat trips (can book here) from here and the restaurant at Kylesku Hotel serves tasty seafood meals.
At Unapool, you see the Rock Stop just off the road in the former Unapool School Building. Keep an eye out as it is easy to miss the turn off. Inside, you'll find an exhibition room that includes a video about the North West Highland GeoPark, visitor information, a café that serves light lunches and coffee, and a small gift shop. Great place to stop to learn about the GeoPark and get ideas of places you might want to stop within it. We always stop here when its open to get coffee, food, or something from the gift shop to help support the GeoPark.
Just after the Rock Stop, you have the choice to head off onto the more narrow B869 along the coast or continue along the A894. If your vehicle is 16 feet or longer in length, it is recommended that you follow the A894 south and then the A837 west to reach Lochinver which is less steep and more able to handle larger vehicles.
For those driving along the B869, there is lots of nice scenery along this route to enjoy. Take it slow as the road is single track and steep and narrow in places. Some places you may want to stop are in little Drumbeg to visit Drumbeg Stores (great place for picnic supplies and snacks) and Assynt Aromas (candle shop and tea garden), Clashnessie (beach, mill ruins, and from the beach you can take the short hike to nearby Clashnessie Waterfall if you want), Clachtoll (pretty beach and this hike also takes you past memorial to Reverand Norman Macleod and Clachtoll broch ruins), and Achmelvich Bay for its beautiful white sandy beach. At Achmelvich, there are also short hikes you can do from the campsite here, including out to the little concrete "hermit's castle" built by David Scott in the 1950s.
If you have more time, you can make a brief detour (~ 15 minutes) along the twisty narrow road between Clashnessie and Stoer which takes you out to the Stoer Head lighthouse. It is another Stevenson lighthouse (private, not open to public, part is used as a holiday let) but some nice scenic views. This is also the starting point for those doing the hike out (~ 3 hours round trip, track is often very muddy) to the Point of Stoer and the Old Man of Stoer seastack. There are no permanent services here other than a parking area, although sometimes there is a compost toilet open or a local snack van in the summer.
For those continuing along the A894, the turn onto the A837 to Lochinver winds around Loch Assynt and offers some lovely scenery. We often see red deer in this area, especially in the early morning and evening. If looking for an easier hike in this area, consider this one which starts near Little Assynt Estate and along which you'll have views of nearby mountains, Quinag and Suliven. Also nearby is an all-abilities path suitable for those in wheelchairs and those with strollers; it starts from the Leitir Easaidh car park and goes around two lochs.
Either route (B869 or A894) will lead you to the village of Lochinver. Lochinver is the largest village in Assynt and is an important fishing port. Highland Stoneware is based here and you can see how the pottery is made and purchase it at their store here; it is used by many of the B&B's, hotels, coffee shops, and restaurants along the NC500 route. The local pie shop, Lochinver Larder is a well-known place to get both savory and sweet pies. The village has all the basic amenities (a few shops, post office, a couple of restaurants) and a range of lodging options.
Lochinver is a popular base for anglers, hikers, cyclists, and people looking for outdoor pursuits. If you are looking for a guided hike or climb in the Assynt area, whether a half day hike or a challenging multi-day climbing trip, we can recommend Tim Hamlet at Hamlet Mountaineering. If you are new to fishing in this part of Scotland, we recommend considering booking a guided fishing trip (from boat, river, or shore) with friendly local angler Stewart Yates of Assynt Fly Fishing. He knows all the best places as well as all the laws and regulations regarding fishing in the area. Families welcome. Book activities well in advance if you can.
Possible Detours
Dinner Options
Booking is recommended for dinner in Lochinver, especially in summer. Places often book out in the evenings during the busy season. Note there are currently no late night food options in Lochinver or surrounds, so plan ahead if you plan to arrive into the village at 9pm or later.
**Note that until recently, there were a few more good dining options in Lochinver, but The Caberfeidh pub and The Albannach (fine dining as part of B&B) are currently both closed. Also the nearby Glencansip Lodge which used to serve evening meals has stopped doing so this year. Many businesses are up for sale in Lochinver at the moment so things are likely to continue to change. If you have any local updates, please let us know!**
Lodging Recommendations
Lochinver has a number of lodging options but most are bed-and-breakfasts which have only a handful of rooms. So it is best to be sure to book in advance to get the type of lodging you want.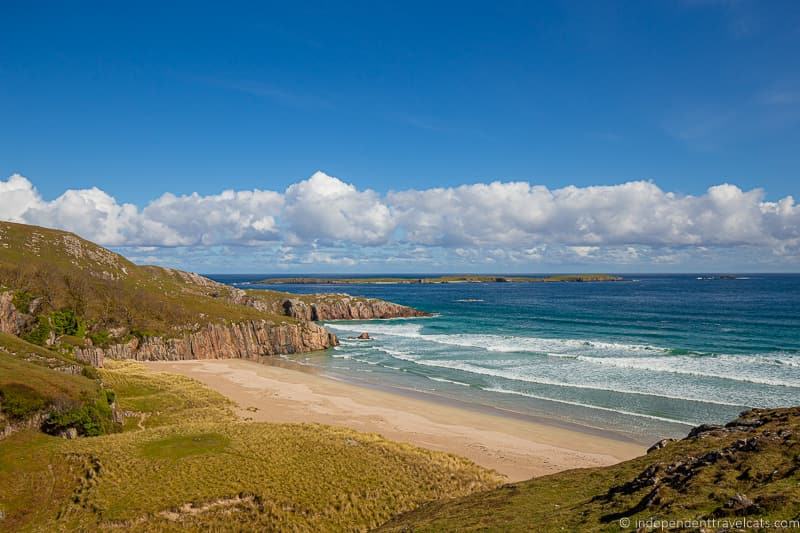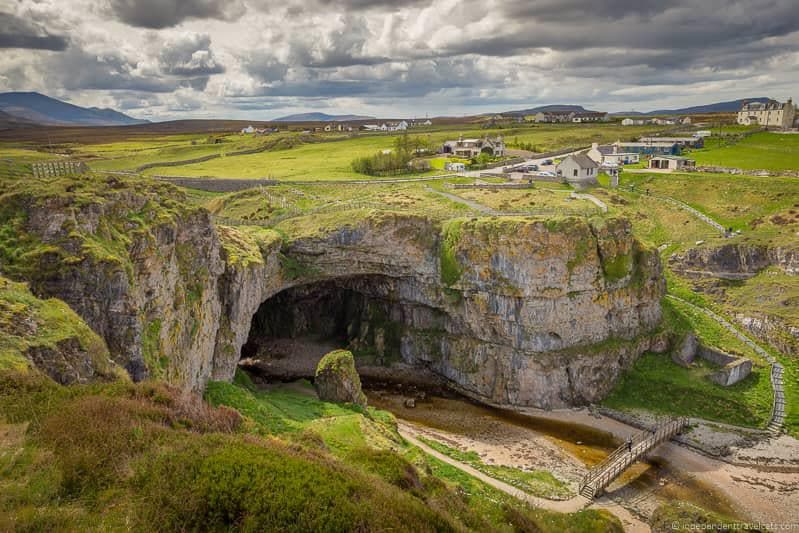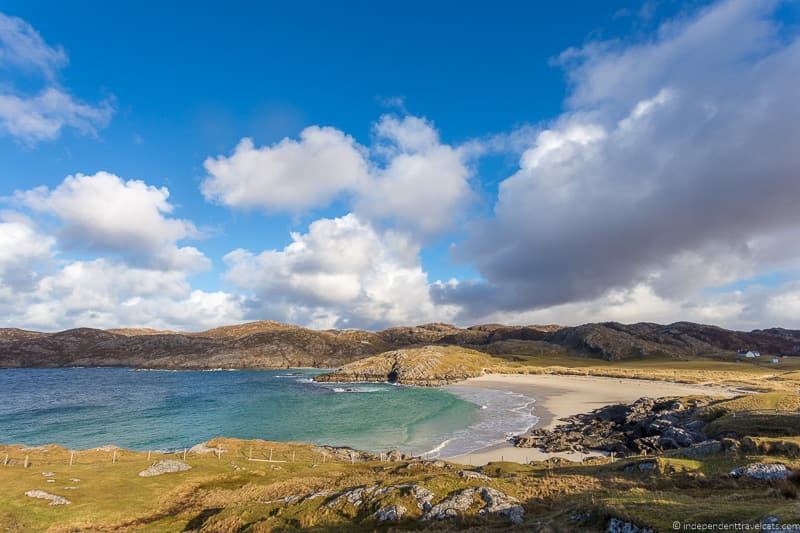 Day 5 of North Coast 500 Itinerary: Lochinver to Ullapool
Today you'll drive through the rest of the North West Highlands Geopark so it is a good day for stops to learn more about the local geology. There is also lots of stunning scenery along today's route and several popular spots to stop and park for scenic views and photos. For those in regular sized vehicles, we recommend taking a detour to explore the Coigach peninsula for even more great coastal scenery. You'll end today in the largest village along the western section of the NC500.
Today's route goes past some of the most popular and iconic hills and munros (Scottish mountains over 3,000 ft) along the NC500 so hill walkers and hikers may want to plan a hike today. It is also a great area for fishing, kayaking, canoeing, boat rides, and other outdoor activities.
The route is again intentionally short to give you plenty of time to enjoy the scenery, hiking, and outdoor activity opportunities that this area has to offer.
Starting & Ending Point: Lochinver to Ullapool
Route: Lochinver –> Inchnadamph –> Elphin –> Ullapool
Mileage: ~ 36 miles / 58 km (~ 46 miles / 74 km if add in full Achiltibuie route)
Areas of Scottish Highlands: Sutherland and Wester Ross (a.k.a. Ross-shire and Ross & Cromarty)
Main Attractions Along Route
This morning you'll leave Lochinver and head south. This morning might be a good time to do a local hike and there are many around Lochinver and Loch Assynt to consider from easy to challenging. We mentioned some easier hikes on yesterday's itinerary, but if you are looking for some more serious hill walking or climbing, there are loads of nearby mountains and hills including Suilven, Stac Pollaidh, Canisp, Cul Baeg, Quinag, Creag Liath, and Ben More Assynt.
Just along the road along Loch Assynt you'll see the ruins of Ardvreck Castle and Calda House sitting next to the loch. Ardvreck Castle is believed to have been constructed by the Clan MacLeod in the late 15th century and was later captured by the Clan MacKenzie in 1672. Calda House was built for a couple from Clan Mackenzie and was one of the grandest houses in the Highlands in the early 18th century. We recommend stopping at the parking area and getting a closer look; there are good information panels here.
Inchnadamph is a small hamlet that is strongly associated with the geological findings of the 19th century, including the discovery of the Moine Thrust which runs through the area and the findings at the nearby Bone Caves. Ben Peach and John Horne, the British geologists who helped map the Moine Thrust and also made discoveries in the bone caves, stayed in the Inchnadamph Hotel and there is a stone monument to them on a hill nearby in a field. Horne and Peach's writings about their findings in the North West Highlands remains an important book in geology as they helped answer the question of why older rocks were sometimes found on top of younger rocks. Today Inchnadamph is still an important stop for geologists.
Just south of Inchnadamph is the hiking path to the Bones Caves. The caves were excavated in 1889 by the geologists Peach and Horne, where they (and later others) found the remains of a number of animals, many now extinct in the UK including lynx, bears, wolves, and lemmings. You won't see any remains today in the shallow caves but it is a pleasant hike and we often see deer near the trailhead. Just note that some areas near the caves are pretty steep and can be slippery. It takes about 1.5 hours to do the round trip hike.
There are a few scenic viewpoints with parking areas where you can stop between Inchnadamph and Drumrunie for scenic views and photos.
There are a number of limestone caves in the area and those with a strong interest in spelunking may want to arrange a stop in the small crofting village of Elphin. Located here is the Elphin Caving Centre run by the Grampian Speleological Group as well as a club hut with self-catering accommodation. You'll want to contact the group in advance.
If you only stop for one geology focused hike during your NC500 trip, Knockan Crag is a good one. It is educational, interesting, and you get great views from the trail. The small open air Rock Room is an informational visitor center where you learn about the geology of the area and the importance of the discovery of the Moine Thrust. You can see and touch rocks that are millions and billions of years old. Then there are three trails that you can take of varying lengths that go up the hill and there are signs, sculptures, viewing points, and small exhibits along the way. The longest trail provides the best views and takes about 1 hour to hike. There is a well-marked parking area here off the road as well as toilets and picnic tables.
Just past the estate of Drumrunie, you have the option to continue south or make a detour to take a route west to explore the Coigach peninsula towards the small village of Achiltibuie. If you are in a normal sized vehicle and have the time, we recommend taking this detour. The road is narrow (not for large motorhomes or trailers), but offers some lovely scenery and small villages. It takes about 1 hour to drive to the end of this route. See Detours section below for more information.
After you past the tiny village of Ardmair and its holiday park and campsite, there will be a road that leads to the Rhue lighthouse. This is a short detour where you can park and take a short walk to the Rhue lighthouse (not open to public). From this area, on a clear day, you have nice views of the Summer Isles and Loch Broom. It is about a 10 minute or so walk to the lighthouse.
Ullapool is the largest village along the western part of the route. The village's most distinguishing feature is its large harbor and it also has a ferry terminal where you can take ferries to Lewis and Harris. Ullapool has a small museum housed in a former Parliamentary church designed by Scottish engineer Thomas Telford, a golf course, and a Highland Stoneware pottery store and workshop (if you didn't stop in Lochinver). It has a large grocery store and a number of small shops, and is a good place to get groceries, fuel, and any needed supplies. It is home to the annual Loopallu music festival each September. You can often find live music, especially on weekends, at one of Ullapool's many pubs and restaurants.
If you are looking for a stroll in Ullapool, there are nice places to walk around the harbor area and around Loch Broom. For a longer walk we can recommend heading up to the summit of Meall Mor, where you can get great views over Ullapool, Loch Broom, and Loch Achall.
Possible Detours
Coigach Peninsula – A route leads from Drumrunie west along the coast of the Coigach Peninsula towards the little village of Achiltibuie. Along the route there are a few crofting hamlets and fishing villages, the largest of which is Achiltibuie. There are no must-see places here but lots of nice scenery and it is a popular place for diving, sailing, kayaking, climbers (especially Reiff), and walking. You get great views of the Summer Isles from along the route. If you are looking for kayaking options around here, this company (book in advance) offers both guided sea kayaking and loch canoeing. This detour takes about 1 hour if you drive to the end, so I'd allow at least 2 hours for this detour.
The Summer Isles – The Summer Isles are a group of about 20 islands and large rocks that sit below the Coigach Peninsula. Many of the islands are home to seals, otters, seabirds, and other wildlife and only one of the islands, Tanera Mòr, is currently inhabited (luxury holiday village planned here by investor Ian Morse) although others are used for sheep grazing and one is a RSPB reserve. You can take seasonal boat trips around the islands and Coigach peninsula from Ullapool, or you can kayak over to the isles (and even camp there) with Kayak Summer Isles.
Lewis & Harris – Lewis and Harris is the largest island in Scotland and the main island of the Outer Hebrides. You can take a ferry (takes about 2 hours 45 minutes) from Ullapool to the town of Stornoway on the Isle of Lewis. There is a number of things to do on the island which include visiting archaeological and historical sites (standing stones, Lewis Castle, Blackhouse), learning about Harris Tweed (all of which is handmade on the island), enjoying the sandy beaches, outdoor activities (hiking, hunting, fishing, cycling), and spotting local wildlife (Harris is a good place to see eagles). You'll want at least one full day on the island to explore. If you want to do a day trip, we'd recommend taking the ferry over and then joining a small group tour or private tour so you can see some of the main highlights of the island with limited time.
Restaurant Options
Many dining options in Ullapool are clustered around the harbor. Booking is recommended for dinner at most places in Ullapool, especially in summer. Restaurants often book out in the evenings during the busy season, although you can always find some place to get food in the evenings. Many hotels and inns serve meals in Ullapool.
The Arch Inn – This waterside restaurant and bar serves all day meals including burgers, seafood, steaks, and chicken dishes. It sits in a historical building originally built by the British Fishing Society. There is often live music in the evenings here and they also offer accommodation. Often one of the most lively places in Ullapool.
The Ceilidh Place – The menu at this popular Ullapool restaurant is focused on seafood with daily specials. Full bar. Sometimes offers live music, and also have a bookshop and rooms. Our favorite place to eat in Ullapool. Reservations recommended.
The Royal Hotel – This is one of the largest hotels in Ullapool and the hotel restaurant serves primarily Italian inspired dishes including pizza and pasta. Full bar.
Seafood Shack – If you are looking for takeaway, this seafood food truck is a good option and it offers tasty high-quality local seafood. This was the first place we ever ate in Ullapool.
The Seaforth Bar & Restaurant – This bar and restaurant focuses on local sourced and good quality Scottish pub favorites such as fish and chips, steak pie, haggis, burgers, and mussels. Full bar. Often have live music. Also offer takeaway chippy for those looking for fish and chips to eat elsewhere.
Ferry Boat Inn Restaurant – A seafood restaurant and traditional bar. Primarily serve local seafood dishes but also offer a few meat and vegetarian dishes. Wine list. Also offers rooms.
The Frigate – A casual shoreside cafe and restaurant serving all day meals. Focused on local produce, seafood, salads, burgers, and homebaked breads and desserts.
Late Night Options – There are a couple of late night options usually open in Ullapool until 10:30pm or 11pm, including Lucky House (Chinese) and Essence of India (cash only).
Lodging Recommendations
Ullapool offers two larger hotels (over 50 rooms) and a number of small inns and bed-and-breakfasts. If you decide to stay outside of Ullapool, just note that the main dining options in the area are located in central Ullapool.
The Royal Hotel – This 3-star 19th century hotel is one of the largest and oldest in central Ullapool, offering more amenities than many of the others. The traditional hotel offers 54 rooms across a number of categories, which include family rooms. The hotel has an on-site full-service restaurant and a bar.
Harbour House – This well-rated harborside guest house offers comfortable rooms and a cooked to order breakfast. Great location, nice views from the property.
Croft 17 B&B – This lovely B&B is run by Ullapool locals Jaimie and Martin, and offers impressive views across the loch and down to the town of Ullapool. Rooms are clean and comfortable, and the rate includes a continental breakfast, with free parking and WiFi also included. Located a 5 minute drive north of Ullapool.
Westlea House – This family-run B&B offers five comfortable and stylish themed rooms. The eclectically stylish common areas include a dining area and guest lounge that contains a large collection of books, guides, and LPs. An interesting feature of the B&B is little listening nooks with turntables where you can listen to vinyl records.
The Arch Inn – This local restaurant and bar also offers several guest rooms. Note can be a bit noisy during dinner service and check in is at the pub, but it is very conveniently located along the waterfront. Some rooms have sea views.
Ullapool Youth Hostel – This well-rated hostel with views over Loch Broom offers dormitory rooms, family rooms, and private rooms. Offers a large communal kitchen and lounge area.
Campsites: Broomfield Holiday Park is centrally located in Ullapool next to Loch Broom and walking distance to most town attractions, shops, the ferry terminal, and restaurants. Not far from Lochinver is also Ardmair Point Caravan & Camping Park.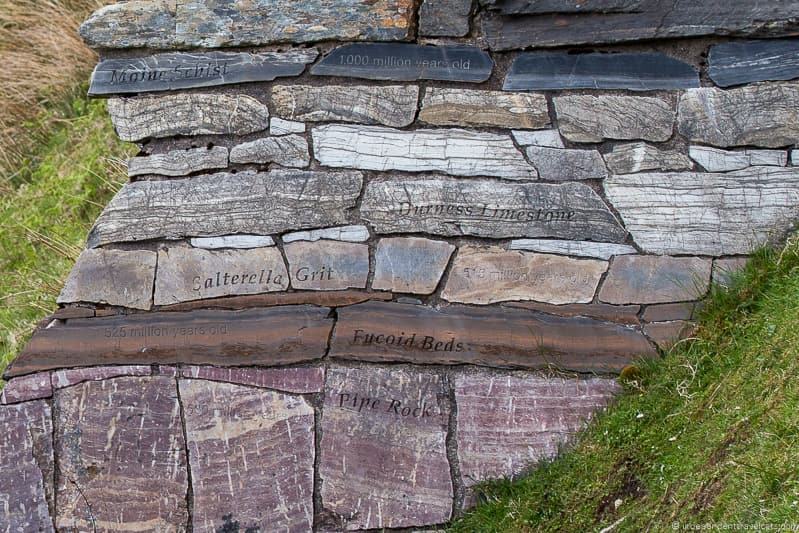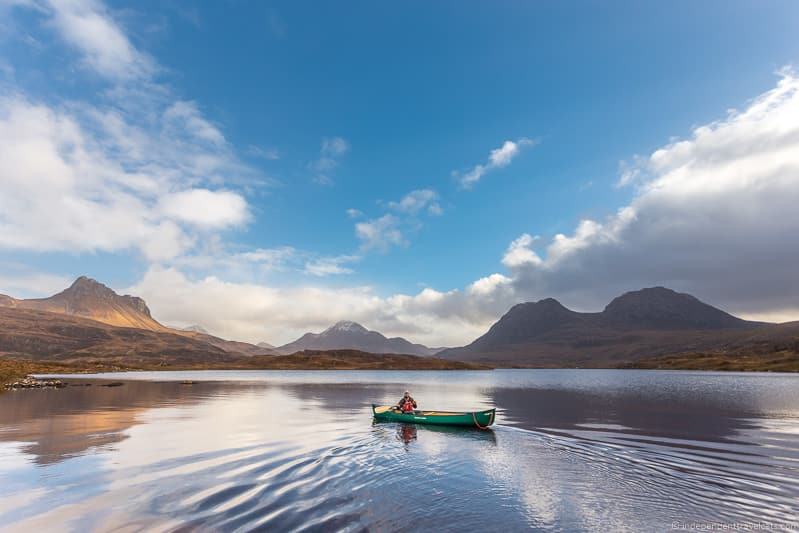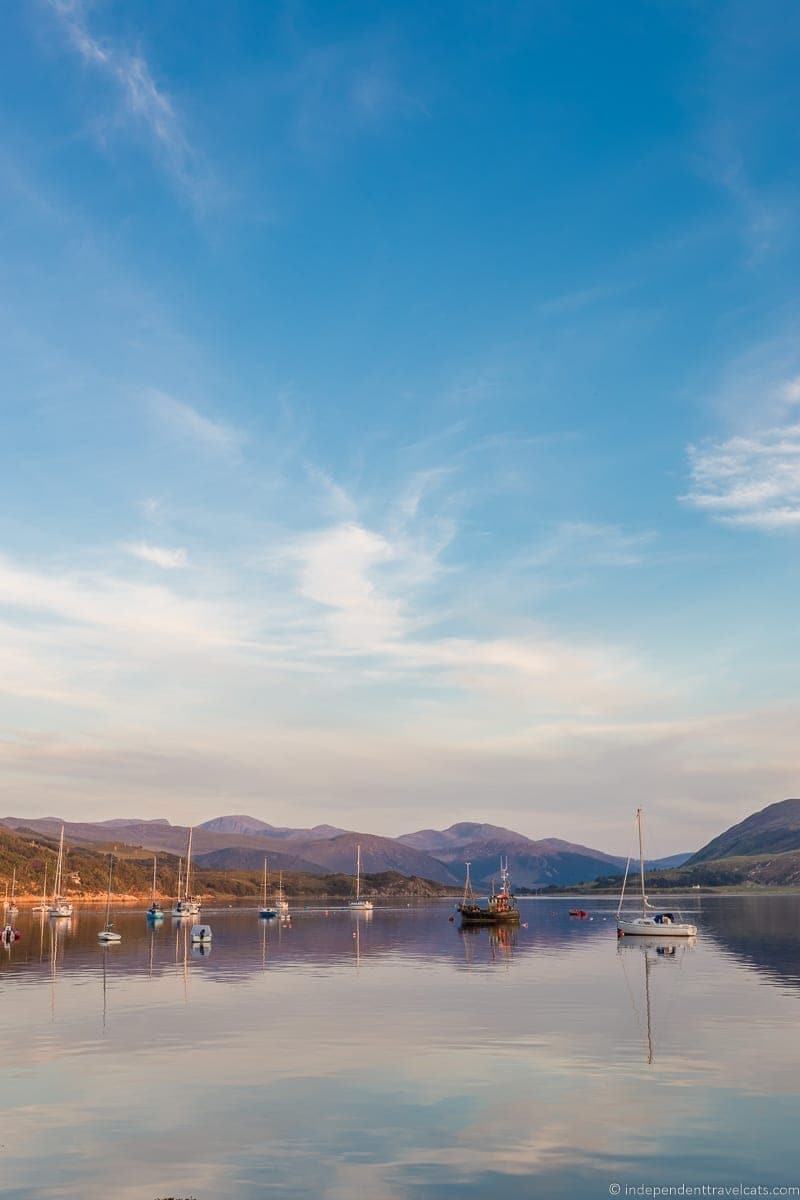 Day 6 of North Coast 500 Itinerary: Ullapool to Kinlochewe
Today you follow the North Coast 500 south past more wonderful scenery in the area of Wester Ross. You have the option to visit a lovely garden, walk across a gorge, walk along sandy beaches, see waterfalls, learn about the Arctic Convoy, and visit a local heritage museum. As usual there are lots of opportunities for hiking and all sorts of outdoor activities.
Starting & Ending Point: Ullapool to Kinlochewe
Route: Ullapool –> Aultbea –> Gairloch –> Kinlochewe
Mileage: ~ 76 miles / 122 km
Area of Scottish Highlands: Wester Ross (a.k.a. Ross-shire and Ross & Cromarty)
Main Attractions Along Route
Today you say goodbye to Ullapool and head southwest along the coast towards Gairloch. We recommend getting fuel and any food and supplies you need before you head south as there aren't many grocery stores or fuel stations along the route for the next day or so.
Just after leaving Ullapool in Leckmelm, there is the Leckmelm Shrubbery & Arboretum. A nice place to stop to wander around in a pretty garden and see some interesting trees. Lots of rhododendrons when they are in bloom. Small donation requested (£3 at last check) for visiting. Often quiet here.
Near Braemore is the Corrieshalloch Gorge National Nature Reserve which is best known for its suspension bridge designed in 1867 by John Fowler, the chief engineer of the famous Forth Rail Bridge, that stretches across the box canyon and Droma River. You can walk over the pedestrian footbridge, although it is not for those with a fear of heights. A series of waterfalls, Falls of Measach, make for beautiful scenery. It is about a 10 minute walk from the car park to the viewing area but you can also follow a couple of hiking trails. Good place for short hikes and birdwatching. The site is maintained by the National Trust for Scotland and there is no fee to enter, but donations of £2 per person suggested for parking and maintenance. There are no toilet facilities here, although there is often a food truck serving food in the parking area.
There are several small waterfalls off the A832 around Dundonnell that you may want to stop to see, Dundonnell River Falls, Ardessie Falls, and Eas Dubn Falls. None are huge waterfalls or must-sees, but can make for a nice break if you are looking for a stop or short hike. There are several hiking opportunities in the area, including the start of the popular hike to the An Teallach ridge. Just note this is a long and difficult hike. Two hikers have died so far in 2019 on this hike so do be careful when choosing hikes in the Scottish Highlands!
There are nice views from and around Gruinard Bay. There are also a few small sandy beaches here. If you detour north of Laide about 10 minutes you can also stop at Mellon Udrigle beach which is a white sandy beach with scenic views over the Coigach peninsula.
Aultbea was used as a strategic place for boats to harbor at Loch Ewe during World War II because it was well protected. Convoys from here followed a perilous route across Arctic waters to provide supplies to the Soviet Union during the war; it was a dangerous mission and many boats were sunk in the freezing waters with hundreds of casualties. Although the convoys were mainly made up of Royal Navy troops and ships, they also included American and Canadian naval forces. There are a few places in Aultbea where you can learn more about these events and the strong impact it had on this little village during WW2. These include a small roadside stop signed as "War Time Memories" next to MacLennan Park that has informational panels and the Russian Arctic Convoy Museum which has a lot of information and a large collection of artifacts from the period (small fee for entry). The Russian Arctic Convoy Museum has been a long-term project for the local community and is a great place to support as it relies on entry fees, donations, and volunteers to stay open. We also recommend a visit to Rubha nan Sasan, Cove Battery (see Detours section).
Also in Aultbea is a combined cafe and perfumery shop called Aroma Cafe which is a nice place to stop for a coffee and snack with a nice view over Loch Ewe. Note that the popular Isle of Ewe Smokehouse (popular for its smoked salmon) has recently closed (in 2019) and is now being converted into a holiday let. The Aultbea Hotel (which also had a previously recommended restaurant) closed suddenly in April 2019 with no date set for reopening.
Just north of the village of Poolewe, you'll find the Interewe Gardens which is a large garden that includes a lovely collection of trees, flowers, and other plants along the loch. Because of the Gulf Stream, even some tropical plants thrive here and it is a lovely garden to explore with lots of meandering trails. There is also a seasonal cafe, shop, Inverewe House (former home of Mairi Sawyer that you can tour), and Sawyer Gallery (seasonal contemporary art gallery) within the garden. Wildlife boat trips are also often offered here in the summer. The garden is run by the National Trust for Scotland and there is an entry fee to visit (free for members).
Poolewe is a pretty little village on the shores of Loch Ewe. There are some hiking opportunities, such as this circular hike around Poolewe that circles Loch Kernsay.
In Gairloch, you'll find the Gairloch Museum which is the local heritage museum which just got a new building and has been recently redeveloped, definitely worth a stop for those interested in the local history. The small fishing village also has has a 9-hole golf course, a small harbor, whale cruises, and several small shops and cafes. There is smaller beach next to the golf club (Gairloch Beach), and if you drive 4 miles north of Gairloch along the B8021 there is the Big Sand Beach which is a large sandy beach which is a popular beach and a great spot for sunset. There is also a marked archaeological trail here called the Sands Archaeological Trail which leads to some local archaeological ruins and you can learn more about it at the museum.
If you are looking for activities like fishing, deer stalking, falconry, guided hikes, or archery, you may want to make a short detour towards Badachro. Here you'll find the 26,000 acre estate surrounding Sheildaig Lodge which offers a number of activities you can book (note that some are for hotel guests only). One of the more unique is a chance to go out on a boat with a local creel fisherman and then enjoy your catch as part of a 5-course seafood feast at the hotel restaurant. You can also book shorter boat trips directly with Shellfish Safaris. There are several hikes around Badachro include one through Flowerdale Glen (ends at Flowerdale waterfall) and up to the "Fairy Lochs" which takes you past the memorial of an American WW2 Liberator crash bomber (a touching memorial).
Between Slattadale and Kinlochewe are some lovely views of Loch Maree and its many small islands. The loch became famous for trout fishing after it was visited by Queen Victoria and her ghillies in 1877 during her stay at the Loch Maree Hotel (still an operating hotel). She visited the Isle of Maree as well by rowboat; the island has the ruined remains of a chapel, graveyard, well, and oak tree that are believed to have been the 8th century hermitage of Irish Saint Maelrubha (who founded a monastery in Applecross).
Just off the road near Talladale is Victoria Falls, a small but pretty waterfall named after Queen Victoria, which is a short walk from a marked car park. Not a must-see but nice if you want to stretch your legs. If you continue up the trail further you can also get a nice view of Loch Maree from the top of the trail.
Kinlochewe is a small village located just south of Loch Maree. This is a great place to explore the Beinn Eighe National Nature Reserve which was the UK's first National Nature Reserve. It offers mountains and pinewoods. There are trails you can explore, including a woodlands trail and a mountain trail, and lots of birdwatching opportunities. There is a seasonal visitor center open in Kinlochewe which is a good place to learn more and get trail maps.
Possible Detours
There are no major recommended detours today, but you do have a few options to take short routes off the NC500 if you want to do so. Note that all are along narrow single track roads. You can also of course head off to Lewis & Harris or the Summer Isles today (as described under Day 5's potential detours).
Rubha nan Sasan, Cove Battery – If you are interested in World War 2 history, we'd definitely recommend a detour out to visit the coastal battery and war memorial to all those who lost their lives in the Arctic Convoys. You'll find the remains of an emergency coastal battery built in 1941 (manned from 1942 to 1944) which include ruined gun houses, an observation post, gun-emplacements, and other buildings. You'll also find a memorial cairn to the American sailors who lost their lives when the Liberty ship SS William H. Welch wrecked nearby in 1944 (most died, but several men survived thanks to local crofters). There are some signs here and a trail you can follow, just note that parts of the path are steep and watch out for scrap metal. A great follow-up visit to the Russian Arctic Convoy Museum. The battery is about a 20 minute drive from Poolewe along the B8057 so I'd allow about 1.5 hours for this detour.
Rubha Reidh – If you are looking for a secluded coastal hike, you might want to head out towards Rubha Reidh. You can drive as far as Melvaig and park in the small car park as it becomes a rough private access only road after that. It is about a 1 hour walk to the Rua Reidh Lighthouse which was built by David Alan Stevenson (private, now a B&B, holiday let and private home). Great views from near the lighthouse on a clear day across the Minch to the Isle of Skye, the Shiant Isles, and the Outer Hebrides. You can continue your hike out for more coastal scenery at Rubha Reidh and there are sea stacks and a natural arch along the way as you make your way to the isolated Camus Mor beach. It is about a 20 minute drive from Gairloch to Melvaig, a little over a 1 hour hike out to the lighthouse, and another 1.5 hours or so out to Camus Mor. If you only want to go to the lighthouse I'd recommend at least 3 hours for this detour and if you want to do the full hike I'd allow at least 5 hours for this detour.
Red Point – Red Point has two beaches and a pony trekking center. You need to book horseback rides in advance. Note that although called the Gairloch Trekking Centre, the family-friendly stable is actually a good 30 minute drive from the village of Gairloch, so take this into account when making any reservations. There are also two pretty sandy beaches here with reddish sand, the one closest to the car park you can reach via a short (but somewhat steep) hike through sand dunes, but the other requires about a 30 minute hike to reach. It is about a 20 minute detour from the NC500 (leave NC500 near Kerrysdale) along the B8056 (single track road) to reach Red Point.
Restaurant Options
There are limited evening dining options in the villages in this area so it's a good idea to plan ahead and see what is open near your lodging. Reservations recommended for most restaurants in this area, especially if you are looking for a sit down meal. Don't expect any late night food options here, so do plan accordingly!
The Beachcomber in Gairloch – A casual family-run fish and chips eatery. Family friendly. Can eat in or takeaway.
Shieldaig Lodge Hotel near Badachro – A fine dining restaurant serving set price 3-course meals focused on local produce, much of it coming from the large hotel estate and garden. Typical main dishes include venison, beef, lamb, salmon, pheasant, and trout. Always at least one vegetarian dish offered. Reservations needed. Full bar with large number of gins and whiskies on offer.
Badachro Inn – The cafe serves informal evening meals with a focus on fresh locally caught seafood. Full bar. Family friendly. Reservations recommended, but there are also bar seats available first come, first serve.
Benn Eighe Bar & Restaurant in Kinlochewe – Restaurant and bar located at the Kinlochewe Hotel focused on locally sourced home cooked foods. Serves high quality pub food. Full bar.
Ledgowan Lodge Hotel Restaurant – Restaurant serves Scottish favorites and locally sourced options. Offers an à la carte bar menu as well as a 2- or 3-course menu in the restaurant. Full bar. Reservations recommended.
1887 Restaurant – This fine dining restaurant is located within The Torridon Hotel and it offers both a tasting menu and a seasonal fixed price menu. Most dishes highlight local produce, especially venison, salmon, beef, and shellfish. Full bar. No children under age 10 allowed in dining room for dinner (those with kids or teens will find a more family-friendly environment next door at the Torridon Inn). Great food and service; extensive wine and whisky lists. Reservations needed.
Bo & Muc in Torridon – This gastropub serves tasty pub favorites like burgers, fish & chips, steaks, pies, and sharing platters. They also offer a kids menu. Full bar. We've had really good food here; friendly staff. Reservations recommended.
Gille Brighde – Local restaurant focused on seafood but also serve soups, burgers, steaks, venison, and other dishes.

Menu changes regularly. Seasonal; normally open for dinner and Sunday lunch. This restaurant has a pretty remote location (about a 30 minute drive from The Torridon hotel) so I'd call in advance before heading here to confirm opening hours and availability.

Late Night Options – The only (somewhat) late night option usually open in the area is Hai Yang, a fast food Chinese takeaway place in Gairloch. It is usually open until 10pm.
Lodging Recommendations
Tonight we recommend staying around Kinlochewe. There is not a huge number of lodging option in Kinlochewe or nearby villages so we'd recommend looking for lodging anywhere between Gairloch and Torridon. Definitely recommend booking in advance!
Old School House B&B in Gairloch – This relatively new B&B is run by Sarah and Rob who have spent many years in the area. They currently have two spacious and comfortable rooms available (soon will have a third). Rooms offer nice views and your stay includes a cooked to order breakfast brought to the table in your room. Free parking and walking distance to most places in Gairloch.
Shieldaig Lodge Hotel near Badachro – This former Victorian hunting lodge is set in a 26,000 acre estate next to Shieldaig Bay in a lovely location. It offers 12 guest rooms, guest lounges with fireplaces, and an on-site bar and restaurant. Offers lots of activities on and near the estate including falconry, archery, hiking, fishing, stalking, etc. If you are looking for a traditional Highlands hunting lodge sort of place to stay, check this one out.
Loch Maree Hotel in Talladale – This 3-star Victorian hotel offers comfortable guest rooms, several of which offer scenic views of Loch Maree, and an on-site bar and restaurant. Queen Victoria stayed here in 1877. Good base for those looking to do outdoor activities nearby.
Kinlochewe Hotel in Kinlochewe – A 3-star hotel offering good value rooms and an on-site bar and restaurant. Some rooms share bathrooms. Popular with hikers and hill walkers.
Kinlochewe Mountain Chalets in Kinlochewe – Here you'll find four 2-bedrooms chalets for up to 4 persons each. All units contain a TV, a living room with a sofa, a well-equipped kitchen with a dining area, and a private bathroom with shower. Peaceful location with great views of Beinn Eighe and a perfect base for hikers. Pets allowed with prior notice.
Ledgowan Lodge in Achnasheen – This hotel is located in a former Victorian country house with comfortable guest rooms, well-decorated public rooms, and an on-site bar and restaurant.
The Torridon in Torridon -The Torridon is a 5-star 18-room country house hotel with castle-like turrets. It is the former hunting lodge of the Earl of Lovelace and is one of the best known hotels along the North Coast 500. The hotel offers comfortable rooms, a mix of traditional and contemporary decor, a large on-site bar, a fine dining restaurant, and a number of luxury amenities and services. Activities on the estate can be booked including fishing, clay pigeon shooting, guided hikes, kayaking, etc. If you are looking for a luxury hotel in the area, this would definitely be our recommendation, and we very much enjoyed our stay here.
The Stables in Torridon – A cozy inn next to The Torridon Hotel that offers large rooms with all the basic amenities and a nice pub-style restaurant. Rooms would be particularly suited to families or small groups, as they have options for 2, 4, or even 6 person family rooms.
Torridon Youth Hostel in Torridon – This is a well-rated hostel offering both dorm rooms and private rooms with shared facilities. A great option in this area for those traveling on a small budget.
Campsites: Kinlochewe Caravan Club Site (Kinlochewe) and Torridon Camp Site (tents only, limited facilities). In Gairloch you'll also find the Sands Caravan and Camping Park and Gairloch Caravan Park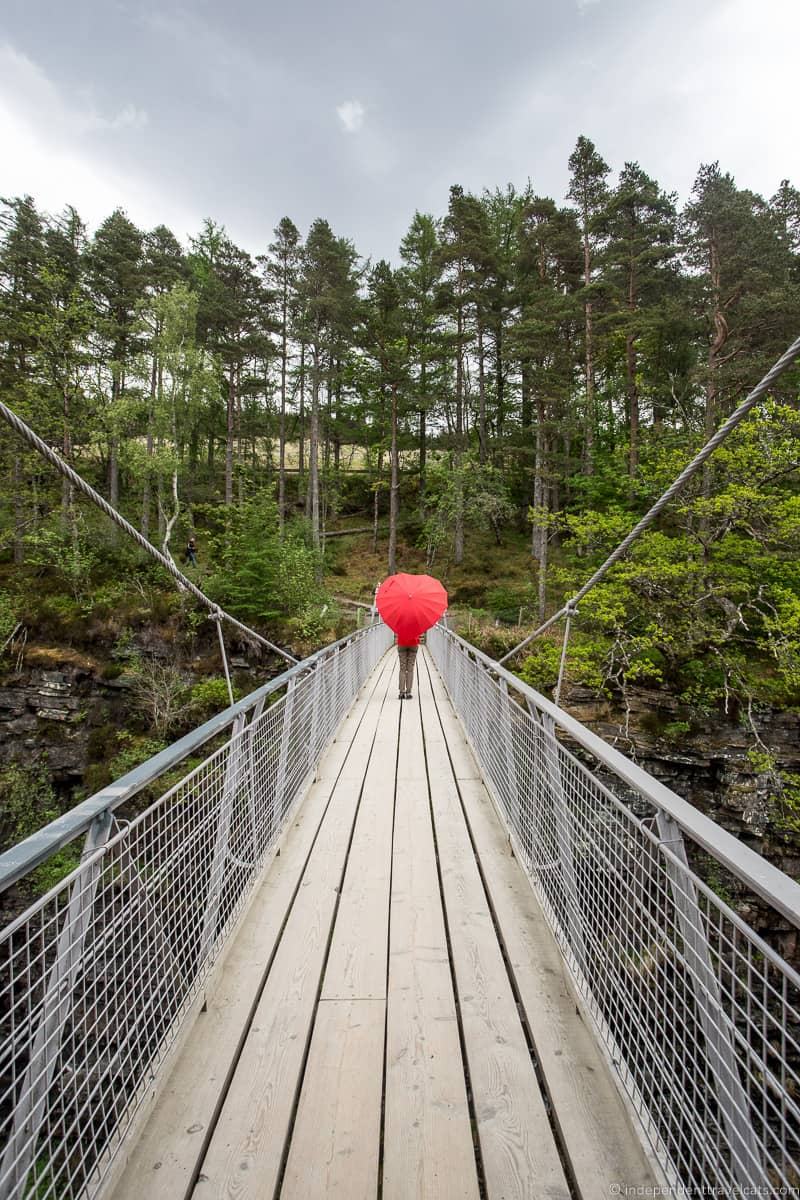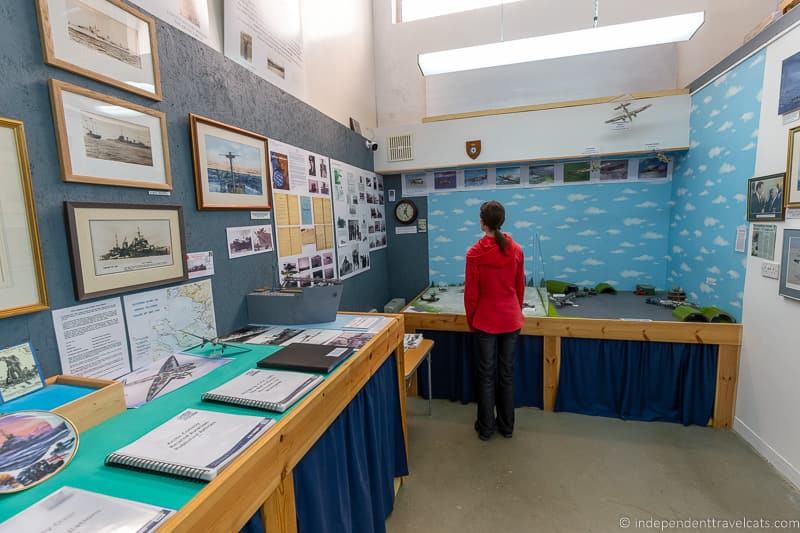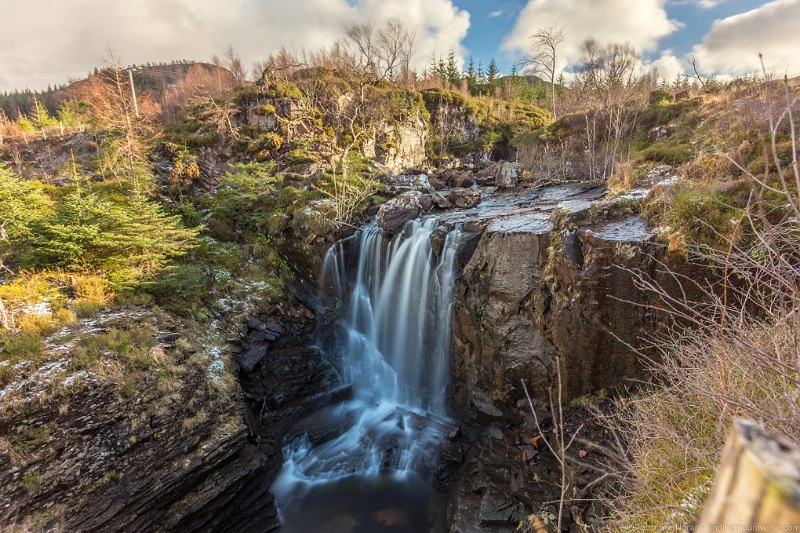 Day 7 of North Coast 500 Itinerary: Kinlochewe to Inverness
Today you'll drive the final section of the North Coast 500 route as you make your way back to Inverness. This route today provides lots of scenery of lochs, mountains, and coast as you take in the rugged vistas around Torridon and then head along the Applecross peninsula for coastal views. There are opportunities for hiking, tasting local seafood, visiting gardens and waterfalls, learning about local history, and much more today!
A special thrill of today is the steep and windy (but scenic) drive between Applecross and Tornapress as you go across the Bealach na Bà. However, note this route is not for all drivers or vehicles so be sure to decide if you want to take this route today or not as you have some options.
The route today is the longest on our 7 day itinerary, although you can shorten it if you need to as you can take shortcuts if you need to get to Inverness sooner. But we recommend taking your time today to enjoy the scenery and your last day on your route if you can. If you have an extra day, you could break up the drive by spending the night in Lochcarron and/or enjoy extra time enjoying the attractions in and around Inverness.
Starting & Ending Point: Kinlochewe to Inverness
Route: Kinlochewe –> Applecross –> Lochcarron –> Strathpeffer –> Inverness
You have some choices today regarding how you get to Inverness. The official NC500 route follows the single track minor road along the coast to Applecross. We recommend driving this route if the weather is decent and you have the time, are not afraid of curvy steep roads, and you are not driving a large motorhome or towing a caravan (oversized vehicles are prohibited on the Bealach na Bà section of the route). The coastal route takes about 1.5 hours or so to get from Shieldaig to Ardarroch.
If you want to bypass the coastal route and the Bealach na Ba section you can take the A896 past Shieldaig towards Kishorn and Ardarroch. This bypass takes about 25 minutes to drive from Shieldaig to Ardarroch.
Note that if you are really short on time today, you can skip part of the route today and drive straight from Kinlochewe along the A832 towards Achnasheen to Inverness. It only takes about 1 hour and 20 minutes to get from Kinlochewe to Inverness using this route.
Mileage: 122 miles / 196 km (~ 95 miles / 153 km if do the A896 shortcut)
Area of Scottish Highlands: Wester Ross, Easter Ross, and Inverness-shire

Main Attractions Along Route
Say goodbye to Kinlochewe (or wherever you spent the night) and head southwest towards Torridon. If you are following a shortened route today, you'll need to modify the itinerary to fit your route as this itinerary will follow the "official NC500 route" along the coast via Applecross.
Glen Docherty is a scenic glen located between Loch Maree and Kinlochewe. There is a great viewpoint here located on a small hill that is a short detour from Kinlochewe along the A832 towards Achnasheen. Just drive up and park in a parking spot and you get a great view of Glen Docherty and Loch Maree in the far distance. Queen Victoria stopped here in her coach on her way to Loch Maree and wrote that the loch was "grand and romantic" in her journal. Her visits and love of the Scottish Highlands would lead to a large increase of tourism to Scotland during the Victorian era.
Now head to Torridon. All around the small village of Torridon, you'll have views of a number of mountain and hills including Beinn Eighe, Liathach, Beinn Alligin, and Sgurr Dubh. Torridonian sandstone makes up a lot of the local landscape and the name of the stone came from Torridon. This is a very popular area for its scenic beauty and it attractions a lot of hikers, climbers, and hillwalkers. Alongside Loch Torridon is the popular 5-star turreted country house hotel The Torridon. Loads of lovely walks from and around Torridon ranging from easy and flat to difficult mountain hikes, see some options here.
As you drive along to Sheildaig, scenic views continue and there are some steep sections of the road so please drive carefully. Shieldaig offers more great views and we'd recommend a walk around the little peninsula here if the weather is good.
At Sheildaig, you will need to decide if you plan to drive the coastal route around the Applecross Peninsula towards Fearnmore and Applecross (recommended if you have the time and don't mind curvy roads) or want to skip it and head south along the A896 towards Kishorn and Ardarroch.
If you are following the coastal route, it is a slow single track minor road so be prepared for a slow drive around the Applecross Peninsula but it provides lovely views of the Isle of Skye, Isle of Raasay, and Rona along the coast. There are some villages here but few businesses as you make your way to Applecross. Drive slowly and enjoy the views.
At Applecross you'll find red sandy beaches and the Applecross Heritage Centre where you can learn about local history and heritage. Applecross is believed to be one of the earliest places of settlement in Scotland but was very isolated (accessible only by sea) until the early 20th century. History lovers may also want to stop to see the Clachan Church (near the heritage centre), the current church was built in 1817 but the graveyard is much older and a monastery was founded here around the 7th century by the Irish saint, Maelrubha. We normally stop at the Applecross Garden, part of the large Applecross Estate, for something to eat which includes a walled garden, restaurant, plant shop, and gift store. If you have some time to explore, there are a few paths you can take from the walled garden towards the river, coast, or around the estate such as this one.
The Bealach na Ba, which means Pass of the Cattle in Scottish Gaelic, was originally built in 1822 as a way to allow people to move livestock to and from this area. It is one of the highest roads in Scotland and offers some scenic views along its many twists and turns. This single track road is several miles long and has a steep gradient and sharp curves; it is not recommended for timid drivers, inexperienced drivers, or those in larger vehicles. Note this route is often impassable and closed in the winter months. Be sure to drive carefully, heeding all warning signs as accidents here are very common. It offers great scenery as you make your way along it and there are a couple of scenic viewpoint parking areas where you can stop and park safely (don't stop anywhere else!).
Soon after the Bealach na Ba (or if you skipped it by taking the A896), you will pass through the tiny village of Kishorn. If you are hungry for seafood, we can recommend the Kishorn Seafood Bar if it is open (seasonal).
You'll soon arrive into the village of Lochcarron which not surprisingly sits on the edge of a lake called Loch Carron. The village is home to the Lochcarron Weavers where you can learn more about tartan, the weaving process, and shop for some Scottish tartan (you can get made to order items here as well). If you drive or walk south along the loch, you'll come across the ruins of the 14th century Strome Castle (very ruined). If you want to see a number of red deer (and sheep) up close consider booking a guided tour to see deer with gamekeeper Colin at Reraig Forest near Lochcarron. The tours include an Argo (an ATV) ride up into the forest and are a lot of fun!
Strathcarron is the next village along. It is home to a small craft brewery (Strathcarron Brewery), not sure if it is open for any public tours but you can buy the beer locally. If you enjoy gardens, we can recommend a small detour (10 minute drive south) to Attadale Gardens. Here you'll find paths through lots of lovely flower beds, gardens, and trees. Gardens are open seasonally to the public; be sure to check dates and hours. There is a fee to visit.
As you drive east between Lochcarron and Garve, this stretch of road is a popular place to see deer; we regularly see them in this area. Along the way, you'll drive through Achnasheen situated along the River Bran. The main business in the village is the Ledgowan Lodge Hotel, a country house hotel.
The village of Garve is quiet and sits along the Black Water river, offering nice views of Ben Wyvis. There are several walks and hikes you can do in this area, including this easy one along the Black Water or the more challenging monro hike of Ben Wyvis. Those with kids may want to make a stop at the Ben Wyvis Natural Play Park, a children's play park in the woods.
Between Garve and Contin, is the well-marked parking lot where you can stop to visit Rogie Falls, a series of small waterfalls on the Black Water. There is a small suspension bridge here where you can walk across. It is a 10 to 15 minute easy walk from the car park to reach the falls, although you can also do a longer hike here. Several hiking paths go through the Torrachilty Forest.
The small village of Contin has a parish church dedicated to St. Maelrubha located on Contin Island that dates back to medieval times although most of the current structure dates to the 18th century. The church is associated with a particularly savage act of violence against the local Mackenzies in the 15th century by the Macdonalds who set fire to the local church after barring in hundreds of local villagers who had sought sanctuary there.
If you take a short detour northeast of Contin, Strathpeffer is a former Victorian spa town and today it is a lovely village for a stroll. We recommend a stop at the Highland Museum of Childhood which is located in the old railway station (entry by donation), and it houses local history information, visitor info, a doll and toy collection, and some other exhibits. Staff here are friendly volunteers who can give you more information about the area and direct you to the local heritage walking route. Notable things to see around the village are the town square, former Upper Pump Room (exhibitions here about spa history), and the Pictish Eagle Rock (Clach an Tiompain). Nearby is also Castle Leod which was built for Clan Mackenzie and is still the home of the clan chief, Earle of Cromartie. It is a private home but parts of the castle are open to the public on a limited number of days each year.
If you enjoy birdwatching and nature, you might want to head up to the RSPB Tollie Red Kites Natural Reserve just south of Loch Ussie. The main bird to spot here is the red kite, but you also have the chance to see a number of other birds including ravens, finches, tits, woodpeckers, and osprey. There is a visitor center and outdoor viewing area here as well as toilets, a picnic area, and nature trails. Free for members; entry by donation.
Now you head back through Beauly and the Muir of Ord, which you likely drove through the first day of your road trip, to the starting point of Inverness.
You have now completed your NC500 road trip and are now back in the Capital of the Highlands, the city of Inverness!
As noted in Day 1 there are plenty of things to do in and near Inverness. We'd also highly recommend doing some day trips from Inverness if you have the extra time. If you are tired of driving, we can recommend day tours by local Rabbies which offers small group tours from downtown Inverness to places such as Loch Ness (great tour, we've done this one), the Isle of Skye & Eilean Donan Castle, the Black Isle (if you missed it on your NC500 trip), and whisky tasting tours.
If you are looking to extend your road trip consider heading south into the Cairngorms National Park and heading along the east coast along the scenic North East 250. You can see our suggested 3 day North East 250 itinerary for suggestions of what to do, see, eat, and where to stay along the driving route.
If you are looking for more places to visit in Scotland we have a lot of guides to places to visit in Scotland including things to do in Edinburgh, things to do in Aberdeen, things to do in Glasgow, things to do in Loch Lomond National Park, visiting Cairngorms National Park, summer festivals in Edinburgh, skiing in Scotland, day trips from Edinburgh, Harry Potter sites in Scotland, and much more across our two blogs.
Possible Detours
There are no major detours recommended today since you have a longer day of driving today. But if you are planning to head along the west coast and/or visit the Isle of Skye, you may want to head south at Strathcarron. You can end your NC500 journey early here or add some days to your itinerary to visit places along the west coast before heading back to Inverness.
Plockton is a pretty village located on the shores of Loch Carron that is worth a stop if you are headed southwest. It is located about 30 to 40 minutes drive south of Strathcarron. Here you have nice views of the bay including some palm trees that are able to grow with help from the warm Gulf Stream. The village is worth a stroll around with several shops, restaurant, and art galleries. You can also get out on the bay by renting a kayak or boat here, or take the popular seal tours offered by Calum's Seal Trips.
Near the small village of Dornie is Eilean Donan Castle, which is one of the most recognizable castles in Scotland. It was originally built in the 13th century by the Clan Mackenzie and was a stronghold for the Mackenzies of Kintail. Although the castle history dates back to the 13th century, the current building is primarily a 20th century restoration of the medieval castle as the castle was largely destroyed in the 18th century by the Royal Navy. You'll likely recognize the exterior of Eilean Donan Castle as it is one of the most photographed castles in Scotland. The castle is open for tours to the public and you can buy tickets at the visitor center which also contains a coffee shop and gift shop. It is about a 30 minute drive from Strathcarron.
The Isle of Skye in Scotland is a popular large Scottish island known for its scenic and rugged landscapes. Popular stops include Old Man of Storr, Kilt Rock, the Quiraing, the Fairy Pools, Dunvegan Castle, and Neist Point. The Isle of Skye is very popular, particularly in the summer, and you can see our tips for avoiding the crowds on the Isle of Skye. It is about a 1.5 hour drive from Strathcarron to Portree (capital town on Skye). You'll want at least one full day to explore the island.
Restaurant Options
Inverness offers everything from humble cafes and McDonald's to fine dining, so you should be able to find something that appeals. Also lots of places to get drinks in Inverness whether you have a desire for a Scottish lager, craft beer, whisky, or a fruity cocktail.
There are dozens of dining options in Inverness, but here are a selection of recommendations to get you started:
Lodging Recommendations
Since you've reached the end of the North Coast 500, you might want to celebrate by choosing a nicer hotel in Inverness to stay in. Or if you don't mind staying a bit outside of Inverness, you might also consider a castle hotel stay, such as at Tulloch Castle Hotel or Kincraig Castle Hotel.
You can see our full Inverness hotel recommendations under Day 1 of the itinerary, but we'll briefly repeat them here: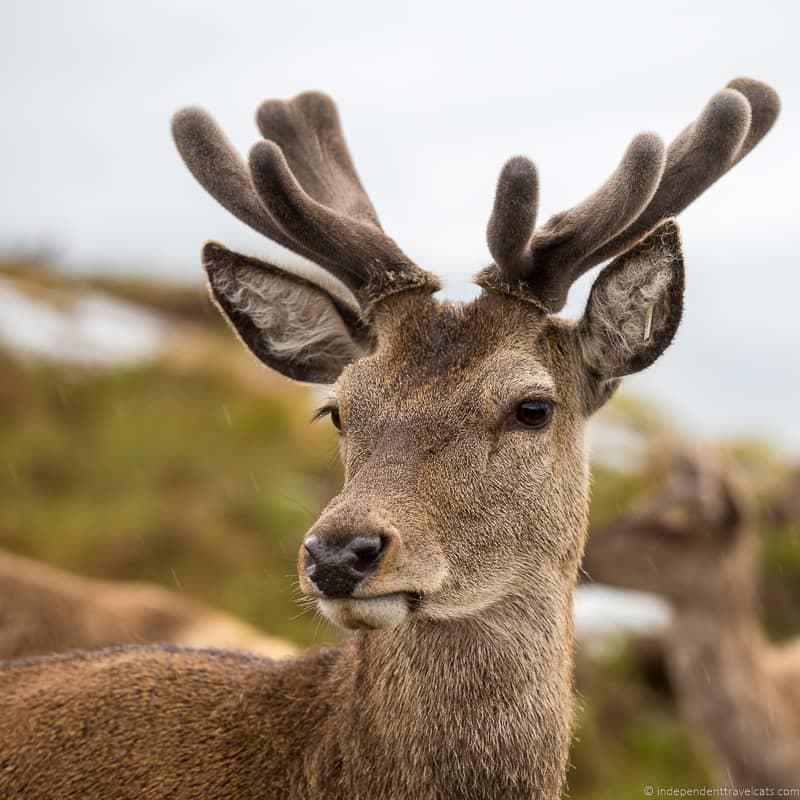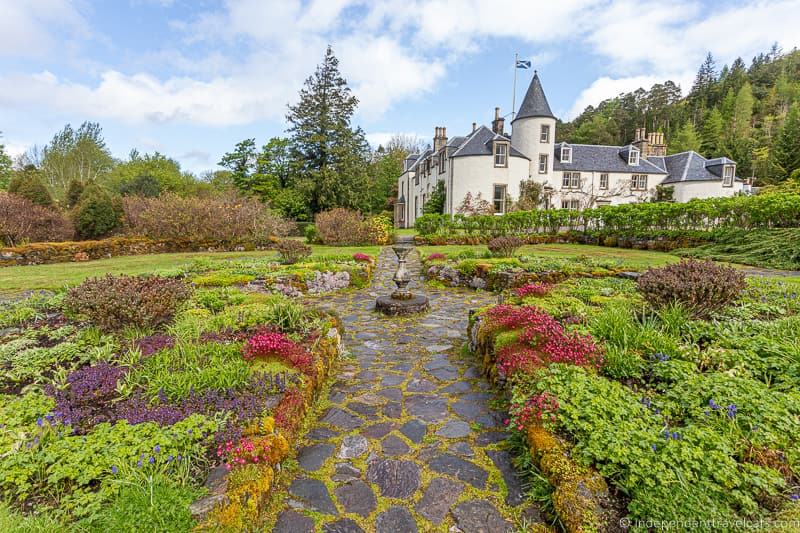 So that is the end of our North Coast 500 itinerary! We hope that you have found this itinerary helpful in planning your own NC500 road trip.
If you are planning an upcoming trip, be sure to check out all our other articles on the North Coast 500.
You can also PIN this article to Pinterest to read it later: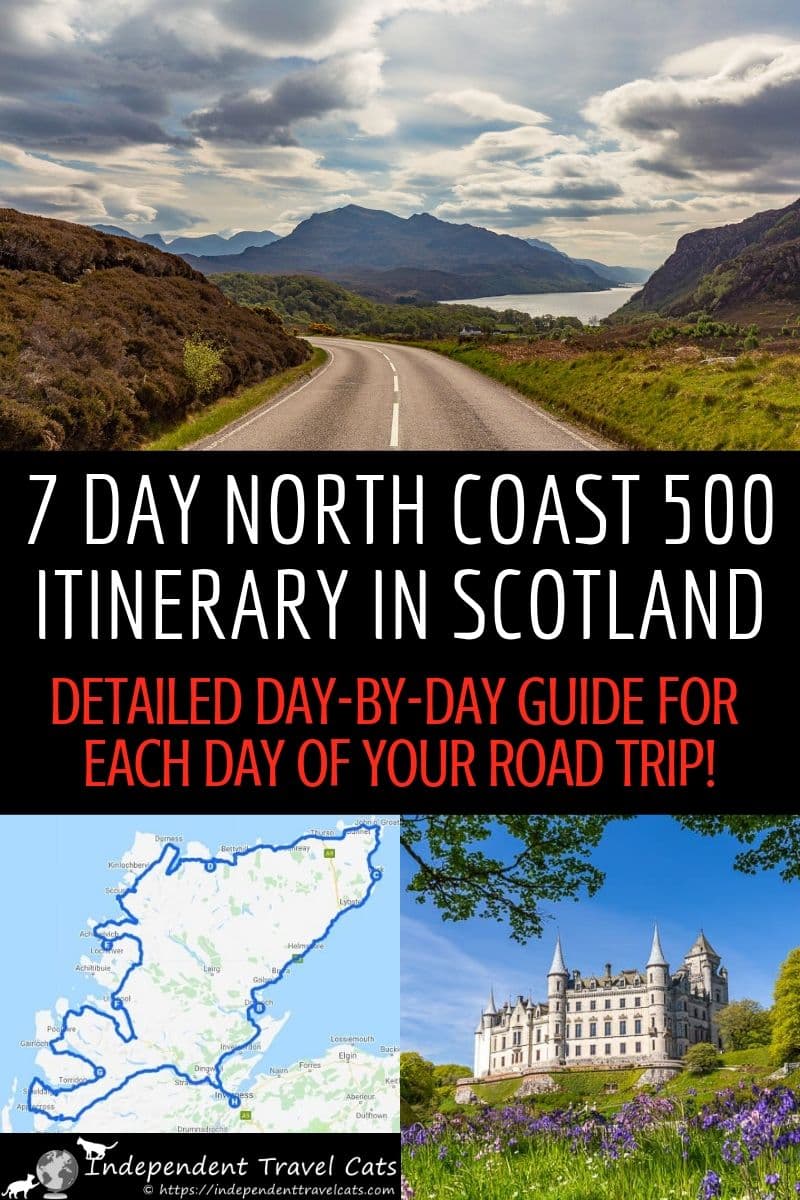 Are you interested in driving the North Coast 500 in Scotland? Which spots on our NC500 itinerary are most interesting to you? If you have driven the NC500 or some section of it, we'd love to hear about your own experience and any favorite spots along the route.
If you are planning your own North Coast 500 road trip and have questions about the route or traveling within Scotland, we're happy to try to help. Just leave any questions or comments in the Comments section below!