The Isle of Raasay is an island off the west coast of Scotland which is part of the Inner Hebrides. Although overshadowed by its much larger and more popular neighbor, the Isle of Skye, it is a great island to visit for hiking, cycling, kayaking, birdwatching, and getting away from the world.
There are no big tourist attractions on the island, but the island offers a number of scenic walks, outdoor activities, and historical ruins. There is even a whisky distillery you can visit and tour on this little island!
We've visited Raasay twice so far and have fallen in love with it. We first visited Raasay as a day trip from Skye in winter and really enjoyed our visit. So we had to come back in the Spring to spend more time on the island. We definitely recommend spending at least one night on the island to make the most of your trip here.
In our travel guide to Raasay, we'll share how to get to Raasay, how to get around Raasay, where to stay and eat, and the top things to do and see on the island. We'll also share our own experience and tips for visiting Raasay.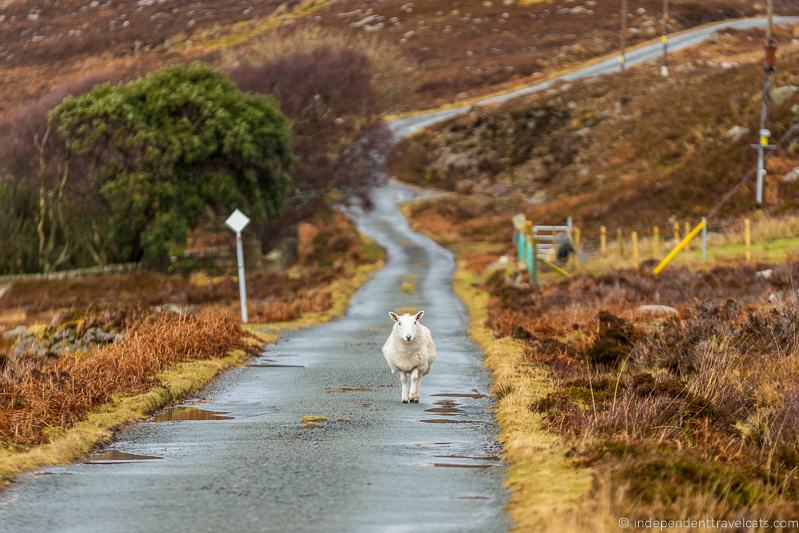 Basic Info on Visiting the Isle of Raasay
There are many things to do on the Isle of Raasay, but first you will need to figure out the logistics of getting there and staying there. We'll share how to get to Raasay, how to get around Raasay, when to go, where to eat, and where to stay on Raasay.
Where is the Isle of Raasay?
The Isle of Raasay is part of the Inner Hebrides, a series of islands located off the western coast of Scotland. Raasay is separated from the Isle of Skye by the Strait of Raasay and is only reachable by boat from the larger island.
Raasay is a small island, just 14 miles long north to south and 3 miles at its widest east to west. To the north it's flanked by even smaller islands including Rona, Eilean Fladday (Fladda), and Eilean Tigh.
How to get to the Isle of Raasay?
The only way to reach the Isle of Raasay is via boat. In most cases, you will first need to make your way to the Isle of Skye and then catch the ferry to Raasay.
Calmac offers a regular daily ferry service from Sconser (on Skye) to Raasay. The ferry accepts foot passengers, vehicles, and cyclists. The ferry takes 15 to 20 minutes. This is the easiest and least expensive way to get to Raasay.
The other option is to charter a boat from Skye. Companies like Spirit of Adventure and Isle of Skye Yachts offer private boat charters where you can set your own hours and itinerary for your group.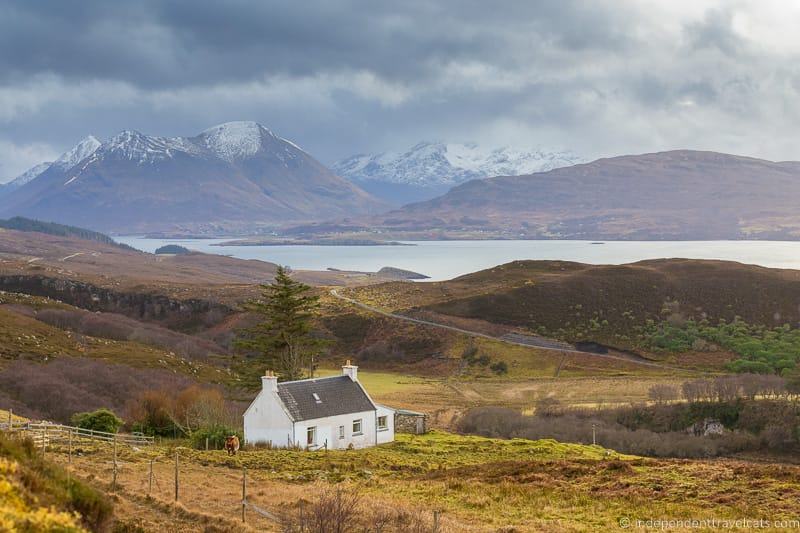 How to take the Ferry from Isle of Skye to Raasay?
There is one ferry service from Skye to Raasay, and it runs between the village of Sconser on Skye and Churchton Bay on Raasay. The ferry normally runs 9 times per day Monday through Saturday, and 3 times a day on Sunday.
To reach the Sconser ferry terminal on Skye, you can take a bus, drive, cycle, or take a local taxi. There is no train service on the Isle of Skye or the Isle of Raasay.
If you are on the Isle of Skye, you can reach Sconser via a local bus from Portree or Broadford. Sconser ferry terminal is about 20 minutes by bus from Portree or Broadford. You can check local bus timetables here.
If you want to take public transport from mainland Scotland, the best route will depend on where you are, but you can reach the Sconser ferry terminal via Citylink bus from Glasgow or Inverness. You can see the latest Citylink bus schedules here.
If driving, you will need to either take a ferry from the Scottish mainland to Skye from Mallaig (recommend booking the ferry in advance) or drive over Skye Bridge. Then you can drive to the Sconser ferry terminal to catch the ferry to Raasay. At Sconser, you can take your car on the ferry or park for free and board the ferry as a foot passenger.
You may be wondering if you should make ferry reservations to Raasay. The CalMac Sconser to Raasay ferry does not take advanced bookings. So it is a first come, first serve ferry in terms of space.
If you are going over as a foot passenger, you don't need to really worry as there is normally plenty of space for foot passengers. So just be sure to be there on time for boarding.
If you are driving, we'd recommend making sure you show up early to get in line to try to make sure you can catch a particular sailing. I'd also leave flexibility and try to avoid trying to make the last ferry of the day.
Cyclists are counted as foot passengers and can bring bikes on board for free, but there is a limited number of bikes allowed on each ferry. So on a particularly busy crossing with lots of cyclists, you may be asked to wait until the next sailing. However, normally this is not an issue.
The ferry ride is only about 15 minutes long. Tickets are purchased once you board the boat. You can see the latest pricing details and ferry schedule on the Calmac website.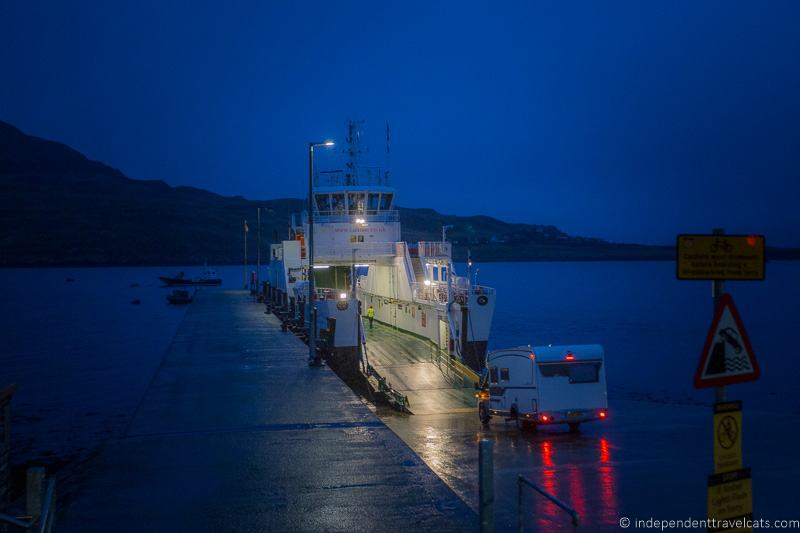 Getting around the Isle of Raasay
There is no public transportation on Raasay, so your options are to get around by car, foot, or bicycle.
If you bring a car or motorcycle, you'll find there is a limited road network so it is very difficult to get lost. The roads are all single track roads on the island. Please be sure you know how to drive on single track roads and properly use passing places before you drive here. Also note there are no fuel stations on the island so be sure to fill up your tank before coming to Raasay.
The island is easy to get around on foot. From the ferry terminal, you can easily walk to all the main lodging, dining, shops, and the outdoor activity center as they are all clustered around Churchton Bay (the ferry terminal) and Inverarish. You are also within an easy walking distance of some of the island's hiking trails.
Cycling is a popular way to see the island. Since the island is pretty hilly, we'd recommend a mountain bike or electric bike to get around. You can rent both regular and electric bikes from Raasay House.
Those arriving on foot who want to see Brochel Castle, Calum's road, and some of the other attractions further from the ferry terminal can also join a minibus tour. You'll need to arrange the tour in advance with Raasay House.
There are no regular tour options that include a visit to the Isle of Raasay, but you may be able to book a private tour with a tour provider on Skye or the mainland.
Best time of year to visit the Isle of Raasay?
The Isle of Raasay holds charm for visitors year round; however, most visitors come during the spring or summer months.
The spring and summer bring longer, warmer days and it is when all the island's tourist services and businesses are open. This is the best time of the year for most of the outdoor activities.
If you come in the off-season, the weather is more likely to be wet and cold. Also many of the businesses on the island are seasonal and are closed during the winter months. But if you are flexible and don't mind the weather, the winter can be a nice time to stay in a cozy place, sip whisky, do some hiking, and enjoy the island at its most peaceful.
If you want to stay overnight, especially in the off-season, be sure to make sure there is lodging available first. I'd also check to see what your dining options will be. If the Raasay House restaurant is closed, your only option for lunch and dinner will likely be to bring your own food or buy food from the community store.
Just note that even in the spring and summer, it is often cool and breezy on Raasay. It rarely gets hot. So just be sure to check the forecast, pack something warm, dress in layers, and always be prepared for rain.
How many days should I spend on the Isle of Raasay?
We recommend spending at least one day and one night on the island to be able to explore the highlights and do a bit of hiking. It is hard to get a good feel of the island without spending the night.
However, if you are staying on the Isle of Skye, you can also visit Raasay from Skye for just the day to see some of the highlights of the island. If you have several hours, you can see a lot with or without a car.
For those interested in longer hikes, water activities, birdwatching, etc. I'd recommend spending the night.
Raasay House advises budgeting 1 day for each major walk you wish to do, plus time for kayaking or sailing around the bay.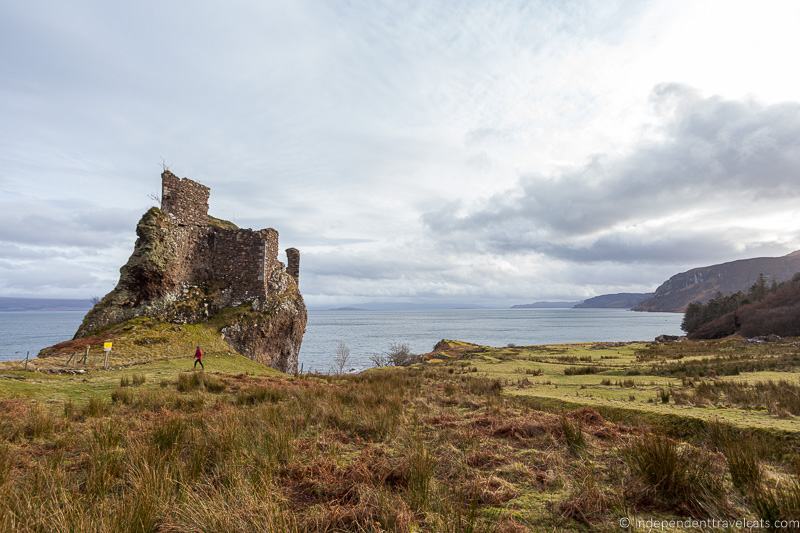 Where to eat on Raasay?
The Isle of Raasay has limited dining options so it is good to think ahead about what you plan to do in regards to eating on Raasay. There is currently one full-service restaurant, one takeaway place, and one place to buy groceries.
Raasay House is the only dine-in restaurant on the island. It serves local, seasonal Scottish food, all made from scratch in-house. You can expect dishes like venison casserole, wild Sconser mussels, and sweetcorn fritters, alongside soups, burgers, and steaks. They also offer a children's menu and a menu for vegetarians and vegans. They also have a bar that serves a number of Scottish beers, whiskies, and gins.
The restaurant serves breakfast, lunch, dinner. We've eaten several meals at Raasay House from simple lunches of soup and sandwiches to 3-course dinners. We have always enjoyed the food and service here. On a nice sunny day, you can enjoy coffee or lunch outside on the picnic tables.
While there is almost always availability at Raasay House for lunch, it is recommended that you book ahead for dinner to guarantee a table. The restaurant is a short 5-minute walk from the ferry terminal.
The Larch Box opened in 2019 and is a takeaway place in a converted storage container, offering soups, sandwiches, hot drinks, and baked goods for takeaway. It is about a 10-minute walk from the ferry terminal. A good option for those looking for a quick takeaway meal or snack. Be sure to check hours first as they are not open every day and hours can vary.
Note that if you are visiting in the off-season, you should check to make sure that there is at least one dining option available during your visit or you may want to pack your own food. The Larch Box is seasonal (closing in the winter). The restaurant at Raasay House is usually open throughout the year (even when the hotel portion is closed) but does close for a number of dates during the winter months.
For grocery items, there is the small Raasay Community Stores in Inverarish which offers a selection of essential groceries and staples, as well as locally made baked goods. This little shop is the main store on the island and also serves as a post office and convenience store. It is open year-round and is located about a 22 minute walk from the ferry terminal
Can I stay overnight on the Isle of Raasay?
Yes, but lodging options are very limited so you will definitely want to book ahead of time to guarantee a room.
Be aware that school groups and clubs often book out most of the available rooms at Raasay House during the spring months. So it can be more challenging to get overnight lodging at that time of the year on the island.
Where to stay on the Isle of Raasay?
There is only one hotel on the island, as well as a few small guesthouses, B&Bs, and vacation rentals. Raasay House is the main lodging on the island and uniquely offers rooms suitable to both those looking for a hotel and those looking for a hostel.
Since lodging is limited, you will want to book your stay in advance to guarantee a room. Lodging options often book out in advance during busy spring and summer months.
Here are your main accommodation options on the Isle of Raasay:
There are no campsites or caravan parks on Raasay. However, you can wild camp with a tent on the island as long as you follow the Scottish Outdoor Access Code. Just be sure to bring everything you need for camping as supplies on the island are limited to the small community store.
There is one bothy on the island that is accessible to hikers and backpackers. Taigh Thormoid Dhuibh bothy is located on the far north of the island.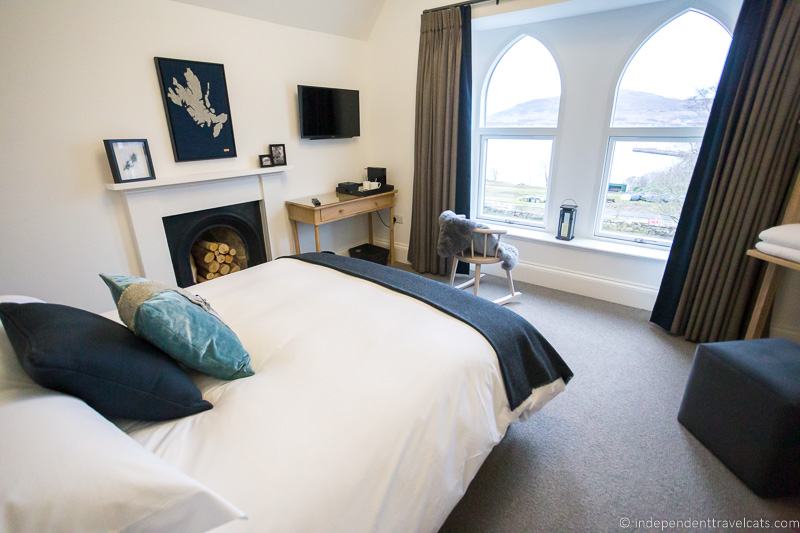 Where to find more Information?
The local community website is a good place to check for travel information and upcoming events and announcements. Note that all the information for visitors and travel has been removed from the website during the COVID-19 pandemic. However, it is expected that this information will return once visitors are permitted back to Raasay.
Once on the island, you can also stop into Raasay House for information, leaflets, and maps. You can also usually find some brochures and maps on the ferry.
Most guidebooks to Scotland give little or no mention of the Isle of Raasay, but you can find some specialist guides to the Inner Hebrides and Scottish Highlands that include sections on Raasay. You can see some options here.
There is also this good guide to the walks and hikes on the island: Exploring Raasay by Nick Fairweather. If planning to do some of the longer hikes on the island, we also recommend getting the local OS map, which comes in both paper and digital format.
To learn more about Raasay's culture and history, check out Calum's Road by Roger Hutcherson. It's the definitive historical account of Calum Macleod's heroic work to build an "impossible" road. If you plan to spend some time reading and relaxing on Raasay, this might be just the book to bring along!
You can read about the famous 18th-century visit of Samuel Johnson and James Boswell who traveled around Scotland in 1773, including spending time on both Skye and Raasay. You can read the observations of both of these visitors in this book which collates the information from both of their published travelogues.
You can also read the poetry of Raasay's most famous native son, Sorley MacLean. His collected poems are available on Amazon which provides the poems in both MacLean's native Gaelic and his English translations.
If your travels are taking you to other places in Scotland, we recommend checking out our many other Scotland travel articles. We have articles about avoiding crowds on the Isle of Skye, things to do in Edinburgh, touring the Scottish Highlands, driving the North Coast 500, visiting the Isle of Islay, things to in Glasgow, things to do in Aberdeen, skiing in Scotland, the Edinburgh August festivals, experiencing Edinburgh's Hogmanay, and many more!
If you are planning to visit Scotland and have questions about your trip, feel free to leave us a comment in the Comments section at the end of the article or ask in our Travel Lovers Facebook group.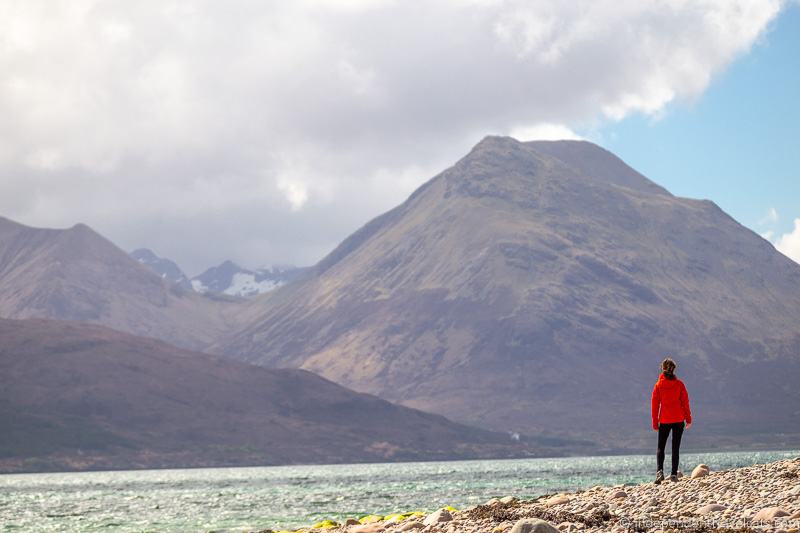 Top Things to do on the Isle of Raasay
Raasay is a small island with a limited number of tourist resources; however, there are still plenty of things to do on Raasay. It is a particularly attractive place for those who want to get away, hike, and spend time outdoors away from the crowds.
Here are our favorite things to do on the Isle of Raasay:
Go Hiking on Raasay
One of the most popular things to do on Raasay is to wander around the island on foot and to explore its footpaths and hiking trails. The most well-known and most popular hike on Raasay is the hike to Dun Caan (Dun Cana in Gaelic), but there are several other great hikes you can do on the island as well. For instance, you can walk up Calum's Road, to the old iron mines, to Inver Bay, along a coastal path, or to old Highland Clearance villages.
For an overview of the walking and hiking trails on Raasay, you can see this pamphlet of hikes from Forestry and Land Scotland. Although I have to say we found the pamphlet slightly confusing to use as it provides limited details. You can also see these hiking suggestions. If looking for a guidebook for recommended walks on the island, you might want to check out this guide to 20 walking routes.
We've done a variety walks and hikes on Raasay, including the Dun Caan hike, hike to Arnish and the tidal island of Fladda, the old iron mines, and Temptation Hill. Dun Caan was definitely a highlight with scenic views and eagle sightings, but we've enjoyed all the hikes we've done on Raasay.
The Dun Caan hike is a hike up to the unique flat-topped hill that towers over the island. At the top you have a great view of the island, sea, and the eastern coast of the Isle of Skye. Along the way, you cross through forestry land and moorland and past old mines and small lakes. The hike can be started from a few places, with the ferry terminal being a popular starting place. It is considered a moderate hike with steep areas and boggy areas. The full circular hike is about 9.6 miles / 15.5 km and I'd allow at least 5 hours for the hike.
If you have limited time and want to do a shorter walk, we'd recommend the walk up Temptation Hill. From Raasay House, it is about a 1 hour walk each way. Along the way you'll see a few ancient sites (Pictish stone, Iron Age broch) and you can enjoy nice views from the top of the hill.
Those wanting to do longer hikes may want to combine a series of hikes over a day or more. For example, you can start from the ferry terminal, head to Dun Caan, and then onto Brochel Castle, Calum's Road, Arnish, and the northernmost point of Raasay. Footpaths also lead to the tidal island of Fladda and Eilean Tigh. Hikers wanting to spend some time exploring this northern part of Raasay (only accessible on foot) may want to consider wild camping or staying in the island's bothy (called Taigh Thormoid Dhuibh).
If you want to visit one of the two tidal islands, be sure to check the tide tables so you know that you can cross safely as they are only accessible at low tide. The rocks that you cross over can be very slippery as they are wet and covered in seaweed so be careful when crossing.
If you plan to do any of the longer hikes, you'll definitely want to be prepared with good waterproof hiking shoes and boots. You are likely to encounter boggy and muddy areas, so a change of socks can be a good thing to put in your day bag. Also packing a rainproof jacket or poncho is always a smart idea in Scotland!
We'd recommend packing insect repellent, like Smidge, if planning to hike much, especially if you plan to visit over the summer months. The main biting insects here are midges, mosquitoes, and ticks.
If planning to do some of the longer hikes on Raasay, we also recommend getting the local OS map. Ordnance Survey produces the best hiking maps of Great Britain, in both paper and digital formats. If you plan on hiking elsewhere in Scotland or the UK, we recommend their maps!
There are no services along most of these trails so you will need to pack and carry all your supplies and trash with you. Please don't leave anything along the trails, beaches, or in the bothy.
If you plan to hike and camp overnight, I'd bring a water filter or purification tablets with you to be able to safely draw water from the lakes and streams so you don't have to carry it all with you.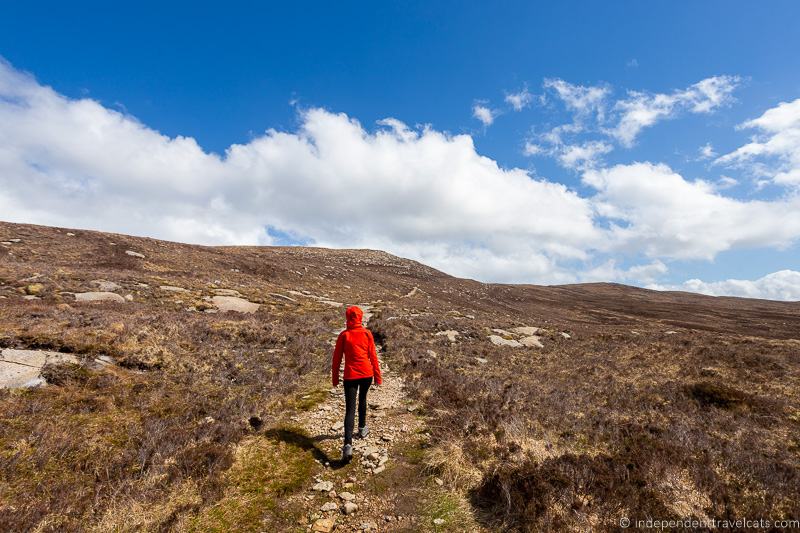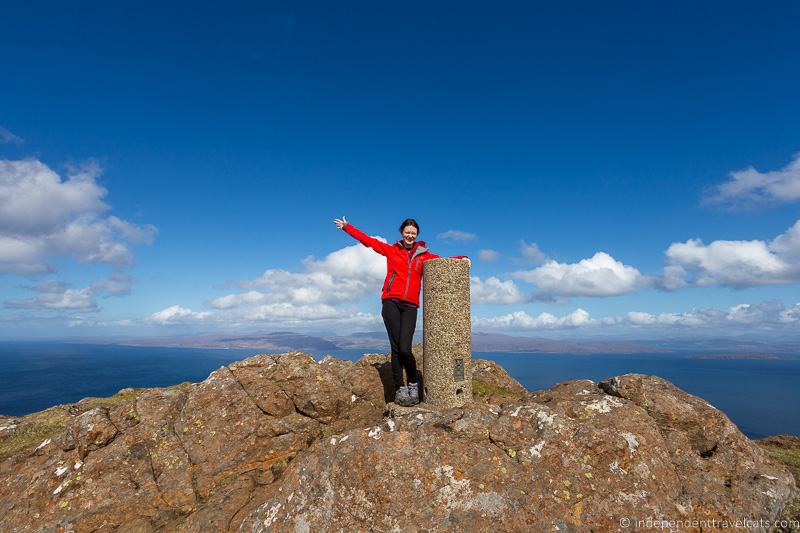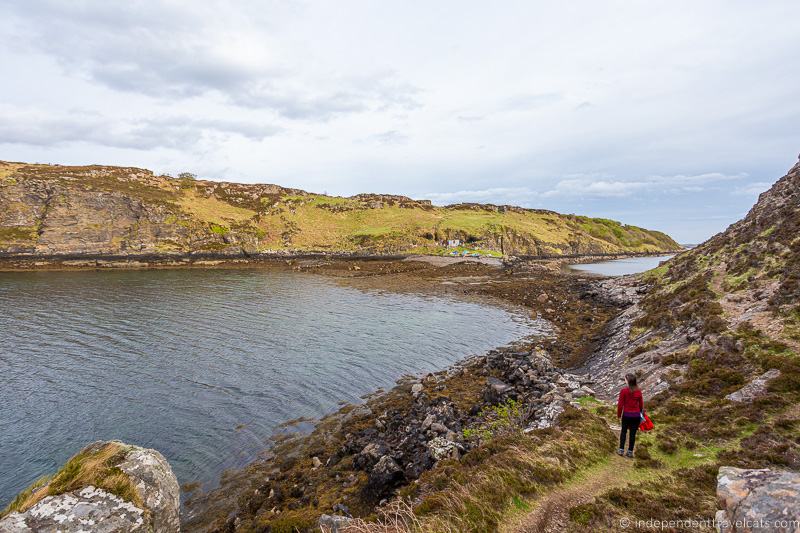 Take a Scenic Drive to Calum's Road
The construction of Calum's Road is probably the most well-known story about the Isle of Raasay. The road was built by Calum MacLeod, a local crofter, part-time postman, and the assistant lighthouse keeper at Rona.
There is and has always been limited access to the northern part of Raasay. In the mid-1900s, Calum and the other inhabitants of this area wanted to improve access to the northern part of Raasay and the island of Fladda (also called Eilean Fladday). First, Calum and his brother made a 1 3/4 mile footpath from Torran to Fladda between 1949 and 1952.
Calum then appealed to local authorities for assistance in building a proper road between Arnish and Torran to replace the existing narrow footpath. However, after no action over the next 12 years despite his applying for a number of grants, Calum decided to build the road himself.
Calum spent 10 years (1964-1974) making the road, using only a pickaxe, wheelbarrow, and a shovel. The narrow single-track road is about 1 3/4 miles in length. The local council would eventually adopt and surface the road.
Today, you can still drive the narrow road to Arnish. It also makes a nice walk. There is a cairn near the beginning of the road with a plaque commemorating Calum's achievement.
Calum's building of the road has been immortalized in song, dance, a play, and books. If you want to learn more about Calum MacLeod and his quest to build to the road, we recommend reading Calum's Road by Roget Hutchinson.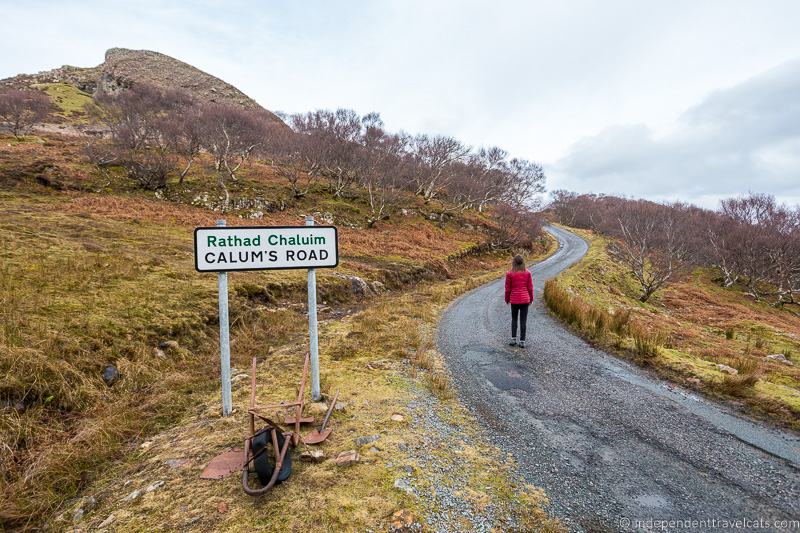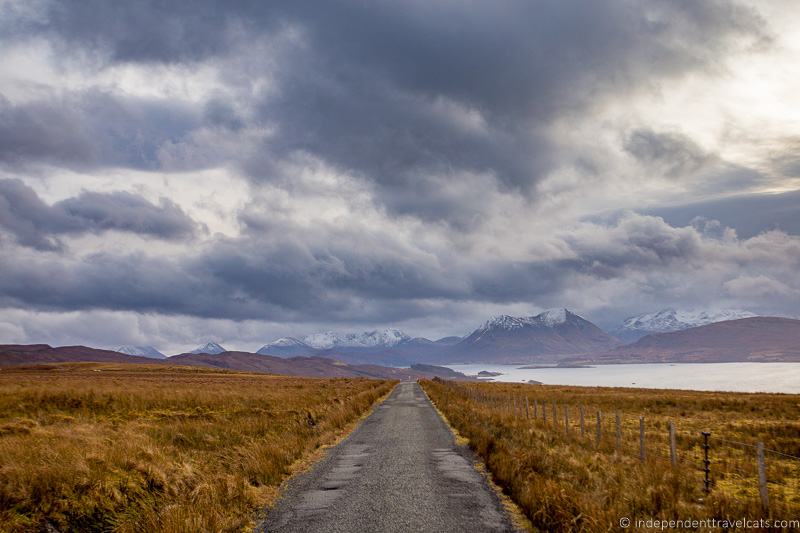 See Brochel Castle
Brochel Castle was once a coastal stronghold of the MacLeod Clan on Raasay. It is believed to have been built in the late 15th or early 16th century and was in use until about 1671. It is generally said that the first Raasay MacLeod chief (Mac Gille Chaluim) built the castle, but some have noted it may have been built by the MacSweens and then taken over by the MacLeod chief.
The castle construction made use of both the natural rock at the site and masonry and was quite an impressive structure for the time period. Sadly, the castle now is mostly ruined, but you can still make out one of the main towers fairly well. The ruins are not in great shape so signs warn you to please stay away from the ruins to both protect what remains and for your own safety.
It is still a very picturesque ruin that looms overlooking the sea. You can follow a footpath that goes down through a field and then around the base, or you can admire it from the parking area as you have a nice view from the road if you don't want to venture down the footpath. We were lucky to spot eagles here during our last visit.
Just north of the castle ruin and a short walk away is the start of Calum's Road. Brochel Castle is also near the starting point for the walk to Screapadal, an abandoned settlement, located south of the castle.
It is possible to drive to Brochel Castle or you can walk or cycle here. It is about a 3 hour walk from the ferry terminal to reach the ruined castle.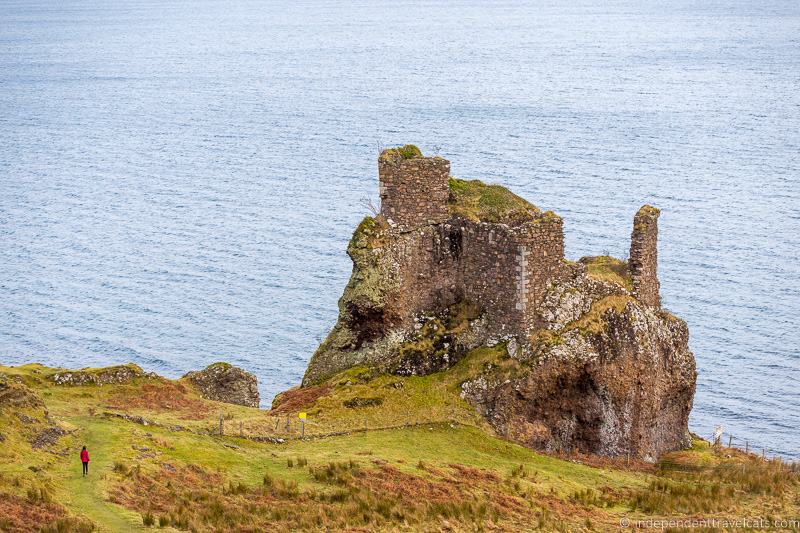 Make a Stop at Raasay House
Raasay House is more than just the biggest hotel in town, it's the center of the universe for Raasay's tourism and outdoor trade. It offers a range of accommodation, coordinates outdoor activities, rents equipment, and organizes guided bus and boat tours of the island.
Raasay House is also a historical landmark and the largest and grandest building on the island. The current building dates to the 18th century, but the site itself has hosted a home to the Macleod Clan chiefs since the 1500's. That first known house here was razed to the ground by the government in 1746 after the Battle of Culloden as the MacLeod chief was accused of assisting Bonnie Prince Charlie.
The house was rebuilt and in 1773, Dr. Samuel Johnson and James Bowell stayed here on their famous trip to Scotland as guests of the MacLeod chief. The two travelers explored Raasay and kept detailed notes of their travels. Johnson, for instance, wrote the following about his reception and stay at Raasay House: "We found nothing but civility, elegance, and plenty." They would also be hosted by the MacLeod chief on Skye at Dunvegan Castle on their trip. You can read both of their travel accounts here.
In 1843, the last laird to live here, John Macleod, left the house and emigrated with his family to Australia. The house then went through a series of owners and developers. A fire in 2009 would seriously setback opening the house as a hotel for several years. Raasay House has been offering accommodation, food, and activities since 2013.
Raasay House is the main accommodation on the island. It offers a range of rooms, including hostel-style dorm rooms, large rooms for families, and hotel rooms for those looking for more comfort. You can check room availability and rates here.
Raasay House also has a restaurant and cafe, and serves breakfast, lunch, coffee, and dinner. It is open most of the year, but does close for a short period of time each winter. It is recommended that you make reservations if you want to have an evening meal here.
Finally, Raasay House is also home to the Outdoor Centre, which offers a variety of sports equipment rentals (including bikes), tours, and activities. For any tours or rentals, you'll want to book them in advance.
If you spend any time on Raasay, you'll likely to find yourself at Raasay House for some reason or another. We've slept here, dined here, rented bikes here, done archery, and stopped for coffee. In warm weather, there are picnic tables set up outside on the terrace where you can sit and look out over the large lawn to the water and enjoy coffee or lunch.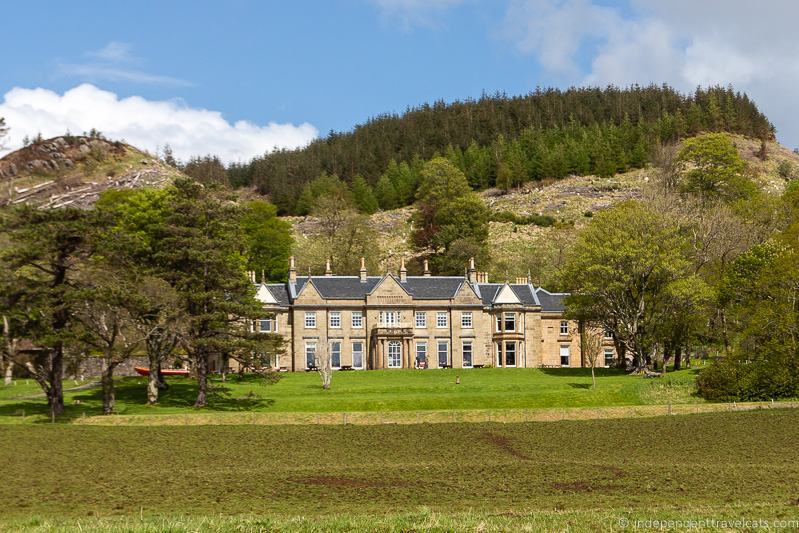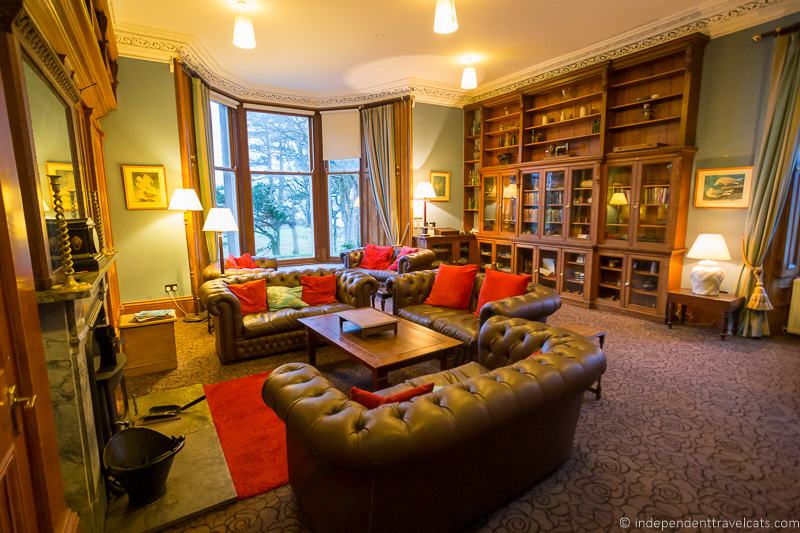 Take a Guided Sightseeing Minibus Tour
If you are coming over to Raasay on foot but still want to go to the far north of the island, consider booking a guided minibus tour of the island. The tour leaves from Raasay House and gives you a guided tour of the highlights of the island, including Rainey's Wall, Brochel Castle, and Calum's Road.
These tours need to be booked at least 24 hours in advance and require at least 4 persons. To book, you will need to call or email Raasay House.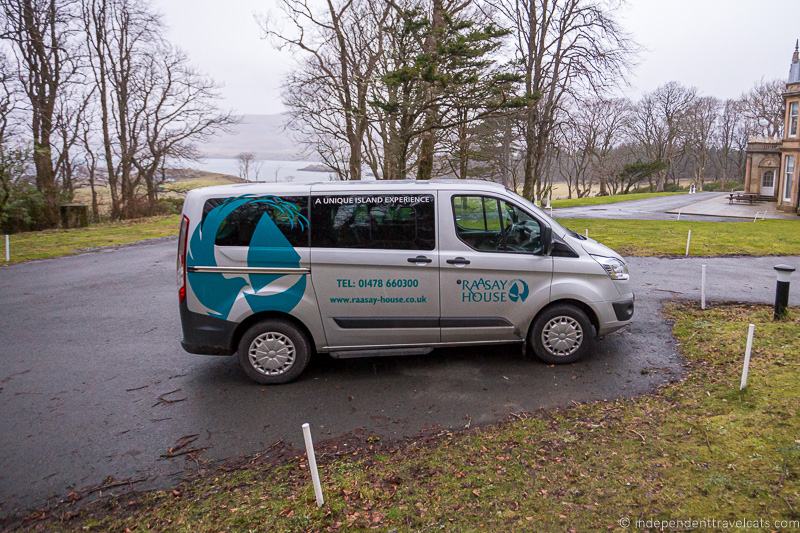 Cycling & Mountain Biking
If you prefer to get around on a bike rather than on foot, cycling is another popular way to explore the island. It allows you to see more in a shorter amount of time without having to have a car.
Mountain biking has become more popular on the island since 2007 when the island hosted a 10-hour bike endurance race called the Raasay Rumble.
You can bring your own bike over on the ferry or rent one from Raasay House. Raasay House has both regular road bikes and electric bikes for rent and offers both adult and child-sized bikes. If you would like to rent a bike for your time on the island, it is recommended that you make a booking at least 2 hours in advance.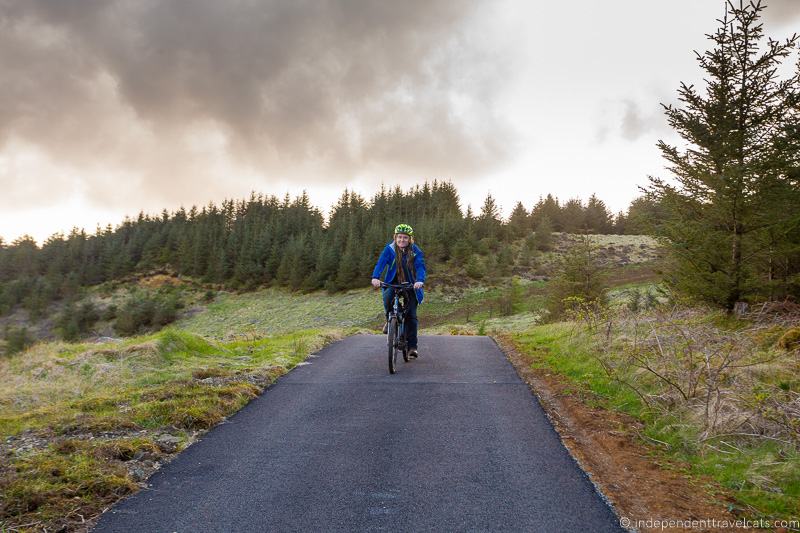 Wander around Inverarish
There are only about 150 residents who live on Raasay so there are no real towns, but the main settlement on the island is Inverarish. Many of the homes and businesses here occupy the terrace houses and cottages that once housed the island's iron ore workers as well as the German prisoners of war during World War I.
Today as you wander the narrow lanes, you'll find homes, the community store and post office, and a few other small businesses. Inverarish is also a good starting point for a couple of the island's walking trails, including the short Emigrants' Walk (~ 30 minutes) and the Miners' Trail hike (~ 2 hours).
Inverarish is a short drive or bike ride from the Raasay ferry terminal or a relatively short walk. The walk takes about 20 to 25 minutes. You'll pass the island's distillery, primary school, community center, and Presbyterian church on the way.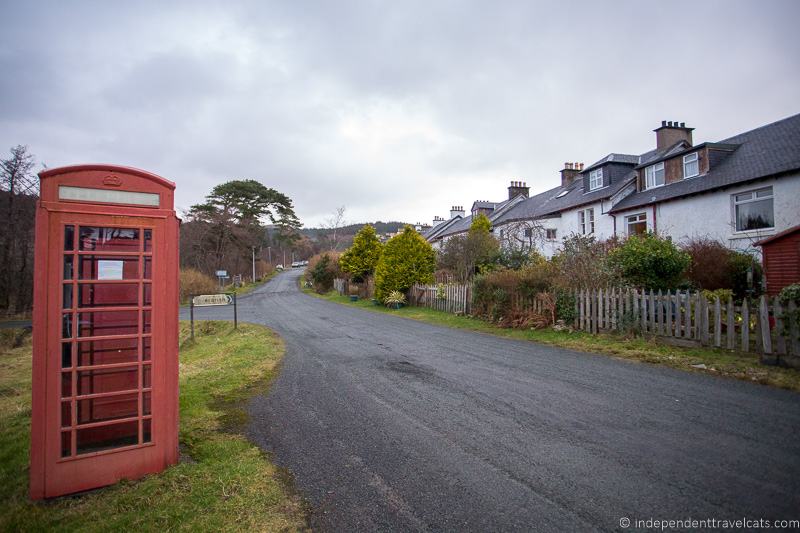 Enjoy an Outdoor Adventure Sport
Raasay is a good place to get out and exert some energy, and there are a variety of sports and activities you can do here. These include cycling, coasteering, kayaking, sailing, fishing, gorge walking, rock climbing, and abseiling.
Some of these you may be able to do on your own and bring your own gear, whereas the others you can join a guided activity or rent gear from Raasay House. Raasay House provides a large variety of guided outdoor activities and can tailor many activities for children and families.
Raasay House offers a large menu of guided adventure sports activities. These include:
Coasteering – Challenge yourself to negotiate the rugged Raasay coastline by swimming, climbing, and jumping!
Kayaking – You can sea kayak out on the open water or you can try the less challenging loch kayaking in Loch a' Mhuilinn. Loch kayaking is great for younger children.
Gorge Walking – Climb, walk, and swim your way through Inver Gorge, while negotiating caves, a river, and waterfalls.
Sailing – Take a sailing lesson in a traditional Hebridean sailing boat in the Sound of Raasay.
Abseiling – Abseiling, also known as rappelling, is descending a rock via controlled rope and harness. Raasay House runs programs where you can descend into Inver Gorge or down a waterfall (more advanced). Not for those afraid of heights!
Rock Climbing – Raasay is full of rocky crags perfect for climbing. Raasay House can organize guided rock climbing adventures with varying degrees of difficulty along the sea cliffs of Brochel.
Check out the Raasay House website to learn more and book any of these activities in advance. Note that all activities need to be booked in advance. Some activities have a group size minimum and most require people to be booked to stay on Raasay for at least 2 days.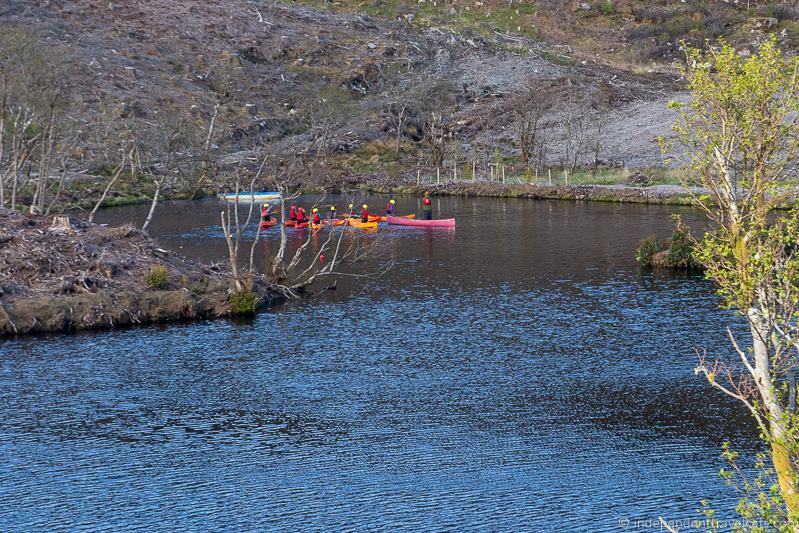 Take in the Beautiful Views of the Isle of Skye
The Isle of Skye is known for its immense beauty, and Raasay is a perfect place to view the eastern part of the island. You'll likely get your first good look back at Skye during your ferry ride from Sconser.
On Raasay, the best view of Skye, on a clear day, is from the top of Dun Caan. It is the steepest hike on Raasay but it rewards you by taking you to the highest viewpoint on the island. This affords you with great sweeping views over the eastern part of the Isle of Skye as well as commanding views over Raasay, the sea, and nearby isles.
You can also get great views of Skye from Temptation Hill, Inver Beach, along the road towards Brochel's Castle, or really anywhere along the western or southern coast of Raasay.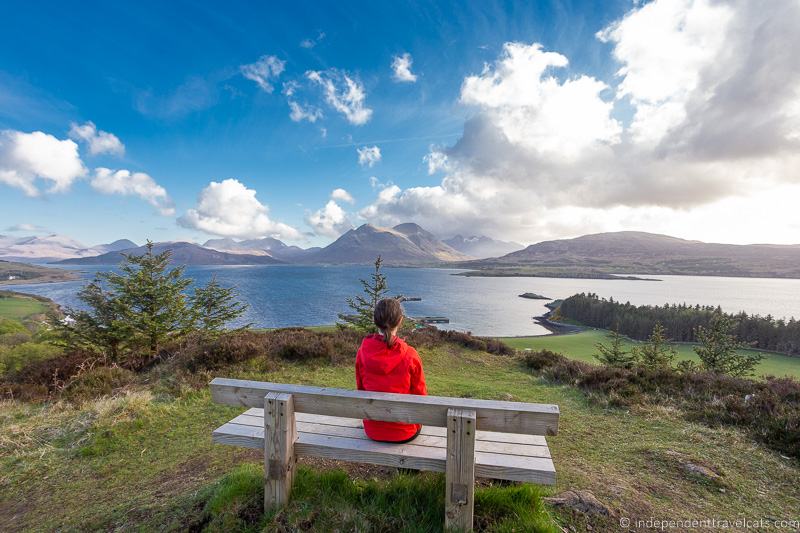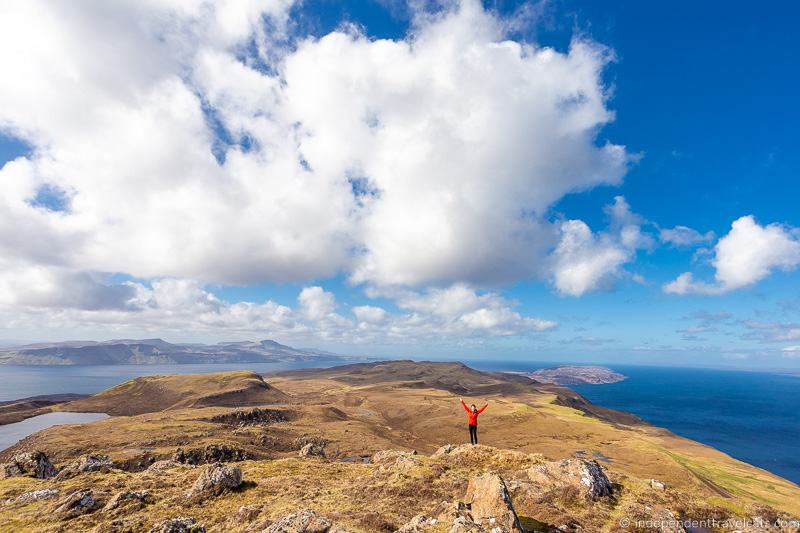 Go Birdwatching & Wildlife Spotting
As you hike and journey around the Isle of Raasay, keep an eye out for the many animals that call the island and its coastal waters home. We have found the island to be a particularly good place for spotting eagles.
The largest animal on the island is the red deer, which you may see if you decide to go hiking into the interior of the island. Other animals you may see on land or in the water are voles, rabbits, otters, seals, dolphins, porpoises, minke whales, and orcas.
Raasay is also a good place for bird watching, with over 60 species inhabiting the area including white-tailed eagles (sea eagles), golden eagles, buzzards, hawks, tawny owls, starlings, and flycatchers. For an idea of what it is possible to see, you can see this list of Isle of Skye bird species.
We've personally seen seals and a number of birds, including white-tailed eagles, golden eagles, gulls, oystercatchers, sandpipers, and a golden plover, on our visits to the island. If you are interested in birdwatching, we would definitely recommend bringing a pair of binoculars or a spotting scope.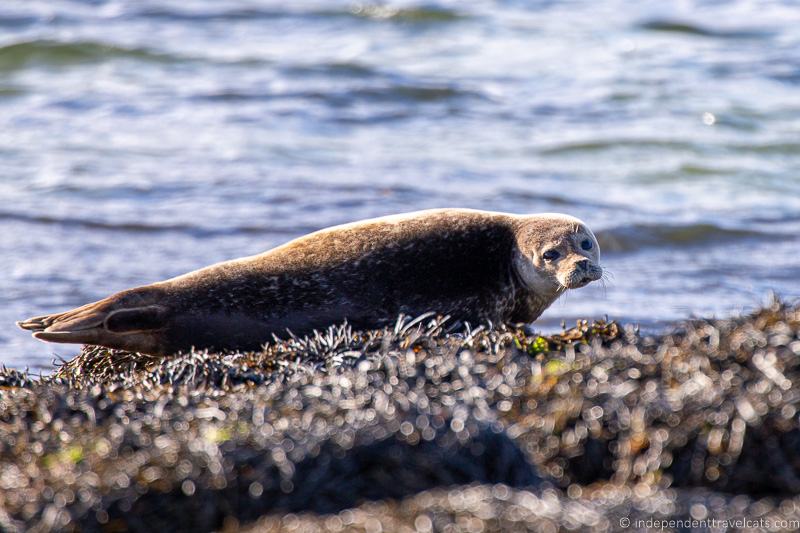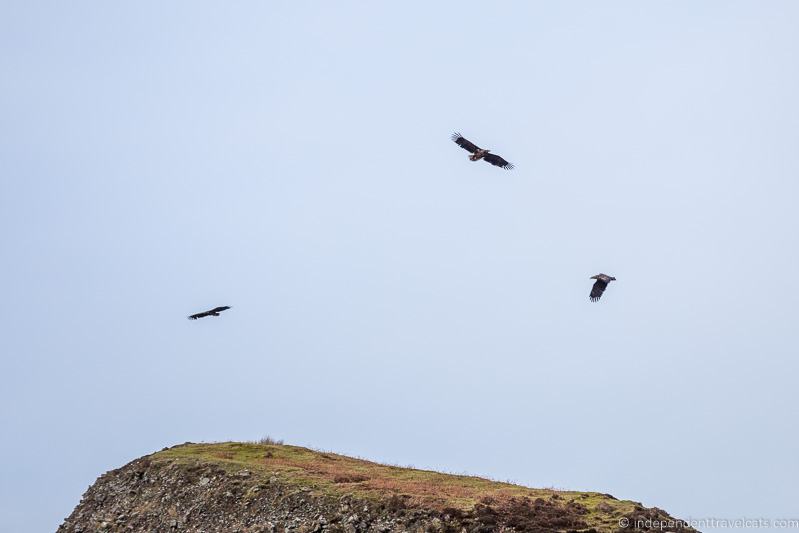 Try Your Hand at Archery
Raasay House offers sessions where visitors can try their hands at flatbow archery. They will teach you the basics and then allow you to compete in an Olympic-style competition.
This is a fun activity that can be done without leaving Raasay House as it is set up on the lawn next to the house. It is also a fun activity for families as children can participate if they are over 5 years of age. Laurence and I have done this and although neither of us are particularly good at archery, we had fun competing against one another.
This is currently offered at £20 per person, and requires a minimum of 4 persons to book. They provide all the equipment. Requires booking before your visit.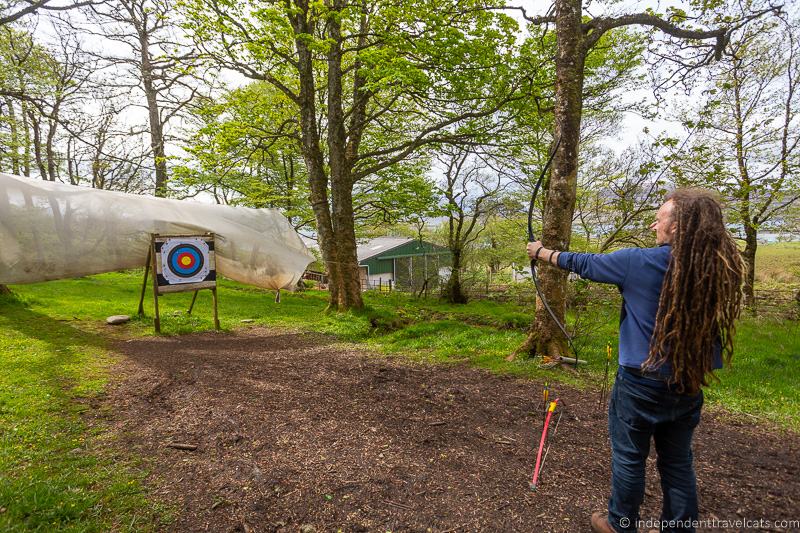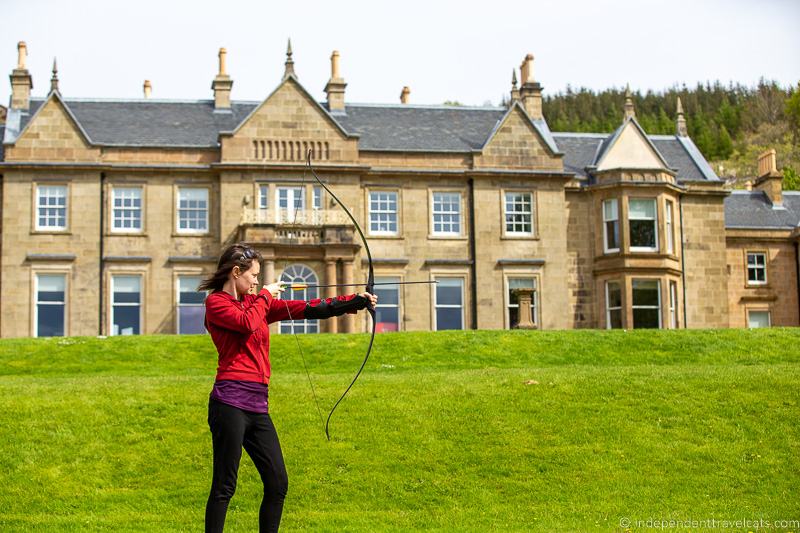 Explore the Beaches
Raasay has a number of small beaches and tiny coves around its coast. Most of the beaches and coves are pebbly or rocky, but you may find some sandy spots at low tide. Many of the accessible small beaches and coastal spots can be found along the southern or western parts of the island.
Swimming is possible in some areas but it is often too cold to swim for any duration unless you come prepared with a wetsuit or drysuit. But the beaches can be a good place to walk, have a picnic, and spot seabirds and marine life.
Two of the biggest beaches are North Bay and Inver Bay beach. North Bay is just a short walk from Raasay House so is easy to access even for day trippers coming on foot. There is a short walking path you can follow from the main road behind Raasay House.
Inver Beach is probably the most known beach on the island because it is rumored that Queen Elizabeth II and the Royal family used to stop to picnic here in a secluded spot when on the Royal Yacht Britannia. It still makes a good picnic spot. Inver Beach is a pebble beach but you are likely to find sandy patches here at low tide.
Inver beach can be reached on foot by following a 1.5 km path from the road to Inver Bay (Bagh an Inbhire). You will see a sign for the walk next to a farm gate and a passing place on the main road north heading to Arnish. Since there is no (or limited parking) it is best to get to the trailhead on foot (about 1.5 hour walk from ferry terminal) or by bike (25 minutes from ferry terminal) if possible.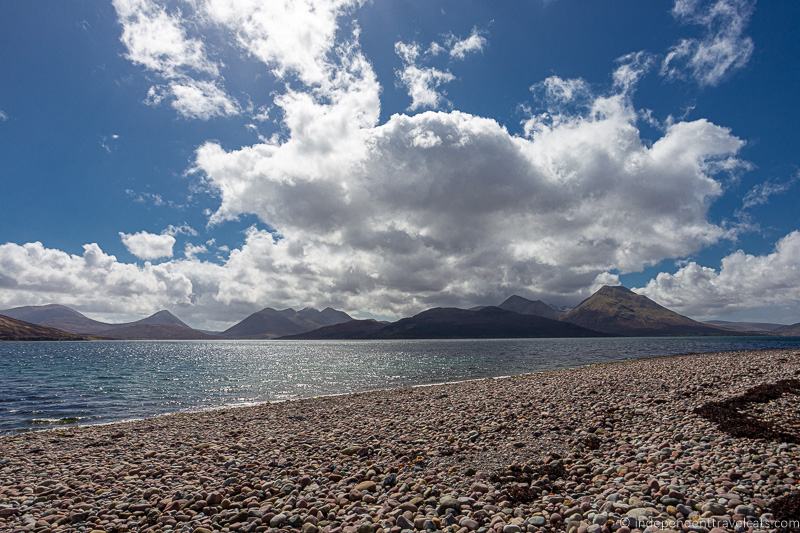 Visit Historical Sites
The Isle of Raasay is a tiny island, but it offers quite a few historical landmarks if you choose to look for them. The island's name is believed to come from the Old Norse for "island of the roe deer". Raasay was initially ruled by Clan MacSween, but the ownership of the island was transferred to the Clan Macleod in the early 16th century. Most of the island's historical sites date from this period and later.
Like many of the Scottish islands, Raasay offers a microcosm of the Scottish Highlands mainland. You can find a ruined castle, the remains of a medieval church, settlements that were abandoned during the Highland Clearances, a Pictish stone, abandoned mines, and the remains of prehistoric structures.
None of these places are perhaps must-sees in terms of Scottish historical sites, but all are interesting in that they tell the story of this tiny island. We have enjoyed finding them during our many walks around the island.
Brochel Castle – A small ruined 15th or 16th-century castle on the northern part of the island near the start of Calum's road that was a stronghold of the MacLeod clan. See earlier section on the castle for more details.
Hallaig and Screapadal – Two former crofting settlements on the island that were deserted during the Highland Clearances in the 19th century. Both have some remaining stone ruins and can be accessed on foot via paths. Hallaig is situated in the southwestern part of the island and Screapadal in the northeast.
Dun Borodale – The ruins of an Iron Age broch situated a short, but uphill walk from Inverarish. It is just off one of the hiking trails through the forest behind the village. You can learn more about the broch here.
Calum's Road – The road that was made by hand by Calum Macleod in the 1960's and 1970's that connects Torran and Arnish in the northern part of the island. See earlier section for more details.
Rainy's Wall – The remains of a stone wall built by George Rainy across a narrow northern section of Raasay to prevent access to the rest of the island to those on Rona, Fladda, and the far north of Raasay. George Rainey was known as a cruel owner and landlord who displaced about half the population of the island in the mid 19th century in order to have more land for sheep farming. You'll pass it on your way to Brochel Castle and Calum's Road.
St. Moluag's Chapel – The ruins of an old chapel built in the 1200's dedicated to the Irish missionary St. Moluag. It is believed that St. Moluag's Chapel (or Saint Maol-laug's Chapel) was in regular use until the 16th century and then fell into disrepair after the Reformation. In addition to the main stone chapel, there is a smaller memorial chapel next to it, as well as the remains of a graveyard and some memorial stones. Located a short walk from the ferry terminal.
Old Iron Mining Works – The island of Raasay was purchased for use by an iron ore company in 1911, and iron mining took place here during the first part of the 20th century. Most of the houses in Inverarish were built to house the mine workers and there was also a small railway and a pier built. During the First World War, German prisoners of war worked in the mines. The mines are no longer in use, but several remains from the mining works can still be seen in Inverarish and by following walking trails from the village.
Dolmen at Eyre Point – There are stones located near Eyre Point (on the southern tip of the island) that are believed by some to be the remains of a dolmen, which is a megalithic burial chamber.
Pictish Stone – This enigmatic carved Pictish stone is believed to be carved in the 7th century, and you can learn more about it here. The Pictish Stone is located just off the main road near Raasay House.
Former Battery & Mermaid Statues – Just next to the ferry terminal you likely spot the location for a former cannon battery built in the early 19th century. Today, you'll still find a canon as well as large stone mermaid statues here, which were originally intended to decorate the entrance to Raasay House. Today these somewhat odd-looking mermaid statues greet all the ferry visitors.
Storab's Grave – A prehistoric cairn near the former settlement of Brae. This is allegedly the grave of Storab, a Viking prince (perhaps the son of the King of Norway or the King of Denmark) who was killed during a raiding expedition. The location of the cairn is a short distance from the starting point for the walk to Inver Beach next to the river.
Oar Cave or Uamh nan Ramh – This is a souterrain, or artificial cave, that is believed to be of Iron Age origin. In the 18th century, Boswell and Johnson came here on their 1773 tour and it was being used to store boat oars, which gives it its current name. It is located just off the road between the ferry terminal and Inverarish.
Most of these sites can be easily seen by following the walking trails across the island. Several of these sites are located within a 30-minute walk or less from the Raasay ferry terminal.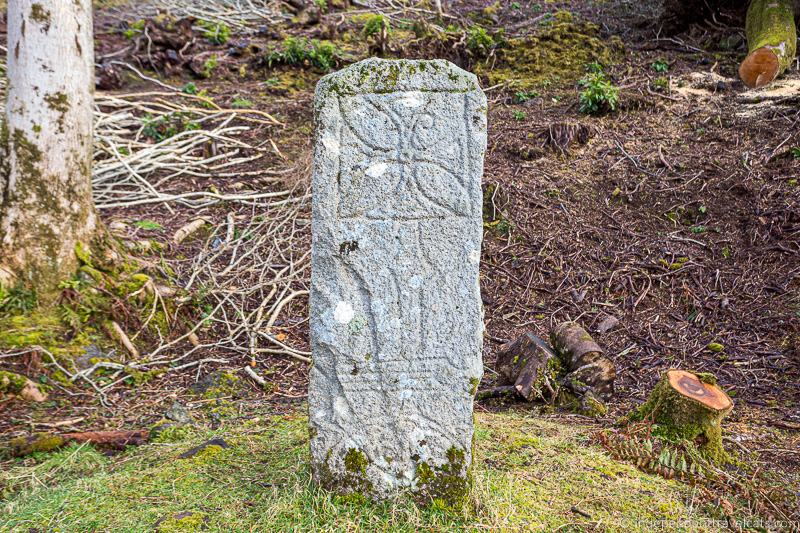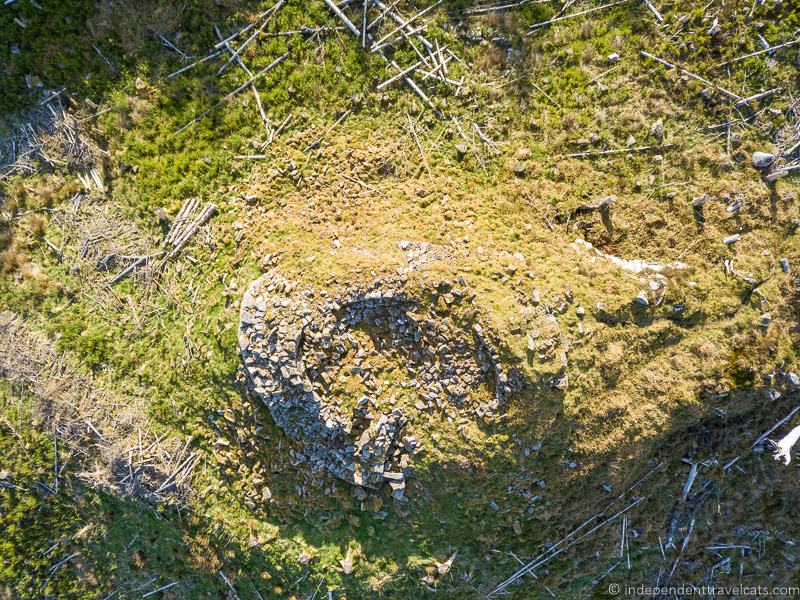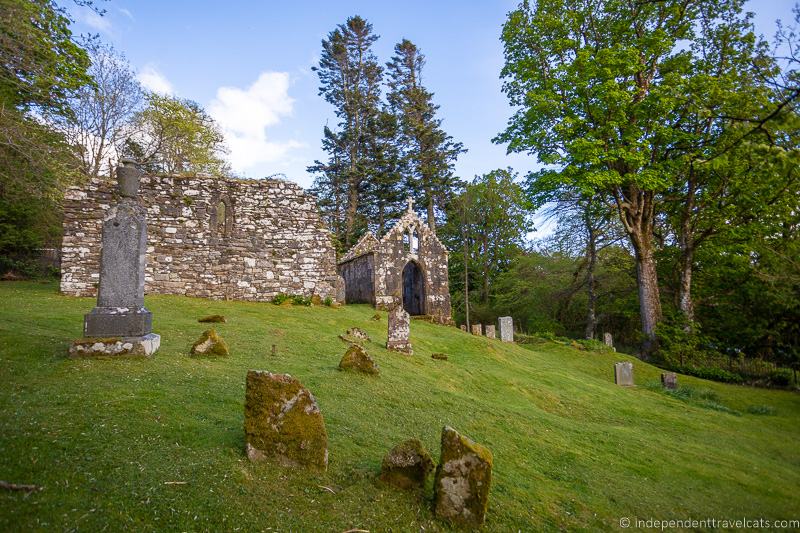 Try the Local Food
It is always a great idea to try to sample some of the local produce. On Raasay, you are likely to be able to find local seafood (fish and shellfish) and local venison. Although the produce on Raasay is limited, you can find dishes made from meat, seafood, cheese, vegetables, and herbs produced in the Hebrides.
Raasay House's menu always features some traditional Scottish dishes as well as some island favorites made from seasonal ingredients. You are very likely to find both local seafood and venison from Raasay on the Raasay House menu, as well as dishes showcasing ingredients from other Hebridian islands.
On the drinks menu, you can find whisky, gin, beer, and other drinks that are made in the Hebrides, including from Raasay and the Isle of Skye.
If you are planning to make your own meal, you can stop to find local products at the Raasay Community Stores.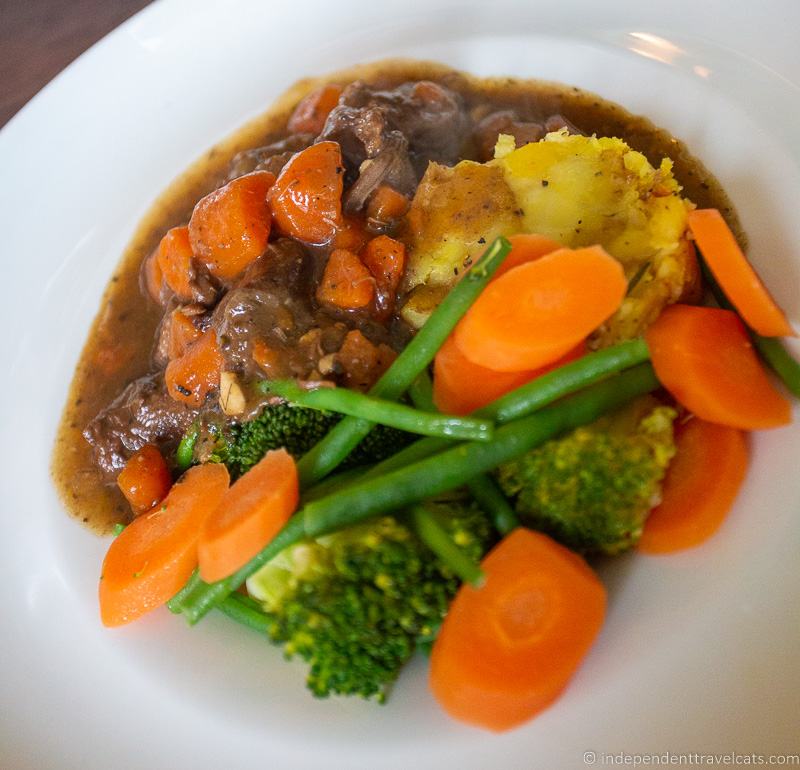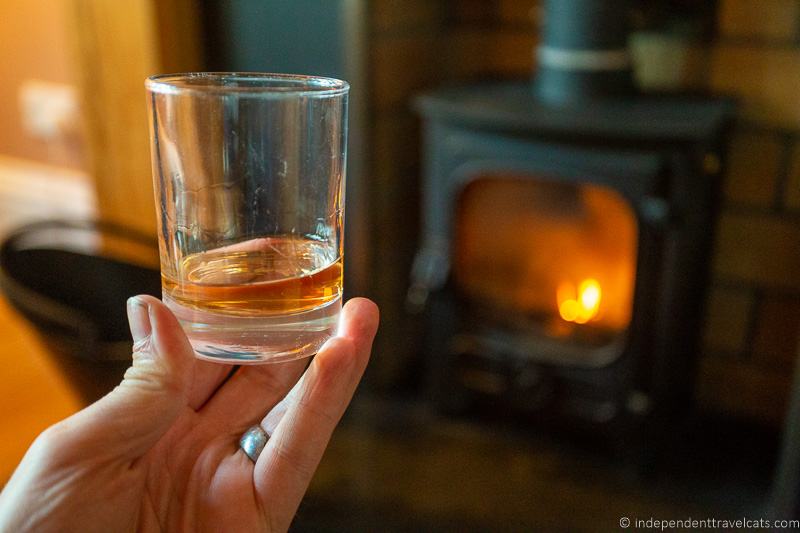 Have a Dram at the Isle of Raasay Distillery
The Isle of Raasay Distillery starting distilling in 2017 and is one of Scotland's newest distilleries. The distillery is situated in a converted building known as Borodale House that dates from 1747. Although whisky had been illegally distilled on Raasay in the past, this is the first legal distillery on the island!
The distillery currently sells its handcrafted gin and single malt whisky. The distillery released its first 3-year aged whisky at the end of 2020. It also released a whisky using only Isle of Raasay grown barley in 2021. The distillery is producing both peated and unpeated whiskies.
Visitors can take a guided tour of the distillery and see the whisky making process at work. The tours include a tasting of either a dram of whiskey or gin. There is also a distillery tour followed by a gin, chocolate, and whisky tasting that includes handmade chocolates.
Distillery tours are available for adults and children age 8 and older. Children under 8 years old can visit the visitor center but are not allowed on the tours. Tours are in English, but tours in French and German are possible if booked at least a week in advance.
We recommend booking your tour in advance to ensure availability for your date and time of choice. You can view tour times and book ahead here.
The distillery also has a gift shop and offers 6 en-suite luxury rooms within the distillery. You can enjoy a whisky tour, stay overnight, and enjoy a nice breakfast in the morning. You can check room prices here.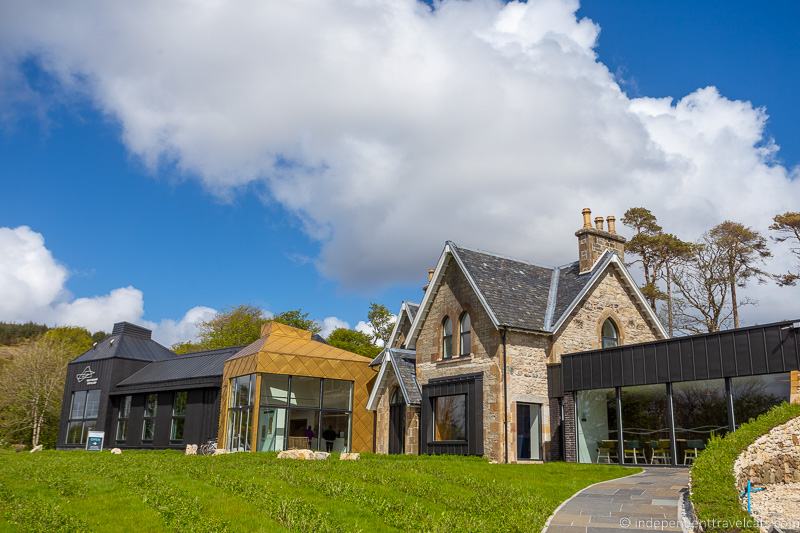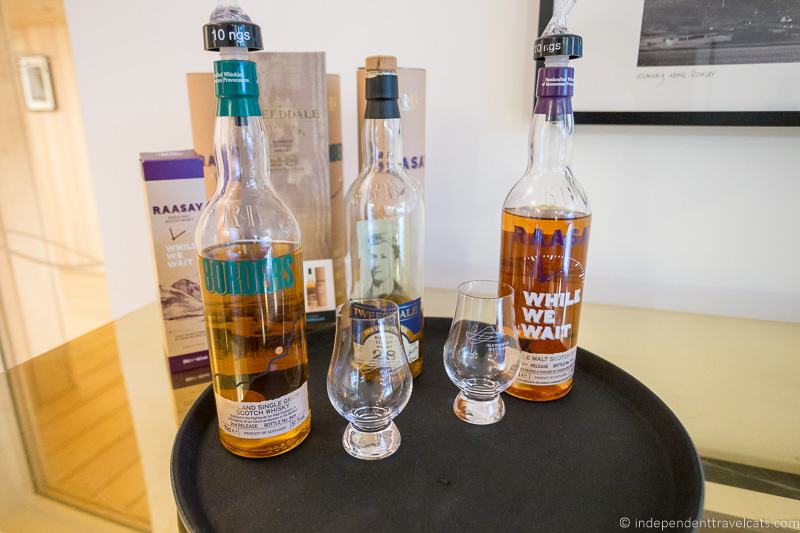 Check out the Local Art & Crafts
There are a small handful of local shops on Raasay that sell unique art and gift items. Peek your head in to pick up a local, one of a kind souvenir. You are also likely to get a chance to meet the local artist.
The Raasay Gallery showcases oil paintings by local artist Gordon J. Cheape as well as work by other artists. The gallery is open Tuesdays to Saturday year-round. Check the gallery website for the latest hours.
The Silver Grasshopper is a jewelry and gift shop with all Scottish made or designed items. The main items in the store are the beautiful silver jewelry pieces designed on the island by local artisan and business owner Fiona.
The Studio is the newest shop on Raasay selling jewelry, photographs, inks, postcards, and other gifts and artwork. Most of the items are made by owner and artist Barbara Martin.
Other places where you can find a few gifts items on Raasay are at the Isle of Raasay Distillery, Raasay House, and Raasay Community Stores. There are also Made in Raasay craft fairs held a few times a year in the town's community hall.
If you are also spending time on Skye and are looking for more arts and crafts, we recommend checking out the Skye Arts Trail.
Get Out on the Water
Since you are on an island you may want to take advantage of the proximity of the water to take a sightseeing boat trip to explore the coastline and look for wildlife, go fishing, learn to sail, go sea kayaking, or take a trip to a nearby island like Rona.
As already mentioned, Raasay House offers guided sea kayaking, loch kayaking, and sailing activities on Raasay. They also offer RIB boat tours around the island and to the nearby island of Rona, and you can find out more about those here.
If you are a recreational fisher, angling permits can be obtained on the island from Raasay Community Stores.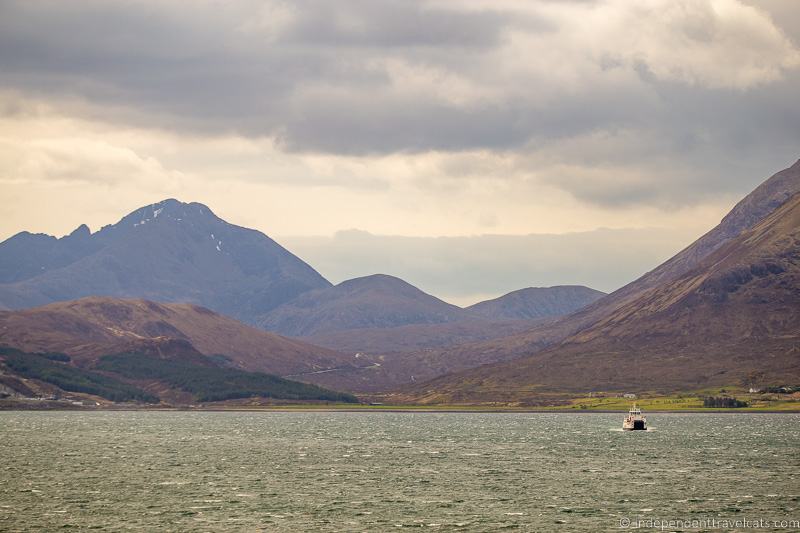 Learn about Sorley MacLean
Sorley Maclean (1911-1996), a Scottish Gaelic poet and schoolteacher, is the most well-known person from Raasay. He was born in Oskaig on Raasay (also spelled as Oscaig or Osgaig), a settlement on the west coast just north of the ferry terminal.
Sorley Maclean was one of the Scottish poets who helped revive the use of written Gaelic in Scotland. He advocated for the option to learn Gaelic in schools alongside English. MacLean wrote about a lot of social issues in this poetry, but his best-known poem and one most associated with Raasay is Hallaig. He also wrote a poem Screapadal (Sgreapadal in Gaelic) about how Rainey cleared 14 townships on Raasay, including Screapadal.
In the poem Hallaig, MacLean imagines Hallaig as it was before the Clearances when there was a community of people living here. In the poem, he references many of the local trees (particularly birch trees), places on Raasay (e.g., Hallaig stream, Fearns Burn, Dun Cana), local family names, and local animals (deer, birds). It should be noted that MacLean, of course, never experienced the Clearances firsthand as he wrote the poem about 100 years after the Clearances on Raasay.
Although there is no museum or former home to visit on the island, you can see the area where he was born (Oskaig) and visit the ruins of the two Clearance settlements on the island that he writes about in his poems, Hallaig as well as Screapadal. There are marked walking paths to both. If you follow the path to Hallaig, you'll find a memorial cairn to Sorley McCain that includes a passage from his poem Hallaig in both Gaelic and English.
Many of the places, animals, family names, and trees mentioned in MacLean's poems can also still be found on Raasay.
For those wanting to learn more about MacLean, we recommend that you read his poems while visiting Raasay. In most volumes, the poems are written in both Gaelic and English.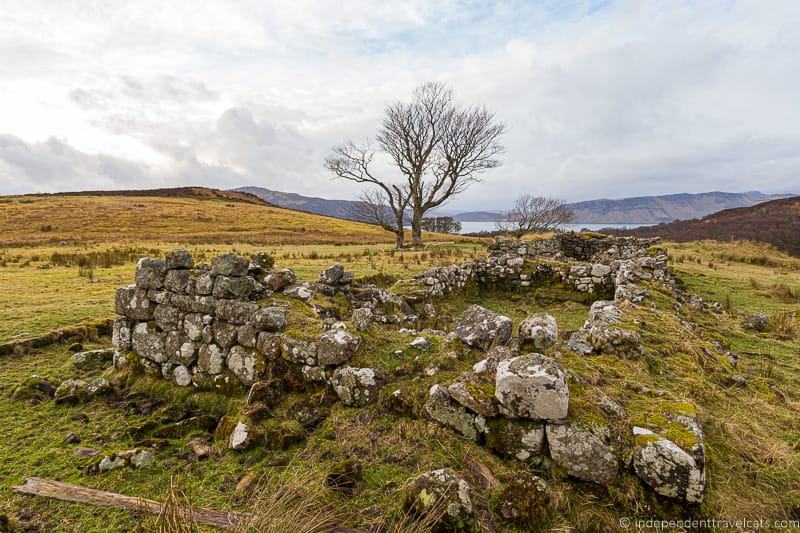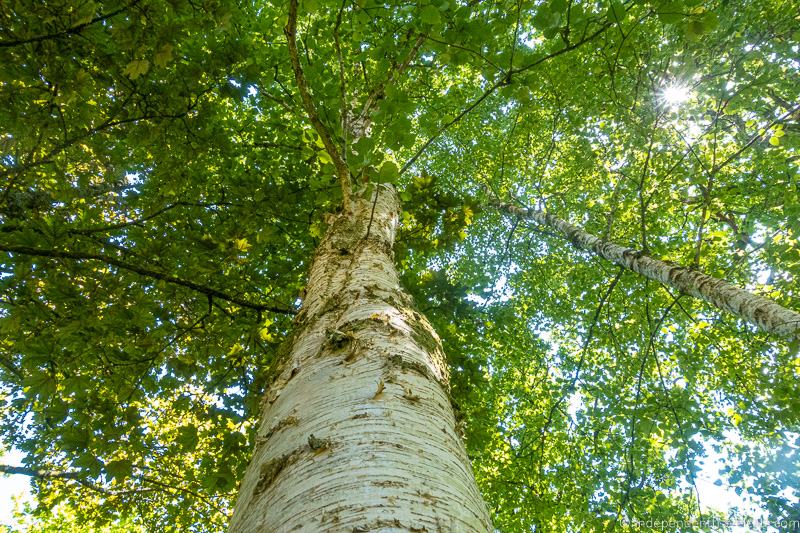 Stay Up Late Stargazing
When you get this far from the lights the cities, you have the chance to gaze up at the dark skies and see the stars. No matter how you spend your days, you may want to reserve some time at night to go out stargazing.
Obviously, for the best chances to see stars, you'll want the skies to be relatively clear so no rain, snow, or heavy clouds. Any time of year can work, but the optimal time for stargazing in Scotland is between October and March, with the summer months being the least optimal time for stargazing.
You'll also want to get away from any light pollution, but this should be pretty easy on Raasay as you can probably find a good viewing area not far from your lodging. Just be careful and be sure to have a flashlight or torch with you to light your way to avoid stumbling or falling.
Laurence has a beginners' guide to astrophotography if you want to try your hand at capturing the beauty a Raasay evening sky with your camera
Those interested in stargazing should also consider stargazing on the Isle of Skye. Several Dark Sky Discovery Sites, which are areas in the UK that have been denoted as good areas to view the dark sky, are located on Skye. You can see that list here.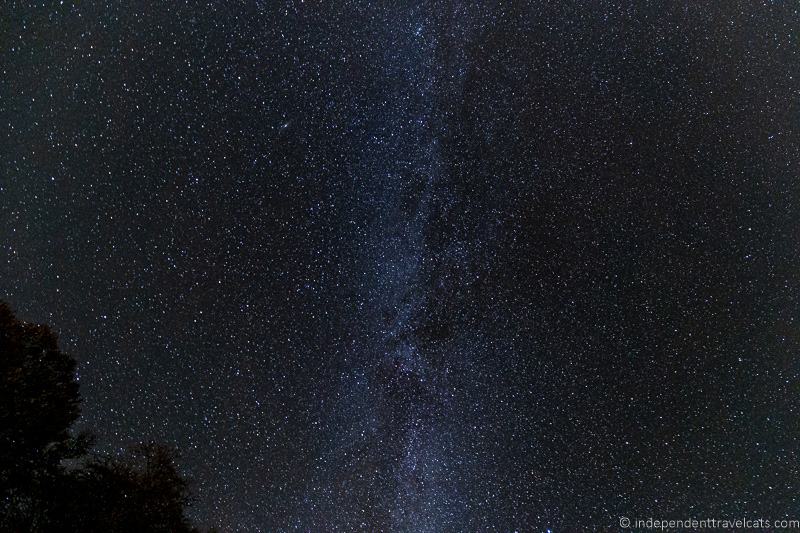 So that's our guide to visiting the Isle of Raasay! We hope this has helped you plan your trip to Raasay.
Planning to travel to Raasay at a later date? PIN this post on Pinterest so you can find it again to read later: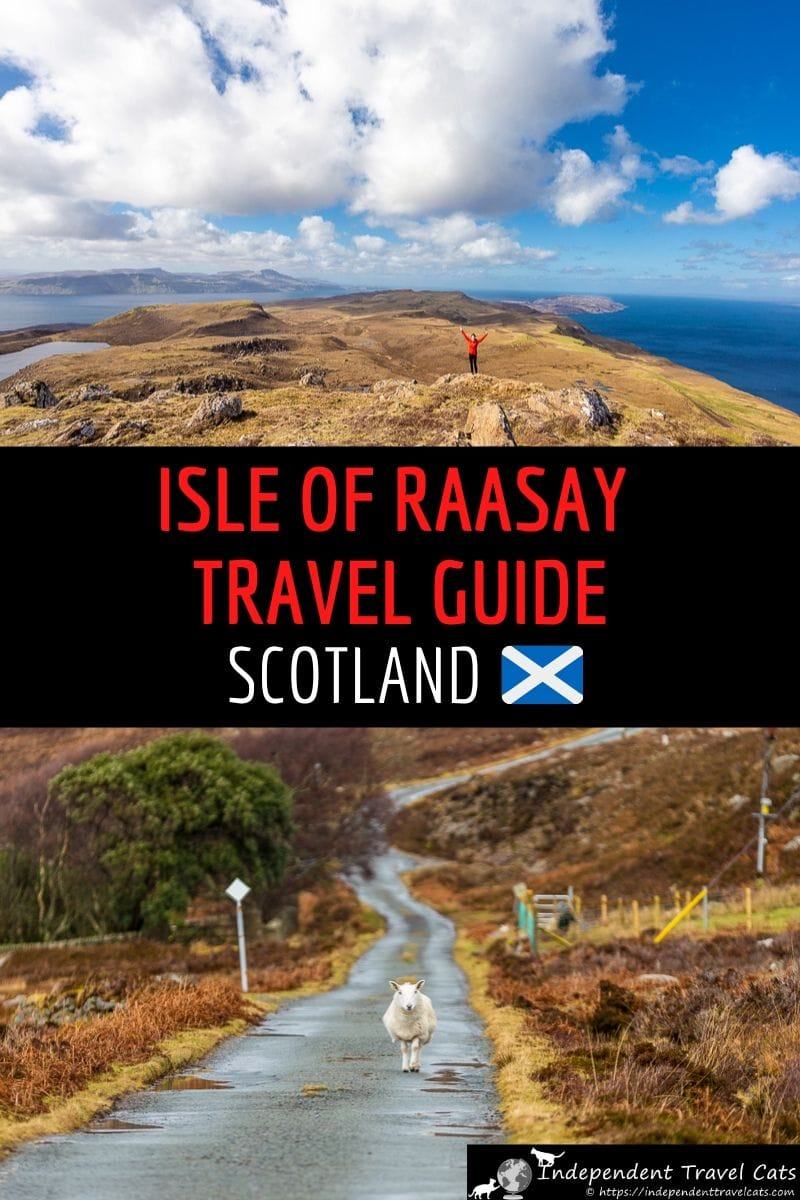 Have you visited the Isle of Raasay? If so, tell us about it! As always, feel free to ask us any questions you may have about visiting the Isle of Raasay or planning a trip to the Scottish Hebrides.