We've put together a list of some of the best vacation rental websites where you can book your dream holiday home, cabin, apartment, cottage, or villa. If you are looking for a self-catering stay for your next trip, we have you covered.
Vacation rentals are a great option for travelers who want to have the conveniences of home at their travel destination. They offer more privacy than a hotel or bed-and-breakfast and can often be a less expensive lodging option, particularly for families and larger groups. Vacation rentals often offer travelers the option to cook their own food and do their own laundry, which can also help travelers save money.
Vacation rentals come in all kinds of forms and can work for almost any budget and travel style, from budget backpackers looking for a bargain to family travelers looking for a good value stay to luxury travelers looking for 5-star amenities. Vacation rentals can include city apartments, yurts, Airstream trailers, country cottages, houseboats, resort villas, and even private islands and castles!
The Internet has made it easier than ever to book a vacation rental, and there are thousands of vacation rental companies competing for your business. Just know that vacation rental companies are not all the same and there are differences in how each operates. Some are peer-to-peer rentals like Airbnb, Vrbo, and The Plum Guide, whereas others offer a portfolio of carefully curated and fully managed properties like Sonder and Turnkey.
Some vacation rental companies offer accommodation for any budget, whereas others focus on the luxury market like Top Villas and Oliver's Travels. Some are focused on a specific geographical region whereas others offer vacation rentals worldwide, and some focus on city travelers whereas others focus on country retreats. Knowing this can help you find the best vacation rental websites for you and your trip.
We regularly book vacation rentals when we travel and have booked properties around the world using lots of different websites. We particularly like to stay at a vacation rental over a hotel when spending a week or more in the same place.
To help you find your perfect holiday home or apartment for your next trip, we list the largest, best-reviewed, and most popular vacation rental websites out there. We give you details of each vacation rental company and then we give you tips on booking vacation homes online.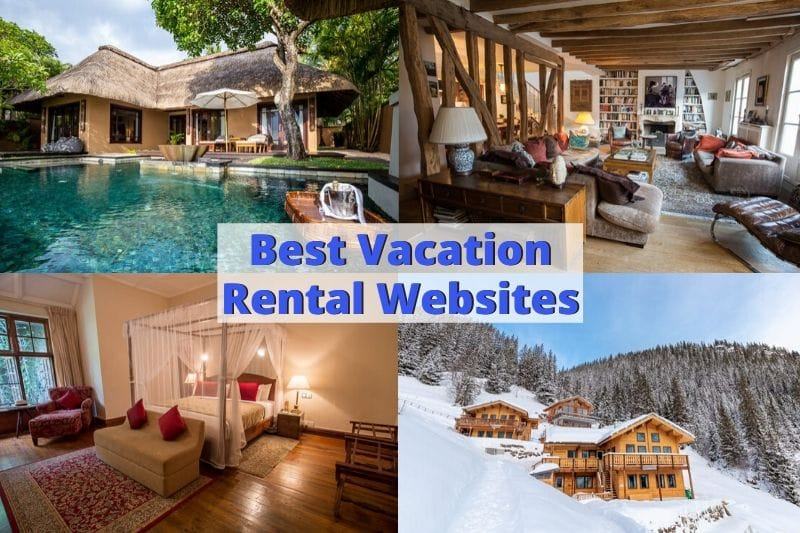 11 Best Vacation Rental Websites
Ready to book a vacation rental for your next travel adventure? Here is a list of some of the best vacation rental websites:
Airbnb started in 2008 as a small start-up (called Airbed & Breakfast) with a handful of listings, and is today probably the best known of the vacation rental websites. It currently has over 7 million listings in over 100,000 cities in over 220 countries!
Airbnb offers a wide variety of accommodation options, from a room in someone's home to apartments to beach villas to castles. Basically anything that can be rented from a yurt in someone's yard to a private island can be listed in Airbnb. The platform has also more recently begun listing more traditional lodging options like B&Bs, hostels, and hotel rooms.
Pricing on the platform runs from $10/night homestays to $20,000/night luxury villas, and everything in between. This makes Airbnb a great vacation rental website for travelers of all types, from budget backpackers to mid-range value seekers to luxury travelers.
The overwhelming amount of choice on Airbnb can also be frustrating since there are so many listings for popular destinations. You'll want to be sure to use the Search Filter to narrow down your search to the types of places you want and that suit your budget.
For those who want to ensure a certain standard of quality, you can search the verified Airbnb Plus listings and its more luxurious properties within its verified Airbnb Luxe offerings.
Airbnb also has Airbnb Experiences which offers tours and activities by local hosts all over the world. So in addition to booking your stay in a city, you can also book local activities as well.
We first started using Airbnb back in 2012, and overall we've had good experiences with Airbnb. We've stayed in dozens of properties in North America, Asia, Africa, and Europe over the years. Although we have had a couple of negative experiences, most have been very positive. You can read more about our personal experiences and our review of Airbnb here.
Company Headquarters: San Francisco, California, United States
Number of Property Listings: over 7 million
Geographical Availability: Worldwide, 220+ countries
Pricing: Budget to Luxury
Book Vacation Rentals Online: Book here