We've put together a list of some of the best vacation rental websites where you can book your dream holiday home, cabin, apartment, cottage, or villa. If you are looking for a self-catering stay for your next trip, we have you covered.
Vacation rentals are a great option for travelers who want to have the conveniences of home at their travel destination. They offer more privacy than a hotel or bed-and-breakfast and can often be a less expensive lodging option, particularly for families and larger groups. Vacation rentals often offer travelers the option to cook their own food and do their own laundry, which can also help travelers save money.
Vacation rentals come in all kinds of forms and can work for almost any budget and travel style, from budget backpackers looking for a bargain to family travelers looking for a good value stay to luxury travelers looking for 5-star amenities. Vacation rentals can include city apartments, yurts, Airstream trailers, country cottages, houseboats, resort villas, and even private islands and castles!
The Internet has made it easier than ever to book a vacation rental, and there are thousands of vacation rental companies competing for your business. Just know that vacation rental companies are not all the same and there are differences in how each operates. Some are peer-to-peer rentals like Airbnb, Vrbo, and The Plum Guide, whereas others offer a portfolio of carefully curated and fully managed properties like Sonder and Blueground.
Some vacation rental companies offer accommodation for any budget, whereas others focus on the luxury market like Top Villas and Oliver's Travels. Some are focused on a specific geographical region whereas others offer vacation rentals worldwide, and some focus on city travelers whereas others focus on country retreats. Knowing this can help you find the best vacation rental websites for you and your trip.
We regularly book vacation rentals when we travel and have booked properties around the world using lots of different websites. We particularly like to stay at a vacation rental over a hotel when spending a week or more in the same place.
To help you find your perfect holiday home or apartment for your next trip, we list the largest, best-reviewed, and most popular vacation rental websites out there. We give you details of each vacation rental company and then we give you tips on booking vacation homes online.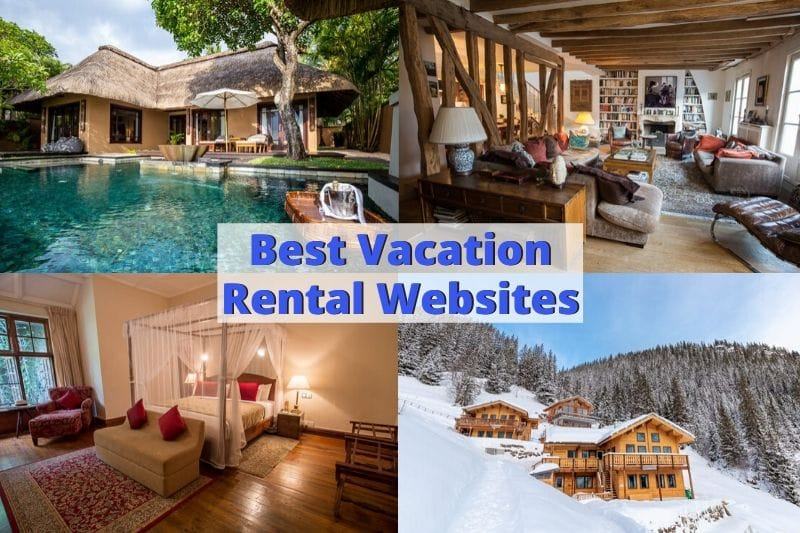 12 Best Vacation Rental Websites
Ready to book a vacation rental for your next travel adventure? Here is a list of some of the best vacation rental websites:
Vrbo, which stands for Vacation Rentals By Owner, was one of the first major vacation rental websites to connect property owners with travelers. The website was launched back in 1995, and the company has grown to be one of the best-known vacation rental websites worldwide.
Vrbo offers over 2 million properties in 190 countries. It offers properties worldwide with a particularly large concentration of properties in Europe and North America.
Vrbo offers vacation villas, cabins, condos, cottages, apartments, beach houses, and other properties to rent. While sites like Airbnb list homestays, rooms for rent, yurts, shared properties, and such, Vrbo focuses almost exclusively on private and self-catering vacation rental properties.
Vrbo offers properties across a range of budgets from rustic budget stays at cabins to luxury villas. I would say the majority of properties fall in the middle with lots of good value and mid-range vacation rental prices offered on the website.
Vrbo has grown a lot in recent years as it was acquired by Expedia. All the Expedia vacation rental bookings and those from the HomeAway brand have been consolidated into the Vrbo website.
Vrbo was the first vacation rental website I ever used to book an apartment in France for a week. We have always had a good experience with Vrbo and have particularly liked using it for longer stays.
Company Headquarters: Austin, Texas, United States
Number of Listings: over 2 million
Geographical Availability: Worldwide, 190 countries
Pricing: Budget to Luxury
Book Vacation Rentals Online: Book here
Booking.com has become in recent years the main website we use for booking hotels when we travel. However, the website also lists vacation rental properties, including apartments, cabins, and villas, in over 220 countries.
Booking.com lists over 28 million accommodation listings, with about 6 million of those being homes, apartments, and other unique places to stay. This includes over 750,000 apartments and over 400,000 holiday homes. They have listings available in 225 countries and territories.
The Booking.com website provides listings for all budgets and traveler types. You can search the Booking.com website by type of property such as for holiday homes only or for apartments only.
We have been using Booking.com for years, and although we mainly book hotels and B&Bs, we also use it for apartments and holiday homes. We have never had an issue so far with Booking.com and we like that many of the properties offer free cancelation.
We also save money on some of our bookings by being a regular user and a member of the Genius loyalty program which gives you discounts and perks (free breakfast, free upgrades, free cancelation) on certain bookings. We definitely recommend signing up if you are a regular user.
Company Headquarters: Amsterdam, Netherlands
Number of Listings: over 1 million
Geographical Availability: Worldwide
Pricing: Budget to Luxury
Website to Book Vacation Rentals: Book here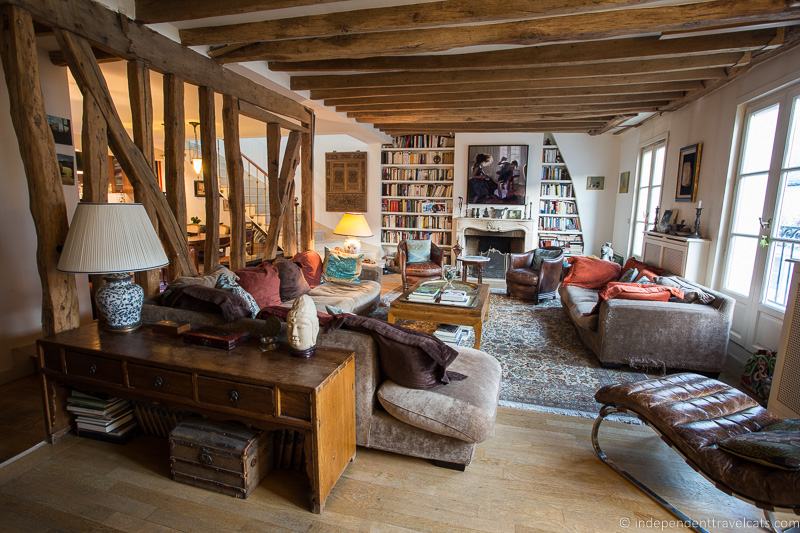 Agoda is a website that is particularly known for offering a great selection of hotels, guesthouses, hostels, and homestays in Asia, but they also offer a growing selection of vacation rentals as well. Agoda started as a start-up in Thailand in 2003 and has focused primarily on Asian accommodation bookings.
Agoda offers around 2 million different accommodation properties on its website in 200 countries, ranging from homestays to hotels to apartments. Among those, over 700,000 of them are vacation rentals such as cottages, apartments, and villas. Agoda Homes offers vacation rentals in over 50 countries and has a particularly large presence in Asia.
Although Agoda is not usually our first place to check for vacation rentals, it is often our first place to check when traveling to Asia as they often have more selection, especially in smaller cities and towns. But you can also find good deals in major cities around the world and we recently used it to book a place in the UK.
Company Headquarters: Singapore
Number of Listings: over 700,000
Geographical Availability: Worldwide, focus on Asia
Pricing: Budget to Luxury, with a lot of properties in the budget and mid-range categories
Book Vacation Rentals Online: Book here
The Plum Guide focuses on listing only the best-reviewed properties and staff members personally vet each property to make sure it meets a high level of standards. The Plum Guide is based in London and launched in 2016.
The Plum Guide started only with short-term London flat rentals, but has expanded into several other countries. It currently lists over 12,000 properties in over 15 countries, including the United Kingdom, France, United States, Italy, Israel, Portugal, Mexico, Malta, Spain, and Turkey. Most of its properties are currently located in major cities like Paris, Rome, Los Angeles, New York City, and London. However, more recently, they have added more properties located in smaller towns and rural areas as well.
The Plum Guide is a bit different than the other peer-to-peer vacation rental websites on the list, as the properties go through a more stringent level of vetting. They send a staff member to meet the host and evaluate each property in person before deciding if it can be listed on the website. They list all kinds of vacation rental properties, including flats, houseboats, bungalows, and country villas.
The listings on The Plum Guide are really great, with lots of photos of every aspect of the vacation rental interior and a section pointing out the unique features and highlights of each property. A good website for city travelers who have discerning tastes.
A big difference about Plum Guide is that they currently do not publish the guest reviews of properties on their website. They believe that the peer review system is flawed and so they believe that an independent review by their staff is a better indicator of quality.
You can read our in-depth review of Plum Guide for our thoughts and experiences using this relatively new platform.
Company Headquarters: London, England, United Kingdom
Number of Listings: over 12,000
Geographical Availability: primarily Europe and North America
Pricing: Mid-range to Luxury
Book Vacation Rentals Online: Book here
Sonder is a company that is focused on offering its guests modern and well-designed apartments in city center locations. The company has been around since 2012. Unlike companies like Airbnb and Vrbo, Sonder is not a peer-to-peer service; Sonder leases or owns each property and manages them directly.
Sonder focuses on apartments in major cities and currently offers over 8,500 properties in over 27 cities. Most of Sonder's companies are currently in the United States and Canada, but they also have a number of properties in several major cities in Europe and the Middle East, including London, Rome, Dublin, Edinburgh, and Dubai.
Sonder offers modern and well-furnished apartments that offer a standard set of amenities and conveniences which include contactless check-in, WiFi, fresh towels and bedding, shower amenities, a fully-equipped kitchen, laundry facilities, and artisan coffee. They also offer 24/7 customer service and professional cleaning services.
Sonder offers both short-term and longer-term stays. Most of the properties on Sonder are available to rent by the day, week, month, or even for a year or more. You will also save more by staying longer, so Sonder is definitely a great option for those who want to base someplace for a longer period of time.
Company Headquarters: Montreal, Quebec, Canada
Number of Listings: over 8,500
Geographical Availability: 20 major cities, primarily USA, London, & Canada
Pricing: Mid-range to Luxury
Book Vacation Rentals Online: Book here
Airbnb started in 2008 as a small start-up (called Airbed & Breakfast) with a handful of listings, and is today probably the best known of the vacation rental websites. It currently has over 7 million listings in over 100,000 cities in over 220 countries!
Airbnb offers a wide variety of accommodation options, from a room in someone's home to apartments to beach villas to castles. Basically, anything that can be rented from a yurt in someone's yard to a private island can be listed in Airbnb. The platform has also more recently begun listing more traditional lodging options like B&Bs, hostels, and hotel rooms.
Pricing on the platform runs from $10/night homestays to $20,000/night luxury villas, and everything in between. This makes Airbnb a great vacation rental website for travelers of all types, from budget backpackers to mid-range value seekers to luxury travelers.
The overwhelming amount of choice on Airbnb can also be frustrating since there are so many listings for popular destinations. You'll want to be sure to use the Search Filter to narrow down your search to the types of places you want and that suit your budget.
We first started using Airbnb back in 2012, and overall we've had good experiences with Airbnb. We've stayed in dozens of properties in North America, Asia, Africa, and Europe over the years. Although we have had a few negative experiences, most have been positive. You can read more about our personal experiences and our review of Airbnb here.
Company Headquarters: San Francisco, California, United States
Number of Property Listings: over 7 million
Geographical Availability: Worldwide, 220+ countries
Pricing: Budget to Luxury
Book Vacation Rentals Online: Book here
Interhome was founded in 1965 as a vacation rental company offering short-term holiday home rentals in Switzerland. Today, the company offers around 50,000 self-catering vacation rentals in over 25 countries and is one of the largest home rental businesses in Europe.
All kinds of vacation rentals are listed on Interhome, from budget-friendly studio apartments to luxury villas. They are rated on a star system from 1 star (simple furnishings) to 5 stars (luxury furnishings).
Most of their vacation rentals are in Europe, but they also have properties available in South Africa, the United States, Oman, and Mauritius. They have a particularly large number of vacation rentals in Switzerland since this is where they started. So if you are looking to rent a Swiss chalet, this is a good one to try first.
The listed properties are owned by local homeowners and then rented via Interhome. Some are managed by the owner and others are fully managed by Interhome. The company offers 24/7 customer service to its customers.
Company Headquarters: Zurich, Switzerland
Number of Listings: ~ 50,000
Geographical Availability: Worldwide, but primarily Europe
Pricing: Budget to Luxury
Book Vacation Rentals Online: Book here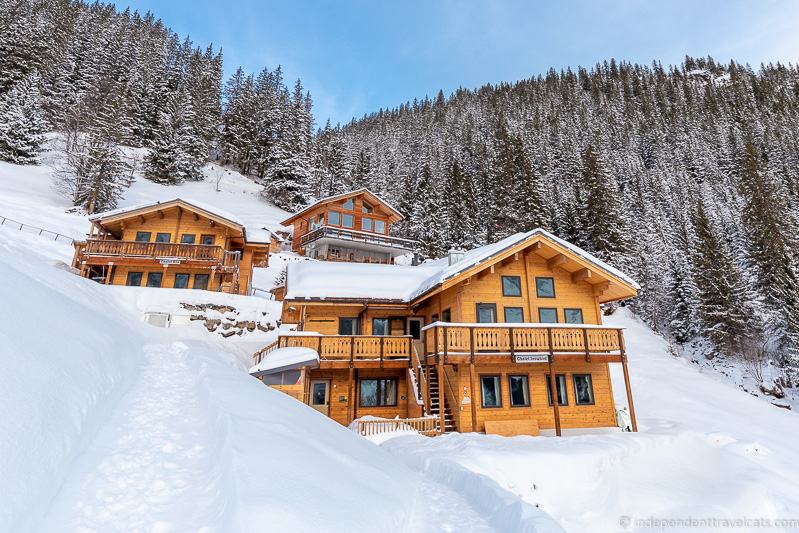 Marriott is well known for its international hotel brand, with its first hotel opening back in 1957. In 2019, Marriott launched Homes & Villas to offer upscale and luxury vacation home rentals and villas. The company currently offers over 20,000 properties in over 200 destinations worldwide.
Marriott Homes & Villas specializes in premium and luxury vacation homes, villas, condos, and apartments. Marriott does not own or lease the properties; all properties are professionally managed by local professional management companies for the owners.
Guests are offered 24/7 local support and assistance, professional cleaning, and premium linens and amenities. Most homes provide high-speed Wi-Fi and family-friendly conveniences upon request.
Homes & Villas listed properties throughout North America, Latin America, the Caribbean, Europe, the Middle East, and Africa. Many of the Marriott properties are located in popular travel destinations in the United States, the Caribbean, Europe, and Mexico.
Peer reviews from past travelers are not currently available for the Homes & Villas listings. Please read each listing and the rules carefully as the cleaning fees, house rules, refund policies, etc. differ by property.
For those who are part of the Marriott loyalty program, Marriott Bonvoy members can earn and redeem points on homes and villas. So this may be a particularly attractive option to check out for those who already stay in Marriott hotels.
Company Headquarters: Bethesda, Maryland, United States
Number of Listings: over 20,000
Geographical Availability: Worldwide
Pricing: Mid-range to Luxury
Book Vacation Rentals Online: Book here
Founded in 2014 in Athens, Greece, Blueground specializes in apartments that can be rented for 1 month and longer. They currently offer over 5,000 apartments in 18 major cities, including New York City, Paris, Athens, Istanbul, Chicago, London, San Francisco, Dubai, and Boston.
Blueground strives to offer long-term rentals that are comfortable, thoughtfully furnished, and feel like home. Apartments on Blueground are fully furnished and managed properties with all the basic amenities. Since the company caters primarily to business travelers and those moving to a new city, the apartments are set up for remote working and everyday living.
Blueground leases properties from owners and developers, and then they furnish, decorate, and manage the apartments. Blueground handles all bookings and customer service issues.
Although they cater to business travelers, Blueground can also be a great option for leisure travelers and digital nomads wanting to stay in a place for a longer amount of time. You can even rent some of the properties for 1 year or more for those wanting to spend months or even years abroad. They even have 6-month and 12-month pass options where you can move around to various Blueground properties in different cities under one master lease.
The company notes that the monthly rates for their apartment rentals are on average about 50% less than the rate of a hotel for an equivalent stay period. So if you are planning to spend 4 weeks or more in any city, this is one to check out.
Company Headquarters: New York City, New York, USA
Number of Listings: over 5,000
Geographical Availability: 18 major cities, primarily USA and Europe
Pricing: Mid-range to Luxury
Book Vacation Rentals Online: Book here
Sykes Holiday Cottages was founded by Clive Sykes and his mom in Yorkshire as Cottage Holidays in 1985. At first, they were just renting out holiday homes in the Yorkshire Dales to themselves and their friends. Today, Sykes Holiday Cottages is the best-known vacation rental company in the UK, and have won multiple awards for their service and brand.
Sykes Holiday Cottages lists over 15,000 properties across the United Kingdom and Ireland. They have properties in all regions, including England, Scotland, Wales, Northern Ireland, and the Republic of Ireland.
Sykes Holiday Cottages offers self-catering properties in small towns, villages, islands, and rural areas throughout the UK and Ireland. They do have a few city properties, but the focus is primarily on holiday homes away from the city. They offer a full range of options from flats to glamping to country cottages and cater to travelers across all budgets.
The search interface makes it easy to look for certain property attributes and amenities. For instance, you can easily search by dog-friendly properties, those with open fires, those with a swimming pool, and those next to a beach. We recently booked with Sykes and stayed in a rural cottage in Cornwall for a week and had no issues and a great stay.
The listed properties are owned by local homeowners and then rented via Skyes Holiday Cottages. Most are managed by the owner themselves but some are fully managed by Sykes. The company offers 24/7 customer service to its customers.
Company Headquarters: Cheshire, England, UK
Number of Listings: over 15,000
Geographical Availability: UK and Ireland only
Pricing: Budget to Luxury
Book Vacation Rentals Online: Book here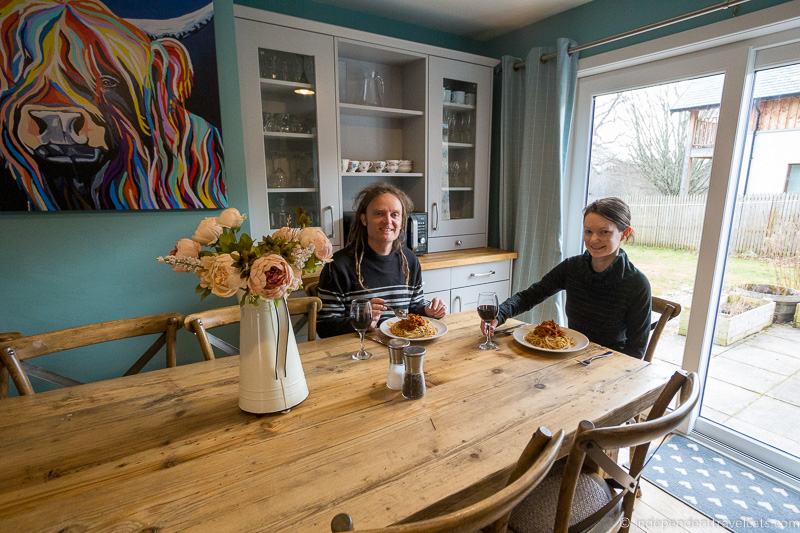 Oliver's Travels started in 2003 as a company that allowed travelers to book chateaux in France. It soon expanded to include luxury properties of all types and currently offers over 6,000 properties in over 20 countries on its vacation rental website.
There is a large concentration on holiday villas in warm and tropical coastal locations. For instance, there is a lot of properties in countries along the Mediterranean coast like France, Italy, Spain, Greece, Croatia, Malta, and Turkey as well as other warm destinations like Bali, Thailand, Florida, and the islands of the Caribbean. But they also have ski chalets in France and hundreds of properties in the UK and Ireland as well.
Oliver's Travels focuses primarily on luxury villas and character properties like beach cottages, castles, stately homes, and country estates. The company notes that each property is carefully reviewed before it is selected and that staff regularly visit the regions and individual properties. There is a free concierge service (by phone or online) which you can speak to destination experts and ask questions and get advice on which properties may be the best fit for you.
They are definitely one to consider if you are looking for a more unique and more upscale property for your next trip. We find that they have a particularly good selection of properties in France, Italy, Spain, Portugal, and Croatia.
The listed properties are owned by local homeowners and then booked via Oliver's Travels website. Oliver's Travels staff do not manage the properties directly, but the company offers 24/7 customer service to its customers.
Company Headquarters: London, England, UK
Number of Listings: over 6,000
Geographical Availability: Over 20 countries, concentrated in southern Europe, Thailand, Bali, and the Caribbean
Pricing: Upper Mid-range to Luxury
Book Vacation Rentals Online: Book here
Top Villas is a vacation rental website focused on luxury villas and vacation properties in Florida and the Caribbean. Top Villas started in 2010 as a Florida vacation rental company and has since expanded to include over 4,000 properties in over 50 destinations. The website offers condos, vacation homes, apartments, and resort villas.
The company specializes in luxury Florida vacation rentals, so it is a particularly good website for those traveling to Florida as they offer a lot of properties there. Their specialty is the Orlando area as that is where their USA headquarters is based. They also offer concierge services to guests such as car hire, airport transfers, excursion planning, catering, and more.
But Top Villas also have a large presence on some of the Caribbean islands. They do offer rentals in over 50 destinations and are working to expand their offerings in Europe, Asia, and elsewhere in the United States.
Company Headquarters: Orlando, Florida, United States
Number of Listings: over 4,000
Geographical Availability: 50 destinations, primarily USA (Florida) & Caribbean
Pricing: Luxury
Book Vacation Rentals Online: Book here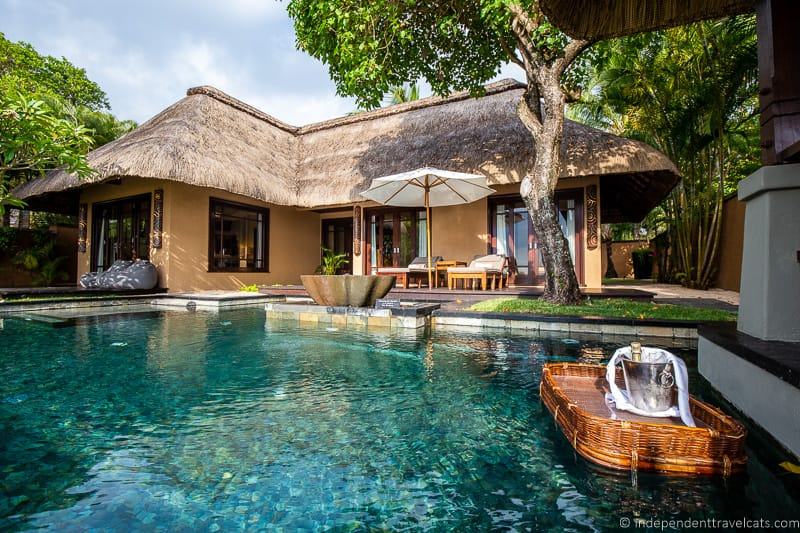 Tips for Booking a Vacation Rental Online
Now that you know where you can book vacation rentals online and have a list of some of the best vacation rental websites, you need to start searching and booking your holiday home or apartment. Here are some tips to help you, especially if you are new to booking vacation rentals online.
Make a checklist before you start searching for what your must-haves are for the property in terms of amenities, number of bedrooms, location, etc.
Use the filter in your search results to narrow down the search to properties that fit the kind of property you are looking for. For instance, if the property has to be dog-friendly, be located in the city center, offer laundry facilities, or have a swimming pool, you can usually narrow your property search to ones that fit those specific criteria. This can help save you time and make sure you get all the things you need in a vacation rental.
Read property descriptions thoroughly. Make sure you read through all the information provided about the property, what is included, and the property's guest policies.
If you are traveling with pets, you want to make sure that the property welcomes them. Many properties do not allow dogs, whereas others may charge an extra cleaning fee or require you to get in touch in advance to get approval to bring a pet.
If you are traveling with kids, especially young children, make sure that you are booking a family-friendly vacation rental. Some properties, especially resorts and luxury villas, may also have age requirements and may not allow young children.
Make sure you have a way to get to the property. Can you reach it by public transport, taxi, or car? Is there a bus stop within walking distance? If you are planning to drive, is there parking nearby? Is parking free?
Look at all the provided vacation rental photos. You will want to look through the photos and make sure they match up with the property description. Photos for properties are often shot at the most attractive angles and edited to highlight the most photogenic qualities of the vacation rental. If you don't like the look of the photos, I'd find another property.
Pay close attention to reviews from prior guests. We recommend only booking properties that have high overall ratings and good reviews. A few negative reviews are to be expected, especially for popular properties, but check to see what the guests were unhappy about. If you see a lot of complaints about the same issue and that issue is important to you, I'd move on to another property.
We recommend avoiding properties that have no reviews (on platforms that allow peer reviews) or seem too cheap to believe. Although you may get a good deal on a newly listed property, you may also end up with a bad vacation rental experience. We have been in both situations, and in general, we recommend avoiding properties that have no reviews. Fraudulent and illegal listings are more likely to have no or few reviews and be listed at very attractive prices.
Check to see if there are any additional fees that may be charged in addition to the booking price. For instance are there additional pet fees, tourist taxes, resort fees, or cleaning fees that may be charged on arrival or after your stay?
Check cancelation and refund policies before you book. What happens if you need to cancel your booking or change your booking date? Is there a date that you must cancel beforehand to be eligible for a refund?
Compare prices across vacation rental websites before making your booking. If the price is important to you, we'd recommend checking across a few websites first as you might find a better deal on another website. We list lots of options above. Although you want to be sure to also compare the cancelation policies, fees, etc. across booking sites as sometimes it is worth paying a little more to have a more flexible cancelation policy.
If you have any important questions about the property, ask them before booking. For instance, if you know that you need to have a later check-in time than the time frame listed, make sure you ask to see if this is possible BEFORE booking. Never assume that changes to the policies will or can be altered after you have agreed to them at booking. Always ask beforehand.
We always recommend that travelers have travel insurance. If you have travel insurance, check to see if it would cover you if you need to cancel your trip, are unable to travel, or if the company becomes insolvent or bankrupt.
Check to see what you might need to bring with you. Some vacation rentals may come fully equipped with everything you need including linens, toiletries, and basic kitchen goods, whereas others may require you to bring some things. For instance, you may need to bring your own towels, bed linens, pillow, soap, laundry detergent, hairdryer, coffee/tea, travel crib, kitchen essentials, firewood, pet bowls, etc. Add anything you need to bring to your packing list and you can pack it or pick it up at your destination.
Once you make a booking, be sure to save the confirmation and other relevant details. For your trip, you'll want to have a digital and/or paper copy of your confirmation along with the vacation rental address, phone number for the property owner or local manager, check-in process details, and check-in and check-out times.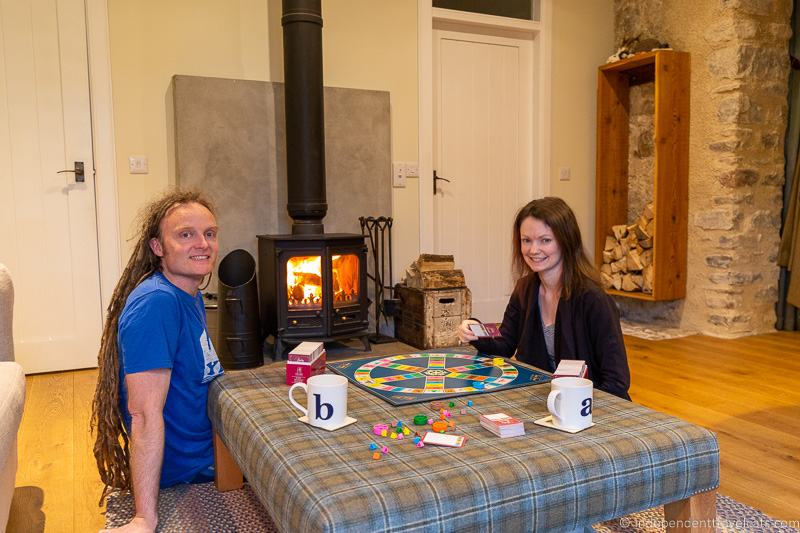 So that is our guide to booking vacation rentals online. Hopefully, you have found a vacation rental website you like and have found the perfect vacation rental for your next trip!
PIN this post on Pinterest so you can find it again to read later: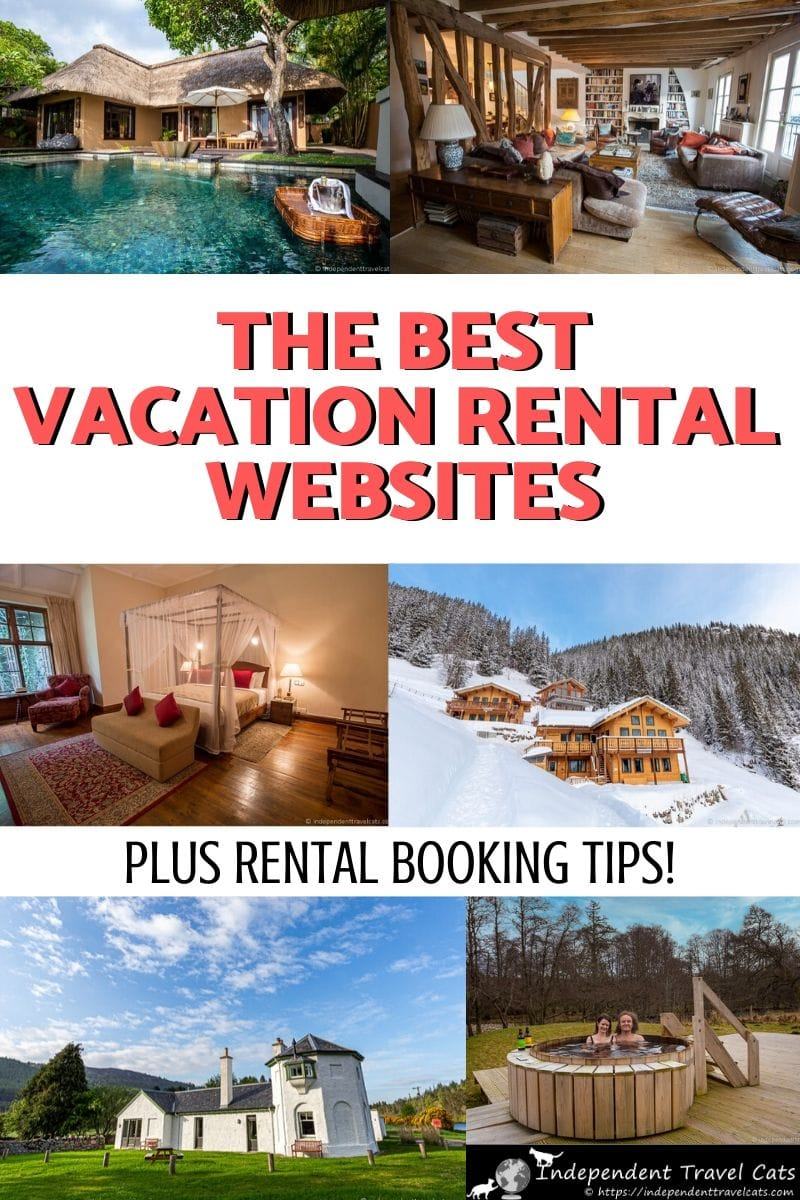 Do you have a favorite vacation rental website? Have you ever booked a holiday home online? If so, we'd love to hear about your own experiences and any tips you may have for others.
If you have any questions about booking a vacation rental online, just ask in the Comments section below. We have booked dozens of vacation rentals across the world and are happy to try to help. We love hearing from you!