Plum Guide is a relatively new vacation rental website that offers a curated selection of vacation homes and apartments that can be booked online. The company launched in 2016 and is based in London. Plum Guide currently lists over 12,000 holiday homes on its website, with properties located in a number of popular destinations worldwide.
We often stay in vacation rentals when we travel, especially if we're staying for more than a couple of nights in the same place. There are lots of benefits to staying in a vacation rental versus a traditional hotel. A vacation rental can offer more privacy, more social distancing, the option to cook your own meals, laundry facilities, private outdoor space, and the ability to stay in a more local neighborhood.
We've used a lot of websites to book vacation homes around the world, so we were excited to try a new one. We had heard good things about Plum Guide so were excited to do a review of Plum Guide. Our Plum Guide review is based on our recent experiences booking and staying in Plum Guide properties.
In our review of Plum Guide, we'll cover the basics of what is Plum Guide, our personal experiences of using Plum Guide, the pros and cons of using Plum Guide, and tips on booking through Plum Guide. We also note how it compares to other vacation rental websites like Airbnb and Vrbo.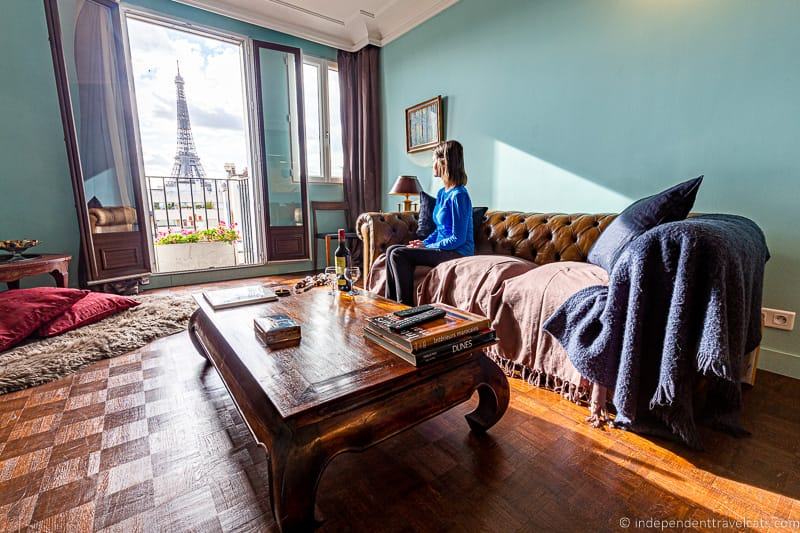 What is Plum Guide?
Plum Guide is a curated marketplace of peer-to-peer vacation rentals. The company is based in London, England and the website first launched in 2016. Their website currently has over 12,000 apartments and vacation rental properties listed in a number of countries around the world.
Where does Plum Guide have properties?
Plum Guide currently has over 12,000 properties listed in 17 countries: United Kingdom, United States, France, Italy, Portugal, Israel, Denmark, Germany, Spain, Greece, Croatia, Montenegro, Mexico, Cyprus, Malta, Ireland, and Turkey.
Initially, Plum Guide focused only on properties located in popular cities. So the majority of Plum Guide's properties are located in major international cities like London, Los Angeles, Paris, New York City, Rome, Barcelona, Lisbon, Berlin, Copenhagen, and Tel Aviv. They now have a good selection of properties in a select number of cities.
Since the COVID-19 pandemic began, Plum Guide has been working to expand its offerings and list more properties in rural areas, coastal areas, popular, ski destinations, and smaller cities. They now have a number of properties outside cities, particularly in southern England, California, New York, the Balearic Islands, the Turkish coast, and Greek islands.
We've seen a lot of growth in Plum Guide in the past year, and we expect we will see a lot of continued growth in the next few years as Plum Guide lists more properties and covers more destinations.
How much does it cost to book vacation rentals on Plum Guide?
There is a wide range of properties on the Plum Guide from small city studios to 14-bedroom castles, and everything in between. However, there are not too many budget-oriented places, with most of the listed properties falling in the mid to premium range.
On the platform, you might find prices as low as USD $70 per night and as high as USD $3,000 per night, depending on the area, number of guests, and type of property. Prices can be displayed in a number of different currencies. All fees and charges (e.g., cleaning, service fees) are included in the total price displayed on the payment page.
The entire booking fee is due at the time of booking, so be sure to read the property's cancelation policy carefully.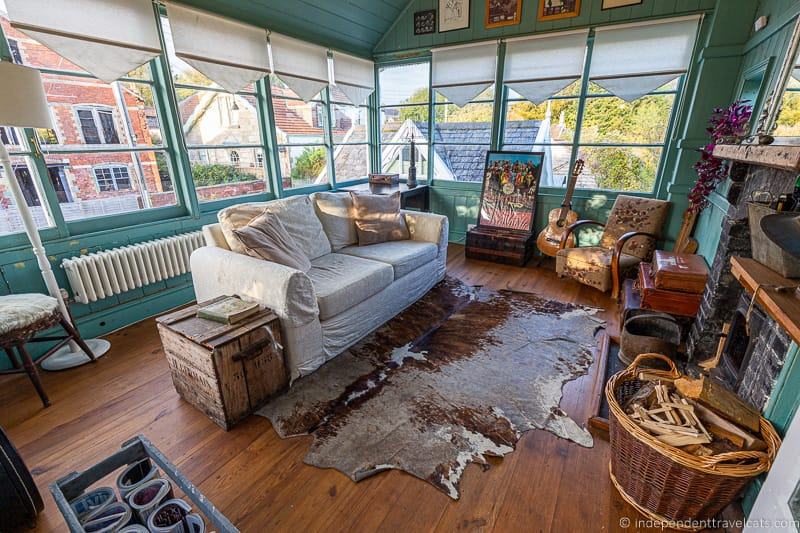 How does Plum Guide compare to Airbnb and Vrbo?
Plum Guide is of course one of many booking websites for vacation rentals. The most notable companies in the peer-to-peer vacation rental space are Airbnb and Vrbo.
So how is Plum Guide similar and different from popular apartment booking websites like Airbnb and Vrbo? Let's compare some of the similarities and differences.
How is Plum Guide similar to Airbnb
Plum Guide, like Airbnb and Vrbo, is a peer-to-peer vacation rental website. This means that property owners list their properties on the Plum Guide and then travelers book them. The properties are managed by the property owners and the owners set the prices, arrange the cleaning and maintenance, and act as hosts. Plum Guide doesn't own or manage any of the properties on its website.
Like other sites, Plum Guide serves as a marketplace for property owners and people wanting to book them. It allows travelers to search, book, and pay for vacation properties via the website. It also allows for communication between the host and guests, and has a dedicated customer support team to provide assistance to hosts and travelers.
The way the search and booking process works is very similar to that of Airbnb. So for users of Airbnb and other platforms, the process of finding places, messaging hosts, and the payment process will look fairly similar. Like on Airbnb, there are varying levels of cancelation policies hosts can have for each property. Some properties are ones you can book instantly and some require approval by the host.
For the most part, the types of properties that can be listed on Plum Guide are similar to those that can be listed on Airbnb. These include apartments, houses, houseboats, bungalows, yurts, castles, and country villas. However, Plum Guide doesn't accept private rooms and shared spaces like on Airbnb, so you won't find private rooms in someone's home on Plum Guide.
The Plum Guide already has a good filter system in place allowing users to narrow down their search results by basic things like date availability, number of bedrooms, number of bathrooms, parking, whether pets are allowed, and whether it is recommended for families with children. You can also filter by more specific amenities like whether the property has a washing machine, swimming pool, bathtub, or fireplace. Like on many other sites, it has a "Search as I move the map" feature that uses Google maps technology.
So in terms of the interface and the way it works, it should all feel pretty similar to other platforms you have used before.
How is Plum Guide different from Airbnb
Now let's talk about how Plum Guide is different than Airbnb and similar platforms.
The main difference is that Plum Guide is a curated marketplace. This means Plum Guide is more selective about the properties they list. The company's website says that only about 3% of all properties evaluated make the cut and are listed on the Plum Guide.
Initially, properties are submitted for approval by owners. If approved, the property can be listed on the Plum Guide website. Then once the first booking is completed on a new property, a Plum Guide staff member (a Home Critic) personally inspects the property in person to ensure it meets the Plum Guide standards. There is a list of 150 criteria upon which each property is evaluated, from WiFi speed to property location.
The Plum Guide has better quality listings on average than we are used to seeing on some of the other peer-to-peer vacation rental sites. Most listings seem to have more photos and better quality photos than the average Airbnb listing. So it is competing more with Airbnb's curated listings (Airbnb Plus and Airbnb Luxe) and more luxury-oriented sites like Oliver's Travels.
The listings are also well organized. Information about the sleeping arrangements (number of beds, size of beds, number of bedrooms) bathrooms (how many, whether they have shower/bathtub), cleaning standards, and amenities are more standardized and clear on the listing pages than on some other sites.
The properties that are denoted as Plum Guide Award Winners (have been evaluated by a Home Critic) provide additional information such as floorplans for the property, WiFi speeds, local transport links, detailed access information, and even noise levels! We love having more information to be able to help us make our booking decisions, so we definitely appreciate the listings that provide this extra information.
The listings of each property also uniquely highlight the positive aspects of the property, note any drawbacks, and gives you information about things to do in the local area. Highlights for a property might include a beautiful view, quirky decor, a rolltop bathtub, an infinity swimming pool, or a well-stocked kitchen. Limitations that might be pointed out for a property might include a tiny kitchen, slow WiFi, lack of air-conditioning, a smaller TV, or lack of nearby shops.
As noted, unlike Airbnb, Plum Guide does not include shared spaces such as private rooms. Plum Guide isn't really aimed at budget travelers so properties tend to be a bit nicer on average. However, you can still find some good deals on the platform with spaces starting as low as USD $70 per night when we searched in our local area.
The last big difference between the Plum Guide and the vast majority of other booking websites is that there are no peer reviews on the platform. So you can't read reviews from other travelers about individual properties that are listed on the platform. There are also no user ratings of any kind (e.g., 4 out of 5 stars).
The reason that Plum Guide doesn't have peer reviews is that the company believes that peer reviews are flawed and can be unreliable. So because the properties are curated and independently reviewed by the Plum Guide staff, the goal is that only the best properties will make it onto the platform and remain there.
After each stay, users are still encouraged to submit a review of the property and their stay experience. This review is then sent privately to the host and to Plum Guide for review. But these reviews are not posted publically. Similarly, hosts cannot post public reviews of guests.
If, like us, you always read through all the latest guest reviews of a property before booking, this is definitely something you will notice. The lack of reviews definitely has its pros and cons, depending on your views of user reviews.
BOOKING TIP: If you want to book a property that has been inspected and approved by a Home Critic (and provides more information in the description) then choose a property that is a Plum Guide Award Winner. This will be displayed in the property information with an image and text box. This means that the property has been booked before and has been approved by a Home Critic.
It should be noted that you can read general customer reviews for Plum Guide on review platforms like Trust Pilot (see reviews here), and Plum Guide even has some of these reviews displayed on its website.
What are the Plum Guide criteria?
As noted earlier, after a property's first booking, it will be evaluated by a Plum Guide Home Critic. There are 150 criteria and the Home Critics who visit the properties will gather more than 500 data points. This in-person evaluation is done to ensure that the property is a good fit for Plum Guide, that the listing information is correct, and that guests will have a great experience.
Some of the criteria that are tested as part of the Plum Guide test are:
WiFi speeds
Mattress quality
Noise levels in the room
Host responsiveness
Water pressure for showers
Quality of guest toiletries and linens provided
Kitchen utensils and cookware
Whether basic pantry items are provided in the kitchen (e.g., pepper/salt, oil, coffee, tea, sugar)
Location
Safety
Access to the property (steps, elevator)
These are just a small number of the things that a Home Critic will check, but it gives you an idea of what Plum Guide looks for in its properties.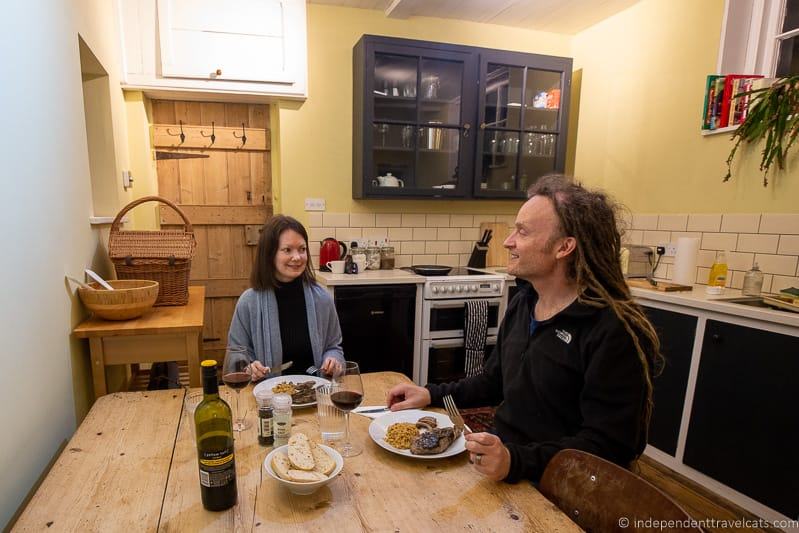 How do I book a property on Plum Guide?
Booking a property on Plum Guide is easy.
First, you just need to go to their website. Then you can search properties by dates, locations, and other information. Be sure to read all the details about the property, look at all the photos, and check the cancelation policy before booking.
Like on most platforms, you do need to create a free account on Plum Guide to book. So once you are interested in a property, I'd set up a free account which is easy to do on the website.
If you find a property you like, you just need to be logged into your account and then you can make the booking. Some properties require approval by the host, but most are Instant Book properties, meaning that the booking should be confirmed shortly.
How do I list a property on Plum Guide?
If you are the property owner of an apartment or vacation rental, you can apply to have it listed on Plum Guide. The information will then be reviewed, and if it meets Plum Guide's initial criteria, it will be listed.
Once the property is listed and it has its first booking, someone from Plum Guide will be sent to inspect the property in person for its final evaluation and approval.
It is free to apply and to initially list on Plum Guide. However, there is a flat fee (currently £300 / US$400) due after the first guest check-in for each listing. Then there is a 3% service fee for each booking.
You can find out more and list your property here.
How do I contact Plum Guide?
If you have questions about booking a property or listing a property, you should be able to get in touch with Plum Guide by online chat (on their website), phone, or email.
For those with booking inquiries and issues, there is also a phone number you can call to get assistance from Plum Guide staff. They have both a worldwide number and a USA specific number you can call. However, the phone lines are not currently open 24/7, only during business hours which is a definite drawback. However, they do offer online chat 24/7.
You can find all their contact information on this page.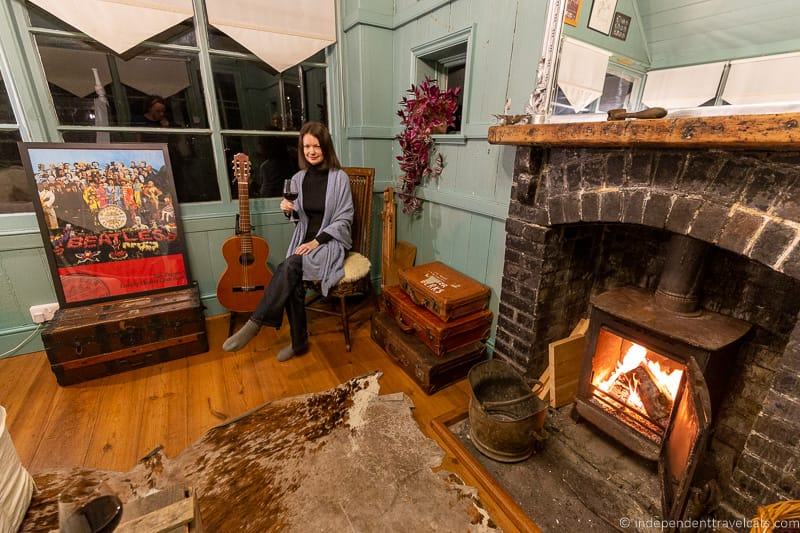 Plum Guide Review: Our Plum Guide Experiences
In order to put this review together, Laurence and I stayed at two Plum Guide properties. The first was a city center apartment in Paris. The other was a detached property in a small village in the rural county of Somerset in England.
We'll share our experiences using the Plum Guide website to find and book these properties.
First Plum Guide stay in Paris
Our first stay with Plum Guide was in an apartment in Paris. We were visiting Laurence's parents who live in the Dordogne region of France and were stopping in Paris for a few days on our way back to the UK.
We'll share the details about our experience booking the apartment with Plum Guide, checking into the apartment in Paris, and our actual experience spending three days in the apartment.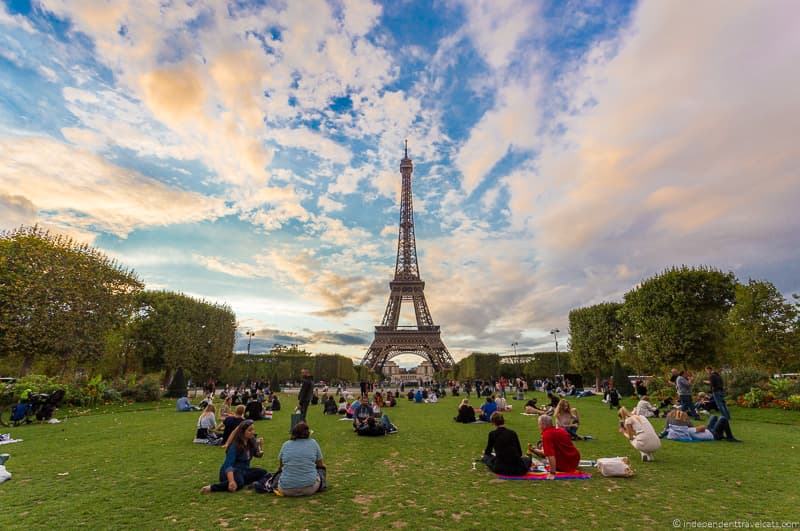 Our experience booking with Plum Guide in Paris
We were booking fairly last minute, several days before our trip. We were looking for a simple but comfortable apartment located in a central area with a decent view. Paris is one of the cities where Plum Guide has a fairly large number of properties, from studio apartments to luxury villas, so we still found a number of apartments available.
The Plum Guide website was easy to use to search the properties. It had all the usual search features plus you can filter by a number of amenities like washing machines, bathtubs, and parking. There were several apartments in Paris that sounded interesting and we kept track of them by adding them to our "favorites list" on the platform so we could easily find them again.
We found an available apartment that sounded just perfect for us in terms of location, amenities, and pricing. We decided to book a one-bedroom apartment in the 7th Arrondissement for 3 nights. The views from the apartment won us over, and you'll see why if you check out the photos of the apartment here!
Our first experience booking with Plum Guide didn't actually go as smoothly as we had hoped. We had some issues verifying our credit card (a bank security issue) because we were in a rural area of France without wireless coverage and were not able to get the text for the verification code. So we got a message from our credit card saying it wasn't verified but then received a confirmation email from Plum Guide.
So we weren't sure whether the payment had been completed or not, or whether our booking really was confirmed. So we called Plum Guide on their customer service number but were not able to get a hold of anyone. It was evening but the number was supposed to be their 24/7 customer service number. So this was a bit concerning and we'll talk more about this later in the review.
However, we also sent an email to Plum Guide and got a response back a few hours later to say that the transaction was fine and it had gone through. We also got in touch with our bank and let them know that we had made the transaction.
Other than the credit card security issue (an issue with our bank, not Plum Guide), our booking experience was seamless. Shortly after our booking, our host reached out through the Plum Guide messaging system. They gave us detailed information about finding and accessing the apartment, and we arranged our arrival time.
When the time of our stay came we arrived at the apartment, our host was waiting to greet us and was very gracious. He gave us the keys and security codes, showed us around the apartment, and answered our questions.
Once the host had finished showing us around he left us to discover our new space!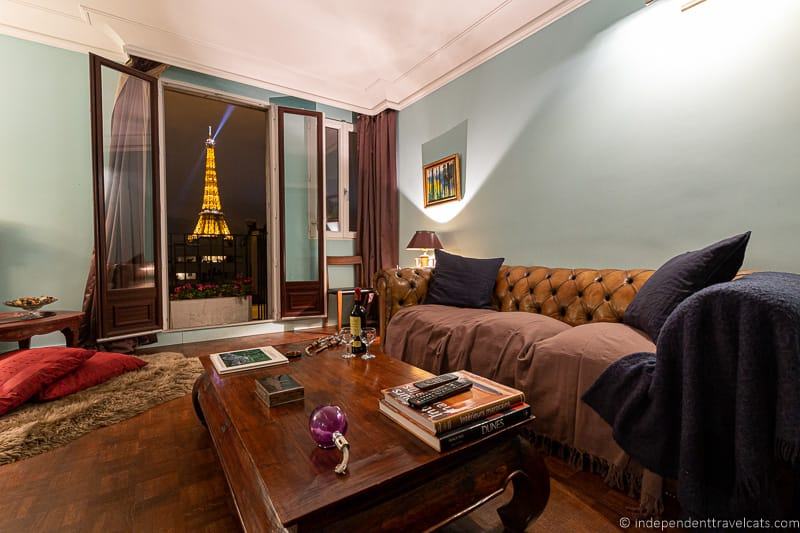 What we liked about the Paris apartment?
The stand out feature of the Paris apartment we booked was the incredible views of the Eiffel Tower! We've stayed in a lot of places in Paris, a couple with Eiffel Tower views, but this apartment definitely gave us the best views we've ever had.
All the windows in the apartment, including the floor to ceiling windows in the bedroom and living room, offered magnificent views of the Eiffel Tower. With a foreground of Parisian rooftops, this was a truly incredible view. This was a view we were able to enjoy while relaxing in the lounge in the evening, having our morning coffee, cooking dinner, and waking up each morning!
The apartment was also spacious, comfortable, and well decorated. The bed was large and comfortable, the living area was spacious, and there was a separate dining space where we could have coffee and meals. Despite it being located in an apartment building in central Paris, it seemed to be well soundproofed and we didn't hear the neighbors much at all during our stay.
Entertainment wise, the TV in the living room was definitely on the small side. However, this was made very clear in the property listing, and honestly, we don't normally watch a lot of TV when we travel, so this wasn't a problem. Instead, we enjoyed the views of the Eiffel Tower!
The kitchen was stocked with a variety of crockery, pans, glasses, and cutlery, as well as some basic cooking ingredients. There was also coffee, a French press, and tea. The welcome bottle of French wine left by the hosts was also much appreciated!
There was also fast WiFi, an elevator (definitely welcome as it was on the sixth floor!), and the apartment seemed safe and secure.
Location wise, we absolutely couldn't complain. There were several bakeries, restaurants, shops, and cafes within a 5-minute walk of the apartment. The apartment was also within walking distance of a number of popular attractions like the Eiffel Tower, Seine river cruises, the Rodin Museum, and the Army Museum (Napoleon's Tomb).
What would we improve?
For the most part everything about the apartment was great. However, there were a few things that we felt could have been better.
First, some of the pots and glasses had not been properly cleaned when put away by previous guests. This made us concerned about the cleanliness of things in the kitchen, so we decided to wash all the crockery, pans, cutlery, and glasses before we used them.
Doing so revealed the second problem, which was that the sink stopper in the kitchen didn't work. Since there was no dishwasher, this was a bit annoying as we had to make our own temporary stopper to do the dishes. We messaged the host to let them know this needed to be fixed before we left and they said they would send someone to fix it.
There were a few other minor things like one of the light bulbs was out in the dining area, there was no nightstands in the bedroom, and there was limited space in the bathroom to hang towels. However, these things didn't have any significant impact on our stay, but were things we noted in our feedback to the host that could be improved.
Overall thoughts?
Overall though, we really enjoyed our 3 night stay in the apartment as it had everything we needed. The wonderful Eiffel Tower view, central location, and spacious well-decorated lounge were the things that really set this place apart from others we had stayed at in Paris. We'd definitely consider staying here again.
We have since talked to folks at Plum Guide about our issue of not being able to reach them by phone the evening we had made the booking, and they have apologized and said that this shouldn't have happened. They said that they were having some issues due to the increased calls due to the coronavirus and staff needing to work from home. They do offer a 24/7 customer service phone line and have said that guests should always be able to reach someone with any issues.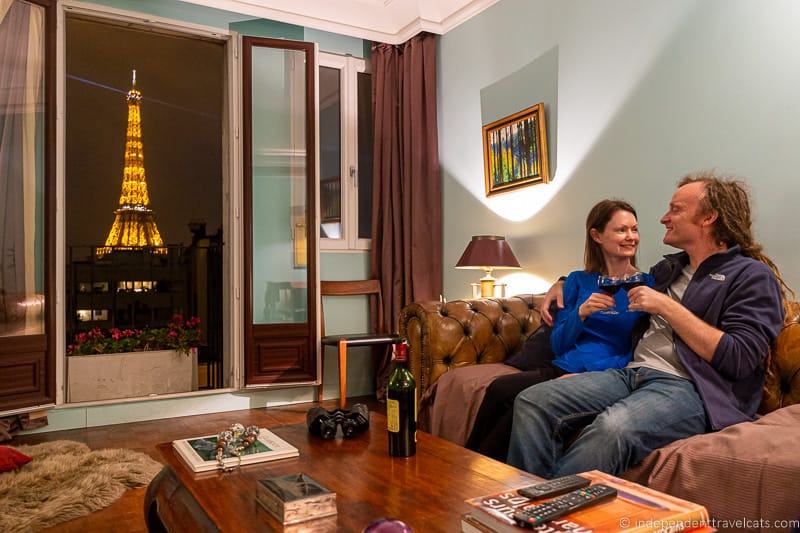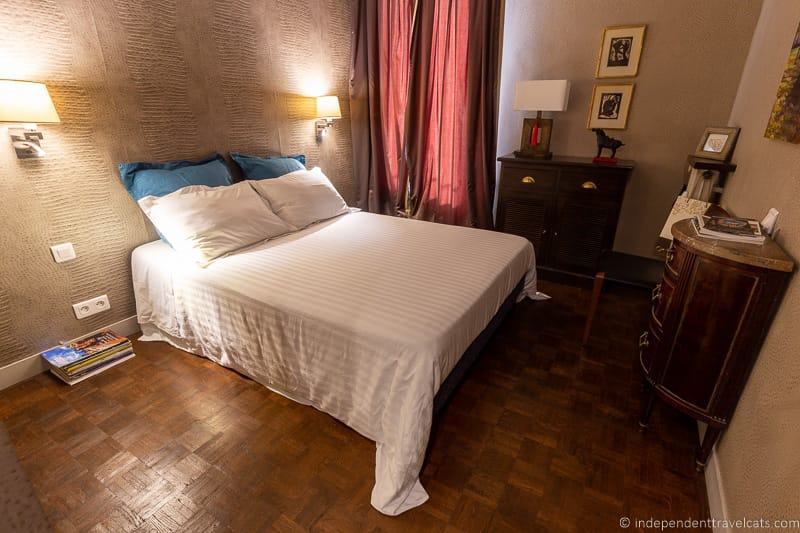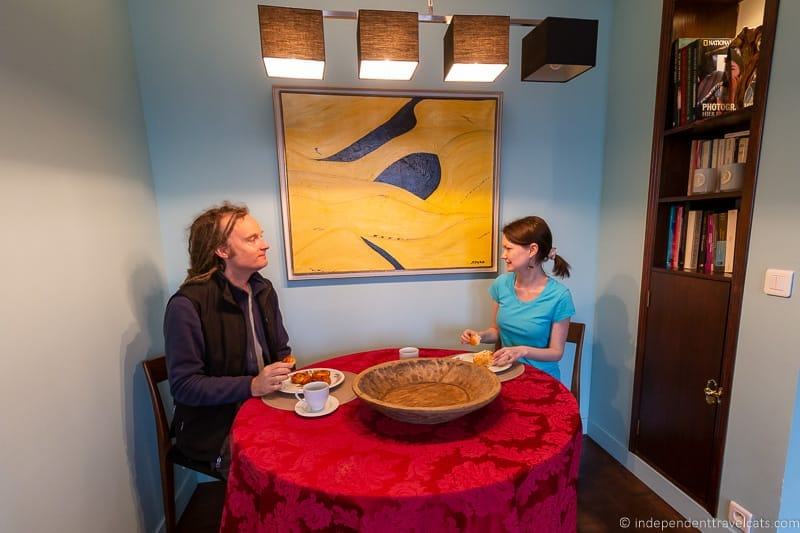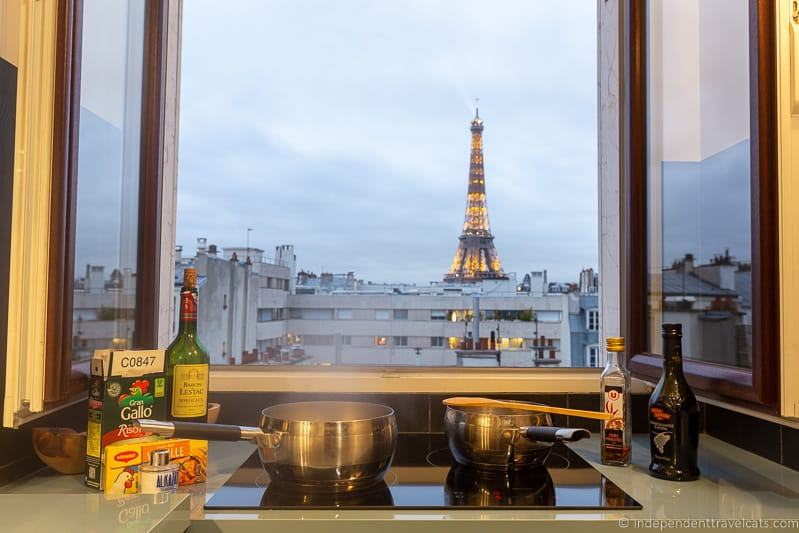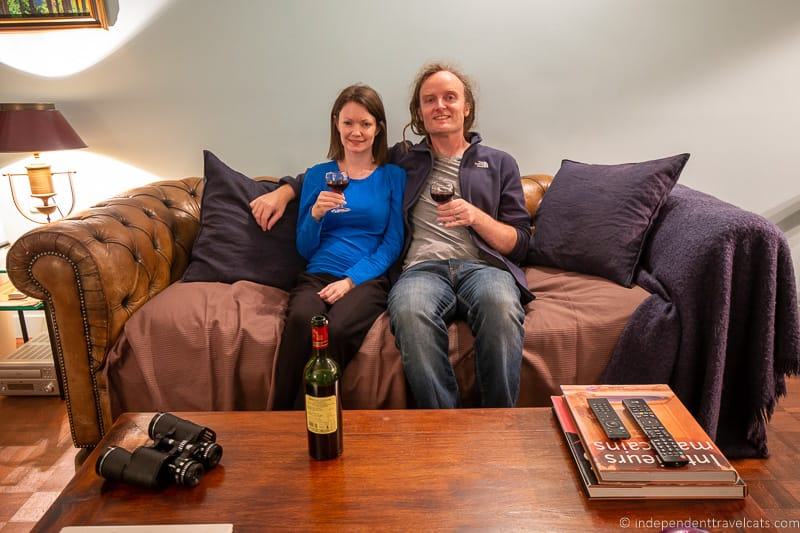 Second Plum Guide stay in rural England
For our next stay, we wanted to find a place for a short weekend staycation. We were looking for a holiday home within an hour or so from where we lived. We wanted a property we could drive to and a place that would allow us to explore a new area.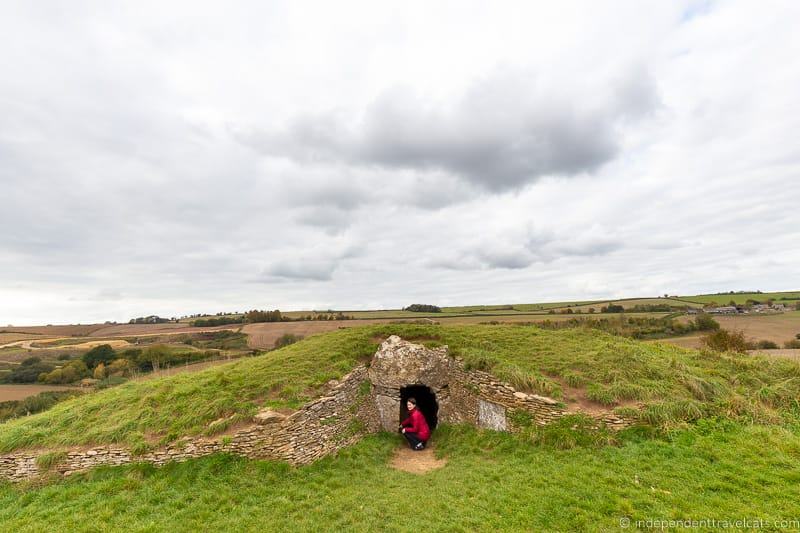 Our experience booking with Plum Guide in England
Laurence and I live near Bath in England, and we were searching for a property that was within relatively easy driving distance to have a break after weeks of self-isolation due to the coronavirus pandemic. We wanted a place where we could easily socially distance, do some outdoor activities, and be within walking distance of a village.
Thankfully, Plum Guide has quite a few choices across southern England, so we found several options. However, we did find that a number of properties had a 3 night or more minimums which limited our options a bit since we only wanted to stay for one or two nights. After a lot of looking, we settled upon this unique looking property.
Once we were booked, we got a message from the host. We asked some questions about the property such as whether wood was included for the fire (it was) and agreed on an arrival time.
On the date of our checkin-in, we arrived early and had lunch at the local pub which we later learned was just a couple minute walk from the property. We then spent a few hours exploring the small village of Wellow, following the village walking path, walking out to Stoney Littleton Long Barrow (a Neolithic chambered tomb), and picking up some ice cream at the little village shop.
We then checked in after 4pm as agreed. The check-in process was a totally contact-free experience as we just needed to have the keycode and then we were able to retrieve the keys and the detailed instruction manual at the house. So in this particular case, we didn't actually meet the host, which worked fine for us.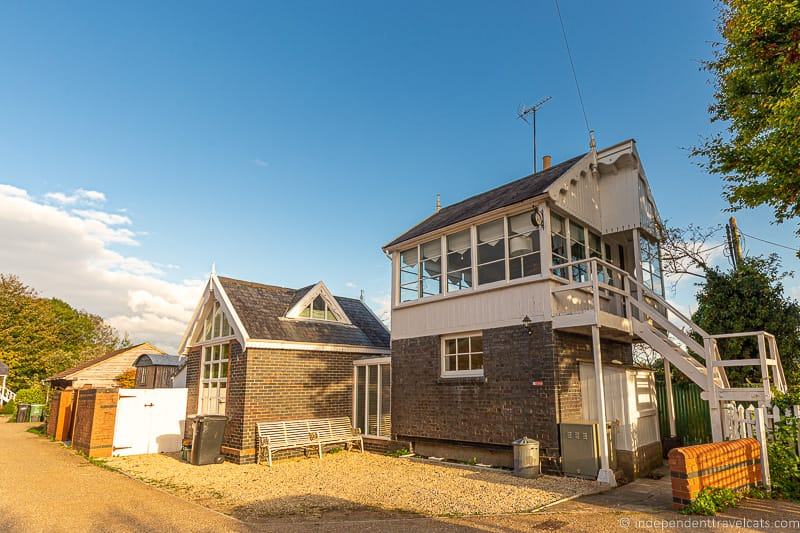 What we liked about the Somerset property?
The Somerset property we stayed in has an interesting history. It was originally an old signal box for the old Somerset and Dorset Joint railway line. The property was also once owned by artist Peter Blake, who designed the Beatles' Sgt. Pepper's Lonely Hearts Club Band album cover along with his former wife.
The signal box has been expanded and updated to make it into a lovely little home that is perfect for a couple. In terms of layout, this was definitely one of the most unique properties we've ever stayed in.
We arrived as the temperatures were dropping in the UK, but the owners had obviously thought of this as the heating was on, so we walked into a lovely warm home.
The first room we stepped into was the kitchen. The kitchen was spacious, had all the kitchen essentials, and a dining table. Some kitchen pantry basics like salt, pepper, sugar, oil, coffee, and tea bags were also provided. There was a welcome gift of a bar of chocolate and some coffee pods.
The bedroom, which was a double height room with a beautiful wooden ceiling, featured a large bed on which bath towels had been folded into a swan shape. We love it when a host makes the effort to do little touches like this, and we really appreciated it. There was also a large flat-screen TV on the wall in the bedroom.
A staircase from the main bedroom leads down to the bathroom. This had a large bathtub and a separate shower, as well as a sauna! Since I love taking baths when I travel and Laurence's prefers showers, this was perfect. We also took advantage of the sauna during our stay.
Now heading back to the kitchen and outside, an exterior staircase leads to the main room of the old signal box which sits above the kitchen. Referred to as the studio, this room has wrap-around windows on three sides (presumably for a good view of the railway line back in the day) and has been turned into a cozy lounge space. This was filled with all kind of fun curiosities, from movie posters to old helmets. There was also a guitar, a lovely wood burning stove, and piles of wood.
We absolutely loved this space. It didn't have a TV (as it is not that sound proof), but it was a perfect place to sit before and after dinner. We enjoyed reading here as well as just sitting by the fire drinking a glass of wine. There is also a small outside toilet down the stairs which we didn't use.
Finally, outside there was even more to discover. There was an outdoor patio table with views across the rolling hills of the countryside that was perfect for morning coffee, but could have also worked for a meal if the weather had been warmer.
The garden was home to a mobile shepherd's hut! Shepherd's huts like this one were used during lambing season from the 15th century right through to the 20th century, and provided a sheltered dwelling place for the farmer to keep watch over his flock.
The old shepherd's hut has been turned into a small bedroom with a double bed and small desk. The space has a wood-burning stove and an electric heater, so it may have been warm enough to sleep here during our visit but we were concerned it may have been too cold. We didn't spend the night there but would have loved to do so if the weather was a bit warmer.
The location of the home on the edge of a village was great for a short staycation. There were walking paths for us to follow that took us out into the countryside. The village has a small shop and a pub. We enjoyed the village walking path and the local attractions like the Stoney Littleton Long Barrow.
Although a rural location like this might not suit some people looking for a place with more attractions and evening entertainment options, it was perfect for what we were looking for from this stay. In addition to our walks, we also spent time watching TV, cooking meals, enjoying the sauna, and spending time together in front of the lovely fireplace.
Overall, we really loved this property, it was one of our favorite vacation rentals we've stayed in in the UK. We definitely think that Plum Guide is a great platform to check out if you are looking to book holiday homes in the UK.
What would we improve?
Honestly, it was hard to find much to fault with this apartment. There were a couple minor things that could have been improved, but they didn't impact much on the quality of our stay.
The biggest issue we had during our stay was lighting the stove. This was because the lighter for the wood stove was out of lighter fluid and the provided matches were damp. Luckily, we had (to our happy surprise!) a pack of matches in our luggage and were able to get the fire lit. We messaged the host after our stay to let them know, and they said they'd replace the lighter and matches.
We cooked and made a couple of meals while we were here, and found that the kitchen had what we needed. However, if we are being picky, we would have like to have had more oven-safe dishes and some more serving dishes. The mini freezer could also have been a bit cleaner.
However, none of these things were major issues and they had little impact on our experience.
Overall thoughts?
We really loved this property during our short stay and it was a welcome getaway for us. We would definitely recommend this for someone looking to stay in this part of Somerset. We are already considering a possible return trip!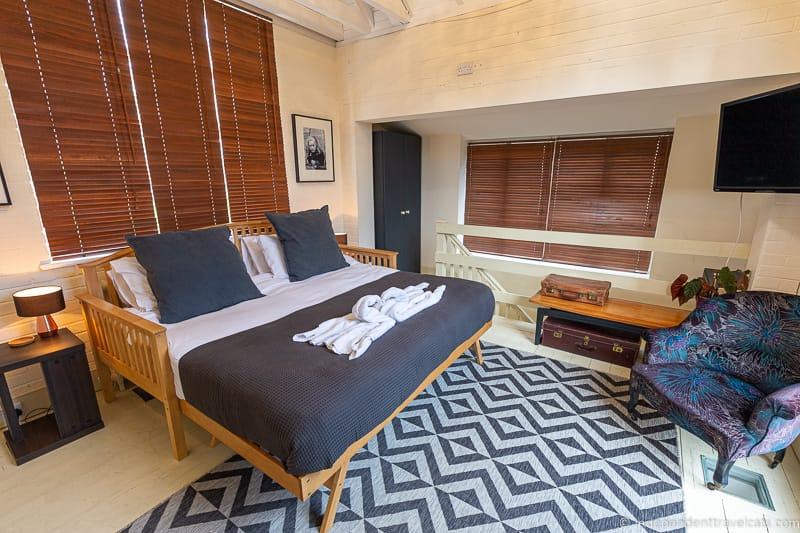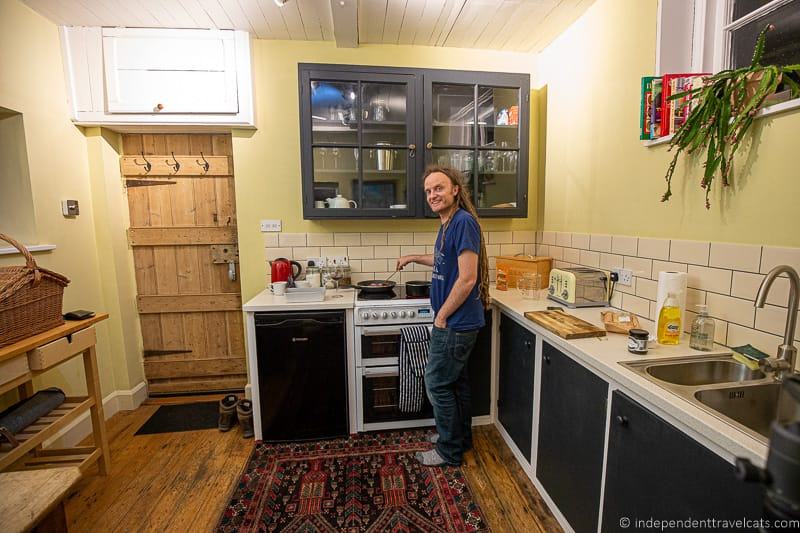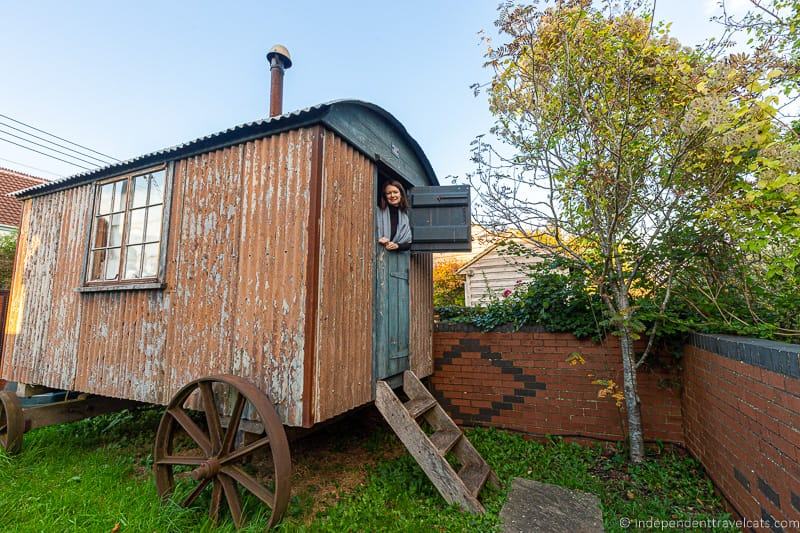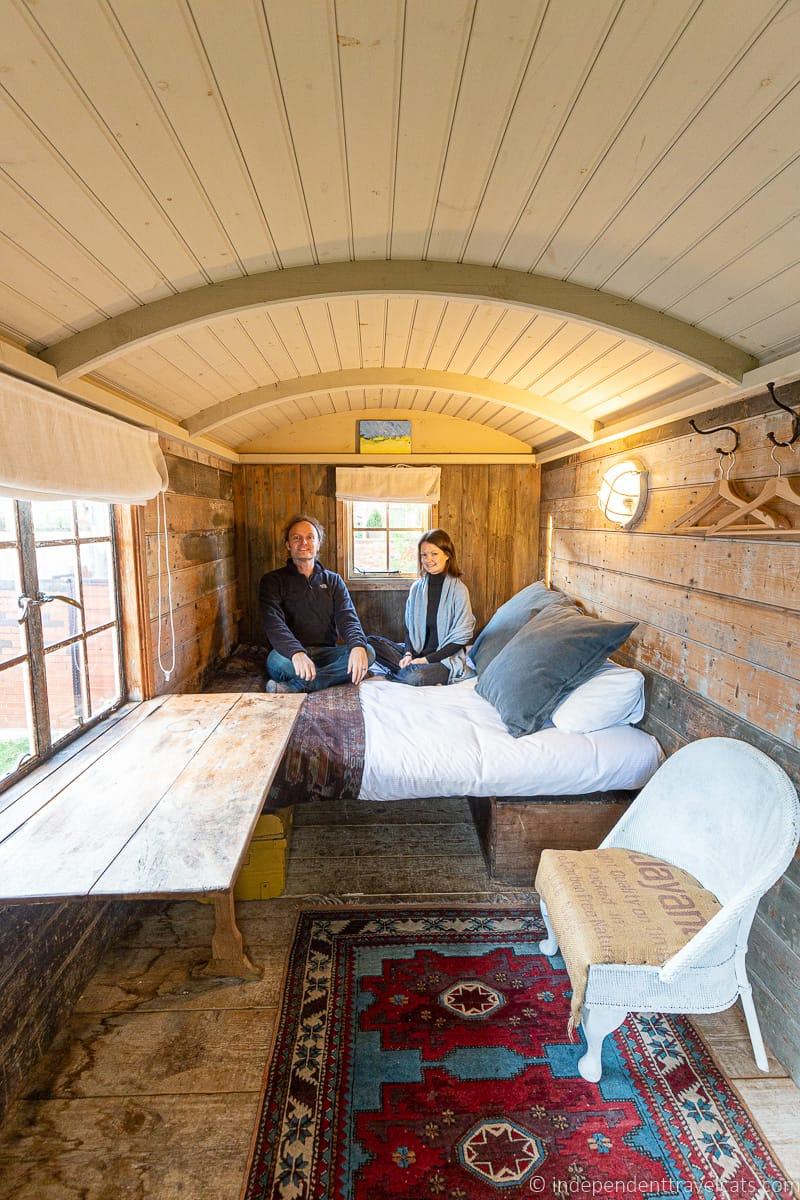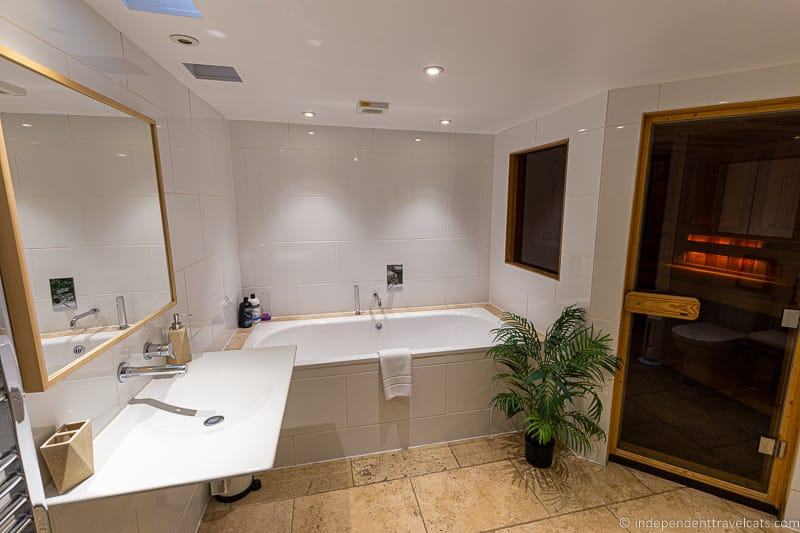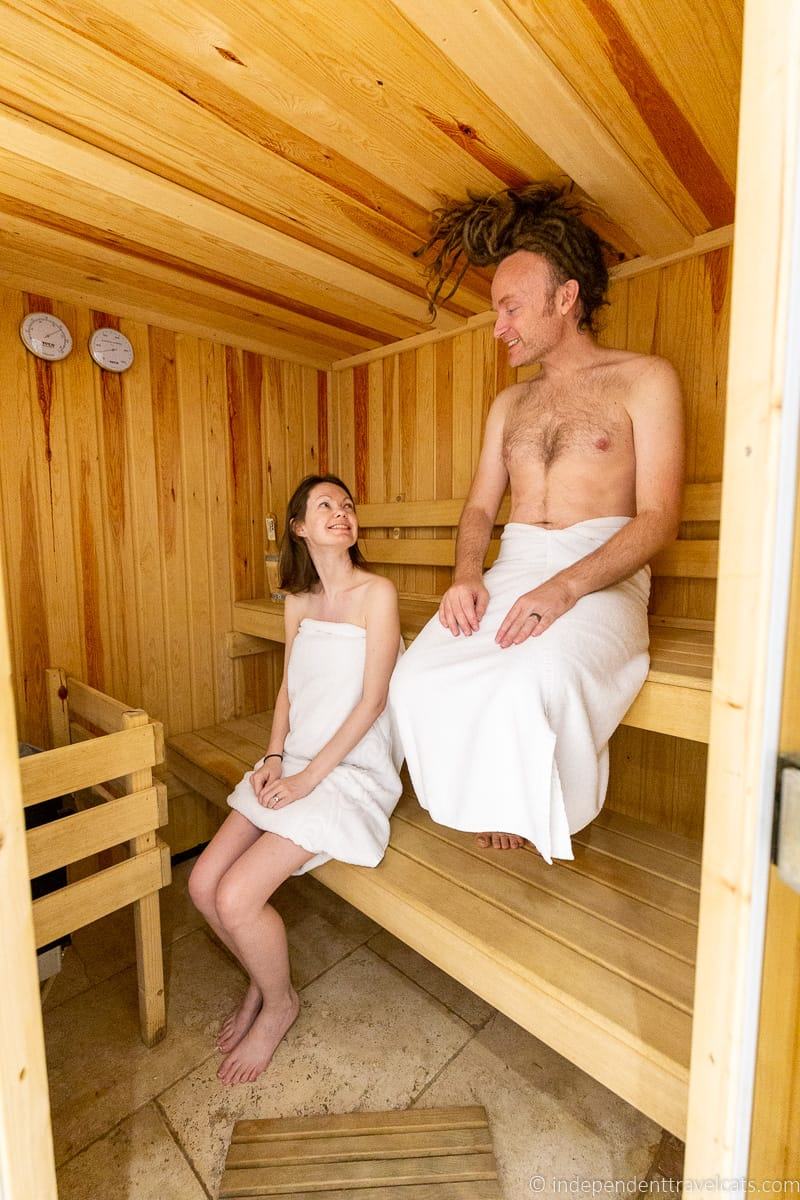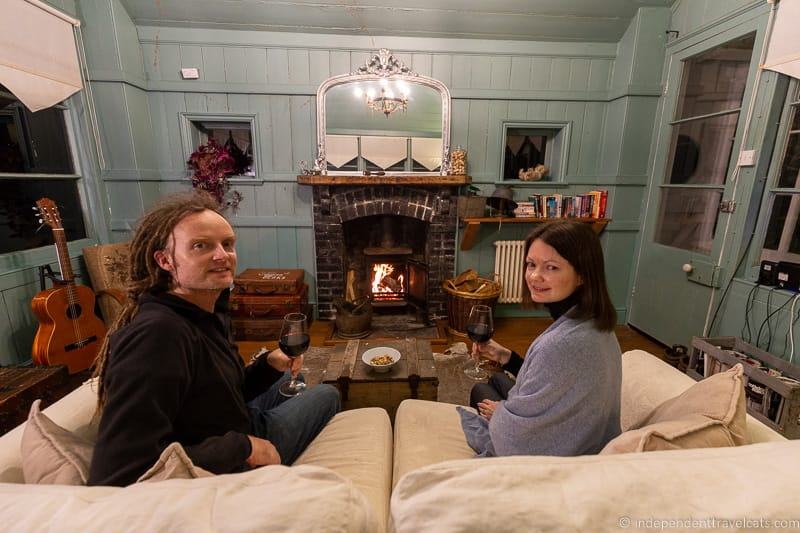 Overall thoughts on our Plum Guide experience
We have given Plum Guide a real-world test in two countries, and so far we are fans and do recommend the platform to others. We hope that our Plum Guide review has been helpful to you if you are thinking about using the service yourself. Of course, our experience is limited so far to just the two properties so we will be updating this as we use it further.
Plum Guide is not a replacement for Airbnb or Vrbo as it currently has only about 10,000 properties listed in a select number of destinations. However, if you are looking for Airbnb alternatives, it is another vacation rental website to consider when booking your next apartment or holiday home. The team at Plum Guide are working hard to expand their property listings in the coming years.
One great aspect of the Plum Guide is that the marketplace is curated and there are far fewer listings than on other major vacation rental booking sites. So you shouldn't have to spend so much time sifting through hundreds of listings to find the perfect place. The average property listing on Plum Guide seems to be of higher quality than the average property on Airbnb or Vrbo.
Given that Plum Guide is marketing itself as being a more premium vacation booking website with a higher quality level of properties, it has a lot to prove in terms of ensuring its properties do live up to the higher standards. I think the platform's branding messages and in-home inspections raise expectations, and so minor guest issues (like a broken sink stopper or missing bath towel) seem bigger and more disappointing.
The lack of reviews is likely to bother some folks as user reviews are very influential in a lot of tourists' booking decisions. Travelers have to put their trust in the initial Plum Guide review, inspection, and that the initial quality has been maintained over time. We think this is possible but it requires Plum Guide to read every review and be proactive when issues are raised to work with hosts to ensure they are resolved quickly.
If you are new to the platform, we recommend looking for properties which are noted as a Plum Guide Award Winner. This means that the property has already had at least one guest and has been inspected and approved by a Home Critic.
The biggest and most concerning issue we had with the Plum Guide was an inconsistent customer service experience. We were not able to contact them by phone on one occasion and had mixed results with the online chat service on their website. However, we did get consistently good service via emails. When we did reach staff, the staff were friendly and helpful. I think this is an area where the company will need to continue to improve, especially as it continues to grow.
In conclusion, although there are areas for improvement, we enjoyed our experiences at the Plum Guide properties and would certainly use the service again. The next time you are thinking about a vacation rental, we definitely recommend checking out Plum Guide!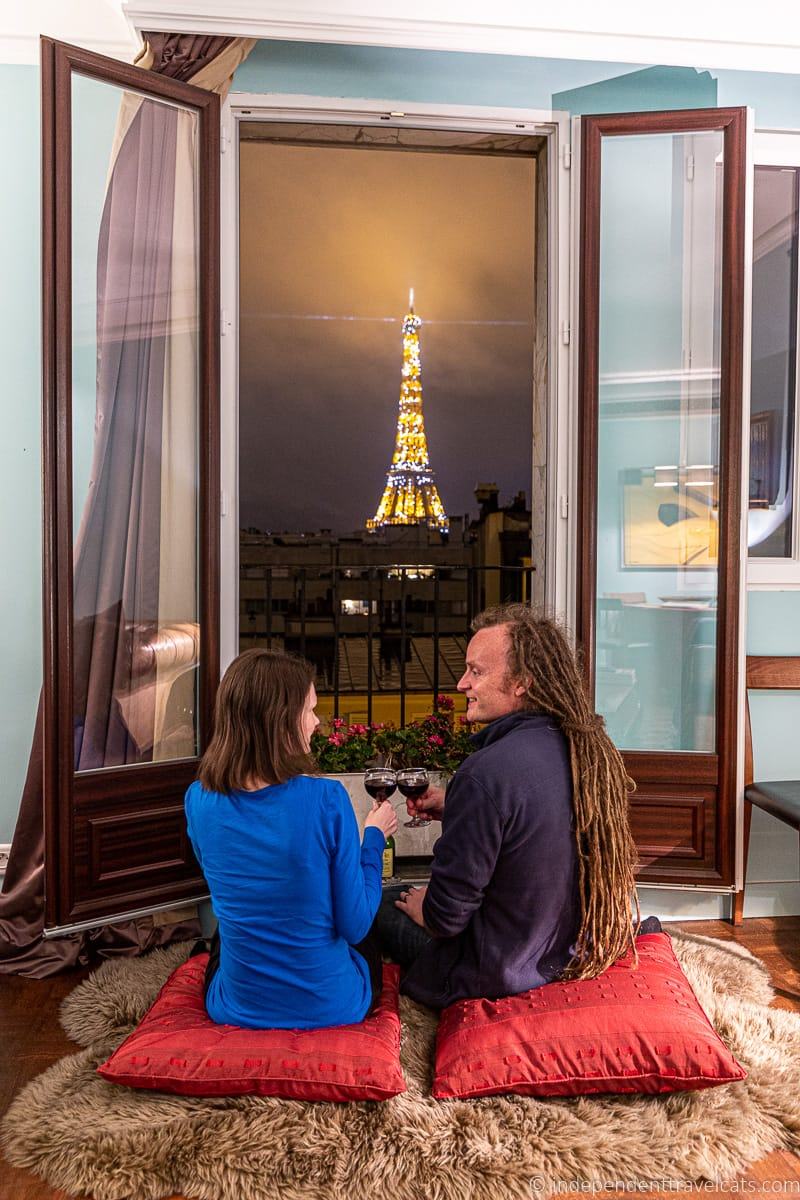 Have you used Plum Guide or checked out their website? If so, we'd love to hear your thoughts on the platform and any experiences you have had with the company.
If you have any questions about Plum Guide or booking a holiday home online, just ask them in the Comments section below. We have booked dozens of vacation rentals across the world and are happy to try to help. We love hearing from you!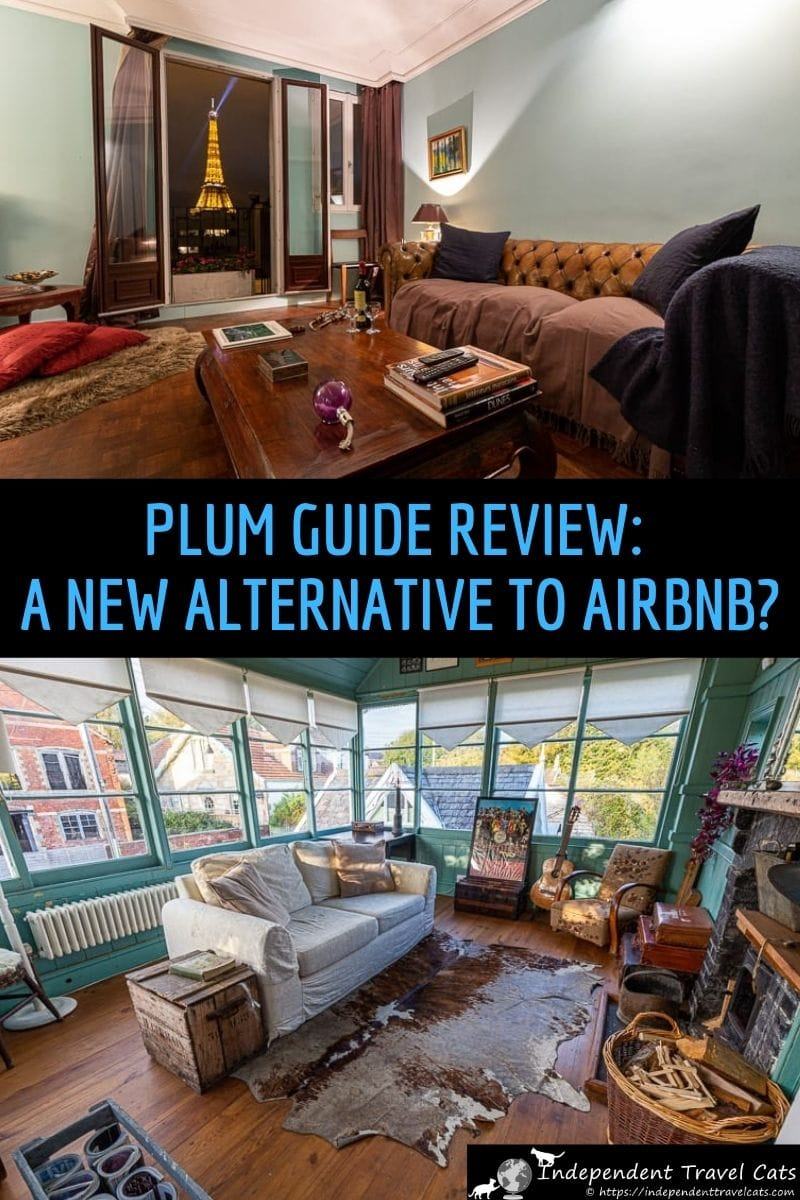 **Disclosure: As travel writers, we were invited to write this review by the Plum Guide who reimbursed us for our stays. However, we chose, booked, and initially paid for our stays on our own. As always, this article contains only our own honest thoughts and opinions. For more information on how we work, you can read our Code of Ethics.**