If you prefer taking a bath rather than a shower, then you may enjoy these travel tips for bath lovers! I personally really love the experience of slipping into a bath while traveling.
Soaking in a bath can be a fantastic experience after an exhausting day of sightseeing or hiking. It can also give you a chance to enjoy a pampering spa experience without the cost of a day at the spa.
You may also be looking for accommodation with a bathtub for more practical reasons. For example, families may prefer hotels with bathtubs to be able to bathe young children. Others may seek a bathtub due to medical needs or mobility issues.
I personally like to read books in the bath and find it really relaxing. But I also like baths because I find they are better for my dry skin and allow me to add eczema treatments to the water as needed.
Whatever your reason for wanting a bathtub, we'll give you tips on finding accommodation with a bathtub and tips on how to best take advantage of taking a bath while traveling.
We'll provide several tips for traveling bath lovers. We give tips on how to find accommodation with bathtubs, accommodation booking tips, and tips on what to pack for your trip. We also give tips for how to deal with annoying issues like missing bathtub drain plugs and hotel soap dispensers designed only with shower users in mind.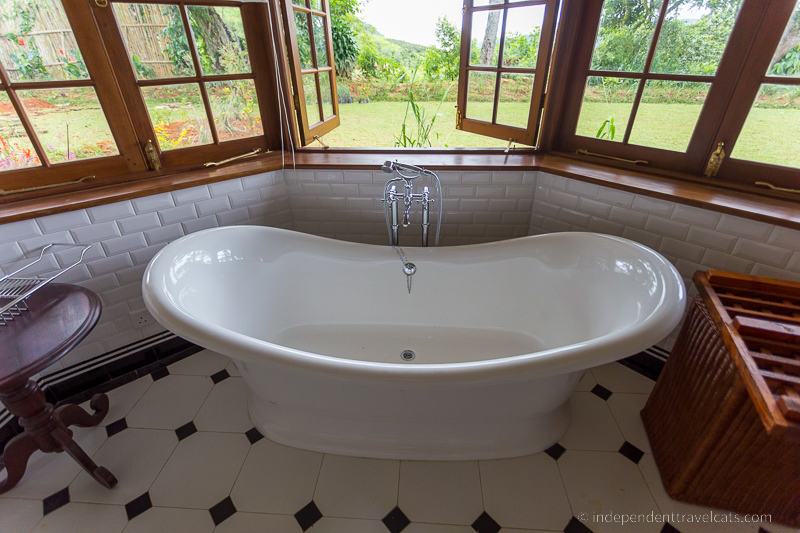 1. Be Sure to Double Check if you Accommodation has a Bathtub
This is a pretty obvious travel tip, but you shouldn't assume a hotel room or vacation rental will have a bathtub. Many rooms only offer a shower. The chances of getting a bathtub vary a lot depending on where you are traveling in the world and the type of accommodation.
So when booking your lodging, I would check to make sure that the room description includes a bathtub. If there are photos, you can often check them to see if a bathtub is pictured.
Ideally, when you book, you will know that the room you booked will have a bathtub so there are no surprises when you arrive.
A lot of times though when you book a hotel room, especially in large hotels, you are booking a type of room rather than a specific room. The specific room is then allocated to you on check-in. Some of the rooms may have bathtubs and others may not. You'll often see the unhelpful phrase "bath or shower" in the room description.
So in the above situation, you may want to call the property and see if you can add a special request for a room with a bathtub to your hotel booking. Most hotels have the option to note customer preferences on the booking form or in their computer systems.
If they are unable to allow requests for specific rooms, we'd recommend checking in at the beginning of check-in time and asking for a room with a bathtub upon arrival. If you arrive early, you have a better chance of getting a room of your choice, than if you arrive later in the evening when there are fewer rooms available. This strategy usually works for us.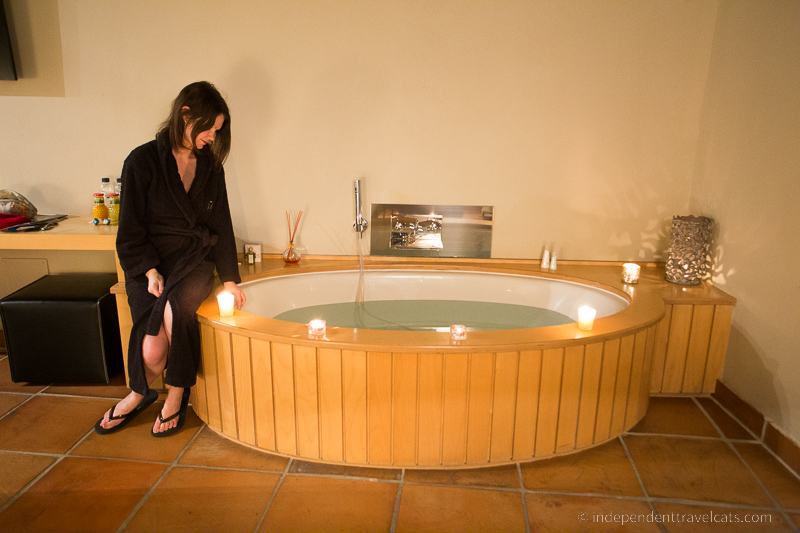 2. Use Bathtub Filter When Booking Accommodation Online
One way to make it easier to find accommodation with bathtubs is to use an accommodation booking website that allows you to filter for this room amenity.
When booking accommodation online, many popular online booking websites will let you search for relevant properties that offer bathtubs. These include Booking.com, Hotels.com, Agoda, and Plum Guide.
You just need to select the appropriate filter which is often listed under room facilities or amenities and is often labeled as "bath" or "bathtub in room". Note that even with the filter, if you are booking a hotel or motel, not all rooms are likely to offer a bathtub and you may still get room descriptions with that annoying "bath or shower" description.
However, a lot of accommodation booking websites do not allow you to filter rooms with a bathtub so they require more time to sort through properties to find those with a bath. Notable examples that don't include a bathtub filter include Airbnb and Vrbo, two of the most popular vacation rental websites. Hopefully, these websites will add this as a property filter option in the near future.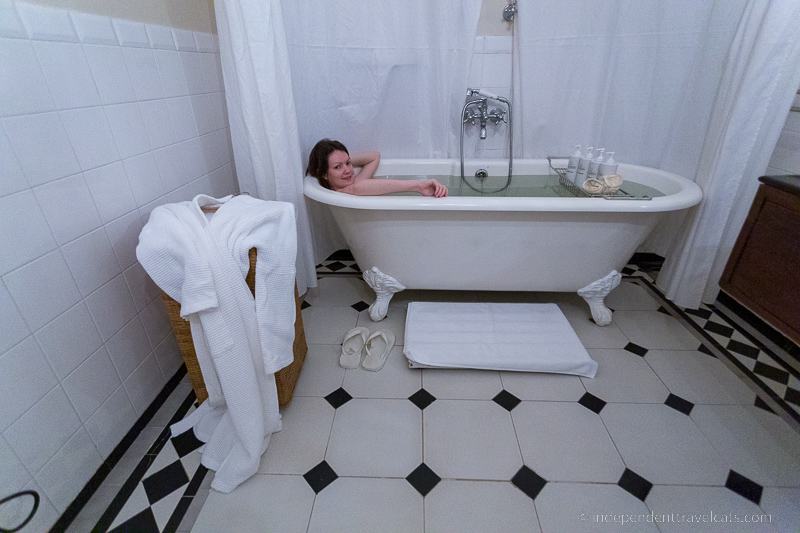 3. Pack a Bathtub Stopper
I think one of the best tips I can share for those wanting to take baths while traveling is to pack a bathtub stopper or drain plug. This simple inexpensive device has often come in handy for me while traveling.
Many hotels, motels, and vacation rentals we have stayed in with bathtubs do not, for whatever reason, have a properly working drain stopper or plug. Sometimes they are broke and sometimes they are simply missing. I have experienced this issue all over the world from the United States to Egypt to Sri Lanka.
But if you have a handy bathtub stopper in your luggage, you don't need to worry about this issue. I'd recommend a flat stopper that is suitable to cover most sink and bathtub drains, but there are a variety of options.
Here are a couple of options I can recommend based on my personal experience:
Do it Best Rubber Stopper – This simple 5 inch rubber stopper lies flat and fits most sink and bathtub drains. This is the one we have and it has worked with the vast majority of drains we've tried it on. I've been traveling with it for several years.
Danco Stopper – This is a similar rubber stopper to the one I have above with similar reviews.
V-Top Silicone Stopper – This is a similar 6 inch sink stopper that lies flat and is made of silicone instead of rubber.
Once you have a bathtub stopper, I'd try it out at home first with your various tub and sink drains. If you have one like we do that just lies flat but doesn't work with suction, you need to hold it flat until the sink or tub has a bit of water in it first and the stopper is completely submerged. The weight of the water then keeps it down. Others work with suction or by simply filling the plug hole.
There is no drain stopper that will work on all sinks or tubs, but we recommend getting a good universal one that will cover most drains effectively. We have found the flat ones that lie flat over the drain work on most drains.
Note that a universal drain stopper also works great in hotel or vacation rental sinks that are missing a working sink stopper. This allows you to more easily handwash items in the sink or bathtub if you are planning to do some laundry while traveling. So it can serve a dual purpose.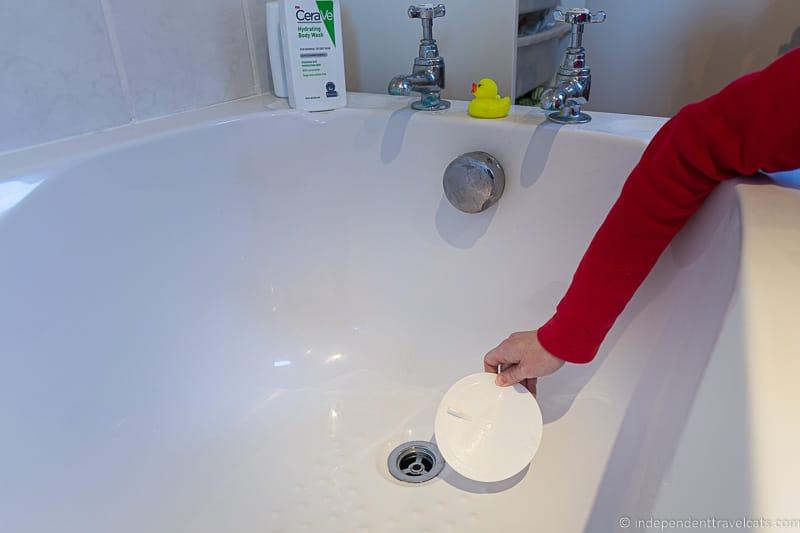 4. Pack your Own Bath Essentials
If you are a bath lover, I'd recommend packing your own bath toiletries rather than relying on those provided at the hotel or other type of accommodation. The main reason for this is that many bath/shower units are typically designed for people taking a shower in mind, not for those taking a bath.
We have been finding that motels, hotels, and vacation rentals are increasingly installing soap and shampoo dispensers in bathrooms rather than providing travel-sized toiletry items. This is great for the environment as it reduces plastic waste and should be applauded. However, these wall units are almost always installed at standing height for those taking a shower. Hotels often neglect to install a second set of dispensers with bath users in mind.
If you are sitting in the bath, you will often need to stand up to access the shower gel or shampoo. Obviously, it is hard to have a relaxing bath if you have to stand up and sit back down each time you need to get soap, shampoo, or conditioner. It can also increase the chances of slipping in the bathtub.
Other reasons you may choose to bring your travel toiletries is that you prefer certain bath products or want to avoid using the travel-sized toiletries for environmental reasons.
I used to mostly rely on using the soap, shampoo, and conditioner provided at hotels as it meant less things I need to pack. However, my eczema has worsened in recent years making it necessary for me to pack my own toiletries anyway to avoid skin irritation. The only thing I normally use at hotels is the hand soap.
I buy travel-sized versions of the products I used at home and then once they run out, I just keep refilling the bottles at home for trips. For example, I mostly use Cerave products, so the Cerave Hydrating travel-sized set is convenient for those who use these products.
For products that don't have travel-sized versions, I just transfer the products at home into reusable travel-sized bottles, tubes, or jars, such as these GoToob ones.
Remember that if you are flying you cannot pack any liquid or gel items more than 3.4 oz (100 ml) in your carry-on luggage. So keep travel restrictions in mind when selecting what to buy and pack.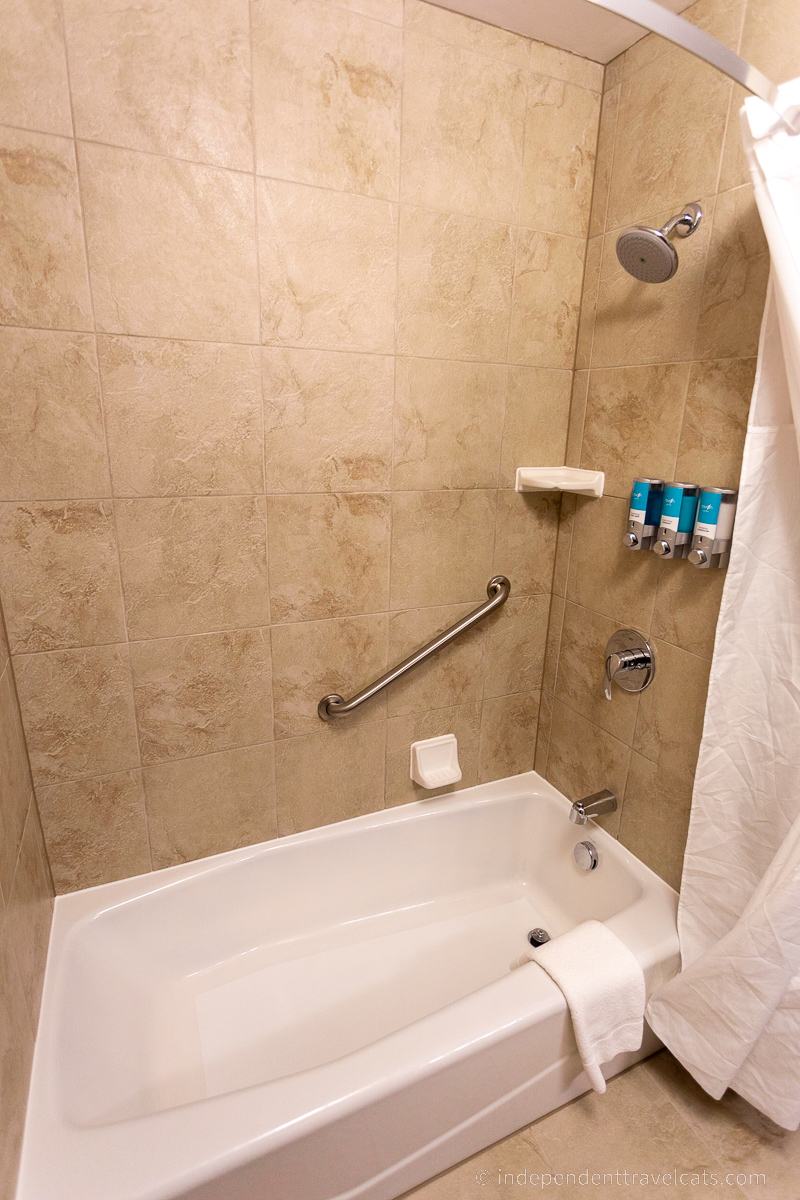 5. Learn How to Say Bathtub in the Local Language
If you are traveling internationally, it is always a good idea to learn some useful phrases in the local language. For bath lovers, learning the local word for bathtub can also be helpful.
We often confirm that a room has a bathtub at check-in or put in a request for a room with a bathtub when booking a room. Knowing the word for bathtub in the local language helps to be able to do this if you are traveling in a place where English is not widely spoken.
Note that the meaning of the word "bath" can differ across countries so it is good to specifically know what word is locally used for "bathtub" as the word bath may also refer to bathing, a bathroom, or a bathhouse. This can help avoid confusion.
Even the use of the word "bathroom" can be a source of confusion among native English speakers from different countries, so asking specifically about a bathtub versus a bathroom is a good idea. In many English-speaking countries such as the United Kingdom, the word bathroom is generally only used to refer to a room that actually contains a bathtub and/or shower. However, in the United States, the term bathroom may be used to refer to any room with a toilet and/or wash facilities.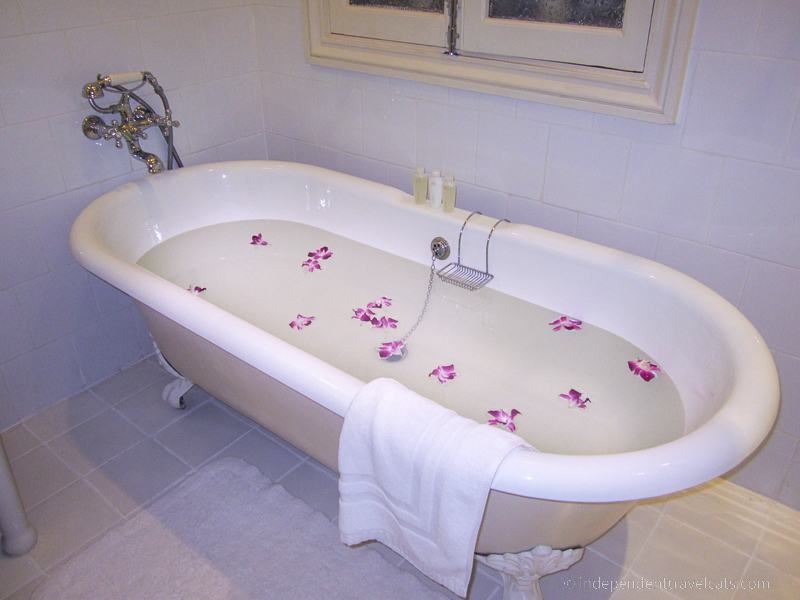 6. Consider Bringing Some Pampering Extras
For many people, enjoying a bath while traveling is a time for relaxation and pampering. This may especially be the case for people who do not have a bath at home or may not have time to relax in a bath at home.
If you enjoy relaxing in a bath, you may want to bring along some little extras to make your bath time extra special. This might include bath additives like bath oils, bath salts, or bath bombs, bath accessories like an eye mask, inflatable bath pillow, or bath mitt, or comfy things to wear after getting out the bath like a pair of slippers.
If you are traveling with kids, you might want to pack a couple of their bath toys and other bath items that make bathing them easier and more fun.
One thing I do not recommend bringing is candles as these are often not allowed in lodging due to the obvious fire hazard. Although occasionally we have found hotels that have candles in the room, most do not allow any open flames. But a safer option if you like candles, is to bring along a few flickering LED candles.
You might also want to pack additional at-home spa items like face masks, hair treatments, body lotions, massage oils, and other fun items to try while you are away. If, like us, you have a bunch of samples and gift items at home that you have never used, your next trip may be an ideal time to try them out.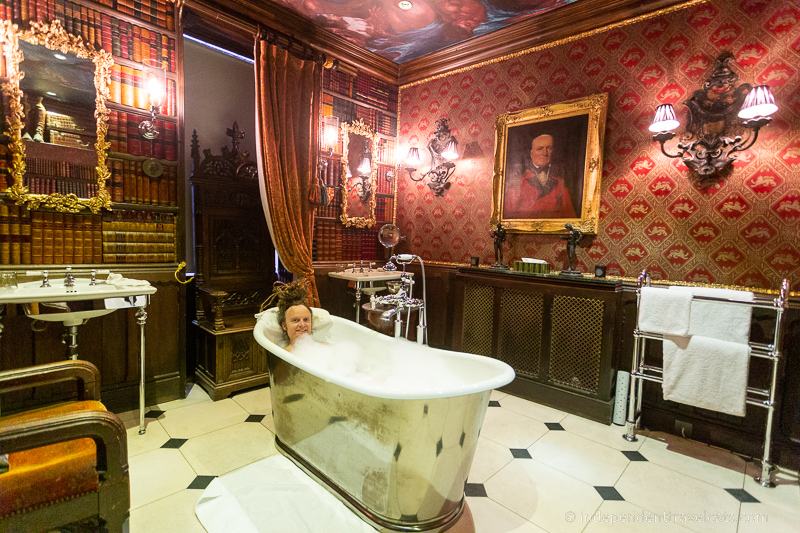 7. Look for Accommodation Offerings That Cater to Bath Lovers
If you love taking baths while you travel, it can be a treat to book a hotel or vacation rental that specifically caters to bath lovers.
This might be an accommodation that offers a special bath like Jacuzzi tubs, claw-foot bathtubs, or deep soaking tubs with bathing pillows and trays. It may be a place that offers lots of bath extras like bath salts and oils, spa items, and comfortable robes and slippers. Or maybe it's a bath from which you have a beautiful view or one that sits outdoors.
These are easy to find in many luxury resorts, hotels, and villas. For example, for me, a couple of notable luxury stays that had great baths were the deep soaking tubs at Ceylon Tea Trails in Sri Lanka and the outdoor wooden bathtub in our private villa at Six Senses Ninh Van Bay in Vietnam.
However, you don't have to pay a lot to find a great bath experience. You just have to look carefully for those that offer the amenities you want. For example, we had a room with a giant jetted tub at a Homestay in Georgia and a beautiful claw-foot tub in a rustic vacation rental. One of our recent stays was at a small B&B in England and the room we booked had an oversized bathtub with a comfortable bath pillow.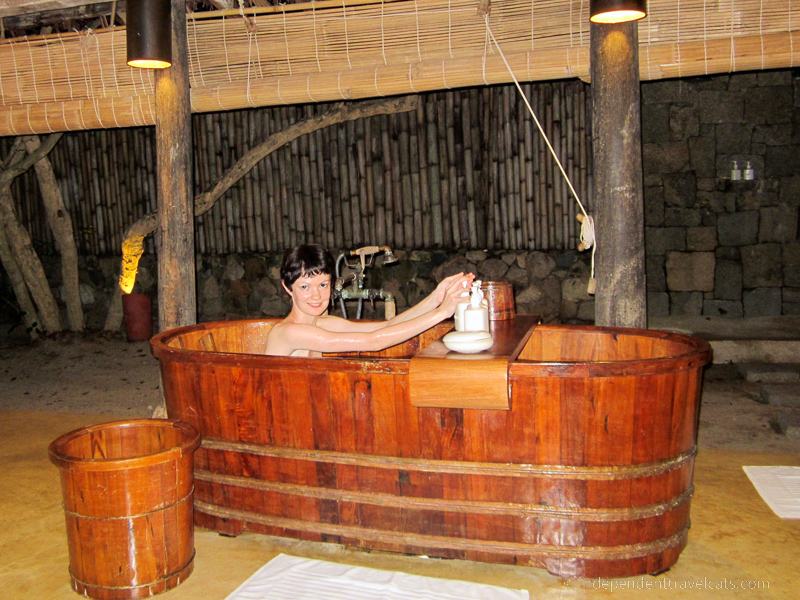 So those are our tips for those who enjoy taking a bath while traveling! We hope you have found it helpful, and you might want to check out more of our travel tips.
Want to remember these travel tips for your next trip? PIN this article to Pinterest to read later: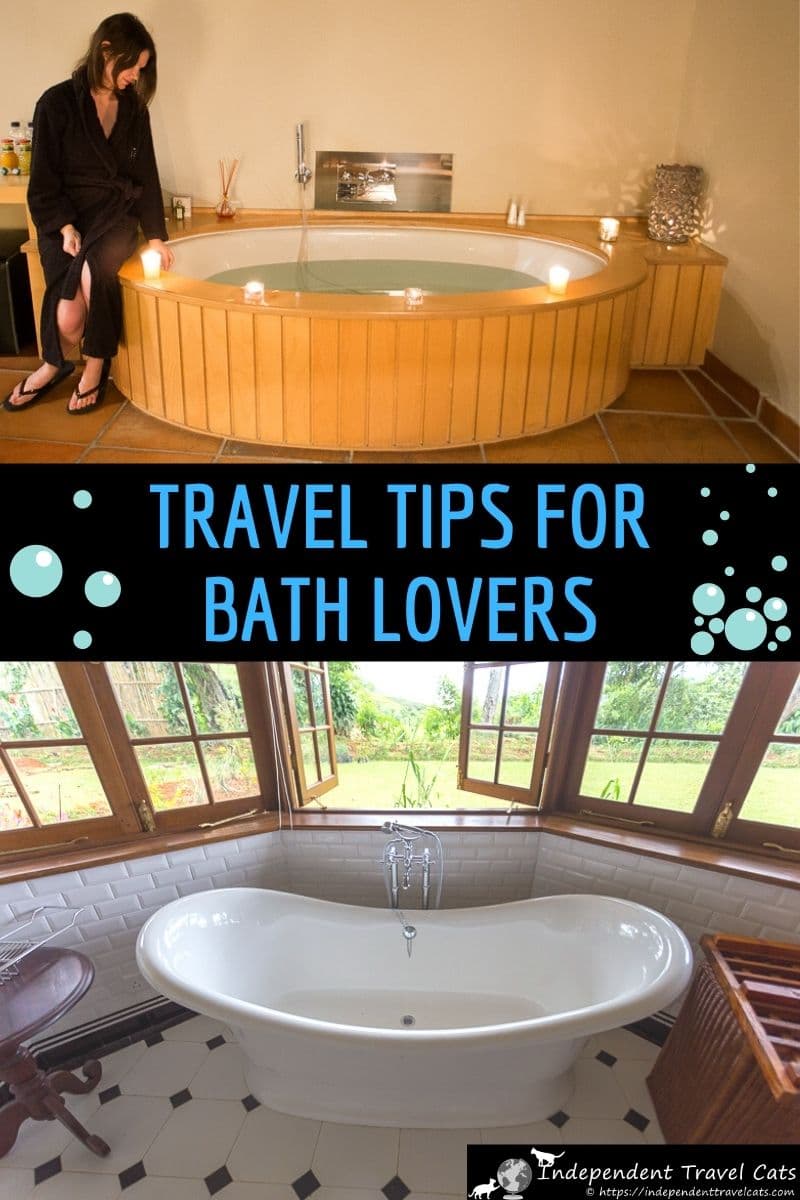 If you are someone who looks for accommodation with a bathtub when traveling, do you have any special tips or recommendations you want to share? Or any special experiences you've had while traveling? We always appreciate readers' tips and recommendations!
If you have a question about bathing while traveling, just leave us your question in the Comments section below!