Using Airbnb to book accommodations during your travels can not only help save you money, but it can also help you meet people and bring you closer to the local culture. While hotels and even hostels can offer more services than most Airbnb hosts, the chance to stay in someone's house or apartment can lead to some wonderful conversations and experiences.
We have found that it can also help us save a lot of money when compared to booking a hotel room in the same location. Sometimes it can even be cheaper than booking a hostel! While Airbnb is not for every traveler, we'll provide a review of Airbnb that can help you decide if it is right for you.
In this article, we'll cover the basics of what is Airbnb, our personal experiences of using Airbnb, the pros and cons of using Airbnb, and tips on booking through Airbnb. We first started using Airbnb in 2012 and after 8 years of experience, we also share our observations of how Airbnb has changed over time and what we think of it today.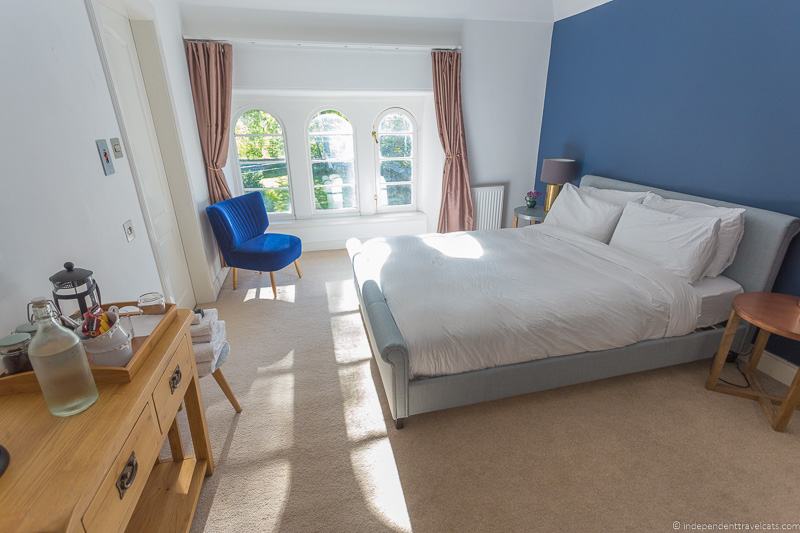 What is Airbnb?
Airbnb is a company that provides an online place for people to both rent out their spare spaces, and book other people's accommodations online. Basically, it is a website that provides a place to search and book accommodations in personal residences. You can see it here.
If you happen to have an extra room or empty apartment, it's also a great place to make some extra cash by allowing people to rent your spare space.
Airbnb has been around since 2008 and lists accommodations in over 190 countries!
It's is free to sign up, search, and create a profile, but you do pay an Airbnb fee for each booking you make on the website. This fee will generally be from 0% to 20% of the subtotal of the reservation. Some properties also charge an additional cleaning fee.
Search feature allows you to search for accommodations by location, date, number of guests, price, amenities, neighborhood, and accommodation type.
Allows you to send messages to hosts and ask questions before booking accommodations, and then stay in touch during and after the stay.
Guests can leave online reviews of their stay that are then viewable for other users. Hosts can also leave reviews of guests.
It provides a secure online platform for guests to pay your hosts.
Provides 24/7 customer support services.
Airbnb offers verified listings that offer a certain level of quality and comfort and more experienced hosts, which you can find by searching their Plus listings. They have also recently added Luxe listings which are verified homes that appeal to those looking for luxury properties.
Airbnb also now offers Airbnb Experiences which are local activities and tours you can book through the same platform to compliment your stay. These include things like walking tours, cooking classes, and adventure activities.
To find out more information, visit their website by clicking

here

.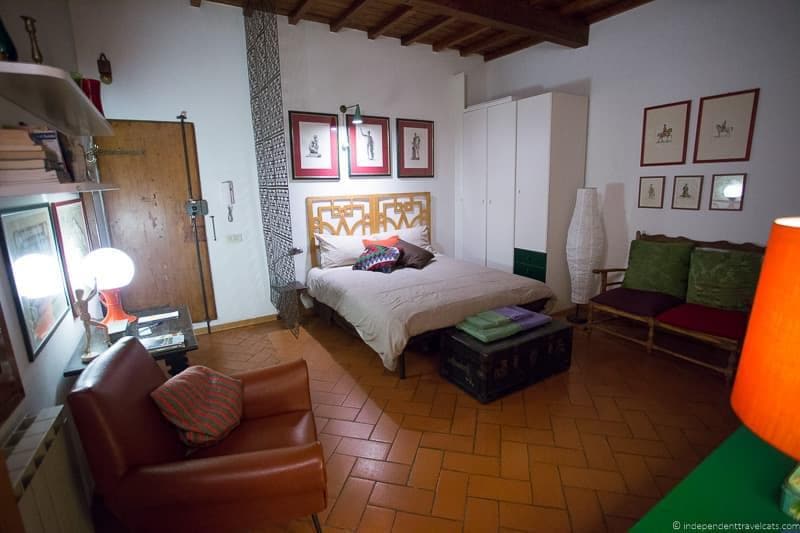 Our Experiences of Using Airbnb
Cost of Airbnb
First, we have found that we can save money in many places by using Airbnb compared to booking a hotel in the same location. In some cases, the prices can even be cheaper than two beds in a hostel! However, this is not always the case and sometimes it is actually cheaper to stay in a hotel or hostel so you really should compare prices before booking.
You are likely to save more money using Airbnb in more expensive countries (e.g., United States, Western Europe, Australia, Japan) than in less expensive places (e.g., Central America, Southeast Asia) which already offer inexpensive lodging options. It also depends on the region of a country. For instance, when booking a place in an area in the Alsace region of France, we couldn't find any places within our price range on Airbnb and found a much better deal elsewhere.
To give you an idea of some of the prices that you can find on Airbnb, we share below some of the prices we have paid on different stays around the world. We have so far used Airbnb in North America, Asia, and Europe. Our first stay was in 2012 and we have continued to use AirBnB to the present day. We include the price we paid when we booked, along with current pricing in 2018 if the pricing has changed and the property is still available.
However, it became evident that a large proportion of the rooms and apartments we've stayed in are no longer being offered on Airbnb.
Here are some examples of places we've stayed for good prices:
Private room in Arles, France – $55 (plus $7 Airbnb fee) = $62/night in 2012. (no longer listed)
Private room in Grasse, France (including free breakfast!) – $55 (plus $7 fee) = $62/night in 2012. (no longer listed)
Studio apartment in Nice, France – $76 (plus $8 fee) = $87/night in 2012. (no longer listed)
Room with private bath in Baden-Baden, Germany – $48 (plus $6 fee) = $55/night in 2013 (no longer listed)
Room with private bath in Friedrichshafen, Germany – $74 (plus $9 fee) = $83/night in 2013 (no longer listed)
Studio apartment in Nuremberg, Germany – $67 (plus $8 fee) = $75/night in 2013 (no longer listed)
Private room in Munich, Germany – $67 (plus $8 fee) = $75/night in 2013 (no longer listed)
Two-bedroom apartment in Monterey, California, USA (for 4 people, plus breakfast) – $164 (plus $23 fee) = $187/night in 2013 (no longer listed)
One-bedroom apartment in Ho Chi Minh City, Vietnam – $34 (plus $4 fee) = $38/night in 2014 (no longer listed)
One bedroom apartment in Paris. $52 (plus $9 fees) = $61 / night in 2017. Updated 2018 price, $78 (plus 17.44 fees) = $95 / night. (no longer listed)
One bedroom apartment in Portree, Scotland. $65 (plus $9 fees) = $74 / night in 2017. Updated 2018 price, $84 (plus $14 fees) = $98 / night. (no longer listed)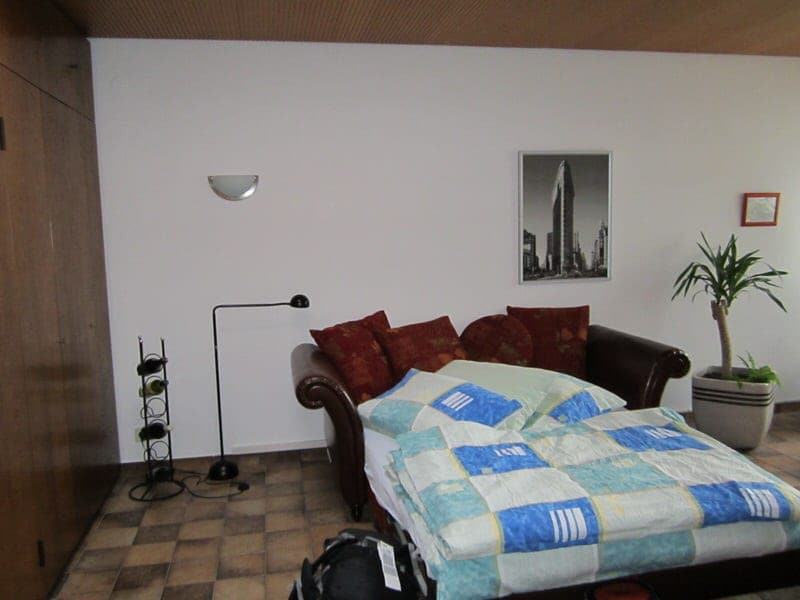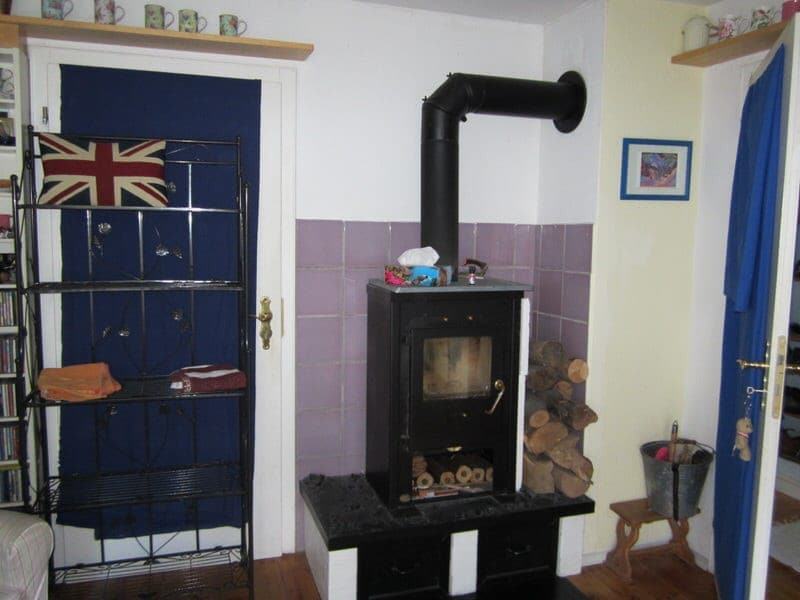 Safety, Cleanliness, and Quality of Airbnb Accommodations
OK, so even if we have been able to get some good deals, is it worth it to stay in strangers' apartments and spare rooms? Were the accommodations clean? Safe? Similar to the listing descriptions?
We can both say emphatically "YES!" to all of these questions based on our experiences so far. We have found in all cases that the accommodations have been very similar to the written descriptions and photos provided on Airbnb. We have never been concerned for our safety and have always found the accommodations to be adequately clean.
Note that we are not particularly picky and certainly don't take a white glove to the shelves to check for dirt. But if you are the kind of person that really needs things to be a certain way, Airbnb may not be for you.
Connecting with Locals through Airbnb
The best part of our experiences has been meeting all the local hosts. While some hosts we only meet briefly and exchanged hellos and got the key, we have gotten to have more in-depth conversations with most of our hosts. This is particularly the case when you book a shared or private room as the close proximity and shared spaces generally leads to plenty of chances to get to know your host and learn more about their culture.
We have had some really wonderful discussions with hosts in both Germany and France and we still keep in touch with some of our former hosts. People who choose to host tend to really enjoy connecting with travelers and generally will go out of their way to make sure you have a pleasant stay in their homeland. Hosts are also expert sources for transportation advice, restaurant and attraction recommendations, and local hangouts. Many of our hosts provided maps, local attraction brochures, and guides that could be borrowed during our stay.
Even if you don't get a chance to talk much with your host, it can be a great cultural experience to just stay in a real residence in another country. While hotels tend to provide a more predictable but sterilized experience, it can be fun to experience how the locals live.
We have also enjoyed all the times that hosts have gone out of their way to help us. For instance, we were in Germany over a holiday and all the local restaurants were closed so our hosts kindly provided cereal and coffee for us for breakfast. Hosts have drawn us maps, called restaurants to help us make dinner reservations, allowed us to use their washer to do laundry, and sat and explained local customs to us over a cup of tea. It's been fun to meet hosts' families, children, and pets and be invited to share in some of their daily rituals.
While, of course, you can't go in expecting such things from your host, it is always a pleasant surprise when your host goes out of their way to make you feel welcome. In our experience, this has happened a number of times. In return, you should try to go out of your way to be a good guest and share something about your own culture, as many hosts are eager to practice their English or learn about your hometown.
Problems We Have Encountered using Airbnb
Generally, our experiences with Airbnb accommodations have been great and we have encountered few problems. Here are a few of the minor issues that we have encountered across our stays with Airbnb:
During one stay, we had expected to be able to have WiFi based on the listing, but the connection was too weak for us to use. However, it turned out to only be a minor inconvenience as the host kindly gave us directions to a nearby fast food place that provided free WiFi so we could check our e-mail.

In another situation, we had booked a room and our hosts contacted us prior to our stay saying they wanted to rent out a second room to other guests. Since this would be a slight alteration to the accommodation description, the host contacted us to ask if this was OK since it meant we would need to share a bathroom with them. We greatly appreciated being asked and said we had no problem with this change in arrangements.

During one trip, we arrived at the apartment building, but then could not get inside without the keycode which we had not been given. We called the host but no one picked up the phone, so we had to wait for 20 minutes outside before we were able to get inside when another tenant opened the door. Our host was waiting inside the apartment, but she didn't have her cell phone on her so hadn't got our calls.

One host canceled a reservation for a place in Germany about 45 days prior to our trip. While this is always a possibility this has only happened to us once. However, Airbnb quickly let us know by e-mail, refunded our money, and we were able to book another accommodation the following day.
Some updated experiences. When I first wrote this article back in 2013 we had stayed about 8 times and had not had any really negative experiences. I've lost count of the number of Airbnb bookings, but we have had some more negative experiences in the 7 years since that time.
Here they are:
In London, we had booked a flat for several days and it started off bad from arrival and just got worse. When we arrived (expecting to find someone to meet us) we were instead messaged a strange video to watch to find a key hidden under a brick. Then we discovered the heat was no on yet in the apartment (no one to turn it on), the hot water barely worked, the WiFi did not work, there were no towels or toilet paper as described, and the TV remote did not work. Only the towel issue was resolved by the host during our stay…. and we went out and purchased our own toilet paper. Airbnb was notified by us and they did later remove the listing.
Another bad experience in London a year later (not as bad as the first) has led us to stop booking in London. We were using Airbnb to save money on longer stays, but we get much better value by booking hotels. At budget prices, we have not found the choices terrible and others we know have had similar prices. So be sure to read reviews carefully.
In Barcelona, we had unknowingly booked an apartment that was being operated illegally as an Airbnb. French owners were operating it without the required license and did not want to rent it out to locals. We did not know this when we booked it, but figured it out as we were later asked "not to answer the door" and if someone asked we were asked to say we were "friends of the owners from France". The police in some cities (like Barcelona) regularly check on unregistered properties in Barcelona and shut them down. We did not appreciate being put into this situation and now always check on this sort of thing in cities and countries with such regulations.
In France, we had a booking that was an Instant Booking. We show up at the apartment complex and can't get ahold of the owner. We finally do and she says she took her apartment off Airbnb months ago and now lives in it full-time so there was no place to put us. This took a couple of hours of resolution by Airbnb and the owner only spoke French, making it more complicated. Airbnb did book us into a similarly priced place, but it wasted 3 hours of our day.
Despite some of these experiences, and the one in London was pretty terrible (it was freezing and uncomfortable), we continue to use Airbnb. But we do use it more selectively than we used to, only book properties with lots of good reviews, and generally avoid the lowest priced places.
Pros to Using Airbnb to Book Accommodations
• Can save you money! This is especially important for those of us who must travel on a small budget. In addition to booking fees, staying in Airbnb properties often allows you to cook your own meals and have options to wash your clothes while traveling which can save you money.
• You get to meet locals and experience what it is like to live like the locals, especially if you stay in a shared or private room.
• Offers the opportunity to stay in unique places such as yurts, treehouses, RVs, boats, castles, cabins, or even your own private island!
• You can read about other Airbnb travelers experiences with each place in the Reviews section prior to making a booking.
• No money directly exchanges hands during your stay as everything can, and should, be done through the secure online system.
• You can choose accommodations with the type of cancellation policy that best suit your travel needs.
• Access to 24/7 support from Airbnb regarding bookings.
• If there are extenuating circumstances (e.g., serious injury, death in family, political unrest in country) that require you to cancel a reservation, regardless of the host's cancellation policy type, you can appeal to Airbnb to evaluate the circumstances and they may still refund some or all of your money.
• Airbnb now offers experiences and local tours you can book on the same platform to compliment your stay.
Cons to Booking Accommodations through Airbnb
• Things may be much less flexible than a hotel where you may be able to check in at any time after a certain hour. For many Airbnb accommodations, you have to work with the host's schedule and this may mean that you have to meet them in a certain place at a certain time to pick up a key or be let into an apartment. You should carefully read the Description and the House Rules section, if provided, for each listing and make sure that you are OK with all the listed conditions.
• Airbnb accommodations, by and large, are going to offer few services, if any, compared to a hotel. If you want to ensure that you have access to a continental breakfast, guaranteed parking, a private phone, toiletries, a maid service, or someone you can call 24/7 with questions you should probably book a hotel room. If certain amenities are very important to you, it is good to not only ensure these are listed in the Amenities section of the listing but also to confirm these amenities with the host before booking.
• Things often may not go as smoothly compared to a stay at a hotel. Hosts are humans with jobs, families, and lots of other responsibilities and they are living in real places. So the host could be late in meeting you, the host's infant may have colic and be up screaming all night, your host's English may not be quite as good as you expected, the television may be on the fritz, or a local festival may make it extremely difficult to find convenient parking. Going into the situation knowing these types of things are possibilities can make it much easier to handle any small snafus that may occur during your stay.
• You should pay attention to the various cancellation policy options as well as required cleaning fees and security deposits that some hosts require. We generally try to avoid places that have strict cancellation polices or require high cleaning fees or deposits.
• While such instances are quite uncommon according to Airbnb, there could be times when a place is markedly different than advertised. If the situation cannot be resolved with the host, you should leave and immediately contact Airbnb to resolve the situation. Communicating with the host prior to booking and only booking accommodations that have been well-reviewed can help prevent such situations.
• While rare, there is always the small risk that you will run into a disingenuous or inappropriate host. During any stay, be smart, follow normal safety precautions (e.g., keeping valuables hidden, locking your door if possible, protecting personal identification information), and listen to your gut. If a host or accommodation makes you feel uncomfortable or unsafe, leave and report the instance to Airbnb.
Airbnb Review After 8 Years of Using Them
My first booking on Airbnb was in 2012, over 8 years ago now. Airbnb has grown and evolved over time, and so have we as travelers. We use Airbnb differently now than we did back in 2012.
Here are some thoughts and observations on Airbnb:
There are many more listings and users on Airbnb. Airbnb is in almost every single country and has so many more listings! When we were first using it, few people had heard of it, now it is a very well-known company.
We've noticed a steady increase in average prices for rooms and apartments. I found lots of bargains back in 2012 and even 2014, but they are much harder to find now. Booking fees have also increased. Some of these increases are likely due to inflation, but some are definitely due to increased demand.
When we first used Airbnb it felt more like an upscale Couchsurfing, where many local people were offering rooms at low rates to meet travelers. Today, we find there is much less contact with the owners (in fact we often don't meet them now as keys are more frequently left in secure boxes) and properties are run much more as businesses than ways to meet people. Some people have quit their jobs to run Airbnbs and many people offering us the keys are hired staff who don't even own the property but work for people who own multiple properties. We have had much more business-like transactions over time versus earlier stays where we often got to know the owners. Not necessarily a bad thing, but different.
When we have gone back to look at past places we've stayed, very few still exist (or have any availability listed) on Airbnb. It seems that most properties don't last too long on the platform.
The increase in Airbnb has led to a lot of conflict with hotels, other apartment booking services, and even entire cities. Locals in many cities like New York City, San Francisco, and Barcelona are worried about many apartments previously rented out to local people are being used as Airbnbs to cater to tourists. Such practices have led to less available housing and increased prices, and many cities have increased regulation around Airbnb and similar companies. Here is a BBC article about some of these issues.
Airbnb quietly discontinued their free Airbnb Concierge service. This concierge service allowed you to connect to someone who could provide local travel recommendations, help you book your travel, and help answer travel questions. This was definitely a worthwhile bonus in the old days, but likely one that would cost a lot to support now with huge user numbers.
The focus of Airbnb which was initially marketed towards more of a way to connect with locals and save money has changed. These things are still there, but there is now much more focus on showing flashy upscale properties (rent an entire private island), unique accommodations (stay in a treehouse!), and on business travel as Airbnb goes after taking a bigger bite out of that traditional and lucrative market.
Airbnb has added activities and local experiences organized by local people you can book. We haven't done these but many of them sound very interesting and unique such as taking a writing class with a local or joining them for a cooking class in their home. These are something you can't find on larger tour company websites. However, many have few, if any, reviews so it can be hard to judge what is a good versus bad experience.
When I first started using Airbnb I was an intern on an intern salary, we loved the budget-friendly offerings. Now we are much more likely to want the amenities that come with a hotel or catered apartment than a Airbnb, especially in a city. Our worst experiences have been in large cities like London and Paris. We see Airbnb less as a great way to save money and if we want a budget stay, will often choose a budget hotel first. Though we did get a great deal on a room in Brooklyn last year and had a great experience and definitely saved money.
We find that some people think their only option for a room or apartment is Airbnb; however, there are also lots of other apartment booking sites out there so checking options is good as Airbnb is not the only one out there. Airbnb has simply created a great peer-to-peer platform for someone that is old as travel itself! And there are lots of other major players who have been offering apartments and vacation rentals for much longer such as Vrbo, and other hotel booking websites like Booking now also offer a large number of apartments and vacation properties.
Although I still think Airbnb can be a good way to connect with locals, we've found this to be a bit less true than when we first started using Airbnb. The best properties for connected to people are those where you are staying in a connected room in a house and sharing some facilities. If this is an aspect you are interested in, I'd looking for those offering private rooms and read over the reviews to see what is said about the host. We've had some amazing and friendly hosts who we've spent time and had great experiences.
Overall though, we still use Airbnb and imagine will continue to do so for the foreseeable future. Most of our experiences with them have been positive and we continue to recommend them to travelers. There have definitely been more negative experiences but they have been outweighed by the positive ones for us.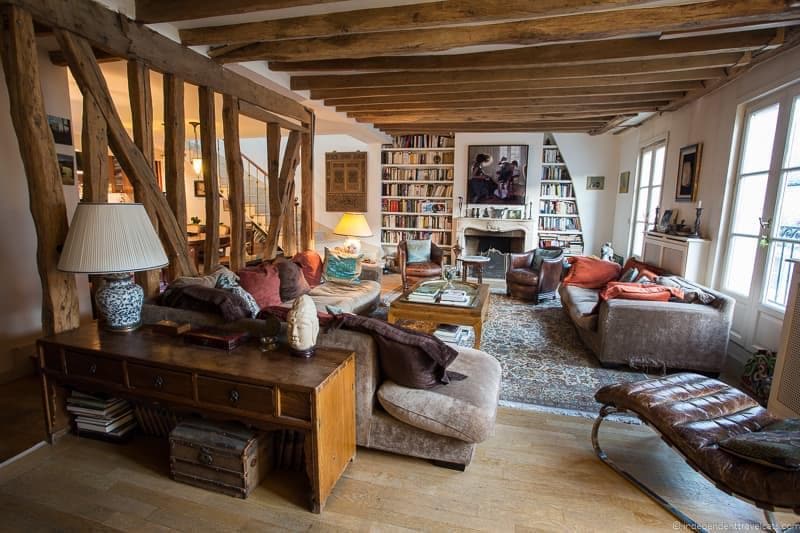 So there you have it, our review and personal experiences of using Airbnb. While as we said, it may not be the best option for all people and all destinations, we think it can be a great way to save money and connect with locals. From our own personal experiences, we definitely feel that the pros outweigh the negatives we have experienced staying in Airbnb accommodations thus far.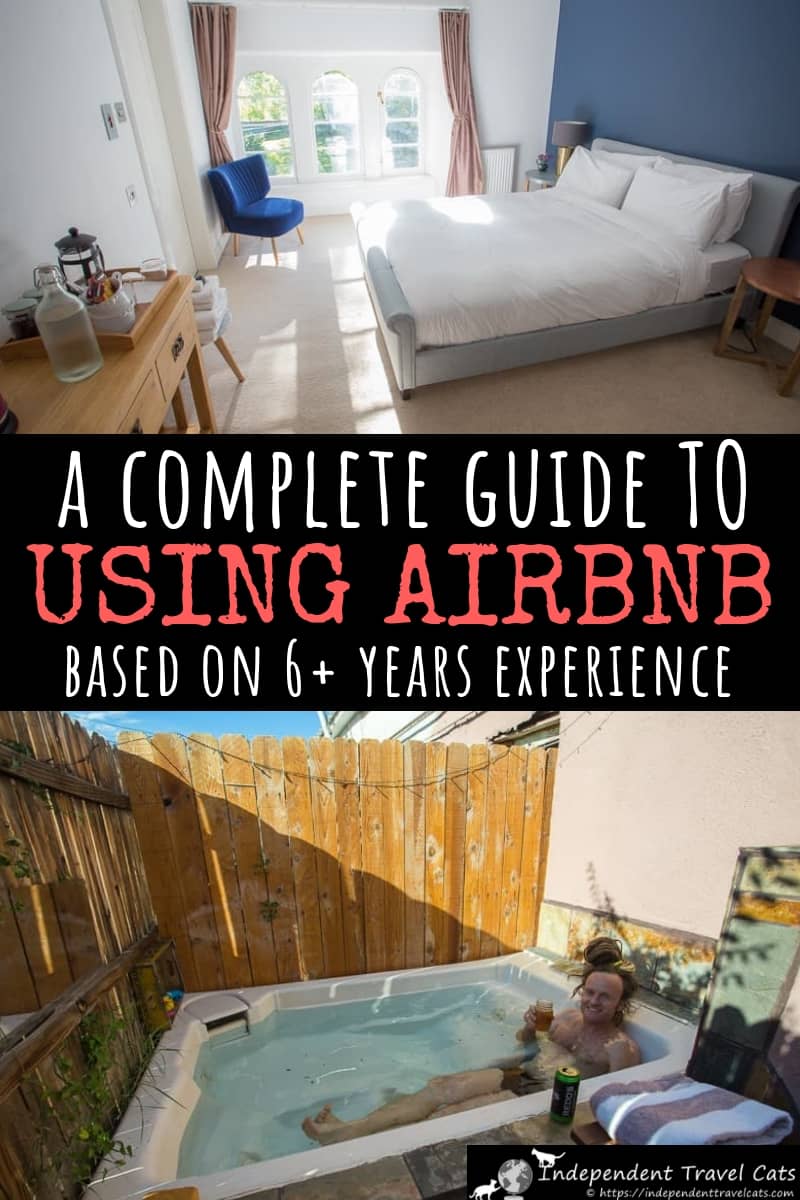 Have questions about Airbnb? Have you personally used Airbnb? We'd love for you to share your experiences—good or bad—and any tips you have for those thinking about using Airbnb on their next trip.