The Isle of Skye in Scotland is a scenic island known for its rugged and dramatic landscapes. It is a popular tourist destination and it is no secret that the Isle of Skye can get very busy, especially during the summer months when large numbers of tourists visit the island.
We've visited the Isle of Skye a number of times across different times of the year, and have decided to share our tips on how to avoid the crowds on the Isle of Skye. Whether you are able to travel off season or need to travel during the busy month of August, we'll provide tips and advice to help you avoid the large tourist crowds, get off the beaten path, and enjoy some peaceful moments on this beautiful island.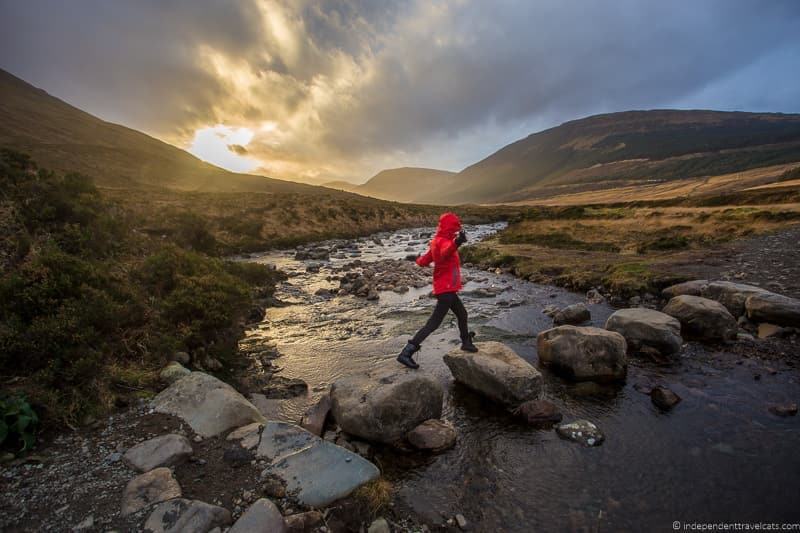 15 Tips to Avoid Crowds on the Isle of Skye
Many people travel to the Scottish Highlands and islands looking for scenic landscapes, outdoor activities, peaceful moments, and an escape from the fast pace of city life. This image probably doesn't include the hundreds of other people trying to see that same scenic spot or waterfall as you.
So how can you avoid the crowds on the Isle of Skye? Although there is no chance you'll have the Isle of Skye all to yourself, there are many ways that you can minimize the amount of time you spend in large crowds of tourists, have a relaxing vacation, enjoy the beauty of this island, and find those moments of peace you are seeking.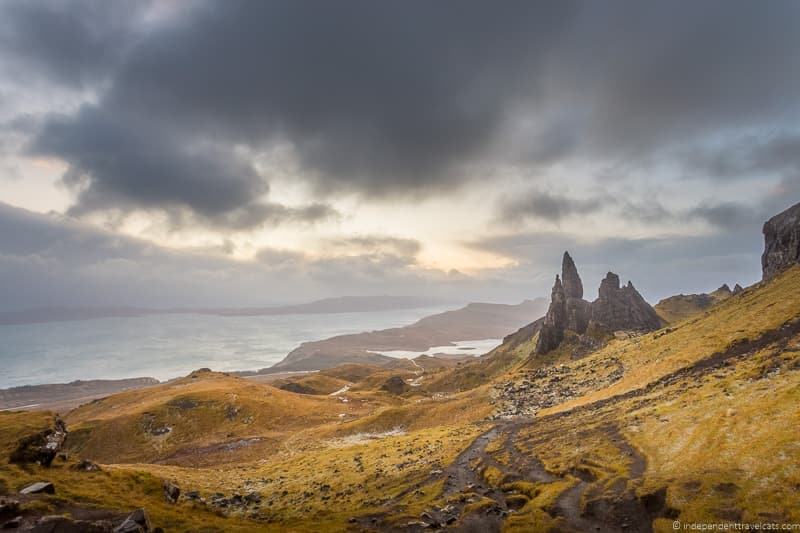 Here are our 15 tips for avoiding crowds on the Isle of Skye, in no particular order:
1. Travel Off Season
The Isle of Skye has long had a main seasonal tourism period that begins in early Spring and lasts to the beginning of autumn. Although the Isle of Skye now gets a steady stream of visitors year-round and the main tourist season has expanded, you'll still find that the main tourist season begins around early April and then starts slowing down by October. The busiest time of the year on the Isle of Skye (and the majority of Scotland) is July and August. Note that school breaks and holidays are also busier times of the year.
Traveling off-season, outside of the peak tourist season, means it will be less crowded and you'll be able to find more reasonable lodging rates. You can also avoid the pesky midges (tiny mosquito like insects) which usually emerge during the month of May and then disappear by early autumn. Even if you still need to travel within the peak tourist season, try to avoid July and August if possible.
But perhaps you need to travel in July or August as you have inflexible dates due to scheduled vacation dates, school holiday dates, or you are coming to Scotland for a summer event such as the August festivals in Edinburgh. Don't just avoid Skye because it will be busy, as it is an amazing destination at any time of the year, and the weather is often the best in summer. But it does mean you'll want to plan ahead more and be aware that it will be busier and more expensive. Plan ahead by booking your accommodation and any tours in advance, buy some midge repellent, and keep reading for more tips.
We have been to the Isle of Skye in all seasons over the past few years. There is no "best time" in our opinion but our favorite times are late Spring (May) and early autumn (September, early October). Each season has its advantages and disadvantages:
Winter –

Pros:

Quiet, fewer people, and you can often find amazing lodging rates.

Cons:

Higher likelihood of cold, bad weather, limited daylight hours, and seasonal businesses are closed.
Spring –

Pros

: Seasonal business reopen and weather is often pleasant (especially by late Spring). No midges in early Spring.

Cons:

The pesky midges emerge by late Spring and things start to get busier on the island by late Spring, especially during school breaks and holidays.
Summer –

Pros:

Higher likelihood of good weather, everything is open during the summer months, and most opportunities for outdoor activities.

Cons:

Most crowded time of year and the midges are out.
Fall –

Pros

: Tourist crowds and midges start disappearing in early autumn. Weather is often pleasant in September.

Cons

: This season has a high amount of rainfall and many seasonal businesses close in October.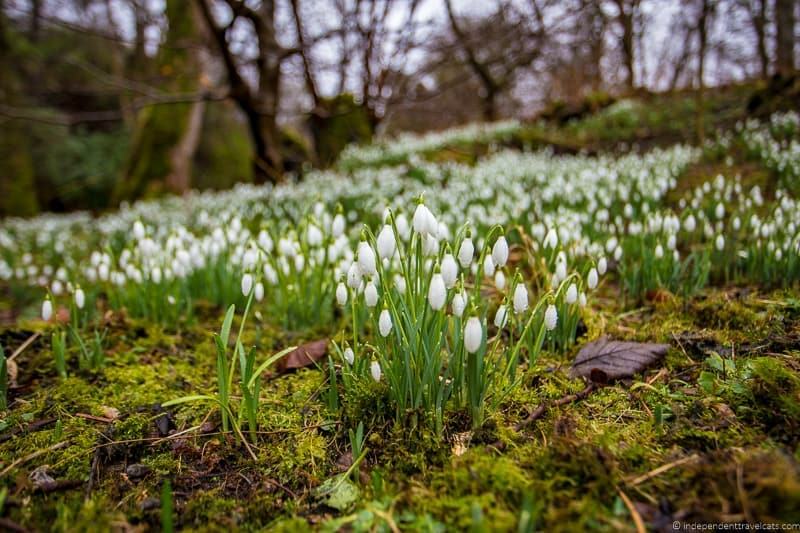 2. Stay Overnight on the Isle of Skye
Spending the night on the Isle of Skye gives you more time to explore, and means you'll be able to explore during the quieter morning and evening hours. You'll have the chance to visit places before or after the day trippers and tour buses. It also means you don't have to rush around so much and can enjoy a leisurely dinner and evening walk. It takes more time to get around Skye than most visitor realize and the single track roads, uncertain slow drivers, and limited parking at many popular sites means that it pays to leave more time than expected.
In addition to practical sightseeing advantages, another good reason to spend the night here is to play your role as a responsible tourist. Spending money on the island by eating, dining, and shopping here means you are supporting the destination, the local businesses, and the local people who live and work here. Tourist money can be used to invest in the island's limited infrastructure (e.g., roads, parking areas, toilet facilities, phone lines) and protect this beautiful but fragile environment.
We highly discourage anyone from trying to visit the Isle of Skye as a day trip from Edinburgh or Glasgow. It is a 4 to 5.5 hour drive each way (just to reach Skye Bridge), so people who do this end up spending 8 to 11 hours driving and have time to see very little of Skye.
A day trip from Inverness is much more feasible (about 2 – 2.5 hours each way to reach the Skye Bridge), but you still are going to have to spend 4 – 5 hours just driving there and back. Note that driving timings will vary depending on traffic and road conditions of course.
If you do need to stay off the island or can't find an affordable place to stay on the Isle of Skye, we'd recommend checking out nearby accommodation in Kyle of Lochalsh (closest town to bridge), Mallaig (closest town to ferry terminal if getting ferry to Armadale) or Plockton (cute village less than 10 miles from Skye Bridge). Just know that if you stay off the island it takes almost an hour to get from the Skye Bridge to Portree. It really saves you time if you can stay on the island.
If you are limited on time, I'd join a guided tour to maximize your time, avoid the hassle of driving and finding parking, and to have access to a guide who can help ensure you see the highlights as effectively as possible. We recommend checking out the tours offered by Rabbie's as they are an Edinburgh based operator we have personally used and they are committed to trying to travel in a way that is responsible and sustainable. They offer a day trip tour to the Isle of Skye from Inverness, a 3 day/2 night tour to Isle of Skye from Glasgow, and a 3 day/2 night tour to the Isle of Skye from Edinburgh. If none of those tours suit, Viator also offers a large number of Skye tour options.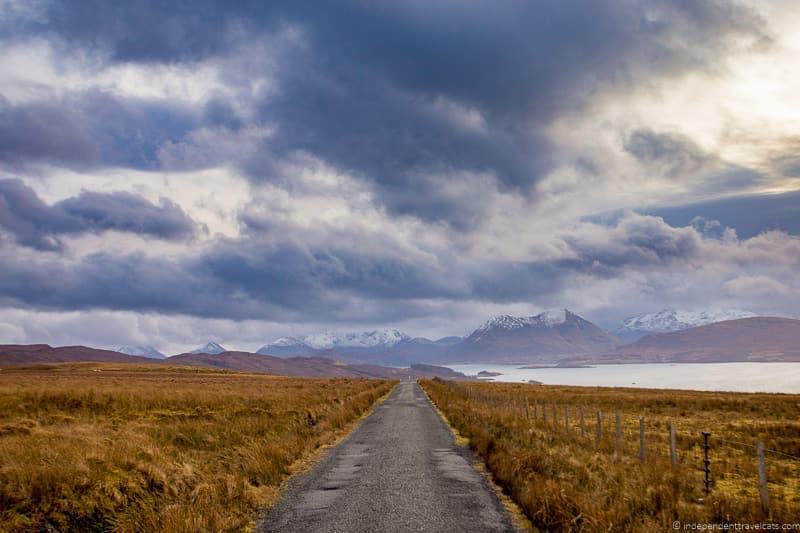 3. Ask the Locals Where to Go
There are about 10,000 people living on the Isle of Skye and there are no better people to ask about recommendations for good restaurants, best wildlife watching spots, and scenic hiking trails. They'll can give you tips on how you can avoid the crowds on Skye and let you know about local events like music events, movies, art shows, and festivals.
For example, on our last visit to Skye we learned from locals about an interesting exhibition event taking place at the Aros (a great local hub for community events in Portree), found a new beach to explore on the Sleat peninsula, got recommendations for afternoon teas, and made a recommended stop at the Eilean Iarmain Hotel in Isleornsay (The Gaelic Whiskies is based here).
Leaving time to follow local advice or follow a random sign you spot on the road can lead you to places you don't expect, and often away from the main crowds on the Isle of Skye.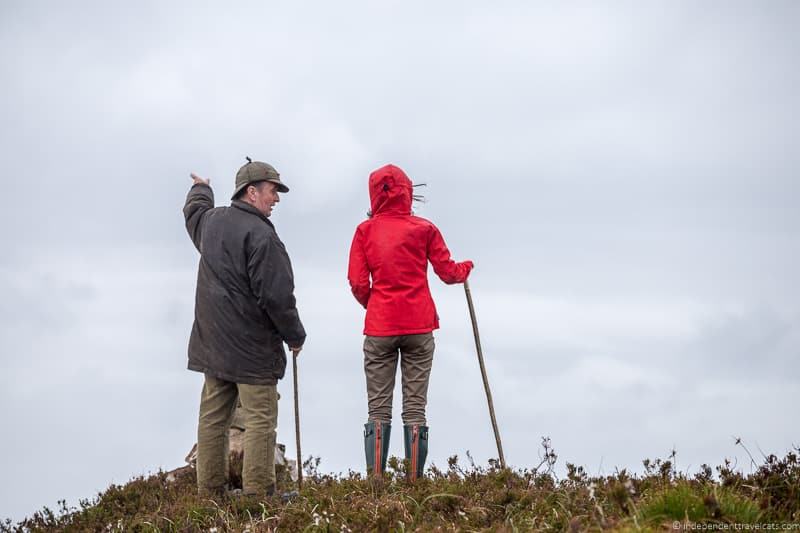 4. Spend the Night Outside Major Tourist Towns
Another good way to avoid crowds is to stay in accommodation away from the majority of other people. Portree has the highest concentration of accommodation and offers the largest variety with everything from hostels to guests houses to full-service hotels. If you are crowd-phobic I'd stay elsewhere as it is the busiest place on the island (of course "busy" on the Isle of Skye would equal sleepy in Edinburgh!). Other areas with higher numbers of people are Dunvegan, Kyleakin (the area after you come off of Skye Bridge), and the Broadford and Breakish area.
Also think about the type of lodging you want as Skye offers a wide variety which include hotels, B&B's, hostels, holiday cottages, and campsites. You'll likely find more peace in a small B&B, private cottage or apartment, or countryside lodge than in a hotel in the town center. Some places really promote being spots for quiet and relaxation and they range from luxury lodges to simple B&Bs to campsites.Read recent reviews to find the peaceful and relaxing spots.
But you don't have to be far from civilization and services to find a quiet spot. Among our stays, we've stayed in a holiday home in Staffin (walking distance of the village shop) and a small B&B located just outside central Portree (about a 15 minute walk into town) and both were very quiet stays.
Our last stay on Skye was at the House Over-by which is located in a quiet area just next to the sea and located next door to the acclaimed The Three Chimneys restaurant. Some other ideas to give you a sense of what sorts of peaceful lodging options are available:
The more adventurous may also want to consider wild camping, which is basic tent camping with no facilities. Wild camping is legal in most unenclosed areas in Scotland that are not near homes or buildings although there are exceptions. If in doubt, you should ask permission of the landowners. Campers should leave no trace and read the Scottish Outdoor Access Code for more information on guidelines. However, a more environmentally friendly approach might be to stay on a proper campsite to minimize the impact on the fragile ecosystem here, and there are a number of campground options available on the island.
Looking for a recommendation for a specific area of the island or accommodation type? Just give us a shout in the Comments section below with what you are looking for and we'll try to help!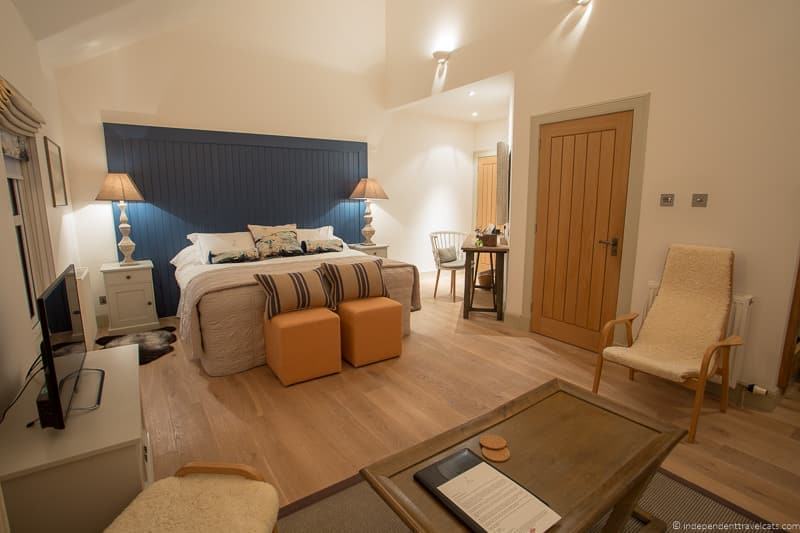 5. Go Hiking or Climbing
A great way to get away from the crowds is to go hiking. While there are a few very popular hikes on Skye (Old Man of Storr, Neist Point, and the Fairy Pools and Coire na Creiche), there are many other trails that get much less traffic.
Popular hikes like the Old Man of Storr may get a few hundred people a day doing the same hike but you can get a much more peaceful experience by choosing a lesser known hike. For example, there is a lovely trail around Waternish Point and there were no other cars there when we last visited. Similarly, we found few people doing many of the trails around Sleat.
Hiking trails on the Isle of Skye range from easy 0.5 mile walks to much longer and more challenging multi-day trails. To find trails, we recommend checking out the WalkHighlands website, getting information at the Visitor Center, asking locals, and just keeping an eye out for the hiking trail signs. Generally, the further the trail is away from some of the popular tourist attractions, the less people it is likely to attract.
Experienced hikers might want to consider doing a more challenging trail like the unofficial 79 mile (125 km) Skye Trail which is sure to get you into some peaceful spots and have you see Skye in a whole new way!
For climbers, there are 12 munros (mountain at 3,000 feet or higher) on the Isle of Skye within the islands main mountain range, the Cuillin (also referred to as the Black Cuillin). The mountains range from fairly easy climbs to spots requiring technical expertise and ropes like the Inaccessible Pinnacle. A few popular ones are the Sgurr Alasdair as the highest point on the Isle of Skye, Sgurr nan Gillean which is considered a very picturesque mountain, and the Inaccessible Pinnacle which is considered the most difficult munro climb in Britain. More experienced climbers may want to traverse the Cuillin Ridge, summiting all the main mountains in the Cuillin.
The Cuillins are a popular spot for avid hikers, climbers, birdwatchers, and munro baggers, so some of these spots are likely to be busy, especially in the summer months. However, few tourists coming just for a day or two are going to be out climbing so the numbers are much lower than the popular hiking routes. Those climbs requiring technical expertise are going to see fewer climbers than those that can be done fairly easily by fit hill walkers.
Hikers who want to spend more than a day or two hiking may want to get a hiking guide to the island to better pre-plan their hikes and routes. A couple of recommendations are this guide by Cicerone and this guide to 40 highlighted walks around the island.
For those planning to do any longer hikes (on trails or off-trail), we'd recommend getting a good hiking map. We personally recommend the Ordnance Survey maps (these are some of the best maps within the UK) for the area(s) of Skye you plan to go hiking. There are OS 1: 50,000 scale Landranger maps (good for cyclists and those planning to stick to established hikes and paths) as well as the OS 1:25,000 scale Explorer Maps for those wanting to get off the paths.
Just make sure you get the correct OS map as there are a few that cover Skye, Raasay, and the surrounding areas. For example for hiking in the Cuillin hills, you'd want this OS Explorer map.
If you are looking for a climbing guide or trainer, we'd recommend checking our Skye Guides. They are a local climbing company that specializes in mountain scrambling and climbing in the Cuillin and are experts in this area. They provide mountain guides, help plan itineraries, and provide training for hikers and climbers of all experience and fitness levels. They can also help devise a great itinerary to get you away from the crowds.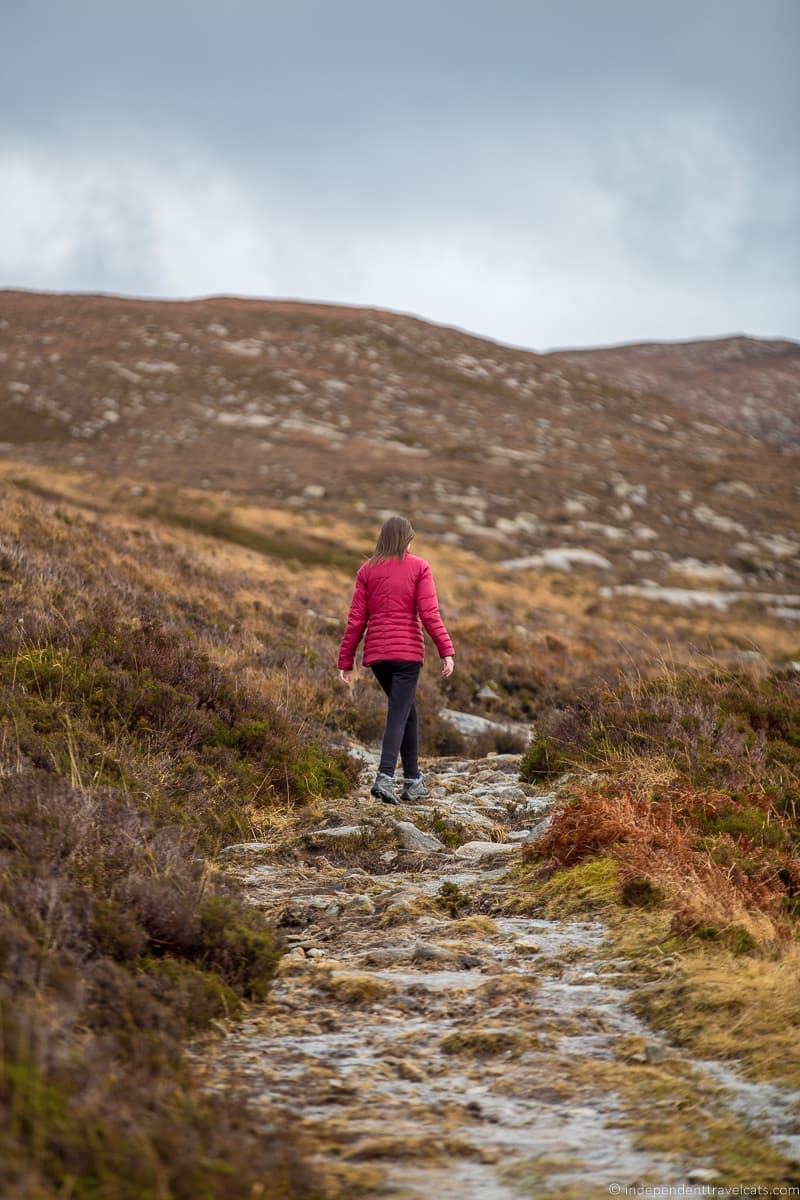 6. Skip the Popular Instagram Attractions
Many people visit the Isle of Skye because they have seen beautiful pictures on social media and they want to get those same pictures. We hear this a lot, especially among younger travelers. Most tour companies predictably hit all the same spots as do most travelers.
These include the Old Man of Storr, Kilt Rock, the Quiraing, the Fairy Pools, and Neist Point. These spots are almost always busy and the parking facilities near some of these attractions are inadequate and often overflowing during the summer. Two of the most popular indoor attractions include Talisker Distillery and Dunvegan Castle. If you avoid these spots, it is a surefire way to avoid the larger crowds.
On our last visit to the Isle of Skye, the only spot we stopped at from the above was the gardens of Dunvegan Castle for a special snowdrop festival. It made a huge difference in our experience as we never saw any large crowds or tour bus groups during our visit.
Of course, if this is your first time on the Isle of Skye, some of these places are likely on your must-see list. If they are, you can visit at less crowded times by either visiting off-season or at less popular times in the day (early or late). We've been to all the popular attractions in the winter months when there were only a few other people visiting which makes a big difference in the experience.
If visiting for the first time, we'd also recommend an itinerary that mixes a few of the popular stops with lesser known attractions, hikes, and scenic spots so that you are not simply following the same tourists from spot to spot.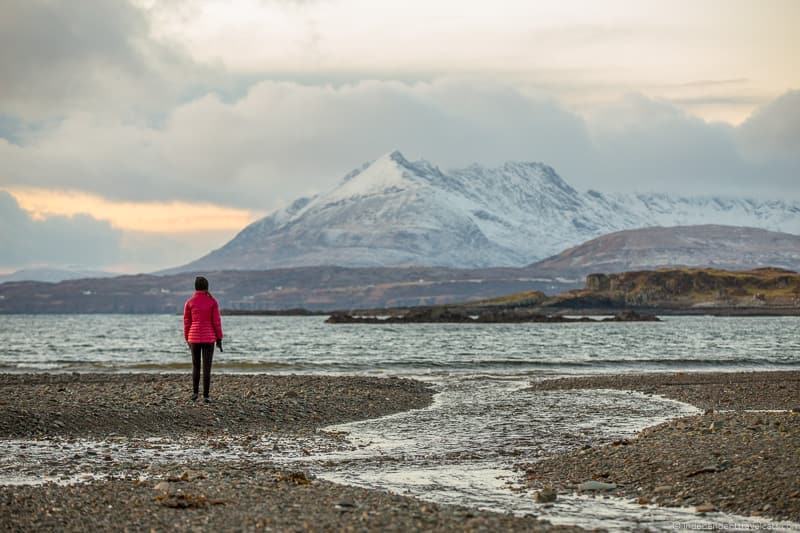 7. Head to the Less Visited Sections of the Island
People visit areas all over the Isle of Skye, but you can escape the large crowds by heading to the less visited areas. Most visitors to the Isle of Skye follow a predictable circuit that takes in the popular attractions listed in the above section (e.g., Old Man of Storr, Fairy Pools, Talisker, etc.). Therefore the roads and areas around these attractions, the area around the Skye Bridge where many people get on and off the island, and Portree (the largest city with the most services) are the busiest parts of Skye.
Head to other areas of Skye to find fewer people on the road, less crowded hiking trails, and smaller crowds at the attractions and shops. These "other" areas are also great places to look for more peaceful accommodation options.
The map below highlights the most popular attractions on the Isle of Skye so you can get an idea of where to expect more traffic and crowds (and where to go to avoid them). You can click on this link to access the map or double click on the map image below.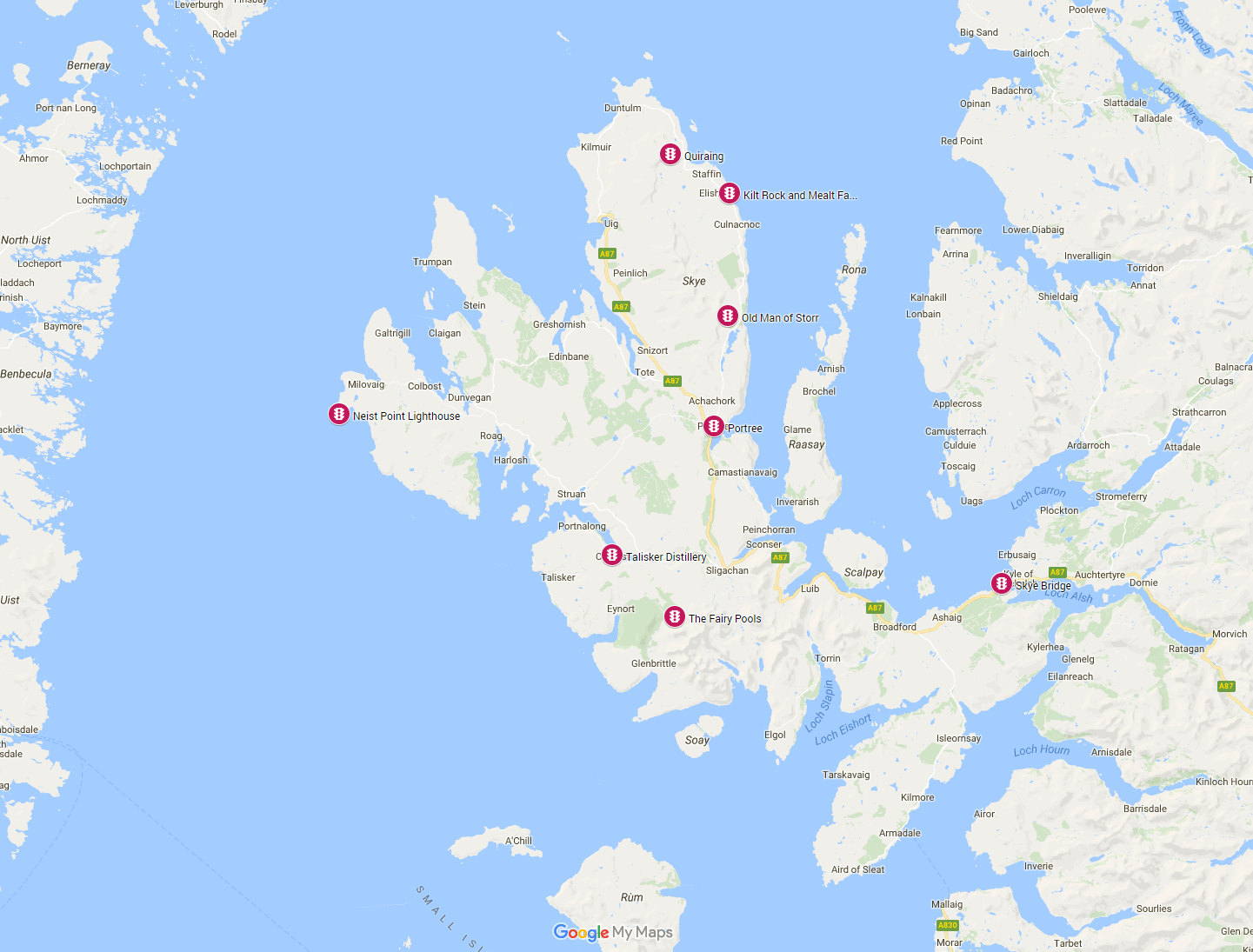 Another way to explore the Isle of Skye (especially if you plan to return) is to focus on a particular area of Skye and explore that area in-depth. We often do this when we travel and it allows us to get to know a particular area well. We visit all the popular spots but also have plenty of time to seek out the lesser known ones.
For example, if you have a couple of days you might choose to fully explore the Sleat Peninsula, Trotternish Peninsula, or head over to the Isle of Raasay. Or maybe you want to base yourself near a town such as Dunvegan or Colbost and explore everything within a certain radius of that spot. Then you can stay in that area and explore the area bit by bit for the time you have for your trip. By staying in one place, you'll also be sure to be in the area during the peaceful morning and evening hours.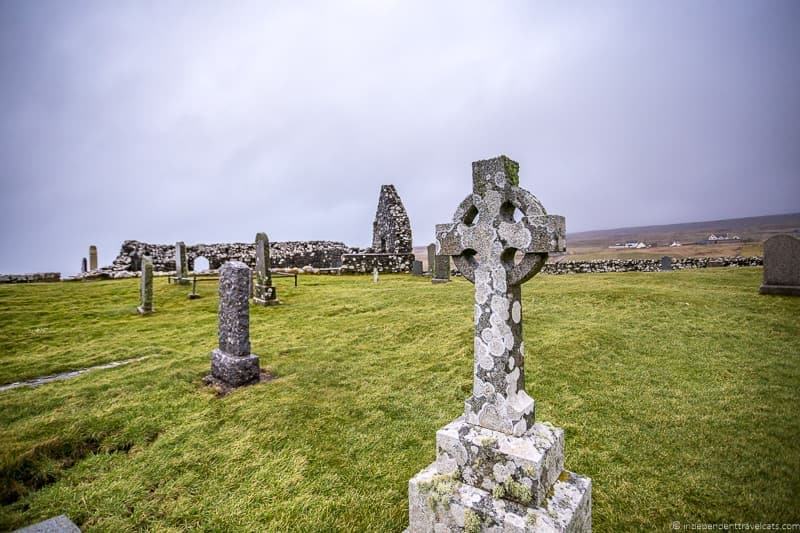 8. Plan Ahead and Book Ahead
One good way to avoid the crowds on the Isle of Skye is to do your research and planning in advance. The fact that you are reading this post is a great start! If you wait until you are in Scotland, you'll waste time figuring stuff out and take away from time actually experiencing the destination. Also you'll likely be left with limited lodging options that may be less than ideal for staying away from the crowds.
Figure out your dates, what you want to see, the best way to organize those stops, any tours you want to take, and where you want to stay the night. Then book anything that needs to be booked well in advance, which may include accommodation, rental cars, train tickets, most activities, and local guides. We'd also recommend booking any ferry tickets a few days in advance if you crossing with a car. Although you can often get spots without pre-booking, it can waste a lot of time out of your day if you arrive and they are sold out and you have to wait a couple of hours for the next crossing.
Also if you are planning to dine out in the evenings at local restaurants, it is a good idea to make dinner reservations. This is particularly necessary during the summer months, weekends, and holidays. If you are considering a popular restaurant like The Three Chimneys, tables may be booked out weeks in advance so you'll want to make a reservation to guarantee a table. If you are looking to eat at a less popular spot, you'll normally be fine just booking a couple of days in advance. In the winter, it is a wise idea to always call ahead for dinner as some smaller restaurants may shut early if they don't have any bookings.
No matter what type of accommodation you are looking for, be sure to book as far in advance as you can (2 months or more recommended) to get best price and options. Prices over the summer and holidays can be very high and accommodation options often become very limited during the busy summer months. Many people find themselves in the situation of spending more money and staying in a less than ideal place because they booked last minute. If you have your eye on a particular peaceful cottage, campsite, or country hotel, book it as soon as you know your travel dates to avoid disappointment!
If you don't have time to plan ahead or don't want to do so, you might want to book a tour. Although this might not get you too far off the beaten path, you'll know that your transportation, lodging, and route planning will be taken care of and all you need to do is to book the tour. For group tours, we recommend checking out these tours by Rabbie's and these tours by Viator that can be taken from Edinburgh, Glasgow, and Inverness.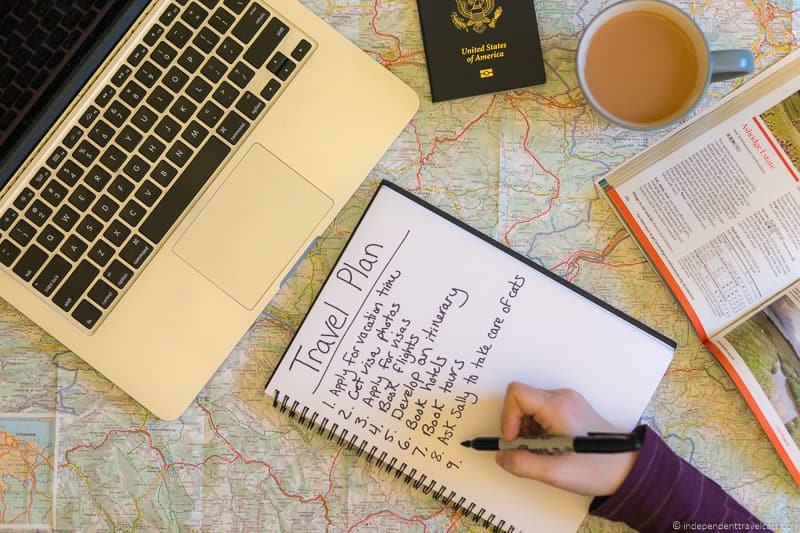 9. Follow an Interest or Passion
One great way to get off the beaten path in almost any destination is to follow a specific interest, hobby, or passion you have. Interested in art, wildlife, hiking, food, whisky, brochs, gardens, painting, clan history, boating, filming locations, dinosaurs, folklore, astrophotography, or Iron Age history? Looking for specific sites of interest will often take you to lesser known spots on the island and you'll likely run across other attractions along the way.
For example, if you are interested in art, handicrafts, and/or shopping, you may want to follow one of the Isle of Skye's Art-Skye trails. There are over 50 shops, workshops, and studios around the island where you can meet local artists and craftmakers and purchase their work. These range from photographers and painters to weavers, potters, and sheepskin rug makers. Following the trails will take you to both popular tourist areas as well as lesser explored areas of the island. Beware though as we visited some places "just to look" and ended up with a sheepskin rug!
If you like your whisky, there are now two distilleries open for public tours on the Isle of Skye as well as a third one on the Isle of Raasay. Two are fairly new (Torabhaig on Skye and the Raasay Distillery) and will draw fewer crowds than the very popular Talisker. While a whisky distillery visit is unlikely to take you too far from the crowds, they are all located in areas (Sleat peninsula, Raasay, Carbost) where you can easily find spots to escape the crowds.
Although Skye is not particularly well-known for its museums or cultural attractions, it has several really interesting ones. For example, there is the Skye Museum of Island Life (reconstructed old Highland village and place to learn about the past island way of life), Armadale Castle & the Museum of the Isles (focuses on Clan Donald and island history), and the small but excellent Staffin Dinosaur Museum (focuses on the island's prehistoric and dinosaur history).
There are also several ruined castles, two whisky distilleries, a few Iron Age broch ruins, fossils, old churches, and Highland Clearance villages. We've often been alone when visiting an old church or hiking up to an Iron Age ruin.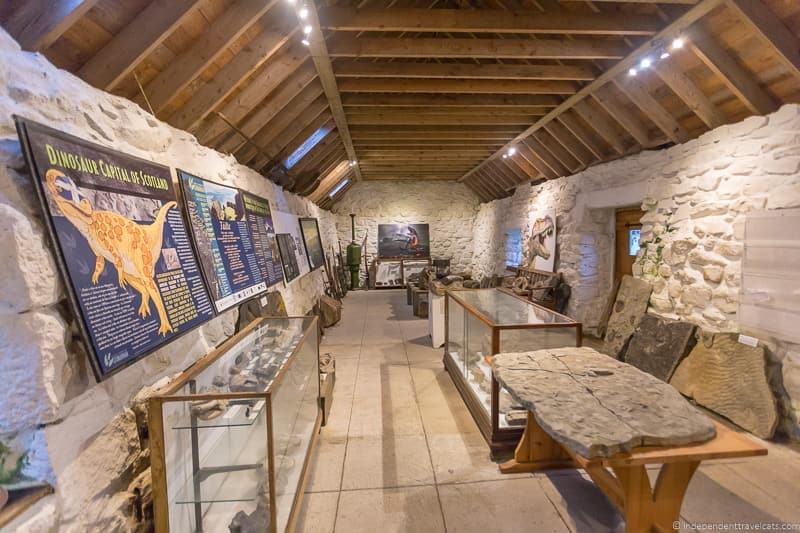 10. Get up Early and/or Stay Out Late
Most people on vacation tend to sleep in a bit, have breakfast, and then head out for exploring until about dinner time. Day trippers and tour groups staying off the island won't arrive until later in the morning and will generally be leaving by dinner. So the busiest time of the day tends to be late morning to early evenings.
If you start exploring earlier or stay out later, you'll find fewer people out and about, even at the busiest times of the year. This is harder to do in the winter months with fewer available hours of sunlight, but much easier to do in the busier summer months.
If you are really trying to avoid people, we'd recommend heading out around sunrise as more people will stay out late rather than get up early. Note that you probably won't be completely alone even at sunrise at popular scenic spots (e.g., Old Man of Storr, Neist Point, Kilt Rock, Fairy Pools) as keen photographers like Laurence are often up and about then, but you definitely won't find crowds of people. At lesser known spots, you may find yourself alone in the early morning and late evening.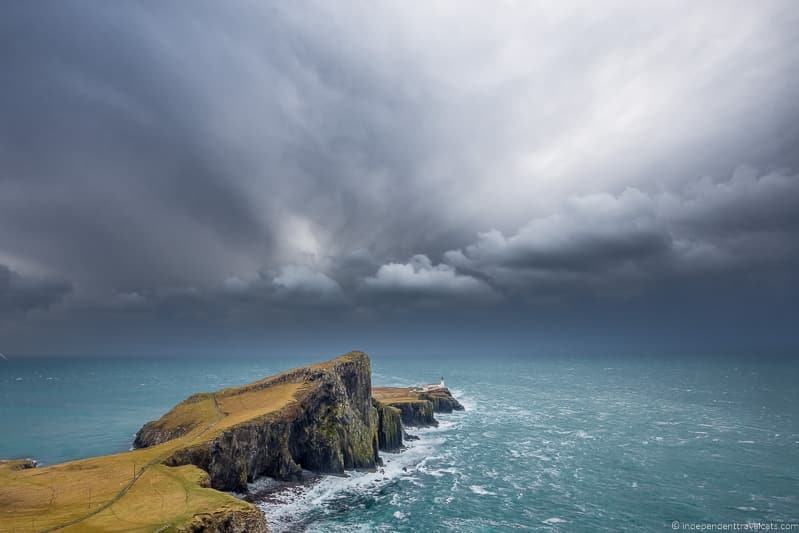 11. Stay on the Isle of Skye for Multiple Days
Many visitors to Scotland rush around trying to see a bunch of the country's highlights in a short amount of time. This is a guaranteed way to be in the most crowded spots of the country. If you spend more time of the Isle of Skye, not only will you be ale to see more, but you'll also be ale to get further away from the majority of people who are only on the island for 1 or 2 days.
We're recommend at least 2 nights on the Isle of Skye to see the highlights of the island. The driving distance and times on the single track roads is often more than visitors anticipate, and many people see much less than they planned due to lack of time. If you have 3 nights or more, you can really see beyond the highlights and head off to do longer hiking treks, do more tours (wildlife, climbing, boating, whisky distilleries), head over to Raasay, discover lesser known scenic spots on the island, and really spend time indulging a specific interest or passion. We've spent up to a week at a time on Skye and are still finding new things to do on every visit!
In addition to avoiding crowds, staying longer gives you more flexibility to visit places depending on the weather conditions. The weather is fickle year round on Skye and it can often be cloudy and rainy. If the weather forecast is 100% rain all day Tuesday but predicted to be clearer on Wednesday you can adjust your itinerary to suit.
Perhaps on Tuesday you can focus on indoor activities like museums, explore the shops and galleries in Portree, find a good afternoon tea spot, do a distillery tour, and have a nice dinner out. Then on Wednesday when the weather is better you can head off to see outdoor scenic spots, do a wildlife boat tour, and explore one of the island's hiking trails.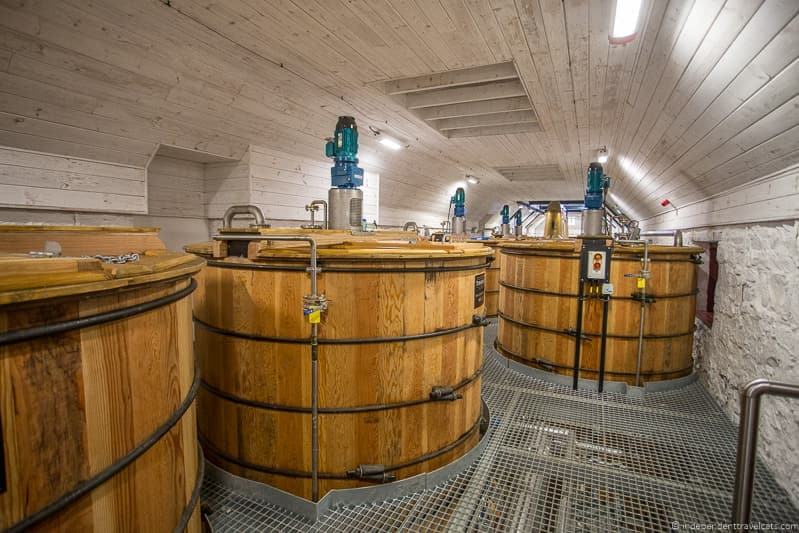 12. Hire a Local Guide
One great way to get to see some things you probably would not have seen on your own is to hire a local guide or book a specialty tour. You can find local guides to take you on wildlife or birdwatching walks, climbing or hiking trips, wildlife watching boat rides, photography tours, fishing trips, sailing, sea kayaking, and farm walks. These folks will know how to get you away from the crowds.
Not only will a guide help you locate local wildlife or learn how to sail, but they can also be invaluable sources of information for things to do for the rest of your trip.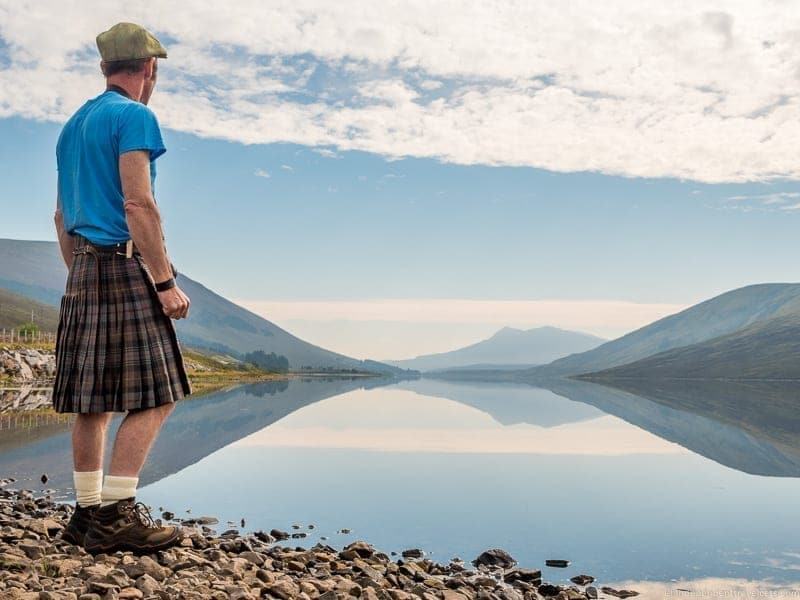 13. Think Outside of your Phone
Most people traveling today, especially younger people, rely heavily on their phones. They travel by using their phone, GPS, and Google maps to locate places of interest and to navigate during their trip. Those planning last minute are often getting ideas for where to visit by just looking on Google maps, Tripadvisor, and social media sites like Instagram. Knowing this, look for locations that are not featured prominently in Google Maps, Instagram posts, and Tripadvisor reviews as you can be sure featured spots will be the most busy.
The best way to do this is to use other sources to find lesser known attractions, hikes, tours, etc. Before your trip you might want to get recommendations from a guidebook focused on the island (a 200+ page guidebook is bound to have loads of recommendations for lesser known places), examine a detailed road map of the island to get ideas for places to go and to pinpoint places of interest, and/or search travel blogs for lesser known attractions.
Once on the island stop into a visitor center to ask for recommendations, check out brochures and flyers, and ask for local recommendations from your hotel and people you meet. Also keep an eye out for signs and if you have a flexible schedule, you can follow ones that look like they may go someplace interesting.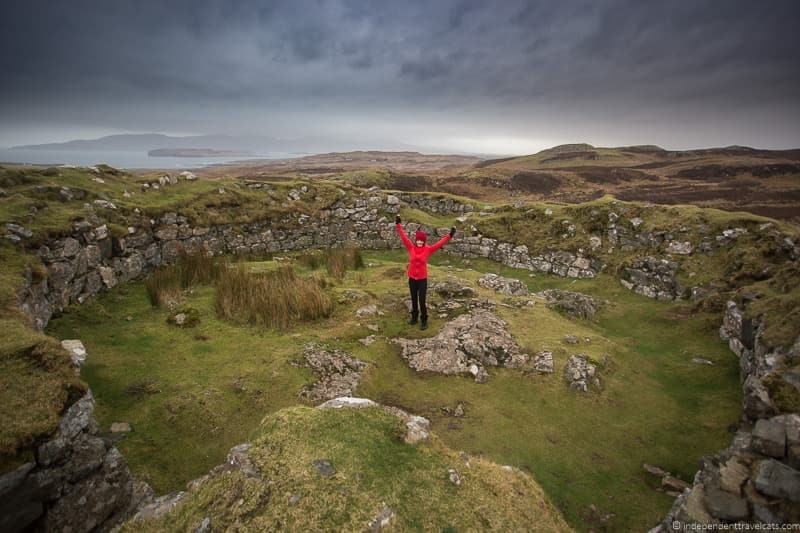 14. Get Out on the Water
If there are too many people on the island, consider getting out on the water. Go kayaking, sailing, fishing, or on a sightseeing or wildlife cruise. Getting out on the water will not only get you away from the crowds on the Isle of Skye, but it will also give you a new perspective of the island that you can't get on the land.
There are several companies offering boat trips on the isle, particularly in the summer, and you can join a group tour or arrange a private trip. Boat tours leave from a number of harbors on the island including Portree, Dunvegan, Elgol, Uig, and Carbost. Most boat tours are limited to 10 to 30 people so you won't be with a huge group of people even on a group tour.
Depending on the type of tour, boat tours can get you closer to marine wildlife, take you to spots on the island that are difficult to reach on foot such as Loch Coruisk, allow you to see features of the isle you can't see from the land, take you to better fishing spots, and take you to see surrounding islands.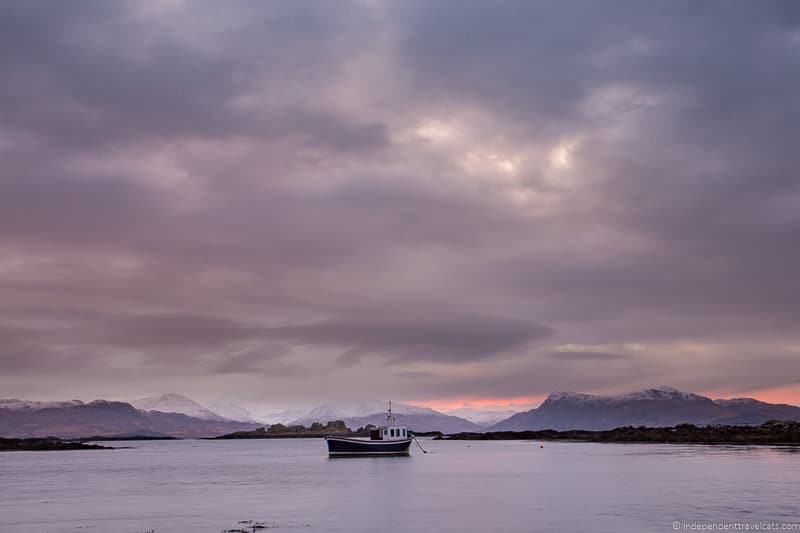 15. Visit the Isle of Raasay
If you have more than 2 days on Skye, I'd consider a trip over to the Isle of Raasay. The Isle of Raasay is just a 15 to 20 minute ferry ride from the Isle of Skye (daily ferries leave regularly from Sconser and take both cars and foot passengers) and is a good place to go for hikers, bird watchers, and outdoor enthusiasts. It feels more wooded and secluded than the Isle of Skye.
It gets busy in the spring (especially with school groups) and summer months, but it receives only a small percentage of those who visit the much more popular Skye. You don't need to have a car to explore here as you can hike, cycle, or join a guided mini-bus tour of the island.
The Isle of Raasay is a little island with only a couple of main roads, but it has a proportionally large hiking trail network and lots of unpopulated areas that you can go off and explore on foot. Hikes range from easy and short to more difficult and at a length of several miles. There are enough hiking trails to keep avid hikers busy for a couple of days.
But the island offers more than just hiking and there are several things to do on Raasay. It is a great place to spot certain types of birds and during our short trip we spotted eagles here as well as seals. The island even has a whisky distillery (opened in 2017), which is pretty surprising for a little island with less than 200 residents! Another good reason to come here is to do outdoor activities like kayaking, sailing, and biking.
At Raasay House you can book a number of guided outdoor activities (e.g., kayaking, sailing, abseiling, archery), rent gear (e.g., bikes), or join a guided minbus tour of the island. Raasay House is sort of the go-to visitor headquarters of the island and you'll find a range of overnight lodging types, food, and services here.
The other main place to stay on the island, other than Raasay House, is the Whisky House. This is a new 6-room B&B that located within the new whisky distillery complex.
Be sure to book in advance if you want to overnight on Raasay or join a guided tour as services are limited and there are not a ton of options. It is busy in summer and there are fewer services available during the off-season. We have visted as both a winter day trip and for a longer 2-night stay in spring and really enjoyed both visits.
If you are considering going to Raasay, check out our Isle of Raasay travel guide which should help you plan your visit.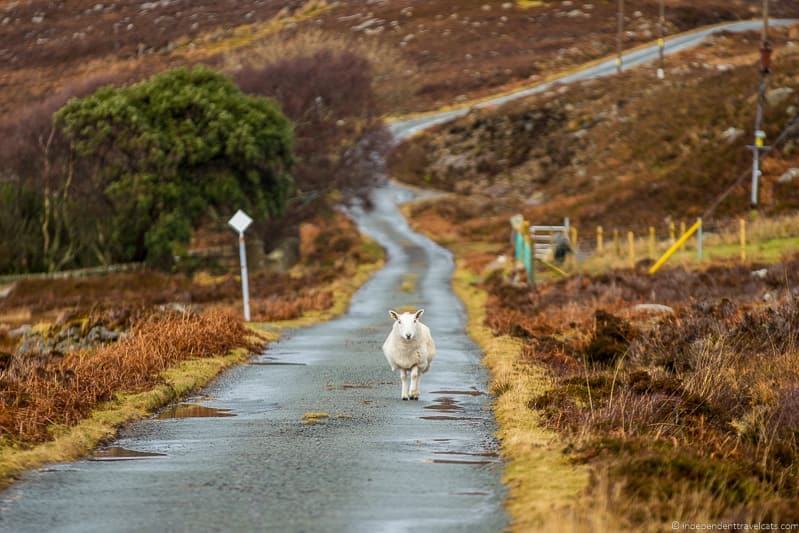 Those are our tips to avoid the crowds on the Isle of Skye Hopefully these have been helpful in planning your own trip to Skye!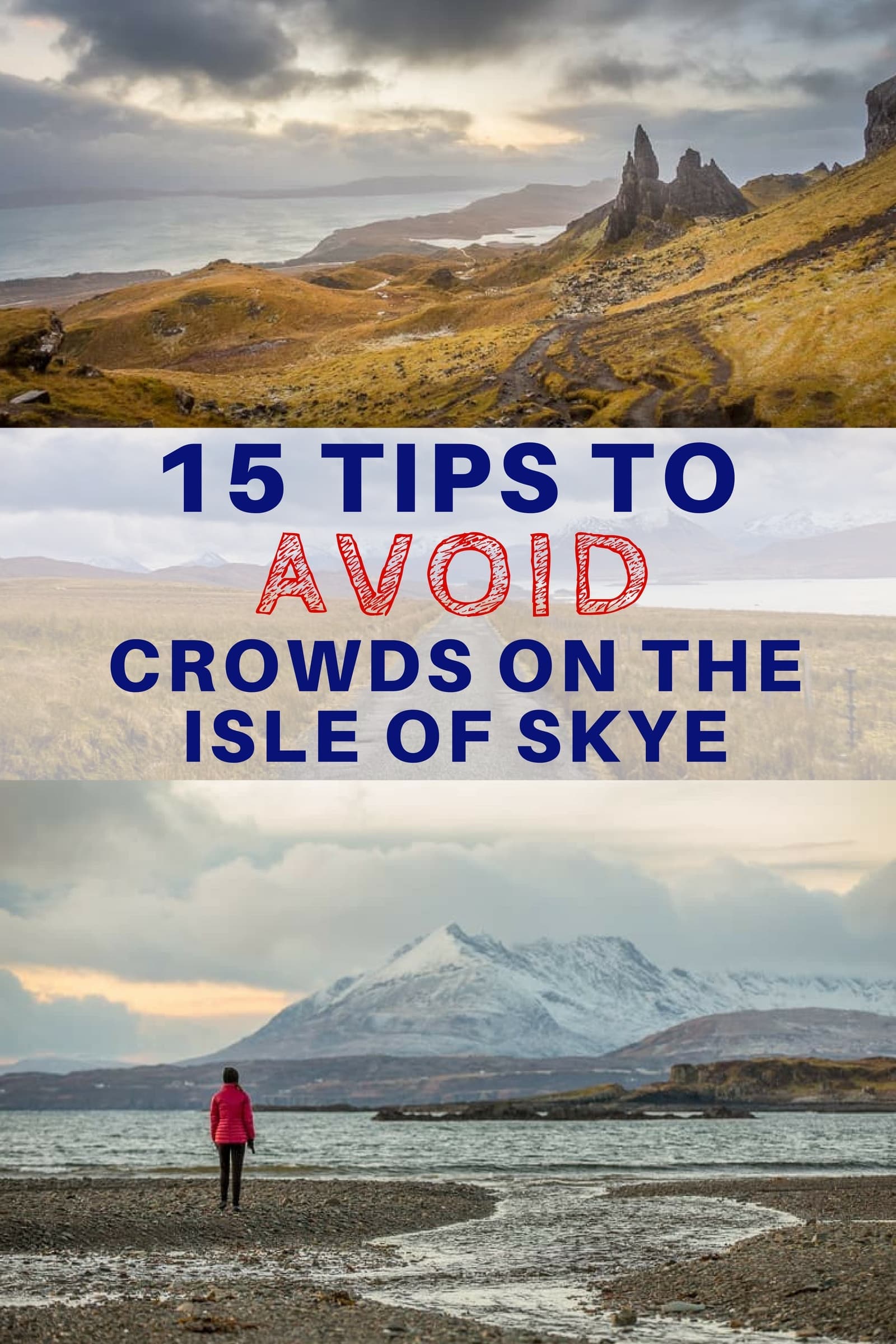 Have you visited the Isle of Skye? Do you have any of your own tips for avoiding the crowds on Skye (or more generally when you travel to busy places)? If you have any questions about planning a trip to the Isle of Skye, we are happy to try to help! Just leave any questions in the Comments section below.