London and Edinburgh are two of the UK's most popular cities, and many visitors to the UK want to travel from London to Edinburgh. These two amazing capitals are very different but both offers loads of interesting attractions and activities for visitors. If you are aiming to visit both cities on your UK trip, you may be wondering how to get from London, England to Edinburgh, Scotland?
To help answer that question, we've put together a comprehensive guide on how to get from London to Edinburgh or from Edinburgh to London. We're going to list at all the options you have for getting from London to Edinburgh, as well as give you an idea how long each option takes, the cost associated with each method, the main companies and ways to book each route, and cost saving tips.
We also provide some advice on how to choose a method based on your budget, time, and travel style, and we also share our own preferred way to travel from London to Edinburgh—a trip we've taken ourselves many times!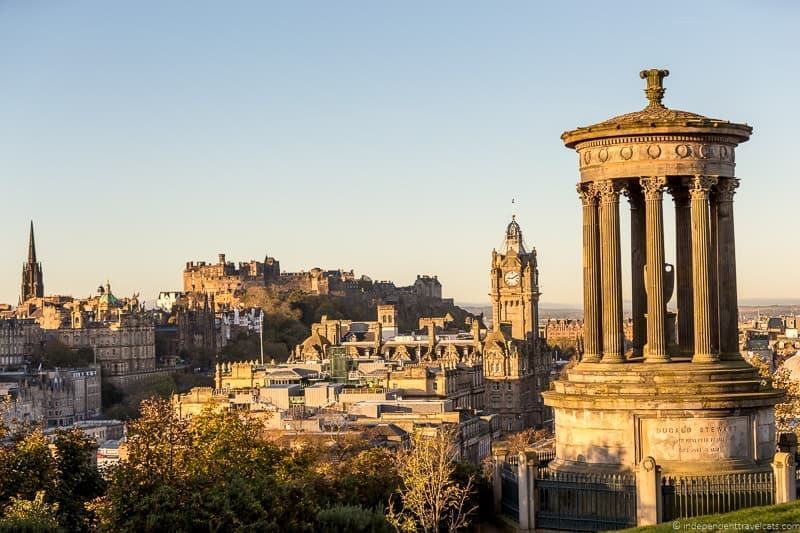 How to Get From London to Edinburgh
Here are 10 different ways to get from London to Edinburgh or Edinburgh to London. We cover the most popular ways such as flying or taking a train or bus, less conventional ways such as walking or biking, as well as lesser known options such as ride sharing, taking an overnight sleeper train service, and private transfers. Here they are in no particular order: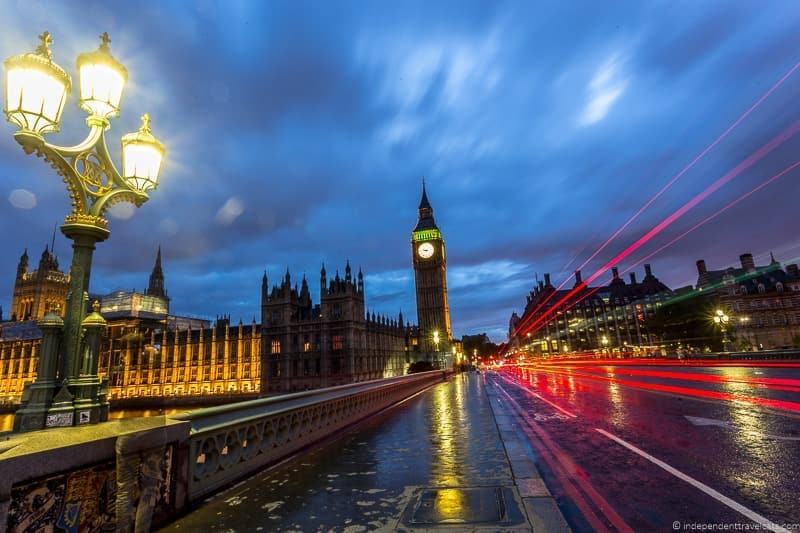 1. Plane
The first option to consider is to fly. London and Edinburgh are 332 miles apart in a straight line and you'll generally find that a plane is usually the quickest ways to get between the cities.
London has six main airports to choose from, and five of those airports offer direct flights to Edinburgh. See our guide to getting from London to all six of London airports for information on London's airports and options on traveling to each airport from London's city centre.
Edinburgh has only one main airport, conveniently located with good public transport links about 8 miles from the city center. From the airport, you can take a cab, Uber, the tram, a pre-arranged private transfer, or a city bus such as the AIRLINK bus to the city center. The least expensive options are the Airlink bus and the tram.
Which airlines fly between London and Edinburgh?
With five airports to choose from, as you might imagine, there is plenty of competition between the airlines on the London to Edinburgh route. The main airlines flying between London and Edinburgh are British Airways, easyJet, Ryanair, and Flybe.
How much does it cost to fly from London to Edinburgh?
Most of the flights from London to Edinburgh are with budget carriers so they are not usually very expensive. If you book well in advance and don't need to check luggage, you can snatch a flight for as little as £15 one way with a budget airline!
However if you are not booking well in advance and/or have luggage, expect to pay in the region of £70 to £200 per person. You'll also need to add in the cost of travel to and from the airports into your budget.
If you have a large budget you can also charter a private plane from London to Edinburgh. Private hire costs start around £4,200 (~ 4,800 euros) for a light jet. You can check prices here.
How long does it take to fly from London to Edinburgh?
Direct flight times from London to Edinburgh are usually between 60 minutes to 90 minutes. However, you mustn't forget to factor in the time it takes to get to the airport in London, or the requirement to check-in at least an hour before your flight. You also have to get from Edinburgh airport to the city, which will take between 20 to 30 minutes.
Once you consider those factors, you'll likely find that the total trip time will be between 3 hours to 4 hours in total from leaving London's city center to arriving in Edinburgh's city center.
Where to book flight tickets?
You can of course search all the individual operators for flight options (e.g., British Airways, Ryanair), but it is often faster to use a flight comparison tool if you are looking for the lowest priced flight. Two flight comparison tools we often use are Priceline.com and Kiwi.com, these both include prices from the top airlines as well as smaller budget airlines.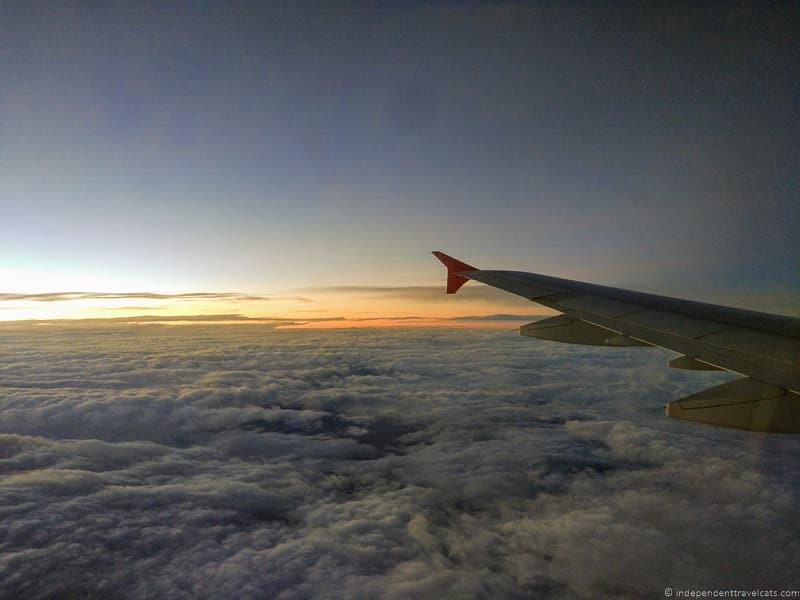 2. Bus / Coach
A long distance bus, usually referred to as a coach in the UK, is another way to get from London to Edinburgh. Coaches run on a regular basis from a number of departure points in London, with the majority departing from London's Victoria Coach Station. A coach is one of the least expensive options, although it takes longer than many of the other options.
Which bus companies operate between London and Edinburgh?
The two major long distance bus operators in the UK are National Express and Megabus, and they both operate routes from London to Edinburgh with multiple departures each day.
How much does the bus cost from London to Edinburgh?
Again, booking in advance will get you the best deals. We've seen fares as low as £3 one way if you book in advance and are flexible with your timings! Average prices however are in the region of £10 to £30 per person, making this one of the most cost-effective options. If you are booking last minute, a bus is likely your best option if you are on a tight budget.
If you have limited travel time, there are overnight buses from London to Edinburgh as well. If you are able to sleep on a bus, then you could save time and money on a hotel by booking an overnight bus.
How long does the bus take from London to Edinburgh?
The coach is going to be one of the slower options available. You're looking at between 8.5 and 11 hours of travel, depending on the bus and route.
How to book a bus ticket?
The easiest way to book a bus ticket is directly via the operator's websites, either National Express or Megabus. But you can also buy bus tickets from National Express by phone or in person from the Victoria Coach Station. Megabus tickets can also be purchased in person from the Victoria Coach Station.
3. Train
Generally our preferred way to get from London to Edinburgh is to take the train. The UK has a good high speed rail network that runs across the country, and there are numerous direct services running between London and Edinburgh on a daily basis. We recommend booking as far in advance as possible to get the best price and to be guaranteed an actual seat.
Which train companies operate between London and Edinburgh?
The main train company is London North Eastern Railway (LNER; formerly Virgin Trains East Coast), which operates the fastest services up the east coast. The other major operators of trains between London and Edinburgh is Avanti West Coast (formerly Virgin Trains) and Lumo.
How much does the train cost from London to Edinburgh?
If you book far enough in advance, the cheapest ticket from London to Edinburgh will cost you in the region of £25 to £30 or a single standard class ticket. If you book closer to the time, you're looking in the region of £50 to £150 for a single in standard class. First class tickets are generally about double the price of a standard class ticket.
Rates will vary and will be higher during busier times of year (holidays, festivals, weekends, summer). Generally, the further you book in advance, the less expensive the tickets will be.
Also note that the only way to guarantee a seat on the train is to book at least a couple of days in advance. If you buy a train ticket on the day, you usually aren't guaranteed an actual seat on the train and may have to stand for segments of the journey. It definitely pays to book in advance!
If you plan to make multiple train journeys within the UK, you might consider getting a BritRail GB Pass (includes train travel in England, Scotland, & Wales) which can save you money if you plan to travel around the UK by train. Includes some London airport transfers. These passes must be purchased in advance of your trip (must purchase from overseas before you enter the UK) and are NOT valid for UK residents.
How long does the train take from London to Edinburgh?
The fastest trains take slightly over four hours to get from London to Edinburgh, running up the east coast of the country. These are run by LNER as well as by Lumo (starting October 2021). There are also slightly slower direct services that take the west coast, which are a little under six hours in duration.
Where to buy train tickets?
There are a number of website operators where you can book trains online. You can go directly to the train service website (LNER, Avanti, Lumo) or compare times and prices on a website like Trainline.
You can also of course buy and book tickets in person at the actual train stations but we recommend booking in advance if you can.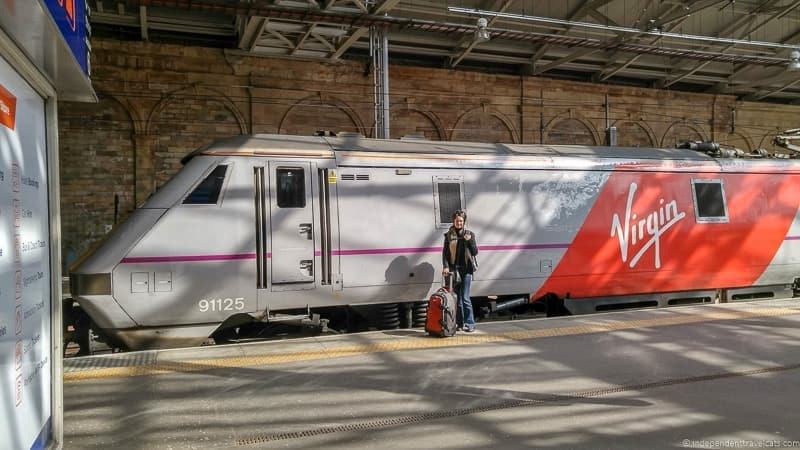 4. Car / Driving
If you're planning on following one of our self-drive UK itineraries, such as our two week UK itinerary, then you'll likely be thinking of getting a car. And of course, a car (or motorcycle or campervan) is a great way to get around the UK, giving you lots of flexibility in your schedule and meaning you can stop where you wish. Distances in the UK are not so great and the road network is fairly good. Read here for our tips on driving in the UK if you are new to it.
Note that we don't recommend driving in London or Edinburgh as both are busy cities and parking can be difficult and expensive. The best ways to explore both cities as a visitor is on foot, by public transit, or cab. So I would only recommend driving or renting a car if you plan to make other stops along the route or after your visit to Edinburgh.
How Long Does it Take to Drive from London to Edinburgh
It is about a 400 mile drive from London to Edinburgh, and if the traffic conditions are good you're looking at around a 7 hour drive from central London to central Edinburgh. The majority of the route will be on a fast motorway. The 7 hours is without accounting for any stops, so I'd estimate at least 8 to 9 hours for the total journey to take into account food and rest breaks. If you travel during rush hour, Edinburgh's August festivals or Hogmanay festival season, or over a holiday weekend, the journey will likely take a little longer.
Of course, if you are driving, you can make detours to visit some of England and Scotland's other cities and attractions near the route. There is a lot to explore in between and even if you are stretched for time, I'd plan a couple of stops and perhaps overnight along the route to break up the long drive.
Fastest Driving Route from London to Edinburgh?
There are two main options for those looking for the quickest route between London and Edinburgh. The most direct way is to take the M1 to the A1. But you can also take the M1 to the M6 to the A702. Both options normally take a little over 7 hours without stops.
Before setting out on your long drive I'd check road conditions and any delays or scheduled construction before heading out to see which might be the best option for your trip. Two useful websites are Traffic England and Traffic Scotland which cover all the main motorways and roads in the UK, and reports live road conditions, delays, construction, traffic incidents, etc. UK radio stations normally report traffic conditions on a regular basis as well which can alert you to any major traffic incidents along the route as you are driving.
Where to Rent a Car in the UK?
If you need to hire a car, there are a number of rental car companies operating in the UK. Just note that if you are doing this as a one-way journey, that the majority of companies will charge extra for a one-way fee so do check before booking.
We definitely recommend checking around on a few sites to find the best deal on a rental car. We usually check a couple of price comparison sites, both Rentalcars.com and AutoEurope. We also regularly use Enterprise as we often find their one-way fees are the lowest, so do check with them directly as well.
Cost of Driving from London to Edinburgh?
This is going to vary widely depending on whether you need to rent a car, your rental car category (e.g., economy vs. luxury), fuel prices, and your route (do you make a lot of detours or drive there directly?). Currently, the fuel cost for the drive would likely be between £55 to £80 depending on your car, speed, and route based on current fuel prices.
As an example for rental car cost, I checked for a 2 day rental in April 2018 on Rentalcars.com and found rates as low as £60 for a budget mini-sized car for pick-up in London and drop-off in Edinburgh. Add in fuel costs of £65 for a 2-day rental total as low as £125. So I would estimate costs between £125 to £250 for a 2-day rental. Just remember that will you will also need to factor in any needed insurance and one-way fees you may need to pay.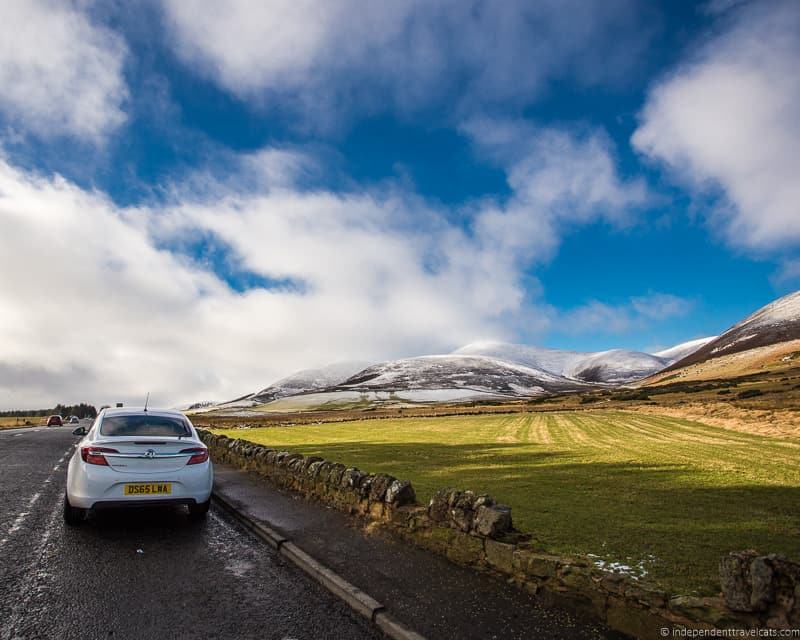 5. Bicycle
If you like cycling, then you may want to consider cycling from London to Edinburgh. The UK has a fairly comprehensive system of bike routes, known as the National Cycle Network.
Bike Route from London to Edinburgh?
One good option is Route 1, which is part of the National Cycle Network. This route links Dover on the coast of southern England with the Shetland Islands in the far north of Scotland. The 1,695 mile route runs through both London and Edinburgh. The section of the bike route from London to Edinburgh is 783 miles (1260 km) long.
There are also other routes that follow a more direct path on or alongside more major highways, as well as less direct paths if you want to include other sites along the way. A more direct path, although less scenic route, will be about 450 miles.
How Long Does it Take to Cycle from London to Edinburgh?
If you taking a fairly direct route, the time can vary widely between 4 days and 3 weeks to complete the journey, depending on route, fitness, and speed. It can actually be done in as a little as 2 days if you are a pro athlete, but expect more around 2 weeks for the average person going at a good pace.
Estimate your days based on which route you plan to take and how much you think you can bike on average each day. Cycling the Route 1 the full way, it will take you 9 or 10 days at 80 miles per day, 13 days at 60 miles a day, or about 20 days at 40 miles a day. But if you take a more direct route using more highways, you could do it in 6 days at 80 miles per day, 8 days at 60 miles per day, or about 11 days at 40 miles per day.
Where to Rent a Bike in London?
If you are returning to London after your trip to Edinburgh, you have lots of bicycle hire companies with offices in London. However most don't allow you to rent a bike in London and return it in Edinburgh. But we do think you can do this with British Bike Hire, as the company allows you to receive the bike by mail anywhere in the UK and then mail it back. But do check on the details before booking.
Another option is to purchase a used bike in London and then sell it once you are in Edinburgh.
6. Overnight Sleeper Train
As well as the standard train services, there's also an overnight sleeper train that runs from London to Edinburgh. Known as the Caledonian Sleeper, this is a specialist train service that offers comfortable sleeper accommodation and a service that runs more slowly than the standard trains, offering you the chance to get a proper nights sleep as you journey between the two cities.
You can read more about our own personal experience riding the Caledonian Sleeper.
How Long Does the Overnight Train take from London to Edinburgh?
The total journey time is around 7.5 hours. On most days the train leaves London Euston station around midnight and arrive into Edinburgh around 7.30am. Similarly, you can also do the same journey from Edinburgh to London which has similar train times.
However, you can actually board the train in London an hour or so before the train leaves, giving you time to have a drink or meal on board and get to sleep earlier if you wish. We'd recommend boarding early to settle in and get ready for the night.
You can see the full train timetable and boarding times for London to Edinburgh here.
How much is the Overnight Sleeper Train from London to Edinburgh?
Prices vary depending on the type of accommodation you want, which ranges from a sleeper chair through to a private first class compartment. You also save money by booking a fixed date ticket in advance (dates are usually posted 12 months in advance).
Normal advanced rates start at about £48 per person for a sleeper seat, £145 for a solo classic room, £175 for 2 people in classic twin room, £250 for a club room for 2 people (twin with en-suite), and £400 for a Caledonia superior double room for 2 persons. Note that prices will be higher on more popular dates and times of the year.
When considering the prices, don't forget that you are also saving yourself the price of a hotel night, so it can be a pretty good value option for some travelers.
How do I buy a Caledonian Sleeper ticket?
The best place to buy tickets is directly through the Caledonian Sleeper's official website. Tickets can be purchased up to 12 months in advance of your travel date.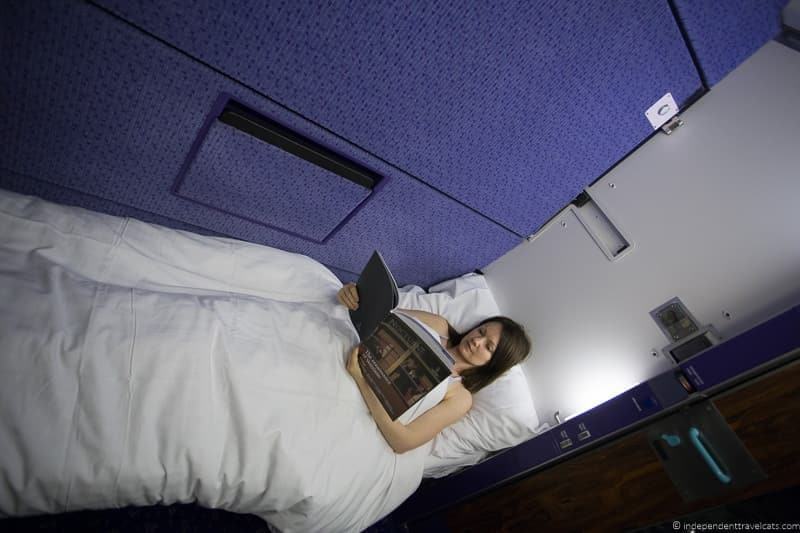 7. Walk or Hike
Not many people are going to choose to walk or hike the 377 miles from London to Edinburgh, but it is another way (and the oldest way) to get between the two cities. If you are into really slow travel, this is your best bet and it is also a very healthy option!
Hiking Route from London to Edinburgh?
Unfortunately, there is no single walking or hiking route between the two cities, although you can join some of the England's National Trails and Scotland's Great Trails together. History fans may want to follow a famous old route like the Great North Road that dates back to Roman and stagecoach times (now A1 closely follows a large part of this route)..
Hiking will of course require you to do a fair bit of planning and be reasonably fit and resourceful, but if you have time and want an adventure, this is certainly an interesting way to get from London to Edinburgh!
How Long Would it Take to Walk from London to Edinburgh?
This will depend on your chosen route, level of fitness, planned stops, and how fast you want to move. A really fit person moving at a good pace could do the walk in about 1.5 to 2 weeks but it will take longer for the average person.
I'd estimate your time based on how many miles you think are doable per day on average. So for example if you think you can walk 30 miles a day you could reach Edinburgh in about 12 or 13 days, doing 20 miles per day you'd get there in about 19 days, and if you think 10 miles per day is more realistic it will take about 37 days.
8. Take a Guided Tour
If you aren't in a rush, or want to see a bit of the UK as you go, then another option for getting from London to Edinburgh is to take a guided tour. This is a great way to see more of the UK in between these two great capitals. You can join an existing guided tour or arrange a private tour.
How Long is a Guided Tour from London to Edinburgh?
This really depends and tours may be as short as two days or as long as 10 days or more.
Most companies do not offer one-way tours, but a few do. For example, we know that Rabbie's (one of our favorite tour companies in the UK) offers a guided eight day tour that starts in London and finishes in Edinburgh! The Edinburgh-based tour company also offers the opportunity to build a customized private tour, so you can put together an itinerary that suits.
If you are looking to return to London, then you have a lot more options as there are a number of tours that visit Edinburgh and return to London, such as this 3 night long weekend tour and this 5 day tour.
How Much Does a Tour from London to Edinburgh Cost?
Tour prices will vary dramatically depending on the length of the tour, time of year, number of people and so on. As an example though, the Rabbie's 8 day tour mentioned, which will be in a group of 15 people or less, costs around £474 per person, excluding accommodation, entrance fees, and most meals. The 8-day tour cost including B&B overnight accommodation and daily breakfast for this trip would be around £719 per person. Just be sure to take into account what each tour includes when comparing prices.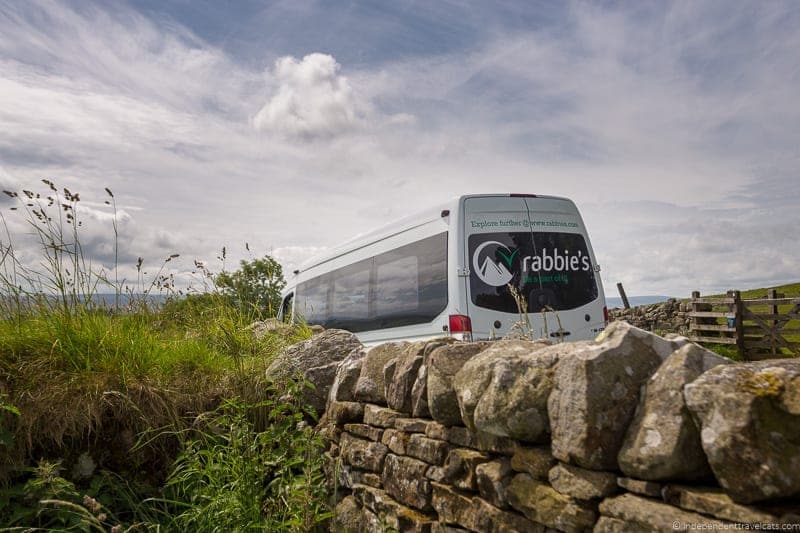 9. Ride share
Another option for getting from London to Edinburgh is to share a ride with someone who is already going there. There are a number of ride sharing websites that let you find rides going where you want to go, and you usually just have to contribute to the cost of the journey. This can be a great way to meet strangers and fellow travelers, but do use good judgement and caution in vetting opportunities.
Ride Sharing Services for a London to Edinburgh Trip?
We have not personally used these, but a couple of ones to check out include BlaBlaCar and Liftshare. You can join a carshare that someone else is offering or offer one to have others join if you are able to drive.
Other options include posting or checking ads online to find a travel buddy or ride sharing opportunity. Some places to try include online classifieds (e.g., Craigslist, Gumtree), online travel message boards, and physical classified and bulletin boards (if you live or already staying in the London area).
Cost of Ride Sharing Services from London to Edinburgh?
It is usually very inexpensive as most drivers just want company and assistance covering their expenses such as the cost of fuel. Expect it to be a little less or similar to the cost of a budget long-distance bus. Costs might range from £8 to £35 per person for a direct drive from London to Edinburgh (and return back to London is usually an option as well).
10. Private Car Transfer or Cab
A final option is to hire a private car with driver or take a cab. These are good for those wanting to travel in comfort by road without having to worry about driving or renting a car. The driver will pick you up and drop you off at the address of your choice. Options can range from a standard cab to a luxury limo.
How to Book a Private Car Transfer or Cab from London to Edinburgh?
There are several cab and private transfer companies who will offer a car service between London and Edinburgh, but it is something you'll need to arrange in advance. We recommend using a UK cab comparison website like minicabit to compare rates for cabs and private transfer options.
How Much is a Private Car Transfer or Cab from London to Edinburgh?
This is a premium option and rates are likely to range from about £400 to £600 for a private transfer in a standard sized car. However, if you have 3 or 4 people sharing the cost, it is not as expensive.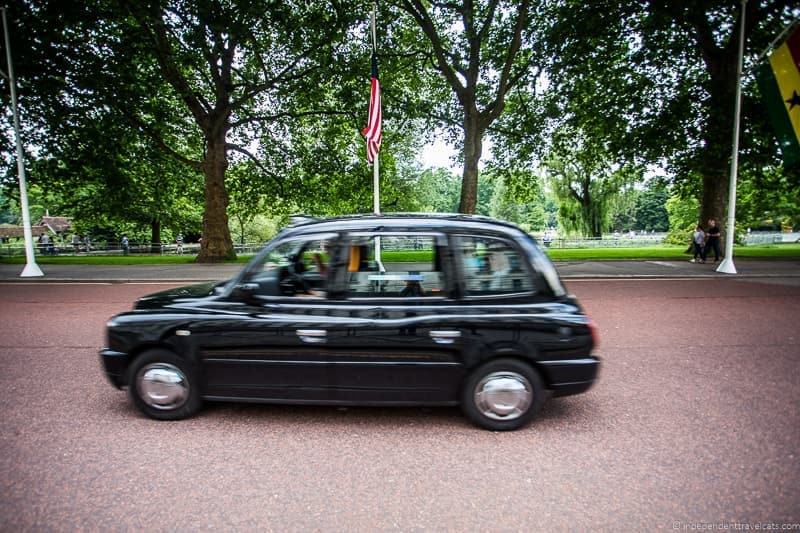 What is the Best Way to Get From London to Edinburgh?
There is no easy answer to this question as it is going to depend on factors such as your budget, time, and travel style. But the following information should help you find the best method for you and your travel plans.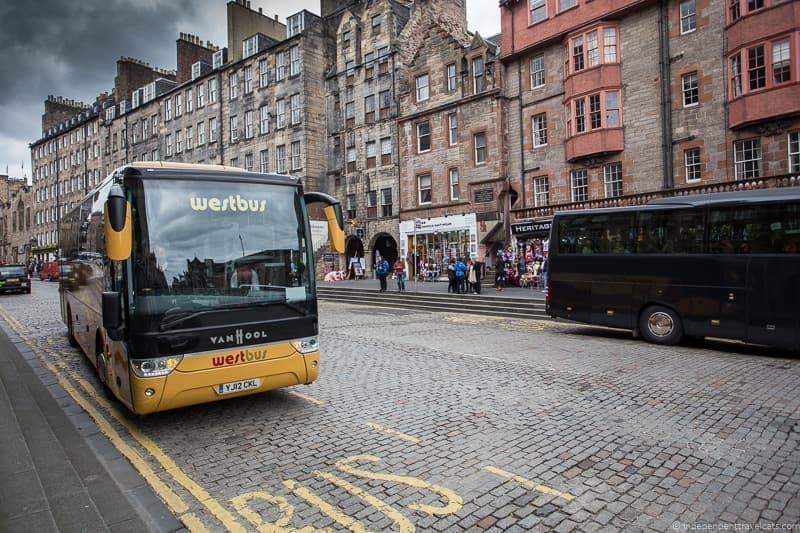 Cheapest Way to Get from London to Edinburgh?
Those on a tight budget should check out the long distance buses, train, and ride sharing options. Booking in advance can save you a lot of money on both bus and train tickets which are likely to be the least expensive options. If you have a car in the UK, then driving may also be a good budget option, especially if you can split fuel and parking costs with travel companions.
If you need to book relatively last minute, then a long-distance bus ticket is likely going to be the least expensive option.
Quickest Way to Get from London to Edinburgh?
The quickest way is to fly. But because of travel time to and from the airports and airport security, flying will only save you a little time (40 minutes to 1.5 hours) over taking a high-speed direct train. So those looking for fastest options should check out flying or taking a direct train.
Most Cost/Time Efficient Way to Get from London to Edinburgh?
The most efficient way based on both money and time depends on how much you value each, but we'd recommend taking a direct train or flying if you are able to book your tickets in advance. However, overnight buses and the overnight sleeper train can also be very time and budget efficient options as they don't waste sightseeing time and save you the expense of paying for lodging for one night.
Most Luxurious Way to Get from London to Edinburgh?
If you have the money, you can charter a private plane which is probably the most luxurious option available. However, for those looking for the most comfortable way to get from London to Edinburgh on a tighter budget should consider first-class seats on commercial flights, first-class train seats, the private Caledonian Sleeper rooms, and private transfers.
Best Way to Sightsee from London to Edinburgh?
Those wanting to make some stops and sightsee should consider taking a guided tour, driving, or biking. You can also go by train and travel the route in sections, stopping in a number of towns and cities along the way. Check out our 10 day UK by public transport itinerary and 1 week UK by car itinerary for ideas. If you are considering joining a guided tour, we recommend checking out this one.
Most Leisurely Way to Get from London to Edinburgh?
Walk or bike, which are also the most healthy ways! Driving is another good way to make the journey at your own pace and everyone loves a good road trip.
Our Preferred Way to Get from London to Edinburgh?
We've traveled from London to Edinburgh and from Edinburgh to London more times than we can count and have made the journey using a variety of transportation types. Our preferred method for traveling between London and Edinburgh is to take the train. If you book the train in advance it can be very competitively priced compared to other options such as a long-distance bus. While traveling by train might take slightly longer than flying, the advantages are that it is more convenient, normally less expensive, and you are able to watch the scenery go by outside. The overnight sleeper train option is also recommended for those wanting to travel without losing precious sightseeing time.
But we can also recommend checking out flying, long-distance buses, driving, and taking a guided tour. All of these are also good options that we have used. It really just depends on your budget, time, and travel style.
Can you Take a Day Trip from London To Edinburgh?
It is possible to visit Edinburgh as a day trip from London, but honestly, we would advise against this. It's going to involve at least eight hours of travel, meaning an early start, a late finish, and limited time to actually sightsee in Edinburgh.
If you want to visit Edinburgh from London, we would highly recommend staying at least one night in Edinburgh, and ideally two. This self-guided tour for example includes round trip transfers, an overnight stay in Edinburgh, Edinburgh Castle entry and a hop on hop off bus ticket whilst this is a similar 3 day tour.
Of course, you can visit Edinburgh as a day trip from London if you really want to. We would recommend taking the train as it will take you directly from city centre to city centre. Alternatively, there are tours available, such as this one.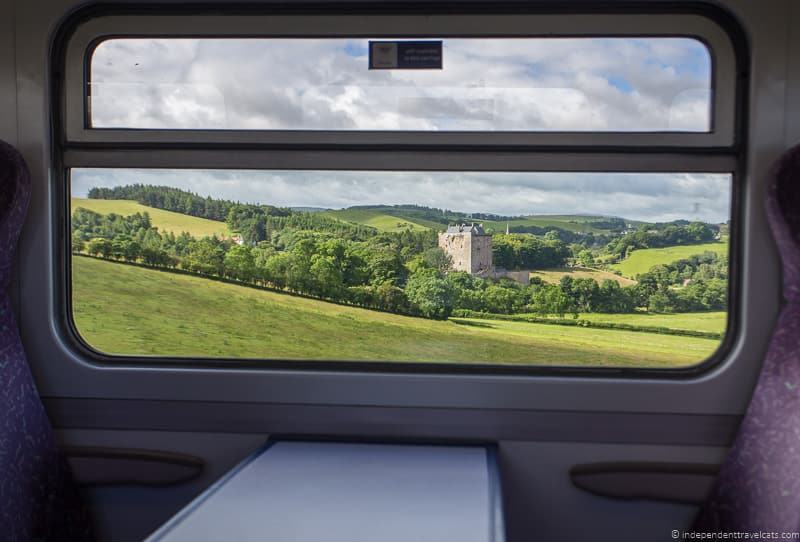 So that summarizes our guide to getting from London to Edinburgh! If you are planning your trip to the UK, here is a guide to public transit in London as well as a 3 day London itinerary and a 6 day London itinerary to get you ready for your time in London.
To give you some ideas for what to do when you arrive in Edinburgh, take a look at our guide to the must-see things to do in Edinburgh as well as our tips for getting off the beaten path in Edinburgh.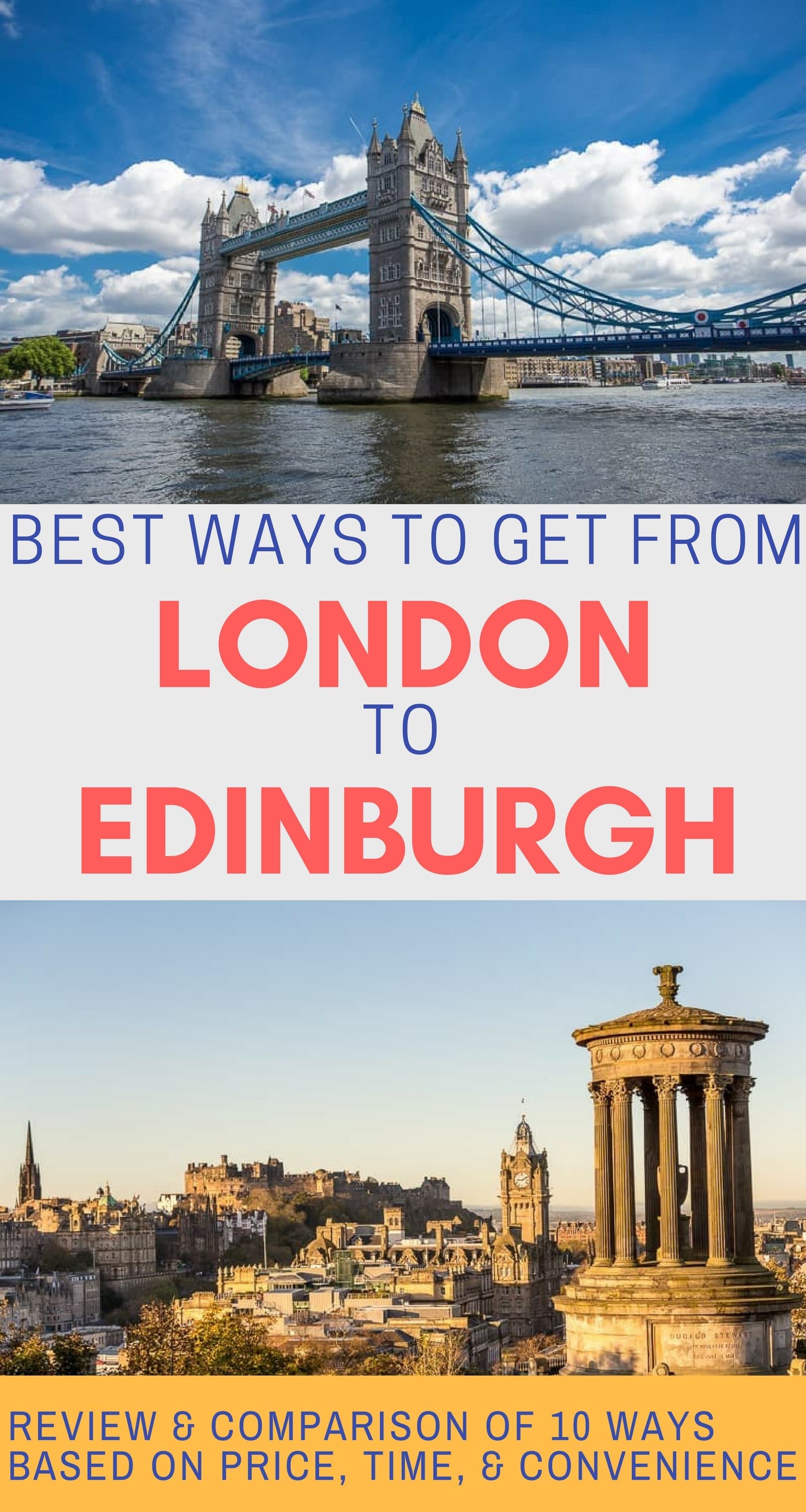 We hope this helps you figure out how to get from London to Edinburgh, or vice versa! If you have any questions about traveling between these two cities or travel within either one, just let us know by leaving a Comment below. Also, if you have any of your own tips or advice about travel between London and Edinburgh, feel free to share below!