London is one of the world's largest and most exciting cities, offering visitors thousands of things to do, including museums, royal palaces, beautiful parks, historical sites, and world-class theatre.
With all these options, planning a trip to London can be a bit overwhelming, especially for first time visitors. We've put together a recommended 3 day London itinerary that will help you see the city's highlights if you have at least 3 days in London.
Our suggested 3 day itinerary has you visiting all the city's most famous attractions (e.g., Westminster Abbey, Windsor Castle, Tower of London) as well as some of the city's lesser-known attractions.
In addition to the 3 day itinerary, we also provide tips on how to get around London, a map that plots out each day's suggested itinerary, and tips on how to save money during your 3 days in London.
Planning Tips for 3 Days in London
Before we share the 3 day London itinerary, we wanted to make sure you have all the planning information to make the most of your 3 days in London. So we first share information on how to get around London, how to save money on sightseeing, day trip recommendations, advice on where to stay, and further trip planning resources.
How to Get to London
London is well-connected to the rest of the world and easy to reach by plane or train. Most international visitors arrive by air.
London has six main airports, and you can get to London from almost any part of the world. If you are arriving from an international location outside Europe, Heathrow is likely to be your arrival airport. For helping in getting into London from an airport, see our London airport guide which covers transport options from all 6 airports.
If you are arriving by train, London is well-connected to train routes throughout the UK and Europe with a number of train stations in and around central London. Those planning to travel by train throughout the UK might want to see if a BritRail Pass might save you money, or another rail pass if traveling throughout Europe by train.
Those arriving from Scotland can check out our Edinburgh to London guide, and might want to consider taking an overnight sleeper train.
If you are arriving from continental Europe by train or car, you'll need to travel across the English Channel on the EuroStar train or take a ferry.
How to Get around London
London is best explored either on foot or by public transportation. Cabs and bike hires are also options.
London has a great public transportation network and most visitors spend at least some time traveling on it. This includes public bus, tram, and rail services (including "the Tube") within the city. You can buy individual tickets for each ride, but many visitors get an Oyster Card which allows you to travel on almost all the city's public transit options and can save you time and money.
If you are considering an Oyster Card, you can read our full Oyster Card review. For more information and tips on getting around London, check out our detailed public transport guide to London.
We do not recommend driving in London unless you are planning to stay on the outskirts of the city as driving and finding parking in central busy locations can be a nightmare. Parking is also expensive in many areas and there are congestion fees for driving in the city center.
If you are driving to London, I'd park your car when you arrive in the city and then use public transport to get around the city.
If you need to book a taxi in London, we recommend using minicabit to compare prices and make a booking.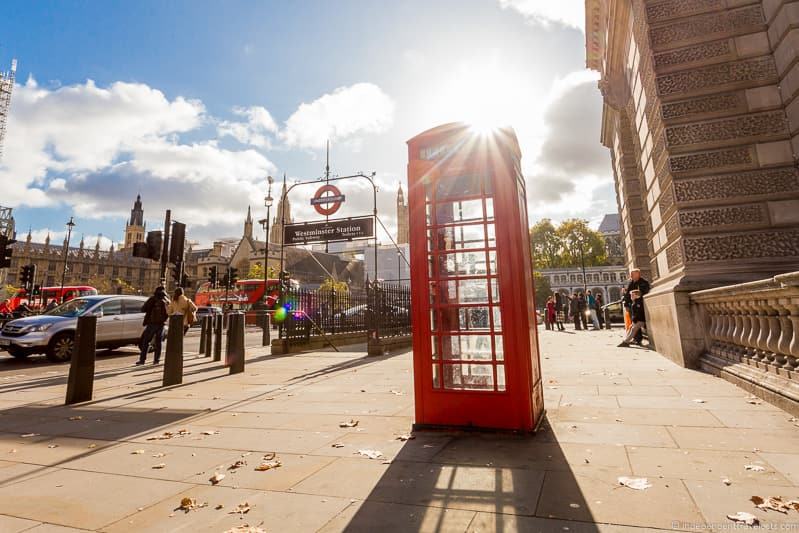 How to Save Money on Sightseeing in London
London can be an expensive destination for visitors and the costs of a trip here can quickly add up. There are a number of London discount passes you can purchase before your trip to help you save money (and time) at London's most popular attractions and museums.
Our favorite London discount pass is the London Pass which allows free entry into over 80 of London's top attractions, including the Tower of London, Westminster Abbey, View from the Shard, Windsor Castle, St. Paul's Cathedral, and many more.
The Pass also comes with a free hop-on, hop-off bus ticket, hop-on hop-off river boat, and additional discounts on food, shopping, theatre tickets, and tours. You can see a full list of attractions and benefits here.
We've used the London Pass on a number of visits and have written an in-depth London Pass review which you can read to help determine if the London Pass would help you save money or time on your trip.
Although London can be expensive, it also has a number of fantastic free attractions including beautiful green parks, historic sites, and world-class museums like the British Museum, National Gallery, and Victoria & Albert Museum. Also be sure to check for special events and festivals that may be happening during your visit.
Possible Day Trips from London
If you only have 3 days in London you certainly won't need to leave the city for want of things to do. If this is your first visit, we actually would recommend spending the full 3 days in London as there is so much to see, do, eat, and take in! But we know that for many visitors, there is a must-see attraction outside of London that they want to see such as Stonehenge, Oxford, or the Warner Brothers Harry Potter Studio tour.
If there is something you really want to see in southern England and you only have the three days, then you can visit it as a day trip from London. For most places, you'll have the option to see it as part of a guided tour, take public transit, arrange a private transfer, or rent a car and drive yourself.
We recommend taking public transit, joining a tour, or booking a private transfer to do a day tour from London. Unless you arrived by car or are planning to drive in the UK after your visit to London, we don't really recommend having a car in central London as it can be a headache with the traffic, lack of parking, high overnight parking rates, and congestion charges.
Below are some popular London day trip options to consider:
Stonehenge – This ancient and mysterious stone circle is one of the most popular stops on a day trip from London. Most commonly done as a bus day trip, but you can also do it via public transit (train plus shuttle), rent a car, or book a private transfer. Read about our Stonehenge day trip experience here, which was a version of this tour of Stonehenge, Bath, and the Cotswolds. A couple other suggestions for guided tours are this express half-day trip to Stonehenge or this full day trip which includes inner stone access at Stonehenge and a stop in Bath.
WB Harry Potter Studio – Harry Potter fans will likely want to make time to visit the Warner Brothers Studio located outside the city in Leavesden where all of the Harry Potter films were filmed. The Harry Potter Studio Tour (fee) includes loads of original sets, clothing, props, interactive exhibits, and a giant gift shop. You can get here from London via public transit (train plus shuttle) or by booking a tour or transfer. Tickets must be booked in advance. You can also book a tour from central London that will take you directly to and from the studio so you don't have to take the train and shuttle. If you want to take a walking tour of the Harry Potter London filming sites consider this guided tour.
Oxford – Oxford is a compact and scenic historical city that is home to England's oldest university. You can read our post about things to do in Oxford and how to plan your own Oxford day trip from London. It is easy to reach by train. If you are interested in a guided tour, you might consider this tour which visits Oxford plus the Cotswolds.
Highclere Castle – Highclere Castle is the country house home of the Earl of Carnarvon, but it is better known as Downton Abbey from the hit British period TV series. The best way to get here is by car or by joining a tour. Here is a suggested guided tour option that includes a visit to Highclere Castle, Bampton (used as Downton village), and other Downton Abbey filming locations. Open seasonally so check opening dates before planning a visit.
Stratford-upon-Avon – Stratford-upon-Avon is a picturesque Midlands market town that is best known as the birthplace of William Shakespeare and for its well-preserved Tudor buildings. Best ways to get here is by car, train, or guided tour. Here is a guided tour option that includes a visit to Stratford-upon-Avon and the Cotswolds. See our guide to things to do in Stratford-upon-Avon here.

Where to Stay in London for 3 Days
If you are planning to do a visit that is similar to our suggested 3 day London itinerary, we'd recommend staying in central London to avoid added travel time. We'd suggest staying somewhere in the region between Kensington in the west and Canary Wharf in the east.
London has every type of accommodation option that you can imagine, from inexpensive hostels to self-catering apartments to 5-star luxury hotels.
London is home to some really classic luxury hotels like The Ritz, The Dorchester, Brown's, and The Savoy, but it also has a number of mid-range and budget friendly chains like Holiday Inn Express, Travelodge, Best Western, Premier Inn, and Ibis.
London is an expensive city so expect to pay a bit more than you might normally in less expensive destinations. But if you book in advance and compare prices, you should be able to find something that will fit most budgets.
To find the best rates on hotels in London, we recommend searching on Booking com or Hotels.com as in our experience these two sites tend to have the best prices and widest choice on both hotels and a range of apartments.
If you are looking for self-catering apartments or rooms, we recommend checking out Plum Guide. In our experience they offer some of the best options. See their listings for London here. There are also loads of other apartment booking sites you can check.
Here are a few suggestions across budgets (lowest to highest):
For many more options, see our complete guide to where to stay in London, which also has tips on what to look for and the different neighbourhoods in the city.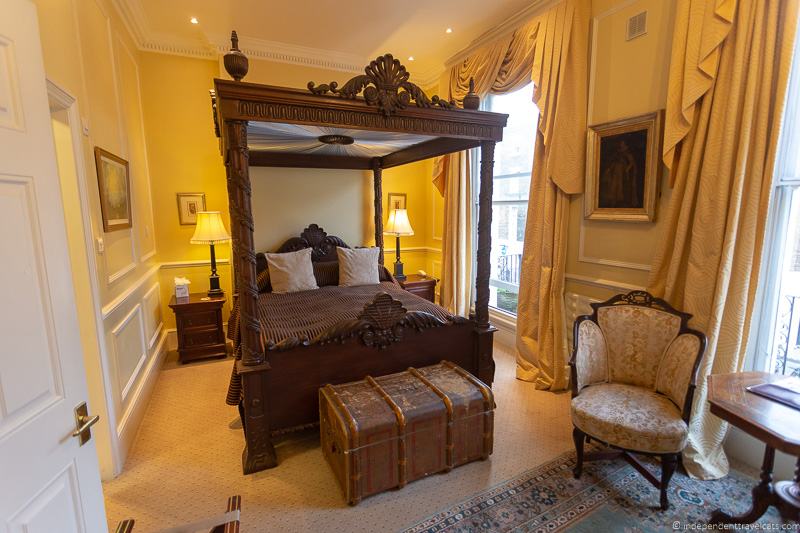 Have More or Less than 3 Days in London?
If you have less than 3 days in London, we have also written a suggested guide to spending 1 day in London as well as a 2 day London itinerary. We also have a guide to seeing the best of the city and its royal sites in a one day London walking tour.
If you have more than 3 days, we also have a 6 day London itinerary that should give you plenty of ideas of how to spend up to 1 week in London.
If you're in London for longer than 1 week and want some advice, feel free to leave us a comment and we're always happy to provide some suggestions based on what you enjoy doing and seeing.
Further Information & London Resources
We have written a lot about London on both of our travel blogs, so you can check out our London articles on Finding the Universe and our London articles on this blog for more info and to see where we've been.
For additional planning resources, the city tourism website and Visit Great Britain websites also offer tons of helpful information for visitors. If your travels are taking you beyond London, you can check out Laurence's suggested 2-week UK itinerary to get you started.
If you are looking for a London guidebook, we recommend either the latest Rick Steves guidebook or Lonely Planet guidebooks.
Most of our suggested itinerary has you walking and using the Tube, so we recommend picking up a decent walking map for London. We really like the London laminated Streetwise map (it also includes a central Underground Tube map), but you can also probably find a free paper map at your hotel or at a visitor center.
If you are looking for packing tips for your trip, check out our suggested London packing list.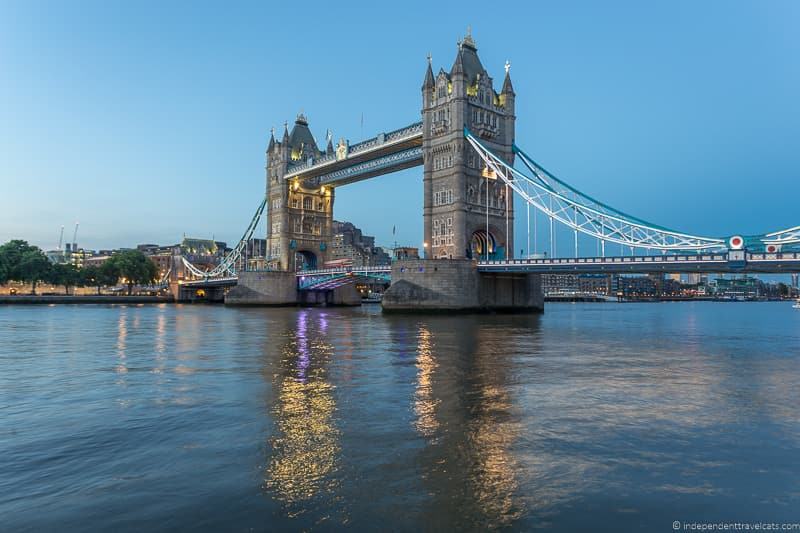 3 Day London Itinerary: How to Spend 3 Days in London
Now, we'll share our suggested 3-day London itinerary. Our itinerary is geared to the first-time visitor to London who has 3 days in London (or more), and is interested in visiting a number of historic and cultural attractions as well as some green spaces and scenic viewpoints.
As with all of our suggested itineraries, we recommend that you use this as a guide for your trip and tailor it to suit your individual interests, needs, and speed of travel. If you have any questions as you are planning your trip to London, please feel free to leave us a comment in the Comments section at the end of this post.
Be sure to check on the opening dates and hours for any must-see attractions before you set out as many attractions close for one day per week, or may be closed due to renovation or a special event.
For all attractions with an entrance fee, we've noted there is an entry fee by writing "(fee)" next to them. Since many visitors use the London Pass, the attractions that are included on the London Pass are starred (*) denoting that passholders receive free entry so these attractions have "(fee*)" next to them. We do our best to keep this information updated, but things change so you may want to double-check fees and London Pass inclusions before your trip.
The map below shows the suggested walking routes for each of the three days in London with all major London itinerary locations noted. Click here or double click on the map below for a closer look and to see exact locations in Google maps: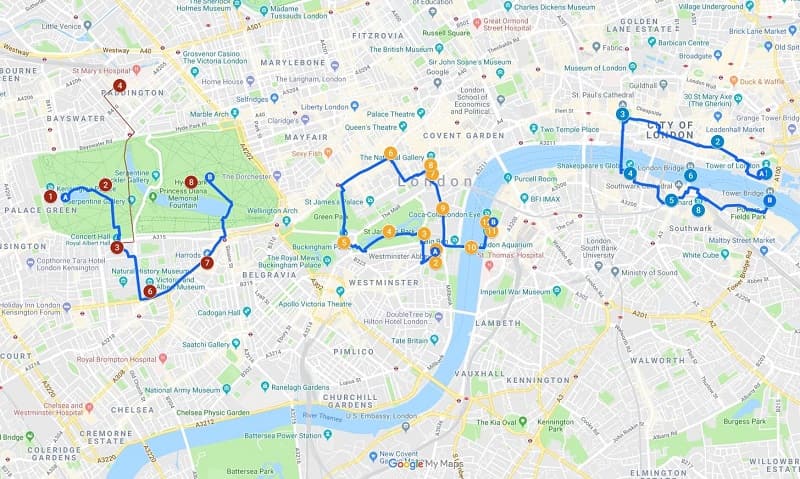 London Itinerary Day 1 – Explore Westminster
We recommend starting your trip to London in Westminster as it is the geographical, cultural, and political center of the city. The City of Westminster is actually its own city within London! Here you'll find some of London's most iconic buildings, including Buckingham Palace, Palace of Westminster, and Westminster Abbey.
Many people enjoy taking a sightseeing bus or walking tour to get a good overview of a city before heading off to explore on their own. If this is you, I'd recommend doing it on your first day in London to get a good orientation.
Our suggested Day 1 London itinerary starts and stops near Parliament Square, but you can begin it at any point along the route. Today's route is walkable but you can also get around via public transit, taxi, or a sightseeing bus as well.
Parliament Square & Houses of Parliament
We're going to start off our itinerary at Parliament Square which is a well known public square in Westminster that is easy to get to via public transport and is a stop on all the main sightseeing buses as well. Around the square you'll also find the statues of a number of famous people, including Winston Churchill, Abraham Lincoln, Robert Peel, and Gandhi.
This popular square is surrounded by famous buildings, including Westminster Abbey, St. Margaret's Church, the UK Supreme Court, and the Palace of Westminster. The Palace of Westminster, better known as the Houses of Parliament, is probably best known for its famous Big Ben bell which sits within the iconic golden Elizabeth Tower.
The large government building is named after the former medieval palace of the same name. A few sections of the medieval palace of Westminster still remain, including the 14th century Jewel Tower (fee*) which you can visit.
Although perhaps not a priority stop with only 3 days in London, the public can tour the Houses of Parliament (fee) on certain dates. Tours include visits to the Westminster Hall, St. Stephens Hall, Commons Chamber, and the Lords Chamber. UK residents can contact their local MP or a Member of the House of Lords to arrange a free tour. Otherwise, you can book a tour ticket online for a self-guided audio tour or guided tour. Tours must be booked in advance.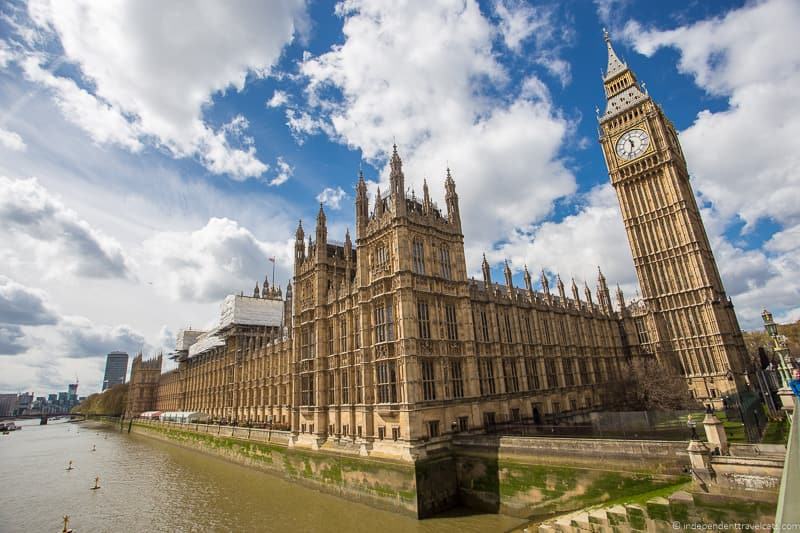 Westminster Abbey
Westminster Abbey (fee*) is one of the most famous and impressive churches in England. It dates back to 1245 and was mostly built in the Gothic style. Inside the church are tombs and memorials to a number of the most famous British people from the past 1,000 years, including royalty, scientists, aristocrats, and artists. It has also been used for all English and British coronations since William the Conqueror in 1066 as well as being the site of numerous royal weddings, including the 2011 wedding of Prince William and Catherine Middleton.
If you plan to visit Westminster Abbey be sure to leave extra time to get in and see everything as it is a popular place and it takes a while to explore. An audioguide is included and will help you make the most of your self-guided visit. You can skip the line and get fast track entry by booking your ticket online in advance here.
In summer 2018, the Queen's Diamond Jubilee Galleries (fee) via the new Weston Tower of Westminster Abbey Tower was opened. The galleries house exhibits about the history of the abbey as well as a number of priceless artifacts. Admission to the Galleries is currently an extra £5.00 and you will receive a timed ticket since space is limited.
Guided tours of the main sections of the Abbey are also possible for a small extra fee (currently £5/person), check at arrival or on the Abbey website for tour times.
Churchill War Rooms
The Churchill War Rooms (fee) is made up of two connected museums: the Cabinet War Rooms and the Churchill Museum. The Cabinet War Rooms allows visitors to explore the huge underground secret bunker where the majority of the World War 2 effort was directed from 1939 to 1945. An audioguide and interpretive exhibits help visitors understand the maze of underground rooms and what happened here.
The Churchill Museum is a large room dedicated to the life of Winston Churchill. It provides information on his life from his early years to his death in 1965, with a focus on his long political career. This is the most comprehensive museum I've ever visited on Churchill and our favorite site of the many Winston Churchill sites in London. Book your tickets online in advance here.
For those with an interest in the London Blitz, we can also recommend the London Churchill War Room tour (save 10% off any Context tour using this link) by Context Travel which includes a guided visit to the Churchill War Rooms as well as a guided tour of parts of London related to the Blitz.
Those interested in military and war related history, should check out this list of London war museums and memorials.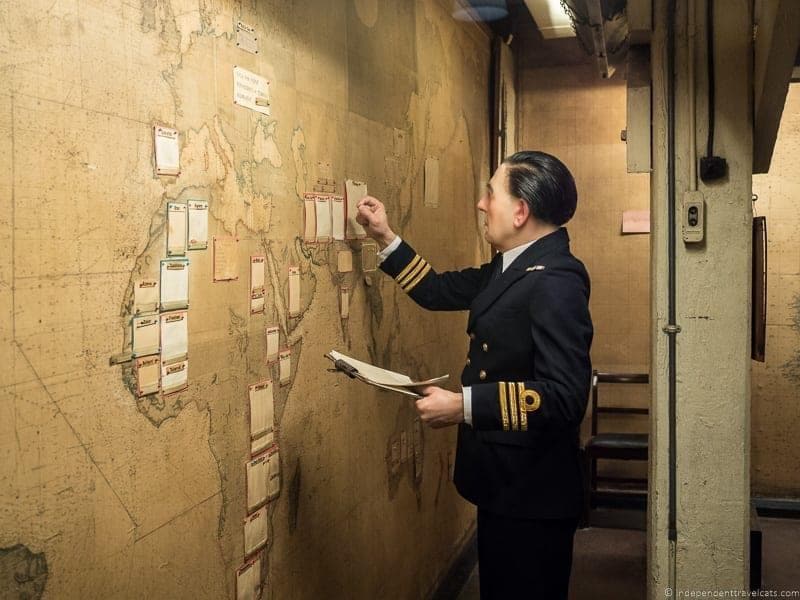 St. James's Park
We now recommend walking through St. James' Park in the direction of Buckingham Palace for a bit of greenery. The 50-acre park is one of the city's 8 Royal Parks and is known for its famous pelican residents. There is a café located within the park if you need a tea or coffee break or a light lunch.
Near the park is the The Guards Museum (fee*) which tells the history of the British Army Guards regiments as well as St. James's Palace, a 16th century palace that was once the main residence of the British monarch. Today the palace is still used as a residence for members of the British royal family (although not the monarch) and as a meeting place. The palace is not open to visitors.
Buckingham Palace
Buckingham Palace is the most famous palace in the UK and serves as the primary London residence for the reigning sovereign of the United Kingdom. The royal palace dates back to 1703 and was originally built as a townhouse for the Duke of Buckingham, but was later acquired by King George III. Queen Victoria was the first monarch to officially reside in the palace.
If you want to see the Changing of the Guard ceremony, you'll need to skip either the morning visit to Westminster Abbey or the Churchill War Rooms (you can visit one later in the afternoon instead) to get to Buckingham Palace before 11am. The Changing of the Queen's Guard ceremony takes place on most days at the forecourt of Buckingham Palace around 11am, and lasts about 45 minutes. If you want to see the Changing of the Guard ceremony, check the schedule online in advance (may be cancelled last minute due to weather or security issues) and show up early to get a good viewing spot.
If you want a spot to watch part of the Changing of the Guard with fewer people, you might consider watching from in front of Friary Court in front of St. James Palace (the Old Guard normally lines up and starts here). Another alternative is to watch the Changing of the The Queen's Lifeguard (horse guards) at the Horse Guards Parade.
Most visitors are happy to just get a look at the palace and perhaps see the Changing of the Guard, but you can also tour the State Rooms at Buckingham Palace (fee) in the summer (generally August and September only). You need to book tickets in advance if you want to tour the palace, you can get tickets here for a tour and self-guided tours include audioguides.
Even if you can't visit the State Rooms of Buckingham Place, there are places on the palace grounds that are open to the public year round. At the Royal Mews (fee) you can see a large number of royal carriages and coaches, including the Diamond Jubilee State Coach. At the Queen's Gallery (fee*) you'll find excellent art exhibitions from the royal collection which change regularly throughout the year.
Piccadilly Circus
We now recommend heading to Piccadilly Circus en route to Trafalgar Square. Piccadilly Circus doesn't have any clowns, but it is a famous circular road junction well-known for its neon signs and advertising. You'll find the well-known Shaftesbury Memorial Fountain here.
From here, it is a short walk to many of London's West End theaters (head up Shaftesbury Avenue) or to London's West End shopping area (follow Regent Street).
Trafalgar Square & the National Gallery
Trafalgar Square is one of the most popular public squares in London and is home to Nelson's Column (a monument to Admiral Horatio Nelson) and London's famous stone lion statues. The square also features performing street artists and contemporary art (a changing featured piece of art occupies the square's Fourth Plinth).
Here you'll also find two of London top art museums, the National Gallery and the National Portrait Gallery. We've spent a lot of time in both over the years and they include world-class art from artists such as Picasso, Turner, Titian, and Monet. If you love art, I'd plan to spend some time at one or both of these museums. Entry is free (special exhibitions may cost extra) at both museums although donations are greatly appreciated.
If you are traveling with kids, they may enjoy creating a brass rubbing they can take home with them at the nearby London Brass Rubbing Centre (fee) located underground within St. Martin-in-the-Fields. Note that this isn't always available, check the website for when you can do it.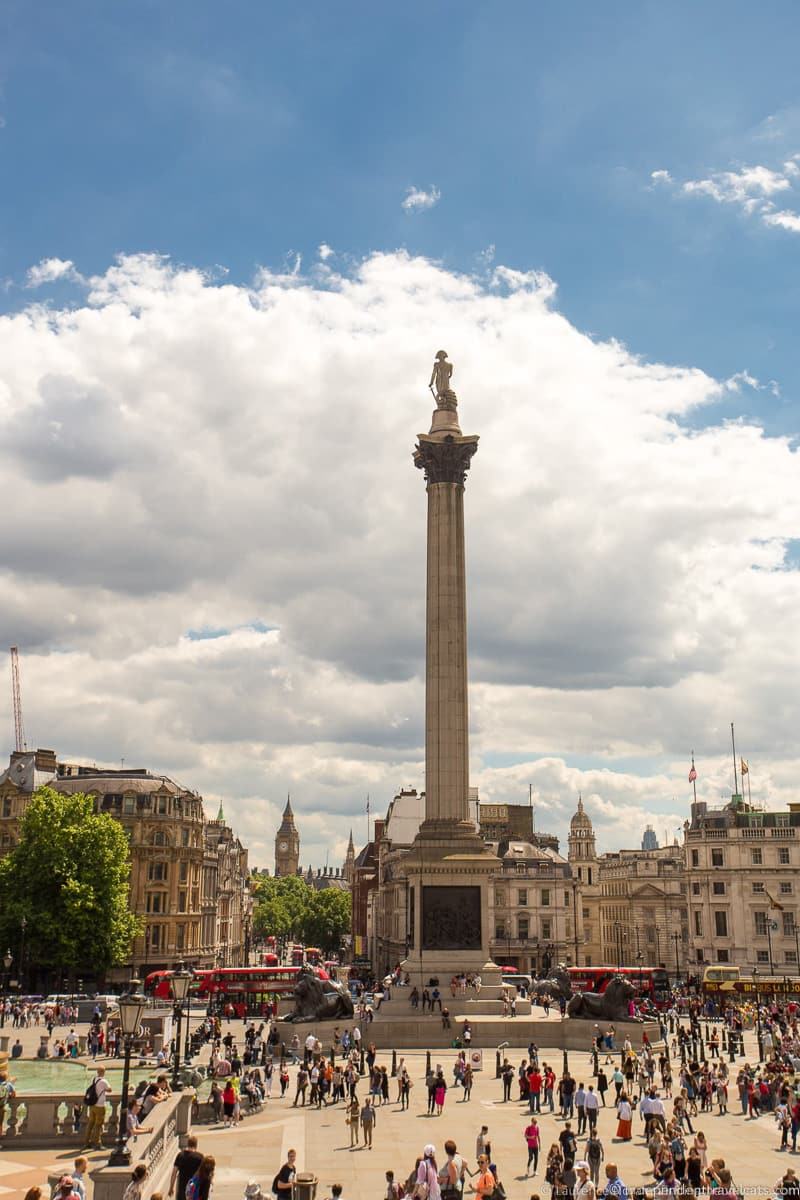 Whitehall
Now we recommend walking down Whitehall, which is the street running south from Trafalgar Square towards Parliament Square. Whitehall is so named for the Palace of Whitehall, a large medieval royal palace complex that stood here until it was destroyed by fire in 1698. It was the largest palace in the world at one time with over 1,500 rooms!
A small well-preserved section of the Whitehall palace complex, the Banqueting Hall (fee), can still be visited today. The Banqueting House was designed by Inigo Jones and features a beautiful ceiling painted by Peter Paul Reubens.
Today Whitehall is still the center of the UK Government and you'll pass a number of government buildings along your walk. You'll also pass the The Household Calvary Museum (fee*), a small museum dedicated to the history of the Household Cavalry which is located in the 18th century stables of the Horse Guards. In the middle of the street, you'll also see The Cenotaph, the UK's national war memorial.
You'll also pass by the entrance to Downing Street which is where the Prime Minister (at 10 Downing Street) and other UK government ministers reside. The street is gated and guarded, but you can peek through and should be able to get a glimpse 10 Downing Street, which is the headquarters of the UK government and official residence of the UK Prime Minister.
As you continue your walk, you'll end back in Parliament Square where we started our day.
Westminster Bridge
Now we recommend walking across Parliament Square and onto Westminster Bridge. This bridge dates back to 1862 but there has been a bridge here since 1750. From the bridge, you'll have a fantastic view back of the Houses of Parliament and the River Thames. You can then take a walk along the Thames or head off to dinner.

London Dungeon
If you still have time and stamina you might want to continue on across Westminster Bridge to where you'll find several attractions located along the Thames, including the London Dungeon and the London Eye.
The London Dungeon (fee) is a popular interactive walkthrough attraction that uses costumed actors, special effects, and rides to share some of London's darker and more gory history and provide some laughs and screams along the way.
The educational and historical part of the experience here is a bit questionable, but if you enjoy amusement parks and haunted houses, you'll probably enjoy this. Not recommended for young children or those with a nervous disposition.
Next door to the London Dungeon are two family-oriented attractions, the Sea Life London Aquarium (fee) and DreamWorks Tours: Shrek's Adventure (fee).
If you are wanting to visit these attractions, none of them are currently covered by the recommended London Pass.
London Eye
The London Eye (fee) is Europe's tallest observation wheel and a great place to get some nice views over London and the Thames. Visitors stand in large enclosed glass pods on this giant ferris wheel like attraction and it spins very slowly to give visitors expansive views. You can also add champagne to the experience or even get a private pod.
The London Eye is open late (depending on the time of year) making it a great last stop or even after dinner visit. Around sunset is a nice time to do this ride. Great in good weather, I'd skip if the weather is too bad as it will spoil the views.
You can save money (and time) by purchasing your tickets in advance. Online prices are usually much lower than if you buy at the ticket desk.
You can buy tickets for the London Eye from the official site here. We also have a complete guide to visiting the London Eye here.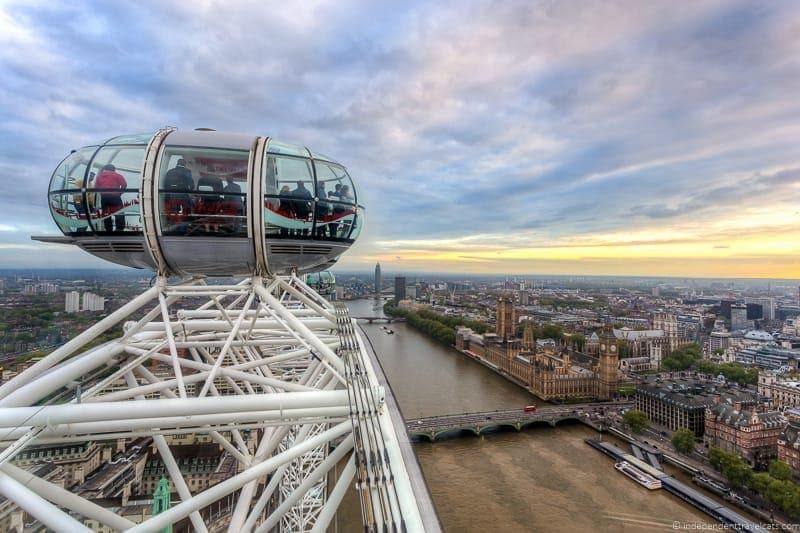 London Itinerary Day 2 – City of London & Southwark
Today we recommend exploring the City of London. The City of London is another "city within a city" like Westminster. It is home to much of the city's financial and banking services, and is also the oldest part of the city. This area was named "Londinium" by the Romans and you'll find an interesting mix of the city's oldest landmarks and most modern buildings here.
Across the River Thames from the City of London is the London Borough of Southwark. A number of top London attractions and landmarks can be found here including HMS Belfast, the Tate Modern, The Shard, Southwark Cathedral, the Imperial War Museum, and Borough Market.
You can get around and do this itinerary on foot, but you may want to take public transit to get from the Sky Garden to St. Paul's Cathedral to save time. If you are planning to do a Thames river cruise, you may want to do it today after your visit to the Tower of London.
Tower of London
The Tower of London (fee*) was first built by William the Conqueror in 1078 as a royal castle and defense tower. It was then expanded over the centuries and served many purposes, including a fortress, prison, armory, and Royal Mint. Today is it a UNESCO world heritage site and it is famous for serving as a prison and execution site of famous people like Queen Anne Boleyn and Lady Jane Grey, and for housing the Crown Jewels.
The Tower of London is definitely one of the most popular (and one of our favorite) attractions in London, so we recommend being there near opening time if you can. Once inside, we recommend visiting the Crown Jewels first as this part can get very crowded.
There is a lot of to see here but some of the highlights are the Crown Jewels, the White Tower, the Tower Green, and the tours given by the Beefeaters (Yeoman Warders). For more information, see our complete guide to visiting the Tower of London.
The Tower of London is included on the London Pass, or you can book tickets in advance here.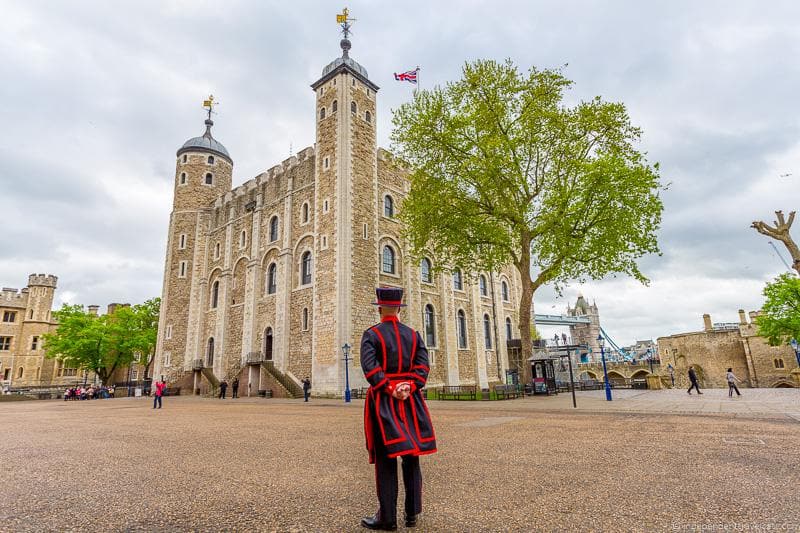 Sky Garden
If you enjoy nice views, we recommend a stop at Sky Garden, London's highest public garden. The terraced garden area is laid out over three storeys (level 35 to 37) and there is an observation deck, bar, and open air terrace.
Although the Sky Garden is technically a public garden and can be visited for free, we recommend booking a space in advance as they are often fully booked and can't always accommodate walk-ins. Tickets are generally released each week and can be booked up to 2 weeks in advance. If the free slots are already booked out and you still want to visit and enjoy the views, you can generally still get in by making a restaurant reservation and eating at one of the several restaurants located here.
Nearby, we recommend stopping by to see The Monument, a 202 foot Doric column monument designed by Christopher Wren and Robert Hooke to commemorate the Great Fire of 1666. The column stands approximately at the spot the fire started. Visitors can actually go inside (fee*) and climb the over 300 stairs to the viewing platform on top.
You can then walk to St. Paul's (about 15 minutes) or take the Underground from The Monument stop to the St. Paul's Cathedral stop.
St. Paul's Cathedral
St. Paul's Cathedral (fee*) dates back to 1697 after the previous one was badly destroyed by the Great Fire of London in 1666. It was rebuilt by Christopher Wren in the English Baroque style, but a church dedicated to St. Paul has been on this site since the 7th century!
The dome of the cathedral is a recognizable feature of the London skyline and the church has long been seen as a symbol of the spirit of the British people, especially during World War II. The church is an active place of worship with regular Anglican services, and has been the site of a number of notable events including the wedding of Prince Charles and Diana, the state funeral of Winston Churchill, and Jubilee services for Queen Elizabeth II.
The church can be visited and tour and admission prices include an audioguide for a self-guided visited. Guided tours are often given throughout the day by church staff.
Visitors have the option to visit the main parts of the cathedral, the dome, and the crypt. There is often a line to visit the dome as only a certain number of visitors can climb the steps at a time, so allow extra time if you want to climb the dome to visit the Whispering Gallery and/or the Stone and Golden Galleries.
If you don't have the London Pass (free entry included), we recommend booking your ticket online in advance to save money and to skip the ticket line.
Alternative: An alternative (or additional) attraction in the area that you may want to visit is the Museum of London. A great free museum that we'd highly recommend to anyone interested in the history of the city (note, closed until 2026).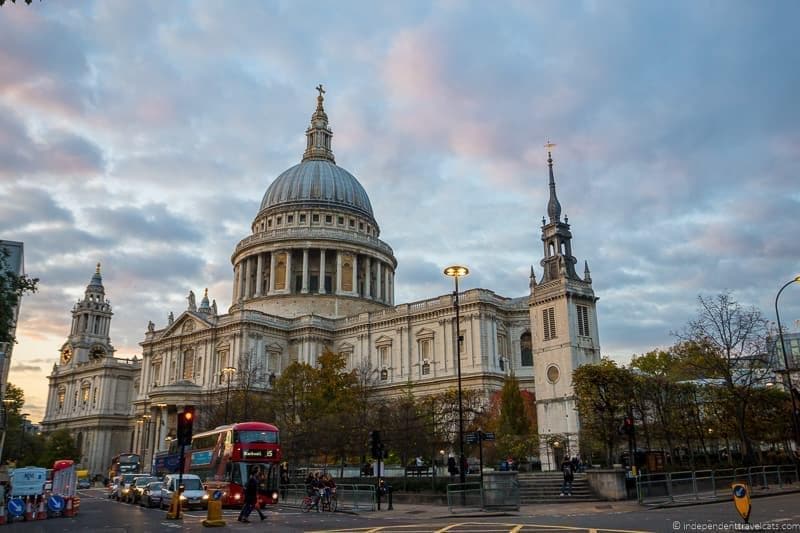 Shakespeare's Globe
Now we recommend heading across the Millennium Bridge, a steel pedestrian suspension bridge, to the other side of the Thames to see Shakespeare's Globe (fee*).
This is of course not the original Globe Theatre (built in 1599) used by William Shakespeare, but it is as faithful of a modern construction as could be produced of the open-air theatre where Shakespeare staged many of his famous plays. The Globe is located near where the original would have stood. The original Globe Theatre stood about 200 meters away and you can go see the site and it is marked by a plaque.
The reconstruction of The Globe was the dream project of American actor/director Sam Wanamaker. If you want to see the inside of the theatre, you can visit the museum exhibition, learn how it was constructed, and do a guided tour of the open-air Globe where you get to see the stage and seating areas.
You can also enjoy open-air performances here in the summer or at the indoor candle-lit Jacobean style Sam Wanamaker Playhouse year-round. A great venue to see a Shakespeare play in London. Just be sure to book your performance ticket in advance.
Alternatives: Other nearby attractions include the Tate Modern (free, charges for exhibitions*), HMS Belfast (fee*), Southwark Cathedral (free, donations welcome), and The Old Operating Theatre Museum (fee*).
Borough Market
Borough Market is the best known and one of the oldest markets in the UK. It is believed that a market has been in this area since around 1014!
Today the market is filled with fresh produce, fresh meats and fish, baked goods, cheeses, flowers, wines, spices, and other food stuff. There are also cafes, demonstration kitchens, and restaurants that are part of the market as well as many food stalls selling ready-to-eat foods, including sandwiches and all kinds of street foods from Ethiopian wraps to Galloway beef stew to vegetarian pastries. This is a great place for a snack or meal!
If you are really interested in food, we'd recommend considering cutting out some of the other stops in the itinerary today and doing a food tour here, such as this one. A food tour will allow you to understand the history of Borough Market and allow you to sample and taste a wide selection of local products and dishes.
The market is normally open from 10am to 5pm and is closed on most Sundays during the year. Check the hours ahead of time when planning your day.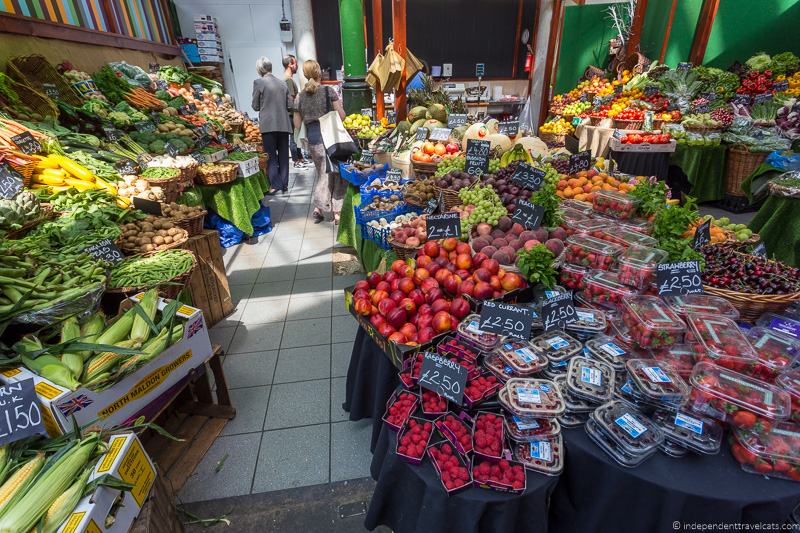 London Bridge & Tower Bridge
From this area you can admire London's two most famous bridges, London Bridge and Tower Bridge. Both are active road bridges over the River Thames that can be crossed by vehicles and pedestrians.
Given time, you probably only have time to admire them today, but both do have associated attractions if you want to visit them. You'll also have a good view of HMS Belfast (fee) moored in the Thames, a WW2 era Royal Navy light cruiser that is now a popular tourist attraction.
London Bridge has existed in some form since Roman times, although the current one was built in the 1970's. Next to London Bridge is the The London Bridge Experience (fee*) which tells the darker history of the London Bridge over time through the use of interactive exhibits and theater and is geared towards families and young adults that don't mind a bit of a scare.
Tower Bridge is the more iconic bridge, although often mistakenly referred to as London Bridge. It is a Victorian bascule and suspension bridge built between 1886 and 1894, and is very photogenic with its iconic bridge towers.
If you want to learn more about the Tower Bridge (and have extra time) you can visit the Tower Bridge Exhibition (fee*) which covers the history of the bridge and allows access to the towers and walkways, including a glass walkway you can walk across that extends 138 feet above the Thames!
The Shard
The Shard is a modern pyramidal shaped skyscraper that is home to several restaurants, a hotel, offices, shops, and a viewing gallery. It was completed in 2012 and is currently the tallest building in Western Europe at 1,017 feet (309 meters) with 87 floors.
The viewing gallery, called The View from the Shard (fee*), is the highest public viewing gallery in London located on floors 68, 69, and 72. The building offers spectacular 360 degree views over central London and you can see just about all of the city's major landmarks. On a clear day they say you can see up to 40 miles away, and it definitely offers the most expansive views over London we've every seen! Good views both during the day and the evening.
Now, The View at the Shard is fairly pricey (currently £37/person) for what it offers. So I'd carefully consider your visit here especially if you have already visited the London Eye and/or Sky Garden which both also offer good city views. If you do want to visit book your tickets online in advance for the best prices.
The View from the Shard is also included on the London Pass, so if you have one of these then it is definitely worth visiting.
Another way to enjoy the view is to head to the GONG Bar on Floor 21, and while not as high as the viewing platform, still offers sweeping views of the city for the price of a cocktail. This is a great spot to enjoy a before or after dinner drink. You can book ahead but they also take walk-ins at the bar. The Shard also has several other restaurants and bars, reservations recommended or required for meals.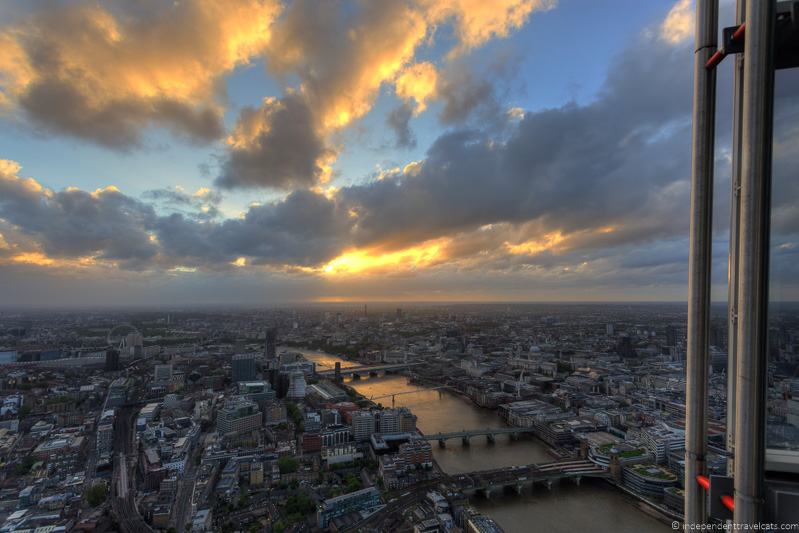 West End Show
The West End is one of the most world-renown places in the world, along with New York City's Broadway, for professional theatre. Over 30 theaters can be found in the West End offering a wide variety of musicals and plays. Here is a good list of the theaters which also denotes the current main production being shown at each.
If you are wanting to go to a West End theater performance, you can book tickets in advance online before your trip (recommended if there is a specific performance you want to see) or try to find a deal once you are in London if you are flexible in what you see. Here are some tips for buying theatre tickets, and London Pass holders have access to theater ticket discounts on several West End shows.
But if theater and musicals are not your thing, there are a number of nighttime performances in London every day, from rock concerts to opera to films to comedy shows. For operas, symphonies, and classical music, you can find a list of upcoming performances here.
London also has a great nightlife scene with hundreds of bars, pubs, discos, and clubs. No matter what your taste, you are sure to find something of interest!
London Itinerary Day 3 – Kensington & Windsor Castle
So now you've seen some of the BIG highlights in London like Westminster Abbey, the Tower of London, Big Ben, Buckingham Palace, and the National Gallery. For your last day we'd suggest exploring a neighborhood like Kensington in the morning and then head to Windsor Castle in the afternoon.
Alternative London Neighborhood Options. We are going to recommend Kensington as the neighborhood to explore today, as we feel it offers something for every type of traveler and also has a large number of attractions, including several free museums. But if you are wondering about other neighborhood options we can also recommend Greenwich or Camden.
Each of these 3 neighborhoods are interesting and have a number of attractions and are worth a day of exploring. If you'd prefer to explore Greenwich or Camden, you can find a day itinerary for both of these neighborhoods as part of our suggested 6 day itinerary.
Or you can instead use this day to visit sites of interest to you that didn't make it into our 3 day itinerary, such as the British Museum (free), Kew Gardens (fee*), the London Zoo (fee*) or a tour of the FC Chelsea stadium (fee*). Indulge in a particular passion or just enjoy a leisurely day of shopping or pub hopping.
Or head out of London for a day trip (see "Possible Day Trips from London" section at the beginning of the post for ideas) to visit popular sites in southern England such as Stonehenge or Oxford. It's you last day, so spend it however you like!
You can get around Kensington today by foot, but you will need to take a train to reach Windsor Castle.
Kensington Palace
Kensington Palace (fee*) is a grand 17th century home that was first used as a royal residence by King William II and Queen Mary II. It continued to be used as a royal residence by a British monarch through the reign of King George II. Since then it been used as the residence and workplace of "minor royalty", and is still an active working royal palace.
One of the people most associated with the palace is Queen Victoria although she never lived here as queen. Victoria was born at Kensington Palace and it was here that she learned that she was queen. Fittingly, outside of Kensington Palace is a large marble statue of Queen Victoria, designed by her daughter Princess Louise, that depicts her at the age of 18 in her coronation robes.
In more recent times, it has been the home and workplace of Princess Margaret, Prince Charles, Princess Diana, Prince William, and Prince Henry. It is still the official London residence of Prince William and Prince Henry and their wives, Princess Eugenie, and several other members of the Royal Family.
Despite it being a working royal palace, visitors are able to visit many of the rooms in the palace year round. There is a lot to see here and you can easily spent a few hours wandering around the warren of rooms. I would recommend taking a look at the different self-guided routes that the palace staff recommend and these are color coded and mapped out. The routes are based on different themes (e.g., Queen Victoria, King's Apartments, Queen Victoria, royal fashion) so you can be sure to see the parts of most interest.
Note, the palace currently has a very popular Princess Diana fashion exhibition (entry is included with the palace ticket but expect additional lines for this exhibition). This has led to increased visitor numbers.
If you don't have a London Pass I would recommend purchasing your ticket in advance here and if you do have a London Pass, I'd recommend arriving near opening time. I'd also recommend visiting on a weekday rather than a weekend if you can.
There is a café here serving meals and refreshments, and also a garden worth exploring if you have time and the weather is good.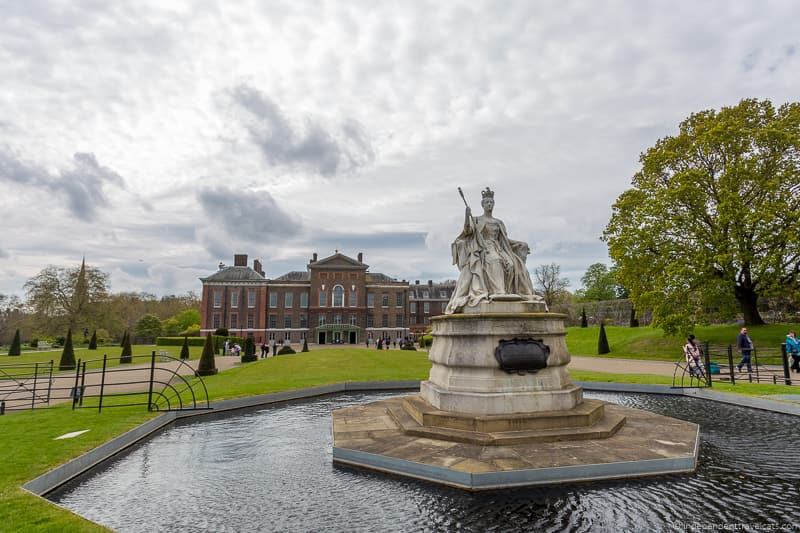 Kensington Gardens
After visiting the palace, we recommend spending some time exploring the surrounding Kensington Gardens. The gardens are another one of London's royal parks and covers 265 acres. It's a beautiful green space and we recommend a little wander if the weather is nice.
Some of the highlights of the park are the two Serpentine Galleries (free contemporary art galleries), an ornamental water garden, the Albert Memorial, the Elphin Oak (carved hollow oak tree), and the Princess Diana Memorial Playground. Food and drinks are also available at cafés in the park year round.
Probably the most striking memorial in the park is the Albert Memorial, a giant ornate memorial to Prince Albert who died of typhoid in 1861, leaving his wife Queen Victoria grief stricken. From the memorial, you'll have a good view of the Royal Albert Hall.
Royal Albert Hall
The Royal Albert Hall (fee*) is the top performance venue in London and the hall hosts everything from classical concerts to rock bands to sporting events. The world-class concert hall was the idea of Prince Albert and was first opened in 1871. Everyone from the Beatles to Winston Churchill to Nine Inch Nails have made appearances or performed here, and each year it hosts the BBC Proms.
If you are heading off to Windsor Castle this afternoon, you may not have time go inside and can just admire it from the outside. But if you do have time, visitors can join a guided tour of the hall. Guided tours of the Royal Albert Hall help you understand the history of the concert hall and take you to see the auditorium, gallery, and the private suites of the Royal Family.
If you want to do a guided tour, we recommend booking these online in advance, as they are very popular and do sell out.
If you are looking for an evening entertainment option during your time in London, there is almost always something happening at the Royal Albert Hall. You can book a ticket online or stop by the Ticket Office.
Now we recommend deciding between a visit to Windsor Castle or spending the rest of the afternoon exploring more of Kensington.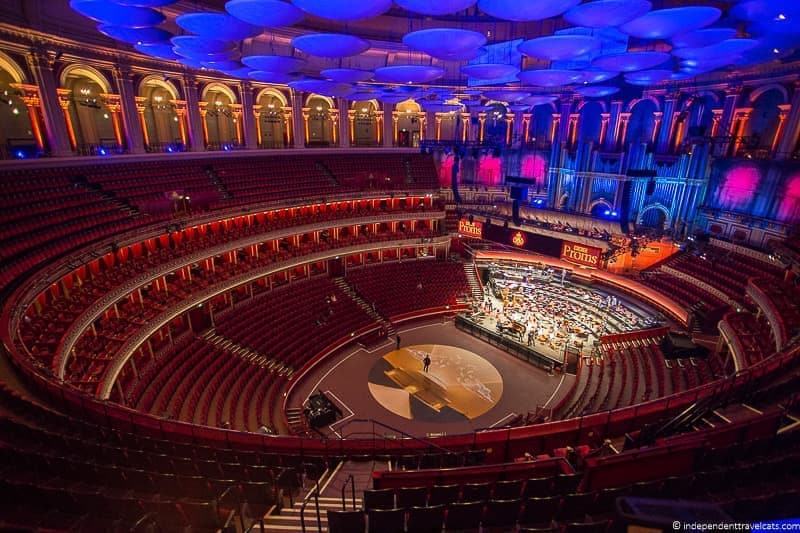 Afternoon Option #1: Windsor Castle
Windsor Castle (fee*) is the oldest and largest inhabited castle in the world and still an active royal residence. It was originally built in the 11th century as a defensive motte-and-bailey castle by William the Conquerer and has been a royal residence since the reign of King Henry I. Today the castle is a favorite weekend home to Queen Elizabeth II, a place where state visits are often hosted, and a popular tourist attraction.
During most of the year, parts of Windsor Castle are open to the public. This includes the castle's magnificent State Rooms which were mostly designed and built in the 19th century. Other highlights include the Queen Mary's Dolls' House, the 15th-century St. George's Chapel, and the Changing of the Guards ceremony (a much smaller version of the ceremony that takes place in front of Buckingham Palace).
Most visits are self-guided and there is a good audioguide included with admission. You can also join offered guided tours at the castle, I'd check the website in advance for tour times. Note that the castle can get very busy, especially in the summer months.
If you want to visit Windsor Castle, the afternoon is currently the recommended time as the castle gets very crowded in the morning. We'd recommend getting on a train to Windsor at least 3 hours before closing time (it varies by season so check the website) to ensure you have enough time to visit. We'd recommend allowing 1 hour to travel to the castle and at least 2 hours for the visit.
To get here you need to take a train out of London (about 1 hour ride each way). You cannot use your Oyster Card to travel to Windsor as it is outside London, so you will need to buy a rail ticket at the station. Paddington Station is a 25 minutes walk (or slightly shorter Tube ride) from either Kensington Palace or Royal Albert Hall.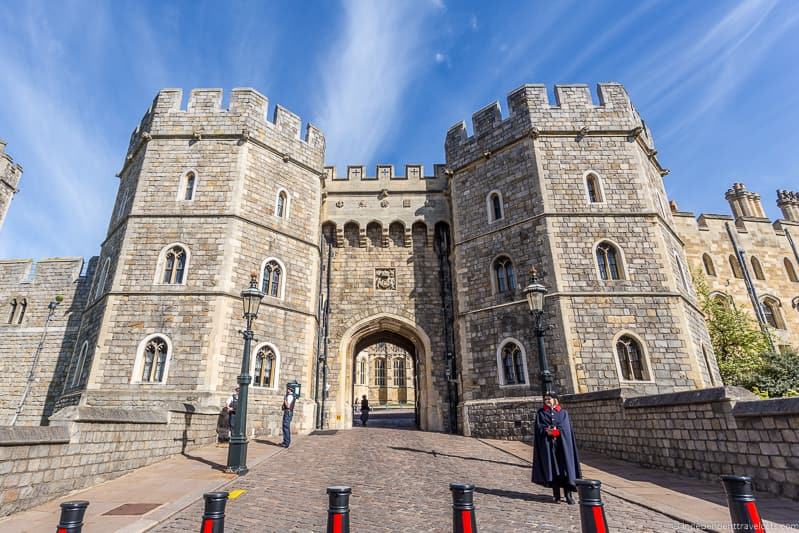 Afternoon Option #2: Afternoon Tea, V&A Museum, Shopping, & Hyde Park
If you decide to continue to explore Kensington, we recommend considering an afternoon tea break, visiting the V&A Museum (or one of the other free museums in Kensington), doing some shopping, and taking a stroll through Hyde Park. Check our guide for more things to do in Kensington.
Afternoon Tea in Kensington
The tradition of afternoon tea originated in the aristocratic homes of England in the 19th century, and there is no better place to have afternoon tea than in London. You'll be spoiled for choice in London as there are thousands of places that serve tea from casual cafés where you can get a cuppa and a scone to luxury hotels offering a 3-tiered silver tray fancy afternoon tea experience.
If you are just looking for a casual tea, you'll be able to find that at many cafés in this area. One suggestion is to break for tea within one of the cafés at the Victoria & Albert Museum, which include both opulent Victorian era rooms as well as casual outdoor courtyard spaces. Once a week, The Victoria & Albert Museum also serves a formal Victorian afternoon tea that recreates the afternoon tea experience of Queen Victoria, and for this one you do need to book in advance.
But if you want a more luxurious experience, you'll want to make a reservation in advance. Luxury spots to enjoy afternoon tea in the Kensington area include The Berkeley and The Lanesborough. Also a few to consider in nearby Mayfair (west of Hyde Park) are The Ritz, The Dorchester, and Claridge's.
We have oddly had a lot more afternoon teas in Paris (see our Paris afternoon tea guide) than London so far. But we can suggest in this area that if you are looking for something a bit different, you might want to check out the fashion-inspired Prêt-à-Portea afternoon tea at The Berkeley. This fun and colorful tea is designed for those who love fashion and the tea menu changes each season along with the fashions on the catwalk.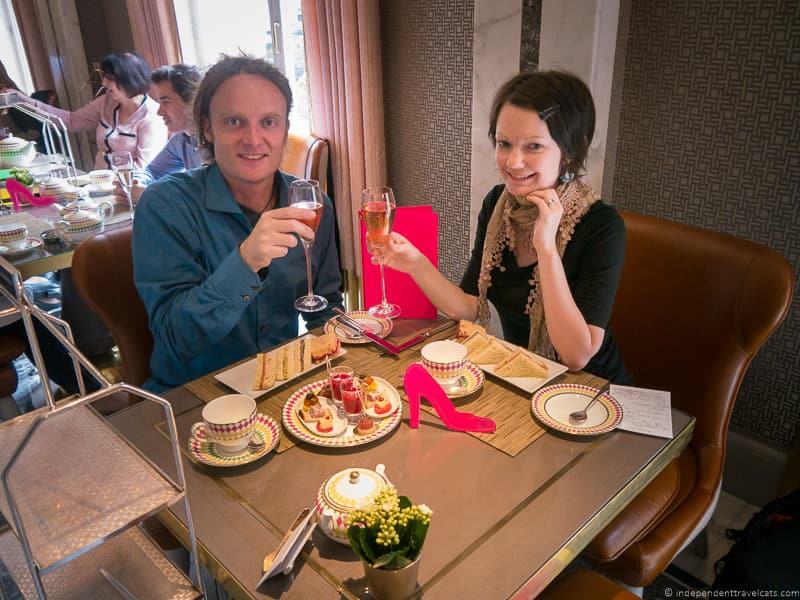 Victoria & Albert Museum
The Victoria & Albert Museum, often referred to as the V&A, is one of the world's leading museums of art and design. The museum collection is extensive and items range from Chinese embroidery to John Constable paintings to Baroque furniture to Alexander McQueen gowns. It's a must visit for anyone interested in art or design.
The museum is also known for hosting a lot of really interesting exhibitions which often attract a large number of visitors. The museum is also known for its current café and restaurant located within the beautiful Morris, Gamble and Poynter Rooms, which is the oldest museum café in the world.
Entry to see the permanent collection at the V&A is free. Some temporary exhibitions are also free but there is generally a fee to enter the major ones. If you have a London Pass, you get free entry into one of the paid exhibitions.
Alternatives: Kensington is home to several other well-known museums, including the Science Museum and the Natural History Museum. Both are free (donations appreciated) and both are good alternatives if you aren't excited by the V&A. The Science Museum in particular is a great family-friendly option.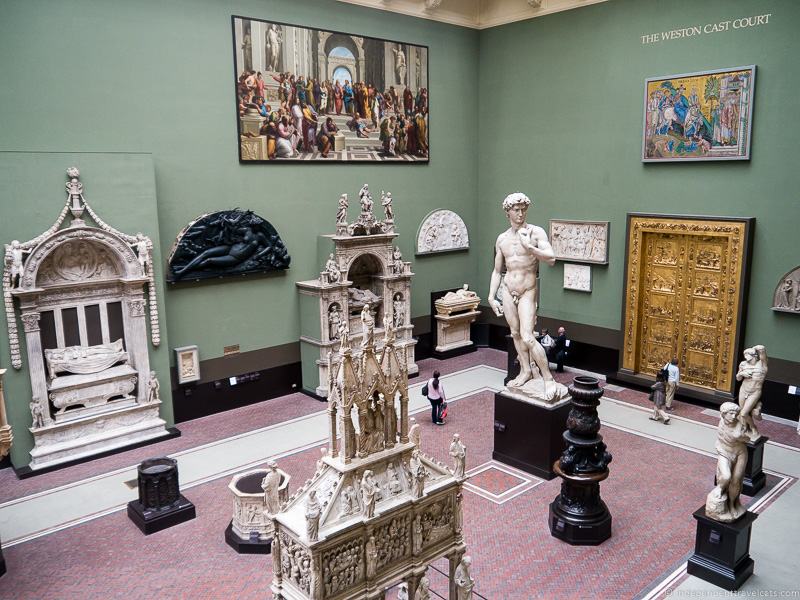 Harrod's
Now if you are in the mood for some shopping or just some window shopping, Kensington has some excellent shopping areas. The most concentrated areas are along King's Road, Kensington High Street, and Sloane Street. You can find everything from more budget friendly international brands like Zara and H&M to high-end luxury department stores like Harrods and Harvey Nichols.
Harrod's is one of the most famous luxury department stores in the world. It was founded by Charles Harrod in 1835 and grew to be the best known British department store in the world, being patronized by celebrities, politicians, royalty, and the British elite. Although in recent years it has been bought by the state of Qatar and has suffered from some bad press, it is still a luxury store worth checking out for those who enjoy shopping. Other department stores in this area are Harvey Nichols and the more traditional Peter Jones.
If you are more into antiques, you'll want to head to Church Street where you'll find a number of antique stores like Andrew Nebbett Antiques and Designs, Alfie's Antique Market, The FM Gallery, and Church Street Antiques.
Hyde Park
Hyde Park is yet another of London's great Royal Parks, covering 350 acres. It used to also encompass Kensington Gardens, but the two are now divided by the Serpentine Lake and Carriage Drive. The park offers lots of tress, ornamental flower gardens, a large lake, walking and cycling paths, sport facilities, and a playground.
Attractions with the park include The Serpentine Bridge, Holocaust Memorial, the Diana Memorial Fountain, Speaker's Corner, and several war memorials. Located at the northwestern and southwestern corners of the park are the Wellington Arch and Marble Arch.
Each Sunday at Speakers' Corner, located on the northeast edge of Hyde Park (near intersection of Marble Arch and Oxford Street), you can hear people give speeches and hold debates about a variety of topics in the name of free speech. The tradition dates back to the mid-1800's and anyone can participate.
The park is a great place to get active as you can boat, cycle, play tennis, skate, ride horses, or even swim within the park. In the summer boating is popular and you can rent a rowing or pedal boat to enjoy the Serpentine Lake or you can take a ride on the solar-powered Solarshuttle. There are also a few places to grab coffee or have a meal, including lakeside dining.
Enjoy your final evening!
It is your last night in London so plan something you'll enjoy and remember. This could be a nice dinner out, a pub crawl, attending a late night museum opening, a sunset River Thames cruise, a creepy Jack the Ripper tour, seeing an event at the Royal Albert Hall, a sporting event, a classical music performance, or just relaxing after 3 busy days of sightseeing!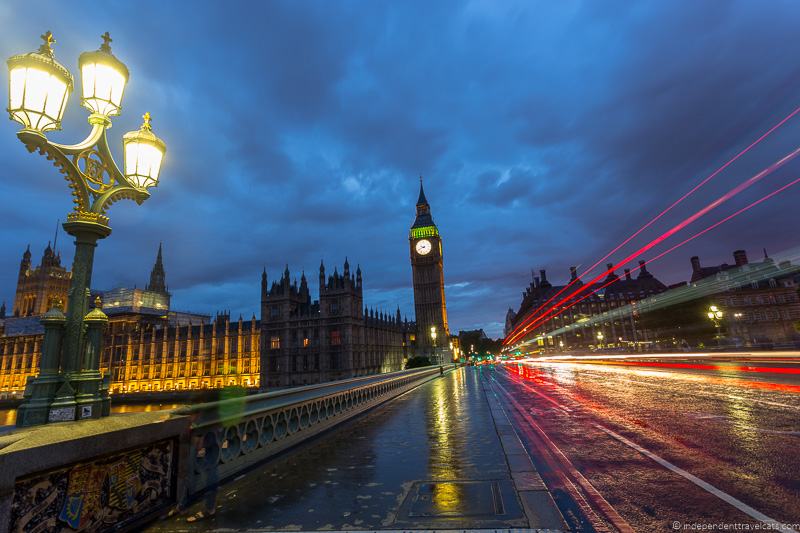 Save Money on your 3 Days in London with the London Pass
We wanted to give you an example of the cost savings over 3 days in London if you were using a London Pass. The following calculations are based on the above itinerary although it doesn't include every single attraction we suggested but includes what we believe is a realistic number for someone planning to actively sightsee based on the above itinerary.
Here is the cost savings for 3 days in London for 2 people using the London Pass.
London Pass Savings Calculations

Attractions
Normal Entry Cost
(November 2023 Prices)
HOHO Sightseeing Bus
£37 X 2 = £74
Westminster Abbey
£27 X 2 = £54
Tower of London
£29.9 X 2 = £59.8
St Paul's Cathedral
£23 X 2 = £46
Shakespeare's Globe Theatre
£25 X 2 = £50
Kensington Palace
£25.4 X 2 = £50.4
View from the Shard
£37 X 2 = £74
Windsor Castle
£30 X 2 = £60
Total Cost Without Pass for Two Adults
£468.6
Total Cost of two 3 day passes
£274
Total Savings with Passes
£194.6
So in the above example, visitors would have a cost savings of £97.30 per person for a total cost savings of £194.60 for 2 people. This is definitely a considerable savings on entry fees for three days of sightseeing!
Even if you change some of the attractions or take away a couple of them, you would still save money with a London Pass if doing a similar amount of sightseeing. In general, you need to visit an average of 2 to 3 higher priced attractions per day to save money with a 3 day London Pass.
We highly recommend that all visitors check out the London Pass, especially if it is your first visit to London. The pass covers free entry to over 90 attractions and museums, plus a number of discounts on tours, restaurants, souvenirs, and theater tickets. Not only will it save many visitors money, it can also save time as it provides fast track entry into certain busy sites.
You can check the latest prices and purchase the London Pass at the official website for the pass here. We also recommend checking prices on and GetYourGuide here as sometimes one will be better value than the other.
However the London Pass is not a good fit for all travelers, and if you are not sure if it is a good fit or not, read our full review of the London Pass to help you decide if it is worth it. Our review breaks down the features, ways to purchase, the transport option, how to calculate your cost savings, and more.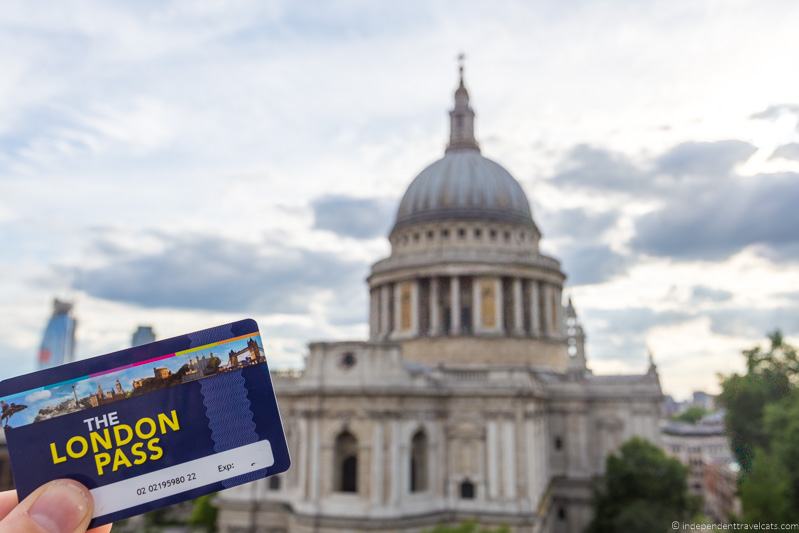 There you have our suggested London itinerary on how to spend 3 days in London!
Planning a trip to London? Pin this article to Pinterest to read later: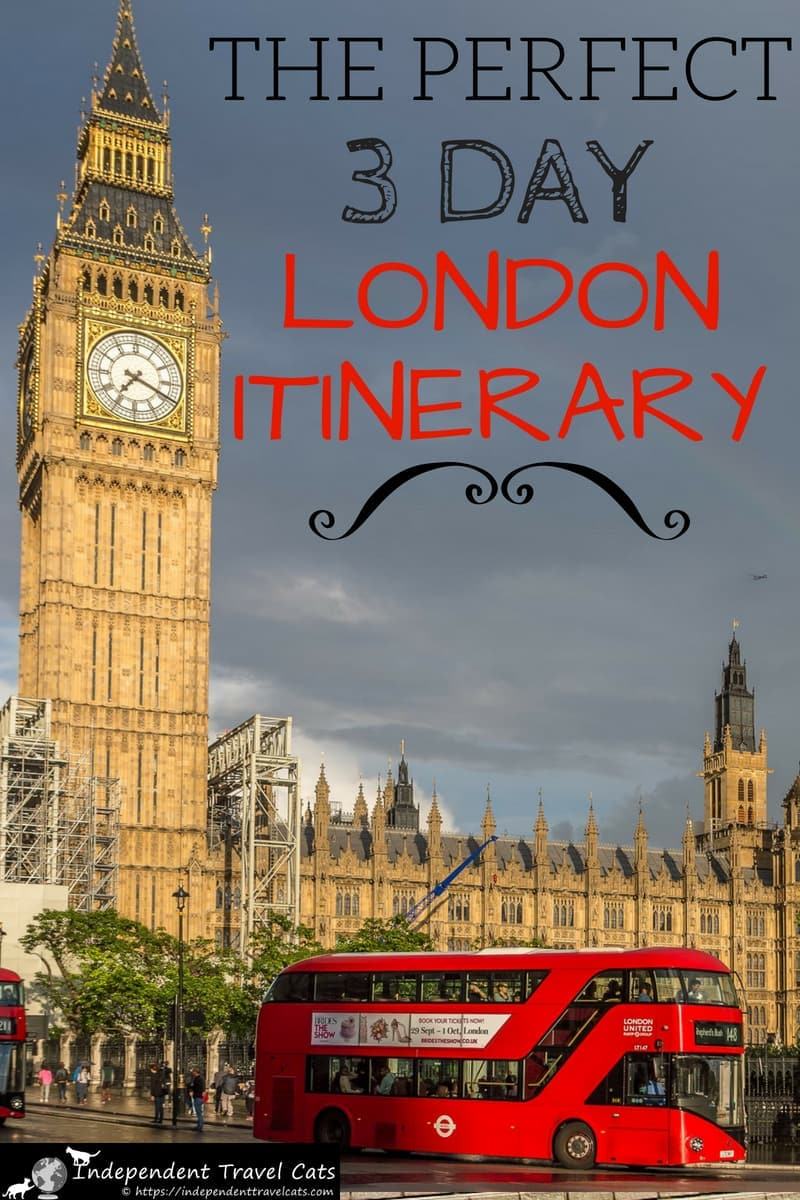 How many of these attractions would be on your London itinerary? If you've visited London, what were you favorite spots in London? If you have any questions about the itinerary or visiting London, just ask them in the comments below and as always we are happy to help!