Winston Churchill is one of the most well-known British figures of the 20th century, and today it is easy to find traces of Winston Churchill in London. Although Churchill traveled extensively, there is no city more central to his life than London. It was here that he went to school, sat at Parliament, married, lived with his family, served as Prime Minister, coordinated much of the war effort during World War 2, and died.
Although Churchill is best known for his role as Britain's fearless wartime leader during WWII, he was a well-rounded man who also served in the military, bred race horses, produced over 500 paintings, became an amateur bricklayer, won the Nobel Prize for Literature, and wrote love letters regularly to his wife. Today Winston Churchill remains as intriguing and divisive as he was in life, and London is the best place to learn more about this complex former leader.
We share a comprehensive guide to Winston Churchill sites in London which include the places he lived, worked, married, and went to school. These includes popular Churchill attractions like the Churchill War Rooms and St. Paul's Cathedral as well as lesser known spots such as Guildhall and Harrow.
We'll also provide a comprehensive guide to where you can find Churchill statues, artwork, and memorials in London. Finally, we'll tell you how you eat, sleep, and shop like Churchill in London, from his favorite hotels to his favorite brand of Champagne.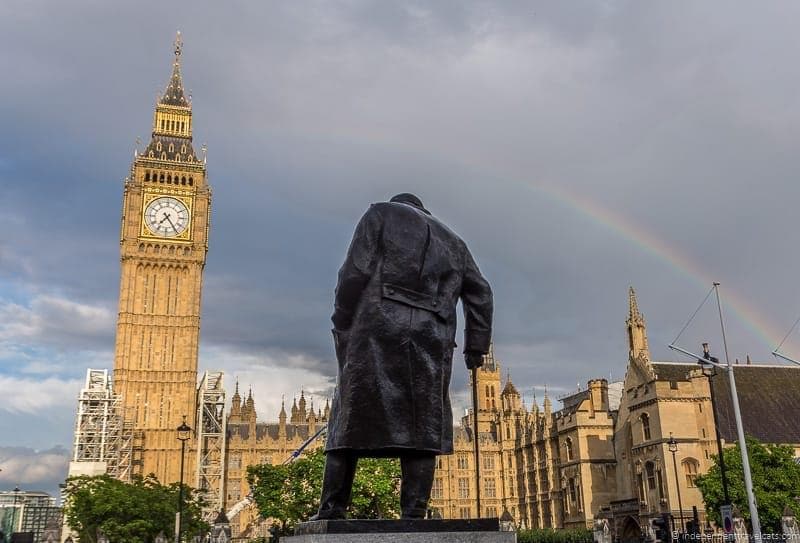 Attractions Related to Winston Churchill in London
Winston Churchill lived a long and active life, so there are hundreds of places associated with Winston Churchill in London. We have narrowed down this list to the places we think are most strongly associated and can (at least sometimes) be visited by the public.
A visit to each place provides a slightly different piece of the puzzle to understanding this significant but complex figure. For each attraction, we provide the address, history, association with Churchill, and tips on visiting.
In addition to these top Winston Churchill sites in London, we also urge you to add and discover a few of your own! If you are planning to visit places outside of London, also be sure to check out our post about our top suggested Churchill sites in England.
For general itinerary and planning tips for your time in London, you may want to have a look at our 2 day London itinerary as well as our more detailed 6 day London itinerary which includes walking routes. Consider a London Pass to save money on London's top attractions, including many of our recommended Winston Churchill sites.
The easiest way to get around in London is by walking (if nearby) or using London public transportation such as the Underground (the "Tube") and bus system. If you plan to use public transportation to travel around London, you may want to consider getting an Oyster Card.
The map below shows the locations for each of the mentioned main Winston Churchill attractions in London. You can use this to help plan your itinerary. Click here or on the map below for a closer look and to see exact locations: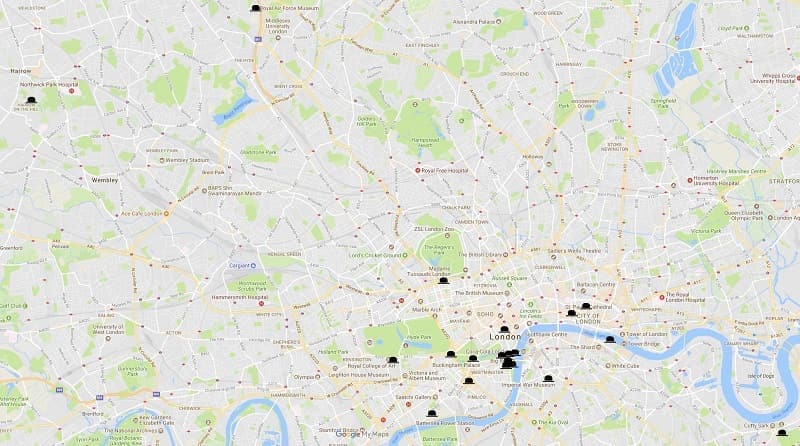 The Churchill attractions below are roughly listed in order from how far they are from central London (using Trafalgar Square as the center), starting with the most central sites and ending with the sites that are furthest from the center.
National Portrait Gallery
Address: St Martin's Place, London, WC2H 0HE
The National Portrait Gallery in London was the world's first portrait gallery in the world, opening in 1856. The gallery houses a large collection of portraits, focusing mainly on important and famous British people, and of course has a large number of paintings, photographs, and busts of Sir Winston Churchill. Several of these form part of the permanent collection so there are almost always Churchill related artwork on display.
To find them, head to the 20th century portrait rooms in the gallery. The museum's collection also includes a number of portraits of other Churchill's ancestors, including the 1st Duke of Marlborough, his father, his mother, his wife, and some of his children.
You can search the museum's collections online to see what they hold as only a percentage of their holdings are on display at the museum at any time, but much of their collection has been digitized. The museum is free to visit, although donations are greatly appreciated.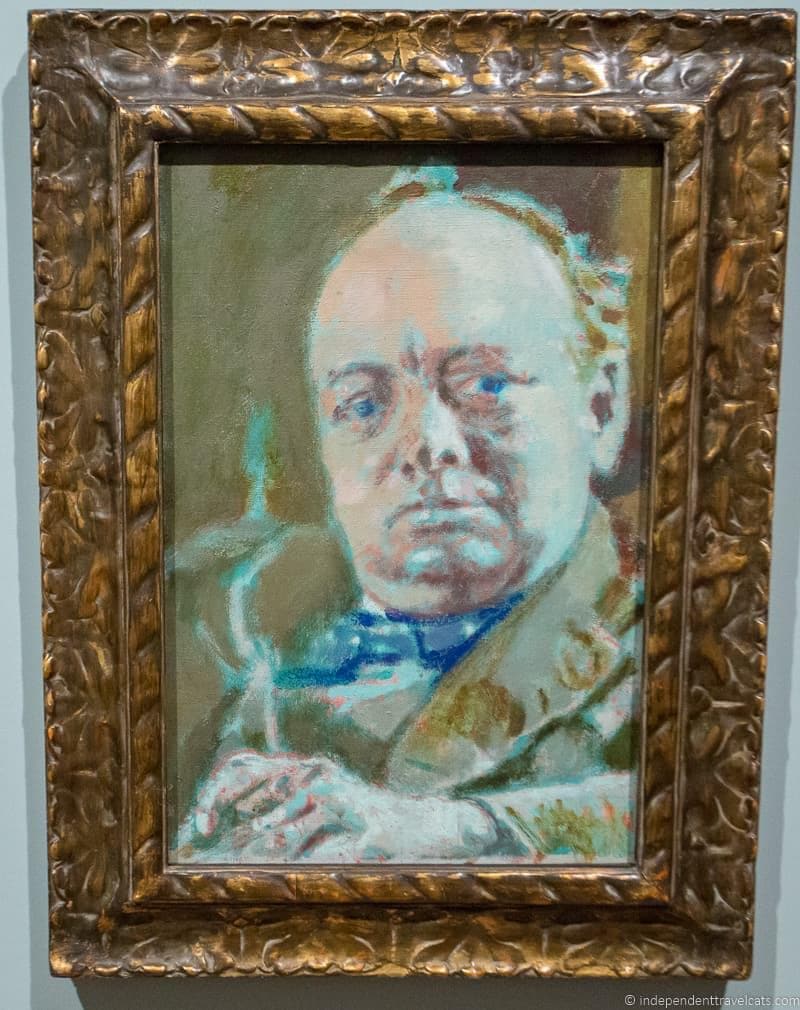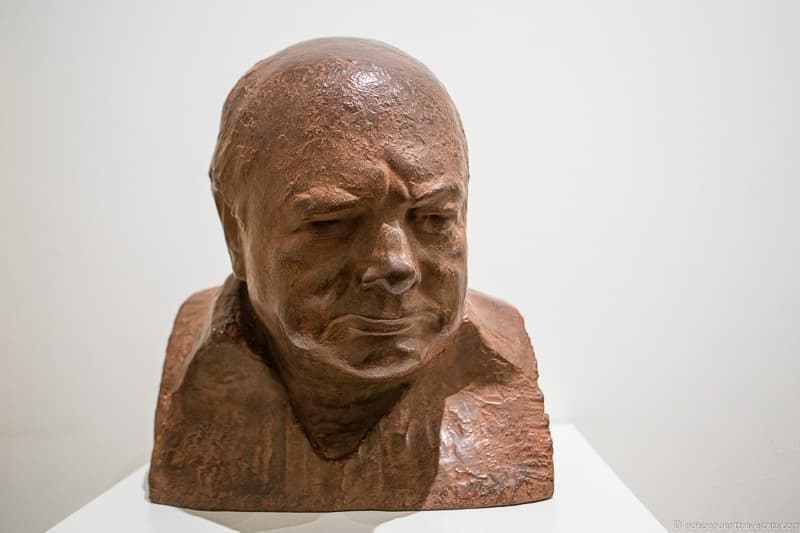 Churchill War Rooms
Address: Clive Steps, King Charles Street, Westminster, London SW1A 2AQ
The most informative Churchill site in London is the Churchill War Rooms, which includes the underground war rooms used during World War 2 and a museum about Churchill's life. This warren of underground rooms was used by Churchill and his war cabinet to direct the war efforts from August 1939 to August 1945. As a visitor, you get to see the famous Map Room as well as rooms where staff handled communications, typed, ate, slept, and cooked.
The Churchill Museum is a large room devoted to Winston Churchill's life, covering his life from birth to death. It includes a number of Churchill related artifacts from his clothing and cigars to his military uniforms and love letters to Clementine. There is also an interactive table that catalogs thousands of records, letter, diary entries, and film clips chronicling his life.
If you only have time for one Churchill site in London, we would recommend making the Churchill War Rooms your stop. Regular visits to the Churchill War Rooms are self-guided with an audioguide.
This is a busy attraction so we'd recommend arriving near opening time and allowing at least 3 hours here for those who are truly interested in getting the most out of this attraction. The gift shop is probably the best place to purchase Churchill related books and souvenirs in London.
For those with a great interest in the War Rooms, may want to book a guided tour such as this one with with Take Walks, this one which includes the Houses of Parliament or this one with Context Travel. You can also book a private tour with museum staff which allows for a behind the ropes experience although it is a bit pricey.
If you have an interest in Churchill and the London Blitz, we can also personally recommend the London Churchill War Room tour by Context Travel (use link above to get 10% off the price of any Context Travel tours) which includes a guided visit to the Churchill War Rooms as well as a walking tour of other sites in London related to the Blitz. Be sure to book any tours in advance of your trip.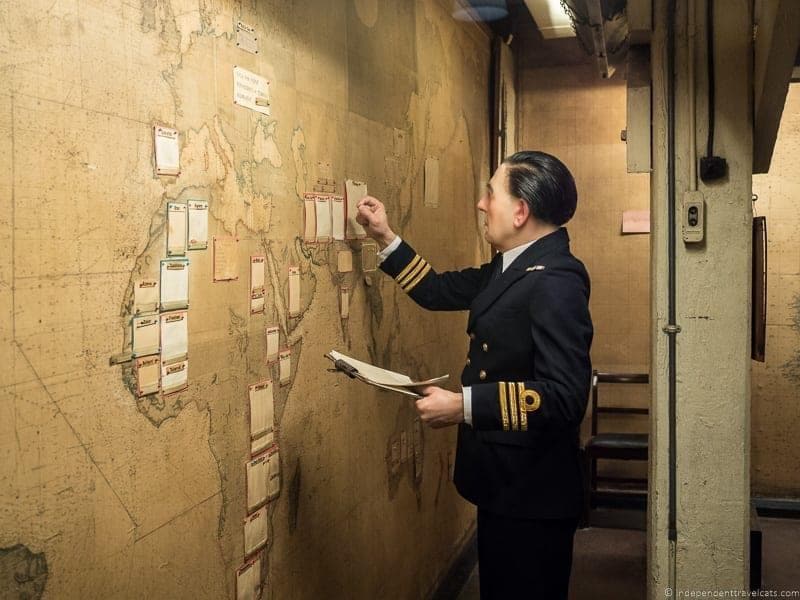 St. Margaret's Church
Address: St Margaret Street, Westminster, London SW1P 3JX
St. Margaret's Church, located next door to Westminster Abbey, was founded in the 11th or 12th century and the current church was primarily built between 1486 and 1523. This Anglican church is the site of several happy and significant events in Winston Churchill's life, including his wedding and VE Day.
On September 12, 1908, Winston Churchill, age 33, and Clementine Hozier were married at St. Margaret's Church. Churchill would write to his mother from Blenheim Palace the following day: "What a relief to have got that ceremony over! & so happily".
Other members of Churchill's family would also get married at the church, including Churchill's eldest daughter Diana (to John Milner Bailey in 1932) and Churchill's youngest daughter Mary (to Christopher Soames in February 1947).
The church has a strong history of ministering to Members of both Houses of Parliament and is often called the "parish church of the House of Commons". Churchill would celebrate important Parliamentary events with services at the church, including thanksgiving services following the German surrender in 1918 and the end of fighting in Europe in WWII on VE Day in 1945.
Visitors are welcome to visit during public opening hours except during mass or events. The church is free to enter. It is located next to Westminster Abbey.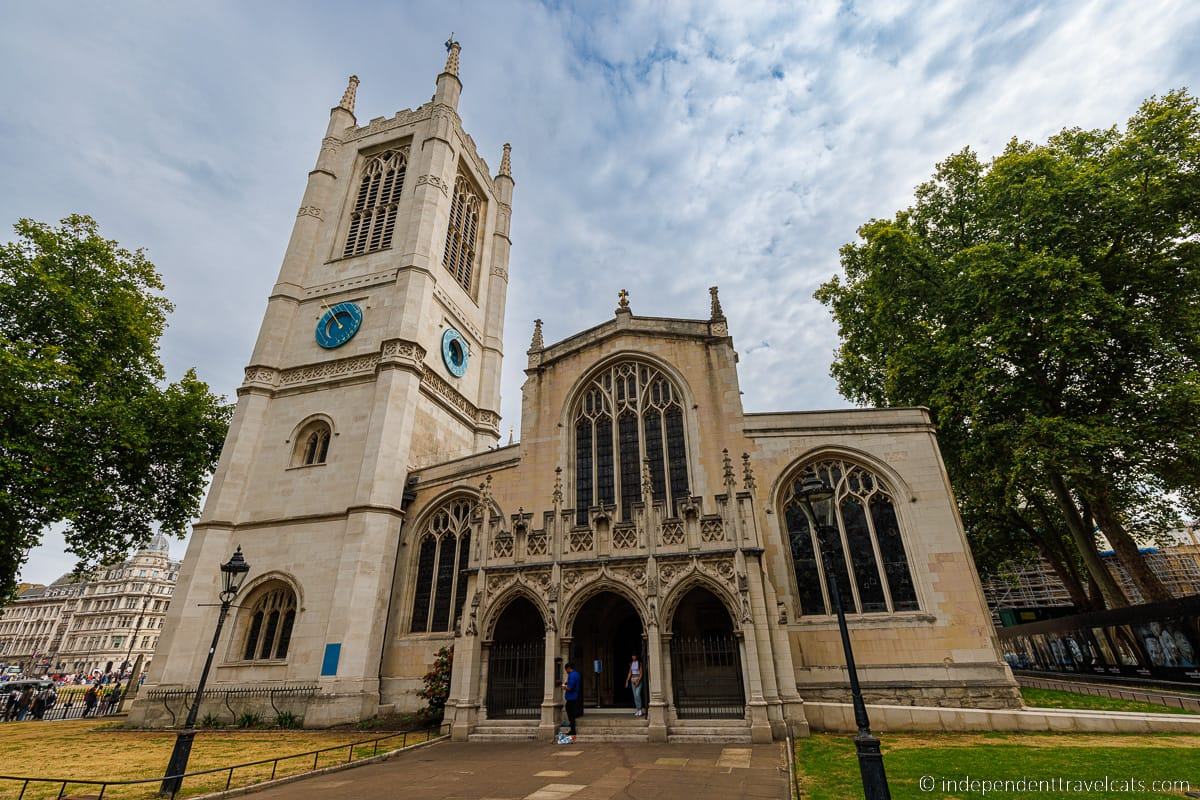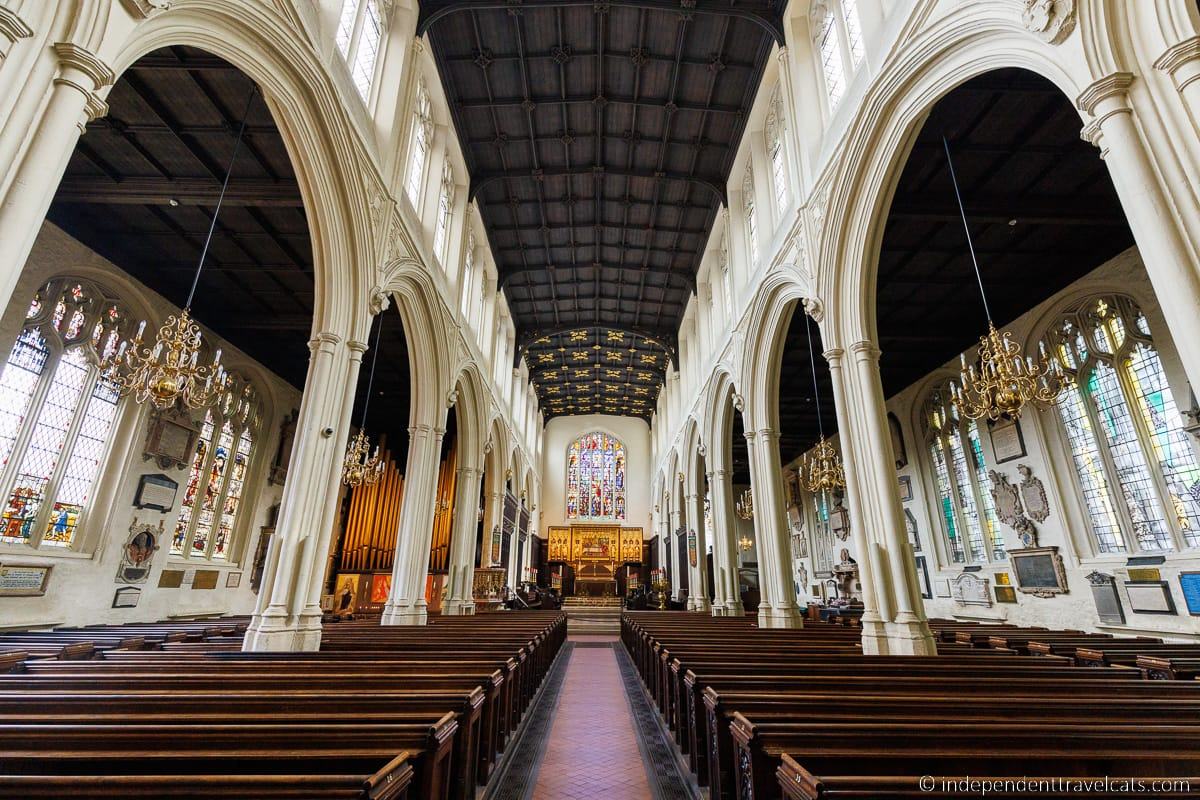 Westminster Abbey
Address: 20 Deans Yd, Westminster, London SW1P 3PA
Westminster Abbey is one of the most impressive and important churches in London as it (and its Norman predecessor) has been the site of all English and British royal coronations since William the Conqueror in 1066! It has also been the site of over a dozen royal weddings and hundreds of notable burials.
The most significant Churchill connection is a green marble memorial stone located near the west entrance (near the grave of the Unknown Soldier). Although Churchill is buried in Bladon, the stone was laid as a memorial in 1965 and unveiled by Queen Elizabeth II in September 1965. The inscription notes that the stone was laid to remember Churchill and the 25th anniversary of the Battle of Britain.
Other World War 2 memorials can be found in The Royal Air Force Chapel which contains the Battle of Britain Memorial Window dedicated to those Royal Air Force pilots and aircrew who died during the Battle of Britain. A Service of Thanksgiving and Rededication on Battle of Britain Sunday takes place at the church each year (the very first service was held at St. Paul's Cathedral) to mark the victory and loss of life. It is a popular service and tickets are usually needed to attend the service.
There is an admission fee to visit the church, and it is included as part of the London Pass. Self-guide audio tours or guided visits are both offered at the church. This is a popular attraction and I'd leave at least 2 hours to visit here.
If you are looking for a guided tour and also want to visit the Houses of Parliament, you might consider this tour.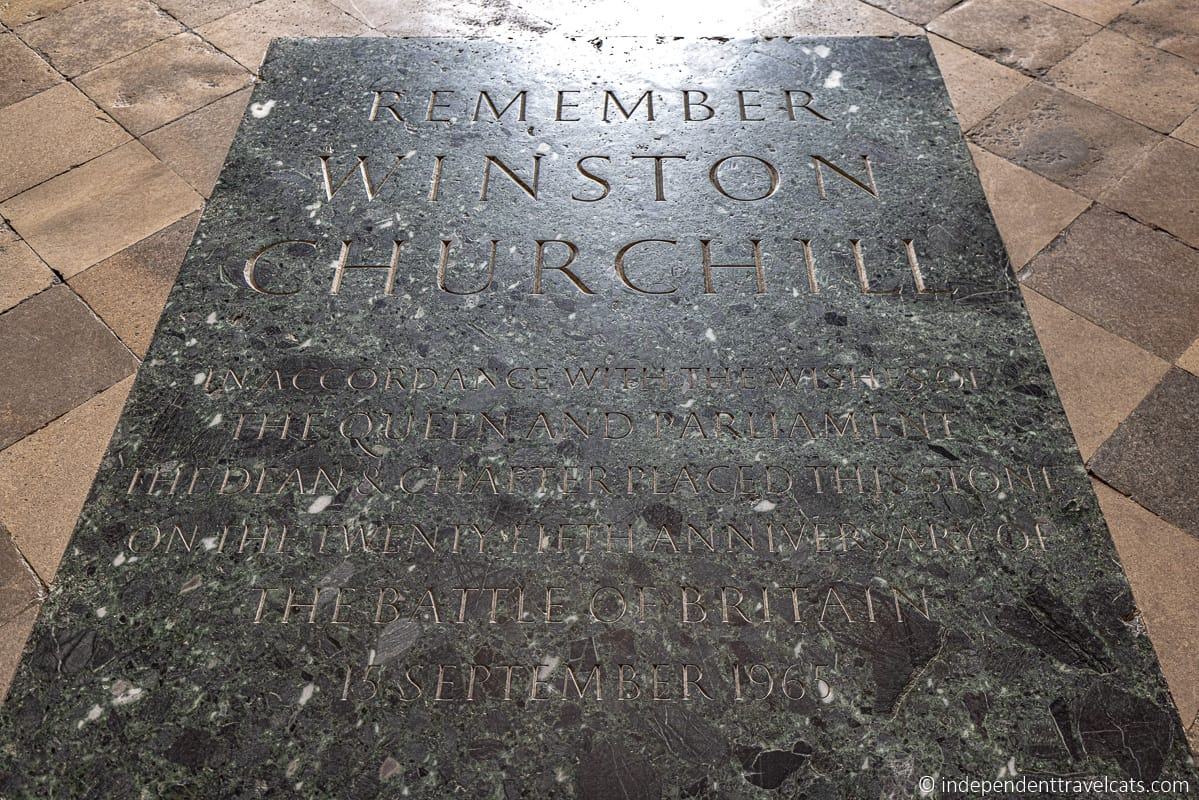 Houses of Parliament
Address: Palace of Westminster, Westminster, London SW1A 0AA
The Palace of Westminster, which is home to the Houses of Parliament, is the main government building in the UK. It is perhaps best known to visitors for Elizabeth Tower with its famous bell, Big Ben.
Winston Churchill would serve in Parliament for over 50 years with his public career in politics spanning from 1900 to 1964, serving during the reigns of six British monarchs. As a Member of Parliament he represented five constituencies over the course of his career. He also held numerous ministerial offices in the cabinet, including First Lord of the Admiralty, Home Secretary, Chancellor of the Exchequer, and of course two terms as Prime Minister. His tenure during WWII has made him the most famous wartime Prime Minister in British history.
In January 1965 his body would return here for a lying in state in Westminster Hall for three days. Hundreds of thousands of people would visit to see the coffin and pay their respects before the state funeral took place at St. Paul's Cathedral on January 30, 1965.
The Houses of Parliament is an active government building so it is not always open to the public, but it is open for guided or self-guided tours on certain dates (usually one day a week). Churchill would have sat most of his time in Parliament within the Victorian House of Commons which was destroyed by an air raid bombing and subsequent fire in 1941.
The current House of Commons was opened in 1950, and the Commons archway entrance was rebuilt at Churchill's suggestion from stonework of the original arch to symbolize the continuity of the old chamber to the new. Today the arch is known as the Churchill Arch and a large bronze statue of Churchill stands to one side of the arch. Another significant Churchill related spot is the memorial plaque on the floor in Westminster Hall that denotes where his coffin sat during his lying of state.
Both self-guided audio tours and guide-led tours are offered here, and you can even book an afternoon tea here to compliment your tour. UK residents can contact their local MP or a Member of the House of Lords to request and arrange a free tour.
Be sure to book a tour ticket online in advance if you wish to visit! Or you can book a guided walking tour that includes a visit and tour such as this guided tour of the Houses of Parliament and Westminster Abbey, or this private tour of the Houses of Parliament and the Churchill War Rooms.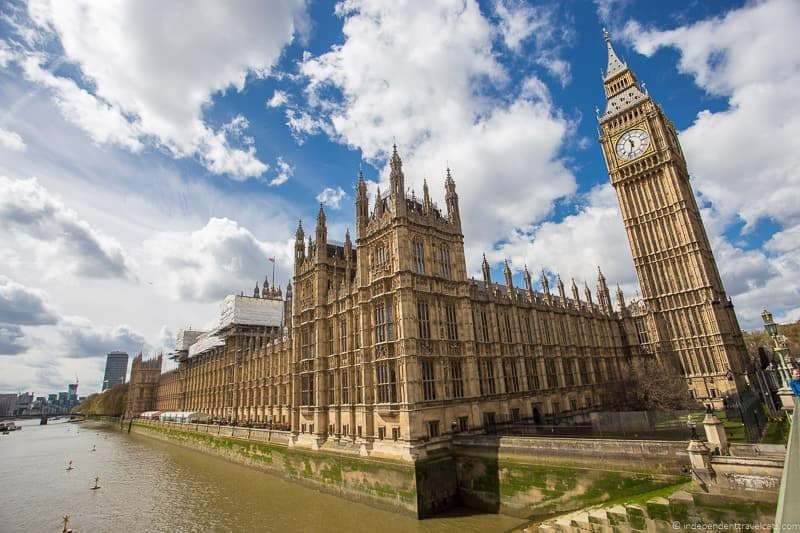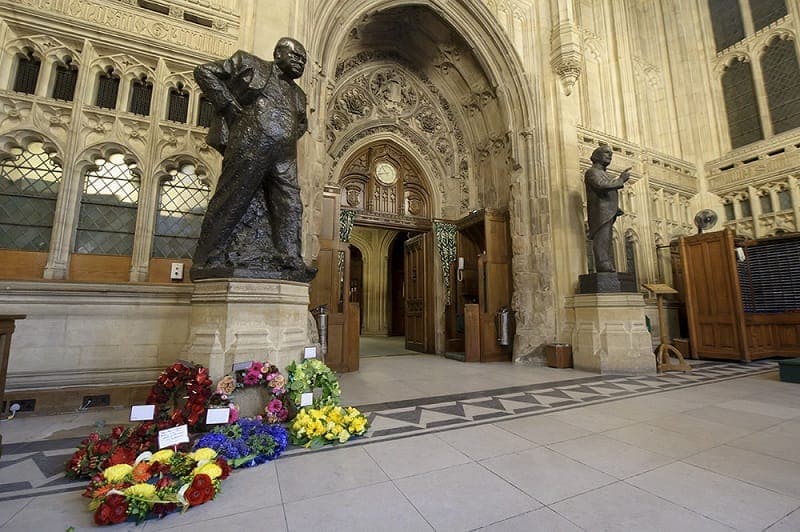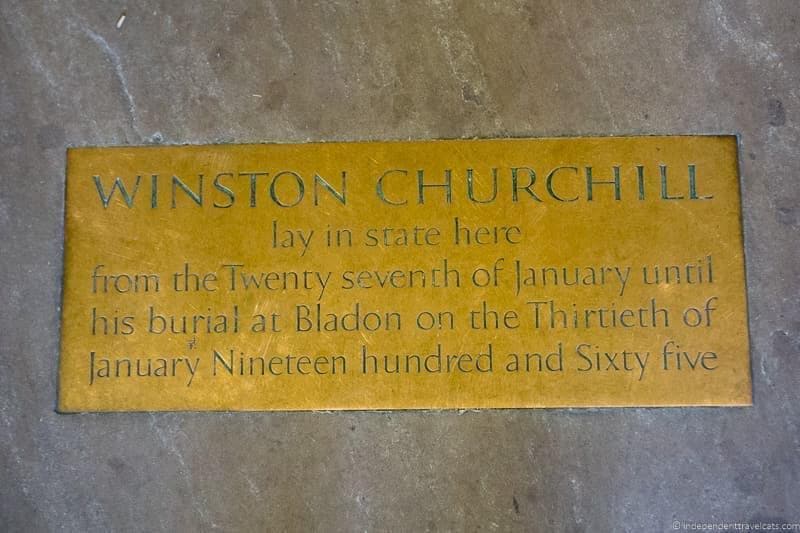 Buckingham Palace
Address: Buckingham Palace, Westminster, London SW1A 1AA
Buckingham Palace serves as the primary London workplace and residence for the reigning sovereign of the United Kingdom. It was originally built as a private residence by the Duke of Buckingham (hence the name) in the 16th century, but was later acquired by British royalty and expanded over time.
Winston Churchill lived through and served as a member of Parliament under six British monarchs, from Queen Victoria to Queen Elizabeth II. He was friends with many members of the royal family and served as Prime Minister under both King George VI and Queen Elizabeth II.
As Prime Minister, we would meet weekly with the reigning monarch normally at Buckingham Palace. He developed a close personal relationship with both of these monarchs, with King George VI during weekly lunch meetings during WW2 and with Queen Elizabeth II as the young queen's first Prime Minister.
A portion of Queen Elizabeth II's handwritten letter to Churchill following his resignation as Prime Minister in April of 1955 reads:
"My dear Sir Winston, I need not tell you how deeply I felt your resignation last Tuesday, nor how severely I miss, and shall continue to miss, your advice and encouragement. My confidence in Anthony Eden is complete and I know he will lead the Country on to great achievements, but it would be useless to pretend that either he or any of those successors who may one day follow him in office will ever, for me, be able to hold the place of my first Prime Minister, to whom both my husband and I owe so much and for whose wise guidance during the early years of my reign I shall always be so profoundly grateful."
It is widely believed that Churchill remained one of Queen Elizabeth II's favorite Prime Ministers if not her favorite. The Queen offered him a dukedom, which he turned down as he wanted to remain in the House of Commons and did not want to prevent his son or grandson from sitting within the House of Commons.
She would instead knight him as Knight of The Most Noble Order of The Garter, the highest honor she could bestow to him, making him Sir Winston Churchill.
The Queen approved a state funeral for Churchill (one of only a handful ever granted to British non-royals) calling him a "national hero" in her letter to Parliament. She attended Churchill's funeral service at St. Paul's Cathedral (her first non-royal funeral as Queen), and she and members of the Royal Family would also attend a number of unveilings of statues and memorials dedicated to Churchill after his death.
Buckingham Palace is closed to the public for much of the year as an active palace, but the public can tour the State Rooms of Buckingham Palace (book tickets in advance!) for about 8 weeks per year (generally August and September). The audioguide for the tour is very good. However, you can get a good view of the palace from outside the gates year-round.
Depending on the day of your visit (as well as weather and security conditions), you may get a chance to see the Changing of the Queen's Guard ceremony at the forecourt of Buckingham Palace which usually takes place around 11am. The full ceremony lasts about 45 minutes.
If you are interested in seeing the Changing of the Guard ceremony, check the schedule online in advance and show up early to get a good viewing spot.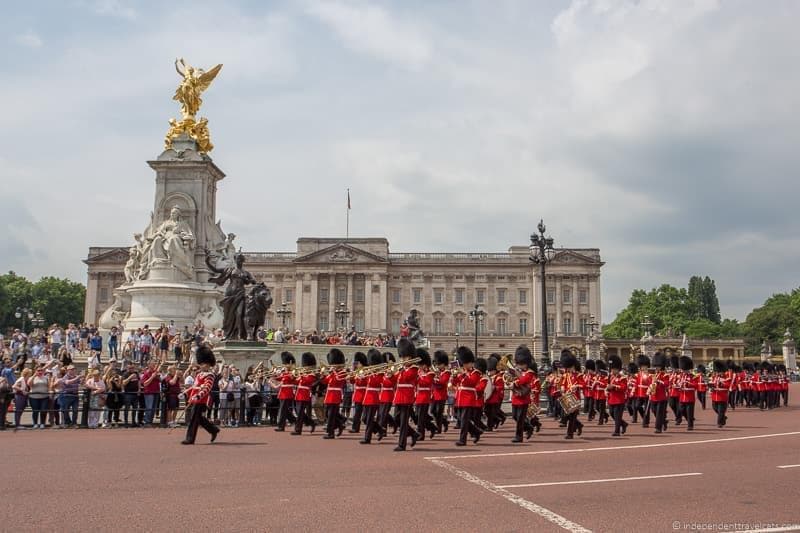 British Pullman Train
Address: Victoria Station, Victoria Street, London SW1E 5ND
Winston Churchill's state funeral was an elaborate well-coordinated operation that was codenamed Operation Hope Not that began years before his death. After Churchill's lying in state at Westminster Hall, procession through London, funeral ceremony at St. Paul's Cathedral, and river transfer aboard the Havengore, his coffin was transferred to Waterloo Station and placed among a special train. The funeral train took the coffin to Handborough station (now Hanborough) in Oxfordshire, located near Bladon where he was buried.
Churchill's funeral took place as the era of steam train travel was coming to an end, and Churchill's funeral was the last time that a steam locomotive would be involved in a state funeral. The train was pulled by steam locomotive No. 34051 'Winston Churchill' and its train which consisted of five Pullman cars: No. 208, Carina, Lydia, Perseus, and Isle of Thanet and a baggage van S2464, containing the coffin. You can actually watch clips of the funeral and funeral train on YouTube.
Many parts of Churchill's funeral train still survive today (the locomotive and baggage van are held by the National Railway Museum in York) and some are even still in operation. In London, you can actually ride in Perseus, one of the Pullman carriages, which is currently part of the Belmond British Pullman train. There is a plaque in the carriage that denotes that it was used as part of Churchill's funeral train in 1965.
The British Pullman train normally departs from Victoria train station for day trips and excursions within England and it is also used for the UK component of the luxurious Venice Simplon Orient Express train journey. The British Pullman destinations vary, but include steam-hauled journeys and day trips to Blenheim Palace, Churchill's birthplace.
You can request a carriage on the British Pullman although preferences can not be guaranteed. If you would like to ride the British Pullman, be sure to book tickets well in advance as many journeys sell out.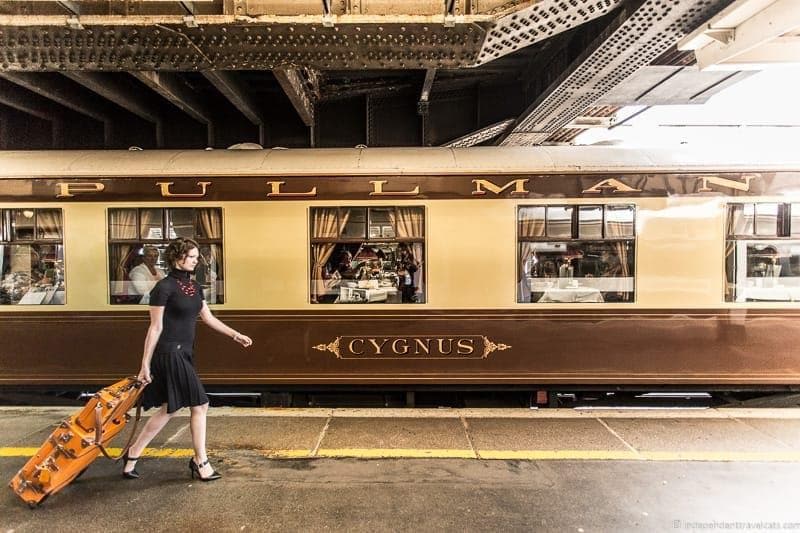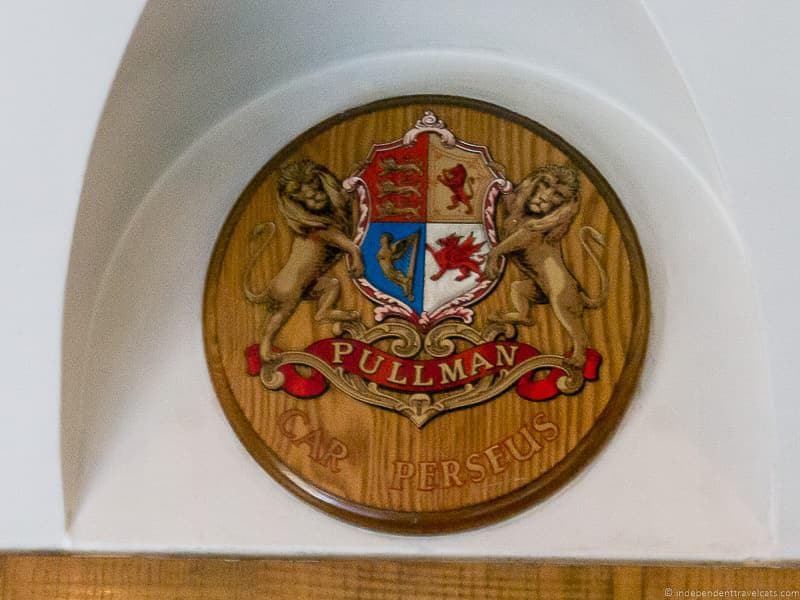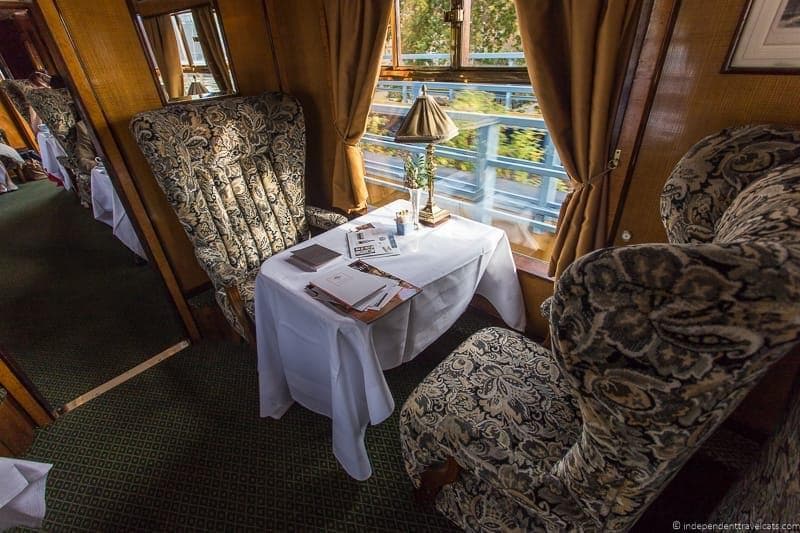 St. Paul's Cathedral
Address: St Paul's Churchyard, London, EC4M 8AD
St Paul's Cathedral is an Anglican church in London designed by Sir Christopher Wren in the English Baroque style, and is the seat of the Bishop of London. It is one of the most recognizable and famous churches in London and has served as the site of many famous services and events, including royal weddings, jubilee celebrations, and state funerals.
During World War 2, St. Paul's Cathedral became a symbol of resilience and resistance as despite heaving bombing by the Germans during the Blitz, the Cathedral famously survived although it was damaged.
Churchill would give orders to the fire brigade to try to protect the church at all costs as he knew how important it was symbolically to the morale of Londoners. There are some amazing photos, particularly "St. Paul's Survives" by Herbert Mason, of the Cathedral's recognizable dome peering out from the wreckage of a fiery and smoldering London after nights of severe bombing. After the war, Churchill and Clementine would attend a thanksgiving service at St. Paul's Cathedral on May 13, 1945 to celebrate VE day.
Probably the event most associated with Churchill is that on January 30, 1965, Winston Churchill's funeral was held at St. Paul's Cathedral. Churchill was given a State Funeral, a significant honor normally only reserved for the monarch, and which had to be approved by both Queen Elizabeth II and the Parliament. Churchill's funeral service was attended by dignitaries from over 100 countries.
Winston Churchill would be the last person to given a State Funeral in the UK until Queen Elizabeth II's own funeral on September 19, 2022. Her funeral took place at Westminster Abbey.
Churchill's funeral is commemorated in St Paul's by a bronze memorial plaque designed by John Skelton and set before the choir steps which reads: "The catafalque of Sir Winston Churchill stood here at his state funeral on 30 January 1965". Currently (as of July 2021), the plaque is not viewable as it is covered by a wooden altar (you can see the altar pictured below).
Then in 2004 a steel and bronze memorial screen was commissioned by the Cathedral Chapter and designed and made by the blacksmith James Horrobin. The Winston Churchill Memorial Screen is currently located in the crypt and is on public display.
Today St. Paul's is both an active church and a busy tourist attraction. You can visit the church on a self-guided visit with an audioguide or you can join a guided tour of the church. There is an admission fee but entry to the cathedral is included if you have the London Pass.
St. Paul's Cathedral is a busy tourist attraction so be sure to allow enough time, especially if you want to climb the steps to the dome which can have a long line. Visitors usually spend about 2 hours visiting the church.
Americans may want to visit the American Memorial Chapel at the east end of the cathedral, which commemorates the 28,000 Americans who gave their lives while stationed in the UK during World War II. Check the church hours before visiting as the church is closed to visitors during worship services and special events.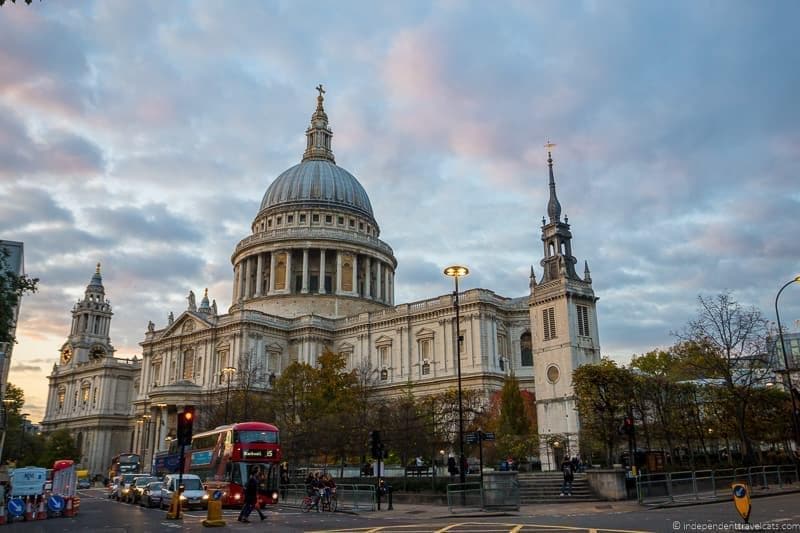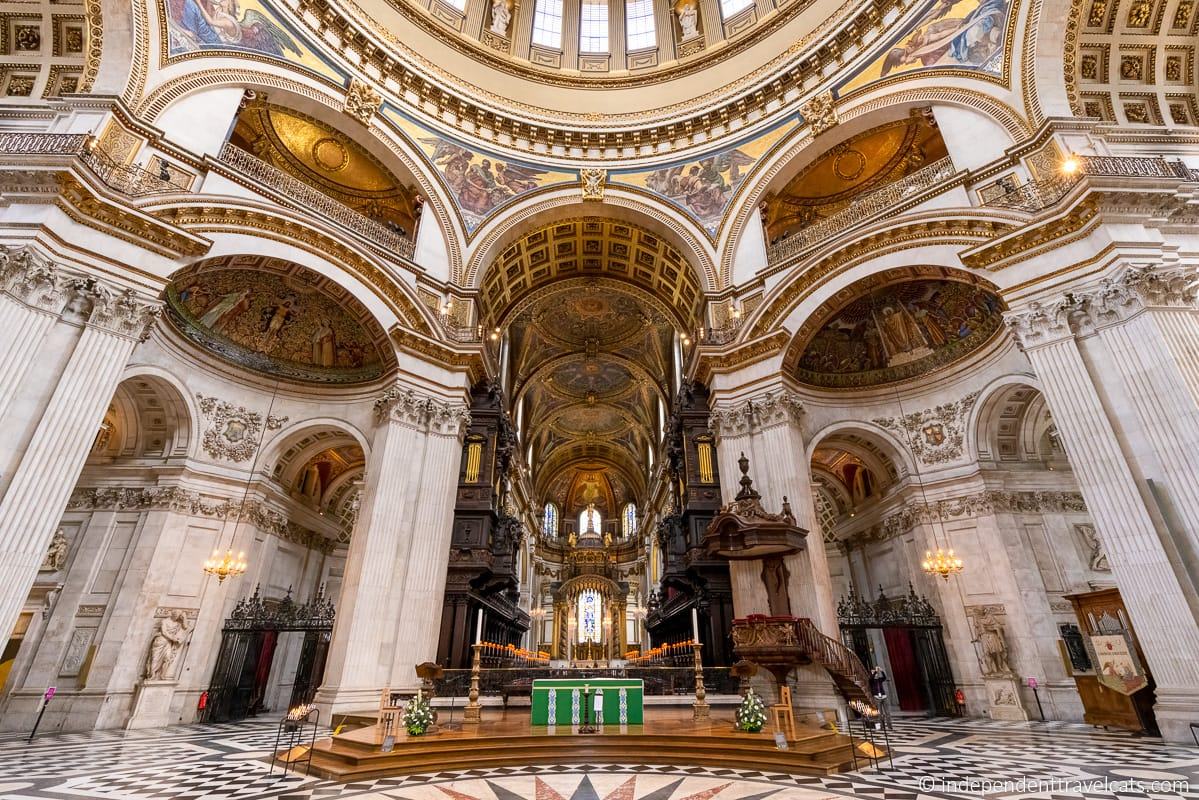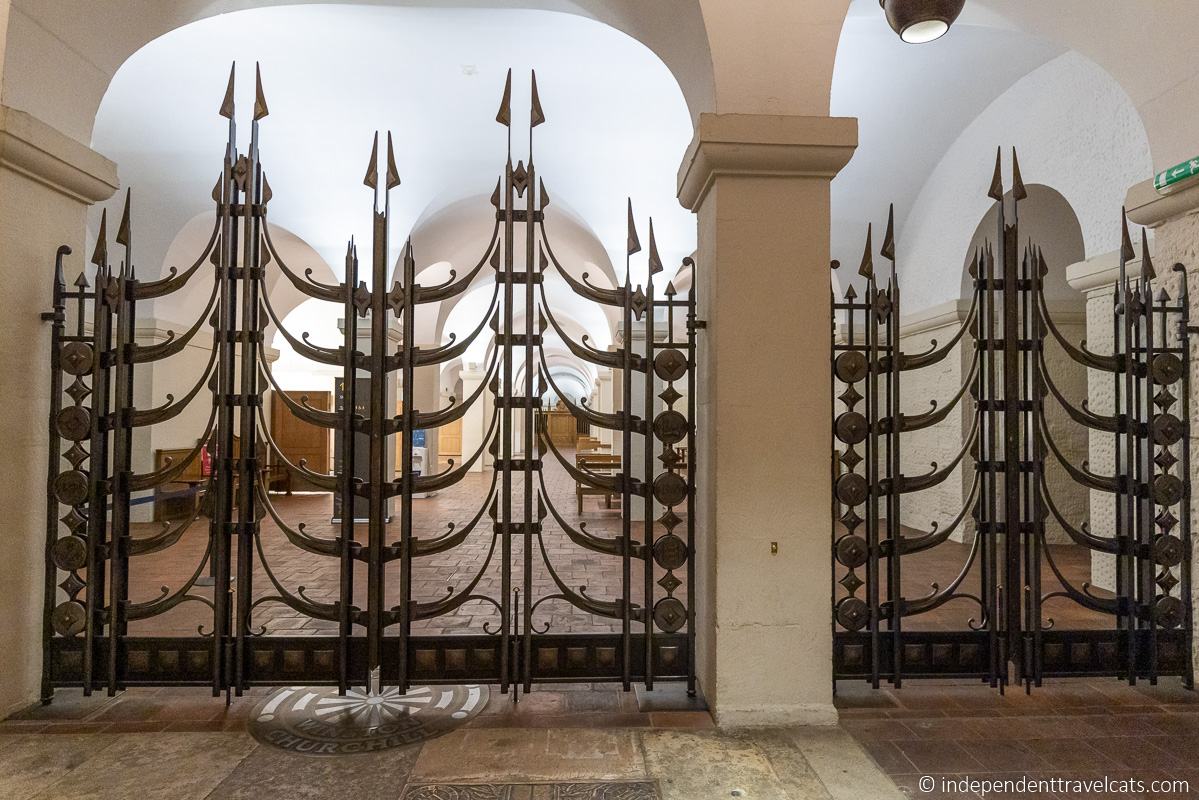 Guildhall
Address: Gresham St, London EC2V 7HH
Guildhall is a building that has been used as a town hall in London for several hundred years, and is still the ceremonial and administrative centre of the City of London and its Corporation. The City of London Corporation is believed to be the world's oldest continuously elected local government authority. One of the major annual events held at the Guildhall is the Lord Mayor's Banquet where speeches are given by the Lord Mayor (outgoing and incoming) as well as the Prime Minister.
Churchill would make several appearances and speeches at Guildhall. One of his earliest was in 1914, when he would give a speech after Britain's first naval victory in World War 1 against the Germans as First Lord of the Admiralty.
In 1940 he would make a speech welcoming back naval British prisoners that had been liberated from the German ship Altmark. In 1943, he gave a speech at Guildhall after being awarded the Honorary Freedom of the City of London (the city's highest honor). In 1955, he would make an appearance and short speech at the unveiling of his statue by sculptor Oscar Nemon saying it was "a very good likeness".
Today, the Guildhall remains an active city administrative building although most of the day-to-day administration takes place in more modern buildings nearby. Parts of the Guildhall complex date back to the early 15th century although many sections have had to be rebuilt due to fire, wars, and aging over the years. The public can visit parts of the historical building on certain dates and admission is generally free except for certain temporary exhibitions.
Areas within the complex open to the public include the Guildhall Art Gallery and Heritage Gallery (good place to start a visit), St Lawrence Jewry (church designed by Christopher Wren), The City of London Police Museum, Guildhall Library, the medieval great hall, and the ruins of London's Roman amphitheater.
Within the medieval great hall, you'll find Churchill's statue by Nemon as well as memorials to William Pitt the Elder, William Pitt the Younger, Admiral Lord Nelson, and the Duke of Wellington and the carvings of the two legendary giants, Gog and Magog.
Due to security and events, you'll need to go through airport-like security to enter and various galleries and buildings may be closed without notice. Be sure to check City of London website for the opening dates and times before you visit.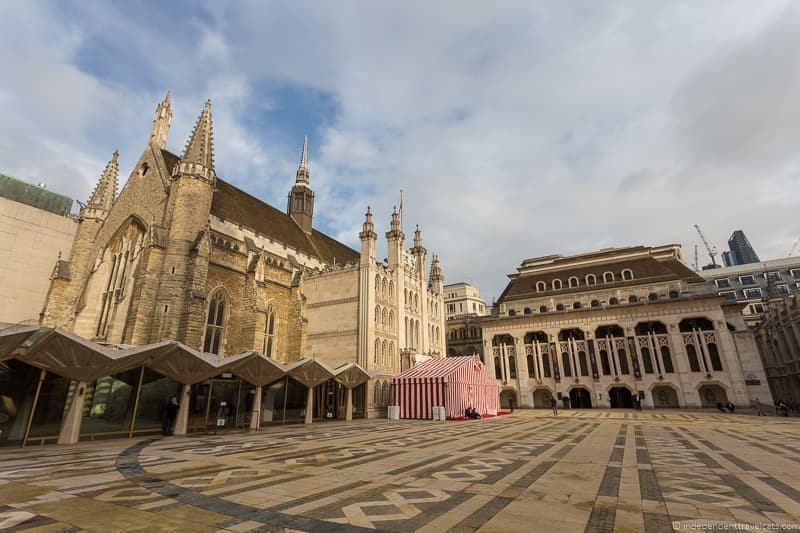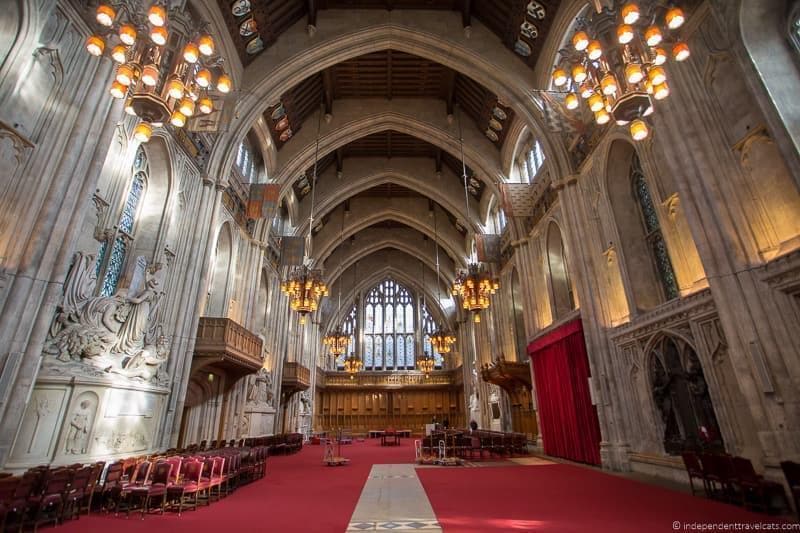 Madame Tussauds
Address: Marylebone Rd, Marylebone, London NW1 5LR
Madame Tussauds is a famous wax museum that has locations around the world, with the London location being its first and most popular one. The museum includes wax works of important historical figures, world leaders, and celebrities from Tudor royalty to current Hollywood film stars.
The museum was started by a French woman named Marie Tussaud who traveled around Europe with her wax figure collection until opening a permanent location in 1835.
While most of Britain's former Prime Ministers are tucked away in storage, Winston Churchill has long been a steady part of the Madame Tussauds cast. His first wax figure debuted in 1908, more than 30 years before he became Prime Minister, and has been remade a number of times throughout this life. If you want to take a selfie with Winston Churchill, this is probably the best place to do it!
On our last visit, there were two Winston Churchill figures on display, both representing him as the Prime Minister during WW2. One in the World Leaders section and one you can see during the Spirit of London ride that takes you through London's cultural history.
See our complete guide to visiting Madame Tussauds for more information about this popular attraction in London.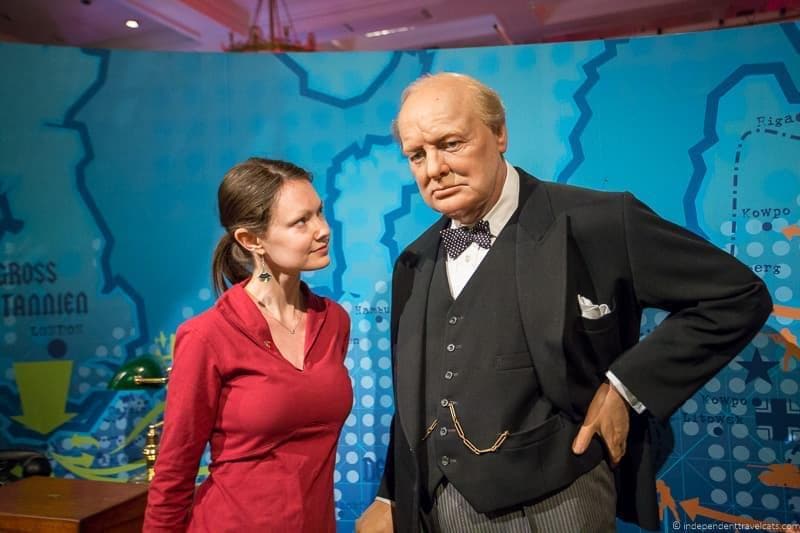 Royal Albert Hall
Address: Kensington Gore, Kensington, London SW7 2AP
Royal Albert Hall is a world-class concert hall that first opened in 1871, and was dedicated by Queen Victoria to the memory of her late husband Prince Albert. Price Albert had wanted to build a permanent place for the public to experience entertainment and the arts after the success of the The Great Exhibition.
The venue hosts a variety of events which have included classical concerts, rock bands, Cirque du Soleil performances, and tennis tournaments! It is well-known for being the host to the BBC Proms for decades.
Churchill attended balls, speeches, and concerts at the Hall, but he also gave his own speeches here. This article (which also includes some speech transcripts, links, and photos) notes that he is believed to have made 16 appearances at the Royal Albert Hall between 1931 and 1959, including wartime speeches.
One of the most significant was the American Thanksgiving speech on November 23, 1944 where Churchill notes the joint effort by the American and British in the war as the two nations fight together "shedding our blood side by side" to bring a victorious end to WWII. In more recent times, Churchill's has been included in the Appearing at the Royal Albert Hall mural by Sir Peter Blake which you can see near the ticket office at the hall.
If you are interested in seeing the inside, you can take a guided tour of the Royal Albert Hall. Guided tours include the original carriage entrance, the auditorium, gallery, royal private box, and the private suites of the royal family.
If you'd rather come for a performance, you can book a ticket online or stop by the Ticket Office. The Harrow Churchill Songs have been held at Royal Albert Hall several times, being last held here in November 2017.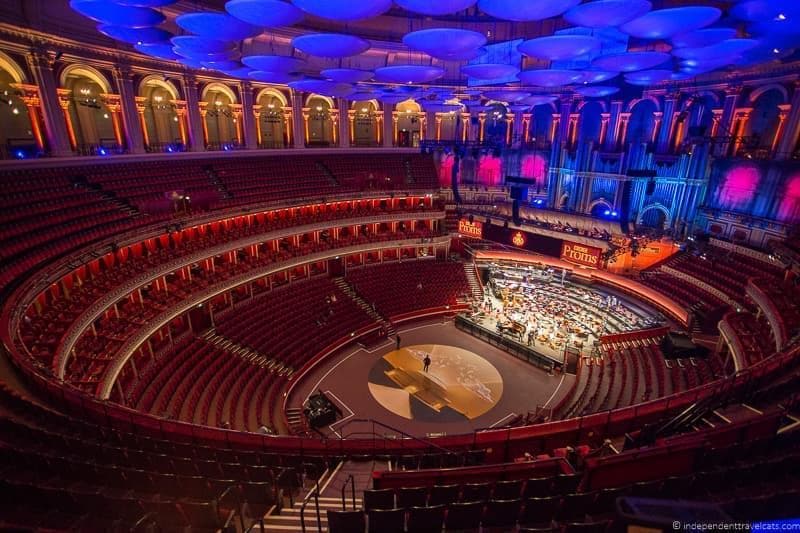 Harrow School
Address: Old Speech Room Gallery, 5 High Street, Harrow in the Hill, Middlesex, HA1 3HP
Today Winston Churchill is probably the most well-known former pupil at Harrow, one of the oldest and most prestigious public boarding schools in the UK. Other famous Harrovians include Robert Peel, Lord Palmerston, and Lord Byron.
However, despite his later achievements, Winston Churchill was never a stellar student and he struggled with his school entrance exams, course work, and with following school rules. Poor health also plagued him throughout his school days.
After receiving cruel treatment as a young boy at St George's School at Ascot (now a girl's school) and a brief stay at Brunswick School in Brighton (closed in 2009), he entered Harrow School in April 1888 and would board there until 1892. Although initially excited about entering Harrow, he later became more unhappy.
In later years, in his autobiography, Churchill would describe his school days as one of the unhappiest periods of his life. He wrote that although "Harrow was a very good school" he felt himself to be "completely outclassed and left behind at the very beginning of the race".
It was not only his academic struggles that upset him, but the lack of his parents' visits and involvement in his life. Before he left for Harrow he had written to his mother: "You will often be able to come & see me in the summer, it is so near to London and you can drive from Victoria in an hour & 15 minutes or so." Sadly for Winston, his mother seldom visited him at Harrow and his father only once.
Even during holiday breaks, he was often sent to spend it with other relatives or friends as his parents were often busy with social engagements or were traveling internationally. Luckily, Winston had his dependable nanny Mrs. Everest and younger brother Jack but the longing for his parents is very apparent from his letters home throughout his tenure at Harrow.
At Harrow, Winston Churchill spent much of his formative teenage years, and although he struggled in some areas, he excelled in others such as fencing, singing, history, recitations, and English. Perhaps most significantly he was able to delve into and gain a deep appreciation for the English language here. He notes in his autobiography that because of his low aptitude for Classical languages, he was taught "mere English" and "Thus I got into my bones the essential structure of the ordinary British sentence—which is a noble thing." No doubt a strong foundation for the immense literary output over his lifetime and books.
Another thing from Harrow that Churchill would take with him was the love for the patriotic Harrow songs and he was known to sing verses to himself throughout his life. He and his family would return to Harrow to hear the Harrow songs on several occasions, and he also returned to give talks such as his famous 1941 "Never Give In" speech. Today these traditional songs are still sung, and each year the "Churchill Songs" are held to honor Churchill.
Harrow is an active school on private property with high security, but you can still visit the Old Speech Room Gallery on certain dates when it is open to the public. Occupying the room that was formerly the Old Speech Room (used as such until the new Speech Room was completed in 1877), the gallery includes a wide range of art from Egyptian antiquities and ancient Greek vases to Japanese prints and Victorian insect collections.
The gallery also includes objects related to famous former pupils such as Lord Byron and Winston Churchill. Objects related to Churchill include one of his own paintings, a school chair bearing his name, a bust by Willem Verbon, and his flag as Lord Warden of the Cinque Ports.
We were lucky to meet the gallery curator, Julia Walton, who manages this impressive and eclectic collection and also shares it with the students. Ms. Walton told us that only a fraction of the collection is on display at any one time and changes regularly so students can see new objects on each visit, although a few displays are permanent and there is always something related to Churchill on display.
The gallery is normally open to the public about twice a week and you should check hours online. I'd also recommend calling before heading there as it is sometimes closed to the public without notice if there are not enough staff present.
Although not frequently given, there are occasional public tours of Harrow which include guided visits to the Fourth Form Room, Old Speech Room Gallery, Speech Room, Museum of Harrow Life, and Vaughan Library. You need to check the tour dates online and book in advance.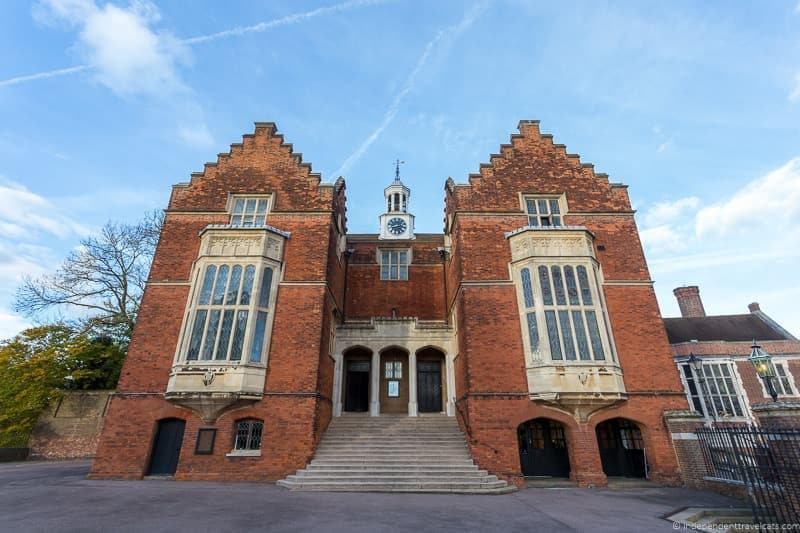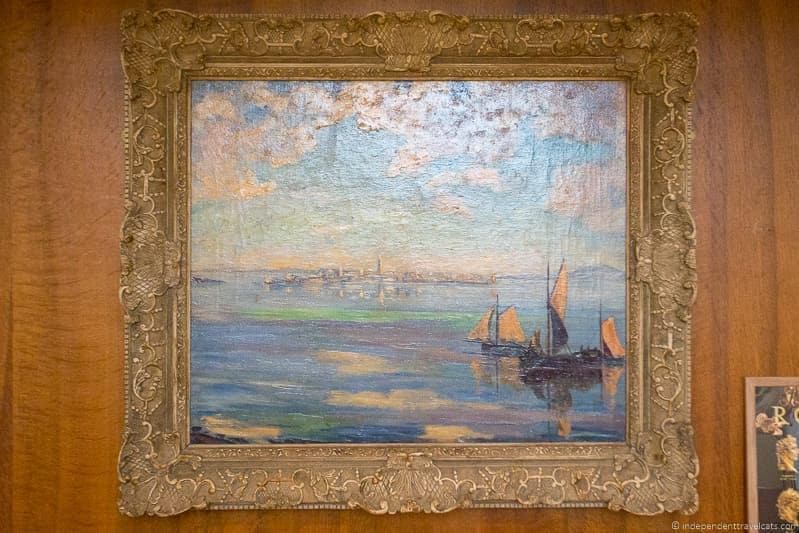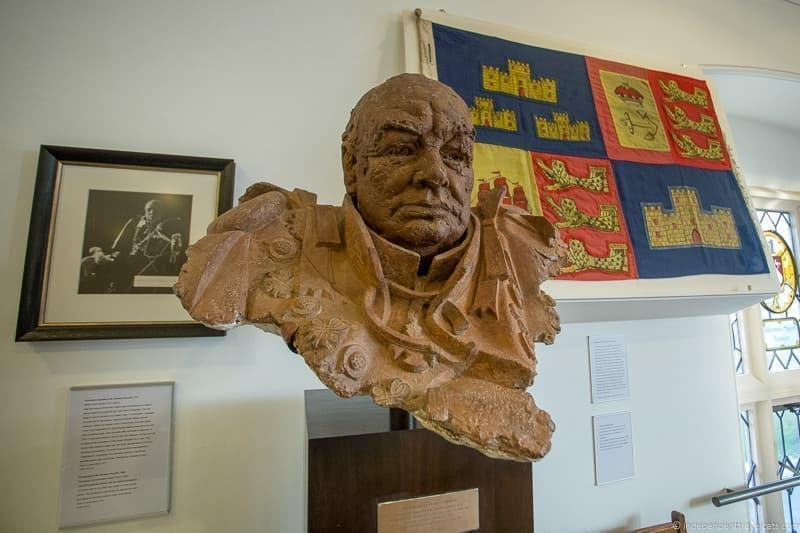 City of London Cemetery and Crematorium
Address: Aldersbrook Road, Manor Park, London E12 5DQ
The City of London Cemetery and Crematorium is a large city cemetery located in the eastern part of London within the borough of Newham. Its significance to Winston Churchill is that it is the final resting place of one of the most beloved figures from his early life, Elizabeth Ann Everest. Mrs. Everest was Winston Churchill's nanny and began working for the family soon after Winston's birth until 1893, caring for both Winston and his younger brother Jack.
Neither of the Churchill parents spent a lot of time with their children so both boys spent a lot of time with their nanny who provided the affection and parental guidance they craved but rarely received from their parents. Winston would refer to her as her "Woom" and "Woomany" and she was a very important figure for him until her death in 1895.
Churchill wrote in his autobiography, My Early Life : "I loved my mother dearly – but at a distance. My nurse was my confidante. Mrs. Everest it was who looked after me and tended all my wants. It was to her I poured out all my many troubles."
While stationed at Aldershot in July 1895, Winston received a telegram saying that Mrs. Everest was critically ill and he rushed to her side in London. He fetched her a doctor and a nurse and stayed with her as much as he could until she died a couple of days later. He then went to visit his brother Jack at Harrow to tell him about their former nanny's death so he would not have to hear the bad news via telegram.
He wrote letters to his mother about her death and funeral, which she did not attend, writing "I shall never know such a friend again" and "I feel very low – and find that I never realized how much poor old Woom was to me".
Churchill arranged and paid for her funeral, and he later also paid for a gravestone to be erected after her burial. Churchill paid an annual sum for the upkeep of the grave, a practice which has been continued by The Churchill Centre and the Churchill family.
The gravestone reads: "Erected to the memory of Elizabeth Ann Everest, who died on 3rd July 1895 aged 62 years, by Winston Spencer Churchill and John Spencer Churchill." Her gravestone is located within Plot 81.
To find a grave here, stop at the gatehouse/visitor center or check a plot map before starting your search as this is a huge cemetery!
London's Military Museums
Location: Multiple locations around London
Churchill's family has a long history of serving in the military and Churchill, and Churchill also went into the Army to please his father. Although he struggled to pass his entrance exams, he excelled during his training at the Royal Military Academy Sandhurst.
On February 20 1895, he entered the cavalry as a second lieutenant in the 4th Hussars regiment of the British Army. Churchill already knew that he wanted to enter politics so he used his time in the military to further his education by reading, to make political connections, and to try to stand out as a cavalry officer.
Between 1895 and the end of World War 1 in 1918, Churchill would serve off and on as an Army officer in Cuba, India, Sudan, South Africa, England, France, and Belgium. Churchill began writing about the wars and military battles to earn extra money and at times his role as military officer and war journalist become blurry.
His most famous war-related exploit occurred in 1899 during the Second Boer War when he was captured as a prisoner of war, placed in a camp, and then later successfully escaped across the border. He had been captured when on assignment as a journalist, but returned to South Africa as a lieutenant in the South African Light Horse regiment to join the war in a fighting capacity.
Later in life he held a number of honorary military appointments, especially during WWII, which included Honorary Air Commodore in the Auxiliary Air Force and Regimental Colonel of the 4th Hussars.
Churchill's greatest contribution the British military probably came off the battlefield. In addition to two terms as Prime Minister, Churchill served in a number of Parliament positions which involved overseeing military operations including Minister of Defence (twice), First Lord of the Admiralty (twice), Minister of Munitions during WW1, Secretary of State for Air, and Secretary of State for War. Some of his credits include contributing to the invention of the tank, advocating for the use of airplanes for war purposes (Churchill loved aviation and took flying lessons), and leading the country throughout WWII.
During his life, Churchill would also write a number of essays and books (most of which received positive reviews) related to wars, including The Story of the Malakand Field Force: An Episode of Frontier War (colonial British India), The River War (description of the Anglo-Egyptian invasion of Sudan), London to Ladysmith via Pretoria (first months of Second Boer War and his capture), Ian Hamilton's March (later part of Second Boer War), The World Crisis (multi-volume account about World War 1), and The Second World War (multi-volume account about WW2).
London is home to a number of the UK's top military museums. In addition to the Churchill War Rooms (see earlier description), there is also the Imperial War Museum, HMS Belfast, Royal Air Force Museum, National Army Museum, The Bentley Priory Museum, and National Maritime Museum. We've visited all of them and each is worth visiting, depending on your interests.
Some of these museums, including the National Army Museum and Royal Air Force Museum, include information or memorabilia related to Churchill among their exhibits and all have WWII related information. The Bentley Priory Museum tells of the important connection between a historic home and the Battle of Britain. The HMS Belfast played a significant role in WWII and is one of the few surviving bombardment vessels from D-Day that helped clear the Normandy beaches.
Most of the military-related museums in London are free to visit (donations appreciated) with the exception of the The Bentley Priory Museum and HMS Belfast (entry included with the London Pass). For more information and even more museums, see our comprehensive guide to London's military museums.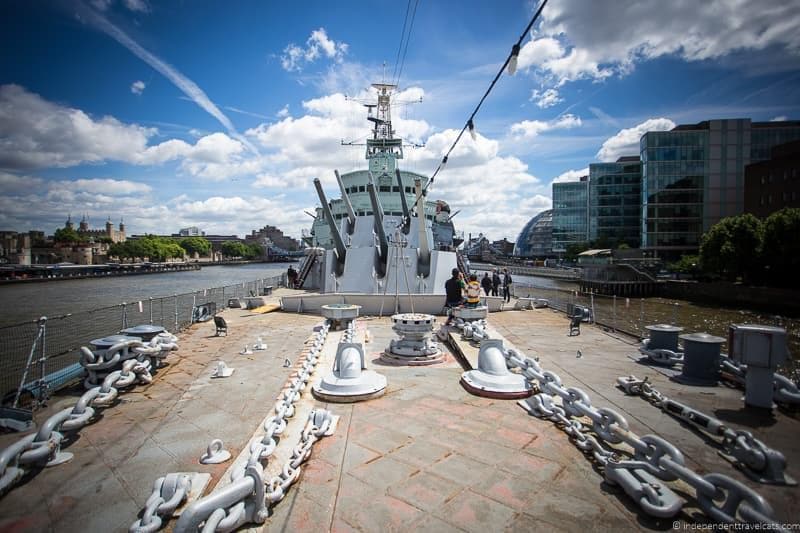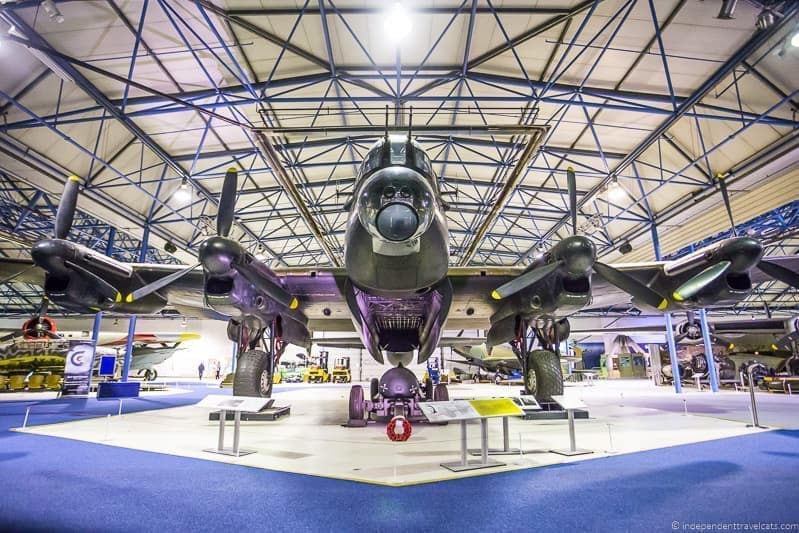 London's Military Memorials
Location: Multiple locations with London
In addition to military museums, London is also home to a number of the UK's most important military and war memorials. Like most of his generation and the next generation (The Lost Generation) Churchill served in the military and lost a number of his close friends and colleagues in the many conflicts that took place during his lifetime.
Even a privileged background could not protect many of Churchill's contemporaries from the casualties of serving in India (mostly from disease), the Boer War, and the First World War. According to this article, more than half of Churchill's Harrow classmates would be dead from one cause or another by the end of 1945.
The Cenotaph in Whitehall, not far from 10 Downing Street, was originally erected as a temporary memorial to those who died during WW1, but has since been designated as the UK's official national war memorial. A memorial service is held here on Remembrance Sunday each year.
The Battle of Britain Memorial is one of the memorials to WWII, and here you'll find Winston Churchill's quote along one side: "Never in the field of human conflict was so much owed by so many to so few". The Royal Air Force Bomber Command Memorial, located in Green Park, is beautiful memorial dedicated to the 55,573 aircrew who lost their lives during WWII. The Royal Artillery Boer War Memorial is one of the few memorials dedicated to those who were killed during the Second Boer War.
Check out this article to learn more about more of the many military memorials in London.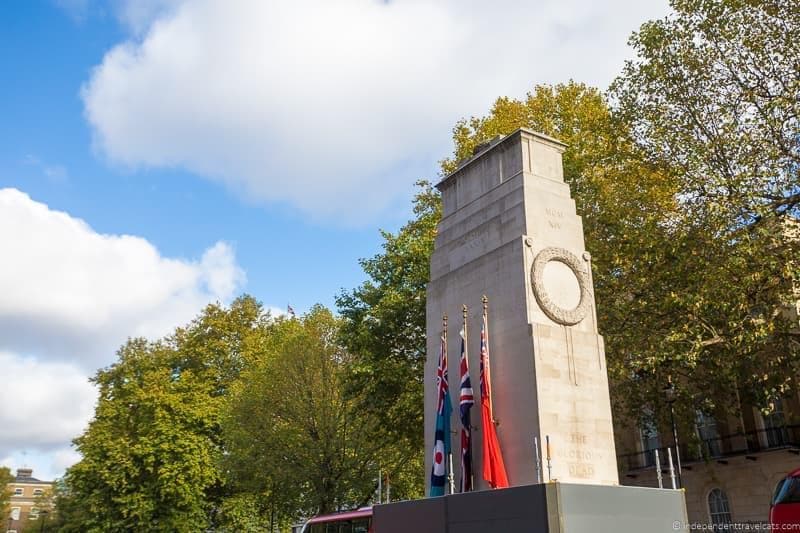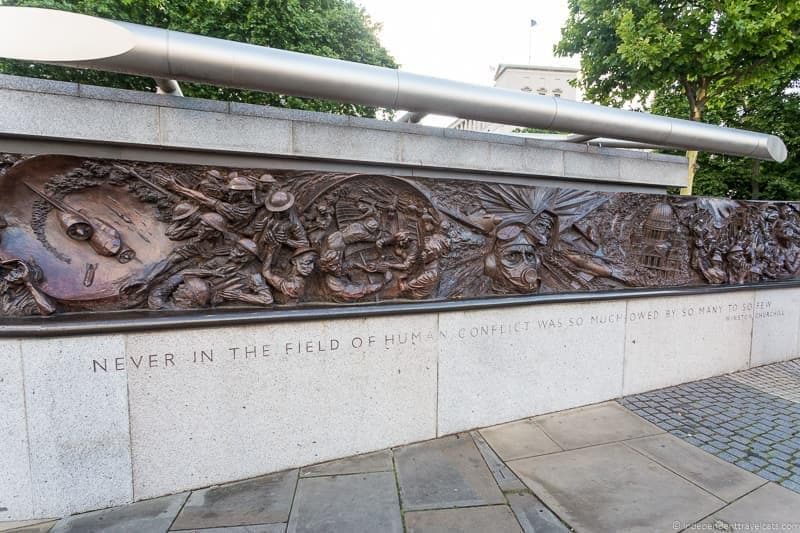 Memorials, Paintings, & Statues of Churchill in London
It is not difficult to find a statue, painting, bust, or depiction of Winston Churchill in London. But it is almost impossible to make a fully comprehensive list of them all, as there are likely over 100 of them and the list changes over time. We've done our best to compile a list, almost all of which we have personally visited.
One of the artists most associated with Churchill is sculptor Oscar Nemon who is known to have produced over a dozen busts and statues of Winston Churchill. Nemon was one artist who developed a close relationship with Churchill and whose work Churchill admired.
However, Churchill didn't always like artistic depictions of himself, with the most infamous example being the story of the Graham Sutherland painting. The full-length painting was commissioned as a gift for Churchill's 80th birthday by members of the House of Commons and House of Lords.
The Sutherland painting was intended to hang in the Palace of Westminster after his death. Churchill and his wife hated it although Churchill was obliged to accept the gift and said in his acceptance speech that it was "a remarkable example of modern art". It was stored away at Chartwell, never put on public display, and after Churchill's death it was destroyed as part of Clementine's wishes by loyal secretary Grace Hamblin and her brother!
A few of the most well-known statues of Churchill are the large statue by Ivor Roberts-Jones located in Parliament Square, the seated statue of Churchill in Guildhall, the Allies statue (along with U.S President Franklin D. Roosevelt) in Mayfair, and the standing statue by Oscar Nemon near the entrance to the House of Commons.
The National Portrait Gallery and the Churchill War Rooms both have a number of pieces of artwork (e.g., paintings, busts, photographs) that include Churchill. Other popular depictions include the mural at Royal Albert Hall, the face of the astrological clock at Bracken House, his waxwork figures at Madame Tussauds, and street art depictions.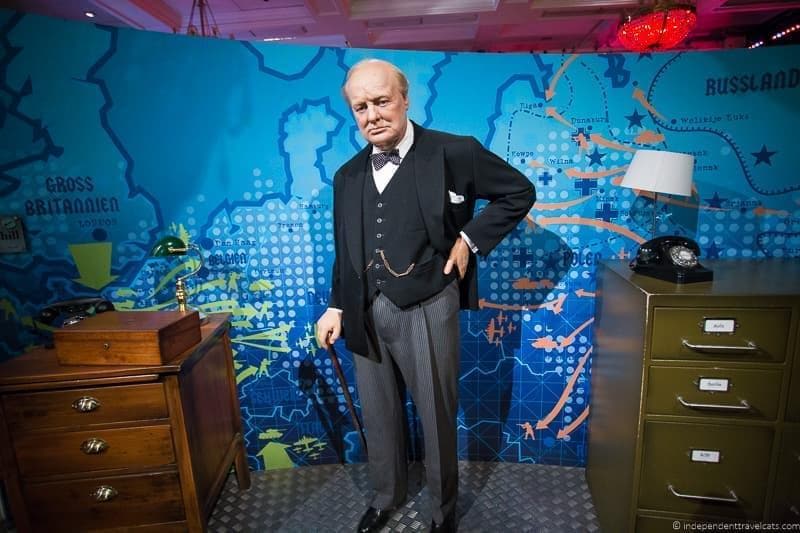 Winston Churchill Statues & Busts in London
There are a number of Winston Churchill busts and statues in London, and chances are you will naturally run into one or two of them, and many are in or near the recommended London attractions already mentioned. Churchill is one of the most commemorated figures in London although Queen Victoria has him beat. In fact, Queen Victoria has probably the most statues of any person in the entire UK—we're always running into her statues!
Many of Churchill's statues were erected after his death as it typical, but several were actually made and unveiled during his lifetime. In fact, he attended the unveilings of some of them.
The most famous statue of Churchill is the one in Parliament Square and if you take the time to only visit one, that would probably be the one to see and since it is outdoors it can be visited at any time. Churchill knew that a statue of himself would likely be erected in this space some day as he was one of the people who helped with the redesigning of the square during his final term as Prime Minister in 1950. The unveiling ceremony of this statue in 1973 included four generations of the Churchill family including Clementine, Queen Elizabeth II and other royalty, then Prime Minister Edward Heath, and four past Prime Ministers!
Churchill statue at Parliament Square – One of the most famous and well-known statues of Winston Churchill faces the Houses of Parliament and the River Thames on the northeast corner of the square. The 12 foot tall bronze statue depicting Churchill with a military overcoat and walking stick was made by sculptor Ivor Roberts-Jones, and it was unveiled in 1973 by Lady Churchill in the presence of Queen Elizabeth II.
Churchill statue within the Houses of Parliament – A bronze statue of Churchill by Oscar Nemon stands near the Churchill Arch within the Members' Lobby. Statue was unveiled by Lady Churchill in 1969.
Allies statue in Mayfair – This popular statue group by Lawrence Holofcener includes Winston Churchill and American President Franklin D. Roosevelt sitting on a bench together. It sits outdoors on New Bond Street (popular shopping street) in Mayfair, and there is space to join them on the bench for a photo-op. Unveiled by Princess Margaret in 1995.
Churchill marble bust at Windsor Castle – A white marble bust by Oscar Nemon is on display at Windsor Castle, typically in the Queen's Guard Chamber. It was commissioned by Queen Elizabeth II in 1956.
Churchill statue & bust at the Hyatt Regency – The Churchill – The hotel displays both a life-sized bronze statue by sculptor Lawrence Holofcener and a bust of Churchill by Franta Belsky.
Winston Churchill bust in Wanstead – There is a bronze bust of Churchill by Luigi Fironi along the High Street in front of the building that had been the constituency's conservative club (now The Manor House pub). Churchill was a MP for Epping and later Woodford from 1924 to 1964 and used the club to work from between 1930 to 1940. The bust was unveiled in 1968 by Bob Mitchell, then Chairman of West Essex Conservative Association.
Churchill statue in Woodford Green – A large Churchill statue by David McFall was erected in Woodford Green in 1959 to honor his service as MP for Woodford from 1945 to 1964. It was unveiled by Winston Churchill.
Churchill statue at Guildhall – A large seated statue of Winston Churchill by Oscar Nemon sits in the medieval Great Hall. It was unveiled in June 1955 by Churchill himself, who said "….it seems to be such a very good likeness…"
Churchill bust at Harrow School – Harrow's collection has at least one bust of Churchill, its most famous former pupil. A bust by Willem Adolf Verbon is typically on display in the Old Speech Room Art Gallery
Churchill bust at Churchill War Rooms – There is a bronze bust by Oscar Nemon on display at the Churchill War Rooms. The Churchill War Rooms also include other busts and casts of Churchill on display.
Churchill bust at National Portrait Gallery – Among their many Winston Churchill holdings, they have a Oscar Nemon bronze bust (1995 replica) that is often on public display.
Churchill bust at Imperial War Museum – The Imperial War Museum holds a bronze bust by Jacob Epstein in their collection although it is not always on display. It is however currently on display at the time of writing (and has been since 2014). It was commissioned by the War Artists Advisory Committee and first exhibited in 1947.
There are other Churchill statues and busts held in private collections or places that are not (or not typically) available for public viewing. For example:
Churchill bust at the Royal College of Defence Studies (part of the Defence Academy of the United Kingdom) – A bronze bust was created by Margarita Hernandez and unveiled in 2005. The statue is a dedication to Churchill as the college was formed based on a cabinet committed headed by Churchill in 1922, then Secretary of State for the Colonies, which felt that an organization was needed to help train officials and officers in defense and leadership skills.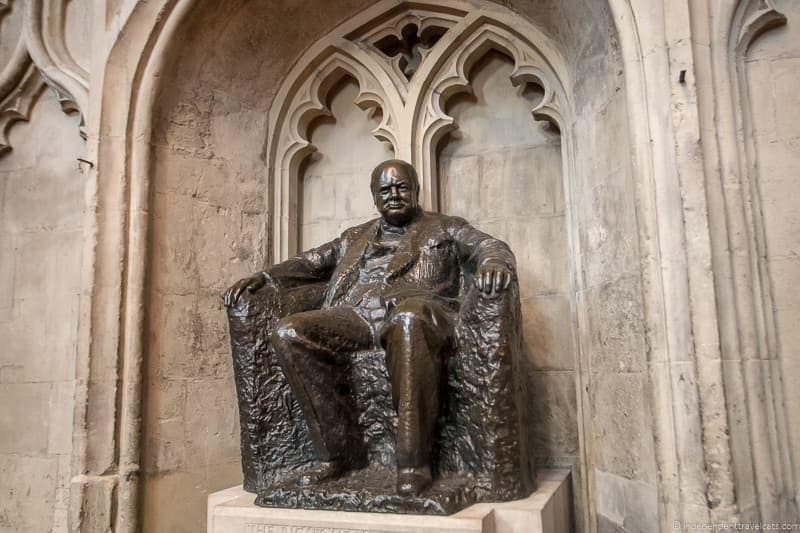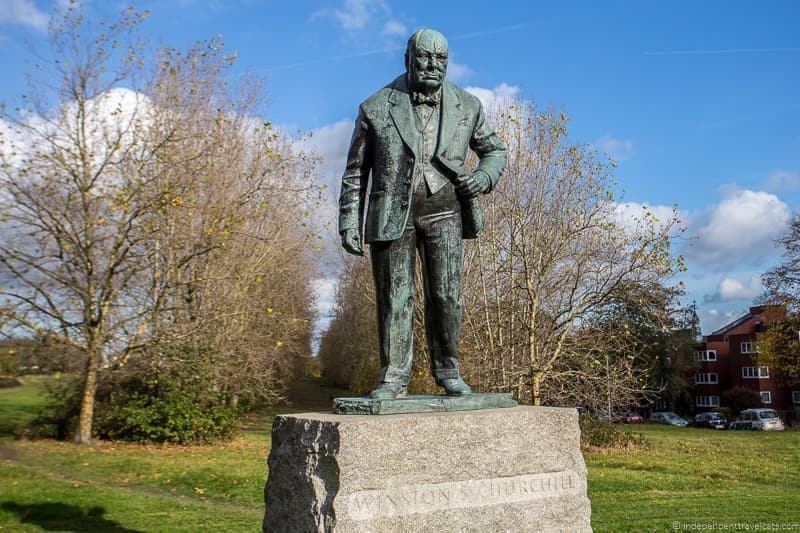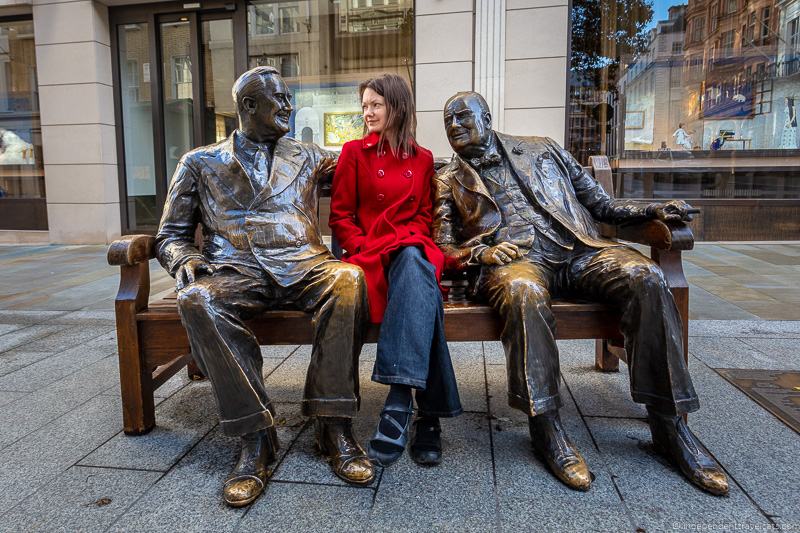 Churchill Murals, Paintings, & Street Art
It is difficult to know the whereabouts of all the paintings of Churchill in London, but the best place to go is undoubtedly the National Portrait Gallery which usually has several on display. There are also a couple of good mosaic depictions and you can almost always find Churchill in a street art mural or two at any time in London.
Paintings at National Portrait Gallery – The museums holds a large number of paintings of Winston Churchill and some are almost always on public display.
Painting at Churchill War Rooms – The museum collection holds a number of paintings and photographs of Churchill and a few are always on display. An interesting one is a 1878 painting of Churchill at age 4 with curly reddish ringlets!
Mural at Royal Albert Hall – Not far from the box office of Royal Albert Hall is a wall mural called Appearing at the Royal Albert Hall (2014) by Sir Peter Blake which includes Winston Churchill. The mural was added in 2014.
Marble mosaic in National Gallery – Near the entrance inside the gallery you'll find a series of marble mosaics by Russian artist Boris Anrep on the floor. One mosaic, called Modern Virtues (1952) includes a number of famous people representing different virtues with Winston Churchill representing Defiance.
Street Art (various locations) – There have been a number of street art depictions of Winston Churchill throughout London (back in 2003 Banksy included Churchill in his London"Turf War" exhibition), especially in East London. Some flattering, some not so nice. Just remember that these are temporary art, and they tend to change fairly quickly so I'd try to confirm they are still around before planning a trip specifically to go see one. Here are a couple of the more popular (both Croyden and Shoreditch are good places to find street art and graffiti in London):

Winston Churchill mural along Park Street in Croyden by American artist David Holier that depicts his face made up of words from his iconic speeches.

"Victorious Churchill" mural that includes two depictions of Churchill during WW2 by London street artist Paul Don Smith on a wall near Brick Lane in Shoreditch.
Many museums and clubs hold paintings or other artworks related to Churchill in their collections but they are not part of their permanent collections. For example:
Tate Britain – The Tate Collection includes a few pieces related to Churchill, including a modern print by Thomas Kilpper, a painting by Winston Churchill (he gifted it in 1955 for an exhibition), and photographs of Churchill. However, these are not usually on public display.
The National Liberal Club – The club displays a painting of Winston Churchill by Ernest Townsend but the club is only open to members.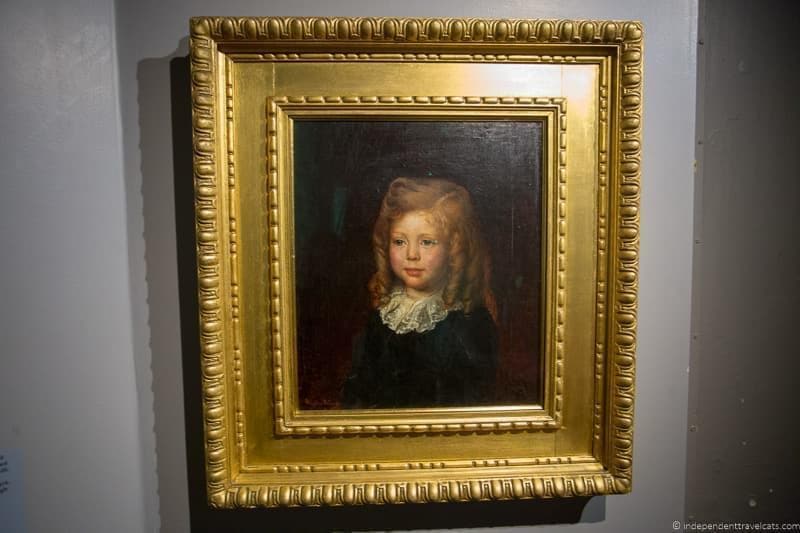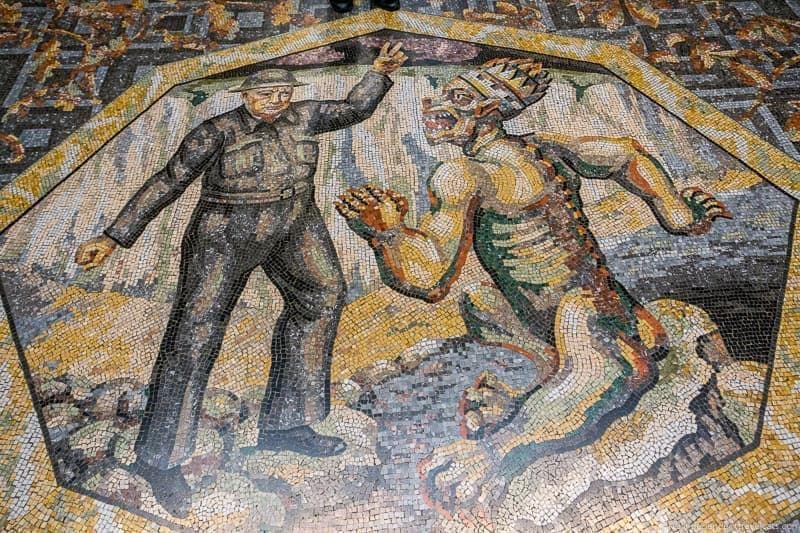 Churchill Plaques
There are a number of plaques dedicated to Winston Churchill in London. Here are some of the more significant ones:
Memorial plaque in Westminster Abbey – A memorial stone was placed in the floor of Westminster Abbey in 1965 to remember both Churchill and the 25th anniversary of the Battle of Britain. The stone was unveiled by Queen Elizabeth II.
Memorial plaque & screen at St. Paul's Cathedral –

Churchill's funeral at St. Paul's on January 30, 1965 is remembered here with a bronze memorial plaque set into the floor near the choir steps. There is also a steel and bronze memorial screen located in the crypt that was designed by blacksmith James Horrobin in 2004.
St. Mary Aldermanbury garden plaque – St. Mary Aldermanbury church once stood where the garden is today, first destroyed by the Great Fire of London and later by bombs during The Blitz. The remaining stones of the building were taken to Fulton, Missouri and the church was rebuilt as a memorial to Winston Churchill. A memorial plaque is located in the garden today denoting this. This little garden also contains a bust of Shakespeare.
Several other plaques (not English Heritage) can be found denoting former residences, places he spent the night, and places he gave speeches. You can find many of these via the Open Plaques

website.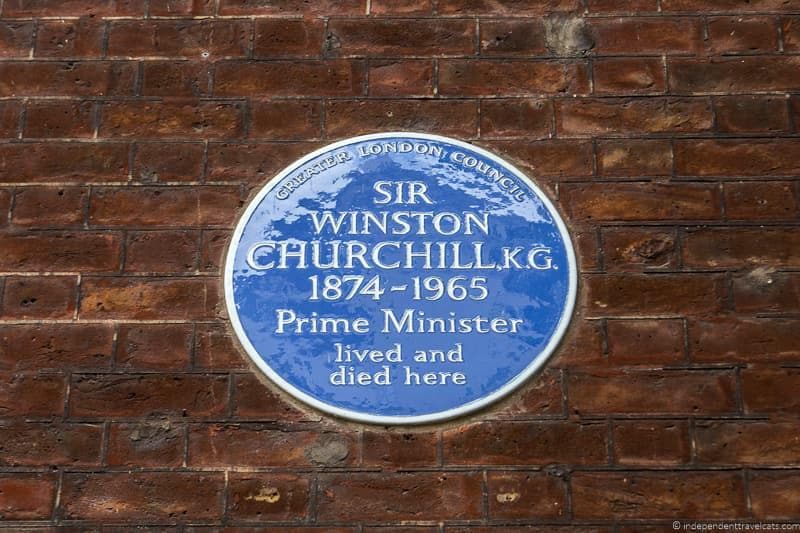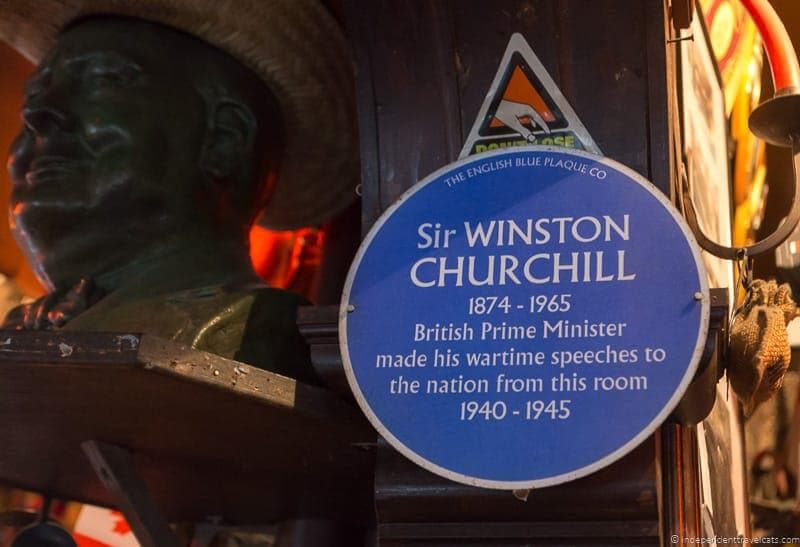 Other Depictions & Memorabilia related to Winston Churchill
There are some more unusual Winston Churchill depictions out there. Here are some of our suggestions:
Bracken House Astrological Clock (10 Cannon Street, London EC4M) – Perhaps the most unusual depiction of Winston Churchill is his face depicted within a sunburst as part of an astrological clock above the building entrance on Cannon Street. The building was the headquarters for the Financial Times when built, then owned by Churchill's supporter and friend Brendan Bracken.
Wax figures at Madame Tussauds – Winston Churchill has long been a staple figure at Madame Tussauds in London. There were two of Churchill's figures on display during our most recent visit.
The Churchill War Rooms include a wax figure of Churchill as well as a variety of Churchill memorabilia include souvenir dolls, busts, and toys. One interesting novelty doll is "The Smoking Statesman" which has a hole for the mouth that a person can insert small imitation cigars!
Various Churchill memorabilia at the floral covered The Churchill Arms pub which includes a bust, newspaper clippings, a painting, prints, photographs, dolls, and other knickknacks.
Various Churchill memorabilia at The Freddie Fox Museum within the James J. Fox store in London which includes photographs, prints, a doll, and souvenir busts.
£5 Bank of England note – If you live outside the UK, be sure to take a look at your money while in the UK. The latest £5 notes have a picture of Churchill on one side with the quote "I have nothing to offer but blood, toil, tears, and sweat". It makes for a good value souvenir.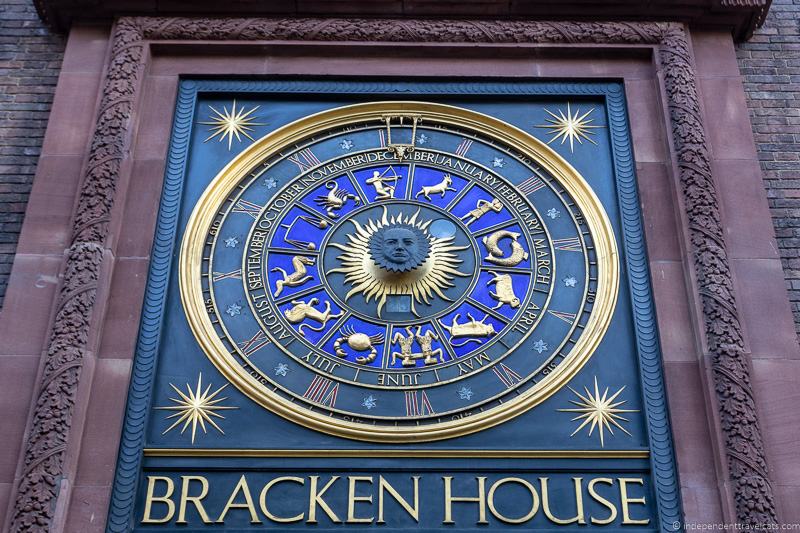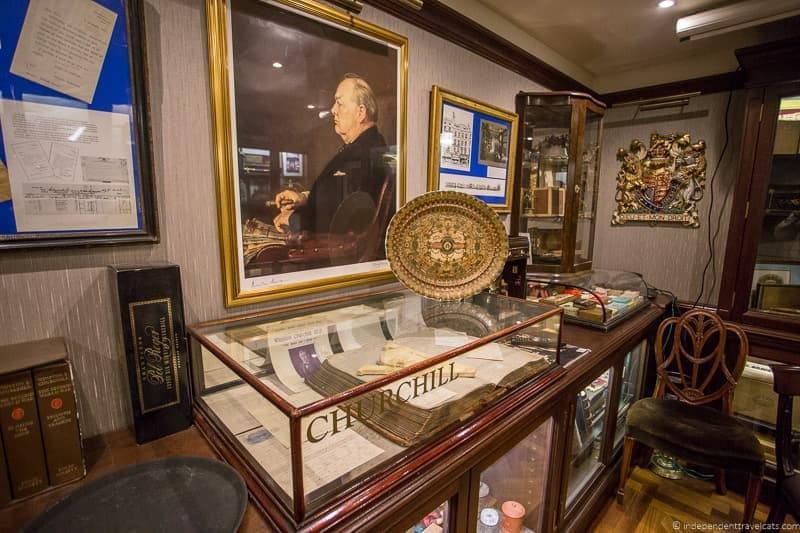 Winston Churchill's Past Residences
Winston Churchill was certainly not a person who lived in the same place for too long! His parents had planned for him to be born in their home at 48 Charles Street in London, but he was born unexpectedly at Blenheim Palace on November 30, 1874.
Churchill's early years were spent mainly in London and Dublin, and his time in Ireland is among his earliest memories. He entered his first boarding school in England at age 7 and he lived in a variety of boarding schools and family homes until adulthood.
After his marriage, he and Clementine lived in a number of residences in London, some they leased, some were provided to them by the government as an official residence, some were shared with family, and some were borrowed temporary residences. They also lived in hotels for short periods when between residences. Outside of London, over their lifetime they lived or spent significant periods of time in at least a dozen more residences, country homes, and holiday villas.
Today the best place to visit to get a sense of what Churchill's home life was like is to take a day trip to Chartwell in Kent (about 1 hour, 20 minute drive). It is the only former residence, thanks to the Churchills and the National Trust, that has remained pretty much as it was during his lifetime. It is was one of Churchill's favorite places, and is the only residence open to the public.
But you can also see the exteriors of many of the places that Churchill lived while in London and a few have been marked with a plaque denoting his residence.
Here are several of the places he lived while in London (in order in which he lived there):
48 Charles Street – The place intended to be Winston Churchill's birthplace. His first home.
2 Connaught Place – This flat was leased by Churchill's father from 1882 to 1892. The structure appears to have been significantly remodeled since the Victorian era. There is an English Heritage Blue Plaque on the exterior.
105 Mount Street – This was Churchill's first bachelor flat in London from 1900 to 1905.
12 Bolton Street – Leased by Churchill from 1905 to 1909, this was his home when he married Clementine.
33 Eccleston Square – First house purchased by the Churchills together after their marriage. Their first two children were born here—Diana in 1909 and Randolph in 1911. There is a blue plaque located here.
Admiralty House – This was Churchill's official residence during his time serving as First Lord of the Admiralty for two terms. Now used for other government purposes.
11 Downing Street – This was Churchill's official residence as the Chancellor of the Exchequer from 1924 to 1929. Next door to the Prime Minister's residence, you can normally only see the door through a guarded gate.
10 Downing Street – Official residence during his two terms as Prime Minister from 1940-145 and 1951 to 1955. He also spent some time living in Number Ten Annexe. This remains the home of the Prime Minister, and you can normally see the building from afar through a guarded gate. The door that was on the residence during Churchill's tenure is on display at the Churchill War Rooms.
28 Hyde Park Gate – Churchill's final London home, and the place of his death on January 24, 1965. There is an English Heritage Blue Plaque on the exterior.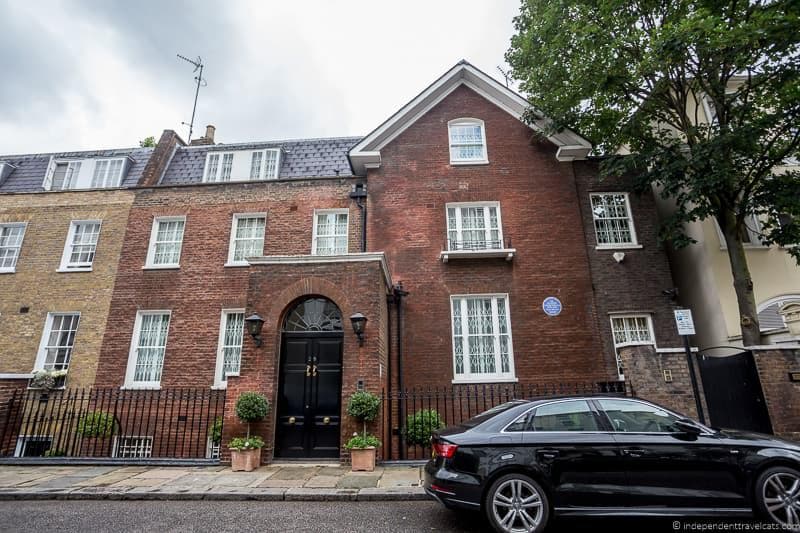 If you are interested in a more complete list of Churchill's homes and more information about them I recommend getting the book Churchill and Chartwell: The Untold Story of Churchill's Houses and Gardens by Stefan Buczacki. The book provides a comprehensive list and in-depth look at Churchill residences, holiday homes, and short-term accommodation throughout this life with a special focus on Chartwell.
Winston Churchill Tours in London
If you are looking for a guided walking tour or day trip from London, there are several that focus on Churchill, World War 2, or his former homes.
Walking Tours in London
Here are several walking tours that may be of interest to those wanting to learn more about Churchill:
London Day Trip Tours
The two best day trips related to Churchill are to Chartwell House and Blenheim Palace. Here are some options: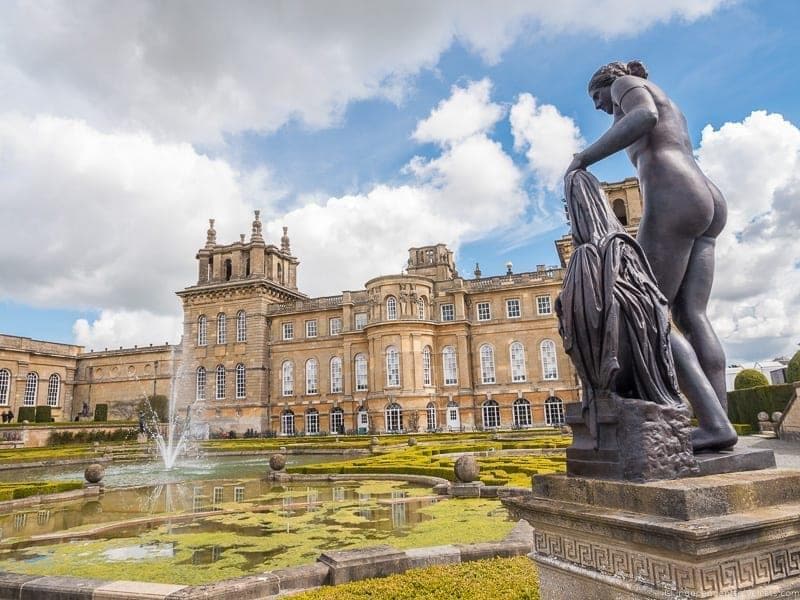 Shopping, Sleeping, & Dining like Churchill in London
Churchill spent much of his life in London and frequented a number of shops, hotels, clubs, and restaurants throughout the city. Many of these businesses still survive and we'll provide a list of some of the places he dined, ate, visited, and shopped (or well his staff did anyway!). You can visit some of these places today and in some cases buy the same items.
Note that although most London businesses' claims that Churchill was a patron are usually true, some of the ascribed quotes and anecdotes are unsubstantiated.
Places to Shop like Churchill in London
Churchill developed very defined (and often expensive) tastes, and was a man who knew what he liked when it came to things like food, drinks, clothes, toiletries, pens, cars, and cigars. Many of these preferences are well-known today such as his love of Pol Roger champagne, siren suits from Turnbull & Asser, Johnnie Walker Scotch, fine silk undergarments, and Romeo y Julieta cigars.
If you want to really learn about which stores Churchill patronized, his pastimes, and favorite brands, I'd get a copy of the book Churchill Style by Barry Singer.
Like his mother, one of Churchill's flaws was that he was not good at saving money and his fine tastes often left his finances in a poor state. Clementine would help reign him in a bit, but he would always lead an expensive lifestyle. He would sometimes be forced to economize by smoking cheap American-made cigars or closing off areas of Chartwell.
Although Churchill had preferred shops, he would usually patronize a few different shops for the same items (e.g., cigars, shirts). This strategy enabled him to extend his credit as far as he could with each shop over a longer period of time. If you are interested in learning about Churchill's spending and financial life, I'd check out No More Champagne: Churchill and his Money by David Lough.
Many of the stores that Churchill patronized are still operating today. Many are also royal warrant holders, meaning they supply items to the royal household. If you are looking to just generally head to the type of stores Churchill would have frequented, head to Saville Row and Jermyn Street and wander around the Mayfair area. This area is home to some of London's oldest and most prestigious stores.
Here are some shops & brands that you can still find in London today: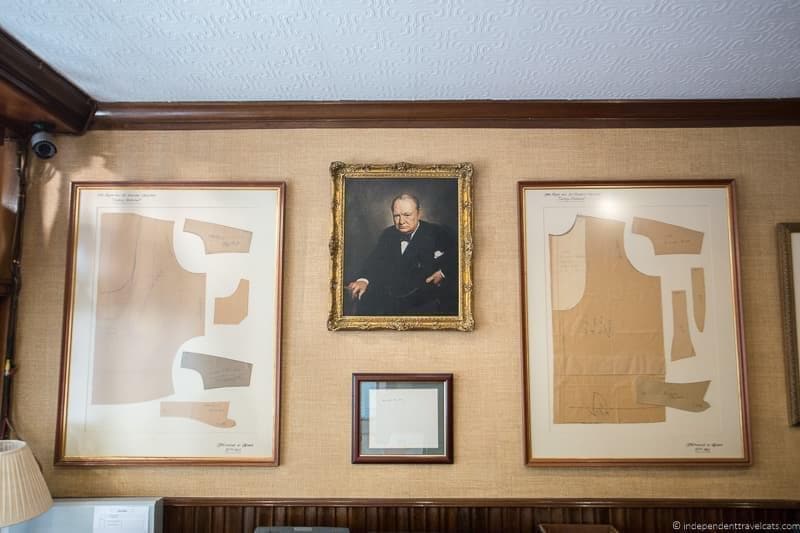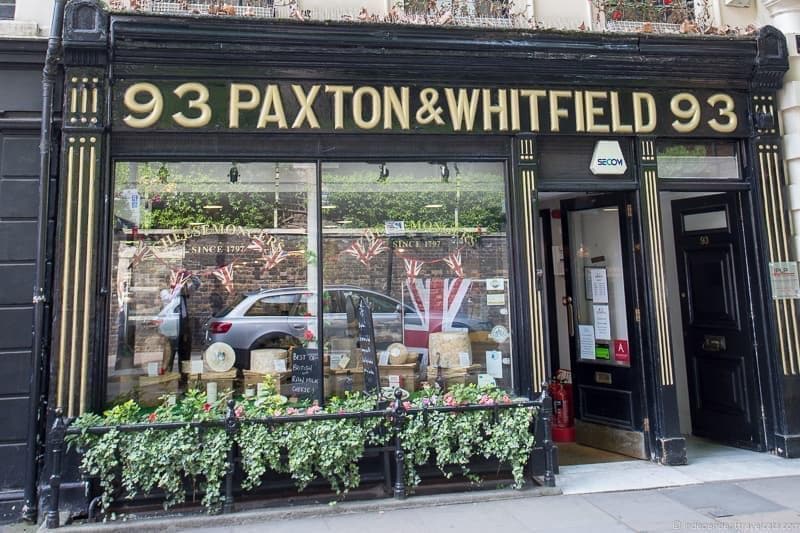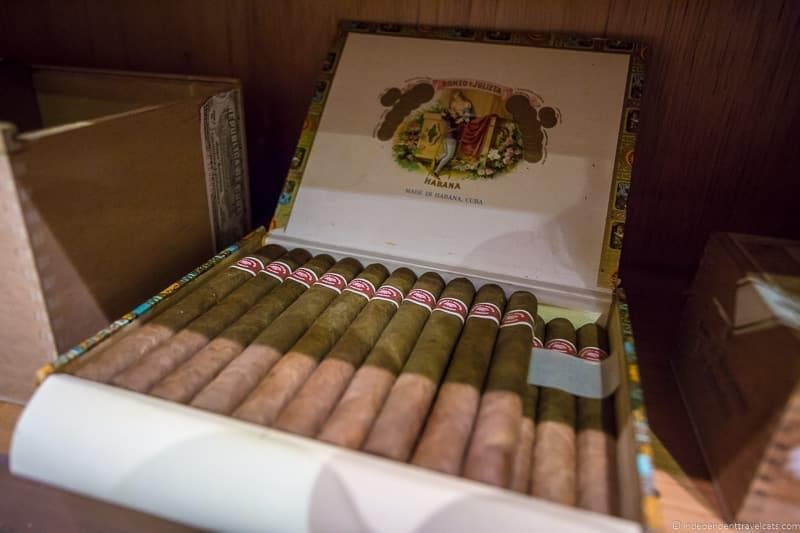 Where to Dine & Drink like Winston Churchill in London
Churchill is well known for his indulgent tastes, and he seemed to have an almost endless capacity for food and drink. Some of the foods he loved included clear soups, turtle soup, roast beef, sole champeaux, tournedos montpensier, Indian curries, Yorkshire pudding, Stilton and Gruyère cheeses, and ice cream. Among his dislikes were cream soups, sauerkraut, Chinese food, marmalade, and mixed cocktails, and he generally preferred simple cooking to complex dishes.
Churchill is probably better known for what he drank rather than what he ate. He loved Champagne (Pol Roger in particular) and a glass of watered down Scotch (often Johnnie Walker Red) was never far away. Meals were usually served with claret and followed with brandy (such as Hine Cognac).
Those interested in what Churchill ate might want to check out the collection of over 300 recipes in Churchill's Cookbook by Georgina Landemare. Landemare was married to the French chef at the Ritz and she did her "war work" by becoming Churchill's personal chef during WW2 at Downing Street. Another book about Churchill and his dining habits is Dinner with Churchill: Policy-making at the Dinner Table by Cita Stelzer.
Breakfast was normally taken in bed alone while he started his work for the day. Although Churchill often dined privately at home (or a friend's home), he also regularly took meals at a club or in a hotel restaurant in London. He was also known to stop off for drinks at a pub or hotel bar.
We've compiled a list of restaurants that he ate at as well as some that have a Churchill connection.
Blighty Cafe (35-37 Blackstock Road, London N4 2JF) – Churchill never ate here but this popular and colorful little breakfast restaurant in Finsbury Park is decorated with a Churchill and World War 2 theme. It's traditional English breakfast called The Winston was recently voted the best full English in the UK. They also have lighter and vegetarian breakfast options available.
The Churchill Arms (119 Kensington Church Street, London, W8 7LN) This classic Kensington pub known for its beautifully decorated flower-festooned exterior dates back to 1750 and was frequented by Winston Churchill's grandparents. The name was changed after World War 2 to pay homage to Churchill although I am not sure he ever visited. The pub has lots of Churchill related memorabilia, offers Pol Roger champagne, and its restaurant serves Thai food.
The Churchill Bar & Terrace (30 Portman Square, Marylebone, London W1H 7BH)- Churchill never drank at this hotel bar but it includes Churchill inspired furnishings and artwork. The bar serves some of Churchill's favorite drinks, offers a wide cigar selection, and has an outdoor heated terrace.
The Clarence (53 Whitehall , London SW1A 2HP

)

– This pub is is located near Whitehall and is a convenient watering hole for government workers. Churchill is said to have visited here as Prime Minster and there are mementos on the wall as well as decor references (e.g., bulldogs and bowler hats) in the pub. Located only a 10 minute walk from Downing Street, it is a convenient stop for those exploring Westminster.
Claridge's (Brook Street, Mayfair, London W1K 4HR) – Winston Churchill was known to have eaten at Claridge's on numerous occasions and Churchill held a dinner celebration for his son Randolph's 21st birthday here. The bar serves Pol Roger champagne.
Donovan Bar at Brown's (Albemarle St, Mayfair, London W1S 4BP) – Churchill is said to have drunk here, and today the cocktail bar at the Donovan Bar includes a Churchill martini.
The Manor House (

129 High Street Wanstead

,

London E11 2RL)

– Churchill never ate at this pub but he did spend time in this building as it was the former Conservative Party Headquarters for the area that Churchill was a longtime Member of Parliament. This pub/restaurant serves breakfast, lunch, and dinner or you can stop in for a beer or coffee. There is a painting of Churchill inside the restaurant and a bust of Churchill stands near the terrace.
The Red Lion (48 Parliament Street, London, SW1A 2NH

)

– This pub is is located in the heart of Westminster, and like The Clarence, is conveniently located near Downing Street and Whitehall. The pub claims to have served every British Prime Minister, including Winston Churchill, up until Edward Heath. Serves traditional pub food, plus is open for breakfast.
The Ritz Restaurant (150 Piccadilly, St. James's, London W1J 9BR) – Churchill attended meetings and ate dinners here, and Randolph Churchill held his father's 60th birthday dinner and party at the Ritz in 1934.
The Savoy Grill (Strand, London WC2R 0EU) – One of London's oldest high-end restaurants, Churchill often dined at The Savoy. The hotel was also where his political dining club The Other Club

met biweekly. Visitors may also want to check out one of the Savoy bars as former Savoy barman, Joe Gilmore, created at least three cocktails for Churchill, The Blenheim, the Four Score, and the Churchill. The Savoy serves Pol Roger champagne.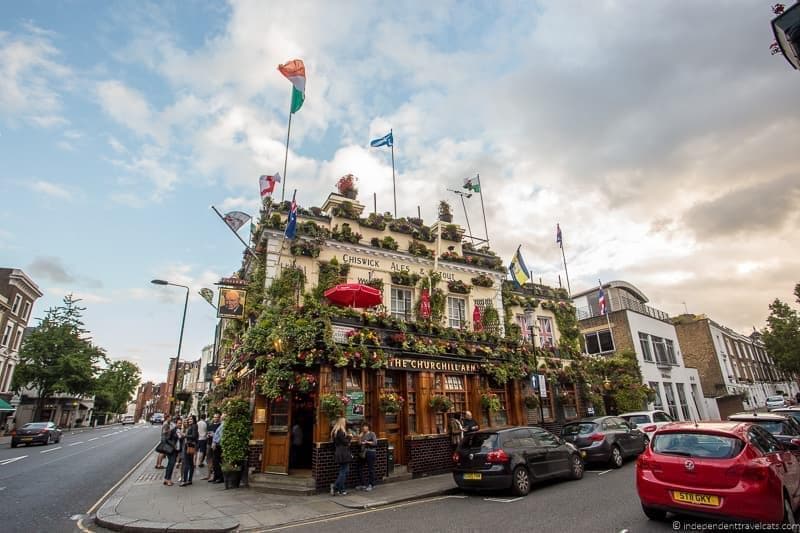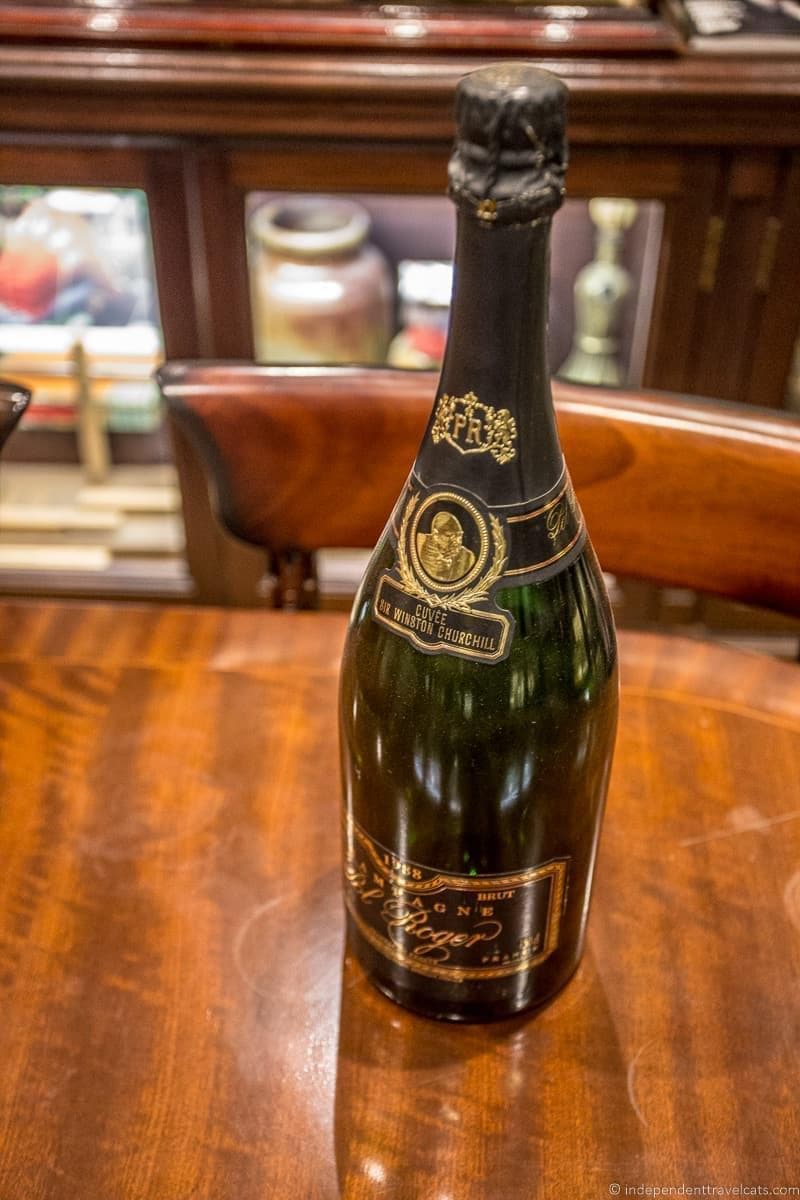 Clubs associated with Winston Churchill
Like most prominent London men of his era, Churchill belonged to a gentlemen's club. In fact, he belonged to several clubs, often holding a number of memberships simultaneously. Some were political clubs, some were focused on a particular interest (e.g., automobiles), and some were dining clubs or societies. Later in life, he was made an honorary member of even more clubs.
Although Churchill belonged to a number of clubs, it is generally thought that he did not spend a particularly large amount of time in any of them, but used them for meals, meetings, and the occasional place to write.
Surprisingly many are still operating although they are not open to members of the general public. Although most began as men-only clubs most are now open to women members and guests. As a nonmember, you can visit as a guest of an existing member, by invitation, or as a member of a reciprocal club elsewhere in the world. The clubs all have spaces for general socializing, working, meetings, events, meals, and most offer overnight accommodation.
A few do allow non-members to visit with an appointment to use their libraries or archives, and some may open their door to the public on an Open Doors day. Otherwise, you can walk by and view the exteriors of these buildings, all of which are well-located in central London. Many are next door to one another.
Here is a list (likely partial) of the clubs he belonged to over his lifetime:
The Bachelors' Club of London – This was Churchill's first known club membership when he was a young bachelor, club is now defunct.
Buck's (18 Clifford Street) – A more modern club founded after World War 1 that attracted younger members.
The Royal Automobile Club (89 Pall Mall) – Club for automobile enthusiasts.
Carlton Club (

69 St. James's Street, London SW1A 1PJ) – Club for members of the Conservative Party – Churchill was a twice a member her, resigning after he left the party to join the Liberal party and rejoining in 1926.

The Reform Club (104 Pall Mall) – The club was initially formed by Liberal political figures although now has no political party affiliation. Churchill was a member here and he resigned when a friend of his was blackballed from joining. The club is most famous internationally as the club of the fictional Phileas Fogg in Jules Verne's Around the World in 80 Days.
The National Liberal Club (1 Whitehall Place) – Club founded by William Gladstone and associated with Liberal politics. Churchill was once a member here and a portrait of him hangs in the club.
Whitefriars Club (no fixed address) – A exclusive dining club that meets weekly that was started by a group of journalists and writers, but today includes people from a range of professions and backgrounds. Churchill was a part of it as a young journalist.
The Other Club (normally met at the Savoy) – A political dining club founded by Winston Churchill and F. E. Smith in 1911 as a cross-party alternative to other dining clubs at the time. It's biweekly meetings are held at The Savoy.
Boodles (28 St James's Street) – This is the second oldest gentlemen's club in London and Churchill was made an honorary member of this historic club. Ian Fleming was a member of Boodles and it is believed to be the inspiration for James Bond's fictional Blades.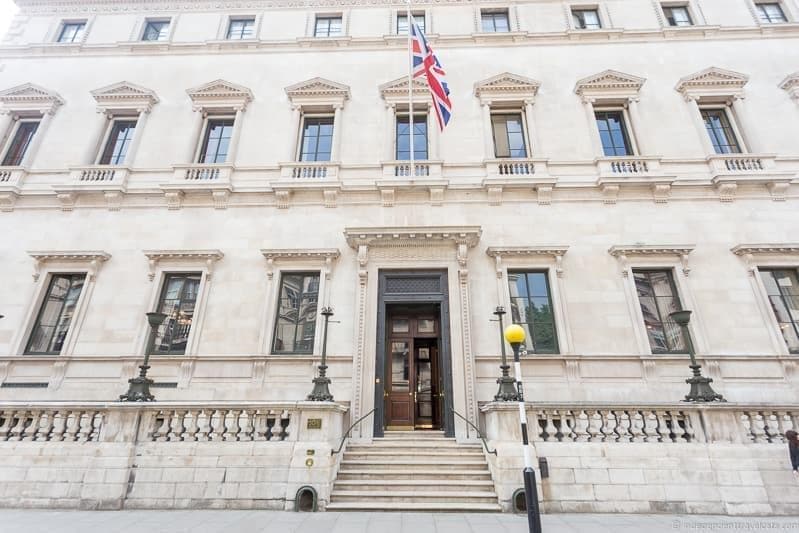 Where to Stay like Winston Churchill in London
Winston Churchill loved to dine and stay in the best hotels, so it is not surprising that all the hotels on this list are in the 5-star luxury category. They are also all located in central London.
If you are seeking a less expensive lodging option in London, you can book a meal, afternoon tea, or have a drink at these hotels. He dined, attended meetings, and stayed at several hotels in London. He and Clementine also lived in hotels for short periods between residences, especially during his time out of political office.
Here are our picks for the best places to stay like Winston Churchill in London:
Brown's (Albemarle St, Mayfair, London W1S 4BP) – This historic 5-star hotel, one of London's oldest, first opened in 1837. I could not find any evidence that Churchill spent the night at Brown's but he is known to have stopped in to drink here.
Claridge's (Brook Street, Mayfair, London W1K 4HR) – This 5-star luxury hotel is another one of London's oldest hotels. Churchill is known to have stayed here. In 1945, he and Clementine stayed here temporarily after his election defeat.
The Goring Hotel (15 Beeston Pl, Westminster, London SW1W 0JW) – Churchill probably first visited in 1919 when his mother Lady Randolph Churchill lived at the hotel for a period. He would later stay as a guest and used it as a place to stay between residences in the 1930's.
Hyatt Regency – The Churchill (30 Portman Square, Marylebone, London W1H 7BH) – Winston Churchill never stayed in this hotel and it fact it was not opened until 1970. However, it is named after Churchill and its decor and furnishings are inspired by Churchill. The hotel displays a bronze statue of Churchill, artwork from Chartwell, and Churchill memorabilia.
The Ritz London (150 Piccadilly, St. James's, London W1J 9BR) – Churchill stayed at The Ritz at least a couple of times, and he worked on his memoirs from The Ritz in early 1923.
The Savoy (Strand, London WC2R 0EU) – Churchill often ate and met people at The Savoy, and it is best known as the place where his political dining club The Other Club met biweekly. I am not sure whether or not Churchill ever slept here but the hotel has a Churchill Suite that is inspired by its namesake.
For more general hotel recommendations in London, see our guide to where to stay in London.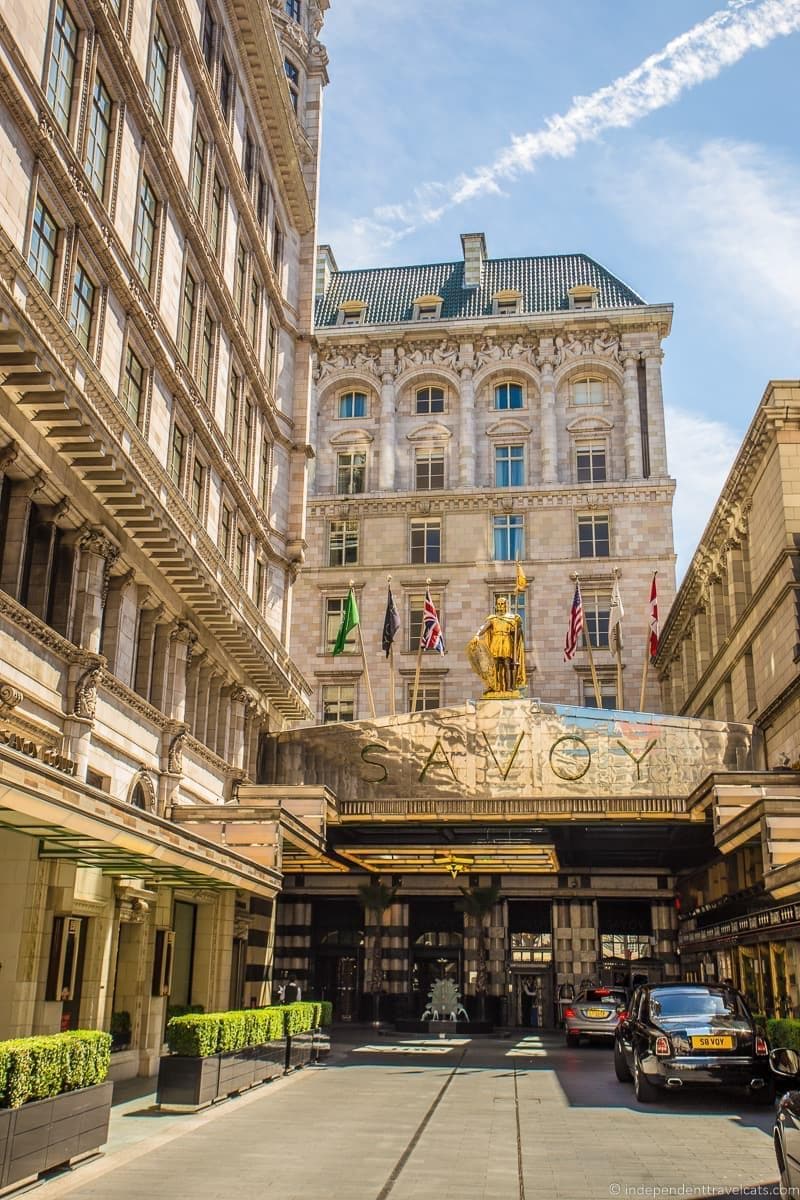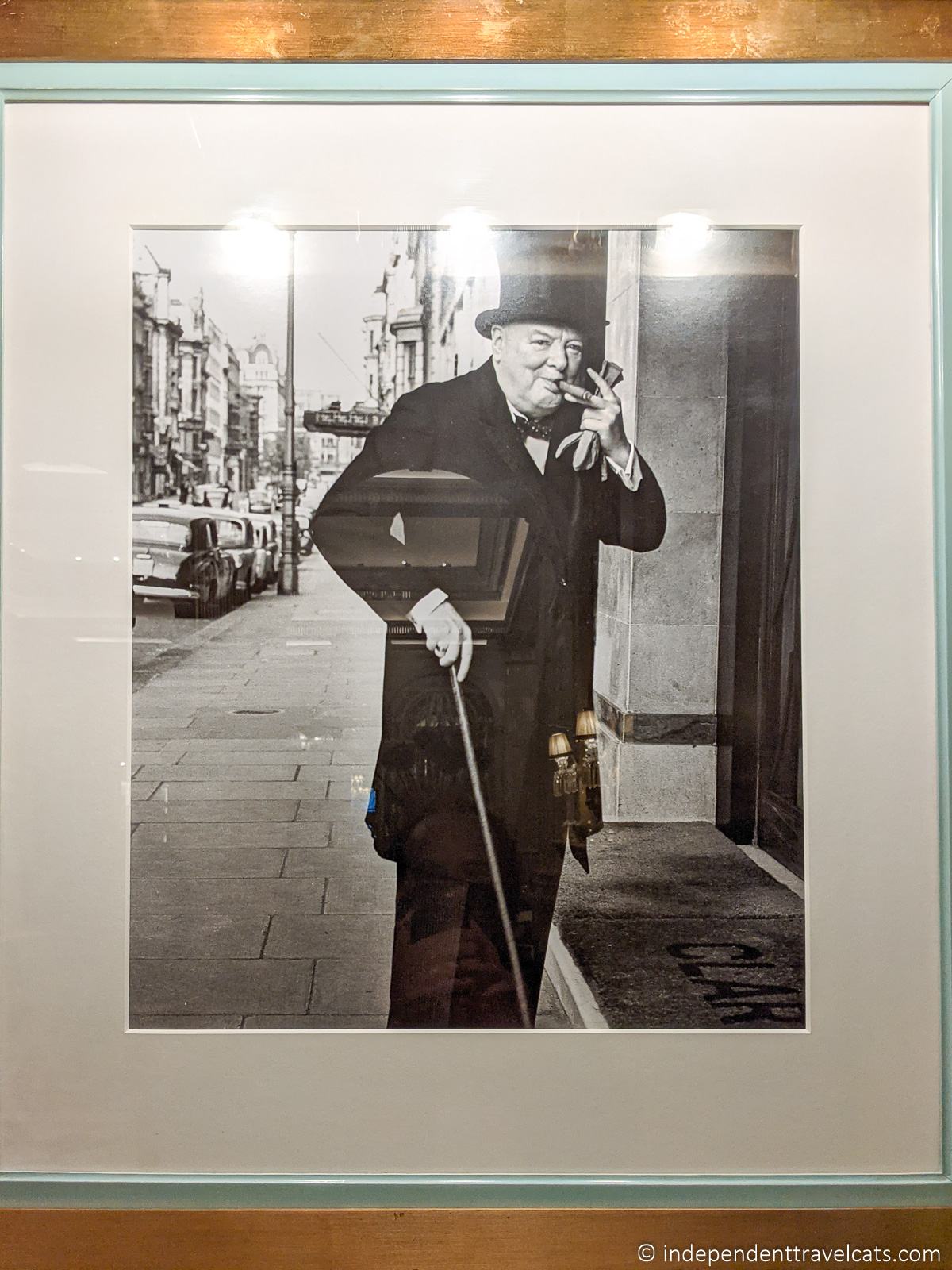 Winston Churchill Resources
Churchill was a dominant figure in life and remains an intriguing figure today. Even though he died over 50 years ago, interest in Churchill and evidence of his legacy remains strong.
In the last few years, Winston Churchill has been portrayed on a number of popular TV shows and major films, and new biographies are published about him each year. Even the placement of a bust of Churchill in the White House even sparked a number of recent news stories about concerning Presidents Obama and Trump.
As in life, he remains controversial and divisive with many revering him as one of the world's greatest leaders and some believing he was simply a selfish and racist warmonger (see this recent debate that took place at a literature festival in Jaipur, India). One thing most agree on is that he was a complex and passionate man who left a definite mark on the world.
There is a mountain of information out there about Churchill for those who are interested in learning more, from radio clips to books to films. Many of these served as sources for information in this post, notably the books Churchill: A Life by Martin Gilbert, My Early Life by Winston Churchill, and Churchill Style by Barry Singer. There are also several great online resources I have found, many of which I have also used to research information about Churchill, with a special shoutout to the International Churchill Society website and the BBC archives.
If you are interested in learning more, we've put together a selection of resources. These can be great to read or watch prior to a trip to London, to reinforce what you learned about Churchill in London, or to just brush up on your 20th century British history!
Books by Winston Churchill:
Winston Churchill was a man of many words who loved the English language. He is probably best remembered as a gifted and powerful speaker, known for his wit and ability to make an impact. These speeches were particularly important as Prime Minister during World War 2.
He also wrote a number of books and hundreds of articles during his lifetime. He started writing to earn money to support his expensive tastes, and would continue to write for a number of reasons which included money, a need to share his perspective, to set the records straight (in his own mind anyway), to shape history, to keep himself occupied when he was not politically active, and because he enjoyed it. In 1953 he was awarded the Nobel Prize for Literature.
You can find a list of his works here.
Here are several of his most notable works (in order of publication):
Books about Winston Churchill:
To say that a lot has been written about Winston Churchill would be an enormous understatement. Churchill's official biography is the longest biography ever written!
The first biography was written by Alexander MacCallum Scott in 1905, 35 years before he would become Prime Minister. Scott concluded the following about Churchill who at the time had only been serving in Parliament for 4 years: "No one who has studied impartially the varied career and achievements of this young man can doubt that he was born to greatness" (p. 264).
The proliferation of books about Churchill and enduring interest in him is astonishing. Early biographies focus primarily on his time as a wartime leader and were mostly very positive in their outlook. More recent books about Churchill have provided more complex views of Churchill as a person. A few have chosen to focus on his more negative qualities and flaws such as his Victorian imperialistic attitudes and racist views towards Indians.
There are also a large number of books focused on a particular aspect of Churchill such as his popular quotes, his love letters to Clementine, his sense of style, his relationship with King George VI, and his paintings.
There are hundreds of Churchill books to choose from but below is a range which includes many of the most popular biographies:
Churchill

by Ashley Jackson (2011) – A well-rounded medium-length biography of Churchill.

Churchill: A Life by Martin Gilbert (1991) – Gilbert was an official biographer for Winston Churchill, and this is a separate and much shorter version of that biography with the addition of new material. If you want a thorough well-researched biography without reading the 8-volume one, I'd choose this one. This the place I turn first for Churchill information.
Churchill and Chartwell: The Untold Story of Churchill's Houses and Gardens by Stefan Buczacki – The book provides an in-depth look at Churchill residences, holiday homes, and short-term accommodation throughout this life with a focus on Chartwell.
Churchill and the Jews: A Lifelong Friendship

(2007) by Martin Gilbert – The book examines Churchill's relationship with Jewish people and issues, from his personal relationships to political actions.

Churchill: A Study in Greatness by Geoffrey Best (2003) – Another popular shorter biography about Churchill that covers his life from birth to death.
Churchill the Unexpected Hero (2005) by Paul Addison – One of the shorter biographies about Churchill from a British historian who wrote a number of books about Churchill.
Churchill's Secret War:

The British Empire and the Ravaging of India during World War II

(2010)

by Madhusree Mukerjee – This book written by an Indian American journalist focuses on Churchill's prejudice towards the Indian people and his role in the Famine of Bengal and other India-centric events.

Churchill Style by Barry Singer (2012) – This book discusses Churchill's life in relation to his tastes, styles, purchasing habits, pastimes, and personal relationships. Definitely not a biography but a great way to learn about Churchill's tastes and hobbies.
Clementine: The Life of Mrs. Winston Churchill by Sonia Purnell (2017) – Most people know very little about Churchill's wife and this well-reviewed biography tells Clementine Churchill's story.
The Last Lion: Winston Spencer Churchill, 1874 – 1965 by William Manchester and Paul Reid (1983-2012) A popular 3 volume biography series that covers the life of Winston Churchill from birth to death.
Secrets of Churchill's War Rooms (

2017) by Jonathan Asbury – This book goes in-depth about the Churchill War Rooms and what it was like to work there. It including more than 300 photographs and lots of first-hand accounts.

Sir Winston Churchill: His Life and His Paintings

(2005) by David Combs – Winston Churchill would paint over 500 paintings during his lifetime, and this book tells his story through his paintings.

Winston and Clementine: The Personal Letters of the Churchills

by Mary Soames (2011) – The Churchill's youngest daughter Mary tells the personal story of the couple through the use of their letters to each over during their 56 years of marriage.
Winston S. Churchill 8-volume Official Biography (1966-1988) by Randolph Churchill and Martin Gilbert – Begun before Churchill died and with companion volumes still ongoing this is one of the largest biographies every written. If you REALLY want to delve into Churchill the 8-volume set is a good investment and you can get the companion volumes for additional information.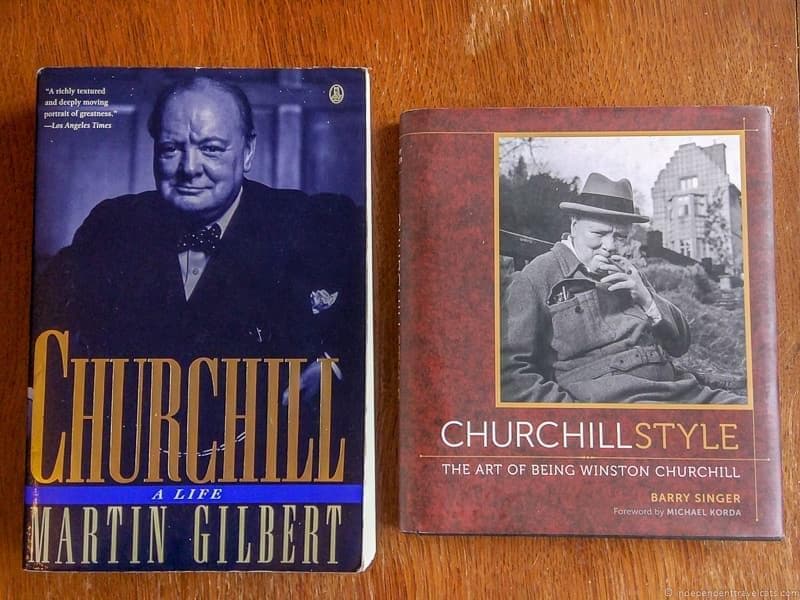 Websites:
Here are some websites we have found to be useful about Winston Churchill:
Films & TV Shows about Winston Churchill
If you are looking for some movies or TV shows to watch that include Churchill, there are a lot of choices! I've seen all those listed, so feel free to ask if looking for a particular suggestion. Here is a partial list: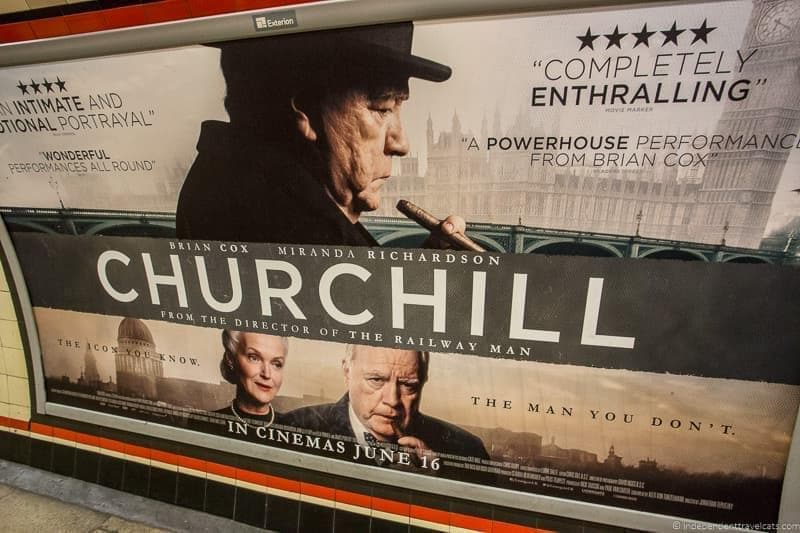 So there is our guide to finding Winston Churchill in London! We hope that you found this helpful whether you are just trying to find the best Winston Churchill site in London or you are an avid admirer who wants to cram as many Winston Churchill attractions as possible into your London itinerary. Check out our other London articles to help you further plan your trip.

Which of these Winston Churchill attractions do you want to visit on your next trip to London? Have you visited any or have another favorite Churchill site to suggest? If so, we welcome your comments and suggestions! If you have any questions about Winston Churchill in London or traveling in the city, just leave us a comment below and we'll try to help!