This past October we had the pleasure of riding the Venice Simplon-Orient-Express train from London to Venice where we held our wedding ceremony. The original Orient Express train service ran from 1883 to 2009, and its name became associated with glamour, luxury, intrigue, and even murder! In its heyday, it was the most luxurious train in Europe and today this tradition lives on with Belmond's Venice Simplon-Orient-Express (VSOE).
The VSOE makes regular luxury train journeys across Europe, offering gourmet meals, private overnight cabins, and attentive staff within its wonderfully restored historical train carriages. The signature trip is the 36-hour luxury train journey from London to Venice which has to be one of the most elegant ways to arrive in Venice!
We'll share all you need to know to decide if this trip is a good fit for you, from the historical background of the Orient Express to how to book the VSOE online, and we'll also share the full details of our own experience aboard the Venice Simplon-Orient-Express train.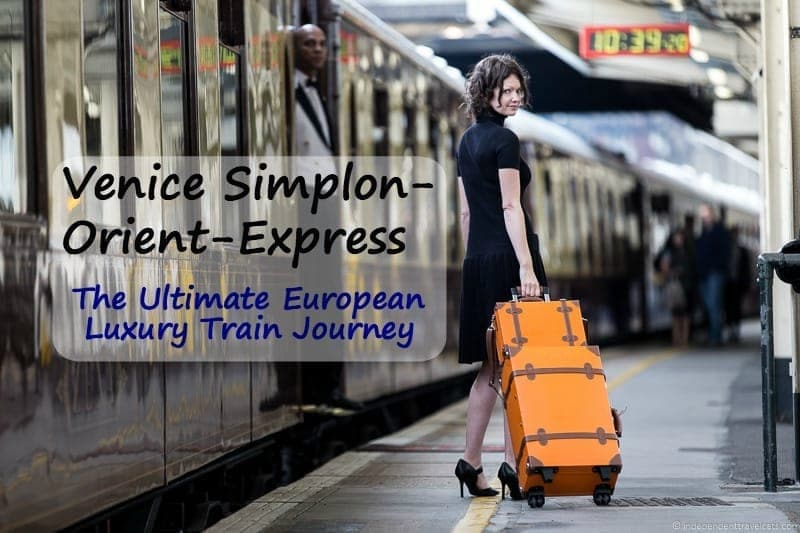 Basic Information about the Venice Simplon-Orient-Express
We've put together a guide that will hopefully answer any basic question about a trip on VSOE, from the train routes and dress code to the cost and booking.
Why is the Orient Express so Famous?
Orient Express is probably the most famous name associated with any train in history, its mystique glorified by books and films. The words conjure up images of exotic destinations, luxurious train compartments, 1920's fashion, the Golden Age of Travel, intrigue, and even murder.
However, it was not always as romantic as people think as it was the primary way to travel through the Balkans at the time and it operated through some pretty turbulent political times in Europe. Throughout its history, the train was robbed, bombed, shot at, and one of the train cars was even used as a location by both the French and the Germans to sign armistice agreements in the World Wars.
The Orient Express was certainly one of the most luxurious trains of its time, especially in its heyday between the World Wars, and it carried famous passengers from around the world across the European continent, including King Ferdinand I of Bulgaria, Tsar Nicholas II of Russia, King Leopold II of Belgium, French president Paul Deschanel, Marlene Dietrich, Joseph Kessel, Leo Tolstoy, Leon Trotsky, Lawrence of Arabia, Ernest Hemingway, Agatha Christie, and Mata Hari.
King Ferdinand I and King Boris III of Bulgaria were probably two of the train's most enthusiastic (crazy?) passengers, often asking numerous questions about the train and even taking over the controls and racing it across their kingdom of Bulgaria!
Despite the famous and colorful real-life characters who regularly made their passage across Europe on the Orient Express, it would be the fictional characters and depictions associated with the train that have most firmly remained in the public's mind. As early as 1897, Bram Stoker would use the Orient Express train to transport Johnathan Harker, Van Helsing, and the other members of their party across Europe in their race to get to Dracula as he sailed back to his castle in Transylvania. Dracula remains one of my favorite classic novels!
Later you have Graham Greene using the Orient Express as a setting in both Stamboul Train (also titled Orient Express in the U.S.) and Travels with my Aunt. James Bond takes a trip on the Simplon Orient Express and even fights on top of the train as it races towards the Simplon Pass in From Russia With Love.
However, it would be the story of Belgian detective Hercule Poirot's murder investigation on board the Simplon Orient Express train that would capture the public's attention and continues to be the most associated novel with the famous train. Agatha Christie's famous 1934 novel Murder on the Orient Express was inspired by a 1929 incident when the Orient Express train was stuck due to a snowstorm for several days near Çerkezköy. I would definitely recommend reading or re-reading some of these books prior to your journey or bringing one aboard with you!
If you prefer movies, the book has been made into a number of movies in several languages. Two of the best known versions are the classic star-studded 1974 version directed by Sidney Lumet starring Albert Finney, Lauren Bacall, Ingrid Bergman, and Sean Connery and the 2017 film adaptation of the murder mystery directed by Kenneth Branagh which stars Branagh, Judi Dench, Willem Defoe, Michelle Pfeiffer, and Johnny Depp.
Is This the Same Train as the Historic Orient Express Train?
The simple answer is no. There is no specific train that was called the Orient Express which used a rotating and often changing set of rolling stock (locomotives, carriages) throughout its long history. Instead Orient Express was the name of a long-distance train service and train route. The Orient Express was the name of an international train service that began in 1883 and essentially ran from Paris to Istanbul (often using a ferry or even horse-drawn carriages to connect the later parts of the route in the early years).
The Orient Express was operated by the famous Compagnie Internationale des Wagons-Lits which also produced the luxurious train cars used in the Orient Express trains. As the Orient Express grew a reputation as a luxury international train route, other routes were developed with the name Orient Express, including the Arlberg Orient Express, Direct Orient Express, and the Simplon Orient Express. The Simplon Orient Express (later the route was named the Direct Orient Express) was a route that ran from Paris to Istanbul, passing through the Simplon Tunnel and included stops in Venice and Milan.
Over time, air travel and high-speed trains made these slow luxury trains less popular and by 1962 only the Direct Orient Express route was being run. Its last trip from Paris to Istanbul was on May 19, 1977. For many people, this was considered the end of the Orient Express; however a much truncated train route called the Orient Express existed until December 2009, with a train making its final run on the route from Strasbourg to Vienna on December 12, 2009.
The Venice Simplon-Orient-Express operated by Belmond uses the name based on the historical Simplon-Orient-Express train route that ran from Paris to Istanbul. The train uses restored dining and sleeping train cars from the 1920's, 1930's, and 1950's. Originally the Venice Simplon-Orient-Express actually ran through the Simplon Pass, but it now typically uses a different route through Switzerland to reach Venice but retains the name.
What Exactly is the Venice Simplon Orient Express?
The Venice Simplon-Orient-Express (VSOE) is a 5-star luxury train service that was started in 1982 by James Sherwood, a rail enthusiast and businessman, to regularly run from London and Paris to Venice. The train service is now operated by Belmond and uses restored historical dining and sleeping cars from the 1920's, 1930's, and 1950's.
It has expanded its routes to include a number of cities throughout Europe. For those traveling to or from London, the route includes two trains as the train that operates on the UK portions of the journey is the Belmond British Pullman train and across the channel the Continental Wagons-Lits train carries the Venice Simplon-Orient-Express name and logos.
As noted earlier the train got its name based on the historical train route called the Simplon-Orient-Express that ran from Paris to Istanbul via the Simplon Pass.
Train Journeys Offered Aboard the Venice Simplon-Orient-Express?
The most popular and frequent journeys are from London to Venice (and vice versa) and London to Verona (and vice versa). However, the Venice Simplon-Orient-Express also makes less frequent trips to other European cities, including Vienna, Berlin, Prague, Budapest, and Istanbul.
The iconic trip from Paris to Istanbul and back is typically offered once a year, and is normally 6 days long.
There are also shorter journeys such as from Paris to Venice and Paris to Verona. You used to also be book shorter train journeys from London to Paris (11 hour journey) and vice versa but these routes no longer available when I last checked in 2020. Not sure if they will return.
The Belmond British Pullman makes regular day trips within the United Kingdom, which are recommended for those wanting to experience the train within a smaller budget.
Is the London to Venice or Venice to London Route Better?
The train journey to and from London to Venice is the most popular journey offered on the Venice Simplon-Orient-Express. Some guests choose to do the full round-trip experience, but many want to just do it one-way and might wonder if it is better to go southwestbound or northeastbound?
The scenery and service are going to be about the same either way so it doesn't make too much difference; however, I would vote for the London to Venice trip just because you get to start on the British Pullman, board the coach, and ride over the Channel Tunnel at the beginning of the trip so you have the rest of the time to relax on the continental train on your way to Venice.
That said, we found that there was more availability going from Venice to London and that the cost is sometimes a bit lower going that direction. You also get a more substantial British afternoon tea going in the Venice to London direction since it is served aboard the British Pullman.
If you choose to book a one-way trip, you can easily go the other direction by using Eurostar and a continental rail service, or by flying. Note that if you book a trip on the VSOE with Belmond, they can help you book flights, hotel accommodation, and transfers around your journey.
Passports and Visas for Riding the VSOE
Train passengers must have all necessary passports and visas, and must comply with any customs, health, or vaccination policies for all countries they travel through even if they do not disembark the train in these countries. The London-Venice passenger will pass through the United Kingdom, France, Switzerland, Austria (depends on routing), and Italy and passengers must have all necessary passports and visas.
If you are an EU citizen, you should not need any visas; however, citizens of other countries may need visas or health records. If you are not a passport holder of the EU then please check with your country's embassy or consulate.
During the London-Venice route, visas cannot be obtained at border crossings and it is the passenger's responsibility to have obtained them in advance. On longer journeys that include Romania and Turkey, Belmond will usually make arrangements to help passengers obtain these visas but do inquire about this in advance.
Once you arrive on the VSOE continental train, your cabin steward will collect your passport and any visas to be able to address any inspections at border crossings and these are returned to you before you reach your final destination.
Note that for United States travelers and other citizens traveling within the Schengen Zone under the Schengen Borders Agreement, it is your responsibility to receive entry and exit stamps when entering or exiting the zone in order to document the amount of time spent within the Schengen Zone (up to 90 days in any 180 day period). Without an entry stamp, you may have problems later when exiting the Schengen Zone.
I had this problem as even though I asked at the UK-France border, it was only stamped as exiting the UK and it was never stamped with my entry into France (first Schengen Zone country) or any other countries along the way as we did not go through French immigration. As I spend a lot of time in Europe and my husband's family lives in France and need to track my 90 days closely, I was concerned about not getting stamped and unfortunately the staff seemed confused as they did not understand the difference between the Schengen Zone and the European Union, or understand that the UK is not part of the Schengen Zone.
While this is somewhat understandable since most passengers are EU citizens, we were a bit disappointed that none of the staff were able to really help us given that Americans and other non-EU passengers regularly ride this train. If this is an issue for you, be sure to contact Belmond in advance and alert staff at check-in at the beginning of your journey.
Dress Code Aboard the Venice Simplon-Orient-Express?
The dress code is pretty explicitly stated in the VSOE Travel Journal and you can essentially not be overdressed, especially in the evening. During the day, smart casual wear is fine but do not wear jeans, shorts, sneakers/trainers, or the like.
However, in the evening guests are expected to change into formal wear. For men, this means a dark suit and tie or a tuxedo and dress shoes, and for women this could be a cocktail or evening dress or a formal pant suit. Dressing up is part of the experience and those who do not want to follow the dress code may be asked to dine alone in their train compartment.
Just remember to pack everything you need for dinner (clothes, accessories shoes, make-up, jewelry) in your carry-on baggage before check-in.
Modern Amenities Aboard the VSOE?
These are restored vintage train cars although some modern amenities have been added. First, there are no bathtubs or showers aboard the trains (with the exception of the three grand suites which will contain showers which were made available starting in March 2018), just toilets, sinks, and washbasins.
Coal stoves are used for the main heating in each carriage (ask to see one if interested!) and there is a small radiator in each compartment. There is obviously no air-conditioning although the windows can be rolled down for ventilation and there is a small fan on the wall of each compartment.
There is also no wireless Internet access aboard either of the trains. However, there are electrical outlets on the buses (UK-style 3-pin power sockets) and in each sleeper compartment on the VSOE continental train (1 230/115 volts dual voltage socket for electric razors and two 220-volt Europe-style 2-pin sockets) so you should not have an issue keeping your devices charged (just remember to bring an adapter). There is decent cell phone reception along the route.
You are welcome to use electronic devices (e.g., cell phones, tablets, pagers, laptops) in your own personal compartment, but you are asked not to bring them into the public areas.
A safe is located in many of the cabins (request a cabin with one at the time of booking if this feature is important to you).
Current newspapers and magazines are available and there is a mail box located on board and staff are happy to post guests' letters and postcards with a special stamp.
TIP: Since there is no air conditioning aboard, it can at times get quite hot aboard the train in mid to late summer. If you are sensitive to heat, I would avoid the hottest summer months as you will still be expected to dress formally.
Who are the Other Guests on the VSOE?
There was a much wider demographic than we had imagined aboard the Venice Simplon-Orient-Express. Most people were celebrating a significant birthday, anniversary, honeymoon, or other event during their trip and for most people this is a one-time trip of a lifetime. I particularly loved the story from one fellow passenger that her husband had surprised her and it was in celebration of both her birthday and her cancer battle.
For some, they had been on the train before (or other trains operated by Belmond) and loved it, so some were regular VSOE travelers. Most people were British and traveling as married couples although there were a couple of mother-daughter and friend groups as well. The majority of guests were middle-aged or older, but there were several other people in their 30's like us.
You are not likely to be sitting next to a celebrity these days, but we did have one minor actress (we did not recognize her or her name) on our journey. Most people were happy to strike up conversations and chat especially in the coach and in the Bar Lounge, but since most people were also celebrating with their partner many were also wanting some romantic alone time.
Luggage Allowance & Luggage Transfers
The train compartments are pretty small, even by older European hotel room standards, so there is not a lot of room for excessive luggage on board.
Luggage allowance on board is 1 piece of hand luggage (carry-on size suitcase or smaller) and 1 garment bag or overnight bag per passenger. Each passenger is also allowed one piece of luggage to be checked-in and this luggage should be tagged at the Check-In lounge before departure. All checked luggage will be transferred to a baggage car by Belmond staff for the duration of the journey (you will not have access to it until your final destination).
You can also pre-arrange with Belmond for your luggage to be transferred directly to your hotel upon your arrival at your destination.
Is the Journey Appropriate for Disabled or People with Mobility Issues?
If you have a physical issue that greatly impacts your mobility, this train journey would be difficult and not recommended. Because of the dimensions of the historical trains, they are not able to accommodate a wheelchair. Passengers with mobility issues interested in this journey should contact Belmond staff in advance of booking to discuss possible accommodations and staff recommendations.
Those with any sort of mobility difficulty will probably want to choose the bottom berth rather than needing to climb into the top bunk at night. Or consider booking one of the new and much more spacious Grand Suites.
Are Children Allowed on the Venice Simplon-Orient-Express?
Yes, children of all ages are welcome aboard the VSOE and children under 12 receive a discounted fare if sharing a compartment with an adult.
However, the VSOE experience is not necessarily the best fit for many children, especially younger children, and parents should take that into consideration. There were several children on the British Pullman part of our journey as a day trip, but only two very well-behaved older children on the full overnight trip.
Tipping on the VSOE?
The cost of your train journey is inclusive of all service charges, and any gratuities are at your own discretion. If you received good service, you can show your appreciation by tipping your cabin steward, bar staff, and/or restaurant staff. You can tip as you go (e.g., per meal, per bag carried), but I would recommend leaving the gratuities to each party on your final day aboard.
Cost of the Venice Simplon-Orient-Express?
The cost varies depending on your route, cabin type, and the time of year; however, the route from London to Venice start at £2,220.00/person for a Twin Cabin. Rates for the three Grand Cabin Suites (with a toilet, shower, and private dining area) start at about £5,500/person for the London to Venice journey.
Discounts are available for children under age 12 sharing a compartment with an adult, and children under 2 sharing a berth with an adult travel for free.
Belmond also offers a cabin suite which is just two interconnecting double cabins at an additional upgrade price.
If you are traveling solo, the price for 1 person is generally provided for a double cabin single occupancy on the website. However, there are typically single cabins available for a lower price so you may want to contact Belmond for their price and availability.
TIP: If the Venice Simplon-Orient-Express is out of your price range, consider a journey on the Belmond British Pullman which is the train that operates the UK portion of all the VSOE journeys. The cost of a day trip start at around £240. You can read our full review of the British Pullman and see tons of photos from that portion of our trip in our other article.
What is Included in the Price of the VSOE journey?
Your overnight accommodations in a private cabin, your meals (brunch, lunch, dinner, afternoon tea), and the service is included in your fare. All table d'hôte meals (set menus) are included along with coffee and tea.
Depending on your specific journey and direction, a cocktail, sparkling wine, and/or champagne may also be included with your brunch, lunch, or afternoon tea. For instance, our trip included a Bellini cocktail with brunch on the British Pullman and a demi bottle of prosecco in our cabin.
Cabin meal service, bar drinks, luggage transfer to your hotel, and à la carte lunch and dinner options are also available at additional cost.
How to Book the Venice Simplon-Orient-Express?
You can book and buy tickets online for the Venice Simplon-Orient-Express, as well as check schedules, prices, & availability, online at the official Belmond website: www.belmond.com/venice-simplon-orient-express.
You can also make reservations directly by phone (U.S. customers: toll-free 1-800-524-2420 or 1-843-937-9068; UK customers: 0845 077 2222), or email them with any questions (U.S. customers: reservations.us@belmond.com; UK customers: reservations.uk@belmond.com).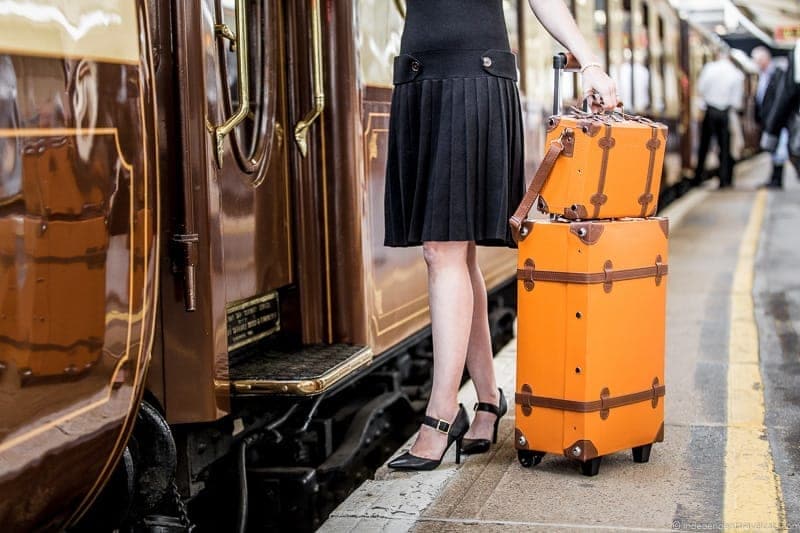 Our Journey on the Venice Simplon-Orient-Express
Whether you are thinking about booking a trip aboard the Venice Simplon-Orient-Express or simply want to know what the experience would be like, below you'll find a detailed account of our experience plus a few tips we picked up along the way. Even if you just look at all the photos, you should get a good sense of what it would be like to take a luxury train ride aboard the VSOE. We hope you enjoy coming along with us on our VSOE journey!
What Happens Before Your Trip
After you have made your booking either online or by phone, you will be contacted by a Belmond agent to go over the details and any available options. Before your journey, you will also receive a package in the mail containing your Travel Journal and some beautiful VSOE luggage tags. The Travel Journal is personalized with your train journey route, name, dates, and contains your tickets in the front along with information about check-in, your itinerary, the train amenities, other Belmond products, and a section for your to write your own thoughts during the trip.
The tickets may or may not contain your carriage/seat information (ours did not), but don't worry if they do not as you'll be given your reservations at check-in if not. You'll want to keep the travel journal in a safe place as you'll need to bring this with you at check-in. I really loved receiving this package in the mail as you so rarely receive tickets in the mail these days.
Upon booking, you will want to talk to Belmond about any special requests, mobility issues, dietary restrictions, luggage transfers, etc. For instance, if you want to arrange for a bottle of champagne or a gift to be in your train compartment upon arrival to surprise your partner, do this in advance. Also if you have cabin preferences (e.g., you want to ensure you have a safe) or dining seat preferences (e.g., you want a table of 4 to be seated together, want a more private table, or you specifically have a carriage preference on the British Pullman) you can make these known now.
We spoke to Belmond staff (specifically a friendly woman named Heather) before our trip about both a dining car preference as well as asked for advice about what to do with my wedding dress since it was extra baggage but something that would need to be handled with care. They were great at noting our dining car preferences with our reservation and in helping us decide what option may be best with the wedding dress.
Also, you are asked to call to re-confirm your booking approximately 48 hours in advance of the start of your journey and the phone number is provided in the journal. There is also a hotline number that provides up-to-date information about the schedule. Belmond will also collect your contact information upon booking and will inform you if there are any delays or changes.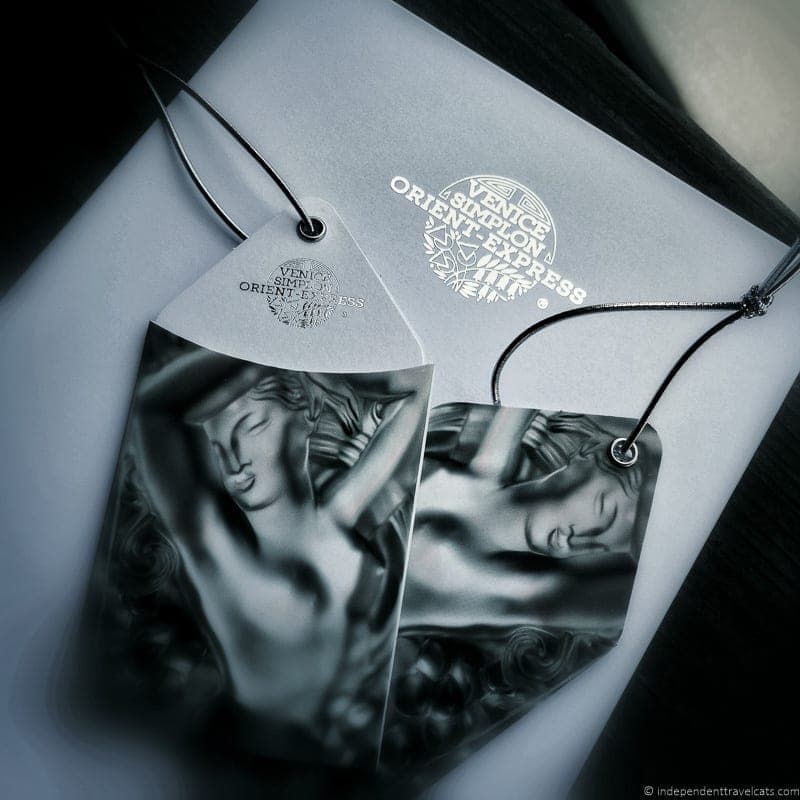 Arrival & Boarding
We had a less than glamorous arrival as we took the London Underground from our friend's house and had to make two changes along the way to reach Victoria Station. At Victoria station, we made our way to the train platform level and then asked a staff member about how to get to the lounge. Essentially, if you are facing the train platforms, go to your far left and then look right and you should see a sign leading you to the Belmond British Pullman/Venice Simplon-Orient-Express Lounge located on Platform 2.
The lounge opens up a couple of hours prior to departure, and guests are recommended to arrive for check-in at least 45 minutes prior to departure. Inside the lounge, you'll find a check-in desk where a staff member will check you in, give you all your seat and compartment reservation information, and help you check in your larger bags to your final destination.
Please be sure that all your important documents (passport, visas, travel journal), your evening wear, and overnight items are with you in your hand luggage before checking your luggage. You can either keep your hand luggage items with you or have the staff keep them and they will be transferred into your train compartment once you reach France. I'd recommend just keeping your purse, important documents (must keep your ID and passport), phone and other necessities (e.g., medications, camera), and leaving your overnight bags/garment bags to be transferred so you don't have to carry them onto and off the train and bus.
The lounge seating area is quite comfortable although it can get quite crowded right before departure. There is also a toilet and complimentary refreshments (water, juice, coffee) available while you wait to board the train.
TIP: If possible, arrive early so that you can get a seat in the lounge and take advantage of short lines. Those arriving closer to departure had to stand in longer lines and there is not enough seating for all guests. It is nice to have time to relax before your journey.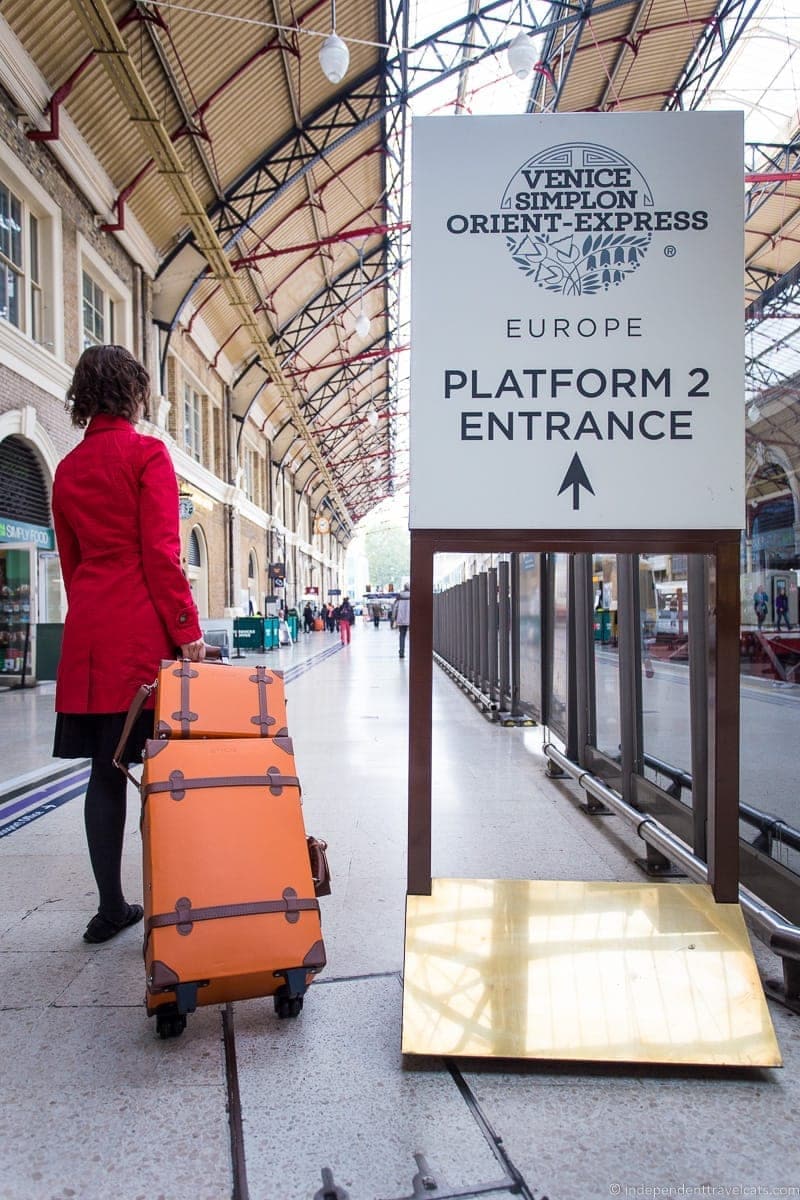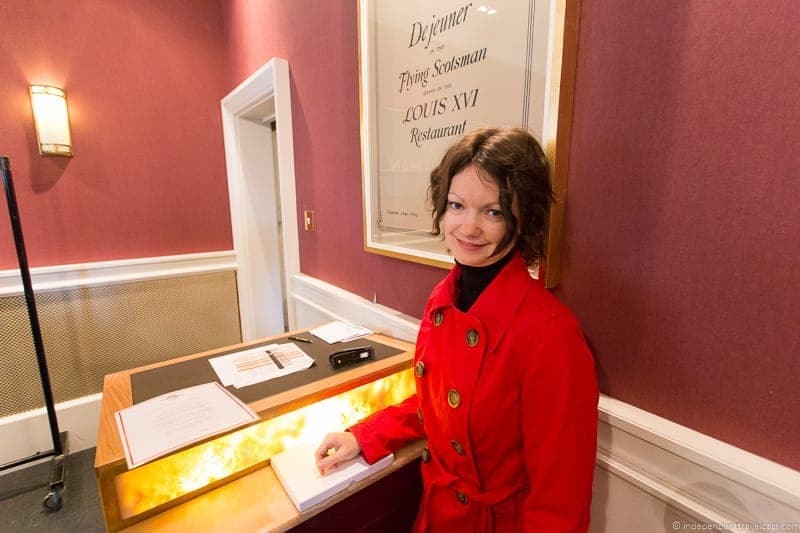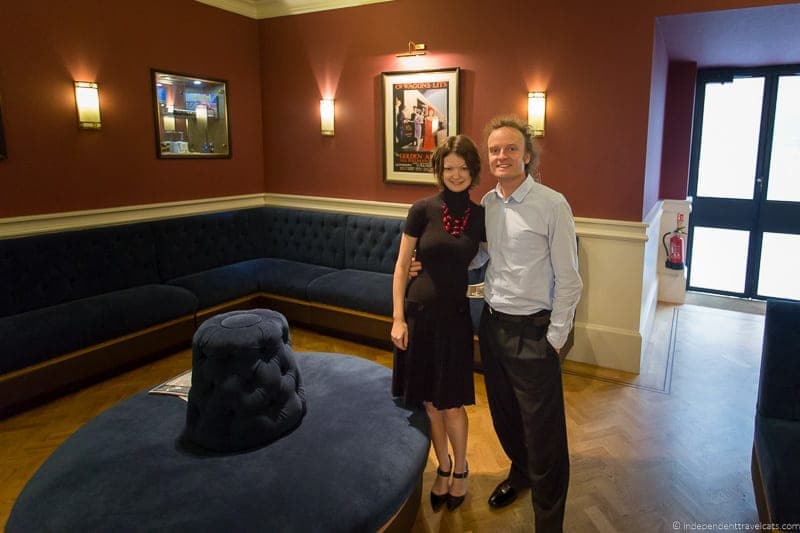 The gleaming umber-and-cream British Pullman arrived about 25 minutes prior to departure and you can watch it come into the station from just outside of the lounge. Once it is ready for boarding, there will be an announcement in the lounge and passengers are asked to board in their carriage. We took some photographs of the exterior of the train and then headed to our assigned carriage to board.
We were greeted by a staff member who showed us to our assigned seats, which were two plush Pullman armchairs in the Ibis carriage.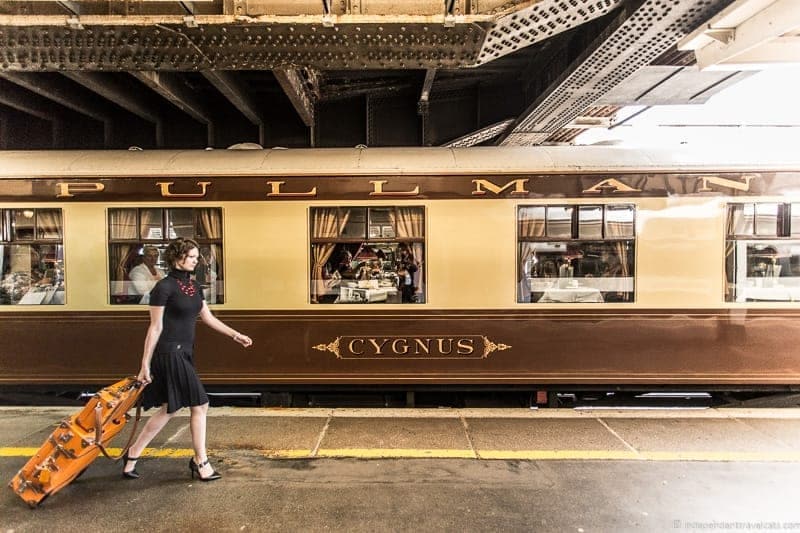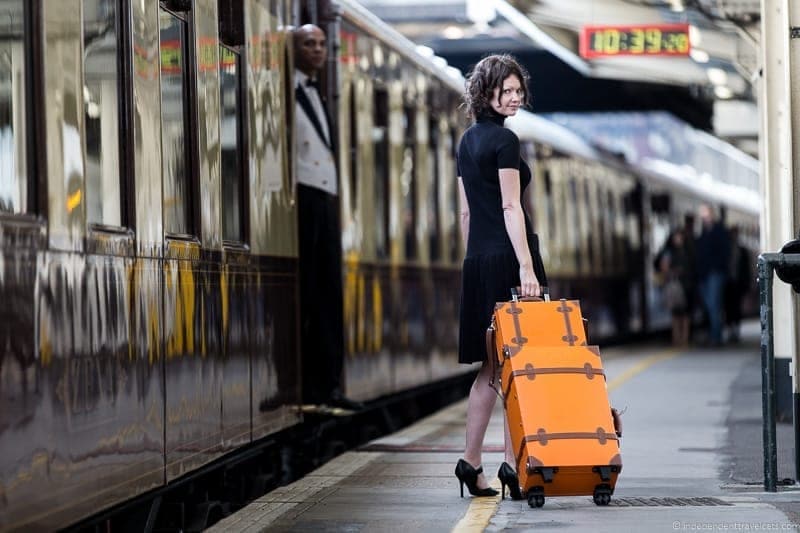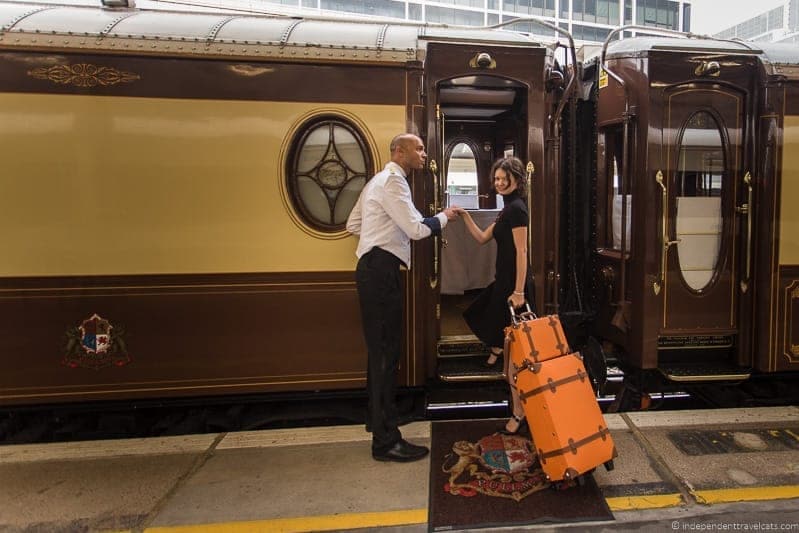 Brunch Aboard the British Pullman
Aboard the British Pullman, there are both 2-person and 4-person tables available in all of the carriages, as well as a limited number of 4-person coupés which are partially enclosed seating which is perfect for those wanting more privacy. The seats in each carriage are upholstered Pullman chairs that are very roomy and comfortable.
We were seated at a regular 4-person table but it was set just for the two of us. Once we were seated and settled into our plush seats, we were greeted and served Bellini cocktails which is a mixture of Prosecco sparkling wine and peach purée. A fitting beginning to our 36-hour train journey!
The Bellini actually has a strong connection to both Venice and Belmond as it was invented in Venice by Giuseppe Cipriani, founder of Harry's Bar and Hotel Cipriani. The Belmond corporation now owns the Belmond Hotel Cipriani and it is a popular hotel with guests traveling aboard the Venice Simplon-Orient-Express.
Imagine sitting on a train with well-dressed guests sitting in colorful plush roomy armchairs amongst rich wooden panels decorated with Art Deco marquetry, tables set with linen, silver, and crystal, and gleaming brass light fixtures and luggage racks. This gives you a good mental snapshot of the British Pullman. Laurence and I were both very excited as we sipped our Bellinis and watched as the London suburbs passed by through the train window.
After a short period, the rest of the three-course brunch service began since one cannot survive on cocktails alone! The food was really good and I enjoyed the mix of cold and hot offerings. The scrambled eggs and smoked salmon with caviar were a highlight.
The friendly chief steward, Alan Dowling, and other staff members took very good care of us throughout the brunch and our time on the British Pullman. A staff member regularly came by to clean away empty dishes, offer us bread, or refill our coffee cups. It was a lovely experience having the meal in the beautiful Ibis carriage with the Kent countryside as our moving background.
Here was our full brunch menu to give you an idea of what to expect:
-Signature Bellini cocktail
-Selection of Danish pastries
-Fresh fruit cocktail with natural yogurt
-Morning bakery selection with preservers & butter
-Scrambled eggs with chives topped with Scottish smoked salmon served on a warm crumpet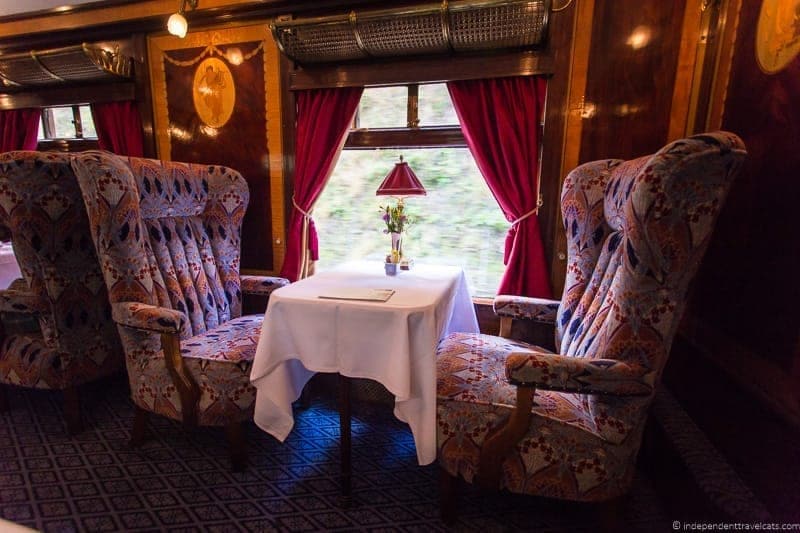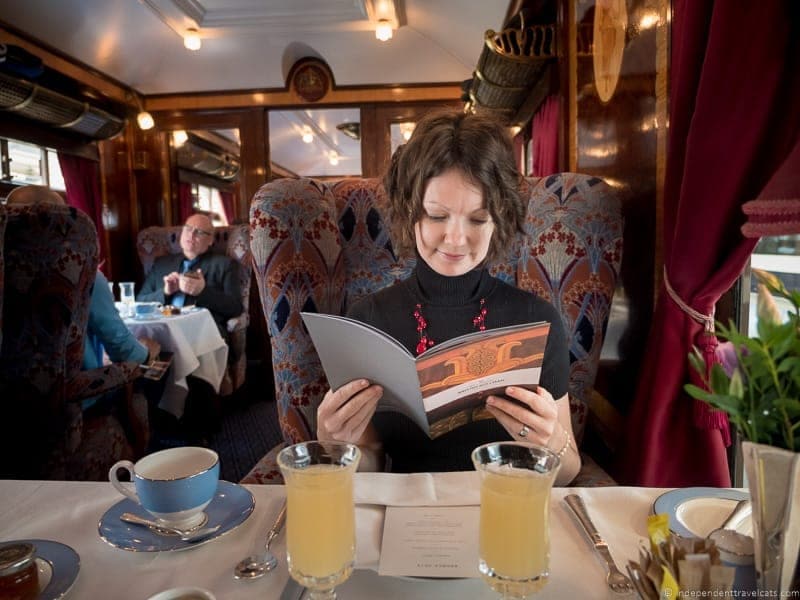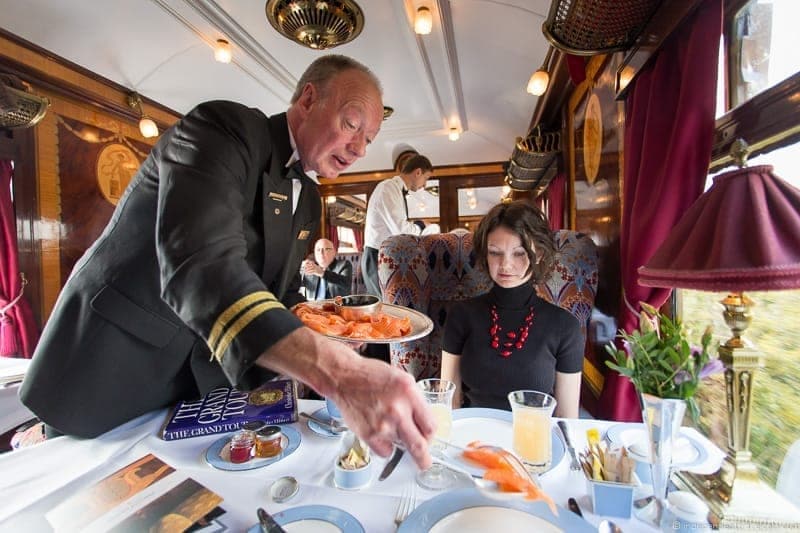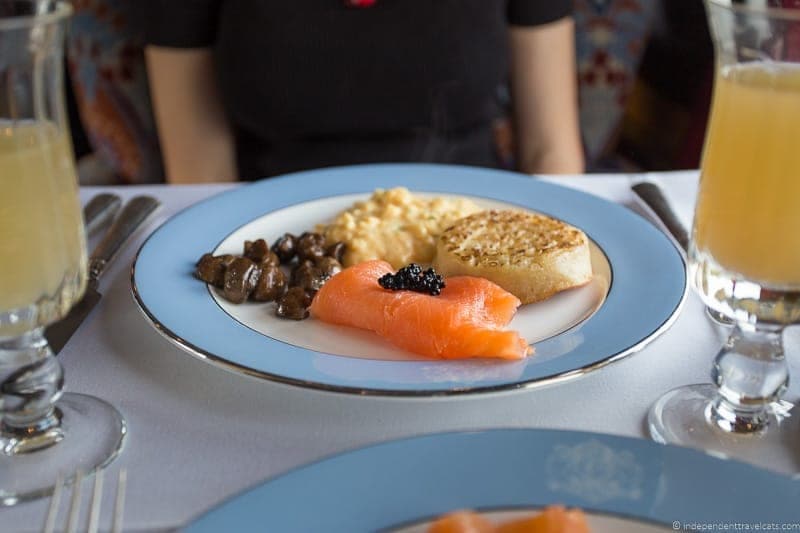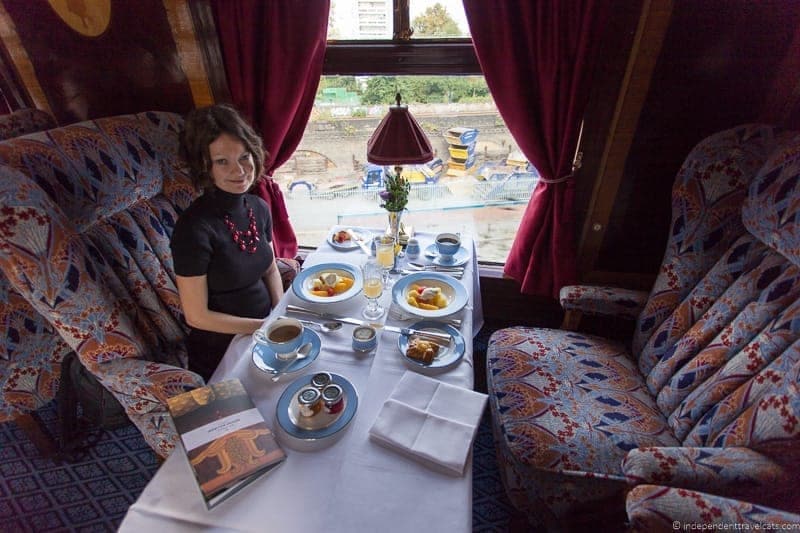 After enjoying a leisurely brunch, we recommend taking some time to walk up and down the elegant row of carriages to explore each one and learn a little about their history. Currently, there are 11 restored historical carriages being used as part of the British Pullman; however, they may not all be attached or being used during your journey. During our trip, they were all attached to the train but at least 2 of the carriages were not used for the brunch service.
Each carriage dates from the 1920's to the 1950's and has its own unique decor and history. There are plaque of each carriage posted as you enter each one and there will also be a booklet on your table that describes the history of the train and its carriages.
We were seated in the Ibis carriage; built in 1925, it is the oldest carriage on the British Pullman and served as a carriage on the original Simplon-Orient-Express, the Deauville Express, the Golden Arrow, and as a Cunard boat train in England before its present role. The carriage is known for its marquetry, oval medallions of Greek dancing girls, and its bright Liberty-print upholstery.
All of the carriages are unique and have interesting histories, whether they were once in service on a famous train line, carried royal family members (several did!), served as part of Sir Winston Churchill's funeral train in 1965, or were used as a film location. Don't be shy to take a peek inside the toilets (each carriage has toilets on the ends), as the floor of each bathroom is decorated with a beautiful mosaics, most created by the late artist Marjorie Knowles.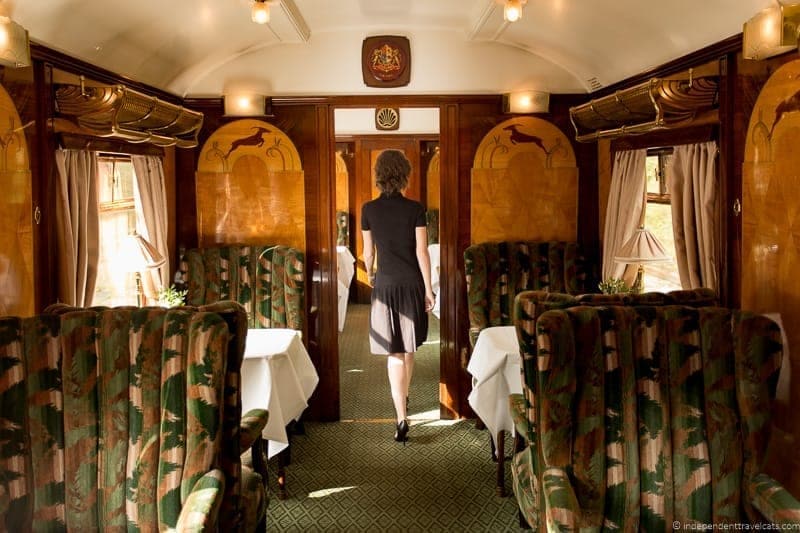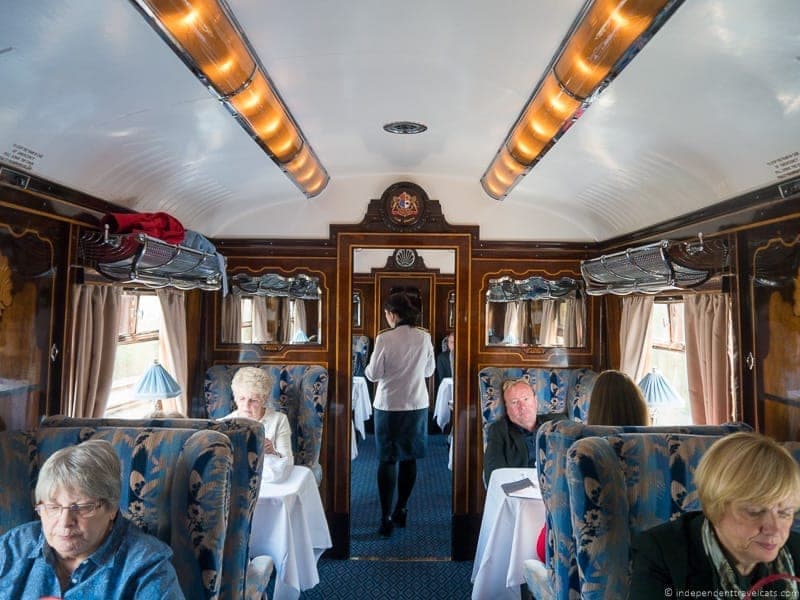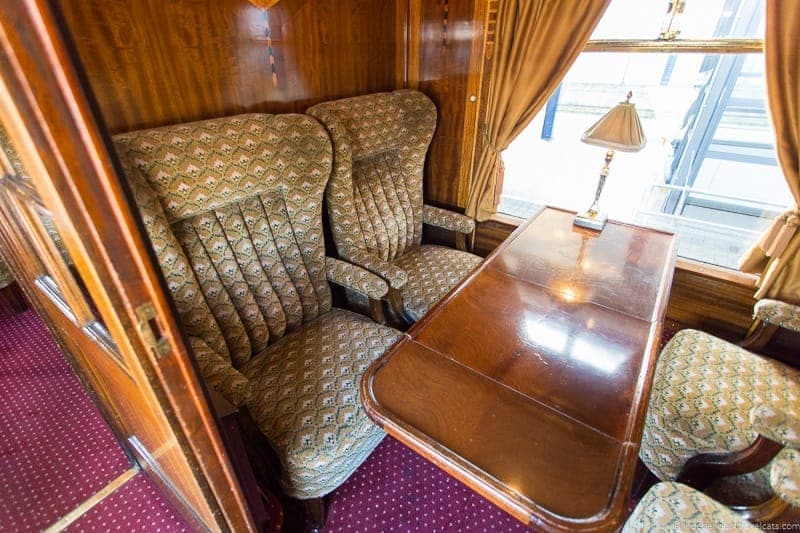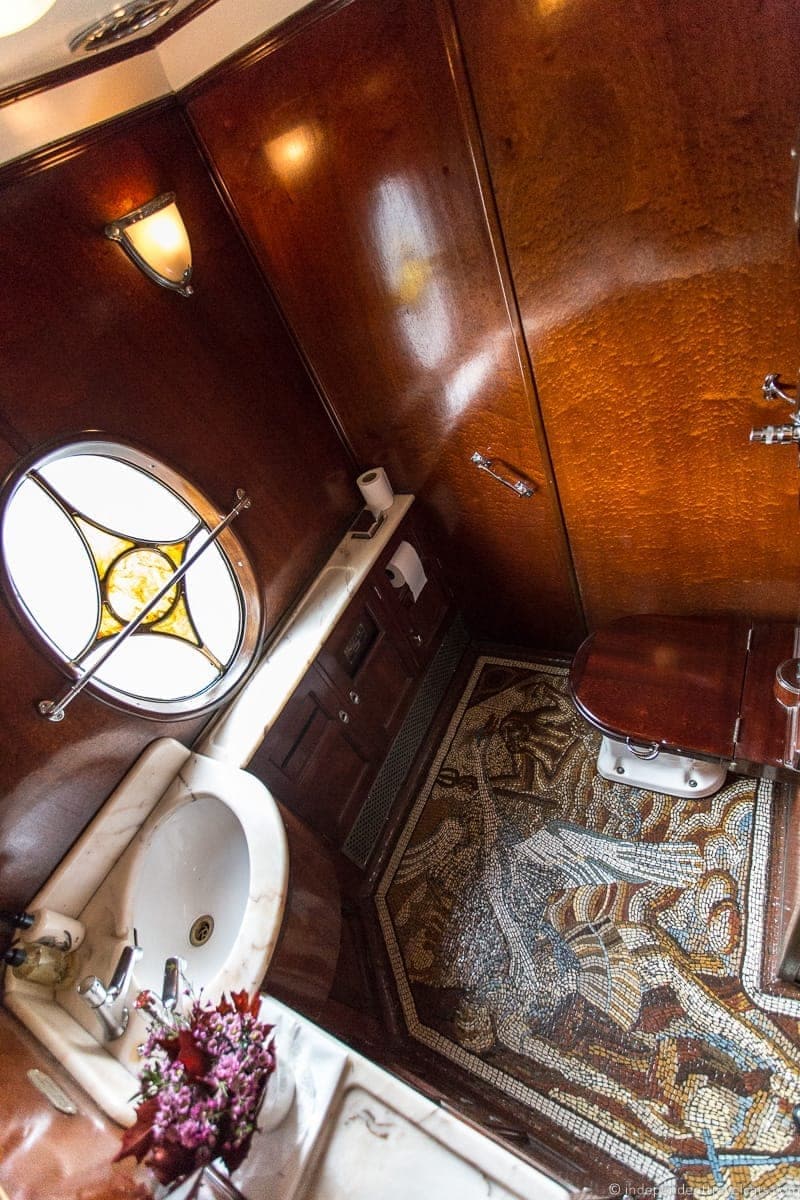 The exact amount of time you'll be aboard the British Pullman depends on the chosen train route for the day and whether the train makes any stops to drop off day trippers before reaching its terminus at Folkestone. But expect about 2 hours or less to admire this train; we were on the British Pullman train for 1 hour and 45 minutes.
Getting Across the English Channel
Once the British Pullman reaches Folkestone, all passengers will disembark at the station and follow signs to transfer to a VIP coach that will be used to transport everyone across the Channel Tunnel. It is easy to follow signs and there were staff members along the way to help direct us. Often there is a small local jazz band greeting for arriving guests, but sadly we did not happen to have a band awaiting us on this particular day.
Once you reach the waiting coaches, you will be asked to board your assigned bus (the number will be on your ticket). Since the trains cannot cross the Channel Tunnel, you will making the crossing while seated in the bus which itself will drive aboard a car-carrying EuroTunnel shuttle train that will take you to Calais.
The length of time that you will be on the coach varies depending on traffic and the passport control/inspection, which can vary greatly from less than one 1 hour to over 3 hours with the average seeming to fall somewhere in between. We were stopped longer than usual and there was a lot of traffic so it took us 3 hours from the time we got onto the coach to the time we reached the Calais Ville train station.
In the past, passengers were taken across the Channel by ferry and in the event that the EuroTunnel is closed to traffic, Belmond will arrange for the longer ferry transfer from Dover to Calais but the majority of VSOE trips take the coach over the EuroTunnel.
After boarding the bus, you will likely briefly stop at the Eurotunnel terminal as we did where you will need to get off the bus and go through passport control. The staff member aboard our coach said that sometimes they are asked to stop but sometimes they are not. We were here for about 30 minutes and passengers were able to get off and wander around the shops and food court, get money from the ATM, or use the restrooms before boarding again to head across the Channel.
This is obviously the least enjoyable section of the trip and many of our fellow passengers seemed quite confused about this part of the journey and did not realize they'd be spending time on a coach. If you are planning to take this trip, just plan for a bit of the magic to be lost here and know you will be in a coach so that you are not disappointed when this happens or there are traffic or security delays crossing the Channel as Belmond has very little control over this part of the journey.
Nevertheless, the coaches are quite comfortable with roomy chairs, tables, and UK-style power sockets. Refreshments (i.e., water, juice, packaged snacks) are served along the way. It is quite an interesting experience to be seated in a non-moving coach as it sits within a moving train. You can actually get out of the coach and walk around the train compartment as Laurence did, just ask a staff member to ensure its safe.
At Calais, our coach drove off the shuttle train at the Eurotunnel terminal and we headed to the Calais train station.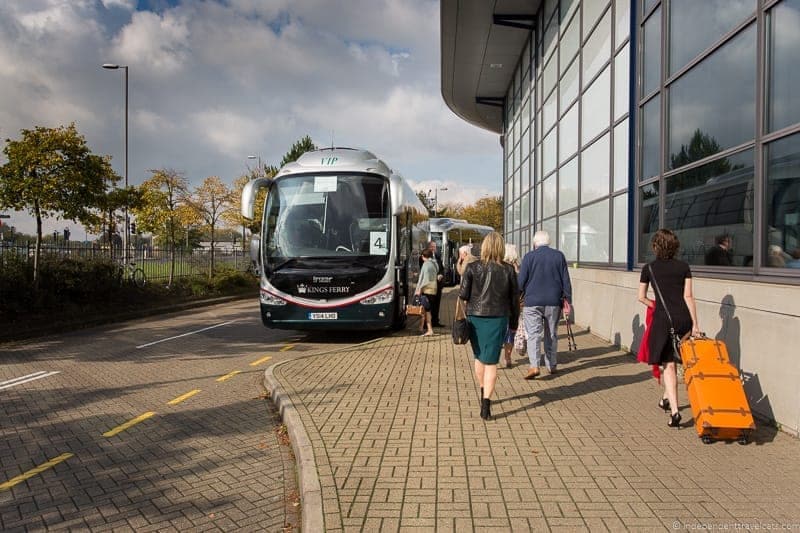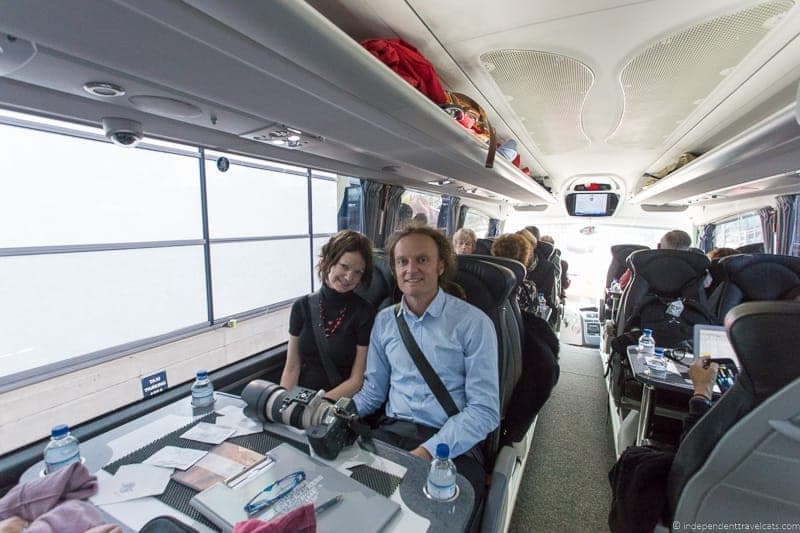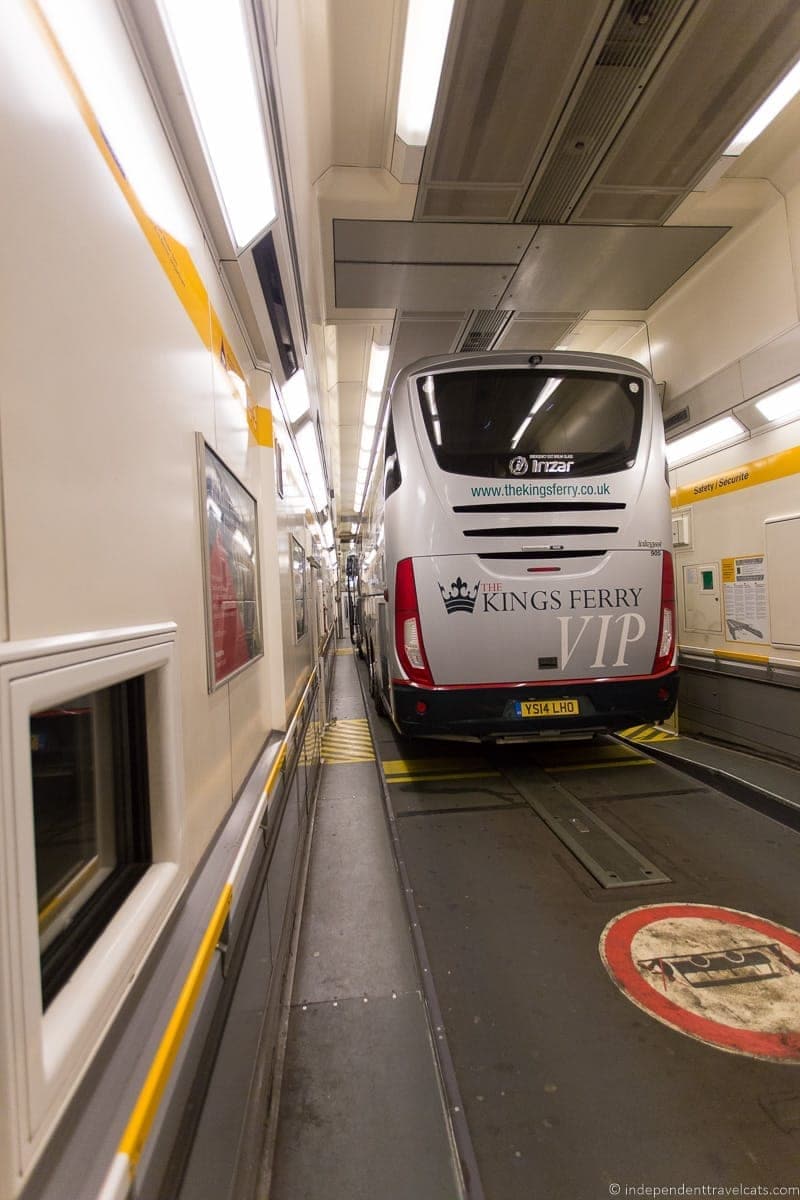 Boarding the Belmond Venice Simplon-Orient-Express Continental Train
The coaches park at the Calais station and upon exiting the buses, you are greeted with the sight of the Belmond Venice Simplon-Orient-Express liveried staff lined up in front of the beautiful blue, cream, and gold vintage carriages. You are given 10-15 minutes to walk around and pose with the staff, take pictures of the train, and find your designated sleeping carriage.
You'll find the Venice Simplon-Orient-Express logo on the train's gleaming exterior as well as that of the La Compagnie Internationale des Wagon-Lits. The LX type sleeping cars were some of the most luxurious sleeping cars built by the Wagons-Lits company.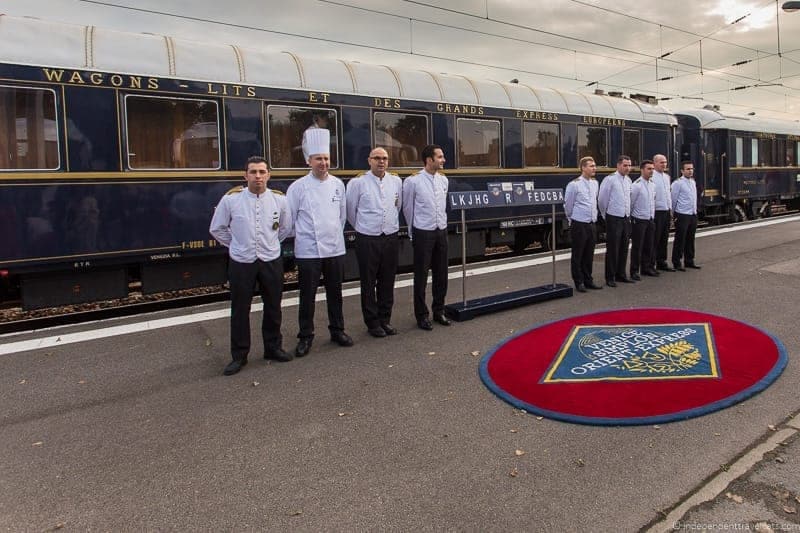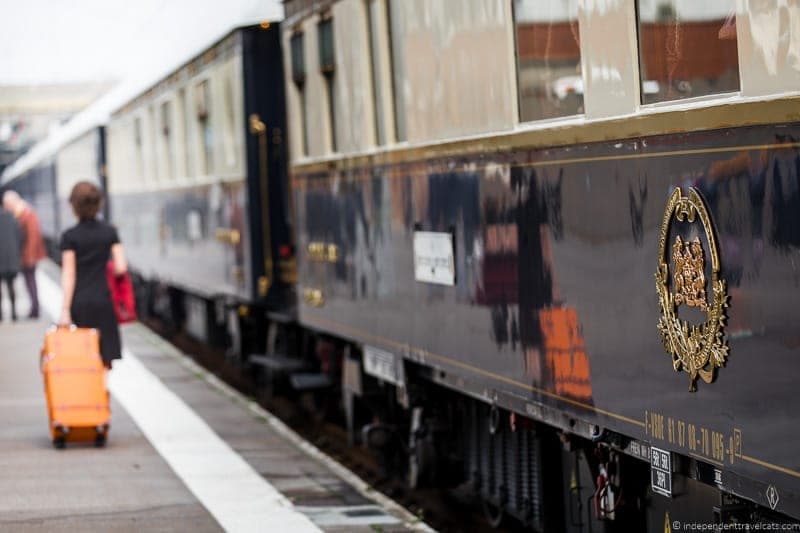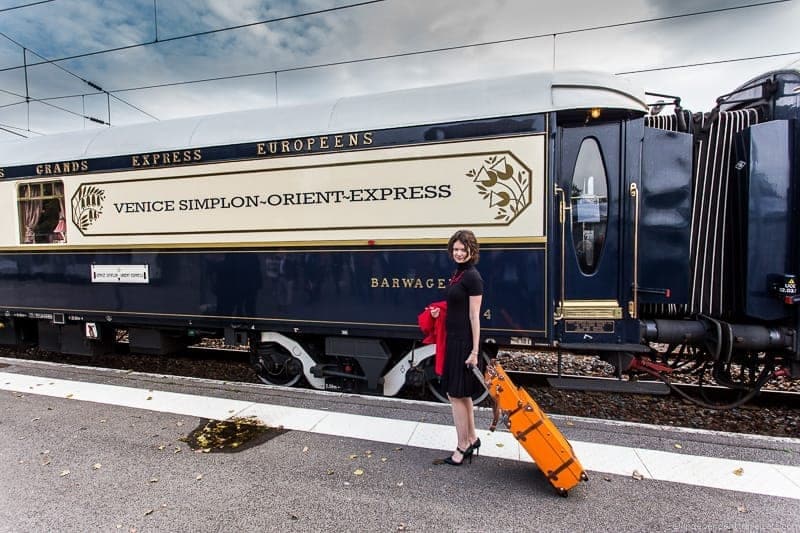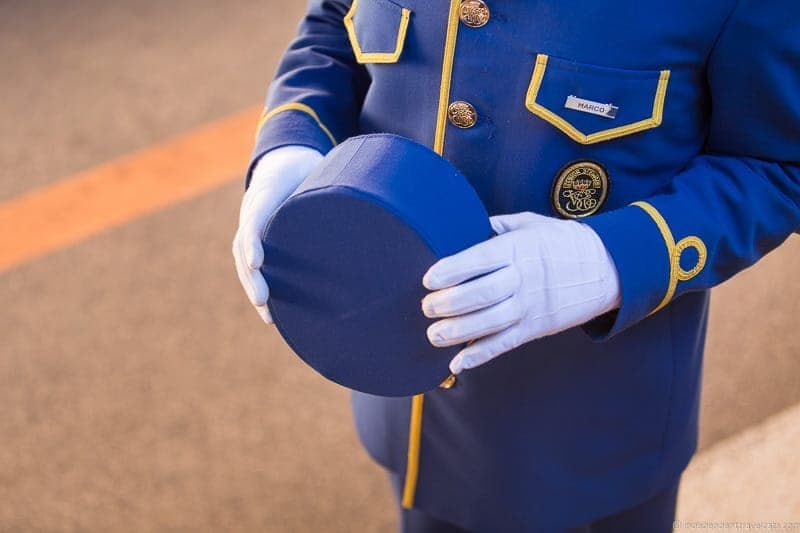 Our VSOE Train Compartment
We met our cabin steward, Marco, who introduced himself and led us to our sleeping compartment, or cabin. Specifically we were in Carriage F, Cabin 2. Most of our hand luggage had already been delivered to our cabin except for Laurence's photography backpack and that arrived about 5 minutes later. Marco went over the basics of the cabin workings, collected our passports, and also gave us a key and explained to us how to lock and unlock our cabin and how to secure it from the inside with the security chain.
In our compartment, we were also greeted with a note from the train manager, a demi bottle of prosecco, mineral water, a set of Art Deco stationery, a map of the train journey, and some information about the train. Cabin service is available 24 hours (at a cost) and you can order wine, drinks, and luxury snacks such as caviar, smoked salmon, foie gras, canapes, fruit platters, and cheese plates.
So what are the train compartments like? Whereas there are small differences across cabins such as the color of the upholstery, type of washbasin, and location of the light switches etc., each cabin has a similar layout. The main features of the main cabin are the sofa seating area, small folding table, a footstool, and a lamp. For storage, there is a wide upper luggage rack along the wall across from the sofa and a couple of hooks to hang coats and evening wear. There was also a small radiator, a window which can be rolled down, a small fan along the wall, reading lights, and two 220-volt European style 2-pin sockets. Some cabins come with a small safe that can be locked.
All cabins also have a washbasin cabinet that can be opened with two wooden doors and contains the sink with hot and cold water taps, soap, a mirror, glasses and bottled water, towels, a razor power socket, and a very nice selection of toiletries created by Temple Spa. You'll also find two robes and two pairs of slippers.
Note that if you are booked in one of the three Orient Express Grand Suites (new in 2018 with a cost about double of the regular cabins), then you will have a much larger and spacious cabin with more amenities. These suite cabins include a double or twin bed bedroom, a living area with sofa and private dining space, a private en-suite bathroom with shower, sink, and toilet, and complimentary bathrobes. Traveling in the Grand Suites also comes with additional amenities and services, such as private check-in, unlimited champagne, additional menu options, and private dining options.
What size are the VSOE cabins?
This seems to be one of the most popular questions we get asked and it is small. It is smaller than any European hotel room we've stayed in if that gives you an idea. To be precise, a standard double cabin is 1903 mm x 1478 mm which is about 6.2 ft by 4.8 ft. Expect your cabin to be a bit smaller if you are in a single cabin.
It is perfectly comfortable to sit in, watch the scenery, read, and have tea as two people. However, it is difficult for two people to change at the same time, apply make-up, unpack, and those sort of things so I'd advise taking turns when getting ready for dinner. If you are planning to take this train journey, just be prepared for a tight space unless you book a Grand Suite.
We really came to love our tiny cabin although we probably would not have wanted to sleep in it for more than a few days!
History of the Venice Simplon-Orient-Express Sleeping Cars
The Venice Simplon-Orient-Express sleeping cars are each unique with their own histories which you'll see written on panels as you enter each train. They have each been used in famous historic trains like the original Orient-Express, the Train Bleu, the Rome Express, and the royal Dutch train.
Many had interesting uses over the years by the military or royalty or were turned into hotels and even brothels. For instance, sleeping car 3309 is the oldest sleeping car carriage on the train and it operated as part of the Orient-Express and in 1927 it was one of the carriages caught in the snow storm for several days that inspired Agatha Christie's famous Murder on the Orient Express.
Our sleeping car was 3544 and it also has a very interesting history. It was built in France in 1929 as a first class "Luxe" sleeping car with its interior decorated with Art Deco marquetry by René Prou. It started its life in the Pyrénées-Côte d'Argent Express and then the Train Bleu until being taken out of service during the Great Depression. It was then returned to service in the Rome Express before being used by the Germans as a brothel in Limoges from 1942-1945! After the war, it returned to train service as part of the Dutch Royal train, then back to being part of the Train Bleu, and then spent 20 years as part of the original Simplon-Orient-Express from 1949-1969.
Shared Toilets
As noted before, theses are historical carriages and there are no showers or bathtubs on the train and no toilets in the individual cabins (except for the Grand Suites), but shared toilets and sinks are located at the end of each sleeping car.
We had no issue with the bathrooms and the shared toilets and sinks were kept very clean and fresh by staff. The only time the toilets became busy was right before each dinner time as they afford more space for changing and a larger mirror than is provided in the cabins.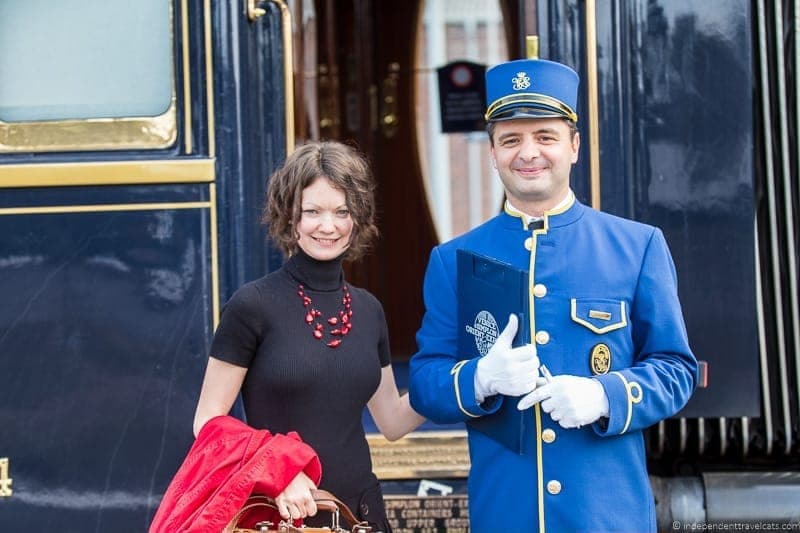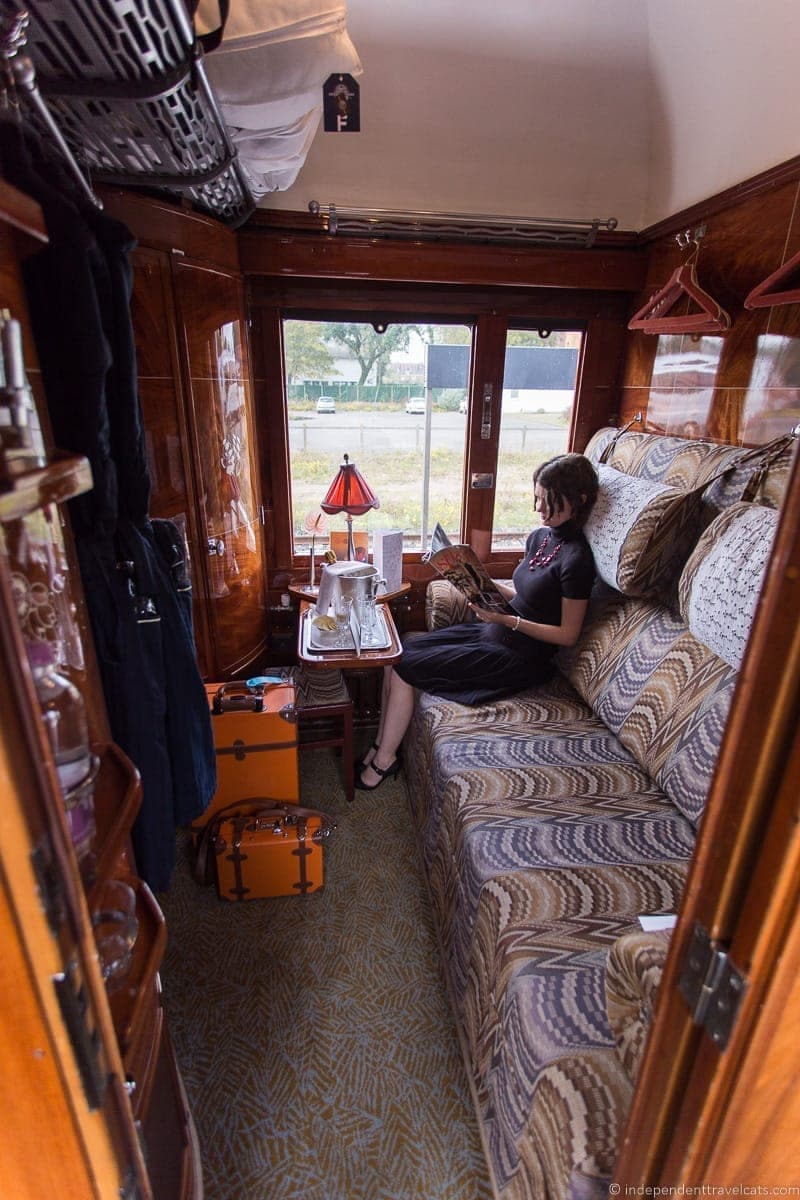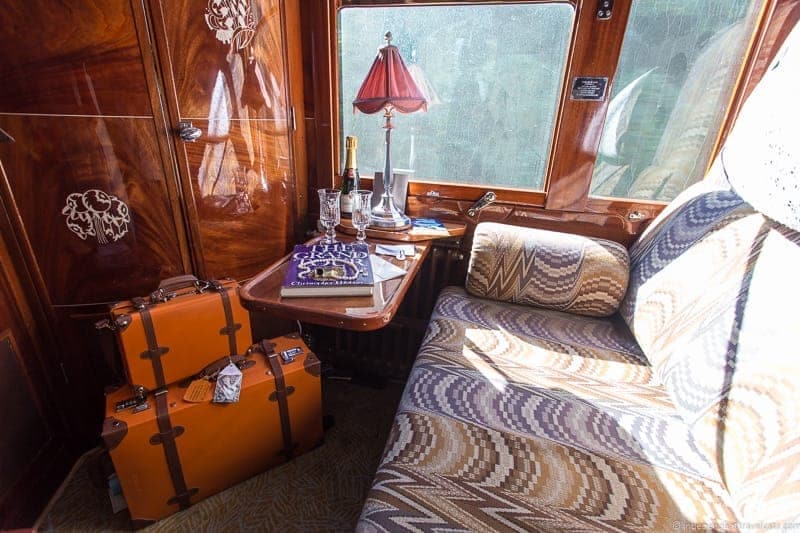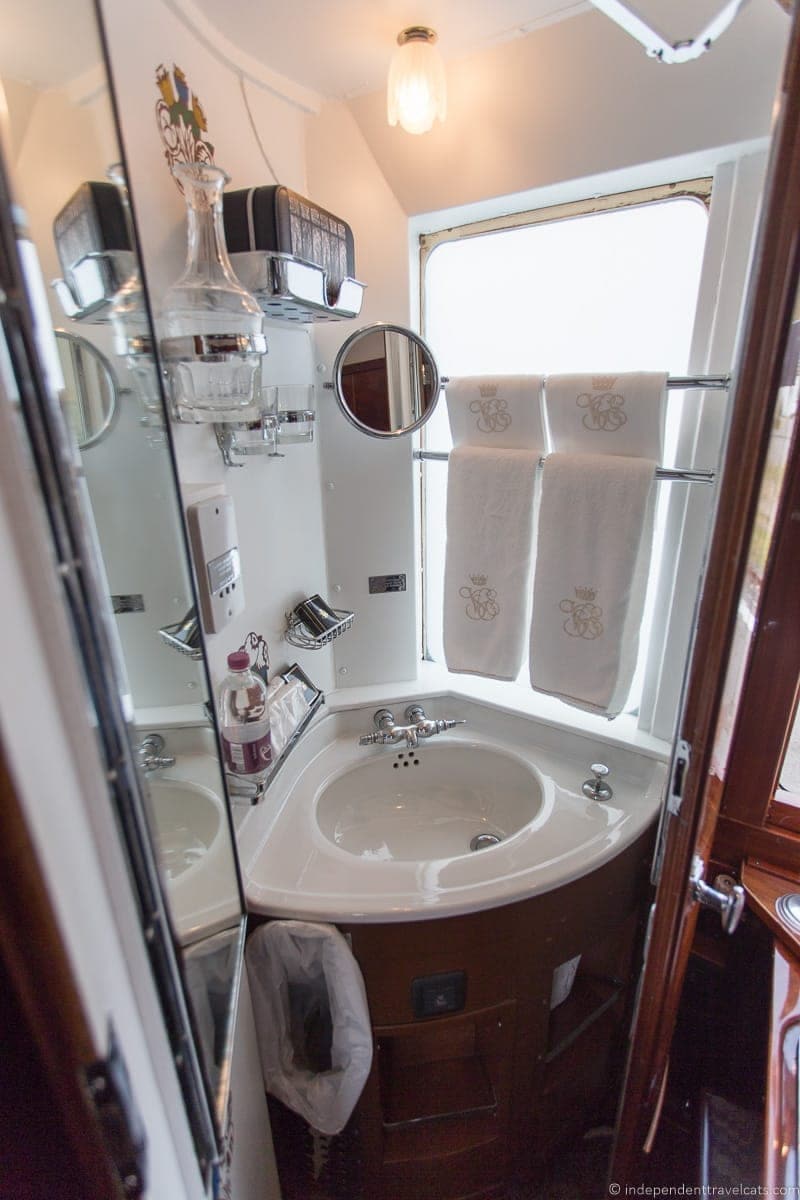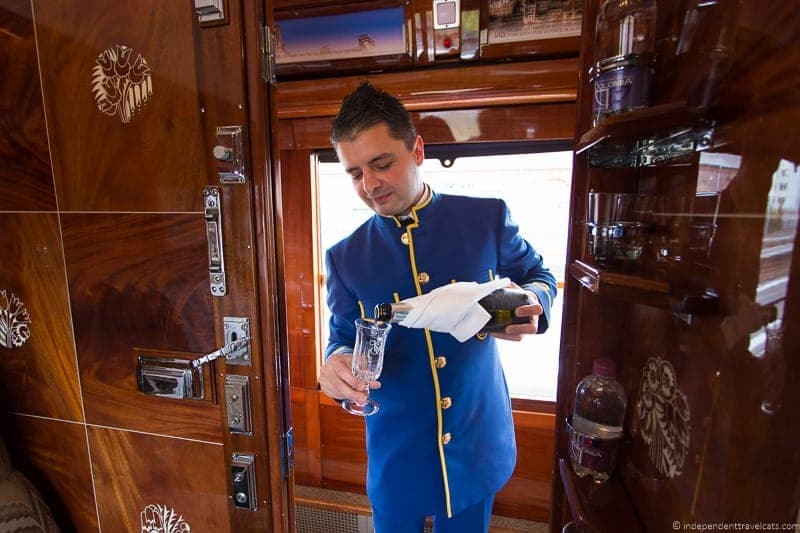 Dressing up for Dinner
You should definitely plan to dress up during your time on the VSOE. Not only is it part of the experience, but there is a specified dress code for evening wear on the train. All the men were wearing either a dark suit or tuxedo and all the women were in dresses, gowns, or evening pantsuits.
A few guests during our trip were also dressed in retro 1920's and 1930's evening wear, and we were told this is the case on many of the journeys. So feel free to get creative!
We would recommend starting to get dressed earlier than you think you need to as it can take a bit longer when trying to do it in a small cabin on a moving train! Changing clothes can be challenging but we just took turns with one person sitting on the couch and the other changing and we managed fine. We are used to train travel so the slight shaking and braking didn't bother us much, but it can jostle you around a little at times so be prepared when walking around as we saw some older folks losing their balance when walking in the hallways.
We had no issues getting ready until I couldn't get a large safety pin that was stuck in my dress's zipper off! Laurence and I wrestled with it to no avail and finally I told Laurence to ring for someone. Both Marco and another staff member tried to help and went to fetch a scissors but it wasn't strong enough to cut through the metal of the pin.
But Marco saved the day by eventually being able to bend the safety pin and get it off my dress. This was another great example of the good customer service we experienced during this journey as this was not exactly a normal request!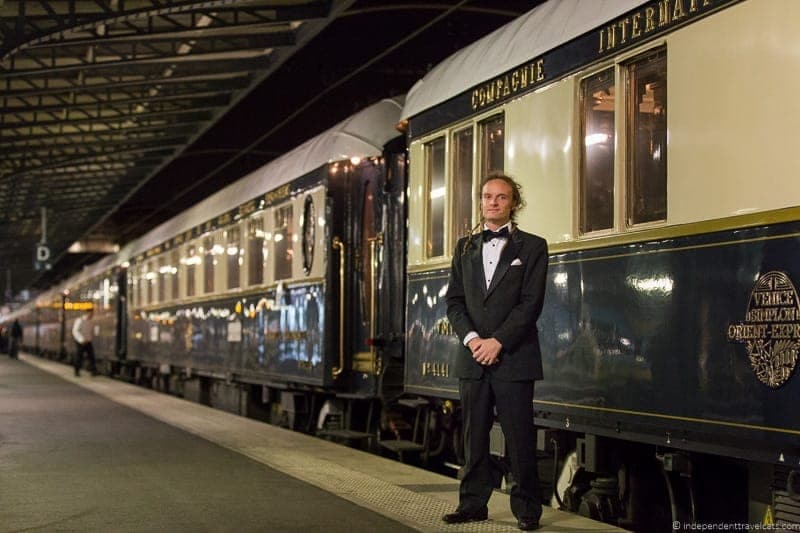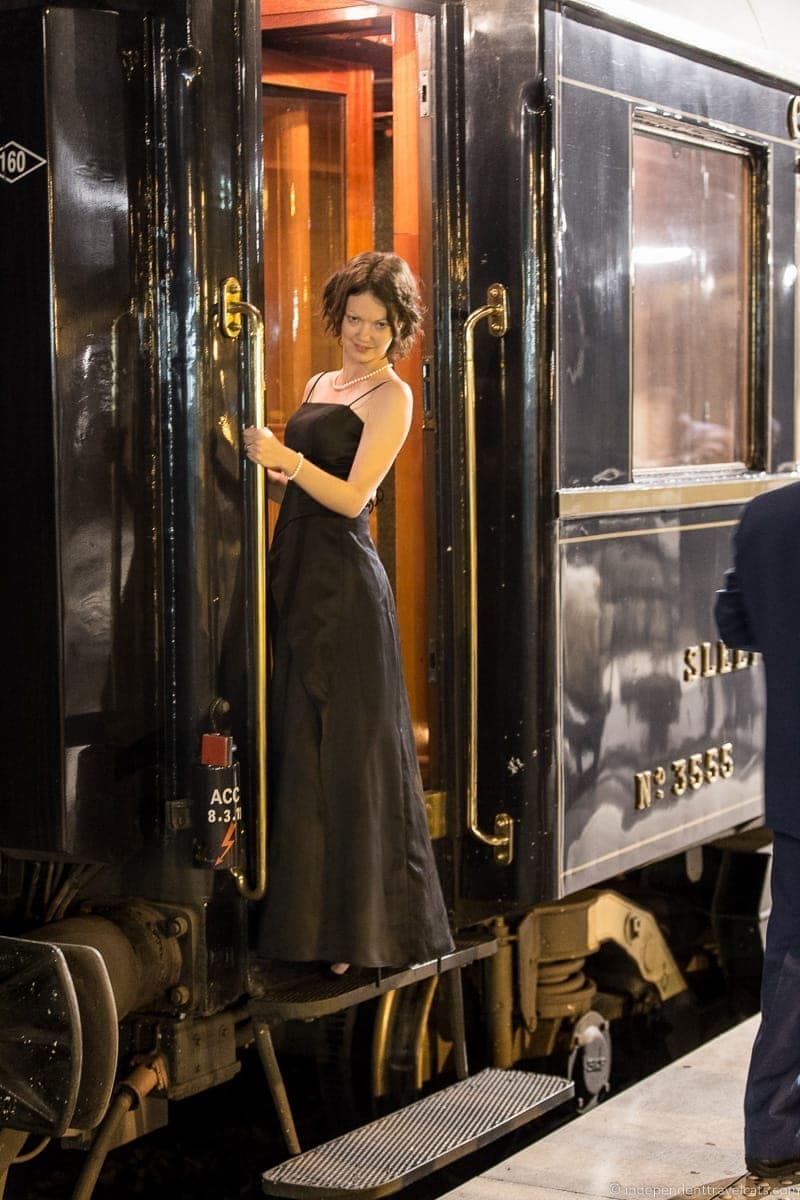 Dining Aboard the Venice Simplon-Orient-Express
Dining aboard the train was definitely one of our favorite experiences during the 36-hour luxury journey. After you are settled into your train compartment and the train has left Calais, the Maître d'hôtel will come by to your cabin to inquire about preferred dining times (spread about 2 hours apart) and any dining preferences (seating configuration, dining car). If you have any allergies or dietary restrictions (note these at the time of booking!), this is also a good time to confirm this information with the dining staff.
There were two seating times for both lunch and dinner. For those leaving the train at Paris, you'll need to choose the early seating and for those joining the Venice-bound train in Paris, you'll automatically receive the later seating.
There are three different dining cars, and we definitely recommend trying two different dining cars for your meals as they are all very lovely. We had dinner on the Côte d'Azur, which was built in 1929 as first class Pullman and was decorated by René Lalique for service in the Côte d'Azur Pullman Express. The car is best known for its beautiful faintly blue opaque Lalique glass panels showing classical figures holding grapes, and the chairs in the car are currently upholstered a medium blue color.
Then the following afternoon, we had lunch on the L'Oriental which was originally a Pullman kitchen car built in Birmingham in 1927. Since being purchased for the VSOE, the interior has been replaced with Chinese-style black lacquer panels and the upholstery and curtains are currently a deep red.
The third dining car is the Etoile du Nord which was built in Birmingham in 1926 and served part of its service in the Etoile du Nord route from Paris to Amsterdam. The car features beautiful marquetry and is currently upholstered in a dark green color.
Both the four-course dinner and the three-course lunch were excellent. Dining aboard the British Pullman was very nice, but this took it to another level as the mood is set for the evening and everyone is dressed in fine evening wear. Lamps are glowing against the passing night landscapes and the tables are set with fine china, silver, crisp linens, and crystal glassware. We ate exactly what was served on the included menu and enjoyed every dish.
The Chef de Cuisine is Christian Bodiguel, who joined the VSOE team in 1984 and has been serving up to 180 guests per trip ever since. A favorite from dinner had to be the blue lobster course with black truffle and caviar, which was very rich and decadent! Although the beef fillet was also very good. During lunch, the pan-fried turbot filet and oyster were a highlight. The desserts could have been a bit better in our minds but given the two tiny kitchens that all these meals are served out of, it is hard to believe the quality and quantity of food produced!
Service during dinner was excellent with very attentive and helpful staff. If you really want to appreciate the fine dining experience on the VSOE train, ask a staff member to let you peek inside a galley (kitchen) at some point during your journey; they are tight challenging spaces!
Here is a peek of our menu to give you a mouth-watering idea of what to expect:
-Blue lobster and its cannelloni served with vegetable soup with black truffle caviar
-Slow roast Charolais beef fillet and bone marrow Bordelaise sauce
-Array of zucchini, eggplants, & tomato
-Chayote squash au gratin
-Chocolate cream and vanilla bavaroise with soft coffee heart on crunchy almonds with fresh mango coulis
-Les mignardises and coffee
Our 3-Course Lunch Menu
-Pan-fried turbot fillet, crispy kataifi wrapped oyster and its turmeric flavored juices
-Fois gras and chestnut stuffed quail with Muscat raisin sauce
-A bundle of green beans with bacon
-Sweet potatoes and chive sautéed chanterelles
-Garrigue honey caramelized figs with gingerbread ice cream
Note that in addition to the regular meals served on the train and included in the fare, one can also order a number of à la carte options and supplements at an additional cost. We noted that most people, like us, stuck to the included menu but some people did order extras such as caviar or a different main course.
Note that only coffee and tea are included with the meals and all other drinks cost extra on the Continental train.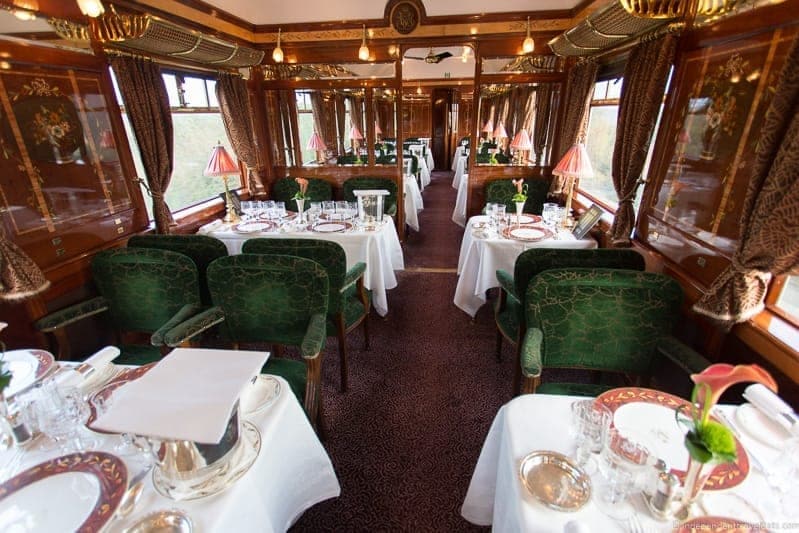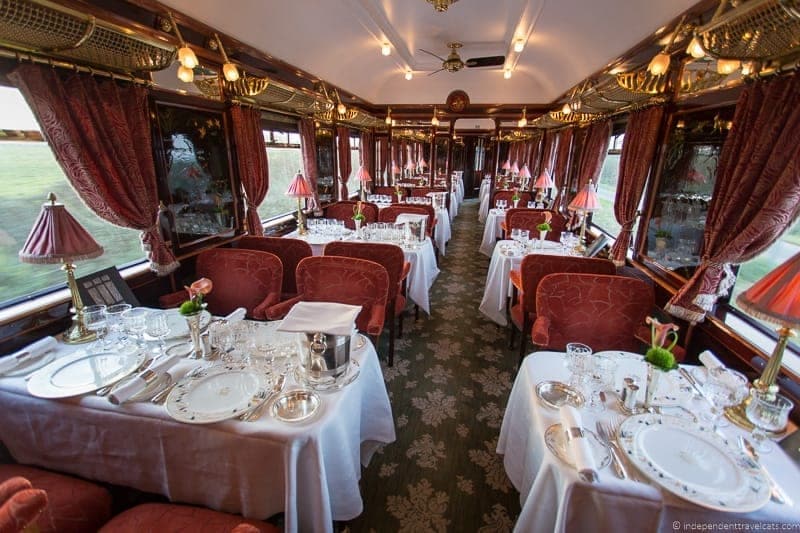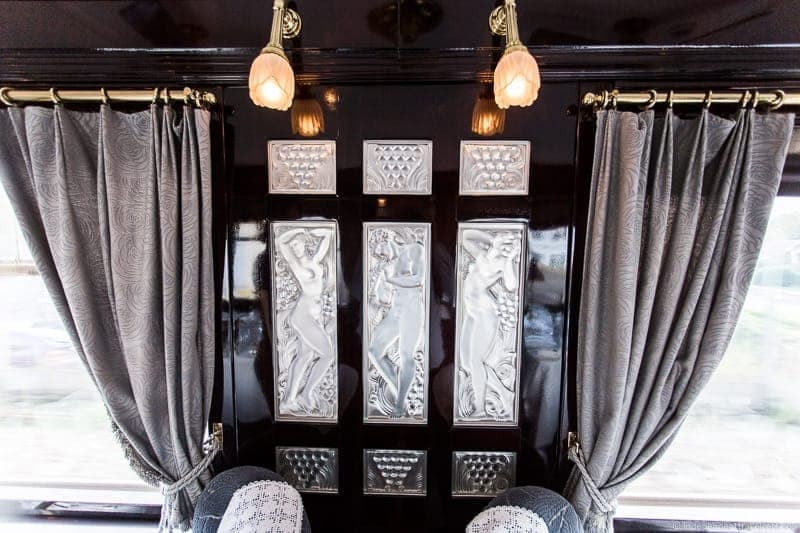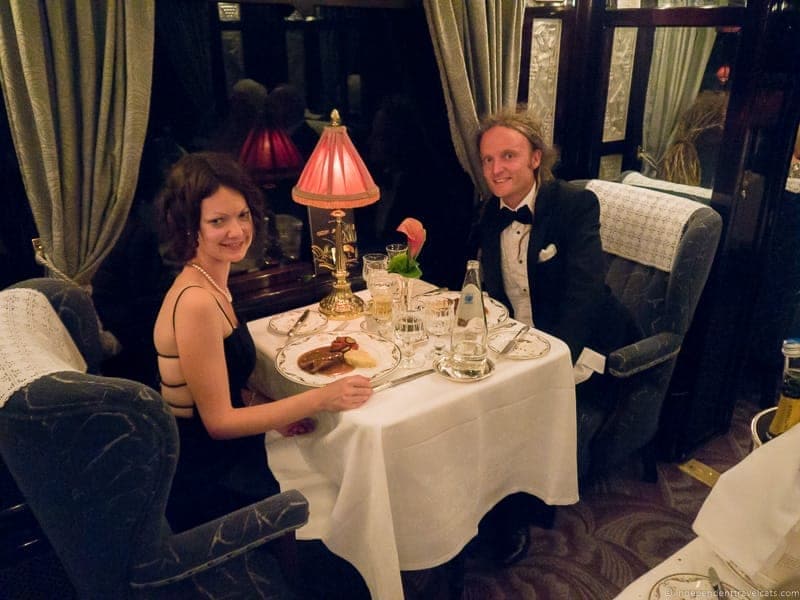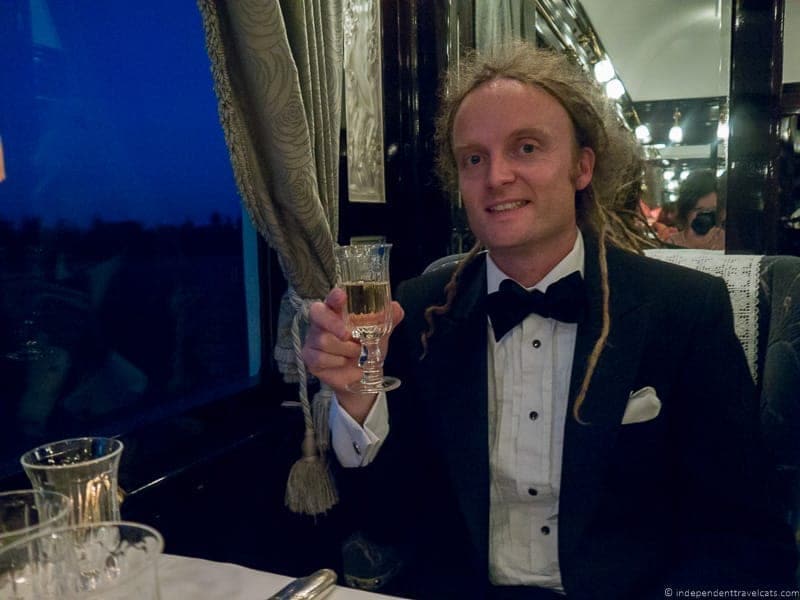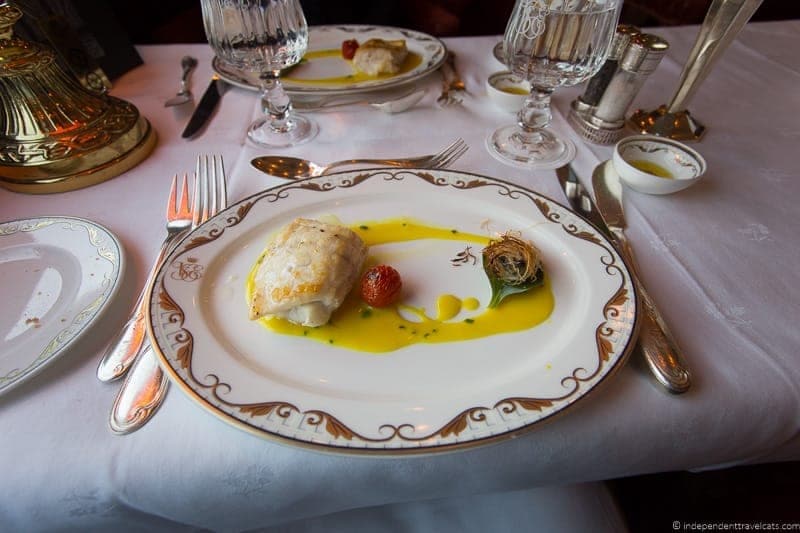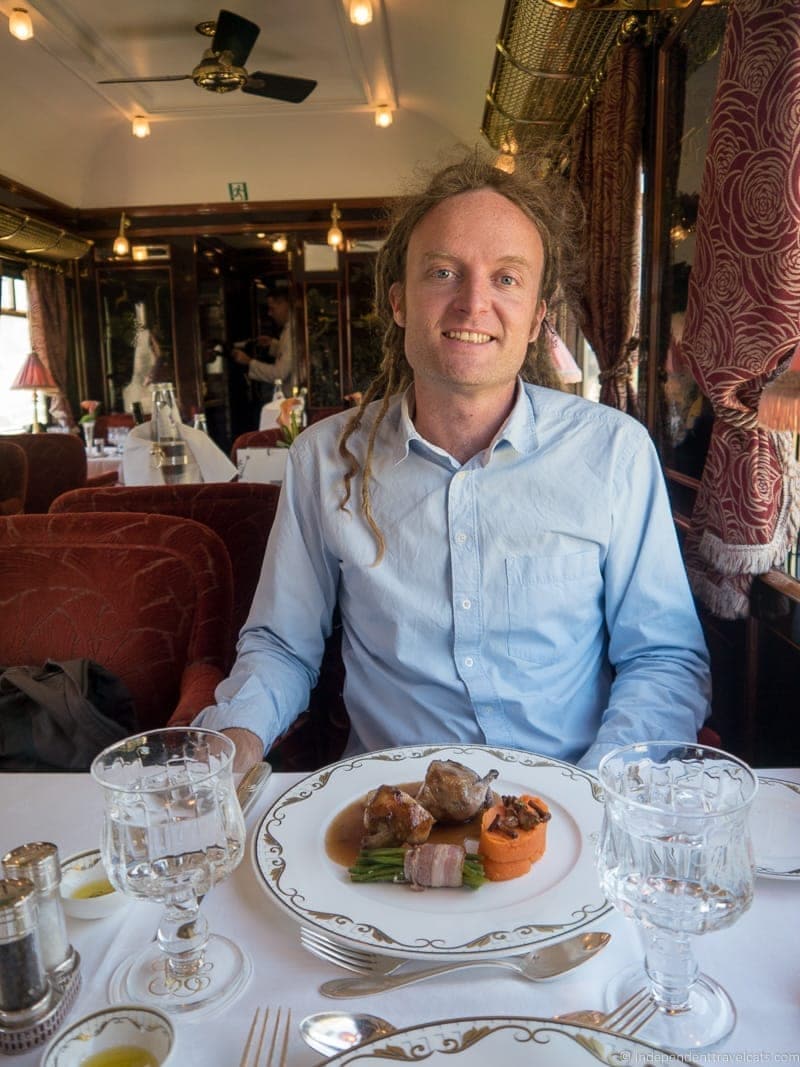 The Piano Bar & Lounge
In many ways, Belmond's Venice Simplon-Orient-Express is a much more luxurious and comfortable train than guests would have ever experienced from its historical predecessors. The piano bar and lounge car, originally built and used as a dining car, is a great example of this as there would not have been a bar and piano lounge car on the historical Orient Express.
Nonetheless, this modern addition provides a comfortable social gathering spot on the train. It is very popular both before and after each dinner seating so grab a seat early or you may have to stand at the bar until a seat becomes available. A resident pianist plays on a grand baby piano in the lounge and you're likely to hear music from the early to mid 1900's from the likes of Cole Porter, George Gershwin, and Noël Coward. Feel free to put in a request.
The head barman Walter Nisi has been mixing cocktails and serving drinks on the VSOE since 2008. His signature, and recommended cocktail is the Guilty 12, which contains 12 secret ingredients, and was inspired by the 12 characters in the famous Christie novel. Drinks at the bar are not included in the price of the trip and are a bit pricey, but we had to try the Guilty 12 (22,00 euros) and Laurence also had a Bombay Sapphire gin and tonic (17,00 euros) after dinner.
In the mornings and early afternoons, the lounge area can be quite empty and a great place to read a book, admire the passing scenery, or have a drink and conversation with fellow travelers.
The train also has a small Champagne Bar on one end of the Côte d'Azur dining car where guests can have a celebratory bottle or glass of champagne or enjoy a champagne cocktail. Among the champagnes on offer are Tattinger, Laurent Perrier, and Louis Roederer Cristal.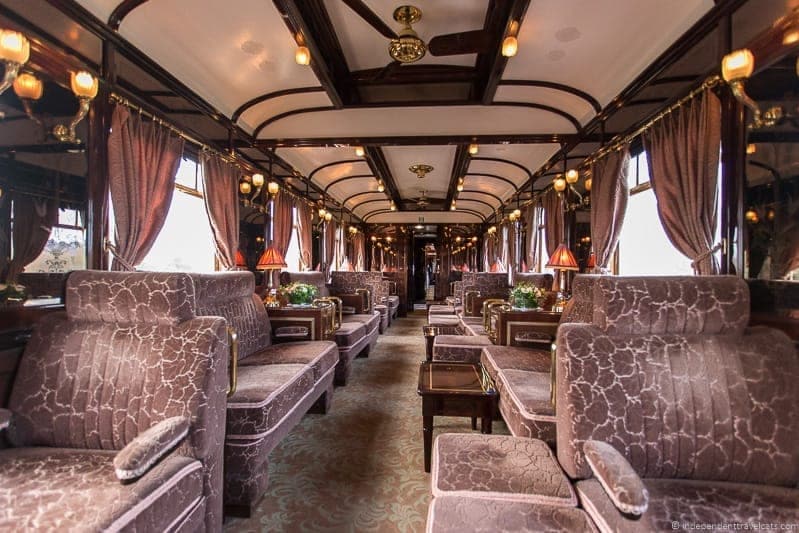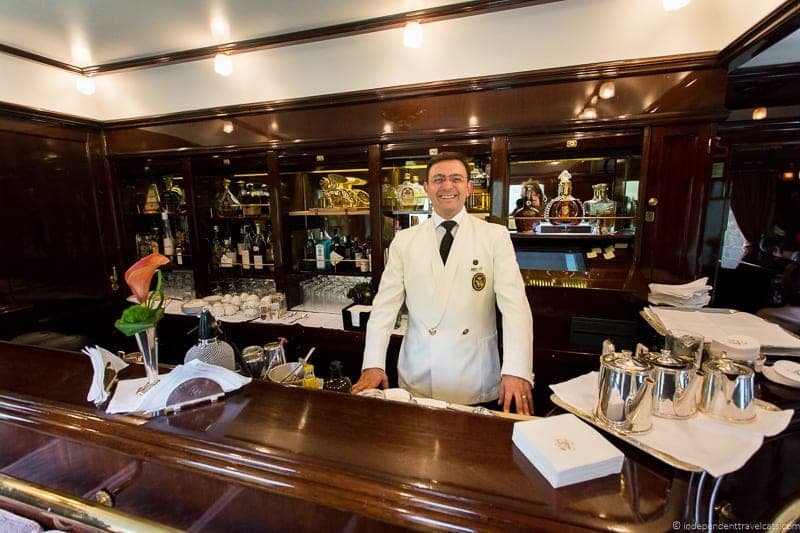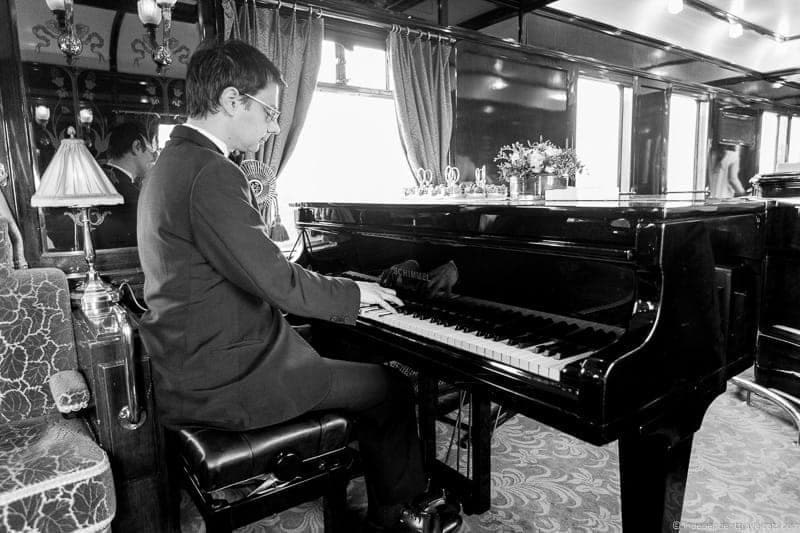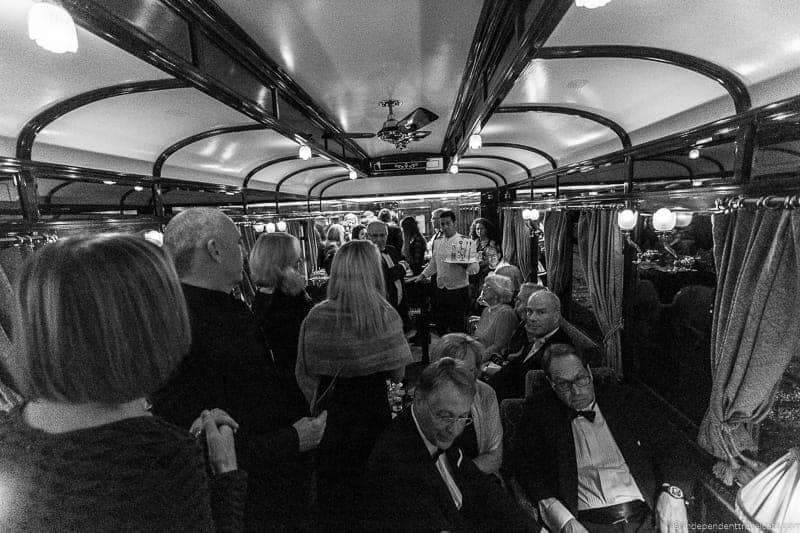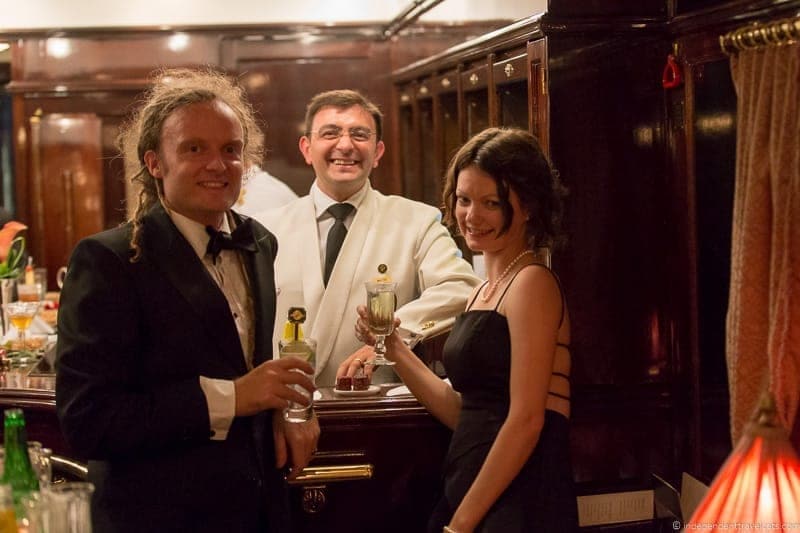 Sleeping on the Train & a 3 a.m. Surprise Visitor
During dinner, your cabin steward will turn down your cabin and make it up for night use. So when we return from dinner, our couch and lounge area had been transformed into a cozy sleeping area with an upper and lower sleeping berth and the robes and slippers were laid out for us. We also found a tin of candies from Pastiglie Leone on the bed.
If you'd like to witness this magic process, just ask your cabin steward to show you. We watched it the next day and Marco was happy to demonstrate how the various pieces folded down, were attached, and what was stored away. We were quite amazed at how the train compartment transformed so easily from a daytime seating area to sleeping quarters, and our steward Marco could accomplish this full transformation in less than 5 minutes.
The beds are pretty narrow and are shorter than the beds we are used to; we are not that tall but a taller person over 6 foot might have a difficult time being comfortable on these beds. It is a bit difficult but not impossible for two persons to fit in one bed (or so we heard….), but I would not recommend two people actually trying to sleep in one berth overnight.
Laurence took the top berth and I took the lower one; the lower one is definitely easier to get into than the top bunk. The beds are comfortable for train beds and we felt snug and warm. You can hear some noises of people coming up and down the halls, especially if they are loud, and you can also hear louder noises from neighboring cabins but you can't hear normal conversation level talking as long as the cabin doors are closed.
Some people sleep very well on trains and others have difficulty falling asleep. It takes some time to get use to the rocking and noises of the trains, but we both fell asleep within 30 minutes and were sleeping well until about 3am.
Around 3 am, we were both awakened by loud knocking on our door and cries from a woman to be let in. At first we were dazed, thinking perhaps there was some sort of emergency with thoughts of the film Murder on the Orient Express fresh on our minds. Then assessing the situation, Laurence said back that she had the wrong room.
The knocking continued again and again after protests from Laurence for her to please stop. She pleaded to him "It's [her name], please let me in!". At this, I slapped my hand against the door and said that she had the wrong cabin.
We heard a gasp at the sound of my voice and we can only assume this woman was debating whether her husband had another woman in the cabin or if this was indeed the wrong one. We heard her plod away and it took us a while to go back to sleep but fortunately we had no more visitors that evening. The sounds had also woke up our neighbors on the other side.
The next morning when Marco asked us how we slept, we mentioned this and he said that he had actually already heard about the incident. We learned that the woman in question was indeed in a different sleeping car (same number room) and she apologized to train staff but never came to apologize directly to us; we imagine she was either sleepy or intoxicated and felt embarrassed by the mistake.
A short while later we received a complimentary bottle of Taittinger champagne, courtesy of the train manager, Michele Rocca, for the disturbance. We thought this was great customer service and even though we did not complain to anyone, it was nice to know that the staff acknowledged the incident. We ended up saving the champagne for our wedding celebration in Venice.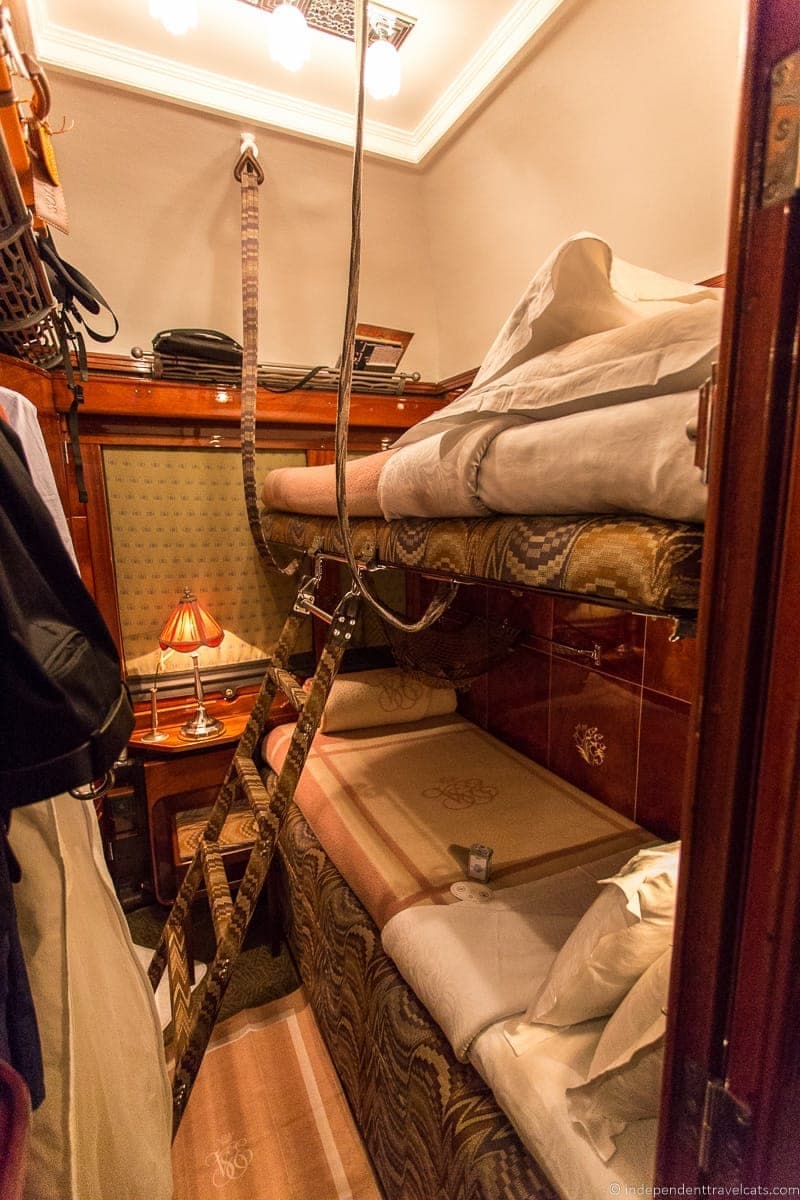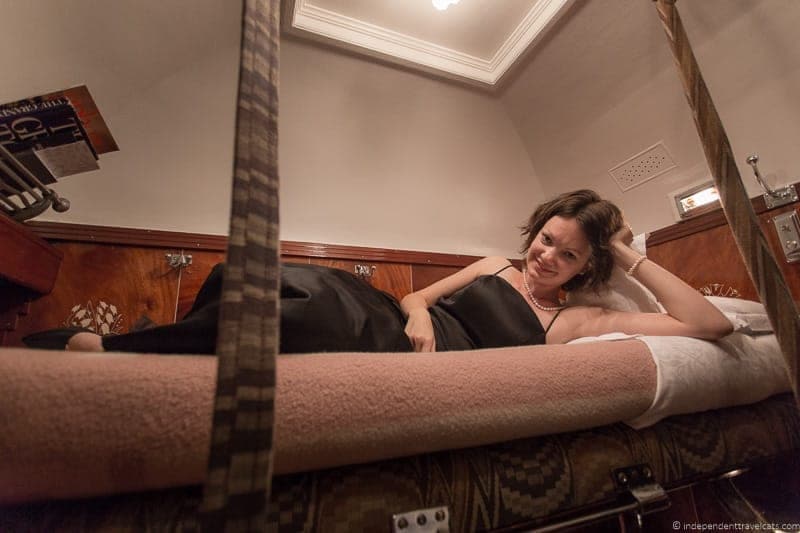 Continental Breakfast and Afternoon Tea
The night before, Marco had asked us when we thought we'd be likely wanting breakfast the next morning and what type of juice and hot beverages we'd prefer. But there is no specific time that you need to get up and he told us to just call him once we were awake and dressed.
We were excited to see the Swiss scenery so woke up around 8:00am, got dressed, and let Marco know we were awake and ready for breakfast. Since the continental breakfast is served in your cabin, this means that Marco needed to also convert our sleeping quarters back to its daytime position before serving breakfast.
We happened to wake up at the same time as several of our neighbors so we did need to wait a bit before it was our turn but this was not a problem for us as we were definitely not starving after last night's four-course dinner!
The continental breakfast is fairly simple but fresh, with good tasting coffee. For those who happen to be very hungry or in a celebratory mood, there is also the Celebration Breakfast menu that can be ordered which is an extra 100 euros and features a selection of freshly baked breads, smoked salmon, eggs, truffles, and caviar.
Our Continental Breakfast Menu
-Juice (orange, grapefruite, or multivitamin)
-Coffee, milk, or hot chocolate
-Bakery basket w/ preserves/honey/butter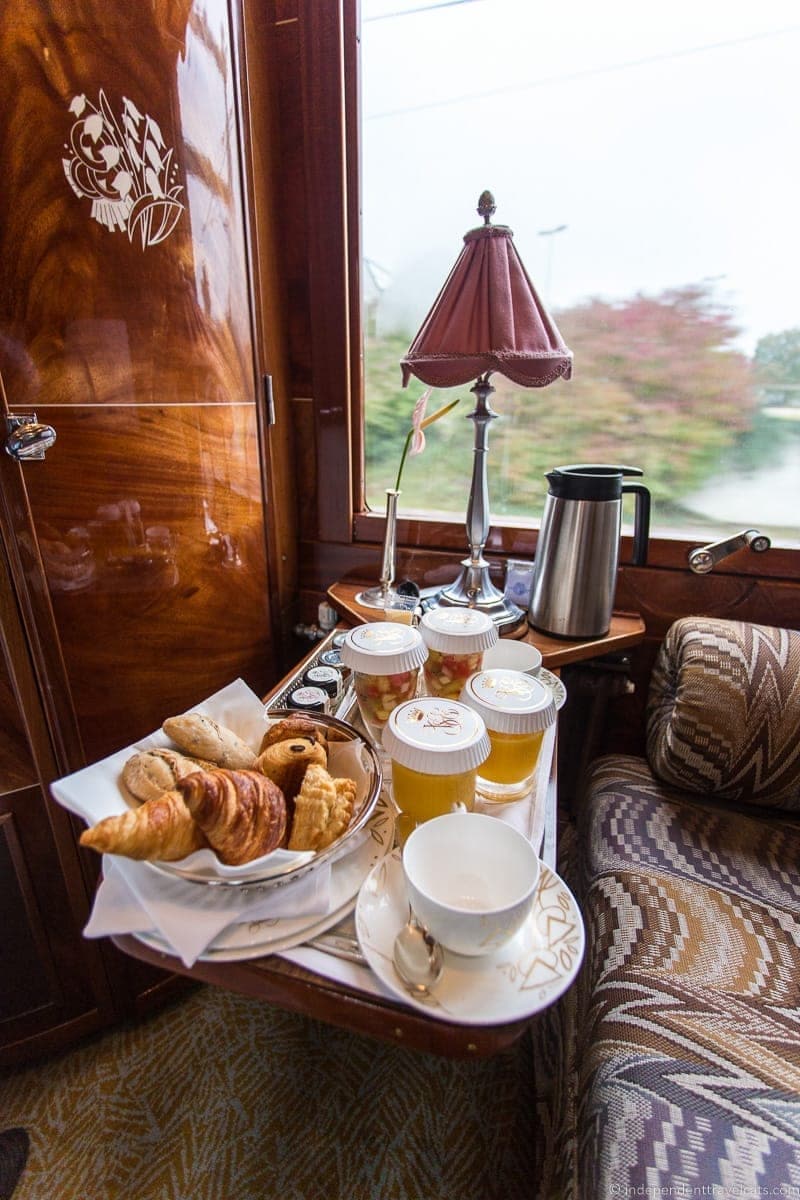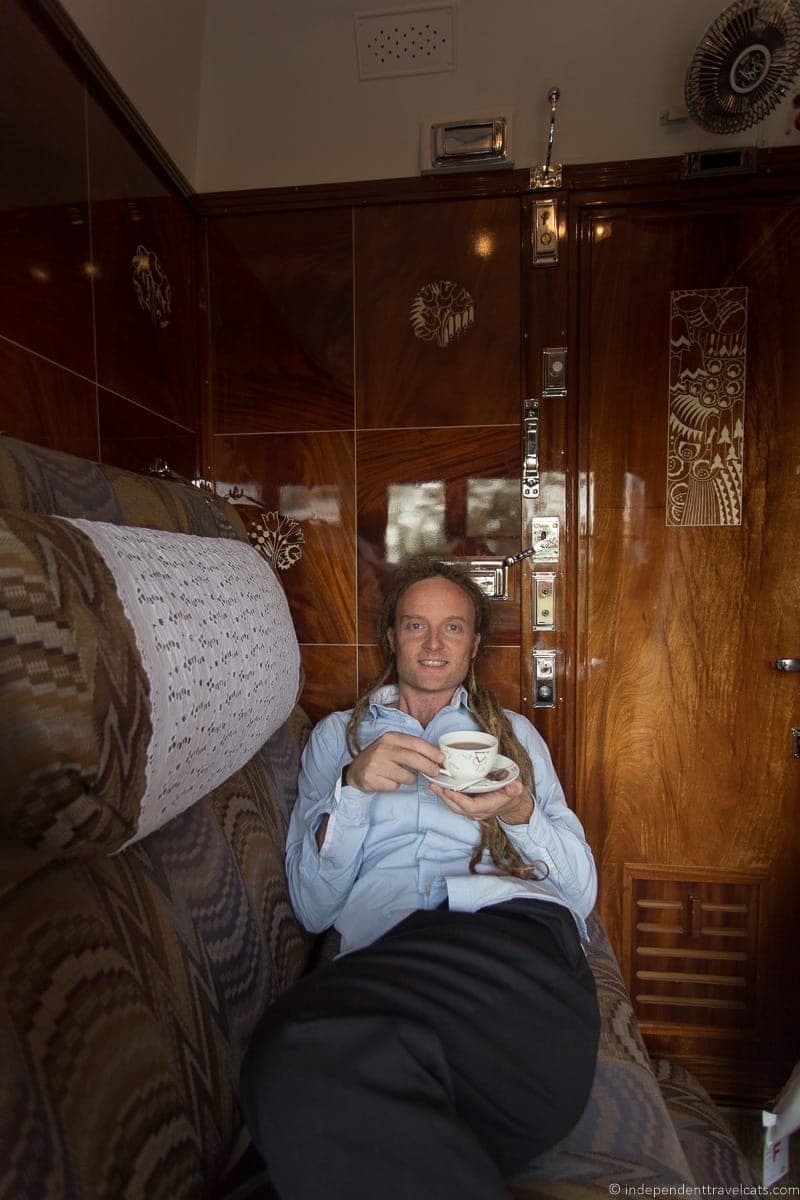 Later in the afternoon before your arrival in Paris, you'll be asked if you would like afternoon tea or you can just request it from your steward whenever you want it. Afternoon tea (or coffee) is also served in your train compartment. We had afternoon tea and it consists of a selection of tea bags, hot water, and a dainty but delicious chocolate cake.
I do have to say that I was thinking we would be receiving a more substantial afternoon tea (I think you get a fuller British afternoon tea if you travel from Venice to London aboard with tea served aboard the British Pullman) so I was a little disappointed in the lack of finger sandwiches and scones, but we were honestly not hungry after our lunch so it was not an issue.
We enjoyed our tea as the train made its way through northern Italy and towards Venice, not wanting the journey to ever end!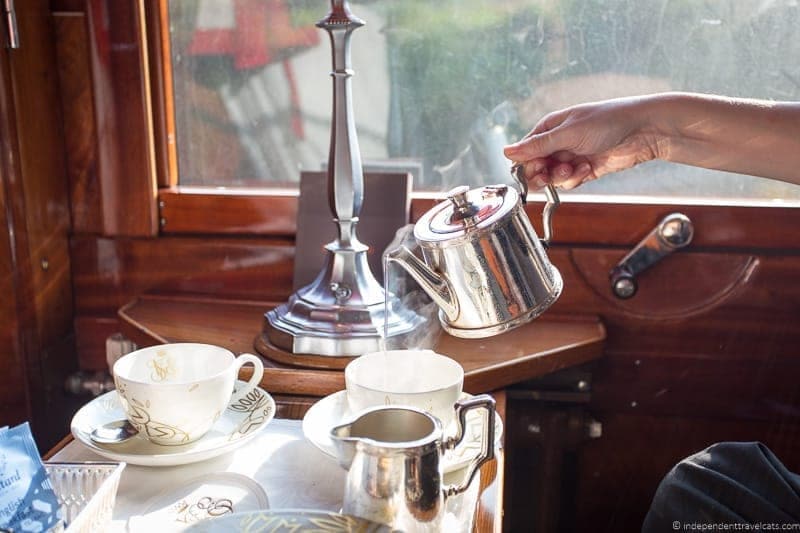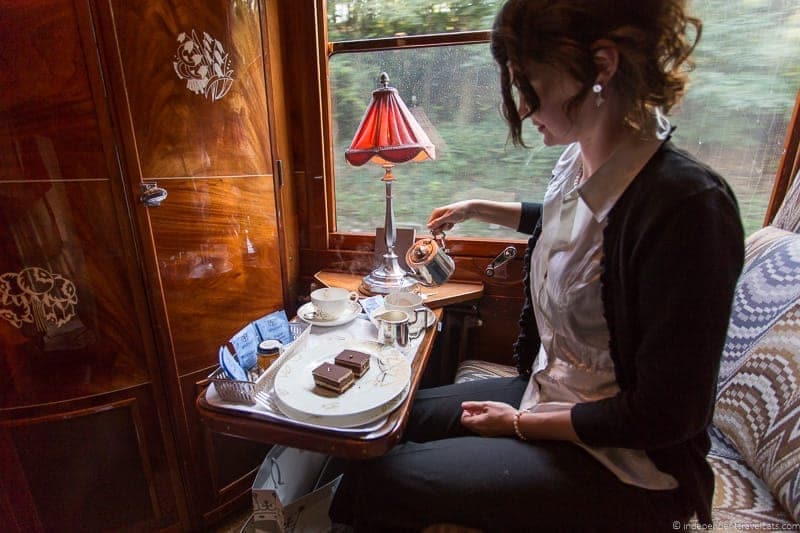 The Venice Simplon-Orient-Express Boutique
There is a small boutique located in the rear of the Côte d'Azur dining car which sells gifts from the Collection Venice Simplon-Orient-Express. These include items such as postcards, silk scarves, neckties, jewelry, glassware, lamps, cufflinks, books, and tea sets. The train carries only a limited amount of merchandise so if there is specific item you want you can pre-book it so it will be available on the train.
Laurence actually surprised me by going out to "photograph something" and coming back with a pair of VSOE earrings that he gave me as a belated birthday present! Very sweet!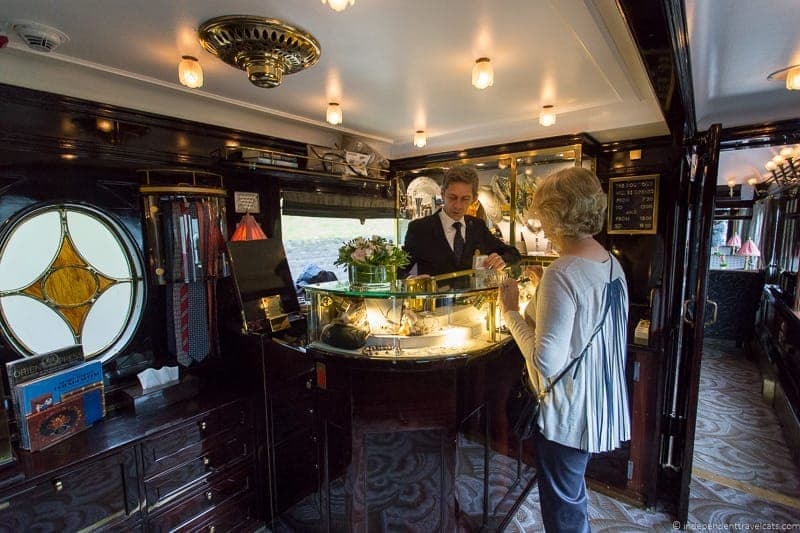 Scenery Along the Train Journey
The scenery in England is OK with a bit of nice English countryside; however, a lot of it is the sprawl of London and rail stations. You'll also get a bit of the French countryside once you arrive in France but it will be dark for most of that part of the trip if you are leaving from London.
The best scenery is when you are in Austria and Switzerland so while it may be tempting to sleep in after a big meal and time in the lounge car, we definitely recommend waking up at a decent hour in the morning to watch as the train travels through the Swiss mountains and countryside.
Note that the route your train takes can differ as the Venice Simplon-Orient-Express uses more than one route to get to and from Venice. It is currently using both the Arlberg Pass route and the Gotthard Pass route so check ahead by calling the Belmond if the routing is important to you. The train no longer uses the Simplon Pass routes (the route the train is named for!). The section between Innsbruck and the Brenner Pass is probably the most picturesque section but there are several nice stretches along both routes.
However, don't expect all the scenery to be charming as given the nature of railroads, there will also of course be industrial areas and urban sprawl along the tracks. But we had a few hours or so of very nice scenery and the windows in your private compartment as well as those along the side of the sleeping car hallway open so you can get better views and take glare-free photos!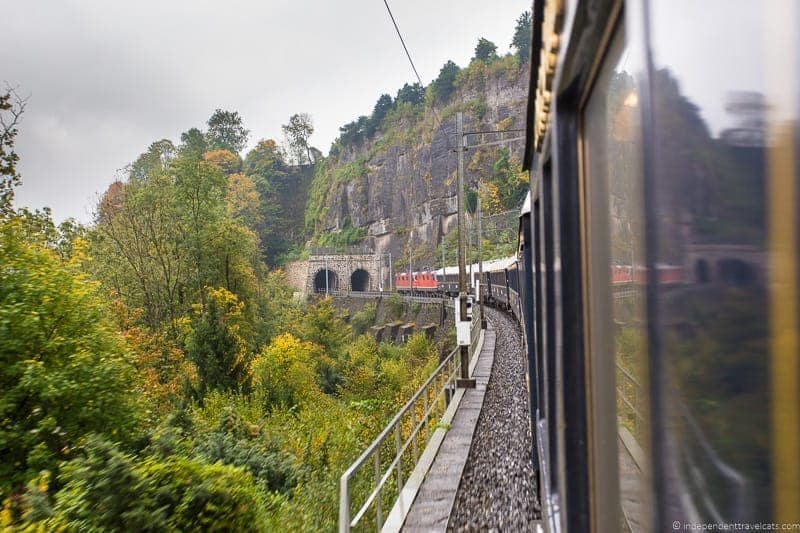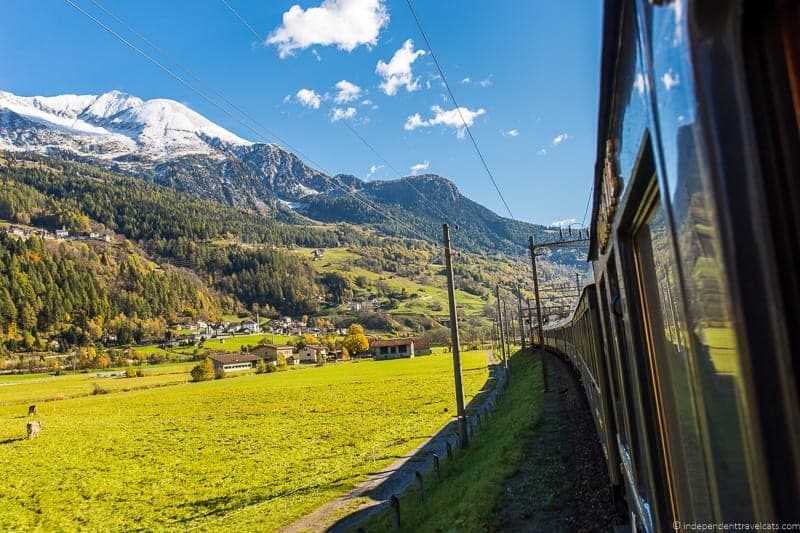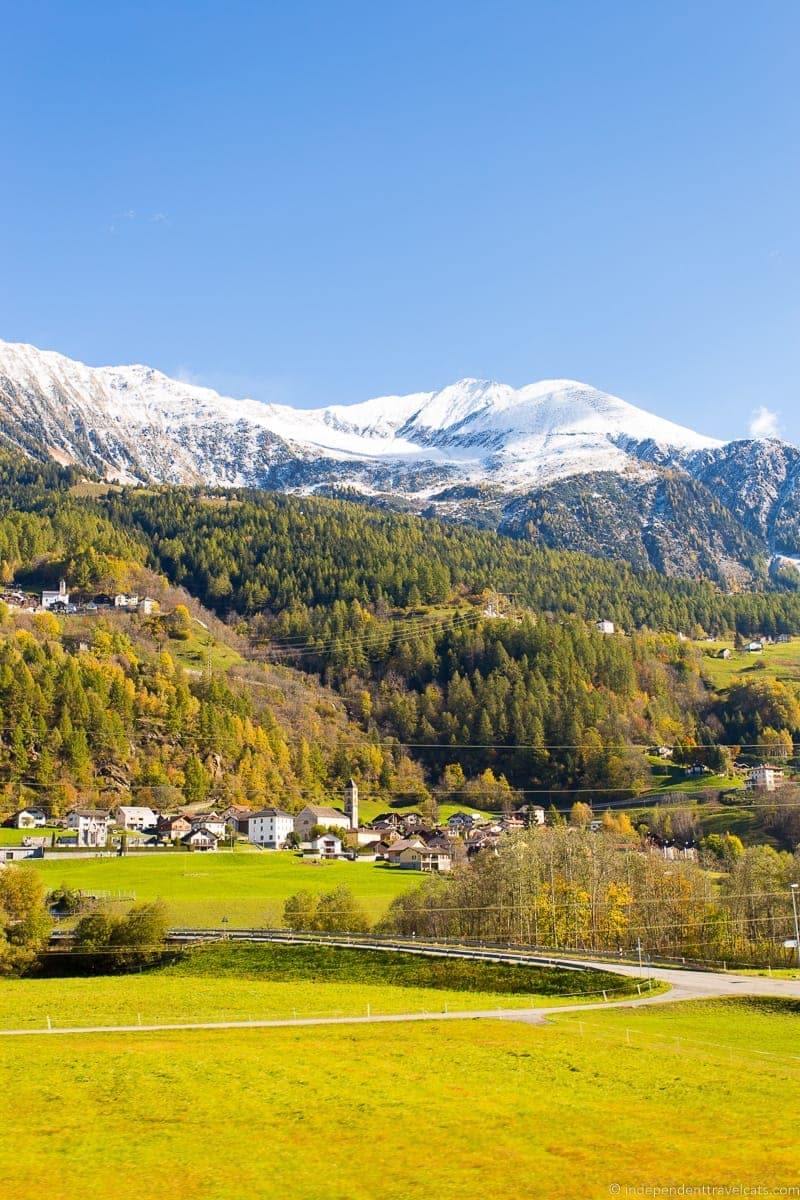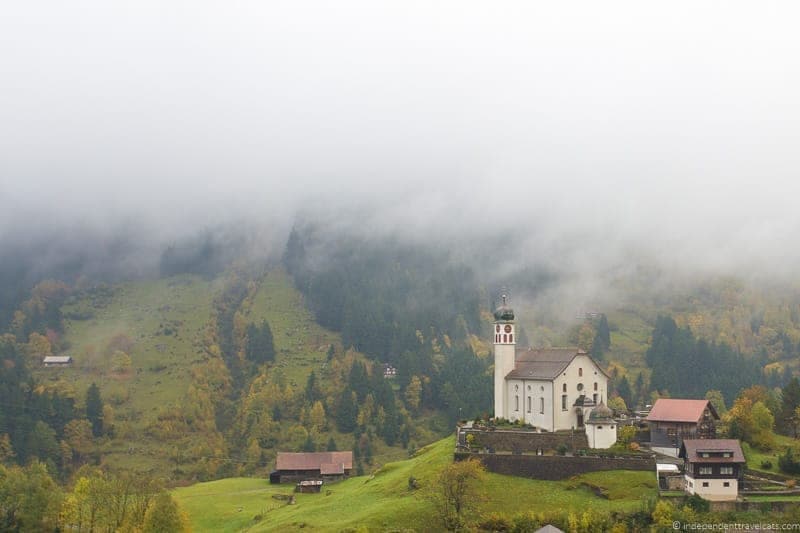 Arrival in Venice and Leaving the Train
Unfortunately, all good things must come to an end and it was bittersweet to hear the announcement that we'd soon be arriving at the Venice Santa Lucia station. This is the time to pack up your belongings, settle up any bar accounts, make sure you leave any desired gratuities, say your goodbyes, and be sure to leave your room key and collect your passport from your cabin steward.
Once you leave the train, you'll be reunited with your checked luggage on the platform. I think we had our luggage within 15 minutes of arrival. There are luggage trolleys available in the station to help you and if you pre-arranged a luggage transfer then your checked luggage will be taken care of by Belmond and transferred directly to your hotel.
It was a bit like being awakened from a trance to be in the bustling and noisy modern train station after 36 hours of Golden Age travel, but it was also nice to meet up with Laurence's parents and to head to our Venice hotel.
Many guests end their VSOE trip with a stay at the 5-star Belmond Hotel Cipriani; we opted for a more rustic stay at Locanda Leon Bianco and had a beautiful large room with a view of the Grand Canal. You can check for Venice hotel options here.
Although Laurence had been to Venice a few times before, this was my first visit and such a wonderful way to arrive in this city for the first time and a great start to our wedding celebration!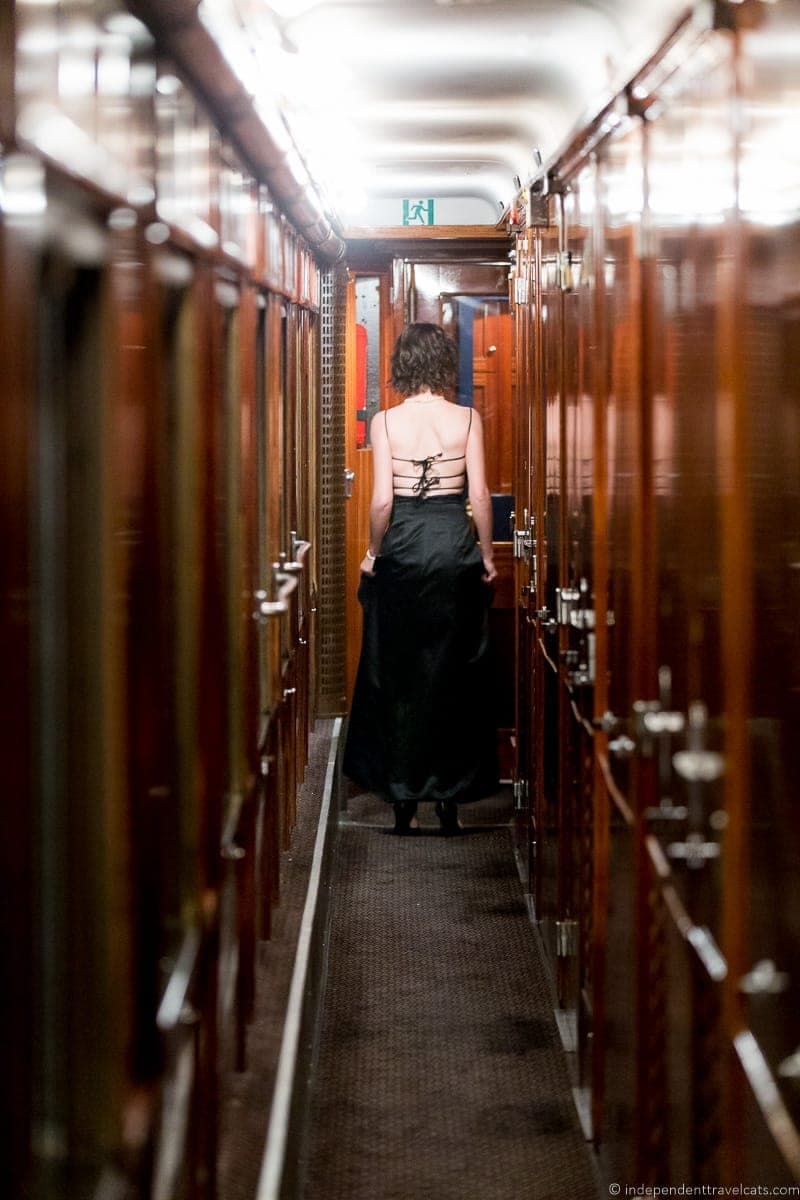 Overall Thoughts on our Venice Simplon-Orient-Express Train Journey
Overall, we both thoroughly enjoyed our journey aboard the Venice Simplon-Orient-Express. It was something that I had wanted to do since I was a child and it was great to be able to have this opportunity to make this fabled journey. This is an expensive trip and not within many people's budgets; however, if you do have the money this is an excellent indulgence!
I really love trains and both the Belmond British Pullman and the VSOE Continental train car have been beautifully restored and appointed and it was a real pleasure to explore them and be able to dine and sleep in them. You do at times really feel transported back to a past age with the luxurious surroundings, good food, attentive staff, and well-dressed passengers.
Although the coach portion of the trip is not ideal, it was fairly smooth and organized. Although it is briefly mentioned in the Travel Journal itinerary, I do think that Belmond should better inform people about this part of the journey as some people on our trip felt mislead and did not realize this was part of the trip as it is not explicitly noted on the current website itineraries.
The only real negatives for us were the late night visitor at our cabin door (not a fault of the train or staff) and the issue about not having my passport stamped on entry into the Schengen Zone which required follow-up on my behalf with the U.S. Embassy.
The food throughout the journey was excellent, especially the dinner. The service was fantastic and at the level you would expect aboard a luxury train. We particularly want to say thank you to Alan for taking good care of us on the British Pullman and to Marco our cabin steward who went above the call of duty to remove the problematic safety pin from my evening dress.
We can thoroughly recommend the train to anyone interested in this experience, the Venice Simplon-Orient-Express is a wonderful luxury train journey across Europe. If we had our choice, we would always travel in such style and luxury. Just keep in mind that after one journey, you'll like want to come back for more! We are already dreaming of the longer trip to Istanbul!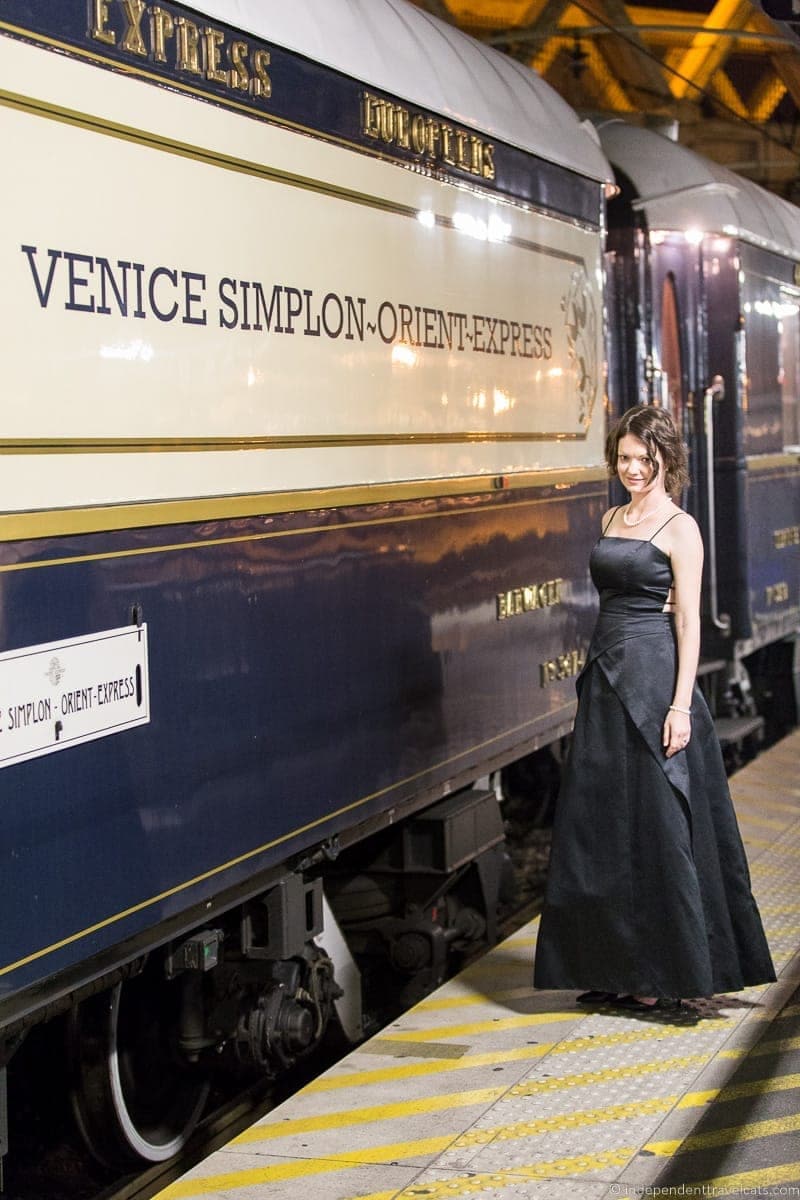 Is a trip on the Venice Simplon-Orient-Express on your bucket list? Have you even taken a luxury train trip? As always, feel free to comment and we're happy to answer any questions about our VSOE train journey.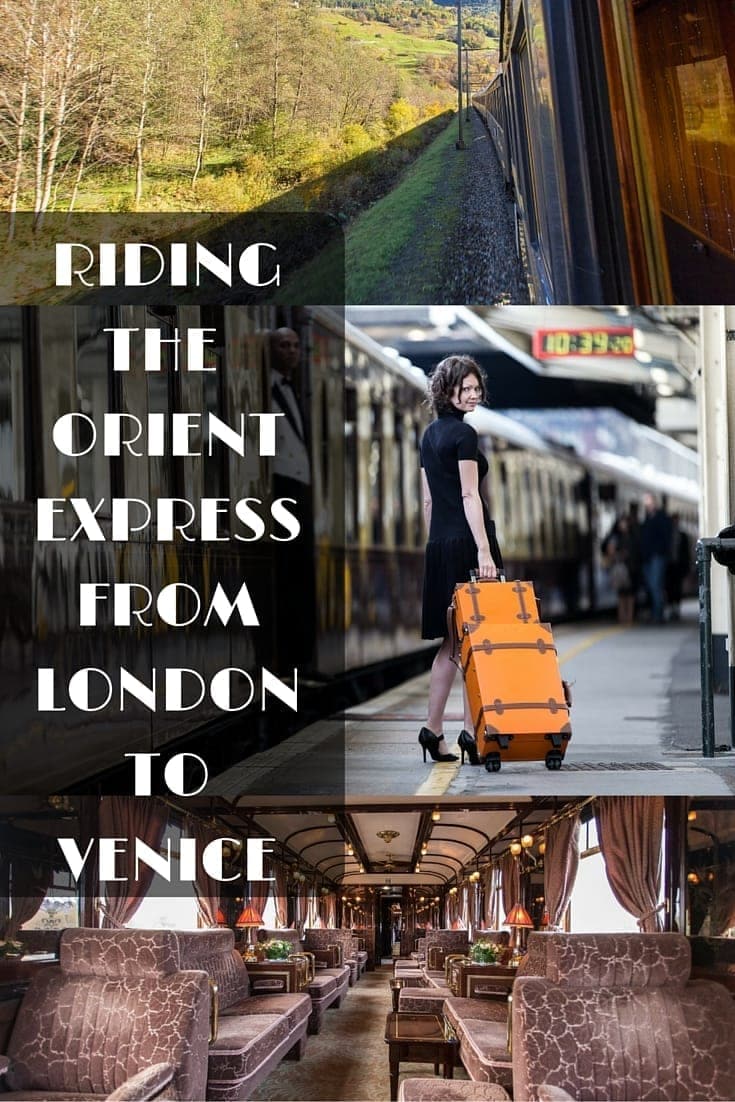 **Disclosure: We were provided complimentary and discounted services by Belmond in order to write a review about our trip on the Venice Simplon-Orient-Express; however, this article contains only our own honest thoughts and opinions. We specifically chose to take and review this experience as part of a larger project and you can read more in our Ethics Code about how we accept work.**