Edinburgh festivals are well-known around the world, lending the city one of its nicknames, Festival City. But did you know that almost half of the major festivals in Edinburgh take place during the month of August? Edinburgh is home to 11 major festivals each year, and five of these festivals take place in August.
These summer festivals in Edinburgh celebrate art, theater, culture, books, and even the performance of military bands. Events range from the traditional (opera) to the intellectual (talks by famous authors) to the downright zany (performance of an acrobat doing handstands on eggs)!
August is a busy but special time in Edinburgh as the historical capital city welcomes hundreds of thousands of visitors from around the world. It can be overwhelming to a first time (or even second time) visitor. There are hundreds of events and performances each day in the city during August, and in one day we've actually attended events from all five different Edinburgh festivals!
We've been to the summer Edinburgh festivals a number of times over the past several years since we moved to Scotland. We'll share our own experience of attending the August Edinburgh festivals and tips for planning your own trip to Edinburgh in August.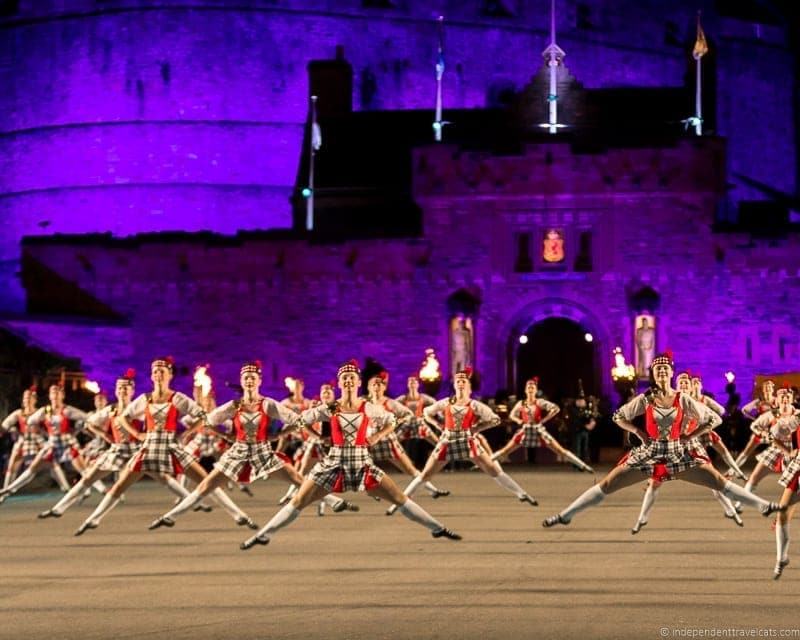 Edinburgh as the Festival City
Edinburgh has not always been known as the Festival City. In 1947, Edinburgh hosted the Edinburgh International Festival and this festival was soon followed by a number of other festivals celebrating arts, culture, science, history, and tradition. The reason for these early festivals were to help boost local morale, enrich the local cultural life, and to attract visitors following the difficult years of World War II and its aftermath.
The festivals all started out quite small and have grown exponentially, now attracting over 4 million visitors each year placing Edinburgh as the world's leading festival city. The Edinburgh festivals are a significant source of revenue for the Scottish economy and create thousands of jobs for the local people.
There are 11 major festivals in Edinburgh held throughout the year and you can learn about all the festivals on the informative Festivals Edinburgh website. These include festivals celebrating films, jazz and blues music, science, storytelling, children's performing arts, and the New Year's celebration Hogmanay!
The first festival Laurence and I attended together in Edinburgh was the family-friendly Edinburgh International Science Festival which was the first formal public celebration fo science in the world.
In addition to the 11 major festivals, there are a number of more minor festivals and events held in Edinburgh throughout the year (such as the Edinburgh Food Festival, Edinburgh Mela, Edinburgh Coffee Festival and Edinburgh Yarn Festival), and you can find a full list of Edinburgh Festivals here.
Note that the Edinburgh Mela also usually takes place in around August and is a festival that celebrates world culture, music, dance, and food in the city, with events ranging from Bulgarian folk dances to American hip hop to Bharatanatyam dance.
Tips and Advice for Visiting the August Festivals in
Edinburgh
This Edinburgh Festivals Guide will help you learn more about which festivals are happening in August, when to book your flights, how to obtain festival tickets, how to find lodging, tips on using local transportation, how to save money, and much more!
What are the Edinburgh Festivals in August?
How much does it cost to attend a festival in Edinburgh?
The ticket costs ranges widely across festival events, as many festivals events are free although many do incur a cost. Most of the Edinburgh Art Festival displays and events are free and unticketed although there are special events held that are ticketed.
The Royal Edinburgh Military Tattoo performances prices range, depending on preferred seating area, from about £25 to £300 per person. Most Edinburgh International Festival events are ticketed and for a fee, although the spectacular opening events are generally free but ticketed, and tickets for most performances range between £10 and £60.
Edinburgh Festival Fringe events typically range from free (although many still require a ticket) to about £30, with most of these events being under £15 per person. In fact, our search revealed over 800 free Fringe events in 2016!
It is free to enter the Edinburgh International Book Festival with author talks, book readings, workshops, and other events typically ranging from free to £15.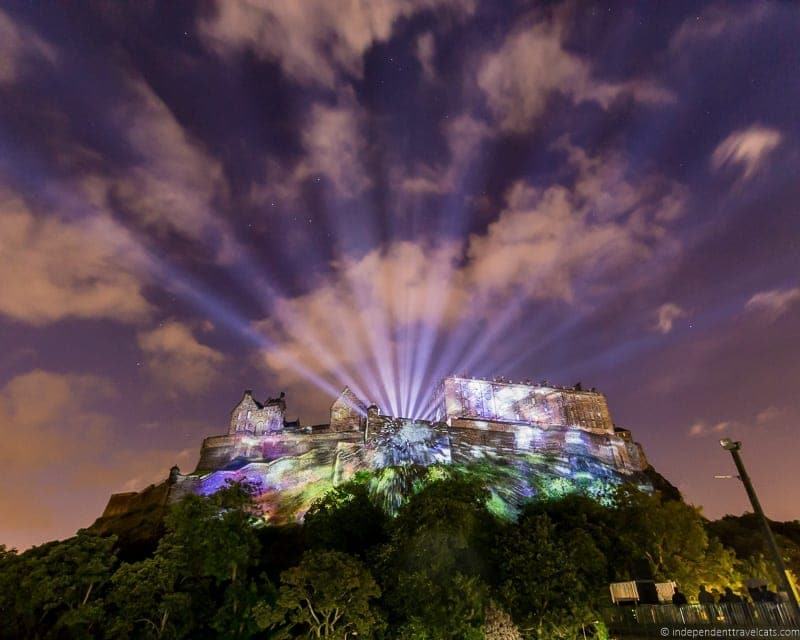 Where do the Edinburgh festivals take place?
The answer is just about everywhere in the city! A couple of festivals have primary locations with the Edinburgh International Book Festival being based in Charlotte Square Gardens and The Royal Edinburgh Military Tattoo performances taking place in front of Edinburgh Castle. The other festivals take place at venues all across the city and these change each year.
Venues may include theaters, meeting halls, a former veterinary school turned art studio (Summerhall), art galleries, the castle, museums, churches, cafés, street platforms, public gardens, courtyards, Leith docks, restaurants, monuments, and schools.
Each year there are always a few Fringe events that take place in especially unusual settings (although most do take place in more traditional venues) and some of the strangest places over the years have included buses, public toilets, a bathtub, a secret venue, a barge, someone's private apartment, online, an elevator, and a public swimming pool!
Although venues are scattered throughout the city, most events are likely to take place in central Edinburgh (Old Town or New Town) and many of the major venues are within walking distance or a public bus ride from each other.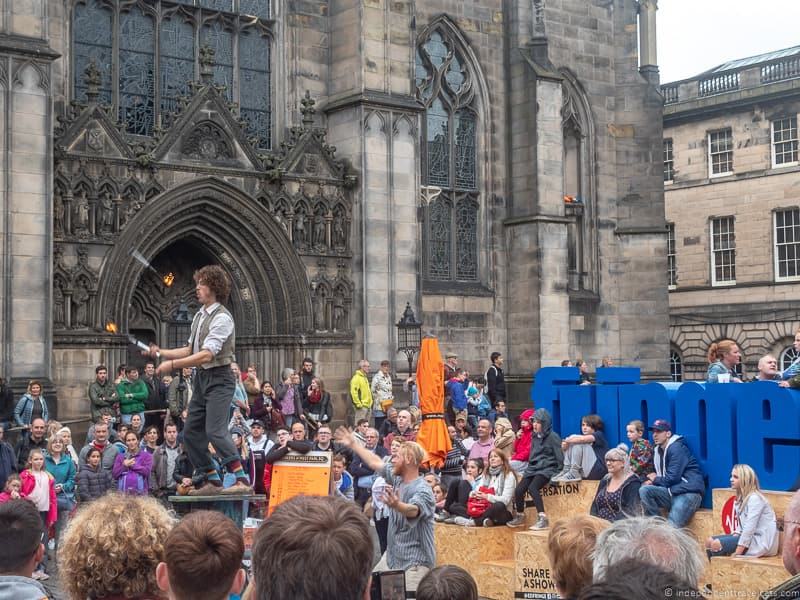 How far ahead should I plan a trip to Edinburgh in August?
This really depends on your travel style, but given that August is the busiest time in Edinburgh and the summer festivals are very popular, I would start thinking about your trip as far in advance as you can. Many people book their accommodation 6 months in advance.
I would advise having your accommodation and travel tickets booked at least three months in advance but the earlier you book the better your chances of getting your top choices and the best prices. I would start making your plans prior to the final festival schedules being released unless there is an event you absolutely don't want to miss to get best prices on travel and lodging.
How many days should I stay in Edinburgh?
Some visitors only stay a couple of days whereas others come for a week or so. I would recommend at least a few days so that you have enough time to see a variety of events and also factor in some time for rest and visiting other attractions in Edinburgh. It is a beautiful city and there is a lot to do beyond the festival events!
How far ahead should I book tickets to Edinburgh festival events?
Dates for the festivals are often set almost a year in advance for most of the festivals; however, most of the Edinburgh festivals in August don't put out their final event schedules or start ticket sales until 2 to 3 months prior to the events. The exception is The Royal Military Tattoo which generally releases tickets at least 6 months in advance (released on December 1 for the 2018 Tattoo!).
If there are specific events you really want to attend, I would recommend booking soon after the schedules are released if you can to avoid disappointment. I would particularly recommend booking Tattoo tickets as far in advance as you know you want to attend to get the best chances of getting the date and seating type you want. Popular book festival author talks, food and drink related events, and Edinburgh International Festival performance events often sell out in advance.
If you are visiting and have no specific preferences, you can still find a lot of events still selling tickets once you are in Edinburgh, and you are likely to stumble upon discounted tickets and 2 for 1 tickets for performances that are not sold out. If you follow the official social media accounts or sign up for emails on the specific festival websites (highly recommended), you can get updates for the latest festival news which will alert you as soon as the schedules are online, when tickets are on sale, and to sales and discounts.
How do I decide what to see?
For all of the festivals in Edinburgh, the events and performances are well noted on their websites and most have a user-friendly searchable database where you can look up what is happening by date, venue, act, and type of performance. Fringe even allows you to just filter by all the free events. We also found that for Fringe, since there are so so so many acts, that walking around and reading flyers and talking to people also helped us discover some performances we would probably not have considered otherwise.
If you are concerned about whether something is good, I would jump on social media to see what others are saying and also do an Internet search of recent reviews as many of the UK newspapers and websites do reviews of the Edinburgh International and Edinburgh Festival Fringe performances. The best way though may be to just go, especially if it is a performance with a short run!
If you are someone who wants to experience Fringe but absolutely does not want to sit through any bad performances to discover some hidden gems or new talent, one piece of advice would be to avoid free performances and stick to the "Big Four" venues which are the most competitive and expensive for acts. These are Assembly, Gilded Balloon, Pleasance, and Underbelly, and each has their own set of venues and websites. I am not saying these are all going to be good, but they tend to only host acts that have been at Fringe before and had good reviews.
For more tips and advice on the Fringe, check our Laurence's Fringe Festival guide.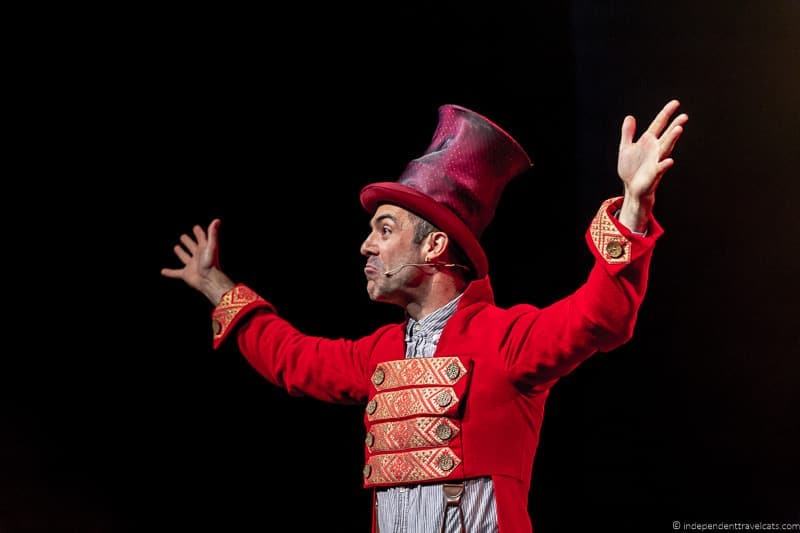 Tips for attending the summer Edinburgh festivals on a tight budget?
First, many of the festival events are free. The most budget-friendly August festivals are probably the Edinburgh Art Festival and Edinburgh Festival Fringe although almost all the Edinburgh festivals offer free events. Most of the Art Festival events are free and unticketed.
There are always lots of free Edinburgh Festival Fringe shows and in 2018 there over 800 free Fringe events being offered during the festival. You can find them on the official Edinburgh Fringe website by putting "free" into the events Advanced Search. You can check out the website run by the Free Festival.
The Festival Fringe usually has a Half Price Hut you can visit and many 2 for 1 ticket offers to help save you money. I would check the specific festival websites (and social media channels) for sales and special discount offers. Also you may score discounted tickets by talking to the Fringe performers on the street as they sometimes have a few comp or discounted tickets available to those who seem genuinely interested to fill seats for their first performances.
Note that even if a festival event is free, many still require tickets so be sure to pick up or print these tickets and bring them to the performance. This is the case with all five of the festivals so be sure to check ahead in case it is a limited space event.
In terms of travel to Edinburgh, I would book any train and plane tickets as far in advance as you can for the best deals, and you might also consider taking a bus if you will be traveling from elsewhere in the UK. Once in the city, the city's public bus system goes almost everywhere you'll likely want to go and is relatively inexpensive with day pass deals. Many of the festival events are located in central Edinburgh and can be reached by foot.
Hostels, rented apartments and spare rooms, chain motels, and university dorms are available and offer budget rates although room rates are going to likely be at their highest in August. See our recommendations in the lodging section below for a list of specific budget hostels, hotels, and booking websites to consider. Note that much of the city's lodging is fully booked throughout most of August so book in advance if you can as many last-minute visitors end up paying much more than they anticipated.
Cheap eats are available throughout the city (e.g., delis, pizza, Indian takeout, fast food chains) and you might consider booking a hostel or apartment that offers cooking facilities so that you can make your own meals to save money.
Several of Edinburgh's top attractions are free or low cost, particularly its many great museums and art galleries. If you plan to visit some of the top royal attractions, we'd recommend checking out the Royal Edinburgh Ticket, which includes entry into 3 of Edinburgh top attractions plus a 2 day sightseeing bus ticket.
How busy is August in Edinburgh?
It is busy with about 500,000 visitors pouring into Edinburgh during the month of August, doubling its population and there are hundreds of performances and events happening each day throughout the city. However, that said, it is still navigable and most events are well-organized. Since most performances are ticketed, this helps control the number of people in any one place.
The most congested areas are going to be the Royal Mile and surrounding streets, and expect all of the popular visitor attractions in Edinburgh to be more crowded than usual. If you are not a fan of crowds, you might consider booking lodging outside the city center (Old Town and New Town areas) and just coming into city center for events.
Some visitors to avoid crowds and save money even stay outside Edinburgh in nearby towns with good public transportation links into the city. If you absolutely hate crowds, you might consider visiting Edinburgh outside of August.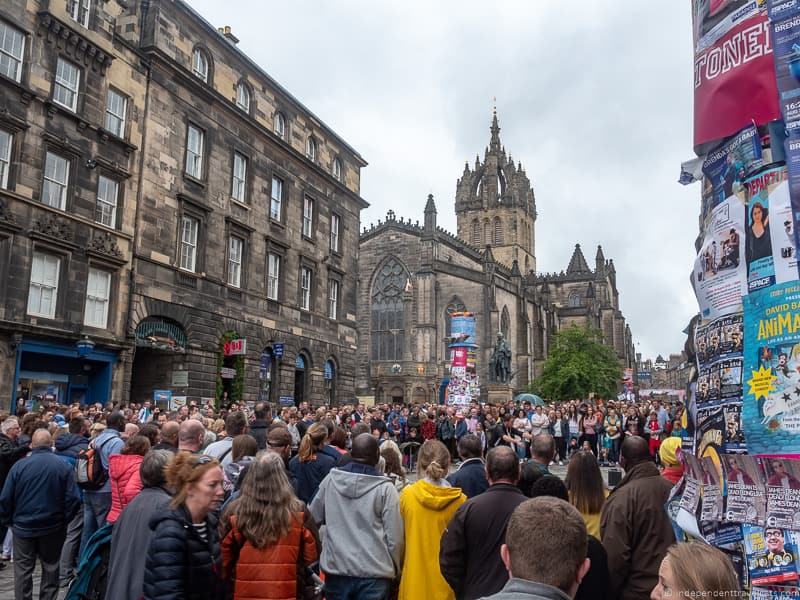 What are the best ways to get to Edinburgh Scotland?
There are multiple options for visiting Edinburgh.
By Plane. First, you can fly into the Edinburgh Airport, which has flights from destinations in Europe, the US, the UK, and the Middle East. If there is no direct flight, connecting flights from London or Dublin are frequent. The airport is a short bus, taxi, Uber, or tram ride from town, so this is a very practical option.
By Train. If you don't want to fly, then there's a fast train service from London to Edinburgh, which takes around 4.5 hours. You can also catch trains from cities throughout the UK or take the EuroStar to get here via France if you are coming from Europe. You can save a lot of money on fares by booking train tickets well in advance. Check ScotRail and London North Eastern Railway for local train services, routes, and to purchase tickets.
If you are interested in taking an overnight sleeper train (runs between London and Inverness), you can check the Caledonian Sleeper route and schedule as most services stop in Edinburgh.
By Bus or Coach. If you are in the UK and would rather travel by bus, there are daily coach connections to Edinburgh from a number of cities which take longer but may save you money compared to train fares. You can check National Express for coach connections and prices, as well as the budget-friendly Megabus.
By Car. Finally, you can of course also drive to Edinburgh, although be aware that most hotels, particularly those in the city center, don't offer free parking. Parking spaces will be very limited during August in central Edinburgh.
What are the best ways to travel within Edinburgh?
The center of Edinburgh is walkable, with the majority of attractions easily accessible by foot. For public transit, we recommend local buses (find Lothian Buses fees and schedules here), Uber, or local taxi services. The Edinburgh trams have a more limited route (includes the train stations and airport) but are a good additional option if you are traveling to and from the airport.
If you need to book a cab while in Edinburgh, we recommend using this UK taxi comparison service to find the best rate.
There are also a few different companies offering sightseeing hop-on hop-off buses in Edinburgh that stop at many of the main tourist attractions in Edinburgh. If you have a Royal Edinburgh Ticket, it includes free use of the sightseeing bus for 48 hours.
You don't need a car to travel around Edinburgh as public transit can get you just about anywhere in and around the city, so we'd only really recommend a car if you are planning to head into the countryside or smaller villages. Driving in Edinburgh during the busy August festival season is not recommended if you can avoid it.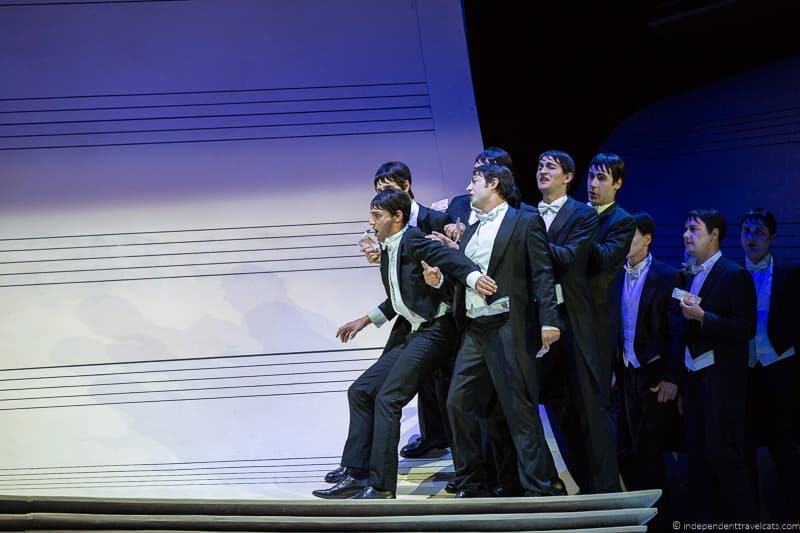 Where to Stay in Edinburgh in August?
The good news is that Edinburgh has plenty of accommodation, and great options suitable for a range of budgets and travel styles. The offerings are quite diverse and include luxury hotels, B&Bs, youth hostels, cottages, university rooms, self-catering private apartments, camping sites, and even pop-up hostels made out of shipping containers.
The bad news is that the city becomes almost fully booked for the August festival season (up to 97% capacity!) and prices are at their highest during this time of year. If you're looking for a specific kind of hotel or room type, then you'll want to book as far in advance as possible.
Hotels and B&Bs in Edinburgh
If you plan to book a hotel, motel, or guest house, we like to use Booking.com which we find usually has the widest range and best prices across a wide range of properties, from hotels to apartments. Hotel options in Edinburgh range from budget chains such as Travelodge to quaint bed-and-breakfasts to one-of-a-kind historical luxury properties.
If you are looking for a special luxury hotel to stay in during your festivals visit and you have a larger budget, you have a lot of options, including the The Balmoral Hotel, Nira Caledonia, and Prestonfield. Just be sure to book well in advance as most are fully booked during August.
There are also numerous cozy and romantic bed-and-breakfasts and guest houses, ranging from budget to luxury and many are located just outside the city center – see all the Edinburgh listings on booking.com for your options, and book in as far as advance as you can to secure a room.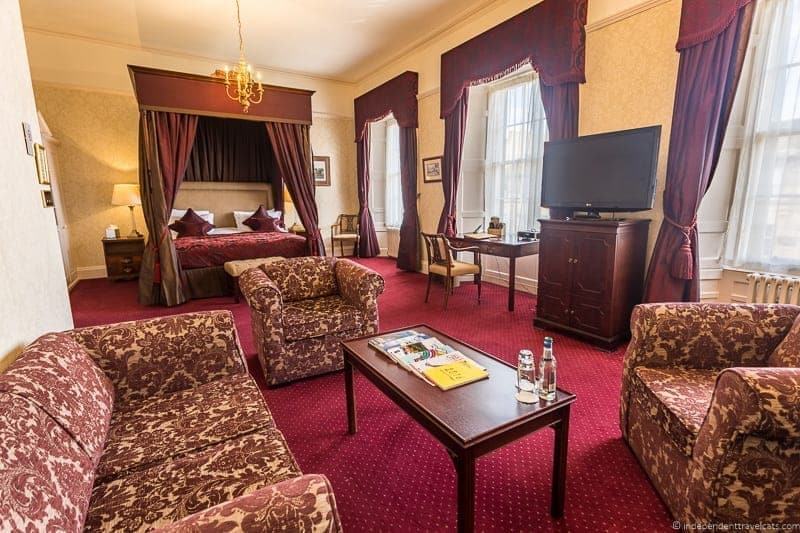 Apartments, Rooms, & Self-catering Residences
If you are looking to book a room, apartment, or home in Edinburgh, the supply increases during the month of August as many Edinburgh residents leave the city for their own vacation and others let out spare bedrooms. The best site to check first is probably Plum Guide, which is our favourite for finding high quality vacation rentals. Another good option with many Edinburgh listings is Vrbo.
We also regularly use Homestay (be sure to use our 5% discount link if you book!), which is similar to AirBnB but it includes a hosted experience and breakfast, which is nice if you want to interact with some local people.
If you're not having luck with those options but still want to stay in a local apartment, you can check out EdLets which rents all kinds of spaces in Edinburgh as well as Laurence's guide to AirBnB alternatives and vacation rental websites in the UK.
Hostels & Other Budget Options
For those on a small budget, there are a number of hostels, cheap hotels, university rooms, room shares, rooms for rent, and even a pop-up container hostel. For instance, Travelodge tends to have some of the lowest rates and the Haymarket Hub Hotel is also great value.
You can also check out local hostels on the Hostelling Scotland website such as the centrally-located Edinburgh Central Youth Hostel and the summer-only Edinburgh Metro Youth Hostel. There is also the Safestay Smart City Hostel Limited, Haystack Hostel, and the City Stay Hostel, among several others in the city.
Be sure to check prices across websites such as Booking.com and be sure to also check the hotel or hostel's own website to ensure you get the best price available.Edlets is also good to check. If you don't mind sharing an apartment or renting a bedroom, you can often find some good deals.
There are also university rooms available for rent in the city, camping sites such as Edinburgh Festival Camping and Mortonhall campsite (includes bookable wooden wigwams!), and even the Containers Hostels, which were the first hotels made from shipping containers! You may even be able to find free places to sleep on Couchsurfing and similar websites although free spots are going to be limited in August.
Camping during the Edinburgh Festivals
For those wanting to camp or come by caravan or RV, there are several options, such as Mortonhall campsite and the Edinburgh Caravan Club Site.
Note that most campsites will require a bus or taxi ride to reach central Edinburgh. Special temporary campsites also spring up just for the summer festivals.
I can't find last-minute lodging!
If you are not having luck with any of the above options, don't despair! Think about lodging alternatives to what you have tried (sleeping in a hostel, apartment, wigwam, or university room) and also think about looking for options outside the town center and even outside of Edinburgh. Most people stay in central Old Town or New Town of Edinburgh, but consider Leith, Stockbridge, Canonmills, and the east, south, and west districts of Edinburgh.
There are also a number of satellite towns around Edinburgh with a 25 – 45 minutes public transport connection, where you might find better value options. The public transport network in Edinburgh is excellent, and night buses often run into the early hours, so that is definitely an option if you're looking to save money and don't mind a bit of a "commute".
For instance we live in Roslin and commuted by public bus to the August Edinburgh festivals each day. Just remember to check to see what the public transportation options are before you book!
If you absolutely can't find anything in Edinburgh or its surrounds that is available or within your budget, you might consider booking a place in Glasgow and take the Citylink bus back and forth which runs regularly between the two cities and takes about 1 hour and 15 minutes.
Additional Edinburgh Festival Planning Tips
The most important tip is to make your travel arrangements well in advance and research the date and ticket information for the festivals you want to attend.
In terms of packing, be sure to pack for the fickle Scottish weather! In August, you could find it fairly warm or downright chilly with temperatures ranging from 50 F to 86 F (10 C – 30 C).
Check the forecast before you leave for your trip. Be prepared for rain and consider packing some rain gear (e.g., raincoat, boots, poncho, umbrella). Dress in multiple comfortable layers so you can adjust to fluctuating temperatures across the day and also be comfortable in venues that can vary widely in temperature. Be sure to carry water with you and take breaks in between events as it can be exhausting if you try to cram in too much every day.
Be sure to also pack your camera, but note that in general you are not allowed to take photos (or videos obviously) of Edinburgh International Festival, Edinburgh Book Festival, or Edinburgh Fringe Festival live performances or talks. The restrictions are due to both copyright protection and because it is obviously distracting to both the audience and the performers if everyone is taking photos.
However, photography is generally allowed at Edinburgh Art Festival exhibitions, and at the Royal Military Tattoo (although flash is not allowed or effective given the bright floodlights). You'll also want your camera around to capture life on the street during the festival season as you never know what you'll see and many of the Fringe performers are in costume promoting their shows and welcome photos.
Don't limit yourself to one festival! If you are going to Edinburgh for say the Fringe or the International Festival, be sure to also check out an Art event or the Book Festival. There is so much happening in the city and many of the events and attractions are free or low cost.
If you are normally into serious drama, consider also picking up a ticket to an acrobatic show, author's talk, comedy sketch, or quirky art installation. You may be surprised at how much you enjoy something you normally wouldn't attend. If you do happen to attend some free or low-cost event that is truly terrible, it is likely going to end up being one of the most memorable and we had fun chatting to locals who were eager to share their all-time favorite bad, quirky, or weird performance at Fringe. If something you wanted to see is sold out, be flexible as there are hundreds of events and you're sure to find some excellent alternatives.
Be prepared for the crowds and just know the city is going to be much busier than usual and don't let it bother you. Patience can really help you as you walk through the city, wait in lines, and navigate public transit in the city in August. It can also take longer than you expect to go from one festival event venue to another because of congestion so factor in extra time than you think you will need when walking. I'd also allow extra time when visiting attractions, going out for a meal, or taking public transit.
Since the city is going to be more crowded than usual, I would recommend planning ahead regarding which city attractions you might want to visit in addition to the festival events so that you can either book tickets in advance or plan to visit at the least crowded hours (e.g., generally at opening or towards closing).
If there are any special restaurants you'd like to eat at or day tours you'd like to take, be sure to make reservations in advance. Taking a day trip out of the city (e.g., whisky tasting, castles, Loch Lomond, Rosslyn Chapel, Hadrian's Wall) can also help rejuvenate your spirit if you are in Edinburgh for several days. We can highly recommend Rabbie's, an Edinburgh-based tour company, if you are looking for a tour.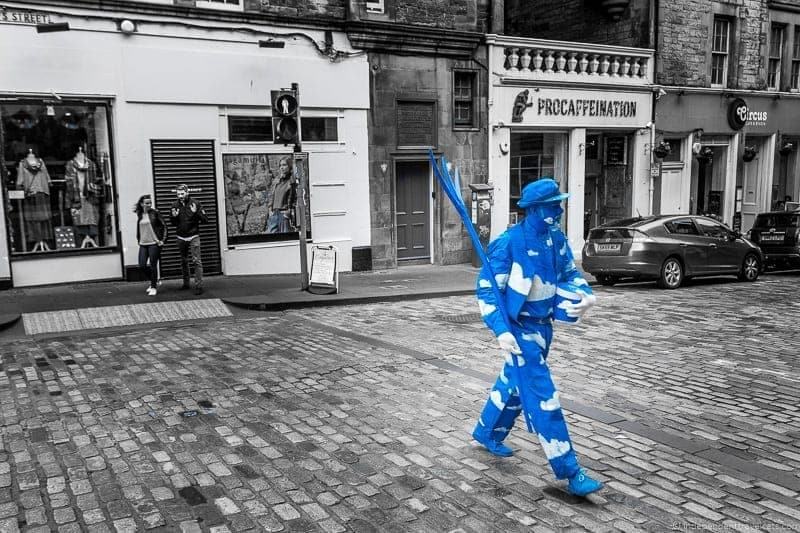 Where can I find out more Information about planning my trip to Edinburgh in August?
The best place for festival information is the Festivals Edinburgh official website as well as the individual festival websites given above and below. Also, you should check out Laurence's post which gives his viewpoint on our Edinburgh festivals experiences!
For general Edinburgh planning (you'll want to do some non-festival things too!), consider these top things to do in Edinburgh to get you started on your Edinburgh itinerary. You can also check out these lesser known Edinburgh attractions, our Edinburgh Harry Potter guide, and our city photo guide.
For more general overall trip planning, a good place to start your planning is the Edinburgh city tourism website. If you will be exploring other parts of Scotland, head to the Visit Scotland tourism website for planning all your travels throughout the country.
Our Experience Attending Five Edinburgh Festivals in August
Laurence and I have visited the summer festivals now over the past 3 years so we are now very familiar with the crazy festival season. One year we really went a bit nuts and packed in a ton of festival events into our August itinerary, and there was even one day when we attending events from all 5 festivals! This year we're taking the festivals at a much more leisurely pace.
Being able to visit the festival throughout the month is definitely a luxury of living locally, but I would advise any visitor to spend at least a few days in the city to try to see a number of events and to leave some leisure time in between to rest and see the many other attractions in Edinburgh.
Edinburgh Festival #1: Edinburgh Art Festival
The Edinburgh Art Festival generally starts at the end of July and continues throughout the month of August, and was the first of the summers festivals that we attended. Most of the festival program events are free and unticketed and include exhibits, pop-up events, tours, talks, workshops, and other events.
I'd start with going to the festival's website or picking up a free Art Festival map to help you put together your own self-guided walking tour of the featured pieces of art and exhibits. They are located throughout the city and many are displayed in underused or rarely opened public spaces. Its a fun way to see parts of the city you would probably not otherwise visit.
For example, we've visited Art Festival pieces in the the rarely opened Burns Monument, a neon lighting installation on the Calton Road Bridge, a human voices project in Trinity Apse, a video at St. Patrick's Church, a social art installation in the Johnson Terrace Wildlife Garden, and a quirky fountain in the courtyard of the Museum of Edinburgh. We enjoy wandering around the city to see the art and we always discover a few new places along the way!
We also discovered that not all art installations are static as we found out at Bartholomew's Waltz, a 2016 art installation, which included artwork, music, and interactive pieces and there was an event where artists, musicians, and audience members participated in games, dance, and music together!
In addition to art pieces and installations that are specifically designed for the Edinburgh Art Festival, you'll also find that most of the city's art museums and galleries have special exhibitions or events happening in conjunction with the festival. These usually include the Scottish National Gallery, City Art Centre, The Fruitmarket Gallery, The Queen's Gallery, Jupiter Artland, National Portrait Gallery, and many many more. Definitely worth checking out the Art Festival program for what's on.
We also have a lot of fun attending the Edinburgh Art Festival and since everything is spread throughout the city, nothing was very crowded when we visited and it was fun to go from exhibit to exhibit using the map. Almost all the city's art museums and galleries also had special exhibits going on and it is hard not to just stumble upon some of these pieces as you move about the city!
Most of the installations and exhibits stay up throughout the festival making them easy to visit, and some even stay much longer. We'd definitely recommend checking out the online program and grabbing (or downloading) a free map of the exhibitions!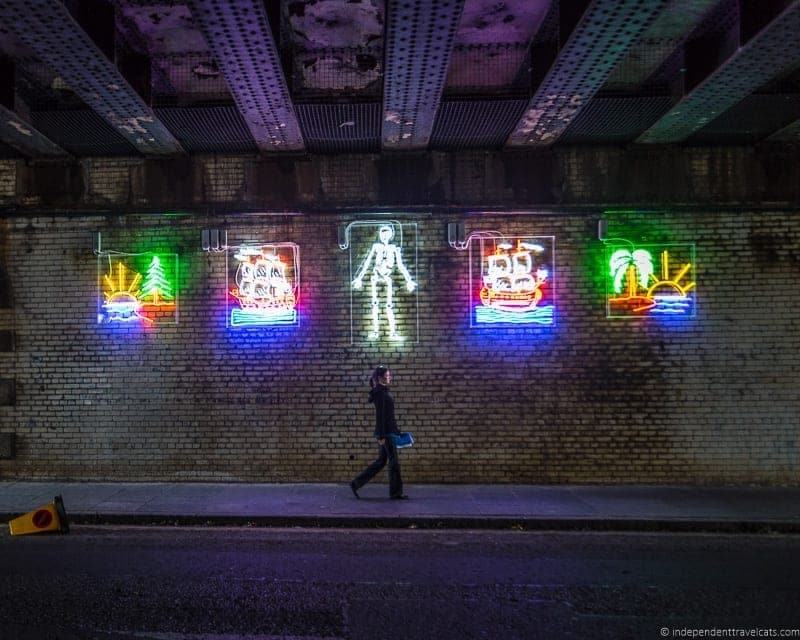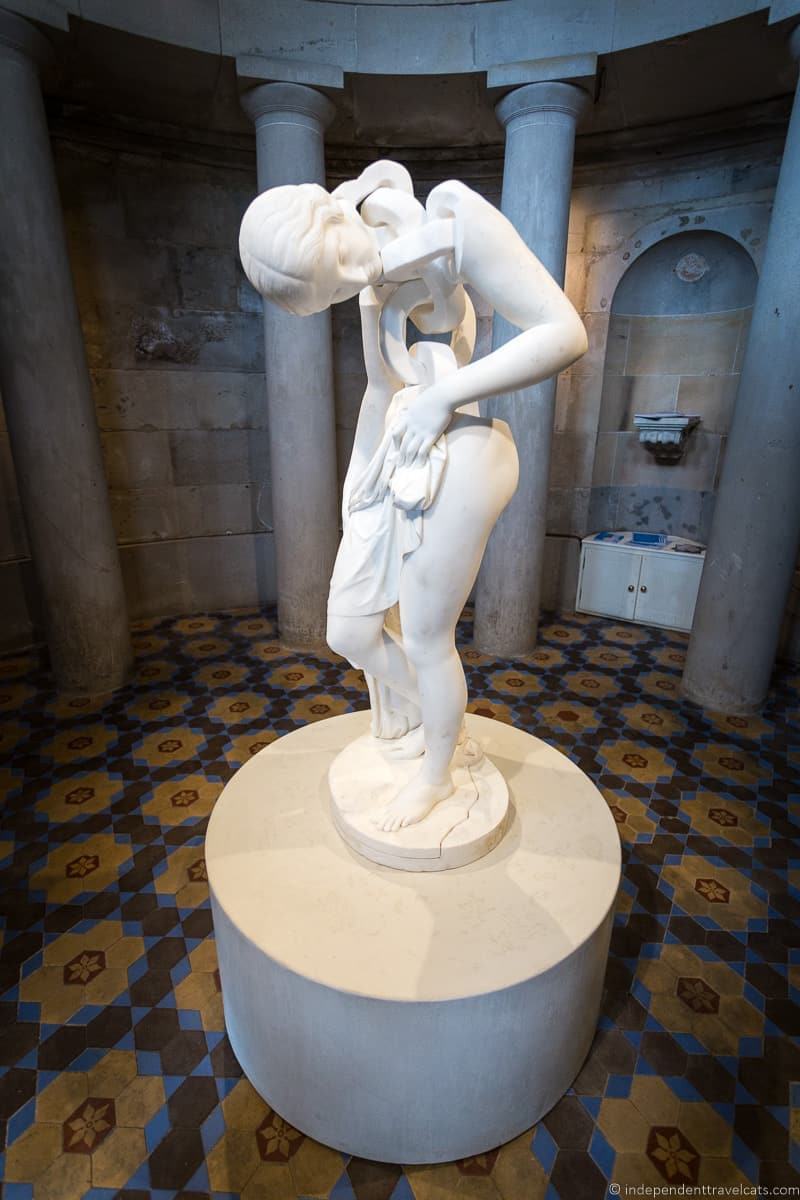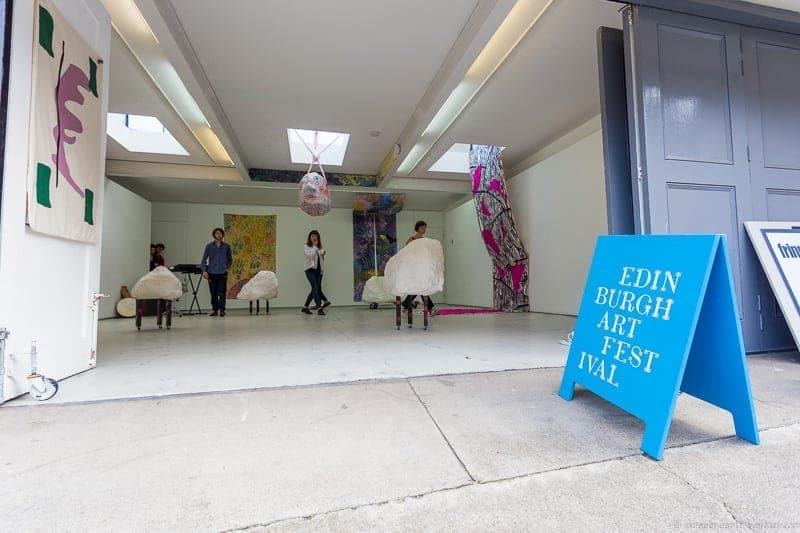 Edinburgh Festival #2: Edinburgh International Festival
The Edinburgh International Festival was the very first of the current major Edinburgh festivals, debuting in 1947, and includes opera, music, theater, and dance performances from some of the best international companies in the world. It runs for about 3 weeks and has several performances taking place each day, many of them evening shows.
The Edinburgh International Festival has begun to kick off each year with a special opening event. These are normally free to the public, but you do need to book a free ticket as space is limited.
For example in 2016, it was the Standard Time Deep Time event, which took place on the Edinburgh Castle terrace arena. The event was a mixture of music, projections, and illuminations on the side of the castle that went through 350 million years of history inspired by Edinburgh's geological and man-made history! This event was spellbinding.
In 2018, the opening event was called Five Telegrams and was a free outdoor digital performance celebrating Scotland's Year of Young People and reflecting on the centenary of the end of World War 1. It was both emotionally moving and visually spectacular.
The Edinburgh International Festival also uses closes with an event, normally a concert and fireworks show. The fireworks show is normally in Princes Street Gardens and there is a fee to get a ticket to attend. The fireworks show has been sponsored by Virgin Money and called the Virgin Money Fireworks Show since 2011.
These dazzling opening and closing events are very well worth your time to attend if you are in the city.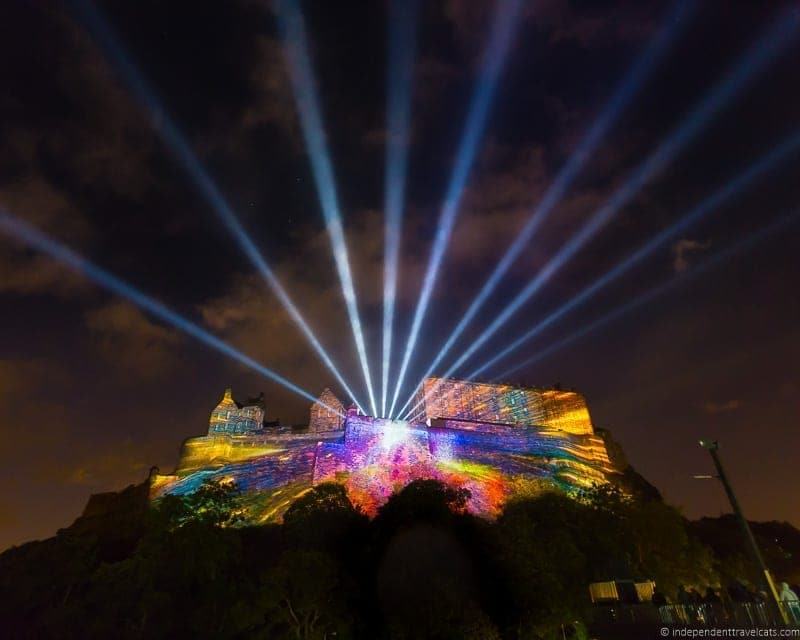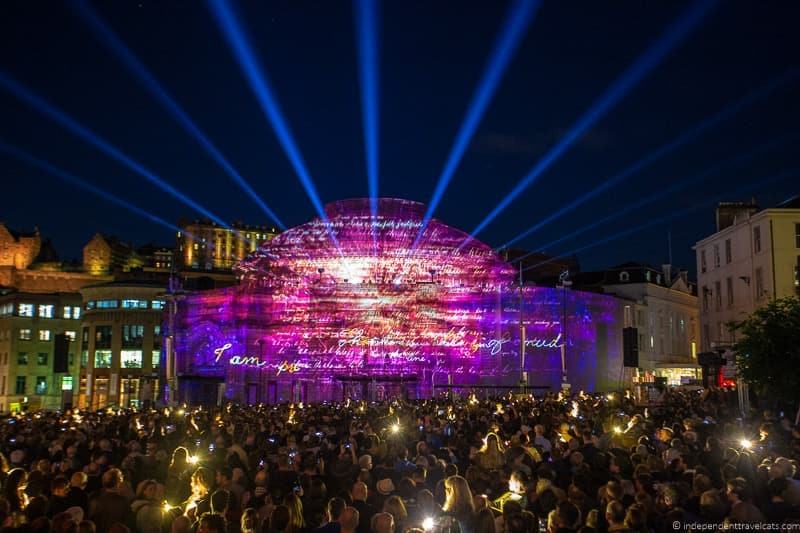 The main events during the Edinburgh International Festival are of course the performances, and the festival attractions big name shows from production companies worldwide. There is always a bit of a mix of different types of shows across Edinburgh's many venues, including plays, musicals, music recitals, choirs, talks, operas, and dance.
The first performance we attended a couple of years ago was of The Glass Menagerie, a family drama memory play written by Tennessee Williams. This was the European premiere of this Broadway production. We've also seen Shake which was a modern French rendition of Shakespeare's Twelfth Night set at a seaside holiday resort in 1970's France, and The Barber of Seville, a comic opera by Gioachino Rossini.
There are several venues that host the performances. During the festivals in Edinburgh, we've seen shows in the King's Theatre (built in 1906), The Lyceum (beautiful 1833 Victorian theater), and the Festival Theatre (another historical theatre and a top festival venue). All are lovely venues.
We always have a good time at the Edinburgh International Festival and we enjoy being able to see more traditional performances in beautiful theaters during the festival. It is a nice contrast to the Fringe festival events.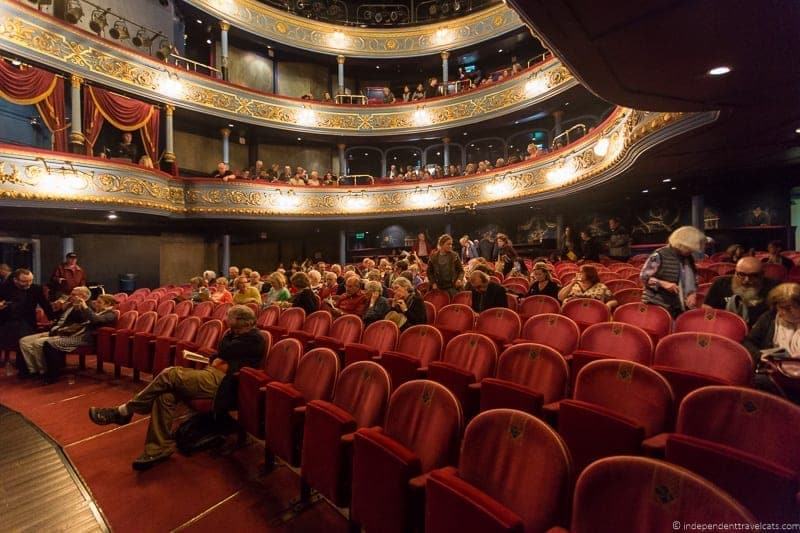 Edinburgh Festival #3: Edinburgh Festival Fringe
The Edinburgh Festival Fringe, generally referred to simply as "the Fringe" or Edinburgh Fringe, has an interesting humble beginning when eight acts who were not invited to perform at the 1947 Edinburgh International Festival performed anyway at alternative venues in the city.
This fringe festival has grown to become the largest arts festival in the world! It is an open-access festival so anyone with an act and a venue can perform. In 2016 there were 3,269 shows with 50,266 performances across 294 different venues!
Both well-known artists and first-time performers come to take part in theater, comedy, dance, physical theatre, circus, cabaret, children's shows, musicals, opera, music, spoken word, exhibitions and more! You'll find everything from traditional performances to zany and quirky one-of-a-kind shows!
Venues can be anywhere, venues have included traditional theaters, old churches, bars, sidewalks, phone booths, and swimming pools!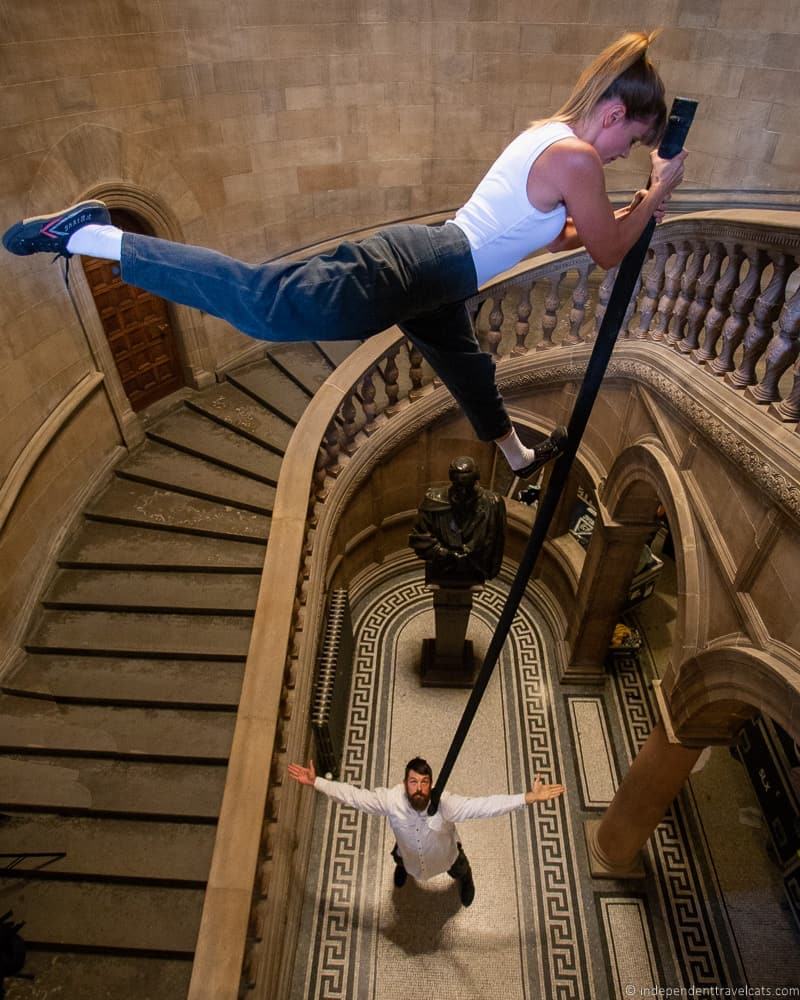 The performances and events change every year although there are some artists and acts that return for many years to the Edinburgh Festival Fringe. For popular returning acts, I'd book these in advance if you can as they are likely to sell out.
The very first Edinburgh Fringe performance we went to was actually an evening Fringe preview show that featured over a dozen acts scheduled to perform at Assembly venues. There were 12 acts performing shortened versions of their shows, and these ranged from singers to acrobats to dance performances. We did a similar showcase show in 2018.
These introduction showcase shows are a great way to see a lot of variety in a short time and for us to think about what shows we wanted to try to see during Fringe. This intro shows also help these acts gain more exposure and allows media to preview the acts. I would definitely recommend attending one of these if you have the chance as they happen right before or during the opening of the Fringe festival. Note that some are for media and VIP only, but the ones we attended were both ticketed and open to the public.
Here's what we saw one year as an example for the variety of ticketed performances out there:
The first full Fringe performance we saw was Adler & Gibb which was a surreal sort of drama about an American artist who rejects the art world in favor of a private life. We both really enjoyed it, and it was probably my second favorite Fringe performance. Laurence and I actually thought that during the play it was actually about a real artist, but discovered afterward it was all fictional.
Next was a popular family-friendly comedy show called AAA Batteries with British comedian Chris Turner. Chris Turner was very funny and I loved his freestyle acts and interaction with the audience; however, half the show was taken over by another guest comedian who I found much less funny.
Another comedy show we saw was called Scissor with Alfie Brown and this time the comedy was definitely not family-friendly. We both found the routine hit-and-miss with some funny material mixed in with some not-so-funny material along with, in our opinions, too much information about his girlfriend's pregnancy, sex life, and new child.
The next performance we saw was called Selfie with Eggs, and was by far the strangest show we saw at Fringe. It included a German hand balancer called Natalie Reckert who loves handstands and tests her body stability on various things including eggs. At one point she was rolling around on the eggs until they all broke! Although strange it was interestingly endearing and funny, and she was obviously a very skilled acrobat. The last set which she did to Prince's song Purple Rain was very impressive.
Our favorite performance at Fringe that year was actually not one we had planned to go to or one we had been recommended, which stresses our recommendation to just see a show or two on a whim. We actually came across the actors on the Royal Mile who were advertising their play dressed in strange outfits, talking about leprosy, and handing out flyers. Who doesn't want to see a play about leprosy set in the Deep South?
We started chatting with the American actors and we learned that their play called Bend in the River was set in an area (the River Road in Louisiana) which we had recently visited. So we took the flyer and decided to see it later in the week.
The Southern Gothic play told of the real-life story of the National Leposarium in Carville, Louisiana and focused on a couple who falls in love at the leprosy hospital in the 1940's. We really enjoyed the story and also learning more about leprosy, also known as Hansen's Disease. One of the first effective treatments for leprosy, or Hansen's Disease, was tested at Carville by one of the play's characters, Dr. Guy Henry Faget.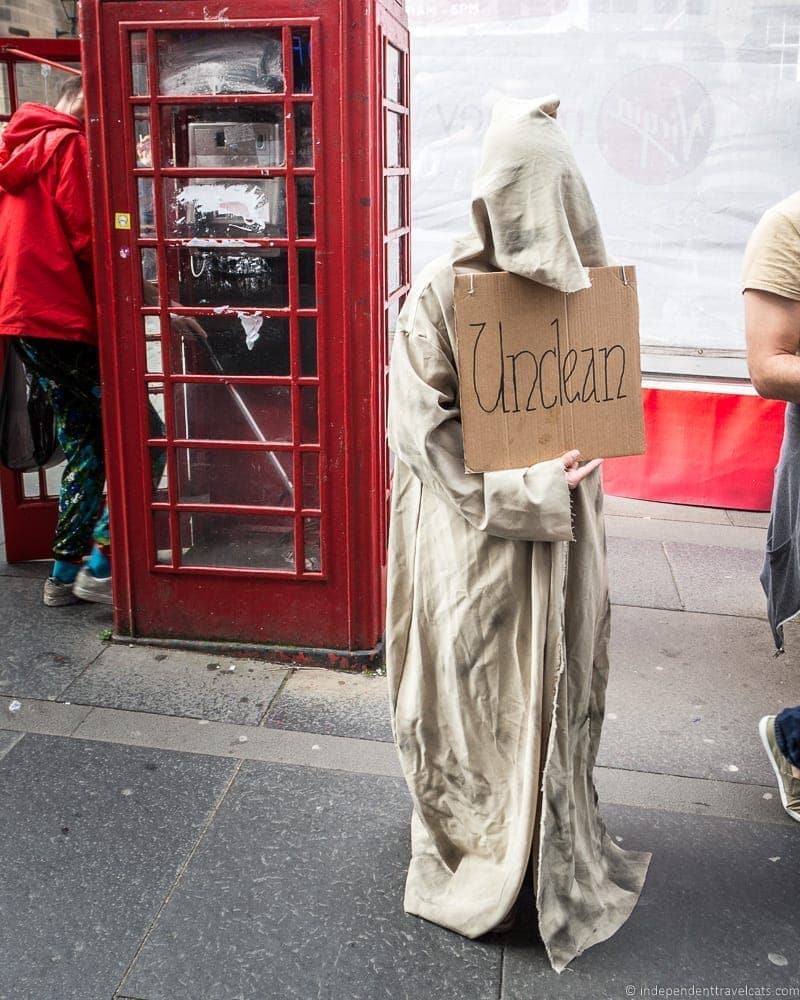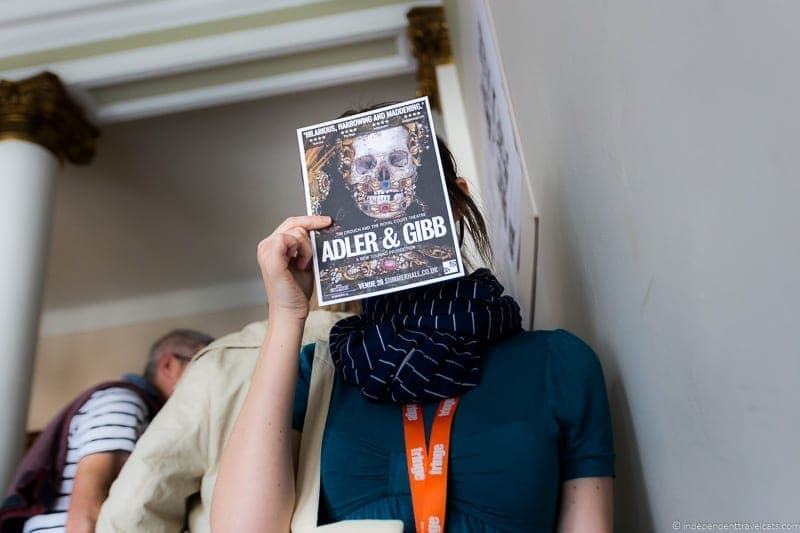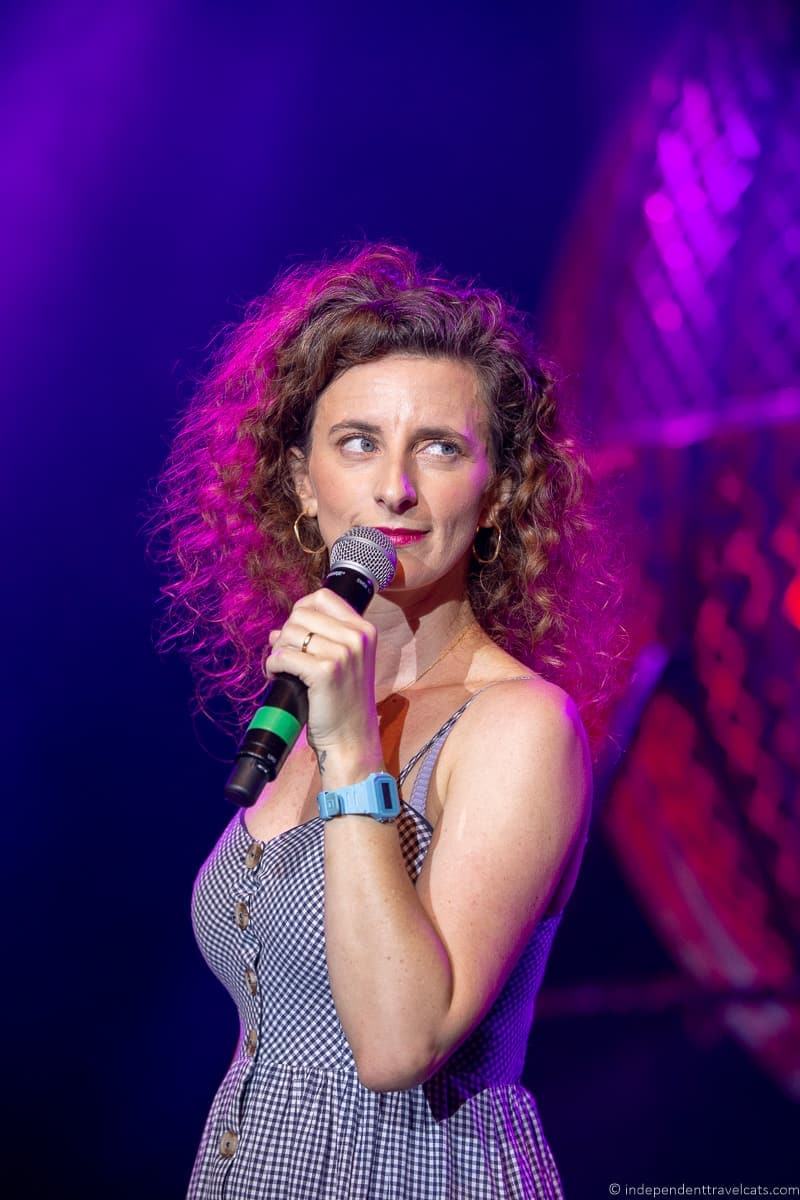 Lastly, the Fringe is not just about performances, there are also lots of other fun things happening. Examples include Thai cooking classes, acting lessons, artist meet-ups, pop-up restaurants, and architecture tours.
For instance one year we attended one of their pop-up restaurants. Dram & Smoke took over a former biscuit factory for the entire month of August and served meals during the festival. The four-course menu featured Scottish and the event had a house party vibe. One of our favorite (and most tasty) Fringe experiences that year.
Definitely recommend seeking out some of "other" events happening in August during the festival season!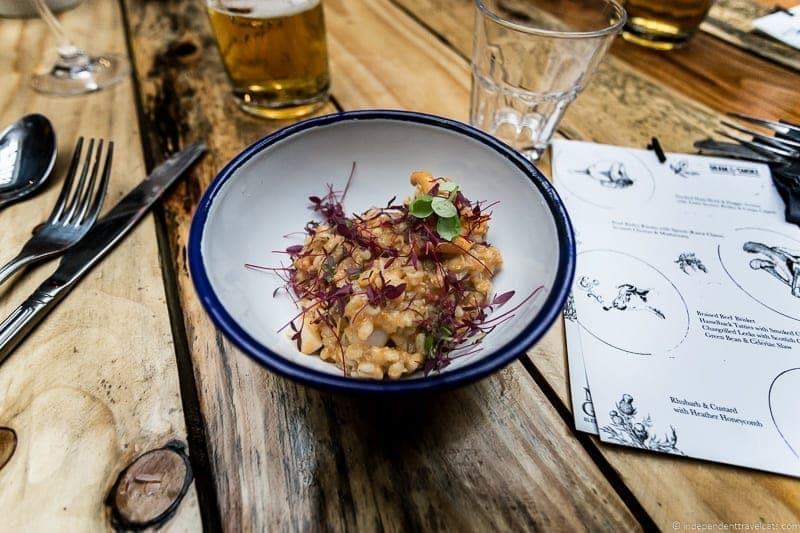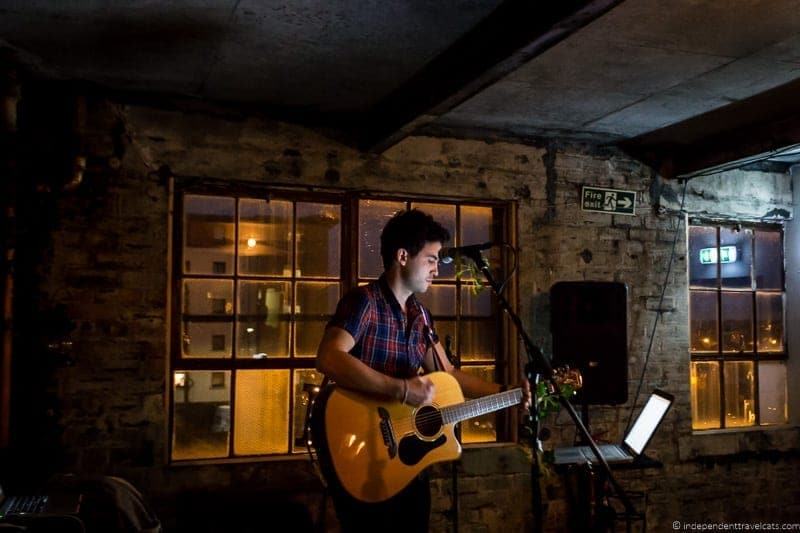 Edinburgh Festival #4: Edinburgh International Book Festival
The Edinburgh International Book Festival is the world's largest celebration of books and very appropriately it takes place in the world's first UNESCO City of Literature! The two weeks are full of book readings, author talks, children's events, book signings, and workshops.
Authors range from the famous (authors have included J.K. Rowling, Philippa Gregory, Ian Rankin, and Val McDermid) to the relatively unknown. In fact a not-yet-famous J.K. Rowling read her first Harry Potter here to a small group of children back in 1997! There are over 900 authors participating in the festival in 2018!
Unlike the other August Edinburgh festivals we had attended, this one takes place almost entirely at Charlotte Square gardens in a series of large tents. Anyone can enter for free and peruse the book stores, read a book in the square, go to book signings, and take part in the free programming.
If the weather is good, you could spend a few pleasant hours reading a book in the square and enjoying a cup of coffee (there is an on-site café).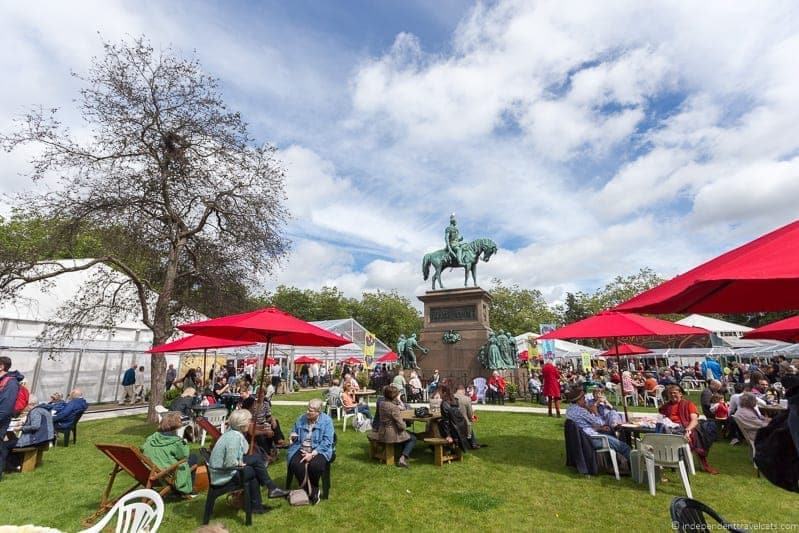 The highlights for us are definitely the authors talks. Laurence likes sci-fiction and fantasy and I like historical fiction and nonfiction, so we during our first Edinburgh Book Festival compromised in seeing one futurist author and one historical fiction author.
The first was Richard Watson who talked about how technology is predicted to advance and change our society, and he believes that our lives, at least in some ways, will be almost unrecognizable in 50 years time. One of his points is that he believes as we become even more connected and reliant on ever-advancing technology, that we will need to learn how to handle it and to also figure out what separates us from technology that will likely, and perhaps already does, surpass human abilities in almost all areas.
"Out of Artificial Intelligence will come a quest for what makes us human" predicted Watson, and he warned that "we should be careful about what we put in our heads" and "exercise selective ignorance". He discussed his latest book and answered questions from the audience. His talk actually ruffled a few feathers in the audience and it was an enjoyable presentation which was much more meaningful than we had anticipated. We both really enjoyed it and Laurence even got a chance to ask Watson a question about AI.
The second was famous author Philippa Gregory who is a very well-known writer in the area of historical fiction, typically focusing on female members of the British royalty such as Mary Queen of Scots and the wives of King Henry VIII. I have read many of her novels. If you have seen the movie The Boleyn Girl, the film was based on one of her books, although when asked about the film she noted that they did not exactly consider her input during the filming.
Gregory spoke mainly about her last book Three Sisters, Three Queens which focuses on the story of King Henry VIII's older sister Margaret Tudor. Gregory noted that she feels that Margaret Tudor has not been fairly characterized by most writers and she wanted to breathe some life into this medieval women who played such an important role in British history. Gregory is a gifted speaker and seemed funny, intelligent, and authentic in both her talk and answers to audience questions. Laurence, who was not excited to attend, very much enjoyed the talk and it was definitely a highlight of the Book Festival for us both.
This is a great festival to feed your intellectual side. If you love books I would definitely plan to stop by if you are in town during this festival. If you want to see any of the author talks or workshops (highly recommended!), be sure to book tickets in advance. The most popular talks often sell out in advance. The Phillipa Gregory talk actually sold out about a month in advance and we were very fortunate to be able to attend.
Also be sure to arrive a little early as the Book Festival is very strict about not admitting any latecomers to events. Many festivals have this policy, but the Book Festival is particularly strict about it and you don't want to be disappointed after buying tickets!
The Festival also has other events including talks from non-authors about world topics. For this year there is a lot of programming about the meaning of freedom. There is also a free mini-festival called Unbound which nightly literary cabaret which takes place in the Spiegeltent. This is where authors can experiment with non-traditional stuff and includes a mix of performance, literature, music, spoken word, comedy and a few surprises.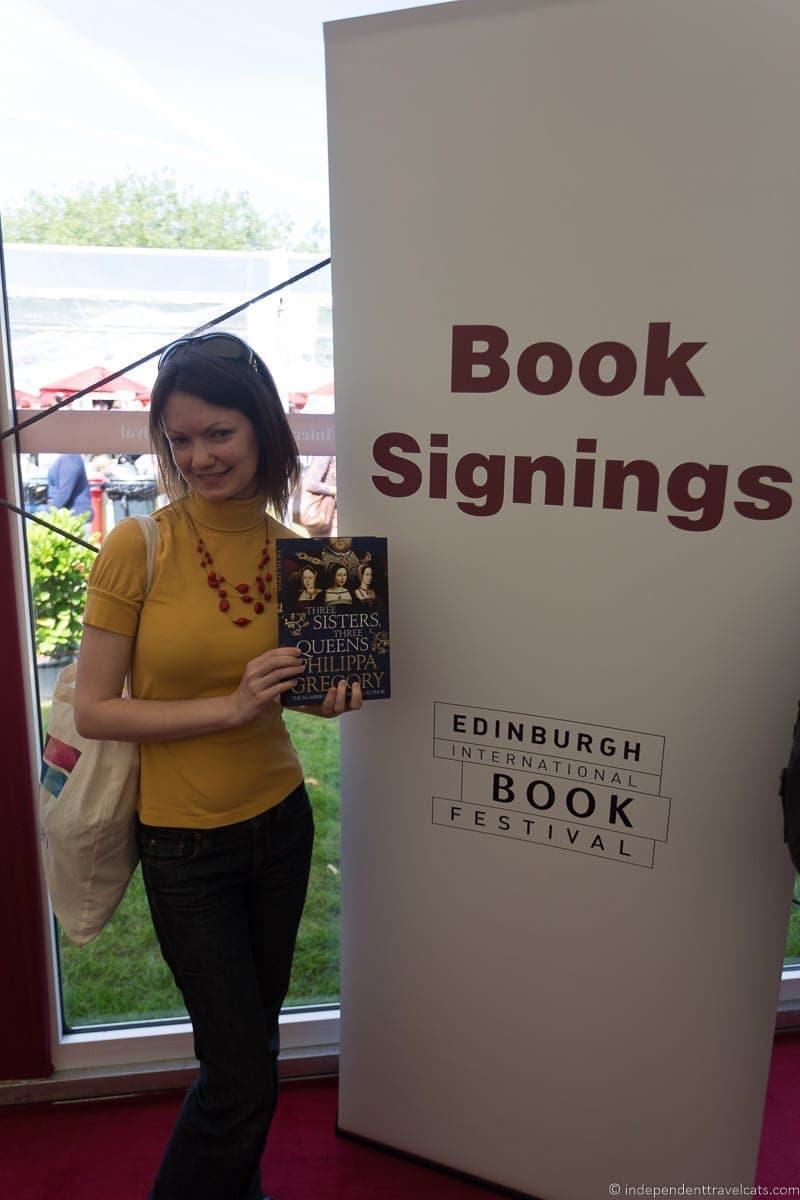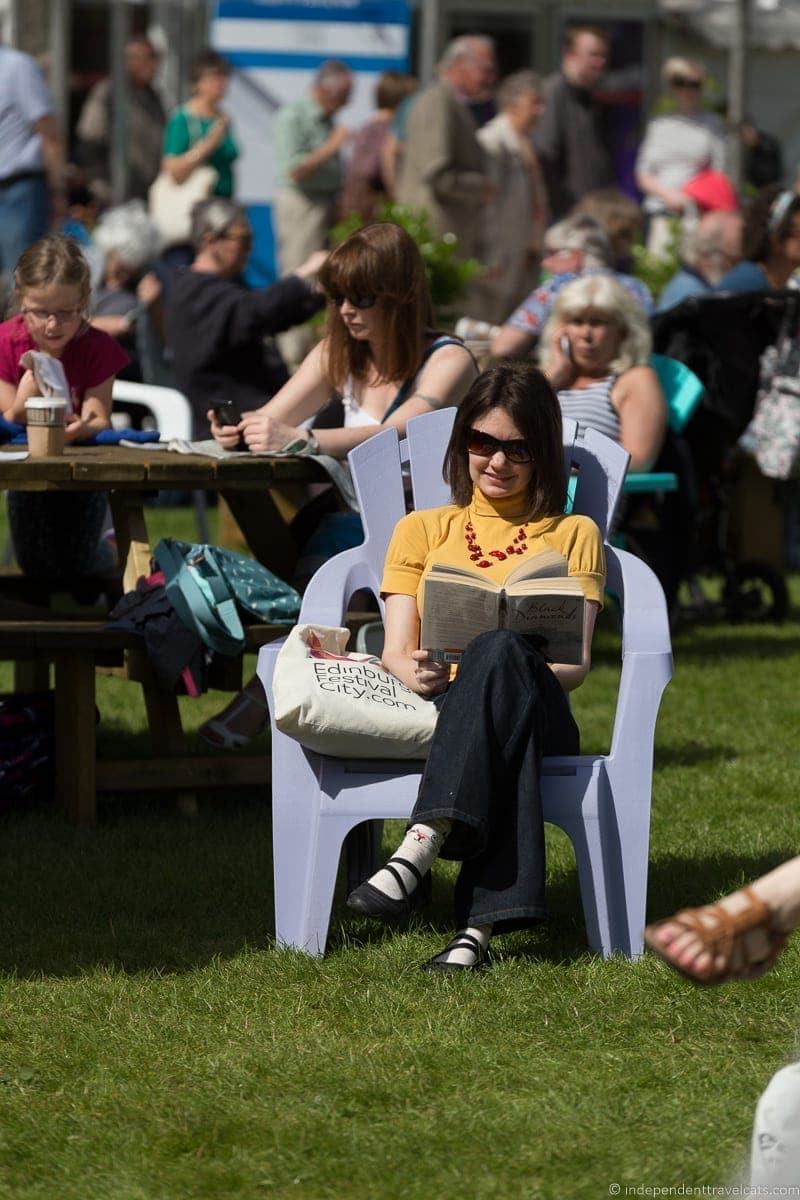 Edinburgh Festival #5: The Royal Edinburgh Military Tattoo
The Royal Edinburgh Military Tattoo is one of the most anticipated Edinburgh festivals as it is currently the most well-known military tattoo performance in the world. In fact, about 70% of those who attend The Royal Edinburgh Tattoo report that it is their sole reason for coming to Scotland! The 90-minute performances showcase traditional military music alongside military pageantry, dances, modern music, fireworks, and special effects.
The term military tattoo comes from an early 17th century Dutch phrase doe den tap toe ("turn off the tap"), a signal sounded by a local regiment as it marched through the streets to instruct innkeepers to stop serving beer and for soldiers to return to their barracks.
The first Edinburgh Tattoo was held in 1950, and today each performance includes over 1,000 military and civilian performers and the performance is set against the backdrop of Edinburgh Castle. It is a very popular festival event.
Each year the program, theme, and invited military bands change although the basic structure is the same. Although there are always some surprises and each year has a different theme.
For example in 2016, the Tattoo's theme was Tunes of Glory and paid tribute to Her Majesty the Queen in her 90th year and also commemorated The Battle of Jutland and the Great Arab Revolt. Bands were diverse and included five British military bands, the Jordanian Royal Guard, the US Army Europe Band, New Zealand Army Band, and the Nepal Army Band. Other performers included Highland dancers, choirs, and the Imps Motorcycle Display Team daredevils.
Highlights for us included the Massed Pipes and Drums, the Massed Military Band performances, the Highland dancers, the U.S. Army's upbeat music, the New Zealand performances, and of course the haunting sound of the Lone Piper. The projections on the castle of flags, dragons, photos of the Royal family, and so much else were high-quality and really helped keep things lively and added to the performances.
There was even a snowfall special effect where some sort of white stuff was blown over the crowd. The only slight disappointment was that there were only a few fireworks at the end of our performance, so if you are looking for fireworks some of the performances have an extended fireworks display at the end (weather dependent of course).
The Royal Edinburgh Military Tattoo is definitely a highlight of many festival goers August holidays in Edinburgh. The things about the Tattoo that differentiates it from other musical performances is obviously the military bands and the Edinburgh Castle setting, but I think also that some of the music commemorates loss, suffering, heroism, and freedom and is meant to evoke an emotional response.
If you haven't seen a performance like this before, I'd highly recommend it. Just be sure to book well in advance as most of the performances typically sell out each year!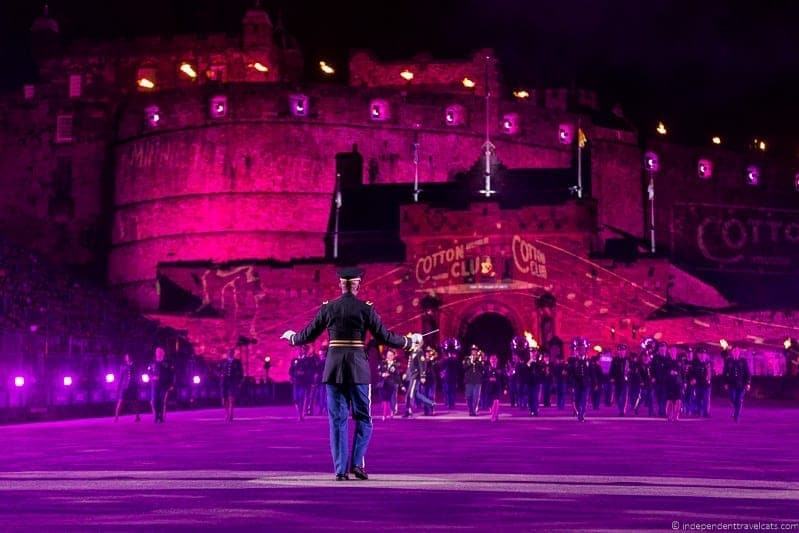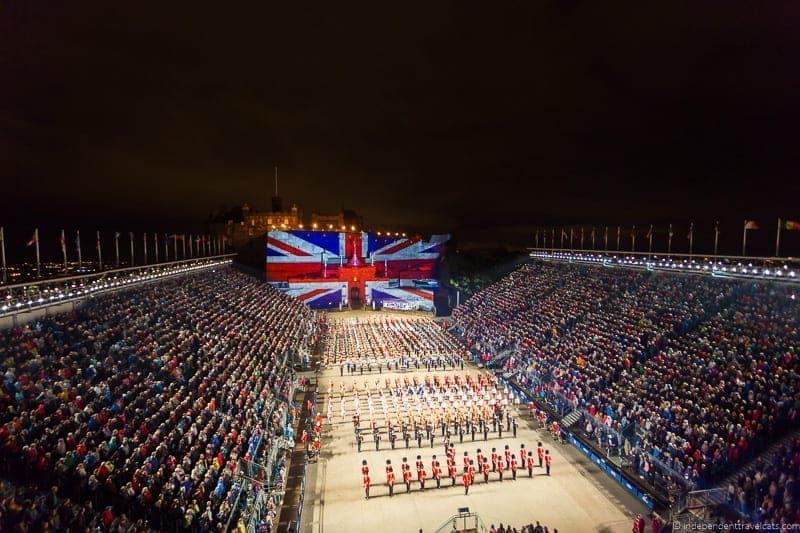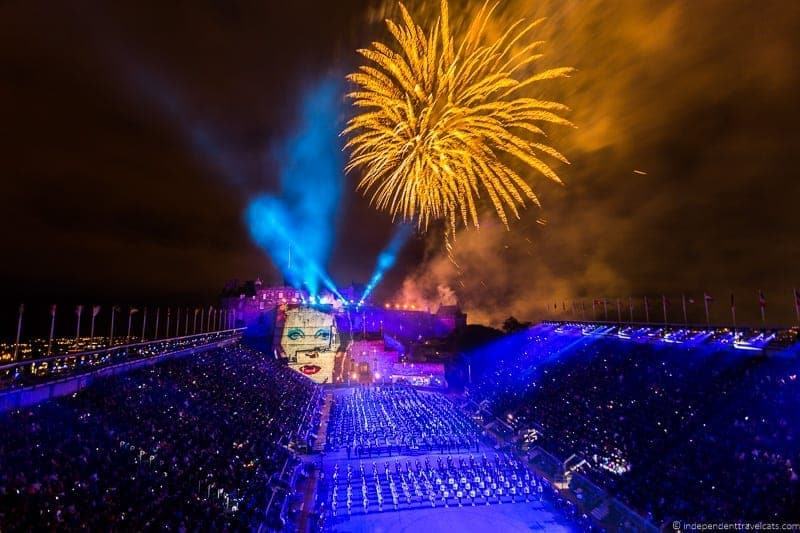 That One Crazy Day we Attended all Five Edinburgh Festivals!
As I mentioned earlier, one crazy day in August we actually ended up attending events from all 5 of the ongoing Edinburgh festivals. This was planned in advance so we did have tickets which made it a bit easier and more feasible. We actually ended up attending 6 events across 5 festivals in a single day!
Our day went like this: 8:30am bus ride to Edinburgh, 10:00am Bartholomew's Waltz (Art Festival event), quick lunch, 12:30pm Richard Watson talk (Book Festival), 2:35pm AAA Batteries (Fringe show), 4:00pm: Selfie with Eggs (Fringe show), dinner, 7:30pm Shake (Edinburgh International Festival), 10:30pm: Royal Edinburgh Military Tattoo, and then a 12:20am taxi ride back home.
Part of our day was a bit rushed as getting from venue to venue on foot took a bit longer than we anticipated and sometimes it took a bit of time to exit venues after performances or performances ran a bit longer than scheduled. However, while I would not recommend trying to cram so much as we did into a single day, I think the above demonstrates that it is very easy to experience multiple festivals during your time in Edinburgh!
It is a unique time to be in Edinburgh and even if you just came for one festival, try to check out some of the other wonderful events happening all over the city!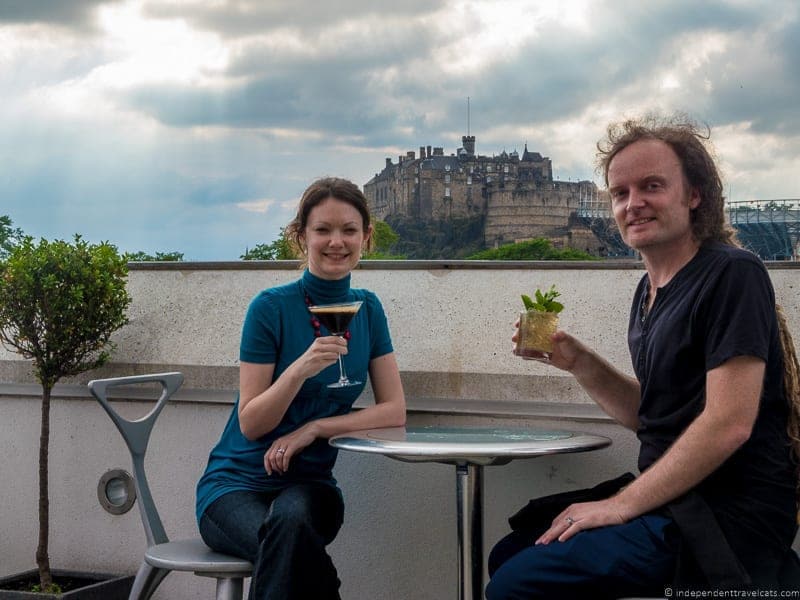 There you have it, our guide to the Edinburgh festivals in August! Clearly we had a wonderful time and are looking forward to returning next year. Have you ever been to any of the Edinburgh festivals? Which Edinburgh festivals do you think you would enjoy visiting? If you have been to any of the festivals, feel free to share your own experiences and tips!
As always, feel free to ask us any questions about the August Edinburgh festivals or about Edinburgh in general!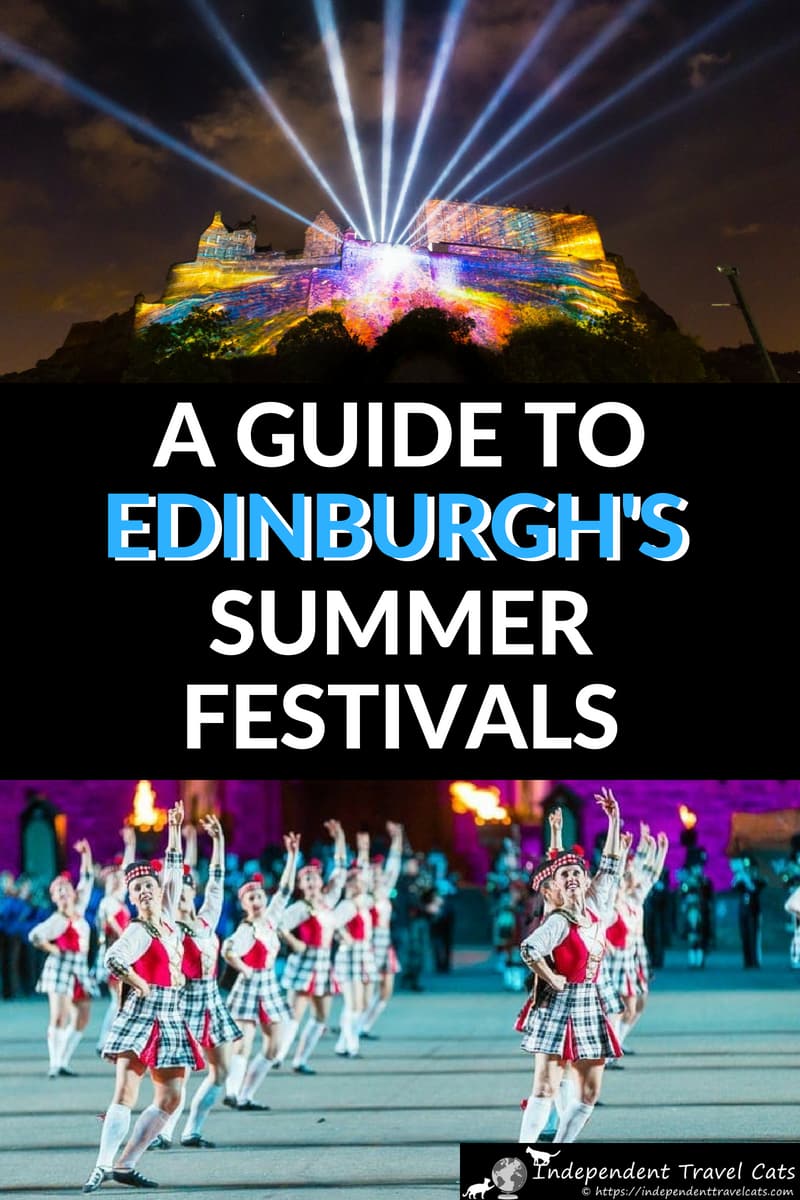 **Disclosure: We partnered with Festival Edinburgh who helped us plan the logistics of our Edinburgh festival experiences, and who also covered some of our transport, meals, and event entry in order for us to share our experiences as travel writers. However, as always, this article contains only our own honest thoughts and opinions. You can read more in our Ethics Code about how we accept work.**