Afternoon tea in London is one of those quintessential travel experiences and I was very excited to try the Prêt-à-Portea tea at The Berkeley. The name for this fashion-inspired tea is a clever play on the phrase prêt-à-porter which refers to ready-to-wear clothing (a.k.a. off-the-rack) within the fashion industry.
There are of course hundreds of places serving afternoon tea in London, from the traditional to the quirky, but for fashionistas looking for something different, I'd suggest booking an afternoon tea at The Berkeley. First served in 2005, Prêt-à-Portea brings a creative twist to the traditional English afternoon tea with cakes and pastries resembling the latest catwalk designs from the collections of the world's top fashion houses and designers such as Jean Paul Gaultier, Elie Saab, Valentino, Alexander McQueen, and Chanel. Feel like eating a Oscar de la Renta princess gown sponge cake, a Alexander McQueen hat vanilla shortbread, or Manolo Blahnik heels biscuit? Add some quality tea, savory tea sandwiches, and a glass or two of champagne and you have a very special afternoon tea experience.
This feminine-focused tea was interestingly Laurence's very first afternoon tea, and we'll share our own experiences having tea at The Berkeley as well as how you can enjoy this fashionable tea yourself.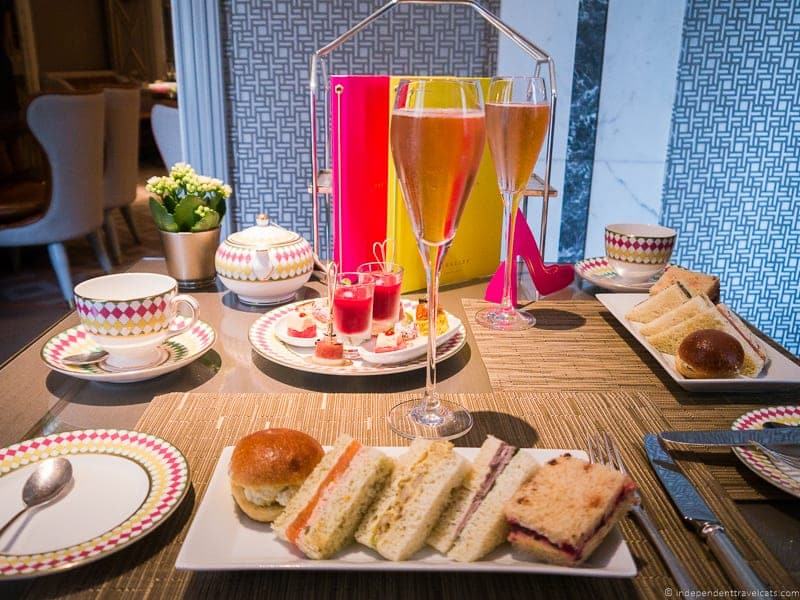 Basic Information on the Prêt-à-Portea Tea at The Berkeley
Address: The Berkeley, Wilton Place, Knightsbridge, London SW1X 7RL
Getting Here: The Berkeley hotel is located in central London within the Knightsbridge district (Kensington borough) and stands on the corner of Wilton Place and Knightsbridge, next to Hyde Park and near the Harrods department store. If you are using the London Underground (a.k.a., the "Tube") The Berkeley is a 5-minute walk from Knightsbridge and Hyde Park Corner stations on the Piccadilly line.
Ff taking a public bus, there are a number of bus line stops nearby, many named Hyde Park Corner. This official London Transport website is helpful for planning your route if using public transit.
If driving, The Berkeley has access to car parking facilities (fees apply). The afternoon tea is specifically served in the The Caramel Room of The Berkeley hotel.
What is included in the Afternoon Tea?: There are three levels of Prêt-à-Portea teas offered at The Berkeley hotel. The first is the regular Prêt-à-Portea that includes a selection of savory tea sandwiches, a selection of other savory treats, unlimited tea of choice, and a collection of fashion-inspired cakes and pastries. You can also add a glass of "regular" champagne to the above for the Champagne Prêt-à-Portea or a glass of premium champagne for the Couture Champagne Prêt-à-Portea. The tea menu is changed every 6 months to correspond with the changing seasonal fashions.
Cost: The current prices (as of July 2018) are £52 per person for the regular Prêt-à-Portea, £62 for Champagne Prêt-à-Portea (or a mocktail), and £70 for the Couture Champagne Prêt-à-Portea. All prices include VAT, but please note that an additional discretionary service charge of 12.5% is automatically added to your bill.
Afternoon Tea Times: Afternoon tea is served in The Caramel Room of The Berkeley hotel daily, each afternoon from approximately 1:00 to 5:30 (13:00 to 17:30).
Dress Code: The website says "elegant smart casual". So don't wear shorts, sneakers, old jeans, t-shirts, torn clothing, track suits, etc. But note that given the fashion theme of the tea, many people are going to be dressed in smart daytime designer wear but you won't be out of place as long as you are neatly dressed.
How to Make Afternoon Tea Reservations: You can make reservations online here, by phone (phone: +44 (0)20 7107 8866), in person at The Berkeley, or by email (dining@the-berkeley.co.uk). They are often fully booked, so it is best to reserve in advance (they take reservations up to 90 days in advance). Note any dietary restrictions at the time of reservation.
Want to stay at The Berkeley?: The Berkeley is a beautiful 5-star hotel in the Knightsbridge area of London, located only a short walk from Hyde Park and Harrods. If you are not traveling on a budget, this is a great place to spend the night! You can check the latest prices here.
More Information about Prêt-à-Portea Tea at The Berkeley: If you would like more information about afternoon tea at The Berkeley or the hotel itself, check out their website, or call them at +44 (0)20 7235 6000.
Our Experience of the Prêt-à-Portea Tea at The Berkeley
It was during my first trip to London that we had the opportunity to have afternoon tea at The Berkley. I love the experience of afternoon tea and have had formal afternoon teas in a number of countries around the world. However, Laurence, even though he is British, had never actually had a formal afternoon experience!
This is probably true of a lot of British people who'd prefer to meet in a pub than at a tea cafe; however, the more informal drinking of tea at home or office during the afternoon is still a very common experience in the UK. I was a bit worried about how Laurence would feel about such a formal and feminine afternoon tea, especially one that is fashion-inspired which is not really Laurence's thing.
We were staying in a very well-situated apartment in Kensington and it was a less than 30-minute walk for us. We could have taken the Tube but decided to walk to visit some of the many other attractions in the Kensington area on the way that afternoon. Coincidentally, the Victoria & Albert Museum had a temporary exhibit during our visit called Savage Beauty: Alexander McQueen, celebrating the work and innovative designs of McQueen. After a few stops, we arrived at The Berkeley, a beautiful luxury hotel, and led into the classy The Caramel Room and seated for the Prêt-à-Portea. We were given a menu of the afternoon tea that included both tea and champagne selections, and asked whether we had any dietary restrictions.
Looking around the room, there were a few business men having drinks at one table, but the rest of the guests were there for afternoon tea. Mainly young male/female couples, pairs of women, and one large bridal group of women who were clearly having a lot of fun.
The Tea and Champagne
First things first, you get to choose a tea. They had about 20 choices during our visit that included loose leaf black teas, flavored teas, a white tea, green teas, a oolong tea, and herbal and fruit tea infusions. We were also told we could switch our tea choice if we didn't like it. I had the recommended Ceylon & Rose, a black tea with delicate rose buds, and Laurence chose the smokey and manly Lapsang Souchong.
Teas are made and served in individual tea pots so hot water can be added for a second or third pot. I'd recommend a black tea as it goes particularly well with the traditional savory sandwiches and treats.
We were lucky to also have champagne included as part of our afternoon tea experience, with choices of Laurent Perrier, Bollinger, and Ruinart champagnes. Since I like rosé wines, we chose to have a glass (or maybe two…) of Bollinger Rosé with our tea. I had never had champagne during an afternoon tea experience before and this was a nice treat! We were happy with both our tea and champagne choices.
The Savory Bites
A mouth-watering selection of miniature savory mousses, taster spoons, elegant canapés, and tea sandwiches soon appeared. We had five different types of tea sandwiches: egg salad on brioche, Scottish poached and smoked salmon on orange and dill bread, spicy chicken with coriander and celery on white bread, angus beef with arugula (rocket) and mayonnaise on white bread, and pickled beet root and cheddar cheese on beet root bread. We also had five additional bite-sized savories which were beet root gazpacho, tuna on a slice of mooli (Korean giant radish), crab & watermelon it, smoked duck and goat cheese on focaccia bread, and lastly roasted mixed vegetables with tomato mousse.
We thought the sandwiches were quite good and the other savories were probably our favorite foods during the tea. Oddly there were no scones, although these could be ordered in addition to the tea (at an extra cost). I imagine that there are no scones served both because The Berekeley is trying to offer something different from a traditional tea and there are already so many savories and sweets included. Whereas there is more than enough food served, it is too bad that scones are not included as they are often my favorite part of a traditional afternoon tea.
The Prêt-à-Portea Cakes and Pastries
After getting our tea pots topped off with some more hot water and finishing off our savories, we prepared ourselves for the sweet part of the tea. At this point, you can also switch tea options if you want to try a different tea as our menu gave suggested tea pairings for the savory and the sweet parts of the afternoon tea experience.
Now, we moved onto the focus of this tea as a three-tiered silver tray of fashion-inspired sweet treats was brought to our table. There were gowns, a bikini, a coat, shoes, and a handbag represented among the colorful array of cakes, mousses, and pastries. Specifically, each pastry was inspired by a Spring or Summer 2015 designer fashion.
We had a total of nine edible treats representing nine different designers or design houses (Giambattissta Valli, Oscar de la Renta, Jean Paul Gaultier, Phillip Treacy for Alexander McQueen, Emilio Pucci, Elie Saab, Alexander McQueen, Anya Hindmarch, and Lisa Marie Fernandez). I won't go into the long descriptions of each of these pastries but here are a few full descriptions (quoting our menu) so you can get an idea of what these edible fashion sweets are like for the Prêt-à-Portea tea at The Berkeley:
Oscar de la Renta's iconic princess gown – A "coconut and lime mousse set on a sablé Breton with delicately placed green leaf icing".

Alexander McQueen's "Armadillo" heeled shoes – A "vanilla shortbread shoe with cream icing and edible sparkles."

Anya Hindmarch's Big Eye Collection handbag – A "blueberry victoria sponge wrapped in light blue chocolate with candied cartoon eyes".
These are probably the most picturesque tea pastries I have ever seen. It was quite interesting to compare photos of the fashion items on the catwalk versus the sugary confections inspired by each piece. Now, although they were quite artistic and beautiful, we found many of the cakes and cookies to be overly sweet from all the spun sugar, edible sugar decorations, and icing. Also some of the flavors just didn't seem to come through and some parts just tasted like pure sugar. If you like really sweet things, you'll probably love these but if you don't, some of the cakes might be a bit hard to actually eat. Despite this, we had a lot of fun taking photos and sampling each of these.
At this point we were actually quite full and were not able to eat them all. They will give you a cute take away Prêt-à-Portea cardboard "handbag" to take away any of the cakes you don't finish during the tea.
Overall Thoughts on the Prêt-à-Portea Tea at The Berkeley
Overall, we had a very fun time at the Prêt-à-Portea tea at The Berkeley; it is really a quite unique afternoon tea experience. Laurence even swallowed his manly pride and really enjoyed himself (the champagne probably helped!), this being his first introduction to the experience of having a formal afternoon tea. We had excellent service during our afternoon tea experience and our primary server during our tea, Jeanette, was very friendly and helpful. We enjoyed the setting of The Carmel Room and the unique experience of the fashion theme. There was a decent tea selection, good quality champagne options, and a good amount of food included.
That said, there are a couple of downsides to choosing this tea: one being that the fashion-inspired pastries were too sweet for our taste and the other being the lack of scones which happen to be one of my favorite parts of afternoon tea.
If you are looking for a traditional afternoon tea, this is probably not the one for you, but if you like fashion and are looking for a unique tea experience, the Prêt-à-Portea tea at The Berkeley is a great one to consider.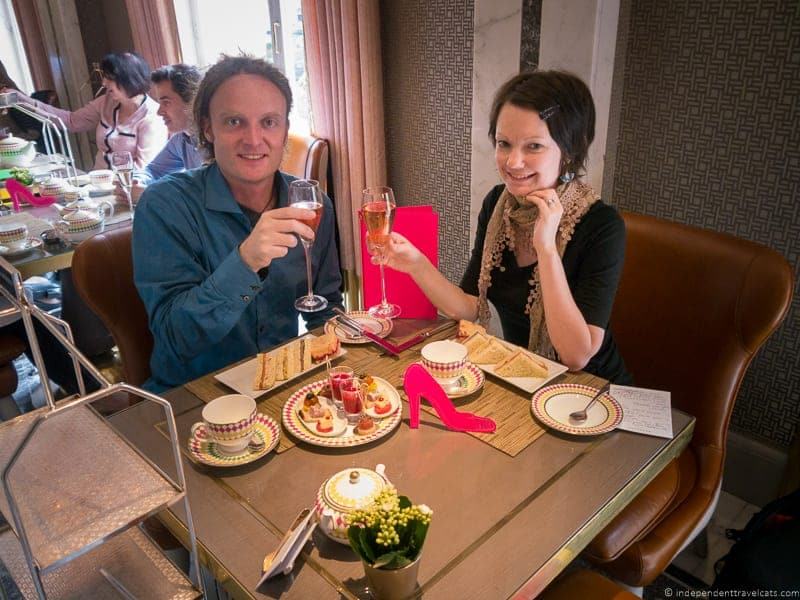 **Disclosure: We were hosted by The Berkeley for the afternoon tea as part of our partnership with Visit Britain as travel writers in order to review this experience; however, this article contains only our own honest thoughts and opinions. We were not compensated for the writing of this post.**