If you are planning a trip to London and want to spend some time admiring great artwork and visiting grand royal palaces, you'll likely save money and time by purchasing the London Pass.
The London Pass not only allows for free admission to over 70 of the top-visited attractions in London (i.e., Windsor Castle, Tower of London, Westminster Abbey), but it also allows you to skip the long entrance lines at several of these attractions and includes a 1-day free Hop on Hop Off Bus Tour ticket.
In many cases, the London Pass is good value and will save you money; however, in some cases, the London Pass may not be a good deal for you, especially if this is not your first visit to London or you have very limited time in the city.
In this London pass review, we'll provide all the information you need to know to decide if the London Pass is a good deal for you, decide on which pass to buy, and how to get the most value out of your pass. We'll also share our own experiences using the London Pass and provide an honest breakdown of our own cost-savings.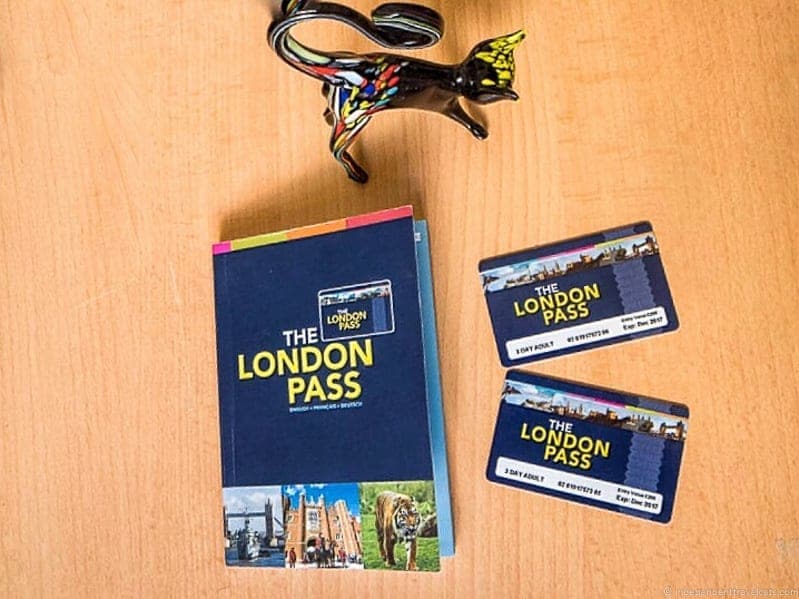 What Is Included in the London Pass?
The London Pass includes free admission to a number of popular attractions in and around London, a sightseeing bus tour, discounts, and the possibility to add on a public transportation pass to travel throughout the city. The London Pass also comes with a free very useful guidebook (make sure you get a copy!), and you can also download the helpful phone app.
Also if you have a question not answered by the guidebook or their website, you can contact the company during business hours or send them an email.
Attractions Included in the London Pass
London Pass holders are currently granted free admission to over 80 museums, monuments, palaces, castles, tours, and other attractions. These include some of the most popular London attractions such as:
Westminster Abbey

Tower of London

Kensington Palace

The View from the Shard

St. Paul's Cathedral

Shakespeare's Globe

Tower Bridge

Hampton Court Palace

Windsor Castle

The ZSL London Zoo

Kew Gardens
Fast track options are available at several attractions, allowing one to enter a faster entrance line designed for pass and advance ticket holders. The London Pass also includes free Thames River cruises, hop-on hop-off bus tickets, canal cruises, and guided city walking tours.
The pass also entitles the holder to a number of freebies at some museums and attractions that already have free entry such as free access to the IMAX 3D theater shows at The Science Museum. You can check out the full list of attractions here.
Note that while the pass ensures general admission, the pass may not cover admission to special exhibits, audioguides, or special events. Also reservations are necessary for some of the attractions, but these are noted in both the free London Pass guidebook that comes with the passes as well as on the website.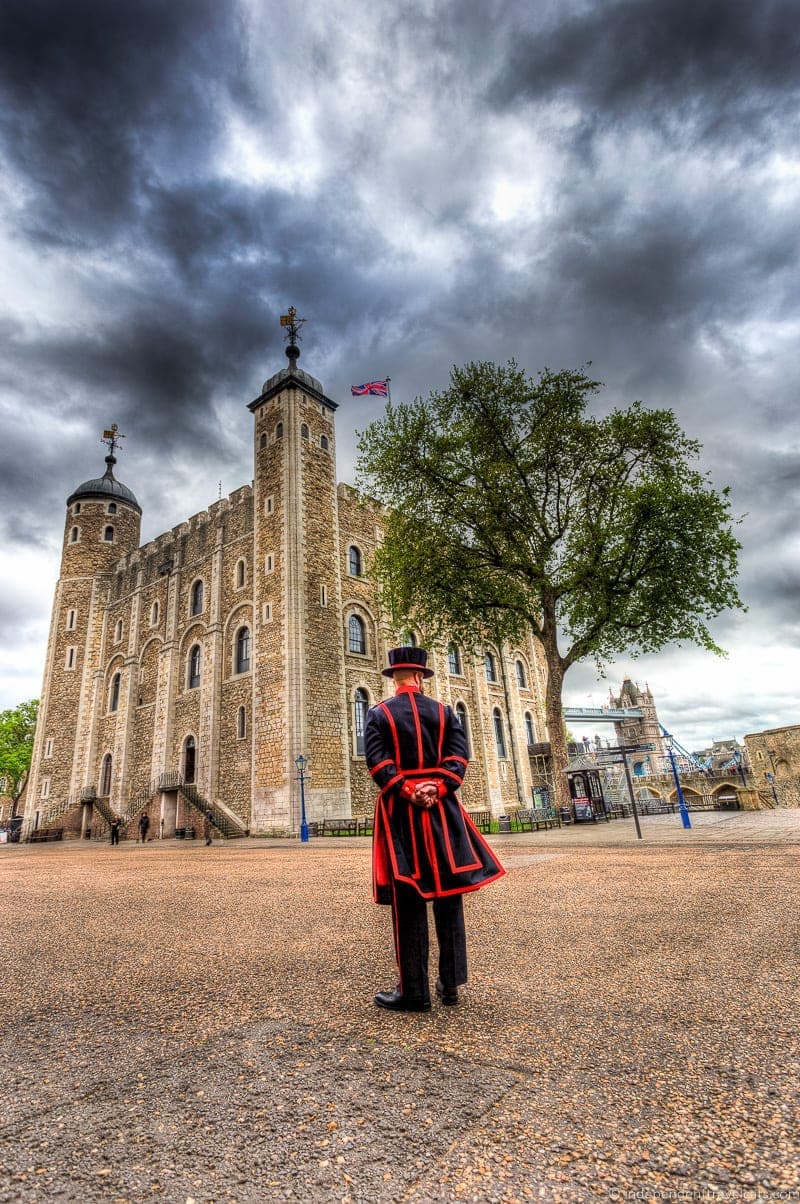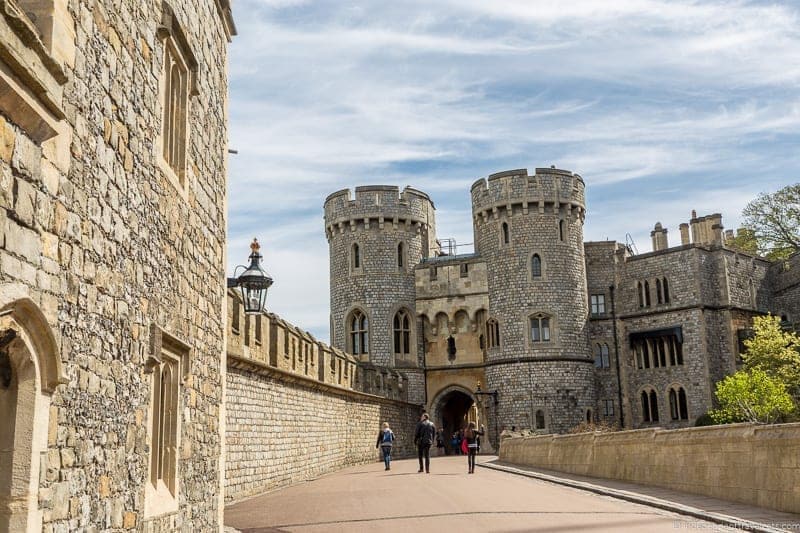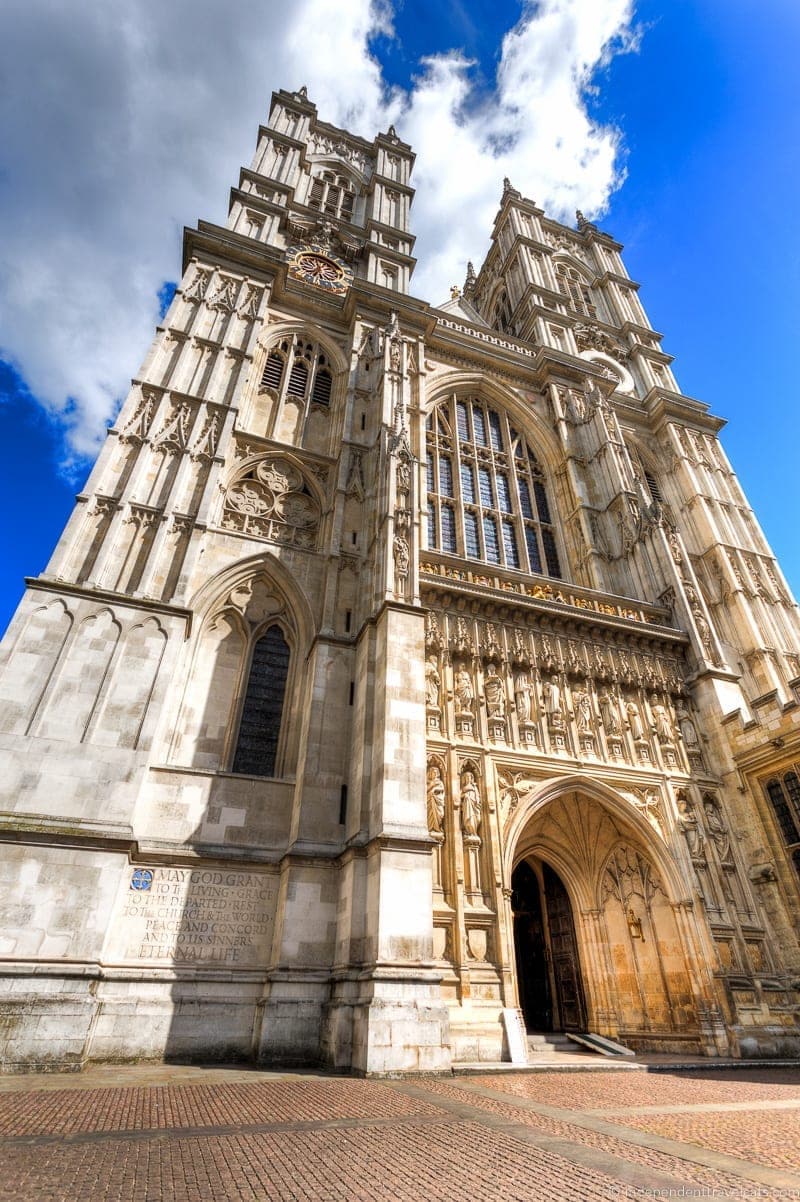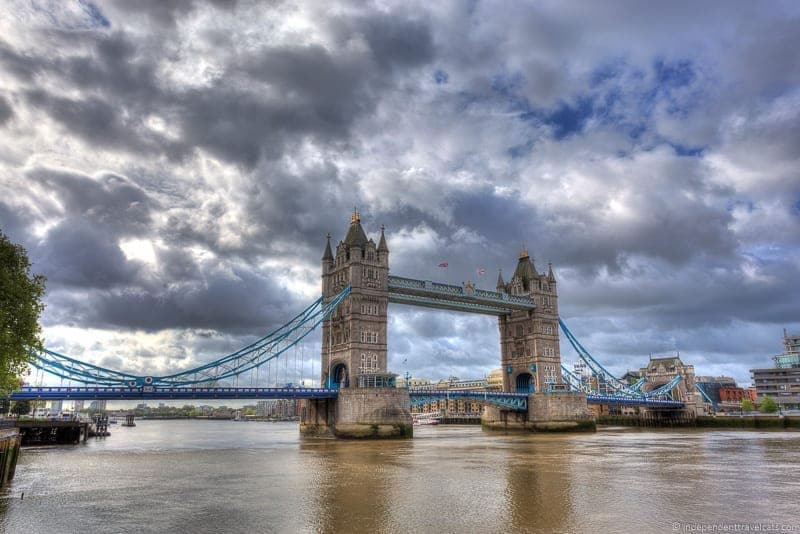 Note that there are several major attractions in London that are NOT currently included with the London Pass that you should take into consideration. These include the London Eye, Buckingham Palace tours, London Dungeon, London Aquarium, and tours of the Houses of Parliament.
There are also a number of excellent free museums and attractions, such as the British Museum, Museum of London, and the Victoria & Albert Museum that travelers should not forget. For planning resources, the Visit London and Visit Great Britain websites offer tons of helpful information for visitors.
Transportation Options Included with the London Pass
All London Passes come with the option to take a free all-day 1 day Hop on Hop off bus tour of London. Buses stop every 20-30 minute at over 100 different bus stops in the city.
To get your ticket, you need to simply show your London Pass to the bus ticket seller or staff member before you board the bus at any of the posted stops. You can get on and off the bus as many times as you like in a single day.
Visitors also have the option buy a London Pass + Travel package. In addition to the London Pass, pass holders receive an Oyster Travelcard assigned with enough credit to cover the amount of travel associated with their London Pass. So 2 days of travel with a 2 Day London Pass, 3 days of travel with a 3 day London Pass, 6 days of travel with a 6 day London Pass – and so on. You can check the specific credit amount included for each pass here.
The Oyster cards work across all of London, zones 1-9 and includes travel to and from Heathrow Airport, Gatwick Airport, and London City Airport. The Oyster Travelcard provides access to all London Transport Networks, which are the London Underground (Tube), city buses, Docklands Light Railway, and overground trains.
The cards work across all of London, zones 1-9 and you get to keep the card and can add credit to it so you can use it forever. Using an Oyster card is much less expensive than buying single tickets for travel in London.
To use the card, all you need to do is tap in on the circular yellow card reader, and then tap it again when you have finished your journey. If you're traveling by bus, all you need to do is to tap in once on the yellow card reader when you board the bus.
Check out the Transport for London's detailed information on the Visitor Oyster Card and our own guide and tips for using the Oyster Card to learn more about how it works.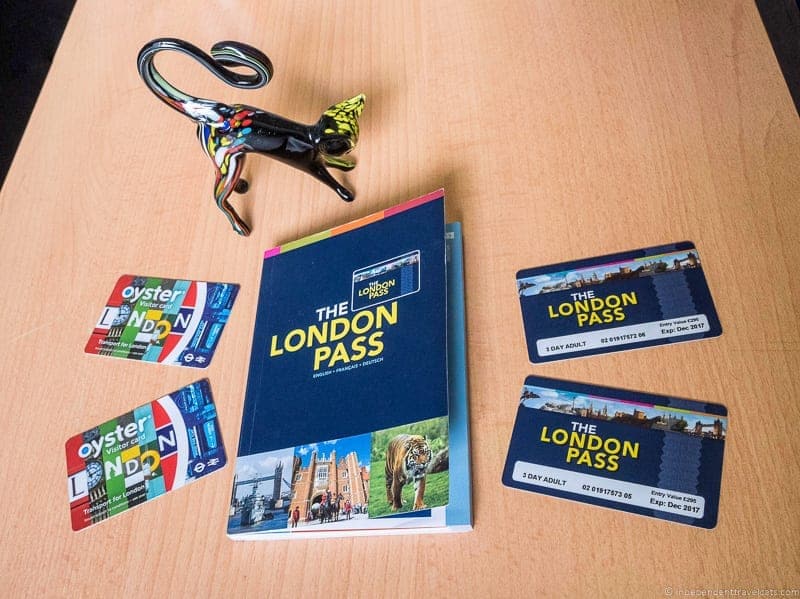 LONDON PASS TRAVEL TIP: Travel to and from Windsor is included for free with any London Pass purchase but you have to follow the directions and use the designated stations. Take a train from Paddington station to Slough (from 12:30am onwards), and then change to the train to Windsor & Eton Central. Do the same in reverse to return. Do NOT use your Oyster Card as it will charge you.
At the station, just go through the manned manual wide aisle gates and show your London Pass to the staff member. Keep your Pass in hand as you'll also likely need to show it to the ticket controller when boarding the train at Paddington and you can travel for free.
Full details can be found in the included London Pass Guidebook or on the Windsor Castle attraction page.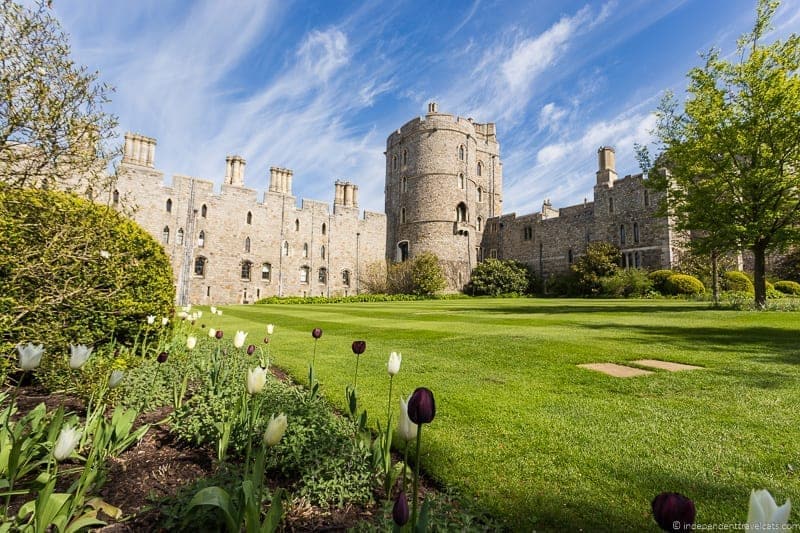 Other London Pass Inclusions?
The pass includes fast-track access to several attractions (e.g., Tower of London, Hampton Court Palace, London Zoo) where you get to skip the lines although it does not allow you to skip security lines (e.g., Tower of London).
The London Pass also enables visitors to take advantage of a number of discounts (often 10% to 20% off) on items such as food and drinks, entertainment, theater tickets, massages, walking tours, river cruises, cell phone hires, and souvenirs at specified businesses.
Types of London Passes?
All the London Passes cover the same attractions. There are adult passes (anyone 16 years or age or older) and child passes (children age 5 to 15), as children under 5 get free entrance to most attractions in London.
The two decisions you have to make are 1) Length of the Pass? and 2) Whether or not to include the Travel option with the Oyster Card?
In terms of length, the London Pass is currently sold as a 1-day, 2-day, 3-day, 6-day, or 10-day pass. Passes are activated after your first usage and must be used on consecutive days. So if you purchase a 3-day pass with your first visit to an attraction on June 4th, it will be valid from June 4th through June 6th.
To decide if the London Pass + Travel option is a good value, decide how you are most likely going to be traveling around London. Many sights are central and it is possible to walk to and from many of them, but others are quite far from each other and will require taking public transportation, biking, taking a taxi or car service, train travel, or driving. Most visitors do a combination of walking and public transportation.
The Oyster Card is the way most Londoners travel on London's public transportation system, as it is significantly less expensive than buying individual tickets. The Oyster Card also covers travel to and from the London City, Gatwick, and Heathrow Airports (but not Luton, Southend, or Stansted Airports). So in many cases it is probably a good decision to get one as a visitor, either as part of the London Pass package or to purchase on your own.
However, I would NOT purchase the Travel Option if you 1) already have a Oyster Card (just recharge yours!), 2) have a contactless UK-issued payment card (these work the same way as an Oyster Card, some non-UK cards will also work), or 3) do not plan to use public transportation during your trip. The Oyster Card is valid forever so you can start using it whenever you want (it is not connected to the London Pass) and if you don't use all the credit, you can use it on a future trip.
Cost of the London Pass
You should check here for the latest prices, but as of April 2021 here are the London Pass prices (excluding the Oyster Travelcard):
Adults (anyone 16 years of age or older):
£69 for a 1-day pass,

£95 for a 2-day pass

£109 for a 3-day pass

£149 for a 6-day pass

£169 for a 10-day pass
Children (any child age 5 to 15 years of age):
£45 for a 1-day pass,

£59 for a 2-day pass

£73 for a 3-day pass

£95 for a 6-day pass

£115 for a 10-day pass

**Note there are also now 4-day and 5-day mobile-only versions of this pass available (no travel option available) for purchase on GetYourGuide. They work the same as the other passes, but only include mobile-only pass (no physical pass option), a digital-only guidebook, and no option to add Travel package. They have to purchased online and can be purchased here.
How do I Decide if the London Pass Will Save Me Money?
First, you should make a list of all the attractions you want to visit during your time in London. Try to come up with a realistic list based on the amount of time you'll be in London as you don't want to spend your entire trip going from attraction to attraction. Next, check the entrance fee cost for each online or using a recent guidebook. Add up the costs to come up with a total.
Note the example below was calculated using April 2021 prices.
Example: Let's say I have 6 nights in London and I want to visit the Tower of London (£28.90), Westminster Abbey (£24), The View from the Shard (£32), Charles Dickens Museum (£10), take a Thames River Cruise (£20.4), Windsor Castle (£23.5), Kensington Palace (£21.5), the London Zoo (£37.50), and Shakespeare's Globe (£17).
I also want to take advantage of the Hop-On Hop-Off bus tour (£29) to connect some of these sights on one of my days of sightseeing. The grand total of normal adult entry fees for all these attractions would be £243.8
Next, you'll need to decide how many days it will likely take you to visit all the attractions you want to visit. Remember it can be easy to be too ambitious and think you'll take in two art museums, a palace, and two churches in one day, but that will simply leave you exhausted and overwhelmed. Try to be realistic.
Example: I want to travel to Windsor Castle and then return for a late afternoon Thames River Cruise. I think I can combine the Tower of London, Westminster Abbey, and The View from the Shard in one day. I'll need another day to visit Kensington Palace and the London Zoo and will also use the Hop-on Hop-Off bus on this day. Leaving another day to visit the Charles Dickens Museum, and Shakespeare's Globe. This means I would need 4 days.
Now, compare the price of the needed pass (1, 2, 3, 6, 10 days) with your entrance fee total.
Typically, you'll find that you'll save money if you plan to visit more than four or five attractions with the pass and the longer the pass duration, the better the cost savings. However, it depends on which attractions you want to visit so use the tips above to figure out if it is worth it for you.
Example: OK, so it would cost me £243.80 as an adult to visit all the places on my list and I think I need 4 full days. However, since there is no 4-day London Pass, I'll need to purchase the 6-day pass which is currently £149. If I visit all the listed attractions in the 6-day period, I'll have a cost savings of £94.8 and it should also keep me from waiting in ticket lines at the Tower of London, London Zoo, and Kensington Palace. Further, buying the 6-day pass gives me more time and flexibility to visit these attractions at any time during my visit without trying to squash them into 4 days which may end up being too rushed.
Finally, you'll need to decide if you want to include the Travel option to include the Oyster Travelcard with your London Pass. Honestly, the value here is the convenience of getting the Oyster Card along with your London Pass as it doesn't actually save you any actual money as you can buy the Oyster Visitor Card yourself, but it keeps you from buying it separately yourself and provides you with the average amount of credit needed according to the length of your London Pass. Those who already have a Oyster Card can skip this step as you'll want to recharge your card.
Example: For instance I estimate that during my 6 days in London I will ride the Underground (Tube) 12 times (twice a day) and also take the bus twice during my trip. Underground journeys in Zones 1&2 cost £2.40 and a bus ride costs £1.50, so my estimated public transportation costs = £31.80.
For a 6-day London Pass (which is the pass I already know I need), the associated optional travel card comes with £50 which is more than enough for my estimated travels and gives me some extra in case I have underestimated.
The cost of the 6-day pass London pass + Travel is £204, which is an extra £55 as it includes my £50 of travel credit plus the £5 administration fee charged for the card. For many visitors this would probably be worth it as it is convenient and covers all the travel you should need for the duration of the trip and the credit never expires.
You can also claim a refund on any unused value/credit on your Oyster Card. However, if you think for instance that your costs are more likely to be closer to £41.80 rather than £50, and don't think you'll be coming back to London, you might want to just buy a Oyster Card on your own with the amount of credit you want so you don't have to apply for a refund.
How to Buy the London Pass?
The London Pass can be purchased in person, online, or instantly as a mobile ticket. Generally purchasing it online is the easiest option for travelers and gives them the option to collect it in person, have it mailed, or download it as a mobile ticket.
Note that there are more limited options available for purchasing the London Pass with Travel option which are explained below.
London Pass without Travel Option
Purchase In Person: The London Pass can be purchased at London airports, many major railways, Underground stations, and retailers in London including Heathrow Airport (TFL Information Centre and British Hotel Reservation Centre), Gatwick Airport (travel concierge desks), Luton Airport (Hotel and Travel Reservation desk), Stansted Airport (Hotel and Travel reservation desk), Victoria Station (TFL Information Centre), Euston Station (TFL Information Centre), Piccadilly Circus (TFL Information Centre and HotelWorld), Paddington Station (British Hotel Reservation Centre) and King's Cross St Pancras Station (TFL Information Centre).
The pass can also be purchased at the London Pass Redemption Centre Desk located at 11a Charing Cross Road, London, WC2H 0EP.
Purchase Online with Hotel or Home Delivery: You can purchase the London Pass online and have it delivered before your trip to your home or have them delivered to your hotel in London. However, you will have to pay shipping costs that will likely decrease the cost savings of the pass.
If you live outside the UK, I would suggest just buying it online and picking it up in London, buying it in person once in London, or doing the Mobile Ticket option.
Purchase Online with In-Person Pick-up: To avoid shipping costs, you can order the London Pass online and then collect your order free of charge from the London Pass Redemption Centre Desk located at 11a Charing Cross Road, London, WC2H 0EP. Just be sure to print the ticket confirmation email and bring along your ID and credit card used for the order.
This is our preferred option if you don't need to have it mailed to you.
Mobile London Pass: If you will have an iOS or Android device on you while traveling in London, you can also purchase the Instant Mobile London Pass. Select Smartphone Delivery at Checkout and you'll receive an email with a link and directions to download and use your mobile London Pass.
The card is activated at first use at an attraction, not by downloading it, and you do not need phone data to use the pass as it works offline.
Note that there are also 4-day and 5-day mobile-only versions of the London Pass available (no travel option available) for purchase on GetYourGuide (not available on London Pass website). They have to purchased online and can be purchased here.
Purchase London Pass with Oyster TravelCard
Currently, the only way to purchase the London Pass with Oyster TravelCard is online in advance (and have it delivered by mail or pick it up) -OR- in person at the London Pass Redemption Centre Desk located at 11a Charing Cross Road London, WC2H 0EP.
There is NO mobile version currently available that includes travel.
Suggested London Pass Itinerary?
The London Pass includes free entry to so many attractions, and of course you don't want to miss the fabulous free city attractions and other places not covered by the pass. To get you started, you can take a look at the brief 4 day London itinerary mentioned above as well as our experience using a 3 day London Pass below in this article.
Better yet, you can also check out our very detailed 3 day London itinerary or our 6 day London itinerary which includes a day-to-day London itinerary, walking maps for each day, and an example of the estimated cost savings with a London Pass. If you have more or less days in London, you can easily alter the itineraries to fit your needs.
Tips on Getting the Most Out of Your London Pass
Plan ahead before coming to London. Do a little research and figure out which attractions are included with the Pass and which ones you plan to visit so you can make an informed choice of whether or not the pass makes sense for you or not.
The London Pass is going to be of the most value for those coming for longer stays as the longer the Pass duration, the greater the potential value. Those thinking about a 1 or 2 day London Pass may find it doesn't save them very much money depending on which attractions they want to visit. Similarly, the value multiplies by the number of travelers in your group so even if each person only saves £18, that is a savings of £72 for a family of 4!
There are often special discounted offers on London Passes purchased online. If you have some time before your visit, you may want to see if you can catch one of these promotions as they often have time-limited deals online for 10% to 20% off passes. Even more savings!
Prioritize attractions you want to visit with high entry fees if your pass does not cover your full trip to London. Use your London Pass to get you into those places that are more costly such as the Tower of London, Windsor Castle, Westminster Abbey, the London Zoo, and the Shard to get the most value of your pass. If you don't have time to visit lower cost places with your pass, then you can always visit them at your own expense later.
When planning what you want to do in London, be sure to consider attractions that are not covered by the London Pass, such as the British Museum (free!), Victoria & Albert Museum (free!), London Eye, etc. Plan your days so that you can maximize your London Pass days and visit the rest of the attractions on your list on other days that do not take away from getting the most out of your Pass.
Be sure to pick up the free London Pass Guidebook or use their online website or app. In addition to the information provided about all the covered attractions, the guidebook also includes information about using public transportation, a metro map, suggested London walks, and useful area contact information.
One can spend a lot of time traveling from one part of London to another, so try to group together attractions that are near each other or are well connected by public transit lines to get the most of your time. The London Pass Guidebook lists both the near public transit stops and the London borough in which each attraction is located (e.g., Westminster, Camden, Greenwich) to help you with planning. Also, you might want to choose a hotel which is near a public transit stop or your preferred attractions. See our guide to where to stay in London for lots of options.
Many of the attractions are not open 7 days a week, and some can close down or change hours without much notice, especially the active royal residences and churches. It is always a good idea to check their website or call ahead before setting out.
Try to start using your London Pass on the morning of the first day you want to start using it so you can the get the most of it! Remember that once you first use the pass, the time begins and it is only for good for the next XX consecutive days.
Be sure to allow enough time to visit the attractions you are most interested in exploring. You can only visit each attraction once with your London Pass. So be sure you have enough time to visit a place before going inside. For instance, you cannot spend 30 minutes in a museum and then come back tomorrow (unless you want to pay full entrance price), as you only get one free entry per London Pass.
Check ahead in the Guidebook or on the London Pass website to see which attractions you plan to visit provide Skip the Line access to pass holders. If you get to one of these attractions and are not sure if you are in the correct line for pass holders, ask a security guard or museum personnel so you can be sure to save time. Note that the Pass does not allow you to fast-track security lines.
A few attractions require reservations or for London Pass holders to call in advance. So for instance, we had to make reservations for our tour of the Benjamin Franklin House as spots are limited for each tour. Most of the walking tours included or discounted with the London Pass also recommend pre-booking.
Note that the Pass may not be a good value for children as they often get reduced entrance fees anyway and some sites grant free admission to children. So if you are traveling with children or adults that qualify for reduced entry fees, check out the prices before buying a London Pass.
Note that children under age 11 travel for free on public transport in London when traveling with an adult holding a valid Oyster Travelcard (or if they have a 5-10 Zip Oyster Photocard). So do not buy a London Pass + Travel for children under 11. Check out the latest info for traveling on public transit with children in London.
If you plan to visit Windsor Castle, remember that travel to and from Windsor Castle is included via railway. But you have to follow instructions as provided by the London Pass Guidebook and on the website.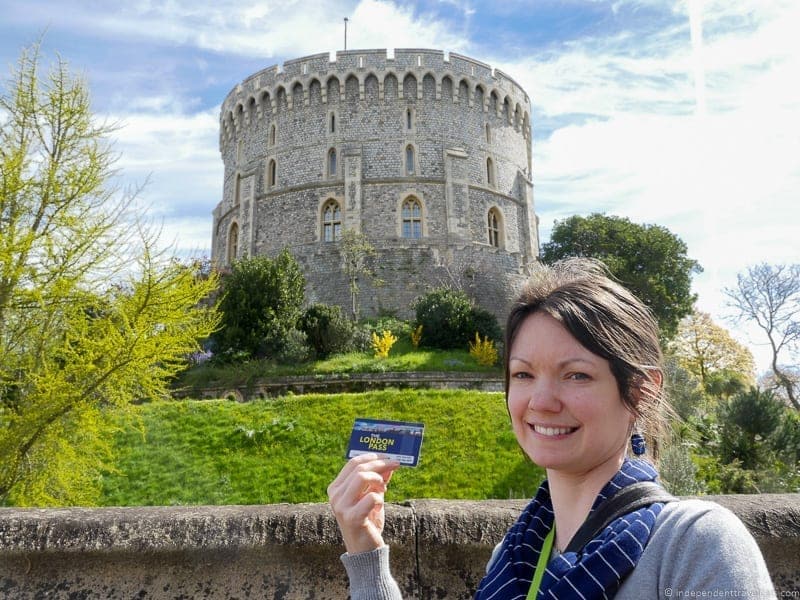 If you plan to utilize public transit (buses, underground etc.) very often during your trip, get an Oyster Visitor Card. Whether you get it with the London Pass or buy it separately, it will almost definitely save you money!
If you plan to use the Hop-on Hop-off sightseeing buses, we recommend that you start using them in the morning so you can get the most of your 1 day ticket. You can find out more about using the HOHO buses with the London Pass here.
If you get an Oyster Travel Card, be sure to keep it as you can use any leftover credit during future trips or use it to add more credit. If you throw it away, you'll have to pay an administration fee if you ever need a new one (currently £5 each).
Don't try to see all the included attractions (or even half) in one visit! Some people get their London Passes and go down the list visiting as many as they can squeeze into their trip. We certainly know the feeling of wanting to see everything, but if you do this, you are going to be exhausted. London has so much to offer that is not on that list and you'll want to take time to slow down and soak up the city whether it is lingering over a pub lunch, sitting in a city park, visiting one of London's many free museums, watching the sunset over the Thames, going to the theater, or dancing the night away at club. Hopefully you'll be back again in the future to catch those attractions you miss, but don't go through London as if it is one big checklist of famous attractions.
London Pass Review: Our Experience Using the London Pass & Our Cost Savings
Laurence and I have actually used the London Pass on a number of occasions, but I'll just be talking about a trip to London when we were given two 3-day London Passes in order to explore London and do a review of the passes. These were ordered online and we picked them up in London at the London Pass Redemption Centre Desk.
We found the small center quite easily as it is very centrally located, a couple of minutes walk from Trafalgar Square. There was a short line, but we had no problem picking up our passes and the free London Pass guidebook, which we found very useful in deciding what attractions we wanted to see and when. We paid for our own travel using our UK-issued contactless debit card (works the same as an Oyster Card, same fare prices), but have used Oyster Cards in the past.
During our 3-day London Pass period, we ended up visiting 11 attractions covered by the Pass! This sounds like a lot and it is as we tend to try to cram a lot in as our trips are almost always part work, part pleasure and this trip was not different. So we got up each morning and often visited sites until 5:00 or 6:00 each evening. However, we didn't do quick in-and-out visits and did the full tours at almost all the sites we chose to visit.
If you are wanting a suggested day-by-day guide, you can check out this article which details how we would recommend spending 3 days in London for a first time visitor.
While we spent a lot of time in some of the attractions we visited (e.g., Tower of London, Windsor Castle, Kensington Palace), we spent much less time at several of the other attractions either because we'd already visited them before (The National Gallery, Westminster Abbey), or they are smaller sites that only take about an hour to visit or do the tour (e.g., Keats House, Banqueting Hall, Apsley House, Royal Mews). It was nice to mix major attractions with lesser-known ones such as Apsley House and the Benjamin Franklin House.
Note that attractions are occasionally added and removed from the Pass. Our review reflects our experience at the time we used the London Pass. Some attractions may no longer be covered by the pass, and there may be new sights added in. It is always important to confirm which attractions are covered when planning your trip.
One great thing about the pass is that it is great to be able to re-visit a place to just see a new exhibit or to re-visit a favorite painting without having to pay. It also allowed us to just pop in to less crowded attractions like the Banqueting Hall and Royal Mews that we may not have visited if we did not have the Pass.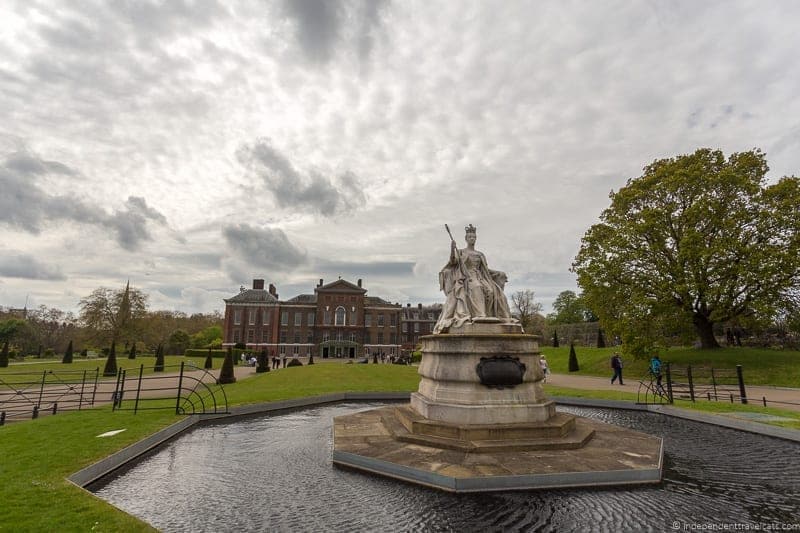 Kensington Palace

Francesco Guardi painting at The National Gallery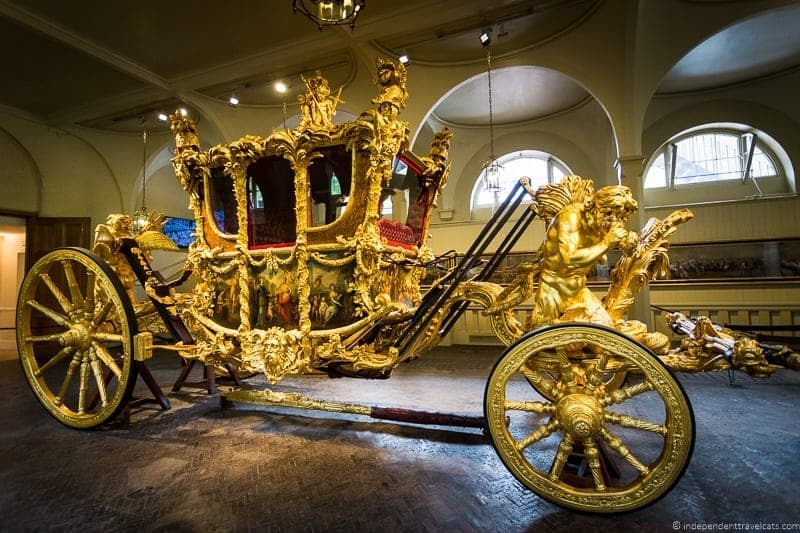 Royal Mews – the Gold State Coach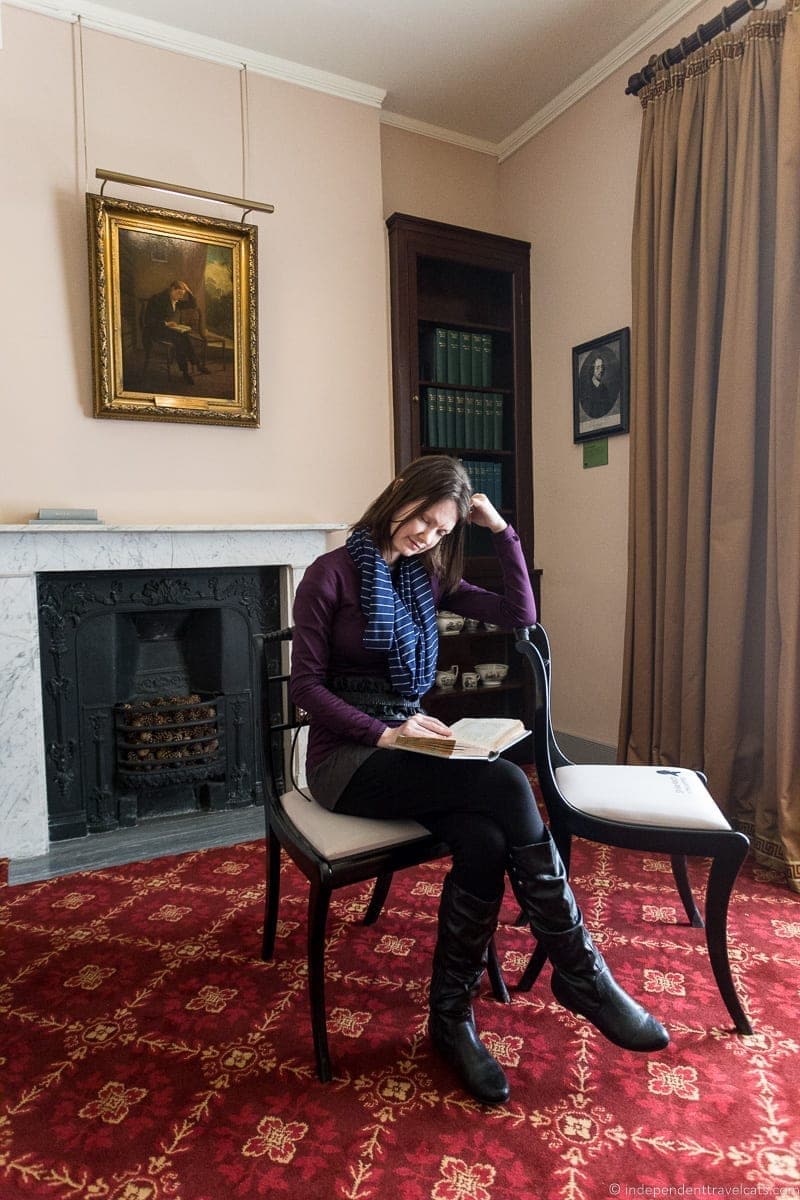 Keats House – home of the ill-fated Romantic poet John Keats

Churchill War Rooms

Banqueting Hall, Whitehall Palace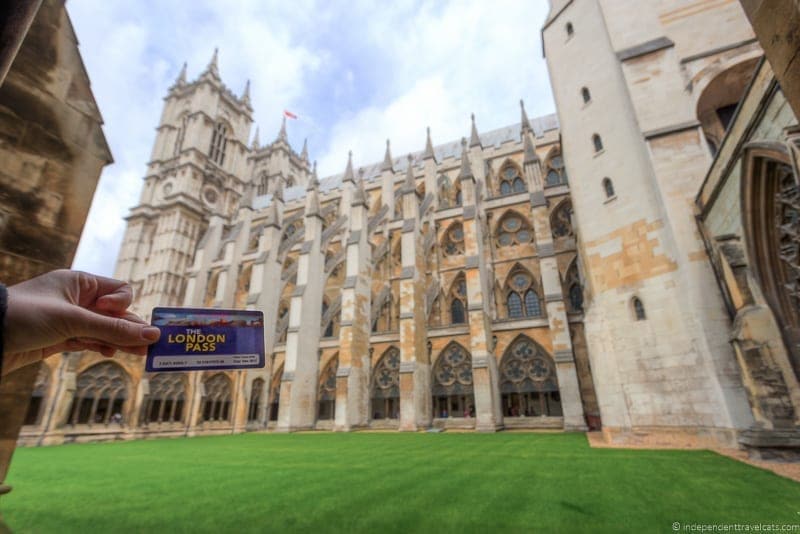 Westminster Abbey
Two of the attractions (Kensington Palace and Tower of London) we visited allowed Pass holders to skip the lines with the Fast Track Entry privilege.
However, we visited at pretty quiet times for both of these attractions where there were no long lines so this didn't help save us too much time. But I imagine at busier times of the year and day this would have been very useful, especially the Tower of London where ticket and entrance lines can be very long.
As far as cost-savings, here is how things worked out for us. Note we did our example trip in 2016, but we have updated the prices to ensure it is still relevant to your trip.
London Pass Savings Calculator

Attractions

Normal Entry Cost
(March 2020 Prices)

Tower of London
£28.9 x 2 = £59.6
Westminster Abbey
£24 x 2 = £48
Banqueting House, Whitehall Palace
£7.5 x 2 = £15
Benjamin Franklin House
£8 x 2 = £16
Churchill War Rooms
£23 x 2 = £46
The National Gallery
£4 (audioguide) x 2 = £8
Kensington Palace
£17 x 2 = £34
Royal Mews
£13 x 2 = £26
Apsley House
£12.5 x 2 = £25
Windsor Castle
£23.5 x 2 = £47
Keats House
£7.5 x 2 = £15

Total Cost Without Pass for 2 Adults

£339.6

Total Cost of Two 3-day Passes

£254

Total Savings with Passes

£85.6
So as you can see we ended up with a savings of £42.8 each for a total of £85.60. This is definitely a considerable cost savings for three days of sightseeing!
Even if we had a 6-day London Pass and only added one or two sights to these same 11 sights (less than 2 visits per day!), we still would have saved. For an example of a 6 day itinerary and cost savings with a London Pass, you can read our detailed 6 day London itinerary.
We would highly recommend that all visitors to London consider purchasing the London Pass. For the average first time visitor who plans to spend more than 1 day sightseeing, it will probably end up being a good value.
However, the London Pass is not a good fit for all visitors, and travelers on a budget can also easily spend 3 full days visiting free parks, galleries, and museums in London and spend very little money on sightseeing. We like that the London Pass also includes things like a free day of Hop-on, Hop-off bus sightseeing, a Thames cruise, free and discounted entertainment options, and free walking tours.
These are great experiences that give visitors the option to see things other than museums, art galleries, palaces, and churches. Check it out and see if the London Pass is a good fit for your next trip to London.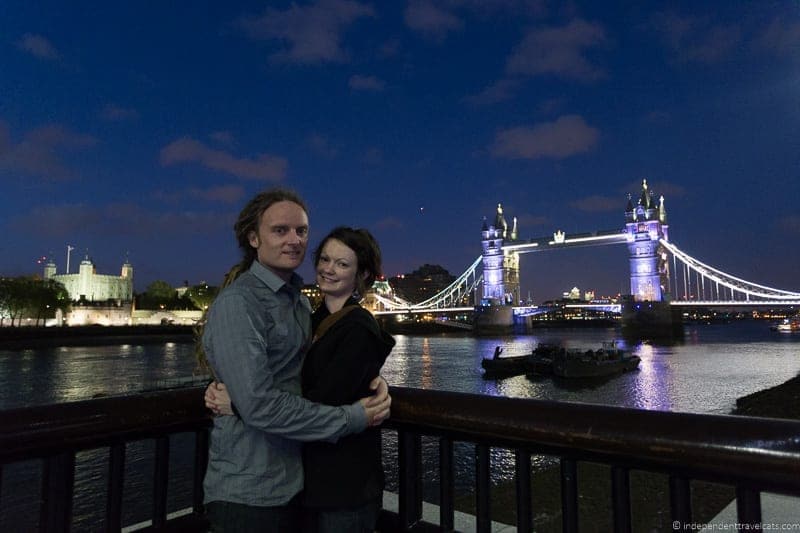 We hope our review of the London Pass is helpful to anyone planning a trip to London. Feel free to shoot us any questions you have about the London Pass and we are happy to try to answer them! Have you used the London Pass? We'd love to hear from others who have also used the passes.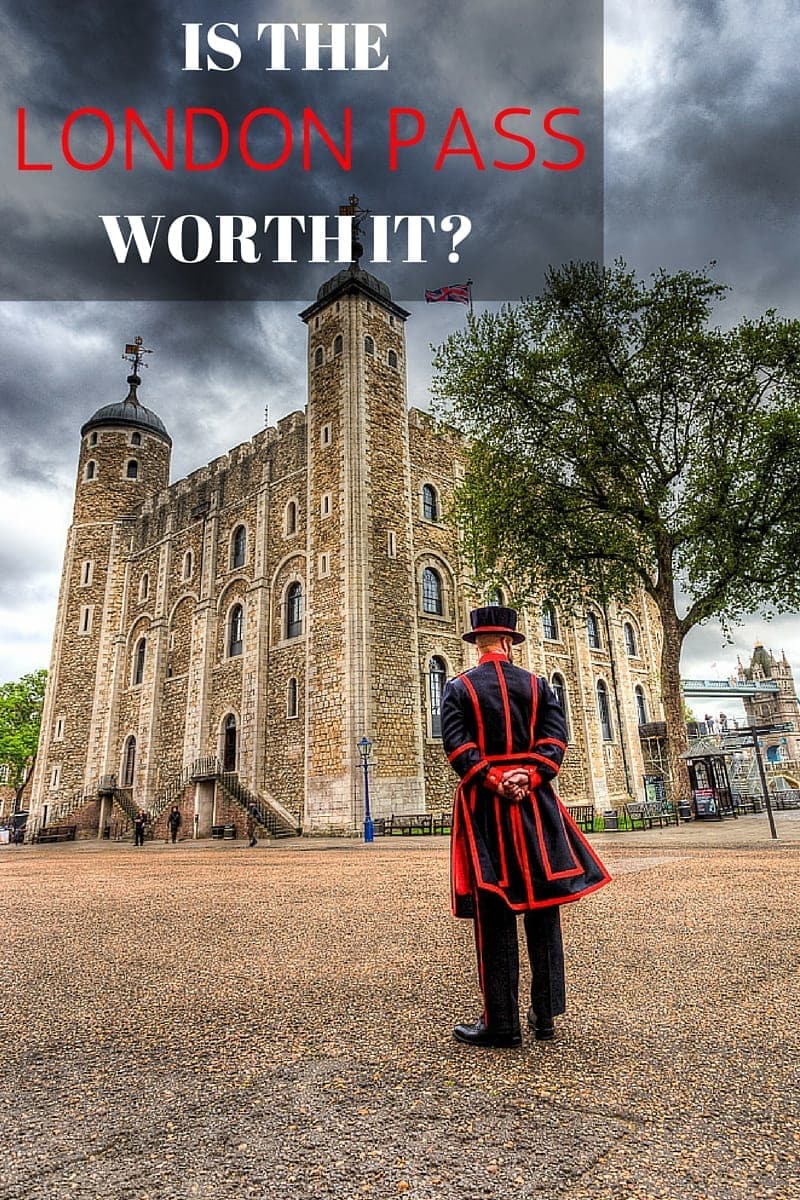 **Disclosure: We were provided complimentary 3-day London Passes by The London Pass managed by The Leisure Pass Group, Ltd. in order to write a review and provide feedback; however, this article contains only our own honest thoughts and opinions. We specifically chose to visit London and all the stated attractions on our own. **