Recently Laurence and I were invited to go on a London day trip to Blenheim Palace and the Cotswolds with ZesTrip. London is one of those cities in which you can keep returning and still find plenty of new things to do, but it is also a city that makes a great base for some really interesting day trips. We prefer to actually overnight in the places we visit; however, sometimes we are short on time and a day trip is a very convenient way to see places that you would not otherwise have time to visit. ZesTrip is a marketplace for tours in several locations that are designed and led by local experts, with activities ranging from city walks to hot air balloon rides to sit-down dinners. We were very excited to visit Blenheim Palace and a few of the Cotswolds villages on our private tour by car with Blue Badge local guide Robina. On our London day trip, we toured the grand Blenheim Palace, visited the photogenic rural Cotswolds villages of Bibury and Burford, and even toured the historic Lacock Abbey where Fox Talbot created the first photographic camera negative! We'll tell you about ZesTrip and share details and photos from all the places we visited on our tour.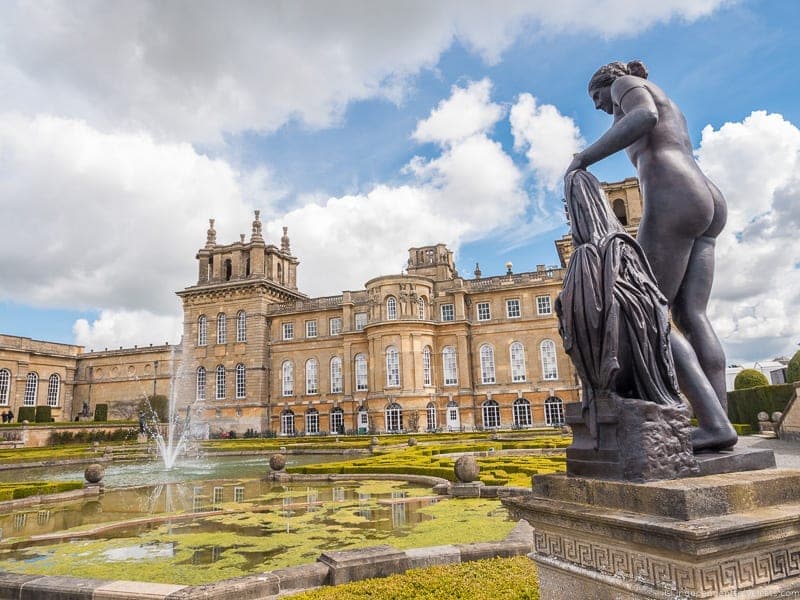 Basic Information about ZesTrip
What is ZesTrip? 
ZesTrip is an open marketplace where local experts or guides can advertise and sell activities and tours to travelers. Travelers can search for activities by price, date, duration, city, review rating, or activity type and then book the activity online. It is free for both local experts and travelers to sign up and use the service, and ZesTrip makes money by charging a commission fee (currently about 13%) for each activity that is booked. Experts can be verified in a number of ways (phone number, social media accounts, in person meeting with ZesTrip staff) and travelers can see how they are verified in their profile as well as a read a bit about them. The activities are not curated by ZesTrip so you should read the descriptions and reviews carefully to help determine if the activity is a good fit for you.
ZesTrip is not the only website out there that allows you to book tours with locals, but there are some great features that help make it one of the better ones out there. Travelers and local experts can receive customer support from ZesTrip during business hours (phone, email, online chat). There is also an internal chat interface within ZesTrip where a traveler and local expert can chat both before purchasing a tour and after a booking has been made. Many of the tours can be customized or even tailor-made and so having a way to chat before booking is a great way to talk about a custom tour or ask about special arrangements. For activities which are very weather dependent (e.g., hot air ballooning) there is often a clause in the activity description that stipulates that the activity is subject to certain weather conditions and if it is cancelled, the local will propose an alternative date but the traveler can choose to accept the alternative or receive a 100% refund. ZesTrip sends out reminder emails to both the traveler and the guides about a week before and again a day before the activity that includes contact information for both the local expert and traveler.
What destinations does ZesTrip cover? 
ZesTrip started in Italy so tours are offered in a large number of cities and towns in Italy, including Milan, Rome, Venice, Naples, Florence, and Turin. ZesTrip also currently offers tours in both England and Spain, and plans to continue to expand its offerings to other countries as it continues to grow.
What types of tours are offered? 
There are a wide variety of activities and tours offered by local experts on ZesTrip. Basically anything that a local wants to do can be offered, and they range in duration from 1 hour to multiple days with the majority ranging between 1-3 hours. Many of the activities are private (just you or your family/group), but some are group activities open to a maximum number of people. The activities range from city walks and meeting for drinks with a local to private cooking classes and multi-day group wine tours. Many of the tours are designed for those with a special interest such as wine, cooking, photography, history, archaeology, sports, fashion, or literature. ZesTrip can be a great way to find someone to meet up with in a new city with a common interest and passion. Many of the tours and activities are also customizable so you can contact the local expert before booking to see if they can accommodate any requests you may have.
Who are the guides?
The guides range from professional trained tour guides to just local people who are interesting in meeting travelers and sharing some information about their city. For example, our guide Robina is a Blue Badge guide (a professional registered guide in the UK), but there are also chefs giving cooking demonstrations, artists taking visitors on street art tours, sports fans taking visitors to sporting events, fashion lovers offering shopping trips, and locals giving walking tours of their own neighborhoods.
How much do tours cost?
The costs of tours range from about 5 € to 1,500 € (or USD $7/person to USD $2,000/person), and the prices are set by the local expert. Some are priced per person and some are priced per group. Here are some actual examples: a 1-hour visit to an artist's studio in Rome is 5 € / person, a 2-hour food walking tour in Florence is 15 € / person, a 4-hour Alice in Wonderland bike tour in Oxford is 66 € / person, a 7-hour sailing experience at Elba Island is 460 € / group, a private dinner at an authentic Roman Domus near the Colosseum is 1,200 € / group, and a 2-day Rome highlights trip with a local expert guide is 720 € / group. Clearly, there is a wide range that could fit just about any traveler's budget!
** ZesTrip is offering a 10% discount on any ZesTrip booking to all Independent Travel Cats readers. If you are planning to make a booking, send an email to [email protected] to receive the discount and ask for the 10% discount code for Independent Travel Cats blog readers. **
How to book tours with ZesTrip or become a local guide?
You can search the ZesTrip activities without signing up (I like this aspect!), and travelers can search and filter activities by price, dates, duration, language of tour, location, reviews, or activity type. To book an activity you do need to sign up to ZesTrip which is free and easy. It takes about a minute to complete the information form and then you can sign in via your email or through a social media account. For those interested in being a local expert, you can also sign up to be a local guide on ZesTrip which is also free but obviously requires a little extra time to complete your profile and add all the tour details.
For any more information you can check out the ZesTrip website or contact them by phone, email, online chat, or via social media here. 
Our London Day Trip to Blenheim Palace and the Cotswolds 
As I noted we were invited by ZesTrip to take one of their tours. We really like the ZesTrip website and found the interface very easy to use and had no problem signing up to the system or searching for activities. Since we already had a trip planned to London, we chose to do a London day trip. There were a few activities that sounded very interesting in London (including a tea workshop!), but we decided to do a full-day private guided car tour from London that included Oxford and the Cotswolds; the exact tour was called Day Tour from London: Discover the Cotswolds via Oxford. This particular tour, and all those led by our guide Robina, are customizable so we used the internal chat system to work out the details with Robina. Robina was very responsive and easy to communicate with in putting together the details of our trip. We decided with her to visit Blenheim Place, a couple of Cotswolds villages (we left this up to her), and Lacock Abbey. Then about a week before the trip (and again the day before) we received email reminders from Zestrip that included Robina's phone number and contact details. We were both excited to do the tour and to finally get inside both Blenheim Palace and Lacock Abbey.
Pick up & Introduction
Our booked activity on ZesTrip includes a car pick-up and drop-off from any location in London. We were staying in a London apartment in the Camden borough with Homestay on this trip, and Robina was on time to meet us and gave us a call once she arrived so we didn't have to wait outside.
Robina introduced herself and provided commentary throughout the drive, and was also happy to answer our questions. We quickly learned that our guide Robina Brown is very knowledgeable about not only about the locations we were going to explore, but about history and attractions all over the UK. As travelers who have been to a lot of places in the UK, we were both impressed by the breadth and depth of her knowledge. We have had many good guides in the UK, but we could easily see that having a Blue Badge guide like Robina really makes a big difference. Robina is a much sought after guide in the UK and specializes in private guided tours by car such as the one we did with her. Not only was she knowledgeable, she was also friendly, professional, and took safety seriously (important when your guide is also your driver!). Robina's car was a roomy Toyota Previa mini-van that can accommodate 6 guests so Laurence and I had plenty of space to stretch out during our day trip from London.
Blenheim Palace
Blenheim Palace is about a 2 hour drive from London, and is located near the city of Oxford. Robina provided commentary during our drive and we had a very pleasant conversation which made the drive go by fairly quickly. Although Laurence and I have visited Oxford several times (you can check out our recommended Oxford itinerary), we had never made it out to Blenheim Palace so we were excited to finally see it.  We arrived to the palace just after opening (good time to avoid larger crowds), and bought our tickets to tour the palace and grounds (tickets are also available for the gardens and grounds only). 
Blenheim Palace is one of England's largest country houses, and serves as the principal residence of the dukes of Marlborough. The Palace was built between 1705 and 1722 in the English Baroque style, and was designated a UNESCO World Heritage Site in 1987. The palace is most famous today as being the birthplace of Winston Churchill, the home saved by American heiress Consuelo Vanderbilt, and for being a filming location for numerous TV shows and movies. Blenheim Palace is still a working estate and continues to be the principal residence for the dukes of Marlborough. It is currently the home of Charles James Spencer-Churchill, 12th Duke of Marlborough and his family. Robina explained to us that the current duke has had a bit of a checkered history and is considered a black sheep in his family, so it will be interesting to see how things move forward as he assumes the role of duke. We actually got a good glimpse of the Duchess and her two children who were walking out of the palace as we entered the main courtyard.
Blenheim Palace is definitely one of a handful of grand country homes that are on many visitors must-see lists when touring England, along with places like Chatsworth, Highclere Castle, and Castle Howard. A tour here provides all the things that most visitors are looking for in an English country home — a grand house, sumptuous furnishings, insights into both the upstairs and downstairs workings of the house, a large hedge maze, and beautiful gardens and landscaping. The home is amazing in its size, condition, and decor and the stories about the Marlborough family and the servants are quite interesting. I was particularly interested in the strong American connection as Consuelo Vanderbilt was one of the original "dollar princesses"or "buccaneers" whose money and loveless marriage helped restored Blenheim Palace in the late 19th century and even Winston Churchill's mother Jennie Jerome was an American-born socialite. Both Consuelo Vanderbilt and Jennie Jerome likely served as inspiration for Edith Wharton's final novel The Buccaneers.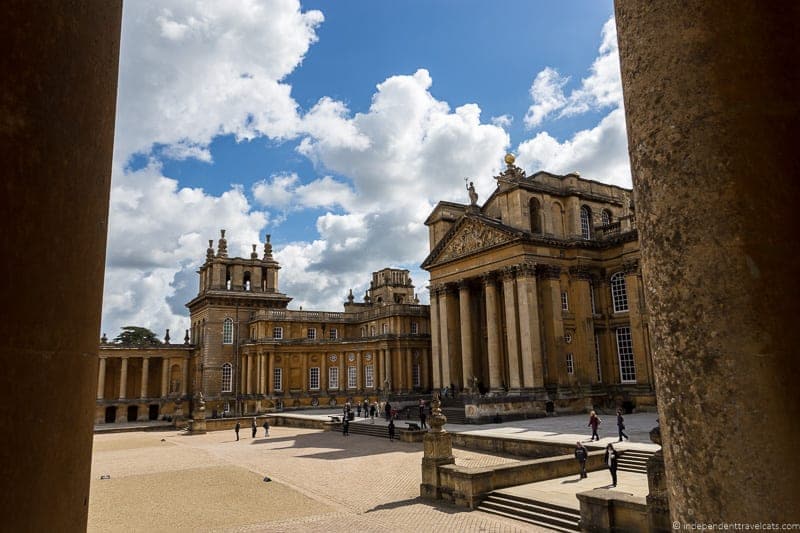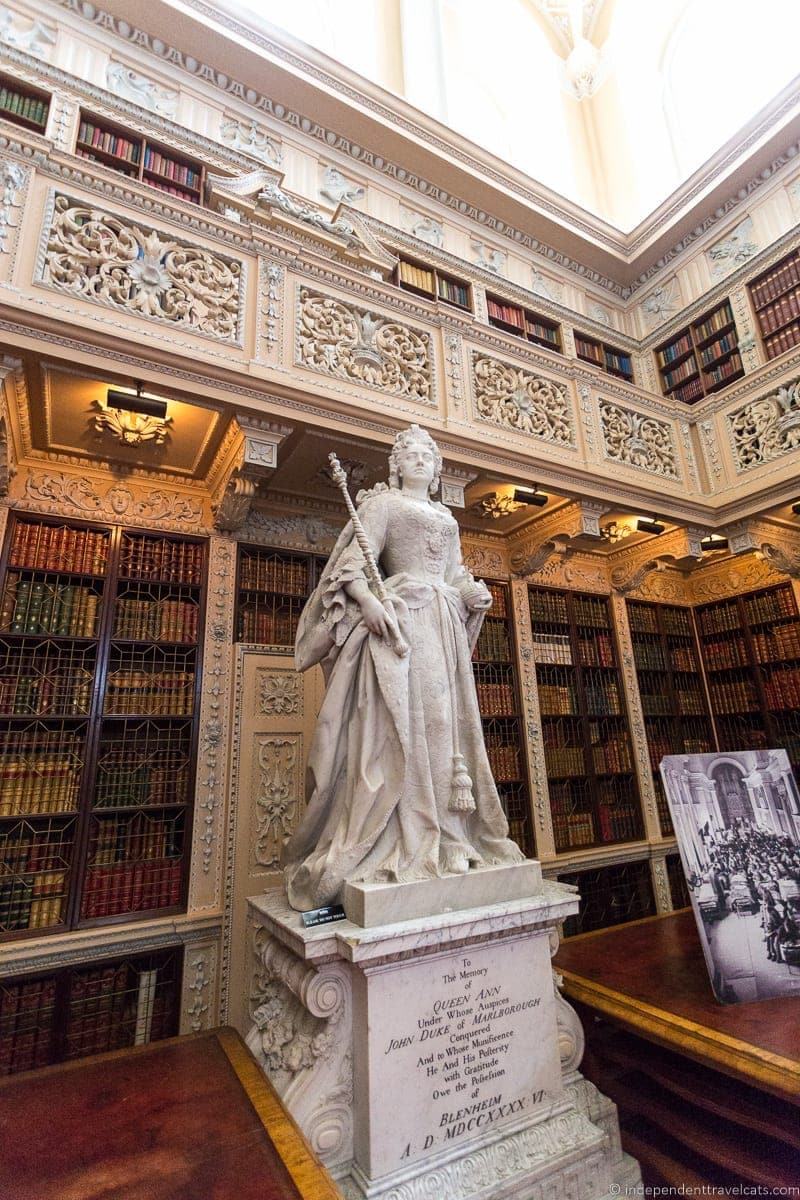 Blenheim Place is a particularly interesting visit for Sir Winston Churchill admirers, as it was his birthplace and the place where he grew up and fell in love. There is a good Churchill Exhibition and video at Blenheim which is a great place to visit before heading to the Churchill War Rooms in London. Outside, don't miss the Temple of Diana where Churchill proposed to Clementine on the property and the Churchill Memorial Garden. After visiting Blenheim Palace, we recommend taking a short drive to nearby St. Martin's Church in the nearby village of Bladon to see the Spencer-Churchill family graves where Sir Winston Churchill and several of his family members are buried. Robina recommended a stop at this little parish church and we were the only people at the churchyard during our short visit there.
If you are planning to visit Blenheim, you can easily spend most of a day here and at the very least I'd allow 2-3 hours for a visit. I would recommend at minimum taking a guided tour of the Palace State Rooms, visiting The Untold Story interactive exhibition, exploring the Churchill Exhibition, and taking a walk in at least one of the many gardens which are all included in the main entrance ticket. If you have extra time, I'd consider spending more time exploring the gardens, a walk around the grounds, and taking an extra tour inside Blenheim Palace. Tours of the private apartments and Upstairs/Downstairs tours are space limited and timed so they require buying an extra ticket (about £5.00 per person, tickets can be purchased at the palace on arrival or booked online in advance). There are also several places to eat at Blenheim Palace, including a deli, a take-away counter, a cafeteria-style restaurant, and a more formal restaurant which includes the opportunity to indulge in a traditional afternoon tea. If you are flexible, I would try to visit on a day that promises decent weather to take full advantage of the beautiful landscaping and gardens; some of the park landscaping was designed by famed landscape architect Lancelot "Capability" Brown. Blenheim Palace ticket prices are fairly high (currently £24.90/person) so I definitely recommend planning ahead a bit to get the most out of your visit.
BLENHEIM PALACE TRAVEL TIP: If there is any chance you'll return to Blenheim Palace within the next 12 months, you can convert your tickets into a Blenheim Palace Annual Pass for free, just ask at the ticket counter. This can also allow travelers to split their visit over 2 days.
Burford – Gateway to the Cotswolds
After Blenheim Place and a short stop at St. Martin's Church in Bladon, we headed to the Cotswolds. The Cotswolds is an area in south central England that contains parts of 6 different counties. The Cotswolds was designated as an Area of Outstanding Natural Beauty in 1966 and is characterized by rural villages, rolling hills, meadows, river tributaries of the Thames and Severn, and buildings made from golden-colored Cotswold stone (which is actually yellow oolitic Jurassic limestone). The main draw to the area is the scenic beauty and cute villages, but visitors also come with interests in hiking, birding, Roman history, gardens, archaeological sites, museums, and historical buildings. Check out these two official website to explore the villages and various activities and events in the Cotswolds: Cotswolds Tourism and Escape to the Cotswolds. We'd visited the villages of Castle Combe and Lacock on a prior drive through the Cotswolds but were excited to return to see more of the area. 
Our first stop was the village of Burford, which is known as the southern "Gateway to the Cotswolds".  Burford is a small town in west Oxfordshire that was ranked as sixth in Forbes list of most idyllic places to live in Europe in 2009. It is certainly an idyllic town to stroll, filled with historical buildings. Robina gave us some information about the town and its main hotspots and then we strolled along High Street towards the River Windrush. Once a thriving small town full of merchants, farmers, and traders for centuries, Burford fell into steep decline as agricultural prices fell and it was bypassed by the railroad in the mid-nineteenth century. Two of the town's main attractions that you can visit are the Tolsey Museum housed in the 16th century Tolsey building and the St. John the Baptist church. The Anglican church was primarily built between the 12th to 15th centuries and is quite a magnificent church for such a little town! Robina shared some of the history and local legends of the town as we strolled around which made the little town come to life a bit more. There are a number of historic buildings along High Street and its narrow sidestreets, as well as plenty of places to shop and dine. We grabbed sandwiches and drinks for lunch at one of the cafés before heading onto Bibury, a short drive away.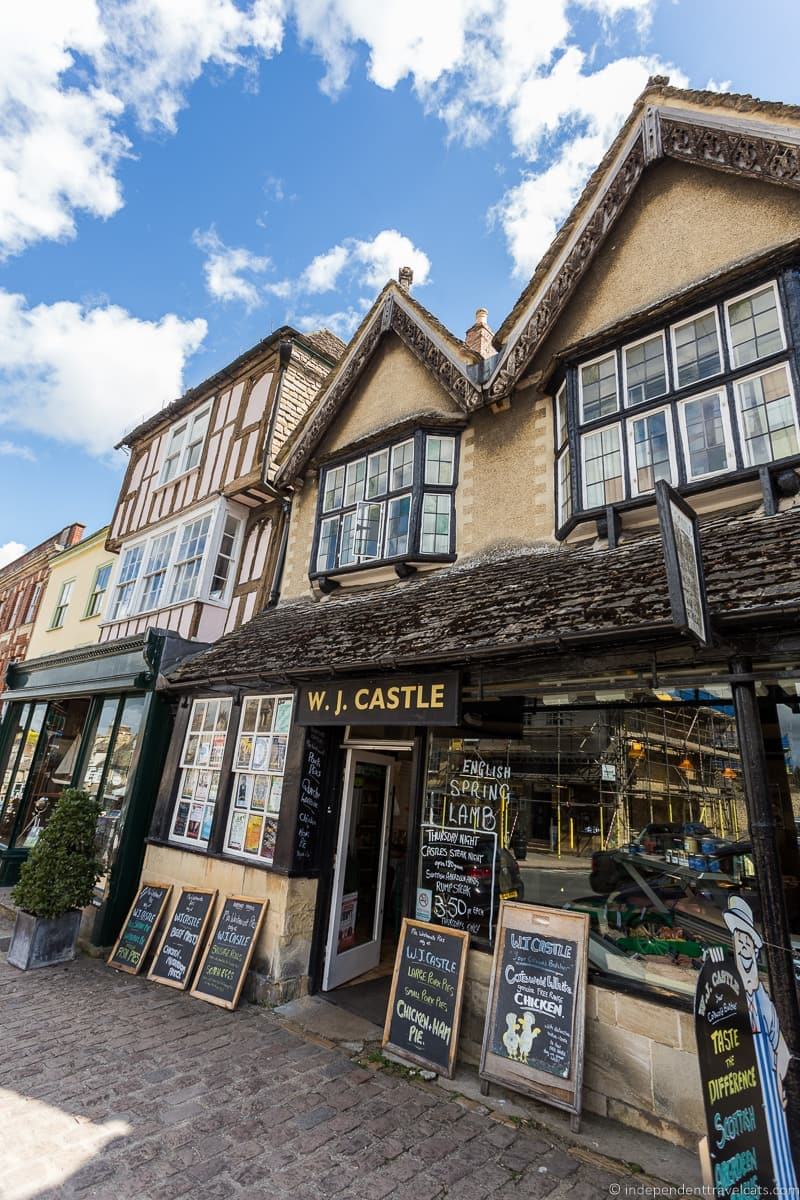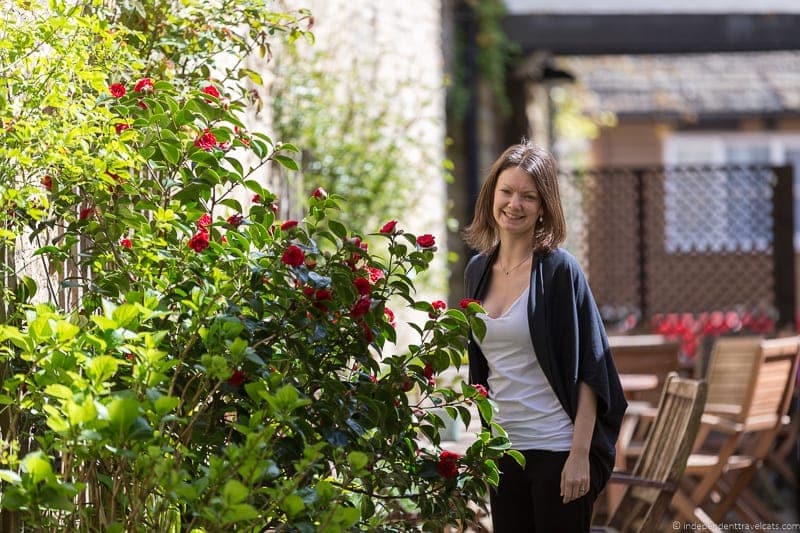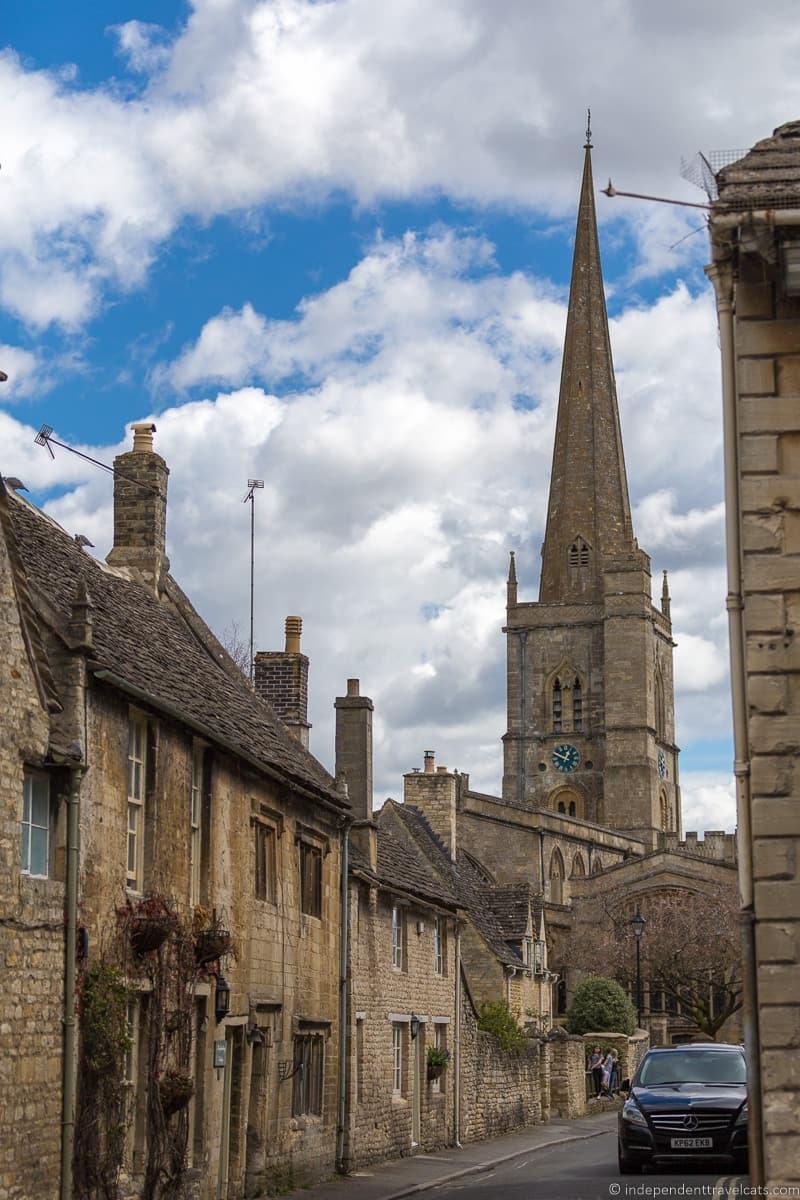 Bibury – Most Beautiful Village in the Cotswolds
Bibury is a small Cotswolds village in Gloucestershire that was described by artist William Morris as "the most beautiful village in the Cotswolds". One of the most photographed views in Bibury is the picturesque Arlington Row stone cottages which were originally built in 1380 as a monastic wool store and later converted into weavers' cottages in the seventeenth century. These cute honey-colored cottages are still lived in today by local residents (so do be respectful of the people who live here!), and are some of the oldest inhabited properties in the UK. Arlington Row is owned and maintained by the National Trust and you can even book a stay at one of the weaver's cottages that is rented out as a holiday apartment (9 Arlington Row) through the National Trust website. The nearby boggy meadow next to the River Coln was known as Rack Isle. It was here that the weavers would hang the wool to be dried after being washed. The meadow seasonally floods and is often surrounded on three sides by water.
The weather was not the best on our day trip, but we had a brief period of lovely sunlight during our walk in Arlington Row and took the obligatory postcard-perfect shots here. But there are several other beautiful historical buildings in Bibury you should take the time to see as well. Other attractions in Bibury include the Bibury Trout Farm (a working fish farm for over 100 years), the 17th century Arlington Mill (once the mill cleaned and processed the area's wool, currently a private residence), and the Church of St. Mary located in the village center which contains Saxon gravestones and Saxon architectural elements. The town is a popular tourist stop for visitors to the Cotswolds and is also often used as a backdrop for ads and films. The romantic fantasy film Stardust features a scene shot at Arlington Row. 
BIBURY TRAVEL TIP: Bibury is one of the more popular Cotswolds villages and like many similar small villages, it can become quite crowded. If you are looking for either a bit of peacefulness or best photo opportunities, try to arrive early morning or early evening when most crowds have gone, or consider spending the night here.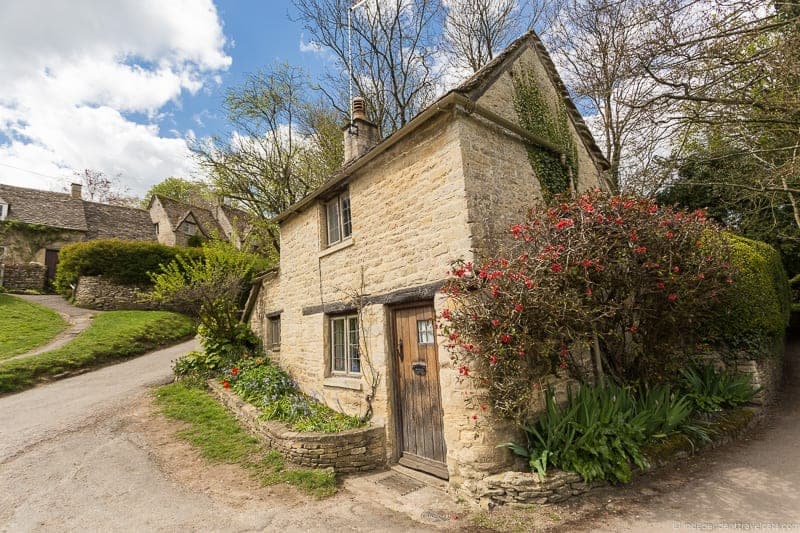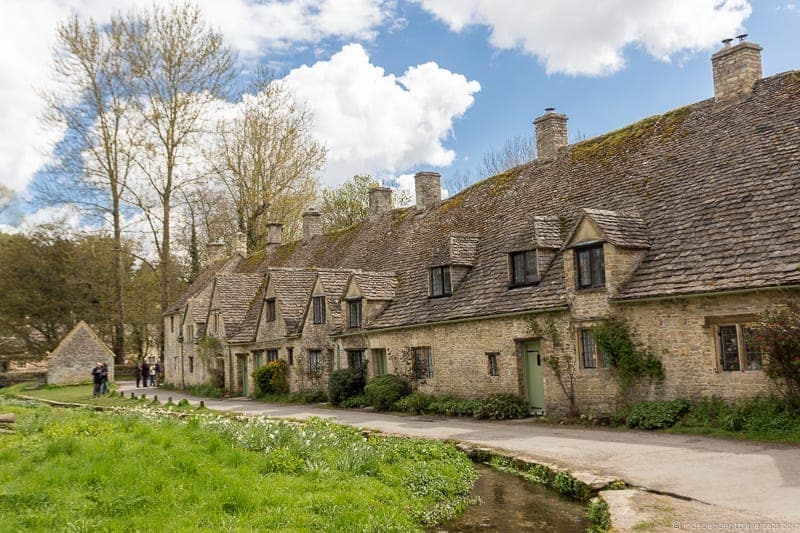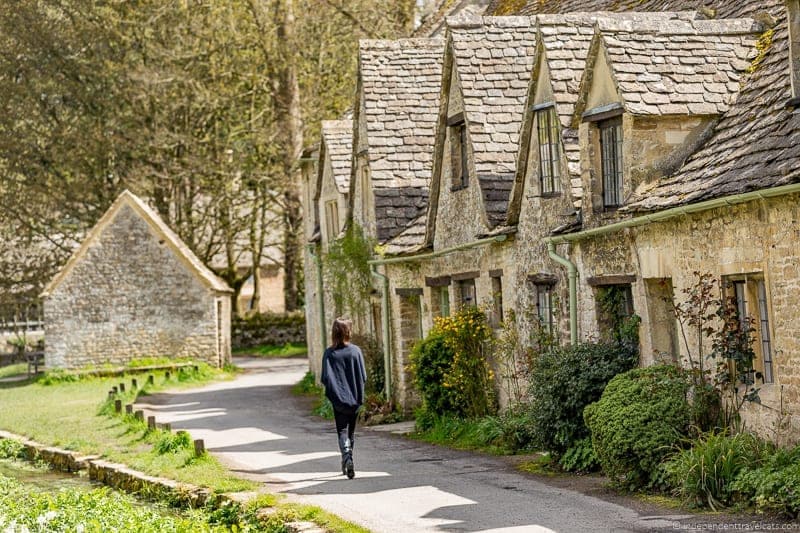 Lacock – Photography and Harry Potter
Technically, Lacock is not within the Cotswolds as determined by the boundaries of the Cotswolds Area of Outstanding Natural Beauty designation; it is in fact 5 miles from the western boundary. From Bibury, it is almost an hour drive, so normally Robina said that for this day trip she would recommend visiting a few Cotswolds villages closer together such as perhaps visiting  Bourton-on-the-Water and Stow-on-the-Wold instead of Lacock. Since we were specifically interested in visiting Lacock Abbey, Robina told us that she'd be happy to go there but we'd have less time to visit the other villages or to have a sit-down leisurely lunch. 
First of all, Lacock is worth a visit just for the town even you are not visiting the abbey. Located in Wiltshire, it is another one of many small villages that has some great postcard-perfect views with all its historical stone buildings. Like many other towns in the area, it once had a thriving woolen industry. Interestingly, the majority of the village is now owned and managed by the National Trust, which has helped preserve it. The town is full of historical buildings, with some of the most significant being Lacock Abbey, a 14th century tithe barn, the 14th century St. Cyriac's Church, and an 18th century lock-up (jail).
However, since we'd visited Lacock before, our main focus was on taking the time to visit Lacock Abbey as we had not had time on our previous visit. The abbey is important in terms of both its history and in its connection with the development of photography. Since we both have National Trust memberships, our visit was free with our passes. Lacock Abbey has a long and varied history. It was built in 1232 as an Augustinian nunnery by Ela, Countess of Salisbury. The nunnery made its money primarily through the wool industry until being dissolved in the mid-16th century by King Henry VIII. It was then sold to courtier Sir William Sharington in 1539 who converted it into a private residence. It survived the English Civil War, although was garrisoned by the Royalists, and eventually the abbey come into the ownership of the Talbot family. One owner was William Henry Fox Talbot who was an amateur scientist and inventor, who is today most known for his pioneering work in the area of photography. On site is also the Fox Talbot Museum which chronicles the history of photography and other inventions by William Henry Fox Talbot.
Most people have never heard of Lacock Abbey but most people have probably seen it before as it is a very popular filming location. It is probably now most famous for being a filming location in at least two of the Harry Potter films. Lacock Abbey can also be seen in the film The Other Bolyen Girl as well as a number of BBC TV series including Wolf Hall, The Hollow Crown, and Pride and Prejudice. The village of Lacock's Church Street was also used for the livestock market scenes in Season Six of the popular Downton Abbey TV series.
We started our visit with a tour of  Lacock Abbey. We entered the abbey through the cloisters and Robina told us more about the monastic use of the building and its original function as an abbey. Harry Potter fans will recognize a few locations here from the films. Inside, the furnished rooms of the abbey helped tell the story of the abbey and its residents over the years, with a special focus on Henry Fox Talbot's life here. A couple of the highlights for us were being able to see the latticed window where Talbot took the first known photographic negative and the Great Hall (rebuilt in the 18th century) with its cool Gothic features and all the coat of arms. The tour of the abbey was self-guided with Robina sharing information as we explored the abbey. As in all National Trust sites, there were friendly guides posted here and there who were available to offer information on specific objects (we asked about the date of a suit of armor and the origin of a glass chandelier for instance).
Next we walked past the Tudor courtyard located next to the abbey which has an original bakery and a brew house (not open when we visited but worth checking out if it is) and through the gardens to the Fox Talbot Museum. The small museum traces the history of photography from the use of the camera obscura to the current day; it specifically focuses on the contributions of Henry Fox Talbot. Talbot did not take the first photograph, which is attributed to French inventor Nicéphore Niépce (earliest known surviving fixed camera image is a heliographic image by Niépce called "Point de vue du Gras" taken in 1826 or 1827), but Talbot is believed to have produced the first photographic camera negative. The first image by Talbot was taken in 1835 of the latticed oriel window in Lacock Abbey. Talbot's first image is kept in the archives (not on public display because of its fragile condition) at the National Media Museum in Bradford, England. Interestingly, both Niépce and Talbot chose their first real-world photographic images to be of views from the windows of their respective homes. Talbot also discovered and later improved upon ways to develop and stabilize images. Talbot not only was a pioneer in photography, but he also engaged in scientific pursuits in other fields as well, such as spectroscopy, math, botany and archaeology. He was also active in politics, serving as a member of Parliament, and published several papers on his scientific endeavors. After our visit to the museum, we headed back to London where Robina dropped us back off in front off our Homestay apartment.
Overall Thoughts on Our Day Trip to Blenheim Palace & the Cotswolds
First of all, we had a great full day out of London, visiting amazing places that included the monumental Blenheim Palace, two photogenic Cotswolds villages, and historical Lacock Abbey with its fascinating place in the history of photography. We highly recommend all of these spots, whether you do a tour or go on your own as they are all very much well worth visiting. As noted we were particularly interested in visiting Lacock Abbey, but we would probably not recommend trying to do all of what we did in this day trip unless you are OK with a bit of a rushed pace. In terms of our experience with ZesTrip, we found the search and booking process to be easy, enjoyed that there was an internal way to chat with Robina before our tour, and had good communication with the company. We really like the large variety of tours that ZesTrip offers, the ability for local experts to develop and price their own activities, and the wide price range of the tours. I think that no matter how you travel, whether it be as a budget backpacker, a family, or a luxury traveler, you'll likely find a tour that is a good fit for both your interests and budget. The local experts obviously will vary, but Robina was a fabulous guide – amazingly knowledgeable, friendly, and a good safe driver. We had a great trip with ZesTrip and encourage you to check them out. For those visiting London, be sure to check out our other posts focused on travel in London.
What is your favorite day trip from London? Does ZesTrip sound like the type of service you would use to book activities in a city while traveling? If you book a tour with ZesTrip, be sure to email them for the 10% discount code! As always, feel free to comment and we're happy to answer any questions about our ZesTrip day trip to Blenheim Place, the Cotswolds, and Lacock Abbey. 
**Disclosure: We paid our own entrance fees but we received a complimentary guided day tour from ZesTrip in order to review the service as travel writers; however, this article contains only our own honest thoughts and opinions. You can read more in our Ethics Code about how we accept work.**