Like many women, I have struggled to find a swimsuit that fits me well. Several years ago, I spent one entire summer going through stores' swimwear racks trying to find a one-piece swimsuit that would fit me. I finally gave up as they were all too long for me or just didn't fit my body properly. However, when packing for our recent trip to Southeast Asia, I wanted to have a swimsuit that would allow me to move around a bit more and would be more conservative than my bikini. So I decided to give my search for a one-piece swimsuit another try, but I started my search online this time.
An online search brought me to UjENA Swimwear. UjENA offers a large array of swimwear, including custom swimsuits and an exclusive size assurance policy. The family-owned brand sells and ships swimwear internationally, but all swimwear is manufactured in the United States. Perhaps the most extraordinary thing for me was that the UjENA store and factory are located less than 10 miles from our house! It seemed like some sort of omen so I contacted Lisa, the owner, and asked if she would be interested in collaborating with us for a review. She agreed, so read on to find out about our visit to the UjENA Swimwear showroom and factory, my swimsuit choice, and my review on how the chosen swimsuit did during our recent Asia travels. Also, I am sharing the UjENA love with all my readers with a discount code and the chance to win a free UjENA swimsuit of your own!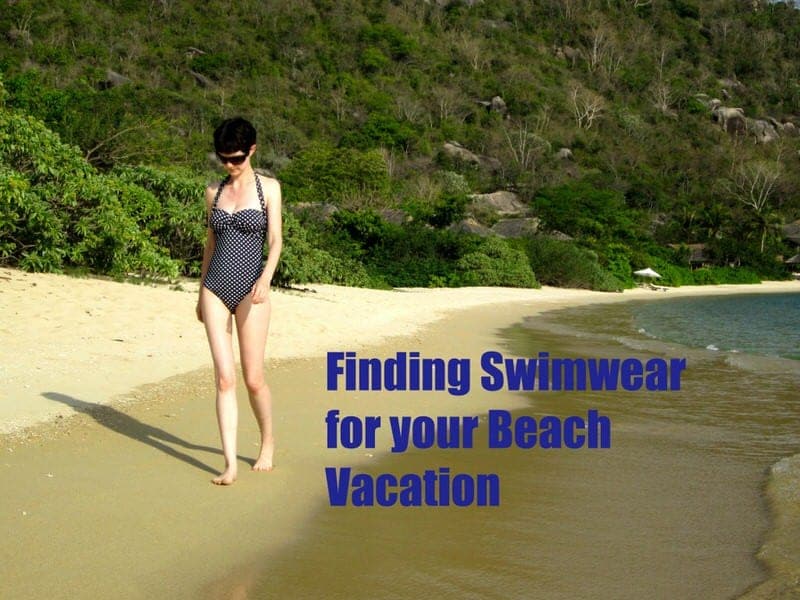 UjENA Swimwear: The Company & People
UjENA Swimwear was started in 1984 by Bob Andersen at a time when it was a fairly novel idea to sell swimwear all year round. UjENA was also one of the first companies to introduce the idea of mix-and-match swimwear and the concept of selling custom swimwear. Beginning as a mail order business, the UjENA has expanded into the online market and more recently opened its brick-and-mortar Factory Showroom in Mountain View, California. The company has continued to stay innovative as the reigns were passed from father to daughter and Mr. Andersen's daughter, Lisa Andersen-Wall, took over as President and Head Designer. While the company is still a family owned business, it is by no means a tiny business, having served over one million customers, offering one of the largest selections of custom swimwear worldwide, and being one of only a handful of swimwear companies that still manufactures its clothing in the USA.
Given that we live only about 10 minutes from the UjENA Factory Showroom, we were able to visit the Showroom, Headquarters, and Factory. We had the pleasure to meet UjENA's president, Lisa Andersen-Wall, as well as several other UjENA staff members working in a variety of areas within the company. It was very clear from our visit that the people at UjENA all know each other and work closely with one another. Staff here literally work in close proximity to one another as those working in the Showroom and Headquarters can hear the buzzing of the sewing machines from the Factory area of the building!
UjENA Website / Blog / Facebook / Twitter / Pinterest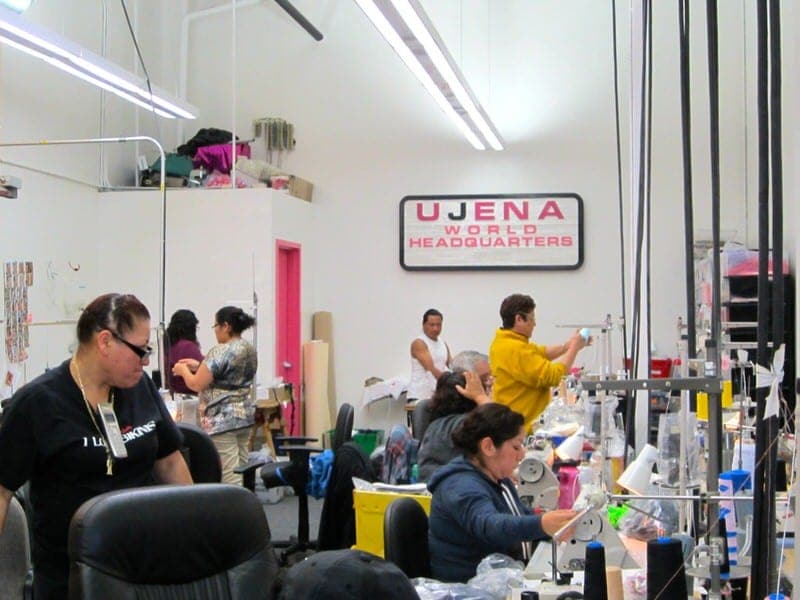 Some of the Unique Factors about UjENA Swimwear
Family Owned Business. Not only do father and daughter work for the company, but several other family members are also involved in the business.
Ability to Customize Your Swimsuit. On the website, you can choose the fabric design, cut, and size of your swimsuit and you can mix and match tops and bottoms. In the store, alterations are also possible and they may even be able to design you a custom suit. For instance if you have an old swimsuit that you really love but it is getting worn out, you can bring it in and they can price what it will cost to reproduce it.
Size Assurance: For a small added cost at the time of purchasing your swimsuit, y

ou can purchase Size Assurance which allows you to return the swimsuit within one year of purchase for a different size of the same style. So if a women's size changes due to changes in weight, pregnancy, etc. she can return the swimsuit (or just the top or bottom in the case of a bikini) with no questions asked and request a smaller or larger size.

Made in the USA. All tags for UjENA Swimwear have a "Made in USA" tag in them. Each swimsuit is handcut and sewn in the Mountain View, CA factory.
Number of Sales Outlets. Products can be ordered by mail, fax, phone, online, or in person.
Where to Find and Order UjENA Swimwear and Clothing Products
UjENA Swimwear products can be ordered by mail, fax, phone, online, or in person.
Physical Store Address/Mailing Address:
UjENA Swimwear and Fashions
1931A Old Middlefield Way
Mountain View, California 94043
Phone: (800) 448-5362
E-mail: orderdesk@ujena.com
Website: http://www.ujena.com/
**Discount Code: All Independent Travel Cats readers can use UjENA Promo Code 1671 to receive $10.00 off online purchases at UjENA!**
Review of My UjENA One-Piece Swimsuit
Before going to the UjENA Swimwear Factory Showroom, I browsed the UjENA products on their website. I wanted something that would provide more coverage and would be more conservative than my bikini for traveling. I wrote down several choices and then brought them to the UjENA Swimwear Factory Showroom. Friendly Julia greeted us, showed us around, and then went back to collect all my swimsuit selections. Then we were shown to the dressing room area; there are two dressing rooms decorated in a funky retro beach theme. I expressed my concern about finding a suit that fit me given my past experiences, and Julia reassured me that they could alter one of the suits if none of the five fit me. I tried on five one-piece swimsuits while at UjENA. All felt like they were very well made and durable. It was odd for me to think that these same suits were handcut and sewn in the same building by the men and women we met in the factory as it is such a rare occurrence to actually know where one' s clothing was manufactured these days. Interestingly, three of the five fit very well and would not need any alterations which really surprised me! I had not found a one-piece bathing suit that fit me in so long and here I found three out of five! Out of the three, I felt two actually also looked good on me, narrowing my choice to two suits. Here are four of those initial contestants: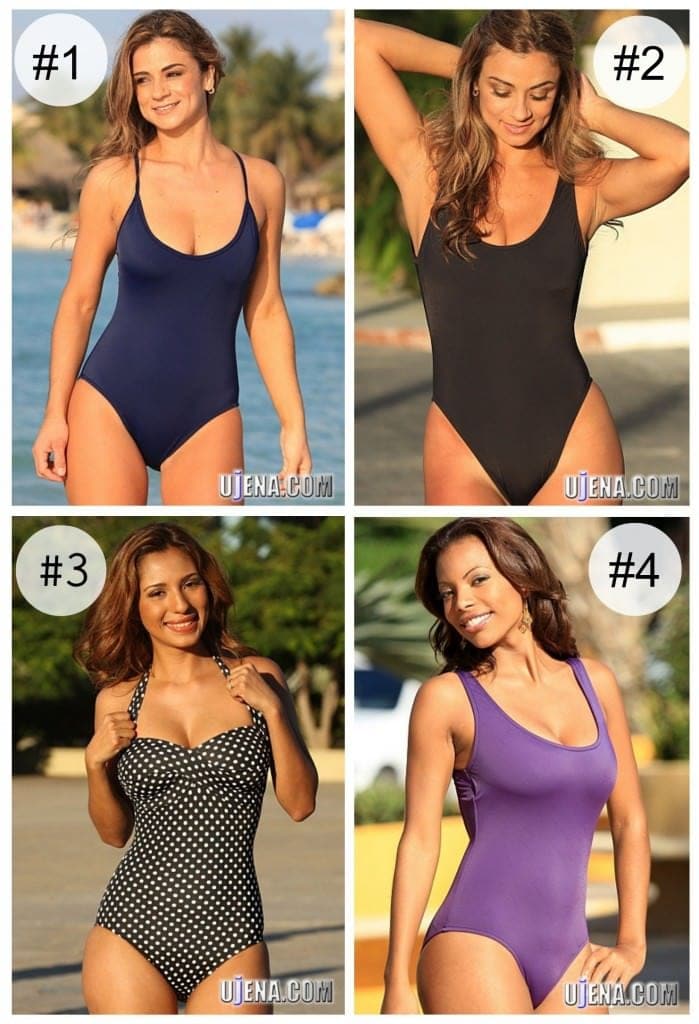 #1 – #G117 Navy Dip 1-PC
#2 – #C114 Black Double Dip 1-PC
#3 – #D104 1950's Monroe Long Torso 1-PC
#4 – #1035 Sexy Scoop 1-PC
#5 – #Z105 1950's Double Crosser 1-PC (not shown)
and the winner was #3 1950's Monroe Long Torso 1-PC. I loved the vintage 1950's black and white polka dot pattern which is a lot for me as I normally just go for boring solid dark colors. The halter neckline gives it a bit of sexiness while the suit still provides fairly full coverage. Best of all, it fit my body quite well and I didn't feel like the fit could be improved. So this one was the winner for me. When I was choosing swimsuits to try on, I almost didn't include this particular style as I thought there was little chance it would fit me well as the description says that although it can fit all body types it fits best on full-figured women. So I think I learned that it is best to try on a lot of styles because the ones I thought would fit best fit less well than the others and vice versa. While I was changing back into my regular clothes, Julia wrapped up the selected swimsuit and presented it to me all wrapped in tissue paper with a bow. A nice ending to a great visit to the UjENA Swimwear Factory Showroom.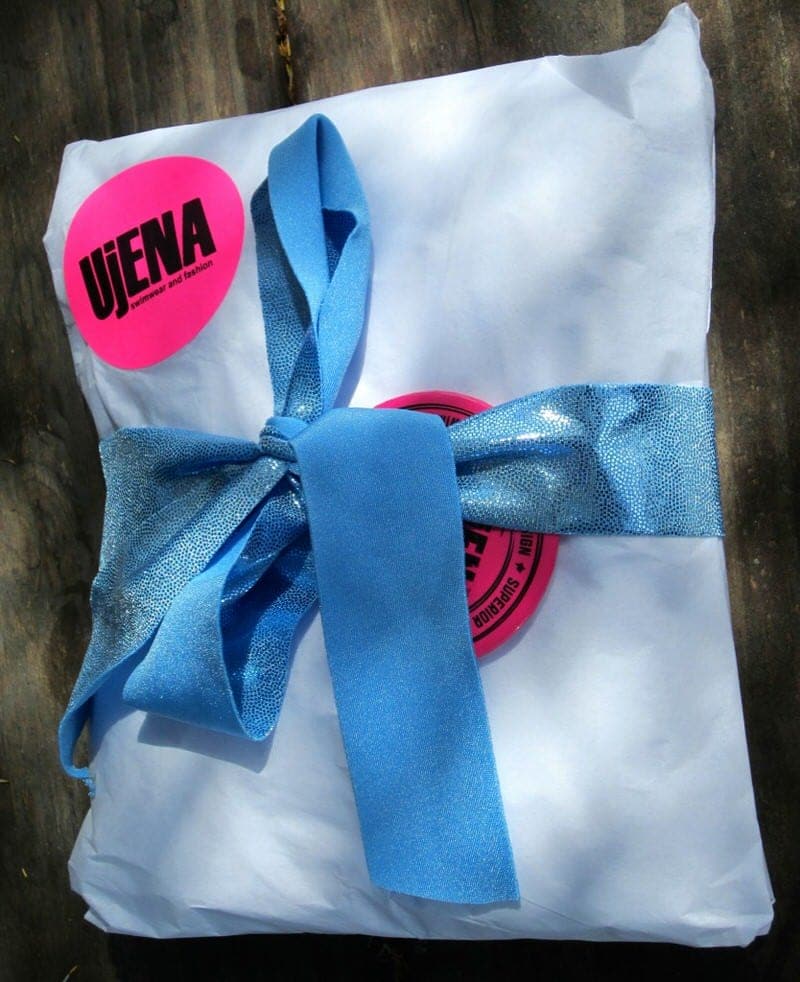 After a great experience at the UjENA Swimwear Factory Showroom, I did not have the opportunity to wear the swimsuit again before we left for our trip. For some reason, I was worried it would not fit as well on our trip or that perhaps it would be one of those situations where it looked good in the store but not so good at home. For the first week and a half of our trip to South Korea and then Siem Reap, Cambodia, I didn't have a chance to wear it. But then we got to Raffles Hotel Le Royal in Phnom Penh which had a very nice outdoor pool area and the swimsuit got to make its first appearance outside my suitcase. It still fit as well as it did in the store! T
hen later it really got tested out during our time at Six Senses Ninh Van Bay in Vietnam as I swam, rode a bike, read, sunbathed, and even played badminton in my swimsuit. There was one instance when the front rolled down a bit during badminton and I flashed Ethan, so I learned that jumping in the air while playing badminton in this suit can have some risks. Luckily we had the court to ourselves so it was not a big deal, but the suit is clearly not meant for more serious sports as the top is not full coverage, just the bottom. Given that I am not a very sporty person, this is just fine as it handled itself well in swimming, kayaking, and biking.
No other issues came up and it was very comfortable to wear around the resort. Pairing it with a pair of board shorts and it just felt like I was wearing a halter top. Finally, the swimsuit came out of the suitcase a third time on our trip to hang out on our cruise of breathtaking Ha Long Bay in Vietnam for some kayaking and soaking in the hot tub.
To prove it, here are the photos. Now, going back through and looking only for photos of myself in a swimsuit was not a pleasant task. First, most women feel a little uncomfortable in swimwear. Second, Ethan has no patience when it comes to taking photos and takes a lot of photos of me that are very unflattering or inappropriate as I am caught in very odd movements. Luckily, we had taken a lot of photos so here are some of the best. Some also show off the great beauty of the places we visited in Cambodia and Vietnam.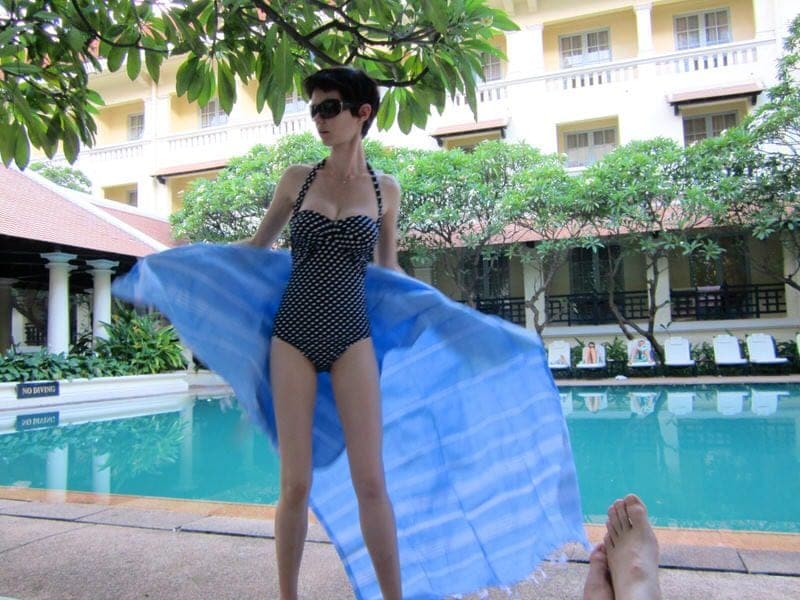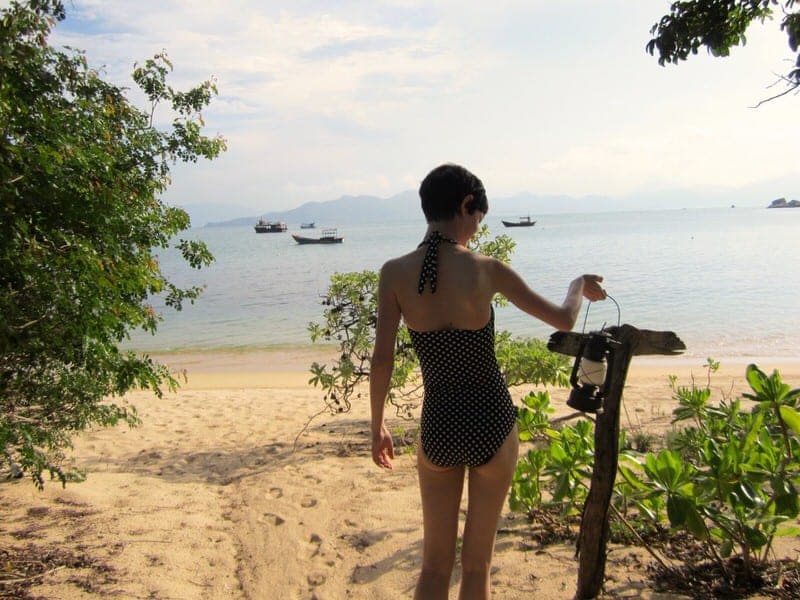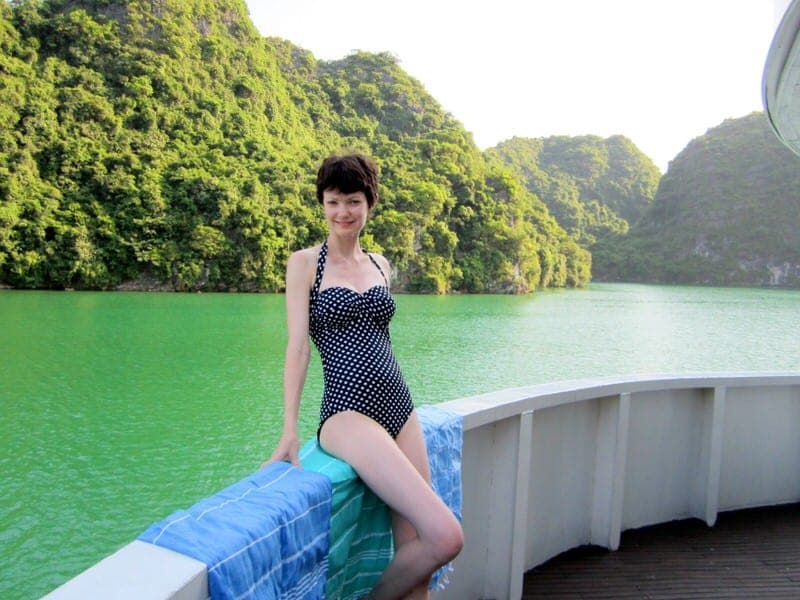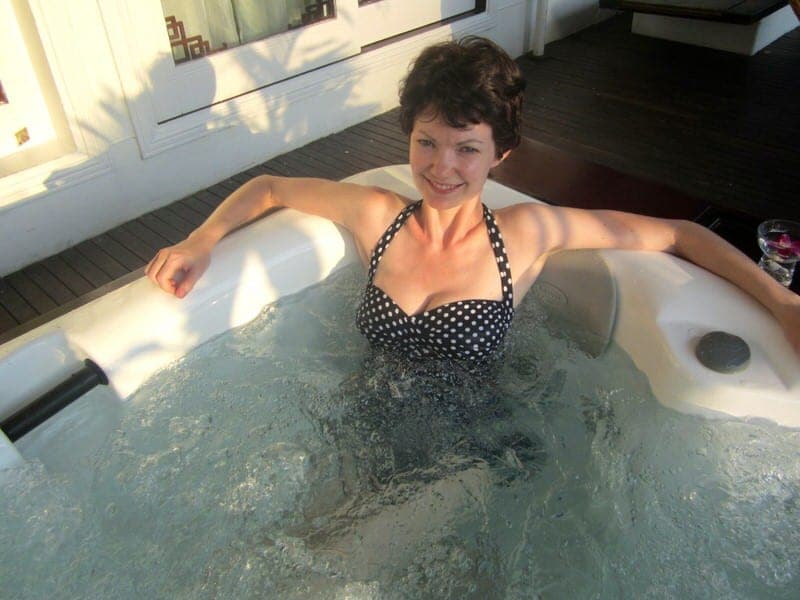 Overall, I would say that the overall experience with UjENA ranked as a 10/10. Not only did I find a great fitting and stylish swimsuit that I had searched for years to find, but there was a wide range of swimwear options, the staff at UjENA provided great customer service, and there was even the option to alter the suit if needed at the store. Also the fact that everything is made in their family owned and locally operated (at least in my case) store was also great. I think for those who don't have the option to actually visit their store, the experience will be less personal as you'll have to order by phone or website and the options for alterations at the store is not possible, but you'll still have the same great selection of swimwear, ability to add size assurance and ability to customize your own swimsuit. Also it felt good to buy a locally made swimsuit and all swimsuits, whether bought in the store or online, are hand cut and sewn in their Mountain View, CA factory.
The UjENA Swimwear Giveaway
Could you use a new swimsuit for an upcoming summer trip or just to lounge around the community pool? This is your lucky day as UjENA is graciously giving away a $100 gift certificate that can be used online or in their stores for swimwear or clothing! That should get you one free swimsuit! The giveaway starts today and will run until June 25th.
THE GIVEAWAY IS NOW CLOSED!
Congrats to reader Carla B. who won a free swimsuit!! Her UjENA swimsuit favorite was the Santiago Sparkle Swim Dress – check out other readers' faves below!
**Discount Code: Don't forget that you can still use UjENA Promo Code 1671 to receive $10.00 off online purchases at UjENA.**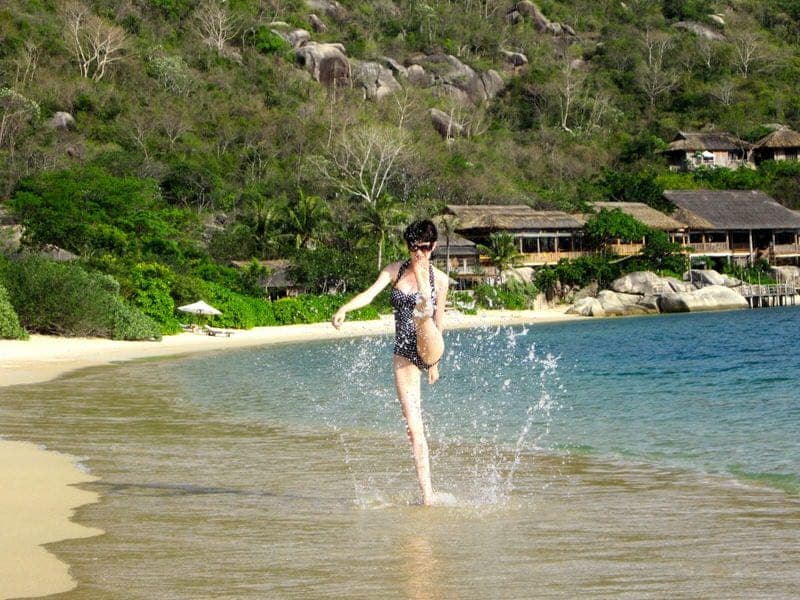 Don't forget to stop by and check out the great swimsuit selection at UjENA Swimwear. If you have any questions, just ask!
**Disclaimer: I was given one free swimsuit of my choice to wear and review; however, this article contains only my own honest thoughts and opinions. I did not receive any financial compensation for the writing of this post, do not work for UjENA Swimwear, and receive no commission for any sales of this product.**