Marrakesh is a sensory-rich city in Morocco where you can experience a unique blend of ancient traditions and modern conveniences. A city where donkey carts, spice sellers, and snake charmers intermingle with luxury spas, coffee shops, and tour buses. The city contains a number of culturally and architecturally important sites and Marrakesh's medina was declared a UNESCO World Heritage Site in 1985.
Laurence and I recently spent almost 2 weeks in Marrakech, both visiting the city as tourists and using it as a base to catch up on some work. During our time in Marrakech we had ample opportunity to eat plenty of the local dishes, shop in the souks, visit the city's museums and palaces, check out the world-famous Jemaa el-Fnaa, stroll in the gardens, and sleep in a riad.
We also encountered getting lost, haggling in the souks, being scammed, and getting sick in the city, so we'll also share some tips to help you be prepared and hopefully avoid scams and becoming ill.
Most people don't have 2 weeks to spend in the city, but we've put together a list of things to do in Marrakesh for those wanting to see the highlights of Marrakesh in whatever time one has in the Red City.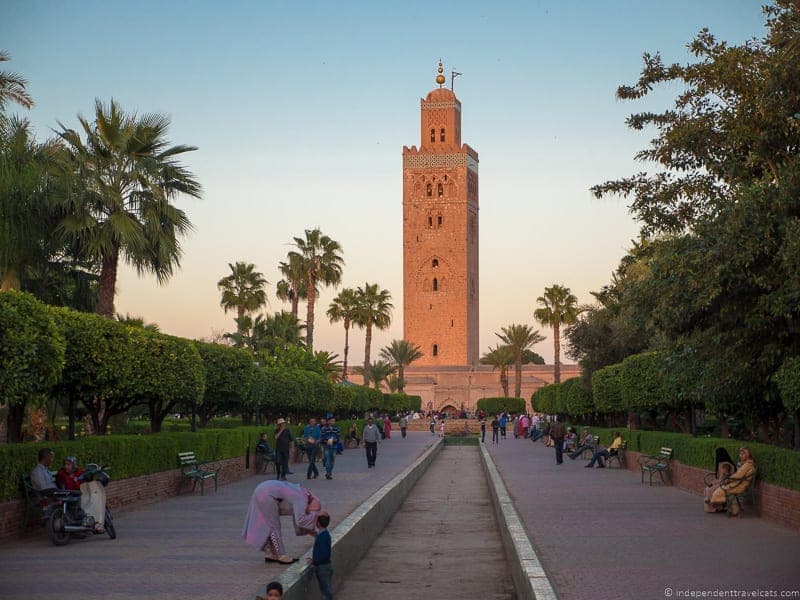 12 Things to do in Marrakesh Morocco
As I said, Laurence and I recently spent about 2 weeks in Marrakesh and about a month in Morocco as we also did the Exotic Morocco 10-day tour with Travel Talk Tours that included visits to the Sahara Desert, Fes, Rabat, Casablanca, and Essaouira. I would definitely encourage you to see more of Morocco than just Marrakesh if you have the time.
Ideally I would try to plan for at least 3 days in Marrakech to really explore the city and see all the highlights. For those who are particularly interested in any aspect of Marrakech (whether it be the Jewish history, Islamic school, palaces, city history), I would consider hiring a guide or booking a walking tour as very little information is available in most of the museums and palaces, and a good local guide can provide a large amount of background and context for your visits.
Here are 12 things we'd recommend considering for your Marrakesh itinerary, as well as some tips on avoiding scams, haggling, eating, where to stay, and preventing gastrointestinal issues.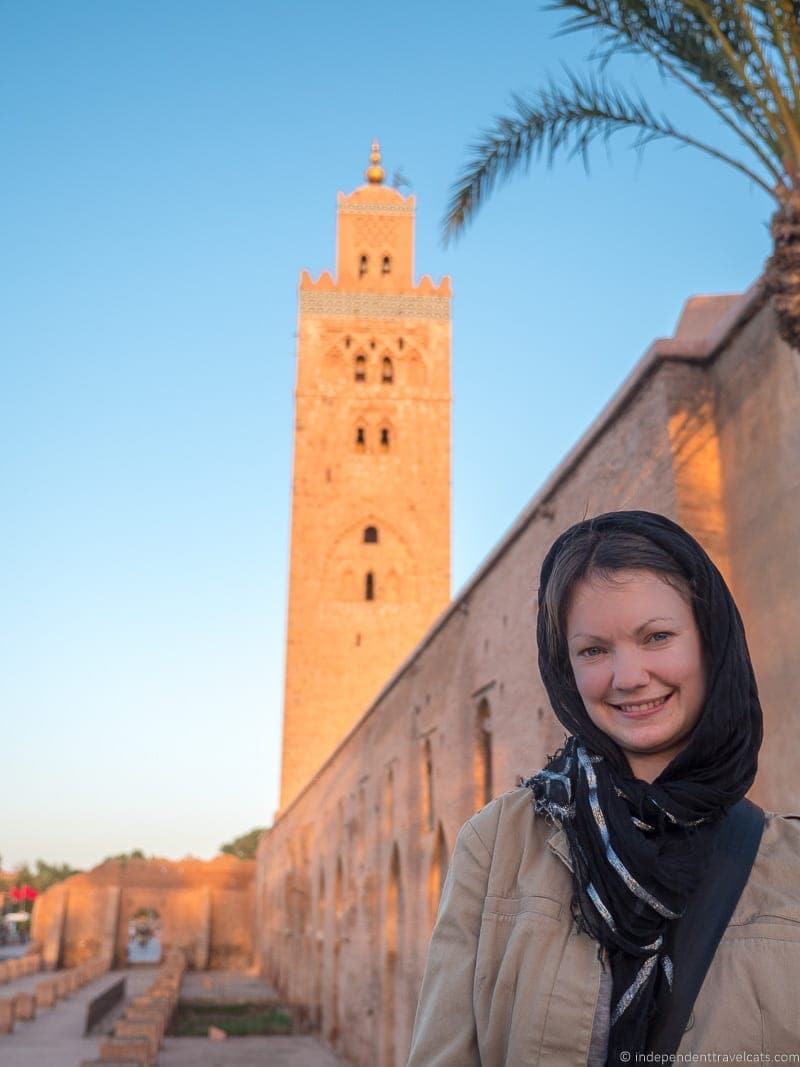 Experience Sensory Overload at Jemma el-Fnaa
Jemaa el-Fnaa is the central square and marketplace in Marrakech and its history goes back almost 1,000 years, and today you'll find a mix of ancient customs and modern tourist experiences fill the square. It is said to be the busiest square in all of Africa! If you only have a few hours in Marrakech, I would definitely recommend wandering around this square as it offers a bit of everything and is a great sensory experience.
The smell of fresh orange juice mixes with the smells of exotic spices, the sight of Berber dancers is juxtaposed with that of huge tour groups, and the sounds of the snake charmers mixes with the cries of the vendors trying to sell you lanterns and rugs. Around the perimeter of the square, you'll find a large number of shops, cafes, the post office, and an entrance to the souks.
The square changes from morning to evening so I definitely recommend walking through at different times of the day. The day is a bit less busy and the square is filled with orange juice stalls, local goods vendors, snake charmers, henna artists, and men with chained Barbary apes. I had a difficult time seeing the monkeys in the square, and I strongly urge you to avoid any performers using live animals (snakes and apes) as these animals are mistreated and forced to perform and even fight to the death (snakes) for tourist money. In the evening, you see more musicians and dancers, storytellers, acrobats, magicians, and boxers. The food stalls also come to life as the evening approaches serving all kinds of hot food.
Jemaa el-Fnaa can be a fun experience, but it can be overwhelming, especially with so many vendors trying to get you to buy their wares. Vendors range from being polite to downright aggressive, so just be prepared for this before going into the square or walking through the souks. If a henna artist grabs your hand or a performer tries to drape a snake around your neck, be prepared to firmly say "no" and walk away if you are not interested in buying anything or paying for a photo opportunity.
If you are interested in buying something or getting a photo of something, make sure to negotiate the price upfront. Haggle for the price as they will start off quite high, ask about 1/3 of the asking price, and you should expect to pay about 50% of the original asking price.
Note that if you take a photo of a performer or participate in a performance (even if you are pulled into it), you are expected to pay and will most likely get asked for money. We witnessed countless arguments taking place between performers and tourists about the cost of services or photos. The tourist police patrol this square fairly regularly, but be cautious with your wallets and any valuables as it is a common place for pickpockets to operate.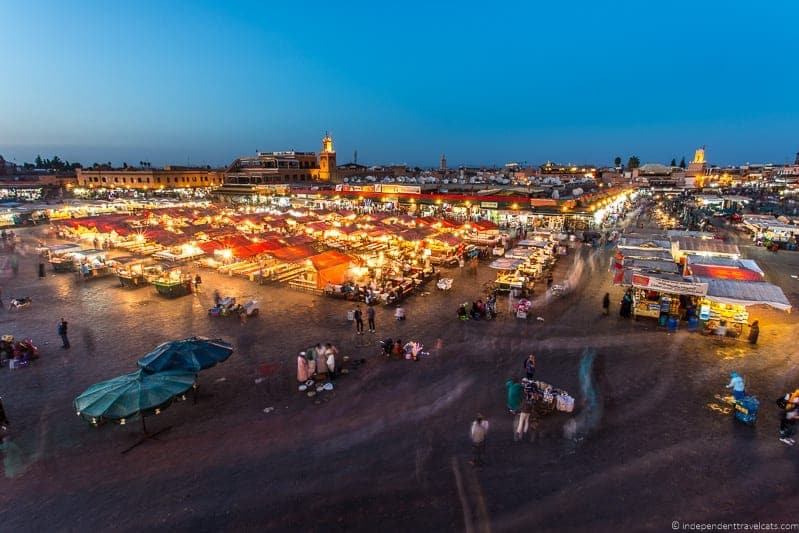 Shop in the Souks
The souks are the traditional markets of central Marrakech where a dizzying number of shops and stalls sell everything from shoes to handbags and lanterns to nuts. You can enter the souks right off Jemaa el-Fna Square and they are a definite must-visit for visitors to Marrakech whether you plan to actually shop or just take in the exotic sights.
Marrkech has the largest traditional marketplace in Morrocco, and the souks can be a confusing labyrinth and a bit intimidating for first-time visitors. Just go in knowing you will inevitably be lost and rest assured you will make your way out eventually but wandering around aimlessly is part of the experience. In the outer sections of the market, it is more jumbled with stores selling a bit of everything and as you make your way in further you'll find more distinct sections such as shops focused on woodworking, ironware, clothing and textiles, leather items, herbs, food products, pottery, live poultry, etc.
Some shops are just tiny kiosks and some are surprising large cavernous spaces once you get inside. You can also see some of the artisans at work in their workshops which is interesting to watch. Many of the items for sale are genuine handmade items, others are imported items from China so do pay attention to the quality and spend some time looking around at products on offer at various shops before making your purchase.
Some vendors are very polite and some can be aggressive and may follow you around trying to convince you to come to their store. Just be polite but firm when you are not interested, clearly stating you are not interested, and move on and they will almost always leave you alone. Some vendors will offer you tea; I would only accept if you are genuinely interested in purchasing an item from their shop as it can feel awkward to leave without buying something after receiving someone's hospitality.
If you want to purchase something, you should be prepared to haggle with the vendors. The vendor's first price will start off quite high, sometimes ridiculously so, to see if you will just accept the first price. They are expecting you to haggle and offer a lower price and then go on from there back and forth.
I would get advice from your hotel or a local guide or guidebook about typical price ranges for the particular type of item you want to buy (e.g., a small rug, a lantern, a leather handbag) and set off with a firm idea of what you are willing to pay and use that as your guide. Here is a good shopping guide by fellow travel blogger Amanda from MarocMama on buying rugs in Marrakech. Amanda suggests as a broad guideline, that you should generally ask about 1/3 of the initial asking price, and you should expect to pay about 50% of the original asking price. However, this really depends a lot on the starting price by the vendor.
For those serious about shopping in Marrakech, you might want to check out this article which lists the top 10 souks in Marrakech and this book on shopping in Marrakech. If you feel intimidated about the shopping and bargaining process, you can also hire a licensed local guide to help take you to the best spots and he/she can provide bargaining tips.
If you hate haggling there are some shops with set prices in Marrakech that offer a more stress-free experience, such as the Ensemble Artisanal (located on Avenue Mohammed V) which is a government-backed complex of handicraft shops, but expect to pay a bit more than you would if you haggled in the market.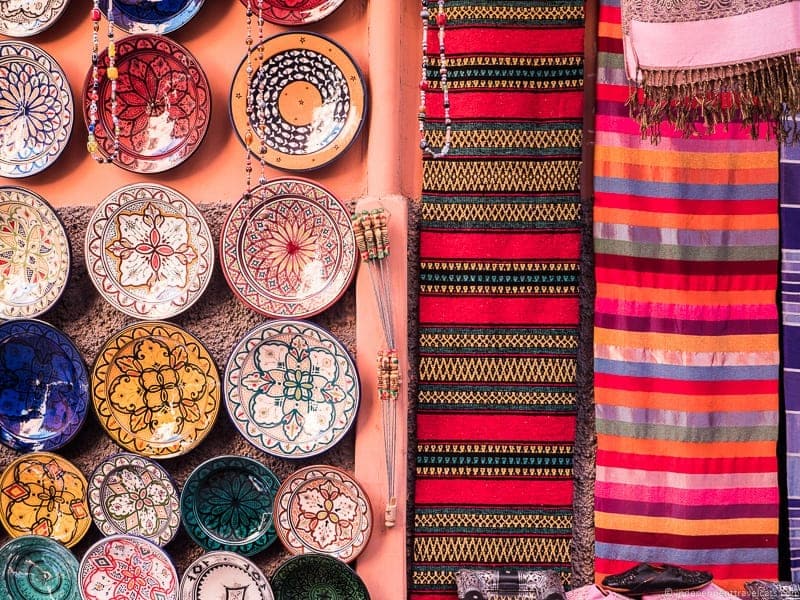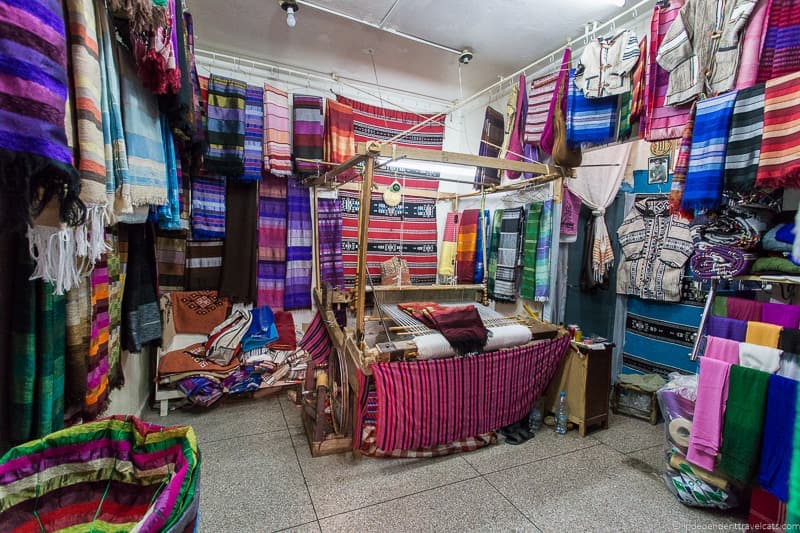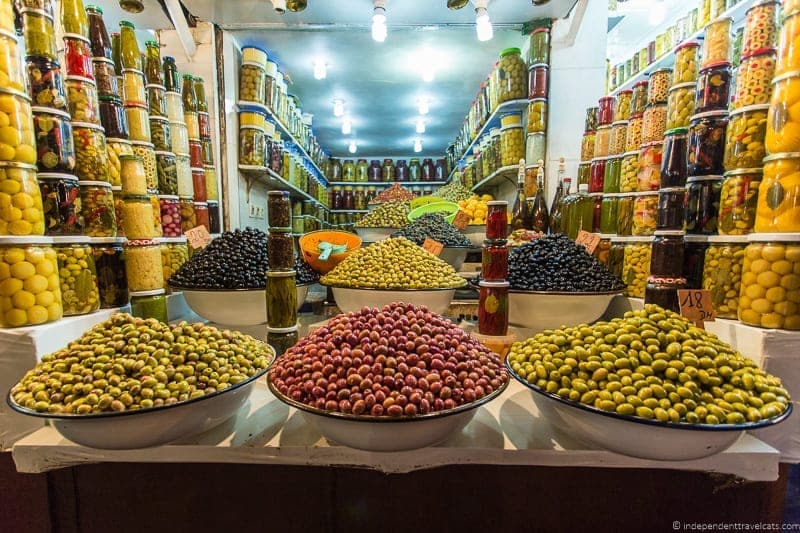 Stay Overnight in a Riad
Riads are traditional Moroccan houses built around a central courtyard or garden. Riads were historically the city homes of the wealthy Moroccan citizens and are generally quite large, some even resemble palaces. Many of the riads have been renovated in modern times for use as guest houses, hotels, apartments, and restaurants.
There are many riads open as guest houses or hotels for you to stay at in many of the major Moroccan cities, especially in Marrakech. They range from fairly sparsely furnished and budget friendly to amenity-filled luxury stays so you should be able to find something that suits your style. Since riads were built originally as homes for large families, you might find less privacy and space than you are used to in a regular hotel but most people enjoy the more intimate experience of a riad stay. There are also new "modern riads" built for the purpose of being a guest house or hotel.
We'd recommend booking a riad in the city center or within walking distance of the city center, especially if you are only in the city for a short time.
If you are looking for a more upscale luxury riad or riad-style hotel, you might try Riad Nashira & Spa, Riad la Source du Desert, or Riad Dar Dialkoum. There is also the decadent and expensive Royal Mansour where guests get their own exclusive "riad".
Mid-range options include Riad les Jardins des Lilas and Riad de la Semaine.
Budget riad options include Dar Moughita, Riad Douja, and Riad Johnboy.
We personally stayed in a budget-friendly riad called Riad Douja where the family who owns it still lives and they rent out the extra rooms to travelers. We stayed there for almost 2 weeks in total so we developed a good relationship with the staff and the owner even gave us small parting gifts when we left.
There are plenty more accommodation options to choose from in Marrakech – see all the available options here to find something you suit your budget and tastes.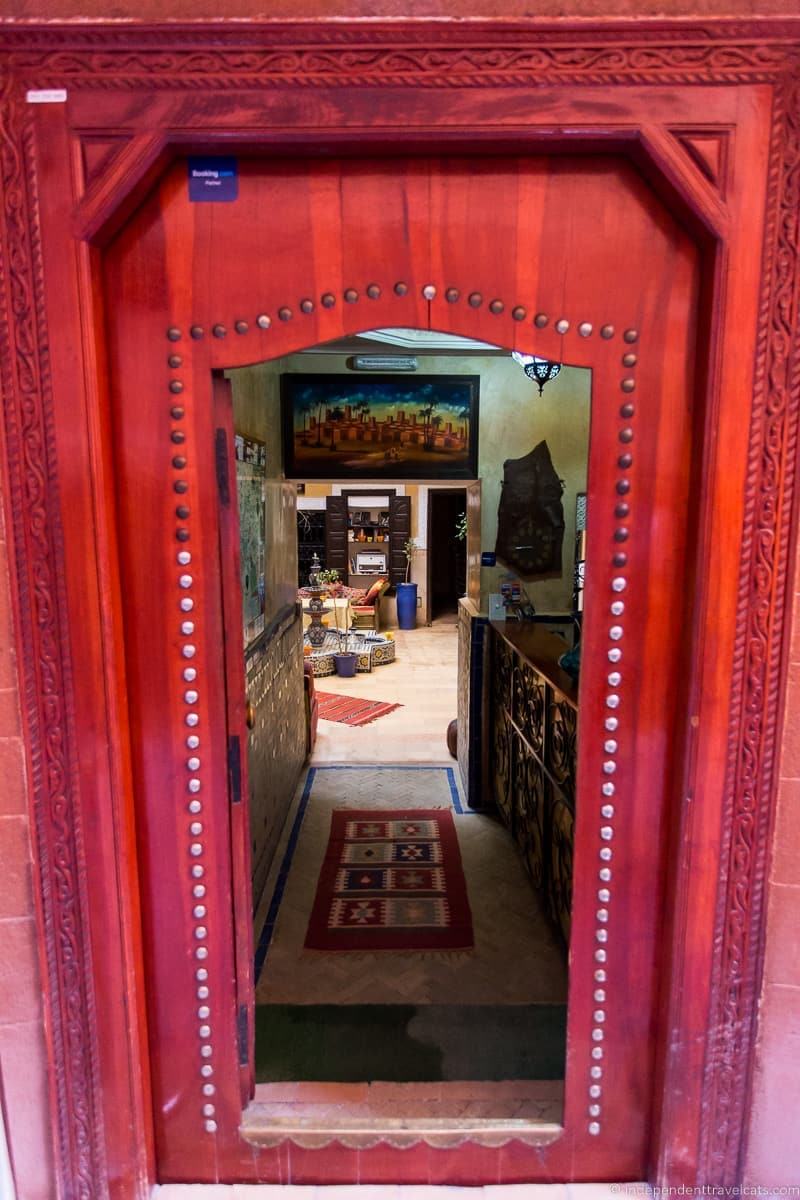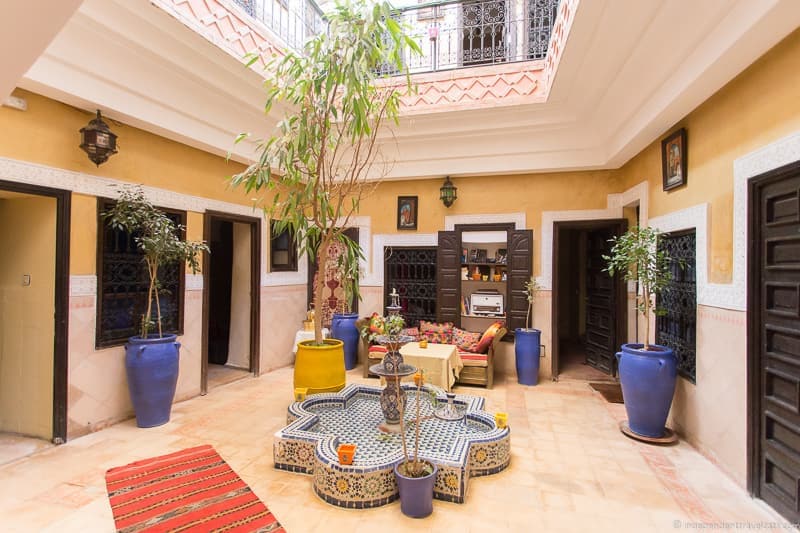 Visit a Tannery
Traditional open-air tanneries can be found in several places in Morocco. I would consider a visit to the Marrakech tanneries, but only if you are not visiting Fes as the tannery there (the 11th century Chouara tanneries) is a much better place to visit in our opinions. The tannery in Marrakech is about a 15 minute walk from the souks. At the entrance to the tanneries, someone will inevitably offer to give you a guided tour of the tanneries, but be sure to agree on a tour price beforehand.
During the short tour (ours was about 10 minutes) you will get to see dozens of workers working over open vats, dipping skins in to treat them before hand-dyeing them in various colors and then stomping them under the hot sun to distribute the pigment. You'll also get to see and touch (if you wish) the various types of animal skins and the resulting leather. T
he smell can be pretty horrible so be sure to accept the fresh mint that is offered as you enter to keep near your nose as you tour the tanneries. There were animal carcasses in one area and also stray dogs feeding on the leftovers, so this is definitely not a visit for everyone and certainly not for the faint-hearted or those easily affected by strong smells.
A big issue with the tanneries in Marrakech is that often travelers get scammed into coming here. The "tannery scam" is a very well-orchestrated and common scam in Marrakech and one that the local authorities seem to not be doing too much to prevent.
This actually happened to us on our second day in the city as it does to dozens of tourists every single day. We were enticed to follow a "helpful" young man who Laurence decided to trust and he was taking us to see a cattle market. I was more skeptical, but Laurence just thought I was being pessimistic. This turned into the man taking us to the tanneries rather than a cattle market, and then being transferred to another guide who was a worker at the tannery.
Even though we were not very interested in the tanneries, we ended up politely submitting to the tour since we had walked 15 minute to get there. No one asked us for any money and after the tannery tour, we were taken to a leather shop by yet another person to see goods made from the local leather.
After leaving the store, we were then aggressively harassed by three men, two on motorbikes, demanding money for the guide, the tannery tour, and for the shop owner's time since we did not buy anything at the leather store. We happened to be in a fairly deserted area so it was a bit frightening but we stood our ground and offered them a small amount of the large sum they wanted. They continued to harass us but eventually gave up, but it was one of those experiences that led us to not trust anyone in the streets for the rest of our stay in Marrakech.
I would be prepared for this very common tannery scam or ones that are quite similar. If you want to visit the tanneries, ask for directions from a trusted source (hotel worker, guide, police) or use a good city map and refuse any offers of help by men on the streets. The scammers prey on you being lost and not feeling confident about your surroundings.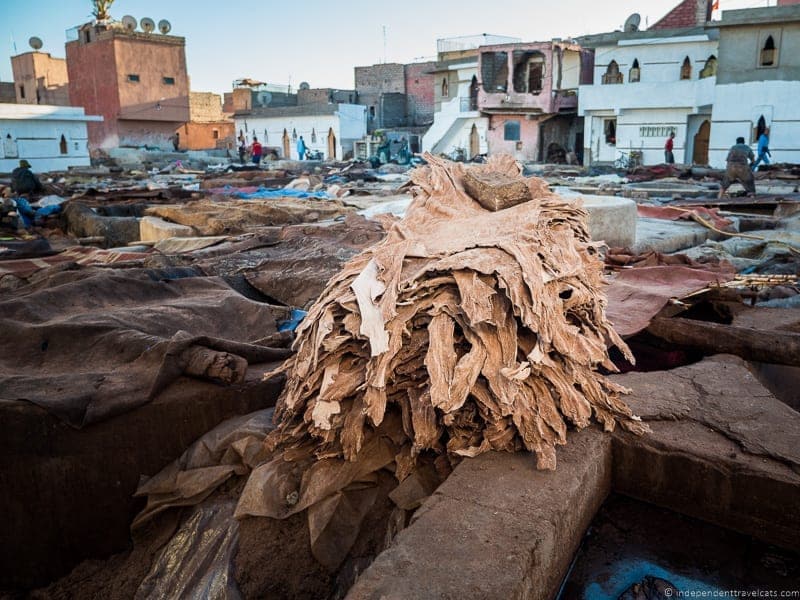 Learn about the Ben Youssef Madrasa
The Ben Youssef Madrasa was an Islamic college founded in the 14th century dedicated to the teaching of Islamic scripture and law. It was the largest madrasa in Morocco housing hundreds of students. The madrasa was associated with the Ben Youssef Mosque, which is located nearby and is the oldest mosque in Marrakech and one of the most important.
Inside the madrasa, there is not a lot of information in English so you might consider hiring a guide to learn more. But on your own you can explore the building dormitories and courtyard and see the carved wood interiors and colorful tilework. This was probably our favorite madrasa visit of the few we visited in Morocco. The Ben Youseef Madrasa closed down as a school in 1960 and was later restored and opened as a historical site to the public in 1982. It can be visited for a small admission fee and it is located near the souks and the Museum of Marrakech.
Before or after your visit to the Ben Youseef Madrasa, you should walk over to the Shrob ou shouf fountain (also spelled Chrob ou chouf) which is located near the madrasa. Although you might easily pass by this 16th century Saadian fountain, look out for a fountain with a wooden carved lintel above with tiles on top. We passed by this several times before it was pointed out to us a significant city sight, the carving on the lintel is quite intricate although I am not sure I'd classify it as a must-see.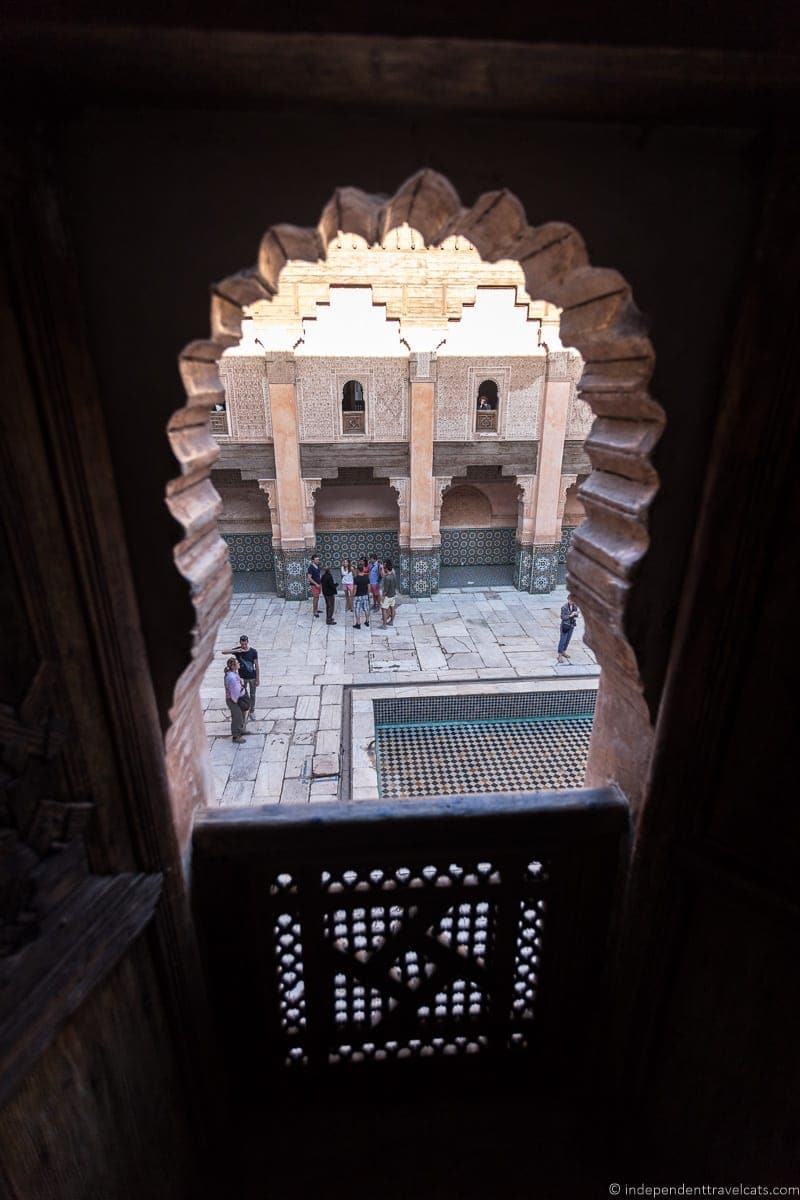 Visit a Palace or Two
If you spend much time in Morocco, you'll learn that in Morocco's long history there have been four main imperial cities, or historical capital cities, these being: Fes, Marrakesh, Meknes, and Rabat (current capital). There are three main palaces still located in Marrakech, the Badi Palace, Bahia Palace, and the Royal Palace. The Royal Palace is privately owned and not currently open to the public, but both Badi Palace and Bahia Palace can be visited for a small fee.
If you are only interested in visiting one of the palaces, I'd definitely recommend the Bahia Palace as it is in better condition, surrounded by gardens, and you can see more of the intricate artisan work here than in the Badi Palace which has been more ravaged by time and neglect.
The Badi Palace, or Badii Palace, is a 16th century grand palace that is now in a fairly ruined state in central Marrakesh, but a visit here still gives you a good sense of the grand size of the structure and there are often art exhibits inside as well.
The Bahia Palace has less history than the Badi Palace, built in the 19th century, but it is in much better condition making it much easier to imagine the original grandeur of this beautiful palace. It was built for the Grand Vizier of Marrakesh, a former slave who rose to power, as a residence where he lived with his four wives, 24 concubines, and dozens of children. Must have been a busy place!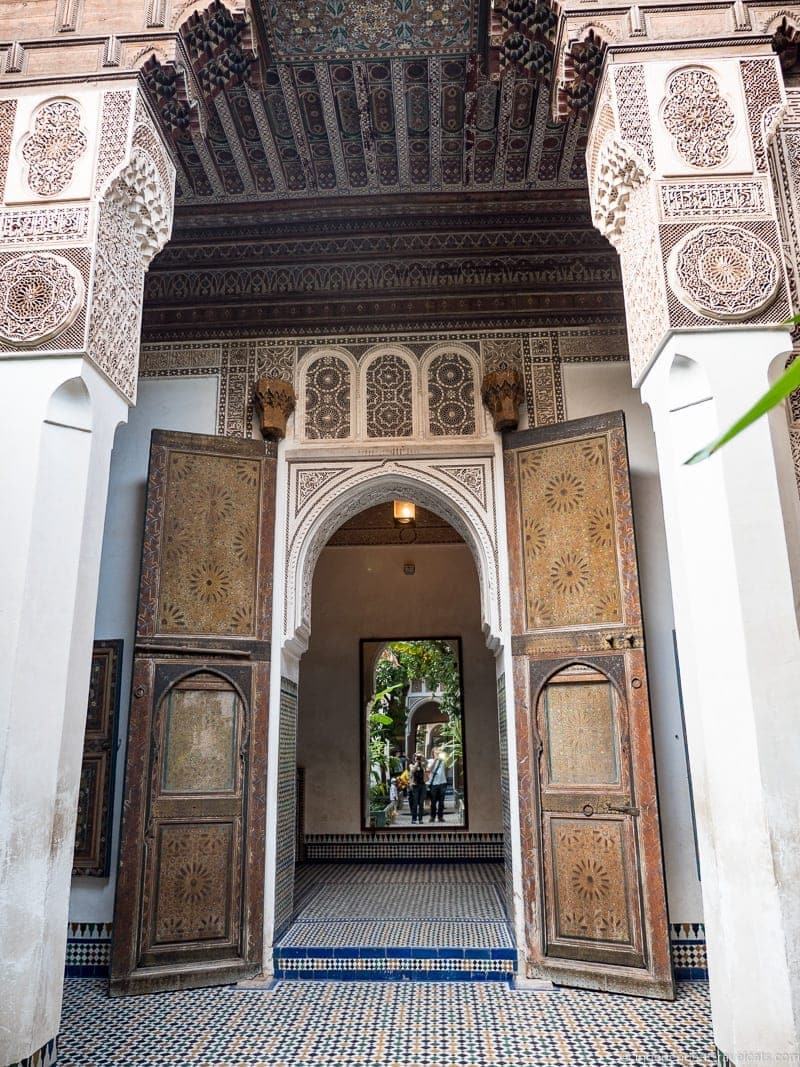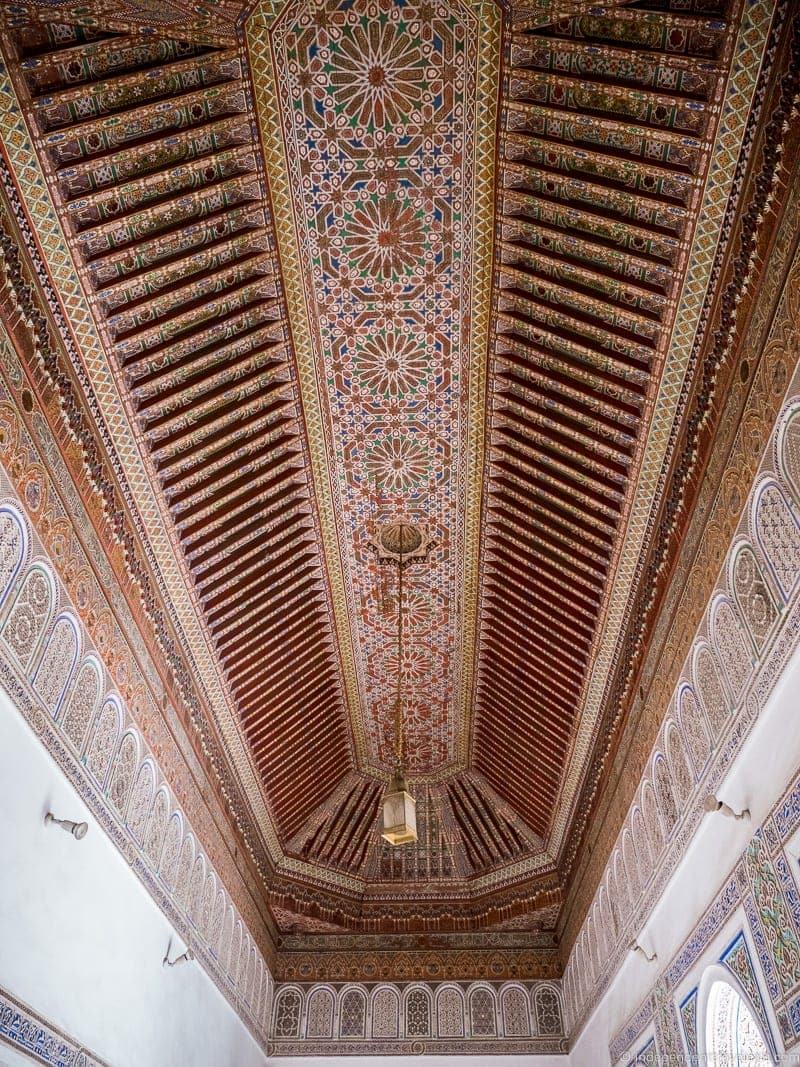 Museums of Marrakesh
There are several museums in Marrakesh, focused on various things like art, history, handicrafts, Berber culture, Islamic art, and photography. Although none of them are what we would consider a must-visit, you'll likely find at least one of interest and you'll probably run across a few of them as you wander around the streets. Most charge small admission fees.
If you have time for only one museum, you might consider the Dar Si Said, also known as the Museum of Moroccan arts, which has one of the finest collection of artifacts in Morrocco (including the oldest known object in Marrakesh) and the home itself is a showcase of regional craftsmanship. You'll find it near the Bahia Palace.
Probably our favorite museum was La Maison de la Photographie (or House of Photography) which was created by two avid collectors of vintage Morroccan photography. The gallery contains thousands of photographs, glass negatives, and documents related to photography in Morocco focusing on the period form about 1870 to 1960. You can also watch a full-color documentary that was shot in Morocco in 1957 by Daniel Chicault focused on the culture and history of the Seksawa tribe which I enjoyed watching. We also recommend heading to the museum's terrace for a coffee or lunch and good views of Marrakesh.
Three other museums we'd recommend considering are the Museum of Marrakech, The Berber Museum, and the Musée Tiskiwin (Tiskiwin Museum).
The Museum of Marrakech contains a variety of exhibits showcasing both modern and traditional Moroccan arts, including clothing, pottery, embroidery, and modern art housed within the 19th century Dar Menebhi Palace. The collection is a bit sparse and while some of the artifacts are interesting, there is very little English information so the beautiful courtyard and the palace itself were the highlights of our visit here.
The Berber Museum is located within the beautiful Majorelle Garden and houses a nice collection of Berber costumes, jewelry, and other artifacts and is a good place to learn more about the Berber culture.
Finally, the Tiskiwin Museum contains a small but impressive private collection of artifacts from throughout Morocco gathered by Dutch anthropologist Bert Flint and are well displayed in this pleasant house-museum.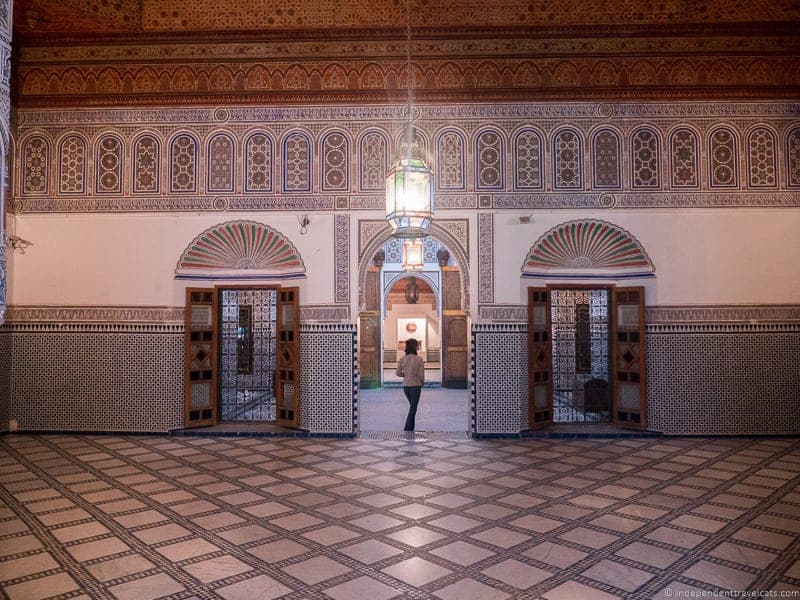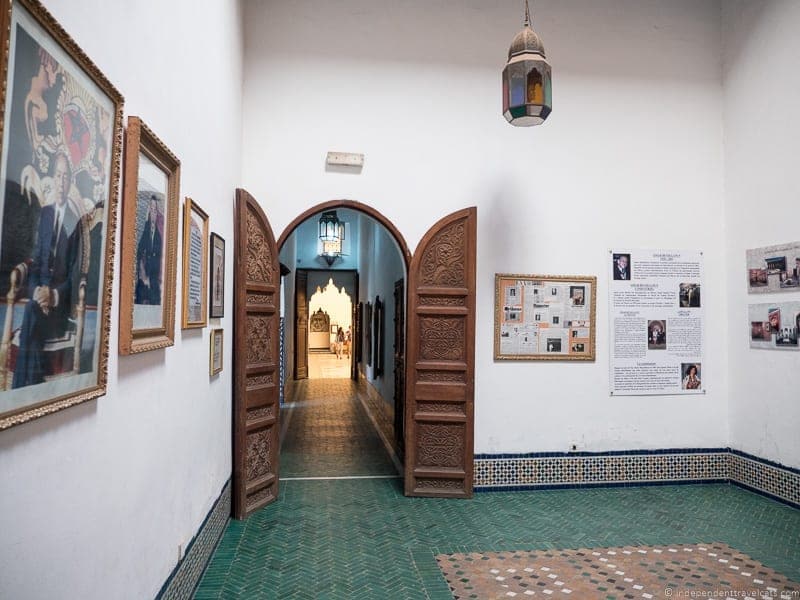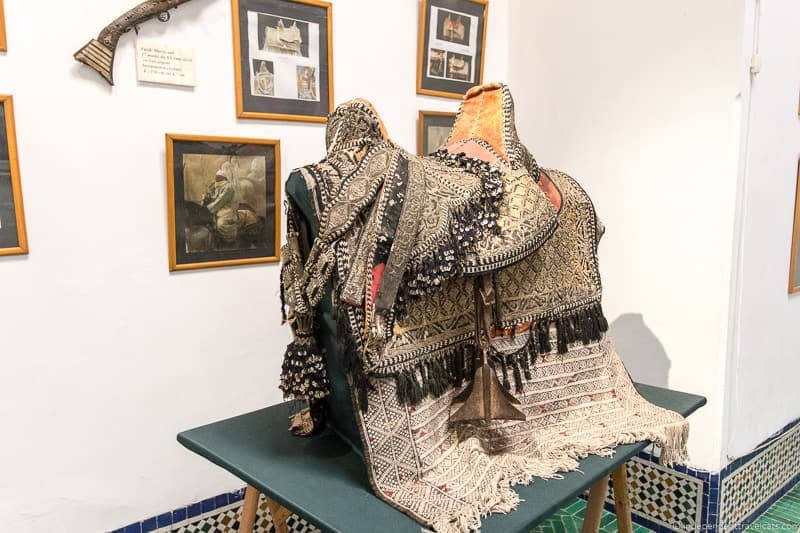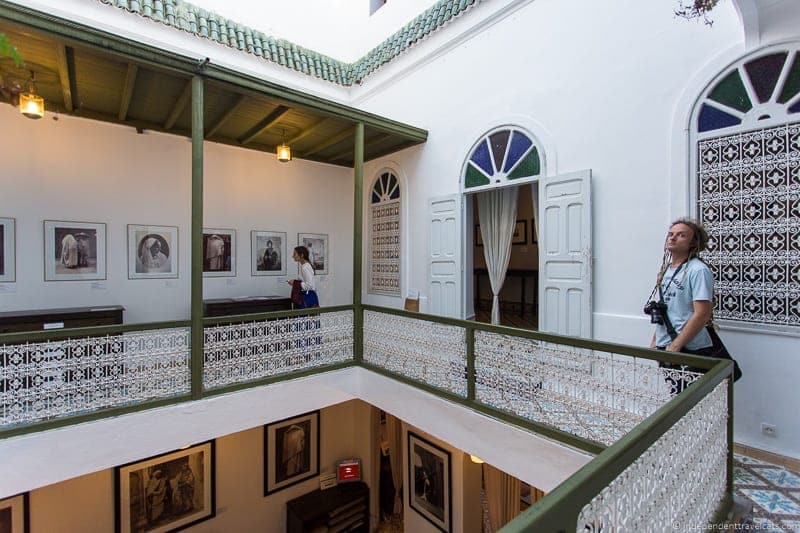 Rock the Kasbah
The Kasbah district is a historical area that was originally where the walled citadel, or fortress, was located. It was here that early sultans of Morocco set up their palace, administrative buildings, and mosque. Today in this district, you'll find the royal palace (not open to the public), El-Mansoria Mosque (a.k.a. Kasbah Mosque, open to Muslims only), Badi Palace, and the Saadian Tombs.
The Saadian Tombs date back to the 14th century and this area serves as the burial site of about 60 members of the Saadi dynasty, including the sultan Ahmad al-Mansur and his family. The Saadian Tombs are worth a quick visit (entry fee charged) as the mausoleum and some of the tombs are beautifully decorated.
The Kasbah district is also a more relaxed place to shop and eat compared to the central area around Jemaa el-Fnaa, as it has markets, shops, and some good restaurants and food stalls. While plenty of tourists are in this area, we found that in general vendors are not as pushy and it is not as crowded as the central area. We enjoyed walking around this area, observing daily life around the Kasbah Mosque, and making stops at the Badi Palace and Saadian Tombs.
Another interesting part of the Kasbah is the historical Mellah area, or the old Jewish quarter where Jews lived within Islam-dominated Morocco. Jews were not able to own property until the early 20th century, and were often forced to live near royal palaces both for their own protection and so they could be carefully watched by the government.
Today a few Jewish families still live here; however, most left for Casablanca, France, or Israel. To explore the Mellah area, now mostly referred to as the Hay Essalam area, head for the Place des Ferblantiers (formerly known as the Place de Mellah) and the Place Souweka. As you wonder the souks and streets in this area, you'll likely stumble upon a few synagogues and the Jewish cemetery, which is the largest of its kind in Morocco.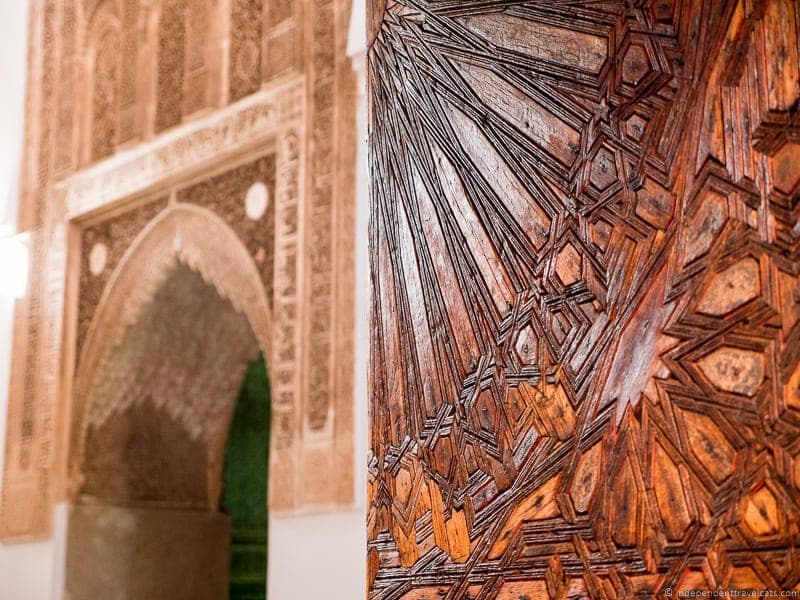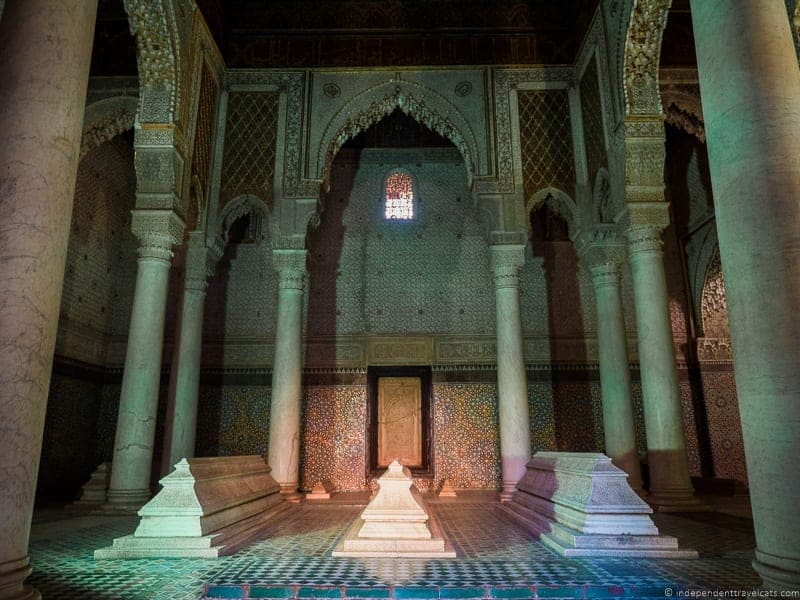 Walk the Ramparts
In the Kasbah area, you'll also find good views of the 12th century city walls or ramparts which stretches about 12 miles [19 km] around the city medina, and much of this old wall still remains. The city of Marrakesh gets its nickname the "Red City" or "Ochre City" from the color of these walls which are made of from pisé, a reddish pink clay. The walls were built to provide protection for the inhabitants, and originally there were numerous guard towers and about 20 gates that provided entrance through these walls.
Several of the gates still remain and many visitors make a point to seek out some of the more decorated gates, known as babs. The 12th century Bab Agnaou entrance to the Kasbah is generally considered the most impressive entrance of all medina rampart entrances. The Bab el Khemis (meaning Thursday Door in Arabic) marks the entrance to the flea market held in the area each Thursday morning from 8am to noon which is worth a visit for those who love flea markets, and you'll find an eclectic mix of antiques, junk, and treasures. The flea market is especially known for old doors.
For those who are truly interested in exploring the wall, you can take a walk around the perimeter (get a good map) or hire a horse-drawn carriage (known as a calèche) to take you around the walls which takes about 40 to 50 minutes. Taking a calèche around the walls used to be a very popular thing to do in Marrakesh but as the streets have become more crowded with vehicles it is no longer as popular so most visitors opt to just view sections of walls from the medina on foot as we did. If you do decide to take a carriage, be sure to choose a drive who has a healthy and well-nourished horse, as some of the horses did not look very healthy or well-treated.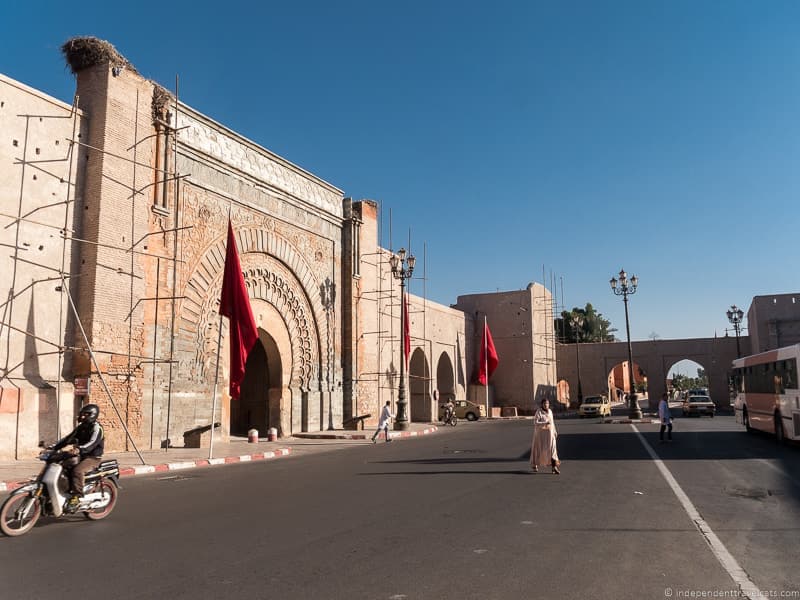 Eat Lots of Moroccan Food
A highlight of many travelers' trips to Morocco is the food. We definitely recommend sampling the local cuisine and trying things like mechoui (spicy lamb roast), khobz (bread), fresh olives, dates, harira (tomato soup) couscous, tajines, and sweet mint tea. Food is relatively inexpensive in Marrakech and it is easy to find local dishes all over the city. We spent two weeks eating in this city and we recommend checking out this guide to where to eat (and avoid) in Marrakech.
For those who love food, we highly recommend considering a food tour with Marrakech Food Tours if you want to sample some Moroccan dishes you are unlikely to discover on your own. The tour company is run by American Amanda and her Moroccan husband Youssef who both live in Marrakech with their family, and they have developed an itinerary that focuses on traditional home cooked Moroccan foods. We were guests on one of these tours and loved it.
Our tour started with a hot herbal tea drink and proceeded to include an incredible amount of food. Along the way we sampled snails in broth, olives from the market, msemmen chema (pan-fried dough), khobz bread, hout quari (sardine ball sandwich), lamb prepared in two different ways (mechoui and tangia), sheep's head (for the adventurous eaters), traditional Moroccan vegetable couscous, sweet mint tea, cookies, and fruit smoothies. Do not eat before this tour!
They are also full of great food suggestions around the city, for instance because of her we ate at Amal Restaurant (which is also a training center for women!) and also got recommendations for her favorite food stall for seafood in Jemaa el-Fnaa (#14).
Many travelers do get gastrointestinal issues in Morocco and almost everyone on our tour did at some point to varying degrees (including Jess). So just come prepared and don't let it prevent you from tasting the local food. Take precautions and practice good hygiene (wash hands often and carry antibacterial hand wipes or gel), drink only bottled water (or filtered water from your hotel), avoid ice cubes, eat cooked food that is still hot, and avoid raw vegetables and peeled fruits.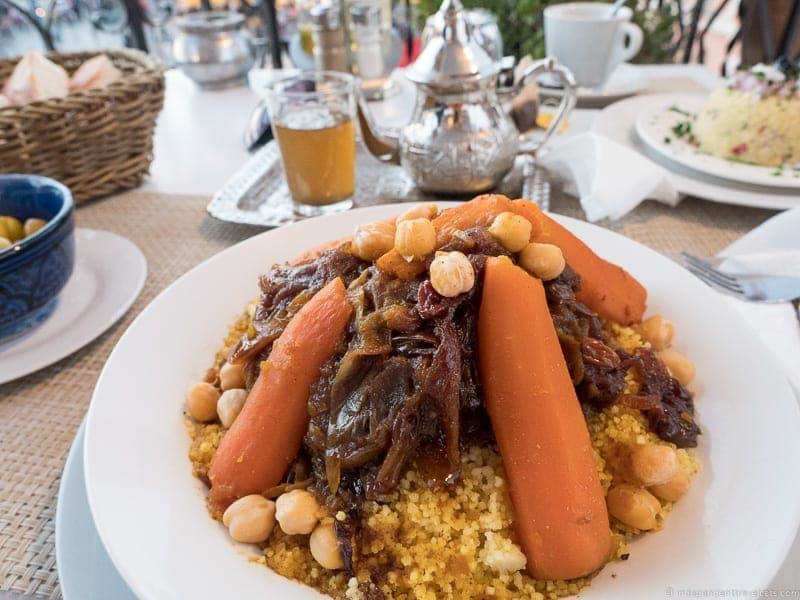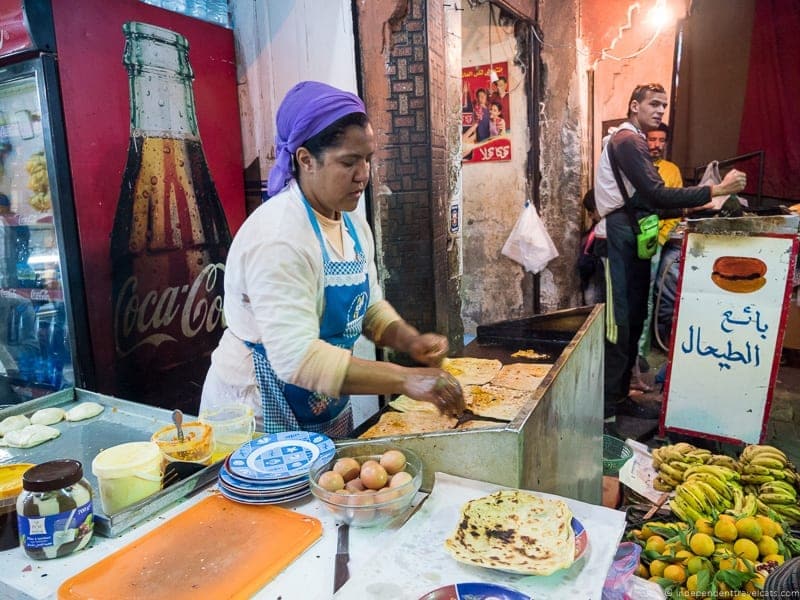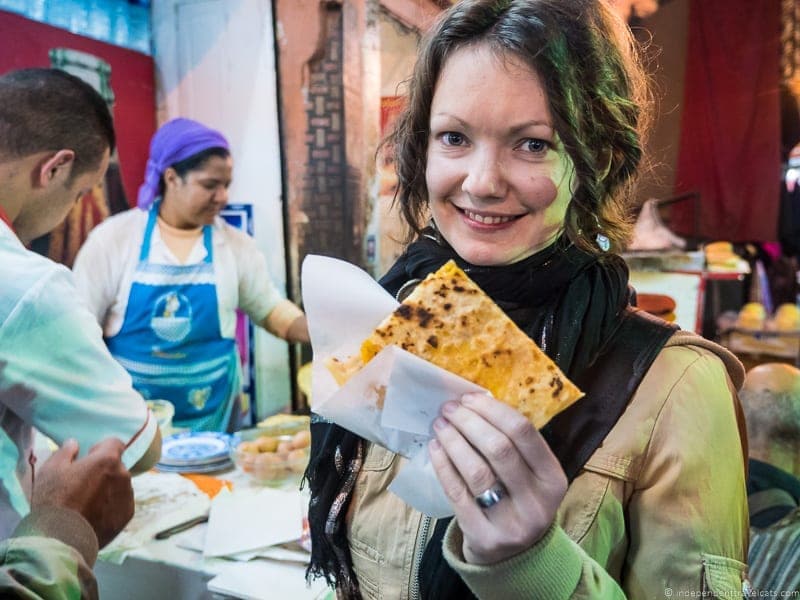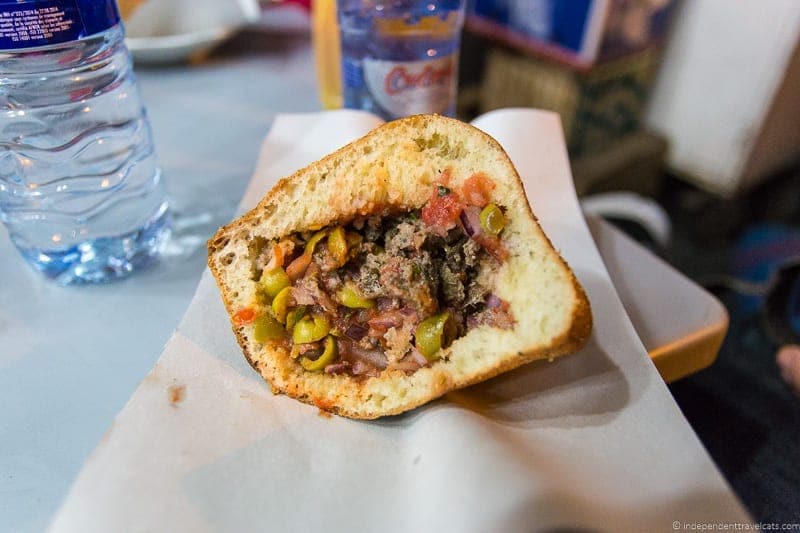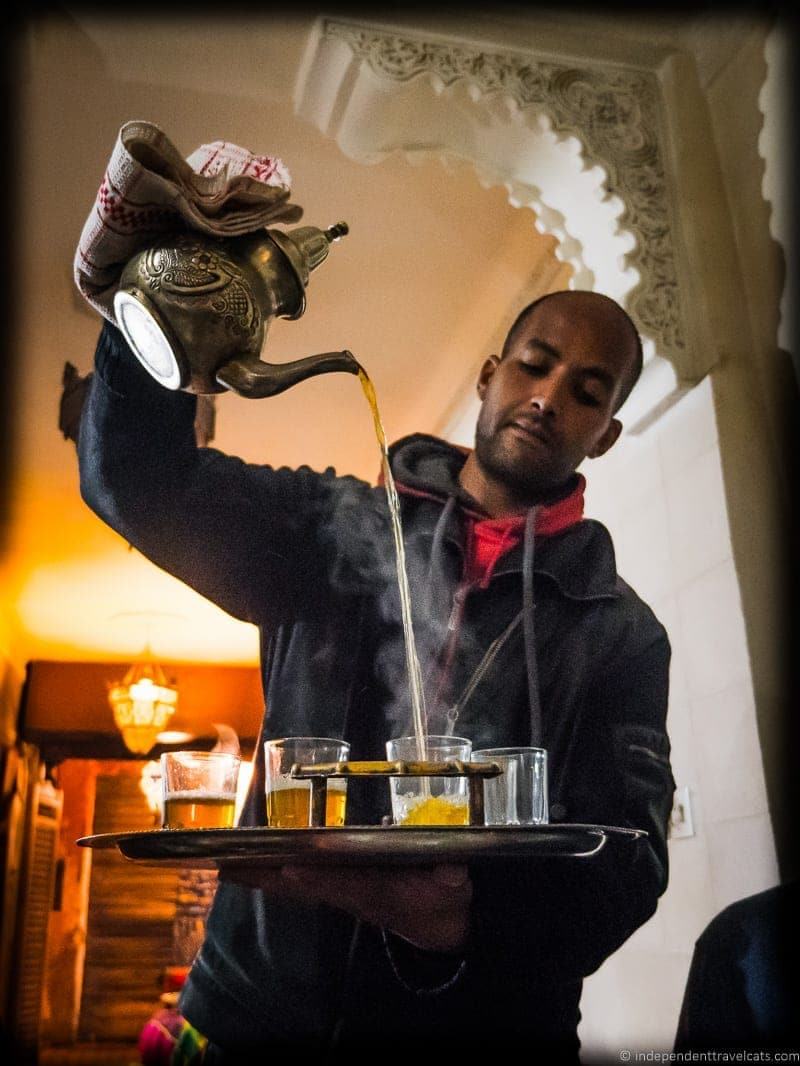 See Marrakech from Above
Another thing you might consider if you have more than a couple of days in the city, is to see Marrakech and the surrounding area from a hot air balloon. A hot air balloon ride will give you a unique bird's eye view of the city as well as the surrounding desert, groves, and Atlas mountains. We did not do a hot air balloon ride in Morocco but we have done them in other countries and always enjoy them. Most balloon trips include drinks and snacks before the ride and then a meal afterward. Several companies offer hot air ballooning in and around Marrakech, including Viator, Marrakech by Air, and Ciel d'Afrique.
Just be ready to wake up early and balloon rides are of course weather dependent so it is good to book them early in your stay so you can reschedule if needed. If hot air balloons are not your thing but you still want to an aerial view of the city, an alternative would be to book a helicopter tour.
Stroll in a Garden
Your image of Marrakech may not include many green spaces and vegetation, but Marrakech actually has several gardens and groves. These can be great places to get away from the bustle of central Marrakech and its crowded squares and souks. There are several gardens you can visit (some are free, some charge an admission fee).
Probably the most well-known is the Majorelle Garden which served as the home of the landscape painter Jacques Majorelle, and was later bought and restored by fashion designer Yves Saint Laurent (his ashes were spread here and there is a memorial in the garden). The garden is known for its large collection of exotic plants from around the world and is quite picturesque. The garden also contains the Berber Museum which can be visited with a separate entrance fee. The only downside to the Majorelle Garden is that it is a bit expensive for Morocco standards and is quite a popular tourist attraction so it can get crowded here at times.
Another garden we enjoyed was the Koutoubia Gardens situated behind the beautiful Koutoubia Mosque – which is the largest mosque in Marrakech and you'll see the large mosque from the main square of Jemma El Fna. The garden is free to enter and features roses, flowers, orange trees, and palm trees and is quite popular with local families in the evening. Great place to relax, take in views of the Koutoubia Mosque, and stroll around with a snack in hand.
On the west side of Marrakesh, you'll also find the Menara Gardens which includes an olive grove and pavilion. But check your map and you're sure to spot other gardens as well, which can provide some welcome peace from the bustling medina.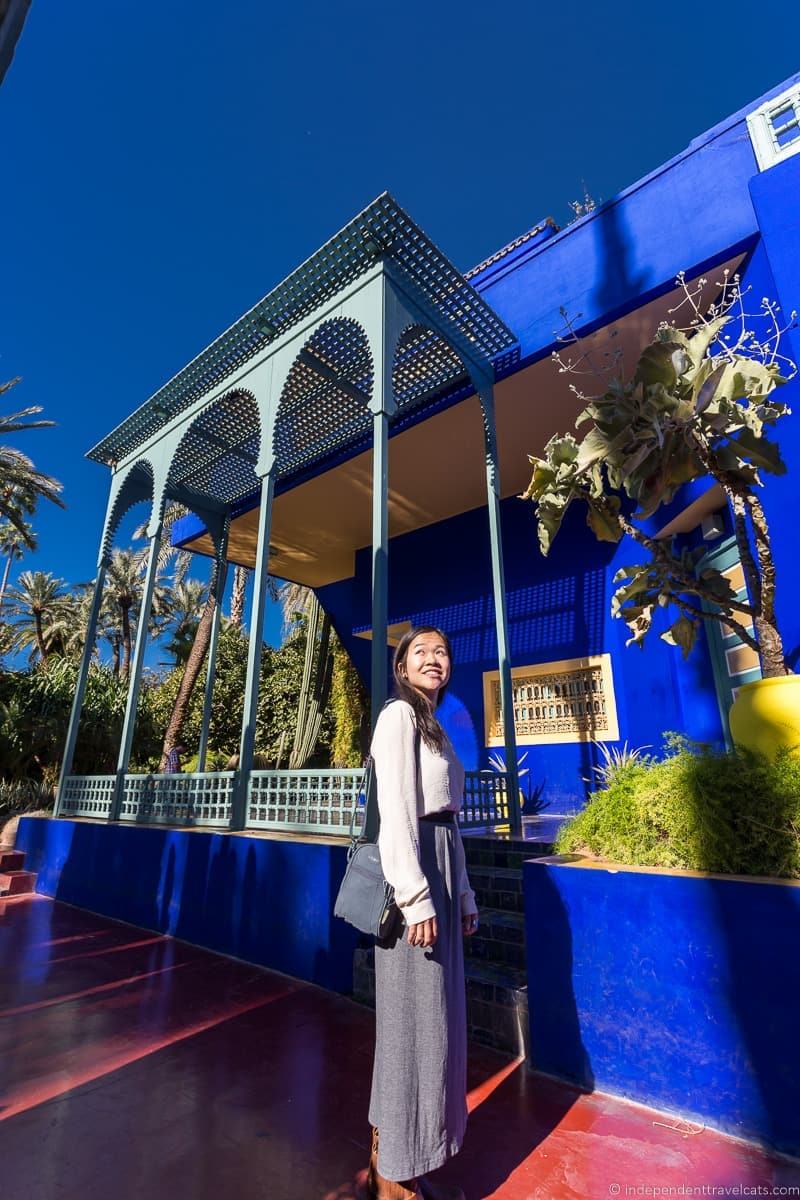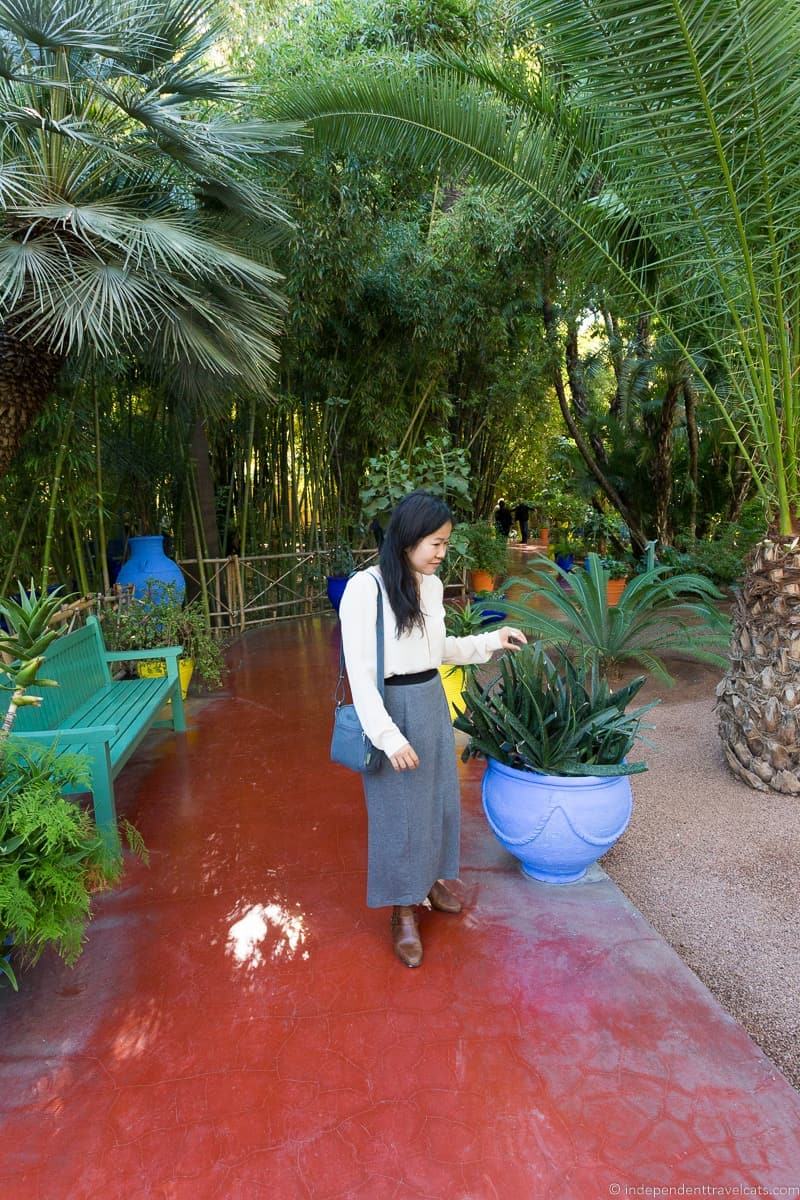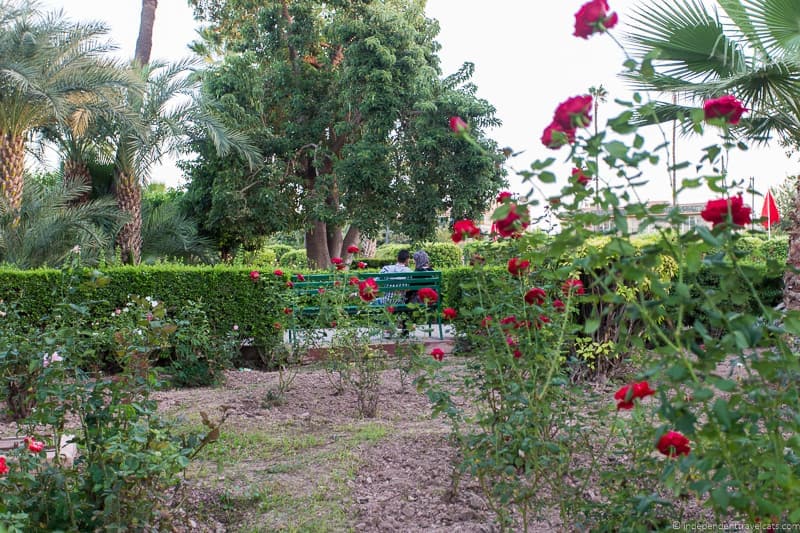 Relax with Drinks, Sunsets, and Hammam Treatments
In addition to taking a stroll in a garden, it is good to just have some downtime and sit on a rooftop terrace with a drink, book a trip to a hammam or spa, or just sit and watch the sunset. Rooftop terraces are plentiful all over Marrakesh with many restaurants and cafés having a rooftop sitting area. It is great to find a rooftop terrace to watch the action in Jemaa el-Fnaa; we often had lunch at Taj'in Darna since it offers a rooftop terrace and was a quick walk from our riad.
In the evenings, we often watched the busy square and the sunset from a cafe on the Jemaa el-Fnaa, both the Cafe De France and Le Grand Balcon Cafe Glacier are popular spots. Be sure to get there before sunset (recommend an hour beforehand) and you'll need to order at least one drink per person to sit on the terrace at night.
Other places we were recommended for good views (and alcoholic drinks) include the Kosy Bar located in the Mellah area (old Jewish quarter) and the rooftop bar at the Renaissance Hotel located in the modern Guéliz area. For photographs, the Koutoubia Mosque is by far the most famous structure in Marrakech to photograph at night as the sun sets behind the mosque, casting a very nice glow over the beautiful mosque. You can get good views from a rooftop terrace or simply approach the mosque on foot.
For hammams and spas, there are dozens to choose from, from the traditional public neighborhood hammams to the modern luxury spas. Here is a good article on what to expect from a Morroccan hammam (e.g., nudity, treatments, what to bring) and here are some places to check out to get you started on finding a hammam or spa for you: Les Bains de Marrakech, Hammam Dar el-Bacha (city's largest traditional public hamman, located at 20 Rue Fatima Zohra), Spa MK, Hammam de la Rose, Hammam Ziani, and the Royal Mansour spa. We did not do a hammam experience while in Morocco but it is on the list for our next visit.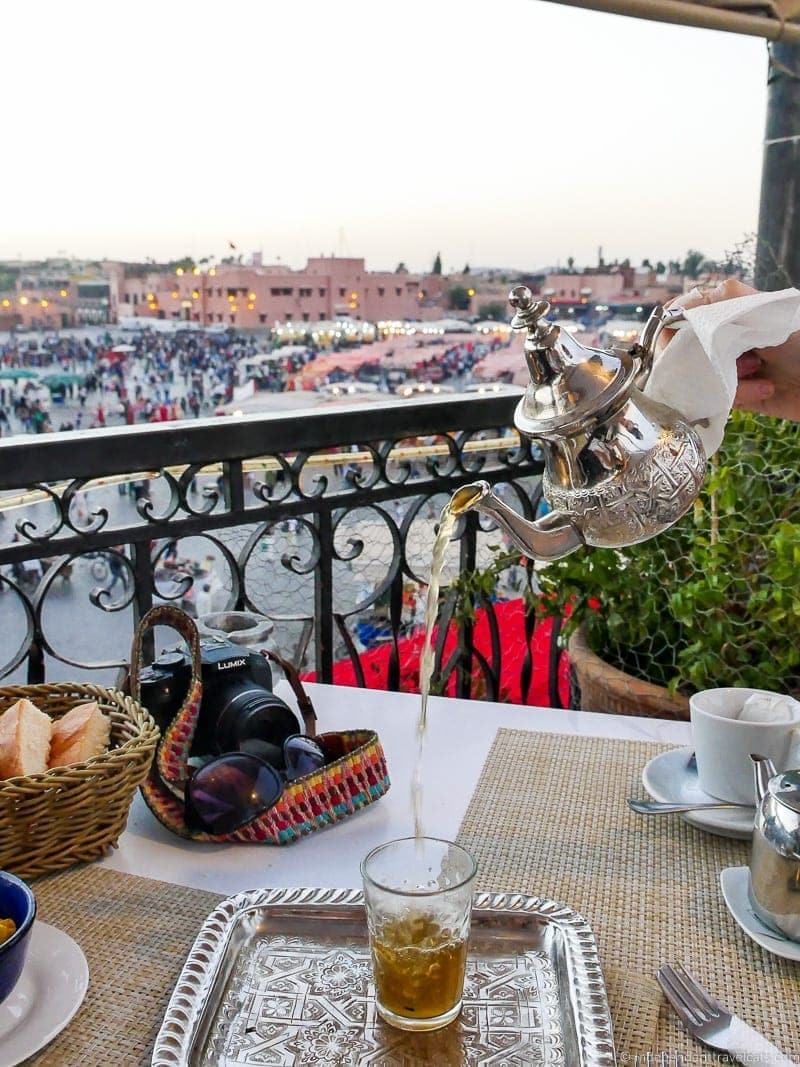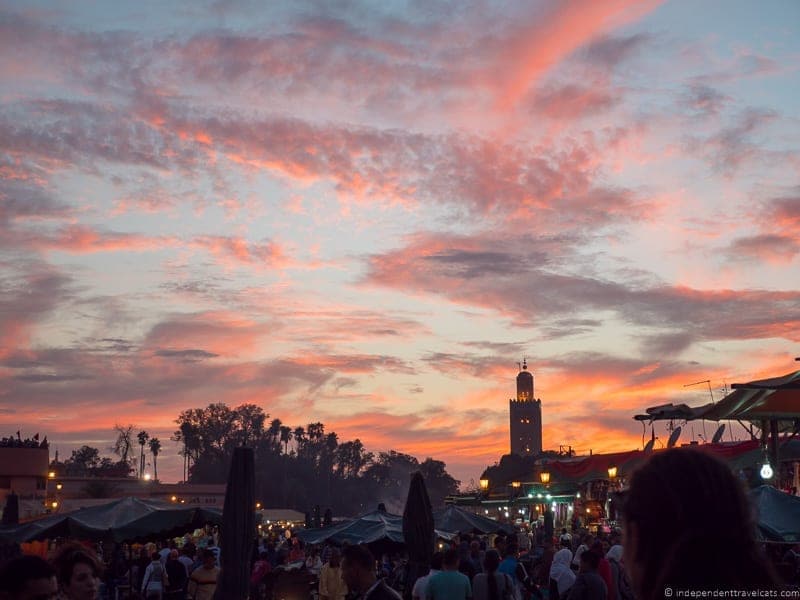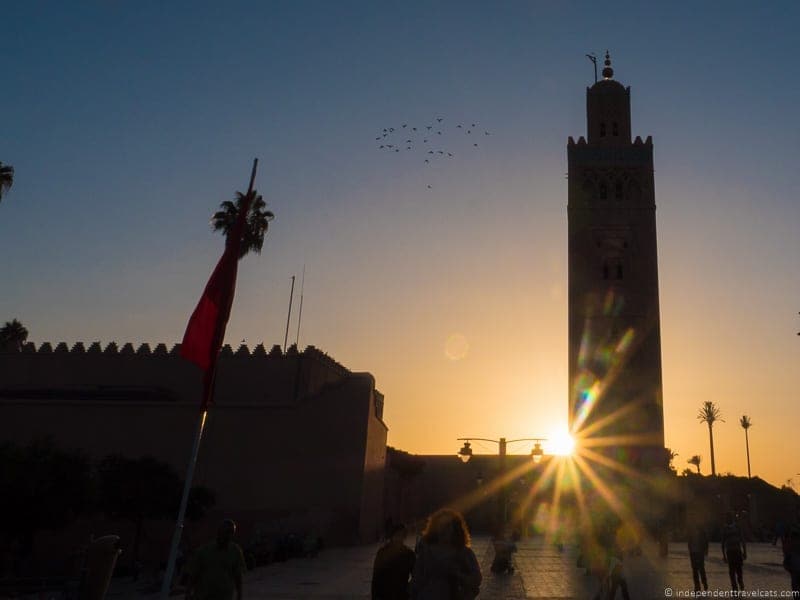 We hope that you found our post on things to do in Marrakesh helpful! Do you have any questions about planning your own trip to Marrakech? Just leave it as a comment below and we'll be happy to answer it. Also feel free to share any of your own tips or advice from your own travels to Marrakesh!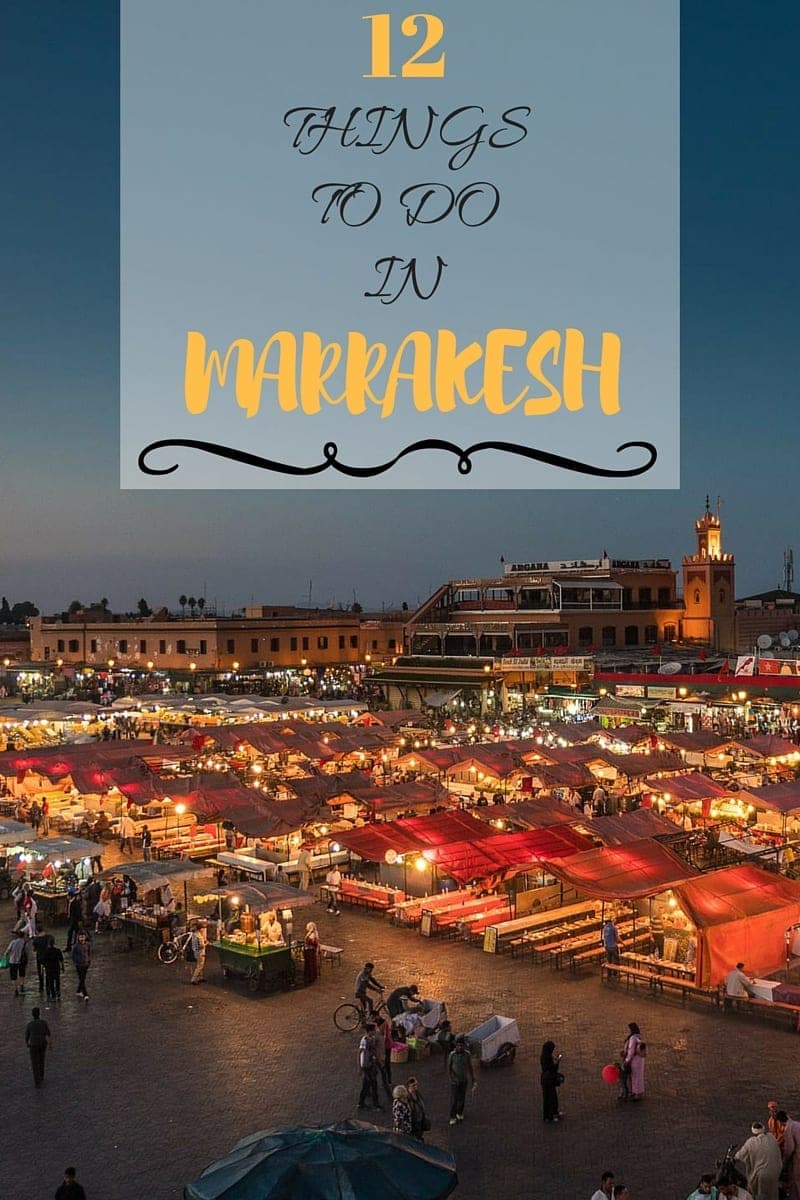 **Disclosure: We covered our own expenses while in Marrakesh (e.g., accommodations, taxis, food, and attraction fees); however, our flights to and from Marrakech were provided by Travel Talk Tours in conjunction with a 10-day tour we took in Morocco and we received complimentary tickets for the recommended Morocco Food Tours. As always, this article contains only our own honest thoughts and opinions. **