After over 3 years of living in the San Francisco Bay area, we finally made it to Alcatraz Island last week and did the Alcatraz Night Tour and explored the famous prison. While primarily known and visited because of the 29 years it served as the home for the infamous Alcatraz Federal Penitentiary, the tiny island has a rich and varied history.
Long ignored by native people, the island would in turn serve as a strategic place for a lighthouse, a military fortification, a military prison, a federal maximum-security prison, the site of a 19-month occupation of Native American protesters, and finally a national recreation area and top tourist destination in San Francisco.
Ironically, while for many years people would have done almost anything to get off and escape from Alcatraz, Hollywood celebrities now come here to shoot films and paying tourists line up in droves to come over and take photos in empty penitentiary cells. We were two of those travelers and were very excited to come finally have the opportunity to visit the former prison and explore Alcatraz Island.
We'll give you all the information need to book your own trip to Alcatraz Island with Alcatraz Cruises, share a few tips, and tell you about our own experience doing the Alcatraz Night Tour.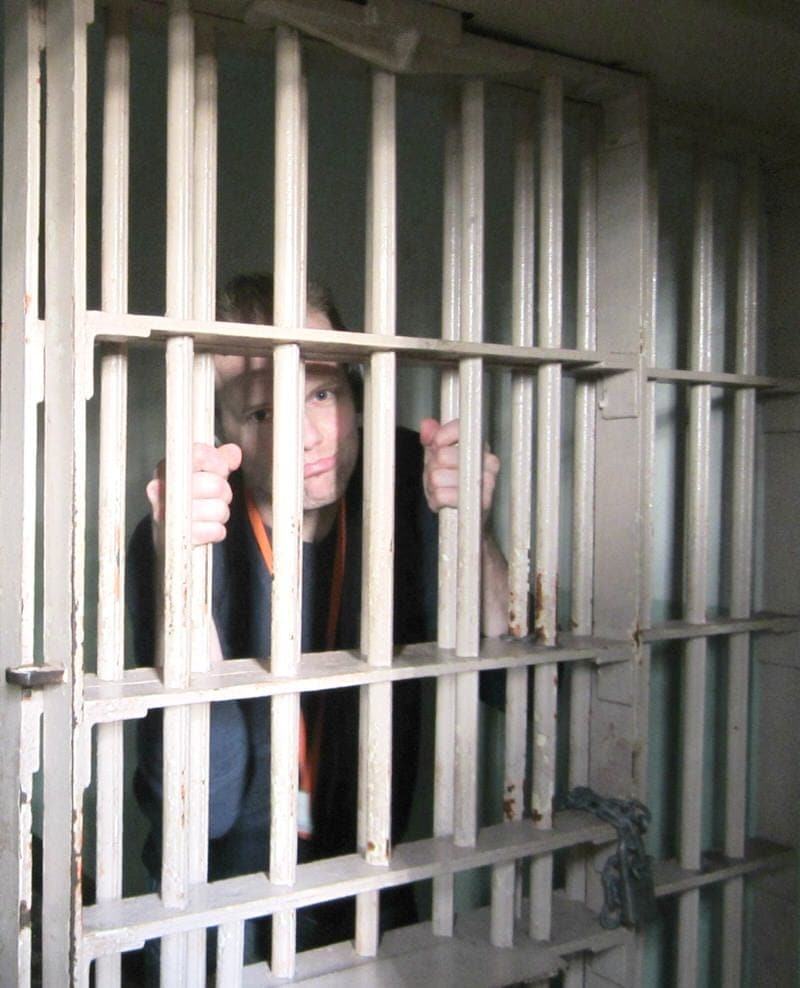 Basic Information on Visiting Alcatraz Island
Location?
Alcatraz Island is located 1.5 miles offshore from San Francisco. It is accessible by boat from Alcatraz Landing at Pier 33 in San Francisco. Pier 33 is at the foot of Bay Street on the Embarcadero. The boating area is a short 6-minute walk from the popular Pier 39 or a 10-minute walk from The Exploratorium at Pier 15.
Getting there?
Public transit: Taking public transportation is the best way to get here. The closest line is the MUNI F Line streetcars that stop right across from Pier 33. You can also take public transportation to Pier 39 and then take a short walk to Alcatraz Landing at Pier 33. Click here for more information on San Francisco public transportation options.
By Car: There are several paid parking garages available within walking distance. The nearest parking garage is 1 block away at 80 Francisco Street. There is limited accessible parking at Pier 33, available on a first-come, first-served basis for individuals with disability placards.
Tour times?
Tours run daily (except major holidays) throughout the year several times a day. Day and evening tours to Alcatraz are approximately 2.5 hours in length. Please check the Alcatraz Cruises official website for the latest schedule as the tour times change seasonally.
Cost?
The regular day tours are currently (as of May 2019) $39.90 for adults and youth (age 12 – 61), $24.40 for children (age 5-11), $37.65 for seniors (age 62+), and free for children age 4 or younger.
Night tours are $47.30 for adults, $46.25 for youth (age 12-17), $28.00 for children (5-11), $44.00 for seniors (62+), and free for children age 4 or younger.
The seasonal Alcatraz Island and Angel Island combination tour is 5.5 hours long and costs $78.65 for adults and youth (age 12 – 61), $52.40 for children (age 5-11), $76.40 for seniors, and free for children age 4 and younger.
Special family tickets for 2 adults and 2 children are also available, but need to be purchased in advance by phone.
The Alcatraz Day Island Tour can be included as a combo pass with the San Francisco City Pass or the 3 or 5-day Go San Francisco Card. But you have to follow specific directions at purchase to be able to use it for Alcatraz. The combo passes can be purchased at the Alcatraz Cruises Ticketbooth, located at Pier 33 in San Francisco, or by phone at (415) 981-7625.
Booking Reservations?
If you plan to visit Alcatraz Island during your visit to San Francisco, you should make reservations in advance as tickets can sell out several weeks in advance. While you may get lucky with same day or next day reservations in the less crowded winter months (January through March), it is always good to book in advance.
**Please use caution when purchasing tickets as Alcatraz Cruises is the only commercial boat service authorized by the National Park Service to carry passengers to and from the island. Several other companies in San Francisco offer narrated cruises around Alcatraz Island; however, only Alcatraz Cruises has permission to actually land on the island.**
On-line: The easiest and quickest way is to book directly through the Alcatraz Cruises website. Purchased tickets can be conveniently printed at home or picked up in-person.
In-Person: You can purchase tickets in person by visiting Alcatraz Landing ticket office at Pier 33, The Embarcadero.
By Telephone: Phone reservations can be made by calling the Alcatraz Cruises ticketing center at 415-981-7625.
San Francisco CityPass: If you plan to purchase the San Francisco CityPASS you will have the option to book a Alcatraz Island day tour (subject to reservations and availability). However, you must purchase and reserve the tour in a specific way. See the instructions here.
San Francisco Go Card: If you plan to purchase a 3 or 5 day Go San Francisco Card directly from Alcatraz Cruises, you may visit Alcatraz Island (subject to reservations and availability). The Go San Francisco Card including an Alcatraz Tour may ONLY be purchased through Alcatraz Cruises directly. The Alcatraz Tour is only available on 3-day and 5-day cards.
Can I eat on the Island?
There is no food service available on the island and only water is available. Eating, drinking, and smoking is only allowed at the dock level. Public bathrooms are available.
Can I stay overnight at Alcatraz?
Generally no. There is an evening tour of Alcatraz, but you are not permitted to stay overnight. However, each year several hundred people are allowed to stay overnight at Alcatraz after having applied for a permit and been granted one.
Given the high demand and limited resources, currently only non-profit organization groups are eligible to apply for permits. You can find out more information here.
Day tour versus Alcatraz night tour?
There are pros and cons of taking a Alcatraz Night Tour over a Day Tour. Some pros for taking a night tour are there are fewer people, you get great views as the sun is setting, you get a free brochure, and there is extra programming available in the evening that is not available during the day. It is also perhaps easier to appreciate the isolated and eerie nature of the prison in the dark than during the day.
While the night tour has a lot of benefits over the day tour, I do wish we had had more time to explore other parts of the island. We would have liked to see more of the museum displays, seen more of the buildings, and hiked some of the short trails to see more of the plants and gardens on the island. Part of the issue is a lack of time as coming over for the evening tour you must leave when the last boat leaves, but the other issue is that some areas are closed during the evening that are open during the day.
The other factor to take into consideration when deciding is that the night tour is more expensive than the day tour.
Where can I find out more information?
You can visit the National Park Service official website on Alcatraz Island for tons of information regarding planning your visit, accessibility, history of the island, educational materials, how to request permits for events or overnights, and other information.
As noted earlier, to check the boat schedule, make reservations, or book tickets you can visit Alcatraz Cruises. While the island is maintained by the National Park Service, Alcatraz Cruises is the official and only boat service authorized to carry passengers back and forth to Alcatraz Island.
Our Experience doing the Alcatraz Night Tour
Ethan and I had been wanting to visit Alcatraz since we first moved to San Francisco over 3 years ago. We came very close to going in October while my family was in town for a visit. We had all purchased a San Francisco CityPass and scheduled an Alcatraz day tour with Alcatraz Cruises.
Unfortunately, the U.S. government decided to shut down during their stay so we had to settle for a Bay cruise instead. While lovely, we were all disappointed by not being able to visit this infamous prison, especially since my father actually works for a federal prison. We were however given complimentary photos at the end of our Bay cruise despite not having visited Alcatraz.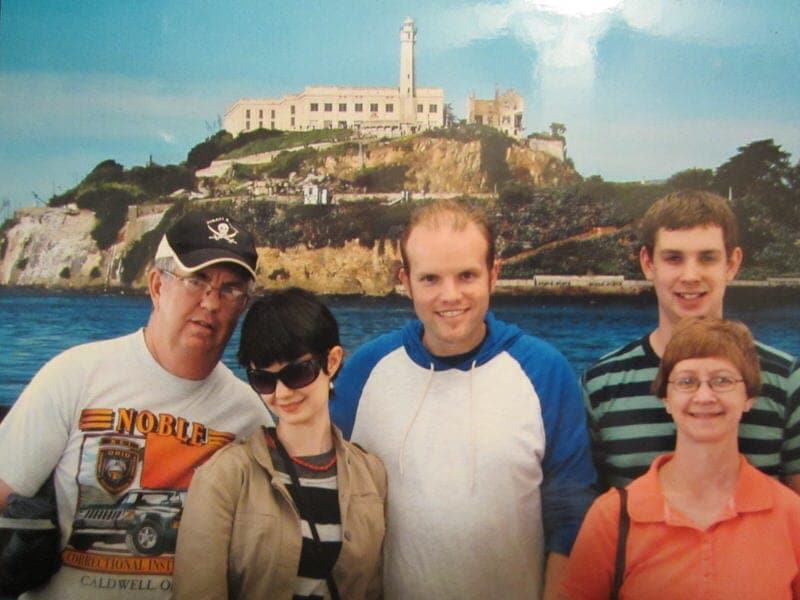 Several months later, however, Alcatraz Cruises provided us complimentary tickets as travel writers to finally do this tour. We chose the night tour as we went with a large group of Ethan's friends and co-workers. We took public transportation, taking the MUNI F Line street car to the stop (Embarcadero & Bay Street stop) across from Pier 33.
The Alcatraz Landing area is well marked and hard to miss. We collected our tickets and met up with our group before getting into the line. They begin allowing people onto the boat about 10 minutes prior to departure and the line moves somewhat slowly as they take pictures of each person or group before they board (photos are available for purchase after the tour).
Once aboard, we chose to go to one of the upper decks and sit to check out the views. After safety instructions, a narrated history of Alcatraz Island is provided as the boat cruises around the island. It was a great time for some pictures of the island and a good way to get oriented to the island's layout prior to our visit.
It was a pleasant 15-20 minute ride and there are snacks and drinks available for purchase in the bottom part of the boat.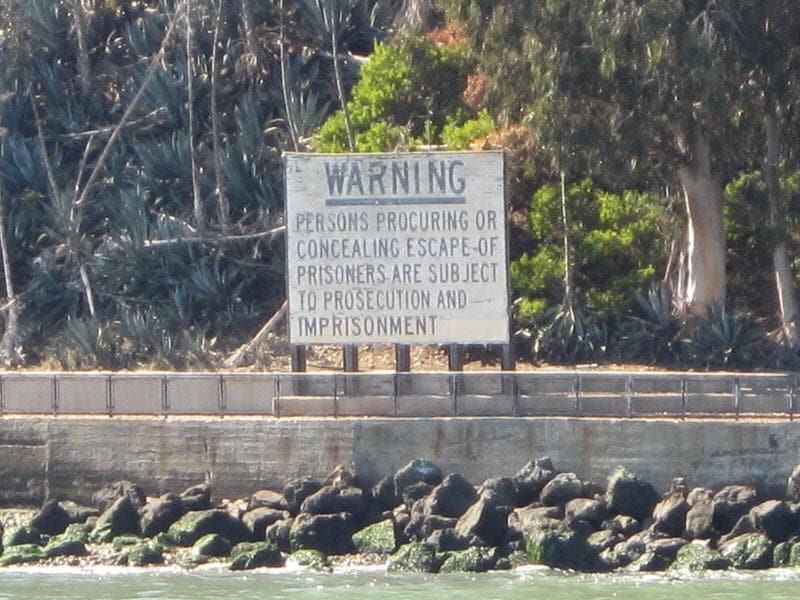 Once docked, we all got off and stood near the dock to listen to one of the park rangers give some instructions and go over the evening's programming options. We were also given souvenir brochures that provide some information on the Island and a helpful map (normally $1.00 on day tour), which are particularly useful if you plan to explore parts of the island outside the dock area and Cellhouse.
We then slowly made our way up the winding path of the hill with a few short stops as the ranger provided us with information about the buildings along the way. The path is paved but is 1/4 mile long and uphill, so it may be particularly difficult for those with mobility issues or small children. A free electric shuttle helps escort anyone who is not able to make the climb.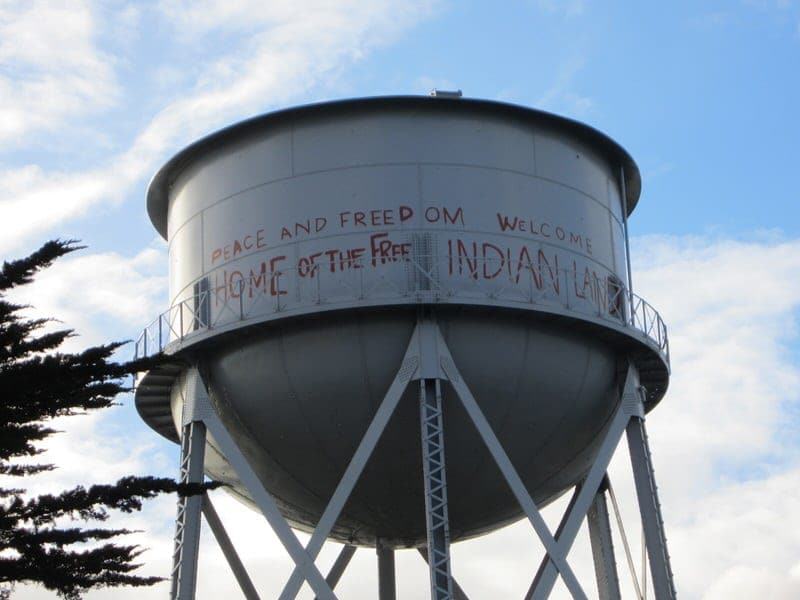 As we passed the ruins of the old social hall and Officers' Club, one of the more interesting pieces of information to us was about the guards and their families that lived on the island. A number of the officers' families lived here with children taking a ferry to San Francisco each day to attend school. Many of the children report this as having been an idyllic place to grow up and few families even bothered to lock their doors, having almost no contact with any of the prisoners.
After making our way up the hill, we were finally standing in front of one of the entrances to the prison. You stand in line as people make there way inside and are each given an audioguide which contains the Cellhouse Audio tour "Doing Time", which is available in a number of languages.
The tour was not guided by any rangers, but the audioguide makes for a very clear and structured tour and helps point out things as you walk along. It is also nice that you can pause the narration at any point. The audioguide contains the voices and stories of several prison guards and several former inmates at Alcatraz which adds richness to the narration.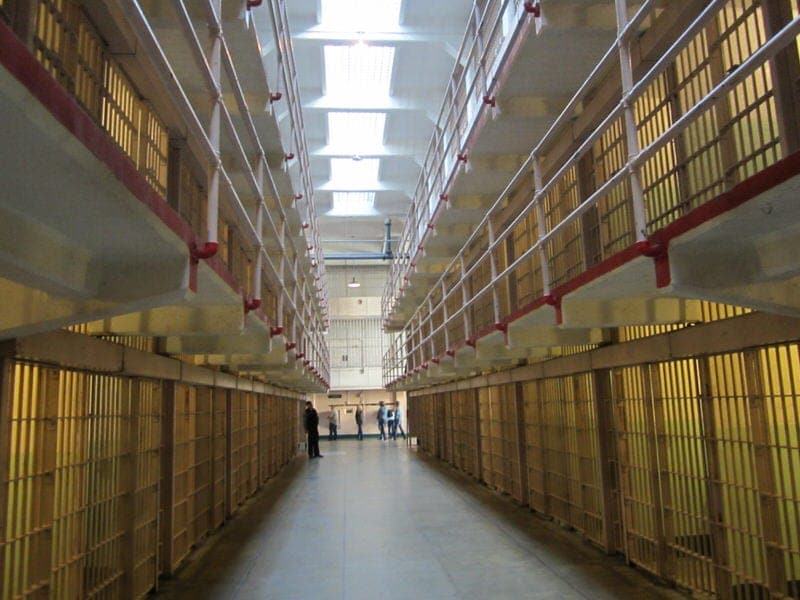 The cell blocks are interesting to see up close and a few are open so you can walk inside. They are very small with nowhere to sit except on the cot or these little metal seats/shelves bolted to the wall. Most prisoners spent the vast majority of their time in their cells and you can get a brief sense of what it must have been like to sit in these tiny little cells for such long periods of time.
As you walk around you'll hear the history of the prison, tales about the most famous inmates, the daily routine of prison life, attempted escapes, and the 1946 bloody Battle of Alcatraz. We both learned a lot of interesting information about the prison and discovered that some of the information we knew from films was inaccurate (e.g., famous inmate Robert Stroud known as the "Birdman of Alcatraz" was never allowed to keep any birds at Alcatraz).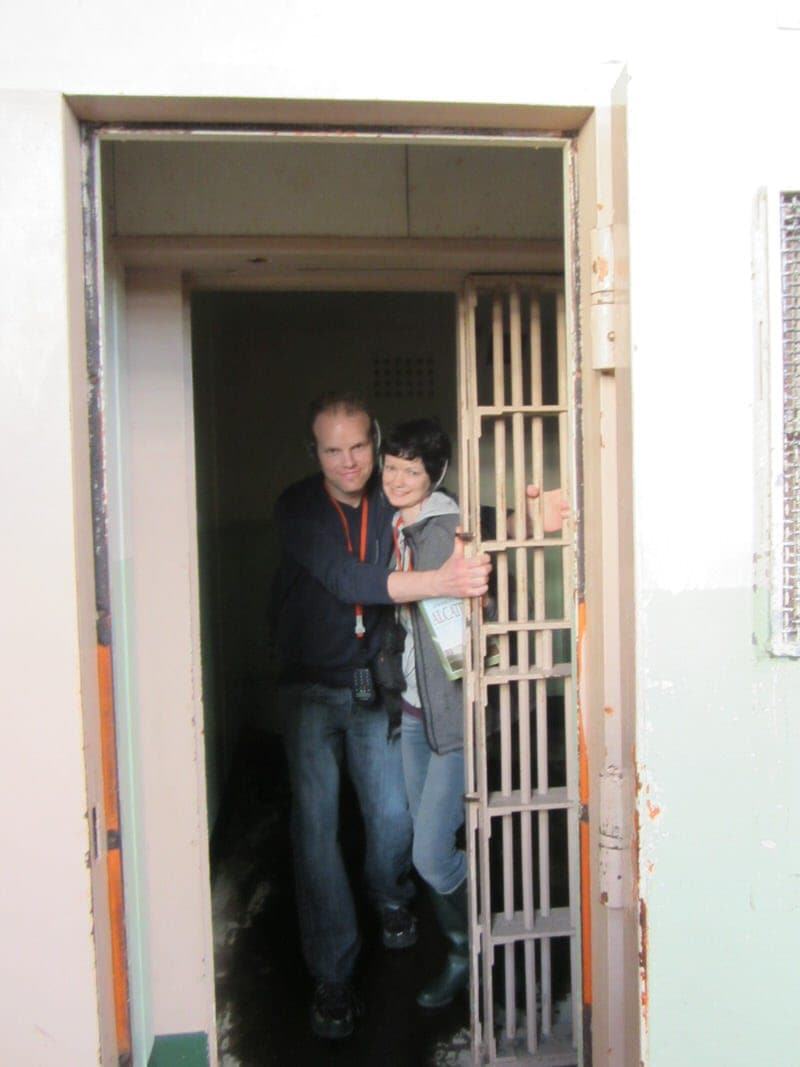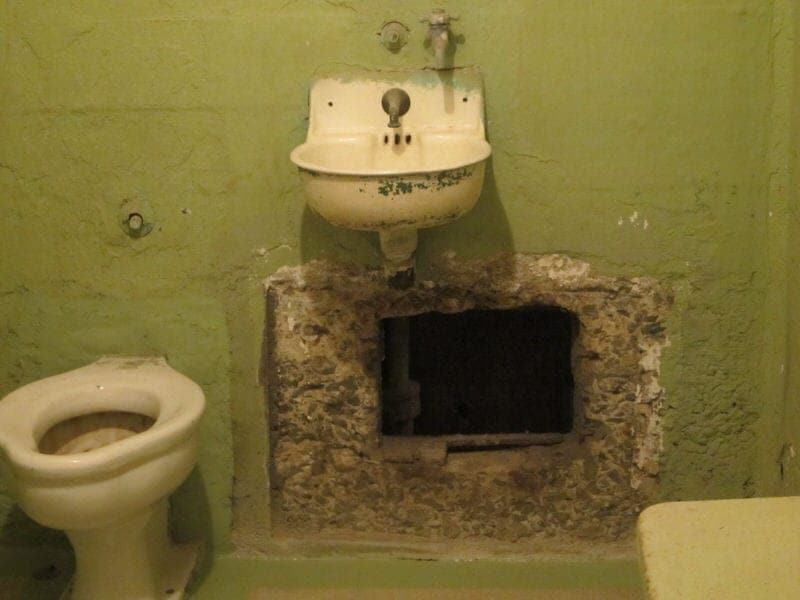 After vising the solitary confinement cells, library, guards' rooms, and warden's office, you'll walk outside. This is a great place to pause the narration and take some pictures of San Francisco and the Bay. We were lucky to have a particularly clear day with minimal fog.
After coming back indoors, you'll return to the Cellblock for some more information and eventually end the tour in the Dining Room. The Dining Room is a dangerous place in a prison given the number of prisoners and potential weapons available (dishes, silverware, trays, etc.). After the narration ends, you can then return your audioguide and head to other parts of the island for further exploration. There are staff and a program guide here that can tell you what other tours and videos are available.
During our visit, the hospital (stairway is located near the entrance to the dining room) was open so we headed upstairs before leaving the Cellhouse. Everyone in our group was a health care worker of some type so this was particularly interesting. You can see the operating room, X-ray room, room for hydrotherapy, and cells for those prisoners housed in the hospital. Many of the items are not original but are from the same period. All medical care for prisoners was provided here, from surgery to dental care, so that prisoners would never need to leave the island.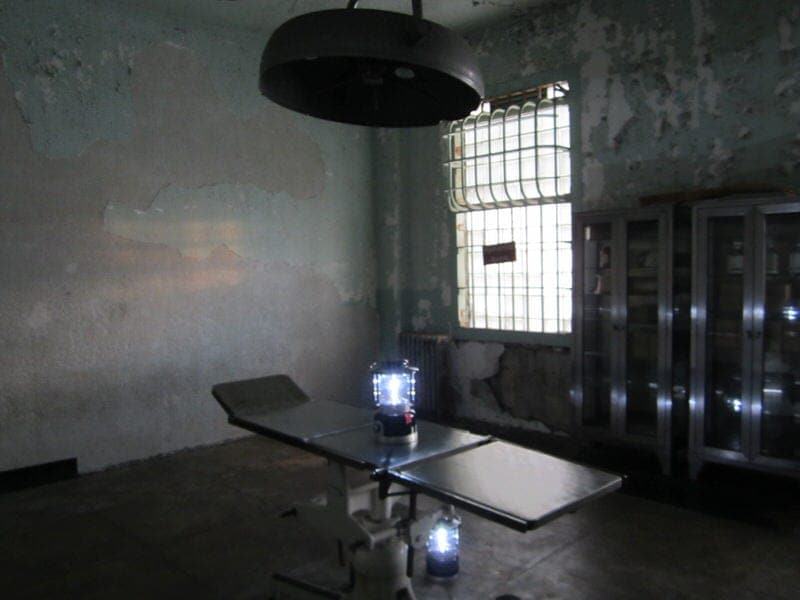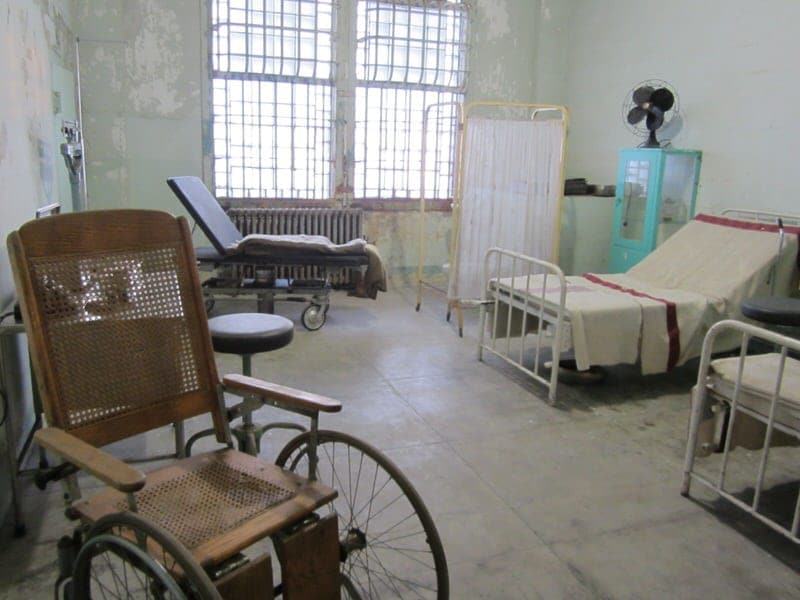 After returning our audioguides, we had a few options regarding what to do next which included Cellhouse cell demonstrations (this is where you can actually experience getting locked in a cell), a talk titled something like "Murder and Obsessions", and a talk related to the Native American occupation.
We chose to do the talk on "Murder and Obsessions" where a guide related the tale about the relationship between two prisoners that led to one murdering the other. It was interesting but definitely not appropriate for children with themes of murder, violence, and sexuality. Finally, we finished our tour with watching a short 17-minute video "Alcatraz: Stories from the Rock" before it was time to board the boat back to the dock for our pleasant 15 minute cruise back to Pier 33.
Whether you choose to do a day tour of night tour of Alcatraz, here are our top 5 reasons you should consider including Alcatraz in your San Francisco trip itinerary:
Learn the history of the island
Experience the infamous prison up close and personal
Capture some great views of the Bay and San Francisco
Appreciate the flora and fauna of the island
Enjoy the short Bay cruise and the fact you have the privilege to escape from this isolated island.
Have you done the Alcatraz Night Tour or a day tour to Alcatraz? As always, we'd love to hear any questions, thoughts, or tips you may have.
**Disclaimer: As travel writers, we were provided free tickets from Alcatraz Cruises to review the cruise and tour; however, this article contains only our own honest thoughts and opinions. We did not receive any financial compensation for the writing of this post, do not work for Alcatraz Cruises, and receive no commission for any sales of these tours.**