The Yosemite National Park in California is one of the many gems of the American National Park System. Yosemite National Park is a World Heritage Site known for its giant granite cliffs, waterfalls, clear rivers and streams, ancient Giant Sequoia tree groves, large meadows, and a wilderness that supports a variety of wildlife.
The passing of the 1864 Yosemite Land Grant by President Abraham Lincoln was the first instance of park land being set aside specifically for preservation and public use by the United States, and set a precedent for the 1872 creation of Yellowstone as the first official national park and the beginning of the National Park System. While this giant park encompasses over 750,000 acres of land, most people only spend time in the popular 7 acres known as the Yosemite Valley.
Ethan and I just visited Yosemite National Park for the first time last week and we share a suggested itinerary for someone's first day in Yosemite that provides a good introduction to the beautiful Yosemite Valley.
Basic Information about Visiting Yosemite National Park
Where is it?
Yosemite National Park lies in the eastern part of California in the Sierra Nevada region.
While you can fly to a nearby city (e.g., Mammoth Lakes, Fresno, Merced), you'll have to either rent a car or take public transportation to reach the Yosemite Valley.
How to get there?
You have a few options on how to get to Yosemite National Park, including driving, taking public transportation, or booking a tour.
By Car
While there are a number of places you can enter the park, to reach the Yosemite Valley, it is about 5 ½ hours from Los Angeles, 4 hours from San Francisco, 3 ½ hours from Sacramento, and 2 hours from Fresno.
The most popular time to visit Yosemite is during the summer so expect potential traffic delays in the park during this time. Check Yosemite's traffic conditions, weather forecasts, weather-related road conditions, and road closures before your visit. Tire chains or cables may be required in fall, winter, and spring due to snowy or icy conditions.
Once you drive into the Valley, you are encouraged to find parking and then use the free park shuttles, buses, or rented bikes to get around the park rather than your car. To avoid traffic congestion and ensure that you get parking, try to arrive by 10am in the morning if possible.
By Public Transportation
Check out Amtrak, Greyhound, and the YARTS bus service for public transportation options. Also check out this webpage on public transportation option on getting to the park.
Once inside the park, you can use the park's shuttles, bus tours, or walking to get around. If you take a train or bus to Fresno, Oakhurst, or Fish Camp, you can then join this tour which will pick you up from area hotels.
By Guided Tour
If you don't have a car and don't want to travel using the local bus services, you can also book a guided tour that offers transport and a guide from San Francisco, Lake Tahoe, Fresno, Oakhurst, or Los Angeles. These vary from day trips to Yosemite to multi-day overnight trips.
Yosemite Tours from San Francisco
You will have the most options for day tours and other guided tours if you are departing from San Francisco. Here are some options:
Yosemite Tours from Lake Tahoe, Fresno, or Oakhurst
You can also reach Yosemite from towns and cities closer to the park such as Fresno, Oakhurst, and Lake Tahoe.
This day tour includes pick-up from Fresno, Oakhurst, or Fish Camp and includes a full day of guided sightseeing of the Yosemite Valley and Glacier Point, a picnic lunch, and optional hiking. This tour is a good option for those traveling to the Yosemite area by public transportation.
This full day tour from Lake Tahoe includes a guided bus tour of Yosemite Valley, picnic lunch, and nature hike.
Yosemite Tours from Los Angeles
There are a fewer tours that leave from Los Angeles to Yosemite, but here are some options:
This overnight tour includes a train trip from Los Angeles to Fresno and overnight stay at hotel, then a full day guided tour of Yosemite Valley and Glacier point the following day that includes lunch and chances for hiking, and then a return train ticket to Los Angeles.
This popular 3 day tour from Los Angeles stops at many California highlights along the Pacific Coast Highway, including Santa Barbara, Solvang, and Carmel, San Francisco, and Yosemite National Park. Includes 2 nights hotel accommodation. Note that during the winter months, the tour does not visit Yosemite (visits Hearst Castle instead).
If you have more time, this 5 day guided tour from Los Angeles includes stops along the Pacific Coast Highway, San Francisco, Yosemite National Park, Las Vegas, and Hoover Dam. Includes 4 nights accommodation. Note that this tour does not visit Yosemite in the winter months, it visits Hearst Castle instead.
Cost & Hours?
It's $35 per non-commercial vehicle (includes cars, trucks, RVs, and vans with less than 15 seats), $30 per motorcycle, and $20 for people arriving in other ways (bicycle, foot, motorcycle, horseback, or non-commercial bus).
If you arrive by commercial bus, you will likely pay a reduced entry fee or it will be included in your fee.
You park entry fee is good for 7 consecutive days, just keep the receipt if you need to leave and re-enter the park.
Yosemite National Park is open 365 days a year, 24 hours a day. However, the Hetch Hetchy Entrance Station is only open during daylight hours and some roads and many trails are closed due to snow from about November to May.
How long should I spend in Yosemite National Park?
This really depends on what you want to see, but I would recommend planning to stay in the park for at least 2-3 nights to allow for hiking and visits to other parts of the park beyond the Valley. If you are a rock climber, birder, photographer, or avid hiker, you may never want to leave. However, if you only have 1 day, you can see many of the highlights of the Yosemite Valley as described in this article.
Where can I find out more information?
Check out the wonderful Yosemite National Park official website managed by the National Park Service that is a great resource for planning your trip. Now, while the National Park Service runs and manages the park, a contractor runs essentially all the concessions, gift shops, lodging, etc. in the park.
The current concessioner is Aramark and you can visit their website here which provides details about lodging options and offered tours.
A Guide to a Day in Yosemite National Park Based on Our Visit
Ethan and I spent 3 days and 3 nights for our first visit to Yosemite National Park. After our visit, we wanted to share with our readers what we think would be a good first full day visit to the park. You can, of course, substitute dozens of other activities for those listed but this would be our recommendations for a first day in the park for new visitors.
Some other activities you might consider substituting for some of those below, especially if you have only one day to spend at the park, could be doing the short hike to Bridalveil Fall, doing one of the slightly longer day hikes (such as to Vernal Falls or Mirror Lake), visiting Glacier Point, or going to the Mariposa Grove (best done as a visit when entering or leaving the park).
Morning
Take the morning 2-hour Valley Floor Tour of the Yosemite Valley. These Yosemite guided tours are conducted by knowledgeable park staff and cover the main highlights of the Yosemite Valley. They begin and end right in front of the Yosemite Valley Lodge and cost $25/person (as of 2015). The tours are provided year-round in either open-air trams or closed heated tour buses.
Since we took the tour in December, we were in one of the tour buses. The only drawback to being in the bus is that it is much harder to take pictures from inside a bus than from an open-air tram, so to compensate our bus driver took more time and stopped 4 times (El Capitan meadow, Valley View, Tunnel View, and Sentinel Bridge) instead of the normal 2 stops. Since we were visiting in December is that although the waterfalls were flowing, they were not very strong.
Our bus driver/tour guide was very knowledgeable about the park and did a wonderful job providing history and information about the sights and answering visitors' questions. Below are some highlights from our bus tour, which included views of El Capitan, Half Dome, Yosemite Falls, Tunnel View, Bridalveil Fall, Valley View, Cathedral Rocks, Sentinel Rock, the Merced River, a number of tree species, and several mule deer.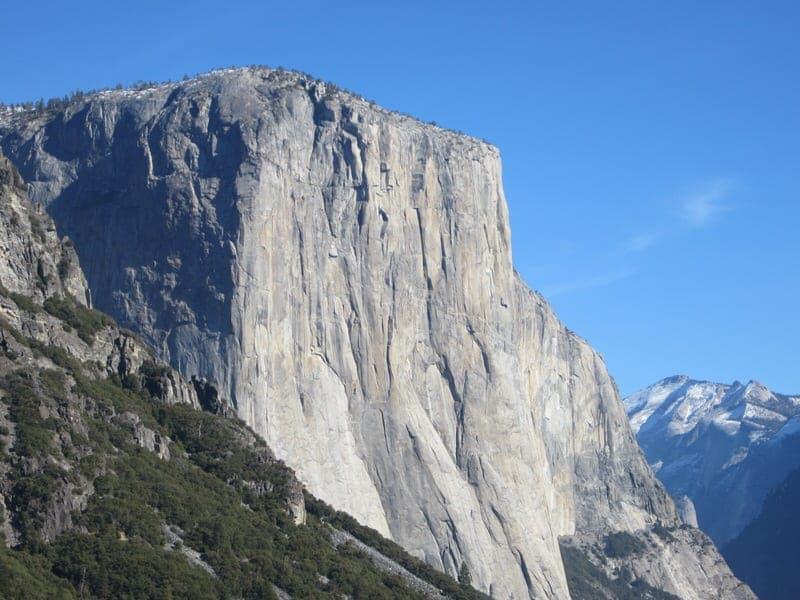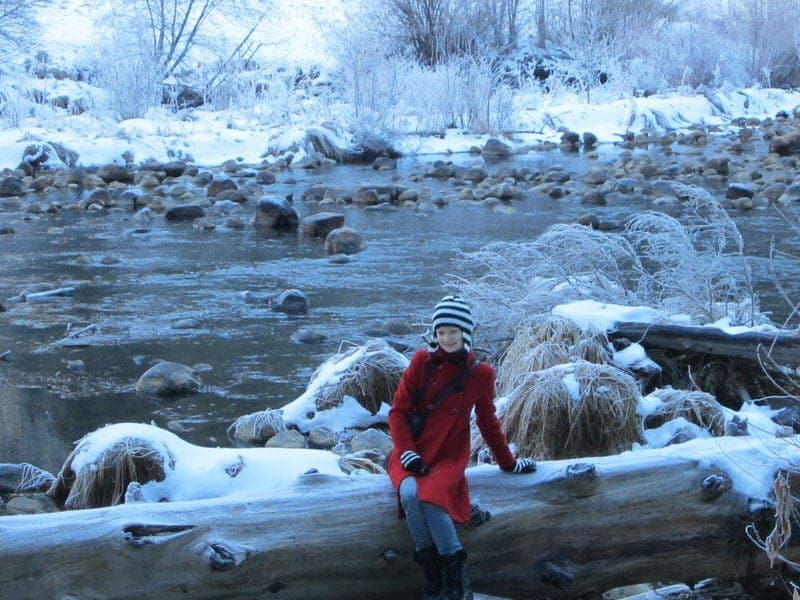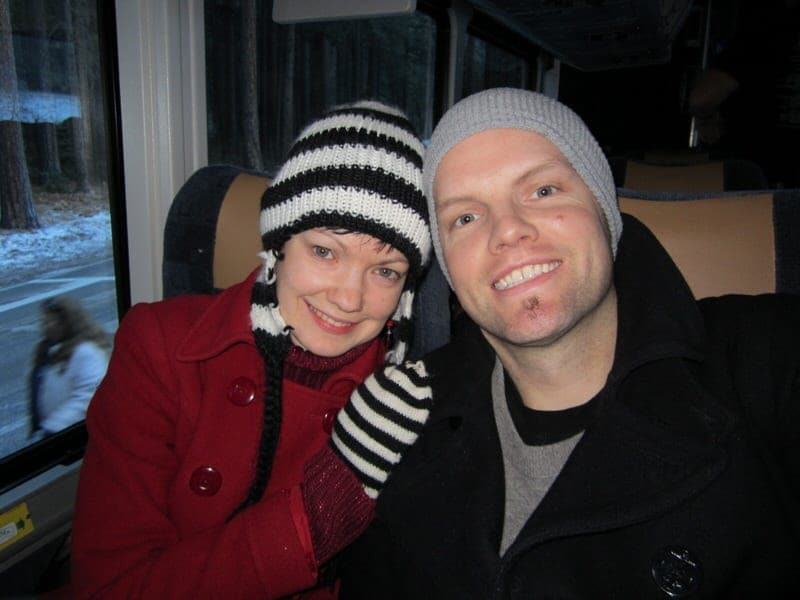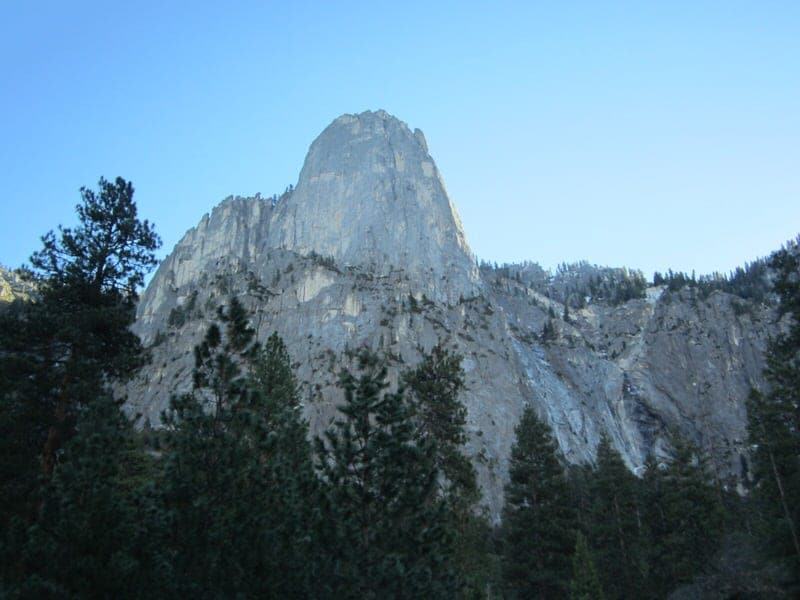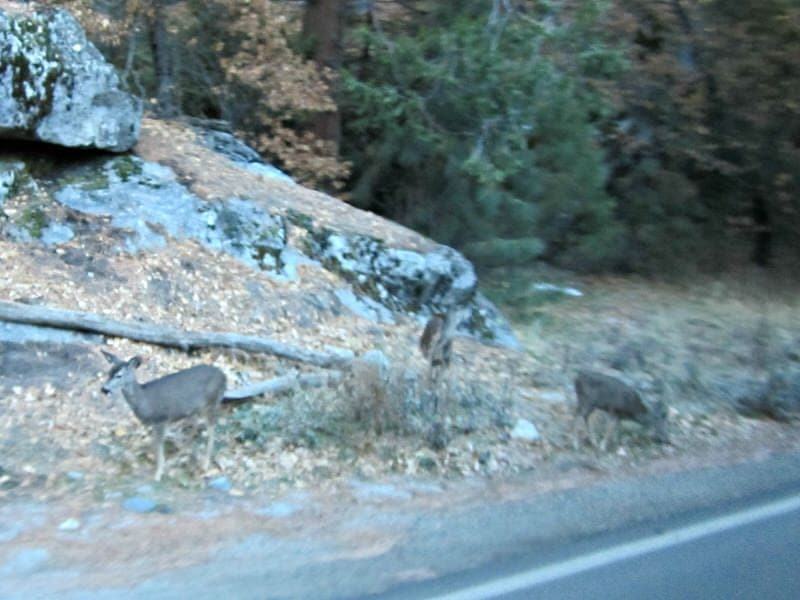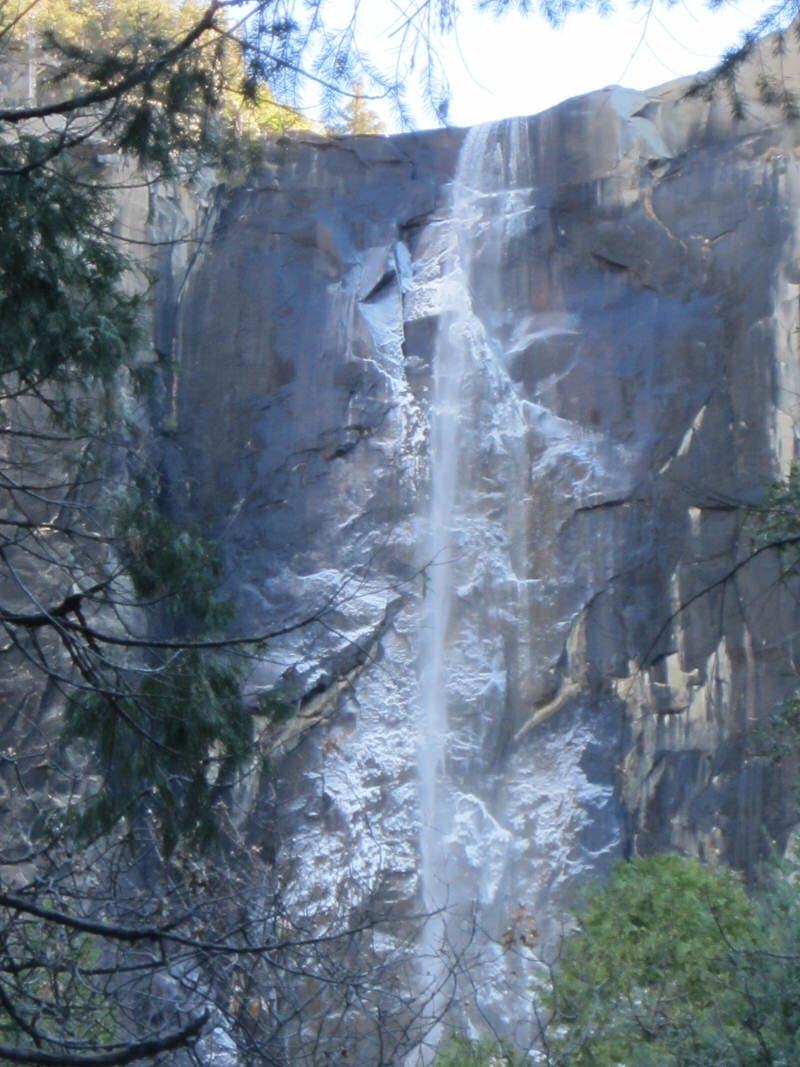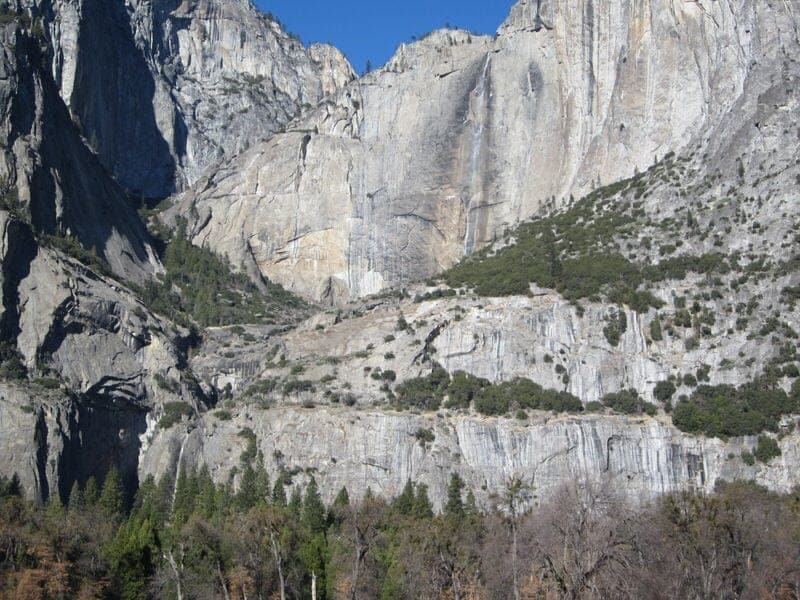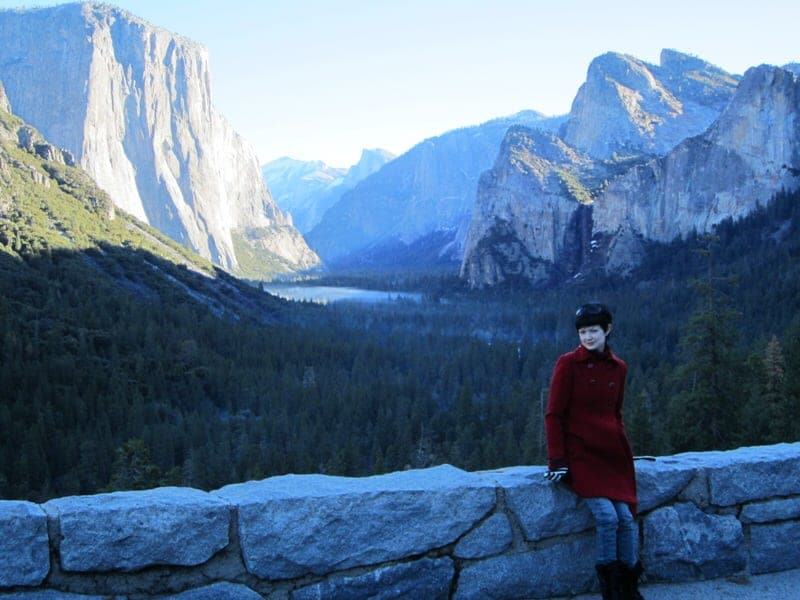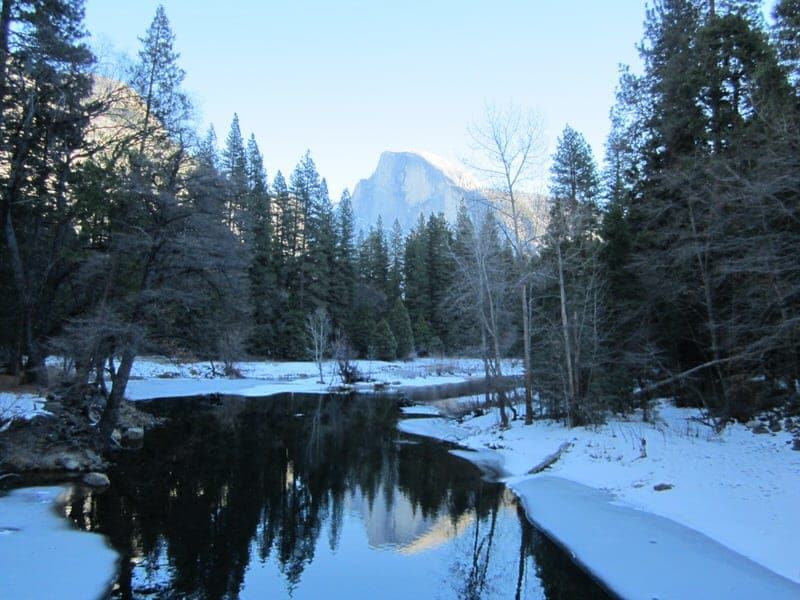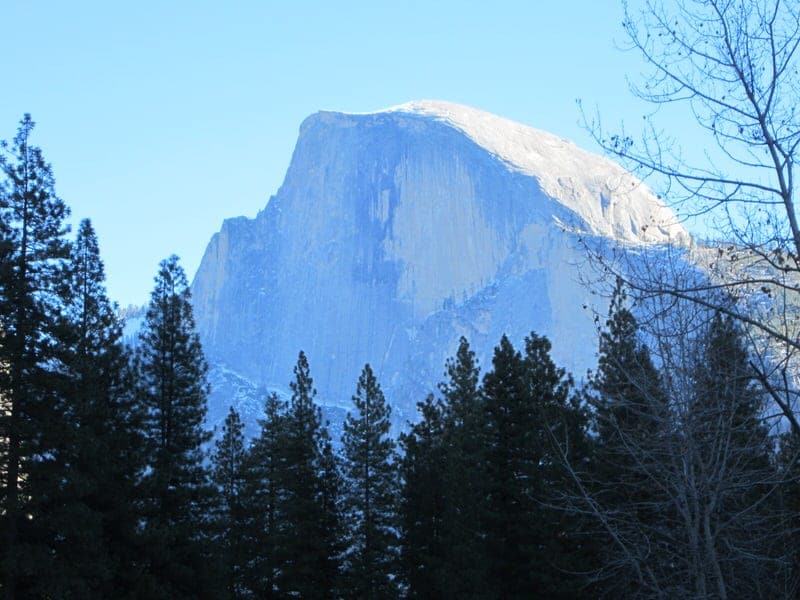 Afternoon
After the bus tour, stop to have lunch. Depending on the season, there will be at least a few different options for lunch in the Valley or you could do a picnic in one of the designated picnic areas. Given that you are already at the Yosemite Valley Lodge, you could stop here for lunch at the Mountain Room Restaurant or the Food Court. We just grabbed burgers and fries from the Food Court for a quick lunch.
After lunch, do the Lower Yosemite Falls hike. The trailhead is within walking distance of the Yosemite Valley Lodge. This 1-mile round trip hike is easy in difficulty and only takes about 30 minutes round trip.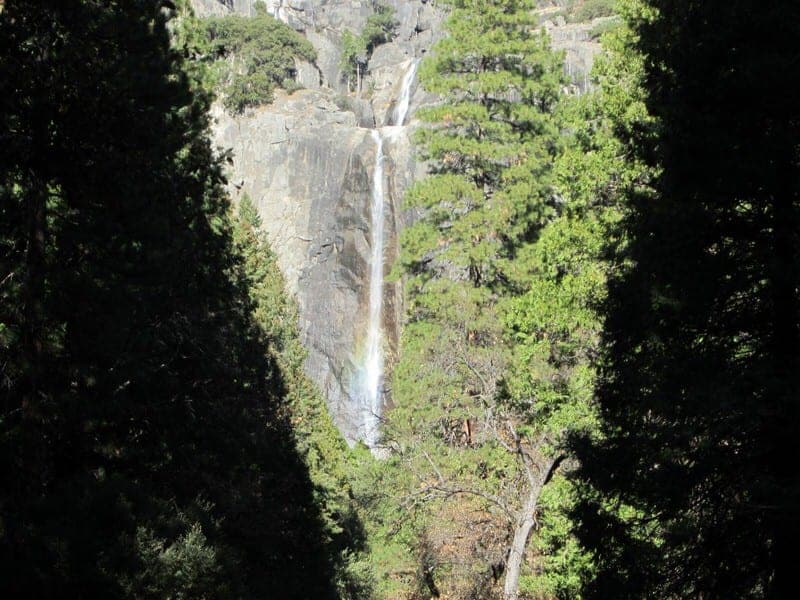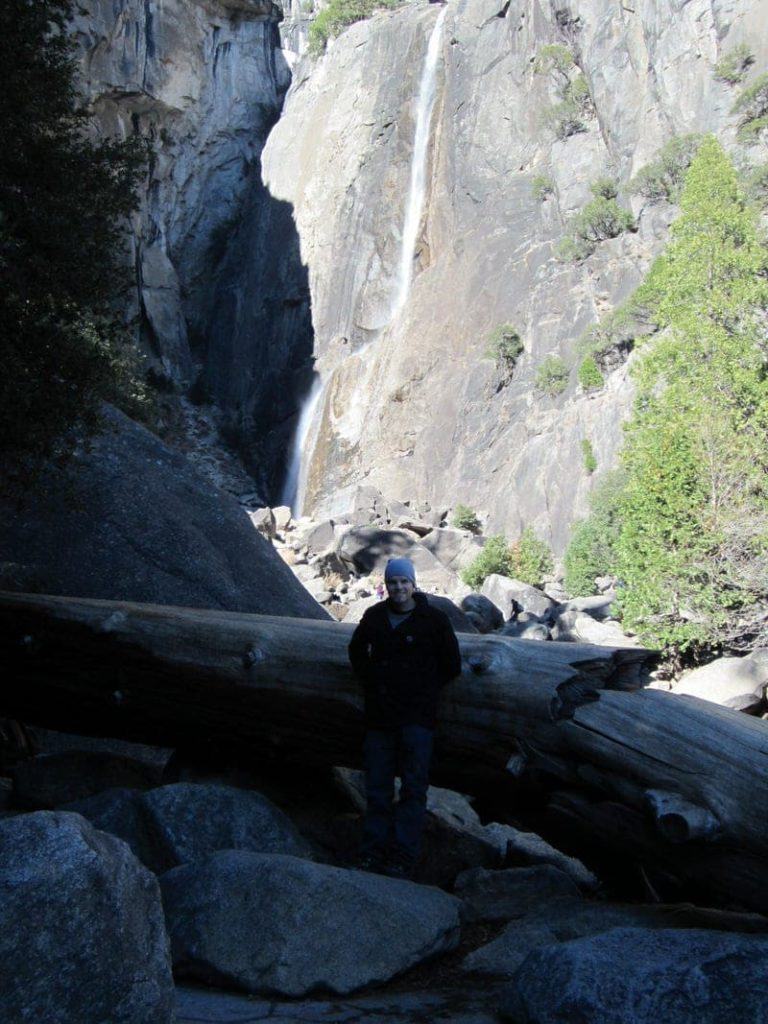 Now take the shuttle (or walk) to the Yosemite Visitor Center to learn a bit about the history of the park and its original inhabitants. All the museums and galleries are free to enter.
The Valley Visitor Center includes information desks staffed by rangers, a theater showing films about Yosemite, and an exhibit hall detailing the park's history and its biodiversity. If you don't already have a good map of the area, get one here.
The Yosemite Museum includes the Indian Cultural Exhibit and Village which provides information concerning the cultural history of the Yosemite's native Miwok and Paiute people from 1850 to the present. Demonstrations of traditional skills are often being performed and we got to meet a man making jewelry from pine nuts.
Don't forget to walk outside to see the reconstructed traditional buildings. Note that some of the buildings, such as the sweat lodge, are still used by the local people for ceremonies.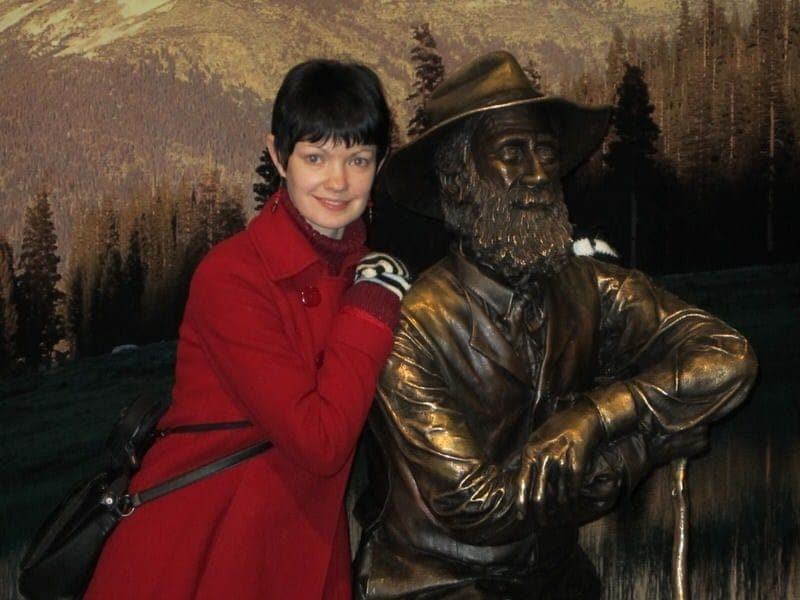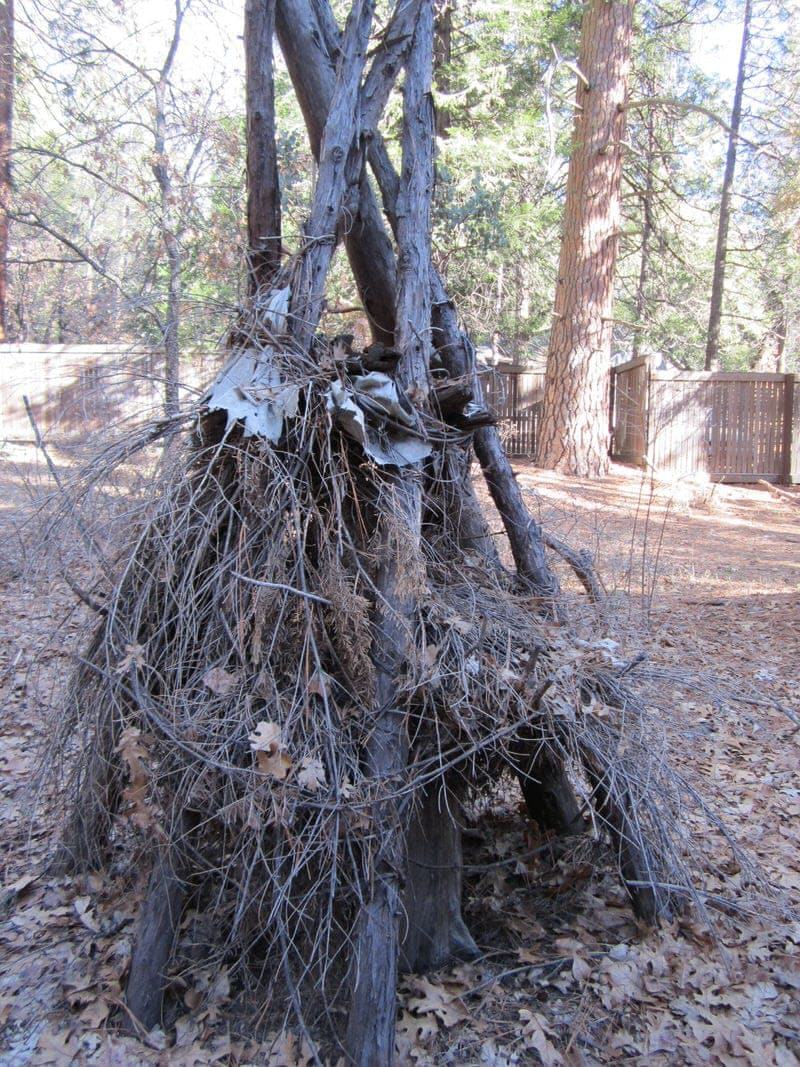 You can also walk over to visit the Ansel Adams Gallery, which does display photographs of the famous photographer as well as other artists. However, I was a bit disappointed as it is more of a gift shop than a gallery.
Late Afternoon/Early Evening
Take the free shuttle to The Ahwahnee hotel. You might be wondering why on earth you want to see some giant manmade hotel when you are there to take in the breathtaking natural beauty of Yosemite, but we do think it is worth a look. The Ahwahnee is a grand hotel that opened its doors in 1927 and is still the nicest hotel in the park almost 100 years later.
This grand hotel has a wonderful history and has been designated a National Historical Landmark. If you are really want to learn about the history of this hotel, you can take the interesting 1-hour guided Historic Hotel Tour (it's free, but check online or in the weekly newspaper for times and make advanced reservations). It is also home to a beautiful Christmas pageant and feast called the Bracebridge Dinner held in the grand dining hall.
When here, be sure to walk outside and walk around to the back of the hotel which is the side that was originally intended to be the front. After looking around, grab a hot or cold drink from the Ahwahnee Bar and sit in the Great Lounge which is a giant public area that deserves to be savored. We grabbed coffee and hot chocolate, found a comfy couch in front of a fireplace, and pulled our books out of our bags for a nice couple of hours spent in front of the fire.
The Ahwahnee hotel also serves some of the best food in the park so it is also a great place to have a snack or stay for a meal. If you want to eat here, you can eat in the Bar or you can make advanced reservations for dinner in the Ahwahnee Dining Room (nice dress attire required).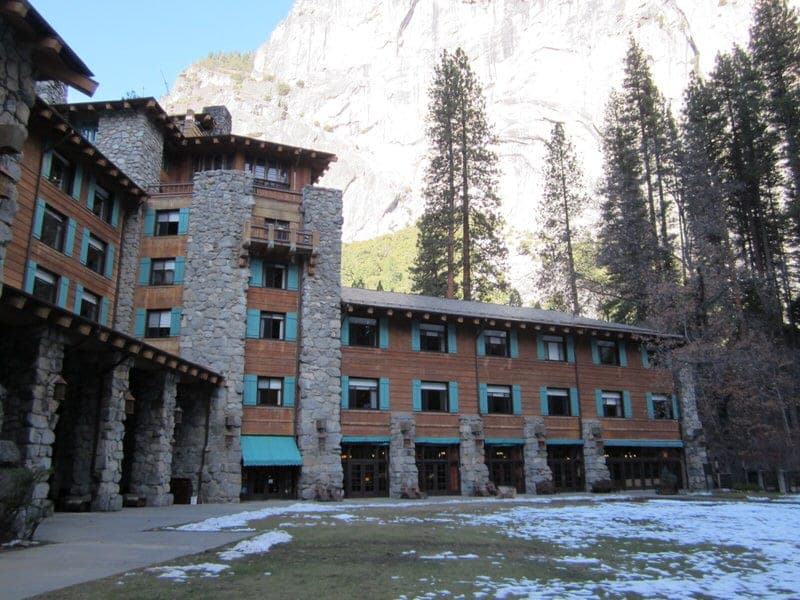 Sunset
Check to figure out the time of sunset and make sure you are outside a good 30 minutes prior to this time to watch the sunset. You might want to go back to your favorite viewing point from the Valley Floor Tour or ask for recommendations from park staff.
Some of the most popular easily accessible views are those from Sentinel Bridge facing Half Dome, Valley View, or Tunnel View, but really any place where you can watch the sunset will do!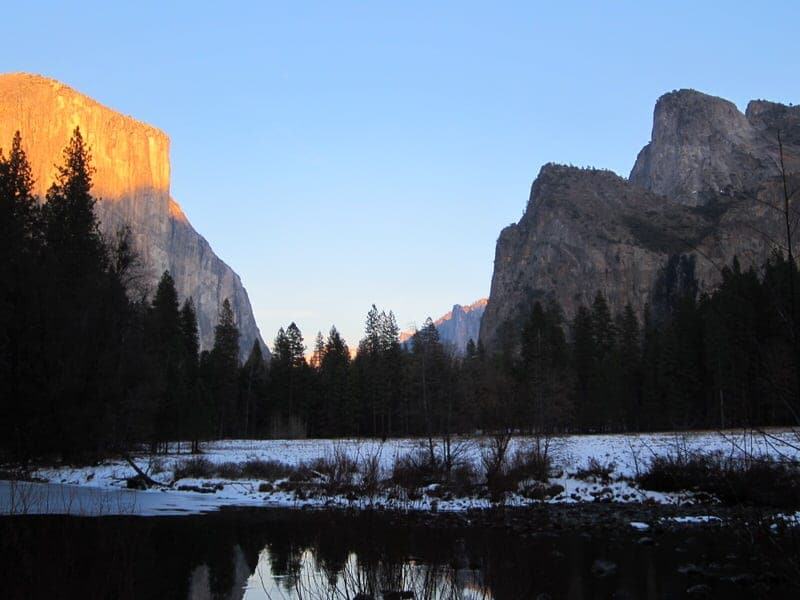 If staying in the park, you have a range of lodging options in Yosemite from simple canvas tents to a suite at The Ahwahnee. But if you do want to spend the night in the park—whether you want to camp or staying in a hotel—you will want to make advanced reservations as early as you can (months in advance if planning to visit in summer) to be sure to be able to get a place to rest your head. If there is no lodging available in the park during your visit, you can stay in one of the neighboring towns outside the park.
Our Final Thoughts on Our Day in Yosemite National Park
We hope this information and these suggestions help you plan your own first visit to Yosemite. During our three days, we felt that we barely scratched the surface of all the things we wanted to do in the park, and we were surprised to find out that most visitors only spend a day.
So we would highly encourage those planning on visiting to try to allot more than one day to this park if you want to allow enough time to visit different areas of the park outside the Yosemite Valley, do any of the major hiking trails, or go backpacking or riding in the wilderness area.
Our three days here only whet our appetite and we are already thinking about our return visit. I am determined to do the Half Dome hike, see the waterfalls at full strength, and explore more of the park outside the Valley.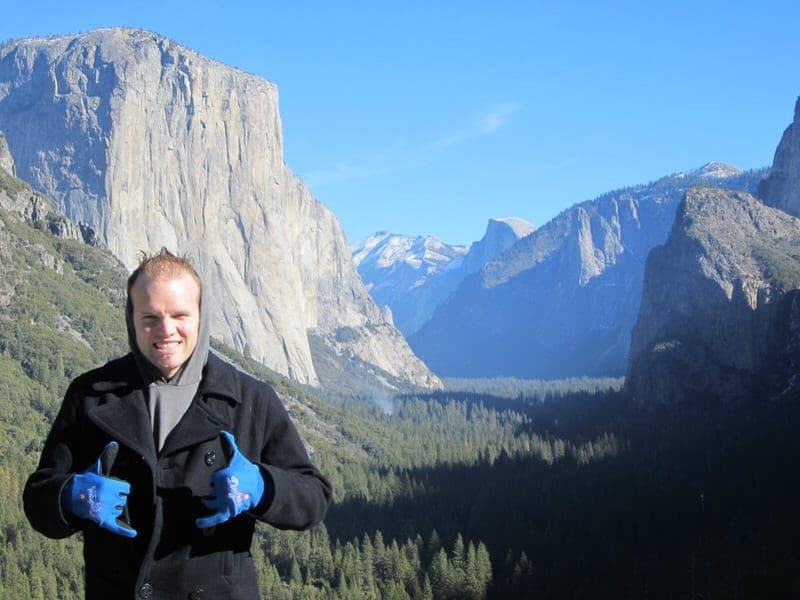 You can also check out our tips on the top 5 places to visit in the southern part of Yosemite National Park, best photography spots in Yosemite, and our post reviewing the famous Bracebridge Dinner Christmas celebration at Yosemite.
Have you visited Yosemite? Have tips for first time visitors on things to do during their first day?