The Computer History Museum contains the largest international collection of computer-related artifacts in the world and the museum's exhibits guide you through the past 2,000 years of computing history. Depending on your background, that sentence may either get you excited or have you wondering why on earth someone would pay to see a collection of outdated computer hardware. However, whether you are interested in computers or not, this is a first-class museum that contains an amazing amount of artifacts and information.
It is also not all about mainframes and supercomputers, but has exhibits about computer games, artificial intelligence, computer graphics, and robots. At what other museum can you learn how to do calculations using Napier's bones, play Pong, see models of the earliest computers, hear the personal stories of the foremost innovators in the technology industry, and learn the role that computers have played in almost every aspect of our lives from daily communication to space exploration?
The museum is aptly located in the Silicon Valley city of Mountain View, California, which is the home to a number of technology companies, including Google and Mozilla. Interested? We'll give you all the information you need to plan your visit to the Computer History Museum and share our experience of visiting this museum.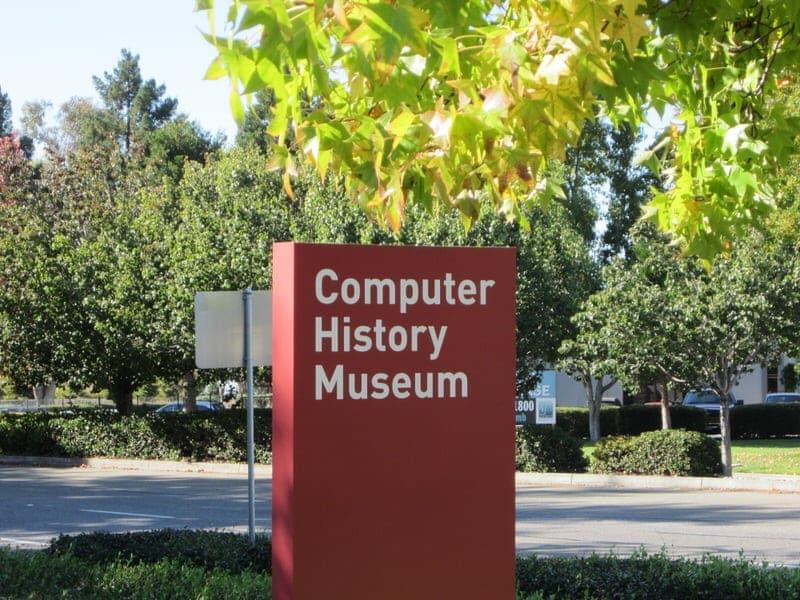 Basic Information on the Computer History Museum
Location?
The Computer History Museum is located at 1401 N. Shoreline Boulevard, Mountain View, California 94043. It is very close to the intersection of Shoreline Boulevard and Highway 101.
Getting Here?
You can reach the Computer History Museum by car or by taking public transportation.
By Car
Driving is the easiest way to reach the museum. There is a parking lot at the museum and parking is free.
By Public Transport
You can take the CalTrain or VTA Light Rail to the Mountain View station. Then during the weekdays, you can take the Shoreline Caltrain Shuttle to the Pear Avenue stop and the museum is a short walk from the shuttle stop. From the CalTrain/VTA station, you could also bike to the museum (about 2 miles).
Hours?
Wednesdays through Sundays 10am to 5pm, closed on Mondays and Tuesdays
Cost?
General admission (as of Februrary 2019) is $17.50 per person for those 10 years of age or older. Children age 8 to 10 is $6.00 and children under 8 years of age are free. Admission for students, seniors, and active military are $13.50 with proof.
Other Information?
Visit the Computer History Museum official website or call them at 650-810-1010 to get more information about planning your visit, to find out about the latest exhibits, and to find out about upcoming lectures and educational opportunities.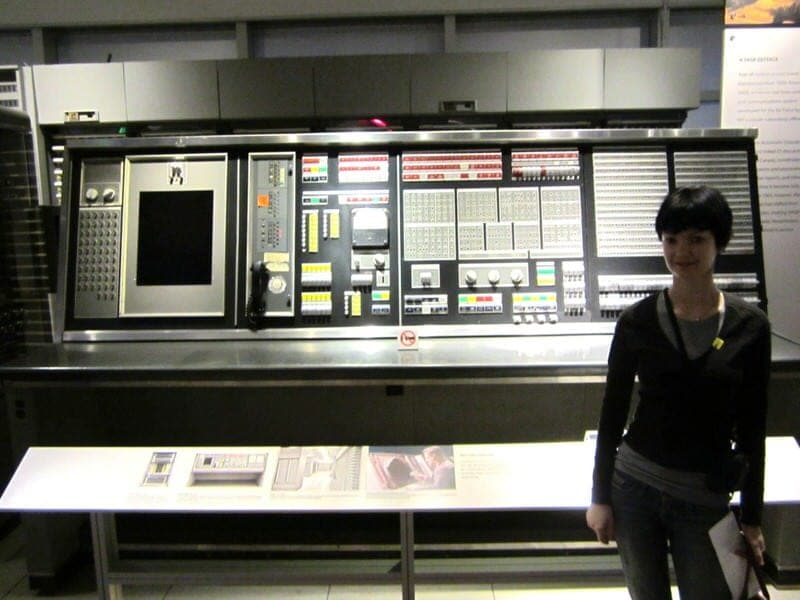 A Few Tips on Visiting the Computer History Museum
• There is a daily schedule displayed when you enter the museum of docent-led tours, demonstrations, workshops, and talks that you can choose to attend. Check this schedule (or call the museum ahead of time) once you arrive so you can plan your visit accordingly. I strongly recommend doing at least one of these as they are very informative.
• The museum is self-guided so you can explore at your own pace, but museum docents (a.k.a. guides) walk around and are there to answer any questions you may have. If you are interested in something, ask the docents! They are full of information and those we encountered were eager to share information about the various artifacts and exhibits.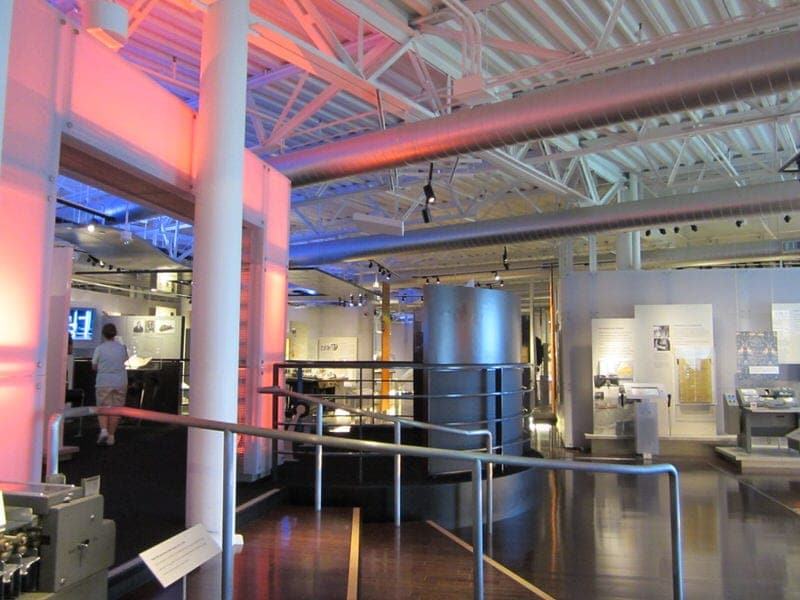 • The museum is not small and it is packed full of artifacts and information. There are so many things to see, read, listen to, and watch that you could easily spend your entire day here and not get through everything. We severely underestimated this museum during our visit, and ended up having to rush through the last several sections due to fatigue and hunger. So plan accordingly by looking over the visitor map or website and the daily list of docent tours so that you can prioritize what you want to see before you begin. This will help prevent having to miss those sections that you or your companions really want to see.
• We would recommend allowing at least 2 hours to view the 20 galleries of the main exhibit and longer if you want to attend any of the demonstrations or talks. If you are short on time you can see the museum's list of highlights.
• For children, there are these cards you can pick up from the front desk called Discovery Cards that may help you better explain each section of the museum to your kids in a more concise and kid-friendly manner.
• Check for admission discounts on Groupon and similar coupon websites. We were able to get about 50% our entries through using a Groupon. I just checked and saw they still appear to have a Groupon deal for the Computer History Museum, so this might be a way to potentially save money if you plan to visit.
• Groups of 10 or more people should call or go online to make reservations as you'll need to make reservations at least 10 days prior to your visit. Longer if you want a guided visit with a museum docent.
• There is an interesting gift shop that has a variety of computer, technology, and Silicon Valley related souvenirs and novelty items. Worth a quick look around.
• The small Cloud Bistro serves coffee, sandwiches, salads, snacks, and local wines. A great place for when you need a break.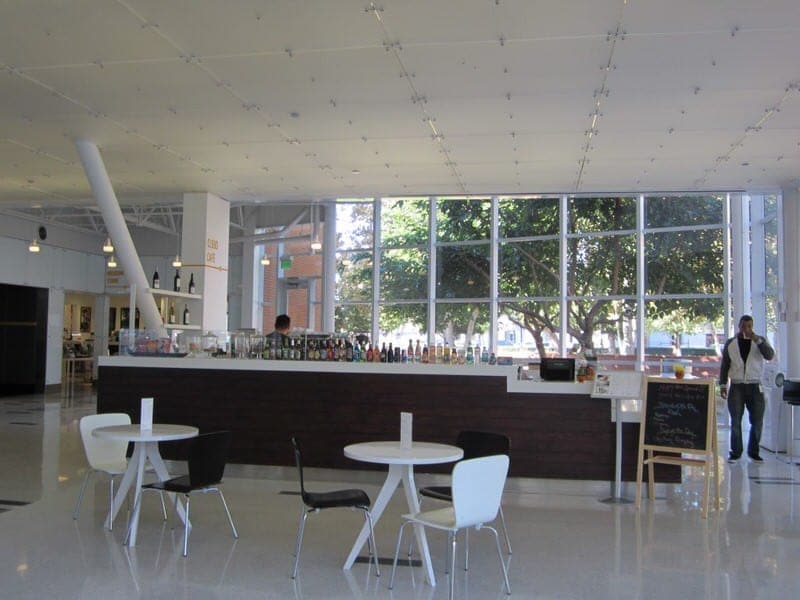 Our Experience at the Computer History Museum
We just recently visited the Computer History Museum for the first time despite having lived only 5 minutes away for the past three years. As you may guess, Ethan and I are not part of the technology industry and are not super interested in computers; however, we decided to go as we'd heard good reviews from friends and my family was visiting and my brother does have more of an interest in computing.
As you walk inside, you'll see the Information Desk where you can purchase your tickets. We were each given a map and a cool little yellow badge. There is a board that lists the day's special activities (docent-led tours, demonstrations, etc.) and we were encouraged by the staff to do the Babbage Engine demonstration so we made note of the demonstration time before heading into the first exhibit.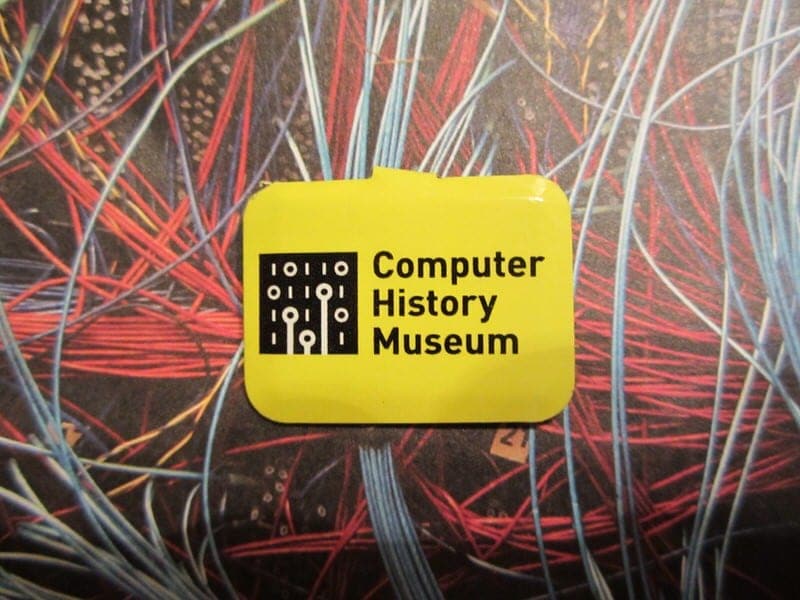 Your first stop is the Orientation Theater where you'll watch a short film introduction to the museum and to the history of computing. After the film, you'll enter the main part of the museum which contains the 20 galleries of the "Revolution: The First 2,000 Years of Computing" exhibit. Who knew computing history was 2,000 years old?!
You'll start off with compasses, abacuses, and calculators before moving on to punch card machines, early computers of the 1940's and 1950's, supercomputers, microchips, robots, computer games, the Internet, and all the way through to the most recent technological innovations of today such as autonomous cars. Along the way, you'll be able to see, read about, listen, and interact with the multi-media exhibits.
Who invented the first computer? How have computers influenced space exploration? Did IBM workers really sing company songs together? Why are teapots important to the history of computer graphics? What is artificial intelligence? Who invented Atari? How did the British break the ENIGMA machine codes? How does my GPS work? These are just a few of the questions that can be answered during your visit to the Computer History Museum.
Note that some of the exhibits here change regularly. For example, I don't think Watson or the Babbage Machine are currently on display any longer at the museum.
Here are several photos of some of our favorite highlights from this section of the museum.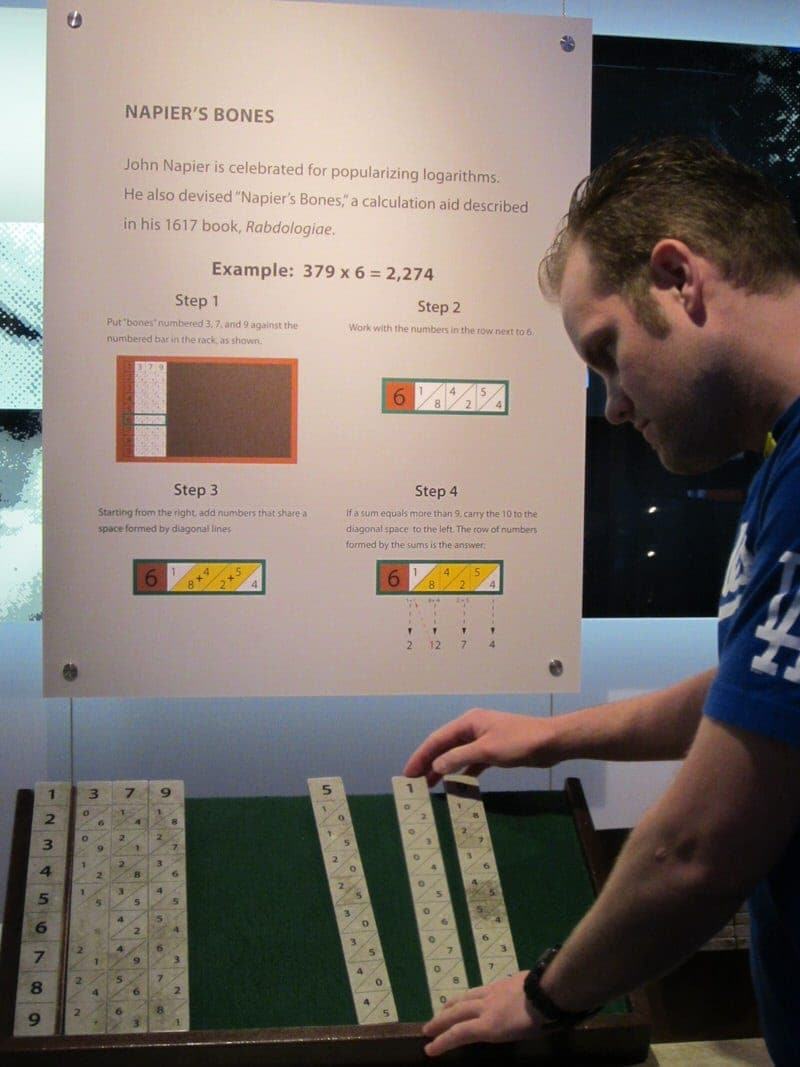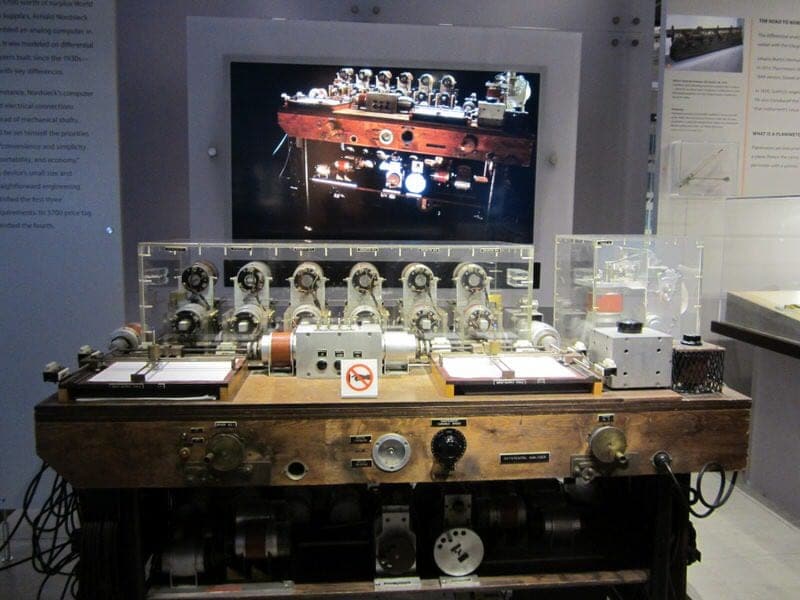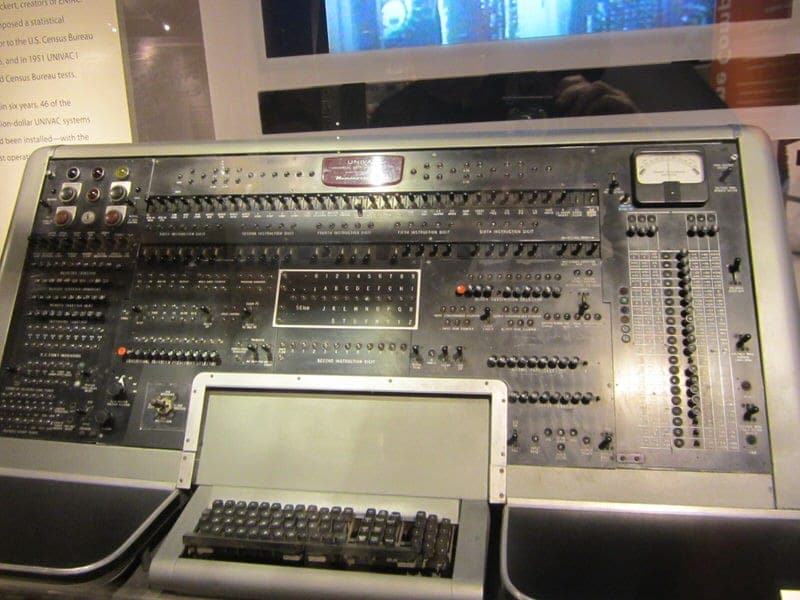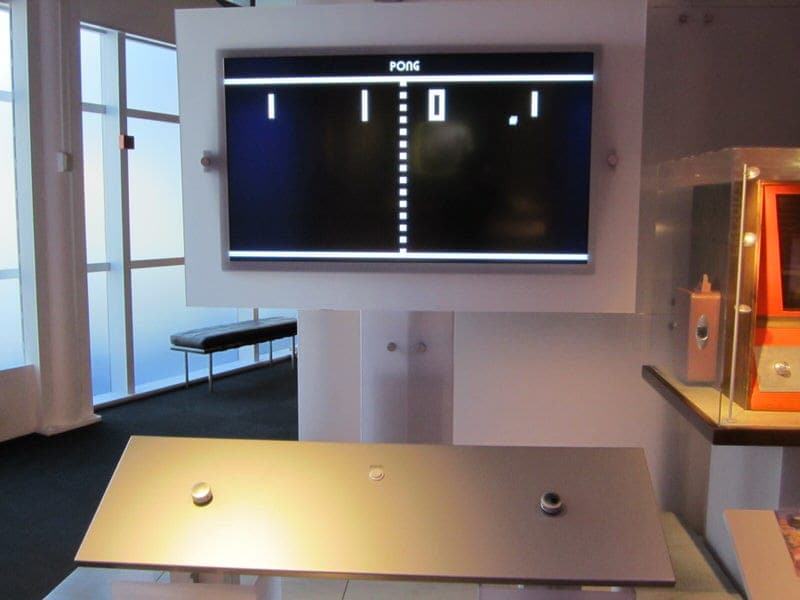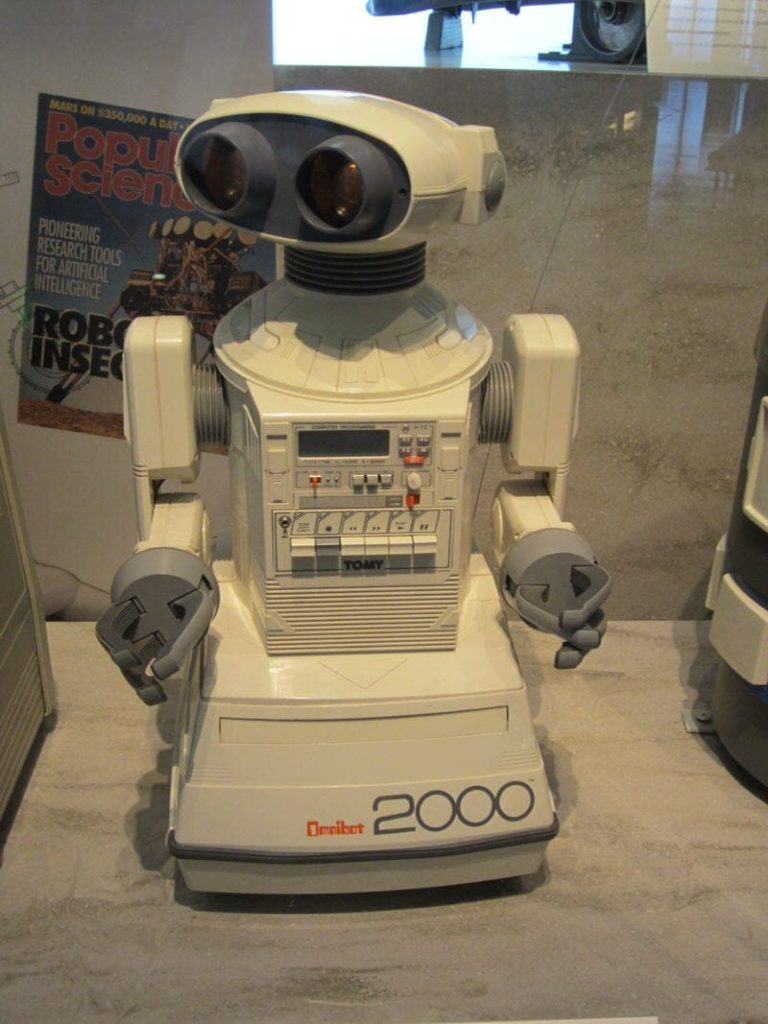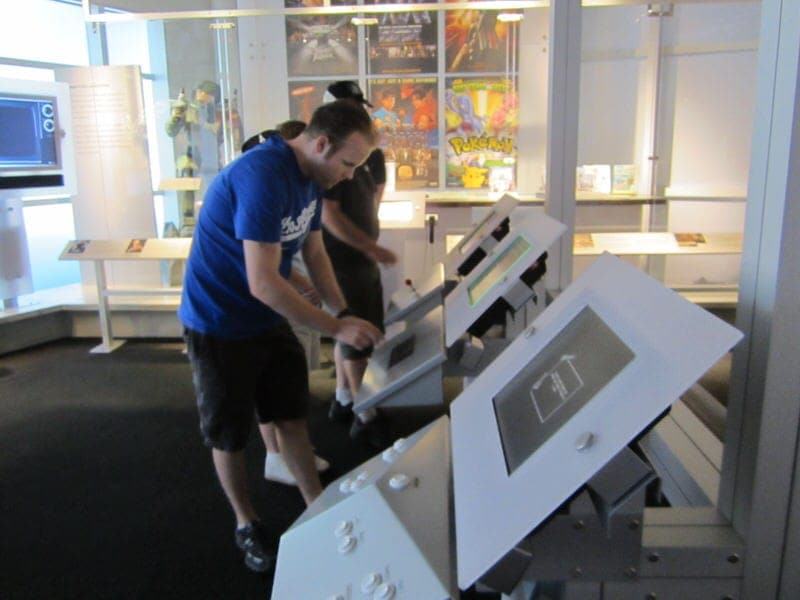 We also made time to attend the scheduled Babbage Engine demonstration, which was one of the highlights of our visit. In 1849, a man named Charles Babbage designed an automatic computing engine called the Difference Engine No. 2.
For a number of reasons, it never ended up coming to fruition and the 8,000-part machine was never built during Babbage's lifetime and Babbage died never knowing for sure if his invention would work. However, in 1985, staff at the Science Museum in London decided they wanted to use Babbage's original designs and prototypes to try to faithfully design the machine just as Babbage had specified to answer the nagging question of "would this have worked?".
It took over 17 years, but finally with the help of a very wealthy American benefactor, Nathan Myhrvold, the machine was completed in 2002. A second duplicate machine was also built for Mr. Myhrvold that was meant to be displayed in his home; however, he was convinced to lend it to the Computer History Museum instead.
You can see the other Difference Engine No. 2 in the Science Museum in London; however, this is the only model you can actually see being used and demonstrated. Watching the machine in action is quite fascinating, as when cranked the calculating portion resembles watching a bunch of moving double helices and it is amazing that something designed 150 years ago would actually work. But work it does!
Note that the Babbage Machine has not been on display at the museum since January 2016. See the latest list of exhibits here.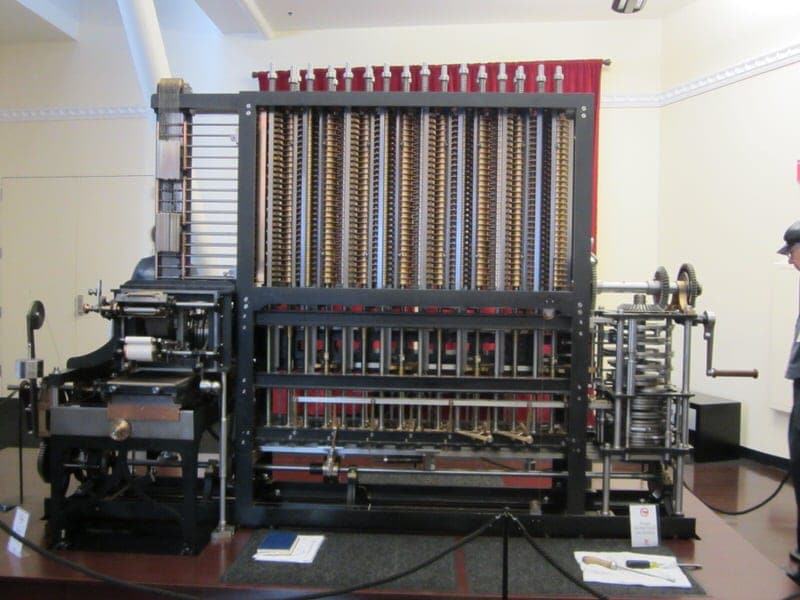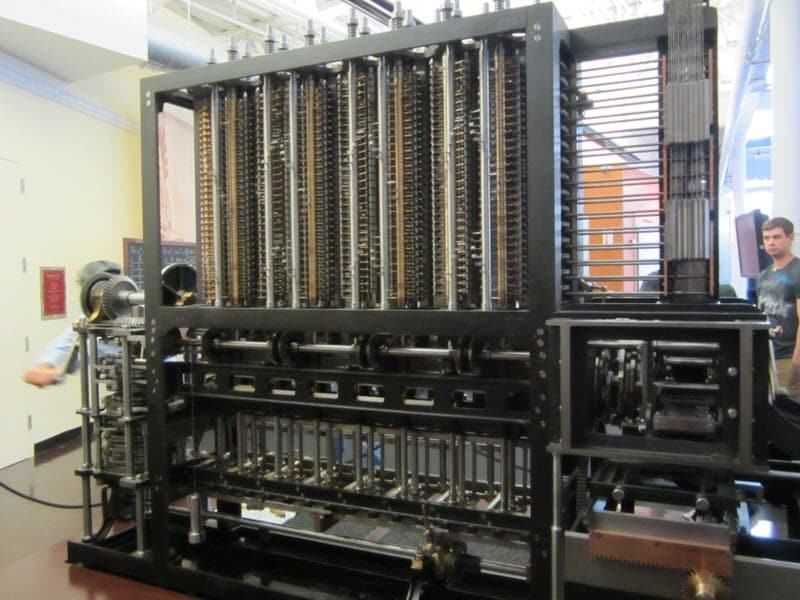 Other exhibits during our visit included the PDP-1, a computer designed in 1959 as a "minicomputer" of its day, although it is hard to think of something weighing 1 ton as mini! There was also an exhibit related to Google Maps and Street View that allows you to sit inside the Google Street View car and ride a Google Street View bike. Both of these are worth quick stops.
Overall, my family and I underestimated the Computer History Museum, and it got the better of us as we were all tired and hungry at the end of our visit. We spent a lot of time in the first 10 galleries of the Revolution exhibit and then had to speed through the final 10. If I were to re-do our visit, I would certainly have prioritized the sections of the museum I was most interested in seeing, and paced myself accordingly.
My brother really enjoyed this museum and I think it was one of his favorite stops during his visit since he is really into computers, but I think everyone in my family found it interesting. I went in with only a little knowledge of computer history and learned a ton from the exhibits and came away with much more of an appreciation for all the innovations that have led to all the devices and conveniences I take for granted.
I couldn't be writing this article and posting it on a travel blog without a countless number of innovations, risks, and discoveries of so many people!
If you have absolutely no interest in computers or technology, this is probably not going to be an enjoyable visit and I would not recommend it. However, even if you have a small amount of interest in the topic, I think you'll be able to spend an enjoyable morning or afternoon learning about the people, machines, and companies that have had such an impact on our modern technology-driven society.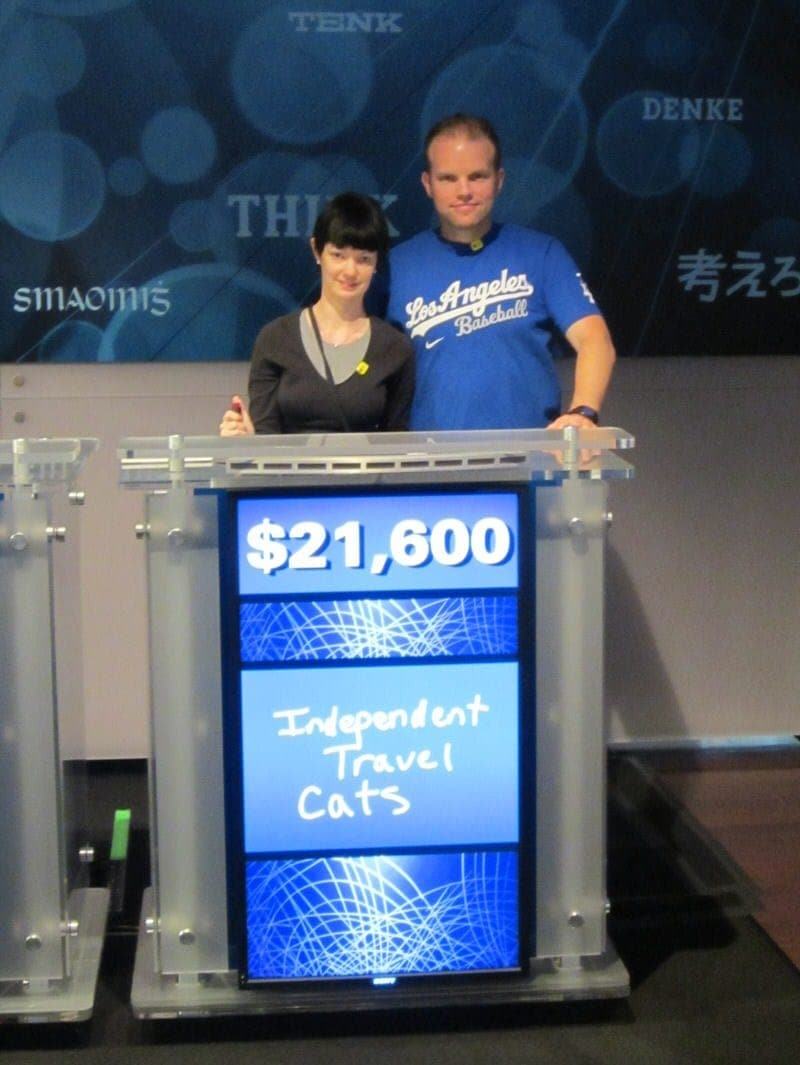 Does the Computer History Museum sound interesting to you? Have you visited? We'd love to hear your thoughts!