Taking a food tour in San Francisco is really a no brainer as San Francisco is a city full of culinary delights from artisan coffee to fresh caught seafood to old-fashioned ice cream. We didn't hesitate when Avital Food Tours asked us to review one of their walking food tours.
Currently, this small company offers food tours in several iconic San Francisco neighborhoods including the Mission District, North Beach, TenderNob. and Union Square. What is unique about the company is that not only do they take you to local culinary destinations and allow you to meet restaurant owners and chefs, but they also focus on providing participants with local history and little known local lore about the neighborhood.
We'll share our experience of eating our way through San Francisco's North Beach neighborhood to give you a good idea if this is the type of tour for you or not.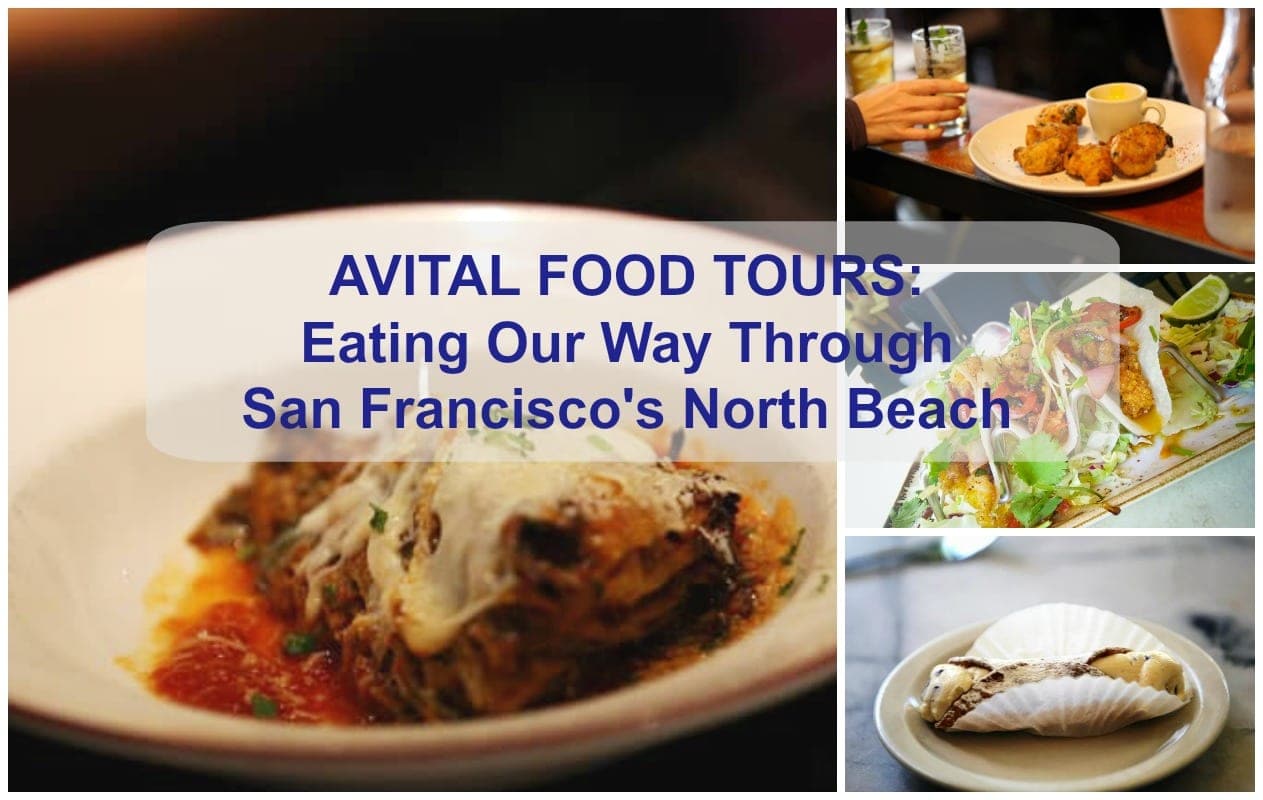 Basic Information on Avital Food Tours
Avital Food Tours is a small local business that was founded by Avital Ungar, a native of San Francisco and avid lover of food and travel. After traveling abroad as a tourist, Avital brought the idea of traveling around one's own city as a tourist and discovering the hidden gems that we often walk and drive past on our daily commutes.
She started Avital Food Tours at the age of 25 to combine her love of both food and discovering the history and culture of the area that inspired the food. Each of the tours focuses on a separate neighborhood with a different set of culinary experiences.
What food tours do they offer?
They currently offer group food tours in San Francisco's Mission District, TenderNob, and North Beach neighborhoods. Optional alcoholic drink pairings are available with most of these tours. They also offer a craft cocktail tour in the Union Square neighborhood.
Note that Viator also offers the Avital North Beach Italian food tour plus a ticket to visit Alcatraz as part this special tour offering that includes a morning visit to Alcatraz and afternoon food walking tour.
The company also offers private food tours that looks really interesting. You can also contact the company if you are interested in a private food tour or one for a large group, corporate tour, or special occasion.
Avital now also runs food tours in Los Angeles and New York City.
What are the tour sizes?
Typically group tour sizes are between 4 and 12 people. You can also book a private tour if you have a particularly large group or would like to have an intimate tour with just your party.
Who should take these tours?
These tours are tailored to both visitors and locals in San Francisco who want to experience a variety of classic and trendy food stops in a particular neighborhood. The tours are intended to provide tours participants with a progressive 4-course meal from appetizers to dessert.
In addition to getting tasty nibbles at each stop, participants also often have the opportunity to hear a little from the chef, owner, or other food industry worker at the restaurant. These tours are also for those who are interested in learning more about the history and culture of the neighborhood.
The content is not as well suited for younger children and many of the tours restrict children under the age of 21.
The tours also involve a fair bit of walking so those with mobility issues should contact Avital Food Tours before booking to ensure that the tour would be appropriate. Some tours are possible for those with wheelchairs but tour operator needs to know in advance to book appropriate tables.
Vegetarian options are usually available and many food allergies and restrictions can be taken into account with proper notice, but please inquire before booking.
How do I make a reservation or contact Avital Food Tours?
Advance reservations are necessary to take one of the Avital Food tours. You can make reservations online at their website or via GetYourGuide or Viator. You can also call them at +1 (415) 355-4044 or send them an email at info@avitaltours.com
Our Experience of Avital Food Tours
As noted, we chose after much deliberation decided to take this North Beach tour although Laurence was partial to the Mission District food tour or the Union Square Craft Cocktail tour. However, in the end the Italian food won out, especially since there was the promise of a cannoli at the end of the tour.
We arrived in San Francisco and took public transportation to get from Fisherman's Wharf (where we had been visiting Madame Tussauds in San Francisco for some interesting selfies!) to the North Beach neighborhood. Public transportation is usually quite easy for getting around San Francisco but you can also park and our booking reservation came with directions about nearest parking options.
We didn't have any problem locating the meeting spot, and our guide Leila was already there wearing an Avital Tours shirt. We were joined by a nice couple from Canada and we were happy to have a small intimate group for our afternoon tour.
The tour started with a bit of history related to the history of North Beach which used to be a portion of the infamous Barbary Coast. The Barbary Coast arose as a result of the large influx of people coming to San Francisco during the Gold Rush, and the area that is now North Beach was a fairly unsavory lawless area of town filled with dance halls, saloons, prostitution, and crime.
Leila pointed out original buildings and sights of importance from this time period that were lucky to have survived the 1906 earthquake and fire as we walked along the streets.
We also paid a quick visit to an arts supplies store which has a secret hidden in its basement: a small portion of a hidden tunnel which helped illustrate the history of Prohibition and the rise of speakeasies in San Francisco from 1920 to 1933. This tunnel was part of a large network of secret tunnels dug under the city to facilitate the transport and storage of alcohol throughout the city.
During the tour, historical buildings, murals, and art installations were also pointed out. One of the most memorable to us was the art installation of "flying books" at the intersection of North Beach and Chinatown. In addition to the books hanging overhead, there is also writing all over the stones underneath in various languages, symbolizing the mixing and harmony of languages and cultures in San Francisco.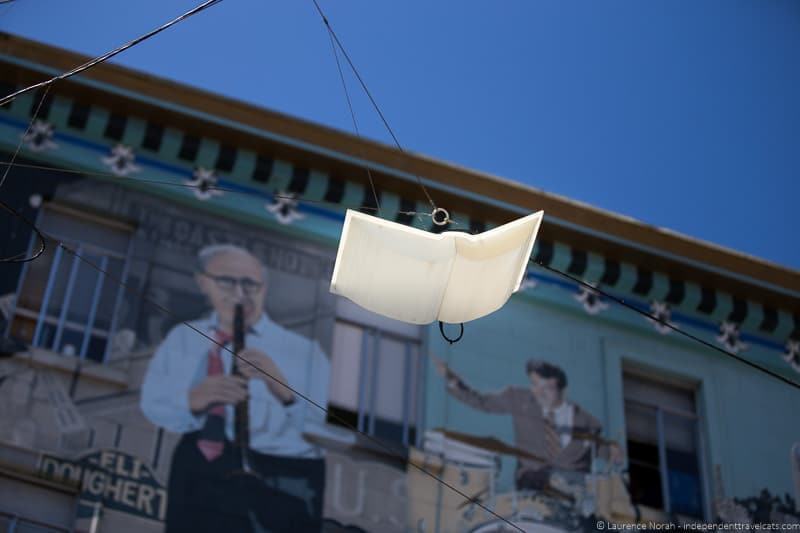 Food Stop #1: 15 Romolo
It would be easy to pass by 15 Romolo as it is located at a nondescript location in an alley. This location was once home to speakeasies, brothels, and most famously, The Basque Hotel which served family-style meals and drinks to both boarders and locals in this area for decades. Today 15 Romolo serves craft cocktails and drinks at its bar as well as a nice selection of casual dining options from its kitchen.
Here, we tried their take on a Pimm's Cup which included Pimm's, cucumber, mint, lemon juice, ginger, bitters, and soda water. I am neither a big fan of Pimm's or ginger but it was surprisingly very refreshing and Laurence, being British, loved it!
We got an opportunity to chat briefly with one of the bartenders, Andrew, who told us that 15 Romolo was one of the first in San Francisco to begin making craft house cocktails and explained that most bars put their own twists on the Pimm's Cup.
Our drinks were paired with a plate of country ham and kale fritters to share which were very tasty. I noticed they serve something called Pinch Drunk Brunch which sounded like a good reason to return!

Food Stop #2: Original Joe's
Our second food stop was at a classic Italian restaurant named Original Joe's right off the most popular and recognizable green space in North Beach, Washington Square which was one of the first city parks in San Francisco. Around this square you can find all kinds of Italian restaurants, bakeries, coffee shops, and social clubs.
Original Joe's was first opened in 1937 as a 14-stool counter diner and expanded and moved over the years to its current size and location today. Here we walked into a dining room framed in dark wood and were seated in a deep booth of scalloped red leather.
The menu here is definitely filled with a number of Italian classics and the family who owns it are often walking around and talking to guests. We each had a half serving of the eggplant parmesan dish which was paired with a Sangiovese wine. All four of us were really surprised by how good the eggplant parmesan tasted here and it was honestly probably the best either Laurence or I have ever tried.
The Executive Chef Sergio talked to us about his classic take on this dish and his time working as chef at Original Joe's.
Food Stop #3: Tacolicious
Not all restaurants and food shops in North Beach are Italian and our next stop was at a Mexican-inspired restaurant called Tacolicious. This is not a normal stop on this tour but was a replacement since their usual partner, Ferry Plaza Seafood, is no longer open on Sunday afternoons which is when our tour was scheduled.
I had actually been to a Tacolicious before as there is also a store located in Palo Alto near where I live. We each had chips and salsa and a cod taco at Tacolicious, and a vegetarian option was provided for one of the other tour members who is allergic to seafood.
The restaurant manager, Wayne, came over to our table to talk to us about the cod tacos and their speciality salsa with mint. Tacolicious has one of the largest selections of tequila in San Francisco and the Canadian couple asked about the mezcal, and we were then graciously each offer a shot of the mezcal which is similar to tequila but made from a different type of agave plant.
While I would have preferred a more historical North Beach Italian stop, the cod taco was quite good and the manager was very generous to offer us a taste of the mezcal as this was not part of the normal tour.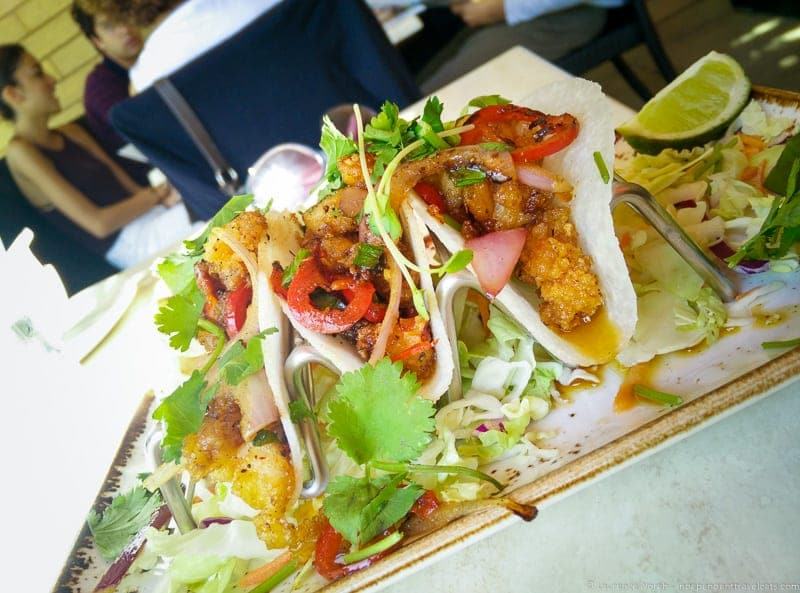 Food Stop #4: Stella Pastry & Cafe
Our final stop was to Stella Pastry & Cafe for the classic Italian dessert cannoli. The little bakery has a case full of all kinds of Italian goodies, including, fruit tarts, tiramisu, sfogliatella, and cakes. Leila, our tour guide, also highly recommended the cafe's house speciality, the sacripintina cake, which is one of the store's most popular items.
Normally guests on Avital Food Tours will get the chance to try their hand at filling a cannoli but we didn't get a chance here as normally the tour would stop at A. Cavalli & Co. where this can be done. The cannoli at Stella's uses the traditional outside and smooth ricotta cheese filling but adds a modern twist by adding chocolate chips to the filling, which was quite delicious.
Laurence and I also ordered an espresso to go with our cannoli, which was a nice pick-me-up as we had a plane to catch to Walla Walla, Washington after the tour.
Overall, we had a very nice experience with Avital Food Tours. Our guide, Leila, was really personable and knew a lot about both the area and the food we tasted. I really enjoyed that the walking tour included quite a bit of historical and cultural knowledge about North Beach as this made it more interesting to me rather than just tasting food.
All of the food and drinks we had were quite good although I was a bit disappointed that we did not get to go to some of the normal Italian stops on this tour due to some changes in restaurant hours. However all future North Beach tours should include the pizza and seafood stops as Avital Food Tours is changing their tour times to accommodate the restaurant hour changes.
I think Laurence and I's favorite stop was for eggplant parmesan and wine at Original Joe's. Of course, a cannoli is always a perfect ending to an Italian meal! Avital Food Tours is a great small local business and we were happy to have the chance to take their tour and learn more about their company.
We specifically took only the North Beach Food Tour but they have several other food tours as well, and we'd love to try the rest! Also if you are planning to visit San Francisco and take both a food tour and visit Alcatraz, we recommend checking out this combo tour.
If you are living or visiting San Francisco, we definitely recommend you take a food tour, whether it be from Avital Food Tours, or another company, this is a city filled with culinary delights!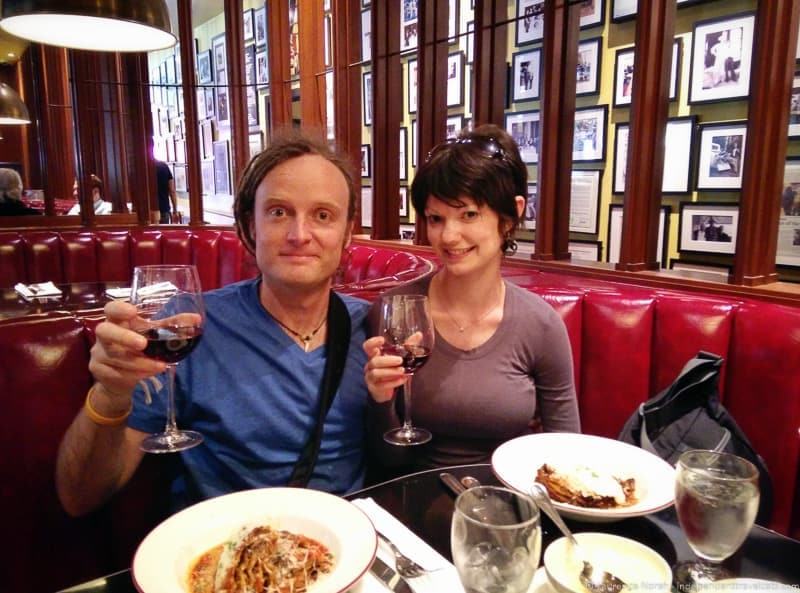 What do you think, would you take a food tour in San Francisco's North Beach? Have you done a walking food tour in San Francisco or another city? As always, if you have any questions or comments, we love hearing from you!
**Disclosure: We were invited to go on a complimentary food tour by Avital Food Tours in order to review their tours ; however, this article contains only our own honest thoughts and opinions. We were not financially compensated for this post.**