Pea Soup Andersen's is one of those quirky, roadside restaurants that has a strong cult following in California and its fame can be attributed to the humble pea. For generations, locals and travelers alike have swung by this old-fashioned restaurant for friendly service and a hot bowl of pea soup! The restaurant is probably one of the largest purchasers of peas in the world, serving thousands of bowls of the hot green stuff each day, and is known as the "Home of Split Pea Soup". What began as a small roadside café in 1924 opened by Anton Andersen and his wife Juliette has morphed into two restaurants, an inn, gift shops, and even a small museum. However, the primary reason to stop is still to try a bowl of their homemade pea soup made from Juliette's original French recipe. If you've driven Highway 101 along California's Central Coast, you've probably seen the billboard signs for Pea Soup Andersen's along the road. Ethan and I usually stop here if we are in the area heading south to Solvang, Santa Barbara, or Los Angeles from San Francisco. So if you are driving in Central California, you may want to make a pit stop like millions of travelers before you and get a steamy hot bowl of pea soup with all the trimmings. Read on for all the information you'll need to add this quirky roadside restaurant to your itinerary.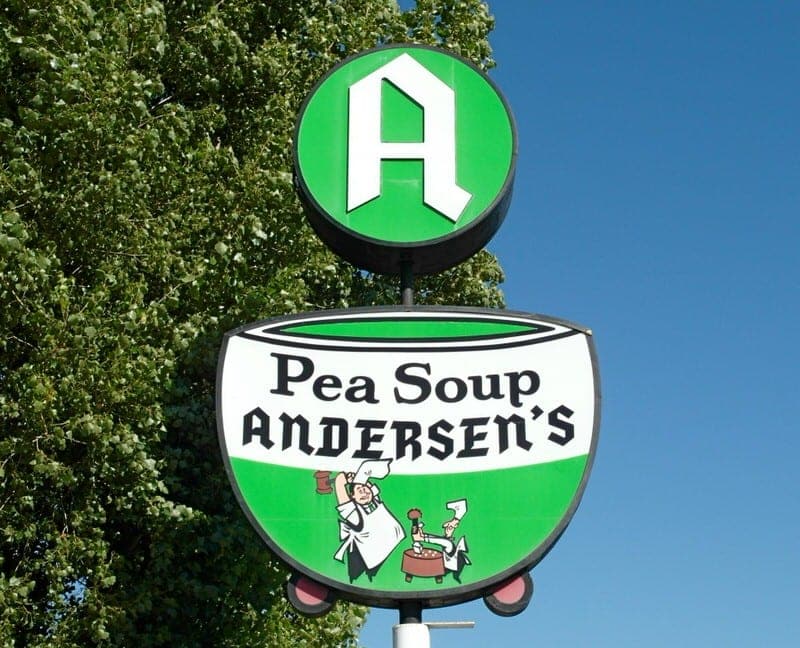 Basic Information on Pea Soup Andersen's Restaurant
Location?
The main Pea Soup Andersen's restaurant is located at 376 Avenue of Flags, Buellton, CA 93427. It is located near the intersection of Highway 101 and Highway 246. The Pea Soup Andersen's Inn is conveniently located next door.
A second restaurant location is located in the town of Santa Nella at 12411 South Hwy 33, Santa Nella, CA 95322.
Getting Here?
Car is the easiest way to get here and free parking is available in their parking lot.
Hours?
Open daily from 7:00am – 10:00 pm. Reservations are not necessary unless you have a very large group or want to schedule an event here.
Cost?
Average cost for a meal is $10 to $20 per person. Pea soup in a bread bowl is $8.50 and you can add 5 toppings (bacon bits, croutons, green scallions, diced ham, and grated cheddar cheese) for $2.50. There is also a Traveler's Special that includes all you can eat pea soup, onion, cheese, and pumpernickel bread and your choice of a drink for $9.50.
Contact Information?
Visit the Pea Soup Andersen's official restaurant website for information on the two restaurant locations or to order merchandise. You can call the Buellton restaurant at 805-688-5581 or the Santa Nella restaurant at 209-826-1685. To make reservations or find out lodging information for the Pea Soup Andersen's Inn you can check out their website or call them at 1-800-732-7687.
Our Experience at Pea Soup Andersen's
We have stopped at Pea Soup Andersen's a few times while staying in Solvang or heading south to Santa Barbara. As you drive along Highway 101, it is hard to miss the giant billboard signs advertising Pea Soup Andersen's, complete with bright colors and cartoon characters. The main Buellton location, which is the one we've always visited, is located near the intersection of Highway 101 and Highway 246. There is a giant parking lot with free parking. You'll see the inn located conveniently next door.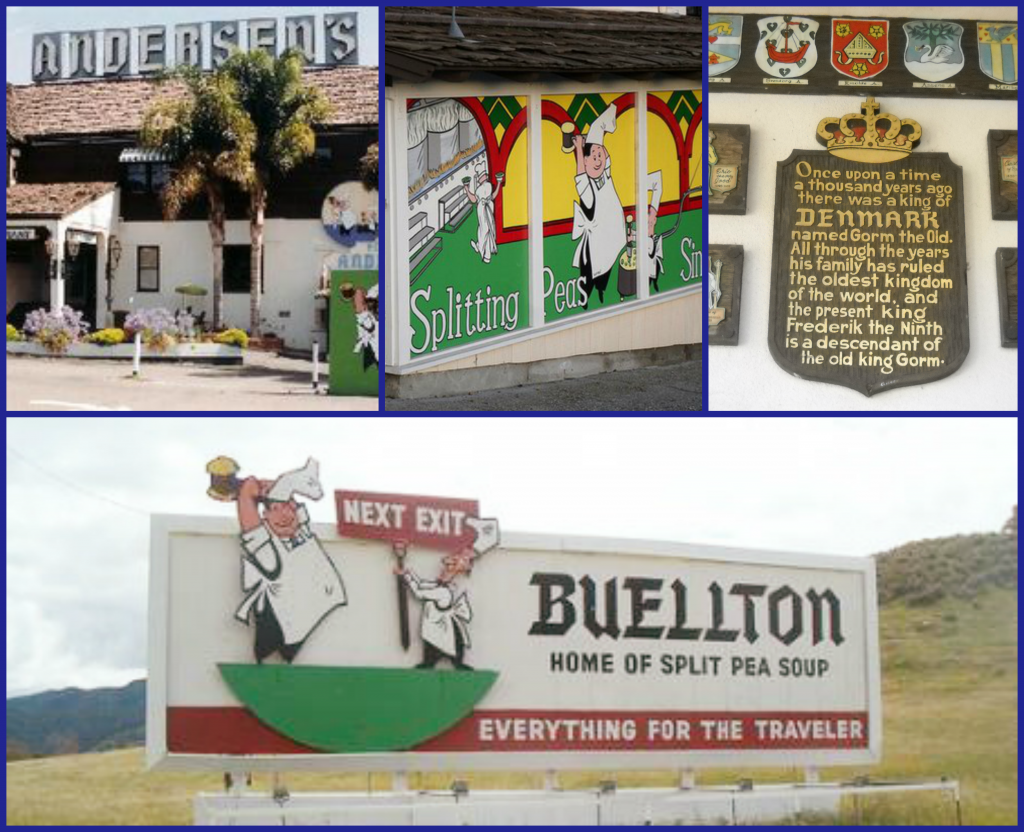 The kitsch begins before you even get inside with a fun cut-out of Hap-Pea (the big guy with mallet) and Pea-Wee (the little guy with the chisel) in front of the restaurant. It makes for a perfect photo souvenir of your visit. You'll also begin to notice a lot of words not in English all over the place. This is Danish and one of the original owners, Anton Andersen, was an immigrant from Denmark and the nearby town of Solvang is a community full of people of Danish heritage.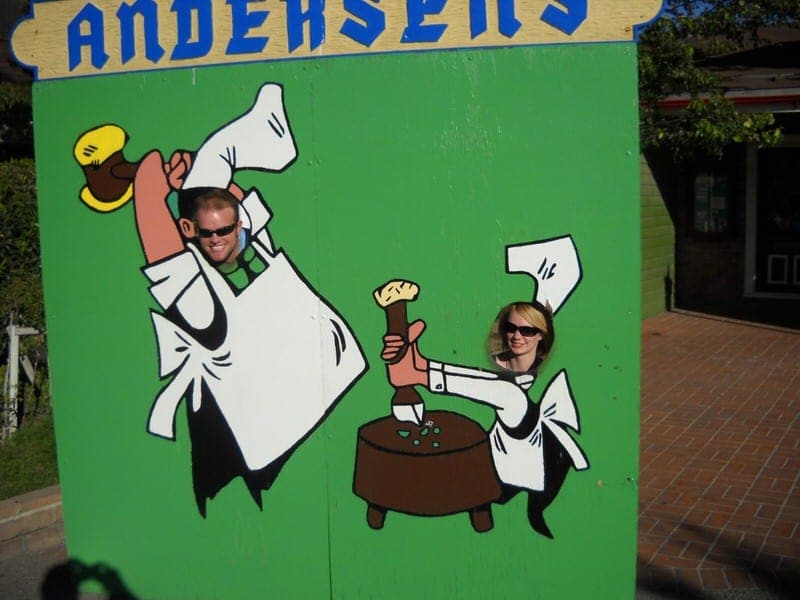 Pea Soup Andersen's is huge and there is almost always a table available based on our experience. I would make time to wonder around either before or after you eat to check out the gift shops (including a year-round Christmas Shoppe) and sweets counter. They are fun to walk around in and there are also homemade Danish pastries, sweets, and chocolates available for sale at the little bakery area. I love learning about the history of places I visit, so I enjoyed taking 10 minutes to head upstairs to the little museum area which details some of the history of both the area, pea soup, and the restaurant.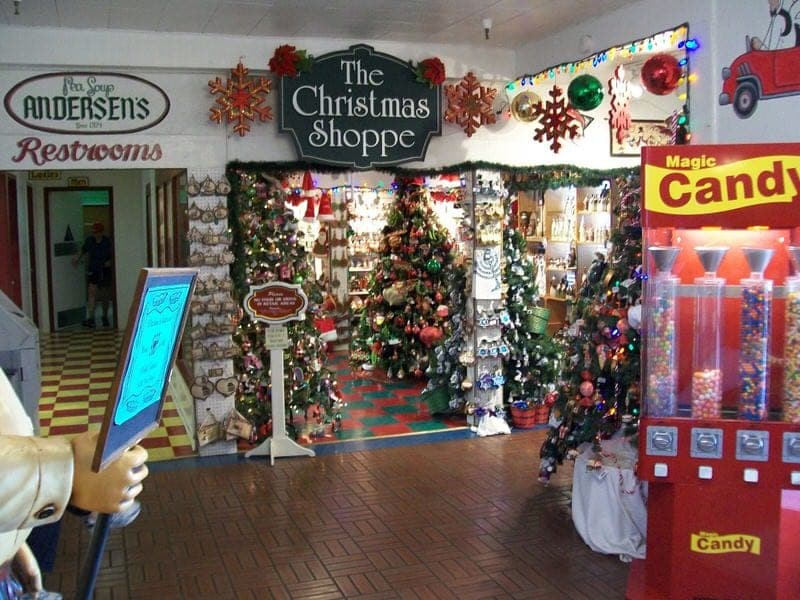 The actual dining room is sort of a mix between an old-fashioned American diner and a medieval banquet room. It does feel a bit like you are stepping back in time with a kitschy mismatch of furnishings and décor, but somehow it feels right. Given the heritage of the original owners (Danish and French) and the original purpose (roadside American diner for truck drivers and travelers), it serves up hearty American diner food with a European twist. Several dishes have Danish inspiration such as the Danish Grilled Sausage and Pickled Herring dishes. We pretty much always order the renowned vegetarian-friendly pea soup in a sourdough bread bowl with a side of the 5 soup toppings (bacon bits, toasted croutons, green scallions, diced ham, and grated cheddar cheese). Ethan and I usually each get our own individual soup bowls and then share an order of the soup toppings.
The pea soup is very green as expected. The peas are quite pureed and the soup has a bit of gritty texture and some thickness, but was not as thick as we originally expected. Neither Ethan nor I are actually big fans of pea soup in general, but we do enjoy the pea soup here and like having it in the baked bread bowl. I love that they served the carved out part of the toasted bread bowl on the side, as I enjoy dipping this in the soup and it provides some extra carbs. I also like to dump in some of the extra toppings to give the soup some extra texture. I have no idea if this is the best pea soup in the world, but it has always hit the spot when we have been traveling. We have tried other items on the menu (I honestly can't remember what) and they were neither really good or horrible, just standard diner food. Pea Soup Andersen's is not a fine culinary dining stop, but it is a fun, retro diner stop. Kids seem to really enjoy being here and the restaurant is quite child-friendly with lots of families dining here.
The best reasons to stop here: 1) try a bowl of their famous pea soup, 2) enjoy the kitschy retro vibe, 3) learn a little of the history of the town and the restaurant, and 4) stretch your legs and have an enjoyable pit stop when traveling along California's Highway 101.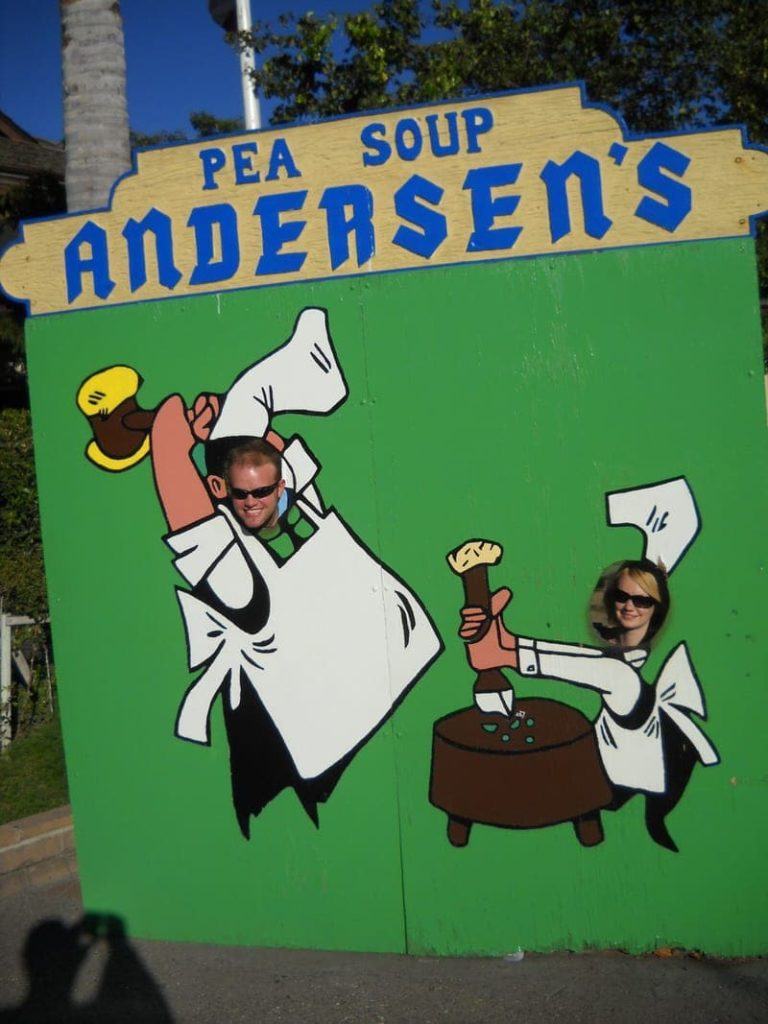 What do you think about Pea Soup Andersen's? Have you visited? Have you recently visited a similar retro diner or restaurant? We'd love to hear your thoughts!