Buying gifts can be difficult, so we've put together a travel gift guide with over 75 different gifts for travelers. We have gift ideas suitable for all budgets, travel styles, and occasions.
Laurence and I travel for a living and know a thing or two about what makes a good travel gift. We've also tried and tested so many travel products and services over the years that we wanted to share a list of what we think would make a good gift for a traveler.
First, we'll go over some tips for choosing the perfect gift for the traveler on your shopping list. Remember that thoughtfulness is key!
Next we'll share over 75 travel-related gift ideas that include everything from the typical travel pillows, luggage, and tents to things like automatic pet feeders, cocktail travel kits, and carbon offset gift cards. We have gift ideas that will suit just about any type of traveler from backpackers to campers to cruisers to luxury travelers. We also have plenty of ideas for the armchair traveler.
Our gift ideas are suitable for any budget, whether your budget is $0 or $10,000, we have you covered. The first gift idea on our list is free and the majority of the travel gifts on our list are under $50, so there are loads of ideas for those who don't have a huge budget. But we also have plenty of ideas if you have a big budget as well!
So let's dive in with our ultimate travel gift guide!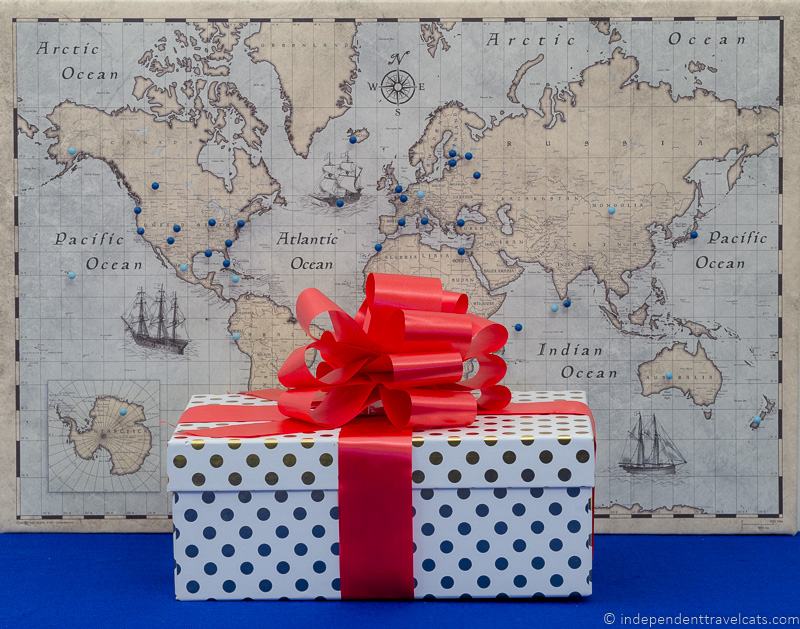 Tips for Choosing the Perfect Travel Gift
Before we delve into travel gift ideas, we wanted to get you thinking about what would make the perfect travel gift for your friend or loved one.
Gift giving by humans likely dates back to prehistoric times although today we have a lot more gift options than the Neanderthals. In fact, with huge shopping malls and online shopping, we are perhaps too overwhelmed with choices! If only the decision was as easy as choosing between the shiny purple rock and the tiger tooth.
We'll go over some tips and advice to help guide you into choosing the perfect gift for the traveler in your life.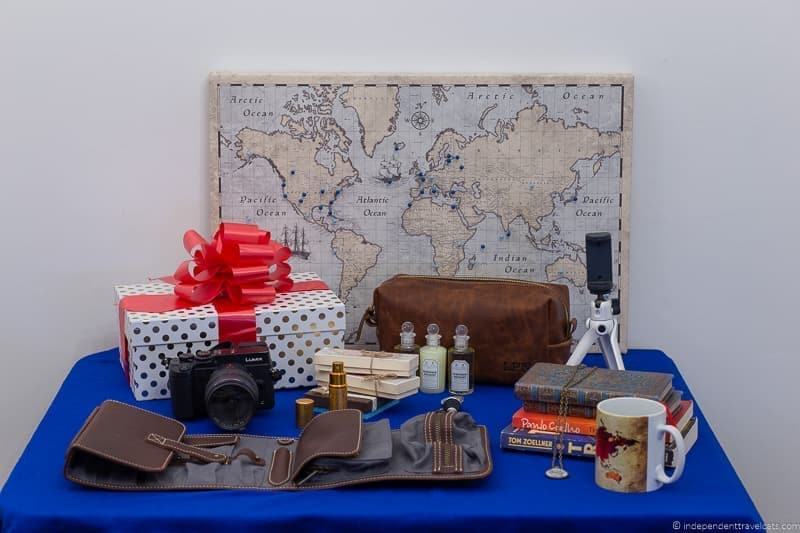 Decide on the Type of Travel Gift
It can be helpful to know what kind of gift you want to give the friend or loved one on your shopping list. Do you want it to be something practical and functional, or do you want it to be something funny that will make them laugh?
Do you want something that will inspire them to travel or something that will make their next trip more comfortable? Or do you want it to be an experience they can do on their next vacation? Or maybe a gift that will remind them of a special trip they have already taken?
Do you want it to be something that multiple people can enjoy, such as pinning locations on a map pin board, a family cooking class, or a travel-inspired film pack?
How personal do you want the gift to be? Obviously a gift given to a colleague at a work party is not likely to be as personal as the one you give your spouse on Valentine's Day.
Do you want the gift to take them by surprise? Or do you want to give them something you know they already need or want?
Has the person already told you or hinted to what they want? If so, we'd recommend getting them something from their wish list as this research study found that people who provide gift suggestions are happiest when they receive gifts they want.
Answering these questions can help you narrow down what kinds of things to consider.
If you really have no idea what they might want or what to get, go for something practical. Research, like this study, shows that people generally prefer gifts that are feasible and practical versus those that are fun but unpractical.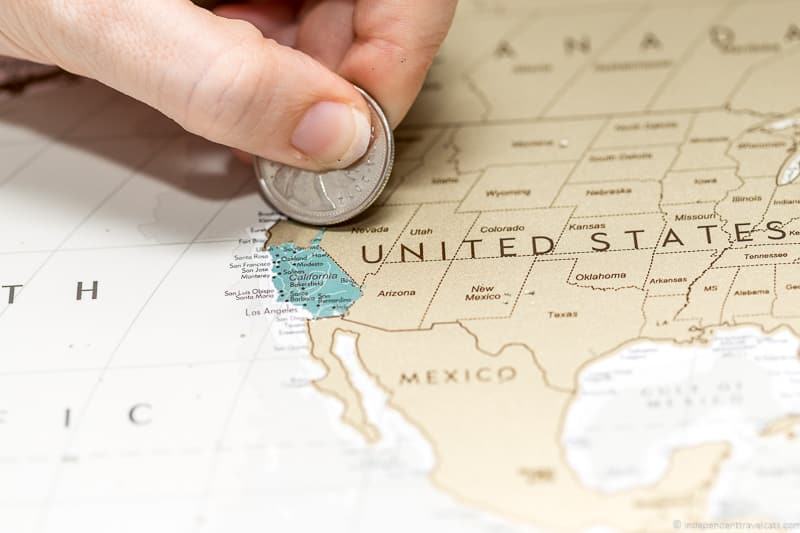 Consider the Tastes of the Traveler
What kind of person is the traveler you are buying a gift for? What kinds of things do they enjoy doing? What kind of clothes do they wear? What kind of trips do they take? Are they travel newbies or have they been traveling the world for decades?
Are they a dreamy backpacker type, a practical person who plans every minute of their itinerary, an outdoors loving camper, an environmentally conscious volunteer worker, an adventure-junky risk taker, a 5-star luxury lover? A good practical gift for an RVer would likely be very different from a good practical gift for a luxury traveler who vacations at exclusive beach resorts.
What do they do on their travels? How do they get around (bus, car, RV, plane, train, boat)? What do they enjoy doing most? Would you be more likely to see them in a museum, bungee jumping, going on a food walk, or lying on the beach?
Think about anything that is unique about them and the way they travel. Do they worry about getting robbed when they travel? Are they obsessed with coffee? Are they worried about their carbon footprint? Do they go to classical music concerts in every city they visit? Do they use guidebooks? Do they pack too much? Do they love taking photos? Do they love trying out new-fangled tech gadgets?
If you want to give someone something practical for the trip, consider how they travel and how much space they have. A family embarking on a National Parks road trip in a van may appreciate a nice cooler to keep their drinks cold, but that same gift doesn't work for someone who normally travels by plane.
Use these things to help guide you to the right gift for the travelers on your list. Remember, the gift should be something that they'll love, but it doesn't necessarily have to be something you personally love.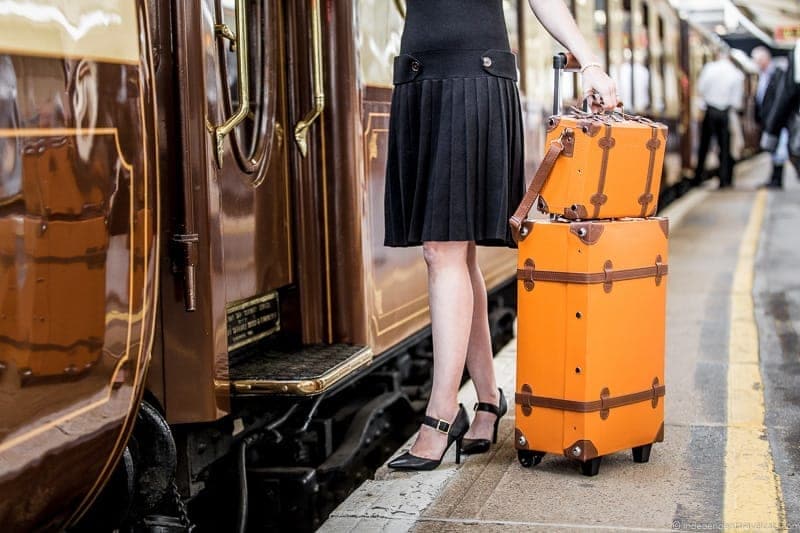 Take Into Account the Occasion
The type of occasion may influence the type of gift you buy as most gifts are purchased to celebrate holidays, events, and rites of passage. Are you buying it for a birthday, Christmas, Mother's Day, graduation, honeymoon, retirement party, a gap year send-off, or some other occasion?
Why are you giving the gift? It may be to show others that we are thinking of them, to show we value our relationship with them, and/or to celebrate a special moment. And sometimes we feel obligated to give gifts during a special holiday or because someone gave us one and now we are in a never-ending gift-giving cycle!
Does the size of the gift matter? Are you getting them something that will fit in a card, a stocking, or a gift box under the tree?
Will the gift be opened in public or in private? Some gifts may be more suitable for being opened in an intimate setting versus a workplace party.
Have you been given any strict budget or rules around the gift? Perhaps the gift has to be under $20 for an office party, or it has to be something vintage, handmade, or recycled for an environmentally friendly gift exchange?
If it's a college graduation or gap year send off, consider what a young and inexperienced traveler might be needing. If it's a retirement, consider what might be a meaningful gift for the way that person plans to travel after they retire. A honeymoon couple might appreciate a romantic or experiential gift they can do together like a cooking class, spa day, or boat trip.
Perhaps you are gifting to someone you don't know very well like a work colleague, a church or club member, or a friend's daughter. In such cases, if you don't know much about someone, you might go for a less personal gift like a gift card, a popular travel book, or something universally useful.
Maximize Quality Within Your Budget
Obviously you need to take your budget into consideration when shopping for a gift. We provide price ranges for each of the suggested gift items on our list to help. I'd try to get a gift that maximizes quality within your budget.
Although it may seem better to buy a number of cheap things rather than one more expensive item, you want to make sure what you are giving is a quality item that the person is likely going to want and is going to use.
For example, a person has a gift budget of $25, wants to get something practical, and knows the person wants a new water bottle for their upcoming hiking trip. You check options and find that you can buy two inexpensive plastic water bottles for $10 each, or spend $20 for a much nicer and more stylish stainless steel bottle.
I'd recommend going with the latter. Although two gift items might sound better than one, the person is likely to appreciate the nicer bottle and it will likely be more durable and last longer.
You don't have to have a huge budget to get a quality item, it is about choosing the right type of item. If your friend really wants a mirrorless camera, a $70 budget is not going to buy you a camera, but it will buy you a high quality camera case, strap, or bag.
Although people giving gifts worry about the cost and value of a gift, research shows that generally the receive feels no less appreciative of a $15 gift versus a $150 present if they believed the gift was thoughtful. Instead of worrying about cost, pick something you think they will want and is good value for your money.
If you have only a small budget, don't despair. Thoughtful gifts don't have to cost you anything but time. We provide gift ideas on what you can for free or what you can buy for very little money. This might include offering to watch your loved one's pets, picking them up at the airport, or cooking them dinner when they return. Or maybe it's a DIY gift like handmade luggage tags.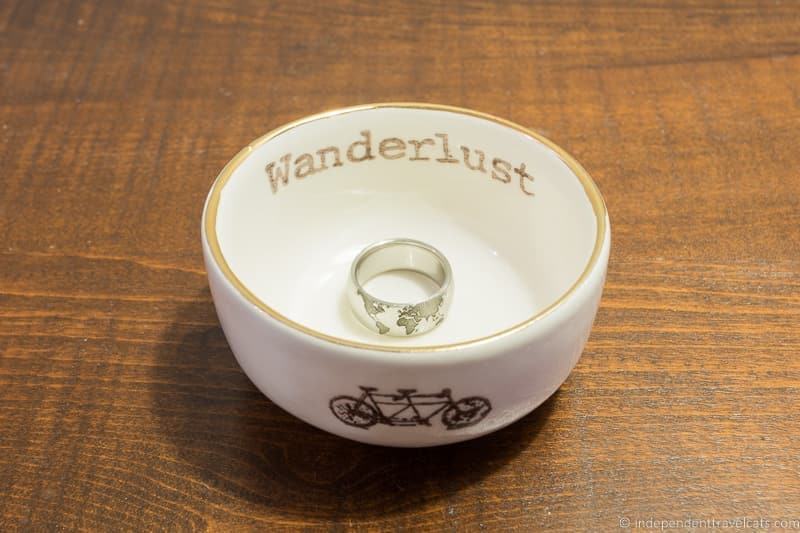 Consider Personalized & Custom Items
A customized or personalized gift shows obvious thoughtfulness and makes the item special and unique. You can create a completely custom item or just personalize an item with the person's initials, a quote, or a special image.
There are an almost endless amount of items you can have personalized or customized, from luggage tags to toiletry bag to jewelry to clothing to luggage. I love buying handmade gifts on Etsy, and many of the artists can personalize items for you. For example, I have gifted three personalized toiletry bags in the past couple of years.
Just note that handmade and personalized items are going to take longer to receive than an off-the-shelf one. So not a great idea if you need the gift as soon as possible.
Be sure to order handmade and personalized items well in advance of when you need them as in our experience, they often take longer than anticipated. We'd also recommend factoring in return time just in case something needs to be fixed.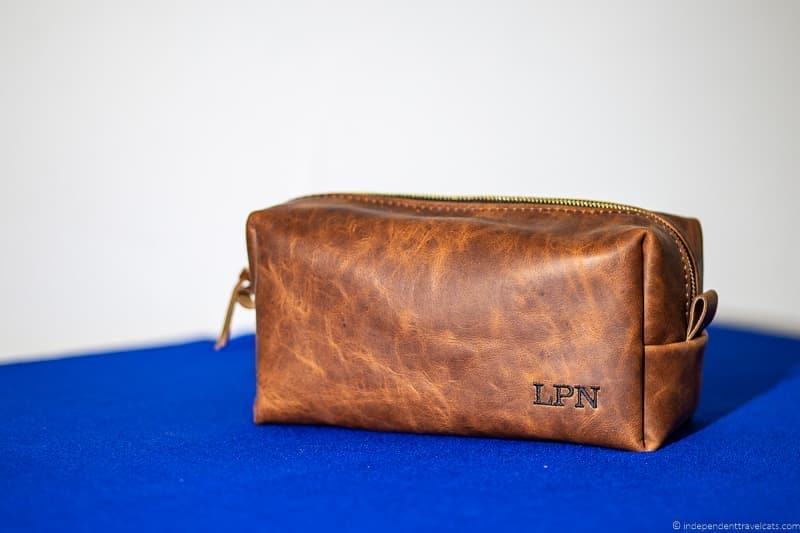 Remember that the Thought Really Does Count
You have likely heard the popular American idiom: "It is not the gift, but the thought that counts." This is what your mother told you when your aunt gave you those ugly socks for Christmas.
But is it really true? Yes, actually, gift giving is a very symbolic thing. Giving someone a gift shows your appreciation, love, and/or respect for that person. It also conveys that you think about them and that they are included within your personal circle.
However, this does not mean just marking a date on your calendar for someone's birthday and then shipping them the first thing you find online as their birthday present. The gift is not likely going to be perceived as being very thoughtful and it may convey a lack of care and respect for the receiver. Bad gifts can damage a relationship.
Research studies show that the most treasured and memorable gifts are those that the receiver knows that the person put some thought and effort into getting or making. People like things that show the giver's knowledge of them. So, for instance, giving a leather purse to a vegan or earrings to someone without ear piercings shows low knowledge of that person. But giving someone tickets to their favorite rock band or buying them a much-needed new backpack shows knowledge and thoughtfulness.
People also like gifts that they know a person put effort into choosing, obtaining, saving for, and/or making. People also like things that are unique such as a one-of-a-kind piece of jewelry or handmade scarf.
This research study also found that women are often better at choosing gifts than men. However, the relationship again seems to be driven by the fact that women, on average, put more thought into the gifts and perhaps had more personal knowledge of the receiver.
If you did put a lot of thought into a gift but are not sure if the giftee is going to love it or not, consider adding notes or a card saying why you chose the gift items. Tell her that the lavender candle is to remind them of the trip you took together to Provence, the camera strap is because he complained of neck pain from his camera, or that you think the scarf color will go well with her favorite travel dress.
So even if you don't choose the perfect gift, it is the thought and effort behind it that does count the most to people. Something to keep in mind if you can't figure out the perfect gift. Just give them something that shows how much you appreciate and know them.
The fact that you know they love travel and are looking for travel-related gifts is already a good start!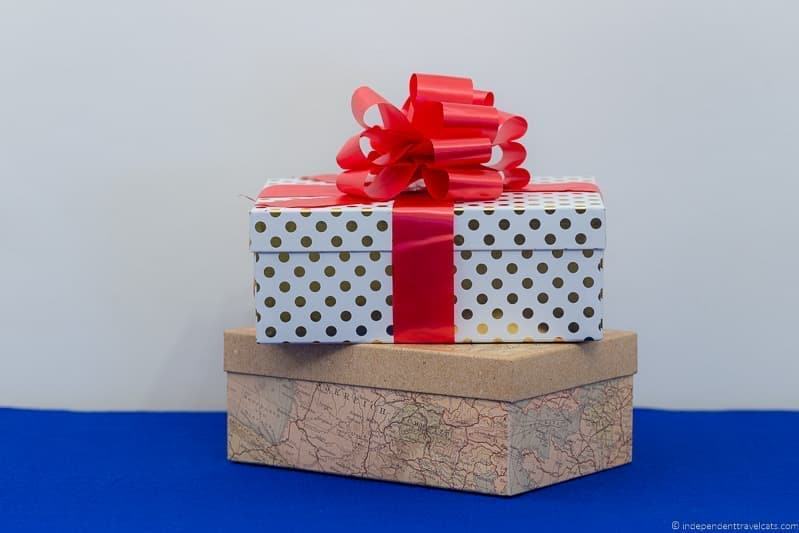 75+ Great Gifts for Travelers in 2023
We've put together a giant list of gift ideas for travelers that should fit any budget, travel style, and gift occasion. The cost of the suggested travel gifts range from free to $1,000+, with the majority costing less than $100 so that you can find the perfect present no matter what your budget.
We feel a gift should be special and specific to the traveler. For some of the travel gift ideas we do suggest a specific product, but for most we suggest different options. For example, there is no one-size-fits-all luggage set but we do give you recommendations and suggestions on types and specific sets and brand that might be a good fit.
We've listed the gift ideas in approximate order of budget, starting with items that can be purchased for under $10. However, keep in mind that you can purchase a $30 tent or a $500 tent so the order is somewhat relative, and we recommend skimming through the full list.
If you like to shop on Amazon, you can check out our curated gift list here that includes many of the items in our list that are available online via Amazon.
We've used many of the suggested products and services in this list, so please feel free to ask us any questions in the Comments section at the end of the post if you have any questions or want an opinion about a gift option.
Without further ado, here is our ultimate travel gift guide with over 75 gifts for travelers:
Offer to Watch House, Pets, or Children
Not all gifts cost money. Sometimes the most thoughtful thing you can do for a traveler is to offer to help them out with something while they are away. There are always plenty of things that most people worry about when they go away, and you can help offer to take care of one or more of these things while they are away.
This might be offering to water the plants, collect their mail, run an errand, check the house, watch pets, babysit children, or mow the lawn. Or maybe its a ride to and/or from the airport.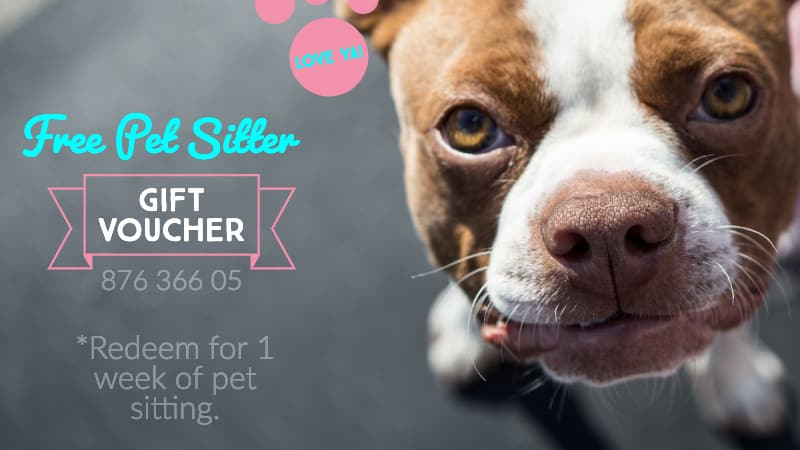 If you want to make it more gift-like, consider creating a nice voucher (you can do it for free using Adobe Spark, Canva, Microsoft Word, etc.) and getting them a card.
Price: FREE
Word Puzzle Books
Buying for a traveler who likes word puzzles and games? Consider getting them a book with crossword puzzles, word searches, and/or sudoku.
Word puzzles are great for airports, planes, trains, and so many other situations where you are sitting and waiting while traveling. Save your favorite traveler from boredom on their next trip, and give their brain a workout!
There are lots of word game puzzle books out there, including large-print versions and ones designed for kids and families.
Another option is coloring books, for adults or kids, but this means they'll also need to pack crayons, colored pencils, or markers. You can see some travel themed coloring books here.
Price: ~ USD $6 to $15 per book
Face Masks
Face masks have become a daily way of life in much of the world. For travel, they are now required in most countries on planes, trains, buses, and most forms of public transit. These requirements are likely to last, at least in some parts of the world, through at least some of 2023.
Etsy has become one of the most popular places for buying reusable face masks, and this is where we have purchased all of our own masks. There are hundreds of sellers making masks, some of which can be personalized. You can see a very wide selection here on Etsy and even more options on Amazon.
The CDC has a great guide to choosing, wearing, and washing face masks and coverings you can read here. We personally buy handmade reusable cotton masks from Etsy that are made from double layers of cotton fabric with an extra filter pocket (we've been using the Filti material since April 2020 to make mask filter inserts). We'd also recommend masks with adjustable nose wires to achieve a snugger fit around the nose.
One of the issues we have with face masks when traveling is that it can be difficult to wash them every day. So traveling with a number of masks is important and also having a travel-sized bottle of detergent so I can hand wash them as we go has been important. We keep a sealable bag for dirty masks and hand wash them at every stop where they have enough time to dry.
Other great gifts you might want to put together with some face masks are filters for the masks, travel sized laundry detergent (if person is going to have to hand wash masks on trips), travel sized alcohol-based hand sanitizers (CDC recommends at least 60% alcohol), moisturizing lip balm (masks can cause dry lips), and sanitizing wipes.
Price: $3 to $10 per mask
Children's Travel Games
Do you know someone heading off on a long road trip or a set of international flight with children? Make their lives a little easier by gifting them a game or activity the kids can play in the car or plane.
Most kids spend too much time in front of screens, so consider a game that is low-tech and interactive like the Take N Play games and this washable marker drawing set. For road trips, we really like games such as this USA license plate game, the Rubbernecker game, Mad Libs for the road, and this travel scavenger hunt game.
Just be sure to check the suggested age range for any game you buy to make sure it is suitable as some games may contain choking hazards for small children or may be too simplistic for older ones.
Price: ~ USD $5 to $22
Smell is one of the most powerful human senses and it is the sense most closely associated with memory. The scent of something has the ability to transport us back in time to past experiences and places, and this includes to places we've traveled.
If you are looking for a gift for a traveler, consider getting them something scented that will evoke past travel memories to places they enjoyed. Or take them on a sensory journey around the world to exotic places that they have yet to explore. This can be in the form of a candle, soap, perfume, body spray, beard oil, incense, etc.
Often we have specific smells associated with different locations and experiences. Lots of different scents may evoke a travel destination for someone. For example: pineapple (Hawaii), lavender (Provence), roses (Bulgaria), oranges (Seville), coconut (Caribbean), pine (Finland) frangipani (Seychelles), rosemary (Tuscany), lemongrass (Thailand), cardamom (India), tobacco (Havana), burning wood (camping), or whisky (Scotland).
A small company called Homesick makes soy candles which are supposed to smell like specific U.S. states, cities, and countries to remind people of their hometowns or places they love. For example Pennsylvania apparently smells like "caramel, maple, buttery rum, and malty molasses balanced with dark cocoa and dry tonka bean" and India smells like "a simmering pot of curry with the ever-present scent of cardamom".
Many of the Mer & Sea candles and other fragrance products are inspired by travel and locations, especially the seaside. They also come in really pretty jars and packaging for gift giving.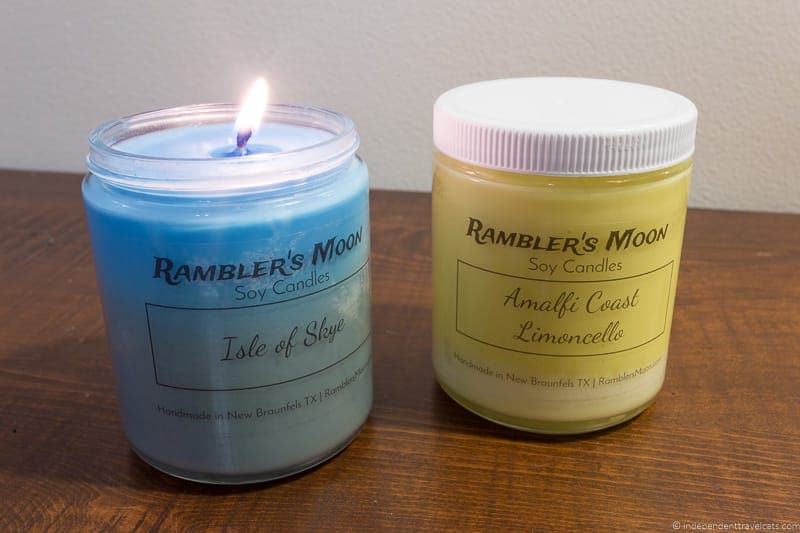 We also love these two small artisanal shops which have created handmade travel-inspired candles, perfumes, wax melts, soaps, perfume oils, and more: Wanderlust Scents and Adventuress Soap Co. We regularly use the soy wax melts from Wanderlust Scents and the perfume oils and lip balms from Adventuress Soap Co.
These kinds of items can also make perfect inexpensive stocking stuffers or additions to a larger gift basket.
Or if you have a bigger budget, consider taking a look at the latest from the fragrance companies which usually have a travel inspired scent or two. For instance, Penhaligon's currently has a line of 19th century Trade Route destination inspired fragrances.
Price: ~ USD $7 and up
A travel perfume atomizer is perfect for taking your favorite fragrance on the go. A full-sized glass perfume bottle is not ideally suited for life on the road, so a travel atomizer allows you to take a smaller bottle, protect the bottle from getting broken, and are ideally leak-proof.
So perfume atomizers generally can be filled in one of two ways. The most common type, like this one, is that you attach the atomizer directly to the tube of the perfume bottle and pump it directly into the atomizer. The second type, like this one, can be filled directly by pouring, spraying, or pipetting the perfume into the atomizer, and normally come with a mini funnel and/or pipette.
I personally avoid the first type as they can waste perfume if the seal isn't perfect and they don't work with all perfume bottles. The second type will generally work with any type of perfume or cologne and won't waste perfume if you do it carefully.
Be sure to check the sizes as some are very small (e.g. 3 ML) and won't hold much perfume if someone is taking a longer trip or travels a lot.
I love my little Fragonard perfume atomizer and so far it hasn't leaked, but I could not find it available for sale online. These make for a great inexpensive gift or stocking stuffer.
If you budget is a little higher, this more pricey set of 4 atomizers is very well reviewed. If you are in the UK or Ireland, we recommend taking a look at these well-reviewed atomizers.
Price: ~ USD $8 to $20
Know someone who tends to overpack and is always having trouble keeping their suitcases under the weight maximum for airports? They may benefit from a digital luggage scale which will allow them to easily tell how much their suitcases weigh before getting to the airport.
The great thing about a luggage scale is it keeps you from needed to unpack and repack your luggage once you are at the airport which is often stressful and a bit embarrassing, not to mention time consuming. Know what it weighs before you leave so you can ensure it fits airline guidelines before you leave home.
With many airlines imposing stricter weight requirements on luggage, a luggage scale is a handy item for frequent fliers who have to pack a lot or have to carry very heavy gear (e.g., video or photography gear).
There are a lot of digital luggage scales out there and you can find a good one for an inexpensive price, like this one, so they make a good budget-friendly travel gift.
Price: ~ USD $8 to $20
A coffee mug can be a great inexpensive but thoughtful gift to remind someone of their love of traveling and your love for them every morning when they drink their coffee or tea.
There are a lot of travel related mugs out there, and you can see a list here for some ideas. These can be funny, witty, sweet, inspirational, sarcastic, or heartfelt depending on the type of mug you want to give.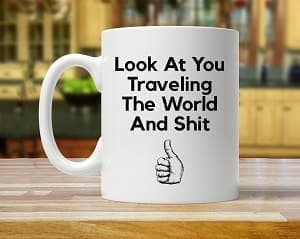 If you don't see what you want you can also make your own custom mug if you prefer to add your own words and images. So the possibilities are endless.
Price: ~ USD $8 to $20
Eye Mask and Sleep Aids
For frequent fliers (and light sleepers like Jess), there are a range of products that can make for a more comfortable experience. Most important of these in our mind is a good eye mask to block out the light. This is helpful on both flights and at hotels, as well as on overnight bus or train rides.
There are a lot of eye masks out there and often it takes a few tries to find one that is best for one's face and sleeping style. You can see reviews for lots of popular eye masks here.
One of our favorites so far are the eye masks from Manta Sleep, which Laurence loves. They are a bit pricey but they are comfortable to wear and offer complete blackout of the light without exerting any pressure on the eyes. The eye cups actually adjust so you can achieve a much better fit.
Of course, an eye mask is not the only useful sleep aid and you might consider putting together a travel sleep kit as a gift for a traveler. Another useful sleep aids is ear plugs to block out sound and I personally use these Mack's ear plugs. Other items might include a travel pillow, a drape clip, pillow mist, and/or silk travel sleep sack.
Price: ~ USD $8 to $30
Travel Journal
If you are looking for a gift for a traveler who enjoys writing, doodling, or sketching, a travel journal would likely make a thoughtful gift. A travel journal allows them to document their travels and be able to go back and read about them years from now.
There are lots of options out there for travel journals, such as this very popular and budget-friendly Maleden refillable travel journal with a synthetic leather cover and compass design. Or consider a personalized design to make it personal with these handmade travel journals.
Lifetime Leather and Leather and Earth Co. both make some beautiful handmade leather journals that can be personalized. Bound by Hand does a lot of vegan-friendly journals.
Personally, I like a really slim book and have filled up a few of these Paperblanks journals which reproduces a 1688 binding protecting L'Office de la Semaine Sainte. These are really slim so they are not for everyone, but larger sizes are available by Paperblanks.
Things to think about are the dimensions of the journal, whether you want the pages lined or not, do you want a journal with planning or checklist pages, and how many pages it has. Will it be used for journaling only or will the recipient also likely be using it for planning, making lists, sketching, scrapbooking, etc.
If you are looking for a quality classic style writing journal there is of course the well-known Moleskine journals, but you'll likely find better paper quality from journals such as Rhodia Webnotebooks or this one by Lemome.
If you are looking for a travel journal for a child, this notebook is one to consider.
For more tips on choosing a travel journal, you can check out our travel journal review article.
Price: ~ USD $8 to $25
We think every traveler should have a high quality reusable water bottle to take with them on their travels. Having a water bottle handy keeps you hydrated, saves money on buying bottled water, and helps reduce single-use plastic waste which is bad for the environment.
There are tons of types of travel water bottles out there, from collapsible bottles for minimalist packers and campers to streamlined double-walled ones to fit into car cupholders to gallon-sized ones for those who need to carry a lot of water. There are also these popular wide-mouthed ones for those who like to add ice cubes or powder mixes.
If you are not sure what brand and are looking for a good but not too expensive reusable water bottle, then I'd suggest checking out the bottles by Nalgene. They are one of the most popular brands and have a wide range of options.
For those trying to avoid reusable plastics, we recommend getting an insulated stainless steel bottle or one of the glass water bottles with protective silicone skins.
Although tap water is safe to drink in many parts of North America and Europe, it is not safe to do so in many countries or areas of the world. So travelers and hikers may need to take a portable water filter system or purification tablets to make local water safe to drink.
Price: ~ USD $8 to $25
Travel Wall Decals
Wall decals are great for decorating a wall and adding some personal taste to a space. Most are made of vinyl, and they are designed to affix and peel off a wall without damaging paint or a wall's surface.
There are a lot of travel wall decals to choose from on Etsy, from world maps to travel quotes, and you can see a list here. One great thing is that you can customize wall decals so you can get a decal of your favorite travel quote, word, or destination.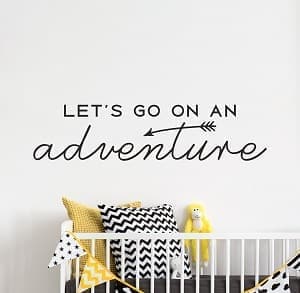 We personally own a set of travel decals from Blue Design Co. Conquest Maps also makes a range of wall decals, including some that you can peel off the places you visit.
Price: ~ USD $8 to $50 per decal design
Films to Inspire Travelers
Most people enjoy watching movies, and there are many films that have inspired us to travel. Consider putting together a film pack as a gift for a travel-loving friend. These could be general travel related films or ones related to an upcoming or dream destination.
Films can be purchased in so many formats these days (e.g., DVD, Blue-Ray, digital, online rental), that they can suit almost any device.
Just a few films to give you some ideas are Midnight in Paris (Paris), Eat, Pray, Love (Italy / India / Bali), Roman Holiday (Rome), Under the Tuscan Sun (Tuscany, Italy), Best Exotic Marigold Hotel (India), Out of Africa (Kenya), The Way (Camino de Santiago), and Breakfast at Tiffany's (New York City). Of course there are also lots of travel-related documentaries out there as well.
There are also lots of children's films with exotic destinations such as Madagascar, Ratatouille (Paris), Lion King (Africa), Mulan (China), The Princess and the Frog (New Orleans), and Rescuers Down Under (Australia)
Of course, if the person is more into TV than films, consider getting them a collection of episodes of a travel-related show. Some ideas include Rick Steves Europe, Anthony Bourdain's Parts Unknown, and BBC's Planet Earth / The Blue Planet.
Price: ~ USD $10 to $20 per film
One of the more frustrating aspects of traveling with electronic items is the wide variety of power sockets around the world. Travel adapters are a necessity for international travelers.
If your travels are mainly taking you to one country, you can get fairly inexpensive travel adapters that you put on the ends of your plugs to make them fit into the electrical outlets in that country. For instance, an American traveler to France may want to get a set of these plugs. We'd recommend packing a few for a trip.
However, if the person regularly travels to a number of different countries, then you might get them a couple of universal travel adapters like this that will work in just about any country. This is a cost-effective yet highly practical gift and is needed by all international travelers. The one we recommend includes surge protection as well as USB charging ports.
Note that a travel adapter is not the same thing as a travel voltage converter which has to do with the voltage. So for example if the person is traveling from the US, which uses a 110v power system, to Europe, where it's 220v, they'll have to check to make sure any electronic equipment they want to bring is compatible.
If you are not sure what kind of travel adapter you (or the gift recipient) will need, check out our guide to travel adapters. It also explains the differences between plug types and the differences between travel adapters and converters.
Price: ~ USD $10 to $20
If you are shopping for someone who loves traveling and reading, consider getting them a travel-related book. It can be a book to inspire them to travel, to learn about an upcoming destination, or a book to read during their trip. Put together a collection of books to turn it into a larger gift.
There are a lot of general travel books out there. There are books that give information about iconic destinations like National Geographic's Destinations of a Lifetime and Patricia's Schultz's popular 1,000 Places to See Before you Die, inspiring and funny travelogues such as those by Bill Bryson, or books that provide tips on how to travel in a certain way such as on a budget.
If the traveler in your life has an upcoming trip planned or a dream destination, consider putting together a thoughtful book pack that includes several books that each have something to do with that destination. I love to read books about a destination before and while traveling there.
So if you know someone heading to California, perhaps buy them a collection of fiction novels set in California and a useful California guidebook.
If you are looking for travel books for children, there are also lots of kid-friendly books out there for kids of all ages.
Price: ~ USD $10 to $20 per book
To be honest, we are not big fans of the selfie stick but millions of travelers use them and they can be invaluable to a solo traveler who wants to get some photos of themselves while traveling. Also great for getting couple photos.
They are also small, cheap, and fairly easy to travel with and most can sync to your phone using Bluetooth so you don't need to fiddle with wires.
Selfie sticks come with a number of different features these days. Before choosing a model, make sure it is compatible with the traveler's phone's model, operating system, and size.
Price: ~ USD $10 to $25
Luggage tags are used to include identifying information in case your luggage is lost and are much more durable and nicer looking than the paper tags provided by airlines. They are also perfect for making it easier to spot your suitcase as it comes around the luggage carousel at airports.
If you are getting someone a luggage tag as a gift, we recommend you get them a unique tag. It is easy to get a personalized or custom luggage tag made. There are tons of handmade options on Etsy that you can see here.
For privacy reasons, we recommend getting a design where the traveler's full name and contact information is hidden inside the tag rather than displayed on the outside.
We received custom leather luggage tags as a wedding gift from a friend that includes our first names and date of our wedding. A thoughtful gift for frequent travelers.
Price: ~ USD $10 to $25
It can be a hassle to dig in and out of your purse or suitcase for your passport, travel documents, and boarding tickets while at the airport or while traveling by train. A passport wallet can make this a lot easier by keeping all your documents together in one convenient place.
Some features to look for include a pocket big enough for a passport, ID and credit card slots, a place for boarding tickets, a place for cash, and a zipper pouch where you can store coins. Most also have RFID blocking. We recommend taking a look at this well-rated wallet.
If you are traveling as a family and want to be able to store multiple passports and identity cards together we recommend this family travel wallet which can hold several passports plus other travel documents.
If you are looking for a passport holder that can be personalized with initials, names, or quotes, there are a number of handmade and customizable ones available as well.
Price: ~ USD $10 to $25
Traditional beach towels are often too heavy, take up too much space, and dry too slowly for traveling. If you know someone who loves to go to the beach or lay by the pool on vacation, consider getting them a microfiber beach towel.
Microfiber beach towels are thinner, more lightweight, and dry faster. They are great for people on the go. Also great for camping, hostels, and other places you may need a towel when traveling.
A couple of microfiber towels to consider are these colorful ones by Dock & Bay and these ones. These towels are not going to be as soft or thick as regular towels, but they are perfect for travel.
Price: ~ USD $10 to $25
Travel Pillow
For travelers who have difficulty sleeping on planes, a travel pillow can be a lifesaver for long-haul flights. These can help you get to sleep, get better quality sleep, and wake up with fewer aches and pains.
There are so many travel pillows out there! There are the typical U-shapes ones, ones that allow you to lean forward and rest using the airplane tray tables, ones that go across your chest like a seatbelt, memory foam mini traditional pillows, and ones that fit like a neck brace. These all have fans and devotees and it really depends on how a person likes to sleep.
You can see a list of some of the most popular models here. It can be tricky choosing a travel pillow because often people need to try a couple of different types to find the one that works best for them. If you are not sure what kind they might like best, I'd just go with one that sounds good and is well-reviewed.
If space is a concern, as it is with many people, we recommend looking at those that inflate rather than those that are filled. This way they will take up only a small amount of additional room. Of course, the filled ones often provide more support and will be longer lasting than the inflatable ones.
Price: ~ USD $10 to $30
There are a lot of variations on the money belt out there. We can personally recommend the money belt products by Eagle Creek, which makes several money belts and other types of travel security products.
In addition to money belts, there are many other ways to keep money safe if a money belt isn't a good fit. These include hidden pockets which fit onto belts, bra stashes, neck wallets, and this pocket and strap system that can be worn in multiple places.
Price: ~ USD $10 to $35
Know a traveler who loves to take along their morning coffee? Consider getting them a quality travel coffee mug or thermos.
These spill-proof coffee thermoses are designed to be carried with one hand and to fit well in car cup holders. They keep your coffee hot longer and their reusability allows you to avoid using single-use paper and styrofoam cups.
A travel coffee mug is perfect for travelers and workers on the go, and can help save travelers money by being able to brew their own coffee in their hotel room or take along coffee from the morning hotel breakfast. No need to buy that second cup of coffee later. Perfect for road trips.
A couple of popular brands we have used are Contigo and Stanley.
Price: ~ USD $12 to $30
Travel Themed Holiday Decorations and Tree Ornaments
If it's Christmas and the person you are shopping for likes to decorate for the holidays, then you might consider getting things like travel-themed holiday decorations, Christmas tree ornaments, stockings, candles, and other types of decor. You can see a number of ideas here on Etsy.
Christmas tree ornaments are a popular gift and some examples include these globe ornaments, these personalized suitcase ornaments, and these custom floating photo ornaments (great for displaying a special travel photo). There are also things like globe tree toppers, travel themed Christmas stockings, and map luminaries.
The great thing about the majority of the travel-themed Christmas decorations on Etsy is that they can be personalized by adding text, monogramming, adding photos, choosing colors, etc. So that you know the gift will be unique and memorable.
Price: $15 and up
Even as travel bloggers, we still love to read a good travel guidebook as they have all the information you need in one place, are organized, and easy to take along on your travels. Many travel guidebooks these days are available in both printed from as well as in digital form, and some purchases come with both a physical and a digital versions.
A travel guidebook is a great gift for a traveler planning their next big trip, or for the armchair traveler who wants to some day travel to their dream destination. Get them one step closer with a travel guidebook.
There are lots of travel guidebook brands out there. Your choices will be narrowed down by destination and language. Each brand is a bit different, for instance some are better known for budget focus (Rough Guides and Lonely Planet) or their photography (DK Eyewitness Guides).
Lonely Planet and Fodor's are two brands we recommend taking a look at that have English-language guides to destinations around the world. Rick Steves' guidebooks are designed for North American travelers going to Europe. We have guidebooks from all three of these brands, and each brand has its strengths and weaknesses.
In the United States, we like to find state-specific guides written by local writers as these tend to be the best and often include smaller places and better advice than guides written by the big travel brands.
We recommend looking for a guidebook specifically focused on where you are traveling (e.g., if traveling only to Paris, buy a Paris guidebook instead of a France one) and be sure to buy the most updated version. Most guidebooks are updated every year or two.
Price: ~ USD $15 to $20
We're not sure that anyone loves packing, but as it's a necessity when you travel, you might as well do it right.
We find that the whole process of packing and unpacking is greatly simplified when we use packing cubes. They let us easily sort all our different items into different sections in our bags, making it easier to find things and repack.
With packing cubes, you no longer have to go hunting through your whole bag to find that one thing you suddenly need. You can just locate the correct packing cube, and know that it's going to be in there!
Packing cubes come in a variety of sizes, making them handy for different items and different sizes of luggage. We recommend this set which have mesh windows that allow you to see what's inside and they also come with a laundry bag. We also really like Eagle Creek brand items and they make this cube set which we can also recommend.
Jess uses a couple of smaller packing cubes plus an Eagle Creek packing folder for her main clothing items (shirts, pants, jackets).
Price: ~ USD $15 to $35 per set
Travel Sized Beauty Items
If you are buying for someone who is into skincare or cosmetics, then you might consider putting together some travel-sized items for them to pack on their next trip. Depending on their preferences and lifestyle, these could be eyeshadow, lip balm, lotion, beard oil, sheet masks, sunscreen, hairspray, lipstick, etc.
If you are not sure exactly what they might like, consider the brand Wander Beauty for a great travel-themed gift. The brand has a on-the-go travel-themed branding and packaging and most of their products are the perfect size for travel.
Wander Beauty offers both skincare items and make-up items; two of the brand's most popular items are their Baggage Claim eye patches and their Mile High mascara. The eye patches are something that just about anyone can use regardless of their makeup or skincare preferences.
If you are looking for more sustainable beauty products for someone who wants a more minimalist routine and likes to travel light, consider the plastic-free sustainable beauty brand Axiology. You can see all their multi-use and plastic free products here.
They offer multi-sticks and balmies, all of which can be worn on the lips, cheeks, and lips. So even if you don't know the perfect color to get, these are pretty versatile and most can be used by pretty much anyone with any skin tone. They also come in multi-pack sets which can make a nice gift.
If you are putting together a larger gift, an idea might be to get a makeup bag or toiletry bag and then fill it with a few skincare, hair, and makeup items that you think they'd love.
Price: ~ USD $10 to $50 per item
Camping Cookware
If you are buying a gift for someone who loves camping and exploring the great outdoors, then we would suggest that some camping equipment might be just the thing for them. One thing that any outdoors person needs is a good camping cookware kit or camping mess kit, which is a set of versatile cooking equipment and utensils designed for cooking outside.
This allows them to cook in almost any situation and the kits should include a number of versatile pieces, and be easy to clean and pack up. Ideally, they should take up a minimal amount of space when packed.
One good option is this very well-reviewed and budget-friendly camping cookware kit, which is a set of cooking equipment and utensils that will fill a variety of roles and includes a small stove. Or perhaps this more elaborate 4-person mess kit is well suited for families.
Price: ~ USD $15+
If you know a traveler who likes to travel with several pieces of jewelry, consider getting them a travel jewelry bag. These bags provide a cushioning to help better protect jewelry and keep it organized. They come in a variety of shapes, colors, and sizes.
Two of the most annoying things about traveling with jewelry is being able to find it quickly and keeping it from getting tangled up, but an organizer bag can help prevent these issues. Those traveling with more expensive pieces can also easily place the whole case in hotel safes to keep it safer while traveling.
I have had a silk brocade jewelry roll like this one for about 10 years which has several zippered compartments, a snap roll for rings, and folds flat. The problem is that necklaces and earrings can get tangled if not kept in the separate pockets.
If I was buying a new one I'd probably get a bag like this or like this which has special earring boards and places to hang necklaces to prevent them from getting tangled in the bag.
For those who are wanting little pockets for individual pieces to put into a larger travel or toiletry bag rather than a full-sized jewelry roll, consider these little jewelry pocket packs. These can help keep your jewelry more protected and separated when placed in another bag.
Price: ~ USD $15 to $35
Travel scarfs combine fashion and functionality and have hidden zippered compartments where you can store valuables, including cash, credit cards, passports, locker keys, and IDs.
These are a great security solution for those who enjoy wearing scarfs and like to travel.
Almost all these sort of scarfs are infinity scarfs because the design is best suited for the hidden pockets and to allow for the extra weight of the items being stored. There are lot of different designs and brands making these scarfs so there are a lot of choose from, and you can see a selection of them here.
For a wider list of all kinds of travel scarves, with and without hidden pockets, see our travel scarf guide.
Price: ~ USD $15 to $35
Almost all travelers have a toiletry bag (sometimes called a dopp kit for men) where they store all their toiletry and shaving items. Much better than throwing your toiletries in a plastic bag.
We recommend looking for a toiletry bag that has a water resistant or waterproof interior so that it can be wiped clean easily if anything spills. Some toiletry bags have hooks so they can be hung in a bathroom or shower if that is a feature you want.
A couple different bags under $20 to consider are this hanging bag and this more traditional looking toiletry bag. You can check out some of the most popular toiletry bags online here.
Recently, I bought two of these handmade leather toiletry bags on Etsy as gifts. It is a bit more expensive than many of the toiletry bags out there, but I liked that it was handmade, made in the USA, personalized with embroidered initials, and had an inner nylon liner. Laurene also has one of these leather toiletry bags and it has held up to travel very well.
If you are buying someone a toiletry bag, you may also want to fill it up with a set of travel-sized toiletry bottles (so they can fill with their own products) or with travel-sized toiletry items from brands they love.
Price: ~ USD $15 to $50
Globe
A globe is a perfect travel gift for someone who loves to travel. They are both decorative and functional, and can fit perfectly into someone's living room or office. They are also great for kids as they are educational and inspire a bit of wanderlust and interest in geography.
There are a lot of globes out there and some are designed more for decorative purposes and some are designed more for educational purposes. They range in size from the tiny hand-sized ones to the giant floor sized models. Many have special features such as this one, which has lights which show the constellations in the evening.
Personally, I like the Replogle brand globes as they tend to be good quality for the price and most of them are made in the USA. These are a bit more expensive but tend to be of much better quality than some of the cheaper globes.
I had a globe as a child and remember spending a lot of time looking at it and spinning it to play the "where will I travel" game. Today, I still have a bit of an obsession with globes and made sure to visit the Globe Museum on our trip to Vienna.
If you have a very large budget (or just want to look at awesome globes) we recommend taking a look at Bellerby & Co Globemakers' website. The London-based company creates custom handmade and handpainted globes, from tiny desktop globes to giant Churchill globes (50 inches in diameter). Feel free to buy one for me!
Price: ~ USD $15 and up.
A piece of travel related jewelry is a great gift for a traveler who loves to wear jewelry. It can show off a passion for travel, remind them of a special trip, and inspire them to plan their next adventure.
There are lots of options out there for travel jewelry such as rings, necklaces, bracelets, brooches, and earrings. Remind someone of travel or a special destination. Such as this dainty airplane necklace, Pura Vida bracelet style packs, the travel-inspired fine jewelry by Cristina Ramella, or Pandora Disney charms for Disney park lovers.
Consider a personalized or custom piece which are easy to find and create on Etsy. Make your jewelry piece unique with special coordinates, initials, quotes, photos, or messages.
Travel jewelry is also not just for women, as there are plenty of rings, necklaces, arm cuffs, cuff links, and watches out there for men as well.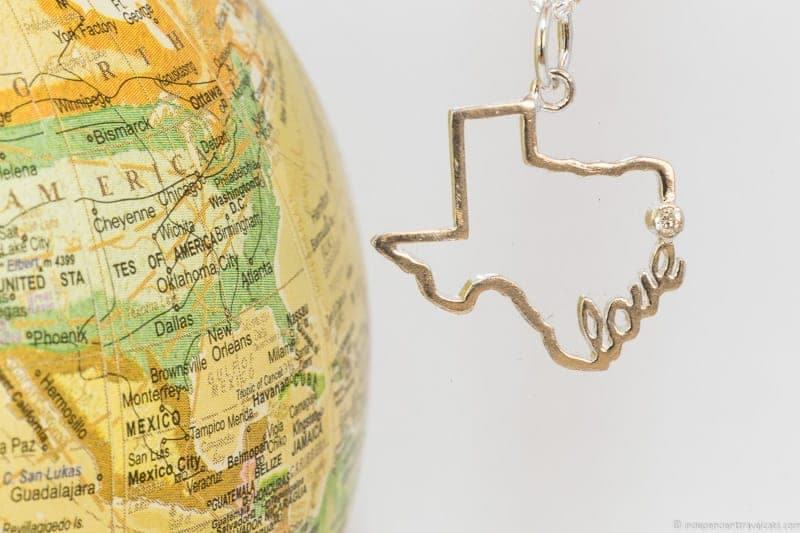 See our travel jewelry guide for lots of ideas on choosing the perfect piece of travel jewelry for you. We own a number of pieces and are also happy to give recommendations.
If you are buying jewelry for a frequent traveler, consider whether the item is going to be travel-friendly or not. Chunky pieces can be difficult to travel with, delicate items can break, and flashy expensive pieces can draw unwanted attention.
Price: ~ USD $15 and up
A LifeStraw personal water filter makes contaminated water drinkable by filtering out both waterborne bacteria and waterborne parasites. This allows a person to be able to safely drink from most streams, wells, ponds, etc. Each straw will filter up to 1,000 gallons (4,000 liters) of water.
Some LifeStraw filters and purification systems can also filter out chemicals, viruses, and lead.
These are perfect for anyone who likes to camp, hike, fish, boat, or do other outdoor activities where they may run out of water or need to filter available water. They are also perfect for international travelers visiting countries with questionable public water supplies and for emergency situations. They are regularly used by international aid workers and military personnel.
You can purchase the straws individually, in packs, or you can purchase a LifeStraw that is already fitted into a LifeStraw water bottle. We have a LifeStraw water bottle which has been perfect for hiking trips and are planning to get a second one for a trip to East Africa.
Price: ~ USD $20 – $60
Dual Voltage Hair Appliances
Know someone who is planning to travel internationally and needs to blow out, straighten, or curl their hair every day? You might want to find out if the hair appliances they have are dual voltage or not.
Different countries use different electrical voltages and most hair appliances are not designed to work with other voltages. If used with the wrong voltage the appliance will often stop working, short out, or even catch on fire if used with another voltage. Dual voltage products can work with both voltages.
In the United States and most of North America the standard voltage is 110V or 120V, but in Europe and much of the rest of the world the standard voltage is 220V to 230V. So if you are traveling from the United States to France, you would want a hair dryer that support 220V.
You can purchase dual voltage hair dryers, hair straighteners, and curling irons.
If you are getting someone a dual voltage hair appliance for their trip, I'd recommend first checking out what kind of brands they are currently using. For instance, if they love Conair, Chi, or Babyliss, but the product they own is not dual voltage, you can probably find a similar dual voltage model.
We personally have a Conair dual voltage travel dryer, which is a much older version of this one which must be about 20 years old now! It is small, inexpensive and works well for its size. I also have a dual voltage straightening iron but they don't seem to make the model anymore.
One thing I like about my dual voltage flat iron is that it came with a heat resistant bag cover that allow me so pack it when it is still warm (although I wouldn't risk it being too hot). If the hair straighter and/or curling iron you purchase does not come with one, I'd recommend getting one. It also doubles as a resting mat for the hair tool when it is hot to prevent burning surfaces when in use.
Price: ~ USD $15 to $60
A great gift for travel lovers is a way to help them remember some of their most memorable trips and experiences. A good way to do that is with a high quality canvas print of one or more of their favorite photos.
We take so many photos on our trips, but the reality is that we rarely see them. By giving someone a canvas print that they can hang on their wall, they'll have a regular reminder of a trip they loved!
Canvas prints come in a wide variety of sizes, from small 8″ x 10″ all the way up to much larger prints. A lot of photography shops, drug stores, and department stores offer the option to make photo canvases. You can also see online size and price options for canvas prints here.
When choosing photos, be sure to upload the most high-resolution images you have for the best results.
Price: ~ USD $15 to $80
Travel Cord & Electronics Organizer
If you are buying a gift for someone who has a lot of devices and cords, they may appreciate an electronics organizer to keep their gear together.
Electronics organizers generally have pockets and straps to keep cords and electronics in place, and then they fold or roll and then slip into a carry-on or suitcase. They often have different pockets and compartments that hold cords, cables, chargers, batteries, dongles, adapters, stylus pens, ear buds, SD cards, hard drives, travel adapters, and other tech accessories.
For example, this well-priced electronics organizer has room for several cords, chargers, batteries, a smartphone or hard drive, and other accessories. If you are bringing along a tablet, multiple hard drives, mice, keyboard, and/or laptop you'll likely need a larger electronics organizer. You can see a lot more options here.
If you are looking for something handcrafted and unique, then I'd check out some of the handmade electronics organizers that you can customize and personalize. These make for great gifts for tech-loving travelers.
Price: ~ USD $15 to $150
Travel Home Decor
Consider giving them something that will inspire them to travel but also something that is decorative and/or functional for their home. For instance, If they need a new shower curtain or throw pillow, consider getting them ones with a travel-related design.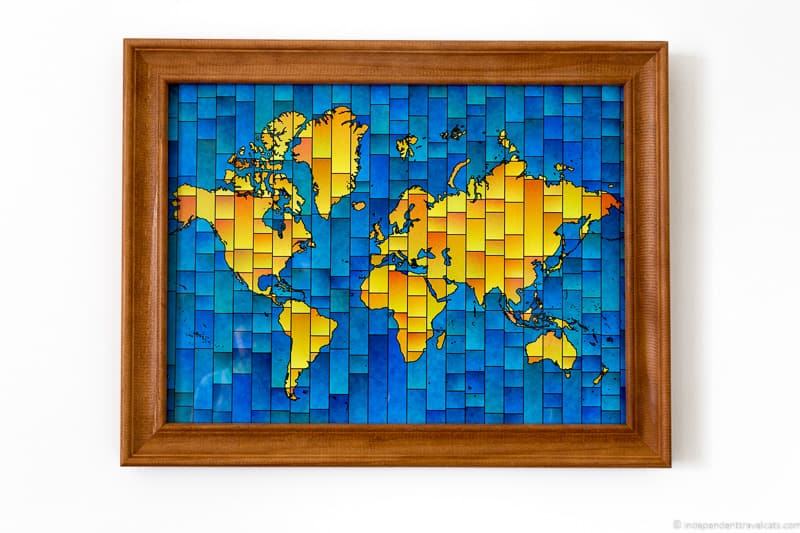 The options are almost endless and could work with just about any budget. Some ideas are travel-themed artwork, shower curtains, throw pillows, duvet covers, fridge magnets, nursery decorations, jewelry dishes, or really anything else they might want or need. Most of these items can also be personalized to make them unique gifts.
See our article on travel themed home decor for a lot more gift ideas for the home.
Price: ~ USD $15 and up
A travel scratch map can be a fun way to keep track of the countries you have visited on your travels. You simply scratch off the countries you have visited and it is a fun activity for couples and families.
There are a lot of world maps, like this one, available but you can also find more detailed regional or country maps, such as large maps of just the United States and Europe.
In addition to just regular maps, there are also scratch maps focused on specific types of locations and hobbies like keeping track of U.S. National parks visited, golf courses played, and origins of craft beers.
We own both a world scratch map and have gifted a beer related map. They have been well-received. If you are giving a scratch map to someone who is likely going to want to hang it on the wall, you might also to also get them a frame as part of the gift.
Price: ~ USD $20 to $30
Carry-On Cocktail Kit
If you are searching for a gift for a person who loves a well-made classic cocktail, consider giving them a carry-on cocktail kit. These pocket-sized kits include all the ingredients (other than the alcohol) needed to create a nice handcrafted cocktail.
The best known ones are made by The Cocktail Box Co who currently creates different classic cocktail kits that you can take on the go so you can have a cocktail on an airplane, train, party, or at your hotel. So far they have released several kits, including an Old Fashioned kit and a Champagne Cocktail kit. You can also get a combo kit to try 4 or 6 different kits at once.
The travel cocktail kits come with all you need to make your drink, you just need a glass and the alcohol. Each kit makes 6 drinks. For instance, the Old Fashioned comes with bottles of aromatic, grapefruit, and orange bitters, raw cane sugar cubes, steel cocktail pics, 1 muddler spoon, and a linen cocktail napkin. Just add bourbon!
Making a few drinks for other passengers is a great way for a solo traveler to make friends during a long plane ride or train journey!
For a traveler who really loves their drinks, you might consider getting them a travel bartender kit so they have the tools need to make their favorite drinks wherever they go!
Price: ~ USD $22 and up
If you are buying for a gift for a traveler who wants to be more eco-conscious, you may think about getting them an eco-friendly travel kit. You can purchase an assembled kit of items, or build your own kit.
These kits usually contain several items that are eco-friendly and made of natural renewable resources. Generally, items are also vegan, plastic-free, reusable, cruelty-free (not tested on animals), and recyclable.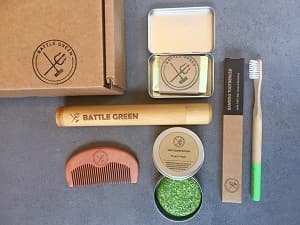 You can put together your own eco-friendly travel kits with some of your favorite products such as soaps, hair care items, toothbrush, toothpaste, deodorant, reusable make up pad remover pads, cosmetics, cutlery, razors, period products, laundry soap, reusable straws, reusable face masks, reusable water bottle, etc. An eco-friendly toiletry bag or tote bag could make for a great gift bag.
Or if you don't want to buy a bunch of individual items, you can purchase a pre-assembled travel kit. For instance, we like this popular eco-friendly kit by Battle Green which contains eco-friendly shampoo, soap, travel tins, cutlery set, wooden comb, toothbrush, and toothbrush holder.
The shop also sells a number of other eco-friendly products such as natural deodorant, cutlery, reusuable makeup remover pads, feminine hygiene products, kitchen items, and travel soaps. You can search their full product line here.
Price: ~ USD $20 to $40
If you know someone who is going on a road trip, and who also likes to pack along electronics, they may enjoy receiving a car power inverter.
These plug into the car's cigarette lighter and transform the electrical currents from DC to AC while the car is running. This allows you to charge devices such as laptops, e-readers, tablets, TVs, breast pump machines, DVD players, and game consoles. However, most of these are NOT designed for use with high wattage devices like hair dryers or flat irons.
We bought this model in the U.S. before our Pacific Coast Highway and Route 66 road trip, and found ourselves using it almost every day. It is one of those things we never knew we needed until we had one!
Be sure to check to make sure your purchase works for the make and model of the car being driven and converts into the correct voltage for your appliances.
Price: ~ USD $20 to $40
Carbon Emission Offset Gifts
Know a traveler who is concerned about the environmental impact of travel and would appreciate a gift that gives back rather than a cool travel gadget? Consider donating to a worthy cause such as a carbon offset project in their name.
Travel, especially flights and cruises, has a huge carbon footprint and many travelers are concerned about the huge impact travel can have on the environment. Many travelers seek to offset their carbon footprint by investing money in ways that reduce, avoid, or remove greenhouse gas emissions (of which carbon dioxide is the biggest) from the atmosphere, or otherwise have positive environmental impacts.
There are a number of companies that allow you to purchase gift certificates for contributing to carbon offset projects and other environmentally positive projects. These include terrapass, the United Nations, and Cool Effect.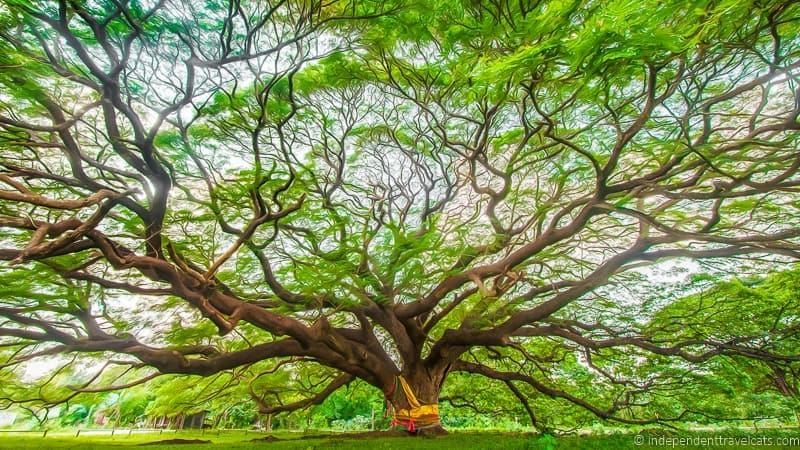 There are a number of good carbon footprint calculators that can be used to calculate one's personal carbon footprint such as this one (global) and this one (U.S. focused) so you can be sure to give at least at the level of the carbon footprint estimated for the person's trip.
If you think carbon offsetting is expensive, it is not. If fact, it costs very little. For example, for a round-trip 8-hour each way flight, there is about 1.32 tonnes of carbon dioxide created per person on the airplane. It costs less than USD $12 to offset this cost.
Of course if you are thinking about a gift that gives back, it doesn't just have to be strictly related to reducing carbon dioxide emissions. There are lots of other worthy non-profit organizations that help save wildlife and forests, provide disaster relief, and provide medical treatment around the world. Some examples include the World Wildlife Fund, World Land Trust, UNICEF, the American Red Cross, and Doctors without Borders.
Just be sure to do a quick bit of research on any organization you choose to make sure it seems legitimate and that the donation actually goes towards the cause.
Price: ~ USD $20 and up
Travel Scrapbook or Photo Album
If you know a traveler into scrapbooking or who enjoys taking photos, consider getting them a scrapbook or photo album. This will allow the person to create a special book with memories of his or her trip.
Or if you went on a trip with them and have access to photos and items from the trip, you can create a special photo album or scrapbook about the trip to give to them!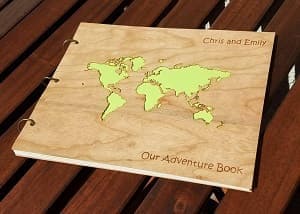 A couple of options are this multifunctional synthetic leather one and this photo album with map cover. But we recommend that you consider personalizing one if are giving it as a gift to make it extra special.
On Etsy, you can find loads of custom travel scrapbook and photo album options so you customize the album with names, initials, locations, and/or trip details. For instance, we really love the ones at The Pink Shop Crafts store, and we also like the look of this wooden scrapbook album and the ones by woodlack.
Price: ~ USD $20 to $50
A travel router is a wireless range extender and access point designed for people who are on the go and need to connect to the internet when they are away from home. They can make a great gift for travelers who need to be able to get online and connect multiple devices securely.
Laurence and I have been traveling with travel routers for years as they come in handy in a number of different travel scenarios. They can be used to extend the range of existing wireless networks, make public wireless networks more secure, connect multiple devices to a network (under one login), and act as a WiFi bridge.
Our current recommended model for most people is the GL.iNet GL-MT300N-V2 (Mango) as its small, inexpensive, and has all the basic features. But it depends on which features are most important to you. We personally use this bigger and more advanced model by GL.iNet.
You can see our travel router guide to help choose the best model for you.
Price: ~ USD $20 to $70
Know someone who loves aromotheraphy and love to travel? Consider getting them an aromotherapy travel kit like this one by Scentered. The kit includes 5 different mini balms in a travel kit; the balms are solid rather than liquid so easier to travel with and use on the go.
Or perhaps consider getting them a travel-sized diffuser or cool mist humidifier. These mini gadgets can diffuse essential oils for aromatherapy, help purify hotel rooms, and put moisture into the air to prevent dry eyes and scratchy throats.
You can't pack a full size diffuser, but there are mini ones like this one and this one that are portable and can be used for travelers. If you have a bigger budget, you might consider this mobile mini nebulizer that is wireless and requires no heat or water to run!
You might also consider also getting them a set of mini essential oils to pack with them. Just note that many users of essential oils also have strong preferences regarding brands of oils, so if they are already using essential oils, I'd try to find out what brand and scents they use to help guide your purchase.
Price: ~ USD $25+
If you have a friend who isn't functional until they've had their morning coffee, you might want to get him or her a travel coffee maker.
A travel coffee maker is great for being able to get a cup of coffee whenever you want it, saves money on purchasing coffee, and allows you to make coffee when camping or outdoors. Also great for those who love coffee but hate instant coffee which is often provided in hotel rooms.
Travel coffee systems vary and include French Press style ones, pour over systems, and others. Some are better for American style coffee and some are better for espresso. But you have several models out there to choose from.
The easiest design to travel with is a French Press style like this one which also doubles as a travel mug! All the users have to do is add ground coffee and hot water, and then it is good to go! This model is leak proof, easy to clean, and designed for travel.
For those who want more control over the coffee making process or who don't like French Press coffee makers, you might consider the popular Aeropress coffee system. This travel coffee system has more parts and isn't nearly as convenient, but gives you control over making a perfect espresso style shot or cup of coffee. The Aeropress Go is an even more portable version that comes with a mug and lid.
See our full review of the AeroPress and AeroPress Go to see which might be the best option for your gifting needs.
If you are shopping for someone who likes freshly ground coffee, you might also consider a travel coffee maker that includes a coffee grinder like this one as part of the gift. For more ideas, see our guide to the best travel coffee makers.
Price: ~ USD $25 to $45
Medical issues can be a hurdle to traveling and can be a major source of worry and travel stress. Make it easier for someone by getting them a travel organizer to help safely store their pills and medications, medical information, and medical supplies in one safe place.
We recommend getting a pill organizer like this one or this one that will hold a number of pill bottles and medicines, a pill organizer, medical documentation, and additional medical supplies. If the case doesn't come with a locking mechanism, you can add a small luggage lock to if you want to be able to lock the case.
We always recommend keeping all important medications and medical documentation in your carry-on bag and to not pack it in checked luggage in case that luggage is delayed or lost.
If you are traveling internationally, some destinations require that pills and medications are accompanied by their prescription. This is also useful if you get stopped and need to prove that something is not illicit. So it is generally best to keep pills in their original prescription container whenever possible.
Price: ~ USD $25 to $45
A camera strap is a great gift for the traveler who enjoys carrying a camera, but maybe doesn't have a camera strap or is using one that is uncomfortable. Most cameras in our experience come with manufacturer straps that are neither attractive nor very comfortable.
The type of strap is going to depend on the size and weight of the camera. If are buying a camera strap for a smaller and more lightweight camera, you have more options. For more lightweight cameras, I have used these stylish camera straps which are designed to appeal to women and I like the look and quality of them. They are also really colorful!
However, for our heavier cameras, we use Peak Design straps which are more heavy-duty straps that are designed for heavy and bulky cameras. Laurence has found these to be the most well-designed and comfortable straps out of all the brands he has tried over the years.
The specific straps we use for the DSLRs are the Peak Design Slide straps. This strap allows us to sling our camera across our body, which is a lot more comfortable for prolonged usage, and means the camera isn't always bumping off our chests!
Looking for gifts for a photographer? Check out our guide to gifts for photographers for dozens of photography related gifts that will make any shutterbug happy!
Price: ~ USD $25 to $75
An outdoor Bluetooth speaker is great for listening to music while on the go, whether it is at the beach, car, on a boat, or next to the pool. They sync wirelessly with your phone by Bluetooth to provide louder and clearer sound.
The COMISO Bluetooth speaker is splashproof, rainproof, dustproof, and sandproof. They are lightweight and portable, making them suitable for traveling.
Note that many Bluetooth speaker models, like this one, are oftened marketed as "waterproof" but they are only water-resistant and cannot be partially or fully submerged in water. Most are not waterproof.
However, if you have a bigger budget, you can get a truly waterproof Bluetooth speaker such as the Wonderboom speaker by Ulitmate Ears, which is waterproof, dustproof, and can even float! It runs up to 13 hours on a built-in rechargeable battery.
Price: ~ USD $30 and up
Looking for a gift for a dog lover? Consider getting a dog travel bag that includes all the space pet owners need to store all their pet's dog food, toys, and accessories. The bag is perfect for long trips to the park, traveling, and for dropping off the dog at the dog sitter or kennel.
This dog travel bag comes with insulated food cases, collapsible silicone food bowls, water bottle pouch, and storage for toys and leashes. It is also TSA compliant so it can be taken onto a plane. You can see many more pet bags here.
Although most are designed for dogs, these bag can also be used for those traveling with cats, rabbits, or pet pigs.
Price: ~ $30 to $60
If you are looking for a unique gift, consider making them a custom travel photo travel blanket that includes photos of some of their favorite travel memories.
There are a number of custom photo blanket options out there that you can customize with your own photos and get in different sizes. A couple of examples are this photo fleece blanket and this custom throw.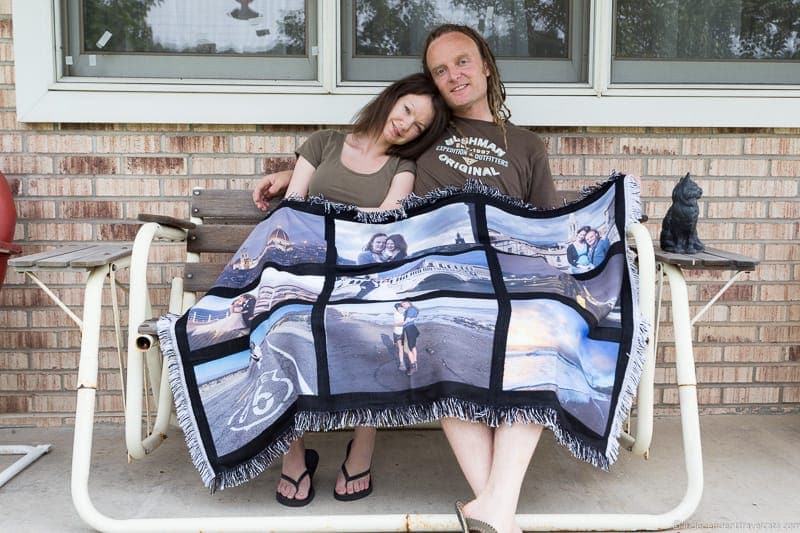 Be sure to check the size, and thickness, and fabric details before ordering to make sure you know what you are getting. All designers should also give you a color proof for your approval before printing to make sure the photos are arranged as you wish.
I would look for a machine washable blanket that has been printed (normally via sublimation) so that the images won't fade, crack, or peel during washing.
Price: ~ USD $30 to $85
Most women (and some men!) take a purse when they travel to keep their money, valuables, travel guides, and daily essentials handy when exploring. Although any purse can work, many people purchase a purse specifically for traveling.
We recommend a sturdy crossbody purse that is large enough to hold all the essentials but isn't too big or flashy. We also recommend one with several compartments to keep your items organized and handy. Many travel purses contain anti-theft related features like RFID blocking, slash resistant straps, and locking compartments.
When choosing a purse as a gift, think about what the person is most likely going to put in it (e.g., does it need to fit an iPad, a guidebook, an oversized wallet, or a water bottle?) to determine the best size. The lighter the load the better for traveling.
There are travel purses designed to fit any budget and style. For a general all-round travel purse, I like this one by Peak Gear. But there are several travel brands out there specialize in travel purses or have a travel purse line including Travelon (best selling travel purse brand), Tumi (more upscale brand), and Baggalini (lots of good value options).
Price: ~ USD $30 and up
A travel wrap is a great versatile travel garment that can work as a shawl, scarf, or travel blanket. A good travel wrap can keep you warm as a blanket on a cold plane, cover your shoulders on a cool evening, and dress up a plain outfit.
There are a lot of different travel wraps out there in a variety of styles and fabrics. A few ones we recommend taking a look at are this USA made HappyLuxe wrap, this wool wrap, or the many travel wraps by Mer & Sea Co.
If you have a larger budget and are looking for something more luxurious, you might consider a cashmere wrap like this Ovcio wrap or this classic cashmere wrap made in Scotland.
For more suggestions, see our travel wrap guide that has tips for selecting a travel wrap that will fit just about any budget.
Price: ~ USD $30 and up
If you are looking for a travel-related gift for a keen photographer, consider a travel tripod. These help keep cameras steady to prevent blurry photos, help photographers take photos in low light conditions, and to do more advanced photography techniques.
Travel tripods are smaller and more lightweight than regular tripods which make them much more suitable for travel. Travel tripods come in all sizes and there are ones designed to work with all types of devices from smartphones to professional DSLR cameras.
We ourselves almost always travel with a tripod and use Vanguard VEO tripods. But there are lots of options out there to fit any budget and you can see our travel tripod guide to help you choose the best model for the person on your gift list.
Price: ~ USD $30 to $200
Knitting Travel Kits
If you know someone who enjoys knitting, consider getting them a travel knitting kit. These little kits include all the knitting essentials in a travel-sized kit.
For example this kit includes a needle gauge, stitch markers, mini scissors, U-shaped cable needle, sewing needles, and more. Another useful item might be this handy wrist bag to hold yarn for knitting on the go.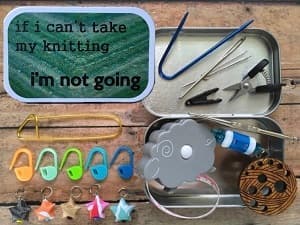 If the person is planning to fly and knit on the plane, be sure to make sure that the knitting needles and scissors are compliant with the airline's standards to be taken in carry-on luggage.
Price: ~ USD $32 for full kit
Tent
A tent is an essential item for those who plan to camp outdoors, and is a perfect gift for someone who is looking either to start camping for the first time or is in need of a new tent.
Tents range in prices from about $40 to over $1,000 depending on size, brand, and features. But you don't have to spend a lot to get a decent tent, especially if you just are looking for a small and simple one. This well-reviewed 2-person Coleman tent currently starts at just $50 (although price seems to fluctuate wildly)!
Although tent material is already usually water-resistant, it is recommended for most tents that a waterproof spray be applied before first use to make them more weather-resistant. This is often particularly important for the tent seam area. So you may want to buy a can or two of spray for the new owners as part of your gift.
If someone is new to camping, they probably need a lot of other camping gear as well, so if your budget is larger you might also think about getting them some other camping stuff like a sleeping bag, sleeping mat, and cooking kit.
Price: ~ USD $40 and up.
Picnic Basket
Do any of the people on your gift shopping list love picnics? Considering getting them a picnic basket to help them better transport all their food and goodies to local parks, hiking locations, campsites, or just the neighbor's backyard.
There are of course, the more traditional basket wicker picnic basket designs like this one. But for those who often hike before a picnic, a picnic basket backpack may be a better fit as these are designed for campers and hikers.
The picnic baskets and picnic basket backpacks come with all the basic plates, silverware, and glassware and a large insulated area to store food. Most also come with extras like wine corkscrews, picnic blankets, cloth napkins, cheese boards, and dirty dish bags.
Price: ~ $40 to $100
Day Pack
When traveling, as well as a main bag, most travelers will also appreciate a good quality day pack. This is where they'll put all the stuff that they take out during the day, which may include a water bottle, rainjacket, guide books, snacks, and so on. Also great for putting on for a day hike.
A day pack is also useful as a carry-on bag for flights. We like to stash all our valuables and essentials (e.g., important trip documents, medications), main electronics (e.g., laptop), and anything we need for the plane ride (e.g., travel wrap, snacks, headphones) in this bag.
We'd suggest a day pack in the region of 15L to 30L would be ideal for most travelers, depending on how big you need it to be. Just note that backpacks are often not allowed into museums or attractions and will need to be left behind or stored in a locker.
We've traveled with and used both Osprey and Eagle Creek daypacks and suitcases for years, and have found both brands to be reliable, quality products. Key features to look for in a daypack in our mind are multiple compartments so gear can be separated, space for a water bottle, room for a tablet or laptop, and a hip belt / sternum belt combination for extra comfort.
We'd recommend checking out the latest Osprey day pack and Eagle Creek packs. That should give you a good start to your day pack search.
Price: ~ USD $40 to $150
A map pin board is a great gift to give a traveler who loves to keep track of his or her travels. It hangs on the wall and you use pins to indicate all the places on the map that you have been (or want to visit!).
You can get boards that cover the entire world, a specific country, or a specific state. These boards are nice reminders of all your past travels and also can help you decide where to travel next. A thoughtful gift for any traveler who has some available wall space!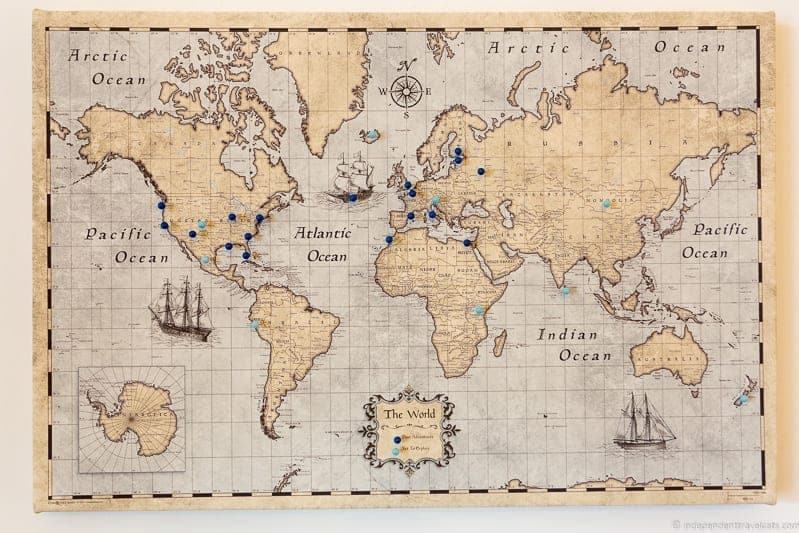 Although there are lots of travel pin boards out there, we can personally recommend pin boards by Conquest Maps which are handmade in the USA and made with digitally printed cotton/poly blend matte canvas stretched around am internal frame created especially for the pin boards. We have this one hanging in our apartment!
Another great option is the Push Pin Travel Maps products which are also American-made and the framed options come with your choice of a 2-inch wooden frame. A variety of maps are available including world maps, USA maps, continent maps, U.S. state maps, and maps of other individual countries.
Just note that if you want to see finer details on a map (beyond just countries, states, major cities), you'll want to go for the larger size map boards. Or I'd look for a pin board that just has that particular region, country, or state.
Price: ~ USD $40 to $150
Luggage
Every traveler needs luggage. If you are giving a gift to a traveler who is new to traveling, they may need a luggage set. Or a more veteran traveler may be in need of a new piece of luggage or an upgrade from a cheap set of luggage.
Luggage comes in a variety of shapes, colors, and prices. It is good to know if the traveler you are buying for is a carry-on only traveler or a person who packs multiple suitcases for a trip. Also they may have a preferences about soft luggage versus hard sided luggage which can help guide your gift selection.
If the person is a light packer or business trip taker, they are probably the carry-on only type, and I'd look for a good quality carry-on suitcase that fits their travel style.
I'd look for a 21 inch suitcase as this should fit any international baggage guidelines for a carry-ons. In the United States the standard carry-on allowance maximum is 22 inches X 14 inches X 9 inches (56 cm X 35 cm X 22 cm). We like the look of these snazzy Steve Madden carry-on bags.
If they are someone who is going to pack multiple bags, consider getting them a 2 or 3 piece matching set, such as this set by Samsonite.
Price: ~ USD $40 and up
If you are looking for travel gift for a traveler who goes off on extended travel and does laundry while traveling, you might consider a travel washing bag.
The Scrubba is a portable washing bag from Australia helps you get your clothes cleaner than hand washing them in the hotel or campsite sink and is great for campers and travelers.
The Scrubba is best for doing essentials and small loads of clothing and you can wash and rinse a small load in about 3 minutes. There is a flexible internal washboard that helps you get clothes cleaner than in a sink or dry bag alone.
Scrubba is the best known, but there are also a couple of competing bags out there on the market as well. We haven't tried these but they appear to work in a similar way to the Scrubba.
Other accompanying products that you might want to add to the gift are travel-sized washing liquid, travel laundry line, and a laundry bag for dirty clothes.
Price: ~ USD $30 to $50
Travel Gift Certificate
If you are not really sure what the traveler on your gift list may want, you might consider getting them a travel related gift card or gift voucher. This allows them to spend it on travel related things like tours, activities, concerts, and hotels around the world.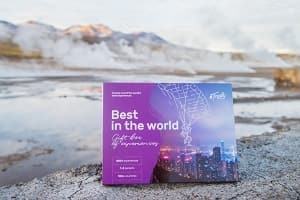 Here are just a few to consider:
One great gift card to consider is a GetYourGuide certificate as they can be redeemed against any of the 30,000+ tours and activities offered on their website. They offer experiences worldwide but have a particularly large number of tours within Europe and major cities worldwide.
Tinggly gift boxes are gift certificates where the recipient can choose from the hundreds of different experiences and activities offered on that card for free. These include things like food tours, spa treatments, hot air balloon rides, and walking tours. There are cards geared to different geographical locations and types of travelers, and range in cost from USD $80 to $350.
Although better known for their wedding and honeymoon gift funds, Honeyfund also has gift cards you can purchase and use towards travel oriented purchases. They can be redeemed with over 20 brands which currently include Amazon, Royal Caribbean Cruises, Hotels.com, and Columbia Sportswear.
Price: ~ USD $50 and up
Know a traveler who is out of the house a lot and worries that their cat or dog is not getting fed on a schedule when they are traveling? Consider an automatic pet feeder. These allow you set a schedule with automatic feeding times and program the amount of food delivered at each meal time.
The two main types of automatic feeders are gravity fed and electronic ones. The gravity-fed ones don't need a power source, but the electronic ones require an electric or a battery power source.
We recommend checking out the PetSafe automatic feeders like this one as the company has been making electronic pet products for a long time.
Some automatic pet feeders have microphones and voice functions, such as this one that allow you to leave voice messages for your pet to call them to their meals. Some even have cameras attached that allow you to see your pets at feedings and see if anything looks wrong.
While these won't replace the need to have someone check on the pets when someone is away on vacation, they can certainly make it easier for the carer and allow them to visit less frequently. These also allow you to make sure your pets are being fed the right amount of food at the same time even when you are away.
For cat owners, you might also consider a self-cleaning litter box, which makes litter box cleaning much easier for pet carers when the owners are traveling.
Price: ~ USD $60 to $200
SCOTTeVEST Vests
SCOTTeVEST is a travel clothing company which specializes in clothing that is designed to hold and organize a lot of objects without being too bulky. Their signature item is a vest and they have several designs for both men and women.
The vests are designed to hold all your valuables and handheld electronics including wallet, phone, iPod, keys, change, passport, ID documents, sunglasses, tickets, cosmetics, chargers, etc. They can even hold larger items like tablets and e-readers, travel journals, and paperback books.
In addition to vests, they also make shirts, jackets, pants, dresses, and other items. All items are designed to look nice, be durable and rugged, and have a lot of pockets. You can see more of their clothing here.
Laurence owns two of the vests, a long-sleeved shirt, and a pair of boxers from SCOTTeVEST and finds them to be well-made and lightweight with lots of pockets. Useful for going through airports and also for holding his photography gear when out shooting.
Price: ~ USD $100 to $175
Know someone who is setting off into the wide blue yonder on a classic backpacking adventure? Whether they are gap year newbies or fit silver-haired veterans, their adventure will be greatly enhanced by a nice backpack.
Backpacks allow you to travel with just one piece of luggage and not have to drag along a wheeled bag. They also allow you to easily transition from plane to city to hiking trail to campsite easily.
We're big fans of Osprey for their backpacks, and we've had both backpacks and daypacks from Osprey that have lasted us for years. Osprey have a number of great backpacks, which you can see here. The Osprey Atmos in particular is a quality product that will last for many years of backpacking.
Whilst there are many backpacks available online, we would very much urge you to go shopping in person with the person you are buying the backpack for or just be sure to get one with a good return policy.
Getting the right fit for a backpack is very important, and this can really only be done in person and by testing out the backpack with some weight in it.
Price: ~ USD $70 to $300
Travel Insurance
Travel insurance is highly recommended for any international traveler. However, some travelers forego travel insurance to save money or because they don't think anything bad will happen to them. But you never know when you might get sick, injured, have a tour canceled, miss a flight, or have your luggage lost.
Travel insurance covers things like trip delays and cancellations, lost luggage, and overseas medical care. Some also include things like protection of travel gear, rental car insurance, and medical evacuation to your home country.
Giving the gift of travel insurance is a great way to help protect the health and trip costs of your favorite traveler. While you can't purchase their policy for them, you can research an appropriate policy and get a quote so you can gift them an appropriate amount.
There is no one-policy-fits-all insurance. Some things that will affect the cost and suitability of a policy is traveler's country of residency, age, destinations visited, and length of travel. Be sure to check carefully what is covered (and to what extent) and what is not covered.
The COVID-19 pandemic has really made the need for travel insurance clear. But it has also made it clear that a lot of policies have limitations. So do read the fine print and ask questions. The "cancel for any reason" policies tend to offer the most coverage but are also the most expensive.
We'd recommend starting with your current insurance agency and see if they offer travel insurance as you may get a better rate for an additional policy. If you don't have an insurance company in mind, World Nomads will cover people from just about any country and trips to just about any destination. They are especially recommended for extended and long-term travels.
Price: ~ USD $0.40 to $20 per day of trip. Can vary widely.
Tablet
If you have a friend who likes to stay connected as they travel, but doesn't need a full laptop (or even a keyboard), then a tablet would make a great gift.
These devices are good for checking e-mail and keeping up to date on social media, as well as for travel tasks like researching destinations, booking accommodation and restaurants, and looking up directions. It's also much nicer to read a book or watch a movie on a tablet than on a tiny smartphone screen.
There are a number of tablets on the market. Our advice would be to find out what sort of phone your friend has so you can get them a matching tablet as this will let them use their favorite apps across devices.
If they have an Apple phone, they would like appreciate an Apple iPad like this. If they have an Android phone, it would make more sense to get them an Android tablet like this.
If you looking for something under $100, we'd recommend taking a look at the Amazon Fire tablets.
Price: ~ USD $70 to $400
Wireless Hotspot
You can help your loved one stay in touch while they are traveling by buying or renting them a wireless hotspot. This is great for travelers heading overseas who want to stay in touch, but are worried about high data roaming fees. They allow for multiple devices to connect at once.
These pocket-sized devices can be purchased (and person pays a low data usage amount) or are available to be rented for a fixed daily rate. These devices allow people to access the Internet without having to worry about finding a free WiFi hotspot or paying data roaming fees, and can be an easy way to stay connected when traveling.
If you want to purchase a wireless hotspot device, there are a number of devices out there, and we've personally used hotspots from both Netgear and GlocalMe. You can see their latest hotspot models here. You can see our guide to choosing the best mobile hotspot for travel to help find the best model for you.
Check out our article for more options for getting online when traveling if you are looking for other solutions.
Price: ~ USD $9/day (rental) or USD $75 to $200 (purchase device)
Noise-canceling headphones are perfect for any traveler who loves listening to music or watching films while traveling, or people who just need peaceful moments in noisy places. Perfect for airplanes, noisy buses, and long commutes.
There are 2 main types of noise canceling headphones. The first are passive noise cancelling headphones which try to block the noise and often use padding to dull ambient noise so you hear less outside noise and more clearly hear whatever sounds is coming from your headphones.
Active noise-cancelling headphones have a microphone, amplifier, and speaker incorporated to also cancel the lower-frequency portions of ambient noise. Active ones generally are better at reducing noise than passive ones.
The quality and price varies widely for noise-canceling headphones from about $30 to over $500, and for a gift we'd recommend spending at least $75 or more to ensure quality. We recommended looking at options from Bose and Sony which are industry leaders in this category. If you have a larger budget, we recommend taking a look at this highly-rated pair by Bose.
Price: ~ USD $75 and up
A silk sleeping bag liner or sack is a travel sheet that can be used when you don't feel comfortable using hotel or motel sheets or when camping or staying in a hostel. It makes for a perfect camping bag liner.
Often you need to bring your own sheets when hosteling, camping, glamping, or staying in cabins. So this is a perfect fit for that and the fact that it is made of silk which is super soft and hypoallergenic, gives you that added bit of luxury.
There are a lot of sleeping bag liners and sleep sacks out there, made of a variety of fabrics, and you can see several options here which can fit just about any budget. Note that most of the less expensive "silk" options are not real silk. But we recommend this silk sleep bag if your budget is a little larger.
This works for almost any type of traveler as it can be used in any sleeping situation from a campsite to a nice hotel to a sketchy motel to an unexpected snooze in an airport. The recommended silk sleep sheet also has a built in pillowcase pouch where you can place the hotel pillow (or you own pillow).
The recommended silk sheet sack weighs less than 6 ounces and folds up into a 6 inch by 8 inch pouch. Even though it is made of silk, this one is machine washable.
Note that some sleep sacks and sleeping bag liners claim to deter or prevent bed bugs, but we do not know of any research that supports such claims. Bed bugs are highly persistent and the best prevention is to look for signs of bed bugs and not stay in a room where signs of infestation are present.
Price: ~ USD $20 to $50 for non-silk; $90 to $150 for silk
Know a traveler who wants to improve their photography skills? Then an online photography course, local photo workshop, or how-to book would make a perfect gift.
We can specifically recommend an online course such as Laurence's online travel photography course. It covers all the basics of photography that is perfect for those at any skill level and then goes into more advanced photography concepts and techniques. It also covers photography editing and even tips on how to sell your photos.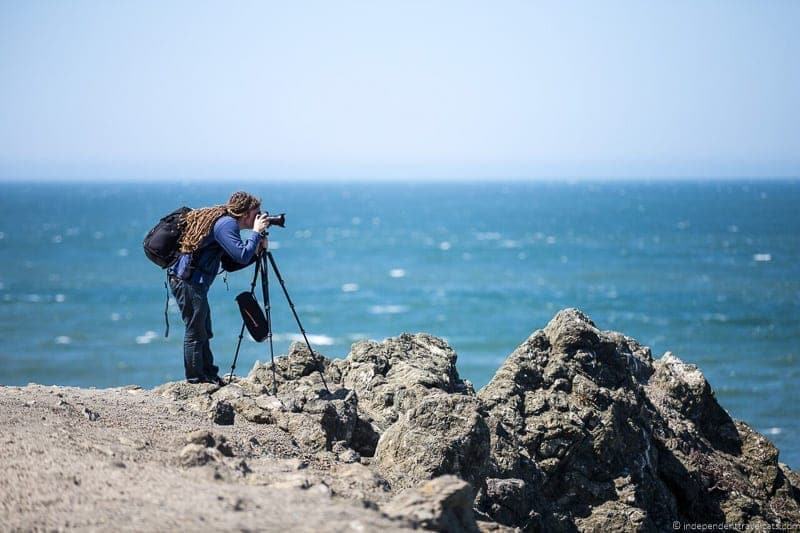 With over 60 lessons across 10 weeks, optional homework assignments, lifetime access, interviews with several professional photographers, we think the course is pretty amazing value for money. You can also do it at your own pace as you have lifetime access to the content.
You have direct access to Laurence for help and feedback with the homework and any other questions you have about photography. There is also an exclusive Facebook group where you can post questions and receive feedback from the other members of the course, and take part in regular fun photo challenges.
You can purchase the course for yourself or as a gift to give to someone else. Customizable gift certificates are offered for gift purchases and can be customized for the person and special occasion (e.g., Christmas, birthday, gap year, graduation, etc.).
You can learn more about it here and read testimonials from some of the over 2,000 people who have already joined the course.
Price: USD $129
If you are looking for something for an avid reader, consider getting them an electronic reader. Packing a large number of books can add a lot of weight to luggage, and an e-reader, a digital table designed for reading books, is a great solution for having access to lots of books and travel guidebooks without the bulk.
Kindle is the best known brand of e-reader, but there are also a variety of other ebook e-readers and tablets out there as well, and you can take a look at this list.
There are a variety of models available which offer many of the same features. The latest Kindle versions are lighter, thinner, and even waterproof (I'd read that as water resistant!)
If you are familiar with ebook readers, consider setting up the e-reader for them and downloading some ebooks you know they'll love and some guides and helpful books related to their upcoming travels.
Price: ~ USD $90 to $200
Camera
Most people's most treasured souvenirs from a trip are not something they purchased, but the photos they took during the vacation. Smartphone cameras keep improving, but a "real" dedicated camera can take better photos and allow for more advanced photography capabilities.
The best types of cameras for most travelers are either a compact camera, a mirrorless camera, or a sports camera. We'll go into some thoughts about each of these types of cameras and which might make the best gift for your special traveler.
If a person you are buying for has never really used a camera before, a good-quality compact camera, or point-and-shoot camera, may make a perfect gift. The pros of a compact camera are they are small, lightweight, easy to travel with, and fairly easy to use. The downside is they give you less control and may not perform well in certain situations. Perfect for those who want something that can fit into a pocket or purse.
If you are buying a travel gift for someone who is more keen on photography and does have some photography experience, then you might look at a mirrorless camera. Mirrorless cameras come with interchangeable lenses and offer more features and versatility than compact cameras. Although heavier than compact cameras, they are often smaller and less heavy than DSLR cameras.
If the traveler you are buying for is a bit of a daredevil and adventurer, you might consider an action camera or sports camera instead. These are similar in capabilities to a compact camera, but are designed for sports, action, and are normally water-resistant or waterproof.
Action cameras are small, durable, and built to withstand elements such as dust, water, and some bumps and bruises so are great for the more outdoorsy and adventurous travelers. The best known type of these cameras is the GoPro series.
You can read our travel camera guide for even more options. We also have guides to the best compact cameras for travel, best action cameras, best bridge cameras, best mirrorless cameras, and best DSLR cameras. Have a question about choosing a travel camera or travel camera accessory, feel free to ask us as we have a lot of experience buying and recommending cameras to people of all skill levels.
Price: ~ USD $125 and up.
Give them a Weekend Getaway
Know someone who could use a weekend getaway but maybe can't afford it or doesn't have the time to plan because of personal or work related responsibilities? Plan and book a weekend getaway for them, so all they have to do is pack something and go. It'll be a thoughtful gift and experience they'll always remember.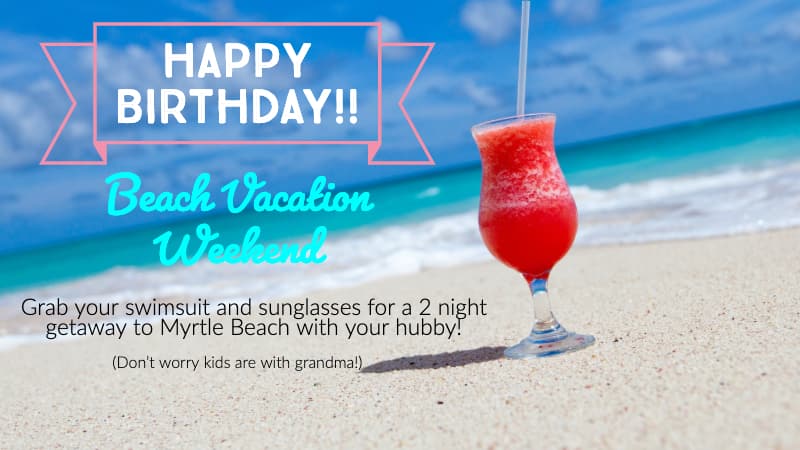 This might be a getaway with you, a solo getaway, or one you help organize with their partner or family. It could be a weekend spa getaway, a family beach vacation, an all-inclusive cruise or tour, or a fun city break. Or maybe its just a hotel stay in your own city for needed time away from the house and daily routine.
It helps of course if you are close to the person and know their day-to-day schedule and availability. But if you don't, perhaps get in touch with someone who would know this such as a spouse, parent, or best friend and enlist their help.
Price: ~ USD $150 and up
If you know someone who travels regularly, one thing that they might love is a networked home security camera system. These devices will let them keep an eye on their home (or their pets!) when they're away from home, and they can be configured in a variety of ways.
Lots of different systems are available, but we recommend the Netgear Arlo range, which have been around for a while now and we've used in the past. Another popular option is the Ring home security system.
Versions are available for indoor and outdoor use, as well as with night vision capabilities and 2-way audio. Most send you an email or text alert when motion is detected. Many are compatible with Amazon Alexa, Echo Show, Fire TV, Google Assistant, etc.
You can see what's going on and control the cameras with a smartphone app, tablet, or computer, making these cameras an excellent option for peace of mind when you are on the go.
Price: ~ USD $150 and up
If you know someone who is looking for a fun trip where they'll be able to experience new destinations without the hassle of having to pack and repack on a regular basis, a cruise might be just the gift for them. Whether it is a weekend party cruise or a 3 week expedition cruise to Antarctica, you'll likely find something to suit their taste.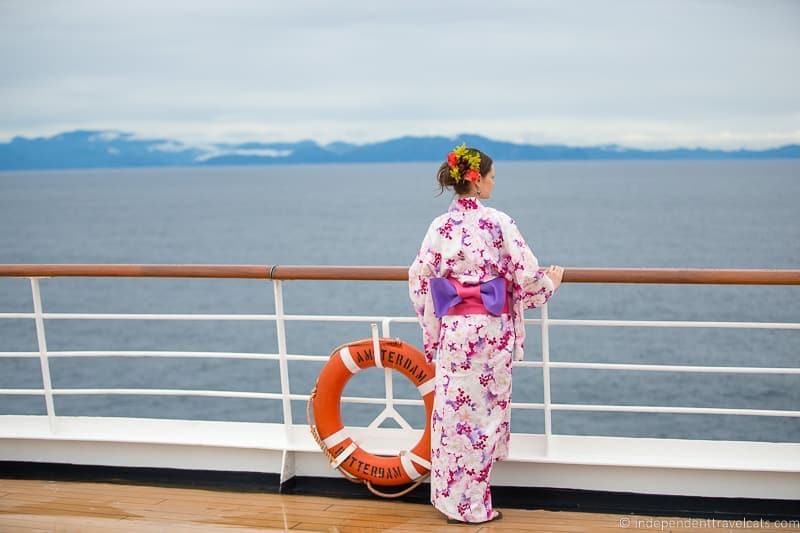 Cruises are available at a wide range of price points, and cover a huge variety of destinations and travel styles. There's everything from luxury river cruises to transatlantic cruises to family-friendly cruises. There are even expedition cruises to some of the more far flung corners of the globe.
There are hundreds of cruise companies out there, and it will depend on what kind of cruise you are after. We have booked most of our cruises from a Carnival weekend cruise to Mexico to our Cunard Queen Mary transatlantic cruise (where we got married!) via Priceline.com as they often have special deals and offers, and we have found their phone and online customer support to be good.
Price: ~ USD $150 and up.
Round Trip Plane Tickets
Perhaps there is nothing more romantic and exciting than receiving round-trip airline tickets to some exotic destination!
Of course, you may not know the dates, times, and passport details necessary to book tickets for someone else, so you are probably better off giving them a card with the money, check, or gift card they can use towards the purchase of the flights.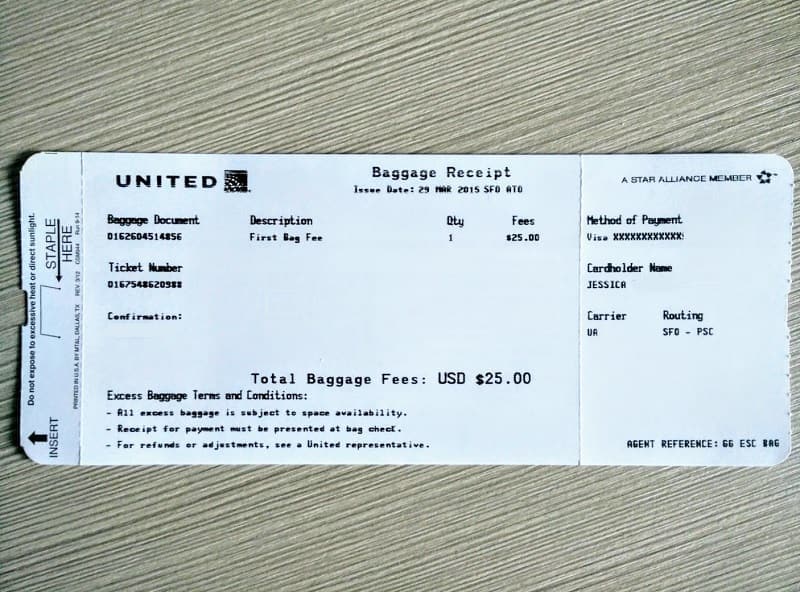 If you know which airline they like to fly, some airlines including United Airlines, American Airlines and Southwest Airlines offer gift credit or gift cards that you can purchase.
Also if the traveler on your gift list has an airline miles account, most airline miles programs allow you to gift miles to another account. So that is another option. Just be sure to check any expiration or exclusion details.
Price: ~ USD $200 and up
Give the gift of lasting memories by hiring a professional local photographer to take photos of your loved one on their next holiday.
It is difficult to take good photos of yourself if traveling solo, take good couples photos while traveling, or get those perfect family photos on the road, and the best way to get great photos is a professional photographer.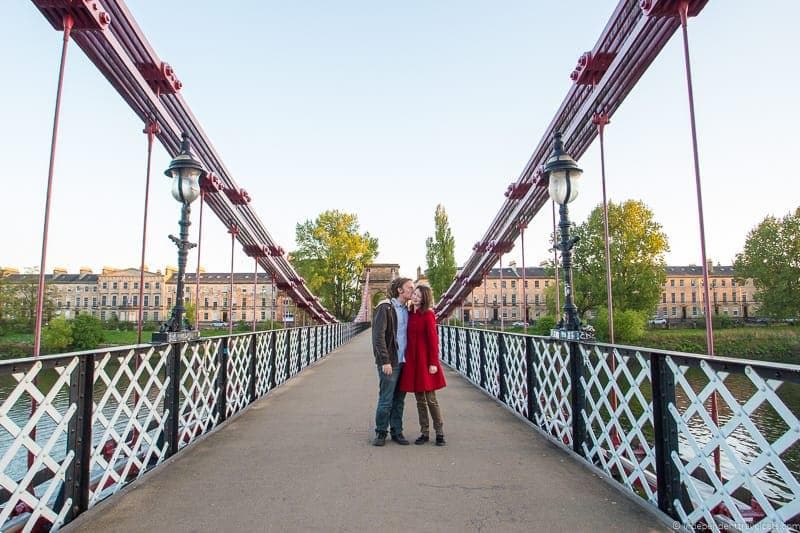 You can, of course, hire a specific local photographer for them, but an easier solution is to give them a gift card for a service, such as Flytographer, that specializes in pairing travelers with photographers in over 200 cities around the world.
You can get a discount on your first Flytographer shoot by signing up here.
Price: ~ USD $250 and up
If you know someone who is into photography or making videos and is maybe looking for a new way to capture images, a drone makes for a fantastic gift.
Drones open up a whole new world of photography and video possibilities. They're also relatively easy to fly and the latest models are very compact and lightweight, meaning they won't use up too much space in a bag.
There are a number of drone options out there. In terms of brands, we can recommend the DJI line of drones which make some of the best drones out there. The DJI Mini is a great portable starting drone option and is really lightweight. We personally have a DJI Mavic 2 (more recent version is the Mavic 3) but it is too bulky for the average traveler.
Or if you know a traveler with a drone, you might consider getting them some cool accessories. You can see our drone accessories guide here.
Just note that there are a lot of restrictions related to drones and travel, and it can be difficult to travel with drones to certain countries. They are also not permitted in places like in U.S. National Parks or near airports. So you'll want to do your research before packing a drone for a trip.
Price: ~ USD $400 and up
Space Camp
Space Camp is an educational camp which provides a fun interactive learning experience that is based on the training that U.S. astronauts receive when going into Space. It is operated and located at the U.S. Space and Rocket Center. There are also special programs that focus on things like robotics, cyber technologies, and aviation.
The majority of attendees are children who attend as part of a school or club groups, but Space Camp is also open to adults and families. The standard program is 6 days for children or a weekend or 3-day programs for families and the Adults only program.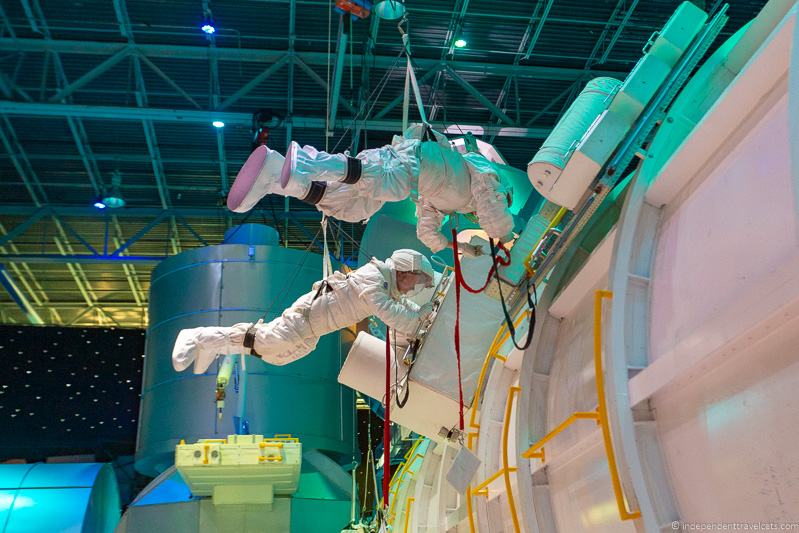 A trip to Space Camp has been on Laurence's bucket list ever since he saw the 1980's Space Camp movie. We were finally able to make that happen on a trip to Huntsville Alabama, and you can read all about our experience visiting Space Camp.
If you want to give Space Camp as a surprise gift but not sure of what dates would work, you can create a registration and instead of picking a date, you will select 'choose your dates later'. The person who receives the gift can then call later and schedule the dates they would like to attend.
There are also space-related camp programs that are now offered in other parts of the world as well, including Florida, Norway, and Russia. These are not exactly the same thing, but may be a good alternative for those living closer to these locations.
We think that a trip to Space Camp would be the most amazing gift for anyone interested in space, no matter their age!
Price: USD $499 and up per attendee
Travel is often a time we want to get away from everything, but this isn't always possible. For longer trips, or for folks who just take their jobs on the road (like us!), a travel laptop is a necessity rather than a luxury.
There's a huge range of travel laptops to choose from. Our suggestion would be to go for something that is very portable and has good battery life, but is still powerful enough to do everything you need to do when traveling.
Some good lightweight traditional laptops are the Dell XPS 13 series for Windows users and the Macbook Air series for Apple users.
If you like the idea of something that can be used as a laptop or a tablet, one of the best options is the Microsoft Surface Pro 8 (try the older Pro 6 or 7 versions if you have a smaller budget), which is a very portable laptop. It has both stylus support and a detachable keyboard (both sold separately).This makes it great for use as a tablet for watching movies, and the keyboard can be added for writing e-mails or other word-processing tasks.
If you are buying a gift for someone who is likely to do things that requires a more powerful laptop, like photo editing, video editing, or gaming, see our guide to the best laptops for photo editing to get some ideas of what is available.
Price: ~ USD $750 and up.
Travel Related DIY Gift
As noted, a travel gift doesn't have to cost money. Consider giving them something thoughtful that you made yourself.
Do you knit, do crafting, woodworking, or make candles? Some examples could be a travel themed charm bracelet, a handmade wooden photo frame of one of their vacation photos, a needlepoint of their favorite destination, a leather luggage tag, a handsewn fabric passport cover, a knitted scarf for their next trip, or a scented candle to remind them of favorite travel memory.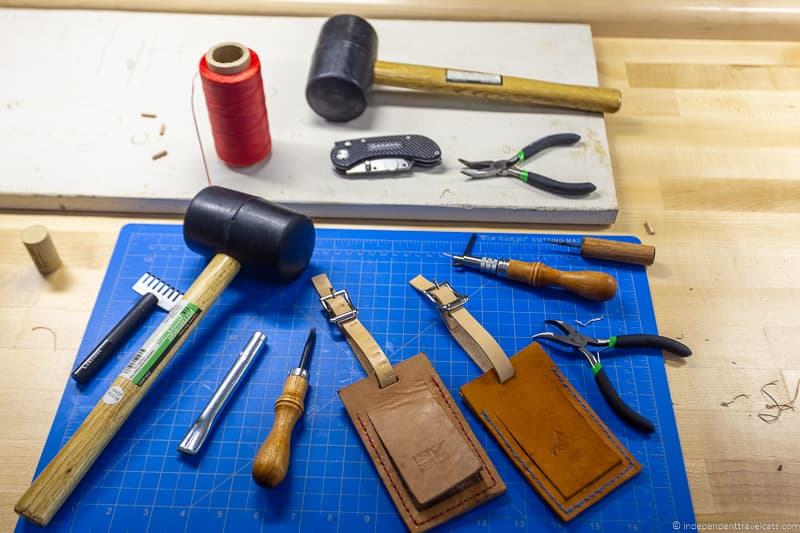 Perhaps you are a great home cook. Consider cooking for them or filling their fridge with some meals before they return from a trip to save them from grocery shopping and cooking when they first get back.
Got a gift for choosing great music? Create an amazing playlist for your loved one's next road trip.
If you are doing a gift with children, perhaps get together to make the person a surprise Welcome Home banner and throw them a little welcome home party.
Price: Priceless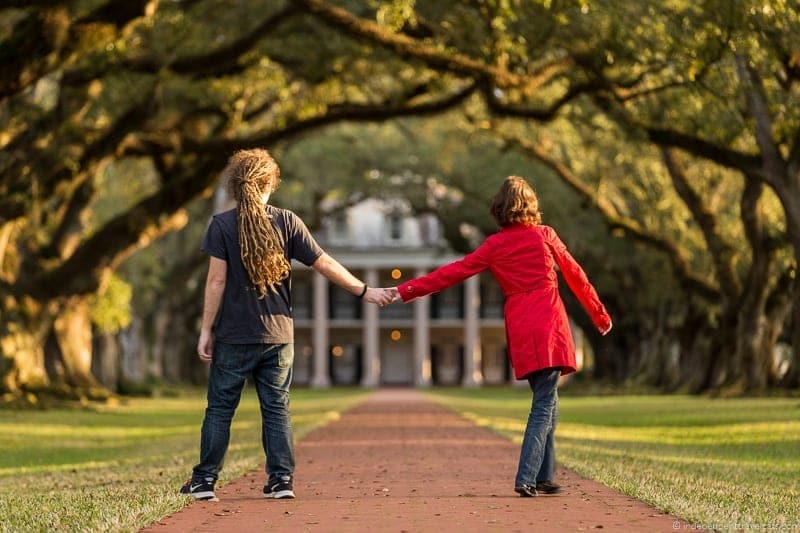 So that is our travel gift guide! Hopefully we've given you some great gift ideas for the travelers in your life.
If you want to see the items all in one place (or at least those available online via Amazon) you can check out our gift list here that includes many of the items from our gift guide.
Going to be needing to buy more gifts for travelers in the future? Pin this article on Pinterest to read it again later: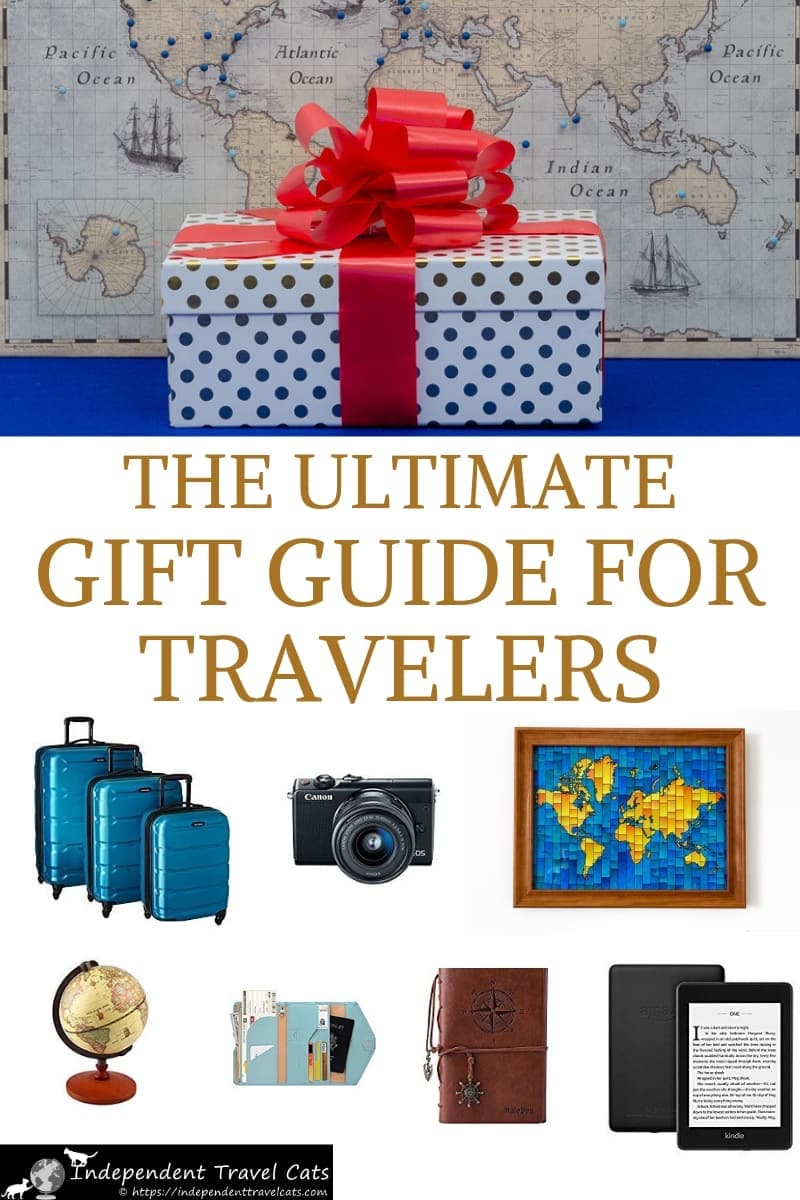 I hope you've enjoyed our gift guide for travelers! Which of these products would you want to receive as a gift yourself? Know of a travel-themed gift idea not on our list, feel free to tell us about it.
If you have any questions about any of the gift suggestions, please let me know in the Comments section below!