If you love travel and jewelry you're probably going to love this article on handmade travel jewelry. I fell in love with travel themed jewelry while searching for wedding rings last year and Laurence and I purchased custom travel themed wedding rings. I have since acquired more travel jewelry pieces and love using jewelry as a way of expressing my passion for travel. We've put together a list of a wide range of handmade travel jewelry items in this article for those looking for a way to express their own love for travel, searching for a gift for a special traveler, or just looking for inspiration about what types of travel themed jewelry are out there. We've put together a list of dozens of items that span the range of jewelry types, budgets, and fashion tastes. We've even included a few travel jewelry items designed for men and some products designed to help you store and protect your jewelry while traveling. We physically reviewed all these items and hope you enjoy this list of wonderful travel themed jewelry items and perhaps you'll discover your new favorite pieces of jewelry along the way! 
Handmade Travel Jewelry: Jewelry for Travelers
As I said, I got a bit obsessed with travel jewelry last year when searching for a design for our engagement/wedding rings (we purchased a customized version of these World Map rings). After planning our wedding, I wrote a post on handmade travel themed wedding products, which included a few travel themed jewelry items. I wanted to expand on that to write a full article focused solely on travel jewelry, so here we go! Just so you know, some of the items in the list are items we purchased or were given to us as gifts by others. The other travel jewelry items are products that were provided by Etsy (or Amazon Handmade) artists for review to be included in this article at our request. We physically reviewed all of these items; this is NOT just a compilation of photos we've pulled from the Internet. We strove to include travel jewelry pieces from around the world and items came from a number of places in North America, Europe, Australia, and Asia, although the majority of items are from the United States and the United Kingdom. Almost all of the items reviewed, with only a couple of exceptions, are handmade or hand customized items, made by a single artist, family, or a small business. We love supporting these great individual artists and small businesses, and many of the jewelry pieces featured were inspired by the wanderlust and travels of the artists' themselves! The majority of these pieces are truly unique and many of them can be customized to include elements that are special to you. We are happy to answer any questions you may have about any of these items included. We hope that this list helps inspire you to show your wanderlust in your own jewelry collection! 
Travel Jewelry: Travel Themed Necklaces
Necklaces are some of the most commonly worn pieces of jewelry by both women and men. Whether you love long pendant necklaces, dainty sterling silver necklaces, chunky chokers, or personalized lockets, there are plenty of ways to show of your love for travel. Here are a number of travel themed necklaces for some excellent examples: 
State Necklaces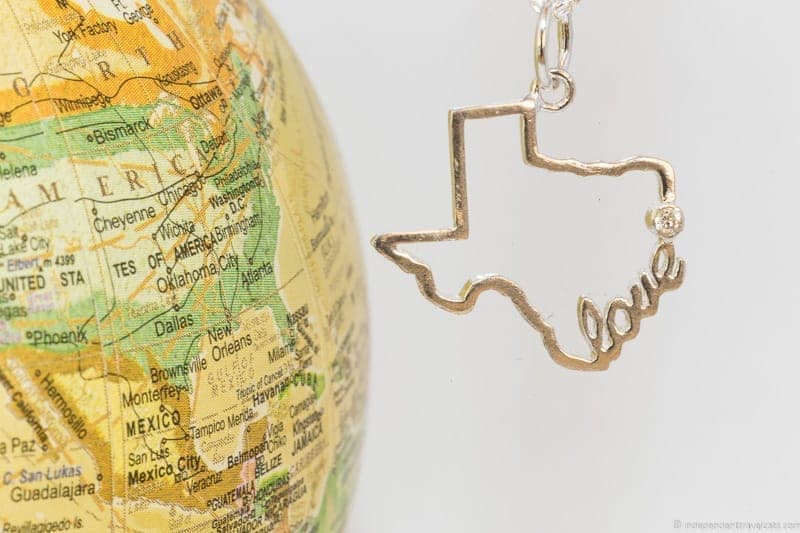 Product Link:  Texas Love Necklace
What is It?: A sterling silver pendant shaped like the state of Texas with the word love in cursive and a clear cubic zirconia stone. Sterling silver necklaces of various lengths are available and different color stones (e.g., birthstones) can be used in the design.
My Thoughts: A great sterling silver necklace to show off your Texas pride! It is not too difficult to find country outline necklaces but it is harder to find them with writing and birthstones on them. Eugene can customize just about any piece, such as the one above with a different word, stone, or state/country. He also makes a number of other state, country, and continent outline necklaces as well as many other travel-related pieces of jewelry!
See More at Eugene's Store: yhtanaff
Luggage Necklaces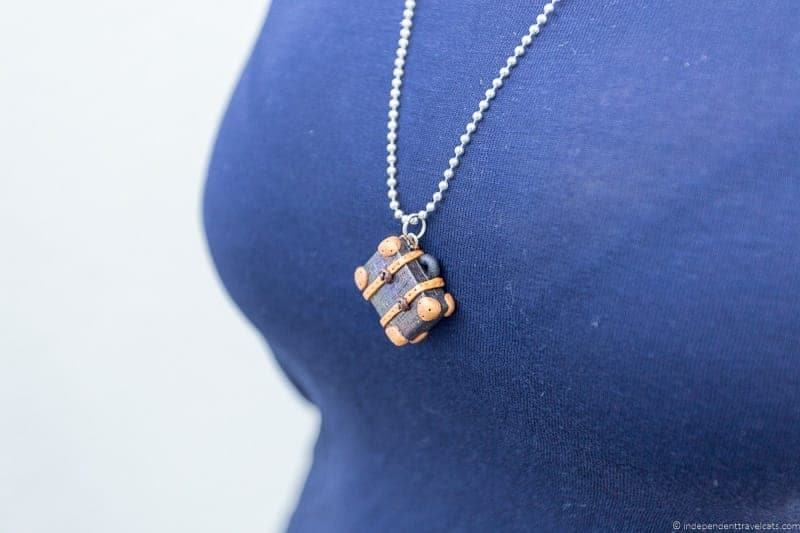 Product Link: Luggage Necklace & Earrings Set
What is It?: This necklace is made from polymer resin that is shaped into a small purple, brown, and tan vintage-style suitcase. The standard chain is an adjustable metal ball chain, although a sterling silver chain is also available. Matching luggage earrings are also available and you can purchase them separately or the necklace and earrings as a set.
My Thoughts: These handmade luggage pieces are great for travelers and quite unique! I personally love vintage luggage and so I was very excited to feature these pieces. Note that the purple color of the suitcases shimmer in the light so that is why the photos tend to look a bit darker, but all the suitcase pieces are the same purple color. The earrings are a bit heavy if you have sensitive ears but given the size they are not that heavy.
Words from the Artist: "When I found polymer clay, the medium spoke to me. I loved to touch it, manipulate, and create with it. The passion I have for it now allows me to continue the creative process and be able to share my creations with you."
See More at Kristin's Store: The Boutique Bizarre
Travel Pendant Necklaces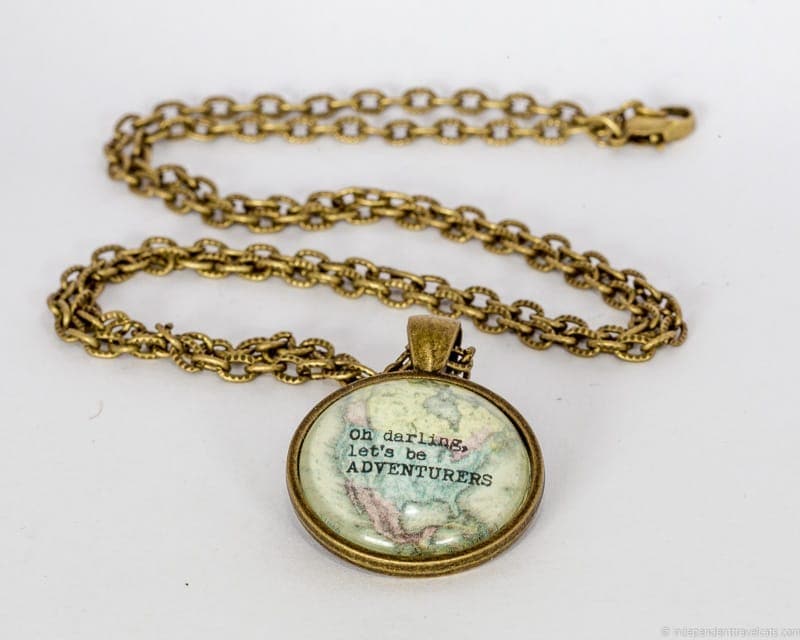 Product Links: Let's Be Adventurers Necklace, Thailand Necklace, & Cheshire Cat Necklace
What is It?: These handcrafted pendant necklaces are made from quality printed images covered by a clear domed glass cabochon that protects and magnifies the printed image underneath. Each pendant includes a matching 24″ (61 cm) necklace with a lobster-style clasp. Pendants are composed of a nickel-free plated alloy available in both classic and vintage styles and the chains are available in matching silver or bronze colored finishes. The three pictured designs include one with the quote "Oh darling, Let's be adventurers", one with an image of Thailand, and one with an Alice in Wonderland quote: "If you don't know where you are going, any road will take you there. – Cheshire Cat". 
My Thoughts: These are great whimsical pendant necklaces that make a great statement. I especially like wearing them with sweaters. Rosie has so many great travel-related designs and can also make custom designs. In addition to pendant necklaces, the pendant designs can also be ordered as bracelets, brooches, wine stoppers, key rings, and other products.
Words from the Artist: "My enchanting made-to-order glass art jewelry and accessories are the perfect gifts for any occasion. Custom orders are our specialty so feel free to contact me! Find us on Etsy or at Rosie Design Studio."
See More at Rosie's Store: Rosie's Pendants
Globe & Compass Necklaces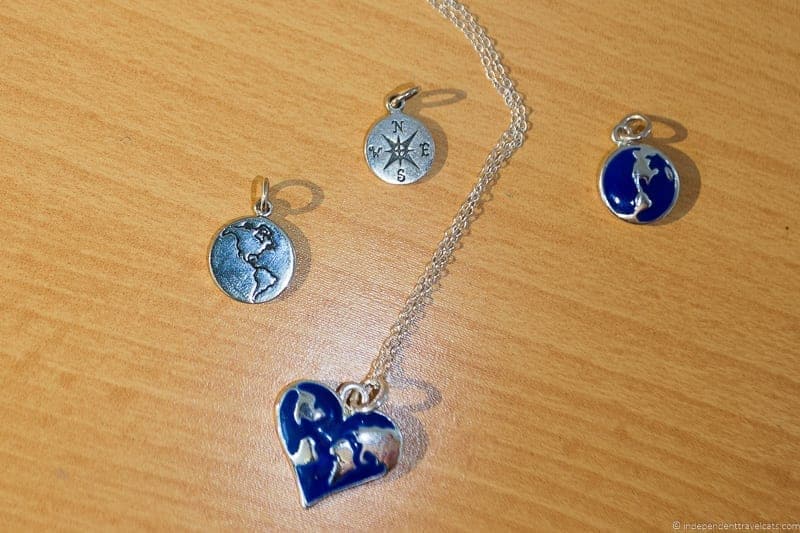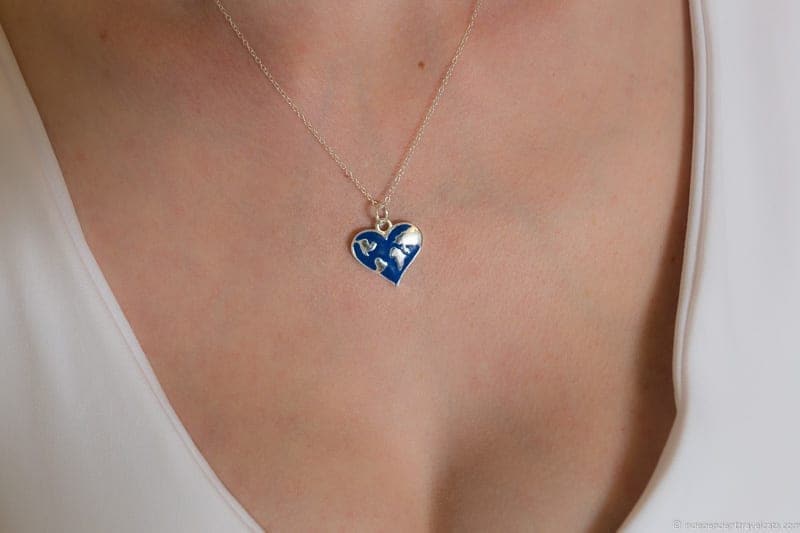 Product Links: Globe Necklaces & Compass Necklaces 
What is It?: A large selection of sterling silver, enamel, gold, and pewter charm travel jewelry with sterling silver chains available in a variety of lengths. 
My Thoughts: This store has a large selection of travel themed jewelry and these were four of our favorite designs. These are perfect for the woman who likes more dainty pendants. I wear the small understated compass charm regularly as it is perfect for daily wear and goes with almost everything!
See More at Kristen's Store: Evelyn Mae Creations
Jules Verne Around the World in 80 Days Necklace
Product Link: Jules Verne Around the World in 80 Days Necklaces 
What is It?: The pendant necklace is made with a pendant of 24K gold-plated pewter pendant that contains book text and is sealed with resin. The adjustable chain is made from black satin cord and has an antique gold metal lobster claw clasp and 2 inch extender chain. The necklace is inspired by the book Around the World in Eighty Days by Jules Verne and has text from the book with a picture of an old-fashioned hot air balloon.
My Thoughts: This is a great necklace for those who love classic literature and travel. I am a big fan of Around the World in 80 Days and had to buy this necklace when I saw it. The necklace goes very well with most casual outfits, and it is great that the length can be adjusted. The only thing I don't love about it is that it only comes with a gold finish and chain at this time as I generally wear silver jewelry. Custom jewelry is also possible so if you have a favorite book, just ask.
See More at Kerry's Store: CSLiterary Jewelry
Africa Necklace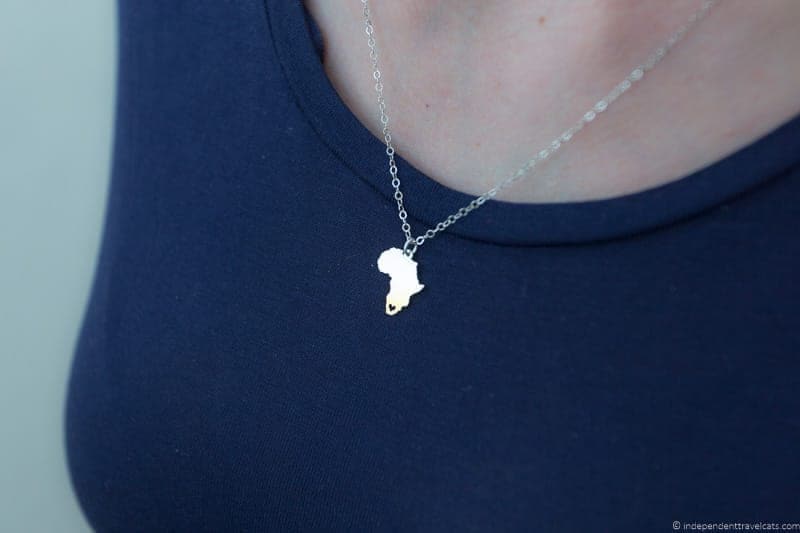 Product Links: Africa Love Sterling Silver Necklace
What is It?: This is a solid sterling silver piece cut in the shape of Africa with a heart cutout that falls over South Africa. It hangs on a sterling silver flat cable chain. You can personalize this necklace in a number of ways. The Africa continent pendant is available in two sizes (standard and petite), the heart location can be moved (or removed), various chain lengths are available, and text engraving options are available! Any country, state, or continent is possible and most pieces are also available in 14K gold as well.
My Thoughts: I have a special place in my heart for Africa and my trip to East Africa has been one of my favorite travel experiences thus far. I think many people have a love for this amazing continent and this is a perfect way to show it off. A great delicate necklace perfect for everyday wear. Note that sterling silver pieces like this can tarnish very easily so be sure to use a polishing cloth on these after each wear and keep it away from perfumes, cosmetics, and sunscreen as much as possible to prolong the beauty of the piece.
Words from the Artist: "We want to help customers keep a special state or country close to their hearts. With an ever-growing necklace selection and one of the largest earring selections for maps, you're bound to find your special place at The Hometown Haven."
See More at Tanya and her husband's Store: The HOMETOWN Haven
Working Compass Necklaces
Product Links: Grand Adventure Working Compass Necklace & Happiness is a Direction Compass Necklace 
What is It?: These two necklaces have actual working compasses on one side and a quote image on the other side set under a glass dome. Compass is made from antique looking brass and comes on a 24″ chain. The quotes on these two compass necklaces are: "Life is a Grand Adventure – Go Live it!" and "Happiness is a direction, not a place".
My Thoughts: A travel-related necklace that doubles as a working compass – what is not to love as an adventurer?! One of these may have come in handy the other night when Laurence and I were wandering around a wilderness area following map directions. Do note that the pendants do have a bit of weight to them since they are actual compasses, but they are not super heavy. These unique necklaces make for perfect gifts for any traveler. Note that these necklaces are not appropriate for younger children as they contain glass and small working parts.
See More at Daphne's Store: The Lakeside Studio (Etsy) or Needful Objects (Amazon Handmade)
Saint Christopher Pendant
Product: Saint Christopher Pendant
What is It?: This pendant is made from a lightweight metal and it depicts Saint Christopher on one side and has the Spanish words "Ruega por Nosotros Italy" on the other side. This phrase means "Pray for us" in English.
My Thoughts: I wanted to include a Saint Christopher pendant as Saint Christopher is a Christian saint (venerated by several Christian faiths) that is known as the patron saint of travel. He is usually depicted with a staff and carrying Jesus as a baby on his shoulders. Many Christians display a token of Saint Christopher to show devoted and to aid in safe travels, and my grandmother always kept one in her car. This particular pendant is a cheap one that I picked up to support the Basilica of San Albino in Mesilla, New Mexico, which is a popular Roman Catholic church that we recently visited. It was established in Mexico so many of the clergy and townspeople speak Spanish which explains the Spanish phrase on the back. 
See Saint Christopher pendants on Etsy: Saint Christopher Pendants
Hot Air Balloon Locket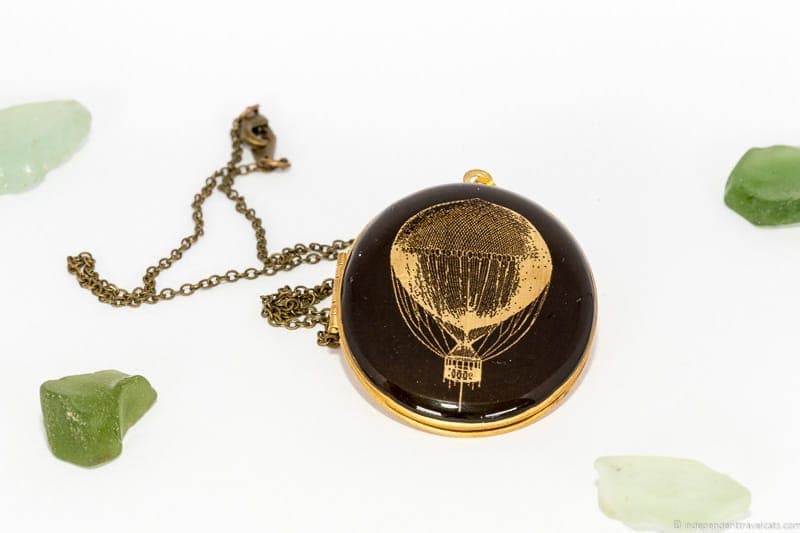 Product Links: Personalized Hot Air Balloon Locket Necklace
What is It?: This locket is made from solid raw brass that is cleaned and polished.  A vintage hot air balloon image is on the front exterior on a black background and then customized images and/or wording is added to the inside of the locket and sealed under a clear enamel. The locket is attached to an antique looking brass chain. All of these lockets can be personalized with any photos, artwork, or quotes, and various chain lengths are available.
My Thoughts: This is an amazing locket and I love that the images inside are actually sealed in place as most lockets have you just insert them. Mine celebrates Laurence and I's anniversary and has a wedding photo on one side and a quote and our wedding coordinates on the other. This is a beautiful treasured piece and Erica was super easy to work with on the design. I personally love hot air balloons, but other exterior locket designs are also available.
Words from the Artist: "I'm Erica, a designer-maker based in Berkshire, England. I have always loved drawing and making things that are tiny, delicate, and exquisite. My creative journey in jewellery began with the idea of creating little charms and keepsakes for people; a part of their personal story, to wear close to the heart. I take inspiration from the romantic Victorian era, where people would wear symbolic jewellery to celebrate love, life, and friendship, or to mourn their lost loved ones. You can see more of my work at Astrid and Rose."
See More at Erica's Store: Astrid & Rose
Coordinates Necklace
Product Link: Custom Coordinates Globe Necklace 
What is It?: This necklace contains a globe charm and disc that are made from a non-tarnish hypoallergenic silver alloy and hang from a sterling silver trace chain. The disc is handstamped with custom coordinates or words. Stainless steel, silver plate, and sterling silver chain options are available.
My Thoughts: I love that you can customize this piece of travel themed jewelry with any coordinates that have a special meaning to you. The handstamped nature of the necklace also makes it feel unique. This necklace was a gift to Laurence for our wedding anniversary and contains the coordinates on our wedding certificate (we got married at sea!). The only thing we don't love about the necklace is that the metal of the globe and disc is quite lightweight and flips over a bit, a slightly heavier metal would make this piece hang and feel a bit better.
See More at Claire's Store: Customized by Claire
Wooden Country Necklace
Product Link: Personalized Wooden UK Necklace 
What is It?: This necklace come with two engraved 16mm walnut charms attached to a 16 inch sterling silver trace chain. The pictured necklace has one walnut wood charm engraved with a silhouette of the United Kingdom and a second pendant engraved with a heart. The engravings can be customized with various locations and symbols and you can attach up to three charms to a single necklace.
My Thoughts: This lovely high-quality necklace is both simple and sophisticated and a great way to show off your love of a particular country. I really like the look of the walnut wood on the sterling silver chain and this necklace goes with just about any outfit. Check out Bridget's store for a number of personalized wooden jewelry items. 
See More at Bridget's Store: Clouds and Currents
Blue Swallow Necklace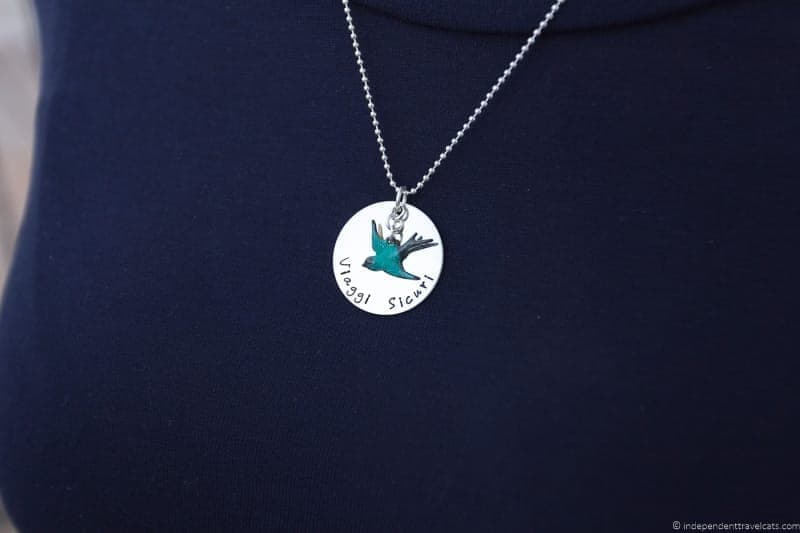 Product Link: Custom Handstamped Patina Blue Sparrow Necklace
What is It?: This necklace is composed of a patina brass blue sparrow pendant, a sterling silver 1 inch pendant, and an 18 inch sterling silver ball chain. This sterling silver pendant pictured has been handstamped with the Italian words "Viaggi Sicuri" which means "Safe Travels" in English. The sterling silver pendant can be handstamped with a customized word, phrase, date, or symbol, and multiple chain options are available.
My Thoughts: This is a beautiful necklace for any traveler and would make a great gift for someone heading off on a new adventure. I love the amount of customization available with it being a handstamped piece. Sparrows can symbolize many things including vigilance and freedom. To me the bird actually looks more like a blue swallow. Blue swallows are closely tied to travel and adventure and can represent many things including freedom, finding true love, traveling great distances but always returning, and crossing the equator (sailors).  
See More at Mary's Store: Divine Stampings
Travel Jewelry: Travel Themed Bracelets
Travel jewelry can also fit around your wrist. Think handstamped travel quote bracelets, map designs, charm bracelets, and even a way to display your own travel photos! Here are several designs to get your thinking of travel bracelets that might be a good fit for you:
Handstamped Wrap Bracelets
Product Links: Wanderlust wrap bracelet and Gypsy at Heart wrap bracelet 
What is It?: These wrap bracelets are made with a hand stamped tag (either aluminum or copper) that is then attached to a multi-colored silk ribbon. Some of the tags have a smooth finish and others have a hammered finish. The two pictured are made from hammered aluminum with the hand stamped phrases "Wanderlust" and "Gypsy at Heart". The ribbons are then used to wrap and tie the bracelet around one's wrist to create the desired look. Just about any short phrase can be hand stamped onto the tags. The silk ribbons are handmade and handpainted and are available in 24 colors!
My Thoughts: These wrap bracelets are perfect for those wanting a colorful way to show off their wanderlust and love of freedom! Each bracelet is unique since it is hand stamped and the ribbons are also handmade. The designs are really bohemian in nature and great for any woman who is a gypsy at heart. I love that these can fit any wrist since you can wrap them around as many times as desired, and they could probably also double as anklets. If you want a custom word or phrase on a bracelet (the "Gypsy at Heart" bracelet pictured above is a custom design), just contact Ashley.
Words from the Artist: "I love hand making jewelry, touching on themes like travel, motivation, and inspiration."
See More at Ashley's Store: ClairAshley
Aluminum Map Bracelets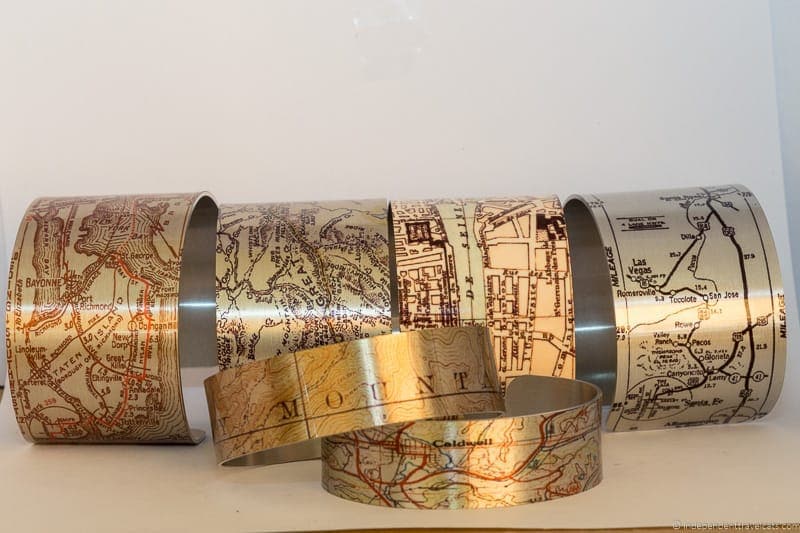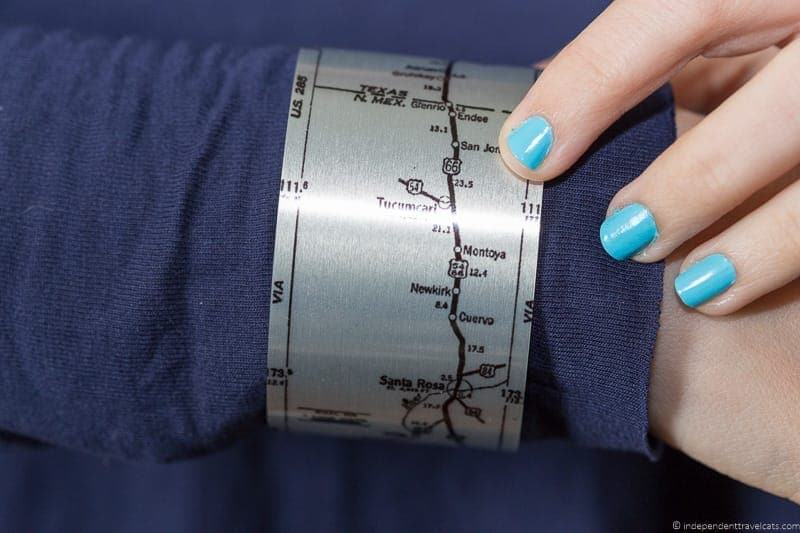 Product Links: New York City map bracelet, Rocky Mountain National Park narrow bracelet, Vintage Paris map bracelet, and Route 66 road map bracelet (see other designs in her store)
What is It?: These silver aluminum bracelets have map designs on them that are created using a dye process that fuses the ink into the surface of the aluminum. The bracelets are hypoallergenic, scratch resistant, and waterproof, and are designed to fit both women and men. The bracelets can be adjusted to fit different size wrists. These cuff bracelets come in both a wide design (1.5 inches) and a narrow design (3/4 inches wide). Some designs are black ink on silver background while others include multiple colors, and designs include city maps, national parks, vintage city maps, road maps, and trail maps. Designs we reviewed included national parks (Smoky Mountain National Park and Rocky Mountain National Park), cities (my hometown of Caldwell, Ohio and New York City), a vintage Paris map, and a road map (a section of Route 66). Doreen can put just about anything map-related on the bracelets and can also do custom designs.
My Thoughts: These bracelets are a great way to show your love for your hometown, a special city, or a favorite national park. They can also be used to commemorate a road trip, a vacation,  or an epic hike! Both the wide and narrow bracelet designs work well for both men and women, and Laurence has appropriated one of the bracelets for his own. The bracelets are very lightweight due to being made of aluminum but are quite durable. The bracelets can be adjusted by applying some pressure to fit most wrist sizes, but if your wrists are particularly thin or wide, I'd check the sizes first. Doreen offers a huge selection of designs in her store, and the design possibilities on these bracelets is endless. Custom designs are possible and Doreen was able to find a map design to fit a narrow bracelet of my small hometown, and was a pleasure to work with on the design. Note that the white lines in the photos are just light reflections!
Words from the Artist: "Creating bracelets that celebrate a connection to place. It's what I do and I'm thrilled to be able to share that with you."
See More at Doreen's Store: December Moon Design
Leather Cuff Bracelets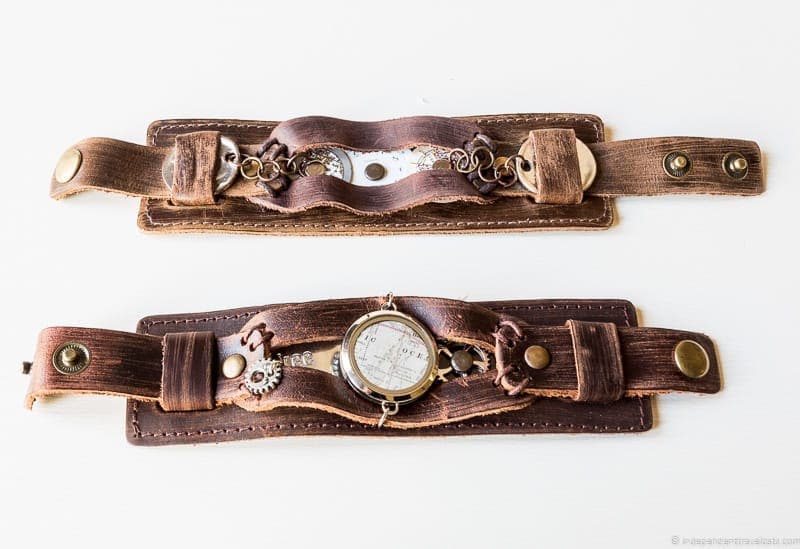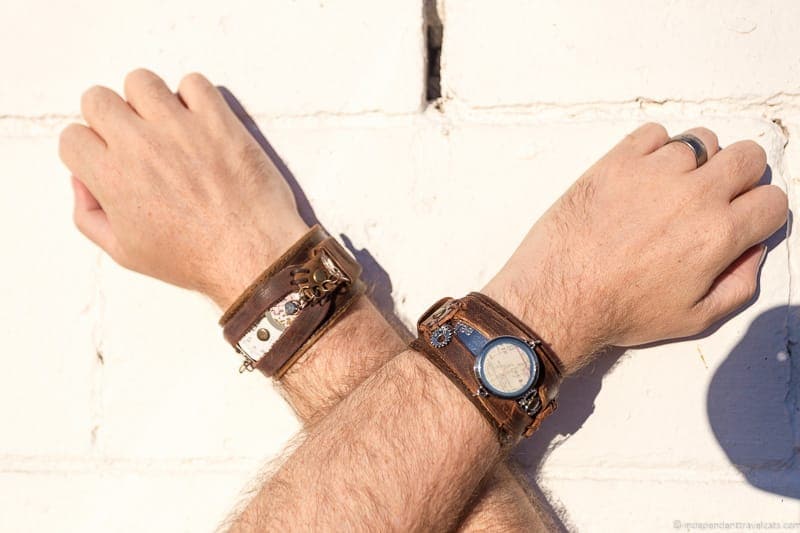 Product Links:  Freedom Leather Cuff (top bracelet) & Hidden Treasure (bottom bracelet) Leather Cuff Bracelet (see current bracelet designs here)
What is It?: Two distressed brown leather cuff bracelets with metal and crystal elements. The "Freedom" design has a steel floating locket which may be flipped and de-constructed to expose a crystal inlay and has elements representing both travel and time. It also contains the word "free". The "Hidden Treasure" design has "hidden treasure" tucked into side straps with map details, inspired by both travel and pirates. Both cuffs measure 9″ L  x 1.5″ W and have double snaps for adjusting. These are examples as each bracelet Deb makes is handcrafted and unique and many include travel related elements.
My Thoughts: These are very nice genuine leather bracelets and I was very impressed by their design and quality. Designed with men in mind initially, many of these also work equally well with women who enjoy more masculine designs. Both of these two bracelet designs are very well-made and seem very durable. I love that each bracelet is unique and if you don't see the exact design you want, Deb can also design one just for you if you give her some direction. If you particularly are loving the "Hidden Treasure" or "Freedom" designs I reviewed, contact her and she help create a similar bracelet.
Words from the Artist: "I make these leather travel bracelets to give a you a sense of adventure wherever you are in your life journey. The simplistic and raw material implies strength, wisdom, culture, and exploration. It is my joy and pleasure to send you off, either physically or mindfully, into the nature of freedom."
See More at Deb's Store: ModMadi
Travel Charm Bracelets
Product Links: Buddha charm bead bracelet and Buddha earrings
What is It?: This is a charm bracelet made of blue, clear, and silver beads, silver Tibetan charms (Buddha, namaste hands, and yoga pose), coated bead wire, and silver metal findings. The length of the bracelet is adjustable between 8 inches and 9.5 inches (20cm to 24 cm). The matching Buddha head earrings which can be purchased separately are made of Tibetan Buddha head charms and attached to silver plated earring hooks. Charms are nickel and lead free.
My Thoughts: Inspired by Tara's travels in Asia, this bracelet is a great way to show your love for Eastern culture and/or Buddhism and adds a great pop of color to any outfit! The earrings are great to wear together if you like your jewelry to match. I like that the bracelet adjusts so much as it is designed to fit most wrist sizes. You can follow Tara's travels at her travel blog Travel Geek Tara, which help inspire her jewelry and other handmade products.
Words from the Artist: "I came up with Geeky Wanderlust as I wanted to create items that reflected my interests in travel and vintage style. As a self-confessed travel geek and hobbyist travel blogger I design pretty items that I love to wear myself, inspired by the places I visit."
See More at Tara's Store: Geeky Wanderlust
Travel Storage Wristlet Bracelets
Product Link: Travel Storage Wristlet
What is It?: This handmade wristlet is made from cotton fabric, beads, elastic, and velcro. On the upper side of the cuff is the beads and on the other side is a pocket that allow you to store lightweight items and shuts with velcro. The wristlet is stretchy so it is designed to fit most wrists. Sylvia can also adjust the size as needed, just ask. These wristlet cuffs are available in a number of different colors and designs.
My Thoughts: This is a great product for those who love to be hands-free as it looks like a cuff bracelet but allows you to go out without a purse or wallet when going to a party, event, or while traveling. I hate carrying a purse anywhere, so this is perfect for me. Obviously it is not designed for large items (passports won't fit) or heavy items (no cell phones!), but prefect for thin items such as credit cards, tickets, paper money, passes, and a key or two. 
See More at Sylvia's Store: LilySDesigne
Custom Travel Photo Bracelets
Product Links: Custom Metal Photo Bracelet & Adjustable Single Photo Bracelet 
What is It?: The metal bracelet contains 5 images printed on high-quality photo paper that are then placed under 20mm glass domes and set in a metal bracelet with a gunmetal finish. Bracelet is also available in an antique brass finish and photos can be printed in color or black-and-white. The adjustable elastic bracelet contains 1 image printed on photo paper that is placed under a 20mm glass dome and attached to an adjustable elastic band designed to fit most wrists. Different options are available for the band colors and photo finishes. All photos can be customized!
My Thoughts: As a couple who has TONS of travel photos, this is a perfect way to show off some of our travels using jewelry that contains our very own images! All the images pictured in the bracelets are our own images we sent to Denille and then she cropped and set them into the bracelets. They look great, and what great memories! One of these bracelets is going to be a Christmas gift for a family member. These bracelets are great for both men or women. Although these bracelets are designed to fit most wrists, be sure to make sure the bracelet will fit you before purchasing as Denille can adjust the lengths of many of her bracelets. Denille also offers a number of other custom photo products!
Words from the Artist: "Being part of the handmade community is so much more than making money; it's about creating some-THING special and unique for some-ONE who is special and unique. Each item has a little story whether for a couple about to get married, a company celebrating their success, or someone wanting to cherish their travel adventures forever. I take great pride in my work, hand-crafting each item with the recipient in mind!"
See More at Denille's Store: denille e. o. designs
Travel Jewelry: Travel Themed Rings
Rings are another terrific way to show off your love for travel and adventure, whether it be a statement ring, a funky wooden ring, a hand-stamped silver ring, or a custom laser-cut titanium ring. Here are a few to get you thinking:
Handstamped Aluminum Rings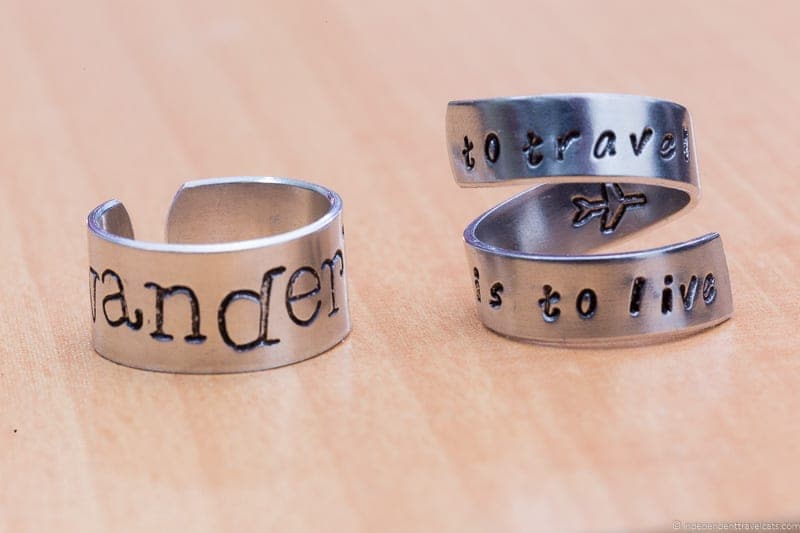 Product Links:  Wanderlust Ring & To Travel is to Live Wrap Ring
What is It?: Two handstamped adjustable aluminum rings. One is a 3/8″ width ring that has "Wanderlust" handstamped on it and a small globe handstamped in the inside. The second is wrap twist ring with "to travel is to live" handstamped on the outside and a small airplane on the inside! These rings, since they are made of aluminum, they are hypoallergenic and won't tarnish! Different font typefaces available for all rings, and you can also have your own custom word or phrase added to most rings.
My Thoughts: These are lightweight and inexpensive rings that would be great for everyday wear. I love the little details of the plane and globe on the inside of these rings. The handstamped nature of the rings ensures that each one is unique and Carrissa can customize just about any ring for you if you have a specific date, coordinates, phrase, or name you would like handstamped on a ring. Note that although the rings are adjustable and will fit multiple sizes, be sure to give your size at checkout to ensure the best fit. Check out Carrissa's shop for a large selection of handstamped travel themed rings!   
See More at Carrissa's Store: Stampin Off the Path
Map Statement Ring
Product Link:  Africa Statement Ring 
What is It?: An Africa map statement ring with a metal band. The band is adjustable to fit most finger sizes and you can choose the band color (rose gold, silver, or antique brass). Bands are made from nickel free, lead free, and cadmium free metals. Jane also makes and sells identical statement rings that contain maps from dozens of other countries and continents.
My Thoughts: This is a great inexpensive statement ring that shows off one's love for Africa. I have the ring in the rose gold color and really like the way it looks and the adjustable band allows it to fit even my thin fingers comfortably. This ring is not designed for everyday wear but is a great piece to wear when you go out and want to show off your love for a particular place. Because these are adjustable and inexpensive, I think they would also make a great gift for an older girl or teen who is inspired to travel. Note that although the ring is adjustable and made to fit most fingers, it is still good to  check ahead before ordering, especially if you have larger fingers.
Words from the Artist: "Why the name Jacaranda Designs? I grew up in sunny South Africa in the city of Johannesburg. The jacaranda trees lined many streets in our neighborhood and when in bloom were a glorious image to behold. I wanted to convey that same nature-inspired feeling of beauty to my jewelry line, so hence the name Jacaranda."
See More at Jane's Store: Jacaranda Designs
Mountain Rings
Product Link:  Mountain Rings 
What is It?: A set of three wooden rings designed to look like miniatures mountains. Each set of rings is made from laser-cut high-quality birch plywood that are painted and finished to look like mountain peaks. The mountain peak on each of the three rings is a different size and in a different position to give the illusion of depth when stacked. You can arrange the rings as you wish, wearing all three on one finger or splitting them up across fingers. Clive also makes miniature house and tree rings that you can buy if you want to mix and match them on your fingers as they are all interchangeable!
My Thoughts: I found these wood rings to be very interesting and unique and had never seen anything like them before. I love that you can stack the three rings how you want to make different little mountain landscapes or just wear one at a time. This is a perfect set of rings for nature lovers and mountain climbers. Just note to check your ring size before you purchase as the rings are all sold with an internal diameter of 18mm (approximately a 7 3/4 to 8 in U.S. sizes or a P 1/2 or Q in UK sizes).
Words from the Artists: "I have always enjoyed making things from a very early age. I still get a massive kick from seeing a rough idea turn into a finished physical product, and I really love getting my hands dirty and actually getting to make stuff. I also appreciate the power of the Internet that allows my rings to be seen by people from all over the world and for customers to interact with me via email. Whether it a famous celebrity interested in something I've designed or a happy customer who had used one of my rings to propose to his girlfriend – none of these amazing things would have been possible a few years ago"
See More at Clive's Store: CliveRoddy
World Map Rings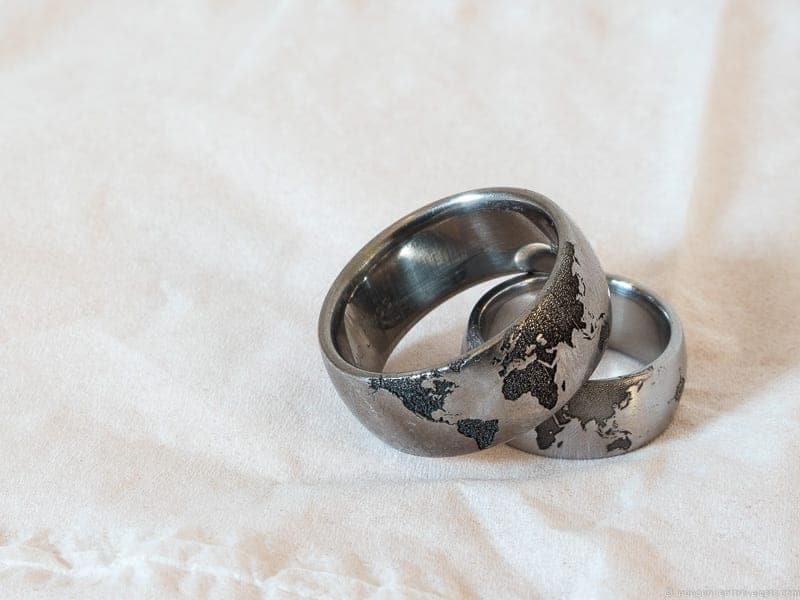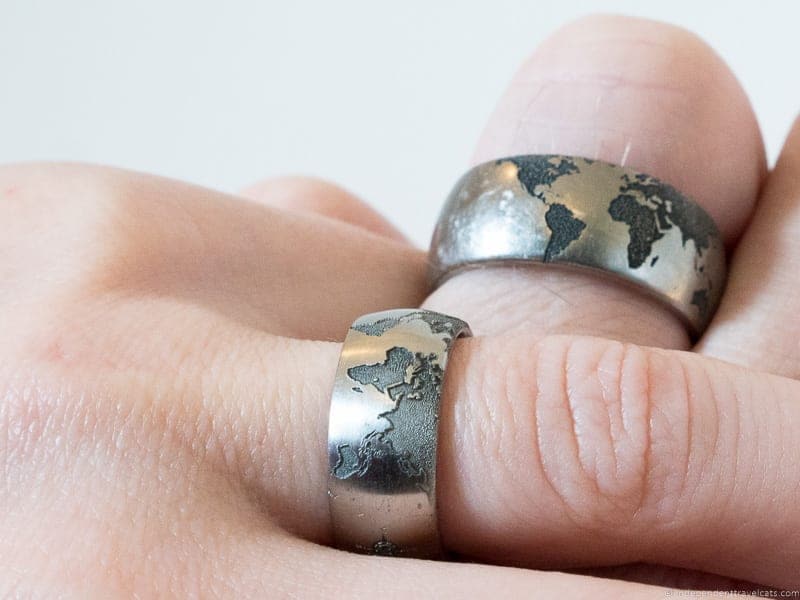 Product Link: World Map Ring
What is It?: A cobalt chrome ring and a titanium ring that has been laser cut with intricate map details with a very high power laser. The metals used in these rings is extremely durable and lightweight. The World Map Ring includes a detailed laser-engraved world map design, and this is repeated 3 times around the ring. Many other laser designs available, including custom requests. Fingerprints, photos, and custom images can also be lasered onto the rings.
Our Thoughts: These are our engagement/wedding rings! We absolutely love our rings and I am so happy we chose to do a custom ring design with Boone Rings! Laurence's is made of commercially pure titanium and mine is cobalt chrome, both with a brushed finish. The details are amazing and we did not see any other rings as detailed as these in our very long search. The world maps are the same on both of our rings but we did customize the other side and added inscriptions. We've been wearing our rings for over a year and a half and we have had no issues with them. Since we travel so much, these are fantastic rings for us as they are relatively inexpensive, not flashy, and are much more durable than gold, silver, or platinum rings. When traveling, many people choose to leave expensive jewelry at home to avoid its loss, damage, or theft, and these durable World Map rings make great travel worthy replacements! We are big fans of the World Map ring and several other designs by Bruce, and love that you can customize these rings.
See More at Bruce's Store: Boone Titanium Rings
Travel Jewelry: Travel Themed Brooches & Pins
Brooches and pins are another great way to show your love for travel, and look great on sweaters, scarfs, and coats. Many brooch designs are perfect for those who have a vintage or retro style. Here are a number of great travel themed brooches to get you thinking:
Mountain Brooch
Product Link: Bamboo Mountain Brooch
What is It?: This handmade brooch is made from bamboo plywood and then handpainted to resemble mountains. It is attached to a safety swivel clasp metal brooch pin. 
My Thoughts: This is a great brooch to show off your love for the mountains and I really like the colors of this brooch. The bamboo makes this brooch lightweight and easy to wear. If you love the mountains, check out Claire's store for many more great products!
See More at Claire's Store: The Mountain And Me
Camera Pendant Brooch
Product Link: Old-Fashioned Camera Pendant Brooch
What is It?: This handcrafted brooch is made from a quality printed image covered by a clear domed glass cabochon that protects and magnifies the printed image underneath. The brooch is made of a nickel free metal alloy. Attached to the back of the pendant is an open/close hook-type pin with catch. The image on this brooch is of an old-fashioned black camera, and the brooches is available in two styles and two finishes.
My Thoughts: This camera brooch is perfect for photographers and those who love vintage cameras. In addition to a brooch, this camera pendant design can also be ordered as a necklace, bracelet, wine stopper, or key ring.
See More at Rosie's Store: RosiesPendants (see necklace pendant designs earlier in post)
Postcard Brooch
Product Link: Vintage Postcard Brooch
What is It?: This handmade brooch is made from high-quality digitally printed cotton linen and is attached to a safety catch brooch bar. Five different vintage postcard designs are available.
My Thoughts: This is a unique brooch that goes great with any vintage inspired outfit. Since it is made of linen, it is super lightweight and flexible. Check out Rachael's store for lots of other vintage travel inspired products!
Words from the Artist: "For Grace & Favour Home, by focusing on the often forgotten and overlooked, inspiration is taken from the collections of found objects and travel ephemera of partners Rachael Rowe & Steve Jones, to create handmade, quality products to enhance your life and your home. Each of our fabric designs evoke a feeling of quirky nostalgia, from old bus tickets and faded postcards, to intricate patterns inspired by vintage playing cards. As our initial design sketches get transformed into finished printed fabrics, they are cut and stitched onto the products to create a unique, handmade piece every time."
See More at Rachael's Store: Grace and Favour
Wooden Vintage Travel Brooches
Product Links: Compass Brooch, Caravan Brooch, & Suitcase Brooch
What is It?: These wooden brooches are all made from printed images on paper applied to a laser cut wooden backing and then attached to a metal brooch pin. These three brooches depict a vintage teal suitcase, a vintage silver caravan, and an explorer's compass. 
My Thoughts: These vintage travel inspired brooches are lightweight and perfect for those who want to show off their love for travel or caravaning! These go particularly well with sweaters and wool jackets. Lavinia has a number of other suitcase, caravan, and compass designs available in her store!
Words from the Artist: "I enjoy making vintage inspired items to spark joy for the recipient. I love selling on Etsy as it gives me flexibility in the day to go on adventures, in between trips to the post office and working in my studio."
See More at Lavinia's Store: Lavinia's Tea Party
Travel Jewelry: Travel Themed Earrings
When thinking about travel jewelry, don't forget your ears! Whether you like dainty studs or big dangles, we hope some of these designs get you excited to travel:
Passport Earrings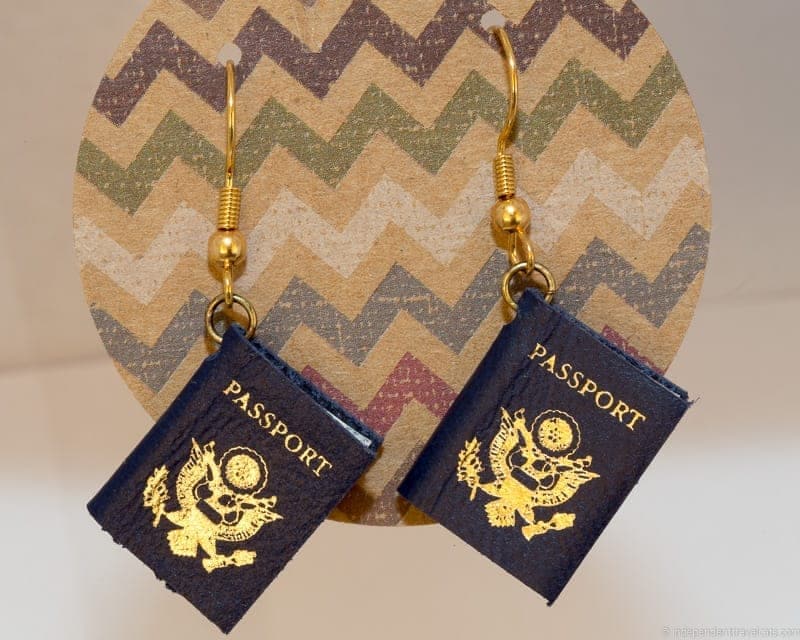 Product Link: Passport Earrings
What is It?: These dangle passport earrings are designed to look like real mini United States passports, complete with a blue cover and paper passport pages with mini passport stamps. They come on gold-colored hook shaped metal posts.  
My Thoughts: These are very cute earrings for American travelers to show their love for travel and are sure to get noticed by others. I was very impressed that they open up to reveal a number of pages with little visas and passport stamps!
See More at Annette's Store: AmDuExploratory
State Earrings
Product Links: California Sterling Silver Earrings
What is It?: These solid sterling silver stud earrings are cut in the shape of California with a heart cutout that falls over Los Angeles. These earrings are available in two sizes (standard and petite) and the heart location can be moved (or removed)! Any country, state, or continent are possible and most pieces are also available in 14K gold as well.
My Thoughts: I used to live in California (San Francisco Bay area) and have many fond memories of my many years living and traveling in the Golden State. Whether you are a Californian, or have fond holiday memories of driving the Pacific Coast Highway, visiting Disneyland, or biking the Golden Gate Bridge these earrings are a great way to show off your Cali love. These are a great pair of earrings for regular wear that go with just about everything. Note that sterling silver pieces like this can tarnish very easily so be sure to use a polishing cloth on these after each wear and keep it away from perfumes, cosmetics, and sunscreen as much as possible to prolong the beauty of the piece.
See More at Tanya and her husband's Store: The HOMETOWN Haven (see Africa necklace earlier in post)
Set of Laser Cut Wooden Earrings
Product Link: Mountain, Cloud, & Hot Air Balloon Stud Earrings 
What is It?: These earrings are laser cut from birch wood, handpainted, coated with a protective lacquer, and then attached to surgical steel posts. The backings are also made of surgical steel and are hypoallergenic. These come as a set of three with wooden cutouts of mountains, clouds, and hot air balloons.
My Thoughts: These high-quality wooden earrings celebrate the great outdoors and make me smile when I wear them. They come as a set so you have three designs to choose from to wear and can also mix and match! Check out Anne's store for lots of other great wooden earrings and other products.
See More at Anne's Store: Birch Street Studio
Camping Inspired Earrings
Product Link: Camping Earrings
What is It?: These handmade camping-inspired stud earrings are fabric covered studs with silver back posts. One earring features a tent design and the other a small campfire.
My Thoughts: These earrings are so cute for those who love camping and spending time outdoors. I am not a big camper myself (more of a glamper) but I love the design of these earrings! The fabric cover is a unique touch.
Words from the Artist: "I create my jewellery and associated products using various mediums. Cold porcelain (or air dry clay), stone plaster and fabric being my main materials. I choose seasonal fabrics to make zip pouches, pendants and studs. I then base my three current ranges around those fabrics. Choosing colours and patterns that inspire me. I hand carve the clay, heat dry and sand it to create varying shapes and textures for beads and trinket dishes. I also cast stone plaster, paint and sand it into gem like pieces of jewellery."
See More at Beth's Store: Betsy Rose Jewellery
Spaceship Earrings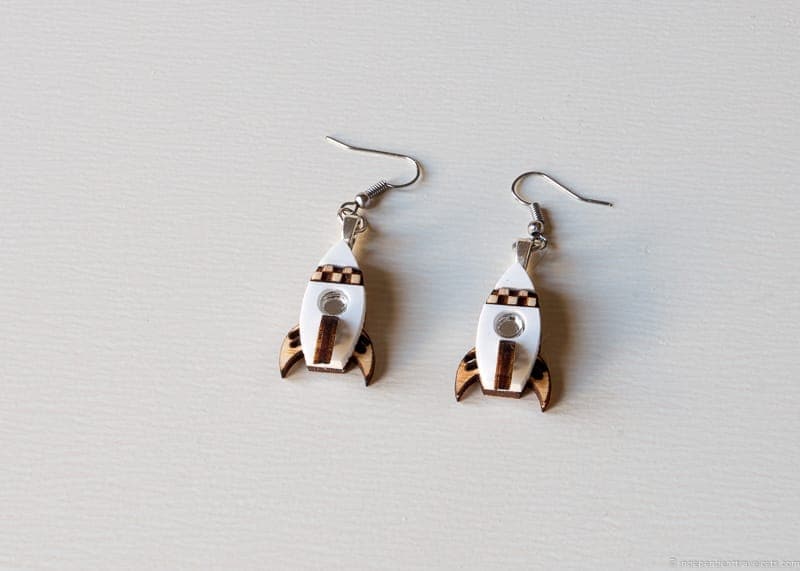 Product Link: Rocket Ship Earrings
What is It?: These handcrafted rocket ship earrings are made from laser cut wood, acrylic, and metal hook posts. The color of the rocket ship window can be customized and hypoallergenic posts are available.
My Thoughts: These space-age dangle earrings are perfect for those who see the world in terms of the universe rather than the earth. I love the shiny mirror windows and the earrings are quite lightweight for their size. After traveling through New Mexico (Kristin's home state), it is hard not to see space as the next travel frontier! These were great accessories for our recent tour of Spaceport America.
See More at Kristin's Store: TheBoutiqueBizarre (see luggage necklaces earlier in post)
Nautical Earrings
Product Links: Pink Anchor Studs, Blue Ship Studs, & Anchor and Ship Wheel Stud Earrings 
What is It?: These earrings have classic nautical images handset behind glass onto a silver plated stud backing. The earrings are hypoallergenic and come with comfort backings. Earrings can also be set in titanium silver, antique bronze, or gold settings.
My Thoughts: These earrings are perfect for those who prefer their travel to be on the high seas rather than on land, and are also perfect for vintage inspired outfits! The backings on these earrings are designed for comfort and for keeping these earrings in place. They come in a number of different nautical designs.
See More at Jessica's Store: LoveLeeJessicas
Camera Earrings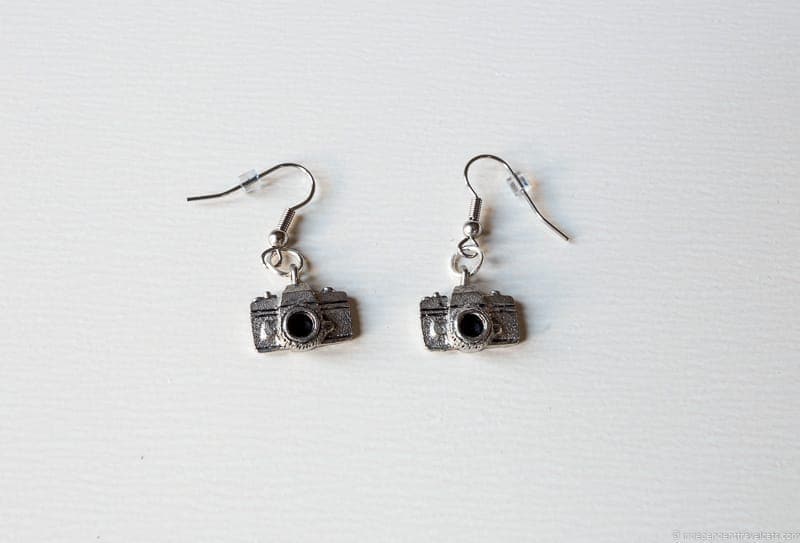 Product Links: Silver Camera Earrings
What is It?: These dangle earrings are composed of pewter camera charms attached to surgical steel hooks.
My Thoughts: These are perfect earrings for any photographer! I like the detail on the camera and the fact that there is dimension to these earrings. They go perfect with just about any outfit.
See More at Rebekah's Store: The Robot Princess
Travel Jewelry: Cufflinks, Wristwatches, & Barefoot Sandals
When thinking about jewelry, most of us think about earrings, bracelets, necklaces, brooches, and rings. But there are other pieces of jewelry and accessories that can also express one's love for travel, whether it be anklets, cuff links, tie clips, lapel pins, wristwatches, belt buckles, hat pins, belly button rings, or barefoot sandals. Many of these are also well-suited for men as well as women. Here are a few pieces that fall outside the most common categories of travel jewelry to get you thinking about new ways to express your love for travel: 
Map Wristwatches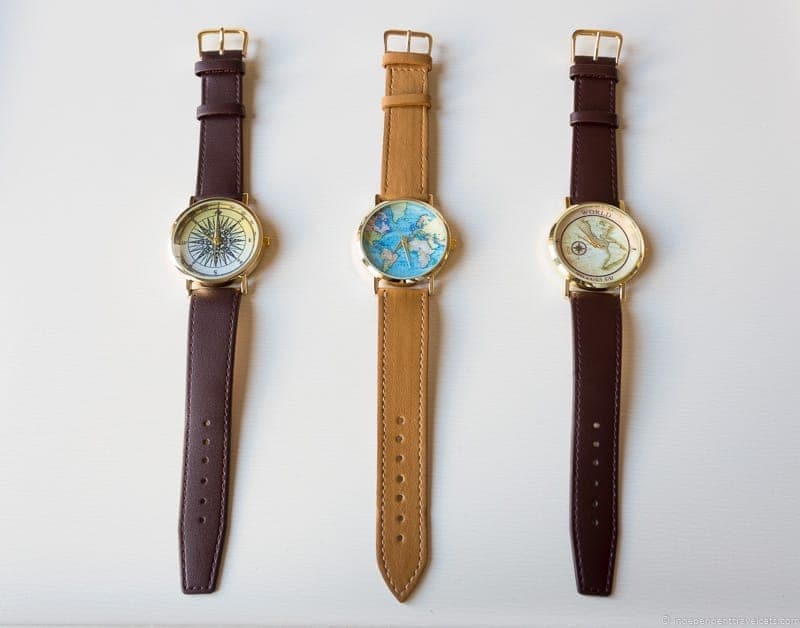 Product Links: Compass watch, World Traveler watch, & World Map watch
What is It?: A wristwatch made with a Japan quartz movement timepiece with a glass dome and a leather band. Customers can choose from either a high-quality synthetic leather band or genuine leather band in over 10 colors for each watch design. The watch designs shown are the Compass, World Traveler and World Map designs, but there are over a dozen different map and travel related watch designs available. 
My Thoughts: Wristwatches are a great way to show off your wanderlust! I like to wear a watch when I travel so that I don't have to rely on checking my phone all the time. These watches are also a great value so you could even buy a couple of designs so you could wear them interchangeably. Carmen has many designs and band colors available, so it is easy to find a watch that fits your style. Watches are designed to appeal to both men and women.
Words from the Artist: "My name is Carmen and I am an adventurer with restless feet and a desire to see the whole world! This is why in 2015 I decided to change the direction of my life by quitting my day job as a programmer and starting to dream a new dream: creating handmade watches and jewelry for those who share my passion for world travel. My aim is to inspire everyone to live free and explore the world, to never stop wondering and wandering. I love connecting with my Etsy customers and hearing about their own adventures around the world!"
See More at Carmen's Store: AyoBijou
Map Cufflinks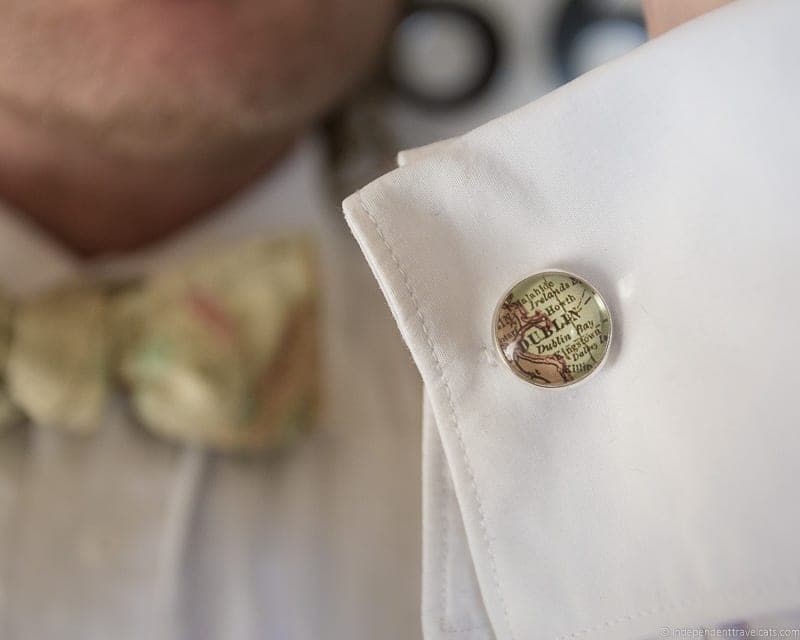 Product Link: Custom Map Men's Cufflinks
What is It?: These handcrafted cufflinks are made using a small glass globe, map printed on photo grade paper, and silver plated cufflinks. Maps can be customized to location(s) of choice or with a vintage world map design.
My Thoughts: A great accessory to add a touch of travel to a dress shirt, whether you are headed to a business meeting, a wedding, or a fancy dinner. You can customize them to include any map location, whether it is your hometown, honeymoon location, or favorite travel destination. These are also a very budget-friendly item that can make for a thoughtful customized present for that traveler on your holiday gift list. Laurence wore these to a travel conference recently along with his world map bowtie!
See More at Kris's Store: YourOccasionGifts
Wooden Laser Location Cufflinks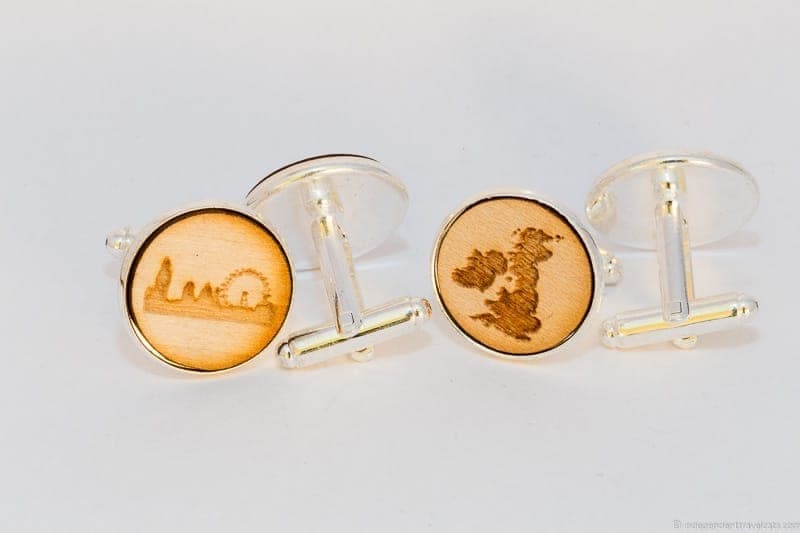 Product Links: London Skyline Wooden Cufflinks or British Isles Wooden Cufflinks
What is It?: These handmade wooden cufflinks are laser etched with designs on a thin piece of reclaimed maple wood that is varnished and then attached to a metal bezel. Customers can choose the color of the bezel (antique gold, silver, or gold). One of these show a silhouette of the British Isles and the other depicts the London skyline. Numerous designs are available, including custom designs. 
My Thoughts: I really like the look of wooden cufflinks as they get a second glance from people used to seeing metal, glass, or enamel cufflinks. Laurence really loves both of the designs, particularly the contrast of the dark etched silhouettes on the light wood. Perfect for those who want to show off their home country or their favorite travel destination. These are also reasonably priced as wooden cufflinks like these often cost twice as much!
See More at Madison's Store:  Madison Elise Studio
Barefoot Sandals
Product Link: Maui Shell Barefoot Sandals
What is It?: This elaborate anklet, also known as barefoot sandal, is composed of elastic, beads, and shells. These barefoot sandals fit around one's toe, foot, and ankle with the help of elastic and are designed to fit just about any foot size. Forever Soles also makes dozens of other styles of barefoot sandals, most of which are decorated with shells, beads, and nautical charms.
My Thoughts: These are a great and unique accessory for beach lovers as these look great on one's feet and are perfect with a swimsuit or a sundress while lounging on the beach or poolside. It admittedly did take me about 10 minutes to figure out how to get and keep these on, but once I did they looked great. I thought they may rub my toes but the beads that go around the toe are quite tiny so there was no rubbing at all in the hour that I wore them around. While barefoot sandals were initially designed for brides wanting a beach wedding, they are now fashionable beachwear for anyone! Note that these are not designed to be worn in the water (take them off before swimming) or to be worn with shoes.
Words from the Artist: "Free-spirited. Effortlessly beautiful. Adventurously cool. Forever Soles was created for the bride who wishes to romantically revel in the love, joy, and breathless anticipation of her wedding day." 
See More at Angie's Store: Forever Soles
Travel Jewelry: Travel Storage
One of the challenges of traveling with jewelry is keeping it safe, untangled, and undamaged during your travels. It is really annoying to spend 20 minutes untangling necklaces during your vacation or searching for an earring in your suitcase. If you travel with more than a few pieces of jewelry, you may want to invest in a jewelry travel bag, pouch, or roll. They come in a number of varieties but all are designed to keep jewelry organized in one place and protect it from getting damaged. Here are a couple of designs to get you thinking: 
Jewelry Travel Pouch
Product Link: Butterfly Jewelry Swag Bag
What is It?: A circular jewelry bag made of Chinese silk brocade that is closed with a sturdy satin cord drawstring to create a secure jewelry pouch. The Swag Bag includes 8 open pockets along the side which are designed for smaller jewelry pieces and then a large middle section that is perfect for larger and chunkier jewelry. It is lined with satin. Fully opened, the Swag Bag measures 9 1/2 inches across the top and has a  6 1/2 inch bottom. The color and fabric type of the bag, lining, and drawstring can be customized. 
My Thoughts: This is high quality jewelry pouch that is perfect for travelers. You can get a lot of jewelry in the Swag Bag and the compartments are perfect for organizing multiple types of jewelry and the large number of pockets keeps pieces from scratches each other or getting tangled. The middle section is great for watches, bangles, chunky necklaces, cocktail rings, and other larger pieces. I have just started using this pouch after having used a jewelry roll (see below) for several years; the great thing about the pouch is that because of its shape and flexible nature it fits a bit easier into any type of luggage. You can tell that Dana has been making and perfecting these bags since she started selling them in 2007 and she has many beautiful designs available.
Words from the Artist: "I have been designing and making things out of beautiful materials since dressing my sister's Barbie Dolls. I love an audience who appreciates my magpie response to bright, shiny things; and wants to get in on the action! I am excited to offer my quirky and (I think) beautiful accessories and jewelry to the world!" 
See More at Dana's Store: Swag Bags Plus
Travel Jewelry Roll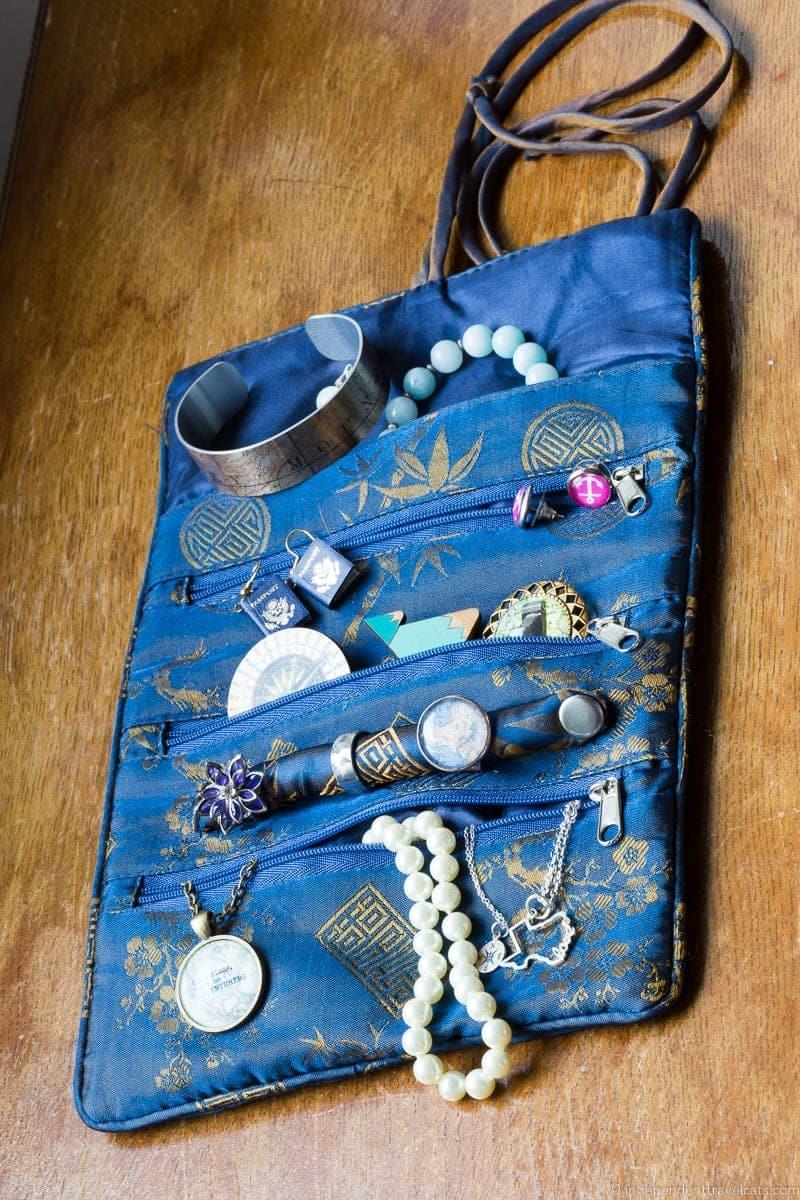 Product Link: Silk Jewelry Travel Roll
What is It?: A silk and rayon jewelry roll with one large open pocket and three smaller zip pockets. It also has a padded roll that snaps open and shut to secure rings and brooches. It is lined with satin, has a bit of padding for added protection, and a wrap tie shut closure. It comes in about a dozen different colors (this is the Midnight Navy color). Note that this is NOT a handmade item.  
My Thoughts: This is a great travel jewelry roll with pockets that can hold just about any type of jewelry and plenty of it. The snap roll is great at securing rings and the smaller ones are great for separating out earrings and necklaces. Larger, chunkier pieces can be placed in the large open pocket. It can also be used as a clutch in addition to a jewelry roll. Note that as I said before this is not a handcrafted or homemade item, but I wanted to include it in this list as I purchased this back in January 2012 and I have been traveling with it since then whenever I feel a need to carry a number of pieces of jewelry. Since 2012 it has developed a few snags in the fabric but otherwise has held up very well during our world travels! I only use this if I am  taking a number of pieces of jewelry (I don't pack it if I only am taking a few pairs of earrings on a trip for instance) as otherwise a smaller jewelry bag or pouch is better as it takes up less space.  
See More products by Red Blossom on Amazon: Red Blossom
Travel Jewelry Giveaway
To give back to all the readers here, I have decided to giveaway many of the travel jewelry items I received for review. There are many jewelry items that will be given away; I am giving away 24 items and there are 33 travel jewelry items for winners to choose from! Since there are so many items included in this giveaway, the giveaway will have multiple winners (8 winners in total!) and each winner will win 3 travel jewelry items!
Giveaway details: Everyone who enters the giveaway needs to note the number of at least 3 items they would like to win to be eligible to win. Noting more preferences helps better your chances of winning. Winners will be randomly drawn with the first winner guaranteed their top three choices of items, and subsequent winners will get available items on their list. If a winner is chosen but all preferenced items have already been given, another winner will be chosen. Free shipping is included and I will ship internationally using standard shipping (note that if any custom charges are charged by the country of the winner, the winner is responsible for these charges). Two customized items will be sent directly to the winner as noted below. Neither I nor the artists are responsible for items lost or damaged in the mail. The value of each item in the giveaway varies. Applicants must be 18 years or older and have a valid mailing address. Winners will be contacted by the email provided (so please use an email to enter that you check regularly); if a winner does not respond to email within 72 hours, another winner will be chosen. The items will then be shipped to an address provided by the winner. Giveaway is open internationally. The giveaway will end on October 27, 2016 at 12:00am EST. All entries will be checked for validity.  Travel jewelry items included in the giveaway are all pictured and described in this post, but you can check the Etsy descriptions for more information. Please note in the giveaway the number of the items you prefer in order of your preference (e.g., #5, #17, #1, #20, #13) in the Rafflecopter giveaway entry. Note that the earrings included in the giveaway have NOT been worn by me for hygienic reasons. Travel jewelry items Included in the giveaway are listed below in no particular order (use the numbers in front of the item description to let me know which ones you want to win): 
GIVEAWAY IS NOW CLOSED! Congrats to our 8 winners: Jamie W., Meredith G., Terry T., Amy R., Penny S., Dominic C., Marcella G., & Tava H.!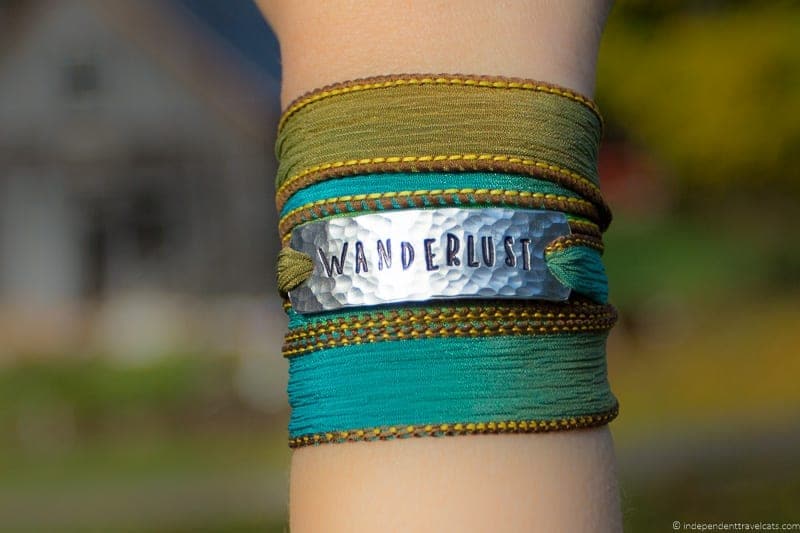 Did any of these travel themed jewelry items catch your eye? Do you own any travel jewelry pieces yourself, or have any tips for traveling with jewelry? If you have any questions about any of these  travel jewelry items, just ask us and we're happy to share our honest thoughts!


**Disclosure: As noted earlier in this post, we received several complimentary items in order to review them for this post and some we received and then returned to the artists. Others were purchased by us or given to us. This article contains only our own honest thoughts and opinions. Check out our Ethical Code for more information about how we work. **