Planning a travel themed wedding? The goal of this article is to provide inspiration for couples planning a travel inspired wedding or destination wedding.
I guess you could say that Laurence and I had a travel-themed wedding although it was more of a destination wedding. We legally married at sea aboard the RMS Queen Mary 2 in the Atlantic Ocean. Then we had a small ceremony in Venice Italy for family and friends to celebrate our wedding in Venice.
Even though we did not have the most traditional wedding ceremony or reception, I spent quite a bit of time online researching awesome travel themed wedding items and ideas about ways a couple could incorporate their wanderlust and love of travel into their wedding ceremony and wedding reception.
We've put together a list of over 100 items that we think would be perfect for a travel-themed wedding. These include travel themed wedding invitations, wedding rings, wedding decorations, table place cards, cake toppers, DIY ideas, wedding favor gifts, and more!
Many of our recommendations are focused on handmade items and unique products that can be customized to fit the style of any wedding couple. We include items that should fit just about any type of wedding and suit any wedding budget.
We have physically reviewed many of these items and hope you enjoy this list of wonderful travel themed wedding items. We hope it inspires you and gives you plenty of ideas for your own travel themed wedding!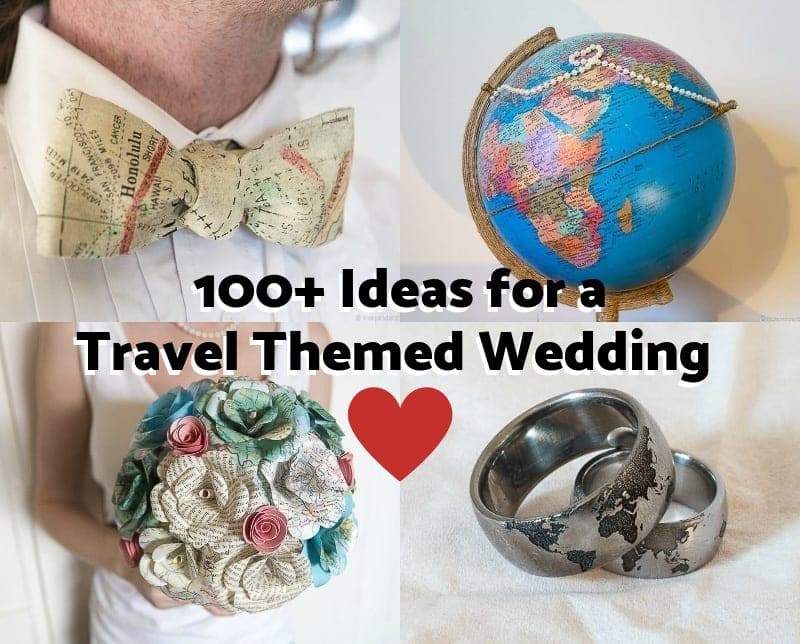 100+ Ideas for a Travel Themed Wedding
In 2015, one survey of American wedding couples found that approximately 21% have a destination wedding of some sort, whether domestically or internationally. The study found that there are more than 350,000 destination weddings each year, 77% of which take place in the continental US and 23% at international destinations with the Caribbean and Mexico being the two most popular destinations.
However, not all couples want or can have a destination wedding, but many still want to incorporate their love of travel into their wedding celebration. You don't have to have a destination wedding to fill your marriage celebration with travel inspired touches.
So we are sharing over 100 products we found during our search that we thought would be perfect for a travel themed wedding or a destination wedding. These simple travel themed wedding decorations can help transport your guests to another land, and make them feel like they're on holiday, even if they are still in their hometown.
I got truly interested in the topic of how to incorporate elements of travel into one's wedding after we decided to get customized engagement/wedding rings with a strong travel element. Many of the items on this list we physically reviewed. Some were items we purchased or received as gifts, and others were given to us by artists for review. Other products are just ones I loved when researching travel themed weddings online.
The majority of the items included on our list are handmade or hand customized items, made by a single artist, family, or a small business. Many of these items are truly unique and the majority can be customized to include elements that are special to you.
Note that most wedding items are marketed towards heterosexual couples with bride/groom and his/her versions. However, given that most of our recommended items can be personalized, most artists are happy to adjust wording/colors/features to suit a gay wedding, civil union, nonbinary couple, etc. Just message them to ask!
We know that many people, like us, want to try to support local businesses when we can, and with Etsy it is easy to find products that are made in one's own country. We share items that are made worldwide, with a large number of products produced in the USA, Canada, and the UK. But we also include items made by artists in Australia, the Ukraine, France, India, Brazil, Israel, etc.
When shopping, we recommend ordering items well before you need them for the wedding. Personalized and custom orders will take longer to make and international shipping times can be slow.
Although we chose these items specifically for a travel themed wedding, many of these items will also work for travel themed bridal showers, bon voyage parties, birthday parties, baby showers, engagement parties, wedding couple gifts, and just as general travel-related gifts.
There are so many possible ways to incorporate travel elements into your wedding, and we have tried to cover a variety of items from cake toppers to wedding invitations to wedding favors to wedding jewelry. We also tried to include items that fit a number of budgets and types of weddings.
We hope that this list helps inspire you to incorporate some element of your own wanderlust into your upcoming wedding or party!
Let's get started!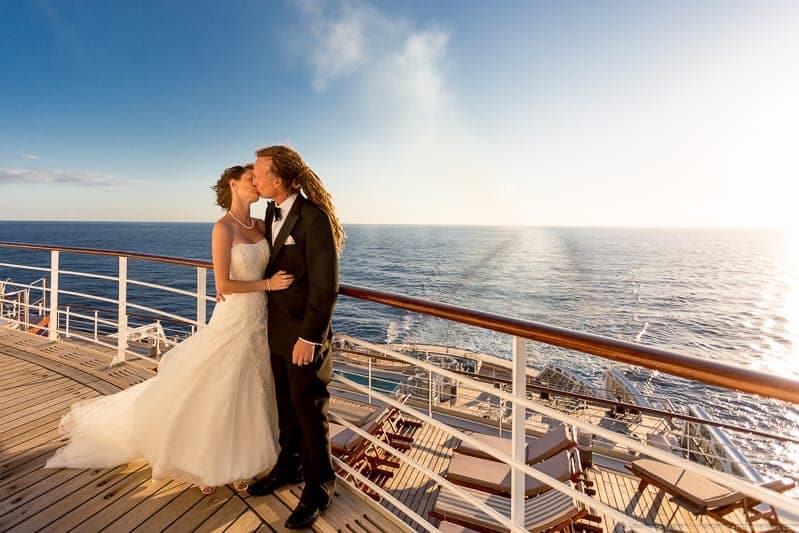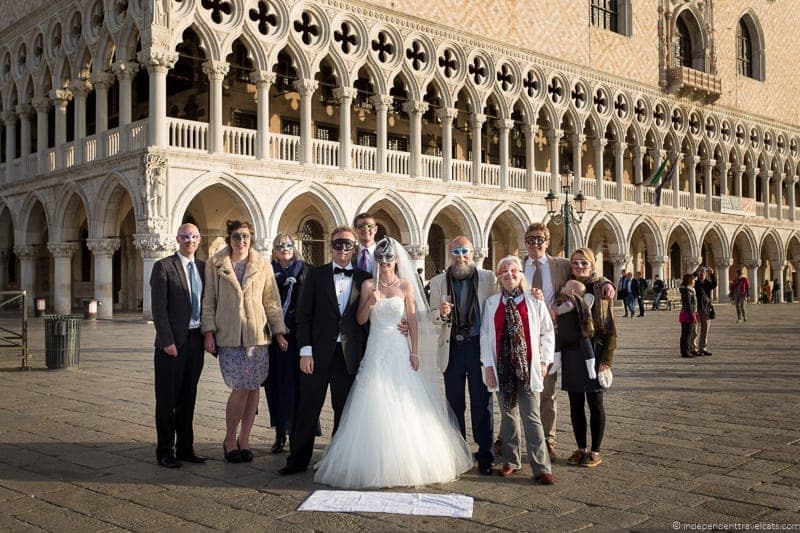 Travel Themed Wedding Invitations & Save the Date Cards
Let your guests know that there will be a travel theme for the wedding from the beginning, with your travel themed wedding invitations and Save the Date cards. Get your guests excited by sending them something like a passport or boarding pass inspired wedding invite.
Most also offer other wedding stationery so you can also get matching menus, table place cards, thank you cards, etc. if you find a design you really love!
Just note when shopping for wedding invitations, the initial fee is normally the design fee which pays for the designer's time to customize and tailor the invites to fit the look you want. Then there is normally a separate fee for the printing and shipping of the needed number of invites.
Below are some great travel-inspired options to get your imagination going.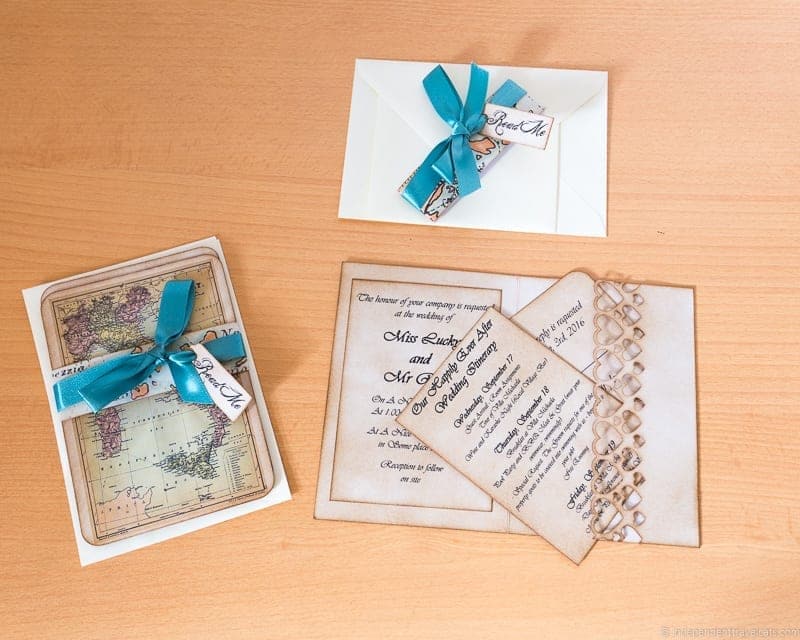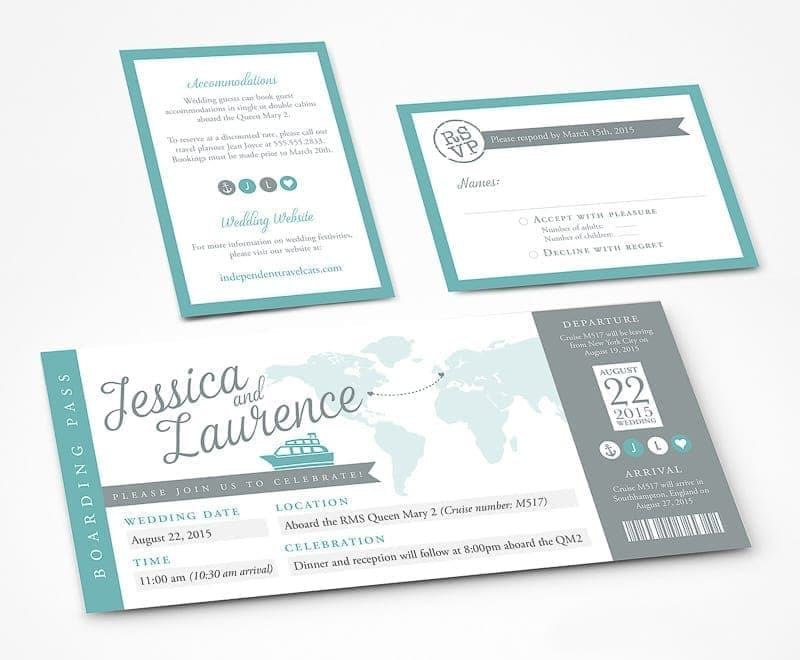 Boarding Pass Wedding Invitation
These customizable destination-specific wedding invitations will get your guests super excited for your big day. The set includes a boarding pass inspired invite plus RSVP card. You can also add a matching Save the Date card to your order. You can customize them for any destination you want.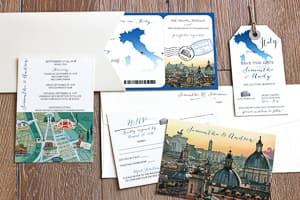 The Canada based designer works with you on all the final details to ensure your stationery is perfect for you! See lots of wedding stationery options in their Party Glamour Shop.
World Map Wedding Invitations
Impress your guests with these wanderlust-inducing world map wedding invitations. Featuring a patterned map border and a soaring airplane at the top of your wedding announcement, you can choose from 6 map designs to introduce your big day.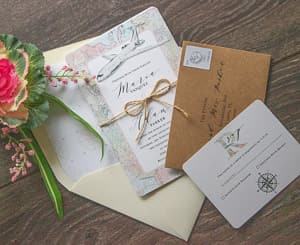 Invitation sets include the main invite with A7 envelope, a details card, and a RSVP card with an A1 envelope. Globe shaped design pockets can also be added.
See more travel-themed invitation designs and wedding accessories from Momentous Boutique here.
Starfish Hessian Wedding Invitations
These gorgeous handmade starfish beach invitations which are paired with a flip flop shaped RSVP card are a perfect addition for those of you planning a beach wedding. They are fully customizable in terms of color, font, and design allowing you the ultimate flexibility to create something you truly love.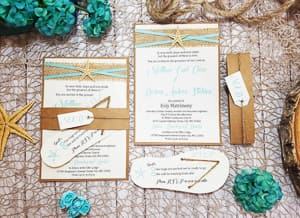 Check out the Wedding Pod's other designs and sweet wedding favors here.
Cruise Wedding Invitations
Having gotten married out at sea ourselves, we are huge fans of these cruise ship boarding pass wedding invitations! It's all about the little details with the cut-out notches and the perforated top – it almost looks like the real deal!
Each set includes a fully customized boarding pass printed on heavy white cardstock, a ticket sleeve with nautical knot pattern, 1 luggage tag inspired RSVP card with return envelope, and exterior mailing envelope.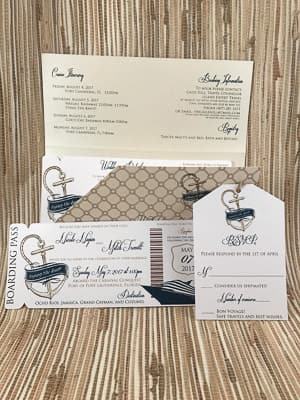 You can explore more of The Stylish Scribe's designs here.
Passport Invitations
I bet your wedding guests have never seen an invitation quite like this! These 2, 6 or 10 page passport invitations are fully customizable, affordable, and will suit every couple's style & individuality. Made with premium semi-gloss or matte pages, they bring a modern alternative to traditional destination wedding invitations.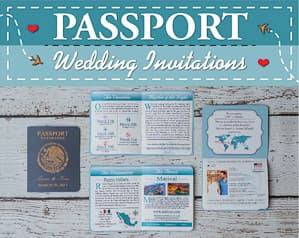 Based in Canada, Brian & Jacquie have some other pretty unique wedding invitations on offer at the Empire Invites shop.
Self Print Travel Wedding Invites & Save the Dates
These self-print boarding pass inspired wedding invites and travel-themed custom photo save the date cards are perfect for those who are looking for a more budget-friendly option. Price includes customization, proofing, and the print-ready files that come ready for printing at home or a local printshop.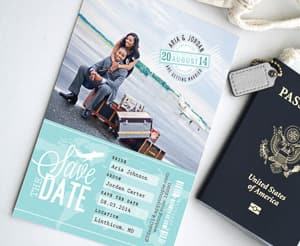 These invites are great for those who have access to high-quality printing or for those who are planning to send their invites or save the dates electronically via email.
We did a custom design with Sameeha and it turned out fantastic. You can see more invite designs in Sameeha's Store here.
Travel Themed Engagement or Wedding Rings
Has your mutual love for travel played a big part in your relationship? Travel themed engagement and wedding rings are the perfect way to symbolize and celebrate your love for each other and for the world you have explored together.
Capture the exact location you got engaged with a beautiful coordinates ring, or honor your hometown with interlocking coastline or mountain rings. We have included some really unique options to choose from below that are sure to showcase your shared love for travel.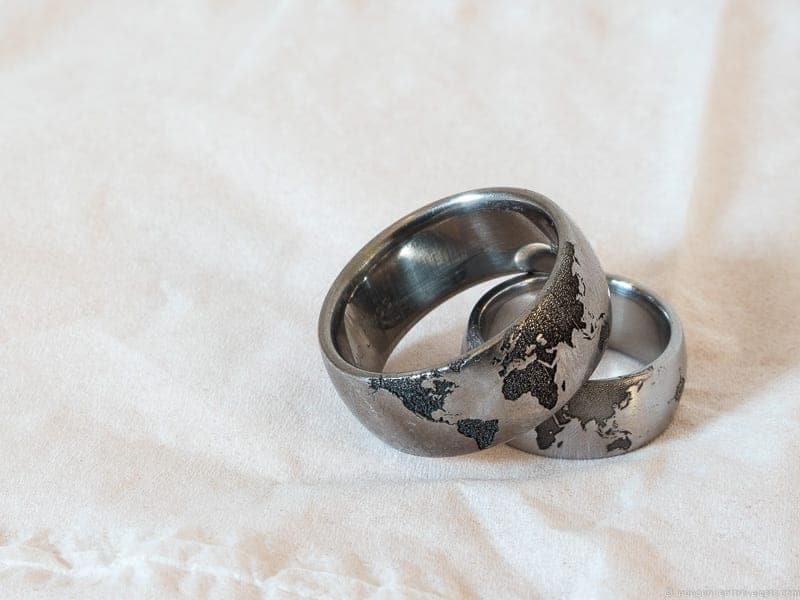 World Map Cutout Ring
This 14K gold map ring features the continents attached to two solid gold bands giving it a unique look. The ring is available in yellow, white, or rose 14k. The ring has been designed with extra gold to be stronger and more durable to be worn as an engagement ring.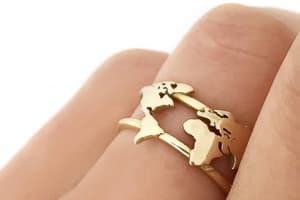 The handmade world map ring is also available in less expensive designs and metals for those with a smaller budget, although these may be less suitable for a daily wear engagement ring. See more world map ring designs in Layla's online shop.
Interlocking Custom Coastline or Mountain Rings
This beautiful two-part platinum interlocking coastline ring is handmade to show off the outline of your favorite coastline—it doesn't get much more unique than that! It is the perfect wedding ring to celebrate a special holiday, country of birth, or a location you will never forget.
Or if you are more of a mountain person than a water person, they also have an interlocking mountain ring where you can have a ring designed with the outline of your favorite mountain or mountain range.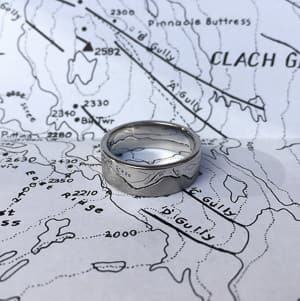 You'll be given the opportunity to choose your coastline or mountain range by specifying a place name, or stretch between two points once you've added the ring to your shopping cart. If you and your partner share a favorite place, you might consider getting matching rings.
You can find more of Hannah Louise Lamb's work here.
Gold Coordinates Ring
Capture your favorite location with this thin 14 K sold yellow gold ring stamped with your custom coordinates. This personalized wedding ring measures 2mm in width and is 1.25 mm thick, so it is very thin and is perfect for stacking, so you can add to it when more of life's big moments come knocking.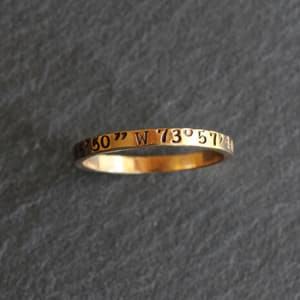 Anna Ourth has a whole selection of customizable rings and jewelry, click here to see more.
Joint Map Gold Rings
Unite through your love for travel with this pair of 18k white gold world map rings. One ring covers the northern hemisphere and one depicts the southern hemisphere. Only when you join both rings can you can see the complete map. One ring includes a 1.70mm diamond.
The ring set is available in white gold, rose gold, or yellow gold. Personalization is possible.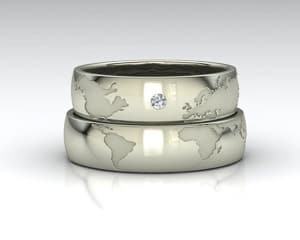 These unique wedding rings are made in Spain and you can see a large selection of jewelry by Pepe Dry.
Titanium Laser-Etched World Map Rings
This unisex titanium map ring has been laser cut with a world map design. This is repeated 3 times around the ring. The intricate map details are laser etched with a very high power laser and these are the most detailed world map rings we've ever seen. The inside of the rings can also be engraved.
Laurence and I purchased a custom version of this ring as our own engagement and wedding rings!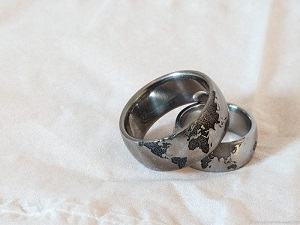 There are many other laser designs available, including custom requests. Fingerprints and photos can also be lasered onto the rings. See more ring designs by Bruce at Boone Rings.
Travel Themed Ring Pillows & Boxes
Once you have your wedding rings picked out, you need to think about how you want to store and present them on your wedding day. Your wedding rings are front and center at your ceremony so it's important to make sure they arrive safely.
Not only do ring pillows and boxes act as a stylish way of holding your new jewelry as you walk down the aisle, but they can also be used as a lovely keepsake to remember your big day after the wedding.
Personalized Wedding Ring Box
This engraved ring box is inspired by the Disney-Pixar film Up and designed for a couple who are ready for their next big adventure. The engraved wooden box has a magnetic seal and features a pretty balloon design and quote from the film. It can hold two rings with the felt and ribbon included. You can choose from 5 colored felt inserts.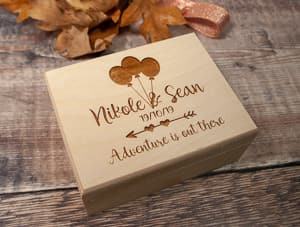 Laura can also do custom designs and has some great bespoke engraved and printed designs in her UK-based store.
Travel Themed Wedding Ring Pillow
If you want to take this travel theme to the next level, it all comes down to the little details. This ivory satin ring bearer pillow could be a lovely addition to your wedding ceremony with its airplanes and customizable travel signpost.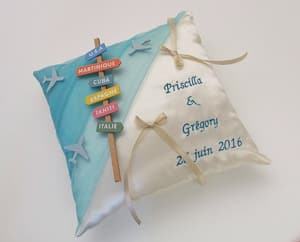 You can personalize it with your name and wedding date, change the colors, or even order a matching guest book. You can find more options in Sandrine's Porte Alliance store here.
Beach Wedding Ring Box
Fill this beautiful wooden ring box with sand from your favorite beach, or use the sand from the beach you will be getting married at! When you open up this tiny treasure chest, you'll find a customizable color heart, where Renee can write your initials or the date of your big day in vinyl writing. The box itself measures 2.36″ x 2.36″ x 3.54″.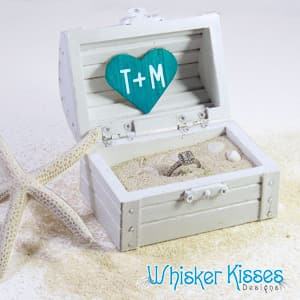 What an amazing keepsake box and one that will look fantastic in wedding photos as well! See Renee's full set of offerings here.
Travel Themed Bridal Wedding Jewelry
Jewelry is a great way to show off one's love of travel. This can be done in an obvious way or in a more discreet fashion. There are a lot of travel-themed jewelry options out there and for a wedding we recommend thinking about necklaces, earrings, and bracelets.
Below are some ideas to give you some inspiration, but if you don't find something you love, take a look at our giant travel jewelry guide for more options.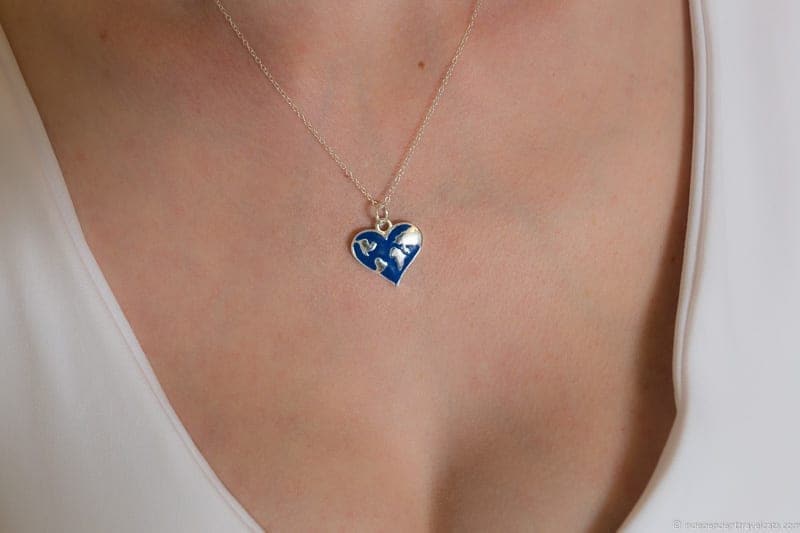 Earth Bead Necklace
This sapphire blue earth necklace is perfect for the bride who needs a little "something blue" during her wedding. The necklace features a small round sapphire blue Czech glass bead, antique pewter charm, and silver plated chain. The globe charm can be purchased alone or with the chain.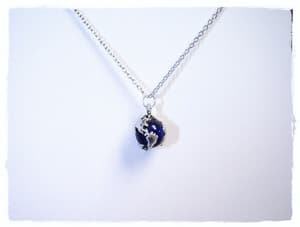 This store has a large selection of travel-themed jewelry and charms, including other globe designs, and you can see more at Evelyn Mae Creations.
World Map Necklace
This handmade world map necklace features multiple hand cut pieces joined together to create a world map design. The necklace and chain is made from sterling silver or 14K filled yellow or rose gold. Personalization is also possible.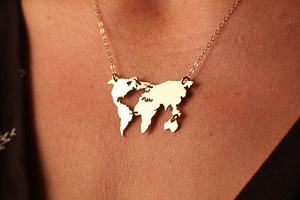 You can see more travel related jewelry at Ivy's shop Ivy By Design.
Compass Rose Necklace
This dainty compass rose necklace has a small sterling silver charm and chain. Perfect for the bride who prefers small and more discreet jewelry, and great for everyday wear.
The necklace comes with gift packaging so is perfect for gift giving and would also make good bridesmaid gifts. You can see more jewelry by Efy Tal here.
Pandora World Map Pendant
This globe pendant charm is made by Pandora is made of sterling silver and features 23 bead-set clear cubic zirconia and shimmering blue enamel. Can be worn on a necklace or charm bracelet. Another option for a bride looking for "something blue".
See more Pandora charms and jewelry here.
Airplane Gold Earrings
These tiny gold statement earrings are shaped like airplanes and made of 18K gold. These dainty earrings are a great way to show off one's travel love in an elegant way.
See more fashion and fine jewelry designed by NYC-based Carleen here.
Sterling Silver Country or State Earrings
These solid sterling silver stud earrings are cut in the shape of Australia and show a heart being cutout over Sydney, but almost any country, U.S. state, or continent is possible. These earrings are available in two sizes (standard and petite) and the heart location can be moved (or removed)! Also available in 14K gold as well.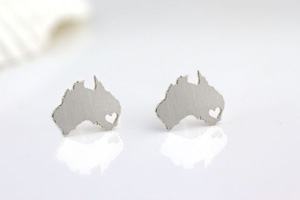 See more state and country jewelry at Tanya and her husband's store The Hometown Haven.
Gold World Map Cuff
This wide metal cuff contains a laser cut-out of the world map. Available in 24K gold plated or rhodium plated brass. The bracelet is designed to fit almost any arm.
A beautiful cuff for a globetrotter with a fine taste in jewelry. See more Christina Ramella bracelets here.
Bohemian Silk Wrap Bracelets
If you are having a more rustic or bohemian wedding, these silk wrap bracelets may be a great fit. Each bracelet is made with a hand-stamped aluminum tag that is then attached to a multi-colored handy dyed silk ribbon. This one says "Wanderlust" but the ribbon color and wording on the tag can be customized to say anything you want.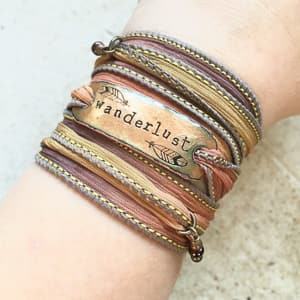 Great for any bohemian bride and these can be customized to include any word, name, coordinates, or phrase you wish. See more colorful wrap bracelets by Mystique Sieraden here.
Travel Themed Cufflinks
If you are thinking of a way to show off a groom's love of travel, cufflinks can be a great way to do it. Cufflink styles vary from elegant to playful and customized designs are possible. Matching cufflinks may also look good on the groomsmen as well to tie together their look.
Below are several ideas to get you thinking.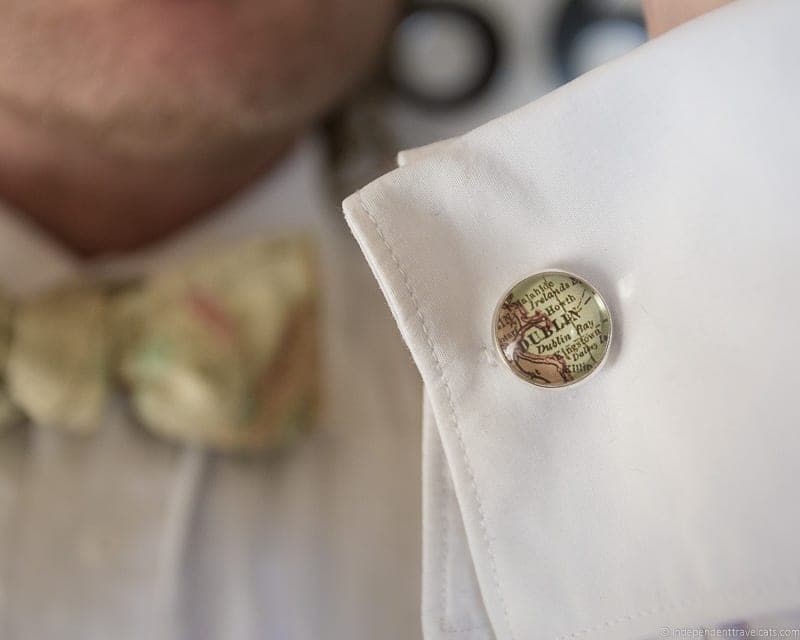 Airplane CuffLinks
These classy airplane cufflinks are handmade of sterling silver. Similar designs available in 24K gold plated brass. Personal engraving possible.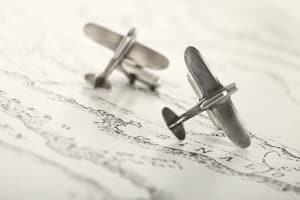 Tomer makes a lot of high quality airplane and pilot themed jewelry and accessories, and you can check out more in his store here.
Globe Cufflinks
These globe cufflinks are perfect for the globetrotting groom who enjoys a classy but novel cuff link. These feature a small round blue and yellow novelty globe on rhodium plated steel. The small globes actually spin!
See more unique cufflinks designs from LBFeel on Amazon here.
Personalized Map Cufflinks
These handcrafted custom map cufflinks are made using a small clear glass dome, vintage maps, and silver plated stainless steel backing. Maps can be customized to any map location, so these can be your hometown, favorite vacation destination, wedding or honeymoon location, or anywhere else you want.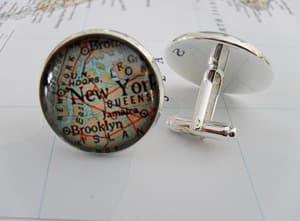 Cufflinks are available in two sizes. See more map related jewelry at the Bjeweled Vintage shop.
Nautical Cufflinks
These silver nautical themed cufflinks are designed to look like a ship's steering wheel. They are made of solid brass with stainless steel plating. These are a great pair to consider for those with a nautical themed wedding, perhaps on a beach or on a boat.
These cufflinks are inexpensive and great for the budget-conscious couple. You can find more nautical themed cufflinks on Amazon here.
Personalized Coordinates Cufflinks
These rose gold cufflinks are personalized with the latitude and longitude coordinates of your choice (wedding location, places you met, etc.) and initials. You can engrave the front, back (hidden from view), or both sides of the cuff links.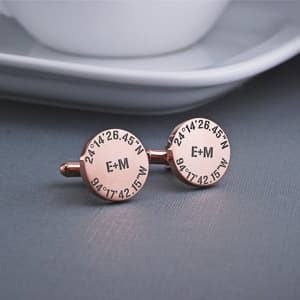 A perfect accessory for the groom on the wedding day, and makes a great keepsake. See more coordinates jewelry and accessories at Georgie Designs shop.
Bride and Groom State or Country Custom Cuff Links
This set of cuff links are made of wood set in metal, and the wood can be engraved with the outline of any state or country. A heart can also be placed over any area. A great pair of cuff links to show off the home towns or countries of the bride and groom. They can be personalized as you wish.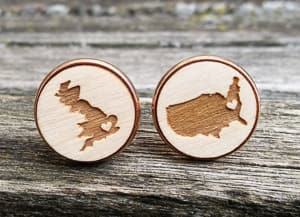 These cuff links are handmade by Linsey in her Michigan-based shop, and you can see more of her jewelry and laser-cut designs here.
Travel Themed Bow Ties & Neck Ties
Adding a travel themed bow tie or neck tie to your wedding wardrobe is an elegant but subtle way to incorporate your love of travel into your special day.
If you are purchasing a bow tie, be sure to note if it comes pre-tied or not, and whether it can be self-tied. Most grooms will prefer one style or the other.
For weddings, especially if there are a lot of groomsmen wearing matching bow ties, it is often recommended by wedding photographers to wear pre-tied bow ties for the photo shoot so that all the ties are a uniform size and shape in the wedding photos. So, some grooms may want one of each.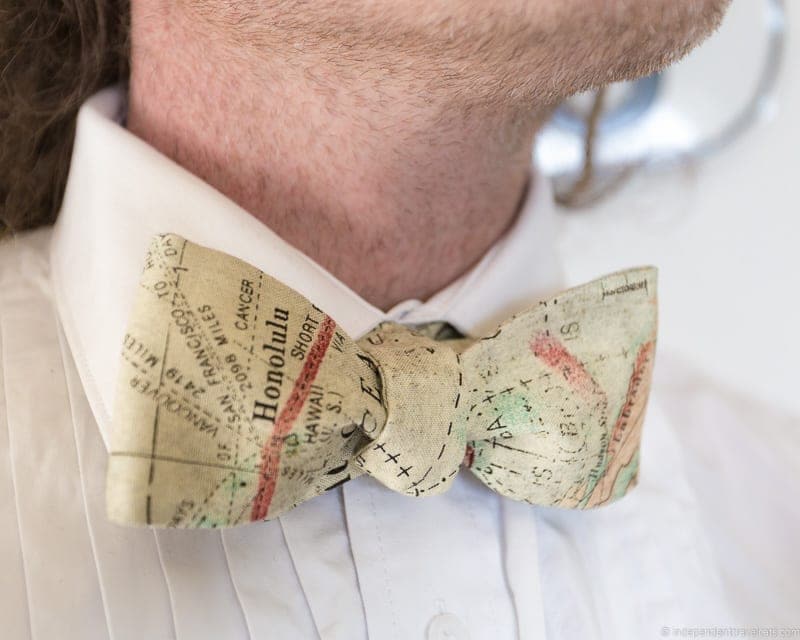 Map Bow Tie
This handcrafted bow tie is made using premium Japanese cotton with a world map design. It is adjustable and will fit a neck size up to 21″. Customs styles, fabrics, and sizes are possible. Most styles are listed as self tie but can also be customized to be pre-tied as well.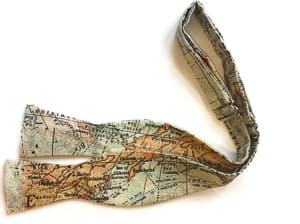 A matching pocket square in the same map fabric can also be found here. See more in Julia's Canada-based store VIVID Clothing Toronto
Airplane bow tie
It's all about the little details! This fun handmade blue airplane bow tie comes pre-tied and adjustable for your big day. It also comes in a variety of sizes to ensure that your entire wedding party can be matching as they stand at the end of the aisle.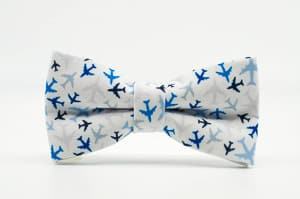 Matching pocket squares are also offered. See more designs and wedding accessories from NewWay Creation Design here.
Anchor Nautical Bow Tie
This cute anchor bow tie is a great pick for anyone getting married by the sea or on a cruise ship! The handmade tie is made from 100% microfiber and is a self tie design.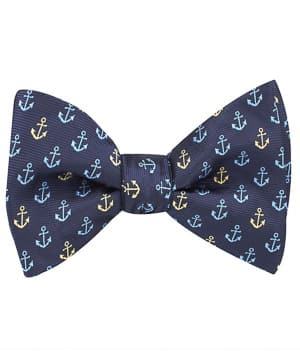 These ties are designed and handmade in Australia. Take a look at some of their other tie designs and pocket squares here. You're sure to find something to fit your wedding theme.
Pre-Tied Blue Map Bow Tie
This handmade bow tie is made of cotton with a blue map design. It comes either pre-tied with an adjustable neck strap or as a clip on style (we recommend pre-tied for a wedding). The map image showed here is of Europe, but you can customize the map image on the tie.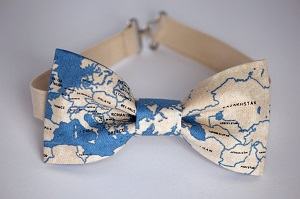 Other map designs can also be found in the seller's store. See more bow ties in Oxana's store My Bowtiful Creations.
World Map Neck Tie
This map tie is made from a light blue cotton fabric with a world map design. It is handsewn and the tie is made to standard size, but can be made wider or more narrow by request. Also available as a bow tie.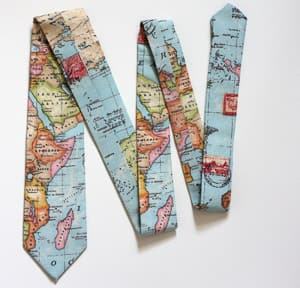 See more neck ties and bow ties by Julia at VIVID Clothing Toronto.
Airplane Silk Slim Neck Tie
This silk slim neck tie show's off one's love for travel in a subtle way with an airplane symbol on the bottom corner of the tie. Ties are available in a large arrange of colors and the airplane design can also be done in multiple colors.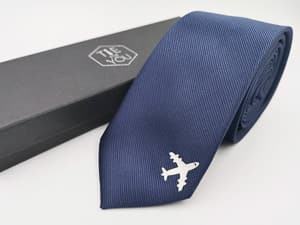 See more tie designs at the London based Tie For You shop.
Travel Themed Bridal Bouquets
Your bridal bouquet is a wonderful place to add a touch of creativity to really show off your love of travel. For example, you can add a travel themed ribbon or a custom map charm to incorporate your home town or a special location into your wedding day.
Or if you are eco-conscious, allergic to real flowers, or want a bouquet you can keep forever, consider a bouquet of map paper or fabric flowers instead!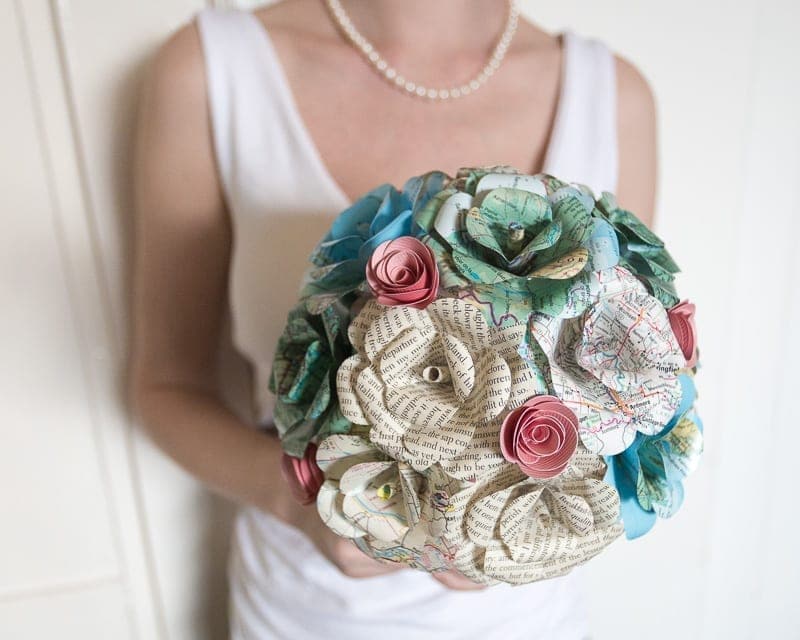 Map Print Fabric Ribbon
If you are looking for a travel-themed ribbon to tie your bridal bouquet or embellish a decoration, consider this printed fabric ribbon. The fabric ribbon is made of polyester and is 1 1/2″ width (38 mm) and perfect for flower arrangments and embellishments.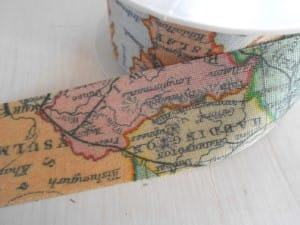 Lalle Craft Supplies have loads of other ribbons and European crafts supplies, which you can explore here.
Personalized Sterling Silver Map Charm
Add a personalized charm to your wedding bouquet to mark a special location, such as the place you met, a trip you took together, the exact location you got engaged, your wedding ceremony location, etc. You could even have one with your hometown and one of your partner's hometown, if you come from different places.
The prints are taken from real maps, not printouts, and are all hand cut into shape and set in sterling silver pendant and preserved forever in fine layers of jeweler's grade resin.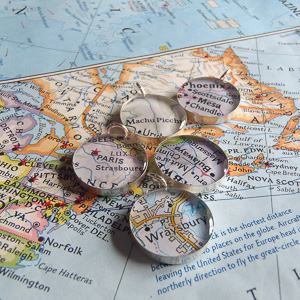 Take a look at Elizabeth's other customizable designs here.
Map Print Fabric Flower Wedding Bouquet
With fabric roses created by hand from an old world map print, this bouquet is a stunning addition to your travel themed wedding. The accent colors include white, cream, light gray, or light blue and other custom color combinations can be selected as well.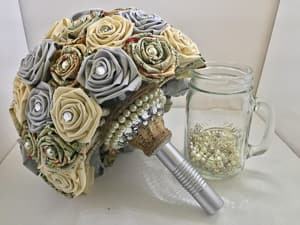 The bouquets can be ordered in either 6 inch, 8 inch or 10 inch diameters, and each flower can be adorned with rhinestones, colorful beads, or pearls in the center.
Becki makes a selection of beautiful fabric flowers and bouquets, which you can find here.
Paper Map Flower Wedding Bouquet
This beautiful handcrafted wedding bouquet is made of paper flowers, cardstock, ribbon, wire, and glue. The paper flowers can be crafted out of recycled maps or atlas pages, book pages, love letters, sheet music, comics, burlap, colored cardstock, or any other type of paper and can be shaped into 7 different kinds of flower shapes. The colors, flowers, and bouquet size are all customizable.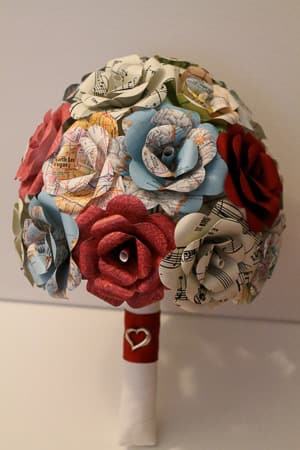 Couples can specify the actual book, map page, or comic book they want used in the bouquet or provide them for Casey for her to use in the bouquet. Matching boutonnieres and corsages also available.
Just note that these custom bouquets can take a while to make and Casey gets a lot of orders, so be sure to order wll in advance of your wedding! See more at Casey's store CraftingbyKnight
Travel Themed Guestbooks & Guestbook Alternatives
A guestbook is often one of the most treasured wedding keepsakes for a wedding couple as it contains the personal well wishes from all the wedding guests. A guestbook is often one of the first things that wedding guests see at your wedding, so it can be a good way to introduce the travel theme of the wedding.
Often the wedding couple has a guest book available to sign for people entering or exiting the wedding ceremony and then move it later to the reception so anyone who didn't get a chance to sign at the ceremony can do it then.
If your guestbook is a bit unique, you may want to make sure you nominate a friend or family member to be in charge of letting guests know about your guest book. They can also show them how to use it if it requires any explanation.
When choosing a guestbook option, don't forget to consider how many people are on your wedding guest list, to ensure that all guests have enough space to sign it. Many of the options below have different sizes available, while others come with the option to add extra pages for larger wedding parties.
Also note that most of our recommended guest books can also be used as a photo album if you prefer to use it to display photos of you and your partner, or if you wish for guests to take photos at the reception with an instant camera and add them to the book. Just be sure to check with the seller before purchasing if it is not clear.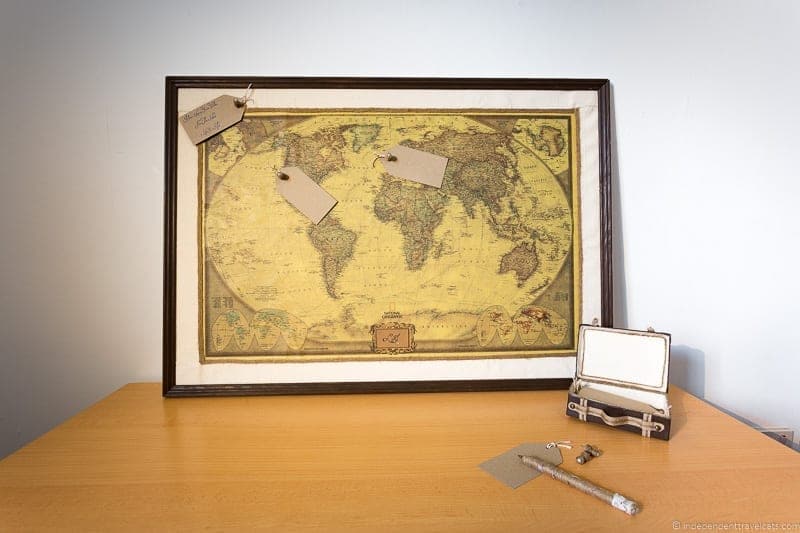 World Map Wedding Guest Book
This stunning wooden wedding guest book is made from high-quality leather, wood, and paper so it is a keepsake you can treasure for a lifetime. You can customize the engraved text, engraved images, and page styles as needed. They can put a heart in any country of the world map as needed.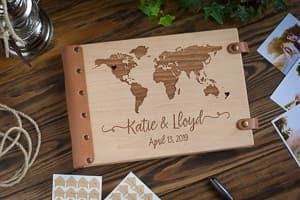 This guest book can also be used as a photo album if you prefer, just let Vladimi know at the time of order so he can adjust the binding.
We really love a lot of Vladimir's guest books, photo albums, and journals! Take a look at more of his designs in his Woodlack shop.
Travel Theme Wedding Guest Book
Celebrate your favorite travel destinations with this hardback travel theme wedding guest book, perfect for a travel-loving couple or destination wedding! For the personalized hardback cover, you can choose your own map image (choose a state, country, world map, etc.) text, color scheme, and up to 15 destinations of your choice to display on the map image. It is available in two sizes.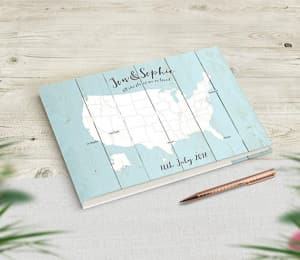 We love lots of Jane's designs, and you can probably buy just about everything you need for your travel themed wedding from her store! See all her travel themed wedding items in her shop No Ordinary Emporium.
Embroidered Our Adventure Book
If you are a fan of the 2009 Disney-Pixar movie Up, then you will love this Carl & Ellie inspired Adventure Book. The front looks handmade with embroidered words, suede cover, and a tied leather binding strip, while the 40 sheets of paper inside are made from thick craft paper and refill pages are available.
Each book comes with 8 Pixar Up postcards and photo corner stickers, so you can save all of your wedding memories for years to come. This is a great option for newlyweds who want to encourage their guests to take a picture with an instant camera (like this one) at the reception and share it inside this wedding scrapbook.
For more Up inspired books, check out this list.
Hanging Map Canvas Guest Book
For something a little different, why not take a look at this unique map canvas that is designed to serve as an alternative wedding guest book. Made from durable anti-puncture canvas fabric, solid wood, and fade resistant ink, your wedding guests can write their signatures or leave a message of inspiration for your marriage anywhere they want on the map. Different sizes available.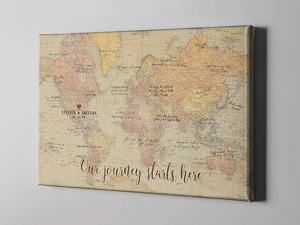 This would make for a beautiful keepsake that you can hang up in your home after your big day. Fifth Vintage have lots of different travel inspired guest book canvas designs, which you can find here.
Alternative Shadow Box Guestbook
Start your adventure into life together with this great interactive wedding guest book alternative. This wedding guest book alternative is a globe-shaped shadow box with the message "Our Adventure Begins", and it comes with 100 thin wooden hearts for your guests to sign or write a short message. Your guests then place the hearts into the shadow box for display.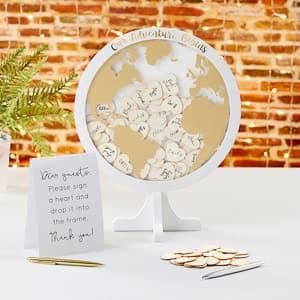 Measuring at 11.8″ w x 14.8″ h x 0.6″ d and created with gold painted glass on a wooden frame, this unique guestbook also includes a tent card with printed instructions on how to use the guest book alternative.
The Taara Bazaar store has many other guest book alternatives in their store for you to check out.
If you love globes, this wedding globe guest book is hand-painted and personalized with wording of your choice. Your guests can write their names and short messages with metallic markets directly onto the globe.
The globe colors, including the base, can be customized to match your wedding decorations. You can also order a sign asking guests to sign and markers if you wish.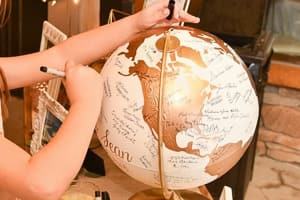 This works best for smaller weddings so guests will have enough space to sign or write a message on the globe. If you have a larger wedding, you may want to have multiple globes available or use the globe in addition to a traditional guestbook.
Emily specialized in handpainted globes, and you can see her full selection in her store here.
World Travel Map Pin Board
This rustic looking map pin board is a piece of artwork, but you can also transform it into a beautiful message board from your nearest and dearest. Your wedding guests can write their names and messages on map tags like these and pin them to a map pinboard. You can then display the map pin board in your home after the wedding!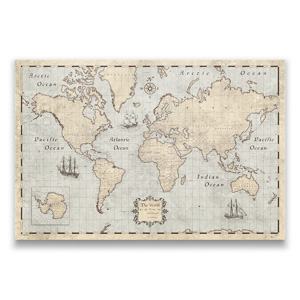 This is the design of the map pin board we have in our home, and it is designed to feel old and rustic, inspired by the vintage character, aged paper, and hand-drawn maps of earlier times. Several other map designs are available as well, including country and state-specific maps as well as more modern map designs. Various sizes are available for each map design.
If you want a map in a specific color to match your wedding colors, check out the color splash options.
These maps are handmade in the USA by Ross, and you can take a look at all of the Conquest Maps designs here.
Travel Themed Wedding Card Boxes
Your wedding guests may wish to give you a wedding card with their well-wishes on your special day, but with the hustle and bustle of the day, it can be hard to try to gather these throughout the day. So many wedding couples have a special place with a wedding card box where guests can drop it off.
Wedding couples often place these at the wedding reception with a sign so guests know they can drop off their cards and any gifts in a dedicated space. It may make sense to place it beside your guest book.
These travel themed wedding card boxes can also make a beautiful keepsake long after the wedding day.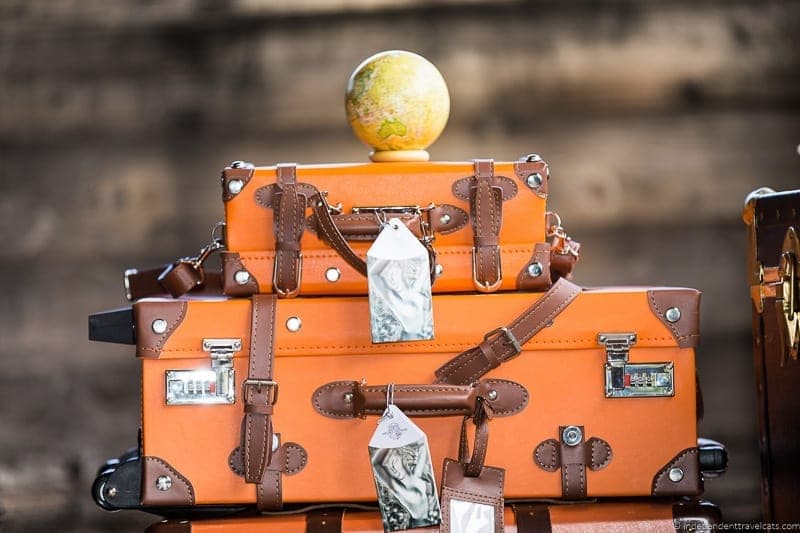 Travel Wedding Theme Card Box
This wood card box makes the perfect accent to your travel wedding theme! It is shaped like a trunk and has an engraved airplane and wording. Not only does it give your guests a safe place to leave their cards, but it also makes a great keepsake box for after the wedding too.
The customized card box is made from solid wood with metal accents, and can be stained and personalized to your requests. You can engrave your names on the front or customize it with your choice of wording.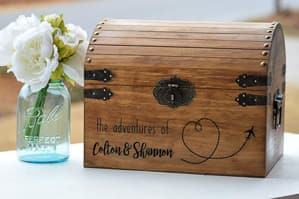 You can find hundreds of creative gift and wedding decorations at Red Heart Creations.
Globe Wedding Card Box
This custom hand-lettered world globe is perfect for guests to insert large greeting cards, well wishes, and cards of encouragement! It can hold approximately 100+ regular sized greeting cards or 200+ place card size ones. You can add place cards to the order if you wish for your guests to be able to write messages.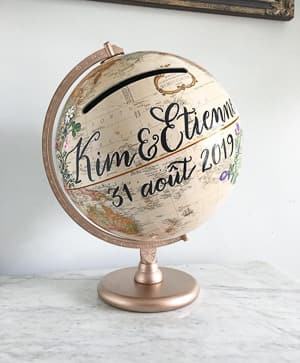 There is a door opening at lower-rear of globe with a hook closure so you can easily retrieve your cards and messages after your big day.
Take a peek at Amber's other travel themed wedding decorations here.
Map Wedding Card Box
This travel themed wedding card box doubles up as home decor after the wedding day! The wooden trunk box has a map design and comes with a "Cards" banner that has wooden letters with burnt edges. This is quite a large box, measuring at 14 1/2″ long x 8″ wide and 9″ tall.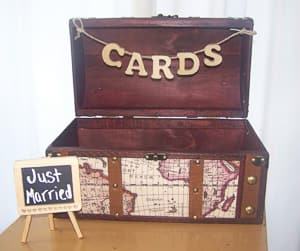 Note that given the handmade nature of most of their pieces, they are often limited to only a few in number. So if something is sold out, check their other listings and feel free to contact them for any custom requests.
Rose & Walter have hundreds of wedding favors and decorations, including some of the sweetest cake toppers we've ever seen, which you can explore in their Sugar Plum Cottage shop.
DIY Vintage Suitcase Card Box
If you want to have a go at decorating something yourself, why not use these vintage suitcases as a canvas? They come in stacks of 3, 4, 5 or 6 and can be used for a number of different reasons on your wedding day! Just open then up, add a sign, and perhaps some decoration for a unique travel themed card box.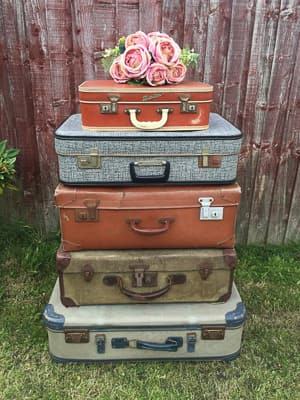 Anthia has a beautiful collection of vintage style products if you wish to continue the theme across your entire wedding day!
Travel Themed Table Numbers & Place Card Holders
Depending on how you are organizing your wedding, you may be having your guests sit at specified tables and perhaps in specified seats. If so, you may need table numbers to designate each table and/or place card holders to designate the seat for each guest.
It is easy to add a travel themed touch to your table numbers and place card holders. For instance, instead of using traditional table numbers, you can designate tables using city names, country names, or photos of your favorite attractions.
Also, for those serving sit down dinners, if you are planning to have printed menus at the tables, you may want to think about doing one that matches the table place cards.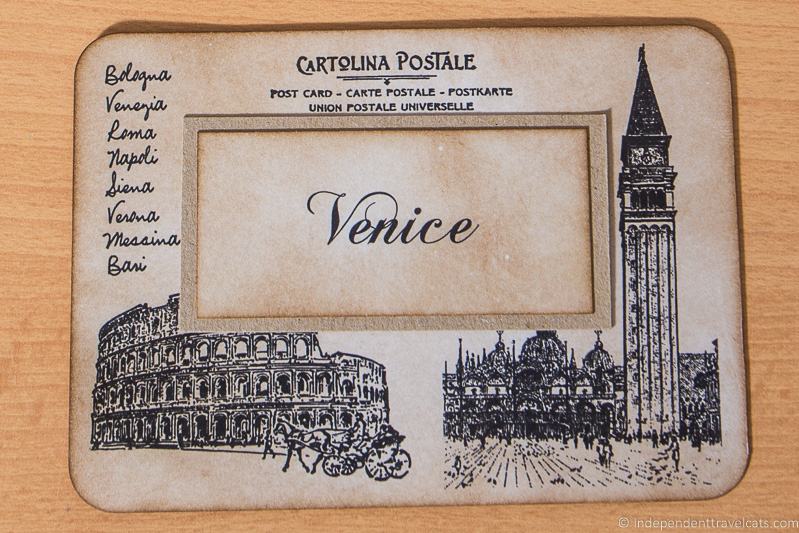 Airplane Travel Table Numbers
Do we have any pilot weddings coming up? These plane-shaped self-standing table numbers can be used as centerpieces for the tables and let guests know which table they are to sit at for a reception and/or dinner. You can personalize them with whatever text you want.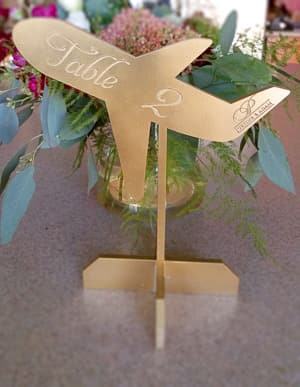 Measuring at 8″ wide and 9″ high, they are made from laser cut wood and available in natural unpainted or with a painted finish such as Gold, Silver, Rosegold, Red, Purple, Gold Glitter and Silver Glitter.
You can also find more custom wedding decorations from Mike here.
Old World Wedding Destination Table Numbers
We love these vintage style custom table numbers that allow you to designate your tables by a special city, state, or country rather than by a number! They can add a really personal touch in your special day, especially if you and your partner are from different parts of the world. Celebrate your home country or somewhere special to you with these beautiful travel themed table cards.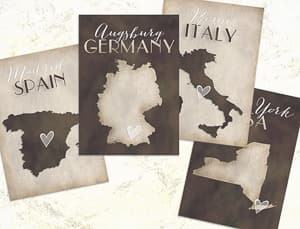 Once you have picked the size, design, and quantity needed for your table count, Carrie will print and ship your specific table numbers to you. Carrie has tons of other incredible map design products here.
Personalized Photo and Destination Table Name Cards
These custom photo table cards are a great way to have personalized and unique table designations that also share a bit of your story together with your guests. You can choose any destinations or places you want and then add a photo and a bit of text to describe the significance of that particular place.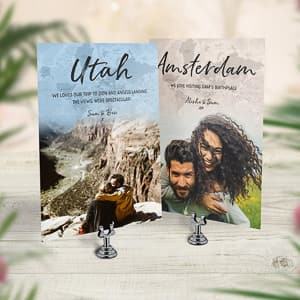 See all of Jane's many travel themed wedding items in her shop No Ordinary Emporium.
Suitcase Place Card Holder
These travel themed suitcase place card holders can also double as a sweet gift to let your wedding guests take home with them. Featuring a double stack of mini painted resin suitcases in pink and blue, the set of 6 place card holders come with matching white place cards with gold foil details.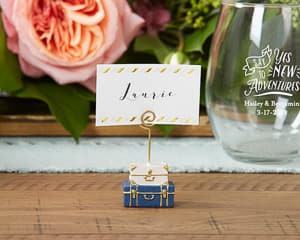 There is a huge selection of cute wedding decorations in the Taara Bazaar store.
Map Themed Place Cards
These map print free-standing tent style place cards are the perfect addition to your special day. You can even write a little message inside for your guests if you wish!
Measuring at 4.25 inches by 2.5 inches, they are about the size of a business card size when folded in half. Each card is made from individually cut map stock, cardstock, and a name label attached to silver brackets. They are sold in increments of 10 cards.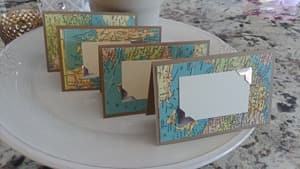 Take a look at some of the other travel themed wedding and party decor designs from Mira here.
Travel Themed Wedding Seating Chart
Here's something you may have never seen before! Why not create a unique map wedding seating chart for your guests to let them know where they will be seated.
You can choose to have a USA map, a full world map, map of Europe, Caribbean islands, an individual state or country, or any place else you would like. This seating chart is completely customizable when it comes to locations, cities to highlight, colors, fonts, etc. Can be printed on paper or canvas.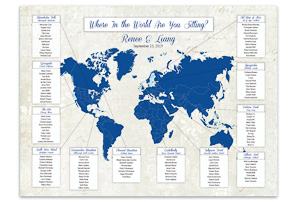 See more at Carrie's Minnesota-based store called Here & There.
Travel Themed Table Centerpieces
While many couples go for a classic floral arrangement in the center of their dining tables, this is your chance to let your imagination have some fun. Perhaps you want to showcase the different parts of the world that you and your partner have enjoyed (or plan to!) together.
In addition to the dining tables, you may also need a centerpiece for the guest book table, gift table, dessert table, or another area at your reception.
We've seen all sorts of travel-inspired centerpieces, but the below are some favorites, ranging from globes to hot air balloons and suitcases, to get you thinking!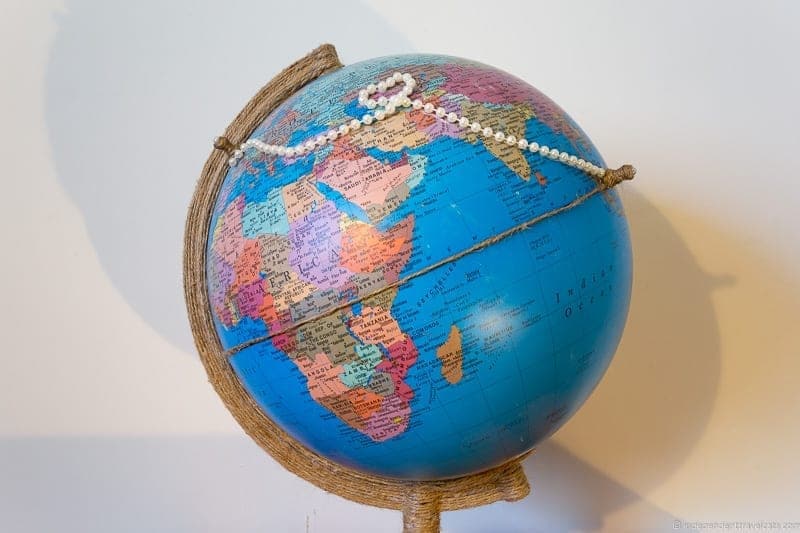 Hot Air Balloon Centerpiece Decoration
If you are a long-time reader of our travel blog you will know that Laurence and I often attend hot air balloon festivals! So needless to say we are huge fans of this sweet hot air balloon centerpiece. It measures 12″ in diameter and can be handpainted in any colors you choose.
This whimsical touch will leave your guests breathless as they come to celebrate your special day. There is plenty of room in the basket to decorate with flowers and each balloon can be customized specifically for you.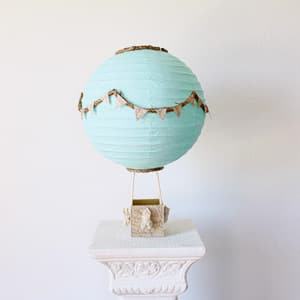 Find more hot air balloon centerpieces in Maninder's Texas-based crafts store Posh Soiree.
Map Flowers
Flowers are a traditional table centerpiece. You can add a bit of the travel theme by using map flowers in the vases instead of (or in addition to) real flowers. These roses are made of used paper maps with recyclable aluminum stems. They come in sets of 12 and the maps used can be customized to a particular state or country.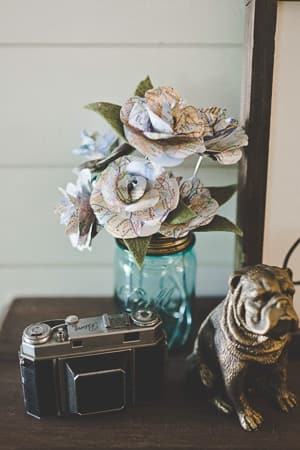 You can see more eco-friendly flower ideas at the Maryland-based Mabel Lane Boutique.
If you love globes, this wedding globe is hand-painted and personalized with any text, quotes, dates, etc of your choice. There are loads of colors to choose from for the sea space but if you have a custom color, you can leave a note with your order and they will work with you to find a match.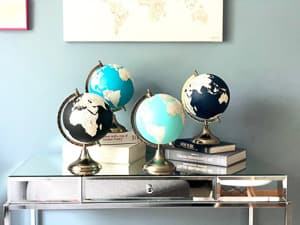 These globes can also be used as guestbooks if you prefer, and guests can write their names and short messages with metallic markers directly onto the globe.
If you love the idea of globes for your travel themed wedding, Christina has lots of them in her store here.
Decorative Map Candle Holder
If you are planning to have candles on the tables, consider a travel themed candle holder such as this one. It is made of steel and has a cutout world map design. Available in several finishes and fits both pillar candles and LED candles.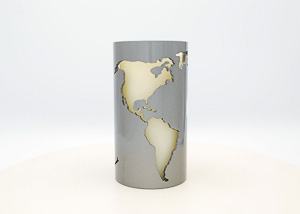 Custom cable holders are also possible, just contact the artist. See more decorative candle holders in Bela's shop here.
Nautical Themed Candle Holders
These glass candle holders are adorned with twisted cotton rope and burlap rope. Perfect for a rustic nautical themed or beach wedding. They are 7.5 inches tall.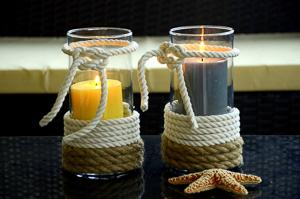 Rope color and decoration can be customized. See more beach related decorations in Sukanya's store here.
Map Themed Wedding Prints
Consider having quotes as part of your table centerpiece such as these quotes on these map themed wooden signs on easels. The wood board is 1/4 inch in thickness and measures 8″ by 10″ inches. It also comes with a natural finish wooden easel included, so you can prop it up for everyone to admire.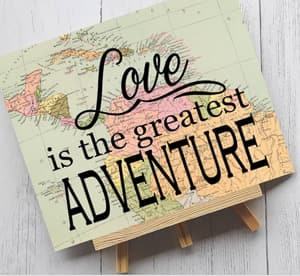 Mira has a huge selection of travel themed wedding decorations and vintage map wood signs, take a look here.
Miniature Vintage World Globes
Scatter these small vintage looking globes around the room for a wanderlust-inducing wedding party! Made of high impact polystyrene and a wooden base, they measure 6 inches in diameter and 8.5 inches in height. They also come with a small magnifying glass too, which adds a nice touch for your guests to search for their next vacation destination!
You can find more vintage looking globes for decoration here.
Modern Map Wedding Globe
This is a standing modern globe with twine wrapped base and a set of pearls used to join together two (or more) locations on the globe. Pearls can be customized to join together any two or more destinations. Could make a great statement centerpiece or table decoration, and be used as a keepsake after the wedding.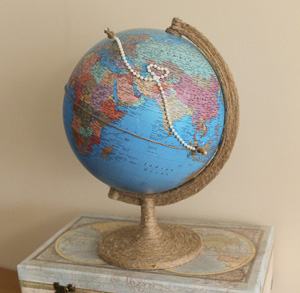 You can find more travel-themed wedding decorations at Kelly's store Woodlands Weddings.
Travel Themed Cake Toppers
Let's talk cake! A travel themed cake topper might seem like a small detail, but it makes a big impact when it becomes the center of attention during the cake cutting. The most traditional cake toppers are of the wedding couple, but there are lots of options.
The cake topper is the perfect place to show your love of travel. This is your chance to get as creative and personalized as you like, with elegant, traditional, adventurous, and humorous options available.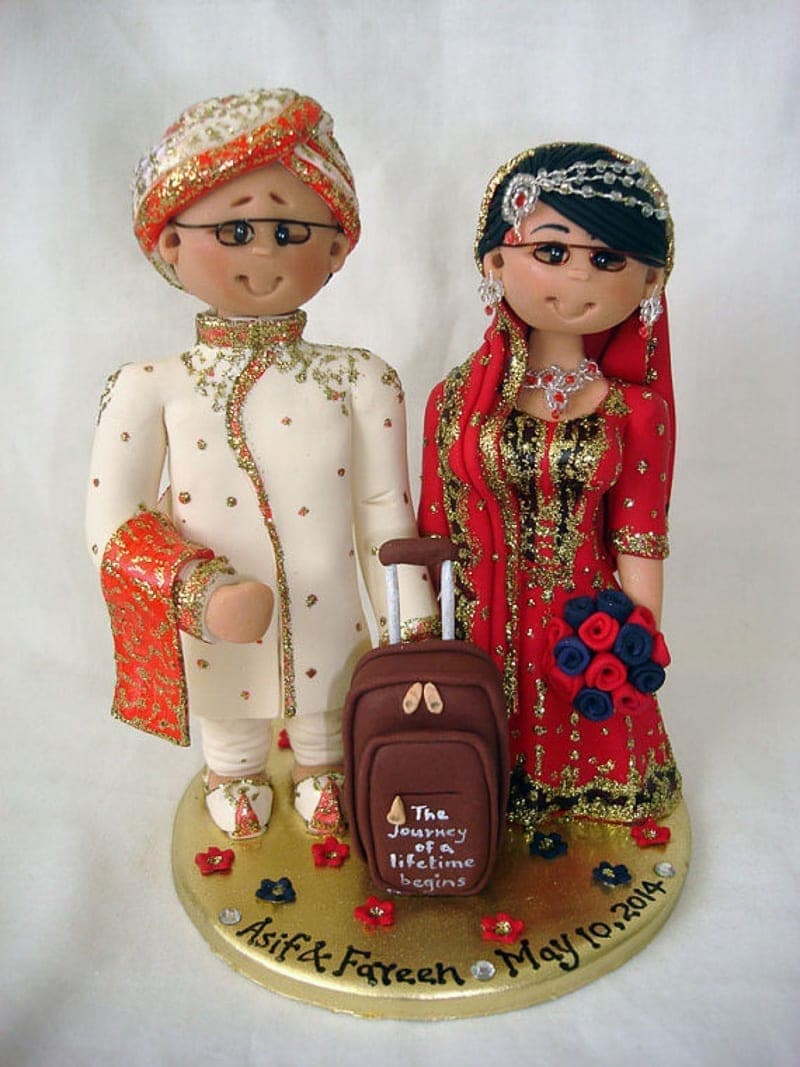 Around the Globe Wedding Cake Topper
This elegant sparkly wedding cake topper will add a touch of sparkle and personality to your cake! It is made of high-quality plywood and is personalized for each couple and is available in several metallic and glittery colors. It is approximately 6 inches in width.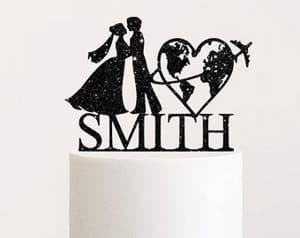 Take a look at the full Happy Party Decor store for more options here.
Our Adventure Continues cake topper
For the adventurous souls out there who love the outdoors, this beautiful rustic cake topper that says "Our adventure continues" is even better than the icing on top of the cake! Laser-cut from a selection of different wood options in various shades and is approximately 8 inches in width.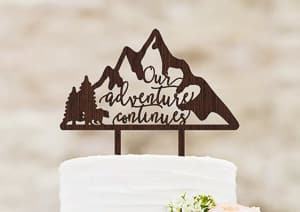 It can also be personalized with a hand-painted covering or glitter spray. See Nikolay's full store here.
Custom Couple Wedding Cake Topper
Looking for a traditional wedding couple on top of the cake, but want it to actually look like you and your sweetie? Check out these great travel-themed custom cake toppers. Photos supplied by the couple are used to get the details correct for the wedding couple. Many couples also choose to add details indicating the place of their wedding, profession, pets, religion, family, and/or hobbies.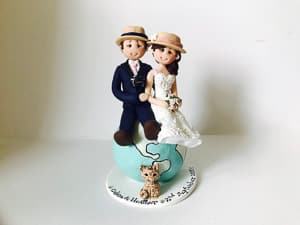 The customizable handmade cake toppers are made of polymer clay and acrylic paint. The details on the cake toppers are made from a variety of materials such as glass beads and wire. Lots of different designs possible. Definitely a keepsake for the wedding couple!
I love Cecilia's custom cake toppers and I am amazed at the level of customization available! See hundreds of cake topper designs in Cecilia's store A Little Relic.
Travel Themed Name Cake Topper
Globetrotters will love these cute and customizable cake toppers, made of quality acrylic or polished plywood. You can customize your last name and date of your wedding to celebrate the moment when two travel loving partners unite. Available in a variety of colors.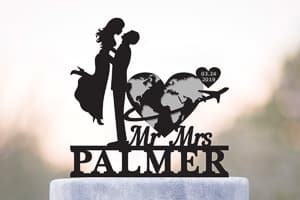 You can check out Nick's full store here.
Custom Couple Travel Cake Topper
These unique and adorable custom clay cake toppers are made with polymer clay and stand at approx. 5.9 inches tall. If you are looking to really personalize them, you can add your hometown names, favorite destinations to the direction signs, or even add in your furry friends for extra fun.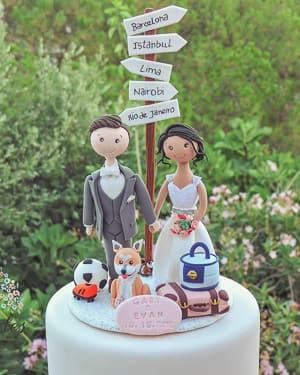 It also makes for a beautiful keepsake to cherish after the wedding day. Anna has a whole host of mini clay cake topper designs to choose from in her shop Fairy Tales Handmade.
Travel Themed Wedding Candles
Wedding candles are a way of symbolizing the uniting of two families. Often the bride and groom will light separate candles with their families, and bring them together to light a new candle as they start their next big adventure together. They are also often used to light churches and reception halls and as table centerpieces and decorations.
It is easy to add a sense of wanderlust to your candle choices, whether it is through the way the candle looks, its holder, or its scent. For scented candles, you may want to choose a specific scent for candles on the tables that fits a specific destination for a themed wedding.
If planning to burn them, look for non-toxic natural wax (paraffin free) candles. Just note that not all guests love scented candles as some people are very sensitive or allergic to them. So if you have them at the guest tables, you may want to have someone ask guests at each table before lighting and have some LED backups.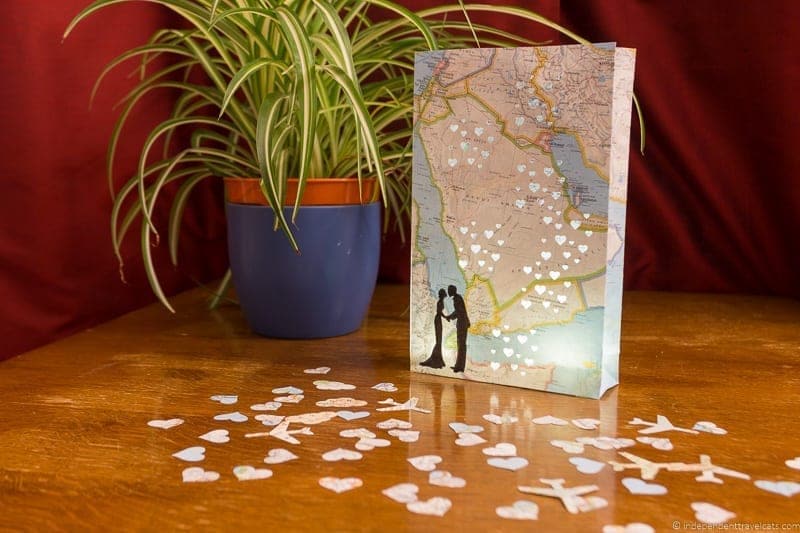 Choose Your Own Wanderlust Scent
Why not choose a specific scent for your special day? Then all of your wedding memories will come flooding back to you every time you light the candle. These wanderlust inspired candles are made with U.S farm-grown soy, phthalate-free fragrance blend, and natural wood wicks.
There are 18 different complex scents to choose from including ones inspired by Havana Cuba, Waimea Falls, Brooklyn, San Gimignano, Japan, São Paulo, and the Rocky Mountains. The 4.5oz Woodwick Candles are hand-poured into recycled glass jars and burn for up to 40 hours.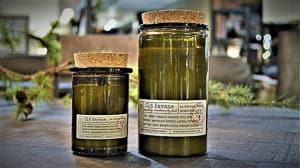 You can choose one scent or choose several to complement different table themes. Check out Drew's full store of unisex candles and scents here.
Antique Map Pillar Candle
How sweet are these wonderfully unique travel themed antique map wedding candles! They are high-quality wax vanilla scented ivory pillar candles with an antique map image.
The image is transferred onto the candle via a unique heat transfer technique which results in the image becoming fused to the candle under a layer of wax. The candle can be burned and the image will last as long as the candle does. They are available in your choice of 3 inches x 4 inches or 3 inches x 6 inches.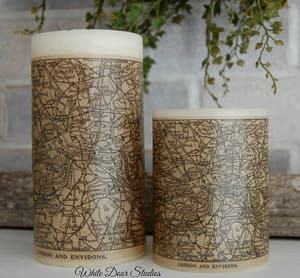 This specific piece features an image of an antique map of the city of London, but you can also select other designs including maps of other cities such as Paris, Berlin, Rome, New York City, Chicago and more. Custom maps are also possible for other locations, just contact the seller.
Note the listed candles are currently not made of a natural wax, but Terri can do transfers onto other pillar candles that fit your specific criteria. Just ask her for a custom order. See more candles and handmade decorations in Terri's store.
World Map Decorative Metal Candle Holder
These stunning world map steel tube holders are perfect for incorporating your love for travel into your wedding day. They are made from various thicknesses of steel tubing and are available in four different finishes including rustic, black, copper, and silver. They have no bottoms and can slide over LED flameless candles, votive candles, or wine bottles.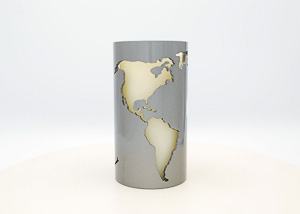 For more decorative candle holders, see the full Tube Torcher store here.
Archipelago Candles
Archipelago is a California-based luxury fragrance company that makes natural soy wax candles. They have a destination collection with scents inspired by places around the world including Kashmir, Charleston, Stonehenge, Havana, Dubai, Positano, Black Forest, and Lanai. They come in a variety of sizes and come in glass jars, as pillar candles, and in metal travel tins.
You can see more fragrance products by Archipelago here.
Luminary Bags
These handmade paper luminaries (also commonly known as candle bags and paper lanterns) are made from old maps and atlases with punched shaped holes that glow when a LED candle is placed inside.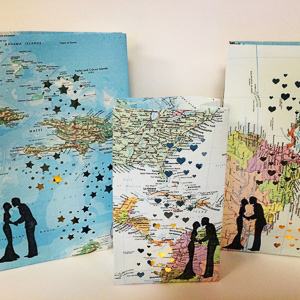 These would look so beautiful for an outdoor evening wedding or wedding reception or to light a darkened church aisle! Just be careful since these are not made of flame resistant materials that you'll want to be sure to only use battery-operated LED candles.
See more at Suzie's Store here at Olden Designs
Destination Candle Collection
Surround yourself with the sweet smell of Costa Rica or Punta Cana on your wedding day with this travel inspired soy candle collection. Candles are made with 100% American-grown soy wax, a lead/zinc free eco-cotton wick, and phthalate-free fragrance oils for a clean-burning experience.
They come in 8 oz amber colored glass jars with a specially designed parchment map label. These scented candles will bring your wedding guests on a journey to another land, while they dance the night away.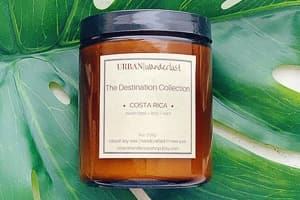 These candles were actually inspired by the beautiful places that Judith and her fiance have traveled. Take a look at Judith's full range of candles and fragrances here.
Travel Themed Wedding Decorations
We've already included a number of decoration ideas, but there are some more simple ways that you can add some more travel-themed touches to your wedding day.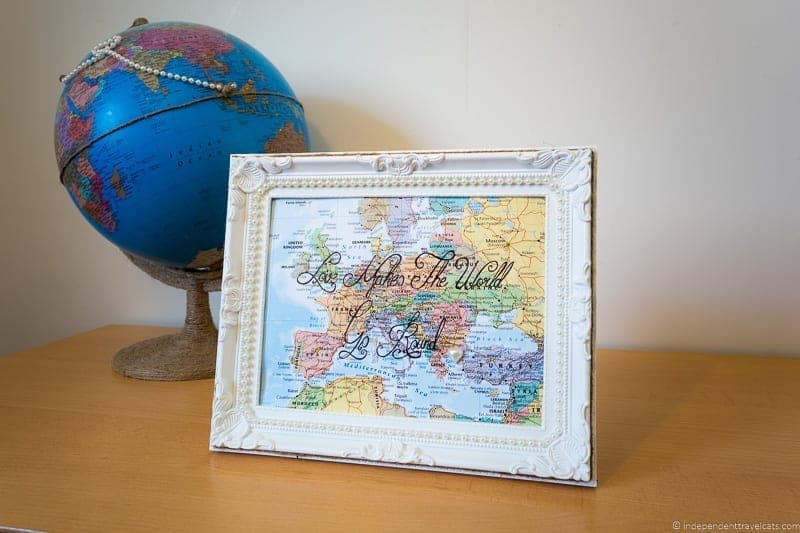 Vintage Map Triangle Garland
This triangle garland is made of vintage map paper (hand-cut from a vintage atlas) sewn together with white thread into a lovely piece of bunting in your choice of 6, 8, 10, 15 or 30 feet. Each triangle is 2.5″ across and the paper is double sided. There are also loops of white hand-cut ribbon sewn into the ends to use for easy hanging.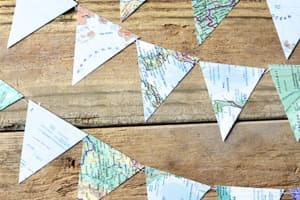 The Path Less Traveled have so many cute travel themed wedding decorations, and you can check them all out right here.
Vintage Inspired Travel Postcards
Can you picture this set of vintage inspired travel postcards scattered across your wedding tables or hanging on the walls? Why not even use them as your wedding cards, and allow your guests to write on them and leave you messages?
Simple and affordable, they make for the perfect travel themed wedding decorations. See more unique travel postcards on Amazon here.
Vintage Map Heart Confetti
Why not scatter these vintage map heart confetti on your party tables or along the aisle on your wedding day! These hearts are cut from vintage map paper (which matches perfectly with the bunting we mentioned above!). Each heart is 1 1/2″ across and the paper is double sided.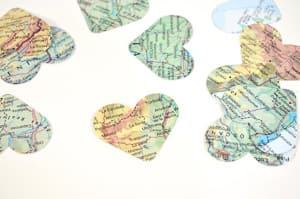 Check out more travel-themed confetti and other party decorations from The Path Less Traveled here.
Modern Map Love Handwritten Sign
With a white frame and pearl and twine embellishments, we love how the quote "Love makes the world go round", combines both love and travel, two of our favorite things! This item is a great budget-friendly way to subtly add an element of travel to a bridal shower or wedding and also makes a great gift or keepsake. It can also be customized if you have something in mind for your big day.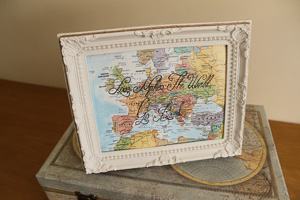 Kelly carries a wide selection of travel inspired wedding products, and also regularly does custom items! See more in Kelly's UK-based store here.
Wedding Chair Signs
Looking for a special way to decorate the chairs for the wedding couple? These cute bride and groom chair signs are made of wood and handpainted to say "His World" and "Her Adventure" but the text can be customized.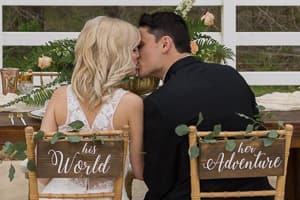 Size and color can also be customized by contacting the seller. See more products at Red Heart Creations.
Travel Themed DIY Decoration Ideas
What better way to express your love for adventure than crafting up your own DIY travel themed decorations. Below are some fantastic fabrics, stamps, ribbons, and stickers that you can use to create just about anything! The world is your oyster, so let your imagination run wild.
Not only will your wedding day celebrations look amazing, but you're also guaranteed that no one else will have the same decorations as you!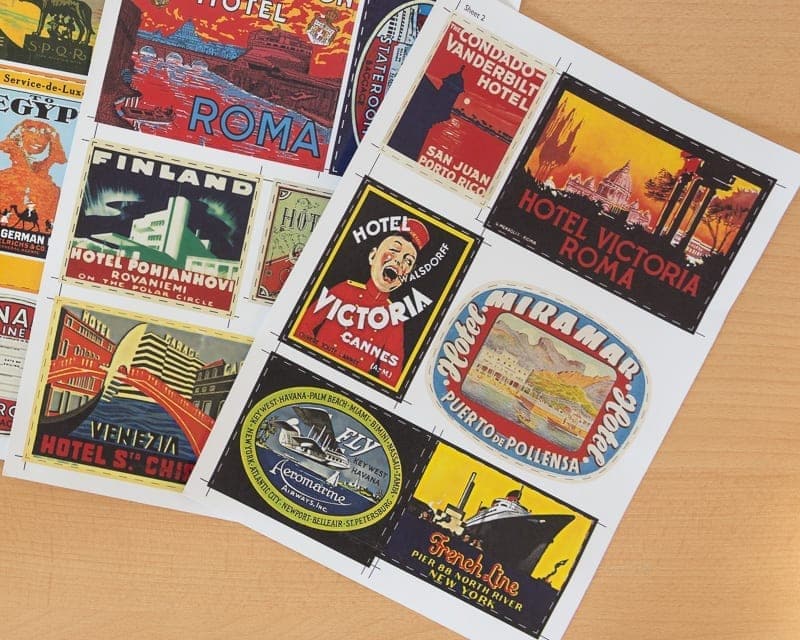 Custom Passport Wedding Stamp
As a travel lover, you probably love to collect stamps in your passport from around the world. What about creating your own stamp for your wedding? This custom made wedding stamp can come in the form of a handle mounted, pre-inked, or self-inking stamp, depending on your requirements. Customize the design with your names, wedding date, location, etc.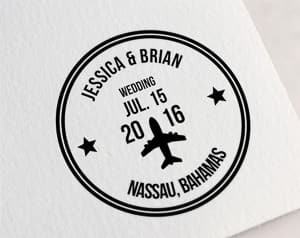 Use it on wedding invitations, stationery, wedding favor notes, menus, thank you cards, etc. Measuring at 1.6×1.6 inches (4 x 4 cm), the stamp is made from high quality resin polymer and should create thousands of impressions
Ludmila has many different stamp designs to choose from, take a look.
Vintage Map Cupcake Wrappers
Add a touch of travel to your wedding desserts with these scalloped cupcake wrappers, made from vintage map and atlas pages. The wraps are made by hand and each one fits a standard size cupcake or muffin perfectly. You can choose from 12, 50, or 100 pieces.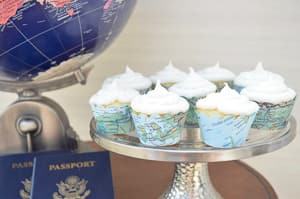 You can also contact the designer if you are looking for custom amounts or colors! Take a look at some of the other travel-themed wedding decorations from The Path Less Traveled store.
Map Tags
These cute map tags really come in handy at weddings, as place cards, decorations, wedding favors, or for your scrapbook afterwards. They are made from map printed card on one side and cream card on the opposite side. The holes are also reinforced with Kraft cardstock to add an extra layer of quality and durability.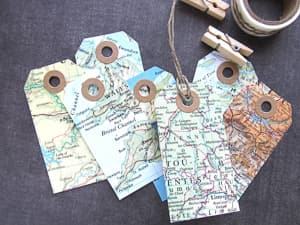 See More at Catch Some Rae's Store here.
Vintage Suitcases
We've already mentioned these vintage suitcases above as an option for a wedding card box, but they can also be used as beautiful decorations for your travel themed wedding. Use them as decorations, props, centerpieces, etc. Consider decorating them with retro luggage stickers or ribbon.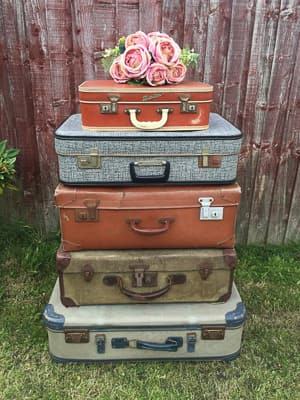 They come in stacks of 3, 4, 5 or 6 and can be used for in a number of different ways on your special day and beyond—we've seen some amazing photos of them being used as coffee tables long after the wedding day.
Anthia has a beautiful collection of vintage style products if you wish to continue the theme across your entire wedding day! See more in their shop Anthi Leoni.
Map Print Ribbon
We mentioned this printed fabric ribbon as a perfect addition to your wedding bouquet, but there is so much more you can do with this DIY wedding decoration!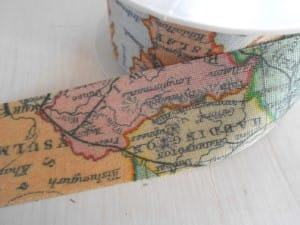 You can also use it as decoration on the table centerpieces, tied around the ceremony chairs or pews, around the base of the wedding cake, around the toasting glasses, or a hundred other places. Your imagination can really put this to good use!
Lalle Craft Supplies have loads of other ribbon designs and craft supplies, which you can explore here.
Travel Themed Fabrics
The DIY possibilities are endless with travel themed fabrics! These wanderlust-inducing designs can be used as a colorful centerpiece for the dining tables, as a backdrop at your ceremony or table, wrapped around the flower bouquets or chairs, hanging like bunting from the ceiling – the list goes on and on.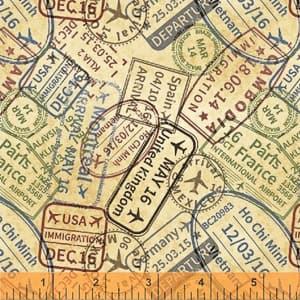 You have a lot of options. Some of our favorite designs to get you started include this European travel fabric, this world map fabric, this vintage airship illustration fabric, and this passport stamp design.
Vintage Luggage Label Stickers
I am a bit obsessed with vintage luggage and luggage stickers so I of course was drawn to these stickers immediately. This set of 30 vintage stickers have been professionally retouched and printed on high gloss, water-resistant self-adhesive paper.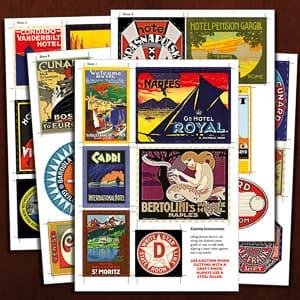 We got married on a Cunard ship so I loved that there were a few Cunard related stickers included! These stickers are an inexpensive way to add a retro feel to any travel-related DIY project.
See more stickers and other retro decorations at Ben's store.
Travel Themed Wedding Favors
Wedding favors are becoming more and more popular, with newlyweds treating their guests to a little treat to leave with after the wedding or something to welcome them (such as for a destination wedding).
Whether you're planning a destination wedding or celebrating your favorite destinations at home, here are some great travel themed wedding favors to gift to your guests.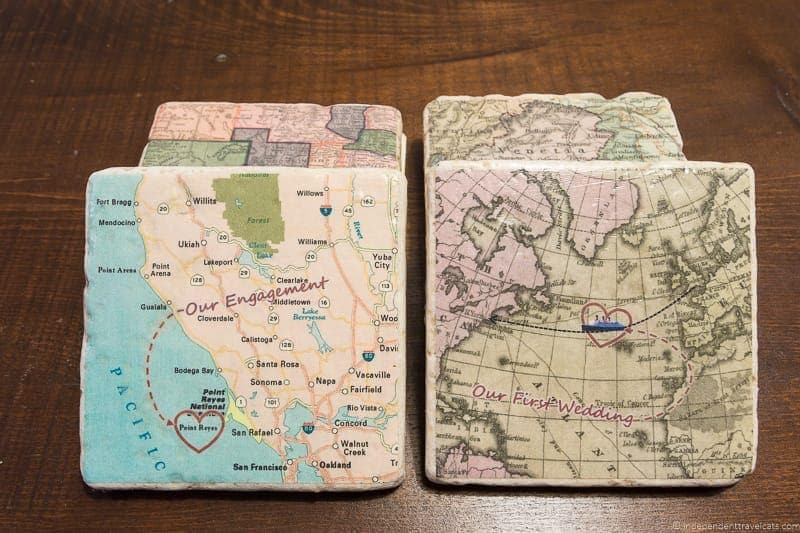 Mini Travel Soaps
These adorable mini adventure soaps are inspired by different places around the world. They are 100% vegan-friendly and are free from sulfates and harsh detergents creating a soap fit for any adventuress. Scents include Reykjavik, Hong Kong, Taipei, Napa Valley, New York, Paris, and Cartagena.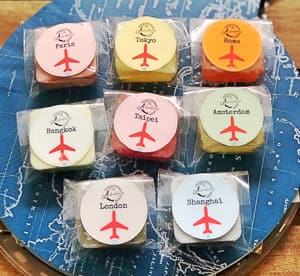 These soaps would make a lovely reminder of your wedding. Discover more of Julie's travel-inspired soaps and fragrances here.
Wedding Favors Luggage Tags
Give your guests something they can use on their next adventure with these amazing luggage tag favors! Luggage tags say "And so the Adventure begins" on one side and an identification tag shows through a clear window on the other side. Tags are made in the USA from recycled leather and you can choose from a number of tag colors.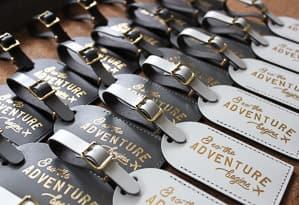 This is a bulk order item so although you can't personalize the tags, you've got all your guests covered in one go, with no fuss. But if you are looking for a custom order, get in touch with the store owner and they will make something that fits your style!
See Melanie and Scotty's store here.
Destination Wedding Sunscreen and Lip Balm Clip
What's the one thing we need at a destination wedding or outdoor wedding, but often forget? This suncreen and lip balm combo is perfect for a destination or outdoor wedding.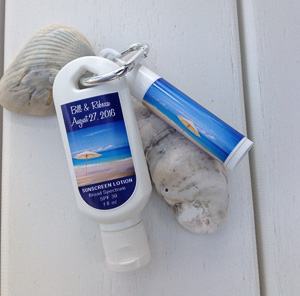 The PABA-free SPF 30 sunscreen is available in 1 oz or 2 oz sizes and the lip balm is SPF 15 and vanilla scented. Both are made in the USA. The customized labels allow you to choose the color and text and are also made of high quality, peel and stick waterproof vinyl and eco-solvent inks.
See more personalized special events items in the Event Gal Decals store here.
Vintage World Map Coasters
A useful addition to everyone's home! These travel inspired coasters are a great option for wedding favors for your guests. Each set comes with 30 4″ X 4″ coasters, 30 map hang tags, and 30 pieces of jute string. The coasters are made natural authentic cork.
You can find more travel themed coasters here.
If you are looking for personalized coasters for your wedding, check out Brenda's shop Hand to Home Concepts for lots of great options!
Destination Candle
Give your guests a scent they will never forget with these gorgeous mini personalized candles. You get to personalize the color and font of the candle labels, and choose the scent. Candles are made from soy wax, cotton wicks, and phthalate-free fragrance oils.
Scent options include rose petals, French lavender, wedding cake, pine & cypress, vanilla sandalwood, white tea & berries, and more!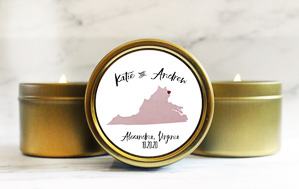 You can also completely customize your own label if you wish. Check out more options in Arianna's store here.
Airplane Bottle Opener
For anyone who likes to enjoy their travel planning over a cold brew, these airplane bottle openers are such a wonderful idea to pop inside the wedding favor bags! It is something they can use and enjoy for years to come. This pack of 24 gold plated, metal bottle opener favors also comes with a gift box for each one.
You can find more travel-themed bottle openers here.
Globe Chocolates
These foil-wrapped globe candies are made of milk chocolate and are wrapped in a blue, green, and yellow earth patterned foil wrappers. Perfect for tossing into your wedding favor for a sweet and travel themed treat.
If you'd rather choose your own candy, consider adding personalized candy stickers or wrappers to it, such as these ones.
Travel Themed Spice Favors
Wanna spice up your wedding favors? Consider choosing 2 to 4 different spices to send home with each of your guests to remind them of your special day. Spices come in labeled tubes and orders come with burlap favor bags and personalized travel labels.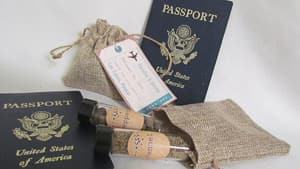 You can choose ones to go with your travel theme or match a specific destination whether it is India, the American South, the Caribbean, Ireland, Lebanon, China, Brazil, or Tuscany. For instance, if you want spices associated with India you might choose cumin, cardamon, turmeric, fenugreek, and/or curry powder.
See lots more spice favors as well as other food-related wedding favor ideas such as BBQ sauces, coffees, meat rubs, teas, and salts in the Noona's Kitchen shop.
Travel Theme Lip Balm Favors
Lip balms make great favors and these ones come with travel-themed labels. The lip balms come in packs of 12 and are offered in 5 different flavors. They are made from natural ingredients and have a SPF of 15.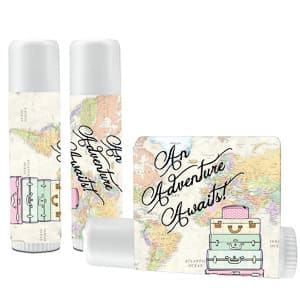 Heather has a lot of other party and wedding favor items including soaps, lotions, and bath bombs. See more in her store here.
Travel Themed Wedding Favor Boxes & Bags
Once you've chosen the perfect wedding favors, it is time to figure out how you want to present them to your guests. Just be sure that the size and weight of the chosen wedding favor will work well with the chosen gift bag, box, or container!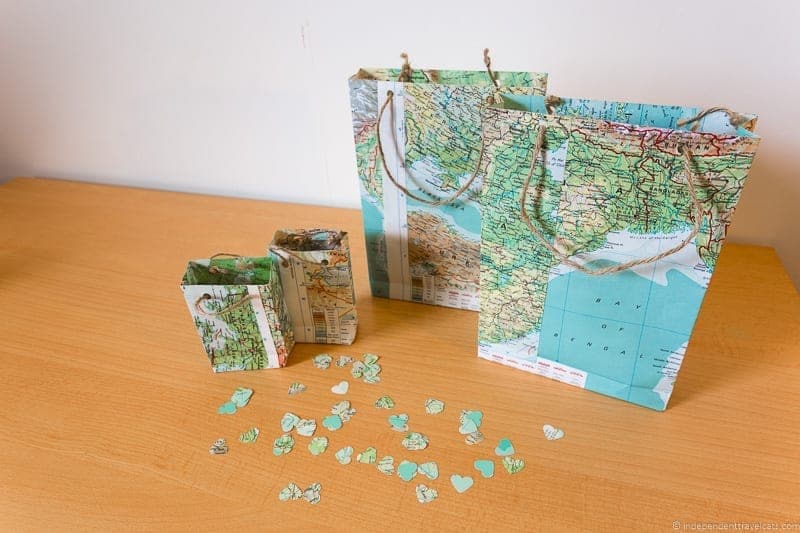 World Map Favor Bags
Treating your loved ones to something special on your wedding day? Send them home with one of these amazing map favor bags! They are made of vintage maps and the bottom of the bags are reinforced for extra durability.
They come in a pack of 10 medium size bags, each bag standing at 8 inches tall and 5 1/2 inches wide by 3 inches deep. Each bag also includes a personalized tag with a clear sticker.
Smaller and larger map favor bag sizes are available. Nadia has some really unique decorations at her store, which you can find here.
Suitcase Favor Boxes
Almost too cute to give away! You can fill up these tiny suitcase favor boxes with candy favors, use them to hold the confetti for your guests to throw at the end of your ceremony, or simply use them as decorations for the table centerpieces.
One pack includes 50 suitcase favor boxes and 50 paper tags for you to write a note to your guests. They measure at 3 x 1.1 x 2inch / 7.8 x 3 x 5cm, and can holds candy or sweets (approximately 5 or 6 Hershey kisses or 2 pieces of Ferrero – just for reference!), an item of jewelry, or any small object.
You can find many more suitcase-style favor boxes here.
World Map Fabric Favor Bags
We absolutely love this adorable fabric favor bags! These hand-sewn bags come in packs of 15, each bag measuring approximately 4 1/2 inches by 4 1/2 inches when laid flat. Each bag also includes a 14 inch long jute tie and a "thank you" tag, perfect for writing a sweet message to your family and friends.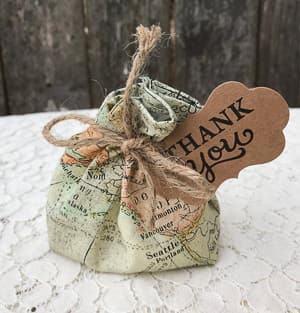 They are ideal for filling with sweet treats to send your guests home with at the end of the night or to leave on their beds if they are staying with you. Take a look at Nadia's store VOC Crafted for more gift favor bag ideas.
Personalized Heart Map Favor Bags
These lovely reusable cotton heart map favor bags really stand out from the crowd! You can customize them with your choice of 2 locations anywhere in the world, along with your name, date and/or personalized message. The bags are hand sewn from organic cotton muslin and available to order in 5×7″, 6×8″, 7×9″, or 7×11″ sizes.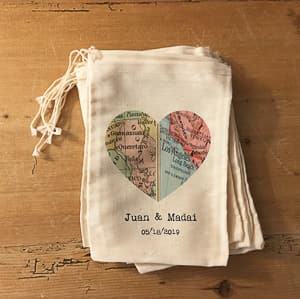 Samantha has a range of personalized gift bags in her store.
Suitcase Snap Fit Gift Box
This roomy ready to assemble suitcase shaped gift box is made of pre-cut and pre-creased durable brown craft paper. It looks like a suitcase with straps and a luggage tag that can be used to write a message. Ships flat and easy to assemble. Finished box size is 7 inches x 5 inches x 2.5 inches (18 x 13 x 6.5 cm).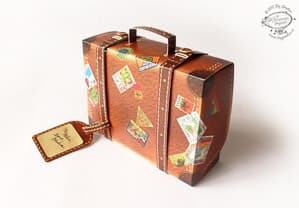 See more gift box ideas at SkyGoodies including DIY printable files for suitcase favor boxes.
Special Travel Themed Gifts for the Wedding Party
Looking for something special to give your bridesmaids or groomsmen for their participation and support during the wedding? There's also the officiant, greeters, flower girl, ring bearer, etc. You may be looking for a gift that will show them your appreciation.
Here are some gift ideas that also have a travel theme and will serve as a reminder of your special day. Whether your budget is $15 or $150, we have some options for you!
If you don't see what you are looking for, check out our guides to gift for travelers and gifts for photographers for lots more ideas.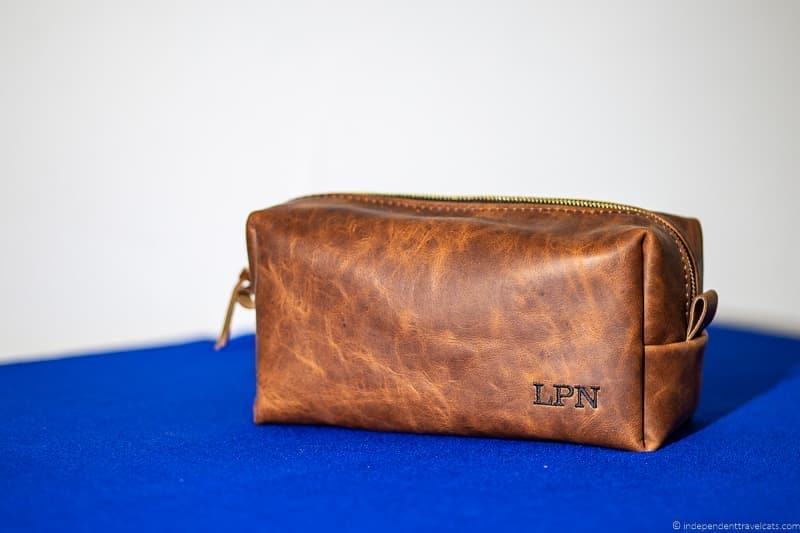 Travel Wallet
Help your family and friends keep their travel documents and money organized and in one convenient place when traveling. This faux leather passport wallet can hold your passport, IDs, credit cards, boarding tickets, cash, keys, and coins. It comes in a rainbow of colors.
Looking for a personalized passport wallet option? Check out these handmade leather travel wallets which you can have personalized with a name, short phrase, or initials. They are available in over 60 colors!
Personalized Luggage Tags
These personalized leather luggage tags make for great thoughtful gifts. Each is made of engrained leather and is personalized with the gift recipient's initials. Handmade in the USA.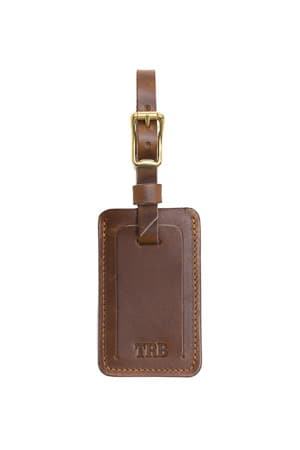 See more great handmade leather items from the Lifetime Leather Co.
If you are looking for vegan-friendly options, check out these tags made of faux leather by Love and Luxe Homemade. These tags can also be personalized with initials.
Personalized Flask
Giving a gift to someone who likes their liquor? Consider getting them a suave looking personalized stainless steel flask. You can personalize the outside with their name, initials, your wedding date, etc.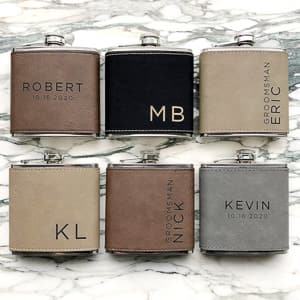 The shop has a variety of flask options including faux leather, powder-coated stainless, or wood flask finishes. They can also be purchased in gift sets which can also include funnels and mini stainless steel shot glasses.
See more options at Brittany's store EcoEngrave.
Beach Hat
Going to a warm-weather destination? Consider getting your wedding party some hats they can wear to the beach, such as Panama hats, floppy sun hats, or sun visors. Check out these options. You can get plain hats or have them personalized with their names, initials, or a short phrase.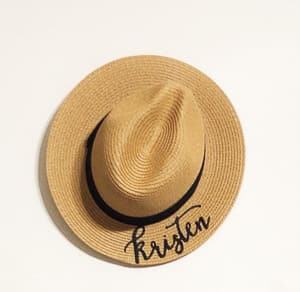 See more wedding items in Gloria's shop Life with Beauty.
Necklace
Most people love to receive jewelry as gifts! Why not choose a piece that shows off your (and hopefully also their) wanderlust and which will be something they'll love to wear. How about this popular pendant necklace that features two pendants, one of a globe and one of a compass rose. Available in sterling silver, yellow gold, or rose gold.
See our full article on travel themed jewelry for all kinds of travel themed jewelry options, including necklaces, pins, earrings, watches, bracelets, cufflinks, and more.
Personalized Toiletry Bag
Travelers need a good toiletry bag or dopp kit to store all their toiletry and shaving gear. Consider getting your most special guests a personalized toiletry bag or cosmetics bag. These ones are handmade in the USA, personalized with embroidered initials, and have an internal nylon liner.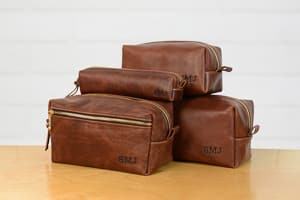 I have bought Laurence a personalized toiletry bag from here and he loves it! See lots of options for personalized leather toiletry bags and cosmetic bags from Felix Street Leather.
Wrap, Eye Mask & Pillow Travel Set
Want to give your guests something to keep them warm and snuggly on their next flight, road trip, long train ride, or hostel stay? Consider putting together your own matching Happyluxe travel set, which could include a matching HappyLuxe Wayfarer travel wrap, an eye mask, a face cover, and/or a travel pillow. All are made in the USA of microfiber and are available in several matching colors.
All products can be purchased separately so you can put together you own travel set. See more travel products from Happyluxe on Amazon.
Travel Gift Certificate
If you are not really sure what the traveler on your gift list may want, you might consider getting them a travel related gift card or gift voucher. This allows them to spend it on travel related things like tours, activities, concerts, and hotels around the world.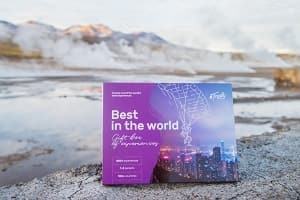 You may have a specific idea in mind, such as a gift certificate to a local spot. But some other ideas include a GetYourGuide certificate (redeemable on over 30,000+ tours and activities worldwide), a Tinggly gift certificate (redeemable on hundreds of different experiences), and Honeyfund gift cards (redeemable for things like hotels, cruises, golf, sportswear, and Amazon purchases).
Weekender Bag
Consider a personalized weekend bag or duffel bag for your groomsmen and bridesmaids that will have them thinking about you every time they head off for the weekend. These canvas weekend bags are roomy and can be personalized with a name or initials of the recipient.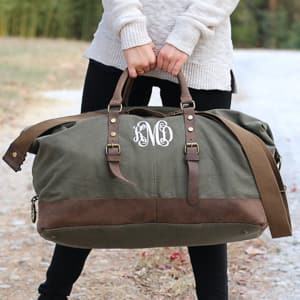 You can see a lot more personalized bag options in Coleen's store Heritage Wedding.
Action Camera
If you are looking for a gift for some adventurous guys and gals of your wedding party and have a bit of a bigger budget, consider gifting an action camera. They can take photos at the wedding destination and on their future travels.
For best performance and value, we recommend checking out those by GoPro or AKASO. Currently, our top pick for best value is the AKASO V50 Elite.
For tips for choosing an action camera and more options, see our guide to the best action cameras.
Cashmere Travel Wrap
Wanting to give a wedding gift to impress? Consider a cashmere travel wrap like these ones by Ovcio. These can be used as a travel wrap, shawl, blanket, or oversized scarf. Made of 100% Mongolian cashmere, they are available in a wide range of colors.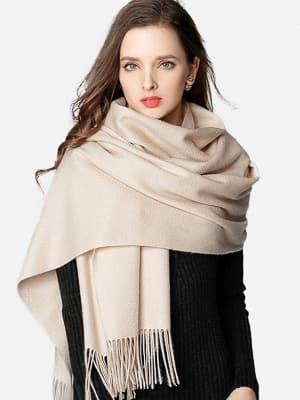 See more cashmere items, including men and women's scarfs, in their online store.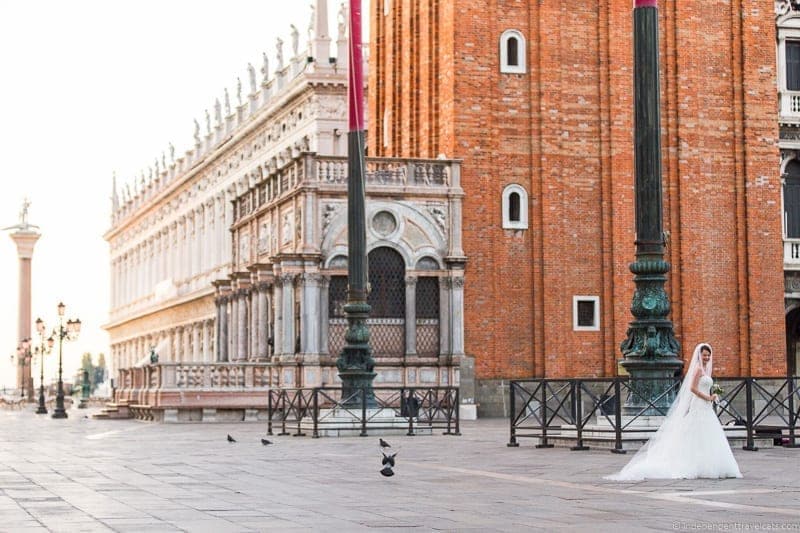 So those are our ideas for a travel themed wedding! Hopefully we have helped you find some wonderful ideas about how to incorporate your love of travel into your wedding day.
If you think you'll be doing more wedding planning in the future? Just PIN this article to Pinterest to save it so you can come back and read it again later: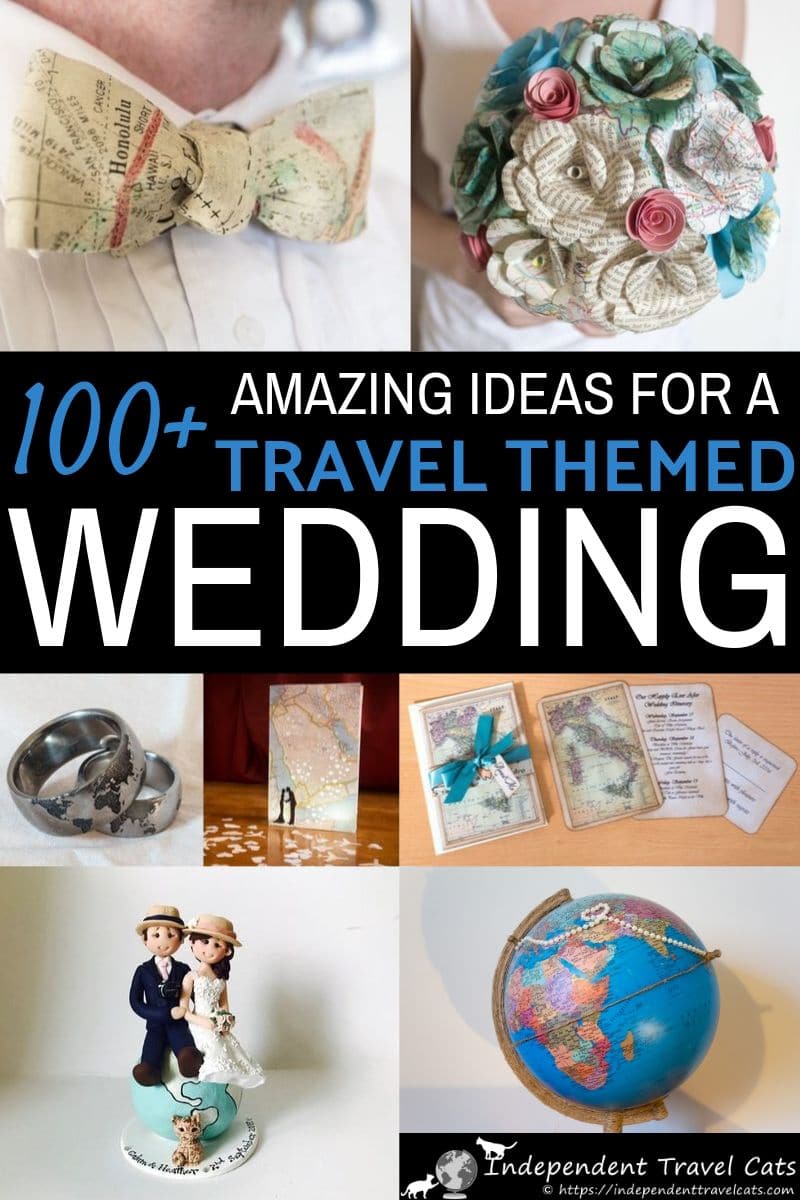 What do you think of these travel themed wedding items, did they inspire some ideas of your own? Did you incorporate travel into your wedding day or do you plan to include some element of travel into your wedding? If you have any questions about any of these items, just ask us and we're happy to share our honest thoughts!
**Disclosure: As noted earlier in this post, we received several complimentary items in order to review them for this post and some we received and then returned to the artists. Others were purchased by us or given to us for our own wedding. This article contains only our own honest thoughts and opinions. Check out our Ethical Code for more information about how we work. **