Planning a travel themed wedding? The goal of this article is to provide inspiration for couples planning a travel inspired wedding or destination wedding with a focus on handmade items and products that can be customized to fit the style of any wedding couple.
I guess you could say that Laurence and I had a travel themed wedding although it was more of a destination wedding. We legally married at sea aboard the RMS Queen Mary 2 in the Atlantic Ocean and then we had a small ceremony for family and friends in Venice Italy.
We did not have a traditional wedding ceremony or reception so we didn't purchase many of the traditional wedding items (e.g., cake toppers, wedding invitations, favor bags); however, this did not keep me from spending quite a bit of time online researching awesome items and ideas about ways a couple could incorporate their wanderlust into their wedding, reception, and honeymoon.
We've put together a list of 22 items that we think would be perfect for a travel themed wedding; some of these are items we purchased and others are products we reviewed specifically for this article. We physically reviewed all these items and we give our opinions about ways you might incorporate them into your own travel themed wedding, bon voyage party, or destination wedding!
22 Items to Consider for a Travel Themed Wedding
In 2015, one study of American wedding couples found that approximately 21% have a destination wedding of some sort, whether domestically or internationally. The study found that there are more than 350,000 destination weddings each year, 77% of which take place in the continental US and 23% at international destinations with the Caribbean and Mexico being the two most popular destinations.
However, not all couples want or can have a destination wedding, and many still want to incorporate their love of travel into their wedding celebration. Here are 22 items we found during our search that we thought would be perfect for a travel themed wedding or destination wedding.
I got truly interested in the topic of how to incorporate elements of travel into ones wedding after we decided to get customized engagement/wedding rings with a strong travel element. Some of the items in the list are items we purchased or were given as gifts for our own wedding or honeymoon. The other items are items that were provided by Etsy or Amazon Handmade artists for review to be included in this article at our request.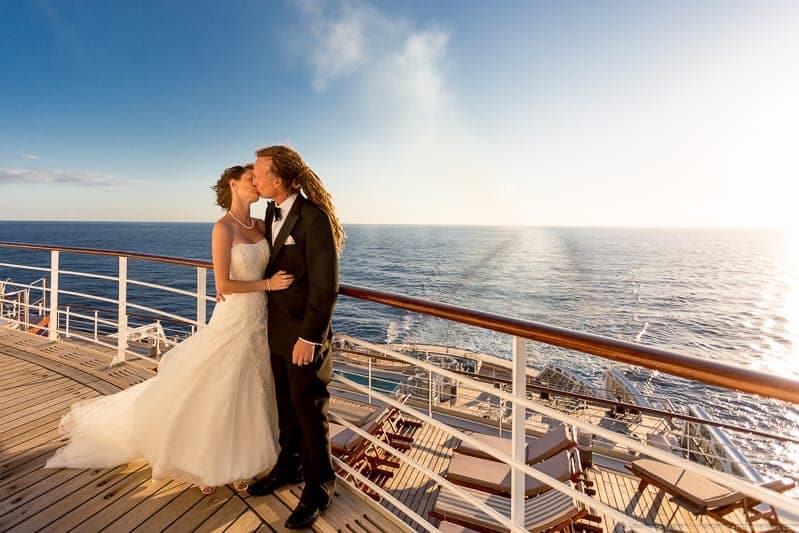 We physically reviewed all of these items (except the custom cake toppers); this is NOT just a compilation of photos we've pulled from the Internet. We strove to include items from around the world and items came from a number of countries in North America, Europe, and Asia, although the majority of items are from the United States, Canada, and the United Kingdom.  We are happy to answer any questions you may have about any of these items!
Almost all of the items reviewed, with only a couple of exceptions, are handmade or hand customized items, made by a single artist, family, or a small business. Many of these items are truly unique and the majority can be customized to include elements that are special to you. We have tried to cover a variety of items from cake toppers to wedding jewelry, and to also include items that fit a number of budgets and types of weddings.
Whether you plan to send handcrafted individualized traditional wedding invitations by mail or just email digital invites to your guests, these items cover a range of wedding couple styles. Many of these items also work for bridal showers, bon voyage parties, wedding couple gifts, honeymoon items, and just general travel-related gifts! We hope that this list helps inspire you to incorporate some element of your own wanderlust into your upcoming wedding or party! 
Passport & Airline Ticket Inspired Wedding Invitations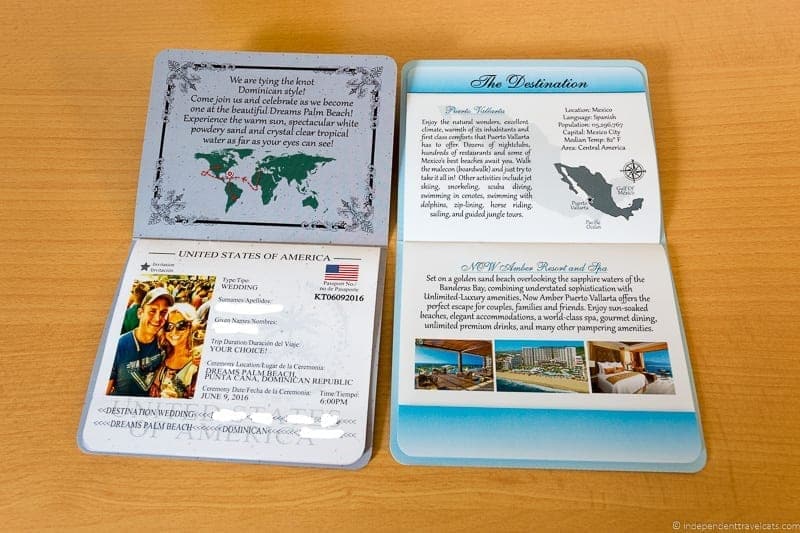 Product Links: Two of my favorite designs: Passport Invitation and Boarding Pass Invitation
What is It?: Several travel-inspired wedding invitation designs. One of my favorites is the passport invitation which looks like a passport and includes several pages that include information about the wedding day, destination, travel arrangements, registry, and RSVP details. There is also a boarding pass invitation that includes a airline ticket and luggage tag inspired invitation with all the wedding details. There are also similar Save the Date designs. Almost every aspect of these invitations is customizable!
Ways to Use: Wedding invitations and Save the Dates wedding cards perfect for a travel-inspired wedding or destination wedding. Also a cool idea for a travel themed party or bon voyage party.
My Thoughts: Great quality invites and love the amount of customization that is possible from choosing the colors, destination information, adding personal photos, etc. Since Save the Date cards or invites are the first time guests see something related to one's wedding, using travel themed invites is a great way to get them in the mood! I think the passport invitations would be super useful for destination weddings as they can include so many details! Note that on Etsy you can order samples of any of the invites (definitely recommend doing this before placing an order), then once you know the design you want you'll order directly from the company.
Words from the Artists: "Empire Invites is family owned & operated by my husband, Brian & I. My husband wanted to offer his customers unique wedding invitations as part of his packages and since he has a background in graphic design it seemed like the perfect fit. Empire Photography continued to grow & I (Jacquie) began lending a hand in customer service & designing custom proofs during busy times. When our son was born, I knew I had to be a Work-at-Home-Mom & taking over Empire Invites enabled just that! Now we have a daughter as well and I am so lucky to be able to do something I love while being able to watch our children grow!"
See More at Brian & Jacquie's Store: EmpireInvites
Travel Themed Engagement or Wedding Rings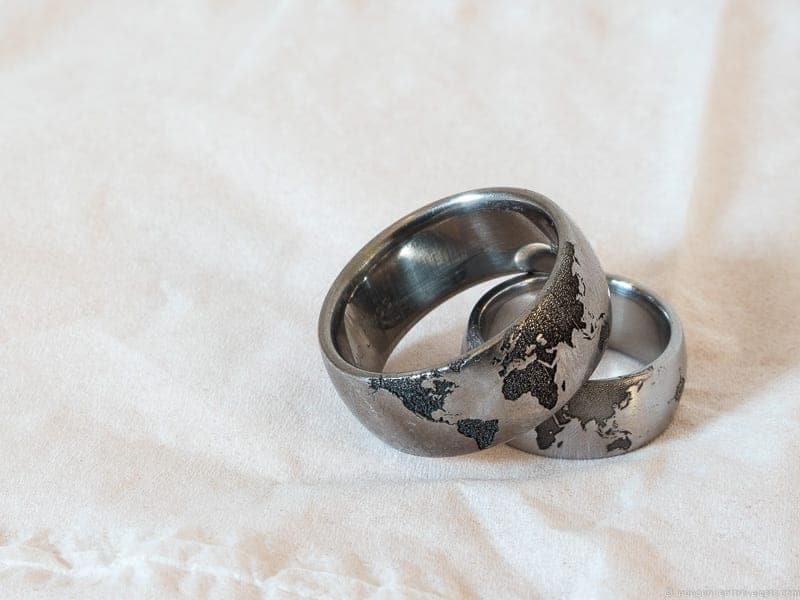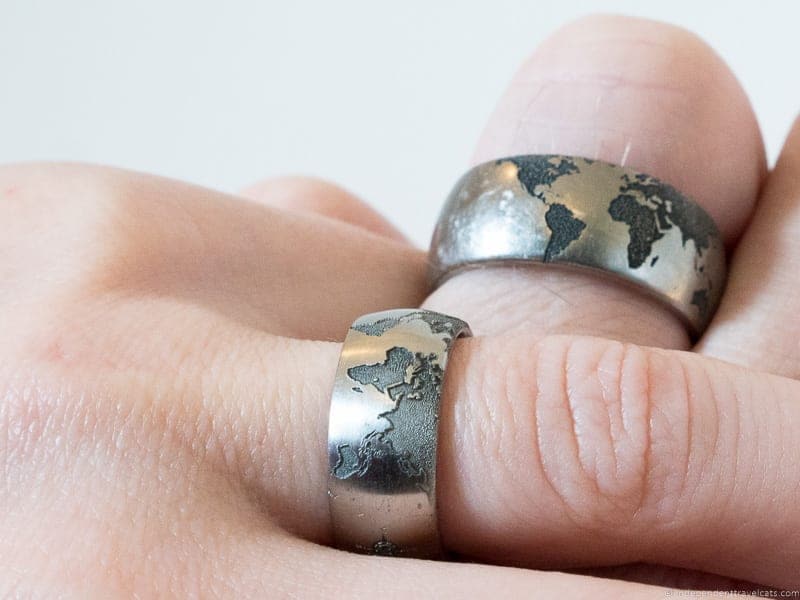 Product Link: World Map Ring
What is It?: Map rings with intricate details made with a very high power laser. Focus is on extremely durable and lightweight titanium (and other metal) rings. The World Map Ring includes a detailed laser-engraved world map design, and this is repeated 3 times around the ring. Many other laser designs available, including custom requests. Fingerprints and photos can also be lasered onto the rings.
Ways to Use: You can use these as your engagement and/or wedding rings (as Laurence and I have) or use them as replacement wedding rings when you travel. When traveling, many people choose to leave expensive jewelry at home to avoid its loss, damage, or theft, and these durable World Map rings make great travel worthy replacements!
Our Thoughts: We absolutely love our rings and I am so happy we chose to do a custom ring design with Boone Rings! Laurence's is made of commercially pure titanium and mine is cobalt chrome, both with a brushed finish. The details are amazing and we did not see any other rings as detailed as these in our very long search. The world maps are the same on both of our rings and then we both have different compass rose designs with hearts in the center and mine has a scene from where we got engaged which was a California beach next to a giant 4,000 pound elephant seal (true story!). I have often wondered if I am the only person in the world with an elephant seal on her wedding ring, haha. We've been wearing our rings for over a year and we have had no issues with them. Big fan of the World Map ring and several other designs by Bruce, and love the ability to customize these rings.
See More at Bruce's Store: Boonerings
Suitcase Gift Favor Boxes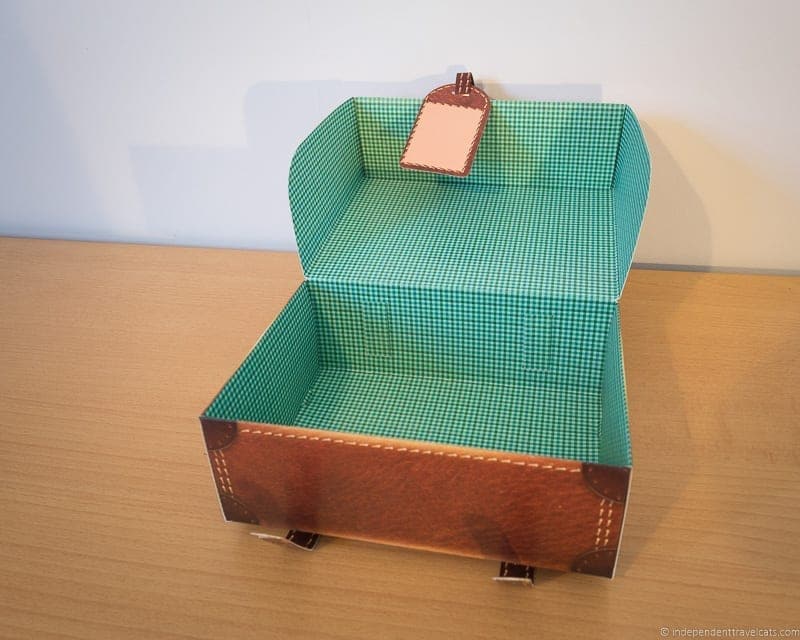 Product Link: Brown Suitcase Snap Fit Gift Box
What is It?: Handmade pre-cut and pre-creased durable craft paper, ready to assemble gift box that resembles a suitcase.
How to Use: A great box for storing wedding favors or candies or can be used as a gift box for bridal shower, wedding, or bridesmaid gifts. Can also be used for decoration displays!
Our Thoughts: This box ships flat and includes instructions on how to assemble it. It is quite easy to assemble and is of good quality paper. We were surprised by how durable it is and it is possible to reuse it. I really love the details such as the straps and the luggage tag that can be used to write a message. Other boxes, including digital download designs that you can print yourself, are also available. 
See More at Misha & the Design Team's Store: SkyGoodies
Map Gift Favor Bags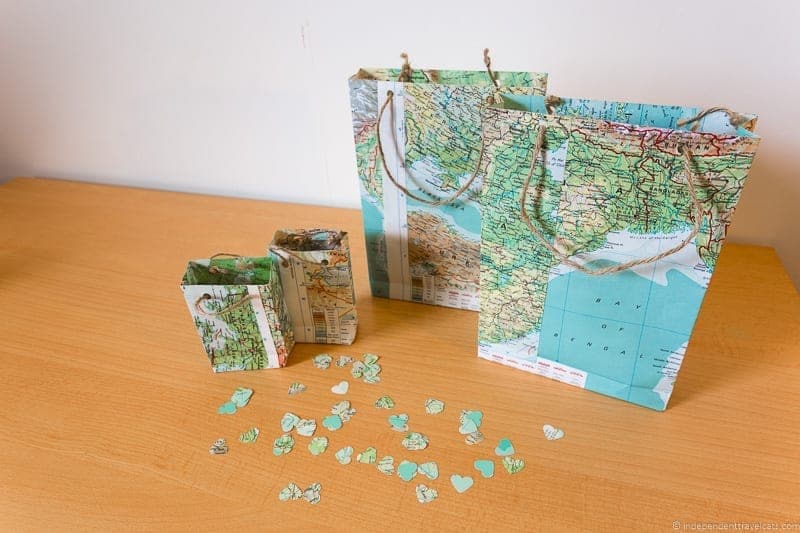 Product Link: Bon Voyage Map Gift Bags
What is It?: Handmade paper bags made from old travel atlases and twine. Different sizes and customization available. 
How to Use: A great party favor bag for lightweight favors or to be used to store confetti for a wedding toss. Also great for lightweight party or bridal gifts!
Our Thoughts: A great way to recycle old atlases! Bags are great, just be sure to make sure you get the size you need and only use them for lightweight items. We gave out Venetian masks as wedding favors at our wedding and these bags would have been perfect! If you are wanting a specific destination on the bag (e.g., to match your home state or honeymoon destination), contact Suzy and she can let you know if it is available.
See More at Suzy's Store: The Procraftinator
Atlas Confetti
Product Link: World Map Wedding Confetti
What is It?: Handmade fun paper map confetti in the shape of hearts .
Ways to Use: Wedding throw, table decorations, or gift bag filler. Can be used for any travel related party, bon voyage party, engagement party, bridal shower, or wedding!
Our Thoughts: Another great way to reuse old atlases! Item just as described and you can get a number of sizes and shapes. The confetti arrives in a small organza bags with many potential uses.
See More at Suzy's Store: Suzy carries a number of great travel inspired wedding related products!
Custom Travel Themed Wedding Cake Toppers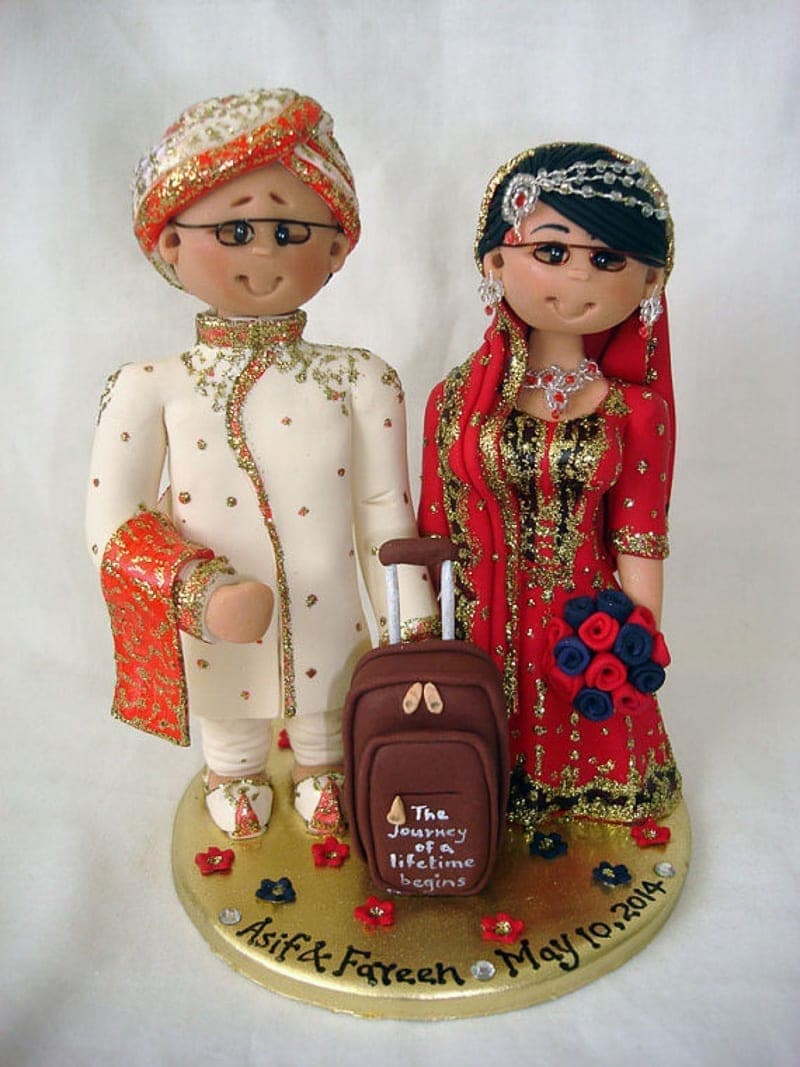 Product Link: Customized Travel Wedding Cake Topper
What is It?: Customized handmade cake toppers made of polymer clay and acrylic paint. The details on the cake toppers are made from a variety of materials such as glass beads and wire. 
How to Use: A unique customized wedding cake topper or cake topper for a bon voyage party or travel inspired bridal shower. Easy to customize for beach weddings, destination weddings, cross-national couples, and couples who love to travel.
Our Thoughts: I love Cecilia's custom cake toppers and I am amazed at the level of customization available! Photos supplied by the couple are used to get the details correct for the wedding couple and many couples choose to add details indicating the place of their wedding, profession, pets, religion, family, and/or hobbies. I did not have Cecilia make one specific to us given the time and expense to do this, but I have looked at ones she has made and think these would be great for anyone who wants a unique wedding cake topper. I have never seen such detailed toppers and these are so much more fun than a simple plastic or metal topper! Definitely a keepsake for the wedding couple.
See More at Cecilia's Store: A Little Relic
Self Print Travel Wedding Invites & Save the Dates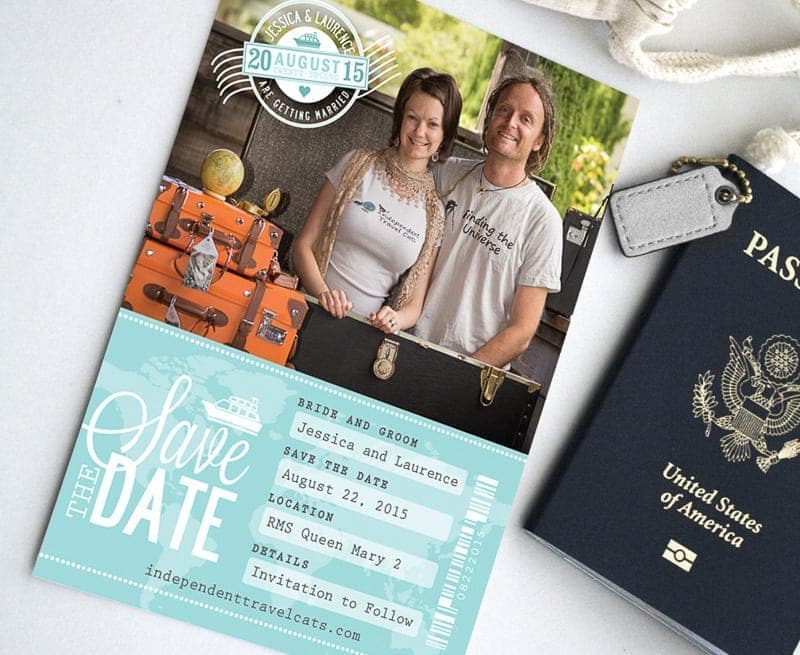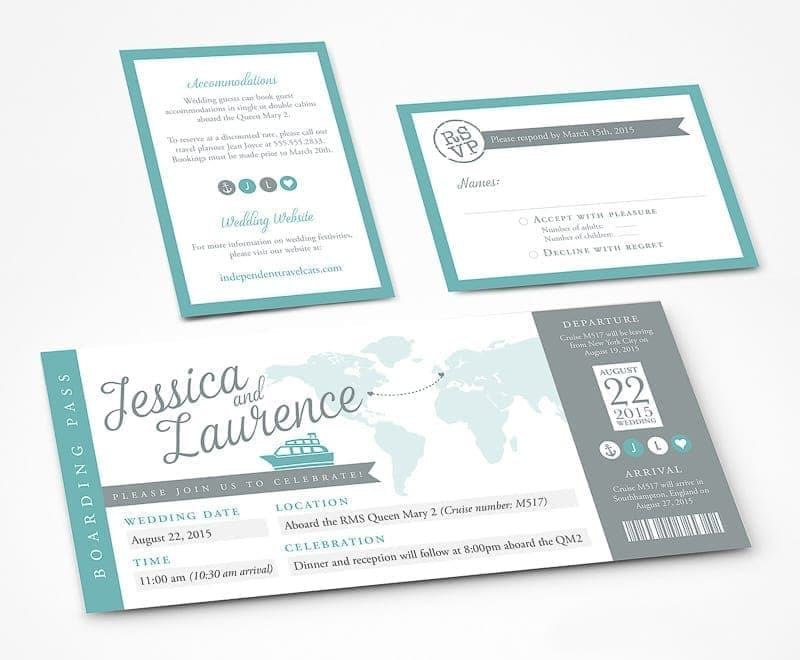 Product Link: Boarding Pass Save the Dates
What is It?: Customized travel themed wedding invites and save the date card design files that are provided in digital form. Price includes customization, proofing, and the print-ready files that come ready for printing at home or a local printshop. 
Ways to Use: These wedding invites and save the date cards are perfect for those who are looking for budget-friendly options. They are also great for those who have access to high-quality printing and for those who are planning to send their invites or save the dates electronically via email. 
Our Thoughts: I loved the design that Sameeha did for me about our wedding! Many of the design elements are customizable and it came out looking great. Sameeha is willing to make as many revisions as needed to make the invites perfect for you. She also does cards, shower invites, and wedding programs.
Words from the Artist: "My 2011 wedding was completely 'do-it-yourself', and I understand how hard it can be to throw a big party with a small budget. I started The Inked Leaf because I wanted to offer beautiful custom designs and an easy experience for couples looking for a unique and stress-free DIY option!"
See More at Sameeha's Store: The Inked Leaf
Travel Map Pin Board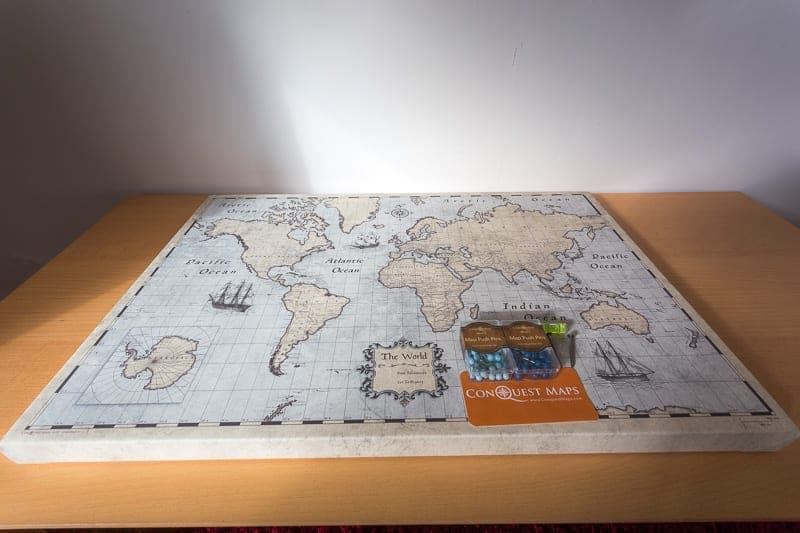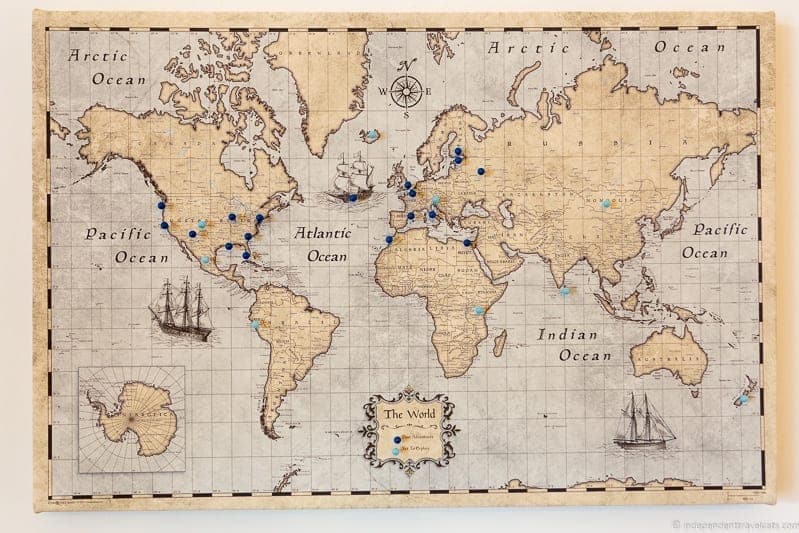 Product Link: Rustic World Map Pin Board
What is It?: Handmade pin boards designed to hang on the wall, made from a digitally printed  cotton/poly blend matte canvas stretched around am internal frame created especially for the pin boards. Order includes 100 push pins in two colors of your choice along with the wall fixtures, 2 nails, and a mini level. Pin boards available in world map designs as well as USA maps.
Ways to Use: These pin boards would be great to use at a bridal shower or wedding reception showing the travels of the couple, their long-distance love story, and/or their upcoming travel plans! They also make a great gift for any  traveler to show where he/she has been and where they plan to go! Americans may want to check out the USA map as well. 
Our Thoughts: This is a very high-quality piece that is currently hanging on our apartment wall. Ross was great to communicate with and the product comes very professionally packaged and was easy to hang on the wall as it comes with all the fixtures needed so the only thing you need is a hammer to put in the nails. The push pins come in 2 colors (your choice) and we are using one set for places we've been together and the other for upcoming trips or wish list places. We loved that the pin colors and legend are customizable. The USA map would be perfect for those doing a USA road trip as it is obviously more detailed than the World Map version, and I also love the Ohio winery map (Ohio is my home state!). 
Words from the Artist: "Starting with a homemade birthday gift to my wife, Conquest Maps has come a long way in 3 years, so I have to say I've been feeling very fortunate! We've been able to merge our passion for travel and adventure with our enthusiasm for unique rustic decor, all on top of learning how to grow a business from the ground up. I hope you enjoy our maps, as they're each still hand crafted and delivered with love from our home to yours!"
See More at Ross's Store: Conquest Maps
Luminary Bags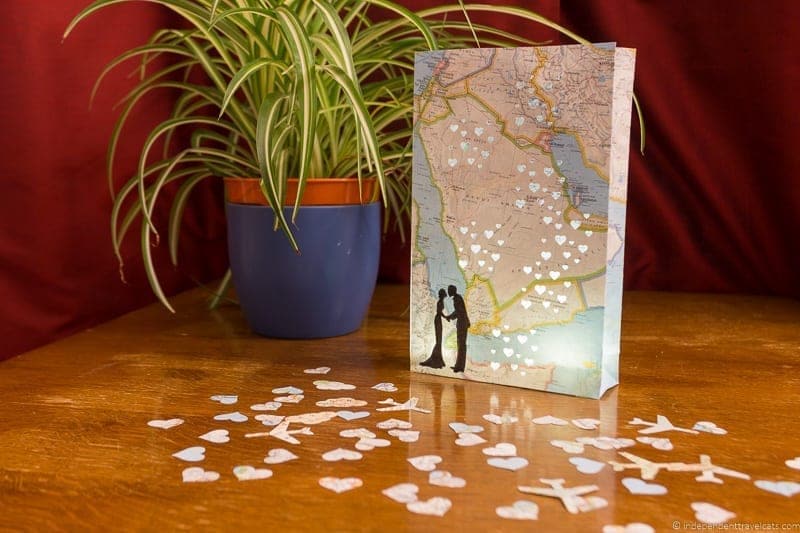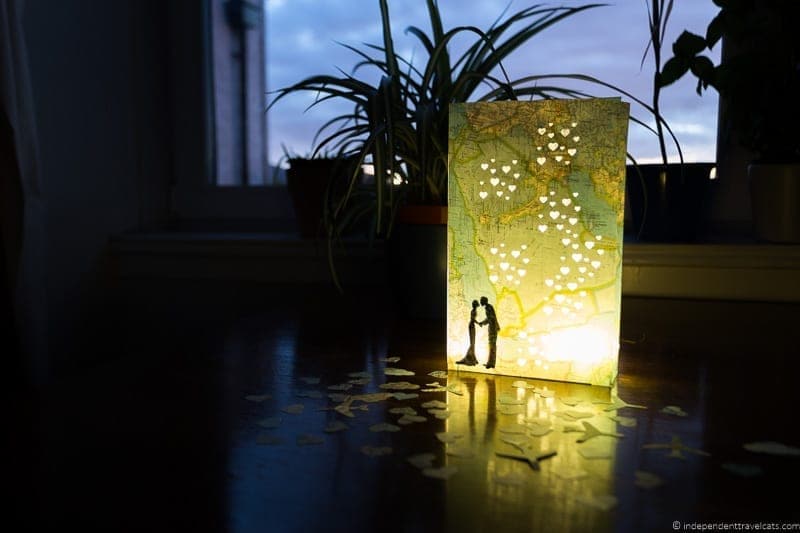 Product Link: Custom Travel Themed Map Luminary
What is It?: Handmade paper luminaries made from old maps and atlases with punched shaped holes that glow when a LED candle is placed inside. These are also commonly known as candle bags and paper lanterns. Different sizes and customization available. 
How to Use: Use for table decorations, to light an indoor or outdoor bridal path, or to bring a romantic glow to an outdoor travel-themed gathering.
Our Thoughts: We love these bags as they remind me of luminaria in New Mexico which are a traditional holiday decoration around Christmas. The use of maps, the customized cut-out shapes, and stenciled on couple design really make these stand out from any other luminaries we've seen. These would look so beautiful for an outdoor evening wedding or wedding reception or to light a darkened church aisle! Just be careful that since these are not made of flame resistant materials that you'll want to be sure to only use battery-operated LED candles.
Words from the Artist: "I love creating my custom luminaries because I get to be part of the most important day of people's lives. Their wedding day! That's pretty awesome!"
See More at Suzie's Store: Olden Designs
Vintage Luggage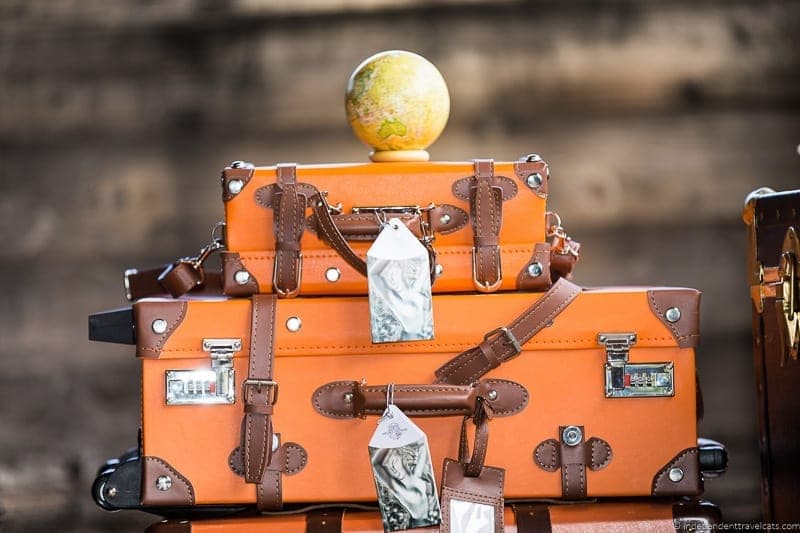 Product Link: Ethos Vintage Luggage Set
What is It?: Vintage inspired suitcases. The set pictured is made of orange PVC and the larger wheeled suitcase is 22″ and the smaller hand luggage piece is 12″. They come in a large range of colors and some come in different sizes. The two sizes can be purchased together as a set or separately.
How to Use: These are functional luggage pieces. Also great for decorations and photo shoot props as well as a gift for any married couple embarking on their honeymoon who loves vintage inspired products.
Our Thoughts: I am a bit obsessed with retro and vintage luggage and love looking at old trunks at antique and secondhand shops. The Eddas luggage is both decorative and functional with a relatively lightweight design and wheels, and it is much more budget-friendly than similar looking vintage luggage in this category. We always get lots of compliments on these pieces. However, they are not best for more rigorous and adventure travel and who is going to go jungle trekking with a 12″ cosmetic case? If you are looking for more budget-friendly options for wedding photos, consider going to a secondhand store and finding some old luggage or trunks to use or look for decorative luggage made of wood or high quality cardboard to use for photos and table decorations. If you are looking for a more upscale option that can handle rigorous travel and money is not a concern, we can also recommend Globe-Trotter luggage which has a number of beautiful leather vintage-inspired collections fit for a queen (Queen Elizabeth II uses their products!). 
See More at the Eddas Store: EDDAS Luggage
Custom Adventure Luggage Tags
Product Link: Adventure Tan Leather Luggage Tags
What is It?: Customized handmade leather luggage tags made from 100% saddle leather. They are embossed with the  text "[insert name] Starting the Adventure of a Lifetime with [insert name]" and the wedding date (or any date) can be added. Comes as set of two luggage tags.
How to Use: Perfect gift for any wedding couple to attach to their luggage as they embark on a honeymoon and a new married life together. Also a perfect gift for any couple heading off on some travels together.
Our Thoughts: We actually received this as a wedding gift from friends and we were really touched since these were a perfect gift for a globetrotting couple such as ourselves. The leather is good quality and unlikely to come detached from your luggage even with rough treatment. We really like having the custom names and wedding date and they look great on our luggage. Since these tags don't actually contain any contact information useful in the event your luggage is lost, you may want to add a sticker on the back of the tag or have another identification card on your luggage.
See More at the company's Amazon's Store: K9 Aroma
Vintage Luggage Label Stickers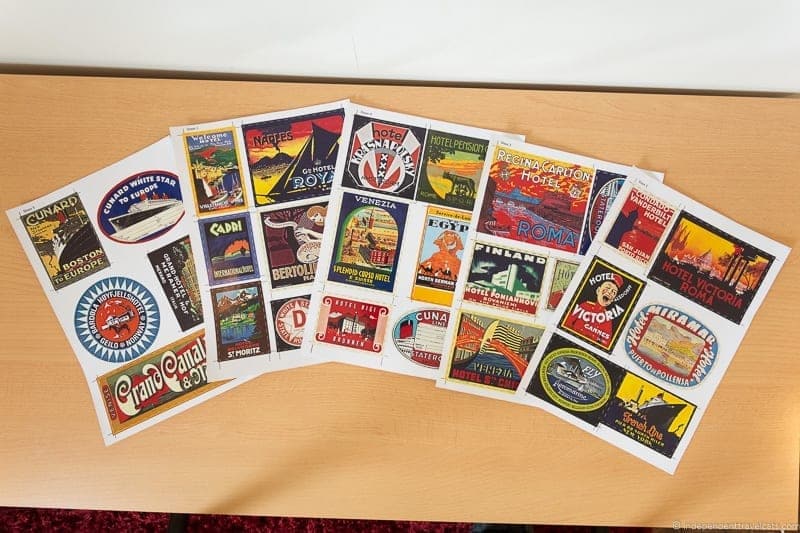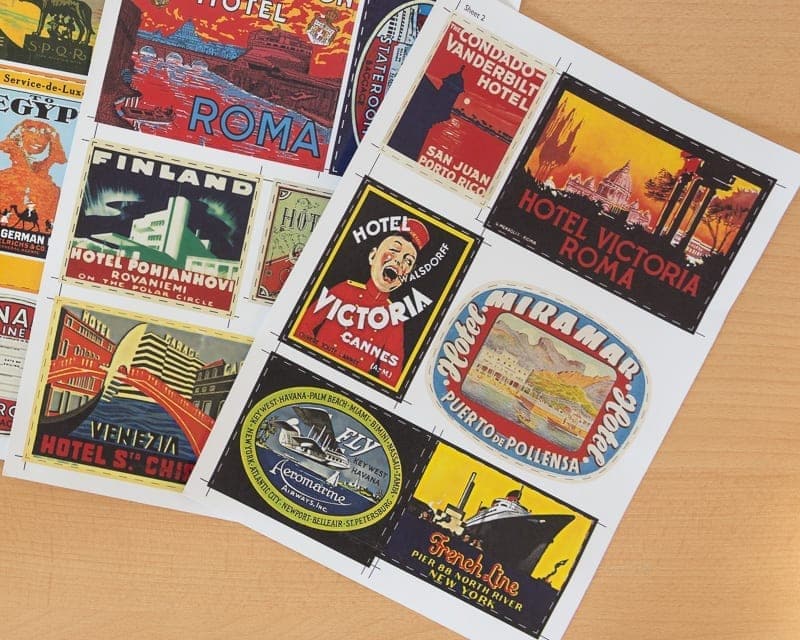 Product Link: Vintage Luggage Label Stickers
What is It?: A set of 30 reproduction retro vintage luggage label stickers advertising hotels, ships, and travel agencies that have been professionally retouched and printed on high gloss, water-resistant self-adhesive paper.  
How to Use: Use these retro travel stickers to decorate a vintage-style suitcase or steamer trunk for upcoming travels or honeymoon, decorate a piece of luggage to use for a party decoration, or stick them on just about anything you'd attach a sticker.
Our Thoughts: I am a bit obsessed with vintage luggage and luggage stickers so I of course was drawn to these immediately. We plan to use these to decorate our vintage looking luggage and to also stick on the back of our laptops as we decorate them with stickers we get from our travels, so these are a perfect addition! We got married on a Cunard ship so I loved that there were a few Cunard related stickers included! These stickers are an inexpensive way to add a retro feel to any travel-related DIY project.
See More at Ben's Store: BvdB Design (Etsy) & BvdB Design (Amazon Homemade)
Globe Wedding Centerpiece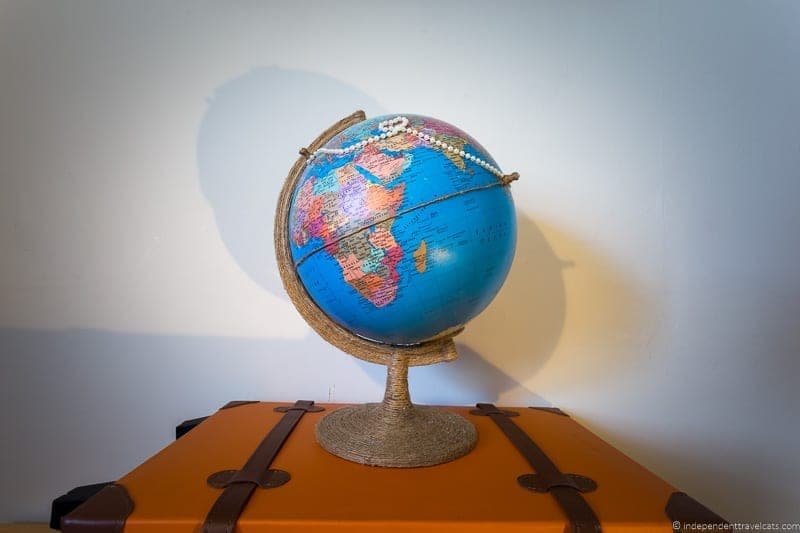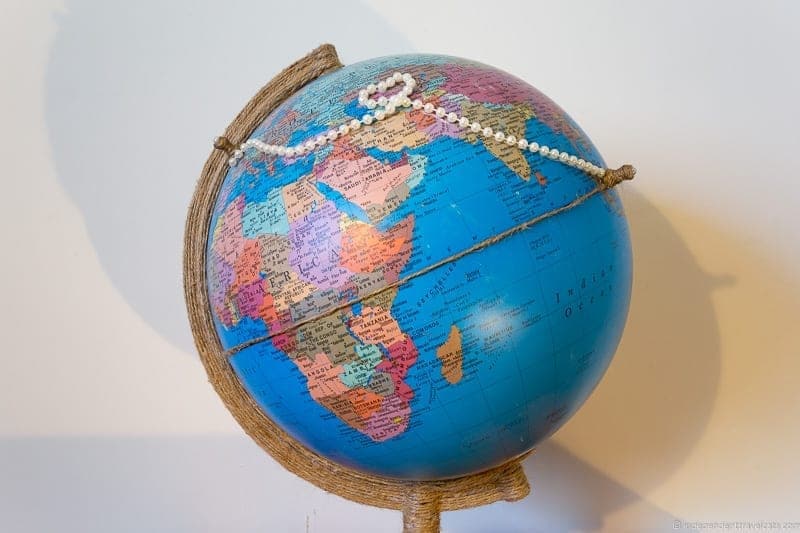 Product Link: Modern Map Wedding Globe
What is It?: A standing globe with twine wrapped base and a set of pearls used to join together two (or more) locations on the globe. Pearls can be customized to join together any two or more destinations. 
How to Use: Use for a statement centerpiece or table decoration at a bridal shower or wedding. Can be used to show hometowns, place bride and groom met, or wedding or honeymoon destinations.
Our Thoughts: It is hard to think of a more fitting centerpiece or table decoration for a destination wedding or travel-themed wedding than a globe. This product is especially fitting for two people who may be from different countries (such as ourselves!) or are moving to a new country after the wedding (us again!), and can make a great keepsake after the wedding for the couple.
See More at Kelly's Store: UniqueWeddingBoutique
Framed Maps with Love Quote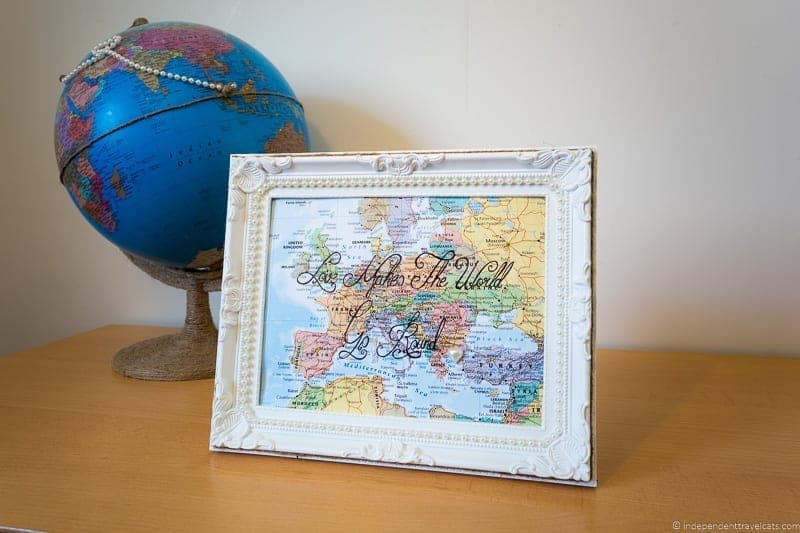 Product Link: Modern Map Love Handwritten Sign
What is It?: A white frame with pearl and twine embellishments with a map that includes a handwritten quote inside. The standard quote is "Love makes the world go round." but this can be customized.
How to Use: A table decoration for a bridal shower or wedding reception, gift for a travel loving wedding couple, or just home decor for someone who loves to travel. One could find a collection of travel quotes and use a different one for each table at a wedding reception.
Our Thoughts: We really like how this quote combines both love and travel, two of our favorite things! This item is a great budget-friendly way to subtly add an element of travel to a bridal shower or wedding and also makes a great gift or keepsake.
See More at Kelly's Store: Kelly carries a wide selection of travel inspired wedding products, and also regularly does custom items!
Travel Themed Guest Book Alternative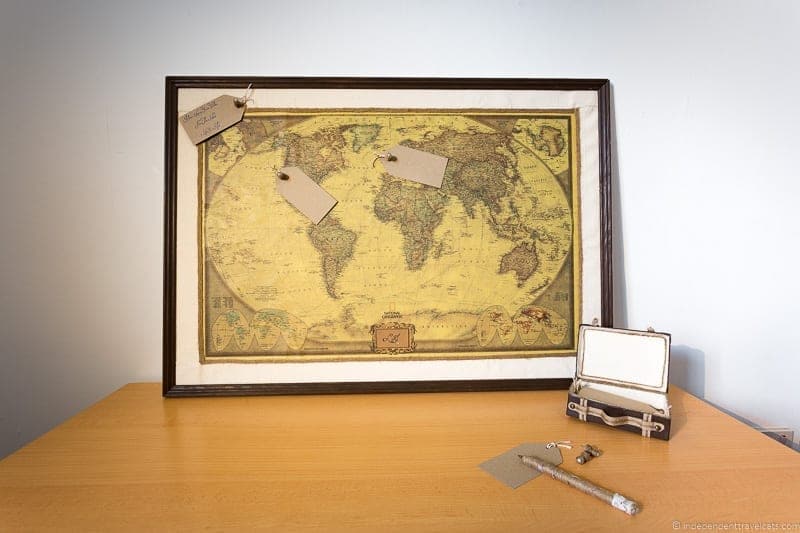 Product Link: Map Guest Book Alternative
What is It?: A framed map that can be used for guests to write their names and well wishes to the bridal couple; an alternative (or addition) to a traditional guest book. It comes with rustic looking twine wrapped push pins, a matching decorated pen, luggage tag note cards, and a miniature trunk to display the cards, push pins, and pens. The wedding couple's initials are place at the bottom of the map.
How to Use: This can be used as a travel related alternative to a traditional wedding guest book or can be used in addition to a guest book for guests to write personal messages to the wedding couple. Just invite guests to jot down their best wishes on the luggage tag shaped cards and then they can pin them to the map.

Our Thoughts: This item has quite a rustic feel and would be perfect for a rustic travel themed or destination wedding. This item would also make a great keepsake for the wedding couple to display after the wedding. Note that the item has to be propped up so guests can use it to pin the luggage tag cards and that it is best suited for smaller weddings given that only a limited amount of cards will fit on the board (check with Kelly about how many cards are possible). 
See More at Kelly's Store: Kelly makes a very wide selection travel inspired wedding products!
Handcrafted Destination Wedding Invitations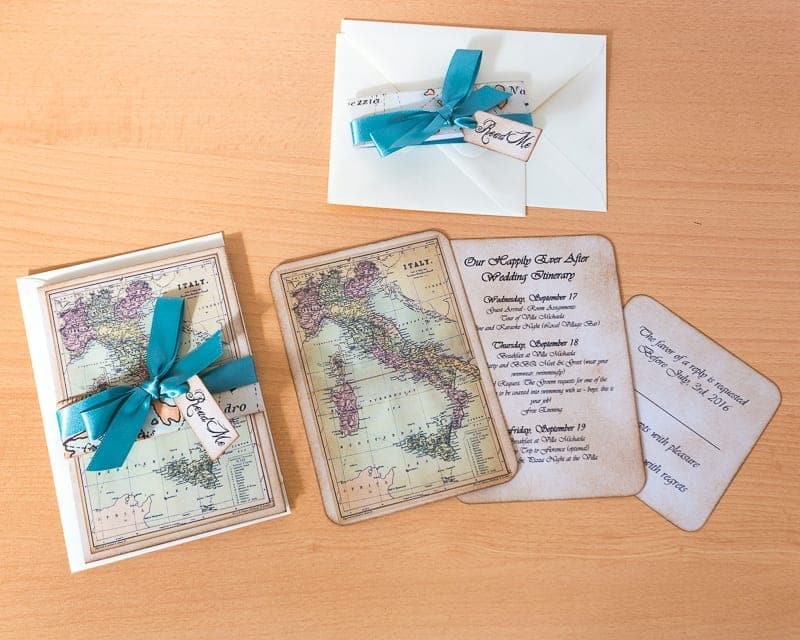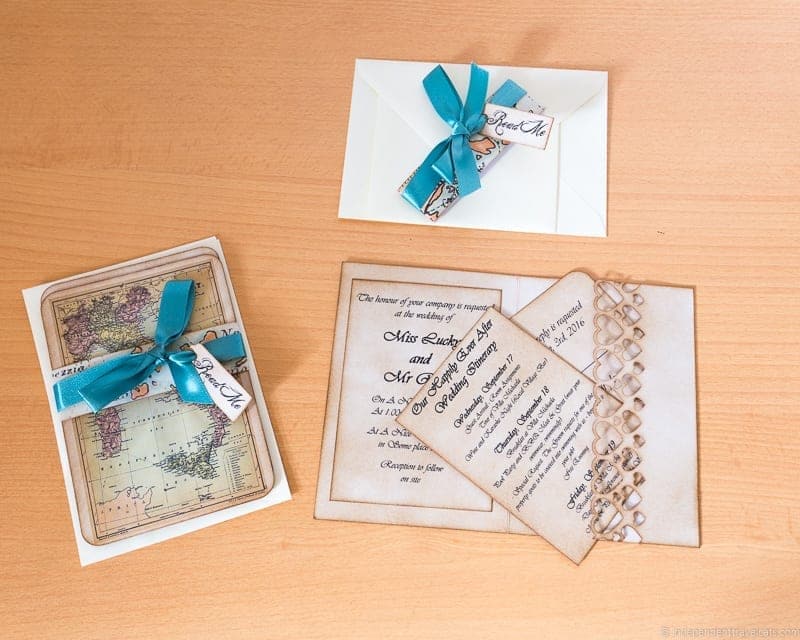 Product Links: Destination Wedding Invitations w/ Heart Pockets & Destination Wedding Invitation Card Suite 
What is It?: These handcrafted wedding invitations are made from quality heavyweight cardstock which has been hand cut and hand dyed to give it a vintage finish. These invitations are specifically designed with a destination wedding in mind as they include plenty of room to include travel and accommodation details and the wedding itinerary. Sets includes invites, envelopes, RSVP card and envelope, custom tag, and ribbon. Most elements can be customized. 
Ways to Use: Wedding invitations and Save the Dates wedding cards designed for destination weddings. However, these can also be used for any travel-inspired wedding or celebration. 
My Thoughts: These handcrafted invitations are made of very high quality cardstock and it is obvious that a lot of time is put into the design and production of these invitations. We liked both of the designs, but we really loved the one with the heart lace pocket which is a great detail and helps keep all the items together. Highly recommend to any couple looking for high quality handcrafted destination wedding invitations although note that these need to be ordered well in advance.
See More at Rowena & Ian's Store: craftypagan
Handcrafted Travel Destination Table Cards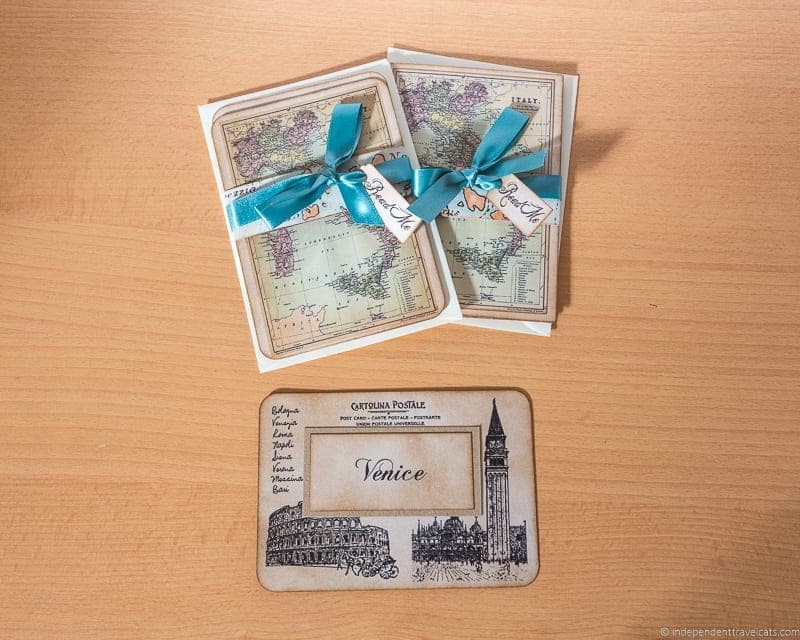 Product Links: Destination Table Cards
What is It?: These handcrafted wedding table cards are made from quality heavyweight cardstock which has been hand cut and hand dyed to give it a vintage finish. They are the same size as a standard postcard. Numbers or names (such as city names) can be placed on the cards to designate tables. 
Ways to Use: These table cards can be used to display table names or numbers for a wedding reception. 
My Thoughts: These handcrafted table card invitations are designed to match the destination wedding invitations reviewed above. They are made of high quality paper and using destination names rather than numbers to label one's reception tables can increase the travel related aspect.
See More at Rowena & Ian's Store: Rowena & Ian carry several travel-inspired wedding products, such as the destination wedding invitations above.
Custom Map Cufflinks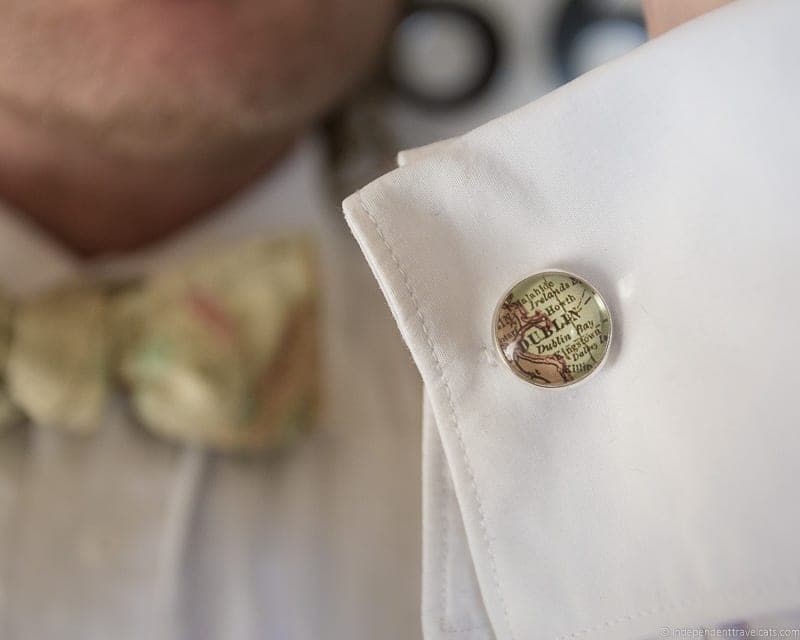 Product Links: Custom Map Men's Cufflinks
What is It?: These handcrafted cufflinks are made using a small glass globe, map printed on photo grade paper, and silver plated cufflinks. Maps can be customized to location(s) of choice or with a vintage world map design.
Ways to Use: Great for groom or groomsmen at a travel themed wedding or destination wedding, great inexpensive customized groomsmen gift, or great gift for any man who wears cufflinks and has a bit of wanderlust.
My Thoughts: A great accessory to add a touch of travel to the traditional attire of a groom or groomsmen. These are also a very budget-friendly item or gift that can be customized to show locations important to the person or the wedding couple. Laurence is thinking of where he can wear these with his new travel themed bow ties!
See More at Kris's Store: YourOccasionGifts (store has since closed)
Map Self Tie Bow Tie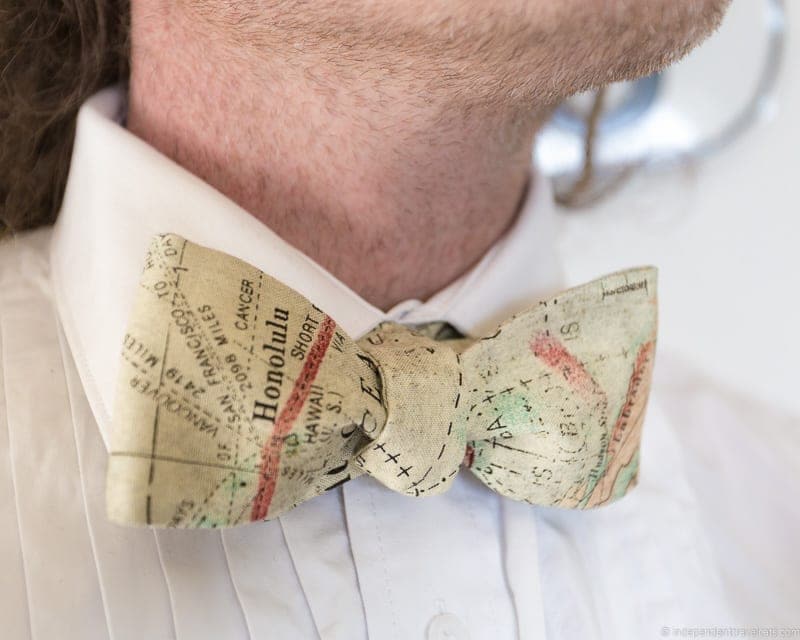 Product Links: World Map Bow Tie
What is It?: This handmade bow tie is made using premium Japanese cotton with a world map design. It is adjustable and will fit a neck size up to 21″. Customs styles, fabrics, and sizes are possible. Most styles are listed as self tie but can also be customized to be pre-tied as well.
Ways to Use: Great bow tie for groom and/or groomsmen at a travel themed wedding or destination wedding. Also a great gift for anyone with a love of both travel and bow ties.
My Thoughts: A great high-quality bow tie that would make a perfect addition to a travel themed wedding or destination wedding. Great accessory for groom and/or groomsmen. The fabric is of very good quality and feels very durable. If you order a self tie bow tie, just be sure the recipients know (or learn) how to tie a freestyle bow tie.
Words from the Artist: "All my pieces are hand-crafted. And currently I am doing everything myself, from 'hunting' for the most exclusive and high quality textiles, to hand-cutting patterns, stitching, ironing, and packaging garments in my studio. VIVID is not a mass production, I never try to skimp on quality, or fabrics I choose. All silks and cottons are coming from Italy, England, or Japan. My goal is to provide people with unique, quirky accessories that can't be found anywhere else. Some of my ties are literally one of a kind."
See More at Julia's Store: VIVID Clothing Toronto
Map Pre-Tied Bow Tie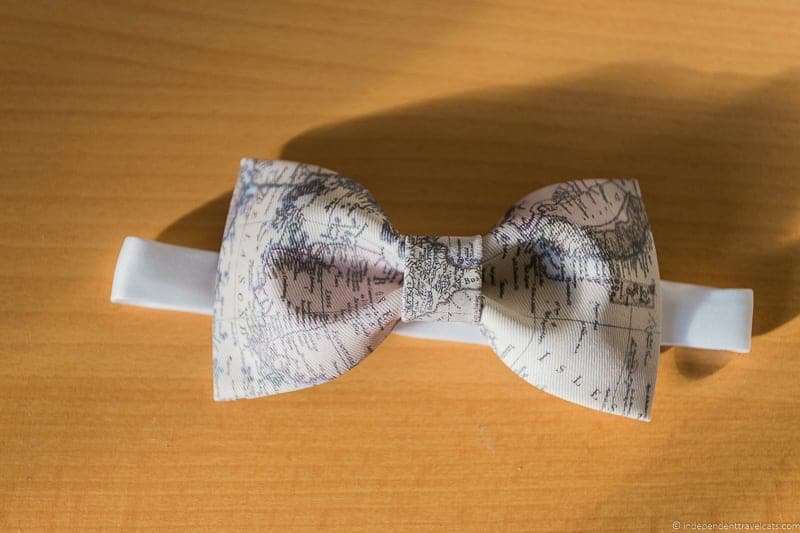 Product Link: Grey Map Bow Tie
What is It?: This handmade bow tie is made of cotton with a map design and is attached to a white adjustable ribbon with a snap closure. The bow tie we received was pre-tied. Bow ties can be customized and other map designs can also be found in the seller's store.
Ways to Use: Great bow tie for groom and/or groomsmen at a travel themed wedding or destination wedding. Also a great gift for anyone with a love of both travel and bow ties.
My Thoughts: Another great bow tie to add a touch of travel to the traditional attire of a groom or groomsmen. I like the understated color of this bow tie as it is mostly ivory, gray, and black with a tad of muted pink and blue. The bow tie is pre-tied and is quite rigid so it holds its shape very well. For weddings, especially if there are a lot of groomsmen wearing matching bow ties, it is often recommended by wedding photographers to wear pre-tied bow ties for the photo shoot so that all the ties are uniform size and shape in the wedding photos.
See More at Earl's Store: Gentleman's Dignity
Globe & Compass Necklaces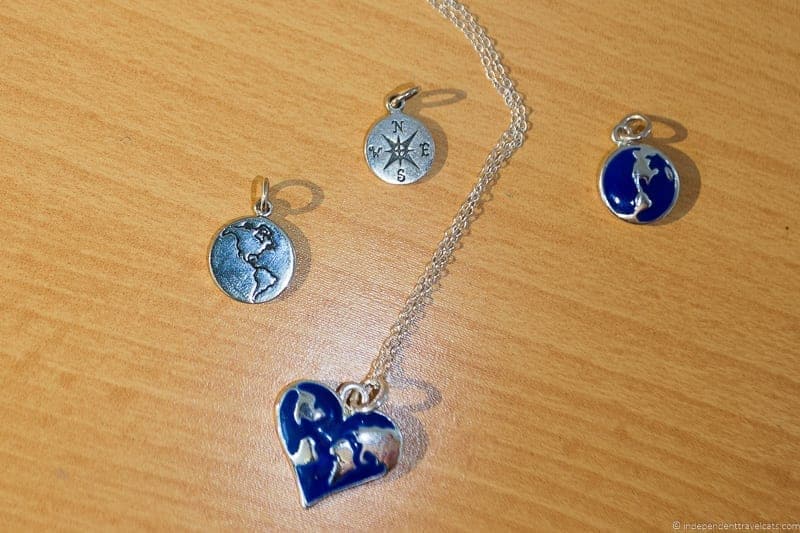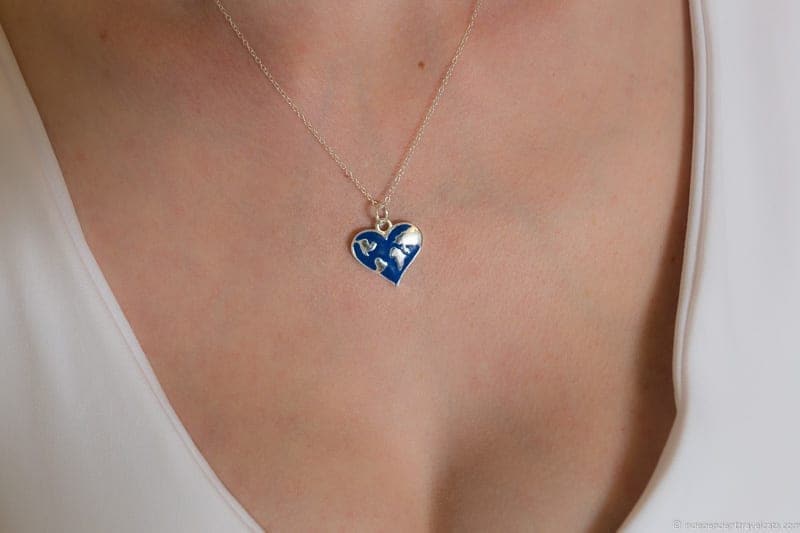 Products Link: Globe Necklaces & Compass Necklaces 
What is It?: A large selection of sterling silver, enamel, gold, and pewter charm jewelry with sterling silver chains available in a variety of lengths.
Ways to Use: These can be used for wedding jewelry, bridesmaid gifts, or a gift for any woman with wanderlust. The blue globe necklaces are a unique way to combine the "something blue" (and "something new") with one's wanderlust in a travel themed wedding or destination wedding.
My Thoughts: We really were surprised by the wide selection of travel themed jewelry that was available and love all four of these fun charms. I really like the idea of the heart-shaped blue world map necklace for a bride. Laurence's favorite is the understated compass charm which is delicate and perfect for everyday wear.
See More at Kristen's Store: Evelyn Mae Creations
Map Paper Flower Wedding Bouquet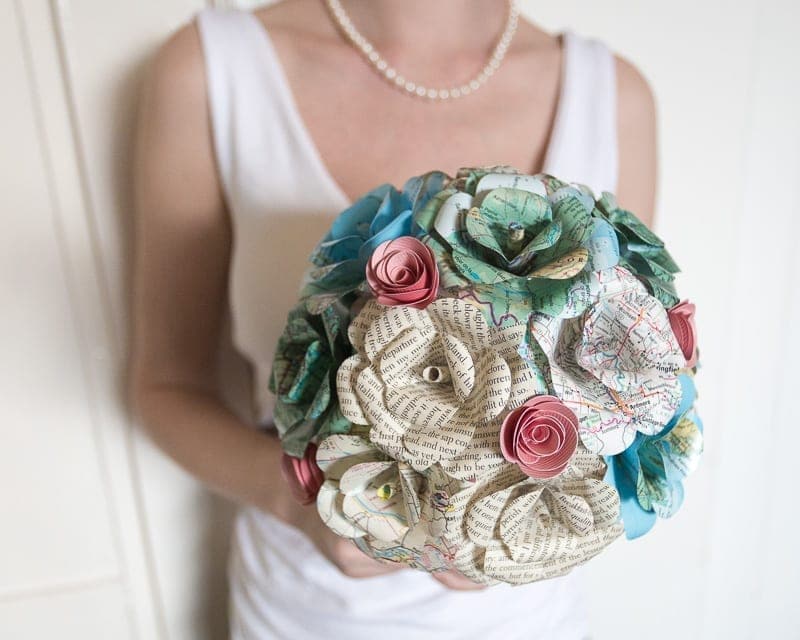 Product Links: Map Flower Wedding Bouquet
What is It?: A handcrafted wedding bouquet made of paper flowers, cardstock, ribbon, wire, and glue. The paper flowers can be crafted out of recycled maps or atlas pages, book pages, love letters, sheet music, comics, burlap, colored cardstock, or any other type of paper and can be shaped into 7 different kinds of flower shapes. The colors, flowers, and bouquet size are all customizable. Couples can specify the actual book, map page, or comic book they want used in the bouquet or provide any sort of Casey for her to use in the bouquet. Matching boutonnieres and corsages also available.
Ways to Use: These make a great alternative to those not wanting to have a traditional live flower wedding bouquet. Can be carried by brides and/or bridesmaids. The map flowers can be customized to include specific special locations to the wedding couple. 
My Thoughts: I had never thought of paper bouquets before writing this article but I am now a big fan as they make such a great keepsake and there are no concerns about wilting flowers. Whereas paper flowers are not for everyone, they make a great way to incorporate a travel aspect into a travel themed wedding. They are also very practical for traveling couples as paper flower bouquets can be bought well in advance and can travel to a destination wedding without fear of dying. These handcrafted flower bouquets are really lovely and intricate, and it takes much more time to make these compared to a traditional live flower bouquet. Be sure to place your order well in advance as Casey of often booked up advance with weddings.
Words from the Artist: "At Crafting by Knight, we want your wedding flowers to share your love story! We make flowers out of maps of your hometowns, the first book you read together as a couple, the song you'll share your first married dance to, and so much more. Document your love story in the form of a beautiful keepsake bouquet!"
See More at Casey's Store: CraftingbyKnight
Travel Themed Wedding Inspiration Giveaway
For any upcoming wedding couple, or their friends or family, who want to incorporate a bit of travel into their wedding I have decided to giveaway some of the products I have received for review to my readers. The main item for giveaway is the beautiful paper wedding bouquet made by Casey at CraftingbyKnight (exact bouquet pictured above, value USD $180.00), but I will also include the suitcase shaped gift favor box, gift favor map bags, Atlas confetti, table card sample, pre-tied bow tie, and samples of all the wedding invitations and Save the Date cards pictured above. This package is a great way to sample for free many of these travel items before placing a full order. I may also include some extra goodies as well. Free shipping is included and I will ship internationally with tracking (note that if any custom charges are charged by the country of the winner, the winner is responsible for these charges). The value of the  giveaway is over USD $200. Applicants must be 18 years or older and have a valid mailing address. Winners will be contacted by the email provided (so please use an email to enter that you check regularly); if winner does not respond to email within 72 hours, another winner will be chosen. The items will then be shipped to an address provided by the winner. Giveaway is open internationally. The giveaway will end on June 10, 2016 at 12:00am PST. All entries will be checked for validity. Good Luck!
**GIVEAWAY IS NOW CLOSED! Our winner was Terra C. from Ohio, USA. Congrats and enjoy Terra!**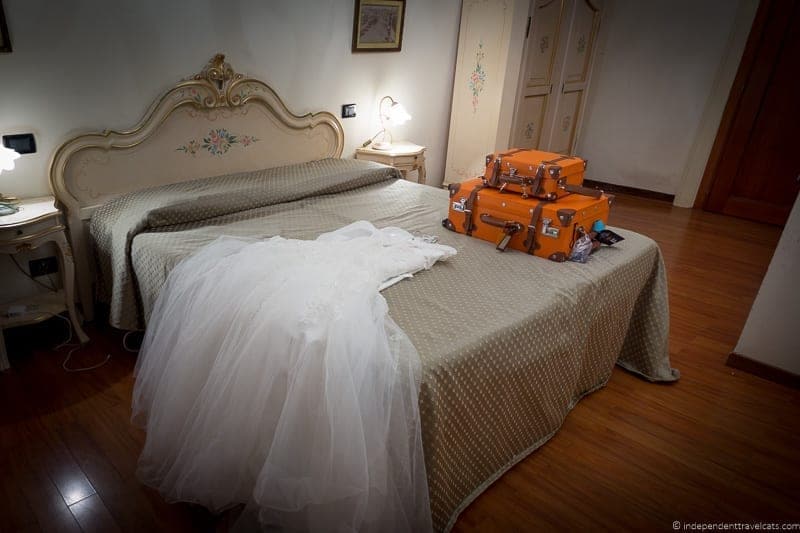 To enter the giveaway simply enter the Rafflecopter below.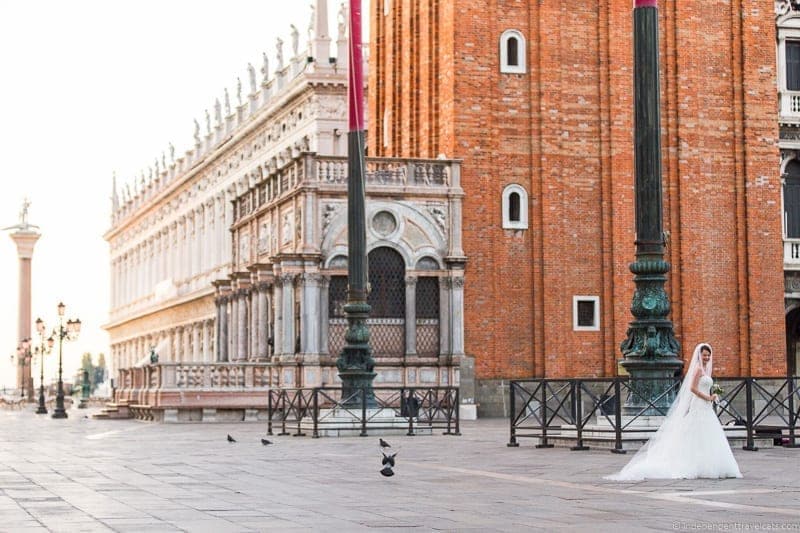 What do you think of these travel themed wedding items, did they inspire some ideas of your own? Did you incorporate travel into your wedding day or do you plan to include some element of travel into your wedding? If you have any questions about any of these items, just ask us and we're happy to share our honest thoughts!
**Disclosure: As noted earlier in this post, we received several complimentary items in order to review them for this post and some we received and then returned to the artists. Others were purchased by us or given to us for our own wedding. This article contains only our own honest thoughts and opinions. Check out our Ethical Code for more information about how we work. **