A travel wrap is a great versatile travel garment that can often be used as a shawl, a scarf, and a travel blanket. Travel wraps are also often lightweight and compact enough to fold up and store in a purse or backpack.
A travel wrap can keep you warm on a chilly airplane or be used as travel blanket on a long bus ride. It can cover your shoulders when entering churches, dress up a plain outfit for an evening out, and add an extra layer of warmth as you watch the sunset from a beach.
We'll share what to look for when buying a travel wrap from recommended best fabrics to considering the versatility and practicality of the item. Then we review a number of different travel wraps that are sure to fit any budget or style.

9 Things to Consider When Buying a Travel Wrap
I purchased my first travel wrap several years ago now, and the one pictured in most of the photos is from Secret Sweater, a former California based company. Sadly this product is no longer available but there are lots of similar products out there!
I found the Secret Sweater travel shawl to be a great thing to have at the airport waiting in lines and sitting around. It was great in the airplane as I am often cold and not all flights provide blankets.
Laurence loves to shoot photos at sunset which generally means I sit outside with him during some chilly evenings and the travel shawl has been fabulous for these situations. For example some of the photos in this post were taken at Natural Bridges State Beach in Santa Cruz, California.
But it was also great for indoor locations like cold offices and air-conditioned museums. It is also great when going into religious sites in the summer and needing to be sure to have shoulders and arms covered.
Another one of the nice things about this shawl is how stylish it looks compared to just throwing on a sweatshirt or old cardigan. So I'd definitely recommend one as a travel accessory for women!
Travel wraps can be a wonderful travel accessory but they are not all the same. So here are 9 things to consider before purchasing a travel wrap or travel shawl.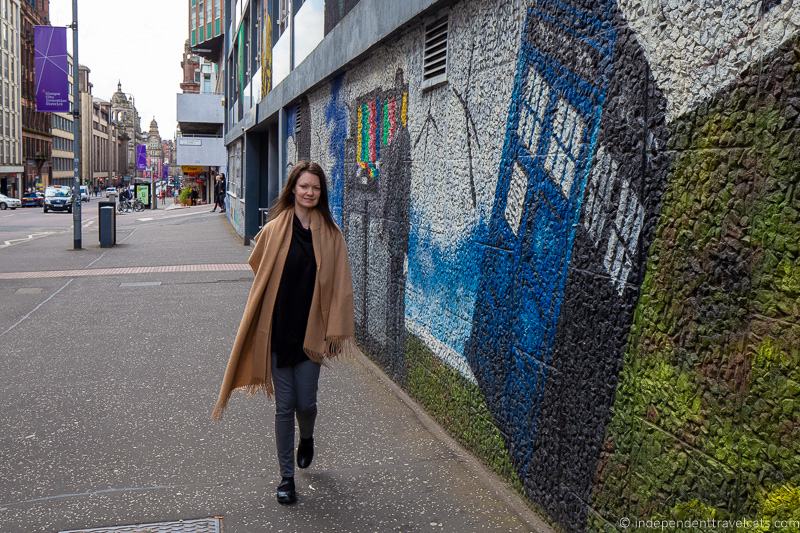 Versatility
The best thing about travel wraps is their versatility. They can be worn in a number of ways and can often top a number of different outfits from casual to more dressy.
Consider how you would be able to wear the travel wrap. Many travel wraps you can wear as a scarf, shrug, or shawl. Some you can also use as a travel blanket to keep you warm on plane and bus rides. Or as a sarong, headscarf, or sari
Perhaps you want to be able to pin it around your shoulders to wear like a poncho. If you like to wear scarfs and wraps poncho style, then you might want to wear it with shawl pins or shawl buckle clasp. Although if you are looking for a true poncho, you might consider something like this Caroline Grace poncho instead of a travel wrap.
Think about what you want to use a travel wrap for most and if each product can be used in that manner. Items that come with sleeves, pockets, or armholes are generally going to have less versatility.
Note that a travel shawl may replace a sweater or cardigan but it is not intended to take the place of an actual coat, and they often won't fit well under or on top of a coat or jacket unless you can wear it as a scarf. Travel wraps are also not great if you plan to be very active as they tend to slip off unless you get one with armholes or sleeves.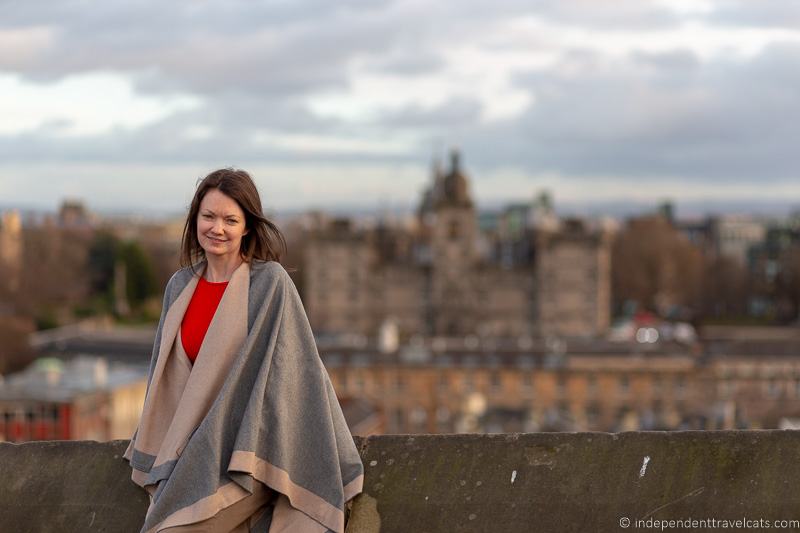 Size / Dimensions of the Travel Wrap
In relation to versatility above, be sure to consider the size and dimensions of the travel wrap. For example, if you want to be able to use it as a travel blanket, you'll probably want something at least 60 inches (5 feet) in length or longer and fairly wide.
But on the other hand, if you want to be able to use it as a scarf, something that is 90 inches long and 40 inches across may be too bulky to easily wear around your neck. If you think you'd prefer a travel scarf rather than a travel wrap, you can check out our travel scarves guide.
Note that for precious fabrics like cashmere, the prices will generally rise along with the dimensions of the garment.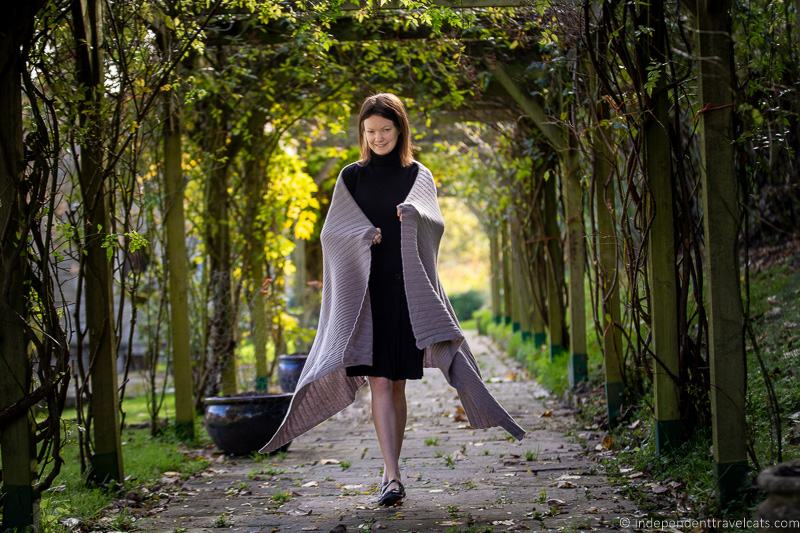 Design of the Travel Wrap
Most travel wraps are essentially wide scarfs with no structure or armholes. But many are cut or tapered to fit a certain way which may affect its fit and versatility.
Some also have armholes or sleeves and a few have pockets. Some also have decorative elements such as tassels, embroidery, and sequins.
Travel Wrap Fabric
The material of the travel wrap is important to take into account. As the fabric will often determine the price, durability, and washability of the garment. It is also important to note that some fabrics wrinkle more easily than others and some wick away or resist moisture better than others.
Here are six common fabrics that may be used to make travel wraps:
Acrylic – This is a material made of synthetic fibers. It is generally soft, warm, wrinkle-resistant, and durable. It is often made to feel like wool. It is inexpensive and may be mixed with natural materials. Materials made from acrylic fibers can often be machine washed.
Cotton – A natural fiber that is the most widely used natural fiber in the manufacturing of clothing in the world. It is durable, inexpensive, and soft, although it tends to lose its softness over time and thinner cotton fabrics can wrinkle rather easily. Because of its tendency to wrinkle and that it absorbs and holds moisture, it is not an ideal fabric for a travel wrap unless it is blended with another material or fairly thick. Usually machine washable.
Rayon – Rayon is made of a semi-synthetic manufactured fiber produced from regenerated cellulose fiber (generally wood pulp). It often mimics the feel and texture of fabrics like wool or silk. It wicks away moisture better than cotton but may wrinkle easily (depends on type of rayon). Rayon travel wraps are normally priced at the mid-point. Rayon is produced in different ways and sold under different names such as viscose and MicroModal. Usually machine washable.
Wool – Wool is a natural fiber made from the wool of sheep (and sometimes other animals). It is warm, durable, and wicks moisture well. It can wrinkle but is more wrinkle-resistant (especially if a thicker wool) than cotton, silk, rayon, and linen. Pricing is generally at the mid-point but depends on the type of wool as finer wools will fall at premium price points. Some people may find coarser wool products itchy or irritating. Types of wool are sometimes labeled by the type of wool used such as merino, cashmere, or pashmina. Usually hand wash only.
Cashmere – Cashmere is a fine and delicate type of wool. This is generally the most expensive type of material used to produce travel wraps. One of the most expensive types of cashmere is pashmina. Needs to be handled more delicately than most other fabrics as can tear easily. Hand wash only.
Silk – Silk is a natural protein fiber and is well-known as a soft and luxurious fabric. Can hold bright colors and feels smooth on the skin. However, it can stain easily and can stretch and shrink when wet. Not the most practical fabric for a travel wrap; however, you may see travel wraps with silk blends such as a blend of wool and silk. Usually dry clean only.
We would recommend looking for travel wraps made of acrylic, rayon, or wool as they tend to be more practical fabrics for travel wraps than others. Cotton can also work if it is blended or a thicker knit, but not recommended for wet or tropical destinations.
Note that pashmina is a fine type of cashmere wool (rare and expensive), but the vast majority of products labeled as pashmina are not made of pashmina. The term is loosely used to describe any scarf or wrap.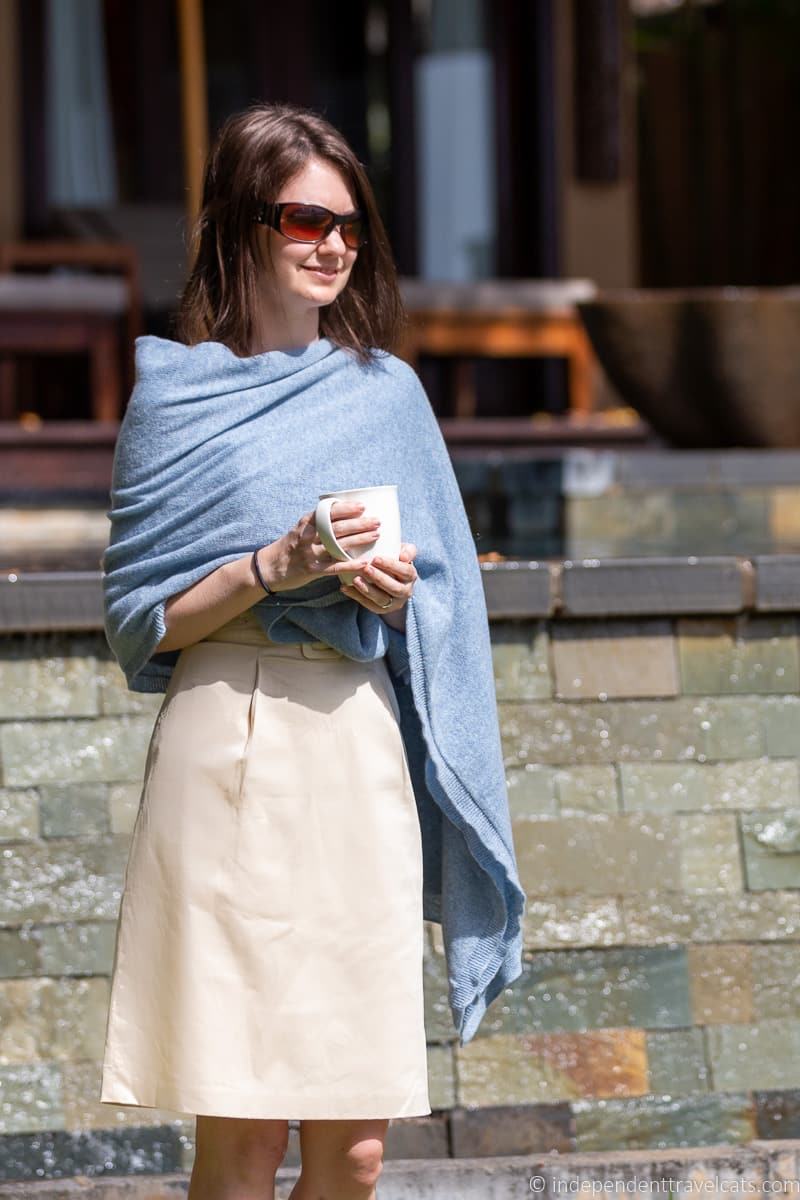 Price
Travel wraps fall in a number of price points, from budget to premium. Travel wraps can range from about USD $15 to over USD $500, with most falling in the $40 to $200 range. More expensive products are generally made of more premium materials like cashmere.
Washability
Be sure to read the cleaning care label on a travel wrap. Some materials like wool and cashmere are more delicate and usually needs to be hand washed to prevent damage. Some items may be dry clean only.
If you plan to do laundry while traveling, you can easily hand wash items in the sink or tub as you go.
If you plan to only machine wash your clothes, you may want to look at acrylic, rayon, and cotton options which are more likely to be machine washable. However, even with these fabrics, companies may recommend hand washing over machine washing to lengthen the life of the wrap.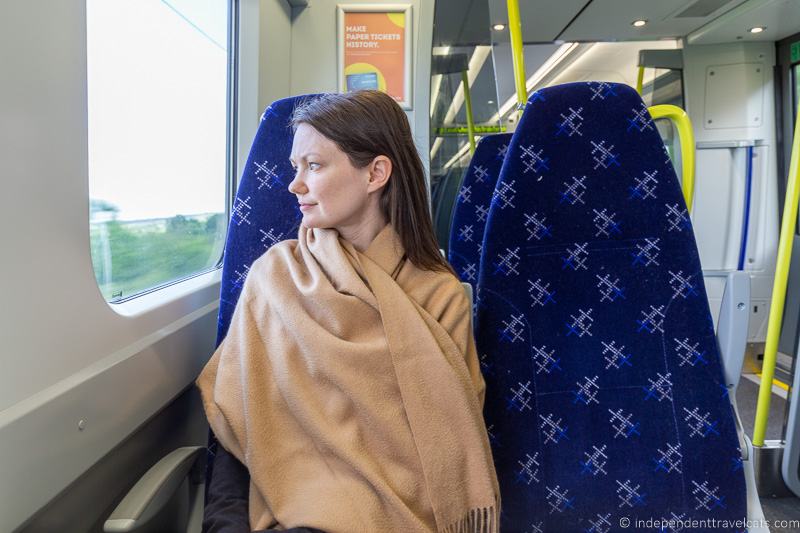 Country of Origin
Travel wraps are made in countries around the world with many being produced in China since it is cheap to manufacture textiles there. If you are concerned about quality control, sustainability, or carbon footprint, you may want to pay attention to the country of origin and from where it is being shipped.
Be cautious about any products that do not list their country of origin on the tag. Many countries, such as the United States, require country of origin tags on clothing.
Also be wary of cheap products that are listed as coming from a country with a high cost of labor. For example, we spotted a travel wrap with a glued on label stating it was made from 100% Scottish cashmere on Amazon that looked like it was neither cashmere nor made in Scotland. If it sounds too good to be true, it probably is!
Reliability of Reviews
We all like to read reviews before we buy an item. I find this very helpful to see what other people have thought, the pros/cons, and which body types it might fit best. Reviews can be very useful and most of them use them to guide our buying decisions.
However, fake reviews are an issue on many sites from Tripadvisor to Amazon. Note that if you are buying a product on Amazon (or similar site) and are concerned about the authenticity of the reviews, we recommend running the link through FakeSpot. It isn't 100% reliable but it helps show patterns of deception.
Also note, if you want my opinion or advice, just leave us a Comment at the end of this article. I personally own half of the recommended travel wraps, so happy to share more of my own thoughts if you need help deciding!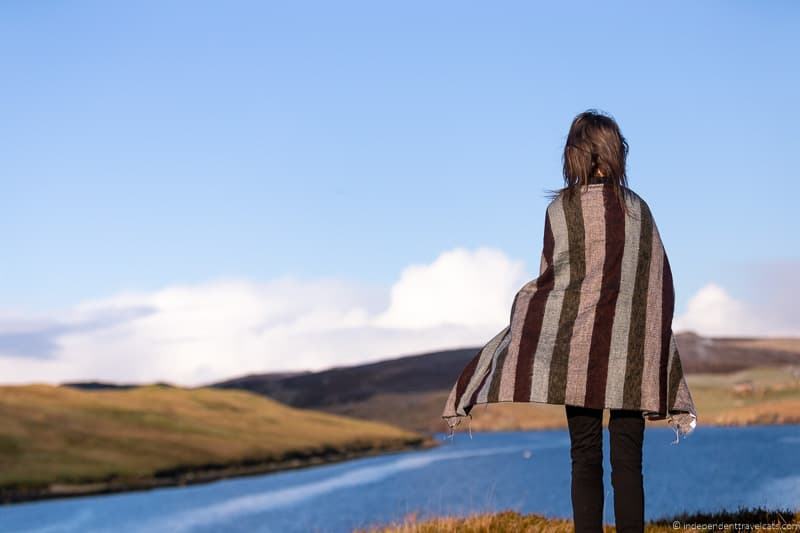 Practicality
Practicality is perhaps the most important thing to think about when making a purchase of a travel wrap, or any other garment. This takes into account most of the other things we've already discussed.
Some questions to consider:
Will you actually wear it? Will you carry it around on your travels? How much space does it take up in your luggage? How versatile is it? Does it go well with the travel clothing you already own? Do you mind if it gets wrinkly? How will you wash it?
12 Travel Wraps & Shawls for Women
Below is our list of 12 different travel wraps of various styles and at different price points. All can be purchased online.
These 12 travel wraps are listed in order of price, from lowest to highest.
This is a soft and pretty versatile wrap at a budget price. It is very versatile and can be used as a scarf or shawl.
The wrap measures 76 inches X 27 inches (193 cm X 68 cm), and has tassels along the edges. It comes in about 20 colors.
It is made in China of a blend of acrylic, wool, and cashmere. Given the price, expect it to be mostly acrylic. Hand wash only.
Price: Check latest price here
York Scarves offers several generous sized scarfs and wraps (labeled as pashminas) that can be worn as a shawl, cape, scarf, or poncho.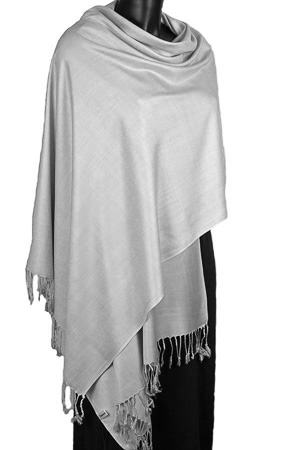 The wraps (depending on material and style) measure either 78.5 inches X 27.5 inches (200 cm X 70 cm) or 70.5 inches X 27.5 inches (180 cm X 70 cm). All designs have either short fringe or tassels along the edges. Lots of colors available.
There are a variety of materials used and they offer a selection of travel wraps made of 100% organic cotton (see those here), 100% viscose (see those here), or 100% lambswool (see those here). Price points vary according to the material.
The wraps are handwoven in India and then imported and sold by a British fair trade seller in England. Hand wash only.
Price: Check latest prices here
These stylish and elegant Melifluos wraps are a perfect accessory to cover your shoulders for a little extra warmth or to dress up an evening outfit. Designed in Spain, these wraps can be used as a shawl or blanket.
This wrap comes in a variety of designs, and most of the designs are reversible so can be worn two ways.
The wraps are designed in Spain and made in China. They are 48 inches X 48 inches (121 cm X 121 cm) and are made of 100% bamboo viscose (rayon). For cleaning, it is recommended that it be gently hand washed.
This is a pretty wide wrap so I would not recommend it for petite women as although it drapes nicely, I feel it overwhelms my small stature a bit. It will fit better on taller women. I have also found that the fabric tends to wrinkle easily, so you will need to iron it (on low temperature) between uses if wrinkles bother you.
Price: Check latest price here
Dana Xu's wool wraps are known for their rich vibrant colors and patterns, and are great for travelers wanting to make a statement. These colorful wraps can be used as scarf, shawl, or blanket.

Made in China using 100% fine wool from Australia and New Zealand. The wool wraps are a generous 96 inches X 43 inches (243 cm X 109 cm). Hand wash only.
Price: Check latest price here
The HappyLuxe Wayfarer Travel Wrap is lightweight and versatile. It can be used as a travel scarf, wrap, blanket, or shawl.
A unique feature of this wrap is that it has a discreet built-in pocket to store a standard size hand warmer (included) to help keep you warm on chilly days. Very handy for cold airplanes and chilly evenings outside.
The wrap is 68 inches X 35 inches (172 cm X 89 cm). It is made in the United States of America of 95% MicroModal (rayon) and 5% Spandex.
It is machine washable (on delicate cycle) or you can hand wash it. Available in several colors.
They also offer a 3-item travel set bundle with a canvas tote bag, called the Paris Luxury Travel Set, that includes the travel wrap, an eye mask, and a travel pillow. You can see that travel set here.
I believe that if you purchase on the Happyluxe website, they are currently only offer shipping within the United States. If you live outside the USA, they also sell the wraps on Amazon where they ship to a number of countries.
Price: Check the latest price here (Happyluxe website) and here (on Amazon)
If you are looking for a great travel wrap that travels well and is easy to care for, this is a great once to consider. It works great as a travel wrap and shawl and the included travel bag can also make it work as a travel pillow.
The Mer-Sea & Co. travel wrap features a curved neckline and fringe at each end. It is available in a variety of solid colors. It also comes with a matching storage bag that can also be stuffed to be used as a pillow when traveling.
This travel wrap is made of 100% acrylic. The company is based in the United States and this particular travel wrap is made in Ecuador. It measures 61 inches in length and 50 inches in width (154 cm X 127cm). It is machine washable.
Although we feel this is a bit pricey for an acrylic garment, it is very well made and unlike most travel wraps, it is sewn specifically to be worn as a travel wrap or shawl. This helps make it fit and stay put a bit better than those that are completely rectangular or square.
The other great thing about this particular wrap is that is made with easy care in mind. It is both machine washable and can be dried in a tumble dryer. So if you are looking for something more hard-wearing that can be cleaned by machine, this is a good one to check out.
Mer-Sea & Co. also have a variety of other travel wraps, including more easy-care wraps, beach wraps, and travel wraps with sleeves. They have styles in a variety of fabrics, including acrylic, cotton, linen, and cashmere. You can check out the full collection here.
Price: Check latest price here (company website) or here (on Amazon)
Barefoot Dreams specializes in creating soft and comfy clothing and has several wraps, ponchos, and shawls that are perfect for travel. There are several designs to choose from with some of the shawls coming with sleeves and/or pockets.

The various travel shawls and wraps vary a bit in size and dimensions, but expect something around the size of the CozyChic Lite Travel Shawl which is 72 inches X 28 inches (182 cm X 71 cm).
The majority of the travel shawls are made of 80% nylon and 20% rayon from bamboo. Machine washable on the delicate cycle.
Price: Check latest price here
If you are looking for a more luxurious wrap, consider something in cashmere. This pure cashmere wrap from Italy is soft and versatile. This great travel wrap can be used as a shawl, lightweight blanket, or oversized scarf.
The wrap measures 80 inches by 23 inches (205 cm X 60 cm) and is made of 100% cashmere. Comes in an array of colors. Made in Italy.
As with any cashmere product, it can tear easily so handle with care. It will need to be hand washed or dry cleaned.
Price: Check latest price here
Another great cashmere option is this travel wrap by Ovcio, which can be used as a travel wrap, shawl, blanket, or oversized scarf.
Comes in a large number of colors. Most are solid colors with fringes, but they also offer a few multi-colored ones as well.
The wrap measures 79 inches x 28 inches (200 cm x 70 cm), and is made of 100% Mongolian cashmere. Made in China. Hand wash or dry clean.
Ovcio currently offer free worldwide shipping to customers on all orders. Gift box included.
Price: Check latest price here
If you are looking for a cashmere travel wrap with sleeves, this is one to consider. As far as we know, it is the only sleeved wrap made of wool and cashmere.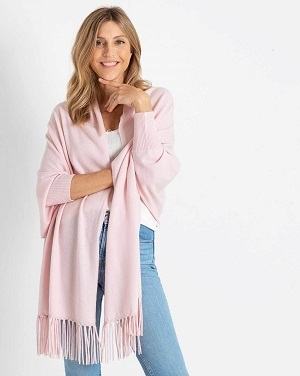 This Mer Sea & Co. sleeved travel wrap features long sleeves and fringed edges. It is available in several versatile colors. The main portion of the shawl measures approximately 79 inches in length and 22 inches in width (200 cm X 55 cm).
This travel wrap is knitted and is made of 70% merino wool and 30% cashmere. The company is based in the United States and this particular travel wrap is made in Mongolia. It must be handwashed and air-dried.
This wrap is perfect for those who have hard time keeping travel wraps and shawls in place around their shoulders. The sleeves help ensure it stays in place and allows for much greater movement without a concern that it's going to slip off.
Mer-Sea & Co. also have a variety of other travel wraps and you can check out the full collection here.
Price: Check latest price here (company website) or here (on Amazon)
The TravelWrap Company's Classic cashmere wrap is indeed a popular classic. The Scotland-made wrap is versatile and can be used as a thick scarf, shawl, poncho, or travel blanket.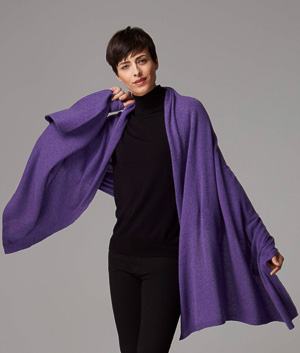 This wrap goes well with formal clothing or can add some elegance to casual clothing. Comes in a wide array of beautiful colors.
It is made of 100% cashmere and is a 2-ply wrap knitted on an 8 needle machine. The wraps are 71 inches X 35.5 inches (180cm X 90cm). This UK company's cashmere wraps are made in bonnie Scotland. Hand wash or dry clean only.
This is a beautiful wrap, especially for cool and cold weather. I have a light blue one (Mizzle) and it is also great for cool Spring and summer evenings.
Wrap comes with a beautiful box (great for gifting) and a satin storage pouch (great for traveling). We love these wraps and they make for wonderful gifts.
If you are looking for something bigger, thicker, and more luxurious, we recommend checking out the Cathedral style wrap by The TravelWrap Company. This elegant 3-ply cashmere wrap drapes wonderfully over the shoulders and has a textured ribbed design. Perhaps too bulky for travel for most, but a great wrap.
The company currently offers free shipping and returns on all UK and international orders.
Price: Check latest price here
This luxurious cashmere wrap by White + Warren is large, soft, and versatile. It can be used as a travel scarf, wrap, blanket, or shawl.
This is the signature product from NYC-based White + Warren. It measures at 81 in. X 36 in. (205 cm X 91 cm). Comes in a wide array of colors that go well with lots of clothing.
It is made of 100% cashmere in 7 gauge knit and is 2 ply. Made in China. Delicate fabric; hand wash in cold water or dry clean.
Price: Check latest price here
**You can also see many of the travel wraps and shawls we recommend above in a single page on Amazon here with current prices for a handy reference.**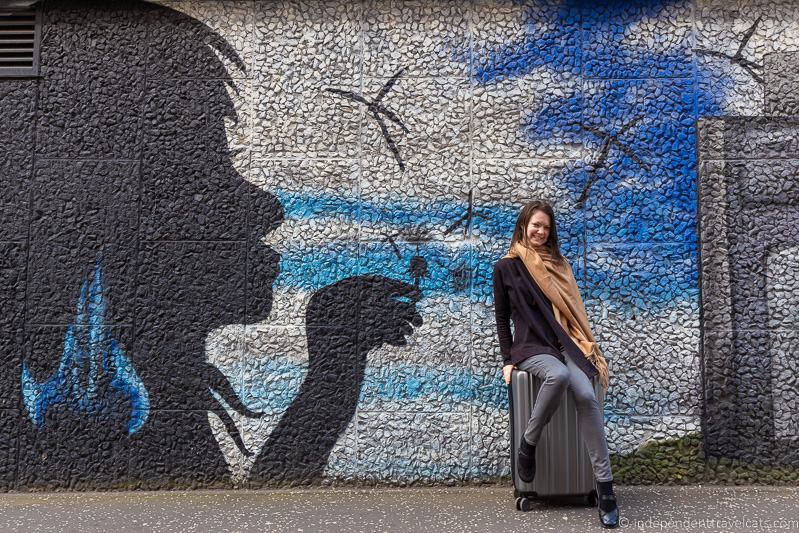 So that is our list of travel wraps and travel shawls! Which is your favorite?
Planning to purchase a travel wrap or shawl in the near future, but not now? Pin this article to Pinterest to read later:
What do you think about travel wraps and travel shawls? Do you own one? Is it a travel accessory on your wish list?