Update 2017 – Netgear no longer make the Trek router and as far as we can tell, have not replaced it with a similar product. If you are looking for a travel focused wireless router / range extender with similar features and functionality, we recommend instead the TP-Link N300 Nano Travel Router.  This offers very similar functionality at an excellent price. We'll keep the below post up as many of the features and capabilities are similar between the devices so we feel it is still of value.
Netgear sent us their Netgear Trek N300 Travel Router and Range Extender for us to try out on our travels. These days most travelers want to be able to get online regularly while traveling to check email, get directions, check hotel and restaurant reviews, upload photos, update social media, and stay in touch with those back home. It is definitely easier to stay connected as wireless Internet is now widely available in most parts of the world but there are still a number of situations when it can be tricky (or expensive) to connect. As travel bloggers, it is often even more important to be able to get online on a regular basis while traveling and it can be very frustrating when you are in a hotel with weak Wi-Fi, you are being restricted from using multiple devices on one Internet connection, or you would like more security when using an unsecured public hotspot. This compact little device solves these common Internet issues and offers a number of features to the on-the-go traveler who wants to stay connected. We'll tell you what the Netgear Trek N300 Travel Router does, how it works, where you can buy it, and give you a full review of our own personal experiences using the router.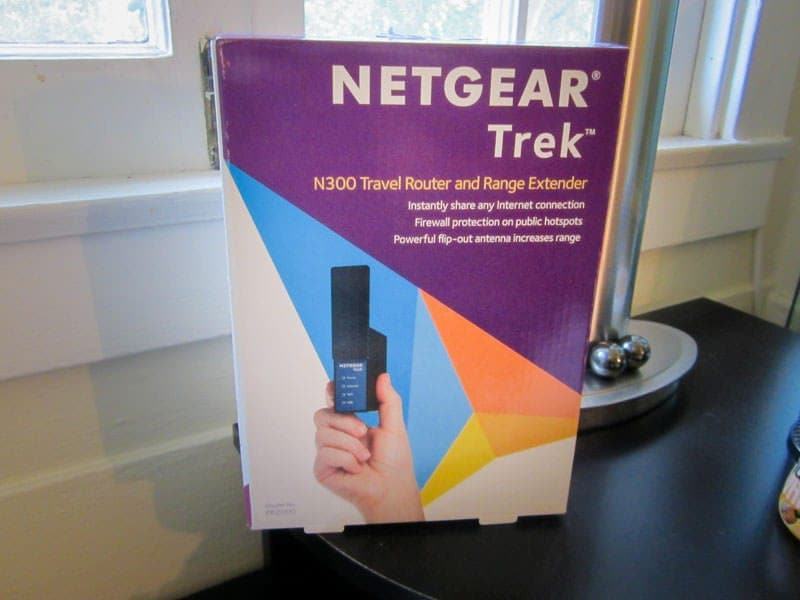 Basic Information on the Netgear Trek N300 Travel Router and Range Extender
What exactly does the Netgear Trek do?
The Netgear Trek N300 Travel Router and Range Extender does a number of things, most notably being that it can take increase the range of existing wireless Internet networks. Here is an overview of its main functions:
The Netgear Trek can extend the range of wireless networks, meaning you can connect to a network somewhere that you might not have been able to connect to with your device because the signal is too weak. The Netgear's powerful antenna can pick up this weak signal and amplify it so your devices can connect to it.
The Netgear Trek also creates a secure wireless network at a public hotspot to better protect your devices. Often when traveling the networks we connect to are unsecured and unencrypted, which means anyone could in theory grab hold of passwords or other data that we send to and from the internet. The Netgear Trek's firewall protects your personal devices from known DoS attacks and port scans from the Internet, thus making your connections more secure (although it is still not recommended that you share sensitive information over a public connection). 
It also allows you to connect multiple devices to a network, even with a single login. The Netgear Trek Travel Router is seen by networks as a single device, so if you are only given one login, you can still use multiple devices. You just login once from the Netgear device via a web browser or the provided smartphone app, and then all your devices can be connected to the Netgear trek.
The Netgear Trek Travel Router can also be used as a WiFi bridge. The Ethernet ports on the Trek can be used to connect up to two Ethernet-enabled devices wirelessly to an existing WiFi network. These can include Internet ready TVs, Blu-ray players, and gaming consoles.
What are the System Requirements of the Netgear Trek N300?
This device will work with most newer devices that can get online, but here are the specific manufacturer listed requirements:
Broadband (cable, DSL) Internet service and modem with Ethernet connection or WiFi hotspot

802.11 b/g/n 2.4GHz WiFi or Ethernet port for each device

Microsoft® Windows® 7, 8, Vista®, XP, 2000, Mac® OS, UNIX®, or Linux®

Microsoft® Internet Explorer® 5.0, Firefox® 2.0 or Safari® 1.4 or higher
**Note: While not listed on the current system requirements as pointed out by a reader below, the device also works well with our personal Android devices. We both use Android phones.**
Price and Where to Buy the Netgear Travel Router?
The Netgear Trek N300 can be purchased at a range of places including Amazon, WalMart, Newegg.com, and Fry's Electronics and prices can range from $35 to $95 online. We suggest checking the latest price on Amazon for up to date information (you can also read hundreds of customer reviews on Amazon).
Where can I find out more Information about the Netgear Trek N300?
You can read more information about the specifications and uses of the Netgear Trek N300 Travel Router and Range Extender, ask questions, and get support for the device here. You can also explore the full range of routers, adapters, wireless hotspots, and other products on the Netgear website.
Our Review of the Netgear Trek Travel Router
I received the Netgear Trek N300 Travel Router and Range Extender back in October, but coincidentally Laurence had purchased a Trek this summer on his own and had been using it since August. So this review is a combination of both of our experiences using the Netgear Trek.
What We Really Liked about the Netgear Trek 
First off, there were a number of design and functional features we noticed and really liked on just receiving the travel router. First, the device is fairly compact and the electrical plug and antenna fold in to make it more convenient for travel. We also liked that there are two ways to power the device: 1) from a wall outlet via the built-in plug or 2) it can also be powered using a USB cord, meaning you can use either a powerbank or just directly power it from your laptop. Just remember to bring along a travel adapter if you are traveling internationally and plan to plug it directly into the wall. The included device instructions were pretty simple to follow and set-up is fairly seamless. To connect, you just plug it in, connect via the app or your web browser, and away you go. Super easy. The Netgear Genie app makes it very easy to use and configure. We also liked that the device can connect to both a wired or wireless connection, so if you are in a hotel room that only offers Ethernet, you can plug the Trek into that, and then create a wireless hotspot from that.
The situation we have used the Netgear Trek Travel Router for the most while traveling has been to extend existing WiFi connections. We have often encountered the situation when we are happy to learn that a wireless Internet connection exists in a hotel, bus, cafe, or airport but are then disappointed that the connection is too weak to connect to or is very slow. This device can then be pulled out to help strengthen the signal so that we can get online using our phone, tablet, and/or laptops. Although not always possible, it is also great in those situations where you can extend a wifi range from a hotel lobby to your room or from an indoor space to a patio. The device also partially helps with the security issue of using public WiFi hotspots by providing a firewall and some protection from common Internet threats; however, you should still be cautious about providing sensitive personal information over a public connection.
The Netgear Trek Travel Router also is great in other traveling situations beyond just extending an existing wireless connection. There are situations where you might only be given a password to connect one device at a time on a wireless network or may have to pay per device. Obviously since we are traveling as a couple with two cell phones, two laptops, and a WiFi enabled camera between us, one Internet connection is not enough and we hate to pay for Internet. So by whipping out this device, it will allow you to connect multiple devices to a wireless network using a single login. You just login once from the Netgear device via a web browser or the provided smartphone app, and then all your devices can be connected to the Netgear trek where they should all work simultaneously. Also, if you are in a hotel or other location that only offers wired Internet access in your room, you can plug the Ethernet cable into the Netgear router and create a wireless connection that can be used for all of your WiFi enabled devices.     
Interestingly we have ended up using the Netgear Trek as much, if not more, at our apartment verses while traveling. I have a good wireless Internet connection in my apartment but it becomes weaker when trying to use a laptop or phone outside on the deck, so we've set it up to extend the range of our home wireless network to be able to blog more efficiently on the deck which is one of my favorite spots to blog. We have also used the USB ports on the Netgear Trek to charge cell phones and other devices and to plug in our USB hard drive for use as a network attached storage device to be shared on our home network.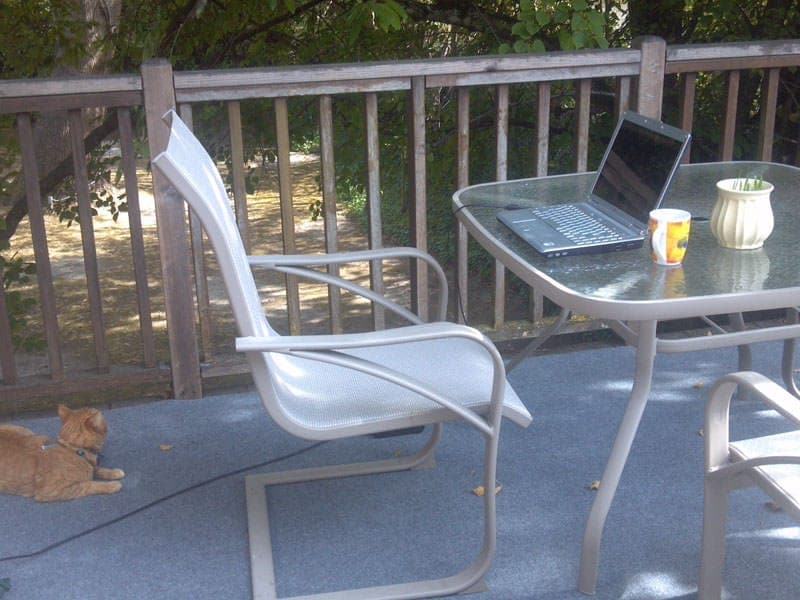 Limitations of the Netgear Trek Travel Router
Obviously the Netgear Trek is just a travel router and not a mobile hotspot, so it cannot create an Internet connection if one does not already exist. The Trek also does not include a modem so it cannot be used to create a network from an Internet connection using a phone cable (e.g., dial-up or DSL connection). So if you are wanting to actually use the Internet in place where there is no or very poor Internet, you'll probably want to consider a mobile hotspot rather than a router or range extender product.
Whereas overall the router has worked very well, we have had a few issues over the past six month of using the router both at home and while traveling. For instance, sometimes the device won't connect to a network because the signal isn't quite strong enough, but it won't give you much in the way of a message to explain why. So in a few situations we have spent too much time trying to get a connection to work when the signal is simply just too weak. It also sometimes takes a few minutes to connect to a network which can leave you wondering if it is just taking awhile or if it isn't working. If there is a complication when connecting, the advanced menu system can be fairly complicated if you are not super tech savvy.
Overall Opinion on the Netgear Trek Travel Router
Overall, we have found the Netgear Trek N300 Travel Router and Range Extender fairly simple and easy to use once configured. Its compact size, dual power charging options, functional versatility, and ability to work with both wired and wireless connection make it a great travel device. Given that many hotels only allow you to join a network using one device at a time (or charge extra for multiple devices), having the Netgear Trek makes it possible for us to use all our WiFi enabled devices at once without extra fees. We currently use it both at home to extend the range of our own home Internet and while traveling to extend wireless Internet connections, to login multiple devices using one password, and to add a little security while using public WiFi hotspots.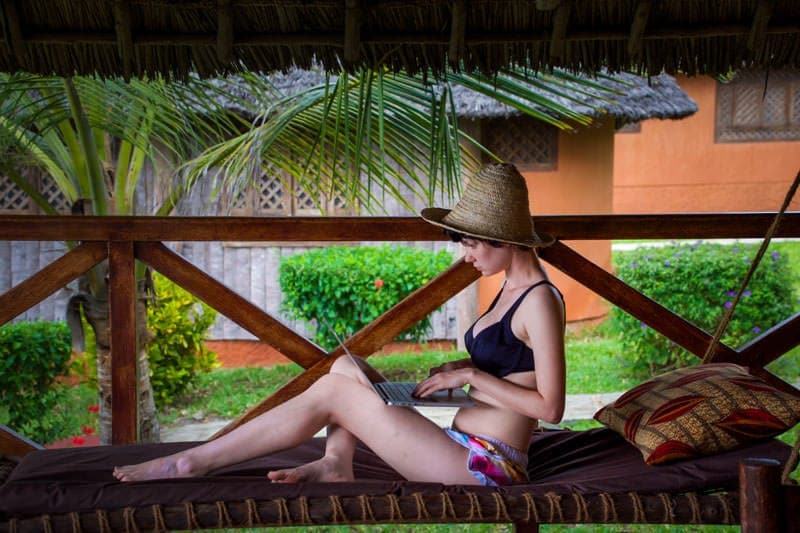 What issues do you have related to using the Internet while traveling? Have you used or would you consider using the Netgear Trek Travel Router? As always, we'd love to hear any advice, tips, or questions you may have!
**Disclosure: We were provided a complimentary Netgear Trek N300 Travel Router as travel writers in order to write this review; however, this article contains only our own honest thoughts and opinions. Laurence purchased his own Netgear Trek prior to this review. We did not receive any financial compensation for the writing of this post.**