A great way to fuel your wanderlust in between trips is to have travel inspiration and reminders in your home or office, and we've put together a long list of wonderful handmade travel home decor items.
We have a number of travel themed home decor items in our home including rugs, coffee mugs, blankets, wall art, photo frames, shower curtains, towels, and decorative globes.
We've put together a list of over 75 travel themed home decor in this article for those looking for a way to express their own love for travel, searching for a gift for a traveler, or just looking for inspiration about what types of travel themed home furnishings are out there.
Our list contains dozens of home decor items that are well-suited for a variety of spaces, budgets, and decorating tastes. Many can be personalized or customized so you can get a one of a kind piece. We give suggestions for items suited for all the rooms of your house including the kitchen, bedroom, living room, bathroom, nursery, and office.
We have physically reviewed many of these items and hope you enjoy this list of wonderful travel themed home decor items. Perhaps you'll discover your new favorite home furnishing pieces along the way!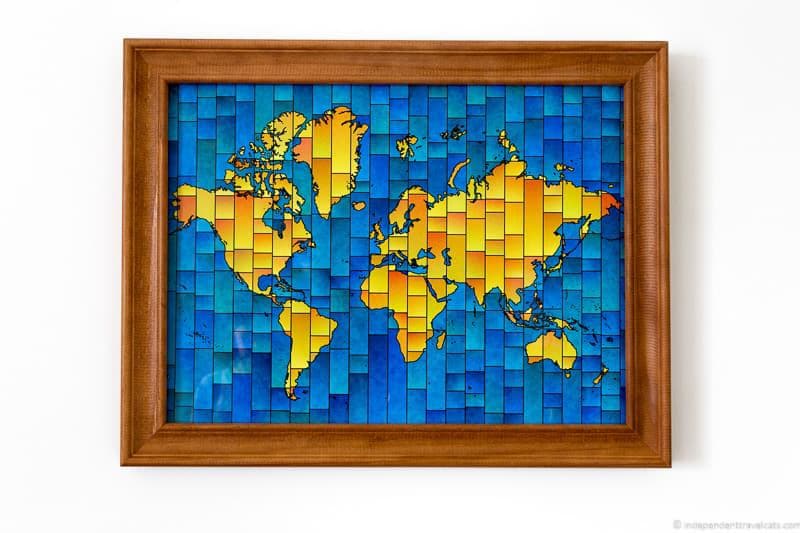 Handmade Travel Home Decor: Home Decoration for Travelers
I love travel themed items and have previously written posts on some of my favorite handmade travel themed wedding products and travel themed jewelry. I love globes, vintage maps, vacation photos, old postcards, etc. and love when I find items that incorporate travel themed elements into useful home decorations and furnishings. So we decided to put together another list on some great handmade travel themed home decor items.
These include pieces for all parts of the home from the office to the bedrooms and include everything from fridge magnets and lampshades to wall art and shower curtains. The items were also chosen to fit a wide range of decorating tastes and budgets with most items ranging in the USD $20 to $150 range.
Just so you know, many of the home decor items on this list we physically reviewed. Some were items we purchased or received as gifts, and others were given to us by artists for review. The other pieces are just ones I loved when searching for travel themed home furnishings online.
The majority of the items on our list are handmade or hand customized items, made by a single artist, family, or a small business. We love supporting these great individual artists and small businesses.
One of the things I love most about shopping for items on Etsy is that most artists can do personalized or custom items. Many of these items on this list are truly unique and many of them can be personalized for you.
We strove to include travel home decor pieces from around the world and items came from a number of places in North America, Europe, Australia, Africa, and Asia. However, the majority are from artists in the United States and United Kingdom.
If you are looking for a gift for your favorite traveler, but don't find it here, consider checking out our guide to gifts for travelers. It contains 75 gift suggestions that should suit any budget or type of traveler!
We are happy to answer any questions you may have about any of these items included. We hope that this list helps inspire you to show your wanderlust in decorating your own home!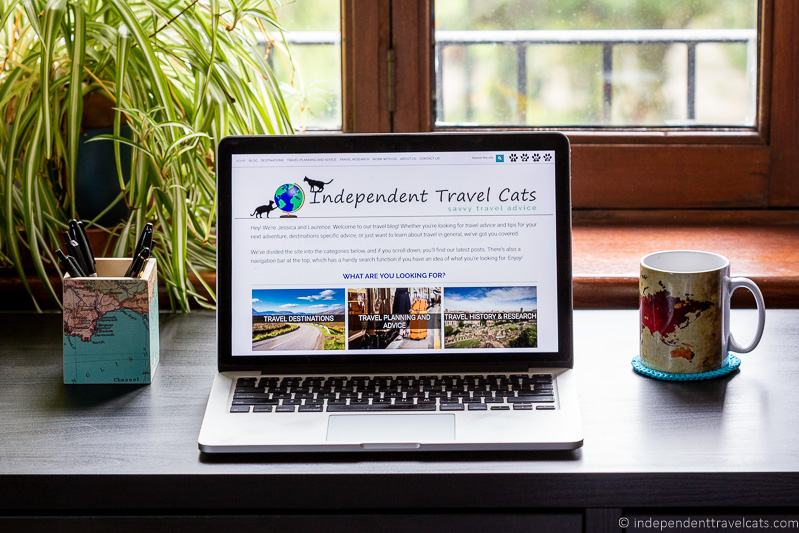 Travel Themed Home Decor for the Living Room & Lounge
Many people spend a lot of time in the living room or lounge in their home, and it is often the place where you gather with family and friends. It is a great room to display your love of travel, whether it is through displaying your favorite travel photos, throw pillows, blankets, candles, or coasters.
Here are a number of travel-themed home decor items that would be great for the living room to give you some decorating ideas.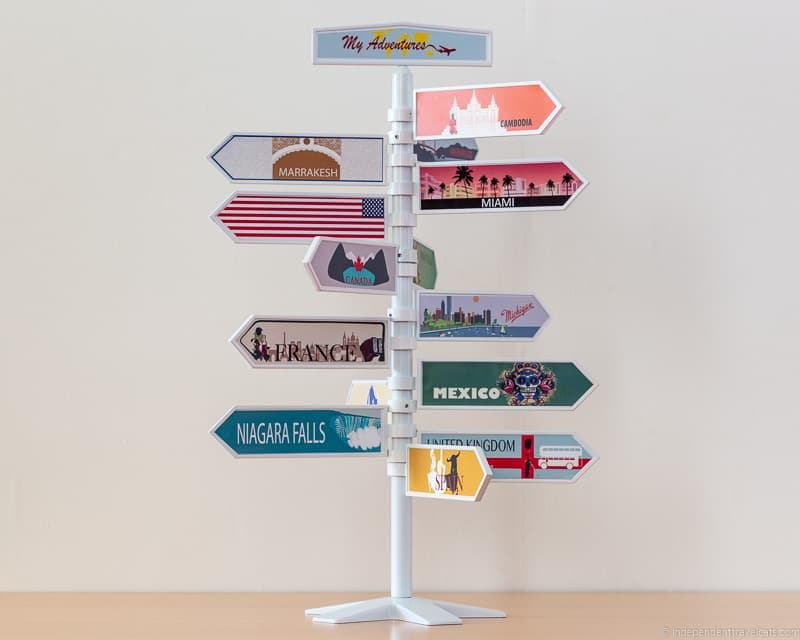 Wooden World Map Cutout
This amazing 3D wooden wall world map creates a 3D effect due to its unique raised areas, anywhere from 6 mm to 18 mm. With over six contrasting shades of wood, it is one of the most stylish wall maps we've seen online. You can use pushpins in it if you wish to mark specific travel locations. The maps are available in a variety of sizes and color shades.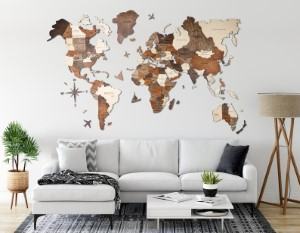 This would make a great piece to accentuate a focal wall in any room, and would also make a wonderful gift. Check out Igor and Maryna's Etsy store here.
Fun Printed Animal & Tropical Lamp Shades
This bold and eye catching zebra lampshade was created by UK artist Kelly Stevens-McLaughlan. Kelly is known for her unusual and whimsical animal art and designs. She works with galleries and some of the leading interior designers worldwide.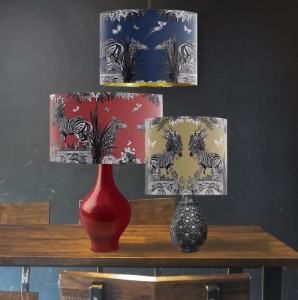 Whether you want to reminisce on adventures from your past or you dream of a safari trip in the future, this statement lamp shade will create an instant focal point in any room, and is sure to be a conversation piece. Take a look at more of her designs in Kelly's store.
Wood Mountain Shelf
These sweet mountain shelves have three peaks and are custom made from knotty pine. They add a great piece of interest to any home and immediately make us think of our time in the mountains. They are easy to hang on the wall with two simple nails and come in a variety of stain colors.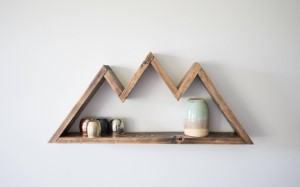 Please note that they are made to order, so be sure to allow plenty of time for shipping if buying as a gift. Sasha has loads of other wonderful handmade minimalist pieces of home decor in her store.
Custom Travel Photo Blanket
These custom photo throw blankets are perfect for displaying your favorite travel memories. The blankets come in a variety of polyester fabrics, including fleece and woven styles. You can use one photo or use several photos to create a collage. Photos are sublimated into the fabric (rather than screen printed) to help prevent fading, cracking, and peeling.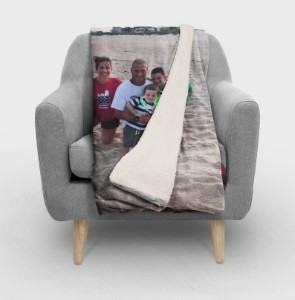 You can see more blanket styles and other personalized gifts at Julie's store.
Wooden Vacation Photo Frame
Use a personalized vacation photo frame to proudly show off your best vacation photos in your home or office. You can choose a ready-designed one to personalize or have it entirely customized with your own design. All frames include a stand for tabletop display and hook for wall hanging display.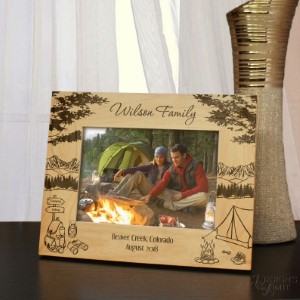 We love taking the time to print some of our best travel photos and displaying them in our home so we can look at them every day. You can find more at Richard & Tatiana's Store.
Travel Photo Throw Pillows
This beautiful hand sewn pillowcase is made from weather- and fade-resistant 100% spun polyester poplin fabric. The pictured pillowcase features a photo taken by the artist on Route 66 in the USA, but you can choose from hundreds of different photo designs and custom orders are also possible.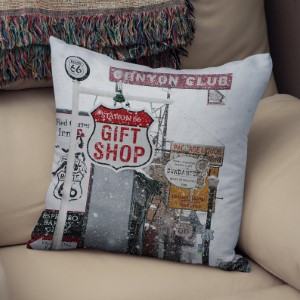 Katya also makes a number of other handcrafted items with travel and nature photos including phone cases, shower curtains, wall tapestries, duvet covers, and travel journals. See more at Katya's store Lost in Nature.
Custom Country Heart Pillow
Why not use these pillows to give a rustic look to your home and show off the places that you love. This burlap fabric pillowcase comes with cotton lining and an envelop closure. The pillowcase is hand embroidered with a country outline of your choice and heart in the location of the city of your choice.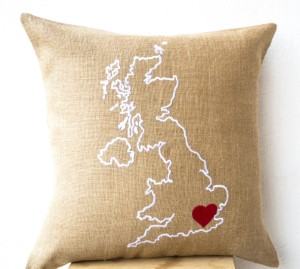 The pictured pillowcase is 16 inches X 16 inches (40 cm X 40 cm) and shows the UK with the heart over London.
Various pillowcase sizes and designs are available, but please note that the pillow insert is not included. Pop over to Puja's Store to see more designs.
MOVA Solar-Powered Globes
I am in love with the solar-powered globes from MOVA. We first spotted them spinning in a window display in a shop in Venice, Italy. We assumed they were spinning because of their base so were surprised when the shopkeeper put them in our hands and they kept spinning!
The globes spin on their own using solar power and magnets so they don't need to be plugged in and there are no batteries to be changed. They just need light, either indirect light from the sun or indoor lights. They can also be put onto about any base.
In addition to world maps, they also sell ones depicting planets, the moon, artwork, and sports teams. They come in a variety of color schemes with several base options.

Laurence bought me one of these for my birthday, specifically the 6″ green-and-gold one and I love it! He loved it too so he has since got an Earth globe for himself. They are great in the living room on a shelf or coffee table or on an office desk.
The companies sells their globes both on the MOVA website and on Amazon. Just be sure to buy them from an authorized site and register them once you receive them to benefit from the warranty.
If interested in purchasing one, we have been given a 5% off discount code that can be used for any 6 inch or 8.5 inch MOVA globe purchased from their website. Just put in coupon code TRAVELCATS at checkout.
Travel Themed Coasters
Travel themed map stone coasters are a great way to add a bit of travel decor to any room. We especially love that these can all be personalized or customized as much as you want. The map design is decoupaged to the stone tile and treated with commercial grade paver sealant on both front and back, and felt backing is applied to the bottom of the coasters.
We have a set of these personalized coasters that include the places where we met, our first road trip, where we got engaged, where we got married, and our first home together!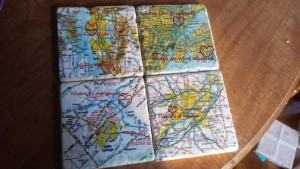 Coasters can be made of ceramic or natural stone and a number of customized elements and designs are available. They can also be hung on your wall as a decoration if you'd prefer (just request that wire loops be added). See more at Brenda's store: Hand to Home Concepts
Personalized Travel Tree
The Travel Tree Starter Set is unique product consisting of a white metal stand and base with attachable metal signs showing various travel destinations. The stand and travel signs are made of steel and aluminum and the travel signs are printed on high-quality vinyl stickers.
Each starter kit comes with the base, stand, title sign, and three customized travel signs. Additional personalized travel signs can be added.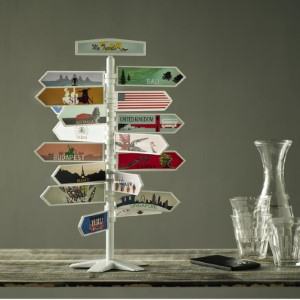 This is a great way to track and show your travels in a unique way, and you can keep adding to it as your list of visited cities or countries gets longer. In addition to travel destinations, trees can also be customized for golf courses, baseball parks, marathons, or other accomplishments. You can see more products from Maria in her store.
Map Throw Pillow Set
This set of 4 throw pillowcases includes four different designed focused on maps, travel, and geography. Pillowcases are 18 inches by 18 inches, made of cotton, and have a zipper closure. They do not include the pillow inserts.
See more travel-themed pillows on Amazon here.
Antique Map Pillar Candles
Fans of antique maps will love these wonderful decorative candles which are ivory, vanilla-scented candles with map transfers of antique city maps from around the world. Available in two sizes.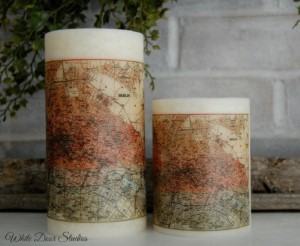 Note that if Terri doesn't have any candles listed in her shop, you can contact her for a custom order with the city map of your choice. You can find out more handmade home decor items over on Terri's store.
Custom Travel Slide Lamp Shade
Can you imagine turning your family slides into a gorgeous decoration for your home? That's exactly what the team at BlinkLab are doing, with their magnificent lamp shades. A great conversation piece and a perfect way to repurpose all those family slides.
Each shade requires 64 standard cardboard mounted photography slides which are affixed together to form the round lampshade. Then a diffusion material is attached to the interior of the shade which gives the slides a beautiful glow and a crystal clear view of the images.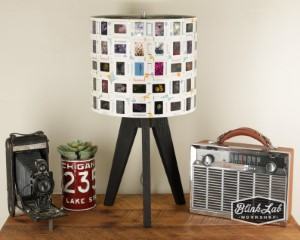 You can find more of Blink Lab's handmade repurposed industrial home decor in their store.
If you don't have your own travel slides to use, this shop makes travel slide lampshades using vintage photographic slides.
Vintage Suitcases
Add a pop of color to your home with these vintage retro suitcases. Not only do they look great, but they also make great storage solutions as coffee tables, side tables, or bedside tables. They come in stacks of 3, 4, 5 or 6 and can be used for in a number of different ways for the home and for events.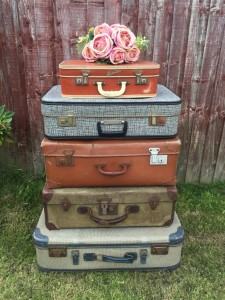 Anthia will usually send you a mixture of colors such as cream, brown, navy, black, teal, grey, green, and blue. But if you have very specific color or size requirements, send her a message and she might be able to help you. She has a beautiful collection of handmade and vintage products in her store.
Travel Themed Home Decor for the Kitchen
It's true what they say, the kitchen is the heart of the home. It is a place to make delicious food and share memories with the people you love. From tea towels to mason jars to wine stoppers, here are some of our favorite travel-themed kitchen decor items to showcase your memories from around the world.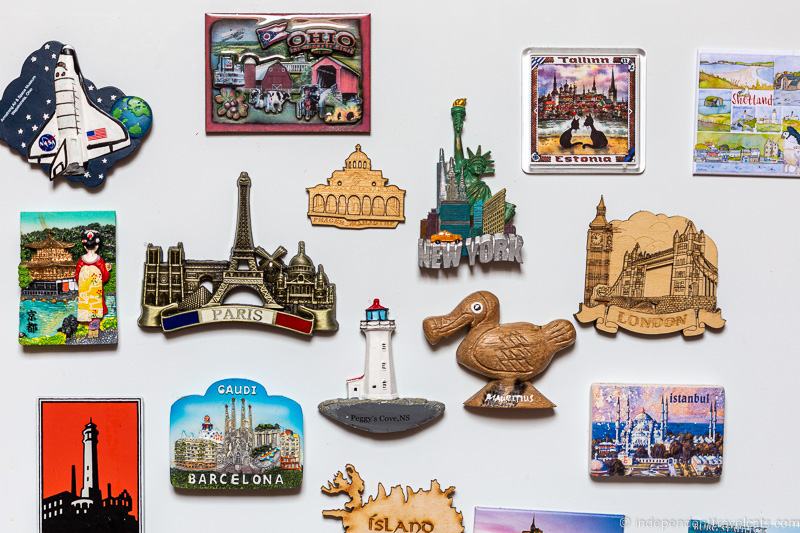 State Shaped Cutting Boards
You can celebrate your home state or favorite USA vacation destination with these state shaped cutting boards. Each board is made of high-quality bamboo wood and they are handcrafted in a workshop in Florida. They can be personalized with an engraving of your choice. Can be used as both a cutting board and serving board.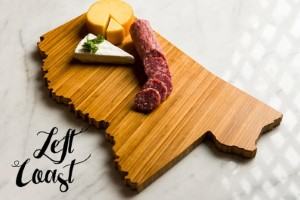 The boards are available in the shape of all 50 states. See a range of other handcrafted goodies at Left Coast Original.
Map Magnets
Our refrigerator is covered in souvenir magnets brought back from travel destinations around the world. These classic glass magnets with real paper atlas map paper can be customized to allow you to choose your favorite locations in the world, either places you have been or places you want to go! The magnets come in various sizes and shapes.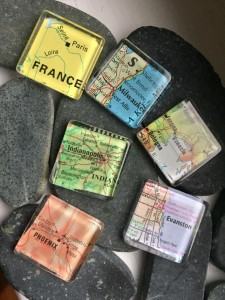 We love that you can pick your favorite locations in the world and be reminded each time you open your refrigerator door! See more at Lil & Jill's store Lil and Jill
Custom City Tea Towel
It seems that you can never have enough tea towels in the kitchen! These custom printed ones come with a map of your own home town or any location you choose! They are made from 100% cotton and measure at 28″ x 14″, while the map can cover a range of 11.5 miles x 6 miles.
These towels would make for a perfect house warming gift! Butler and Hill have a number of map and travel-themed products available, including personalized map jigsaw puzzles, keepsake boxes, clocks, and more.
Custom Map Wine Stoppers
These heavyweight, food-grade wine bottle stoppers are a perfect gift for wine lovers. They fits all standard wine bottles and the silicone seal makes for a perfect fit. The wine stopper features a map location of your choice under a crystal clear glass dome, so you can remember your favorite destinations around the globe while protecting your wine.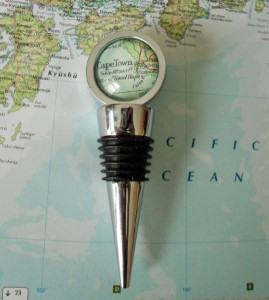 You can also get custom flag and U.S. state designs. You can find plenty of other gift ideas and personalized products over at Tammy's store Bjeweled Vintage.
Painted Mason Jars with Travel Decals
These subtle but sweet mason jars add a pop of color to your kitchen with customizable state or country outlines. The jars themselves are quart sized, handpainted, distressed, and sealed for a beautiful matte and rustic look. Color options include turquoise, mint green, yellow, duck egg blue, and more.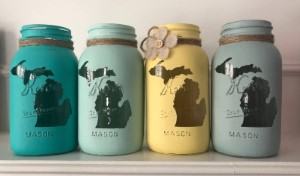 The jars displayed have Michigan state decals, but Jennifer can do a custom order for just about any state, region, or country outline. She can also paint them just about any color. For more hand crafted products, take a look at Jennifer's store here.
Custom Handpainted Dishes & Serving Platters
If you want something to commemorate a special day or trip, consider a custom handpainted dish or serving platter. These custom cityscape dishes can be personalized to denote the city landscapes or city landmarks of any town or city. Or this large custom serving platter can be personalized to depict or say whatever you wish.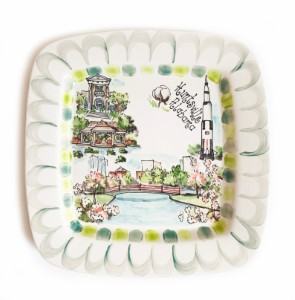 Whether you are looking for a decorative serving platter or an entire set of dishes, there are artists who can create handpainted ceramic dishes that are truly unique. See examples from shops Cotton Table Ceramics and Your Dish is My Command.
Map Design Reusable Sandwich Bags
One of our favorite travel-themed sustainable products has got to be these reusable sandwich bags! These natural, safe, and plastic-free items can be used to store sandwiches and snacks. Each reusable bag is handmade with 100% cotton, organic beeswax, organic jojoba oil, and pine resin.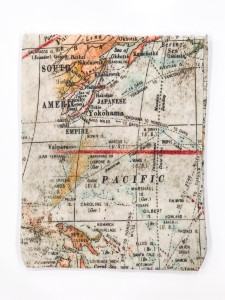 We only have this one planet, this one life, and Aubry hopes to leave it better than when we came through her online store The Little Blue Stitch.
County Destination Embroidered Dish Towels
No matter what country you wish to celebrate, the team at Embroider Everywhere can embroider it on just about anything! This embroidered dish towel is made from 100% cotton and measures at 30″x30″ inches. You can choose the color of the towel and the design – there are several ones already made or you can ask for a custom design.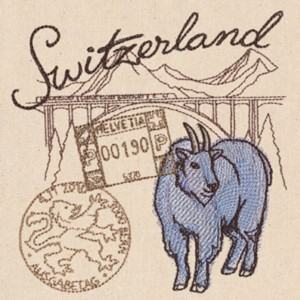 In addition to kitchen towels, the team can embroider bath towels, aprons, pillowcases, shirts, laptop covers, and more. Take a look at Embroidery Everywhere's full store to see their full list of products.
Custom Map Cabinet Drawer Knobs
These personalized map cabinet knobs are perfect for the kitchen drawers. These solid drawer pulls are finished in either nickel or bronze and feature a 1.25″ (30mm) map image under a clear glass dome. You can choose the map location you want for each cabinet drawer knob.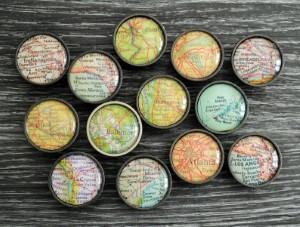 You can see a number of other personalized map items over at Tammy's store Bjeweled Vintage.
City Skyline Jars
These wood and glass storage jars are 16 oz. glass food safe jars with a maple wood lid that creates an airtight seal. They can be used for a number of purposes from storing foodstuff in the kitchen to storing craft or sewing supplies. The laser-cut lids can be personalized with the skylines of one of over 40 cities in the United States.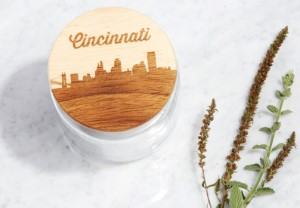 These jars would also make a perfect way to give a gift of candies or other small treats. Lucca Workshop is full of beautiful pieces of wood & paper items.
Canvas Spice Map
This spice map canvas is a great option to consider if you want to decorate one of the walls of your kitchen. The print itself is made from museum quality, heavy-duty canvas with a satin finish. It is handstretched over a frame and arrives ready to hang. You can add personalized text to the piece if you'd like.
It is available in several sizes and 3 panels or a single panel, depending on what suits you and the size of your space.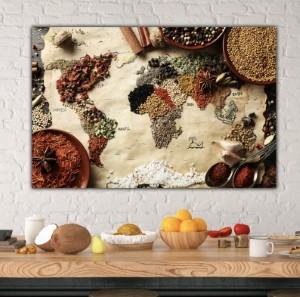 Tom is an experienced graphic designer and photographer and offers a lot of great wall canvas items, including dozens of travel themed canvas pieces. You can check those out in his store.
Eat Well Travel Often Towel
These dainty Eat Well Travel Often towels can be custom made in colors to match your home décor. Made from 100% white cotton, the towels are super absorbent and lint free. These flour sack towels are designed to get softer with more washes. The towels measure approx. 29″ x 29″.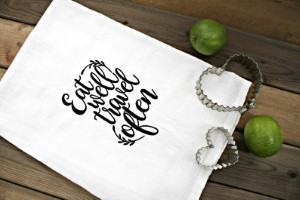 If you don't see what you are looking for feel free to message April with any requests you have as she can do custom items. Her store Mudpies and Daisies is full of beautiful unique handcrafted sewn items.
Travel Themed Home Decor for the Office
Whether you work from an office or at home, it is important to fill your space with little reminders of why you work so hard! Whether it's your favorite family vacation photo, vacation countdown blocks, or a mini desk globe to remind you of your travels, there are plenty of ways to incorporate your love for travel into your home office.
Here are a number of travel-themed home decor items that would be great for your office space.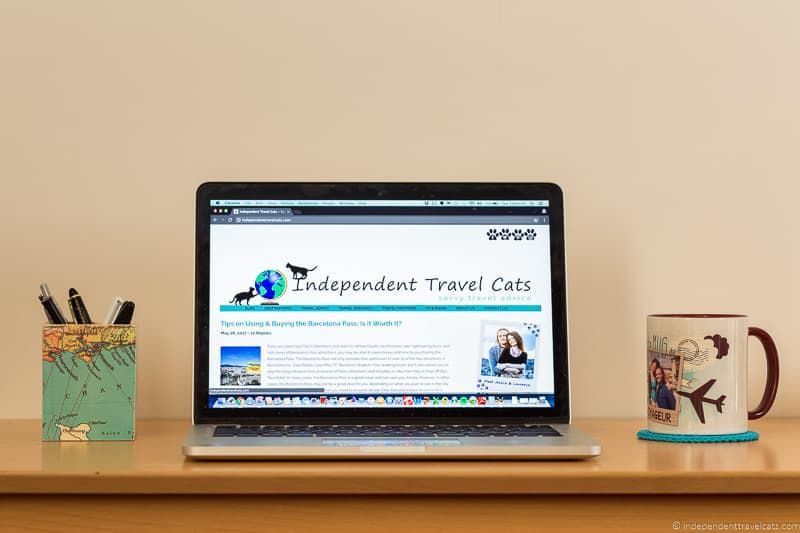 Personalized Vacation Photo Coffee Mug
This personalized vacation photo mug is a great way to commemorate a special trip! The mug is a ceramic 10 oz. coffee mug with ink printed brown and green travel design. Text includes "Let's Go" and "Le Mug de Voyageur." The mug design can be personalized with a photo.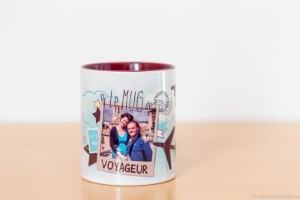 We really enjoy drinking our coffee and seeing a photo from one of the first trips Laurence and I took together in Spain. A great and practical way to remember your own travels, and would also make a great gift for a special traveler in your family.
Take a look at Noémie's store LesptitescreasdeNono for more!
Secret Travel Book Safe
Keep your keepsakes, travel documents, or valuables in this hollow secret safe book that will hide in plain sight on your bookshelf. It is a hardcover copy of a real book (we have To the Ends of the Earth: The Selected Travels of Paul Theroux ) with its original dustcover that has been hollowed out so there is an inside opening that is 4 7/8 inches wide x 8 long x 15/16 deep. Inserted magnets keep it closed even when it is standing upright.
You can actually get a hollow safe in a number of book titles (including custom requests) and size and shape of hollow can be changed. We have To the Ends of the Earth: The Selected Travels of Paul Theroux, and the one pictured is a collection of stories by Robert Louis Stevenson.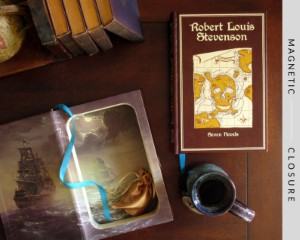 We love being able to hide items in plain sight, especially in a book written by a modern travel writer which fits in well on our bookshelf. It is a great place for us to store our passports, desk keys, and extra cash that we would normally just shove in a drawer. See more at Kara & John's store, Secret Safe Books.
Travel Themed Stationary
If you want to bring a smile to someone's face, send them a letter in one of these atlas envelopes. These upcycled atlas map pages have been handcrafted into letter-sized envelopes. They measure at 9 1/2″ X 4″ although a variety of sizes and recycles papers are available and you can also request custom orders.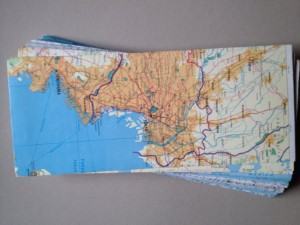 We love that these are so well-made and are also making good use of discarded atlases and maps. I still write letters to my grandmother and these travel themed envelopes make it more fun to send a letter. Jennifer has some great products in her store, Paperette Shoppe.
Antique Style Map Pencil & Pen Holder
Add a traditional vintage feel to your desk with these beautiful pencil and pen holders. Handmade in Australia, these decoupage holders are sold as a set of two which includes one pen/pencil holder and one paper clip holder. The artist paints the set in brown acrylic, applies map images, and then varnishes them. You will find her details and signature on the bottom of each item – a really nice touch!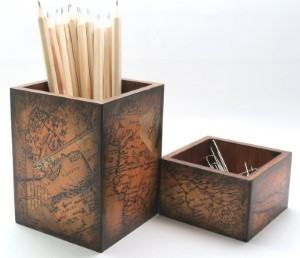 You can find all of Laura's work on her store, Silver Glow Designs. She has a whole range of handmade desk accessories.
Vacation Countdown Blocks
As you look forward to your next trip, you'll know exactly how many days are left to go with these vacation countdown blocks. You can actively countdown the months, weeks, and days! The blocks are handpainted and all of the writing is created using vinyl. You can customize the colors, words, and images.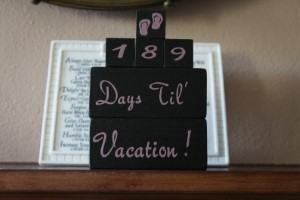 Gina also makes countdown blocks for holidays, birthdays, weddings, retirement, etc. You can find her full store here.
Mini Desk Globe
This mini globe sits on a brass stand and has a personalized handlettered phrase. At 7 inches high and 4 inches wide, it will fit perfectly on your desk or office shelf. You can personalize the lettering to say whatever you want. The globe is available in different colors.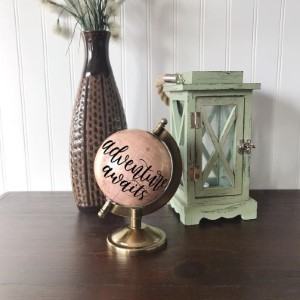 Nicole has a store full of handlettered decor and gifts, which you can see in her store here.
Wooden Mountain Bookends
These intricate bookends are the perfect way to bring the feeling of nature and the mountains into your office space. Measuring at 13″ x 7″ x 5″, the mountain range book ends come with non-slip cork bottoms to ensure that your books stay in place. Due to the nature of wood, each piece will be slightly unique in color and grain.
In addition to mountains, the Moku Crew also make spectacular and fun wooden bookends of ships, trees, lighthouses, and even the Death Star and Hogwarts. If you are looking for a unique decoration to add to your office, or a great gift for someone you love, look no further.
Personalized Vacation Photo Frame
Cherish your best memories in this laser engraved, wood photo frames. The 5″ X 7″ frames are made of alder wood and you can choose a horizontal or vertical orientation. The frames feature an easel back design for easy table top display or can be hung on the wall.
You can personalize the picture frames with your names, dates, phrases, and logos to make it a memorable keepsake for years to come. The one pictured is for a family Disney vacation.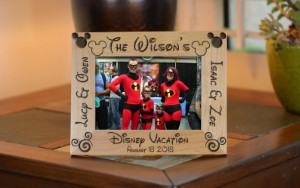 Such a wonderful way to remember a special moment in time, especially if you are looking for a unique gift for an upcoming birthday or Christmas. Leticia has a whole collection of customizable products in her store Timeless Engravings.
12 Inch Globe
This 12-inch desk globe is perfect to adorn the office, whether on a bookshelf, filing cabinet, or desk. The antique map style raised-relief globe is 12 inches in diameter and features an antique brass colored base.
Replogle sells a number of different globes of different sizes and styles, and you can see their full range on Amazon.
Lamp with Old World Map Lamp Shade
This timeless travel themed Old Word map lamp is a perfect twist of Old World and modern. It stands 28″ in height and features a HBC shade, bronze finish, on/off pull chain, and crystal design elements.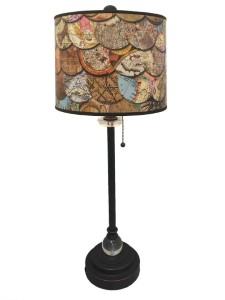 Royal Lampshaes offer a lot of lighting options and accessories, including customizable lamp shades and colored light bulbs. Take a look at their full store if you are looking for something in particular.
Travel Themed Home Decor for the Bathroom
Everyone spends time each day in the bathroom getting ready, bathing, and answering the calls of nature, so why not fill it with memories and decorations from around the world to inspire you. These travel themed bathroom decorations are sure to spur on your wanderlust throughout the day.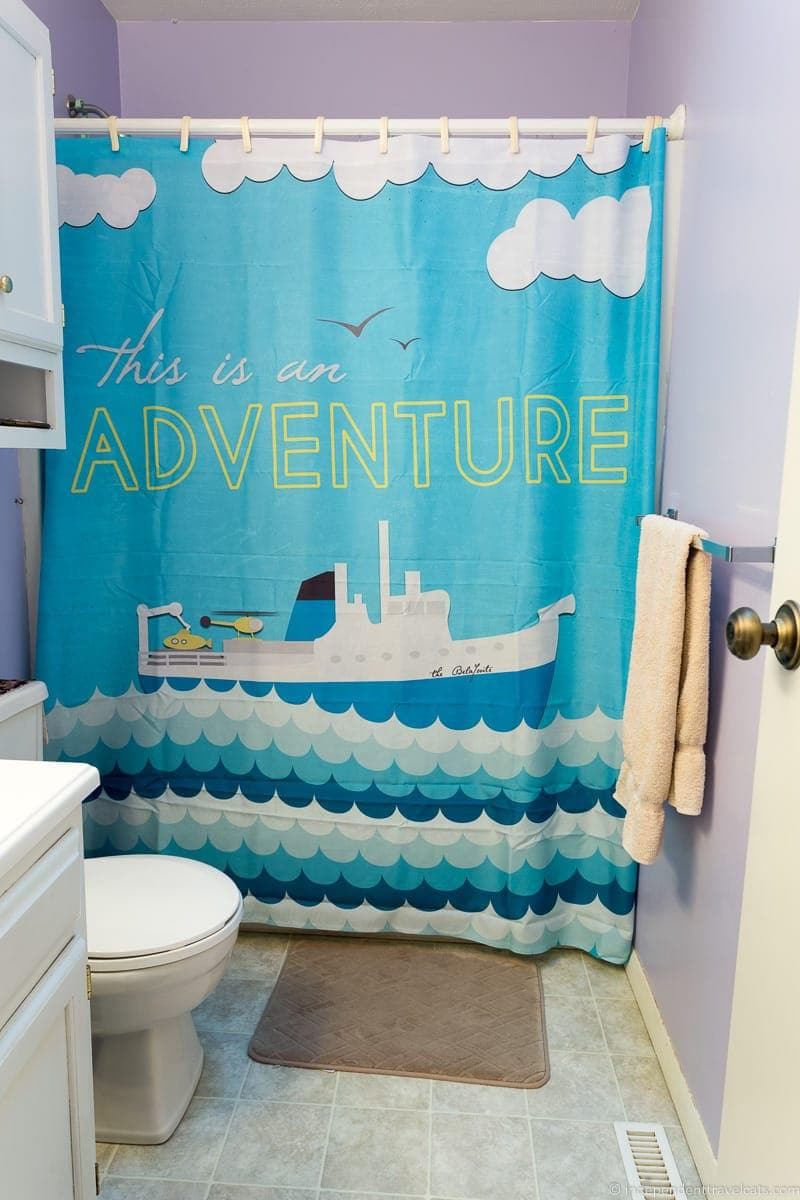 Map Shower Curtain
This world map shower curtain in a blue and cream color with a crisp world map design will help pull your bathroom look together. The shower curtain is made with 100% softened polyester, which is a machine washable fabric and measures at 70 x 70″, but custom sizes are available if you reach out to the designer.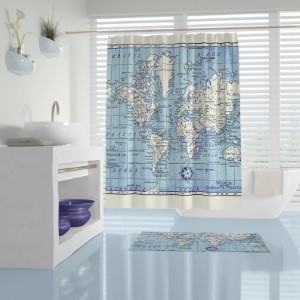 Matching bath mats, bedding, and other items are also available. Find more great travel themed products in Catherine's full store, Mapology.
Ceramic Travel Trailer Soap Dispenser
How sweet is this ceramic travel trailer soap dispenser! It is sure to complete any RV camping decor. The rounded silver gray and red trailer soap dispenser is made of ceramic and measures at 5 1/2 inches tall with the white plastic pump (4 inches tall without). Each dispenser is made to order of high-quality materials and finished with non-toxic glazes.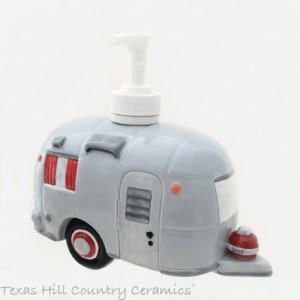 This soap dispenser can be a great reminder of fun road trips and vacation camping adventures. Jacque is an extremely talented artist who has a full store of beautiful products for you to enjoy.
Makeup Brush Roll
This travel themed makeup brush holder makes it easy to store and protect your favorite brushes at home or on the go. It is handmade in an antique world map print and features a durable canvas fabric and cord tie closure. It can hold approximately 8 small/medium brushes, 3 large sized brushes, and has an additional 3″ wide pocket for additional brushes or a beauty blender sponge. Machine washable for easy cleaning.
Kelly also makes matching toiletry bags and toiletry bag sets in the same fabric. Check out Kelly's full store here.
Nautical Map Bath Mat
This nautical map bath mat is a great addition to the ultimate travel themed bathroom! Made from soft microfiber foam with non-skidding backing to keep it from sliding, your feet will love to step out of the shower onto this after a long day.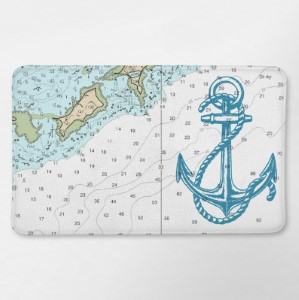 Items are printed in the USA by designers Ryan and Rachael.They have an amazing selection of mugs, ornaments, art prints, canvases, and home goods in their online store, Loftipop.
Navy Map Bath Towel
These super soft and extremely absorbent bath towels can be used at home, at the spa, or at the beach. This beautiful navy towel is made with a one-sided print, polyester facing with a cotton loop backing for extra lush absorbency. It comes in a range of sizes.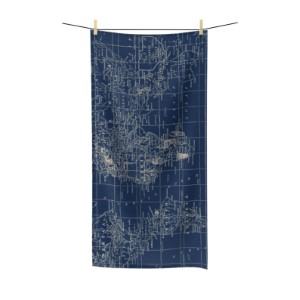 It is another one of the fantastic products available on Catherine's Mapology store. She has a whole range of world map shower curtains, pillows, duvets, and more!
Nautical Themed Shower Curtain
Even showering can be an adventure with these nautical themed shower curtains! Made of 100% polyester, the shower curtain measures 71 inches (W) x 74 inches (H) with 12 button holes for shower hook placements.
We have this shower curtain, we love this fun and colorful nautical design. It would look great in a variety of bathrooms!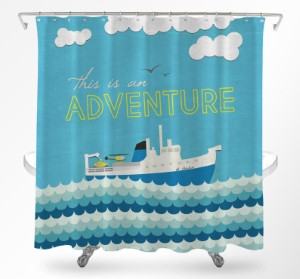 If boats aren't you thing, you may want to take a look at Rachel and Ryan's many other shower curtains (and other home decor item) designs!
Travel Themed Home Decor for the Bedroom
Fall asleep dreaming of travel with these amazing travel themed home decor ideas for your bedroom. You'll be dreaming of enjoying spring in Paris, vacationing with the family at Disney World, or cruising along the blue seas of the Bahamas in no time!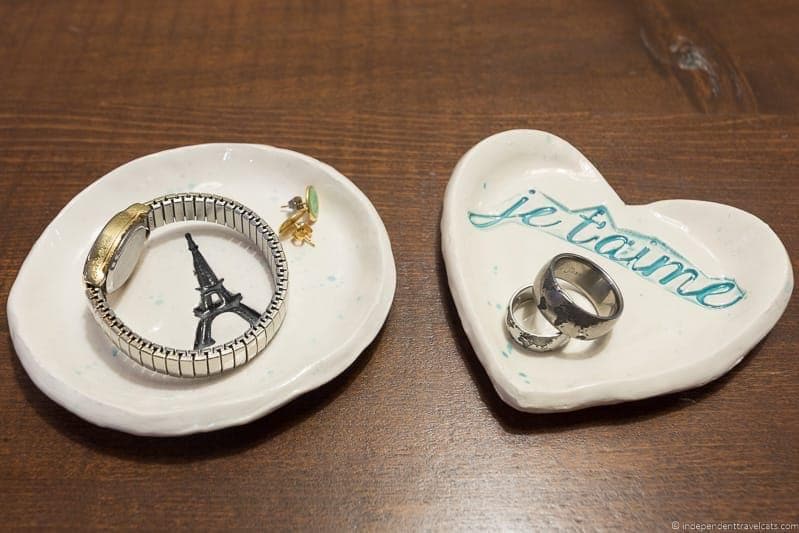 Blue & Cream World Map Bedding Set
This world map bedding set is currently in my shopping cart! The vintage world map prints amazingly well on this duvet cover or comforter. The look is clean and pretty with tons of detail, and it comes in a variety of sizes to suit everyone. You can also pick out matching pillowcases to keep the theme going strong!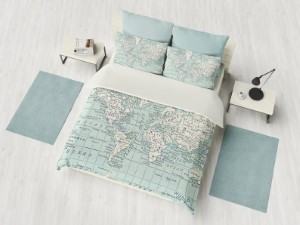 Catherine can even customize your order if you reach out to her. You can find lots of map and travel themed decorations in her store, Mapology.
Wanderlust Ring Bowl
This little bicycle dish is really cute. This handmade bowl is made of white earthenware clay. The letters and design were stamped with dark brown ink – this one has a bicycle design on outside and word "Wanderlust" along the inner rim. The bowls are fired and covered with a lead free, clear glossy glaze and they can be customized with various colors and larger sizes are available.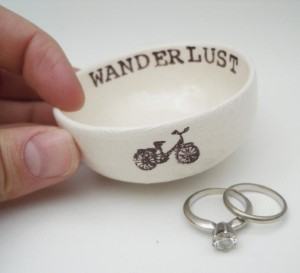 It is a great place to store my travel-themed jewelry pieces, particularly our world map wedding rings whenever we need to remove them.
Elycia offers a wide range of handmade bowls in her shop that I recommend checking out, and most of her pieces can be customized! See more at Elycia & T.J.'s store Elycia Camille.
Framed Maps with Love Quote
We really like how this framed quote combines both love and travel, two of our favorite things! Made with a pretty white frame with pearl and twine embellishments, and a map that includes a handwritten quote inside. The standard quote is "Love makes the world go round" but this can be customized to any short quote you desire.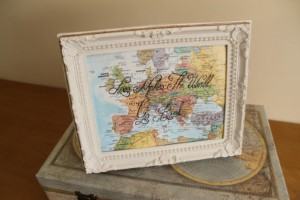 Such a great decoration or gift for any travel loving person or couple. You can see more at Kelly's store UniqueWeddingBoutique.
Tommy Bahama Map Quilt Set
Can you picture yourself relaxing under this amazing Bahamas themed quilt? Made from 100% cotton, this beautiful vintage style quilt is filled with 60% cotton, 30% polyester and 10% new reclaimed fibers. The set includes a quilt and two standard shams, and is available in twin, queen, and king sizes.
See more tropical inspired bedding patterns at Tommy Bahama.
French Inspired Trinket Dishes
Beautiful trinket dishes for those who love France like we do! These handmade small ceramic dishes are made from clay. The designs are stamped on and then the dish is fired, glazed, and then fired again. The pictured dishes have the Eiffel Tower and Je t'aime ("I love you" in French) designs, but there are a number of different dishes available in a variety of colors, designs, and shapes.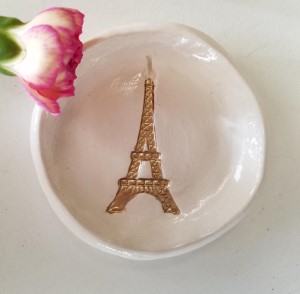 We always use ceramic dishes for soap, rings, coins, candies, tea bags, etc. These would also make great party or wedding favors. Cynthia has a number of French inspired items in her store and is happy to make custom items as well.
Vintage Suitcase Shelves
We love vintage suitcases but have never thought of turning them into a wall shelf before! Such a great idea if you are looking for a truly unique home décor option! This vintage suitcase are turned into shelves that can be hung on your wall. They are available in various sizes and colors.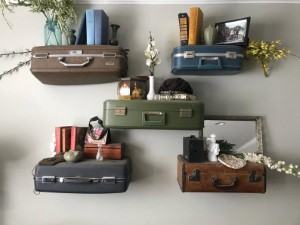 If you are looking for a particular color or size, Mandy will work with you to find the pieces that will best fit your decor and vision! You can see her full store right here.
Travel Themed Decor for the Nursery or Children's Room
Fill your nursery or child's room with beautiful travel themed decor items that will spark their imagination and creativity. You can transform their space to bring them on a journey around the world, right from the comfort of their own home!
Here are some of our favorite pieces that we think you might love as well!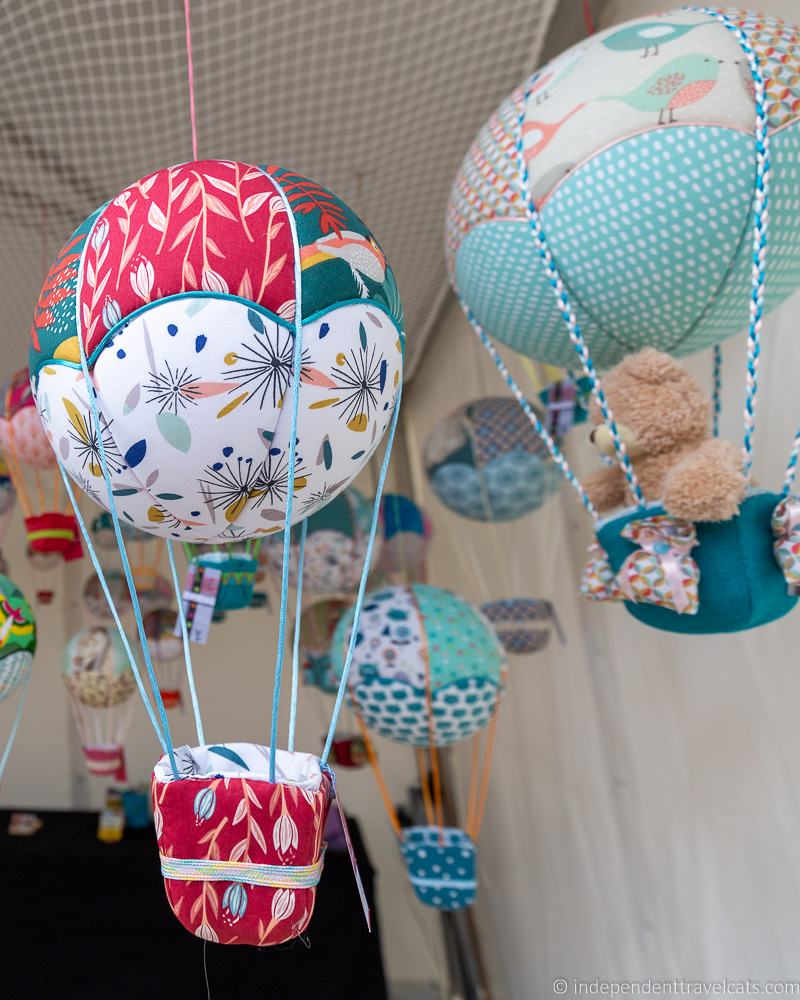 World Travel Activity Rug
This colorful world map activity rug comes with three wooden vehicles (car, airplane, and boat), plus a passport with stickers to keep track of globe-trotting adventures! This durable rug is machine washable for simple, convenient clean up and it has reinforced edges that won't fray in the wash.
It is a great gift for children aged between 3 and 6 and is sure to brighten up any room. We all know that the best toys are those that encourage interaction. This activity rug is designed to inspire engagement and connection with your child. You can find lots of wonderful toys in the popular Melissa & Doug store, but the travel themed toys are our favorites!
World Map Fitted Crib Sheets
This is the sweetest handmade fitted crib sheet for all the mini travelers out there! The sheet has encased elastic all the way around and French seams for a nice finish. It features a 100% cotton map print fabric and measures at 28″ x 52″. It is machine washable.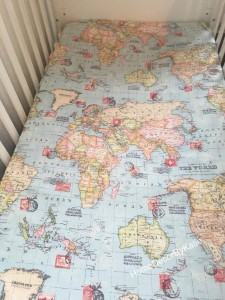 If you require a different size or if you don't see what you want, you can message Katie and she can set up a custom order. A matching changing pad cover is also available. You can find her full store, which has lots of beautiful handmade home decor, right here.
Printable Adventure Themed Prints
These wanderlust-inducing adventure themed prints are the perfect addition to any nursery or child's room. You don't even need to wait for the prints to arrive, they are downloadable, so you can print them out from the comfort of your own home and display them as you wish. This set of 6 prints includes a hot air balloon, a compass, a train, a globe, a plane, and a boat.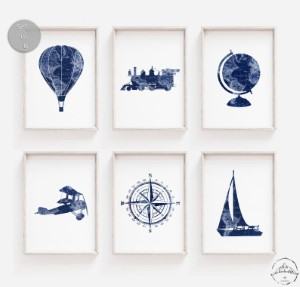 Amy has an entire shop full of fantastic travel inspired designs in a variety of different colours and styles. You can find all of her work right here.
Airplane Baby Mobile
This handmade airplane mobile will add the perfect finishing touch to any nursery! This sweet airplane baby mobile is made of top quality would felt and plush fiber filling, and is hand sewn. It can feature airplanes, hot air balloon, rockets, the moon, clouds, and stars, all handing from a metallic hoop with cotton. The hoop measures at 7.5 inches and the mobile is 17 inches in length.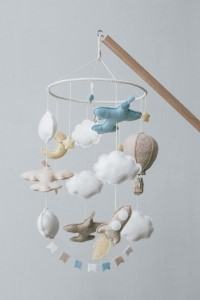 You can find all of Kate's handmade baby mobiles, rattles, and teethers over on her store The Mobilion.
Transportation Themed Wall Art
These adorable transportation wall art decor are perfect for a gallery wall in any little person's bedroom, featuring airplanes, helicopters, trucks and more. All prints are made from original watercolor paintings created by Teresa in her studio. The images are printed on quality heavyweight archival matte paper. They are available as different sets and of different sizes.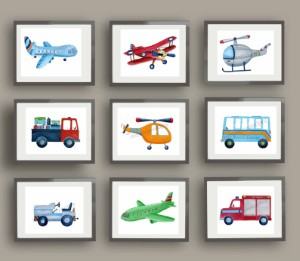 Note that frames are not included with the prints. Check out more art in Teresa's full store here.
Woodland Adventure Bedding
This is the woodland adventure bedding I definitely would have wanted as a kid! They are sure to bring out your child's imagination as they fall asleep under these adventure inspired sheets. Choose from the toddler duvet, twin, queen, or king duvets. Matching sheets, pillowcases, and blankets available.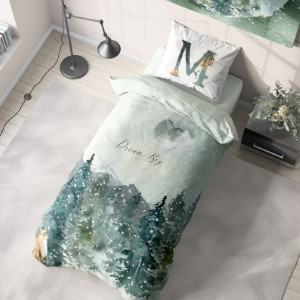 All bedding and accessories are made in Lublini's atelier. They are 100% proudly, designed, cut & sewn in Austin, Texas! For more nature inspired deisgns, take a look at Lublini's full store here.
Hot Air Balloon Hanging Decorations
You will want to fill an entire ceiling with these colorful hot air balloon decorations! They are a perfect addition to your nursery or as wedding or baby shower décor. They are hand-sewn in a colorful rainbow print fabric and stuffed, and then an accompanying handmade burlap basket is attached. They come in two sizes.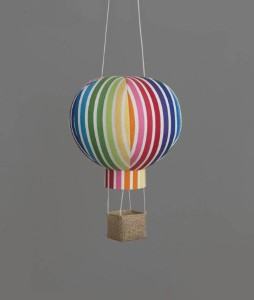 Elisa has an entire range of hot air balloon is many different fabric prints and colors, so you are sure to find the perfect one for you no matter what style you are looking for. See her full store for more.
Map Play Mat
On the look out for a soft and comfortable baby velvet surface for your baby to practice belly time on? This map play mat comes with anti-slip points at the bottom to prevent it from sliding. Measuring at 4.8 X 6.4 feet, the large-scale play mat allows you and your child to play together on the game carpet. The play mat folds flat for easy storage and travel.
For more play mat options, you can see these options on Amazon.
Oh the Places You'll Go Nursery Wall Decal
This is one of our all time favorite quotes from Dr. Seuss! We couldn't resist including this 'Oh, The Places You'll Go' hot air balloon nursery wall decal. The matte finish to this high quality vinyl decal will make it look like the name was painted right on your wall. Perfect for any nursery, bedroom, or playroom wall. Available in your choice of colors.
If you are looking for something in particular, make sure to check out The Decal Spot Co, they have tons of eye-catching and creative decals for any room in your house.
Personalized Travel Themed Baby Blanket
This personalized baby blanket is a great gift idea for a baby shower or any new parent. The outer part of the blanket is made of a cotton/cavas world map printed fabric and the inner side is made of a soft cream color minky fabric. The text says "Welcome to the World" and is personalized with the baby's name. It comes in 3 sizes.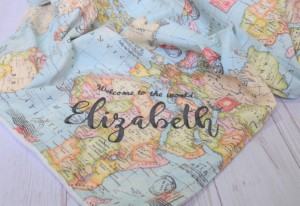 Hagar has lots of beautiful, customizable products on her store, including travel themed pillowcases, baby bedding, teethers, pencil cases, and more. You can find her store here.
Geography Floor Puzzle
Keep the kids occupied with this easy to assemble 51 piece USA floor puzzle. It has individualized pieces with brightly colored features distinct to each state featuring details such as the state name, capital, and a state landmark. Each piece is coated with an easy to clean surface to keep the puzzle looking new and allowing for easy clean up.
This puzzle is recommended for children age 6 and older. This is just one of the many great toy options by Melissa & Doug!
Travel Themed Wall Decor & Wall Art
One of the easiest and most impactful ways of incorporating your love for travel into your home decor is with travel themed wall decor. These can be hung in just about any room of your house and might be map pin boards, artwork, wall decals, or your own travel photos.
There are lots of options to choose from online, but here are a few that really caught out eye!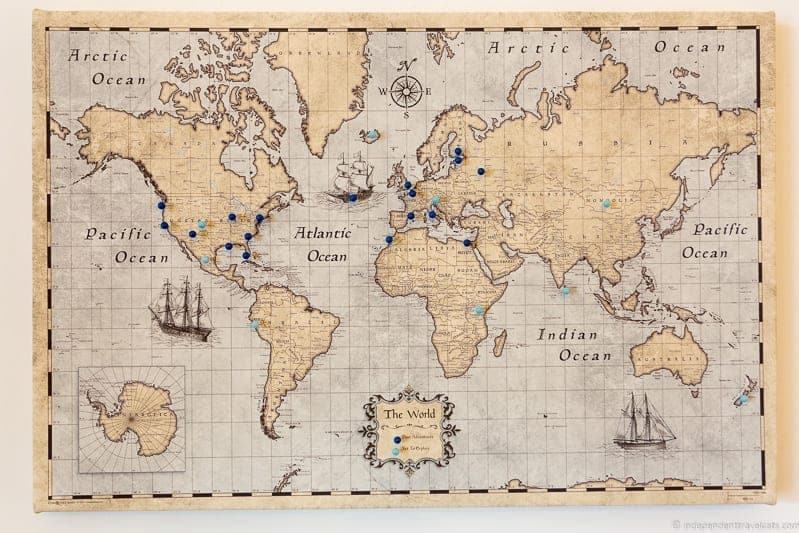 Travel Map Pin Board
A world map pin board is a great way to both show your love of travel and display the places you have traveled and want to travel. The maps are made from printed canvas that is stretched over a cork backing and attached to a wooden frame. The pin boards come in a variety of styles, colors, and sizes. You can personalize the title and legends of each map if you wish.
We have had one of these (in the vintage rustic style) on our own walls for years and we love it. The pin board comes professionally packaged and easy to hang on your wall as all the fixtures are included. Each map also comes with a set of two colors of pins.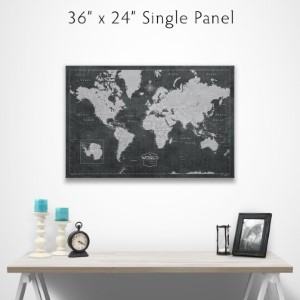 The pin boards are available in world map designs as well as USA maps, Europe maps, and individual USA state maps. They also make decals, ornaments, and other travel inspired items. All products are made in Ohio, USA. See more at Ross's store Conquest Maps.
Custom Map Wall Art Prints
We love the wide variety of travel-related prints that Robert has available in his store. Each wall art print is printed on high-quality matte paper. There are a number of designs available including world map prints, crossword travel map prints, travel list prints, longitude and latitude coordinates, and travel quote maps.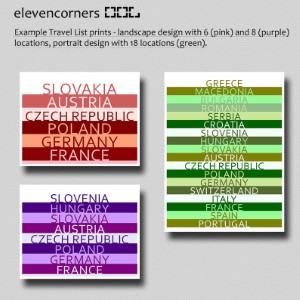 If you don't see what you want, contact Robert to see if a custom order is possible. See more at Robert's store Eleven Corners.
Travel Themed Wall Decals
Each vintage travel stamp decal is made of high quality self-adhesive matte-finish vinyl. They are also available in a number of colors and sizes, and decals can be customized. They can be applied to many types of clean, flat (or lightly textured), and dry surfaces such as walls, doors, windows, mirrors, wood, and plexiglass.
We applied these to our bedroom wall in our last bedroom, and enjoyed seeing them every morning when we woke up. We applied these carefully and slowly following the included directions and had no problem. We were also able to remove them a few years later when we moved with no issue.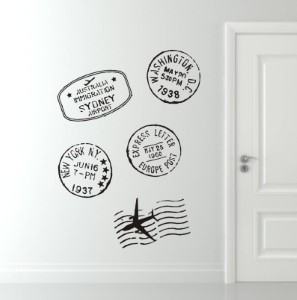 Adam and Kim have a number of other great travel-related wall decals as well! See more decals and other items at their shop Blue Design Co.
Personalized Framed Vacation Maps
Want to remember an epic vacation, road trip, service tour, marathon, or other event? At Passport Maps, you can have a personalized map of just about any vacation, location, or route. The design is personalized for each customer and can include text, map locations, routes, and personal travel photos. Designs are either printed on 51lb acid free paper or are digital ones you can print yourself.
A few years ago Scott designed a map of a train trip we took from Istanbul, Turkey to Pisa, Italy and we loved how much Scott was able to incorporate our specific route locations, text, and several of our travel photos into the design. A great way to remember our trip every time we glance at our wall!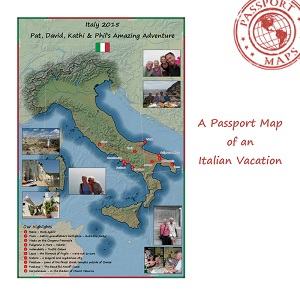 The frame is not included but you can add framing to your order or frame it on your own. See lots of personalized map examples at Scott's store PassportMaps and in his Etsy shop.
Scratch Off Travel Map
This is a great scratch off map and a fun way to show where you have traveled in the world. It can also help you decide on your next vacation destination. The map is printed on high quality paper then covered with a gold foil layer. It shows over 10,000 cities and places and the package also includes a dust cloth, push pins, and metal scraper. The map measures 34.6 inches X 23.6 inches (88 X 60 cm).
We have this map and it is very detailed for its size and it was easy to scratch off the gold foil level. Individual U.S. states, Canadian provinces, and regions of large countries can also be distinguished so you can scratch off certain areas rather than the entire country.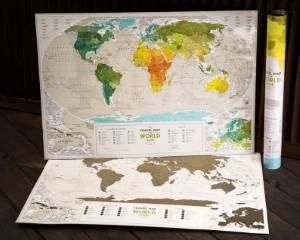 Robert has several scratch map options over in this store The Map Lab.
Push Pin Map with Frame
This framed push pin map comes with a 2 inche wooden frame. The map was designed by National Geographic. You can choose from several colors for the frame to best match your room interior and you can also choose to personalize the text of the map legend. The map comes with 100 push pins.
This push pin map is made in the USA and comes ready to hang on the wall. Also maps available for specific countries or continents, and of different sizes. For more push pin maps, you can see options here on Amazon.
Wooden World Map CutOut
This beautiful Wooden Map of the World Map is such a statement piece! It has a 3D effect, due to its unique raised areas, anywhere from 6 mm to 18 mm. Featuring over six contrasting shades of wood, it is a very cool gift for family, friends, coworkers or yourself to mark your travels. Plus, it is a great way to accentuate a focal wall in any room.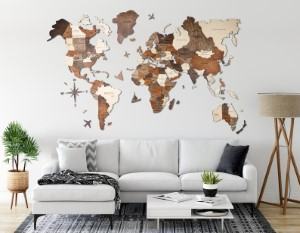 Made with birch plywood, the map is eco-friendly and will last a lifetime. It comes with special double-sided sticky tape, that you can put on the map and it will not ruin your walls. It also includes airplane or flag push pins to mark places you have traveled to or dreaming about!
You will find many intricate map designs available in Igor and Maryna's store.
Steampunk Art
We fell in love with these original art prints that are printed on high quality vintage dictionary paper and measures 8″ x 10.5″. It is a very unique and fun way to add steampunk charm and a pop of color to your home. There are hundreds of designs available and you can also request a custom order.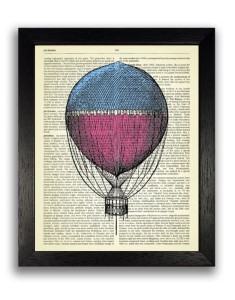 It is a one-of-a-kind vintage dictionary artwork, so no two pieces will ever be exactly the same. Liam has a huge selection of original vintage dictionary page art prints over in his store, so you will probably have no trouble finding one you love.
Custom Hand Drawn or Painted Caricatures of Travel Photo
Do you love getting a caricature done while on vacation? You don't have to find an artist on vacation, instead you can have Anatoli create a custom caricature based on your personal photographs and ideas. Any personal details or situations can be added to create a unique gift. You can get one done of yourself, your family, children or a friend. Caricatures are hand drawn with pastel pencils on cotton paper. Custom oil paintings are also possible.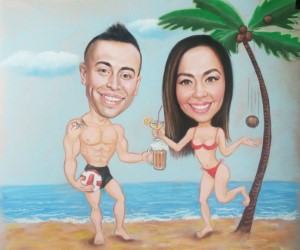 You will find his entire store of oil paintings, dry pastel paintings, and caricatures here.
Travel Inspired Candles & Home Fragrance Products
Travel-inspired scents can help you remember past travels. Smell is one of the human's most powerful senses and scents can instantly trigger vivid memories. They can transport people back to favorite locations or help inspire future destinations. Here are some of the travel themed candles and fragrance companies we think you will love.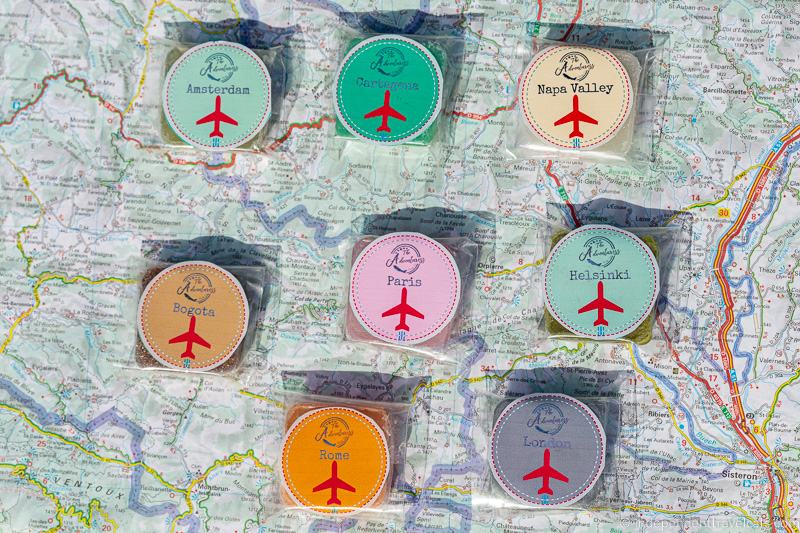 One of our go-to destinations for home fragrances is Wanderlust Scents. Drew has a huge selection of candles, wax melts, room sprays, perfumes, and room diffusers, all inspired by different locations around the world. The scents are complex and are designed to be unisex so that they can appeal to both men and women.
We are in love with the wax melts and melt them almost every night in our living room.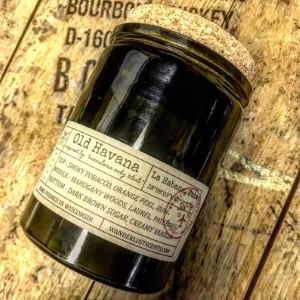 One of the company's most popular sellers is its Cuba-inspired Old Havana scented candles, but it offers scents that are inspired by London, California, the Rocky Mountains, Brazil, Hawaii, Brooklyn, Tuscany, Milwaukee, and dozens of other locations. See all the options here.
Mer & Sea Home Fragrance Products
If you are looking for mindful products with minimal packaging, the Mer & Sea collection will be right up your alley. Their candles, room sprays, room diffusers, and soaps have been inspired by travel and locations around the world, especially the seaside. They are artisan soy wax blend candles, hand-poured in the USA using fresh fragrances and packaged in beautiful locally-sewn canvas bags.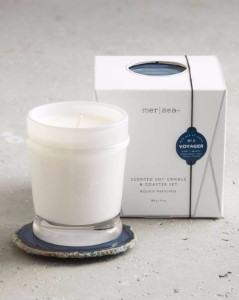 Mer & Sea also make a number of other travel-related products, including travel wraps, ponchos, and beachwear. You can find all of their products here.
Travel Destination Inspired Soaps
We love these colorful travel destination inspired soaps that are inspired by places around the world. They are vegan-friendly and free of sulfates and harsh detergents. This set includes your choice of four .75 oz soaps from 10 different scents. Scents include Rome which smells of orange blossom, amber and basil, Hong Kong which smells of Asian pear and lily, and Reykjavik which smells of sparking icicle, cedarwood, and musk.
The mini soaps are also perfect for traveling, camping or backpacking, party favors, stocking stuffers, and your gym bag. We personally use them in our guest bathroom for when we have visitors over.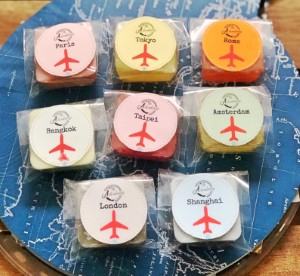 In addition to soaps, Julie also makes a lot of other travel-inspired scented products including perfumes, lip balms, wax melts, shampoo bars, beard oils, and more. I also really like Julie's lip balms. Take a look at all of Julie's travel related products here.
Archipelago Luxury Candles
Archipelago is a California-based luxury fragrance company that makes natural soy wax candles. They have a destination collection with scents inspired by places around the world including Kashmir, Charleston, Stonehenge, Havana, Dubai, Positano, Black Forest, and Lanai. They come in a variety of sizes and come in glass jars, as pillar candles, and in metal travel tins.
They also sell reed diffusers of the same scent. You can see more fragrance products by Archipelago Botanicals here.
Homesick Candles
We absolutely love the concept behind Homesick candles. They have lots of different scented soy wax candles representing different countries, USA states, cities, and national parks They are designed to bring back all the nostalgic memories of great experiences and wonderful places. They offer each of their candles in different sizes and the large 13.75oz candle has a long burn time of 60-80 hours.
The Homesick store also has a range of oils and reed diffusers to choose from. You can find their full store here.
Travel Themed University Dorm Room Decor Items
Moving into your college dorm room is an exciting moment in life. With this new era comes a blank canvas to decorate your new space how you want it. These travel inspired university dorm room home decor items and furnishings should get your creative juices flowing.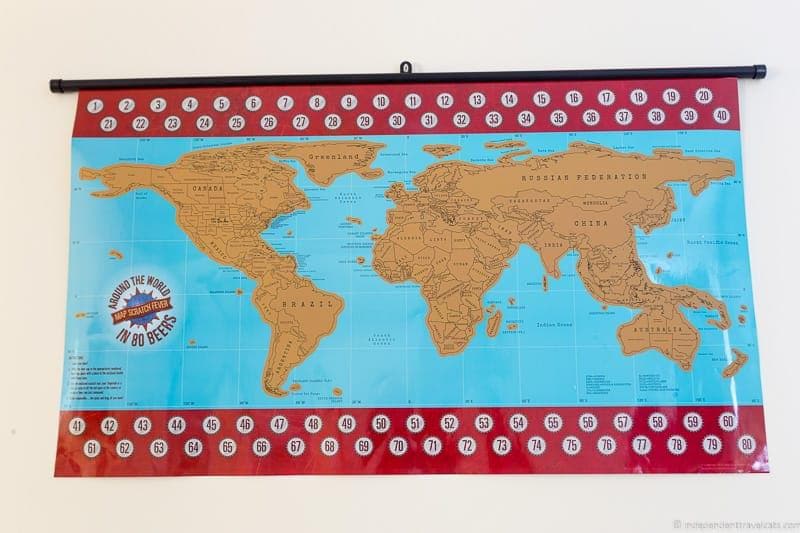 Travel & Ticket Shadow Box
This shadow box ticket holder is a creative way to store and display your tickets, travel stubs, photos, postcards, or anything else you want to keep. The black 8 x 8 inch glass-fronted shadow box has a large slot at the top that makes it easy to drop in your mementos and they can be removed by taking off the back. It can sit on a flat surface or can be hung on the wall. The background text can be personalized to say whatever you wish.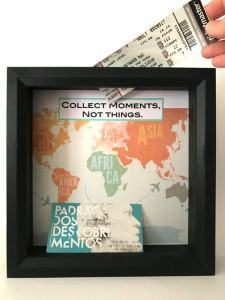 This would make a great gift. You can find more shadowboxes and other home decor in Denise's full store here.
Travel Map Dorm Room Bedding
This beautiful travel map bеddіng creates a focal point in any room and perfectly captures your love for travel. The bedding is made from microfiber polyester on top and high quality cotton sateen on the bottom. The map design comes in 8 different color options and the duvets and comforters come in a wide range of sizes including single, twin, twin XL, and double sizes to fit just about any university dorm bed.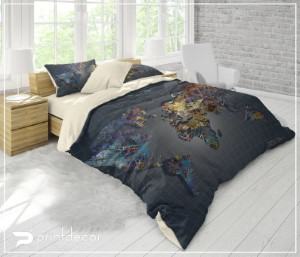 The shop makes a lot of fun bedding designs and their bedding can be customized to fit any size mattress. See their full store for more.
Throw pillow
This soothing cotton candy colored sky world map throw pillow adds a touch of pink and fun to your dorm room. The throw pillow cover is doubled printed and is made from 100% spun polyester poplin fabric and has a concealed zipper for ease of care. You can choose different sizes and add a pillow insert if you wish.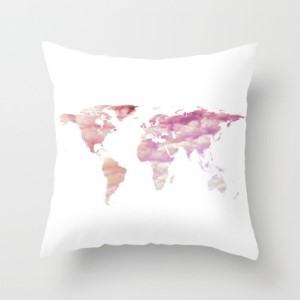 Marianna has lots of beautiful and colorful decor options on her store, including shower curtains, duvet covers, pillows, tapestries and more.
Map Cork Board
This wonderful cork map of the United States with engraved geographical details is an ideal centerpiece for a travel lover's dorm wall where you can pin photos, reminders, or chart your road trips! The cork map measures 21″ tall by 34″ wide and is made with heavy duty 1/2″ thick corkboard, so it is really built to last.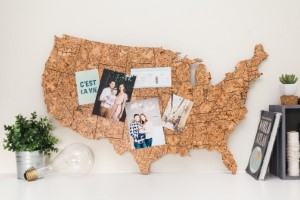 Check out Nick's full store for more minimalist geography related items at Geo 101 Design.
Beer Cap World Map
For those of legal drinking age, this beer cap world map is a fun way to play Around the World in 80 Beers and helps encourage you to try new beers. The printed map is covered with high quality laminate and a foil layer and has a total of 80 blank circles (40 on top and 40 on bottom) that are used to stick on beer caps. It includes a magnifier to help find the smaller countries and islands, a scratcher to help remove the foil level, and 80 sticky squares to attach the beer caps to the map.
We started off our map with a beer from the oldest operating brewery in the United States (Yuengling in Pennsylvania in case you were wondering!). I also gave this as a gift to my younger brother.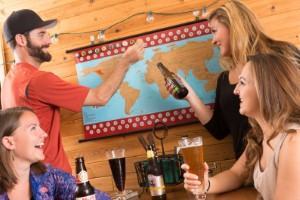 A great gift for any beer drinker or a fun item to have at a craft beer party! See more at Rita's store, MapFever.
World Map LED Candle Holder
This world map candle holder is the perfect decor for a university dorm room as most universities do not allow real candles since they are a fire hazard. This one can be purchased with a LED pillar candle that flickers like a real one. The candle holders are made from steel tubing or pipe with a world map cut out and come in several colors and finishes.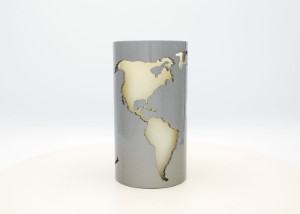 The decorative candle holders has no bottom so it can easily slide over LED votive candles or wine bottles. Bela has over 300 creative designs and you can see them all over in her store Tube Torcher.
Other Travel Themed Home Decoration Items
We could go on and on with amazing travel inspired home decorations out there, but we'll control ourselves and end with a few more that don't quite fit into any specific room. If you haven't found what you are looking for quite yet, perhaps these final few travel themed home decorating ideas will ignite a spark.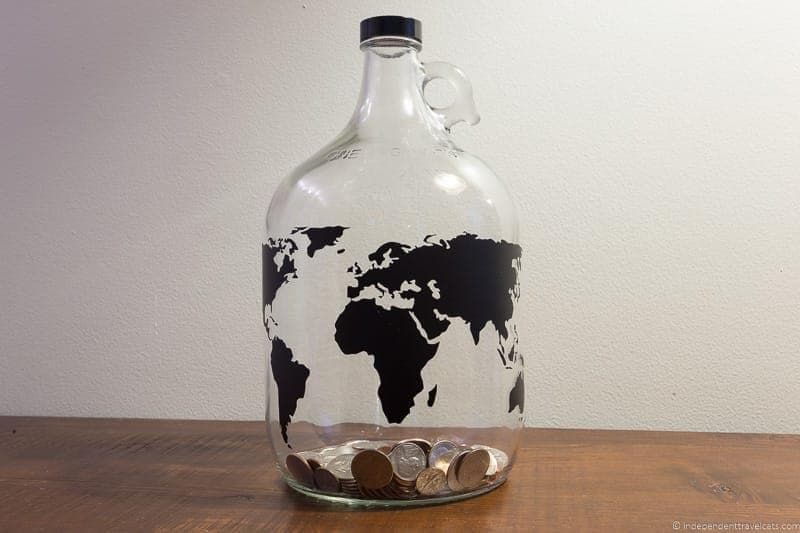 Switchplate covers
The unique decorative switchplate covers are created and assembled by hand, using laminated images affixed to durable steel plates. This one is of a steam engine train on a blue retro background. This design, like all the shop's designs, are available in 30 different types of plate configuration to cover any light switch, electrical outlet, or telephone or data jack on your wall.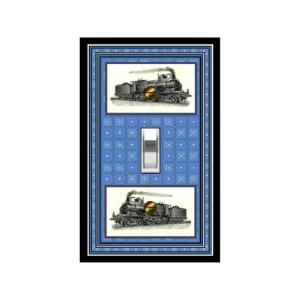 Sheree offers more than 1,000 unique designs which cater to virtually any taste, ranging from bold to subtle, from classic to off-beat. See her store for more inspiration.
Luminary Bags
We love these luminary bags as they remind us of luminaria in New Mexico which are a traditional holiday decoration around Christmas. The use of paper maps, the customized cut-out shapes, and stenciled on designs really make these stand out from any other luminaries we've seen. These can be used inside or outside with LED candles.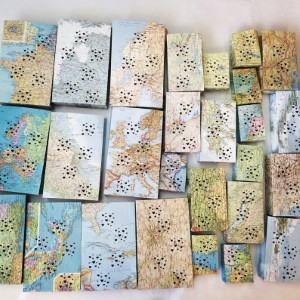 There are different sizes and customization options available for any of Suzie's luminary bags. Check out more creative designs in her shop Olden Designs.
Vintage Luggage Label Stickers
This set of 30 reproduction retro luggage label stickers advertising hotels, ships, and travel agencies that have been professionally retouched and printed on high gloss, water-resistant self-adhesive paper. These stickers are an inexpensive way to add a retro feel to any travel-related DIY project.
I am a bit obsessed with vintage luggage and vintage luggage labels so I was drawn to these immediately. We use these to decorate our vintage looking luggage and to also stick on the back of our laptops as we decorate them with stickers we get from our travels, so these are a perfect addition!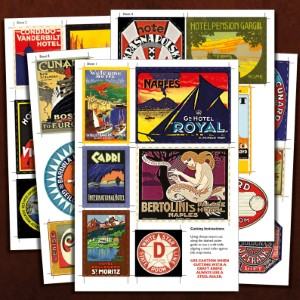 Ben also creates and sell a number of other vintage inspired printed items including tote bags, magnets, posters, and wall prints. See more at his store BvdB Design.
Travel Fund Jar
We love that the world map money jar serves both a functional purpose (place to throw loose change) and a decorative one. This 1-gallon jug is made of thick, durable glass with a black plastic screw cap. The world map design has been added to the jar and is made of high quality matte black vinyl.
The product is made of high quality materials and the hole on top is big enough for any type of coin we tried. Unlike many other money storage containers, the coins were fairly easy to remove from the jar.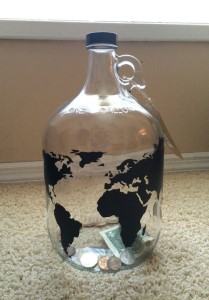 A great place to keep your spare change to save up for your next adventure. A smaller 1/2 gallon world map jar is also available for those wanting something smaller. See more at Renee's store All Sales Are Vinyl.
World Map Wall Clock
This unique modern world map wall clock is a great fit for any room of the house! The 10″ clock includes a backside hook for easy hanging and requires a AA battery to operate. It is available in 3 colors and you can also change the color of the clock hands.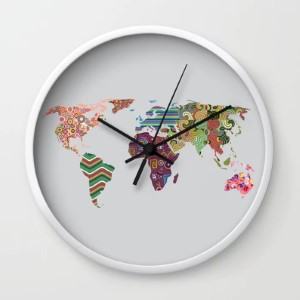 All items are made to order at Lanre Studio. The world map design is also available to be printed on a mug, pillow, art print, and duvet cover. You can see their full list of products here.
Ireland Inspired Flower Pot
This Ireland inspired shamrock flower pot is made of ceramic and is then decorated using transfer printing and low VOC chalk paint. it contains an Irish verse. Pot is covered in UV protectant and 3 coats of matte water sealant. Pots can be used indoors or outdoors. They come in various sizes and the designs change regularly.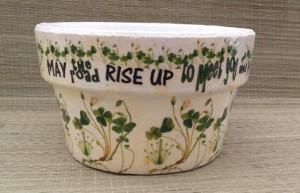 Katie made a number of beautiful handmade planting plots, many of which are inspired by the Emerald Isle. She can also do custom designs. You can see her current designs available in her shop Summer Bird Design.
RV USA State Decal
Have you ever considered tracking how many states have you been to with your campervan, RV, or travel trailer? This high quality outdoor vinyl USA State Decal allows you to keep track and proudly display your adventures for the whole campground to see!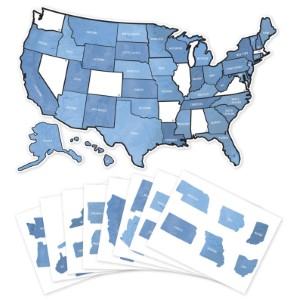 These decals are an automatic conversation starter for when you're unhooking and the neighbors walk by. There are a lot of other vehicle decals as well as lots of travel inspired home decor you can check out over at the Conquest Maps store.
Wooden Antique Map Wall Clock
This antique style sublime clock depicts a 17th century map that is printed on the wooden face of the clock. It also features silent quartz mechanisms. It is available in 8 sizes. Customization is possible.
If you are looking for something a little different, the team at The Big Clock Store have very unique clock styles (over 500!), so you can pick the size and style that best fits your room and décor.
World Map Sticker Decal
You can add this explore world map sticker to your laptop, notebook, skateboard, fridge, lunch box, bedroom door, or mirror to inspire you to go on more adventures every time you see it! The sticker is 3.8″ W x 3.1″ H and is coated in a scratch and weather resistant glossy vinyl.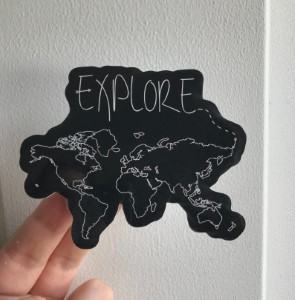 Amanda has a selection of travel inspired products over in her store Forget Sunday Drives.
Airplane Doormat
This airplane doormat is the perfect welcome mat for any travel lover! Each doormat is made of coconut fibers and the design is hand painted by the shop owner with outdoor paint. It is spray sealed with a clear coat of UV resistant spray paint and backed with vinyl. The doormat measures at 18" x 30" and can be used inside or outside your door.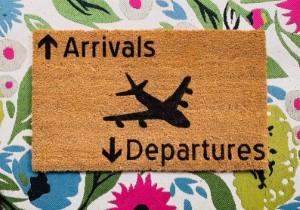 Sarah offers a wide range of funny and cute original doormat designs. She can also create a custom design if you have an idea for a unique doormat. You can see all of her available designs in her store.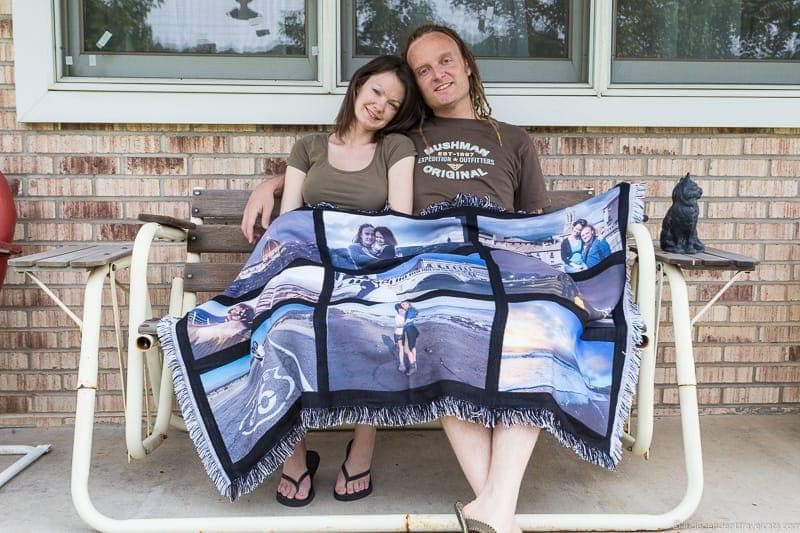 So that is our guide to home decor for travelers, and hopefully we have helped inspire you in how to decorate your own home to inspire some wanderlust.
If you are looking for gift ideas for travelers, check out our travel gift guide for over 75 gift ideas that are perfect for travelers. Ideas for every budget and type of traveler.
Planning to decorate your home in the future? Pin this article to Pinterest to save and read it later: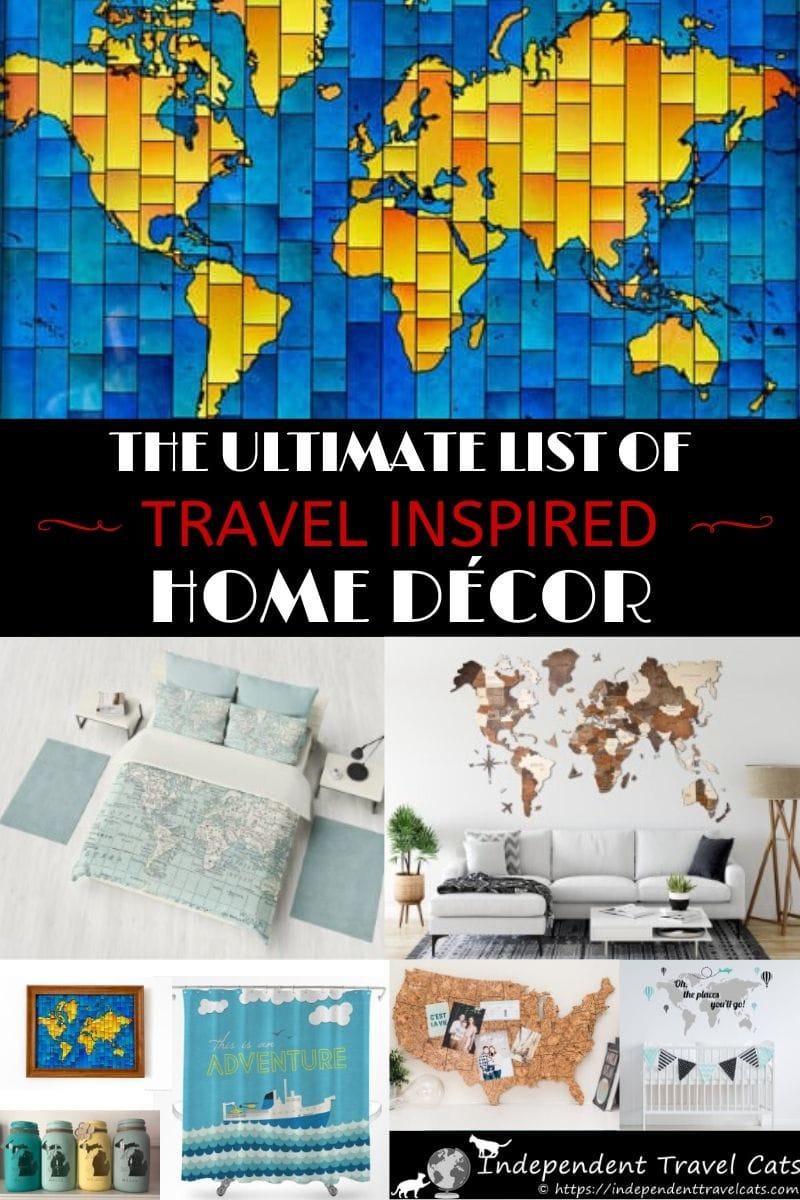 Did any of these travel themed home decor items catch your eye? Do you own any travel home decor pieces yourself that you love? If you have any questions about any of these travel home decor items, just ask us and we're happy to share our honest thoughts!