A great way to fuel your wanderlust in between trips is to have travel inspiration and reminders in your home or office, and we've put together a long list of wonderful handmade travel home decor items. We have a number of travel themed home decor items in our home from rugs and coffee mugs to blankets and wall prints to photo frames and decorative globes.
We've reviewed a wide range of handmade travel home decor items in this article for those looking for a way to express their own love for travel, searching for a gift for a special traveler, or just looking for inspiration about what types of travel themed home decoration items are out there. These handmade pieces are well-suited for a variety of spaces, budgets, and decorating tastes. We physically reviewed all these items and hope you enjoy this list of wonderful travel themed home decor items!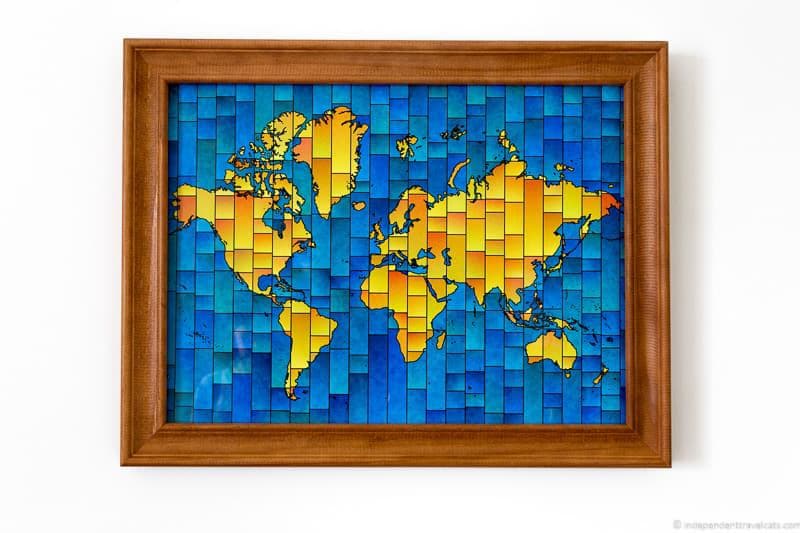 Handmade Travel Home Decor: Home Decoration for Travelers
I love travel themed items and have previously written posts on some of my favorite handmade travel themed wedding products and travel themed jewelry. I love globes, vintage maps, vacation photos, old postcards, etc. and love when I find items that incorporate travel themed elements into useful home decorations and furnishings. So we decided to put together another list on some great handmade travel themed home decor items.
These include pieces for all parts of the home from the office to the bedrooms and include everything from fridge magnets and lamp shades to wall art and shower curtains. The items were also chosen to fit a wide range of decorating tastes and budgets with most items ranging in the USD $20 to $120 range.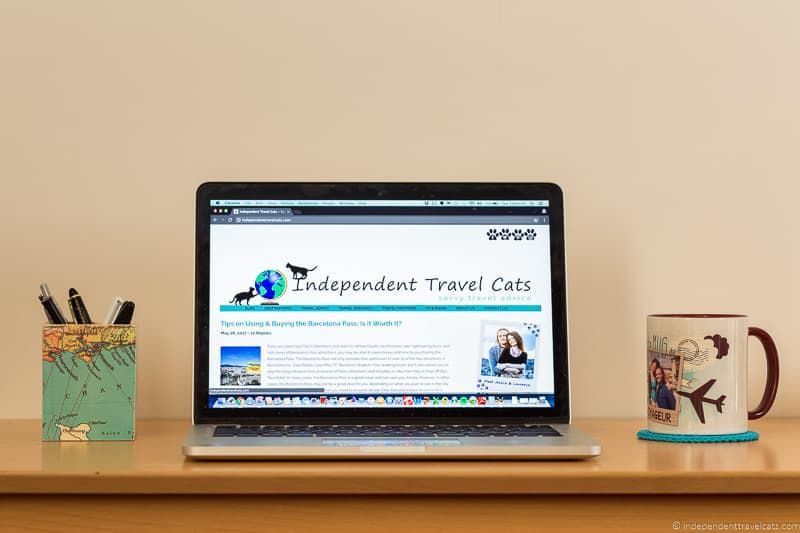 Just so you know, some of the travel home decor items in the list are items we purchased or which were given to us as gifts by others. The other travel home decor items are products that were provided by Etsy artists for review to be included in this article at our request. We physically reviewed all of these items; this is NOT just a compilation of photos we've pulled from the Internet. We strove to include travel home decor pieces from around the world and items came from a number of places in North America, Europe, and Asia, although the majority of items are from the United States and the United Kingdom. All of the items reviewed, to our knowledge, are handmade or hand customized items, made by a single artist, family, or a small business. We love supporting these great individual artists and small businesses, and many of the home decor pieces featured were inspired by the wanderlust and travels of the artists' themselves! The majority of these items are truly unique and many of them can be customized to include elements that are special to you.
We are happy to answer any questions you may have about any of these items included. We hope that this list helps inspire you to show your wanderlust in decorating your own home!
Personalized Vacation Photo Coffee Mug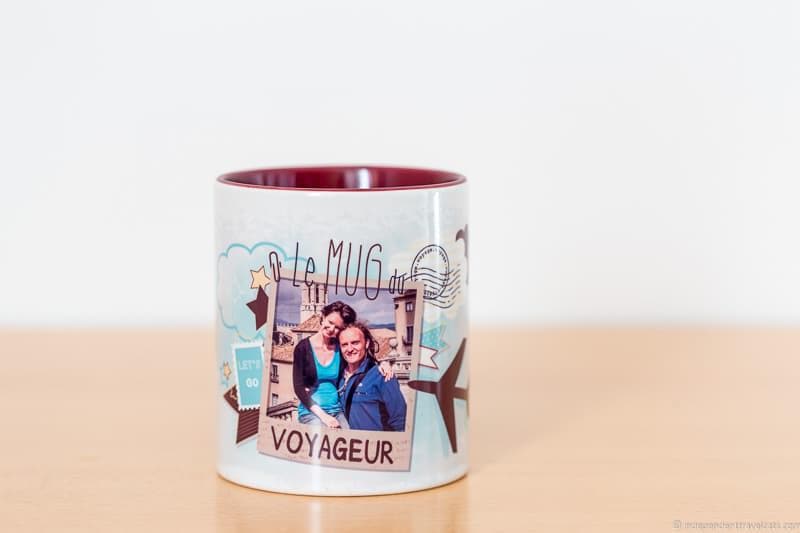 Product Link: Personalized Vacation Photo Mug
What is It?: A ceramic 10 oz. coffee mug with ink printed brown and green travel design. Text includes "Let's Go" and "Le Mug de Voyageur." The mug design can be personalized with a photo.
How to Use: Personalize the mug design with a vacation photo to remind you of some of your favorite travel memories, and then use it for your morning coffee or tea.
Our Thoughts: We really enjoy drinking our coffee out of this mug and seeing a photo from one of our first trips we took together in Spain. A great and practical way to remember your own travels, and would also make a great gift for a special traveler in your family.
Words from the Artist: "Les p'tites créas de Nono…I draw, scribble, and make drawings of everyday life. I am guided by my imagination and my creations are born from my sketches that are then digitally processed using my tablet.They often tell a story everyone can relate to. I like the idea of my creations sitting in my customers' homes and I attach particular importance to the quality of my work, hoping that my decor adds to a fun and bright day. In my shop, I offer variations of my illustrations on different items such as coffee mugs, magnets, paintings, and funny stationery. Enjoy your visit to my little world!"
See More at Noémie's Store: LesptitescreasdeNono
Travel Map Pin Board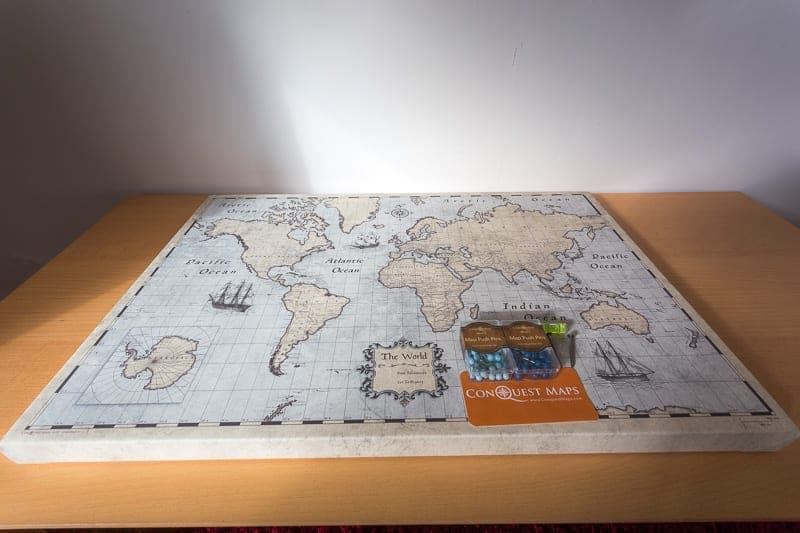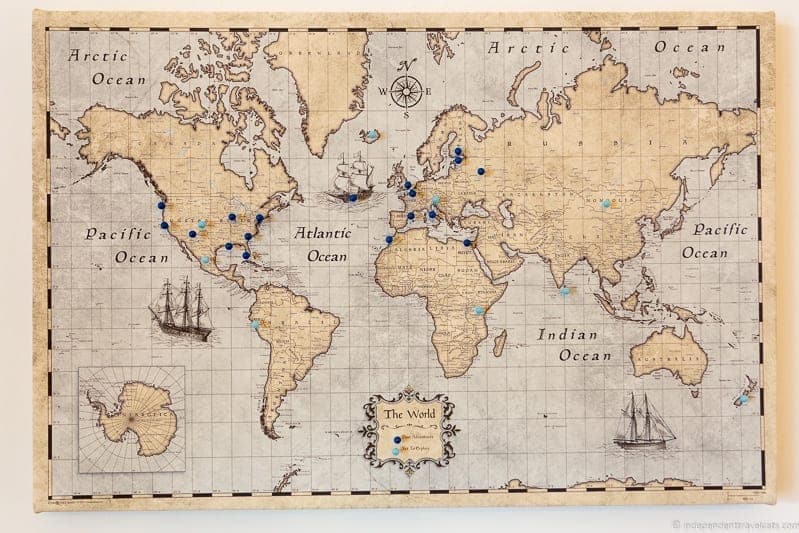 Product Link: Rustic World Map Pin Board
What is It?: Handmade pin boards designed to hang on the wall, made from a digitally printed cotton/poly blend matte canvas stretched around am internal frame created especially for the pin boards. Order includes 100 push pins in two colors of your choice along with the wall fixtures, 2 nails, and a mini level. Pin boards available in world map designs as well as USA maps.
Ways to Use: These pin boards are a great way to track and show the places you have visited and the places you want to go. They also make a great gift for any traveler to show where he/she has been and where they plan to go! Americans may want to check out the USA map as well.
Our Thoughts: This is a very high-quality piece that is currently hanging on our apartment wall. Ross was great to communicate with and the product comes very professionally packaged and was easy to hang on the wall as it comes with all the fixtures needed so the only thing you need is a hammer to put in the nails. The push pins come in 2 colors (your choice) and we are using one set for places we've been together and the other for upcoming trips or wish list places. We loved that the pin colors and legend are customizable. The USA map would be perfect for those doing a USA road trip as it is obviously more detailed than the World Map version, and I also love the Ohio winery map (Ohio is my home state!).
Words from the Artist: "Starting with a homemade birthday gift to my wife, Conquest Maps has come a long way in 3 years, so I have to say I've been feeling very fortunate! We've been able to merge our passion for travel and adventure with our enthusiasm for unique rustic decor, all on top of learning how to grow a business from the ground up. I hope you enjoy our maps, as they're each still hand crafted and delivered with love from our home to yours!"
See More at Ross's Store: Conquest Maps
Personalized Travel Tree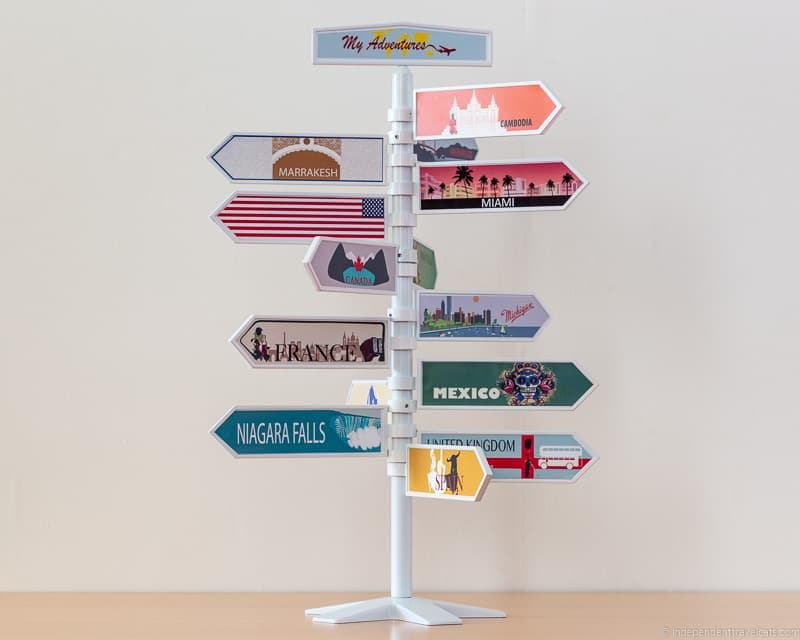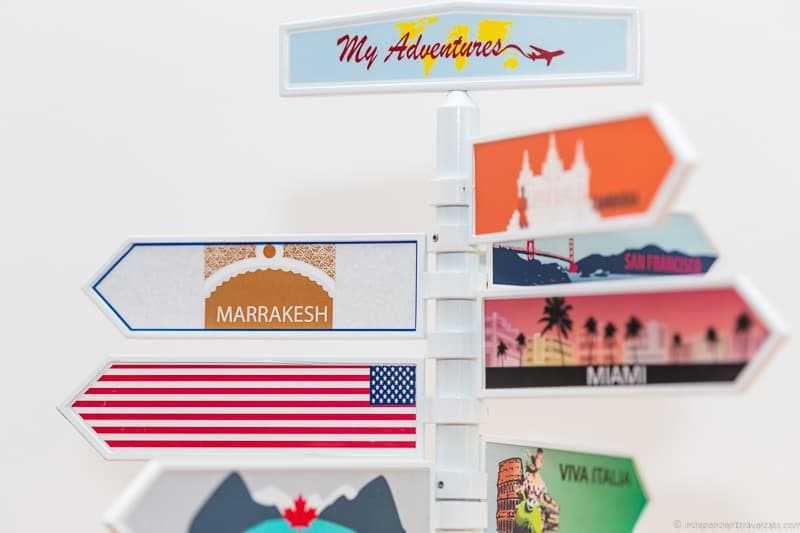 Product Link: Travel Tree Starter Set
What is It?: A white metal stand and base with attachable metal signs. The stand and travel signs are made of steel and aluminum and the travel signs are printed on high quality vinyl stickers. Each starter kit comes with the base, stand, title sign, and three customized travel signs. Additional personalized travel signs can be added. Trees can also be customized for golf, ball parks, marathons, or other accomplishments.
How to Use: A way to track and show your travels in a unique way, and you can keep adding to it as your list of visited cities or countries gets longer. Destinations can be cities, U.S. states, countries, or customized destinations.
Our Thoughts: We love this unique product (it has won a design award in Australia) as it is a fun way to show off your travels. We also like that you can keep adding to it and watch as your tree grows!
See More at Maria's Store: TobrisMyTravelsTree
Luminary Bags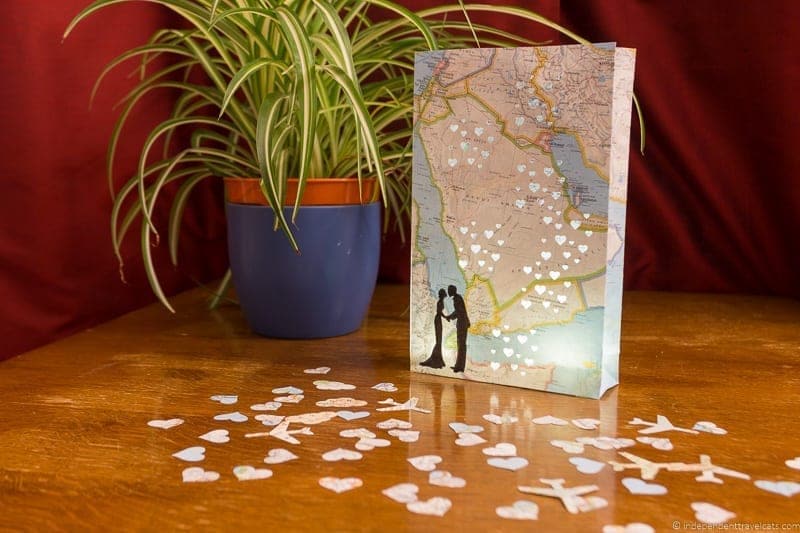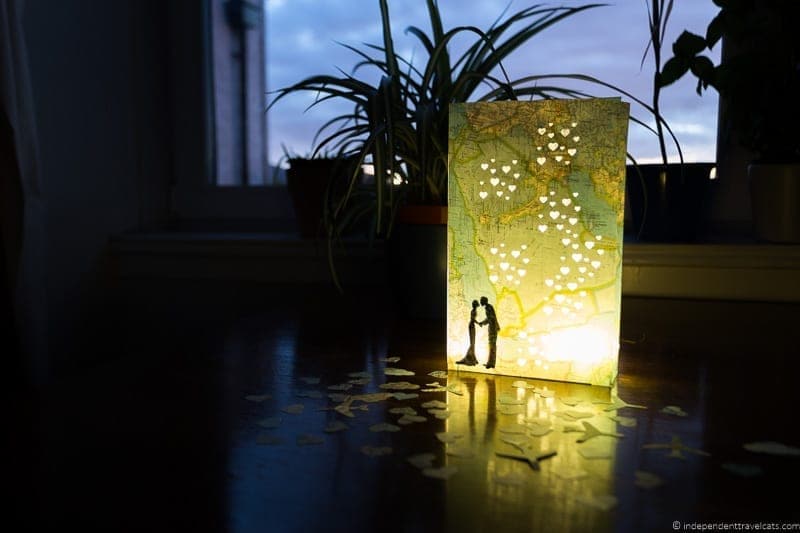 Product Link: Custom Travel Themed Map Luminary
What is It?: Handmade paper luminaries made from old maps and atlases with punched shaped holes that glow when a LED candle is placed inside. These are also commonly known as candle bags and paper lanterns. Different sizes and customization available.
How to Use: These can be used as table, shelf, or window decorations in your home. They are perfect for travel-themed parties as table decorations, to light indoor or outdoor paths, or to add an atmospheric glow to an event. The ones pictured were customized for a wedding or bridal shower but these luminaries can be used for regular use or any special event.
Our Thoughts: We love these bags as they remind us of luminaria in New Mexico which are a traditional holiday decoration around Christmas. The use of maps, the customized cut-out shapes, and stenciled on designs really make these stand out from any other luminaries we've seen. These would look so beautiful for an outdoor or evening event! Just be careful that since these are not made of flame resistant materials that you'll want to be sure to only use battery-operated LED candles.
Words from the Artist: "I love creating my custom luminaries because I get to be part of the most important days of people's lives. That's pretty awesome!"
See More at Suzie's Store: Olden Designs
Custom Travel Photo Blanket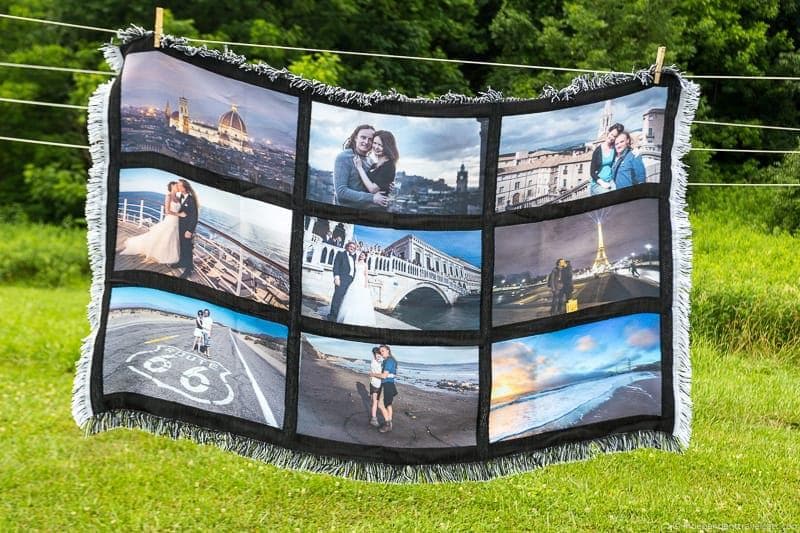 Product Link: Personalized Photo Blanket
What is It?: Throw blanket made of 100% polyester with a black and white background. Photos are sublimated into the fabric (rather than screen printed) to help prevent fading, cracking, and peeling. The blanket measures 35″ X 56″ and the nine panels measuring 9 inches X 16 inches can be used for nine different photos or one photo repeated. Other designs and fabrics are also available.
How to Use: Use this blanket to keep yourself warm on those cool nights as well as a conversation piece thrown over your favorite chair so visitors can admire your photos.
Our Thoughts: We love this cuddly soft blanket as it is covered with so many treasured memories for us. Find your nine favorite vacation photos (or any type of photo!) and create your own travel memories blanket, or make one for a special gift. Kristy and Nicole were lovely to work with and we saw proofs before the blanket was printed.
Words from the Artist: "Out of the Norm Designs is a mother-daughter company that strives to put the customer's individual signature elements into any product we create. Each blanket we create is a story of the individual or family being told through photos. It is our goal to help each individual tell their story by providing a blanket that goes above and beyond their expectations. Let us create a unique keepsake for you or your loved one! "
See More at Kristy & Nicole's Store: OutoftheNormDesigns
Vintage Luggage Label Stickers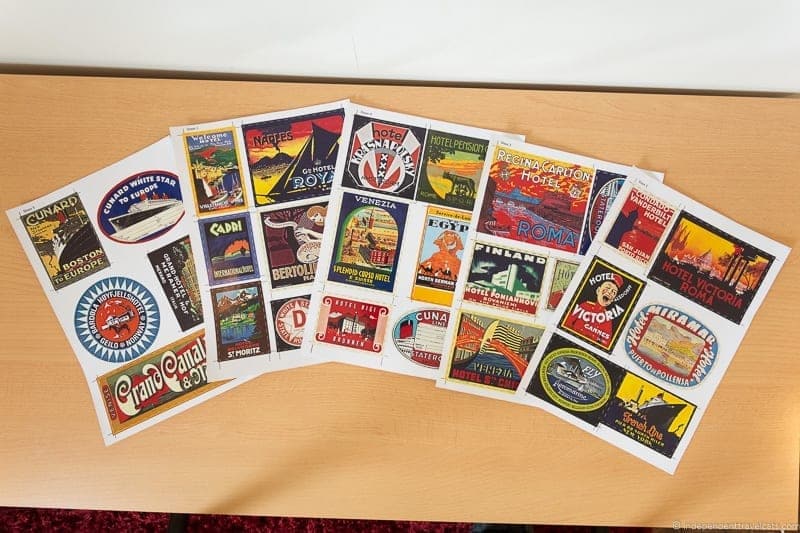 Product Link: Vintage Luggage Label Stickers
What is It?: A set of 30 reproduction retro vintage luggage label stickers advertising hotels, ships, and travel agencies that have been professionally retouched and printed on high gloss, water-resistant self-adhesive paper.
How to Use: Use these retro travel stickers to decorate a vintage-style suitcase or steamer trunk for upcoming travels, decorate a piece of luggage to use for as a home decor decoration, or stick them on just about anything you'd attach a sticker.
Our Thoughts: I am a bit obsessed with vintage luggage and luggage stickers so I of course was drawn to these immediately. We use these to decorate our vintage looking luggage and to also stick on the back of our laptops as we decorate them with stickers we get from our travels, so these are a perfect addition! We got married on a Cunard ship so I loved that there were a few Cunard related stickers included! These stickers are an inexpensive way to add a retro feel to any travel-related DIY project.
See More at Ben's Store: BvdB Design
Wanderlust Ring Bowl
Product Link: Bicycle Wanderlust Bowl
What is It?: Handmade small bowl made of white earthenware clay. Letters and design were stamped with dark brown ink – this one has a bicycle design on outside and word "Wanderlust" along the inner rim. The bowls are fired and covered with a lead free, clear glossy glaze. Bowls can be customized with various colors and larger sizes are available.
How to Use: You can use the bowl to store jewelry such as rings, earrings, or wristwatches, but it can also serve a number of other functions. For instance it could also be used to store coins, paperclips, or beads, to serve food items such as spices or sauces, to hold used tea bags, or to serve as a holder for floating candles.
Our Thoughts: This little dish is really cute. It is a great place to store my travel-themed jewelry pieces, particularly our world map wedding rings whenever we need to remove them. Elycia offers a wide range of handmade bowls in her shop that I recommend checking out, and most of her pieces can be customized!
See More at Elycia & T.J.'s Store: ElyciaCamille
Framed Maps with Love Quote
Product Link: Modern Map Love Handwritten Sign
What is It?: A white frame with pearl and twine embellishments with a map that includes a handwritten quote inside. The standard quote is "Love makes the world go round." but this can be customized to any short travel related quote.
How to Use: A great decoration or gift for any travel loving person or couple.
Our Thoughts: We really like how this quote combines both love and travel, two of our favorite things!
See More at Kelly's Store: UniqueWeddingBoutique
Globes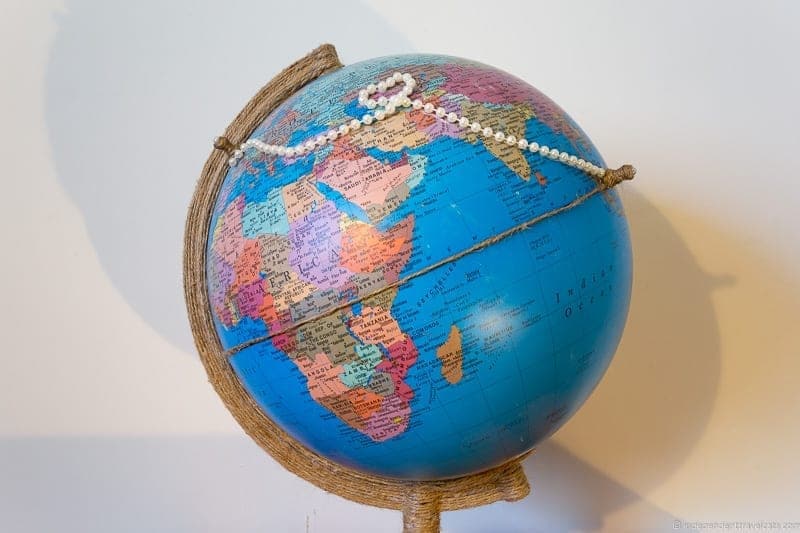 Product Link: Check out the wide selection of globes
What is It?: The pictured Modern Map Globe is a standing globe with twine wrapped base and a set of pearls used to join together two (or more) locations on the globe. Pearls can be customized to join together any two or more destinations.
How to Use: A statement centerpiece or table decoration that shows your love of travel and handy for looking up your next vacation destination. Some can be customized to show where a couple met, a honeymoon destination, hometowns, travel destinations, road trips, etc.
Our Thoughts: It is hard to think of a more fitting home decoration for a traveler than a globe. I love globes and have a few in my apartment. The pictured globe is especially fitting for couples who want to show where they met.
Map Wall Art Prints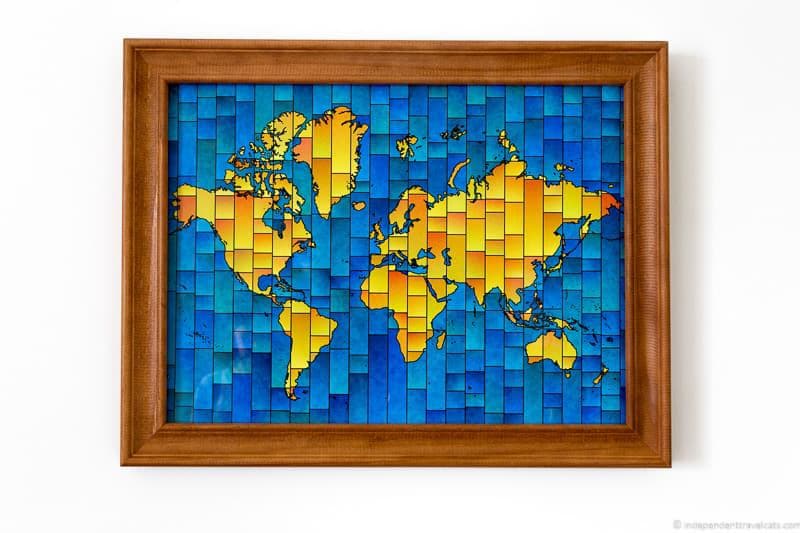 Product Links: Glasa World Map print, Crossword Map print, Travel List print, & Travel Quote map print
What is It?: Wall art prints that are printed on high quality matte paper. There are a number of designs available including world map prints, crossword travel map prints, travel list prints, longitude and latitude coordinates, and travel quote maps. Designs and colors are varied and many of the prints can be personalized.
How to Use: A great way to decorate your walls, celebrate your past travels, and inspire your future travels.
Our Thoughts: We love the wide variety of travel-related prints that Robert has available in his store. There are so many different kinds of prints available and most of them can be customized in terms of color, text, and maps so they can celebrate any sort of travel and find something to suit just about any room.
Words from the Artist: "We love the magic of travelling – new sights, sounds, aromas, people, cultures, experiences, feelings – and we don't want the memory of these things to fade. We started elevencorners to celebrate travel memories by displaying them in beautiful, interesting and very personal ways. Day-to-day life can so easily overshadow the magic of travel but a print on your wall is a constant reminder to you and a great conversation piece when friends or family come to visit.
See More at Robert's Store: ElevenCorners
Travel Fund Jar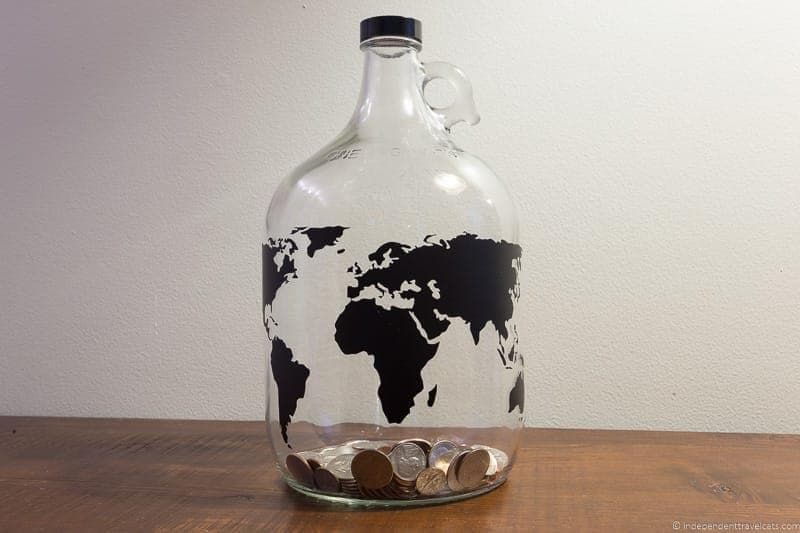 Product Link: World Map Money Jar
What is It?: A 1-gallon jug made of thick, durable glass with a black plastic screw cap. The world map design has been added to the jar and is made of high quality matte black vinyl. A smaller 1/2 gallon world map jar is also available.
How to Use: Use the decorative jug to store your extra coins and bills as you save for your next vacation! Also makes a great gift for anyone wanting to save for a big trip. Perfect for sitting on your table, kitchen counter, or child's dresser.
Our Thoughts: We love that the jar serves both a functional purpose (place to throw loose change) and a decorative one. The product is made of high quality materials and the hole on top is big enough for any type of coin we tried. Unlike many other money storage containers, the coins were fairly easy to remove from the jar.
Words from the Artist: "Vinyl is my medium; it allows me to customize anything and everything — the options are limitless! This product sprung from an idea and a Pinterest search that resulted in nothing of its kind. With this travel item, I love having a visual and constant reminder that I am saving for something special …that there's a certain place out there, maybe in a far-away land, maybe not, but a place certainly waiting for me to explore!"
See More at Renee's Store: AllSalesAreVinyl
Travel Inspired Candles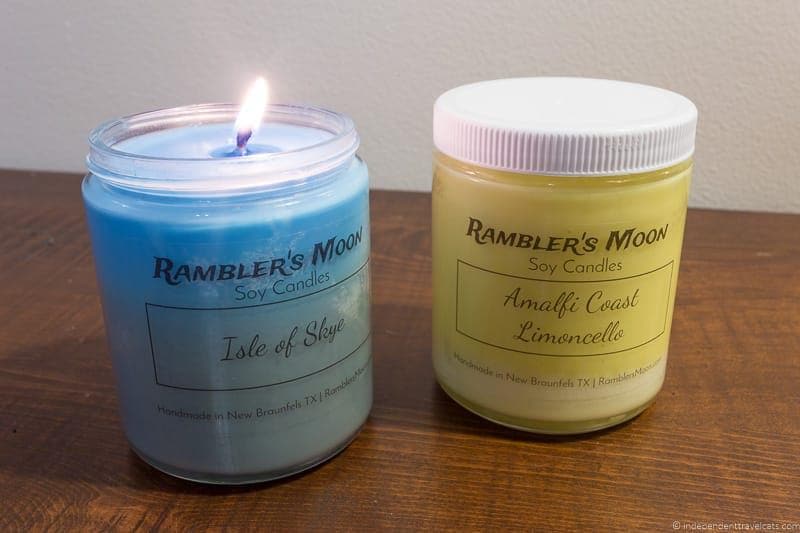 Product Links: Isle of Skye scented candle & Amalfi Coast Limoncello candle
What is It?: Scented candles made with soy wax, a cotton wick, fragrance oil, and liquid dyes. They are placed in reusable 8 ounce glass jars that are about 4 inches tall and 3 inches wide. They come in a variety of travel-inspired scents.
How to Use: A variety of travel related scented candles that can help remind you of past travels or help you dream of exotic places. After the candle is finished, you can reuse the glass jar.
Our Thoughts: We love these soy candles as they burn for a long time and the travel-inspired scents can help you remember past travels. Smell is one of the human's most powerful senses and scents can instantly trigger vivid memories. They can transport people back to favorite locations or help inspire future destinations.
See More at Will's Store: RamblersMoon
RV/Camper Pillows & Kitchen Items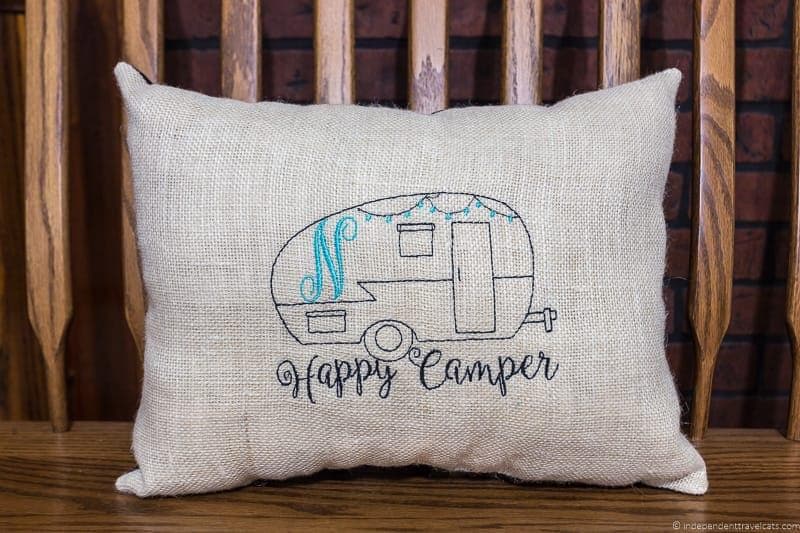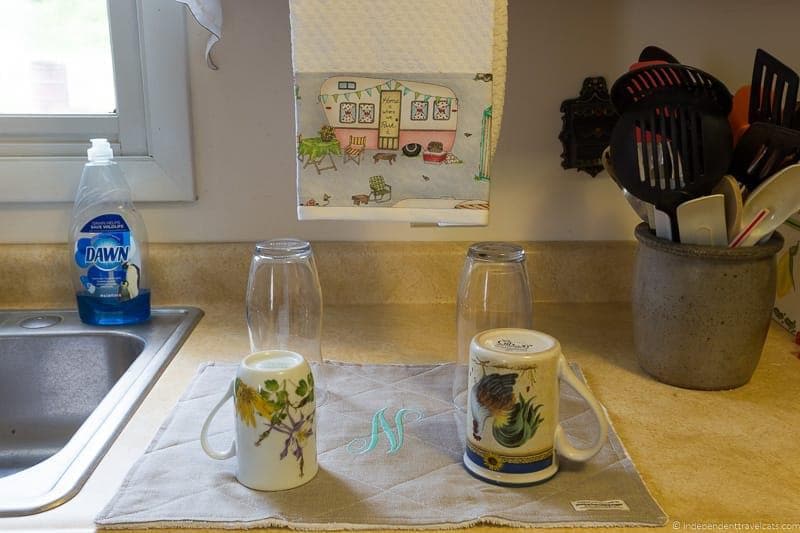 Product Links: Embroidered Dish Mat, This is Our Happy Place RV Throw Pillow, and RV kitchen towel
What is It?: The throw pillow has a burlap front and cotton twill backing – it is embroidered with "This is Our Happy Place" and a depiction of a camper. The dish mat is made of linen with terry cloth backing and loop for hanging that is embroidered with your initials. The kitchen towel is made of cotton waffle fabric with a lower portion of the fabric depicting a colorful camper design with the words "Home is where we park it". All items can be personalized.
How to Use: Use these items to personalize your own camper or RV. Or use them in your apartment or house to show your love of RVing or camping even when you are not out on the road!
Our Thoughts: These homemade items are all of very high quality and we love that almost all of Sharon's items can be personalized with your initials, names, or special colors. These items are perfect for those who love to RV.
See More at Sharon's Store: MakingSomethingHappy
Wooden Photo Frame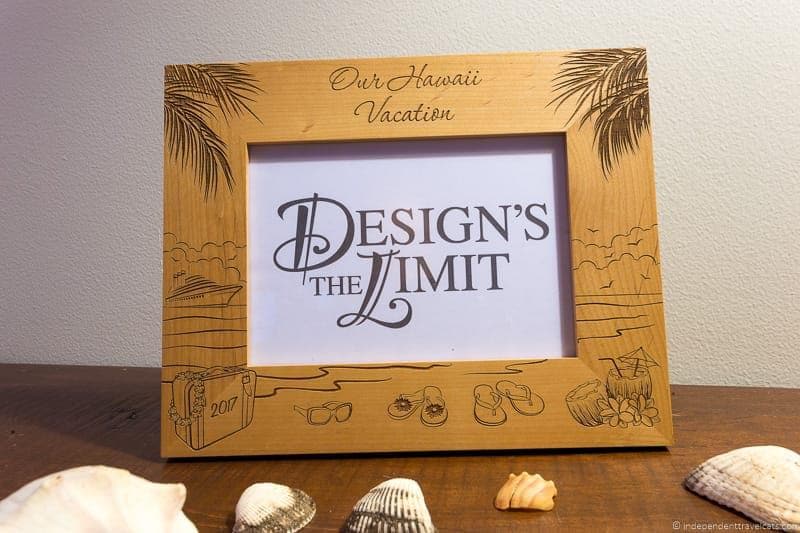 Product Link: Personalized Vacation Photo Frame
What is It?: A beige wooden photo frame with an engraved island vacation design and personalized elements. Picture frames include stand for tabletop display and hook for wall hanging display. Photo frames can be personalized and customized and many designs are available.
How to Use: Use these personalized wooden frames to proudly show off your best vacation photos in your home or office.
Our Thoughts: We love taking the time to print some of our best travel photos and displaying them in our home so we can look at them every day. These personalized frames are a special way to display them. There are a lot of different vacation related designs available.
Words from the Artist: "We encourage anyone who is interested in promoting the travel lifestyle to create a personalized frame in our shop to compliment the best picture from your vacation(s). By framing these moments, you can inspire others to travel and remember these special moments all the time."
**PHOTO FRAME DISCOUNT CODE: If you order from DesignstheLimit by November 1, 2017, you can receive 10% off any purchase of $25 or more. Just use coupon code TRAVELCATS2017 at checkout.**
See More at Richard & Tatiana's Store: DesignstheLimit
Map Travel Banner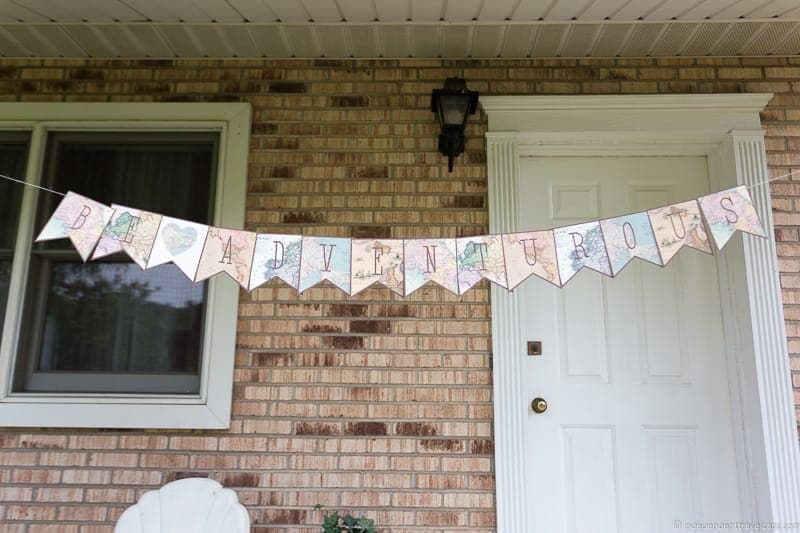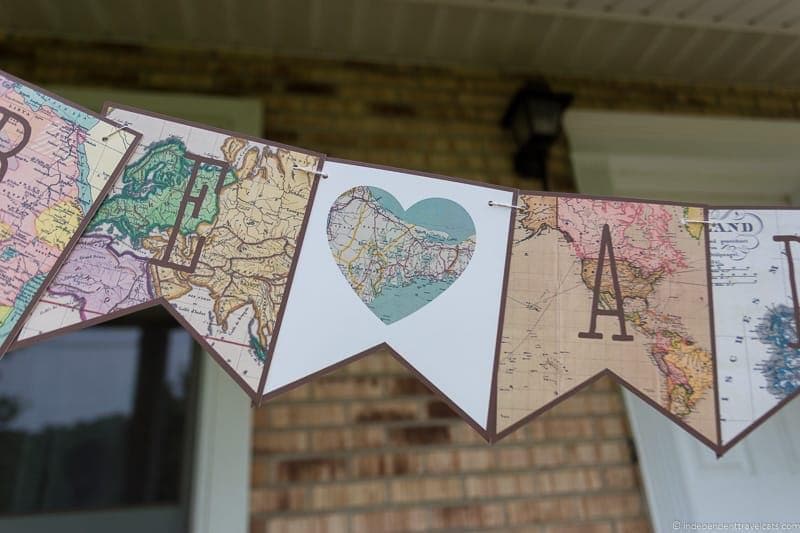 Product Link: Map Travel Banner
What is It?: The banner is made with digital map designs printed on heavy 130 lb white card stock and strung on light blue jute twine. The letters spell "Be Adventurous". The text can be personalized or it can be printed without text.
How to Use: The banner is a perfect decoration for a travel themed party, anniversary, bridal shower, going away party, or welcome home celebration. Depending on the text you choose, it can also be used for everyday use and hung in a nursery, bedroom, or lounge.
Our Thoughts: We love anything map related and this is a fun way to make a statement during a special celebration or to just say how much you love travel and adventure! This is well made but not weather-proof so I would recommend hanging it inside or if hanging it outside (such as for an outdoor party), choose a place where it won't be exposed to moisture or high winds.
See More at Lindsey's Store: SweetTalkDesigns
Travel Themed Wall Decals
Product Link: Travel Wall Decals
What is It?: Decals are made of high quality, self-adhesive, matte-finish vinyl. The pictured designs are vintage passport travel and mail stamps. Available in a number of colors and sizes, and decals can also be customized.
How to Use: These removable decals can be applied to many types of clean, flat (or lightly textured), and dry surfaces such as walls, doors, windows, mirrors, wood, and plexiglass. A great way to decorate a room, wall, or small space to show off your love for travel.
Our Thoughts: We applied these in our bedroom and love seeing the vintage travel stamps every morning when we wake up! Be sure to read the directions carefully beforehand as this particular design includes a number of tiny elements – we applied them slowly and had no problem. We used a credit card to help with the application. Adam and Kim have a number of other great travel-related wall decals as well!
Words from the Artist: "BlueDesignCo. offers everything from removable wall decals, reusable fabric wall decals, posters, custom canvases, wall paper, and much more! We love to help people bring their décor visions to life, and custom-made decals and projects are our specialty. Our Travel Stamp Vinyl Wall Decal Set would look great in any room and you can decorate your wall with these vintage travel stamp inspired wall decals along with your vacation photos!"
See More at Adam & Kim's Store: BlueDesignCo
Beer Cap World Map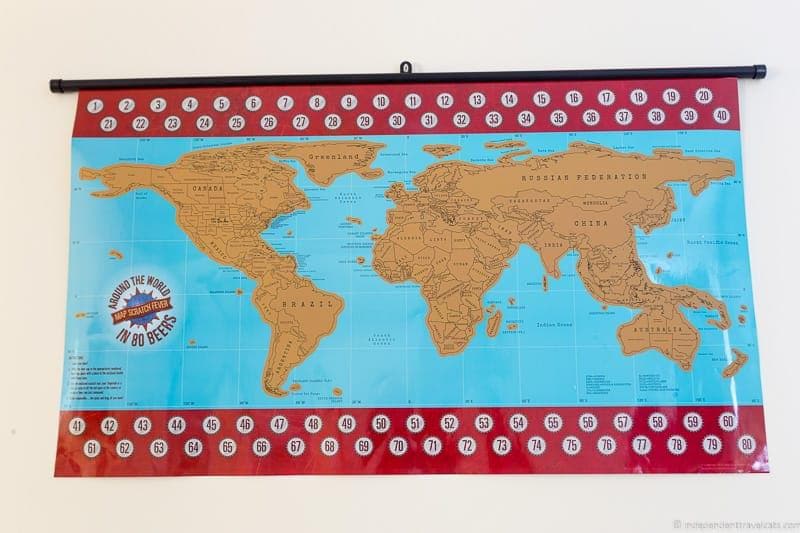 Product Link: Around the World in 80 Beers Scratch Map
What is It?: A printed map covered with high quality laminate and a foil layer. The map has a total of 80 blank circles (40 on top and 40 on bottom) that are used to stick on beer caps. Includes a magnifier to help find the smaller countries and islands, a scratcher to help remove the foil level, and 80 sticky squares to attach the beer caps to the map.
How to Use: You hang the map and then each time you drink a beer scratch off the beer's country of origin and then attach the beer cap. In addition to all the countries, the map also allow you to scratch off each of the U.S. states, Canadian provinces, and Australian territories individually.
Our Thoughts: This is a fun way to play Around the World in 80 Beers and helps encourage you to try new beers. A great gift for any beer drinker or a fun item to have at a craft beer party! We started off our map with a beer from the oldest operating brewery in the United States (Yuengling in Pennsylvania in case you were wondering!), and this is going to be a gift for my brother.
Words from the Artist: "We used to sell a World Scratch Map, but many people said, 'I just don't travel that much'…so then it came to me, 'The world needs a Scratch-off Beer Cap Map!' I improved the map, including US states, Canadian Provinces and Australian Territories. Our 'Around-the-World-in-80-Beers' is truly a way for craft beer enthusiasts to preserve those rich memories of their international beer tastings. GREAT way to host a craft beer party."
See More at Rita's Store: MapFever
Travel Themed Pencil & Pen Holder
Product Link: Map Pencil Holder
What is It?: A wooden pencil holder covered with a map and then varnished. The pictured map includes part of the United Kingdom and France. You can customize the map location.
How to Use: Use the pen pot to hold and organize all the office supplies on your desk like pens, pencils, markers, and scissors.
Our Thoughts: A great way to bring some travel themed elements to your desk at home or at work. We love that you can customize the location so that you can choose a map location or country that is special to you! Kerry also sells a number of other map decoupage pieces such as tissue boxes, jewelry boxes, and decorative letters.
See More at Kerry's Store: QuirkyArtsHere
Map Magnets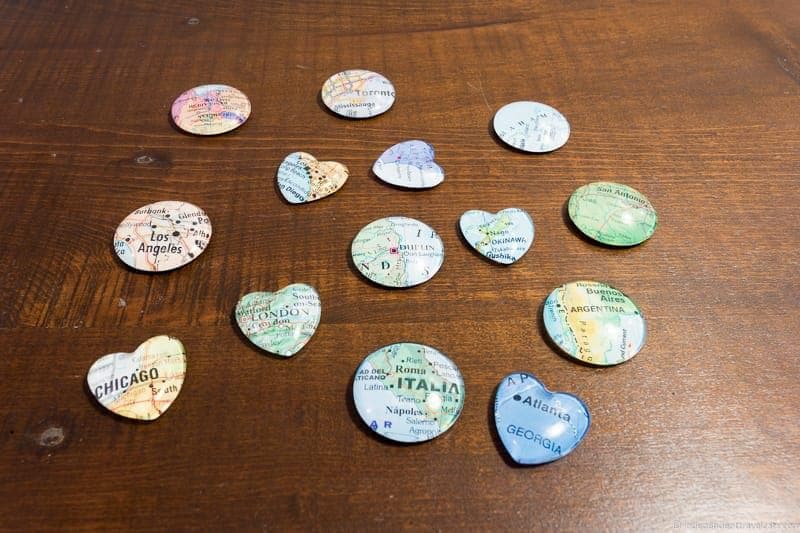 Product Link: Map Fridge Magnets Set
What is It?: Glass magnets with real paper map sections inside. Magnets come in various sizes and shapes, including round, square, and heart designs. Map locations can be customized and magnets are made to order.
How to Use: Place these on your refrigerator, dry erase board, filing cabinets, and other magnetic surfaces in your home and office to remind you of your favorite places. Also make great party favors.
Our Thoughts: We love that you can pick your favorite locations in the world (places you've been or places you want to go) and be reminded each time you open your refrigerator door!
Words from the Artist: "We started creating these magnets with vintage and newer maps from places that we had either visited or are on our 'bucket' list of places to see, and ended up inviting others to request their very own "near and dear" places on their list. Each magnet is individually crafted using real maps from a vast collection of atlas books from our stock (some old, some new); a small but strong silver tone rare earth magnet will ensure years of fun and enjoyment. Any cities, continents, oceans, islands…wherever and whatever area in this world that may hold a special meaning to you, can be made into a long lasting and unique memento."
See More at Lil & Jill's Store: LilandJill
World Map Wooden Wall Decor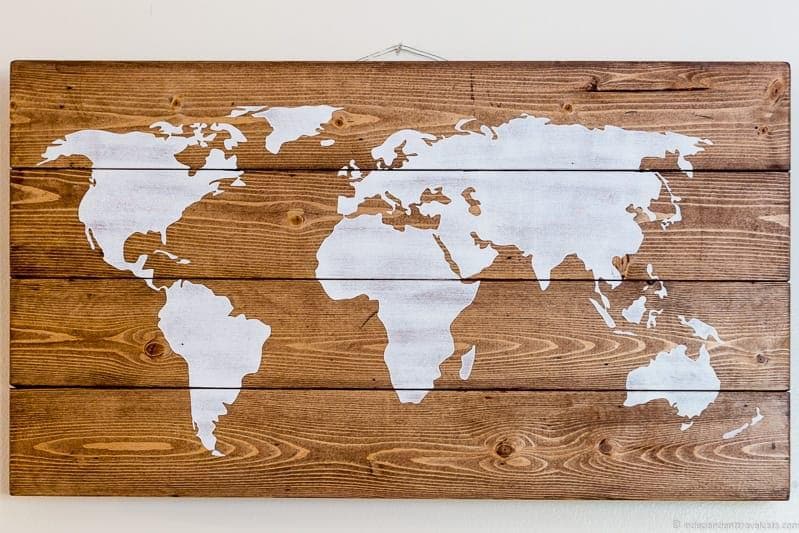 Product Link: World Map Wooden Sign
What is It?: Spruce pine wood sign with white handpainted world map design that has been varnished and sealed. Signs come with metal hardware attached to hang on the wall. The sign shown is 25 inches L X 14 inches W. Various sizes and varnishes available, and signs can be customized.
How to Use: Hang on your wall in your bedroom, entryway, living room, nursery, or kitchen. It comes with all the necessary hardware attached so you just need to grab a hammer and choose the wall!
Our Thoughts: We love this piece of rustic but elegant travel home decor that can be used in just about any room of the house. It was easy to hang and we were glad we did not have to attach the hardware.
Words from the Artist: "Silva Design is a family business and that's how we treat our customers – like family. Our goal is to be part of the journey your family takes to establish a life together. Only Silva Design offers an array of exclusive and custom handmade wood accessories to nurture the feeling of family whether you're at home or far away. The quality of our workmanship and care is unsurpassed. We provide our customers with quality, handmade craftsmanship in every detail. Whether your family is rooted in its forever home, or moves where the wind blows. Silva Design rustic wood accessories will make it yours."
See More at Kristy's Store: SilvaDesignLLC
Vintage Map Flower Pot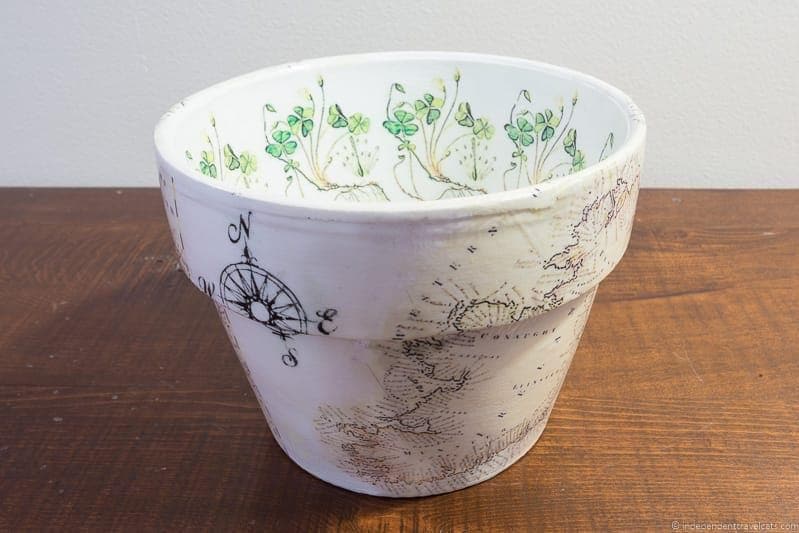 Product Link: Ireland Vintage Map Garden Pot
What is It?: Planting pot that is handpainted using low VOC chalk paint. Designs include golden and green vintage map of Ireland and nautical compass rose on the outside and green shamrock images on the inside. Pot is covered in UV protectant and 3 coats of matte water sealant. Pot is approximately 8.25″ wide at top and is 6″ tall with a bottom drainage hole. Various pot sizes are available, and design can be customized.
How to Use: Plant flowers or herbs in this beautifully decorated flower pot. Can be used inside or outside.
Our Thoughts: A beautiful garden pot that looks great on our window sill and reminds us of the beautiful Emerald Isle! This particular design would look great with purple flowers.
Words from the Artist: "My Etsy shop features handmade Garden Pots that are inspired by my love of nature. My designs are reflective of my love of nature and our glorious planet Earth. Many of the designs I select are rooted in history whether it be my take on antique English Transferware pottery or botanical images created hundreds of years ago to document the variety of fauna in the natural world. I designed this particular piece because of my own Irish background. I love Celtic-inspired creations and my Ireland Map Garden Pot is my personal celebration of my heritage. The dancing shamrocks encircling the inner rim are like fairies in the forest and the map is a reminder of one of the places I long to travel to."
See More at Katie's Store: SummerBirdDesign
Personalized Framed Vacation Maps
Product Link: Personalized Trip Passport Map
What is It?: A custom design of a specific trip with map is printed on 51lb acid free paper. The design is personalized for each customer and can include text, map locations, routes, and personal travel photos. Frame not included but you can add framing to your order.
How to Use: Create your own map based on a special vacation and then hang the map on your wall to always remember it. In addition to vacations, you can also use the map to chart a marathon, challenge, hike, classic road trip, or any other route.
Our Thoughts: We loved how much we were able to customize the map design and Scott was able to incorporate our specific route locations, text, and even our travel photos. A great way to remember our trip and we look forward to being reminded of our European train journey every time we glance at our wall!
See More at Scott's Store: PassportMaps
A Secret Travel Book Safe
Product Link: Hollow Secret Safe Book
What is It?: Hardcover copy of To the Ends of the Earth: The Selected Travels of Paul Theroux with original dustcover that has been hollowed out so there is an inside opening that is 4 7/8 inches wide x 8 long x 15/16 deep. Inserted magnets keep it closed even when it is standing upright. Hollow safes available in a number of book titles (including custom requests) and size and shape of hollow can be changed.
How to Use: You can use the secret book safe to protect or hide a number of objects including cash, credit cards, jewelry, passports, keys, flasks, and collectibles.
Our Thoughts: We love being able to hide items in plain sight, especially in a book written by a modern travel writer which fits in well on our bookshelf. It is a great place for us to store our passports, desk keys, extra cash, and nicer jewelry that we would normally just shove in a drawer. You can store just about any smaller items in the book, but remember that the book safes are not waterproof or fireproof (e.g., don't store your most prized possessions!) and it is also not childproof so we don't recommend storing weapons if children live or play in your home.
Words from the Artist: "Kara and John are a husband and wife who handcraft all Secret Safe Books from their home workshop in Minnesota. "
See More at Kara & John's Store: SecretSafeBooks
Travel Themed Stationary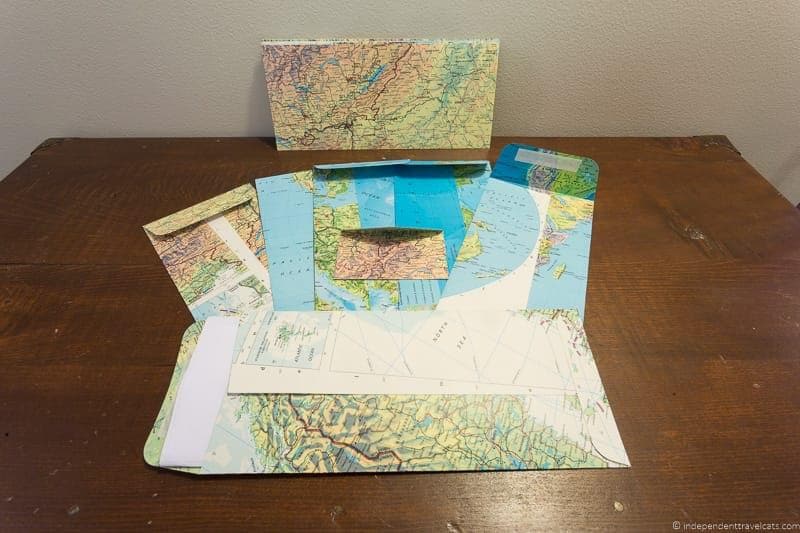 Product Link: Atlas Letter Envelopes
What is It?: Upcycled atlas map pages handcrafted into letter-sized envelopes. These measure 9 1/2″ X 4″ although a variety of sizes and recycles papers are available. Custom orders accepted.
How to Use: Use these handcrafted map envelopes like you would any other envelopes – use them to send letters or invitations to friends and family, pay your bills, store items, etc. Consider sending an actual letter instead of an email to your friends or family during your next vacation!
Our Thoughts: We love that these are so well-made and are also making good use of discarded atlases and maps. I still write letters to my grandmother and these travel themed envelopes make it more fun to send a letter.
Words from the Artist: "Paperette's mission is to keep the lost art of letter writing alive while also reducing our impact on the earth by repurposing once loved books, maps, and other recycled papers destined for the landfill and turning them into envelopes, stationery, and other paper goods."
See More at Jennifer's Store: PaperetteShoppe
Color Changing Map Coffee Mug
Product Link: Color Changing World Map Mug
What is It?: Ceramic 11 oz. coffee mug with ink printed map design and high gloss glaze finish. Available as both a regular white map mug as well as a color changing mug.
How to Use: The color changing mug goes from being a plain black mug to showing the world map design when hot liquid is poured into it. The color changing mug is not dishwasher safe.
Our Thoughts: We had great fun pouring hot water for tea into the mug and watching the map design appear. Would make a great gift as well. Svetla has a number of mug designs in her shop as well as many wall art pieces that include skyline, cityscape, and map designs.
Words from the Artist: "I love to paint, to dream, and to travel. My real passion has alway been to paint with watercolors and I enjoy transferring the digital images onto mugs and other objects. l love knowing that my art can go to everyone and maybe give them something to dream about. I made this mug to be able to remember all the amazing memories of my travels every time I took a sip of coffee and to inspire dreams of future trips. To me every trip is a dream and a beautiful memory."
See More at Svetla's Store: ArtsPrint
Scratch Off Travel Map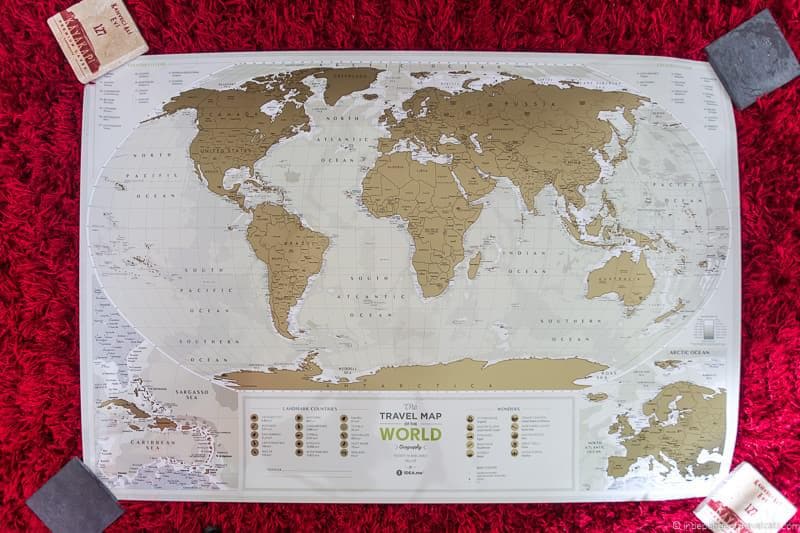 Product Link: Scratch Off Map
What is It?: Map printed on high quality paper then covered with a gold foil layer that can be scratched off. Map shows over 10,000 cities and places you can mark and package also includes a dust cloth, push pins, and metal scraper. Map measures 34.6 inches X 23.6 inches (88 X 60 cm).
How to Use: Use this fun high-quality map to show the places you have visited in the world by scratching off visited countries and marking destinations with push pins.
Our Thoughts: This is a great map and a fun way to show where you have traveled in the world. It can also help you decide on your next vacation destination. Map is very detailed for its size and it was easy to scratch off the gold foil level. Individual U.S. states, Canadian provinces, and regions of large countries can also be distinguished so you can scratch off certain areas rather than the entire country.
See More at Robert's Store: TheMapLab
Travel Photo Throw Pillows
Product Link: Traveler Throw Pillow
What is It?: Handsewn pillow case made from weather- and fade-resistant 100% spun polyester poplin fabric. Pillow case has double-sided print of a truck and mountains on it and has a concealed zipper. Includes faux down pillow insert. Different sizes and customized orders are available.
How to Use: A great pillow to show your love of travel that can be used in your indoor or outdoor seating areas!
Our Thoughts: We love that you can get a throw pillow featuring a lovely travel or nature photo or design by the artist. Katya also makes a number of other handcrafted items with travel and nature photos including phone cases, shower curtains, wall tapestries, duvet covers, and travel journals.
Words from the Artist: "Lost in Nature is a functional way to surround yourself with larger than life or completely portable art and nature scenery. Each piece features the photography and art of Katya Laroche, a full-time traveler who uses both film and digital cameras to achieve the feel she wants for each scene. The goal is to make art a part of a customer's daily life in a functional and fun way, either through home decor, bedding, or accessories like phone cases. "
See More at Katya's Store: LostinNature
Travel Themed Coasters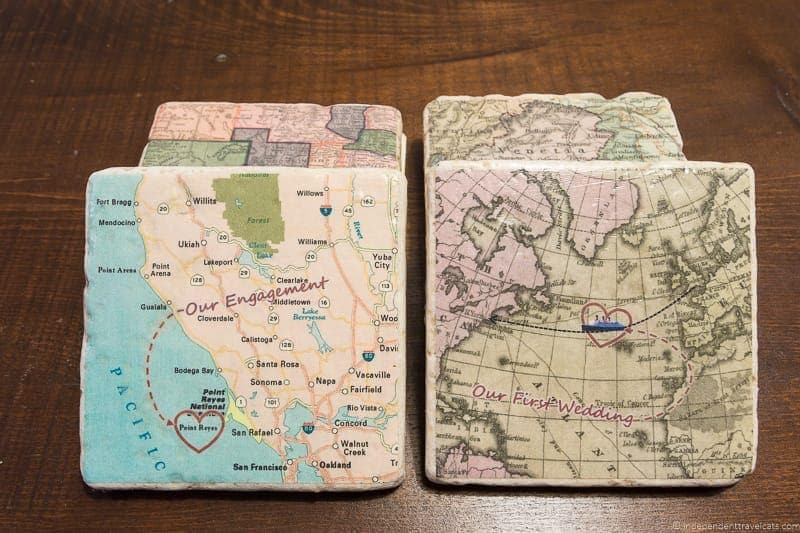 Product Link: Personalized Map Coasters and Old World Map Coasters
What is It?: The map design is decoupaged to the stone tile and treated with commercial grade paver sealant on both front and back to preserve the stone and image. Felt backing is applied to the bottom of the coasters. Coasters can be made of ceramic or natural stone and a number of customized elements and designs are available.
How to Use: Great to use as decorative and functional drink coasters, and they can also be hung on your wall for a decoration if you'd prefer (just request that wire loops be added).
Our Thoughts: We adore the Old World style map stone coasters, but we especially love the personalized set that includes the places where we met, our first road trip, where we got engaged, where we got married, our first home together, etc. A great way to have reminders of your favorite places! These natural stone coasters are durable and of high quality.
Words from the Artist: "I love what I do! Overall, I love making my customers happy! I have fallen in love with the challenge and pure joy that I get with creative product development and customer interaction with custom orders. The diversity in type, use and function of tile has me mesmerized with the possibility."
See More at Brenda's Store: HandtoHomeConcepts
World Map Bath Mat or Rug
Product Link: Explore Bath Mat or Rug
What is It?: Black bath mat made of a quick-dry microfiber surface, memory foam cushion, and skid-proof backing. Various sizes and colors available. World map design also available as a woven polyester area rug.
How to Use: Place the non-skid mat next to your bath tub or shower, or buy the woven area rug to place it anywhere in your home.
Our Thoughts: An easy way to add a bit of a travel theme to your bathroom. The mat is soft and easy to clean. If you love this world map design, Amanda can print the same design on a number of other items including area rugs, pillows, duvet covers, blankets, and even clothing!
Words from the Artist: "I love exploring new places which is where my inspiration for this design came from. I love creating products and designs that I myself would want to own. I always wanted to be my own boss, and I'm ecstatic I finally figured out how to that! "
See More at Amanda's Store: ForgetSundayDrives
Travel Photo Lampshade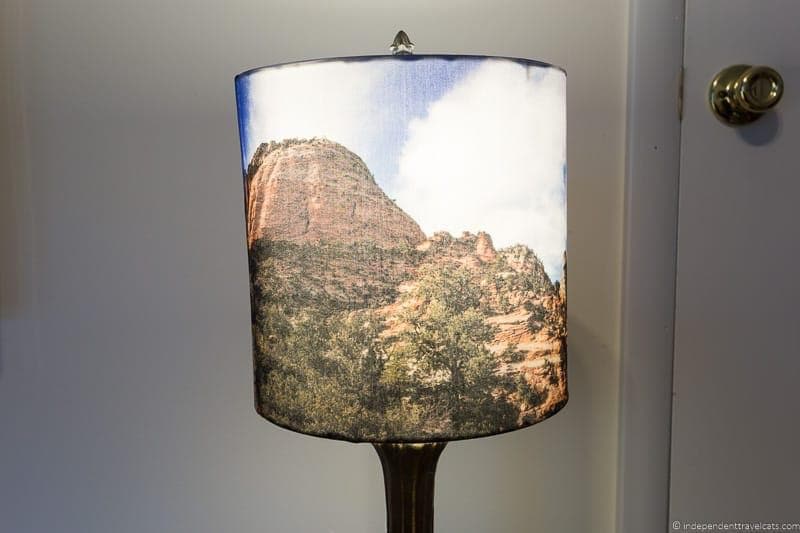 Product Link: Zion National Park Lampshade
What is It?: Photo is printed on cotton sateen fabric and adhered to a hard plastic backing to create the lampshade. Lampshades can be made in a variety of dimensions and are designed to fit traditional harp style map fixtures. The shown lampshade features a photo from Zion National Park. A variety of designs are available, and all lampshades may be customized with you own photographic images and configured to your desired dimensions.
How to Use: Place this handmade lampshade on any of your lamps to provide a unique look to your room.
Our Thoughts: A great way to add an element of travel to any room. We recommend customizing a lampshade with one of your own favorite travel photos to remember a special destination or vacation memory. Kara can also use your vacation photos to make customized throw pillows.
Words from the Artist: "At An Unconventional Home, we believe photos should be seen, not stored. Our goal is to help you savor special memories by transforming your favorite photographs into physical reminders of cherished places, moments and people. By incorporating photos into unique décor, we help you tell your story at home! "
See More at Kara's Store: AnUnconventionalHome
Nautical Themed Shower Curtain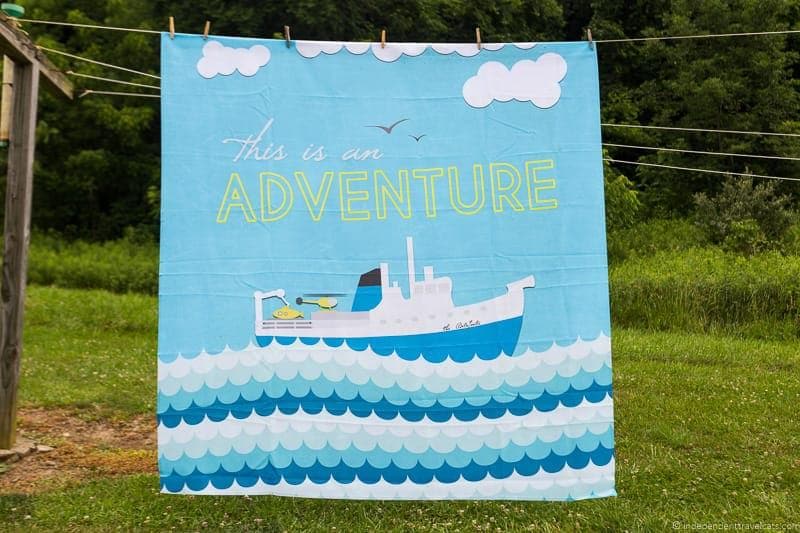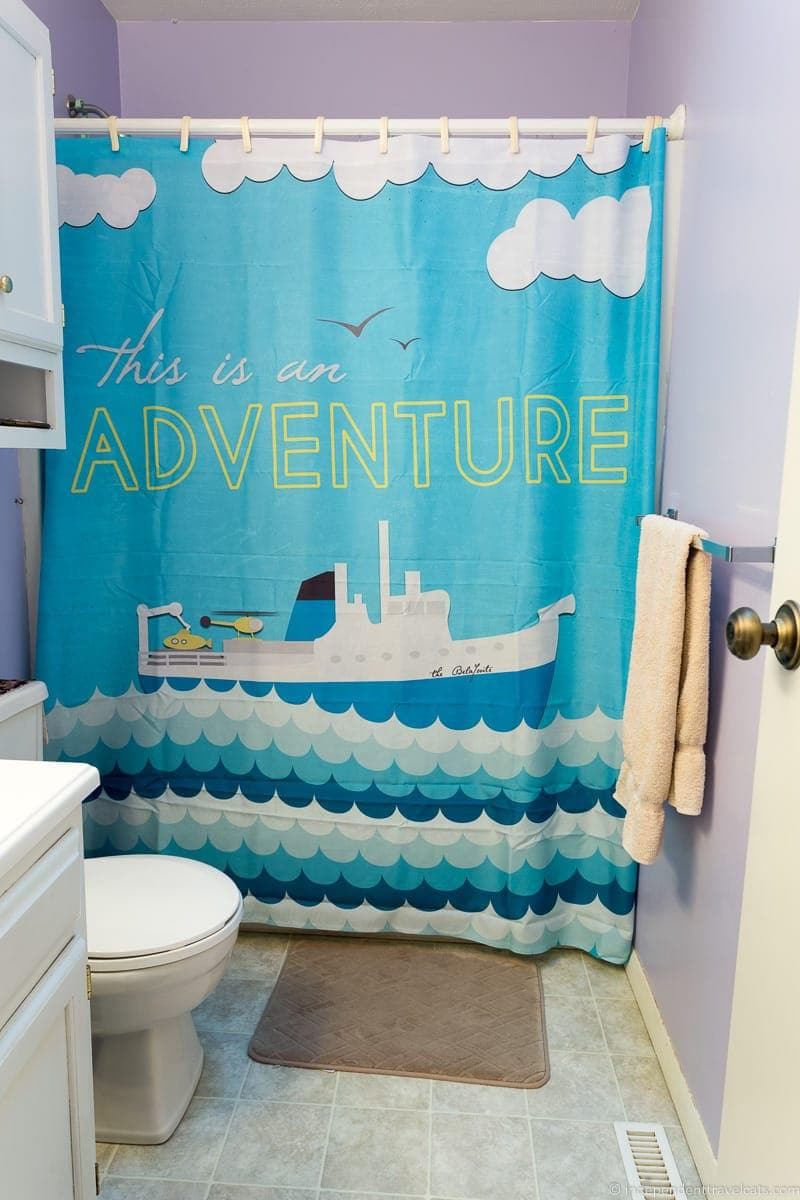 Product Link: Nautical Shower Curtain
What is It?: A shower curtain made of 100% polyester with printed nautical design. The pictured shower curtain measures 71 inches (W) x 74 inches (H) with 12 button holes for shower hook placements. Shower hooks/rings not included.
How to Use: Hang this up in front of your bath tub or shower to add a fun and adventurous element to your bathroom.
Our Thoughts: We love this fun and colorful nautical design as we both love boats. Would look great in a variety of bathrooms! As with any fabric shower curtain, be sure to use a shower curtain liner behind it to preserve your curtain. If boats aren't you thing, you may want to take a look at Rachel and Ryan's many other shower curtain (and other home decor item) designs!
See More at Rachel & Ryan's Store: Loftipop
Custom Country Heart Pillow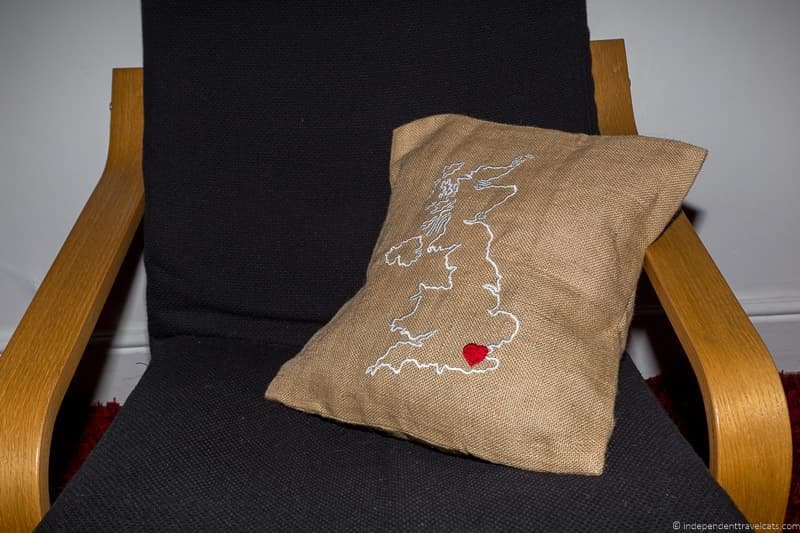 Product Link: Custom Country Heart Burlap Cushion Cover
What is It?: Burlap (a.k.a. jute or hessian) fabric pillow case with cotton lining and envelop closure. Pillow case is embroidered with a country outline and heart in the location of the city of your choice. The pictured pillow case is 16 inches X 16 inches (40 cm X 40 cm) and shows the UK with the heart over London. Various pillow case sizes and designs are available. Pillow insert is not included.

How to Use: Use these pillows to give a rustic look to your home and show off the places that you love.
Our Thoughts: These make great decorative throw pillows that can remind you of the places that have your heart even if you can't always be there. These can be customized to show any country or state, and you can decide where you want the heart to be placed.
Words from the Artist: "I grew up in the foothills of the Himalayas and picked up a natural love for all things pure and elegant. I still remember the warmth of my grandmother's handmade quilt, the softness of the clothes that she stitched for me and my brother and the beauty of her crochet dolls. Through the course of my career, I lived in Japan for 10 years. Having lived there for so long, I try to imbue my craft with the elegance of crisp Zen air. "
See More at Puja's Store: AmoreBeaute
French Inspired Trinket Dishes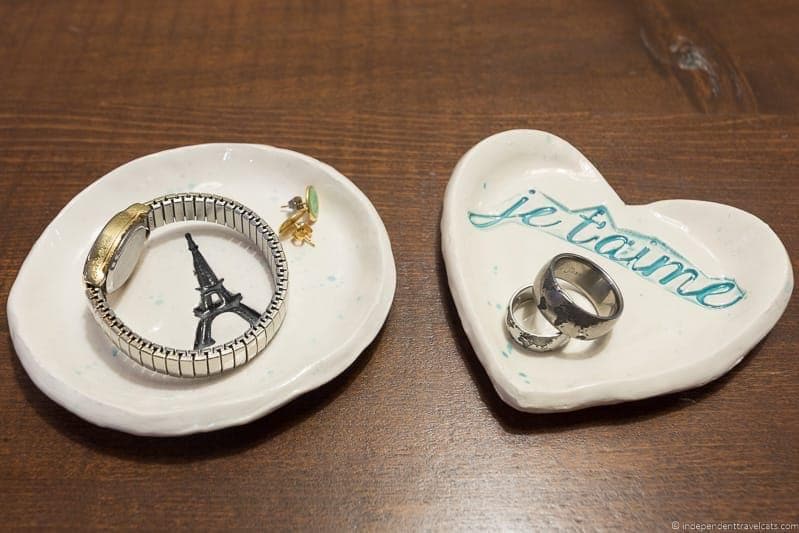 Product Link: Eiffel Tower Trinket Dish and Je t'aime Trinket Dish
What is It?: Handmade small ceramic dishes made from clay. Designs are stamped on and then the dish is fired, glazed, and then fired again. Pictured dishes have Eiffel Tower and Je t'aime ("I love you" in French) designs. Dishes are available in a variety of colors, designs, and shapes.
How to Use: Ceramic dishes can be used for soap, rings, coins, candies, tea bags, etc. These would also make great party or wedding favors.
Our Thoughts: Beautiful trinket dishes for those who love France like we do! Cynthia has a number of French inspired items in her store and is happy to make custom items as well.
Words from the Artist: "I create handcrafted ceramics and designs for every lifestyle. I love to play with clay every day, and design art from the heart always creating new designs for your home decor, and designs to make you smile. I love French designs, and vintage bird wedding cake toppers!"
See More at Cynthia's Store: CynthiaJoyCeramics
Travel Home Decor Giveaway
To give back to all the readers here, I have decided to give away many of the travel home decor items I received for review. There are many items that will be given away! I am giving away 5 items and there are 26 travel home decor items for winners to choose from so you know if you win, you'll get something you really want! Since there are so many items included in this giveaway, the giveaway will have 5 winners.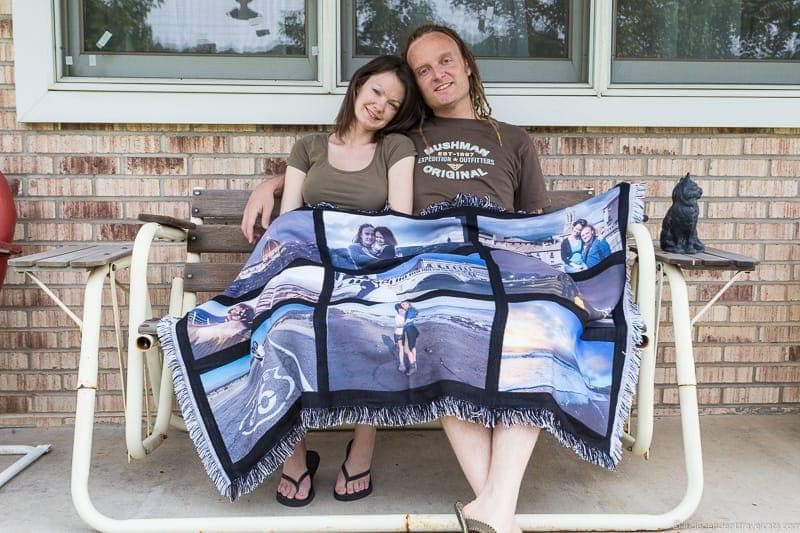 Giveaway details: Everyone who enters the giveaway needs to note the number of at least 3 travel home decor items they would like to win to be eligible to win. Noting more preferences helps better your chances of winning.
Winners will be randomly drawn with the first winner guaranteed their top choice, and subsequent winners will receive one available item on their list. If a winner is chosen but all preferenced items have already been given, another winner will be chosen. Free shipping is included and I will ship internationally using standard shipping (note that if any custom charges are charged by the country of the winner, the winner is responsible for these charges). One item will be sent directly to the winner from the artist as noted below. Neither I nor the artists are responsible for items lost or damaged in the mail. The value of each item in the giveaway varies.
Applicants must be 18 years or older and have a valid mailing address. Winners will be contacted by the email provided (so please use an email to enter that you check regularly); if a winner does not respond to email within 72 hours, another winner will be chosen. The items will then be shipped to an address provided by the winner. Giveaway is open internationally. The giveaway will end on July 16, 2017 at 12:00am EST. All entries will be checked for validity.
Travel home decor items included in the giveaway are all pictured and described in this post, but you can check the Etsy descriptions for more information. Please note in the number of the items you prefer in order of your preference (e.g., #5, #17, #1, #20, #13) in the Rafflecopter giveaway entry. Travel home decor items included in the giveaway are listed below in no particular order (use the numbers in front of the item description to let me know which ones you want to win):
**The giveaway is closed. Congratulations to our winners: Kelly M., Marianne R., Anita J., Cheryl S., & Susan S.!!**
Did any of these travel themed home decor items catch your eye? Do you own any travel home decor pieces yourself that you love? If you have any questions about any of these travel home decor items, just ask us and we're happy to share our honest thoughts!

**Disclosure: As noted earlier in this post, we received several complimentary travel home decor items in order to review them for this post and some we received and then returned to the artists. Others were purchased by us or given to us. This article contains only our own honest thoughts and opinions. Check out our Ethical Code for more information about how we work. **