A lot of people visit Barcelona and Costa Brava every year; however, many fewer people visit the Spanish Pyrenees of Catalonia. This lesser known region of Spain offers a perfect place to escape from the often crowded coast, whether you visit it in conjunction with the more popular spots or dedicate an entire trip to this region.
Here in the Spanish Pyrenees you'll find several ski resorts, a network of hiking trails and cycling paths, extinct volcanoes, hearty Catalan food, medieval towns, and rich cultural attractions.
The Spanish Pyrenees of Catalonia is a great region for those wanting to get out and explore nature, enjoy the peaceful rural countryside, or hideout in the mountains. On the other hand it also offers a plethora of outdoor activities, museums, festivals, hot air balloon rides, and a seemingly infinite amount of quaint Romanesque churches.
This guide will cover how to get to the Spanish Pyrenees region, how to explore the area, and a comprehensive guide of what do in the Spanish Pyrenees of Catalonia. Specifically we explore the three comarques (or counties) of la Garrotxa, el Ripollès, and la Cerdanya.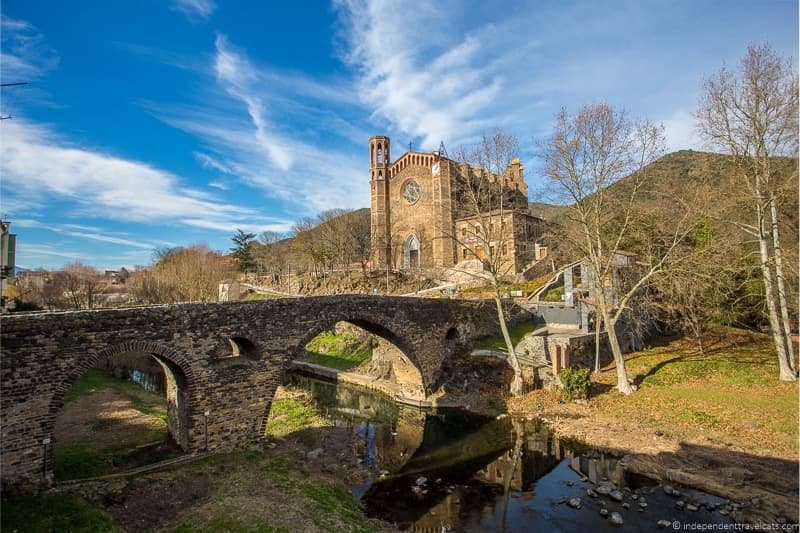 Planning your Trip to the Spanish Pyrenees of Catalonia
We'll share how to get to the Spanish Pyrenees of Catalonia, best ways to get around the region, discuss the best times of the year to visit, where to stay, and also provide additional travel resources.
Getting to the Spanish Pyrenees from Barcelona or Girona
If you are flying, the two major airports in the area are the Barcelona Airport (largest airport) and Girona Airport. If you are traveling by train, Barcelona is a major destination and easy to get to from cities across Europe. Barcelona is also a major cruise port and you can get bus connections here from just about anywhere in Europe as well.
From Barcelona or Girona, there are connections to the Catalan Pyrenees region by car, bus, train, taxi, or rideshare. Check here for train service information and here for bus info on the Teisa Bus website. If you are planning to ski, there is also a ski bus in the winter from Barcelona to La Molina and Masella (the Skibus ALP 2500 bus) that takes about 2 hours.
For those who are driving from Barcelona or Girona to the Spanish Pyrenees, it is about a 1 hour to 3 hour drive depending on where you are headed. From Barcelona, it is an approximate 1 hour 45 minute drive to Olot, 1 hr. 30 min drive to Ripoll, and a 2 hour drive to Puigcerdà. From Girona, it is an approximate 50 minute drive to Olot, 1 hr. 20 min drive to Ripoll, and a 2 hour 30 minute drive to Puigcerdà You'll need to allow more time depending on things like traffic around Barcelona and winter road conditions.
Getting around the Spanish Pyrenees Region
It depends of course where you are coming from and where you are heading, but you can get around the Catalan Pyrenees region by car, bus, train, taxi, or bike. I personally would recommend either driving or taking buses depending on the type of trip you are wanting to do.
The bus service is pretty good to most of the cities and larger towns of the region, use the helpful Teisa Bus website to check on routes, times, and fares. However, bus service may not get you to all the small towns, trailheads, and nature parks you want to visit, so be sure to check bus schedules to make sure your trip is possible or be prepared to take taxis to cover any gaps.
Train service is very limited within the Girona Pyrenees (check here for train service information) and you'll likely need to combine train with bus service to get around the region.
Bike transfers are possible as well for those who want to come out by bus or train and then do a biking trip, check with local bike rental shops to schedule transfers. You can join a self-guided or guided bike tour as well, and you can check on some options here.
Guided tours are also possible, and there are a number of day tours from both Barcelona and Girona which include some of the highlights of the Girona Pyrenees. See the Guided Day Trips section below for more information.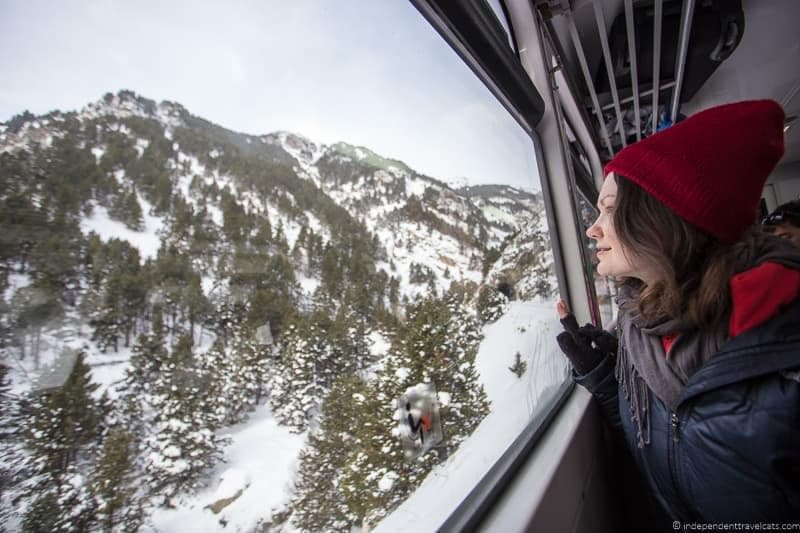 Understanding the Geography of the Region
A quick bit of geography as it is a bit complicated to explain even what region we are referring to as it encompasses parts of the Pyrenees mountains, Catalonia, and the province of Girona; however, we cover none of these in their entirety!
The Pyrenees extends for about 300 miles (490 km) from the Bay of Biscay to the Mediterranean Sea, running through Spain, France, and Andorra, and the mountains form a natural border between France and Spain. So the Pyrenees covers a very large area and even within the Spanish Pyrenees they run through a number of areas of Spain (Catalonia, Aragon, Navarre, and Basque).
Obviously this post will not cover the entire Pyrenees region, so we'll be focusing on only those parts of the Pyrenees in Catalonia in this post and specifically those within the province of Girona. The areas within Girona we visited were the comarques (similar to counties) of la Garrotxa, el Ripollès, and the eastern part of la Cerdanya (also known as Baixa Cerdanya, the county is split between Girona and Llieda provinces).
These areas close to both Barcelona and Girona, and are convenient for those coming from Barcelona or the Costa Brava area. When I was thinking about trip planning and in how to break up sections of the trip, I found it helpful to look at information by each of the three comarques: Garrotxa, Ripollès, and Cerdanya.
Guided Day Trips to the Pyrenees
If you don't want to drive or take public transportation, or have limited time, a guided tour can be a good option. There are a number of guided day tours from both Barcelona and Girona that include many of the highlights of the Pyrenees.
Here are a several tour options from Barcelona:
Here are a few tour options from Girona:
Language Spoken in the Girona Pyrenees
Most people in the area speak Spanish and Catalan. French is probably the most popular third language spoken here. English and German are fourth languages, and you can often find tourism materials in these five languages. This also reflects the tourists who visit the Pyrenees which tend to be primarily Catalan, French, and Spanish.
Although those running hotels and other tourist oriented businesses often speak English (or at least some English), we'd recommend learning a few essential phrases in Catalan or Spanish, or have a translation guide or app handy.
We were often presented with menus in Catalan with no English translations in smaller villages and less tourist focused places, and many people in the smaller villages of the Pyrenees speak limited English.
If you are visiting the Pyrenees on a day trip, you probably won't notice any language issues. But if you stay longer and explore a bit out of the main tourist area, you probably will. But the people here are generally friendly and patient, and in one case, the restaurant owner actually went online and had the menu translated by Google into English and printed just for us!
Best Time to Visit the Spanish Pyrenees
It is hard to say what is the best season but we would probably personally say Fall (autumn) or Spring as temperatures are generally pleasant, it's less crowded, it is a great time for hiking and cycling, and most of the attractions will be open.
Summer brings warmer temperatures, longer amounts of daylight, more festivals, and attractions will all be open. However, it also brings more crowds, higher lodging prices, and can be very hot.
However, those looking for snow holidays will want to visit in winter. Winter is best for those who enjoy skiing and winter sports as well as those who enjoy the holidays. It is also a pretty quiet time of the year (minus Christmas and festival events) and although the ski resorts can get busy, especially on the weekends, they are not nearly as crowded as many ski destinations in France and Switzerland.
Downsides to winter are that it is cold, mountain roads can get bad in the winter (have tire chains/cables with you), and many places can be closed or have more limited winter hours. Typically snow levels for skiing and snowboarding are best from mid-December through March in this region, but do check the snow and ski forecast ahead before you go.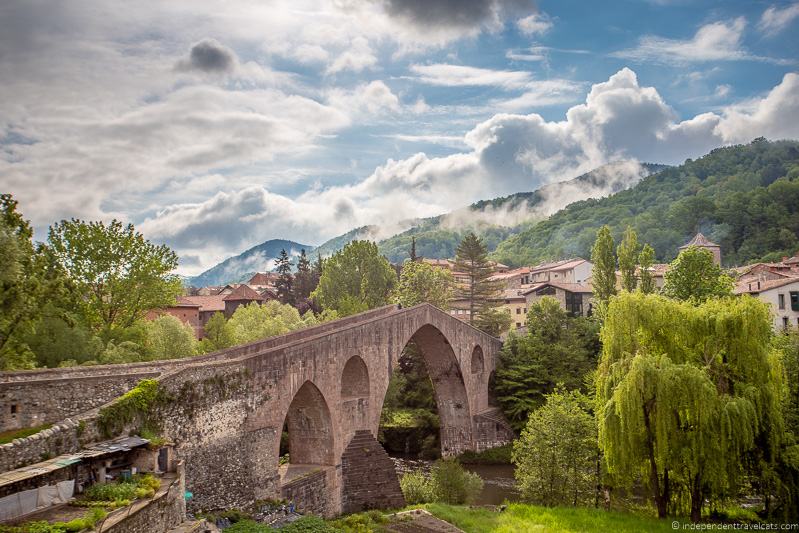 Where to Stay in the Pyrenees?
You'll find a variety of accommodation options in the Girona Pyrenees that range from hostels and rural farm stays to hotels and ski resorts. Most places offers a very good value in the Pyrenees and it is easy to find something to suit almost any travel budget.
In terms of where to stay within the area, we'd recommend choosing one base to explore the region rather than multiple hotels if most of the places you plan to visit are within a relatively short drive of each other. Then you can make day trips.
We recommend choosing the location based on what you plan to see and do. For example if you plan to go skiing, stay near the ski slopes and if you plan to mostly travel around La Garrotxa, I'd stay somewhere in that region. However, note that no two places are more than 2.5 hours drive apart in the Girona Pyrenees and most destinations are within a 1 hour to 1.5 hour drive of one another.
If you are planning to try to explore all over the Girona Pyrenees, then we'd recommend considering two bases, one in the west (in the La Cerdanya region) and one in the eastern part (in the Garrotxa region). Those who are skiing will likely want to stay close to the ski slopes to make the most of your ski time.
In La Garrotxa, the biggest city is Olot, and you can explore and compare the lodging options in this region. Some suggestions:
In El Ripollès, the biggest city is Ripoll, you can explore and compare the lodging options in this region. Here are some options:
In Baixa Cerdanya, the largest town is Puigcerdà, and you can explore and compare the lodging options in this region. A few suggestions:
If you have questions about where to stay in the Pyrenees, feel free to ask us. We've stayed in the area many times and have stayed at the majority of the suggested hotels and B&B's listed above.
Finding Further Tourism Information about the Spanish Pyrenees
It is best to search by area for information. Some information is difficult to find in English online as many websites are in Catalan and/or Spanish only but anything you can't find online or by translating websites, you should be able to find out by visiting, calling, or emailing the local tourism boards.
In la Garrotxa, check out our guide to things to do in La Garrotxa, as well as the official Garrotxa tourism website.
For information about Ripollès, take a look at our guide to what to do in el Ripollès, and the Ripollès area tourism website,
For Cerdanya, check out our article covering the highlights of what to do in La Cerdanya as well as the Cerdanya area website, as well as the city websites for Alp, Puigcerdà and Llívia.
To find out more information about these areas and the larger Girona province check out the very helpful Costa Brava Girona tourism board website to get started as it provides information on all of these comarques and many more.
For those who plan to spend some time in Barcelona, check out the Barcelona Tourism website as well as our suggested 3-day Barcelona itinerary to get you started.
For those exploring other parts of Catalonia, check out the information-packed official Cataluyna tourism website. The Spain tourism website is a great resource for those traveling further about in Spain
If you are looking for a map for driving or planning your time in the Pyrenees, you might try this one or this one. For hiking resources, we can recommend this guide and the local Itinerànnia hiking maps (if you can't find it online, you can buy them once in the region).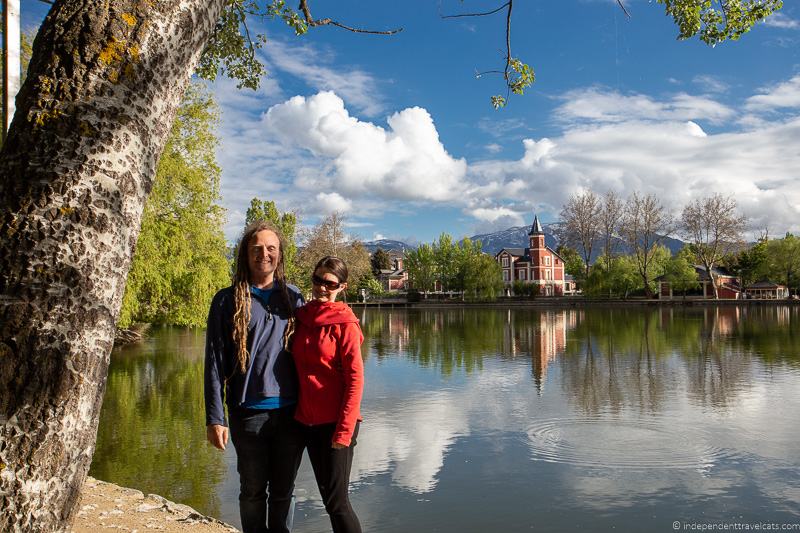 20 Things to Do in the Spanish Pyrenees of Catalonia
Now that you have an idea on how to get here, how to get around, and where exactly you are planning to go, we'll tell you about all the things to do in the Spanish Pyrenees of Catalonia. These 20 things should help get you started in planning you own itinerary, whether you are heading to the area for a weekend ski trip, a 5-day hiking trip, or a 2-week family summer holiday.
If you have any questions about any of these, just ask us!
Escape from Barcelona and the Coast
Even if your vacation plans include Barcelona and Costa Brava, planning some time in this region is a great way to get off the well-beaten tourist path. We love Barcelona, Girona, and the Costa Brava area—great places for culture, food, coastal hikes, and beaches. However, these places are very popular international tourist destinations and can become very crowded, especially in the summer months.
The Spanish Pyrenees are a perfect place to escape and breathe and is great tourist destination in its own right, and is popular among Catalan, Spanish, and French travelers in particular. Many of those who live in Barcelona and Girona come out to this area for a city break to ski, hike, cycle, attend local festivals, teach their kids about rural life, and stay in second homes.
In Barcelona, the tourism office is actually promoting that visitors leave the city to spend more time in the Pyrenees and countryside as the city center becomes overcrowded in the summer months, frustrating both tourists and locals. The tourist numbers have actually more then quadrupled from 1990 to 2013, making it one of the most visited cities in Europe and busiest European cruise port (loads of cruise visitors flood the city in the daytime).
You certainly won't find many cruise visitors in the Spanish Pyrenees area and it is easy to find peaceful spots.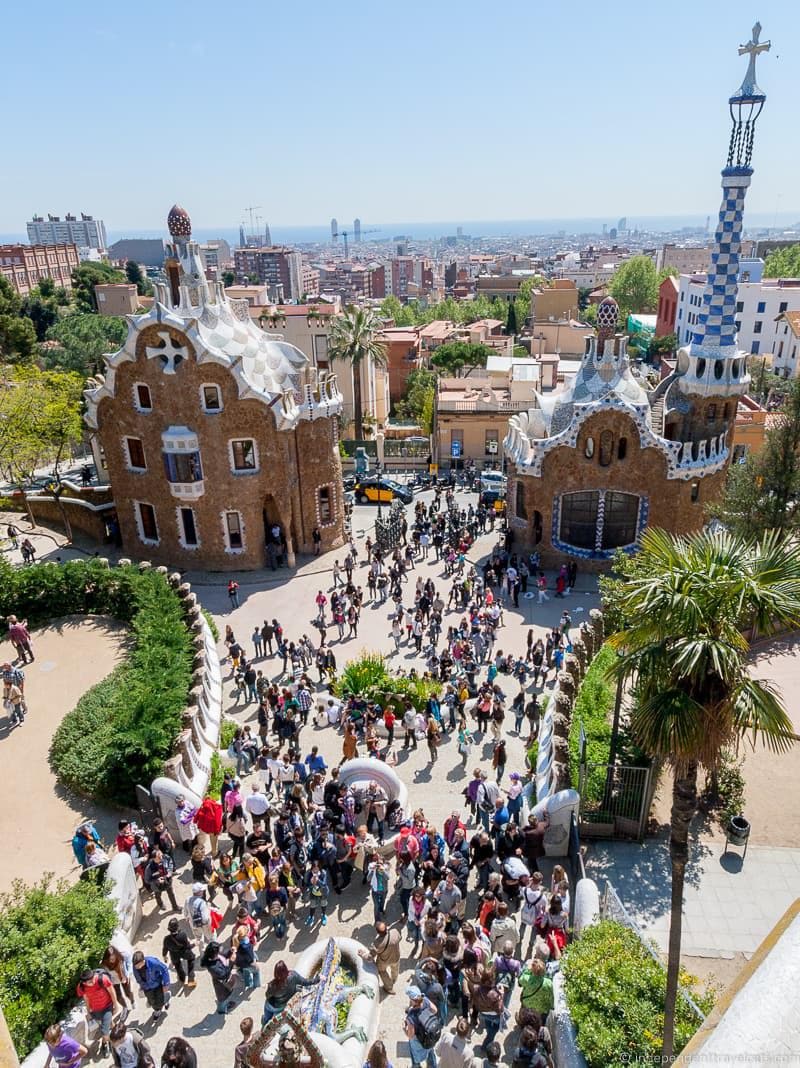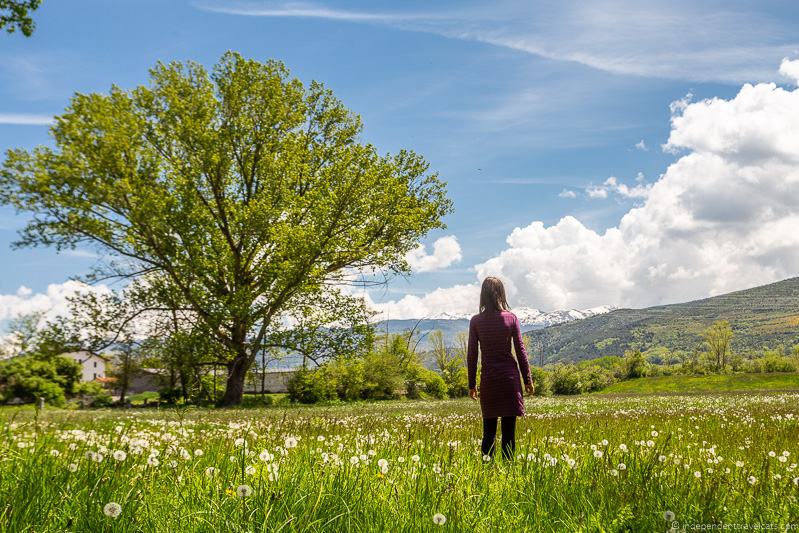 Wander Through Medieval Cities
One of the things we love about Costa Brava, and Europe in general, is all the lovely medieval cities. In most of these towns, you can pick up self-guided maps to explore the historical sites and in some you can also book guided walks. Some historical sites in the region date all the way back to Roman times although most are medieval or later.
If you are interested in a guided walk in a particular town or region, I would call or email the local tourism office in advance to schedule it (and specify if you need it in a certain language such as English). Essentially almost any village, town, or city will have some medieval history in this region and you'll likely to discover some more hidden spots if you look deep enough but I'll try to note some of the highlights below.
The most popular medieval city of this entire area is probably pretty Besalú in La Garrotxa which is one of the best preserved medieval cities in Catalonia. It is filled with historical buildings and structures such as its lovely medieval bridge over the Fluvià river, the Monastery of Sant Pere, Casa Cornellà, Sant Julià church and hospital, and old Jewish Quarter remains.
Each year Besalú celebrates its medieval past with a Medieval Festival, held in September. While this region in general is not hugely popular with international tourists, Besalú is an exception so expect crowds and tour buses here.
Elsewhere in La Garrotxa, you'll want to be sure to stop in Santa Pau (follow the town's recommended walking path noted on placards to see all the wonderful medieval highlights) and Sant Joan les Fonts (medieval highlights are the old Benedictine monastery, medieval bridge, and Juvinyà castle), and with more time explore some of the smaller towns such as tiny El Mallol and precariously perched Castellfollit de Roca.
In El Ripollès, medieval cities you'll want to consider for your medieval itinerary are Ripoll (highlight is the monumental Santa Maria de Ripoll), Beget (highlights are Sant Cristòfol church and bridge), Camprodon (highlights include the monastery of Sant Pere de Camprodon and medieval bridge Pont Nou), and Sant Joan des les Abadesses (Monastery of Sant Joan de les Abadesses and Abbey Palace).
In the Cerdanya region, you'll want to be sure to stop at both Puigcerdà (highlights are bell tower of Sant Maria, main square, old convent of Sant Dominic, and Pont de Sant Martí) and Llívia (highlights are the medieval pharmacy museum, Torre Bernat de So, church Església Nostra senyora dels Àngels, and castle ruins), although you'll find medieval buildings (particularly Romanesque churches) in many of the small villages in this area including Les Pereres, Alp, and Mosoll.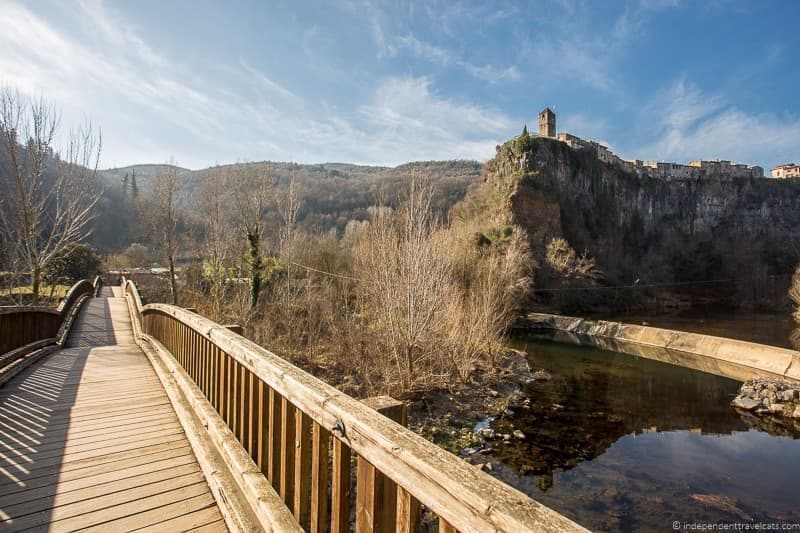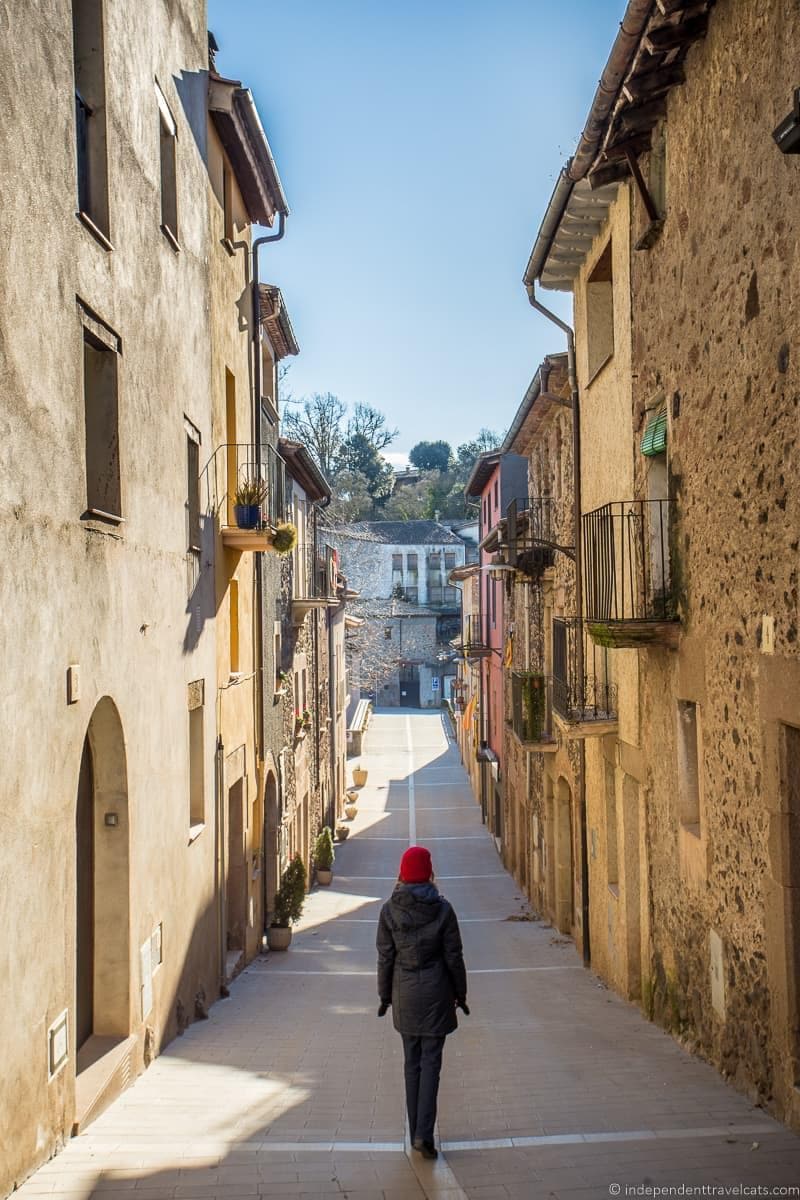 Go Hot Air Ballooning
If you haven't ticked hot air ballooning off your bucket list (or have fallen in love with it on another trip as we had), the Spanish Pyrenees is a perfect place for it. Head to the la Garrotxa region and you can book a hot air balloon flight over the La Garrotxa Volcanic Zone Natural Park, a large nature park with about 40 inactive volcanoes.
We specifically did this flight with Vol de Coloms from Santa Pau. Our morning started with a cup of coffee as we watched the balloons inflate, then we got aboard with wonderful views over the area accompanied by a glass or two of champagne, and then after the flight we were treated to a large buffet breakfast of local foods. On a clear day you can see the mountains and all the way to the Mediterranean Sea!
For a full review of our experience (and loads of photos), check out Laurence's review of our hot balloon flight here.
Vol de Coloms also offers fully adapted flights which are accessible for those with reduced mobility and wheelchair users, as well as evening Segway rides in the summer months. If your trip is also taking you to Costa Brava, you can also do a hot air balloon trip along the coast for more wonderful bird-eye views. For more information check out Laurence's post about his coastal balloon ride.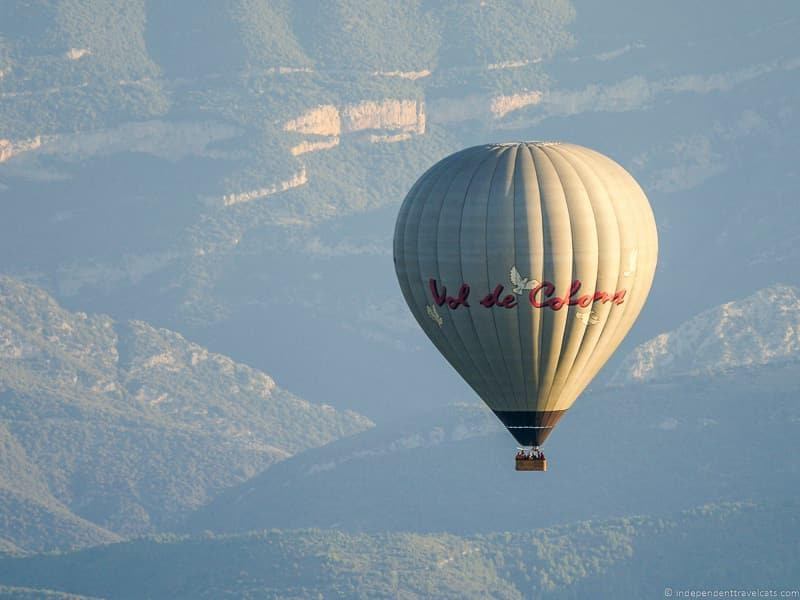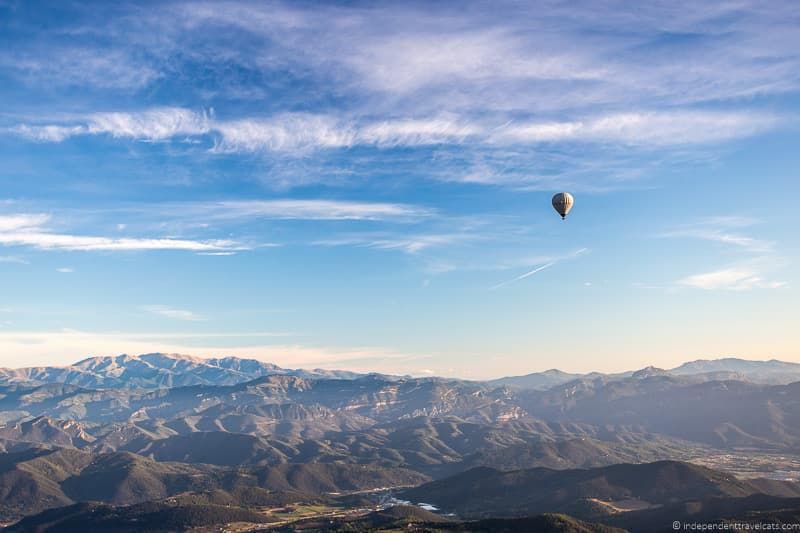 Hit the Ski Slopes
The Spanish Pyrenees is a great place for skiing or snowboarding and is a popular place for those from Barcelona to come for a ski weekend during the winter. You'll find ski resorts in both the La Cerdanya and the Ripollès areas of Girona. The skiing here is reasonably priced and most resorts cater to families and offer ski lessons, beginner slopes, and affordable ski packages.
The four main ski resorts in the Girona region of the Spanish Pyrenees are La Molina (the oldest ski resort in Spain), Vallter 2000, Vall de Núria, and Masella. Those interested in cross-country skiing will also want to check out Guils which has trails designed for cross-country or Nordic skiers.
If you are planning to ski at both La Molina and Masella, which are a short drive from each other, you'll want to look at getting the Alp 2500 pass to save money. Laurence has skied at all four of the main ski resorts and you can check out his post that goes into detail about each of the ski resorts in the area and provides tips for visitors in choosing a resort, getting around, and information on where to stay.
Most of the ski resorts in the area provide additional winter activities in addition to skiing, such as activity parks, snowshoeing, guided hiking, sledding, winter cycling, and snow tubing.
For those with disabilities or limited mobility, check out the adapted skiing at La Molina which can accommodate people with a number of physical and mental health disabilities, including people who are wheelchair bound! The resort offers speciality equipment and adapted slopes, toilets, lifts, and lessons.
In the non-winter months, most of the resorts offer other activities (especially Vall de Núria and La Molina) such as hiking, cycling, horseback riding, boating, adventure parks, and mountain climbing. In fact, Laurence's first trip to Vall de Núria was in the summer for a hiking trip.
If you are visiting Vall de Núria (any time of year), you'll need to get there by booking tickets on the Vall de Núria Rack Railway or by hiking as there are no cars allowed in the resort area.
If you plan to go skiing or snowboard, check out our ski trip packing list for some tips on what to pack for your trip.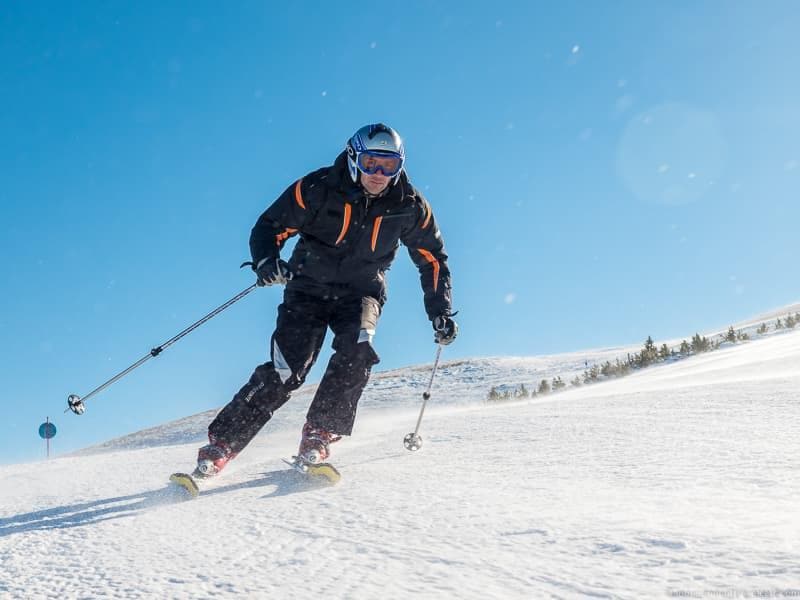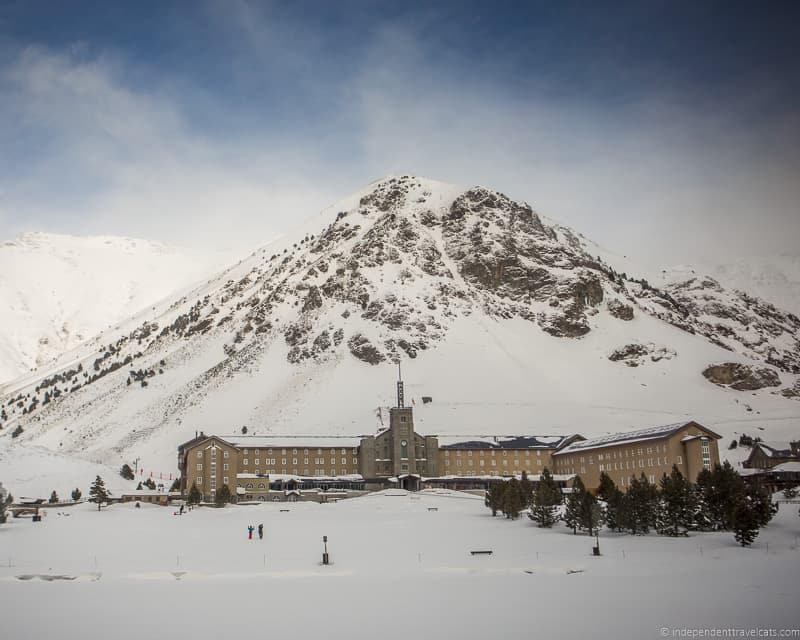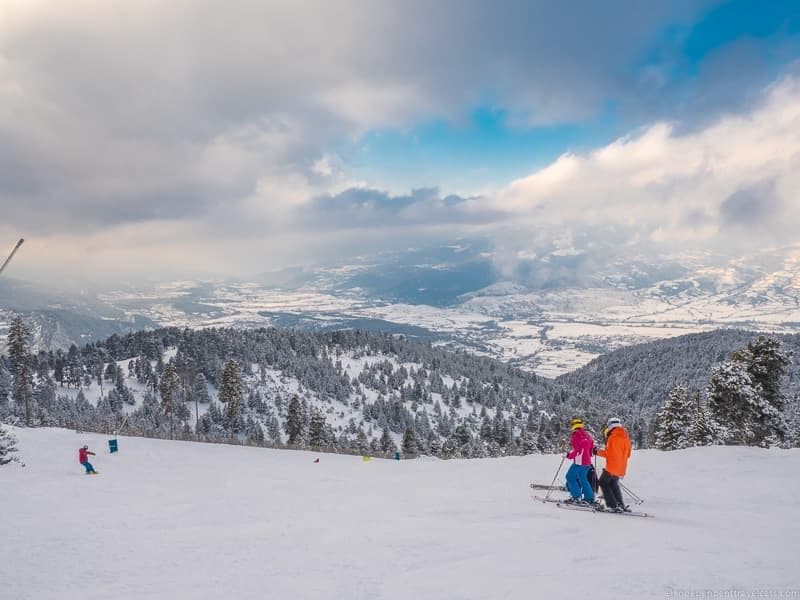 Have Fun in the Snow (Non-Skiing Activities)
If you are coming to the Spanish Pyrenees region in winter, you'll want to partake in some of the fun winter activities. Obviously skiing is a highlight, but even if you are not a skier there are many other fun winter activities available such as snowshoeing, snow tubing, sledding, dog sledding, snowboarding, winter trekking, snowmobiling, and cross-country skiing.
You can even do a winter Segway trip at La Molina or a winter cycling trip with fat-tired bikes at Guils!
For the less active, there is also sipping hot drinks in front of a fire, spa experiences, shopping, and building snowmen. For more winter activity ideas, check out our post on non-skiing winter activities.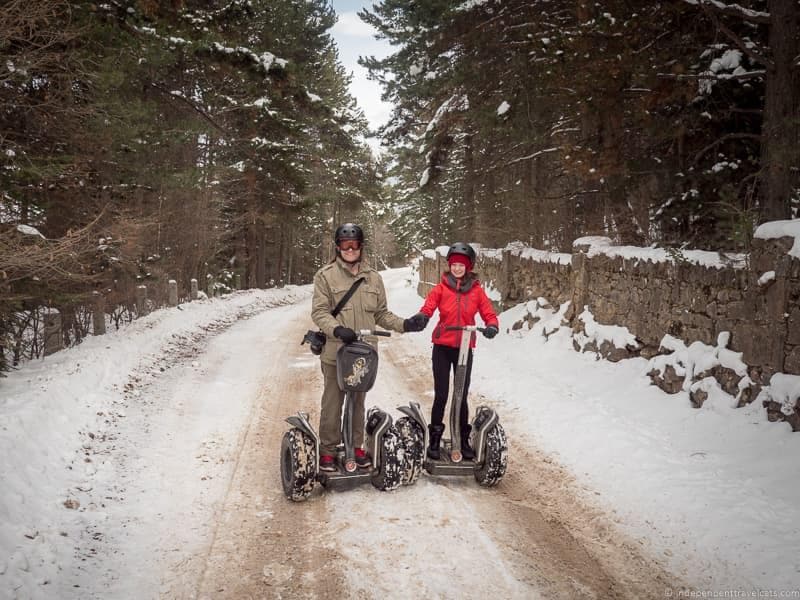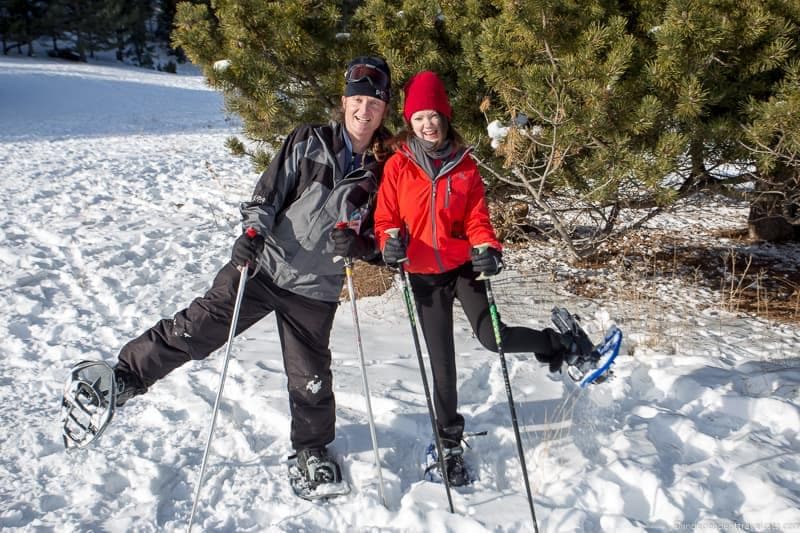 Visit Museums and Cultural Attractions
The region doesn't have the famous art galleries and museums of Barcelona and Girona, the Gaudí architecture of Barcelona, or the Salvador Dalí spots in Costa Brava; however, the region is dotted with museums, historical churches and monasteries, medieval buildings, Roman ruins, Romanesque bridges, visitor centers with exhibits, ruined castles, and other cultural attractions.
There are a lot of specific museums and attractions I could list, but here are some of our recommendations for places you can visit (we've visited all of these) divided by the three regions.
In la Garrotxa: Monastery of Sant Pere (Benedictine monastery founded in 10th century) in Besalú, Jewish mikvah and synagogue in Besalú, Museum of Saints (very interesting museum and workshop) in Olot, Garrotxa Museu de la Garrotxa (history and art museum with many Art Nouveau works) in Olot, the Volcano Museum (for those wanting to learn more about the volcanoes of la Garrotxa) in Olot, and the Monastery of Sant Joan les Fonts and Juvinyà castle (fortified manor house and oldest Romanesque civil building in Catalonia) in Sant Joan les Fonts.
In el Ripollès: Santa Maria de Ripoll (large and significant monastery and museum) in Ripoll, Museu Etnogràfic de Ripoll (museum about the people and culture of the region) in Ripoll, and Monastery of Sant Joan de les Abadesses (also museum and Abbey Palace).
In la Cerdanya: Museu Cerdà (former convent that is now a local history and art museum) in Puigcerdà, Museu Espai Ceretània (ancient archeological site and museum), and the Municipal Museum of Llívia – Esteva Pharmacy Museum (small but interesting museum about the city and one of Europe's oldest pharmacies).
There is more than just museums to see and depending on your interests, you are sure to find some cultural attraction of interest to you. For literary lovers, you may want to check out the signed Carlos Ruiz Zafón route in Puigcerdà that traces places mentioned in his novel The Angels's Game as well as the Alta Garrotxa area (consider the hike from Montagut to Sant Aniol d'Aguja) where much of Marià Vayreda's La Punyalada (considered one of the finest pieces of Catalan literature) takes place.
For Romanesque architecture lovers, there are dozens of Romanesque churches, bridges, and buildings scattered throughout the area. For Catalan modernism (Modernisme in Catalan) and Art Nouveau lovers, you'll find several examples in the larger towns such as Olot and Ripoll.
Even in ski resort areas, you can discover some cultural treasures such as the Sanctuary of the Virgin of Núria in the Vall de Nuria which consists of a small 17th century mountain church and a much larger parochial church (built in 1911). The site is an important place of pilgrimage and worship (Sant Gil is said to have lived here in the 8th century; relics on display include a Romanesque carving from the 12th or 13th century) and it is believed to be an especially important pilgrimage site for shepherds and for those seeking fertility.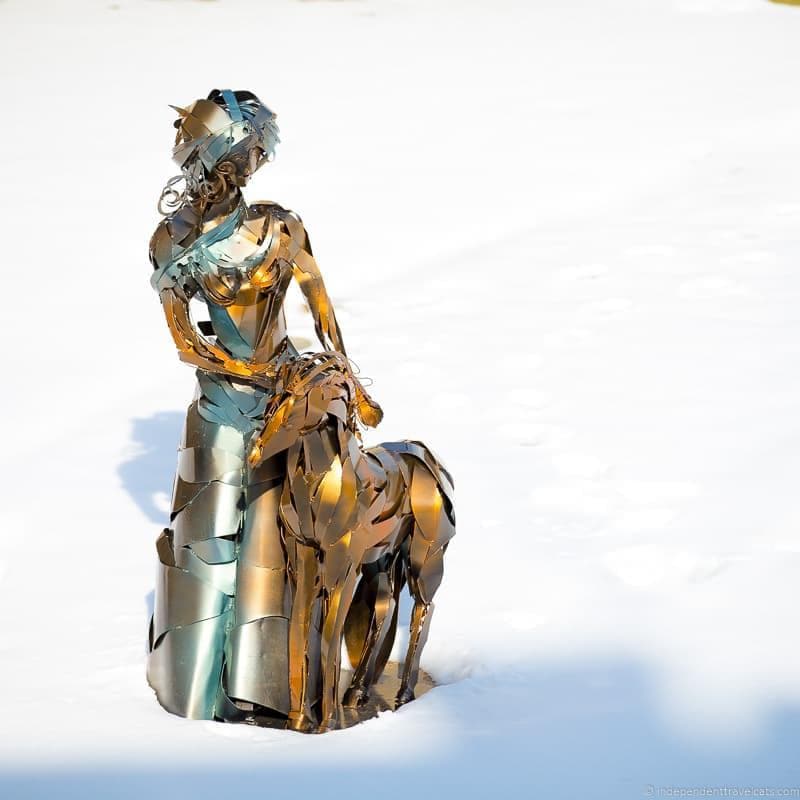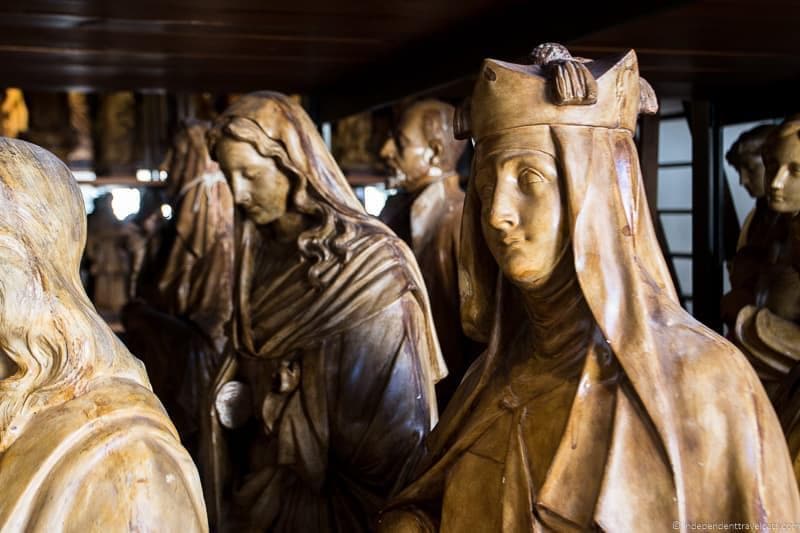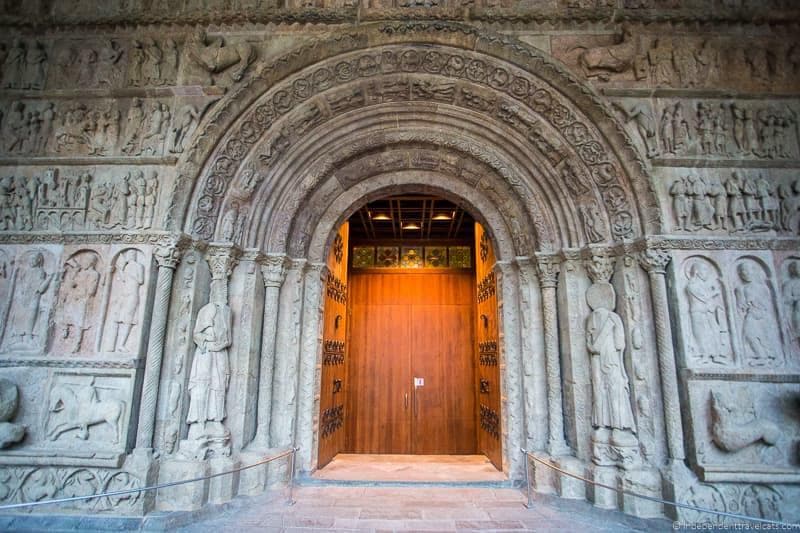 Choose Cozy Lodging Options
As you drive away from the big cities and coast, the Spanish Pyrenees area of Catalonia is a great place to leave behind the chain hotels. Well, in fact, you'll have a hard time finding many chain hotels in Garrotxa, Ripollès, or Baixa Cerdanya. Here you find boutique hotels, cozy bed-and-breakfasts, hostels, ski resorts, mountain inns, and farm stays.
Or consider renting a cottage or booking an apartment so that you can prepare you own meals and have some solitude. We highly recommend trying some of the charming B&Bs in the area as chatting with local hosts is a great way to learn more about an area.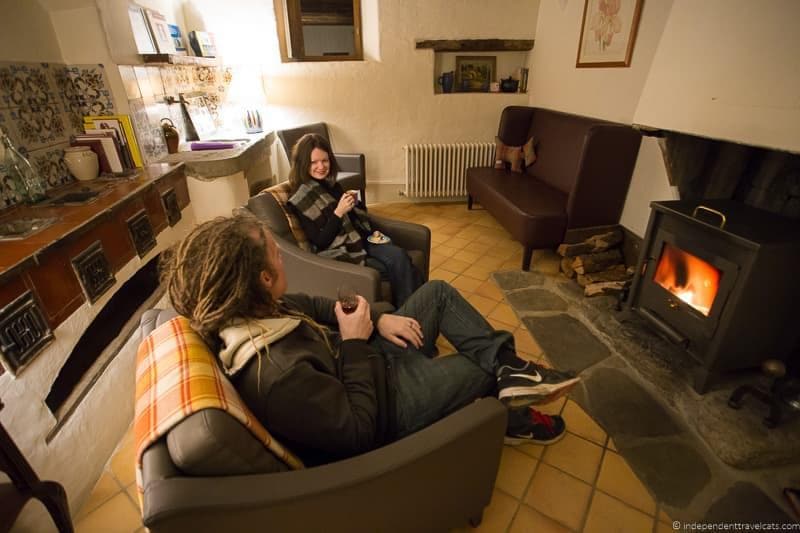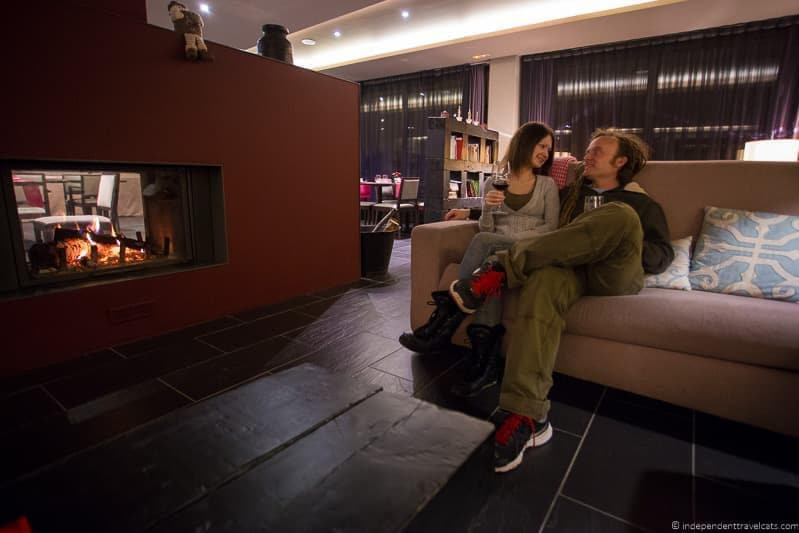 Count the Romanesque Churches
If you love picturesque old stone churches, the Spanish Pyrenees is the perfect place for you. They are everywhere! You'll find a lot of medieval churches (5th to 15th century) all over Catalonia. In the Spanish Pyrenees, there are a particularly high number of Romanesque churches (10th to 13th century) as well as a few Gothic churches (12th to 16th century).
Here is a good article to help you better understand the history and context of Romanesque architecture in Spain, and you might consider getting this guide on Romanesque churches in Spain to help with your exploration of the area and give you background on each church since English language is limited at many sites. Many of the churches in this particular area were damaged or destroyed in the area in the 15th century from a series of large earthquakes but many survived or were rebuilt.
We sort of stumbled upon many of these churches as they are scattered throughout the region and we discovered that many of the current towns were built around them. One thing I enjoyed about visiting these churches is that many are located in such peaceful settings.
For a grand example, plan a visit to the Monastery of Santa Maria de Ripoll which is one of the largest and most important of the Romanesque basilicas in Catalonia. You can visit the Benedictine monastery which includes a basilica, cloister, and museum with a self-guided audiovisual tour, and you can also attend one of the regular religious services here. However, most Romanesque churches in the region are much smaller and more humble.
If you are looking for a concentrated area of churches, perhaps the best place to head is to the La Vall de Bianya area of La Garrotxa. Here you can follow a route to visit 15 Romanesque churches and hermitages. The route is designed to be done by car or bike with some approaches needed to be done by foot and the whole route is designed to be done over 3 days. For those who want just a sampling, you can also just choose to visit a couple of the churches along the route.
If you are interested in following the Vall de Bianya church route, you can stop at the Vall de Bianya Landscape Interpretation Center in Sant Salvador de Bianya (Sant Salvador de Bianya 17813; phone: 872.00.50.08 or 972.29.09.33 ) for route information for the churches as well as information on the Roman Road and local guided visits. You can also arrange a guided visit to the 12th century Church of Sant Salvador de Bianya at the info center.
If you are interested in seeing interior frescoes, we'd recommend Sant Víctor de Dòrria (el Ripolles) and/or Església de Sant Climent de Talltorta (Baixa Cerdanya). Sant Víctor de Dòrria has original 12th century frescoes and Església de Sant Climent has been heavily restored to look similar to what it would have done in the past. For Sant Víctor, you can arrange a guided visit through the tourism office in Ribes de Freser and for Sant Climent you can arrange a visit via the Museu Espai Ceretània.
Note that most of these churches are consecrated and active churches (although many only are used for special occasions or offer infrequent services) and some are on private property, so do be respectful.
You'll likely find that most churches are going to be closed and locked, but if you are interested in visiting the interior of one, ask at the local tourism office or see if there if there is a phone number listed on the outside of the church to contact the local person in charge of the keys.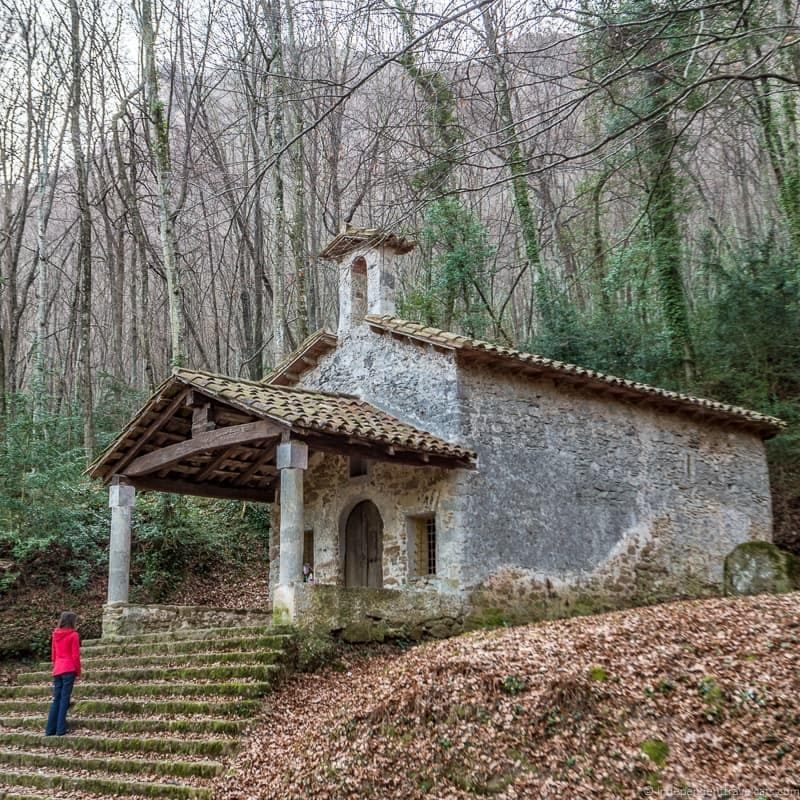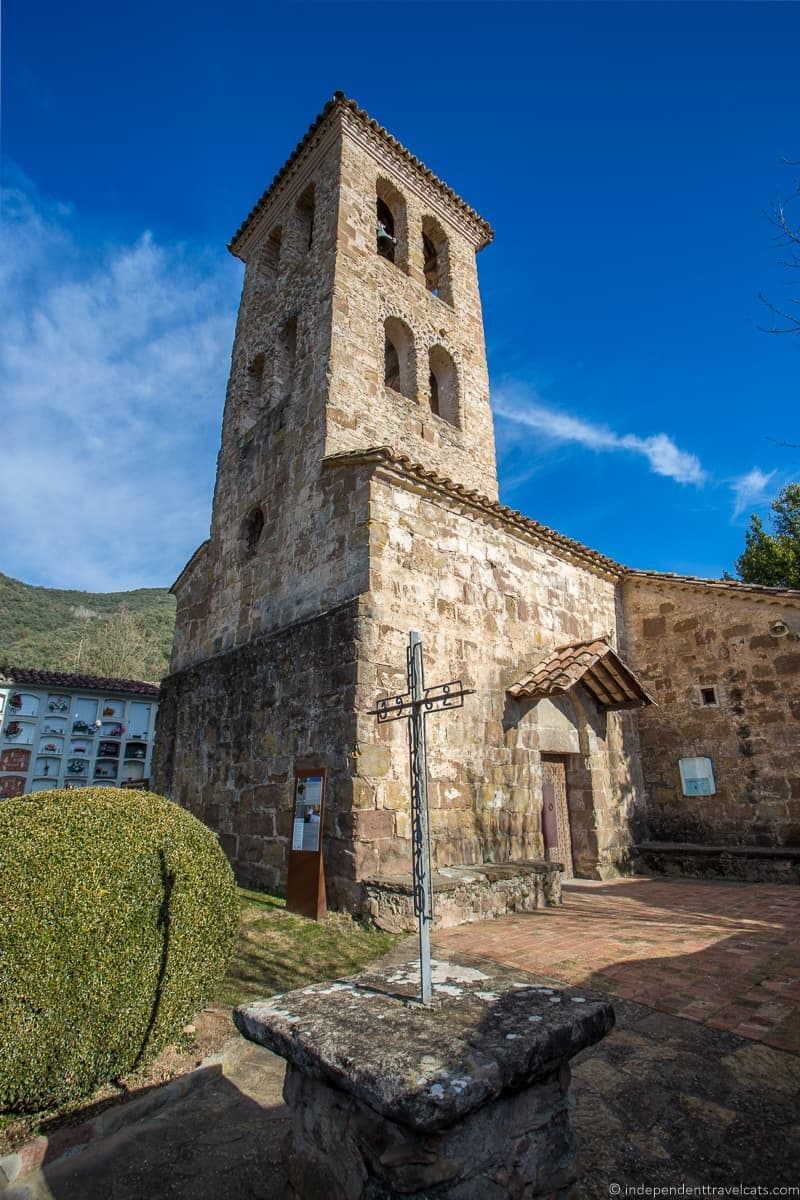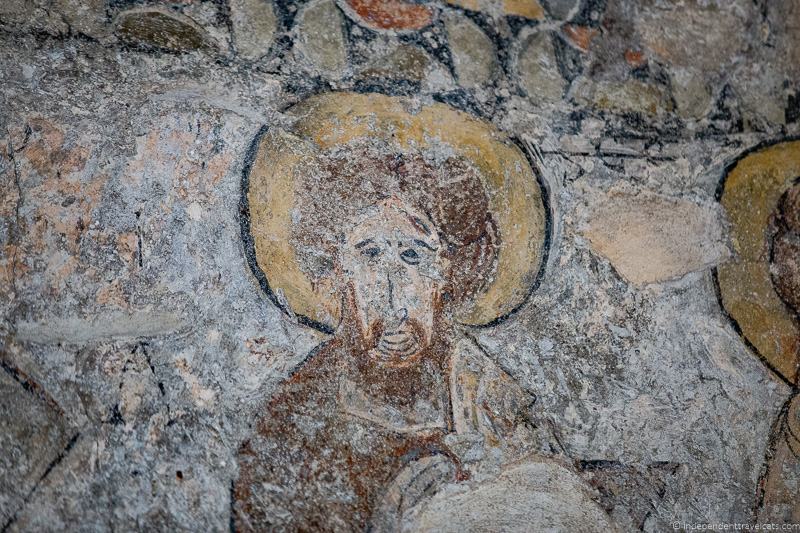 Eat Lots of Tasty Catalan Food
Trying new dishes is one of the many reasons that a lot of people travel. In this region you'll find all the popular Catalan dishes, but also special local foods and dishes that are unique to the area. Catalan favorites like pa amb tomàquet (bread and tomato with olive oil), Catalan sausages (butifarra), hearty meat dishes, mar i muntanya (meat and seafood combo dishes), seafood dishes, Crema catalana, Catalan wines, and ratafia (a local herbal liquor) are all popular here.
Catalonia boasts some of the best restaurants in the world, and even far from the bigger cities you can eat at Michelin starred local restaurants such as Les Cols, La Fonda Xesc, and Ca l'Enric or explore more humble eateries or off-the-beaten path restaurants. Many bed-and-breakfasts and inns offer the option for dinner which is another great way to try the local cooking. If you are staying in accommodation with a kitchen, you can also shop at farmer's markets or local supermarkets and make your own dishes.
La Garrotxa is known for its buckwheat (fajol), onions, haricot beans, beans, yogurt, potatoes, chestnuts, pork, wild mushrooms and truffles, and farro. Some common dishes include amanida de peuada (pig's trotter salad), Olot potatoes (deep-fried potatoes stuffed with meat), farinetes (fried buckwheat porridge, sometimes flavored with ratafia), coca de llardons (sweet bread-cake with pork scratchings), and tortell d'anis (a circular anise-flavoured sponge-cake). The fesols (white haricot beans) from Santa Pau are probably the most famous foods of this region and are common in many dishes in the area, often combined with sausage.
The El Ripollès, a more mountainous region, focuses more on local hearty food and products grown or raised in or near the mountains. Here you'll want to try local mushrooms, pork sausages, cheese, game, beef, trout, and lamb. Lamb is one of the products the region is most known for.
The Cerdanya region is known for its meats, sausages, game, cow and sheep cheeses, fruit (particularly pears, cherries, quinces, cranberries, berries, and apples), mushrooms, medicinal plants, yogurt, cottage cheese, honey, jams, and candies. Traditional dishes include trinxat (cabbage, sausage, and potato dish), Conill amb cremalloles (rabbit with mushrooms), tiró amb naps (duck and turnip dish), and fetge amb agredolç (pork liver dish). If you are shopping, you might want to look out for turnips from Talltendre, pears from Puigcerdà, and potatoes from Das.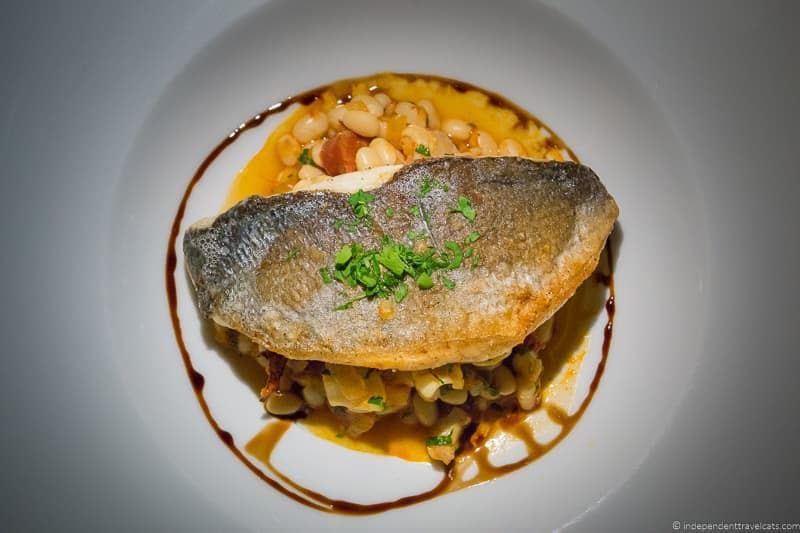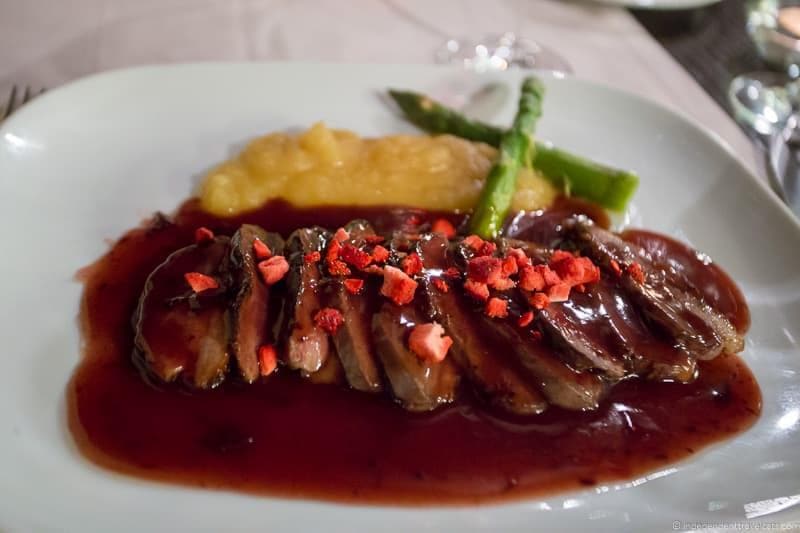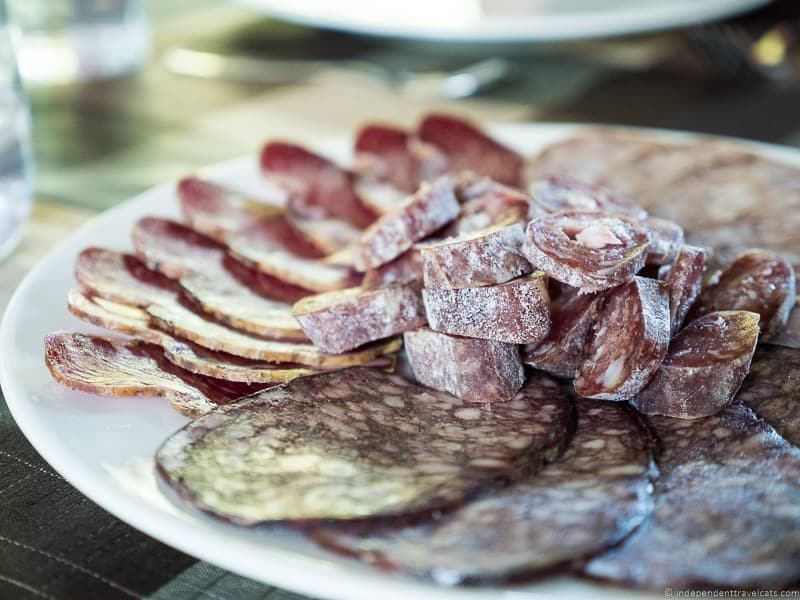 Attend Local Festivals & Fairs
Spanish people and those in Catalonia in particular seem to love holidays, festivals, and parades. There are loads of saints days, parades, fairs, and other celebrations throughout the year.
Unique features of some Catalan festivals are correfoc (group of people, often dressed like devils, running or dancing with fire or fireworks), castelleres (human towers that can be up to 10 people high), gegants or giants (people wearing massive papier-mâché heads and costumes), and capgrossoss (people wearing massive papier-mâché heads and costumes).
No matter where you are in Catalonia, you'll not need to look hard to find local celebrations of the Parade of the Kings in January, the feast of Sant Jordi (patron saint of Catalonia) in April, Easter, the Feast of Sant Juan in June (summer solstice), local village festivals in August, and Christmas in December.
September 11th is the National Day of Catalonia and is a more sober and political holiday that commemorates the fall of Barcelona and loss of liberties for Catalonia in 1714. If you are not familiar with the past and current movements for Catalan Independence, this is something to read up on before your trip as it is deeply embedded in the culture here.
Before your trip or once you arrive, check online (here is a paritial list of some of the larger events that can be searched by region), check local printed tourism guides (we found these super useful in this area), or stop at an information center and ask what is happening in the area when you visit.
There are loads of events and activities every month of the year, celebrating everything from medieval history to saints to sheep to white beans to witchcraft! One of the larger festivals is the 5-day Festes del Tura in Olot which is a festival that includes a parade of the giants (gegants), concerts, and fireworks. In some of the mountain towns you'll find transhumance festivals (Festa de la Transhumància) in the summer which is where livestock is lead to the high mountains for the summer months. The Cerdanya International Film Festival is one of the most important film events in the area.
Don't forget the weekly farmers' markets which take place in most towns and cities throughout the area, and the Christmas markets in December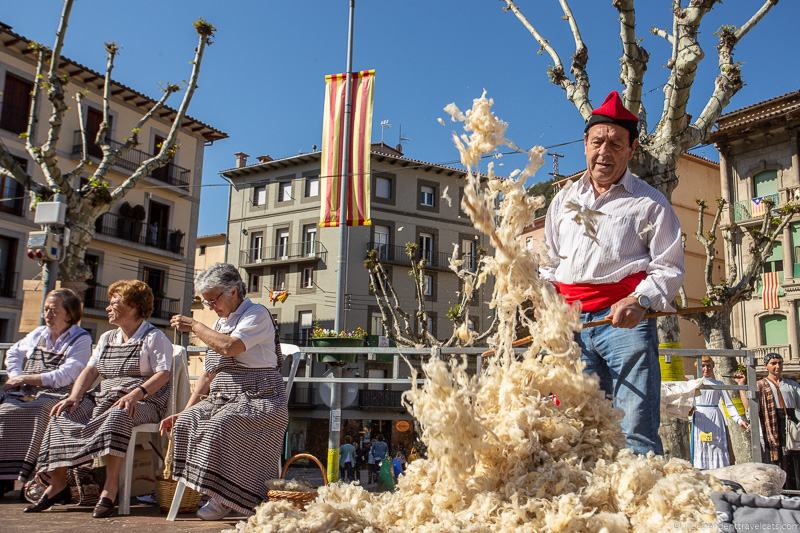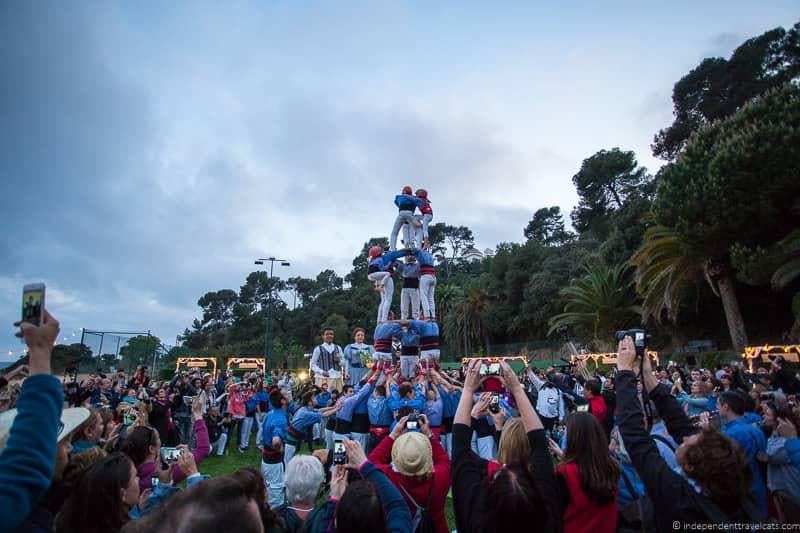 Take Scenic Drives
This area is made for scenic drives, perhaps interrupted by picnics, hikes, or visits to little villages or off-the-beaten path Romanesque churches. Whether you are looking for mountains, volcanic landscapes, or rural countryside, you'll sure to find some appealing drives.
One of our favorites was the drive from Castellfollit de la Roca to Beget via Oix along the GIV 5221. We also really enjoyed driving through the countryside and I couldn't get enough of the beautiful Pyrenees horses.
Just be careful on the secondary roads and mountain roads in winter as they can become too icy to drive safely. We deeply regretted not checking to see if our rental car had winter tire cables before we set out (it didn't) as we got stuck in a winter snowstorm one evening and had a bit of a scary drive back to our hotel.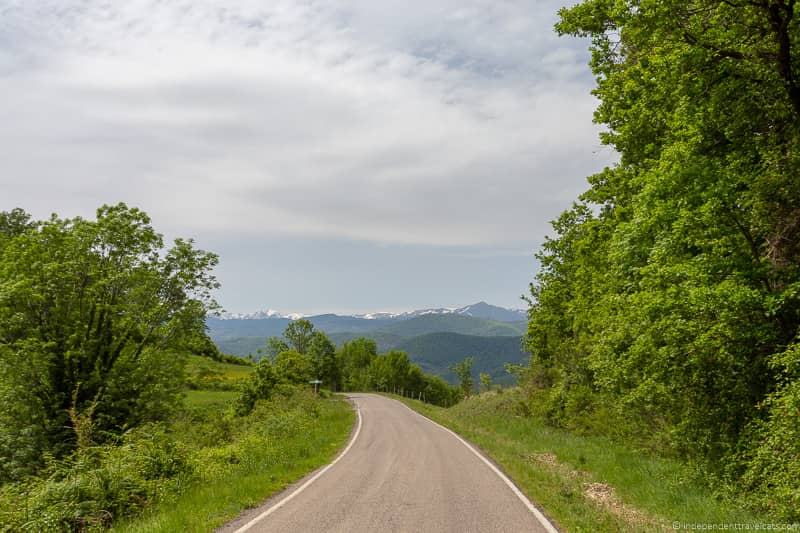 Explore Volcanoes
If you love volcanoes or are a geology lover, you'll want to be sure to spend some time in the volcanic region of La Garrotxa. La Garrotxa Volcanic Zone Natural Park is one of the best examples of a volcanic landscape in Europe, containing over 20 lava flows and 40 inactive volcanoes. The park is huge and a good place to start is to head to make a stop at one of the La Garrotxa Volcanic Natural Park information centers to gather information and learn more about the park.
Here is a list of 12 highlighted towns and sites within the park and here is a list of walking itineraries within the park. There are a number of hiking, long distance footpaths, and cycle paths that run through parts of this park if you want to experience the park while getting some exercise.
Some of the recommended places to stop are El Parc Nou, Montsacopa Natural Reserve, The Museu dels Volcans (Volcano Museum), Sant Joan les Fonts, and Volcà del Croscat Natural Reserve. We can also recommend doing a hot air balloon ride in La Garrotxa for a real bird's eye view of the park.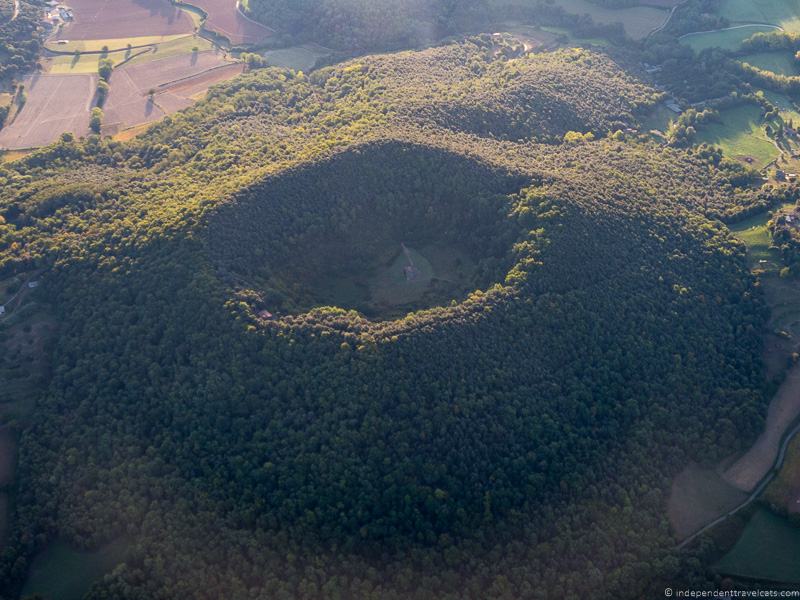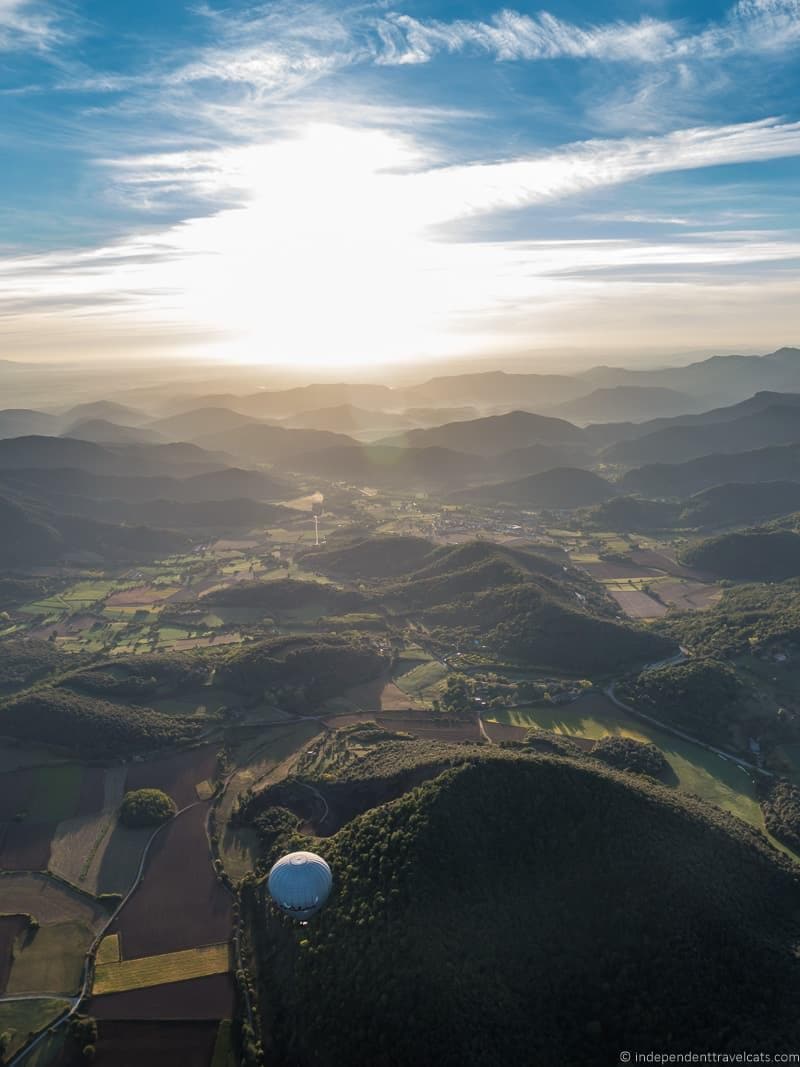 Go Hiking
The Catalan Pyrenees are a great place for hiking and it is a popular activity for locals and visitors, with lots of well-signposted trails throughout the region. Whether you want an easy scenic stroll or a week-long hiking adventure, you're sure to be able to find it in the area.
In Garrotxa, I'd suggest La Garrotxa Volcanic Natural Park and the Alta Garrotxa area. The La Garrotxa Volcanic Natural Park is a great place for hiking and walking with a number of trails and paths, and here is a list of walking itineraries within the park. Alta Garrotxa Area of Natural Interest has a number of hiking paths which can be started in either Montagut or Saderness and hikers can follow trails up to Sant Aniol d'Aguja with trail highlights including the Church of Santa Cecilia, Pont d'en Valentí (medieval stone bridge), gorges, sheer cliffs at Salt de la Núvia, and small caves such as Cova del Bisbe. This is also a popular place for climbers.
In Ripollès, consider doing some mountain hiking and take the rack railway up to Vall de Núria for some hiking which offers a range of easy round trip hikes to difficult peak hikes that require staying overnight in mountain refuges. Or consider one of the many trails in the Vall de Camprodon (Camprodon Valley) such as the La Ruta de les Cabanyes de Pastor which follows a trail of stone shepards' huts beginning in Villalonga de Ter, the smugglers' trail in Beget (Route 17 Ripollès), or an easy shady hike from Camprodon to Cavallera tower (Route 8 Ripollès).
In the La Cerdanya region, you'll find a number of signposted trails of varying difficulty levels, including thematic routes such as paths that go through the region's historical villages and the Camí dels Bons Homes (Way of the Good Men). Many start or go through Puigcerdà which is a good place to get local hiking information for the area.
There are a number of long-distance hiking paths that run through this part of Spain, including Gran Recorrido trails (all marked with red and white signage and symbols). I would take a look at GR 1, GR2, GR 3, GR4, and GR11, and if you are planning to hike any of these for a longer distance, I'd get some good hiking maps and consider investing in a guidebook (although note many are only in French or Spanish).
The most popular long distance path (and touristed) in Spain is Camino de Santiago which terminates in Santiago de Compostela. While the main and most popular routes do not go through this area, pilgrims coming from Barcelona and the coast of western Spain would have used paths such as Camí Sant Jaume Way (Saint James Way) in Catalonia to link to the main pilgrimage path. One can start of the path in a number of places such as Barcelona, Port de la Selva, or Olot.
In terms of resources, I'd check out local tourism board resources (online and in person) and I'd also recommend the Itinerannia website (easy to search by region for Ripollès and Garrotxa, length, and level of difficulty), La Garrotxa tourism hiking suggestions, Traildino website (useful basic info and links to external sources for each trail), and the Federació d'Entitats Excursionistes de Catalunya (hiking association of Catalonia).
If you are looking for information about hikes in the entire Pyrenees region (including France and Andorra), check out this Pyrenees hiking guide.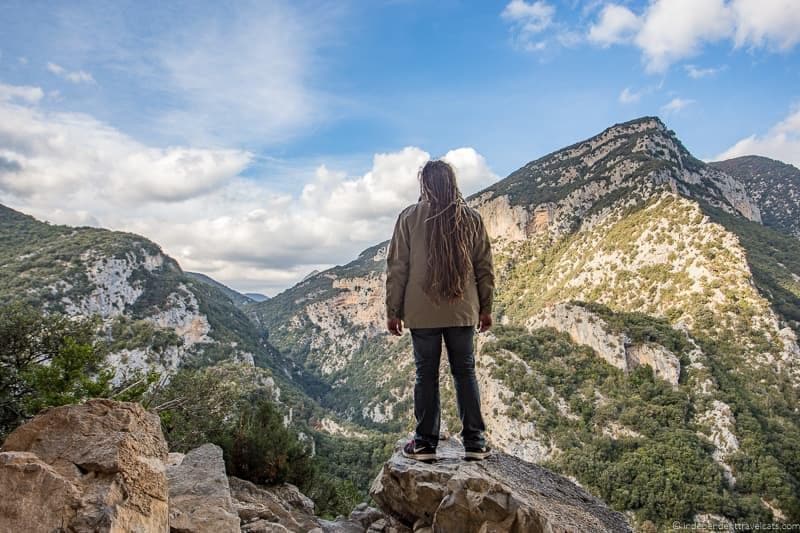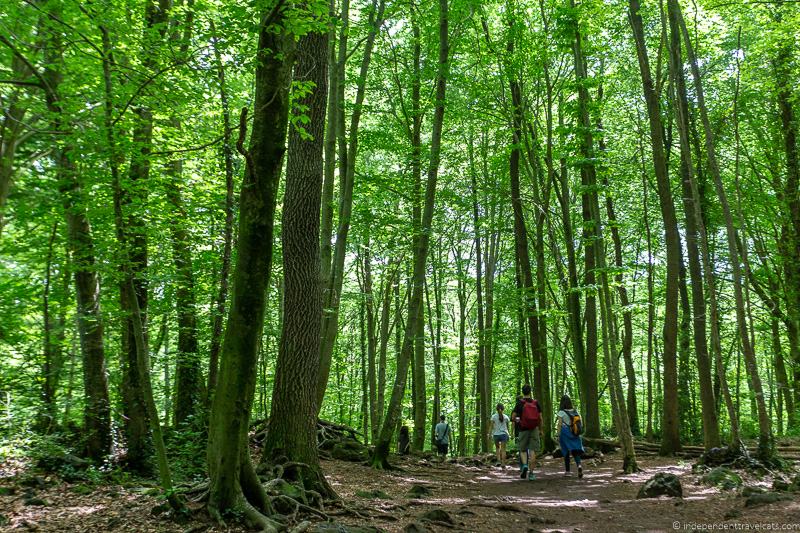 Go Cycling
Cycling and mountain biking are very popular activities in this area, and you'll find signposted cycling routes throughout the region. Professional cycling is also a popular sport here and in the summer and the autumn, the Pyrenees are often featured in two of cycling's grand tours, the Tour de France in July and the Vuelta a España held in September.
Although most popular in the summer, biking in the summer can be a hot sweaty affair as temperatures rise so we've been advised by locals that the Spring or Autumn are more ideal times if you are thinking of planning a cycling trip in this area.
You'll find cycling trails throughout the region. One of the main cycling routes in the Girona Pyrenees is the Vías Verde (Greenways) Carrilet Olot-Girona Narrow Railway Route. It is a 54km (33.5 mile) cycling and hiking route that follows the route of a disused railway line that once connected Girona and Olot.
If you are not traveling with your own bike you can easily rent one (including electronic bikes and mountain bikes) in several cities in the region, including Olot, Les Preses, Ripoll, and Puigcerdà (call ahead as some close on the off-season), or pick one up in the bigger cities of Barcelona or Girona on your way to the area.
Many of the companies that rent bikes also lead guided bike tours, provide transfers, organize biking itineraries, and rent camping gear designed for cyclists. You can also check out this list of self-guided and guiding multi-day cycling trips in the Pyrenees.
Some online resources to check out: information for cycle routes in la Garrotxa, Catalonia cycling routes, more Catalonia cycle routes, and cycling info for the Girona region.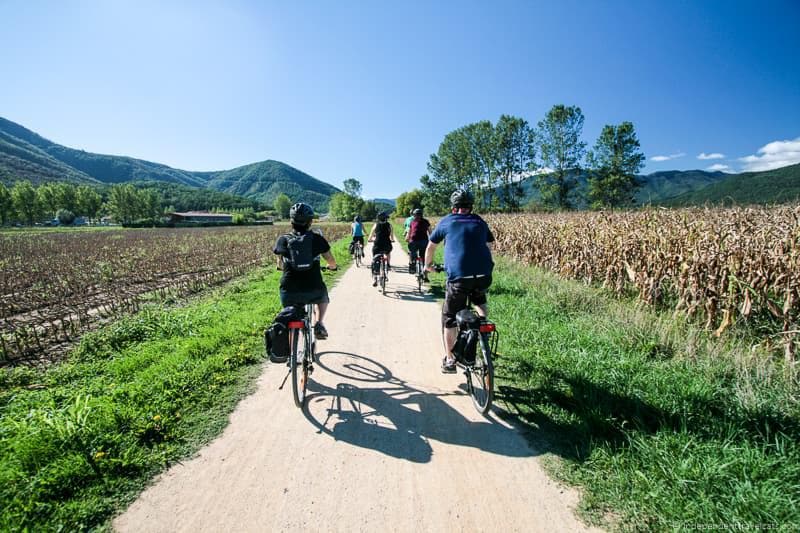 Be a Kid at the Adventure & Animal Parks
The Spanish love adventure parks and we've been to a couple of them in Costa Brava, and they are really well done. In the Spanish Pyrenees you'll want to head to La Molina Parc Aventura. They offer three adventure courses (each a different level of difficulty) that are appropriate for children and adults, and include rope crossings, climbing, and ziplining.
The company also offers paintball, zip lining, climbing, and snowshoeing activities depending on the season. We did both the adventure park as well as snowshoeing here and had a wonderful time and the guide was fantastic.
If you are more interested in animals, Molló Parc, El Parc d'Animals dels Pirineus, has both a small adventure park and a number of animals which range from farm animals to native wild animals. If you have kids who want to spend some time with donkeys, you may want to book a visit to see the donkeys and other farm animals at Rucs i Aventures.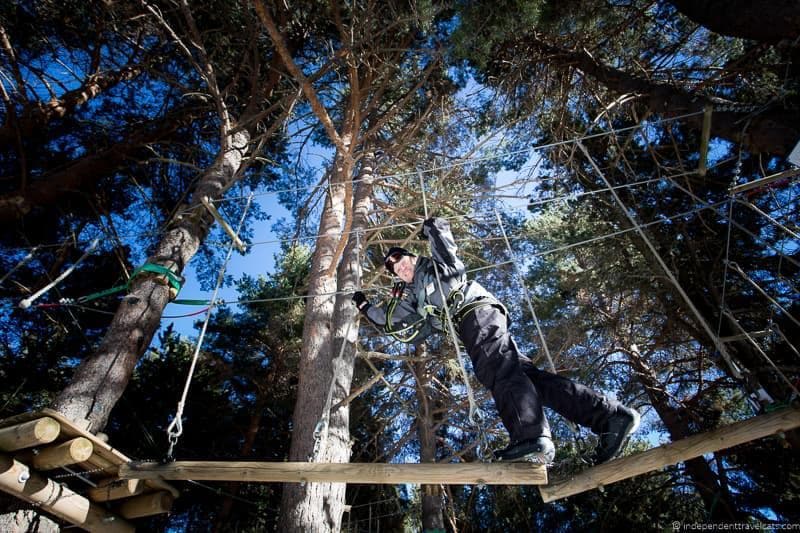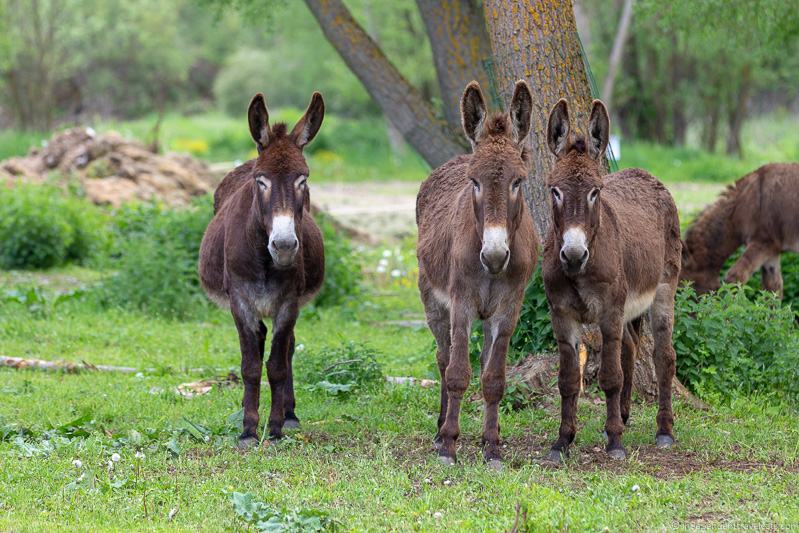 Take Time to Appreciate Nature and Rural Life
This area of Catalonia is a great place to appreciate the local floral and fauna and the slow rhythm of rural and small town living. Great ways to do this is to take a nature walk, go on a hike, or cycle to explore this area actively. You can also visit farmer's markets to buy local agricultural products, seek out restaurants that source local ingredients, visit a farm, take a cooking class, or stay in a rural cottage or farmhouse.
There are also a host of festivals throughout the year, many focusing on rural traditions, farming, and local agricultural products.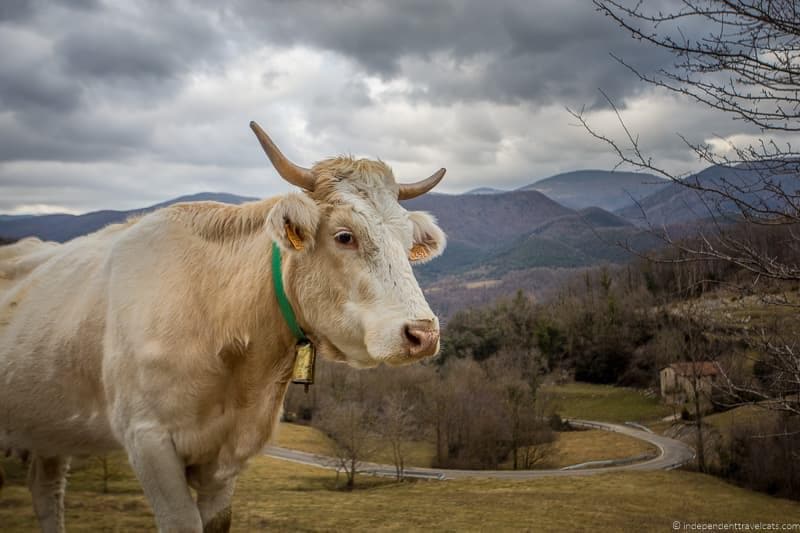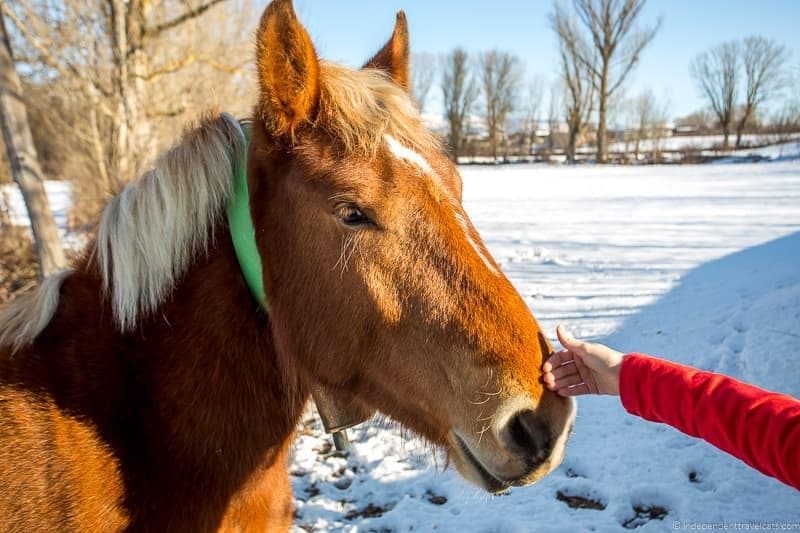 Make a Detour into France
If you are looking to add a dash of that French je ne sais quoi to your trip to Catalonia, head to Cerdanya. Part of this region is in Spanish Catalonia and part is in France.
Not only is part of the area in France, the city of Llívia is actually a Spanish exclave, completely surrounded by French territory so you have to drive through France to reach it. In 1659, under the Treaty of the Pyrenees, Spain lost a lot of territory to France, but Llívia was not ceded as it was considered a town rather than a village and because of its status as the ancient capital of Cerdanya.
Llívia is a great town to explore with its Roman ruins and medieval pharmacy museum. The drive to Llívia takes you past some lovely French countryside and villages, and in this area you'll find tapas and crêpes coinciding together with many people speaking Spanish, Catalan, and French.
We spent the night at the lovely Bernat de So to explore Llívia and also did a day trip to a French thermal spa, taking in some lovely French Pyrenees views along the way.
For those with some more time who want to take in the Pyrenees scenery, I'd recommend a scenic tourist train ride aboard the Ligne de Cerdagne or Train Jaune, better know in English as the little Yellow Train. Cerdanya not only borders France, but it also borders Andorra, and if you are staying in the area you can easily make trips to both France and Andorra.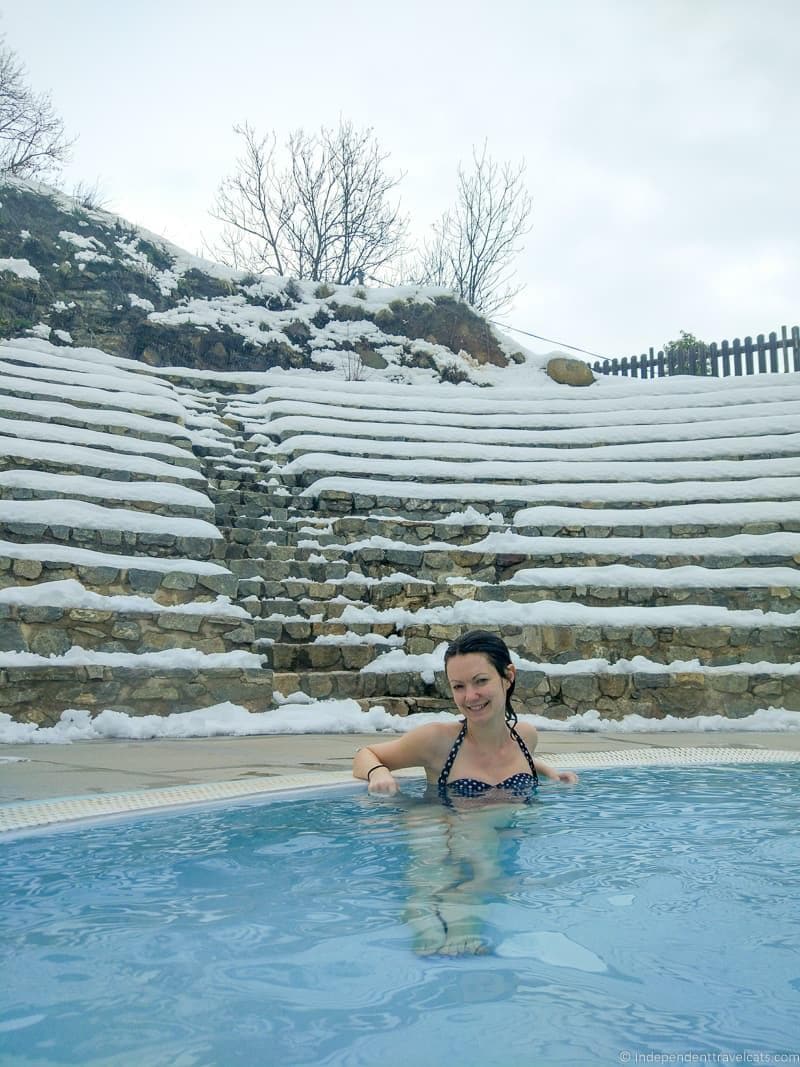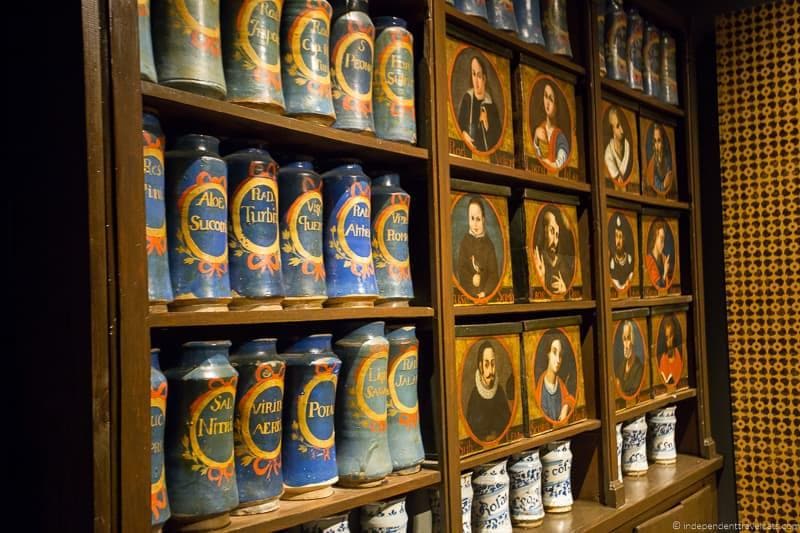 Delve into History
When I travel, I love to learn about an area and its history, whether it is a very narrow local history of a particular place or town or a broader cultural history of a region. If you enjoy history, this is a great part of the world to spend some time delving into learning some local history whether you learn it in the museums, from guidebooks, talking to the locals, or from reading signs.
Perhaps pick a topic you want to focus on such as learning about the life of a local Catalan artist, learning about the origins of a local festival, learning about the local history of a town, understanding the importance of a crop, uncovering the origins of a ruined castle, bridge, or Romanesque church, learning about the former life of an almost forgotten Roman road or cattle trail, or learning about the Moderisme art movement in this area. Find a statue in a town and uncover what it is about, when it was placed there, and why.
Want to learn about a peasant uprising in La Garrotxa from the 15th century (part of the Revolt of the Remences), understand the Jewish history of Besalú (guided tours available), walk the remains of a 2,000 year old Roman road (Capsacosta Roman Road), or know the story of one of the oldest pharmacies in Europe (Esteve Pharmacy)? All these are possible and more if you search out the information.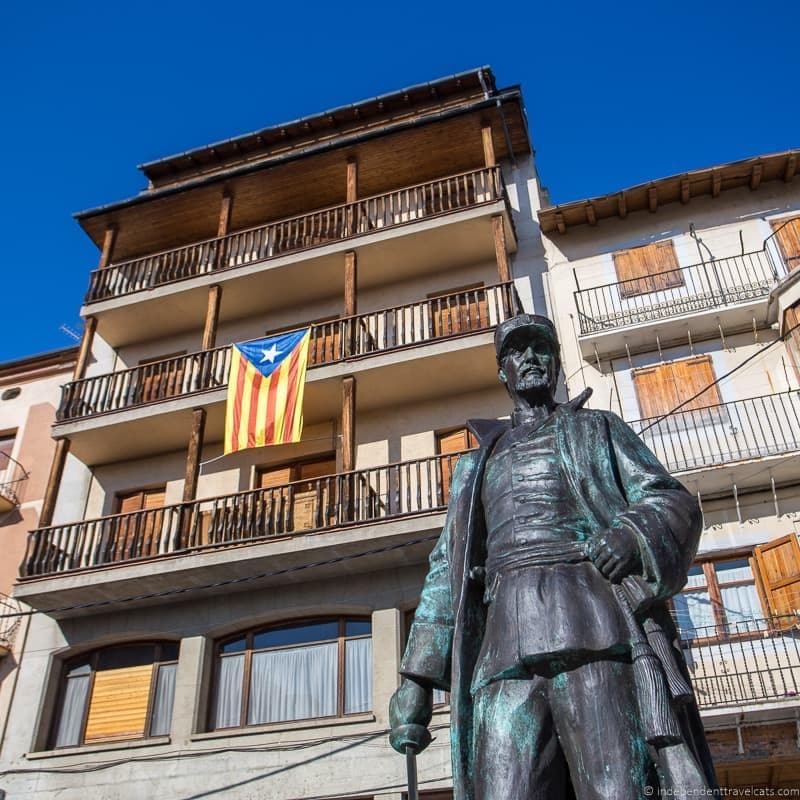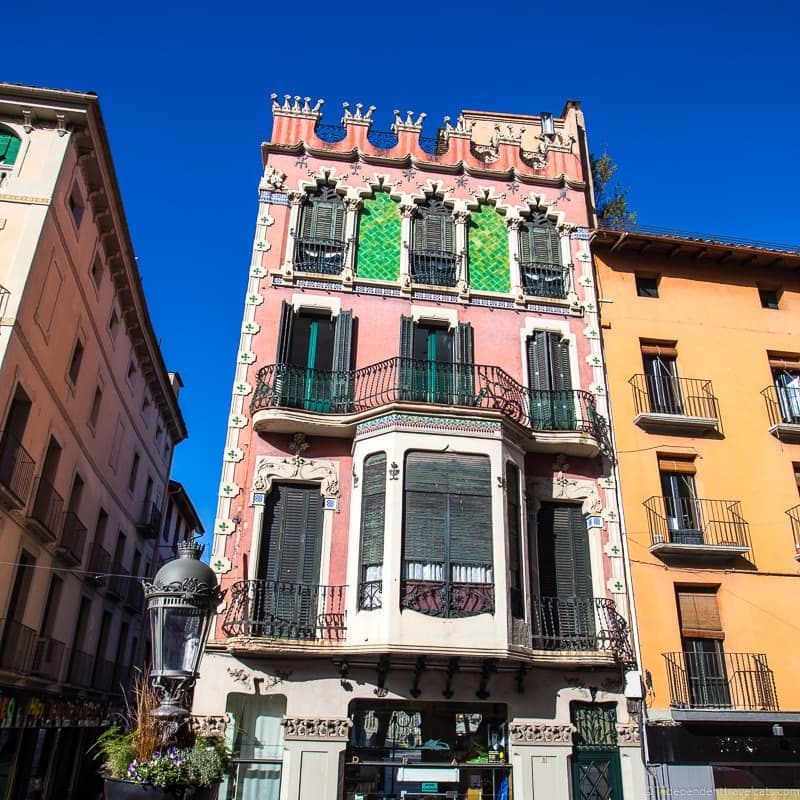 Pamper Yourself and Relax
If you are looking for a break and a bit of pampering, consider adding some swimming, spa treatments, saunas, hot springs, or shopping into your holiday. This area of Catalonia is not necessarily a huge spa destination, but you find spas in several hotels, especially those located in or near the area's ski resorts.
Some places that offers spas or spa-like services include: Sercotel Hotel & Spa La Collada, Hotel & Spa Resguard dels Vents, Hotel Solineu, Masia el Puig (Adults Only), and Hotel Grèvol.
For those who like to swim but aren't staying in a hotel with a pool, there are municipal swimming pools in many towns in the area, and in the summer you can find outdoor natural bathing pools in some areas that permit swimming.
Another great feature is to look for in-house restaurants at hotels or B&B's that makes life easier on nights when you want to stay in rather than head out in search of dinner. We had a lovely home cooked dinner our very first night in the area at our cozy B&B La Rectoria de Sant Miquel de Pineda.
For shoppers, you'll find more choices in the larger cities and towns such as Olot (by far the largest city in the area and the best for shopping – the local city website can help you find local shops, restaurants serving local dishes, and locally made products), Ripoll, Llívia, and Puigcerdà.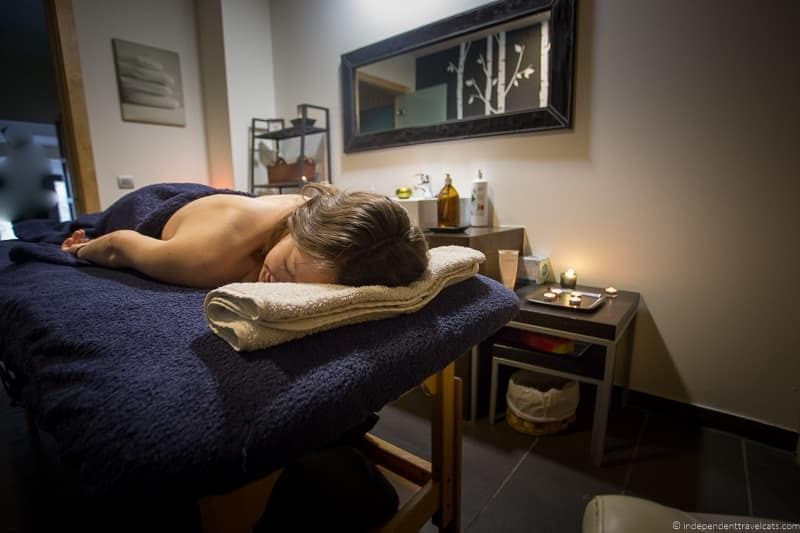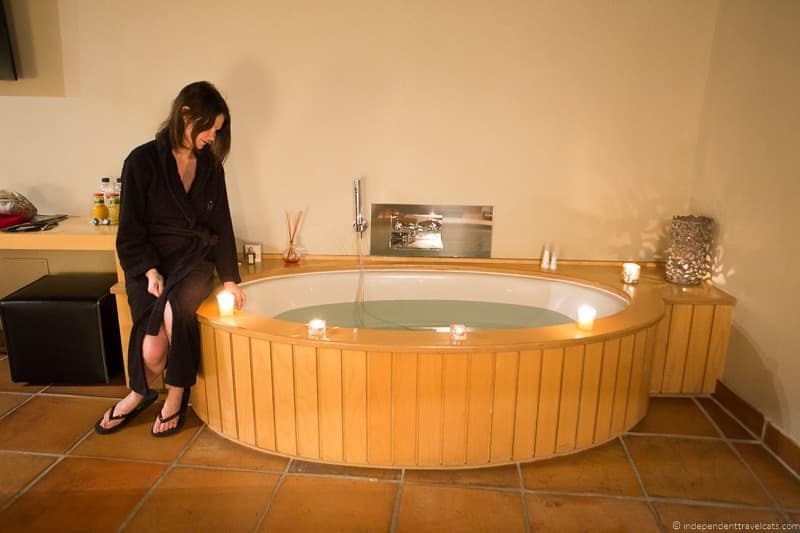 Explore Romanesque Bridges
In addition to the Romanesque churches and abbeys, there are a lot of surviving stone bridges dating back to the medieval period. You'll find a number of Romanesque bridges, most have been rebuilt or repaired over the centuries, along the rivers and streams around the Spanish Pyrenees. In exploring the region we stumbled across a number of these bridges rather than searching for them specifically.
For those who are really interested, I'd stop in local tourist information centers for information on bridge locations. Some are quite hidden behind vegetation or are on old bridle paths and trails off the road as very few are still in use.
Some of the bridges we saw were the medieval Besalú bridge, the beautiful Pont de Llierca located between Montagut and Saderness over the Llierca river, Pont d'en Valentí near Saderness, the Roman Bridge (a.ka. Pont d'Oix) in Oix, the 14th century Pont del Bolacell located on a bridle path near Beget, the medieval bridge in Beget, the medieval bridge in Sant Joan les Font, and the Pont de Sant Marti in Puigcerdà which is the best preserved medieval bridge in la Cerdanya.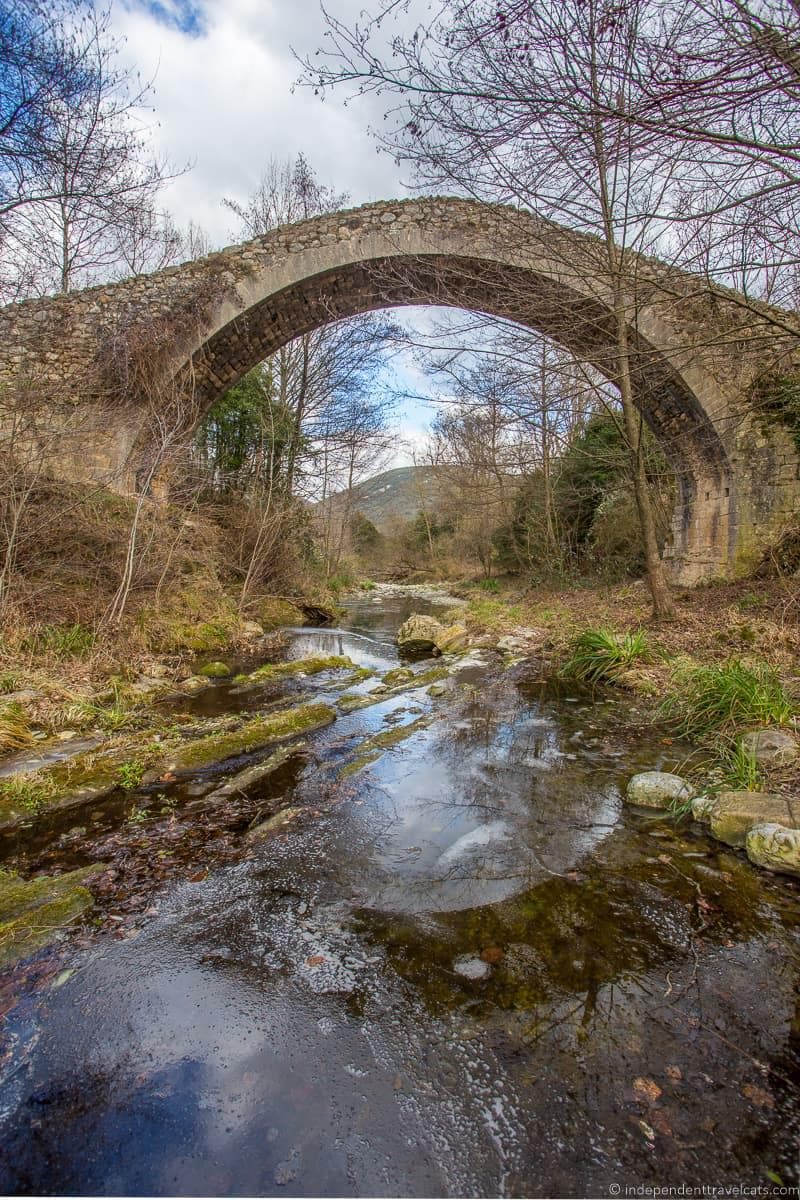 So there you have it, our guide to the Spanish Pyrenees of Catalonia!
What would you enjoy doing in the Spanish Pyrenees of Catalonia? Have you visited the Spanish Pyrenees? If so, we'd love to hear about any experiences or tips you may have! Have a questions about visiting the Spanish Pyrenees? As always, we welcome your questions and comments. Just leave it in the comments section below, and we'll be sure to answer it as best as we can!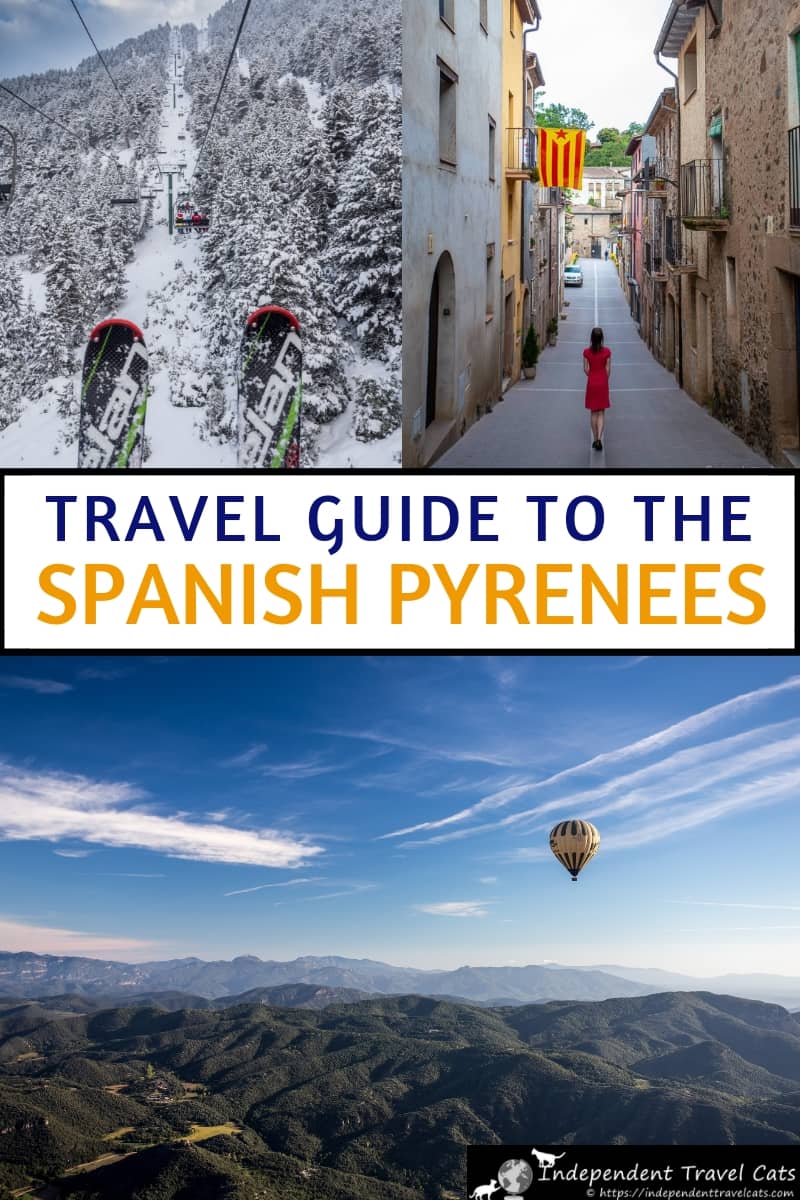 Disclosure: The majority of our lodging, attraction entrances, and transportation in the Spanish Pyrenees was provided by the Patronat de Turisme Costa Brava Girona in order to experience and write about this region. However, we specifically chose most of the places we visited during our time in the Spanish Pyrenees. As always, this article contains only our own honest thoughts and opinions. You can read more in our Ethics Code about how we accept work.