Antoni Gaudí is the most famous architect of the Catalan Modernism movement, and there are a number of Gaudí sites in Barcelona Spain that you can visit. Although Gaudí is best known for his masterpiece Sagrada Família as well as Casa Batlló and Park Güell, there are many other Gaudí works that you can see and visit in Barcelona. Some are well-known, others are seldom visited.
There are also a number of museums and exhibitions that focus on Gaudí and his work that can help provide a great overview and context before you set out to view his famous buildings.
Although not widely appreciated during his lifetime, Gaudí's works are now widely studied by architecture students worldwide, seven of his works have been declared World Heritage Sites by UNESCO, and Sagrada Família has become one of the most visited tourist attractions in Europe.
This guide will assist you in deciding which attractions to visit, help you locate the Gaudí sites in Barcelona, and provide tips on visiting over 20 different Gaudí attractions.

General Information on Visiting Gaudí Sites in Barcelona
The first section will help provide some general information on when, where, and how to visit the Gaudí sites in Barcelona. While we are not experts on Antoni Gaudí or Modernism, we also provide a brief overview of the man and his significance as an architect as we believe it is important to have a general understanding to better appreciate and understand his work.
We also share some planning tips, how to save money using Barcelona discount passes, and some resources for finding out more information to help you plan your trip to Barcelona.
Who was Antoni Gaudí?
Antoni Gaudí, full name Antoni Plàcid Guillem Gaudí i Cornet, was born in Reus, Spain in 1852. Gaudí showed early promise as an artist and after serving in the military, he studied architecture in Barcelona.
Gaudí went on to a long and distinguished career as an architect where he designed and built a number of innovative and original works. Gaudí is often considered the master of Moderisme or Catalan Modernism, although it is difficult to put his body of work into only one particular style.
Modernism in terms of architecture is characterized by the predominance of the curve over the straight line, asymmetry, rich decoration and detail, use of natural and organic motifs, and dynamic shapes. Gaudí found a lot of his inspiration in nature and avidly studied organic and anarchic geometric forms and applied these often to his work. His buildings are distinctive, especially his later works, and used elements that had never been applied to architecture at the time.
As a person, Gaudí was a private and spiritual man and one who was proud of his Catalonia culture and the Catalan language. He never married and so devoted his life mostly to his work and his Roman Catholic faith. As a young man, he dressed well, attended social events and the theater, and traveled by horse and carriage.
However, as an older man, Gaudí lived frugally and neglected his appearance, wearing tattered clothing. In fact, in June 1926, Gaudí was struck by a passing tram and was assumed to be a beggar because of his appearance; this assumption may have led to his death as medical treatment was sadly delayed. During Gaudí's final years, he devoted himself entirely to working on Sagrada Família.
During Gaudí's life, his work was controversial and not widely appreciated or admired. In fact, his work was widely criticized by many art critics and architects of his time. It would not be until well after his death that there was widespread recognition and appreciation for his work. His work was admired by fellow innovative Catalan artist Salvador Dalí and others who would help promote the status of Gaudí's work.
Today, Gaudí is the best known architect of the Catalan Modernism movement and his buildings are known worldwide (admired, criticized, and studied) and constitute several of the top tourist attractions in Barcelona.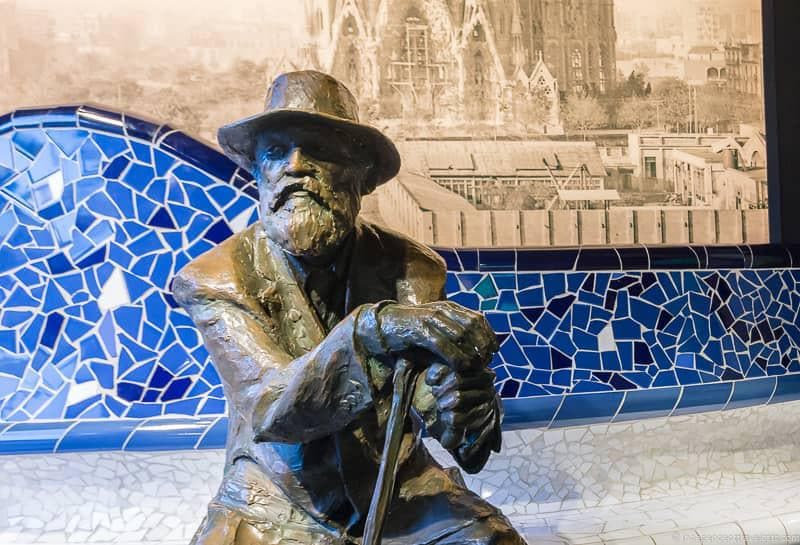 How many Gaudí sites should I visit?
This totally depends on you, your schedule, and your interests. I would certainly not recommend trying to visit all the Gaudí attractions in Barcelona unless you are very interested in Gaudí and have a full week to spend in Barcelona.
For most people, 3 to 5 attractions is sufficient to get a good understanding of Gaudí and his architecture. I would recommend choosing at least one museum or exhibition and then at least two of his architectural achievements.
If you want to see as much as possible in one day, we recommend this Gaudí-focused 5.5 hour guided walking tour by Take Walks. It is a guide led walking tour that includes visits to Casa Batlló, Sagrada Família (including a tower visit), and Park Güell as well as visits to see the exteriors of Casa Milà, Casa Vicens, and other Modernisme buildings.
If you are only going to visit one attraction, I'd probably recommend Sagrada Família (his masterpiece) or Casa Batlló as these are two of the most popular and intricate.
Which Gaudí sites in Barcelona are included in the UNESCO designation?
Seven properties built by the architect Antoni Gaudí in or near Barcelona were inscribed under the designation of "Works of Antoni Gaudí" by UNESCO as a World Heritage Site since 1984. According to UNESCO these sites "testify to Gaudí's exceptional creative contribution to the development of architecture and building technology in the late 19th and early 20th centuries."
The seven buildings included in the UNESCO designation are: Park Güell, Palau Güell, Casa Milà, Casa Vicens, Gaudí's work on the Nativity façade and crypt of La Sagrada Família, Casa Batlló and the Crypt (church) in Colonia Güell.
Budget tips for visiting Gaudí attractions?
Visiting attractions in Barcelona can be expensive but there are a few ways you can save money. First most of the exteriors of Gaudí's most famous buildings can be seen for free (e.g., Sagrada Família, Casa Calvet, Casa Milà, Casa Batlló) and a few of Gaudí's other works can be visited for free (e.g., fountain & pergola at Güell Estate, lampposts, mosaic in Church of Sant Pacià). So even if you are on a frugal budget in Barcelona, you can still enjoy some of Gaudí's work for free.
Also note that many of the websites for the attractions, including Sagrada Família, offer "virtual visits" where you can see interactive video, video, and/or photos of the attraction interiors from home. These make Gaudí's works accessible to just about anyone!
For those who want to save money but also want to visit some of the interiors, I would recommend checking out the various passes on offer for Barcelona, most notably the Go Barcelona Pass and the Barcelona Card.
These passes can help you get free or discounted entry to some of Gaudí's sites and help you save on many other attractions and transportation in the city. You can see our Barcelona pass comparison post for more information.
Also you can sometimes save a little money (and time) by booking tickets in advance online for a few of the sites. You can also check for combination ticket savings (for instance you can currently save a little if you buy the Sagrada Família and Gaudí House Museum tickets together online).
Are the Gaudí sites included in the Barcelona Passes?
Yes, many of the sites and attractions that charge an admission fee are covered by some of the Barcelona passes. Some include free entry and some offer discounted entry.
Here are the Gaudí attraction inclusions for the four main tourist passes in Barcelona:
There are also Gaudí and Modernisme specific passes and combination tickets:
We've tried to note at the beginning of each Gaudí site description below which ones are covered by which pass, but I would definitely check the pass website for the latest updates.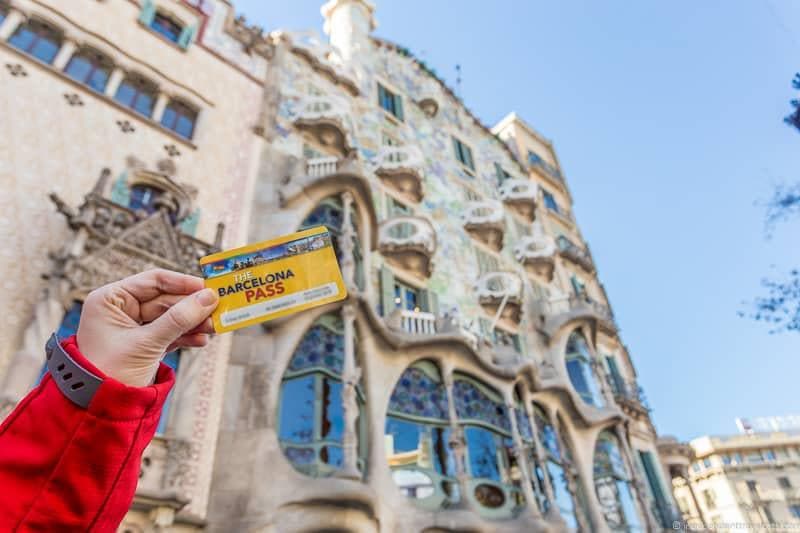 Is there a best order to visit Gaudí attractions in Barcelona?
Most visitors only visit a few of Gaudí's sites in Barcelona, so the order in which you visit the sites is probably not very important although I would consider leaving Sagrada Família for the final visit if possible. This is not only Gaudí's grandest work and masterpiece, but his final one and the one to which he was deeply devoted.
Also I would recommend visiting any exhibition and museum sites sooner rather than later in your trip as they can help you better understand the architecture you are going to see and know more about Gaudí as a person.
For those planning to visit many of Gaudí's works, I'd suggest either visiting them by geographical location as they are spread out throughout Barcelona (so group them together by neighborhood, see map below) or in chronological order to see how Gaudí's work changed and progressed over time (see order of list of sites below).
Best time of year for visiting Gaudí attractions?
Many of the Gaudí sites are popular, busy, and can get very crowded, especially in the summer and around holidays and festivals. If Barcelona is busy, you can be sure that most of the Gaudí sites are also busy.
I would advise booking tickets ahead for both Park Güell and Sagrada Familia no matter what time of year to ensure you get in, and consider buying tickets ahead for some of the other sites during the summer.
If tickets are sold out online for when you plan to visit, consider booking a Gaudí walking tour such as this one that includes entry into both Park Güell and Sagrada Familia.
If you can, I'd visit Barcelona in the winter months (except around holidays and festivals) for the best experience as we visited in January and visitor numbers were low. The only drawbacks to visiting in the winter are reduced opening times and poorer weather.
For the best weather, Spring and Autumn are also good (although I'd avoid Spring Break). I would avoid summer (especially July and August) if you can or come prepared for crowds, higher prices, and hot weather.
Best time of day for visiting Gaudí attractions without crowds?
For the best experience, I would try to plan your visits to Gaudí attractions for the least busy times of day to avoid long lines and crowded interiors. For the busiest sites, I would recommend visiting in the morning around opening time, especially for Sagrada Família, Casa Milà, Casa Batlló, and Park Güell.
Booking tickets in advance can help ensure you get a desired entry time and I'd strongly recommend scheduling timed tickets in advance for both Sagrada Família and Park Güell as tickets can sell out in advance. If morning is not possible, try visiting later in the afternoon around closing time (note that most attractions stop allowing entrance 1 hour before closing).
Note that some sites are implementing creative ways to try to allow for more visitors to visit without huge crowds, such as special early opening times, extended night hours, night tours, and special events. For the free public sites, you can visit these at any time of the day as even if there are crowds they tend to move along quickly.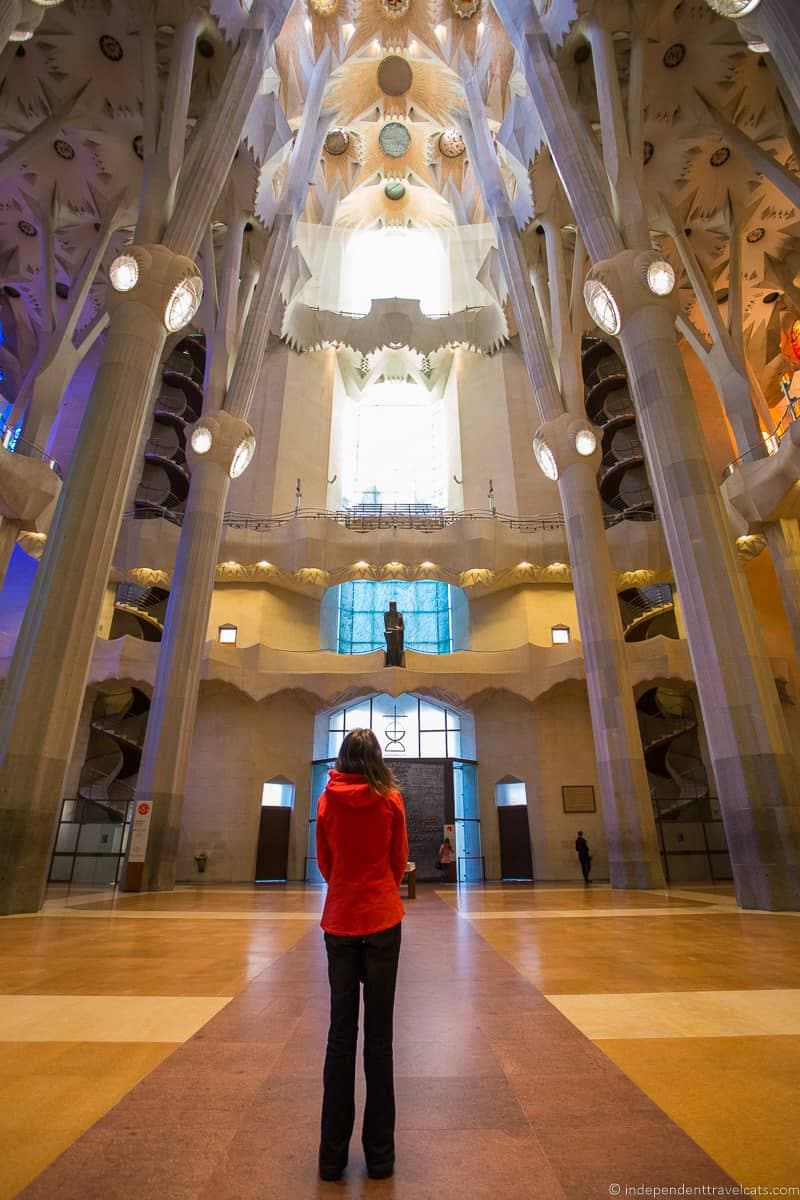 Gaudí

Focused Walking Tours in Barcelona?

There are lots of walking tours in Barcelona focused on Modernisme and the works of Antoni Gaudí. Options vary from 2 hour walking tours to full day tours. There are also day tour options to those wanting a guided visit to Colònia Güell to see Gaudí's crypt outside of Barcelona.

Here are some of the options:
Where to stay in Barcelona?
The Gaudi sites are spread out around the various neighborhoods of Barcelona and its outskirts. But the most popular and the majority of the attractions are located in central Barcelona or a short bus ride away.
For lodging, Barcelona has loads of lodging options that will suit any travel style and budget, including hotels, B&Bs, apartments, and hostels. We like to stay in the central area of Barcelona to maximize our sightseeing so generally stay in the neighborhoods of La Rambla, El Raval, Barrio Gotico (Gothic Quarter), or Eixample.
On one recent visit to Barcelona we stayed at this Leonardo Hotel which offered a good value and an excellent location near Las Ramblas. On our last visit we stayed at Hotel Barcelona Cathedral which is very well located right next to the Cathedral in the Gothic Quarter.
Where to find more information to plan your trip to Barcelona?
There are links below to find out more about the individual Antoni Gaudí sites in Barcelona, but you'll want to do more in Barcelona than just visit Gaudí sites. Check out our other Barcelona articles which include a 3-day Itinerary in Barcelona, a 2-day Barcelona itinerary, a 1-day Barcelona itinerary, a Go Barcelona Pass review, as well as how to find the best photography spots in Barcelona.
You can also check out the official tourism website for which lots of good information for planning your trip and upcoming events.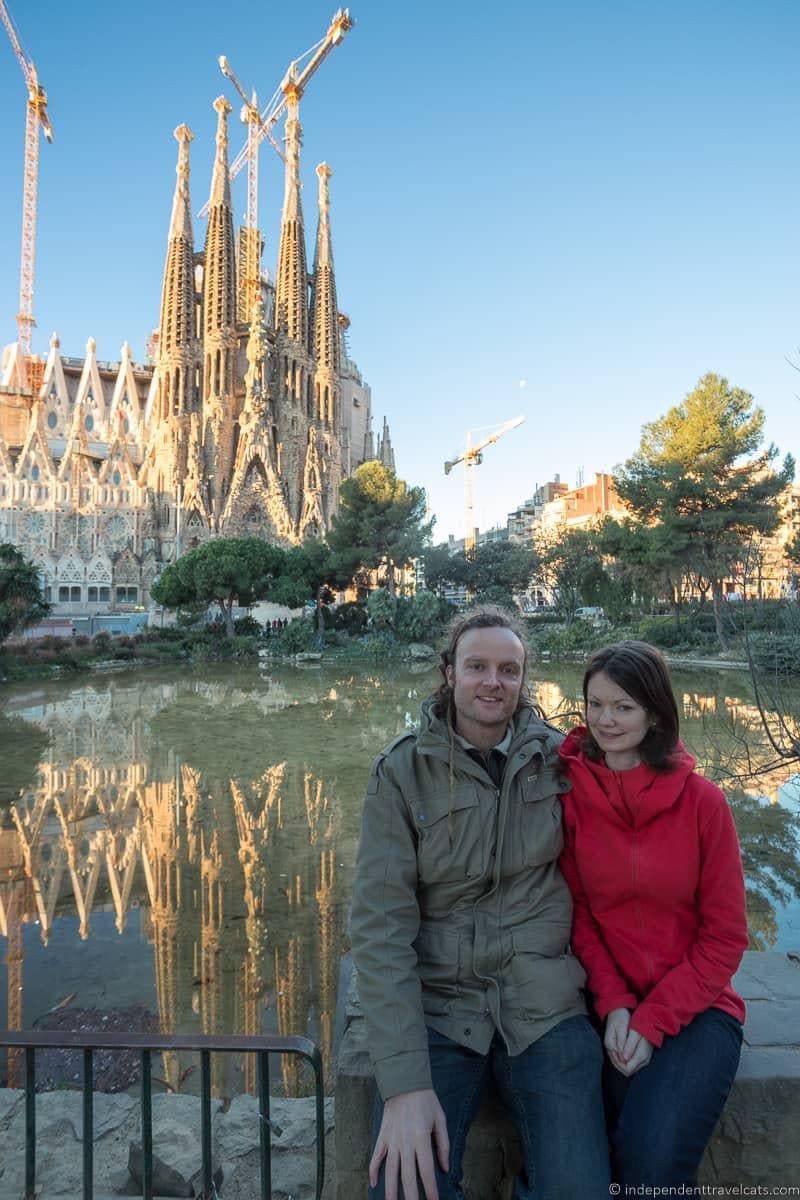 Guide to Finding Gaudí in Barcelona
Below is a list of over 20 Gaudí sites in Barcelona with information about each place, how to find it, whether the attraction has an entry fee or not, and tips on visiting. Most are buildings or constructions by Gaudí while a few are museums about his life or architecture.
Also we should note that we've included Colònia Güell and Nau Gaudí which are both located in towns just outside Barcelona but easy to reach from central Barcelona.
For those who are traveling beyond Barcelona, you can also find several other Gaudí buildings elsewhere in Spain. The following are listed roughly in the order that Gaudí worked on them (he worked on many projects simultaneously throughout this life), followed by the museums and exhibitions related to Gaudí and his work.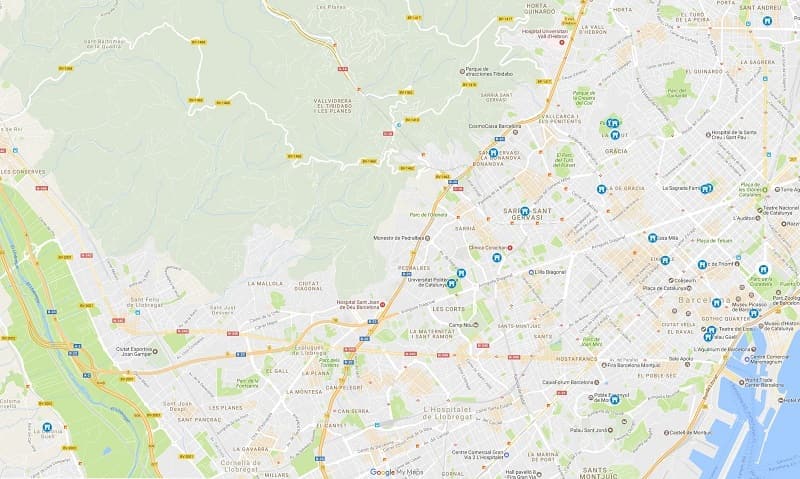 Fanals (Lamp posts)
Address: Plaça Reial & Pla de Palau
Entry Fee: No
Covered by Passes?: N/A
Website: N/A
In 1878, Gaudí was asked by the Barcelona City Council to present designs for a lamp post to provide gas street lighting. This was Gaudí's first commission since graduation and he submitted two sets of designs, one for a lamp post with 6 arms and one for a lamp post with three arms.
The City Council erected only two of the 6-armed design lamp posts in Plaça Reial. However, 11 years later, they erected four more of his lamp posts, all the three-armed designs, two in Pla de Palau and a two in Passeig Nacional (later removed).
The lamp posts have a marble base and cast iron structure with golden, red and blue colors. The lamp posts are decorated with iron snakes, inverted crowns, the shield of Barcelona, and symbols of the god Mercury and commerce.
It is interesting that although the Barcelona City Council was one of his first patrons, they would ironically fight with Gaudí throughout his life about the designs of his buildings and his relaxed approach to city codes.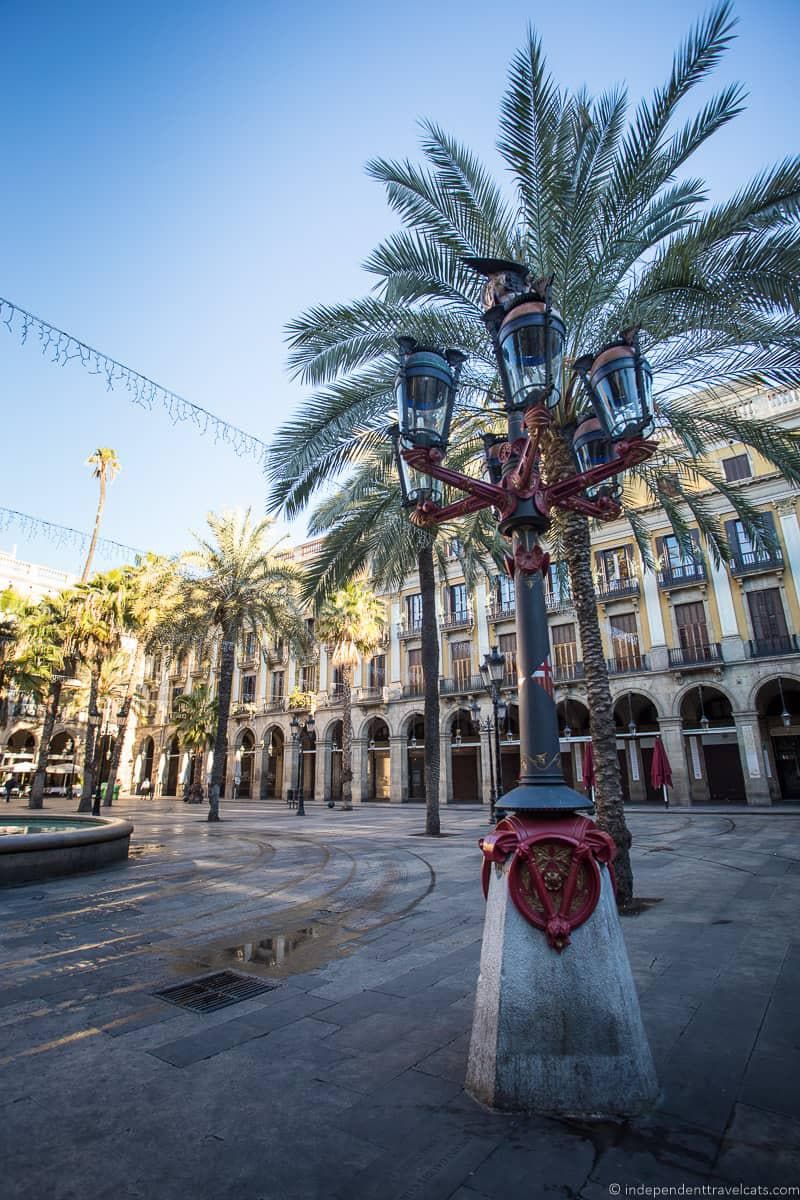 Church of Sant Pacià
Address: Carrer de les Monges, 27, 08030 Barcelona, Spain
Entry Fee: No
Covered by Passes?: N/A
Website: Parroquia de Sant Pacià (parish church information)
Iglésia de Sant Pacià, or the Church of Sant Pacià, is a neo-Gothic Catholic church built by architect Joan Torras i Guardiola between 1876 and 1881. Antoni Gaudí, a student of Torras, was responsible for some of the interior decoration from 1879-1880, most notably the geometric design of the marble mosaic floor. He also assisted with a number of other elements inside the church such as the side chapels, high altar, lighting, and the choir.
This church is not centrally located and gets few visitors so is a great place for those looking for a peaceful place to admire a beautiful mosaic floor designed by a young Gaudí. However, note that the main part of the church which contains the mosaics is often not open (only a side chapel for prayer), so I would arrange a visit in advance or plan to attend a scheduled church service.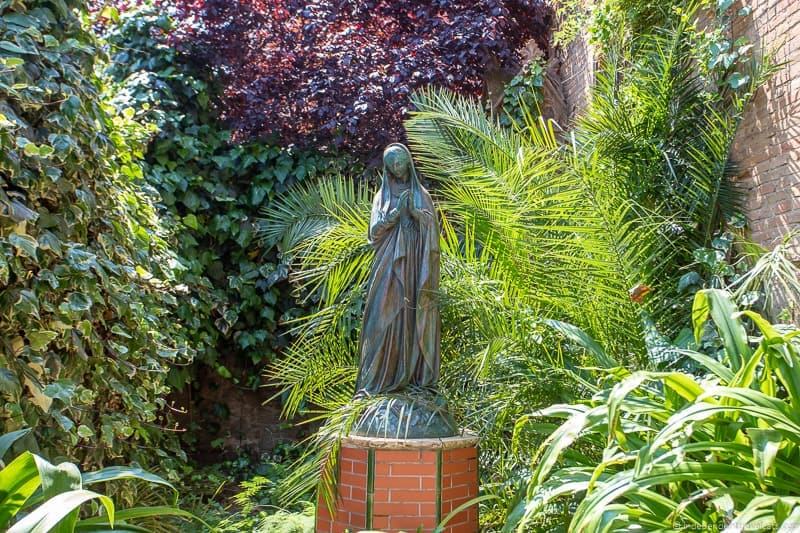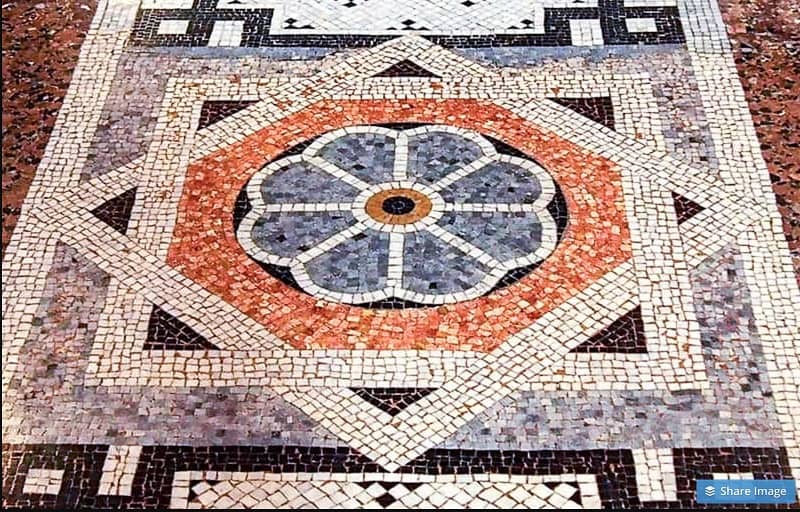 Fountain at Parc de la Ciutadella
Address: Passeig de Picasso, 21, 08003 Barcelona, Spain
Entry Fee: No
Covered by Passes?: N/A
Website: Parc de la Ciutadella (Wikipedia entry)
In 1881, a two-tiered cascade and triumphal arch were built in the Parc de la Ciutadella, once Barcelona's only large green space. Later from 1882 to 1888, a number of additions were made including a fountain and a number of sculptures.
The primary architect was Josep Fontsére but Gaudí, then unknown, is believed to have also worked on the project although the extent of his involvement is unknown. The fountain has some similarities with the Trevi Fountain in Rome.
The park is worth visiting on its own as there are a number of other fountains and sculptures, a small lake, museums, and a zoo located here.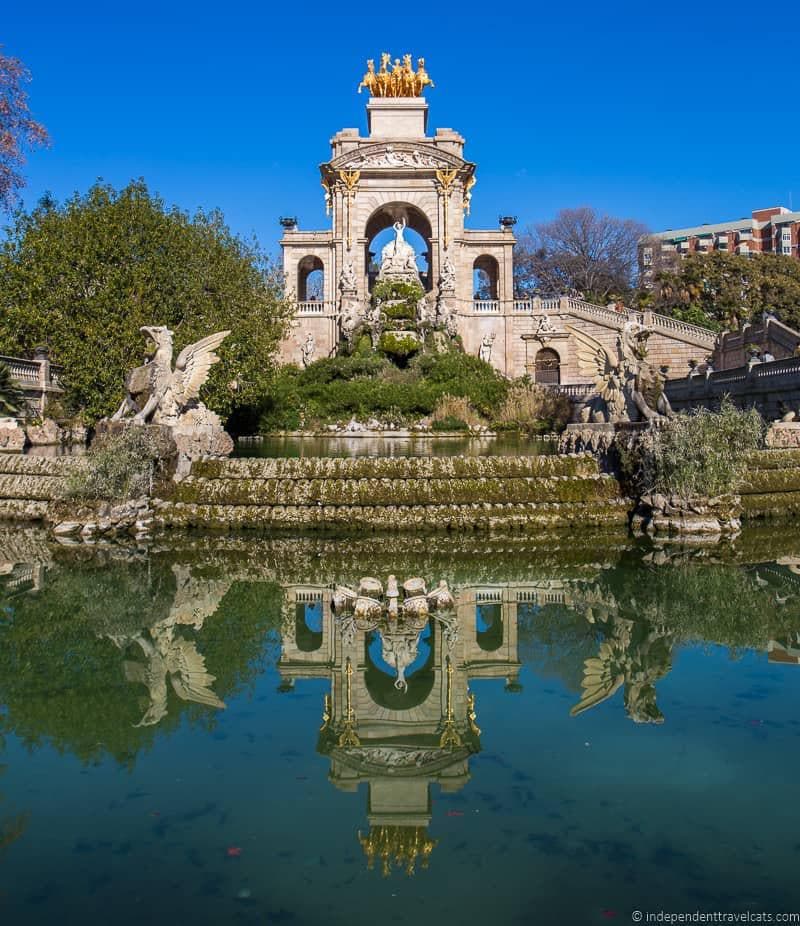 Nau Gaudí (Mataró Contemporary Art Museum Consortium)
Address: Carrer de la Cooperativa, 47, Mataró, Spain
Entry Fee: No
Covered by Passes?: N/A
Website: http://naugaudi.cat/en (official website)
Outside of Barcelona, Gaudí worked on his first industrial architectural project. He was asked by Salvador Pagès, whom he knew, to help build a textile manufacturing complex of the Mataró Workers Cooperative. He was to integrate existing structures and plan new ones, including the industrial buildings, homes for the families, and community buildings such as a school and a library.
Gaudí began working on the project in1878 and worked closely with architect Emili Cabanyes. The construction began in 1883. In the end, only a few buildings designed by the architect were actually built. The only remaining buildings of the complex today are a former cotton bleaching shed and latrines.
The cotton bleaching shed is interesting to see on the inside and notable for its wooden parabolic arches, a feature which Gaudí would continue to use throughout this career. The latrines are set in a small cyclinder pavillion separated for men and women. The most interesting feature here is the ceramic tile decoration.
The cotton bleaching shed is now a contemporary art museum, the Mataró Contemporary Art Museum Consortium. The museum contains some information on the history and architecture of the building. It is free to visit and once a month you can take a guided tour of the building.
Note that Nau Gaudí is located outside of Barcelona. It is about a 35 minute drive or a 45 minute bus ride or train ride to Mataró from Barcelona.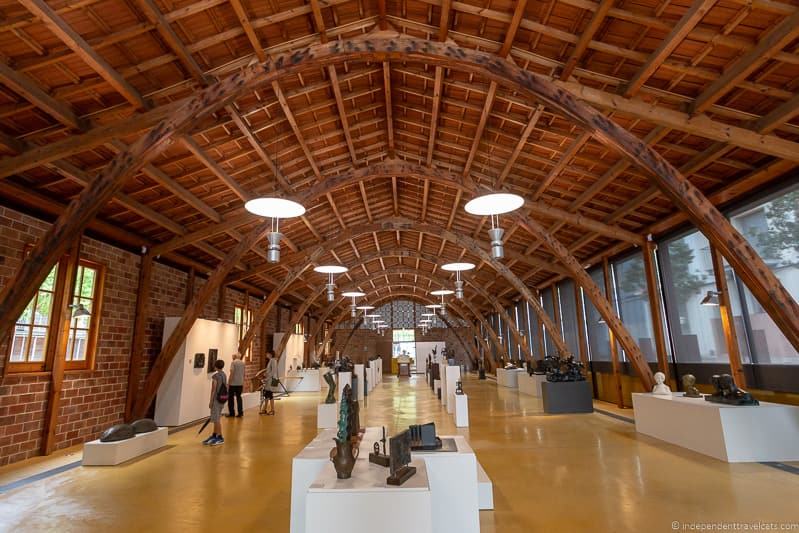 Fountain of Hercules and Pergola at the Güell Estate
Address: Jardins del Palau de Pedralbes, Avinguda Diagonal, 686, 08028 Barcelona
Entry Fee: No
Covered by Passes?: N/A
Website: Palau Reial de Pedralbes (Wikipedia page)
Gaudí was commissioned by Eusebi Güell in 1884 to help him extend his family holiday home and estate. Güell respected Gaudí's work and would become Gaudí's most significant patron. Part of the commission included the building of two fountains and a pergola in the estate gardens.
One of the fountains remains, the Font d'Hercules de la Finca Güell (Fountain of Hercules; 1884-1885), which is a small gurgling fountain that has a bust of Hercules above a basin with the Catalonia coat of arms. The small water spout is shaped like a dragon. The fountain fell into disrepair and was covered by dense vegetation but was rediscovered and restored in 1983. Nearby you can also see a pergola designed by Gaudí at the same time.
Gaudí also helped in building a number of estate pavilions and entrance gates (discussed further below), the original perimeter walls, the design and planting of the gardens, and assisted in remodeling the home of Eusebi Güell. This house was later significantly remodeled and expanded to become Palau Reial de Pedralbes after Güell gifted it to the royal family.
This private house turned royal palace is currently home to offices and until recently housed ceramics and decorative arts museums (I believe the museums are currently closed and the collections have been moved to the Museu del Disseny de Barcelona).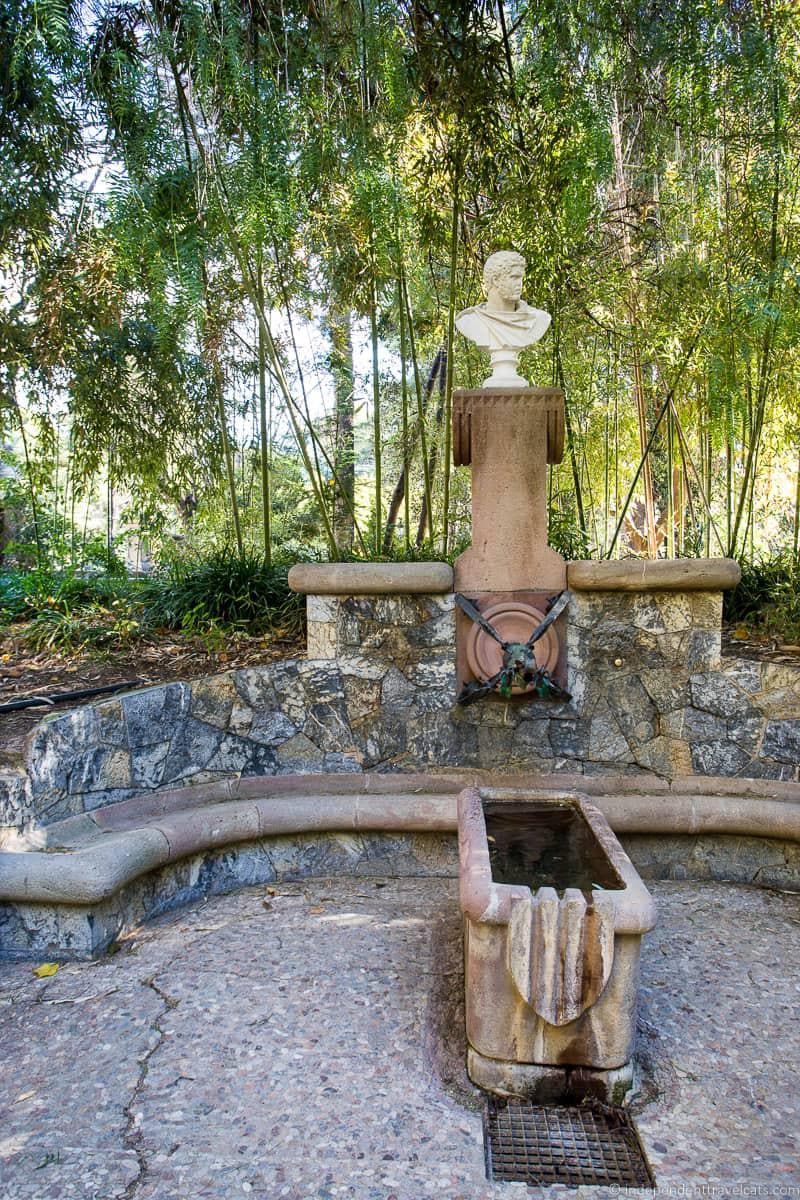 Pavillions and Gates of the Güell Estate
Address: Avinguda de Pedralbes, 7, 08034 Barcelona
Entry Fee: Yes
Covered by Passes?: No
Website: Pavellons de la Finca Guell (Barecelona tourism webpage)
As noted above, Eusebi Güell's first project for Gaudí was renovating and extending his family's holiday estate which the architect worked on from 1884 to 1887. One of the major parts of that work was designing estate buildings, gatehouses, and gates.
These buildings are currently owned by the University of Barcelona but have recently been restored and opened to the public. You can see the stables, longeing ring (horse training/exercise area), gatekeepers lodge, and small guardhouses.You'll find bright ceramic decorations and a number of plant and nature motifs in Gaudí's work here.
The main gate is also located at the entrance of the Pavellons de la Finca Guell and in its center there is an amazing wrought iron dragon figure with a forked tongue and bat-like wings, which represents the mythical dragon from the Garden of the Hesperides.
The other three entrances to the estate were later no longer needed, but you can still find Gaudí's other lesser known entrance gates elsewhere in and around the university (some original, some replicas).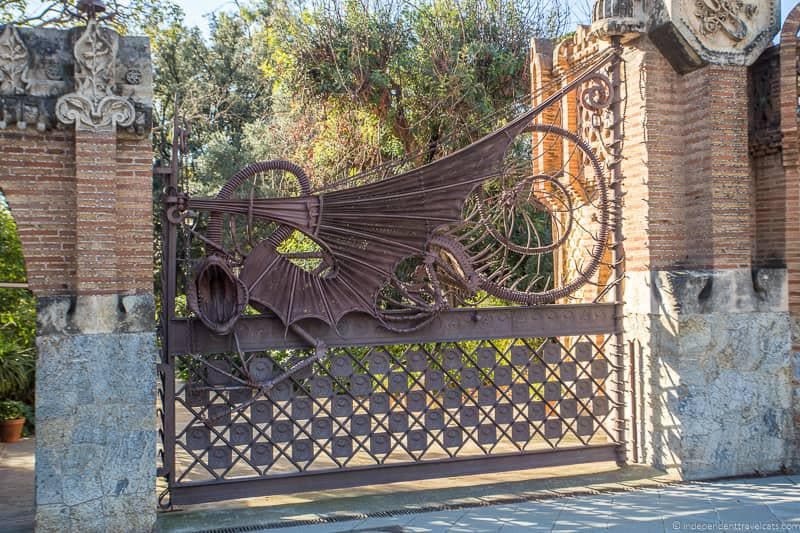 Casa Vicens was a private home commissioned by Manuel Vicens, the owner of a brick and tile factory. Gaudí worked on the house from 1883 to 1888. This was very early in Gaudí's career and one of the first places where he started to develop and exhibit his own unique style. The house includes the juxtaposition of geometric masses, the use of ceramic tiles, a horseshoe-shaped staircase, nature motifs, iron balconies, and abstract brick ornamentation.
The building was a private residence since the time of Gaudí until 2014; however, it recently has been restored, refurbished, and opened to the public. It first opened to the public for tours in November 2017. It is fast becoming a popular Gaudí attraction in Barcelona as very few people have ever seen the interiors of this UNESCO World Heritage Site designated house.
If you've been to Barcelona before, this might be a new Gaudí attraction to add to your itinerary for your next visit. We really enjoyed our recent visit of the house.

Teresians' Convent and College
Address: Carrer de Ganduxer, 85-105, 08022 Barcelona
Entry Fee: Interior not accessible by the public (façade can be seen from outside the gate)
Covered by Passes?: N/A
Website: Col·legi de les Teresianes (official school website)
Teresians' Convent and School, or Col·legi de les Teresianes, is a convent school building built for the Order of Saint Teresa of Jesus nuns. It was started in 1887 by another architect who laid the foundation and designed the floor plan. Gaudí took over the project and he made some alterations to the plans and worked on it from 1888-1889.
The building is quite austere and dark compared to many of Gaudí's other buildings, but it still has several of his own personal flourishes such as parabolic arches, exposed brick pillars, four-armed crosses, and religious symbology.
The building has been an active school since it opened and is not open to the public, but you can partially view it from the outside from beyond the railings.
If you are very keen to see it, you can contact the school directly and occasionally with prior permission the school may grant a short tour for visitors to the school when it is not in use. However, I'd recommend just taking a look from the outside and watching the virtual tour video on the school website.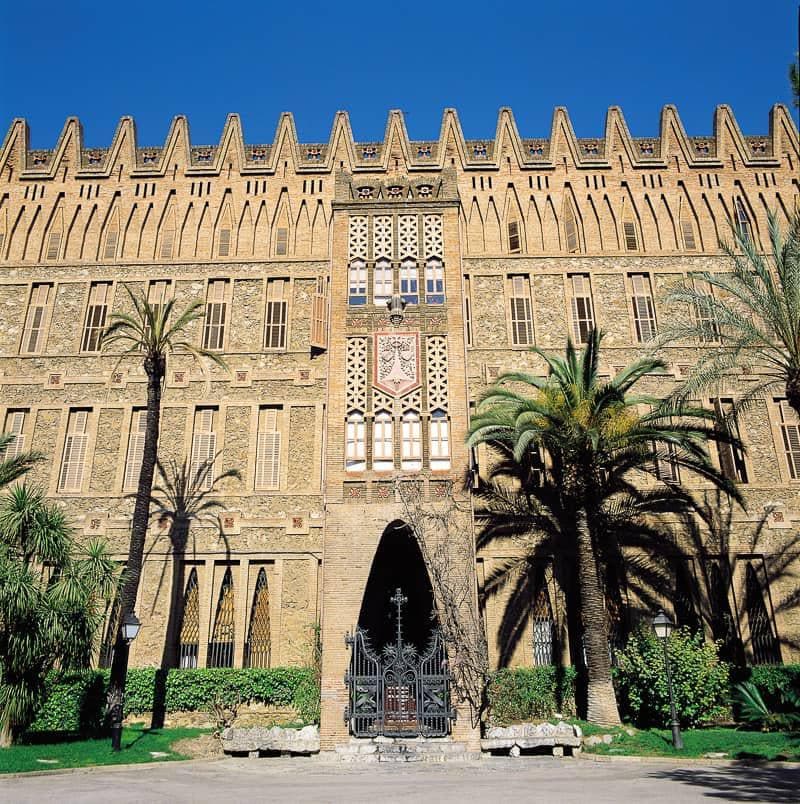 Palau Güell
Address: Carrer Nou de la Rambla, 3-5, 08001 Barcelona
Entry Fee: Yes
Covered by Passes?: Yes, Barcelona Card (discount only), 3 House Combo Pass
Website: http://palauguell.cat/ (official website)
Palau Güell was a large private home built by Antoni Gaudí from 1885 to 1890. It was another commission by patron and wealthy industrialist Eusebi Güell who wanted a mansion that he could also use to entertain guests.
The centerpiece of the house is a large central room on the main floor that was used for entertaining, religious ceremonies, and parties. This room is crowned by a parabolic dome, which lights the whole space through a series of small openings (mimics starlight) and a large central oculus.
Visitors can also tour horse stables, the coach house, the dining room, musicians' room, offices, and bedrooms. Once on the roof, you also get to see twenty beautiful mosaic chimney pots. Audioguides are included with visits and recommended.
Palau Güell is one of the seven sites designated by UNESCO as a World Heritage Site as part of the "Works of Antoni Gaudí". It is conveniently located for visitors just off La Rambla in the La Raval area of Barcelona. It is less visited than some of his other major works such as Casa Batlló and La Sagrada Família, but can still be busy so I would try to visit in the morning for the best experience.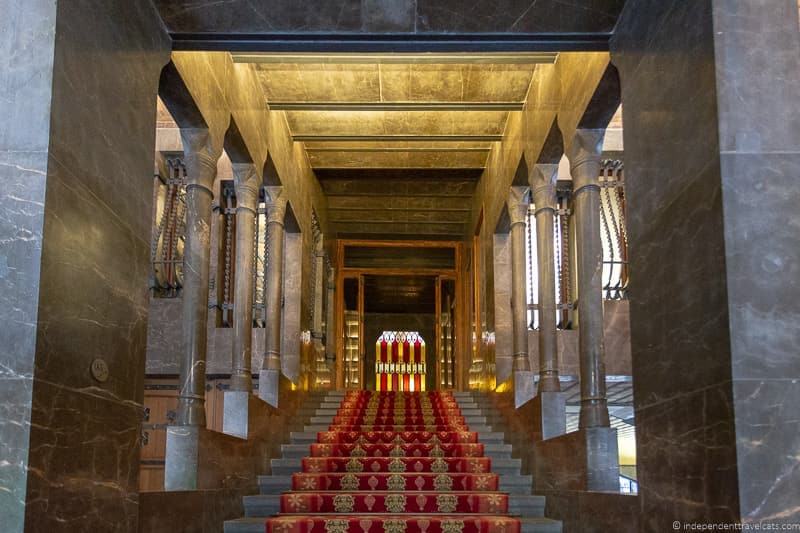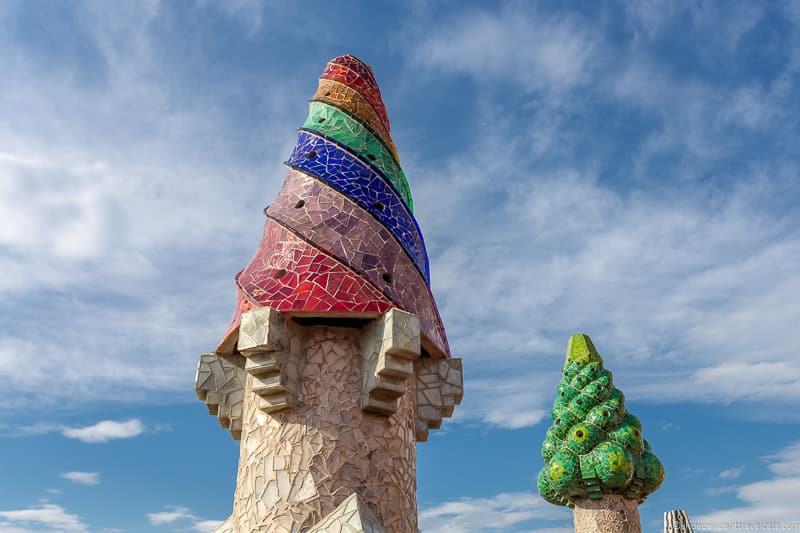 Casa Calvet
Address: Carrer de Casp, 48, 08010 Barcelona
Entry Fee: N/A (can have a meal in the restaurant to visit interior)
Covered by Passes?: N/A
Website: Casa Calvet (Wikipedia entry)
Casa Calvet is one of Gaudí's lesser known works and visitors walking by are not likely to stop and take a look as they might when passing the unusual and flamboyant Casa Batlló. Casa Calvet is a building designed for textile manufacturer Pere Màrtir and it served as both his home and business. Gaudí worked on the building between 1898 and 1899.
The house is quite symmetrical and orderly for a work by Gaudí which is believed to be partly due to having to fit in between two existing building and partially because it was for an affluent neighborhood.
The building is much less striking than most of Gaudí's other homes, but it does have some interesting personal features such as the curves and double gable at the top, projecting oriel at the entrance, iron crosses, and bulging different sized wrought iron balconies. You can also find little details that relate to the owner such as the columns in the shape of cotton bobbins that flank the entrance.
Although not that popular today among most Gaudí fans, in 1900, Barcelona City Council awarded it the prize for the best building of the year.
Today, most of Casa Calvet is used for private housing and offices and is not open to the public. However, the exterior can still be seen from the street.
Until recently the ground floor of Casa Calvet, that has many interesting interior features designed by Gaudí, was open to diners of the Restaurant Casa Calvet. However, we this restaurant closed in 2018 and we do not know if another restaurant will take its place or not in the future. There is a chocolatier based in part of this space now, called Chocolates Brescó.

Gate and Wall at the Miralles Estate
Address: Passeig de Manuel Girona, 55-57, 08034 Barcelona
Entry Fee: No
Covered by Passes?: N/A
Website: N/A
There is a gate (often referred to as Portal Miralles) and wall that was built by Antoni Gaudí in 1901-1902 to the entrance of the former Miralles Estate, home of industrialist Hermenegild Miralles. The house is long gone but the entrance gate and a small amount of the rubblework wall still exist leading to a quiet pedestrian street.
The gate has a great lobular arch and was designed for the entrance of horse-drawn carriages, and further down there is also a small pedestrian entrance to the right (normally gated). On top of the entrance gate is an iron cross, which you'll also find in some of Gaudí's other works. The wall fragment and gate have been restored and reinforced over the years, so some parts are not original.
A bonus is that you'll also find a bronze statue of Antoni Gaudí here by sculptor Joaquim Camps.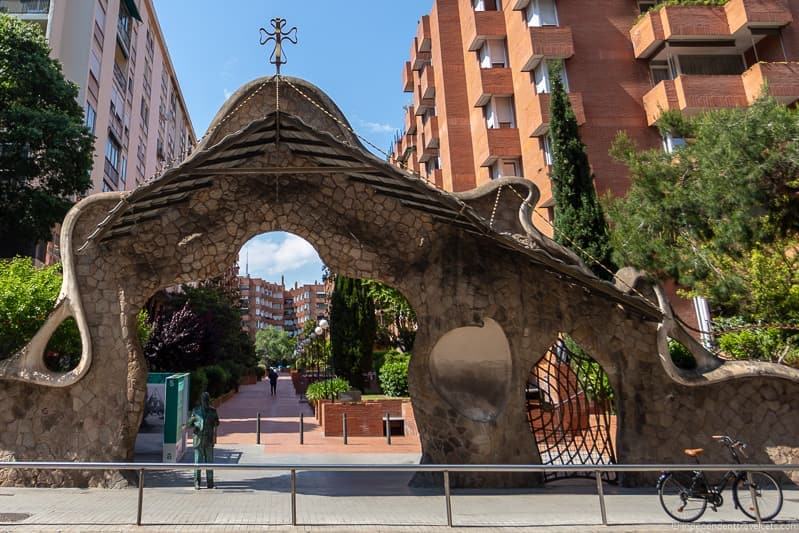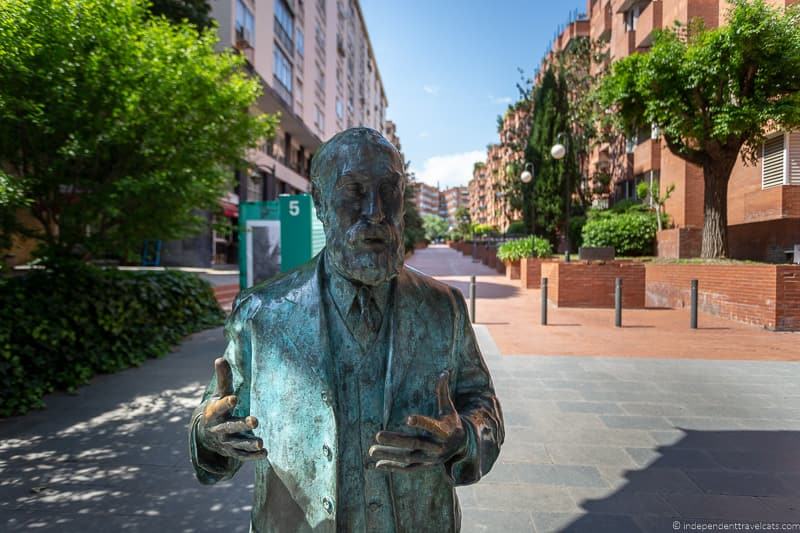 Torre Bellesguard
Address: Carrer de Bellesguard, 16-20, 08022 Barcelona
Entry Fee: Yes
Covered by Passes?: No
Website: https://www.bellesguardgaudi.com/en (official website). Buy tickets here.
Gaudí worked on building the Bellesguard house from 1900 to 1909, taking inspiration from a 15th century medieval castle of King Martin I which once stood on the site. Torre Bellesguard, also known as Casa Figueres, is remarkable in its mosaic detailing and also that it includes elements such as the use of rectilinear forms which are unusual in Gaudí's works. But you can also see elements that he would later use in some of his future projects such as the Sagrada Família, especially in the Hall of Bricks.
One of the most interesting elements of the stone-and-brick house, at least to Laurence, is that when viewed from certain angles you can see the profile of a dragon, where the roof is the dragon's tail, two windows create its eyes, and so on.
The house is privately owned and is still an active residence so only certain parts of the house are open to visitors. In the estate grounds you can also find walls, benches, and other structures that were created from the ruins of the medieval palace, although most are believed to have been made by Gaudí's apprentices.
This site is much less visited than many of the other Gaudí homes, partially because it is relatively unknown (only been open to public for a few years) and partially because it is further from the city center.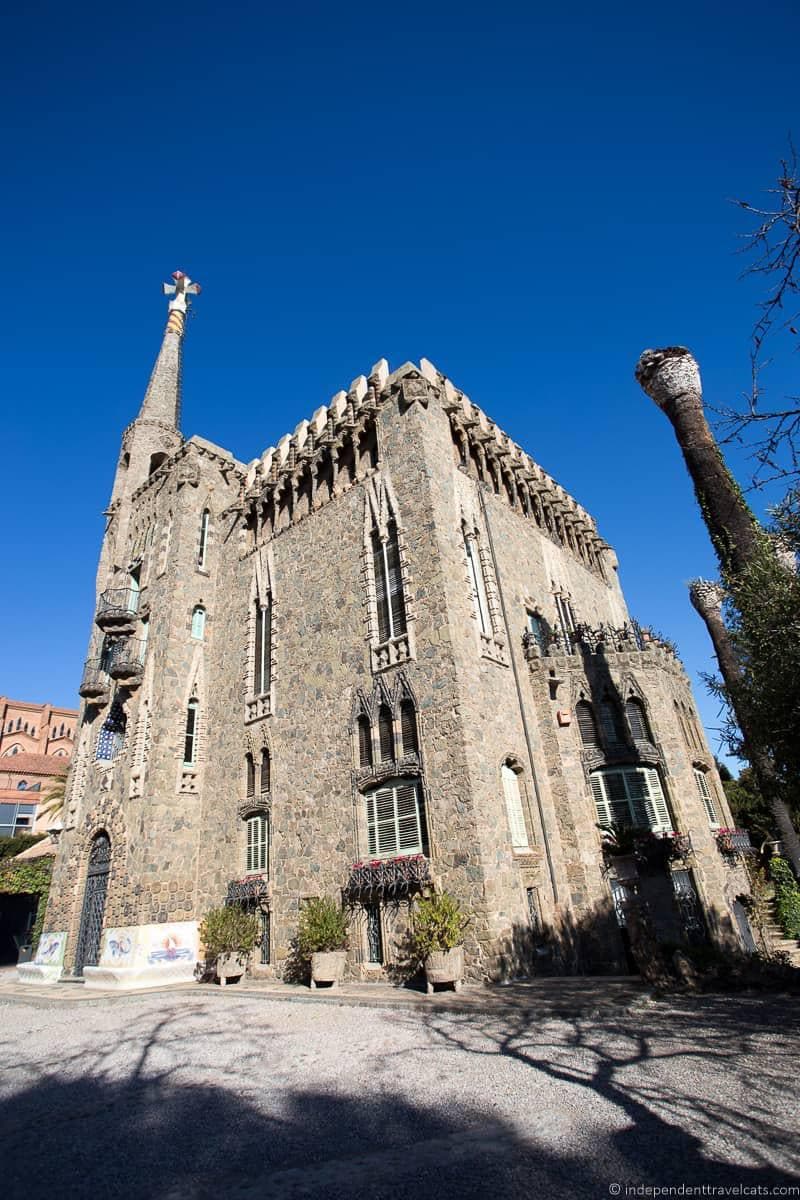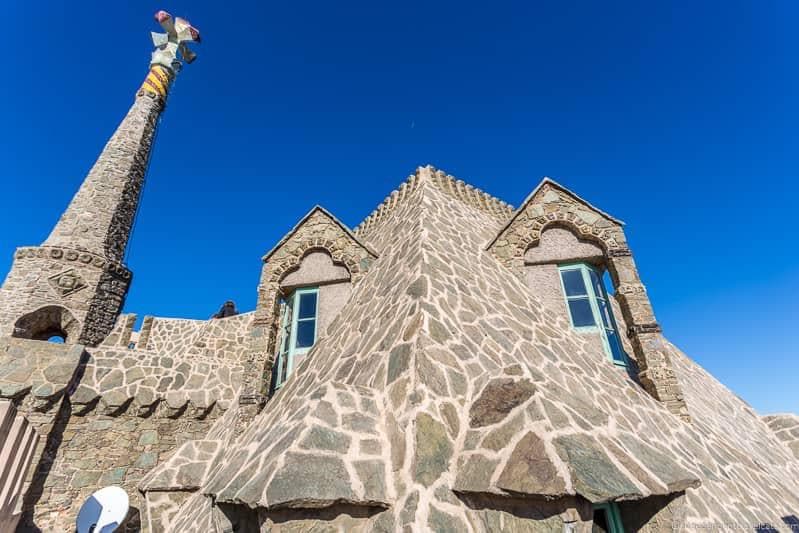 Casa Batlló
Address: Passeig de Gràcia, 43, 08007 Barcelona
Entry Fee: Yes
Covered by Passes?: Yes, Go Barcelona Pass (free entry), House Combo Pass (free entry), and Barcelona Card (discount)
Website: https://www.casabatllo.es/en/ (official website). Buy tickets here.
Casa Batlló is one of Gaudí's most well-known, visited, and photographed works. The house was actually built in 1877 by another architect, but Gaudí did significant renovations to the house from 1904 and 1906 for then owner Josep Batlló.
The house is a bit difficult to describe, with few straight lines and an organic quality about it. The exterior is decorated with mosaic, has large sandstone structures, and protruding balconies. It is also known locally as Casa dels Ossos (House of Bones) for its skeletal quality.
The interior has irregular oval windows, a rib-cage like loft, vaulted curved walls, colorful mosaics, stained glass windows, and much more to examine. The roof terrace resembles the back of a dragon (there is a strong dragon motif throughout) and also has a set of four colorful chimneys. Casa Batlló is included in the UNESCO World Heritage Site designation.
Casa Batlló is a bit like an architectural funhouse! The problem is that it is one of the most popular attractions in Barcelona so come early or late to best avoid crowds as it can get very crowded inside which makes a visit less enjoyable, especially in the summer.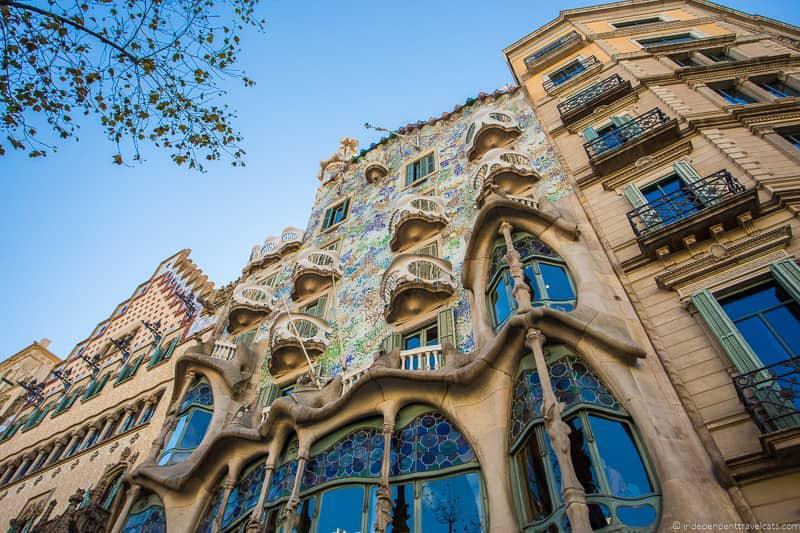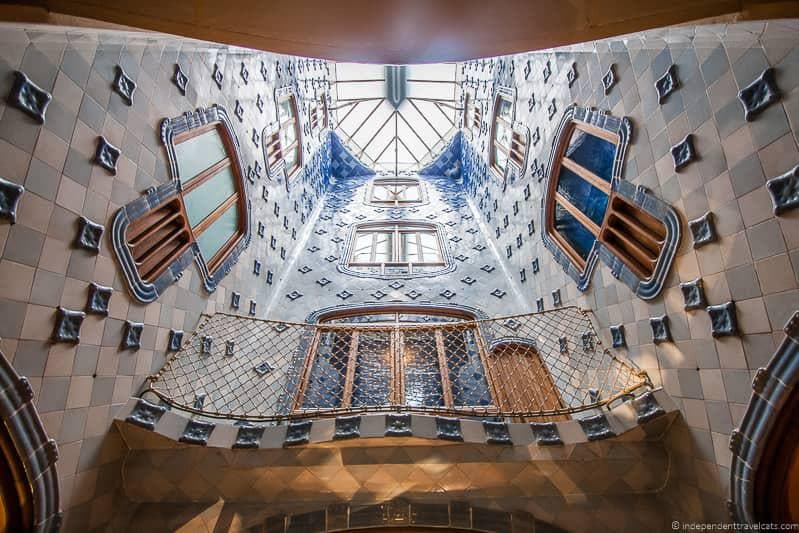 Casa Milà, also commonly known as La Pedrera ("the stone quarry"), is another of Gaudí's most well-known and visited works. The building (actually two buildings linked by courtyards) was intended to serve as both a private residence for industrialist Pere Milà and his wife Roser Segimon as well as an apartment building. Gaudí worked on Casa Milà from 1906 to 1912, and it was his last civil engineering work he would undertake in his career.
The architectural design caused quite a stir when it was built as it was a marked departure from the typical architectural styles of the early 20th century. Gaudí combined his love for geometry and nature to create something unique and innovative; the large stone building got its nickname La Pedrera because it reminded people of an open rock quarry with is rough-hewn stone façade.
The modernist building also has twisted wrought iron balconies, a self-supporting stone front, colorful murals with floral and mythological motifs, organic looking courtyards with lots of light, colorful roof chimneys, an underground garage, and an attic area made of 270 catenary brick arches. Gaudí also designed decorative elements such as door knobs, mouldings, and flooring that can be seen in the apartment open to the public. Casa Milà is one of the buildings included in the UNESCO World Heritage Site designation.
Today, the large building serves as offices and a few residents continue to live here in the apartments so parts of the building are private and not open to the public. However, the courtyards, the attic, roof terrace, an apartment, and an exhibitions space are open to the public for viewing.
The building gets a lot of visitors, especially in the summers, so go early or late for the best experience. An audioguide is available and included in the ticket price which helps guide your visit.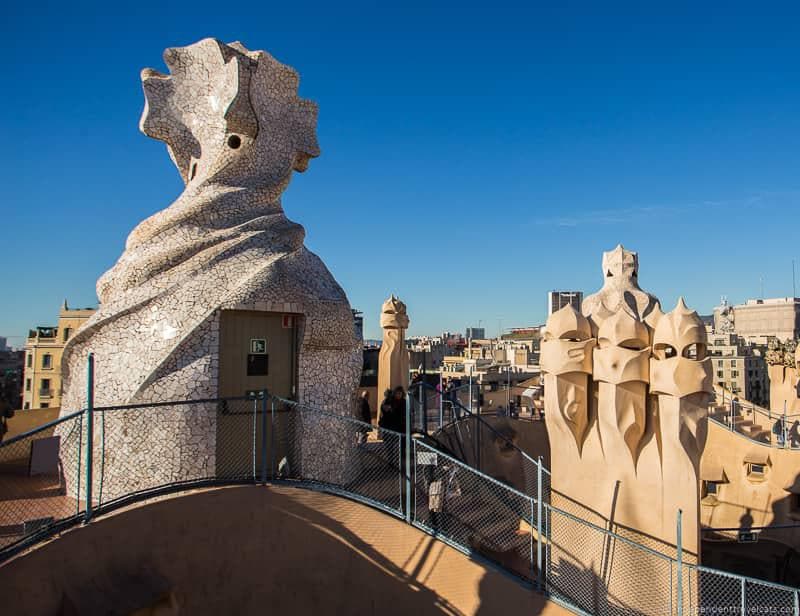 Park Güell is a public park system located on Carmel Hill in Barcelona. Eusebi Güell asked Gaudí to help design a private residential development for luxury homes. Gaudí worked on the project from 1900 to 1914. The original intention by Güell was to create a large number of luxury homes here; however, after a couple of houses were built (not by Gaudí) it was determined that this was not going to be successful.
One of the show houses was actually purchased by Gaudí who lived in the park from 1906 to 1925. The area officially opened to the public in 1926 and has been a public park ever since then. Terraced walls, two large gingerbread house looking pavillions, columns, a long serpentine tiled bench, and colonnaded pathways are some of the main attractions here. Probably the most famous icon at the Park Güell is the multicolored mosaic lizard known as "El Drac", or the dragon.
Note that many of the popular features (tile work on the benches) were actually made in collaboration with the much younger architect Joseph Maria Jujol. Jujol collaborated with Gaudí on several of his well-known project.
Most of the park is free to visit and provides some nice views over the city; however, the section of most interest to Gaudí fans (the Monumental Zone) has a fee. Park Güell is a very popular place to visit and access to the Monumental Zone (which includes most of the popular Gaudí attractions) is regulated and ticketed to help protect the structures.
I would strongly recommend booking a ticket in advance to save time and money and to ensure you are able to visit. Tickets are sometimes all booked in advance, especially in the summer and busy times in Barcelona. There is little information within the park, but if you are interested in learning more you might consider a guided tour of the park which also includes your entrance fee.
If you are interested in visiting the former home of Gaudí, it is located just outside the Monumental Zone (in the free section of the park) and requires a separate ticket to visit (see later entry).
Note also that getting to Park Güell requires walking up a hill from most locations so those with mobility issues may want to arrange to be dropped off at the entrance.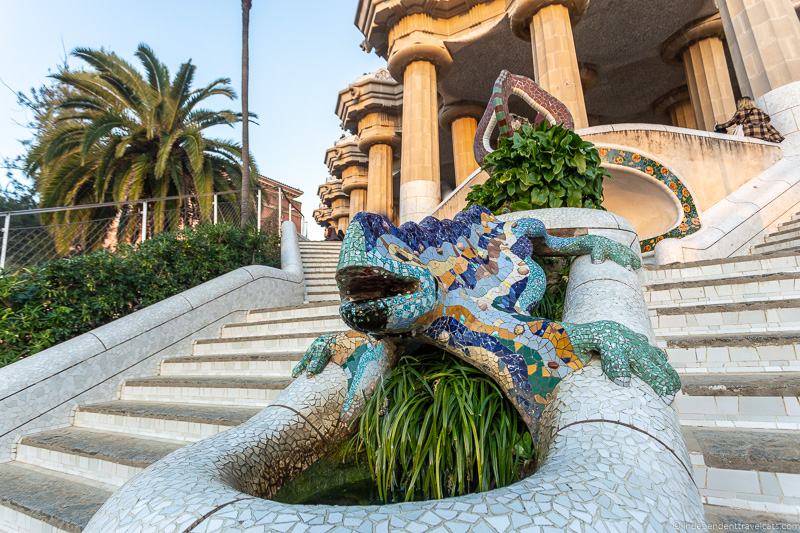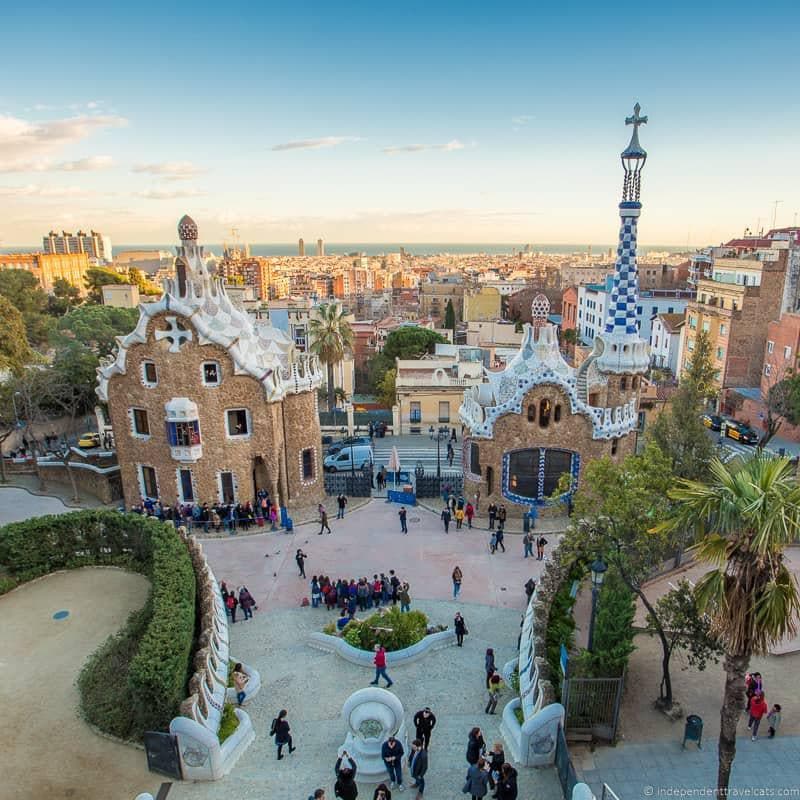 Colònia Güell, or the Güell Colony, was founded in 1890 by Eusebi Güell who wanted to base his textile industry outside Barcelona. He wanted to form a separate community for the workers where they could work, live, worship, shop, eat, and have cultural experiences.
Güell built the factory using the latest technology of the time as well as workhouses, a school, doctor's house, civic center, church, parish house, a theatre, cooperative, and water tank. The textile factory was operational until 1973 and is now part of a peaceful village.
The only part of the village that was built by Antoni Gaudí is the Church of Colònia Güell. Gaudí worked on the project from 1898 to 1914 but didn't start the actual building until 1908. The work remains unfinished with Gaudí only completing the lower nave (often referred to as the crypt) that was part of his original ambitious plan as the project was eventually abandoned by the Güell family. Another builder would later enclose the upper nave with brick walls and a roof.
However, despite it not being a completed work, the work is very striking and combines many of Gaudí's innovations into one single place such as the nave built without the use of buttresses or support walls, the shape of the church, the allusions to nature, the use of hyperbolic paraboloid vaults, and large hyperboloid stained glass windows.
If the church had been finished it would have been a "monumental model of the Sagrada Família" as it was intended to have two naves, a lower and upper, topped by different towers and a 40 meter high central dome.
This is a highly recommended place to visit, not just for the church but for the entire village. I would recommend either getting the audioguide or a guided tour to get the most of your visit here.
Note that Colònia Güell is located outside of Barcelona but it makes for a great half day trip out of Barcelona. Colònia Güell is located in Santa Coloma de Cervelló and is easy to access by local FGC train, by car, or via a group bus tour, taking about 20-30 minutes to reach from central Barcelona.
If you are looking for a day tour from Barcelona that includes Colònia Güell, this private tour includes a few of Gaudí's lesser known buildings including Colònia Güell.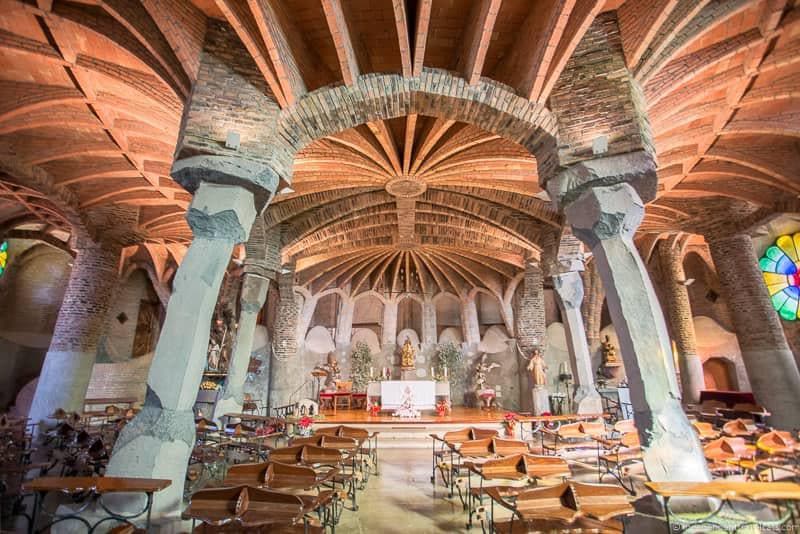 As mentioned earlier, a couple of show houses were designed and built within what is now Park Güell, and one of these eventually became the residence of Antoni Gaudí (the other was occupied by his friend lawyer Martí Trias i Domènech). Initially Gaudí moved here with his father and niece and after their deaths, he lived alone although Carmelite nuns often came to help carry out domestic chores.
The three-storey house with pink stucco walls was designed by a friend and assistant of Gaudí, Francesc Berenguer i Mestres although it is believed that Gaudí made some additions and changes over the years. The two chimneys and towers of the house are covered in trencadís ceramic, and the house sits on a hill overlooking the city, the entrance to the park, and the Hill of Three Crosses.
During a visit here, you can get a good understanding of Gaudí's life and the simplicity of his life and furnishings. It includes both documents and objects related to Gaudí's life and presents information about his day-to-day life. In this period of his life, Gaudí ate frugally, dressed in old clothing, paid little attention to his appearance, and devoted himself deeply to his career and faith.
This is an easy stop if you are already planning a visit to Park Güell and receives significantly fewer visitors than the park although can still get crowded as it is a fairly small space.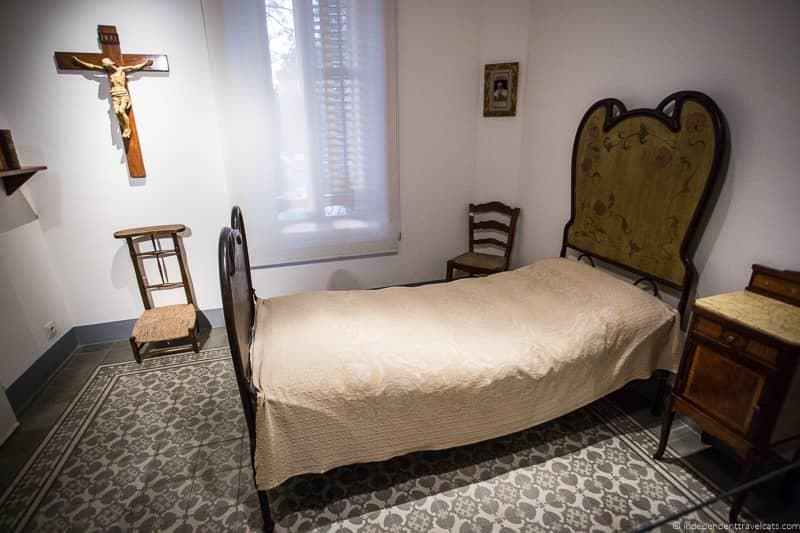 The Museu Nacional d'Art de Catalunya (National Museum of Art of Catalonia), abbreviated as MNAC, is the national museum of Catalan visual art in Barcelona. It houses over 1,000 years worth of Catalan art, from medieval to modern art.
Although many of the art museums in Barcelona may have a piece of work by Gaudí or feature temporary exhibitions, MNAC has the largest collection (about 40 objects) with a number of pieces of furniture, stained glass, metalwork, and other objects. But not all of these objects are normally on display at one time.
It is important to remember that many of Gaudí's projects not only included the design of the building itself, but he also often designed furniture, doors, gates, windows, altars, chimneys, mouldings, etc. for his buildings.
The museum of course has much more to offer and is worthy of a visit for anyone interested in Catalan art. It has a particularly amazing collection of Romanesque art, particularly religious frescos, icons, and statues from Romanesque churches located throughout Catalonia.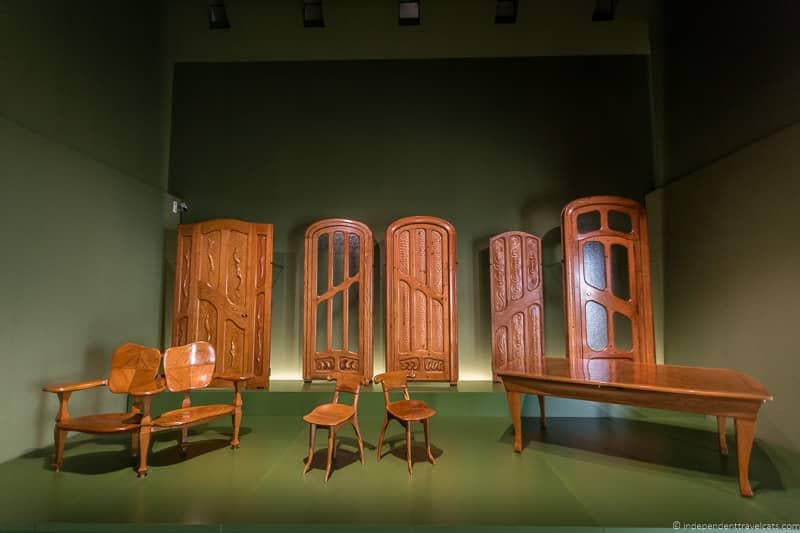 The Gaudí Experiència, also somewhat confusingly known and marketed as the G Experiència and Gaudí Experience, is a relatively new place to learn more about Gaudí, his works, and modernist architecture.
The attraction offers a 10-minute 4D video (special effects video with moving seats), a small interactive exhibition about Gaudí's life, two models, and a children's area. The attraction is well-reviewed by families and an easy place to stop and visit if you are headed to Park Güell as it is a short walk away.
It can be a bit expensive for the experience but is currently included for free for Go Barcelona Pass holders so I'd definitely recommend that Pass holders plan a stop here.
Note that getting to the Gaudí Experiència (as well as Park Güell) requires walking up a hill from most locations so those with mobility issues may want to arrange to be dropped off at the entrance.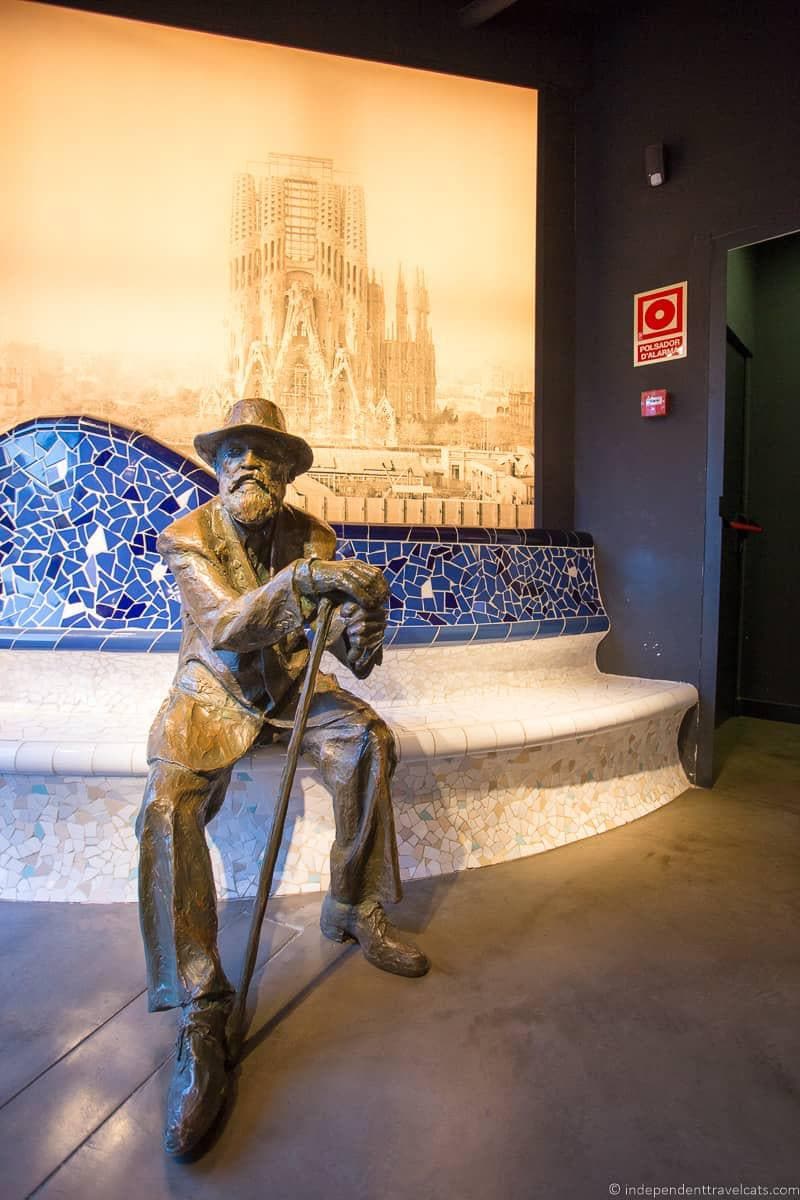 There you have it, our guide to Gaudi's Barcelona! We hope that this helps you plan your own trip to Barcelona and decide which Gaudí attractions you want to visit.
Which of these Gaudí sites in Barcelona would be on your itinerary? Have you visited any of these attractions? If so, we'd love to hear your thoughts about which ones you enjoyed the most. Planning your trip to Barcelona and have a question, just leave it as a comment below and we'll try our best to answer it! As always, we love to hear from you!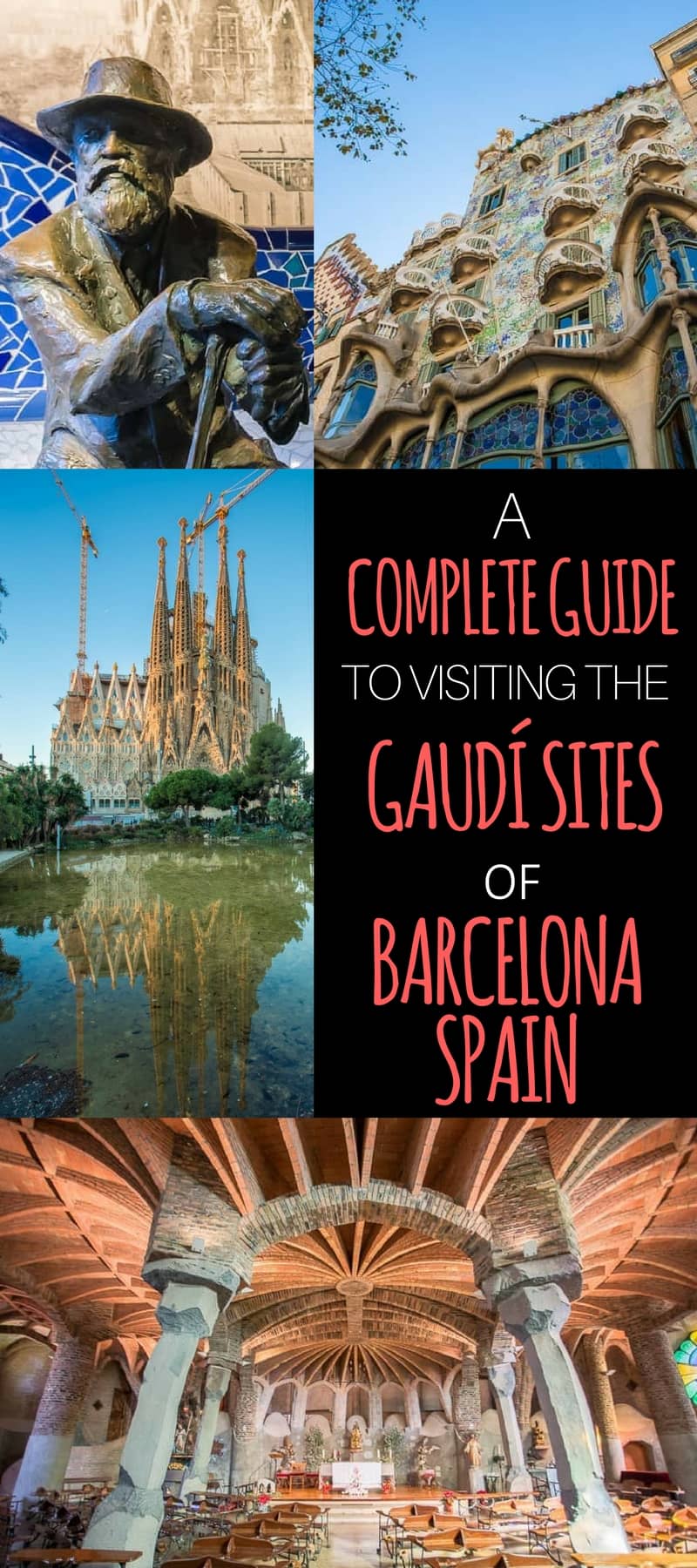 Disclosure: We received free entry as press or through free entry arranged by Barcelona Turisme in order to experience and write about many of these Gaudí sites. However, we also paid for several of our entrances to the sites listed in this article. As always, this article contains only our own honest thoughts and opinions. You can read more in our Ethics Code about how we accept work.