Most fans of Salvador Dalí are familiar with the fact that the surrealist artist was born in the Costa Brava region of Catalonia Spain, but not everyone knows that this region is the best place to experience the inspirational world of Dalí.
The Costa Brava region of Catalonia is situated in the northeast corner of Spain and is best known for its sunny beaches, all-inclusive resorts, rugged landscapes, hiking and biking trails, fine dining, and for being the birthplace of Salvador Dalí. It is in this area of Spain that Dalí drew inspiration for many of his surrealist works and it is here that fans of his work can best get a sense of the artist's life and actually visit the places that inspired him.
The three most famous places which form the so-called Dalian Triangle are the much-visited Dalí Theatre-Museum in Dalí's hometown of Figueres, his adulthood home in Portlligat, and his wife Gala's sanctuary at Púbol Castle.
However, visitors can also delve deeper beyond the Dalian Triangle to visit the fortress in which he served his military duty, see a few of the castles he admired, taste wine at one of his favorite wineries, eat at restaurants he once ate, visit a museum that contains some of his childhood toys, enjoy the beauty of his favorite summer town, and hike in his favorite natural park where he drew inspiration for his art.
Not only can visitors find a persistence of Dalí's memory in these places, but such an itinerary can help visitors discover more off-beat places to round out their Costa Brava holiday.
We start by sharing information on a number of Salvador Dalí sites and attractions within Costa Brava. Then we also share information on day tours for those wanting to take a day trip from Barcelona or Girona to visit the most popular Dalí attractions. Finally, we share a suggested 5 day road trip itinerary from Barcelona that includes all the mentioned Dalí attractions plus the highlights of the Costa Brava region.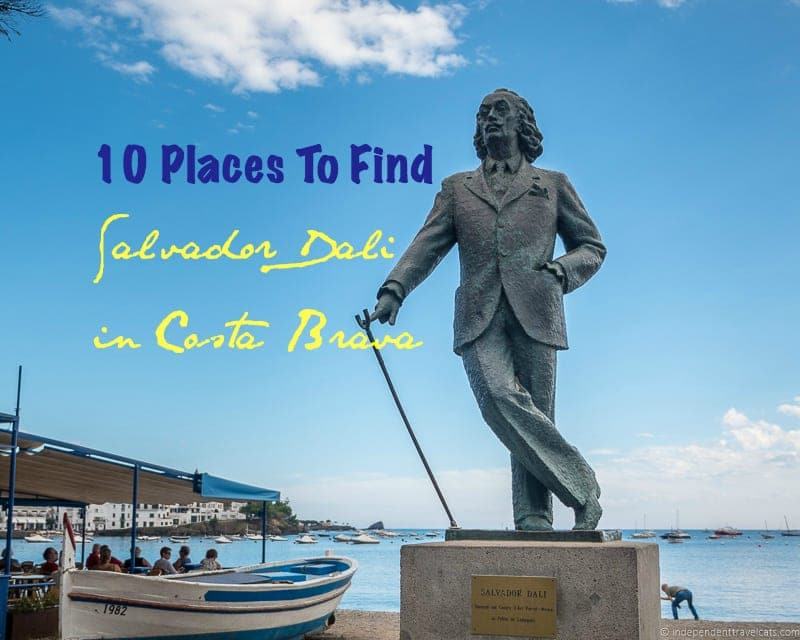 10 Places to Experience the Inspirational World of Salvador Dalí in Costa Brava
Below is a list of 10 places that we recommend for Salvador Dalí fans based on our visits to Costa Brava, although you are likely to find traces of Dalí throughout this area that he loved so much. The most comprehensive website pertaining to the Dalian Triangle sites is the Gala Salvador Dalí Foundation, which manages all three of the properties as well as cultural and research related activities concerning the artist.
All of the places mentioned in this article are within the Province of Girona (one of the four provinces of Catalonia within Spain) and are within reach of Barcelona. Jump down to our suggested 5 day Costa Brava itinerary section for trip planning ideas and a map of all the sites.
To find out more information about planning a trip to this area, check out the very helpful Costa Brava Girona tourism board website to get started. For those exploring other parts of Catalonia, check out the information-packed official Cataluyna tourism website.
The Spain tourism website is a good starting point for those traveling throughout Spain, and don't miss the Museo Reina Sofia, which has a great collection of Dalí works, if you are in Madrid.
Salvador Dalí Sites in Figueres
Figueres is a city that is almost synonymous with Salvador Dalí when it comes to tourism. It is the city where the artist was born in May 1904, it is the city he built his infamous surrealist art museum and theater, and it is the city in which he died in 1989.
Dalí Theatre Museum
The main highlight is of course the Dalí Theatre-Museum which is a project that was undertaken by the city of Figueres and Dalí himself to display the artist's works and contains works from both his personal collection as well as artwork built specifically to be housed in the museum.
The location of the museum is special as it was the site of the former municipal theater where Dalí's artwork was displayed for the public for one of the first times in 1919, and it is also the final resting place for the artist who is buried in a crypt below the stage of his theater. Dalí actually lived the final years of his life at Torre Galatea (tower topped with eggs in the annex of the museum building).
The Dalí Museum contains the single largest collection of Dalí's work with artwork spanning all periods of his life, including the famous Mae West furniture installation. Navigating the museum itself is a bit of a surrealist experience which is as the artist intended. Dalí said about the theatre that: "I want my Museum to be like a single unit, a maze, a great surrealistic object. It will be an absolutely theatrical museum. People who come to see it will emerge with a feeling of having had a theatrical dream".
You might want to buy a book from the museum to get a better sense of the art and design of the museum as there are not a lot of posted explanations, although there is now a recommended visitor route to help direct one's visit (Dalí probably would not have approved but we found it helpful). We can also suggest booking a private guided tour such as this one where an expert guide will lead you through the museum and explain it to you.
Reservations are not normally necessary to visit the museum, but try to visit early in the day and avoid weekends, as this museum can be very crowded. Don't miss the Dalí Jewels exhibition (a separate entrance but included with the Dalí Theatre and Museum ticket) that has a great collection of jewelry designed by Dalí and many of the pieces are quite stunning.
A visit to Figueres and the Dalí Museum is a very popular day trip from Barcelona, with a number of tour options available. Some of these focus just on visiting the Dalí Museum, such as this one, others are full day trips which include a number of other Dali sights and attractions, such as this one.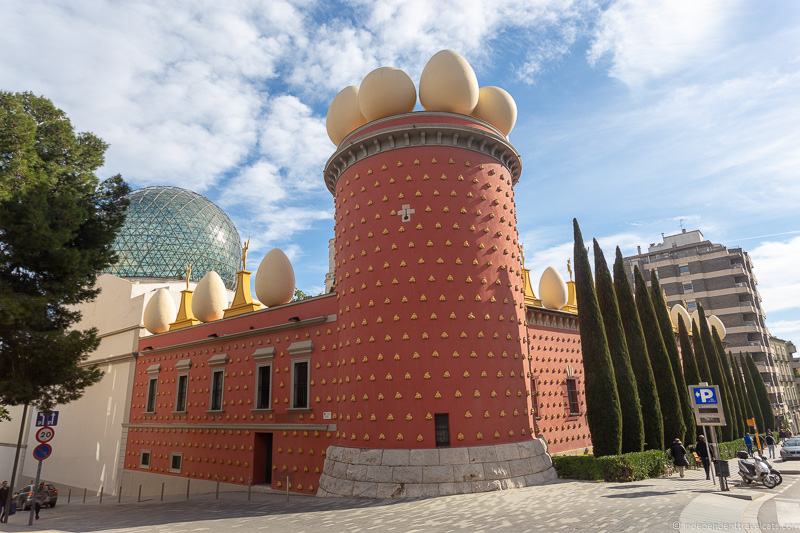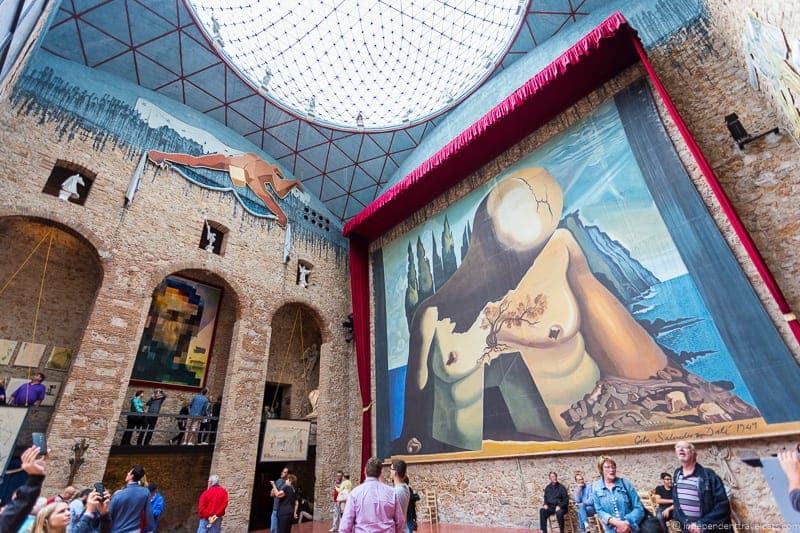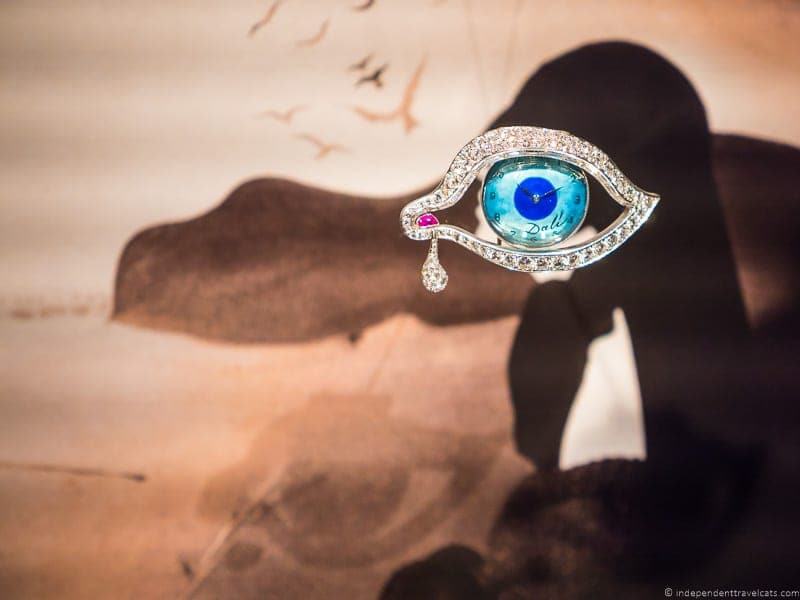 Cara Puig
In addition to the must-see Dalí Theatre and Museum, there are a number of other Dalí related locations you can visit that are located within walking distance of the museum.
The house is currently a private residence and is not currently open to the public. You can see the exterior of the house in which Dalí's family lived at the time of his birth, known as Cara Puig, located at no. 20 Carrer de Monturiol. There is a small plaque outside and the house.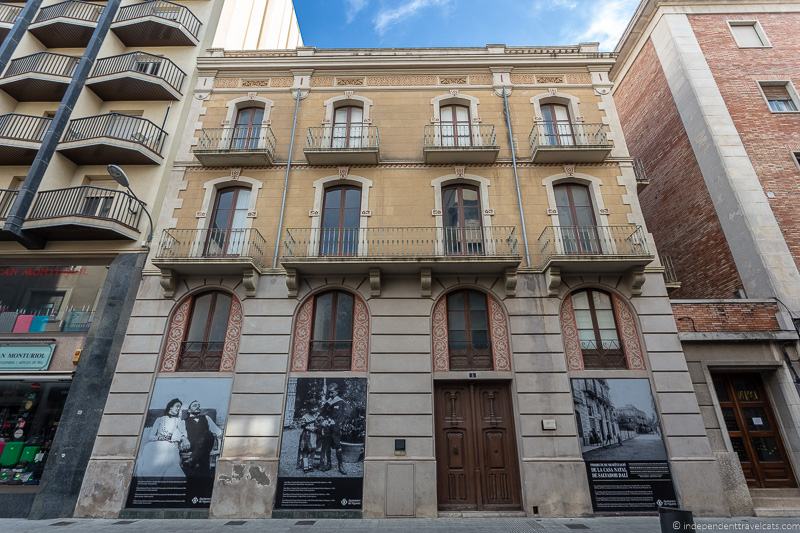 Church of Sant Pere
You can also visit the Church of Sant Pere (large church near the museum) where Dalí was baptized, attended masses and celebrated his first communion. It would also be Sant Pere that would later hold his funeral services.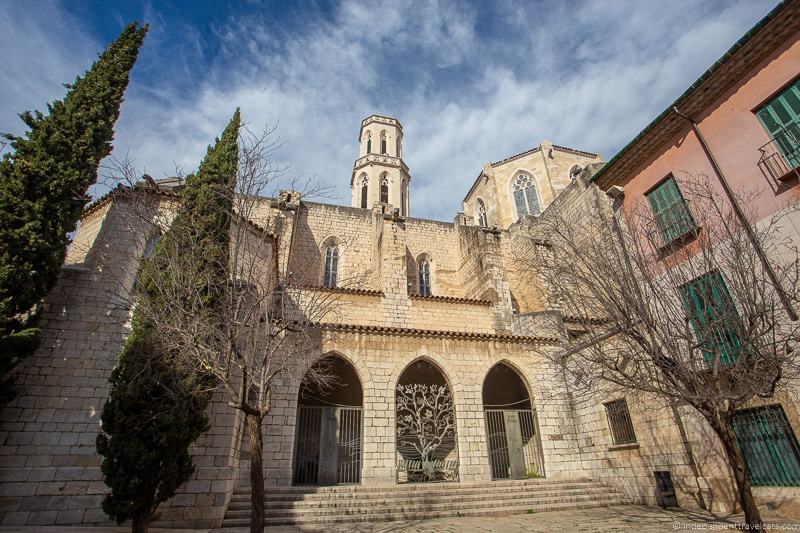 Sant Ferran Castle
Sant Ferran Castle is located in the city of Figueres, but it sits on a hill outside the city center. The large military fortress was built in the 18th century and was actually used until the 1990's. It is the largest monument of Catalonia and the largest bastion fortress in Europe. It was here that Salvador Dalí completed his military service in 1927. It was hard for me to imagine Dalí serving military duty in a uniform!
Today visitors can walk around the massive fortress; the sheer size is quite impressive as it was built to hold up to 6,000 troops and 500 horses! I would highly recommend the awesome adventure tour at Sant Ferran Castle that includes a guided jeep ride, exploration of the tunnel system, and a unique raft experience in the giant underground cistern system. You are then able to do the regular self-guided walking tour of the rest of the fortress.
Reservations are not necessary for a self-guided walking tour but if you wanted a guided tour or to do the full underground water experience, you will need to make reservation in advance. You can make reservations by contacting the fortress or via Les Fortaleses Catalanes which operates the tours. The castle is a 10-minute drive or a 15 to 20 minute walk from the Dalí Theatre and Museum.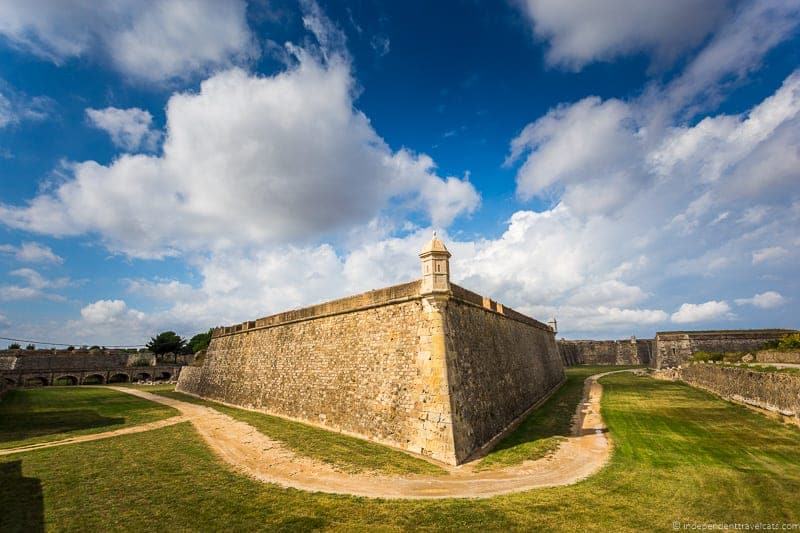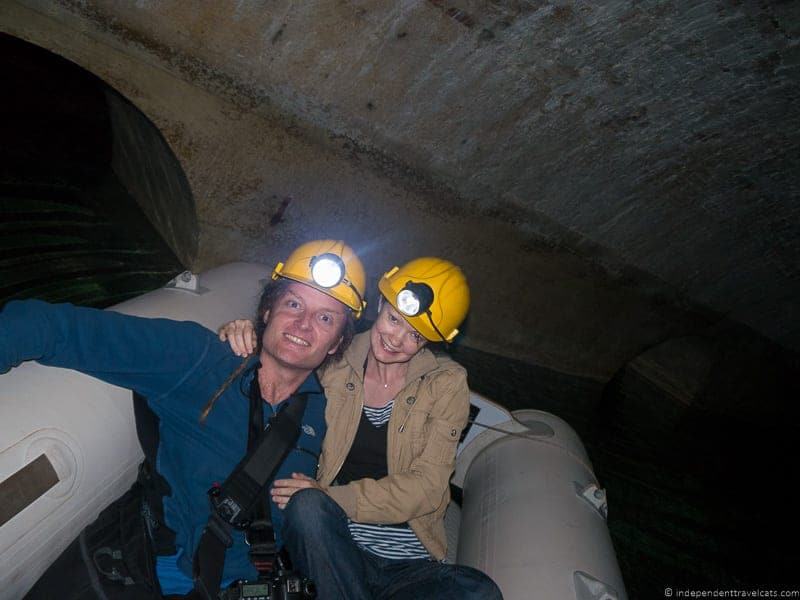 Other Salvador
Dalí Sites in Figueres
If you like toys, I'd recommend the Museu del Joguet de Catalunya, or Toy Museum of Catalonia (1 Carrer de Sant Pere), which houses a large collection of toys in a former mansion and includes a few items from Dalí's childhood, including a family photo album and a teddy bear.
You can eat at Cafeteria Astoria (15 Rambla, recent reviews on Tripadvisor are not very positive however) which was frequented by the artist and you can also eat and/or stay the night at the Duran Hotel & Restaurant (no. 5 Carrer de Lasauca) which was a popular Dalí hangout and place to stay on trips back to his home town.
These are some of the most popular places, but given that Dalí spent over 80 years living and visiting this city you'll likely find traces of the artist all over the place.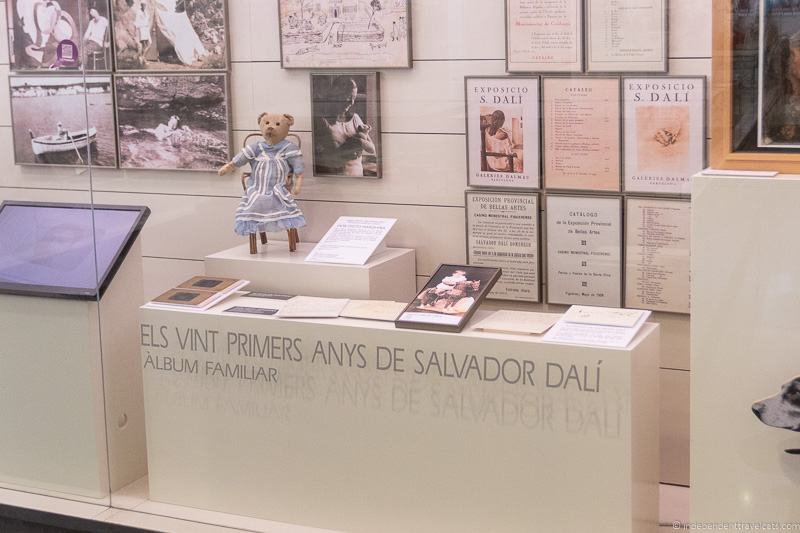 Salvador Dalí in Cadaqués
Cadaqués has a reputation for being one of the most painted villages in the world given the number of artists who have depicted it in their work. This once isolated sleepy fishing village attracted a number of artists and writers such as Pablo Picasso, Joan Miró and Marcel Duchamp for its whitewashed buildings, vivid colors, and rugged beauty.
Salvador Dalí often spent summers here with his family and it was on a summer holiday in 1916 that he met Catalan painter Ramon Pichot, which is considered a pivotal moment in Dalí's artistic career.
Cadaqués was one of the artist's favorite places in the world and it would be here that he would spend quality time with his family and with many of the people who were influential in his career. In 1929, Dalí met his muse and later wife, Gala, in Cadaqués. It is not surprising that the couple would later choose to make their home in the nearby village of Portlligat.
Today, Cadaqués is a popular summertime destination for both Spanish and international tourists from around the world. Visitors can still see many of the same sights as Dalí such as the cobbled streets of the Old Town, the large Church of Santa Maria (beautiful altar, interesting history, and great views from the terrace in front), the Cala Nans Lighthouse (can hike to the lighthouse), and the bay with its beaches and bobbing fishing boats. Dalí also liked to climb the hill behind the town, Mount Pani, and sketch and paint the city from this viewpoint.
The Cadaqués Museum (15 Calle Narcís Monturiol) has an exhibition dedicated to Salvador Dalí and is worth a stop. You can still see the exterior of the Dalí family holiday home, where his sister Anna Maria lived until 1989, near the Llané Beach although the house is not open to the public.
There is also the Corral de la Gala (25 Carrer Solitari), a building Dalí purchased from a sheep farmer in 1953 so that Gala could have private space and host parties before she had Púbol Castle. The city has been trying to restore and and open it to the public for a long time, but it currently remains closed and in need of restoration.
Those familiar with Dalí's work, will recognize many places, especially along the waterfront, he painted during this time in Cadaqués and you might want to bring along your own sketchbook! Along the waterfront, be sure to check out the Salvador Dalí bronze statue by Ros Sabaté. To get a view of the town from the sea, we recommend a boat ride or kayak trip (there are several options); we personally did a cruise from Roses with Don Poncho Cruises.
For eats, you can try former Dalí haunts and have Mediterranean food at Casa Anita (16 Miquel Rosset), tapas at L'Hostal (8 Passeig), or Lebanese food at El Barocco (2 Carrer des Pla d'en Retalla) which uses a logo designed by Dalí. You might also consider Bar Casino (located at the Cadaqués Friendship Society, 1 Plaza Doctor Trèmols) for coffee or Café de la Habana (2 Carrer del Doctor Bartomeus) for drinks and entertainment.
If you want to feast like Dalí while in Costa Brava, the El Barocco website notes that the artist's favorite foods here (before it was a Lebanese restaurant obviously) were steamed mussels, Catalan shoulder of lamb, grilled lobster with garlic, Empordà grapes, Empordà muscat wine, and Vichy Catalan mineral water.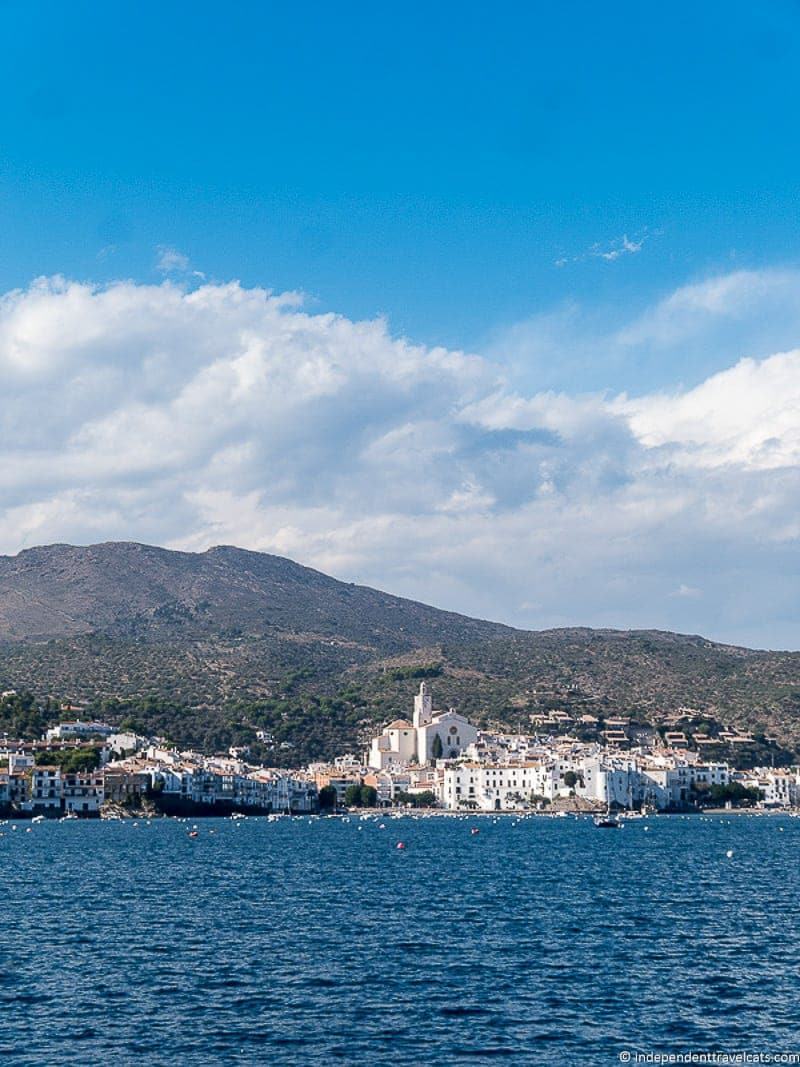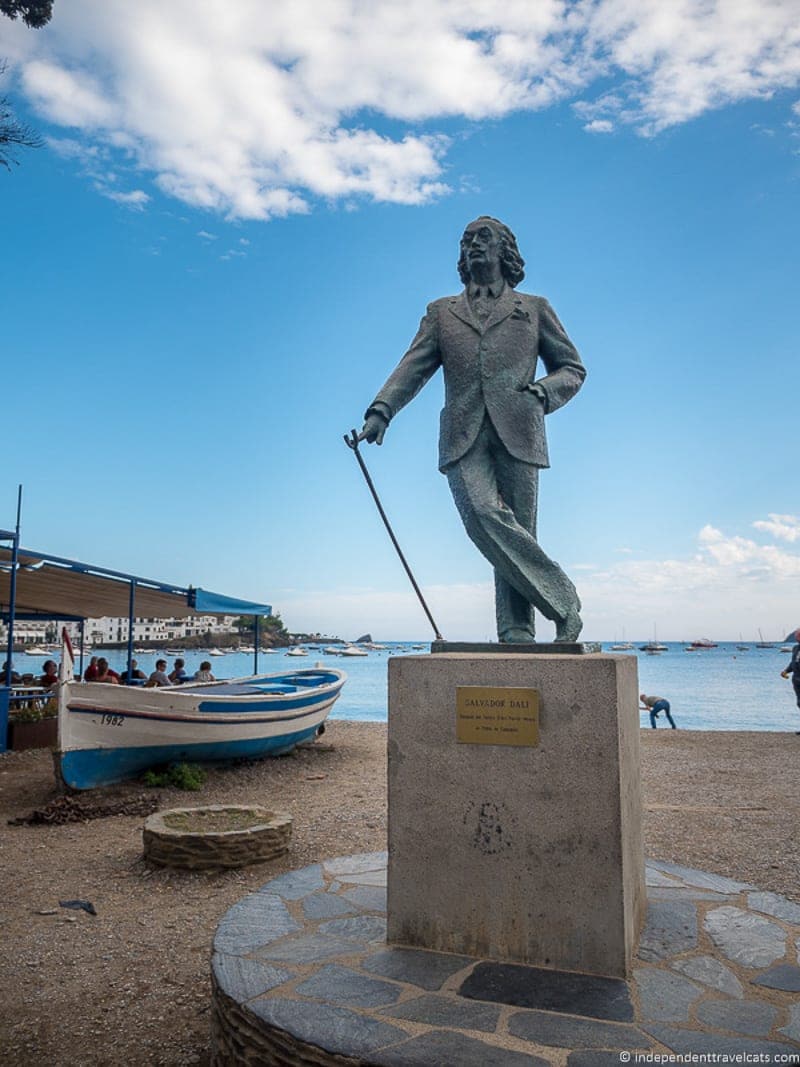 Salvador Dalí in Portlligat
Portlligat, or Port Lligat, is a small village near Cadaqués located in a small bay on the Cap de Creus peninsula. In 1930, Dalí would purchase a home here and establish his only real permanent place of residence which he would regularly live in until 1982.
Dalí met Gala (real name: Elena Ivanovna Diakonova) in 1929, and it is probably this new relationship and his family's disapproval of his partnership with the older married woman that led him to buy a home of his own.
He loved Portlligat because of its isolation and scenery and both the bay and the island here are depicted in several of Dalí's paintings such as The Madonna of Port Lligat. The initial home was simply a small fisherman's hut in a bad state of repair, but over the years Dalí and Gala would fix up the hut and expand it by adding additional huts and annexes until it became the labyrinthine structure that can still be visited today. It was here that Dalí and Gala lived much of their private lives and the place where Dalí regularly worked.
The house itself does not contain much artwork by Dalí, but it contains many of the original furnishings and belongings of the artist and his wife, and is probably the best place to get a sense of how Dalí actually lived with its stuffed polar bear, phallic swimming pool, cricket cage, oval room with strange acoustics, and his studio. The gardens and pool area are definitely worth exploring once your get outside.
The house with the giant eggs perched on top can be viewed from the exterior, but to visit the interior of the Salvador Dalí House-Museum in Portlligat, you'll want to make a reservation (by phone or online) as the number of visitors is restricted each day and tickets regularly sell out in advance. Before or after your visit, you can stop at a small building across from the ticket office to watch a film about Dalí's life that rotates in different languages at regular intervals.
In front of the house, you may see a yellow old fishing boat named Gala which was Dalí's boat; a company called Barca de Gala (telephone: +34 617 465 757) offers boat rides on this boat around the Cap de Creus which can be a special way to explore the shoreline for Dalí fans.
Salvador Dalí in Cap de Creus Natural Park
The Cap de Creus is a peninsula and a headland in the far northeast corner of Spain, that stretches from about Llançà to Roses and includes some very scenic natural spaces. The landscape here is notable for being rocky and barren compared to nearby areas, with rocky cliffs, hidden coves, islets, and interesting wind-eroded rock formations that made it a setting for which Dalí would draw a lot of inspiration.
Dalí is said to have confessed his romantic feelings for Gala that first summer he met her on one of the cliffs along the Cap de Creus. In 1998, most of this land as well as sections of sea were designated by law as a natural park which provides general protection and forbids things like construction works, camping, and non-traditional fishing methods.
You can find information, including recommended hiking routes, for the Cap de Creus Natural Park online or from the information point at Sant Pere de Rodes monastery (a must-visit site!) or the information center at the Cap de Creus Lighthouse (Far de Cap de Creus, Cadaqués).
We highly recommend checking in at the lighthouse information center and then exploring the area via hikes. We did the hike around the lighthouse (Hiking Route #15 during our visit, the Cova de s'Infern is worth the hike down) and then hiked the Tudela trail (Hiking Route #17 during our visit) which takes you past the Cala Culip, Cala Cullero, Trudela, and Mirador de Pamperris. Along the Tudela hiking route, you'll pass a number of coves, cliffs, and rock formations that Dalí would certainly recognize.
The large rock formations in this area were particularly inspirational for Dalí and his work. For instance, his painting The Great Masturbator (1929) is based on a rock that you can still see today along this route and even his famous Persistence of Memory (1931) includes craggy cliffs similar to those of the Cap de Creus in the right corner.
Today, in front of many of the large natural rock formations, you'll find small Corten steel panels scattered around the site that feature cutaways that highlight how some of the natural rock formations resemble animals. This tradition of identifying the anthropomorphic properties of the rocks dates back to the local fisherman who would use them as navigational tools. Later Dalí would do this and now the tradition continues with imaginative locals and tourists walking along this scenic path.
If you are planning to do a lot of hiking at the Cap de Creus Natural Park, or elsewhere in Costa Brava, I highly recommend buying a copy of The Costa Brava Way book which includes the full Camí de Ronda (GR-92) hiking route as well as numerous coastal paths all the way from Blanes, Spain to Collioure, France.
We did several shorter hikes here and elsewhere in the area and loved them; it is not difficult to see why Dalí and so many other artists drew inspiration from the landscapes of Costa Brava.

Salvador Dalí in Peralada
Peralada is a village in Costa Brava that was once home to the Frankish Counts of Peralada, and today visitors come to see its historical convents, churches, Peralada Castle (now a popular casino), and to sample the local wines. The town is a very pleasant place to explore with all its history and medieval buildings, but it also has a Salvador Dalí connection.
Dalí was a friend of Miguel Mateu, a businessman who purchased Peralada Castle and founded the Castillo Peralada winery. Dalí made several visits to the castle and even painted and gave some speeches here. It is also said that guests to Salvador Dalí's home in Portlligat were often welcomed with a glass of Castillo Perelada Rosado cava.
In honor of this relationship between the artist and Miguel Mateu, the winery has created wines in their Torre Galatea line using labels with Dalí-style typography, including the Torre Galatea Reserva 2009 and the Torre Galatea Cabernet Sauvignon. Wines can be tasted at La Botiga del Cellar near the castle and the Castillo Perelada vineyards and wineries can be visited by appointment.
The Peralada Castle is very photogenic from the exterior (there are often swans in the pond next the castle), but it is a private residence that is not open to the public although a portion is open as the Casino Perelada which consists of slot machines, a table games area, and two restaurants. Access to the machine games room is free, but you will need to pay to access the table games room (access is free for those who have dinner in the restaurant).
The castle grounds also contain a number of additional buildings that are open to the public as the Peralada Castle Museum and entry includes a visit to the 14th century Gothic church, Carmelite convent and cloisters, a nineteenth century library, a small wine museum, a glass and ceramics museum, and a free glass of cava either in the convent cellar or at nearby La Botiga del Cellar located across from the castle (keep your ticket).
Wine has been grown in this area since the Middle Ages and a speciality of the area is the Garnatxa de l'Empordà, a naturally sweet wine produced from the Grenache grape. You can visit a number of wineries throughout the Empordà region to sample the local wines which are becoming more well-known outside the area and were favorites of Dalí.
For instance, we also had a pleasant visit to nearby *lavinyeta in Mollet de Peralada. Laurence and I both enjoyed our visit to the museum and cava tasting as well as our walk around the city (stop at the Peralada Tourism Center at 6 Plaça Peixateria for a map and visitor information).
If you visit, be sure to raise a glass of Empordà wine and toast Dalí!
Salvador Dalí and
Castell d'Empordà
The Castell d'Empordà is a 14th century castle that has recently been renovated and turned into a beautiful 4-star hotel and restaurant. Salvador Dalí admired this castle and tried to purchase it as a home for his wife Gala from its then owner Pedro Arpa.
Similarly to Quermançó Castle, it is said that Dalí wanted to make a deal that included paying for the castle with his art, but the owner only wanted cash, so Dalí purchased the Castle of Púbol instead of this one. The Castell d'Empordà has a great setting and a rich history and it is easy to see what might have attracted Dalí.
Today, you can stay in one of the rooms at Hotel Castell d' Emporda, have dinner at its restaurant Le Drac, or just stop by for drinks on its beautiful poolside terrace. During our visit, many people who were hiking or biking in the area stopped by for a drink and to take a look at the castle.
We had drinks on the terrace around sunset; my piña colada was huge and so good! Then we had a dinner at the dragon-themed Drac Restaurant; the food, service, and atmosphere were wonderful and romantic. Laurence loves dragons and I love castles, so it was a perfect setting for us!
If you visit, take a look inside the small chapel of Maria del Remei that was constructed in the 15th century adjacent to the castle if it is open. Local people still come to this chapel and marriages can still take place here.
Also for war history buffs, the castle owner, Albert Diks, built Europe's biggest scale model of the Battle of Waterloo which is on display at the castle as well as the film that was produced using the model.
Salvador Dalí and
Púbol Castle
Púbol is a small town and its main landmark is Púbol Castle which dates back to the 14th century although the castle sits on the same site as an earlier 11th century castle. It is this castle that Salvador Dalí purchased and gifted to his wife Gala in 1969. He gave her the castle so that she would have a peaceful place to go and rest and a place where she could be queen of her own castle.
It is said that Dalí was only allowed to visit Gala here upon receipt of a handwritten invitation from her. Following Gala's death in 1982, Dalí was quite depressed and lived here as his health began to decline, and he was only persuaded to leave for Figueres in 1989 following a fire at the castle.
Today, visitors don't need an invitation and can visit the Gala Dalí Castle in Púbol and see where Gala spent her later years and where she currently is buried in the crypt next to the castle. Both Dalí and Gala contributed to the decoration of the castle, and the castle contains furniture and some art created by Dalí as well as temporary special exhibitions. Be sure to check out the small pool and garden outside.
Reservations can be made in advance, but are only required for larger groups or if you would like to book a guided tour.

Salvador Dalí and
Santuari Els Àngels
Dalí and Gala were officially married in a civil ceremony in Paris in 1934. But later in 1958 the two tied the knot again during a Catholic ceremony in Dalí's beloved Costa Brava at the Els Àngels shrine in Sant Martí Vell. You can find Santuari Els Àngels, or the Sanctuary of the Angels, just outside the city of Girona in the Massís de Gavarres.
The hermitage was started in the fifteenth century and the actual church dates back to 1718. The church is free to enter and it still serves as an active church. This sanctuary complex, as well as others in the area, have been renovated and modernized to provide lodging, dining, and event spaces.
The Santuari Els Àngels is a popular place for avid hikers and bikers given its location at an altitude of 484 meters (1,588 feet), panoramic views, and budget-friendly prices. There are many hiking trails in the mountainous area and we saw lots of people hiking and biking up as we drove along the twisty road to the sanctuary. There are a few places along the way that you can stop for views of Girona, the Pyrenees, and other nearby areas.
This is a great spot if you want to get away from things and it is also a hotspot for those interested in astronomy as it is located near the Les Gavarres Astronomic Observatory which regularly holds public activities at and near the Santuari Els Àngels.
If you are stopping here we also recommend stopping in Girona which is a wonderful city with a wonderfully preserved medieval center. You can our guide to things to do in Girona for planning your time there.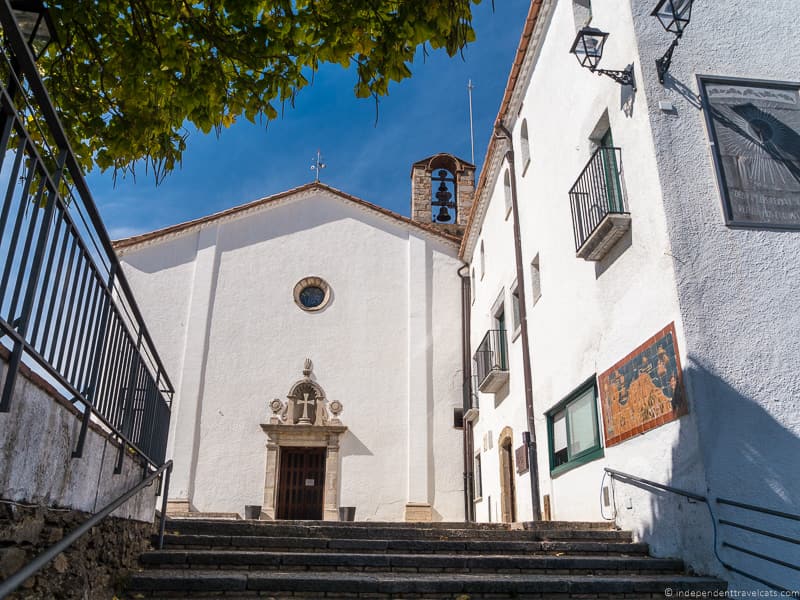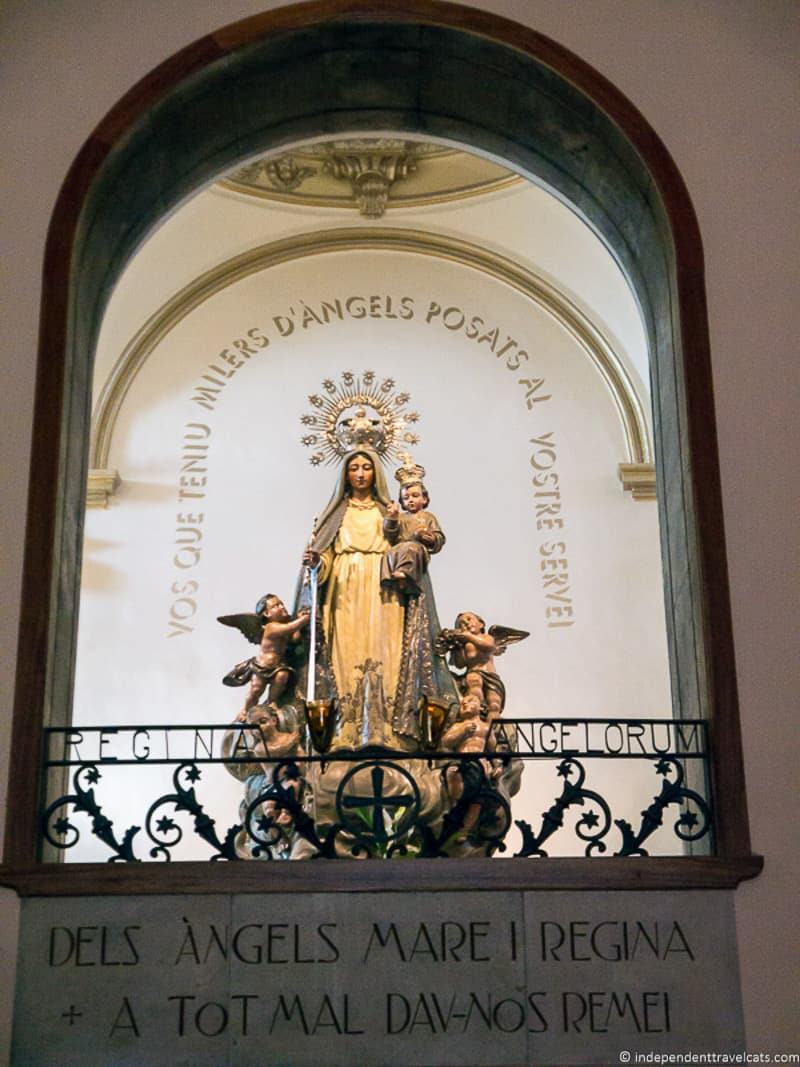 Salvador Dalí and
Quermançó Castle
The Quermançó Castle is an 11th century castle that was once owned and occupied by the Counts in the Empúries region of Catalonia. The castle was of interest to Salvador Dalí, likely due to its remote hilltop location and being ideally situated between his hometown of Figueres and his adulthood home in Portlligat. Dalí is said to have tried to purchase this castle but the price was too high.
What is most interesting about Quermançó Castle is the uses that Dalí is said to have proposed for the castle. The first is as a gift for his wife Gala to use as her own private residence which is the most likely reason. The second idea attributed to Dalí is that he wanted to put a rhinoceros in the basement of the castle for tourists to come view (the man certainly was fascinated by rhinos!).
Another idea, and the most interesting, was to build a natural pipe organ within the castle so that when the strong tramuntana northern wind blew, it would "play" the instrument and make music.
The castle is now privately owned and in a state of ruin. It is located about 2 km north of Vilajuïga, Spain atop a large hill. It is only accessible by foot, but the interior is closed to the public so you can only view the exterior. The castle can be admired from afar along N-260.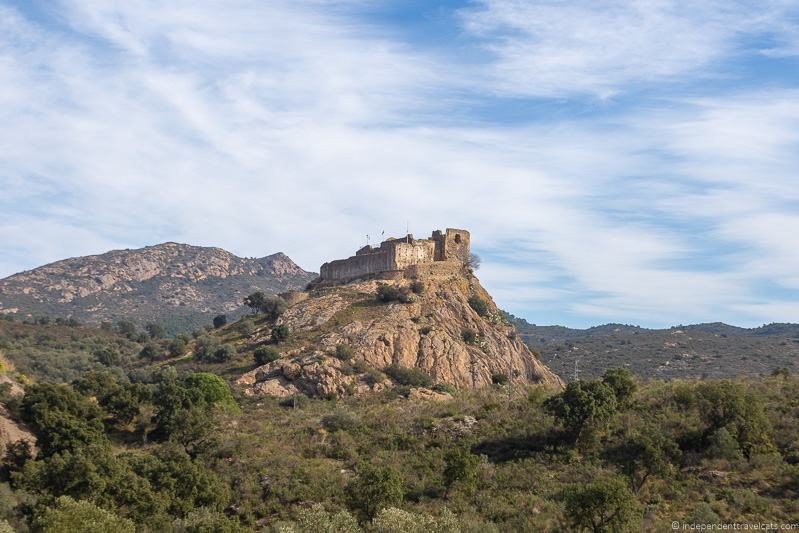 Barraca d'en Dalí (Dalí Hut) in Palamós
In Palamós, you can find a small stone hut that built for Salvador Dalí to be used as an artist studio by his wealthy friend Alberto Puig Palau as a gesture of friendship. It quite unlikely that Dalí ever used the secluded studio, but there are a few photos of him standing in front of it. The stone hut was made with a nod to surrealism with a slated door.
You can find the little hut (it is free to visit) by following a path into the forest for about 10 minutes from Platja de Castell. The beach is located just outside of Palamos. There is a hiking marker directing you from the beach area but I'd use Google maps to find the exact location (Barraca de Salvador Dalí) in the forest as it was not well-marked when we visited. The little house is generally referred to as the Barraca d'en Dalí, or the hut or barracks of Dalí.
Platja de Castell is a beautiful undeveloped beach worth a visit in its own right, and you might want to spend some time relaxing on the sandy beach if it is a warm day. They also rent kayaks and have a cafe here in the summer season. There is also a path you can follow to visit the ruins of an Iberian settlement of Castell located just above the beach.
We really like Palamós and it is one of several remaining commercial fishing ports along the Costa Brava coast. In addition to the beach, we recommend visiting the Museu de la Pesca (fishing museum) and wandering around the Old Town area (area above the beach and harbor).
If you are interested in the fishing culture and will be visiting in the late afternoon or evening, we also recommend doing a guided visit of the live fish auction, visiting the fish market, and doing a seafood cooking workshop. All these experiences can be booked in advance with the Museu de la Pesca.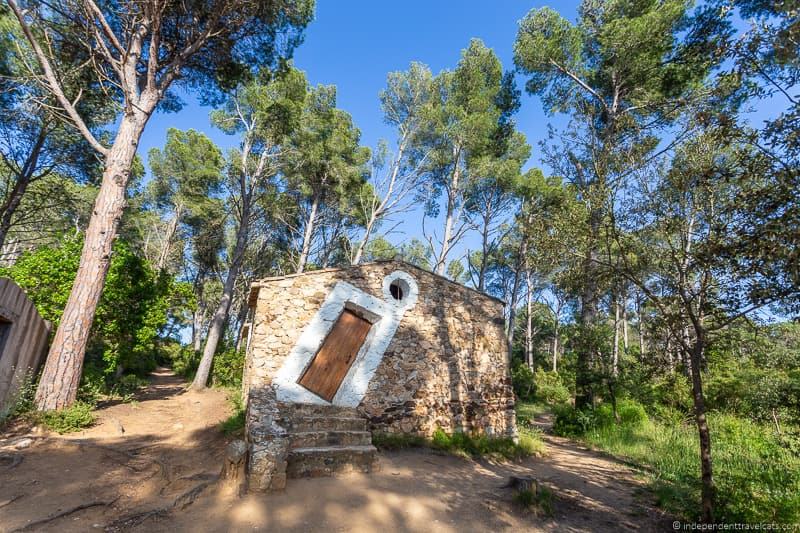 Salvador Dalí Day Tours
If you don't want to rent a car, it is easy to visit some fo the most popular Salvador Dalí on a day tour from either Barcelona or Girona. You can join a group bus tour, do a train and transfer tour, or book a private tour.
Almost all these tours include a visit to the Dalí-Theatre Museum in Figueres, and other common stops include Cadaqués, Portlligat, Girona, and Púbol.
Salvador
Dalí

Tours from Barcelona

There are a lot of companies offer day tours from Barcelona that include popular Dali stops such as the Dalí Theatre-Museum in Figueres, and you can see a list here.

Here are a few well-rated tours to consider:
This small group tour from Barcelona which includes visits to the Dalí-Theatre Museum plus Cadaques and Portlligat (or alternatively

Púbol Castle in summer

)
This full day tour which includes a visit to the Dalí-Theatre Museum, a guided walking tour of Girona, and free time to explore the towns of Figueres and Girona.
This full day tour includes hotel pick-up in Barcelona, a visit to the Dali-Theatre museum and time in Cadaques and the Dali House in Portlligat
If you are looking for a private tour you can check out this private tour
Salvador
Dalí

Tours from Girona

There are fewer day tour options from Girona than Barcelona, but you can still visit the primary Dali sites on a day tour.

Here are a few to consider:
This small group tour includes a visit to the Dalí Theatre-Museum in Figueres, a stroll around Portlligat, and a walk around Cap de Creus Nature Park.
This full-day day tour includes visits to the Dalí-Theatre Museum in Figueres, the Salvador Dalí House-Museum in Portlligat, and a walking tour of Cadaques.
If you are looking for a more private experience, consider this customizable private tour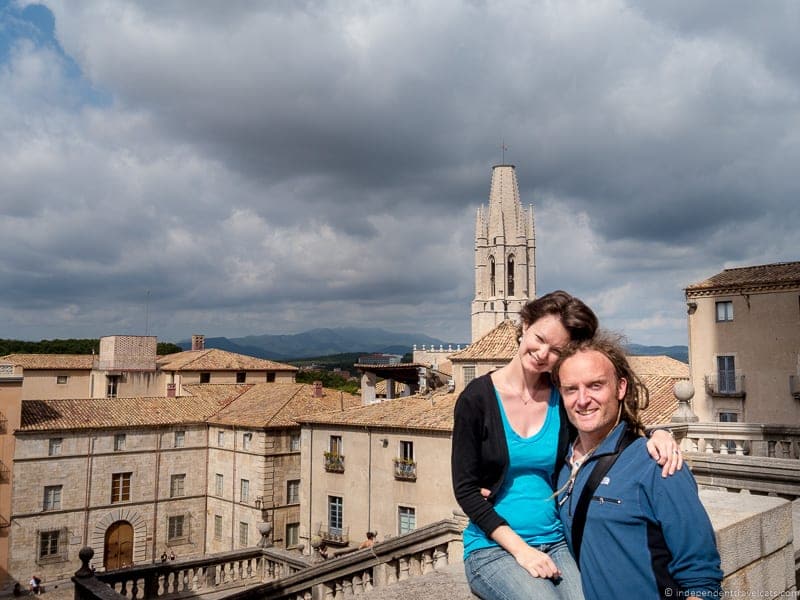 Costa Brava 5 Day Dalí Itinerary by Car
We've put together a suggested 5 day itinerary to help you plan your time in Costa Brava. The itinerary includes many of the highlights of the region (e.g., medieval towns, beaches, historical attractions) and connects together all of the Salvador Dalí sites and attractions mentioned above.
We also give recommendations for accommodation options that may be of interest to Dalí admirers, including the option to stay in the place where he got married, in a castle he admired, and next to where he is buried.
The itinerary assumes you are starting your travels in Barcelona, but you can adjust it accordingly to begin elsewhere. This itinerary is easiest to do with a car, but you can also adjust it to travel by bus. You can check the local bus schedule on the Teisa website.
The Costa Brava area is not that well connected by train, but you can travel by train to a couple of cities from Barcelona, including Girona and Figueres. If you do not have a car, you'll need to take a bus or taxi to reach some of the more out of the way attractions.
Below is a map that includes all the mentioned Salvador Dalí attractions to help you plan your trip. You can click on this link or double click the map image below to see it in Google Maps.
Day 1 – Barcelona to La Bisbal d'Empordà
Today we recommend leaving Barcelona and heading along the coast to visit the famous Costa Brava beach towns, enjoy the fishing village of Palamós, and explore the pottery town of La Bisbal. Salvador Dalí related stops include the Barraca d'en Dalí (Dalí hut) in Palamós and the Castell d'Empordà.
What to Do?
Leave Barcelona and drive along the coast towards Palamós. Consider stopping at one of the Coasta Brava beach towns along the way. Blanes is your gateway to the Costa Brava.
Younger beachgoers might enjoy lively Lloret de Mar, history lovers will enjoy the walled medieval Old Town of Tossa de Mar, and Blanes offers a more calm alternative to the above. Garden lovers may want to stop at the beautiful Santa Clotilde Gardens in Lloret de Mar or the Marimurtra Botanical Garden in Blanes.
Visit Palamós. We love this little town and you can wander the streets of the Old Town, relax on the beach, and learn about the fishing culture here. We recommend a visit to Museu de la Pesca (Fish Museum) which tells of the town's rich fishing history and about its current fishing industry. If you are hungry, Palamós is a good place for a seafood lunch.
We've visited this town a number of times, see our travel guide for more things to do in Palamós.
After visiting Palamós, head onto Platja Del Castell which is a sandy beach located outside the town. You can either drive to the beach or you can take a scenic hike from Palamós along the coast to the Platja del Castell. The hike takes between 1 hour and 1.5 hours (2 to 3 hours round-trip) depending where you start and the walk takes you past the Castell de Sant Esteve de Mar and the secluded cove and small beach of S'Alguer before you reach the Platja de Castell.
From the beach, it is about a 10 minute walk to the Barraca d'en Dalí into the forest area. You can also enjoy the pretty beach and visit the ruins of an Iberian settlement of Castell just above the beach.
Head to La Bisbal d'Empordà. La Bisbal is best known for its pottery and ceramics and you can visit a pottery workshop and find the local pottery in a number of shops in the area. The town also has a couple of museums, historical sites, and the La Bisbal Castle-Palace (open to the public for visits).
Then we recommend visiting the Castell d'Empordà which Dalí admired. We highly recommend having dinner at Le Drac and/or spending the night at this castle hotel.
Where to Stay?
We recommend staying at the beautiful Castell d'Emporda, but you can also check out other lodging options in the La Bisbal d'Empordà area.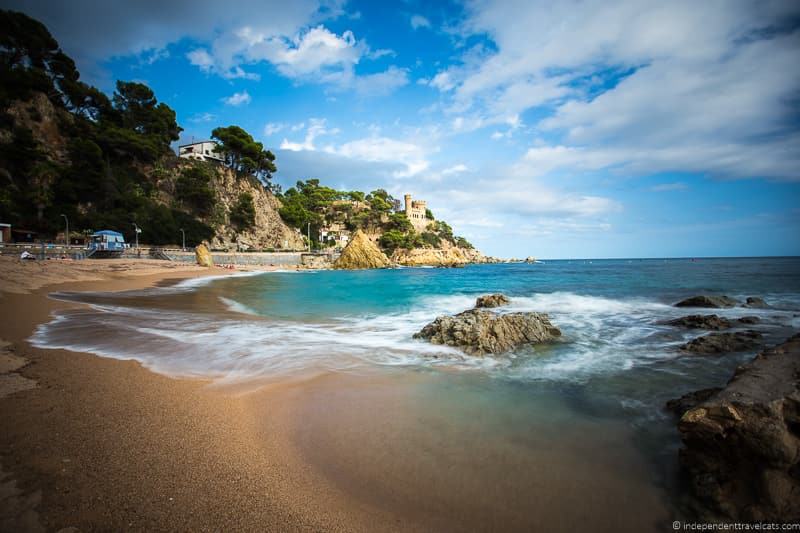 Day 2 – La Bisbal d'Emporda to Girona
Today we recommend visiting Púbol, the Sanctuary Els Àngels, and exploring the medieval city of Girona. Salvador Dalí related stops today include Púbol Castle and Sanctuary Els Àngels.
What do Do?
This morning we recommend heading to the small town of Púbol. Take a tour of Púbol Castle. It was here that Gala lived her later years and it is here that she is buried.
Now head to the Sanctuari Els Àngels where you can see where Dalí and Gala chose to hold their Catholic wedding ceremony. The sanctuary is located just outside of Girona. Note that the drive up is windy but the top offers wonderful views on a clear day. The hermitage offers travel services to visitors, including food and lodging.
Next, explore the medieval city of Girona. Girona is the largest city in Costa Brava and has a number of museums, galleries, and historical sites. The Old Town area offers scenic cobbled alleys, medieval walls, and Gothic churches. The town has been used as a backdrop in the Game of Thrones TV series and GOT fans may want to join this guided walking tour.
There is a lot to do and see in Girona and the city offers many shops, cafes, and restaurants, including the world-renown El Celler de Can Roca. We've visited the city several times and you can read our travel guide for planning your time which lists all the main things to do in Girona.
Where to Stay?
We recommend staying in either Girona or staying at the sanctuary. If you want a quiet out-of-the-way place, the Sanctuary Els Àngels offers 18 basic hotel rooms and a restaurant. It is also a budget-friendly option.
If you want to spend the night in Girona, you have a lot of options that range from budget to luxury, and you can explore options here. We recommend choosing a hotel, apartment, or hostel near the historic medieval part of the city so you can walk to all the main attractions. Girona is a wonderful city to explore on foot, especially in the evenings.
On our last visit we stayed at Ciutat de Girona which was a perfect location for us but there are plenty of other options within an easy walk of the city center and historical area.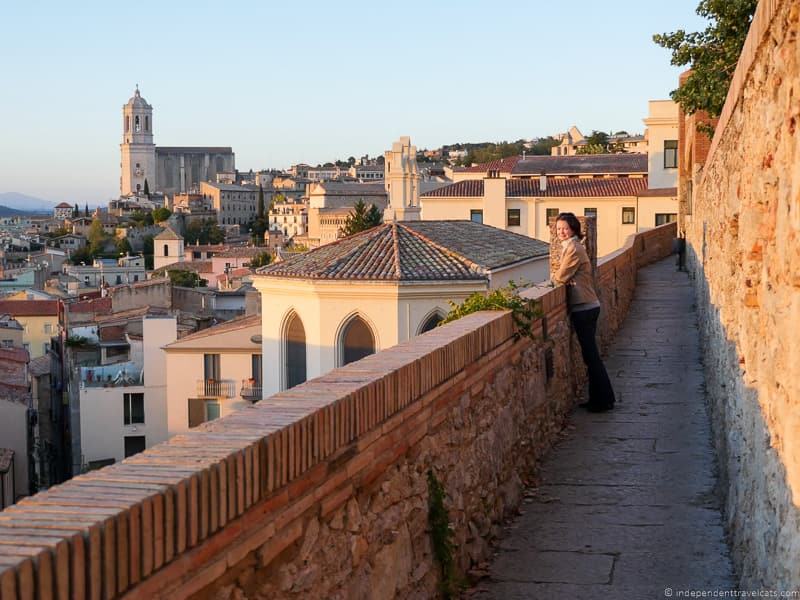 Day 3 – Girona to Figueres
Today we recommend exploring Figueres, the town most associated with Salvador Dali. You may also want to make a morning stop to explore another town, such as Banyoles or Besalú, on your way from Girona to Figueres. Salvador Dalí related stops today include a number of sites in Figueres, including the Dalí Theatre and Museum, Church of San Pere, and Sant Ferran Castle.
What to do?
We recommend taking the scenic route to Figueres if you are able to get an early start today. Instead of taking the quickest and most direct route, we recommend making a slight detour to explore either Banyoles or Besalú. Both towns are well worth visiting.
Banyoles offers a beautiful central lake, water activities, and archeological sites. Besalú is a postcard perfect medieval village with a 12th-century Romanesque bridge, a medieval church, cobbled lanes, and a couple of museums. Besalú is very popular with tourists so it can be crowded.
Now head to Figueres, the town most associated with Salvador Dalí being both his birthplace and final resting place. We recommend starting with a visit to the Dalí Theatre and Museum as this is the highlight of region for most Dalí fans and you want to ensure you have ample time to enjoy it.
If you want a guided tour of the museum, be sure to book it in advance. After visiting the museum, you can explore the rest of the town and other Dalí related sites including his birthplace and Church of San Pere.
Don't forget to visit Sant Ferran Castle, the largest bastion fortress in Europe, which is located outside the town center. We can recommend booking the jeep and rafting tour if you don't mind a bit of adventure and being in closed spaces.
Where to Stay?
Tonight we recommend spending the night in Figueres, and you can explore your accommodation options here. A few places to consider are the family-run 3-star Duran Hotel which Dalí is known to have visited, this apartment located next door to the Dalí Museum, the 4-star Hotel Pirineos which is a short walk from the museum, and Hostal Isabell II which is a well-rated budget option located near the museum.
Day 4 – Figueres to Cadaqués
Today we recommend heading from Figueres to Cadaqués with stops in Peralada, Sant Pere de Rodes, Portlligat, and Cap de Creus National Park. Salvador Dalí related stops today include Peralada, view of Castell de Quermanco, the Salvador Dalí House-Museum, Cap de Creus National Park, and Cadaqués
What do do?
This morning we recommend leaving Figures and visiting the medieval town of Peralada. Explore the medieval town, admire the castle casino, and enjoy a glass of wine as Dalí would have done. If you want to visit one of the local wineries or vineyards, be sure to make an appointment in advance.
As you drive towards Sant Pere de Rodes you may want to set your route to go past the Castell de Quermanco. The castle is privately owned and is not open to the public, but you can still get a good view of the exterior.
Next recommended stop, if you have time, is Sant Pere de Rodes a former Benedictine monastery complex that was constructed on the side of a mountain. Sant Pere de Rodes is widely considered one of the most important and impressive of the medieval monasteries of Catalonia. It is an interesting place to visit and offers great views of the El Port de la Selva area. You can also hike up to the ruins of the castle of Sant de Verdera.
Then onto Portlligat for a visit to the Salvador Dalí House-Museum, the former home of Dalí and Gala. This is a great place to see some of Dalí actual things and see how he lived.
Next we recommend a visit to Cap de Creus National Park to see the landscape that inspired a number of Dalí's paintings. Depending on your time and energy, you can choose to just walk around the lighthouse or take a longer hike varying from 30 minutes to a few hours. The visitor center can provide recommendations. We recommend following the Tudela trail if you have the time.
Finally we recommend ending your day in picturesque Cadaqués. Cadaqués and the surrounding area (Cap de Creus and Port Lligat) was a special place for Dalí. It was where Dalí's family went on summer vacations, a place that inspired him to paint, and the town where he met Gala. Wander the streets, visit the beaches, see his statue, and explore some of the places he painted.
Where to Stay?
We recommend staying either in Portlligat (if you want a quieter spot) or Cadaqués. In Portlligat, you might want to consider the 3-star Hotel Port Lligat which is a short walk from Gala and Dalí's former house.
If you stay in Cadaqués, we recommend staying near the town center so you can easily walk around the town, harbor, and beach. You can compare accommodation options here.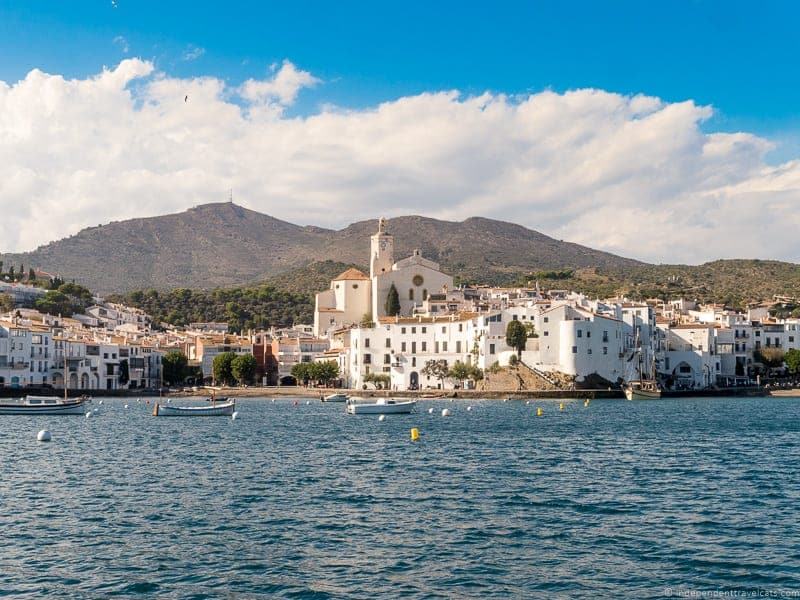 Day 5 – Cadaqués to Barcelona
Today you can make your way back to Barcelona or keep exploring the Costa Brava region.
What to do?
If you have more time, there are plenty more beaches, historical sites, hiking trails, and attractions along the coast. You can easily spend a week or more exploring the Costa Brava region. Or you can head inland a bit and explore the beautiful Girona Pyrenees region. The Girona Pyrenees are a wonderful part of the Spanish Pyrenees that provide a peaceful escape from Barcelona and the popular coastal towns.
If you are heading back to Barcelona, there is so much to do there! Here is a suggested 3 day Barcelona itinerary to get you started. Antoni Gaudí and modernisme fans will want to check out this list of all the Gaudí attractions in Barcelona.
Need some travel planning advice for Barcelona, Costa Brava, or the Girona Pyrenees, just give us a shout!
Where to Stay?
If you spending more time in Barcelona, you have loads of lodging options that will suit any travel style and budget, including hotels, B&Bs, apartments, and hostels.
We like to stay in the central area of Barcelona to maximize our sightseeing so generally stay in the neighborhoods of La Rambla, El Raval, Barrio Gotico (Gothic Quarter), or Eixample.
Nearby Barceloneta is a good area for those planning to spend a lot of time on the beach and is also home to some of Barcelona's best luxury hotels. Gràcia is also a great area for those wanting to be just a bit further out as the neighborhood has a great vibe, interesting cultural attractions, and lots of modernisme buildings.
On our last visit we stayed at this Leonardo Hotel which offered a good value and an excellent location near Las Ramblas.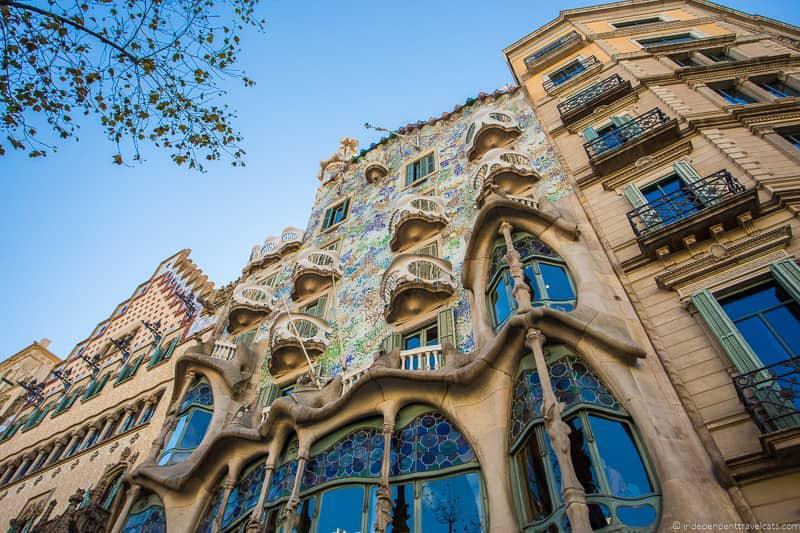 Have you visited any of these Salvador Dalí sites in Costa Brava? If not, which would be on your itinerary for a Costa Brava holiday? As always, we'd love to hear your thoughts and advice, and are happy to answer any questions about our travels in the Costa Brava area of Catalonia Spain.
PIN this article to read later: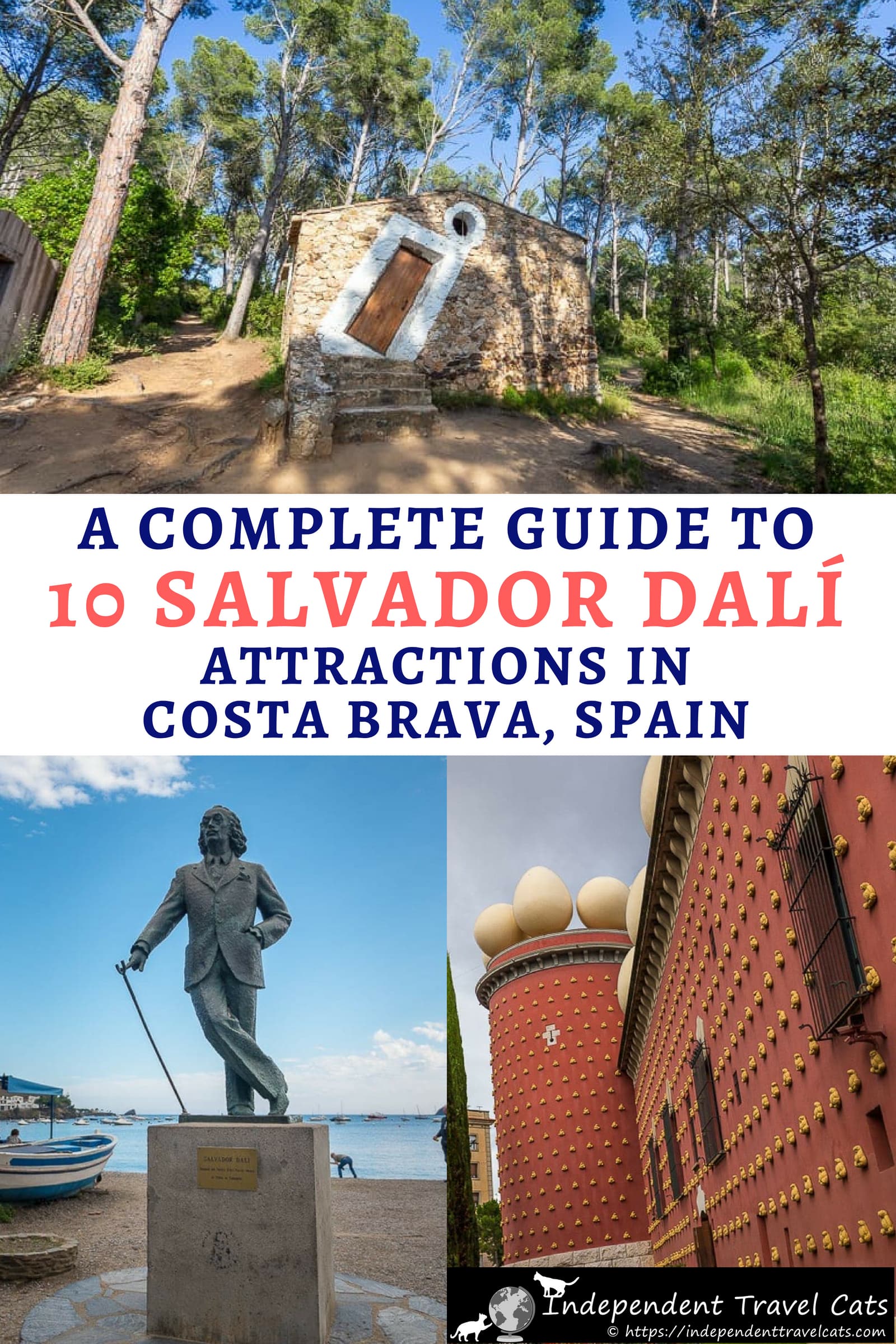 **Disclosure: The majority of our lodging, attraction entrances, and transportation in Costa Brava was provided by the Patronat de Turisme Costa Brava Girona as part of their Bloggers-In-Residence Program; however, we chose all the places we wanted to visit and this article contains only our own honest thoughts and opinions.**